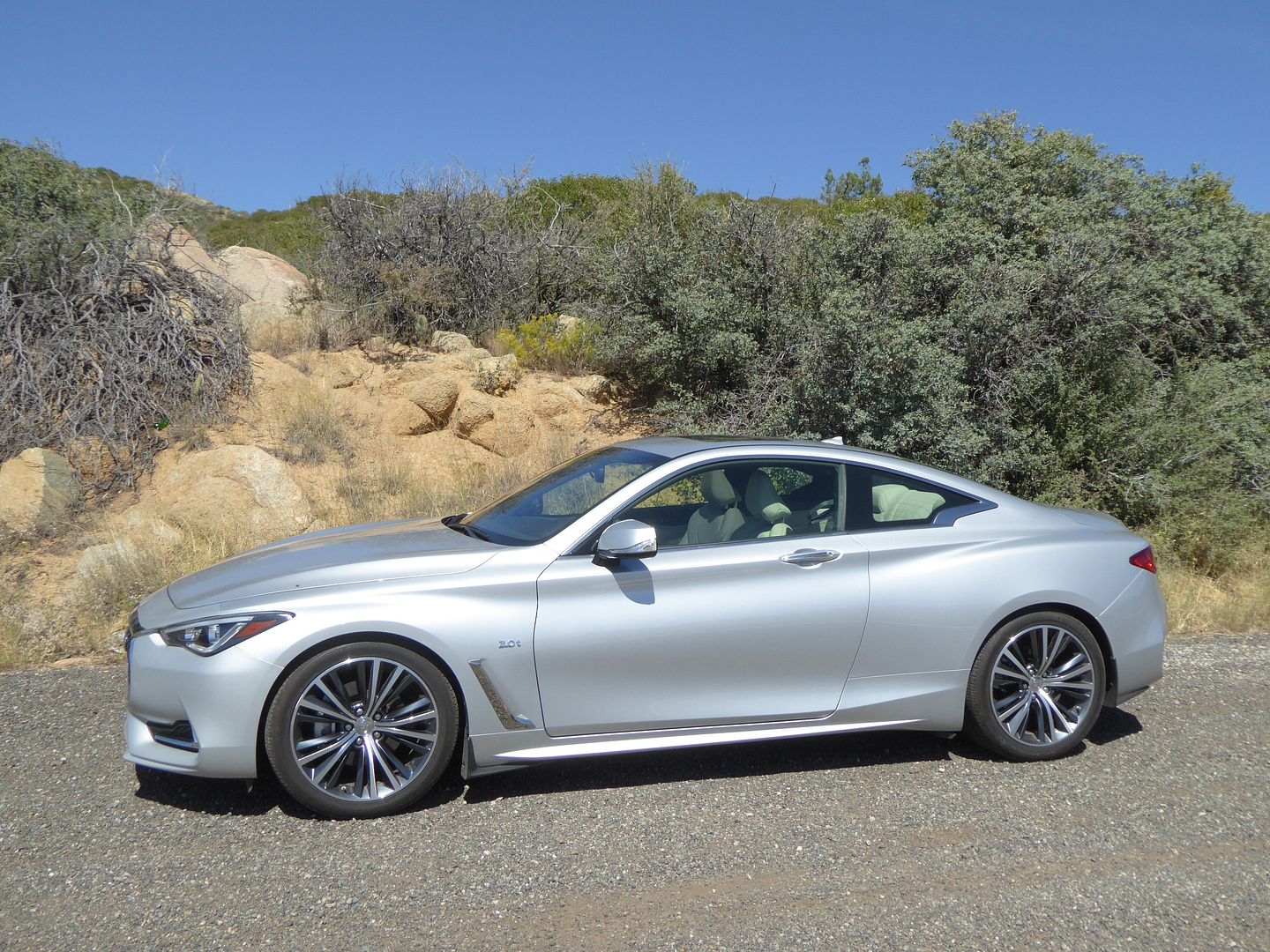 Time was when just about every manufacturer selling cars had at least one 2 door Coupe model in their range, and in many cases, such a version of every saloon car that they produced. And sales of this bodystyle were buoyant. The genre never quite hit the same levels of popularity in Europe, until Ford produced their Capri in 1969, which delivered all the advantages of the trusty Ford Cortina, but wrapped in a stylish body, which only required a small compromise or two from those who had to ride the back. It was not long before there were numerous rivals, ranging from cars such as the Morris Marina Coupe to the Opel Manta and Toyota Celica. Over the years, though, interest in this style of car has waned considerably, with everyone thinking that if a traditional saloon is not for them for whatever reason, then some form of SUV or Crossover would be a better bet, because, well the S of SUV does – supposedly – stand for "Sports". Whilst the number of saloon-derived 2 door models has shrunk appreciably in the twentyfirst century, it is not completely dead. BMW's 3 Series may have started out as a 2 door saloon, bit once sales of the 4 door version took off, they redefined the 2 door model as a Coupe, and it has proved very popular. Not surprisingly, Audi produced a rival, the A5 and sportier S5, and more recently Mercedes have added a C Class Coupe to their range which has had an E Class Coupe in it from before the mid-sized Mercedes was known as an E Class. And there are a couple of Japanese options in this class, too. Lexus has recently entered the fray with their rather boldly styled RC model, whilst Infiniti have had a Coupe version of their mid-sized car ever since they created the G35 model back in 2004. When the second generation G37 gave way to the Q50, it was assumed that a new Coupe would follow soon thereafter, but in fact it took 3 years, until the end of 2016 before a production model was available, although such had been previewed by a concept that was first seen at the 2015 North American International Auto Show in Detroit in January of that year, with the production model being announced a full year later. Now bearing the Q60 label, the Coupe model mirrors the Q50 very closely indeed, sharing almost everything apart from elements of the upper body styling. As part of what was clearly a large purchase of Infiniti models earlier in the year, Hertz currently have them on fleet, and they have proved very popular. I failed to get one during my March 2017 trip, as they were always reserved or sold out, but in September 2017 on a Tuesday night when the Phoenix facility was looking very empty, there was one lone car parked up in the "Premium Upgrades" section, and it was a silver-coloured (Liquid Platinum, in Infiniti speak) 2017 model year Q60, which was mine for $25 more a day than the Group C, Corolla-sized car I had booked. I had been quite impressed by a Q50 with the same engine earlier in the year, so was very much looking forward to a day with this car, especially as I had been told about some roads that were fun to drive on that I had never yet sampled in all my trips to Arizona.
Unlike many cars these days, there are actually badges on this one which tell you which engine you have got. A small 3.0t is to be found on each front wing, confirming that I had got the same engine as was in the Q50 that I drove back in March. I knew from that test that this 3 litre turbocharged V6 is one of the Infiniti's star attributes, and so it proved to be in this car as well. Developing 300 bhp, and coupled to a 7 speed automatic gearbox, it is extremely smooth, and refined, though there is just enough indication of the fact that you have a nicely balanced V6 under the bonnet when you start it up, with the keyless starting, and it endows the Q60 with a lively performance. There is always plenty of acceleration available, from any speed. I did accelerate quite hard – in places where there was no traffic and no-one likely to object, and it was very clear that I was going to run out of road long before I was going to get anywhere the potential of the car. There is a manual mode form the transmission, but after playing with it a couple of times, I left it to do the hard work itself, as it seemed to be better and smoother than I could ever be. The test comprised the usual mix of stop and start driving for lots of photos and as well as some freeway cruising back to Phoenix from Prescott (a lot of which is downhill), there was a much more challenging route, State Road 89, to get there, which had plenty of quite steep ascents, as I realised when I found the sign saying that I was at 6100 feet above sea level. So, to get 28.02 mpg US, or 33.475 mpg Imperial out of the Q60 counts as a good result.
What was not always quite so good was the handling. This is a powerful rear wheel drive car, but it has lots of electronic aids to tame things. Some of the more questionable ones remain on the options list, and were not on the test car, such as the much criticised Direct Adaptive steering, which even it is second generation has not been well received by anyone. I did find on quite a few bends that the car felt that bit wayward. Now, many a journalist, who is spending the day scrubbing someone else's tyres on a track, would probably say that this is a Good Thing, and would write about how cool it was to get the tail out and then hold or correct it. But on public roads, that twist and have some fairly severe drops over the edge, I am less convinced that is quite so commendable. Others have said that the steering is a bit numb, but I thought it was fine, if not as feelsome as you would get in say a Ford, but far better than the over-assisted set-ups in many cars (Toyota and probably Lexus being a case in point). Perhaps the biggest surprise was that, having driven the car some distance, and found no issue with the ride, I discovered it was on run-flats, and my experience of these is that they generally ruin the ride – they certainly did in the Mercedes C300 I drove last year, and they do no favours to BMW models, either. Here, there seemed to be no penalty. For sure the Q60 is not softly sprung, and Arizona's roads are generally pretty smooth and well-maintained, but even so, I was pleasantly surprised. There were no surprises with the brakes, they simply did what was asked of them, with no drama or fuss. There is an electronic parking brake, should you feel the need for such a thing. If you don't like the standard set-up, there are several different Drive Modes, which you can select from a switch in the centre console, with Sport and Eco being the two you might want to use as opposed to Standard. I could certainly feel a difference in putting it into Sport mode, with a crisper throttle response, and slightly stiffer feel to the steering and ride. That won't change the visibility aspects, though. And here you need to be a little cautious, as the coupe styling means that over the shoulder visibility is a little challenged. The door mirrors were OK, though, and there is a rear-view camera to help you judge where the back of the car is, which is just as well, as you cannot see it from the driver's seat.
The dash of the Q60 looked familiar, and when I checked with my photos of the Q50 that I drove earlier in the year, the reason for that became apparent. It is effectively identical. There's plenty of leather used to cover the surfaces of the dash and the door casings, with pale grey inserts on the doors., and there is a graphite coloured (plastic) inlay on the centre console all of which certainly gives you the feeling that you are looking at a premium product here, even if that trademark Infiniti clock is conspicuous by its absence, replaced by a digital timepiece in the infotainment screen instead. A curved binnacle covers the digital instruments. These have a lot of markings around their circumference and then a rather nice blue circle instead that which looked particularly good at night. There are two large dials, for revs and speed, with fuel gauge and water temperature inset in the lower portions of the larger ones. A central display area was showing a compass when I got in the car, but by pressing the buttons on the steering wheel hub, you can change this to show other things, mostly trip computer related, though, slightly surprisingly, one of the options was not a digital speedo repeater. Commonly used things, like indicators, lights and wipers operate from twin column stalks. The centre of the dash – rather unusually – has two separate screens for the infotainment system one above the other. The top one is slightly larger, at 8″ whereas the one below is 7″. The graphics on both were good, and the upper screen is used primarily as a display such as for navigation (which was fitted to this car, unlike the Q50 earlier in the year), leaving the lower one for controls such as audio selections and other functions, which could include displays for fuel consumption average graphs and servicing data. Apple Car Play and Android Auto are not yet available, which will disappoint some people (not me!). A series of buttons are stacked vertically on either side of these units, and these operate the climate control. As with most modern systems, many of the things which were once done by buttons and knobs are now selected from the touch sensitive screen, but there were a few residual items beyond just audio on/off and volume that were below the second screen. I was slightly surprised to find that there was a CD slot there – as you don't get these very often any more. There is a mouse-type control wheel in the centre console as well, so operation of this system was easier than some you come across (such as the Cadillac ATS' CUE which I had grappled with a couple of days earlier).
Although the Q60 has a lower roofline than the Q50 sedan, it is still quite easy to get and out of it. When you are installed, you have electric motors to adjust the seat in 8 ways, up, down, fore, aft, backrest angle etc, and there are two memory settings to allow you to store a favoured position once you have found it. The seats have heating available as well, and I noticed that someone at Hertz had left the driver's one switched on, more because I could feel it rather than because the little orange "on" light alerted me to the fact. On a day with outside temperatures around 100 Degrees F, heating was the last thing I needed! The steering column has electric adjustment too. I found the seat to be very comfortable, nicely supportive, with good side bolstering and the driving position, although you did feel lower set than you would in a saloon car, to be just right. Premium trim includes a tilt/slide electric glass sunroof (or "moonroof" as the Americans call them). It adds plenty of extra light in the cabin. As with so many of these, the extra noise levels were such that at speed, you probably would not want to have it wide open for long, but at around 50 mph, it was very agreeable to have fresh air coming into the car above me (and climate control to ensure that I did not overheat on a day when the temperatures did reach three figures).
Just looking at the back seats of the Q60 made me think that this really is a 2+2, as the space looks very limited, certainly more so than in an Audi A5 or a BMW 4 Series. In the interests of research, I decided to clambour in. That is not easy, as with the front seat backrest folded forward, there is quite a narrow and awkward gap through which you need to slot yourself. And getting out is even more of a challenge. Once installed, though, there was just enough space. For sure, my head was touching the rear window, and with the front seats set well back, there is precious little legroom. It is definitely a +2 and not a +3, as there is a divider between the two rear seats which contains the cupholders and an oddments tray, so nowhere for a third person to sit, and anyway, there is a wide transmission tunnel that would mean there would be nowhere for their legs, either. I concluded – as I tried to get out with some modicum of decorum – that these rear seats are definitely really only for small children.
That fact probably means that the fact that the boot is also not very big may not be such an issue. Initially, I thought that there was no external release, but then I spotted a small silver button set inside the nearside taillight. Pressing that and you can access an area which makes the best use of the shape of the rear end of the car. There is some space under the boot floor for odds and ends, as clearly no spare wheel is required with the car being on runflats. Inside the cabin, the glovebox is of modest proportions, there are some fairly shallow bins on the doors and there is a cubby under the central armrest. Sufficient, just about for two people and their travel odds and ends.
The Q60 is available in five trim levels: 2.0t,  2.0t Premium, 3.0t Premium, Sport, and Red Sport 400, and there are a number of Option Packages available to augment the standard equipment levels. The base Q60 2.0t starts at $38,950 and comes as standard with a turbocharged 2.0-litre four-cylinder engine which generates 208 bhp, a seven-speed automatic transmission, rear-wheel drive, leatherette upholstery, eight-way power-adjustable front seats, dual-zone automatic climate control, push-button start, a six-speaker audio system, HD Radio, satellite radio, two USB ports, Bluetooth, a dual-screen infotainment system, and a rearview camera. Priced at $41,300, the 2.0t Premium adds a moonroof and a 13-speaker Bose surround sound system. The 3.0t Premium, which costs $44,300, gives you nearly another 100 bhp from its twin-turbocharged 3.0-litre V6 engine, along with all the features of the 2.0t Premium. Starting at $48,300, the Q60 Sport keeps the engine of the 3.0t Premium and adds an adaptive suspension, leather seats, paddle shifters, and sport brakes. The range-topping Red Sport 400 trim, starting at $51,300, comes with a more powerful 400 bhp twin-turbocharged 3.0-litre V6, adaptive suspension, leather upholstery, front sport seats, a power-adjustable steering wheel, and unique styling elements. Available extras vary by trim. You can only add a moonroof to the base 2.0t for $1,000, while the 2.0t Premium and 3.0t Premium have several optional packages. These include the Premium Plus package, which costs $3,000 in 2.0t Premium models. It comes with a heated power-adjustable steering wheel, heated front seats, navigation, and driver's seat memory settings. The Premium Plus package in 3.0t Premium models is $3,200 and includes all the same features, plus remote start. For $1,350, you can get leather upholstery in 2.0t Premium and 3.0t Premium trims. The $2,250 Driver Assistance package is optional in all but the base trim. It comes with forward collision warning, automatic emergency braking, a 360-degree camera system, blind spot monitoring, and front and rear parking sensors. Finally, the $1,850 Technology package is available in 3.0t Premium, Sport, and Red Sport 400 models. It gets you adaptive cruise control, lane keep assist, automatic high beams, and an air-purifying climate control system. The test car was a 3.0t Premium, which had the Premium Plus options package on it. That seemed to cover everything I would want in terms of features. It would certainly seem to be the case that the extra money for the 3 litre over the 2 litre is easily justified, as the V6 engine is a much more refined and more potent unit, with nearly 50% more power available. All Wheel Drive is available with all three engines.
US reviews of the Q60 that I have read are not as positive as you might expect, especially given the fact that they do seem to like the rival Lexus RC, a car which I find gawky to look at, and which, assuming it drives like all others Lexus models would not be to my taste. Accepting the packaging limitations, there is definite appeal to the Q60, especially in this guise, as it goes well, and is nice to be in. However, it does have some strong competition: the C Class Coupe, BMW 4 Series and Audi A5, and although I've not driven the very latest versions of any of these, can well understand how they could hold stronger appeal. Certainly when the Q60 was launched in the UK earlier in the year, it was deemed to be far enough away from all three of them to make it an interesting "also ran" rather than a true rival, and it has to be noted that the Q60 is not a cheap alternative, even though it does go some way of compensating for that by its generous levels of equipment. That makes you wonder if this really is a Sports Coupe or more of a Luxury Coupe. There is another way of looking at it, especially when you are at the US rental car counter. Similar style, and power, and indeed perhaps more fun is available from the Ford Mustang and Chevrolet Camaro, and they will doubtless cost you less to rent, too. So, a car for those who want something that bit different, rather than a true class winner.