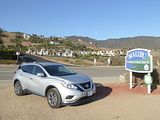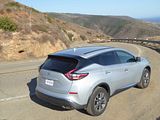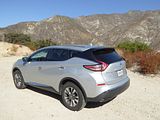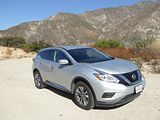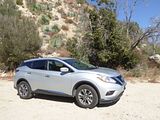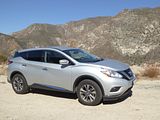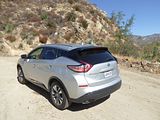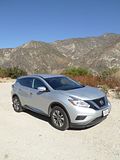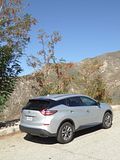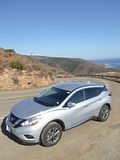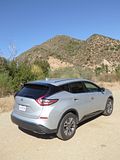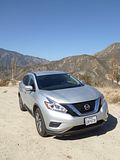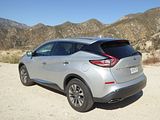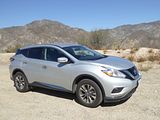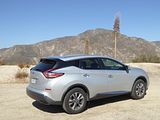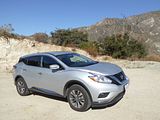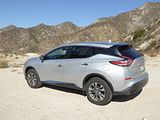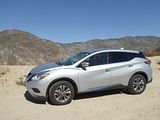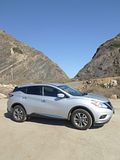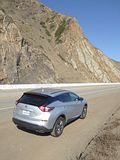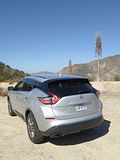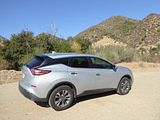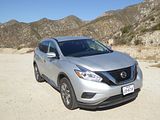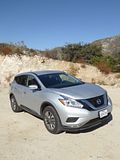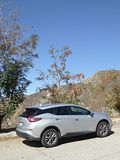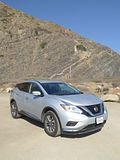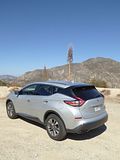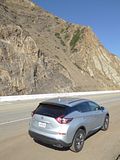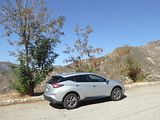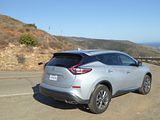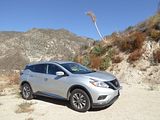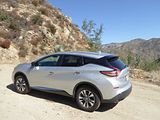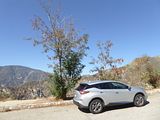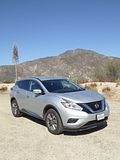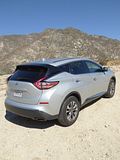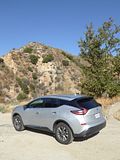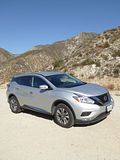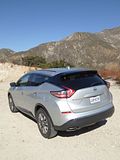 When the name Murano is mentioned, I recall with fondness the early car that I drove, for a week in California back in the autumn of 2006. An early arrival in the crossover field, following its launch in 2002, with few competitors at the time, the Murano impressed as it sounded a bit like a 350Z with a spacious body covering mechanicals which it did indeed share with the firm's sports car, even though they were adapter to suite the demands of a car of this size and weight . It went well, too, and was a lot of fun especially at the weekend when I took up on some of my favourite roads in the area. It even looked quite interesting, and whilst the one I tested was a sort of ivory white in colour, many of them were sold in a striking copper colour which further accentuated the interesting design. Nissan did sell them in Europe, but with only a large petrol engine available, markets that would default to diesels meant that sales were slow. It was not long before rivals arrived, with the Crossover bandwagon getting fully into its stride as the Noughties moved into the Tens, so even though Nissan had added the Rogue to their range in 2007, which was only slightly smaller than the Murano, they clearly felt that there was a place for this model to sit below the Pathfinder and above the Rogue and a second generation model arrived in late 2007 looking quite similar to the first. That one had a short career in Europe, but even though this one could be bought with a diesel engine (in Europe), it found little favour and was quickly pulled from the market. I managed to test one in the Phoenix area in early 2014, and returned the car feeling somewhat indifferent about it, finding it neither good nor bad. The third generation Murano was premiered at the 2015 New York Auto Show, going on sale later in the year as a 2015 model and this one looked very different from its predecessors, though it was fairly clearly a Nissan, adopting many of the styling cues from the rest of the range. Although sales started in late 2014, three years on, I could barely recall seeing one on US roads, and certainly had not seen on in the Hertz fleet. Until now. Returning to Los Angeles after a week in Arizona, when I wandered around the facility looking for the next rental car, I found this one, with Texas plates on it, parked up in the President's Circle area, so I grabbed the keys before anyone else spotted it. I had one day to see what I thought of it.
There was no badging on the Murano, which made me suspect – correctly, it would turn out – that this was a base model, but even so, I was quite enthusiastic about the prospects of this test, as I recalled that standard equipment in all versions is a 3.5 litre V6. It develops 260 bhp, which is considerably more than you get from the other Crossovers which the rental car companies group together, which range from the Toyota RAV4 and Mazda CX-5, to Nissan's own Rogue, the Kia Sportage, Jeep Cherokee and Subaru Outback, Overall impressions were very good, as this is a refined and smooth engine. Manufacturers can say what they like about high output smaller capacity engines with fewer cylinders, but to my mind there is no substitute for a V6 if you want something that feels cultured. The original Murano was not quite that, as it had quite a rorty exhaust which made it sound not unlike a 350Z in a Crossover body. It largely drove like one, and I recall fondly the time I spent with one of those in 2006. I also recall the second generation Murano which might have looked like a slightly modernised version of the first but it certainly did not drive like it. The quest for more refinement and to compete on more even terms with a growing number of rivals meant that Nissan had toned the car down, and with extra weight as well, it was nothing like as good to drive. This car falls somewhere between the two, but nearer to the second than the first. There is no doubt that the engine brings benefits not just in terms of smoothness but also in absolute power. The Murano is notable brisker than rivals such as the Ford Edge and Hyundai Santa Fe, and whilst 260 bhp is not a whole lot these days, the fact that the Murano lost 160 pounds in its latest iteration helps it feel brisk There is a CVT gearbox, but unlike in lesser Nissans where it can induce frustration, it really does not do so here. There is ample power available for brisk acceleration from any point and any rev point and the gearbox does not seem to struggle to keep up with the accelerator. Where the Murano really comes into its own is when cruising on the freeways and interstates. Overall noise levels are low, meaning that this a relaxed cruiser, but find an incline, as you do if you head north of Phoenix and there is ample extra power there to that the car does not lose speed or even interrupt the hush much as the extra power kicks in. I covered 198 miles during my day with the Murano and needed to put 7.04 gallons in it before returning. That computes to 28.125 mpg US or 33.6 mpg Imperial, which is a good result for a car of this size and power.
First thing I noted as I was adjusting things ready to head out from the rental car facility was that there was a plastic moulded steering wheel, but it was actually well shaped and an appropriate thickness, so holding it was no particular hardship The steering is light, but not unduly so and is well weighted, so there was plenty of feel as to what the road wheels were going to do. The suspension is on the soft side, so that means the car is set up for its prime purpose of conveying people and stuff rather than being an out and out sports car. That means that there is some roll on the corners, and there is a tendency to understeer, so if you want the very best car for a twisty road, this one probably has to take second place to the Ford Edge, but it is still not bad. The test car had the standard front wheel drive, All-wheel drive is optional and would certainly give more traction and no doubt prove useful in poor weather or for heading off the tarmac, though like most other crossovers, this one is not really designed for off-roading. It certainly rides nicely. This version of the Murano came on 235/65 R18 alloys. The brakes worked well, with a progressive feel to the pedal. There is a foot operated parking brake pedal, though this being an automatic, I did not bother to set it. There were no significant issues with visibility to the front and the sides, but rearwards was not quite so good, with thick C pillars meaning that sharply angled junctions required some care. The standard rear-view camera helping to judge the back end when parking in a confined space.
Even in this bottom of the range S spec model, the interior looked a cut above what you would normally find in a car of this class and price, if not quite up to the standards of an Audi or a Volvo. It certainly looks far more upscale than the one in its predecessor, or that matter what you will find in the slightly cheaper Nissan Rogue. The use of leather on the top of the dashboard and the door casings certainly helps, but even the plastics are often a decent quality. There are a number of different materials, textures and colours used. A grained metal effect inlay is used around the top of the dash and door casings as well as around the transmission selector on console and doors and there are gunmetal colour surrounds to the air vents and around the audio unit display screen. The design swoops around the cabin and all the pieces line up properly. Only the plastic moulded steering wheel lets the side down. You need upgrade to an SV to get a leather-wrapped item There is a single cowl over the instruments, which comprise two large dials for speedometer an rev counter with smaller fuel level and water temperature gauges inset in their lower portions. Between them there is a digital display area which can present all manner of trip computer type functions, which you select using small buttons on the left hand steering wheel spoke. Also on the wheel are small buttons for audio repeater and bluetooth on the left hand side and cruise control on the right. Twin column stalks, familiar from any other recent Nissan, handle indicators, wipers and lights. The centre of the dash has a 7″ colour touch screen situated between the central air vents. Functions were relatively limited on this car, so it was largely a six-speaker audio unit, including XM Satellite radio and there is still a CD slot. If you want Apple CarPlay, whilst that was added for 2017, it is from the SV version upwards. There are still some conventional knobs and small slightly fiddly buttons to either side of the unit, which made it easy to operate. Beneath this were a couple of rotary knobs and an array of buttons for the dual zone automated climate control system. There was keyless starting on the test car, with the button in the same place as where you would usually find a key slot. The whole ensemble looks neat and modern without being too complex or fussy.
Rather than the usual rather cheap-feeling cloth upholstery that tends to be feature in all bar the top of the range cars of this type, the seat upholstery here was a sort of box velvet, which I found rather more attractive. There was plenty of manual adjustment on the seat to allow me to get comfortable. The front passenger does not get a height adjuster, but they do get seat-belt height adjusters like the driver does. The steering column telescopes in and out as well as up and down. The Murano features what Nissan call "Zero Gravity" seats, which are apparently NASA-inspired. They are designed to contour so they support their occupants in the same way as if there was zero gravity. Certainly, the driver's perch proved particularly comfortable.
The Murano is a strict 5 seater. Unlike some rivals, there is no 7-seater option, which is probably wise given the dimensions of the car. Those in the rear seats get a good deal, too. There is plenty of leg room for a car of this class, with a nice flat floor, though it should be noted that the centre console does protrude well back, so a middle occupant would need to splay their legs slightly. The backrest angle can be varied and there is a drop-down central armrest with cupholders in the upper surface. There are rear air vents in the back of the centre console and oddments space comes from seat-back map pockets and door bins.
Although not as deep as on some cars, the boot is spacious, too, with a large floor area. There was no load cover in the test car, but the space you get even up to the window line is good. There is more space for odds and ends under the floor around the spacesaver wheel. The release catches for the rear seat backrests are by the edge of the boot, so easy to reach and the asymmetrically split backrests simply drop down onto the cushions to create a long and flat load bay. Inside the cabin, there is a huge glovebox, as you often find in a Nissan, there are bins on the doors, a cubby under the central armrest and there is a small area low down on the passenger side of the console.
There have been very few changes made to the Murano since the debut of the third generation model a couple of years ago. The 2017 Murano comes in four trims: S, SV, SL, and the top-of-the-line Platinum. Mechanically, they are all the same, with the 3.5 litre V6, so the difference is purely in the trim and equipment levels. The S or SV trims will suit most shoppers. The base S is equipped with dual-zone automatic climate control, push-button start, an infotainment system with a 7-inch display, a rearview camera, smartphone app integration, and a six-speaker audio system with Bluetooth, satellite radio, and a USB port. The SV trim adds remote engine start, an 8-inch touch-screen NissanConnect infotainment system, Apple CarPlay, power-adjustable front seats, a leather-wrapped steering wheel, and fog lights. The SL trim features an 11-speaker Bose audio system, heated front seats, leather upholstery, a power liftgate, an auto-dimming rearview mirror, a 360-degree camera, blind spot monitoring, rear cross traffic alert, and a driver drowsiness monitoring system. The top-of-the-line Nissan Murano Platinum trim adds 20″ alloy wheels, heated rear seats, a heated steering wheel, ventilated front seats, and a power-adjustable steering wheel. The Technology package (available with the SL and Platinum trims) adds a panoramic sunroof, adaptive cruise control, forward collision warning, and automatic emergency braking.
As I was waiting for the car to be checked in by one the Hertz rental agents, someone who I later found out was the duty manager, came over, and he lingered near this car. As soon as the final receipt was handed to me, he came right up to the car and said "that's my ride for the evening sorted out". Clearly, he had been watching out for something worthy to take home for the evening, and this was his choice. for someone who probably as the choice of literally dozens of cars from the fleet, that probably tells you all you need to know: that this is a good car. And I would not disagree. It is a good car. Not exciting, perhaps, but very competent. Part of the enjoyment comes from the fact that it has a V6 engine where most of its rivals make do with four cylinders, of course, but it has plenty of other strengths, too. The car was pleasingly economical, and was nicely finished inside, and was roomy enough. This is a car I would willingly drive again. that Hertz group it with cars almost all of which have 4 cylinder engines as well as being that bit smaller means that I rate it is one of the best cars in the "Small SUV" class.