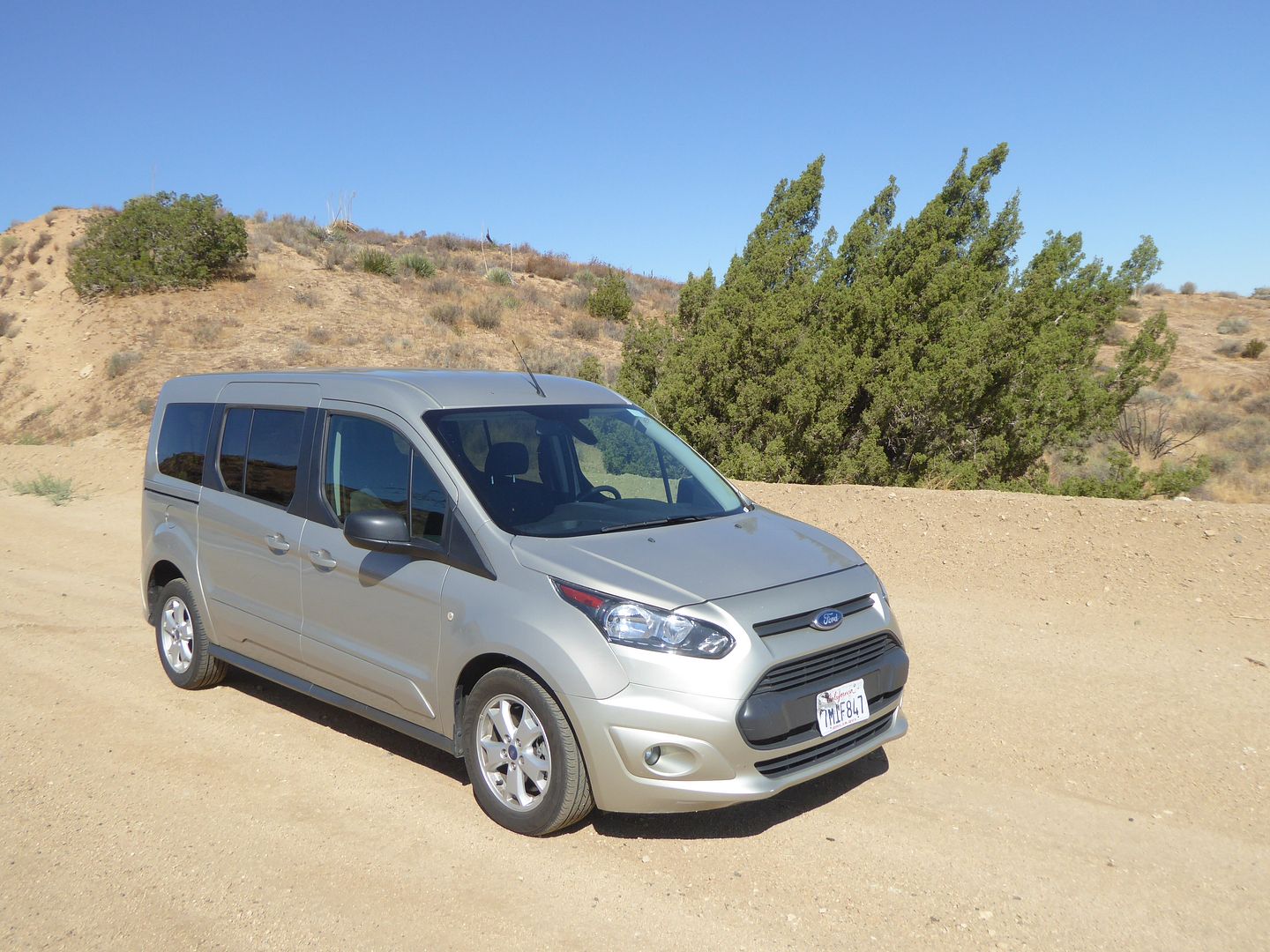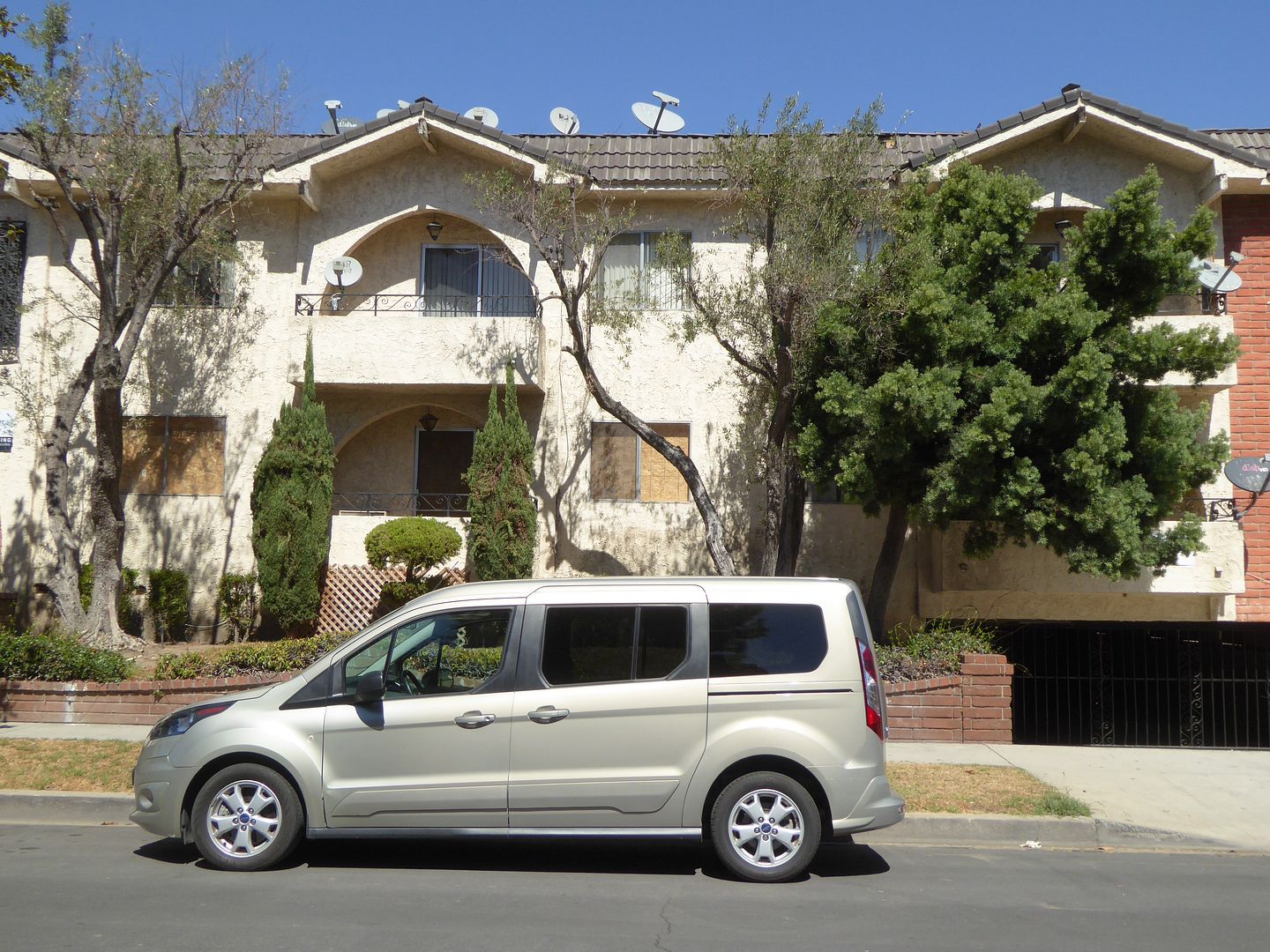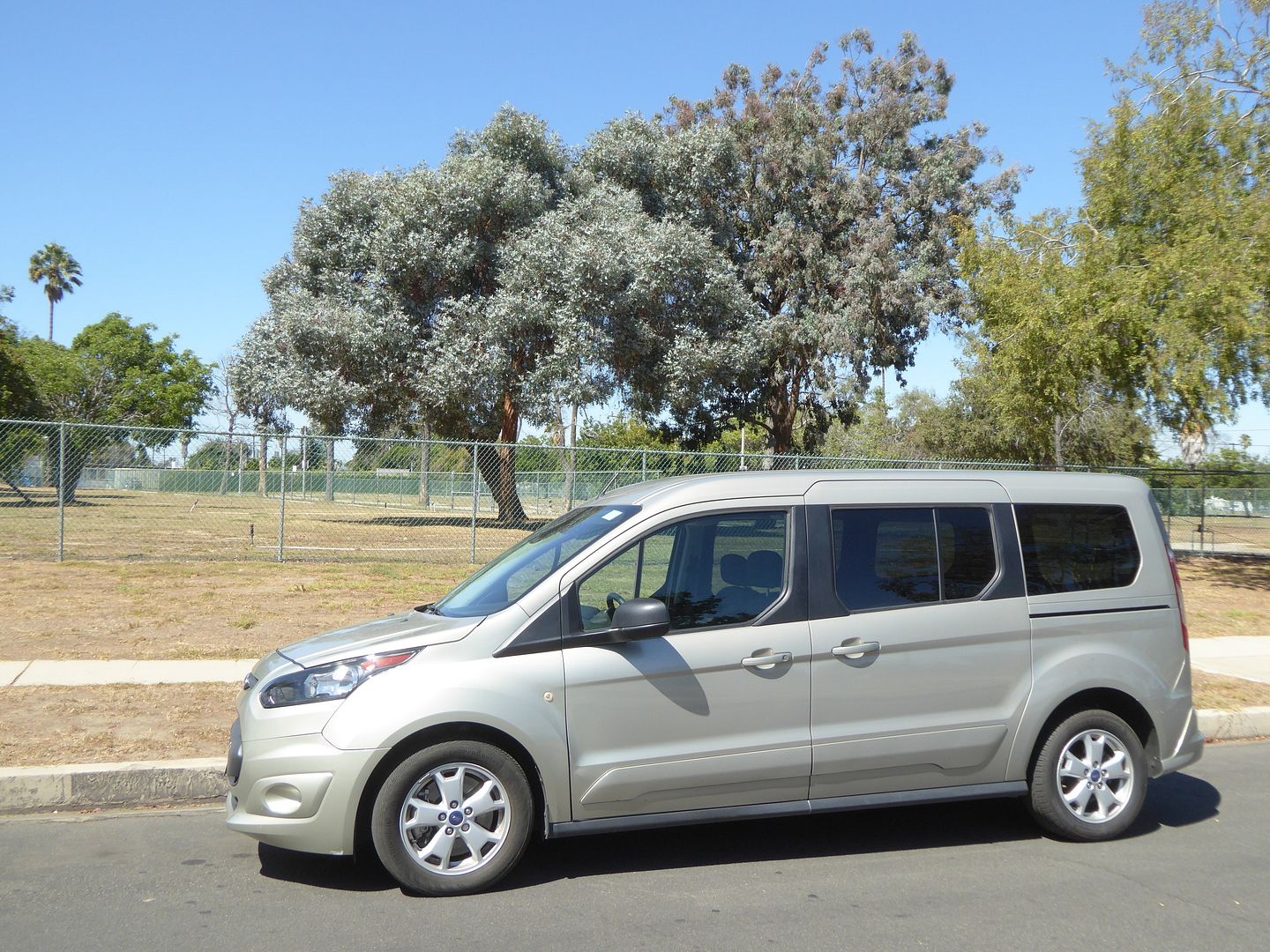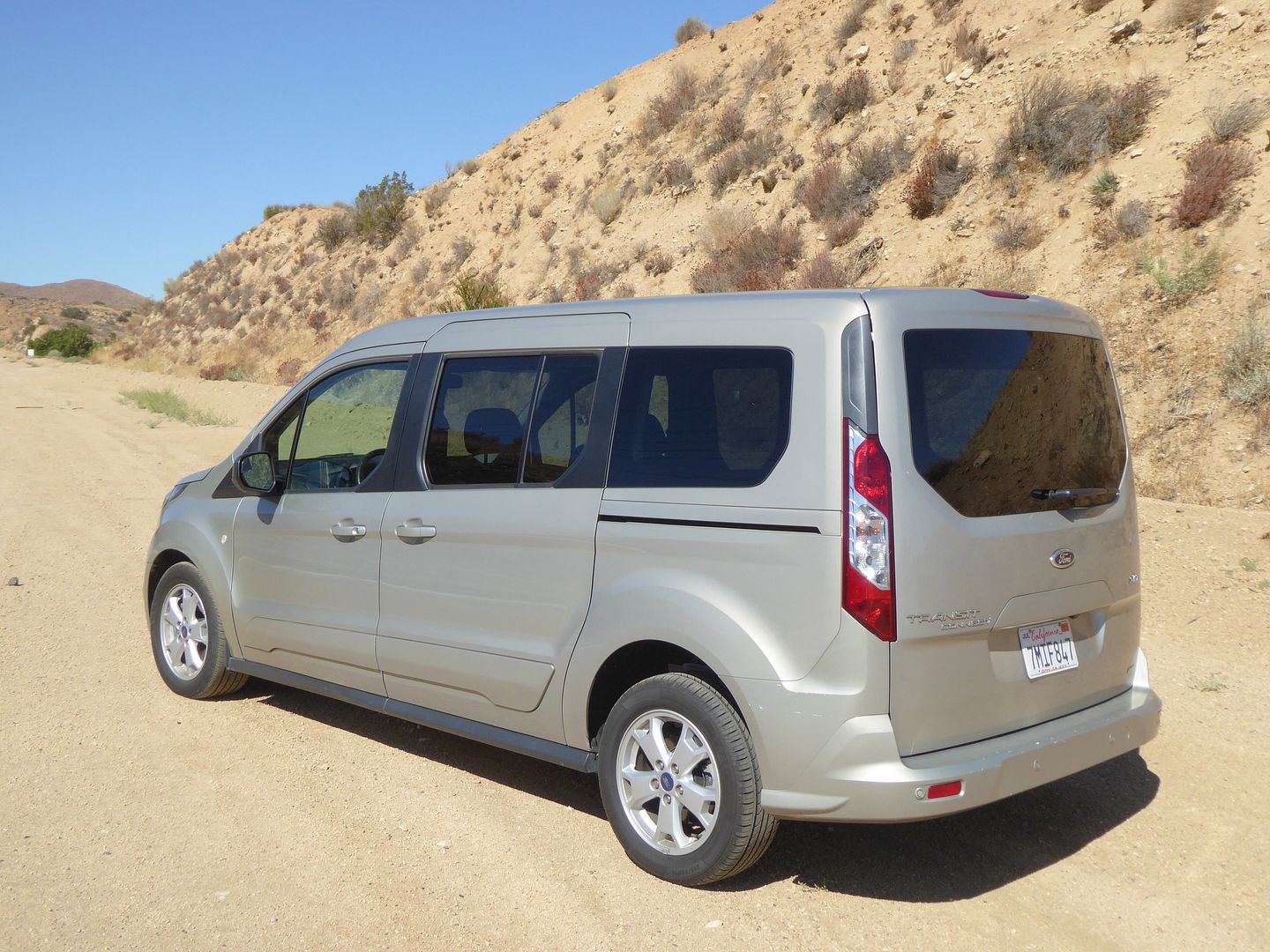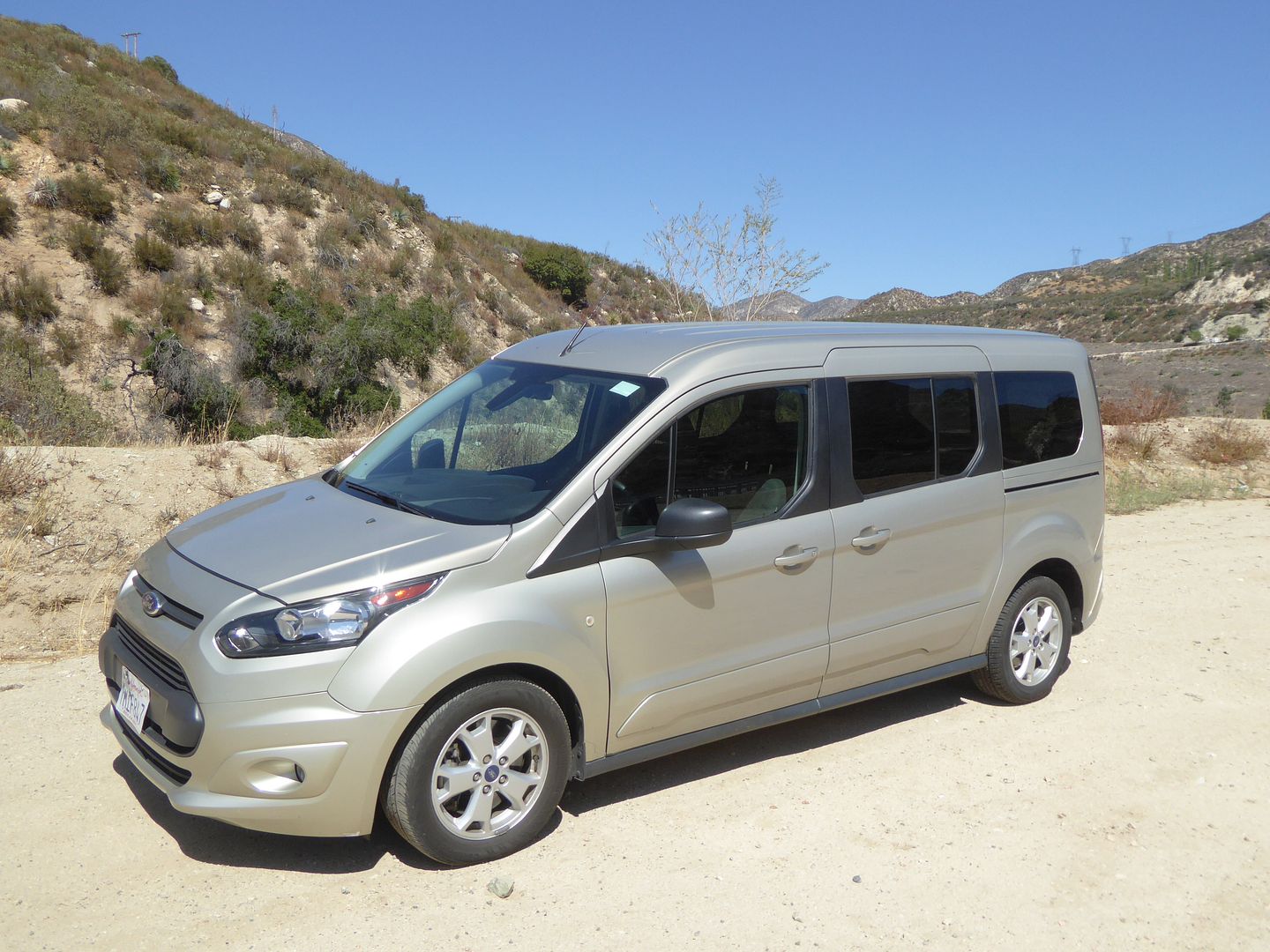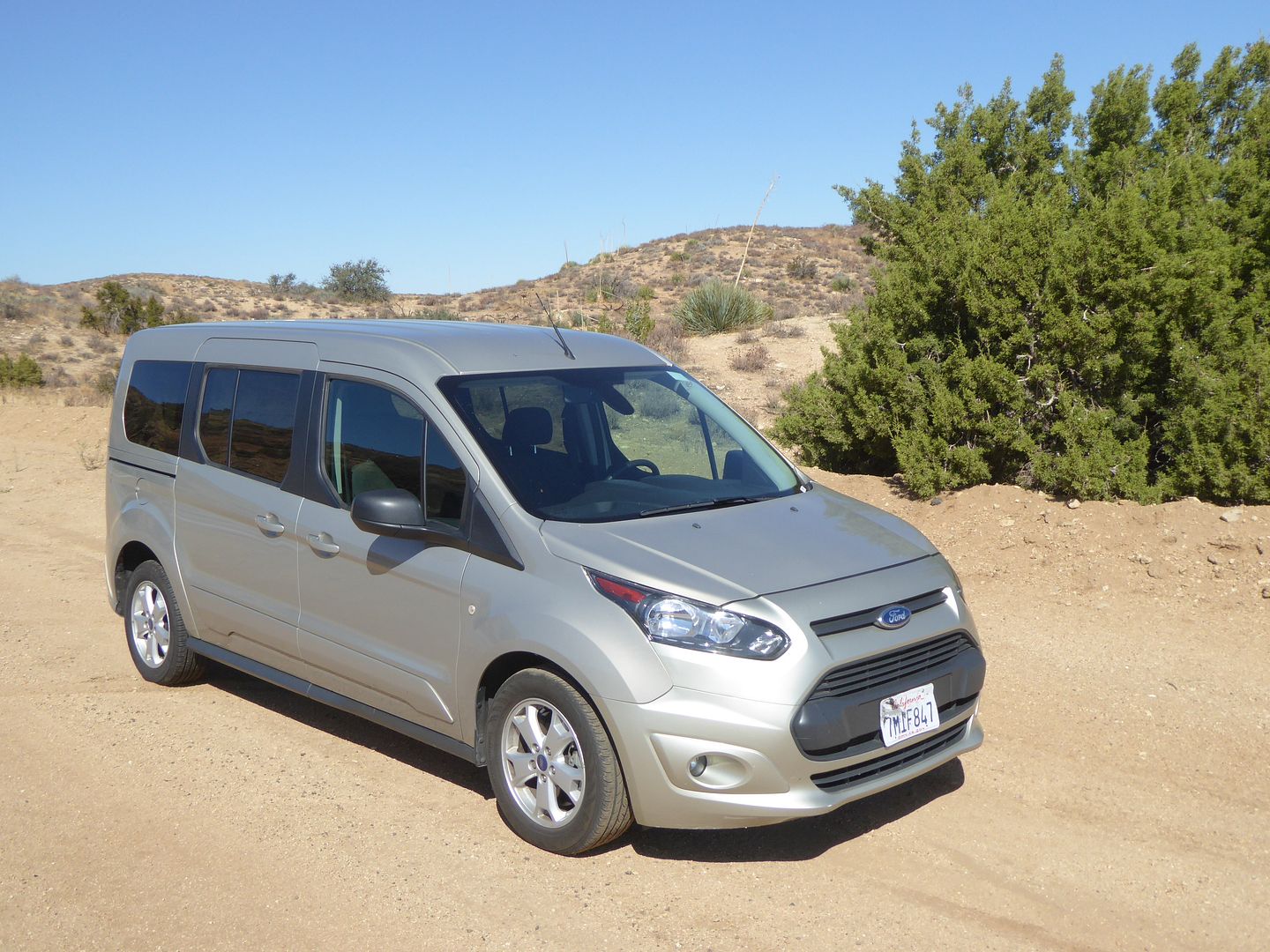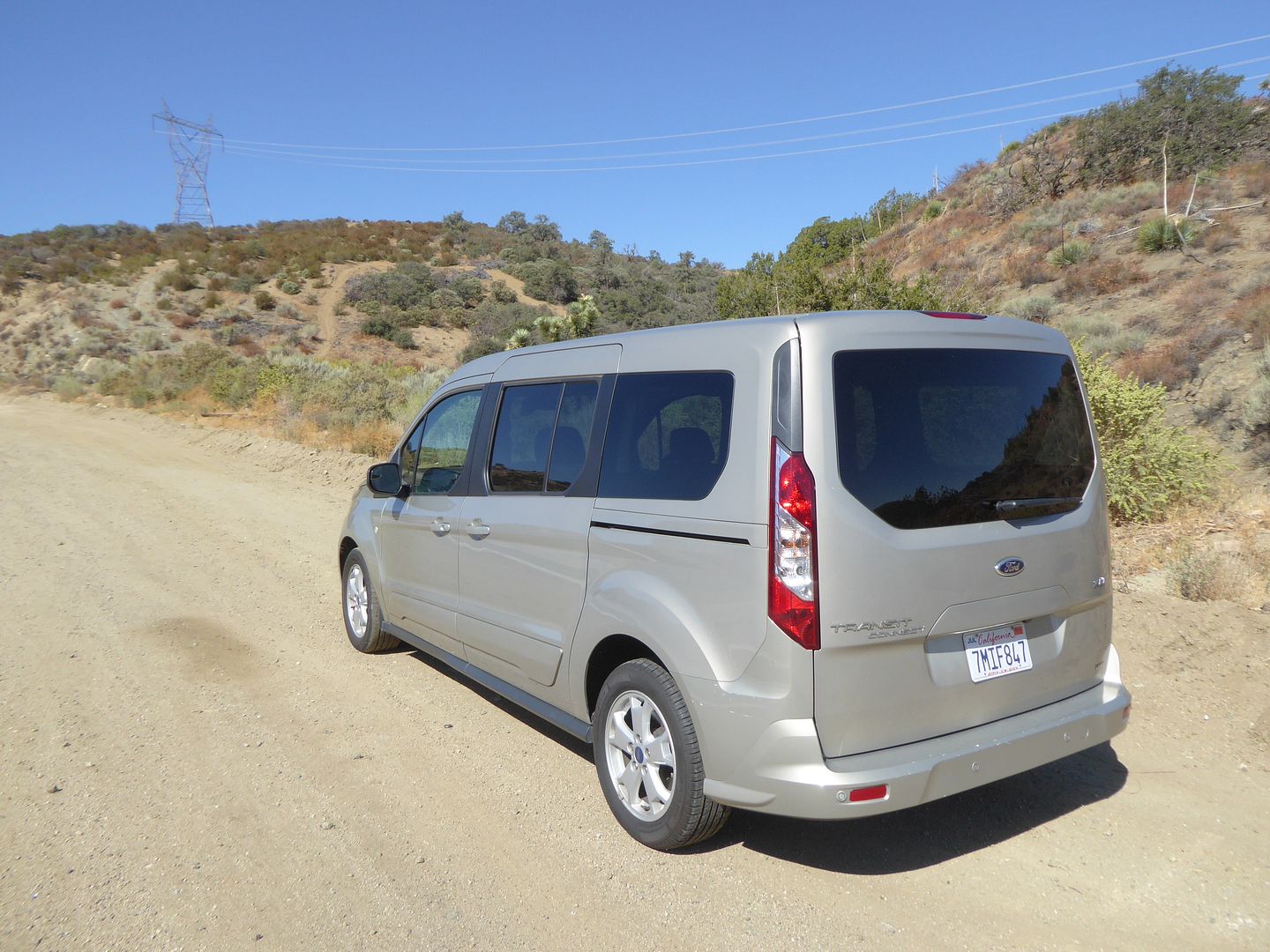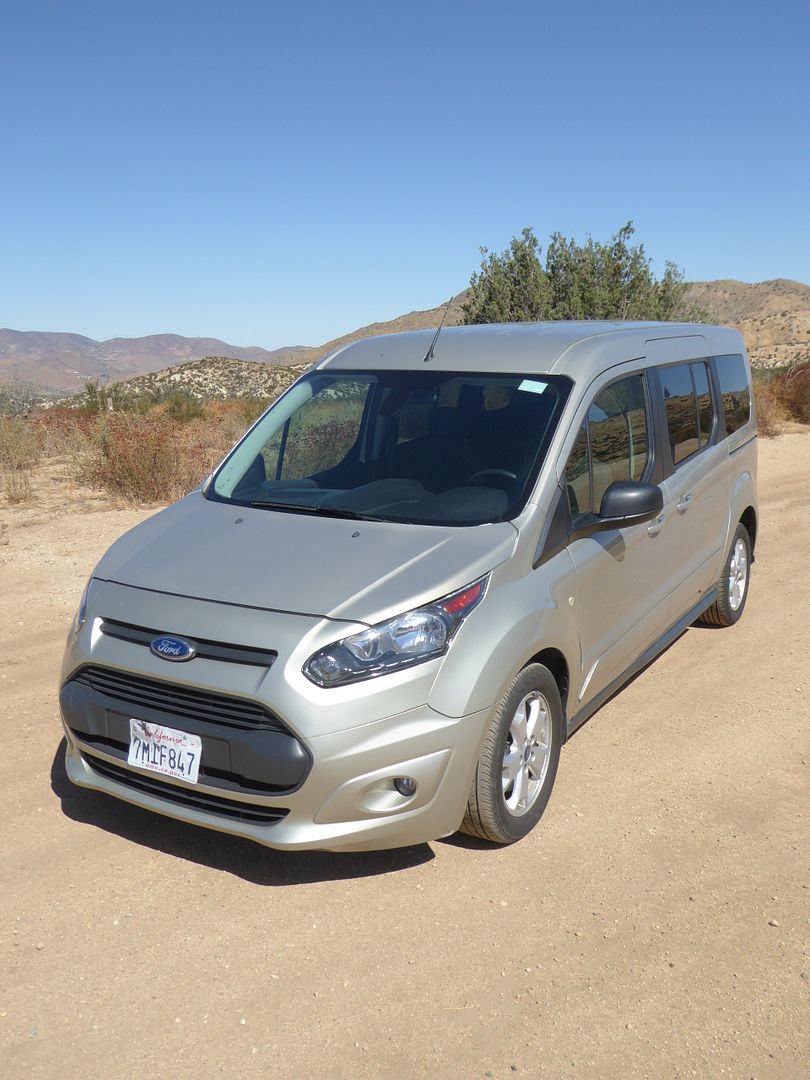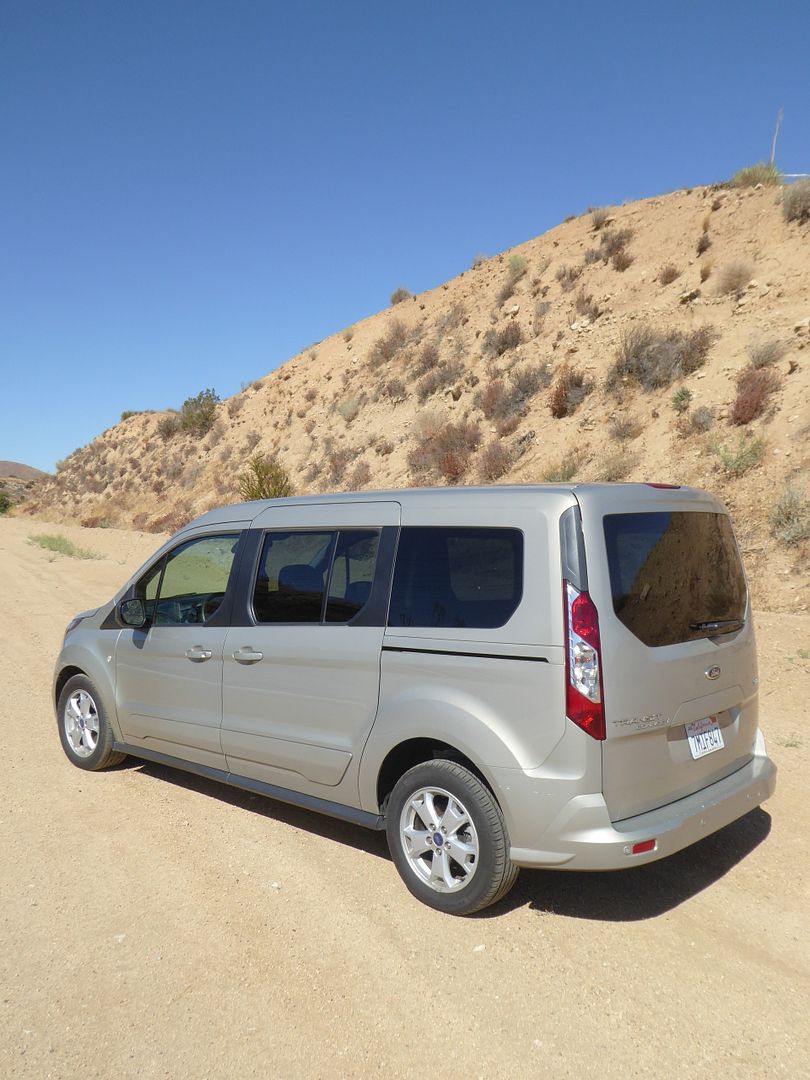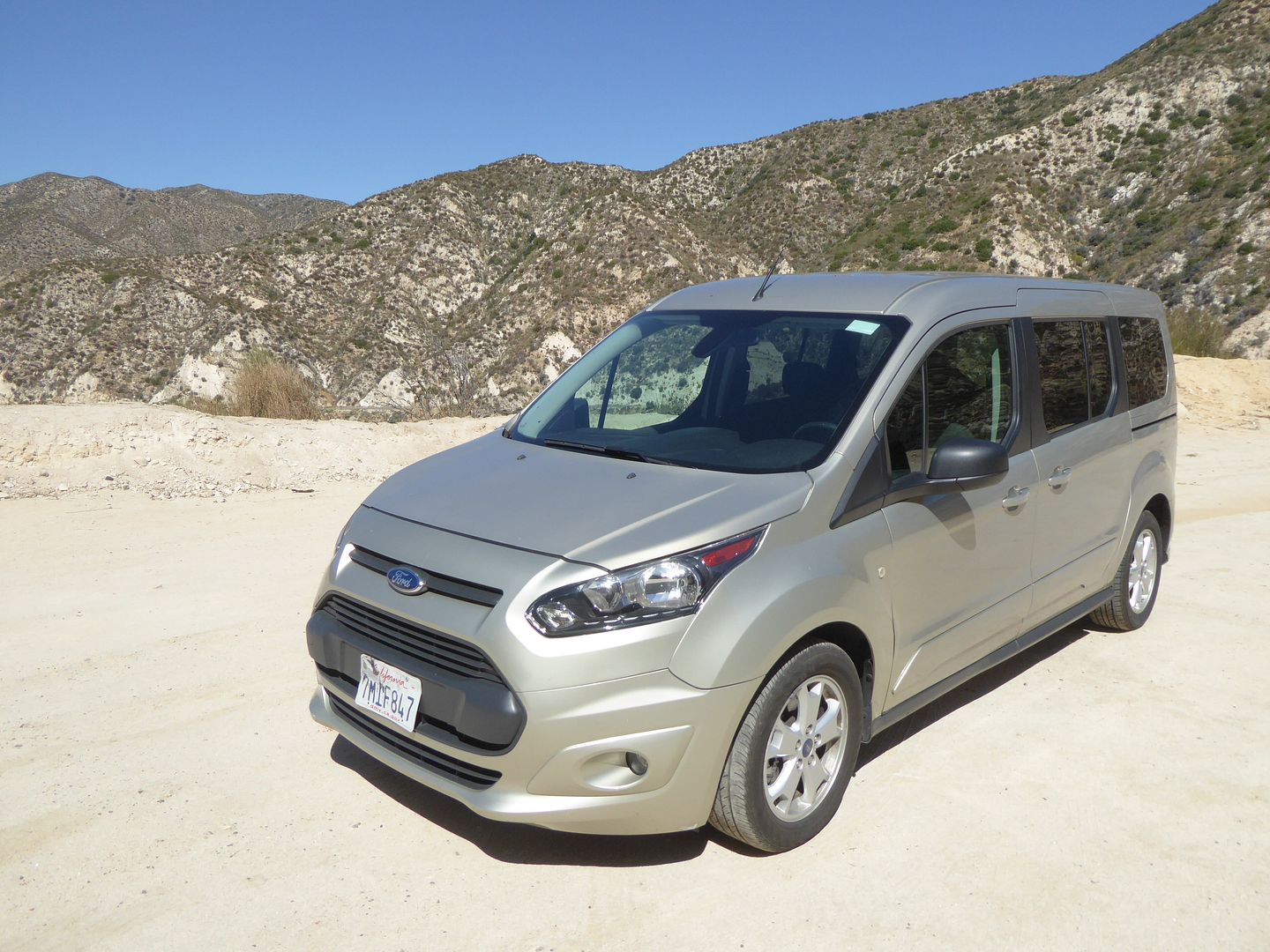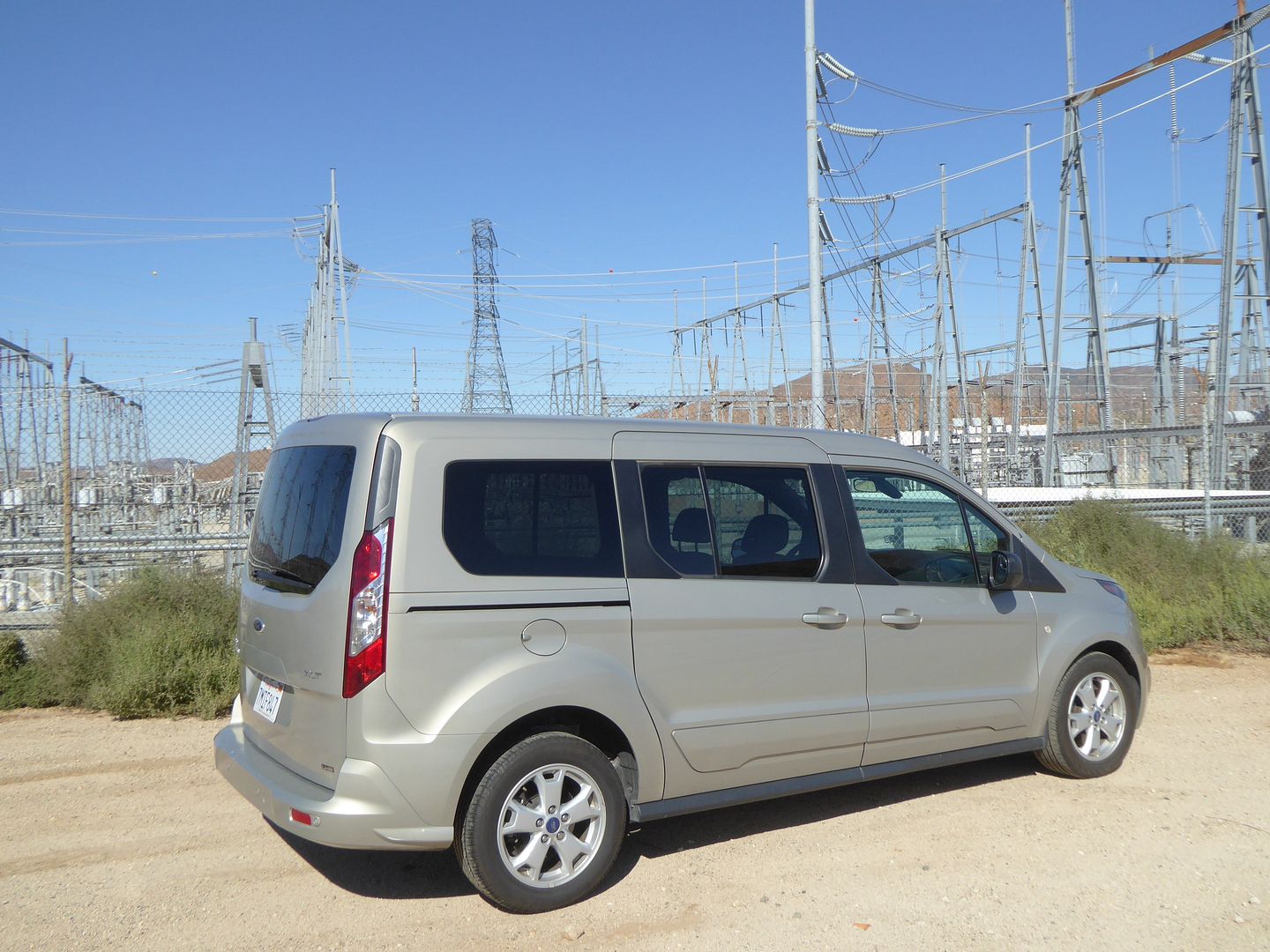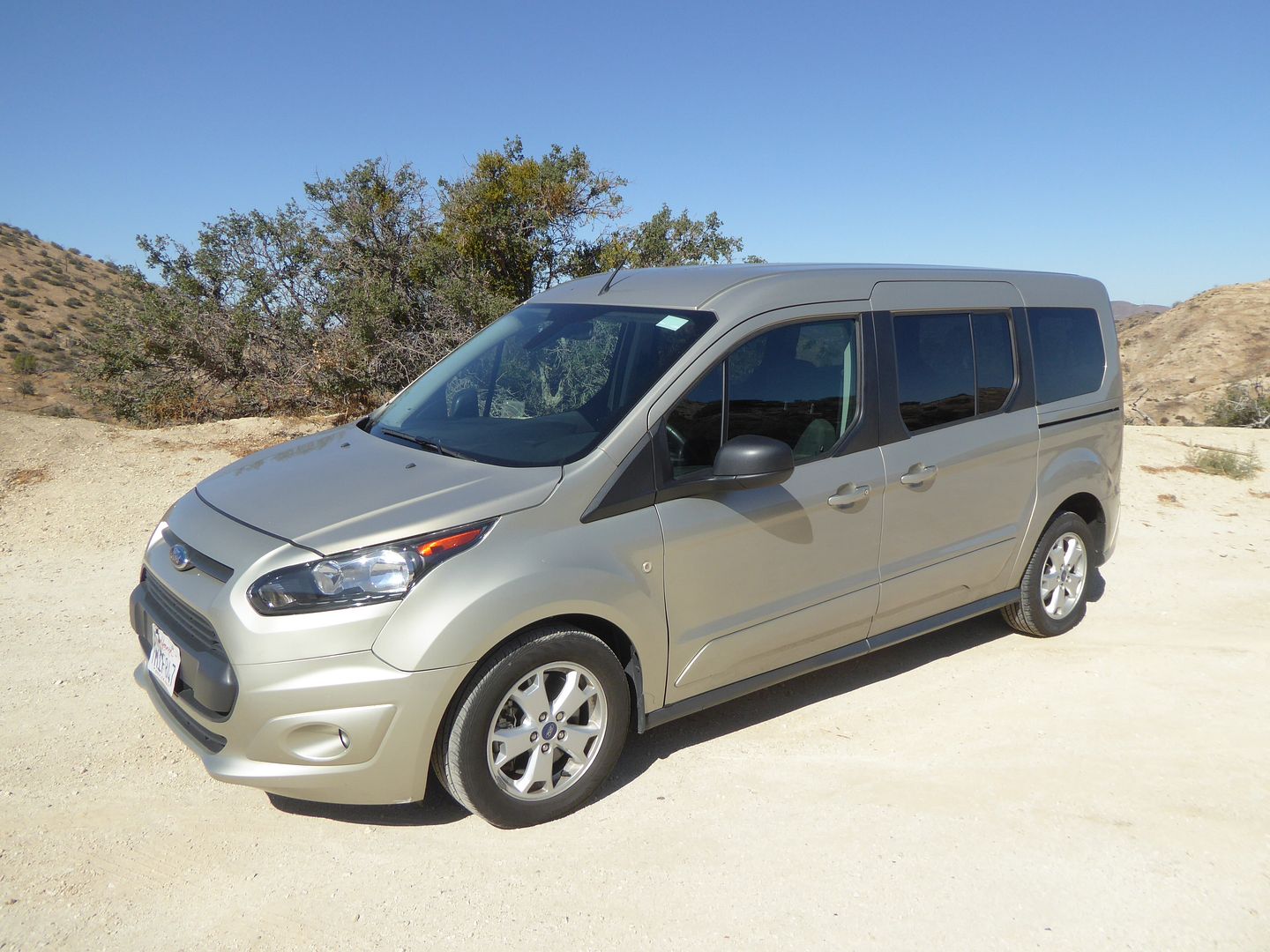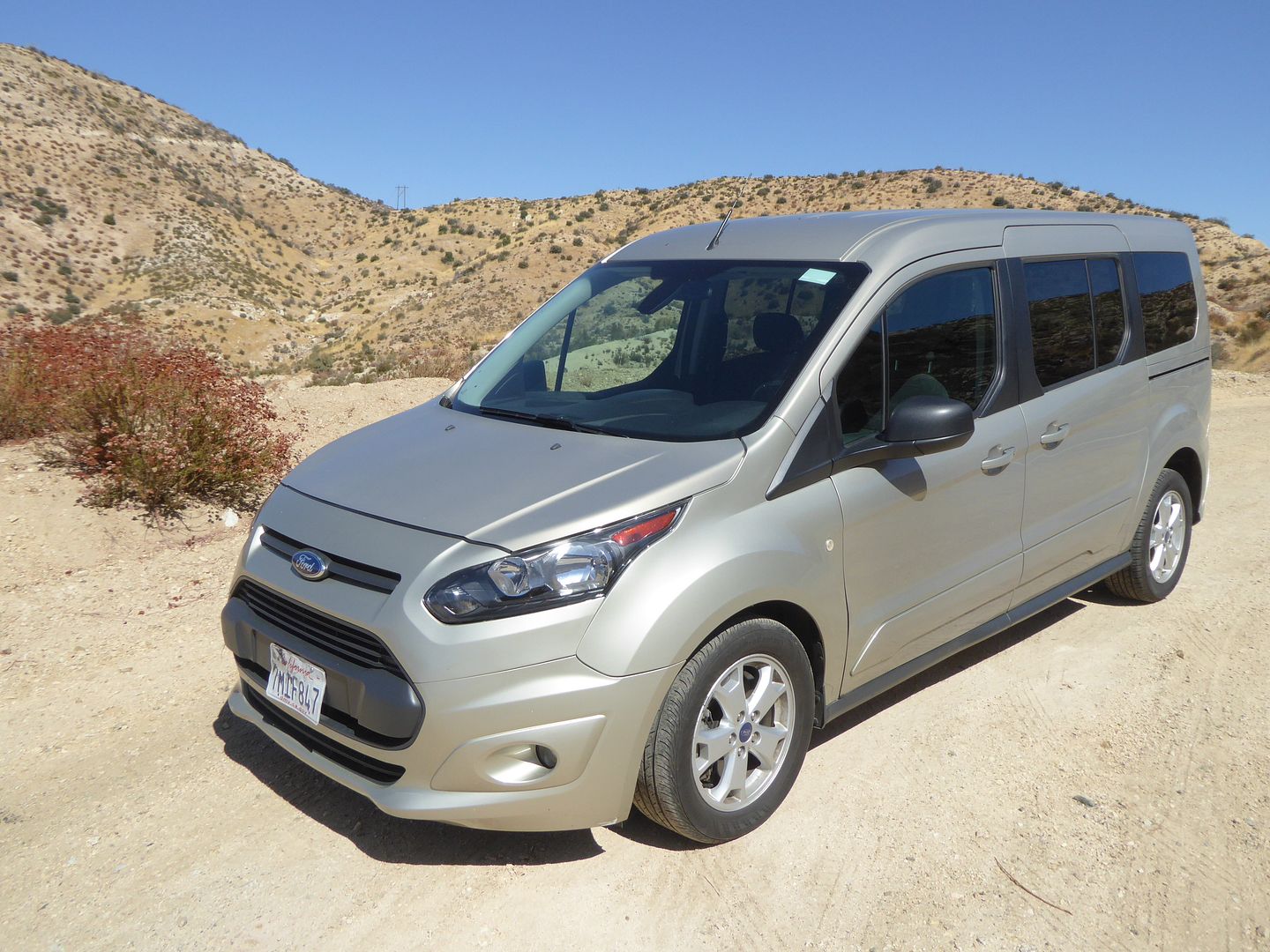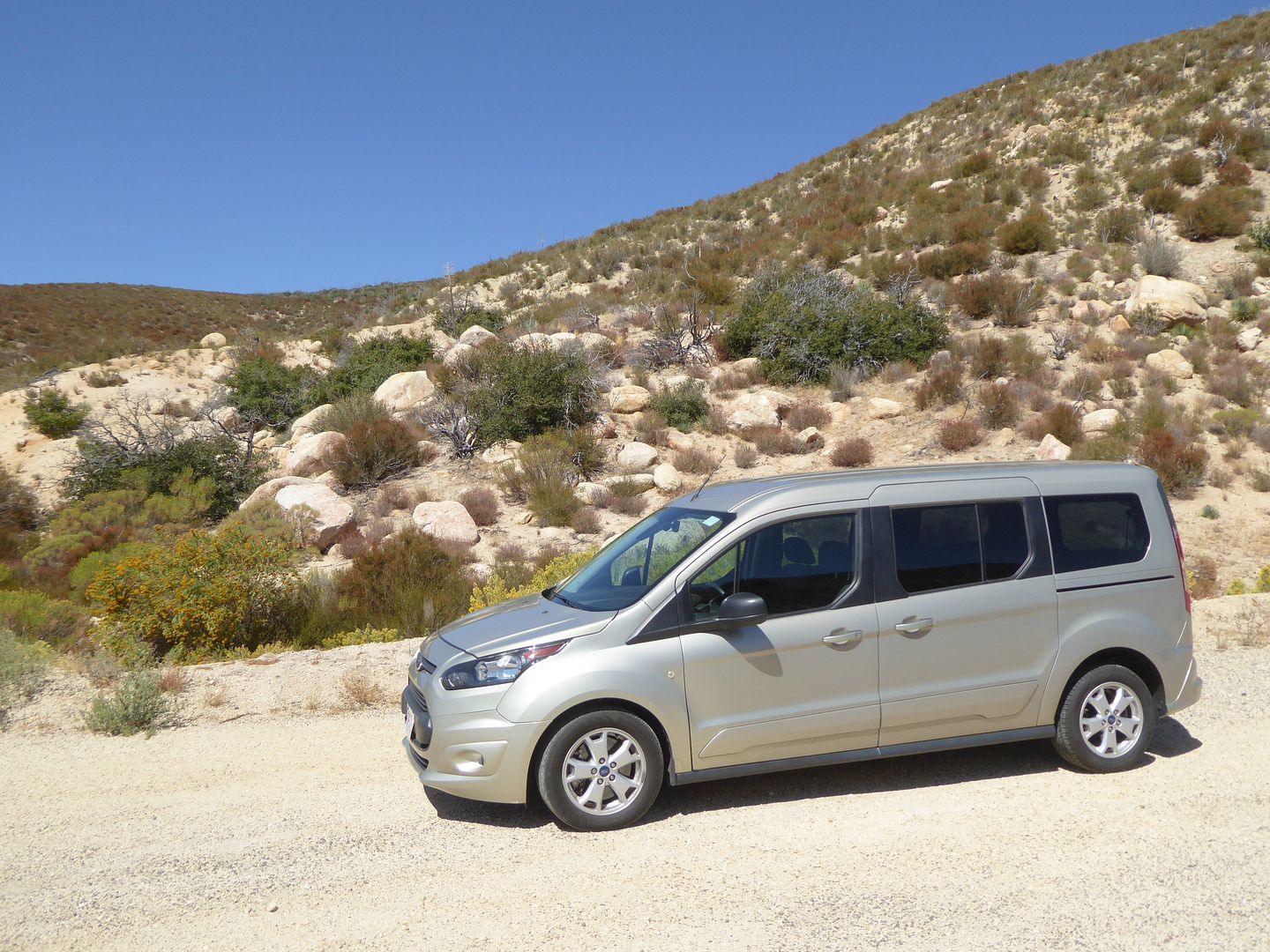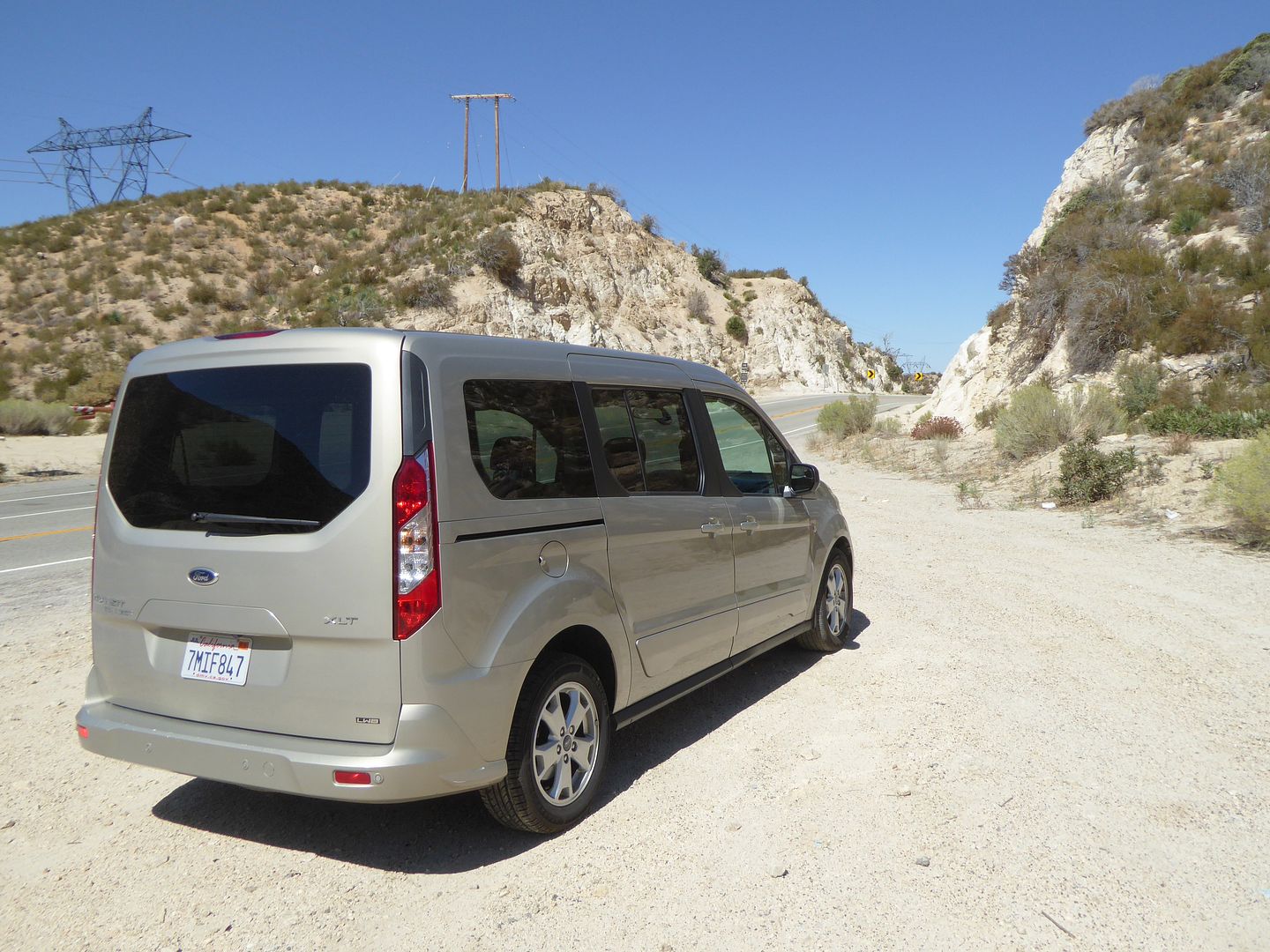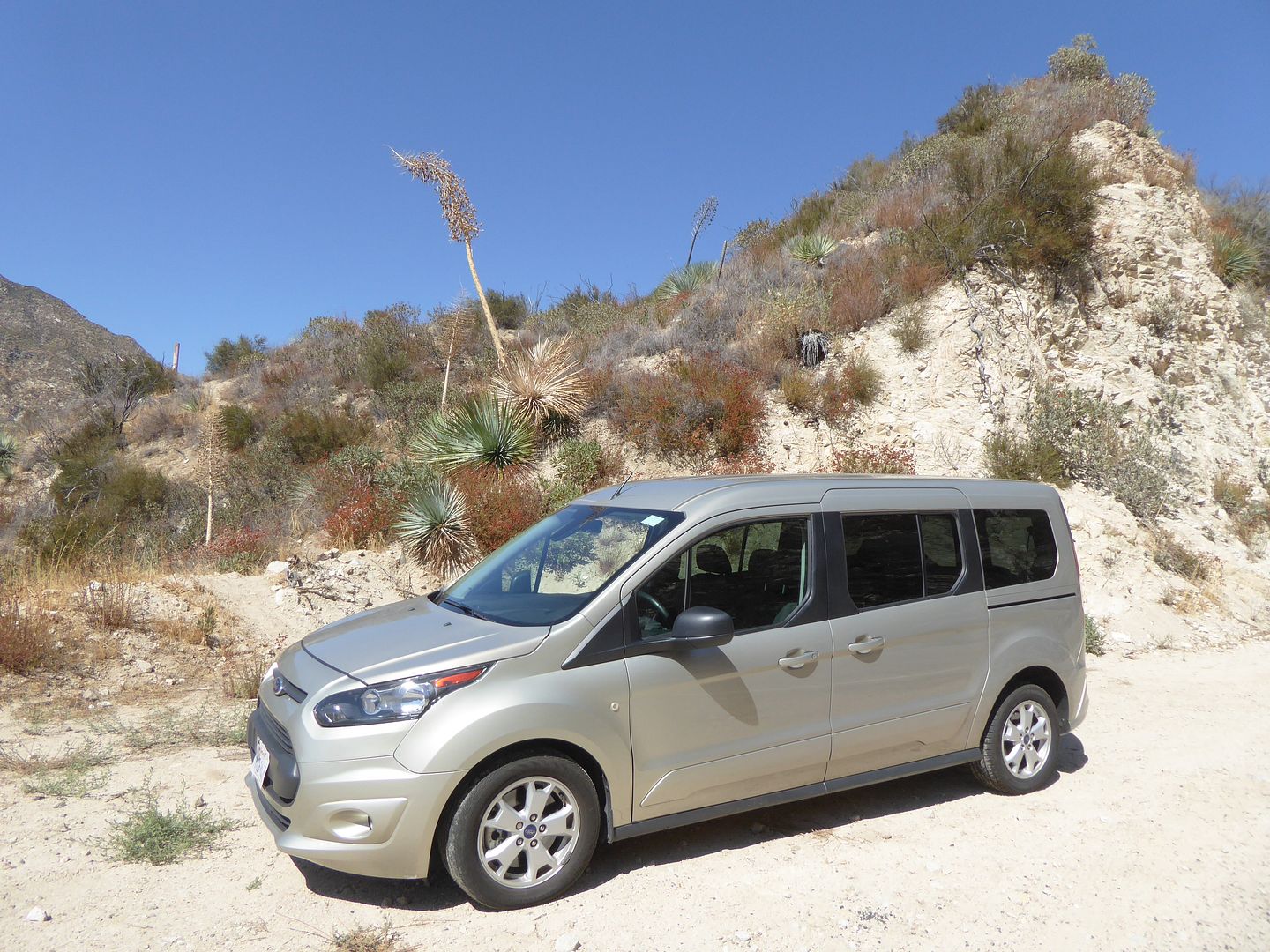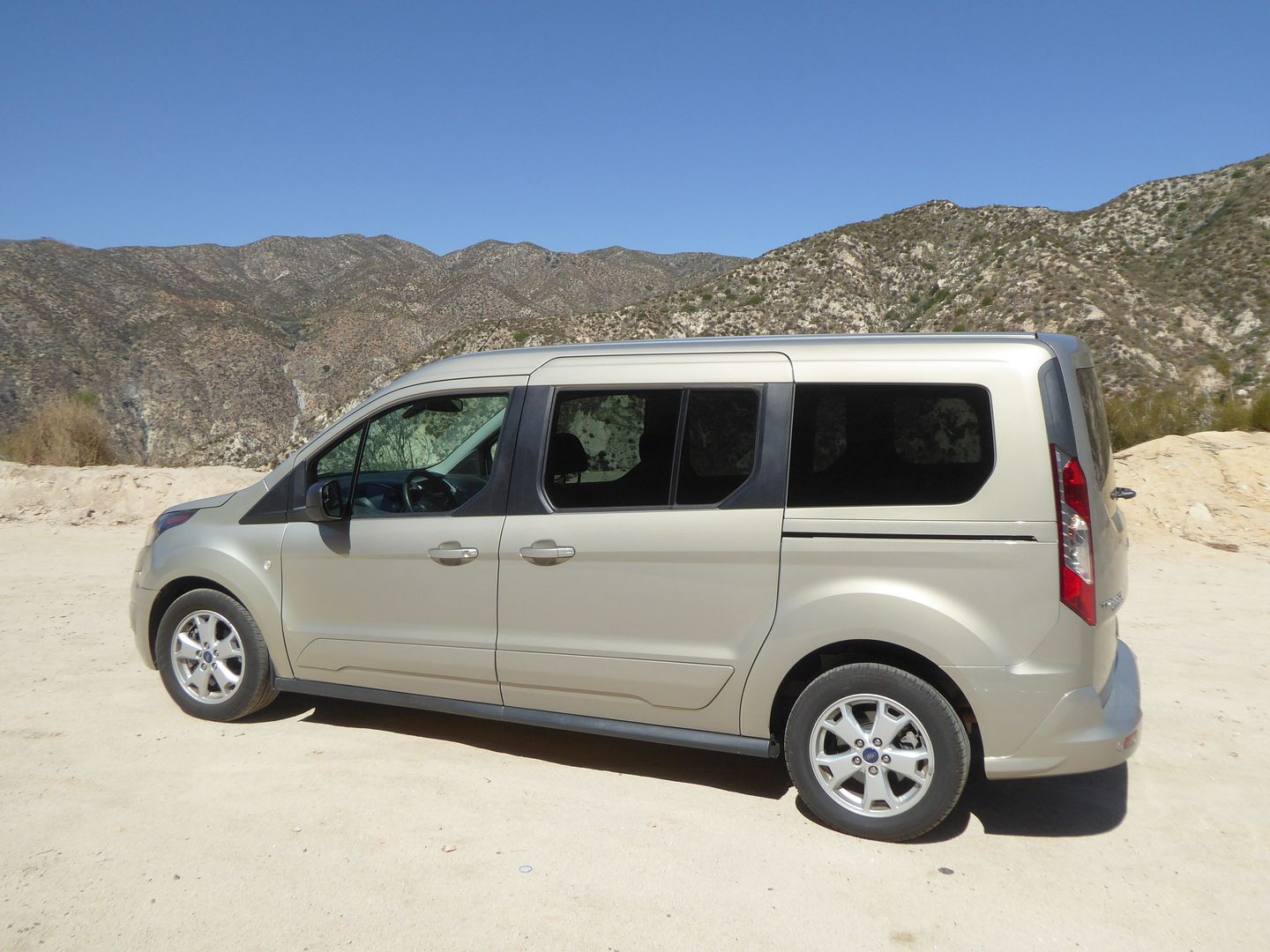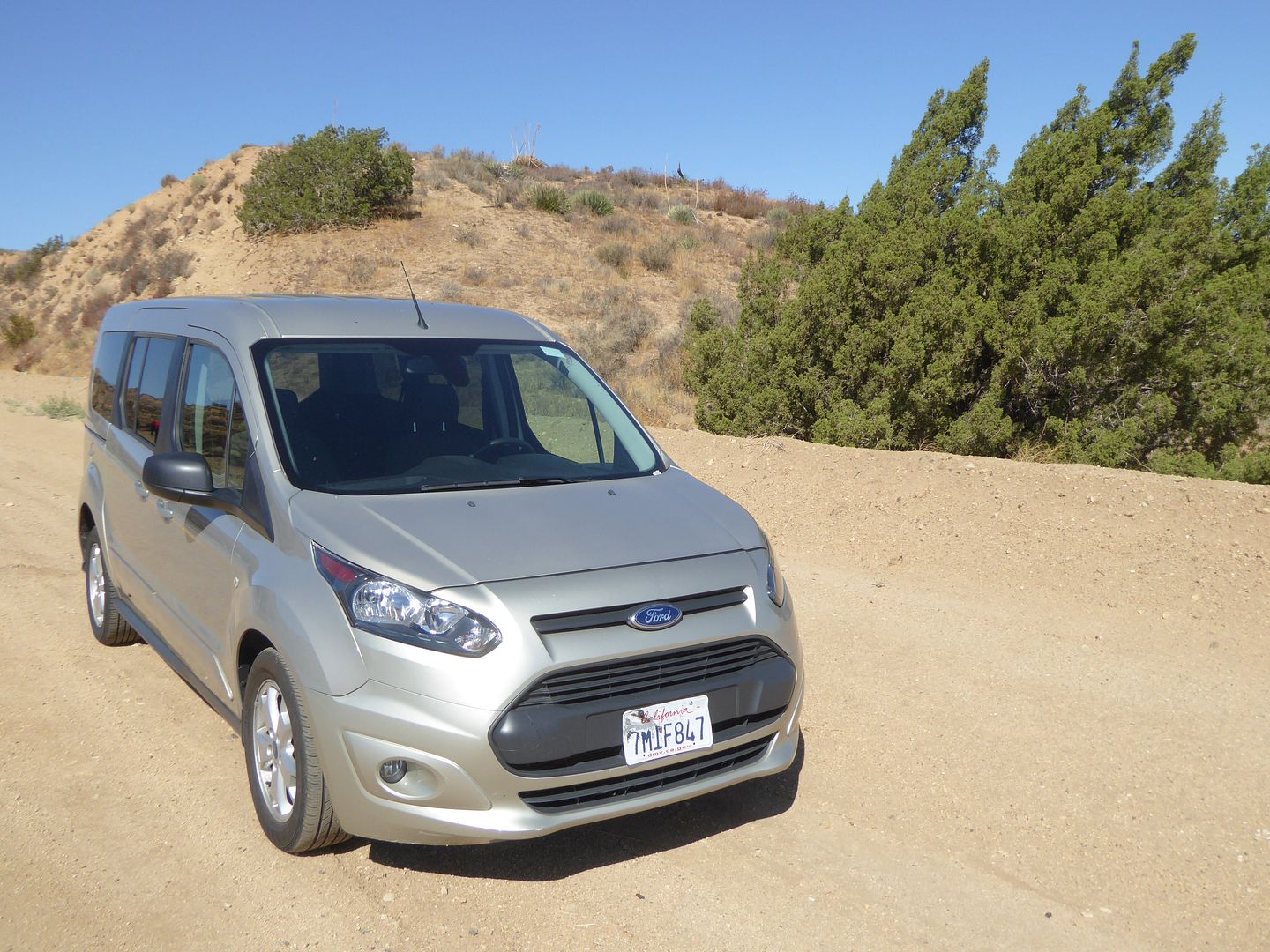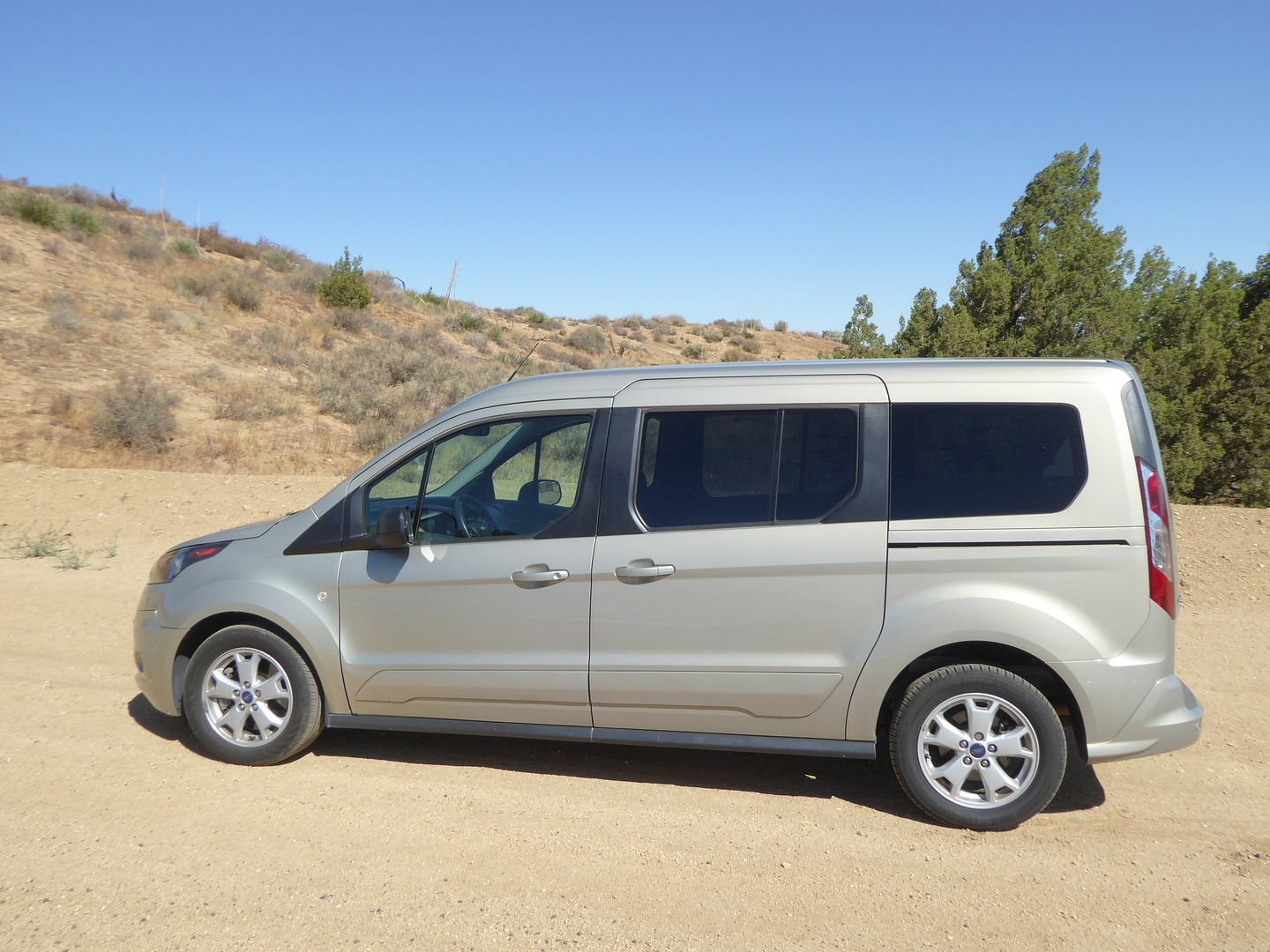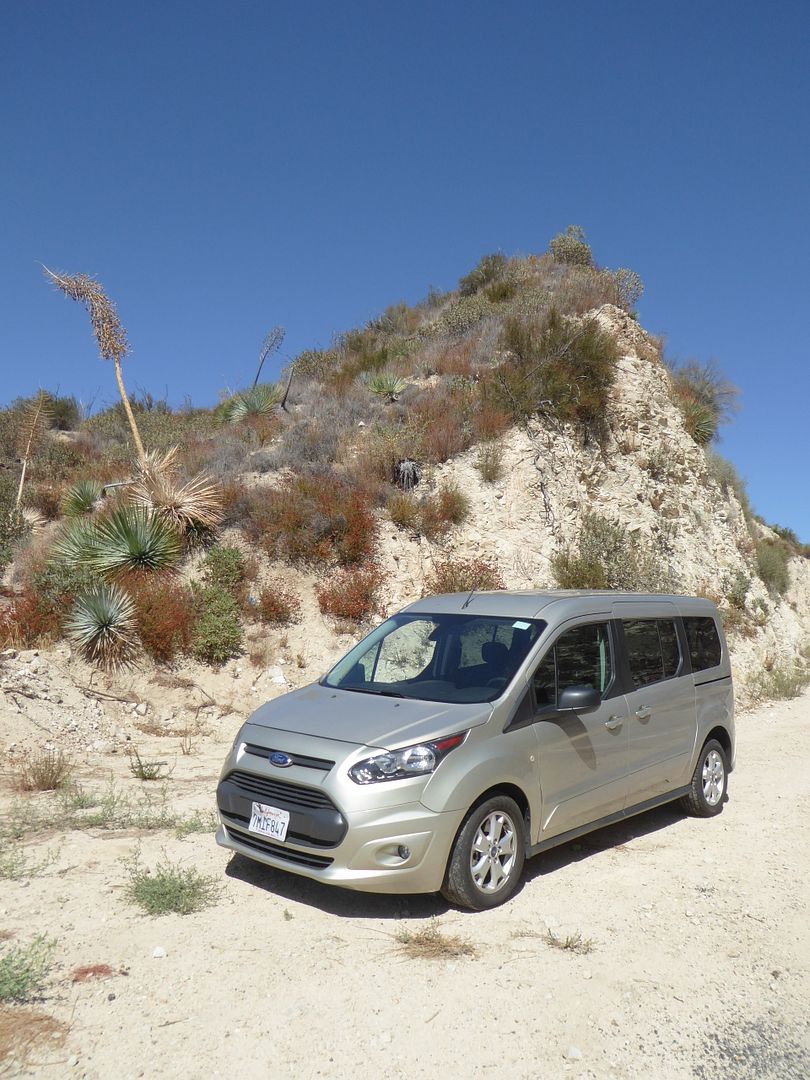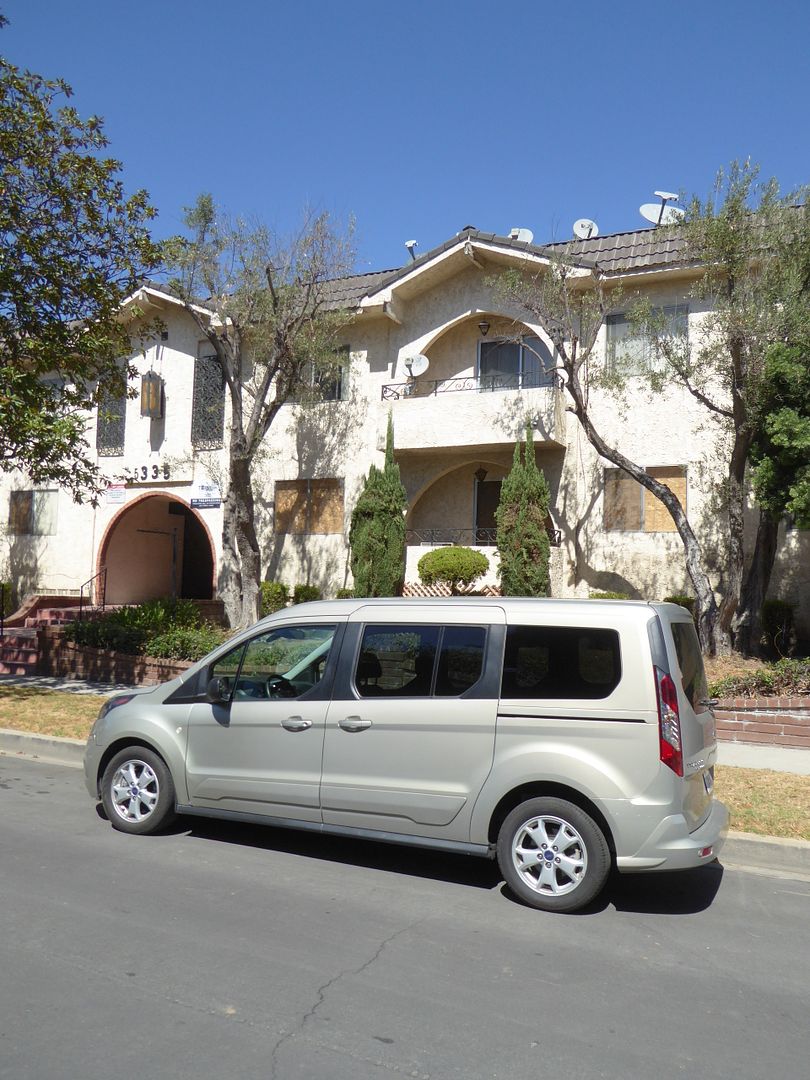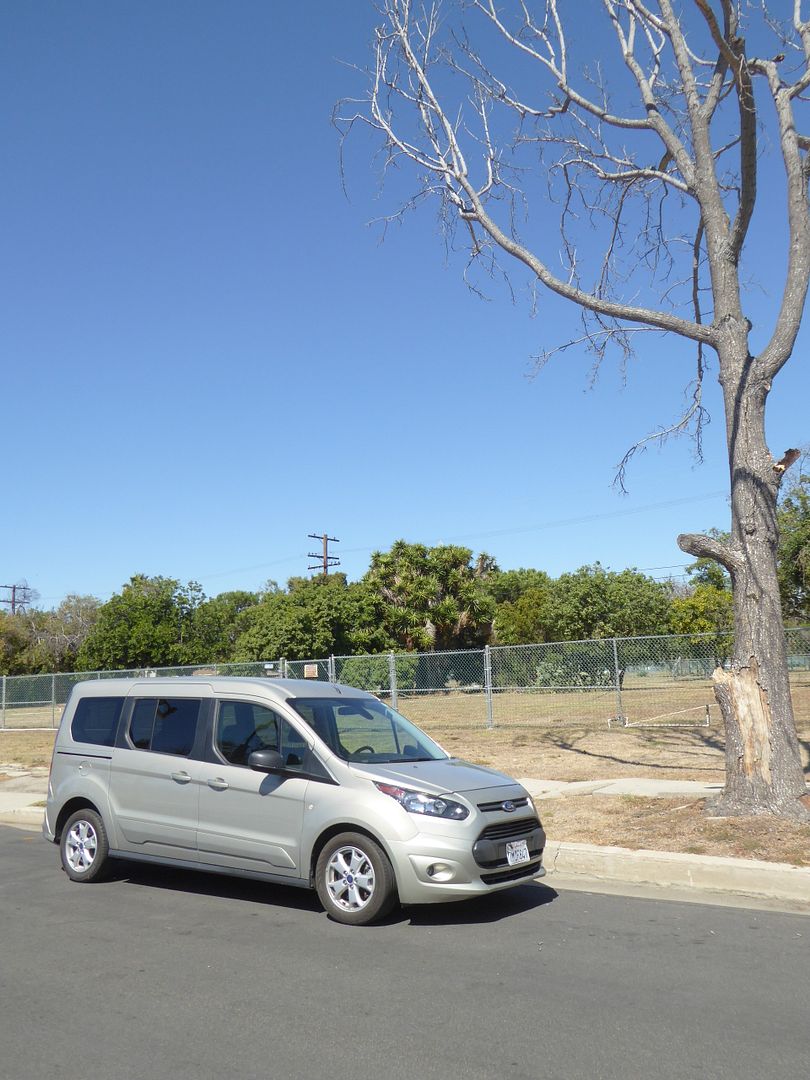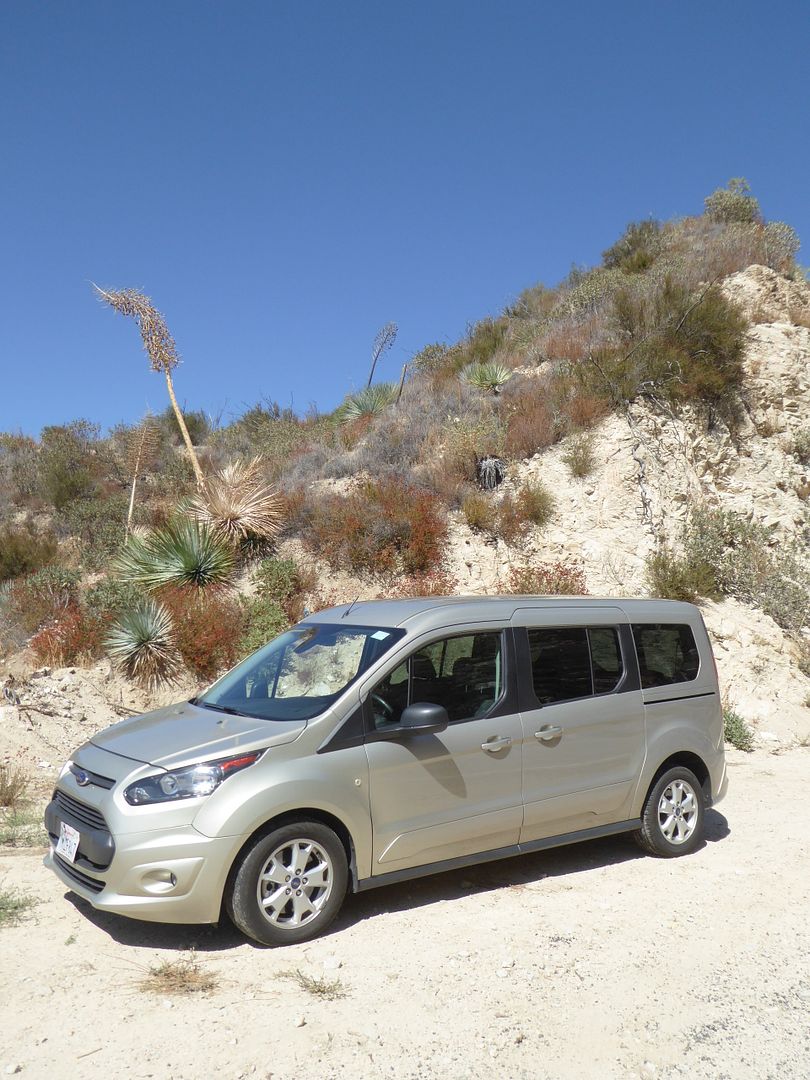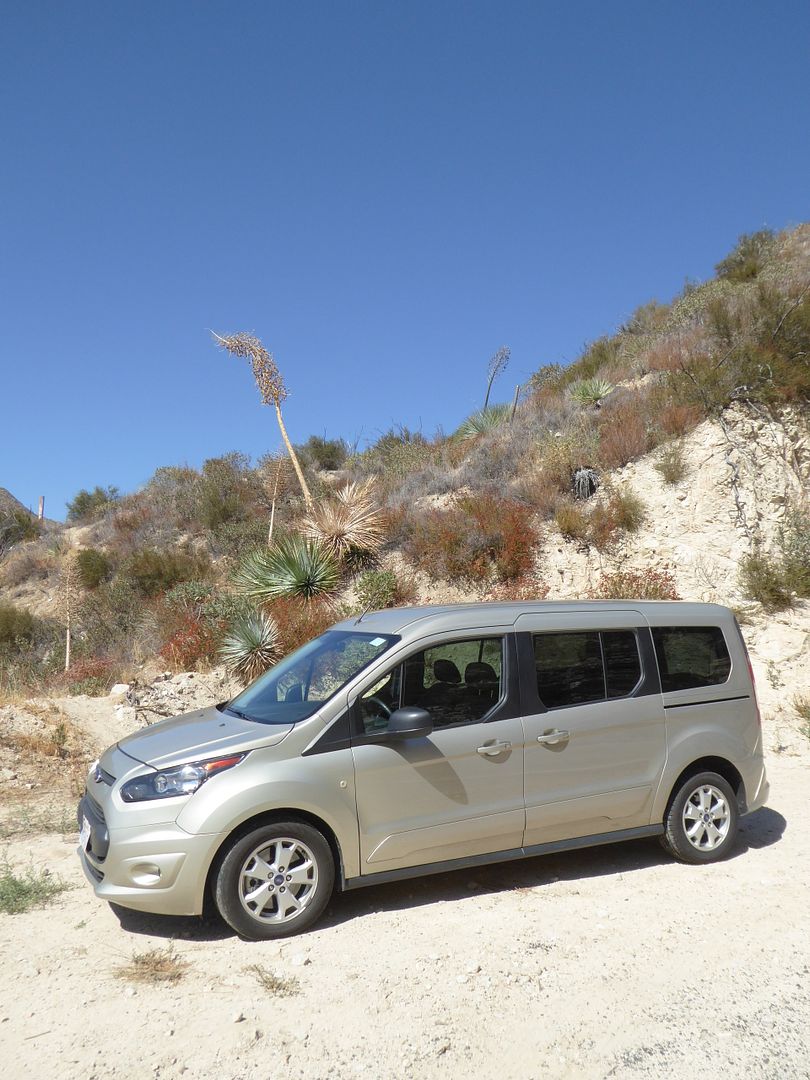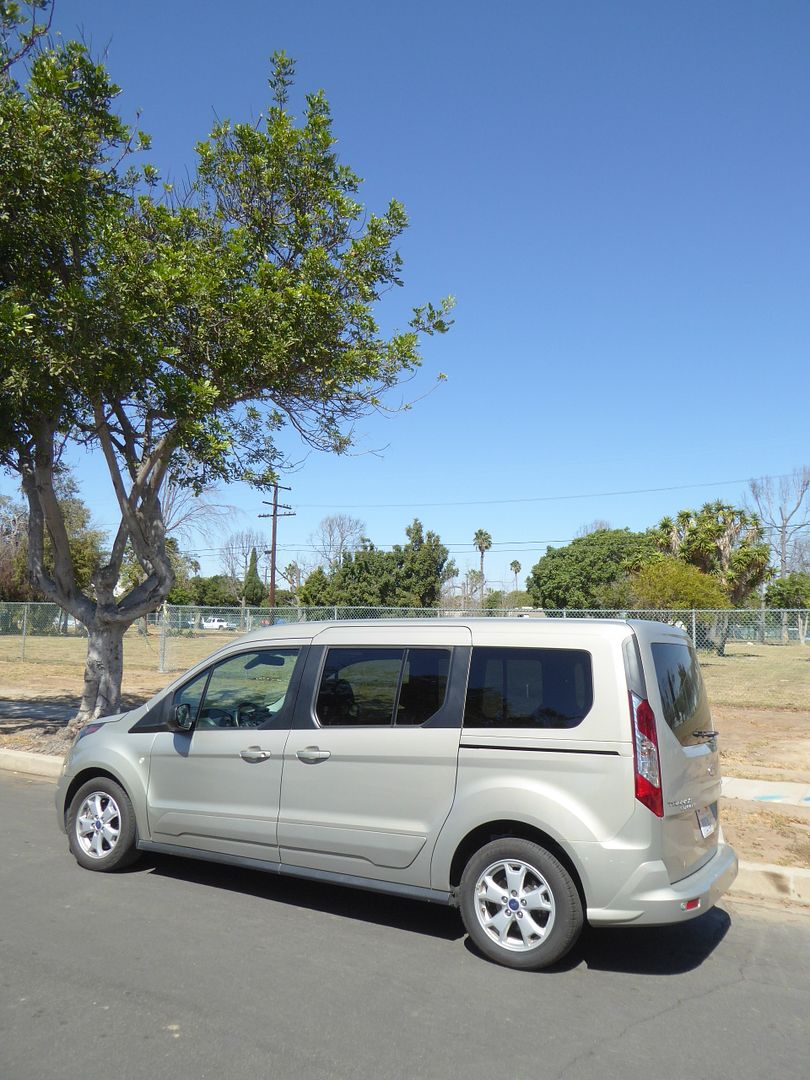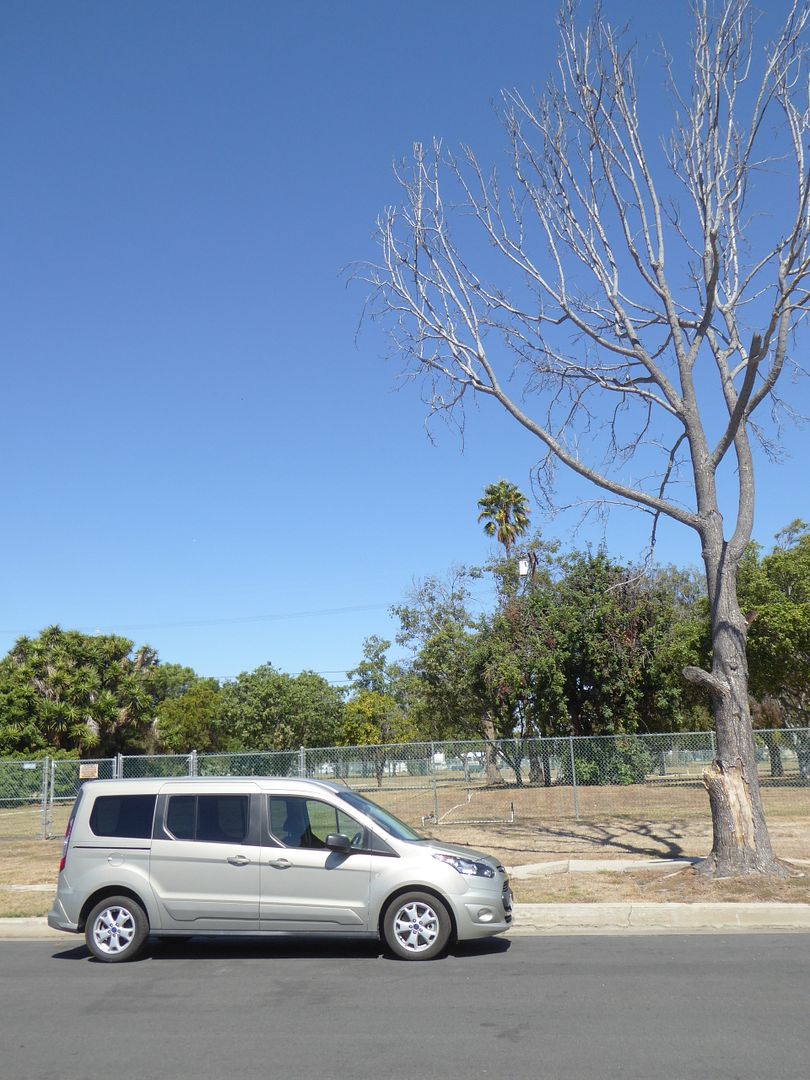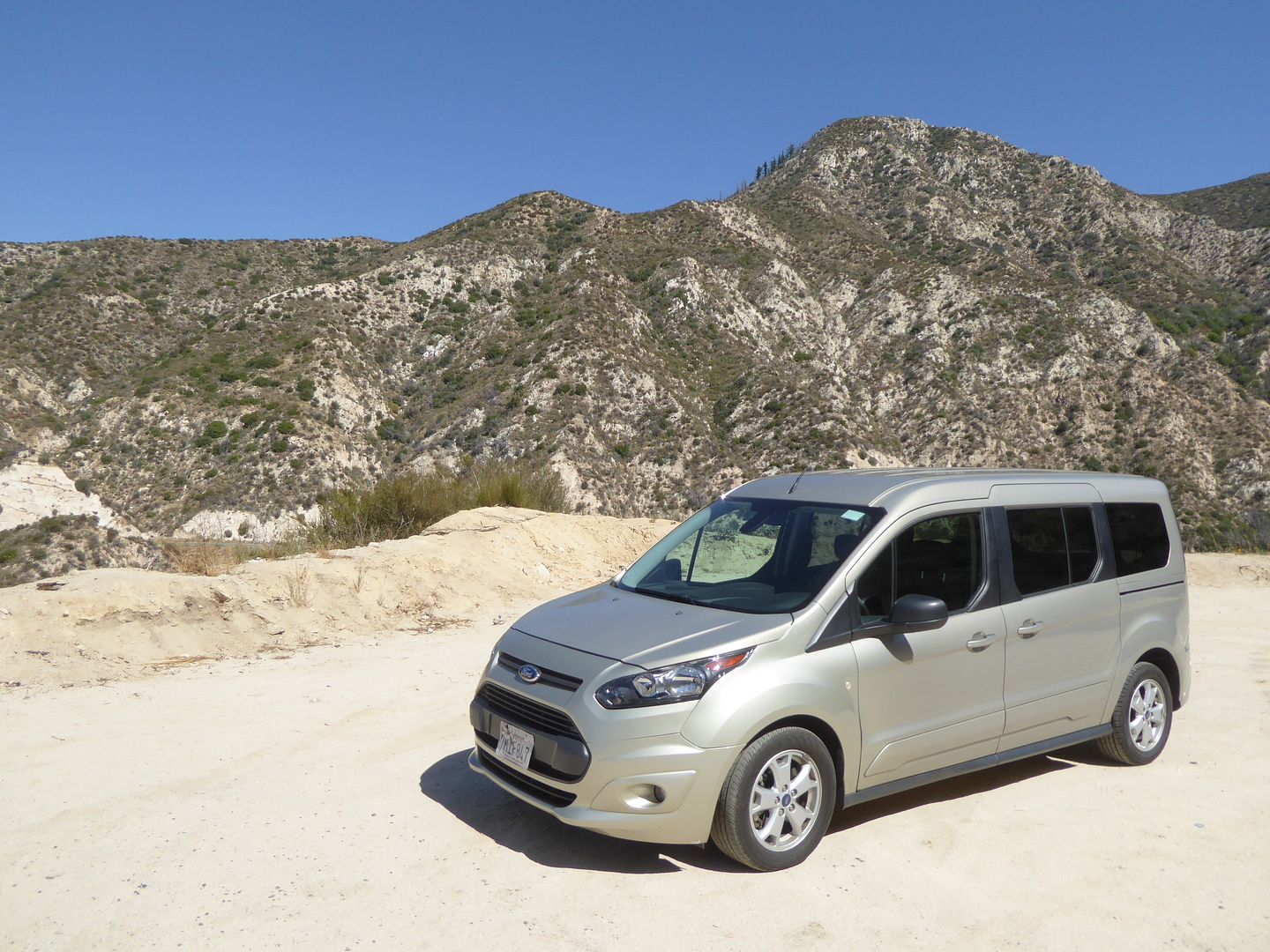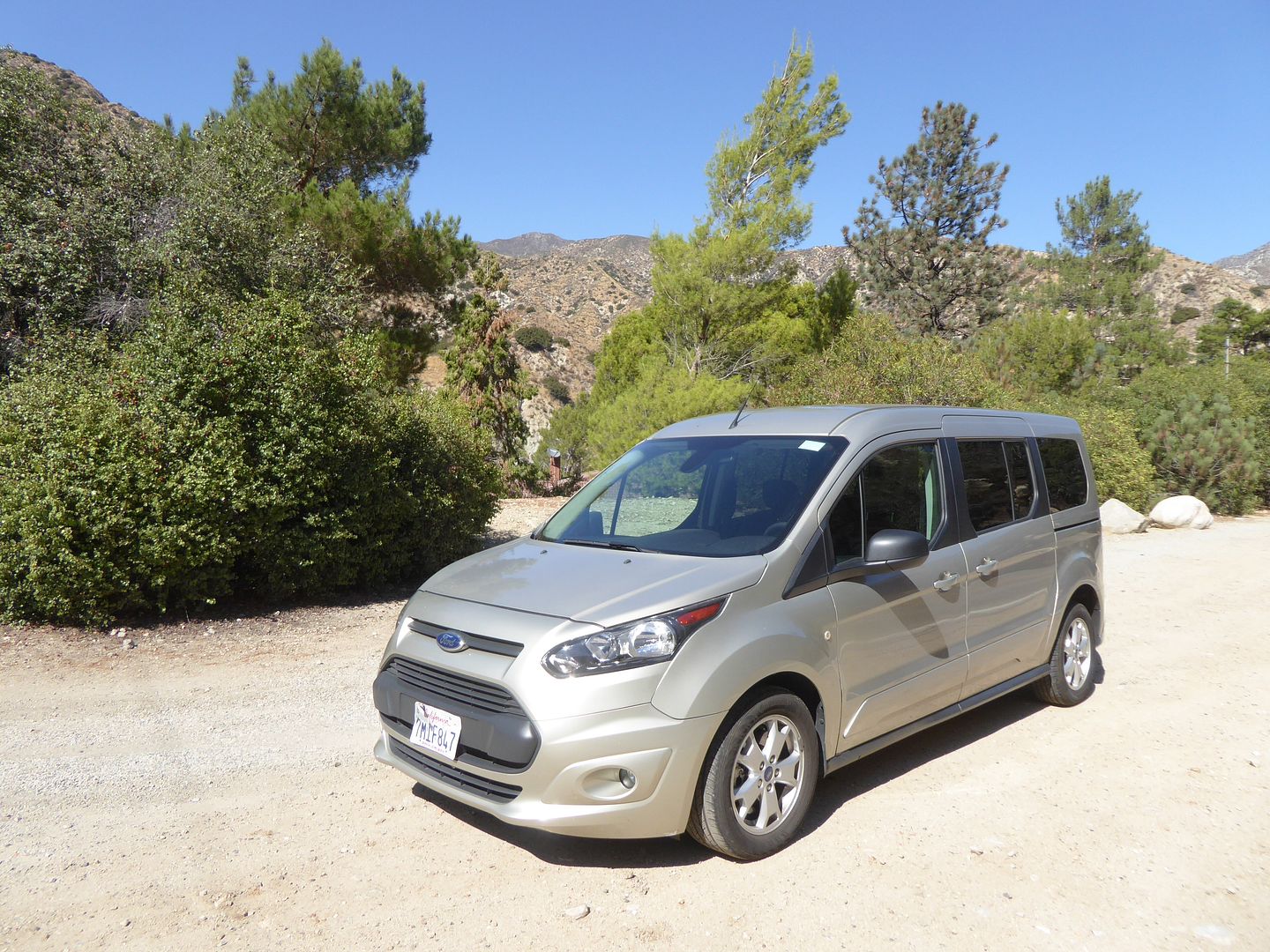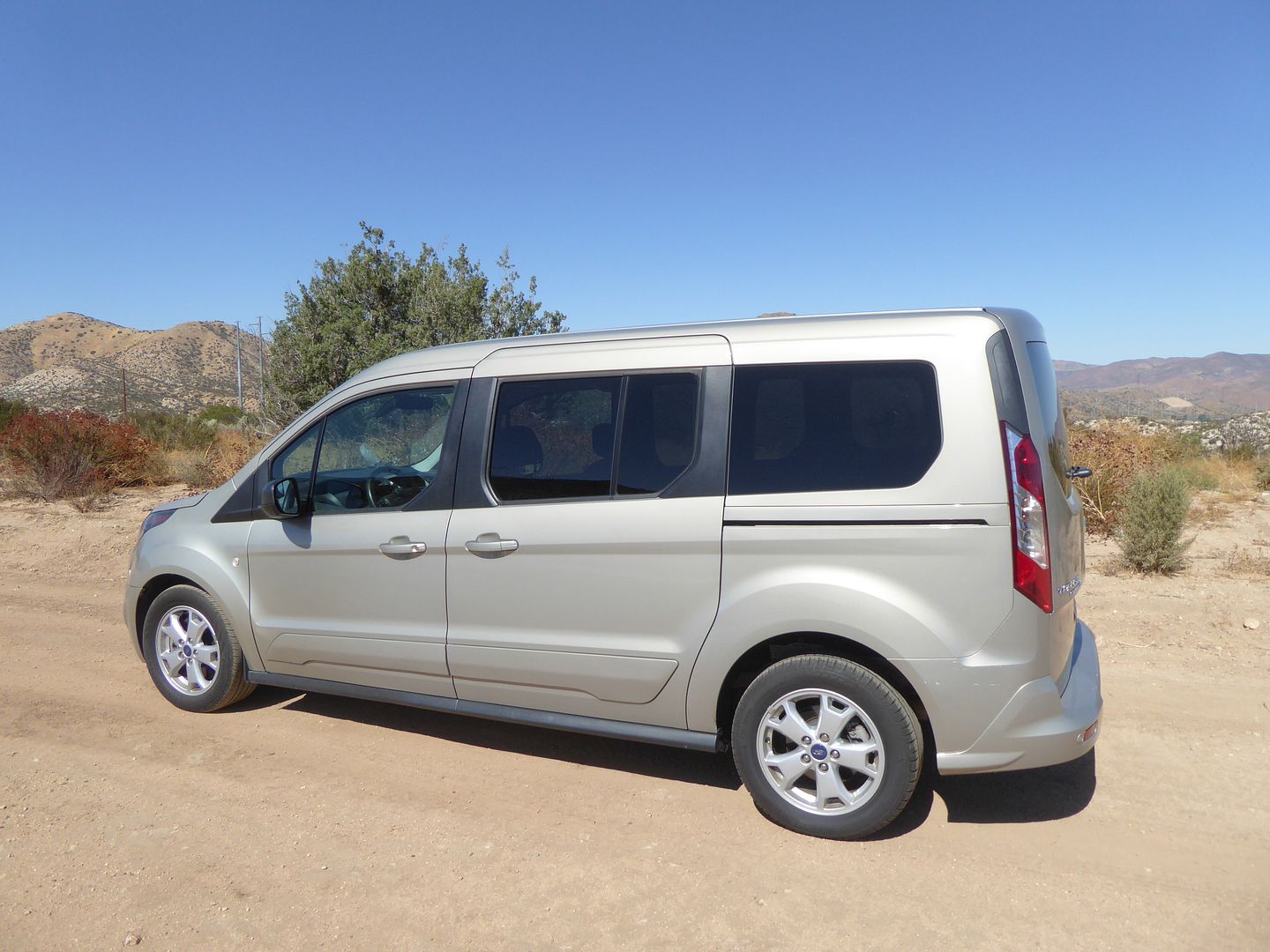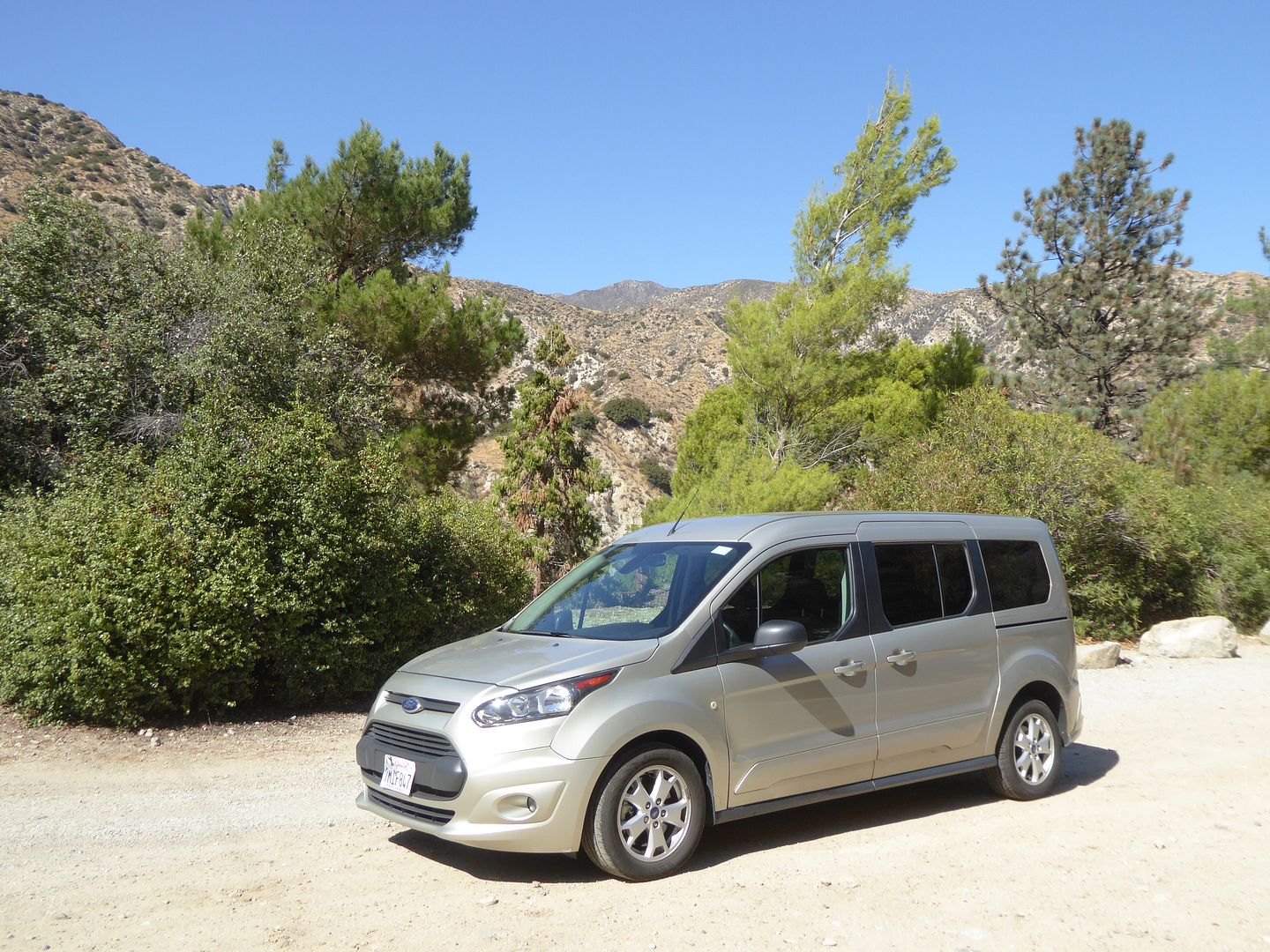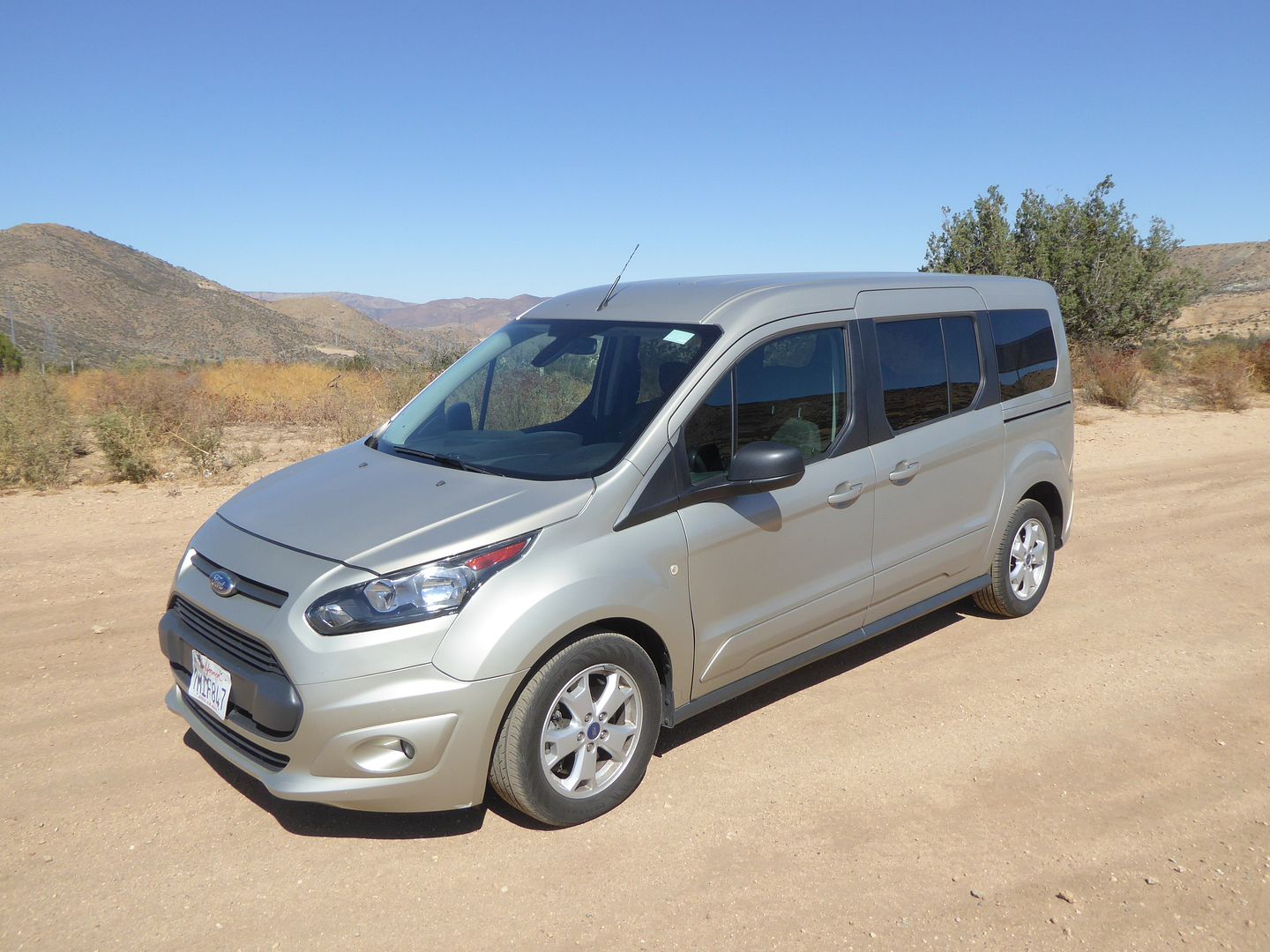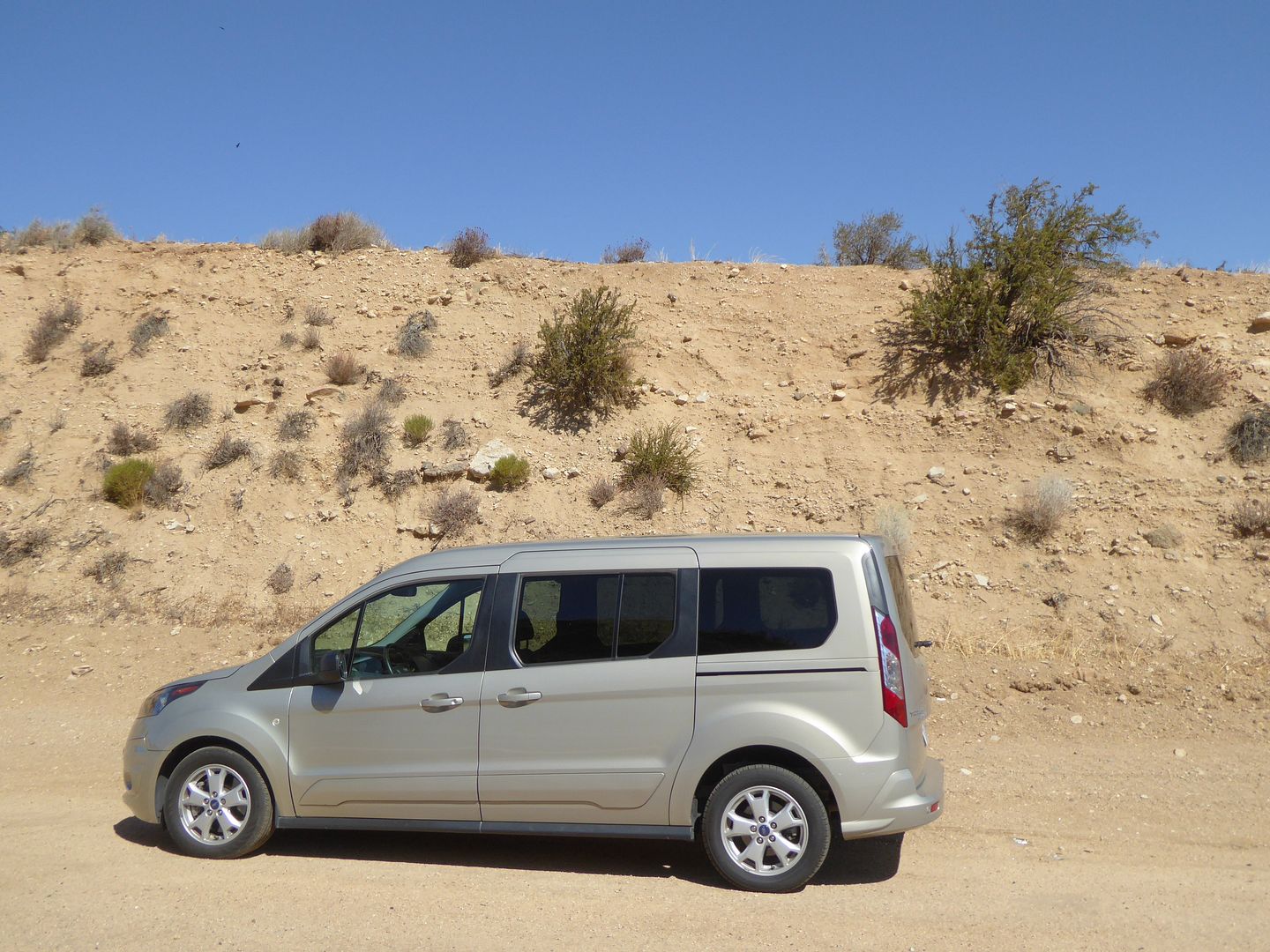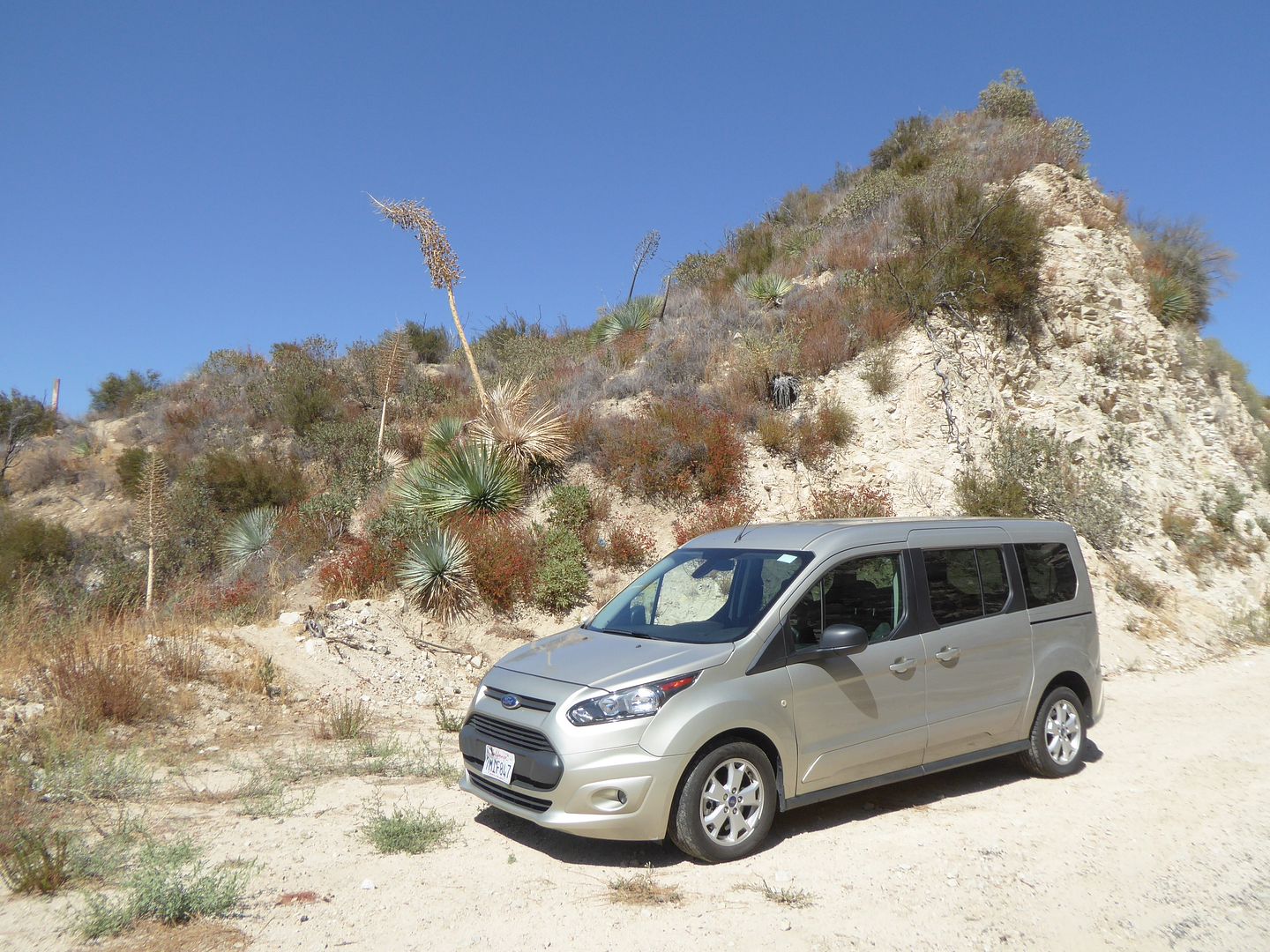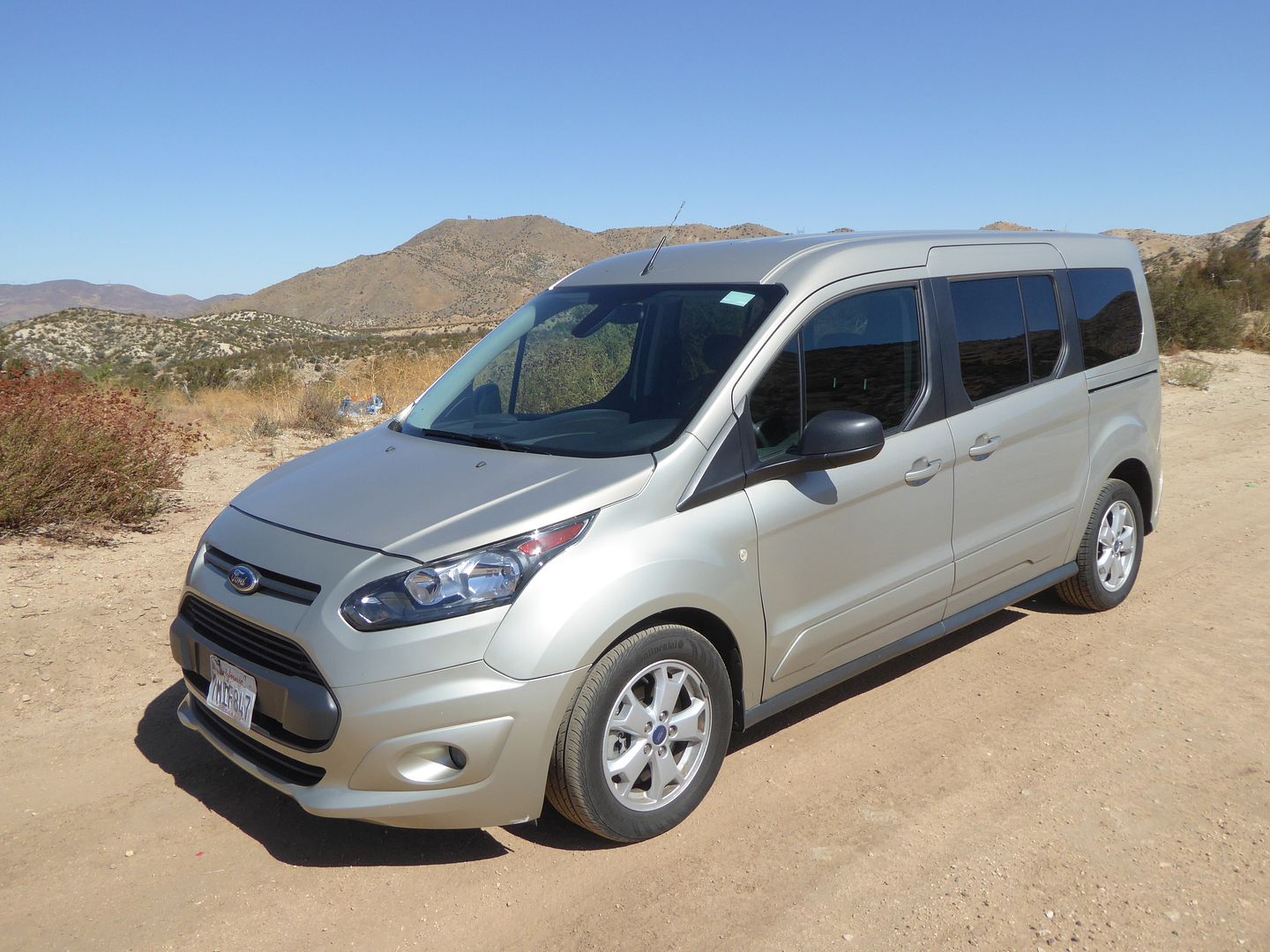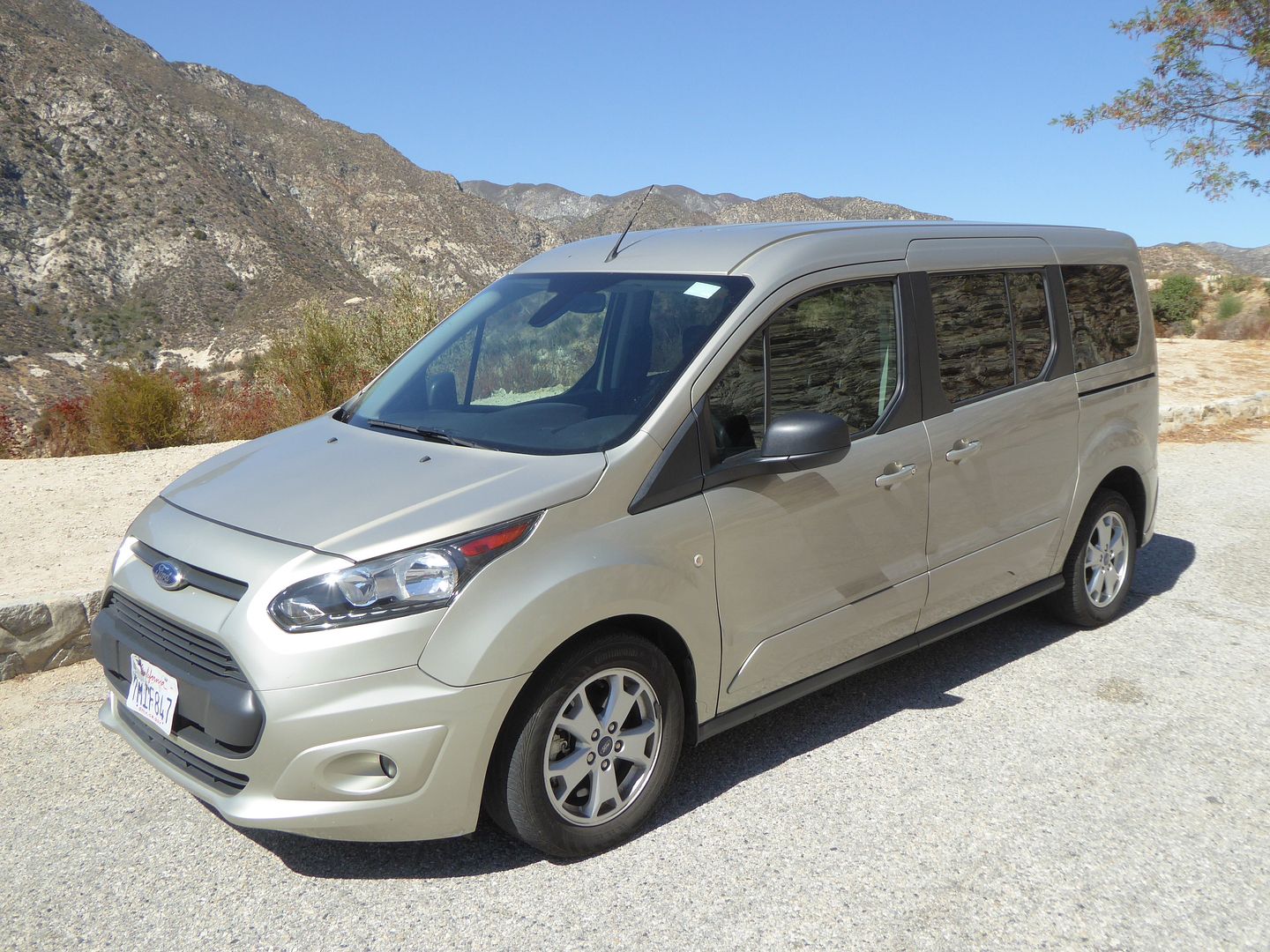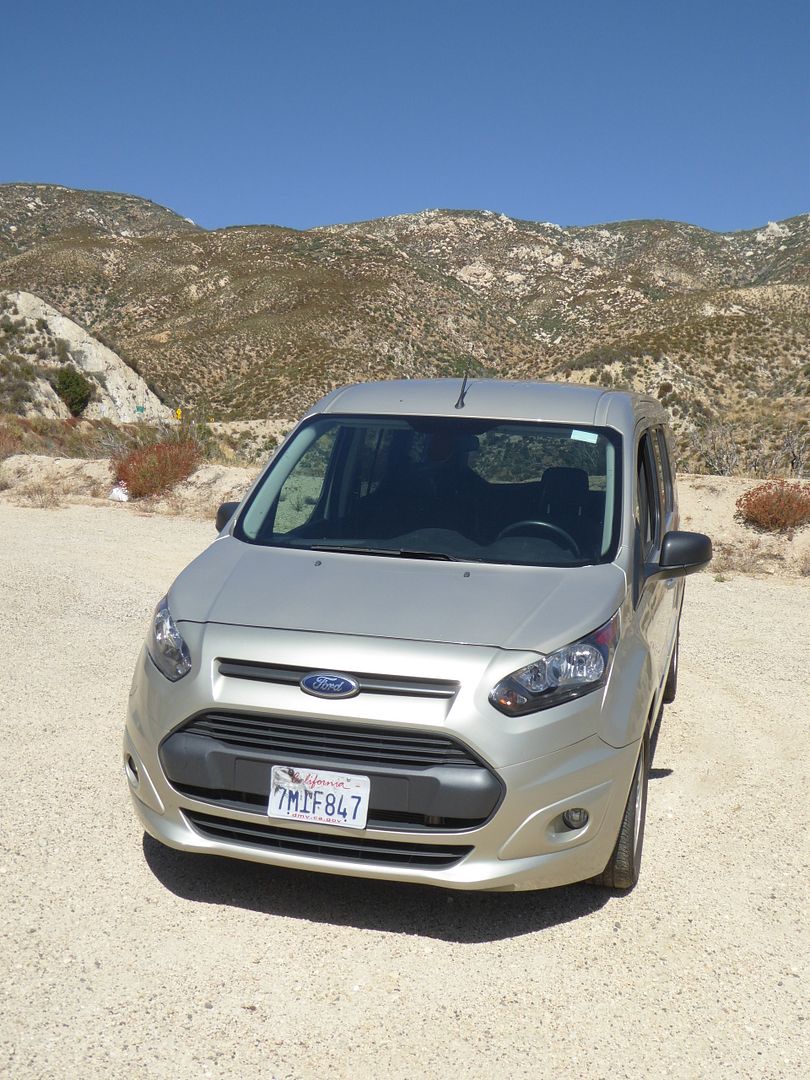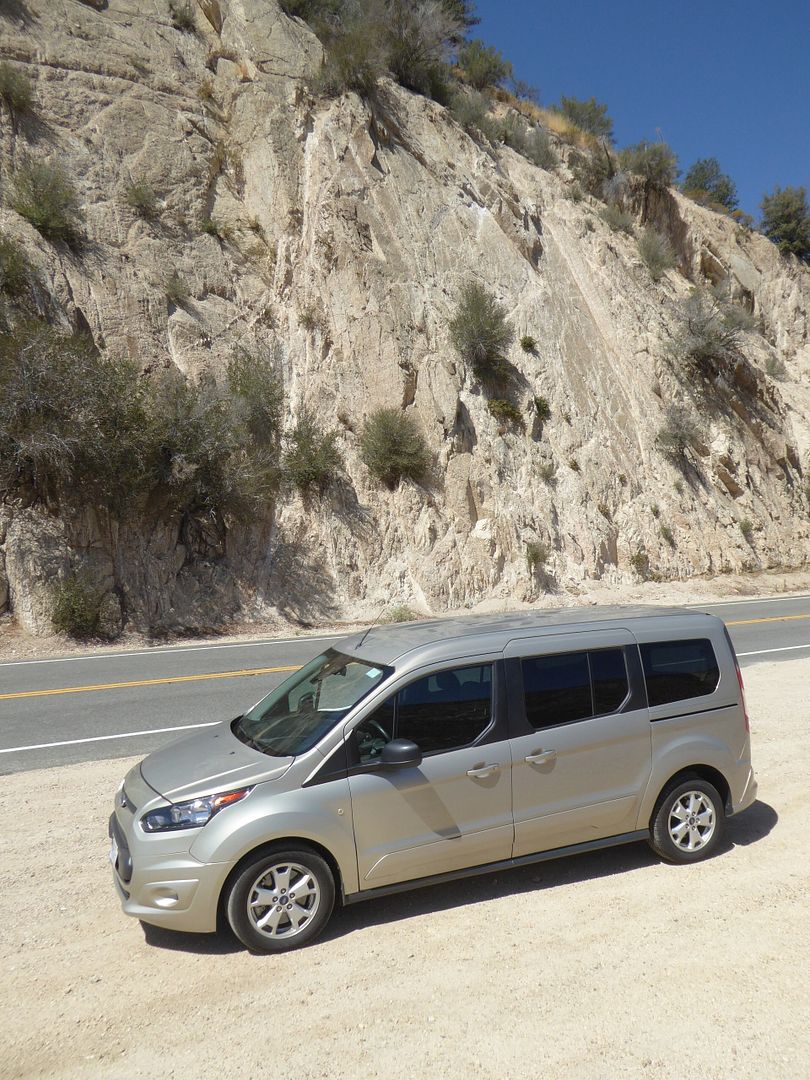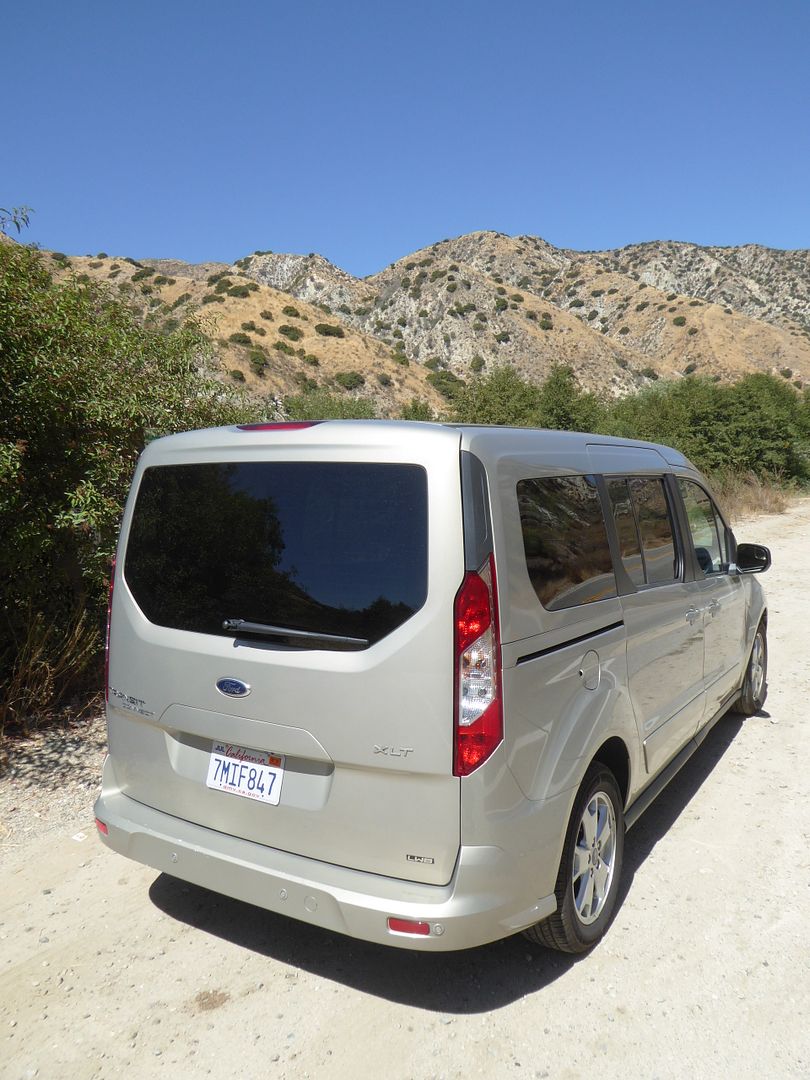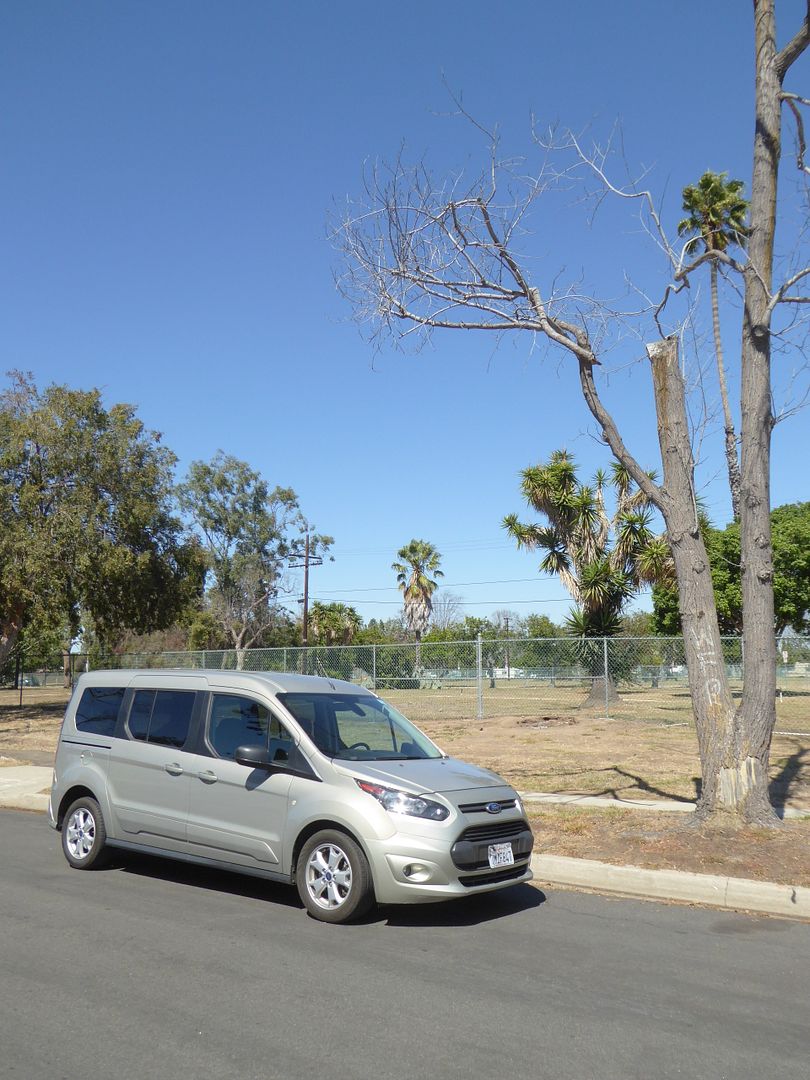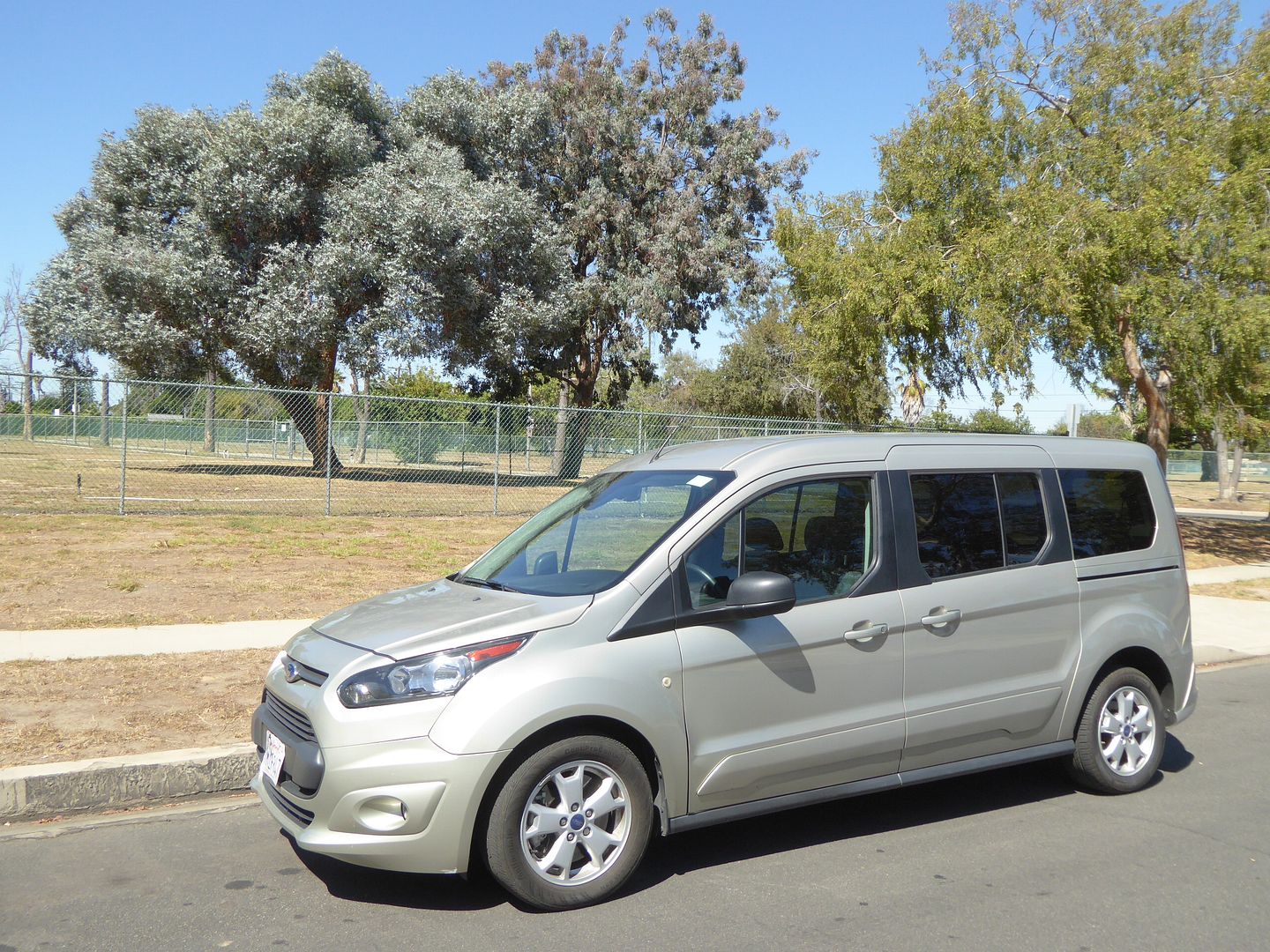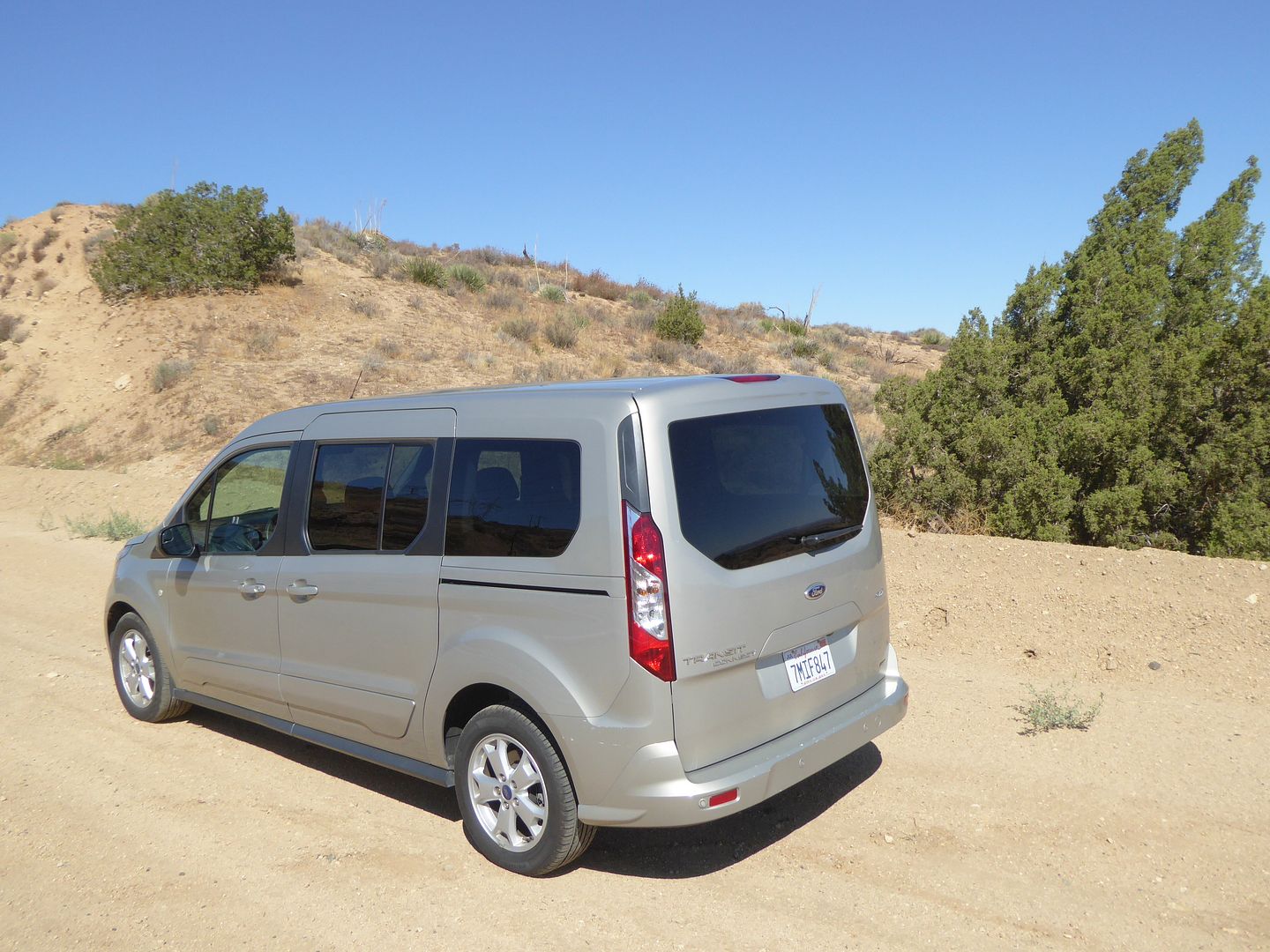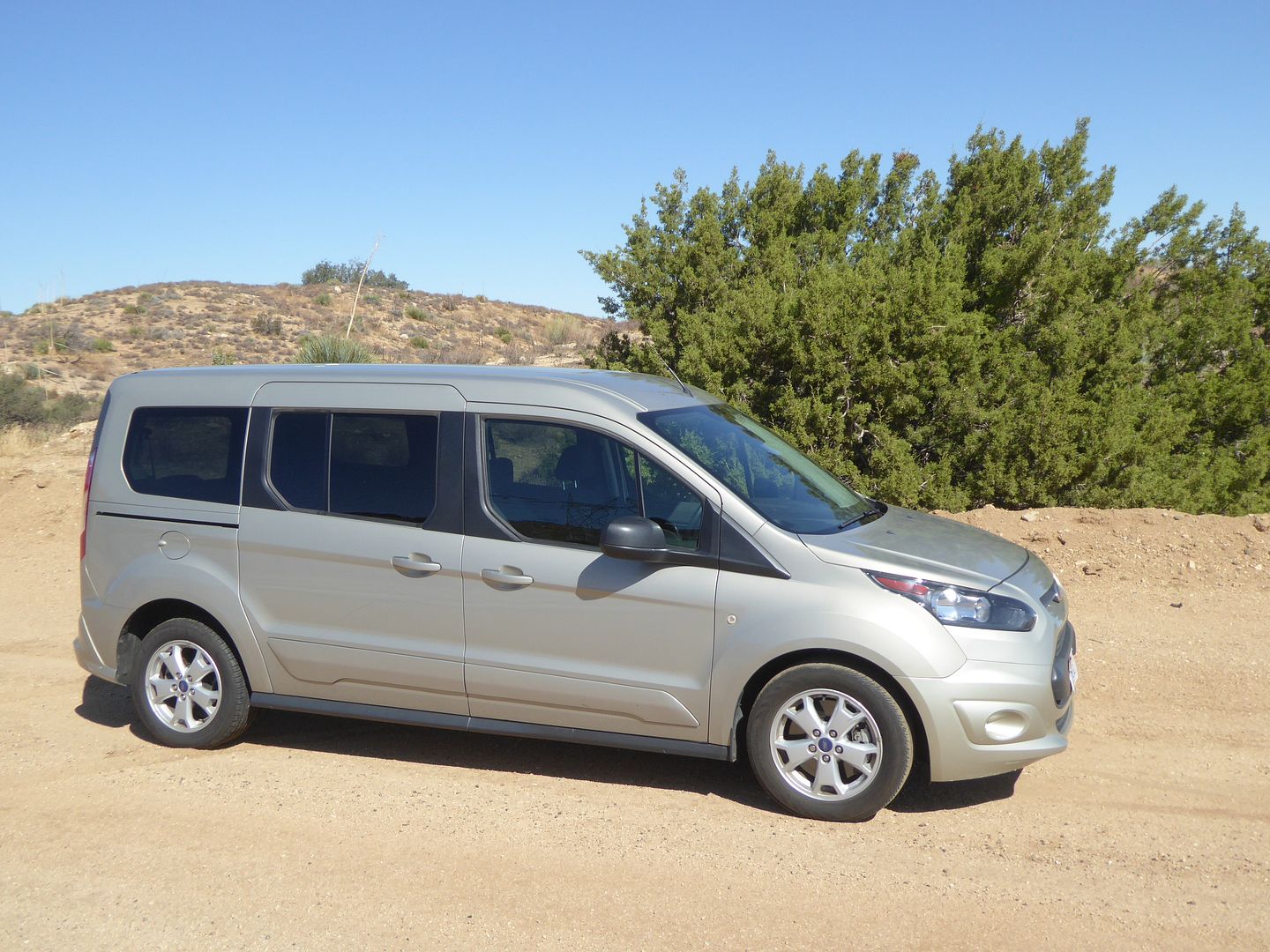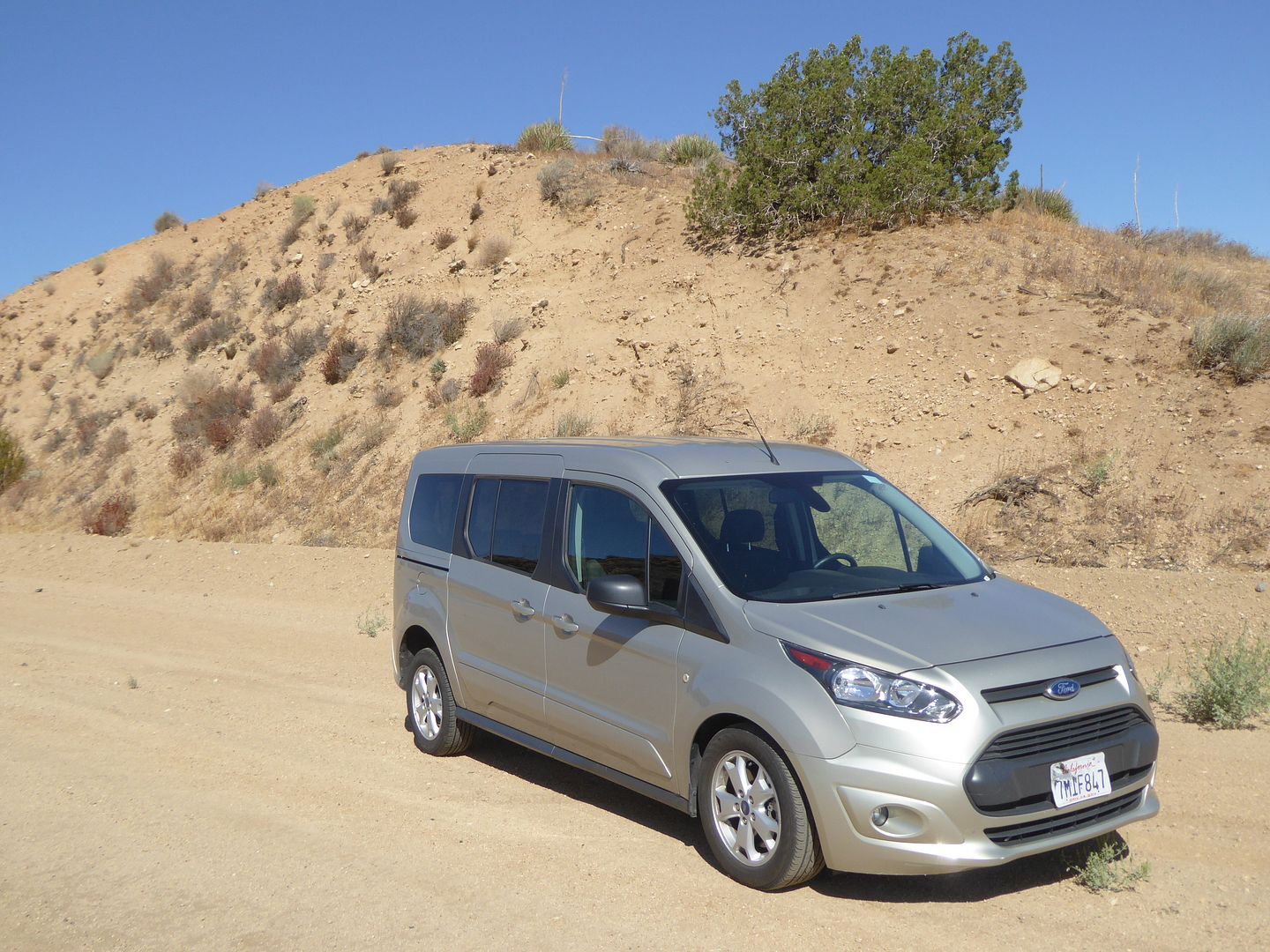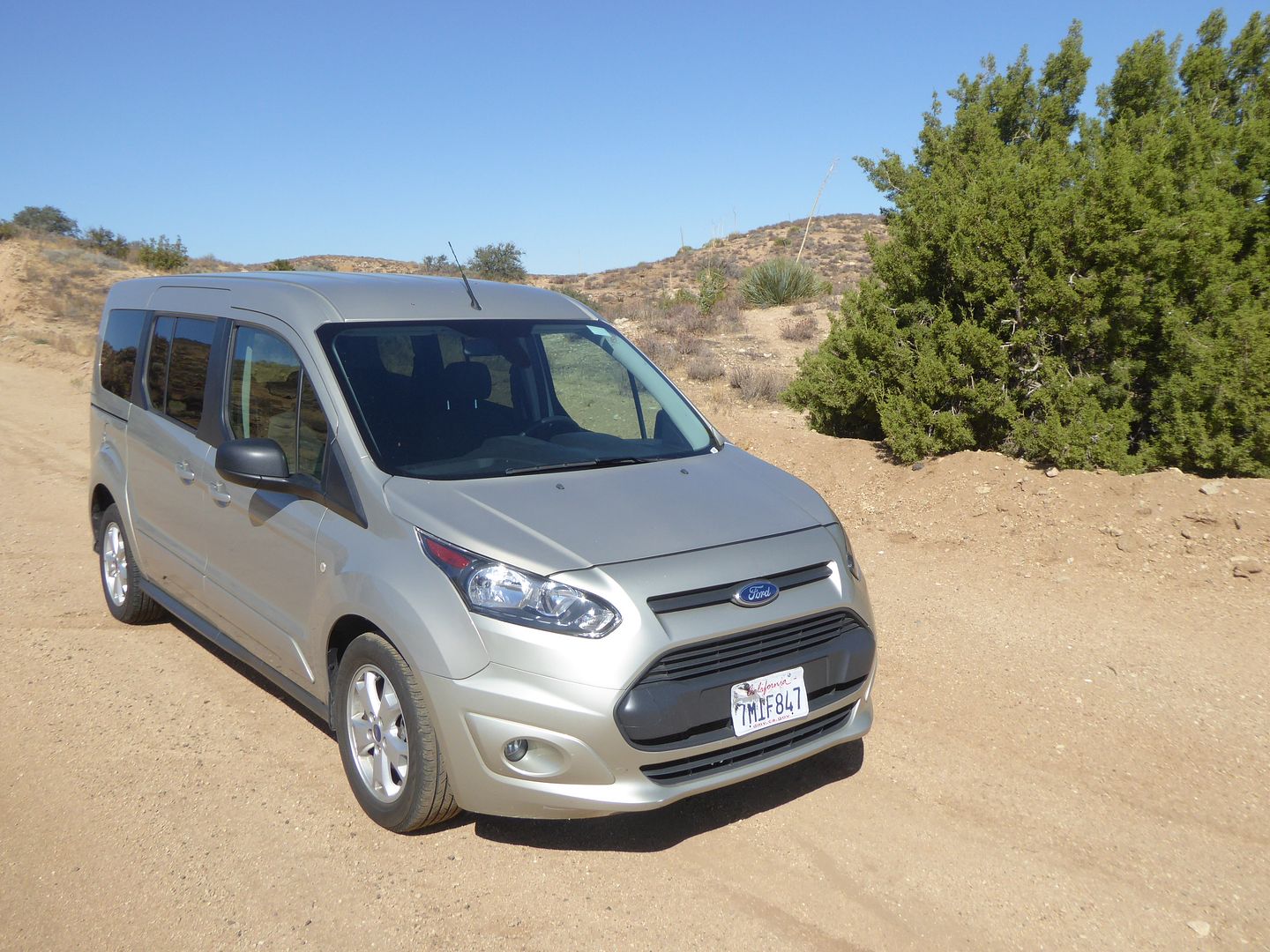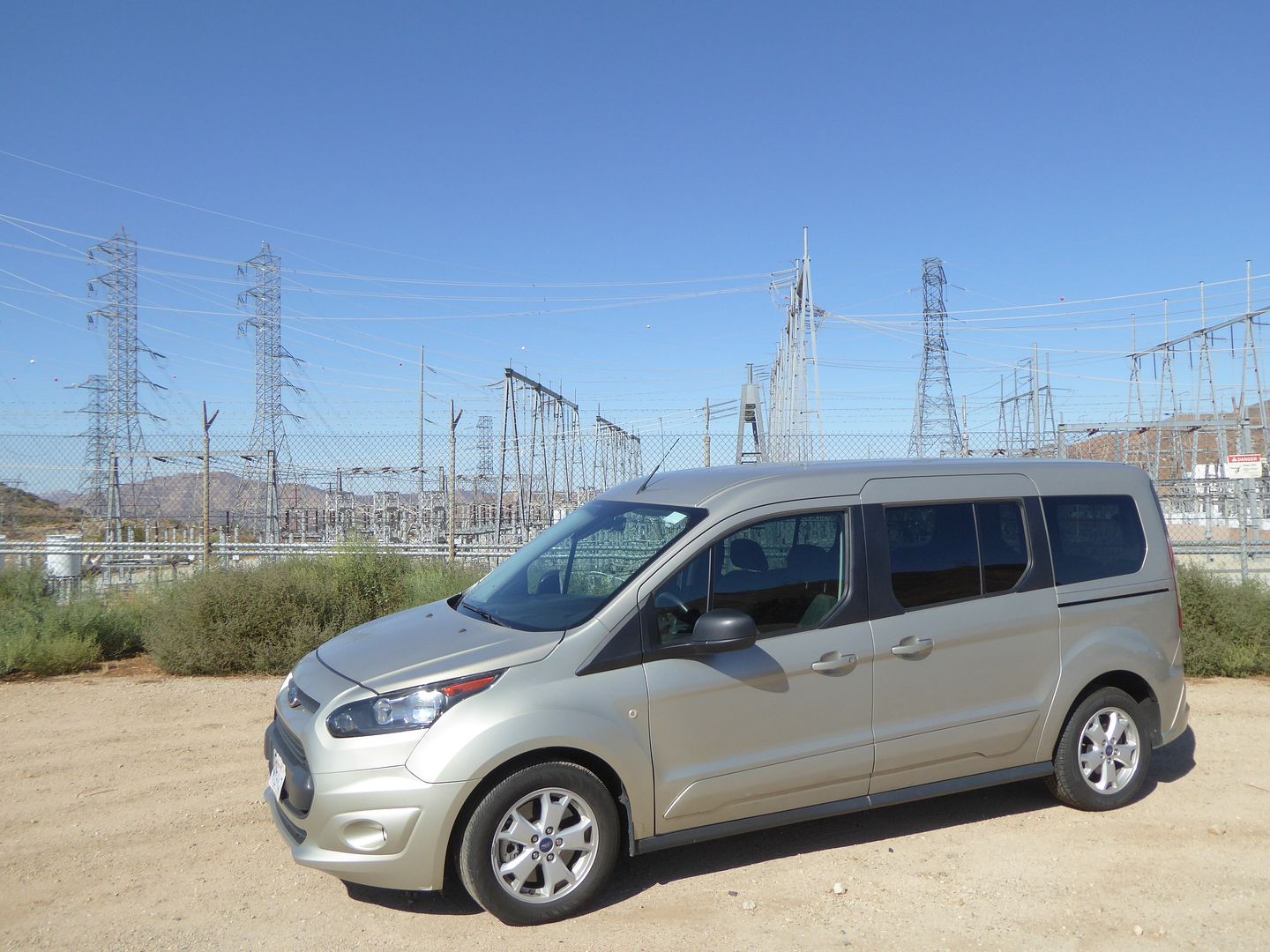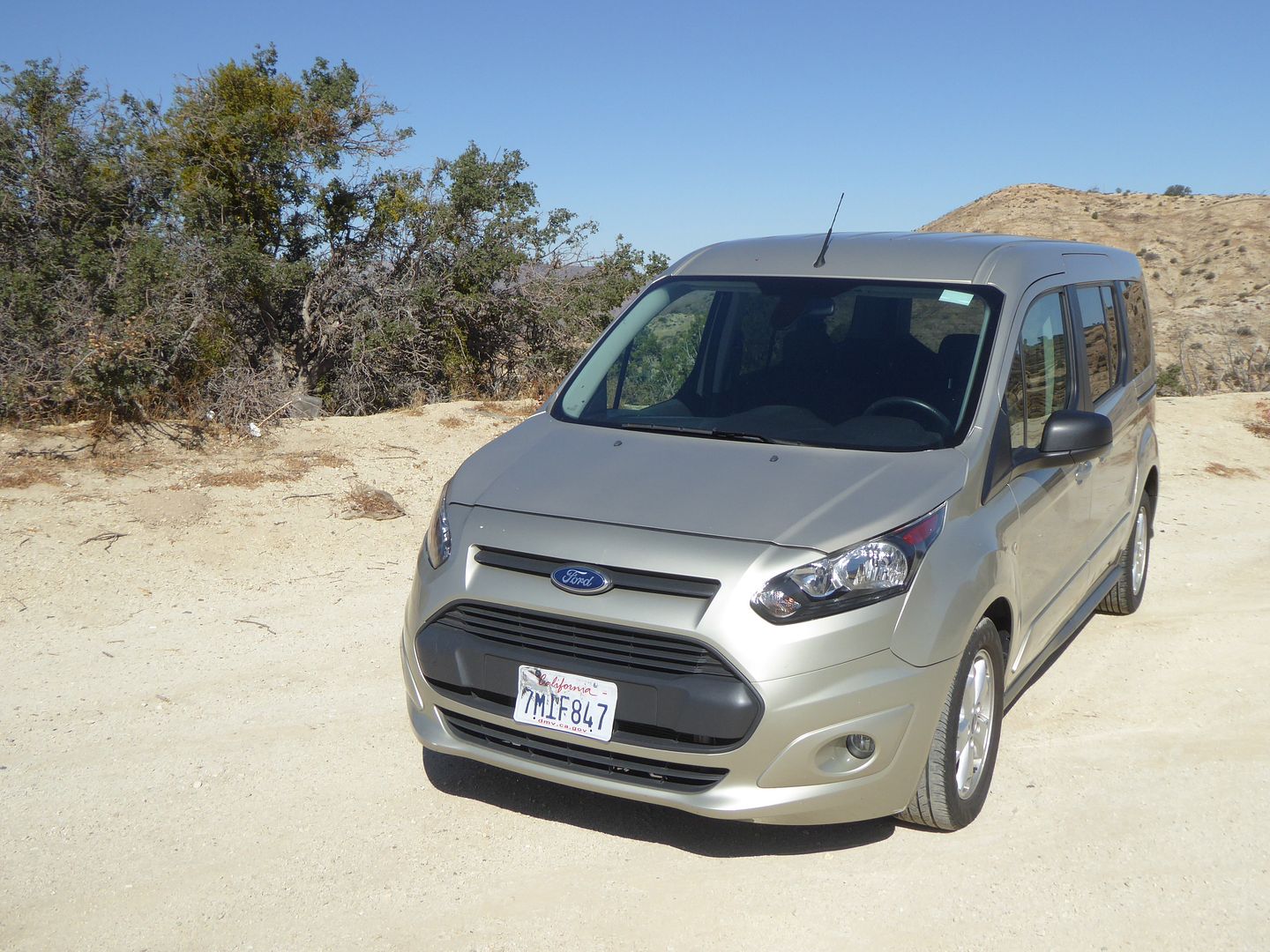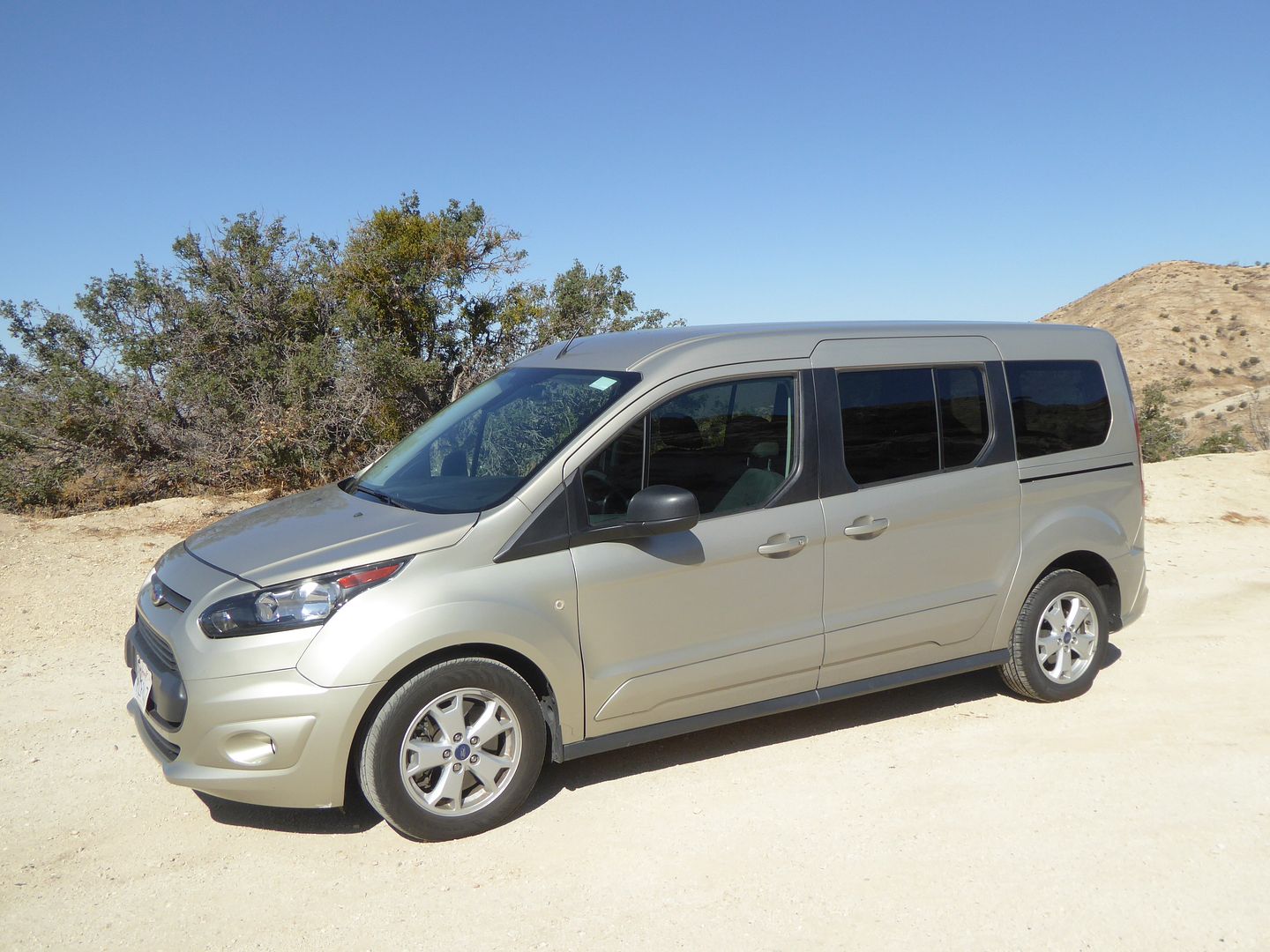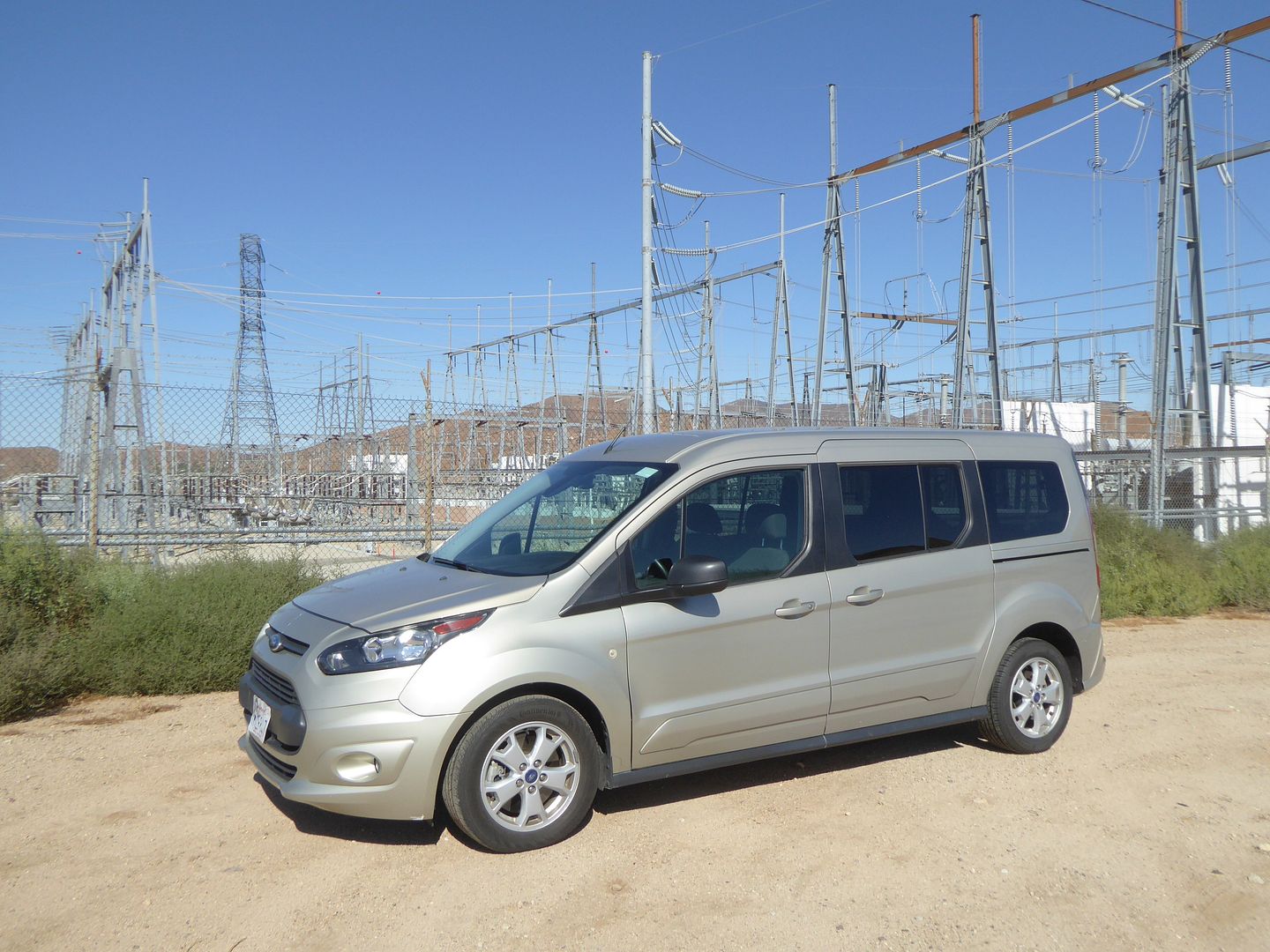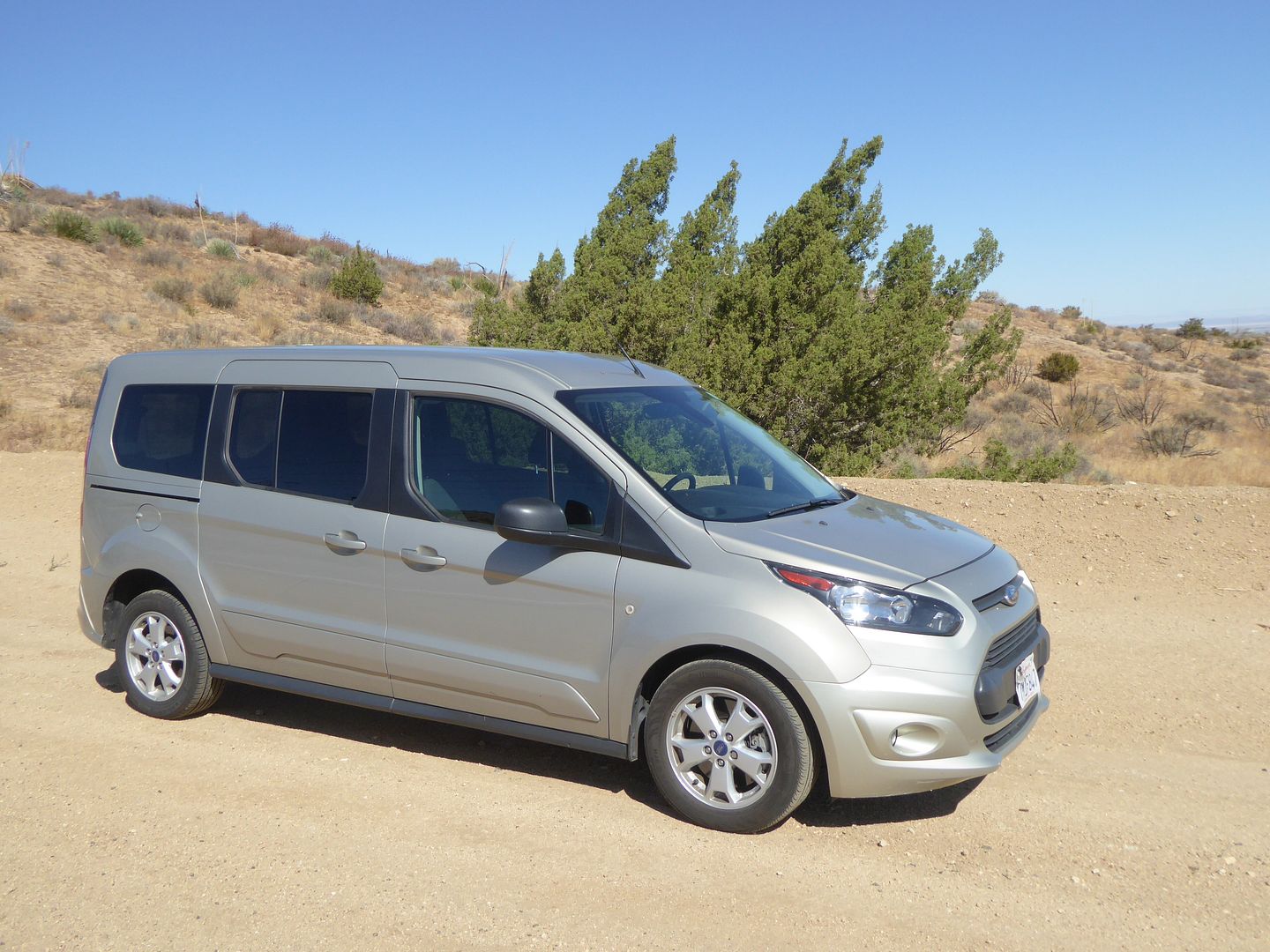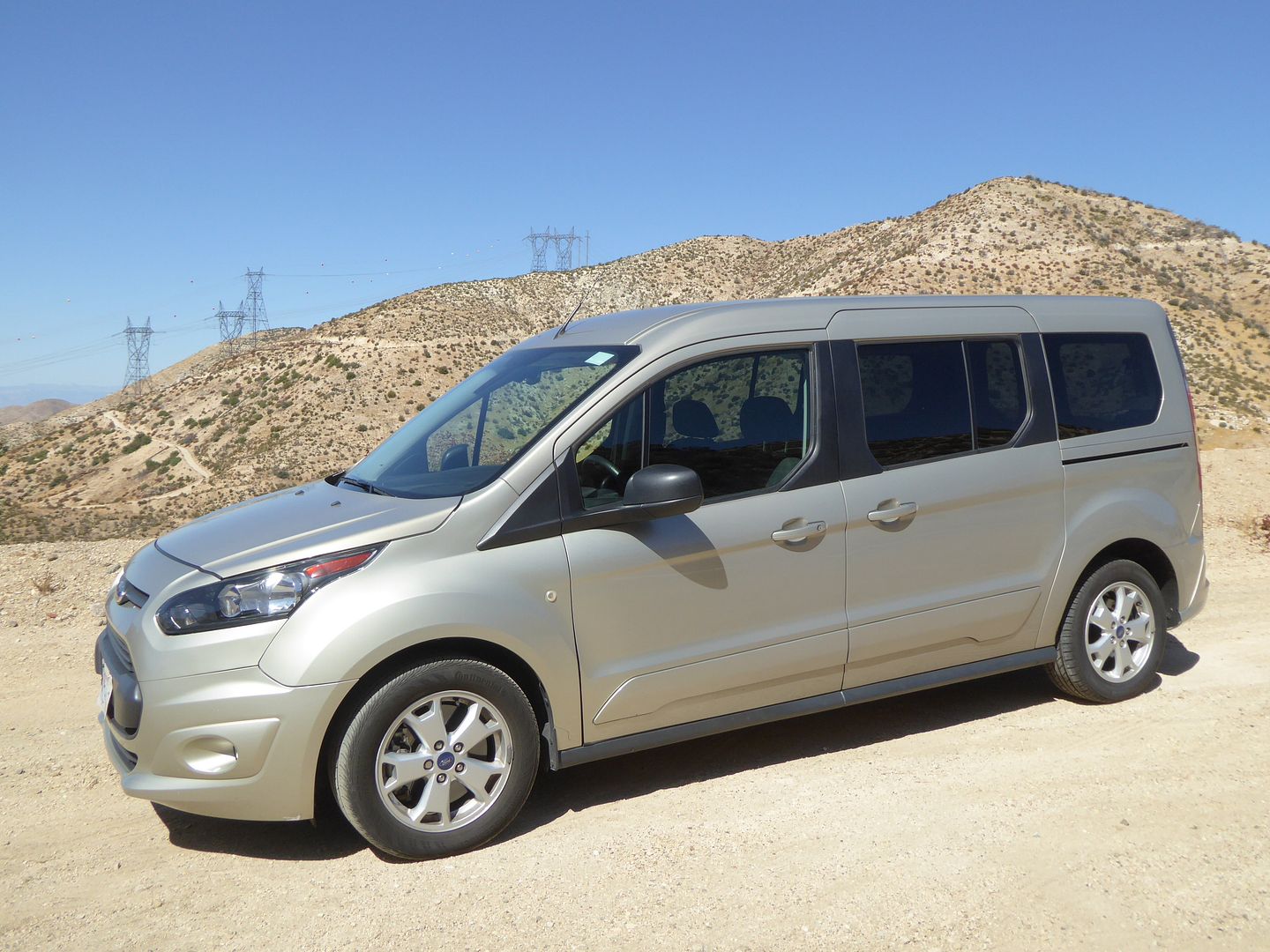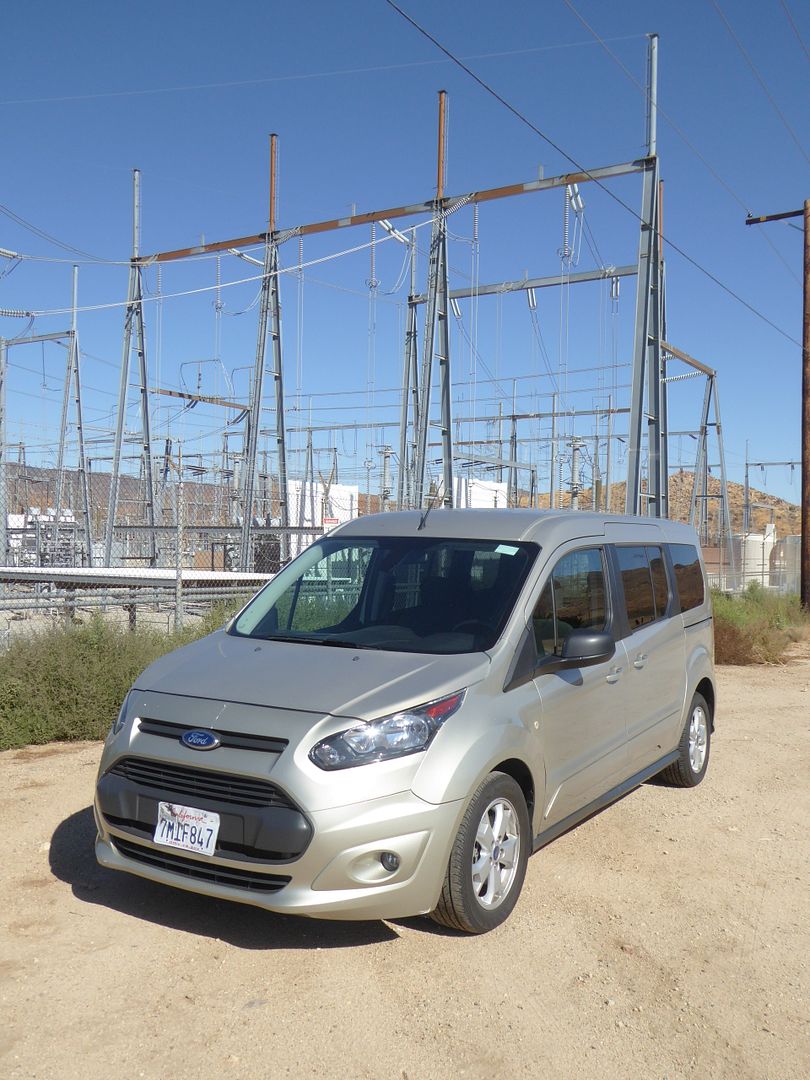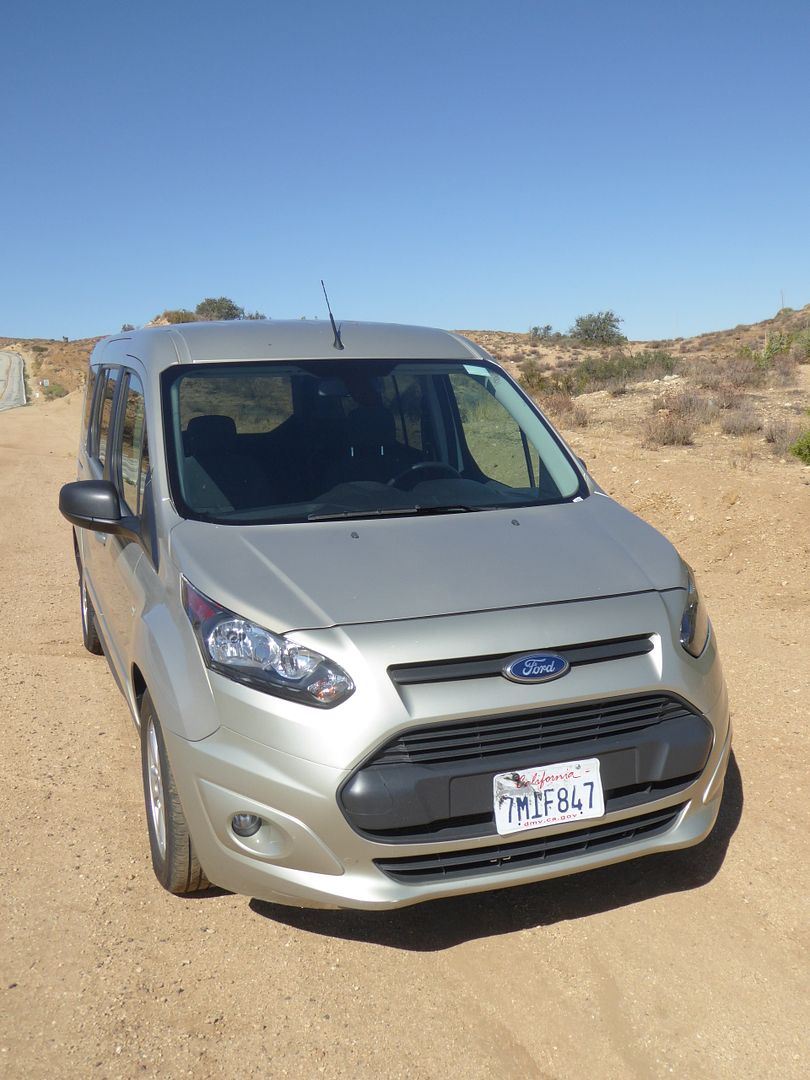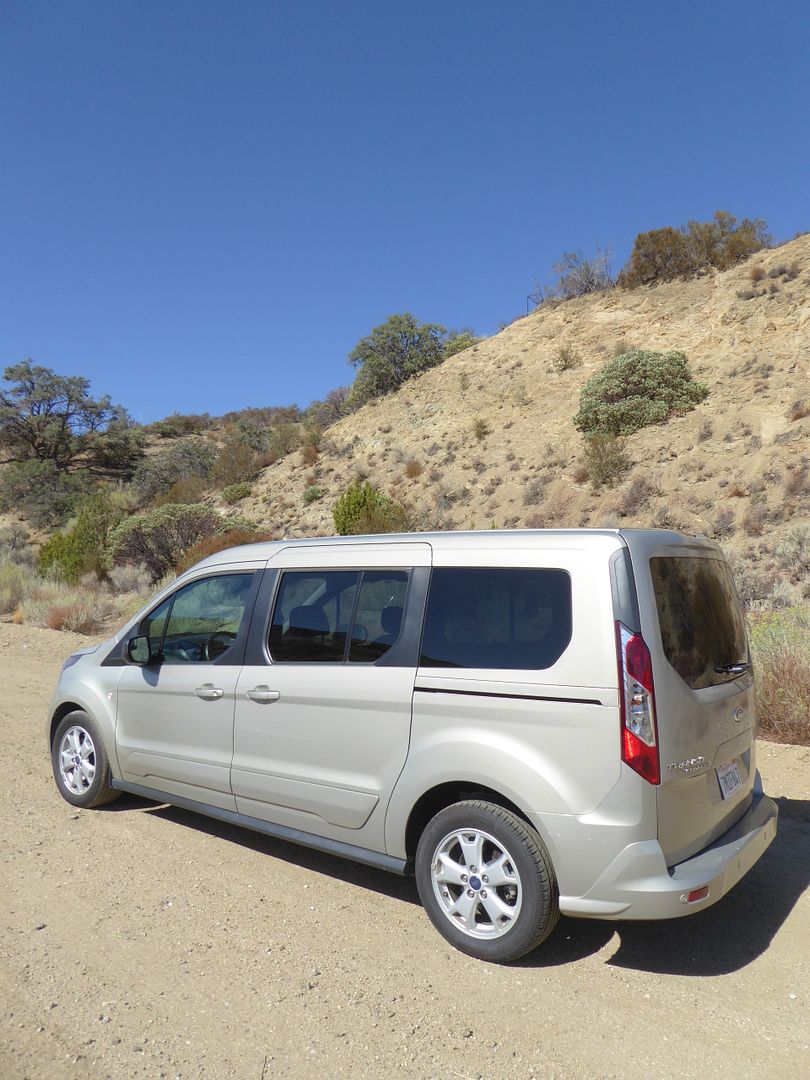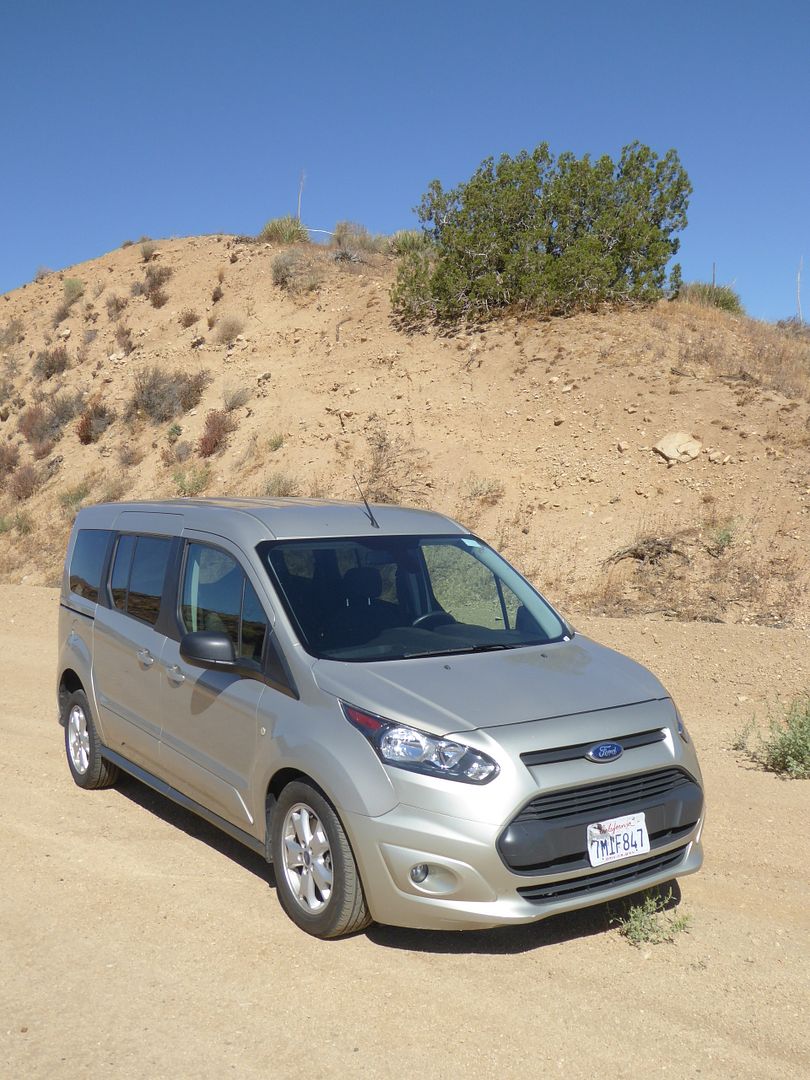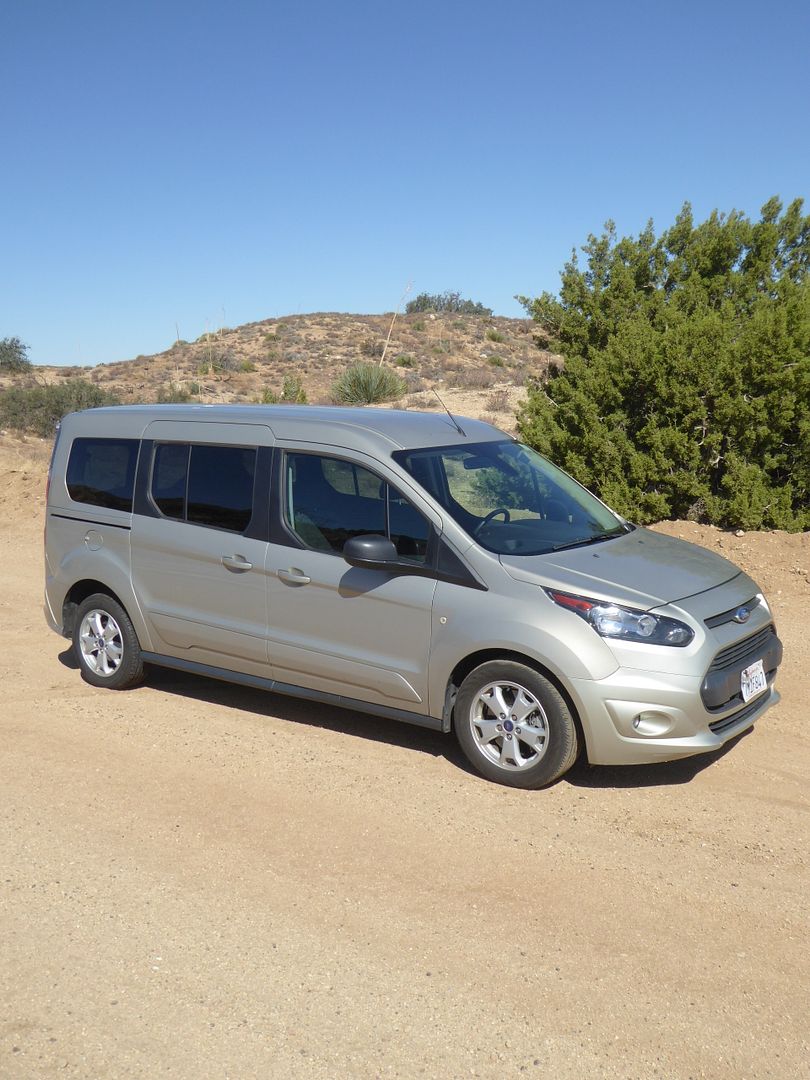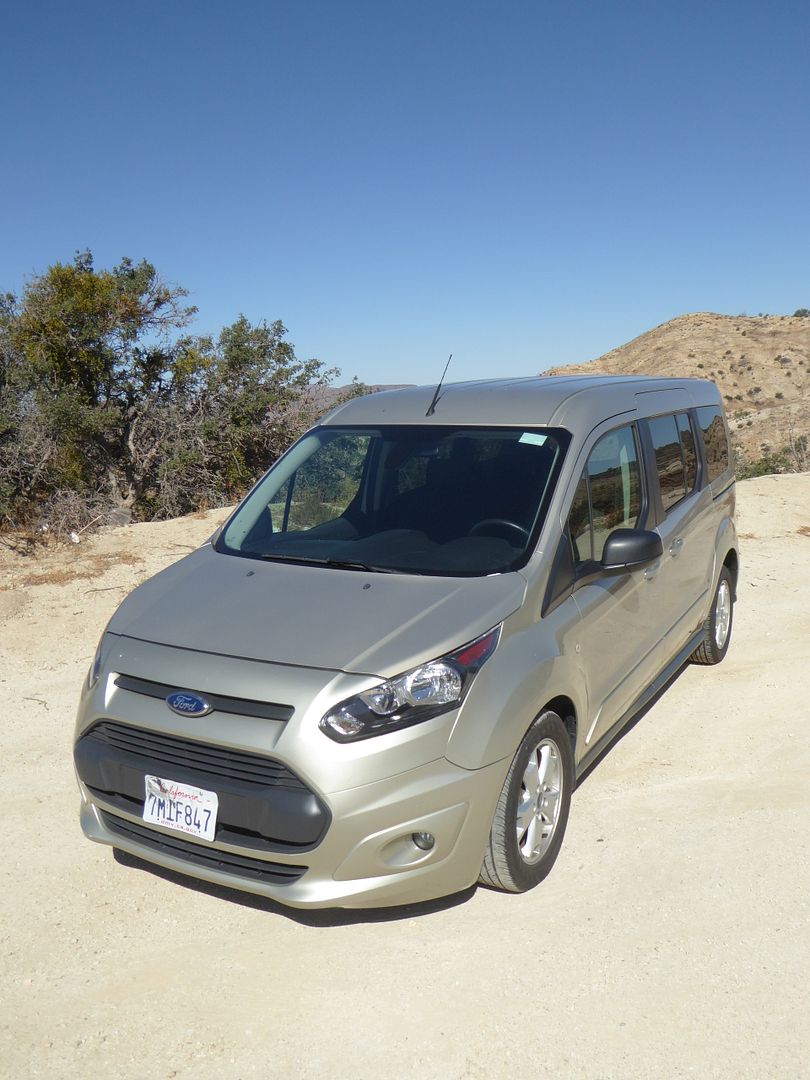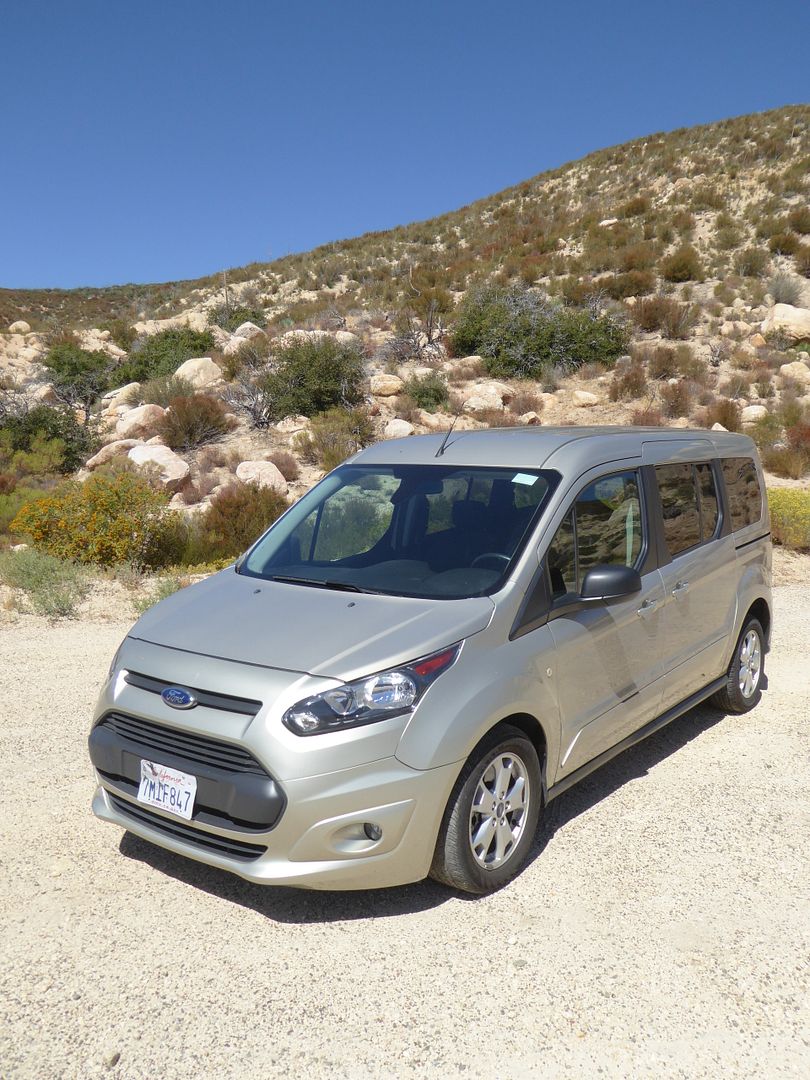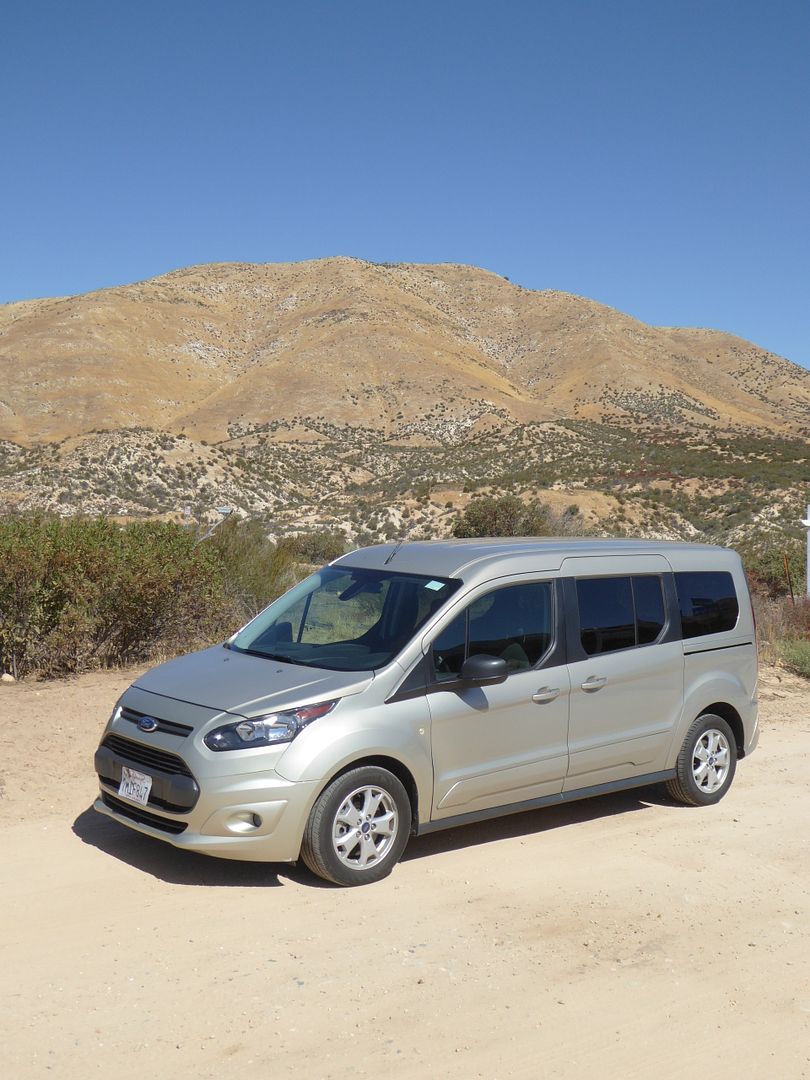 This test car was something of a rental car orphan. I spotted it parked up in one corner of the Hertz LAX facility on a Saturday morning, but that day my eye was caught by a Nissan Murano, a car I'd not seen at all in Hertz' fleet since a model change a couple of years ago, but when I returned 24 hours later, it was still there. There had been quite a number of these Transit Connects on fleet, but this was the first one I had seen for at least a year. Closer examination revealed that it was in fact over 2 years old, first registered in July 2015, which was not a surprise when I saw the plate started "7M" and current issues in California start "7Y", "7Z" and even "8A" (they are more or less sequential in their allocation), which meant that it would appear to be a survivor (perhaps "the" survivor) from the batch that Hertz bought a couple of years ago. As far as I could tell, they did not buy any more, so when the cars reached their end of fleet criteria – usually a combination of age or mileage – the model disappeared from the fleet. As this was likely to be my only opportunity to drive one, and having checked to see that there was nothing even more unusual on-site (there was not), I asked if I could have it, and was not surprised to find that indeed it was not allocated to anyone else. I am pretty sure that the reason that these were a one-off for the fleet was because they were allocated to the same category as other MiniVans, such as the Dodge Grand Caravan, Toyota Sienna and Nissan Quest, and the reality is that the Transit Connect is a lot smaller, and hence has a lot less room in it. For those booking a MiniVan who have a lot of people and luggage to fit in – and that is going to be most people opting for this category of vehicle – that would seem to be something of a problem. Of course, for me, travelling one-up and with only one suitcase and a lap top bag, it would not be any problem at all, so this would be the chance to see whether the Transit Connect had other virtues or not.
Calling this a MiniVan seems entirely appropriate, as that is what it is. It is not that large, and it has its origins in a true Van. That concept is not uncommon in Europe, where there are passenger-carrying versions not just of the Transit Connect but also the Fiat Doblo and smaller Qubo, the Citroen Berlingo and related Peugeot Partner and the smaller Nemo and Bipper, the Opel Combo and the Renault Kangoo, but in America, it is something different. MiniVans are not all that Mini, and all the others are purpose-designed, which is why People Carrier would seem to be a more appropriate label for them. The first Transit Connect was launched in Europe in 2002, as a replacement for the Escort and Fiesta Vans. Whilst they were little more than conversions of regular passenger cars with the rear seats removed, the side windows blanked out and changes made to accommodate the weight of cargo they were likely to carry, the Transit Connect was a purpose-designed small van. A passenger-version was offered, badged Tourneo Connect. Ford US brought the Transit Connect into America from mid-2009, spotting a gap in the market for small vans, and they proved quite popular, with a market niche all to themselves, though there was some controversy as they were all imported in passenger-carrying guise and converted to a panel van in the US to avoid paying a 25% "Chicken Tax", a practice which Ford were ordered to cease. The second generation model was launched in 2012, still built in Turkey, like the first, and offered both as a van and in passenger guise. It arrived on US soil for the 2014 model year. Whilst the van has now got rivals, from Ram, with the Pro Master City (Fiat Doblo to Europeans) and the Nissan NV 200, the passenger version sits in a sort of niche of its own, smaller and cheaper than the remaining MiniVans, but more capacious than vehicles like the recently discontinued Mazda 5 and conventional wagons.
On getting in, and sitting on the seat for the first time, my immediate impression was of just how vast the windscreen appeared, and how far away it was. Even by pulling the seat forward – and it is manual adjustment in the XLT trim of my test car – it was still further away than any vehicle I recall. Indeed, to adjust the rear-view mirror, I had to lean forward, as you cannot touch it from the regular driving position. I did get used to the sensation of sitting with quite so much glass in front of me, but it took a bit of mental adjustment. The seat has a height adjuster on it, and there is a lumbar adjuster for the driver, this feature set on the inside of the seat backrest, and I was grateful for the fact that you could alter the height of the seat belt mounting. The column telescopes in and out, as well as up and down, so I could get a driving position that allowed me to feel comfortable with the relationship to the wheel and pedals, quite easily. There is a central armrest, but with the seat set for my driving position, which is well forward, the armrest is so far back that it is of no use whatsoever. There's a hard-wearing cloth trim on the XLT, and over two years and 44,000 miles, it looked pretty much unscathed, unlike the outside of the car which had several small areas of paint damage all around it. I did not take the Transit Connect on a particularly long journey, though I was surprised at the end of the first day to see I had in fact covered 200 miles, but much of this was of the stop/start type in the canyons, taking photos and taking in the views. The seat certainly seemed comfortable enough.
This was the LWB version, which means three rows of seats. The middle row are split 60/40. Occupants here get masses of space, with so much headroom that even a top-hat wearing basketball player probably would have clearance with the roof. The seats are on sliders, so if you set them well forward and the front seats well back, you would not have a huge amount of legroom, but set them back a bit, and it is ample. The seats themselves are rather smaller than you will find larger MiniVans, and some may find them a bit too small in all dimensions and lacking padding. Clearly, as driver, devoid of any passengers, I could not try them for any sustained period of time. There are separate controls for the air conditioning mounted on the rear face of the central armrest unit, with vents in the B pillars. To gain access to the third row, you pull a loop in the side of the second row seats, which tips the backrest forward. If the seat is well forward, there is a decent amount of space through which to climb in. These seats are probably better suited for children. Headroom is not the issue, as there is plenty, but the seats are relatively low set so you feel a bit like you have your knees in your chin, though the feeling is far worse in a lot of 7 seater SUVs. Occupants here also get their own air vents, and there are recesses in the side mouldings for bits and pieces and cupholders. With all seats erect, boot space is negligible. That's hardly a surprise, as the Transit Connect is physically a lot shorter than rivals like the Sienna and Pacifica. The tailgate is very heavy, as it is a large piece of metal. A powered version is offered in the top spec trim.
You can create more space by folding the seats down, of course. For the back row, which are split 50/50, there is a red loop on the seat back. Pull this and the backrest drops down. However, what you get is not very flat. I then discovered that you actually need to pull the seat cushion up first, which you have to do from inside the car. This swivels forward, so when you now put the backrest down, it is indeed flat, and this will also line up with the middle row when they are folded down. This is done by pulling on the same release lever as you used to get access to the back seats, but this time you fold the backrest onto the cushion. The whole seat than cantilevers forward and down. There are two layer covers that are on the back of the rear-most seats which now unfold to cover the whole lot, so you get a completely flat floor, with a single cover on it from the middle of the car to the back, and a veritable cavern of a luggage area. If this is not long enough, then the front passenger seat will also fold forward. There is plenty of space for odds and ends in the cabin, too, some of it more usable than others. There is a shelf up above the header rail of the screen, complete with dire warnings not to put anything heavy up there. I don't think I'd want anything on it at all when the car was in motion. The top of the dash has a recessed well, there is a huge glove box, there is a small cubby under the central armrest, there are recesses in the centre console along with cupholders, smaller ones between the seat and the doors and there are door bins shaped to hold bottles. There is a map pocket on the back of just the driver's seat.
I don't think I can recall ever seeing a dash design that has so many curves, separate pieces, surfaces and textures as this one. Not surprisingly, since it is far from a one piece design, it also came with a couple of irritating rattles. It follows the style adopted in the third generation Focus, and this is generally not a particularly Good Thing. Frankly, it looks a mess, and particularly low rent, and there is absolutely no need for it to be like this. A completely revised unit features in more recent Transit Connect models, so perhaps Ford got the message. The majority of this is black, hard plastic, with the usual sort of grey plastic inlay highlights around the centre console and the steering wheel to provide a bit of colour contrast. Under that complex cover over the instrument tops, there are dials, set in equally complex recesses, which sport turquoise pointers. Large ones for speedo and rev counter are on the outer edge of the nacelle with smaller ones for fuel level and water temperature between them, in the lower central portion. Above them is a digital display area. You cycle through the menus using the buttons on the left hand steering wheel spoke, and they cover a range of things from trip computer data to a digital speed repeater. It is sufficiently small, and in old-style graphics that it is not much use, frankly. Just as well the main dials are easy enough to read. There are twin column stalks for indicators and wipers. These felt the cheapest and flimsiest of all twelve cars of different types and prices that I have sampled on this September 2017 trip. Lights are operated from a rotary dial on the dash to the left of the wheel. As well as the trip computer display buttons, the steering wheel boss also contains audio repeater buttons, on the right hand spoke and there are cruise control ones inset in the lower left hand spoke. The centre of the dash contains the rather small display screen for the infotainment system, sitting between two angled air vents and beneath this an array of buttons set out telephone keypad style, as Ford thought was "cool" with the recently superceded Fiesta and Focus. "Cool" it is not, a mess it is. It took me a while to figure out how to find a different radio frequency. The display on the screen looks like it is 10 years old, and seeing Satellite as one of only three options on there, but greyed out, as it is not fitted to the test car, does not impress. Beneath this mess are three rotary dials and a couple of buttons for the air conditioning. The centre console contains the gearlever and a conventional handbrake as well as cupholders and recesses for odds and ends.
And so to the driving. This proved the old adage that smaller can be better, as this felt far more agile than a Toyota Sienna or a Nissan Quest. US market Transit Connects have a 2.5 litre 4 cylinder petrol engine, putting out 169 bhp and a 6 speed automatic gearbox. One up, this is OK, but fully laden I am sure that you would feel it was nothing like enough. Even with just me on board, this is not a fast machine. But it is adequate. The transmission did not always seem to be quite so sure of what is was supposed to be doing, with it sometimes hesitating and sometimes hanging onto gears for a lot longer than usual, with the engine screaming its way most of the distance to the red line. When it did that, that's when you realised that this engine is not one designed for performance (it has been used in other Ford models such as the Fusion and Escape for some time until recently), as it does get noisy and unrefined at the top end. Economical is not the word you would use. By the time I had done 60 miles, the fuel gauge was showing a quarter of the tank had gone, and after 200 miles, it was not far above empty. At the end of the test, my calculations were that the Transit Connect achieved just 20.1 mpg US, which equals 24 mpg Imperial, a figure that is barely any better than the larger MiniVans I have tried, and something of a disappointment. I guess that the engine just has to work hard to keep this Ford moving. Although there is a leather-wrapped wheel to hold, it proved to be one of the nastiest I have come across with a surface and finish that was far worse than many plastic moulded items. That's a shame, as the steering system for which it is the interface is pretty good, a reflection of the priority that Ford give this in all their products, and evidence of the Focus-based heritage. There is lots of feel and feedback and the weighting is excellent. The suspension is well-judged, too, so I was able to enjoy the Transit Connect on the canyon roads in a manner almost unseemly for a MiniVan. Roll is evident, but it is well contained and there is not much understeer. It rides well, too, no doubt helped by the combination of high-profile 215/55 R16″ tyres and the long wheelbase. I had no concerns about the brakes, either. A pull-up handbrake is fitted between the seats. It was quite windy at times during the first day, and the Ford did feel to be being buffetted by the wind somewhat. Where the Transit Connect really scores over its larger rivals is that it is that much easier to manoeuvre. You can turn it around in smaller spaces, and there is a good turning circle on it, and it does not feel massive from behind the wheel, in the way that a Sienna does. With a lot of glass around you, visibility is generally good. The door mirrors have a second piece of glass in them to help to eliminate blind spots. I was surprised to find that there is a rear-view camera, as the screen on which it projects looked far too primitive to have a colour picture of what was behind you on it, but it did. A larger screen would be useful as this one is very small. Rear parking sensors featured on the test car.
Ford offer the Transit Connect in a cargo van and in a passenger wagon body style, each with two different wheelbases. For the US market, there are three available trim levels: XL, XLT and Titanium (this last only for the passenger version). The XLT wagon seats five or seven, depending on which wheelbase you select, while seven-passenger seating is standard on the XL and Titanium. All versions have dual sliding rear doors and give you a choice between swing-out cargo doors or an overhead tailgate. Base standard equipment on the XL cargo van includes 16″ steel wheels, grey grille/bumpers/side mouldings, keyless entry, air-conditioning, vinyl upholstery and floor coverings, built-in cargo tie-down hooks, an overhead storage shelf, a fold-flat front passenger seat, a tilt-and-telescoping steering wheel, power front windows, power door locks and a two-speaker sound system with an auxiliary audio input jack. The XL wagon version comes with the same standard equipment, but is long-wheelbase only and adds second- and third-row seats, two rear speakers for the stereo, rear climate controls and power second-row windows. Stepping up to the XLT for the cargo van gets you body-colour bumpers, foglights, power-adjustable heated mirrors, rear privacy glass, cloth upholstery, driver lumbar adjustment, a passenger vanity mirror, a multi-function display, cruise control and a CD player. The XLT wagon comes in short- or long-wheelbase styles and mirrors the XLT cargo's equipment and adds a rearview camera and a thicker acoustic windscreen. Rear climate controls aren't available on the short-wheelbase XLT wagon. The top-of-the-line Titanium wagon adds 16″ alloy wheels, automatic headlights, adaptive cornering foglights, rain-sensing wipers, power-folding mirrors, chrome exterior trim, dual-zone automatic climate control, leather upholstery, a six-way power driver seat, heated front seats, an auto-dimming rearview mirror with built-in compass, four front speakers for the sound system and Ford's voice-controlled Sync system. Many of the features that come standard on the upper trim levels are also available on other models. Other major options include 16- and 17″ alloy wheels, a compressed natural gas engine prep package, front and rear parking sensors, a towing package, a fixed panoramic sunroof, a roof rack, satellite/HD radio, the MyFord Touch electronics interface (includes a 6.5″ touchscreen display and a navigation system) and the Ford Telematics system designed for fleet operators.
This was certainly an interesting vehicle to sample, not quite the usual sort of rental fare. I can see why it failed in the rental fleets, as the very benefits it brings, of being compact and hence more manoeuverable and wieldy on the road also mean that it lacks space compared to the full-sized MiniVans. Just as Mazda found out with the Mazda5 and Kia with their Rondo, if Americans want MiniVans, what they actually want are MaxiVans, and demand for very spacious but compact vehicles is just not there. However, if you and your group and their belongings will fit, then the Transit Connect has much to commend it. It drives better than its larger rivals, and it is extremely practical with seating for up to 7, or fewer than that with plenty of luggage. That mess of a dashboard has been updated, so the only real demerit for 2017 is the fuel consumption – but then, compared to driving two regular sedans, you are still better off even at the rate it got through the fuel here.