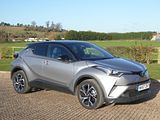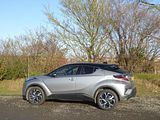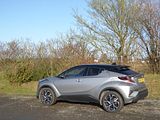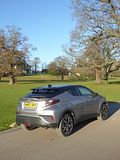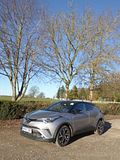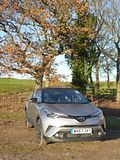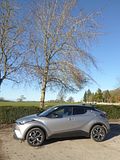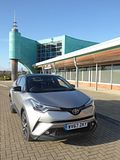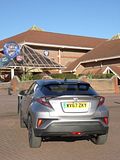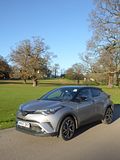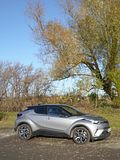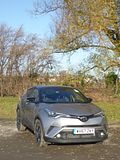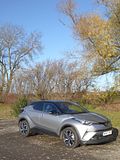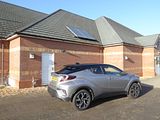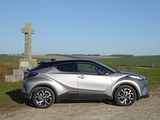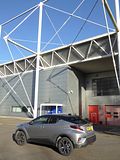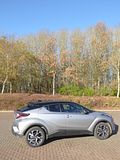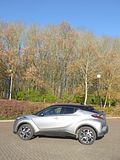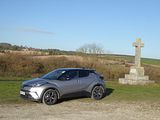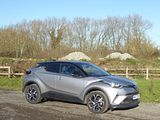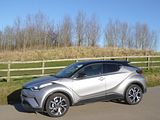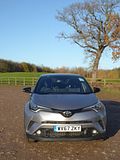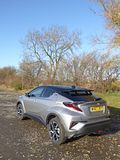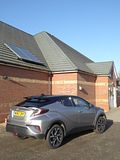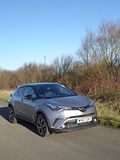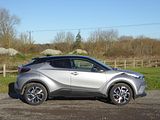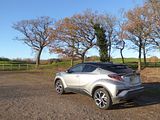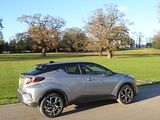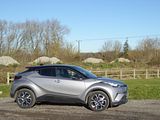 Plenty of manufacturers produce concept cars these days. They come in two broad categories: some are very thinly disguised versions of a production car typically shown a matter of months before the official launch; and then there are the much wackier or more imaginative or futuristic ones, which are where the designers have been given a much freer rein. Most of these appear at a show or two, and then disappear from view, perhaps appearing some time later in the marque's museum, if they have one. Just occasionally these more radical cars make it all the way through to production barely changed from the concept. The time between the concept showing and production launch is such that despite what the maker might say, you can be sure public reaction was not the key decision criteria on whether to go ahead for volume sales. The test car under review is a case in point. Indeed, I can remember having a somewhat difficult conversation with the stand staff at the 2016 New York Show, where the concept C-HR was given a star billing, as when I tried to tell them that I had seen the production car at Geneva a few weeks earlier, they were adamant that this was "just a concept". There will be plenty of people who, on beholding this very strikingly designed machine, would perhaps wish that this had been true. There's no denying that its looks are of the extremely polarising sort. You will either love it, or be utterly repulsed by it. I don't think there will be many people in any proverbial middle ground. That is deliberate. After years of being accused – and not unfairly – of making a range of utterly inoffensive cars that were about as interesting to look at as they were to drive, Toyota, it would seem, swallowed not just one brave pill, but the whole bottle, and in short order have given us the Mirai, the latest Prius and now this. Personally, I think it looks dreadful, but judging by the number of them that are now evident on the roads, then either there are plenty of people who disagree with me, or who don't care what their car looks like. Although I wasn't sure that I was going to relish seeing it on the drive for a few days, I thought it important to test it out to see if the driving experience was as radical as the looks.
The C-HR is an addition to Toyota's range, sitting in a place where you might have thought that there is no real room for another offering to join the conventional Auris Hatch and Estate, the Avensis Saloon and Estate and the Prius. With sales of the first two of these models struggling, as indeed they are across their respective sectors, capitalising on the market's current infatuation with Crossover type vehicles may be the inspired move that Toyota needs if it is to raise European sales to the levels that the brand aspires to do. It is a crowded market, so coming up with something distinctive was perhaps necessary to generate interest and attention, and there is no denying that the C-HR (the name, by the way, is short for Coupe – High Rider) does that. Underneath it shares shares the GA-C variant of Toyota's new TNGA modular architecture with the latest Prius, along with its front MacPherson struts and rear double wishbone suspension, although it gets a slightly shorter wheelbase and wider tracks. Toyota also says the underpinnings enable the car to have a lower centre of gravity than any direct rival. The Coupe like styling clearly deprives the car of some practicality compared to the traditional Crossover rivals, but Toyota go on to say that they think most people will buy the car for "emotional considerations". In other words, they think that the styling will alienate or sell the car, as opposed to prospective owners being impressed by the way it drives.
And my assessment suggests that Toyota are probably right. The answer to the question as to whether the car is as radical from behind the wheel as it is to behold is that it is not. The C-HR drives exactly like you expect a Toyota to do. Toyota offer the C-HR with a choice of two powerplants. One is a Hybrid, as you might expect, given the marque's emphasis on this technology for the past 20 years, and the other is a modern small-capacity petrol unit. It was this latter that powered my test car, a 115 bhp four cylinder unit with the still -important CO2 rating of 135 g/km, something of a fiscal penalty over the 87 g/km of the Hybrid. It was coupled to a six speed manual gearbox, and the front wheels are driven. In Dynamic trim, there is keyless starting, so you just press the button to the right of the wheel, provided your foot is firmly on the clutch pedal. The engine is smooth and refined sounding, but it is also typical of many a current small petrol in that you will have to work it hard to get any significant acceleration out of it. Get past about 2500rpm, and you can feel it wake up., but below this, there is not much grunt and the C-HR gains speed in what feels like a rather leisurely way. It can keep up with the flow of urban traffic, for sure, but if you are on a reasonably busy motorway, for instance, you will probably find you need to make quite a lot of use of the gears to wake the car up and get it to do what you want and need, Not that using the gears is that much of a hardship, as the gearchange is very slick, with relatively small movements between the six forward ratios. As you might expect, there is a "Shift" indicator in the instrument panel, but it is small and discrete enough that you can ignore it. Once underway, it is wind and tyre noise that is more obvious than the sound from the engine, but none of these are sufficiently loud to make the C-HR an unrestful motorway cruiser. The upside of this is fuel economy. The test car was clearly "rental car full", as the needle moved off Full within a few miles of collection, but the trip computer told me that on the journey from Heathrow to home, I had averaged 42.1 mpg, and subsequent corroboration of what it said and the amount of fuel I put in the car suggested that this figure would seem accurate. Subsequent trips, with a mix of motorway, A road and traffic returned very similar figures, so maybe there is no need for the cost and complexity of the Hybrid version if all you crave is respectable fuel economy.
If you crave a car that is good to drive, in all other respects, then look elsewhere. The top spec Dynamic trim of the test car gives you a leather-wrapped steering wheel, which is nice to hold. Sadly, that turned out to be the best attribute of the steering and handling. The steering is light, but not as overly assisted as on some cars, and there is precious little feel to it. Go into the bends with some enthusiasm, and you will discover that this front-driver will understeer, quite markedly. So whilst levels of grip from the chunky 225/50 R18 tyres would seem to be good, this is not a car that you will enjoy punting down your favourite twisty road. At least it rides quite well, though some surfaces of the M4 troubled it, like they seem to challenge most modern cars on their big wheels. The brakes were well up to par, with a nice progressive feel to the pedal, which was both light in operation, and effective. There is an electronic handbrake. Like most of its genre, it is a pain. Most of the time, it would disengage as you pressed the accelerator to move away, but there were far too many occasions when it stayed resolutely on, causing the car to stall. Trying to release it manually did not seem to make any difference, it would do the same thing. And then we get to the real challenge from behind the wheel: visibility. Look over your shoulder, and all you can see is, well nothing of outside the car. Those vast C pillars and the tiny side rear windows mean there is a massive blind spot at angle junctions. The almost horizontal tailgate also means that you can see nothing of any use through that when reversing. Luckily, there is a reversing camera, which projects a clear image onto the central display screen. Sensors abound, too. The lane departure ones, which are triggered every time you go over a white line, certainly if you don't indicate, and even sometimes when you do, proved to be a major irritant. You can turn them off, though I never spend the time trying to figure out how to do so. I am sure an owner would. The blind spot indicators in the door mirrors are more useful, as there certainly is a blind spot when cars are almost alongside you.
Open the door, and you can see that Toyota have tried to be bold in the passenger compartment, too. The first thing you will probably notice is the blue plastic strip that goes around the infotainment screen, which dominates the centre of the dash, and which extends to a strip across the middle of the door casings. I thought it looked rather "Fisher Price", cheap and nasty. There is a slab of leather on the top of the dash, and a lot of gloss black inlays around the centre console, and then there is some weird patterned hard plastic, which I think is perhaps trying to look like, well I know not what, on the door casings. The overall effect is not one that screams anything other than: "tried hard, but failed". Everything does at least fit well and felt durable. The instruments are conventional dials, two of them, under a single slightly raised and curved binnacle, with smaller water temperature and fuel level inset in the lower portions of the rev counter and speedo respectively. There did not seem to be any digital repeater for the speedo, which is something I have now got used to, so you do need to look at the relatively small markings on the main dial to ensure you are not exceeding the prescribed limit. Help for that comes with a speed limit reader in the digital display area, though I spotted that often this was inconsistent (and wrong) compared to the one showing in the navigation display. There are plenty of other displays available, which you can cycle through using the cursor keys on the right hand steering wheel spoke, but most of them were what I would call gimmicky rather than useful things. there were numerous warning lights which remained illuminated in the rev counter: BSM (blind spot monitoring) and RCTA (what is that?), as well as the fact that the parking sensors were enabled and whether the Stop/Start was on were all things which frankly, did not need permanent illumination. Two multi-function stalks control indicators and lights on the left of the wheel and front and rear wipers in the right, with a shorter stalk to the lower right used for the cruise control. Lights and wipers have an auto function. The steering wheel boss contains a number of small buttons, for audio repeater functions and also to switch in or out some of the electronic driver aids. The centre of the dash is dominated by that fixed 8″ colour touch-sensitive display unit. There are no separate controls for it, not even an audio on/off or volume knob, so everything has to be done using the touch-sensitive buttons on the sides of the display. That proved very fiddly, and required you to put precise pressure in the right place, something I could not easily do while driving. It is called the Toyota Touch 2 with Go system and as well as the audio unit, which included DAB even in the entry trim cars, there is a navigation system (in the trim tested) and online connectivity options that work through your smartphone's data connection and add real-time traffic information via TomTom. It also gives you Google Street View and allows you to browse fuel prices, weather reports and parking availability at your destination. The navigation mapping isn't displayed in brilliant detail and the system isn't particularly quick to respond to fingertip inputs. Once you worked out the symbols on either side of the screen, it was also reasonably intuitive. Below this are the buttons for the dual-zone climate control, which have been rendered into their simplest form, with just the right number to allow you to set temperature and flow of hot or cold. I had the test car on some of the coldest days of the year, and the system was quick to warm up the interior. There are a few other stray buttons on the lower part of the dashboard, above the right knee of the driver, but these are for rarely used things, though you will also find the fuel filler release flap here, rather awkwardly placed.
When you get in the C-HR, you do get the sensation of the slightly raised seating position that characterises a cross-over, though this largely disappears once you are installed and ready for the off, perhaps because of that lack of visibility. Adjustment to get comfortable is all manual, with a bar under the seat for fore/aft and levers on the side for seat height and backrest rake. The latter is adjusted in pre-defined steps, and as is so often the way, my preferred angle was between two of them. There was also a lumbar adjuster with a button on the side of the seat, and both front seats had heating available. Despite the coupe like styling, there was ample headroom for those in the front. The steering column telescopes in/out and up/down, so it was not hard to get the right driving position. Seat upholstery was a mix of part leather and partly the sort of cloth you find in most family cars these days. Neither felt like they had a particularly nice texture, but at least the seat itself was comfortable.
Those who ride in the back may not think the same. Set the front seat well forward, and leg room appears quite generous, but push it well back, and there is not much space left at all for rear passenger's legs. There is also an issue with headroom, with that sloping roof meaning that my head brushed the roof-lining when I tried the seat out for size. There is no central arrnrest. However, the biggest challenge will be just how dark and gloomy it is, as the side windows end a long forward of the rear seat, so there is a lot of body and door pillar to prevent any light reaching those who sit here. Some won't mind, but for anyone who wants to see where they are going, and who likes some light, it will be a problem. There is a reasonable sized boot. It is not that deep, and when I put my suitcase in it, I was surprised to see how much of the floor area it actually occupied, but the boot is a nice regular shape, with the usual hooks on the side to allow you to anchor things down. There is no spare wheel under the boot floor, just a can of "get you home", but this does not mean there is much space for odds and ends, either. You can create a bigger cargo area by folding the rear seats down. The backrests, asymmetrically split, simply drop down, but the resulting floor is not flat, as there is quite a lip between this area and the boot itself. Inside the cabin, there is a modest glovebox, some narrow bins on the front doors, and a small cubby under the central armrest as well as a small cupholder in front of the armrest and much larger one plus a stowage recess in front of the gearlever. Rear seat occupants get some very small door bins and map pockets on the back of the front seats.
There are just two engine choices and four trim levels for the UK market C-HR. All trims are available with both the engines. As well as the 115 bhp 1.2 litre turbo petrol of the test car, there is a 1.8 litre petrol-hybrid which generates 122 bhp. The Hybrid model is only offered with an automatic transmission, whereas the 1.2 litre petrol can have either a 6 speed manual or a CVT automatic and also the option of all-wheel drive which is coupled with the automatic gearbox. There is no diesel option, and whilst you can sort of understand this, both form the hysteria currently being generated about the evils of the emissions of this fuel, the reality is that as many as two out of three cars in this class are sold with this engine type, still. Toyota have decided that they should eschew a stripped-out entry level model, so even the cheapest model, the Icon, with pricing starting from £21,565, is well equipped, with a standard specification which includes: 5 spoke 17″ alloy wheels; the very necessary Reversing Camera; an 8″ touchscreen with Toyota Touch® 2 media system with 6 speakers, DAB & Bluetooth®; Toyota Safety Sense; Adaptive Cruise Control; an Electronic parking brake; Dual-zone automated climate control; Auto headlights & Auto wipers; 7 Airbags and a Tyre Repair Kit (TRK). Next up is the Excel. In addition to the features on the Icon, you get: 18″ Black Machined-face Alloy Wheels with 0-double-spokes; Premium Liquorice Partial Leather seats; Intelligent Park Assist with front & rear parking sensors; Toyota Touch® 2 with Go Navigation and enhanced features; Smart Entry & Push-button Start. An extra £500 buys you the Red Edition, which, as the name suggests, comes with standard Tokyo Red pearlescent paint and a black roof, as well as all the features of the Excel. For a premium of £1000 over the Excel, sits the top of the range Dynamic, which is the spec of the test car. This brings you: 18″ Black Machined-face Alloy Wheels; Front LED Lights with 'sequential' LED indicators & Rear LED Lights; Auto folding, heated door mirrors with integrated indicator; Intelligent Park Assist with front & rear parking sensors; Toyota Touch® 2 with Go Navigation and enhanced features; Smart Entry & Push-button Start and a Black Bi-tone Roof. Listing at £26,545 for the petrol car, I could not help but feel that this is on the pricey side.
So, conclusion? Under that controversial styling, you are basically getting a Toyota, with all that is good and bad about that. You can be pretty sure that the ownership experience will be pretty good. Reliability is likely to be exemplary, and there is a 5 year warranty in case anything does go wrong. But you are also getting something that is pretty dull to drive, and although there are some of the cross-over benefits in terms of raised seating position, and in some respects a bit more space than in the Auris, I don't think anyone subjected to that claustrophobic rear seat for long would be appreciative of your choice. If you love the styling, then perhaps this is the car for you, but if, like me, you don't, then this is definitely not the car for you, as there are plenty of alternatives that would do the job not just of accommodating people and stuff, but also being a bit more interesting to drive. I'd turn to the Nissan Qashqai or Seat Ateca without a moment's regret for so doing.