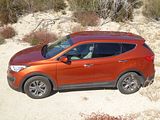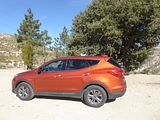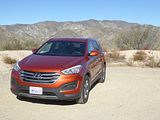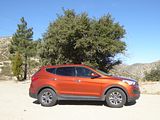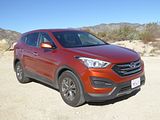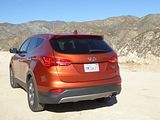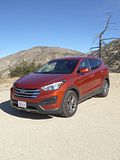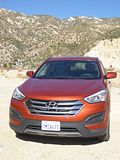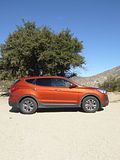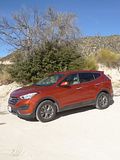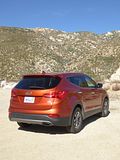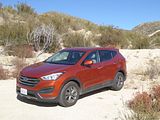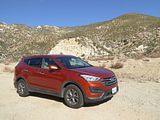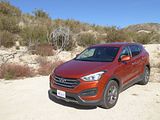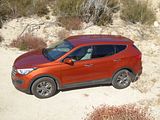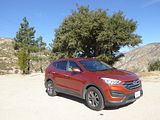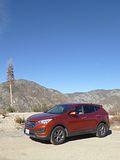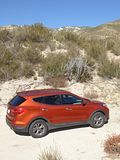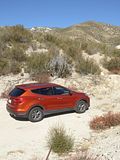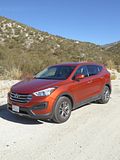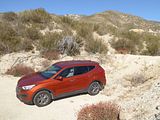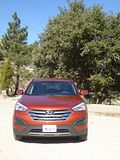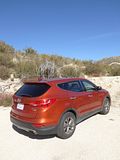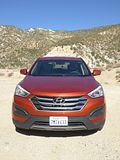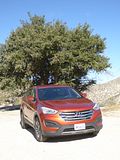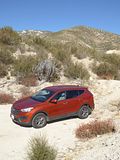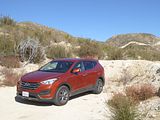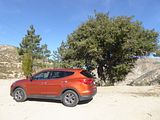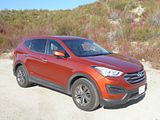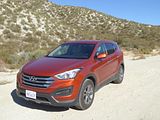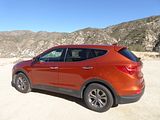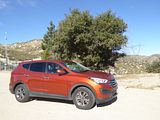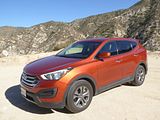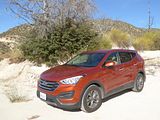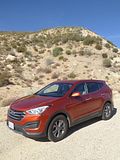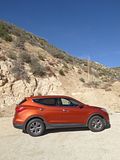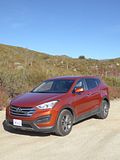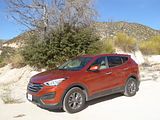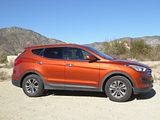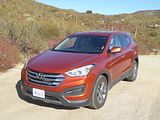 With the continued decline in the sales of the traditional family saloon, the Crossover-type vehicle has become ever more important and pretty much every motor manufacturer has several in their product range these days, in varying sizes from small to very large, or in some cases, enormous. Whilst the very largest models, such as those long-offered by Ford, GM, Toyota and Nissan, and others at the start of the Crossover-craze have retained some of their truck-based features such as a separate chassis until very recently, all the smaller models that have flourished in the market place in the last decade have been designed to exactly the same principles as the conventional saloons and hatch models whose sales they are not usurping, just with taller bodies and in some cases a semblance of off-road capability, though with many of them sold in two-wheel drive format, their abilities in this regard are actually just as limited in reality as a traditional saloon was. Korean giant introduced their first Crossover model in 2000, and called it the Santa Fe. Like most such vehicles at the time, it was on the large side, certainly for many people's needs, so the range was quickly augmented by the smaller Tucson which looked very similar but just shrunk in size a bit. Both were competent products, typical both of their genre and of the ever improving standards of what was coming out of Korea at the time. Not surprisingly, the replacements for both manifest significant improvements on the first generation models in every respect with sharper styling and significantly higher quality interiors as well as the expected gains from the latest standards of engineering and technology. Sales continued to rise in every market where they were sold. US customers got the option of a third model, the larger 7-seater Veracruz, which was aimed at soaking up of the sales of the former Entourage Minivan as well as rivalling the Ford Explorer, Mazda CX-9, Nissan Pathfinder and other competitors which were that big larger than the Santa Fe. By the time of model replacement, with a new third generation Santa Fe, which was unveiled at the New York Auto Show in April 2012 and going on sale in September 2012, Hyundai combined the two larger models into a single design, but offered in two configurations and with different rear-end designs. The true Santa Fe remained a 5-seater and was called the Santa Fe Sport, while there was now a 7-seater which was called just Santa Fe, but which really was a new generation Veracruz. Just to confuse matters, in markets where only the 5-seater is sold. such as Europe, it is called just Santa Fe.
Having driven most of the Santa Fe's rivals in the last couple of years, this was the one omission in completing an assessment of the entire class on the US market. Time was when Hertz' fleet in the US was awash with Hyundai models from top to bottom of the range, but during 2017 I noticed that they had largely disappeared. I later understood that a lot of customer had complained that they always ended up with a Hyundai, so apparently a very high-level decision was made not to buy anything like as many. I do wonder quite why so many people complained as my experience of most of the rest of the range was that these cars are all close to top of the class and are infinitely preferable to most of their rivals. Anyway it did mean that I was going to have to look a bit harder to get hold of a Santa Fe. The chance came towards the end of my November 2017 trip to Los Angeles when I spotted one parked up in the Presidents' Circle area, in the distinctive paintwork Hyundai call Canyon Copper that was almost a signature colour at one time. When I went up close to check it out, I found that it was certainly old – a 2016 model when most of the fleet was switching over to 2018 model year vehicles. However, despite the fact it had over 40,000 miles on the clock, it seemed to be in good condition, so I took it, curious to see if this had enough stand-out virtues to make if the class champion or not.
Whilst European market Santa Fe models come with a diesel engine, in the US, it is definitely a case of petrol power only. Sport models come as standard with a 4 cylinder 2.4 litre unit which puts out 185 bhp, coupled to a six speed automatic gearbox, and the option of a more potent 2.0 Turbo unit with a healthier 240 bhp. The 7-seater cars all have a 290 bhp V6 unit. Front wheel drive is standard, with all-wheel drive an option. It was fitted to the test car. Although only the less powerful four cylinder engine powered the test car, it proved very refined and smooth. It was never going to make the Santa Fe fastest away from the lights, but it proved perfectly acceptable in urban and freeway motoring without having to work the car particularly hard. The transmission was particularly smooth, shifting imperceptibly between the gears. I took this Hyundai up into the hills up above LA, where the slopes are not that steep, by European standards, but the climbs are steady and over a long distance. Testing things out, when the car was in Eco mode, it really did feel weedy, so you won't be using this on such routes. You might want to try it elsewhere, though, as when I returned the Santa Fe having covered 141 miles in the day, it needed a full 7.3 gallons. If the fuel tank was as full when I got it as it was when I returned, which would seem unlikely given this apparent need for fuel, that computes to just 19.31 mpg US or 23.07 mpg Imperial which is really not very good at all. No wonder that these cars are still sold in Europe with a diesel engine. What are beyond question, however, are the low noise levels. Hyundai apparently added a significant amount of sound-deadening material and the results speak for themselves. This is a quiet cabin, with very low levels of noise from engine, road and wind.
Just as you don't expect rocketship performance, so you probably don't expect this will be a particularly sporty feeling vehicle to drive. And it is not. But it is not bad, with some weight in the steering in Normal mode and a bit more in Sport mode, so you do have some idea what the steered wheels are going to do as you turn the wheel and the Hyundai handles quite neatly, with plenty of grip and body roll reasonable well in check. It is definitely not as good as a Ford or a Mazda to drive on twisty roads, but it is probably in the next tier down, and certainly better than some of the Japanese rivals with their over-light feel-less setups. The test car came on relatively high profile 235/55 R17 wheels, and it rode well, proving comfortable on the varied surfaces of the roads around Los Angeles. I had no concerns with the brakes, the pedal having a progressive feel to it and not being heavy in operation. There is a foot operated parking brake, which, like all these devices, could snag your left leg so you had to remember it was there. All visibility was generally good, and to help with any potential blind spot, the driver's door mirror had a second piece of glass in it with a different and wider field of view.
There was quite a mixture of colours and textures in the interior of the test car. That was good and bad. Good because with the combination of the oatmeal coloured cloth upholstery and some light colours on the dash, it was quite light and airy feeling. But some of the materials used felt a bit hard and plasticky and the "pl-ood" inlays were particularly nasty, as these things so often when a fillet of plastic convinces no-on that it is anything other than that. the gunmetal surrounds to the air vents and gearshifter were perhaps a more successful source of colour variation. The dash itself is neat and well organised, following the same overall design as has been seen in other Hyundai models from earlier this decade, though it did not take more than a quick look for it to feel a little old-fashioned in some ways. That is not necessarily completely a bad thing, as it did mean that the central audio unit – and it was just that – was at least easy to operate with conventional buttons and knobs to operate the functions it offered. These included a CD slot. Of course the sort of features that you get wit a much more complex modern touch screen were absent. The plastic moulded steering wheel was a reminder that this was a version from the bottom of the range, too, but it was pleasant enough to use. A single curved cowl covers the two instruments which dials, which are then set in their own individual deep recesses, with fuel gauge and water temperature inset in the lower portion of the larger speedo and rev counter. they were all clearly marked and easy to read at a glance. There is a central trip computer display area between them, with functions change by buttons on the steering wheel boss where you will also find quite a lot of other buttons for audio repeaters and cruise control. Twin column stalks are used for the lights as well as indicators and wipers. Below that old school audio unit there is a single large dial and a few buttons for the standard air-conditioning system. Baring a few other small switches, that is it.
In the entry level trim of the test car, seat adjustment was all manual, but it did include lumbar adjustment for the driver which was a nice touch. The passenger does not get the luxury of a height adjuster, but given the tall body design is unlikely to be short on headroom regardless of how tall they are. The steering column telescopes in and out and up and down, so it was easy to get my optimum driving position, and once set, I found the seat to be very comfortable. Couple this with the good refinement levels and the feeling of space and you could happily undertake much longer journeys than I did without feeling any undue hardship or discomfort.
Rear seat occupants are well provided for. Leg room is in generous supply, even with the front seats set well back, and the crossover styling gives plenty of headroom. Backrest angle can be varied through a limited arc, and those backrests are split 3-way on a 40:20:40 basis. There is a central armrest with cupholders in the front portion of its upper surface and occupants here benefit from air vents in the B pillars and have map pockets on the back of the front seats as well as bins on the doors for their smaller stowage items.
There is a generous sized boot. It is wide, deep, and long. There is minimal intrusion from the rear wheel arches, and the floor is nice and flat, flush with the base of the tailgate. There is plenty of additional underfloor stowage pace, as well. More luggage room can be created by dropping the asymmetrically split backrests down onto the rear seat cushions, creating a long and almost completely flat load platform. Inside the cabin there are plenty of places of odds and ends As well as bins on the doors and a generously sized glovebox, the cubby under the central armrest is deep and there is a good-sized recess in front of the gearlever, as well as a lidded area on top of the dash.
The 2-row Santa Fe Sport is available in base, 2.0T, and 2.0T Ultimate trims. The 3-row Santa Fe is offered in SE and SE Ultimate trims (seven-seat layout), as well as Limited and Limited Ultimate trims which have a six-seat layout. The base model Santa Fe Sport comes as standard with the old-school six-speaker audio system with a CD slot, Bluetooth, a USB port, satellite radio, keyless entry, and alloy wheels. The Popular Equipment package adds a 4.3″ touch screen with navigation and a rear-view camera and fog lights. The Premium package adds blind spot monitoring, a hands-free tailgate, leather upholstery, and heated front seats. The Tech package adds a navigation system, a 360-degree-view camera, parking sensors, ventilated front seats, heated rear seats, and a panoramic sunroof. The Sport 2.0T trim adds a turbocharged four-cylinder engine and comes equipped with the Popular Equipment and Premium packages. The Sport 2.0T Ultimate trim bundles the Popular, Premium, and Tech packages. The Santa Fe SE is equipped with all of the base model's features, plus a V6 engine and the Popular package. The Santa Fe Limited adds second-row captain's chairs and the Premium package. Both the SE Ultimate and Limited Ultimate trims contain the Popular, Premium, and Tech packages. A number of advanced features debuted for the 2017 model year that were previously unavailable, including forward collision warning, adaptive cruise control, Apple CarPlay, and Android Auto.
Whilst I was paused, taking in the view and some more photos, at the junction of the Angeles Crest Highway and Angeles Forest Highway, a group of crossovers came up the road and pulled into the parking area across the road from me. The front two of them had a camo disguise on them, and behind were familiar production versions of the Chevrolet Equinox, Ford Escape and a Nissan Rogue. The drivers all got out to admire the view and seemed not to notice the fact that I was there and had a camera in my hand. I managed to work out that what I was looking at were a couple of disguised versions of the next generation Santa Fe, and checking online when back at the hotel, it would appear that it is expected that this will be launched within the next few months. So that means that the Santa Fe that I tested is coming to the end of its production cycle, perhaps not a surprise for a car that was launched in 2012. Although there are signs of age, especially around that old-syle audio unit, though this was changed for the 2017 model year, it remains a very capable machine, and for anyone who is looking for a roomy crossover of this type, I would say is still worthy of consideration. Given how few of them seem to be left in the Hertz US fleet, I suspect that you are, however, not going to get the chance to sample one using that route to source the car.