No-one is going to need any reminders about the difficulty of organising events in 2020. The moment the national lockdown was announced on 23rd March, everything in the diary in the immediate future was simply cancelled. As words of hope about life returning to some form of normality during the summer came from the politicians, so plans for approved socially-distanced events started to emerge. Expansive outdoor settings with limited numbers of attendees. it seemed, would be permitted, subject to various provisions and precautions being in place. And so a joint initiative of three of the Abarth Regional Groups – Hertforshire, West Midlands and East Midlands – was announced, at the Sywell aerodrome. A private event meant it would be easy to control numbers and the venue would make social distancing as easy as it was going to be anywhere. Excited Owners booked up and the available places – 150 – were quickly taken. By the time August arrived there had been a few other events, so this was not the very first opportunity for all the attending owners to meet up, but even so there was a lot of eager anticipation expressed in the days leading up to this Sunday gathering. And then, just four days beforehand, a bomb-shell was dropped on the organisers. And not the one they were expecting. It was that word had got out that there was going to be a huge horse fair in the area over the same weekend, with over a thousand horses and everything that goes with them expected. Traffic was likely to be an issue, among other things. Following advice from the police, Sywell and any other venue in the vicinity concluded that they had no choice but to close. I don't know exactly what the organisers of what had been billed as "Abarths at the Runway" said, but I can guess………. to their eternal credit, though, they did not simply give up, but indeed spent what by all accounts was a rather frenetic day on the phone and the result was that within 24 hours, an alternative location that was not that far away from Sywell had been secured. This turned out to be at another old aerodrome, Shuttleworth, known now for housing a collection of vintage planes and other transport items, They were open to the public and were happy to allocate a separate and sizeable area for exclusive Abarth parking which they even marked out so cars could park in a socially distant way. I've long planned to go to see this Collection, so was delighted that the fates had now put it into my diary for what promised to be an excellent and memorable day.
ASSEMBLY and CONVOY
This ended up being a double-header weekend, as the day before Shuttleworth was Bedfordshire Italian Car Day, taking place at the Sharnbrook Hotel just outside Bedford and about 20 miles distant from Shuttleworth. Like a number of the people attending both events, the logical thing to do was to stay at the Sharnbrook Hotel on the Saturday evening and then to convoy over to Shuttleworth the following morning. That would be fun enough, but a group of local owners, from Abarth Northamptonshire decided that as they would be passing, they would drop en route and collect up all those staying overnight, so forming an even bigger convoy. We agreed a time to meet up and target departure, but needless to say a combination of people perhaps being a bit late getting up (a fire alarm in the middle of the night got the blame as opposed to the drink and late night that was probably more likely the cause!) so when the Northamptonshire folk arrived, most of the overnighters were still in breakfast. Rounding everyone up took some time, but this was no real hardship, as it did mean that there were cars to look at, friends to reacquaint with and new friends to make, as people excitedly polished their cars, showed off the latest modification or feature or just rushed around taking photos.
Keeping any convoy together is not easy, especially when the route takes you more or less through the middle of Bedford, but we did reasonably well. Of course the rules are that you follow the car in front, though sometimes you have to wonder, as I certainly did when lead car, Tristan Fudge, whom was following turned down what looked like a residential street that I was not expecting. We all followed, and then paused whilst he picked up a passenger! Out in the country it was easier to keep cars together, but as we neared Shuttleworth we started to see Abarths heading towards us, which was puzzling. We found out why when we reached the entrance we thought we had been directed to, and found it closed, thus necessitating a u-turn and a return to Shuttleworth village and a different way into the site that was needed so that the Abarths were able to access their designated parking area. It was a little later than planned when we arrived, so there were already vast numbers of cars parked up. And more were arriving, following us in, though not having been part of the convoy. With the sun shining, the day was set to be as excellent as had been hoped for.
THE ABARTHS
All thoughts of trying to group cars together, by model type or even by colour, had been abandoned, so as cars arrived, they were simply directed to the next socially distant spot, with the result that were long lines and many rows of cars, with the expected variety evident in whichever direction you looked. Whilst there were not quite examples of every different modern Abarth model offered since the relaunch of the brand in 2007 with the Grande Punto, it was only the absence of some of the limited editions and some of the rarer colours that precluded this from being the "full set".
The vast majority of cars here were the 500-based models which have been on sale now since the end of 2008, following a launch at the Paris Show that year. Since that time there have been a number of detailed changes to the standard cars and a lot of limited editions. Those who really know the marque can spot most of them, but some are so subtle that unless there is a badge you can see, you will not ne quite sure which version you are looking at. It used to be relatively easy, when the model was first launched, as there was only one version as shipped ex works called the 500. It had a 135 bhp 1.4 litre turbo-charged engine coupled to a five speed manual gearbox, with 16″ alloys as standard, and the option of 17″ wheels, and a colour palette comprising of two whites (BossaNova White, the standard colour, or the pearlescent Funk White), Red (Pasadoble), Pale Grey (Campovolo) or Black. If you wanted more power – 160 bhp – then you could order an Esseesse kit, which came in a large wooden crate, containing new wheels, springs, an ECU upgrade, the Monza exhaust system and badging. It was dealer fitted and could be applied at any time within the first 12 months or 10,000 miles from registration. Needless to say, it proved popular. As were many of the optional extras, with stickers for the sides, a large scorpion for the bonnet and even a chequered pattern for the roof among the personalisation options offered. Several of the original style of cars were here.
Whilst a sliding glass sunroof (Skydome in Fiat/Abarth parlance) was an option from inception, fans of open air motoring had to wait until Geneva 2010 for the launch of the 500C models.
For the first few months these cars only came with the robotised manual gearbox, which limited the appeal in the eyes of some, but they also introduced us to the "bi-colore", a series of two tone cars, with upper and lower halves of the body painted in different colours. It took us a while to get used to this, as no other production road cars had been painted like this for some time, but now this is seen as yet another of those marque defining attributes, and (perhaps with the exception of the rarely seen Rally Beige and Officina Red combination that would come for 2014) in the eyes of many this distinctive look enhances the appeal of the cars still further.
Having used the legendary 695 badging from the 1960s on the Tributo cars, at the 2012 Geneva Show, Abarth dusted off the 595 name that had been used on the less powerful of the Nuova 500 based cars of the same generation, and created two new versions which we should think of as Series 2 cars, the 595 Turismo and Competizione, both of which could be bought in either closed or open top C guise, with either the 5 speed manual or robotised automated gearshifts. Both models had the 160 bhp engine as standard. Effectively they were a replacement for the Esseesse kit, and it meant that the cars were produced complete at the factory, rather than needing the dealer to undertake the upgrade (and the associated paperwork), though Abarth did not withdraw the Esseesse kits from the market for some while. Turismo, as the name suggests was aimed slightly less extreme in intent, featuring standard leather upholstery, upgraded dampers and climate control, Xenon headlights and Alutex interior details. The sportier Abarth 595 Competizione replaced the leather seats with Sabelt cloth sport seats and Alutex with aluminium, while adding p-cross-drilled brakes and the Record Monza dual-mode exhaust.
Some new colours were introduced, and very soon one of those, Record Grey, frequently combined with a tan interior became one of the most popular choices. There were several examples of this popular colour here and there is no denying that this combination suits the Abarth shape very well.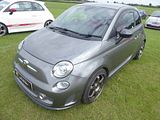 Rumours started to circulate towards the end of 2014 that Abarth were going to upgrade the Competizione model, so as better to bridge the gap between the Turismo and the 190 bhp 695 Biposto that had been added to the range earlier in the year. It was Geneva 2015 when the result was finally shown to an expectant fan base. Most exciting news was that thanks to a bigger Garrett Turbo, the engine had been tweaked to 180 bhp, and with reduced CO2 emissions. A standard spec that included Koni Dampers, Brembo brakes, Xenon lights, Sabelt seats, Climate Control, parking sensors as well as other refinements that had been added like the TFT instrument display all proved very compelling, so not long after the first cars reached the UK in June of 2015, I found temptation too hard to resist, and as is well documented here, swapped my 2010 car for one of these. At the time I ordered it, Cordolo Red, a tri-coat pearlescent paint which shimmers in bright sunlight looked set to become one of the most popular colours of the lot, even though it is a cost option. Indeed, the Launch Edition models were all offered either in this colour or Scorpion Black, with black wheels. Surprisingly, the colour was not carried over to the Series 4 cars.
A new colour was announced with the new Competizione cars, called Podium Blue, but it was not going to be immediately available, and there were no accurate representations of exactly what shade it would be. Rumours circulated on Abarth forums and Facebook Groups all summer, with lots of guessing and no real facts, although we had been assured that it was not the same as the Abu Dhabi Blue that had featured on a very small number of 695 Tributo Ferrari models in 2011. It was October 2016 when the first cars reached the UK and those who had taken the gamble could see for themselves whether they had got it right. Common consent is this is a stunning colour. A rich blue, it changes shade in different lights. I think it looks fantastic. It has proved very popular and remains on offer to this day.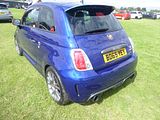 What is known as the Series 4 version of the familiar 595 reached the markets in the middle of 2016. After rumours had circulated all winter following the launch of the facelifted Fiat 500 last year, Abarth finally unveiled the Series 4 at the end of May 2016. Initially, we were told that the cars would not be available in the UK until September, but that came forward somewhat, with dealers all receiving demo cars in June, and the first customers taking delivery in July. Three regular production versions of both the closed car and the open-topped C were initially available, all badged 595, and called Custom, Turismo and Competizione, as before, though numerous limited edition models have since appeared and in most case disappeared. The most significant changes with the Series 4 are visual, with a couple of new colours, including the much asked for Modena Yellow and a different red, called Abarth Red, which replaces both the non-metallic Officina and – slightly surprisingly – the tri-coat pearlescent Cordolo Red. as well as styling changes front and rear. The jury is still out on these, with many, me included, remaining to be convinced. At the front, the new air intake does apparently allow around 15 – 20 % more air in and out, which will be welcome, as these cars do generate quite a lot of heat under the bonnet. Competizione models for the UK retain the old style headlights, as they have Xenon lights as standard, whereas the Custom and Turismo cars have reshaped units. At the back, there are new light clusters and a new rear bumper and diffuser. Inside, the most notable change is the replacement of the Blue & Me system with a more modern uConnect Audio set up, which brings a new colour screen to the dash. Mechanically, there is an additional 5 bhp on the Custom (now 145) and Turismo (now 165 bhp) and the option of a Limited Slip Diff for the Competizione, which is likely to prove a popular option. Details of the interior trim have changed, with a filled-in glovebox like the US market cars have always had, and electric windows switches that are like the US ones, as well as a part Alcantara trim to the steering wheel in Competizione cars. These cars have now been on offer for three years and with Abarth sales on the rise, it was no surprise that they were particularly well represented here.
Many Abarth owners spend a lot of time and money on modifiying their cars. Some focus on looks, whilst others are interested in what they can do mechanically to add more power, or other mechanical modifications. There were a number of duly modified cars here, all of which attract lots of attention from everyone present. Whilst some of the changes are not entirely to my taste (I can be something of a purist at times!), there can be no doubting the care and attention (and in many cases money) that has gone into their creation).
At the 2012 Geneva Show, Abarth showed the 695C Edizione Maserati, a limited production version of the Abarth 500C convertible with the 1.4 Turbo T-Jet 16v engine rated at 180 hp, a 5-speed electrically operated manual Abarth Competizione gearbox with steering wheel controls, Maserati "Neptune" 17″ alloy wheels with performance tyres, Brembo 305 mm brake discs with fixed four-piston caliper and special shock absorbers, Record Modena variable back-pressure "dual mode" exhaust, Pontevecchio Bordeaux body colour, Xenon headlights with dipped and driving light functions, sand beige Poltrona Frau leather seats with containment strips featuring single-layer padding and the pista grey contrasting electro-welding, black leather steering wheel, aluminium pedal unit and sill plate, carbon fibre kick plate, boosted hi-fi audio system. Production was limited to 499 units, and around 20 of them came to the UK, and one of these in the stunning Pontevecchio Bordeaux colout, belonging to Neil and Alison Potter, made the journey here. We should have had one of the grey cars here as well, but sadly Sam Cottenden's car is currently off the road, awaiting parts.
Peter Dyer brought his 50th Anniversary Edition car. This version was unveiled at the 2013 Frankfurt Motor Show, as a limited production car of which just 299 vehicles would be made commemorating the 50th anniversary of the original Fiat-Abarth 595. As that original car had been badged a Fiat, so was this one, which confused everyone who had been trying to explain how Abarth is a separate company. The UK cars listed at around £29,000 so not cheap, but for that money you got the 180 PS 1.4 T-Jet engine, Abarth Competizione gearbox, 17-inch alloy wheels with 695 Magnesio Grey design embellished and red liner, Brembo 305 mm floating brake discs, fixed four-piston caliper, special shock absorbers, 'Record Monza' variable back-pressure dual mode exhaust, matt three-layer white body colour, Xenon headlights with dipped and driving light functions, red leather sports seats with white inserts and red stitching, Abarth logo at black leather steering wheel with red inserts and finder and the kick plate.
Seen by most as the ultimate model, there was the 695 Biposto. First shown at the 2014 Geneva Show, this 2 seater (that's what Biposto means in Italian) is nothing other than a road legal version of the 695 Assetto Corse Racing car, a vehicle which has its own race series in Europe. Although the car is road legal, it was envisaged that the majority of people who buy one of these cars will use it on the track and quite frequently. So it was conceived accordingly. That means upgrades to all the important bits – engine, brakes, suspension, gearbox – and some fairly drastic measures to save weight which resulted in a car which generates 190 bhp and 199 lb/ft or 250 Nm of torque with a kerb weight of just 997kg. That's enough to give a 0 – 60 time that is under 6 seconds, and a top speed of 143 mph. Those are supercar figures produced by a city car. There's more to it than that, though, as the changes that go to make a Biposto are extensive, and they have been well thought through, so this is a long-way from being a hastily conceived or tuned up special. Ignoring the limited edition cars which arrived during 2015, the "regular" Biposto is only offered in Matt Performance Grey paint, and the car is visually distinctive, with a new front bumper, rear diffuser, wider arches, new skirts and bigger roof spoiler. Although the engine is still the same 1.4 T-jet that features in the lesser 500 and 595 cars, it has been reworked here, with a new Garrett turbocharger, larger intercooler, altered fuel rail and an Akrapovic exhaust system. Buyers can choose between the standard five speed gearbox or an optional race-bred dog-ring unit mated to a mechanical limited slip diff. The standard car's MacPherson strut and torsion beam suspension has been reworked, too, with altered springs, wider tracks adjustable ride height and dampers with more resilient bushings, using Extreme Shox technology shock absorbers. The brakes are upgraded in line with the extra power, featuring 305mm Brembo discs and four pot calipers up front and 240mm discs with single pot calipers at the rear. The wheels are lightened 18″ OZ and attached via a titanium hub, shod with bespoke 215/35 Goodyear tyres. In the interest of weight saving, a number of standard trim items are removed, including the regular door trims, air conditioning, the rear seats and some of the sound deadening material. Even the standard air vents have been changed so they are covered by a simple mesh. In their place is plenty of polished carbon fibre, a titanium strut brace, racing seats and harness, as well as special trim features such as new pedals, tread plates and a race inspired digital display on the dash where the radio usually sits. Although the Matt Performance Grey car is probably the one you think of when someone says "Biposto", there were other versions, with a very rare red being a car that I did not spot here, and the Record Edition being one I did. There were just 133 of these made, all painted in Modena Yellow, at the time an exclusive Biposto colour. These cars had some of the civility restored with air conditioning and a radio included in the spec.
More recently, Abarth have produced the 695 Rivale, a celebration of Fiat's partnership with Riva, which has already seen a special Riva version of the 500,. Described as being "the most sophisticated Abarth ever", it is available either as a hatch or a cabriolet, with both of them featuring a two-tone Riva Sera Blue and Shark Grey paintwork. The Rivale is adorned with an aquamarine double stripe, satin chrome finish on the door handles and satin chrome moulding on the tailgate, various aesthetic elements inspired by the Riva 56 Rivale yachts and '695 Rivale' logos, joined by Brembo Brakes, Koni suspension, and 17-inch Supersport alloy wheels. Enhancing the nautical theme the new 695 Rivale features either a carbon fibre or mahogany dashboard, black mats with blue inserts, blue leather seats and door panels, carbon fibre kick plates, special steering wheel wrapped in blue and black leather and with a mahogany badge, blue leather instrument panel cover, and mahogany gear lever knob and kick plate. These are joined by the standard Uconnect infotainment with a 7-inch display, which is compatible with Android Auto and Apple CarPlay, and there is also a hand-written numbered plate that can be customised with the mane of the customer's yacht on request. Powering the 695 Rivale is the same 1.4-litre turbocharged engine that makes 180PS (177hp) and 184lb/ft of torque, that features in the 595 Competizione, allowing it to go from rest to 100km/h (62mph) in 6.7 seconds and up to a top speed of 225km/h (140mph). This is a regular model in the range, but confusingly, there is also the Abarth 695 Rivale 175 Anniversary, created to celebrate 175 years of the Riva brand. Just 350 of these were produced, half of them the hatch and the other half cabriolets. These featured 17-inch alloy wheels with a special pattern, celebratory badge on the outside, hand-crafted details such as the two-tone colour – blue and black hand-stitched leather seats with a celebratory logo stitched onto the headrest, carbon dashboard silk screen printed with special logo, numbered plate. Standard Rivale cars arrived in the UK in April 2018, and quite a few have been sold. They always attract lots of interest when they do appear.
Most recent addition to the range is the 695 Anniversario which was launched at the brand's 70th anniversary celebrations in Milan in October 2019, and deliveries of which started around the turn of the year. The Anniversario is in a choice of 5 colours: White, Black, Podium Blue, Grey and 1958 Green, and there were examples of some but not all of these here, including a couple of cars in the 1958 Green which was selected to evoke memories of the 1958 record-breaking 500, though I can advise that the two shades of green are quite different, the older car being much lighter. Online verdicts of the new car at launch were not entirely positive, with many challenging the appearance, others the spec and yet more the price (£29,995 in the UK), but in the metal, it looks far better than those first web pictures portrayed, and there is no doubt that the 1949 buyers of the car are getting something quite distinctive, with the Campovolo Grey accents around the wheelarches and lower body skirts. What they aren't getting is more than 180 bhp, as it would seem that to get Euro 6d compliance from the T-Jet engine, 180 bhp is the limit. But the Abarth 695 70° Anniversario does have an ace up its sleeve. Look at the back and you'll notice a rather large roof-mounted spoiler serving as the special edition's party piece. Manually adjustable in literally a dozen of positions, the spoiler was developed in the wind tunnel to achieve maximum aero efficiency regardless of speed. Its inclination varies from 0 to 60 degrees and helps increase aerodynamic load by 42 kilograms when the car is travelling at speeds of 124 mph (200 km/h) provided the spoiler is at its maximum inclination. Abarth has done the maths and it claims the new aero component will reduce steering corrections by as much as 40% based on the testing they've done at FCA's wind tunnel in the Orbassano municipality located southwest of Turin. Power is provided by the familiar 1.4-litre turbocharged engine with 180 hp and 250 Nm (184 lb-ft) of torque, good enough for a sprint from 0 to 62 mph (100 km/h) in 6.7 seconds before topping out at 140 mph (225 km/h) if the spoiler is in the 0° position. Those 17-inch SuperSport wheels are paired to a Brembo braking system with four-piston aluminium calipers finished in red, hugging the 305-mm front and 240-mm rear self-ventilated discs. Rounding off the changes on the outside is the newly developed Record Monza exhaust with active valve for a better soundtrack. Abarth also spruced up the cabin a bit where the body-hugging seats are exclusive to this special edition, just like the individually numbered plaque reminding you this isn't an ordinary 695. Onboard tech includes support for both Apple CarPlay and Android Auto, DAB digital radio and a navigation system for that seven-inch touchscreen display. Additional standard equipment includes automatic climate control, daytime running lights, LED fog lights, unique mats, and the Abarth telemetry system if you plan on taking the hot hatch to the track.
The Abarth Grande Punto debuted at the 2007 Frankfurt IAA Show, going on sale in the UK in late summer of 2008. Offering 155 bhp from its 1.4 litre T-Jet engine, coupled to a six speed gearbox, and riding on 45 profile 17″ alloys, the standard car got rave reviews from the journalists when they first tried it, and they were even more impressed by the changes wrought by the optional Esseesse kit. This increased power to 177 bhp, brought 18″ OZ lower profile wheels, whilst new springs lowered the ride height by 15-20mm, and high-performance front brake pads and cross-drilled front disc brakes helped the car to stop more quickly. The most distinctive feature of the car were the white alloy wheels, though, as owners found, keeping these clean is not a job for the uncommitted, and many have a second set of wheels that they use for grubbier conditions. Despite the positive press at launch, the car entered a very competitive sector of the market, and the combination of being relatively unknown, a limited number of dealers and the existence of established rivals from Renault and others meant that this always remained a left-field choice. The owners loved them, though, and they still do. The oldest cars have now had their 10th birthdays, and some have amassed relatively big mileages, but they are still a car for the cognoscenti.
The Punto Evo was launched at the 2010 Geneva Show, with the cars reaching UK buyers in the summer of that year, and it incorporated many of the changes which had been seen a few months earlier on the associated Fiat models, the visual alterations being the most obvious, with the car taking on the nose of the associated Fiat, but adapted to make it distinctively Abarth, new rear lights and new badging. There was more to it than this, though, as under the bonnet, the T-Jet unit was swapped for the 1.4 litre Multi-Air, coupled to a 6 speed gearbox, which meant that the car now had 165 bhp at its disposal. Eventually, Abarth offered an Esseesse kit for these cars, though these are exceedingly rare. Part of the Punto Evo family is the SuperSport, usually identified by the distinctive black bonnet, though not all cars feature it. Just 199 of the SuperSport versions were built, of which around 120 are registered on UK roads. These cars had many of the options from the Punto Evo included as standard. Power came from the the 1.4-litre MultiAir turbo engine, tuned to produce 178bhp and 199lb ft of torque, up from 165 of the standard Punto Evo, giving the SuperSport a 0-62 time of 7.5 seconds and a top speed of over 132mph. To help put the power down, the SuperSport was fitted with wider 18″ wheels and optional Koni FSD dampers. Standard equipment included the Blue&Me infotainment system with steering wheel controls, automatic climate control and a popular option was the 'Abarth Corsa by Sabelt' sports leather seats. The SuperSport was available in the same colours as the regular Punto Evo, which means white, grey, black and red.
Completing the different models from the modern Abarth catalogue were a number of examples of the 124 Spider. Eagerly awaited, the 124 Spider went on sale in September 2016. A quick reminder as to what this car is: The Abarth 124 Spider was developed in parallel with the Fiat model. It does cost a lot more, and there are those who think you don't get enough extra for your money, but those who have driven it will tell you otherwise. You certainly get more power. The 1.4 MultiAir turbo unit jumps up from 138bhp to 168bhp, while torque also increases by a modest 10Nm to 250Nm, which gives it a 0-62mph time of 6.8 seconds, which is half a second quicker than the 2.0-litre Mazda MX-5. The top speed is 143mph. It weighs just 1060kg meaning a power-to-weight ratio of 158bhp-per-tonne, and with the new Record Monza exhaust system it sounds great even at idle. The Abarth version gets a stiffer suspension setup than the regular Fiat 124 Spider, with Bilstein dampers and beefed-up anti-roll bars. Bigger Brembo brakes also feature, with aluminium calipers. It can be had with a six-speed manual or six-speed automatic transmission with paddles, and the latter gets a Sport mode for quicker shifts. Many of the UK cars sport the 'Heritage Look' pack, which is a no-cost option. It brings a matt black bonnet and bootlid, plus red exterior trim detailing and has proved popular. The £29,565 starting price gets you standard equipment such as cruise control, climate control, Bluetooth, a DAB radio and satnav, plus Alcantara black and red (or pure black) seat trim. The automatic gearbox is a £2,035 extra, while an optional visibility pack brings LED DRLs, auto lights and wipers and rear parking sensors. As well as plenty of the standard car, there were a number of examples of the GT.
THE SHUTTLEWORTH COLLECTION
It is very easy to spend all the time at an event like this with the Abarths and their owners, and I was determined that this was not going to be the case on this occasion. By early afternoon as Abarths started to depart, I headed towards the hangars that contain a fascinating and very varied collection of transport related exhibits. Some of the vintage vehicles were parked up outside, so I started there.
1924 Bean 12hp Tourer: The Bean car project was an ambitious attempt by a major engineering company to bring a Ford Model T competitor to the British car buyer. In early days it succeeded, but ultimately would fail as it became unable to produce proven new models. The first Bean had a 1796cc, four-cylinder, engine with cast iron cylinder head and aluminium crankcase and separate three-speed gearbox, and became known as the '12'. Production targets were wildly optimistic and by 1920 only some 2,000 of the '12' had been manufactured, but by 1921 – with an increasingly outdated car and sales below expectations – the company went into receivership. A year later, and with extra finance, Bean was back in production. In 1923 a larger '14' with 2384cc engine and four-speed gearbox was introduced and a smaller version became the new Bean '12' the following year. The four seater touring body was distinguished by its uniform curved front and rear doors intended to achieve efficient quantity production through rationalisation and so speed up the manufacturing process. The '12' was to cease production in 1927 with some 3,000 vehicles produced. By then the company had suffered further financial problems and had been purchased by the Sheffield steel company, Hadfields. Car manufacture finally ended in 1929 and a new company Beans Industries returned to making castings. Except… in 1937 the Tipton factory was to make Capt. George Eyston's 'Thunderbolt' world speed record breaking car. Despite its sad story the Bean is nevertheless a classic part of British motoring history and had it not been for a series of untimely events and ill-run finances, the Bean may well have become the product of one Britain's major motor manufacturers. This car is one of only a few Beans to survive and even fewer of the scaled down 12hp (Notice those common front and rear doors). The car is on loan by one of the Collection staff.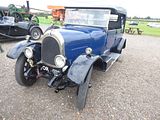 de Dion Bouton Lorry
1937 Fiat 500 "Topolino": Over half a million examples of the original Fiat 500, or Topolino ('little mouse' in Italian) as it was known unofficially, were manufactured between 1936 and 1955. At the time of its launch it was said to be the smallest 'real' car in the world in mass production, being a scaled down version of larger vehicles rather than a crude light car or cyclecar. With a water-cooled, four-cylinder, side valve engine of 569cc mounted ahead of the front axle, four speed synchromesh gearbox, 12 volt electrics, independent front suspension and hydraulic brakes it was more advanced in specification than many cars of the mid-1930s. The Fiat 500 was an immediate success, not just because it was small (just 3.2 metres or 10ft long) or inexpensive but because it was a very good car by contemporary standards. It was quickly introduced onto the British market where it established itself as a 'classless' car and got the nickname of the 'Mickey Mouse Fiat'. Races specifically for the Topolino were organised pre-war at the Brooklands circuit. Designed by (six-foot tall!) Dante Giacosa, who was responsible for engine and chassis, and Rudolfo Schaeffer, who styled the body, the little Fiat was manufactured in three basic models during its life. The two-door, two-seat, body was mounted on a separate chassis; there was no boot lid, luggage being stowed behind the two front seats. The original Model A was produced as a saloon, a convertible (with roll-back canvas roof) and a van, whilst the Model B, from 1948, had an overhead valve engine of 16bhp instead of the 13bhp of the previous version and was also available as the 'Giardinetta' estate car with a third, rear, door. The Collection's car was purchased by Dorothy Shuttleworth in 1937. After falling from regular use it deteriorated badly but, in the mid-1960s, was extensively restored by Shuttleworth Vehicle Collection volunteers to full working order and in its original 'Shuttleworth' blue.
1943 Fordson WOT 2H: Fordson was originally the separate tractor division of the British Ford company, but the name was then applied to commercial vehicles. The WOT (War Office Truck) range was designed at the start of the Second World War to meet military requirements for a light to heavy truck and was available in five basic models ranging from 15cwt weight to 3.5 tons. All the WOT models utilised the same 3621cc V8 side-valve engine, the models WOT1,2 and 3 being solely rear-drive, models WOT6 and 8 being all-wheel-drive with a forward control cab. The design was basic and rugged and saw action with the Royal Navy and RAF as well as the Army. Many vehicles were used for troop and stores carrying duties, whilst others were modified to meet specialist requirements such as water carriers, mobile field radio stations, ambulances and airfield fire engines. The WOT8 was in use as a field gun tractor, famously through the North Africa campaign. The WOT2, made in versions A to H, was the 'workhorse', making up almost half of the 130,000 vehicles produced during the war years. The Fordson trucks were designed and made at Ford, Dagenham, but also produced at the Morris Commercial and Bedford factories. This Fordson WOT2H is a Shuttleworth parade regular, and was generously donated to The Collection by Mrs Evelyn Hirst.
1938 Hillman Minx RAF Staff Car: William Hillman was a late nineteenth century bicycle maker who turned to automobiles when he entered into partnership with French designer Louis Coatalen in 1907. The first Hillman-Coatalen was a large 25hp touring car powered by a 6.4-litre, four-cylinder, engine and was manufactured in the new company's Coventry workshops. Coatalen left in 1909 to join Sunbeam, and the newly named Hillman Motor Company took on a new designer and manager, A J Dawson, in 1913. Dawson was to design the Hillman 9hp which was the first model to be built in quantity. Hillman was taken over by the Rootes family in 1928 and merged with Humber, the plan being for Humber to make large cars and Hillman smaller ones. The first Minx was announced in 1932, and the same basic model was to continue in production – with mechanical and styling modifications – until 1948. The Minx of 1934 was the first mass produced car to have a four speed gearbox with synchromesh on all forward gears. When the Second World War broke out in 1939 nearly all military staff cars (Royal Navy, Army or Royal Air Force) were basically civilian models give a coat of matt paint of the appropriate colour. Some came from showrooms, from factory stocks, and some were privately owned. The Collection's Minx would have been used by 'other sections' of the RAF – officers of the rank of Group Captain, Wing Commander or Squadron Leader – and would normally have been driven by a chauffeur from the Women's Auxiliary Airforce (WAAF). The vehicle was purchased from a main dealer in Leeds and privately owned until it was commandeered in 1939 by the Ministry of Defence. It was later owned and restored by Graham Church, of Kempston, Bedford, and exhibited locally at military pageants and similar displays. It is painted in RAF Bomb Disposal 15 Squadron colours and markings, hence the red front mudguards. It was purchased by The Collection in 2006.
1926 Jowett Model C Tourer: It is said that the hills of Yorkshire designed the Jowett light car. Sons of a blacksmith, William and Benjamin Jowett started – like many of the early motor manufacturers – in the cycle making business, and by the start of the twentieth century were making engines for machinery in the mill town of Bradford. The Jowett brothers made their first car in 1906, but production for sale was delayed because of their many varied engineering projects – and making the first six Scott motorcycles. The first light car, on sale in 1910, had a small but powerful for its size Jowett-made, water cooled, flat twin, engine of 816cc connected to a three speed gearbox and mounted in an open two-seater body constructed of aluminium panels. With low gear ratios and good power-to-weight ratio it had the right formula for the hills and rough roads of the brothers' homeland. Following the First World War the Jowett factory moved to Idle, just outside Bradford, and continued manufacture of the light car, increasing engine capacity first to 831cc and then 907cc. This engine, the 'Seven', was to be the sole Jowett power unit until a four-cylinder was introduced in 1936. Built in 1926, the Shuttleworth Model C 'Chummy' tourer has bodywork in aluminium over a coach-built ash frame. Fully restored in recent years with the original 7hp twin-cylinder engine, it was owned by Richard Shuttleworth who used it extensively as a runabout on the estate and in the local area. This car was originally registered as NM8092 but the number lapsed and after restoration it was given the age-related registration SV6601. Richard in fact owned three Jowetts (one long-chassis and two short-chassis) and thought very highly of them. 'You can take them anywhere', he said. 'A Jowett is the only car I know that will go across a field of Brussel sprouts in top gear!'
1921 Leyland "Charabus": This unique convertible single-decker bus was a Show Exhibit at the Commercial Motor Show at Olympia in 1921. It went into service in Northamptonshire & Bedfordshire and there are no other survivors of this type. The model G7 was a variation of the famous "RAF type" Leyland, with a low radiator/bonnet, a different back axle and long wheelbase. This vehicle was demonstrated at the Show at Olympia in 1921 on the Dodson stand and it showed Dodson's patent "Charabus" design. After the Show it was sold to the United Counties Omnibus Co. who later panelled over the roof (now restored to its original pattern with help from the Patents' Office Library; most of the fittings being found still intact). United Counties was taken over by Thomas Tilling in 1931, Tilling was Nationalised in 1948 and now it is part of the Stagecoach Group. This is an important vehicle in many respects: It is the only surviving "Charabus" and is therefore unique; Christopher Dodson was a famous London coachbuilder commencing with horse buses, later motor buses, and this is the earliest surviving example of their work; This is the second oldest full-sized single-decker bus, the only example with "Jubilee seats"; The chassis of the bus is typical of the early 1920s, high frame and normal control driving position (driver behind the engine) – this was all to change in the mid 1920s with more modern designs. It has a number of interesting features: Removable side windows, canvas centre to the roof which can be folded up to make the vehicle open like a charabanc. In inclement weather it can be fully enclosed hence the name "Charabus"; Wire mesh roof luggage rack accessible by a ladder at the back; The seating capacity can be increased by 10 "Jubilee" seats (tip-up gangway seats) – a common feature of the day but there are no other surviving examples of buses with this feature; Exhaust whistle mounted on top of the engine controllable by the driver; Autovac for pumping petrol to the engine, (most buses of the day were gravity fed); Restored to Eau-de-Nil livery as exhibited at the Commercial Motor Show, Olympia. After service in 1929 the remains of this bus became a static shop behind the Post Office in Ithlingborough. Latterly it was used as a store shed, plumbed in with a bathtub, also gas and electricity. It was found by Mike Sutcliffe MBE in 1977and exchanged for a caravan. The correct mechanical parts were discovered making it possible to restore it to original condition. Mike is well known for the high standard of his early motorbus restorations, going to great lengths to ensure that every detail is absolutely authentic, in fact, in 2004 he was honoured by the Queen for "Services to Motor Heritage". The bus was acquired by The Shuttleworth Collection in 2015, made possible with substantial funds from the SVAS and a "living legacy" from Mike, thereby ensuring its future for the public to see and enjoy for many years to come. It is also good to see it in the company of "The Wellingborough" double-decker as they worked together in the Bedfordshire and Northamptonshire area. The "Charabus" was outright winner and runner-up on two Brighton Runs, also has won awards presented by HRH Prince Michael of Kent. This bus has featured in numerous films including Cider with Rosie (1998: UK) with David Troughton. It was in action providing rides around the site.
1914 McCurd Model C: Wallace Atherton McCurd was born in 1876 in Edinburgh but by 1901 was living in Newington, London. A civil engineer by trade he was also a second hand car dealer – a rare feat in 1901 as the used car market must have been severely limited! In 1905 he formed a limited company W. A. McCurd Ltd to buy, sell and manufacture vehicles. By 1908 McCurd Ltd was formed, buying out the former with premises in Bloomsbury just off the Tottenham Court Road, with a big overhaul and repair department. In 1912 the company entered the commercial sector by manufacturing the 3 ½ ton Model C built in new premises on the Edgware Road, in the Dollis Hill area of Cricklewood. The model was said to be of simple design and driver proof. Various bodies could also be fitted including a bus, a lorry, or a van. During the First World War, the company was occupied with the manufacture of munitions, returning to lorries and other commercial vehicles at the cease of hostilities. McCurd sought to enter the motor car market in 1922 with an advanced specification light car utilising an engine of the company's own design and manufacture from a new factory at Hayes, Middlesex. It is thought a high price affected sales, and no known examples remain, Commercial vehicles were made until 1942 when the McCurd name disappeared. This Model C 3 ½ ton van is the only surviving McCurd. Registration BC2365, and owned by F & E Beeden of Northampton it was found in a totally derelict condition. Now restored as a box van in the livery of 'Tate Sugars', it has taken part in rallies and in the Commercial Vehicle London to Brighton run many times and appeared in the film 'Chitty Chitty Bang Bang'. It is on loan to the Shuttleworth Collection from Tate & Lyle Sugar.
1939 MG TA: It's an evocative 1940's scene, the wartime airfield, planes and crews at the ready, and an MG sports car nearby. The Collection's MG is a 1939 example, and was originally Richard Shuttleworth's own car which he drove regularly whilst in the RAF. The initials MG come from Morris Garages, the Oxford based dealership owned by William Morris and established to sell his range of motor cars. Cecil Kimber was sales, then general, manager and by 1924 was selling the Chummy, a four-seater sports version of the Morris Cowley, on lowered chassis with a special body. The octagonal 'MG' badge was on the radiator. The first MG to bear the name Midget was the M-type sports of 1928 that used an 847cc overhead camshaft engine from Wolseley, also by owned by Morris. This was to be the forerunner of the P-series and J-series of sports cars. Morris sold the MG Car Company to his own Morris Motors in 1935 and ordered cost cutting – including the abandonment of the well-regarded but expensive overhead camshaft engine. Under direct Morris rule the first new MG was the TA Midget of 1936, its 1292cc overhead valve engine, valves operated by pushrods, derived from the Morris 10. Posted to No 10 Flying School at Tern Hill, Shropshire, in 1940, Pilot Officer Shuttleworth took the MG, towing a two-wheel trailer-workshop he had converted from a Morris Cowley van with him. With the 'workshop' parked outside his bedroom he was able to run an electric lead so that he could have electric power to work on repairing the Locomobile steam car boiler and his De Dion tricycle! On Richard's death in August 1940 – in a night time flying accident – the MG passed to Air Commodore Allen Wheeler, a friend of Richard and his family. After many years in the care of the Wheelers, latterly with the late Air Commodore's wife, Mrs Barbara Wheeler, the car was donated to the Collection on Sunday 2nd May 2004, 65 years after its first registration.
1913 Morris Oxford: William Morris was, in many ways, England's answer to Henry Ford. Both men saw the future of the automobile in mass production, low cost and big sales. It is said that Ford put America on wheels – Morris did the same in the British Isles. But where Ford was to be a manufacturer of all his Model T's major components, for many years Morris would be an assembler of bought-in parts. Like many of the early pioneer car makers, Morris – son of an Oxfordshire farm worker – began, in 1892, making bicycles. He progressed to motor cycles in 1902 but the venture lasted just three years, and from 1905 he repaired and sold automobiles alongside his cycle manufacturing business. In 1910 he registered the name The Morris Garage. The first Morris car, the Oxford, went on sale in 1913 with a 1018cc, four cylinder, engine of 10hp rating produced by White and Poppe, of Coventry, and an integral gearbox and clutch from the same source. Drive was transmitted from the front mounted engine to the worm gear rear axle in an enclosed propeller shaft. The most distinctive feature of the design was the curved radiator, which gave the vehicle the nickname of 'bullnose'. Before he made his first eponymous car, William Morris sold Wolseley cars from his garage in Oxford. The two-seat tourer in the Shuttleworth Collection still retains its original White and Poppe engine and was first delivered to Morris agents, the Hazelmere Motor Company, on 31st March 1914. Since then the body has been modified with a large double dickey-seat – a feature never fitted as standard to this model – and the mudguards are replacements. It underwent a full restoration by Shuttleworth Vehicle Collection volunteers in 2019.
1934 Railton: The Railton was the result of collaboration between British car constructor Noel Macklin and the Hudson Motor Company of the USA. Macklin's Fairmile Engineering manufactured the Invicta car at their works at Cobham, Surrey, but in 1933 he sold Invicta and looked for another automotive project. With its four-litre, straight-eight, engine the Hudson Terraplane had been well accepted in Britain the previous year, and so Macklin decided to take the chassis and engine, and add a lightweight body. The result was the Railton-Terraplane, a reasonably priced and powerful (100bhp) two-seat tourer that offered exceptional performance. The Railton name was taken from British designer and engineer Reid Railton who had been responsible for record breaking cars for John Cobb and Malcolm Campbell. It is not known how much input Reid had to the Macklin project but we do know he took a royalty for each car made. Following an approach from Macklin in 1933, Richard Shuttleworth bought a one-third share in Fairmile Engineering and was appointed chairman. The Collection's Railton was acquired by Richard in 1934 as a bare engine and chassis, and reputedly using for 'farming duties' on the Shuttleworth estate before, in 1939, he started to re-build it as a two-seater sports car. After his death in 1940 his mother, Dorothy Shuttleworth, had the work completed by Blanchflowers, of Kettering. The car was first registered JNM700 in 1950 and was then sold in 1952, passing through several Railton Club owners before in 1975 it was purchased by Richard's niece, then Princess Charlotte Hohenlohe von Langenberg, who had the car repainted in 'Shuttleworth' blue and exhibited in her husband`s motor museum at Schloss Langenberg in Germany. The car was returned to Old Warden by Princess Charlotte in late 1998. During its' time in Germany the Railton lost its original registration. With assistance from the Railton Owner's Club this was re-instated by the DVLA two years ago.
1934 Austin Seven Tourer: The Austin Seven was the salvation of the Austin Motor Company. Herbert Austin's eponymous firm went into receivership in 1921 and its major creditors – specifically banks and insurance companies – put in managers to run the operation. Austin himself felt excluded from his own business and took to spending most of the day at his house. It was there he conceived the Seven. Austin's ambition was to 'put Britain on wheels' with a car that was both small and affordable. He took an 18 years old draughtsman, Stanley Edge, from the factory design office and gave him the task of putting his (Austin's) ideas onto paper. Edge worked secretly on the design of the Seven at Herbert Austin's country home, Lickey Grange, near Bromsgrove, and the resulting prototypes were built clandestinely in a corner of the Longbridge, Birmingham, works. The Seven was a success from the day it went on sale in 1922, and quickly put an end to the prolific cycle-car trend that had hitherto existed in the light car market. By the time production ceased in 1939 some 290,000 cars and vans had been produced. Small and light with a four-cylinder engine – originally 696cc but increased to 747cc in 1923 – and a three-speed gearbox, also designed by Edge, the basis of the Seven was a simple 'A' frame chassis that allowed a variety of different body styles, on a wood frame with metal or fabric covering, to be fitted. The Seven had four wheel brakes, but initially the brake pedal operated only on the rear wheels, the front brakes being applied by the handbrake – all brakes were operated by the foot pedal from 1932. The Shuttleworth Collection Tourer was built in 1934 and differs from the standard model in that it has the chrome plated lamps and larger tyres normally associated with the 1935 models. The bumpers also appear to have come from a later specification vehicle.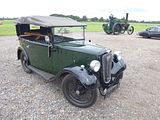 Also parked here were a couple of post-war cars, a Jaguar XK140 and the much-loved Morris Minor 1000. These do not feature on the Collection's website, so may have been visitors rather than residents of the site.
There were further vintage and veteran vehicles to be found inside.
1870 Barouche Town Carriage: The name 'Barouche' is dervived from the Latin biritus, meaning two wheeled, and eventually developed into a four wheeled vehicle. It followed the lines of a coach but had a folding hood at the rear. Passengers nromally faced the direction of travel, with occasional seats in the forepart on which two people could sit vis-a-vis. It was driven by a coachman with the second being occupied by a groom. This carriage has fold down steps to enter, the design helping to prevent the steps getting dirty during travel. This carriage was driven by Colonel Frank Shuttleworth in 'four-in'hand' competitions. It was used at the wedding of Richard Shuttleworth's parents, Dorothy Clotilda Lang and Frank Shuttleworth, and grandparents Joseph Shuttleworth and Sarah Grace Clayton.
1870 Pony Phaeton: The Pony Phaeton was first built in 1824 for George IV and its lines continue in much the same way as the original vehicle by the Griffin & Ward Company, established in 1773. John Ward & Thomas were listed in 1846 as Griffin & Ward, invalid chair manufacturers to Her Majesty and the Queen Dowager, at 6 Leicester Square, London. This vehicle was manufactured c1870 by the Griffin & Ward Company. Although the Shuttleworth family are unlikely to have been its first owners it is known to have been used here at Old Warden.
1880 Brougham Coach: The Brougham design came from an idea by Lord Chancellor Brougham for "a refined and glorified street cab that would make a convenient carriage for a gentleman and especially a man of such independence as one who carried his own carpet bag". Early builds had problems that were overcome by 1838, when the first carriage was completed. Further refinements were carried out to improve the strength and ride qualities for later builds. This exhibit has elliptical springs with rubber tyred wheels that give an excellent ride for its type. It was made in 1880 for the Shuttleworth family, and displays the family crest on both doors and on the rear. This 'single' was pulled by two horses on either side of the shaft below the carriage.
1895 Omnibus: Private Omnibuses came into use around the end of the 1860s for in towns and rural locations. The name means 'for all' in Latin, but was shorted to 'bus' by Londoners. Used as station taxis by hotels and large houses, seating was arranged so that passengers faced each other with their backs to the wheels. The entrance is to the rear of the vehicle and in some examples (this exhibit included) the upper body and roof could be removed for summer use and stored on ropes and pulleys in the roof of the respective coach house until needed. This vehicle was driven by the Shuttleworth family for carrying guests and luggage to and from the local railway station, pulled by two horses. The coach is made by Starey of Nottingham, and the wheel bearings are made by Dan Albone of Biggleswade using Ivel bearings.
1902 American Buggy: American vehicles had much in common with British and European types, but did develop an independant national identity. The American Buggy was often used in towns but was originally designed for rural areas and wide open spaces so were light, strong, and tended to have wheels of equal (or near equal) size. The 'one horse, four wheels' type tended to often be driven by the owner. This vehicle was driven by Colonel Frank by means of a fast pony.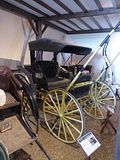 1904 Dog Cart: Introduced during the 1800's these vehicles were primarily used to carry shooting parties and their dogs. The four wheeled Dog Cart could be harnessed to a single horse in shafts or a pair of horses in pole gear. It has a forward facing driving seat that accommodates two, and two rearward facing seats, with the passengers sitting back to back or dos-a-dos. The feet of the rear facing passengers were supported by an angled foot board with chains to let it down. Dogs were kept in the under-boot, often fitted with ventilation louvres. These vehicles were used in all purpose mode when a coachman driven carriage wasn't required. It is a quintessentially English vehicle!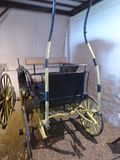 1907 Governess Cart: The Governess Cart is a two-wheeled vehicle with a low built, safe carriage that was used mostly in rural areas for carrying children and the elderly. Shaped like a tub (and often called a 'Tub Cart') it has a small door at the back and seats four people with their backs to the wheels and facing each other. It is driven from a rear 'off side' seat. As this is not an ideal position for controlling the vehicle it required a quiet, calm pony to draw it. This exhibit was built by Maythorn and Sons Ltd, Coach and Motor Builders of Biggleswade. It is recorded that Colonel Frank would travel around the Old Warden park and the wider estate in it during his later years.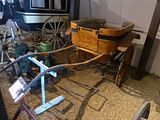 1898 Benz: The Benz 'dog cart' at Old Warden was imported from the Roger Company of France. Emile Roger was the Paris agent for Karl Benz' gas fuelled stationary engines and, in fact, became his first ever customer buying (possibly) Karl's third car in 1888. From then Roger began to assemble and sell Benz cars under his own name. This early model (often called an 'International' because it was made under licence in France not in Germany) has a horizontally mounted, single-cylinder, engine and three speed belt transmission to the rear wheels, all housed at the rear behind and beneath the seat. There is no provision for reverse apart from dismounting to push. The engine is started by pulling the large spoked flywheel by hand. The term 'dog cart' is due to the car's similarity to horse drawn vehicles in which sporting dogs were carried at the rear. 'Our' car was purchased from a car breaker in Honiton, Devon, for the princely sum of £35 by Richard Shuttleworth in 1930 and after restoration was added to The Collection. One of Richard's favourite cars, he once remarked: 'it's more fun than all the others put together and far more reliable'. It has taken part in numerous London to Brighton veteran car runs. Karl Benz is generally credited with making the first commercial production automobile and was responsible for introducing many features we now regard as essentials. How would motoring have developed without the spark plug, electric ignition system, carburettor, water cooling, or clutch?
1900 Marot Gardon: The Marot-Gardon quadricycle on display entered the Shuttleworth Collection in 1935 having been exchanged for a 1905 Wolseley 'Baby' X Type that had been part of the Collection since 1929. The quadricycle was, for many years, in non-running condition until it was restored by Vehicle Collection volunteers. The short-lived Ph. Marot, Gardon et cie company of Corbie, Somme, was a highly successful maker of racing bicycles and tricycles. The company quickly grasped the promise of the internal combustion engine and from 1896 was manufacturing motorised tricycles powered by a single-cylinder De Dion-Bouton engine. From then it was a short step to add another wheel, and the Marot-Gardon quadricycle was born. Unlike the tricycle, the 'quad' offered a forward mounted seat for a single passenger. Little is known about Marot-Gardon, a manufacturer that lasted just six years. The company's automobiles followed De Dion-Bouton into motor racing, although their success was not as great. In addition to the quadricycle, from 1900 they made four-wheel 'voiturettes' (light cars) with chain drive De Dion-Bouton engines of 2 3/4hp, and in 1901 a racing version with 7hp of power. In 1901 the British distributor for Marot-Gardon vehicles was William H M Burgess of Farringdon Road, London, who in advertising described the quadricycle as being 'Light, Speedy and Comfortable'.
1902 Arrol Johnston: Arrol-Johnston cars were made by the Mo-Car Syndicate Ltd of Paisley, Scotland, formed by locomotive engineer George Johnston. Johnston built his first car in 1895, which means the Scot goes into the history books as being the first British car maker – beating Frederick Lanchester by almost a year. This exhibit was purchased from Arrol-Johnston (then in liquidation) by Richard Shuttleworth in December 1931 for £12. Richard was a serving officer in the army at Tidworth, Wiltshire, at the time and so the collection of the car from its resting place in Annan, Dumfries, for delivery to Old Warden had to be carefully planned. Richard enlisted the help of a local friend 'Billy' Blake and, along with his own army batman, drove his open 1912 Rolls Royce from Tidworth to Old Warden. After sustenance and a brief sleep – which involved breaking into the Shuttleworth house because by then it was 3am – the trio swapped the Rolls for a flat-bed truck (Richard had also bought a lathe that needed transporting) and set off for Scotland. The new acquisition(s) collected, with Richard and 'Billy' in the Dogcart and the lorry following, the convoy set out to drive the near-300 miles south through the night – the Arrol with only candle-powered lighting! As well as needing regular replacement of candles, the Arrol was also consuming large quantities of oil as it continued at an average of 14mph. When supplies of lubricant ran out Richard 'purchased' some from a cabinet on the forecourt of a closed garage and left money in payment. Near Doncaster the truck reversed into a petrol pump and, again, Richard left an explanatory note and payment for the damage. After the petrol pump incident the truck was sent ahead while Richard and 'Billy' continued to make slow progress with the dogcart. Eventually they arrived at Old Warden after a non-stop 23 hours journey!
1903 De Dietrich Type SM: Originally an iron works and railway rolling stock manufacturer De Dietrich began to make cars in 1897 in both its French (Luneville) and German (Niederbronn) factories, originally under licence from other automobile manufacturers. Cars made in Luneville were of the Panhard-style from Marseilles based Turcat-Mery with advanced specification four-cylinder engines of varying sizes. The Collection's car was first owned by Sir George McKenzie of Tempsford Park and originally fitted with a tonneau-style four seater body. It was registered to Richard Shuttleworth in November 1928, who fitted the present 'racing' body after he discovered it had once been raced ('just for the challenge') by the well-known Edwardian driver S F Edge. On an original racer from the early 1900s the mechanic's seat would almost certainly have been lower for protection from dust and stones. Riding mechanics sat low down on the floor to aid handling, but things could get very hot from the exhaust pipe causing a 'pants on fire' situation! In June 1930 Richard and his friend Jimmy Edmunds competed in the 'Old Crocks' race at Brooklands, the De Dietrich lapping at 75mph. Richard used the 5.5 litre car around Old Warden, and created quite a stir when the drove through the centre of Biggleswade town at 55mph. The car did its first London to Brighton Run in 1928, with Charles Martin driving and completed four more runs before 1940. Post war it first ran on the event in 1954. Nowadays it joins Edwardian 'racers' in Shuttleworth's popular end of season Race Day.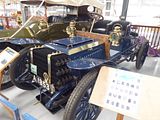 1912 Crossley T5: Brothers William and Frank Crossley set up Crossley Motors Ltd in Manchester in 1910 to solely manufacture motor cars as an offshoot of the long-established family engineering company Crossley Brothers Ltd. Designed by former Daimler engineer JS Critchley, the earliest Crossleys were chain-driven, four-cylinder, 22hp (4.7-litre) vehicles aimed at the same market as Mercedes and Rolls Royce. A 40hp (6.9-litre) model followed, and in one of these big cars the company's London agent, and very successful part-time gentleman racing driver Charles Jarrott set a record for the London-Monte Carlo run. In 1909 designers AW Reeves and GH Woods joined the company to engineer a new range of Crossleys. The 12/14 of 2388cc (monobloc engine, instead of two separate castings) with shaft drive and, optional but not too successful, four-wheel brakes was replaced in 1910 by the 12/15 of 2613cc, otherwise known as the '15hp', and a 4116cc, model, the 20/25 was added to the range. The T5 Crossley was the company's most successful car, particularly in use as the 20/35 with the Royal Flying Corps throughout World War 1. Crossleys were converted into field ambulances, aircraft tenders and mobile workshops as well as staff cars. The company continued to produce cars until 1935 and thereafter concentrated on commercial vehicles and buses until merging with AEC in 1948. The model T5 in the Shuttleworth Collection is to all intents a 20-25hp type with a smaller engine. The car was purchased by The Collection in 1956 from a Mr Pyddoke of Sevenoaks in Kent and remains in its original (and magnificent) condition.
1914 Studebaker Light Four: A generous gift to the Collection by Stanley and Joyce Young, Shuttleworth's Studebaker was once a film star! Not registered in the UK until 1980, it was brought over from the USA in 1976 to play a part in the film Ragtime (released 1981) which was part-produced at London's Shepperton Studios and was the last ever movie to feature James Cagney. Purchased by Stanley Young, the car had been laid up in his garage ever since until he decided to part with it and offered it to the Collection. On arrival at Old Warden early in 2017, the Studebaker was a non-runner with a flat tyre, seized water pump and a leaking radiator, but some sterling effort by the workshop team of volunteers had it working in time to take part in the vehicle parade at the Heritage Weekend in September of that year. This example has a rear-mounted, three-speed, manual gearbox and continued in production until 1919 as the 'Light Four'. Many similar Studebakers came to Europe to see service on the Home front during the First World War and the exhibit is presented as a British military vehicle of the period. The 3153cc, four-cylinder, Studebaker, was introduced in 1913 as the Model SA25 and was one of three models (one other four and a six) that were the first to be manufactured as complete cars by the South Bend, Indiana, company. Brothers Henry and Clem Studebaker were blacksmiths in South Bend in the middle of the 19th century who turned to making wagons and profited during the California Gold Rush and the American Civil War to make them, by 1872, the largest wagon maker in the world. From wagons it was a short step to making horse drawn buggies, and then bodies for pioneering automobiles, the very first Studebaker cars being battery-powered. Electric car production ended in 1911.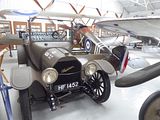 1920 Hucks Starter: Recognise this? Under the bizarre contraption that pokes forwards over the screen you'll find no less than a Model T Ford! This is the Hucks Starter, an efficient way to 'swing the prop' on a between-wars aeroplane. In the early days of aviation, aero engines had low power output and low compression and were relatively easy to start by swinging the propeller by hand. However, throughout the First World War rapid advances were made in the size and power of engines and compression ratios increased considerably. Man power alone was no longer sufficient. Several devices to bring the engine into life were produced – with varying degrees of success – but one example, the Hucks Starter, was favoured for use with military aircraft. The starter is based on the Model T Ford car chassis. A chain, driven by the car engine, drives a rotating shaft which is telescopic with vertical adjustment to accommodate the different heights of various aircraft and has a claw bar at its front end to engage with a dog fixed to the boss of the propeller. The starter is positioned in front of the aircraft and adjusted until the claw can be engaged with the propeller dog. It rotates the aircraft engine and when the pilot turns on his magneto switches and the engine fires, the telescopic shaft disengages itself from the propeller dog and retracts. The Hucks device has, of course, to be smartly moved out of the way before the aircraft can start to move. The Hucks Starter began its operational life with the RAF in 1920 and remained in use until the 1930's when various other starting methods were introduced. Bentfield Charles Hucks was an early aviator, generally credited as being the first British pilot to loop the loop (in a Bleriot monoplane) in 1913 and an early member of the Royal Flying Corps but was discharged from service on the Western Front to become a test pilot at Hendon. Was built in 1920 by the de Havilland Aircraft Company and rebuilt by the London Aero Club in 1952 when it joined The Collection.
1924 Leyland 'White Rose': The only surviving example of a maximum capacity single deck bus (with forward control driving position) of the 1920s, once very common in the mill towns of Lancashire and also North Wales. It is now completely unique. Found by steam enthusiast, Mike Jones, in use as a farm trailer with water tank in North Wales, the body had been removed and used as a static caravan. It had been damaged by fire and was rescued by Mike Sutcliffe MBE who found the correct missing mechanical parts, the restoration being completed in 2002. Mike is well known for the high standard of his early motorbus restorations, going to great lengths to ensure that every detail is absolutely authentic, in fact, in 2004 he was honoured by the Queen for "Services to Motor Heritage". The bus was acquired by The Shuttleworth Collection in 2016, made possible with substantial funds from the SVAS and a "living legacy" from Mike, thereby ensuring its future for the public to see and enjoy for many years to come. With its elaborate white livery and signwriting it is ideal for use with weddings. The "White Rose" was the outright winner of the London to Brighton Run in 2002 and has won many other first prizes.
1936 Austin Seven Ruby: The Ruby was the last model of the highly successful Austin Seven range that began in 1923 as Herbert Austin sought to 'put Britain on wheels' and to save his beleaguered company that had gone into receivership a year earlier. Announced in 1934 the Ruby was to be produced in quantity until the advent of the Second World War caused motor manufacturers to turn their attentions to matters of national importance. Based around the same 'A' frame chassis and 747cc engine of previous models of the Seven (excluding the few made in the first year that had 696cc engines, and a chassis lengthened by 6ins in 1931) the Ruby was no more than a subtle evolution of the original design, with more rounded styling to its two-door, four-seat, saloon body, enclosed radiator and the spare wheel under a cover on the tail. A Pearl cabriolet and an Opal two-seater were also produced. The Seven was to cease production in 1939 but it was to have an effect that would continue well after 1945. Before the war William Lyons, a sidecar maker from Blackpool, was making special sporting versions under the Swallow name, and post war his company was to materialise as Jaguar. Shuttleworth's Seven was built in 1935. It differs from other baby Austins in the Collection as it is a saloon. It was purchased at the 1935 November Motor Show by a Mr Ring, from Romford, bought from him by Mr S Cooper in early 1960 and finally passed to his son Edward (Ted) Cooper in 1970. Its overall condition is excellent, having been stored under cover since the early 1970's. A general spruce up, minor mechanical repairs to the engine followed by a respray in original colours, was all that was required and this was carried out at Old Warden by Vehicle Collection volunteers. Ted Cooper generously donated this car to the Shuttleworth Collection in 2007.
There is also a collection of historic Motor Bikes here
1900 Singer Motor Wheel: In 1899, Messrs E Perks and F Birch (both from Coventry) grabbed the attention of the motoring world with a design concept they called the 'Motor Wheel'. This took the form of an aluminium-alloy wheel encompassing, and driven by, a single cylinder engine complete with fuel tank. It was designed to replace the front or rear wheel of a pedal cycle or tricycle. Built at small works near the Foleshill Road, the motor-wheel was tested successfully on both a cycle and tricycle on the surrounding streets. Following this the manufacturing rights were bought by the Singer Cycle Company, who put it into production. The 200cc Singer engine is fed by a surface evaporation carburettor, which is different in that its internal plates are made from plywood and the float that regulates fuel flow between the carburettor and the tank above it is made from cork. This dates from 1900, and has a frame design intended for male riders. Alternative models for ladies included a frame without the crossbar, and a governess cart tricycle with a small enclosure at the rear with two inward facing seats. There were also tandem versions, and a number of other tricycle designs. This exhibit has undergone restoration work by the Shuttleworth Collection's Vehicle Section volunteers included refitting an original rocking magneto, and replacing the cork float in the carburettor. The Singer occasionally makes appearances at other venues, such as Mallory Park, and has taken part in the London to Brighton Veteran Motorcycle Run. It is the oldest motorcycle in the Collection, and it represents the moment in history where bicycle and motorcycle development split to take divergent paths.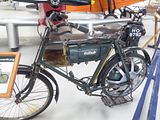 1919 Stafford Mobile Pup: Born in Pembroke Dock, Wales, in 1880, Thomas George John was works manager and chief engineer with the Siddeley-Deasy Motor Company before, in 1919, he purchased the US owned firm of Holley Bros, of Hertford Street, Coventry, renaming it TG John and Co., for the manufacture of engines and carburettors. John also produced the Stafford Auto Scooter (marketed as the 'Mobile Pup') a basic two-wheel 'runabout' utilising a 142cc ohv, single-cylinder, engine of John's design driving the front wheel and with a steel frame supplied by the Birmingham Motor Guild. (A Mr Stafford owned a shop near to John's works and may well have been the initiator of the design.) Early models (1919) did not have a seat for the rider, but this 'refinement' was introduced in 1920 along with a locker to carry his/her shopping. Around 100 Pups were produced before production ceased in 1920. TG John was to achieve greater fame as the founder – with designer Geoffrey de Freville – of Alvis Cars in 1920. This company produced high quality vehicles until car production ended in 1967. The Pup was donated to Shuttleworth in 2008 by Simon Blackmore and came as a 'basket case'. The machine was restored during 2010 by volunteers of the Vehicle Section; a new frame was required and the rear brake was renewed. The Pup's engine is on the right hand side of the front wheel, counterbalanced by a large cast iron flywheel on the left side. The spindle of the front wheel is linked to the engine directly by gear wheels and there is no clutch or gearing. The combined oil/petrol tank is mounted over the front wheel. There is no brake on the front wheel but the rear wheel has the benefit of a band brake. Starting is by raising the valve lifter and pushing. The Location of the engine makes the Pup inherently unstable and difficult to ride.
1921 Scott Squirrel Combi: Designed by A.A. Scott in 1908 and built by Yorkshire car-maker Jowett, of Bradford, then later in its own factory in nearby Shipley, the Scott motorcycle was unique with chain drive, telescopic front suspension, and water-cooled, two-stroke engine. The Scott was fast for its time and proved to be a highly successful pre-WW1 racing machine, ridden by two-wheel aces such as HS Meyers, Frank Phillips and Frank Applebee. Victory in the 1912 and 1913 TT races cemented the reputation of the early machines, which were initially of 333cc and 535cc capacity. A two-speed gearbox incorporating two clutches that we might nowadays call 'semi-automatic', the luxury of a kick-start, and front suspension with a single spring in a tube and twin telescopic front forks, made the Scott a much sought-after machine. Although A.A. Scott left the company after the First World War, the factory increased engine capacities during the 1920's and 30's to 496cc and 596cc with the 'Flying Squirrel' twins, but the introduction of a single cylinder engine proved to be less successful. The last 'new' machine from the factory was the 996cc, three-cylinder, water-cooled, two-stroke of 1934 but few were produced. Production of the 596cc Flying Squirrel continued after the Second World War, but the original company went into liquidation in 1950 the assets being purchased by Matt Holder, of Birmingham, who still holds the name. This 535cc 1920 machine is more heavily built than many Scotts, but still quirky and usually displayed with a Dorway sidecar made in Birmingham. When attached to the motorcycle it is designed to fold, enabling the combination to fit through a 30ins wide doorway, or to be taken around the narrow back alley common to many houses of the era. The work undertaken to fully restore this Squirrel Combi has required many replacement parts to be hand-crafted as 'new' spares are now unattainable. New piston rings and gearbox bearings, for example, were made by Shuttleworth volunteers in the Old Warden workshop, whilst a complete replacement radiator – comprising no less than 870 individual brass tubes in a nickel plated brass casing with a header tank on top – was produced by a specialist. Restoration also included shot blasting and painting the wheels (with new beaded-edge tyres), replacing cones and wheel spindles, with new steering head cups and front brake blocks also manufactured in the Shuttleworth workshop. 'Shiny' parts are newly nickel-plated, new cables are fitted and replacement transfers supplied by the Scott Owners Club.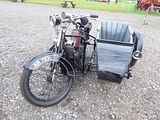 1924 Triumph SD: Despite its thoroughly British reputation, Triumph was founded as a bicycle manufacturer in Coventry in1897 by Siegfried Bettmann and Maurice Schulte as an extension of their bicycle business in Nuremberg, Germany. Triumph first produced bicycles and the first motorcycle – with 220cc Minerva engine – appeared in 1902. JAP and Fafnir engines were used until Shulte designed his own single-cylinder, four-stroke, side-valve engine in 499cc and 547cc capacities. By 1908 the British company was firmly established, Jack Marshall winning the single-cylinder TT race on the Isle of Man that year. A small (225cc) two-stroke machine called the Baby was a success, whilst the Ricardo designed 'Riccy' 499cc, four-stroke, ohv four-valve, of the early '20's established Triumph as a performance range. Close co-operation with the German Triumph factory on a range of models continued for many years: the final split did not come until 1929. Although the German factory finally closed in 1957, the British made Triumph continued, and the company's current hand-built, large capacity, machines remain much in demand worldwide. The side valve 5.5hp SD (spring drive) uses the same basic engine that gave excellent service in dispatch riders machines during The First World War. Announced at the 1923 Motorcycle show as a new model for 1924, its specification was a great improvement on predecessors. It features a chain rather than belt drive – the first time on a Triumph – plus an efficient engine shock absorber, the primary chain and clutch enclosed in an oil bath chain-case, a three speed gearbox and a front wheel internally expanding brake. Many features of the SD were shared with the much more famous 1923, 499cc. OHV, four-valve Triumph 'Riccy'. The exhibit is finished to represent a dispatch rider's motorcycle and carries the service badge of the 21st Armoured Group on the petrol tank. It is in full working condition and was donated to the Collection in August 1968 by Jill Jones.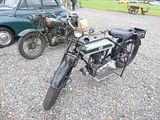 1940 BSA M20: Formed from the Birmingham Small Arms factory, supplying guns to the British Army of the Crimean War in 1862, BSA later became the largest motor cycle manufacturer in the world, making bicycles from 1880 and producing its first powered machine (a motorised bicycle) in 1903 and first true motorcycle in 1906. BSA's first machines were all single-cylinder, but the company later became well-known for its' V-twin models, although perhaps the most famous BSA of all was the single-cylinder Gold Star introduced in 1938. With the outbreak of the Second World War production turned to the all-purpose M20 dispatch rider 'bike. The M20 had a single cylinder, four-stroke, side-valve engine which was noted for its high torque and staying power. A plate protected the engine base which had only four inches of ground clearance. The M20 was a smooth running and reassuring motorcycle to ride and by 1945 more than 100,000 had been produced. In post war years it was found to be ideal for touring and many were made available for civilian use and could be bought for as little as 50 shillings (£2.50). Post-1945 BSA production continued with the 500cc Gold Star models, a 654cc twin-cylinder range and also the lightweight Bantam two-stroke. When financial problems struck in 1972 the company was absorbed into the Norton-Villiers-Triumph conglomerate.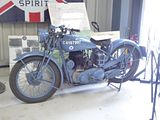 1950 Sunbeam S8: First manufactured in 1912, the Sunbeam had a reputation for high quality and was marketed as 'The Gentleman's Motorcycle', the first model from the Wolverhampton factory being a 347cc side-valve, which was followed by a 500cc single and a 770cc JAP-engined twin. The death of its founder, John Marston, after the First World War saw Sunbeam bought by Noble Industries (later ICI) and although the marque achieved motor sport success during the 1920's, financial problems saw it fall into the ownership of Associated Motorcycles (Matchless and AJS) in 1936. BSA, at the time the world's largest motorcycle manufacturer, then bought the name in 1943 with the express aim of producing a luxury motorcycle once the Second World War was over. The BSA design team, led by Earling Poppe, produced the Sunbeam S7, which brought a host of innovative features to the British motorcycle market, much of their thinking following close examination of BMW products, including car- type shaft drive and telescopic front forks. The Sunbeam's twin-cylinder 500cc engine, positioned in line with the frame, had a single-overhead camshaft, at a time when almost every motorcycle produced in the UK and elsewhere had pushrod valve operation. The S7 also had distinctive 'balloon' tyres, chosen because of its intended luxury market. The S7 was followed by the S8, a "sports" version of the original bike. It has more conventional wheels, although with its fully sprung suspension, comfortable sprung seat and rubber mounted engine, which insulates the rider effectively from vibration it is still very much a luxury mount. This particular Sunbeam S8 was donated by Caroline Moore of St Albans. It had been laid up for almost 50 years by her grandfather, Leonard Case, who bought it new and used it for many years as his daily transport. Before storing the bike in 1959 he carefully made sure it would be preserved with layers of grease, which meant that surprisingly little restoration was necessary when it was taken out of store. Mrs Moore offered the Sunbeam to the Shuttleworth Collection after she had told the magazine Classic Bike she would like to see it go to a museum in the local area. This example is in black, although the bike was also available in mist green and polychromatic grey.
1955 BSA A7: Birmingham Small Arms (BSA) was founded in 1861 by fourteen gunsmiths in Birmingham with the purpose of supplying small arms to the government during the Crimean War. During the 1880s the company manufactured cycles, the first powered cycle being produced in 1903. BSA's first machines were all single-cylinder, but the company later became well-known for its' V-twin models, although perhaps the most famous BSA of all was the single-cylinder Gold Star introduced in 1938. By the start of the Second World War BSA had 67 factories in the Midlands and during the period of hostilities produced 126,000 M20 military motorcycles. After the war a new design, the twin-cylinder 500cc A7, entered production in late 1947. Initially performance was unsatisfactory for most customers, but a redesign and the introduction of the 650cc A10 Golden Flash and the later A7 sports 500 – known as the Star Twin which competed successfully for the Maudes Trophy for endurance – the model proved a big seller for the manufacturer. BSA A7s were a very popular machine and many were used throughout the 1950s. This motorcycle was produced in 1955 and is fitted with a 4 gallon (18 ltr) fuel tank which, with a fuel consumption of 55-65mpg, permitted a range of 220-260 miles on a full tank.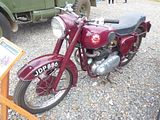 1969 BSA Bantam B175: One of the most successful lightweight motorcycles produced in the UK, the Bantam originated as the German DKW RT125, the design offered to Britain as part of Second World War reparations. Taken up wholeheartedly by the BSA company, few modifications were made (mainly converting the gearchange to the right hand side) before it was introduced in 1948 as the 123cc BSA D1, soon to be renamed Bantam. The Bantam remained in production until 1971, models being progressively updated but remaining faithful to the original design. Trials and scrambles version was produced, and the Bantam became the standard machine for use by the Post Office. The two-stroke engine increased in capacity through 150cc to 175cc. Over 250,000 Bantams were produced. Interestingly, the DKW design was also taken from Germany by the United States to be the first 'new' machine produced post-war by Harley-Davidson. This is a late-model B175 machine donated in 2008 to the Collection by Shuttleworth Veteran Aeroplane Society (SVAS) member Ron Hughes who previously rode it regularly in the North London area. It has been restored by Vehicle Collection volunteers.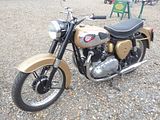 1962 RAC Norton ES2: Pushrod operated overhead valve Norton 'singles' date back to 1922 but their heyday began in 1924 after a string of racing victories, this new-found fame lasting just three years until an overhead cam design was developed and introduced on a string of sporting machines, culminating in vertical twins. However, such was the popularity of the original pushrod single that manufacture continued until 1963. The model 18 was the first pushrod Norton, and a host of variants followed including the 600cc Model 19 and the sportier ES2, which had enclosed pushrods and return springs. In 1947 the Model 18 gained 'Roadholder' front forks whilst retaining the rigid rear end, whereas the ES2 benefited from plunger rear suspension. By 1953 the ES2 had a swinging arm frame that was found on the Dominator twins, and various frame changes followed including the 'Featherbed' and finally the 'Slimline'. Remember the days of the RAC patrolman speeding to the aid of stricken motorists? This 1962 Norton is a vintage single-cylinder, overhead valve, four-stroke fitted with a full fairing and a Watsonian No. N1882 sidecar. The Watsonian (used to carry the patrolman's extensive array of tools) has a single drum brake connected to the motorcycle's all drum brake system. Riding with the sidecar attached reduces the maximum speed by about 10 miles an hour. This combination is the last example used by the RAC, and is finished in full contemporary RAC livery. It was presented to The Collection when it was retired from service. This motorcycle featured in the BBC comedy 'The Last Salute'
Early bicycles are also featured along with lots of period memorabilia which makes for some interesting displays.
Vehicles that saw service on the land also form part of the Collection.
1908 4nhp Clayton & Shuttleworth Portable engine: This portable engine, works no. 39959, was sent out of Clayton & Shuttleworth's Stamp End Works in Lincoln on the 23rd March 1908. It was sold to McArthur Eng. Co. Ltd, London and was exported to Australia. It was imported back to England and was purchased by The Shuttleworth Trust in 2015 as a long term restoration project and is displayed in an unrestored condition.
1914 Clayton & Shuttleworth Traction Engine 'Dorothy': This 1914 Clayton & Shuttleworth 5nhp Compound Engine 'Dorothy' was built in 1914 as a 10 ton roller, ordered from new by Stockton on Tees Council. In late 1916 she was 'dispatched' for Government use in France. In October 1921, she was acquired from the War Department by W.W.Buncombe of Highbridge Somerset, a public works contractor, becoming their fleet no. 20. It was purchased by Dennis Solway in 1963 minus its front roller for use as spare parts, but was found to be in better condition that the other engine so was preserved. She was converted into the form we see today by the addition of a set of front wheels from another Clayton & Shuttleworth engine. After passing through several owners, the engine was purchased by the Shuttleworth Trust in 1991 and was restored to working condition at Maskell's boiler works in Wilstead, Bedfordshire. During 2015, the drive gears were overhauled, over the 2016/17 winter, the valve gear was overhauled. It is now registered for use on public roads and it is planned to attend local shows as a representative of The Shuttleworth Collection.
1919 Austin Model 'R': This tractor is a British built Austin, but very little is known of its history. It is believed that Richard Shuttleworth owned this tractor from new and used it in the estate woods. It was restored to running condition by SVAS members Paul Sanson and Steven Panter.
1963 Fordson Super Dexta: This tractor was used by the Shuttleworth College for many years until being retired to The Collection in February 2002. It was restored, driven and painted in RAF blue by SVAS volunteer Archie Boyle during the winter of 2002/3.
1938 Ferguson Brown Model A: This tractor (s/n 1262) is a rare orchard version of the standard Ferguson Brown. It features a shorter wheelbase for an improved turning circle. It was fully restored, running again for the first time in November 2007. It is now regularly used to tow aircraft on the airfield.
1940 David Brown Agricultural Tractor: The David Brown Agricultural Tractor was built in secret by David Brown as a replacement for the Ferguson-Brown Model A, after he and Harry Ferguson disagreed over changes to Ferguson's original design. The David Brown tractor was launched at the 1939 Royal Show and made an immediate impact with its imposing grille, sweeping curves and rounded cowlings designed to protect the driver's hands and feet from the rain. It also featured a double seat to allow the farmer to carry an assistant, however it soon became known as the 'courting tractor' due to this feature. In 1941 the Air Ministry tasked David Brown with designing tugs for the RAF, the resulting tug was developed from the agricultural tractor but looked different and was known as the VIG (Vehicle, Industrial, Gasoline), at the same time the agricultural tractor was re-designated the VAK1 (Vehicle, Agricultural, Kerosene). This tractor, serial number 1390/N, was built in June 1940. The N in the serial number denotes that it was built as a 'narrow' variant intended for use in orchards, vineyards or the hop farms of Kent, where it was first registered. It is believed that no more than 50 early narrow models were built and this is thought to be the only survivor. It moved to a farm in Suffolk in the Sixties before entering the private collection of an ex Shuttleworth College agricultural student and then finally coming to the Collection in September 2016.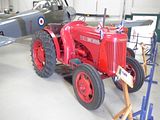 1952 Allis Chalmers: This tractor (serial number EB7855) was built in 1950 in England and can be distinguished from American built tractors by having an adjustable width front axle. The tractor was sold from dealers H.A. Collings in Biggleswade. It was found on a farm in Meppershall, Bedfordshire in 1990 and subsequently restored by Rory & John Cook with help from Mr. Ryle Anderson of Gravenhurst. It is privately owned by Shuttleworth engineer Rory Cook.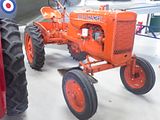 And then there are the Planes. There's a fascinating collection of these, all from the early years of flying.
Although a lot of people departed once the various prizes had been presented over lunchtime, some remained until well into the afternoon. And as things were coming to an end, that was when people started to move their cars around to get some different photos. The line of red and yellow Abarths was popular.
And then it was decided that the museum buildings would make a suitable backdrop, and as cars were being manoeuvred into position, the museum's own Traction Engine came by and very sportingly, the driver offered to contribute to the scene.
This was an excellent day. If you did not know that the event was originally planned to be held elsewhere, you would never have guessed that this came together in just four days before all those Abarths gathered. After months of being confined to barracks, it was so good to catch up with so many Abarth friends in person again. And Shuttleworth really is a great location, with plenty to see, and clearly well worth a repeat visit.
More info about the Shuttleworth Collection can be found here: https://www.shuttleworth.org/