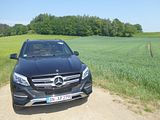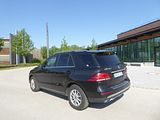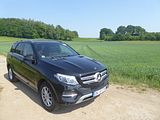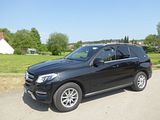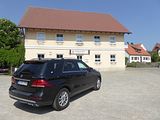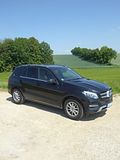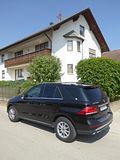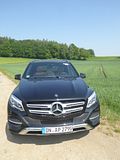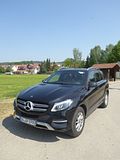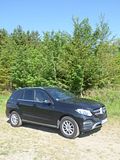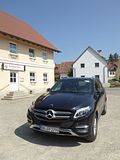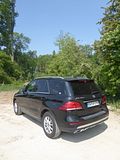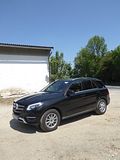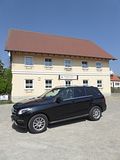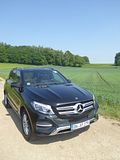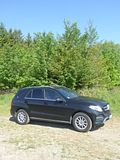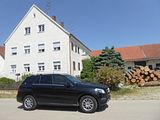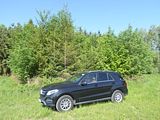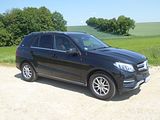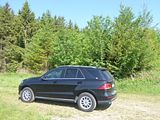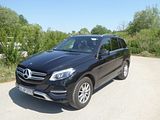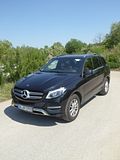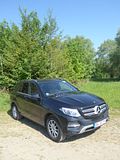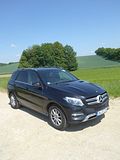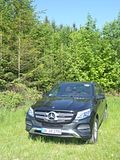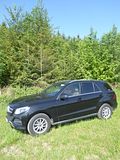 The first all-wheel drive Mercedes of the genre we sometimes call an "off-roader" was the Geländewagen, or G-Wagen, first seen in 1979. Utilitarian in execution, by design, it was the result of a commission to produce a vehicle for the military, and was actually built by Steyr in Austria and also appeared for a short time built under licence with Peugeot engines and badges, with a civilian version added to the product plan almost as a last-minute addition. Initially this rather boxy vehicle found only limited success in the market, where despite its thorough engineering and commendable off-road capabilities, its very meagre equipment levels, limited on-road performance and high prices meant that few saw it as a true rival to the Land Rover or the Range Rover. Mercedes persevered, gradually adding more powerful engines and more equipment, but by the end of the 80s, with the model now 11 years old, thoughts turned to a replacement which could capture more sales on what appeared to a market sector, as defined in America by the Ford Explorer and Europe by the Land Rover Discovery that was about to take off. Early work was a joint venture with Mitsubishi, but this was quickly abandoned, and Mercedes decided to go it alone. Aiming at lucrative US market sales, the company looked for somewhere to build the new car and concluded that they would need a new plant on US soil to enable the car to be seen as "domestic" and also to help lower the purchase price. A site in Alabama was chosen and whilst development of the new car continued, so construction of the place that would build it also proceeded apace. Mercedes launched their new car in 1997, calling it the M Class. Rival brand BMW immediately complained, saying that this was too
close to the M branding that they used for their top of the line sports models, forcing Mercedes to rebrand the car ML, with a three digit number denoting the engine size, as was the Mercedes naming policy that had recently been established. It is fair to say that the new car received only a luke-warm response at launch, and it soon gained a reputation for some most un-Mercedes like quality and reliability issues. Undeterred, almost immediately, Mercedes set about developing a second generation model, which was launched in April 2005, going on sale around the world in the months following this. Although there were now rather more direct rivals in the market by this time, so demand for this type of car had really taken off and with a rather more compelling product, the W164 second generation ML Class reviewed rather better and sold more strongly. A third generation model, looking more like a considered evolution of the second, the W166 series made its debut in April 2011, ready to take on the BMW X5 and Volvo XC90 and a slew of other rivals in Europe and a whole load more in America. A mid-cycle facelift was premiered in April 2015 and with it came a new name, consistent with Mercedes' new policy of identifying all their Crossover/SUV models with the letter G. So the ML became the GLE, the E signifying the fact that this car is roughly the same size as the E Class of models. Minor visual changes require a trained eye to spot them, but as ever with such facelifts, more equipment was added, with greater levels of technology and the engines were revised and a new 9-speed automatic box replaced the old 7 speeder, in quest of better economy and lower emissions. Surprisingly, despite a 20 year production life, I'd never driven any of the GLE or ML models, so when they appeared, albeit in small numbers in Hertz' US fleet, I could see a potential way of sampling one, but before this could happen, the rental car allocation gods intervened in Germany where a booking for an E Class estate "or similar" from Munich airport ended up with a German market GLE being allocated to me, the car under review here. It was an almost new 2018 model GLE350d, predictably finished in black.
Mercedes offer the GLE with a variety of petrol and diesel engines, and have recently added versions with a mild hybrid capability. They all have the all-wheel drive 4matic system and an automotive gearbox. In Europe diesel models still claim the majority of the sales, with most of the petrol models that are sold being the potent AMG cars, whereas in America, where the diesel is offered, it is, I gather, a very hard sell and almost all of the GLEs are petrol-powered. My test car was a GLE350d, which is, according to those who have driven the various different engines, the pick of the range. Actually a 3.0 litre unit (the badging no longer gives any idea of the capacity of the engine), this 6 cylinder unit develops 255 bhp and is coupled to a 9 speed automatic gearbox. This engine is definitely a strong feature, being very un-diesel like in sound with very low noise levels and impressive refinement. It barely sounds like a car that will need fuel from the black pump when you fire it up, even when it is cold and it stays like this once underway. It is extremely smooth, and does a good job at propelling what it is a relatively large and heavy car. The gearbox certainly helps, with the 9 forward ratios well chosen, though you will probably not really be aware of when it is changing gear let alone which particular ratio it is in at any particular time. All I could tell was that there was plenty of acceleration available, making full use of the 620Nm of torque. There was no particular need to rev the engine hard, instead I just revelled in the smoothness of it all. At a cruising speed on the autobahn, noise levels were extremely low, with engine, wind and road sources all well suppressed, making this a refined vehicle even at speeds considerably higher than are lawful on a British motorway. There's not even a penalty at the fuel pump, I covered 600km over the weekend of my trip and needed to put 53 litre in to fill it up, which computes to 32.12 mpg, a good result, helped no doubt by that very relaxed cruising and also the standard Stop/Start system when caught in the Munich traffic. Like most larger Mercedes models, the gearlever is on the column to the right of the wheel. It is easy to use, as you simply flick down for forwards and up for reverse and press the end of the lever in for Park – easier than the less than intuitive systems you find in some BMW models these days.
Like many higher-end cars these days, there are a number of driving modes offered. In the GLE's case the set-up is called the Mercedes Drive select System and it offers Comfort, Sport, Individual and Snow modes, and these do change the throttle response, steering weight and other factors. I chose to leave the car in Comfort mode most of the time I had it. That meant that the steering was light enough but a bit over-assisted and vague in feel, lacking the precision you would get in some other cars in the Mercedes' class. Putting it into Sport mode did add weight to the steering, but you don't really buy a car of this type for its sporting feel – unless, that is, you go for an AMG version – so better to enjoy it as a cruiser and forget any pretence of sporting. There is plenty of grip, the handling is on the safe side of secure rather than particularly entertaining and the cars relatively high centre of gravity does not encourage you to go into the twisties with zeal and gusto. The test GLE came on 235/65 R17 wheels, which are not large or particularly low profile by the standards of today. The GLE350d and models above it in the range all come as standard with Mercedes' air suspension with adaptive dampers, so the Drive Select settings also change the ride attributes. Even so, the ride never impressed me, the car feeling a bit jiggly on the mostly smooth surfaces of the roads where I took it. Changing from the "comfort" driving mode to one of the others did not seem to make much difference, so if you want the sport setting, there is not that much of a comfort penalty. I did not venture further off-road than onto the grass that you see in the pictures accompanying this review, but even without the off-road package there is plenty of ground clearance, so the GLE could doubtless cope with rough surfaces with aplomb. There was no concern with the brakes which had a nice weighting to the pedal and which seemed to work well. There is an electronic handbrake, operated by a button on the dash. Visibility is generally good, with plenty of glass, and a good field of view from the door mirrors, A rear-view camera and parking sensors front and rear help with precision parking when this is required. The test car had a large panoramic sunroof which made the cabin feel light and airy. The GLE is a large car in every dimension and you will be reminded of this whenever you want to park it or are manoeuvering in tight spaces. It is wide as well as long and quite tall, so the hotel's underground car park was not for me.
Even without any badging on the inside, you would easily figure out that this is a Mercedes product, as the GLE uses many of the features and designs you will see in other products bearing the Three Pointed Star badge. Once upon a time, that would all have been Goodness, meaning impeccable quality if a slightly spartan look and the impression that everything would last for ever. That's not quite the Mercedes way, now. For sure the build quality is leagues better than it was in those early first generation ML Class models, but it does not feel as robust as it did, there are some cheap feeling plastics used in places and the current Mercedes fad for what looks an iPad slapped on the dash as an after-thought does not impress. There are plenty of leather surfaces, which add a luxury feel and the gunmetal grey inlays across the width of the dash and extended on to the door casings add some colour and texture relief. There is what by modern standards is a relatively small cowled binnacle for the instruments, which are set in their own individual recesses, which comprise two large dials for speedometer and rev counter with smaller ones for the fuel level and water temperature inset in the lower portion of the larger dials. There are a lot of markings, giving a slightly fussy look. Between the dials is a digital display area with lots of different data points here, which you cycle through with buttons on the steering wheel spokes. Here you will also find audio repeaters. Like most larger Mercedes models of the present era, the gearlever is a column stalk to the right of the wheel, which means that there is one main stalk to the left, for indicators and wipers. Thankfully this is now the more prominent of the two left hand stalks, with that for the cruise control somewhat lower. Lights operate from a rotary dial on the dash to the left of the wheel. To the right you will find a slot for the ignition key which is still required to start the vehicle In the middle of the dash you will see that 8″ colour display screen for the COMAND Infotainment system whose graphics and resolution does look state of the art, but also looks like an after-thought that is stuck on, as opposed to being integrated into the dash. Surprisingly, it is not touch-sensitive, so to select from the various functions which it offers you will need to use the selector in the centre console or the bank of audio buttons and knobs in a panel below the screen on the dash associated with the audio unit. Anyone familiar with any other Mercedes model will find this very easy to use with the standard set of menus on offer for everything from audio selection and navigation to car settings and data. The audio bit always seems a bit more cumbersome to use than the equivalent system in an Audi or a BMW, but I am sure that once you are familiar with it this would no longer seem the case. Beneath this are another bank of buttons which are used for the dual-zone climate control. This leaves the centre console relatively empty, save for the touchpad and selector for the COMAND system and the buttons for he Drive Select system.
When you want to get into the GLE, especially if you are my size with relatively short legs, you do really feel you are clambering up a bit to get in, and you are well aware of the fact that the driving position is raised somewhat compared to that of a classic saloon car, though you may think it lower than you would expect of an SUV. Of course, this is precisely the reason why some people want a car of this type. The seats in the test car were leather in a tan colour which makes quite a change from an all-black interior. Adjustment of the front seats is done, in the traditional Mercedes way, with switches on the door which are set out in the form of a human body, so it is obvious which precise button alters what. There is plenty of adjustment in every direction, not just fore/aft and backrest rake but also seat height and angle, and head room is particularly generous, thanks to the taller body styling. The seats had a heating function as well, which was not required at the time of my test in late May but might be quite welcome in a cold Bavarian winter. The steering column adjusts electrically. Once everything was set to how I wanted it, I could enjoy that commanding driving position and also the fact that the seat was well shaped and comfortable.
The GLE is a 5 seater, with just two rows of seats. Accommodation for those in the back is good, though it should be noted that there is not just a noticeable central tunnel but also the unit in the central console comes a long way back, so legroom for a middle seat occupant will seem a bit more limited. To either side, though, there is ample space with plenty of legroom even if the front seats are set well back, and the crossover styling means that there is plenty of headroom. There is a drop-down central armrest and further comfort is provided with air vents in the back of that bulky console unit.
There is a good-sized boot, larger than you will find in the rival BMW X5 and Volvo XC90.There are deep wells to either side in the area between the wheel arch and the rear of the car, so the load floor may not be quite as wide as you might expect, but it is flush with the base of the tailgate and there is plenty of depth even when the load-cover is in place. There is a well under the floor for the space saver and there is plenty of space around this for odds and ends. There is a ski-flap in the rear seat backrests and then these can of course be folded down, being split asymmetrically. The rear seat cushions need to be pulled up first before dropping the backrests down. The resulting load area is long and flat. There is plenty of provision for accommodating odds and ends in the cabin, too. As well as good sized glovebox, there are pockets on the doors, an armrest cubby and a small area in the front part of the centre console as well as a pair of cupholders under a sliding cover. For those in the rear there are bins on the doors, map pockets on the back of the front seats, and a small stowage slot in the rear face of the central console unit below the air vents.
Start point is to choose the engine you want in your GLE. In Europe the current range offers five choices, with the familiar 2.1-litre and 3.0-litre diesels offered alongside a recently added lug-in petrol-hybrid. There's also a new AMG 5.5-litre twin-turbo V8 for those who want their 2.3 tonne SUV to rocket from 0-62mph in four seconds. The 2.1-litre diesel is the entry-level powertrain and powers the GLE250d. The engine is effectively the same as the one found in the old ML, albeit with some slight improvements in economy and emissions. The four-cylinder engine provides 204PS and returns an official 49.5mpg, while emissions are 149g/km of CO2. The 3.0-litre V6 – found in the GLE350d – has also been carried over from the ML and is by all accounts by far the best diesel in the range, with plenty of power and a smooth, refined operation. Indeed, with 258PS and 620Nm of torque, the V6 provides all the grunt you'll ever need in the GLE, with ample acceleration for overtaking and refined motorway cruising. Both the 250d and 350d are linked to a new nine-speed automatic gearbox that is a big step up over the old 7G-Tronic gearbox. The 500e plug-in hybrid combines a turbocharged 333PS V6 petrol with a 116PS electric motor to provide 480PS and impressive acceleration with 0-62mph taking 5.3 seconds. The 500e has an all-electric range of 18 miles and will return up to 76.4mpg, while emitting a London Congestion Charge avoiding 78g/km of CO2. Thrill seekers can spec up to the AMG 5.5-litre V8 biturbo petrol engine, in the GLE63S which has a supercar rivalling 585PS that will fire the big SUV from zero to 62mph in 4.2 seconds before thundering on to an electronically limited 155mph. There is a less potent AMG model, too, the AMG GLE43, which has a twin-turbo 3.0 litre V6 engine generating 390 bhp. Six cylinder petrol models have been sold in Europe, with the GLE 450 available in some markets, but the model disappeared from the range at the end of 2017. Although few will ever be taken off-road, the GLE can be used as a full fat 4×4 with the optional off-roading package. The system adds low-range gears, changeable ride heights and hill descent control, which will let the GLE munch through muddy fields and tackle steep inclines. For most of this life, Mercedes has offered the non-AMG versions of the GLE in three distinct trim versions. Sport is the entry-level trim and gets 19-inch alloy wheels in himalaya grey with 255/50 tyres, mirror package – including projection of Mercedes-Benz logo integrated into both mirrors, Active Parking Assist with Parktronic and reversing camera, Adaptive highbeam assist plus, Dynamic select with a choice of driving modes, a powered tailgate, LED headlamps, privacy glass, COMAND online with eight-inch display, DAB radio, heated leather front seats, leather rear seats, automatic climate control and a touchpad with multi-touch control. AMG Line adds 20-inch AMG alloy wheels with 265/45 tyres, AMG bodystyling comprising AMG-specific front and rear apron with side sill panels painted in the vehicle colour, air suspension, ambient lighting, AMG floor mats with 'AMG' lettering, brushed stainless-steel sports pedals with rubber studs and leather sports seats. Designo Line includes parking assist with 360° camera, closing aid for doors and boot lid, panoramic electric sunroof with interior sun blind, running boards with rubber studs, heated rear seats, multi-contour front seats with massage function, memory function for front seats, temperature-controlled cup holders for driver and front passenger plus a Harman Kardon Logic surround sound system. As production of the car winds down in 2018, with a new fourth generation car expected later in the year, so Mercedes have resorted to the time-honoured trick of adding more standard kit to some of the models. The new run-out model trim is called the AMG Night Edition trim and is offered across the range, even on the AMG 43 and 63 models. These cars get Mercedes' Dynamic Select drive mode system, sat-nav, all-round parking sensors with a reversing camera, a powered
tailgate, LED headlights, alloy wheels starting from 20-inches, climate control, heated memory seats with Artico faux leather. Add the Premium Plus pack, and you get a panoramic glass, a premium Dolby surround sound system and 360 degree cameras. Despite the generous kit levels in these run out models, the story does not stop there. As with all other Mercedes models, there are long lists of options, most of which could bump up the cost quite considerably. Even the standard spec cars are quite well appointed, though, so there really is no particular need to go and tick lots of boxes on the order form.
I quite liked my time with this GLE, and it also went down well with my friend and local Munich resident Christian Wimmer. The car is spacious and refined and the build quality foibles of the early ML Class cars would seem to be banished now, though I still think that Audi and Volvo offer nicer-looking interiors. Indeed, the Mercedes has plenty of rivals these days, not just from compatriots BMW and Audi, but if you consider cars both a bit smaller and larger, everyone from Volvo to Lexus, Jaguar to Alfa Romeo, Kia and Hyundai have a car of this type on offer in Europe and there is an even longer list in the American market. Standards are high right across the class. I've driven most of them, though not necessarily in directly comparable versions and in various markets around the world. Whilst the GLE's diesel engine did impress me, the rather vague steering scored fewer plus marks in my mind, and the rather knobbly ride was something of a minus mark. Mercedes dealers will probably do you a competitive deal, but I understand that it won't be the cheapest car in its class and as it probably is not quite the best either, I have to rate it as worthy but not my favourite. That might just be the Jaguar F-Pace that I've yet to sample, but even without having tried the Jaguar, I can say from personal experience that the Alfa Romeo Stelvio hit the mark more convincingly for me and would be my pick for now were I looking for what Europeans think of as a a large Crossover, though it should be noted that both of these are a bit smaller than the Mercedes (and BMW and Volvo) so some may not think of them as direct alternatives. What would also be interesting would be to compare the GLE with the car I had actually tried to rent, the E Class Estate. Not for the first time, a very welcome complimentary Hertz upgrade means I've yet to sample one, but if I ever do get the chance to do so, I suspect I may well conclude that it offers everything that you get in the GLE apart from the raised driving position and hence may still be the pick of the Mercedes range for a car of this size. Not that GLE is a bad product. Far from it, even if it may not quite be best in class.