When staying in the Phoenix area and heading north up the I17 freeway, I have spotted signs at the side of the road reading "Martin Auto Museum". I kept intending to pay a visit but for whatever reason -a nd limited opening hours were only part of it – never quite seemed to manage to fit into the schedule of things I was doing. Like many people, once covid restrictions were lifted and travel became possible again, I had a much greater resolve to do things that had been on the pending list for ages and vowed that I would make the time for a visit there during my December 2021 trip. A added impetus came from the fact that I discovered that the museum was imminently going to move to new premises, so this would be my final chance to see the museum in its current form. That was all the incentive that I needed!
The museum was founded by real estate developer Mel Martin to showcase his collection of vintage vehicles and automobile related memorabilia. He helped his family to make their house payments by selling newspapers. The family moved to Mayer, Arizona, a mining town, where his great uncle John Martin lived. Martin's father purchased a service station, where he worked pumping gas. He moved to Phoenix and became the owner of his own gas station which he named M&M. He then purchased several towing trucks and his business continued to grow. He became involved in other automobile related businesses and started a car auction company. Martin became involved in the sale and development of commercial real estate. Martin began collecting cars since the 1960s. During the years his collection of vintage, historical and one of a kind cars continued to grow. He also collected memorabilia related to the automotive industry. Martin and his wife, Sallie Martin, realised that it would be best if they had a building with adequate space to show case their automobile collection and related artifacts. In 2005, Martin organised his vehicles into a private collection and in 2008, he founded the Martin Auto Museum. The site he found is located in a nondescript commercial building which Martin purchased alongside Interstate 17 on a frontage road in north Phoenix. The majority of the vehicles belong to Martin while a couple belong to the museum's board members. Around 60 cars are on display and there is plenty of automobilia spread throughout the different museum halls.
AC
1961 Ace Bristol: AC came back to the market after the Second World War with the staid 2-Litre range of cars in 1947, but it was with the Ace sports car of 1953 that the company really made its reputation in the post war years. Casting around for a replacement for the ageing 2-Litre, AC took up a design by John Tojeiro that used a light ladder type tubular frame, all independent transverse leaf spring suspension, and an open two seater alloy body made using English wheeling machines, possibly inspired by the Ferrari Barchetta of the day. Early cars used AC's elderly 100 bhp two-litre overhead cam straight-six engine (first seen soon after the end of the First World War), which, according to a 1954 road test by Motor magazine, gave a top speed of 103 mph and 0–60 mph in 11.4 seconds and a fuel consumption of 25.2 mpg. It was hardly a sporting engine, however, and it was felt that something more modern and powerful was required to put the modern chassis to good use. Joining the Ace in 1954 was the Aceca hard top coupé, which had an early form of hatchback rear door but used the same basic timber framed alloy body. From 1956, there was the option of Bristol Cars' two-litre 120 bhp straight-six with 3 downdraught carburettors and slick four-speed gearbox. Top speed leapt to 116 mph with 0–60 mph in the nine second bracket. Overdrive was available from 1956 and front disc brakes were an option from 1957, although they were later standardised. In 1961 a new 2.6-litre straight-six 'Ruddspeed' option was available, adapted by Ken Rudd from the unit used in the Ford Zephyr. It used three Weber or SU carburettors and either a 'Mays' or an iron cast head. This setup boosted the car's performance further, with some versions tuned to 170 bhp, providing a top speed of 130 mph and 0–60 mph in 8.1 seconds. However, it was not long before Carroll Shelby drew AC's attention to the Cobra, so only 37 of the 2.6 models were made. These Ford engined models had a smaller grille which was carried over to the Cobra. The car raced at Le Mans in 1957 and 1958. In 1959 at Le Mans, Ted Whiteaway and John Turner drove their AC-Bristol, registration 650BPK, to the finish, claiming top honours for the 2,000cc class and seventh overall behind six 3 litre cars. Few cars with this provenance have survived and are extremely valuable. They can range from $100,000 or more for an unrestored car, even one in pieces, to in excess of $400,000 for a restored AC Ace.
Like many British manufacturers, AC Cars had been using the Bristol straight-6 engine in its small-volume production, including its AC Ace two-seater roadster. This had a hand-built body with a steel tube frame, and aluminium body panels that were made using English wheeling machines. The engine was a pre-World War II design by BMW which by the 1960s was considered dated. Bristol decided in 1961 to cease production of its engine and instead to use Chrysler 313-cubic-inch (5.1 litre) V8 engines. AC started using the 159-cubic-inch (2.6 litre) Ford Zephyr engine in its cars. In September 1961, American automotive designer Carroll Shelby wrote to AC asking if they would build him a car modified to accept a V8 engine. AC agreed, provided a suitable engine could be found. Shelby went to Chevrolet to see if they would provide him with engines, but not wanting to add competition to the Corvette they said no. However, Ford wanted a car that could compete with the Corvette and they happened to have a brand new engine which could be used in this endeavour: the Windsor 221-cubic-inch (3.6 litre) engine – a new lightweight, thin-wall cast small-block V8. Ford provided Shelby with two engines. In January 1962 mechanics at AC Cars in Thames Ditton, Surrey designed the "AC Ace 3.6" prototype with chassis number CSX2000. AC had already made most of the modifications needed for the small-block V8 when they installed the 159-cubic-inch (2.6 litre) inline 6 Ford Zephyr engine, including the extensive rework of the AC Ace's front end bodywork. The only modification of the front end of the first Cobra from that of the "AC Ace 2.6" was the steering box, which had to be moved outward to clear the wider V8 engine. The most important modification was the fitting of a stronger rear differential to handle the increased engine power. A Salisbury 4HU unit with inboard disc brakes to reduce unsprung weight was chosen instead of the old E.N.V. unit. It was the same unit used on the Jaguar E-Type. After testing and modification, the engine and transmission were removed and the chassis was air-freighted to Shelby in Los Angeles on 2 February 1962, By this time the small-block's displacement was increased to 260 cu in (4.3 litre). Shelby's team paired this engine along with a transmission into CSX2000, in less than eight hours at Dean Moon's shop in Santa Fe Springs, California, and began road-testing. A few changes were made to the production version: Inboard brakes were moved outboard to reduce cost; the fuel tank filler was relocated from the fender to the centre of the trunk. The boot lid had to be shortened to accommodate this change. AC exported completed, painted, and trimmed cars (less engine and gearbox) to Shelby who then finished the cars in his workshop in Los Angeles by installing the engine and gearbox and correcting any bodywork flaws caused by the car's passage by sea. A small number of cars were also completed on the East Coast of the US by Ed Hugus in Pennsylvania, including the first production car; CSX2001. The first 75 Cobra Mk1 models (including the prototype) were fitted with the 260 cu in (4.3 litre). The remaining 51 Mk1 models were fitted with a larger version of the Windsor Ford engine, the 289-cubic-inch (4.7 litre) V8. In late 1962, Alan Turner, AC's chief engineer completed a major design change of the car's front end to accommodate rack and pinion steering while still using transverse leaf spring suspension. The new car entered production in early 1963 and was designated Mark II. The steering rack was borrowed from the MGB while the new steering column came from the VW Beetle. About 528 Mark II Cobras were produced in the summer of 1965 (the last US-bound Mark II was produced in November 1964). In 1963 to keep production focused on producing cars for Shelby American Inc., the Ruddspeed Ace was discontinued. To supply cars to the European market, AC began to market and sell the Cobra in Europe. Advertisements from the time state that the Cobra was designed to meet the requirements of Shelby American Inc. Shelby experimented with a larger Ford FE engine, of 390 cu in (6.4 litre) in chassis number CSX2196. Unfortunately the car was not able to receive the development it needed, as resources were aimed at taking the crown from Ferrari in the GT class. Ken Miles drove and raced the FE-powered Mark II at Sebring and pronounced the car virtually undriveable, naming it "The Turd". It failed to finish with the engine expiring due to damper failure. CSX2196 was revised for the show down at Nassau which allowed a more relaxed class division of racing. This allowed the GT cobras to run with prototype Ford GT, GM Grand Sport Corvettes and Lola Mk6. It was for this event in 1964 that the Fliptop cobra was used. An aluminium 390-cubic-inch (6.4 litre) engine was used. However, the car failed to finish. A new chassis was required, developed, and designated Mark III. The new car was designed in cooperation with Ford in Detroit. A new chassis was built using 4 in (101.6 mm) main chassis tubes, up from 3 in (76.2 mm) and coil spring suspension all around. The new car also had wide fenders and a larger radiator opening. It was powered by the "side oiler" Ford 427 cu in (7.0 litre) FE engine equipped with a single 4-barrel 780 CFM Holley carburetor rated at 425 bhp @ 6000 rpm and 480 lb/ft (651 Nm) @ 3700 rpm of torque, which provided a top speed of 164 mph (264 km/h) in the standard model and 485 bhp with a top speed of 185 mph (298 km/h) in the competition model. Cobra Mark III production began on 1 January 1965; two prototypes had been sent to the United States in October 1964. Cars were sent to the US as unpainted rolling chassis, and they were finished in Shelby's workshop. Unfortunately, The MK III missed homologation for the 1965 racing season and was not raced by the Shelby team. Only 56 of the 100 planned cars were produced. Of those, 31 unsold competition models were detuned and fitted with windscreens for street use. Called S/C for semi-competition, an original example can currently sell for US$1.5 million, making it one of the most valuable Cobra variants. Some Cobra 427s were actually fitted with Ford's 428-cubic-inch (7 litre) engine, a long stroke, smaller bore, lower cost engine, intended for road use rather than racing. The AC Cobra was a financial failure that led Ford and Carroll Shelby to discontinue importing cars from England in 1967. AC Cars kept producing the coil-spring AC Roadster with narrow fenders and a small block Ford 289. It was built and sold in Europe until late 1969. The car here is rather special as it was Carrol Shelby's personal car.
ALVIS
This is the second of just three non-American cars on display, a 1935 Firebird Drophead: Launched in 1935 and developed from the Alvis Firefly, 449 Firebirds were produced, as a two-door Tourer, a 2+2 sports tourer, a two-door drophead Coupé, and a four-door Saloon. Powered by an 1842 cc 4-cylinder overhead-valve Alvis engine, it had an aluminium body on an ash wood frame. As with other Alvis cars, the Firebird was built as a rolling chassis then sent to the coachbuilders Cross & Ellis, to be finished to the customer's requirements, so all Alvis Firebirds are different. The Firebird had an all-synchromesh gearbox, and the chassis was lubricated by grease nipples under the bonnet. In 1939 World War II halted Alvis car production to make aircraft engines, and a German Luftwaffe bomb destroyed the Alvis car factory in 1940.
BUICK
1991 Reatta: The Buick Reatta is a low-volume transverse front-engine, front-wheel drive, two-door, two-seater grand tourer manufactured and marketed by Buick as a coupe (1988–1991) and convertible (1990-1991) — both featuring a 3.8 liter V6 engine and shortened version of the GM E platform, shared with the seventh generation Buick Riviera. For the Reatta's manufacture at the Reatta Craft Center, specialized teams of workers assembled the car at a series of stations rather than on a conventional assembly line. After a team had completed their portion of the assembly, the car would be moved by robots to the next station. Paintwork was performed on site under subcontract to PPG Industries. The Reatta used GM's transverse "Buick 3800" V6 with 165–170 hp and 210–220 lb·ft (285–298 N·m) of torque with the highest output in the last year of production. The car used a fully independent suspension, 4 wheel disc brakes with ABS, and front wheel drive. Top speed was electronically limited to 125 mph (201 km/h). The Reatta was rated at 18 mpg (13.1 L/100 km) in the city and 27 mpg (8.7 L/100 km) on the highway. Intended as a halo car for Buick, production was projected at 20,000 Reattas annually. GM announced the end of production in early 1991. The Reatta featured twin bucket seats with a storage area behind the seats featuring two lockable bins and a lockable access hatch to the rear trunk. At introduction, options included 16-way power seats in lieu of 6-way power seats, side moldings in either black or body colour and pinstripe delete. A sunroof became optional in late 1988, and in 1989 keyless entry was added as a standard feature. The Reatta had the distinction of being Buick's only car with pop-up headlamps with the entire headlamp assembly moving up and down. The other Buick cars with hidden headlamps, the Riviera (1965–1969) and the Skyhawk (1987–1989 for certain trim levels), had fixed headlamps hidden behind moveable covers. Initially (1988–89), the Reatta featured a touchscreen computer interface, marketed as the Electronic Control Center (ECC), that included radio and climate control functions, date reminder, trip computer and user-configurable overspeed alarm, as well as diagnostic access to the vehicle's electronic systems and sensors. Later models were equipped with conventional push-button stereo and climate controls. The new system eliminated the trip computer functionality and the climate control buttons could access diagnostic information, replacing the diagnostic scanner capability formerly provided by the touchscreen. In 1990, the interior was redesigned, adding a driver's airbag and an optional CD player. In 1991, the "L27" 3800 engine and 4T60-E transmission replaced the "LN3″ and hydraulic 4T60 units and the Reatta received a new ABS system, new 16" wheels, automatic headlamps and a cup holder built into the armrest. Each Reatta included a leather book containing the owner's manual and a pen. In 1990 and 1991, a zippered owner's folio was included holding the owner's manual, pen, flashlight and tire gauge, as well as a "Craftsman's Log" with the signatures of the supervisors for the car's assembly. In 1988, approximately fifty-five examples were designated "Select Sixties" and allocated to Buick's top sixty dealers. The models, internally designated model X22, featured a black exterior, tan interior, and unique "Select Sixty" hood emblems. In 1990, the Select Sixty program was repeated, with sixty-five white convertibles including special emblems, and a flame red interior with white bucket seats, white 16-inch wheels, and cup holder. After a delayed introduction due to design difficulties, Buick introduced the convertible Reatta in 1990 with a manually-operated top designed by ASC, available in vinyl or cloth with a glass rear window and electric defroster. When retracted, the top was protected by a rigid tonneau cover. The 1991 models featured power pull-down motors to assist in tightening the rear bow of the top to the tonneau cover. A Buick convertible would not be offered again until the four-seat Buick Cascada debuted in 2016. The first pilot car was finished at the Reatta Craft Centre in December 1986. Series production began in January 1988 and ended on May 10, 1991. The original car was sometimes referred to as a "1988½ model year", owing to its January introduction.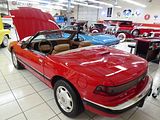 CADILLAC
1905 Model F: The Model F was the primary new Cadillac model of 1905. It had a sharper hood and radiator, prompting the update of the Model B (which became the Model C) and even spawning an aftermarket of updates to existing Model A and Model B cars. Models E and F shared the same chassis, though the latter was lengthened by two inches The Model F was available as either a 4-seater 2-door touring car with side-entrance to the fixed tonneau or a 2-seater delivery vehicle. Both were priced at $950 in 1905. The Model F shared the same 76 in (1,900 mm) wheelbase as had been used on the Model B.
1948 Series 62 2 door Fastback: The first all-new postwar Cadillacs arrived in 1948, sporting an aircraft-inspired look and the first tail fins on a Cadillac. Series 62 Cadillacs had a slightly shortened wheelbase, but the track width was widened by two inches, increasing interior room. However, updated drivetrains would have to wait another year and for the time being, the new Cadillacs were still powered by the same 346 CID flathead V8 used across the board since 1941, which delivered only fair performance (0-60 in 16 seconds with a top speed of 93 mph). Fuel mileage was an estimated 14 mpg highway, 10 mpg city with the Hydramatic transmission, which was rapidly becoming the norm on Cadillacs–by 1949, only 10% of Cadillacs were ordered with the 3-speed manual gearbox. Series 62 production totalled 34,213 vehicles for the 1948 model year, accounting for 68% of Cadillac's volume. The 1948 models had been slow to get into production and did not arrive in showrooms until February 1948, consequently Cadillac produced on 50,599 total vehicles for the abbreviated model year. The new Cadillac OHV V8 was the big news for 1949, with minor trim differences otherwise. This 331 cu in (5.4 L) engine produced 160 hp and weighed 200 pounds less than the old flathead V8 in addition to being shorter and lower. The 331 V8 could also handle higher compression levels to take advantage of improved, higher octane postwar gasoline formulations. The major difference between Series 61 and Series 62 models of similar body style was minor trim variations. The higher-priced series again had grooved, front fender stone shields and bright rocker panel moldings. Chevrons below the taillights were no longer seen. The convertible was an exclusive offering. A heater was optional. Sales reached a record 55,643. The Cadillac Series 62 Coupe de Ville was introduced late in the 1949 model year. Along with the Buick Roadmaster Riviera, and the Oldsmobile 98 Holiday, it was among the first pillarless hardtop coupes ever produced. At $3,496 it was only a dollar less than the Series 62 convertible, and like the convertible, it came with power windows standard. It was luxuriously trimmed, with leather upholstery and chrome 'bows' in the headliner to simulate the ribs of a convertible top. 55,643 Series 62 Cadillacs were produced in 1949 out of a total volume of 92,554 vehicles. For 1950, major styling changes were performed. The cars were lower and sleeker, with longer hoods, and one-piece windshields were fitted. Hydra Matic transmission was now standard. The Series 61 was again a short wheelbase model, having been reduced to 122 in (3099 mm). Sales set yet another record at 59,818. Full-length chrome rocker panels set off the 1951 model, and the Coupe de Ville was now marked with noticeably-improved trim, including Coupe de Ville script on the rear roof pillar. Sales were 81,844, or a record of over 74% of all Cadillacs sold. Popular Mechanics reported about 12-MPG at 45 mph. In 1952, to commemorate the 50th anniversary of Cadillac, the V-shaped hood and deck emblems were done as gold castings. The Series 62 sedan was also characterized by a higher rear deck lid contour. This provided additional luggage space. Back up lights were now standard equipment and were incorporated in the taillights. The grille wraparound panels were redesigned once again having broad chrome trim below each headlight with side scoop styling and gold-colored winged emblem mounted in the center. At the rear all Cadillacs adopted a through the bumper dual exhaust system. Deck ornamentation took the form of a Cadillac crest over abroad golden "V". New standard features included self-winding clocks, improved direction signal indicators, glare proof mirrors, stannate treated pistons, and four barrel carburetion. Engine output for the 331 was up to 190 hp. Sales fell to 70,255, but with the Series 61 out of the way, Series 62 sales accounted for a record 78% of all Cadillacs. The 1953 Series 62 saw a redesigned grille with heavier integral bumper and bumper guards, the repositioning of parking lamps directly under the headlights, chrome "eyebrow" type headlamp doors, and one piece rear windows without division bars. Wheel discs were fashioned in an attractive new disced design. Series 62 bodystyles were identified by non louvered rear fenders, the use of thin bright metal underscores on the bottom rear of the cars only and the decoration of both hood and deck lid with Cadillac crests and V- shaped ornaments. The Club Coupe model disappeared. Two door Series 62 were now all hardtops (including the better equipped Coupe de Ville) or convertibles. Another familiar name appeared on 1953's Series 62. The top of the line sub-series Eldorado was one of three specialty convertibles produced in 1953 by General Motors, the other two being the Oldsmobile 98 Fiesta and the Buick Roadmaster Skylark. The Eldorado was a limited-edition luxury convertible, and would eventually become its own series. It featured a full assortment of deluxe accessories, including wire wheels, and introduced the wraparound windshield to Cadillac standard production. Sales set a new record at 85,446.
CHEVROLET
1932 Confederate: The Chevrolet Series BA Confederate (or Chevrolet Confederate) is an American vehicle manufactured by Chevrolet in 1932 to replace the 1931 Series AE Independence. Production slipped significantly from over 600,000 cars to 323,100 for the model year as the Great Depression continued, but was still sufficient for Chevrolet to retain first place in the American car sales table. Sales were also affected by cross-town rival Ford introducing the Ford V8 coupe and sedan. A new body style called a station wagon was produced in limited quantities by coachbuilder Mifflinburg Body Company of Mifflinburg, Pennsylvania. The Series BA carried over much from the Series AE and the main external differences were the sloping of the windshield and the removal of the external visor above. Once model year 1932 Chevrolet offered fourteen different body style choices, which were all supplied by Fisher Body and continued the program of devoting production to different factories for national consumption. The choices were now broken into "Standard" and "Deluxe" and one distinguishing feature was that on either side of the hood the previous louvers were replaced by opening vents, finished in a distinctive chrome on DeLuxe models.[2] Flint Assembly, Buffalo Assembly and Janesville Assembly provided more than one coachwork choice due to production capacity. In May of 1925 the Chevrolet Export Boxing plant at Bloomfield, New Jersey was repurposed from a previous owner where Knock-down kits for Chevrolet, Oakland, Oldsmobile, Buick and Cadillac passenger cars, and both Chevrolet and G. M. C. truck parts are crated and shipped by railroad to the docks at Weehawken, New Jersey for overseas GM assembly factories. It remained powered by the 194 cu in (3,180 cc) "Stovebolt" six-cylinder engine, but now upgraded with a downdraft carburetor and a higher compression ratio to produce 60 hp. A three-speed synchro-mesh transmission was fitted and a "Free Wheeling" mode called Wizard Control was standard, which permitted the car to coast when the driver's foot was lifted from the accelerator. The electrical system was 6 Volt Negative ground, dual front (referred to as "Town and Country") horns and a passenger side Brake and Parking lights were options that could have been added on at either the dealership or factory. Turn signal systems had not yet been implemented, the generator used a "Cut-out" relay which only used 1 wire for its generating system. Voltage regulators weren't implemented until 1935.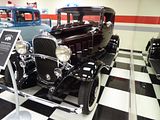 Dating from 1922 is this Sport Roadster
It was no surprise to find a number of Corvette models here, in a line in the first part of the museum that you see. There was one of the first generation C1 cars, dating from towards the end of the model's life The first generation of Corvette was introduced late in the 1953 model year. Originally designed as a show car for the 1953 Motorama display at the New York Auto Show, it generated enough interest to induce GM to make a production version to sell to the public. First production was on June 30, 1953. This generation was often referred to as the "solid-axle" models (the independent rear suspension was not introduced until the second generation).Three hundred hand-built polo white Corvette convertibles were produced for the 1953 model year. The 1954 model year vehicles could be ordered in Pennant Blue, Sportsman Red, Black, or Polo White. 3,640 were built, and sold slowly. The 1955 model offered a 265 cu in (4.34 litre) V8 engine as an option. With a large inventory of unsold 1954 models, GM limited production to 700 for 1955. With the new V8, the 0-60 mph time improved by 1.5 seconds. A new body was introduced for the 1956 model featuring a new "face" and side coves; the taillamp fins were also gone. An optional fuel injection system was made available in the middle of the 1957 model year. It was one of the first mass-produced engines in history to reach 1 bhp per cubic inch (16.4 cc) and Chevrolet's advertising agency used a "one hp per cubic inch" slogan for advertising the 283 bhp 283 cu in (4.64 litre) Small-Block engine. Other options included power windows (1956), hydraulically operated power convertible top (1956), heavy duty brakes and suspension (1957), and four speed manual transmission (late 1957). Delco Radio transistorised signal-seeking "hybrid" car radio, which used both vacuum tubes and transistors in its radio's circuitry (1956 option). The 1958 Corvette received a body and interior freshening which included a longer front end with quad headlamps, bumper exiting exhaust tips, a new steering wheel, and a dashboard with all gauges mounted directly in front of the driver. Exclusive to the 1958 model were bonnet louvres and twin trunk spears. The 1959–60 model years had few changes except a decreased amount of body chrome and more powerful engine offerings. In 1961, the rear of the car was completely redesigned with the addition of a "duck tail" with four round lights. The light treatment would continue for all following model year Corvettes until 2014. In 1962, the Chevrolet 283 cu in (4.64 litre) Small-Block was enlarged to 327 cu in (5.36 litre). In standard form it produced 250 bhp. For an extra 12% over list price, the fuel-injected version produced 360 bhp, making it the fastest of the C1 generation. 1962 was also the last year for the wrap around windshield, solid rear axle, and convertible-only body style. The boot lid and exposed headlamps did not reappear for many decades. An all-new C2 generation model was launched for 1963.
Showing the evolution of the Corvette was this second generation C2 model. First seen in 1963, this model introduced us to the name Sting Ray. It continued with fibreglass body panels, and overall, was smaller than the first generation. The car was designed by Larry Shinoda with major inspiration from a previous concept design called the "Q Corvette," which was created by Peter Brock and Chuck Pohlmann under the styling direction of Bill Mitchell. Earlier, Mitchell had sponsored a car known as the "Mitchell Sting Ray" in 1959 because Chevrolet no longer participated in factory racing. This vehicle had the largest impact on the styling of this generation, although it had no top and did not give away what the final version of the C2 would look like. The third inspiration was a Mako Shark Mitchell had caught while deep-sea fishing. Production started for the 1963 model year and ended in 1967. The 1963 model was the first year for a Corvette coupé and it featured a distinctive tapering rear deck (a feature that later reappeared on the 1971 "Boattail" Buick Riviera) with, for 1963 only, a split rear window. The Sting Ray featured hidden headlamps, non-functional bonnet vents, and an independent rear suspension. Corvette chief engineer Zora Arkus-Duntov never liked the split rear window because it blocked rear vision, but Mitchell thought it to be a key part of the entire design. Maximum power for 1963 was 360 bhp, raised to 375 bhp in 1964. Options included electronic ignition, the breakerless magnetic pulse-triggered Delcotronic first offered on some 1963 Pontiac models. On 1964 models the decorative bonnet vents were eliminated and Duntov, the Corvette's chief engineer, got his way with the split rear window changed to a full width window. Four-wheel disc brakes were introduced in 1965, as was a "big block" engine option: the 396 cu in (6.49 litre) V8. Side exhaust pipes were also optionally available in 1965, and continued to be offered through 1967. The introduction of the 425 bhp 396 cu in big block in 1965 spelled the beginning of the end for the Rochester fuel injection system. The 396 cu in option cost $292.70 while the fuel injected 327 cu in (5.36 litre) engine cost $538.00. Few people could justify spending $245.00 more for 50 bhp less, even though FI could deliver over 20 mpg on the highway and would keep delivering fuel despite high G-loading in corners taken at racing speeds. Another rare '63 and '64 option was the Z06 competition package, which offered stiffer suspension, bigger, multi-segment lined brakes with finned drums and more, only a couple hundred coupes and ONE convertible were factory-equipped this way in 1963. With only 771 fuel-injected cars built in 1965, Chevrolet discontinued the option at the end of the '65 production, having introduced a less-expensive big block 396 engine rated at 425 hp in the middle of the production year and selling over 2,000 in just a few months. For 1966, Chevrolet introduced an even larger 427 cu in 7 litre Big Block version. Other options available on the C2 included the Wonderbar auto-tuning AM radio, AM-FM radio (mid-1963), air conditioning (late-1963), a telescopic steering wheel (1965), and headrests (1966). The Sting Ray's independent rear suspension was successfully adapted for the new-for-1965 Chevrolet Corvair, which solved the quirky handling problems of that unique rear-engine compact. 1967 was the final year for the C2 generation. The 1967 model featured restyled bumper vents, less ornamentation, and back-up lamps which were on the inboard in 1966 were now rectangular and centrally located. The first use of all four taillights in red started in 1961 and was continued thru the C-2 line-up except for the 1966. The 1967 and subsequent models continuing on all Corvettes since. 1967 had the first L88 engine option which was rated at 430 bhp, but unofficial estimates place the actual output at 560 bhp or more. Only twenty such engines were installed at the factory. From 1967 (to 1969), the Holley triple two-barrel carburettor, or Tri-Power, was available on the 427 L89 (a $368 option, on top of the cost for the high-performance 427). Despite these changes, sales slipped over 15%, to 22,940 – 8,504 coupes and 14,436 convertibles.
1963 Bel Air: For 1961, the Bel Air received a new body. Its wheelbase remained 119 in (3,000 mm), but its length was now reduced slightly to 209.3 in (5,320 mm). All engines options of the previous year remained in effect with the standard engines being the 235.5 CID Six of 135 hp or the 283 CID V8 of 170 hp. The V8 cost $110 more than the Six and weighed 5 lb (2.3 kg) less. The Bel Air 2-door sedan used squared-off roof styling and large wrap-around rear window as opposed to the hardtop's swept-back design. The Bel Air 4-door Sport Hardtop still used a different roof line than did the 4-door sedan. For 1962, all sheet metal except the door panels was changed. Overall length was stretched slightly to 209.6 in (5,320 mm). The 4-door Sport Hardtop was no longer offered in the Bel Air series. Standard engines remained the same as the previous year. A new 327 cu in (5,360 cc) V8 of 250 or 300 hp was offered in addition to the giant (for the time) 409 cu in (6.70 l) V8 of 380 hp or 409 hp with the dual four-barrel carburettor setup. All wagons this year were 4-door models and separate distinctions for wagons were dropped. Now all models were either Biscayne, Bel Air or Impala series. Full carpeting returned as standard equipment on all 1962 Bel Air models for the first time in several years. The Bel Air Sport Coupe was in its last year of U.S. production, and its roofline was a carryover from the 1961 hardtop coupe. The Bel Air was given a facelift in 1963. Its overall length increased to 210.4 in (5,340 mm). Replacing the older 235 cubic-inch six-cylinder engine as standard equipment was a new 230 cubic-inch six-cylinder of more modern design with a 140-horsepower rating that was based on the 194 cubic-inch six introduced on the compact Chevy II Nova the previous year. The base V8 remained the 283 CID, which was upgraded to produce 195 hp. The 409 CID V8 was now offered in 340, 400 and 425 hp versions, while the small block 327 V8 continued with options of 250 and 300 horsepower. The Bel Air continued to be Chevrolet's middle range, but it now consisted of only two car models- the 2-door sedan and the 4-door sedan. 6 and 9-passenger Bel Air station wagons were again offered. For 1964, very few changes were made except the expected sheet metal and trim renovations. Cars were 209.9 in (5,330 mm) in length while the wagons were 210.8 in (5,350 mm) long. In addition to the un-changed standard engines, there were two different 327 CID engines were offered, developing from 250 hp to 300 hp and three 409 CID engines ranging from 340 hp to 425 hp. Except for a chrome belt line and $100 difference in price there was little exterior difference between the Bel Air and Biscayne version. RHD Bel Airs continued to be imported into Australia. Some of these cars featured a reversed 1961 Pontiac instrument panel, but others had a mirror image of the more attractive current North American panel. Even more curious was the fact that some of these Bel Airs featured Impala-style triple taillights; the center lens was amber in keeping with Australian legal standards. A brand new design arrived for 1965.
1968 Camaro Z28: The Camaro was GM's very definite response to the huge success of Ford's Mustang, which had been codenamed Panther. Although there had been rumours that GM was doing something, this was an era when even the journalists were surprised. and on June 21, 1966, around 200 automotive journalists of them were when they received a telegram from General Motors stating, "…please save noon of June 28 for important SEPAW meeting. Hope you can be on hand to help scratch a cat. Details will follow…(signed) John L. Cutter – Chevrolet public relations – SEPAW secretary." The following day, the same journalists received another General Motors telegram stating, "Society for the Eradication of Panthers from the Automotive World will hold first and last meeting on June 28…(signed) John L. Cutter – Chevrolet public relations SEPAW secretary." These telegrams were something of a puzzle at the time. On June 28, 1966, General Motors held a live press conference in Detroit's Statler-Hilton Hotel. It was to be the first time in history that 14 cities were connected in real time for a press conference via telephone lines. Chevrolet general manager Pete Estes started the news conference stating that all attendees of the conference were charter members of the Society for the Elimination of Panthers from the Automotive World and that this would be the first and last meeting of SEPAW. Estes then announced a new car line, project designation XP-836, with a name that Chevrolet chose in keeping with other car names beginning with the letter C such as the Corvair, Chevelle, Chevy II, and Corvette. He claimed the name, suggests the comradeship of good friends as a personal car should be to its owner and that to us, the name means just what we think the car will do… go. The Camaro name was then unveiled. Automotive press asked Chevrolet product managers, what is a Camaro? and were told it was a small, vicious animal that eats Mustangs. According to the book "The Complete Book of Camaro: Every Model Since 1967", the name Camaro was conceived by Chevrolet merchandising manager Bob Lund and General Motors vice president Ed Rollett, while they were reading the book Heath's French and English Dictionary by James Boïelle and by de V. Payen-Payne printed in 1936. Lund and Rollett found the word "camaro" in the French-English dictionary to mean friend, pal, or comrade. The article further repeated Estes's statement of what the word camaro was meant to imply, that the car's name "suggests the comradeship of good friends, as a personal car should be to its owner". In fact, the actual French word that has that meaning is "camarade", from which the English word "comrade" is derived, and not "camaro". "Camaro" is not a recognised word in the French language. Be that as it may, the Camaro was first shown at a press preview in Detroit, Michigan, on September 12, 1966, and then later in Los Angeles, California, on September 19, 1966. Public introduction of the new model was on September 26, 1966. The Camaro officially went on sale in dealerships on September 29, 1966, for the 1967 model year It was an instant success. The first generation model ran for three years before an all new second generation car premiered (late) for the 1970 model year.
The fourth-generation Camaro debuted in 1993 on an updated F-body platform. It retained the same characteristics since its introduction in 1967: a coupé body style with 2+2 seating (with an optional T-top roof) or convertible (reintroduced in 1994), rear-wheel drive, pushrod 6-cylinder and V8 engines. The standard powerplant from 1993 to 1995 was a 3.4 L V6, then a 3.8 L V6 was introduced in 1995. A 350 MPFI (LT1) Small Block V-8 engine, which was introduced in the Corvette in 1992, was standard in the Z28. Optional equipment included all-speed traction control and a new six-speed T-56 manual transmission; the 4L60E 4-speed automatic transmission was standard on the Z28, yet optional on the V6 models which came with a 5-speed manual as standard. Anti-lock brakes were standard equipment on all Camaros. A limited quantity of the SS version (1996-1997) came with the 330 HP LT4 small block engine from the Corvette, although most were equipped with the 275 hp LT1. The 1997 model year included a revised interior, and the 1998 models included exterior styling changes and a switch to GM's aluminum block LS1 used in the Corvette C5. In 1998, the 5.7 L LS1 was the first all-aluminum engine offered in a Camaro since the 1969 ZL-1 and carried a 305-horsepower rating. The SS versions (1998-2002) received slightly improved exhaust and intake systems, bigger wheels and tires, a slightly revised suspension for improved handling and grip while retaining ride comfort, an arc-shaped rear wing for downforce, and different gearing ratios for faster acceleration, over the Z28 models. Chevrolet offered a 35th-anniversary edition for the 2002 model year. Production of the F-Body platform was discontinued due to slowing sales, a deteriorating market for sports coupés, and plant over-capacity, but an entirely new platform went on sale in 2009. The B4C Special Service Package for police agencies was carried over from the 3rd generation & sold between 1993 and 2002.
CHRYSLER
1947 Town and Country: After World War II, the Town & Country nameplate returned, though the 4-door 8-passenger station wagon did not. Only the 1946 Town & Country 4-door sedan and the 1946 Town & Country 2-door convertible were offered; however, the 1946 Town & Country sales brochure also described and illustrated a roadster, a 2-door sedan called the Brougham, and a 2-door hardtop called the Custom Club Coupe. None of those three additional body styles progressed beyond the prototype stage, with one Brougham and seven Custom Club Coupes built; it would be another three model years before General Motors would offer the first mass produced 2-door hardtops, while the Town & Country range would not see a production 2-door hardtop until one model year after that. The wooden body framing was made from white ash and the panels were mahogany veneer but were now bonded to steel body panels. The average retail price was listed at US$2,609 ($36,254 in 2021 dollars) and production totals were documented at 2,169. During the 1947 model year, the 1947 Town & Country 4-door sedan and the 1947 2-door convertible each carried over with just a few improvements over the previous model year (1946). During the 1948 model year, while the 1948 Town & Country 4-door sedan was in its last model year of production ever after only a three-model-year production run (since the 1946 model year), the 1948 Town & Country 2-door convertible carried over with just very few improvements over the previous model year (1947). This was also the year the genuine Honduran mahogany wood panels were replaced by DI-NOC vinyl panels. A similar appearance sedan was also introduced in 1948 called the Packard Station Sedan which appeared like a sedan but had a two-piece tailgate constructed entirely of wood. The 1949 Town & Country 2-door convertible, which carried over with so very few improvements over the previous model year (1948), was in its last model year of production, which was the only Chrysler Town & Country offering during the 1949 model year after a four-model-year production run (since the 1946 model year), during the next model year (1950), Chrysler would produce the last true woodie offering—ever—as the Town & Country Newport 2-door hardtop. The cars for 1949 were first Chrysler's new postwar designs, with a longer wheelbase (131.5 in), based upon the New Yorker model. The 1950 Town & Country 2-door hardtop was Chrysler's last true woodie offering during its one-model-year production run while the panels were now simulated. This was also the year a new optional feature was available, windshield washers which are now a standard feature on all cars worldwide. The 1950 Crosley Hot Shot is often given credit for the first production disc brakes but the Chrysler Imperial Crown actually had them first as standard equipment at the start of the 1949 model year. The Chrysler 4-wheel disc brake system was built by Auto Specialties Manufacturing Company (Ausco) of St. Joseph, Michigan, under patents of inventor H.L. Lambert, and was first tested on a 1939 Plymouth. Unlike the caliper disc, the Ausco-Lambert utilized twin expanding discs that rubbed against the inner surface of a cast-iron brake drum, which doubled as the brake housing. The Ausco-Lambert disc brake was complex, and because of the expense, the brakes were only standard on the Chrysler Imperial Crown through 1954 and the Town and Country Newport in 1950. They were optional, however, on other Chryslers, priced around $400 ($4,505 in 2021 dollars), at a time when an entire Crosley Hot Shot retailed for $935 ($10,531 in 2021 dollars. A completely new model arrived for 1951.
CROSLEY
1939 Convertible: Crosley was a small, independent American manufacturer of subcompact cars, bordering on microcars. At first called the Crosley Corporation and later Crosley Motors Incorporated, the Cincinnati, Ohio, firm was active from 1939 to 1952, interrupted by World War II production. Their station wagons were the most popular model, but also offered were sedans, pickups, convertibles, a sports car, and even a tiny jeep-like vehicle. For export, the cars were badged Crosmobile. Beginning in the late 1930s Crosley developed low-priced compact cars and other pint-size vehicles. The first experimental prototype of the Crosley car was the 1937 CRAD (for Crosley Radio Auto Division) that had a 18 inches (46 cm) rear track. With the assistance of his brother, Lewis, a graduate engineer, Crosley also designed assembly plants for his manufacturing operations at Richmond and Marion, Indiana. On April 28, 1939, the first Crosley production car debuted at the Indianapolis Motor Speedway to mixed reviews. It was a two-door convertible that weighed under 1,000 pounds (454 kg). Initially offered at US$325 for a two-passenger coupe or $350 for a four-passenger sedan, The Crosley cars were cheaper than the nearest competition, the American Austin Car Company's American Bantam, which sold for $449 to $565. The Crosley car's chassis had an 80-inch (203.20 cm) wheelbase and used beam axles with leaf-springs (half-elliptic springs in front, and quarter-elliptic springs in the rear). Under the hood, a four-gallon, gravity-fed gas-tank mounted above the motor made it possible for the car to operate without a fuel pump. The engine was a small, air-cooled Waukesha two-cylinder boxer, much like that of the Citroen 2CV, and had a fan as an integral part of the flywheel. The engine was connected to a three-speed transmission that provided power directly via a torque tube to the rear axle, eliminating the need for joints. This arrangement was judged unreliable, and conventional universal joints were fitted starting in 1941. Production for 1939 was 2,017 units; however, only 422 cars were built in 1940. For 1941 a range of new, body-style variations of the 48-inch (1.22 m) wide car were introduced to expand the line-up: a station wagon, two panel vans (one called the "Parkway Delivery" had no front cabin roof), and a pick-up truck and "Covered Wagon" model that could convert into a truck by means of a removable back seat and detachable soft-top over the rear section. Crosley built nearly 2,300 cars in 1941. When the company introduced its first metal-topped model, the "Liberty Sedan," for 1942, pricing across the model range was $299 to $450. During World War II, the Crosley car became attractive due to gasoline rationing and the car's fuel efficiency, an estimated 50 mpg (US) at speeds of up to fifty mph. Crosley was the last company to cease production of civilian vehicles in 1942, after building another 1,000 units that year. When the onset of war ended all automobile production in the United States in 1942, Crosley had produced a total of 5,757 cars. During the pre-war years the Crosley company operated manufacturing plants in Camp Washington, Ohio; Richmond, Indiana; and Marion, Indiana. The Crosley factories were converted to wartime production during the war. The Crosley Corporation was involved in war production planning before December 1941, and like the rest of American industry, it focused on manufacturing war-related products during the war years. The company made a variety of products, ranging from proximity fuzes, radio transceivers, field kitchens, and quarter-ton trailers, to gun turrets, among other items. Powered gun turrets for PT boats and B-24 and B-29 bombers were the company's largest contract. Crosley also produced a number of experimental vehicles during the war for the U.S. government. Crosley's auto manufacturing division, CRAD, in Richmond, Indiana, produced experimental motorcycles, tricycles, four-wheel-drive military light utility vehicles, a self-propelled gun, and continuous track vehicles, some of which were amphibious models. All of these military prototypes were powered by the 2-cylinder boxer engine that powered the original Crosley automobiles. Crosley had nearly 5,000 of the engines on hand when auto production ceased in 1942, and hoped to put them to use in war-time production of miniature vehicles. One vehicle prototype was the 1942–1943 Crosley CT-3 "Pup," a lightweight, single-passenger, four-wheel-drive vehicle that was transportable and air-droppable from a C-47 Skytrain. Six of the 1,125-pound (510 kg), 2-cylinder Pups were deployed overseas after undergoing tests at Fort Benning, Georgia, but the project was discontinued due to several weak components. Seven of 36 Pups built are known to survive. Post-war production began with 4,999 vehicles in 1946, and increased to five-figure numbers, producing more than 22,500 cars in 1947. Crosley sales peaked in 1948, with 24,871 or 27,707 cars sold, depending on the source; however, the CoBra copper and stamped steel "tin block" engine proved a major misstep. Although it had proven reliable in military use, it fared poorly under less diligent civilian maintenance. The CoBra was replaced with a redesigned and more reliable conventional cast-iron engine in 1949, but the company's reputation suffered. Sales fell to 8,939 units in 1949, and to 7,612 in 1950. The addition of the Crosley "Hotshot" sports model and the "Farm-O-Road" model, a combination farm-tractor and all-wheel-drive vehicle in 1950, could not stop the decline. More trouble came after the Big Three automakers introduced bigger, more lavish cars, and began manufacturing them in higher volumes and priced, in some cases, only little higher than a new Crosley car. Crosley sales dwindled to 4,839 units in 1951; only 1,522 Crosley vehicles were sold in 1952. Production ceased on July 3, 1952, when the final Crosley rolled off the production line. Crosley sold about 84,000 cars in total before closing down the operation in 1952. Crosley continued building engines for a short while to fulfill a government contract, but eventually the rights to the engine were sold. The Crosley plant in Marion, Indiana, was sold to the General Tire and Rubber Company.
DE TOMASO
Designed by American Tom Tjaarda, and unlike the Mangusta, which employed a steel backbone chassis, the Pantera was a steel monocoque design, the first instance of De Tomaso using this construction technique. The Pantera logo included a version of Argentina's flag turned on its side with a T-shaped symbol that was the brand used by De Tomaso's Argentinian cattle ranching ancestors. The car made its public debut in Modena in March 1970 and was presented at the 1970 New York Motor Show a few weeks later. Approximately a year later the first production Panteras were sold, and production was increased to three per day. The curious slat-backed seats which had attracted comment at the New York Show were replaced by more conventional body-hugging sports-car seats in the production cars: leg-room was generous but the pedals were off-set and headroom was insufficient for drivers above approximately 6 ft. Reflecting its makers' transatlantic ambitions, the Pantera came with an abundance of standard features which appeared exotic in Europe, such as electric windows, air conditioning and even "doors that buzz when … open". By the time the Pantera reached production, the interior was in most respects well sorted, although resting an arm on the central console could lead to inadvertently activating the poorly located cigarette lighter. The first 1971 Panteras were powered by a Ford 351 cu in (5.8 litre) V8 engine that produced a severely underrated 330 hp. Stock dynos over the years proved that power was more along the lines of about 380 hp. The high torque provided by the Ford engine reduced the need for excessive gear changing at low speeds: this made the car much less demanding to drive in urban conditions than many of the locally built competitor products. The ZF transaxle used in the Mangusta was also used for the Pantera: a passenger in an early Pantera recorded that the mechanical noises emanating from the transaxle were more intrusive than the well restrained engine noise. Power-assisted four-wheel disc brakes and rack and pinion steering were all standard equipment on the Pantera. The 1971 Pantera could accelerate to 60 mph in 5.5 seconds. In the summer of 1971, a visitor to the De Tomaso plant at Modena identified two different types of Pantera awaiting shipment, being respectively the European and American versions. From outside, the principal differences were the larger tail lamps on the cars destined for America, along with addition of corner marker lamps. The visitor was impressed by the large number of cars awaiting shipment; but in reality, spending the best part of a year under dust covers in a series of large hangars probably did nothing for the cash-flow of the business or the condition of some of the cars by the time they crossed the Atlantic. Late in 1971, Ford began importing Panteras for the American market to be sold through its Lincoln Mercury dealers. The first 75 cars were simply European imports and are known for their "push-button" door handles and hand-built Carrozzeria Vignale bodies. A total of 1,007 Panteras reached the United States that first year. These cars were poorly built, and several Panteras broke down during testing on Ford's test track. Early crash testing at UCLA showed that safety cage engineering was not very well understood in the 1970s. Rust-proofing was minimal on these early cars, and the quality of fit and finish was poor, with large amounts of body solder being used to cover body panel flaws. Notably, Elvis Presley once fired a gun at his Pantera after it would not start. An L model ("Lusso") was added in 1972 and a GTS version in 1974, but it was not enough and Ford ended their importation to the US in 1975, having sold around 5,500 cars. De Tomaso continued to build the car in ever-escalating forms of performance and luxury for almost two decades for sale in the rest of the world. A small number of Panteras were imported to the US by grey market importers in the 1980s, notably Panteramerica and AmeriSport. After 1974, Ford US discontinued the Cleveland 351 engine, but production continued in Australia until 1982. De Tomaso started sourcing their V8s from Australia once the American supplies dried up. These engines were tuned in Switzerland and were available with a range of outputs up to 360 PS. The chassis was completely revised in 1980, beginning with chassis number 9000. From May 1980 the lineup included the GT5, which had bonded and riveted-on fibreglass wheelarch extensions and from November 1984 the GT5S model which had blended arches and a distinctive wide-body look. The GT5 also incorporated better brakes, a more luxurious interior, much larger wheels and tires and the fibreglass body kit also included an air dam and side skirts. Production of the wide body GT5 (and similarly equipped narrow body GTS models) continued until 1985, when the GT5-S replaced the GT5. Although the factory has not made its records available, an analysis based on Vehicle Identification Numbers by the Pantera Owners Club of America (POCA) late model (9000 series) registrar has shown that fewer than 252 GT5 Panteras were likely to have been built. The GT5-S featured single piece flared steel fenders instead of the GT5's riveted-on fibreglass flares, and a smaller steel front air dam. The 'S' in the GT5-S name stood for "steel". Otherwise the GT5-S was largely identical to the GT5. The POCA 9000 series registrar's VIN analysis indicates that fewer than 183 GT5-S Panteras were built. Concurrent GTS production continued, on a custom order and very limited basis, until the late 1980s. The car continued to use a Ford V8 engine, although in 1988, when the supply of Ford 351 Cleveland engines from Australia ran out, De Tomaso began installing Ford 351 Windsor engines in the Pantera instead. For 1990 the 351 was changed to the Ford 302 cu in (4942 cc, commonly called a "5.0"). Incorporating a Marcello Gandini facelift, suspension redesign, partial chassis redesign and the new, smaller engine, the Pantera 90 Si model was introduced in 1990. Only 38 90 Si models were sold before the Pantera was finally phased out in 1993 to make way for the radical, carbon-fibre-bodied Guarà. Some say 41 were built (with the last one not finished until 1996), of which four were targa models. The targas were converted by Pavesi directly off the production lines. In all, about 7,200 Panteras were built.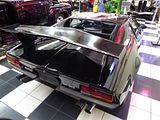 DUESENBERG
1930 Model J Torpedo Boattail: The first Model J prototype was created in 1927 and the first cars were delivered in 1929, shortly before the onset of the Great Depression. Around 300 Model Js were completed by 1930, short of the original 500-vehicle goal. The car's engine was based on the company's racing engines of the 1920s and were manufactured by another Cord company, Lycoming. Its output 265 hp aided by dual overhead camshafts and four valves per cylinder, making it the most powerful car of its time.  The Model J was capable of a top speed of 118 mph (190 km/h), and 88 mph. Duesenberg historian Randy Ema wrote that the Model J spurred change in engine design, "single-handedly (starting) the horsepower race that drove the number of cylinders from twelve to sixteen," but noted those engines still could not match the Model J's power output. Only the chassis and engine of the Model J were displayed, as the body and cabin of the car were custom built per custom for luxury vehicles at the time. The company's chief body designer, Gordon Buehrig designed around half of the Model J bodies, while the remainder were designed by coachbuilders around the world, including Gurney Nutting, Murphy, and Derham, among others. The J was available in two versions of chassis with a different wheelbase; a longer one (153.54 in (3.90 m)) and a shorter one (about 141.73 in (3.60 m)). There were also other special sizes, like the SSJs with a wheelbase shortened to 125 in (3.18 m) and a few cars with the wheelbase extended to 160 in (4.1 m) and over. The supercharged Model J, referred to as the SJ, was reported to have reached 104 mph in second gear and have a top speed of 135–140 mph in third gear. Zero-to-60 mph times of around eight seconds and 0–100 mph in 17 seconds were reported for the SJ despite having an unsynchonized transmission, at a time when even the best cars of the era were not likely to reach 100 mph. The SJ had a wheelbase of 142.5 in (362 cm). The SJ was introduced in 1932. Only 36 units were built. A special version of the SJ, the Mormon Meteor, broke several land speed records. Investors in New York City originally supported the Model J, but following the Stock market crash of 1929, the market for Model Js switched to Hollywood stars. Two modified Model Js, known as the SSJ, were produced in 1935 for actors Gary Cooper and Clark Gable. The SSJ reportedly produced 400 hp and could go 0 to 60 mph in less than 8 seconds. Cooper's SSJ sold for $22 million in 2018, making it the most expensive American car ever sold at auction at the time. About 378 of 481 Model Js of all types still existed as of 2002.
FORD
There were three examples of the iconic Ford Model T here, a 1915 Model T Depot, a 1914 Racer and a 1915 Convertible
Two examples of the car's successor were also on show, a 1931 Model A Coupe and a 1932 Model A Phaeton: The Ford Model A was the Ford Motor Company's second market success after its predecessor, the Model T. First produced on October 20, 1927, but not introduced until December 2, it replaced the venerable Model T, which had been produced for 18 years. This new Model A (a previous model had used the name in 1903–04) was designated a 1928 model and was available in four standard colours. By February 4, 1929, one million Model As had been sold, and by July 24, two million. The range of body styles ran from the Tudor at US$500 (in grey, green, or black) to the Town Car with a dual cowl at US$1200. In March 1930, Model A sales hit three million, and there were nine body styles available. Prices for the Model A ranged from US$385 for a roadster to US$1400 for the top-of-the-line Town Car. The engine was a water-cooled L-head inline four with a displacement of 3.3 litre. This engine provided 40 bhp. Top speed was around 65 mph (105 km/h). The Model A had a 103.5 in (2,630 mm) wheelbase with a final drive ratio of 3.77:1. The transmission was a conventional unsynchronized three-speed sliding gear manual with a single speed reverse. The Model A had four-wheel mechanical drum brakes. The 1930 and 1931 models were available with stainless steel radiator cowling and headlamp housings. The Model A came in a wide variety of styles including a Coupe (Standard and Deluxe), Business Coupe, Sport Coupe, Roadster Coupe (Standard and Deluxe), Convertible Cabriolet, Convertible Sedan, Phaeton (Standard and Deluxe), Tudor Sedan (Standard and Deluxe), Town Car, Fordor (five-window standard, three-window deluxe), Victoria, Town Sedan, Station Wagon, Taxicab, Truck, and Commercial. The very rare Special Coupe started production around March 1928 and ended mid-1929. The Model A was the first Ford to use the standard set of driver controls with conventional clutch and brake pedals, throttle, and gearshift. Previous Fords used controls that had become uncommon to drivers of other makes. The Model A's fuel tank was situated in the cowl, between the engine compartment's fire wall and the dash panel. It had a visual fuel gauge, and the fuel flowed to the carburettor by gravity. A rear-view mirror was optional. In cooler climates, owners could purchase an aftermarket cast iron unit to place over the exhaust manifold to provide heat to the cab. A small door provided adjustment of the amount of hot air entering the cab. The Model A was the first car to have safety glass in the windshield. Model A production ended in March 1932, after 4,858,644 had been made in all body styles. Its successor was the Model B, which featured an updated inline four-cylinder engine, as well as the Model 18, which introduced Ford's new flathead (sidevalve) V8 engine.
1932 Model B: Ford produced three cars between 1932 and 1934: the Model B, the Model 18, and the Model 46. These succeeded the Model A. The Model B had an updated four cylinder and was available from 1932 to 1934. The V8 was available in the Model 18 in 1932, and in the Model 46 in 1933 & 1934. The 18 was the first Ford fitted with the flathead V‑8. The company also replaced the Model AA truck with the Model BB, available with either the four- or eight-cylinder engine. Rather than just updating the Model A, Ford launched a completely new vehicle for 1932. The V8 was marketed as the Model 18 in its initial year, but was commonly known as the Ford V‑8. It had the new flathead V8 engine. The Model 18 was the first low-priced, mass-marketed car to have a V8 engine, an important milestone in the American automotive industry. The 221 cu in (3.6 l) V8 was rated at 65 hp but power increased significantly with improvements to the carburettor and ignition in succeeding years. The V8 was more popular than the four-cylinder, which was essentially a variant of the Model A engine with improvements to balancing and lubrication. Model B was derived with as few technical changes as possible to keep cost low. Other than the engine, and badging on headlamp support bar (later: grille) and hub caps, it was virtually indistinguishable from the V-8. Its intention was to be a price leader, and as it offered more than the popular Model A, this should have been a winning formula. In fact, the new and only slightly more expensive V-8 stole the show, and finally made it obsolete. The V8 engine was previously exclusive to Lincoln products, which in 1932 switched to V12 engines only. Although there is a certain visual similarity with the predecessor Model A, the car was new. While the Model A has a simple frame with two straight longitudinal members, the new car got a longer wheelbase, and an outward curved, double-dropped chassis. In both models the fuel tank is relocated from the cowl as in Model A and late Model T, where its back formed the dash, to the lower rear of the car, as is typical in modern vehicles; thus requiring Ford to include an engine-driven fuel pump rather than rely on gravity feed. While the V8 was developed from scratch, the B just had an improved four-cylinder Model A engine of 201 cu in (3.29 L) displacement producing 50 bhp. When Ford introduced the Model A in late 1927, there were several competitors also offering four-cylinder cars, among them Chevrolet, Dodge, Durant, or Willys. That changed within a few years, soon leaving the new Plymouth the sole major make in the Ford's price class with a four. Although sharing a common platform, Model Bs and Model 18s came not only in Standard and Deluxe trim, they were available in a large variety of body styles. Some of them, such as the commercial cars described below, were only available as Standards, and a few other came only in Deluxe trim. There were two-door roadster, two-door cabriolet, four-door phaeton, two and four-door sedans, four-door "woodie" station wagon, two-door convertible sedan, panel and sedan deliveries, five-window coupe, a sport coupe (stationary softtop), the three-window Deluxe Coupe, and pickup. The wooden panels were manufactured at the Ford Iron Mountain Plant in the Michigan Upper Peninsula from Ford owned lumber. One of the more well known and popular models was the two-door Victoria, which was largely designed by Edsel Ford. It was a smaller version of the Lincoln Victoria coupe, built on the Lincoln K-series chassis with a V8 engine; by 1933 Lincoln no longer used a V8 and only offered the V12, with the V8 now exclusive to Ford branded vehicles. Prices ranged from US$495 for the roadster, $490 for the coupes, and $650 for the convertible sedan. Production totals numbered from 12,597 for the roadster to 124,101 for the two-door sedan. Ford sold 298,647 V8-powered 18s in 1932, and except for the fact Ford could not keep up with V8 demand, the essentially identical four-cylinder B would have been a sales disaster: dealers switched customers to them from the V8, and even then sold only 133,539,[3] in part because the V8 cost just US$10 more. The B was discontinued because buyers disliked four-cylinder models in general, and because of the huge success of the V8, not for being an inferior car. In fact, it persisted a little longer in Europe, where in many countries the tax system heavily favoured smaller-displacement engines. Today, the 1932 Model B, although always a little bit in the shadow of the V8, is a highly collectible car and people will pay thousands of dollars to restore one to original specification, which is ironic, as they were once cheap "throwaway" cars popular with hot rodders who would tear them apart and use them as the basis for a "build", which is partly why it is so hard to find an unaltered specimen today
1948 Super de Luxe Convertible: The Ford car was thoroughly updated in 1941, in preparation for a time of unpredictability surrounding World War II. The 1941 design would continue in an aborted 1942 model year and would be restarted in 1946 and produced until 1948 when the more modern 1949 Fords were ready. During the initial year of this car, it evolved considerably. The front fenders came in three pieces, the theory being that small damages could be replaced easily. During the year, it evolved into two pieces with the lower front and back sections being joined. The hood risers changed, the early ones being the same as 1940 Fords, changing during the year to the better later version. The 1941 Convertible had no rear side windows, the only side windows being in the doors; in 1942, quarter windows were added so the rear occupants could see out. Five different coil/distributor arrangements were used during 1941, causing confusion for mechanics. Other variations were: two different positions for the generator, and three for the cooling fan — front of the crankshaft, front of the generator (rare) and on a bracket. This is thought to be the first Ford to offer a replaceable cartridge oil filter as an option. The two interior heaters were a "Southwind" gasoline burner, which had the advantage of keeping one warm in winter at drive-in movies (provided a small electric fuel pump was used), and a more ordinary hot-water type. Both had window defrosters. It had an excellent radio, which could consume the battery in about two hours. Electric windshield wipers were available in addition to the vacuum-powered wipers. Three different convertible power top mechanisms (vacuum, electric screw, and hydraulic) and two different header bar latching systems were used. Rear suspensions sometimes had a sway bar, most did not. It had excellent brakes and among the best handling of ordinary cars of the time. It served a transitional role in Ford's lineup. The two previous Ford car lines, Standard and De Luxe, had blossomed into three, Special, De Luxe, and Super De Luxe. Ford vehicles had been V8-only since 1935, but dealer requests for an "economy" engine option prompted the introduction of a six cylinder unit. The entry-level 136 CID (2.2 L) V8 was switched in favor of a new 226 CID (3.7 L) L-head straight-6, the first Ford six since the 1906 Model K. The popular 221 CID (3.6 L) V8 remained as the top-line engine and was standard in De Luxe models. Both engines were rated at 90 hp. The 239 CID engine, introduced in 1939 for Mercury and trucks, was continued in the Mercury models. The chassis was longer, with a 114-in (2.9-m) wheelbase. The "ignition key" for these cars was actually used to operate a bolt lock which, on one end, unlocked the steering column (a feature destined to return, mandated, decades later), and on the other end unblocked the ignition switch, allowing it to be operated. Starting the car was then accomplished by pressing a pushbutton on the dashboard, another feature destined to return with the advent of "smart keys". Although starting cranks had been replaced by electric starters for decades, Ford cars included a manual starting feature until 1948 as an antidote to dead-battery syndrome. The wheel-lug wrench served as a handle (also for the jack) and the jack shaft with bayonet-coupling pins could be inserted through a small hole in the grille to engage a bayonet socket on the forward end of the engine crankshaft. A quick-and-easy twist of the handle was sufficient to start the flat head V8, and the bayonet coupling was self-disengaging for safety. The final year for the old-style Ford was 1948, with an all-new model launched partway through the year. The wood-sided Sportsman convertible, supplied by the Ford Iron Mountain Plant, ended the year with just 28 built, and the all-wood bodies on the woody station wagons were replaced with steel for the 1949 season. The old car-based trucks were replaced by the F-Series this year. With Ford in financial chaos during this period, sales fell well behind Chevrolet—Ford output for 1948 was 430,198 vehicles, only about 62% of Chevrolet's output, and Plymouth came close to knocking Ford from second place with an output of 412,540 vehicles.
1951 Country Squire: For the 1949 model year, Ford introduced its first post-war model line. While retaining body-on-frame construction, the 1949 Ford chassis abandoned several design elements retained by Ford since the Model T, including a torque tube driveshaft and transverse leaf springs. In a major change, Ford sought to change the marketing of station wagons, transitioning their use from a commercial vehicle to a premium family vehicle. The listed retail price was US$2,119 ($24,133 in 2021 dollars) and 31,412 were manufactured. Designed by Eugene Gregorie and Ross Cousins, the Ford station wagon marked the first transition away from the full "woodie". In place of a complete wooden body aft of the firewall, the 1949 Ford station wagon was designed with a steel roof, rear fenders, and tailgate frame.[2] Wood construction remained for the side bodywork and upper and lower tailgate (using mahogany plywood trimmed by maple or birch). Sharing its body with Mercury, the Ford station wagon was offered in Custom trim. To reduce noise and improve sealing, the station wagon was offered with two doors instead of four;[2] however, three seats were used, allowing eight-passenger seating. For the 1950 model year, Ford renamed its model lines; initially, the station wagon was a Custom Deluxe with the all new "Country Squire" name introduced in early 1950. Several revisions were made for 1950 to improve functionality and capability. The second and third-row seats were redesigned, allowing their removal without tools. In another change, the Country Squire also received heavier-duty rear-suspension, wider tires, and a larger fuel tank over Ford sedans. Following its introduction, the Country Squire underwent several revisions distinct from Ford sedans. For 1950, the spare-tyre cover was deleted; in April 1950, the lower tailgate was redesigned, changing from all-wood construction to steel construction (with wood trim). For 1951, the Country Squire retained the dashboard of the 1950 Ford (with the 1951 steering column). A new model debuted for 1952.
1955 Thunderbird: The Ford Thunderbird began life in February 1953 in direct response to Chevrolet's new sports car, the Corvette, which was publicly unveiled in prototype form just a month before. Under rapid development, the Thunderbird went from idea to prototype in about a year, being unveiled to the public at the Detroit Auto Show on February 20, 1954. It was a two-seat design available with a detachable glass-fibre hard top and a folding fabric top. Production of the Thunderbird began later on in 1954 on September 9 with the car beginning sales as a 1955 model on October 22, 1954. Though sharing some design characteristics with other Fords of the time, such as single, circular headlamps and tail lamps and modest tailfins, the Thunderbird was sleeker and more athletic in shape, and had features like a bonnet scoop and a 150 mph (240 km/h) speedometer hinting a higher performance nature that other Fords didn't possess. Mechanically though, the Thunderbird could trace its roots to other mainstream Fords. The Thunderbird's 102.0 inches wheelbase frame was mostly a shortened version of that used in other Fords while the car's standard 4.8 litre Y-block V8 came from Ford's Mercury division. Though inspired by, and positioned directly against, the Corvette, Ford billed the Thunderbird as a personal car, putting a greater emphasis on the car's comfort and convenience features rather than its inherent sportiness. The Thunderbird sold exceptionally well in its first year. In fact, the Thunderbird outsold the Corvette by more than 23-to-one for 1955 with 16,155 Thunderbirds sold against 700 Corvettes. With the Thunderbird considered a success, few changes were made to the car for 1956. The most notable change was moving the spare tyre to a continental-style rear bumper in order to make more storage room in the boot and a new 12 volt electrical system. The addition of the weight at the rear caused steering issues. Among the few other changes were new paint colours, the addition of circular porthole windows as standard in the fibreglass roof to improve rearward visibility, and a 5.1 litre V8 making 215 hp when mated to a 3-speed manual transmission or 225 hp when mated to a Ford-O-Matic 2-speed automatic transmission; this transmission featured a "low gear", which was accessible only via the gear selector. When in "Drive", it was a 2-speed automatic transmission (similar to Chevrolet's Powerglide). The Thunderbird was revised for 1957 with a reshaped front bumper, a larger grille and tailfins, and larger tail lamps. The instrument panel was heavily re-styled with round gauges in a single pod, and the rear of the car was lengthened, allowing the spare to be positioned back in the boot. The 5.1 litre V8 became the Thunderbird's standard engine, and now produced 245 hp. Other, even more powerful versions of the V8 were available including one with two four-barrel Holley carburettors and another with a Paxton supercharger delivering 300 hp. Though Ford was pleased to see sales of the Thunderbird rise to a record-breaking 21,380 units for 1957, company executives felt the car could do even better, leading to a substantial redesign of the car for 1958.
1968 Mustang: Drawing on inspiration from the mid-engined Ford Mustang I concept vehicle, Lee Iacocca ordered development of a new "small car" to vice-president of design at Ford, Eugene Bordinat. Bordinat tasked Ford's three design studios (Ford, Lincoln-Mercury, and Advanced Design) to create proposals for the new vehicle. The design teams had been given five goals for the design of the Mustang: It would seat four, have bucket seats and a floor mounted shifter, weigh no more than 2,500 pounds (1,100 kg) and be no more than 180 inches (4,572 mm) in length, sell for less than $2,500, and have multiple power, comfort, and luxury options. The Lincoln–Mercury design studio ultimately produced the winning design in the intramural contest, under Project Design Chief Joe Oros and his team of L. David Ash, Gale Halderman, and John Foster. Development of the Mustang was completed in a record 18 months from September 1962 to March 1964. and Iacocca himself championed the project as Ford Division general manager. The styling is often credited to one person, and that is not accurate, as this was very much a team effort, it has been reported by those involved. To decrease developmental costs, the Mustang used chassis, suspension, and drivetrain components derived from the Ford Falcon and Fairlane. It used a unitised platform-type frame from the 1964 Falcon, and welded box-section side rails, including welded crossmembers. Although hardtop Mustangs accounted for the highest sales, durability problems with the new frame led to the engineering of a convertible first, which ensured adequate stiffness. Overall length of the Mustang and Falcon was identical, although the Mustang's wheelbase was slightly shorter. With an overall width of 68.2 in (1,732 mm), it was 2.4 in (61 mm) narrower, yet the wheel track was nearly identical. Shipping weight, approximately 2,570 lb (1,166 kg) with the straight six-cylinder engine, was also similar to the Falcon. A fully equipped V8 model weighed approximately 3,000 lb (1,361 kg). Although most of the mechanical parts were from the Falcon, the Mustang's body was completely different; sporting a shorter wheelbase, wider track, lower seating position and lower overall height. An industry first, the "torque box" was an innovative structural system that greatly stiffened the Mustang's construction and helped contribute to better handling. The car was launched in 17th April 1964, as a hardtop and a convertible, with the fastback version following in August. It was an instant sensation, with demand massively exceeding supply. Since it was introduced four months before the normal start of the 1965 production year and manufactured alongside 1964 Ford Falcons and 1964 Mercury Comets, the earliest Mustangs are widely referred to as the 1964½ model. Nevertheless, all "1964½" cars were given 1965 U.S. standard VINs at the time of production, and – with limited exception to the earliest of promotional materials – were marketed by Ford as 1965 models. The low-end model hardtop used a "U-code" 170 cu in (2.8 litre) straight-6 engine borrowed from the Falcon, as well as a three-speed manual transmission and retailed for US$2,368. Standard equipment for the early 1965 Mustangs included black front seat belts, a glove box light, and a padded dash board. Production began in March 1964 and official introduction following on April 17 at the 1964 World's Fair. V8 models got a badge on the front fender that spelled out the engine's cubic inch displacement ("260" or "289") over a wide "V." This emblem was identical to the one on the 1964 Fairlane. Several changes to the Mustang occurred at the start of the "normal" 1965 model year in August 1964, about four months after its introduction. These cars are known as "late 65's". The engine lineup was changed, with a 200 cu in (3.3 litre) "T-code" engine that produced 120 hp. Production of the Fairlane's "F-code" 260 cu in (4.3 litre) engine ceased when the 1964 model year ended. It was replaced with a new 200 hp "C-code" 289 cu in (4.7 litre) engine with a two-barrel carburettor as the base V8. An "A-code" 225 hp four-barrel carburettor version was next in line, followed by the unchanged "Hi-Po" "K-code" 271 hp 289. The DC electrical generator was replaced by a new AC alternator on all Fords (a way to distinguish a 1964 from a 1965 is to see if the alternator light on the dash says "GEN" or "ALT"). The Mustang GT version was introduced as the "GT Equipment Package" and included a V8 engine (most often the 225 hp 289), grille-mounted fog lamps, rocker panel stripes, and disc brakes. In the interior the GT option added a different instrument panel that included a speedometer, fuel gauge, temp. gauge, oil pressure gauge and ammeter in five round dials (the gauges were not marked with numbers, however.) A four-barrel carburettor engine was now available with any body style. Additionally, reverse lights were an option added to the car from August 1964 production. In 1965, the Shelby Mustang was born, it was available only in newly introduced fastback body version with its swept-back rear glass and distinctive ventilation louvres. The standard interior features of the 1965 Mustang included adjustable driver and passenger bucket seats, an AM radio, and a floor mounted shifter in a variety of colour options. Ford added additional interior options during the 1965 model year. The Interior Decor Group was popularly known as "Pony Interior" due to the addition of embossed running ponies on the seat fronts, and also included integral armrests, woodgrain appliqué accents, and a round gauge cluster that would replace the standard Falcon instrumentation. Also available were sun visors, a (mechanical) remote-operated mirror, a floor console, and a bench seat. Ford later offered an under-dash air-conditioning unit, and discontinued the vinyl with cloth insert seat option, offered only in early 1965 models. One option designed strictly for fun was the Rally-Pac. Introduced in 1963 after Ford's success at that year's Monte Carlo Rally and available on other Ford and Mercury compacts and intermediates, the Rally-Pac was a combination clock and tachometer mounted to the steering column. It was available as a factory ordered item for US$69.30. Installed by a dealer, the Rally-Pac cost US$75.95.A 14″ rim option was available for Rally-pac and GT350R vehicles widening front and rear track to 57.5″. Reproductions are presently available from any number of Mustang restoration parts sources. A compass, rear seat belts, A/C, and back-up lights were also optional. The 1966 Mustang debuted with moderate trim changes including a new grille, side ornamentation, wheel covers and filler cap. Ford's new C-4 "cruise-o-matic" three-speed auto transmission became available for the 225 hp V8. The 289 "HiPo" K-code engine was also offered with a c4 transmission, but it had stronger internals and can be identified by the outer casing of the servo which is marked with a 'C'. The long duration solid-lifter camshaft that allowed the high revving 289 to make the horsepower it was known for, was not friendly for a low stall speed automatic torque converter. The "HiPo" could be spotted very easily by the 1-inch-thick vibration damper, (as compared to 1/2 inch on the 225-hp version) and the absence of a vacuum advance unit on the dual point distributor. With the valve covers off, there is a large letter "K" stamped between the valve springs, along with screw in studs (vs. a pressed in stud for other 289s) for the adjustable rocker arms. A large number of new paint and interior color options, an AM/eight-track sound system, and one of the first AM/FM mono automobile radios were also offered. It also removed the Falcon instrument cluster; the previously optional features, including the round gauges and padded sun visors, became standard equipment. The Mustang would be the best-selling convertible in 1966, with 72,119 sold, beating the number two Impala by almost 2:1. The 1965 and 1966 Mustangs are differentiated by variations in the exterior, despite similar design. These variations include the emblem on the quarter-panels behind the doors. From August 1964 production, the emblem was a single vertical piece of chrome, while for 1966 models the emblem was smaller in height and had three horizontal bars extending from the design, resembling an "E". The front intake grilles and ornaments were also different. The 1965 front grille used a "honeycomb" pattern, while the 1966 version was a "slotted" style. While both model years used the "Horse and Corral" emblem on the grille, the 1965 had four bars extending from each side of the corral, while on the 1966, these bars were removed. The 1966 model year saw introduction of 'High Country Special' limited edition, 333 of them were sold in Colorado, Wyoming, and Nebraska. When Ford wanted to introduce the Mustang in Germany, they discovered that Krupp company had already registered the name for a truck. The German company offered to sell the rights for US$10,000. Ford refused and removed Mustang badges from exported units, instead naming the cars as T-5 (a pre-production Mustang project name) for the German market until 1979 when Krupp copyrights expired. In 1965, Harry Ferguson Research purchased 3 Mustang notchbacks and converted them to 4×4 in an attempt to sell potential clients on their FF AWD system. A similar system was used in the Ferguson P99 Formula One car, and would go on to be featured in the Jensen FF, widely considered the first AWD passenger car. As in the Jensen FF, the AWD Mustangs also featured an ABS braking system, long before such a feature was commonplace. Ford Australia organised the importation and conversion of 1966 Mustang to right-hand-drive for the Australian market. This coincided with the launch of new XR Falcon for 1966, which was marketed as "Mustang-bred Falcon". To set the official conversion apart from the cottage industry, the RHD Mustangs were called "Ford Australia Delivered Mustang" and had compliance plates similar to XR Falcon. About 209 were imported to Australia with 48 units were converted in 1965 while the further 161 were done in 1966. The 1967 model year Mustang was the first redesign of the original model. Ford's designers began drawing up a larger version even as the original was achieving sales success, and while "Iacocca later complained about the Mustang's growth, he did oversee the redesign for 1967 ." The major mechanical feature was to allow the installation of a big-block V8 engine. The overall size, interior and cargo space were increased. Exterior trim changes included concave taillights, side scoop (1967 model) and chrome (1968 model) side ornamentation, square rear-view mirrors, and usual yearly wheel and gas cap changes. The high-performance 289 option was placed behind the newer 335 hp 6.4 litre FE engine from the Ford Thunderbird, which was equipped with a four-barrel carburettor. During the mid-1968 model year, a drag racer for the street could be ordered with the optional 428 cu in (7.0 litre) Cobra Jet engine which was officially rated at 335 hp. All of these Mustangs were issued R codes on their VIN's. The 1967 Deluxe Interior was revised, discontinuing the embossed running horse motif on the seat backs (the source for the "pony interior" nickname) in favor of a new deluxe interior package, which included special colour options, brushed aluminium (from August 1966 production) or woodgrain dash trim, seat buttons, and special door panels. The hardtop also included upholstered quarter trim panels, a carryover from the 1965-66 deluxe interior. The 1967 hardtop also had the chrome quarter trim caps, carried over from 1965-66, but these were painted to match the interior in 1968 models. The 1967 deluxe interior included stainless steel-trimmed seat back shells, similar to those in the Thunderbird. These were dropped at the end of the 1967 model year, and were not included in the woodgrain-trimmed 1968 interior. The deluxe steering wheel, which had been included in the deluxe interior for the 1965-66, became optional, and could also be ordered with the standard interior. The 1968 models that were produced from January 1968 were also the first model year to incorporate three-point lap and shoulder belts (which had previously been optional, in 1967-68 models) as opposed to the standard lap belts. The air-conditioning option was fully integrated into the dash, the speakers and stereo were upgraded, and unique center and overhead consoles were options. The fastback model offered the option of a rear fold-down seat, and the convertible was available with folding glass windows. Gone was the Rally-Pac, since the new instrument cluster had provisions for an optional tachometer and clock. Its size and shape also precluded the installation of the accessory atop the steering column. The convenience group with four warning lights for low fuel, seat belt reminder, parking brake not released, and door ajar were added to the instrument panel, or, if one ordered the optional console and A/C, the lights were mounted on the console. Changes for the 1968 model increased safety with a two-spoke energy-absorbing steering wheel, along with newly introduced shoulder belts. Other changes included front and rear side markers, "FORD" lettering removed from hood, rearview mirror moved from frame to windscreen, a 302 cu in (4.9 litre) V8 engine was now available, and C-Stripe graphics were added. The California Special Mustang, or GT/CS, was visually based on the Shelby model and was only sold in Western states. Its sister, the 'High Country Special', was sold in Denver, Colorado. While the GT/CS was only available as a coupe, the 'High Country Special' model was available in fastback and convertible configurations during the 1966 and 1967 model years, and as a coupe for 1968. The 1968 Ford Mustang GT Fastback reached iconic status after it was featured in the 1968 film Bullitt, starring Steve McQueen. In the film, McQueen drove a modified 1968 Mustang GT 2+2 Fastback chasing a Dodge Charger through the streets of San Francisco. There were further annual updates until the model's replacement in 1973, but with each the car got steadily bigger and less overtly sporty. Sales reduced, too, suggesting that Ford were losing their way. Mustang II did not fix that, of course, but gradually, the legendary nameplate has returned to delivering the same sort of promise as those early and much loved cars were able to do.
The third-generation Mustang was produced by Ford from 1978 until 1993. Being built on Ford's Fox platform, it is commonly referred to as the Fox-body Mustang. It evolved through a number of sub-models, trim levels, and drivetrain combinations during its production life. It underwent updates for 1987, and for a time seemed destined for replacement with a front-wheel drive Mazda platform. However, company executives were swayed by consumer opinion and the rear-wheel drive Mustang stayed, while the front wheel drive version was renamed the Ford Probe. Enthusiasts group the generation into two segments: the 1979–1986 cars, with their quad headlight arrangement, and the 1987–1993 cars, with their aerodynamic composite headlamps and front fascia styling. Production ended with the introduction of the fourth-generation Mustang (SN-95) for the 1994 model year.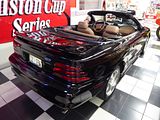 1992 Ford Thunderbird Baby Ruth – this is the NASCAR Ford Thundebird, sponsored by the makers of the candy bar "Baby Ruth" and driven by John Gordon, who went on to have an amazing career, most of it driving a Chevrolet.
GRAHAM
1928 Tow Truck
LA SALLE
The LaSalle had its beginnings when General Motors' CEO, Alfred P. Sloan, noticed that his carefully crafted market segmentation program was beginning to develop price gaps in which General Motors had no products to sell. In an era where automotive brands were somewhat restricted to building a specific car per model year, Sloan surmised that the best way to bridge the gaps was to develop "companion" marques that could be sold through the current sales network. As originally developed by Sloan, General Motors' market segmentation strategy placed each of the company's individual automobile marques into specific price points, called the General Motors Companion Make Program. The Chevrolet was designated as the entry level product. Next, (in ascending order), came the Pontiac, Oakland, Viking, Oldsmobile, Marquette, Buick, and ultimately, Cadillac. By the 1920s, certain General Motors products began to shift out of the plan as the products improved and engine advances were made. Under the companion marque stragegy, the gap between the Chevrolet and the Oakland would be filled by a new marque named Pontiac, a quality six-cylinder car designed to sell for the price of a four-cylinder. The wide gap between Oldsmobile and Buick would be filled by two companion marques: Oldsmobile was assigned the up-market V8 engine Viking and Buick was assigned the more compact six-cylinder Marquette. Cadillac, which had seen its base prices soar in the heady 1920s, was assigned the LaSalle as a companion marque to fill the gap that existed between it and Buick.
Built by Cadillac to its high standards, the LaSalle soon emerged as a trend-setting automobile. Earl was then placed in charge of overseeing the design of all of General Motors' vehicles. The LaSalle was offered in a full range of body styles, including Fisher and Fleetwood Metal Body-built custom designs. The open cars could also be ordered in tri-tone color combinations, at a time when dark colours like black and navy blue were still the most familiar colours produced by manufacturers. Earl's design even included a nod to the inspirational Hispano-Suiza, with the marque's circled trademark "LaS" cast into the horizontal tie bar between the front lights. Wheelbases ranged between 128 in (3,251 mm) and 134 in (3,404 mm). The LaSalles of this era were equipped with Cadillac's "Ninety Degree V-8", making the car fast, while its smaller size made it sportier and more agile. On June 20, 1927, a LaSalle driven by Willard Rader, along with Gus Bell, on the track at the Milford Proving Grounds, achieved 952 miles (1,532 km), averaging 95.2 mph (153.2 km/h), with only seven minutes given over to refueling and tire changes. In comparison, the average speed at that year's Indianapolis 500 was 97.5 mph. The test at Milford would have continued; however, a problem in the oil system drew the test to an early close, approaching the 9:45 mark. Later, the Great Depression, combined with LaSalle's stalling sales' numbers, caused Cadillac to rethink its companion make. Both Buick and Oldsmobile had eliminated the Marquette and the Viking in 1930, their second model year. Cadillac also saw sales of its cars losing ground, as confirmed Cadillac buyers tried to trim pennies by buying the less expensive LaSalle. LaSalle sales also were falling, from a high of 22,691 models in 1929 to a low of 3,290 in 1932. This is a 1930 Series 340 Fleetland.
MERCEDES-BENZ
1886 Patent Motorwagen (replica): Built in 1885 by the German Carl Benz, this is widely regarded as the world's first practical automobile, a self-propelled vehicle for carrying people, and first car put into series production. It was patented and unveiled in 1886. The original cost of the vehicle in 1886 was 600 imperial German marks, approximately 150 US dollars (equivalent to $4,524 in 2021). After developing a successful gasoline-powered two-stroke piston engine in 1873, Benz focused on developing a motorized vehicle while maintaining a career as a designer and manufacturer of stationary engines and their associated parts. The Benz Patent-Motorwagen was a motor tricycle with a rear-mounted engine. The vehicle contained many new inventions. It was constructed of steel tubing with woodwork panels. The steel-spoked wheels and solid rubber tires were Benz's own design. Steering was by way of a toothed rack that pivoted the unsprung front wheel. Fully elliptic springs were used at the back along with a beam axle and chain drive on both sides. A simple belt system served as a single-speed transmission, varying torque between an open disc and drive disc. The first Motorwagen used the Benz 954 cc single-cylinder four-stroke engine with trembler coil ignition. This new engine produced 500 watts (2⁄3 hp) at 250 rpm in the Patent-Motorwagen, although later tests by the University of Mannheim showed it to be capable of 670 W (0.9 hp) at 400 rpm. It was an extremely light engine for the time, weighing about 100 kg (220 lb). Although its open crankcase and drip oiling system would be alien to a modern mechanic, its use of a pushrod-operated poppet valve for exhaust would be quite familiar. A large horizontal flywheel stabilized the single-cylinder engine's power output. An evaporative carburettor was controlled by a sleeve valve to regulate power and engine speed. The first model of the Motorwagen had not been built with a carburettor, rather a basin of fuel soaked fibers that supplied fuel to the cylinder by evaporation. The vehicle was awarded the German patent number 37435, for which Karl Benz applied on 29 January 1886. Following official procedures, the date of the application became the patent date for the invention once the patent was granted, which occurred in November of that year. Benz unveiled his invention to the public on 3 July 1886, on the Ringstrasse in Mannheim. Benz later made more models of the Motorwagen: model number 2 had 1.1 kW (1.5 hp) engine, and model number 3 had 1.5 kW (2 hp) engine, allowing the vehicle to reach a maximum speed of approximately 16 km/h (10 mph). The chassis was improved in 1887 with the introduction of wooden-spoke wheels, a fuel tank, and a manual leather shoe brake on the rear wheels. About 25 Patent-Motorwagen were built between 1886 and 1893. Bertha Benz, Karl's wife, whose dowry financed the development of the Patent-Motorwagen, was aware of the need for publicity. She took the Patent-Motorwagen No. 3 and drove it on the first long-distance internal combustion automobile road trip to demonstrate its feasibility. That trip occurred in early August 1888, when she took her sons Eugen and Richard, fifteen and fourteen years old, respectively, on a ride from Mannheim through Heidelberg, and Wiesloch, to her maternal hometown of Pforzheim. In Germany, a parade of antique automobiles celebrates this historic trip of Bertha Benz every two years. On February 25, 2008, the Bertha Benz Memorial Route, following the route of Benz's journey, was officially approved as a Tourist or Scenic Route by the German authorities as a route of industrial heritage of mankind. The 194 km (121 mi) of signposted route leads from Mannheim via Heidelberg to Pforzheim (Black Forest) and back. A number of replica models were built by Mercedes-Benz to mark the car's centenary.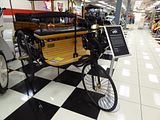 MERCURY
1951 Woody: In the 1930s and 1940s, few cars had more prestige than the Ford/Mercury "woody" station wagon. Nearly always the highest priced model in the Ford line, it was about as practical as a backyard gazebo but carried as much status as a Chris-Craft speedboat. While Ford led the industry in wooden-body wagon sales, production was always low, due as much to limited production capability as to the small demand. Woodies of all makes were sought after by hotels, resorts, country clubs, stables, and movie studios, and Ford's woodies were owned almost exclusively by country squires long before its wagons were ever called that. Though highly impractical, there was something about the Ford woodies that made them slightly magical. They invariably squeaked, rattled, and groaned as glued and screwed seams came loose, and their bodywork required at least as much maintenance as a boat (owner's manuals recommended annual stripping and revarnishing). But the country squire seemed to accept the responsibilities that went along with woody ownership. Hired help did most of the work anyway, and besides, the ritual of annual revarnishing was always a special part of the woody mystique. To understand why Ford built woodies in the first place, you must understand the peculiar nature of Henry Ford. He believed that his company should be completely self-sufficient, from mining ore and operating rubber plantations to growing maple, birch, gum, and basswood for Model T floorboards and body frames. In its quest for self-sufficiency, Ford Motor Company bought vast forest reserves on the rugged Upper Michigan Peninsula some 500 miles northwest of Detroit, and constructed a plant there, at Iron Mountain, in 1920. Ford grew its own trees, cut its own timber, ran its own sawmill, and cut and formed its own wooden body parts. But no matter how many Lizzies the assembly lines turned out, they never seemed to exhaust the company's forests. Typically, Henry wasted nothing: even sawdust and leftover wood pieces were turned into Ford Charcoal Briquets. It was almost inevitable that the Iron Mountain operation would be tapped for production of wood station wagon bodies. During the heyday of the Model T Depot Hack and other commercials, Ford had depended on outside suppliers for its wood bodies, firms such as Seaman, Columbia, Martin-Parry, Mifflinburg, and York. It was only when Ford introduced its first "real" station wagon in 1929 that it began to use Iron Mountain. Even then, the wood for the Ford Mercury woody was only cut and formed there. Actual body assembly was carried out by Briggs or Murray of Detroit or Baker-Rawling in Cleveland. These Model A wagon bodies were made of maple with birch or gumwood panels. They were four-doors, with piano hinges at the A- and C-pillars so that the rear doors opened "suicide style." Only the windshield was glass. All other window openings had canvas curtains with small plastic openings that limited visibility. Just a few wagons were built in 1928. The first year that Ford mass-produced wagons was 1929, when it built 5200 in all. From that point on, Ford was America's undisputed "wagon master." Production of Ford woody wagons continued through 1951. Ross Cousins, an artist in Ford Styling from 1938 through 1948, recalls with amusement, "It was not a very practical venture, but it was always interesting. I'm sure they lost money on it, though I don't think they ever knew how much." Evidently, the company discovered that it wasn't very economical to produce its own wagons, because it contracted the Mingel Company, a furniture manufacturer in Louisville, Kentucky, to build wood wagon parts from 1932 to 1935. Briggs and Murray still assembled the bodies in Detroit. In 1933-1934, the wagon body was altered somewhat, and both front and rear doors were of the suicide type. For 1935, Ford went back to producing its own body parts at Iron Mountain, with Murray doing the assembly. The 1935-1937 bodies were virtually the same. All doors now shut at the B-pillar, as they had done from 1929 through 1932. However, the body changed considerably from previous years, and all the ribbing was now horizontal. For the 1935 models, crank-up glass windows were newly featured in the front doors, though canvas curtains with large plastic panels were used for the rest of the openings. Also for 1935, the spare tire was mounted on the tailgate. It had previously been carried on the left (1929-1931) or right (1932-1934) front fender. Late-1936 wagons could be ordered with glass rear windows as an option, and Ford scored a first with a swing-out rear window for 1937. For 1938 the body again changed slightly and the spare moved inside, mounted behind the driver's seat. For 1939 there were two Ford woodies, Standard and DeLuxe. Up to this point, the woody had been considered a commercial vehicle. Between 1937 and 1939, all the firm's wood-body operations were moved to Iron Mountain. Timber now literally went in one end and came out the other as a complete woody body, including metal cowl, instrument panel, and floor. For 1940 there was another new body design, less angular than before and with rear doors hinged at the B-pillar. The spare tire returned to its previous tailgate mounting, which would be retained through 1951. The body was altered again for 1941, becoming more solid and simplified and now with mahogany panels and maple or birch frames. Ford Mercury woodies figured heavily in FoMoCo's plans for its first new postwar models, but the need to economize and a last-minute change of direction meant woody sedans and convertibles didn't stand a chance. By this time it was a woody world. Every GM division except Cadillac had a factory woody model, and a special Cadillac woody sedan body could be ordered from Coachcraft in California. Studebaker, Hudson, Packard, Plymouth, and Dodge all had woodies, many for some time. Chrysler introduced its striking new Town & Country wagon that year, offered in six- and nine-passenger versions. Ford now carried its station wagon body over to the Mercury line, where it appeared as a lone-eight cylinder model. There were four woody wagons in the Ford line: a Six and an Eight in both the DeLuxe and Super DeLuxe series. Iron Mountain continued turning out woodies until World War II halted all U.S. civilian car production. Wagon output for 1942 was a mere 1222 Fords and 900 Mercury s. The 1942 body returned unchanged for 1946-1948 except for the familiar postwar face-lifts, and the DeLuxe wagon was dropped. Up to this point, all Ford woody wagons had been evolutionary. But the 1949 model was quite revolutionary. It marked the last time the firm would be financially unsuccessful at building wagons. The 1949-1951 design generation would also see the last Ford and Mercury wagons with real wood bodywork. The origins of the 1949 wagons can be traced as far back as 1941, when the styling group under E. T. "Bob" Gregorie began work on the 1943 models that never appeared because of the war. By 1943 there were a number of clays that clearly outlined the basic shapes of postwar Mercuries and Lincolns. Among them was at least one mock-up of a new wagon body, probably envisioned as being all-wood. The atmosphere at Ford Motor Company in this period was chaotic. Edsel Ford died in May 1943, and old Henry was becoming increasingly senile. Whatever postwar planning could be managed was carried out in complete secrecy from Charlie Sorensen, Ford's right hand man, and the U.S. Government, which forbade any new product development during the war. Yet some brilliant work went forward, some of it undercover, including an independent front suspension for Ford and Mercury and a new torsion-bar suspension for Lincoln. Engineering projects proceeded under Larry Sheldrick, whom Sorensen eventually fired, while design efforts were supervised by Gregorie, who quit but soon returned. Given the cloak-and-dagger conditions, it's a miracle that anything at all emerged from this wartime work. From the beginning, wood wagon bodies had been squeaky, drafty and, above all, costly to build. Any postwar wagon would have to be stronger, quieter, more durable and stylish and, most of all, more profitable. These requirements led to Gregorie's wagon design of 1943-1944. In its final form, it had an all-steel body with a steel top. Wood was used only for the outer panels and lower tailgate section. Two doors were employed instead of four, because two-door models are cheaper to build and provide greater overall structural strength. Ross Cousins still has a drawing he did, dated 8/24/1944, and it is clearly the same wagon design introduced in early 1948 for the 1949 Ford and Mercury lines. At about the same time, Cousins rendered a convertible sport wagon, essentially the same car without a top. Cousins says both these ideas were Gregorie's; he only rendered them. While he doesn't recall a clay model of the new wagon, he does remember doing a full-size blackboard drawing of it and believes a prototype was done later that Gregorie drove. As late as early 1947, Ford's postwar planning did not just include the Ford Mercury woody; Ford envisioned four separate car lines. Besides a compact "light car" there was to be a standard Ford on a 118-inch wheelbase, including Gregorie's wood/steel two-door wagon and convertible. A brace of Mercuries on wheelbases of 120 and 123 inches was also scheduled, again with these body styles, though the wood/steel Sportsman convertible was more closely related to Mercury's production 1946-1948 woody ragtop than the new wagon. Finally came Lincoln, with a standard wheelbase of 125 inches, Custom or Cosmopolitan models on a 128-inch chassis, and a 132-inch-wheelbase Continental and limousine. A Sportsman-type convertible was targeted for the standard Lincoln series, while the Cosmopolitan line would get a smart wood/steel sedan, both apparently intended as replies to Chrysler's 1946-1948 Town & Country offerings. With all this, woodies figured very heavily in Ford's postwar thinking. Yet except for the wagons, none of these models ever appeared. What happened? In 1945, newly installed company president Henry Ford II brought in Ernest R. Breech from Bendix and GM to be his second in command. Breech was never very comfortable with Gregorie's Ford designs; he felt they were much too heavy and ponderous. In August 1946 he told Ford's policy committee that the new Mercury should be based on the proposed 118-inch-wheelbase Ford and that the two Mercurys should be combined to form the smaller Lincoln series. The Cosmopolitan would stay at the top of the Lincoln line. He also recommended a totally new Ford be designed from scratch on a 114-inch wheelbase and declared it should be the company's top priority. The committee bought all of Breech's proposals. Both Gregorie and an outside group headed by George Walker now submitted proposals for the new 1949 Ford. Except for minor details, their designs were quite similar because a very tight package had been set down. Ultimately, the Walker group's model was chosen. Gregorie again left the company because of this and other differences with Breech, though his departure was an amiable one. The 1951 Ford and Mercury wagons set an all-time high in FoMoCo woody production. They were the most expensive models in their lines, but they also had the poorest resale value. Engineering work for the 1949 Ford now moved ahead at full speed, a crash campaign unprecedented in the industry at that time. Everything else was secondary in Dearborn, and a lot of plans were left by the wayside, including the compact Ford, a coupe, and a whole fleet of fastbacks. The Continental project was tabled indefinitely, and there was no hope for the woody sports wagons, convertibles, or sedans. The reason given in each case was cost effectiveness: Ford Motor Company was losing nearly $10 million a month at the time, so the need to economize was obvious. The only woody project to reach production was Gregorie's station wagon, his basic body design being developed for both the 114-inch-wheelbase Ford and 118-inch-wheelbase Mercury chassis that appeared for 1949. It has been said that the Ford Mercury woody wagons looked rather like boats. This may be due in part to Gregorie's love of yachts. He was trained as a naval architect, and when he left Ford in December 1946, he returned to designing yachts. It has also been said that the 1949 wood-wagon body was so heavy that it must have been originally intended for Mercury. This is quite correct. As noted, the 1949 Mercury was supposed to have been that year's Ford, and it turned out to be the better-performing of the two wagons. The Ford version has some peculiar qualities. For example, its rear section is so heavy that the front feels quite light, and the car handles almost like it has power steering. The 100-horsepower Ford flat-head V-8 is coupled in the wagon with the 3.91:1 Mercury rear end instead of the 3.73:1 setup used in other models. The engines are nearly identical, of course, but a 0.25-inch longer stroke gives the Mercury 10 more horsepower than the Ford. And the Ford really needs that, because it weighs 3543 pounds, a mere 83 pounds less than the Mercury. The only body difference between the two is that the upper portion of the Mercury's front door is tucked in at the cowl to meet its lower fenderline. Complete steel bodies for both 1949 wagons were shipped to Iron Mountain, where the wood outer panels were added. Whereas the earlier body framing was made from solid pieces of maple, the 1949 frames were constructed with an elaborate electrobonding process. Door frames, for example, were formed by a radio-frequency bonding press applying pressure to a loose package of resin-coated wood plies, then radiation-energy laminated into a frame pillar blank. The process utilized eighteen 75-ton laminating presses. At the time these cars were built, dealers were supplied with replacement wood. The idea was that as the wood frames and panels deteriorated, owners could replace them with new wood from dealers. But few owners stockpiled wood, and eventually dealers simply threw out the old stock. Thus, restorers may have a difficult time finding new-old stock wood today. Replacement pieces can be made, but they will not be laminated. Were there any unique versions of Ford's last postwar woody? Yes. A prototype of the convertible sports wagon or Mercury Sportsman was reportedly built, and Siebert of Toledo, Ohio, constructed a few 10-passenger wagons on a stretched wheelbase. The latter, featuring four doors and a fourth seat, may have been built as 1949 Fords only. As for differences between the three model years, there are quite a few among the Fords but very few among the Mercurys, apart from the expected front-end styling changes shared with their linemates. Beginning about mid-1950, the wood tailgate on both models was replaced by a steel gate decorated with woodgrain decals, and the removable center seat was replaced with a fixed fold-down seat. The Ford's attractive woodgrain instrument panel gave way to a panel simply painted in a neutral color, its chrome windshield molding was replaced with a rubber molding, and its wood interior panels were abandoned for cardboard that simulated wood. For 1951, the Ford wagon retained the 1949-1950 instrument panel while all other models had a completely new dash, and the wagon's spare tire cover was no longer offered. Interestingly, most of these nice custom touches were retained on the Mercury for all three years. Ford could offer a little more in the Mercury because it charged more for it. But the company really held the line on wagon prices in all three years due to the highly competitive market of the time. In fact, prices actually declined a bit for 1950-1951. For 1951, Ford turned over all wood-wagon body assembly to Ionia, probably for reasons of cost efficiency. It is a paradox that the name "Country Squire" first appeared on the Ford wagon for 1951, when the model was much less a fancy "Squire" than in previous years. The name was emphasized beginning with the new all-steel 1952 models, adorned with mere decals and a token natural wood border. The Ford and Mercury woody wagons came to an end with the 1951 editions, which achieved an all-time high in FoMoCo woody production. Though they were still the most expensive models in their respective lines, they had the poorest resale value. Meantime, Plymouth, Chevrolet, and others were tapping into a whole new market with all-steel wagons, and Ford was not about to be left hiding in its own woodwork. For 1952, Ford introduced its first all-steel wagons, two- and four-door models in three distinct series. Mercury also switched to metal bodywork that year, but offered a single four-door wagon with six- or nine-passenger seating. Famed designer Gordon Buehrig, who created the 1952 wagon line, explains why FoMoCo's real woodies finally disappeared: "I was in charge of a small group called the Body Development Studio. What we had to work with was a 1952 sedan with two doors on one side and four doors on the other. "From this model, it was our assignment to design all the others using maximum interchangeability of parts, and this is when we came up with the [Ford] Ranch Wagon and the Country Sedan and the Country Squire.
1954 M100: The Mercury M series is a series of pickup trucks that was marketed by the Mercury division of Ford Motor Company. Produced from 1946 to 1968, the Mercury M series was sold primarily in Canada, as a rebadged version of the Ford F series. From 1948 to 1968, the Mercury M series followed the development of its Ford F-series counterparts, differing largely in exterior trim.
PACKARD
1953 Model 2679 Convertible: he Packard Caribbean was an American personal luxury car produced by the Packard Motor Car Company of Detroit, Michigan, during model years 1953 through 1956. Some of the Caribbean's styling was derived from the Pan American Packard show car of the previous year. It was produced only as a convertible from 1953 to 1955, but a hardtop model was added in its final year of 1956. The 1953 Caribbean was perhaps Packard's most easily identified car because of its full cutout rear wheel housing and side trim, limited to a chrome band outline that stretched the entire length of the car. The band also helped to further delineate the car's wheel openings. A steel continental spare tire was also standard. The hood featured a broad, low leaded-in hood scoop. Bodies for the Caribbean were modified by Mitchell-Bentley Corporation of Ionia, Michigan. Available "advertised" colors for the car were limited to Polaris Blue, Gulf Green Metallic, Maroon Metallic or Sahara Sand. However, a mere handful of special-ordered cars were built in Ivory or Black. Interiors of the Caribbean were richly upholstered in leather. Most Caribbeans were also generously optioned, although the Ultramatic transmission was optional on the first year model at US$199 ($2,015 in 2021 dollars). A list of optional equipment on other Packard vehicles was standard on the Caribbean that included heater and windshield defroster, power windows, power adjustable front seat, power steering, and "Easamatic" power brakes. Only the signal seeking ratio with antenna and Solex tinted glass were extra cost items. A total of 750 Caribbeans were built for the first model year, and these cars are highly sought after as collectible cars in the current collectible automobile market. Restored cars regularly sell in the six-figure ranges. The listed retail price for the Caribbean Convertible was US$5,210 ($52,767 in 2021 dollars. Beginning in 1954 the Caribbean was elevated to senior Packard status. The Caribbean continued to have its own unique styling features, however the full rear-wheel cut-outs were eliminated and the use of chrome/stainless trim became more liberal, and allowed for two-tone paint combinations. A four-way power seat was available. Like the Patrician, the Caribbean also gained heavier "finned" headlight housings, one of the visual cues applied to help differentiate the senior Packards from the lower priced models. The 359-cubic-inch (5,880 cc) straight eight senior engine was used in this final incarnation of Packard's straight eight engine. A total of only 400 Caribbeans were produced for the model year, making 1954 the rarest year for the Caribbean. The listed retail price increased to US$6,100 ($61,552 in 2021 dollars. Model year 1955 saw the Caribbean line, now with an all-new Packard developed V8 engine, fully adopt the Senior Packard line styling; the car was also available in two or three-tone paint patterns. Designer Richard Teague succeeded in restyling the old Packard Senior body into a modern-looking design. The single hood scoop was split into two units, and the car also received Packard's Torsion-Level Torsion bar suspension at all four wheels. Production for 1955 increased substantially at 9,127 units with a listed retail price of $US5,932 ($60,005 in 2021 dollars. For 1956, the Caribbean was broken out into its own luxury series, and gained a hardtop model. Trim differences between the 1955 and 1956 cars were slight. Grille textures changed, and matched the ones used on concurrent Patricians, and the rear treatment, featuring Packard's cathedral style taillights also continued. The headlights also received slightly more exaggerated brows. Unique new interiors featured reversible seat cushions with cloth on one side and leather on the other. Total model year production equaled 263 hardtops and 276 convertibles with the convertible listed at US$5,995 ($59,752 in 2021 dollars). The model was discontinued when Packard production ended in Detroit.
PLYMOUTH
1949 Special de Luxe: The Plymouth De Luxe and Special De Luxe were full-sized automobiles which were produced by American manufacturer Plymouth during the 1933-42 and 1946-50 model years. The Plymouth Deluxe Model PD appeared in 1933, shortly after the Plymouth Six Model PC which was the company's first six-cylinder automobile but offered a 107 in (2,718 mm) wheelbase versus 112 for the De Luxe. It was an upscale alternative to the Plymouth Six (1933-1934), Business Six (1935-1938) and Roadking (1938-1940). In 1941, the Roadking name was dropped fort the low trim Plymouths, which were referred as P11 and not renewed in 1942, making the De Luxe, the entry level. Between 1941 and 1950, the De Luxe was offered in two trim levels, the De Luxe and the top-of-the-line Special De Luxe. The engine in 1946 was a 95 bhp 217.8 cu in (3.6 L) Plymouth Straight Six. In 1949 this engine was upgraded to produce 97 bhp.
1970 Superbird: The Plymouth Superbird was a highly modified, short-lived version of the Plymouth Road Runner with well-known graphics and horn sound. It was the factory's follow up stock car racing design, for the 1970 season, to the Dodge Charger Daytona of 1969, and incorporated many engineering changes and modifications (both minor and major) garnered from the Daytona's season in competition. The car's primary rivals were the Ford Torino Talladega and Mercury Cyclone, a direct response to the Mopar aero car. It has also been speculated that a motivating factor in the production of the car was to lure Richard Petty back to Plymouth. Both of the Mopar aero cars famously featured a protruding, aerodynamic nosecone, a high-mounted rear wing and, unique to the Superbird, a horn which mimicked the Road Runner cartoon character. Superbirds equipped with the top-of-the-line 426 cu in (7.0 L) Hemi engine with a pair of four barrel Carter AFB carburettors (2x4bbl) producing 425 hp could accelerate from 0 to 60 mph in 5.5 seconds. Developed specifically for NASCAR racing, the Superbird, a modified Road Runner, was Plymouth's follow-on design to the Charger Daytona fielded by sister company Dodge in the previous season. The Charger 500 version that began the 1969 season was the first American car to be designed aerodynamically using a wind tunnel and computer analysis, and later was modified into the Daytona version with nose and tail. The Superbird's smoothed-out body and nosecone were further refined from that of the Daytona, and the street version's retractable headlights (made of fiberglass) added nineteen inches to the Road Runner's original length. The rear wing was mounted on tall vertical struts that put it into less disturbed air thus increasing the efficiency of the downdraft that it placed upon the car's rear axle. For nearly 30 years the mathematic formula used to determine the exact height of the enormous wing was thought to be a highly guarded Chrysler secret. In the 1990s, a retired Chrysler project engineer (incorrectly) claimed publicly that the height was determined in much simpler fashion: it was claimed that it was designed to provide clearance for the trunk lid to open freely. This is an urban myth. The actual height was set to clear the roofline so it was in clean air. The rear-facing fender scoops were to hide cutouts. On Daytonas, the scoops were actually for ventilating trapped air from the wheel wells in order to reduce under fender air pressure and lift. For standard road going Superbirds the covers or "air extractors" were a cosmetic enhancement. Ground clearance was 7.2 inches (18 centimetres).440 cu in (7.2 L) "Six Pack" (Super Commando Six Barrel) mid-range engine producing 390 hp. NASCAR's homologation requirement demanded that vehicles to be raced must be available to the general public and sold through dealerships in specific minimum numbers. For 1970, NASCAR raised the production requirement from 500 examples to one for every two manufacturer's dealers in the United States; in the case of Plymouth, that meant having to build 1,920 Superbirds. Due to increasing emissions regulations, combined with insurance spike for high performance cars and NASCAR's effective ban on the aero cars, 1970 was its only production year. "Superbird" decals were placed on the outside edges of the spoiler vertical struts featuring a picture of the Road Runner cartoon character holding a racing helmet. A smaller version of the decal appears on the driver's side headlight door. Superbirds had three engine options: the 426 Hemi V8 engine producing 425 bhp at 5000 rpm and 490 lb⋅ft (664 N⋅m) at 4000 rpm of torque, the 440 Super Commando Six Barrel with 3X2-barrel carburetors producing 390 hp and the 375 hp 440 Super Commando with a single 4-barrel carburettor. Only 135 models were fitted with the 426 Hemi. As the 440 was less expensive to produce, the "street" version of the 426 Hemi engine used in competition was homologated by producing the minimum number required. On the street, the nose cone and wing were very distinctive, but the aerodynamic improvements hardly made a difference there or on the drag strip. In fact, the 1970 Road Runner was actually quicker in the quarter mile and standard acceleration tests due to the increased weight produced by the Superbird's nose and wing. Only at speeds in excess of 60 mph did the modifications begin to show any benefit. Chrysler memos of September 1969 show that the sales programming staff were preparing to handle 1,920 winged Plymouths for 1970, but published figures say as many as 2,783 were built. The current figure generally accepted is 1,935 SuperBirds built and shipped to United States dealers, with anywhere from 34 to 47 allegedly heading to Canada. The engine option is also questioned, although the most frequently seen numbers report 135 Hemi SuperBirds and 716 440ci. six-barrel editions, with the remainder powered by 440ci. 4bbl. motors. It is believed that over 1,000 Plymouth SuperBirds exist today. In Autumn 1968, Richard Petty left the Plymouth NASCAR Racing Team for Ford's. Charlie Grey, director of the Ford stock car program, felt that hiring Petty would send the message that "money rules none". However, the Superbird was designed specifically to lure Petty back to Plymouth for the 1970 season. Petty did reasonably well against strong Ford opposition on the NASCAR tracks that year, winning eight races and placing well in many more. NASCAR's rules implemented for the 1971 season limited the "aero-cars" to an engine displacement of no greater than 305 cu in (5.00 l) or they had to carry much more weight compared to their competitors. While they were still legal to race, the power-to-weight consequences that would come with the smaller engine or the increased weight rendered the cars uncompetitive. This was the start of a trend of rules slowing down NASCAR, because the races were exceeding the technology of tires and safety over 200 mph (320 km/h). Ford, in response, also designed the 1970 Torino King Cobra with an aerodynamic, superbird-style nose, but it was abandoned. The Superbird's styling proved to be extreme for 1970's tastes (many customers preferred the regular Road Runner), and as a consequence, many of the 1,920 examples built sat unsold on the back lots of dealerships as late as 1972. Some were converted into 1970 Road Runners to move them off the sales lot. Some manufacturers produce Superbird conversion kits for 1970 Road Runners and Satellites. Kits are also available for non produced 1971 and 1972 bodies for the Superbird. More recently they have been very steadily rising in price, regularly fetching from US$100,000 to $200,000 however this does vary based on the engine, gearbox and other factory options on the car. The Superbird and the Dodge Charger Daytona were each built for one model year only (1970 and 1969 respectively).
PONTIAC
1967 Firebird Convertible: the first generation Firebird had characteristic Coke bottle styling shared with its cousin, the Chevrolet Camaro. Announcing a Pontiac styling trend, the Firebird's bumpers were integrated into the design of the front end, giving it a more streamlined look than the Camaro. The Firebird's rear "slit" taillights were inspired by the 1966–1967 Pontiac GTO. Both a two-door hardtop and a convertible were offered through the 1969 model year. Originally, the car was a "consolation prize" for Pontiac, which had desired to produce a two-seat sports car based on its original Banshee concept car. However, GM feared this would cut into Chevrolet Corvette sales, and gave Pontiac a piece of the "pony car" market through sharing the F-body platform with Chevrolet. The 1967 base model Firebird came equipped with the Pontiac 230 cu in (3.8 L) SOHC inline-six. Based on the architecture of the standard Chevrolet 230 cu in (3.8 L) inline-six, it was fitted with a one-barrel carburettor and rated at 165 hp. The "Sprint" model six came with a four-barrel carburettor, developing 215 hp. Most buyers opted for one of three V8s: the 326 cu in (5.3 L) with a two-barrel carburettor producing 250 hp; the four-barrel "HO" (high output) 326, producing 285 hp; or the 325 hp 400 cu in (6.6 L) from the GTO. All 1967–1968 400 CI engines had throttle restrictors that blocked the carburettors' secondaries from fully opening. A "Ram Air" option was also available, providing functional hood scoops, higher flow heads with stronger valve springs, and a hotter camshaft. Power for the Ram Air package was the same as the conventional 400 HO, but peaked at 5,200 rpm. The 230 cu in (3.8 L) engines were subsequently enlarged for 1968 to 250 cubic inches(4.1 liters), the base version developing an increased 175 hp using a one-barrel carburettor, and the high-output Sprint version the same 215 hp with a four-barrel carburettor. Also for the 1968 model, the 326 cu in (5.3 L) engine was replaced by the Pontiac 350 cu in (5.7 L) V8, which actually displaced 354 cu in (5.8 L), and produced 265 hp with a two-barrel carburettor. An HO version of the 350 cu in (5.7 L) with a revised cam was also offered starting in that year, which developed 320 hp. Power output of the other engines was increased marginally. There was an additional Ram Air IV option for the 400 cu in (6.6 L) V8 engines during 1969, complementing the Ram Air 400(now often colloquially but incorrectly called the "Ram Air III," a name never used by Pontiac). The Ram Air IV was rated at 345 hp at 5000 rpm and 430 lb⋅ft (583 N⋅m) of torque at 3400 rpm; and 335 hp respectively. The 350 cu in (5.7 L) HO engine was revised again with a different cam and cylinder heads resulting in 325 hp. During 1969 a special 303 cu in (5.0 L) engine was designed for SCCA road racing applications that was not available in production cars. Modifications for 1968 included the addition of federally-mandated side marker lights: for the front of the car, the turn signals were made larger and extended to wrap around the front edges of the car, and on the rear, the Pontiac (V-shaped) Arrowhead logo was added to each side. The front door vent-windows were replaced with a single pane of glass and Astro Ventilation, a fresh-air-inlet system. The 1969 model received a major facelift with a new front-end design but unlike the GTO, it did not have the Endura bumper. The instrument panel and steering wheel were revised. The ignition switch was moved from the dashboard to the steering column with the introduction of GM's new locking ignition switch/steering wheel. In March 1969, a US$1,083 ($8,003 in 2021) optional handling package called the "Trans Am performance and appearance package", UPC "WS4", named after the Trans Am Series, was introduced. A total of 689 hardtops and eight convertibles were made. Due to engineering problems that delayed the introduction of the new 1970 Firebird beyond the usual fall debut, Pontiac continued production of 1969 model Firebirds into the early months of the 1970 model year (the other 1970 Pontiac models had been introduced on September 18, 1969). By late spring of 1969, Pontiac had deleted all model-year references on Firebird literature and promotional materials, anticipating the extended production run of the then-current 1969 models.
ROLLS ROYCE
1977 Silver Shadow II: When new, the Silver Shadow was considered a big car, but looking at this one, it does not seem quite so massive any more. The Silver Shadow was produced from 1965 to 1976, and the Silver Shadow II from 1977 to 1980. Initially, the model was planned to be called "Silver Mist", a natural progression from its predecessor Silver Cloud. The name was changed to "Silver Shadow" after realising that "Mist" is the German word for manure, rubbish, or dirt. The design was a major departure from its predecessor, the Silver Cloud; although several styling cues from the Silver Cloud were modified and preserved, as the automobile had sold well. The John Polwhele Blatchley design was the firm's first single bow model. The original Shadow was 3 1⁄2 inches narrower and 7 inches shorter than the car it replaced, but nevertheless managed to offer increased passenger and luggage space thanks to more efficient packaging made possible by unitary construction. Aside from a more modern appearance and construction, the Silver Shadow introduced many new features such as disc rather than drum brakes, and independent rear suspension, rather than the outdated live axle design of previous cars. The Shadow featured a 172 hp 6.2 litre V8 from 1965 to 1969, and a 189 hp 6.75 ltire V8 from 1970 to 1980. Both powerplants were coupled to a General Motors-sourced Turbo Hydramatic 400 automatic gearbox, except on pre-1970 right-hand-drive models, which used the same 4-speed automatic gearbox as the Silver Cloud (also sourced from General Motors, the Hydramatic). The car's most innovative feature was a high-pressure hydropneumatic suspension system licensed from Citroën, with dual-circuit braking and hydraulic self-levelling suspension. At first, both the front and rear of the car were controlled by the levelling system; the front levelling was deleted in 1969 as it had been determined that the rear levelling did almost all the work. Rolls-Royce achieved a high degree of ride quality with this arrangement. In 1977, the model was renamed the Silver Shadow II in recognition of several major changes, most notably rack and pinion steering; modifications to the front suspension improved handling markedly. Externally, the bumpers were changed from chrome to alloy and rubber starting with the late 1976 Silver Shadows. These new energy absorbing bumpers had been used in the United States since 1974, as a response to tightening safety standards there. Nonetheless, the bumpers on cars sold outside of North America were still solidly mounted and protruded 2 in less. Also now made standard across the board was the deletion of the small grilles mounted beneath the headlamps. Outside of North America, where tall kerbs and the like demanded more ground clearance, a front skirt was also fitted to the Silver Shadow II and its sister cars. In 1979 75 Silver Shadow II cars were specially fitted to commemorate the 75th anniversary of the company with the original red "RR" badges front and rear, pewter/silver paint, grey leather with red piping, scarlet red carpets, and a silver commemorative placard on the inside of the glove box door. 33 75th anniversary cars were designated for and shipped to the North American market. 8425 examples of the Shadow II were made, which, when added to the total of over 16,000 of the first generation cars made this the biggest selling Rolls Royce of all time.
STUDEBAKER
1931 Commander Series 70: Until the appearance of the 8-cylinder President in January 1928, all Studebaker cars of the 1920s were sixes. There were three basic models — the Light Six, the Special Six and the Big Six, developing 40 bhp, 50 bhp, and 60 bhp respectively at 2000 rpm. The first Commander, in 1927, was a continuation of the mid-range Special Six, with a 226 cu in (3.7 L) engine. Their inbuilt durability and toughness gained them great renown under worldwide conditions. The 1928 GB Commander was a descendant of the Big Six, being powered with the proven 354 cu in (5.8 L) engine, modified to deliver 75 bhp at 2400 rpm. In October 1928, three Commander sixes lined up at the Atlantic City Speedway to challenge the 15,000 mi (24,000 km) speed record (64.25 mph (103.40 km/h)) held by the much higher-priced Auburn straight-eight Speedster. They not only accomplished that but then went on to establish new records up to 25,000 miles (40,000 km). The two sports roadsters averaged better than 65 mph (105 km/h) and the sedan, which had flipped on the icy boards during one of the night runs and had been hurriedly repaired, averaged almost 62 mph. After this, the three cars were closely scrutinised, part by part, and it was established that they were strictly stock automobiles, identical in every respect to those available at any Studebaker showroom. In Australia, a crew of three drivers led by Norman "Wizard" Smith tackled overland records using a Commander roadster. On a 3,000-mile run from Fremantle to Sydney, they smashed the previous record by 12 hours 23 minutes despite traversing 450 miles through blinding rain, and having to ford a river when a bridge had been washed away. The team rested for a little over three hours before attempting another record on the 600-mile track to Brisbane. These sixes were the last descendants of rugged cars designed for poor roads in the early 20th century—loaded with torque and strong in construction. They were less well suited to the higher cruising speeds made possible by better roads in later years. In 1929, Studebaker added an 8-cylinder Commander to the range. In 1935, the Commander was dropped from Studebaker's product line, only to be reinstated in 1937 when the name was applied to Studebaker's least expensive range formerly known as the Studebaker Dictator. Studebaker introduced the Champion in 1939, and the Commander line was again repositioned, now as the mid-range vehicle.
TRACTORS
There were a couple of tractors here, too, a 1950 Farmall Tractor H and a 1964 John Deere.
This proved to be a very interesting collection of cars, most of which are quite rare to European eyes, and so was well worth the inclusion in my plans and the $10 admission fee. With the move to a new facility – not far away in the Glendale area of Phoenix – taking place over the winter months of 2021/22, I will clearly need to go back and revisit the collection. I look forward to doing so.
More information on the museum and its collection can be found here: https://sites.google.com/view/martinautomuseum/home