It says something about the relationship between a Car Club and a venue owner/organiser when the latter has the confidence to convene a private event knowing full well that it will be sufficiently supported by that Club to make it viable. That's exactly what happened here. The ebullient owner of the Sharnbrook Hotel, also known as Mr Petrolheadonism himself, has hosted a number of Abarth specific as well as wider Italian car events over the years, and he has always delivered a quality out to those who attended, so when he spotted a gap in the Abarth calendar for late January he set up and announced a Pizza Day specifically for Abarth Owners to come to his hotel, and spend time catching with friends and enjoying the legendary pizzas and hospitality of the Sharnbrook. I was delighted, as the idea of doing something like this, which had proved popular in previous years was on my mind, but he simply beat me to it. As it was late January, I guessed that we might get around 25 – 30 cars in attendance, which would be a good total. I massively underestimated, as in the end very nearly 100 cars turned up! And that total was achieved before people knew that the weather would be bright and sunny and not as cold as January can be. There had been quite a lot of rain, so even those who had cleaned their cars near to Sharnbrook arrived with less than pristine Abarths, and some looked more like they had been on a rally, but hey, that is January in Britain! No-one really cared, as this was all about meeting friends and having a good time, with a dazzling array of lovely Abarths to look at.
500 FAMILY
The vast majority of cars here were the 500-based models which have been on sale now since the end of 2008, following a launch at the Paris Show that year. Since that time there have been a number of detailed changes to the standard cars and a lot of limited editions. Those who really know the marque can spot most of them, but some are so subtle that unless there is a badge you can see, you will not be quite sure which version you are looking at. It used to be relatively easy, when the model was first launched, as there was only one version as shipped ex works called the 500. It had a 135 bhp 1.4 litre turbo-charged engine coupled to a five speed manual gearbox, with 16″ alloys as standard, and the option of 17″ wheels, and a colour palette comprising of two whites (BossaNova White, the standard colour, or the pearlescent Funk White), Red (Pasadoble), Pale Grey (Campovolo) or Black. If you wanted more power – 160 bhp – then you could order an Esseesse kit, which came in a large wooden crate, containing new wheels, springs, an ECU upgrade, the Monza exhaust system and badging. It was dealer fitted and could be applied at any time within the first 12 months or 10,000 miles from registration. Needless to say, it proved popular. As were many of the optional extras, with stickers for the sides, a large scorpion for the bonnet and even a chequered pattern for the roof among the personalisation options offered. There were not many of those original cars here, not least because sales volumes in the early years were much lower than they are now, and of course those first cars are now well over ten years old.
Having used the legendary 695 badging from the 1960s on the Tributo cars, at the 2012 Geneva Show, Abarth dusted off the 595 name that had been used on the less powerful of the Nuova 500 based cars of the same generation, and created two new versions which we should think of as Series 2 cars, the 595 Turismo and Competizione, both of which could be bought in either closed or open top C guise, with either the 5 speed manual or robotised automated gearshifts. Both models had the 160 bhp engine as standard. Effectively they were a replacement for the Esseesse kit, and it meant that the cars were produced complete at the factory, rather than needing the dealer to undertake the upgrade (and the associated paperwork), though Abarth did not withdraw the Esseesse kits from the market for some while. Turismo, as the name suggests was aimed slightly less extreme in intent, featuring standard leather upholstery, upgraded dampers and climate control, Xenon headlights and Alutex interior details. The sportier Abarth 595 Competizione replaced the leather seats with Sabelt cloth sport seats and Alutex with aluminium, while adding p-cross-drilled brakes and the Record Monza dual-mode exhaust. Some new colours were introduced, and very soon one of those, Record Grey, frequently combined with a tan interior became one of the most popular choices.
Some of the colours that have been offered on the car over the years have proved more popular than others. One of the rarest, and a relatively short-lived option on the colour chart was one called Rally Beige. Opinions varied on this, with some loving it and others finding it not to their taste at all. The colour was also offered in combination with Pasadoble Red as a bicolore car and this was also rarely selected. Ben Au bought this car recently and brought it down so we could all have a look. More people seemed to appreciate it now than they did when the colour was available on a new car.
During the life of the 500-based model there have been an almost bewildering array of limited edition cars, not all of which have been sold in the UK. One of the most special is the 695 Edizione Maserati of Sam Cottenden, a car which was off the road for many months in 2021 awaiting a turbo actuator part, but once this finally arrived, her much loved car has been to many events and she brought it here. It was at the 2012 Geneva Show when Abarth first showed the 695C Edizione Maserati, a limited production version of the Abarth 500C convertible with the 1.4 Turbo T-Jet 16v engine rated at 180 hp, a 5-speed electrically operated manual Abarth Competizione gearbox with steering wheel controls, Maserati "Neptune" 17″ alloy wheels with performance tyres, Brembo 305 mm brake discs with fixed four-piston caliper and special shock absorbers, Record Modena variable back-pressure "dual mode" exhaust, Pontevecchio Bordeaux body colour, Xenon headlights with dipped and driving light functions, sand beige Poltrona Frau leather seats with containment strips featuring single-layer padding and the pista grey contrasting electro-welding, black leather steering wheel, aluminium pedal unit and sill plate, carbon fibre kick plate, boosted hi-fi audio system. Production was limited to 499 units, and around 20 of them came to the UK, all in the Pontevecchio Bordeaux colour. The grey cars were offered for sale in Asia, but such is the way with these things that several of these have subsequently been brought into the UK.
Seen by most as the ultimate model, there was the 695 Biposto. First shown at the 2014 Geneva Show, this 2 seater (that's what Biposto means in Italian) is nothing other than a road legal version of the 695 Assetto Corse Racing car, a vehicle which has its own race series in Europe. Although the car is road legal, it was envisaged that the majority of people who buy one of these cars will use it on the track and quite frequently. So it was conceived accordingly. That means upgrades to all the important bits – engine, brakes, suspension, gearbox – and some fairly drastic measures to save weight which resulted in a car which generates 190 bhp and 199 lb/ft or 250 Nm of torque with a kerb weight of just 997kg. That's enough to give a 0 – 60 time that is under 6 seconds, and a top speed of 143 mph. Those are supercar figures produced by a city car. There's more to it than that, though, as the changes that go to make a Biposto are extensive, and they have been well thought through, so this is a long-way from being a hastily conceived or tuned up special. Ignoring the limited edition cars which arrived during 2015, the "regular" Biposto is only offered in Matt Performance Grey paint, and the car is visually distinctive, with a new front bumper, rear diffuser, wider arches, new skirts and bigger roof spoiler. Although the engine is still the same 1.4 T-jet that features in the lesser 500 and 595 cars, it has been reworked here, with a new Garrett turbocharger, larger intercooler, altered fuel rail and an Akrapovic exhaust system. Buyers can choose between the standard five speed gearbox or an optional race-bred dog-ring unit mated to a mechanical limited slip diff. The standard car's MacPherson strut and torsion beam suspension has been reworked, too, with altered springs, wider tracks adjustable ride height and dampers with more resilient bushings, using Extreme Shox technology shock absorbers. The brakes are upgraded in line with the extra power, featuring 305mm Brembo discs and four pot calipers up front and 240mm discs with single pot calipers at the rear. The wheels are lightened 18″ OZ and attached via a titanium hub, shod with bespoke 215/35 Goodyear tyres. In the interest of weight saving, a number of standard trim items are removed, including the regular door trims, air conditioning, the rear seats and some of the sound deadening material. Even the standard air vents have been changed so they are covered by a simple mesh. In their place is plenty of polished carbon fibre, a titanium strut brace, racing seats and harness, as well as special trim features such as new pedals, tread plates and a race inspired digital display on the dash where the radio usually sits. Although the Matt Performance Grey car is probably the one you think of when someone says "Biposto", there were other versions, with a very rare red being a car that is rarely seen and the Record Edition being the version that is a bit more commonly spotted. There were just 133 of these made, all painted in Modena Yellow, at the time an exclusive Biposto colour. These cars had some of the civility restored with air conditioning and a radio included in the spec. It was Tim Dunlop's Record Edition car, the former UK press car, that was on show here.
Rumours started to circulate towards the end of 2014 that Abarth were going to upgrade the Competizione model, so as better to bridge the gap between the Turismo and the 190 bhp 695 Biposto that had been added to the range earlier in the year. It was Geneva 2015 when the result was finally shown to an expectant fan base. Most exciting news was that thanks to a bigger Garrett Turbo, the engine had been tweaked to 180 bhp, and with reduced CO2 emissions. A standard spec that included Koni Dampers, Brembo brakes, Xenon lights, Sabelt seats, Climate Control, parking sensors as well as other refinements that had been added like the TFT instrument display all proved very compelling, so not long after the first cars reached the UK in June of 2015, I found temptation too hard to resist, and as is well documented here, swapped my 2010 car for one of these. At the time I ordered it, Cordolo Red, a tri-coat pearlescent paint which shimmers in bright sunlight looked set to become one of the most popular colours of the lot, even though it is a cost option. Indeed, the Launch Edition models were all offered either in this colour or Scorpion Black, with black wheels. Surprisingly, the colour was not carried over to the Series 4 cars.
What is known as the Series 4 version of the familiar 595 reached the markets in the middle of 2016. After rumours had circulated all winter following the launch of the facelifted Fiat 500 last year, Abarth finally unveiled the Series 4 at the end of May 2016. Initially, we were told that the cars would not be available in the UK until September, but that came forward somewhat, with dealers all receiving demo cars in June, and the first customers taking delivery in July. Three regular production versions of both the closed car and the open-topped C were initially available, all badged 595, and called Custom, Turismo and Competizione, as before, though numerous limited edition models have since appeared and in most case disappeared. The most significant changes with the Series 4 are visual, with a couple of new colours, including the much asked for Modena Yellow and a different red, called Abarth Red, which replaces both the non-metallic Officina and – slightly surprisingly – the tri-coat pearlescent Cordolo Red. as well as styling changes front and rear. The jury is still out on these, with many, me included, remaining to be convinced. At the front, the new air intake does apparently allow around 15 – 20 % more air in and out, which will be welcome, as these cars do generate quite a lot of heat under the bonnet. Competizione models for the UK retain the old style headlights, as they have Xenon lights as standard, whereas the Custom and Turismo cars have reshaped units. At the back, there are new light clusters and a new rear bumper and diffuser. Inside, the most notable change is the replacement of the Blue & Me system with a more modern uConnect Audio set up, which brings a new colour screen to the dash. Mechanically, there is an additional 5 bhp on the Custom (now 145) and Turismo (now 165 bhp) and the option of a Limited Slip Diff for the Competizione, which is likely to prove a popular option. Details of the interior trim have changed, with a filled-in glovebox like the US market cars have always had, and electric windows switches that are like the US ones, as well as a part Alcantara trim to the steering wheel in Competizione cars. These cars have now been on offer for five years and with Abarth sales on the rise, it was no surprise that they were particularly well represented here.
The 695 Rivale was a celebration of Fiat's partnership with Riva, which had already seen a special Riva version of the 500,. Described as being "the most sophisticated Abarth ever", it is available either as a hatch or a cabriolet, with both of them featuring a two-tone Riva Sera Blue and Shark Grey paintwork. The Rivale is adorned with an aquamarine double stripe, satin chrome finish on the door handles and satin chrome moulding on the tailgate, various aesthetic elements inspired by the Riva 56 Rivale yachts and '695 Rivale' logos, joined by Brembo Brakes, Koni suspension, and 17-inch Supersport alloy wheels. Enhancing the nautical theme the new 695 Rivale features either a carbon fibre or mahogany dashboard, black mats with blue inserts, blue leather seats and door panels, carbon fibre kick plates, special steering wheel wrapped in blue and black leather and with a mahogany badge, blue leather instrument panel cover, and mahogany gear lever knob and kick plate. These are joined by the standard Uconnect infotainment with a 7-inch display, which is compatible with Android Auto and Apple CarPlay, and there is also a hand-written numbered plate that can be customised with the mane of the customer's yacht on request. Powering the 695 Rivale is the same 1.4-litre turbocharged engine that makes 180PS (177hp) and 184lb/ft of torque, that features in the 595 Competizione, allowing it to go from rest to 100km/h (62mph) in 6.7 seconds and up to a top speed of 225km/h (140mph). This is a regular model in the range, but confusingly, there is also the Abarth 695 Rivale 175 Anniversary, created to celebrate 175 years of the Riva brand. Just 350 of these were produced, half of them the hatch and the other half cabriolets. These featured 17-inch alloy wheels with a special pattern, celebratory badge on the outside, hand-crafted details such as the two-tone colour – blue and black hand-stitched leather seats with a celebratory logo stitched onto the headrest, carbon dashboard silk screen printed with special logo, numbered plate. Standard Rivale cars arrived in the UK in April 2018, and quite a few have been sold. They always attract lots of interest when they do appear.
A top of the range 595 Esseesse model was added in early 2019. These cars have only sold in quite small numbers, so you don't see them that often. The majority of these cars seem to be Campovolo Grey, and indeed that was the case here, though other colours including Scorpion Black are available. The most obvious change externally is the adoption of the neat white painted 17inch multi-spoke alloy wheels that are an Esseesse trademark, while elsewhere it gets the same recently reprofiled bumpers as the standard 595. Inside, there's a pair of bespoke figure-hugging Sabelt high-backed seats with a carbonfibre shell and some natty red stitching, while carbonfibre trim also covers the pedals and the dashboard. Under the bonnet is the familiar 178bhp turbocharged 1.4-litre engine, but here it breathes in through a BMC filter and exhales from a switchable carbonfibre-tipped Akrapovič twin exit exhaust. There's no more power than the old Competizione, but the Esseesse gets that model's Brembo callipers for its 305mm front discs, plus a limited-slip differential. The suspension is largely carried over, including Koni's frequency selective dampers. All this comes at a price though, and so this has remained a relatively rare sighting compared to the Competizione which many still feel offers rather better value for money.
2019 marked Abarth's 70th anniversary and to celebrate, there was a huge event in Milan, which I attended, along with about 1000 other owners. A few weeks prior to this event, Abarth launched the 595 Pista, conceived to be a focused option between the standard 595 Custom and the Turismo version. Although closer in concept and price to the Turismo, this one is just that bit more performance-focused, though it has no more power than the Turismo. That means there's 165 bhp at the disposal of the driver's right foot, courtesy of a 1.4-litre turbocharged engine that's fitted with what Abarth describes as an "oversized" Garrett turbine and breathes out through a high-end Record Monza exhaust system. That's a standard feature on the higher-end Competizione version, but doesn't feature on the 595 Turismo. Although the new turbocharger turbine doesn't make the 595 Pista any more powerful than the Turismo, Abarth says it does change the power delivery. By changing the pressure in the combustion chamber, the car's 170 lb/ft (230 Nm) of torque can be delivered lower down the rev range, at 2,250 rpm. The Pista has also been bestowed with a Koni rear suspension set-up, which features something called Frequency Selective Damping, or FSD for short. The system essentially tunes the suspension to suit the road surface and speed, with the aim of providing more stability and comfort. Other mechanical features include the specific Abarth braking system, which grips ventilated 284 mm discs on the front and 240 mm discs on the rear. The car also has an automated manual gearbox, which effectively works as an automatic, but also has shift paddles to allow the driver to take control with sequential shifts. Externally, the Pista is set apart by its special livery, which incorporates matt grey paint and bright green details. The door mirror caps, splitter, and wheel centres are all green, which contrasts with the black of the diffuser, alloy wheels, and front grille surrounds. The car also gets special Pista badging on the tailgate to denote its special-edition credentials. Inside, there are new seats that honour the Italian car manufacturer's 70th anniversary, with Abarth 70 lettering on the backrests. The seats themselves are racing-style buckets wrapped in new upholstery, while the cabin also features a seven-inch touchscreen infotainment system. It's a version of the same Uconnect system seen across the Fiat range, and it comes with an HD screen, DAB radio, and the Android Auto and Apple CarPlay smartphone connectivity systems. Also mounted on the dashboard is a flat-bottomed sports steering wheel, as well as a sports button that modifies the car's characteristics for more spirited driving. The system tweaks the peak torque output, as well as changing the power steering settings and throttle response.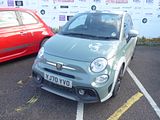 Abarth announced two limited edition cars in the autumn of 2020. One of them was represented here, the 595 Yamaha Monster Edition. One of two limited production (or Collector Edition, as Abarth have called them) cars released in September of 2020, this was the cheaper of the pair.. It was inspired by the MotoGP superbike, while the more expensive Scorpioneoro that was released at the same time was designed, so we are told. Based on the 165 bhp Turismo and like the Scorpioneoro, this limited-edition car gets new Abarth sports seats, albeit with blue finishes and the 'Monster Energy Yamaha MotoGP' logo on the head restraints. The blue lining contrasts with the black dashboard, while the numbered plate denoting the car's special-edition status is placed on the central tunnel. Other features include the flat-bottomed steering wheel, sport button and the Record Monza exhaust with active valve. There's a specially designed braking system, too, which complements the Koni rear suspension. That itself is fitted with Frequency Selective Damping (FSD) technology designed to improve the ride and handling characteristics of the car. 2000 were produced globally.
Many Abarth owners modify their cars, with a bewildering array of changes, some of which are visual and some mechanical, the result generally being something unique and personal to the owner. There were a number of examples of this on show ranging from Ed Tan's Bicolore 595 Competizione which preserves its original colour but adds a lot of detailed visual touches to Nico Vogli's distinctive yellow and white 595C, his third Abarth and with some of his own unique mods.
Many of these cars are well known in the community. Harry Dean, one of the youngest members has been gradually modifying his black 500 to his taste and then there is Paul Lane's car which is painted in the Nuvola Blue that stunned us when it appeared on the Alfa 156 nearly 25 years ago. It was not the only striking paint finish, though.
This is not so much mo dified as bespoke. It made its first appearance at a UK event last October, following acquisition by Abarth fan Dave Quinn earlier in 2021 and a long process to get the car so it could be road-registered . Effectively this takes its inspiration from the Assetto Corse race cars produced in 2010 and it has a Romeo Ferrari bodykit on it. Just two were created and the other one is in Italy. It attracted lots of interest at this event.
PUNTO
Pleasingly there were several examples of the Abarth Punto here, thanks to a concerted effort by the Abarth Punto Collective to get a good showing of the model. These were never common but have now become really quite rare, especially the earlier Abarth Grande Punto. The Abarth Grande Punto debuted at the 2007 Frankfurt IAA Show, going on sale in the UK in late summer of 2008. Offering 155 bhp from its 1.4 litre T-Jet engine, coupled to a six speed gearbox, and riding on 45 profile 17″ alloys, the standard car got rave reviews from the journalists when they first tried it, and they were even more impressed by the changes wrought by the optional Esseesse kit. This increased power to 177 bhp, brought 18″ OZ lower profile wheels, whilst new springs lowered the ride height by 15-20mm, and high-performance front brake pads and cross-drilled front disc brakes helped the car to stop more quickly. The most distinctive feature of the car were the white alloy wheels, though, as owners found, keeping these clean is not a job for the uncommitted, and many have a second set of wheels that they use fro grubbier conditions. Despite the positive press at launch, the car entered a very competitive sector of the market, and the combination of being relatively unknown, a limited number of dealers and the existence of established rivals from Renault and others meant that this always remained a left-field choice. The owners loved them, though, and they still do. The oldest cars have now had their 13th birthdays, and some have amassed relatively big mileages, but they are still a car for the cognoscenti.
Also here were a number of examples of the follow-on model, the Punto Evo. This was launched at the 2010 Geneva Show, with the cars reaching UK buyers in the summer of that year, and it incorporated many of the changes which had been seen a few months earlier on the associated Fiat models, the visual alterations being the most obvious, with the car taking on the nose of the associated Fiat, but adapted to make it distinctively Abarth, new rear lights and new badging. There was more to it than this, though, as under the bonnet, the T-Jet unit was swapped for the 1.4 litre Multi-Air, coupled to a 6 speed gearbox, which meant that the car now had 165 bhp at its disposal. Eventually, Abarth offered an Esseesse kit for these cars, though these are exceedingly rare. For those in the know – which never seemed to be that many people – this was a really capable and desirable car, and the owners love them, lamenting the fact that the model had quite a short production life and has not been replaced.
124 SPIDER
Slightly surprisingly, there were fewer examples of the Abarth 124 Spider here than the Punto. This car was developed in parallel with the Fiat model. It does cost a lot more, and there are those who think you don't get enough extra for your money, but those who have driven it will tell you otherwise. You certainly get more power. The 1.4 MultiAir turbo unit jumps up from 138bhp to 168bhp, while torque also increases by a modest 10Nm to 250Nm, which gives it a 0-62mph time of 6.8 seconds, which is half a second quicker than the 2.0-litre Mazda MX-5. The top speed is 143mph. It weighs just 1060kg meaning a power-to-weight ratio of 158bhp-per-tonne, and with the new Record Monza exhaust system it sounds great even at idle. The Abarth version gets a stiffer suspension setup than the regular Fiat 124 Spider, with Bilstein dampers and beefed-up anti-roll bars. Bigger Brembo brakes also feature, with aluminium calipers. It can be had with a six-speed manual or six-speed automatic transmission with paddles, and the latter gets a Sport mode for quicker shifts. Many of the UK cars sport the 'Heritage Look' pack, which is a no-cost option. It brings a matt black bonnet and bootlid, plus red exterior trim detailing and has proved popular. The £29,565 starting price gets you standard equipment such as cruise control, climate control, Bluetooth, a DAB radio and satnav, plus Alcantara black and red (or pure black) seat trim. The automatic gearbox is a £2,035 extra, while an optional visibility pack brings LED DRLs, auto lights and wipers and rear parking sensors. Sales ceased during 2019, with around 1800 cars having been brought into the UK, so this is always going to be a rare car, and values are already increasing at a rate reflecting its desirability and the difficulty in finding one.
Sadly, this may be the last time that we can do an event like this. The Sharnbrook is up for sale, and whoever buys it, event if they continue to deliver an excellent hotel experience won't be Ciro. He really is a legend, and I am sure that one reason that the total of around 100 cars came is not just because the Abarth Owners wanted to see each other but they also wanted to see Ciro. He has made an indelible impression on the community and become great friends with many of us. Petrolheadonism will continue even after the hotel sale, so he will still be able to apply his limitless energy to organising great events, but the loss of the hotel will make feel like something is missing. Until that happens, though, there is always the possibility of doing something lime this again, and I have little doubt that everyone who came to this event and quite a few who could not make it will all be up for that.