Such was the success of Abarth Festival 2021, the largest gathering of Abarths there had ever been in the UK, with a grand total of 557 cars present, that it was clear that a repeat was called for in 2022. Having listened to the feedback and taken account of what was realistic and possible, we decided to follow a very similar format for the 2022 event. Working with Ciro Ciampi, a lot of the hard work was taken off our shoulders, and he was also very keen to help out again. The Finedon venue had proved pretty much ideal, with plenty of space on site, easy access in as much as anywhere that has to be accessible for people coming from the whole country can achieve that, and with sufficient hotel accommodation available nearby, including Ciro's Sharnbrook Hotel. Agreeing a date was a bit of a challenge, and we ended up having to go for the day after Northern Italian Car Day up in the North East, which was not ideal, but there were too many other clashes to come up with anything else viable. Ciro sorted all the site-related things that we need, ranging from food stalls to a stage and resident DJ to provide sound, which left it up to the Abarth Clubs to get the people and cars along. Slightly surprisingly given how quickly we had sold tickets in 2021, it seemed to be much more of a struggle to get people to commit this time. But as is often the case, as the event got close and especially when people could see the weather forecast, a lot of sales were made in the last few days, with total tickets booked coming in at around 460, so slightly down on 2021 but still more than enough to mean that the site would look full. That good weather forecast proved to be accurate, so we had very few people backing out at the last minute or on a no-show. All was set for another great event.
ASSEMBLING THE NIGHT BEFORE
The day before Abarth Festival, I was at the Northern Italian Car Day at Raby Castle, and a number of the other Abarth drivers attending that were also headed south to Finedon. We planned to drive on convoy, knowing that it would probably prove quite difficult to keep 5 cars together over such a long journey amid traffic, even on the A1, and to make things a little harder there was plan to meet up with Chris Quinn, Dave's son, en route. Dave was at this stage a passenger in the 124 GT that he used to own and which now belongs to Neil (Curly) Potter, and in fact as we passed the slip road where the M62 joined, Chris and his friend came down it, so suddenly we had two more cars in convoy. Before we got to this point, though, there had been a last minute stop in the grounds of Raby Castle, to allow for final preparations, such as a toilet stop, which gave me the opportunity to grab yet more photos.
Knowing that a lot of people were travelling some distance and would need hotel accommodation, Ciro blocked the entirety of the Sharnbrook Hotel for Abarth owners, and, not surprisingly, was easily able to fill it. With all 80 rooms taken by Abarthisti, it was quite clear that for those staying there, this event would feel like it started the evening before the main proceedings. And when I made it there, having driven down from the North East in what had been a convoy for almost all the journey until a late stop was requested by some of the cars, it was clear that there was something of a party atmosphere pervading, with groups of people standing around outside chatting, and looking at the cars. There were certainly plenty of both people and cars and having parked up, it took me a good 40 minutes to get past everyone and into the hotel to check in. With that done, I was back outside with the camera to record some of the cars that I could see here.
It was not long before the table reservation times were upon us and we all adjourned inside to enjoy what was going to be the last ever meal we, or pretty much anyone would get in the Vesuvio Restaurant, as Ciro had announced that in advance of the sale of the hotel going through, he was going to have to close the restaurant. The pizza that I had did not disappoint, and if you look at the pictures of some of the others present with food and drink on hand, it was clear that everyone was already very much enjoying an event which would not formally start for a few more hours.
THE FESTIVAL
The UK had been enjoying – if that is the right word – sweltering temperatures for some time, and the weather gods decided that they would give us a day of cloudless skies and warmth for our Festival, though mercifully it was not quite as hot as it had been on some days preceding the event. At least we did not have to worry about wet weather contingencies! Those of us organising needed to be on site doing set up pretty early, so I grabbed a quick breakfast and headed up the road to Finedon to make sure that we had all the basics ready before people started arriving.
The message not to come early clearly did not get to everyone, as Tony Skipper arrived not long after I did. He currently does not have an Abarth, having sold his most recent one, so was here in his MGB GT V8. Nice car though it is, it had to go what we called the spectator area, reserved for the non Abarths, of which we were expecting to get a few more during the event. Tony had decided that he was going to produce a report on the event for Auto Italia magazine, which was his explanation for arriving quite so early. The rest of had things to do, so we left him to whatever it was he thought he was going to do before anyone else arrived. As in 2021, the plan was to give every attendee a Goodie Bag on arrival. Sadly, the changes in Abarth UK as a result of the recent creation of Stellantis meant that they were unable to support the event, and in 2021 they had provided us with the content for these Bags, so we had a Plan B, and this required the bags to be loaded with contents from source boxes, with this task running in parallel with handing them out as people arrived, It kept me, and Bradley Lawrence and Bertie Bryant pretty busy for most of the morning.
It was not long before cars started to arrive, some in convoy groups, others singly. We did better this year at getting cars through a ticket check and directed to a parking area without creating queues back on the road, but it was hard work for a good three hours as cars just seemed continually to keep arriving.
The vast majority of cars here were the 500-based models which have been on sale now since the end of 2008, following a launch at the Paris Show that year. Since that time there have been a number of detailed changes to the standard cars and a lot of limited editions. Those who really know the marque can spot most of them, but some are so subtle that unless there is a badge you can see, you will not ne quite sure which version you are looking at. It used to be relatively easy, when the model was first launched, as there was only one version as shipped ex works called the 500. It had a 135 bhp 1.4 litre turbo-charged engine coupled to a five speed manual gearbox, with 16″ alloys as standard, and the option of 17″ wheels, and a colour palette comprising of two whites (BossaNova White, the standard colour, or the pearlescent Funk White), Red (Pasadoble), Pale Grey (Campovolo) or Black. If you wanted more power – 160 bhp – then you could order an Esseesse kit, which came in a large wooden crate, containing new wheels, springs, an ECU upgrade, the Monza exhaust system and badging. It was dealer fitted and could be applied at any time within the first 12 months or 10,000 miles from registration. Needless to say, it proved popular. As were many of the optional extras, with stickers for the sides, a large scorpion for the bonnet and even a chequered pattern for the roof among the personalisation options offered. Several of the original style of cars were here.
Whilst a sliding glass sunroof (Skydome in Fiat/Abarth parlance) was an option from inception, fans of open air motoring had to wait until Geneva 2010 for the launch of the 500C models, with a roll-back roof which provided the best of open-topped motoring and yet still with the rigidity of the regular body style.
For the first few months these cars only came with the robotised manual gearbox, which limited the appeal in the eyes of some, but they also introduced us to the "bi-colore", a series of two tone cars, with upper and lower halves of the body painted in different colours. It took us a while to get used to this, as no other production road cars had been painted like this for some time, but now this is seen as yet another of those marque defining attributes, and (perhaps with the exception of the rarely seen Rally Beige and Officina Red combination that would come for 2014) in the eyes of many this distinctive look enhances the appeal of the cars still further.
The first of the special production models was the 695 Tributo Ferrari and there was one example of the model at the event. Most of these cars are tucked away in collections, never being used, so it was good to see this one. You got more power than was available in the standard cars at the time, with the engine uprated to 180 bhp, thanks to a different Garrett turbocharger. The spec included a MTA (Manual Transmission Automated) electromechanical transmission with paddle shifter, unique to this version 17 inch alloy wheels with performance tyres, Brembo multi-section discs with fixed 4-piston calipers, "Record Monza" variable back-pressure "dual mode" exhaust, Magneti Marelli Automotive Lighting xenon headlights, "Abarth Corsa by Sabelt" seats in black leather upholstery with carbon fibre shell and seat base, black leather steering wheel with red leather inserts and a tricolour hub, Jaeger instrument panel, non-slip aluminium foot wells, Scorpion racing pedals, special kick plates and a plate bearing the vehicle series number. The Tributo Ferrari was unveiled at the 2009 Frankfurt Motor Show, with deliveries starting in 2010. Four colours were offered: grey, Abu Dhabi Blue, Scuderia Red and finally Yellow like Bailey's car. Of these the red and yellow cars were more numerous, but the car remained rare as it was fearsomely expensive. Just how expensive depended on the dealer, as in a move that only the Italians could make, they were all first registered in Italy and so technically were used cars by the time these right hand drive machines arrived on UK soil, which mean that the dealers could charge what they wanted. Most aimed somewhere between £32 and £36,000, a lot for a car of this size. Nevertheless, they all sold, though many ended up on another boat, off to right hand drive Asian markets, which is why they are a rare sight these days.
Having used the legendary 695 badging from the 1960s on the Tributo cars, at the 2012 Geneva Show, Abarth dusted off the 595 name that had been used on the less powerful of the Nuova 500 based cars of the same generation, and created two new versions which we should think of as Series 2 cars, the 595 Turismo and Competizione, both of which could be bought in either closed or open top C guise, with either the 5 speed manual or robotised automated gearshifts. Both models had the 160 bhp engine as standard. Effectively they were a replacement for the Esseesse kit, and it meant that the cars were produced complete at the factory, rather than needing the dealer to undertake the upgrade (and the associated paperwork), though Abarth did not withdraw the Esseesse kits from the market for some while. Turismo, as the name suggests was aimed slightly less extreme in intent, featuring standard leather upholstery, upgraded dampers and climate control, Xenon headlights and Alutex interior details. The sportier Abarth 595 Competizione replaced the leather seats with Sabelt cloth sport seats and Alutex with aluminium, while adding p-cross-drilled brakes and the Record Monza dual-mode exhaust.
Some new colours were introduced, and very soon one of those, Record Grey, frequently combined with a tan interior became one of the most popular choices. There were several examples of this popular colour here and there is no denying that this combination suits the Abarth shape very well.
There have been many different paint colours offered during the life of the 500/595 family, some lasting only for a couple of years, others being offered for much longer than that. One of the rarest colours is called Rally Beige, and Ben Au acquired a car in this colour, because it is so rare, last year and it was one of the range of Abarths he brought along. It was the only one at the event in this colour.
At the 2012 Geneva Show, Abarth showed the 695C Edizione Maserati, a limited production version of the Abarth 500C convertible with the 1.4 Turbo T-Jet 16v engine rated at 180 hp, a 5-speed electrically operated manual Abarth Competizione gearbox with steering wheel controls, Maserati "Neptune" 17″ alloy wheels with performance tyres, Brembo 305 mm brake discs with fixed four-piston caliper and special shock absorbers, Record Modena variable back-pressure "dual mode" exhaust, Pontevecchio Bordeaux body colour, Xenon headlights with dipped and driving light functions, sand beige Poltrona Frau leather seats with containment strips featuring single-layer padding and the pista grey contrasting electro-welding, black leather steering wheel, aluminium pedal unit and sill plate, carbon fibre kick plate, boosted hi-fi audio system. Production was limited to 499 units, and around 20 of them came to the UK, and one of these, belonging to Neil Potter, was here. There were also some grey-painted models, initially sold in Asia but several of which are now in the UK, and Sam Cottenden owns one of these, which she brought along.
Rumours started to circulate towards the end of 2014 that Abarth were going to upgrade the Competizione model, so as better to bridge the gap between the Turismo and the 190 bhp 695 Biposto that had been added to the range earlier in the year. It was Geneva 2015 when the result was finally shown to an expectant fan base. Most exciting news was that thanks to a bigger Garrett Turbo, the engine had been tweaked to 180 bhp, and with reduced CO2 emissions. A standard spec that included Koni Dampers, Brembo brakes, Xenon lights, Sabelt seats, Climate Control, parking sensors as well as other refinements that had been added like the TFT instrument display all proved very compelling, so not long after the first cars reached the UK in June of 2015, I found temptation too hard to resist, and as is well documented here, swapped my 2010 car for one of these. At the time I ordered it, Cordolo Red, a tri-coat pearlescent paint which shimmers in bright sunlight looked set to become one of the most popular colours of the lot, even though it is a cost option. Indeed, the Launch Edition models were all offered either in this colour or Scorpion Black, with black wheels. Surprisingly, the colour was not carried over to the Series 4 cars.
A new colour was announced with the new Competizione cars, called Podium Blue, but it was not going to be immediately available, and there were no accurate representations of exactly what shade it would be. Rumours circulated on Abarth forums and Facebook Groups all summer, with lots of guessing and no real facts, although we had been assured that it was not the same as the Abu Dhabi Blue that had featured on a very small number of 695 Tributo Ferrari models in 2011. It was October 2016 when the first cars reached the UK and those who had taken the gamble could see for themselves whether they had got it right. Common consent is this is a stunning colour. A rich blue, it changes shade in different lights. I think it looks fantastic. It has proved very popular and remains on offer to this day.
Seen by most as the ultimate model, there was the 695 Biposto. First shown at the 2014 Geneva Show, this 2 seater (that's what Biposto means in Italian) is nothing other than a road legal version of the 695 Assetto Corse Racing car, a vehicle which has its own race series in Europe. Although the car is road legal, it was envisaged that the majority of people who buy one of these cars will use it on the track and quite frequently. So it was conceived accordingly. That means upgrades to all the important bits – engine, brakes, suspension, gearbox – and some fairly drastic measures to save weight which resulted in a car which generates 190 bhp and 199 lb/ft or 250 Nm of torque with a kerb weight of just 997kg. That's enough to give a 0 – 60 time that is under 6 seconds, and a top speed of 143 mph. Those are supercar figures produced by a city car. There's more to it than that, though, as the changes that go to make a Biposto are extensive, and they have been well thought through, so this is a long-way from being a hastily conceived or tuned up special. Ignoring the limited edition cars which arrived during 2015, the "regular" Biposto is only offered in Matt Performance Grey paint, and the car is visually distinctive, with a new front bumper, rear diffuser, wider arches, new skirts and bigger roof spoiler. Although the engine is still the same 1.4 T-jet that features in the lesser 500 and 595 cars, it has been reworked here, with a new Garrett turbocharger, larger intercooler, altered fuel rail and an Akrapovic exhaust system. Buyers can choose between the standard five speed gearbox or an optional race-bred dog-ring unit mated to a mechanical limited slip diff. The standard car's MacPherson strut and torsion beam suspension has been reworked, too, with altered springs, wider tracks adjustable ride height and dampers with more resilient bushings, using Extreme Shox technology shock absorbers. The brakes are upgraded in line with the extra power, featuring 305mm Brembo discs and four pot calipers up front and 240mm discs with single pot calipers at the rear. The wheels are lightened 18″ OZ and attached via a titanium hub, shod with bespoke 215/35 Goodyear tyres. In the interest of weight saving, a number of standard trim items are removed, including the regular door trims, air conditioning, the rear seats and some of the sound deadening material. Even the standard air vents have been changed so they are covered by a simple mesh. In their place is plenty of polished carbon fibre, a titanium strut brace, racing seats and harness, as well as special trim features such as new pedals, tread plates and a race inspired digital display on the dash where the radio usually sits.
Without question, the rarest Abarth at the event was this one Nick Harper's 695 Biposto Officine. Just 99 were made, in 2015/6 and initially they were sold to Ferrari dealers to use as courtesy cars much as the earlier Ferrari Dealer Edition car had been and this time there was a clause prohibiting sale for at least 6 months. No-one is quite sure how many of these are in the UK, but we think probably fewer than 10. They are all numbered and Nick's car is number 009. Ben Au owns car number 010. but that is currently in Hong Kong. It is known 10 Rosso Officine examples were available in Japan, possibly 30 examples went to Italy, possibly 10 examples to Germany and possibly 8 examples to Switzerland. Just 2 examples were sold and delivered to Australia. Car #1 was an Italian car, now living in Manila, Philippines. And #99 is a UK car. When they were deemed ready for sale, Rosso Officine models sold for around £45,000 in the UK, marking them out as the pinnacle of Bipostos. These cars were all painted in the same shade of Rosso Officina and were mechanically the same as the slightly more numerous Biposto and the Biposto Record. Abarth focused on the two key goals of weight reduction and engine performance. Out went the rear seats, air-conditioning, audio system, door cards, posh headlamps, fog lights et al. In came a Poggipolini tubular titanium roll-cage, cargo nets, 695 Biposto-specific Sabelt seats, Brembo brakes, 18in OZ alloys with bespoke 215/35 Goodyears, Extreme Shox adjustable shock absorbers, an Akrapovic exhaust system, a wider track and a 1.4-litre turbo powerplant lifted pretty much piecemeal from a Formula 4 single-seater. The Garrett turbocharged 1368cc unit spits out a feisty 187bhp at 5500rpm (the company claiming a 139hp-per-litre 'record for this category') and 184lb ft of torque at 3000rpm, dropping 0-62mph acceleration one tenth below the targeted 6.0 second mark and offering a top speed of 143 mph.
What is known as the Series 4 version of the familiar 595 reached the markets in the middle of 2016. After rumours had circulated all winter following the launch of the facelifted Fiat 500 last year, Abarth finally unveiled the Series 4 at the end of May 2016. Initially, we were told that the cars would not be available in the UK until September, but that came forward somewhat, with dealers all receiving demo cars in June, and the first customers taking delivery in July. Three regular production versions of both the closed car and the open-topped C were initially available, all badged 595, and called Custom, Turismo and Competizione, as before, though numerous limited edition models have since appeared and in most case disappeared. The most significant changes with the Series 4 are visual, with a couple of new colours, including the much asked for Modena Yellow and a different red, called Abarth Red, which replaces both the non-metallic Officina and – slightly surprisingly – the tri-coat pearlescent Cordolo Red. as well as styling changes front and rear. The jury is still out on these, with many, me included, remaining to be convinced. At the front, the new air intake does apparently allow around 15 – 20 % more air in and out, which will be welcome, as these cars do generate quite a lot of heat under the bonnet. Competizione models for the UK retain the old style headlights, as they have Xenon lights as standard, whereas the Custom and Turismo cars have reshaped units. At the back, there are new light clusters and a new rear bumper and diffuser. Inside, the most notable change is the replacement of the Blue & Me system with a more modern uConnect Audio set up, which brings a new colour screen to the dash. Mechanically, there is an additional 5 bhp on the Custom (now 145) and Turismo (now 165 bhp) and the option of a Limited Slip Diff for the Competizione, which is likely to prove a popular option. Details of the interior trim have changed, with a filled-in glovebox like the US market cars have always had, and electric windows switches that are like the US ones, as well as a part Alcantara trim to the steering wheel in Competizione cars. These cars have now been on offer for around six years and with Abarth sales on the rise, it was no surprise that they were particularly well represented here.
More recently, Abarth have produced the 695 Rivale, a celebration of Fiat's partnership with Riva, which has already seen a special Riva version of the 500,. Described as being "the most sophisticated Abarth ever", it is available either as a hatch or a cabriolet, with both of them featuring a two-tone Riva Sera Blue and Shark Grey paintwork. The Rivale is adorned with an aquamarine double stripe, satin chrome finish on the door handles and satin chrome moulding on the tailgate, various aesthetic elements inspired by the Riva 56 Rivale yachts and '695 Rivale' logos, joined by Brembo Brakes, Koni suspension, and 17-inch Supersport alloy wheels. Enhancing the nautical theme the new 695 Rivale features either a carbon fibre or mahogany dashboard, black mats with blue inserts, blue leather seats and door panels, carbon fibre kick plates, special steering wheel wrapped in blue and black leather and with a mahogany badge, blue leather instrument panel cover, and mahogany gear lever knob and kick plate. These are joined by the standard Uconnect infotainment with a 7-inch display, which is compatible with Android Auto and Apple CarPlay, and there is also a hand-written numbered plate that can be customised with the mane of the customer's yacht on request. Powering the 695 Rivale is the same 1.4-litre turbocharged engine that makes 180PS (177hp) and 184lb/ft of torque, that features in the 595 Competizione, allowing it to go from rest to 100km/h (62mph) in 6.7 seconds and up to a top speed of 225km/h (140mph). This is a regular model in the range, but confusingly, there is also the Abarth 695 Rivale 175 Anniversary, created to celebrate 175 years of the Riva brand. Just 350 of these were produced, half of them the hatch and the other half cabriolets. These featured 17-inch alloy wheels with a special pattern, celebratory badge on the outside, hand-crafted details such as the two-tone colour – blue and black hand-stitched leather seats with a celebratory logo stitched onto the headrest, carbon dashboard silk screen printed with special logo, numbered plate. Standard Rivale cars arrived in the UK in April 2018, and quite a few have been sold. They always attract lots of interest when they do appear.
A top of the range 595 Esseesse model was added in early 2019. These cars have only sold in quite small numbers, so you don't see them that often, but there were some here, including Tristan Fudge's example, which is black. This makes it unusual as the majority of these cars seem to be Campovolo Grey, and indeed there was a grey one here as well. The most obvious change externally is the adoption of the neat white painted 17inch multi-spoke alloy wheels that are an Esseesse trademark, while elsewhere it gets the same recently reprofiled bumpers as the standard 595. Inside, there's a pair of bespoke figure-hugging Sabelt high-backed seats with a carbonfibre shell and some natty red stitching, while carbonfibre trim also covers the pedals and the dashboard. Under the bonnet is the familiar 178bhp turbocharged 1.4-litre engine, but here it breathes in through a BMC filter and exhales from a switchable carbonfibre-tipped Akrapovič twin exit exhaust. There's no more power than the old Competizione, but the Esseesse gets that model's Brembo callipers for its 305mm front discs, plus a limited-slip differential. The suspension is largely carried over, including Koni's frequency selective dampers. All this comes at a price though, and so this has remained a relatively rare sighting compared to the Competizione which many still feel offers rather better value for money.
The 695 Anniversario was launched at the brand's 70th anniversary celebrations in Milan in October 2019, and deliveries of which started around the turn of the year. The Anniversario is in a choice of 5 colours: White, Black, Podium Blue, Grey and 1958 Green, and there were examples of some but not all of these here, including a couple of cars in the 1958 Green which was selected to evoke memories of the 1958 record-breaking 500, though I can advise that the two shades of green are quite different, the older car being much lighter. Online verdicts of the new car at launch were not entirely positive, with many challenging the appearance, others the spec and yet more the price (£29,995 in the UK), but in the metal, it looks far better than those first web pictures portrayed, and there is no doubt that the 1949 buyers of the car are getting something quite distinctive, with the Campovolo Grey accents around the wheelarches and lower body skirts. What they aren't getting is more than 180 bhp, as it would seem that to get Euro 6d compliance from the T-Jet engine, 180 bhp is the limit. But the Abarth 695 70° Anniversario does have an ace up its sleeve. Look at the back and you'll notice a rather large roof-mounted spoiler serving as the special edition's party piece. Manually adjustable in literally a dozen of positions, the spoiler was developed in the wind tunnel to achieve maximum aero efficiency regardless of speed. Its inclination varies from 0 to 60 degrees and helps increase aerodynamic load by 42 kilograms when the car is travelling at speeds of 124 mph (200 km/h) provided the spoiler is at its maximum inclination. Abarth has done the maths and it claims the new aero component will reduce steering corrections by as much as 40% based on the testing they've done at FCA's wind tunnel in the Orbassano municipality located southwest of Turin. Power is provided by the familiar 1.4-litre turbocharged engine with 180 hp and 250 Nm (184 lb-ft) of torque, good enough for a sprint from 0 to 62 mph (100 km/h) in 6.7 seconds before topping out at 140 mph (225 km/h) if the spoiler is in the 0° position. Those 17-inch SuperSport wheels are paired to a Brembo braking system with four-piston aluminium calipers finished in red, hugging the 305-mm front and 240-mm rear self-ventilated discs. Rounding off the changes on the outside is the newly developed Record Monza exhaust with active valve for a better soundtrack. Abarth also spruced up the cabin a bit where the body-hugging seats are exclusive to this special edition, just like the individually numbered plaque reminding you this isn't an ordinary 695. Onboard tech includes support for both Apple CarPlay and Android Auto, DAB digital radio and a navigation system for that seven-inch touchscreen display. Additional standard equipment includes automatic climate control, daytime running lights, LED fog lights, unique mats, and the Abarth telemetry system if you plan on taking the hot hatch to the track. Advantage was taken of the fact that there were examples of all 4 of the colours made available to the UK, by getting the cars all together for a special photo shoot.
Abarth announced two limited edition models in the autumn of 2020 and both of these were here, the 595 Scorpioneoro. Another model which takes its inspiration from a history which few in the Uk will be familiar with, there will be just 2000 units of this distinctive model available globally. The 595 Scorpioneoro was born to continue the legacy of the famous A112 Abarth "Gold Ring" of 1979, better known as the A112 Abarth "Targa Oro", of which only 150 models produced and, as with the new Abarth 595 Scorpioneoro, what made it so special were its stylistic details. These details included black livery, gold-coloured decorative line contouring the bodywork and the alloy wheels, also painted in the distinctive gold colour. This car is liveried in the same way, marked out by its black livery, decorative gold bodywork lining and gold-painted alloy wheels. It also boasts a matt black chessboard roof and grey finish on the door handles and mirror caps. And to mirror the 'Gold Scorpion' name, the car is adorned with gold scorpions on the bonnet and the wheel centres. Inside the cabin of this new exciting new model, you'll be greeted with a black dashboard which is home to the new gold finished 500 logo. Leather detailing on the seats introduces the original "scorpionflage". The seats are further embellished with dedicated stitching and personalised headrests with the word "Scorpioneoro", the Italian flag and Abarth embroidered on them. An additional touch of exclusivity comes from the numbered, gold coloured plaque, available solely on this model. The Scorpioneoro also comes with Abarth's top-of-the-range seven-inch touchscreen infotainment system, complete with Apple CarPlay and Android Auto, as well as a Beats Audio sound system. Mechanically, there is nothing new, as the car has the 165 bhp version of the familiar T-Jet engine and the other features you get in the regular production Trofeo cars.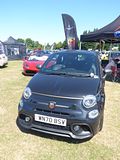 The other limited production car was the 595 Yamaha Monster Edition and Emma Woods' car here was an example of that. One of two limited production (or Collector Edition, as Abarth have called them) cars released in September of 2020, this was the cheaper of the pair.. It was inspired by the MotoGP superbike, while the more expensive Scorpioneoro that was released at the same time was designed, so we are told. Based on the 165 bhp Turismo and like the Scorpioneoro, this limited-edition car gets new Abarth sports seats, albeit with blue finishes and the 'Monster Energy Yamaha MotoGP' logo on the head restraints. The blue lining contrasts with the black dashboard, while the numbered plate denoting the car's special-edition status is placed on the central tunnel. Other features include the flat-bottomed steering wheel, sport button and the Record Monza exhaust with active valve. There's a specially designed braking system, too, which complements the Koni rear suspension. That itself is fitted with Frequency Selective Damping (FSD) technology designed to improve the ride and handling characteristics of the car. 2000 were produced globally.
An indication of what is to come was provided by this electric Fiat 500, one of the first such cars in the UK and belonging to Ross and Sam Cottenden, who love it, even though it is very different from the Abarth that Sam also has. We can expect to see an electric Abarth announced late in 2022, going on sale in 2023.
Of course, the rebirth of the modern Abarth started with the Punto, but with a relatively short production life and limited numbers produced the cars is quite a rare sighting in the UK. Around 750 of them came to the UK but some of these are no longer with us and it is believed that around 680 remain. So to get no fewer than 51 of them at this event, in other words 10% of the cars present was nothing short of incredible. Credit for that must go to Steve Miller, who chairs the Punto Collective, and he has done much over the years to retain a fantastic community of owners for this car. Many of them arrived together in one large convoy which made it easier to park them in one large group at one side of the event, which made for a particularly impressive sight.
The Abarth Grande Punto debuted at the 2007 Frankfurt IAA Show, going on sale in the UK in late summer of 2008. Offering 155 bhp from its 1.4 litre T-Jet engine, coupled to a six speed gearbox, and riding on 45 profile 17″ alloys, the standard car got rave reviews from the journalists when they first tried it, and they were even more impressed by the changes wrought by the optional Esseesse kit. This increased power to 177 bhp, brought 18″ OZ lower profile wheels, whilst new springs lowered the ride height by 15-20mm, and high-performance front brake pads and cross-drilled front disc brakes helped the car to stop more quickly. The most distinctive feature of the car were the white alloy wheels, though, as owners found, keeping these clean is not a job for the uncommitted, and many have a second set of wheels that they use for grubbier conditions. Despite the positive press at launch, the car entered a very competitive sector of the market, and the combination of being relatively unknown, a limited number of dealers and the existence of established rivals from Renault and others meant that this always remained a left-field choice. The owners loved them, though, and they still do. The oldest cars have now had their 13th birthdays, and some have amassed relatively big mileages, but they are still a car for the cognoscenti.
The Punto Evo was launched at the 2010 Geneva Show, with the cars reaching UK buyers in the summer of that year, and it incorporated many of the changes which had been seen a few months earlier on the associated Fiat models, the visual alterations being the most obvious, with the car taking on the nose of the associated Fiat, but adapted to make it distinctively Abarth, new rear lights and new badging. There was more to it than this, though, as under the bonnet, the T-Jet unit was swapped for the 1.4 litre Multi-Air, coupled to a 6 speed gearbox, which meant that the car now had 165 bhp at its disposal. Eventually, Abarth offered an Esseesse kit for these cars, though these are exceedingly rare. Part of the Punto Evo family is the SuperSport, usually identified by the distinctive black bonnet, though not all cars feature it. Just 199 of the SuperSport versions were built, of which around 120 are registered on UK roads. These cars had many of the options from the Punto Evo included as standard. Power came from the the 1.4-litre MultiAir turbo engine, tuned to produce 178bhp and 199lb ft of torque, up from 165 of the standard Punto Evo, giving the SuperSport a 0-62 time of 7.5 seconds and a top speed of over 132mph. To help put the power down, the SuperSport was fitted with wider 18″ wheels and optional Koni FSD dampers. Standard equipment included the Blue&Me infotainment system with steering wheel controls, automatic climate control and a popular option was the 'Abarth Corsa by Sabelt' sports leather seats. The SuperSport was available in the same colours as the regular Punto Evo, which means white, grey, black and red.
Completing the different models from the modern Abarth catalogue were a number of examples of the 124 Spider. Eagerly awaited, the 124 Spider went on sale in September 2016. A quick reminder as to what this car is: The Abarth 124 Spider was developed in parallel with the Fiat model. It does cost a lot more, and there are those who think you don't get enough extra for your money, but those who have driven it will tell you otherwise. You certainly get more power. The 1.4 MultiAir turbo unit jumps up from 138bhp to 168bhp, while torque also increases by a modest 10Nm to 250Nm, which gives it a 0-62mph time of 6.8 seconds, which is half a second quicker than the 2.0-litre Mazda MX-5. The top speed is 143mph. It weighs just 1060kg meaning a power-to-weight ratio of 158bhp-per-tonne, and with the new Record Monza exhaust system it sounds great even at idle. The Abarth version gets a stiffer suspension setup than the regular Fiat 124 Spider, with Bilstein dampers and beefed-up anti-roll bars. Bigger Brembo brakes also feature, with aluminium calipers. It can be had with a six-speed manual or six-speed automatic transmission with paddles, and the latter gets a Sport mode for quicker shifts. Many of the UK cars sport the 'Heritage Look' pack, which is a no-cost option. It brings a matt black bonnet and bootlid, plus red exterior trim detailing and has proved popular. The £29,565 starting price gets you standard equipment such as cruise control, climate control, Bluetooth, a DAB radio and satnav, plus Alcantara black and red (or pure black) seat trim. The automatic gearbox is a £2,035 extra, while an optional visibility pack brings LED DRLs, auto lights and wipers and rear parking sensors. Production ceased in 2019 and around 1800 examples came to the UK, so this will always be a rare car. You might not have though so on the evidence of this event, though. As well as plenty of the standard car, there were a number of examples of the GT.
A large number of Abarth owners modify their cars, in the quest of extracting more power or simply because they want to personalise them in some way. Over the years a vast amount of knowledge, expertise and experience has been amassed and there is a very active group called Modified Abarth which is the focal point for this topic. As well as supporting the event, a number of the well known modified cars were on display here.
This is not so much modified as bespoke. It was acquired by Abarth fan Dave Quinn a while back, but took some time to get it so it could be road registered. That happened in 2021 and since then, the car has been seen at a number of UK events and it has also been driven over to Belgium. Effectively this takes its inspiration from the Assetto Corse race cars produced in 2010 and it has a Romeo Ferrari bodykit on it. Just two were created and the other one is in Italy. Not really a long distance car, Dave had to get it back to Yorkshire after the event.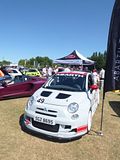 There was only one Abarth from the pre 2007 era, and truth be told, this one is a recreation rather than the genuine item. It belongs to Mike Foster, and was late arriving, as he had some significant mechanical traumas with it en route, but fair play to him, he persisted and got it to the event, and everyone loved it.
During the course of the day, we noticed that the local Police had called in. They did a lap of the event and parked up at one side. I went over to talk to them, and it turned out that they were having a quiet afternoon, so just dropped in to look at the cars. The two officers were great to talk to, and indeed followed up by tracking me down after the event, to ask if I could send them the photos I took of their car. They said that they had enjoyed seeing all the cars and were delighted that we did nothing to warrant them to have to do anything other talk to owners and smile for the camera.
To add to the experience, we were very keen to get a number of trade stands into the event, especially those connected with the Abarth scene. In the end, we had two large stands: Ben Au's Tuning Art company made a welcome return, having done good business at the event and after it in 2021 and TMC MotorSport brought a massive Luton van of stuff over, and were kept very busy all day long. It was good to see Daron Brown, who owns TMC, as I had not seen him in person for a while.
We had a number of other trade stands, including Pandora Alarms and that meant a few other cars including this rather distinctive Ferrari 488 GTB.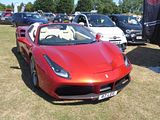 As in 2021, we had concluded that it was probably too hard to allocate different areas of the site to all the various Clubs – in excess of 20 of them – that constitute the community, so whilst we could get the Puntos and 124s parked together everyone else was parked more or less next to the car that came in before them. But with several Clubs meeting up outside the event and convoying in, there were lots of different Club group areas where they could put up Club gazebos and signage and indeed we encouraged this.
Mid afternoon was prize giving time. As in 2021, we asked the sponsors of the event to help in deciding winners, as this would be the best way of avoiding any allegations of bias, give that Bertie and I know so many of the owners.
Winners were called up on stage to receive their prizes, and this year no-one dropped a trophy (smashing it, as we were reminded happened in 2021!). Prize for the best presented car went to Laurence Ellison who had driven all the way from Scotland and yet still had an immaculate machine, whilst the best paintwork went to Mark Ware whose very distinctive looking car is all painted, not wrapped, and the best modified car award went to Greg Ellis, whilst car of the show was awarded to Adam Kanner whose somewhat modified red S4 car was a hit with everyone.
There was also a prize for the Club with the greatest numbers of cars present. In 2021, this was a close run thing between second, third and fourth place, with North West Abarth the clear winner. For a while it looked as if they might claim the prize again, but thanks to all the late bookings, it was Abarth Club Essex which had the largest number of cars booked, and so they duly received the £500 cheque that had been promised. They were delighted!
Although none of us knew it at the time, this would be the last time we would see Ciro's much loved Lamborghini Aventador, a car he knows as Viola Ophelia, thanks to is purple paintwork. After the event finished and he had gone home, he took one of his daughters out in the car and shortly after he had filled the tank, it caught fire. He and and his daughter got out safely but he had to watch his much loved car go up in flames. Sadly, the car is a write off.
It was not the only non Abarth that created interest, as Bradley Lawrence appeared mid afternoon in this enormous Mammoth 1000 pickup which his boss, Shmee150, has on loan for a few days. He said they had been out doing photos the day before and 45 miles had more or less drained half a fuel tank, as the thing does single digit miles per gallon. It is also so big that I struggled to get in it!
And so, during the afternoon, all those Abarths headed out of the gate and towards home. Everyone seemed to agree that this was another cracking event, with all the goodness of the community much in evidence; lots of cars including some rare ones, the chance to meet up with long-standing friends and make a whole load more new ones, weather that was pretty much perfect and an overall feeling of pride to be part of such a community. With two well-received Festivals under our belt, the bar is set pretty high for 2023, but that's a challenge we relish. Watch this space to see what we come up with!