The cancellation of the Geneva 2020 Show was the first high profile casualty of the Covid pandemic in the car world and for some months as large gatherings of any sort around the world were simply not possible, a number of the other large Auto Shows of global significance had to follow suit. Car makers honed their online launch presentations and found other ways of attracting our attention to their latest and greatest in a world in which they were then struggling to build enough cars thanks to a global chip supply crisis. To some extent, this accelerated a trend that had been developing anyway, with the glamour, glitz and huge cost of a massive Motor Show coming under scrutiny as changing norms meant that an increasing number of the population turn to various different ways of staying uptodate with everything from news to new products. It all forced some hard and perhaps rather unpalatable questions to be asked. So when restrictions eased during 2021, some of those cancelled Auto Shows announced that they simply would not reappear on the calendar, certainly not in the form in which they had previously taken place. Geneva thought they could go ahead and cancelled again in 2022, and the Detroit Show with a new date in September was nothing like the January ones of yore, and the Paris show a few weeks alter generated next to no buzz or reporting by the global automotive media as by all accounts there was so little to see. So it was with some excitement that I learned that the Los Angeles Show would go ahead, in much the same format as it had always been, timed to take place around the Thanksgiving Holiday at the end of November. I've always enjoyed this Show and indeed being in a relatively warm California at a time of the year when England is grey, damp and pretty dark, so I made plans to attend. I actually flew out on Thanksgiving Day itself (quite a good idea, it turned out, as the plane was pretty empty) which meant I was free to attend the Show the following day when I figured most people would be enjoying Black Friday at shopping malls. For sure, the Show was not all that busy, but part of the reason for that became apparent as I wandered around the exhibition halls, looking for all the sort of stuff that had always engaged me for many hours in the past. What I found was that the two main halls did not feel that full with displays, with a large part of the West Hall given over to demo areas over extensive constructions to showcase off-road and climbing capabilities of trucks, a complete absence of around a dozen brands who had always attended in the past (none of the European premium makes were present) and very few genuinely new cars making their debut here. As it was three years since I had last attended a US Show there was quite a lot that I'd not seen before, but had I been tight on time, I could have been in an out in half a day and still seen everything, not something I could have said back in 2019. Here is what I saw:
ALFA ROMEO
Part of a large Stellantis stand which occupied a significant part of the West Hall, there were just a couple of Ala Romeo models on show. These were the familiar Stelvio and the brand new Tonale.
CADILLAC
There was no Cadillac stand here, but I did spot an example of the all-electric Lyriq elsewhere in the show.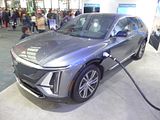 CHEVROLET
With neither Buick or Cadillac present, the GM focus here was very much on Chevrolet and there was a large stand area in the South Hall showcasing the wide variety of products offered by this brand.
Most prominent were the electric cars with the existing Bolt and Bolt ELV just part of a now growing story.
Chevrolet released the first pictures of the Equinox EV in January and the car was first seen in public at the Detroit show in September. During the press briefings, designers described it as "Americana cool" and noted aerodynamics played an important role in the crossover's "less is more" design. This is immediately apparent up front as the crossover has an angular fascia with slender lighting units that can be connected by an available LED light bar. While the latter is limited to higher-end versions, all buyers will find a "walk-up" lighting sequence with animations front and back. Another standout feature is the flush-mounted door handles, which are a rarity at this price point. Besides helping to improve aerodynamics, they give the crossover a streamlined design and a premium appearance. Proportions also play a key role and Chevrolet noted the model is lower, longer, and wider than its ICE-powered counterpart. Besides being bigger, the crossover rides on standard 19-inch alloy wheels. Higher-end variants up the ante with 20- and 21-inch wheels, which are aerodynamically optimized. Other notable styling features include a unique look for RS variants. Chevrolet didn't detail the changes, but buyers will find a black front fascia and an available black roof. Speaking of the latter, the 2LT can be equipped with a contrasting white roof. Chevrolet has been making great strides in terms of interior design and the Equinox EV continues this effort with a modern cabin that comes standard with an 11-inch digital instrument cluster as well as an 11-inch infotainment system. The 1LT trim also has a floating center console, metallic accents, and circular air vents. They're joined by cloth seats and plenty of hard plastics. While the latter are to be expected at this price point, the cabin promises to be spacious and Chevrolet noted the crossover will offer up to 57 cubic feet (1,614 liters) of cargo room. Unfortunately, that's it as the model doesn't have a frunk. Moving up the trim ladder, the 2LT adds a heated steering wheel, heated front seats, and eight-way power adjustment on the driver's side. The model can also be equipped with an optional 17.7-inch infotainment system, which is shared with the Blazer EV. The 2RS is largely identical, but it features a heated flat-bottom steering wheel as well as sportier upholstery. The 3LT and 3RS are more luxurious as they have heated and ventilated front seats, heated rear seats, and a six-way power passenger seat. Buyers will also find a heated steering wheel, a dual-zone climate control system, and a standard 17.7-inch infotainment system. Other highlights include a presence-based power liftgate, while a sunroof and a Bose audio system are optional. Chevrolet didn't release detailed specifications, but they confirmed the Equinox EV will be offered with an assortment of powertrains. Kicking things off is the entry-level 1LT, which offers both standard and extended range batteries as well as a choice of front- or all-wheel drive. Front-wheel drive variants have a single electric motor developing an estimated 210 hp (157 kW / 213 PS) and 242 lb-ft (327 Nm) of torque. The dual-motor all-wheel drive system adds all-weather traction, while also boosting the output to 290 hp (216 kW / 294 PS) and 346 lb-ft (469 Nm) of torque. In terms of range, the standard battery enables the crossover to travel approximately 250 miles (402 km) on a single charge. That increases to 300 miles (483 km) with the extended range battery, but drops to 280 miles (451 km) with all-wheel drive.  It's also worth noting the standard range battery is exclusive to the 1LT trim and ordering all-wheel drive requires upgrading to the extended range battery. When it comes time to charge, owners can get up to 34 miles (55 km) of range for every hour of charging with the standard 11.5 kW Level 2 charging capability. That jumps to 51 miles (82 km) per hour on the range-topping Equinox EV 3RS, which supports a Level 2 charging capacity of 19.2 kW. Away from home, owners will be thankful for the standard DC fast-charging capability of up to 150 kW. It enables the crossover to get approximately 70 miles (113 km) of range in as little as 10 minutes. Last but not least, Chevrolet confirmed the Equinox EV will offer a vehicle-to-load function that can supply up to 3 kW of power. We'll learn more details closer to launch, but this means owners will be able to power accessories while camping or tailgating. High-tech can be used to describe more than just the cabin as the 2024 Equinox EV comes standard with Automatic Emergency Braking, Front Pedestrian Braking, Forward Collision Alert, and Lane Keep Assist with Lane Departure Warning. Buyers will also find Blind Zone Steering Assist, Rear Cross Traffic Braking, Reverse Automatic Braking, and Rear Park Assist. They're joined by IntelliBeam automatic high beams and a Safety Alert Seat. The features don't end there as Chevrolet will offer Adaptive Cruise Control, a Head-Up Display, a Rear Camera Mirror, and HD Surround Vision. Customers can also opt for the Super Cruise semi-autonomous driving system, which allows for hands-free operation on more than 400,000 miles (643,738 km) of compatible roadway in the United States and Canada. The car arrives in the Fall of 2023
Also making an appearance here after its premier at Detroit a few weeks ago was the Blazer EV. Chevrolet hasn't offered a high-performance SUV since the days of the Trailblazer SS, which was introduced nearly two decades ago with a 6.0-liter V8 pumping out 395 hp (295 kW / 400 PS) and 400 lb-ft (542 Nm) of torque. It enabled the model to accelerate from 0-60 mph (0-96 km/h) in as little as 5.4 seconds, before hitting a limited top speed of 130 mph (209 km/h). Those numbers are still pretty respectable today, but the world has moved on from the era of massive V8 engines. However, there's no reason to pout and that's made abundantly clear by the 2024 Chevrolet Blazer EV SS. Set to become the first electric SS variant, the model features a dual-motor powertrain that produces up to 557 hp (415 kW / 565 PS) and 648 lb-ft (878 Nm) of torque. That's enough to embarrass the $85,400 BMW X5 M50i and this is before factoring in the Wide Open Watts (WOW) mode, which enables the crossover to rocket from 0-60 mph (0-96 km/h) in less than four seconds. Now that we've gotten your attention, let's take a closer look at Chevrolet's latest electric vehicle. While the exterior design was previewed last month, we recently got a chance to see the model up close at a media event near the Warren Tech Center. There was little doubt the vehicle would be a head-turner, but the Blazer EV looks even better in the flesh and that's especially true in range-topping SS form. Speaking of trims, Chevrolet will offer 1LT, 2LT, RS, and SS variants, each with their own unique appearance. The LTs have a monochromatic exterior and standard 19-inch wheels, while the RS goes in a sportier direction as it's distinguished by a black grille, gloss black cladding, and aerodynamic side skirts. The RS also has 21-inch wheels, an illuminated bowtie emblem, and a central light bar that is flanked by LED headlights. The latter components work together to provide a choreographed animation when you approach or walk-away from the vehicle. Besides that special touch, the lights are used to convey charging information with a quick glance as the "sequential orchestration of the lighting increases in speed and intensity as the battery's charge increases." The lights are shared with the range-topping Blazer EV SS, but the high-performance model goes even further as it features a two-tone exterior with a black roof and black A-pillars. The model also sports a unique SS-branded grille, a front splitter, and massive 22-inch wheels that are backed up by Brembo front brakes. Regardless of which trim is selected, all Blazer EVs come with a powered charging port door that automatically opens when pressed. Designers paid special attention to the charging port door as they noted owners will be using it far more often than a traditional fuel filler door, so they wanted to make it as convenient as possible to open. Speaking of automatic doors, the crossover can be equipped with a "presence-based" power liftgate that opens when you approach. This means owners won't have to use the key fob or play the hokey pokey with a kick sensor. The presence-based system has multiple zones, which should help to mitigate unwanted openings and owners can always turn off the function if they want. Despite wearing the Blazer name, nothing else is shared with the ICE-powered model. While there's always the possibility that consumers could confuse the two, officials didn't seem worried as they believe one look at the Blazer EV will immediately communicate it's a modern and high-tech vehicle. On top of that, GM is planning to have all their light-duty vehicles be zero emission by 2035 so time is running out on the model's ICE-powered counterpart. Given this, it's not surprising that officials suggested the crossover could eventually drop the "EV" part from its name and just become the "Blazer." While any name changes are likely years away, Chevrolet officials told us they wanted to make a "statement for this segment." They've succeeded as the Blazer EV looks great and appears far more upscale than something that typically wears a bowtie. Chevrolet interiors have typically been hit or miss, but this is where the Blazer EV makes another good impression. All models are equipped with an 11-inch digital instrument cluster and a massive 17.7-inch infotainment system, which is angled towards the driver. The latter boasts an EV-friendly navigation system that identifies charging stations on your route as well as gives information about availability and charging capacity. Putting the screens aside, the Blazer EV's cabin seems a bit nicer than the more minimalist Ford Mustang Mach-E. We'll hold off final judgments until we get behind the wheel of the production model, but the production-intent concept featured real metal accents and nicely padded surfaces at major touchpoints. While the cabin is thoroughly modern, there are "heritage-inspired" round accents such as the air vents. The latter have become closely associated with the Camaro, but have since migrated to the ICE-powered Blazer and now the electric variant. In terms of equipment, the RS and SS trims have a flat-bottom steering wheel as well as heated and ventilated front seats. The SS goes further with heated rear seats and Adrenaline Red sueded microfiber upholstery. There's plenty of room up front, but the same can't be said about the rear seats. Thanks to the crossover's sloping roof, headroom is extremely limited for those 6' 2" and taller. The bad news doesn't end there as it appears the company won't offer power-folding rear seats. While the latter is disappointing for a crossover that starts at $65,995 in SS trim, there are convenient releases located on the side of the cargo area. On the bright side, the rear seats offer plenty of legroom and there's a panoramic glass roof that helps to amplify the cabin's airy feel. Second-row passengers will also find USB-C charging ports and air vents, but rear climate controls aren't part of the package. Sticking with equipment, the Blazer EV will be offered with the Super Cruise semi-autonomous driving system. It allows for hands-free operation on more than 200,000 miles (321,869 km) of compatible roadway in the United States and Canada. Other driver assistance systems include Automatic Emergency Braking, Forward Collision Alert, Front Pedestrian Braking, Following Distance Indicator, and Lane Keep Assist with Lane Departure Warning. They're joined by IntelliBeam headlights, Reverse Automatic Braking, and Advanced Park Assist. Like the 2023 Cadillac Lyriq, the Blazer EV rides on the Ultium platform that underpins GM's latest electric vehicles. However, the Blazer EV is incredibly unique as it will be offered with front-, rear-, and all-wheel drive. While a number of modern EV platforms allow for front-, rear-, and all-wheel drive applications, it's unusual to see one model offer all three options. When we asked why Chevrolet decided to offer all three setups, officials told us it was all about choice and offering customers the best option that suits their needs. This is an interesting approach as it means buyers in snowy states can opt for front- or all-wheel drive. For people living in warmer climates, there are rear-wheel drive variants that should offer a sportier driving experience. Full details will be announced closer to launch, but the entry-level Blazer EV 1LT will come exclusively with front-wheel drive and offer a range of approximately 247 miles (398 km).  The 2LT also comes standard with front-wheel drive, but all-wheel drive will be an option.  More importantly, the 2LT can be equipped with a bigger battery that increases the range to around 293 miles (472 km). That brings us to the Blazer EV RS, which is the most unique model in the lineup as it comes standard with both front- and rear-wheel drive.  That's not a typo as there will be multiple RS variants including one with front-wheel drive and another with rear-wheel drive.  All-wheel drive will be optional and one version of the RS will offer a range of approximately 320 miles (515 km). Lastly, there's the range-topping SS that comes standard with all-wheel drive.  It's slated to have a range of 290 miles (467 km), which is 20 miles (32 km) more than the Ford Mustang Mach-E GT. While there will be plenty of powertrain options to choose from, Chevrolet noted the battery pack is structural and helps to give the Blazer EV a low center of gravity. Buyers will also find a one-pedal driving mode, which brings the crossover to a stop unless the accelerator is pressed. Detailed charging specifications will be announced at a later date, but officials noted the Blazer EV will have an 11.5 kW Level 2 charging capability as well as compatibility with 190 kW DC fast chargers. The latter will enable the model to get approximately 78 miles (126 km) of range in as little as 10 minutes. Unfortunately, we have some bad news as officials told us a dual-level charge cord won't come standard. This is disappointing as it has a swappable end, which enables EVs to be charged from both 120V and 240V outlets. That's a big deal as it means owners can charge virtually anywhere there's an outlet, even if a 120V connection is a last resort. Reservations Now Open, Pricing Starts At $44,995
First-time car buyers have had it rough as the carpocalypse has seen a number of affordable sedans fall by the wayside. However, it's not all bad news as earlier this year, Chevrolet unveiled the redesigned Trax. Set to become the brand's entry-level model, following the death of the Spark, Sonic, and Cruze, the 2024 Trax starts at $21,495 and will arrive at dealerships next spring. That's $205 less than the current crossover, despite being a huge improvement. While the outgoing Trax was also affordable, that was the only thing going for it. The crossover screamed cheap and felt out of place anywhere other than a rental car parking lot. Thankfully, the old model will soon be a distant memory as the 2024 Trax adopts a sportier and more upscale design that draws inspiration from the bigger Blazer. The similarities are immediately apparent as both models have a prominent grille that is flanked by high-mounted LED daytime running lights, which reside above minimalist headlights. Further back, we can see sculpted bodywork with flowing lines and curvaceous surfaces. They're joined by a sloping roof and a dynamic beltline that kicks up at an angle. Other highlights include plastic body cladding, a hidden exhaust, and C-shaped taillights. The model also sports an angular rear window and unique styling details across each of its five trims. The entry-level LS rides on 17-inch steel wheels, while the $23,395 LT adopts a more upscale design with bright trim and 17-inch aluminium wheels. Buyers looking for a sportier appearance can opt for one of the two RS trims. The $23,195 RS1 sports a unique grille and larger 18-inch wheels. The $24,995 RS2 has a similar appearance, but it rides on 19-inch aluminium wheels. Last but not least, there's the rugged-looking Trax ACTIV which begins at $24,995. It features titanium chrome accents, an "aggressive-looking rear skid plate motif," and 18-inch wheels with a black finish. The improved looks are due in part to the Trax's larger dimensions as the model is 11 inches (279 mm) longer, 4 inches lower (101 mm), and 2 inches (51 mm) wider than its predecessor. The wheelbase also grows by nearly six inches (152 mm) and this results in an additional 3 inches (76 mm) of much-needed rear seat legroom. While entry-level has typically meant dull and plasticky interiors, the Trax's cabin is a breath of fresh air as it features a modern and upscale design. As Chevrolet explained, the interior has a "lightweight feel, achieved with sweeping lines and light, technical cues that emphasize the vehicle's width and create a sense of airiness." There's still plenty of plastic, but buyers will find a sweeping dashboard with round air vents that are quickly becoming a Chevrolet signature. Elsewhere, we can see gloss black trim and metallic accents, which help to give the cabin a more premium feel. Buyers will also find a handful of features that typically aren't found on budget-friendly models including standard privacy glass and active noise cancellation technology. In terms of equipment, the affordable LS and 1RS trims have analog gauges that are separated by a 3.5-inch display. They're joined by an 8-inch infotainment system that boasts wireless Android Auto and Apple CarPlay compatibility. The LT, 2RS, and ACTIV are more advanced as they have an 8-inch digital instrument cluster and an 11-inch infotainment system. The models also have an automatic climate control system, a push-button ignition, and remote start – among other things. Furthermore, the 1RS, 2RS, and ACTIV trims have heated front seats and a heated steering wheel, while the ACTIV also boasts a power driver's seat. Besides the equipment differences, the RS2 has a flat-bottom steering wheel and red contrast stitching. The ACTIV, on the other hand, has Evotex seats with yellow accents. Buyers will also find a handful of options including a sunroof and a newly available wireless smartphone charger on the LT, 2RS, and ACTIV. To keep drivers safe, there's a standard Chevy Safety Assist suite of driver assistance systems. It includes Automatic Emergency Braking, Front Pedestrian Braking, and Forward Collision Alert. They're joined by a Rear Vision Camera, a Following Distance Indicator, IntelliBeam headlights, and Lane Keep Assist with Lane Departure Warning. Cruise control comes standard, while Adaptive Cruise Control is available on higher-end trims. Customers can also get more advanced safety features such as Lane Change Alert with Side Blind Zone Alert, Rear Cross Traffic Alert, and Rear Park Assist. Power comes from a turbocharged 1.2-liter three-cylinder engine that produces an estimated 137 hp (102 kW / 139 PS) and 162 lb-ft (219 Nm) of torque. That's 18 hp (13 kW / 18 PS) and 15 lb-ft (20 Nm) less than its predecessor, which used a turbocharged 1.4-litre four-cylinder. Despite sounding like a downgrade, the new model promises improved performance and increased fuel efficiency. In particular, the 2024 Trax will accelerate from 0-60 mph (0-96 km/h) in 8.6 seconds and that's roughly one second faster than the outgoing model. The engine is connected to a six-speed automatic gearbox, instead of the continuously variable transmission that is used in the Trailblazer. Officials acknowledged this was a cost-saving move, but noted the gearbox has additional benefits including being relatively lightweight. While the powertrain sounds reasonable enough, the 2024 Trax will be offered exclusively with front-wheel drive. The move will likely prove controversial, but Chevrolet noted more than 70% of Trax buyers chose front-wheel drive in the past. Chevrolet didn't go into many other specifics but confirmed the crossover rides on the same platform that underpins the Chinese Seeker. Of course, that isn't much of a surprise as the models look virtually identical – although they use different powertrains. It's also worth noting the Trax will be built in South Korea and share a number of components with the Trailblazer.
Most of the traditional saloon models have gone now, with just the Malibu left in the range.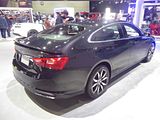 That means that, like most other manufacturers, the majority of the cars offered are now crossovers and there is a whole range of them from small to massive, with the Trailblazer, Equinox, Blazer, Traverse and Tahoe/Suburban all on show here.
Chevrolet does still have a couple of sport cars on offer, but these were almost hidden away at the back of the stand, and were attracting less interest than you might expect. Even so, here was a chance to see the latest Camaro and Corvette.
The stand was completed with quite an array of trucks here, with the Colorado and Silverado both much in evidence.
CHRYSLER
The marque faces a somewhat uncertain future, with the two current models, the 300 family and the Pacifica now nearing the end of their product cycles. Accordingly, they did not get much focus here.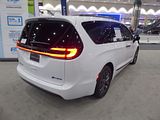 DODGE
Things are looking somewhat brighter for Dodge and to give a clue as to what may be coming, they had a concept car in the middle of the stand, which I thought looked spot on. Rumours are that something very similar to this will go into production in a couple of years. Let's hope that proves to be the case.  Unveiled during the third day of the Dodge Speed Week event in Pontiac, Michigan, the Dodge Charger Daytona SRT Concept is unlike any other Dodge before it and rocks a new powertrain dubbed Banshee. Dodge says this powertrain acts as the new pinnacle of performance in the Brotherhood of Muscle, eclipsing the Hemi, Hellcat, and Redeye engines. Curiously, Dodge has not yet said how much horsepower and torque the Banshee powertrain delivers. What it has confirmed is that it is an 800-volt system and provides performance to exceed the SRT Hellcat engine. Indeed, Dodge says its first electric vehicle is faster than a Hellcat in all key performance metrics, no doubt helped by the fact that it is equipped with all-wheel drive as standard. The Dodge Charger Daytona SRT Concept is also unique in that it uses the carmaker's new eRupt multi-speed transmission with electro-mechanical shifting that should help to mimic some of the driver involvement that classic muscle car enthusiasts crave. A push-to-pass PowerShot feature that increases horsepower for a quick burst of acceleration has also been designed for the concept. Then there is the sound. In the lead-up to the launch of the car, Stellantis promised that it would produce a "shocking" sound. It has now been confirmed that it developed a patent-pending Fratzonic Chambered Exhaust system for the Charger Daytona SRT Hellcat that produces a 126 dB roar, equal to that of the SRT Hellcat. This system consists of an amplifier and tuning chamber located at the rear of the vehicle and delivers a visceral "Dark Matter" sound profile that works alongside the eRupt transmission. The design of the concept is also quite something. Whereas Dodge could have easily fallen into the trap of developing an electric vehicle with a futuristic shape, it has instead paid homage to the design of the original Charger Daytona. A key part of the car's design is the R-Wing that defines the front end. The R-Wing allows air to flow through the front opening of the car, increasing downforce. The front-end also catches the eye thanks to illuminated lighting around the front grille and an illuminated Fratzog badge after first being used by Dodge models in the 1960's and 70's. Dodge has also created an intriguing interior for the Charger Daytona SRT Concept. Found at the heart of the driver-centric cockpit is a large 12.3-inch infotainment screen and a 16-inch digital instrument cluster. The concept has also been equipped with a large Head-Up Display and trick Ambient Attitude Adjustment Lighting. The sculpted design theme continues across the carbon fiber-backed front and rear seats, as well as the steering wheel with both a flat top and flat bottom. A pass-through area has also been incorporated under the console while the pistol-grip shifter evokes memories of classic muscle cars. A panoramic glass roof adds to the unique feel of the concept's cabin. "The Dodge Charger Daytona SRT Concept exists because performance made us do it," Dodge brand chief executive Tim Kuniskis described in a statement. "Dodge is about muscle, attitude and performance, and the brand carries that chip on its shoulder and into the BEV segment through a concept loaded with patents, innovations, and performance features that embody the electrified muscle of tomorrow. The Charger Daytona SRT Concept can do more than run the car show circuit; it can run a blazing quarter-mile. And when it comes to product cycles, it outruns Darwin. Charger Daytona does more than define where Dodge is headed, it will redefine American muscle in the process." The Dodge Charger Daytona SRT Concept is expected to spawn a production variant for the 2024 model year, but Dodge has yet to confirm this.
Meanwhile, the current Charger and Challenger go into their final year of production with some new trims and colours. It will be a sad day when both reach the end of the line as these cars – although based on quite elderly designs – are still very appealing.
Dodge do have a new product available now, the Hornet, which is a very close relative to the Alfa Romeo Tonale. The 2023 Dodge Hornet brings the automaker into a new segment of the market and set to reach dealers in December. It will play ball in the heavily contested and varied compact SUV segment with the competition ranging from more mainstream offerings like the new Honda CR-V and Toyota RAV4 to more upscale proposals such as the BMW X1 and, of course, its Italian twin, the Alfa Romeo Tonale. Two variants of the Alfa Romeo Tonale-based Hornet will be offered. The flagship model will be the Hornet R/T plug-in hybrid. It features a 1.3-liter turbocharged four-cylinder engine working alongside an electric motor at the rear axle with 121 hp (90 kW). All up, the Dodge Hornet R/T is good for a combined +285 hp and 383 lb-ft (519 Nm) of torque. Working alongside the 1.3-liter is a six-speed automatic transmission that sends power through all four wheels. Dodge has equipped the Hornet R/T with a 15.5 kWh lithium-ion battery pack and a starter generator that delivers torque to the engine belt, aiding in dynamic response and recharging of the battery. It can travel up to 30 miles (48 km) on electric power alone. The Hornet R/T also features an intriguing 'PowerShot' feature that provides an extra 25 hp for up to 15 seconds. Dodge says it shaves off one whole second in the sprint to 60 mph (96 km/h), dropping it to 6.1 seconds, and is activated by pulling both paddle shifters and performing a pedal kickdown. Three hybrid driving modes are also available. In standard 'Hybrid Mode', the engine and motor combine to produce maximum efficiency. In 'Electric Mode', the SUV operates solely on electric power (go figure…) while in 'E-Save Mode', priority is given to the 1.3-liter engine to preserve battery charge. Regenerative braking is also featured. The second version is the entry-level Dodge Hornet GT. It features the automaker's 2.0-liter turbocharged four-cylinder Hurricane4 engine rated at 268 hp and 295 lb-ft (400 Nm) of torque. It rocks a nine-speed automatic and is also all-wheel drive. This version can hit 60 mph (96 km/h) in 6.5 seconds. As standard, the Hornet R/T rides on 18-inch Graphite Grey wheels while the GT has smaller 17-inch Silver alloy wheels. Both variants are available with a Blacktop package that adds 18-inch Abyss alloy wheels, gloss black badging and mirror caps, and gloss black painted day light opening moldings. A Track Package has also been announced with 20-inch wheels and various performance upgrades, include dual-stage-valve suspension with customizable damping. A host of important features come standard across both R/T and GT models, or are available as options. These include Koni frequency selective damping shocks, Brembo four-piston front brake calipers as standard on the R/T and optional on the GT, and a brake-by-wire Intelligent Braking System for the R/T model. Both models also feature front and rear fully independent suspension and dynamic torque vectoring. Found in the cabin of the 2023 Dodge Hornet is a 12.3-inch digital instrument cluster operating alongside a 10.25-inch Uconnect 5 infotainment system. As with other Dodge models, the Uconnect system is Android-based and offers wireless Android Auto and Apple CarPlay. Various safety features come standard, including Automatic Emergency Braking, a Lane Support System, and Blind Spot Detection with Rear Cross Path. The optional Tech Pack adds Level 2 autonomous driving with Intelligent Speed Assist w/Traffic Sign Recognition, Driver Attention Assist, Intelligent Adaptive Cruise Control, Lateral Control/Lane Support with Lane Control and Traffic Jam Assist. A Harman-Kardon premium sound system with 14 speakers and 465 watts of power is also available for the GT Plus and R/T Plus models, while wireless charging comes standard as well. Dodge has confirmed that the Hornet GT will start at $29,995 before destination while the R/T will be available from $39,995 before destination. Pricing details for the available options and packages options haven't been announced. What we do know is that orders have opened today and that the GT will start to arrive in dealerships in late 2022 while the Hornet R/T will launch in the spring of 2023. The new Hornet will be built alongside the Alfa Romeo Tonale in Italy.
FIAT
Fiat's neglected North American operations are finally getting some attention as CEO Olivier Francois announced at the Show that there is a new model on the horizon. The Fiat 500e will arrive in North America in 2024, after the automaker reveals the US-spec version at next year's edition of the Los Angeles Auto Show. This year, Fiat brought to LA a trio of 500-based one-offs designed by Armani, Kartell, and Bvlgari. The fully electric Fiat 500 – dubbed "New 500" in Europe – premiered in 2020, which means it will be four years old when it arrives in North America as the "500e". It is not clear if there will be any changes compared to the EU-spec model, but Fiat's facelifts and model year updates are usually mild. Our guess is orange indicators and new trim combinations designed to lure American buyers. We also don't know if the US lineup will include all three bodystyles – the regular three-door hatch, the soft-top cabriolet, and the 3+1 with suicide doors on the passenger side. The Fiat 500 is currently available with three bodystyles in Europe. We don't know which ones will be offered in North America. In Europe, the electric 500 is available with two battery capacities and different powertrain outputs. Fiat might only bring the model fitted with the more powerful electric motor producing 117 hp (87 kW / 118 PS), and the 42 kWh battery allowing a WLTP range of 260 km (162 miles) that is more suitable for the needs of North American customers. There is also the upcoming Abarth New 500 which is expected to offer increased power output alongside a more focused chassis setup and an aggressive bodykit. We hope that Stellantis will bring the hot hatch to North America alongside the regular Fiat 500e. Note that Fiat's US range is currently limited to the aging 500X. The small SUV has received many updates throughout its lifecycle but it was originally introduced back in 2014, meaning it will be a decade old when the new 500e lands on US shores. Olivier Francois didn't mention other models besides the urban EV, but we guess that more EVs could be exported to North America after 2024, depending on the suitability of European offerings at the time. In order to make our appetite for the 500e, Fiat brought a trio of one-off specials in Los Angeles, inspired by the iconic Italian companies Armani, Kartell, and Bvlgari. In fact, those concepts are not new, as Fiat exhibited them in Turin, Italy, as part of the model's launch event back in October 2020. The trio of 500-based concepts that Fiat brought to the Los Angeles Auto Show was originally introduced in 2020.  The Fiat 500 Giorgio Armani designed in collaboration with the fashion brand combines a grey/green "silk effect" exterior shade with a matching fabric roof, and GA-logo alloy wheels for the exterior, plus a sculpted dashboard insert from open-pore wood with thin layers of aluminium inlay, micro chevron wool bands, and Poltrona Frau-sourced leather upholstery for the interior. The Fiat 500 Kartell inspired by the furniture company is distinguished by the Yves Klein Blue colour covering the entirety of the exterior, with a mirror-effect finish for the body panels which are using environmentally-friendly chrome paint. The special pattern on the mirror caps, the wheels, and the dashboard insert is made out of recycled polycarbonate, reminiscent of Kartell's Kabuki lamp. Last but not least, the B.500 Mai Troppo – which is Italian for "never too much" – is coming from the jewellery brand Bvlgari. The saffron-coloured pearlescent paint has sparkling gold powder and is combined with star-shaped alloy wheels featuring diamond-paved logos. Inside, the dashboard upholstery is made of Bvlgari silk scarves, with matching inserts on the leather seats, and three semi-precious stones (amethyst, topaz, and citrine) on the center of the steering wheel. The Fiat 500e will arrive in North American dealerships in the first quarter of 2024. US pricing is expected to be announced next year. Unlike Europe which still gets the ancient ICE-powered 500 in mild-hybrid form, the US will only get the more modern EV model. Until it arrives, check out the videos of the one-off specials which are obviously not destined for production.
FORD
The big news here was the 2024 model Mustang. It made its debut in September but Ford were pretending it was never seen before on this stand with the car being hidden under a cover a lot of the day…. And then I noticed that there were several other examples elsewhere on the stand! the first new Mustang in nine years should find plenty of fans among owners of the current car. The styling is very similar, inspired again by its ancestors built between 1964-1970, and the engine lineup still consists of 2.3-litre EcoBoost four-cylinder and 5.0-litre naturally-aspirated Coyote V8 motors. The hybrid powertrains and all-wheel drive transmission options that Ford was rumoured to be working on are nowhere to be seen. But that doesn't mean Ford hasn't moved the Mustang's game on. The 2024 gets some important styling and hardware updates that Dearborn execs are hoping will finally help it overtake Dodge's elderly but incredibly popular Challenger in the North American sales charts even before Stellantis sends its Mustang rival to the combustion graveyard. "Investing in another generation of Mustang is a big statement at a time when many of our competitors are exiting the business of internal combustion vehicles," said Ford CEO Jim Farley, clearly trolling his opposite number at Dodge. The 2024 car, codenamed S650, is instantly recognisable as a Mustang, but the styling is updated with Tri-Bar LED headlamps and wider rear arches to give a more muscular stance. Once again there's a choice of convertible and fastback coupe body styles, and this time the fastback has a longer roofline that Ford says was created to make it easier to get in and out while wearing a helmet. Sounds good to us, because even if you never get near a track, it means Ford has given the '24 car's handling some serious attention. For the first time it will be easy to distinguish between 2.3-liter EcoBoost and 5.0-liter GT cars when they cruise up behind leaving you wondering whether or not you'd be able to drop them. The V8 GT cars get a different front-end design with the upper portion split into three sections, and the lower intakes enlarged to feed the 32-valve motor, plus new hood vents and a redesigned front splitter. Both models though, are available with a Bronze Design Series appearance package that brings Sinister Bronze wheels and bronze badges, and an optional Performance Pack that consists of a front strut brace, Torsen LSD, 390-mm front- and 355-mm rear Brembo brakes, and wider rear wheels and tires. Performance Pack cars can be further optioned with MagneRide adaptive dampers, Recaro seats and an active exhaust. GT cars with the Performance Pack also get brake cooling ducts, an oil cooler, something called Active Pothole Mitigation, and one of the Mustang's most intriguing features: an electronic drift brake. What looks like an old fashioned mechanical hand brake actually operates the rear stoppers using electric motors, and says Ford, is "engineered for novice drivers to learn and improve their drift skills while also providing expert drivers with a competition-ready system." Get ready for a heap more Mustang crash videos from next summer. Base cars ride on 17-inch wheels, while GTs enjoy an upgrade to standard 19s, with 20-inchers only an option tick away. Other personalization options come in the form of three available Brembo brake caliper colours, and 11 exterior paint choices that can be complemented by new stripe colours and designs. Some of the biggest 2024 Mustang changes, unsurprisingly, take place inside the cabin, which definitely looks like its been taking a peek at BMW's homework. The new car gets a high-resolution configurable 12.4-inch digital instrument pack with the option of extending the display by adding a 13.2-inch SYNC 4 touchscreen complete with Amazon Alexa. The result is a dramatic departure from previous Mustangs' retro-style cabins, but it brings the pony car bang up to date, the quality appears good, and the graphics are incredibly clear thanks to Ford's use of the same Unreal Engine 3D tech responsible for the way your favourite video games look. There are still a few hard keys, but most controls have migrated to the touchscreen, a move Ford claims was supported by existing Mustang owners it surveyed, and not just millennials. Other modern touches include a flat-bottom steering wheel, optional wireless phone charging pad, and a full suite of safety systems including adaptive cruise, road sign recognition and Reverse Brake Assist. You even get USB ports located above your head so you can attach trackday action cameras and other devices to the windshield without having wires draped hanging everywhere. Cloth seats are standard, with Premium models gaining accented stitching on the instrument panel and door trim, while GT models get leather seat inserts. Which leaves the engines. And in a way, there's both good and bad news. Bad news in that there are no major advances here, but good because that means we still get to buy a Mustang with a naturally-aspirated V8 and manual transmission for a few years yet. Ford hasn't yet revealed how much power the new 2.3 and 5.0 engine make, but says the V8 has an "innovative dual air intake box and dual-throttle body" that improves airflow, and claims the V8 will be the Mustang GT's most powerful standard V8 yet. That means the new GT needs to do better than the 460 hp (466 PS) and 420 lb-ft (569 Nm) provided by the current car before it lost 10 hp (10 PS) due to emissions regulations for the 2022 model year. We'd also like to see the EcBoost improve on its 310 hp (314 PS) and 350 lb-ft (476 Nm) totals. The 10-speed speed automatic is bound to be a popular option for both cars, but could you really choose it knowing you'd just turned down the last ever manual transmission available on a Ford Mustang? As before, the six-speed stick-shift manual comes with rev-matching software. The all-new Mustang goes on sale in the U.S. starting in the summer of 2023.
Now in production, but not selling in particularly large numbers of the Mustang Mach E which was star of the last LA Show I attended back in 2019.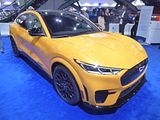 With all the conventional passenger cars now out of production, and even some of the crossovers gone (EcoSport, RIP) there were not many other passenger vehicles here. The emphasis was on the Escape which has had a slightly awkward looking mid-cycle update for 2024
An entire and vast area towards the back of the stand was given over to the Bronco and Bronco Sport models, with lots of customisations and personalisations in evidence on the vehicles on display.
Ford are going to focus (no pun intended) more and more on Pickups and that was pretty obvious here, with plenty of examples of the entry level Ranger, mid-sized Maverick and the top-selling F series occupying a large proportion of the stand.
GENESIS
This is the Genesis X Convertible Concept, introduced as the third and final model in the automaker's X concept trilogy. Unveiled in California ahead of the Los Angeles Auto Show, the Genesis X Convertible showcases the brand's Athletic Elegance design language in its purest form. It shares both its architecture and electric powertrain with the X Concept from 2021 and the X Speedium Coupe concept of 2022, while also having a similar design to those two models. The gorgeous concept immediately makes an impression because of the long bonnet and short front overhang. It stands out even further thanks to the brand's familiar Quad Lights at the front which, like they did in the Speedium X Concept, form an LED light bar and an outline of the Crest Grille found on Genesis's ICE models. Helping to keep the powertrain cool are the lower openings in the front bumper. The profile of the concept is made even sleeker with sharp creases above the front and rear wheels, as well as the pronounced line stretching from the front of the hood through to the lip spoiler on the decklid. Genesis calls this the anti-wedge 'Parabolic Line' and says that it "emphasizes the regal character of the profile, creating tension between the full surfaces through a gently rearward-sloping horizontal belt line." Visible at the rear of the concept are horizontal quad rear lights. The aforementioned lip spoiler on the decklid also catches the eye thanks to a thin LED light complete with a V-shaped indentation. The concept also features a folding hardtop with transparent moon roofs above the front occupants. Rounding off the exterior design are wheels with a complex G-Matrix pattern and concave design. Genesis has crafted an interior just as stunning as the exterior. It incorporates a wraparound instrument panel and is adorned in a mixture of recyclable wool fabric and leather, primarily finished in a shade dubbed Giwa Navy but a number of Dancheong Orange accents are also found throughout. An immersive audio system developed by sound master Guk-il Yu is also featured. "It is the normal development of Genesis to increase the athletic and emotional facet of our design philosophy by creating an emotional trilogy: the X family," Genesis chief creative officer Luc Donckerwolke described. "Innovation is the catalyst to becoming more engaged with the environment around us. We are in the process of transitioning Genesis into a company that will deliver products for customers to enjoy."
Earlier in the year, Genesis showed us the X Speedium Coupe concept and that was making an appearance here, as well. The Genesis X Speedium Coupe is designed to preview the styling language that will be found on future electric vehicles from the Korean luxury brand. While the concept is instantly recognizable, it adopts a fully enclosed version of the company's Crest grille. That isn't the only change as the quad lighting units are now connected by daytime running lights to further enhance the shape of the grille. The design may take some getting used to, but Genesis said it "carries an EV face that symbolizes Genesis' transformation towards becoming an all-electric car brand with a six-model lineup by 2030." The new Genesis X Speedium Coupe (above) has a fastback-style roofline compared to the more conventional X Coupe from last year. The rest of the concept is pretty evolutionary, but we can see new wheels that are backed up by ventilated discs and yellow-green calipers. The Genesis X Speedium Coupe also has a long double bubble roof and a more expansive greenhouse that is reminiscent of fastbacks, if not shooting brakes. Elsewhere, there's a ducktail rear spoiler and a more aggressive bumper with a diffuser. Genesis didn't go into specifics, but chief creative officer Luc Donckerwolke said "This car is an open-door moment in Genesis' journey towards our future EV design." The world renowned designer added, "This isn't a show car — it's a look into our design processes as we explore ideas for the next wave of EVs, one that incorporates Genesis' DNA."
Also here were Genesis models you can buy, with the G70, G80 and G90 saloon models joined by the crossover GX60, GX70 and GX80 cars.
HONDA
There's a lot of new cars at Honda for 2024 with most of the range being revised.
By some measure, the most exciting product here was the latest Civic Type R
The regular Civic is now one of the longest lived models in the US range, with this version having started sales around a couple of years before it did so in Europe.
In the pantheon of automotive legends, the Honda Accord has a pedestal right up at the front. Whether measured by sales volume, customer loyalty or overall excellence, it's been a tough one to beat since it first washed up on North American shores. Now it's time to see if the 11th-generation, 2023 Honda Accord can keep the streak going. To call it all-new would not be accurate. The length and track might be different by about a half inch, but the wheelbase, height and width are all the same. So is the colossal 16.7-cubic-foot trunk, and the interior sure seems identically enormous despite the official dimensions not being available at this time. Anecdotally, the silhouette is incredibly similar to the outgoing Accord, with the updated styling amounting to something north of your typical mid-cycle refresh but less than the usual "all-new" from-scratch redesign. It generally looks lower, longer and pointier. This approach is not dissimilar from what we've seen elsewhere in the industry in recent years as car companies divert dollars away from increasingly less popular cars and toward electric R&D. If that's the case here, then at first look at least, it's hard to say that the 2023 Honda Accord is worse for it. The previous generation remained so excellent and competitive throughout its life that it was actually surprising to find out that it was due for a replacement (Accords have traditionally lasted five or six years). OK, so besides the styling, what has been changed? The main element is the model structure and what's under the hood. The LX and EX trims are now exclusively paired with the 1.5-liter turbocharged inline-four that's been worked over to be more refined and responsive despite the carry-over 192-horsepower output. Its CVT now simulates gear changes under heavy throttle. The Accord hybrid is no longer a separate model, and instead it's the only powertrain fitted to the Sport, EX-L, Sport-L and Touring trim levels. It's the same all-new hybrid powertrain that so impressed in the 2023 Honda CR-V, complete with more power (204 horsepower and 247 pound-feet of torque) and simulated gear shifts that dramatically improve drivability relative its predecessors and Toyota's droning hybrids.  Meanwhile, the 2.0-liter turbo-four has been discontinued and don't bother asking about the manual transmission. Despite the carry-over platform, the new Accord's chassis is more rigid thanks to stiffer body supports and front brace bars that apparently improve the ride, handling and overall refinement (note that all of these were very good on the Accord before). The suspension was retuned for a more engaging driving experience, specifically for the purposes of reducing steering friction and increasing steering smoothness (similar efforts were made with success in the CR-V). Although the interior space remains similar if totally the same, the look has been upgraded by adopting the same sporty motif as the Honda Civic, HR-V and CR-V. The metal-look air vent trim consists of a more triangle-filled lattice that looks a bit more robust and in keeping with a pricier car like the Accord. Materials quality throughout is a step above its aforementioned siblings, though to be accurate, we only got a chance to check out the range-topping Accord Touring trim level. The Accord also differs from its siblings by offering a new 12.3-inch touchscreen as standard equipment on the hybrid trim levels (the same 7-inch touchscreen found on those siblings is found in the LX and EX). Its widescreen layout allows for split-screen functionality, and rather than menu buttons being docked on the bottom as in Honda's 7- and 9-inch touchscreens, they are located on the left. They remain docked when using Apple CarPlay and Android Auto, too, which is always appreciated. You probably won't need Android Auto in the Accord Touring, however, as it is the first Honda to get Google built-in capability that integrates Google Maps, Google Assistant and the Google Play app menu into the car. Maps in particular seems to be a functional upgrade over what you'd get with the Apple CarPlay version, as the controls are a bit more advanced and indicative of an in-car navigation. You don't need a Google subscription or devices to use it, and Apple CarPlay is still available. We look forward to trying out this new 12.3-inch system, though it's a shame it's only available on the Touring. We're guessing buyers of the new 2023 Honda Pilot will feel a bit short-changed, too. Other notable tech enhancements include standard over-the-air updates and sharp-looking all-digital instruments, and a new Bose Centerpoint sound system on the Touring. The HondaSensing suite of driver assistance and safety technologies was also upgraded with better cameras and radar, and more natural responses from the adaptive cruise control and lane-keeping assist systems. We're guessing the improvement leap won't be as great here with the new Accord as it was with the Civic, CR-V and (likely) new Pilot as the outgoing Accord was already running more up-to-date systems. Also on the safety front, the Accord now comes standard with front knee airbags and rear passenger side airbags, plus next-generation front airbags designed to reduce brain and neck injuries. The 11th-generation Accord will once again be built in Marysville, Ohio, just as Accords have been for 40 years now. Specifically, 12.5 million of them. Even if folks aren't as interested in sedans any more and this latest Accord isn't as new as it might've been with past generation change overs, we're guess that number will continue to rise at a healthy clip.
The latest-generation 2023 Honda CR-V has arrived and it premieres with a rugged and sophisticated design and is available with a more advanced hybrid powertrain. In crafting the exterior of the new SUV, Honda took inspiration from the Ridgeline and Passport TrailSport models, designing a more pronounced horizontal beltline and increasing the width by 0.4 inches. In addition, the 2023 CR-V is 2.7-inches longer and its wheelbase has grown by 1.6-inches but the most intriguing change is the repositioning of the A-pillars, so they now sit 4.7-inches further back, 2.8-inches more outward, and 1.4-inches lower. Honda has also shifted the wing mirrors to the doors. The front end of the 2023 CR-V makes a particularly bold statement with the large, upright grille and LED headlights for all variants. The vertical taillights have also been altered for the 2023 model year. Honda will sell the 2023 CR-V in EX, EX-L, Sport, and Sport Touring guises. The first two of these has gloss black front grille mesh with chrome trim and standard 18-inch 10-spoke wheels. Meanwhile, the Sport and Sport Turing variants have more aggressive front and rear fascias, rectangular exhaust finishers, a rear spoiler, and gloss black grilles. The CR-V Sport rides on unique Berlina Black 18-inch 10-spoke wheels while the Sport Touring has 19-inch 5-spoke wheels. Various upgrades have been made in the cabin. Indeed, it looks very similar to the interior of the 11th-generation Civic. This results in a dashboard with a clean and fuss-free design that has striking metal honeycomb mesh to conceal the air vents. Honda has also equipped the new SUV with a 7-inch digital instrument cluster while EX and Sport variants also have a 7-inch infotainment display with physical knobs for volume and tuning. Those that opt for the EX-L and Sport Touring variants receive a 9-inch infotainment display with wireless Apple CarPlay and Android Auto, plus 15W wireless smartphone charging. The CR-V Sport Touring also has a 12-speaker Bose premium audio system. Underpinning the 2023 CR-V is Honda's enhanced global architecture which the automaker says creates a smoother ride and greater stability. It also benefits from a 15 per cent torsionally-stiffer body while revised MacPherson strut front suspension and variable-ratio steering improve feel and accuracy. Powering the CR-V EX and EX-L models is an updated 1.5-liter turbocharged four-cylinder with 190 hp and 179 lb-ft (243 Nm) of torque between 1,700 and 5,000 rpm. Mated to this engine is a CVT and all variants have Honda's Rear Time AWD system. As for the CR-V Sport and Sport Touring, they are equipped with a new hybrid system that pairs a 2.0-litre Atkinson cycle four-cylinder with a pair of electric motors. Combined power sits at 204 hp and 247 lb-ft (335 Nm) of torque. These models offer up to 2,200 lbs (1,000 kg) of towing capacity. Plenty of safety features come standard. These include the Honda Sensing suite with a new 90-degree wide-angle camera and a 120-degree millimeter-wave radar. Key features include Traffic Jam Assist, Low-Speed Braking Control with Traffic Sign Recognition, Adaptive Cruise Control with Low-Speed Follow, Lane Keeping Assist, and Blind sport information. The 2023 Honda CR-V launched this summer while Hybrid models will land later in the year. Pricing details haven't been announced.
The Honda Pilot has experienced some rotten timing over the years. After helping establish the three-row crossover segment with its highly successful first-generation, Honda decided to switch things up and make a boxier, more rugged second-generation. Unfortunately, that coincided with a gas price surge that sent shoppers away from boxy, rugged vehicles. The third-generation went back to what worked originally, but was perhaps too much of a course correction, as boxy and rugged made a comeback in recent years. Now, to see if the fourth time's a charm, the all-new, fourth-generation 2023 Honda Pilot arrives as a sort of blending of the two approaches. The styling is indeed boxier than its melted soap predecessor, with the Honda Pilot TrailSport version leaning heavily into the rugged realm, but Honda didn't go full 4Runner here. There is still a clean refinement to the design, which, when combined with the boxy silhouette, is a bit reminiscent of the Volvo XC90. Any comparison to that timeless beauty is always a good thing. Ornamentation is similarly restrained, and in person, both the Elite and TrailSport versions certainly put the 2023 Pilot in the running for the segment's best-looking. At very least, it's a lot less minivan-adjacent now. The new Pilot is nearly 3 inches longer, with a similarly lengthened wheelbase, making it a bit more minivan-adjacent inside. That's especially true of the novel new second-row seating arrangement standard on the Touring and Elite trims. At first look, it's a bench seat, but as in the Odyssey and the Pilot's Acura MDX cousin, the middle seat folds to create a console-like armrest, or (here's the big part) be removed completely from the car. There's no need to choose between eight-passenger bench seat or seven-passenger captain's chairs at the dealer (unless you're in the price range of a Sport, EX-L or TrailSport). Ah, but here's the even bigger part: That middle seat can actually be stored inside the Pilot behind the third row and under the cargo floor. There's a strap and tie-down points included as well. It's not exactly light or easy to pull the seat out, but the fact that it's possible is really impressive. Third-row space grows by 2.5 extra inches of legroom, and is even friendlier for bigger teens and adults. A 6-foot-3 person fit quite comfortably back there. Cargo space explodes by 6 cubic-feet behind that third row from a decent 16.5 cubes to 22.4. Apparently, that does not include the huge underfloor area, which as before, can be utilized to carry even more luggage. We'll be curious to see how much better the new Pilot is in a luggage test than its already-impressive predecessor. Elsewhere in the cabin, the Pilot gets the same infotainment options as the Civic, HR-V and CR-V before it. That's great news as the outgoing Pilot's touchscreen was quite old and wasn't that good when new. The base Sport trim gets a 7-inch touchscreen, while everything else gets the 9-inch unit along with wireless Apple CarPlay and Android Auto, plus wireless charging (the Sport requires a wire). The design surrounding that touchscreen is surprisingly not a chip off the Civic block, foregoing the classy metal-look mesh airvents spanning the dash. Instead, the look is far more interesting than before and vaguely reminiscent of a Land Rover, which isn't a bad thing, and certainly in keeping with the more rugged vibe. The centre console design isn't quite as uber-utilitarian as the outgoing one, but a shelf forward of the passenger makes its return to the Pilot – it was found on that boxy second-generation. Overall materials quality is competitive for the segment. Mechanically, this is indeed an all-new Pilot, which resides on a new light truck architecture shared in part with the Acura MDX. The structure, steering column and suspension are significantly stiffer, with the latter adopting a new multilink setup at the rear. Sharper handling and agility are promised thanks to a revised variable steering ratio, and the brakes are bigger, too. The engine may seem the same at first blush, but is in fact a new DOHC 3.5-liter in place of the outgoing SOHC 3.5-liter. Outgoing stays steady at 285 horsepower and 262 pound-feet, up from 280 hp and 262 lb-ft. A 10-speed automatic returns and is paired with paddle shifters for manual control. Standard on the TrailSport and Elite, and optional on the other trims, is the second-generation of Honda's i-VTM4 torque-vectoring all-wheel drive system. It features a stronger rear diff that can handle 40% more torque while responding 30% quicker. As much as 70% of the engine's power can be sent to the rear axle, with 100% of that transferred to one wheel. That would be the torque-vectoring bit, which is a boon when off-roading, in poor traction conditions, and when driving vigorously on a back road. If new Pilot's strengthened chassis can take better advantage of i-VTM4's talents, it certainly has the hardware in place to be one of the better three-row crossovers to drive. As for the 2023 Honda Pilot TrailSport, it gets an off-road-tuned suspension with a 1-inch lift over a still-to-be-announced standard ground clearance. Approach and departure angles improve, too. The stabilizer bars, spring rates and damper valve tuning are exclusive to the TrailSport, as are a full-size spare and the 18-inch wheels (stamped with TrailSport) wrapped in Continental TerrainContact all-terrain tyres. Skid plates protect the oil pan, transmission and gas tank, and Honda says they are capable of supporting the entire TBA curb weight crashing down on a rock. There are also visual differences, including lots of gloss black trim, more rugged black plastic trim on the rockers and lower rear bumper, and an exclusive Diffused Sky Blue Pearl paint option. Finally, there's the TrailSport's 1's and 0's. It includes a new TrailWatch camera system that features four exterior camera with four different views. It also gains a Trail mode beyond the usual menu of drive modes (Normal, ECON, Sport, Snow, Sand and Tow), which uses the front brakes to add quasi torque-vectoring up front and adds an exclusive "trail torque logic" capability to i-VTM4. The latter function comes in handy when one rear wheel loses contact with the ground. Should the car detect that, rear axle torque is increased, most of it is sent to the wheel still on the ground, but the low-to-no traction wheels maintains torque potential so that it can immediately receive power once it makes contact with the ground again. Mercifully, Honda upgraded the Pilot's rather woeful driver assistance technologies, which were rife with false-alarms and pokey reactions when using adaptive cruise control. If they're anything like those in the new Honda CR-V, they'll at least be tolerable now, if not class-leading. Pricing will be announced closer to when the 2023 Pilot begins rolling down the production line in Lincoln, Ala. It will now be available in Sport, EX-L, TrailSport, Touring and Elite, which would in theory make the base price higher than many in the segment. The outgoing Pilot's discontinued LX trim doesn't make a comeback, and the Sport always carried a higher price tag.
The only two models which carry forward with just minor changes for the 2024 model year are the HR-V (which, confusingly, is different to the car with that badge that is sold in Europe) and the larger Passport.
HYPERION
Remember the hydrogen-powered Hyperion XP-1 which made headlines in August 2020 with its impressive specs? Well, the first model from the California-based startup made its public debut at the Los Angeles Auto Show, still looking like a vehicle built by an alien civilization. The Hyperion XP-1 is still in prototype form and features no styling changes compared to the renderings we saw more than two years ago. It admittedly looks even weirder in person, with unconventional proportions, complex intakes, and pieces sticking out of the bodywork, including the Bugatti-style adjustable blades which are covered in solar panels. The Hyperion XP-1 promises 1,016 miles (1,635 km) of range when the carbon-fiber hydrogen tanks are filled up, a process that takes less than five minutes. The powertrain includes hydrogen fuel cells, supercapacitors instead of batteries, a three-speed transmission, and four axial-flux electric motors sending power to all four wheels. The combined power output exceeds 2,000 hp allowing a 0-60 mph (0-100 km/h) acceleration in 2.2 seconds and a top speed of 221 mph (356 km/h). According to Hyperion, the XP-1 tips the scales at 2,275 lbs (1,032 kg), which is significantly lower than most electric hypercars, thanks to the carbon titanium monocoque structure, the aluminium alloy suspension, the titanium-reinforced composite bodywork, and of course the absence of a massive battery pack. As it was announced back in 2020, Hyperion wants to build 300 units of the XP-1 in the US, with pricing set to be announced at a later date. The original goal was for production to commence in 2022 but we guess that this has been postponed. Last year, a camouflaged prototype of the hypercar was tested in Las Vegas. Hyperion is already accepting reservations through a special form on its official website. Besides the Hyperion XP-1, the company which supplies hydrogen propulsion systems to other firms announced the "XF-7 Hyper:Fuel" power stations using NASA technology to refuel both FCEVs and BEVs. The stations will also be capable of providing "utility grid support for emergency and backup power applications".
HYUNDAI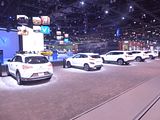 Star of the vast Hyundai stand was this N Vision 74 Concept. Inspired by the Hyundai Pony Coupe concept, which was designed by Giorgetto Giugiaro for the 1974 season of auto shows, the automaker calls this new concept a vision into the future of electrification for the N performance sub-brand. The N Vision 74 concept is a fuel cell electric vehicle that uses a hydrogen stack at the front to charge a 62.4 kWh battery pack that is mounted to the bottom of the car to lower its centre of gravity. It is connected to independent, rear-mounted motors that can generate a total of 670 hp (500 kW/680 PS) and 664 lb-ft (900 Nm) of torque. The motors operate independently of one another in order to distribute power to the side of the car on which it is most needed. The power differential can be set for specific driving duties, such as track driving or, as the renderings suggest, drifting. The batteries can be charged either by using a conventional EV charging port or with the hydrogen stack. It essentially functions as an 85 kW generator, and its tank (which can contain 9.3 lbs [4.2 kg] of hydrogen) can be refilled in just five minutes. It charges the batteries using the 800v technology from Hyundai's e-GMP platform. The Hyundai N Vision 74 concept was first unveiled in July and is part of what the automaker calls its "rolling lab" of technological experiments. The concept is a follow-up to the hydrogen-powered N 2025 Vision Gran Turismo that was unveiled in 2015. The automaker says that, through this rolling lab, it has developed new solutions for things like overheating. The N Vision 74, for instance, needs three independent cooling channels for the battery, the fuel cell, and the motor. With them, it can manage heat and energy efficiently to ensure that the car can be hooned for as long as its driver wants to.
Futuristic looking cars that you can buy now are the all-electric Ioniq 5 and Ioniq 6 and these had a prominent position on the stand.
There are just two saloon models in the range, now, the Elantra and slightly larger Sonata, and they were both here, including the N version of the Elantra.
There are rather more crossovers, of course, and all five of these were also here, which are, in order of increasing size, the Venue, Kona, Tucson, Santa Fe and Palisade
Hyundai have now entered the pickup market with a vehicle called the Santa Cruz. By American standards, this is on the small side and appears aimed at those who would otherwise consider a Honda Ridgeline or a Ford Ranger.
And finally, there was an example of Hyundai's production hydrogen-powered car, the Nexo.
JEEP
Newest model here is the latest generation Grand Cherokee
The Wagoneer has been on sale for a few months now and has found its own niche for those who want a gargantuan vehicle that can carry 7 or 8 people and tow something that weighs as much as a small house!
The rest of the range was also well represented with plenty of examples of the Wrangler as well as the Renegade and the Compass.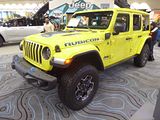 KIA
Pride of place on the expansive Kia stand went to the all-electric EV6. These are already out on the US' roads and even in the rental fleets, where the car is proving very popular.
Kia used the Los Angeles Auto Show to unveil a significantly improved Seltos. Looking far more refined than its predecessor, the 2024 Seltos features a bold front fascia with a larger tiger nose grille that can be outfitted with available "Star Map" LED accents. Further below, there's a new front bumper with larger intakes that now house vertical fog lights. The rear end sports a rugged bumper that eschews the faux exhaust treatment found on the current model. However, the most noticeable upgrade are new taillights with bands that extend toward the centre of the crossover. Designers didn't stop there as the 2024 Seltos has restyled wheels and a revised colour palette that includes Pluton Blue, Fusion Black, and Valais Green. Customers can also opt for a new X-Line variant, which comes equipped with a gunmetal grille, gloss black accents, a bridge-style roof rack, and exclusive 18-inch alloy wheels. The interior was a weak spot for the Seltos, but Kia has addressed the issue with a new dashboard and a revised instrument cluster that now features a larger 4.2-inch display. However, the real standout is the available panoramic screen display that consists of a 10.25-inch digital instrument cluster and a matching 10.25-inch infotainment system. Additional changes are limited, but the 2024 Seltos sports a revised centre stack with updated controls. They're joined by new air vents and a familiar shifter, unlike the Korean variant which has a more minimalist rotary setup. Customers will also find higher-end options such as a power liftgate and ventilated front seats. Other highlights include support for over-the-air updates and available digital key technology. Under the bonnet, there's a familiar 2.0-liter four-cylinder engine that produces 147 hp (110 kW / 149 PS) and 132 lb-ft (180 Nm) of torque. It's connected to an Intelligent Variable Transmission, which can be paired to an optional all-wheel drive system. While the entry-level engine carries over, the turbocharged 1.6-liter four-cylinder has been upgraded to produce 195 hp (146 kW / 198 PS) for an increase of 20 hp (15 kW / 20 PS). Turbocharged models also trade the current seven-speed dual-clutch transmission for a new eight-speed automatic, which is hopefully more refined than its predecessor. In terms of safety, there are several new and improved driver assistance systems. Key among them is Forward Collision Avoidance Assist with Pedestrian and Cyclist Detection, which can automatically apply the brakes if a collision is imminent. Other new additions include Blind Spot Collision Warning, Intelligent Speed Limit Assist, and Intelligent Speed Limit Warning. That's just the tip of the iceberg as the Seltos comes standard with High Beam Assist, Lane Following Assist, and a Rear View Monitor. Higher-end variants add Smart Cruise Control with Stop and Go, Highway Driving Assist, Safe Exit Warning, and Rear Cross-Traffic Collision-Avoidance Assist. The 2024 Seltos is slated to arrive at U.S. dealerships in the first half of 2023 and pricing will be announced closer to launch.
The Niro was refreshed earlier in the year and the new second generation cars are starting to filter through.
The rest of the crossover range was also here, ranging from the affordable Soul through the Sportage which was renewed a few months ago to the Sorento and Telluride.
There was a complete family of the regular cars here, too, from the entry level Rio through the established Forte, sold these days only as a sedan, to the larger K5 and the well-regarded but very slow selling Stinger.
Kia is one of very few manufacturers who still offer a minivan in their range. At the latest model change the US market adopted the Carnival name used elsewhere in the world.
LEXUS
The Lexus RZ is a crossover sibling to the Toyota bZ4x and Subaru Solterra but it comes with a different body, more premium characteristics and features as well as a more powerful all-wheel drive powertrain. We already had a good idea of Lexus RZ's design since Lexus had shown us many official photos in the previous months. While the proportions and the hardpoints look similar to the Toyota and Subaru siblings, all of the body panels in the Lexus are new giving it a more aerodynamic silhouette and sculpted look. This is more evident at the back with the high-mounted full-width LEDs, the heavily inclined rear windscreen, the integrated duck-tail spoiler, and the vents on the bumper. Having said that, the result is toned-down compared to the LF-Z Electrified concept from last year mostly due to the smaller wheels and the less fancy LED headlights. Another new design feature introduced by the RZ is the covered spindle grille with its shape being accentuated in the bi-tone specification with the black bonnet. More importantly, the RZ comes standard with dual electric motors producing 201 hp (150 kW / 204 PS) at the front and 107 (80 kW / 109 PS) at the rear, for a combined 309 hp (230 kW / 313 PS) and 435 Nm (321 lb-ft) of torque. The model is also the first to introduce Lexus' new Direct4 all-wheel drive control. The electronic system can change the torque distribution to front and rear e-Axles from 0 to 100 percent in a matter of milliseconds. The output is considerably increased compared to the 215 hp (160 kW / 218 PS) and 309 Nm (228 lb-ft) of the dual-motor Toyota and Subaru crossovers, justifying Lexus' premium positioning. As a result, the Lexus RZ accelerates from 0-100 km/h (0-62 mph) in 5.6 seconds, or 5.3 seconds for the Chinese-spec model. However, as with most EVs, the top speed is quite limited at 160 km/h (99 mph). According to Lexus's own estimates, the 96-cell 71,4 kWh lithium-ion battery will offer a J-WLTC range of approximately 450 km (280 miles), with Lexus Europe mentioning a WLTP range of more than 400 km (249 miles) and a power consumption below 18 kilowatts per 100 km. This is less impressive than the confirmed 470 km (292 miles) WLTP range of the EU-spec Toyota bZ4x which is predictable due to the higher output and better performance offered by the Lexus. It is also very similar to the Genesis GV60 which is considered one of the main rivals. Inside, the evolution of the "Lexus Tazuna" digital cockpit comes with a compact instrument cluster and a large 14-inch touchscreen for infotainment on the inclined center console. The optional "One-Motion Grip" yoke-style steering wheel is made possible thanks to the steer-by-wire technology but we are sure that many buyers will settle for the less futuristic but more familiar standard round-shaped steering wheel. The cabin has premium materials, and features ambient lighting with fancy patterns on the door panels, a radiant heating system for the driver and the front passenger, and an optional self-dimming panoramic sunroof which contributes to energy-saving. Safety equipment includes the Lexus Safety System+ 3.0 suite with sophisticated ADAS including the Pre-Collision System and the Dynamic Radar Cruise Control taking feedback from the optional driver monitor system. In Europe, the RZ will also get the Proactive Driving Assist, which adjusts the steering based on a front-mounted camera reading the angle of the upcoming bends. Finally, the e-Latch electronic door release system won't allow passengers to exit if there is an approaching vehicle or cyclist. The Lexus RZ450e is already available for online reservations. Pricing has yet to be announced but we are sure it will cost more than the highest spec of the less powerful and more mainstream dual-motor Toyota bZ4x Limited which sells for $48,780 in the US.
Also here was the latest RX family. Luxury crossovers may seem like a relatively new phenomenon, but they've been around for decades and one of the first was the Lexus RX. Launched in 1998, the original model was a huge success and that trend has continued over four generations as Lexus has sold over 100,000 RXs annually in the United States for eight consecutive years. The company is looking to build on that momentum with the redesigned 2023 RX, which features an evolutionary design, advanced technology, and a new plug-in hybrid powertrain. While designers didn't want to mess with success, the 2023 RX adopts an edgier appearance and an updated version of the company's controversial spindle grille. The latter immediately stands out as it features a more upright design as well as softer edges and diamond-like inserts. The grille is flanked by new headlights, which feature swoosh-style daytime running lights. They reside above minimalist air curtains that have a black surround as well as integrated fog light housings. Moving further back, we can see an evolutionary design that incorporates streamlined styling and rounded wheel arches. Designers also cleaned up the shoulder line, while adding a more pronounced flourish on the lower doors. The model rides on 19-inch wheels with a dark grey machined finish, but customers will be able to upgrade to 21-inchers in an assortment of designs. Some of the biggest changes occur out back as the RX adopts an angular and more cohesive design. However, the thing that instantly jumps out is the taillights, which are now connected by a thin illuminated strip. Further below, there's a ventilated rear bumper with a sportier design that features an angled lower accent and a two-tone appearance. Luxury vehicles are all about the interior and current owners will be delighted once they take a look inside the redesigned RX. The model follows in the footsteps of the 2022 NX and features a digital instrument cluster as well as an all-new Lexus Interface system, which is miles ahead of its predecessor. The company didn't say much about the infotainment system, but it offers cloud-based navigation, an intelligent assistant, and over-the-air updates. While a 14-inch display will be optional, we can expect base models to come equipped with a smaller 9.8-inch screen like on the NX. Thanks to the new touch and voice-focused infotainment system, designers were free to streamline the centre stack and remove the mediocre switchgear found on the outgoing model. The analog clock has also been banished as the new RX lives in a digital world. Elsewhere, there are push-button interior door handles, a minimalist shifter, and an elegant dashboard that can be accented with available multi-coloured illumination. Buyers will also find Aluminum, Ash Bamboo, Black Cascade, or Black Open Pore Wood trim. Full details will be announced closer to launch, but the 2023 RX will be offered in six different trims known as Standard, Premium, Premium+, Luxury, F Sport Handling, and F Sport Performance. We'll talk about the latter in a moment, but Lexus also noted the model will be offered with a panoramic glass roof and a head-up display. An all-new model needs a new architecture and for the 2023 Lexus RX that's the GA-K platform, which is shared with the ES and NX. The new platform allows for increased rigidity and a weight savings of up to 198 lbs (89.8 kg). Lexus didn't go into many specifics, but noted the crossover has an all-new multi-link rear suspension design which is "attached to a rigid high-torsion rear body frame that facilitates more consistent suspension input/travel during acceleration, deceleration and steering moments." Despite featuring a 2.36 inch (60 mm) longer wheelbase, the 2023 RX remains 192.5 inches (4,890 mm) long as the rear overhang has been reduced by the same amount. That's good news as rear seat passengers will find additional legroom, while everyone can appreciate the increased cargo capacity. The war on displacement continues as the RX 350's 3.5-liter V6 has been replaced by a new turbocharged 2.4-liter four-cylinder. It produces 275 hp (205 kW / 279 PS) and 317 lb-ft (429 Nm) of torque, which is a decrease of 20 hp (15 kW / 20 PS) but a gain of 50 lb-ft (68 Nm) compared to the outgoing model. The engine is connected to an eight-speed automatic transmission, which can be paired to either front- or all-wheel drive. Lexus says the latter variant will be able to accelerate from 0-60 mph (0-96 km/h) in 7.2 seconds, 0.7 seconds faster than its predecessor. However, it's worth noting customers shouldn't expect to see huge fuel economy gains. Lexus estimates the RX 350 will return 24 mpg combined, which isn't much better than the old V6-powered model that offered up to 23 mpg combined. With gas prices hovering around all-time highs, many customers will probably want to opt for the 2023 RX 350h which replaces the previous 450h. It features a 2.5-liter four-cylinder engine that is paired to a fourth-generation hybrid system and a standard all-wheel drive system. Power output takes a major hit as the 2023 RX 350h is rated at 246 hp (183 kW / 249 PS) and 233 lb-ft (316 Nm) of torque, which pales in comparison to the 308 hp (230 kW / 312 PS) and 247 lb-ft (335 Nm) of torque in the old RX 450h. However, Lexus says the new model is actually faster as the dash to 60 mph (96 km/h) will take 7.4 seconds instead of 7.9 seconds. Of course, hybrids are mainly about fuel efficiency and this is where the RX 350h excels. Lexus believes the model will have a combined fuel economy rating of 33 mpg, or 3 mpg better than its predecessor. Buyers can also opt for an all-new RX 450h+ plug-in hybrid. Lexus wasn't ready to talk about U.S. specifications, but the model will presumably share its powertrain with the NX 450h+. It features a 2.5-liter four-cylinder engine, three electric motors, and an 18.1 kWh lithium-ion battery pack. This setup gives the plug-in hybrid NX 302 hp (222 kW / 306 PS) and an electric-only range of 37 miles (60 km). While the plug-in hybrid is notable, the variant raising the most eyebrows is the new RX 500h F Sport Performance. It's a performance-oriented hybrid that has a turbocharged 2.4-liter four-cylinder engine, a six-speed automatic transmission, and a rear eAxle with a "high output electric motor" that promises to provide "improved performance and quick acceleration." This setup enables the all-wheel drive crossover to produce 367 hp (274 kW / 372 PS) and 406 lb-ft (550 Nm) of torque, which is enough to smack the grin right off the Acura MDX Type S' face. The good news doesn't end there as the RX 500h F Sport Performance runs from 0-60 mph (0-96 km/h) in 5.9 seconds and has a combined estimated fuel economy rating of 26 mpg, which is 7 mpg more than the Acura. Besides the powerful hybrid system, the RX 500h F Sport Performance has a sportier exterior with unique bumpers, a mesh grille, and more aggressive air intakes. They're joined by black accents, additional body colour components, and six-piston brake calipers. The sporty styling continues in the cabin with a perforated leather steering wheel that features paddle shifters. Drivers will also find aluminium pedals, suede-trimmed door panels, and F Sport scuff plates. When the 2023 RX arrives at U.S. dealerships late this year, it will come with the Lexus Safety System+ 3.0 suite of driver assistance systems. It includes All-Speed Dynamic Radar Cruise Control with a new Curve Speed Management function as well as an improved Pre-Collision System with Pedestrian Detection, Intersection Support and new Motorcycle Detection. Buyers will also find an Emergency Driving Stop System and Lane Departure Alert with Steering Assist. The crossover can also be equipped with an improved Advanced Park system, which now supports forward-facing parking situations.
The saloon range now comprises three models, IS, ES and LS, and all of them were on display.
Also on show were the RC and LC coupe models.
And the range is completed with an array of crossovers: UX, NX, GX and LX
LINCOLN
Star of the Lincoln stand, which was in the South Hall, so a long way from the Ford area was this 1956 Lincoln Continental Mark II Convertible, owned by Beau Boeckmann, Galpin Motors' President. The ambition of the Continental Division, the post-war Ford Motor Company marque spearheaded by William Clay Ford, was belied by the simplicity of its mission brief:  Build the best luxury flagship available, regardless of cost. Continental's sole offering, the Mark II, was indeed a car for the ages. Its many attributes included handsome-yet-understated Midcentury styling by John Reinhart and Gordon Buehrig; impeccable, hand-fitted build quality; and, famously, a $10,000 price tag that made it the most expensive car produced in America at the time. The execution of the Mark II Convertible design was tasked to the Derham Body Company of Rosemont, Pennsylvania, a grand American coachbuilder of the first order. No mere chop job, Derham's carefully considered build incorporated a fully functional convertible soft top without compromising the Continental's stunning profile. By October of 1956 the car, initially finished in white over a white and red interior, was ready for its dazzling debut at the Texas State Fair; appearances at shows across the United States followed. After its time in the spotlight, this unique Mark II was acquired by Martha Firestone Ford – granddaughter of tire magnate Harvey Firestone and wife of William Clay Ford – for her personal use. Before she took ownership, the car was upgraded to the latest 1957 mechanical spec. A new dynamically and statically balanced 300-horsepower, 368-cubic-inch V-8 was installed, along with a new transmission and new-for-1957 Directed Power limited-slip rear differential, and it was refinished in sky-blue over a white and blue Bridge of Weir leather interior. A new black convertible top, along with complementary black Mouton carpets, was fitted, and a special plaque was affixed to the transmission tunnel to note its illustrious ownership. Mrs. Ford eventually had the Continental repainted in a dark metallic blue-green (the 1957 interior remained intact), then relinquished the car. A sharp-eyed Ford engineer, Bob Wagner, is said to have spotted it in the automaker's car resale system, eventually acquiring it for himself. Not long after, however, Wagner was instructed to sell the Mark II: Apparently, William Clay Ford had previously promised the car to another interested party, and it going to a Ford employee threatened to create an embarrassing situation for the executive! Recognizing its significance, Wagner wanted the Continental to go to a dedicated enthusiast of the marque, and by late 1961 a deal was struck with Walter W. Goeppinger. For the Mark II Convertible, Goeppinger would trade his award-winning 1947 Lincoln Continental, plus $5,000. The transaction was completed in May 1962, and the ensuing six decades of Goeppinger family stewardship has proved the wisdom of Wagner's choice. Under the care of Walter Goeppinger and his two sons, this cherished Mark II has always benefitted from scrupulous care. Returned to its appealing sky-blue colour following Goeppinger's acquisition, the car enjoyed a repaint by Anderson Restoration in Kanawha, Iowa completed in 2011. Today, with its sky-blue exterior, blue and white interior with black Mouton carpets, black top, and blue tonneau cover, the Continental looks much like it did when Mrs. Ford first took ownership in 1957. Befitting its historical importance, this Mark II has been shown and documented extensively over the years, including appearances in Automobile Quarterly, numerous magazines and Lincoln Continental Owners Club publications, as well as Rolling Sculpture, A Designer and His Work by Gordon M. Buehrig. It is offered with an extensive history file assembled by the Goeppinger family, including correspondence with the Ford family and historic photographs. This Continental represents an important moment in the history of the American automobile – a moment when the Ford Motor Company set out to build an exquisite luxury car to challenge the world, no matter the cost…and succeeded with flying colours.
The only Lincoln models you can buy these days are crossovers, each of them closely related to a Ford product, though the styling of each is such that you would never mistake them with their cheaper relatives, but you might mistake any one of these for another Lincoln! In increasing order of size they are the Corsair, Nautilus, Aviator and Navigator
MAZDA
A large stand here in the middle of the South Hall, with examples of the diverse range that this Japanese brand can offer, which range from the Mazda 3 Hatch and Saloon, through a series of crossovers which now have the new CX-50 as well as the more established CX-3, CX-5 and CX-9.
Completing the display was a car from the Galpin Motors, a 110 Cosmo. Mazda's reputation as a sports car builder is thoroughly cemented thanks to the MX-5 Miata, the RX-7 and the RX-8. However, it all started when the Japanese automaker defied expectations and displayed a prototype of its otherworldly Cosmo at the 1964 Tokyo Motor Show. The Cosmo was the first rotary production car, helping to define Mazda as a preeminent manufacturer of fun-loving sports cars. It features a 128bhp, 982cc two-rotor Wankel engine with a single Zenith Stromberg carburettor, five-speed manual transmission, independent front suspension, de Dion rear axle and front disc and rear drum brakes. This model is believed to be one of only a dozen in the U.S., and is equipped with the rare factory option of air conditioning.
NISSAN
The Nissan range has had an almost complete revamp in the last few years, with a definite family resemblance among the saloons: Versa, Sentra and Altima all look somewhat similar, with the proportions varying a little as they get larger.
The crossover models are easier to tell apart: Kicks, Rogue, Pathfinder and Armada
This is the year that we saw a new Z car and it is badged just that. Sadly, this one will not be coming to Europe.
The all-electric Ariya was the big focus on the stand with several examples of this rather generic looking car on show.
The Leaf remains in production, as a smaller and cheaper all-electric proposition.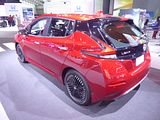 There are two trucks in the range, the Frontier, which is seen here and the massive Titan.
POLESTAR
Many people will get to experience a Polestar 2, as the company has done a deal with Hertz to supply large numbers of them to the rental fleet and indeed I saw lines of them parked up waiting to be plated up and put into service.
PORSCHE
As is always the case, Porsche had an entire hall to themselves, and it can get quite busy, though I managed to time my visits there such that I could get the photos I wanted relatively easily.
Star attraction in here was the new 911 Dakar. Just when you thought the 911 couldn't get any cooler, Porsche takes its most iconic model to new heights with the 2023 Dakar, an all-wheel drive 911 that won't sweat it if you swap freeways for farm tracks and still keep the hammer down. Forget those endless spy shots of drab, matte black prototypes because the production Dakar is bursting with personality, particularly when specced with the optional Rally Design package that takes vital cues from the pioneering all-wheel drive competition 911s that claimed victory in the 1984 Paris-Dakar Rally, paving the way for the 959 supercar. Central to the character of the $223,450 (including $1,450 for delivery) Dakar is its ride height, which is up 2.0-in (50 mm) over a stock all-wheel drive 911, and can be hiked a further 1.2-in (30 mm). Porsche says the "High Level" off-road mode, which is activated via the steering wheel rotary controller, gives the Dakar a similar level of ground clearance and ramp-over angle to some regular SUVs, and is available at speeds of up to 105 mph (170 km/h), after which it returns to a normal height. Off-road model is also designed to maximise traction in low-grip situations, while another new mode Porsche calls "Rally" is set up for loose, uneven surfaces and sends a greater portion of its power to the rear axle. Both modes feature Rally Launch Control, which allows 20 percent wheel slip for speedy getaways on loose surfaces, and capitalize on the bite provided by 245/45 ZR19 and 295/40 ZR20 Pirelli Scorpion all-terrain rubber. The Scorpions feature 9 mm-deep tread blocks and two carcass plies for durability in the dirt, though you can option Pirelli P Zero summer or winter tires if you prefer. Unfortunately those trick off-road tyres have forced Porsche to impose a 150 mph (240 km/h) limiter, making the Dakar the slowest global-spec 911 since 1983 by our reckoning (though, some 911s with cats were sub-150mph until the 964 arrived in America). That was the year the 152 mph (245 kmh) 3.2 Carrera replaced the 146 mph (235 km/h) SC in Europe. But there's no doubt the Dakar would go quicker if Porsche let it. The 3.0-liter twin-turbo flat-six is cribbed from the 192 mph (309 km/h) 911 Carrera 4 GTS and sends 473 hp (480 PS) and 420 lb-ft (570 Nm) of torque through a compulsory eight-speed PDK transmission. The Dakar's 3.2-second zero to 60 mph time (3.4 seconds to 100 km/h) is only a tenth down on the number Porsche quotes for the $149,900 GTS, and impressive given that those Pirelli Scorpions aren't designed with drag strip starts in mind. More surprising considering that the Dakar comes loaded with kit like four-wheel steering and dynamic engine mounts, is that the 3,552 lbs (1,611 kg) curb weight comes within 16 lbs (7.3 kg) of a GTS's, despite the GTS featuring none of those goodies as standard. But Porsche worked hard to bring the Dakar's weight down, replacing the electric rear spoiler with a fixed version, fitting the lightweight carbon-reinforced plastic hood from the GT3, thinner glass, bucket seats instead of heavier comfort chairs, and junked the rear seats altogether. Those kind of features could be found on any RS 911, but the raised ride height, red, forged aluminium tow hooks, fender and rocker panel extensions, tough stainless steel body trim and protective mesh grilles over the air intakes will make sure you'll never confuse a Dakar for an RS. And if you really want to ram the message home you can kit your 911 out with the Rally Design Package.
Also here was an example of the car with the $26,000 Rally Design Package, which brings two-tone White and Enzian Blue paint, red and gold stripes, white wheels, a red taillight strip and "Roughroads" lettering on the doors. Buyers also get to choose an individual race number between 0-999.
Other less expensive Dakar-specific options include Shade Green paint and the off-road roof rack/basket. Capable of holding up to 92 lbs (42 kg) of equipment like spare gas and water canisters and shovels, it's fitted with a roof light that runs off a dedicated 12-volt socket to make sure you can still play at Baja racer when the sun goes down. You can even order a roof tent so you can stay out until sun-up, and if you've still got money to burn after that, there's always the Porsche Design Dakar chronograph available in standard and Rally Design flavors, each version made from scratch-resistant titanium carbide. Porsche is only building 2,500 Dakars, though we suspect the model will return again in the next generation of 911 and become a regular fixture, a bit like the GT3 RS and Speedster. The model's versatility and sheer novelty – this is the first really different 911 in a long time – means getting allocated a car is going to be tough. And even if you can get a car, you'll have to decide whether that's a better 911-shaped home for your $220,020 (plus $1,450 destination) than a 911 GT3 RS or 911 Turbo S, which cost almost exactly the same, but have radically different characters.
Contrasting these was a replica of the 911 Safari from 40 years ago. The result of a custom restoration completed at a cost of over $100k, this final-year 911SC has been transformed into a rally car inspired by the Rothmans SC/RC Group B racers of the East African Safari Rally. Sporting a painted Rothmans livery, this SC features a custom-built 3.0L flat-six engine mated to a 5-speed transmission, lightweight 930 clutch kit, Bilstein coilovers, Wavetrac limited-slip differential, rugged off-road skid plates along with a driver-oriented cockpit fitted with a bolt-in roll cage, G-Force 5-point harnesses and MOMO Corse bucket seats. During the initial restoration under prior ownership, this 911SC was refinished in White with a custom painted Rothmans racing livery and equipped with a fiberglass rear spoiler, protective skid plates, mud flaps, and an off-road light pod on the hood.  The sunroof has also been deleted in place of a fixed roof panel.  The 16" Fuchs wheels have been painted white and dressed in a set of BFGoodrich All-Terrain tyres. Other features include Bremtek brakes, TRE front-mounted oil cooler, a MOMO Prototipo steering wheel, lightweight RS carpeting, and RS-style door panels. The rear seats have been eliminated as well as the radio, air conditioning, power windows, and power door locks. A rally timer has also been added to the dashboard as well as a USB connector/voltmeter. This Rothmans Safari tribute has been featured in several noteworthy publications and rally events around the country.
Also making its US debut was the 911 Carrera T. The letter 'T' stands for touring and describes models that offer a purist driving experience with exceptionally sporty equipment. The standard 911 T features a seven-speed manual gearbox. An eight-speed PDK is also available. The rear seats are omitted. Featuring a PASM sports suspension with 10-mm-lowering and reduced insulation, the new 911 Carrera T is the epitome of purism and exhilarating driving pleasure. You can feel it on winding mountain and country roads – and you can hear it too. The sound of the six-cylinder boxer engine is now an even more striking presence in the interior. The new 911 Carrera T slots in between the 911 Carrera and the 911 Carrera S. The Carrera T takes its biturbo engine with 283 kW (385 PS) and 450 Newton metres of torque, and which propels the sports car from zero to 100 km/h in 4.5 seconds and to a top speed of 291 km/h, from the base 911. The 911 Carrera T also comes with the Sport Chrono package and the PASM sports suspension (-10 mm) as standard. T-specific equipment features include 20- and 21-inch Titanium Grey Carrera S wheels in front and back, respectively, with 245/35 (front) and 305/30 (rear) sized tyres. The 911 Carerra T also comes standard with the GT sports steering wheel, sports exhaust system and Sports Seats Plus (four-way, electric). The 911 Carrera T with manual transmission weighs 1,470 kg and is the lightest series 911 with the basic engine option.
There was space in the hall for an array of other 911s including the recently released 911 GT3 RS.
The hall also contained examples of the current 718 Boxster and Cayman, the Panamera and Taycan and from the big-selling SUV end of the range the Macan and Cayenne
Finally, Porsche had their 919 LeMans car on display.
RAM
A large part of the massive Stellantis stand was given over to RAM, with an elaborate construction in place which allowed for demos to be performed over the vehicles coping with various obstacles and challenges. There were also some static examples of the range, with the ProMaster (a rebadged Fiat Ducato) joined by the much larger US-built RAM 1500 and 2500 Series.
SUBARU
Subaru today took the wraps off the new, sixth-generation Impreza here. Coming for the 2024 model year, the automaker is killing the sedan variant as well as the manual gearbox option, but brings back the 2.5 RS model for the first time since 2005. As expected, the new car shares much in common with its stablemate, the Crosstrek. The new front fascia and overall design are highly reminiscent of the crossover with its hexagonal grille, the trim bar that connects the headlights, and its silhouette. Underneath, the new Impreza will be 10 percent stiffer than the model it replaces and will benefit from an improved, symmetrical all-wheel-drive system. Under the hood, meanwhile, Subaru has once again turned to the four-cylinder boxer engine. For 2024, though, it will be offered in two displacements. The most exciting will be the 2.5-liter boxer engine, which brings with it the return of the RS nameplate. Back in America for the first time since 2005, the new model will make 182 hp (136 kW/185 PS) and 178 lb-ft (241 Nm) of torque, Subaru has revealed. The Impreza RS is the highest-performance model in the range and, in addition to the bigger engine, will get a sport tuned suspension, bigger brakes, special 18-inch dark grey alloy wheels, black trim pieces, aluminium pedals, upgraded LED headlights, black cloth seats, and a luxurious 10-speaker Harman Kardon audio system. For those looking for performance at a lower price point, the 2024 Subaru Impreza Sport will match the sport tuned suspension, the bigger brakes, and the 18-inch alloy wheels with the standard 2.0-liter engine, which makes 152 hp (113 kW/154 PS) and 145 lb-ft (197 Nm) of torque. It will also get blind spot detection, rear cross traffic alert, keyless entry, remote start, and special driving modes tuned for performance and fuel efficiency. The base Impreza, meanwhile, will come with Subaru's Eyesight driver assistance features and automatic emergency braking as standard in 2024. The car will also be available with integrated roof rack mounting points to help owners haul more. No matter which engine you choose, the Impreza will come with only one transmission, Subaru's Lineartronic CVT as the Japanese brand has dropped the five-speed manual box. For the Sport and RS models, though, the transmission will feature a special "manual" mode with eight selectable "gears" to help drivers feel more in control. All versions of the car also get the dual-pinion electronic power steering rack from the fifth-generation WRX. It offers a more direct and natural steering feel and greater responsiveness, according to Subaru. Inside, Subaru promises new, more supportive seats, as well as more in-cabin storage. The rear seats, meanwhile, will fold down into a 60/40 split for flexible convenience. The climate control system is now smarter, too, and will focus on warming or cooling only those seats that occupied for better fuel economy and comfort. The 11.6-inch infotainment system is installed in the portrait orientation and offers owners wireless Apple CarPlay and Android Auto, all of which comes as standard on the RS and Sport models. Finally, Subaru wants to maintain the Impreza's reputation for safety, and it will, therefore, be offered with Starlink Safety and Security Connected Services. This adds emergency assistance, roadside assistance, a monthly vehicle health report, security alarm notifications, automatic emergency braking, and more to the car. Subaru says that the new, sixth-generation Impreza will start arriving at dealerships in the spring of 2023. Pricing will be announced closer to that date.
The Impreza is closely related to the XV Crosstrek, an updated version of which was revealed earlier in the year, and an example of which was on show here.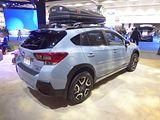 The Solterra is a twin of the Toyota bZ4X and made its debut at the 2021 edition of the Show, so no surprise to find it here again, now available to purchase.
There was something of an outdoors, countryside type theme for the stand with a sort of recreation of a National park setting and among all the other adornments were example of the rest of the range which included the popular Forester, Ascent and Outback as well as the Legacy saloon and the BRZ sports coupe now in its second generation paralleling the changes made to the Toyota model which it closely resembles.
TOYOTA
Toyota had a vast stand and there always seemed to be lots (that was quite loud and annoying!) going on to try to draw in he crowds with instant competitions and the like. I was there to see the cars and there were plenty of new ones.
The most significant of these was the new fifth generation Prius. The Toyota Prius was the original green machine, but it has lost a lot of its lustre as the Japanese automaker has electrified their lineup and EVs have emerged as the next big thing. Toyota is now trying to recapture some of that magic with a redesigned model, which is celebrating its North American debut at the Los Angeles Auto Show. While pricing and availability will be announced later this year, Toyota has confirmed U.S. specifications following its recent global unveiling. Starting under the hood, there's a fifth-generation hybrid powertrain with a larger 2.0-liter four-cylinder engine that replaces the previous 1.8-liter unit. It's joined by a new lithium-ion battery pack, which is 15% more powerful despite being smaller and lighter than its nickel-metal predecessor. While that doesn't sound too exciting, the Prius now produces 194 hp (145 kW / 197 PS). That's an increase of 73 hp (54 kW / 74 PS) and this enables the car to run from 0-60 mph (0-96 km/h) in 7.2 seconds, which is an astounding 2.6 seconds faster than the outgoing model. The good news doesn't end there as customers can opt for an all-wheel drive variant, which has an additional electric motor that powers the rear wheels. This improves traction and performance, while also enabling the model to hit 60 mph (96 km/h) in seven seconds flat. Despite being faster, the 2023 Prius is more fuel-efficient as Toyota estimates the model will return up to 57 mpg combined. That's a small gain of 1 mpg,  but it's remarkable when you consider how much faster the redesigned car is. On the topic of fuel-efficiency, there's a new plug-in hybrid Prius Prime. The company didn't go into many specifics, but confirmed its powertrain echoes the standard model. However, it produces 220 hp (164 kW / 223 PS) and this enables the car to hit 60 mph (96 km/h) in 6.6 seconds. Toyota promised a more than 50% increase in zero-emissions driving range and this means we can expect an electric-only range of at least 38 miles (61 km). The Prius Prime is also notable for coming standard with Traffic Jam Assist, while a solar roof that helps to recharge the battery when parked will be an option. What is known is that the 2023 Prius will be offered in LE, XLE and Limited grades. The entry-level LE will feature a bold new design as well as 17-inch alloy wheels. Buyers will also find a SofTex-wrapped steering wheel, an 8-inch Toyota Audio Multimedia system, and six USB-C ports. The mid-level Prius XLE comes with larger 19-inch alloy wheels, rain sensing wipers, and a smart key. Inside, there's heated SofTex front seats with eight-way power adjustment on the driver's side. Other niceties include a wireless smartphone charger, an auto-dimming rearview mirror with HomeLink, extra rear cup holders, and front/rear parking assist with automatic braking. The range-topping Prius Limited builds on that with heated and ventilated front seats, a heated steering wheel, and a fixed glass roof. They're joined by a larger 12.3-inch infotainment system, an eight-speaker JBL premium audio system, digital key technology, and a power hatch. Speaking of equipment, all models will come with the Toyota Safety Sense 3.0 suite of driver assistance systems. It includes a pre-collision system with pedestrian detection, lane departure alert with steering assist, and full-speed range dynamic radar cruise control. Buyers will also find lane tracing assist, road sign assist, automatic high beam headlights, and proactive driving assist which "provides gentle braking into curves or gentle braking and/or steering to help support driving tasks such as distance control between a preceding vehicle, pedestrian, or bicyclist." All models will also come equipped with a blind spot monitor with rear cross-traffic alert.
As it is going to be a while before the new model goes on sale, the old car remains relevant and there were examples of that one on show too.
The sedan landscape has changed dramatically as a number of automakers have trimmed their lineup, while Buick and Ford have exited the segment altogether. Full-size sedans have been among the hardest hit as the Buick LaCrosse, Chevrolet Impala, Ford Taurus, Kia Cadenza, and Hyundai Azera have all fallen by the wayside. Furthermore, the Chrysler 300 is all but dead while the Nissan Maxima is selling at a fraction of its former self. With the carpocalypse in full swing, it was little surprise when Toyota announced plans to phase out the Avalon at the end of the 2022 model year. However, the company isn't completely throwing in the towel as the 2023 Crown will arrive this fall to effectively replace it. We originally saw the Crown in June and immediately had mixed feelings about it as our dreams of a sporty, rear-wheel drive sedan were quickly dashed. Combine that with a questionable two-tone paint job and we had plenty of reservations. However, with the passage of time and repeated viewings, the initial shock has worn off. That being said, the model is a huge departure from the Avalon as Toyota reimagined the full-size sedan for the crossover era. As a result, it features crossover-inspired styling cues such as plastic body cladding and a raised ride height. Reaction to the design has been mixed, but Toyota knew keeping the status quo was a losing battle. Consumers have been voting with their wallets and they're overwhelmingly choosing crossovers instead of sedans. Given this, sedans have been adopting traditional crossover features such as all-wheel drive and, occasionally, plastic body cladding. If the AMC Eagle spawned the modern crossover that we know today, then it appears we have gone full circle. Thankfully, the Crown is far removed from the old Eagle as it sports a modern design that incorporates some cues from the bZ4X. While the front end has drawn some criticism, there's plenty to appreciate as the sedan features flowing bodywork, a graceful roof, and attractive 19- and 21-inch wheels. Despite looking like a liftback, the Crown comes with a trunk and while it looks small from the outside, it's downright massive when opened up. Toyota hasn't released detailed U.S. specifications at this point, but this reviewer could easily fit inside and that's before folding down the rear seats. The Crown will reside at the top of Toyota's mainstream sedan lineup, but you'd be hard pressed to tell by looking at the interior. The cabin is surprisingly bland as black plastic abounds and is only broken up by the occasional silver or bronze accent. However, upgrading to the Limited trim will reward buyers with leather seats that can be had in macadamia, black and chestnut, and the traditional black you see here. While the cabin lacks visual interest, it features a 12.3-inch digital instrument cluster and a 12.3-inch Toyota Audio Multimedia system. The latter is a huge improvement over the Avalon's 9-inch infotainment system as it boasts better graphics as well as modern connectivity features such as cloud-based navigation, over-the-air updates, and an Intelligent Assistant that responds to the "Hey, Toyota" wake word. The good news doesn't end there as material quality seems above average and the model comes equipped with heated front seats that feature eight-way power adjustment as well as fabric and Softex upholstery.  The entry-level Crown XLE also comes with a dual-zone climate control system, a wireless smartphone charger, and a six-speaker audio system. Moving up to the Limited adds comfortable, heated and ventilated leather front seats as well as heated rear seats. Other highlights include a fixed panoramic glass roof and an 11-speaker JBL premium audio system. Speaking of the rear seats, they're spacious but lack the limo-like legroom that was found on the Avalon. This isn't too surprising as the Crown is 1.9 inches (48 mm) shorter and has a 0.8 inch (20 mm) smaller wheelbase. However, there was more than enough legroom for this 6' 2" scribe and I was pleasantly surprised to find plenty of headroom as well. Furthermore, the raised ride height helps to improve entry and egress. This is important to note as older Americans have typically embraced full-size sedans, but some have turned to crossovers as they have trouble getting in and out of cars. While Toyota is staying coy about a number of U.S. specifications, the company has already confirmed the model will be offered with two different hybrid powertrains. The entry-level powertrain is found on the Crown XLE and Limited, and features a 2.5-liter four-cylinder engine, two electric motors, an electronically controlled continuously variable transmission, and a newly developed high-output bipolar nickel-metal hydride battery. The Japanese variant has a combined output of 231 hp (172 kW / 234 PS) and we can expect the US-spec model to have similar performance. Regardless of the final numbers, Toyota USA expects a fuel economy rating of 38 mpg. However, we're more interested in the Crown Platinum, which features an all-new Hybrid Max powertrain. It boasts a turbocharged 2.4-liter four-cylinder engine, a front electric motor that helps to maximize torque production, a rear eAxle, and a direct shift six-speed automatic transmission with a new hydraulic multi-plate wet start clutch. This setup gives the car an estimated output of 340 hp (254 kW / 345 PS) and a 0-60 mph (0-96 km/h) time of 5.9 seconds. Unfortunately, the performance comes at a cost as the Platinum is expected to have a fuel economy rating of 28 mpg. That's 10 mpg less than other Crown variants and it's a far cry from the Avalon Hybrid, which offered up to 44 mpg combined. That being said, the eco-friendly Avalon lacked all-wheel drive and only offered a combined output of 215 hp (160 kW / 218 PS). Speaking of all-wheel drive, it comes standard on the Crown. XLE and Limited variants have an E-Four AWD system with a rear-mounted electric motor that activates as needed in slippery conditions. The Crown Platinum has a fancier E-Four Advanced AWD system with a rear eAxle featuring a high output, water-cooled electric motor. The E-Four Advanced AWD system also offers front/rear power splits of between 70:30 and 20:80, which contrasts with the E-Four AWD system that can send up to 100% of its power to the front wheels.
First seen at the start of the year, this was my first look at the latest Sequoia. Sequoia has been an apt name for Toyota's full-size SUV as the second-generation model has seemingly been around as long as California's famous redwood trees. Dating back to 2007, the second-generation Sequoia has been surpassed by newer competitors such as the Chevrolet Tahoe, GMC Yukon, Ford Expedition, and Jeep Wagoneer. However, there's a new sapling in the forest and it's heavily inspired by the 2022 Tundra. Set to arrive at U.S. dealerships this summer, the 2023 Sequoia is a radical departure from its predecessor as curvaceous styling has been replaced by sharp lines and chiseled surfaces. The front end closely echoes the Tundra as there's a massive grille flanked by T-shaped headlights. Designers also gave the SUV blacked out A-pillars and muscular fenders reminiscent of the pickup. They're joined by streamlined bodywork, a more modern greenhouse, and an upright rear end with slender taillights as well as prominent Sequoia badging. Each trim has its own distinctive styling features and Kevin Hunter, the President of Toyota's Calty design studio, said "Our primary design goal for Sequoia was to create a sophisticated, yet tough and active lifestyle SUV that looks capable of handling a diversity of big adventure needs." He added, this "holds true whether it's a night out on the town with friends, towing a boat to the lake with family, or taking a more extreme off-road adventure." While reaction to the model will likely be mixed, buyers looking for a sportier appearance can opt for a TRD Sport package. Available on the entry-level SR5 trim, the package adds 20-inch matte black wheels, Bilstein shocks, and TRD-tuned springs. The cabin also gets a minor makeover thanks to aluminium pedals and a red push-button ignition. There's also a new TRD Off-Road package, which takes things in a decidedly more rugged direction. It features TRD-tuned shocks and springs as well as a locking rear differential. They're joined by unique 18-inch alloy wheels and a red front driveshaft for "added flair." Speaking of the latter, buyers will find aluminium pedals and a red push-button ignition. The TRD Off-Road package also includes Downhill Assist Control, a Multi-Terrain Select system, and a Multi-Terrain Monitor that provides an assortment of camera views. They're joined by Crawl Control, which effectively acts as a low-speed cruise control system so you can focus on avoiding obstacles. Of course, if you really want to go off-roading, you should upgrade to the Sequoia TRD Pro. It features many of the same upgrades as the TRD Off-Road package as it comes equipped with a locking rear differential, Multi-Terrain Select, Crawl Control, and Downhill Assist Control. However, they're joined by FOX internal bypass shocks and an aluminium front skid plate. Those aren't the only changes as the TRD Pro can easily be distinguished by a "TOYOTA" branded grille, which features marker lights as well as an integrated light bar. Other highlights include a roof rack, a dual exhaust tip, and 18-inch alloy wheels with a black finish as well as an "increased offset to provide a wider stance." Buyers will also find black accents, technical camo, and a unique interior. Moving into the cabin, the dated controls and technology have been replaced by a modern interior that largely carries over from the Tundra. It's a huge improvement and one that's been long overdue. Toyota didn't go into many specifics, but even the entry-level SR5 variant will come equipped with a 12.3-inch digital instrument cluster and an 8-inch Toyota Audio Multimedia system. The latter is a touch- and voice-focused infotainment system, which features cloud-based navigation and an available Intelligent Assistant that responds to the "Hey Toyota" wake word. Of course, the big thing that separates the Sequoia from the Tundra is the third-row. Unfortunately, it doesn't appear to follow in the footsteps of competitors by folding flat. This seems like a missed opportunity, but Toyota made the best of the situation by equipping the model with an exclusive sliding third-row and an adjustable cargo shelf system. As a result, the third-row can slide 6 inches (152 mm) to either maximize legroom or cargo space. To make up for the lack of fold-flat seats, the adjustable cargo shelf system features three preset heights including one that matches the height of the rear seats when they're folded down. Full details will be release closer to launch, but the entry-level SR5 can be equipped with a Premium package that adds SofTex seats, a power third-row, and a 14-inch Toyota Audio Multimedia system. The package also includes a hands-free power liftgate and 120-volt power outlets. Buyers looking for more luxury can upgrade to the Limited trim, which adds a heated steering wheel and heated / ventilated front seats. The model also includes content from the SR5 Premium package as well as manual sunshades for rear passengers. The Platinum ups the ante with second-row captain's chairs as well as heating and ventilation in the first two rows. Buyers will also find a wireless smartphone charger, a panoramic moonroof, a head-up display, and a 14-speaker JBL premium audio system. Sitting at the top of the range is the all-new Sequoia Capstone, which echoes the recently introduced Tundra variant. It features a unique exterior with power running boards, additional chrome accents, and 22-inch chrome wheels. While the exterior brings the bling, the cabin is focused on luxury as drivers will find two-tone semi-aniline leather seats and American Walnut wood trim. They're joined by an illuminated "Capstone" logo on the dash as well as acoustic front door glass. The changes continue under the hood as the Sequoia will be offered exclusively with an i-Force Max powertrain. That's a promising development as it features a twin-turbo 3.5-liter V6 and an electric motor that is effectively sandwiched between the engine and the 10-speed automatic transmission. While some people might frown at the hybrid powertrain, they shouldn't as it develops an impressive output of 437 hp (326 kW / 443 PS) and 583 lb-ft (790 Nm) of torque. For those keeping score at home, that's 56 hp (41 kW / 57 PS) and 182 lb-ft (246 Nm) more than the old 5.7-litre V8. The good news doesn't end there as the hybrid powertrain bests everything in the Tahoe's engine compartment and also compares favourably to the Expedition's 3.5-liter EcoBoost V6. In higher-end variants, that engine produces up to 440 hp (328 kW / 446 PS) and 510 lb-ft (691 Nm) of torque on premium fuel. Fuel economy estimates weren't released, but Toyota hinted it will be a "huge improvement" over its predecessor. That's easy to believe as the 2022 Sequoia has a dreadful fuel economy rating of 13 mpg city, 17 mpg highway, and 15 mpg combined with rear-wheel drive. While body-on-frame SUVs are a bit of a rarity today, the 2023 Sequoia keeps that tradition alive. However, it promises to be far more comfortable than its predecessor as it features a fully boxed frame and an architecture that is shared with the Tundra as well as the Land Cruiser and Lexus LX. Toyota didn't delve into specifics, but said rigidity and ride comfort have been improved thanks to the use of new techniques such as laser welding. The automaker also noted the SUV has been equipped with a new electric power steering system that offers improved feel. Customers will also find a modern multi-link rear suspension, which promises to deliver a smooth ride. The latter can be further enhanced with features such as an Adaptive Variable Suspension and a Load-Levelling Rear Height Control Air Suspension. Since customers use their SUVs for more than just hauling people, engineers increased the towing capacity by nearly 22 percent to 9,000 lbs (4,082 kg). That's more than the Tahoe and Toyota noted the Sequoia will be offered with a Tow Tech Package, which includes Straight Path Assist as well as a Trailer Backup Guide. It's also worth mentioning power folding, extending, and retracting tow mirrors are now available on the Sequoia for the first time. On the safety front, all Sequoias will come equipped with the Toyota Safety Sense 2.5 suite of driver assistance systems. It includes a Pre-Collision System with pedestrian and bicyclist detection. The system even works when making left-hand turns and can automatically apply the brakes if a collision is imminent. Other notable safety features include Dynamic Radar Cruise Control, Lane Departure Alert with Steering Assist, and Lane Tracing Assist which helps to keep the vehicle centred in its lane. They're joined by Automatic High Beams, Road Sign Assist, Rear Seat Reminder, a Blind Spot Monitor, and a Panoramic View Monitor. The list goes on as the model can also be equipped with Rear Cross Traffic Alert and Front / Rear Parking Assist with Automatic Braking.
Americans are denied the Yaris GR, but instead they will get this even more potent machine, the Corolla GR. It is a direct rival to the Honda Civic Type R and it will be interesting to see how the sales battles between them pan out.
There is now a family of GR-badged cars on offer with the GR86 and GR Supra cars also on show here.
Reminder of Toyota's commitment to all manner of different forms of motorsport came from a variety of very different machines that were on the stand.
Whilst the Corolla GR is very much the halo model to the range it will sell in small quantities compared to the regular sedan and hatch models. The former is the big seller in the US, but it was a hatch that I spotted here.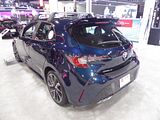 Whilst the Camry may have lost its title of best-selling passenger car in America to an array of crossovers, it is still a very important product in the range and there were several example of the current model here.
The second generation Mirai – a hydrogen powered vehicle – looks rather less gawky than the first, so you might not even notice it at a quick glance. There are quite a few on the roads around LA as there are some refuelling sites in the area.
There were examples of all of the crossover models in the current range here, from the Corolla Cross and RAV4, through the hybrid-only Venza to the larger Highlander as well as the more truck-like 4Runner.
A rather smaller crossover was this bZ Compact concept which was making its first appearance here. Toyota were pretty coy about the car and offered few details, as they wondered why it had been released and was quite so prominent on the stand. They did reveal the SUV's dimensions, while remaining coy about its battery-electric powertrain. Getting straight to the point, the bZ Compact SUV measures 4,538mm (178.7 inches) long, 1,888mm (74.3 inches) wide excluding mirrors, and 1,560mm (61.4 inches) tall. This means it is 152 mm (6 inches) shorter, 28 mm (1.1 inches) wider,  and 90 mm (3.5 inches) lower than the Toyota bZ4X. When compared to the ICE-powered range, the bZ Compact SUV is 78 mm (3.1 inches) longer than the Corolla Cross and 62 mm (2.4 inches) shorter than the RAV4. The SUV was designed at the Toyota ED2 centre in South France, which explains the similarities with the hybrid C-HR Prologue. Compared to the latter, the bZ Compact SUV has a longer stance with cleaner surfacing on the profile and more serious looks. Highlights include the 21-inch alloy wheels, the full-width LED lighting units on both ends, the muscular bodywork, and the coupe-style rear windshield. Inside, the concept comes with curved screens for the infotainment and the digital instrument cluster, a yoke steering wheel, and a floating centre console. This futuristic layout is expected to be toned down for production. As for the sustainable plant-based and recycled materials in the cabin, those could be retained to some extent as they become more and more popular. The bZ Compact SUV is also equipped with an in-car personal assistant that communicates with the driver and the passengers through audio and lighting cues. Toyota didn't reveal any information about the platform, the battery capacity, or the power output and placement of the electric motors. The production version of the Toyota bZ Compact SUV concept, which is rumoured to adopt the bZ3X name, will be one of the 6 new bZ models Toyota says it's going to launch in Europe by 2026. As suggested by the name and the footprint, it will be positioned in Europe's C-SUV segment, slotting below the already available bZ4X. Toyota's goal is to achieve carbon neutrality in Europe by 2040 at the latest, and on a global scale by 2050.
There were Toyota trucks here, too, of course, the Tacoma and larger Tundra.
Finally, a couple of concept vehicles that have been seen before were in evidence here, once again. These were the i-Road and the LQ.
VINFAST
Vietnamese car manufacturer VinFast brought four electric vehicles to the Show that it plans to sell in the United States and had a huge stand area on which they were displayed. The company has already opened pre-orders of the VF 8 and VF 9 in the U.S. and in LA, has also showcased the subcompact VF 6 and compact VF 7. These vehicles cover the B, C, D, and E segments, representing roughly the subcompact to midsize segments in the U.S. While VinFast has not yet announced full specifications for VF 6 and VF 7 models that will be sold locally, it says that those attending the LA Auto Show will be able to "directly experience the integrated smart technology and the detailed designs of two models, VF 6 and VF 7." In addition to being able to see these two models on static display, attendees will have the opportunity to experience a VF 8 at the test track area during the event. More than 65,000 reservations have been placed for the VF 8 and VF 9 around the world, although it is not clear how many of these have been made in the U.S. What we do know is that VinFast will adopt an intriguing sales model in the U.S. where the VF 8 can be purchased from $42,200 without the battery while the battery is leased for a monthly fee of $35. Similarly, the VF 9 starts at $57,500 without the battery plus a $44 monthly fee for the battery. Auto News reports that the carmaker received some pushback against this sales model and that it will also sell the VF 8 for $57,000 with the battery and the VF 9 for $76,000 with the battery. U.S. pricing for the VF 6 and VF 7 has not been announced. However, the duo will be more expensive than originally planned as VinFast is no longer eligible for the $7,500 federal tax credit following the implementation of President Biden's Inflation Reduction Act.
VOLKSWAGEN
America has never really taken to the Golf like the rest of the world, but the model does still enjoy steady sales and the latest eight generation car is now available here, with the focus being on the GTi and R models, and just the hatchback body.
The US-built Passat is no more, but the Jetta and Arteon remain in the range for now and the latest versions of each of these was on show.
Like most brand, VW have shifted more to a cross-over focused range and there are now several of them on sale in the US, most of which are not offered to Europeans The range starts with the Mexican-built Taos and then goes through the 5 and 7 seat Tiguan with the larger Atlas and Atlas Sport Coupe competing in the large family crossover sector.
American buyers are not offered the ID3 but the larger ID4 has gone on sale here, and so this one featured on the stand and many were taking a good look.
One of the most popular cars at the event, and to which I had to return many times to try to get some photos is the ID Buzz. Although this is likely to be costly when sales start sometime in 2023, everyone is expecting it to prove popular as there is still huge nostalgia here for the old Type 2, from whose styling this new car draws its inspiration.
VOLVO
Star of the Volvo stand was the C40 Recharge, which has recently gone on sale.
Also here were more familiar models including the trio of XC40 XC60 and XC90 and the S60 saloon.
NORTH AMERICAN CAR OF THE YEAR
At the far end of the South Hall was a display of all the finalists in the North American Car of the Year contest, giving another chance to see examples of models which had mostly been seen elsewhere in the Show.
120 YEARS OF MOTORING
A small feature in the foyer of the West Hall was this display with two contrasting examples of motoring from either end of a 120 year period, both of them electric.
GALPIN
Once again, local firm Galpin Motors had an entire hall to themselves in the area which links the West and South Halls. They had a variety of different displays to showcase everything from the latest production electrics to some supercars and some microcar classics.
An interesting display of microcars included these diminutive machines which few would be able to identify without some help. These included the Scootacar, the Biscuter and the Zundapp Janus
I've seen these at shows, especially in Spain, before. It is a Biscuter. Originally conceived by legendary automotive and aeronautical designer Gabriel Voisin as the Biscooter, this microcar, like most, was designed to be as cheap as possible to buy and operate. The French didn't go for it and the license to build it was sold to a Spanish company who made some tweaks and created the Biscuter. They sold thousands of the little Biscuter to a post-war Spain in need of any transportation.
This one is the PTV. As sporty as microcars get, the Spanish-designed PTV looks almost like an exotic sports car when compared to the Biscuter. It wasn't exactly fast, but with a rear-mounted 250 cc single-cylinder motor capable of 11 horsepower it could reach a top speed of about 45 mph. In PTV 400 trim it had a larger motor with an obscene 19 roaring horses. Doors were optional.
And finally there was the P. Vallée. France's Loire valley is known for it stunning wines, though less so for its cars. That didn't stop an ex racer from trying to make his own car, the Chantecler (rooster in English). This little three-wheeler looks more like a bumper car than a real car. In all, 200 of this little Chantecler were built.
As if the Aston Martin Virage wasn't rare enough, the company built a small number of five-door "Shooting Brake" examples. This is a later model with a 6.3-liter V8 good for 465-hp and a 6-speed manual built for a German doctor who named it "Vacances" because he, presumably, took it on vacations. This car also sports a rear-facing seat, making it the only known Aston Martin with seven seats!
A car I recall seeing in Phoenix earlier in the year, so I knew what it was, is this Rinspeed 969 Turbo. Introduced at the 1985 Geneva Motorshow , Rinspeed's design is a hybrid of the Porsche 911 Turbo and Ferrari Testarossa. The "Rinspeed 969", later renamed "Rinspeed R69". Unlike Rinspeed's previous 911 conversion, the Rinspeed 939/R39 which was only available as convertible, Rinspeed offered the 969 as both a Coupe and a Convertible. The 969-design for the 930 Turbo included a slant nose with (Porsche 944) pop-up headlights, bumpers with foglights, Testarossa inspired / copied side-intakes complete with the full-length streaks and then to the rear of the car 944 tail lights incorporated in a very square rear end that really got the Testarossa-vibe for sure. A roof spoiler just above the rear window and a very interesting air intakes that replace the whale tale spoiler that is so typically Porsche 911 Turbo. Wheels installed by Rinspeed were either 16″ 5-spoke Gotti wheels or BBS RS. The 3,299cc flat 6-cylinder engine uses a Bosch K-Jetronic fuel injection system and a single KKK turbocharger helping to deliver 300 horsepower at 5,500 RPM. There is a four-speed manual transmission and ventilated disc brakes at all four corners. It is thought that just 12 of them were produced.
This is a 1991 Porsche 911 Carrera Baja. The "BAJA 911"  started life as a 911 Porsche Carrera 4 Cabriolet before receiving the full treatment from Russell Built. This luxury prerunner inspired build merges world-class race bred engineering and chassis fabrication with the fit and finish expected from concourse level show cars. Seamlessly merging a purpose built Baja race prepared chassis, long travel suspension, an exclusive AWD drivetrain and all the modern day creature comforts into a highly refined luxury dual purpose Porsche 911.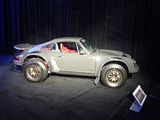 This is a 1974 Porsche 911 Targa "Safari". Galpin has been the leader in both the automotive retail industry and car customization culture for over 60 years. We first rose to fame with the introduction of "Galpinized" rides in the '70s, but we reached a whole new level when Galpin was selected to produce cars for MTV's "Pimp My Ride" in the mid-2000s. Keeping that legacy alive, Galpin has become a force to be reckoned with in the prestigious Porsche Classic Restoration Challenge. Last year, Galpin won the prestigious People's Choice Award and was runner up among all the Porsche dealers in the West Area Region with a Porsche 356 Cabriolet entry. For 2022, this off-road ready, highly-customized lime-green 911 "Safari" was Galpin's weapon of choice. "Our goal with this 911 Targa was to build something that was modified like it might be in period, inspired by the Safari Porsche's that raced in East Africa in 1973, all while paying homage to Galpin's history in off-roading and racing," said Galpin Motors' President Beau Boeckmann. Porsche Santa Clarita's lead technician and Shop Foreman Nick Briseno and Galpin Speed Shop's Dave Shuten led the restoration charge, earning a People's Choice Award for the second year in a row. This 911 Targa "Safari" is an incredible example of Beau and the team's creativity and hard work.
There was also a line of 911s including the latest GT3 showing the progression of this long-lived nameplate.
This is a 2019 Porsche 911 GT3 RS. This GT3 RS comes to us with just about 15,000 miles on the odometer and has been fastidiously maintained and cared for. This GT3 RS features Lizard Green exterior finish over a black interior. Features include a fixed rear spoiler, extended range fuel tank, BOSE surround sound system, carbon ceramic brakes, racing bucket seats, centerlock wheels and carbon fiber interior trim. This GT3 RS comes equipped with a normally-aspirated 4.0L flat-six engine with a 7-speed PDK transmission.  The Porsche 911 was created with motorsports in mind. When Porsche created the GT3 RS, the intention was to provide their customers with a car that is built and bred for the racetrack. At any given day, there are more than likely multiple GT3 RS examples setting lap records on the circuits of the world.  For the GT3 RS, the pursuit of performance is left unhindered. Drastic weight reduction and aerodynamic improvements are evident of such a pursuit. Its handling, acceleration and usability make this the top choice of drivers irrespective of skill level.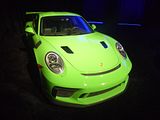 Completing the Porsche history theme were a pair of 356 models, both dating from 1955.
This one is a 1955 Porsche 356 Speedster. As winner of the "People's Choice" Award at the 2021 Porsche Restoration Challenge, this Porsche 356 has been featured in dozens of publications. This specific 356 was built July 29, 1955 and imported through Max Hoffman's dealership and has spent its whole life in California. The prior owner, of 50 years, had done customizing work to it, so Galpin knew it couldn't be restored back to perfect original condition. Under the direction and vision of Beau Boeckmann, the team at Porsche Santa Clarita created a period correct custom, which is what we would have done if Galpin had a Porsche dealership in 1955. The body of the 356 was upgraded with shaved rocker moldings and rear reflectors, a louvered deck lid, and filled, smoothed and chromed bumpers. A custom-mixed Blue-Green paint from PPG accents the tailored body, as does a set of 1960 magnesium Halibrand knock-off wheels finished in House of Kolor gold with a matte clear finish. Under the rear decklid lies an upgraded 1600SC flat-four air-cooled pushrod engine with chromed components mated to a 519 transaxle. The interior features red leather with tartan inserts and colour-matched Blue-Green trim. Porsche Santa Clarita technician Nicolas Briseno carried out the mechanical restoration while Dave Shuten of Galpin Speed Shop completed the body and paint modifications.
Cars you can buy now from Galpin Motors and elsewhere include the Volvo C40 Recharge, Ford Mustang Mach E and the Ford F150 Lightning
There were also a number of Bronco models here, a vehicle which Ford themselves hope people will personalise and customise as they try to recreate the enthusiasm that there was (and still is) for the original model.
These were the only two Aston Martin models at the event, a DBX 707 and the latest Vantage AMR F1 Edition
And Lotus was represented by the recently discontinued Evora GT in a custom sea green paint and the rather older Esprit Turbo.
A further supercar was this Ford GT "Beauberry". You've never seen a Ford GT like this before! Galpin Motors President Beau Boeckmann, custom ordered this 660-hp 2022 Ford GT with a one-off show stopping factory custom paint colour properly named Beauberry. This GT is loaded with interior and exterior factory options. The unique interior includes a serialized IP badge, F1-inspired steering wheel wrapped in ebony Alcantara, LED rev counter, matte carbon bezel and a set of fixed carbon fiber Sparco seats with leather wrapped bolsters and reclining functionality.  The exterior features an aero optimized design in full carbon-fibre, speed-activated splitter and keel deployable rear wing. Triple digit speeds and apex monster handling comes easy with Brembo carbon ceramic brakes on forged aluminium 20 x 8.5-inch front and 20 x 11.5-inch rear wheels wrapped on sticky Michelin Pilot Sport Cup tyres. Aside from being a supercar with raw performance, this Ford GT stands out in the crowd with its brilliant paint and unique interior.
And finally there was an example of the Nash Metropolitan.
THE KENTIA HALL
Located down below the South Hall is the Kentia Hall, now referred to as the Garage. This contains a mix of trade stands and some wildly modified and customised vehicles that are not to my taste at all. But there are usually a few things of interest, so I do take a little time to go have a look.
On the way into the hall were a number of examples of the first generation Mustang.
There was also a classic-shaped Porsche 911 Carrera RS
This Ford Galaxie caught my eye, as well.
And finally, among the long lines of modified cars were a quartet of rather nice 1930s American models, all beautifully presented.
Whilst it was nice to get the chance to go to a proper Motor Show again, I left this one with a feeling of disappointment that the Auto Show of 2022 is nothing like the Auto Show of the pre-Covid era. Gone are a lot of the brands that you would have seen at what is the US' second largest event in its largest regional market, gone are almost all of the show launches, gone are most of the concept cars, so what remains is a showing of part of the market,  which can't quite make up its mind as to whether this is a family day out which happens to include cars or whether this is still a serious showing of the state of the auto market in the US in late 2022. Given the number of other shows that have been cancelled all together, I guess I should simply be grateful that this one still exists even if it is not quite what it used to be in the glory days of a few years ago.