Caffeine & Machine opened to the public in 2018 and word quickly spread, so car and bike enthusiasts from all over the country, and sometimes beyond soon made their way to this middle England location to have a look. Instant popularity required a couple of extensions to the parking area almost immediately, and it was not long before a ticketing system was required to ensure that if people turned up, they actually get on site. Covid restrictions did cause a temporary restriction on site access, but Phil McGovern and his team were able to open up as soon as restrictions eased a little, taking advantage of the fact that is mainly an outdoor location and there is ample weather and winter proofing, so the fans started to visit again in the second half of 2020 and again in mid 2021 once we a  were all allowed out again. I rather assumed that just about every enthusiast who lives within reach of the venue had by now paid at least one visit. But it seems I was wrong, as a conversation with Georgina Taylor, who lead the Abarth Girls Group and who is as inveterate an attendee at events as I am, revealed that she had never been. She decided to rectify that and decided to arrange for an Abarth Girls meet at the site. And then, to ensure that it became a bigger Abarth gathering than that, advertised the event on a number of other Abarth Groups inviting anyone who was free to come along. Whilst welcoming Car Clubs to the site, Caffeine & Machine have always refused to give anyone exclusivity, but we figured that if Abarth Owners bought all the tickets, we would end up with that or something pretty close – not that the owners needed much encouraging. Very quickly it became apparent that of the 250 tickets available for a winter gathering, Abarths would dominate, with around 125 tickets sold to Abarth owners. And sure enough, as the official arrival was upon us, there were lines of Abarths queuing up to get in and park up. It was not quite all Abarths, as this report does contain a few other notable cars from what turned out to be quite a sunny late November afternoon will evidence, but they certainly were dominant. Read on to see for yourself!
ABARTH
The vast majority of Abarth cars here were the 500-based models which have been on sale now since the end of 2008, following a launch at the Paris Show that year. Since that time there have been a number of detailed changes to the standard cars and a lot of limited editions. Those who really know the marque can spot most of them, but some are so subtle that unless there is a badge you can see, you will not be quite sure which version you are looking at. It used to be relatively easy, when the model was first launched, as there was only one version as shipped ex works called the 500. It had a 135 bhp 1.4 litre turbo-charged engine coupled to a five speed manual gearbox, with 16″ alloys as standard, and the option of 17″ wheels, and a colour palette comprising of two whites (BossaNova White, the standard colour, or the pearlescent Funk White), Red (Pasadoble), Pale Grey (Campovolo) or Black. If you wanted more power – 160 bhp – then you could order an Esseesse kit, which came in a large wooden crate, containing new wheels, springs, an ECU upgrade, the Monza exhaust system and badging. It was dealer fitted and could be applied at any time within the first 12 months or 10,000 miles from registration. Needless to say, it proved popular. As were many of the optional extras, with stickers for the sides, a large scorpion for the bonnet and even a chequered pattern for the roof among the personalisation options offered.
Whilst a sliding glass sunroof (Skydome in Fiat/Abarth parlance) was an option from inception, fans of open air motoring had to wait until Geneva 2010 for the launch of the 500C models. For the first few months these cars only came with the robotised manual gearbox, which limited the appeal in the eyes of some, but they also introduced us to the "bi-colore", a series of two tone cars, with upper and lower halves of the body painted in different colours. It took us a while to get used to this, as no other production road cars had been painted like this for some time, but now this is seen as yet another of those marque defining attributes, and (perhaps with the exception of the rarely seen Rally Beige and Officina Red combination that would come for 2014) in the eyes of many this distinctive look enhances the appeal of the cars still further.
Having used the legendary 695 badging from the 1960s on the Tributo cars, at the 2012 Geneva Show, Abarth dusted off the 595 name that had been used on the less powerful of the Nuova 500 based cars of the same generation, and created two new versions which we should think of as Series 2 cars, the 595 Turismo and Competizione, both of which could be bought in either closed or open top C guise, with either the 5 speed manual or robotised automated gearshifts. Both models had the 160 bhp engine as standard. Effectively they were a replacement for the Esseesse kit, and it meant that the cars were produced complete at the factory, rather than needing the dealer to undertake the upgrade (and the associated paperwork), though Abarth did not withdraw the Esseesse kits from the market for some while. Turismo, as the name suggests was aimed slightly less extreme in intent, featuring standard leather upholstery, upgraded dampers and climate control, Xenon headlights and Alutex interior details. The sportier Abarth 595 Competizione replaced the leather seats with Sabelt cloth sport seats and Alutex with aluminium, while adding p-cross-drilled brakes and the Record Monza dual-mode exhaust.
During the life of the 500-based model there have been an almost bewildering array of limited edition cars, not all of which have been sold in the UK. One of the most special is the 695 Edizione Maserati of Sam Cottenden, a car which has been off the road for many months awaiting a turbo actuator part, which had finally arrived a few weeks ago, so she can bring her much loved car to the 2021 event season. It was at the 2012 Geneva Show when Abarth first  showed the 695C Edizione Maserati, a limited production version of the Abarth 500C convertible with the 1.4 Turbo T-Jet 16v engine rated  at 180 hp,  a 5-speed electrically operated manual Abarth Competizione gearbox with steering wheel controls, Maserati "Neptune" 17″ alloy wheels with performance tyres, Brembo 305 mm brake discs with fixed four-piston caliper and special shock absorbers, Record Modena variable back-pressure "dual mode" exhaust, Pontevecchio Bordeaux body colour, Xenon headlights with dipped and driving light functions, sand beige Poltrona Frau leather seats with containment strips featuring single-layer padding and the pista grey contrasting electro-welding, black leather steering wheel, aluminium pedal unit and sill plate, carbon fibre kick plate, boosted hi-fi audio system. Production was limited to 499 units, and around 20 of them came to the UK, all in the Pontevecchio Bordeaux colour.  The grey cars were offered for sale in Asia, but such is the way with these things that several of these have subsequently been brought into the UK.
Rumours started to circulate towards the end of 2014 that Abarth were going to upgrade the Competizione model, so as better to bridge the gap between the Turismo and the 190 bhp 695 Biposto that had been added to the range earlier in the year. It was Geneva 2015 when the result was finally shown to an expectant fan base. Most exciting news was that thanks to a bigger Garrett Turbo, the engine had been tweaked to 180 bhp, and with reduced CO2 emissions. A standard spec that included Koni Dampers, Brembo brakes, Xenon lights, Sabelt seats, Climate Control, parking sensors as well as other refinements that had been added like the TFT instrument display all proved very compelling, so not long after the first cars reached the UK  in June of 2015, I found temptation too hard to resist, and as is well documented here, swapped my 2010 car for one of these. At the time I ordered it, Cordolo Red, a tri-coat pearlescent paint which shimmers in bright sunlight looked set to become one of the most popular colours of the lot, even though it is a cost option. Indeed, the Launch Edition models were all offered either in this colour or Scorpion Black, with black wheels. Surprisingly, the colour was not carried over to the Series 4 cars.
Seen by most as the ultimate model, there was the 695 Biposto. First shown at the 2014 Geneva Show, this 2 seater (that's what Biposto means in Italian) is nothing other than a road legal version of the 695 Assetto Corse Racing car, a vehicle which has its own race series in Europe. Although the car is road legal, it was envisaged that the majority of people who buy one of these cars will use it on the track and quite frequently. So it was conceived accordingly. That means upgrades to all the important bits – engine, brakes, suspension, gearbox – and some fairly drastic measures to save weight which resulted in a car which generates 190 bhp and 199 lb/ft or 250 Nm of torque with a kerb weight of just 997kg. That's enough to give a 0 – 60 time that is under 6 seconds, and a top speed of 143 mph. Those are supercar figures produced by a city car. There's more to it than that, though, as the changes that go to make a Biposto are extensive, and they have been well thought through, so this is a long-way from being a hastily conceived or tuned up special. Ignoring the limited edition cars which arrived during 2015, the "regular" Biposto is only offered in Matt Performance Grey paint, and the car is visually distinctive, with a new front bumper, rear diffuser, wider arches, new skirts and bigger roof spoiler. Although the engine is still the same 1.4 T-jet that features in the lesser 500 and 595 cars, it has been reworked here, with a new Garrett turbocharger, larger intercooler, altered fuel rail and an Akrapovic exhaust system. Buyers can choose between the standard five speed gearbox or an optional race-bred dog-ring unit mated to a mechanical limited slip diff. The standard car's MacPherson strut and torsion beam suspension has been reworked, too, with altered springs, wider tracks adjustable ride height and dampers with more resilient bushings, using Extreme Shox technology shock absorbers. The brakes are upgraded in line with the extra power, featuring  305mm Brembo discs and four pot calipers up front and 240mm discs with single pot calipers at the rear. The wheels are lightened 18″ OZ and attached via a titanium hub, shod with bespoke 215/35 Goodyear tyres. In the interest of weight saving, a number of standard trim items are removed, including the regular door trims, air conditioning, the rear seats and some of the sound deadening material. Even the standard air vents have been changed so they are covered by a simple mesh. In their place is plenty of polished carbon fibre, a titanium strut brace, racing seats and harness, as well as special trim features such as new pedals, tread plates and a race inspired digital display on the dash where the radio usually sits. After the grey coloured cars, Abarth followed up with the Biposto Rrecord Edition, all finished in Modena Yellow. Just 133 were made of which around 30 are believed to have come to the UK. Many of them are hidden away in collections, but Alex Frank uses his and brings it to lots of events during the course of a year.
What is known as the Series 4 version of the familiar 595 reached the markets in the middle of 2016. After rumours had circulated all winter following the launch of the facelifted Fiat 500 last year, Abarth finally unveiled the Series 4 at the end of May 2016. Initially, we were told that the cars would not be available in the UK until September, but that came forward somewhat, with dealers all receiving demo cars in June, and the first customers taking delivery in July.  Three regular production versions of both the closed car and the open-topped C were initially available, all badged 595, and called Custom, Turismo and Competizione, as before, though numerous limited edition models have since appeared and in most case disappeared. The most significant changes with the Series 4 are visual, with a couple of new colours, including the much asked for Modena Yellow and a different red, called Abarth Red, which replaces both the non-metallic Officina and – slightly surprisingly – the tri-coat pearlescent Cordolo Red. as well as styling changes front and rear. The jury is still out on these, with many, me included, remaining to be convinced. At the front, the new air intake does apparently allow around 15 – 20 % more air in and out, which will be welcome, as these cars do generate quite a lot of heat under the bonnet. Competizione models for the UK retain the old style headlights, as they have Xenon lights as standard, whereas the Custom and Turismo cars have reshaped units. At the back, there are new light clusters and a new rear bumper and diffuser. Inside, the most notable change is the replacement of the Blue & Me system with a more modern uConnect Audio set up, which brings a new colour screen to the dash. Mechanically, there is an additional 5 bhp on the Custom (now 145) and Turismo (now 165 bhp) and the option of a Limited Slip Diff for the Competizione, which is likely to prove a popular option. Details of the interior trim have changed, with a filled-in glovebox like the US market cars have always had, and electric windows switches that are like the US ones, as well as a part Alcantara trim to the steering wheel in Competizione cars. These cars have now been on offer for five years and with Abarth sales on the rise, it was no surprise that they were particularly well represented here.
More recently, Abarth have produced the 695 Rivale, a celebration of Fiat's partnership with Riva, which has already seen a special Riva version of the 500,. Described as being "the most sophisticated Abarth ever", it is available either as a hatch or a cabriolet, with both of them featuring a two-tone Riva Sera Blue and Shark Grey paintwork. The Rivale  is adorned with an aquamarine double stripe, satin chrome finish on the door handles and satin chrome moulding on the tailgate, various aesthetic elements inspired by the Riva 56 Rivale yachts and '695 Rivale' logos, joined by Brembo Brakes, Koni suspension, and 17-inch Supersport alloy wheels. Enhancing the nautical theme the new 695 Rivale features either a carbon fibre or mahogany dashboard, black mats with blue inserts, blue leather seats and door panels, carbon fibre kick plates, special steering wheel wrapped in blue and black leather and with a mahogany badge, blue leather instrument panel cover, and mahogany gear lever knob and kick plate. These are joined by the standard Uconnect infotainment with a 7-inch display, which is compatible with Android Auto and Apple CarPlay, and there is also a hand-written numbered plate that can be customised with the mane of the customer's yacht on request. Powering the 695 Rivale is the same 1.4-litre turbocharged engine that makes 180PS (177hp) and 184lb/ft of torque, that features in the 595 Competizione, allowing it to go from rest to 100km/h (62mph) in 6.7 seconds and up to a top speed of 225km/h (140mph). This is a regular model in the range, but confusingly, there is also the Abarth 695 Rivale 175 Anniversary, created to celebrate 175 years of the Riva brand. Just 350 of these were produced, half of them the hatch and the other half cabriolets. These featured 17-inch alloy wheels with a special pattern, celebratory badge on the outside, hand-crafted details such as the two-tone colour – blue and black hand-stitched leather seats with a celebratory logo stitched onto the headrest, carbon dashboard silk screen printed with special logo, numbered plate. Standard Rivale cars arrived in the UK in April 2018, and quite a few have been sold. They always attract lots of interest when they do appear.
A top of the range 595 Esseesse model was added in early 2019. These cars have only sold in quite small numbers, so you don't see them that often, but there were some here, including Tristan Fudge's example, which is black. This makes it unusual as the majority of these cars seem to be Campovolo Grey, and indeed there was a grey one here as well. The most obvious change externally is the adoption of the neat white painted 17inch multi-spoke alloy wheels that are an Esseesse trademark, while elsewhere it gets the same recently reprofiled bumpers as the standard 595. Inside, there's a pair of bespoke figure-hugging Sabelt high-backed seats with a carbonfibre shell and some natty red stitching, while carbonfibre trim also covers the pedals and the dashboard. Under the bonnet is the familiar 178bhp turbocharged 1.4-litre engine, but here it breathes in through a BMC filter and exhales from a switchable carbonfibre-tipped Akrapovič twin exit exhaust. There's no more power than the old Competizione, but the Esseesse gets that model's Brembo callipers for its 305mm front discs, plus a limited-slip differential. The suspension is largely carried over, including Koni's frequency selective dampers. All this comes at a price though, and so this has remained a relatively rare sighting compared to the Competizione which many still feel offers rather better value for money.
Abarth announced two limited edition models in the autumn of 2020 and an example of each of these was here, the 595 Scorpioneoro. Another model which takes its inspiration from a history which few in the Uk will be familiar with, there will be just 2000 units of this distinctive model available globally. The 595 Scorpioneoro was born to continue the legacy of the famous A112 Abarth "Gold Ring" of 1979, better known as the A112 Abarth "Targa Oro", of which only 150 models produced and, as with the new Abarth 595 Scorpioneoro, what made it so special were its stylistic details. These details included black livery, gold-coloured decorative line contouring the bodywork and the alloy wheels, also painted in the distinctive gold colour. This car is liveried in the same way, marked out by its black livery, decorative gold bodywork lining and gold-painted alloy wheels. It also boasts a matt black chessboard roof and grey finish on the door handles and mirror caps. And to mirror the 'Gold Scorpion' name, the car is adorned with gold scorpions on the bonnet and the wheel centres. Inside the cabin of this new exciting new model, you'll be greeted with a black dashboard which is home to the new gold finished 500 logo. Leather detailing on the seats introduces the original "scorpionflage". The seats are further embellished with dedicated stitching and personalised headrests with the word "Scorpioneoro", the Italian flag and Abarth embroidered on them. An additional touch of exclusivity comes from the numbered, gold coloured plaque, available solely on this model. The Scorpioneoro also comes with Abarth's top-of-the-range seven-inch touchscreen infotainment system, complete with Apple CarPlay and Android Auto, as well as a Beats Audio sound system. Mechanically, there is nothing new, as the car has the 165 bhp version of the familiar T-Jet engine and the other features you get in the regular production Trofeo cars.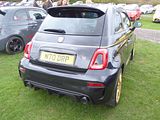 Many Abarth owners modify their cars, with a mix of cosmetic and mechanical personalisations, and with each car being effectively a one-off, many of the more distinctive ones become well known in the community. There were a number of examples here including the car of Georgina Taylor which is immediately identifiable from the burnt orange coloured wrap which it sports and that of Sam Tomlin which is a rather brighter orange.
Also well known in the community are these cars, from Cathan Evans, Lorraine Samwell's very pink 595 and Aidan Hunter's two tone car in Adrenaline Green and grey, not a combination offered by the factory.
Martin Johnson has gone for the sort of rally look with some very large spotlights on the front and plenty of stickers whilst Chris Parmenter (known in the community as Bella Abarth) has gone donw the carbon fibre route as well as some colour contrasts.
Some of the other modifications are more subtle, well slightly, anyway.
The Abarth Grande Punto debuted at the 2007 Frankfurt IAA Show, going on sale in the UK in late summer of 2008. Offering 155 bhp from its 1.4 litre T-Jet engine, coupled to a six speed gearbox, and riding on 45 profile 17″ alloys, the standard car got rave reviews from the journalists when they first tried it, and they were even more impressed by the changes wrought by the optional Esseesse kit. This increased power to 177 bhp, brought 18″ OZ lower profile wheels, whilst new springs lowered the ride height by 15-20mm, and high-performance front brake pads and cross-drilled front disc brakes helped the car to stop more quickly. The most distinctive feature of the car were the white alloy wheels, though, as owners found, keeping these clean is not a job for the uncommitted, and many have a second set of wheels that they use for grubbier conditions. Despite the positive press at launch, the car entered a very competitive sector of the market, and the combination of being relatively unknown, a limited number of dealers and the existence of established rivals from Renault and others meant that this always remained a left-field choice. The owners loved them, though, and they still do. The oldest cars have now had their 14th birthdays, and some have amassed relatively big mileages, but they are still a car for the cognoscenti.
The Punto Evo was launched at the 2010 Geneva Show, with the cars reaching UK buyers in the summer of that year, and it incorporated many of the changes which had been seen a few months earlier on the associated Fiat models, the visual alterations being the most obvious, with the car taking on the nose of the associated Fiat, but adapted to make it distinctively Abarth, new rear lights and new badging. There was more to it than this, though, as under the bonnet, the T-Jet unit was swapped for the 1.4 litre Multi-Air, coupled to a 6 speed gearbox, which meant that the car now had 165 bhp at its disposal. Eventually, Abarth offered an Esseesse kit for these cars, though these are exceedingly rare. For those in the know – which never seemed to be that many people – this was a really capable and desirable car, and the owners love them, lamenting the fact that the model had quite a short production life and has not been replaced
Punto owners personalise their cars, too. Two of the most distinctive are these: Ben Waite's bright blue (wrapped) car is a personal favourite, with this colour really suiting the car well, and the white being a great contrast, whilst Martin Jobson's dark green wrap is perhaps a little less bold but also very pleasing.
For a while it looked as if there was only going to be one 124 Spider here, the car belonging to Claire Pottle, but a couple of others did arrive during the afternoon. The Abarth 124 Spider was developed in parallel with the Fiat model. It does cost a lot more, and there are those who think you don't get enough extra for your money, but those who have driven it will tell you otherwise. You certainly get more power. The 1.4 MultiAir turbo unit jumps up from 138bhp to 168bhp, while torque also increases by a modest 10Nm to 250Nm, which gives it a  0-62mph time of  6.8 seconds, which is half a second quicker than the 2.0-litre Mazda MX-5. The top speed is 143mph. It weighs just 1060kg meaning a power-to-weight ratio of 158bhp-per-tonne, and with the new Record Monza exhaust system it sounds great even at idle. The Abarth version gets a stiffer suspension setup than the regular Fiat 124 Spider, with Bilstein dampers and beefed-up anti-roll bars. Bigger Brembo brakes also feature, with aluminium calipers. It can be had with a six-speed manual or six-speed automatic transmission with paddles, and the latter gets a Sport mode for quicker shifts. Many of the UK cars sport the 'Heritage Look' pack, which is a no-cost option. It brings a matt black bonnet and bootlid, plus red exterior trim detailing and has proved popular. The £29,565 starting price gets you standard equipment such as cruise control, climate control, Bluetooth, a DAB radio and satnav, plus Alcantara black and red (or pure black) seat trim. The automatic gearbox is a £2,035 extra, while an optional visibility pack brings LED DRLs, auto lights and wipers and rear parking sensors. Sales ceased during 2019, with around 1800 cars having been brought into the UK, so this is always going to be a rare car, and values are already increasing at a rate reflecting its desirability and the difficulty in finding one.
ALFA ROMEO
Having a rather short production life was the GTA version of the 147. Launched in  2002. this car was intended to compete with the most sporting Golf and Focus models of the day. as well as injecting more potency into a range which always seemed like it needed more power. Fitted with a 3.2 V6 engine which produced 247 bhp, the 147GTA was the most powerful hot hatch available at the time, and the modifications to the body, including lower sills and wider wheel arches, if anything, made it look even better rather than endowing it with the sort of "after market look" that can afflict some high end performance versions of regular family cars. Performance figures were impressive, with the car able to achieve a top speed of 153 mph. It had a widened body by 15 mm at each side to accommodate the 225/45R17 tyres. Most models had a 6-speed manual transmissions; whilst a smaller number of other models used the semi automatic Selespeed system. Production ran through to 2004 and in total 5,029 147 GTAs were built, 1004 of which were Selespeeds. Only around 300 came to the UK, so this was never a common sighting on British roads.
Also here was an Alfa from the current range, the highly regarded Giulia.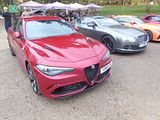 BENTLEY
In almost 20 years of production there have been three generations of the Continental GT Coupe, a car which literally transformed Bentley from the very small producer of cars to what it is today, and this example is from the third and still current range.
CITROEN
The Citroën Ami was announced in 2019 as the concept car Ami One. It is named after the original Citroën Ami, which was marketed from 1961 to 1978.. A two-passenger electric quadricycle, the production Citroën Ami was unveiled on 27 February 2020 at Paris La Défense Arena] and marketed from June 2020 in a unique "Ami Blue" body colour (blue-gray) customizable with stickers. To reduce its price, it is produced in Morocco in the PSA factory in Kenitra. It is a light motor quadricycle which can be driven in France without a license by people born before 1988 or by those older than 14 who have an AM license (EEA name)–formerly Road Safety Certificate (BSR) (national name). As a quadricycle it is limited to 45 km/h (28 mph).     The Ami can be used for carsharing in the Free2Move network of Groupe PSA, rented or purchased, on the internet or in stores Fnac and Darty with which Citroën has concluded a partnership for the exhibition, sale or rental of the vehicle from 30 March 2020. The vehicle can be picked up at a store, a Citroën dealership or delivered at home. In June 2022, Citroën launched the My Ami Buggy, a limited edition inspired by the My Ami Buggy concept. To save costs, the body is completely symmetrical; not only left-right symmetrical, but also front-rear symmetrical, except for the doors and the roof. The doors open in opposite directions, with the driver having a suicide door while the passenger door opens conventionally, allowing the same panels to be used. There are no other doors, making the storage spaces accessible only from the two side doors. All versions are left-hand drive, even those intended for use in the otherwise right-hand drive UK. The vehicle measures 2.41 m (7 ft 11 in) in length, 1.39 m (4 ft 7 in) (excluding mirrors) in width and 1.52 m (5 ft 0 in) in height. Its total weight including battery is 485 kg (1,069 lb). The quadricycle is equipped with a 6 kW electric motor operating at 48 V.  It accepts a lithium-ion battery with a capacity of 5.5 kWh, rechargeable to 80% in three hours on a 230 V household outlet, giving it a maximum range of 75 km (47 mi) WMTC.
LEXUS
Everyone had high hopes when Lexis launched the RC and RC-F coupe models that finally there would be strong competition to the BMW M4, Audi RS5 and Mercedes-AMG C63 Coupe, but despite some reasonably positive reviews at launch, the initial sales interest petered out very quickly and there are only a small number of these cars on UK roads, so it is always interesting to see one.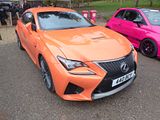 LOTUS
After a very long wait, the Emira is now starting to be delivered to customers and the car is now becoming more evident at meets and venues like this, so perhaps it was not a surprise that one popped up here.
McLAREN
A McLaren you don't see that often is the GT, even though it has been on sale for a good couple of years now, having been first announced at the 2019 Geneva Motor Show, thought full details of the car were not released until May 15 of the same year and sales did not start until the end of that year.  The McLaren GT is the company's first dedicated grand tourer and is based on the same platform underpinning the 720S with the addition of a carbon fibre rear deck to house a glazed tailgate creating significantly greater storage capacity. The GT features a new variation of the 3,994 cc twin-turbocharged M840T V8 engine found in the 720S. Having a new dedicated codename of M840TE, the new engine has smaller turbochargers that deliver lower peak performance than its Super Series variant but greater low RPM-performance and responsiveness. The GT has a rated power output of 620 PS (612 bhp) at 7,000 rpm, and the maximum torque is 465 lb/ft (630 Nm) at 5,500 rpm. The suspension system in the GT is also derived from the system in the 720S. The car utilises double wishbones at the front and rear axles, and a modified version of the ProActive Chassis Control II active damping system called Proactive Damping Control. The company claims that the GT has a top speed of 326.7 km/h (203 mph), it can accelerate from 0–60 mph in 3.1 seconds, and 0–200 km/h (0–124 mph) in 9 seconds. The McLaren GT features 150 litres of storage space at the front and 420 litres in the rear, accommodating a full-sized set of golf clubs.
PORSCHE
In 1979, Porsche unveiled a concept version of the 924 at the Frankfurt Auto show wearing Carrera badges. One year later, in 1980, Porsche released the 924 Carrera GT, making clear their intention to enter the 924 in competition. By adding an intercooler, increasing compression to 8.5:1, lowering the suspension as well as various other little changes, Porsche was able to develop the 924 Turbo into the race car they had wanted, dubbing it the "924 Carrera GT". 406 examples (including prototypes) of the Carrera GT were built to qualify it for Group 4 racing requirements. Of the 400 roadgoing examples, 75 were made in right hand drive for the UK market. In 1981 Porsche released the limited production 924 Carrera GTS. 59 GTS models were built, all in left hand drive, with 15 of the 59 being race prepared Clubsport versions. Visually, the Carrera GT differed from the standard 924 Turbo in that it had polyurethane plastic front and rear flared guards, a polyurethane plastic front spoiler, a top mounted air scoop for the intercooler, a much larger rubber rear spoiler and a flush mounted front windscreen. It also featured Recaro seats with fine red pinstripes and body paint was available in black, "Guards Red" and "Diamond Silver". It featured Pirelli P6 tires as standard, and Pirelli P7 tires were available as an option along with a limited slip differential. It lost the 924 Turbo's NACA duct in the hood but retained the air intakes in the badge panel. This more aggressive styling was later used for as motivation for the 944. The later Carrera GTS differed stylistically from the GT with fixed headlamps under Perspex covers (instead of the GT's pop up units). GTS models were also 59 kg (130 lb) lighter than their GT counterparts at 1,121 kg (2,471 lb), and Clubsport versions were even lighter at 1,060 kg (2,337 lb). In order to comply with the homologation regulations, the 924 Carrera GT and later 924 Carrera GTS were offered as road cars, producing 210 and 245 hp respectively. Clubsport versions of the GTS were also available with 280 bhp, and factory included Matter roll cage and race seats. 924 Carrera GT variations were known by model numbers 937 (left hand drive) and 938 (right hand drive).
The 718 Cayman GT4 and 718 Spyder (previously named the Boxster Spyder) were revealed in June 2019. Both are differentiated from less powerful models by more aggressive bodywork, including a lower stance, new front bumper, a large new diffuser, and exhaust pipes that are spaced farther apart. The GT4 also features larger side intakes and an adjustable wing, the latter of which helps it generate up to 150 kg (330 lb) of downforce, 50 percent more than its predecessor. Both have a naturally aspirated 4.0-litre flat-6 derived from the 992's 3.0-litre 9A2EVO engine, which is rated at 414 bhp/420 PS at 7,600 rpm and 420 Nm (310 lb/ft) of torque at 5,000–6,800 rpm. The engine has cylinder deactivation, a first for Porsche. Porsche claims a top speed of 304 km/h (189 mph) for the GT4, and 301 km/h (187 mph) for the Spyder. The front suspension and brakes are borrowed from the 911 GT3, and the adaptive dampers, ABS and stability-control programming are borrowed from the 911 GT3 RS. The anti-roll bar end links, camber and toe can be manually adjusted, but the ride height–3 cm (1.2 in) lower than a standard 718–is fixed. Both are around 15 kg heavier than the GTS models. Sales commenced in the spring of 2020. For the 2021 model year, the GT4 and Spyder became available with the 7-speed PDK dual-clutch transmission as an option. It reduces the acceleration time of 0-60 mph (97 km/h) from 4.3 seconds to 3.7 seconds. In March of 2023, Porsche announced that 718 GT4 and Spyder Models would cease production as of the 2024 model year.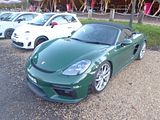 SEAT
There was quite a gathering of SEAT models here, mostly Cupra and other performance versions of the Ibiza and Leon, and they made for an interesting display in their own right as they managed to get all their cars in a couple of long lines, though there was a bit of a dampener on proceedings when one of the drivers had let's call it an incident in the mud and managed to slide into another car, damaging her own enough to make it undriveable.
The initial SEAT León (Volkswagen Group Typ 1M), launched in 1999, available only as hatchback, and the related saloon version was known as the SEAT Toledo. It was based on the Volkswagen Group A4 (PQ34) platform and, as such, shared many components in common with other VW Group models such as the Volkswagen Golf Mk4, Bora and Audi A3. It was mainly produced at SEAT's Martorell plant with a small number of 13,401 cars assembled in 2000 at VW group's plant in Belgium. As SEAT's first C-segment model as part of the VW Group, the León Mk1 was marketed as a sportier and cheaper variant of the Golf. To reinforce the sporty image, the vehicle had slightly more aggressive looks. The more expensive versions were equipped with relatively more powerful internal combustion engines, along with firmer suspension to improve handling. In the interior, the dashboard was derived from that of the first-generation Audi A3. Available engines were the 1.4-litre 16 valve petrol engine which produced a 74 bhp, a 1.6-litre 8 valve petrol engine 99 bhp (replaced later with a 16 valve 103 bhp unit), and included two variants of the Volkswagen Group's 20 valve turbocharged 1.8-litre powerplant, (with some countries also getting the 2.8-litre VR6 engine delivering 201 bhp. The original "León 20VT" (which later became known as the "Cupra" and then the "FR") had a 1.8-litre Turbo with 177 bhp, and the "León Cupra R" 207 bhp, later becoming 221 bhp. It became first available in only three body paints (red, yellow, black), picked as an homage to the colours of both Spain's and Germany's national flags referring back to the roots of the joint project the model originally was. In some countries, there was also a "Cupra 4"; equipped with a 2.8-litre VR6 delivering 201 bhp and equipped with four-wheel drive (4WD), based on the same Haldex Traction multi-plate clutch as the Volkswagen Golf 4motion. A range of turbocharged direct injection (TDI) diesel engines was available, including a 148 bhp version of Volkswagen Group's 1.9 TDI engine, originally sold as a "Cupra 4 TDI", with 4WD, that was sold for one year only, and only in certain countries, then passed to "Evolution" series, then "Top Sport", and later rebranded as the "FR" ('Formula Racing'). In other countries the model was badged "Cupra" and then "FR" before a limited number of cars were fitted with the bodykit from the petrol powered "Cupra R" and named the "FR+". Lesser diesel versions were available with 89 bhp, 109 bhp and 129 bhp outputs. All engines over 129 bhp have a standard six-speed manual transmission. Rear suspension was by semi-independent torsion beam for most variants, whilst high-end and 4WD models were fitted with a multi-link independent rear suspension. All versions came with disc brakes on all four wheels (the front ventilated, and in some cars the rear too). In Mexico, the León became a very popular car with upper class young people. The only problem the León has suffered in Mexico is the fact that the sport tuned suspension of the León is not designed to withstand the constant road imperfections such as potholes and speed bumps that abound in Mexican roads. In Switzerland, there was another official version tuned by Abt Sportsline of the León called "SEAT León Cupra 4 Kompressor". This version had the same 4WD and 2.8-litre VR6 but with 276 bhp and 323 Nm (238 lb/ft) of torque. Factory production of the Typ 1M ended in May 2006. However, the appreciation for the SEAT León Cupra R Mk1's appeal remained clear, still up to the 'best hot hatchback of all time' poll, conducted in 2010 by Autocar, in which its readers honoured the Cupra R #7, in the top ten list of hatchbacks of all time in their preferences.
SUBARU
Subaru introduced the "New Age" Impreza, the second generation car, to Japan in August 2000, and it arrived in Europe towards the end of that year. Larger in size compared to the previous iteration, the sedan increased its width by 40 millimetres (1.6 in), while the wagon notably increased by just 5 millimetres (0.2 in)—placing the two variants in different Japanese classification categories. The coupe body style from the first generation did not reappear for the new series, and the off-road appearance package that included contrasting-coloured bumpers did carry over forward. Marketed as a separate model line, this North America-only variant was, as before, badged the Outback Sport. Naturally aspirated flat-four (boxer) engines comprised the 1.5-litre EJ15, the 1.6-litre EJ16, the 2.0-litre EJ20, and the 2.5-litre EJ25. Turbocharged versions of the 2.0- and 2.5-litre engines were offered in the WRX and WRX STI models. STI models featured a more powerful 2.0-litre (2.5-litre outside of the Japanese market) turbocharged engine. WRX models featured a 2.0-litre turbocharged boxer engine until 2005, after which they switched to the 2.5-litre turbocharged engine. As with the first generation, the turbocharged STI variants were available in numerous specifications with a myriad of limited edition variants sold. The bug-eyed styling was not well received, and Subaru had two further attempts at the front end, neither of which was entirely successful, either, but enthusiasts were happy to overlook the gawky looks because the way the car drove. Subaru issued yearly updates to the STI, tweaking cosmetics and equipment levels, and also improving performance and handling. The car was replaced in 2007 by the third generation Impreza, widely regarded as inferior in many ways to this version.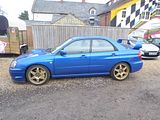 At this time of the year, it gets dark really quite early, but Caffeine & Machine has a solution to that, with not just heated outdoor seating, but also lots of lighting around the main buildings which lend a certain extra charm to the sites. Although a lot of the Abarth owners did depart after spending their allotted three hours here, some chose to stay on, as these photos evidence, and there were of course a number of non Abarths here as well.
This really was a great event. Those who had never been to Caffeine & Machine were able to see for themselves what all the fuss is about and all vowed that they would return, even those who had made journeys of as much as 3 or 4 hours to join in, and those who are regular visitors were able to enjoy all their favourite elements of the site yet one more time. You never know quite what else is going to show up on site, and there is usually a good mix, so the SEAT owners must have had quite a surprise as they probably thought that they would stand out as the most numerous of any marque and they were comprehensively out-numbered by the Abarths. But if anyone cared, I did not hear them saying so. This is a venue that is all about indulging in a shared love of things automotive of all types and that's exactly what this day was about. It proved to be a great end to a very busy 2022 for many Abarth Owners. And of course we all know we will all be back in 2023!