Modena has been the home of Maserati ever since the founding of the marque by the 5 brothers, exactly 100 years ago, but unlike the other world renowned rivals whose home is also in the area, there is (as yet, at least) no official Museum for marque devotees and other enthusiasts to visit. There is a privately owned collection, the Panini Collection, not far out of the city, which can be visited by prior appointment. Sadly, my request to do so coincided with the owner being away for a week, and so he only responded after I had returned to the UK (very apologetically!). However, there is still something for the Maserati lover to see in the town. You can't miss Maserati's presence, as the factory is right in the middle of Modena, close to the railway, and as well as the signs on some of the buildings, there is a huge tall tower, the top of which bears the iconic Maserati trident. The site is not huge, covering 50,000 square metres, of which 30,000 are covered space, comprised of a mix of historic buildings which date back to 1937, with the more modern edifices having been added in the time 2000 – 2003.  There are 2 assembly lines from which 4700 cars emerged in 2013, each having taken an average of 22 days to build, and 700 employees work on site.
There is a small showroom and collection centre which is on one corner of the site, and I was able to get admission to this and have a look around. Cars on display included the latest Quattroporte and Ghibli, though as I understand it, neither of these are actually manufactured here.
The display contained a really lovely 3500 GT Spider as well, that supremely elegant Vignale styled open topped version of the first "volume" (it's a relative term!) Maserati from 1961.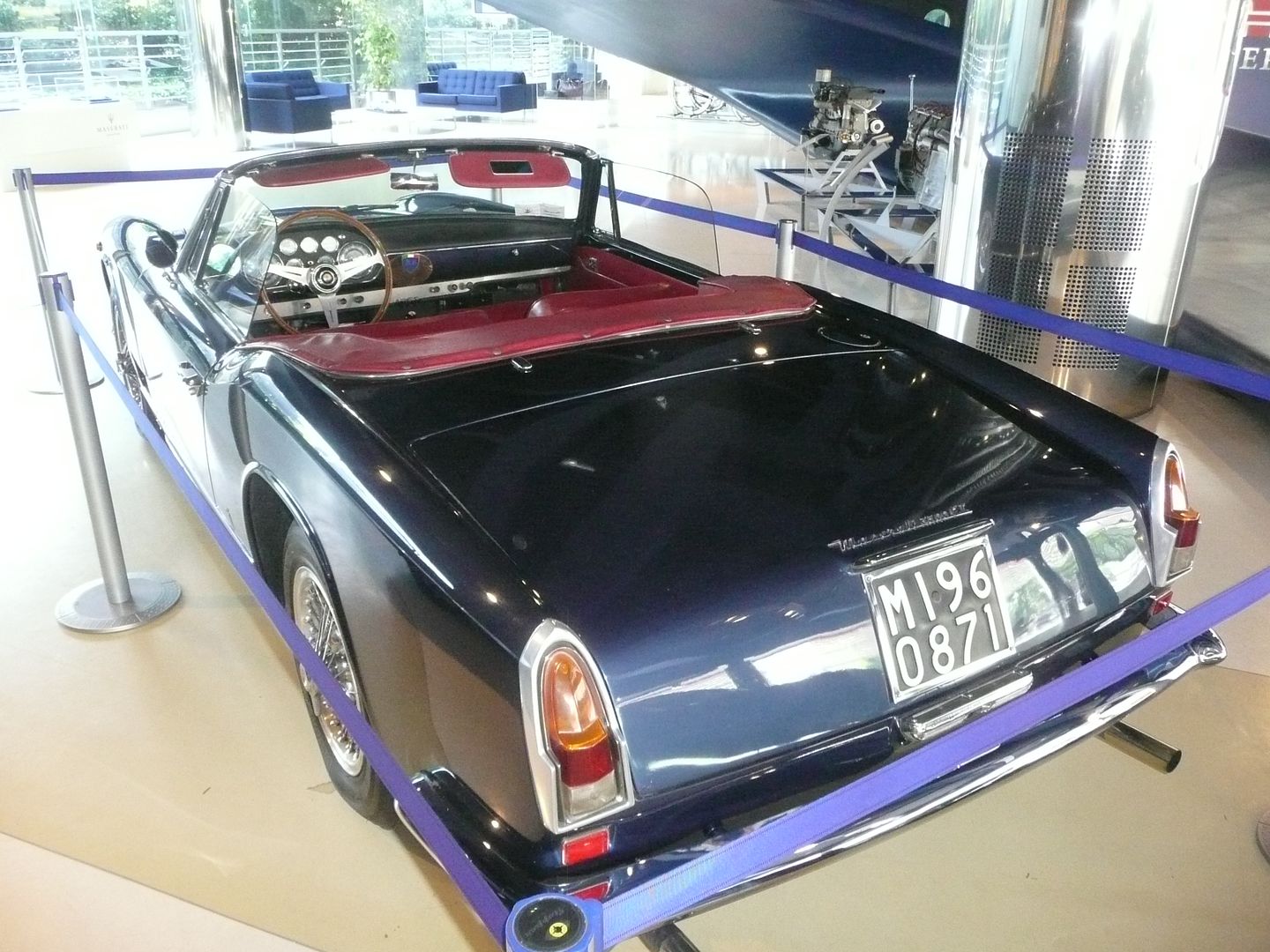 Also on show are a number of classic engines, and various other items of memorabilia.
It's certainly worth popping in if you are in the town, especially as it is only a 5 minute walk from the Casa Enzo Ferrari. For those with more time, factory tours are available, but must be pre-booked. More information is available from http://www.maserati.com