Although the Detroit Auto Show, held in mid January, still bears the title of North American International Auto Show, the reality is that it is just one of a quartet of globally significant Shows held in America during the course of year, at which there are always a number of global and American debuts as well as lots and lots of current models for press and public alike to examine. Of the four, the Los Angeles Show is probably the second most significant, not least because California constitutes one of the largest markets for vehicles in the entire country. Over 10 years ago, the Show was moved from a timing of being immediately before the Detroit Show, to one a few weeks before Christmas, so still close, but far enough apart that manufacturers no longer felt tempted to hold back on all their most significant announcements for Detroit. Couple that with a much more favourable climate – Los Angeles in December still averages a temperature around 60 – 70 degrees F. whereas you are lucky to get Detroit in January to be above Freezing Point, and it is easy to see the attractions of this Show. They are certainly not lost on me, as I have only missed one in the last 12 years, caused by going to sample the biennial Show in Dubai which was on at the same time, back in 2015. Even that would not have clashed in 2017, as the LA show started in the week after the US Thanksgiving Holiday, rather than opening a few days before it. I am not quite sure why the change was made, as it mean that that particular Holiday was over by a week before the doors opened to the public, which may have led to a lower attendance than had the two coincided. That fact did not bother me, as it meant I had more choice of which day to attend, unlike previous years where I needed to be out of America before the travel rush for Thanksgiving started. Although it shortened the window between this Show and Detroit, I don't think it led to any fewer model introductions, with plenty of models that were being seen for the first time in America or indeed in the world, and a number of concepts on show. The Show is held at the Convention Centre, just to the South West of the Downtown area, where the 110, 101 and 10 freeways converge, and is easy to get to, with plentiful parking (although this is now rather pricey, costing $25 for the day, which made it more costly than show admission at $15! an added bonus. There are two large halls, labelled South and West, with a couple of smaller ones, one of which was occupied once again by Porsche, and the other by local dealer and customiser, Galpin, with a further Hall, on the ground floor, called "The Garage", full of the wilder and wackier stuff. Atria to both the main halls contained further displays and those who ventured outside could also take a number of test drives of many of the more significant show stars. It all amounted to plenty to see, and kept me diverted for around 9 hours, leaving shortly before the lights were turned out in the evening. I went on a Monday, and it was never particularly busy (unlike the weekend, which I gather had been rammed!), so it was easy to get the photos I wanted without too much waiting, and to get a good look at the cars and to sit in many of them. Here is what I saw:
ABARTH
No, it is not a separate brand in America, where the word appears as a qualifier to Fiat, but I have included it here not least because that saves starting the report with Acura, whose products are still difficult to like! There were 2 Abarths here: a 500 and a 124 Spider. The 124 looks very like the ones we get in Europe, though as we all know, when it got such a poor review on Top Gear, it is not the same under that stylish body, with different suspension settings among other things. The 500 – and it is still called that – is built in Mexico with the regular Fiat models and it has a slightly different front end structure, and uses the Multi Air 1.4 turbo engine, giving it 160 bhp, much to the chagrin of US enthusiasts who read about the 180 bhp models sold to Europe and Australia and covet one. Many of the interior trim differences between the US and European cars have been standardised on the US version, with the filled in parcel shelf creating a glove box on Series 4 cars.
ACURA
There was nothing that was new on the Acura stand, but when you've got a couple of examples of the NS-X on show, perhaps that does not matter, as the car will still pull the crowds. Perhaps frustratingly for Acura, the NS-Xs were the only cars that seemed to be generating much in the way of interest!
Joining the road car was this racing ARX-05, that was announced back in the summer. This is where Honda/Acura will join forces with Team Penske to field a prototype effort in the 2018 IMSA WeatherTech SportsCar Championship.  The program will include a pair of new Acura ARX-05 Daytona Prototype International (DPi) entries, fielded under the legendary Team Penske banner.  The official competition debut will take place at the season-opening Rolex 24 in January, 2018, with testing having started in mid 2017 and a formal unveiling of the ARX-05 having taken place during Monterey Car Week in August.  Honda have said that Roger Penske is already an important part of the Acura family as one of our great Acura dealers, hence why they are so excited to have him as part of the Acura Motorsports family as well, as they look to build on the success of the race-winning NSX GT3 program, as they return to the prototype category of the WeatherTech SportsCar Championship. And from Penske's point of view, they seem equally excited to join forces with the Honda Performance Development family and to be representing the Acura brand with two prototypes starting in 2018, as sports car racing has been an integral part of Team Penske's heritage, from their first race at the 24 Hours of Daytona in 1966 to running the American Le Mans Series in the late 2000s.  Reviving a Team Penske sports car program has long been a goal for us, but to do so they felt they required strong and successful partners like Honda and Acura. The Acura ARX-05 [Acura Racing eXperimental, generation 5] is the latest in a line of endurance prototypes to be fielded by the company dating back to 1991, just five years after the 1986 launch of the Acura brand.  Based on the very successful ORECA 07 chassis, the new ARX-05 prototype features Acura-specific bodywork and utilises the race-proven, production-based Acura AR35TT twin-turbocharged 3.5-litre V6 engine. The multi-year program will be administered by Honda Performance Development, the racing arm for both Acura Motorsports and Honda Racing in North America. Honda Performance Development (HPD)  was founded in 1993 to spearhead American Honda's entry into Indy car racing.  No other manufacturer has matched the company's success in Indy cars, which includes 225 race victories, 15 drivers' championships, six competitive manufacturers' championships and 12 Indianapolis 500 victories since 2004. HPD, Acura and Honda have a history of success in endurance sports car racing, with more than 100 prototype victories since 1991, including either class or overall victories at the Rolex 24, 12 Hours of Sebring, 24 Hours of Le Mans and Petit Le Mans. Acura and HPD swept all prototype championships in the 2009 American Le Mans Series; and won the North American Endurance Championship manufacturers' title in 2016. Prior to the founding of HPD in 1993, Acura won 25 races and three consecutive IMSA Camel Lights Championships from 1991-93. HPD's Acura and Honda engines have recorded 78 race wins at endurance sports car races around the world, with 70 of those victories coming in the HPD-developed line of sports prototype cars. HPD was affiliated with Team Penske in Championship Auto Racing Teams Competition (CART) in 2000 and 2001.  The partnership resulted in 10 race wins, two drivers' championships (both for Gil de Ferran), and the 2001 CART Manufacturers' Championship. More recently, during the single-supplier era in IndyCar Series competition, Penske and HPD combined for two Indianapolis 500 victories (Sam Hornish Jr. in 2006 and Helio Castroneves in 2009), plus the drivers' title for Hornish in 2006. Born out of founder Hugues de Chaunac's passion for racing, ORECA began life in 1972 and has visited Victory Circle in a variety of motorsports disciplines, ranging from prototype endurance events to open-wheel to touring car and rallycross competition.  Teams using ORECA chassis have won more than 350 races, to go with more than 40 national and international titles. Based on the "J35" family of engines found in Acura RDX, MDX, RLX and TLX production vehicles, the Acura AR35TT engine to be used in the ARX-05 was initially adapted for racing in a joint effort between HPD and Honda R&D Americas.  Used in a variety of prototype chassis, the engine has powered class winners at the 12 Hours of Sebring (2011-13); the 24 Hours of Le Mans and LMP2 World Endurance Championship (2012); the American Le Mans Series LMP2 titles (2012-13); and the overall winners at the Rolex 24, 12 Hours of Sebring and Petit Le Mans in 2016. Acura Motorsports currently campaigns the Acura NSX GT3 in the IMSA GTD category with Michael Shank Racing – where it has already won IMSA GTD races at Detroit and Watkins Glen this season – as well as with Real Time Racing in the Pirelli World Challenge GT division.
There are three saloon models in the range: the ILX, which is based on the previous generation Honda Civic, the TLX and the exceedingly slow selling RLX. All are worthy and competent enough, but they all have plenty of competition and with nothing to make them stand out, they rank as class also-rans. Having endured a few years where the cars, especially the TLX' predecessor were downright ugly, Acura has toned down the styling details to the extent that the cars are somewhat unmemorable. It must gall them when see the relative success of Lexus, whose cars are, let's face it, not going to win any prizes for beauty, or even for being that good to drive!
The most important models, commercially, in the Acura range are their duo of crossovers, the RDX and slightly larger MDX. These continue to evolve, with new versions coming along every few years, and I have to confess that I find them both hard to tell apart from some angles, and also that it is quite difficult to remember one generation from the next.
ALFA ROMEO
With the arrival of the Stelvio on US roads, Alfa Romeo now have three different models to sell, and all of them were on show. This was a busy stand, with lots of people wanting a close look at, and to sit in the cars, which augurs well for the Italian brand as they try to make their presence felt in a market which, if it has any memories of the brand, probably thinks of all those stereotypical frustrations of the 1970s and 1980s. As well as the regular Stelvio models, there was a Quadrifoglio displayed on a turntable. This was the Show at which the Stelvio made its global debut a year ago, and there was a prototype Quadrifoglio on show then, but the one to be seen here is the final production model. I've driven a regular Stelvio, in Italy, and was very impressed, so let's hope that I am not alone and that the car finds lots of buyers.
The Giulia has been on sale in America for a few months now, and I've seen a couple on the road. There were three examples on show here.
Tucked away on the side of the stand was a 4C Competizione, the car which relaunched the brand in America.
ARIA
Making its global debut on a small stand in the South Hall Atrium was a hypercar from a brand you've probably never heard of. This is the Aria, a US product that wants to rival the very best from Europe. Their car will be offered in two configurations. The first, dubbed the FE, will use a naturally-aspirated 6.2-litre V8 engine. The small company hasn't said how much power this variant will delivery but we know power will be sent through the rear wheels. And there is the range-topping Aria FXE, as seen here, which will pair a 720 hp V8 to a pair of axial-flux induction electric motors providing an additional 540 hp. This will result in a total of roughly 1,150 hp and 1,316 lb-ft of torque. A 10 kWh lithium-ion battery pack will also be fitted. Aria has yet to choose a transmission to complement the hybrid system but Xtrac is expected to provide either a seven- or eight-speed dual-clutch automatic. Aria claims the FXE will accelerate to 60 mph in a brisk 2.7 seconds and reach a 210 mph top speed. Beyond the powertrain, the vehicle will use a carbon fibre monocoque, a host of carbon body panels, and numerous 3D-printed titanium components. Aria intends on selling no more than 400 examples of the FE and FXE and wants to commence deliveries in late 2019. Prices are tipped to start at over $1 million.
ASTON MARTIN
It's been some years since there was an official Aston Martin presence at this show, so I was a little surprised to learn, on the unveiling of the new Aston Martin Vantage a few days before the show opened, that this would indeed be the place where it would make its public debut. But it did. One end of the sizeable Galpin's Hall of Customs, more of which ensues later in this report, was given over to brand new Aston models, and in one corner, with a big crowd around it almost all day long was an example of the new car.
Centrepiece of the Aston display was a line of 4 examples of the DB11, finished in different and refreshingly bright colours. There was no sign of the recently revealed Volante, though, these were all Coupe models.
At the other end of the line, on a turntable in a sort of alcove to match the one housing the Vantage was a Vanquish S Ultimate Edition. Revealed earlier this year, this is the final version of the current Vanquish before an all-new model arrives in 2018. Limited to just 175 units worldwide, customers will have the option of buying the Vanquish S Ultimate in Coupe or Volante guise in one of three different exterior colour schemes and interior trim packages. The first of these 'Designer Themes' sees the car painted in Ultimate Black and complemented by Copper Bronze accents on the front air intake, side sills, and rear diffuser. Additionally, the car has numerous carbon fibre accents and an interior featuring Obsidian Black leather with Chestnut Tan accents, stitching, and carbon. If this finish isn't to the taste of customers, a second Designer Theme is offered. It combines Xenon Grey paint with contrasting Cobalt Blue accents, yellow brake calipers, black 5-spoke wheels, Electron Yellow accents in the cabin, Phantom Grey leather upholstery and Spectral Blue stitching. Last but not least is the third Design Theme, consisting of White Cold paintwork with Bronze graphics and a Chestnut Tan leather interior with Obsidian Black accents. If a customer wants, they can mix and match interior and exterior schemes. As with the standard Aston Martin Vanquish S, the Ultimate Edition is powered by a naturally-aspirated 6.0-litre V12 with 595 hp and an eight-speed Touchtronic III automatic transmission. Prices start at £211,995 ($281,412) for the Vanquish S Ultimate Edition Coupe and £223,995 ($297,329) for the Volante.
AUDI
The large Audi stand is usually one of the busiest on the whole Show, and that seemed to be the case this time once more. With most of the cars painted in rather sober hues, it was perhaps not as eye catching as sometimes is the case, but there were plenty of cars that were still pulling in the crowds. The three most prestigious and costly models of the range were mounted on a raised display area where people had to look at them from the other side of a low barrier. Two of these were the latest R8 car, seen in both closed Coupe and open-topped Spider guises.
Sat between them was an example of the new A8. Originally unveiled over the summer, this was the first time what will become the 2019 A8 was being seen in America. It features a design that borrows a number of styling cues from the Prologue concept. Detailed specifications for US market cars will be announced closer to launch, which is still nearly 12 months away, but what won't change are the styling details of a wide Singleframe grille, OLED taillights, and plenty of metallic trim. The interior is a bit of a departure from previous models as it comes equipped with two touchscreen displays. A variety of different options will be available including a head-up display, a Bang & Olufsen 3D audio system, and a four-zone climate control system. Other options include a rear seat entertainment system and a heated massaging footrest for the right rear passenger. At launch, US market 2019 A8s will be offered with a 3.0-lirtr TFSI V6 engine that is connected to an eight-speed automatic transmission and a quattro all-wheel drive system. In Europe, this engine produces 335 hp and 368 lb-ft (500 Nm) of torque. It enables the car to accelerate from 0-62 mph (0-100 km/h) in 5.7 seconds before hitting a limited top speed of 155 mph (250 km/h). The model can be equipped with active suspension and an optional dynamic all-wheel steering system which enables the A8 to have a turning radius of 38.7 ft (11.8 m) which is about the same as the significantly smaller A4 sedan. Other advanced features include intersection assist, maneuver assist, and curb warning. There are also two automatic parking systems and the Audi AI traffic jam pilot system which enables the car to drive itself at speeds up to 37 mph (60 km/h) on highways.
Everything else on the stand you can buy now, and although Audi does not have quite such an extensive range in the US as they do in Europe, there was still only space for one example of each of the bodystyles on offer.
Audi do not sell the A1 in America, so their smallest car is the A3, and there were three models from the range here. Joining the regular  A3 Saloon was an e-Tron Sportback and the latest RS3 Saloon. The saloon body is the focus in America, with the Sportback body only being offered with the e-Tron hybrid powertrain.
The first generation A5 Sportback was not offered to Americans, but the latest one is sold here, and there was an example of this on the stand, as well as the A5 Cabriolet and an RS5 Coupe. Representing the closely related A4 range was an S4, but such was its popularity that I never managed to get a clear photo of it, despite trying several times during the day.
This may well be one of the last times that the current A6 is seen at a major Show, as a new model is expected in the early part of 2018.
The next generation A7 range has been announced, and it was widely predicted that there would be an example on the stand. But there wasn't. Instead there was an RS7 from the outgoing generation. Although pricey. this car has huge appeal,  and it is clearly not just me who thinks so. The show car was locked, but the number of people tugging at the door handles, keen to get to sit in it was significant all day long.
Audi do not sell their Avant models in the US, believing that demand for the traditional "wagon" is not sufficient to justify the costs of certifying them for sale. But they do offer the Allroad models, and there was one of these on show.
The SUVs were represented by examples of each of the Q3, the recently refreshed Q5 and the larger Q7.
Final Audi on show was the hottest version of the TT, the RS model.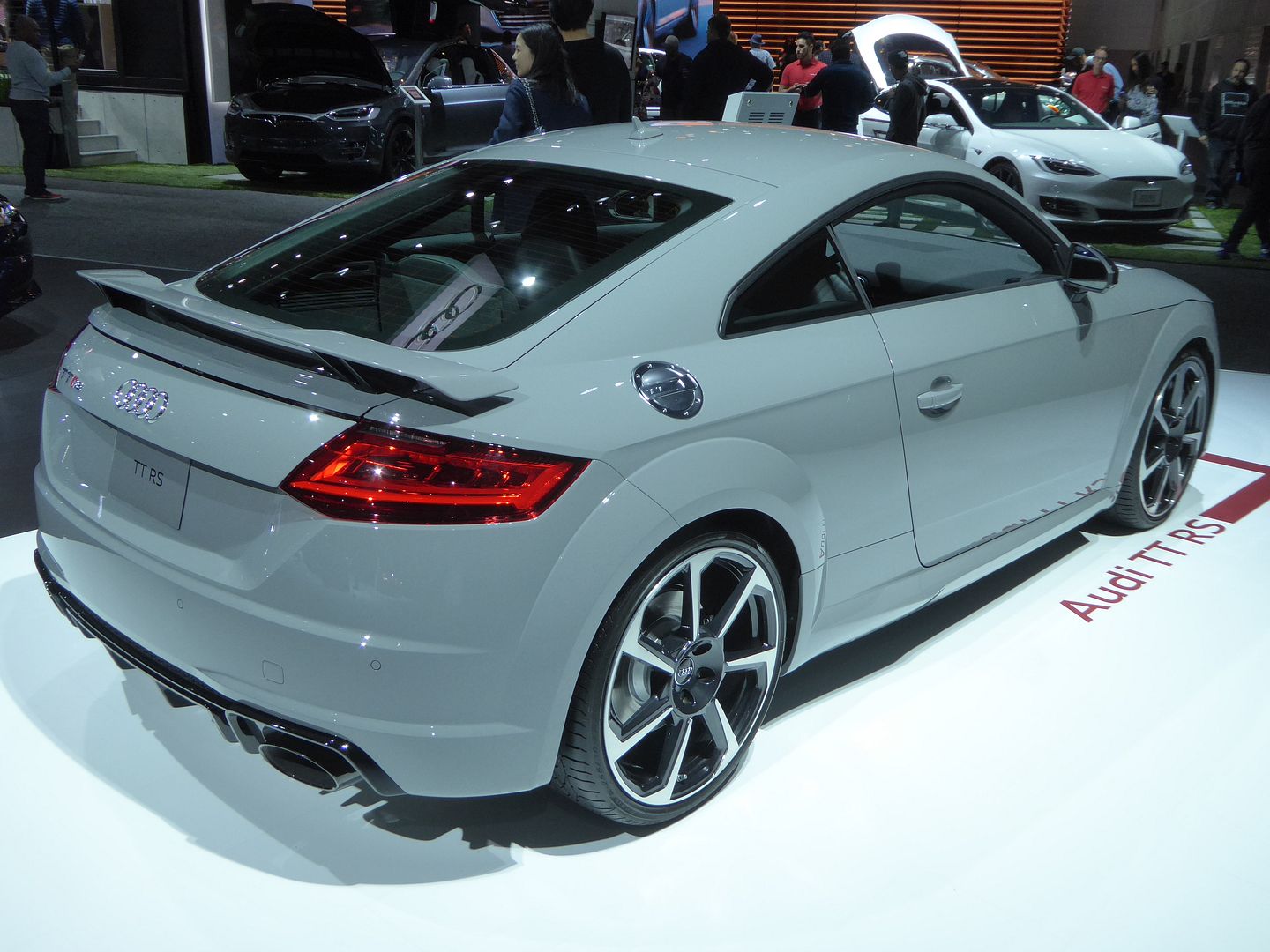 BMW
First vehicle I came across on the BMW stand was the X7 iPerformance Concept which was first seen at the Frankfurt Motor Show back in September. As the name implies, the concept has been created as a preview for the impending X7, which is likely to be revealed in 2018, and to be offered with several engines including a 4.4 litre twin turbo V8 offering 445 bhp. The X7 Concept brings with it what is politely called an eye-catching design, certainly which is  radically different in many ways from any current production SUV built by the automaker. From some angles, it is not that unattractive, with narrow LED taillights looking quite neat. The front is unquestionably the most talked-about aspect of the vehicle. BMW designers have fitted a truly ghastly chrome kidney grille which may actually make you feel sick in the stomach. The huge grille has divided opinion among those to see the concept in person. Indeed, as I was looking at this thing, somewhat aghast, one of the BMW stand staff asked me what I thought about it. I asked if he wanted my honest opinion. He assured me that he did, so I had to tell him that I really did not like it. I then told him that when Autocar magazine (which of course, he had never heard of!) had put it on their cover and captioned it "The Ugly BMW". This clearly was not what he expected me to say, and when he asked me what I drove, his first reaction was that I should visit their stand, which was right opposite. I suggested that if BMW offered a car that appealed to me, there was no reason why I would not buy one, but the X7 was not going to be it. This was when he told me that they had had the 8 Series Concept on the stand – so I said I would take a look. At which point he said, that was only present for the press and they had removed it before the public arrived. I asked why this was, noting that other manufacturers are equally guilty of this, and suggesting that it shows a level of contempt for the people who might actually buy their cars. He had no answer and drifted off!, presumably to find someone who would lap all the PR guff that was coming from his colleague's mouths (and on pretty much every other stand, to be fair!).
That left me free to look at what else was on the stand, and I found another concept vehicle,  the i Vision Dynamics. There's little doubt that one reason why this was here would be to show the public that there may be an alternative to the Tesla Model 3, especially since it has been widely reported recently that Tesla is having significant difficulties in getting volume production of their car to the levels that they need to cope with the pre-launch demand. Fewer than 500 cars have been built so far, a long way short of the thousands that were supposed to be on our roads by now. Although BMW has yet to officially confirm the production version of the i Vision Dynamics, it's safe to say they have no choice but to throw their hat in the ring and offer a mass-production 4-door EV of their own. What they have said about this concept is that it could accelerate from 0 to 62 mph (100 km/h) in under four seconds, hit a top speed of over 124 mph (200 km/h) and offer a range of 373 miles (600 km). Compare it to the Tesla Model 3 and despite these numbers being preliminary, you'd be hard pressed to call it inferior. Aesthetically though, you could make a case for the i Vision Dynamics looking, well, more dynamic than the Model 3 – but this is still a concept, so we'll have to see how the concept's design will evolve once it's ready for production.
A futuristic looking car that you can buy, and indeed have been able to do so for a couple of years is the i8 sports car, and a new version was making its world debut here, the much anticipated i8 Roadster, with some of the upgrades that come with it also applied to the established Coupe model. For the Roadster, the basic parameters are the same as the Coupe: plug-in hybrid powertrain, housed an aluminium chassis with a carbon-fibre monotub. But the battery boasts a higher capacity, and the hybrid powertrain more muscle to take the i8 even further (and faster). The 1.5-litre turbocharged three-cylinder engine now produces 231 bhp (up from 228), and the electric motor 143 hp (up from 131 hp) for a combined output of 374 hp to rocket the i8 coupe from a standstill to 60 mph in 4.2 seconds, and the roadster in 4.4 as they rocket towards their electronically limited top speed of 155 mph. With a battery pack upgraded from 20 Ah to 34 Ah and from 7.1 kWh to 11.6, it'll also travel on electric power alone at speeds of up to 65 mph (instead of just 43 mph) – or 75 mph in eDrive mode. All-electric range is up to 34 miles (for the coupe, 33 for the convertible) on the ambitious New European Driving Cycle. The key new thing in the Roadster is the folding soft-top. Aside from the slight performance penalty, it does mean sacrificing the rear seats, but with the inherent rigidity of the carbon cell, chopping the roof off nets only a 132-pound weight penalty for a curb weight quoted at 3,516 lbs. That roof, incidentally, can raise and lower in just 15 seconds at speeds of up to 31 mph, folding into a compact Z-shaped vertical stack. The suspension's been retuned for the roadster too, and new wheels for both versions reduce unsprung weight. The latest i8 models will be available in the US next Spring.
Displayed alongside the i8 was BMW's other all-electric model, the i3. This has recently been updated, with a more powerful (and more costly) i3S version being added to the range, and it was one of these that was on show.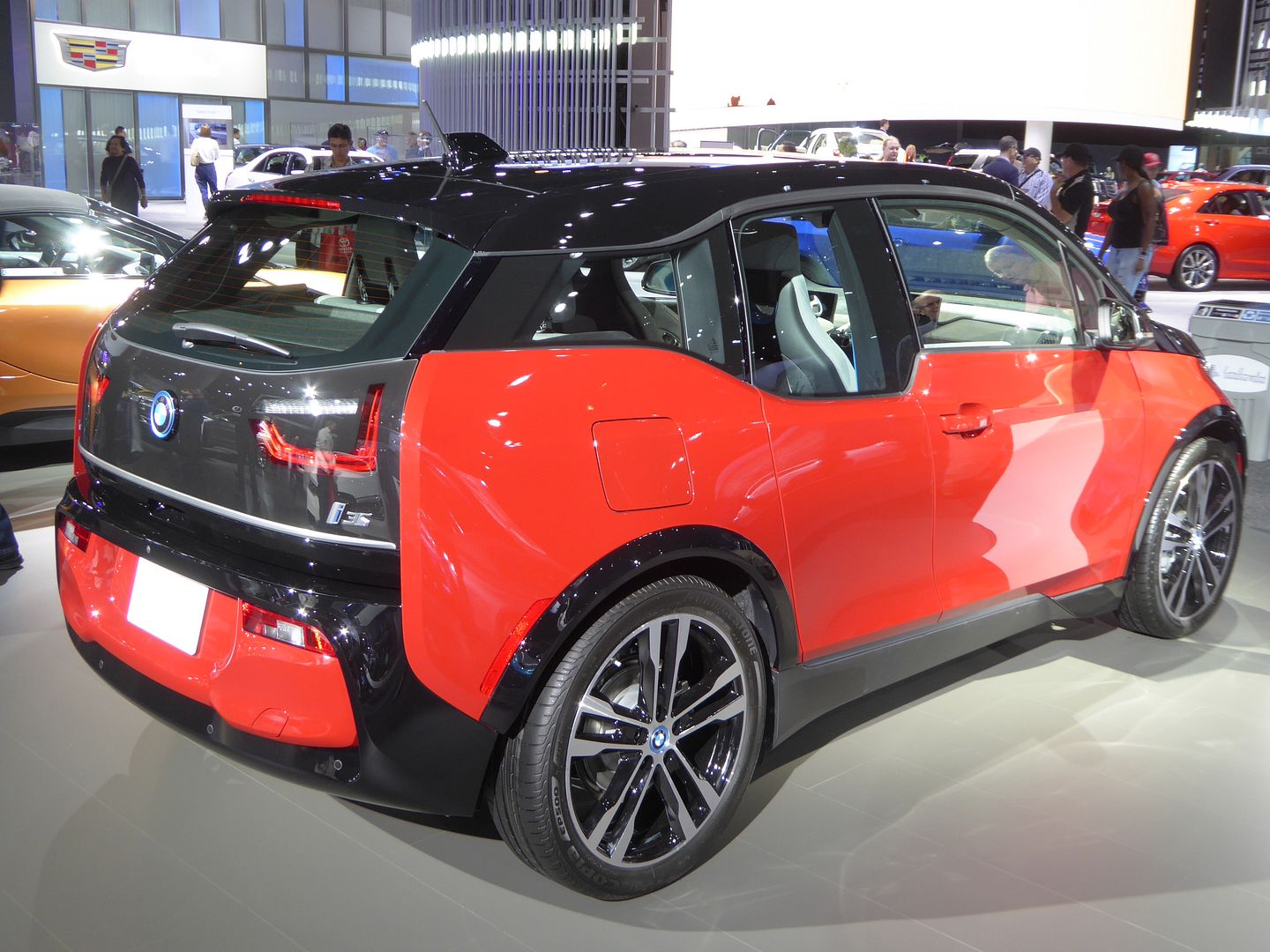 With an extensive range of cars offered, even if it is not quite as large as that seen in Europe, there was only space for one example form most of the different model types. Kudos for BMW for bringing some colour to their stand, with an array of brighter hues, unlike the rows of grey, silver and black that some other brands seem to favour. Now they need to get customers to believe that it is not resale suicide to buy cars so painted!
The 3 Series Saloon was joined by a bright yellow coloured 440i GranCoupe.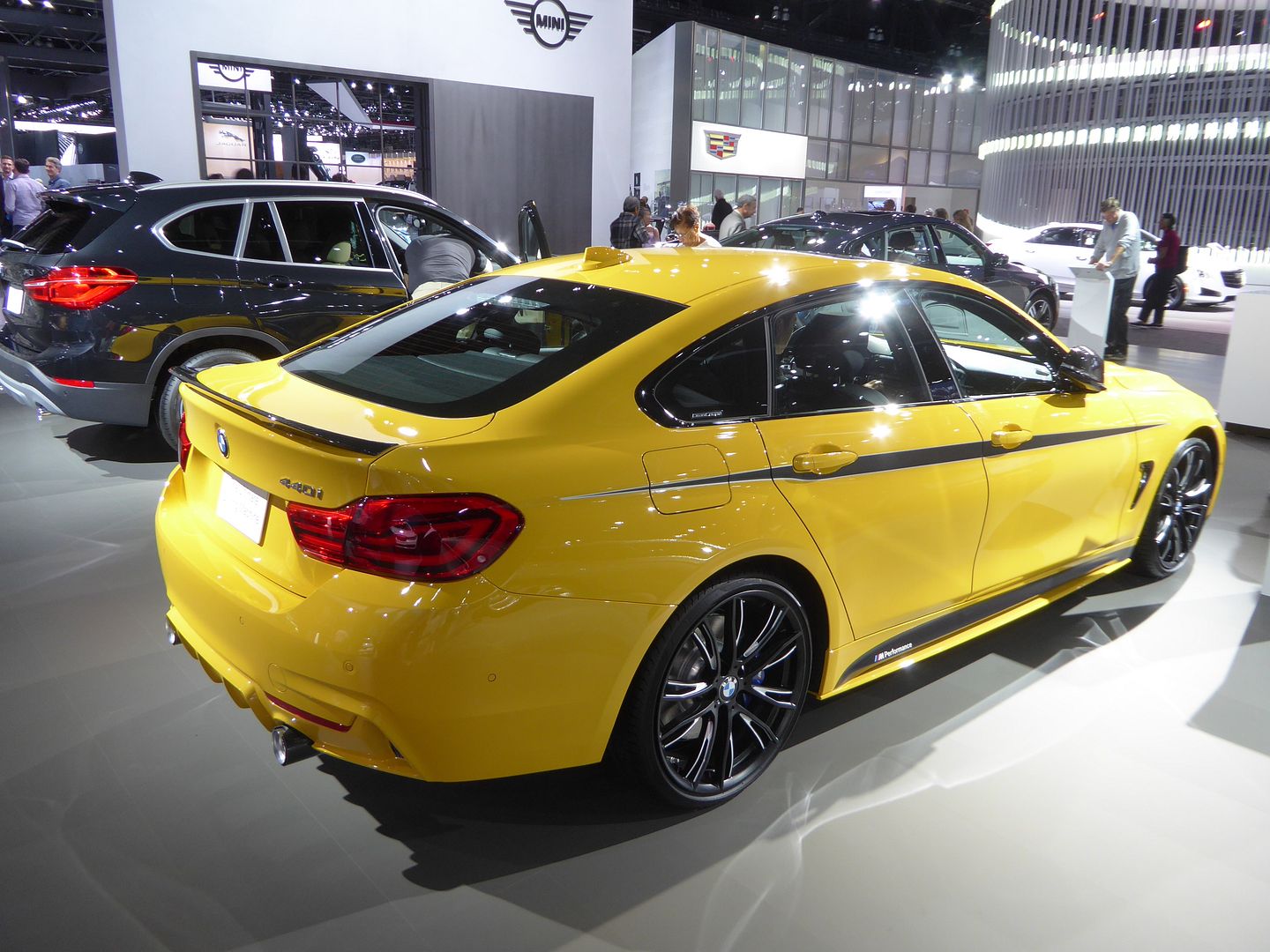 Two examples of the new 5 were here, including a 530e, the hybrid version of the model which is finding plenty of favour in Europe thanks to its low CO2 emissions rating.
Replacing the old and frankly weird 5-Series GT, the new 6-Series GT making its US debut here, offers a much more easily digested shape as the new model comes with more natural proportions, thanks to the increased length, a lower coupe-like roofline and a reshaped rear end. The new BMW 6-Series GT indeed looks better but it is still hard to figure out why would someone buy one of these instead of a 5-Series Touring or an X5 but apparently this sort of bodystyle has proven to be popular in the ever-important Asian market. Compared to its predecessor, the new 6-Series GT is also 150kg lighter on average, thanks to the adoption of the CLAR platform while the new shape of the car is also considerably more aerodynamic that before. Combined with the new and more efficient range of engines, BMW claims that the new 6-Series GT is not only quicker off the line but also up to 15 percent more fuel efficient. Open the frameless doors and the dashboard looks almost the same with the 5-Series, featuring the latest iDrive infotainment system with a 10.25-inch touchscreen display, gesture control and more. The difference is that the 6-Series GT comes with a higher driving position and three full-size seats in the rear, with electrically-operated ones that also recline an option. The range of available turbo engines in the US includes a 258hp 2.0-litre inline four (630i), a 340hp 3.0-litre straight-six (640i) which can also be had with xDrive all-wheel drive and a 265hp 3.0-litre diesel straight-six (630d), also available with xDrive as well. Finally there's the 320hp 3.0-litre diesel in the 640d which is only available with all-wheel drive as standard. The new BMW 6-Series GT also adopts the latest range of driver assistance systems, including the semi-autonomous Active Cruise Control with Stop and Go, steering and lane control assistant, side collision warning and more.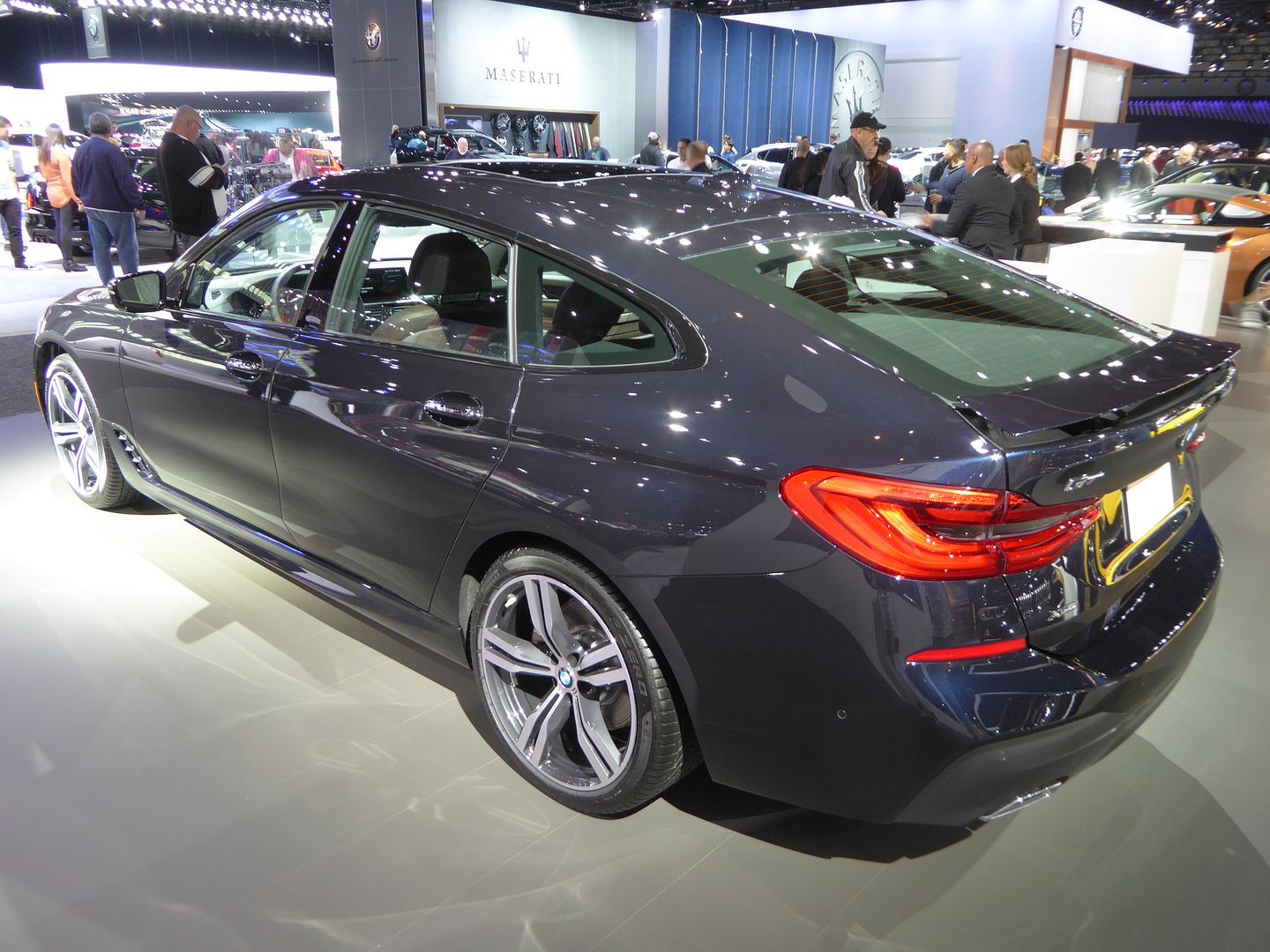 Two examples of the top of the range 7 Series were here: a 740e and the V12-engined 760i.
The crossover models were represented by the X1, the soon to be replaced X3 and  X4 as well as an X5.
M cars were well represented. The range starts with the M2, a car whose success who has allegedly taken BMW by surprise, with demand far exceeding expectations.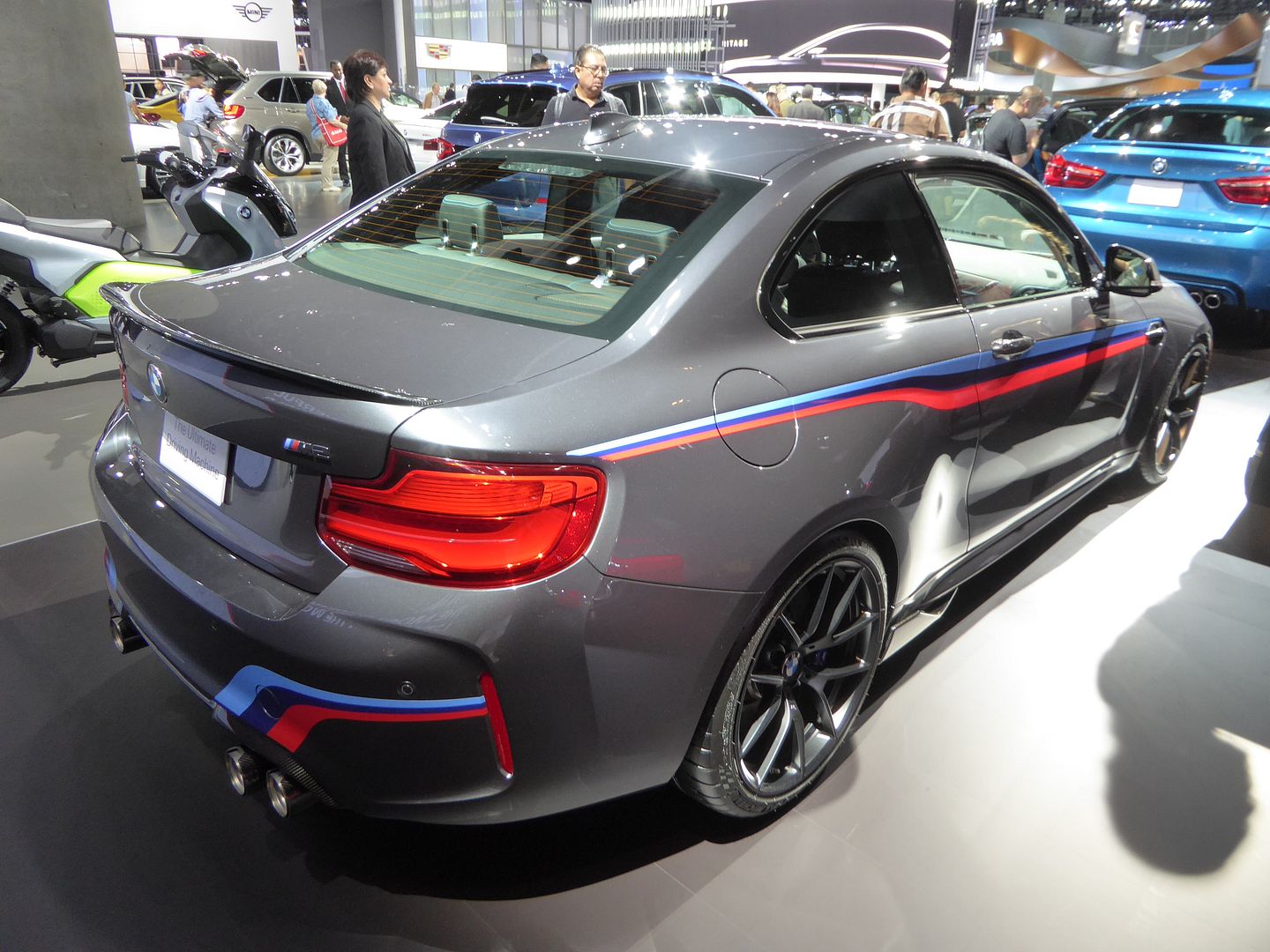 Although it is understood that BMW is putting the finishing touches to the seventh-generation 3-Series, with the new car due to appear in around 12 months time, the current model still has some life left in it as the company has unveiled the M3 CS at this Show. Designed to appeal to driving enthusiasts, the high-performance model has been equipped with a number of carbon fibre-reinforced plastic components including the hood and roof. Designers also installed a new rear spoiler, an M4 GTS-sourced rear diffuser, and a dual-branch sports exhaust system with four tailpipes. The car rides on 19- and 20-inch forged alloy wheels that are wrapped in Michelin Pilot Super Sport tyres. The sporty styling continues in the cabin as the M3 CS features two-tone Merino leather sport seats, Alcantara accents, and plenty of CS badging. Drivers will also find a Harman Kardon audio system and an iDrive infotainment system with GPS navigation. On the performance front, the car is equipped with a 3.0-litre TwinPower Turbo six-cylinder engine that has been upgraded to produce 453 hp and 443 lb-ft (600 Nm) of torque. Thanks to the extra power and a weight reduction of approximately 110 lbs (50 kg), the car can accelerate from 0-60 mph in 3.7 seconds before hitting a limited top speed of up to 174 mph (280 km/h). The BMW M3 CS is a limited production model and the company will only build a total of 1,200 units. 550 are destined for the United States and BMW will begin accepting orders in May. It won't come cheap, though. There's not going to much change out of £90,000 in the UK, meaning that there is a massive price premium over the regular M3.
There was also an M4 here, in a rather striking violet colour.
By contrast the new M5 looks quite subtle. BMW used the Show to announce that the 2018 M5 will be priced from $102,600 in the United States. Set to go on sale next spring, the redesigned M5 is distinguished by an aggressive body kit that includes new bumpers, revised side skirts, and a sporty rear diffuser. The model also has an aluminium bonnet, a carbon fibre-reinforced plastic roof, and 19-inch lightweight alloy wheels with an Orbit Grey finish. The cabin comes nicely equipped with M Multifunction seats which are covered in Extended Merino leather upholstery. Drivers will also find a digital instrument cluster, an M-specific head-up display, and an M sports steering wheel. Motivation is provided by a 4.4-litre TwinPower Turbo V8 engine that produces 600 hp and 553 lb-ft (748 Nm) of torque – an increase of 40 hp and 53 lb-ft (71 Nm). The engine is connected to a new eight-speed automatic transmission which sends power to unique all-wheel drive system. This setup enables the car to accelerate from 0-60 mph in just 3.2 seconds and hit a top speed of up to 189 mph (304 km/h) with the optional M Driver's Package.
Even more vivid was this M6 Gran Coupe, a model in the closing years of its production life. I still think this is one of the best looking BMWs of recent years, though perhaps not in bright orange (which is a great colour for smaller cars, but a bit brave for one as large as this!).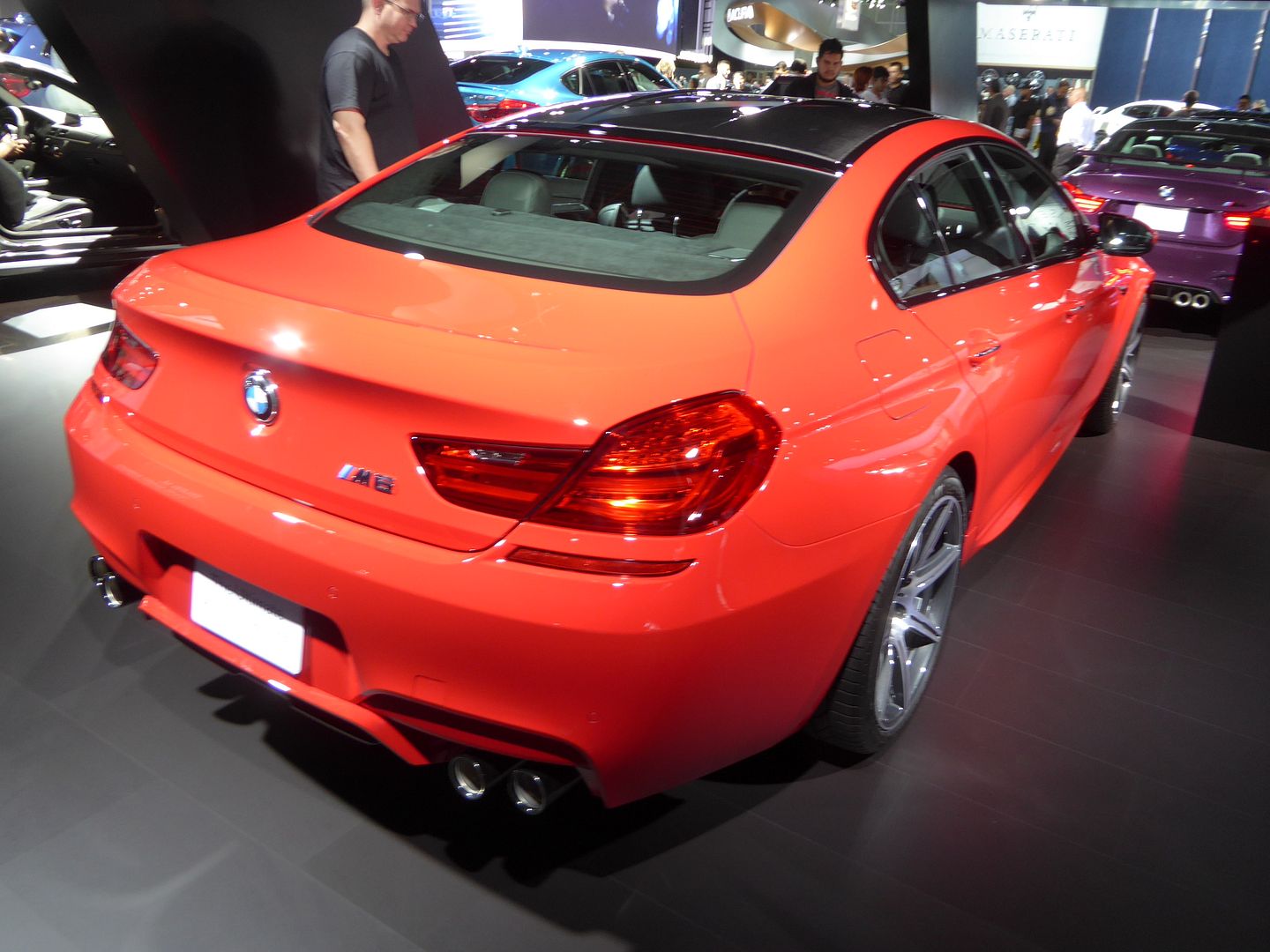 BOLLINGOR
Another of those rather quirky newcomers, with lots of ambition, which may or not get off the ground (so to speak!) is this, the Bollingor B1, utilitarian and rugged-looking off-roader that has eschewed the good old internal combustion engine, in favour or all-electric propulsion. The B1 was first unveiled this past summer at the Classic Car Club of Manhattan. Naturally, as the world's first "all-electric, all-wheel drive, off/on road sport utility truck", the B1 couldn't have skipped this year's LA Auto Show. It certainly seems to offer something quite unlike any other utilitarian EV you could buy today or in the near future – like say the Tesla Model X, or their upcoming EV pickup. Available with either 60kWh or 100kWh battery packs, the B1 can offer a range that varies between 120 and 200 miles. Its total output is 360 HP and 472 lb-ft (640 Nm) of torque, which allow for a 0 to 60 mph acceleration time of 4.5 seconds and a top speed of 127 mph. You can also use it to tow no fewer than 6,100 lbs (2.76 tonnes), and when you're done, you can recharge its 60kWh battery in as little as 45 minutes if you're using a fast charger (7 hours otherwise). The 100 kWh battery takes either 12 hours or 75 minutes on a fast charger. Bollingor said a few weeks ago that it had already secured over 10,000 reservations for the B1, while the plan is to begin deliveries by February 2019.
BUICK
Buick had a stand tucked away in the back corner of the South Hall, in a spot previously occupied by Infiniti, who had been shuffled one stand along. The biggest news here was the new top of the line Avenir badging, making its debut on the Lacrosse sedan, to join the already announced Avenir version of the Enclave. Buick currently offers the LaCrosse in four trim levels, but nine out of ten buyers go for one of the top two. The case for making an even more upscale version, then, must have practically made itself. The 2018 Buick LaCrosse Avenir is distinguished visually from the outside by 3D mesh grilles, chrome "wings," polished 19- (or available 20-) inch wheels, and unique badging. Inside is where it counts, though, where GM's premium brand has given the LaCrosse Avenir chestnut-brown leather upholstery, a Bose audio system, a panoramic moonroof, and Avenir logos embroidered into the headrests and inscribed into the door sill plates. Power comes from the LaCrosse's otherwise optional 3.6-litre V6 engine, sending its 310 bhp through a nine-speed automatic transmission to either the front wheels or all four. Buyers will also be able opt for the active suspension, black interior, and advanced safety systems when Buick's latest Avenir model reaches dealers early in the new year.
There were a number of less plush LaCrosse models on the stand, as well.
Also new, and looking rather familiar to Europeans, are the new Regal and Tour X. Like their predecessor, these are Buick-ised versions of the Vauxhall/Opel Insignia. This time, America gets the Wagon version as well, which they are calling the Tour X. As well as the cooking versions, there will be a potent GS model, and there was one of these on a display turntable.
After a production run of almost 10 years, Buick replaced their large crossover this year, with a new model, still called Enclave. A sister to the new Chevrolet Traverse, this one looks quite distinctly different outside, and is said to be a notable improvement on the outgoing model.
Buick have two smaller crossovers in their range. The smallest of these is the Encore, an American-ised version of the Vauxhall/Opel Mokka. Just as these were updated and became the Mokka X last year, so the Encore was refreshed, with a new grille being the most obvious recognition point. The interior is a bit plusher than in the European models, but the car is not well-viewed, as this means that its pricing forces it compete against larger cars. Not that the Mokka is exactly a good starting point, as I thought it one of the least impressive cars I drove in 2016.
The mid-sized offering, called the Envision is actually made in China (don't tell Donald Trump!), and as such is not related to any other GM product made in America, or indeed Europe.
Final Buick here was an example of the Cascada. This was launched on the US market around a year ago, and despite having few real rivals, it has yet to make much of a dent in the sales charts, just as is the case in Europe, where it is also struggling.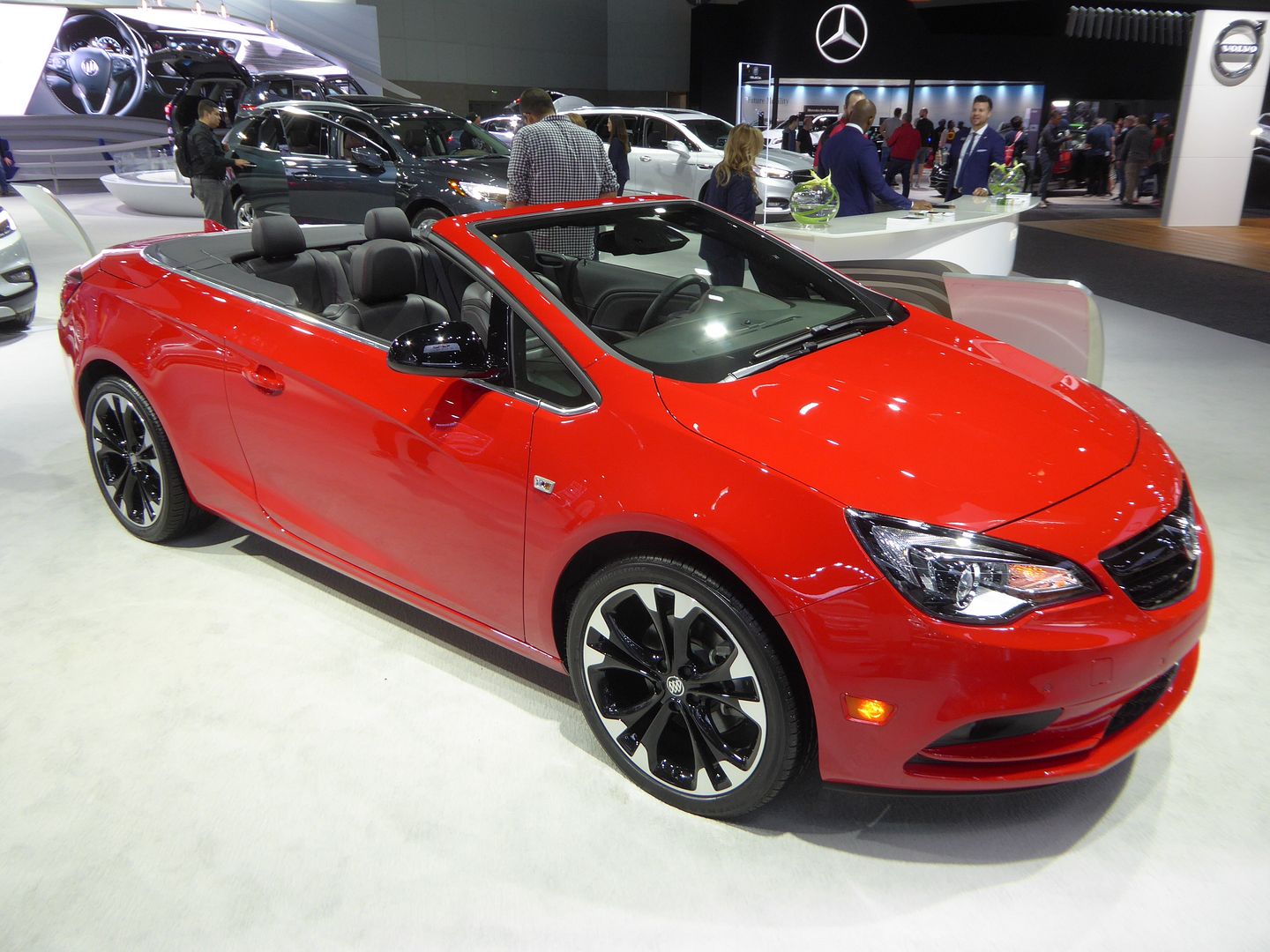 CADILLAC
Cadillac had a large stand, but as far as I could tell, there was nothing that was new or that had not been seen elsewhere before. Entry point to the range is the ATS and there were a couple of examples of this 3-series rival here: a Coupe and the fiery ATS-V.
The latest CTS was launched to critical acclaim by the US press, who yet again, told us that this was not just a really good car, but that it beat all the German rivals hands down. How wrong could they be. Even in America, sales of the CTS are what can only be described as deeply disappointing, with the car trailing all those German rivals by some measure. Not even the addition of the very potent CTS-V, an example of which was here, has helped matters.
Cadillac now have two large saloons: the XTS is front wheel drive and the CT6 is rear wheel drive. Both remain in the range, and the XTS was recently facelifted to make it look more like its newer relative. Both were on the stand.
The XT5 was launched just over a year ago, to replace the SRX. It received rather luke-warm reviews, suggesting that although an improvement on what went before, it was not enough of an advance to take class honours. I've yet to try one to find out for myself.
The largest Cadillac is the Escalade, and there were a couple of these leviathans on show, with the standard and long wheelbases both present.
CHEVROLET
No question as to what was the Star of the massive Chevrolet stand, and indeed, for many enthusiasts, what would be considered as one of the hottest debuts of the entire show: the eagerly awaited Corvette ZR1, with a Convertible model fresh for the show, following the reveal of the Coupe just a few weeks ago. A pair of Coupe and Convertible models were on a plinth at the back of the stand, and there were large crowds around them pretty much all day long. According to Chevrolet, driving a Corvette ZR1 Convertible instead of the Coupe doesn't mean that you have to compromise. In fact, it's only 60 lbs (27 kg) heavier than the hardtop, so handling should be just as sharp. "Few others can challenge the ZR1 Convertible's power and speed while offering the exhilaration of top-down motoring," said Corvette exec, Mark Reuss, adding that this is a supercar in "all respects." Of course, with 755 bhp and 715 lb-ft (969 Nm) of tap, it's easy to understand why the automaker might be feeling particularly confident boasting about this thing. In a straight line, it can hit 60 mph in under 3 seconds flat, covering a 1/4 mile in the high 10-second range, as long as you choose the 8-speed automatic over the 7-speed manual. Even though the ZR1 (either of them) looks mental, owners can actually engage what is called 'Stealth' mode, which makes the exhaust quieter than the one on a Corvette Z06. Then, if you want to unleash all of its soundtrack, switch to Track mode and let loose. The 2019 Corvette ZR1 Convertible goes on sale next Spring alongside the Coupe, and is likely to prove popular. I can already see the US press preparing the hyperbole as to how this car is better than any established supercars – they can't resist! This time, they may even be justified!
Not surprisingly, the Camaro looked like it had been relegated to a sort of "second place", with only a couple of examples on the stand. However, one of these was the stonking ZLE, and the other was a special 50th Anniversary Edition car, which was displayed inside the loop of a giant HotWheel track.
A very different kind of Chevrolet comes from the all-electric models, of which there are two: the Volt, now in its second generation, and the smaller and much lauded Bolt.
After a flurry of new models in 2016/17, most of the rest of the range looked familiar, with the diminutive Spark now well established in its second generation, though not exactly a common sight on the roads, and the Sonic a year or so post its blandifiying facelift. A single example of the model joined the Spark here.
There were examples of both the sedan and hatch versions of the mid-sized Cruze, a model now available with a diesel engine as well as the 1.4T petrol engine.
The two larger Chevrolet sedans, Malibu and Impala, display real family resemblance. I've driven both, and these are very competent, if slightly dull machines, that deserve a better fate than being branded simply as daily rental fodder, even if the reality is that a lot of their sales are indeed to that market.
The Trax is the Chevrolet version of Buick's Encore, or indeed you could say the American relative of Vauxhall's Mokka. It had a light facelift last year, which was probably not enough to make it anywhere near class leader. It will be interesting to see what happens to it next, as with Opel/Vauxhall no longer part of the GM family, a replacement will have to come from somewhere other than Europe.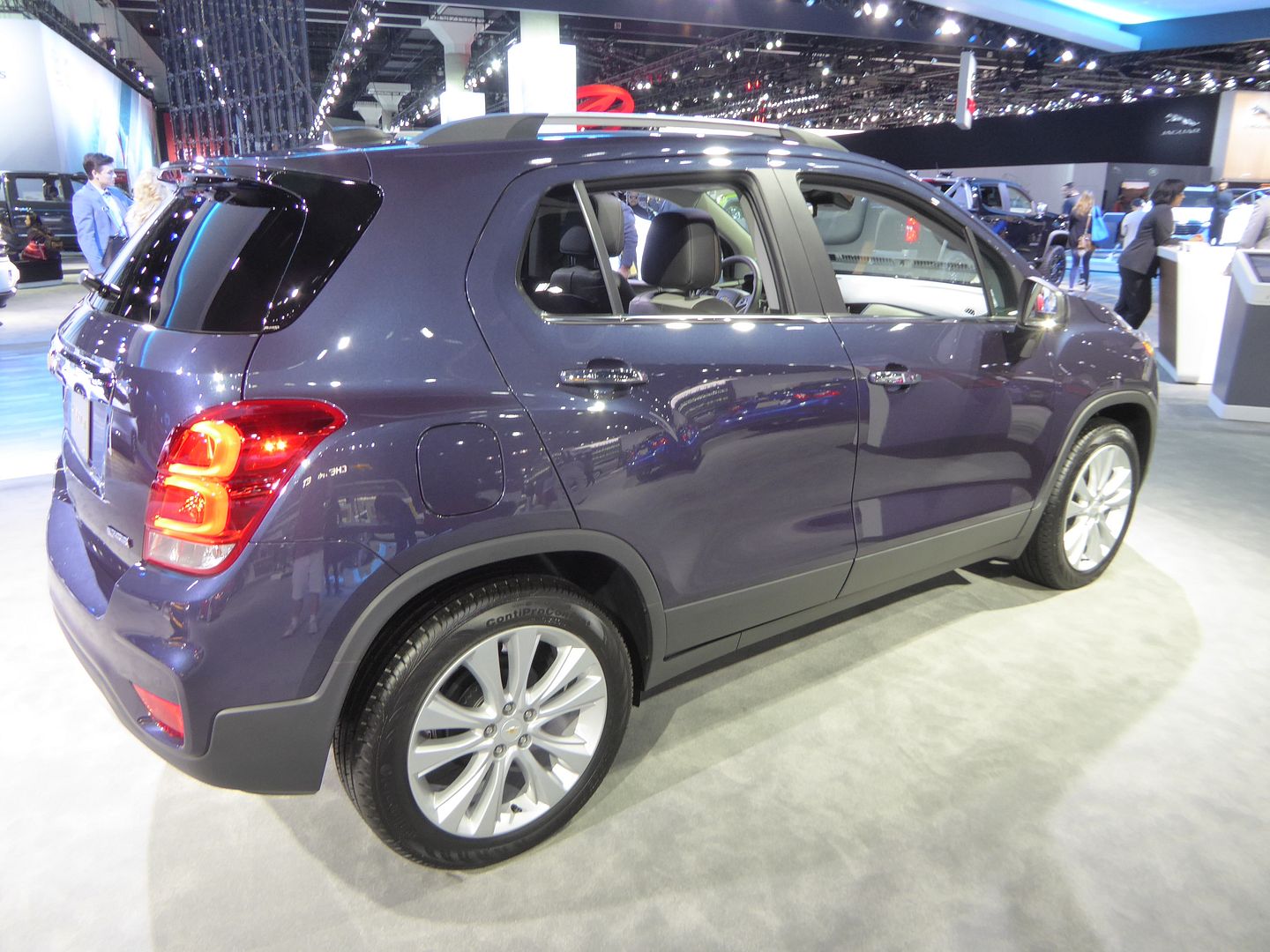 The new Equinox has now been out on US roads for a few months. Unlike most cars, this one is actually a bit smaller than its predecessor. It is "better" , too, though my conclusions after driving one for a couple of days in Arizona a couple of months ago, were that it is pretty forgettable, struggling to distinguish itself from a raft of worthy competitors.
There is a distinct family link between the Equinox and the new Traverse, which is only just on sale. Taking over from the long-running model of the same name, this 7/8 seater boasts the latest thinking on technology and safety features, and is by all accounts a significant improvement on its predecessor, a vehicle which was well-rated when new, but which perhaps stayed in production for a while too long.
Largest of the SUVs in the range are the legendary Tahoe and Suburban, and both of these were on the stand for detailed inspection.
The most important Chevrolet, in sales terms, is the Silverado Truck, and there were lots of examples of this on the stand.
CHRYSLER
With production of the family-sized 200 having now ended, there are only 2 models in the Chrysler range at present: the Pacifica MiniVan and the venerable 300. Both were on show, with several examples of the Pacifica taking pride of place, with the Hybrid version having particular prominence.
The 300 model on show was the top spec one, the 300S.
DODGE
There was nothing new on the Dodge stand, but it was still a hive of activity. Part of this was down to the various simulators in one corner of the stand, which seemed particularly popular. It also boils down to the levels of interest in the completely bonkers Hellcat versions of the established Challenger and Charger models, with their 707 bhp V8 Hemi engines. These sit at the top of a range of cars which start with far more modest 3.6 litre V6 engines. There's a complex array of different versions available, and there were several examples of these on show.
The large Durango was also well represented here.
Although the Dart was deleted a year ago, the Journey remains in production, along with the old Grand Caravan, though neither of these were on the stand, so the Dodge range is a bit more extensive than you might have though from looking around the stand.
FIAT
Discounting the Abarth-badged cars that have already been featured in this report, there were three Fiat models on show, one of each of the three body types that are sold in the US. These were a 500e, the all-electric version of the 500 that is sold in a limited number of States, to meet targets on fleet average emissions, the 500X and the 500L, the last of which was showing the modifications that were applied to the European built models earlier in the year. It will be interesting to see if these help US sales, as the 500L has dwindled to almost negligible sales in recent months.
FORD
Star attraction on the Ford stand was a bright red painted GT, which turned out to be one of the '67 Heritage Edition models, that Ford unveiled as a limited-edition model just for 2018 during Monterey Car Week as a way to pay homage to the firm's 1967 24 Hours Of Le Mans victory. The GT '67 Heritage Edition consists of a Race Red exterior paint scheme with white stripes and the available exposed carbon fibre package. Further distinguishing it from the 'regular' GT are Frozen White No.1 graphics on the hood and doors, 20-inch one-piece forged aluminium wheels, red brake calipers and silver wing mirror caps. The Heritage Edition will only be available on 2018 model year Ford GTs and also incorporates some interior changes, including carbon fibre seats with red stitching, red seatbelt webbing, anodized gray paddle shifters and dark stainless appliqués on the instrument panel, x-brace and door register bezels. All 2018 Ford GT '67 Heritage Edition vehicles will also get a serialised identification plaque and exposed matte carbon fibre on the door sills, air register pods and centre console. Speaking about it, exterior design manager for the car, Garen Nicoghosian said "The first Heritage edition car was a huge success, honouring our history with a modern interpretation of the Le Mans winner. Continuing with a 2018 Ford GT based on the winning GT40 Mark IV race car was simply something we needed to do."
As well as this one, there were two other GTs at the show. The yellow one was attached to a wall on the Ford stand, and could be seen from quite a distance in the Hall. The blue one was in the West Hall atrium, and was actually the very first car I came to. It was part of a technology display with some virtual reality glasses allowing you to get a sensation of the car at speed.
Just in front of that yellow Ford GT was a Fusion Interceptor, a specially built version of Ford's family-sized car kitted out for police duty. Whether they will adopt it or not, remains to be seen. The Crown Vics, that were the staple of most police fleets across the land are all getting on somewhat now, but in most cases have been replaced either by the Ford Explorer or other brands such as Dodge Chargers (the rear wheel drive being seen as an asset).
This side of the stand also had the Hybrid and Energi (ie electric) Ford models on it, which included a Focus, a C-Max (only sold in the US as a Hybrid or an Energi) and a Fusion.
Ford announced the 2018 Mustang just days after last year's LA Show, which did seem like odd timing. It's only now that the cars have actually gone on sale. As I had arrived the Show in a Mustang, I was keen to see what was different. You can't see all the changes, as many of them are mechanical. The V6 model is no more, leaving the 4 cylinder Ecoboost, which has actually been downtuned a little, to make it more efficient, and the 5 litre V8 which gets more power. Visually, the reshaped bonnet was the first thing I spotted, but there are detailed changes to front and back, and the interior has allegedly been upgraded again. It's still not a strong point of the car, as the goal posts keep moving. There was a Shelby GT500 and a Roush 729 version here as well as the "regular" cars.
The Focus RS was eagerly awaited in America, but, unlike in Europe, where it was rapturously received, the US press have been a bit luke-warm about it, and sales have been disappointing. Certainly the car was not mobbed by people wanting to look at it, like it would be at a European show. Interesting how tastes do vary.
Another car that has struggled for US success is the Fiesta. It is unlikely that the new model, recently on sale in Europe, will be offered to Americans, so that means for now that the old model remains on sale here. As well as the five door hatch, there is slightly gawky four door sedan sold here, and this was on show, along with the ST model, sold only as a 5 door hatch.
The Focus is available in two body styles in America: the four door saloon, which is the bigger seller of the two, and the hatch that is familiar to Europeans, and which is presented as the more up-market of the pair.
There were a couple more examples of Ford's family-sized model, the Fusion, a design which will look familiar to Europeans, as it shares much with the Mondeo, though it is only sold with a four door saloon body, and has different engine options from the European car.
Ford first showed the Americanised version of the EcoSport a year ago. And here is was back again, and still not yet on sale. And they still cannot pronounce it, dogged in the determination that it is the "echo-sport" and not the "eeko sport". It joins a growing sector, and the latest changes to engines, suspension and interior quality give it the vague chance which the first cars to bear the name never had, but I cannot help but feel that this one is going to struggle. We shall see.
The full range of Ford SUVs were here, with several examples of each on show. This starts with the Escape, now the best-selling Ford passenger vehicle in America, the slightly larger Edge, the venerable Flex and the full-sized Explorer, all of them familiar models now.
Joining them was the new Expedition, production of which started at the end of September. Among them was probably the closest the Ford Expedition will ever get to a Raptor, the Expedition "Baja-Forged Adventurer"  which had made its debut at SEMA a few weeks back. Built by LGE-CTS Motorsports, this Expedition features custom fender flares in order to fit 35-inch Mud-Terrains, special bumpers for more ground clearance and protection and an uprated ICON Vehicle Dynamics suspension. The list of upgrades doesn't stop there though as this one-off rugged version also comes with a Borla cat-back exhaust, a big brake kit from Sparta Evolution, KC HiLites LEDs, a tent and a fridge/freezer. Inside we get custom leather seats, an upgraded audio system and a safe from Console Vault. The whole idea was to turn the Expedition into a proper off-road adventurer that can fit seven passengers in style and comfort and judging from the looks, the Baja-Forged Adventurer nails the description perfectly.
Transit Connect and Transit models were here, but they somewhat dwarfed by the other Ford commercial vehicles that surrounded them, the top-selling F150 pickup, of which there were several variants on show.
Final Fords on show were a reminder of the marque's participation in motorsport, with this pair of NASCARs.
GALPIN
Galpin is a well known local dealer and automotive customising specialist, and they took an entire hall to showcase some of their work, as well as those Aston Martins already featured in this report. First cars I came across were modified Honda models, a  Civic Type R and the new Accord.
There was also a line of other models, which included a Subaru Outback, the new Kia Stinger, VWs Atlas and Tiguan, a Mazda CX-5, and Volvos V90 and  XC60.
There were some older creations, too, including a 1950s Ford Truck, a Kaiser J, from the 1930s, another Ford Pickup and a 70s Camaro.
Jaguars featured with a modified F-Pace joined by a classic  XK120 and a new F Type in a matching colour.
Galpin sell a lot of new Ford models and they applied their imagination to some of the latest models, including a Focus RS and several Mustangs.
And finally, there were some Porsches. The 996 was different enough, and then there was this pink Porsche Carrera GT. Hmm!
GENESIS
Initially launched as a model within the Hyundai range, Genesis is now a stand-alone brand, with all that this entails in terms of dealer presence, and branding. Accordingly, there was a separate stand, not directly connected to the Hyundai one. I had been hoping to see their latest car, the G70 on show, but it was not there. That meant that there were just the two current models on show: the G80 and the slightly larger G90. On paper, these are worthy rivals to those established in the sector, such as the German brands, but it is going to take time, for sure, for them to get the same level of acceptance. If you think  of them as an equal to Lexus, with the trying-too-hard styling, then the case for either model looks a whole lot more compelling.
GMC
GMC produce a range of trucks which mirror the Chevrolet equivalents on which they are based, as well as a series of SUVs, all positioned slightly higher in the market than those with the bow-tie badge. There were several examples of each available model on this expansive stand. Newcomer here, and one I had not seen before was the new Terrain, a sister model to the Chevrolet Equinox. It has a very different look to it, and it also eschews those squared-off edges of its predecessor to look quite neat, if slightly generic in appearance.
The Acadia was refreshed last year, and is no longer the close relative of the Chevrolet Traverse that its predecessor was, being half a size smaller, which probably makes it a more natural competitor for vehicles like the Ford Explorer and Toyota Highlander.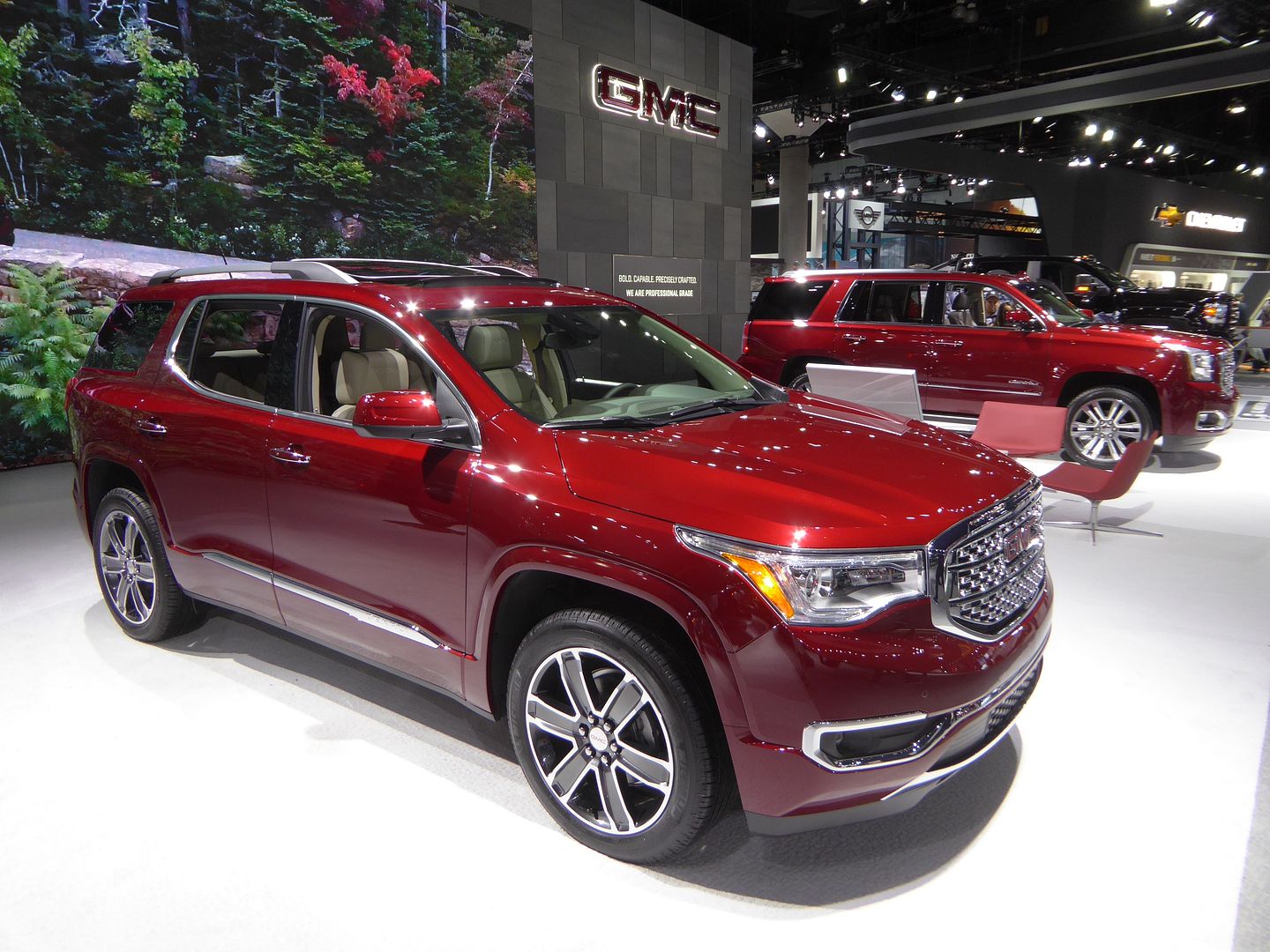 Top of the SUV line up is the Yukon offered in standard and XL versions. These are closely based on the Tahoe and Silverado, with only badging, trim and a few details to distinguish them.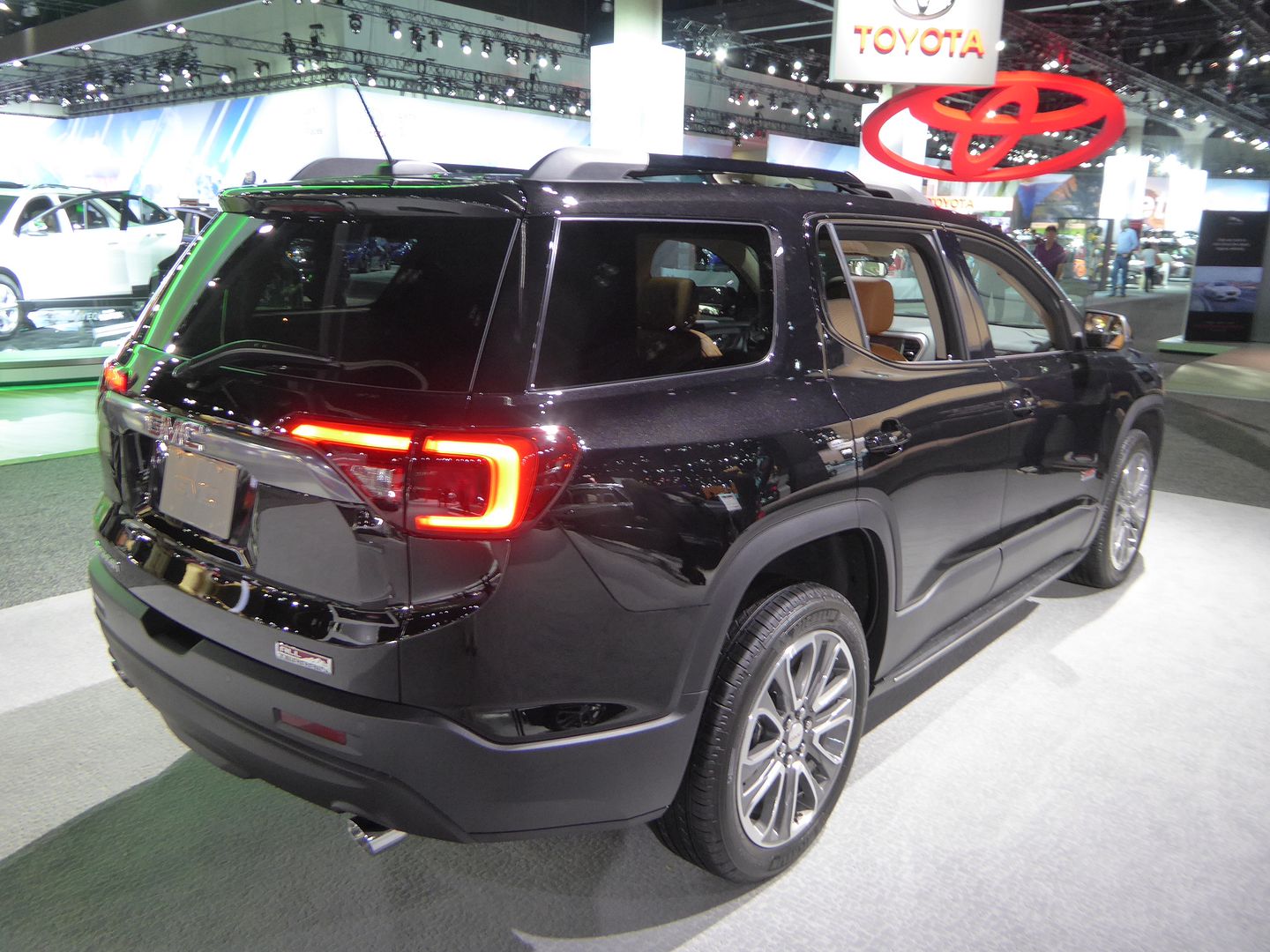 GMC's full-sized truck is the Sierra, and this featured on the stand with several on display. Joining them was something a bit special, the All-Mountain concept. First seen a few weeks ago in Colorado, it is based on the Sierra 2500HD Denali 4WD Crew Cab and it has been equipped with Mattracks which enable the model to handle extremely snowy conditions. While the tracks are the most noticeable modification, the truck has also been equipped with custom graphics, an LED light bar, and a rugged front skid plate. The model also has side steps, a tonneau cover, and snowboard racks from Thule. Power is provided by a 6.6-liter Duramax turbo diesel engine which produces 445 hp and 910 lb-ft (1,232 Nm) of torque. It is connected to a six-speed Allison automatic transmission that sends power to a four-wheel drive system. The concept will be displayed at Vail Mountain over the winter as part of a partnership with Vail Resorts, as a fun way to attract attention to GMC and to highlight GMC's partnership with Vail Resorts.
HONDA
The most important new car on the Honda stand was the 2018 Accord, the tenth generation of the car, which was launched a few weeks ago, and which is already on sale. All the tests against its biggest market rival, the Toyota Camry say that this is the better car. It is, in my opinion, also the marginally less visually awkward looking of the pair, though it is not going to win any prizes for its beauty. Honda, it seems, have been afflicted by the same belief that controversial styling (or downright ugly, if we are being brutally honest) is called for in a bid to stand out.  Planned to be available only as a sedan, as sales of the coupe have reduced to make the model no longer viable, there is a unique front fascia with a prominent grille that sits above a large lower air intake. The model also has a sculpted bonnet, a sportier roofline, and uniquely shaped windows behind the rear doors. Out back, the Accord features an integrated rear spoiler, LED taillights, and a dual exhaust system with chrome accents. The exterior styling will likely prove polarising but the cabin is different story as it features high quality materials and an upscale design. Once seated behind the three-spoke steering wheel, drivers will find a new soft-touch instrument panel, chrome accents, and an 8-inch Display Audio system with physical knobs for tuning and volume. Elsewhere, Honda installed more deeply padded arm rests and improved seats with taller shoulder bolstering for additional support. Rear seat passengers will be grateful for the car's longer wheelbase which results in nearly two inches of extra rear seat legroom. A variety of options will be available including heated and ventilated front seats as well as 6-inch head-up display. Other highlights include a wireless smartphone charger and 4G LTE connectivity. Entry-level models will be powered by a turbocharged 1.5-litre four-cylinder engine that develops 192 hp and 192 lb-ft (260 Nm) of torque. It can be connected to either a six-speed manual or a continuously variable transmission. The Accord will also be available with a turbocharged 2.0-litre four-cylinder producing 252 hp and 273 lb-ft (369 Nm) of torque. A six-speed manual is available on Sport variants but most models will come with a new 10-speed automatic transmission. Buyers looking for something more eco-friendly can check out the Accord Hybrid which features a 2.0-litre Atkinson cycle engine and two electric motors. Honda says this powertrain offers "improved power delivery with no compromise to interior or cargo space." All Accords will benefit from a lighter and more rigid body structure which uses ultra-high-strength steel. This enables the model to weigh between 110-176 lbs (49.9-79.8 kg) less than its predecessor. On the handling front, the 2018 Accord has been equipped with a new MacPherson strut front suspension and a more compact rear multi-link setup. Other highlights include an adaptive damper system and a lower center of gravity. I've seen a few on the road already, even though it only went on sale a matter of weeks before this visit, production having started at Honda's Maryville, Ohio plant in September. There are no prospects of the model coming to Europe.
Challenging styling does not seem to be holding back sales of the Honda Civic. It is now easily beating its arch nemesis, the Corolla, and is poised to claim the title of best-selling passenger car in America for 2017. The UK-built Hatch model joined the range of 2 door Coupe and fastback Sedan last year and there is now the grotesque Type R to complete things. Even the US press have all commented adversely on the looks of this, something they only do in extremis. They don't seem quite as besotted with it as the UK press are, so, given the way the Focus RS has not sold as well as expected States-side, it will be interesting to see how well it does here.
And still on the subject of ugly Honda models, there is the Clarity. There were several of them on show, and the model had a far more prominent position than it has done in previous years. The reason for this became obvious when I learned that this is no longer simply a hydrogen-powered vehicle,  as it was at launch, but there are now a range of options, including electric and PHEV available as well. That may broaden the market for it somewhat, but it does not get away from the fact that it is ugly.
Smallest Honda on offer is the Fit, a close relative of the model we know as the Jazz in Europe. Whilst this car appeals most to the superannuated in Britain, it is seen as quite a cool car for youngsters in America.
Honda refreshed the CR-V in 2016, though the European version is still awaited. It looks similar – though even fussier – to its predecessor but is a little larger, to accommodate the HR-V underneath in the Honda range. It is extremely popular in America, with sales always in the top handful of all available models, vying with the Toyota RAV4 and Nissan Rogue for overall sales leadership. Both the CR-v and HR-V were here.
If the CR-V is not big enough, then Honda have two more options for you: the Odyssey MiniVan, which was also refreshed last year, and the full-sized Pilot SUV.
HYUNDAI
Star of the Hyundai stand was the Kona, making its US debut following launches in the rest of the world earlier in the year. Although some think that this car is "too small" for the US market, the segment is growing in America just like it is in the rest of the world, so the timing would appear good. The exterior styling remains pretty much unchanged from other markets, meaning a compact muscular shape defined by its plastic cladding on the sides and the unusual headlight setup, making the new Hyundai Kona a very different proposition indeed. Based on a brand-new platform, the Hyundai Kona is designed to offer good ground clearance, generous interior space and a commanding driving position. The underfloor layout is optimized to reduce central tunnel intrusion. The optional all-wheel drive system is also cleverly packaged. Customers in the U.S. will be offered two choices: an entry-level 2.0-litre four-cylinder petrol than runs on the Atkinson cycle and produces 147hp and 132lb-ft of torque and the turbocharged 1.6-litre with direct injection which makes 175hp and 195lb-ft of torque. 2.0-litre models are paired to a six-speed automatic while the more powerful turbocharged Konas are fitted with a seven-speed dual-clutch automatic. Hyundai claims that the Kona was developed to offer "enhanced driving dynamics and responsive performance". Front-wheel drive models get a rear torsion beam suspension while all-wheel drive ones are fitted with a multi-link rear. Forward Collision-Avoidance Assist along with Lane Keeping Assist, High Beam Assist, Driver Attention Warning, Blind Spot Warning and Rear Cross Traffic Alert are part of the Hyundai Kona's available safety kit. The interior features an eight-inch infotainment system with standard Android Auto and Apple CarPlay, as well as Sirius XM Radio, HD Radio and Blue Link LTE connectivity services. There's also a wireless charging pad for smartphones, a heads-up display and more. The 2018 Hyundai Kona will arrive at dealers in the first quarter of 2018, with pricing details to be announced closer to its market launch.
With a large range of cars, even allowing for the fact that Genesis is now a separate brand, with its own stand, and for the deletion of the Azera, with no replacement, so there was only place for one example of most of the other models in the range. They were mostly parked in a line on the edge of the stand, one of the first you would come to in the South Hall. There's a clear family resemblance among the cars, most evident when you compare the new for 2018 Accent with the Elantra.
Hyundai also have a car they call the Elantra GT which will look familiar to Europeans as the i30 hatch. It is positioned as an up-market and more costly and more sporting alternative to the Elantra sedan. It's only just gone on sale, but if it follows the path of its predecessor, then it will remain very much in the sales shadow of the saloon.
A mid-life facelift for the mid-sized Sonata was announced a few weeks ago. The changes are more obvious at the back than they are at the front. There are upgrades to the equipment levels as well as some minor updates to make the car better to drive and ride in.
Crossover vehicles on show were the Tucson and the two versions of the Santa Fe, the 5 seater Sport and the longer regular one.
Continuing into 2018, even though it was pulled form European sales a while back, is the slightly bizarre Veloster, with its asymmetrical sides.
The Ioniq is an established member of the range now, available in three different guises, as a petrol-hybrid, a plug-in hybrid and a full electric model.
Final Hyundai on show was a Tucson Fuel Cell, still based on the previous bodyshape, even though rumours persist that there will be a version using the latest Tucson body.
In a separate display in the South Hall Atrium, Hyundai had an i30N on show, somewhat of a tease for Americans who are not destined to receive the car.
INFINITI
The most significant car on the Infiniti stand was also one of the all-new models of the Show, the next generation QX50. Previewed by the QX Sport Inspiration concept, the production model has what it maker calls a "Powerful Elegance" design that has been created to give the crossover a commanding presence. As part of this mission, the model has been equipped with a bold front fascia that features a double-arch grille and slender LED headlights. The dynamic styling is evident elsewhere as designers installed a clamshell hood, strong character lines, and tasteful amounts of plastic body cladding. A closer inspection reveals a chromed dual exhaust system, LED taillights, and 19- or 20-inch alloy wheels. I have to say that the colour for the show cars – a sort of washed-out mud probably did it few favours, though. Infiniti interiors have always been a bit of a mixed bag but the cabin in the QX50 makes an impressive first appearance. A variety of different types of leather will be available and they can be mated with wood or aluminium trim. Another notable interior feature is the new InTouch infotainment system which consists of a main 8-inch touchscreen display and a second 7-inch touchscreen which is used to control the climate and entertainment functions. Other highlights include an available heads-up display and a cargo compartment that can hold up to 64.4 cubic feet of luggage when the rear seats are folded down. Power is provided by an all-new 2.0-liter VC-Turbo engine which produces 268 hp and 280 lb-ft (380 Nm) of torque. It is connected to an XTRONIC continuously variable transmission which has been designed to replicate a traditional eight-speed automatic gearbox. Front-wheel drive is standard, while all-wheel drive will be optional. What is particularly interesting is that that this engine is truly unique as it is the world's first production engine with a variable compression ratio. The ratio ranges from 8:1 to 14:1 and it enables the model to offer high-performance as well as impressive fuel-efficiency. Speaking of the latter, the QX50 will have a combined fuel economy rating of 27 mpg with front-wheel drive and 26 mpg combined with all-wheel drive. Since Infiniti is a luxury brand, it should come as little surprise the QX50 can be equipped with an impressive assortment of driver assistance features. These include Forward Collision Warning, Blind Spot Warning and Intervention, Back-up Collision Intervention, and Forward Emergency Braking with pedestrian detection. One of the more notable features is the ProPILOT Assist function which is a semi-autonomous driving system that allows the car to take over "single-lane driving operation at the push of a button, without the driver's input on acceleration, braking, or steering." It will replace both the current QX50 and the already discontinued QX70 in the Infiniti range.
Also making its first appearance on American soil, following a launch at the Dubai Show a couple of weeks earlier, was the facelifted QX80. This will begin production at the automaker's Kyushu factory in Japan, and is expected to go on sale in select Infiniti markets across North America, Asia, Western Europe and the Middle East at the end of this year. "The new Infiniti QX80 has been designed and engineered to allow customers to travel everywhere in luxury. Our flagship SUV features a high-quality, hand-crafted interior, creating a driver-centric, passenger-minded space for inclusive, modern luxury travel," according to company VP, Christian Meunier. Measuring 210.2 inches (5,339 mm) in length, 75.8 inches (1,925 mm) tall with roof rails and 79.9 inches (2,029 mm) wide, the new QX80 should offer a commanding road-presence, not to mention enough space to seat either 7 or 8 passengers. Visually, the SUV now appears longer, with a more purposeful front end, featuring functional fenders that maximise air delivery to the engine. The headlights were designed to wrap around the corners of the hood and into the fenders, allowing for a straight shoulder line design that runs from the grille all the way to the rear of the car. Speaking of the rear, it features sharper and thinner lights and a raised lower bumper section, helping the car appear wider, taller and "more athletic" than its predecessor. "Infiniti's design DNA has been scaled up for our largest SUV. The 2018 QX80 combines its commanding new presence with powerful muscularity and enhanced horizontal movement. Our designers raised the visual height of our iconic 'double-arch' grille and signature headlamps, striking an unrivaled on-road premium tonality," said Alfonso Albaisa, senior VP of global design. Step inside the 2018 QX80 and you might agree that it's one of the most "luxurious, highest-quality passenger compartments created by Infiniti to date," – or at least that's how the automaker views it. The interior is finished in a range of rich new materials, as quilted leather has been used on not just the seats, but also the door panels and armrests. As for the different interior trims available, aside from the standard Stratford Burl gloss wood trim, QX80 models with Graphite leather are also offered with a dark brown Espresso Burl. Meanwhile, models with Wheat or Saddle Brown upholstery are available with an even darker Charcoal Burl trim. Moving past all the soft materials and cabin aesthetics, the QX80 also offers a suite of advanced driver assistance features such as Backup Collision Intervention, Blind Spot Warning, Intelligent Cruise Control (Full-Speed Range), Distance Control Assist, Forward Emergency Braking with Pedestrian Detection, Predictive Forward Collision Warning, Blind Spot Intervention, Lane Departure Warning and Lane Departure Prevention. The 2018 QX80 is available in both 2WD as well as 4WD, both versions using a 400 HP 5.6-litre DOHC V8 engine. Models with 4WD also feature's Infiniti's All-Mode system with computer-controlled transfer case and three settings (Auto, 4H and 4L), and are priced from $67,850, whereas the 2WD version starts at $64,750.
Infiniti decided to brand all the small hatches the QX30 in America, regardless of whether they have the all wheel drive and lower body cladding or not. There were a couple of them on show, reminding everyone that they have an entrant in this market sector – something which is perhaps needed, as this car has proved something of a sales disappointment in America, just as it has in Europe.
The QX60 is now the oldest model in the range, having started out as the JX37 several years ago. It will be interesting to see if the new QX50 steals sales away from it, or whether the subtle difference in market positioning of the two means that they can both sell in parallel.
Completing the display were examples of the Q50 and Q70 sedans and the Q60 coupe.
JAGUAR
At the 2016 Show, Jaguar showed their I-Pace concept, and it was, by common consent, one of the stars of the show. We were promised that a production version was under development, and would appear in not much more than a year. It is now understood that it will make its debut at the 2018 Geneva Show, but to maintain interest, Jaguar had two further I-Pace concepts on show here. Joining the regular lookinjg car was the I-Pace eTrophy, a high-performance electric vehicle which features an aggressive front fascia with large air intakes and a prominent splitter. The car has also been equipped with front fender vents, aerodynamic side skirts, and flush-mounted door handles. The hardcore treatment continues at the rear as designers installed a massive rear wing, a boot-mounted spoiler, and a large diffuser. Other notable features include a ventilated hood and lightweight alloy wheels which are backed up by a high-performance braking system. The pictures give us a few glimpses of the cabin and we can see the I-Pace eTrophy will come with a roll cage and a mesh window net. There only appears to be one seat. Performance specifications remain unknown but the original I-Pace concept had a 90 kWh battery and an electric motor that powered each axle. The motors produced a combined output of 400 hp and 516 lb-ft (700 Nm) of torque and allowed the concept to travel up to 500 km (310 miles) on a single charge. This is intended for a one-make Formula E racing series from late 2018 and iIn the build-up to the show, Jaguar named the first team to have signed up for the I-Pace eTrophy race series: US squad Rahal Letterman Lanigan Racing. The team is run and part-owned by Bobby Rahal, a three-time Indy car champion and former Indianapolis 500 winner, and former US chat show host David Letterman. The team currently runs cars in the US IndyCar Series and endurance racing.
There were plenty of Jaguar models here that you can buy now, or at least very soon, also making their debuts on American turf. Of these, the most commercially significant is the long-awaited E-Pace. For American buyers, the baby Jaguar SUV will be offered with a turbocharged 2.0-litre petrol engine in two power versions, mated to a nine-speed automatic gearbox and all-wheel drive. The entry-level P250 offers 246hp and is priced from $38,600 while the range-topping P300 comes with 296hp, starting from $47,250.
Although Jaguar has followed the market trend and embraced crossovers with the E- and F-Pace, they are continuing to back the traditional "estate" or Sportbrake in Jaguar-speak, and the latest model is going to be sold in America, unlike its predecessor, as a direct competitor to the Mercedes E-Class Estate. BMW do not offer the 5 Touring nor Audi the A6 Avant in America, so this is more of a two-horse race, and it will interesting to see how well the car sells. It certainly has all the right ingredients as the XF Sportbrake is a stylish station wagon that features LED headlights and a long sloping roof. The model also has a dual exhaust system and low profile roof rails that can hold approximately 220 lbs (100 kg) of accessories such as skis and snowboards. The interior echos the sedan but the Sportbrake is distinguished by a larger luggage compartment that can hold 31.7 cubic feet of cargo. When the split folding rear seats are lowered, the cargo capacity climbs to 69.7 cubic feet . The standard model comes with an 8-inch touchscreen display but there's an optional InControl Touch Pro system with a 10-inch display. Other options include a 12.3-inch digital instrument cluster, a panoramic glass sunroof, and a 17-speaker Meridian audio system. Customers can also order interior mood lighting and an air purification system which promises to neutralise odours and remove bacteria. At launch, the wagon will be offered exclusively with a supercharged 3.0-litre V6 engine that produces 380 hp and 332 lb-ft (449 Nm) of torque. It is connected to an eight-speed automatic transmission and a standard all-wheel drive system. This setup allows the car to accelerate from 0-60 mph in just 5.3 seconds. The XF Sportbrake will go on sale later this year and pricing starts at $70,450.  It was the only example of the XF on the stand, though it is worth pointing out that there are cheaper XF models available to American buyers. For the MY2018, the Jaguar XF range will include four engine options: the 2.0-litre turbo four cylinder unit with 246hp and 296hp, a 180hp 2.0-litre four-cylinder diesel and a range-topping 380hp supercharged 3.0-litre V6. Prices start from $47,775 for the entry-level 246hp 25t model and reach all the way up to $70,450 for the 380hp Sportbrake S model.
The new 2018 Jaguar XJR575 is the brand's latest super sedan, featuring a specially tuned supercharged 5.0-litre V8 with 575hp and a top speed of 186mph.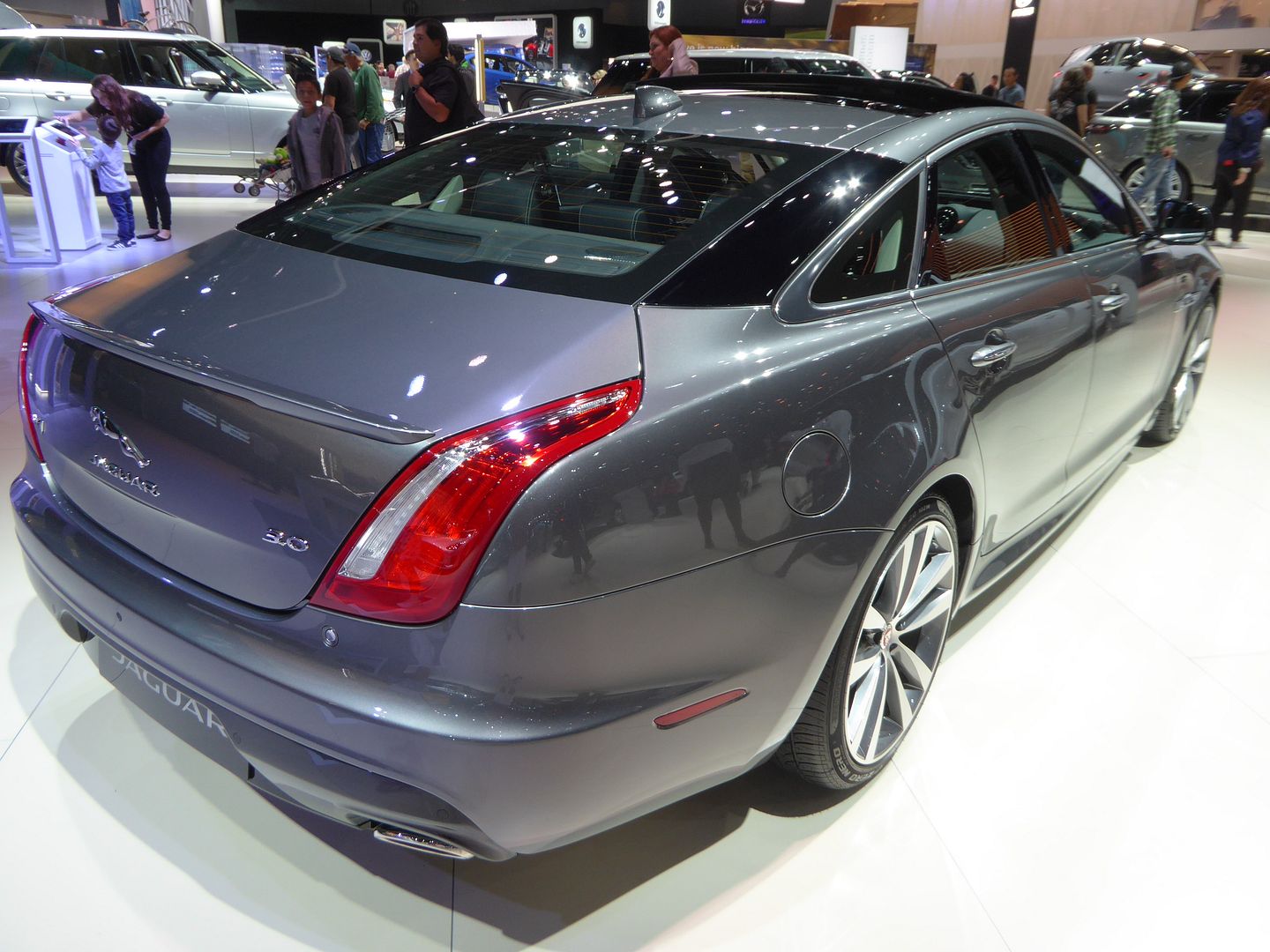 For the MY2018 Jaguar is adding the 2.0-litre turbo four-cylinder engine option to models like the F-Pace, the XE compact sedan and the updated F-Type, which now features the latest infotainment systems as well, and there were examples of all three on show, although my camera missed out on the F Type. these are all pretty new models, showing just how the injection of Tata's investments and the money generated by the growth in sales (more over at Land Rover than here) have allowed for such a lot of recent product.
Sadly, the XE SV Project 8 that was allegedly on show for the press had gone by the time the public were admitted.
JEEP
Although at a quick glance, you might have walked past the Jeep Wrangler models on show, thinking they were just the same as the ones you've been able to buy for a few years now, in fact these are all-new. It's finally here.Underpinning the all-new Wrangler is a ladder-frame chassis complete with upgraded suspension and complemented by aluminium body panels. This allows the off-roader to be 200 lbs lighter than its predecessor yet still more rigid. In terms of engines, the range starts with FCA's familiar Pentastar 3.6-litre V6 delivering 285 hp and 260 lb-ft of torque. Mated to eight a six-speed manual or eight-speed automatic transmission, the four-door Wrangler Unlimited is officially rated at 17 mpg in the city and 23 mpg on the highway with the manual. Opt for the automatic and those figures are 18 mpg and 23 mpg respectively. The second engine available is a 2.0-litre turbocharged inline-four cylinder, producing 268 hp and 295 lb-ft, not the 368 hp as wrongly claimed in official FCA documents. Interestingly, this powertrain is a mild-hybrid and consists of a 48-volt battery and belt starter-generator. In the future, a 3.0-litre diesel will be added to the range. Customers will have two- and four-wheel drive configurations at their disposal and like the outgoing model, a number of different variants will be sold. In terms of body styles, the 2018 Jeep Wrangler is available as a hardtop, a convertible top consisting of a number of removable roof panels, and as a powered soft top. Alongside these roof options, the 2018 Wrangler is offered as both a two-door and four-door, the former of which includes Sport, Sport S, and Rubicon trim levels. Meanwhile, the 2018 Wrangler four-door is available in Sport, Sport S, Sahara, and Rubicon models. Like the current car, the Rubicon model aims to offer the most off-road prowess. Consequently, it features 33-inch off-road tyres, electronically disconnecting anti-roll bars, beefed up fenders, Dana 44 axles, and a host of suspension modifications. Beyond wanting to improve the vehicle's off-road prowess, Jeep has spent a considerable amount of time overhauling the interior. To do so, all variants feature FCA's Uconnect infotainment system with screens in 5, 7, and 8.4-inch sizes. All include Apple CarPlay, Android Auto, a WiFi hotspot, two USB ports, and two 12V accessory ports. The new model goes on sale in the first quarter of 2018.
As well as the standard Wrangler models, Jeep had a couple of examples on show to illustrate how serious they are about customising the new Wrangler. Whilst the Jeep division has been working on the vehicle itself, the parts division has spent over 100,000 hours building up a catalogue of more than 200 parts and accessories for the fresh-faced off-roader. There were a couple of examples on show, to illustrate what is possible. The white two-door Wrangler Sport had a cargo carrier on the roof, an American flag hood graphic, Moab trail side graphics, a reinforced spare tyre hinge, auxiliary lighting, and black fuel door, sill guards, grab handles, and floor mats. Even more eye-catching was the green four-door Wrangler Rubicon, with its doors replaced by 2-inch tubing. It also wears rock rails, stubby bumper, winch, additional lighting, intake snorkel, roadside assistance and first-aid kits, and more. Both featured Katzkin leather seats and ride on 17-inch wheels wearing 35-inch BFGoodrich tyres on a two-inch lift kit. Like what you see? You can order just about all of it (save for maybe the leather seats) from the new Jeep Performance Parts catalogue.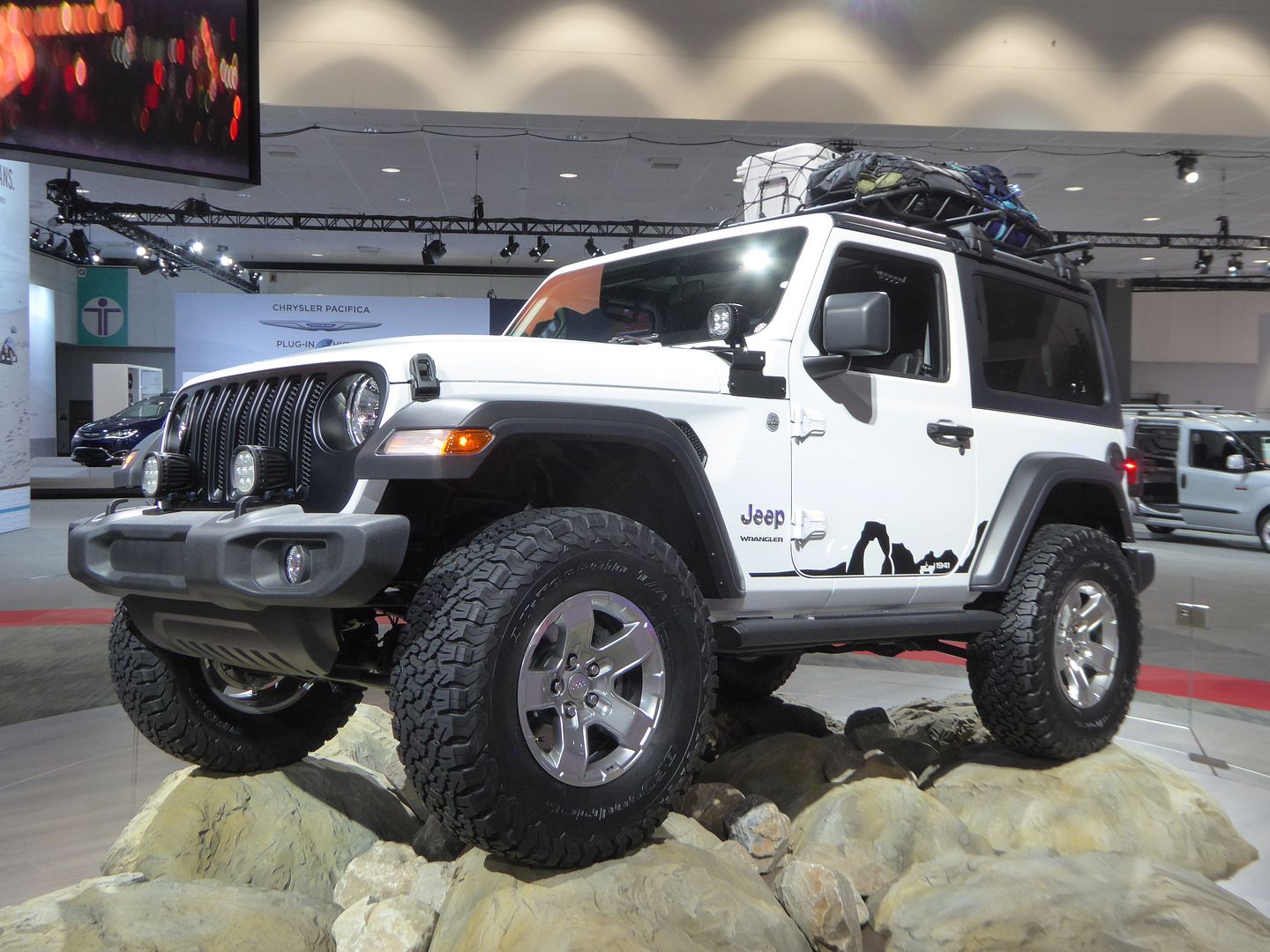 It was at this show a year ago that Jeep revealed the second generation Compass. It is a big step forward from the first one (though that one got a lot better in recent times), and will doubtless sell strongly, capitalising on the market enthusiasm for SUVs and the fact that Jeep has a strong reputation, which has allowed them to increase sales so much in recent years. There were several examples on the stand.
Also present were a number of examples of the rest of the range: Renegade, Cherokee and Grand Cherokee.
KIA
It is perhaps a mark of the progress of Korean brand Kia that they now occupy the first stand you come to on entering the West Hall, rather than being hidden away further from the entrance, where they used to be. They have a big stand, too, and to be able to showcase even just single versions of most of the models in their range, they need it. No question that the star attraction for most people – me included – was the new Stinger. This could be the car with which Kia strike the proverbial gold, as it  not only a more affordable take on the BMW 4-Series GranCoupe and Audi A5 Sportback, but a sexy design, with rear/all-wheel drive and some potent engines giving it merit in its own right. It has been well received by the world's motoring press, and accordingly has  made it among the finalists for the 2018 Car of the Year in both Europe and North America. Kia are still going to have persuade all the badge snobs to take a good look, though. Among the features that should convince them are the McPherson front and five-link rear suspension setup, electronically controlled one with active dampers on the GT and an optional $2,200 all-wheel drive system. US prices for the 2018 Kia Stinger start from $32,800 in its base version, which is powered by a 255hp 2.0-litre turbocharged four-cylinder engine paired to a 8-speed automatic gearbox, whereas the GT starts at $39,250, featuring a 365hp 3.3-litre twin-turbo V6 engine. Customers will have to choose between two trim levels available with the latter powertrain, called GT1 and GT2, priced from $44,150 and $50,100 respectively. The GT1 gets sunroof, 8-inch touchscreen, extra performance gauges, and premium sound system, and the GT2 adds Nappa leather, ventilated front seats, smart trunk opening and closing, limited-slip differential, pre-collision braking, lane-keep assist, and adaptive cruise control. Kia will bring the Stinger into dealerships across the United States in December. It will be fascinating to chart its progress.
The Stinger was not the only new Kia, as also making its debut here was an extensive mid-life update for the US market Sorento. Following hot on the heels of the updated Sorento that debuted in Korea and Europe earlier this year, the SUV carries similar visual updates, inspired by the Cross GT Concept, from 2013. Taking your family on vacation will be easier with the 2019 Kia Sorento, which now gets standard three-row seating, with space for up to seven passengers, on all trims. The standard 40/20/40 second- and 50/50 third-row folding seats are joined by heated and ventilated front seats, with electric adjustment, and heated rear seats, in upper models. Inside, users will also find other enhancements, such as the revised steering wheel and shifter knob, tweaked instrument cluster with improved graphics, and some changes made to the air vents and center console design. Upgraded AVN 5.0 infotainment, wireless smartphone charging, Apple CarPlay and Android Auto, premium sound system, and others, come with higher grades. The 2.0-litre turbocharged I-4 has been dropped from the engine lineup, which includes a 2.4-litre inline-4 GDI, rated at 185hp and mated to a revised 6-speed automatic gearbox, and a 3.3-litre V6 GDI that makes 290hp, connected to a new 8-speed automatic transmission, which comes from the Cadenza. The latter version has a towing capacity of 5,000lbs (2,268kg), when equipped with AWD. Another novelty is the addition of new Smart Shift & Drive feature, which replaces the Drive Mode Select setup on all trim levels. The system can automatically activate the optimum driving mode, based on the driving style or driver's preference, and choose from Eco, Sport and Smart. Finally, Kia has made the Advanced Driver Assistance Systems standard on the EX grades and higher, and continues to offer standard active safety features such as ESC, traction control, brake assist, hill-start assist, and electronic brake force distribution. The 2019 Kia Sorento will go on sale next year in five trim levels, called L, LX, EX, SX and SXL. Pricing will be announced in the coming months, but expect a slight bump over the 2018MY, which can be had from $25,800. I drove one of the 2017 models a couple of days before coming to the Show, and thought it was one of the best vehicles of is type. These changes will only make it even better.
Also new is the latest Rio, with saloon and hatchback versions offered once more. Although the initial pictures suggested that this car was little different to the outgoing model, when you see it in the metal it is distinctively different. The interior has been upgraded somewhat, too. I was quite impressed by the saloon version of the outgoing car I drove back in September, so look forward to trying this one, which by all accounts is even better, and a long way from the bargain-basement style early Rio models.
Yet another newcomer here was the PHEV version of the Niro, which boasts an EPA-estimated 26 mile (42 km) all-electric range, while its total driving rage is estimated at 560 miles (901 km). "The Niro Plug-in is the exciting next step in Kia's progression toward offering more alternative fuel vehicles by 2020," said KMA exec, Orth Hedrick. "Consumers who are intrigued by the Niro hybrid's fantastic versatility and design, but want even more EcoDynamics technology and the ability to drive only using electric power, will find more to love in the Niro Plug-in Hybrid." Like with the Niro hybrid, the PHEV version also seats five people, offering strong functionality and generous cargo capacity. Buying into the range will mean choosing between three trim levels – LX, EX and EX Premium. As for driver assistance and convenience systems, you get the following: Blind Spot Detection with Rear Cross Traffic Alert, Lane Change Assist and front and rear parking sensors. Meanwhile, Smart Cruise Control, Autonomous Emergency Braking, Forward Collision Warning and Lane Keep Assist are all standard. Powering the Niro PHEV is an all-aluminium 1.6-liter GDi petrol unit, working alongside an 8.9 kWh lithium-polymer battery pack and a 60 HP electric motor. The total power output is 139 HP (141 PS) and 195 lb-ft (265 Nm), which should help the Niro PHEV hit 60 mph in around 10.5 seconds. According to Kia, this very efficient crossover boasts an MPGe rating of 105, while also having EPA-estimated MPG ratings of 48 mpg (4.9l/100km) city, 44 mpg (5.3l/100km) highway and 46 mpg (5.1l/100km) combined – similar to what you get in the Niro Hybrid. As for charge times, owners can juice up their Niro PHEV completely in about 2.5 hours using a 240V (Level 2) charger, and in under 9 hours with a 120V (Level 1) charger. It goes on sale more or less immediately.
The Soul is a huge success in America, with its funky lines and affordable prices meaning that it is often the best selling car in its class, finding favour with younger drivers, including college kids. Shown here were several examples of the model including the all-electric EV version.
The Forte is Kia's small family car in the US, and as well as a four door saloon, it is sold as a five door hatch and the elegant two door Koop (yes, that is how it is spelled). When launched, it was deemed by many to be the best car in its class, but that was back in 2013, so I would guess that a new model is probably not far away now.
There were lots of Optima models on show, including the Hybrid car as well as those with regular petrol and petrol turbo engines. The stylish SportWagon version that is offered in Europe is not sold here.
The large Cadenza saloon entered its second generation a year ago, and sales are building up slowly. I spoke to one of the stand staff whilst I was looking at the Stinger, and he told me that it is doing really well. Figures I have seen suggest it is not that good yet, but it takes time to build up, and convince people that Kia has a true rival to the likes of a Toyota Avalon or Lexus GS. Based purely on a static inspection, I would say that they do.
The stand was completed with examples of the Niro, Sportage and the commodious Sedona.
LAND ROVER
Land-Rover was sharing a stand with Jaguar, and it was a busy place. With the range having grown, they really need a bigger floor area to be able to show off everything that is on offer. The only vehicle I had not seen before was the Discovery SVX Concept. Designed to preview a production model that will be launched next year, the Discovery SVX, first seen at the 2017 Frankfurt Show, was created by Jaguar Land Rover Special Vehicle Operations to be the ultimate off-roader.  As a result, the model has been equipped with skid plates, recovery hooks, and an integrated rear winch. The model also features an LED light bar, modified bumpers, and 20-inch alloy wheels with Goodyear all-terrain tyres. Thankfully the changes are more than cosmetic as engineers installed an upgraded four-wheel drive system with locking centre and rear differentials. The SVO team also added a bespoke air suspension, long-travel dampers, and revised knuckles. The company says these changes help to improve the Discovery's approach, departure, and breakover angles. Rounding out the off-road features are an optimised Terrain Response 2 system and a Hydraulic Active Roll Control system which helps to improve wheel articulation, body control, and off-road traction. While the exterior changes are pretty dramatic, the cabin only sees minor revisions. These include a pistol-grip shifter and two-tone seats with Rush Orange accents and perforated "X" logos. Last but not least, the Discovery SVX features a supercharged 5.0-litre V8 engine that produces 525 PS and 625 Nm (461 lb-ft) of torque. A production version is expected in 2018.
The production Discovery was here, too. And it was joined by the Velar, which went on sale in America only a matter of weeks after it started to reach European buyers, as well as the Discovery Sport and the Evoque, seen here in Convertible mode.
The heavily updated Range Rover Sport was on show here marking its first public appearance following a reveal at a private London Design Museum event in October. The refreshed Sport gets design changes, new powertrains and an interior overhaul to challenge rivals, including the new Porsche Cayenne. The highlights of the mid-life facelift, ahead of an all-new model arriving in 2020, are a hot SVR variant and a plug-in hybrid electric model. The flagship Range Rover Sport SVR, described by the car maker as "the ultimate performance SUV", uses the F-Type SVR's 5.0-litre V8 supercharged petrol engine with 567bhp – 25bhp more than the outgoing Range Rover Sport SVR – and 516lb ft. The new SVR shaves 0.2sec from its predecessor's 0-62mph time, at 4.5sec. The SVR also uses more carbonfibre than previously, making it "faster and more agile than before", according to its maker's claims. Although the SVR is the most exciting model in the line-up for pure speed, it is the petrol-electric plug-in hybrid, badged P400e, that is most important for Land Rover, addressing previous criticisms of poor fuel economy and emissions from the Range Rover Sport. It is also the first electrified model to be released since Jaguar Land Rover announced last month that it will have an electrified version of every model on sale from 2020. The P400e combines a 296bhp 2.0-litre four-cylinder Ingenium petrol unit with a 114bhp electric motor. With a total output of 398bhp available and permanent four-wheel drive, the model delivers 0-62mph in 6.7sec and a top speed of 137mph. It emits 64g/km CO2 on a combined cycle, offers official combined fuel economy of 101mpg and is capable of 31 miles of range in electric-only mode. By comparison, the V6 diesel Range Rover Sport, the predicted biggest seller, emits 185g/km and delivers 40.4mpg. Land Rover said the plug-in hybrid means "customers can experience zero-emission near-silent off-road luxury with uncompromised all-terrain capability" for the first time, while also having free access to most congestion charging zones. The P400e offers two driving modes: the default Parallel Hybrid mode and EV mode. The first combines petrol and electric drive and allows the driver to optimise battery charge or fuel economy. In this mode, a Save function prevents the battery charge from dropping below the selected level and the Predictive Energy Optimisation function requires you to enter a destination into the navigation. The system, which is similar to that used in many new plug-in hybrids such as the BMW 330e, then uses GPS altitude data to optimise the switch between electric motor and petrol engine, maximising fuel economy over different gradients. The 13.1kWh lithium ion battery sits at the rear beneath the boot floor, which reduces boot space from 780 litres to 703, and charging cable access is behind the Land Rover badge on the right of the front grille. Land Rover says a full charge can take as little as two hours 45 minutes via a special home wall box, but a standard charge takes seven hours 30 minutes. A full range of petrol and diesel powertrains, including Ingenium four-cylinder and V6 and V8 units, sits alongside the SVR and P400e in the line-up. Styling updates across the Range Rover Sport line-up include a refreshed grille and new LED headlights. Interior changes bring the model up to speed with its newly introduced sibling, the Velar. The updates include the new Touch Pro Duo infotainment system, which features two 10.0in touchscreens, up to 12 power points and Activity Key, which allows owners to lock and unlock their vehicle without a key fob. The refreshed lineup goes on sale in early 2018.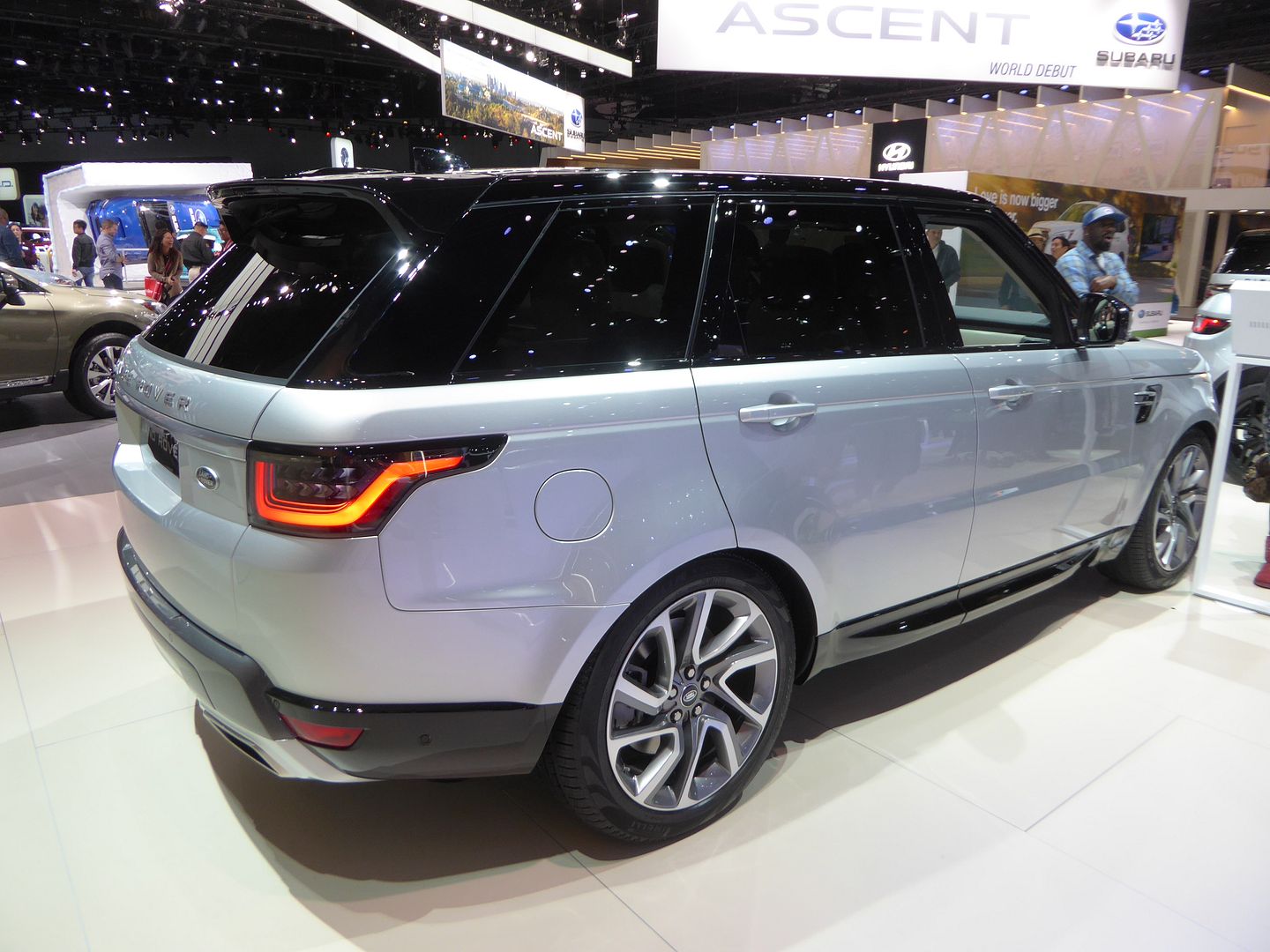 Final model on show was the latest SV Autobiography version of the Range Rover, with its recent 2018 facelift. Land Rover think the Range Rover SVAutobiography has all the right ingredients to make you forget about the Bentley Bentayga and Rolls-Royce Cullinan. And they are probably right. It's large, good-looking, and extremely well equipped, with its generous features that include hot stone massage function, with heated calf and foot rests, for the individual rear seats, and rear entertainment system with two 10-inch displays. Sitting at the rear gives you over 4 feet (1.2m) of legroom as well as access to a small refrigerator that can keep two wine or champagne bottles cool, and to the centre console that can be used to control a number of features. You'll never be late anywhere either, thanks to the Zenith clock, just don't ask how much it costs, though. And since we're talking numbers, you may want to take a seat before reading about its starting price: $207,900 in USA, and that's before checking out the options list. For those of you counting, that's about $20,000 less than a base Bentley Bentayga. Some might say that the 2018 Range Rover SVAutobiography is 'a lot of car' for the money, but we have a feeling that this is only the beginning, as even more extravagant and expensive SUVs will likely arrive in the coming years.
LEXUS
Lexus is a big success in America, and accordingly the marque always has a large stand at shows like this. Always completely separate from the Toyota presence, the stand had moved from previous years, to a position between BMW and Mercedes, perhaps reflecting the market positioning that Lexus aspire to, or indeed, in the opinion of many of the marque-faithful, think they have already achieved. There's a wider range of Lexus models offered in the US than in Europe, though it is worth recording that the smallest model, the CT hatch as been deleted from the US range for 2018. Special focus this time was given to the all-new LS saloon, a production version of which was on a display turntable.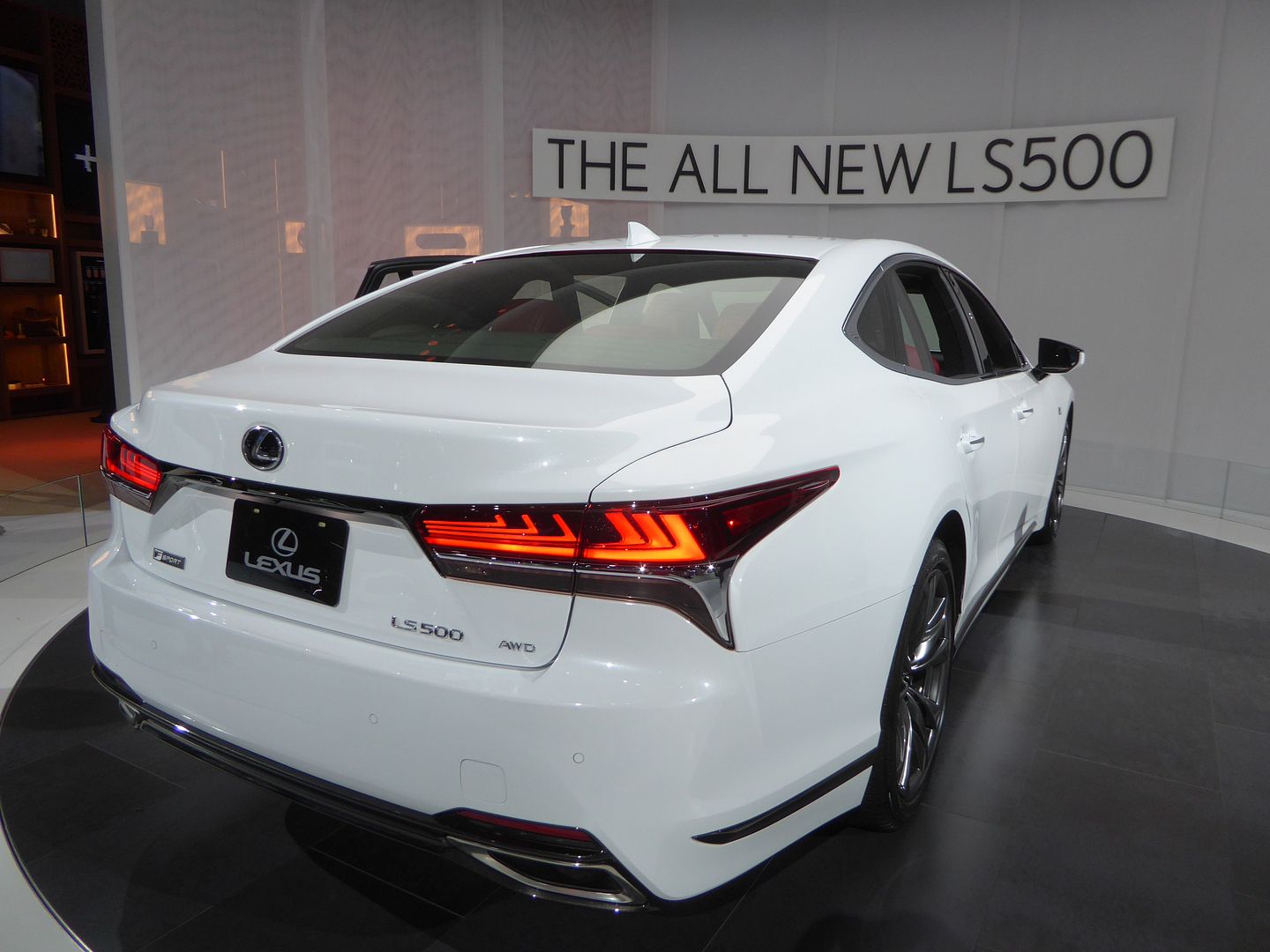 The LS shares much under the skin with the large LC coupe, which is now available in most markets around the world. Like all current Lexus models, the looks are somewhat polarising, though this one suffers less, perhaps, in that regard than its stablemates. By all accounts, it is a good car to drive, more of a sports car than a GT, to the surprise of many.
The other Lexus saloons were here: the IS sporting a rather awkward looking rubbing strip down the side which does nothing to make it look better, and there were also the front wheel drive ES and  slow-selling GS, this last in very potent GS-F guise.
Smallest of the Lexus SUVs is the NX, and this was well represented here.
Not to deify the automaker, but to paraphrase the good book: Lexus giveth, and Lexus taketh away. Only in this case we mean rows of seats in its SUVs. Being seen here for the first time was a new version of its hot-selling RX that's been stretched by 4.3 inches to accommodate an extra row of seating. Unveiled as the RX 350L, the extended crossover comes powered by a 3.5-litre V6. Buyers will also be able to opt for the hybrid RX 450hL that throws in a pair of electric motors. This longer version is currently being offered only to American buyers.
At the same time, Lexus also revealed a version of the top-of-the-line LX570 that goes in the opposite direction by ditching the third row of seating to the benefit of cargo space. All of which goes to show that while some customers expect their sport-utes (or crossovers) to be able to accommodate all their friends and family, others do not. Billed as a more cargo-friendly version of the luxury SUV, the elimination of the third row allows the model to carry 50.5 cubic feet of luggage behind the second row. For comparison, the seven-seat variant can only hold 44.7 cubic feet of cargo behind its middle seats. The difference is minor but the five-seat model starts at $84,980 which is $5,000 less than the seven-seat variant. Despite being slightly more affordable, the model comes nicely equipped with leather seats, a four-zone automatic climate control system, and a power moonroof. Other niceties include a power tailgate and 20-inch alloy wheels. Power is provided by a familiar 5.7-litre V8 engine that produces 383 bhp and 403 lb-ft (545 Nm) of torque. It is connected to an eight-speed automatic transmission which sends power to a four-wheel drive system with a Torsen limited slip centre differential. The model isn't exactly fast, as it weighs 5,800 lbs (2,630 kg), but it can accelerate from 0-60 mph in 7.3 seconds before hitting an electronically-limited top speed of 137 mph (220 km/h). Of course, there's a penalty at the pump as the LX 570 has an EPA-estimated fuel economy rating of 13 mpg city / 18 mpg highway / 15 mpg combined.
Slightly smaller than the LX is the GX, a model that is based on the 6 cylinder LandCruiser Colorado that is seen in Europe and the rest of the world.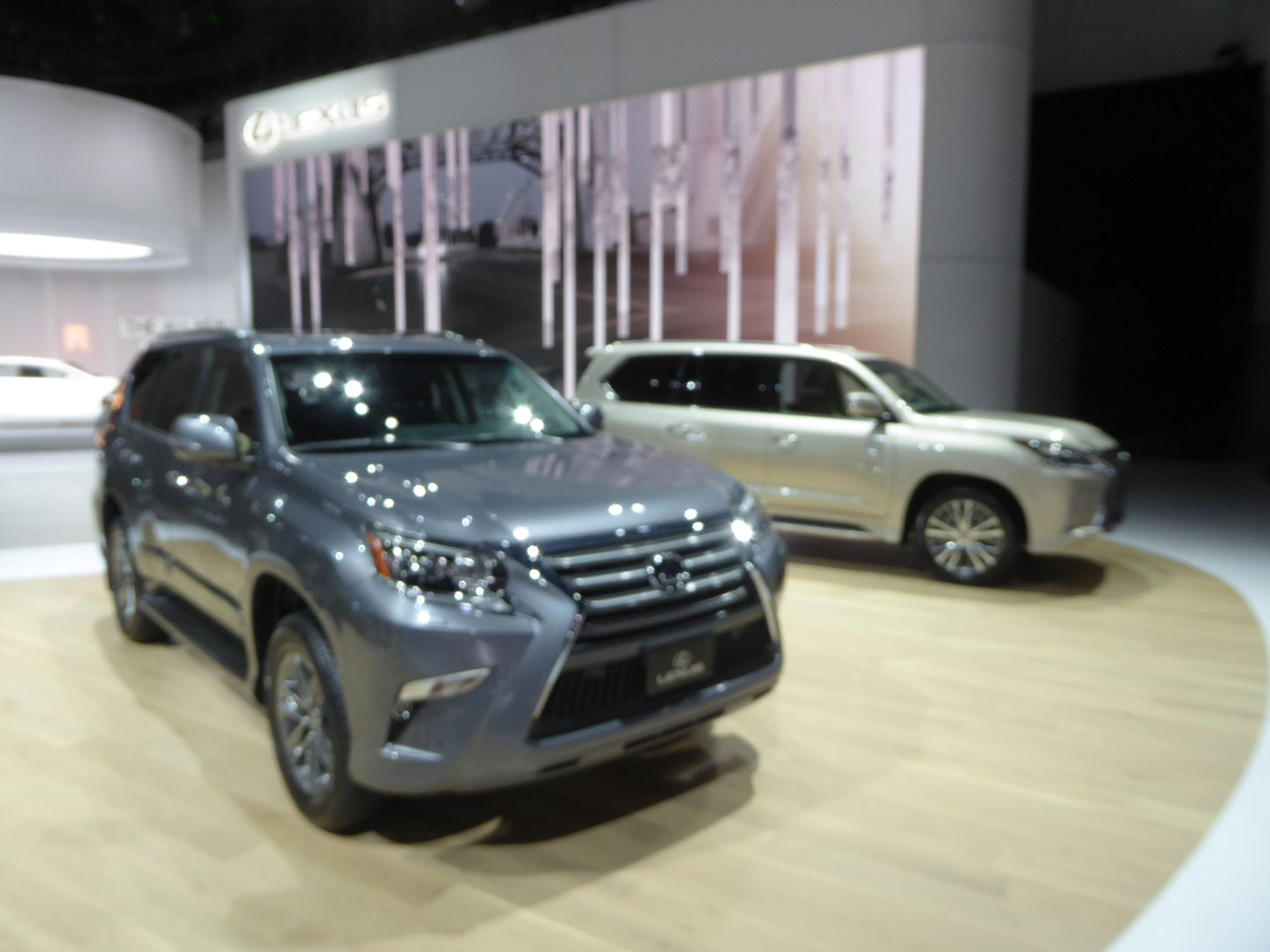 LINCOLN
When Lincoln replaced the largely unloved MKS, the new model adopted a name, rather than one of the brand's confusing "MK" monikers. And that trend continues with the launch of the Nautilus, which although being called an all-new model, is really just a mid-cycle update for the MKX. A mid-size luxury SUV, the Lincoln Nautilus will be available with two different engines. The entry-level one is a 2.0-litre four-cylinder delivering an estimated 245 hp. Sitting at the top of the range is a turbocharged 2.7-litre engine delivering 335 hp and 380 lb-ft of torque. Beyond using forced induction, this engine also has direct injection and twin independent variable camshaft timing. Both engines are mated to an eight-speed automatic transmission and include Auto Start-Stop capability as standard. From a design standpoint, there's absolutely no mistaking the Nautilus from the SUV it replaces. In fact, its front fascia bares a striking resemblance to the Lincoln Continental and is characterised by a prominent chrome grille with distinctive headlights and LED daytime running lights. In the cabin, Lincoln has implemented a 12.3-inch digital instrument cluster, hand-stitched leather steering wheel, and a large central touchscreen with SYNC 3 and supporting both Apple CarPlay and Android Auto. If customers want the best Lincoln can offer, Ultra Comfort seats can be installed up front, complete with 22 ways of adjustment. Both 13-speaker and 19-speaker Revel audio systems are also offered. As you'd expect from a premium SUV of this kind, the Nautilus has a suite of safety and convenience systems. Among these are adaptive cruise control, Pre-Collision Assist with Pedestrian Detection, Blind Spot Information System, lane-departure warning, lane-keeping aid, active park assist, and an auto-hold feature that holds the car without the brake pedal. Lincoln has also introduced its Black Label experience to the Nautilus. Beyond offering customers a range of membership privileges, Lincoln Black Label adds three distinctive interior and exterior themes to the SUV. The first, dubbed Chalet, comes complete with Espresso and Alpine Venetian leathers and Silverwood accents. The second, coined Thoroughbred, aims to celebrate the elite lifestyle of horse racing and combines Rich Venetian leathers with Alcantara, Jet Black, and Chilean Maple wood accents. The third is Gala, inspired by New York's Met Gala. It consists of Carmine leather, Onyx leather and an Alcantara headliner. A number of aluminium touches are also included. The 2019 Lincoln Nautilus will reach Lincoln dealerships next summer.
Lincoln are also updating their smaller Crossover, the MKC, though this one retains the name it had when it was born 3 years ago. The biggest change is found at the front, where this Ford Escape-based crossover gets a new grille and headlights, while at the other end, it has tweaked taillights, with LED technology. Inside, it remains virtually unchanged, and customers should expect the same premium materials, joined by the latest SYNC 3 infotainment system, smartphone connectivity, WiFi, USB ports, optional panoramic roof and three Black Label options, among others. Lincoln's 2019 MKC also benefits from a suite of driver assist technologies such as Pre-Collision Assist with Pedestrian Detection, Active Park Assist, Lane Keeping Alert, and Blind Spot Information with Cross Traffic Alert. The 2.0-litre and 2.3-litre engines continue to power Lincoln's updated crossover, which now make 245hp and 285hp, respectively, a slight increase from the previous 240hp and 275hp. Both units can be paired to the brand's all-wheel drive system. Being a 2019MY, the facelifted Lincoln MKC will arrive at dealers nationwide starting next summer.
Largest of the SUV Lincoln models is the Navigator, and there is finally a new model. Based on the latest Ford Expedition, this massive machine, a rival to the Cadillac Escalade, was premiered earlier in the year, and is just going on sale. Several examples were on the stand, and they seemed to be generating plenty of interest. The interior certainly feels decently plush, as well as being very spacious.
Final Lincolns on show were the saloon models, the Fusion-based MKZ, which received a mid-life update a year ago, and the larger Continental.
MASERATI
Back in April, Maserati premiered the Ghibli Nerissimo in New York. Fast forward to this Show and the Italian marque has announced a Nerissimo package for the Levante and Quattroporte as well. Like the Ghibli Nerissimo, the Levante and Quattroporte Nerissimo combine Nero black paint with Black Chrome accents on the front grille, trunk, side air vents, trident logo, and the Maserati badges across the exterior. Additionally, the window surrounds, exhaust tips, and vertical grille bars are all bathed in black.
Beyond the release of the Nerissimo package in Los Angeles, Maserati has used the show to display the 2018 model year Ghibli and Levante, now sold in GranLusso and GranSport trims. The GranSport line aims to cater towards owners looking for a sportier-than-usual experience with their Maserati. By comparison, the GranLusso trim includes Ermenegildo Zegna silk or full premium Italian leather upholstery as well as wood trim throughout the cabin. Most of the changes to the Ghibli for 2018 are cosmetic, with new front and rear aprons, but they have also moved over to electric power steering from the previous hydraulic power steering system. I have to say, I was not taken with the GranSport, it heading down the slightly vulgar route, that seems so popular elsewhere!
The Quattroporte also featured on the stand, of course, along with further examples of the Levante.
Final Maserati on show was the GranCabrio, the open-topped version of the top of the range model.
MAZDA
Star of the Mazda stand was the newly released updated Mazda 6 model. Whilst it may not be the most exciting vehicle on display, it is arguably one of the best-looking. The Zoom-Zoom brand's rival to the likes of the Toyota Camry and Honda Accord (to name just two), the Mazda6 competes in one of the most hotly contested segments in the industry. And the revisions ought to go a long way towards increasing Mazda's share of that pie, which has always been far smaller than it deserves, given the excellence of the car, and the tedium of many of its rivals. An extensive facelift of the existing model, the new 6 adopts Mazda's latest design language, foreshadowed by the Vision Coupe concept unveiled in Tokyo – which is a good thing, especially in the automaker's signature Soul Red Crystal paint. But what Mazda is touting most about its new flagship sedan is its upscale accoutrements. Citing the popularity of the higher-spec versions of the new CX-9 – 55 percent of which are sold in Grand Touring or Signature trims in the US – Mazda is offering the new 6 with upscale equipment like Nappa leather, UltraSuede, and Sen wood trim. The (optionally ventilated) seats have been redesigned for better ergonomics in a cabin packed with an 8.0-inch infotainment display, an available 7.0-inch instrument display, and head-up display on the windsscreen. Power comes from Mazda;s Skyactiv-G 2.5-litre four, in either naturally aspirated or turbocharged forms. With as much as 250 horsepower (on premium fuel, 227 on regular) and 310 lb-ft of torque, Mazda describes the forced-induction engine (transplanted from the CX-9) as packing "torque on par with a 4.0-lirtr V-8 engine" thanks to its variable-pressure turbocharger. The new Mazda6 is available, once again, with a manual transmission – but only with the lower-spec engine, while the turbo comes mated to a six-speed automatic. The chassis has also been retuned to better optimize the balance between handling, ride, and NVH (noise, vibration, and harshness). The rigid-mounted steering rack promises improved feel and response. And better sound deadening offers a quieter ride. Look for the heavily revised Mazda6 to reach showrooms in the spring. By that time we should have a better idea of how much all these upgrades will cost over the $21,945 at which the outgoing version starts.
For now, the Mazda 6 is the largest saloon car that Mazda make, but the hint that they may be thinking about something to sit above it in the range comes from the Vision Concept, which was almost tucked away, in the back corner of the stand. Fresh off its global premiere at the Tokyo Motor Show, the eye-catching Mazda Vision Coupe made quite an impression here, too. The Vision Coupe showcases Mazda's evolved Kodo design language and aims to strip away any unnecessary exterior components that could make its design somewhat fussy. Instead, Mazda designers have found inspiration from simple things, including Samurai swords. Like the exterior, the cabin is also very minimalist and features a centre console void of almost any buttons or switches. The three-spoke steering wheel is also free of a single button. The gauge cluster is quite traditional with three round gauges showing all the vital information. Mazda has yet to say whether or not it intends to bring the Vision Coupe into production, its gorgeous design certainly drew plenty of praise and it does look to be the perfect recipe for a large and luxurious sports sedan from the company.
After just nine months of being on sale, Mazda showed a CX-5, updated for the 2018 Model Year with new features. The biggest highlight is the adoption of the company's cylinder deactivation system, enabling the Skyactiv-G 2.5-litre petrol engine to shut down the two outside cylinders at cruising speeds for better fuel economy. Mazda has also upgraded the standard levels of equipment across the CX-5's range, which now includes more active safety systems like Blind Spot Monitoring with Rear Cross-Traffic Alert. Entry-level Sport models come with cloth upholstery, LED headlights, 17-inch alloys, a seven-inch infotainment system with Bluetooth audio streaming and more. Mazda also introduced the new i-Activesense package which adds High Beam Control, Lane Departure Warning, Lane-Keep Assist, Mazda Radar Cruise Control, Smart Brake Support, rain-sensing windshield wipers and automatic on/off headlights and is fitted as standard from the mid-trim Touring model onwards. The 2.5-litre Skyactiv-G petrol four-cylinder engine produces 187hp and 186lb-ft of torque and is mated to a six-speed automatic transmission as standard. Front-wheel drive is standard, with Mazda offering the i-Activ all-wheel drive system on every trim level. The first examples of the 2018 Mazda CX-5 will arrive at US dealerships nationwide in early December. Prices will start from $24,150 for the FWD Sport version and $25,450 for the AWD model.
There were no significant changes made to the other crossover models, an example of each of which was on the stand, the CX-3, and CX-9, and the Mazda 3 continues for a further year or so before an all new model is expected, with both the Sedan and Hatch on show.
The main stand included an example of the Miata RF, and a couple of open-topped cars stripped out for racing, whilst I came across the Miata Speedster in a separate display in the corridor that connects the West Hall to the South Hall.
Final Mazda on show was the RT24-P Prototype Racer. This was first seen at the LA Show a year earlier. It was conceived to compete under Daytona Prototype international (DPi) rules, and in design, ti follows Mazda's global KODO design language – building a bridge between it and its mass-production counterparts. According to Mazda, KODO (which means "heartbeat") represents the soul of motion, that's why it was detrimental to include these specific design cues – along with the five-point Mazda grille – in the car's sleek body contours. "KODO design is at the heart of any vehicle that carries a Mazda badge, and that is very evident in the design of the 2017 Prototype. Working with Multimatic's aerodynamicist and engineers, we discovered that applying the KODO design philosophy to the surfaces and the silhouette of the car enabled us to create a dynamic, purposeful-looking design and a very aerodynamically efficient one," said Ken Saward, senior manager of Design at Mazda Design Americas. The RT24-P sits on a Riley Mk. 30 chassis developed by Multimatic in collaboration with Riley Technologies – both companies having won numerous accolades in North American endurance racing since 2004. Powered by Mazda's MZ-2.0T 2.0-litre inline four-cylinder turbocharged engine, raced during the 2016 IMSA season, the car has approximately 600-horsepower at its disposal. But you're probably curious why it's called the RT24-P. Well, the name echoes the Mazda Road to 24, a step by step program for talented drivers, as well as the two-litre, four-cylinder engine, while the "P" signifies prototype.
MERCEDES-BENZ
No question as to the star of the expansive Mercedes stand. It was right in the middle, and on a raised display area, so you really could not miss it. And if you did not realise there was something special here, the fact that there were crowds around all side of the plinth should have been the clue. This is the AMG Project One, making its first appearance on US soil, following its Frankfurt and Tokyo shows appearances in the past couple of months. This two-seater hypercar continues to amaze with its sexy looks and mind-blowing performance. By using four electric motors, combined with a high-revving 1.6-liter V6 engine derived from the Mercedes-AMG Petronas F1 racer, which work together to produce more than 1,000hp, the Project One needs less than 6 seconds to accelerate from 0 to 124mph (200km/h). By comparison, the new Bugatti Chiron does that in 6.1sec, whereas the McLaren P1 requires 6.8sec. Flat-out, the Mercedes-AMG Project One will reach speeds in excess of 350km/h (210mph). If you're among the lucky customers who have bought one of the 275 build slots, then you should rest assured when it comes to its equipment list, as despite bringing the F1 technology to the road, the hybrid hypercar is well equipped inside. Among the features that should make life more comfortable behind the wheel are the air conditioning and Comand infotainment system, in addition to the screen that replaces the rear-view mirror, to improve rear visibility.
Displayed right behind it was something else rather tasty, the AMG GT4. GT4 is one level below the GT3 spec and quickly gaining in popularity. Like GT3, GT4 is based on a production car, homologated to a set spec and subject to Balance of Performance rules to keep the racing competitive. Mercedes built its GT4 race car from an AMG GT R, using the same aluminium spaceframe as the foundation and retaining the high-end road car's kinematics or inherent suspension wheel travel. But from there, the two cars' paths diverge. AMG chucked away the interior, added a steel roll cage and a big bin's worth of race car goodies. Perhaps the coolest part is the pneumatically operated six-speed sequential manual transaxle. Mounted at the rear axle, as is the dual-clutch transmission in the road car, this gearbox has an honest-to-goodness clutch, clutch pedal and paddle shifters that operate in the same way as an F1 car. Each shift comes as good as instantly, and an immensely satisfying mechanical kachunking sound indicates you've selected another cog. Power comes from AMG's workhorse 4.0-litre twin-turbocharged V8. Peak output: 503 hp and 443 lb-ft of torque. Other more obvious swaps include a 31.7-gallon fuel cell, adjustable rear wing, front splitter, stiffer springs and fat 305-millimetre section-width racing slicks wrapped around 18-inch forged alloy wheels at all four corners. Holding up those fat tires up is a double-wishbone suspension and KW shock absorbers with adjustable compression and rebound. The bushings in the suspension arms and links are not rubber, but uni-ball, which is a combination of metal and plastic and much stiffer. That, among many other things, helps to speed up the car's response to inputs and increases feel at the wheel. The least visible — but perhaps most significant — change, however, is the motorsports electronics. Everything from the powertrain control module to the antilock brakes uses bespoke software with the sole intention of race car use. This removes the chance of road-car electronics causing a lot of small problems. Death by 1,000 paper cuts, you could say — conditions like the computer doesn't understand why tyre pressure is 10 psi too low and stability control isn't engaging. This could result in irritating warnings on the instrument panel at a minimum or trigger a software-driven limp mode as a worst-case scenario. Inside, AMG replaced the striped leather and luxuries with simple, straight plastics and a series of switches and dials. The seat is a design originally from the Deutsche Tourenwagen Masters car and bolted to the frame. To fit drivers perfectly in the car, the pedal box is spring-loaded and moves fore and aft, the steering wheel tilts and telescopes, and final padding is customised to the driver. The safety cell, as it's called, is carbon and per FIA regulations includes an integrated headrest and an extraction hatch in the roof. Other carbon parts include the front fenders and torque tube, which is the driveshaft tunnel. The hood and front bumper and splitter are made from lightweight plastics. Mercedes is all set to race the GT4 around the world, including in the  U.S. WinWard Racing out of Houston will compete in IMSA in the Mercedes AMG GT4 in 2018. And if you're a car nerd of means, you too can hand over roughly 200,000 euros to buy one.
By contrast, the AMG E63S that was right by them seemed also too subtle for people to realise just what this is: a five seater passenger car with over 600 bhp (and a wapping price tag, of course!).
Star at the back of the stand was the new CLS, making its world premier here. We should begin by saying that the overall styling of the car is of course instantly recognizable thanks to its clear contours and high waistline. According to Mercedes, the third-generation CLS is supposed to reflect "the timeless aura of the first CLS", which as you know, basically invented this segment. "The new CLS is a design icon as the archetype of the four-door coupe. In line with our hot & cool design philosophy, we have reduced its DNA to an extremely puristic level while emotionally charging its beauty," says Gorden Wagener, Daimler's chief design officer. At the front, there's a little bit of AMG GT to it, especially if you look at the how the silhouette of the grille widens towards the base. Meanwhile, the headlights feature inward-slating flanks and follow the contour of the grille. As for the taillights, like the headlights they are LEDs and feature a crystalline appearance with a three-dimensional effect. Their shape and positioning is meant to accentuate the width of the new CLS. Still, it's no so different from the outgoing model. Inside, you'll find the same clear and elegant lines you get on the E-Class, plus the illuminated air vents and hand-finished appearance of the seats. The wide-screen cockpit displays are available as optional extras, while the ambience lighting is individually adjustable in 64 different colors – including on the previously-mentioned air vents. A cool little touch was having the ambience lighting briefly change color whenever the temperature of the air conditioning system is changed. So, you've got red for warmer and blue for cooler. In terms of practicality, the Mercedes-Benz CLS is now, for the very first time, a true five-seater. When even more room is required, the backrests can fold down in a 40/20/40 ratio, boosting the 18.3 cu.ft luggage compartment's capacity even more. On the safety front, the new CLS borrows heavily from the facelifted S-Class. This means it's got the latest generation of driving assistance systems such as Active Brake Assist, Lane Keeping Assist, Attention Assist, Speed Limit Assist and PRE-SAFE. All are standard by the way. Optional tech includes the Driving Assistance Package featuring Active Distance Control, Active Steering Assist, Active Speed Limit Assist, Active Brake Assist with cross-traffic function, Evasive Steering Assist, Active Blind Spot Assist, Active Lane. Also meant to improve safety are the multibeam LED headlights with Ultra Range high beam, where the brightness of the main beam lamps remains above the reference value of 1 lux over a distance of more than 650 metres (0.4 miles). The all-new 2019 Mercedes-Benz CLS is available with a choice of two diesels and a petrol unit – specifically as a CLS 350d 4MATIC, CLS 400d 4MATIC and CLS 450 4MATIC, the latter (petrol) being the only option you have in the U.S. In fact, the CLS 450 4MATIC utilises a completely new in-line six-cylinder power unit with EQ Boost and a 48-volt on-board electric system. It puts down 370 PS (362 HP) and 500 Nm (369 lb-ft) of torque, while the EQ Boost function adds another 21 bhp and 250 Nm (184 lb-ft). This adds up to a combined fuel consumption of 7.5 litres/100km (31.3 US mpg) and a 0 to 100 km/h (62 mph) acceleration time of 4.8 seconds. As for the diesels, we're talking about a 3.0-litre in-line six-cylinder engine, producing 340 PS (335 HP) and 700 Nm (516 lb-ft) in the CLS 400d and 286 PS (282 HP) and 600 Nm (442 lb-ft) in the CLS 350d. Both models have combined fuel consumption figures of 5.6l/100km (42 US mpg) and 0-100 km/h times of 5.0 seconds and 5.7 seconds respectively.  Furthermore, an electrified CLS 53 hybrid is rumoured to debut at the 2018 Detroit Auto Show, sending a total of 429 horses to the wheels. Mercedes will kick off CLS' launch with the Edition 1 special launch model, which features a Copper Art interior concept with black pearl nappa leather seats, copper-colored accents and contrast top stitching (on the centre console, seats, armrests, dashboard and door linings), IWC analogue clock with an exclusive dial face, gloss black vehicle key, 'Edition 1' floor mats, chrome 'Edition 1' lettering on the centre console and 'Edition 1' displayed on the welcome screen. As for its exterior styling, the Edition 1 is based on the AMG Line, which means you get LED Intelligent Light headlights as standard and 19″ multi-spoke AMG alloys painted black, plus 'Edition 1' lettering on the front wings..The Americans are going to have wait best part of 12 months before the model is available to them. It reaches other markets from March 2018 onwards.
There was much excitement when the CLA was announced for sale in America, with the low price of "under $30,000" seen as a major selling point. That was before anyone got to drive the car, of course, or to see the spec sheet and realise that no-one was going to get one on the road for quite so little money. The car was panned by the US press, and – based on my experience of driving one – deservedly so, too, with a disappointing engine, truly terrible packaging which makes it almost impossible to get into the rear seats and very cramped if you do manage it, as well as poor ride comfort and questionable build quality. There was one example on the stand, but it was not attracting much interest.
Would be Mercedes owners would be far better off looking at the  C Class. Saloon and Coupe models were on show here. You need to look hard to tell these apart from the equivalent E Class models these days, with the "Russian doll" styling making the cars look very similar, especially in Cabrio guise.
There were a couple of E class models here as well as the potent AMG E63S.
A few months after the Mercedes-Benz S-Class sedan was facelifted, both the coupe and cabriolet models have received the same tweaks for the 2018 model year. These were first seen at the Frankfurt Show, and were now available for the US to look at, with Coupe and Convertible models both on the stand. The updated range consists of just one non-AMG variant in the U.S. and a second exclusively on offer throughout Europe. The  U.S. models will be the S560 Coupe and Cabriolets, offered in both all-wheel drive and rear-wheel drive configurations. They receive power from a 4.0-litre twin-turbo V8 delivering 463 hp and 516 lb-ft of torque, enough to accelerate the S560 4Matic Coupe to 60 mph in 4.5 seconds and the rear-wheel drive S560 Cabriolet in the same 4.5 seconds. Alongside this model, European customers can also opt for the S450 4Matic for the S-Class Coupe. It is powered by a V6 petrol engine with 367 hp and 500 Nm of torque and accelerates to 62 mph (100 km/h) in a respectable 5.5 seconds. Visually, the entire facelifted S-Class Coupe and Cabriolet range include OLED taillights as standard. Additionally, some minor modifications have been made to the headlight design as well as the front and rear bumpers. Inside, the two familiar 12.3-inch screens are maintained from the outgoing model but the brand's latest-generation COMAND Navigation system has been added. Another interesting addition is the Energising Comfort function which tailors the climate control, ambient lightning, massage and fragrance functions to suit the mood or needs of customers. On a technology front, improved Active Distance Assist Distronic and Active Steering Assist systems are standard. Improvements have also been made to the optional Magic Body Control suspension system to ensure the car remains as flat as possible through corners. U.S. sales of the facelifted 2018 Mercedes-Benz S-Class Coupe and Cabriolet don't start until mid-2018.
Even more luxurious than those was this, the S600 Maybach, the top of the S Class tree, and a car with everything you can think of, and plenty you probably did not all included. Based on the long wheelbase S Class saloon, there is masses of space for the lucky rear seat passengers to luxuriate in their surroundings.
Crossover and SUV models cover most sectors of the market now, and there was a representative collection of them here, ranging from the small, and frankly rather underwhelming GLA, through the GLC Coupe to the massive GLS and this is the last hurrah for the current G Wagen before the release of the new one at the 2018 Detroit Show. The model shown was a G63 AMG.
There are hybrid versions of many of Mercedes' products now and this GLE550e was a reminder of that, with the car shown plugged into a recharging unit, to make the point.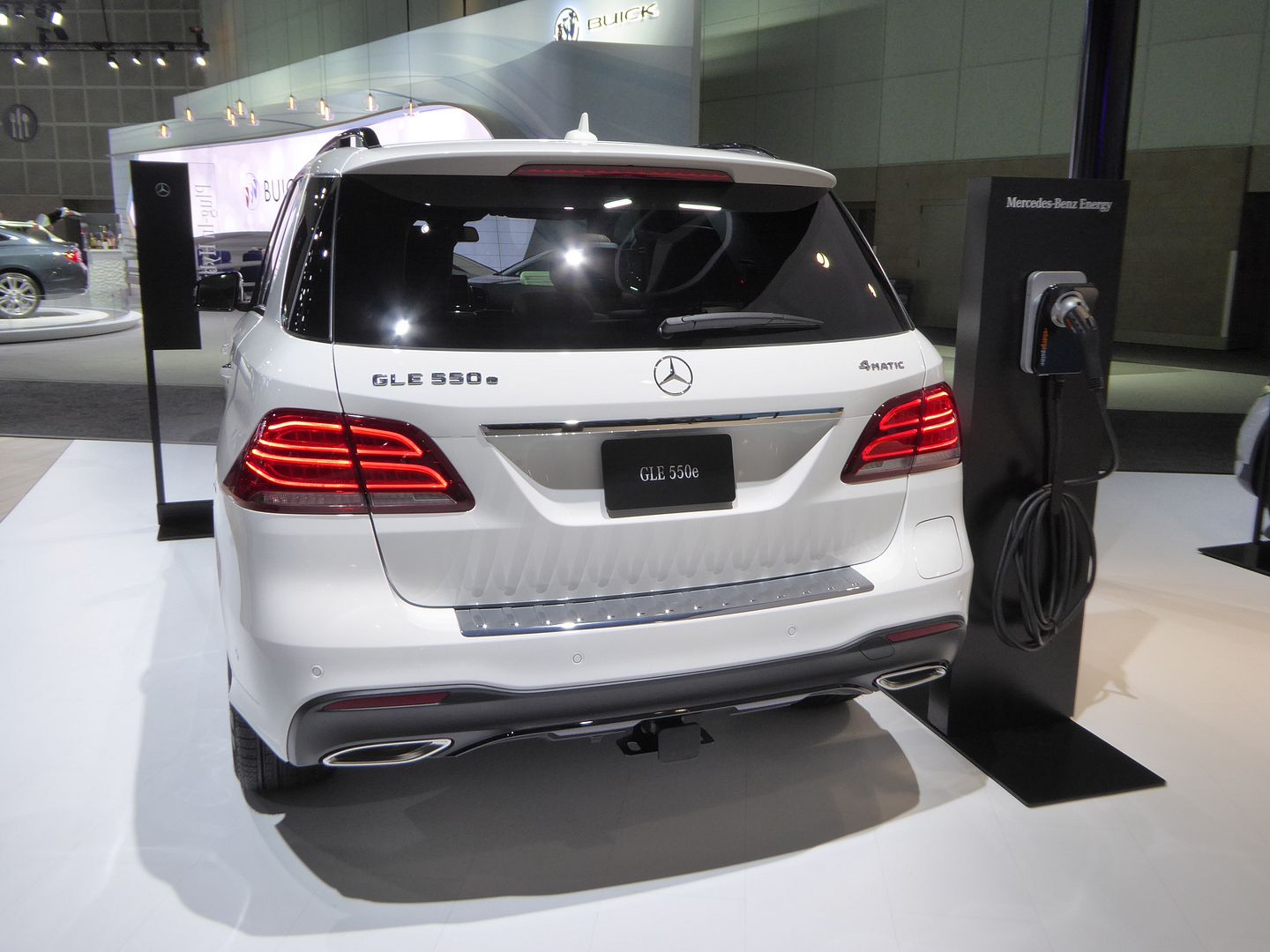 Being seen here following its first showing at Frankfurt was the GLC Fuel Cell, the first car destined for series production that combines a hydrogen fuel cell with a plug-in battery pack. The GLC F-Cell is still a pre-production model. It offers a combined driving range of up to 437km (272 miles) and an electric range of up to 49km (30 miles). The innovative powertrain offered a combined output of 197hp and 350Nm of torque (258lb-ft). Mercedes claims that the fuel cell system in the GLC is around 30 percent more compact than the one in the B-Class F-Cell, allowing it for the first time to be housed entirely in the engine bay, like a conventional engine. This is made possible by the compact construction of our fuel-cell system. Another genuine world first is the combination with a large additional lithium-ion battery, which can be conveniently charged using plug-in technology. Mercedes has also been able to reduce the use of platinum in the fuel cell by 90 percent, thus conserving resources and lowering the cost of the system. The lithium-ion battery pack in the pre-production model has a capacity of 13.8kWh and is housed together with the electric motor on the rear of the car. The company says it needs 1.5 hours to be fully charged, when the full charging capacity is enabled. There are two carbon-fibre tanks encased on the floor of the car for the hydrogen with a total capacity of 4.4kg. A full refuel takes just three minutes. There are three operating modes: Hybrid, where the car draws power from both sources, Battery, enabling electric-only operation and Charge, where charging the battery pack is a priority. Mercedes says that the series production models will come with coil springs up front and a rear air suspension. The company hasn't still announced the details of the GLC F-Cell's market launch but expect to hear more in the coming months, as it is expected that the world's first plug-in hydrogen car will go sale in selected markets next year.
All that lot left little space for the sports cars in Mercedes' range, but they did find space for an SL and an AMG GT C Roadster.
MINI
MINI are one of those brands that has cut back on the number of even the most globally significant Shows that they attend, so it was interesting to see that they have picked Los Angeles as one of the ones where they will display. They had quite a large stand, adjoining BMW, which gave them room to display examples of cars from across their latest range and then tcked away at the back of the stand, there was their Electric Concept. Just like most automakers, MINI is heading towards a zero-emission future, and opening this new chapter is the Electric Concept. Its name basically speaks for itself – a show car with an electric powertrain, whose details have yet to be released, but which previews a production vehicle, as the BMW Chairman, Harald Kruger, confirmed last month, when it was unveiled. There's a long journey between presenting it as a study and transforming it into a production car, and when I asked the staff on the stand what they knew and were able to tell me about those production plans, there was very little information that they could share (if they even knew). What we do know is that this concept was seen for the first time at the 2017 Frankfurt Motor Show,. It comes with an evolutionary styling featuring updated lighting units on both ends, modified bumpers and side skirts, and a new grille. Highlighting its new purpose are the colourful bits that adorn its body, in addition to the omnipresent Union Jack accents, and unique rims. MINI continues to keep the concept's doors closed, suggesting perhaps that it doesn't have a fully functional cabin yet, but it would have been interesting to see the brand's idea of a futuristic dashboard.
Elsewhere on the stand, there were examples of the 3 door, 5 door, Cabrio, Clubman and Countryman, with the last of these being seen in its Plug-In Hybrid guise as well as a regular petrol powered model.
MITSUBISHI
Perhaps because they had something new to show, their first all-new model for a good number of years now, Mitsubishi had been moved out of the very back corner of the West Hall into a slightly more prominent position to one side, between Honda and the Fiat-Chrysler empire. Even so, their stand was pretty gloomy and seemed to be about the least busy place of the entire Show. Although sales of their cars are still reasonable, I suspect that the typical customer is not one who goes to an Auto Show. So the new model was the Eclipse Cross, which will join the likes of the Outlander Sport and Outlander in Mitsubishi's CUV lineup for the U.S. market, with a starting MSRP of $23,295. This price tag is married to the base spec ES version, which is joined in the lineup by the LE, SE and SEL. Standard features on the ES include heated power mirrors, a rear spoiler, colour display, Bluetooth, rear view camera, cruise control and climate control. Moving up the range will take you to the Limited Edition (LE) trim, featuring 18″ alloys and unique black colour exterior accents. This trim level also has a 7″ display with Apple CarPlay and Android Auto. Meanwhile, the SE trim includes BSW, RCTA, LCA, heated front seats, fast-key passive entry with push button start, electronic parking brake with auto hold, 18″ two-tone alloys and silver, chrome and gloss black exterior accents. As for the top of the line SEL trim, it boasts additional features such as leather seats, LED headlights, a Head-Up display and a Multi-View camera system. Buyers can also spec the SEL version with Mitsubishi's Touring Package, which then adds the dual-pane power sliding panoramic sunroof, a 710-watt Rockford-Fosgate premium audio system, more safety tech (FCM, LDW, ACC, AHB), plus a heated steering wheel and rear seats. Scheduled to arrive in U.S. dealerships in March 2018, the Eclipse Cross is also debuting Mitsubishi's CONNECT vehicle service program (standard on SE trim levels and above), featuring the Safeguard services package and the Remote services package. The former brings Automatic Collision Notification, SOS Emergency Assistance, Information Assistance, Roadside Assistance, Stolen Vehicle Assistance, Alarm Notification and Mileage Tracker, while the latter offers Remote Climate Control, Remote Door Lock/Unlock, Remote Horn, Remote Lights, Car Finder, Vehicle Settings, and Parental Controls (Geo Fence, Speed Alert and Curfew Alert). It enters a very crowded sector of the market, so it will be interesting to see how well it performs.
There are two other SUVs in the range, the Outlander Sport and the Outlander. Despite the shared name, these are completely different cars. the Outlander Sport is the model that Europe knows as the ASX, and is a small crossover, competing with the likes of the Rogue and the RAV4, though it has age against it now, with the design dating back to the start of the decade. A facelift last year may have made it look a little different, but not a lot has changed since that launch. The larger Outlander has done much better in Europe, especially in the PHEV guise, where Mitsubishi stole a march on all their rivals in being first to market with this technology in a roomy car of its type.
The Lancer has finally ceased production, meaning the only other car in the range is the diminutive Mirage, offered in the original hatch form and with an added boot as the G4. I drove one of these early last year and found it truly awful in many respects, with noise levels that were unbearable beyond about 50 mph being the most difficult fault to accommodate. There was a facelift applied during 2016, with a new grille, and a somewhat upgraded interior, but it remains a budget-feeling car with a price that is not cheap enough compared to market rivals to make it worth considering. The fact that I saw no-one looking at either of the examples on show tells you what you need to know!
NISSAN
As "Star Wars: The Last Jedi" inches closer to its release date, Nissan has gone stir crazy in promoting the film, creating seven bold concept cars for the Show. Nissan first joined forces with Lucasfilm, the production company behind Star Wars, for the release of Rogue One: A Star Wars Story, some 14 months ago. That film went on to gross in excess of $1 billion at the box office and there are high hopes that the latest film will be able to exceed the magical $1 billion mark too. With this in mind, Nissan decided to create The Last Jedi-themed versions of the Rogue, Rogue Sport, Altima, Maxima, and Titan. Before you ask, no, the creations won't be offered for sale. First up is the 2018 Nissan Altima – Special Forces TIE Fighter, a heavily-modified Altima inspired by the First Order's elite Special Forces pilots. Compared to a typical Altima, the sedan stands out thanks to a matte black and red wrap, custom wheels, a windshield inspired by the Special Forces TIE Fighter, and large speakers at each corner, designed to mimic the sounds of the TIE Fighter. There are three concepts based around the 2018 Nissan Maxima. First of these is inspired by Kylo Ren and therefore mimics the look of his mask with black and silver accents on the front fascia. Elsewhere, the car includes red headlights, underbody lighting, and modified body panels. The second Maxima-based concept is also inspired by Kylo Ren, more specifically his TIE Silencer. The car has been equipped with distinctive wings, red lighting on the front grille, headlights, and fog lights. The car also produces all the characteristic sound effects of Kylo Ren's TIE Silencer. Last but not least for the Maxima concepts is the Captain Phasma variant. Baring a striking resemblance to the popular female character in the film, the car features silver armor across its exterior, made from aluminum. Additionally, there are red and black elements in the paint scheme.
What we have here is possibly the craziest concept of all. The SUV has been equipped with expansive wings on either side, as well as quad laser cannons, and illuminating thrusters. On the roof you'll find a BB-8 astromech droid with functioning lights, motion, and sound.
Another interesting concept is the Rogue Sport A-wing. Designed to resemble the A-wing, the SUV includes faux thrusters at the rear and a set of prominent fins on the roof.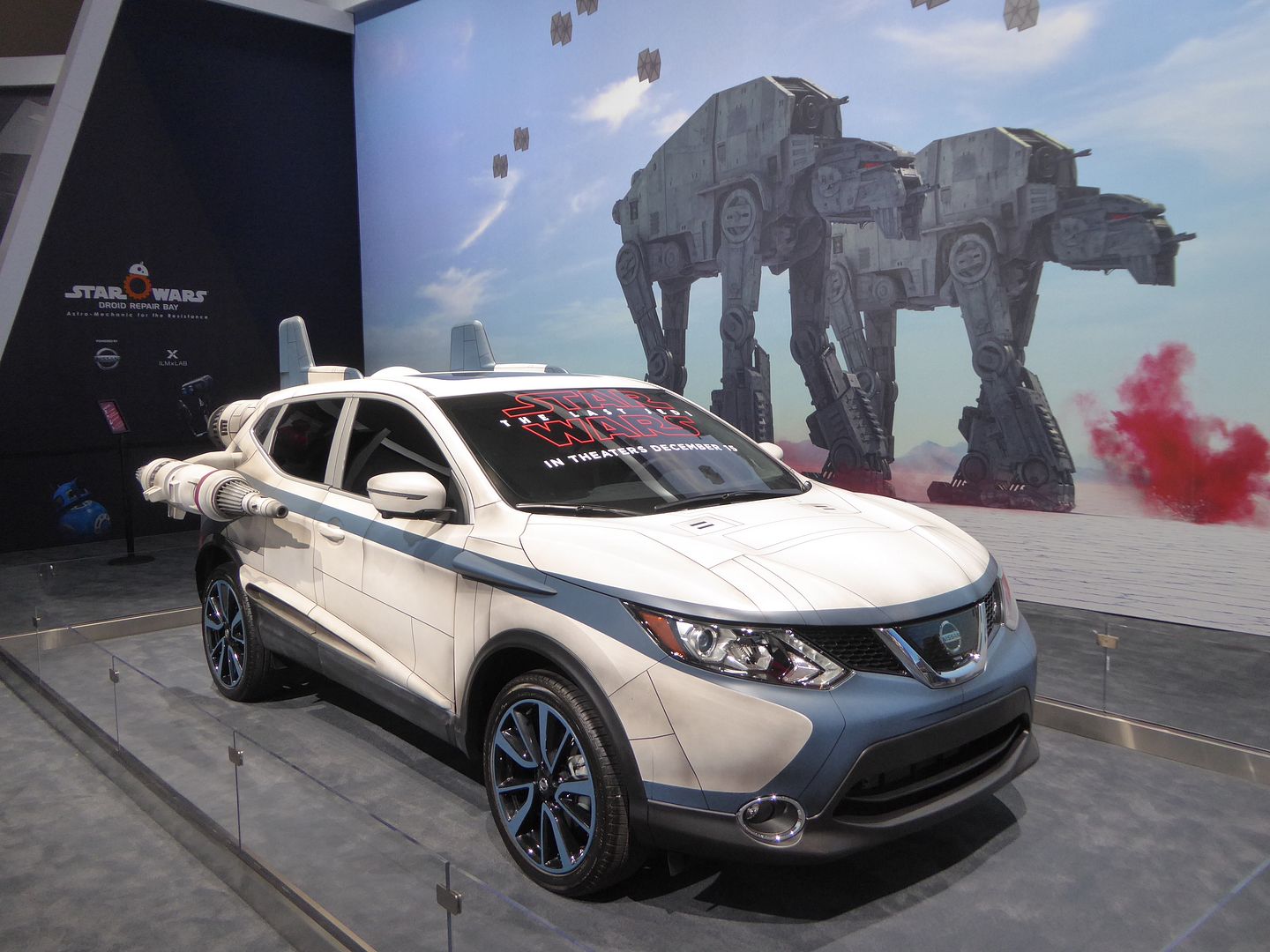 Additionally, Nissan has fitted a set of blue wheels and laser cannons and then in a bid to best replicate the huge AT-M6, Nissan has used the Titan as a base, transforming the large pickup truck with a cannon in the tray and a custom body wrap. Furthermore, the pickup benefits from a 1-foot lift kit and a comprehensive sound system that includes an 18-inch subwoofer and delivers 5,000 watts of power.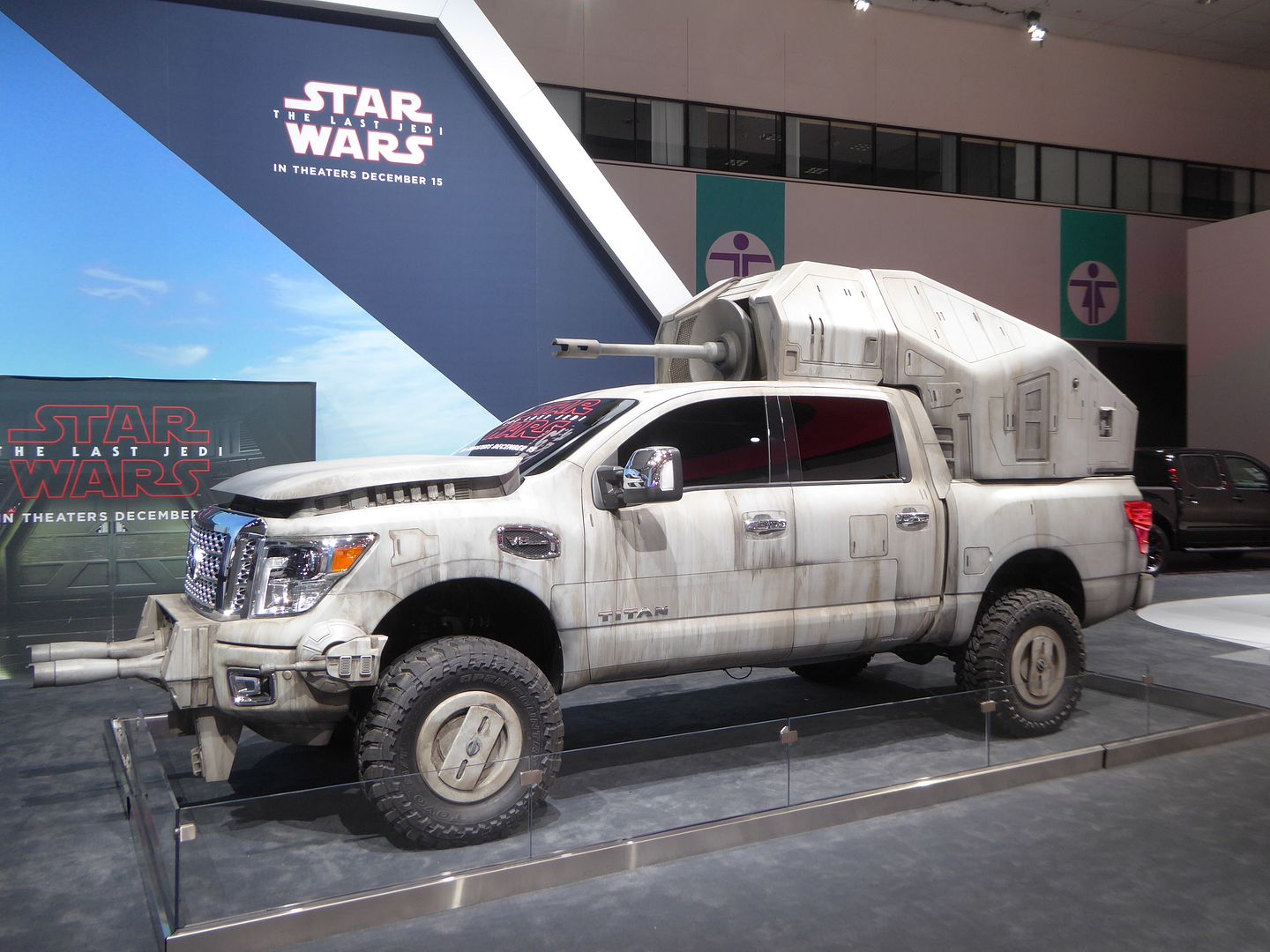 Rather more important was the first US showing of the second generation Leaf that made its global debut at the beginning of September, and which was first seen at the Frankfurt Show. Well, after months of eager anticipation, the 2018 Nissan Leaf has arrived, complete with an all-new design and powertrain that promise to take it to unexplored heights. It is already on sale in Japan, and will reach the U.S., Canada and Europe in early 2018. U.S. prices start at $29,990 before incentives. Powering the EV is a 40-kWh lithium-ion battery pack mated to an electric motor delivering 147 hp and 236 lb-ft of torque. In the U.S., Nissan says the EPA-estimated range sits at 150 miles while under the more generous European testing regime, it has a publicised cruising range of 235 miles (378 km). In both markets, it takes 16 hours to charge the battery via a 3kW plug, 8 hours from a 6kW plug and supports a quick charging function that tops up a depleted battery to 80 per cent in 40 minutes. As outlined throughout the lead up to the launch, the new Leaf adopts a number of advanced technologies which the outgoing model didn't have. Perhaps the most important of them all is ProPILOT, the Japanese automaker's single-lane autonomous driving technology. The system can automatically control the distance to the vehicle in front at speeds between 19 mph (30 km/h) and 62 mph (100 km/h) and can also steer the vehicle and ensure it remains centred in its lane. If needed, the system can bring the Leaf to a complete stop and a simple touch of the accelerator will reactivate ProPILOT. Also found within the ProPILOT suite is an autonomous parking function that uses 12 ultrasonic sensors around the car to guide the Leaf into a parking space. Another intriguing addition to the 2018 Leaf is the e-Pedal. Offered as standard equipment, it allows the driver to accelerate, decelerate, stop and hold the car all through the accelerator pedal. Nissan claims that the single-pedal setup can be used for more than 90 per cent of an average driver's needs. Further technology features in the latest-gen Leaf include Intelligent Lane Intervention, Lane Departure Warning, Intelligent Emergency Braking, Blind Spot Warning, Traffic Sign Recognition, Rear Cross Traffic Alert and Intelligent Around View Monitor. Both the exterior and interior designs are dramatically different from the old model introduced in 2010. The overall shape of the EV is far less quirky, there's a host of more refined lines and an all-together more mature design. Among the standout features are the new headlights and taillights, faux front grille and thick C-pillars.
When Nissan said that they would be bringing a new SUV to the Show, I think most people thought it would be the widely rumoured new X-Terra, so it was quite a surprise when instead they unveiled a model which will take the place of the Juke, at least in America, which is called the Kicks. Whilst the Juke has done well in Europe, it has been less successful in America, so opting to throw something a little more "conventional" at the likes of the Honda HR-V and the Toyota C-HR, sounds like a wise business decision for Nissan. Of course, very few modern-day subcompact crossovers actually look conventional. Yet, unlike the Juke, the brand new Kicks is a lot easier to digest visually. Look close and you'll spot a little Rogue in it, perhaps some Micra characteristics as well. Then again, since this is more of a youth-driven segment, we can't help but notice how rivals like the previously-mentioned HR-V, C-HR, but also the Mazda CX-3, look more aggressive. Furthermore, the Juke, which is what the Kicks replaces, might have had a controversial styling, but it did have character, something that can't be said about Nissan's new model, which shouts from afar its connection to emerging markets (it's the result of the collaboration of Nissan's U.S. and Brazilian studios). All Kicks versions will be powered by a 1.6-litre four-cylinder petrol engine, pushing down 125 HP and 115 lb-ft (156 Nm) of torque – not quite as much muscle as some of its rivals. Behind the wheel, future owners should feel both safe and entertained. The 2018 Kicks comes with Automatic Emergency Braking as standard, while higher trims get Blind Spot Monitoring and Rear Cross Traffic Alert. As for media content, the Kicks gets a 7″ infotainment system with Apple CarPlay and Android Auto compatibility. Nothing has been said about whether this is the replacement for the Juke in Europe. Bearing in mind this model's origins, and what happened last time Nissan tried to sell a car designed for the developing world to Western Europeans, let's hope that they've learned from the experience!
There are no significant changes in the saloon lineup for 2018, with each of the models represented here. Start point is the spacious, but cheap Versa, which sells well in its class, as if otters a lot of car for not a lot of money, and is quite reasonable to drive, despite the budget car origins, even if I thought it not as good as its predecessor when I sampled one a few years ago.
Also here were the rather unremarkable Sentra, the rather better Altima and the really rather nice Maxima.
Looking familiar to European eyes will be this car. It's not called the Qashqai here, though, not least because Americans probably could not spell or pronounce that. Instead, it is the Rogue Sport, following a trend seen in this sector where the slightly smaller of a pair of Crossovers is branded Sport, even though it is not really a sporting product. It's been a huge success in Europe, as is well known, so it will be interesting to see how it fares Stateside. I was quite surprised to see that in one of the US motoring monthlies, it was rated bottom of the pack, beaten by the Jeep Compass and Subaru Forester, both of which barely feature on anyone's radar in Europe.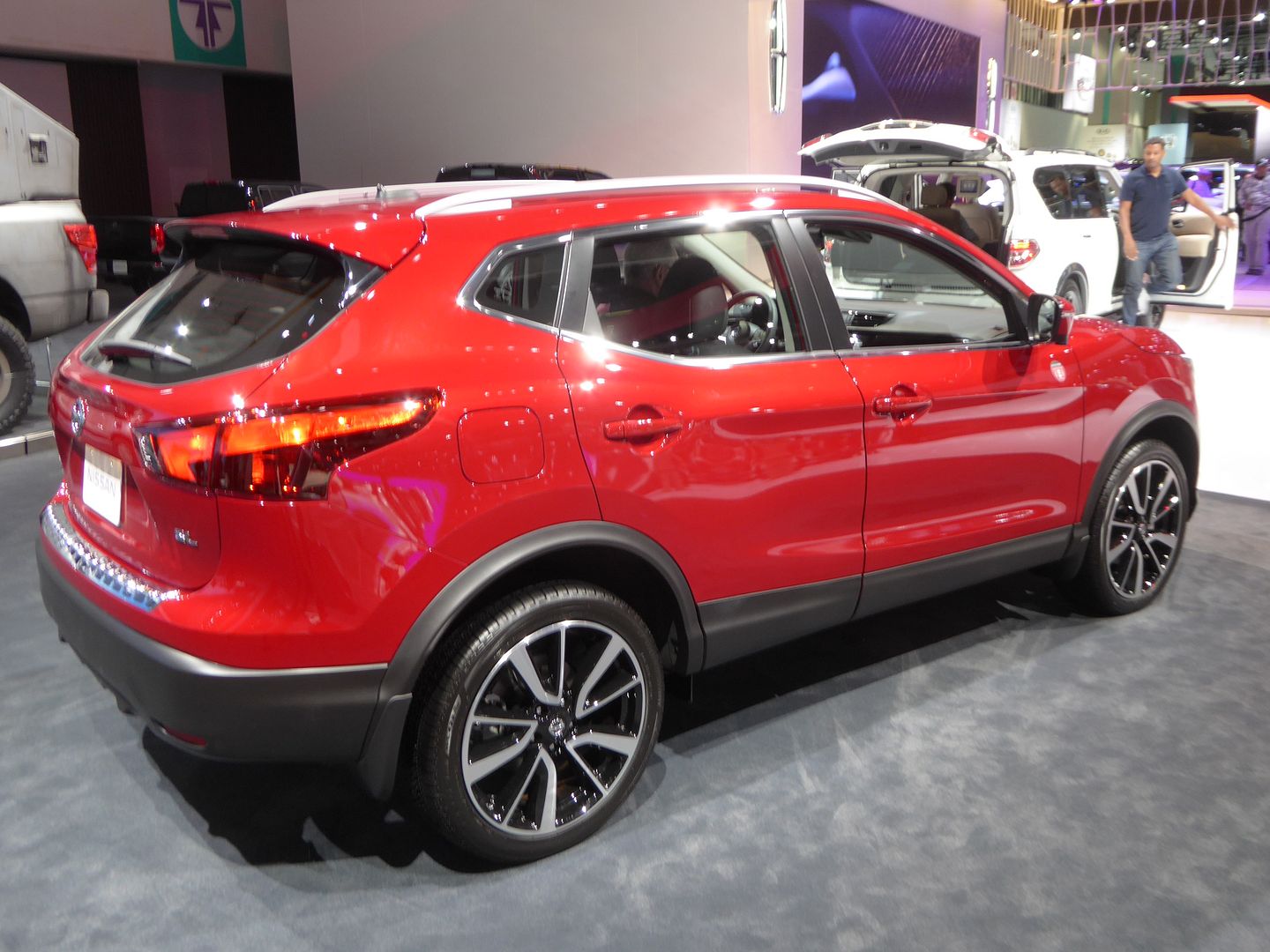 The rest of the Nissan Crossover range were represented by one example of each: Rogue, Murano, Pathfinder and the massive Armada.
Tucked away in one corner were Nissan's trucks the mid-sized Frontier and the full-sized Titan. The latter was updated last year, and like all its rivals is bigger and more brash looking, but also still a formidable workhorse.
POLARIS
This was the second time that Polaris were here with their Slingshot, and they had several vehicles on stand, and were encouraging people to sit in the vehicles for the inevitable selfie. A three-wheeled motor vehicle, the Slingshot .was introduced in 2014 as a 2015 model, and it is now selling well. I've certainly seen a number on US roads during recent visits. The Slingshot is manufactured by Polaris Industries, which claims "It's a three-wheeled motorcycle!" It has a tilt-adjustable steering wheel, side-by-side bucket seats, and does not lean. Three-point seat belts are fitted, however it has no airbags or crumple zone, and driver and passenger must wear motorcycle helmets in certain jurisdictions. It has no roof, doors, or side windows. A small windscreen is an optional extra on the base model, and fitted as standard on the SL model. The steering wheel, gear stick, and brake, clutch, and throttle pedals have a conventional automobile layout. The Slingshot weighs 1,743 pounds (791 kg) and is powered by a 2.4 litre inline four engine derived from the GM Ecotec, formerly used by GM in the Pontiac Solstice and Saturn Sky sports cars, coupled to a 5 speed manual gearbox. The standard Slingshot has two 17″ front wheels and a singular 18″ wheel in the rear.
PORSCHE
As in previous years, Porsche have a Hall all to themselves. This is the Petree Hall, off to one side from the West Hall. Unlike previous years, it was not impossibly busy, so I could get a good look at the cars they had on display, and even managed to get some clear photos of them without having to wait more than a couple of minutes. Commercially most significant debut was the latest third generation Cayenne which was making its first US appearance following the global reveal in the summer.  As is the way with Porsche, the styling displays a very evolutionary look from the outgoing ca, though at the front there are larger air intakes and new LED headlights. The familiar styling continues further back but Porsche says the Cayenne has a lower roofline which helps to give it a more athletic stance. Other notable changes include larger alloy wheels and new taillights that echo those of the Panamera Sport Turismo. Bigger changes occur in the cabin as drivers will find a new centre console which has a mix of analogue and digital controls. A more noticeable feature is the 12.3-inch touchscreen infotainment system which has internet connectivity. Once seated behind the three spoke steering wheel, drivers will found a new instrument cluster with an analogue tachometer that is flanked by two 7-inch displays. Other highlights include Bose and Burmester audio systems as well as a larger luggage compartment which has a capacity of 27.1 cubic feet. Under the bonnet, a variety of different engines will be available including a turbocharged 3.0-litre V6 that produces 340 PS and 450 Nm (331 lb-ft) of torque. It is connected to a new eight-speed automatic transmission and an active all-wheel drive system which enables the model to accelerate from 0-100 km/h (0-62 mph) in as little as 5.9 seconds when equipped with the Sport Chrono Package. Moving up to the Cayenne S rewards buyers with a twin-turbo 2.9-litre V6 with 440 PS and 550 Nm (405 lb-ft) of torque. Thanks to the additional power, the crossover can run from 0-100 km/h (0-62 mph) in as little as 4.9 seconds before hitting a top speed of 265 km/h (164 mph). Speaking of performance, the 2018 Cayenne is slightly lighter than its predecessor thanks to the extensive use of aluminium. The model now tips the scale at 1,985 kg (4,376 lbs) which is a reduction of up to 65 kg (143 lbs). To help bring the model to a stop, the Cayenne can be equipped with new Porsche Surface Coated Brakes which consist of a cast-iron disc with a special tungsten-carbide coating. Porsche says the coating increases friction while also reducing wear. In the tech department, the Cayenne can be equipped with an assortment of driver assistance systems including adaptive cruise control. Other highlights include Night Vision Assist, Lane Change Assist, Lane Keeping Assist, and Traffic Jam Assist. The new car will be sold in the US as a 2019 model year vehicle, with pricing starting at $65,700 for the Cayenne and $82,900 for the Cayenne S.
Making their first show appearance anywhere were GTS versions of the 718 Boxster and Cayman, and one example of each was in a special display area. The GTS variants are distinguished by a new front bumper and a black rear apron that resides above a centre-mounted sports exhaust system. The design team also installed tinted lighting units, black GTS badges, and 20-inch wheels with a satin black finish. Interior changes are fairly limited as the cabin receives an Alcantara-wrapped steering wheel and Alcantara sport seats which have GTS logos embroidered into the headrests. The model also comes standard with the Sport Chrono Package which adds a stopwatch on top of the dashboard as well as a revised Porsche Communication Management system which allows drivers to store and evaluate their lap times. The biggest change occurs in the engine compartment as both GTS models are powered by a turbocharged 2.5-litre four-cylinder engine that produces 365 PS and up to 430 Nm (317 lb-ft) of torque. When equipped with the optional PDK transmission, the cars can accelerate 0-100 km/h (0-62 mph) in 4.1 seconds before hitting a top speed of 290 km/h (180 mph). The 718 GTS is currently available to order and U.S. deliveries are slated to begin in March. Pricing starts at $79,800 for the Cayman GTS and $81,900 for the Boxster GTS.
Three recent additions to the 911 range were parked up in a line across one side of the Hall. Two of them have been seen before, though are still unfamiliar to most : these are the 911 GT3 Touring which made its debut at the recent Frankfurt Show and the much wilder looking 911 GT2. Joining them was the new. 911 Carrera T, evidence of Porsche keeping its promise of making more enthusiast-oriented models. The Carrera T (Touring) could be considered as a budget 911 R and takes inspiration from the 911 T of 1968, retaining the twin-turbo 3.0-litre flat-six of the regular Carrera, rather than receiving a motorsport-inspired naturally-aspirated engine like the R. Nevertheless, the car still delivers a respectable 370 hp and 339 lb-ft of torque between 1750 rpm and 5000 rpm. When equipped with the standard manual transmission, the Carrera T reaches 60 mph (96 km/h) in 4.3 seconds, 0.1 seconds quicker than the standard 911 Carrera and a 182 mph top speed. Select for the optional PDK transmission and the 0-60 mph time falls to 4.0 seconds flat while the top speed drops to 180 mph. Elsewhere, the car includes a mechanical rear differential lock, PASM Sport Suspension and the option of rear-wheel steering. Visually, the Carrera T is differentiated from the rest of the 911 family thanks to new badging, subtle black exterior graphics, custom seat trimmings and door opener loops rather than handles in the cabin. Thanks to a reduction in sound insulation, the Carrera T weighs 3,142 lbs. Order books for the model have opened in the U.S. with prices starting at $102,100, excluding the $1,050 delivery, processing, and handling fee.
There was also an example of the 911 Targa on display.
Across the back of the display hall were the Panamera models, with Porsche making much of the Hybrid technology that is available in the car. Launched here was the Panamera Turbo S E-Hybrid Sport Turismo. Set to be sold alongside the hatchback variant, the range-topping plug-in hybrid wagon has a twin-turbo 4.0-litre V8 engine that produces 550 PS. It is backed up by a plug-in hybrid powertrain that features a 14.1 kWh lithium-ion battery and an electric motor that develops 136 PS . This gives the wagon a combined output of 680 PS and 850 Nm (626 lb-ft) of torque. Thanks to all-wheel drive and its impressive output, the Panamera Turbo S E-Hybrid Sport Turismo can accelerate from 0-100 km/h (0-62 mph) in 3.4 seconds before hitting a top speed of 310 km/h (192 mph). More importantly, the model averages 3.0 L/100 km (78.4 mpg US / 94.1 mpg UK) and can travel up to 49 km (30.4 miles) on electricity alone. When the battery is depleted, it can be recharged in 2.4-6 hours, depending on the charger and the power connection. Besides the high-tech powertrain, the model features a "4+1 seating configuration" and 15 cubic feet of luggage space. However, that can be expanded to 45.7 cubic feet when the rear seats are folded down. The Porsche Panamera Turbo S E-Hybrid Sport Turismo is currently available to order and German pricing starts at €188,592. U.S. deliveries are slated for next spring and pricing begins at $188,400.
Completing the Porsche line-up was an example of the Macan.
RAM
This is the branding for the commercial vehicles of the Fiat-Chrysler Group. There are two very distinct categories of product offered. Commercially the most significant, as they tend to feature in the top three of all vehicles sold in America every month, are the US-designed trucks. These are the gargantuan 1500 and 2500 Series that compete directly with the Ford F150 and Chevrolet Silverado. Like their rivals, they are massive, and you could never call them pretty, but they are also tough, durable and practical. Truck interiors have changed a lot in recent years becoming far more luxurious and car like, and these models certainly exemplify that.
Adopting the ProMaster name are the models based on Fiat vans. The larger of these are Americanised Ducato models and the smaller, called ProMaster City based on the Fiat Doblo.
REDSPACE
One of the more bizarre vehicles of the Show was this, tucked away in a small stand right at the end of the West Hall beyond all the Ford products. If I tell you that it is a Chris Bangle creation, perhaps that explains quite a lot about. It was actually first revealed  not at the LA Auto Show itself, but nearby at the Art Center College of Design in Pasadena, where Bangle earned his bachelor's degree. This is Bangle's first automotive design project since leaving BMW in 2009, and represents a clean-sheet rethink of the form an urban EV should take. As much a rolling living room as it is a motor vehicle, the REDS examines the automobile as an object that remains stationary 90 percent of the time. And not the least innovative approach is its roof. Instead of being swept back, the REDS' roof structure has an overhang to keep the sun out and reduce the need for air conditioning – something that can typically put a real strain on a power car's resources, be they electric or combustion. It still features a large moon roof, but the other half of the top is covered in a solar panel to help replenish the battery. Bangle takes pride in the form that looks like something a kid would draw, its tall form cutting an unconventional profile. Inside the tall greenhouse is room for four (or five when parked) in two bucket seats and a wraparound rear love-seat. The driver's seat can swivel around, the steering wheel folds up onto the dashboard, and all the passenger seats can fold flat to increase interior flexibility. The doors open with an extending roof to provide further shelter from the elements, and there's a drop-down seat in the tailgate. The 17-inch screen is bigger than most laptops' (but folds down to 1/3 the size for navigation while under way), and there's a table that drops down from the roof. Consideration was even given to changing a baby's diaper on board – all this packed into a form just three meters long… not much longer than a Smart ForTwo. With an extruded aluminium frame, the vehicle boasts class-leading 0-31 mph acceleration, a top speed of about 75 mph, a range of 186 miles, and the smallest turning radius you're likely to find on four wheels. The prototype was built at Bangle's studio in Turin, Italy, but he's already contracted with the China Hi-Tech Corporation (CHTC) to put it into production.
SALEEN
US specialist supercar manufacturer had a small stand in the atrium of the West Hall, and there were two cars on it, both of them well worth seeing. The reason they were here was to launch the new Saleen S1 sports coupe. Set to be available next summer, the S1 features a stylish carbon fibre body that is bound to draw attention. The front of the car is dominated by a protruding nose which is flanked by large air intakes and distinctive LED headlights. The model also features a ventilated bonnet, a rakish windscreen, and a double bubble roof. The unique styling continues at the rear as the S1 has a prominent spoiler and a stylish LED brake light strip. Both components reside above a centre-mounted dual exhaust system and an aggressive diffuser. Saleen are still being a bit coy about the interior, but the cabin will have two-tone upholstery and a three-spoke steering wheel. Other highlights include a digital instrument cluster and an infotainment system. Power is provided by a turbocharged 2.5-litre four-cylinder engine that produces 450 hp and 350 lb-ft (474 Nm) of torque. It is connected to a six-speed manual transmission which enables the 2,685 lbs (1,218 kg) coupe to accelerate from 0-60 mph in 3.5 seconds before hitting a top speed of 180 mph (289 km/h). The Saleen S1 will be priced from $100,000 and the company is currently accepting for orders with a $1,000 deposit.
Also on show was an example of the S7. I had always of this as a very American supercar, but in fact it was designed and initially built in the UK by Automotive and Motorsport engineering company Ray Mallock Ltd. on behalf of Saleen Inc. Developed jointly by Steve Saleen for the initial concept and direction, Hidden Creek Industries for resources and initial funding, Phil Frank for the body and interior CAD design and development,[6] it was the first fully proprietary car produced by Saleen and became America's first mid-engine production supercar. The S7 debuted on August 19, 2000 at the Monterey Historic Races. The all-aluminium engine is a bored-and-stroked derivative of Ford's 351 Windsor small block with Cleveland-style canted valve heads, not based on the FE big-block. It proved remarkably tractable and flexible for such a high-output unit—550 hp at 6400 rpm. In 2005, the S7 gained a more powerful twin-turbo powerplant which boosted engine power to 750 hp and top speed to 248 mph (399 km/h). The chassis uses a space frame-derived design consisting of 4130 lightweight steel and aluminium honeycomb composite reinforcing panels. It is divided into bolt-fastened sub-assemblies to allow for rapid access to critical subsystems. This design contributes to the car's light weight of only 2865 pounds (1302 kg). The naturally-aspirated version of the S7 can accelerate from 0–60 in an estimated 3.3 seconds, and to 100 mph in an estimated 7.1 seconds. It completes a standing quarter mile in an estimated 11.35 seconds, reaching 128 mph. Top speed is an estimated 220 mph.The body of the car, made entirely from carbon fibre, incorporates the use of scoops, spoilers, and other aerodynamic features to create split-channel airflow throughout the car, and at 160 miles per hour (257 km/h), the car creates its own weight in downforce. The interior of the Saleen S7 was designed to be both luxurious and functional. Leather appears throughout the cabin, with aluminium accents, and the S7 comes with a set of custom-fit luggage. Because of the car's mid-engine layout, it has two boots, front and rear. Other features include an LCD monitor, rear-view camera, quick-release steering-wheel and a 240 mile per hour (386 km/h) speedometer. The cabin is of an asymmetrical layout, with the custom-fitted driver's seat positioned toward the centre both to improve the driver's visibility and centre his or her weight in the vehicle. Production ended in 2009.
SMART
Just one Smart was on show, which is perhaps not a surprise, as this diminutive car has not really hit the spot with Americans. The model shown was the ForTwo EV Roadster, so the latest electric version of the third generation tiny car.
SONDORS
Electric car startups are all the rage, it would seem, and this is another one, the Sondors. The crowdfunded company came to the Show with a 3-wheel, fully electric prototype called Model Sondors, which was funded back in January and completed seven months later. It has a 3-seat layout, two at the front and one at the rear, and it promises to become the most affordable, attractive, and practical EV ever, with an anticipated starting price of $10,000. If all that reminds you of Elio and its three-wheeler, you're right, but at least for now, Sondors isn't going through the problems of the former. The zero-emission Model can be equipped with various lithium-ion battery packs, which can be charged from 110V or 240V outlets. It's estimated that it will be able to travel for up to 75, 150, and 200 miles, respectively, between charges, and take from 5 to 8 seconds for the 0 – 60 mph acceleration, depending on the version. Sondors' plans include a pre-production prototype of the 3-wheeled EV, and up to $20 million for tooling, and only then will they sell it online, and deliver it directly to customers, if nothing interferes with the process, though, which is a fundamental difference with Elio. "I want electric to be available to everyone. I believe affordable, clean transportation should be the norm, not the exception", commented the company's founder and CEO, Storm Sondors. "You shouldn't have to choose between a car you can afford and a car that's electric. We can do better." Hmm…….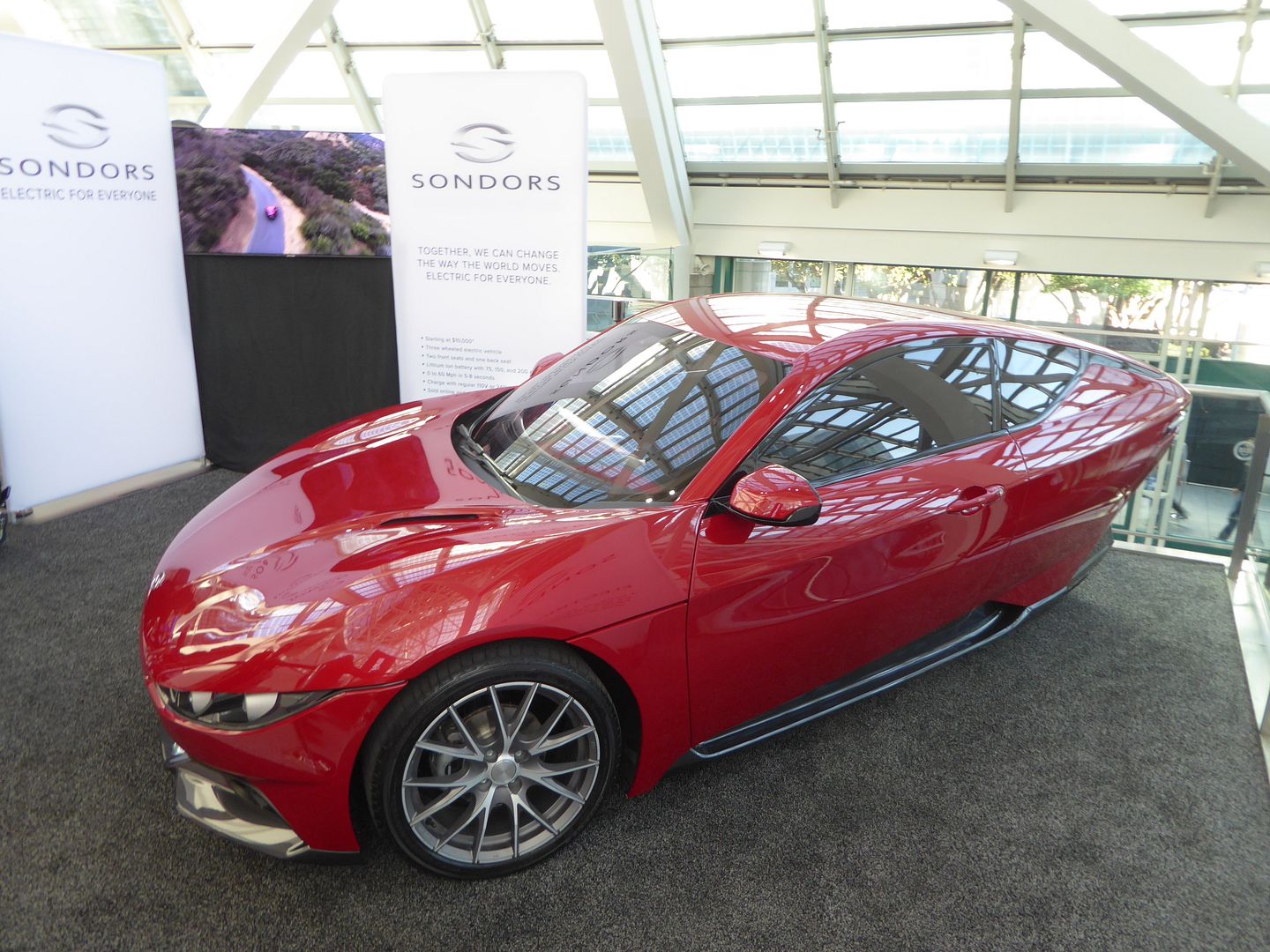 SUBARU
Subaru were getting very excited about their new Ascent, the largest Subaru ever with seating for up to eight people. Iit promises exceptional versatility and comes laden with a host of noteworthy features. Subaru first previewed the Ascent as a concept in April and for the most part, the design of the production model is free of any significant changes. As such, the SUV adopts the automaker's 'Dynamic x Solid' design philosophy and utilises a hexagonal front grille with C-shaped headlights designed to mimic the look of pistons moving inside a boxer engine. Personally, I think it just looks bland an completely forgettable – as if Subaru were so keen not to do another Tribeca, so they took no risks at all with the styling. Sitting at the heart of the new three-row SUV is an all-new 2.4-litre boxer engine featuring direct fuel injection and a twin-scroll turbocharger. It delivers 260 hp at 5,600 rpm and 277 lb-ft of torque between 2,000 and 4,800 rpm. All models come complete with a CVT transmission featuring an 8-speed manual mode. The Ascent can tow up to 5,000 lbs and cover in excess of 500 miles on a single tank. As standard, the 2019 Ascent boasts a second-row bench seat and can carry eight passengers. If customers don't need so many seats, different configurations are available, including a second-row captain's chair on select trim levels. Speaking of trim levels, the 2019 Ascent will be sold in Base, Premium, Limited, and Touring configurations. The base model includes important features like Subaru's EyeSight system with automatic emergency braking and lane keep assist, a 6.5-inch multimedia touchscreen with Android Auto and Apple CarPlay, 18-inch wheels, raised roof rails, three-zone automatic climate control and Auto Vehicle Hold, a feature that holds the Ascent in place without the need for the brake pedal to be depressed. Moving up in the range, the Premium trim adds Blind-Spot Detection with Lane Change Assist and Rear Cross-Traffic Alert, an 8.0-inch touchscreen, WiFi, heated exterior mirrors, Reverse Automatic Braking and more. As for the Limited, it adds leather upholstery, 20-inch wheels, all season tyres, Keyless Access with Push-Button Start, among other touches. Last but not least is the Touring, outfitted with satin silver wing mirrors, chrome trimmings, and a luxurious interior that includes a 14-speaker Harman Kardon premium audio system. Sales of the 2019 Subaru Ascent will start in early summer 2018 with prices starting in the low-$30,000 range. I have no doubt it will do well in America, where Subaru sales continue to increase, but to me, this was one of the dullest new cars of the show.
We will be getting the latest Impreza model in Europe in the coming weeks, though I doubt it will be a familiar sight, as sales of these cars have dropped to negligble, and there is nothing about this one to suggest it will take the European market by storm. It sells strongly in America, though, where the combination of standard all-wheel drive and a reputation for safety and toughness makes it an attractive proposition against cars like the Corolla and Nissan Sentra. Hatch and saloon models were on show.
The WRX and WRX STi cars have effectively been separated from the main Impreza range, and although they share much under the skin, they are sufficiently different that the ones we see at present are likely to live on another couple of years before replacement by whatever comes next. Although they are allegedly pretty decent cars, they just do not hit the enthusiast radar in the way that their predecessors did twenty years ago back in the WRC glory days. Seen here was one of the recently announced limited edition cars, the WRX STI Type RA. This is priced at a whopping $48,995, for which you get a modestly revised exterior with a carbon fibre roof, a carbon fibre rear wing, and 19-inch BBS forged alloy wheels. Interior revisions are minor but include Recaro front seats and an ultrasuede steering wheel. Elsewhere, there's red contrast stitching and an individually numbered plaque on the centre console. Power is provided by a turbocharged 2.5-litre four-cylinder engine which has been equipped with a cold air intake, a high-performance exhaust system, an optimised ECU, and new pistons. Thanks to these changes, the car produces 310 bhp which is a minor an increase of 5 bhp. The engine is connected to an upgraded six-speed manual transmission with a short-throw shifter. Speaking of performance, the WRX STI Type RA has Bilstein dampers, an active torque vectoring system, and a unique Multi-Mode Vehicle Dynamics Control system. Drivers will also appreciate the car's high-performance Brembo braking system with cross-drilled rotors and 6-piston monoblock front calipers.
Also related to the Impreza is the Crosstrek, the name the Americans give to the XV crossover. The all-new version, premiered at the Geneva Show in 2017 is finally about to go on sale. Styling wise, it is a clear evolution from the first generation car, with a much improved interior. It was in comparison tests of the major US motoring mags whilst I was visiting, and they loved it, declaring it a class winner, head and shoulders above the Rogue Sport (Qashqai). Reflecting different tastes and priorities, I will be astonished if it gets the same accolades when it reaches European markets next spring.
The larger cars were also present: Forester, Legacy and Outback, the middle one of which was treated to some mild updates for the 2018 model year. These are worthy, but dull, in my opinion, having lost most of the Subaru uniqueness, but that has only helped sales in America, where all three find favour.
Final new Subaru here was a  BRZ, the small sports car that was developed in collaboration with Toyota. The one shown here was the limited edition BRZ tS, which will cost $33,495 when it arrives at U.S. dealerships next spring. That's a hefty premium over the standard model but the tS has been tuned by STI and it features an aerodynamic body kit, an adjustable carbon fibre rear spoiler, and 18-inch wheels with Michelin Pilot Sport tyres. The sporty styling continues in the cabin as drivers with fine leather and Alcantara upholstery as well as red contrast stitching. Other highlights include red seat belts, a frameless rearview mirror, and a 7-inch infotainment system with GPS navigation. While the model eschews a turbocharged engine, it has been equipped with new draw stiffeners, a V-brace, and a returned suspension that features SACHS dampers and coil springs. There's also a high-performance braking system with Brembo rotors.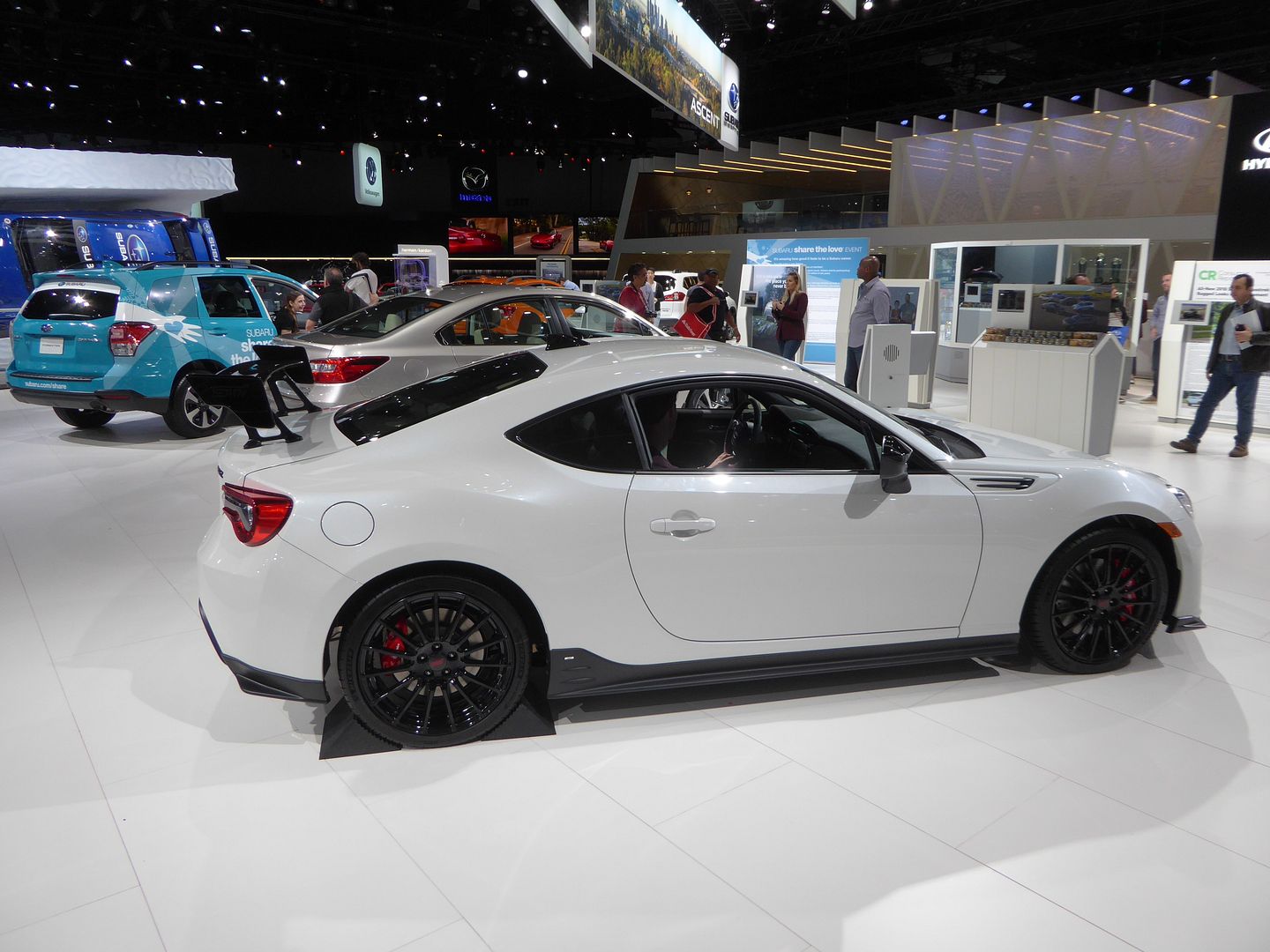 For me, the most interesting model on the stand was the one you cannot buy new, and have not been able to do so for many years, the 360 that sat at the front of the display. This rear-engined, two-door city car was manufactured from 1958 to 1971 and was the company's first car. Production reached 392,000 over its 12-year model run. Noted for its small overall size, 1,000 lb curb weight, monocoque construction, swing axle rear suspension, fibreglass roof panel, and rear-hinged doors, the inexpensive car was designed in response to the Japanese government's light car or Kei car regulations and its proposal for a larger "national car," both intended to help motorise the post WWII Japanese population. The 360's overall size and engine capacity complied with Japan's Kei car regulations, and led to its name, thanks to the engine's displacement of 356cc. Nicknamed the "ladybug" in Japan, and ultimately superseded by R-2, the 360 was one of Japan's most popular cars and was available in a single generation in two-door, station wagon, "convertible" (coupe with roll-back fabric roof) and sport model variants. In contrast to the Volkswagen Beetle, the 360 is much smaller, less powerful, and was not nearly as well accepted in the world marketplace. The body was of monocoque construction and used a lightweight fibreglass roof panel. In the post war period, more automobiles would switch to unibody construction, which is now the norm for passenger cars and even many light trucks. Many of the ideas came from engineers from the former Nakajima Aircraft Company, which became Fuji Heavy Industries. The "suicide doors" are hinged at the rear, which Consumer Reports remarked could and did result in a partially locked door pulling open in the wind during testing. Equipped with a 3-speed manual transmission, the 360 had a top speed of 60 mph, and with a curb weight under 1000 pounds, the 360 was exempt from compliance with US safety regulations. Consumer Reports recorded a 0-60 time of about 37 seconds and reported 25–35 mpg‑US, despite Subaru's claimed 66 mpg‑US. When introduced in 1958, the 360's engine produced 16 hp. By the end of production, power had increased to 25 hp with a 36 hp twin-carburettor engine optionally available. The performance and size limitations were largely the result of it having been engineered and designed for Japanese driving conditions, as the speed limits in Japan are realistically set at 40 km/h (24.9 mph) in urban areas, with average driving distances at 5–8 mi (8.0–12.9 km) per day. Several variants were produced, including a station wagon (called the Custom), a convertible, and two sport models known as 1) the Subaru Young S, which had a slightly upgraded (EK32 "F") engine and transmission (4 gears instead of 3), bucket seats and a tachometer along with a black, white striped roof with a dent along the middle to put one's surfboard, and 2) the Subaru Young SS, which had all the Young S enhancements, but also the EK32 "S" engine with chromed cylinders and dual BS32 Mikuni Solex carburettors, producing 36 hp. From 1961 onwards, a flat-nosed truck and van called the Sambar were also produced using the 360's engine, with arrangements similar to the Volkswagen Transporter in a smaller size. Many small businesses became very successful thanks to the pickup's small size for tight streets, quickness, ease to drive and great fuel economy. In Japan between 1960 and 1966, an export version, known as the Subaru 450, increased the engine's displacement to 423 cc using the Subaru EK51 series engine. This model was also given the name Subaru Maia. The Maia variant was the sole sedan model imported into Australia (approx. 35) in 1961 – along with approx. 38 Sambar vans and trucks. From 1968, approximately 10,000 were exported to the US, with an original price of $1,297. The 360 was imported to the United States by Malcolm Bricklin before he later manufactured his own cars. The Subaru 360 received notoriety in 1969, when Consumer Reports magazine branded the automobile "Not Acceptable" because of safety concerns and lack of power. Because the car weighed under 1000 pounds, it was exempt from normal safety standards, but it was reported that it fared badly in a test crash against a large American car with the bumper ending up in the passenger compartment of the Subaru. Sales soon collapsed, and there were various rumours of Subaru 360s being tossed overboard or being shredded to pieces. It was also reported that many 360s sat on dealers' lots for two or three years without ever being purchased. These days, of course, the car is seen as an interesting classic.
TESLA
Tesla are not known for taking stand space at that many Auto Shows, but they were here, with a stand which, without question, was the busiest spot in the whole Show. Some of that will come down to the fact that this is California, the home State of Elon Musk's company, and also one which has taken the concept of the electric vehicle to their heart just as much as they embraced the hybrid Prius ten years earlier, and some of it was because they had a Model 3 here. This was the first time I had seen one in person, and my reaction was the same as one I heard articulated by many others. Whilst it is smaller than the Model S, it is not by much. This is still a large car. Lots of people wanted to know when they would get one were they to order one now. And. given the well publicised difficulties that Tesla are having in getting production going and ramped up, I don't think the answers that were being given, suggesting that less than a year would be the wait, were at all honest. If they are true, that means that Tesla lost the orders of depositers that created a 2 year wait time within weeks of first showing the car a couple of years ago, and I would be surprised where that the case.
There was only space for one example of each of the Model S and X, and people were swarming over both of these all day long. The Model S is a very common sight on the roads around Southern California, and the Model X is heading the same way.
TOYOTA
Let's start with a Toyota that I quite liked. This is the Future Toyota Adventure Concept (FT-AC), a design study aiming at people looking for a proper rugged crossover. Described as a design study for now, the new Toyota FT-AC is imagined as a petrol-powered SUV with an advanced torque-vectoring all-wheel-drive system, and the company adding that it could switch to a next-generation hybrid system. "FT-AC is perfect for those outdoor enthusiasts who want to dial up the adventure on their weekend getaways," said Jack Hollis, group vice president and general manager, Toyota division. "No matter the roads, the activities, or the people, FT-AC sparks authentic fun and conversation." The new concept comes with chunky tyres, wide wing extensions and a generous ground clearance, and if that's not enough, a big roof rack with LED lights on it along with twin recovery hooks and skidplates both front and rear are there to showcase the off-road character of Toyota's latest creation. The FT-AC's all-wheel drive system is controlled via variable terrain-response settings and by locking the torque split for maximum grip. There's also an integrated bike rack at the rear which can be securely hidden in "only a few seconds" according to Toyota. Toyota has been showcasing compact crossover concepts based on their latest global T-NGA platform to measure the crowd's response; last April it revealed the FT-4X concept at the NY Auto Show while last October in Tokyo it showed the TJ Cruiser.
Unfortunately, the rest of the stand contained a series of cars, almost all of which I find visually very challenging indeed. They are the result of an edict that Toyota needed to become more distinctive, and they've certainly done that, though the results look contrived, over-fussy and just plain ugly in the opinion of many. Latest car to undergo a transformation is the commercially critical Camry. The eight generation to bear the name was unveiled at the 2017 Detroit Auto Show, an  all-new version of the car that has been been the best-selling car in America for every year since 2001. This popular (if rather lacklustre) model took a stylistic step forward when the seventh generation  model was launched in 2011, and another stride when a facelift so comprehensive it looked like a new car,  arrived in 2014, but it has taken a much bigger leap with the introduction of this latest iteration. Adopting the Japanese automaker's "Keen Look" design language, the new Camry looks sportier – for a Camry (though it's still hardly what we'd call a design leader). It sits lower to the ground and with a lower bonnet to cut a sleeker profile without sacrificing interior space. The relatively sportier theme continues inside with a more driver-oriented cabin space, and promises a more upscale look and feel with premium, soft-touch materials and more ergonomic seats. It naturally also incorporates new infotainment features, including a 10-inch head-up display, seven-inch instrument display, and eight-inch centre touchscreen. Based on the Toyota New Global Architecture, the new Camry uses more high-strength steel and new moulding technologies to improve structural rigidity without adding too much weight. That ought to make it both handle better and safer as well, aided by all the active safety features Toyota could throw at it – including standard pre-collision system, pedestrian detection, adaptive cruise control, lane departure warning (and correction), automatic high-beam assist, and ten airbags. The Camry enters its eighth generation with three engine options – and bucking the trend, none of them are turbocharged. There's a 2.5-litre four and a 3.5-litre V6, both mated to a new eight-speed automatic transmission. And this being a Toyota, of course there's a hybrid powertrain – based on the 2.5 and paired with a CVT. Buyers are able to choose between four trim levels, dubbed LE, XLE, SE, and XSE, with the latter two adopting a sportier appearance, with false vents in the corners of the massive bumpers, which. frankly, look ridiculous.  Whether the new look will be enough to lure new buyers remains to be seen, and Toyota are going to need those, as the car has been dethroned from its long-held position as best-selling passenger car in America in most recent months, with a number of crossover vehicles, including Toyota's own RAV4 having eclipsed it. All the comparison test suggest that the new Accord is a better car, but that has been true for almost as long as there have been Camrys and has not prevented the car from finding thousands of buyers and many repeat customers.
The boldly styled C-HR has just gone on sale in America. This car with "love-it-or-hate-it" looks has done surprisingly well in Europe, so it will be interesting to see whether Americans take to it, in the same way. I drove one just before coming out to the US, and concluded that if you love the styling, and hate your rear passengers (who had better not suffer from claustrophobia!), then it could be the car for you, though it is still pretty unremarkable to drive. Americans get different engines from the European spec cars, but otherwise it is similar.
The C-HR followed on from the stylistically challenged fourth generation Prius range which appeared in 2015. Familiarity has not made me think it looks any better. It is just awkward from every angle, the designer having tried too hard to try to inject some personality into the design. The Plug-In Hybrid model has different details, so it is easy (ish) to tell apart from the regular version. Joining them on show were the smaller Prius C and the commodious Prius V.
It is now three years since the Mirai was first shown, and that, too remains a very odd and awkward looking car. Exclusively hydrogen powered, this is starting to appear in numbers that you actually notice on the roads of California, and indeed there was a huge map on the stand proudly showing just how many hydrogen filling stations there now are.
The full lineup of SUVs was here: RAV4, Highlander, 4Runner and the gargantuan Sequoia.
Also on show was the Sienna MiniVan, showing the new front end that applies to 2018 model year vehicles as part of a mid-life refresh. This is one few remaining cars of this type, the market having largely moved to favour CrossOvers, but if you really do need to carry 7 or even 8 adults, then this sort of car makes more sense. I drove one earlier in the year, and it was an awful lot better than the previous model had been when I tried that back in 2010, though it is never going to score in the "fun to drive" category.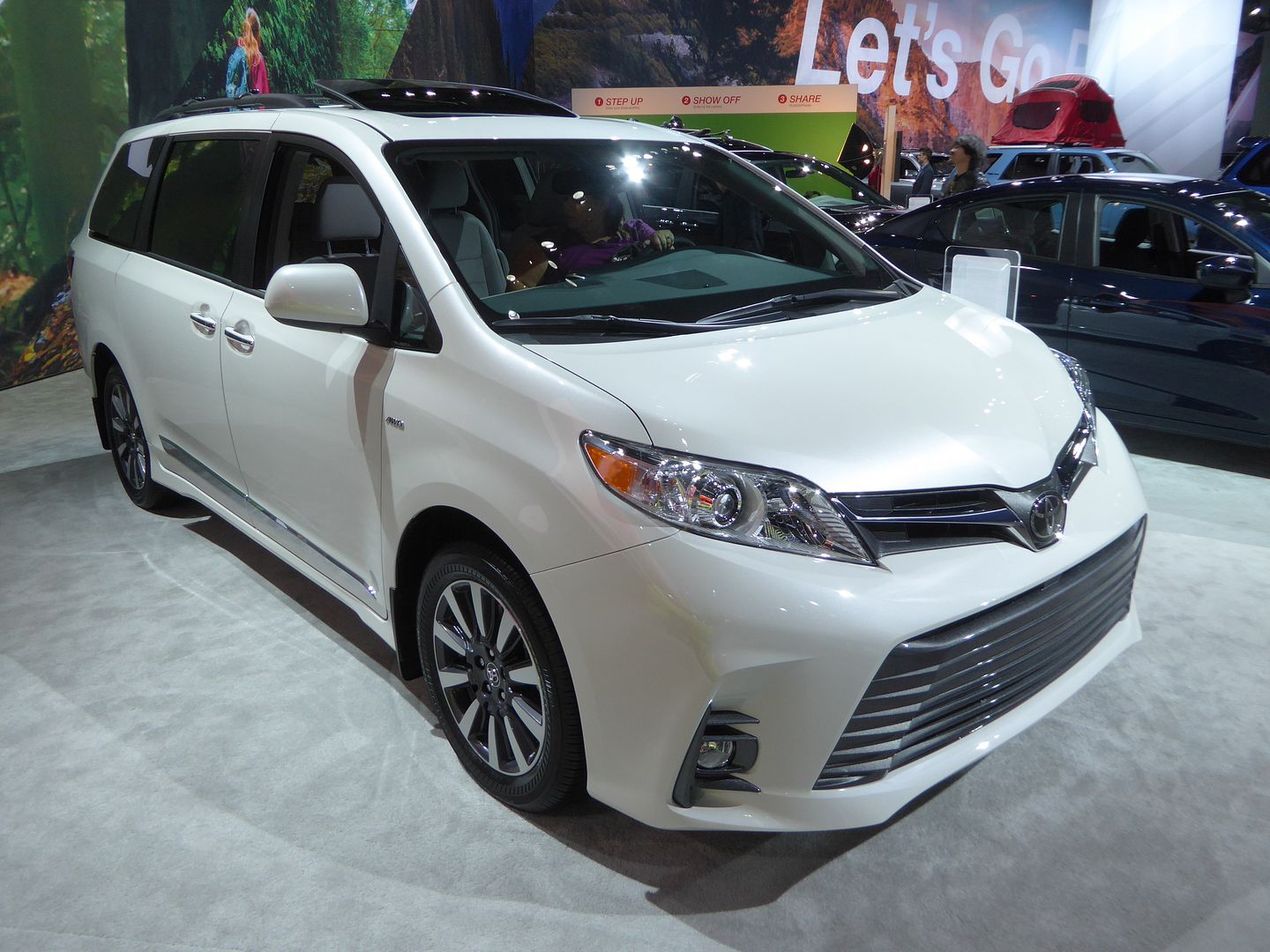 Making another appearance here was the i-Road This is Toyota's view of the future of city cars and personal transportation. It was first shown in 2013, and a small number have now been produced. and are out on the streets, with a pilot project currently underway in Grenoble to gain experience from using this vehicle. It's a cross between a moped and a car, with the innovative tilting drivetrain and rear-wheel steering key to its agility and the narrow 850mm width key to its credentials as a city runabout. What's more, the i-ROAD is 2,350mm long, so you can fit four in a normal parking space. A lithium-ion battery drives two 2kW electric motors in the front wheels, giving a range of 31 miles and a 28mph top speed, with Japanese versions amped up to do 37mph. That doesn't sound like a lot, but the i-ROAD still accelerates hard when you push the throttle. The amount of torque on offer actually lifts the body of this 300kg car so it apparently feels as though you're flying rather than rolling. Turn the wheel and the i-ROAD swoops from side to side with a smooth and delicate motion. As you slow down, the rear steering quickens up so you have to get used to turning the wheel less for squeezing through traffic. It apparently takes some getting used to, but once you are, then it is surprisingly fun. I guess you could think of this a different approach to the same sort of problem that the Renault Twizy addresses. And it is similarly not cheap, though if volumes were to increase, the cost may well come down.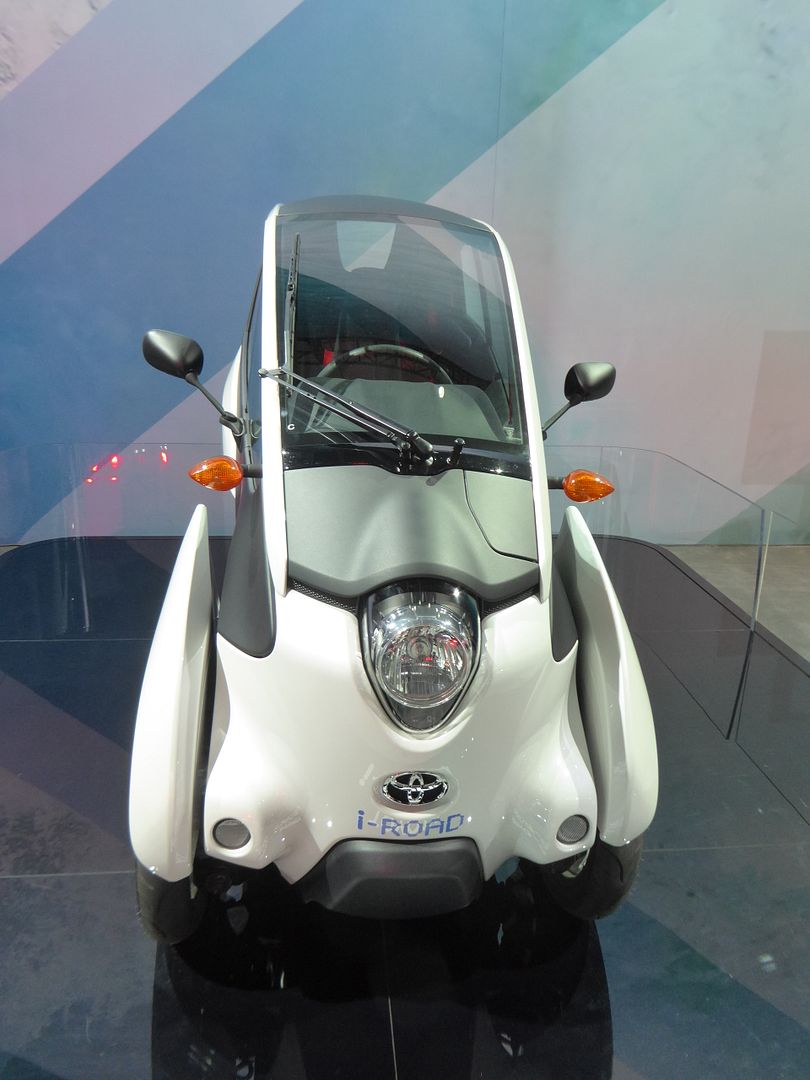 Coming to the more conventional models in the range, there is the Yaris, Or rather, there are now two completely different models with Yaris badging on them. One is a hatchback, and is the car we know as Yaris in Europe. It has just had its second facelift, to match the changes seen in Europe from earlier in the year, which make the front look more bulbous, and whilst there are a long list of other alterations, by all accounts they do not make much difference to the overall impression of the car, which is, as one American reviewer put it, "a rather cheap feeling and tinny little car". The other Yaris is the Yaris iA, which of course is really a Mazda 2 with a boot on it, and an uglified front end that was initially sold as a Scion., but which gained Toyota badges when the Scion badge was killed off. As Americans don't get the Mazda 2 at all, this is the only way they can get into what by all accounts is one of the classes better cars, even with that awful front end.
And then there is the Corolla. Again, there are now two: the Corolla iM started off as a Scion and looks very like a European Auris. It always intrigues me why Toyota think this is a sporty car, which is the way they portray it, as the Auris is about the least sporty vehicle in its class. It's not found huge success in America. Even when you add its sales to those of the regular Corolla Sedan, the model's lack of merit versus its competitors seems finally to be catching up with it. Once the best selling car in its class, and about the second best selling passenger car in America, this year it has fallen out of the Tope Ten almost every month, with the (ugly, but apparently quite good) Honda Civic trouncing it. Reliable and roomy it may be, and indeed is, but in all other respects, the car was bottom of the class when launched, and with only minor changes since then, the gap to new versions of its competitors is pretty gaping in terms of everything else.
This is probably the final show for the large Avalon saloon. as it is understood that Toyota will be unveiling the next generation of their largest saloon at the Detroit Show.
There was a large array of Toyota Trucks here, both the large Tacoma and the colossalTundra. Like all their competitors, these are bold and brash looking, but as tough as they come.
VOLKSWAGEN
Volkswagen is not quite the dominant force in the US market that they are across Europe, and the range of models that is offered is somewhat limited, with much of what is sold in America either built locally or in Mexico. But before coming to the production cars, there were three concepts that had the star billing on the stand. These are all electric vehicles and are the I.D. Crozz, I.D. Hatch and I.D. BUZZ.  VW has now confirmed that the I.D. Crozz Concept will spawn a production model to be sold in the United States in 2020. VW first unveiled the I.D. Crozz Concept at April's Shanghai Auto Show and then updated it for the Frankfurt Auto Show a couple of months ago. In concept guise, it uses a pair of electric motors, one on each axle, to deliver a combined 302 hp. When mated to an 83 kWh lithium-ion battery pack, this allows the I.D. Crozz to travel roughly 300 miles on a single charge. When it reaches production, VW will equip the I.D. Crozz with a quick-charging function that will top up the battery to 80 per cent of its capacity in 30 minutes through a 150 kWh DC charger. Elsewhere, the concept includes an advanced autonomous driving system which VW intends on deploying to production vehicles in 2025. The system consists of four laser scanners that pop up from the roof, side area view cameras, a front camera, and ultrasonic and radar sensors. It can be activated through a simple voice control system or by pressing on the VW logo on the steering wheel for three seconds. VW has previously confirmed that the I.D. Buzz will also be sold in the United States but hasn't said if the hatchback will make it stateside.
Now in full production, the Atlas is a large SUV that sits in the range between the Touareg and the Tiguan. It was premiered at this Show last year. I've not seen many on the road yet, which is a reflection of how hard it will be for VW to break into a market already bursting with established rivals, no matter how good this one is. And by all accounts, it is not a bad effort at all, even if it looks a bit on the forgettable side.
There is a clear family resemblance between the Atlas and its smaller brother, the Tiguan, whose US range is rather more complex. For a start, the previous generation model is still on sale in America, and it will live on for a while yet, as a value model, cheaper than the new car. Accordingly there was one on display. With it were the latest model, finally on sale, well over a year since it was available in Europe  in both 5 seater and extended 7 seater guises. Also on show here, and new, was VW's R-Line package for the 2018 Tiguan, which  will go on sale in the first quarter of 2018, bringing both interior and exterior design enhancements to the SEL and SEL Premium trims. Purchasing the R-Line pack for an SEL trim model will cost you $1,795 MSRP (ParkPilot included in pack), while the better equipped SEL Premium (ParkPilot standard) gets the mod for just $1,495. The Tiguan R-Line package adds 19″ alloys for SEL trims and 20″ alloys on SEL Premium models. Also included are R-Line badges, sporty front and rear bumpers, a glossy black diffuser, plus body-colour wheel arch extensions and side skirts. Inside, Tiguan R-Line models feature the R-Line logo on the infotainment start screen, an R-Line steering wheel badge, black headliner, stainless-steel sport pedal covers and stainless-steel door sills with the R-Line logo. Powering the Tiguan R-Line will be VW's 2.0-liter TSI unit, mated to an eight-speed automatic transmission. Meanwhile, the 4Motion AWD system can be fitted as an optional extra.
Best selling VW model in America remains the Jetta, which tends to find around 10 buyers for every 1 who buys a Golf, the exact opposite of the position in Europe. There are potent GLi and thrifty Hybrid models available as well as petrol and diesel versions with engines that are familiar to Europeans, and which have been updated over the last couple of years to the latest TSi and TDi spec. A new Jetta was forecast, but now looks like it will premier at Detroit instead.
The Passat that is sold in America is completely different to the ones offered in Europe. Designed and built in America, at the Chatanooga plant in Tennessee, this looks very much like a Big Jetta. It is a spacious and comfortable car, and the couple that I've driven rather impressed me, though the last one was an entry trim car, and it felt a bit spartan inside. There were updates made in 2015 and 2016, with new TSi engines replacing the faithful 2,5 litre 5 cylinder unit, and some styling mods made to make it look, well, updated, so it continues largely unchanged for 2018.
That brings us to the models that are more familiar to Europeans. The Golf was represented by a regular hatch as well as a GTi and an R, and – undepicted – there was a SportWagon here as well.
And then there were a couple of Beetle models, including the latest Dune, which was produced to try to summon up some more interest in this car. Whilst the first New Beetle sold strongly in America, in recent years, interest in the model has waned lots, with customers wanting something different, leading to speculation that there won't be a third generation new Beetle, or at least only one that is rather different to this one.
VOLVO
Star attraction on the Volvo stand was the new XC40, Volvo's entrant in the booming compact crossover segment. The 2019 XC40 rides on the company's new Compact Modular Architecture and features a stylish design that recalls the larger XC60 and XC90. The interior isn't as luxurious as its larger counterparts but the model features a leather-wrapped steering wheel, aluminium trim, and an automatic climate control system. Other highlights include a power driver's seat, an eight-speaker audio system, and a 12.3-inch digital instrument cluster. A variety of options will be available including heated front seats, a wireless smartphone charger, and a Harman Kardon audio system. Other options include ambient lighting and a power folding second row seat. At launch, the XC40 will be offered in the States with a turbocharged 2.0-litre four-cylinder engine that produces 247 hp and 258 lb-ft (349 Nm) of torque. It is backed up by an eight-speed automatic transmission and a standard all-wheel drive system. The model will eventually be offered with additional powertrains including electric and hybrid options. The XC40 will go on sale in the United States next spring and it will be available via purchase, lease, or subscription. The base model starts at $35,200 and a 36 month lease will begin at $325 per month with a $3,000 down payment. The subscription is a bit more complex as pricing starts at $600 per month before taxes and registration fees. The base subscription model comes nicely equipped with the Premium and Vision packages as well as heated front seats and a heated steering wheel. The model also includes a panoramic roof and 19-inch alloy wheels. While the 24 month subscription costs significantly more than the lease payment, it includes an annual 15,000-mile allowance, all factory-scheduled maintenance, and insurance. Customers can also swap out their XC40 for another model after just 12 months. I thought this a good looking car, with an impressive interior. It could do very well indeed.
This would be the first chance for many to have a look at the new second generation XC60, and plenty were doing just that.
Alongside was the larger XC90, showing a distinct family resemblance.
Now one of the oldest models in the range, there was a sole V60 here – still a nice car, but destined to be replaced in the coming months.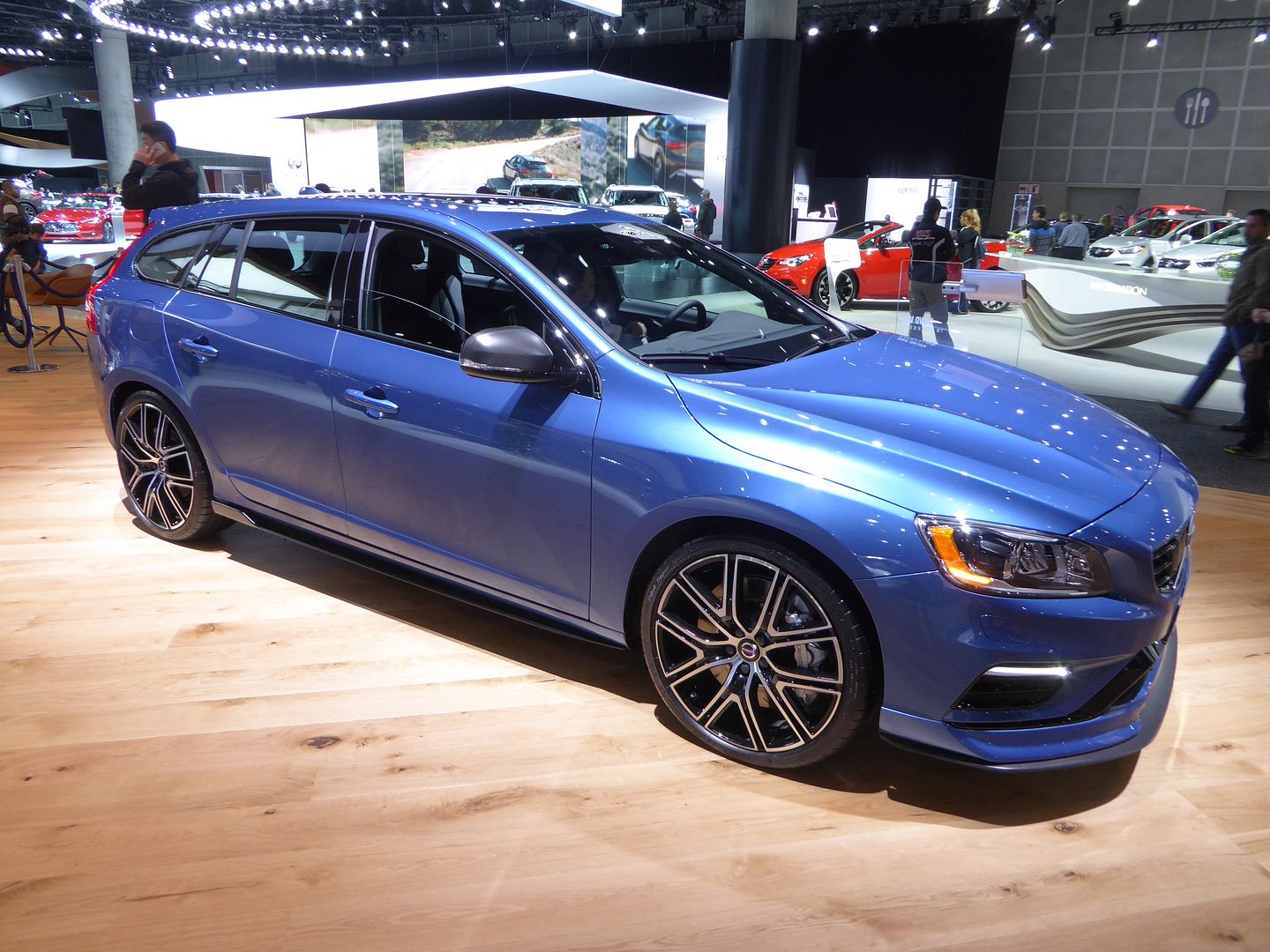 And finally, there were both S90 and V90 models here.
THE KENTIA HALL, aka THE GARAGE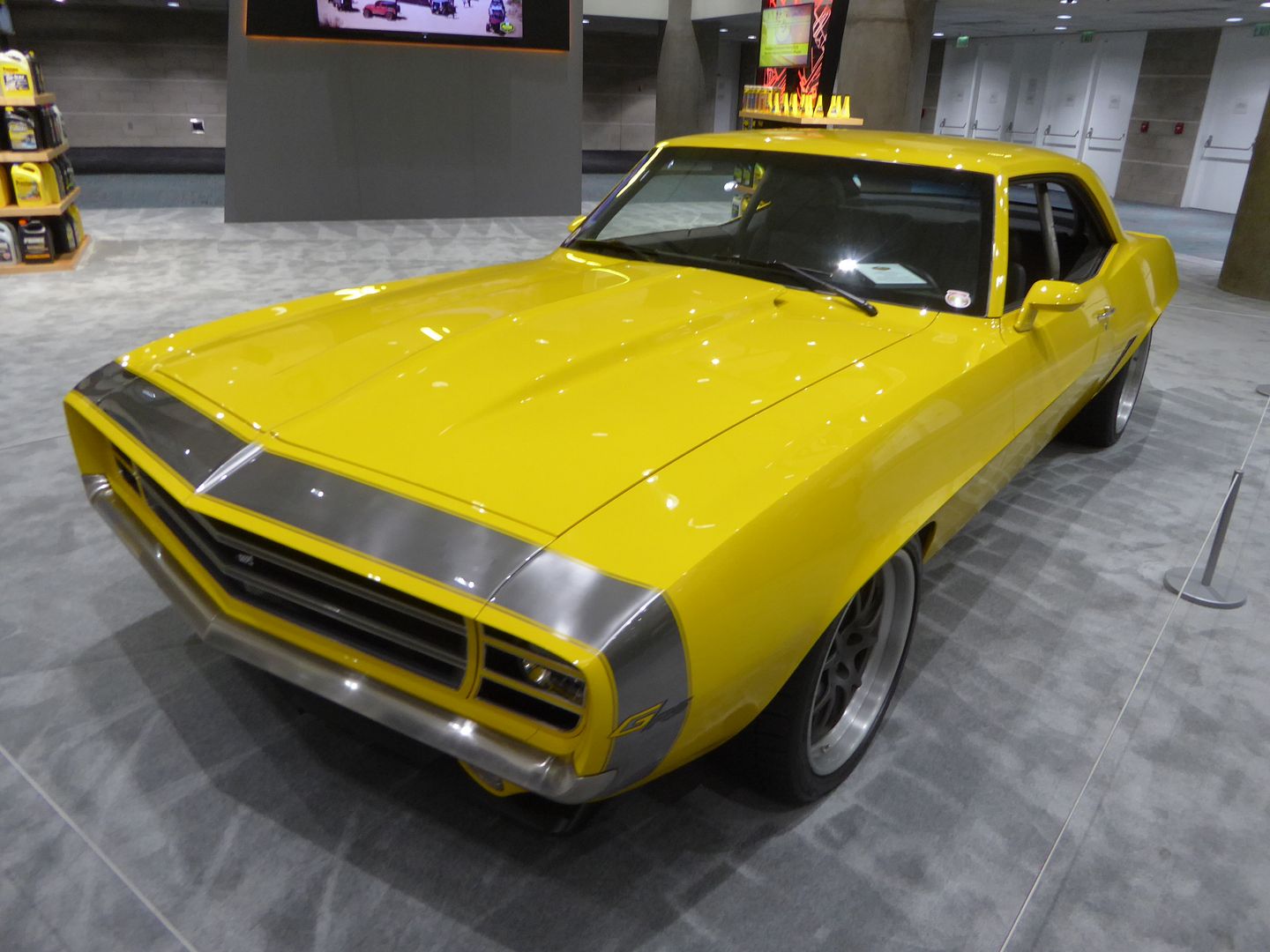 This is an entire hall, located under the main South Hall. It is quite unlike the rest of the show, with a mix of trade stands, selling everything from tools to model cars and books, as well as the place where some of the wilder customised vehicles get pride of place. I'll be honest and say that although I always do visit this Hall, it is not somewhere that I tend to linger in that long, as most of what is in there is just a million miles away from my taste. From among over 30 exhibitiors and over 60 customised rides, here are just some of the wilder examples that were on show.
It's not all customised stuff, though. The California Highway Patrol usually have a stand, and this year was no exception. As well as giving you the chance to talk to a real CHP patrolman, and to look at some of the memorabilia and displays of current technology on show, they usually have a historic patrol car or two, and this year it was a Dodge Polara from the early 1960s.
There was a large display in the centre of the Hall, which had a number of "classics" (of sorts), some of which were more or less as they left the factory and others appeared more modified. Among them were a Nissan Figaro, which seemed to be itrniguing most people as this car was never sold in the US and few seemed to know what it was, a couple of Studebakers, a Wagonaire and an Avanti as well as a Mercedes 280SL "Pagoda", a De Tomaso Pantera and a Porsche 918 Spyder.
There was another line down one side of the hall, with a very varied collection of cars ranging from a first generation Audi 80 (known as the Fox in America), through a 55 Chevrolet, through various Mustangs to a 1930s Packard.
This collection of early Mustangs was on another stand. What a shame they were rather crammed in, and near to the barrier, which frustrated the photographer.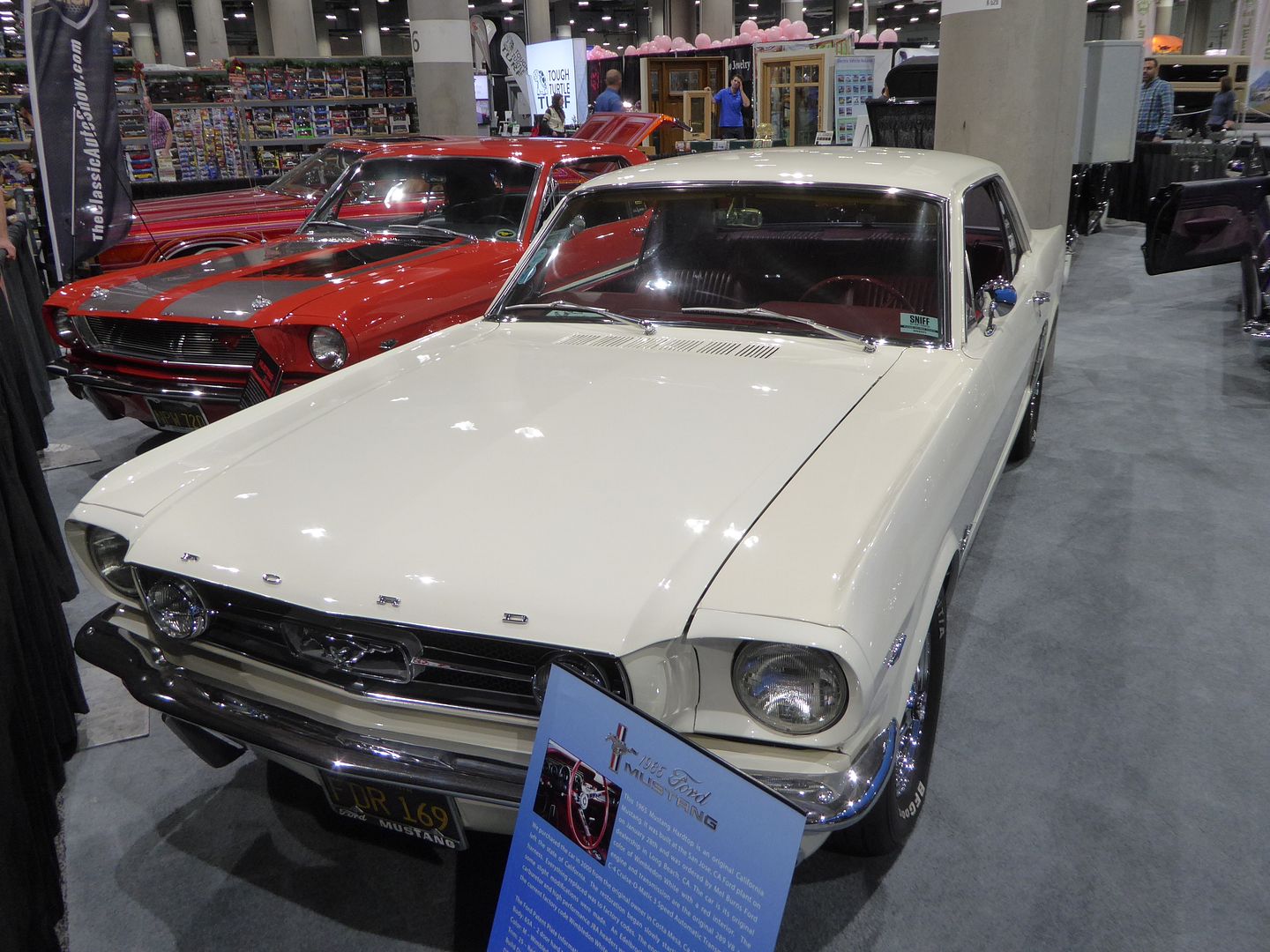 Another stand-out for me was this Mazda R100 Coupe.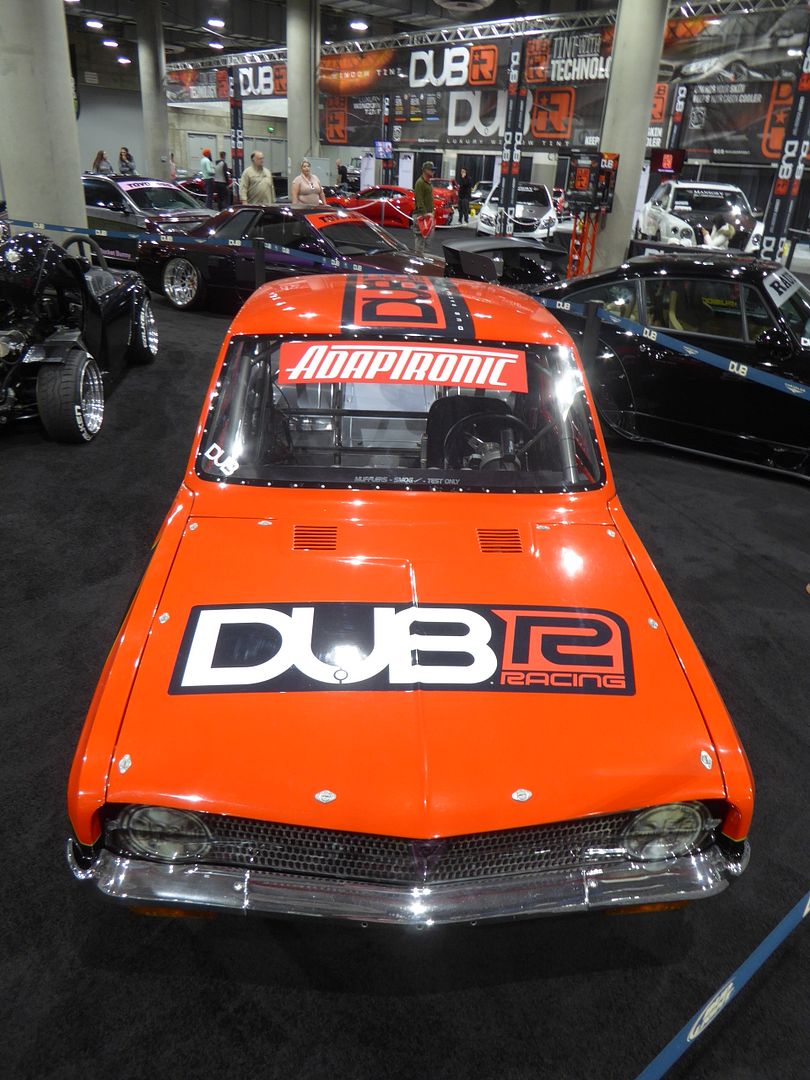 There was also one lone NASCAR down here.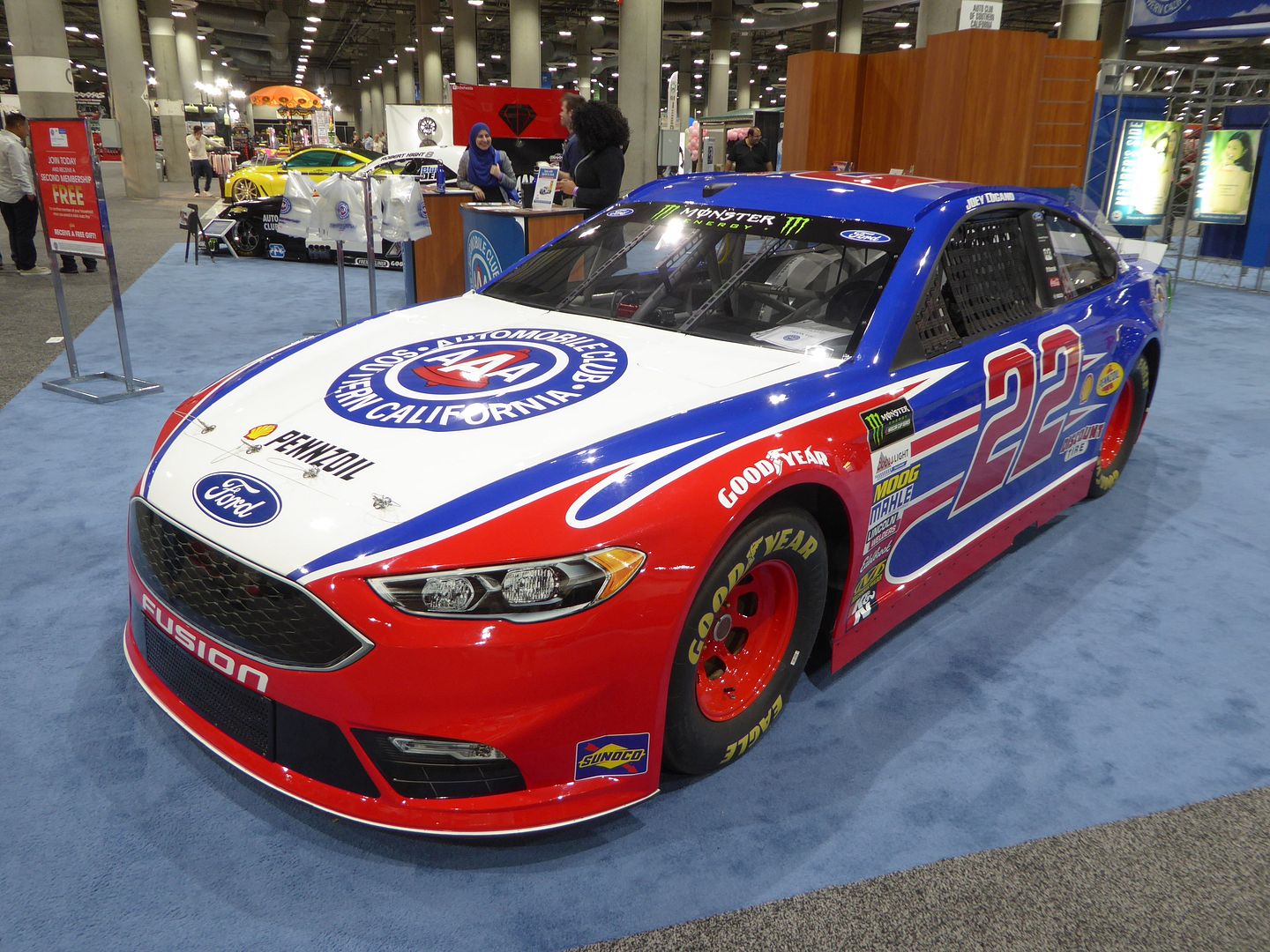 These two are what Americans call Semis (pronounced Sem-eye) and they are absolutely massive…… a reminder just how big the trucks are that cart goods all over the nation.
OTHER DISPLAYS
There was a large display of customised Lexus models in the South Hall Atrium. Whilst Lexus would not be the most obvious choice to a European, you need to remember that this is a much more popular brand in America. As to the results….. well, form, your own conclusions!
This small collection of supercars, from Specialty Car Collection, included a Ferrari 488 GTB, a 458 Speciale and a Mercedes SLS AMG Coupe was also in the same Atrium.
And finally, this was a somewhat modified De Tomaso Pantera.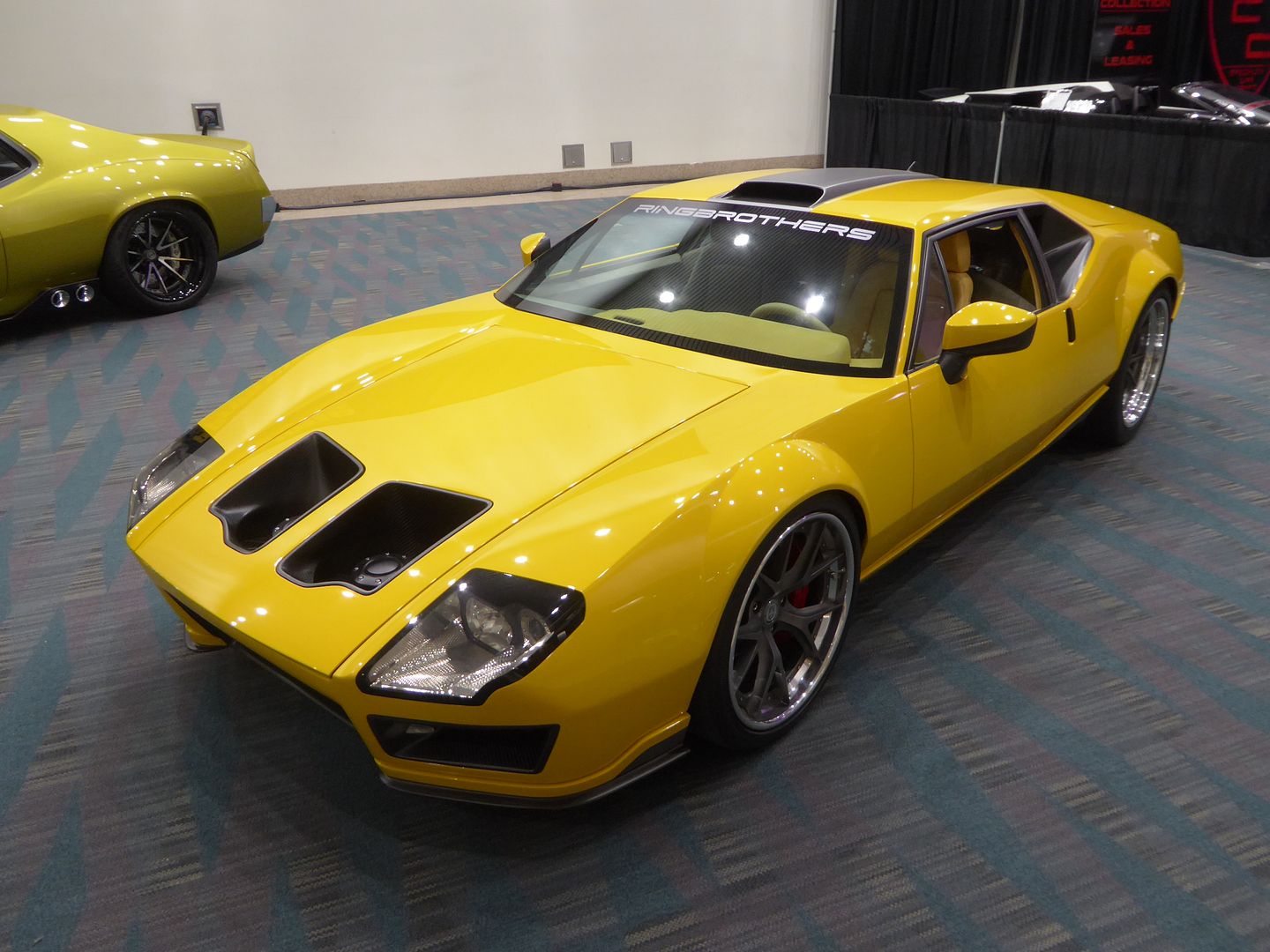 As in previous years, I very much enjoyed my day at the Show, it proving to be a highlight of my Southern Californian winter odyssey. Actually, there were plenty of other good things about the whole trip, though there was something of a shadow cast on things with the start of a series of terrifying bush fires which had started earlier in the day that I went to the Show, and which were still raging days later, fuelled by some very strong winds. That apart, a trip to LA when it is dark, dreary, damp and rather uncheery back home is just the sort of tonic that helps get through the winter, and is highly recommended. As well as getting the chance to see a different set of cars from the ones that populate European roads, you get something of a different experience. Almost every stand has someone who periodically (and frequently) will stand by some new model and spout a whole load of PR guff that they have had to learn by heart, which they do regardless of whether anyone is listening or not. Most of it is utter  rubbish, but it is quite entertaining (once!). The dates for the 2018 show are already announced. Once again, it opens after the Thanksgiving holiday, being held from 30 November to 9th December. I have every intention of paying it a visit.