My diary was such that I had back to back weeks out of the country, landing from America on a Saturday morning and needing to be back in Switzerland not many hours later. Although you may think the logic was flawed, I wanted to go home and leave the bulky suitcase and switch to hand luggage only, so it made sense simply to collect a rental car from Heathrow on arrival, drive home and then a few hours take it back, leaving my car tucked up in the office car park back in Bristol. An added benefit of this is that this meant I was doing a rental from Heathrow with a return to the same location, which I hoped would stop them being quite so single-minded about the car they were allocating me (usually one they wanted to be rid of!). Corporate policy says Group C, which is a Focus or equivalent, but looking at what else was bookable and the prices on offer, I was delighted to see that I could reserve a car from Hertz UK's recently created Fun Collection. The Ford Focus ST was showing as sold out, but the Golf GTi appeared to be available. So that is what I booked. And, thankfully, when I arrived, that is what had been reserved for me. Believe it or not, and this may be a surprise given the number of cars I have driven over the years, this is the first Golf GTi that I've driven. I knew I was not going to have a lot of time to do much more than drive home and back again, and the weather forecast was for rather grey and grimy late October weather which would limit the photographic possibilities, but even so I was excited at the prospect of this one. The fifth generation Golf GTi, which went on sale in early 2005, was widely declared to have restored the GTi mojo that had been somewhat lacking in the third and fourth generation cars as they had got larger, heavier and a bit softer. Distinctive but restrained body styling with a front end that includes honeycomb mesh air intakes and a gloss black centre section, edged in red in classic GTi style combine to make the car 12 mm longer than a regular fifth generation Golf. The car sits a little lower and has a stiffer suspension set-up and larger disc brakes, aimed at making the car better to drive and of course it has a sparkling engine to give it some fizz. Certainly the GTi allocated to me looked the part when I first saw it, but what I really wanted to know was how it would drive and whether the Golf GTi really is all the car that you would ever need, as so many have said over the last couple of decades.
Power for the fifth generation Golf GTi comes from a direct injection 2.0 litre Turbo four cylinder engine, which develops 197 bhp (a round 200PS if you measure it that way). It is a good engine, smooth and willing. There's no evidence of turbo lag, and with 206 lb/ft of torque on offer, once you get to about 1500rpm, the car will just keep on accelerating all the way to the red line at 7000 rpm. It even sounds quite good, with an edgy bark to it when accelerating and a pleasing rumble when you are not. That said, the engine is quiet on the motorway, so apart from some road roar on all but the smoothest motorway surfaces, this is a peaceful cruiser, which was just what I wanted having got off an overnight flight back to the UK. The test car had the six speed manual gearbox that is one of your choices, a dual-clutch DSG automatic gearbox being the alternative. The figures suggest that the manual is going to be faster, but you would probably only notice the difference if you were to measure it accurately. More to the point, the gearchange in this car is good, with the lever moving with precision and no resistance between the gears. You get a bespoke GTi-specific gearknob which is a reminder of the original golf-ball gearknob of the first Golf GTi. What impressed so many about those first two generations of Golf GTi was not just how rapid it was (though it was, for a car of this size) but also how much fun it was to drive. That means steering and handling to suit the enthusiast but which will not cause the family to complain when the car goes through its Jekyll & Hyde moment and is being used as practical everyday family transport. VW have made some significant changes to the fifth generation GTi to try to restore that reputation. The electro-mechanical steering certainly seemed good, with decent levels of feel and weighting which meant that it was not too heavy when manoeuvering the car but not too light to lose the desired level of feel when underway. VW seem to have find the right balance, though I strongly suspect this is one area where Ford still do it better. The Golf can be punted down a twisty road with confidence. Grip levels are high and there is minimal body roll. The test car was on the standard 17″ alloy wheels and the ride was well judged, proving comfortable on the varied surfaces that comprise the UK's road network. Although powerful in operation, the brake pedal felt a little mushy, needing a firm push. There is a conventional pull-up handbrake between the seats. All round visibility is good, with the steeply sloped rear end – which does mean it quickly gets filthy, I have noticed – meaning that judging where the back of the car ends was not hard.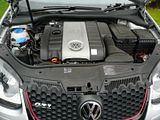 VW have long had a reputation for peerless build quality so I was quite surprised to see how badly the dash and the door casings lined up, or rather, didn't. That apart, the materials used were high quality, good to look at and nice to the touch. Judicious use is made of a silver metal-effect on the dash in front of the dashboard and on the doors and there are a few chrome highlights and you get a leather-wrapped steering wheel. It proved nice to hold, with pronounced thumb grips in the side and it has a slightly flattened bottom, The dash is logically laid, and simple to use. There's a definite family feel here and some of the componentry is familiar to me, as an Audi driver. Two large dials for speedometer and rev counter find themselves with smaller dials for fuel level and water temperature between them, with a digital display area for trip computer functions and other displays above them. Cycling through the options for this is done by pressing a button on the end of the right hand stalk. Column stalks – stock items from the VAG parts bin – handle indicators and wipers whilst lights operate form a rotary dial on the right of the dash. The centre of the dash contains a neatly integrated audio unit which can be upgraded to include navigation and a 6-way CD set up. There are three rotary dials and some buttons beneath this for the dual-zone automated climate control.
Leather is a cost option for the seat upholstery, but if you go with the cloth, which is how Hertz had specced this car, you get a tartan pattern, another reminder of the early Golf GTi. Visually appealing when you actually got close up, this material was rather nasty and made me wonder if it was made from something like recycled ladies stockings. But that's where the criticism ends. There are pronounced side bolsters which will hold you firmly in place. I found the seat to be supremely comfortable on my journeys back and forth on the M4 from Heathrow to home. There is adjustment in the ways you would expect, with a looped bar under the seat for fore/aft, and a turn wheel on the side of the seat for backrest angle and a ratchet lever for height adjustment. The steering column telescopes in/out and up/down, so getting the optimum driving position to suit my requirements was easy. As successive generations of Golf have grown, some of the extra length has been used to improve rear seat space. Even with the front seats set well back, there should be sufficient space for the legs of rear seat occupants. Two will be comfortable here, but three could be accommodated, though it has to be noted that there is a noticeable central tunnel and the centre console unit extends well back, partly to house a cup holder which the rear seat occupants could use. there are map pockets on the back of both front seats and bins on the doors for odds and ends. The boot is a nice regular shape, with the sides squared off with the wheel arches. It's not huge, but should prove large enough for most purposes, and is certainly quite deep. My luggage fitted in with ease, of course. The rear seat backs are asymmetrically split and simply drop down onto the rear seat cushions to provide a longer load bay, though it is not completely flat. There is a separate ski hatch as well. Inside the cabin there are door pockets, a decently sized glovebox and a stowage area in front of the gearlever as well as a cubby under the central armrest for those odds and ends.
You can have your Golf GTi with either three or five doors, and either the six speed manual or the DSG automatic gearbox, and there is an extensive options list, but the car comes as standard pretty well equipped these days. 17″ alloy wheels are standard, with larger 18″ ones an option and inside you get a leather-wrapped steering wheel, those tartan-trimmed seats, dual zone climate control, and a decent audio system, as well as an array of safety features which include six airbags, ESP stability control and Hydraulic Brake Assist. As well as the larger wheels, other options which may well attract include full leather upholstery and an upgraded infotainment unit that includes a 6 disc CD changer and satellite navigation, and there are xenon headlights to improve things at night. Compared to its rivals, the Golf GTi is not that cheap but it has always enjoyed excellent residuals and this one has proved no different.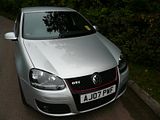 Whilst there were a couple of few things about this Golf GTi which surprised me, and not in a good way, as a complete package, I was generally pretty impressed. The car did indeed go well, and was fun to drive, and yet it has all the practicality of a regular five door family hatch which means that it really can serve as an only car and meet everyone's needs, in a way that a 2 door coupe just can't do, which of course is what made the car so popular back in the late 70s when the Golf GTi first came out. It is easy to see why the car is so well-liked and remains an aspirational vehicle for many. Anyone who buys one is unlikely to be disappointed. Of course, it does not have the market to itself. Ford's Focus ST is perhaps the most direct competitor and Hertz do have some of those in their Fun Collection at Heathrow, so I am hoping that I will be able to sample one of those in the coming weeks and form a direct comparison of my own.