Even in Southern California, the sun does not always shine. I had been watching the weather forecast for the days leading up to my arrival, with some dismay, as it seemed that the first full day I was scheduled to be in Los Angeles, and the only non-work day, was destined to see lashings of rain. At the last minute, the rain has decided to delay its arrival for 24 hours or so, but even so, a rather cloudy and nondescript day suggested that an indoor entertainment could be a good idea. I decided it was time to revisit the Petersen Museum, a very well known collection of cars and motoring memorabilia, situated on Wilshire Boulevard, on the "Museum Mile" just on the fringes of Beverly Hills. I found displays that contained much that was different from my last visit just over a year ago, so it was well worth a further write up.The museum is set out over 2 floors. The ground floor presents a chronology of the development of the motor vehicle, and its impact on society, most especially in Southern California. Upstairs there are usually two temporary exhibitions to see, along with a handful of more permanent display features. At the time of my visit, work was starting on preparing for a new display, "What were they thinking", which will feature some of the more misguided and unsuccessful vehicles that made it to production (the Edsel will definitely feature, not sure what else – it opens on Feb 28th), and so there was only one special feature to see, called "Treasures of the Vault", featuring some of the most valuable and luxurious cars from 1930s Rolls Royces all the way to a modern Bugatti Veyron. The permanent displays on this floor include some "alternative energy" powered cars and Cars of Hollywood stars, so plenty of variety.
Although I did my best with the photos, it is very dark in the whole museum, something which even copious amounts of flash could not entirely alleviate. Apologies now!
The Ground Floor:
This 1901 Breer is typical of many of the very early cars that were built around the turn of the 19/20th centuries. Carl Breer was a German who moved to Los Angeles, and set up his own blacksmith's business in the Los Angeles area. He turned his hand to making cars, forging much of the componentry himself. This vehicle had 2 cylinders, steam powered, and had 2 gears – forward and reverse.
The 1903 Cadillac Model A Runabout. With a 1 cylinder engine, developing 10hp, this car could reach the heady heights of 30 mph. The price was $750, which was deemed modest for the day. It was only later that Cadillac moved to occupy a more upmarket position.
1911 American Underslung 50 Traveler: this car, made in Indianapolis, is so called as the chassis is mounted under the axles. When fitted with large wheels and tires, as this vehicle is, it had excellent ground clearance, which made it suitable for the very poor quality roads that were to be found over most of America in the early 20th Century.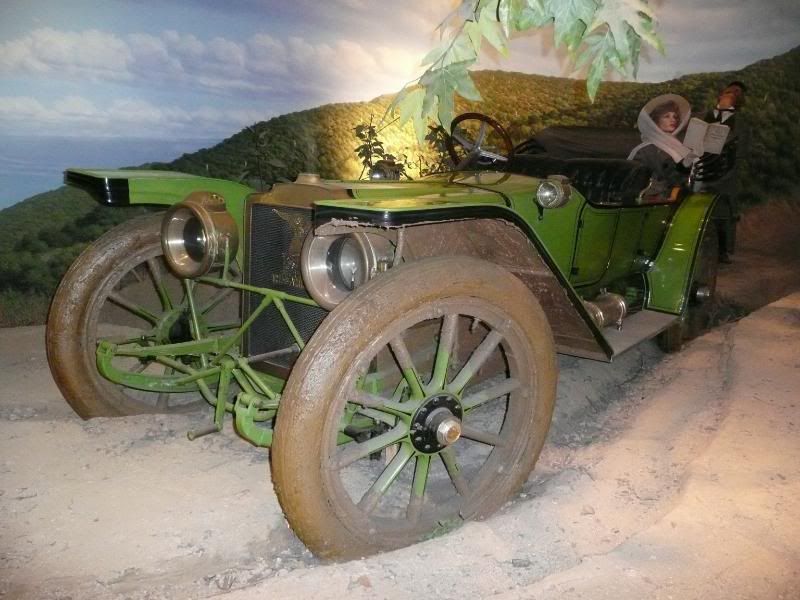 This 1922 Willys Knight, parked up outside the typical new house of the suburban America of the 20s was notable for its novel engine design using a form of sleeved valves. Much quieter and smoother than the more common poppet style valves, the technology was too costly and also had far higher oil consumption and did not gain wider acceptance.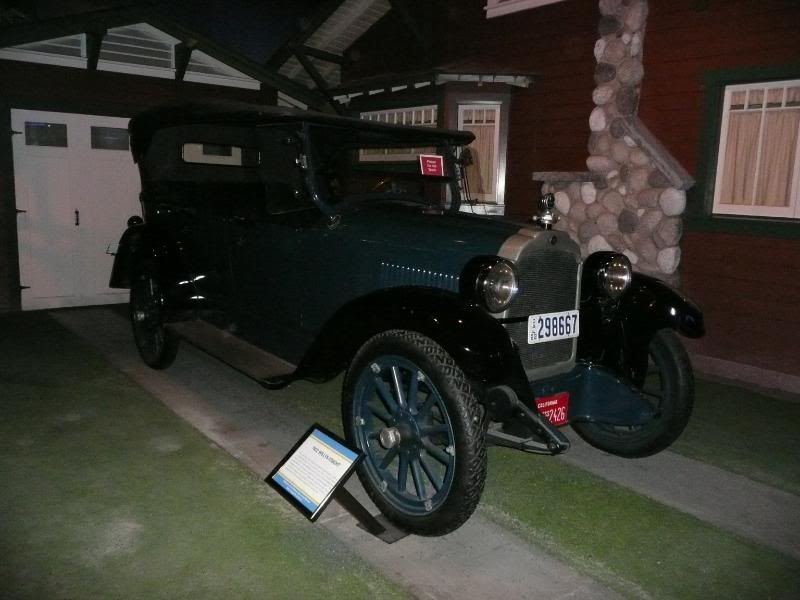 This 1929 Austin Seven Chummy is displayed alongside a replica of the sort of billboard advertising that started to become popular in the 1920s and 30s.
A 1931 Twin Coach Delivery Truck. Once a common sight, these vehicles were used by the local bakery to make their rounds, selling their produce.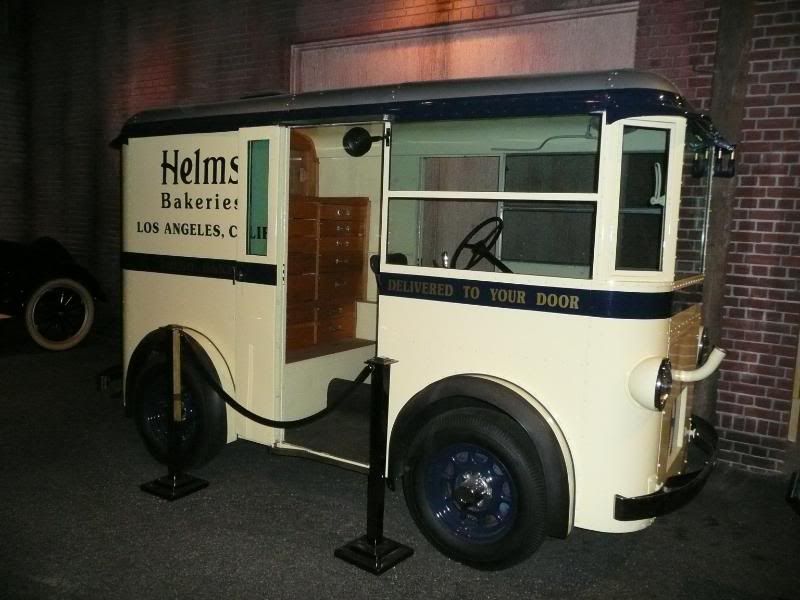 A 1921 White Tanker. White had made cars as well until 1918, but they were costly and sold poorly.
1930 Nash 482R Coupe. This car had a novel twin ignition system, with 2 spark plugs per cylinder, which meant that it had excellent performance, and could top 75 mph. Costing $1300, it was aimed at the upper middle class buyer.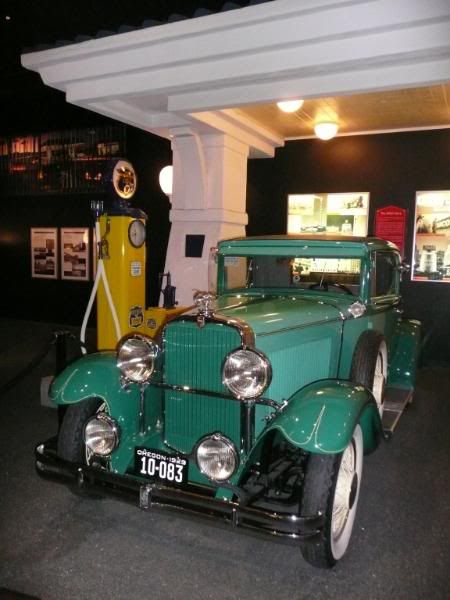 1929 Chevrolet Model AC Imperial Landau. This was the absolute top of the range car from Chevrolet, and only 300 were sold, out of a production of 1.3 million 1929 Chevys.
1924 Franklin 10C Sedan. Made in Syracuse, New York, these cars were notable for their use of an air cooled engine, which it was claimed made them suitable for all extremes of the American climate. A more conventional grille was introduced in 1925, as it was felt that the unusual frontal design had been putting customers off these cars.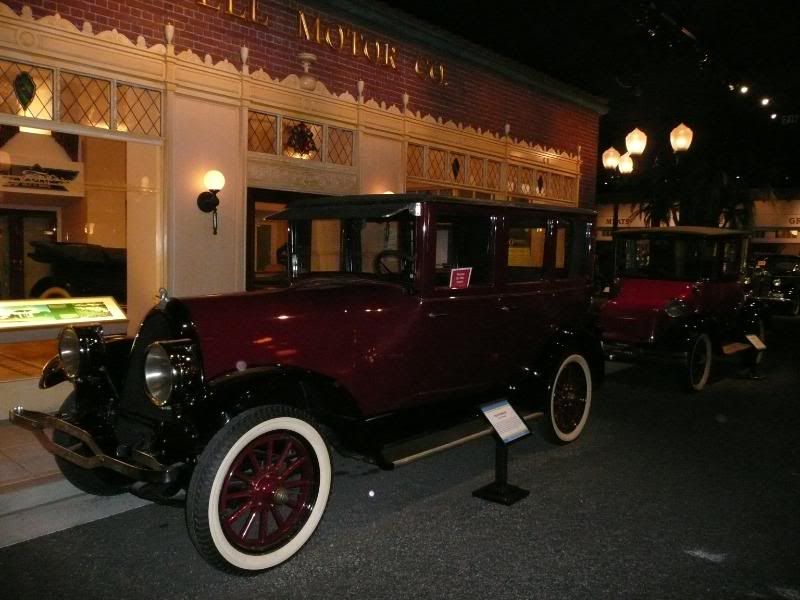 1917 Detroit Electric Brougham 61: very simple to drive, these cars appealed mainly to wealthy ladies, who could use them for short journeys around town. The Detroit was produced from 1906 until 1939. This model is believed to be the first car with curved glass.
1932 Ford Model BB Tow Truck: a bewildering array of different bodies and optional equipment items were available on Ford's commercial vehicles by the 1930s. In the background is a recreation of the typical sort of roadside diner that started to appear, where something very eye-catching was the order of the day. Hardly any of these striking constructions now survive.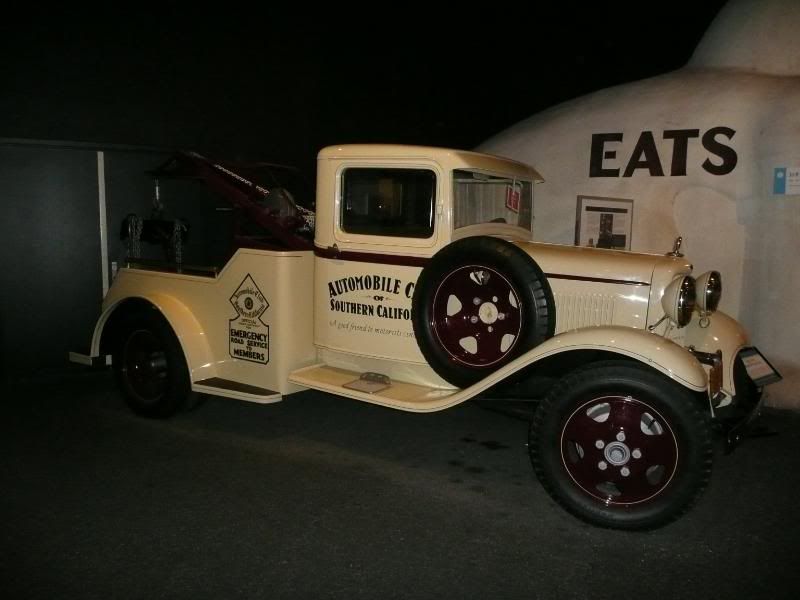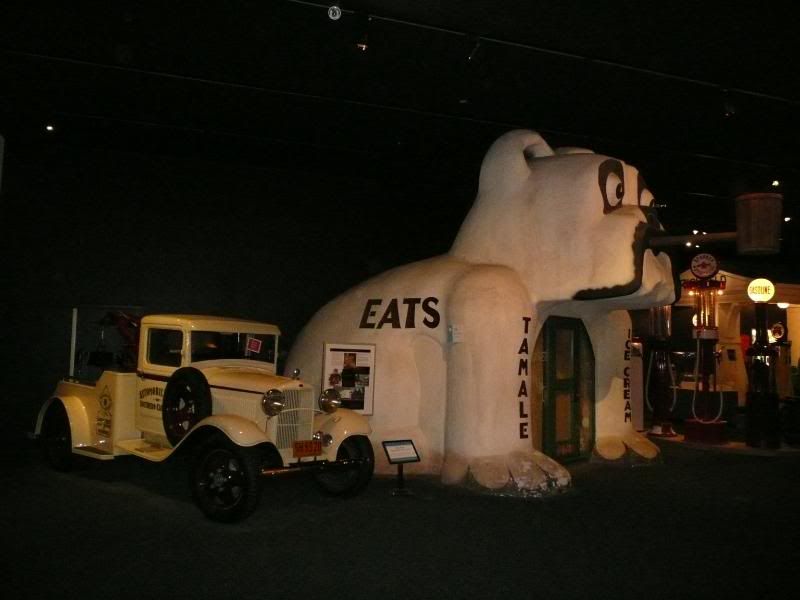 1939 Packard Super Eight Phaeton: This particular car was constructed for Juan and Eva Peron, and cost in excess of $10,000 at a time when a Ford cost $625 and the normal Packard was only $7500. It weighed in at over 5000lb.
1935 Ford Phaeton: designed for touring in the fresh air, these cars had minimal weather protection.
1939 Pontiac Station Wagon: like many such wagons of the day, the rear of the vehicle was made with a wood frame, which required extensive maintenance work if it were not to rot. This made the cars costly to keep for their owners, and Pontiac abandoned the construction in favour of all steel bodies in 1949. "Woodies" are now highly prized and highly priced.
1959 Cadillac 62 Convertible: the most extreme example of the "fin" era ever. This was the last year that Harley Earl was the chief stylist at GM, before Bill Mitchell took over. Although it would be a further 5 years before the fins disappeared for good, they were never quite like this. The background shows a recreation of the drive-in diner that started to appear around this time.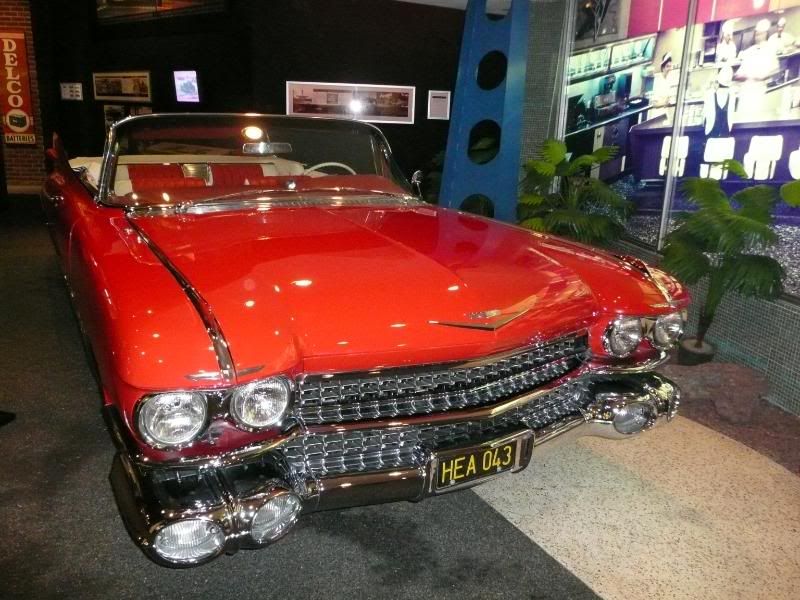 This recreation of a domestic garage scene from the early 1960s shows 2 cars: a 1963 Studebaker Lark Wagonnaire, and a 1958 Triumph TR3A.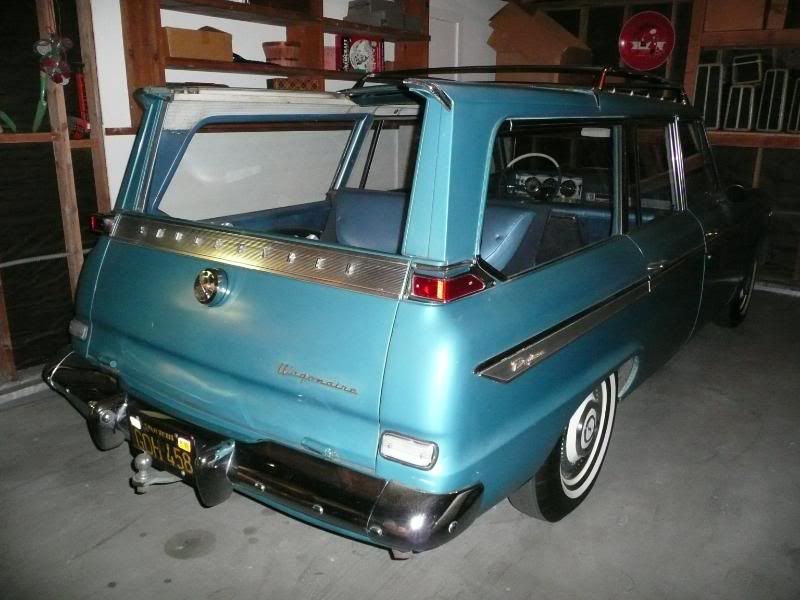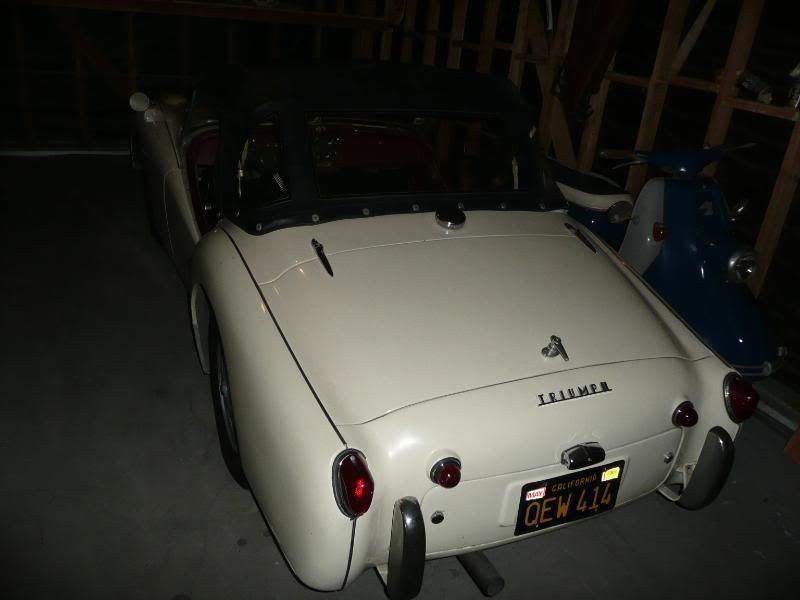 A dramatic display of three supercars with gullwing or scissor style doors, included the Delorean, the Bugatti EB110 and the modern Mercedes Mclaren SLR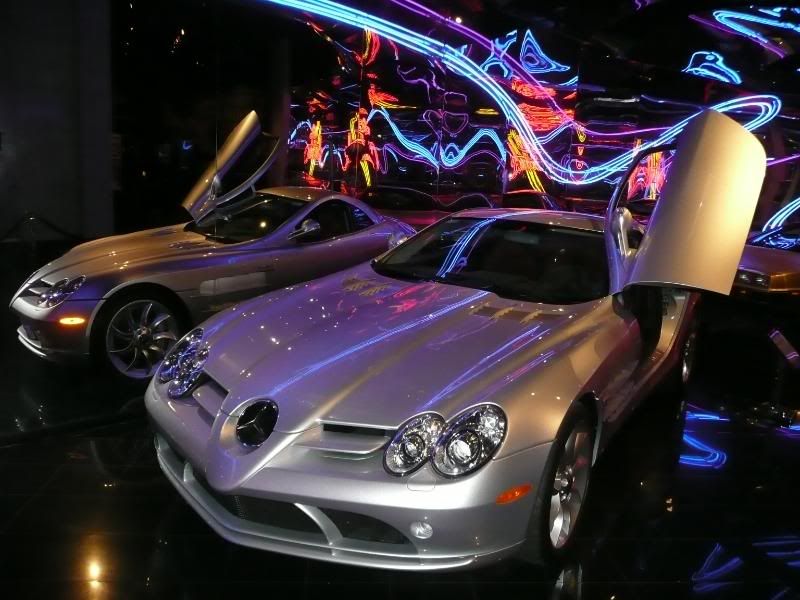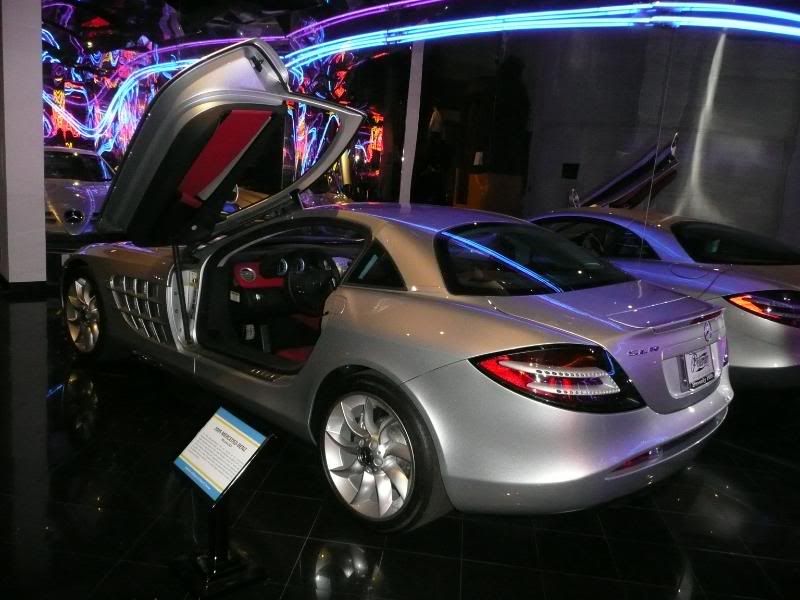 This Jaguar XK8 was used in the 2002 James Bond film…. all is not what you might think, as the car is built on a shortened Ford Explorer chassis, as the 4 wheel drive system was required for some of the stunts in the film.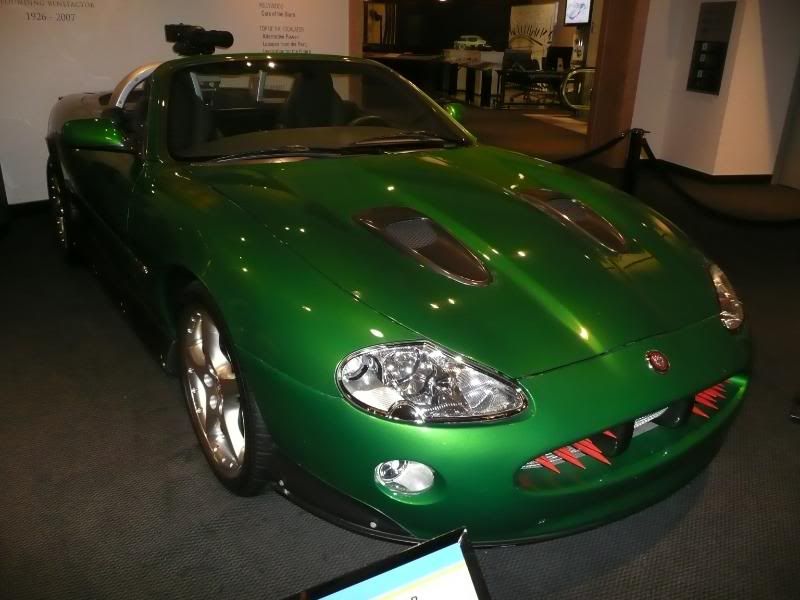 Cars of Hollywood:
1972 Mercedes 600 – as driven and owned by Jack Nicholson. This car starred in the 1987 film "The Witches of Eastwick"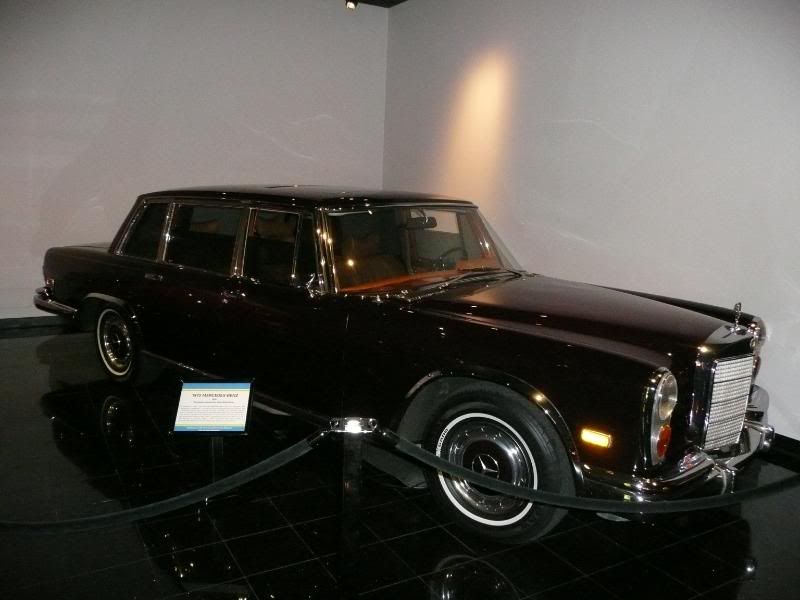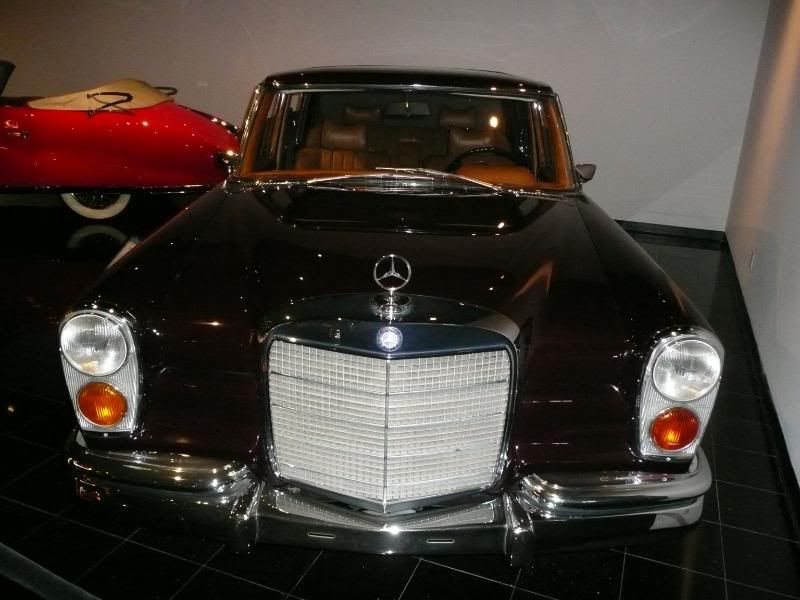 1949 Delahaye 178 Drophead – owned by Elton John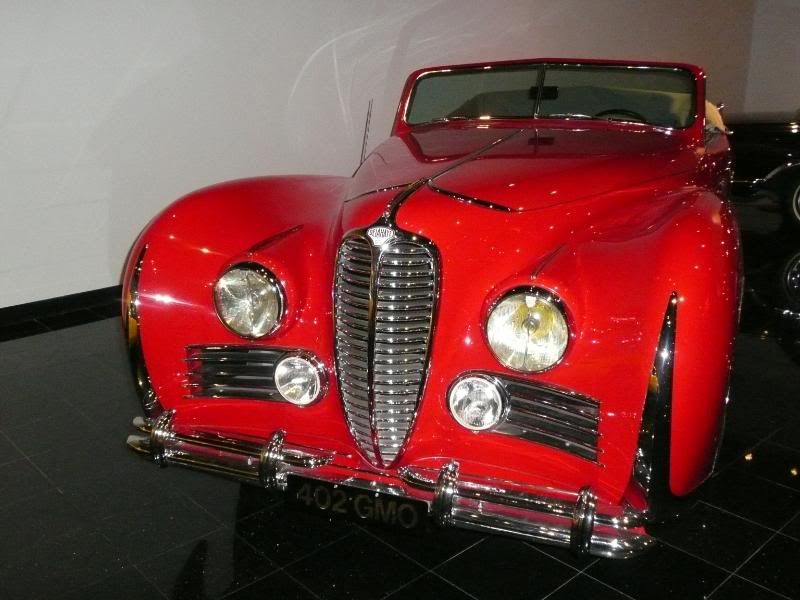 1971 De Tomaso Pantera – owed by Elvis Presley. Evidence of his bad temper can be found with the bullet holes in the steering wheel and floor pan when he shot the car! Bought cheaply in 1974, it was sold in 1991 for $2m thanks to its famous owner.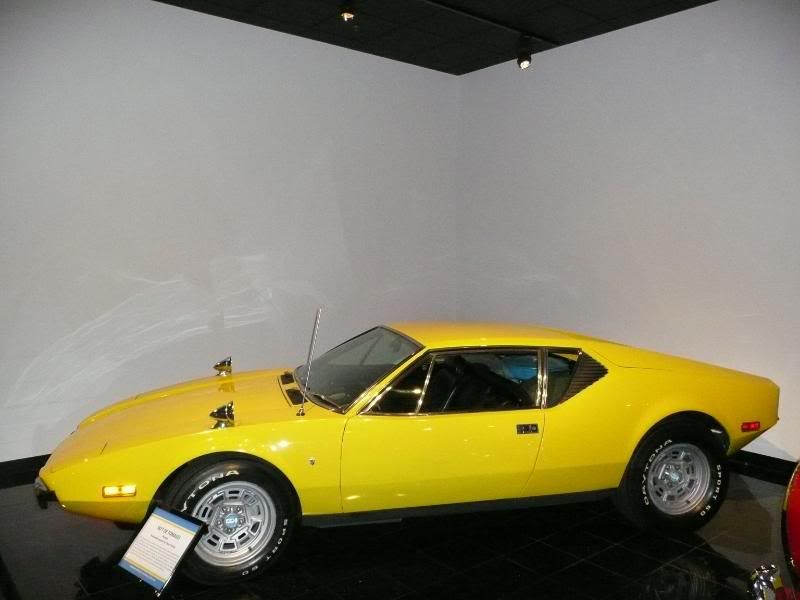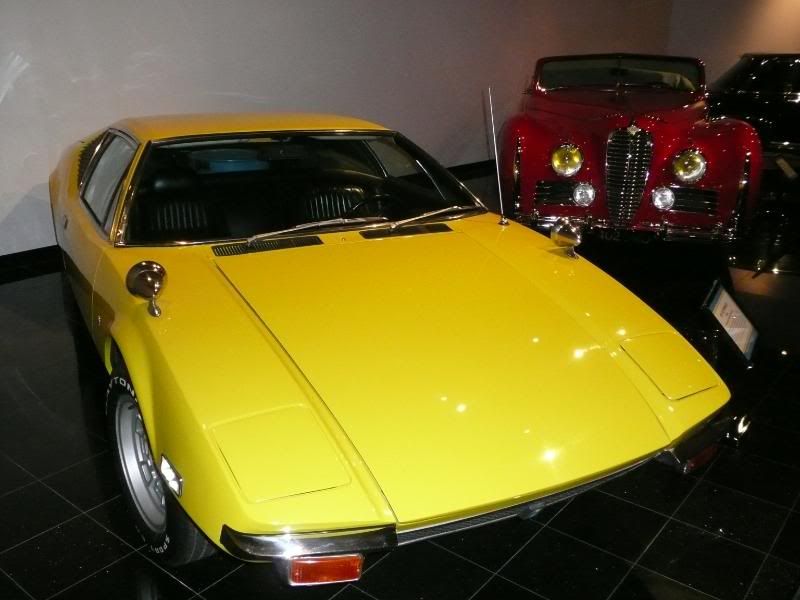 1956 Jaguar XKSS – owned by Steve MacQueen. One of just 16 cars built, this was sold to the famous collector Bill Harrah in the early 1970s.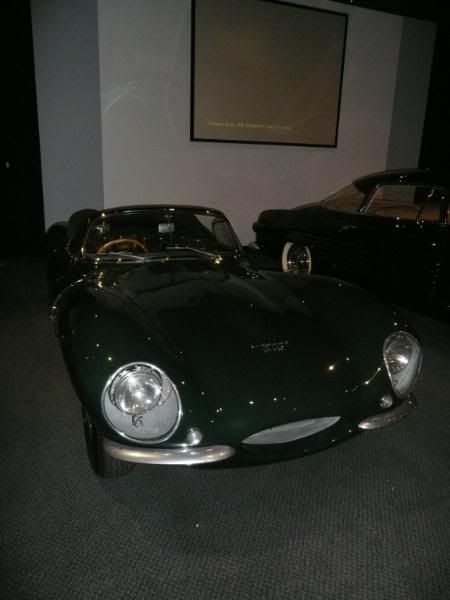 1953 Cadillac 62 Coupe Ghia – quite unlike the typical Cadillac of its time, just 2 such cars were made. This one belonged to Rita Hayworth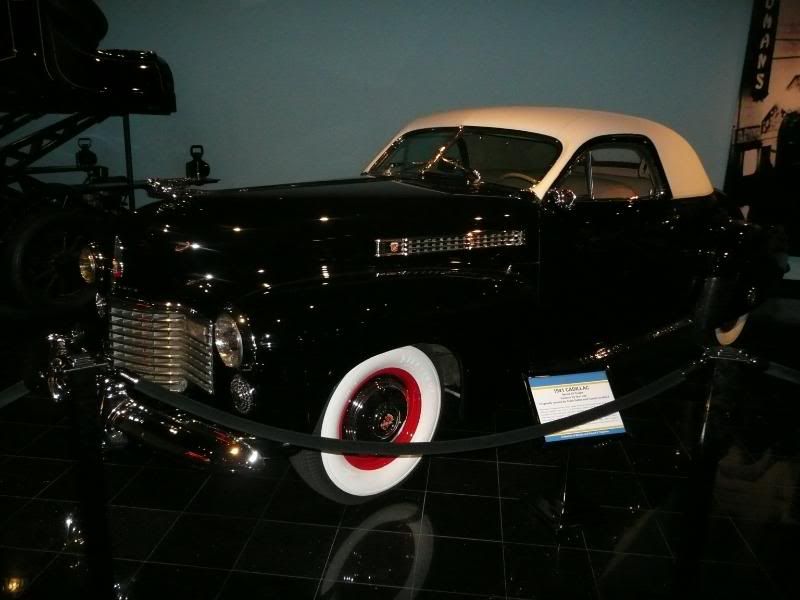 1972 Ferrari Daytona Spider – as used in the 1976 film "Gumball Rally"
1927 Rolls Royce Phantom 1 Town Car – owned by Fred Astaire, who used the car in London, New York and Los Angeles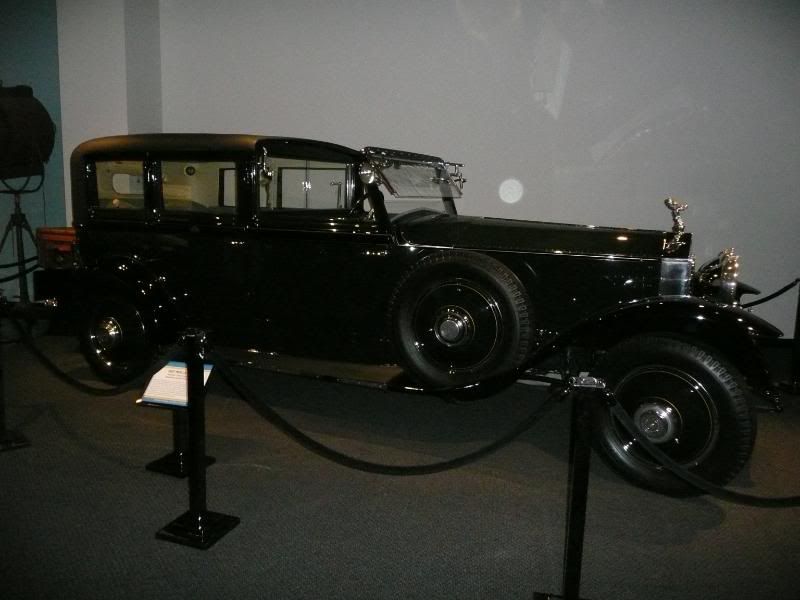 1904 Winston Flyer – driven by Steve MacQueen in the 1969 film "The Revivers", he then kept hold of it until his death in 1980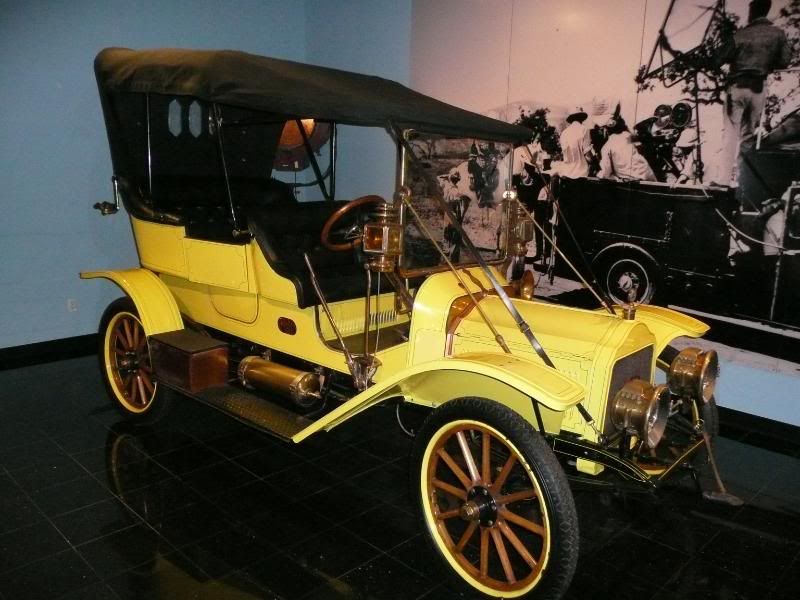 1941 Cadillac Series 62 Coupe – this one was bought by Clark Gable, who had it "customised", by lowering the roof and filling in the rear side windows
Treasures of the Vault
1925/34 Rolls Royce Phantom 1: originally built in 1925, with a Hooper body the car was "upgraded" by being sent to the Belgian coachbuilder. Ionckbeere, who designed and built this rather unusual style for the car. It was found in the late 1950s, almost totally wrecked, in New Jersey, and was then restored to its current splendid state.
1948 Tucker Torpedo: the story of this failed venture has been told many times before. This is car number 30 of the 50 or so that were built.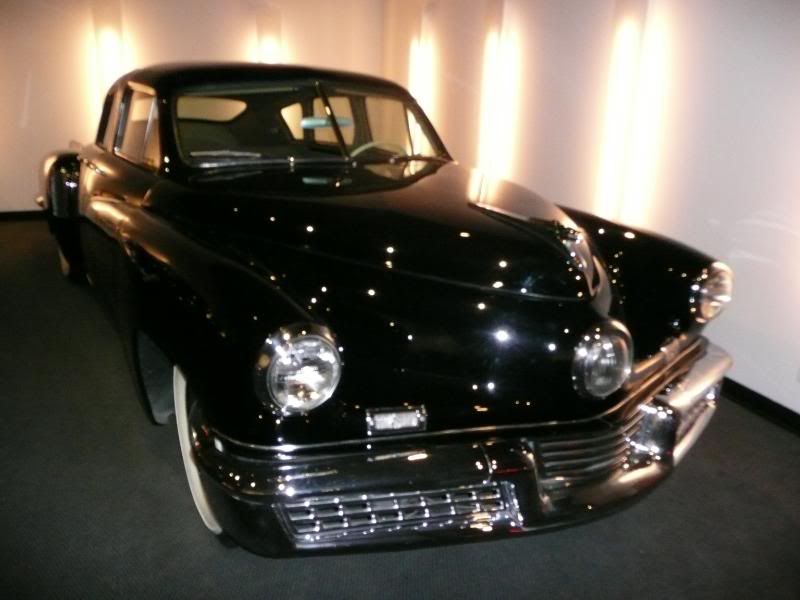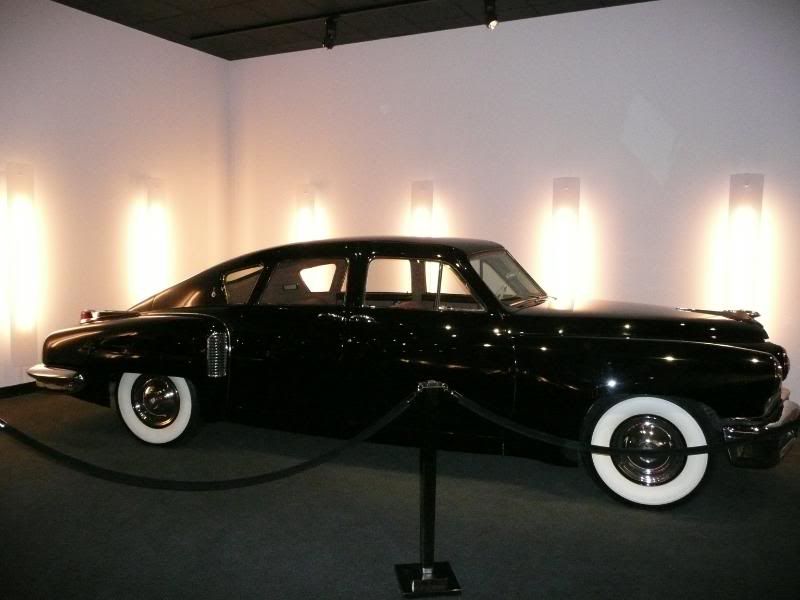 1942 Lincoln: this stately vehicle, weighing over 7000 lbs, was used by both President Roosevelt and Truman, before being withdrawn from service in 1948.
1954 Plymouth Explorer Ghia: a one-off elegant Italian body on rather more humble underpinnings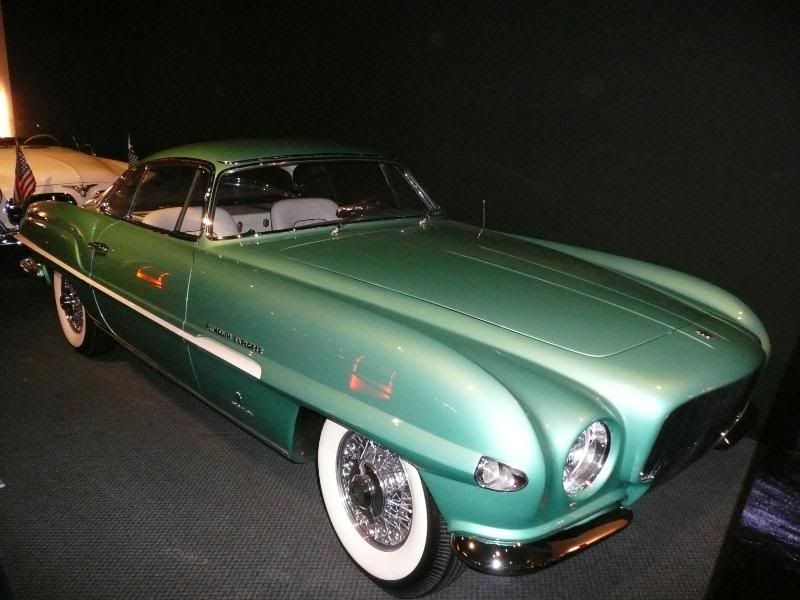 1952 Chrysler Imperial Parade Phantom: three of these cars were built, and were intended to be used for "dignitaries". They remained the property of Chrysler, who then recalled them in 1955 to replace the chassis with a more modern one. Although this car was used by President Eisenhower, it was never officially Government property. The other 2 such vehicles are still retained for use by the cities of New York and Los Angeles.
1967 Ford GT40 Mark III: only 7 mark III cars were built, of which 4 were left hand drive, recognisable from the different shape to the headlights.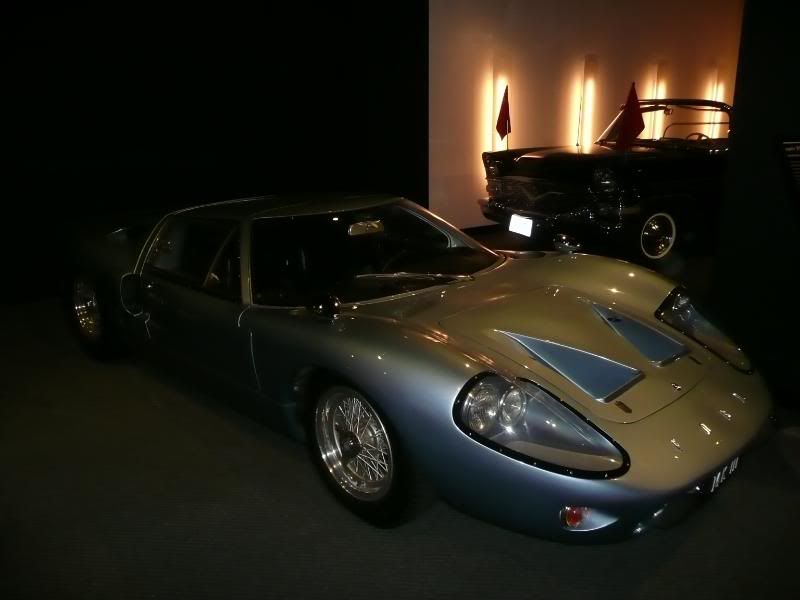 2006 Ford GT: the modern recreation, and so different in many details when seen alongside the original model.
1953 Muntz Jet: this is one of just 2 cars powered by the famous Chrysler Hemi engine. Frank Kurtis of Glendale, CA, built 24 2-seater sports cars before selling out to Earl Muntz, who elongated the design, and transferred production to Chicago.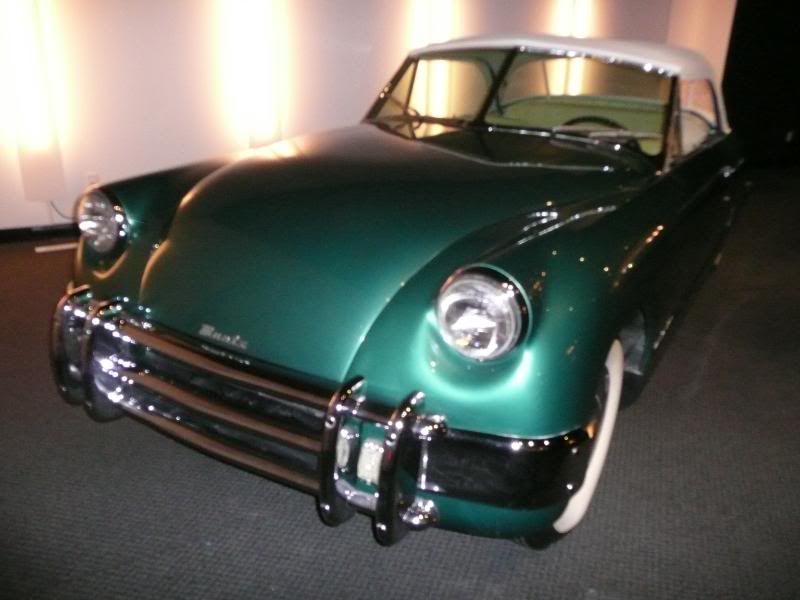 1961 Rolls Royce Phantom V, with Chapron body: this car was privately owned, and is in very original condition. Fearsomely expensive when new, costing over $55,000.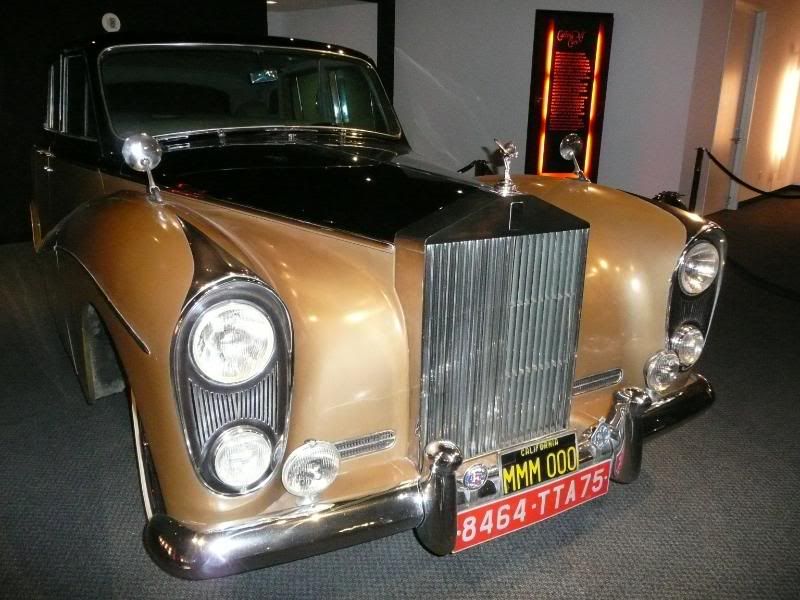 1939 Bugatti 57C Vanvooren: originally the property of the Prince of Persia, the car passed through numerous changes of ownership, having been sold for little more than scrap value in 1959.
Bugatti Veyron
1947 Cisitalia 202: the car deemed so elegant that an example of the  body was displayed in the New York Museum of Modern Art. Pininfarina styled the curvy body to cover Fiat 1100 mechanicals.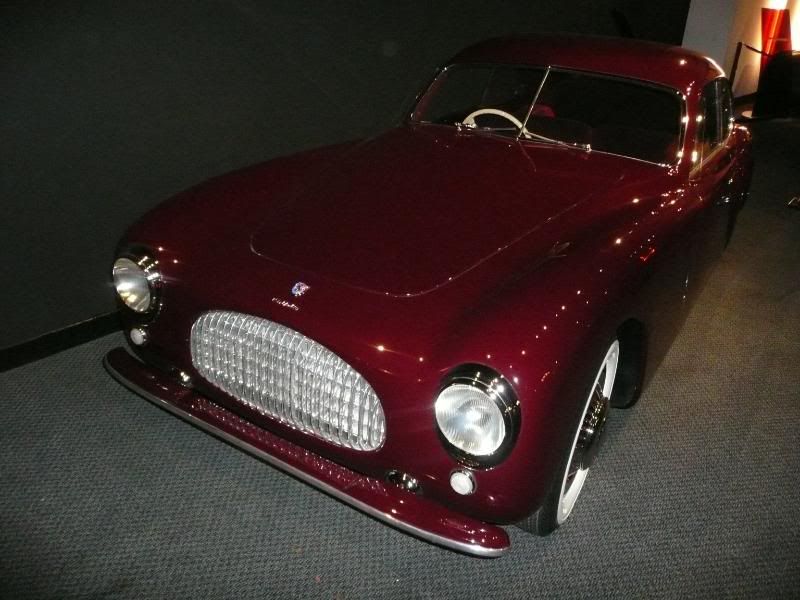 Other display cars:
1948 Chevrolet Wood Burner: one popular alternative to the heavily rationed petrol/gasoline, during WW2, was to burn waste wood, and many vehicles were converted to do so. Once hostilities ceased, almost all of these add-on fuel systems were removed. This vehicle is a recreation of the sort of system added to a Chevrolet truck.
1978 Hybricon Centaur II: created by Gerald Fields and Robert Metzner of North Hollywood, this was an early hybrid effort, combining the 2 cylinder air cooled engine of the donor Honda 600, with 2 electric motors. The project did not receive sufficient funding to go into production.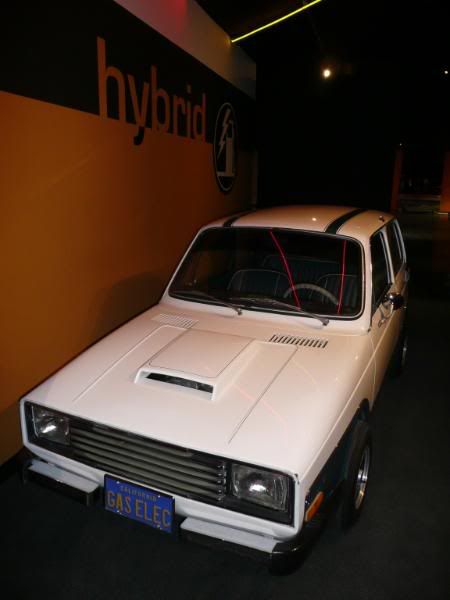 1948 Davis: an ambitious attempt to try to come up with something rather different, exploiting some aircraft technology, such as the very aerodynamic body, Davis produced just 17 of these three-wheel cars before he ran out of money. A very rare car indeed.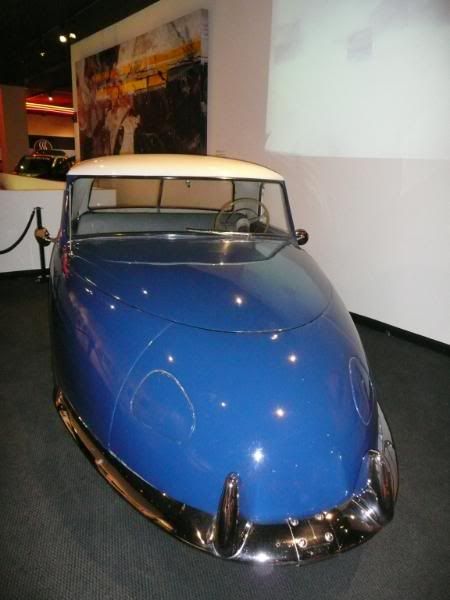 2010-01-04 17:33:31