I first went to the the Historic Silverstone (more correctly called "Silverstone Classic") event in 2007, and enjoyed it immensely. Not only are the a whole series of short races, of cars varying from 1930s racers, through Group C and Touring Cars to historic Formula 1, but there are literally thousands of interesting cars parked up around the circuit as many Owners Clubs bring along a selection of rare, unusual and exotic machines. One day was not enough to see it all, so in 2008 I found a good discounted rate for a weekend ticket and duly purchased one. Even two days proved barely sufficient to see everything, with different display cars and different races on the two days. Sadly, it would seem that the 2008 event, with new organisers, incurred a pretty sizeable loss, so their solution seemed to be to inflate the ticket prices, making this a far from cheap weekend. I agonised long and hard what to do, but in the end decided that I would still pay up and attend on both days. Saturday was a sunny day, with a cloudless start, and although this did not last, I returned home with a slightly pink neck and nose. Dan Duke, who also attended, looked rather more like he would suffer on Sunday! The forecast for Sunday was not good, and although the heavy rain did not arrive before I left, it was very grey. However, there were lots of different and additional cars to see, so it was still worth it.
AC
A huge showing of Cobras and its pregenitor, the Ace, as you would expect.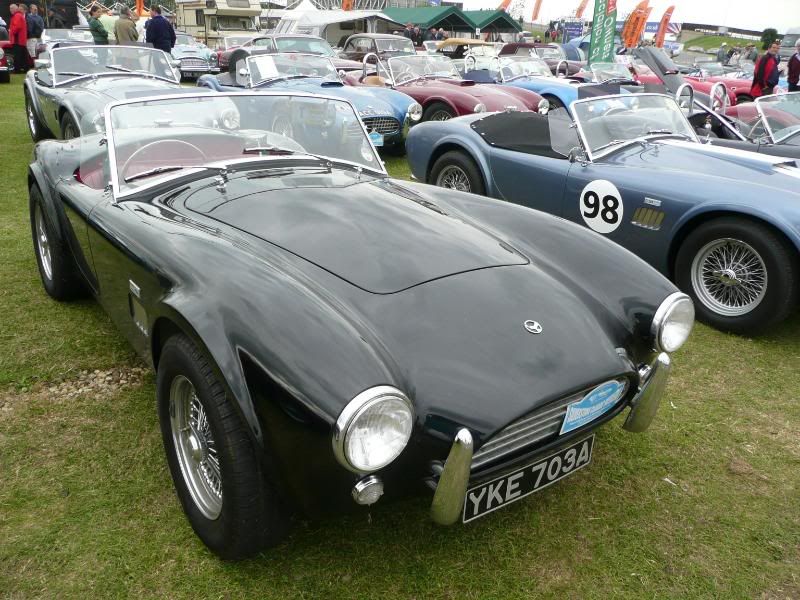 The Aceca was a fastback version of the Ace and there were a few of these in attendance, too.I had seen several of the ill-fated Greyhound at the AC Owners Club event a couple of weeks ago, A couple of them made a further appearance here.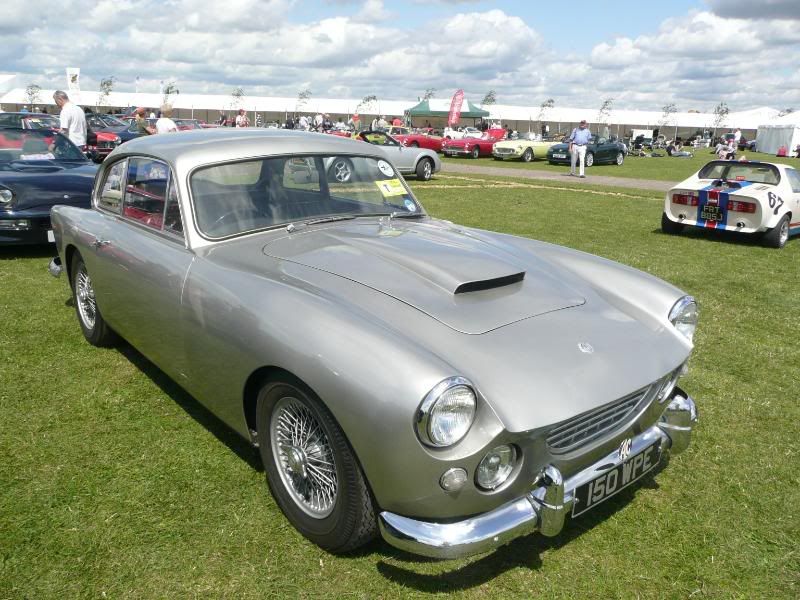 Just one ME3000 was there.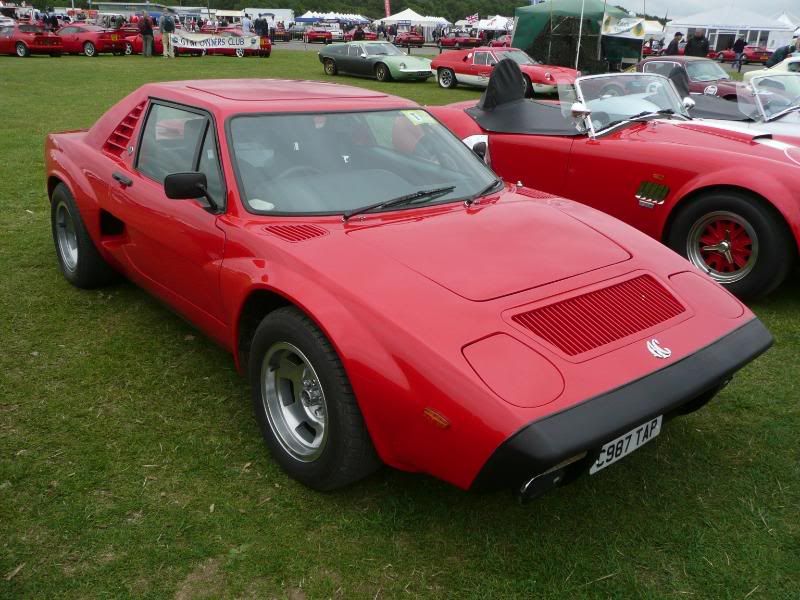 ALFA ROMEOThis stunning and massively desirable 6C 1750 will be auctioned off at the Goodwood Revival in September. Estimated sale price is £440 – 550,000. Sadly a bit out of my budget.
A massive gathering from the Alfa Owners Club, with probably in excess of 100 cars on show.A first Giulietta from the mid 1950s was joined by a second one on the Sunday. Few of these small saloons are left, as they were expensive when new and the survivors have largely been converted into historic racers.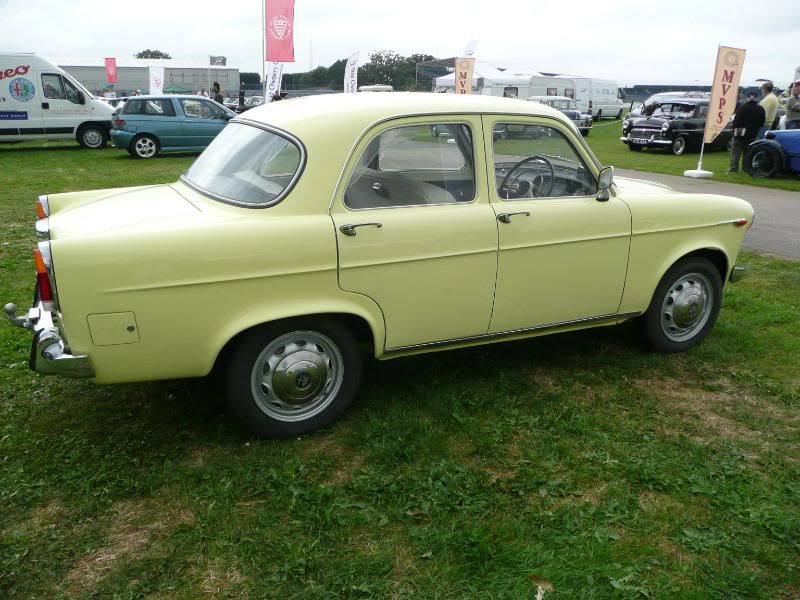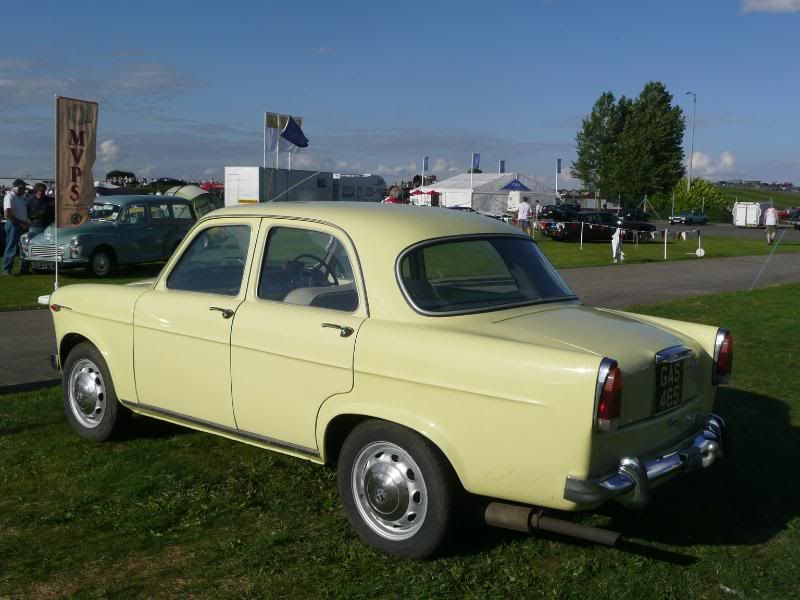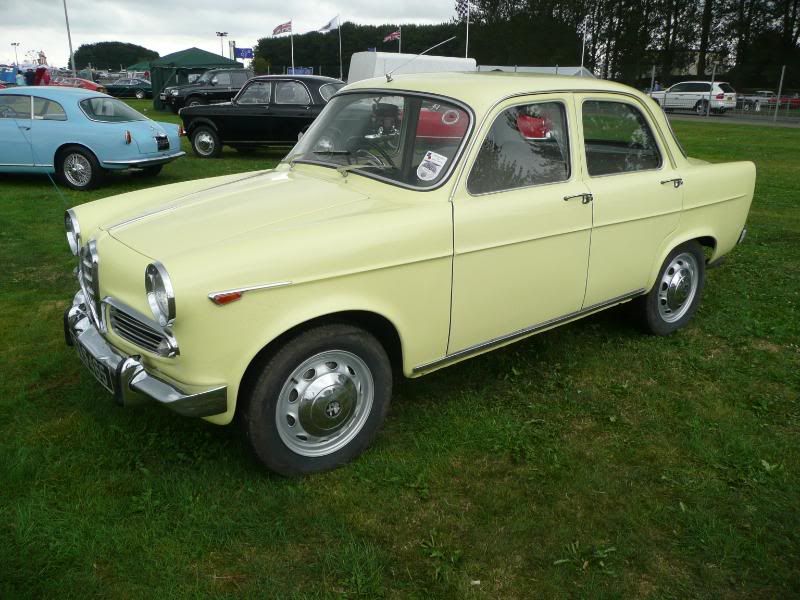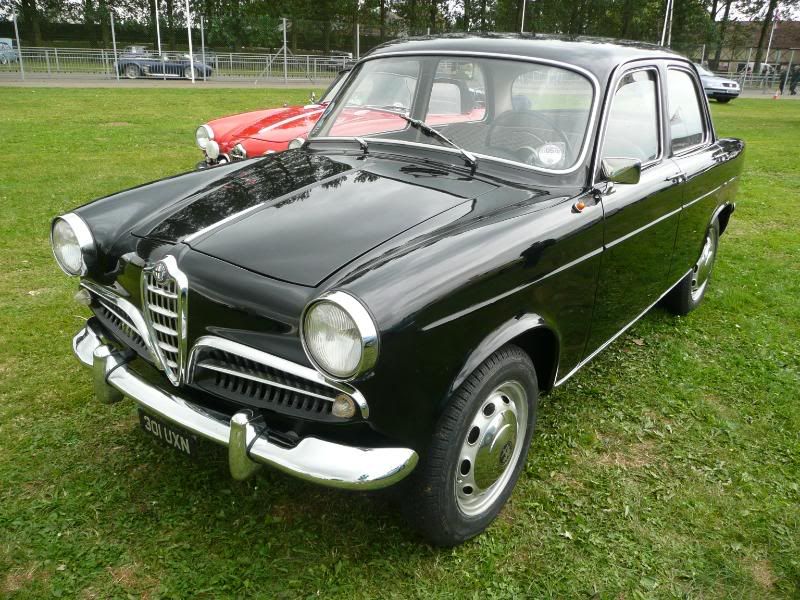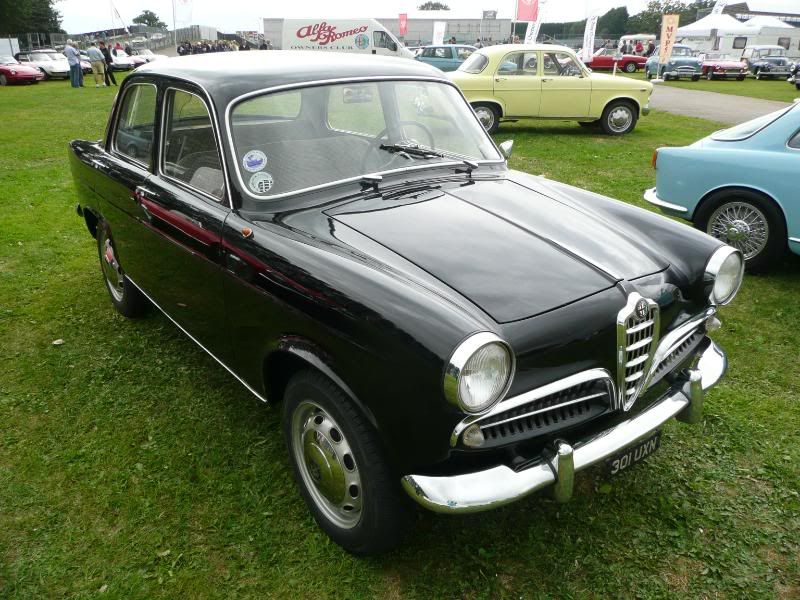 There were plenty of other Giulietta and Giulia variants – coupes and spiders.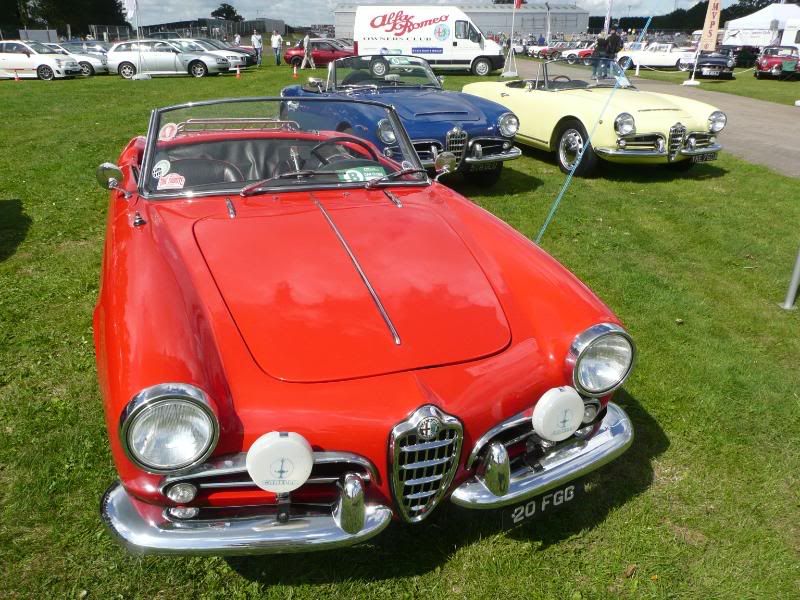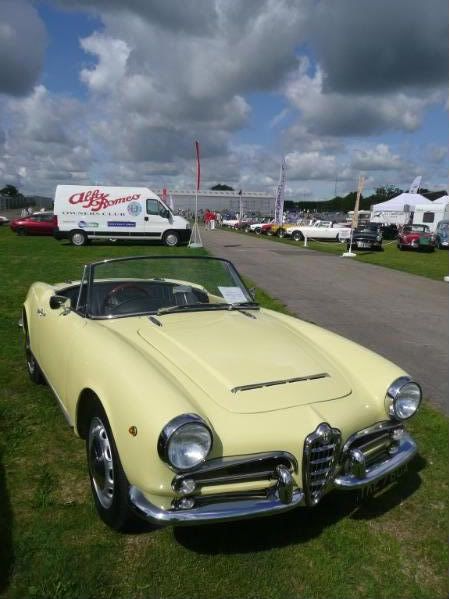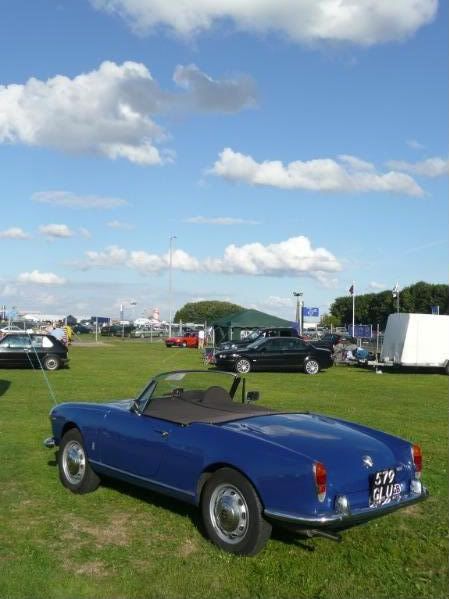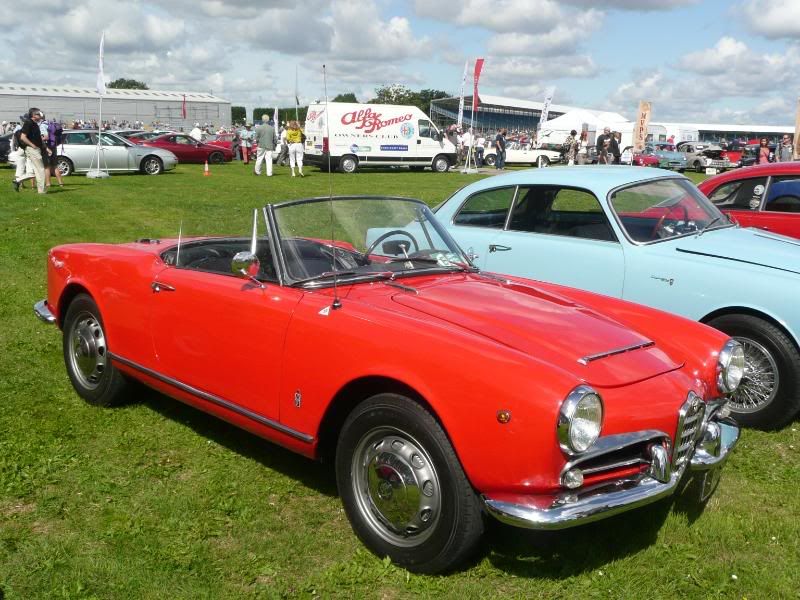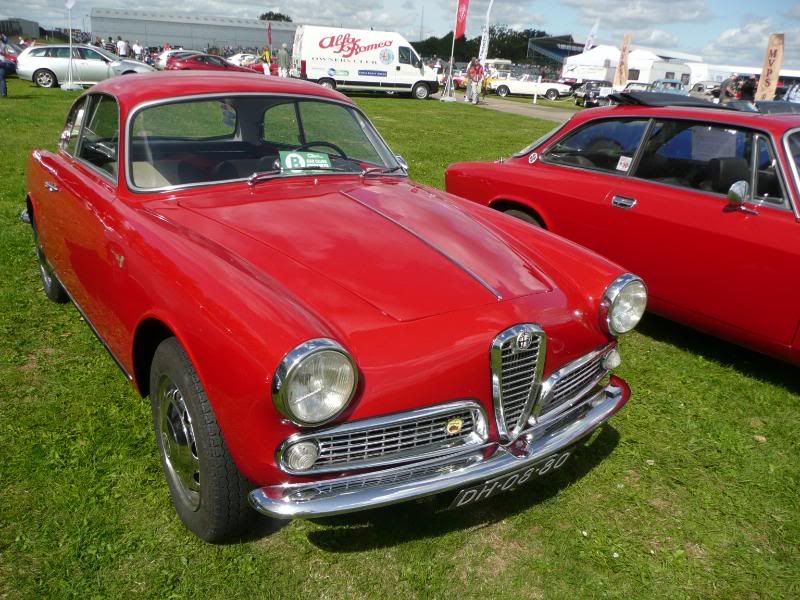 This 1900 Touring Superleggera is a regular at classic events, and this event marked the third time I have seen it in 2009.
The largest numbers of cars were the classic GTV coupes from the 1960s and the corresponding Spider cars.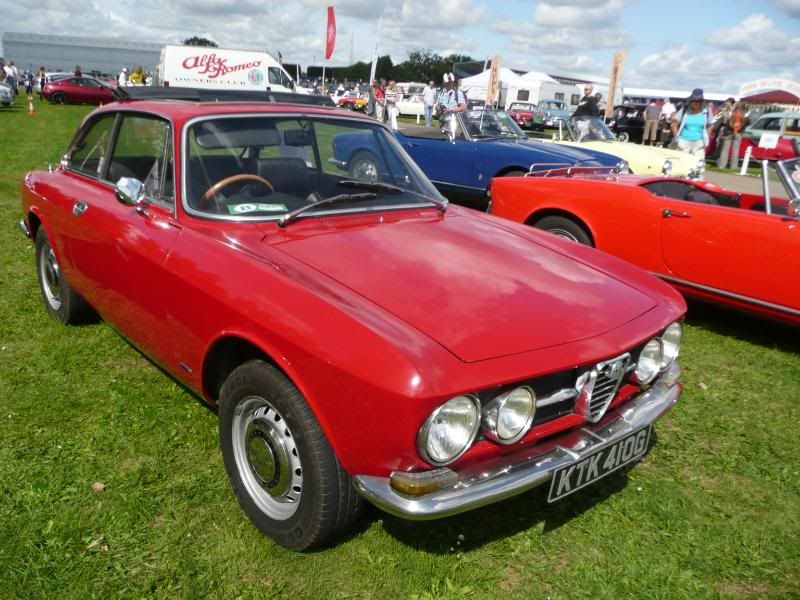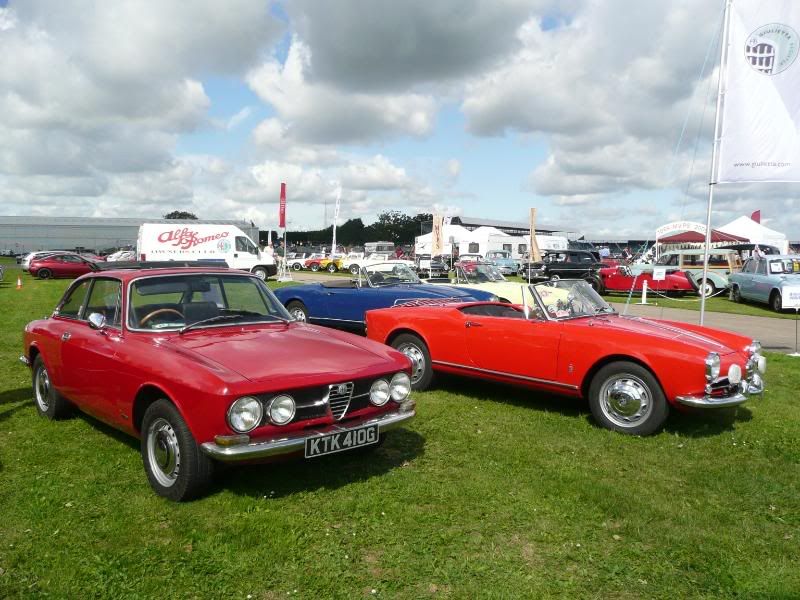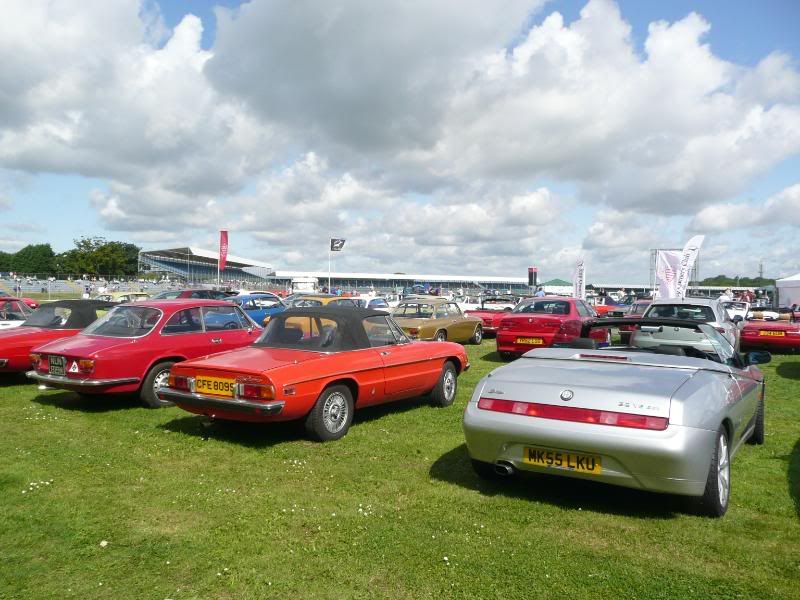 This Giulietta from the early 1980s was absolutely immaculate.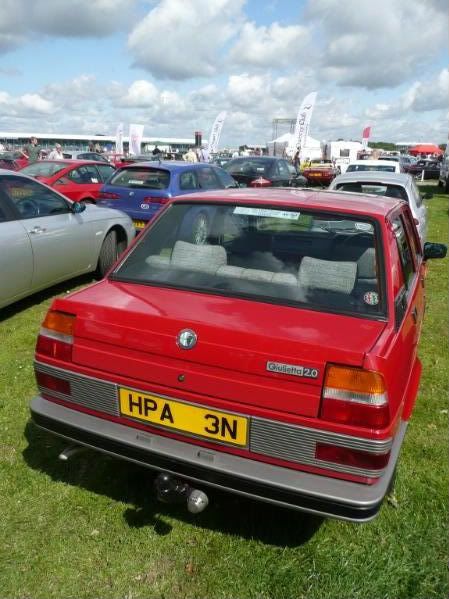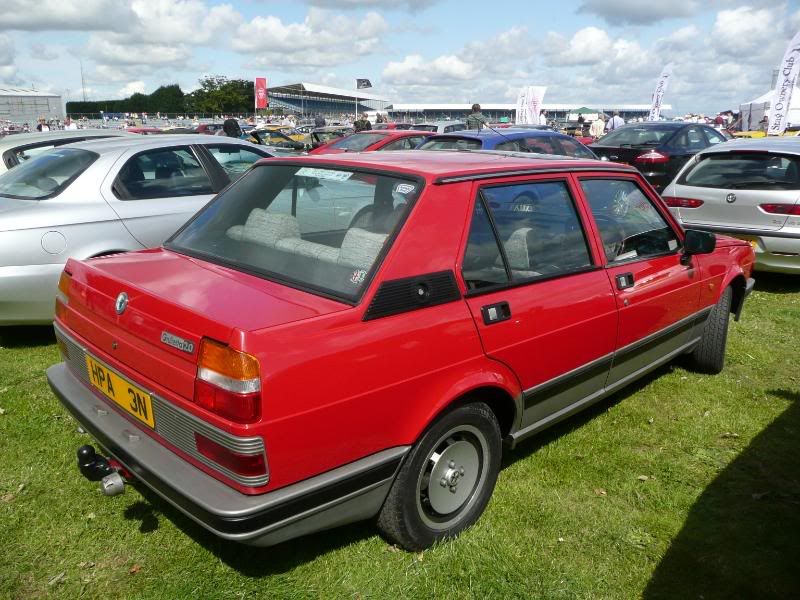 There were several of the rather lovely Alfetta GT/GTV cars from the 1970s and early 80s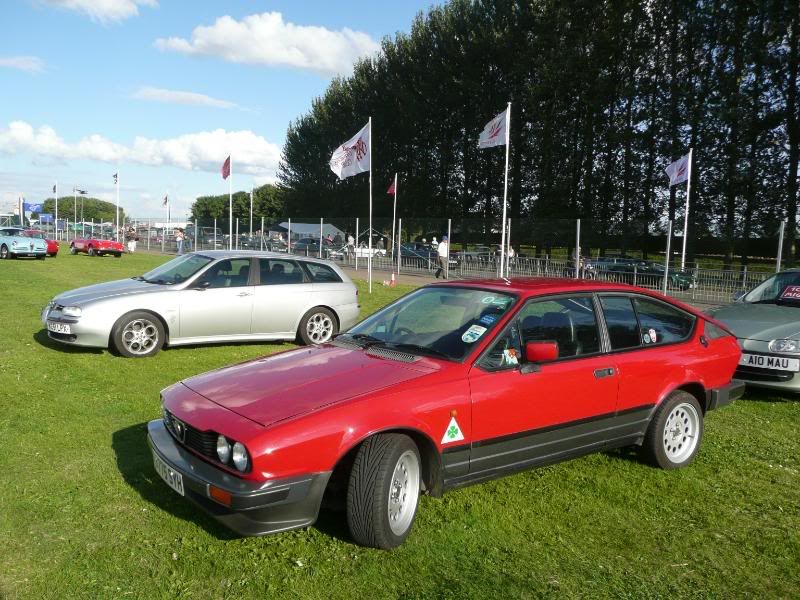 No display of interesting Alfas (and is there any other sort, if we forget the execrable Arna?) would be complete without the SZ and there was one here.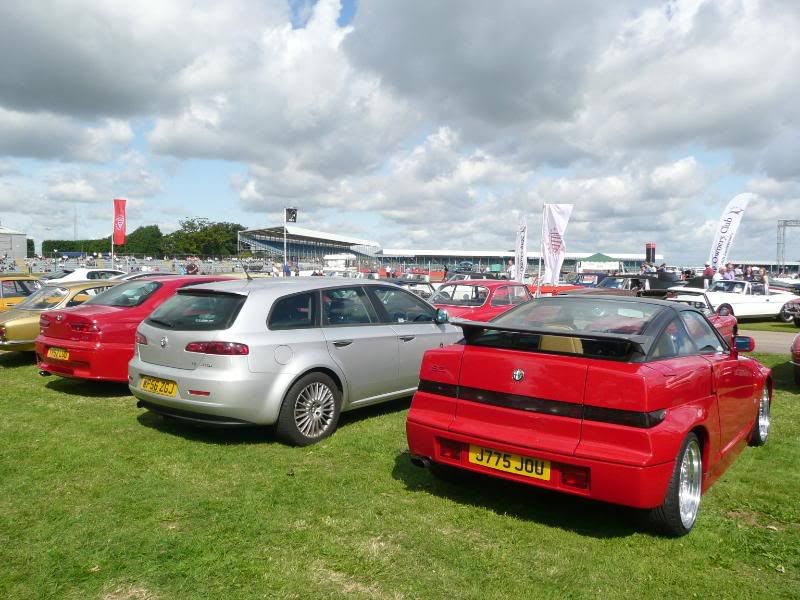 On Saturday there were a couple of Montreals, but on Sunday this had risen to six. A desirable car, whose worth has been recognised by steadily rising prices.
ALLARDA number of these very British cars from the 1940s and 50s were on show.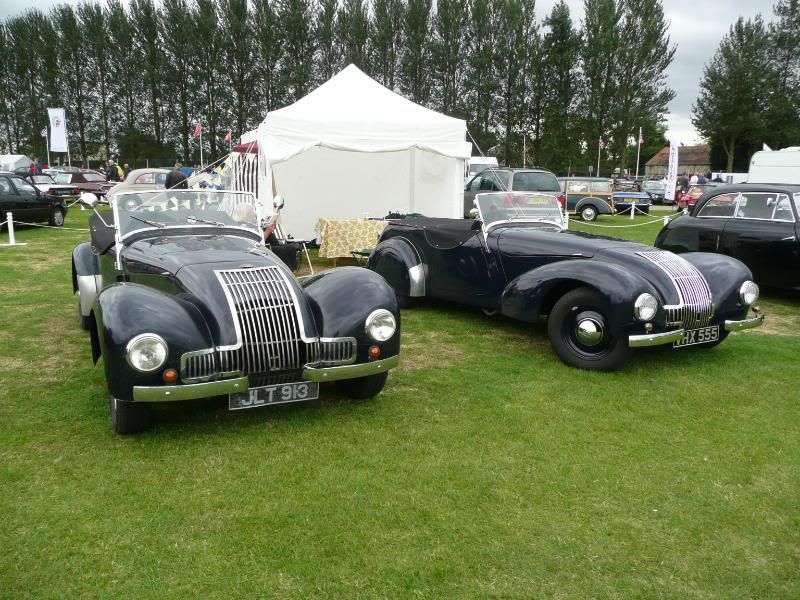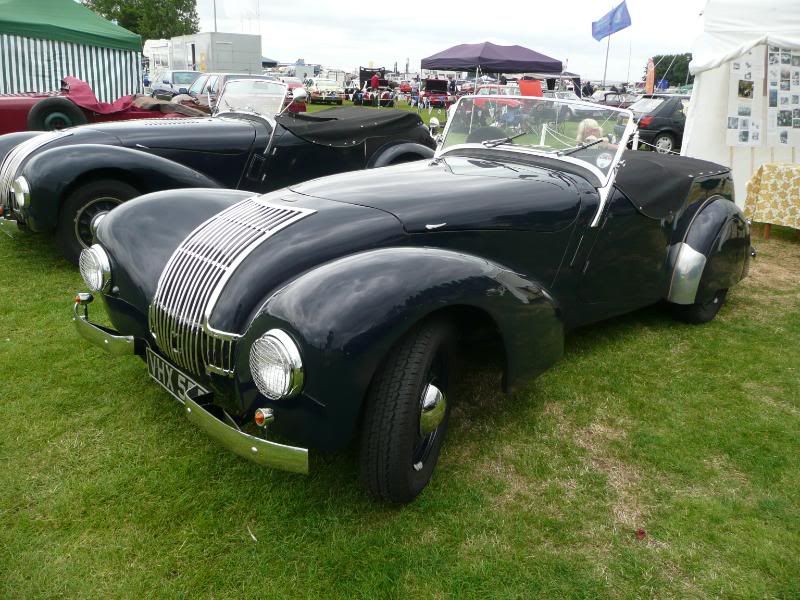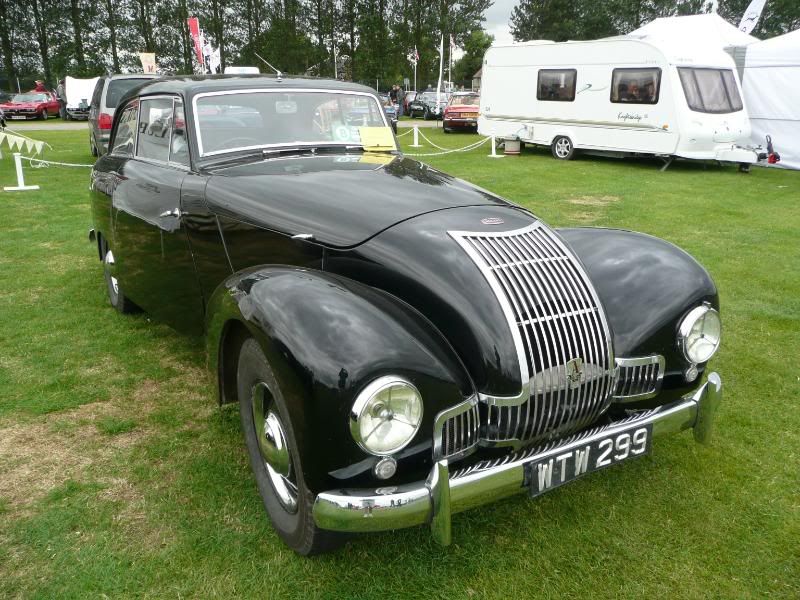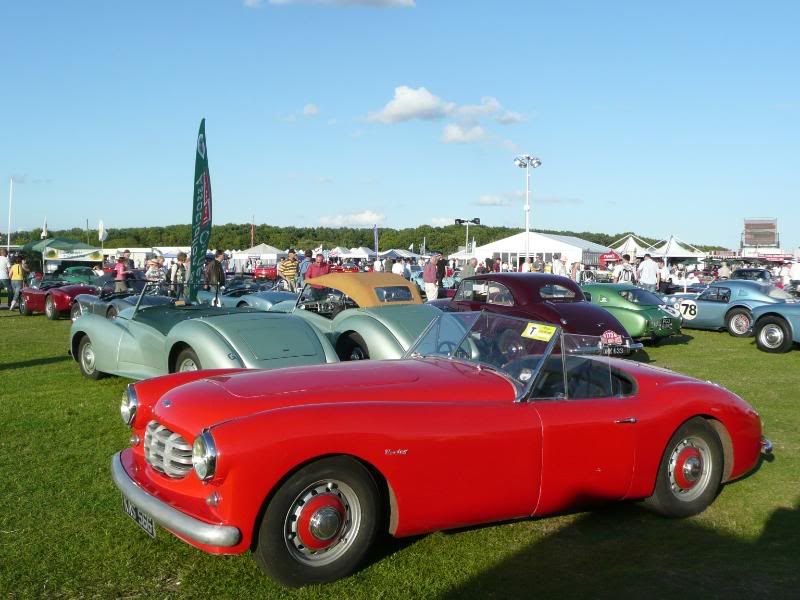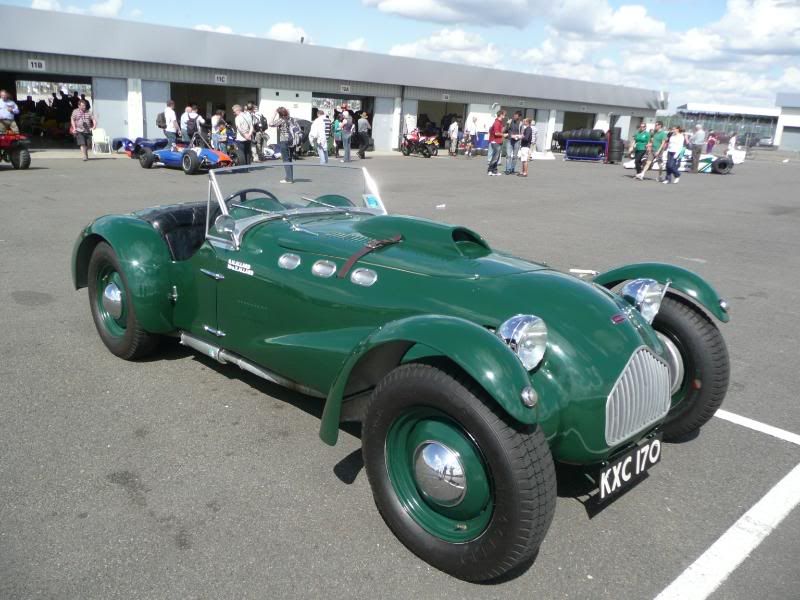 ALPINAAlpina were included within the BMW Owners Club stand, and a surprising number of them arrived at the event.
These cars included a C2 based on the E21 3 series, a C3 based on the E30 3 series and the B7 based on the E39 5 series.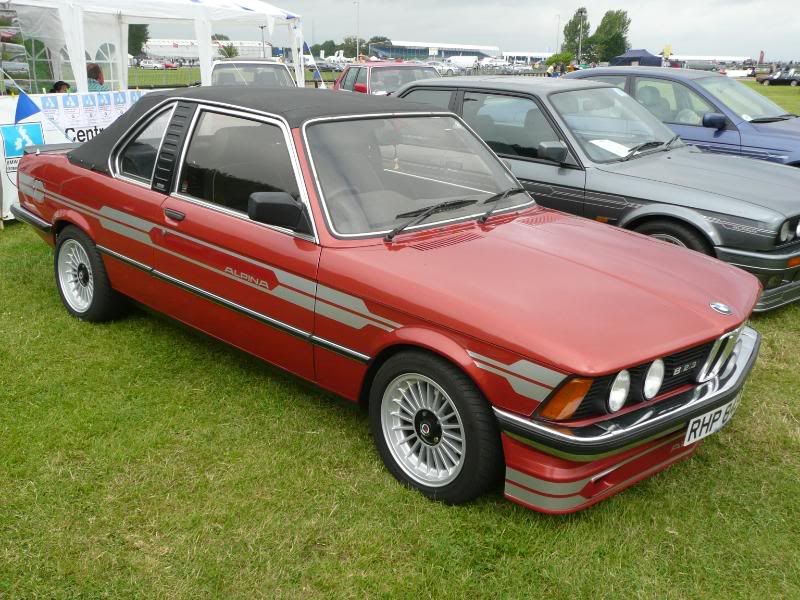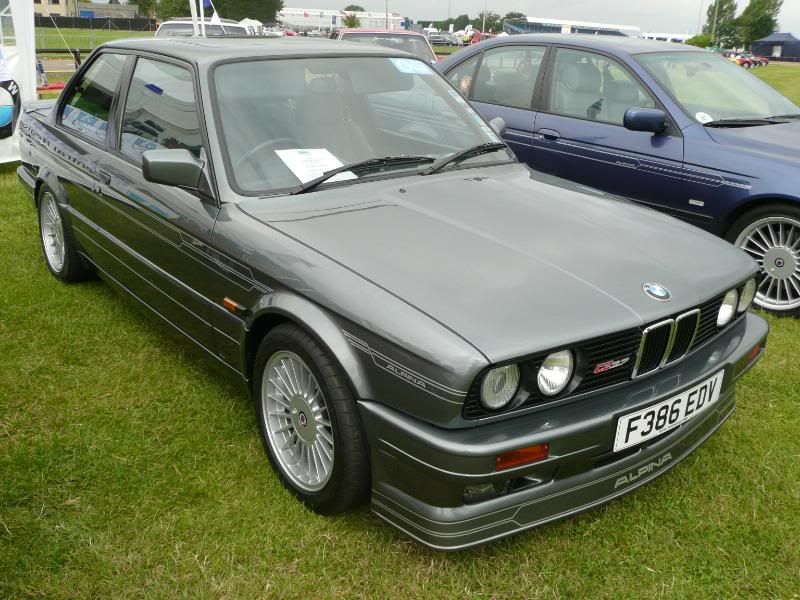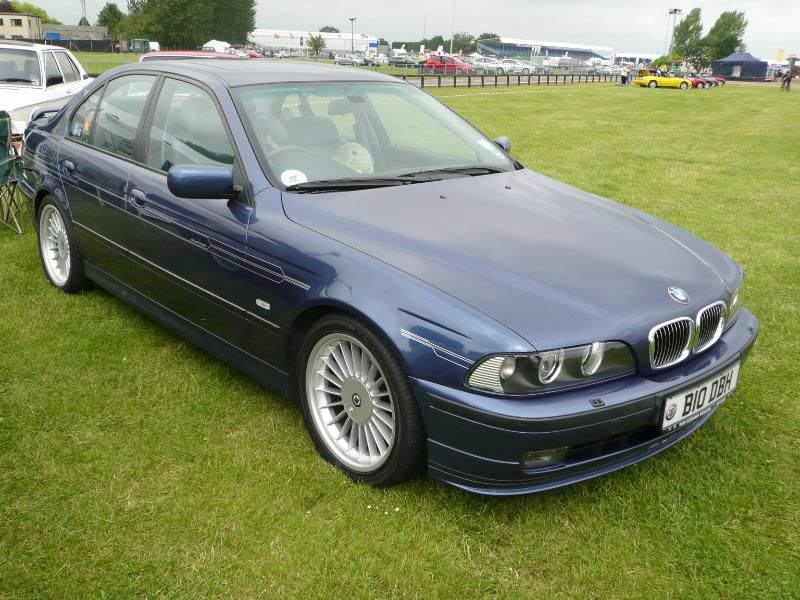 ASTON-MARTINRepresenting the zenith of the David Brown era, there were DB4, DB5 and DB6 cars to see.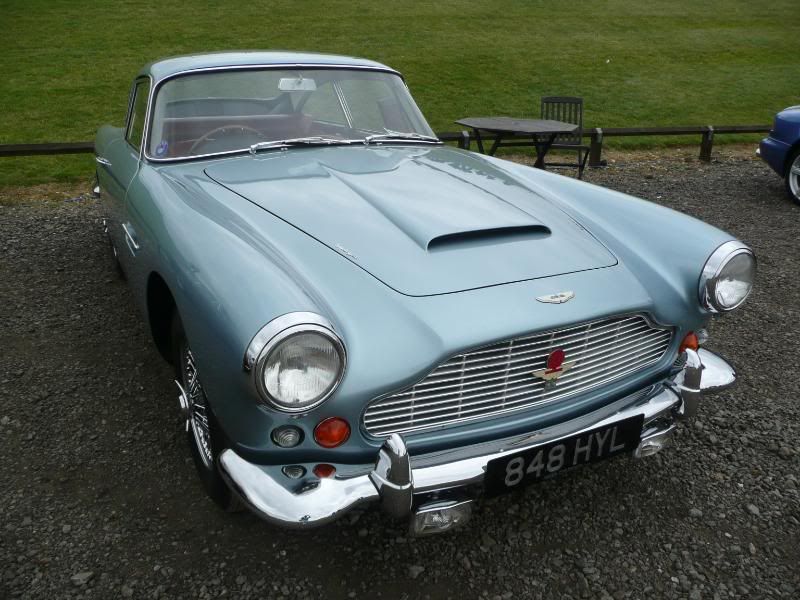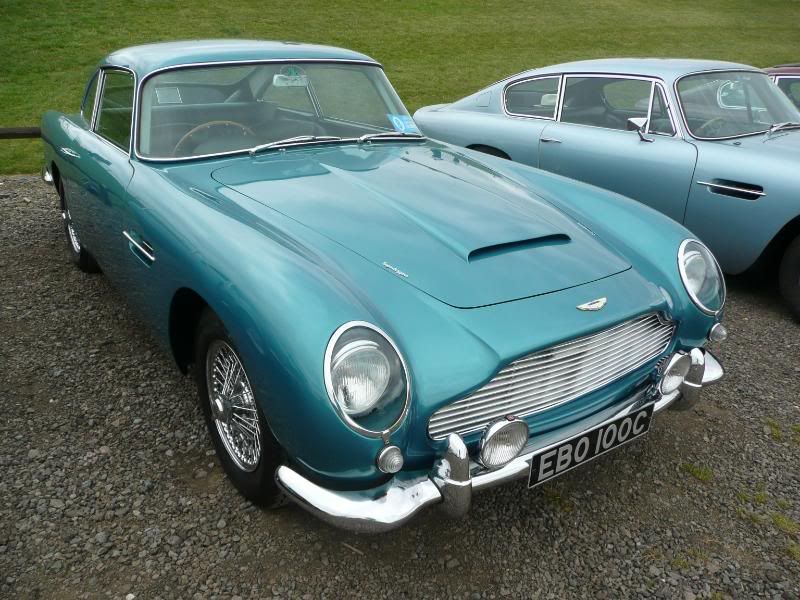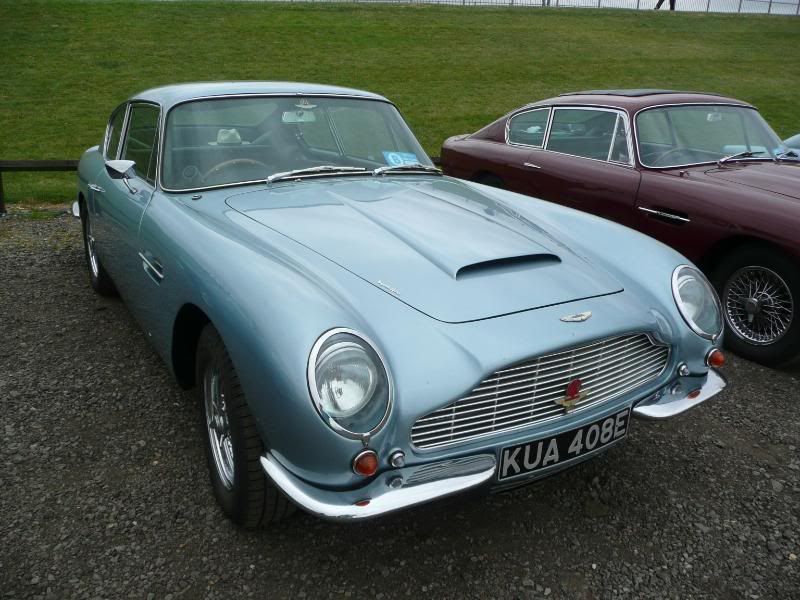 There were V8 and DBS cars too. This is an early DBS.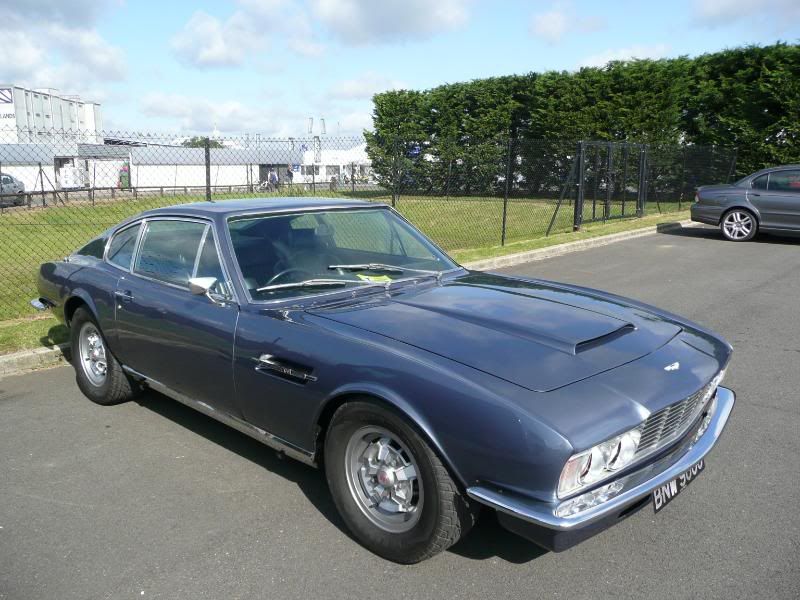 This is one of the rare DB7 GTs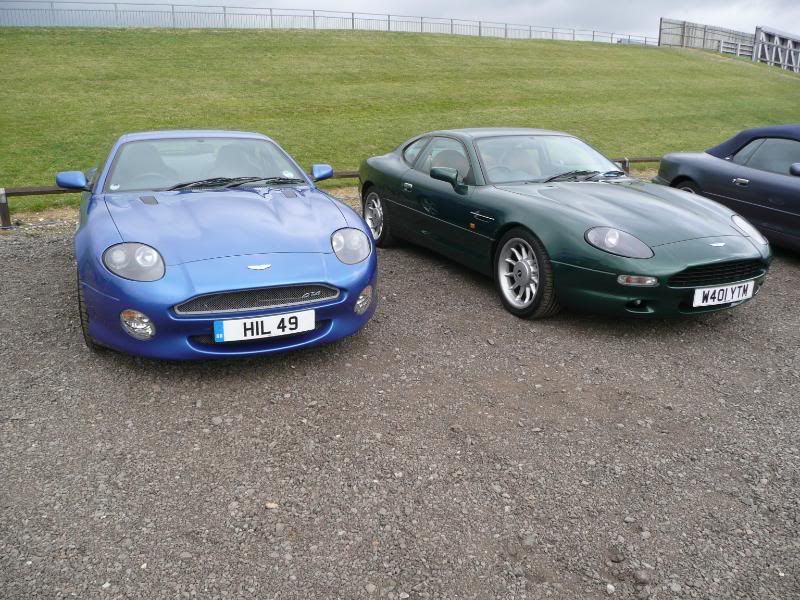 AUSTIN-HEALEYYou would expect a good showing of these much loved British sports cars at an event like this, and you would not have been disappointed at what was on display. Sprites of all generations and the 100/3000 cars were there in decent numbers.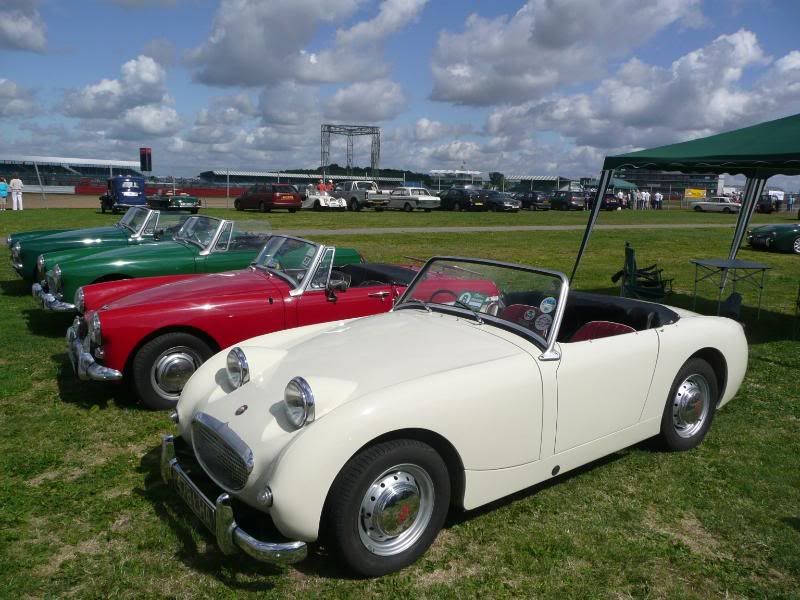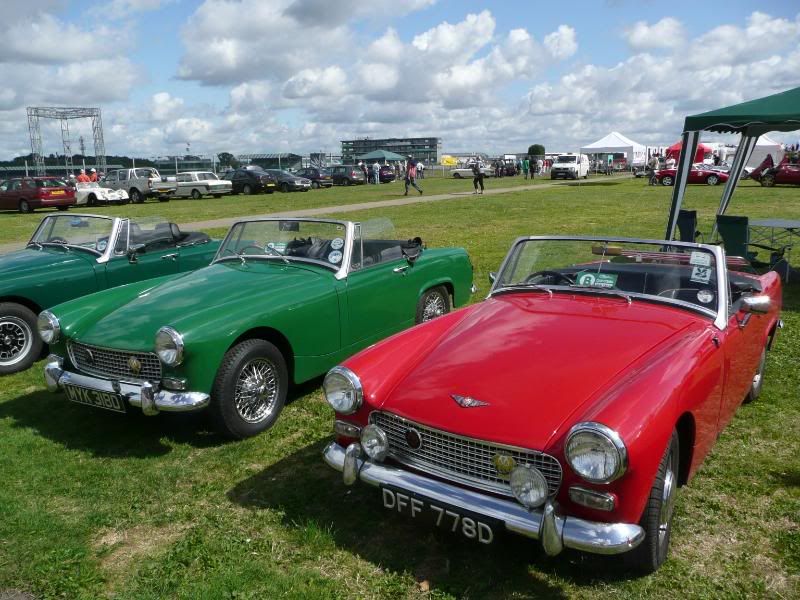 BENTLEY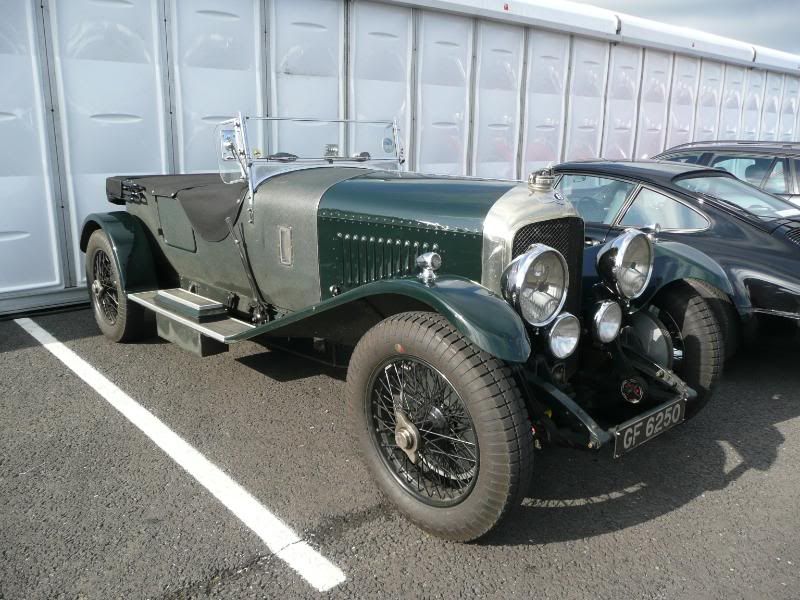 Representing the more genteel end of the spectrum, there were a number of Bentley saloons from the 1950s to the present day. This is an R Type.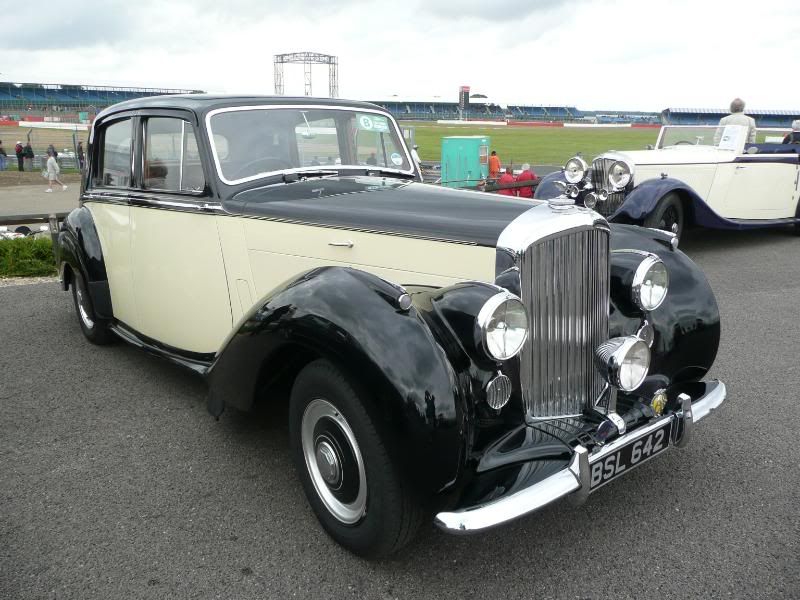 BMWTwo very separate displays from BMW. The older cars were in the same place as they have been in previous years, and a nice range of pre-war cars were on show. Numerically, there were more 327s than anything else, but there were some other cars, too, including a 328 and an early 315.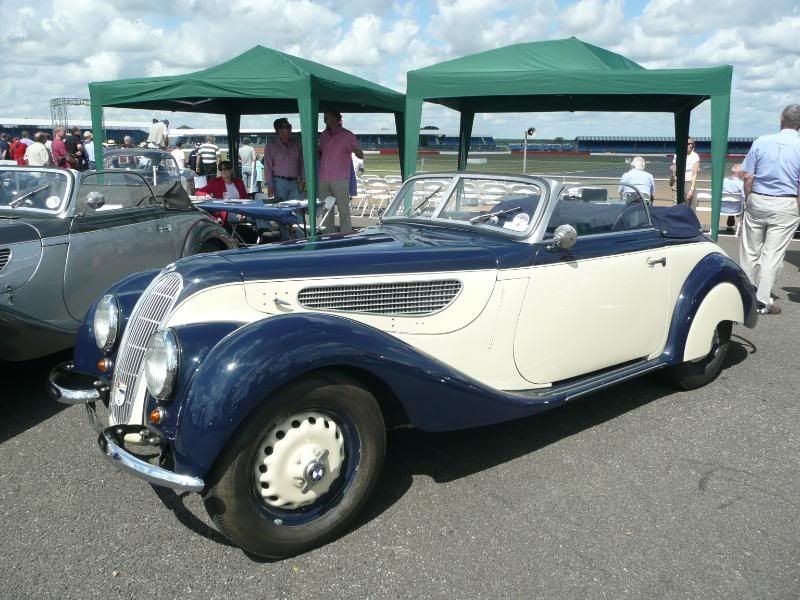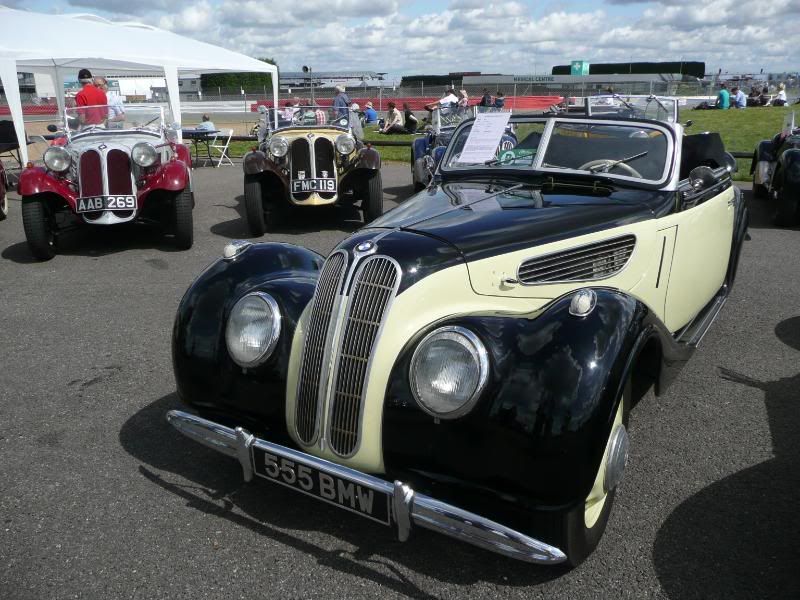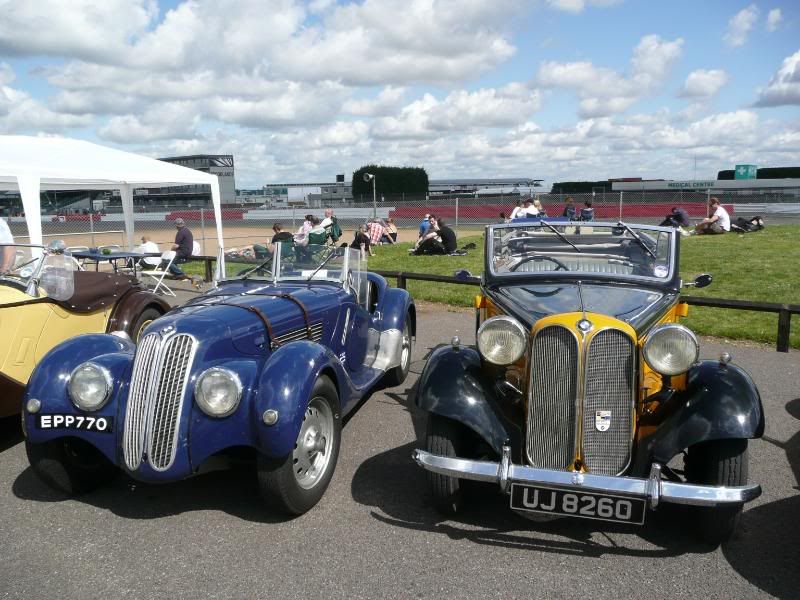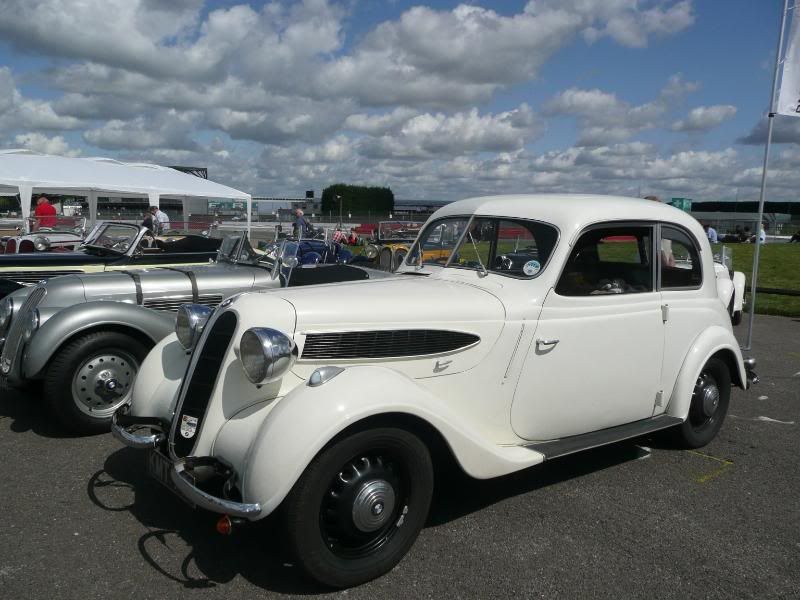 Tucked away at the very end of one of the more remote fields were the more modern cars. A mix of Alpina and BMW, few of these were particularly original – providing a timely reminder of the infamous Gaydon event and the sorts of car that were shown there. There were some nice cars, though, including an E28 model M5, this rather new 123d Coupe and an E30 318i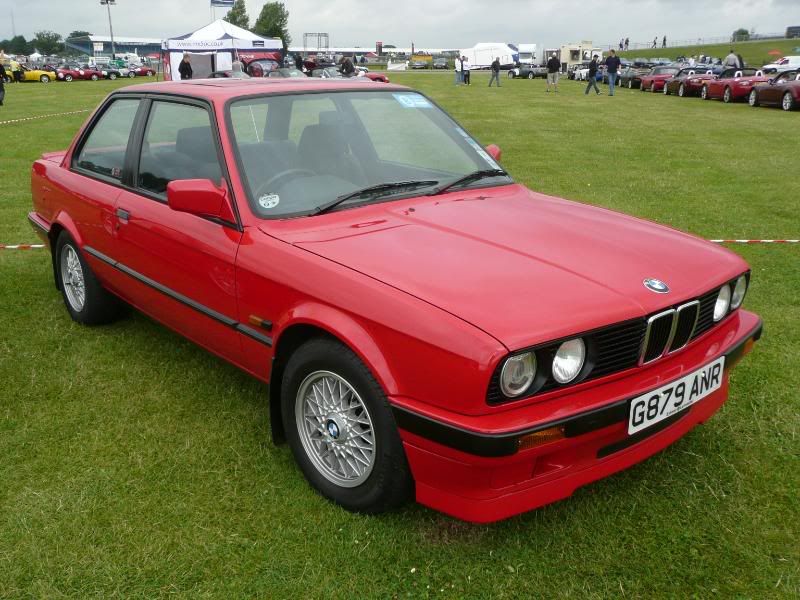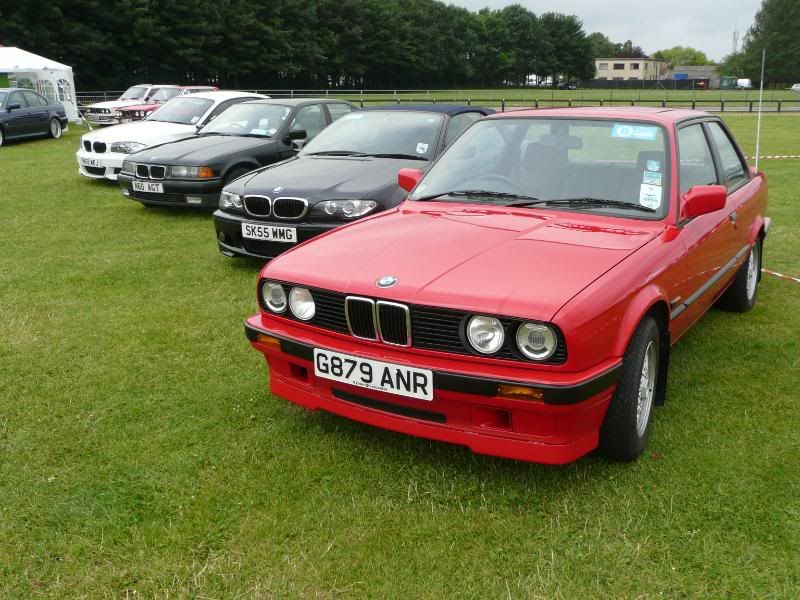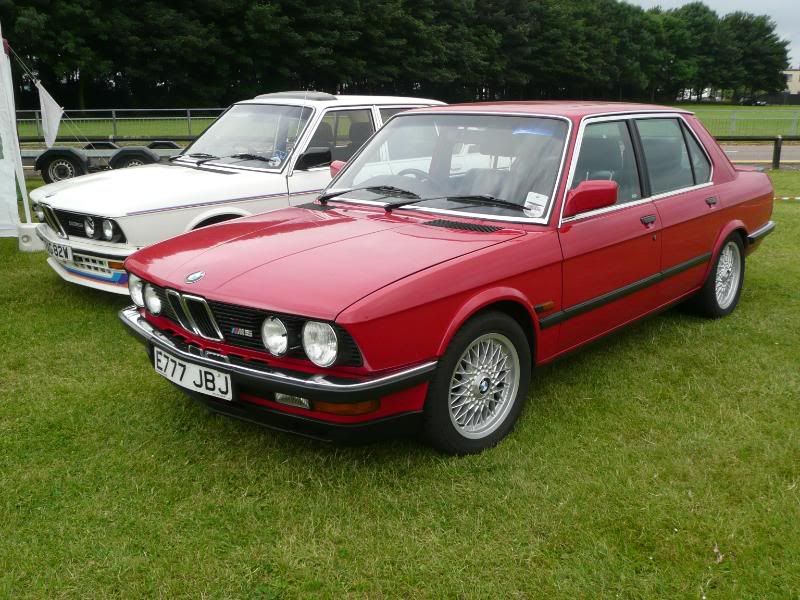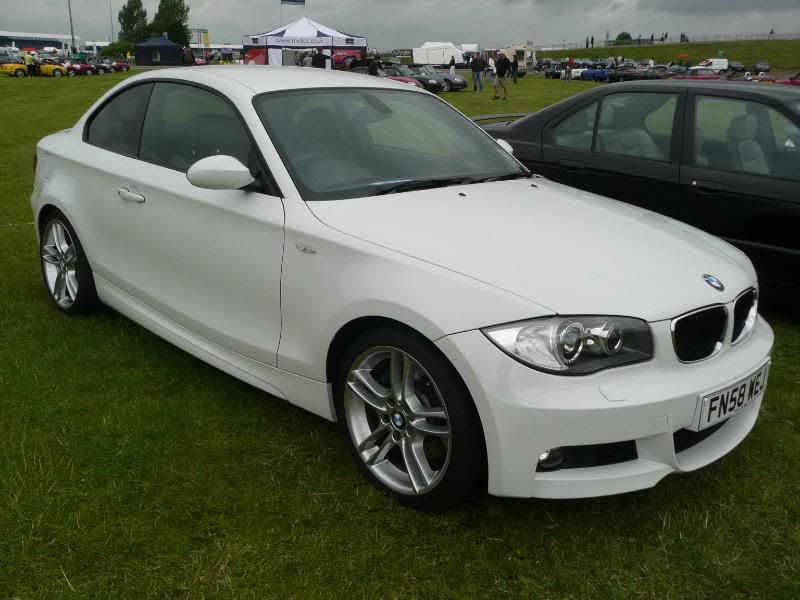 This rather nice 2000CS was in the area for miscellaneous cars. As was the 2002tii that features regularly in "Classic and Sports Car"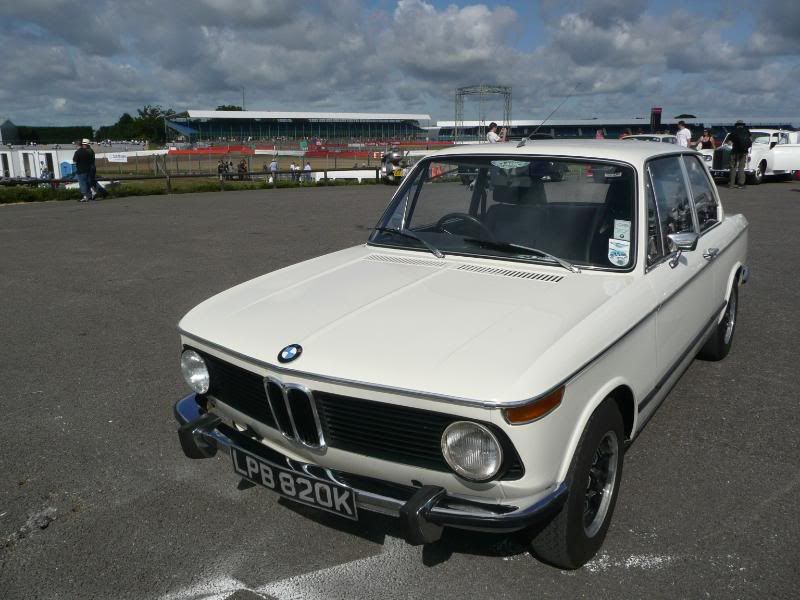 BRISTOLThere were several 401s on show. This car used an engine based on the pre-war BMW328.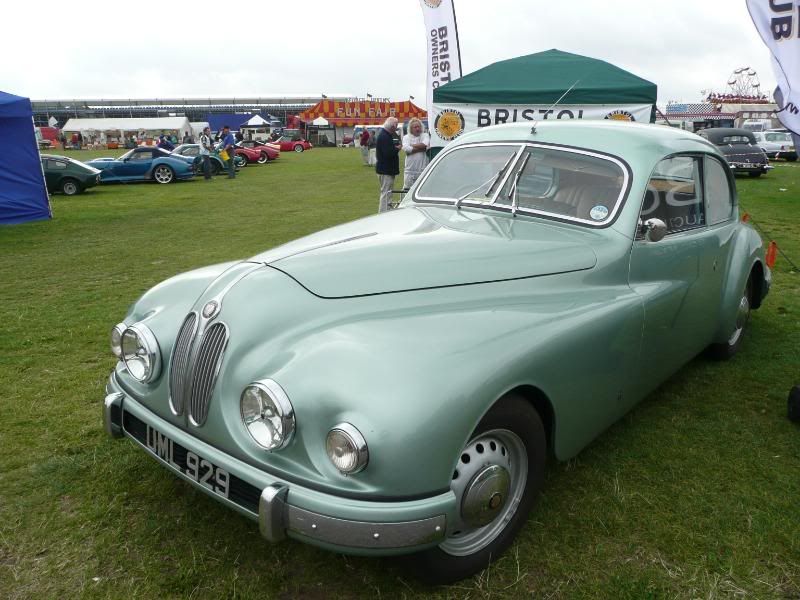 A 405 Convertible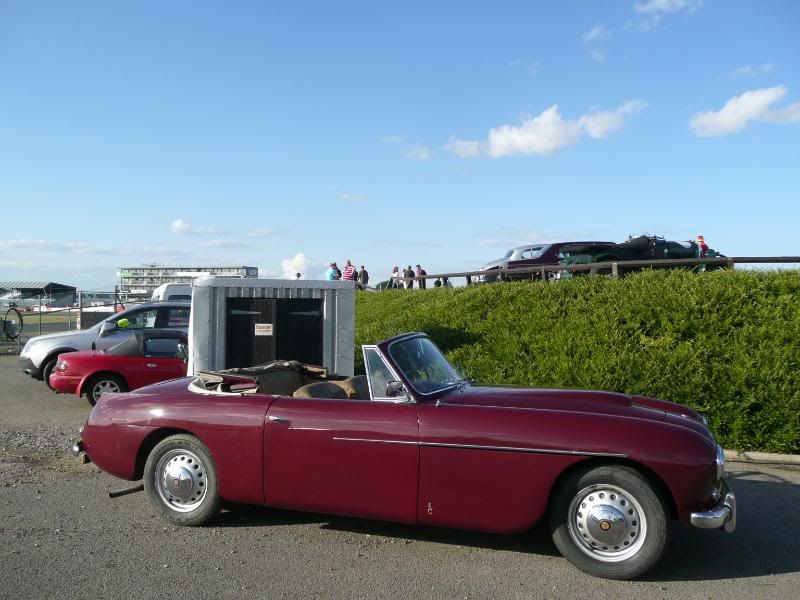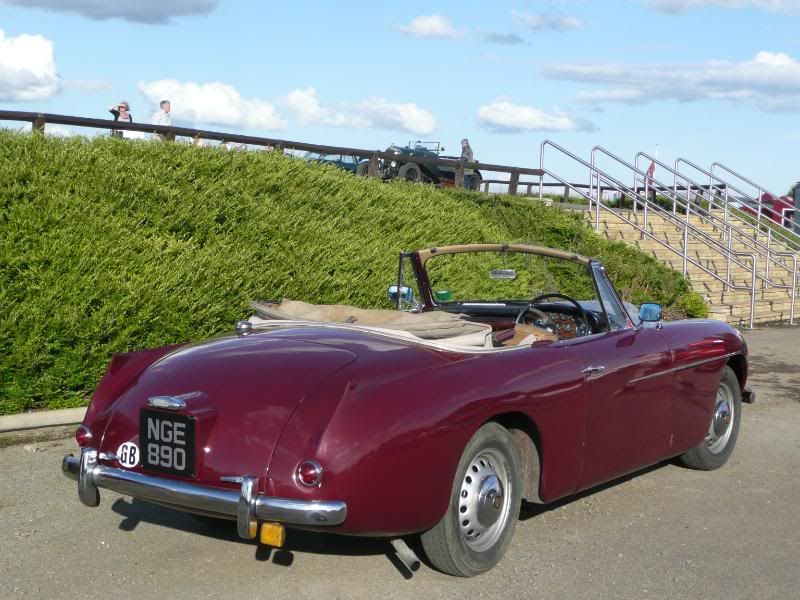 There were several of the body-styled cars that went from 407 to 411. Elegant and discrete, for sure, these exclusive vehicles.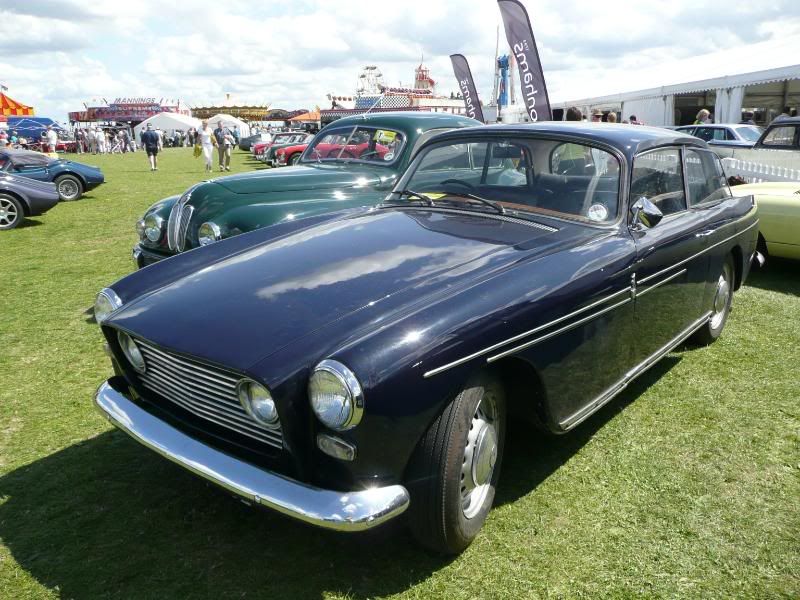 The 603, a product of the late 1970s.
CATERHAM

A small showing of recent cars, including these.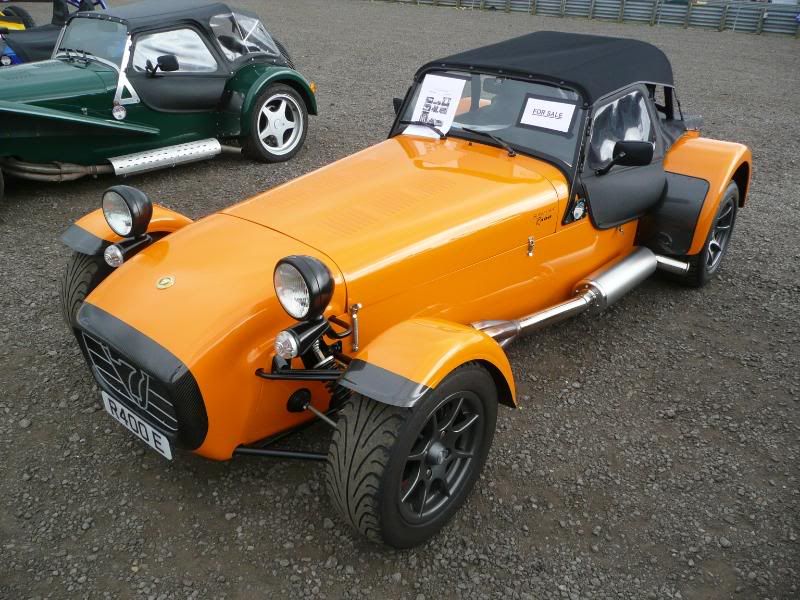 CHEVROLETRepresenting the "bow tie" were a number of Corvettes, of all generations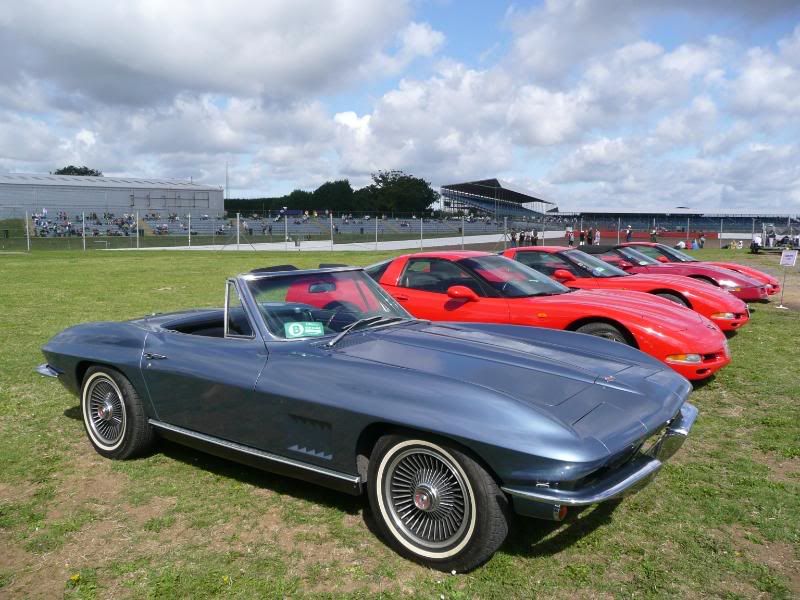 CLANBased on the Hillman Imp, this glass-fibre based sports car enjoyed decent success in the early 1970s, until the change in tax rules and the advent of VAT killed the car off (like so many others at the time).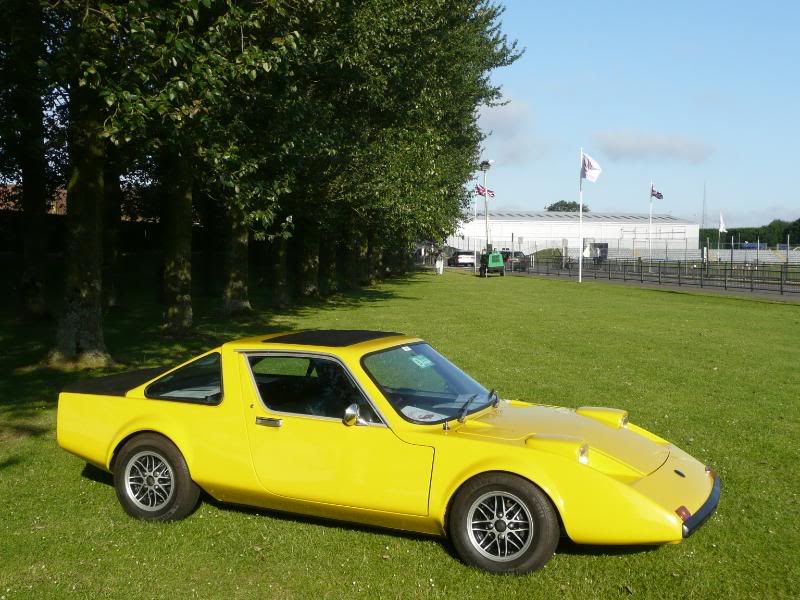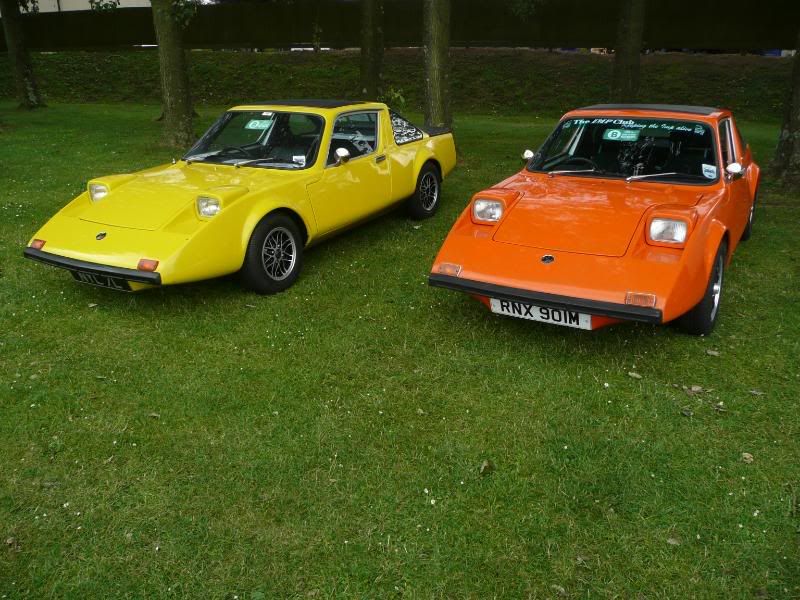 FAIRTHORPEAnother of those now largely forgotten British marques from the 1950s and 60s.
FERRARI

A huge showing of Ferrari cars, thanks to the Ferrari Owners Club. Just about every model from the last 35 years was represented, with enormous numbers of Dinos and the 308/328 GTB/GTS range as well as the more recent 355 and 360/430 cars. On the Saturday, there were a couple of F40s and a lone F50. On the Sunday, these were augmented by a 288GTO, 4 more F40s and an Enzo.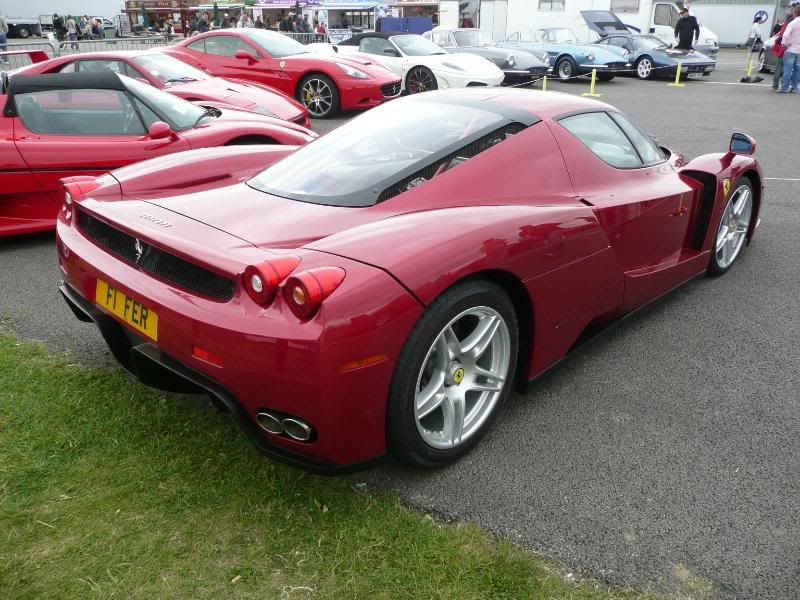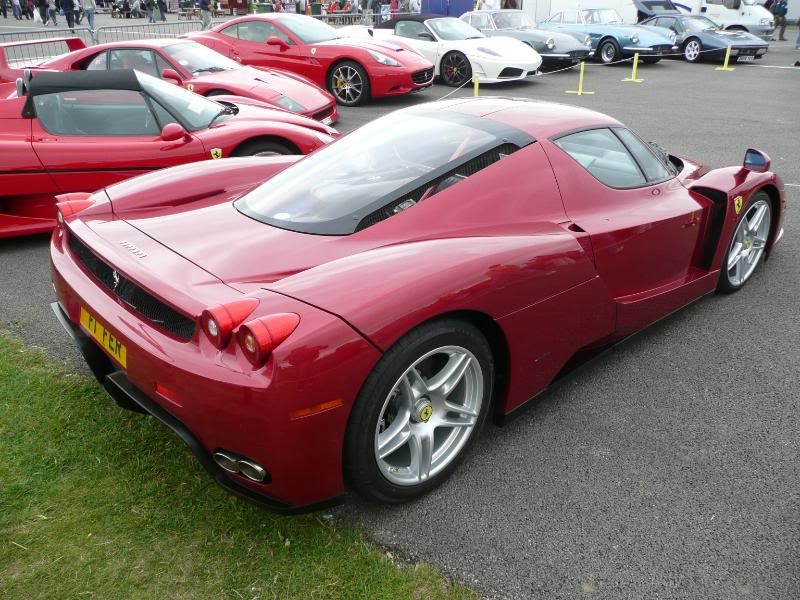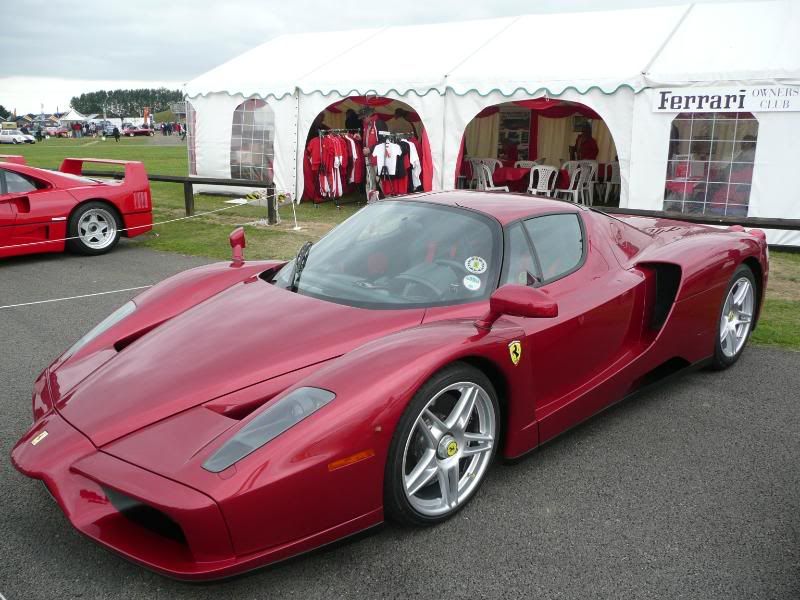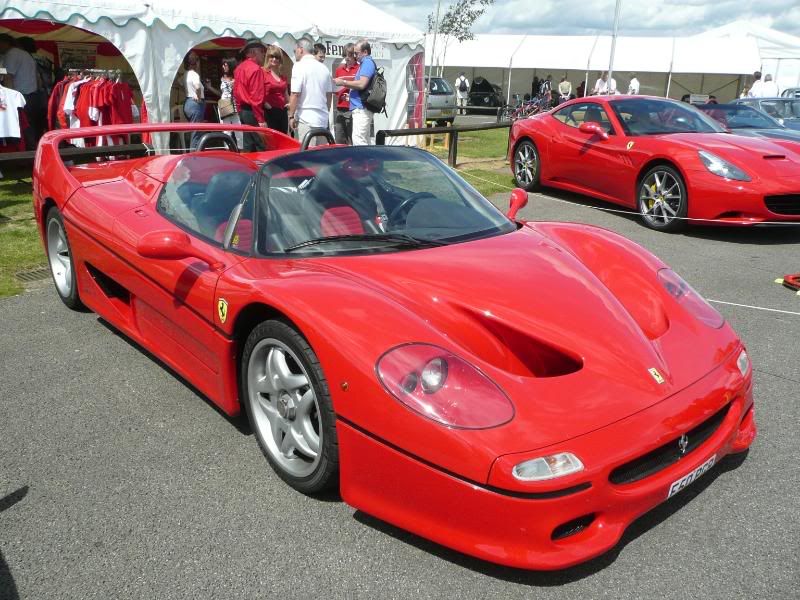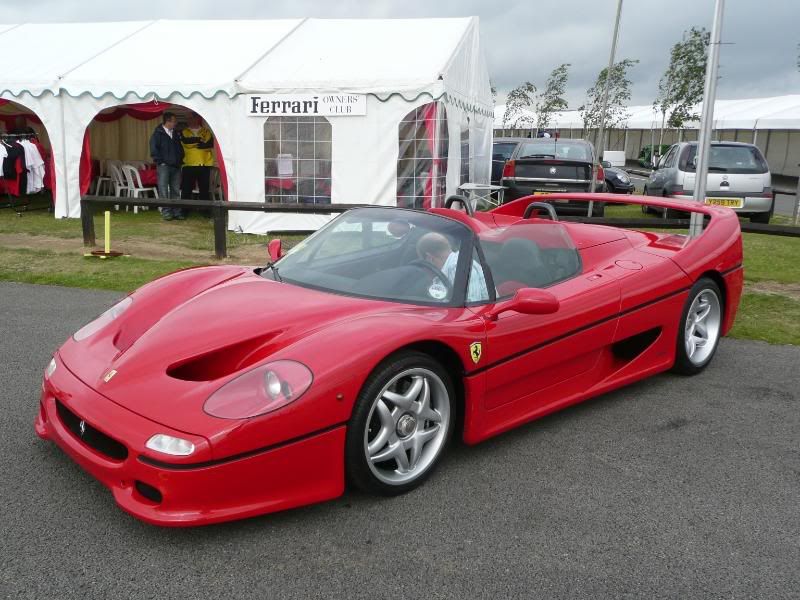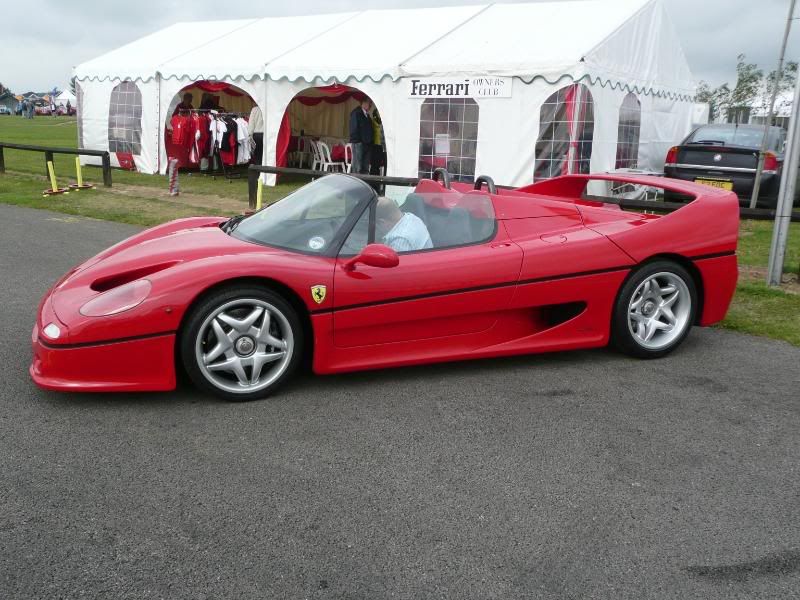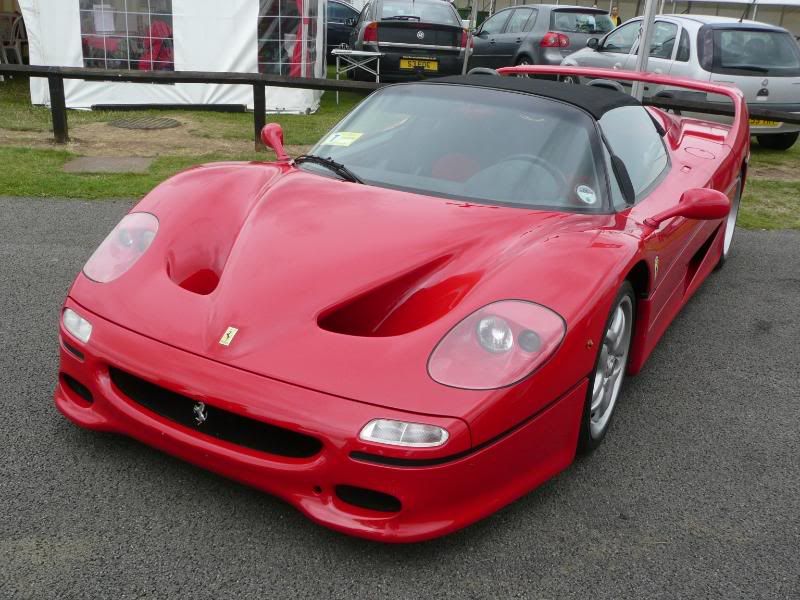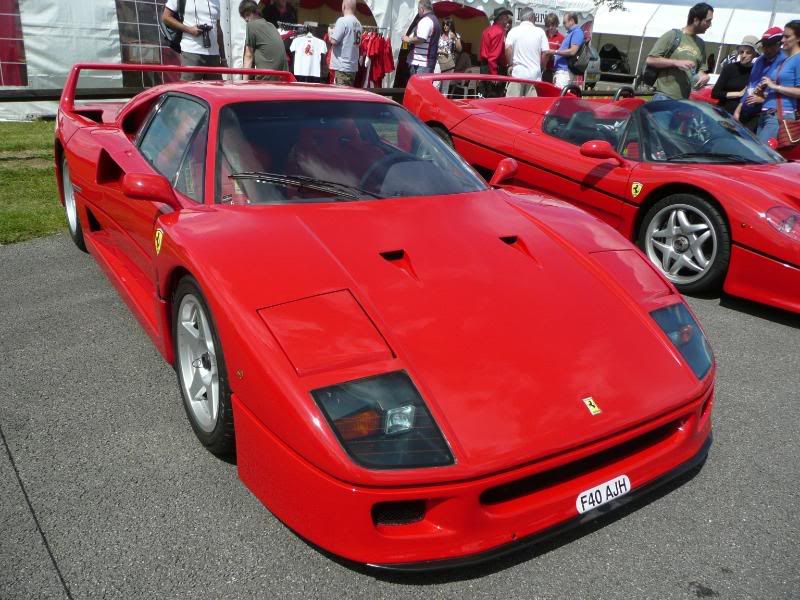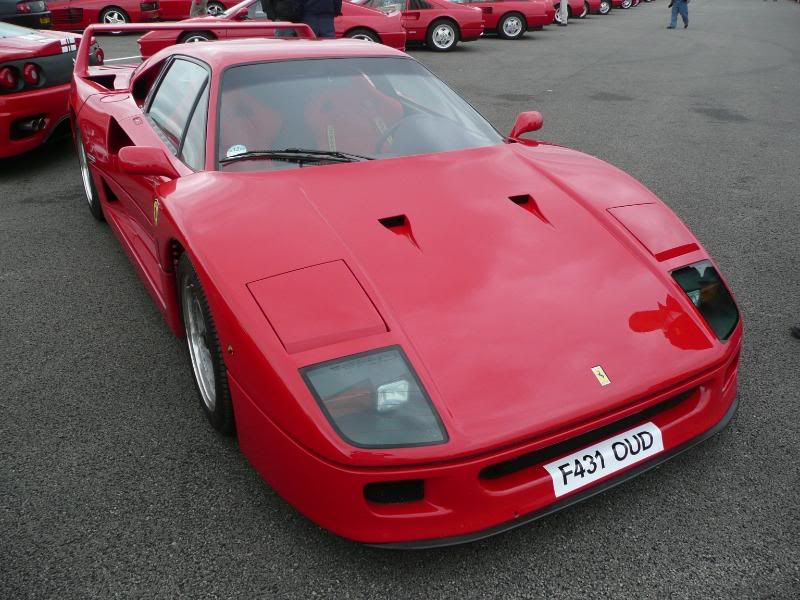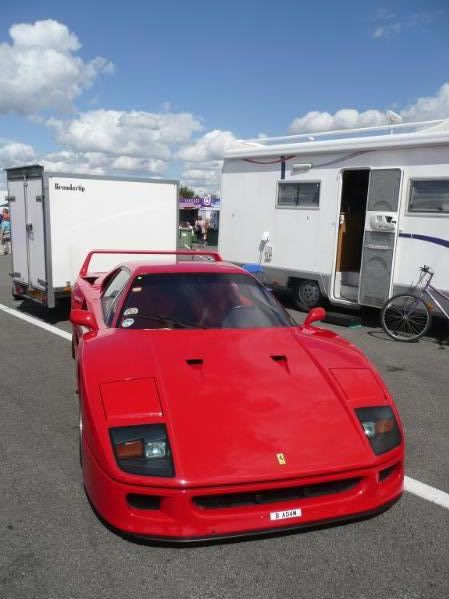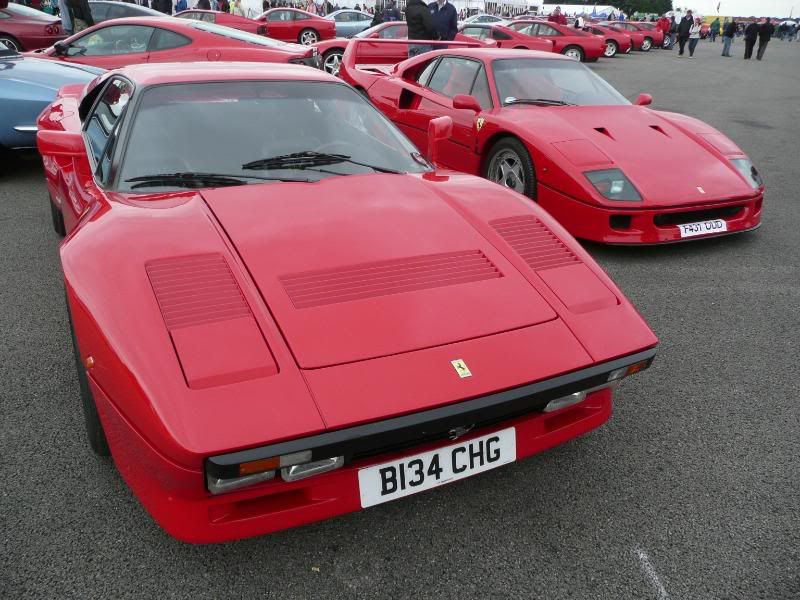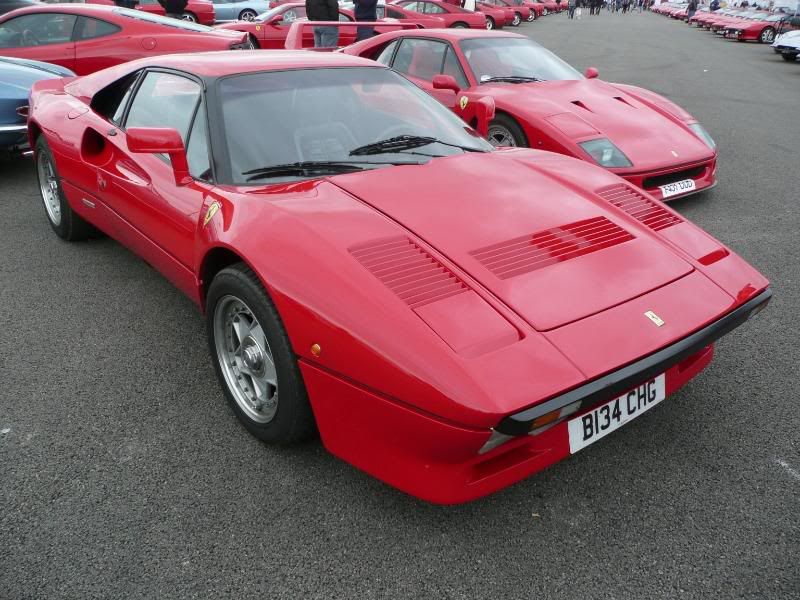 The new California was on show, and looked quite good in red, even with the roof up.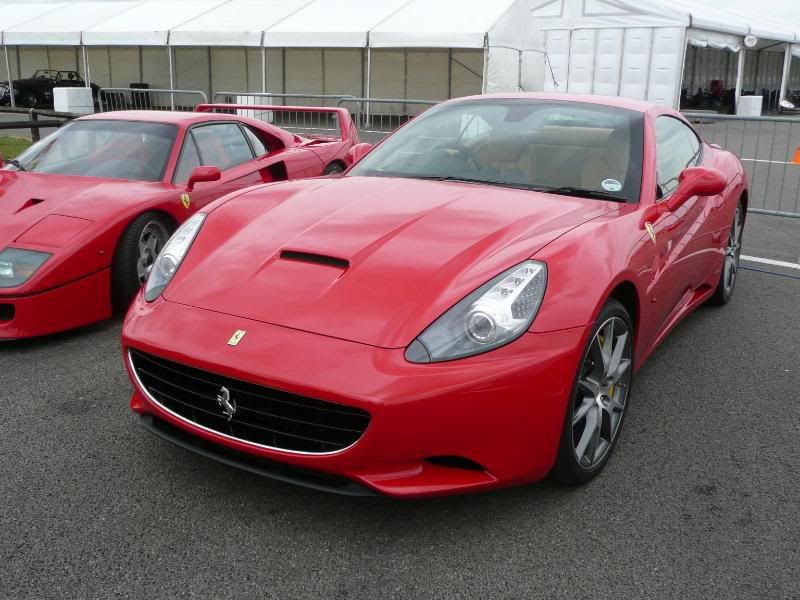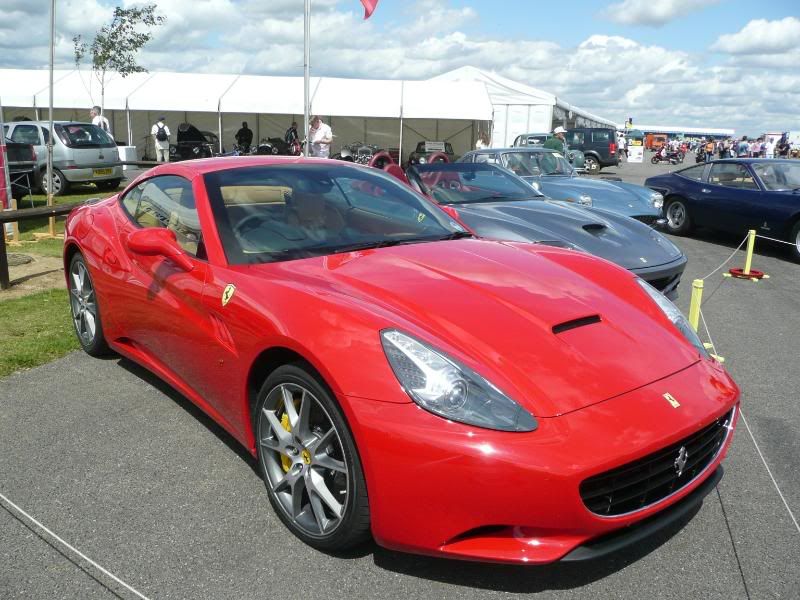 599GTB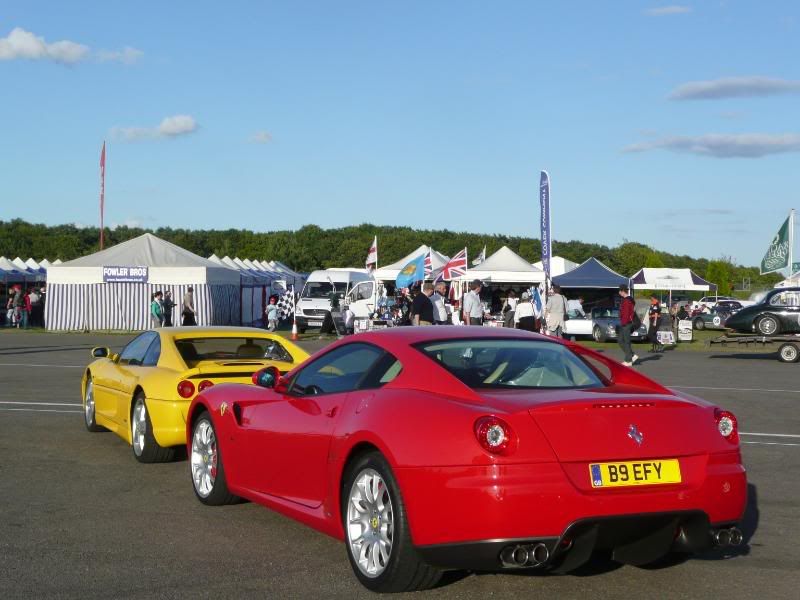 Testarossa – this is one of the later 512TR cars, with the flush headlights.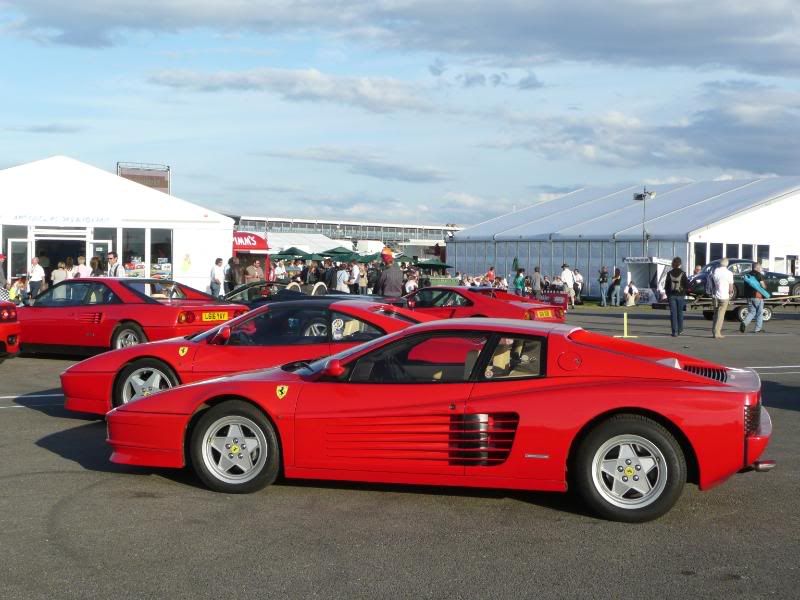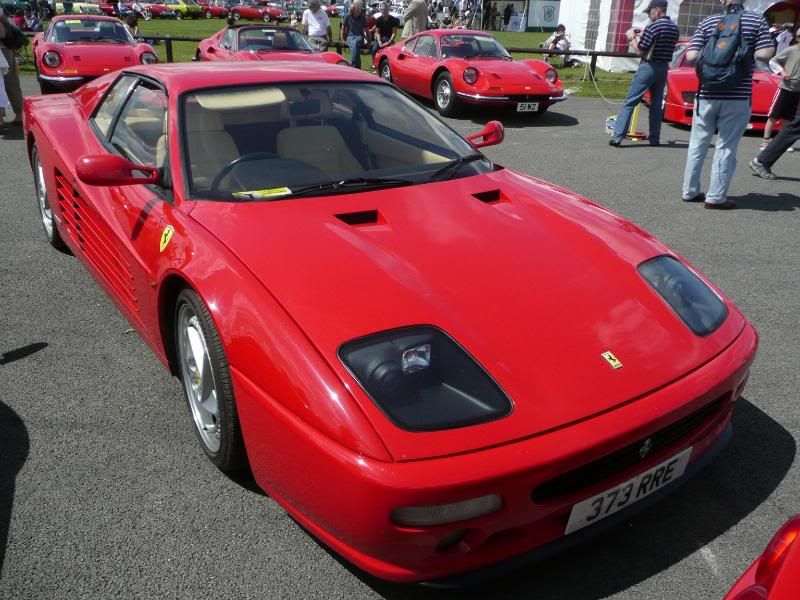 308/328s
355s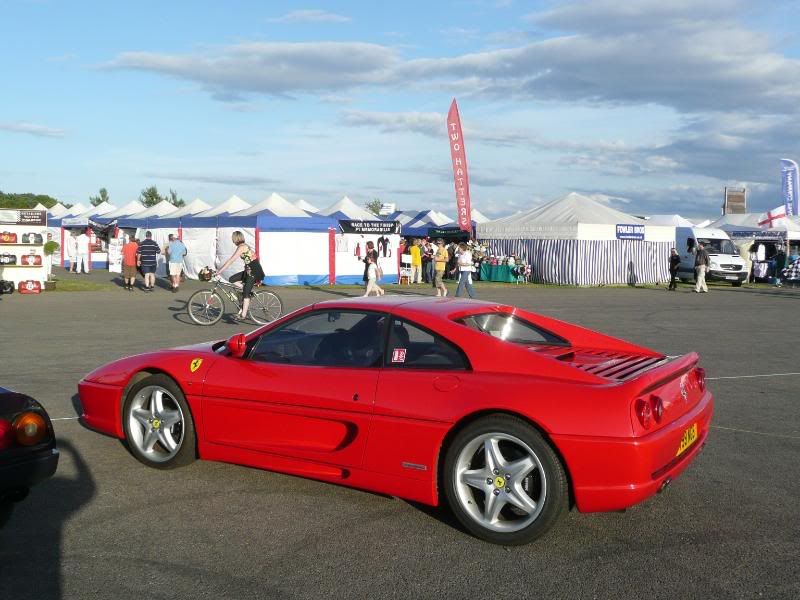 360/430s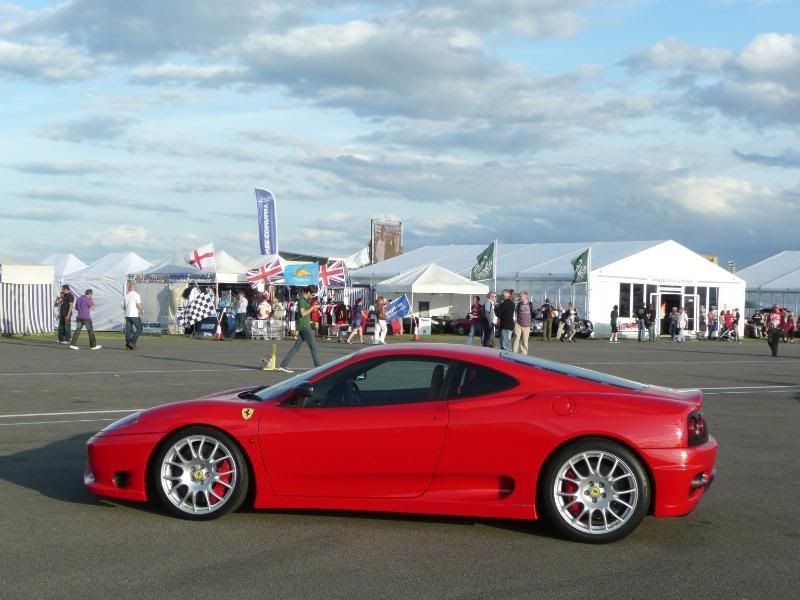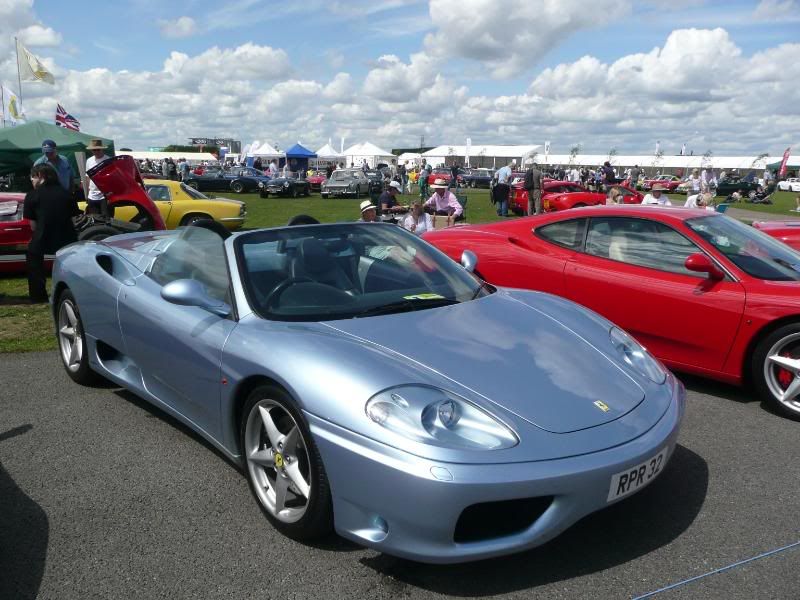 Classic 512 BB – object of many a small boy's desire in the mid 1970s. It was "the" car at "Top Trumps" along with the Countach  
Daytona – one of my all-time favourite Ferrari cars.
365 GT/4
330GTC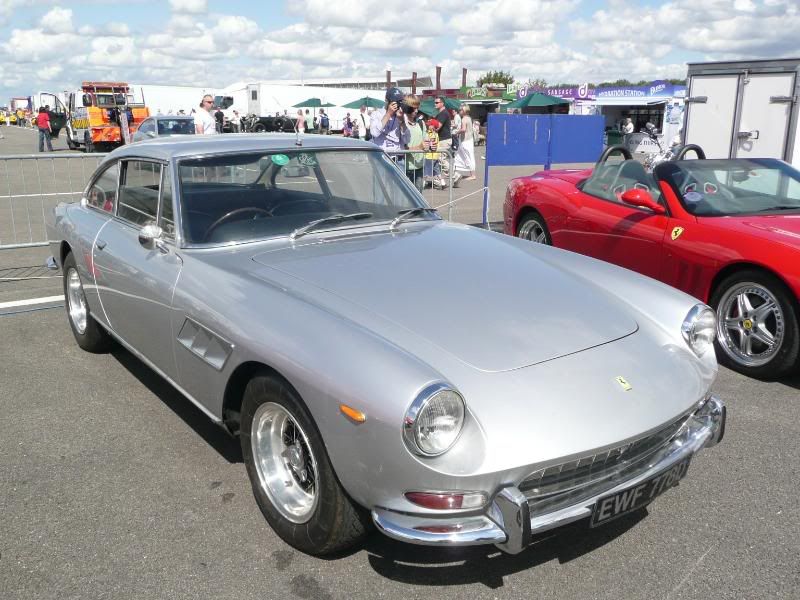 330GT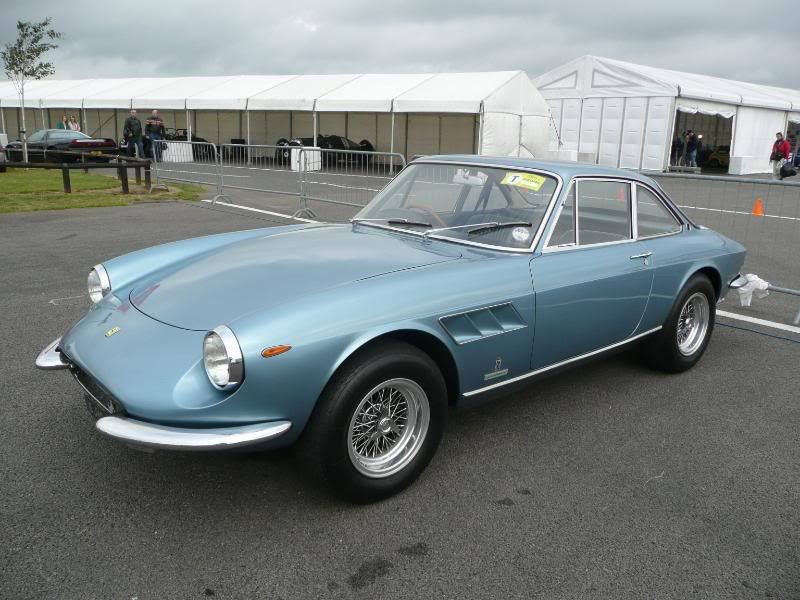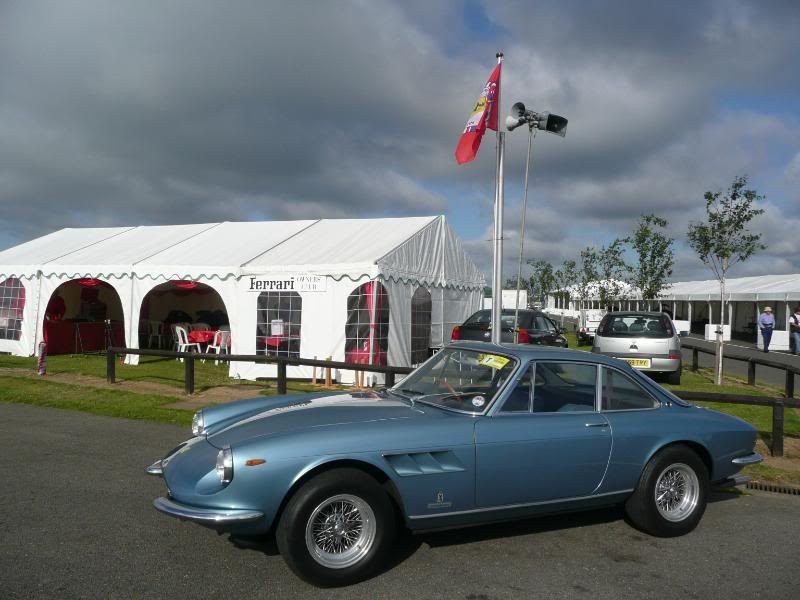 Dino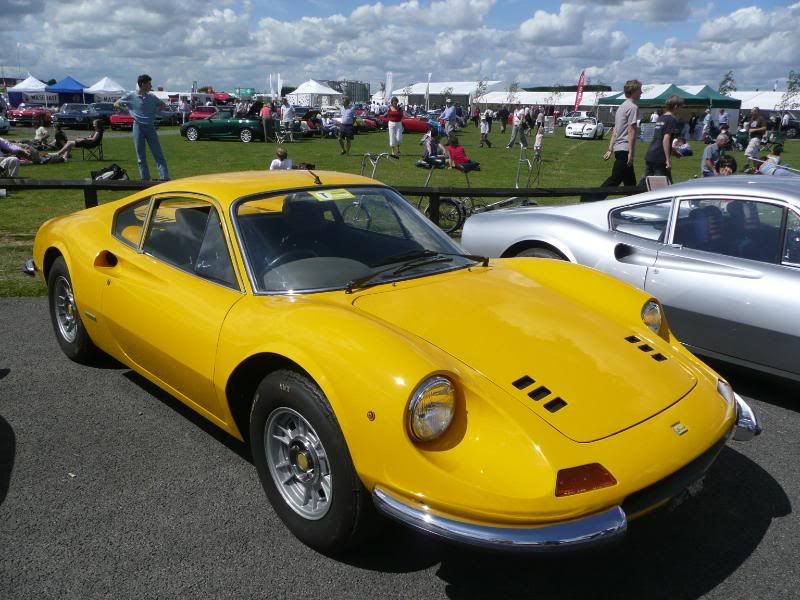 275GTB – one of the more valuable Ferraris these days.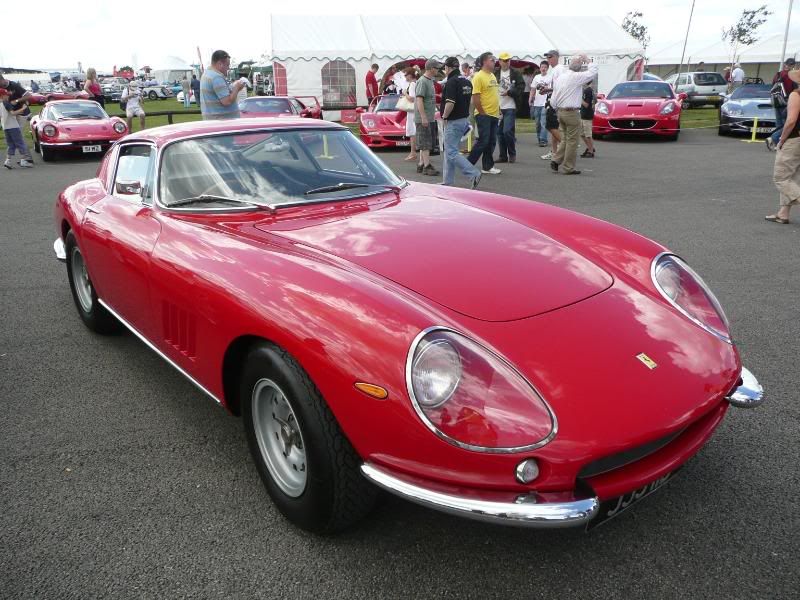 612 Scaglietti – there were several of these cars, in a variety of hues. Alongside other Ferrari, the over-riding impression was of just how large these cars are.
The 550/575 , displayed in coupe and Barchetta form. The latter was hiding its heath-robinson-esque roof, though doubtless this would have been needed once the rains came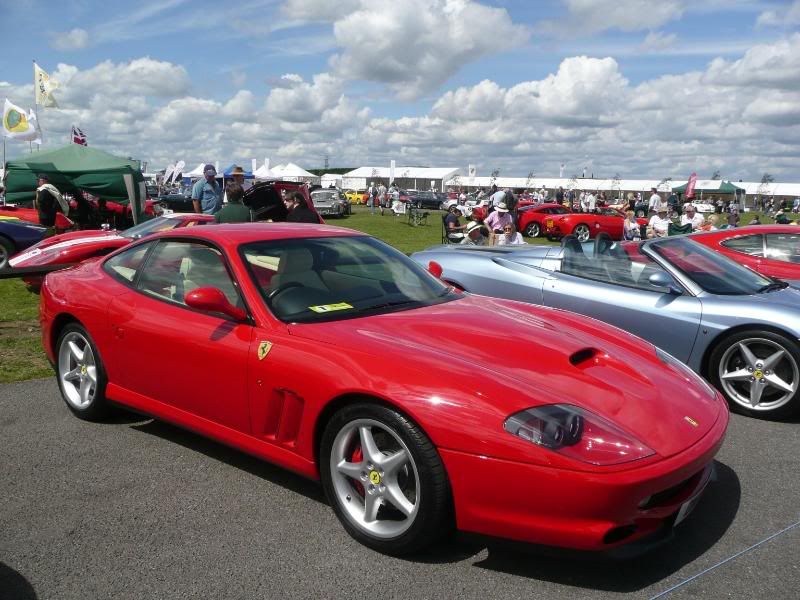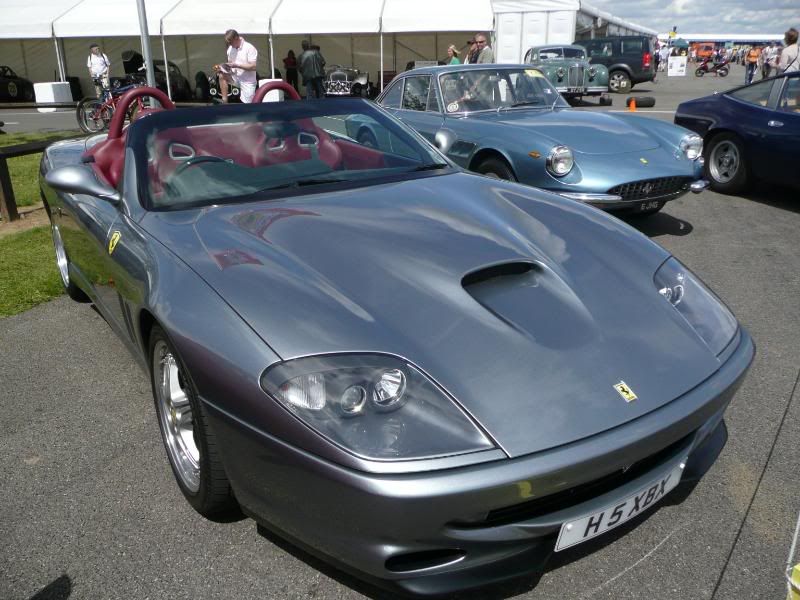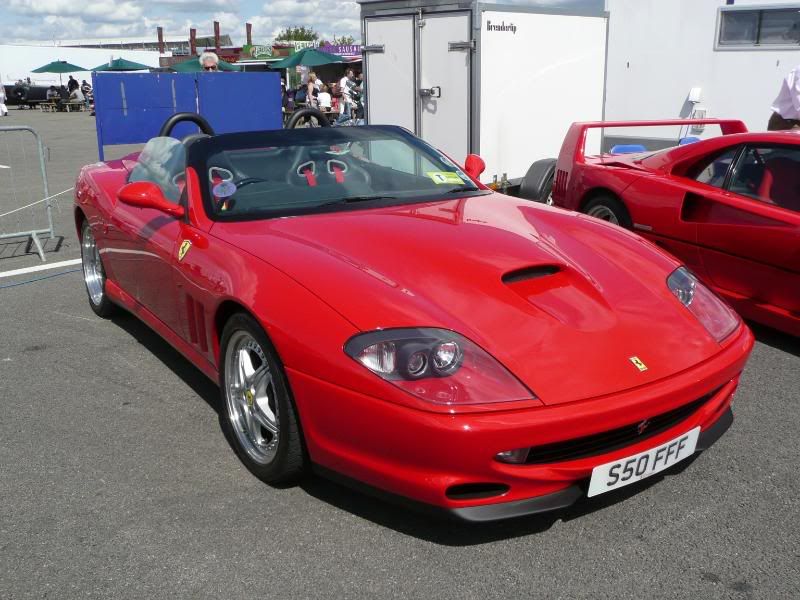 FIATA lone Dino on the Saturday was joined by 6 others on Sunday. Lovely!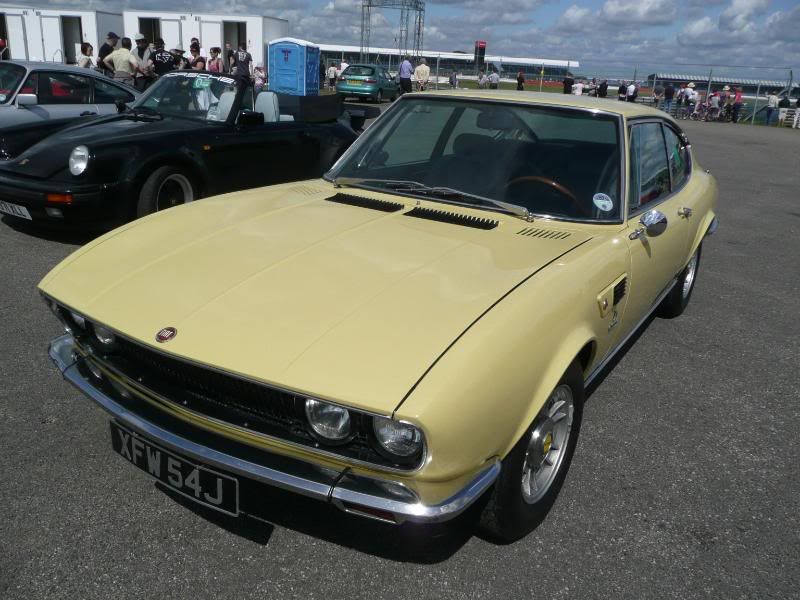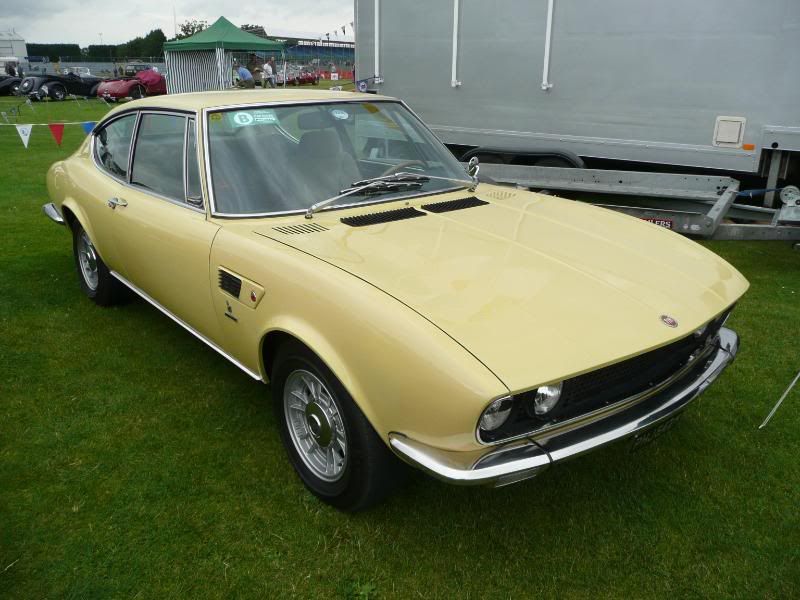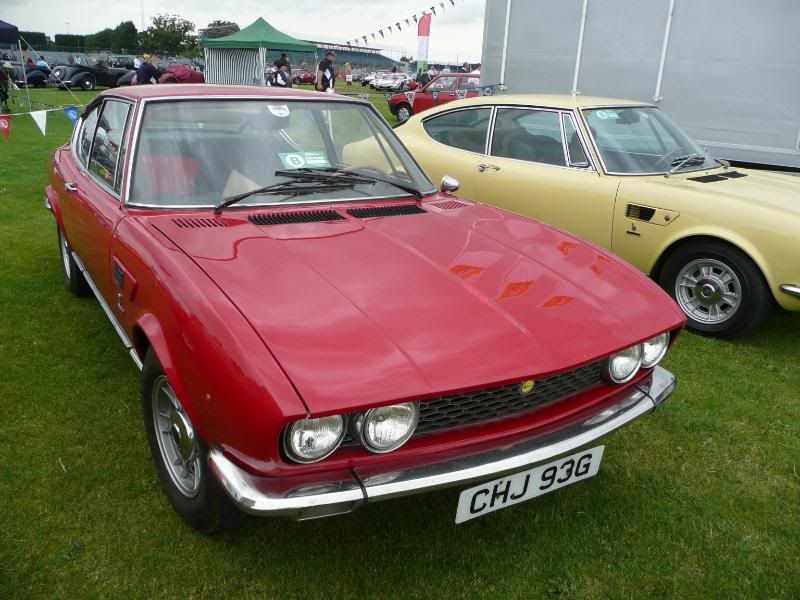 There was also a new Abarth 500Eessesse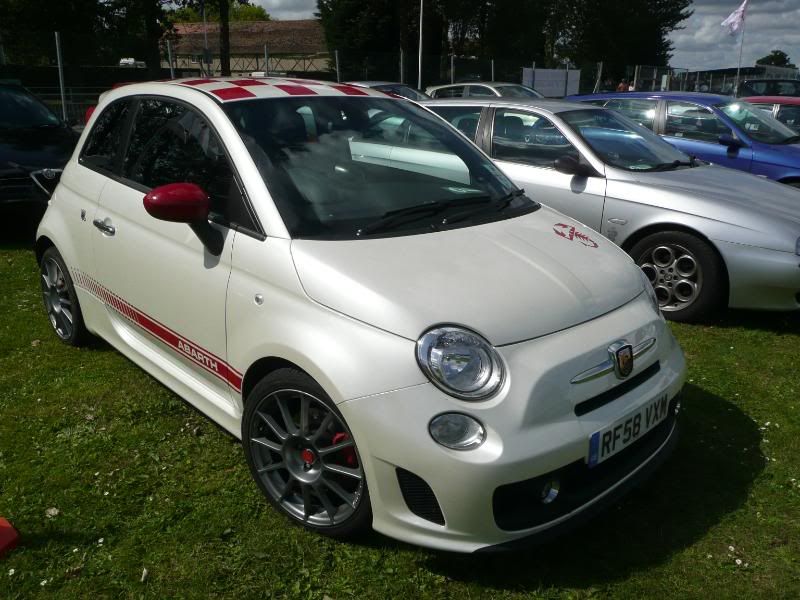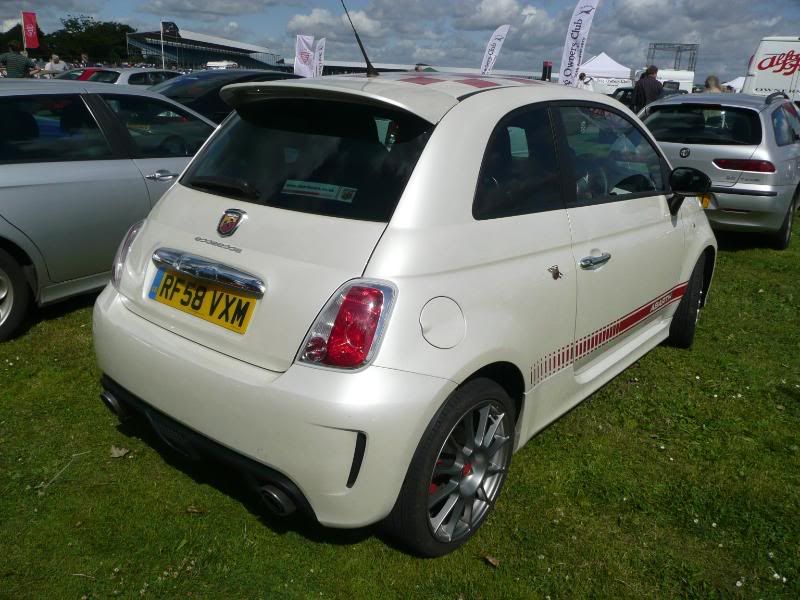 FORDNot many Fords in the event, surprisingly. This first generation Consul has been at the event in previous years as well, and is a well preserved period piece.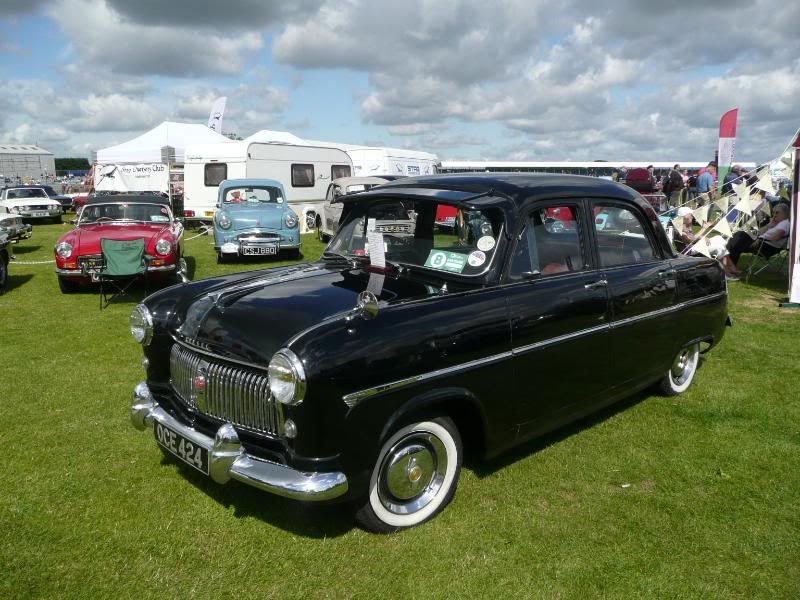 There were a number of GT40s, most of them were recreations rather than original.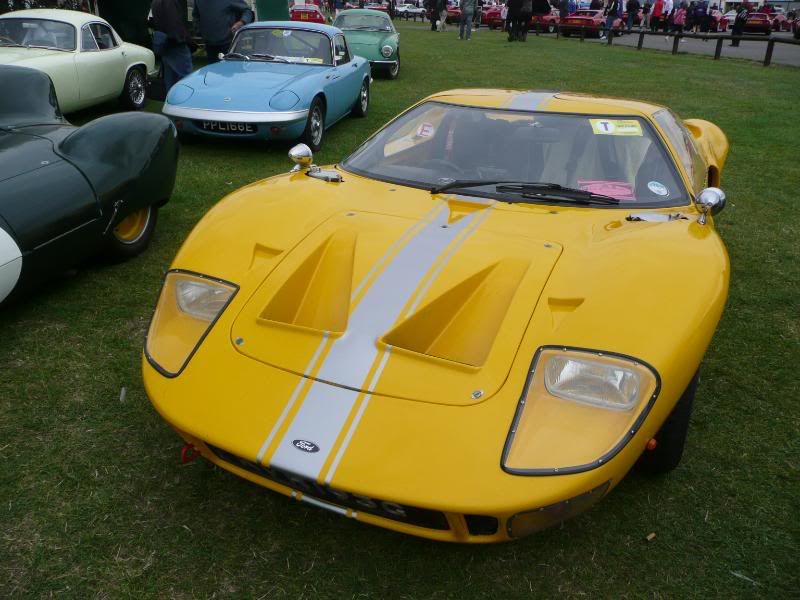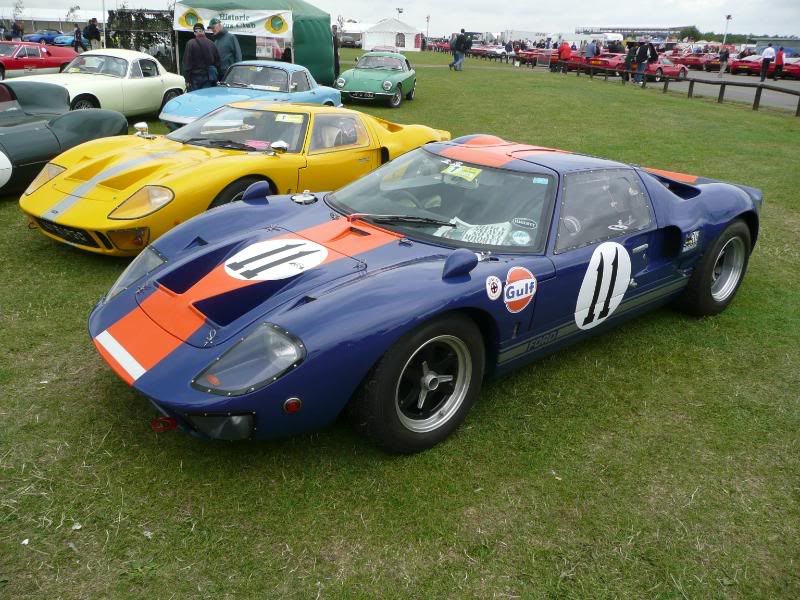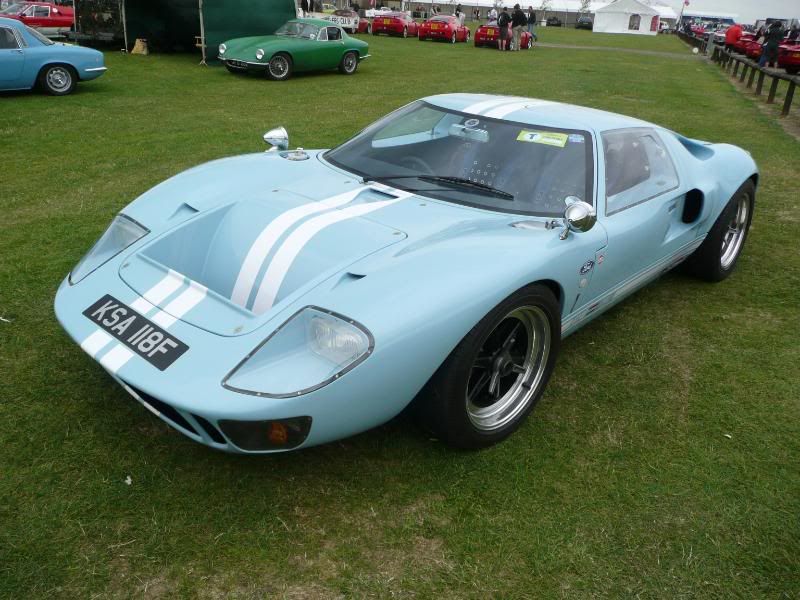 The original Mustang is always a favourite, and there was a hardtop coupe in attendance.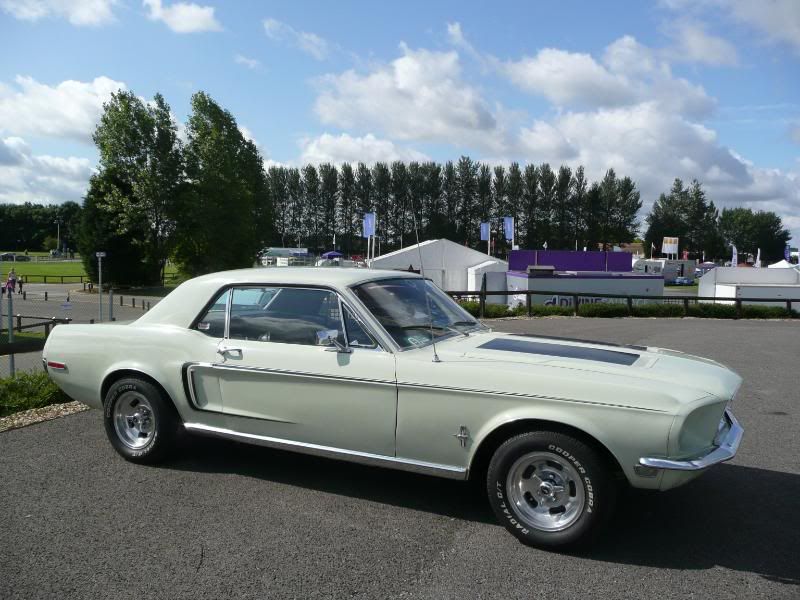 This Galaxie from about 1965 was a B – I – G car! It was parked up next to a Chrysler Newport, which was similarly enormous.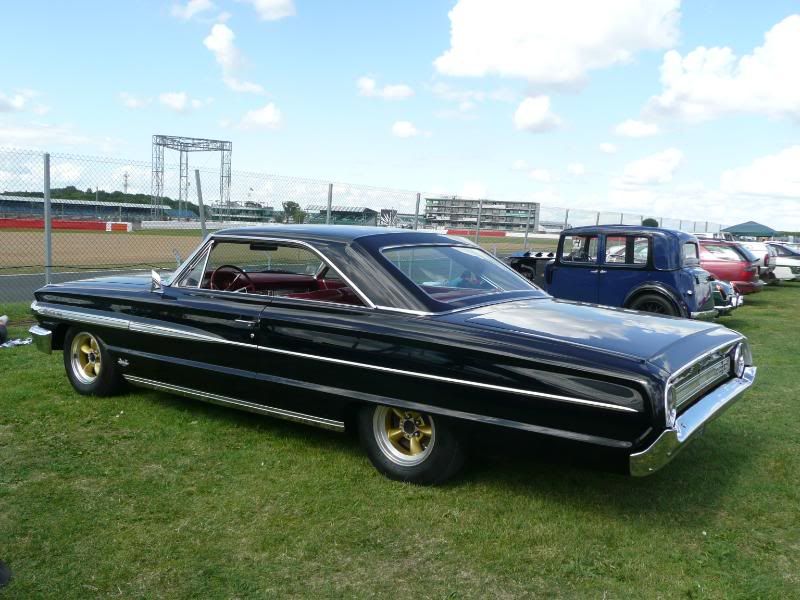 GINETTAA representative sample of these cars on show:
G15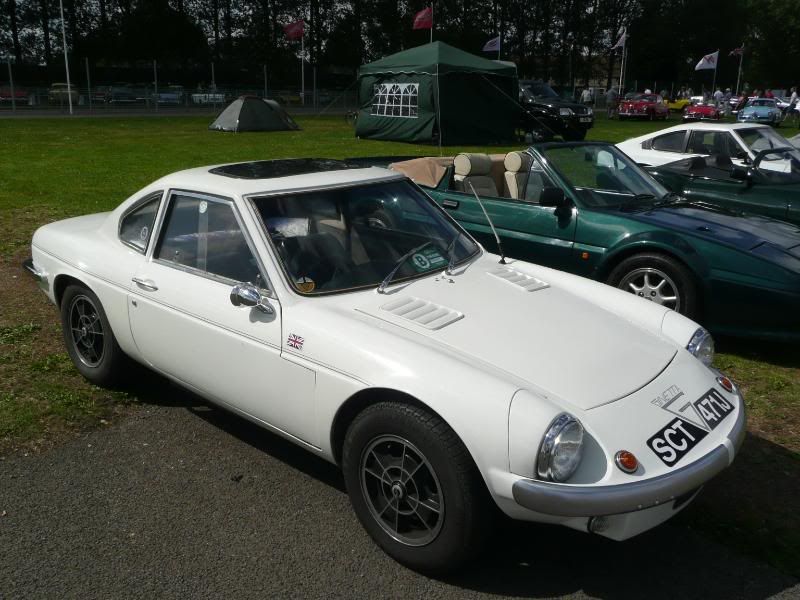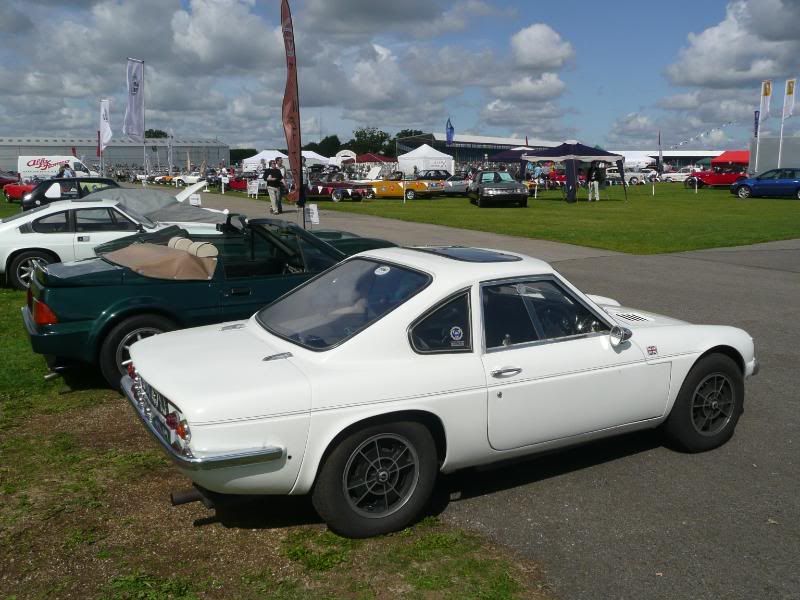 G21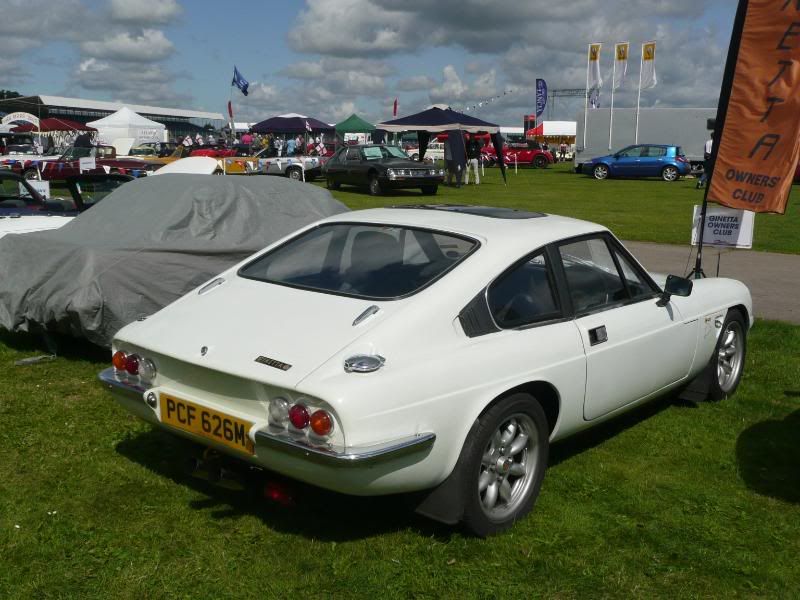 G32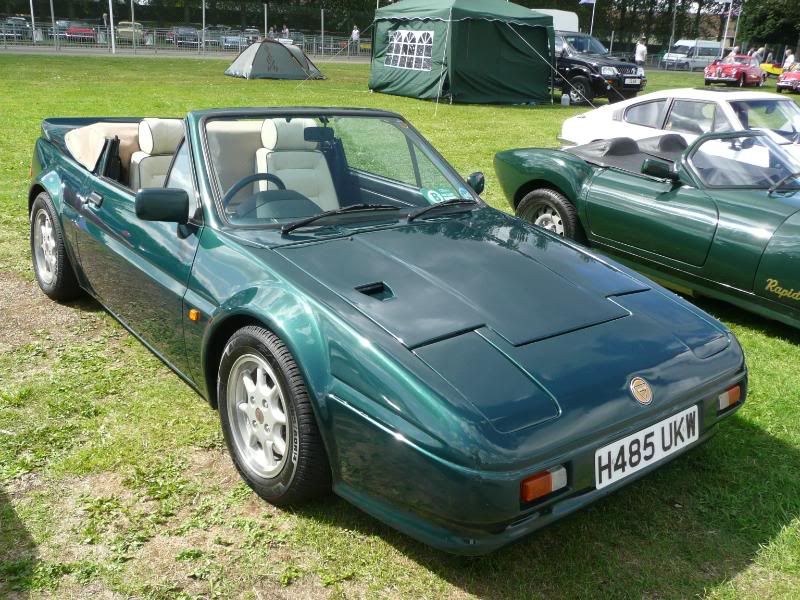 G33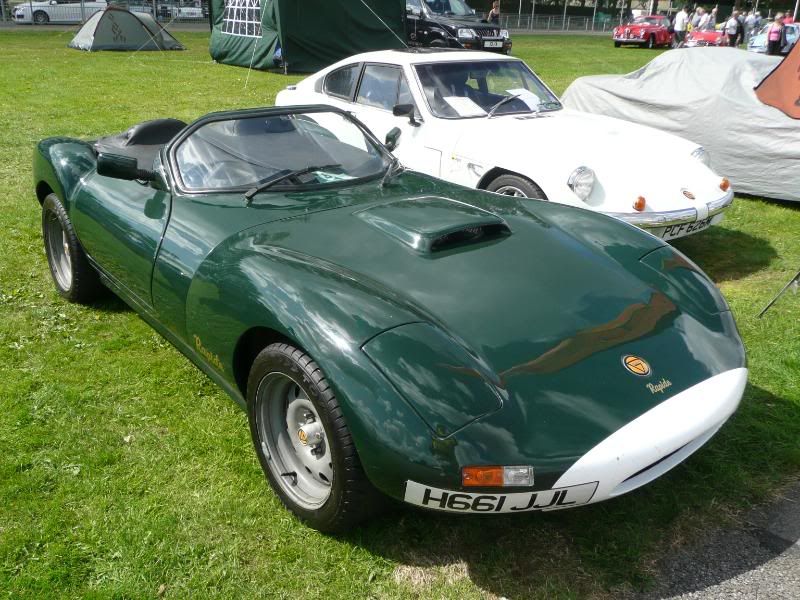 GTMGTM stands for "Grand Touring Mini", and was founded in the late 1960s. A small number of cars, based on the BMC Mini, were constructed up to 1972. Various changes of ownership of the company meant that the name did not die, but no further cars were produced until the early 1980s, when a new design appeared, marketed as the Libra. Examples of both of the main products were on show.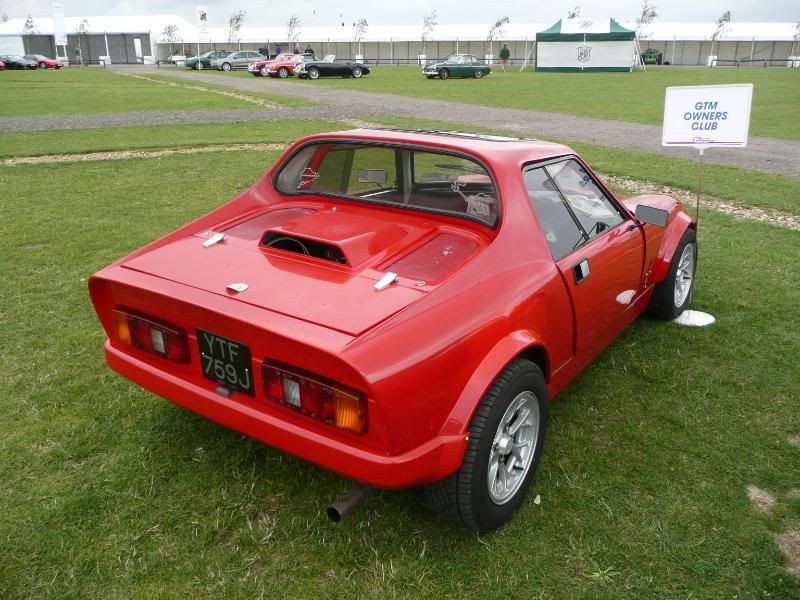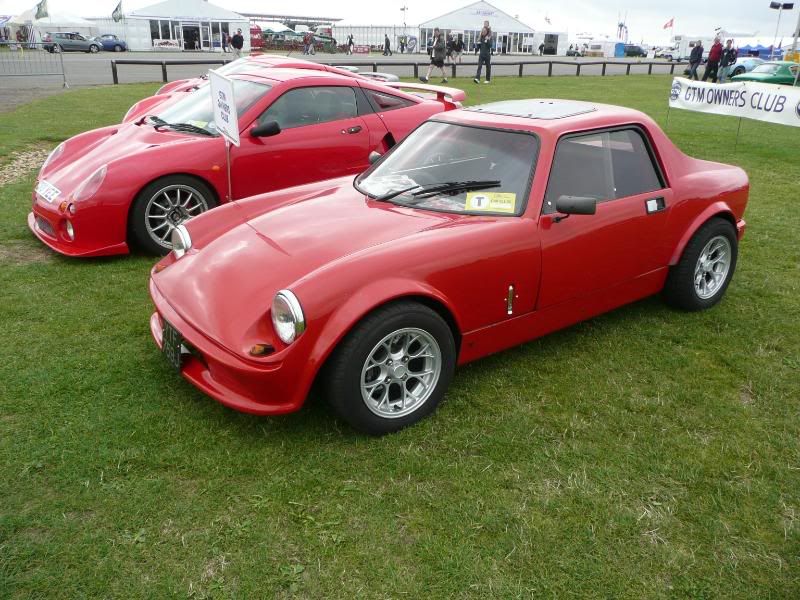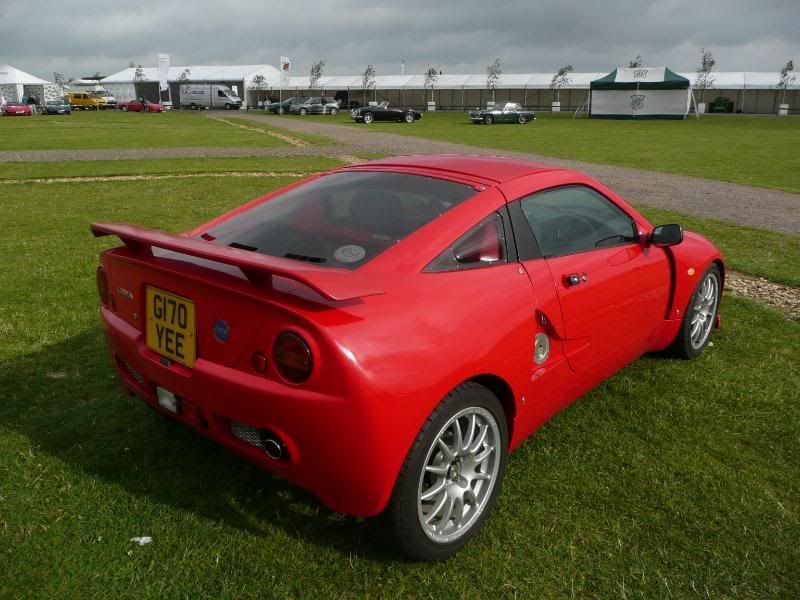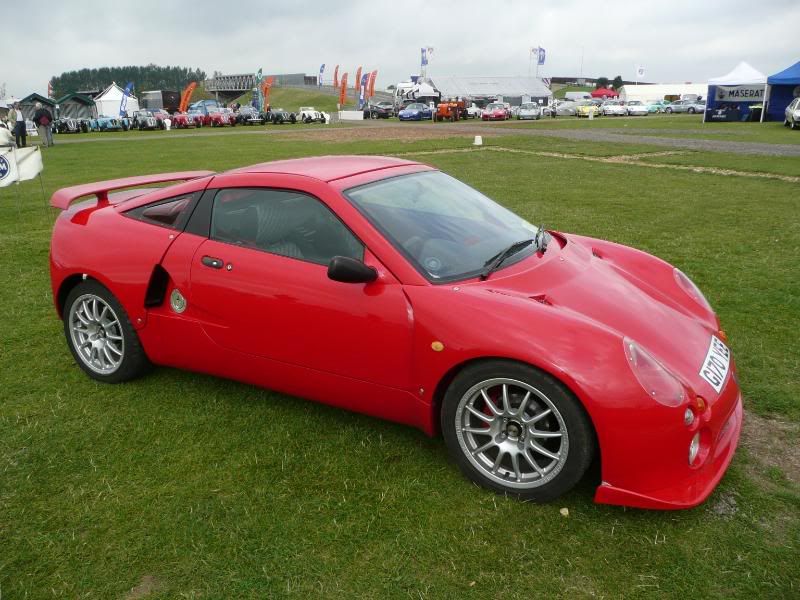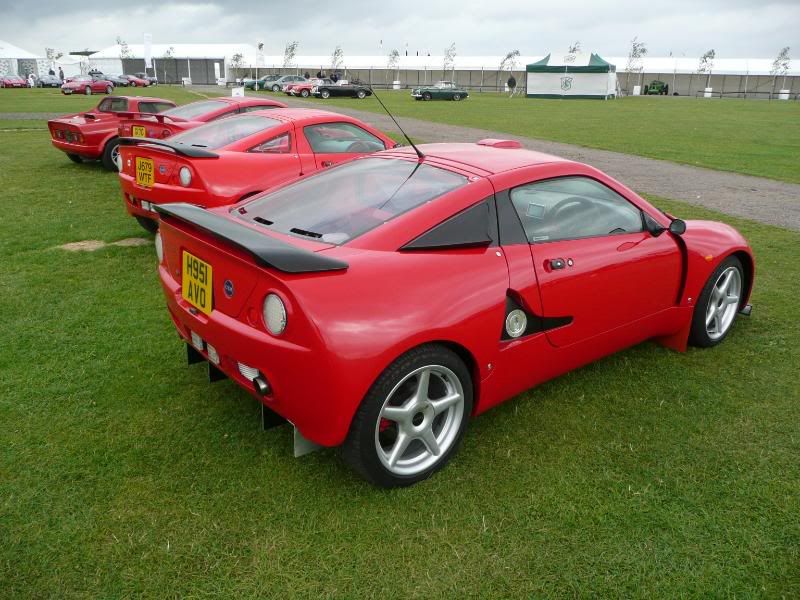 HEALEYIt is sometimes forgotten that there were Healey cars before the tie up with Austin, and many of these cars were at the event.
The Silverstone was an out and out sports car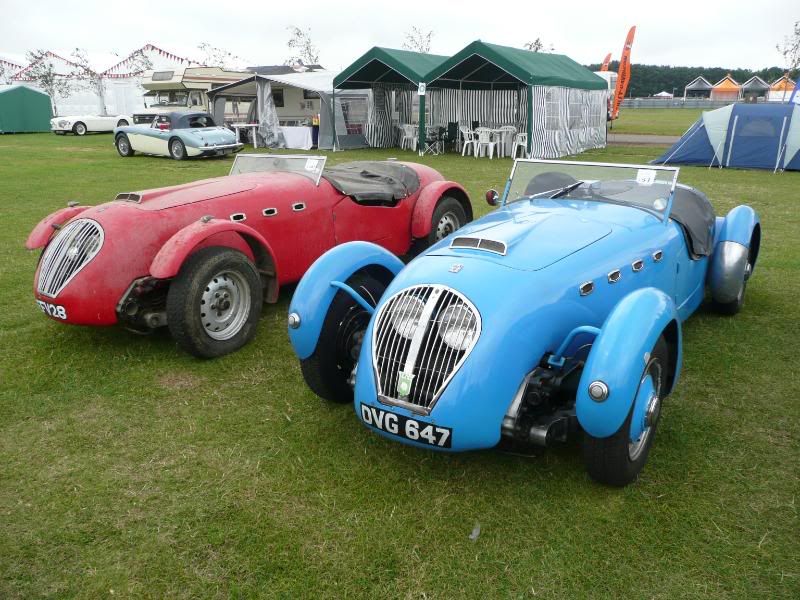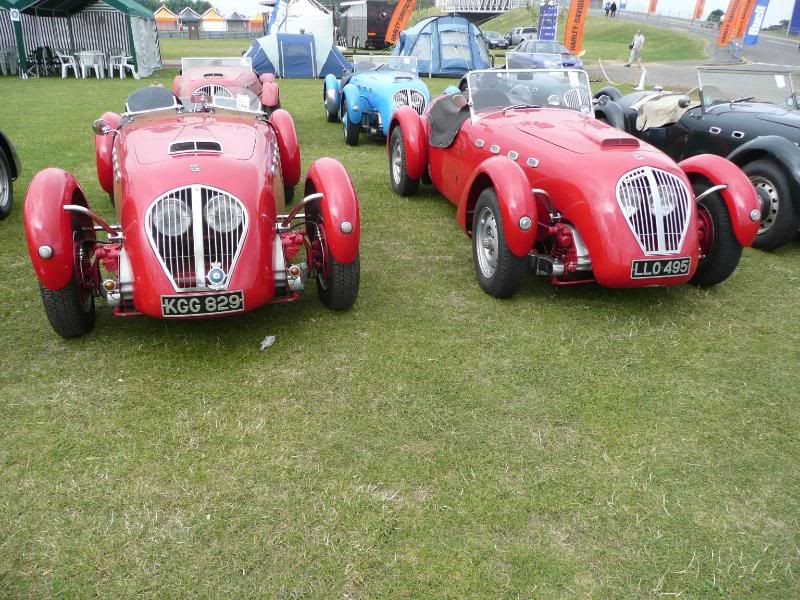 There  were sports saloons as well, such as these Elliot cars.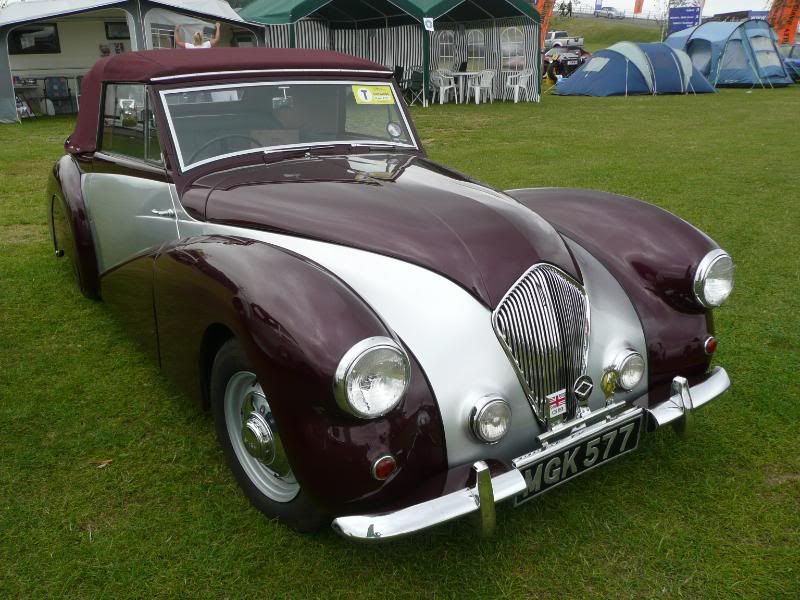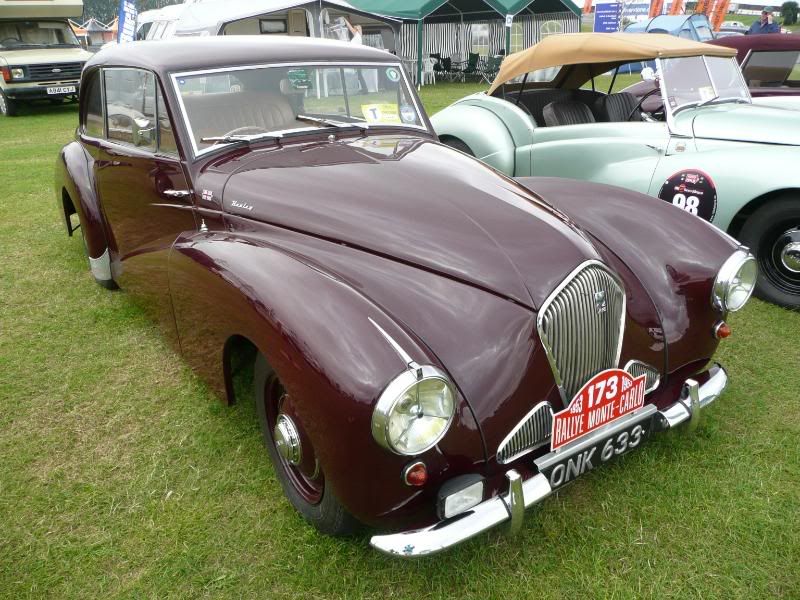 HONDA

A big showing of NS-X, with at least as many cars as there were at the Gaydon "Superca Sunday" event a month ago.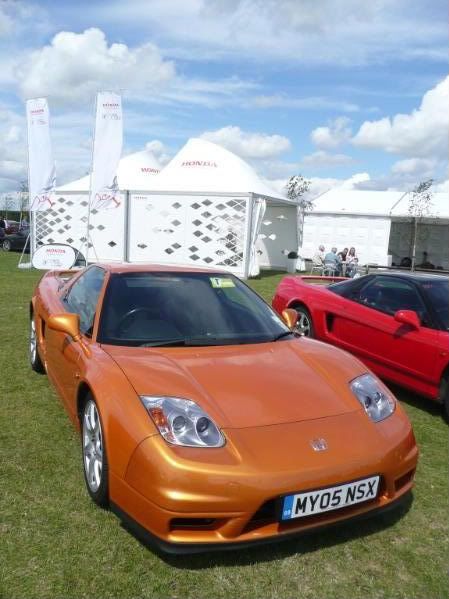 This is a first generation CRX, now very rare.
ISOI was admiring the gold car when I got a call from Dan Duke to tell me where he was. This immaculate car was restored – money no object –  a couple of years ago, and was featured in "Classic and Sports Car". Imagine my surprise when we returned to this area later in the day to find a second Grifo alongside it.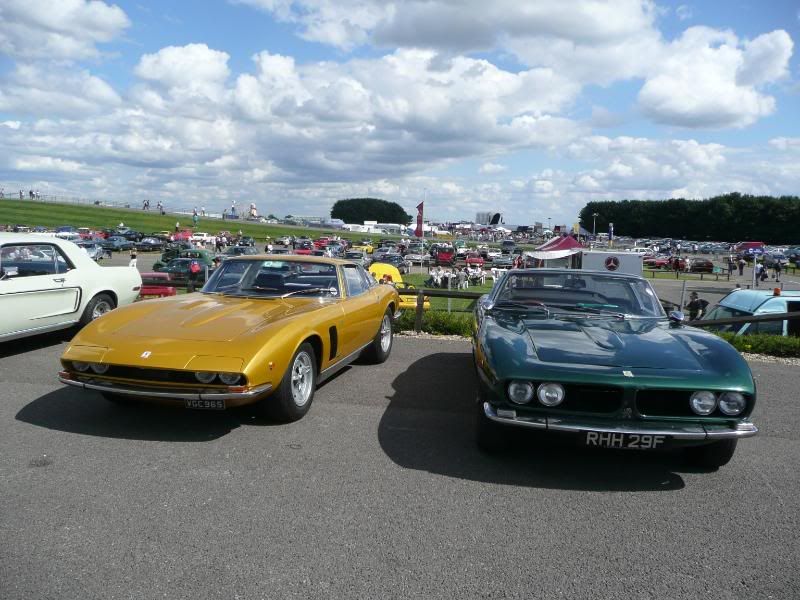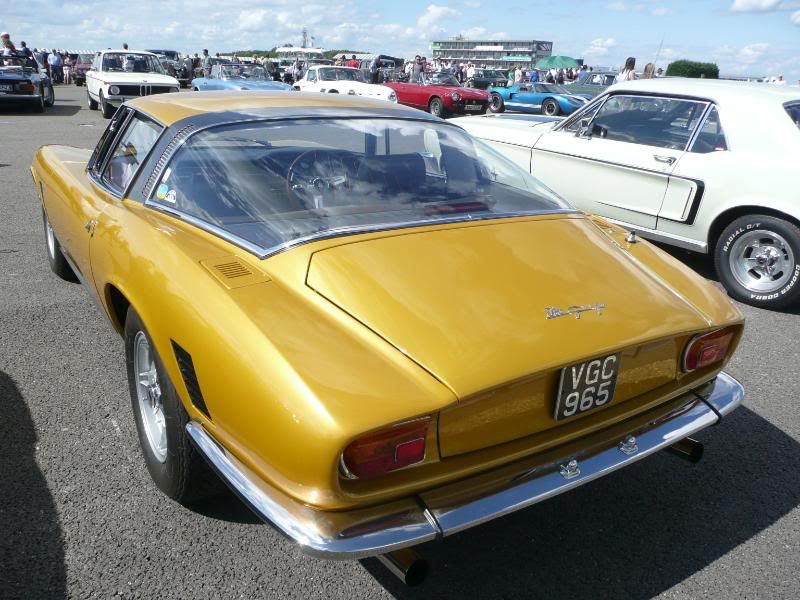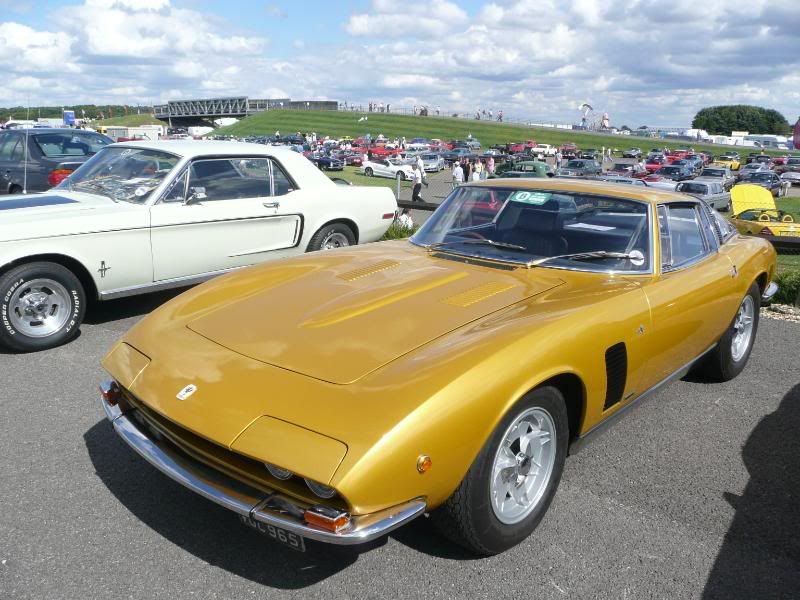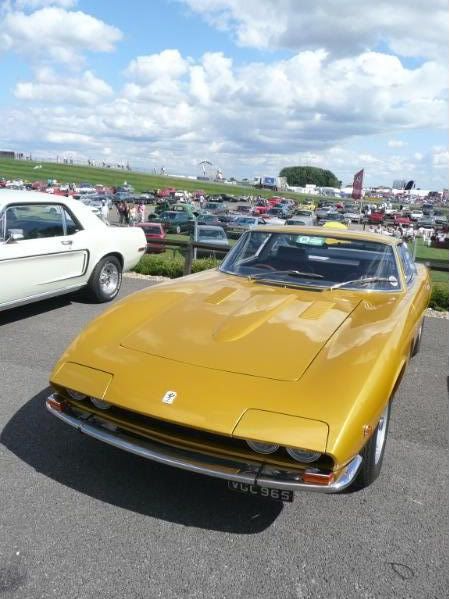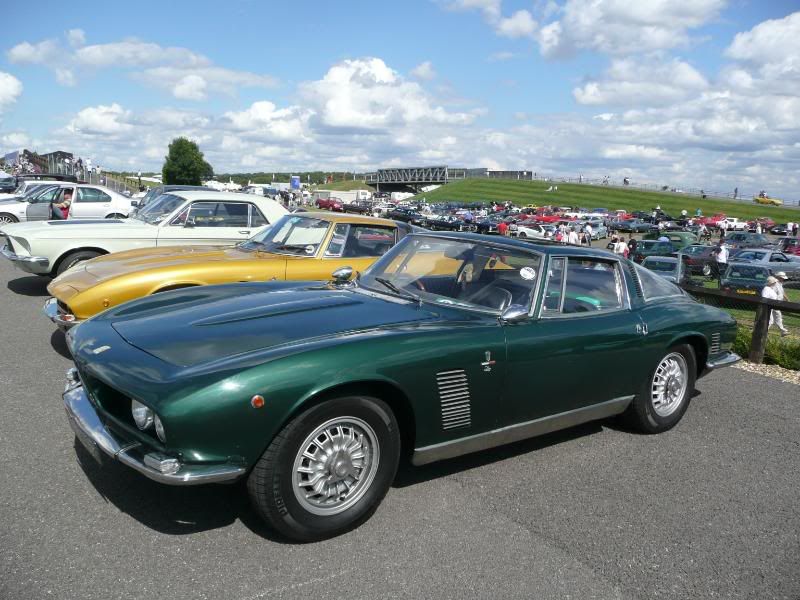 JAGUARThis really was a Jaguar event! Celebrating 60 years of racing Jaguars, vast numbers of the cars were brought along to race and for static display.
Jaguar Heritage had a large display of the cars with racing pedigree in their collection.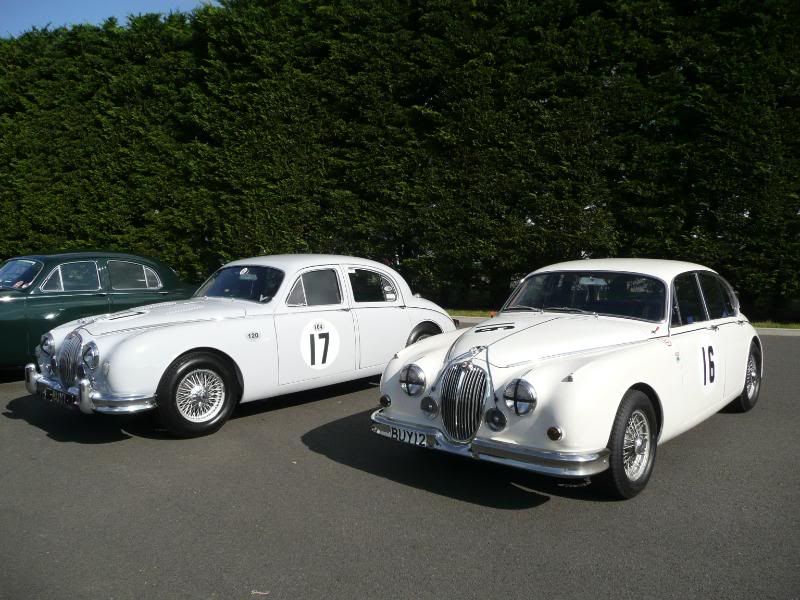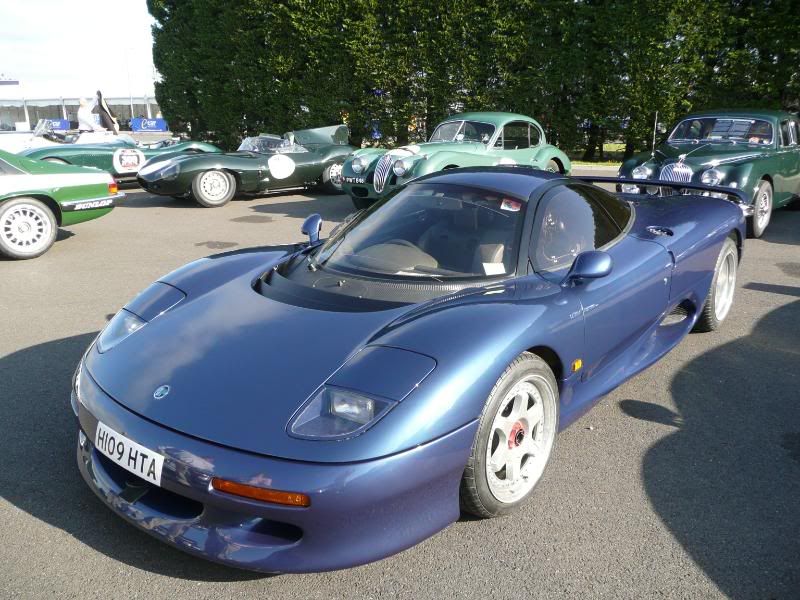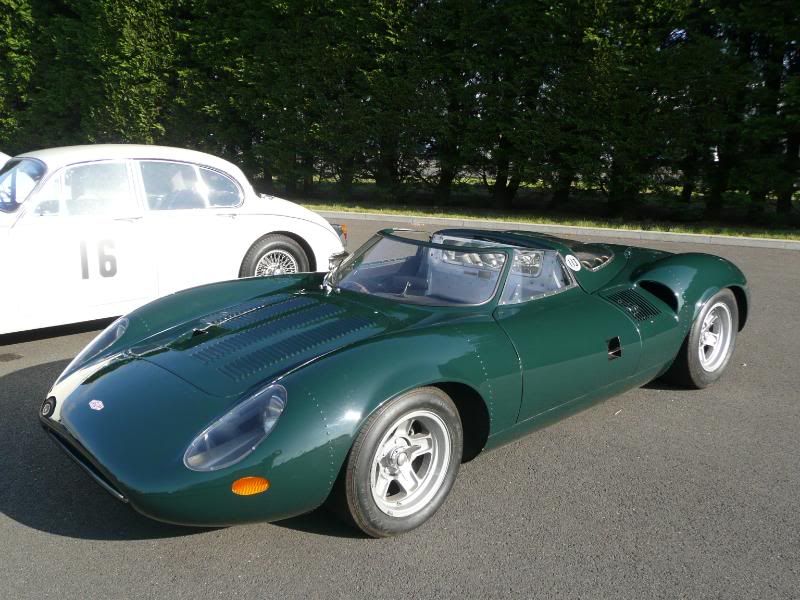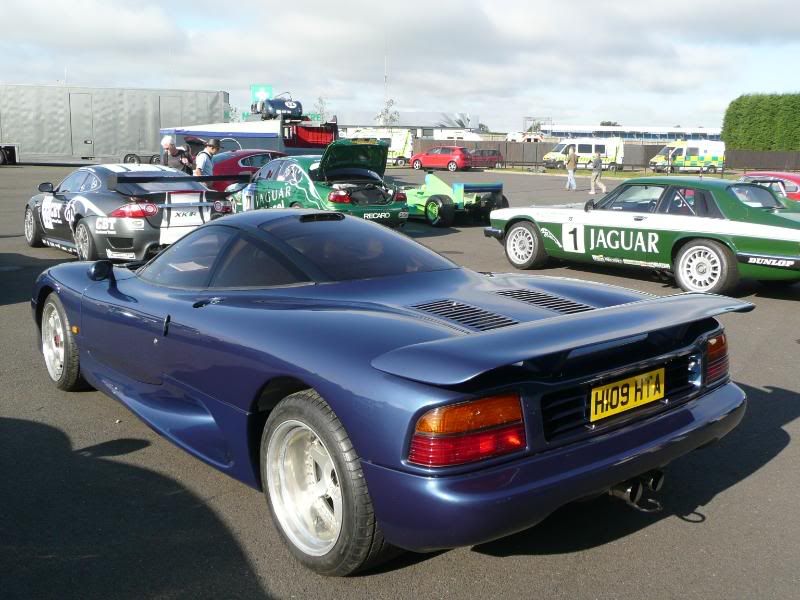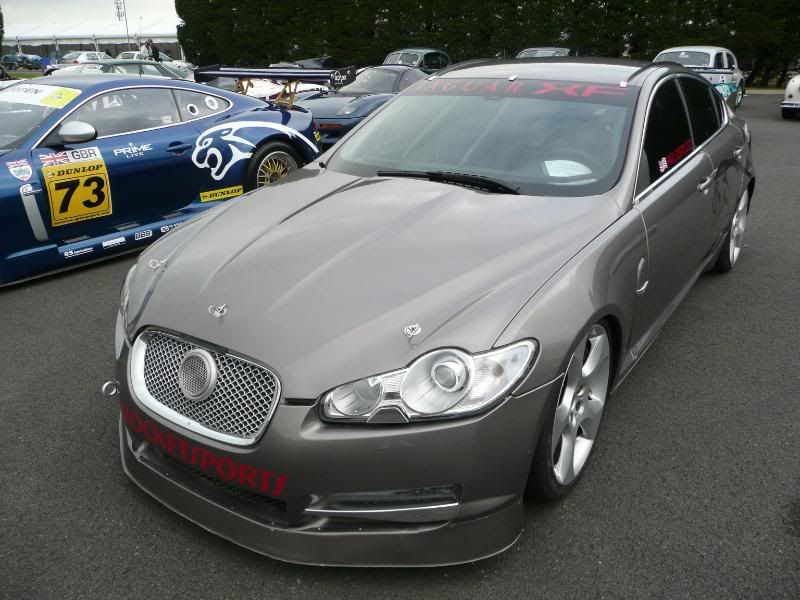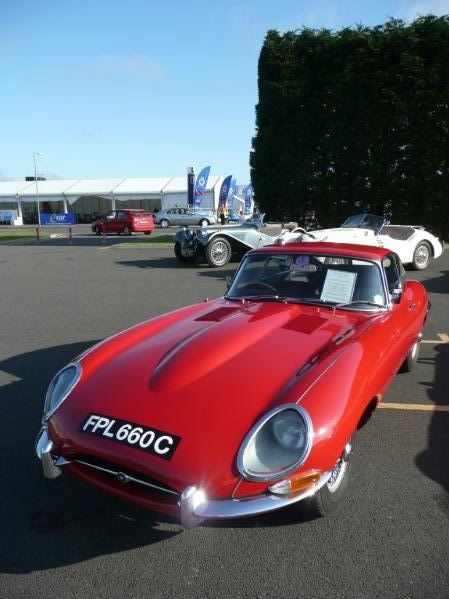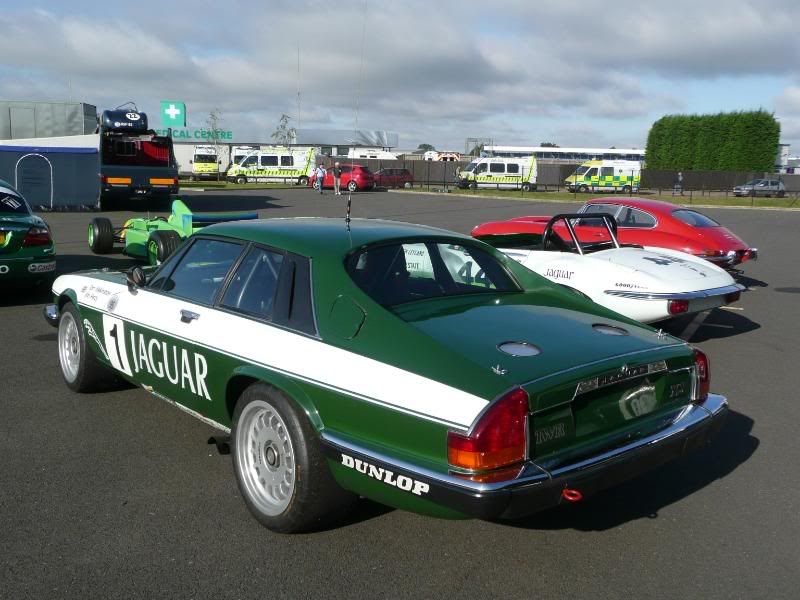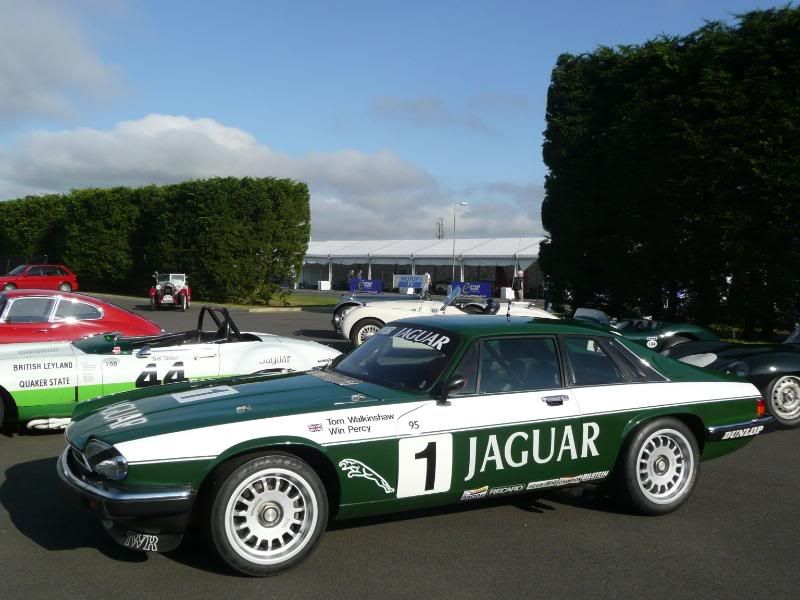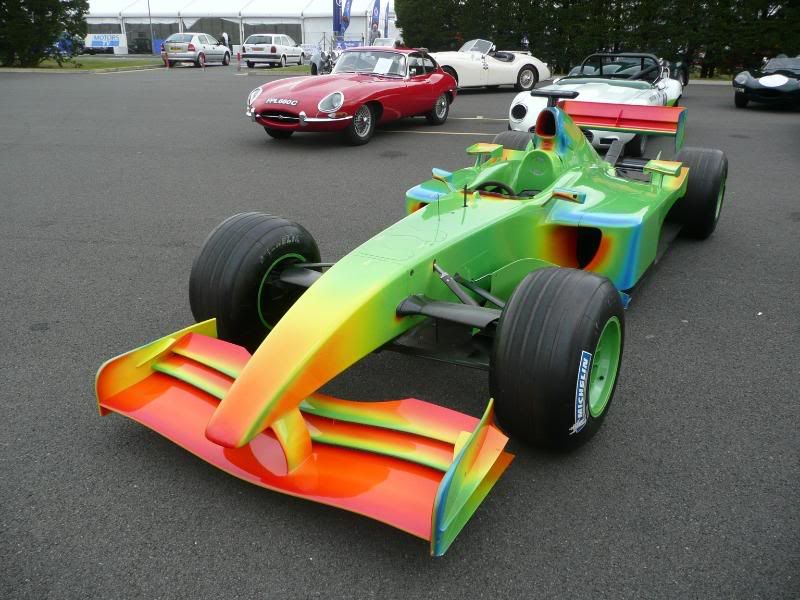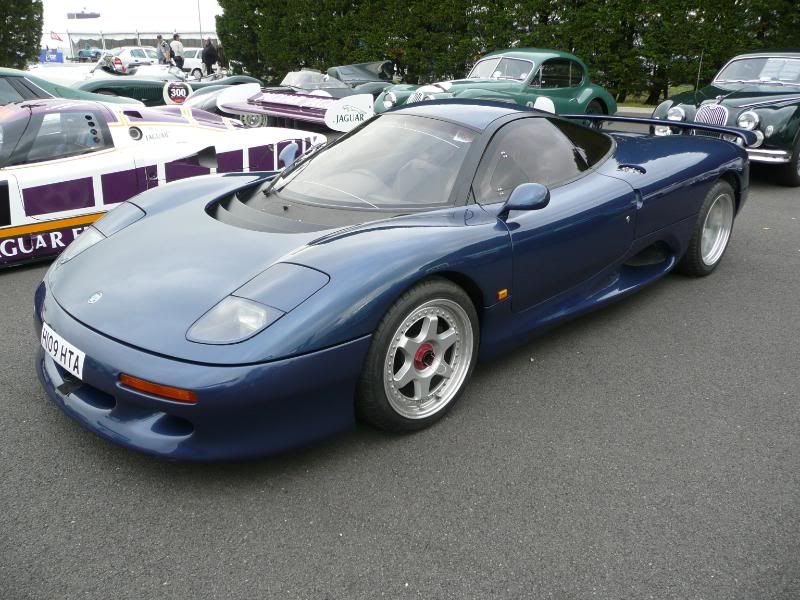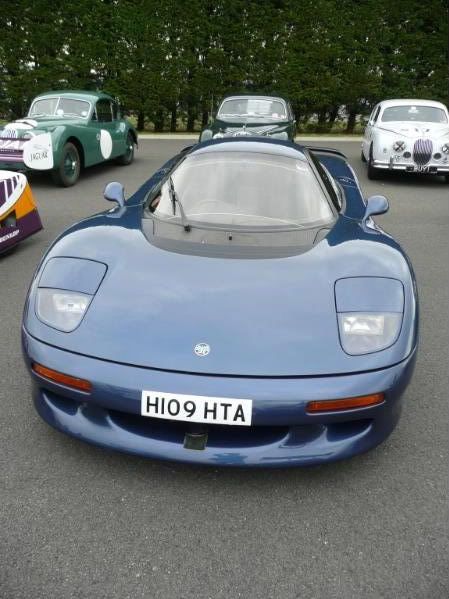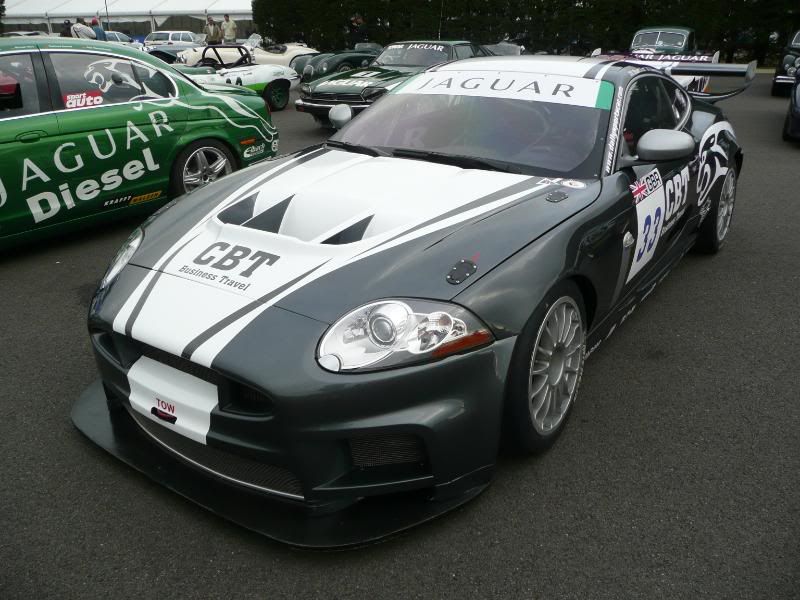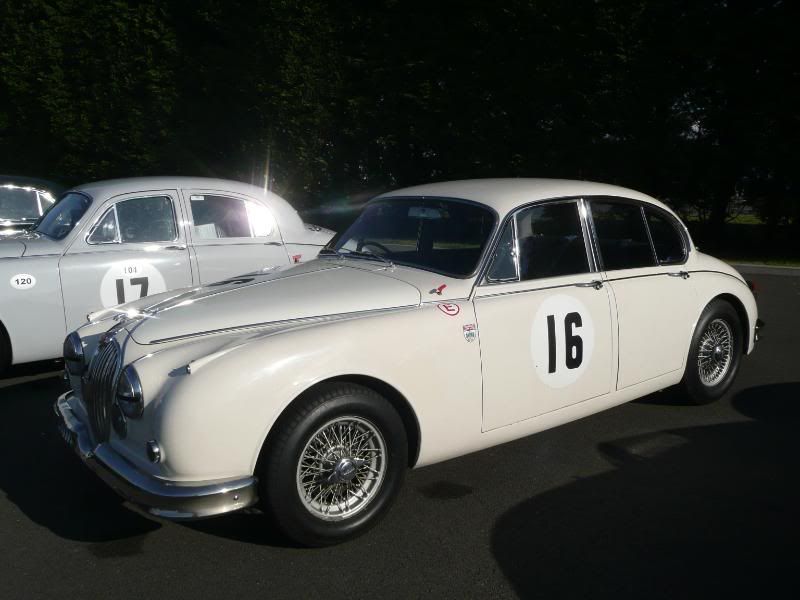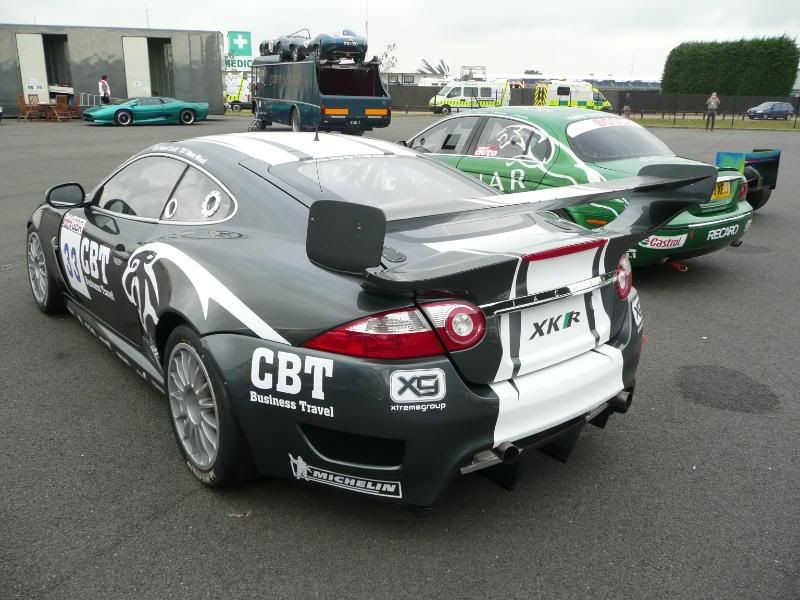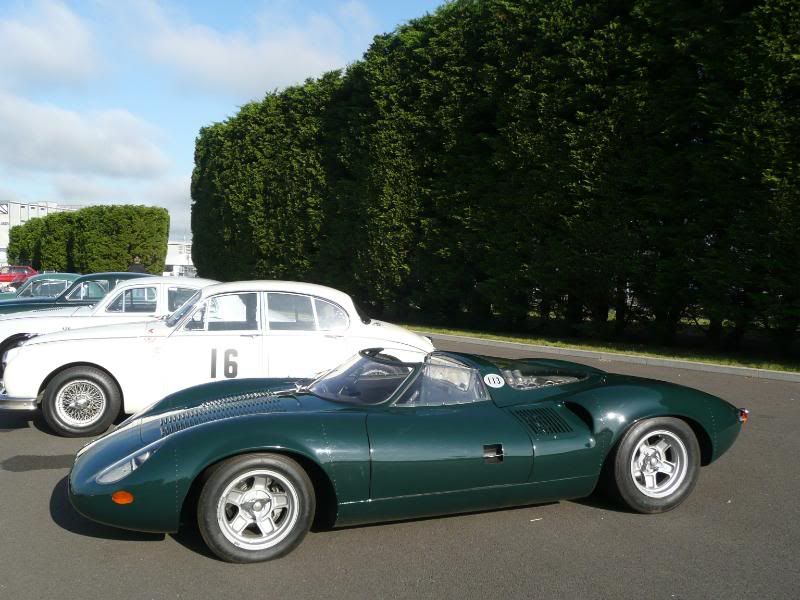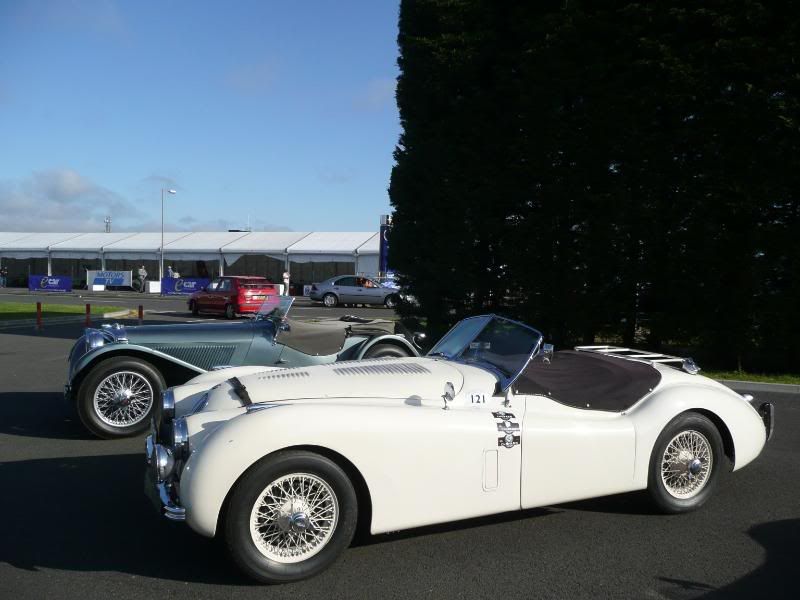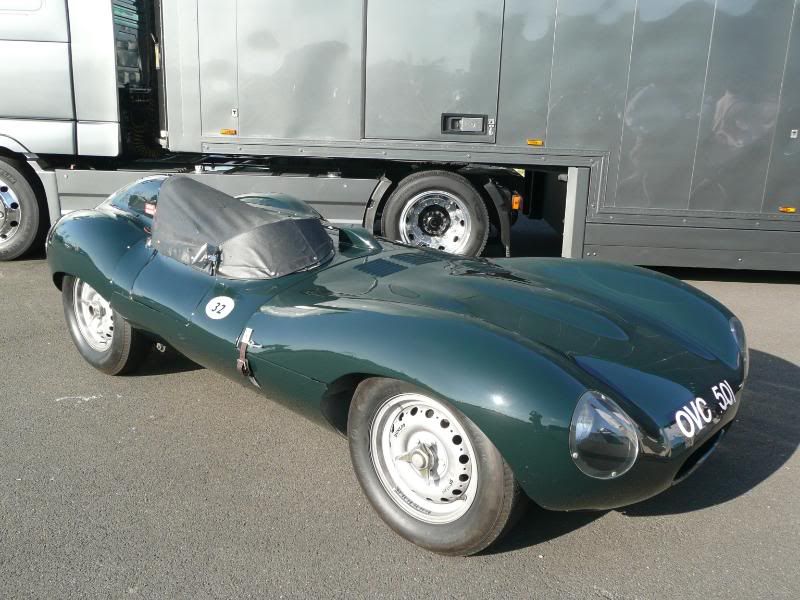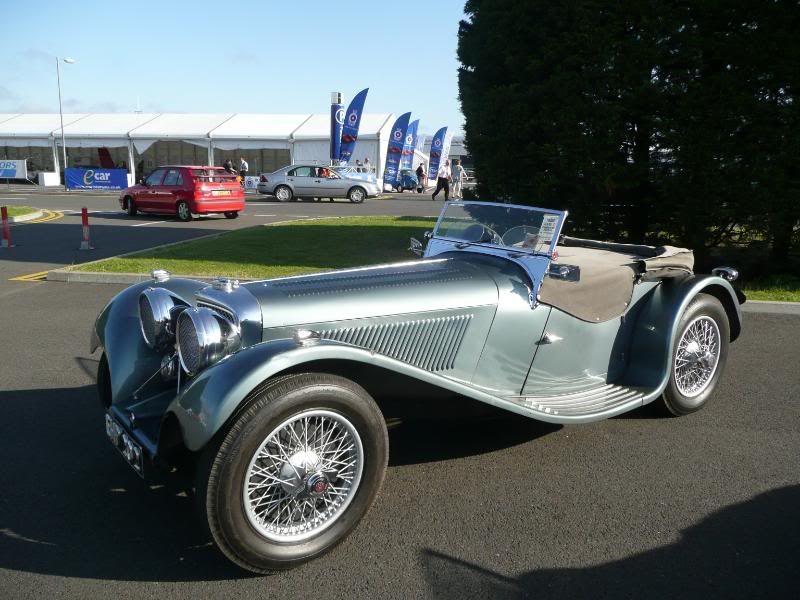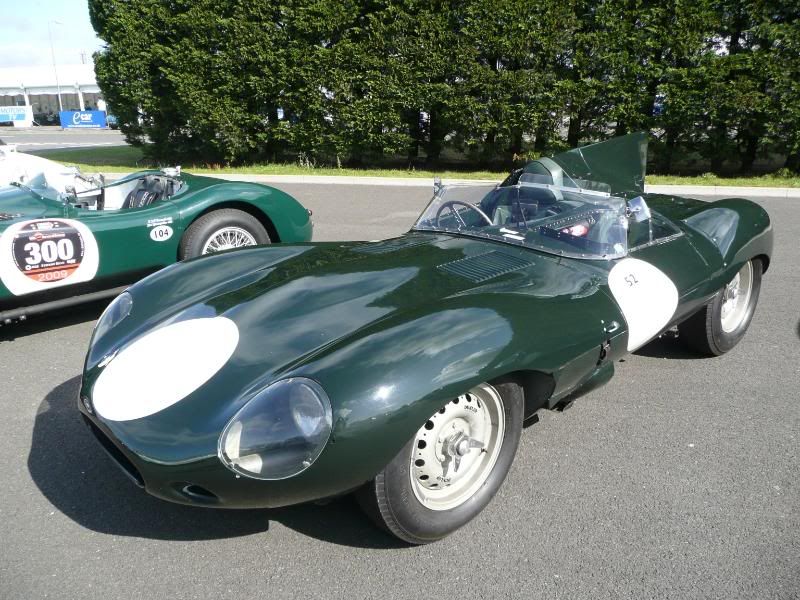 They also had a display of their latest models. Highlight here, without question was the first UK public showing of the new XJ. When I first arrived, it was covered up, and I established that it would be "unveiled" at 9am on the Saturday. I made treble sure I was on hand to see it as the covers came off. I loved this car when I saw the first official pictures and now I have seen it in the metal, I love it even more. It is simply stunning. The interior is even better than the exterior, made out of such high quality materials that even Audi will have to look to their laurels. The show car was a pre-production prototype, and initially they were not allowing people to sit in it, but they did relent during the day. I can confirm that it feels just perfect to sit in, and although there is not an acre of space in this one, the SWB car, there is ample leg and head room. There was lots of interest in the car, as you would expect, and just about everyone was massively positive about it.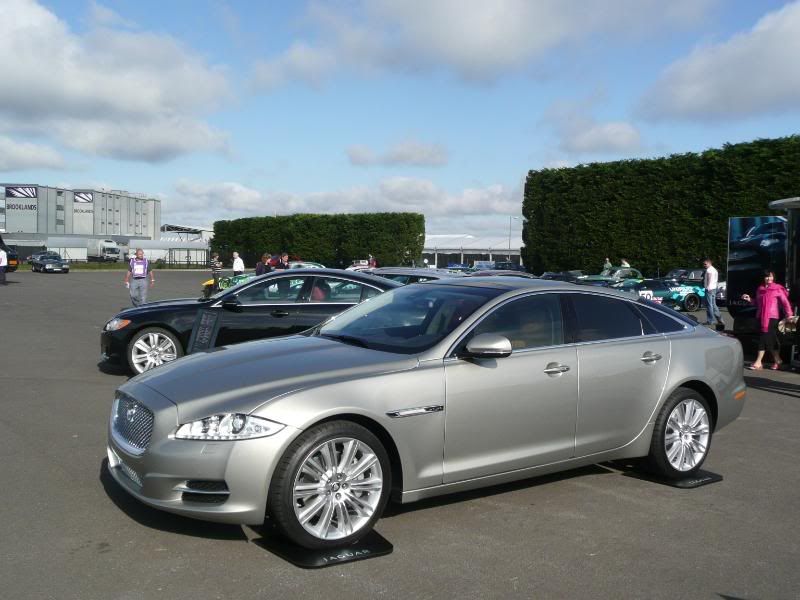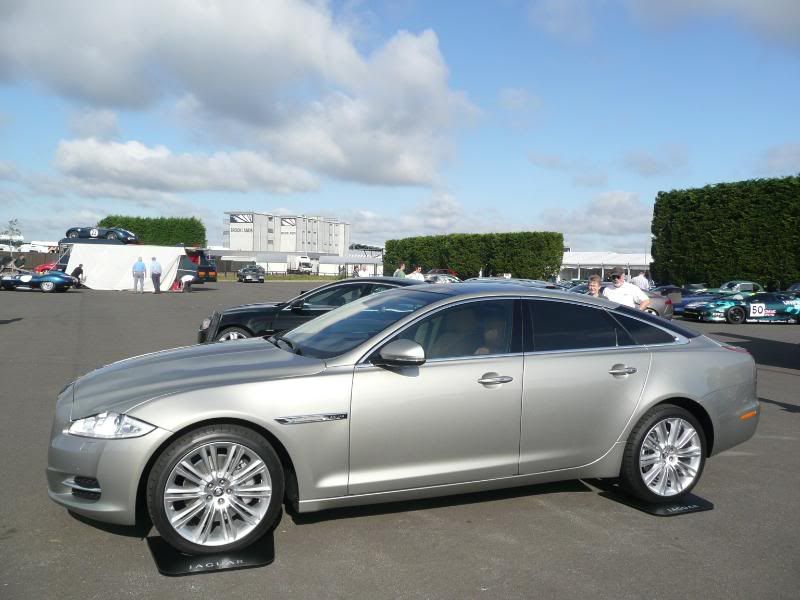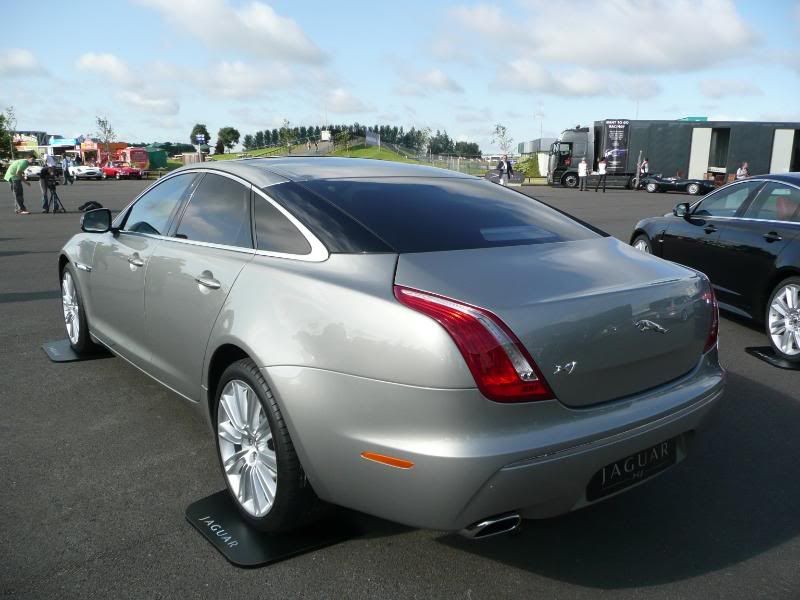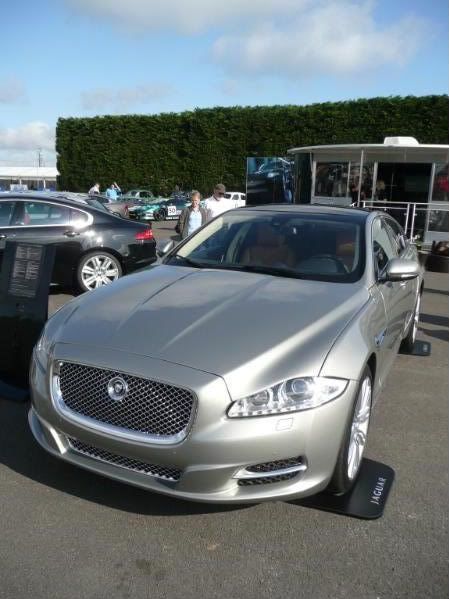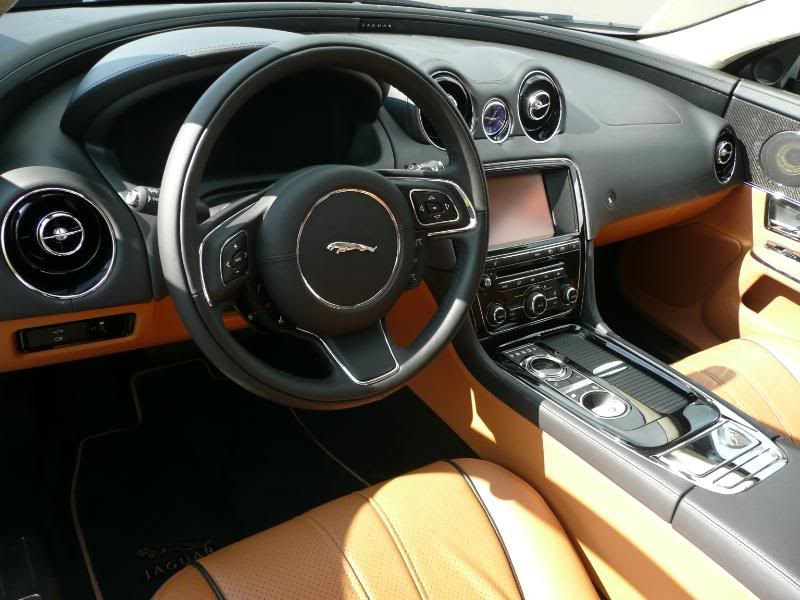 Pleased to say that the XF was also attracting its fair share of attention, especially the XF-R model. It was joined by the X Type estate and the latest XK cars.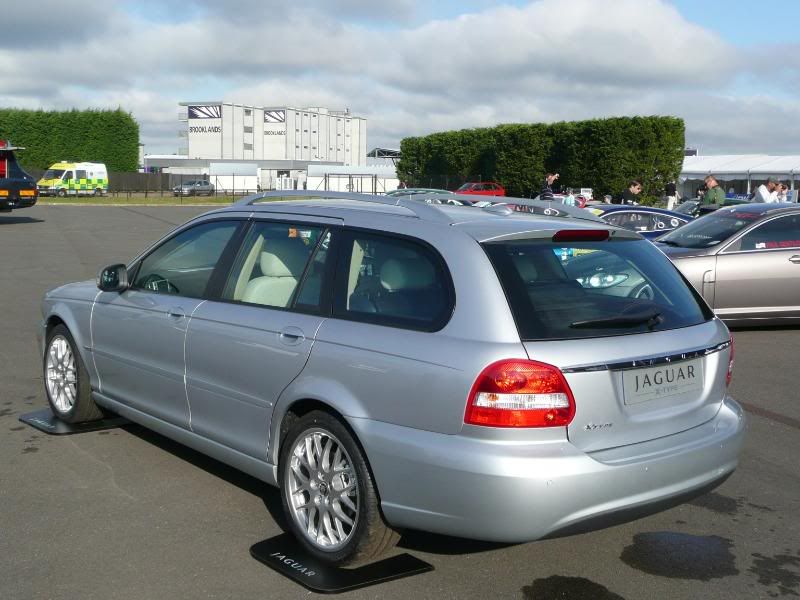 Many classic Jaguars joined this display area. Among them was an XJ220 in a rather unusual hue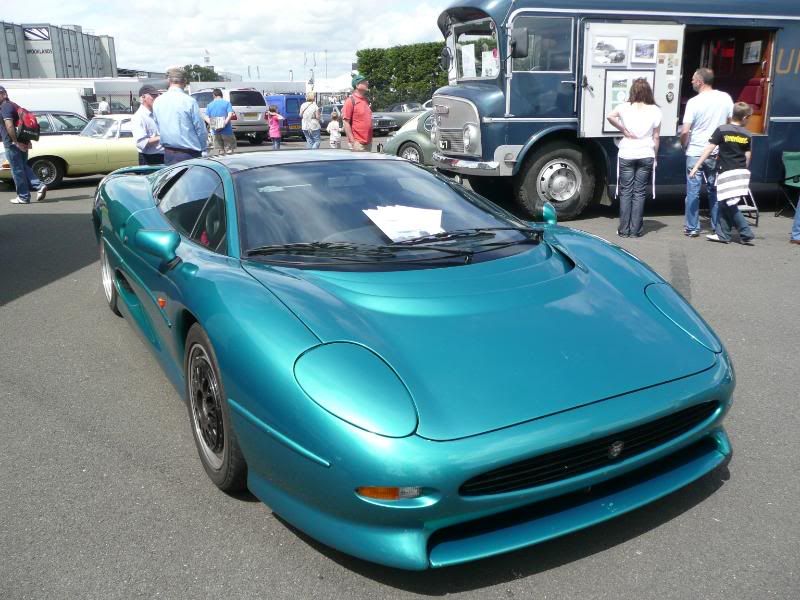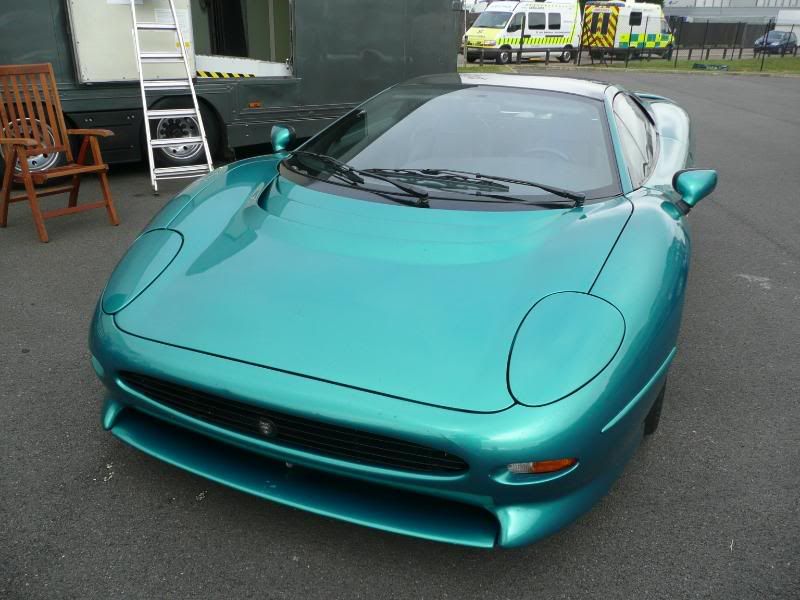 Plenty of "E" Types, of course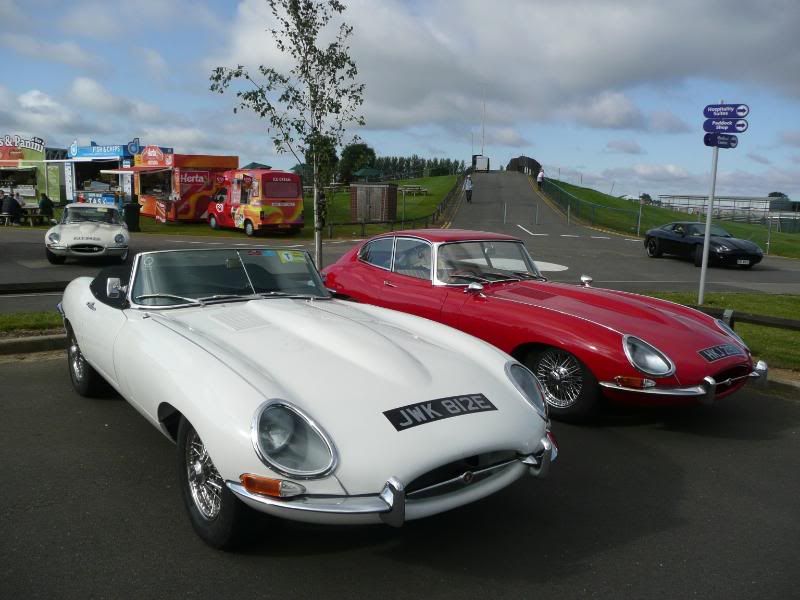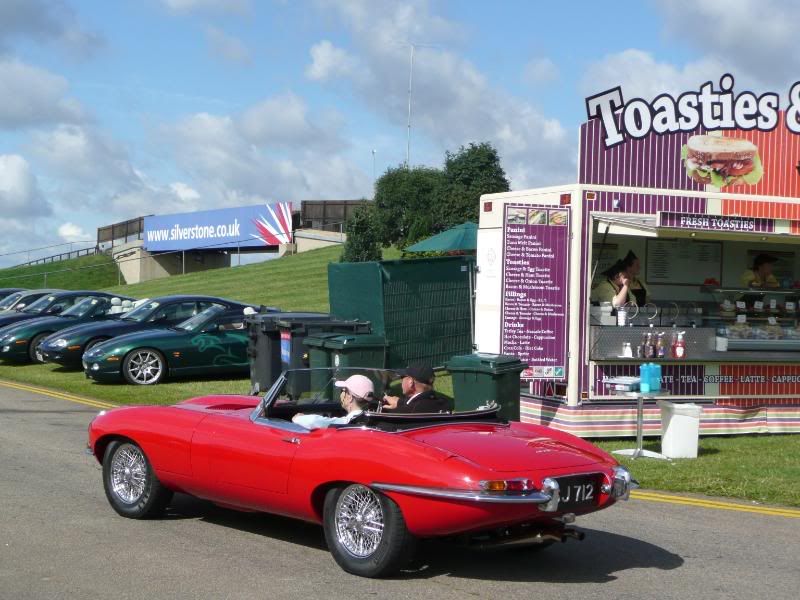 Spot the subtle differences between a Mark 2 and an S Type
An original SS100.
The Ecurie Ecosse transporter came complete with "C" and "D" Types.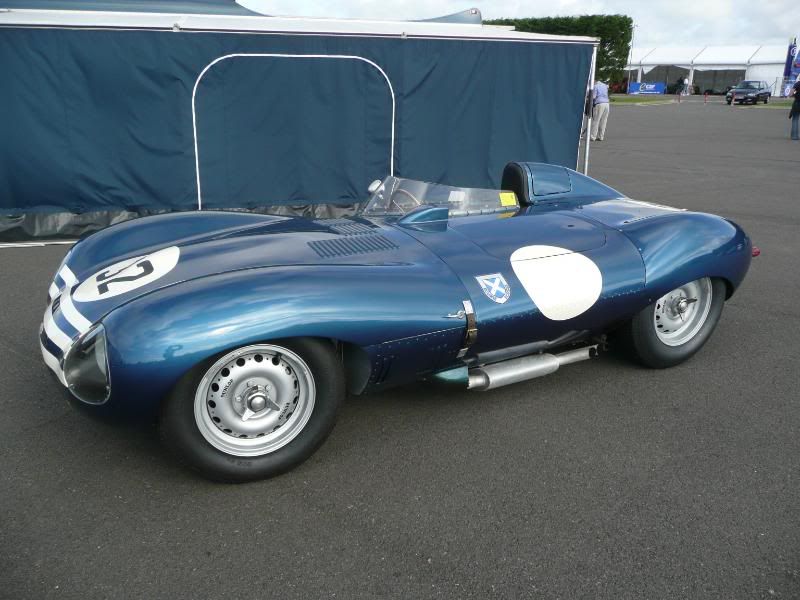 A Lynx Eventer – very elegant transformation of the standard XJ-S into a high speed "estate" car.
I had seen this car once before, at the Goodwood festival for the XK last year. It is one of just two such cars produced – an XK140 with a Ghia body on it.
The Jaguar Drivers Club put on a very impressive display, too. For starters, there were in excess of 50 of the recent XK8s on show.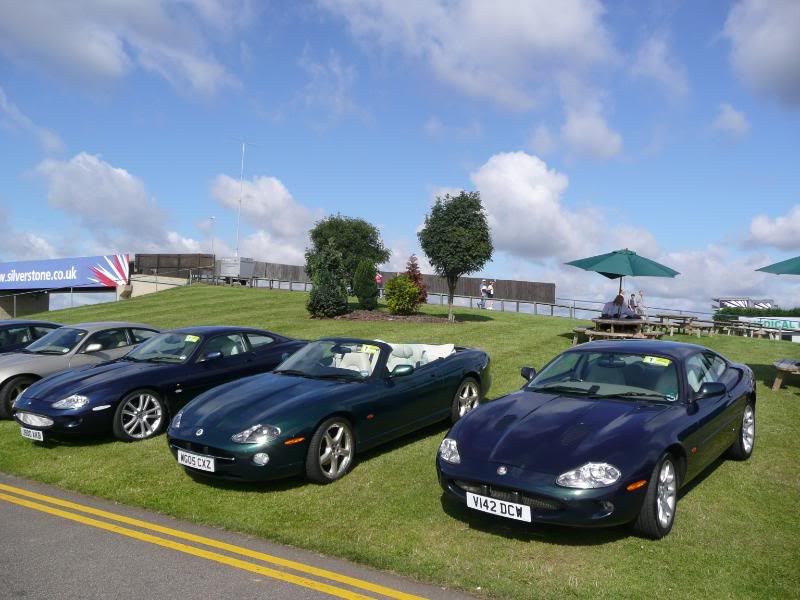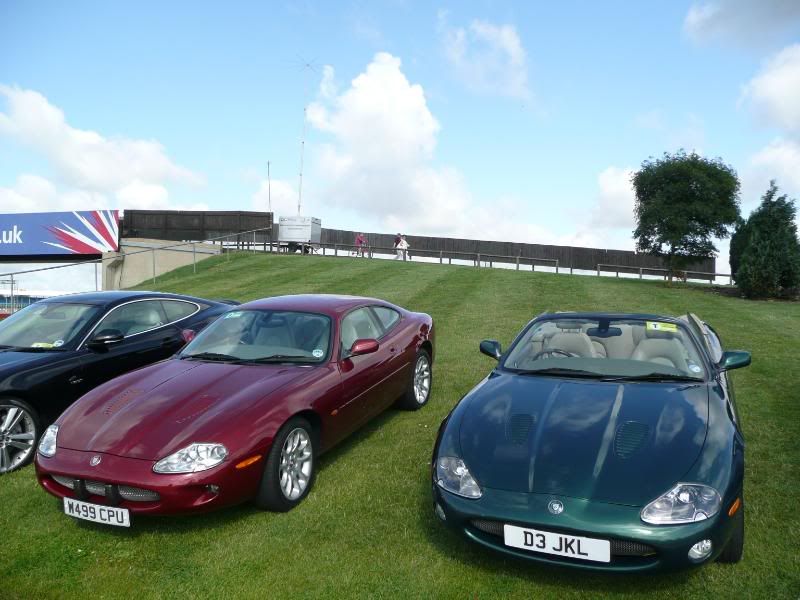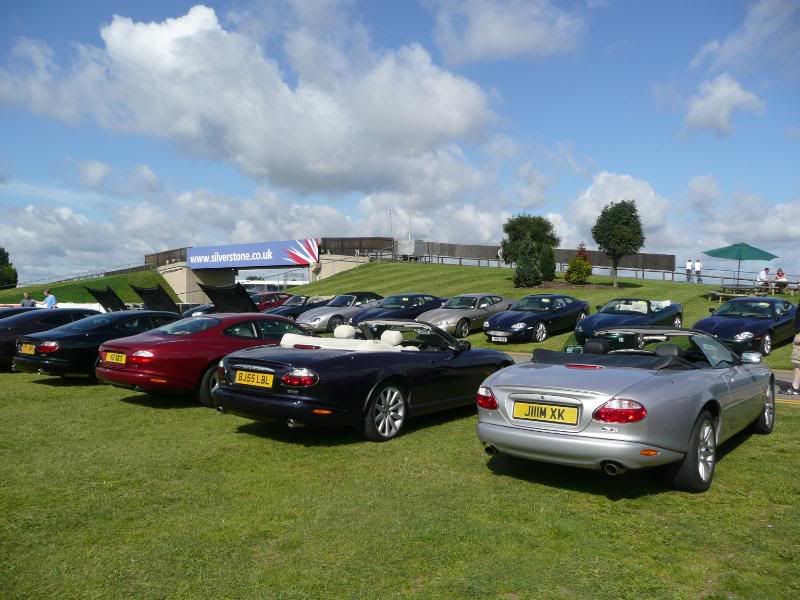 There were "E" Types aplenty, as you would expect.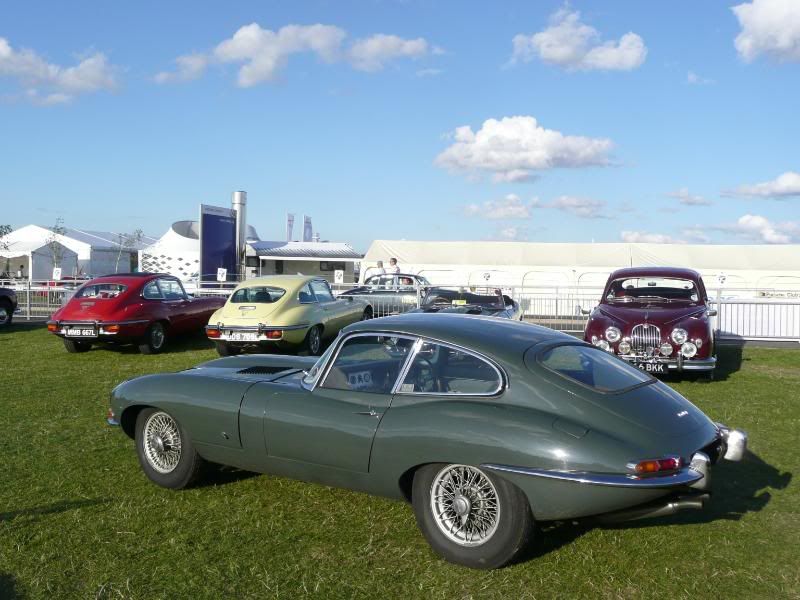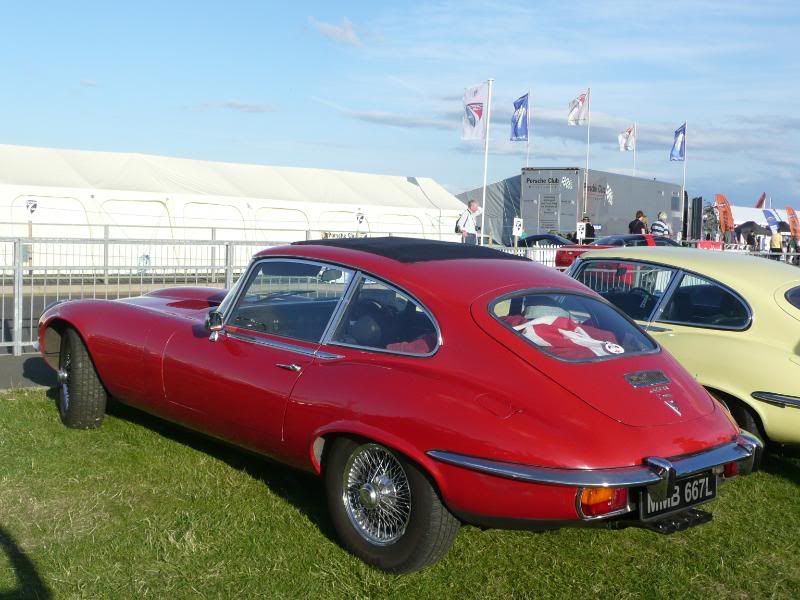 Numerically, there were doubtless at least as many of the classic XK family there: 120s; 140s and 150s.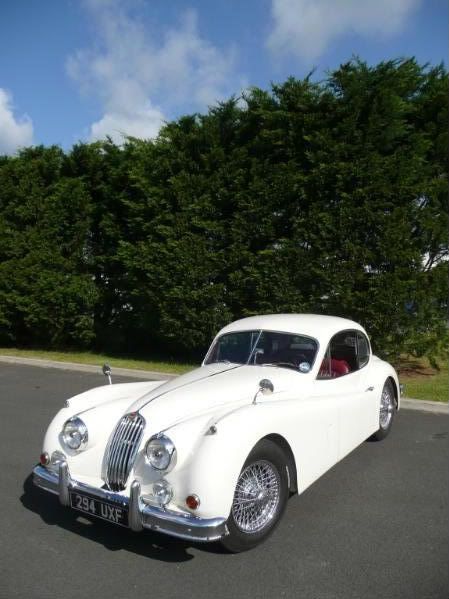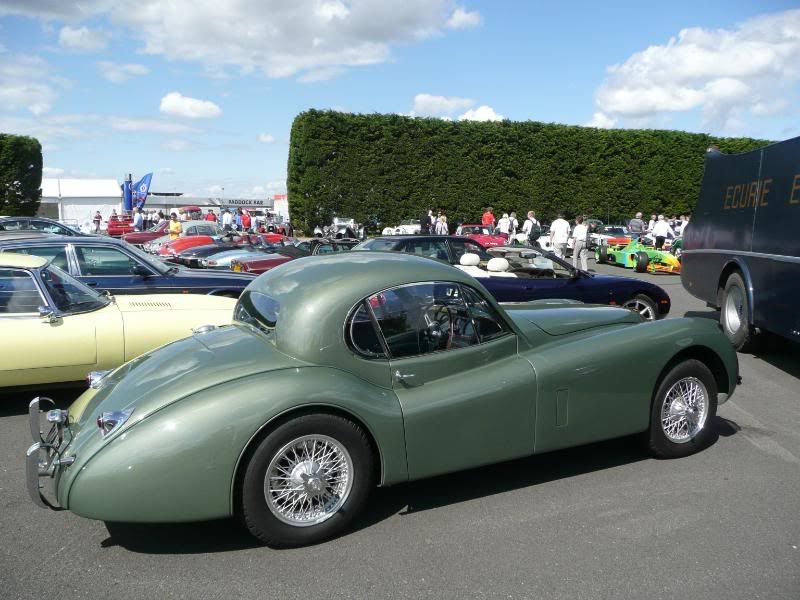 Saloon cars were not forgotten, with these 2 immense offerings, the Mark IX and the Mark X.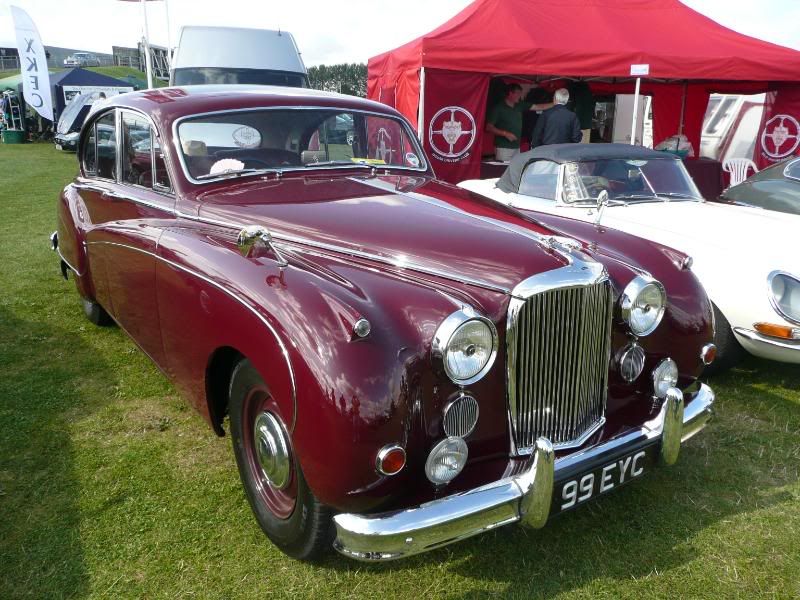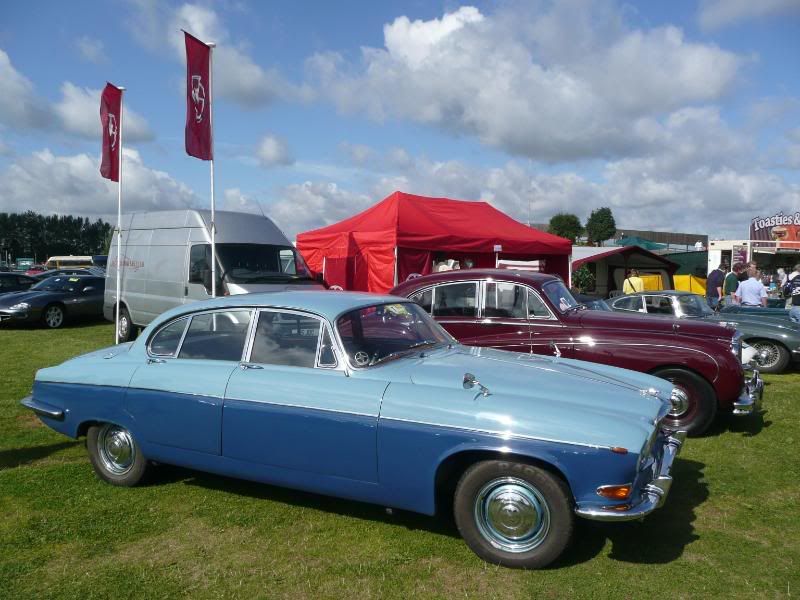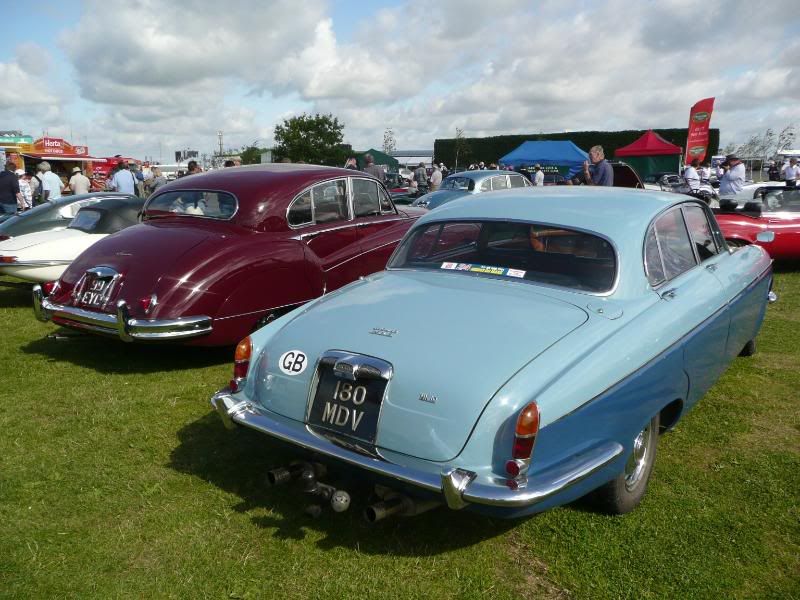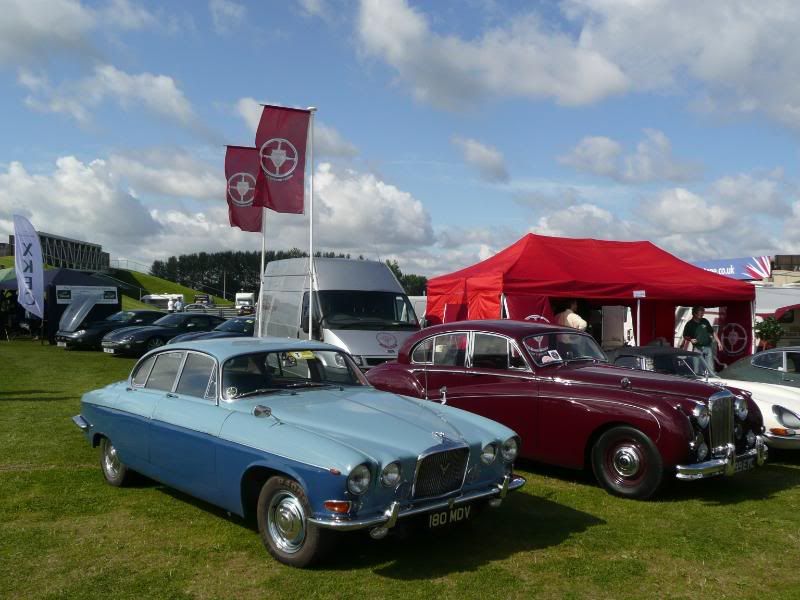 This Long-tailed C Type is a modern recreation of the 1952 car, of which just 3 were made, and all of which were destroyed more than 50 years ago. The original was not a success and also had a reputation for overheating, and hence it gained the nickname "kettle type".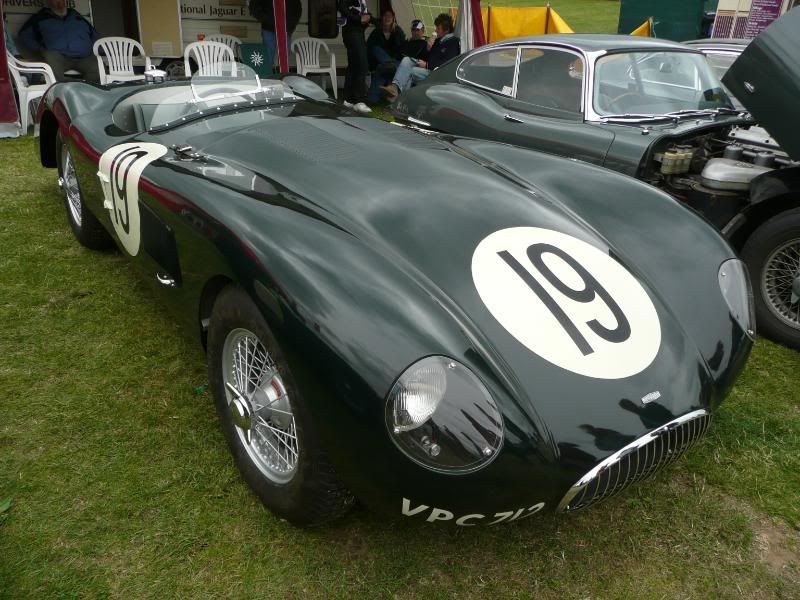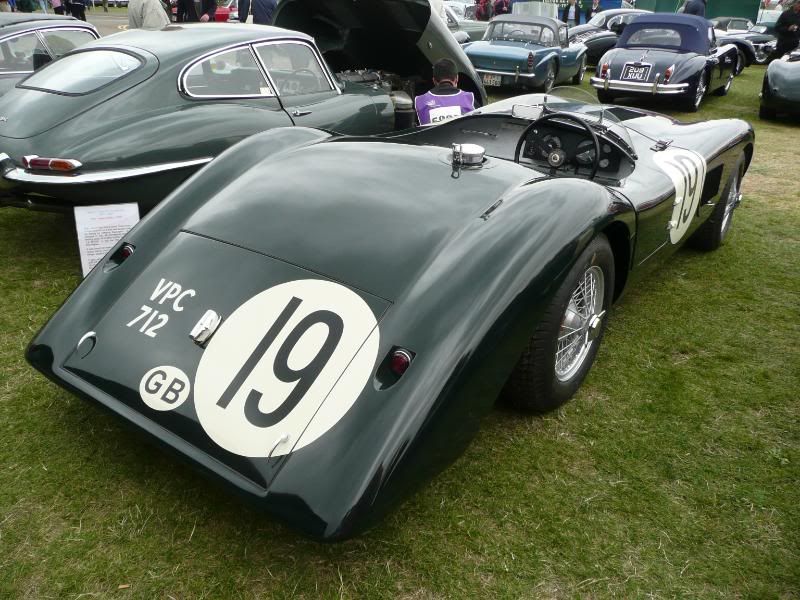 Also a modern recreation was this XJ13 – a lovely looking car.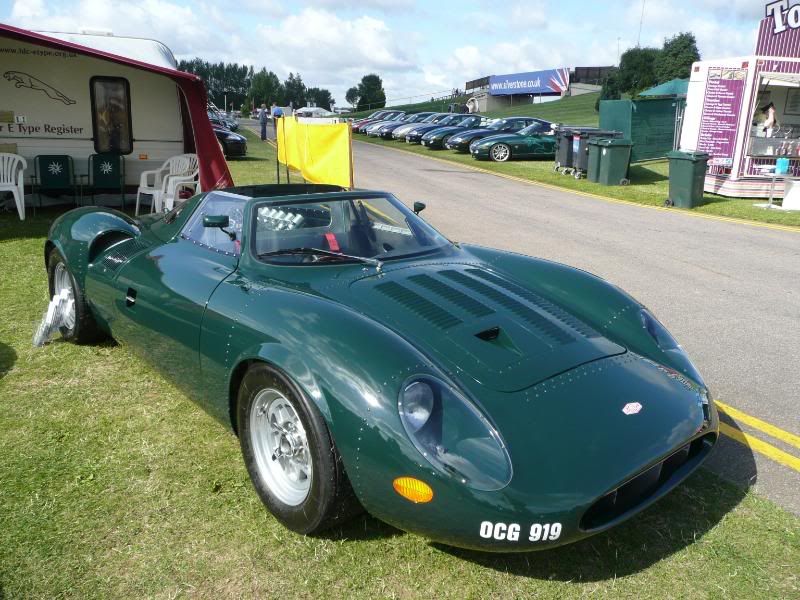 The recently reorganised Jaguar-Daimler Heritage Trust has decided to thin out their collection of cars, and those deemed surplus to requirements were up for auction on the Saturday evening. Most of the cars were from the more recent production, and all appeared to have sold, except the police cars. I was surprised to see that a very tatty "bottle" shaped Daimler, built to publicise a brewery, had reached over £15,500. An early XJ-S made just £3500, and a Series XJ little more than that, but an XJS Cabriolet had topped £21,000. All the cars looked immaculate and barely used. Here are some of them.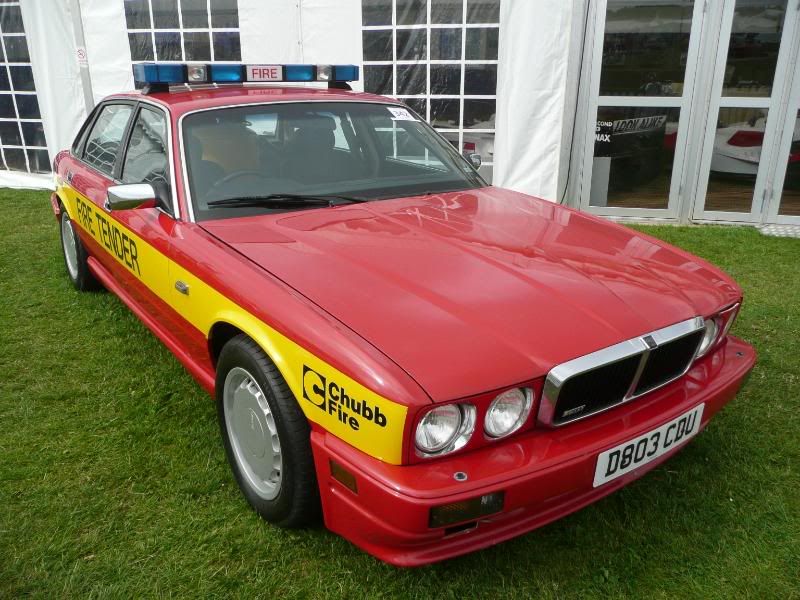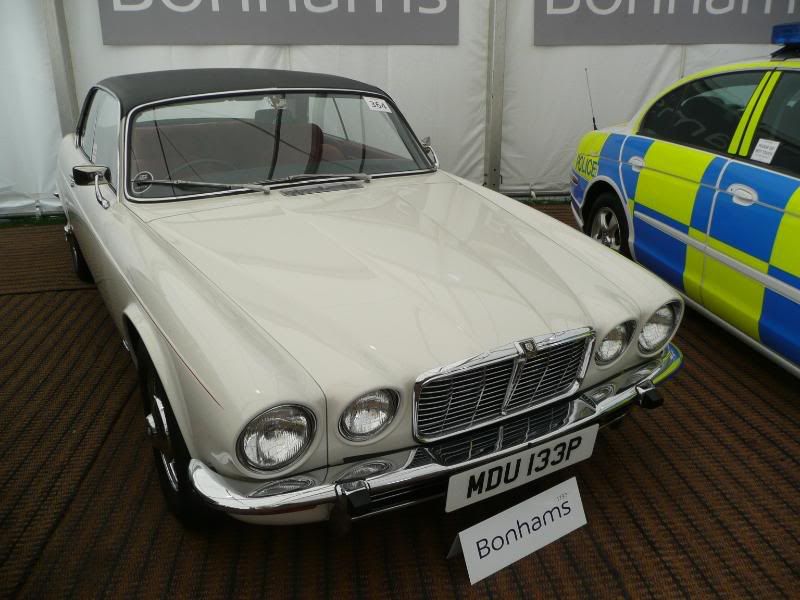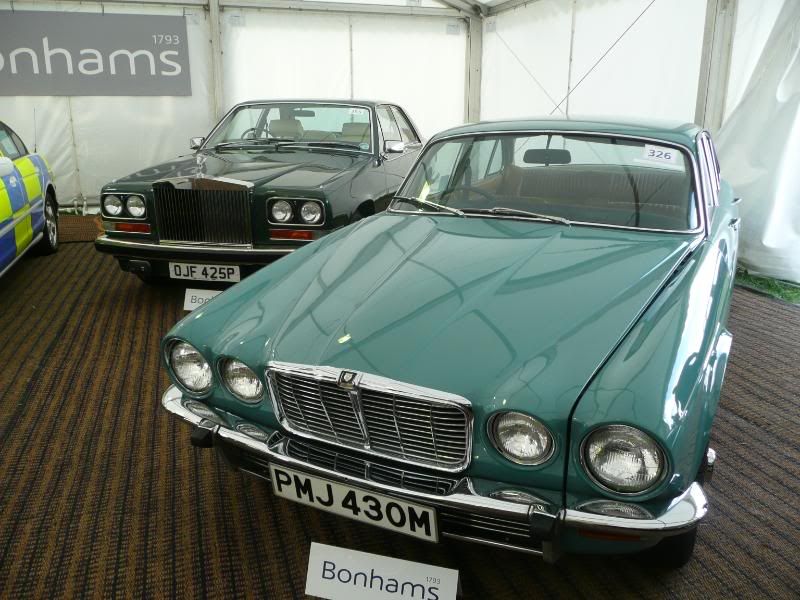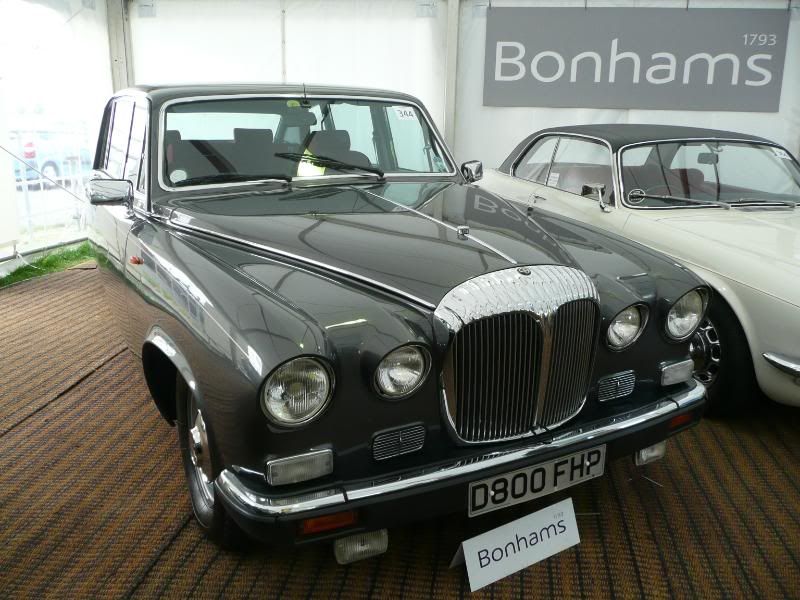 JENSENA rather tatty CV8, all by itself. Surprisingly, I do not recall seeing any other cars from this marque at the event.
LAMBORGHINIThere were surprisingly few of these cars at the event. We did spot what looked a just-restored Uracco, which was showing off its period orange paint in the early evening sunshine.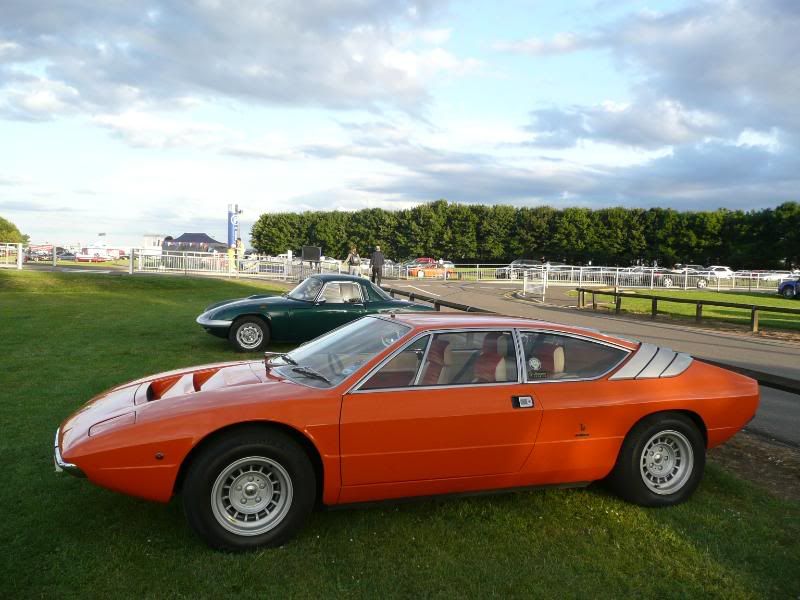 LANCIAOne of the oldest cars at the event was this Lambda. A very innovative sports car dating from 1922.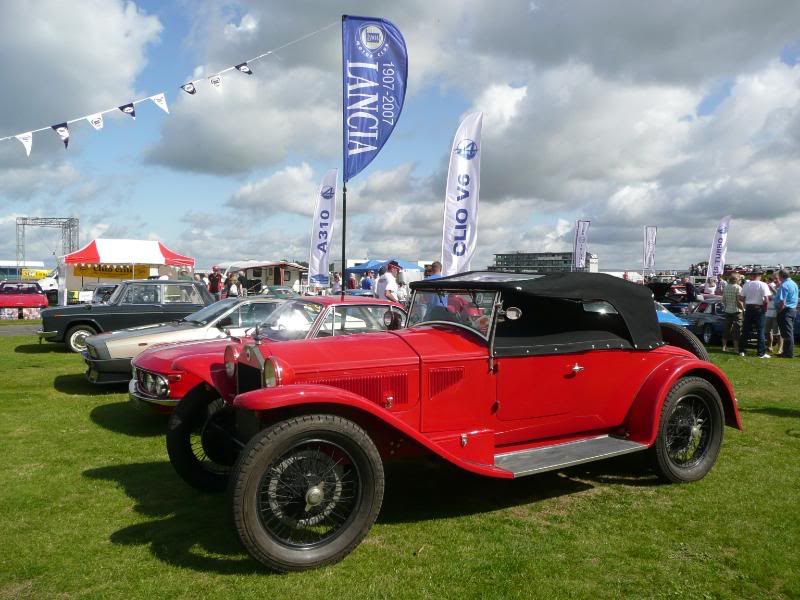 The Fulvia was an exquisitely engineered, and hence rather costly front wheel drive sedan launched in 1963. Nowadays it is the coupe models that are far better known and more often seen, but here was a Berlina.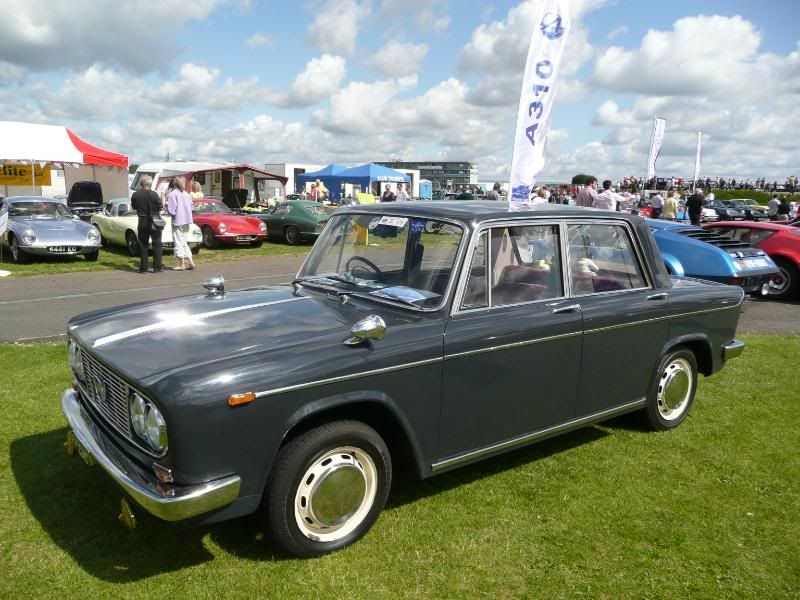 Big brother to the Fulvia was the Flavia, and this convertible version was found in among all the Jaguars.
The Y10 was quite popular in its day (1985 til about 1993), but survivors are few and far between. Even in Italy, they are quite rare now. This was a "Fire" engined LX model, and was in excellent condition.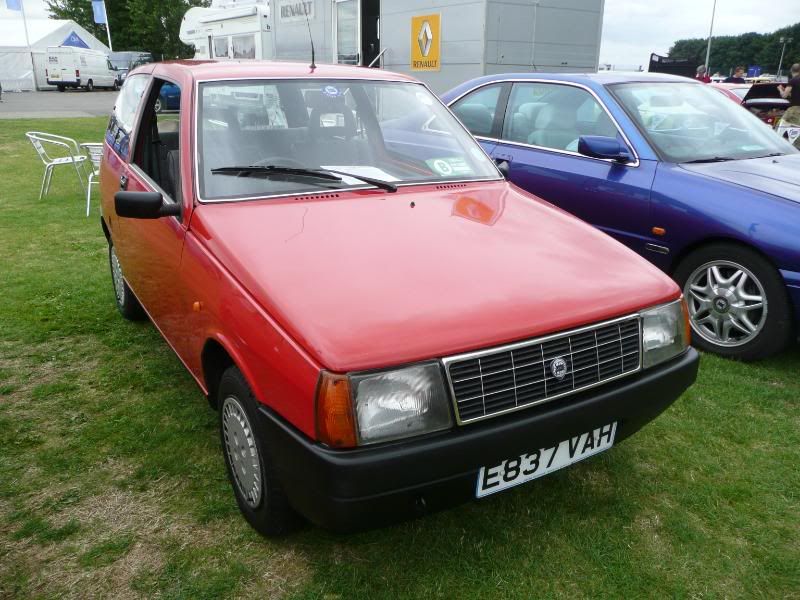 This Kappa Coupe is a rare car even in its native Italy. I've never seen one in the UK before.
I have seen the Thema 8.32 from time to time before. A veritable "Q" car this one.
There were several of the iconic Stratos cars, as you would expect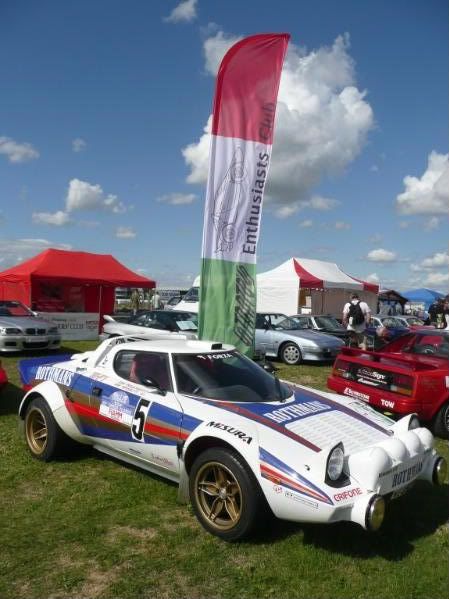 LOTUS

First chance to have a close-up look at the new Evora, as the recently opened Lotus-Silverstone dealer had their demo car available. I have to report massive disappointment. You would not believe the terrible driving position, with the pedals so far to the left, despite the salesman assuring us that "you don't notice", though he did admit he'd only driven the car a few hundred yards. As there is body work in the way, I guess that this is simply something which cannot be fixed, but both Dan and I agreed this would probably be a deal breaker. The rear seats are a complete joke, and would not be worth the extra money, but otherwise this looks like a decently practical car that is just about well-enough finished to justify its slightly ambitious price tag.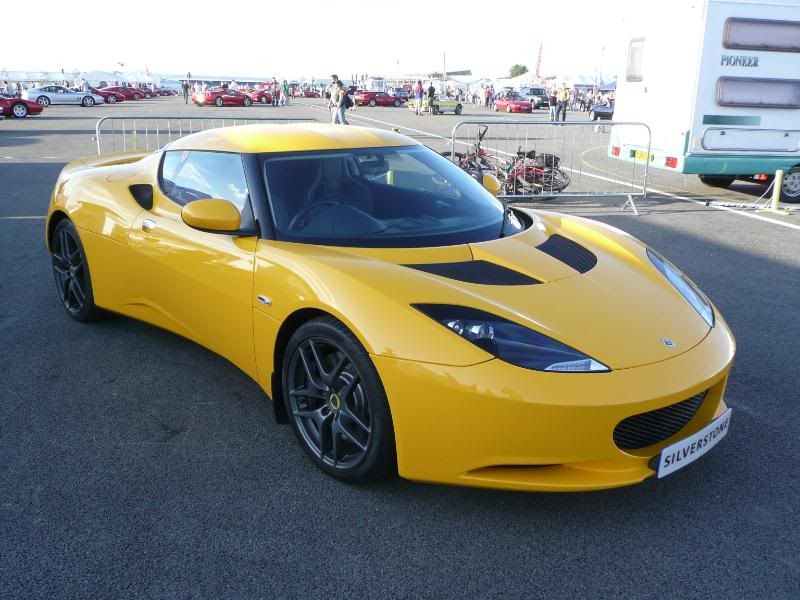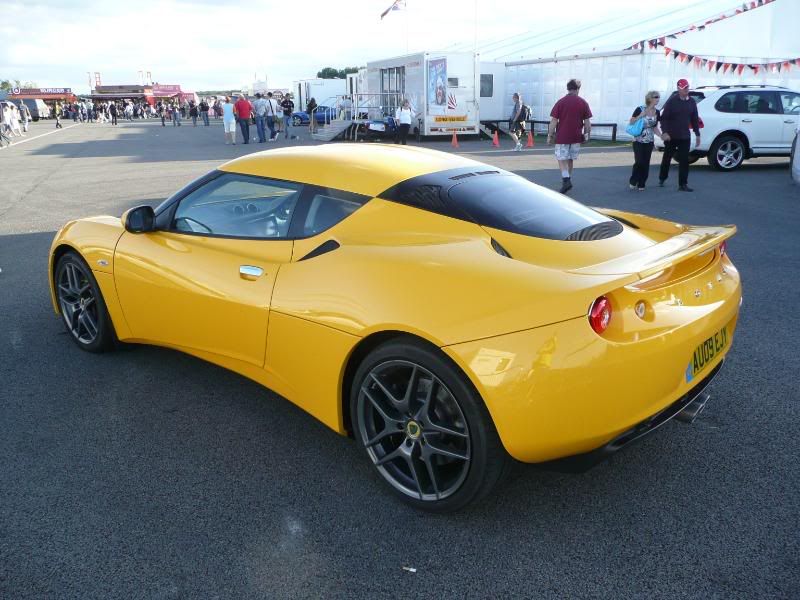 Plenty of Elise and Exige, of course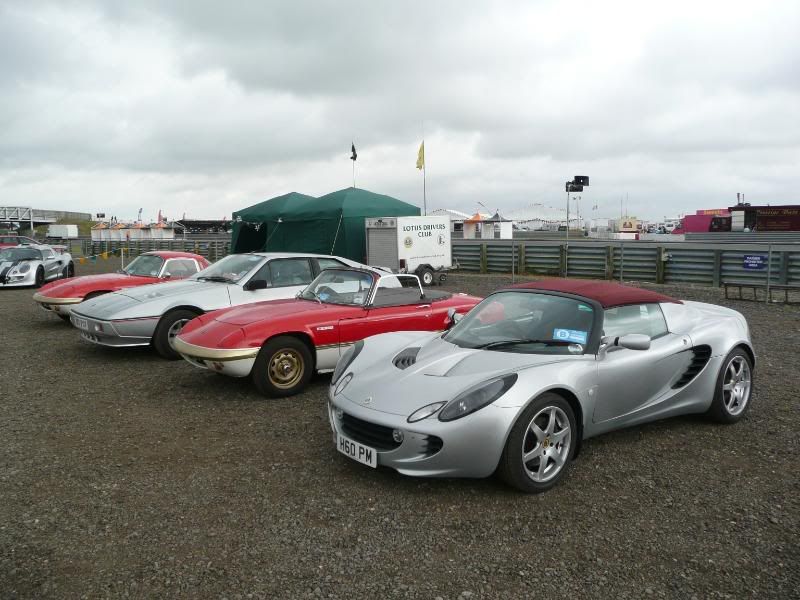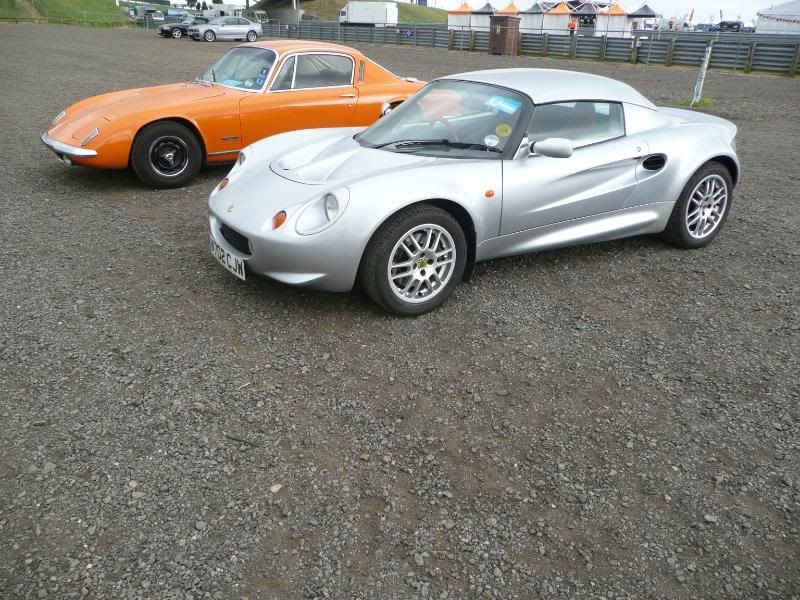 Plenty of the classic Elan and Plus 2 cars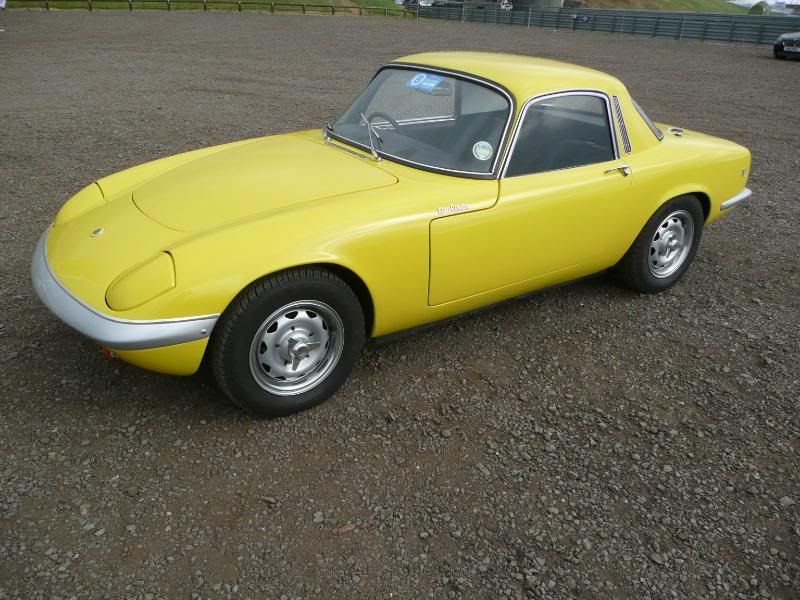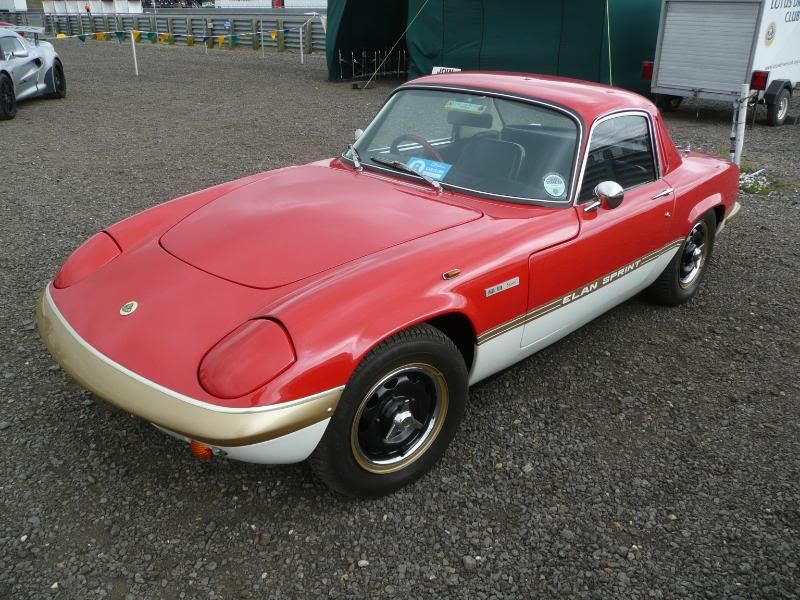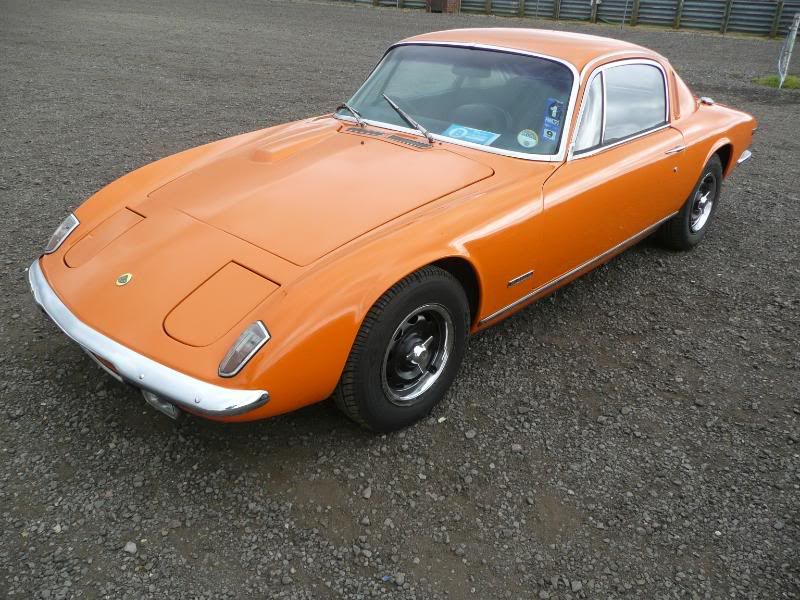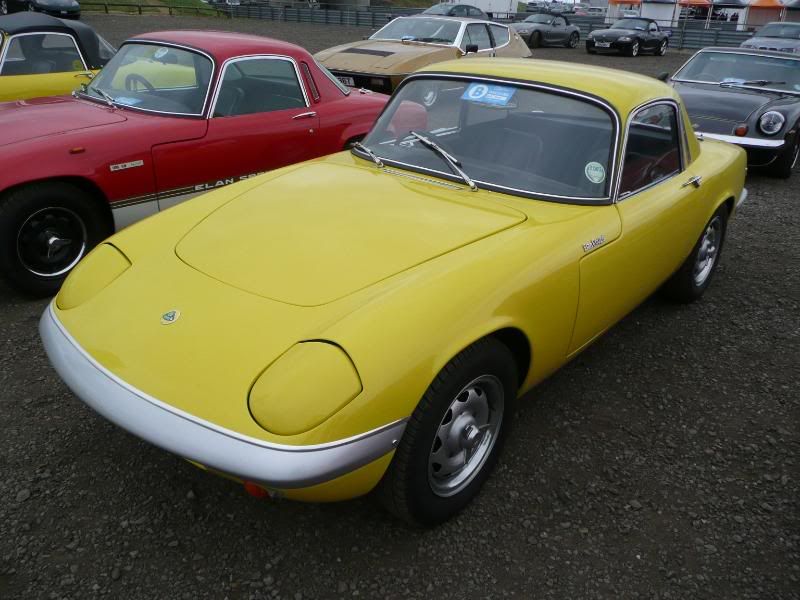 Along with a few Excels, there was one example of the wedge-shaped Elite.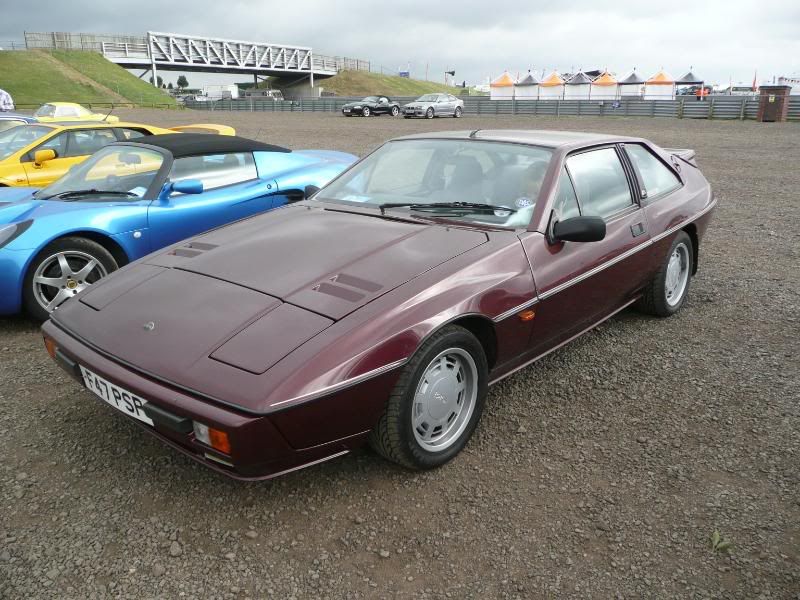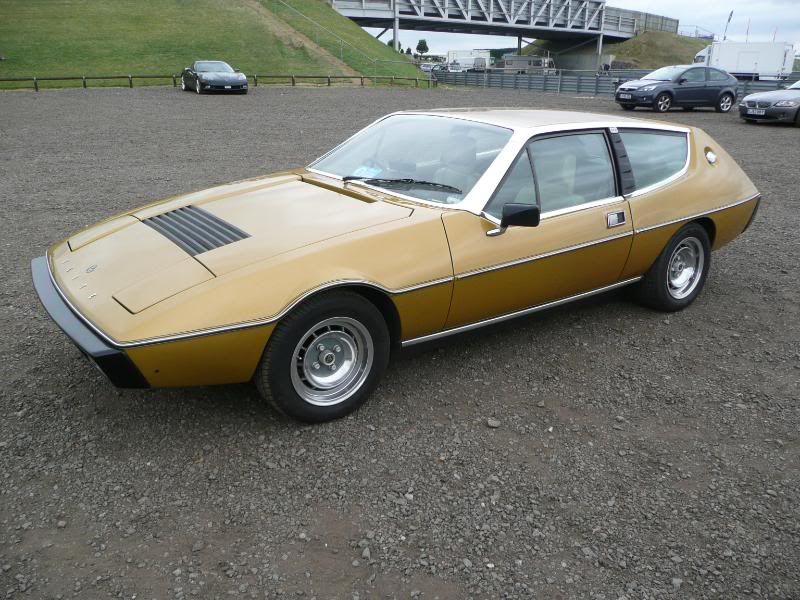 A separate display area was for the original Elite, and there were plenty of cars to see.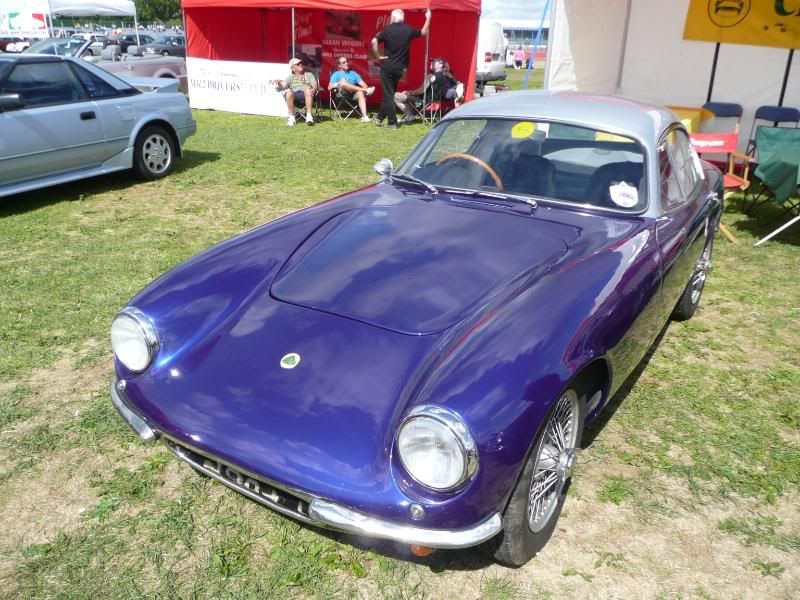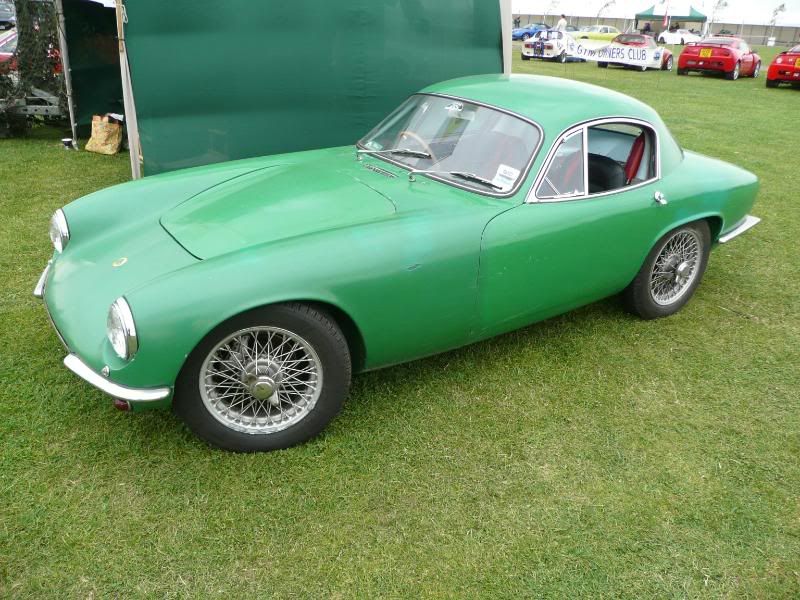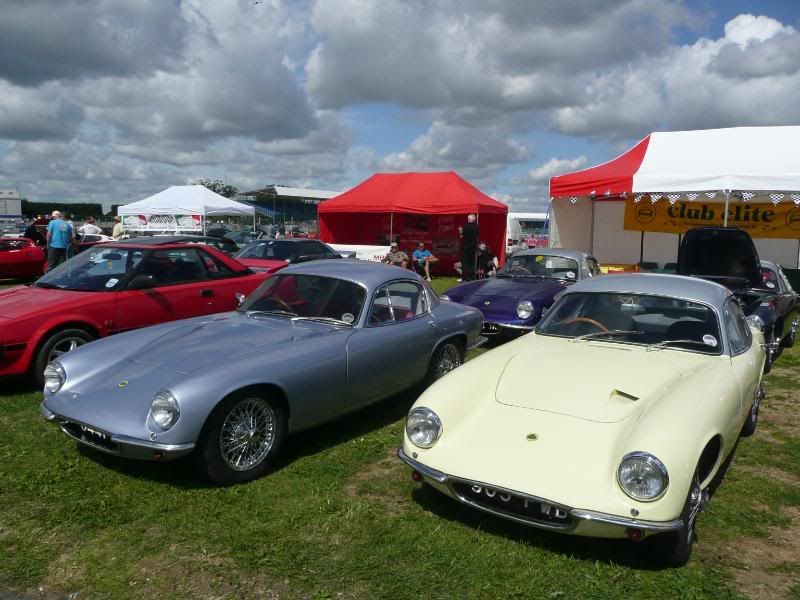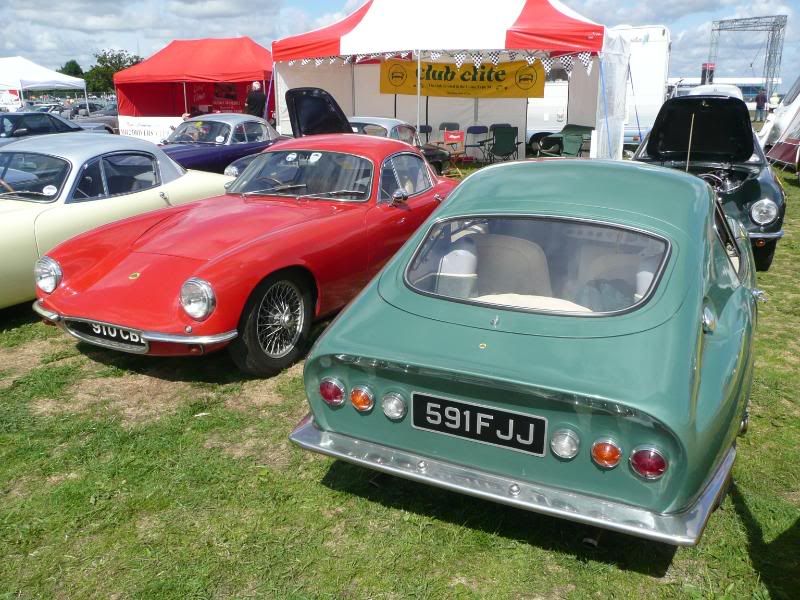 Some early Lotus Sevens.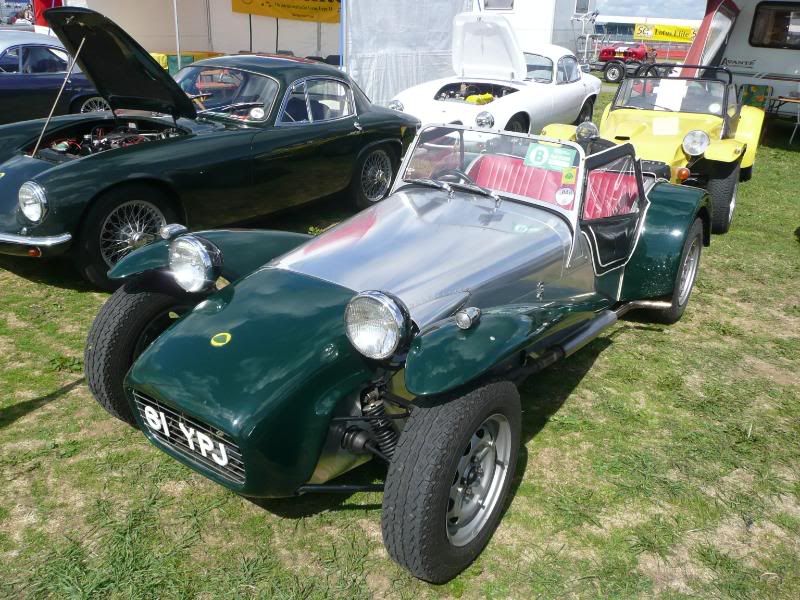 This is a streamlined Lotus Six.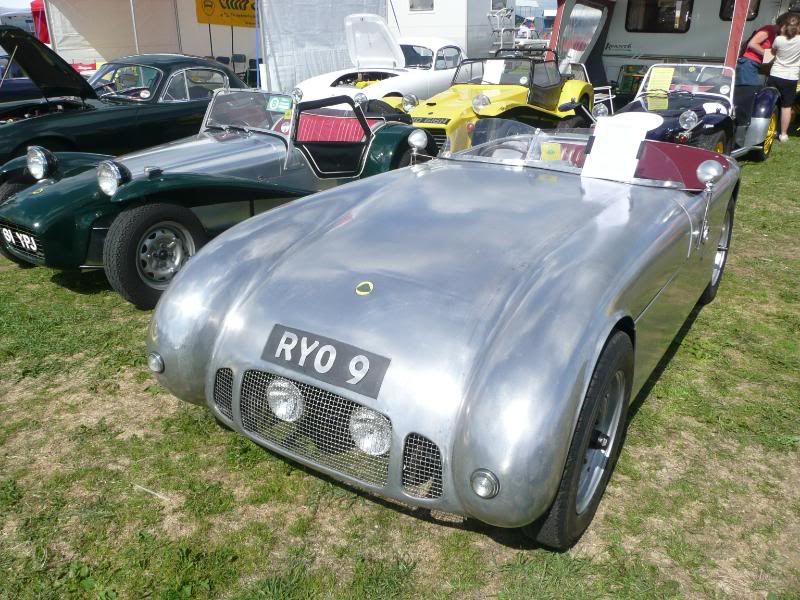 MARCOSLots of Marcos, from the start of the company's success in the mid 1960s, to the very last cars produced before the final winding up in 2007.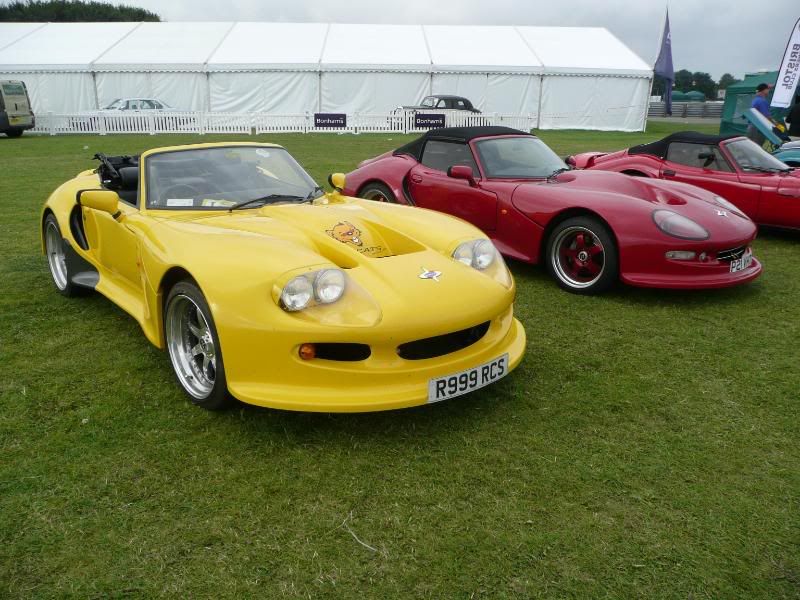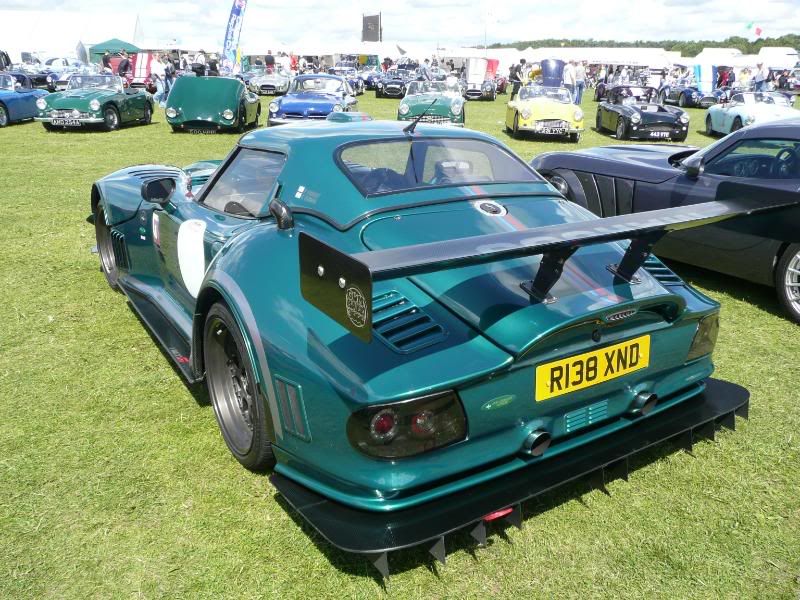 There was one Mini Marcos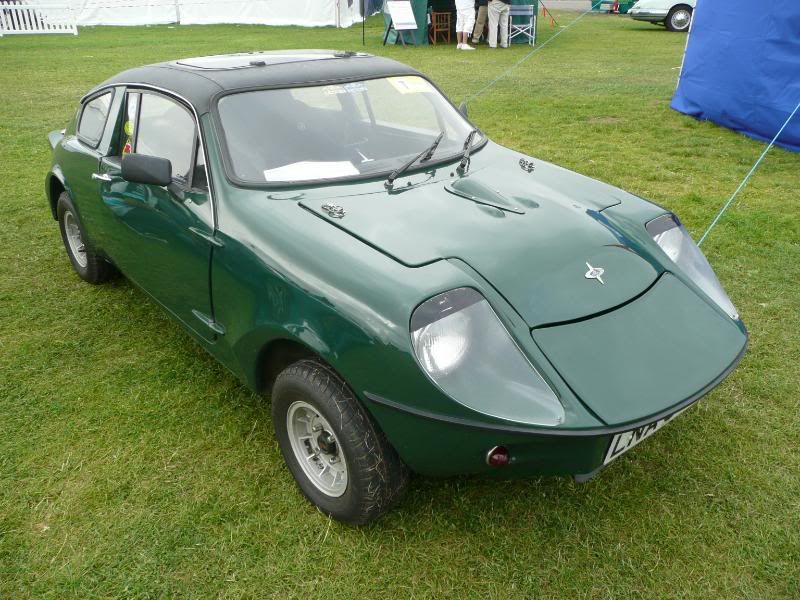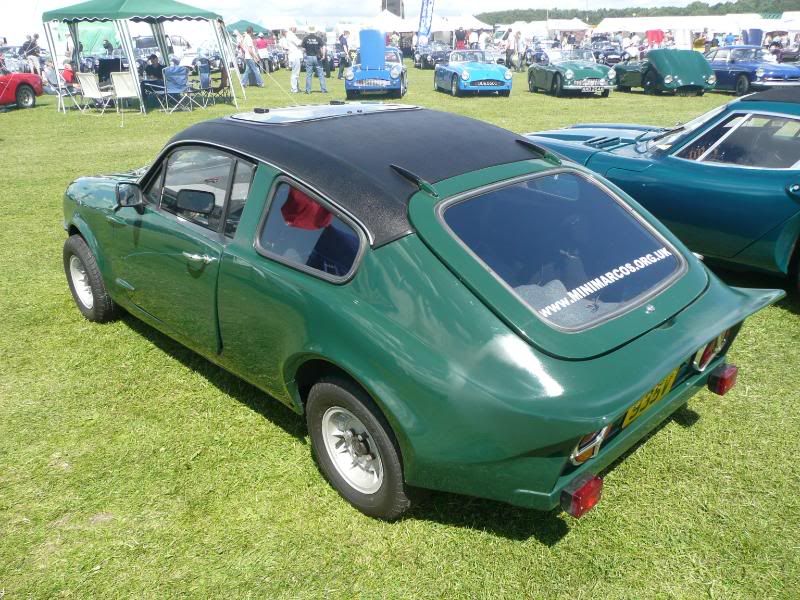 This LM600 was the one that we saw at Gaydon. Just mental!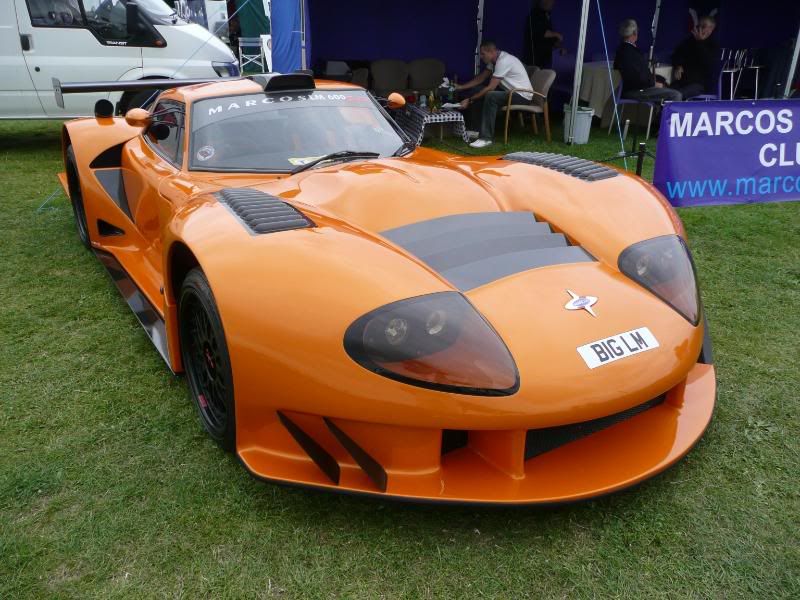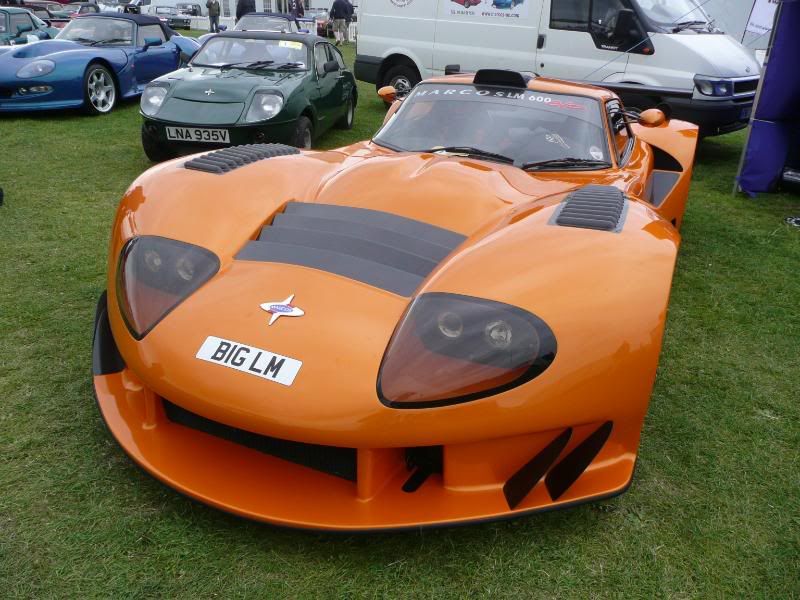 Last car produced before the make went under was the TSO – a nicely styled car, even if the driving experience was apparently rather more disappointing.
MASERATI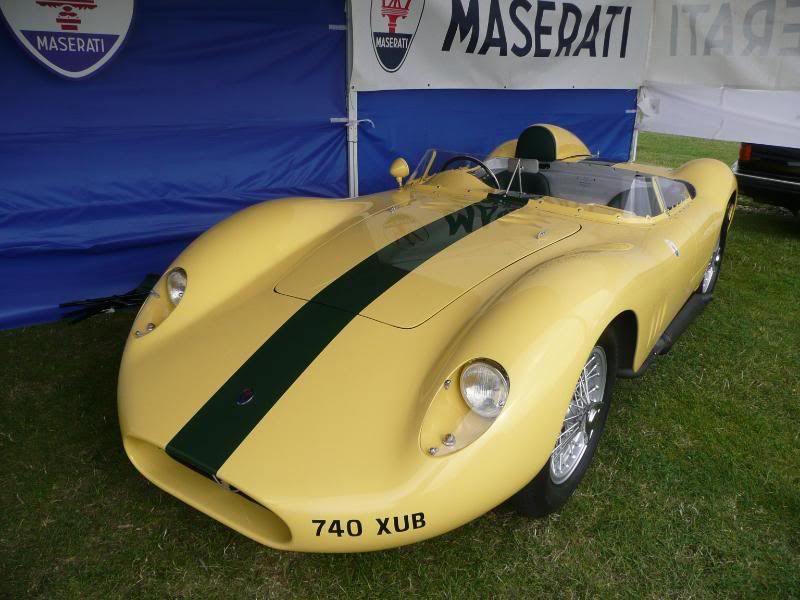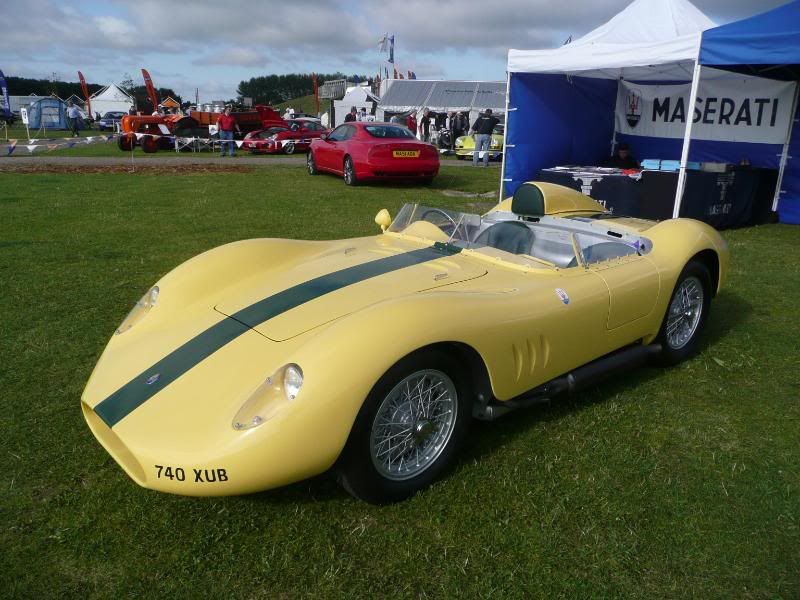 One of the rarest of all Maserati is this, the Quattroporte II. One of only 12 cars produced, this car was launched in the depths of the 1974 fuel crisis and recession – just the wrong timing for a luxury car with many features which we now take for granted but which were a real novelty at the time.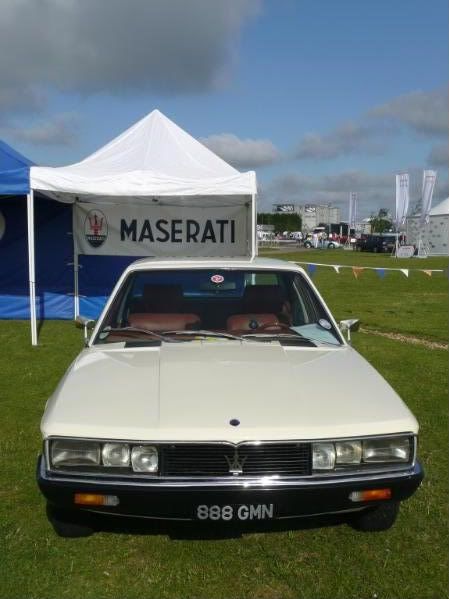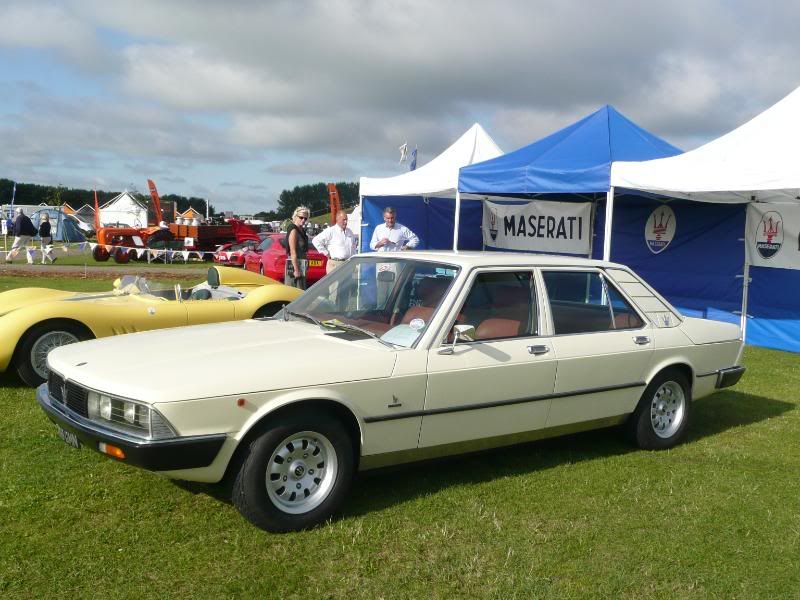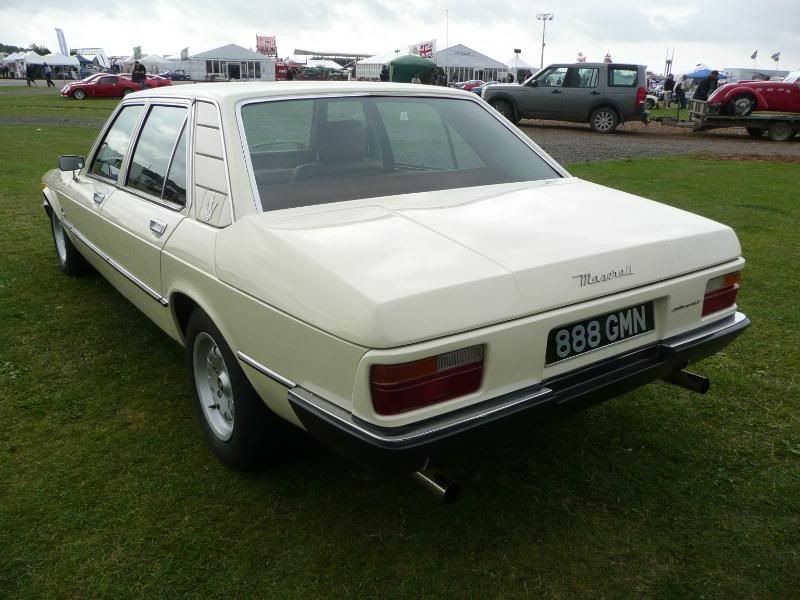 All subsequent generations of the Quattroporte were represented, too.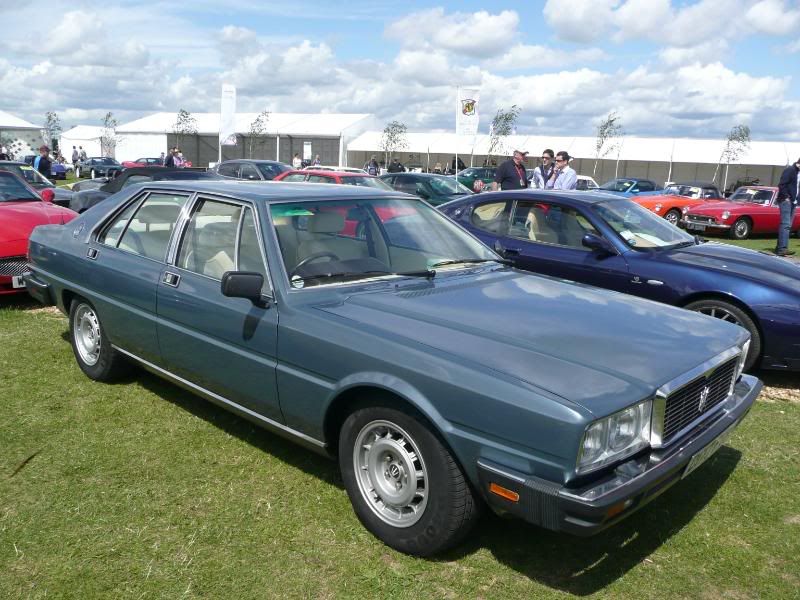 There were plenty of the more recent 3200/4200s.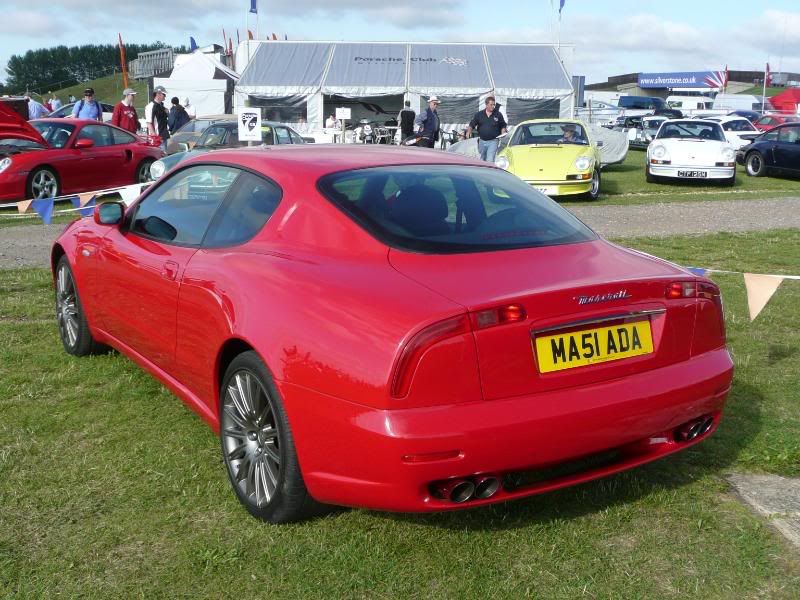 There were also plenty of the Biturbo family, which spawned a vast number of different models over the nearly 20 year lifetime of this vehicle. Here are some of them: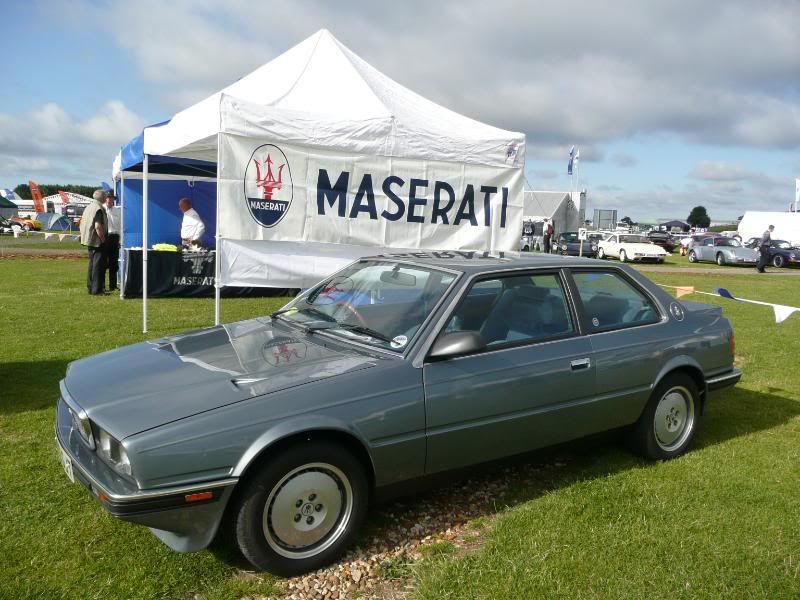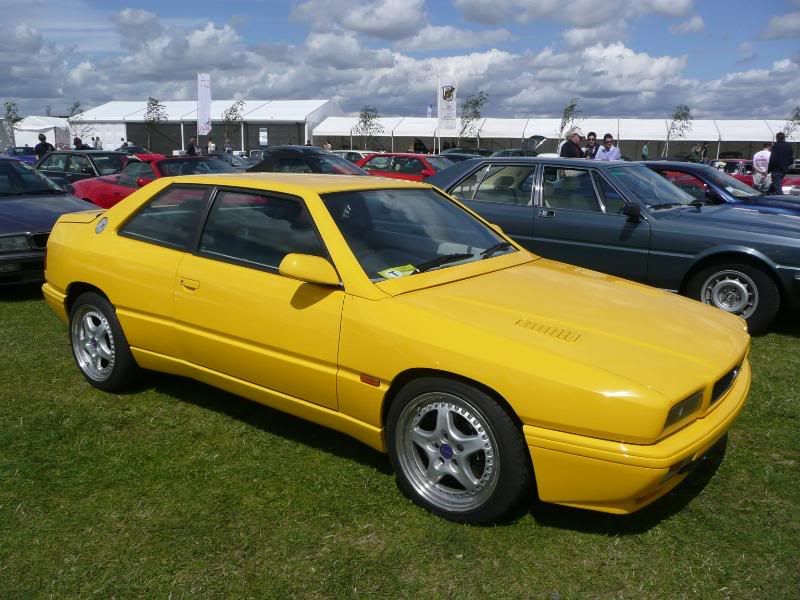 Some more unusual Maserati included these. The convertible car is based on the 3500GT, I believe.
Indy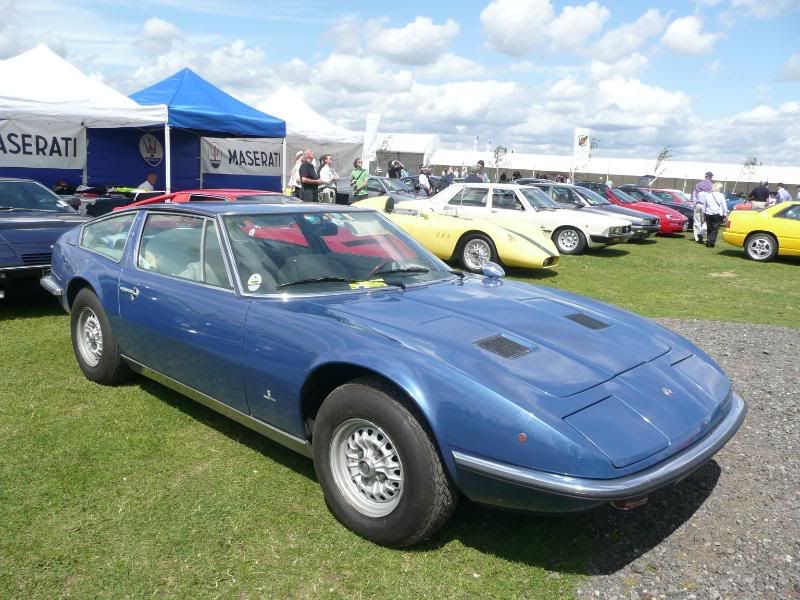 Merak – a mid-engined 2+2 from long before the Lotus Evora, and with rear seats that were just about as usable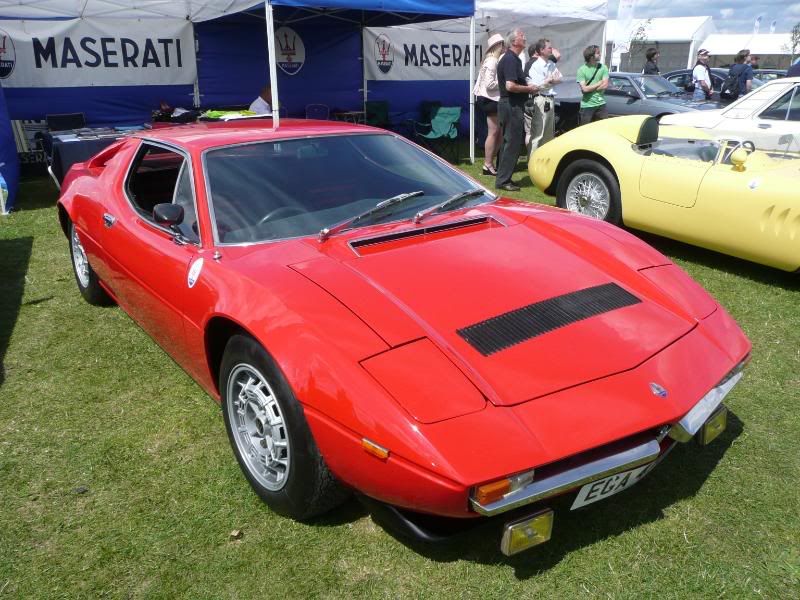 Mexico
Khamsin – another car with 4 seats, though you would not want to travel far in the back of this one, either.MERCEDES-BENZ
Oldest Mercedes on show was this 170V from the 1930s.
On Sunday, a "gullwing" 300SL turned up.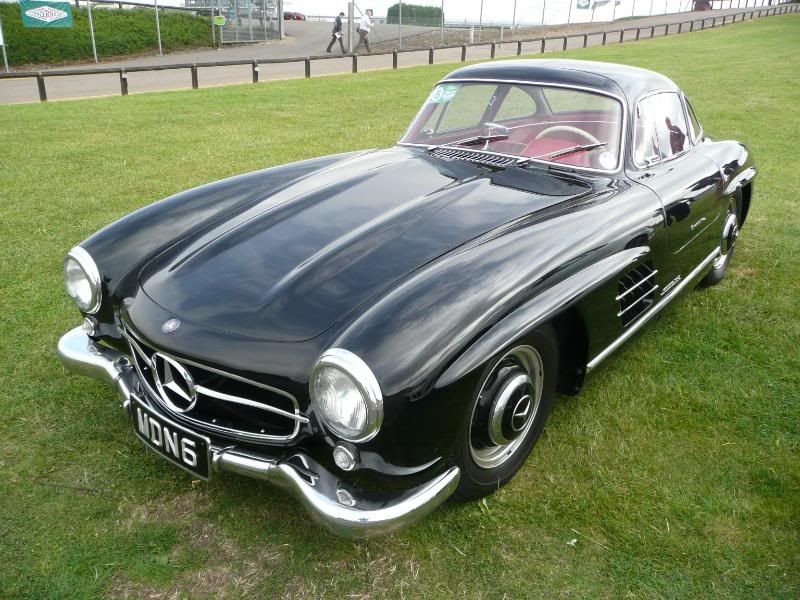 From the same era was this, a 220 "Ponton" cabrio.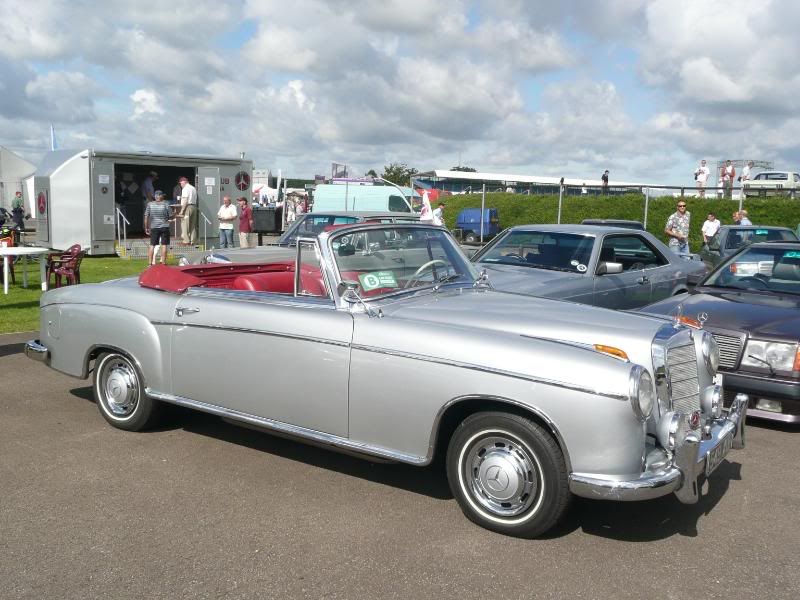 Mercedes made some of their most elegant cars in the 1960s and these 300SE Coupes prove that point, as does the 280SE saloon.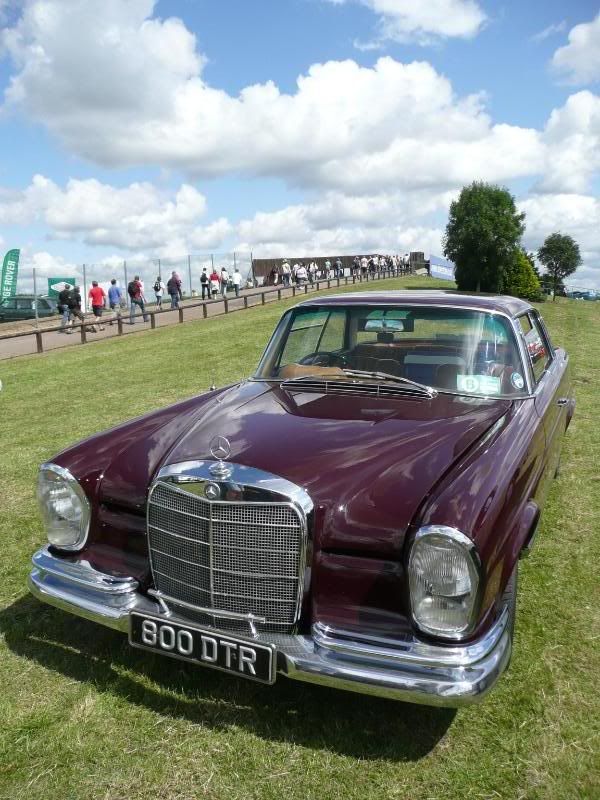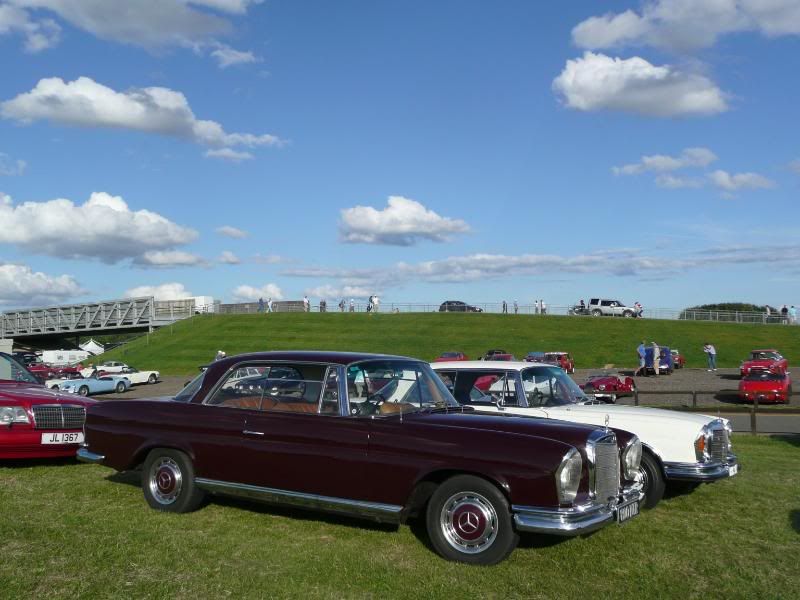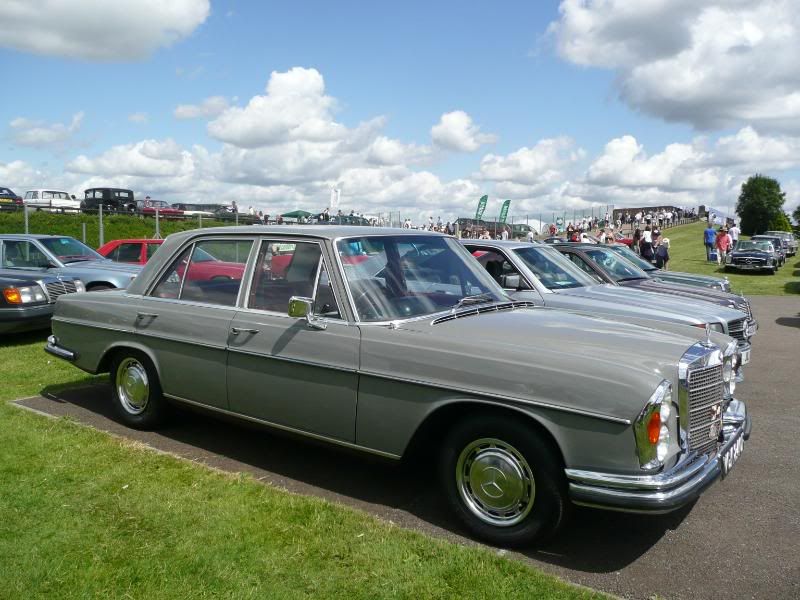 The R129-based SL is also an elegant car, though it certainly comes across as a large cruiser rather than the sports car as the SL started out.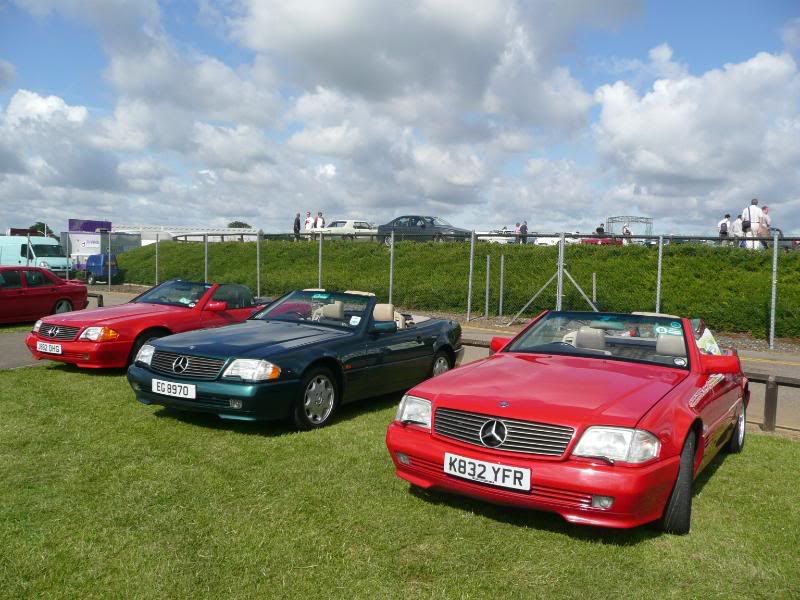 A W124 model E class cabrio, a classic in the making, for sure.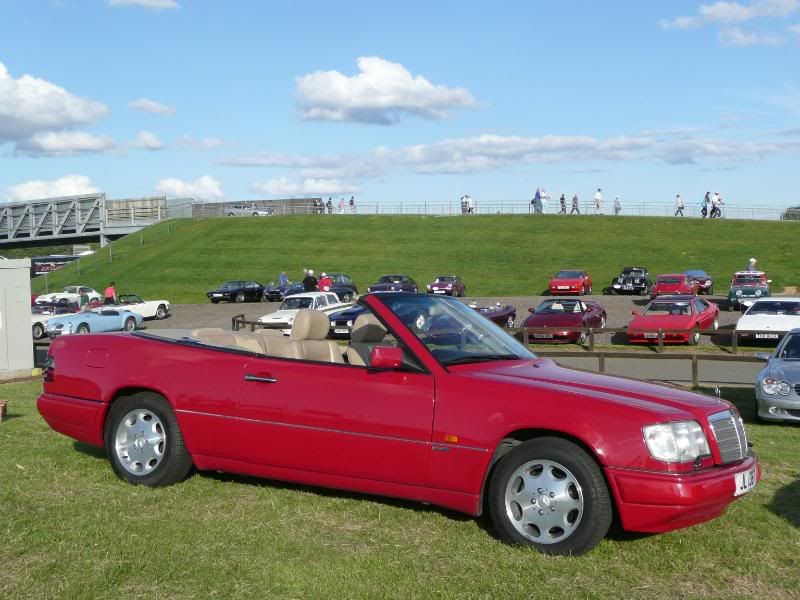 That is a status that the "New Generation" 250CE has already attained.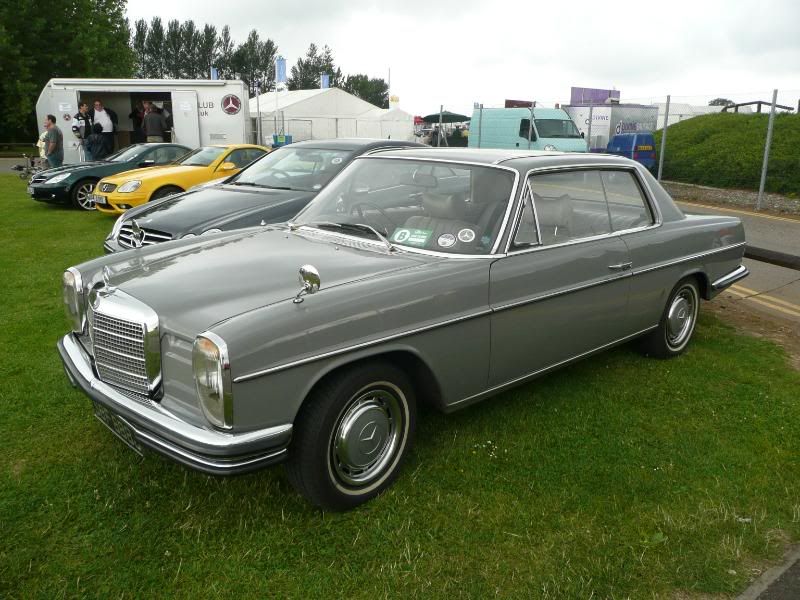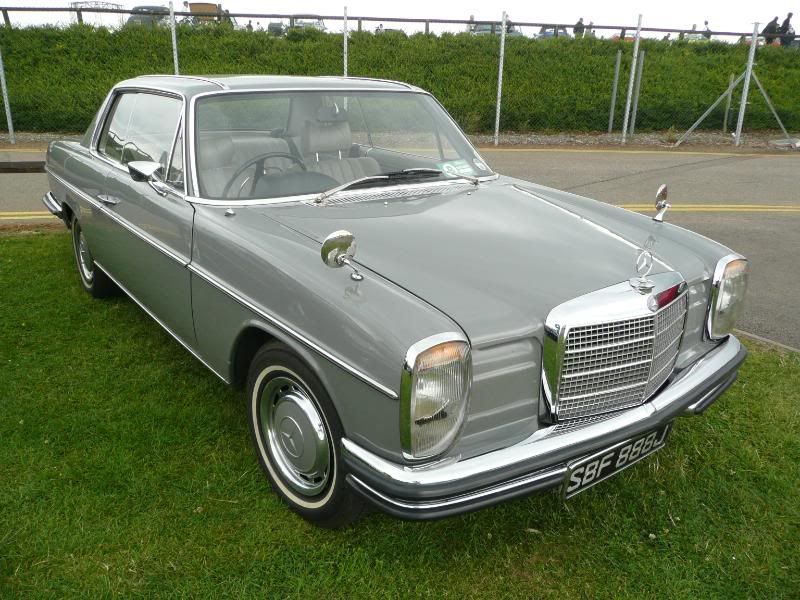 Some of the latest cars were on show, too. This is the SL63 AMG, a very purposeful looking car.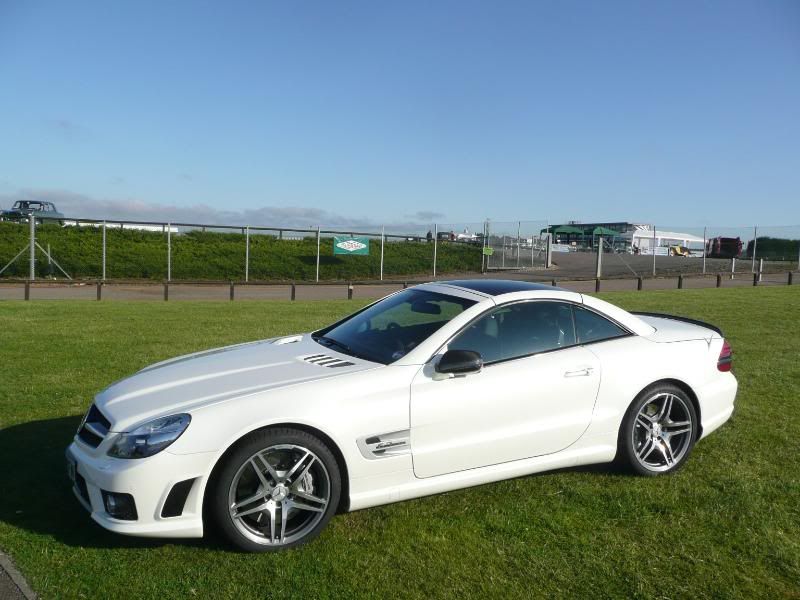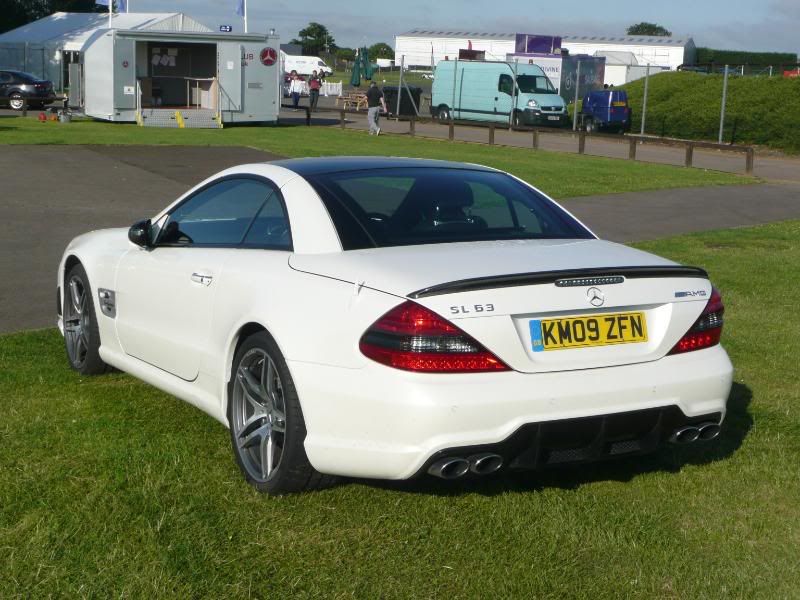 The new E Class Coupe was also on show, with an early right hand drive car, presumably privately owned. I just cannot get on with the looks of this car. The front is as bad as all new E Class, the side windows are just awkward and the boot looks like someone squashed it in, being too short for the rest of the proportions of the car. Not nice at all.
MONTEVERDIA very rare car, this, the 375L. Elegant to look at, and with a Chrysler V8 engine under the bonnet, fantastic to listen to, as well. Highly desirable.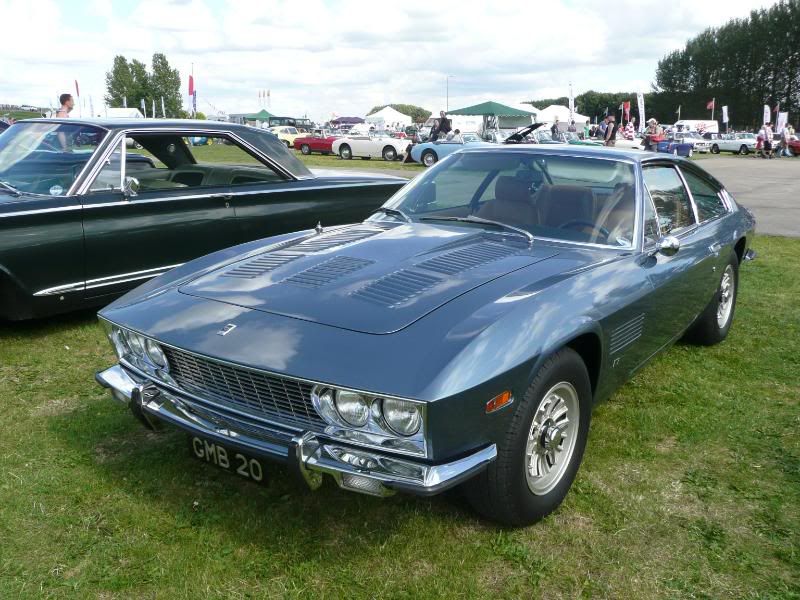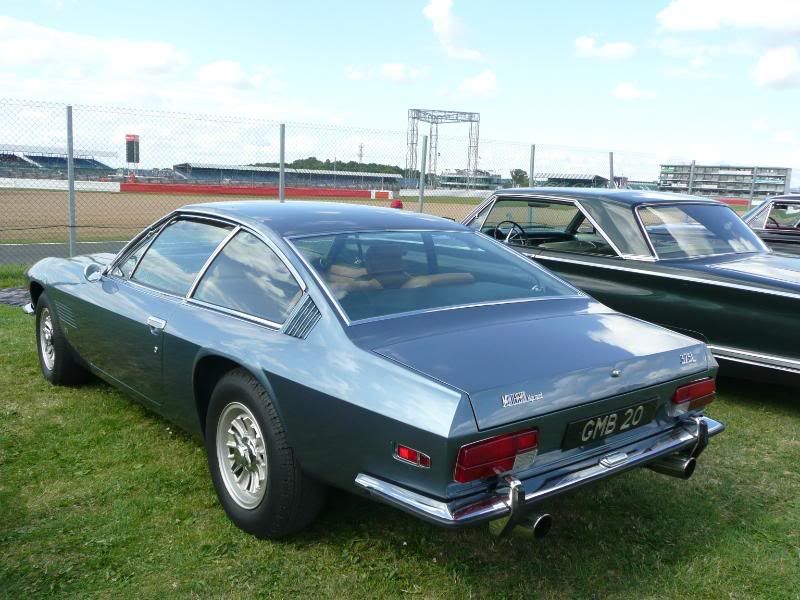 NISSAN-DATSUNA small gathering of Z cars here. There was a new 370Z, but it was not prominently parked and as such, it evaded my camera.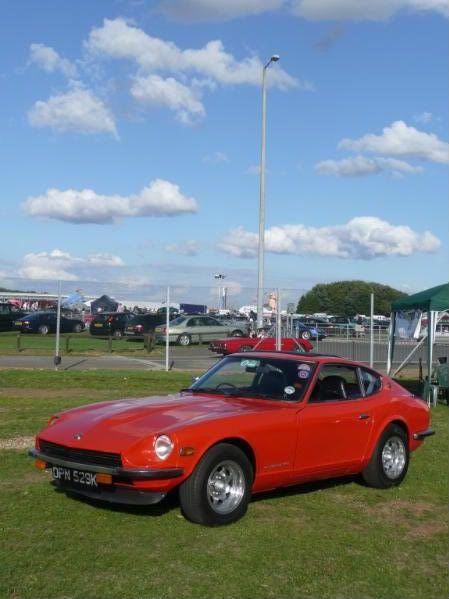 NSUThe Ro80 was a very advanced car for 1967, and still looks good now.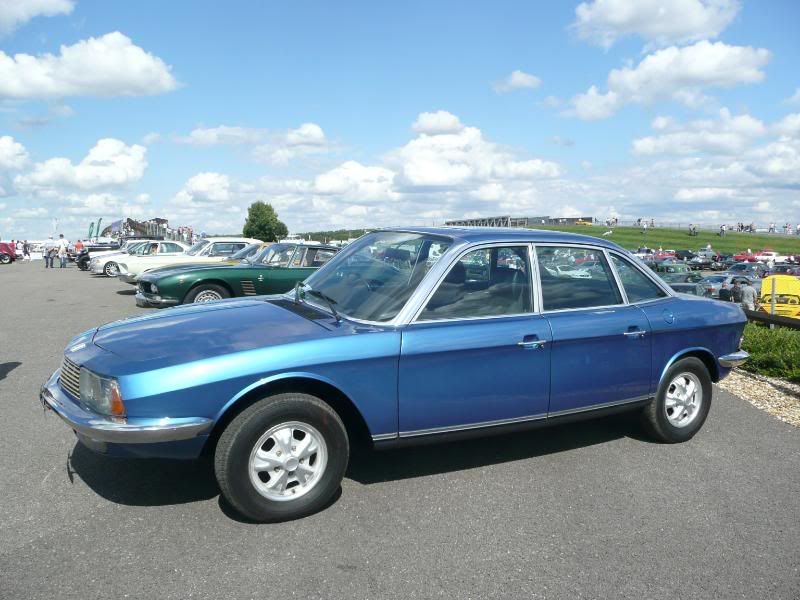 PIPERAnother of those little known British sports car marques from the late 1960s and early 1970s. There were three of these cars at the event, in the same spot as they were last year (and the year before)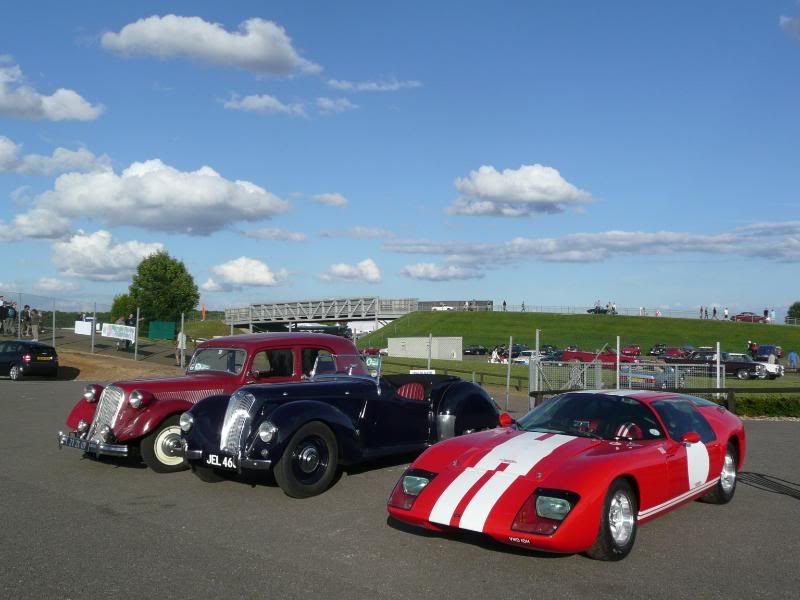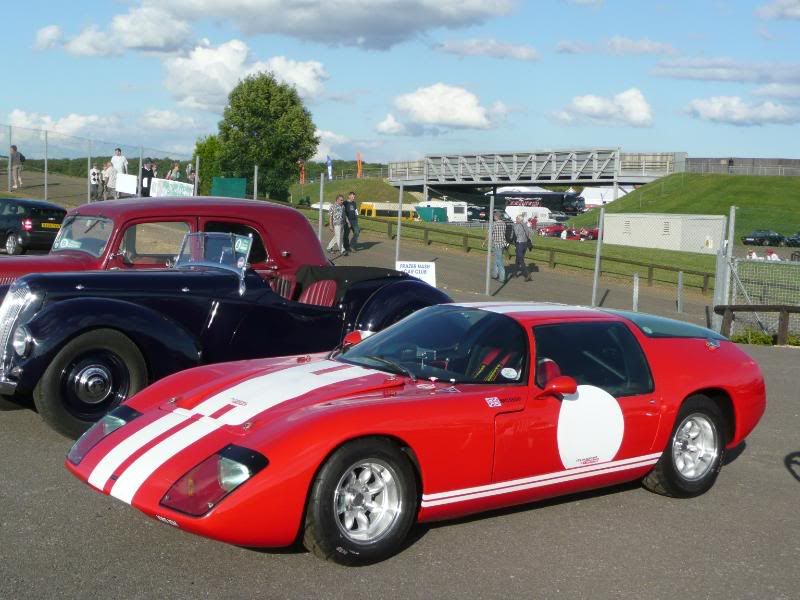 PORSCHETwo separate displays: a colossal gathering of cars from the Porsche Owners Club, all parked up behind the Woodfield and Luffield grandstands, with examples of every Porsche model ever made.
There were a good number of 914s, some clearly American re-imports, with their larger bumpers.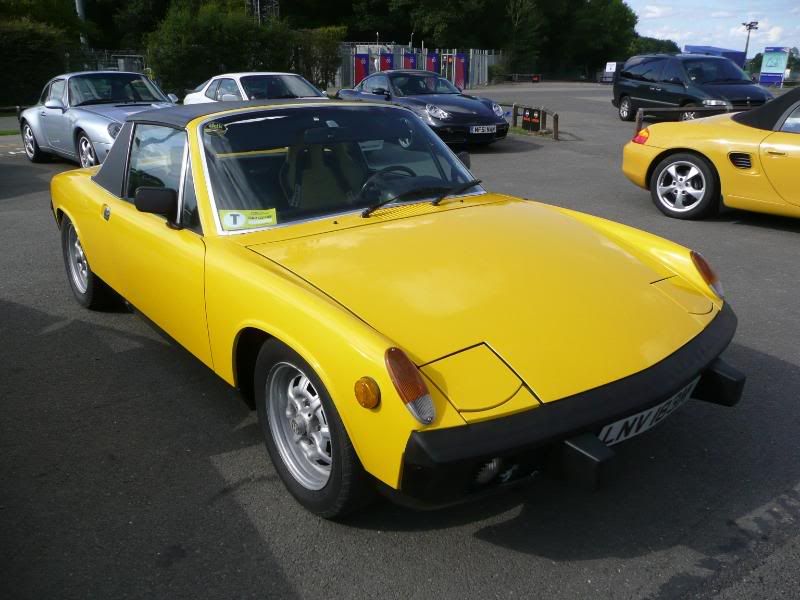 A wide range of 911s, of course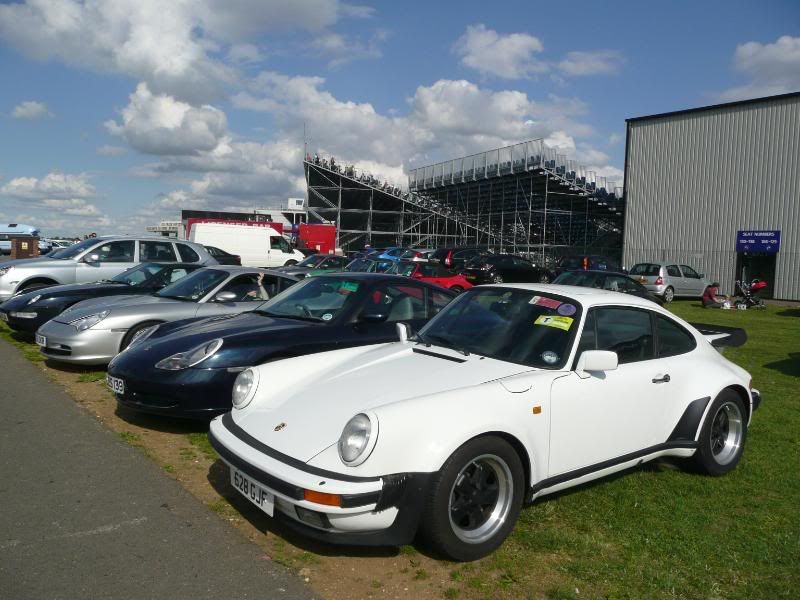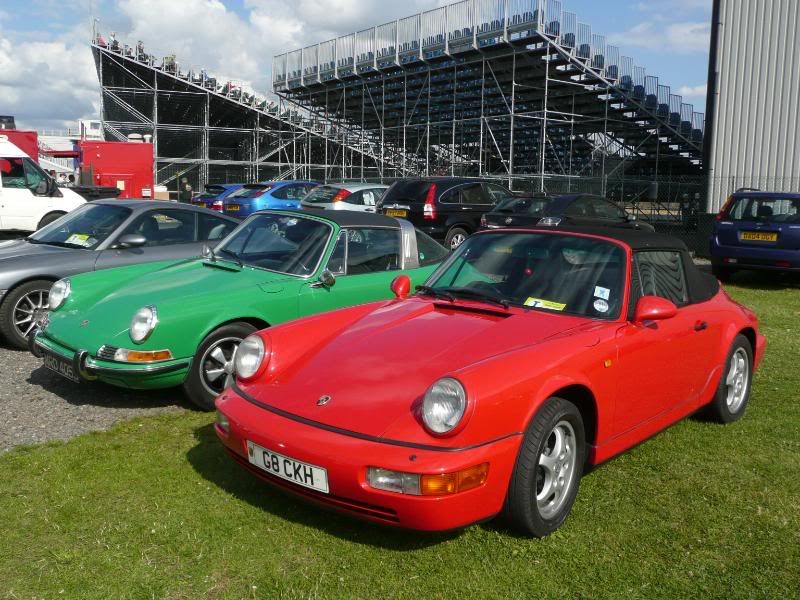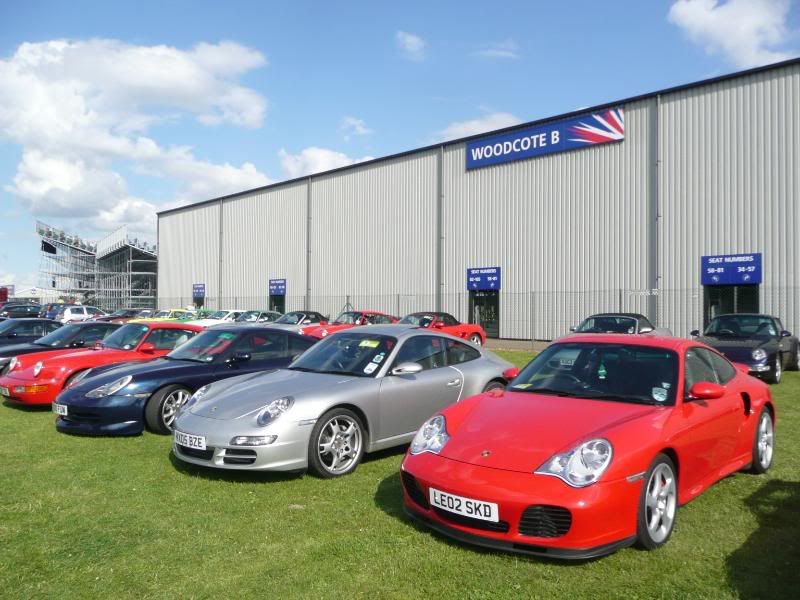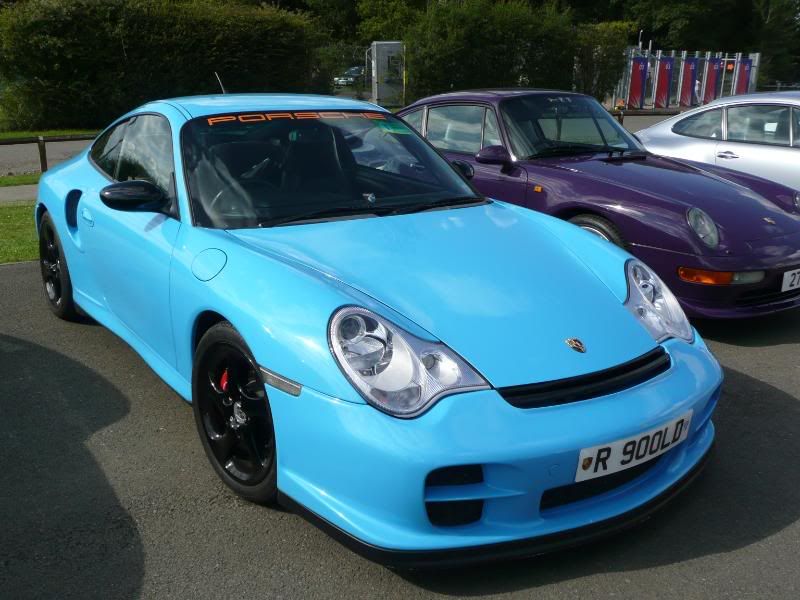 A late model 356C.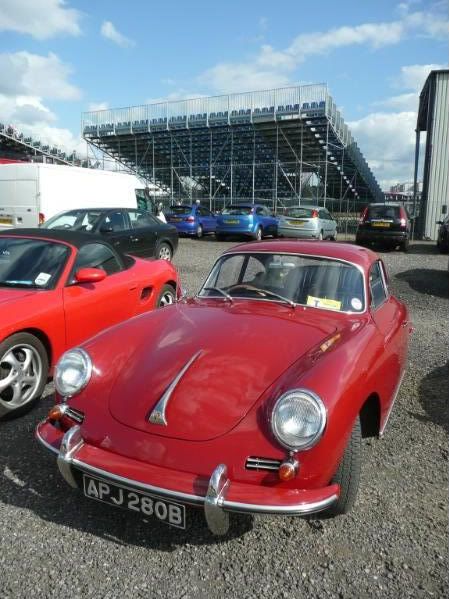 924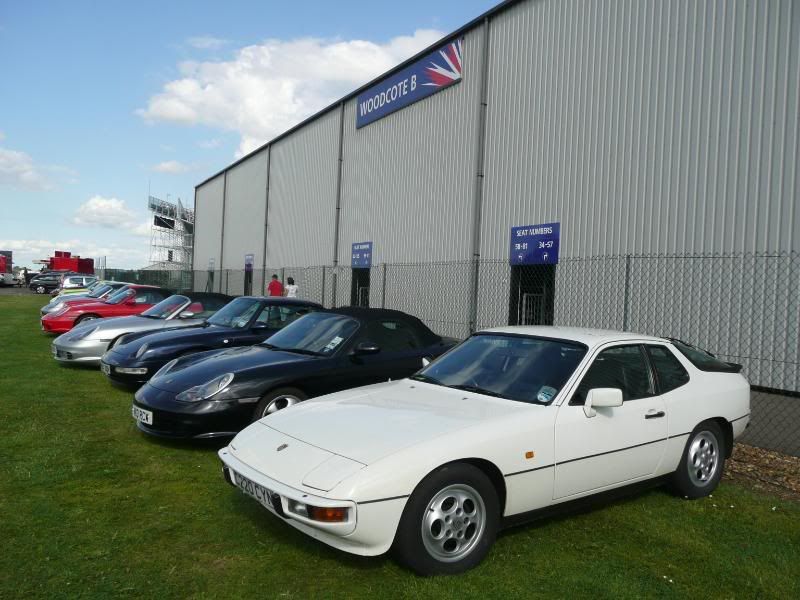 There were even a couple of Cayennes included.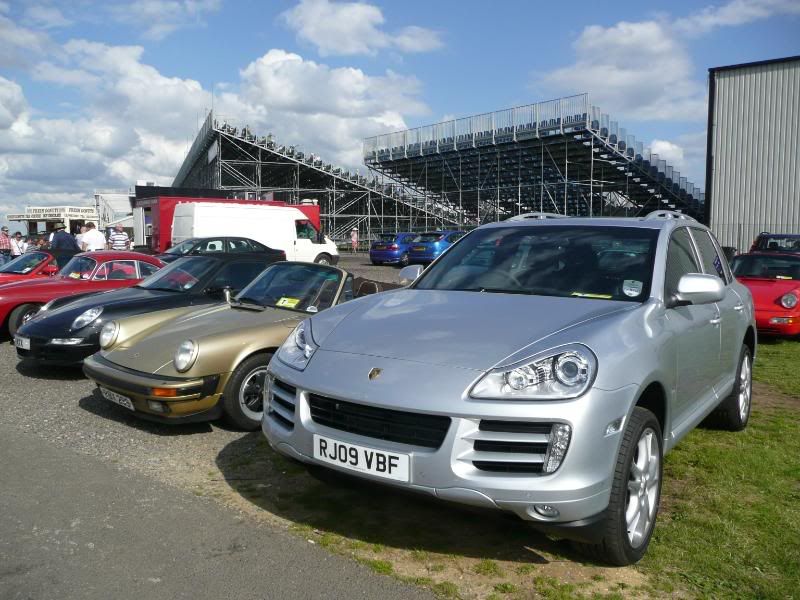 There was a separate display area inside the track, and a large number of cars were pretty well crammed in here.
Although there was no sign of the Panamera, the new 911 GT3 was making its UK debut.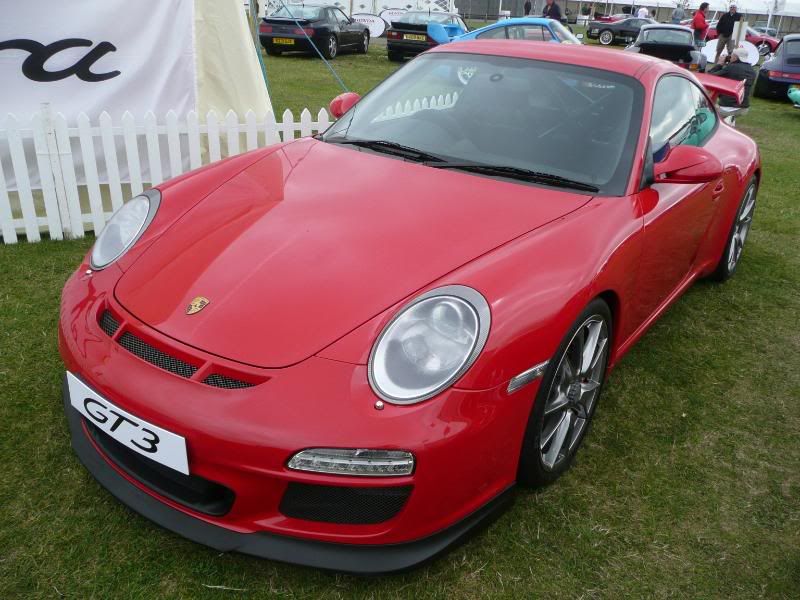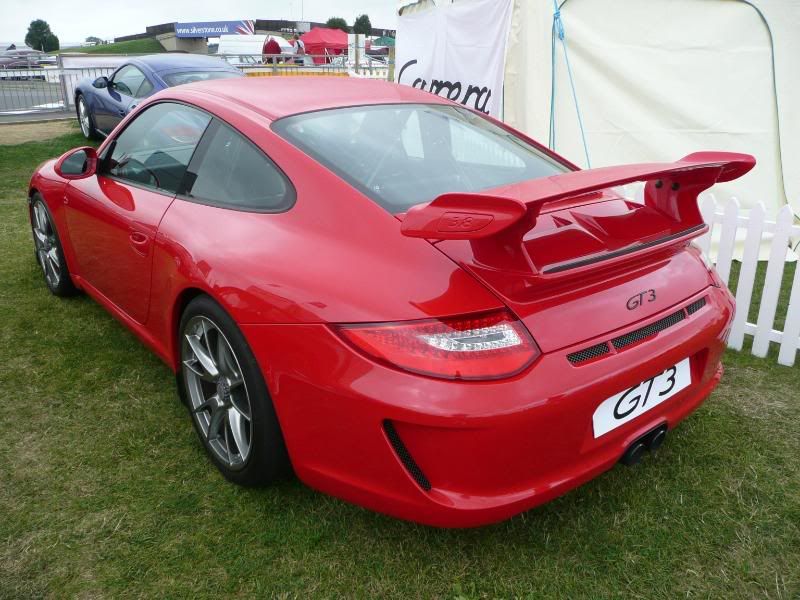 An example of the Porsche tractor was on show. This one dates from 1955.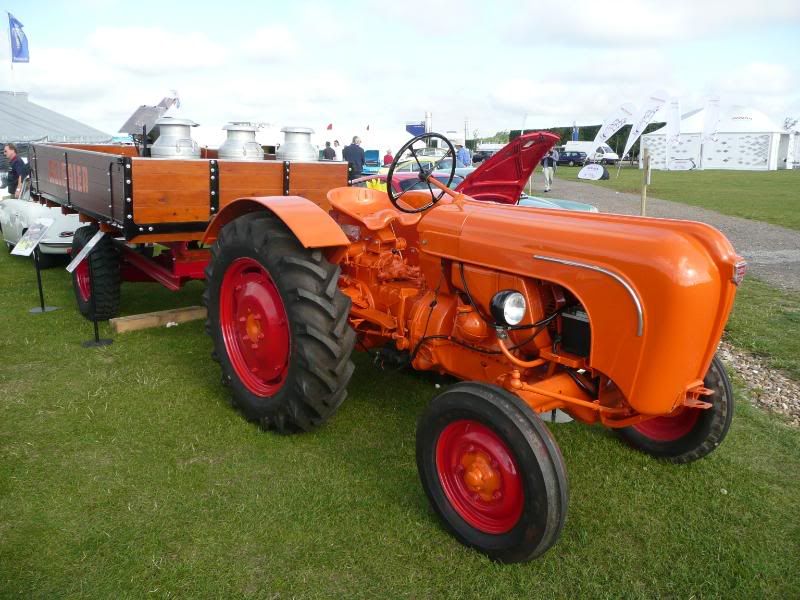 The 911 Turbos had a display area all of their own, though photographing them was a challenge, as they backed onto a portacabin set of toilets – not ideal background scenery!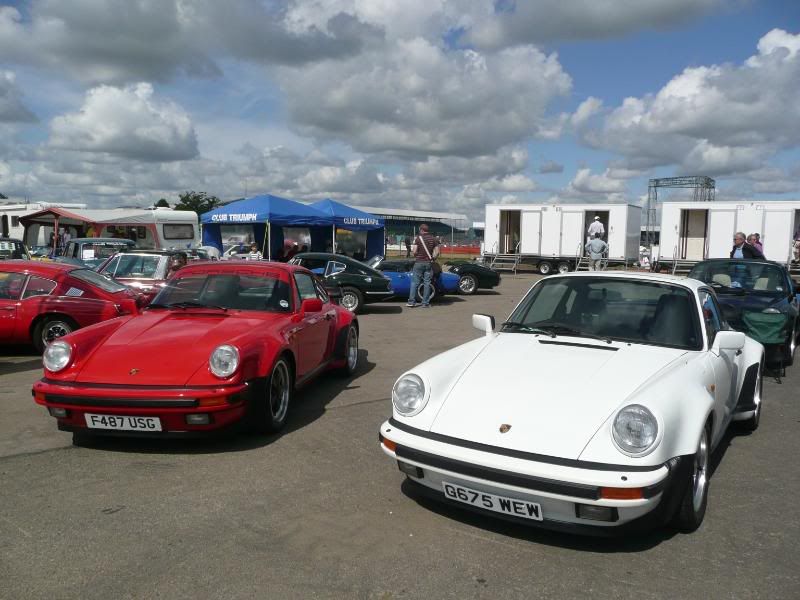 RENAULTEmphasis here was on the connection with Alpine, with plentiful examples of the A110, A310 and A610/GTA models.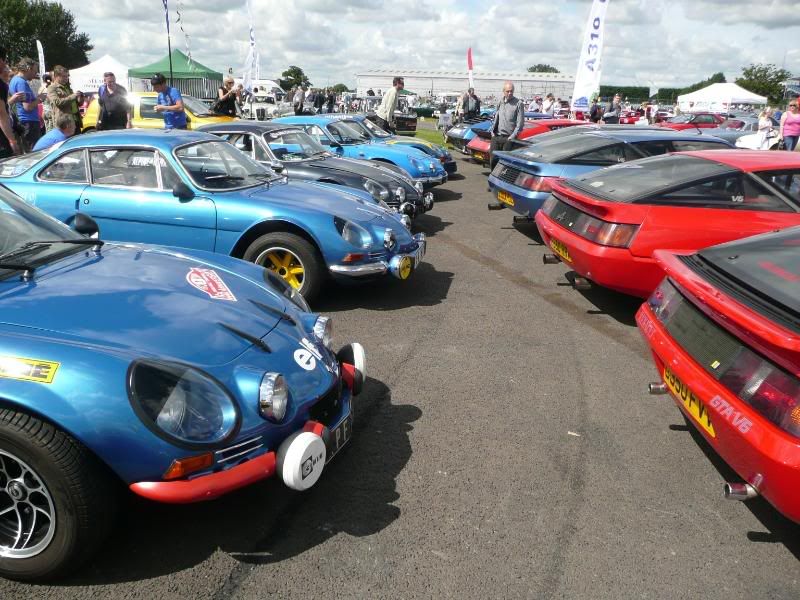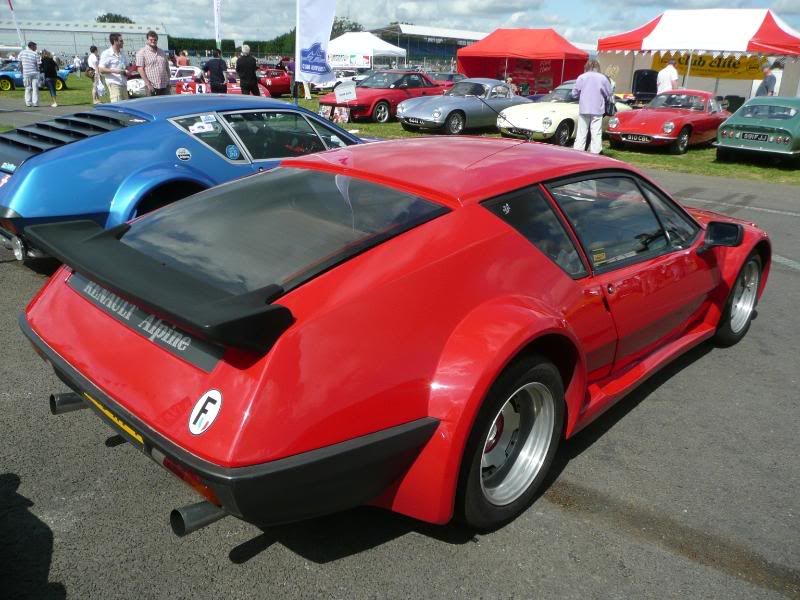 There were a couple of Clio V6 cars, in that rather fetching Liquid Yellow paintwork.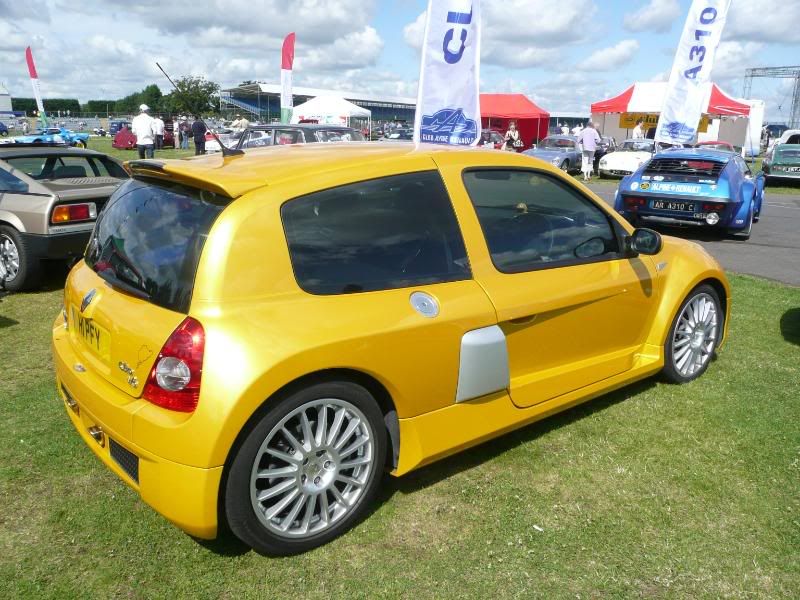 RENE BONNETThe only right hand drive version ever produced of this car, a small French sports car, which had its origins in the every early 1960s. Called the Djet, this design was then adapted into what became the Matra.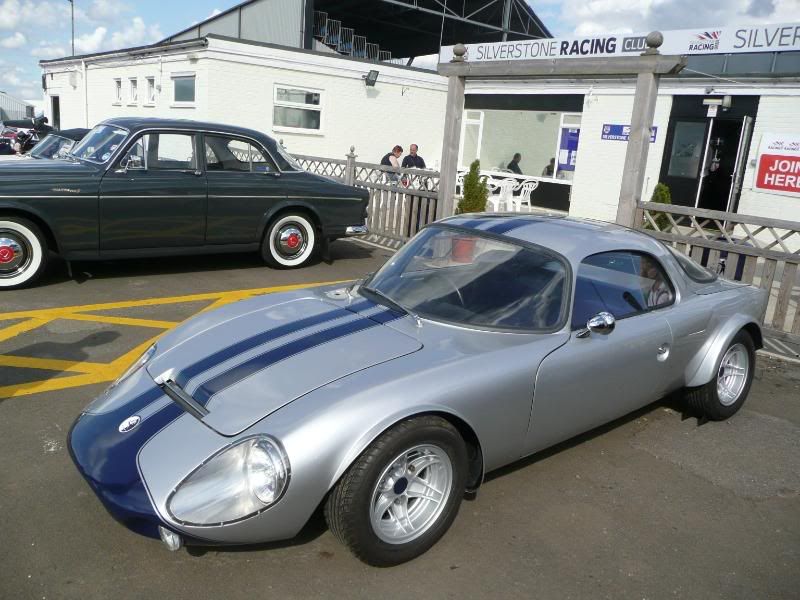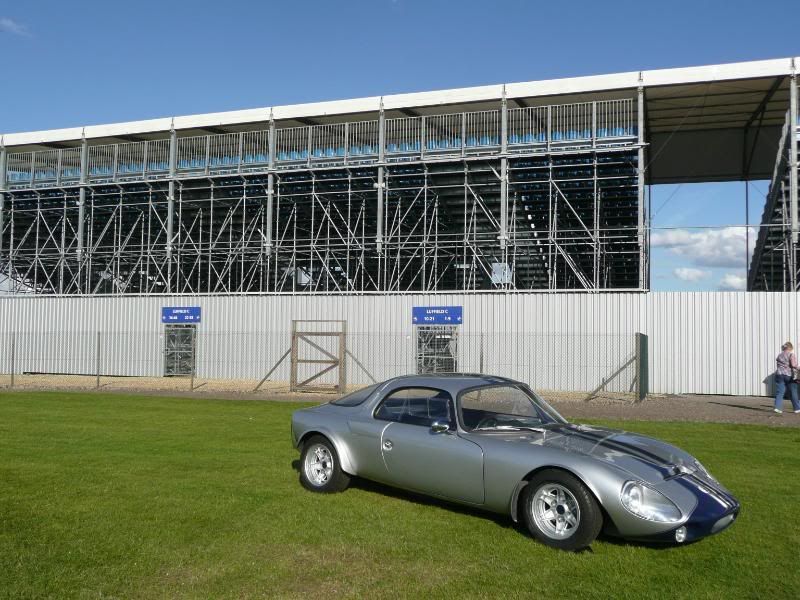 ROCHDALEA couple of the Olympic cars were on show. Based on a Riley 1.5, these little coupes were quite costly when new, but now are yet another little known marque from the era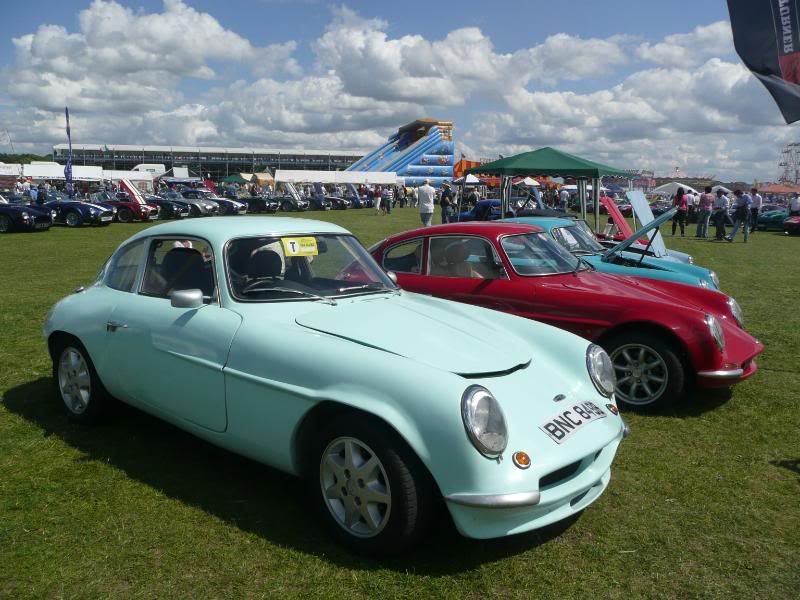 ROLLS-ROYCEPlenty of these cars from the ages were on show. Most were quite difficult to photograph, but I did capture these shots: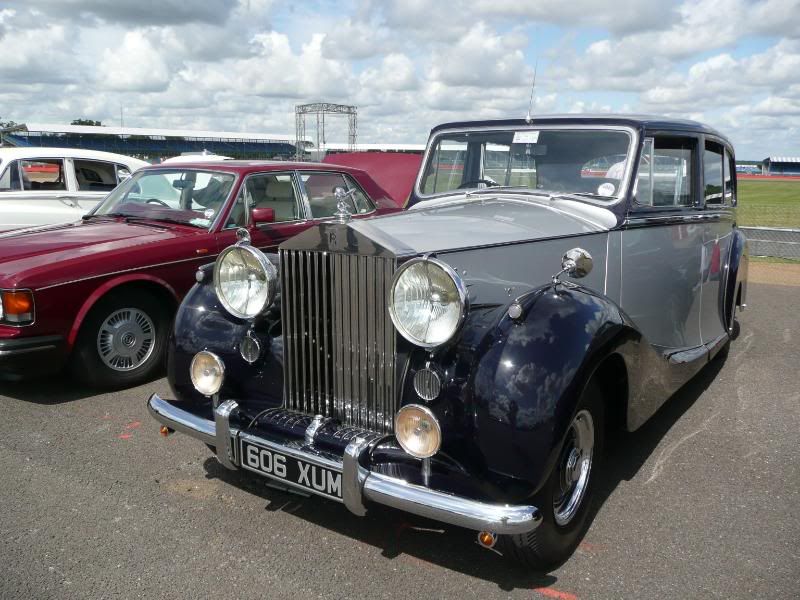 Included in the Bonhams auction was a Camargue. It had disappeared on the Sunday, so I assume it sold and the new owner had taken it away immediately.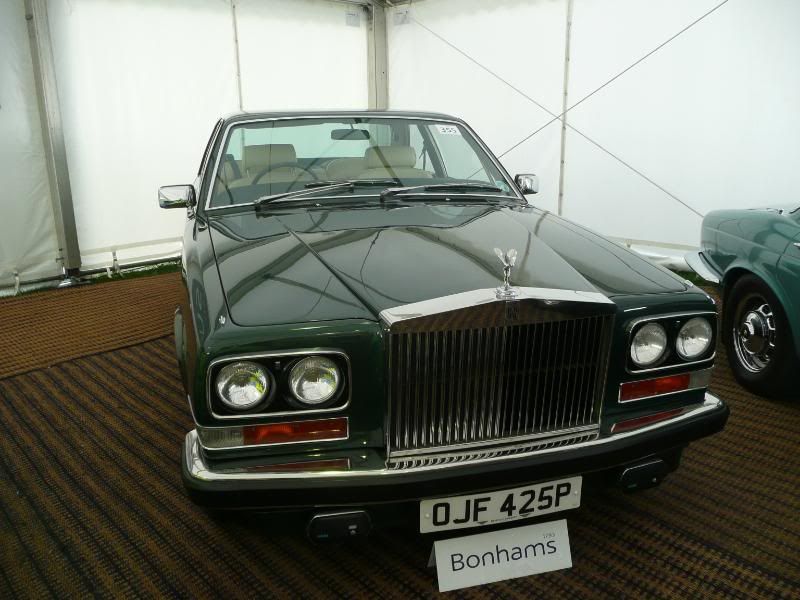 ROOTES GROUPAs at last year's event, there was a large area near the main entrance dedicated to the cars of the Rootes Group, with a special emphasis being given to the Sunbeam Alpine, which is celebrating its 50th anniversary.
In fact, the Alpine name had been used for the tourer version of the Sunbeam-Talbot 90, a sports sedan of the early 1950s.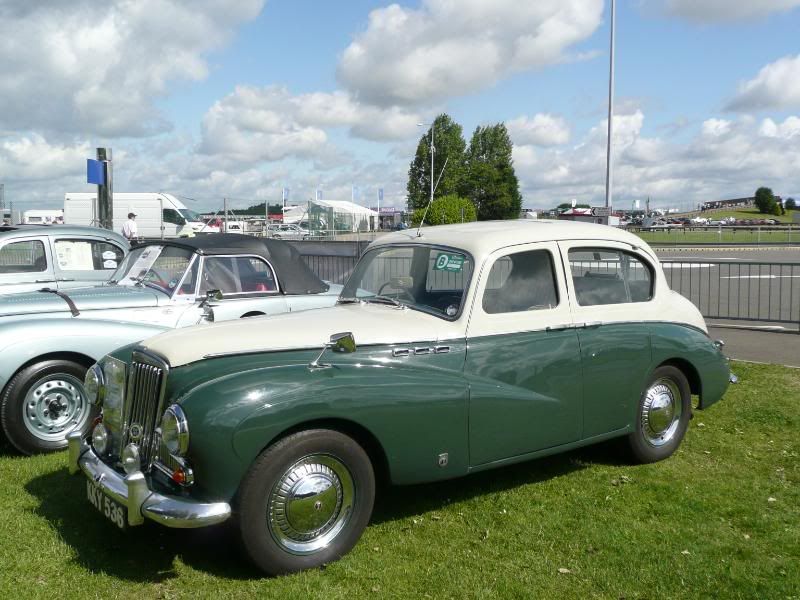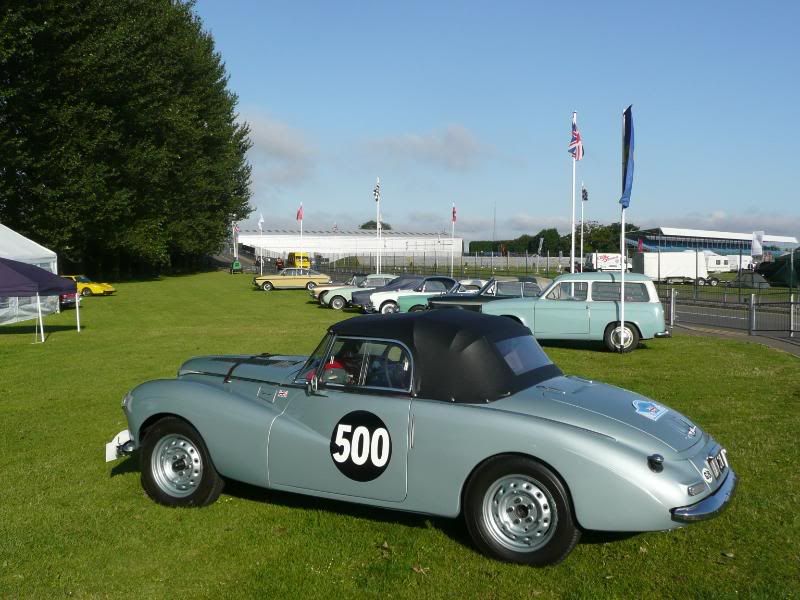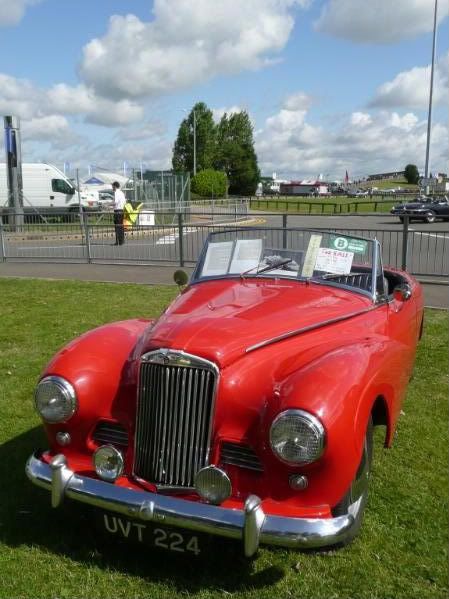 The Alpine sports car story actually starts with this car, the Hillman Husky. This utility vehicle was based on a shortened Hillman Minx chassis and was intended to be a low cost car with plenty of space in it for families who were perhaps acquiring their first car.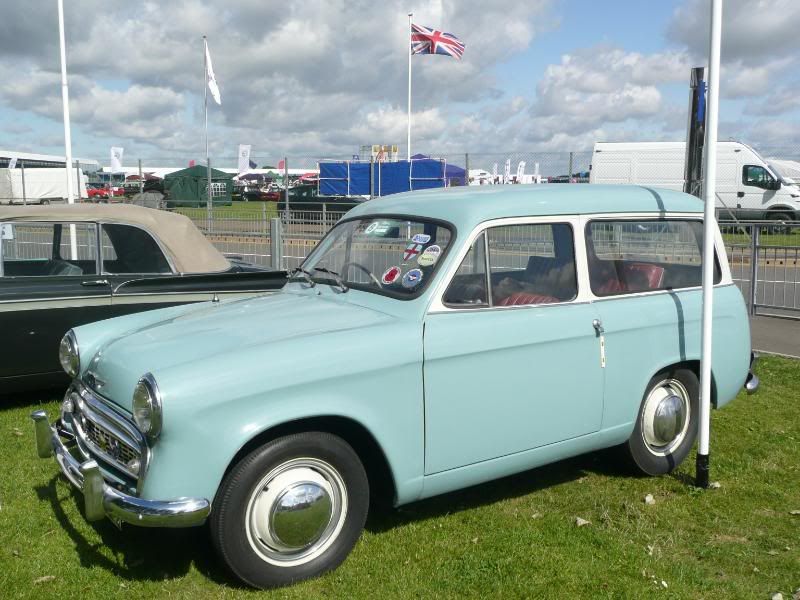 The Alpine was launched in 1959, and during the next 8 years went through almost annual revisions, ending up with the Series V. The engine was enlarged from the initial 1494cc offering through 1600cc to the 1725cc unit, and the rear fins were toned down. At the same time, the boot lid was reshaped to give more luggage space. There were examples of every type on show.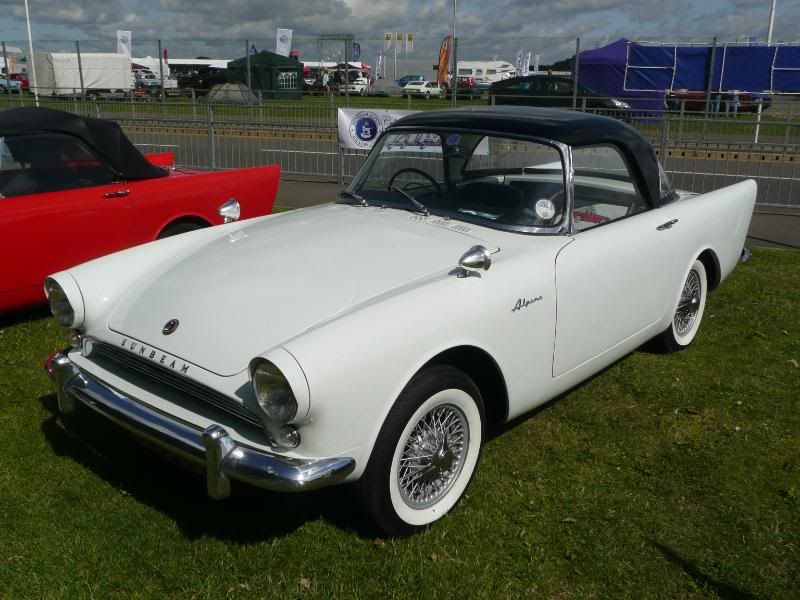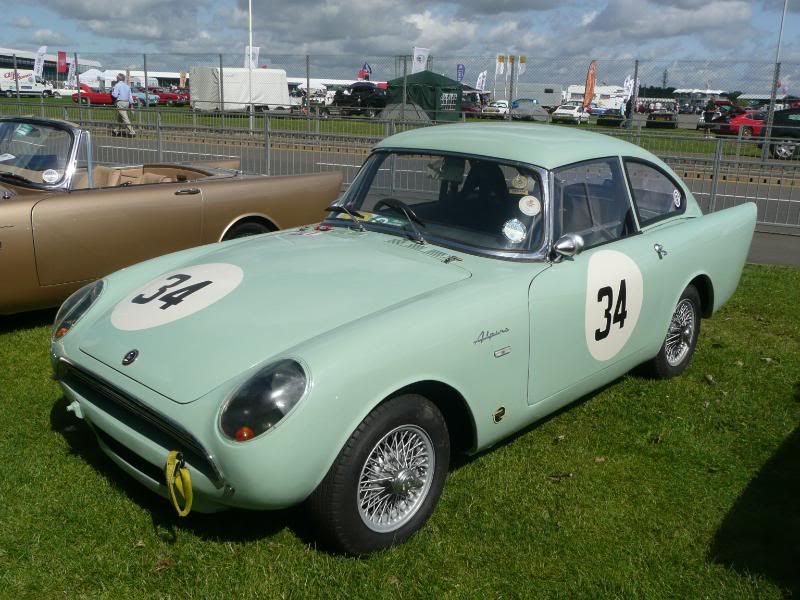 Encouraged by the success of the AC Cobra venture, Rootes did the same sort of thing, installing a 4.7 litre Ford V8 unit in their car, calling it the Tiger. Although somewhat unruly, and unreliable, these cars were fast. It was the acquisition of Rootes Group by the Chrysler Corporation which ended this venture, soon after a series 2 car had been launched, with answers to most of the initial criticisms.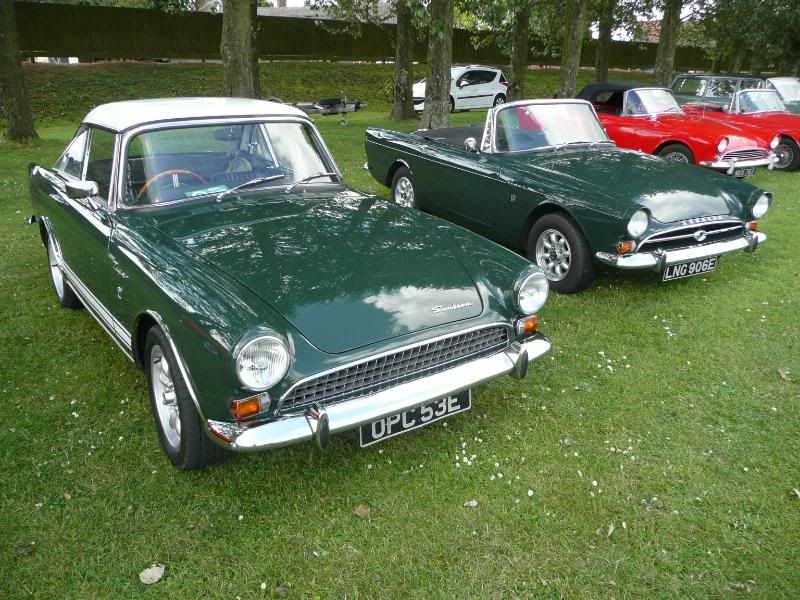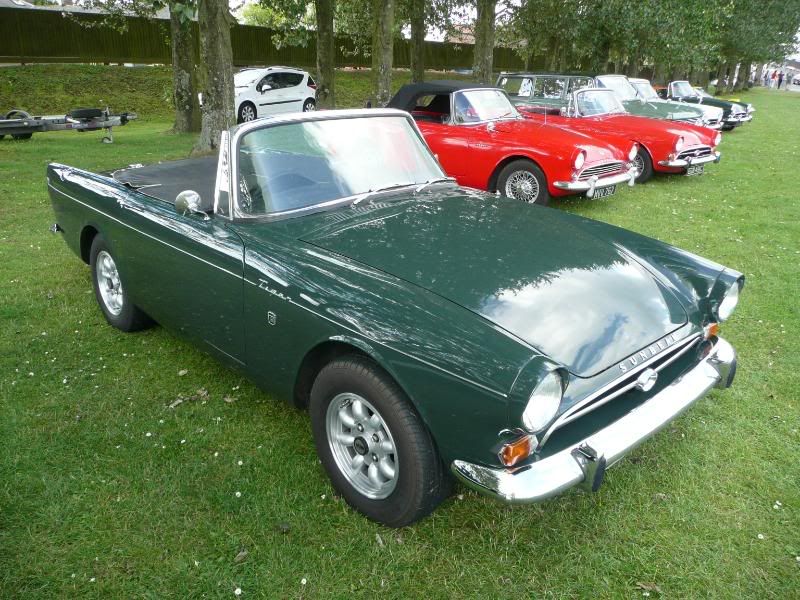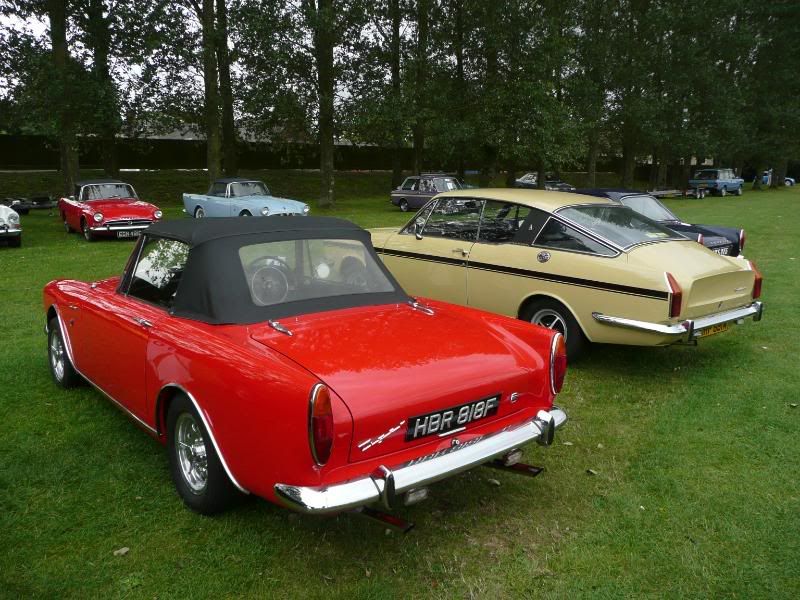 The Alpine name reappeared in 1969, as a cheaper version of the Rapier coupe, a car based on the Hillman Hunter. There were no Alpines of this generation on show, but there was a Rapier, and the more desirable Rapier H120. This latter is apparently the only example ever made in the rather difficult colour of "Prairie Wind".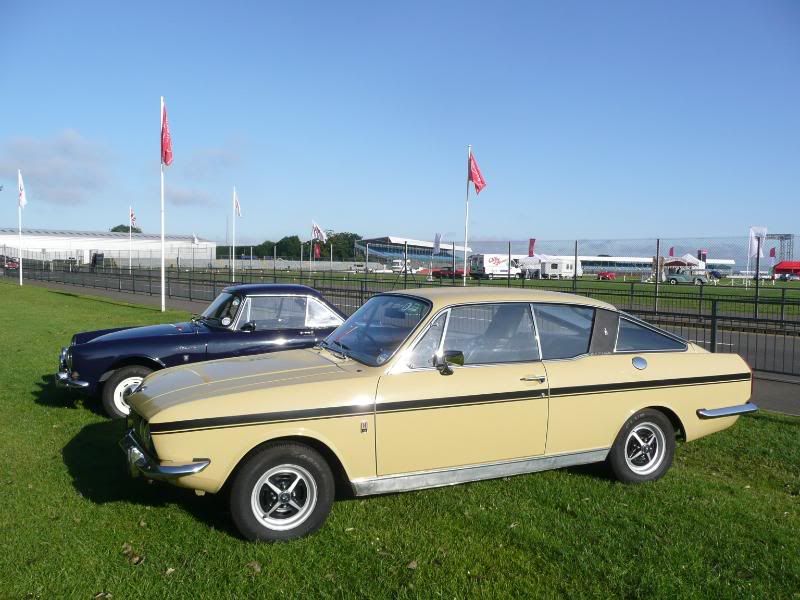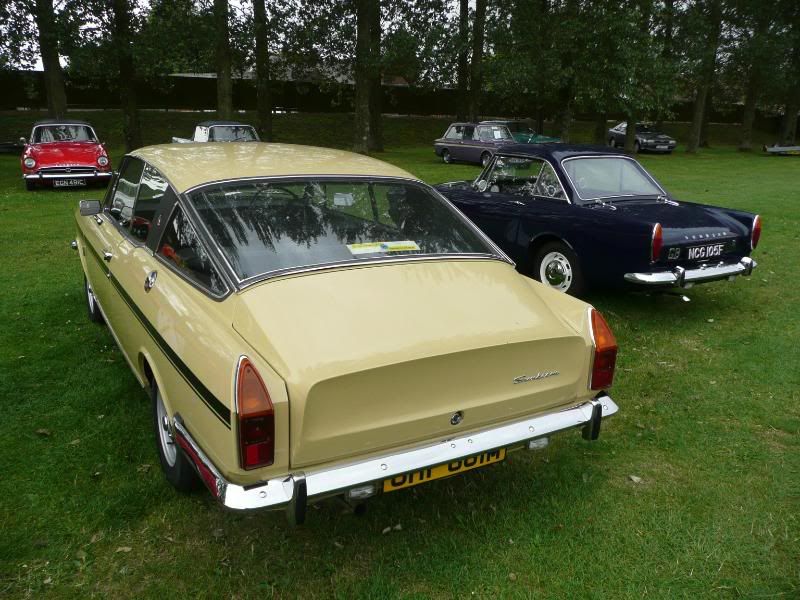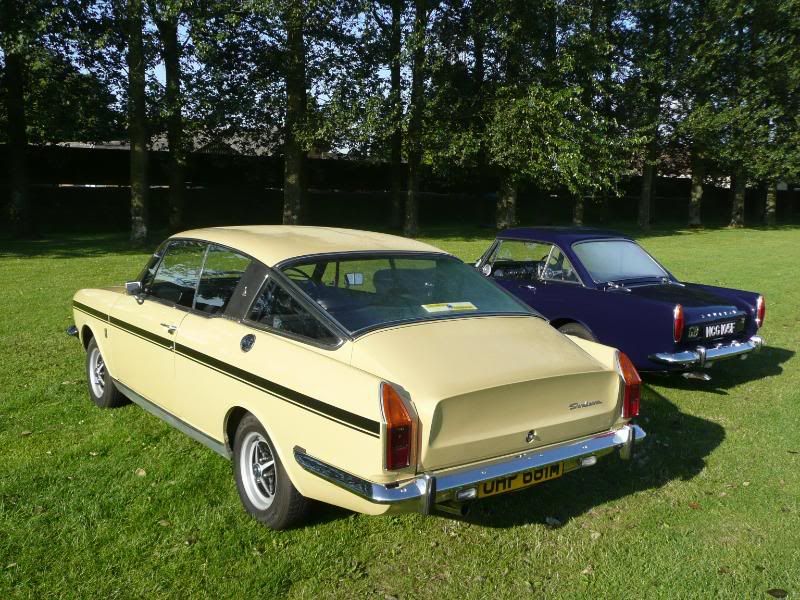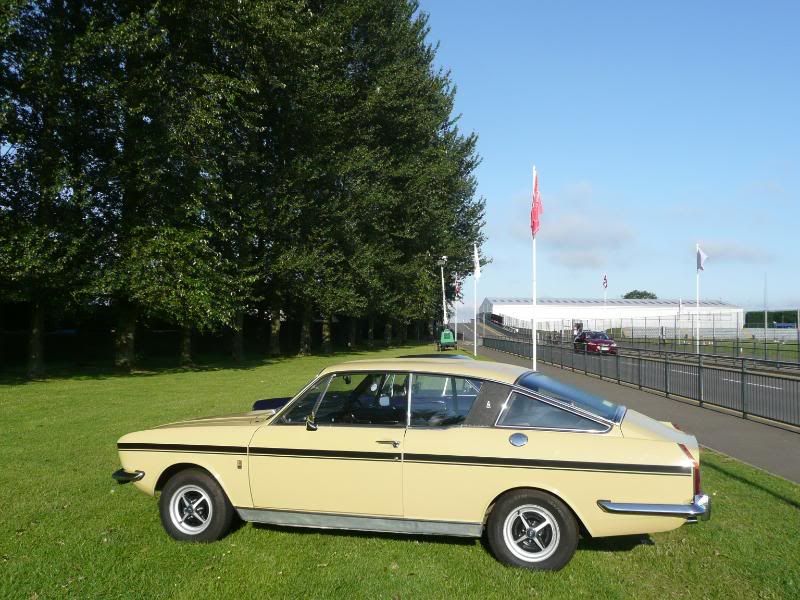 This 1969 Hillman Minx de Luxe was at the event last year, and it also recently featured in one of the magazines. As we had a succession of these "Arrow" cars when I was little, a certain feeling of nostalgia comes over me when I see one now. This is rare, of course, as these cars rusted badly, from new (as we found out with the cars the family owned!).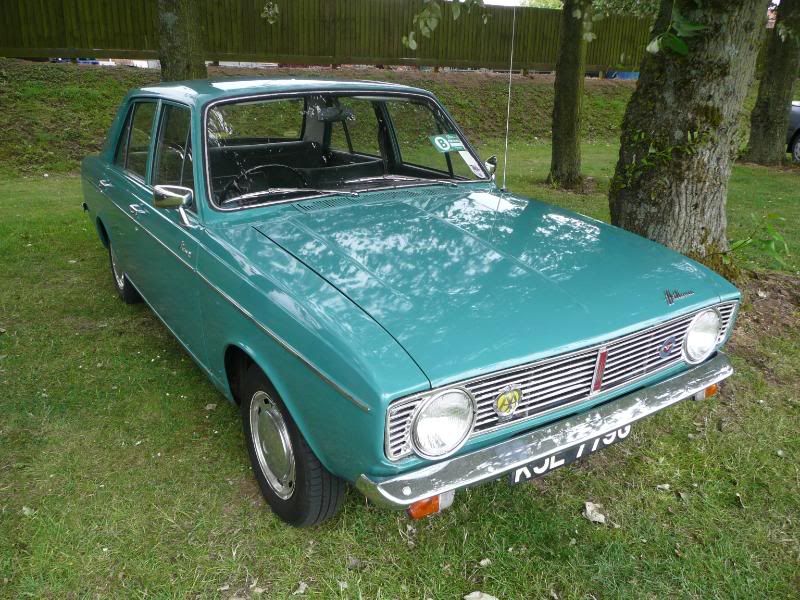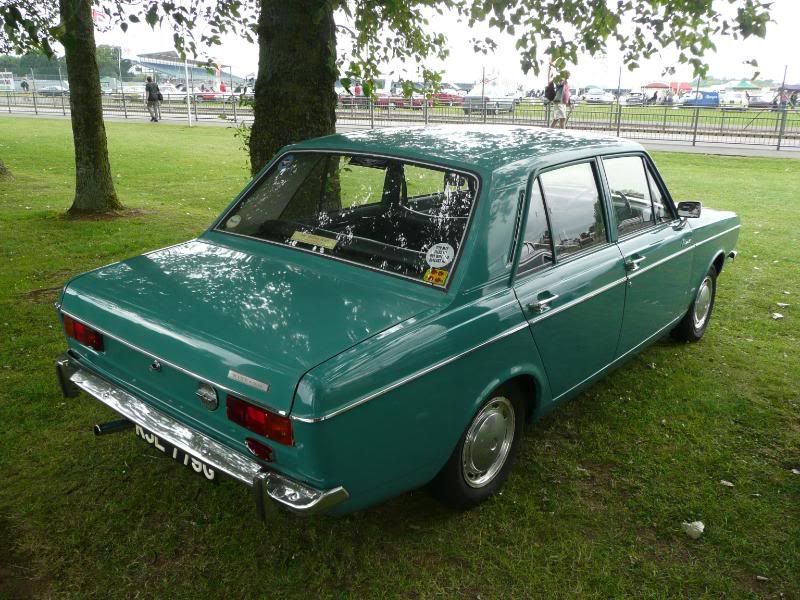 Precursor to the "Arrow" cars was the Super Minx, and here is a well preserved Estate car.
The Rapier from the 1950s was a coupe or cabriolet version of the Minx. Most of them rusted away a long time ago, but this one looked good.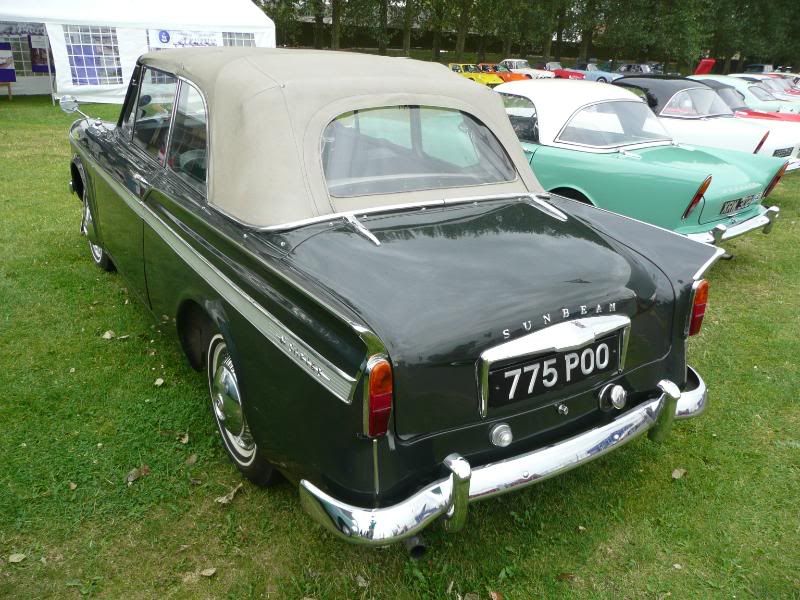 This Commer Imp van was in remarkable condition, and has been maintained as closely as possible to the state in which it left the factory.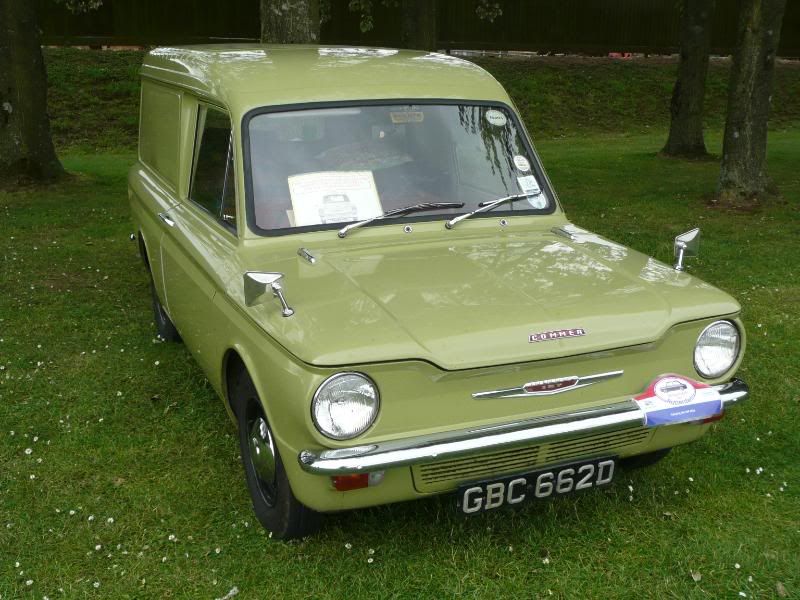 ROVER
This very early 825i was to be found lurking outside the Bonhams auction tent. Superficially looking OK, closer inspection revealed that it will need a lot of work to keep its body alive.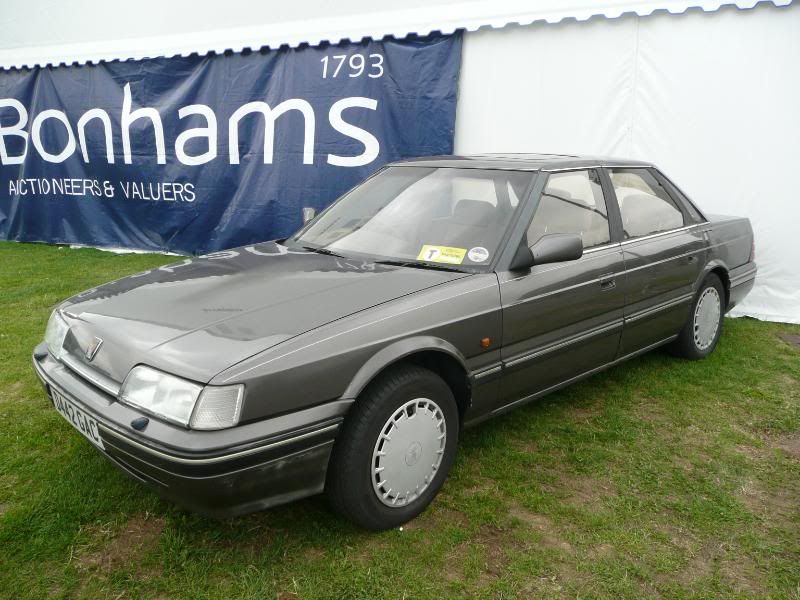 A few months earlier than that car was its antecedent, the SD1 model Vitesse. This one was in fine fettle.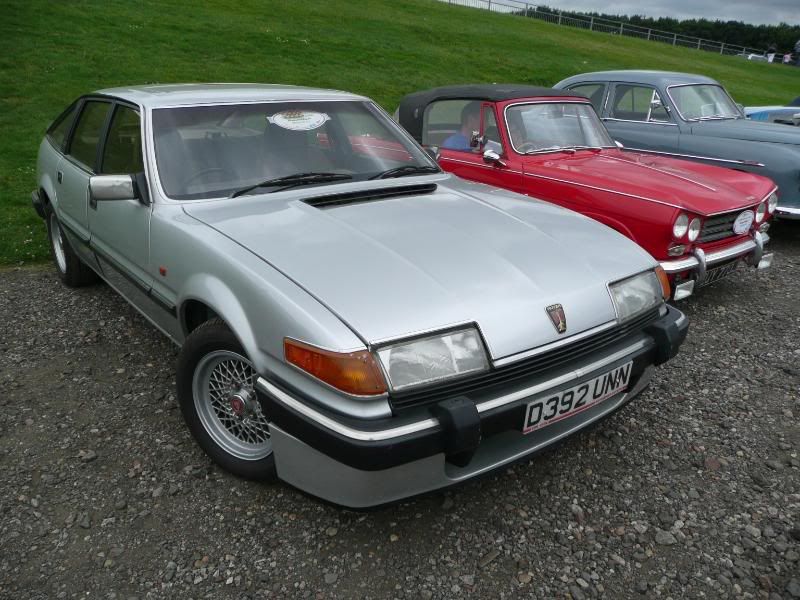 TATRA

This 1938 Tatra T83 was attracting a fair amount of attention, and no wonder, as these cars are now highly prized and highly priced.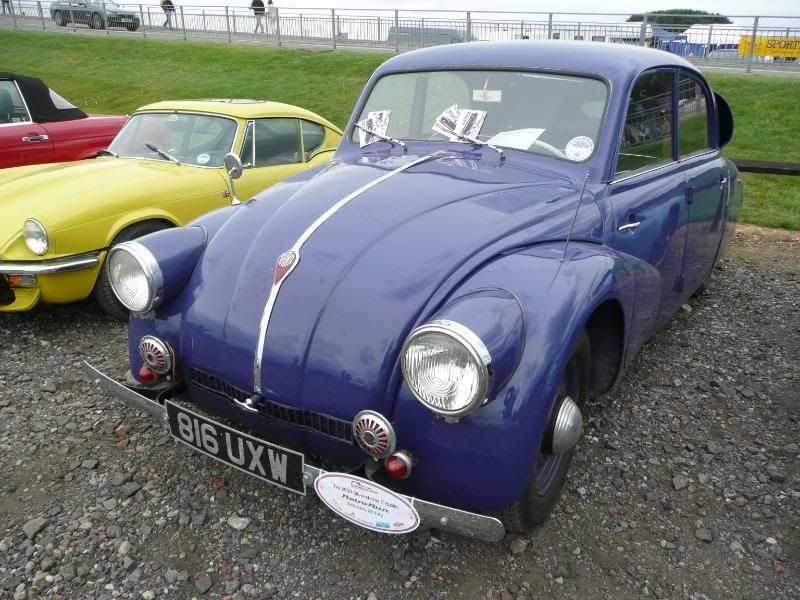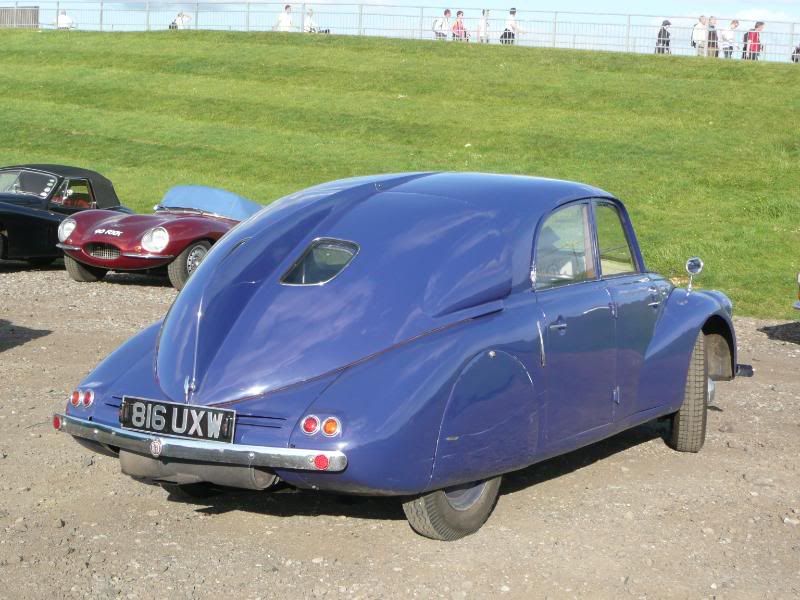 TORNADOA Talisman – very little known glass-fibre sports car from the late 1950s.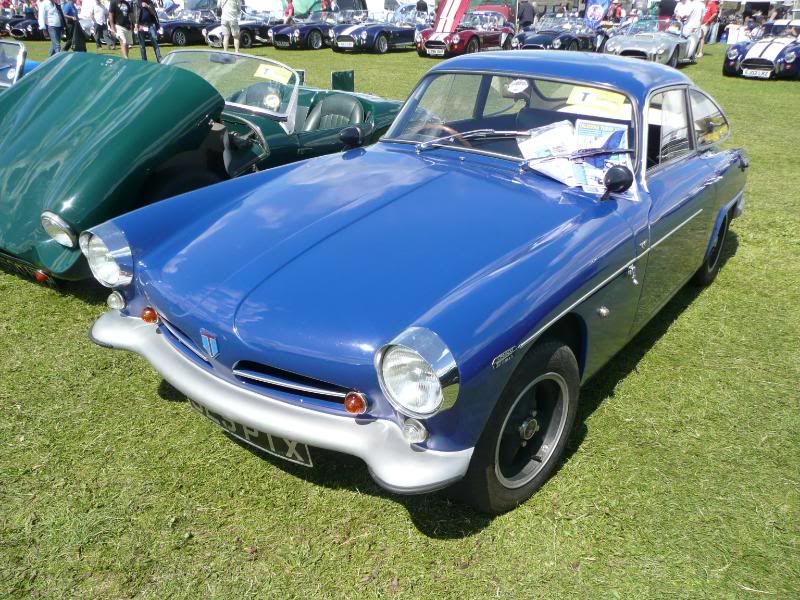 TOYOTAA number of MR2 cars, of all three generations, constituted a couple of separate Toyota displays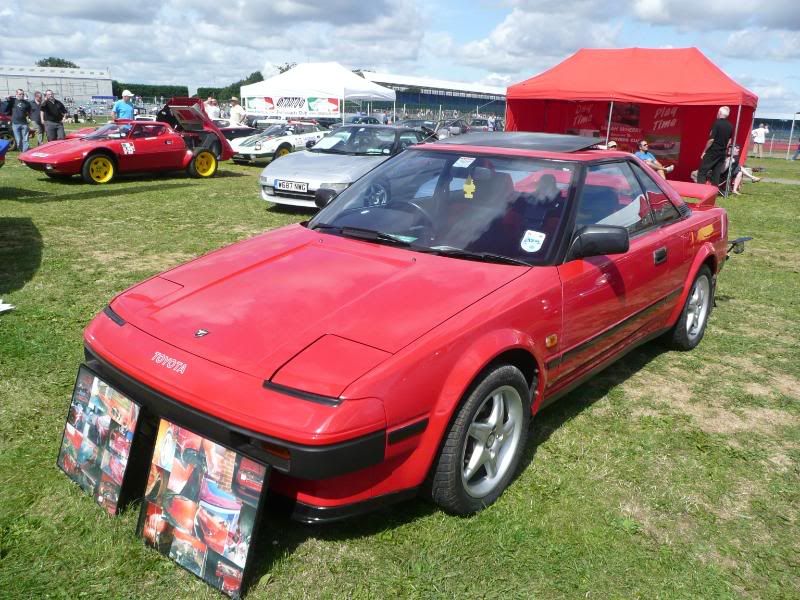 TRIDENTA Venturer sports car from the early1970s.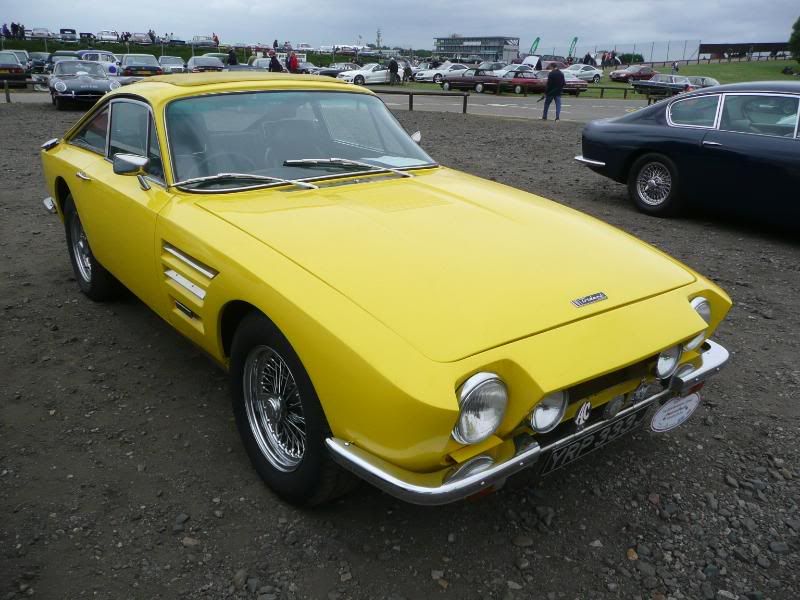 TRIUMPHLots and lots of Stags. The Stag Owners Club had a display area with at least 20 cars in attendance.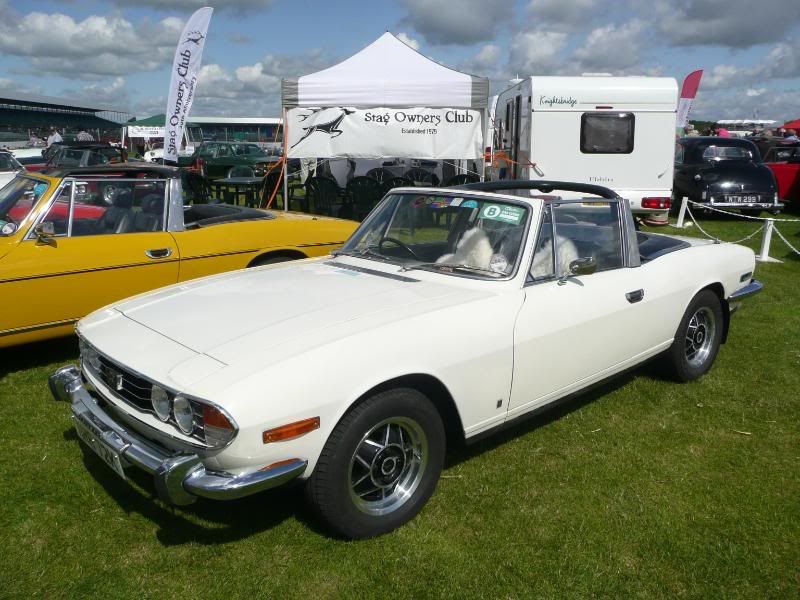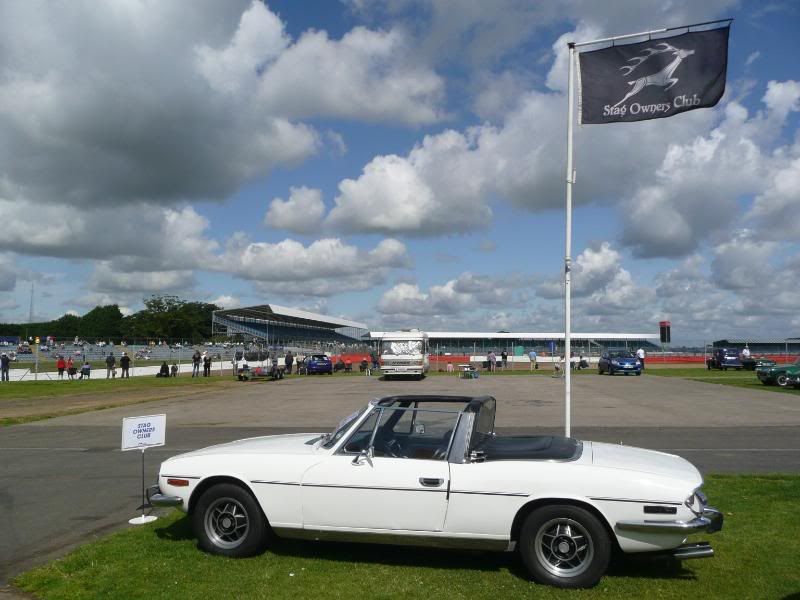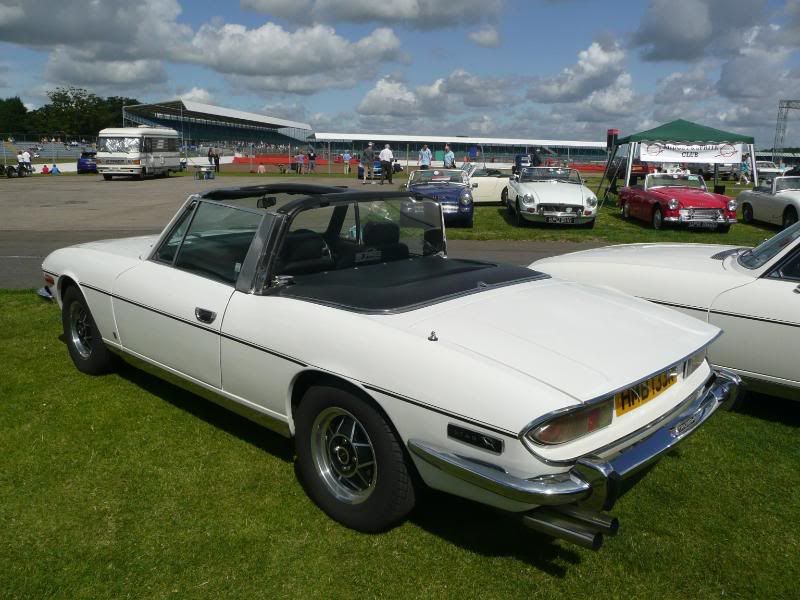 Elsewhere, the other Triumph Clubs all had plenty of cars to see, too:Spitfire
Dolomite Sprint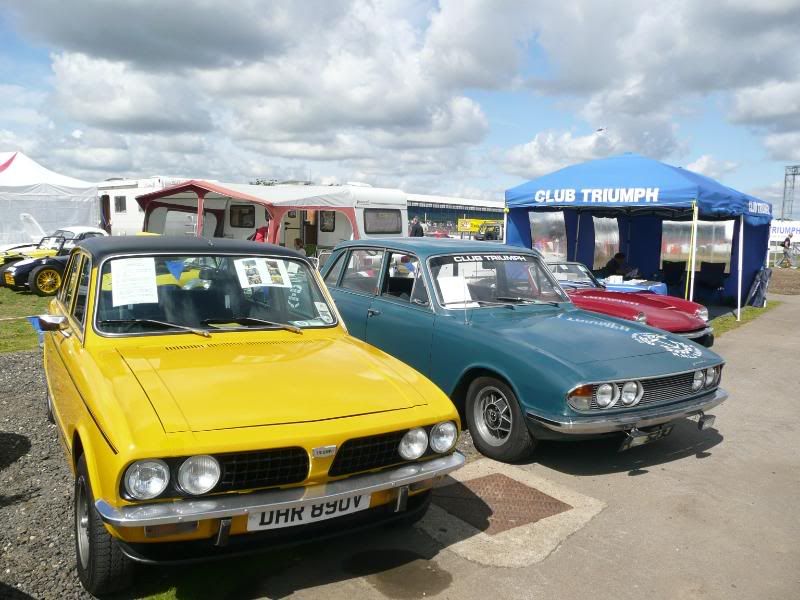 TVRSurprisingly few TVRs at the event. There was an owners club area, but there were less than 20 cars there, mostly modern ones, with representation of everything from the "S" cars to the very last Tuscan and Sagaris models.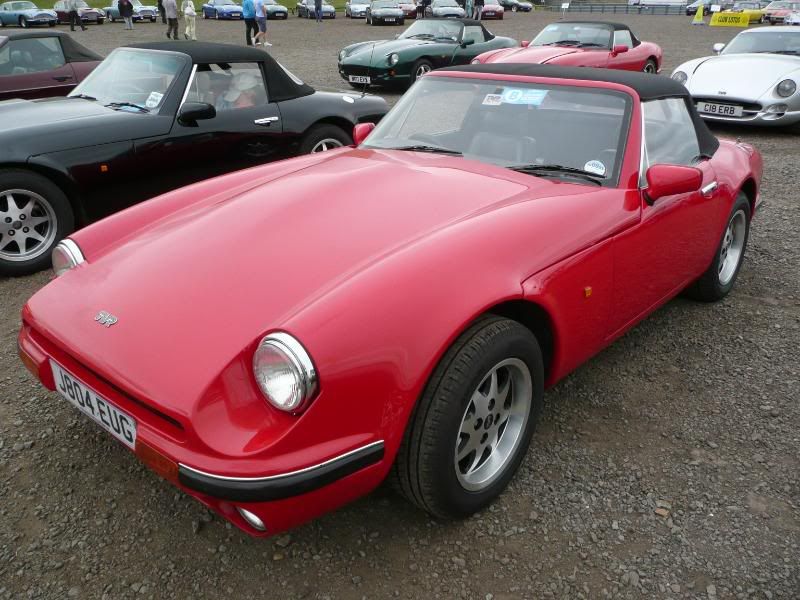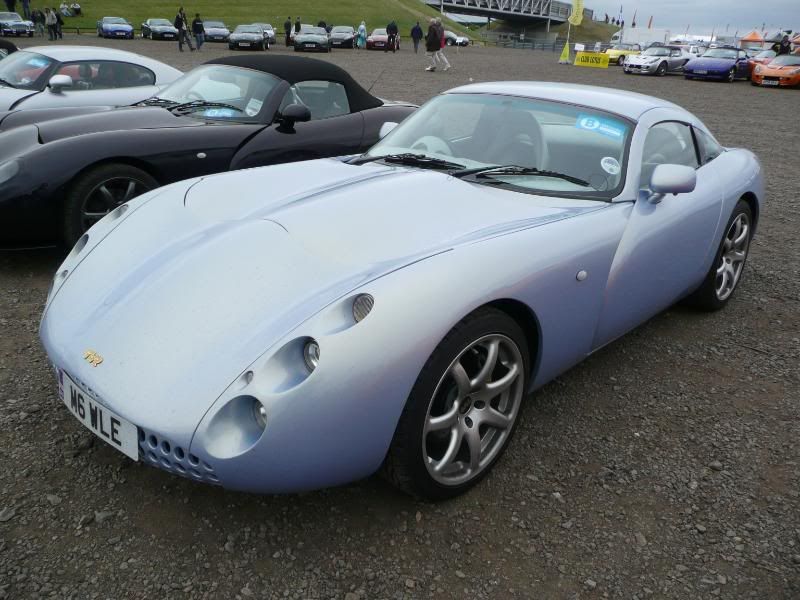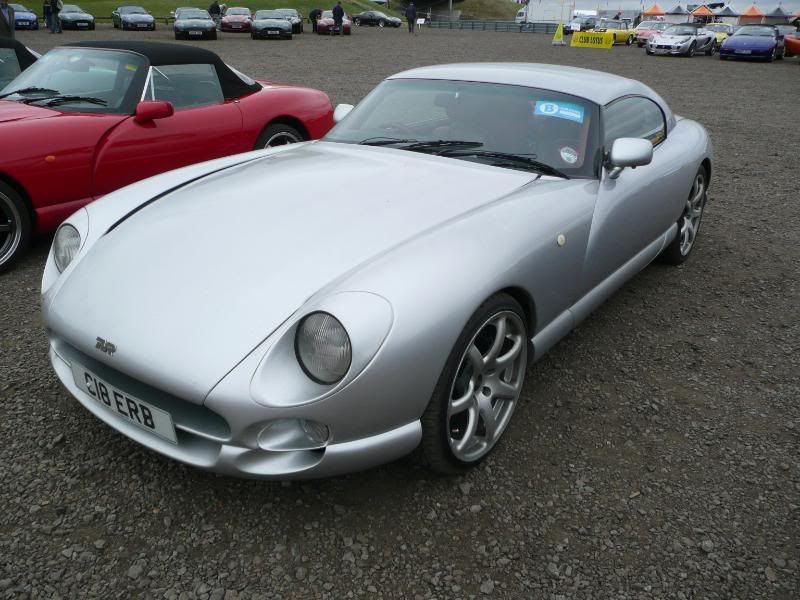 The paintwork on this Tuscan was distinctive, and had a really unusual effect when viewed from behind sunglasses. I imagine it is a nightmare to keep immaculate, though!
I did also spot this Vixen.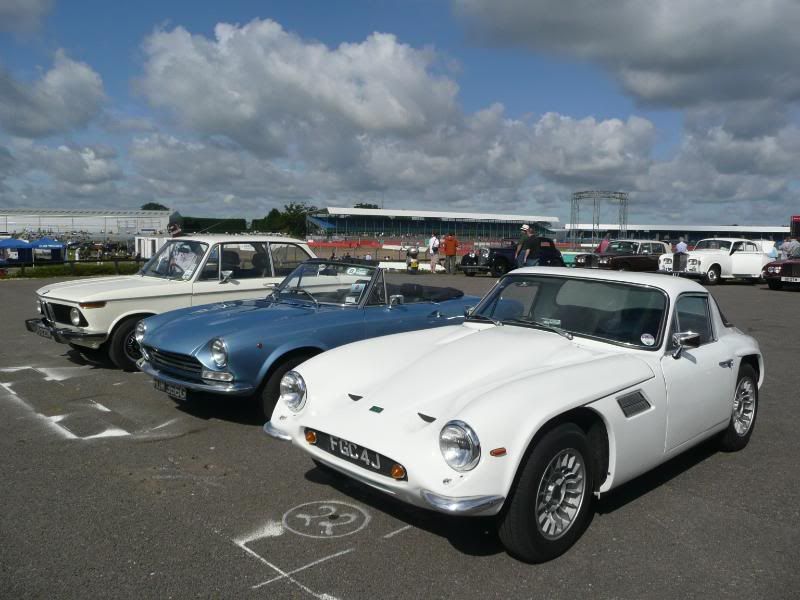 TURNERThese little sports cars were produced in the late 1950s and the early 1960s.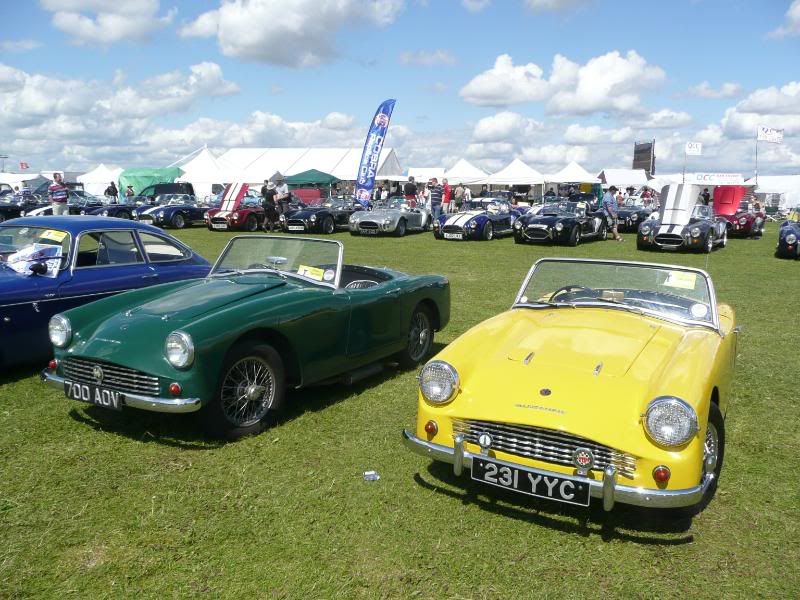 THE RACINGOne of the great things at an event like this is that you can wander pretty well anywhere: paddocks, pits, and try out just about every grandstand. So I did!
Taking pics of the cars on the track is not my forte, but I offer these from a couple of the races. First, the 1960s sports cars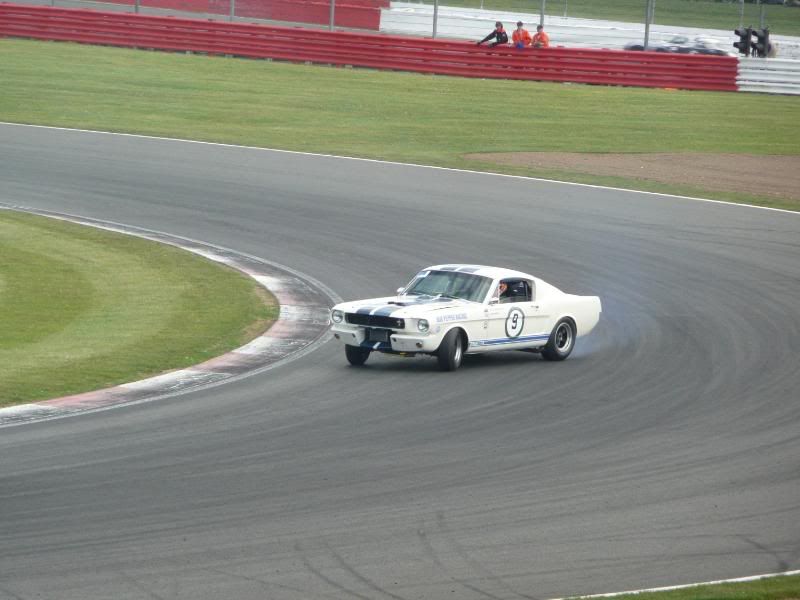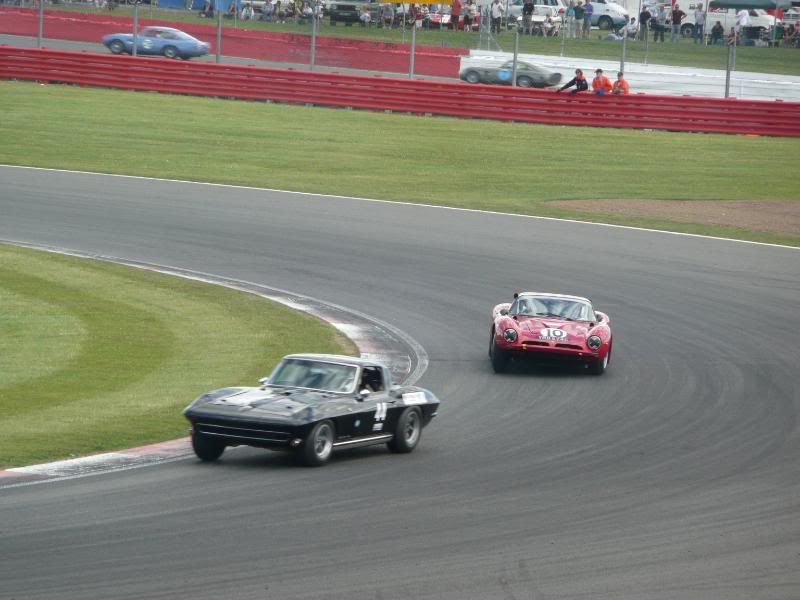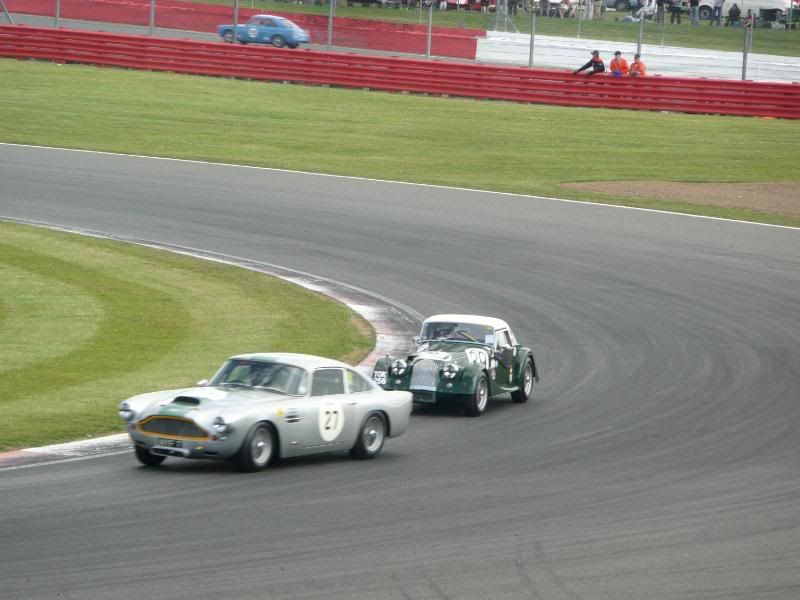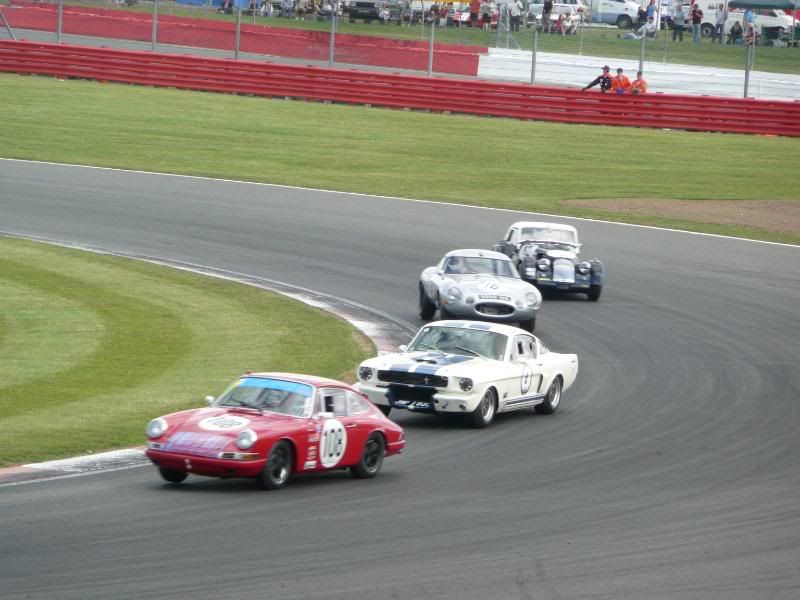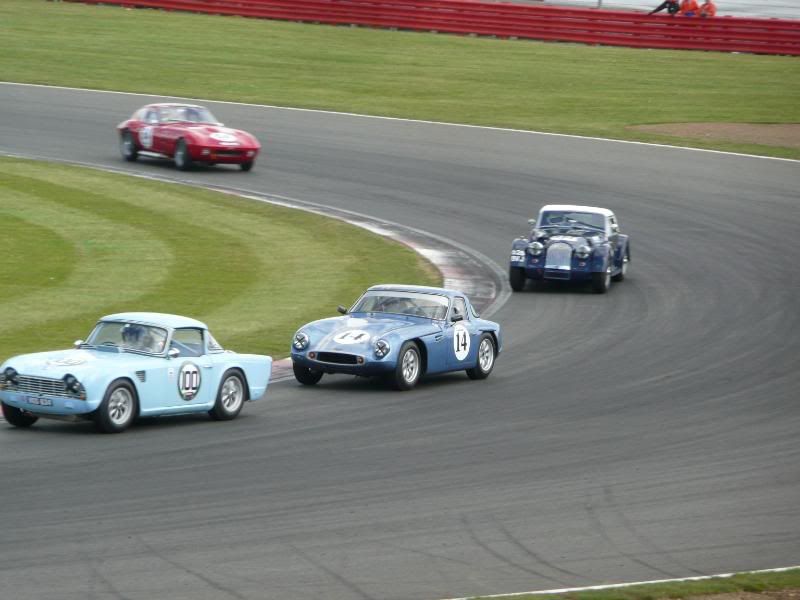 A rather larger grid competed for the 1950s Sports Cars – dominated by a Ferrari 250 "Breadvan".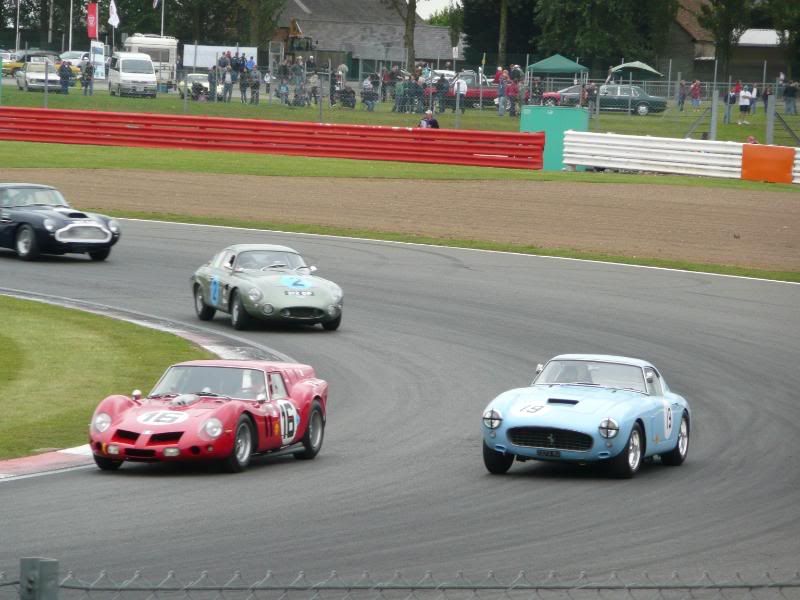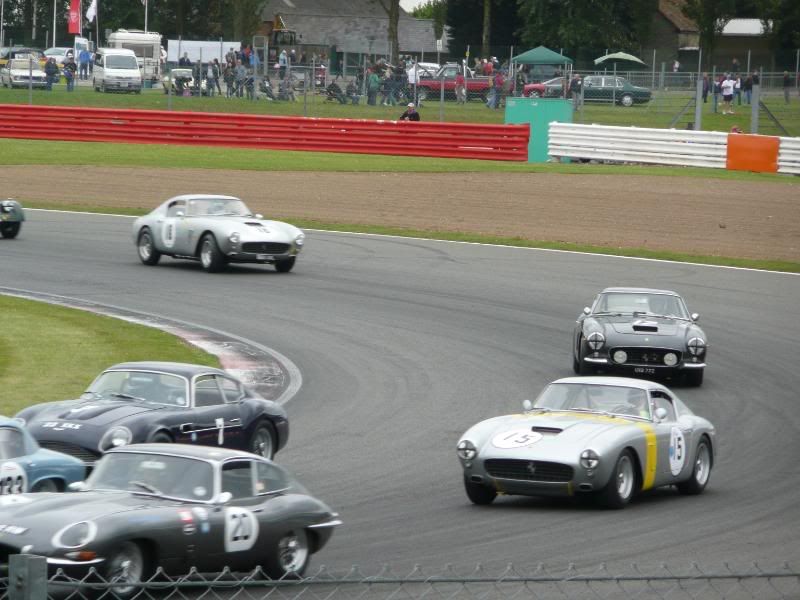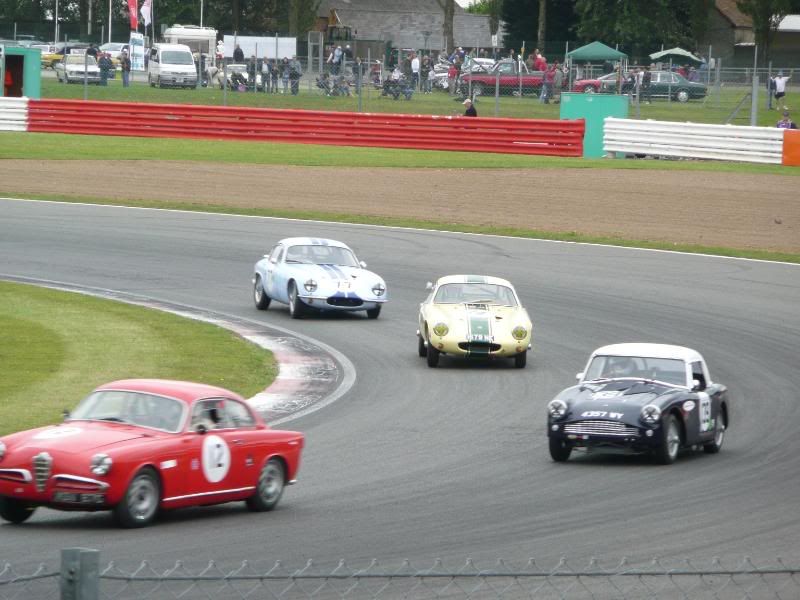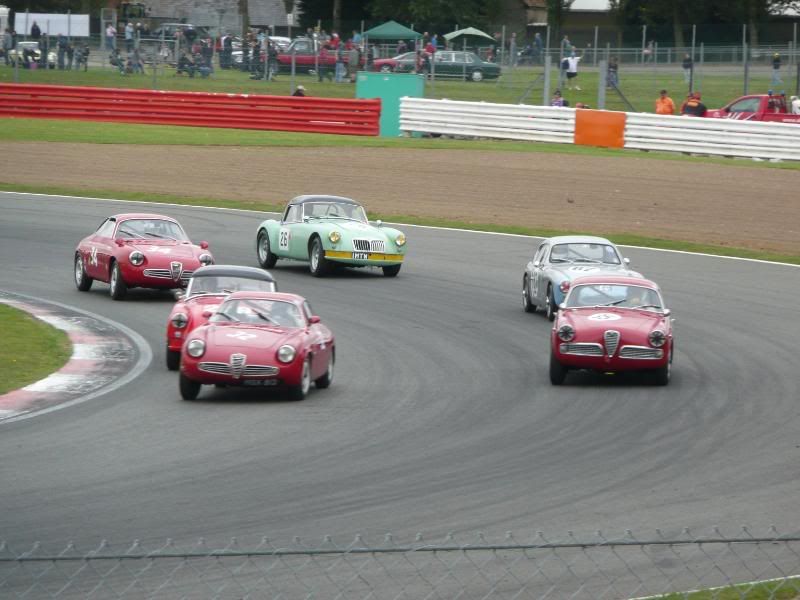 Wandering around the paddocks, I came across all manner of vehicles, many of which I would later see on the track.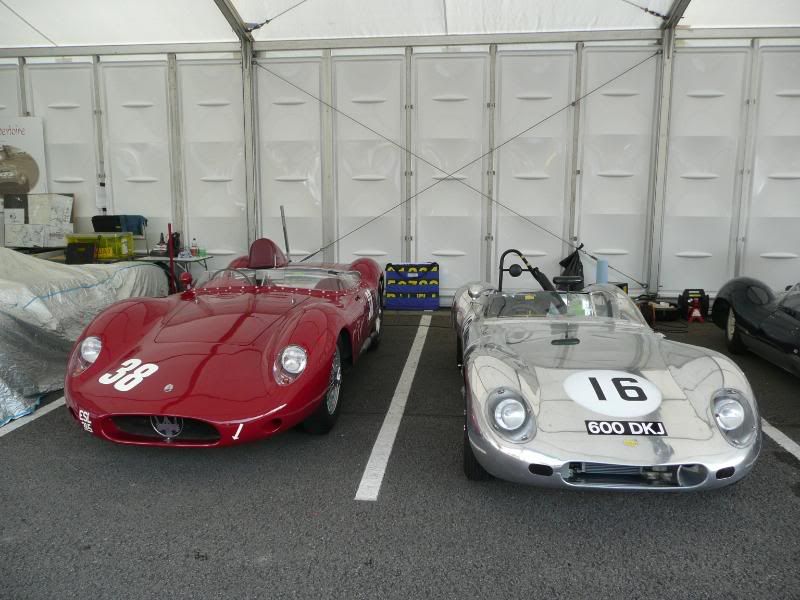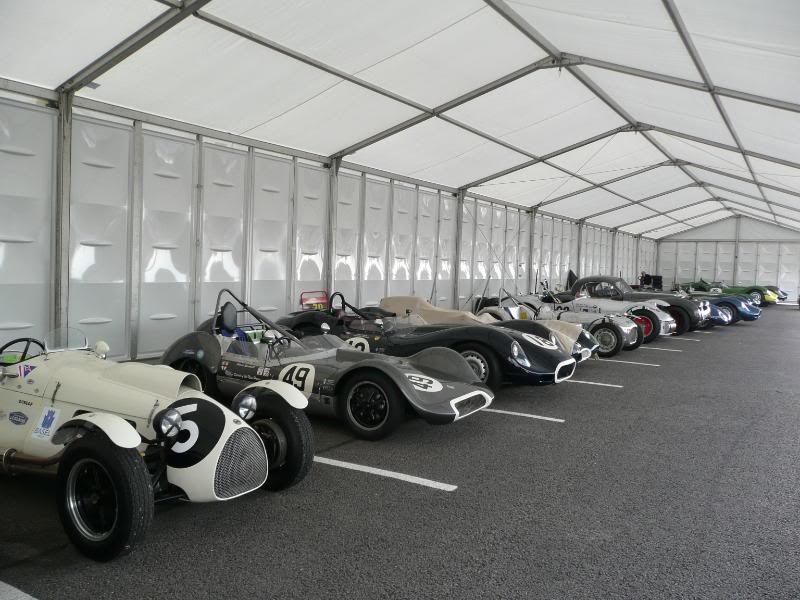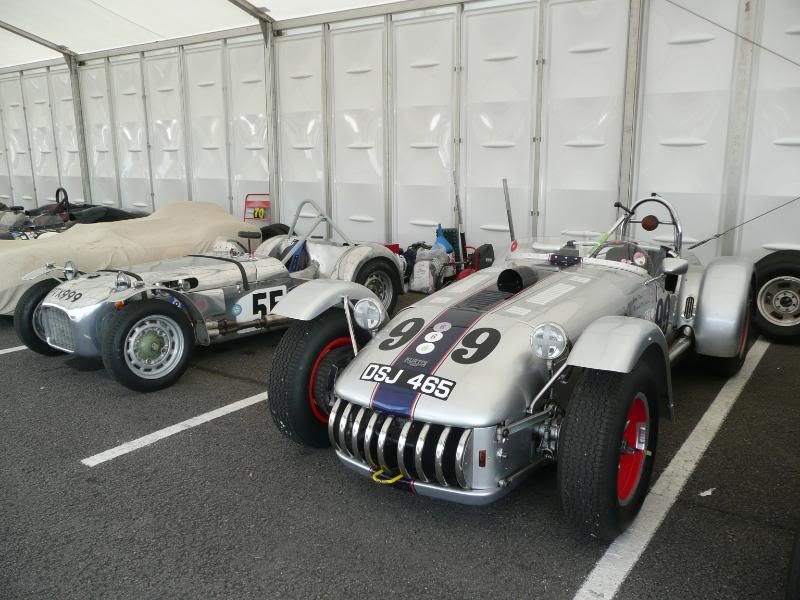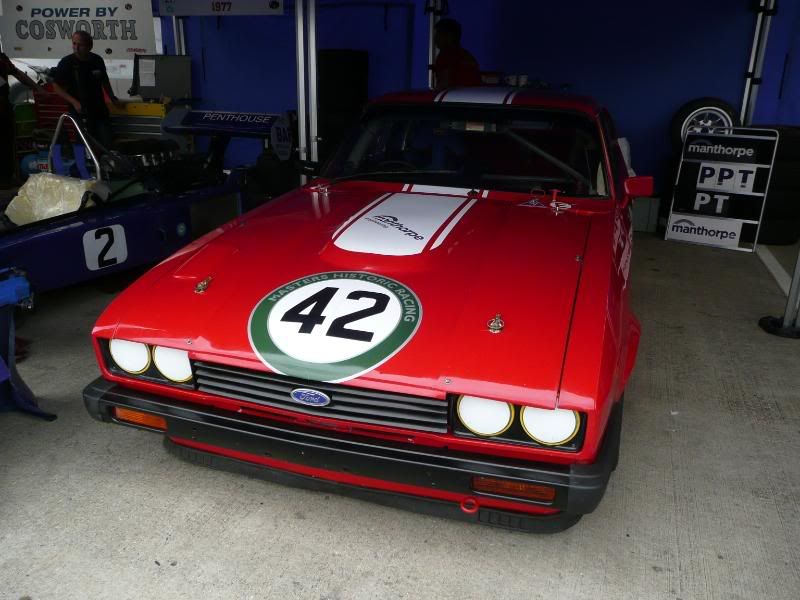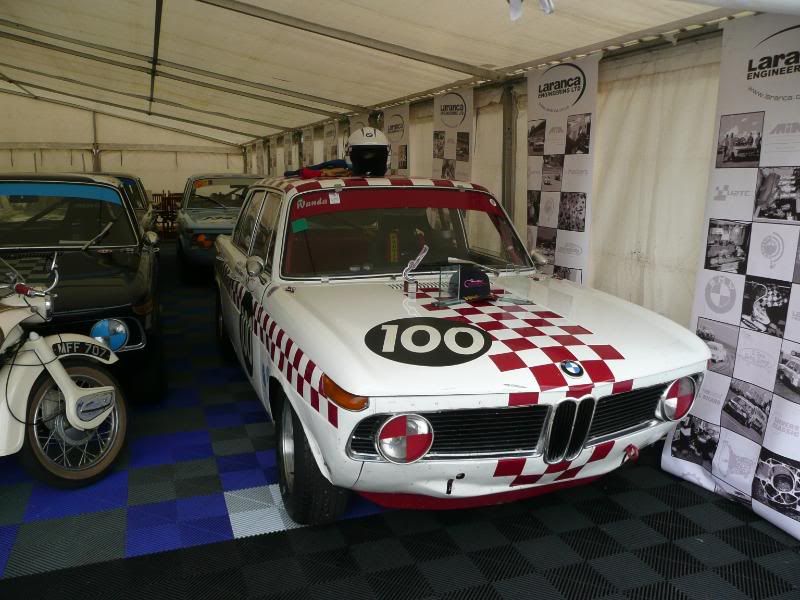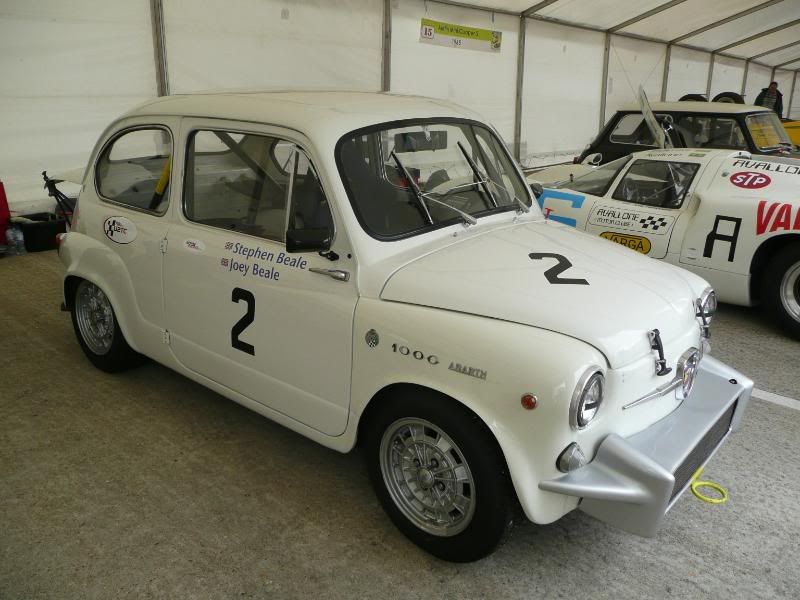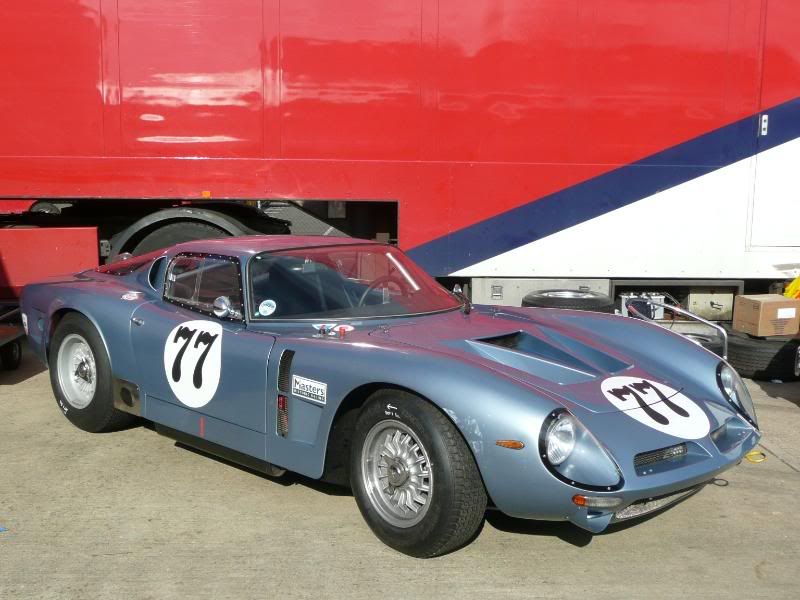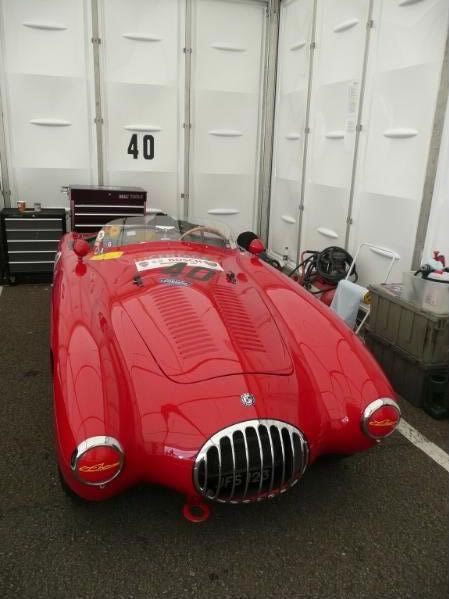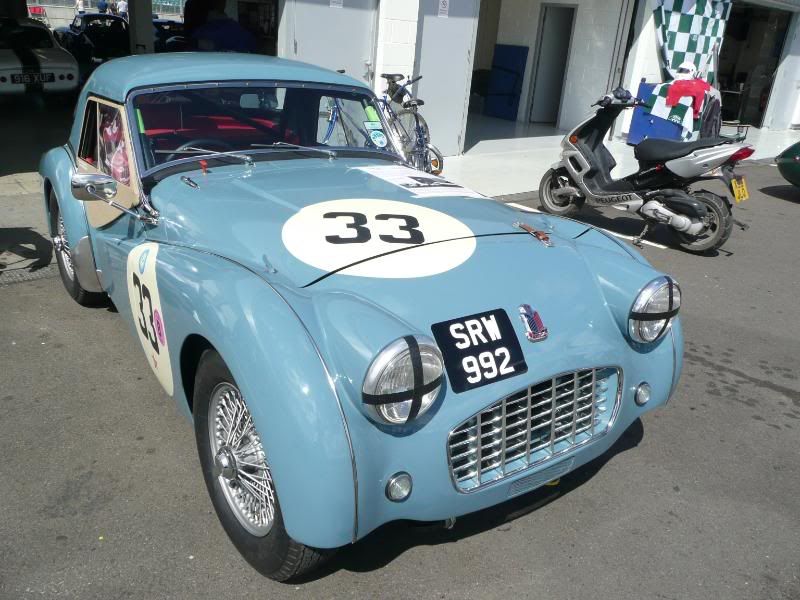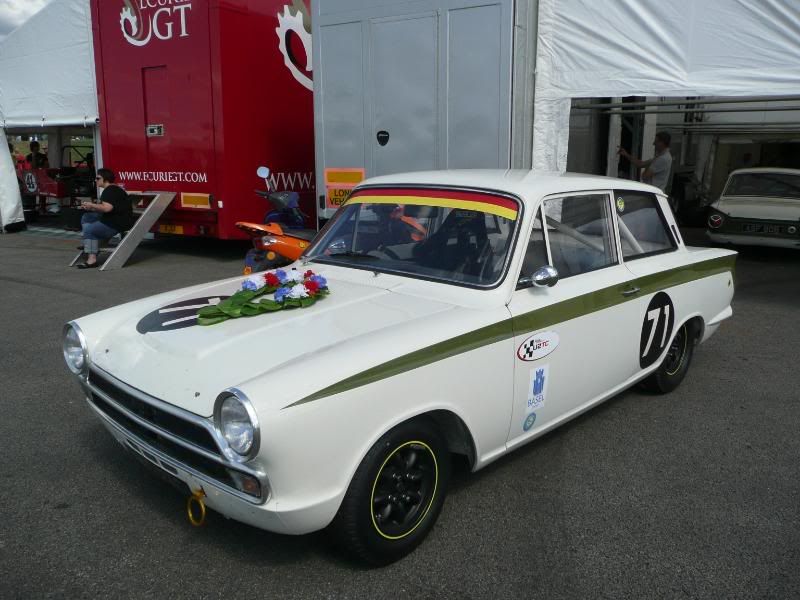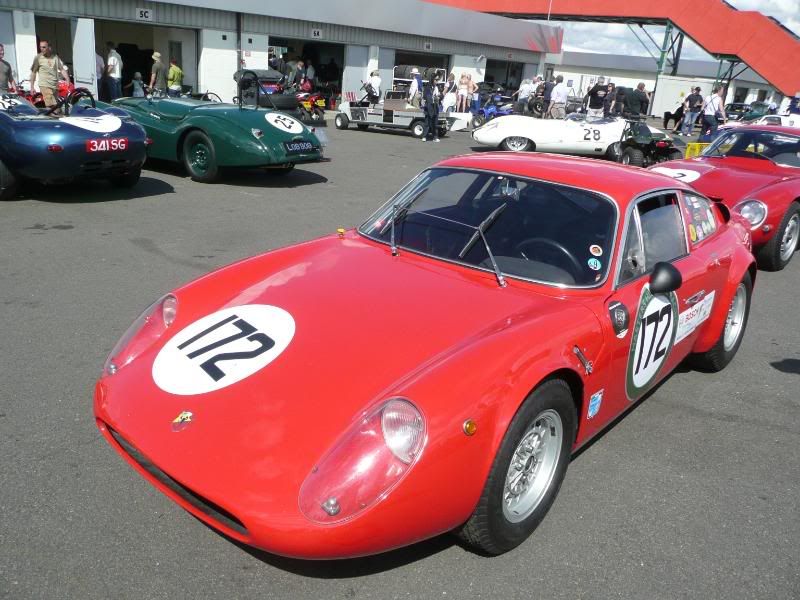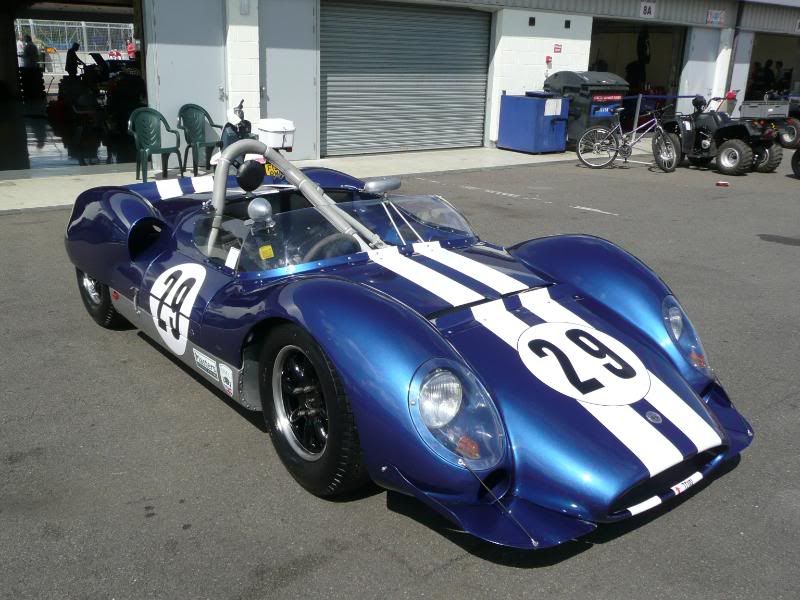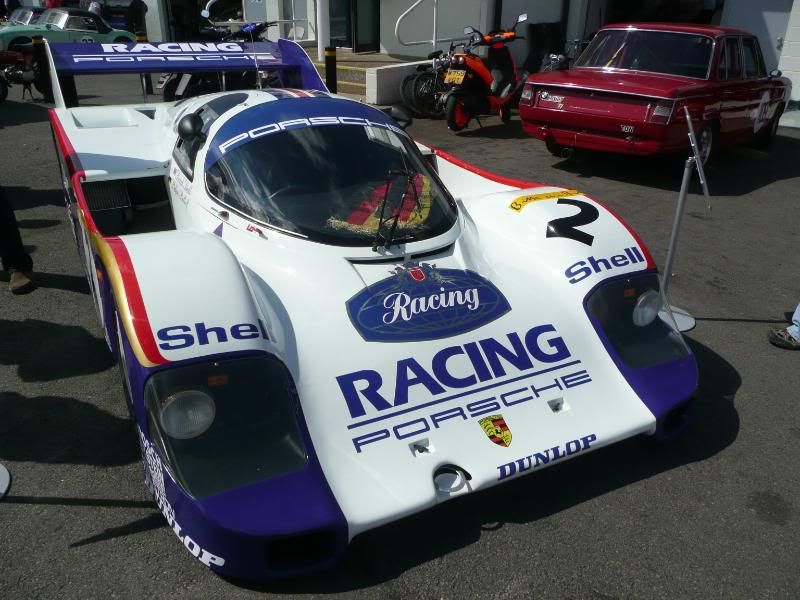 I particularly liked the Alfa Romeo "historico" section, where as well as a series of Giulietta SZ and Giulia GTVs, they had a lovely period race support van.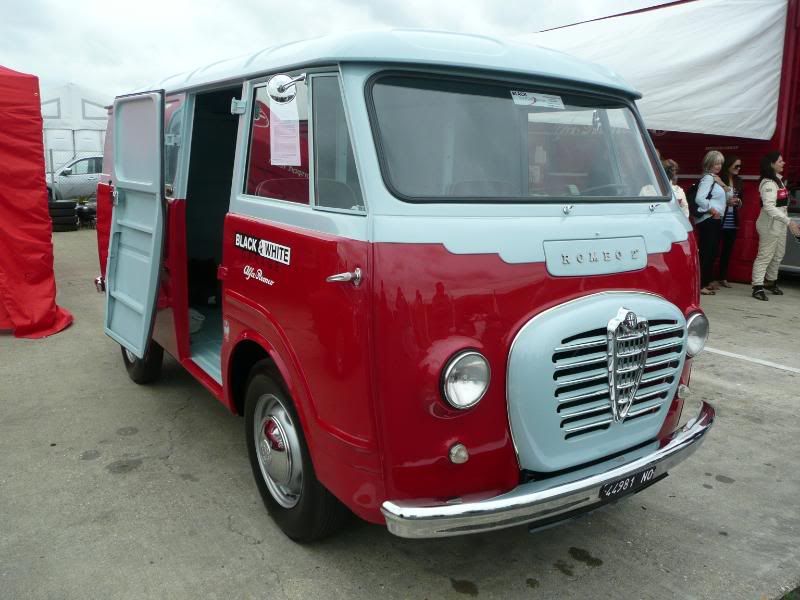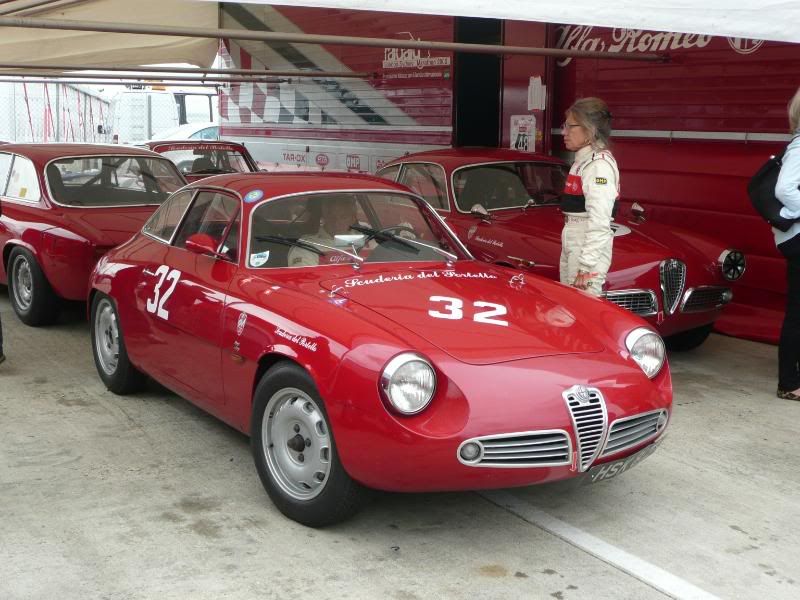 Ferrari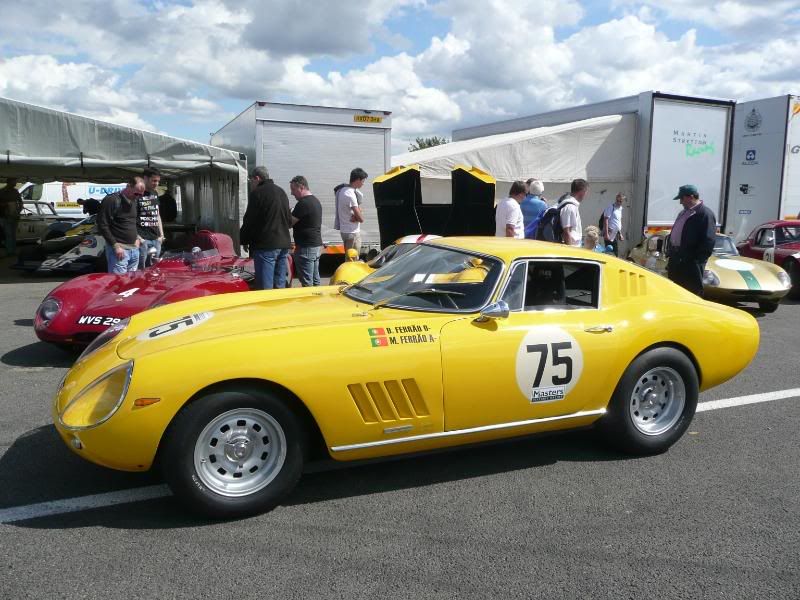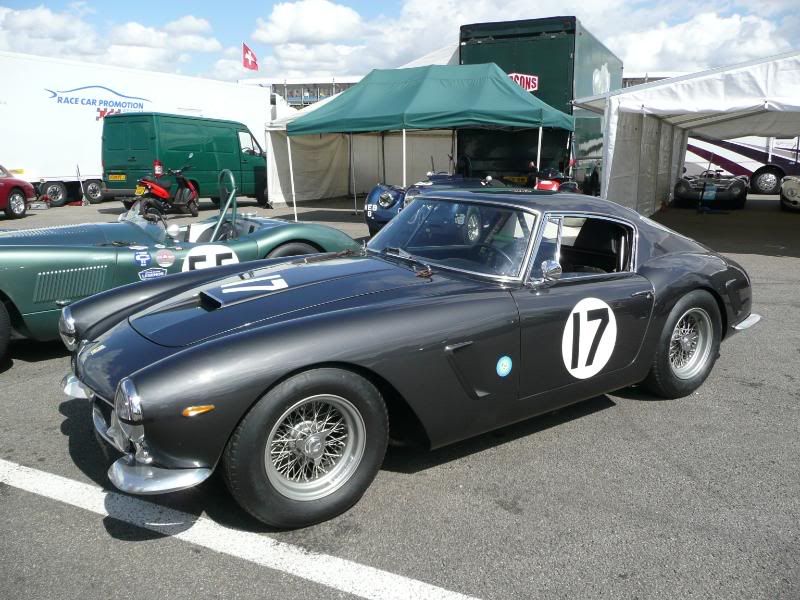 Jaguar
Aston Martin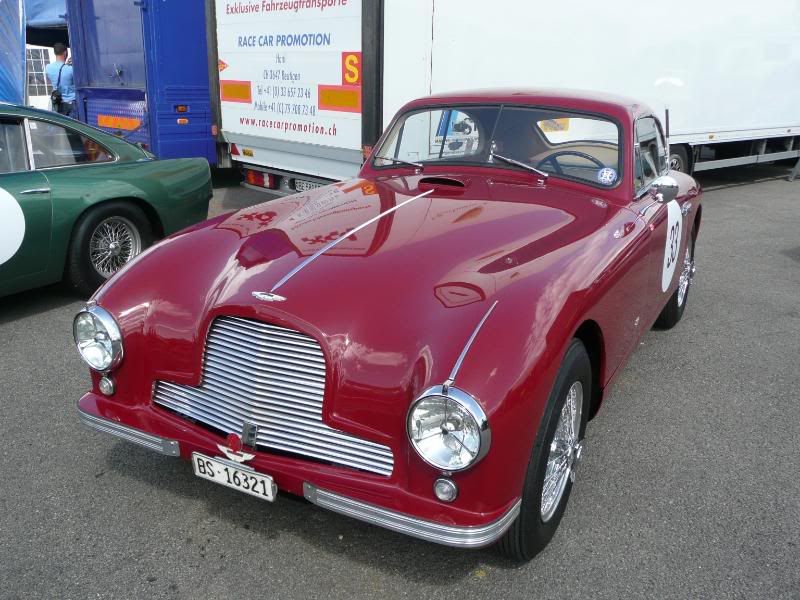 Lola
Maserati, including a 250F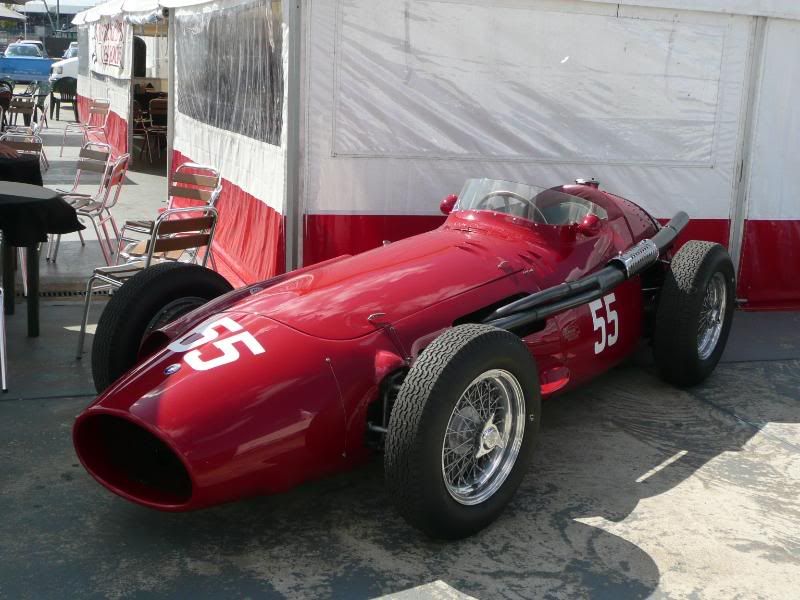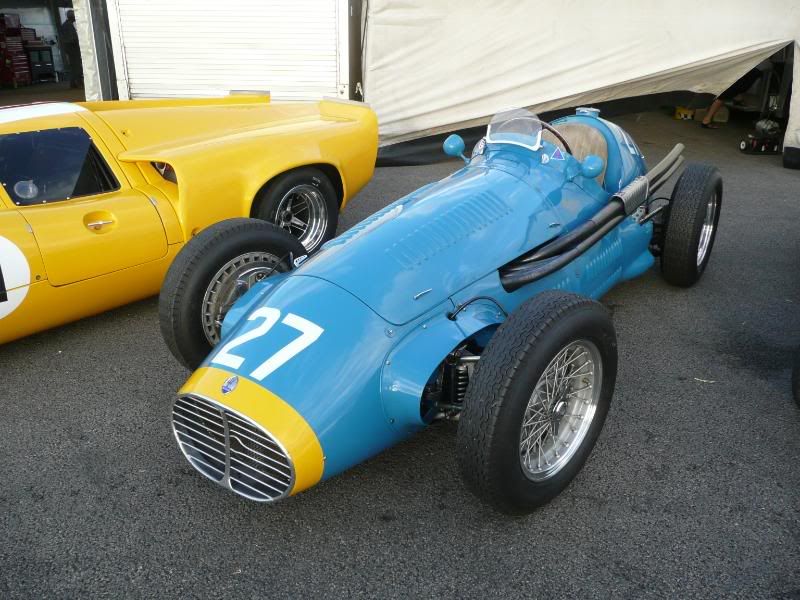 OTHER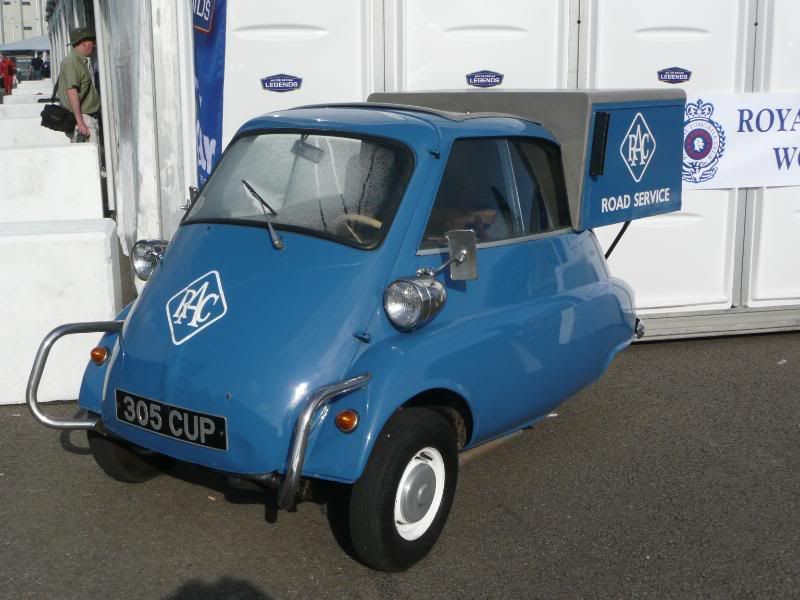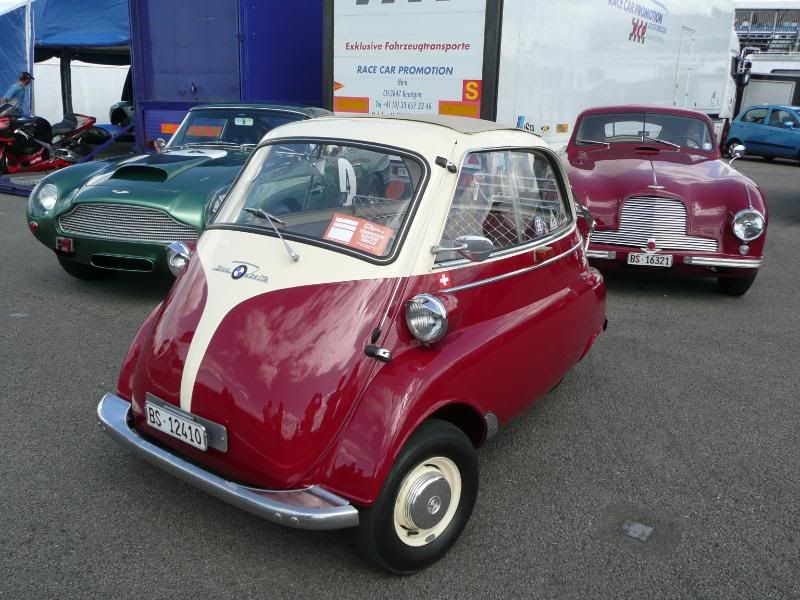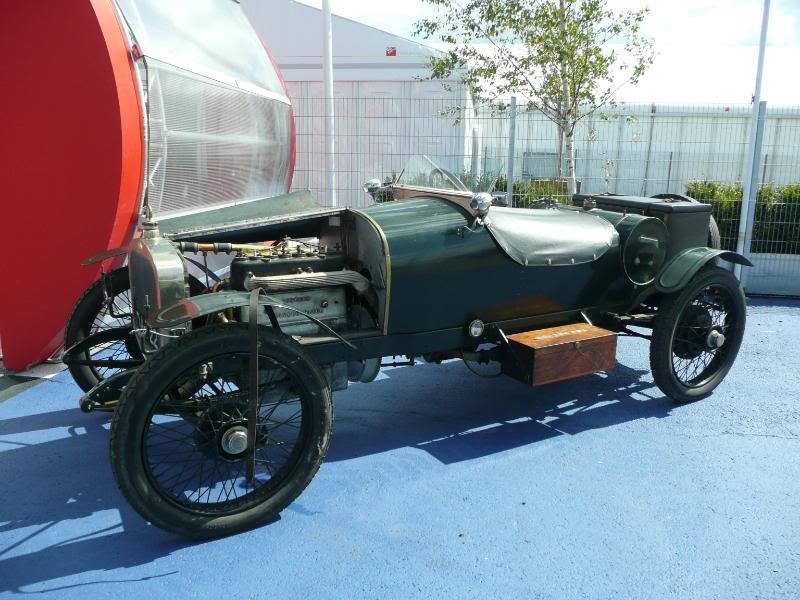 These two cars will be moved to the relevant sections of the report once they have been correctly identified in their respective "Name the Car" threads.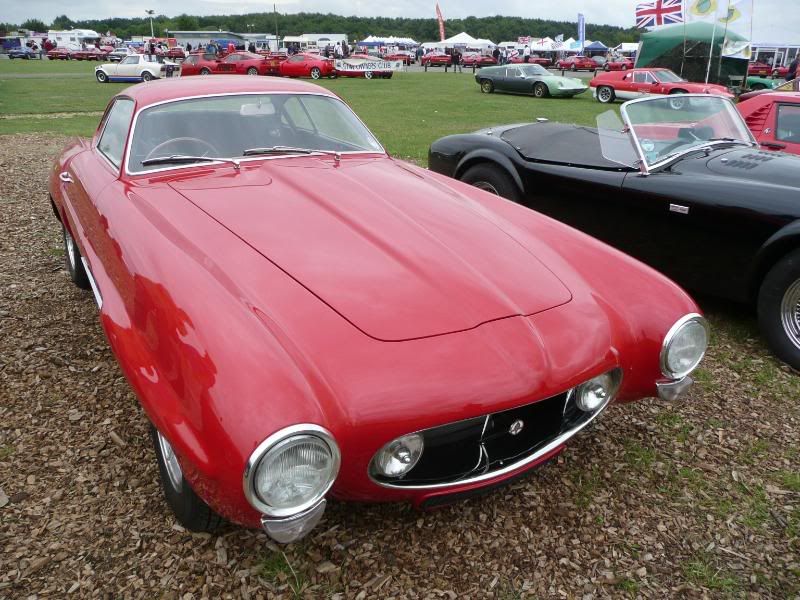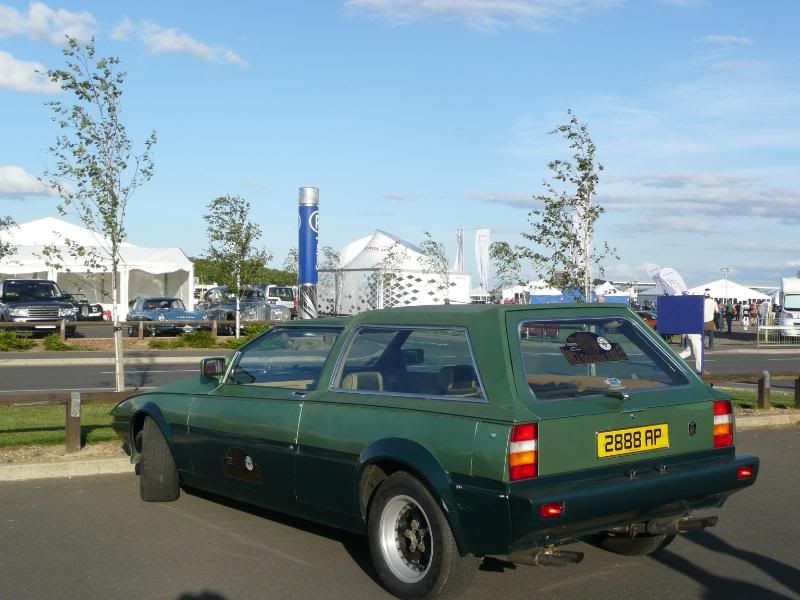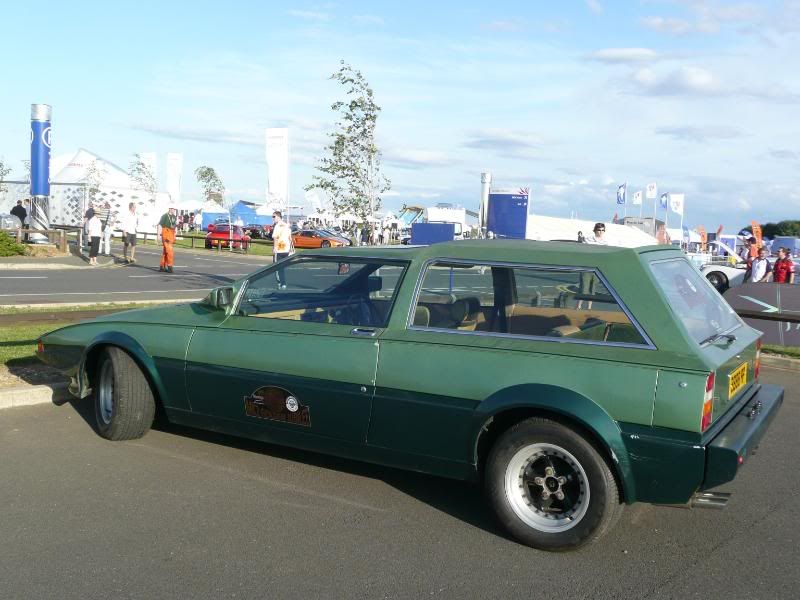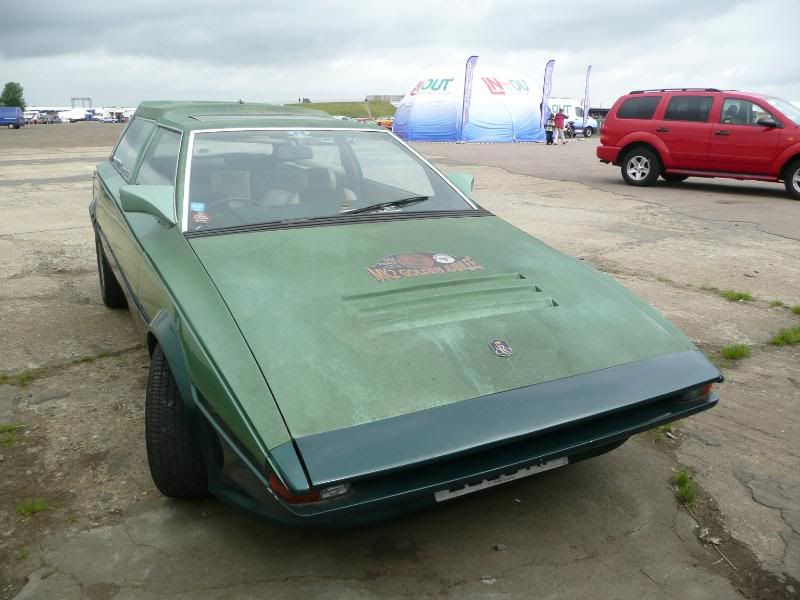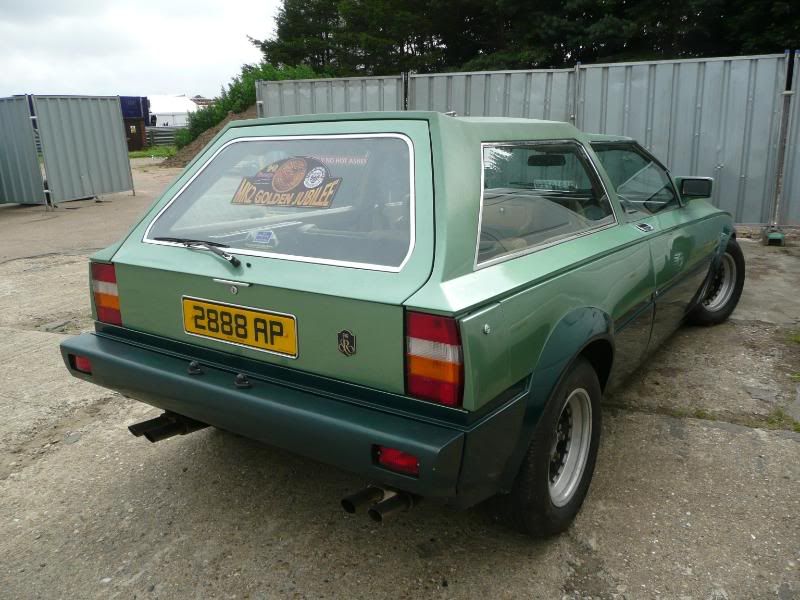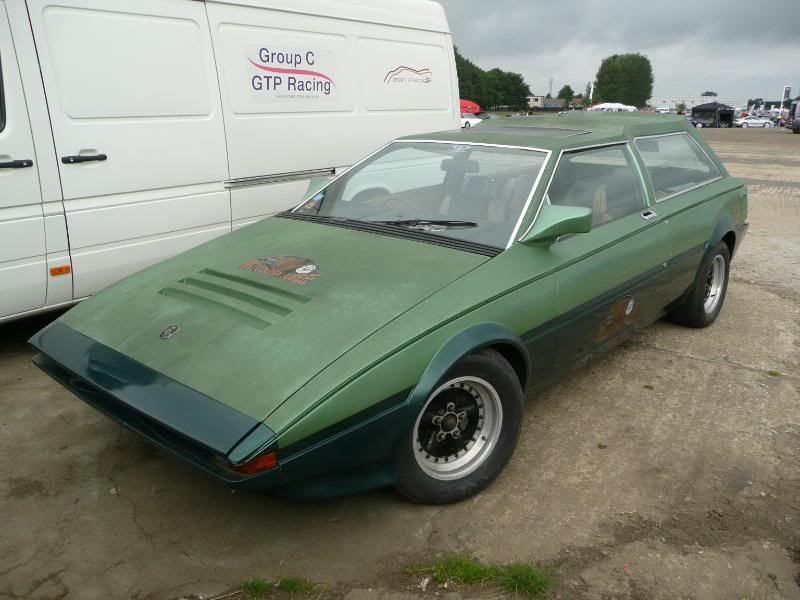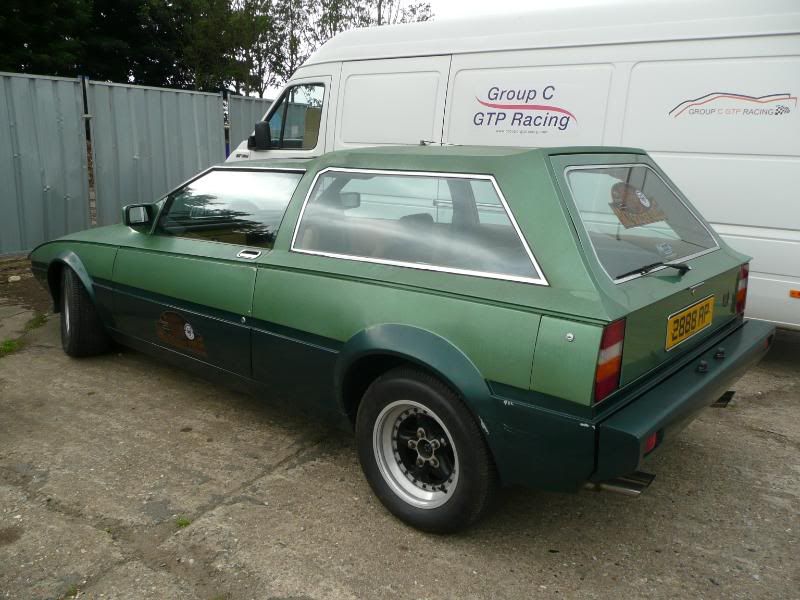 During the lunch break on both days, we were treated to a display of aeronautical acrobatics from 6 Yak 50 planes . Impressive stuff!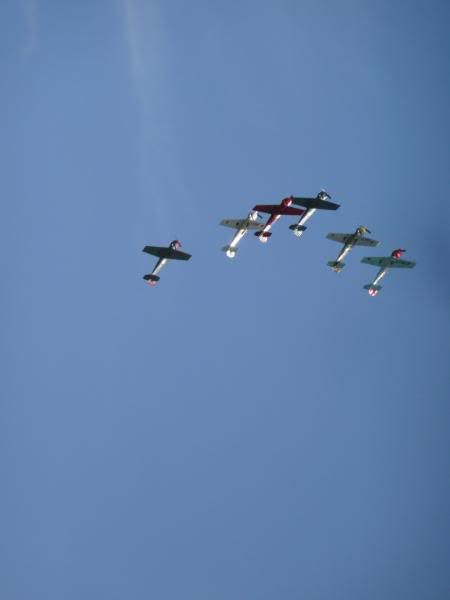 So, this is not a particularly cheap event, especially once you have bought petrol and probably some food. But, it is still a true feast for the automotive enthusiast. I was there for 12 hours on Saturday, so on a cost per hour basis, it's actually not such a bad deal. I hope there are better discounts available for 2010, but even if not, I think this one will still be in my diary.2009-07-28 07:35:52