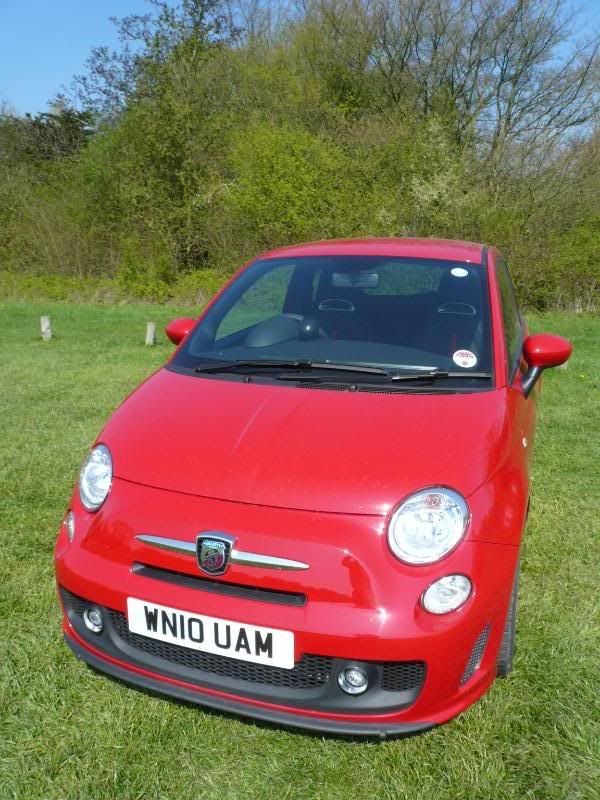 Abarth. Surely one of the most evocative names in motoring legend.

It may surprise you to learn that the eponymous founder, Karl Abarth, was actually an Austrian. Born in 1908, as a schoolboy in Vienna, he was interested in mechanical objects, but it was not long before this fascination evolved to become a passion for speed. In his formative years, Herr Abarth established himself as a talented motorcycle rider, but a series of bad accidents put paid to his ambitions for a career in two wheeled motorsport. By the end of the second World War, he had moved to Italy. Having approached the legendary Tazio Nuvolari, he was put in touch with the wealthy financier of the emerging Cisitalia sports and racing car company, where Abarth was able to deploy his considerable talents. Despite producing some memorable designs, the costs of the Type 360 Grand Prix car were literally ruinous, and were ultimately to break the Cisitalia company.  Spotting that this was about to happen, Abarth took the decision to form his own company, in conjunction with local driver Guido Scaliarini. Founded in 1949, and with a scorpion as the company symbol, as this was the zodiac sign of his birth, Abarth's plant was in Torino, also home to the automotive giant, Fiat, so he had plenty of "ingredients" with which to work.

His plan was to clothe Fiat mechanicals with curvaceous and attractive bodies designed by some of the leading Italian styling houses and then to tune up the result to endow the vehicle with an impressive performance. The approach was successful, for Carlo Abarth proved to be a perspicacious businessman as well as an engineer, and his Company grew fast, buoyed by the success of the business he made from selling performance modification parts for Fiats. This allowed him to build an array of racing cars and record breakers. When Fiat launched the Nuova 500 in 1957, Abarth saw this little car as the ideal platform to demonstrate his engineering brilliance and the result, the iconic Fiat 500 Abarth was born in 1958. Always distinctive, with is open rear engine compartment lid, this rather unlikely raw material was transformed into a formidable and successful racer. For the next few years, Abarth turned out a whole series of ever wilder, and faster models, mostly based on small Fiats. With 10 world records, 133 international records and over 10,000 track victories, a remarkable achievement by any standards, a legend was created with quite some reputation.

During the 1970s, the Abarth badge all but disappeared, staging a modest return on the hottest version of the rather niche Ritmo/Strada 125 and 130TC models in the mid 1980s. But, recognising that the Fiat Group had access to something special, it was decided that the legend should be reborn for the twentyfirst century. In 2008, Fiat announced there would be Abarth versions of two of their models, and that these would feature not just the iconic Abarth branding, and many of the styling cues of the 1960s cars, but also upgraded engineering and performance. Available from only a very limited subset of dealers in the UK, these cars are still a rare sighting in the UK. Imagine my excitement when I spotted that Hertz UK appeared to have acquired some of the 500 models, and it took me almost no time at all to decide that I had to try to secure one for a weekend to see whether a car which I rather like in its mundane "cooking" form could in hotter form be the exuberant fun that the press reports suggested to be the case.     

My expectations were sky high when I first caught sight of the Pasadoble Red model that was allocated to me. For a start, to my eyes, this is a cracking looking car. You can personalise the looks of your 500 Abarth with a wide range of different stickers, different wheel trims, and the sky dome roof, as well as choosing between red, grey, black and two shades of white for the external paint finish. My test car was a fairly standard spec car. It is clearly an Abarth, with its slightly larger nose, the various vents and grilles to admit more cooling air, the 16″ wheels, the twin exhaust pipes, the rear diffuser, the side skirt mouldings and of course the Abarth badges. This car could sell itself on looks alone. It is clearly not just me who thinks this, as I had so many people taking an interest in it wherever I took it, and I got the feeling that I almost sold it to all of my colleagues who rushed to inspect it at the end of a business meeting even before I got back to the car to unlock it so they could see inside. Praise was universal for the appearance. And not just the outside. The inside scores similarly high marks, with everyone commenting on just how appealing it all looks.

Lovely though it is, you would really want the Abarth 500 to be a blast to drive. Let me assure now that it is. Just terrific fun, this car. The standard model, if you can call such a car "standard", generates 135 bhp from its 1.4 litre turbo engine. That might not sound like a lot, but it is certainly ample to endow the 500 with rapid acceleration, and this is accomplished readily because the engine is just so willing. You can drive your Abarth sedately, which is just as well, as I did have the pleasure of sitting in a couple of traffic jams, but the harder you push it, the more it rewards. Like many a small Fiat, the engine just begs you to work it that bit harder. So next time, you do. Despite what my passenger thought, I did not quite red-line it many times, but I got close, just for the pure joy of feeling the rapid increase in momentum and hearing the smooth but aurally wonderful engine go about its business. There is a five speed gearbox to help you make the most of the power. The lever is mounted at an angle high up in the middle of the dash, and it is just perfectly placed. The gearchange quality is good. Although it does not click between the ratios with the sound and feel of a switch, it is very precise and it is fun to use. It is fun to hold, with a lovely leather covering to the well shaped gear knob. lf that element is good, then the steering and handling is better still. There is a lovely chunky leather wheel. The bottom is flattened off slightly, but I only noticed this when someone else remarked on it. There is a "Sport" button on the dash which allows you to increase or decrease the weighting of the steering. I left the "Sport" button on, and in this mode it is beautifully weighted. It is moderately heavy, once you turn the wheel a tiny bit, but so precise, and it helps endow the Abarth with a sort of large go-kart feel. This is quite a small car with a short-ish wheelbase and so it corners so well, and it was fun to drive on bendy roads, as I found out when I deliberately took the long way home, off the M4, the day I collected it. The brakes are good, too, operating effectively to bring the little car to a standstill. There is a proper pull lever handbrake between the seats, too. It will probably not come as a surprise to learn that the ride is perhaps not the strongest attribute of this car. Indeed, it is rather firm, and so some of the larger potholes and craters to be found on our roads did prove rather challenging for the Abarth. But you can forgive it any such mild aberration when the car is such a riot to drive.

 

Anyone familiar with the regular 500 will recognise the overall interior design of this car, but there are lots of differences. You do still get a dash which is mostly formed from a body-coloured plastic panel, much like the old Nuova 500 used to be, and there is a single dial directly in front of the driver, which has the speedo and rev counter displayed in concentric semi-circles. There are also gauges for fuel level and water temperature on an inner circle inside the other instrument displays. In the middle of this all is the odometer, info on the radio station selected, or date information, which appeared to be in Polish on my test car, and I never got round to figuring out how to change it. In the Abarth, you do get an extra dial, which is mounted in a pod on top of the dash. This shows the turbo boost. There is a "shift up" indicator in the middle of it, but if the "Sport" mode is on, this does not light up (or I was not trying hard enough!). Column stalks and other switches are standard Fiat 500, and they are of a perfectly acceptable quality these days. You do not get a glove box, but there is a lipped shelf area on the lower dash in front of the passenger, along with reasonably generous door bins, and a lipped area in front of the handbrake moulding and a lipped tray to the right of the steering wheel. The stereo system is mounted up high, and has large buttons, so is easy to use. Beneath this are the rotary dials for the air conditioning system. Dual zone climate control is available as an option. It is all quite simple, but neat, and it looks good, all enhanced by the leather trim to wheel, gear knob and handbrake, all of which have red stitching to them. You also get some wonderful seats. You get a moulded seat, which incorporates the head rest, with a red stripe, and it looks terrific. They come with a cloth covering as standard, and this can be upgraded to leather for an additional £800. There is a height adjuster for the driver's seat, but not for the passenger. With the seat at its lowest, the driving position for me was good. You certainly do not think you are sitting in this car, though, like you would in a pure sports coupe. My passenger did express the view that he would have preferred to have been sitting a little lower, but there was ample headroom, so this was a minor observation more than a serious limitation.

Although the Abarth 500 is a small car, it is not as limited for people and luggage as you might think. Whilst two large people might not relish travelling in the back for all that long, there certainly is reasonable space for them, in terms of leg and head room, and ample width for two. Three would be a squeeze. The floor area of the boot is better than I thought, too, as it accommodated my bag containing the week's clothes, my squash kit bag, and the case for my laptop without anything being stacked on top of anything else. The boot is quite deep, but the slope of the hatch means that there is less space the higher up you get. There is the tiniest of rear parcel shelves, which just lifts in and out. The rear seat backrest can be dropped forward, to extend the luggage area. Unusually, it is not split into two, though this feature is available at extra cost, and comes as standard if you have the leather seats.                 

In the interests of balance, and objectivity, I do have to report that this fun little car is not quite perfect. Some things could be fixed quite easily. The locking petrol cap requires you to insert the key in the cap behind the fuel flap, which is not something you have to do on many cars these days. That one would be easy to fix. A sixth ratio in the gearbox would make motorway cruising that bit more restful, and would be welcome. They could fix that one, too, but I guess that would cost a bit more. Over the shoulder visibility is not brilliant, as the headrest gets in the way, but for parking, I discovered that there is an excellent field of view in the door mirrors, so this problem sort of went away. A glove box would be nice, but not essential. Other than that, I found no significant issues to complain about

With some rental cars, I can barely wait to return them. Others are more of a wrench. Returning this one was almost a tearful experience. For someone whose regular car is a large comfortable saloon with a quality interior, sonorous V10 and a blistering pace to be so impressed by a car costing barely a quarter as much, with only a third of the power is some testament to the excellence of the product. Thing is, the Abarth was even more than that to me. What started out as a slightly indulgent treat for my birthday weekend looks like it will cost me rather a lot more than the £50 a day I paid to get this rental car. About £15,000 more, I fear. I was so smitten with the car, that I am already trying to fix my diary so I can call into the dealer (in Slough, it would seem!) to explore the option of purchasing one so I've got access to this level of fun whenever I want it. I absolutely do not need a second car, but the Abarth 500 was just so beguiling that I want it. Badly.



2010-04-28 18:25:46