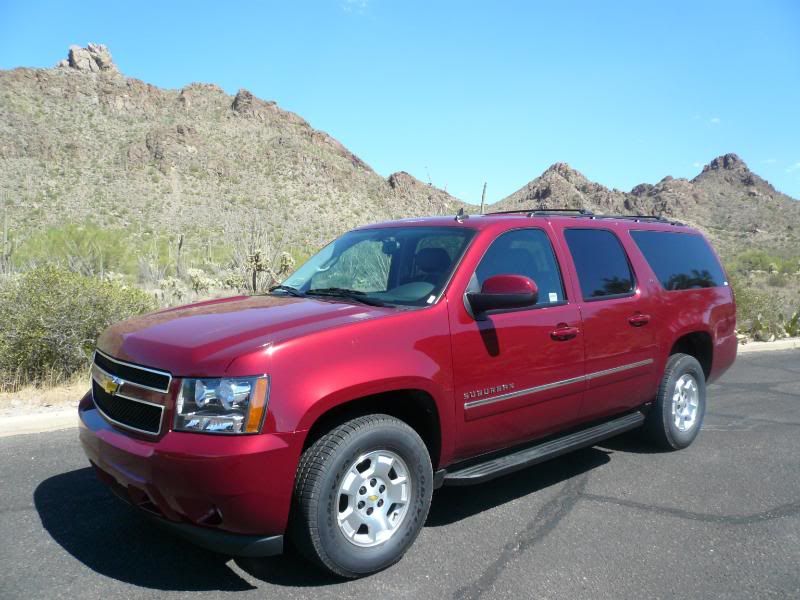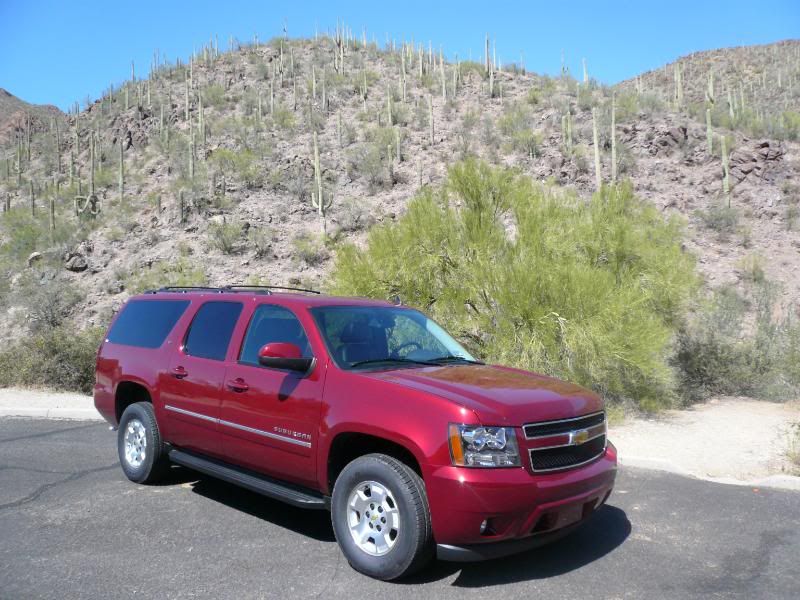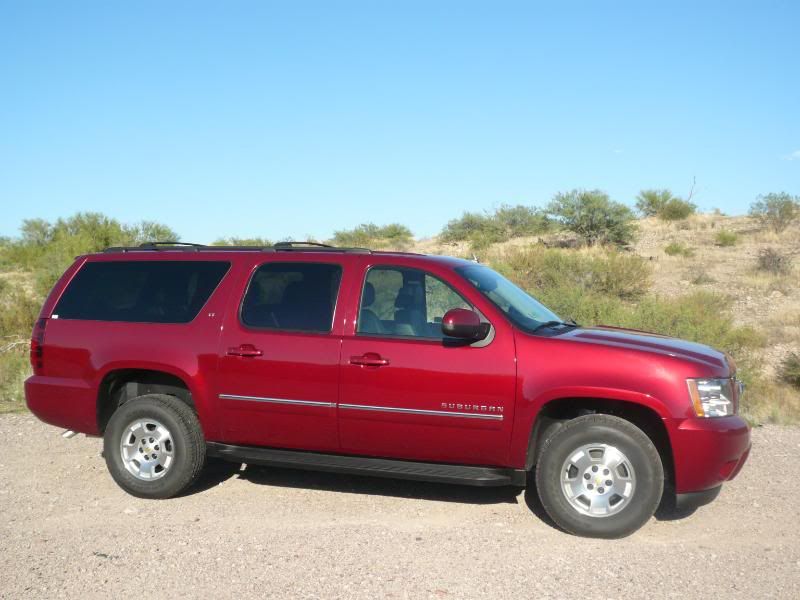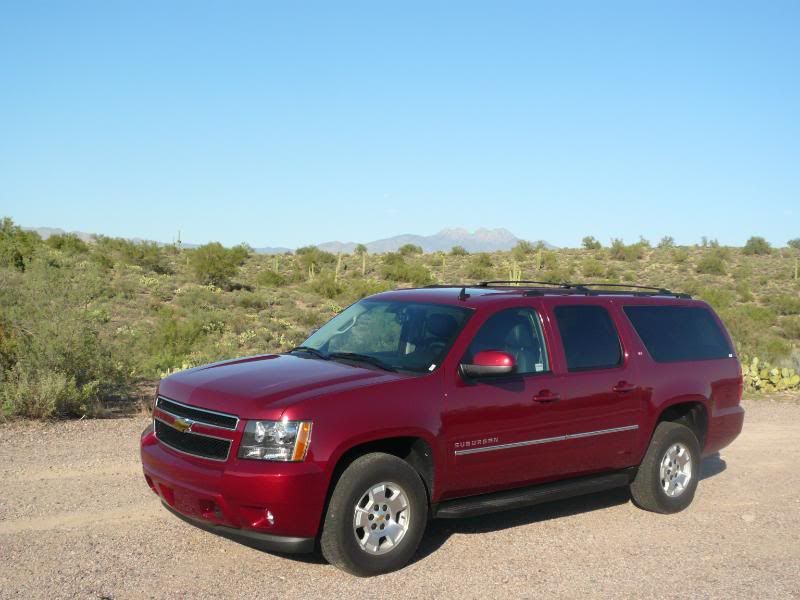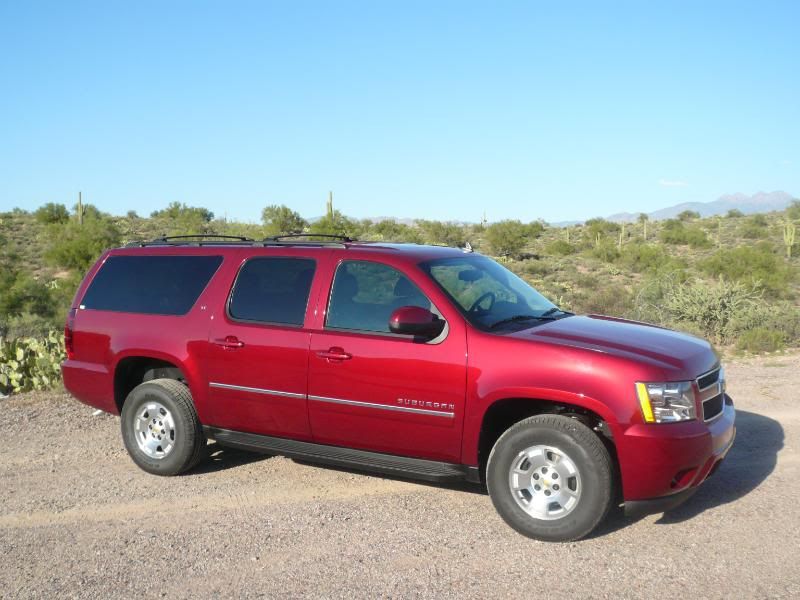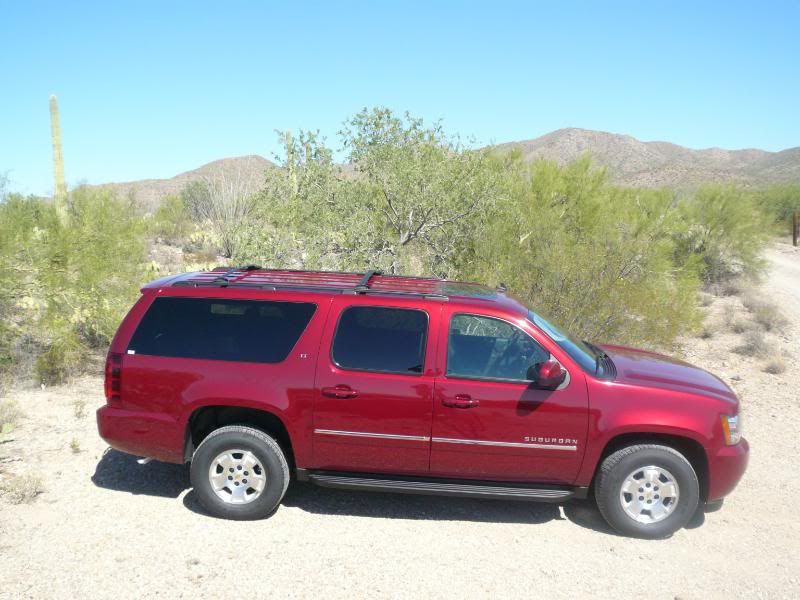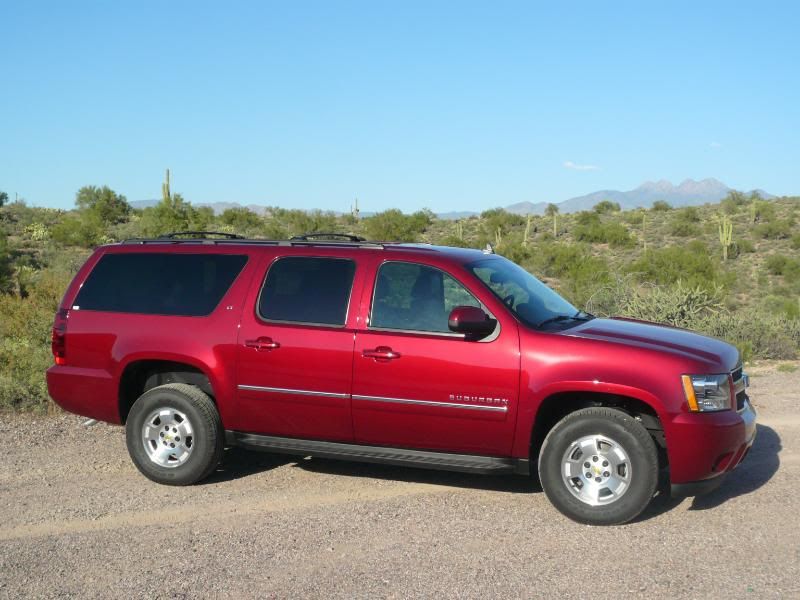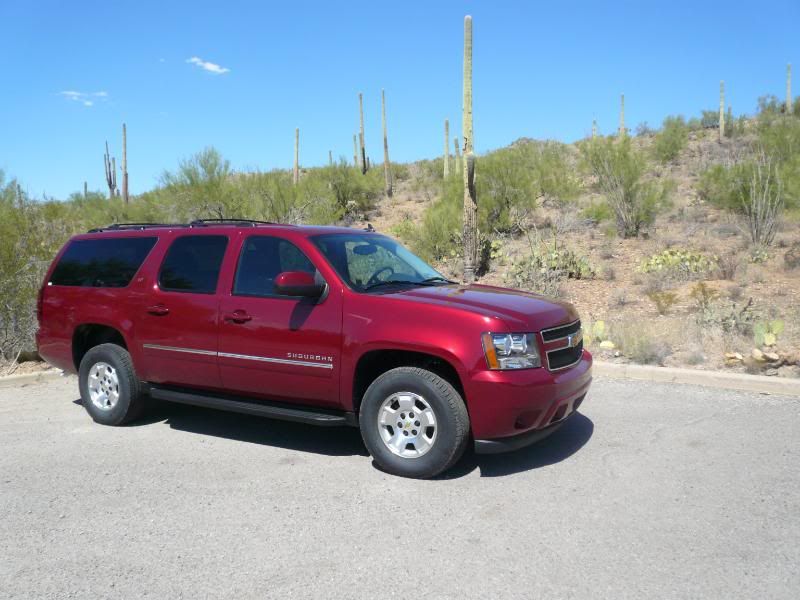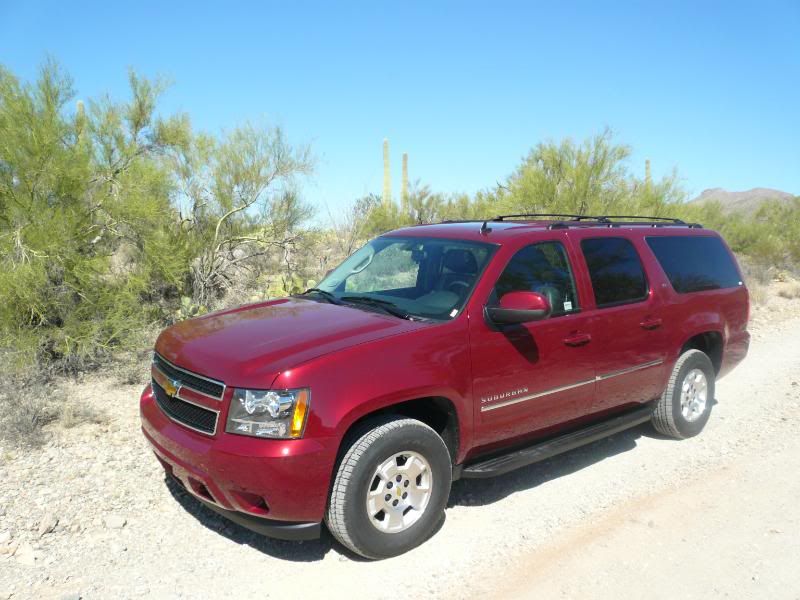 As I approached the stall that was the location of the latest rental car, I could barely believe my eyes. All bookings on this trip were for a Hertz Group C car, which means a Nissan Sentra or equivalent. But there, in bay C31 was a Chevrolet Suburban. And yes, it did indeed have my name and my paperwork on it. Whilst the Hertz Phoenix rental car garage was not exactly replete with cars, I did think that this was an upgrade too far, and went to the Customer Service booth to see if there was something a little smaller than a whole country in which I could drive away. When I was told that  the only offers were an Explorer or a Prius, I decided that I would take the Suburban, just to see what this legendary vehicle is like.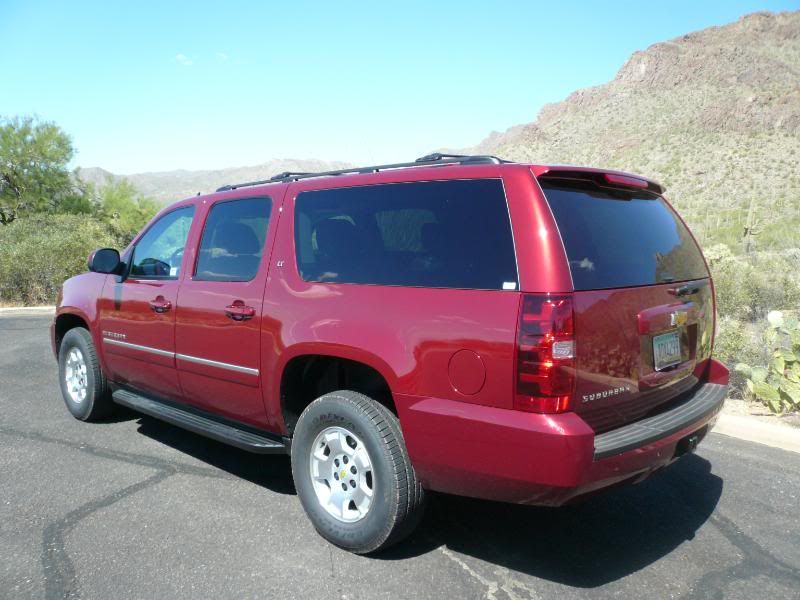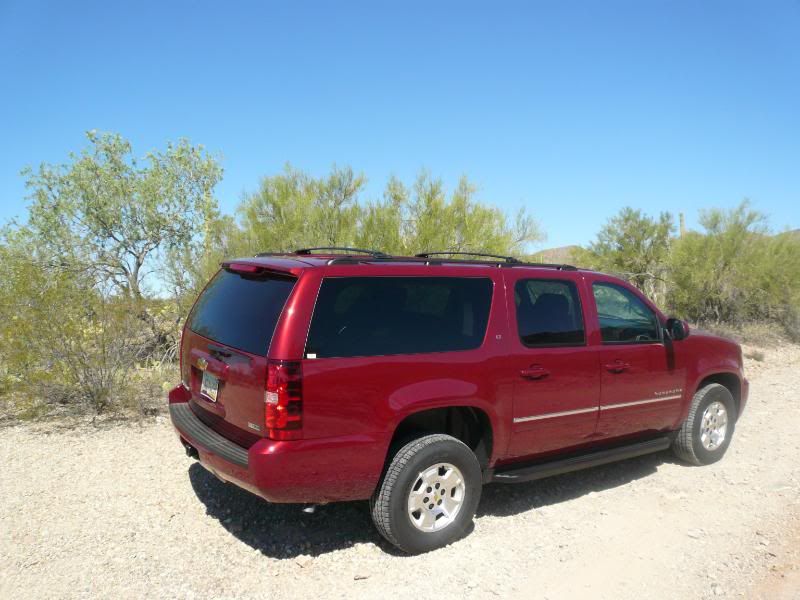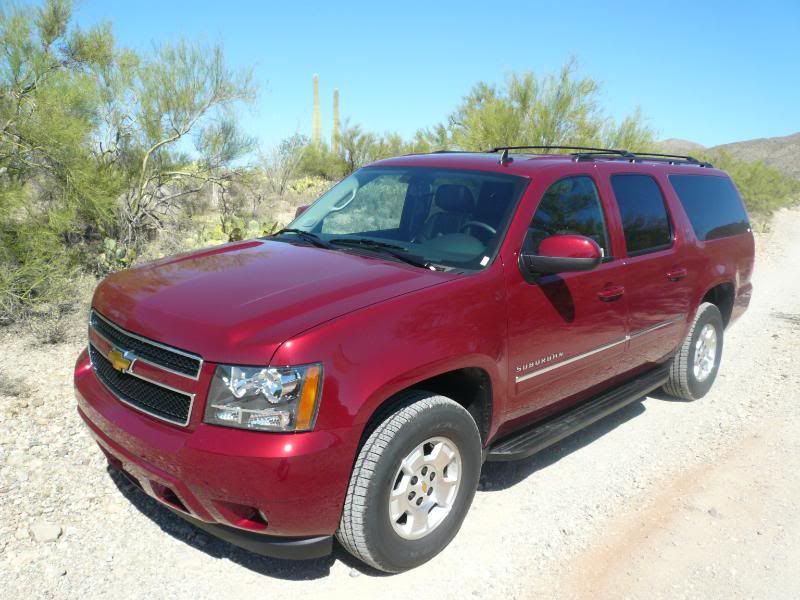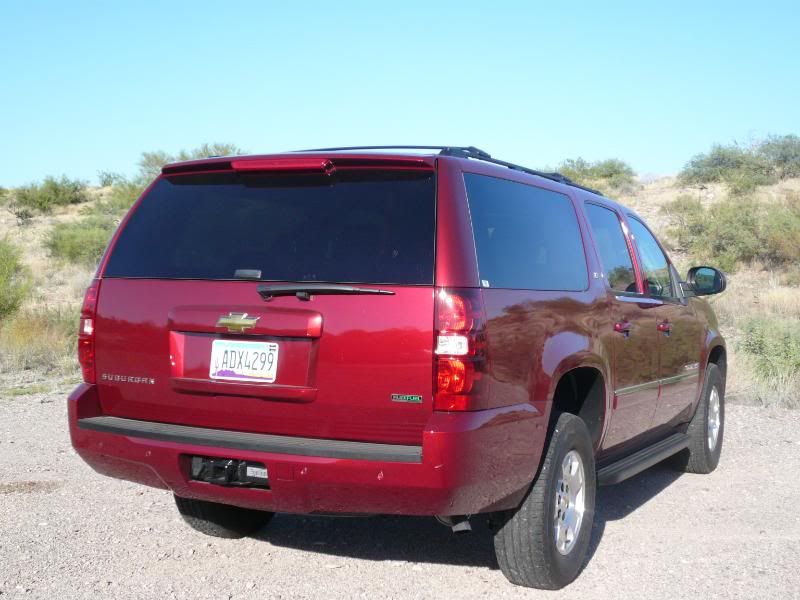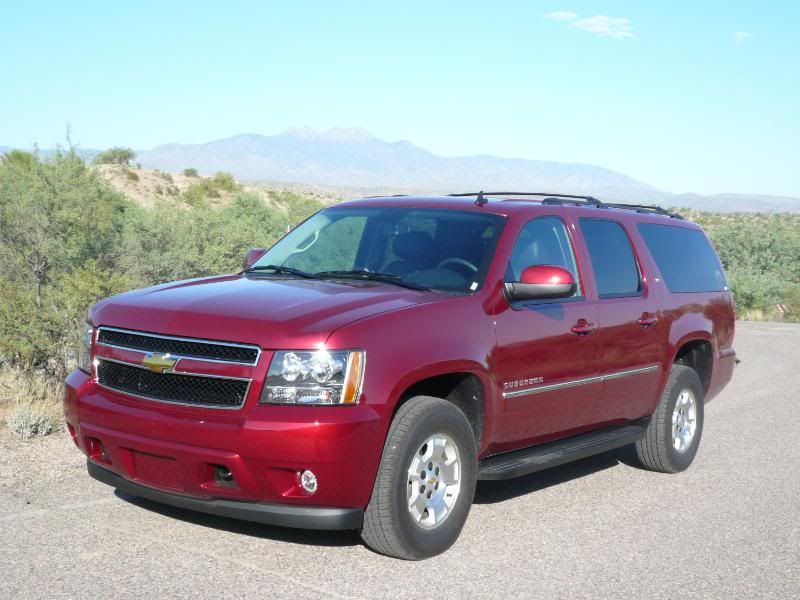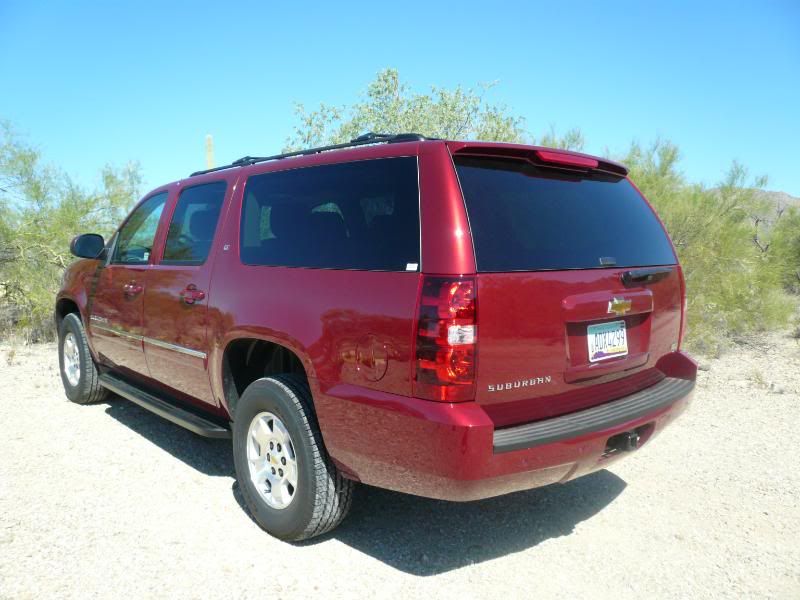 Chevrolet recently announced that the Suburban nameplate is actually the longest lasting of all, as it first saw service in 1935. The current model, the eleventh generation,  was launched at the Detroit Show in 2006, with production starting later in the year as a 2007 model and was much praised by the press at the time, and ever since it seems to have scored highly. It is also one of Chevrolet's most profitable vehicles, so it is important for both manufacturer and consumer to get it right. As with previous iterations, the Suburban is little more than a passenger version of a truck, the C/K2500. Indeed, the truck like origins go all the way back to the 1930s, a time when several US manufacturers introduced what they called Suburban CarryAlls, which denoted a windowed, station wagon body built on a commercial chassis. Describing the latest Suburban as a truck is maybe a little unfair, though it does still retain the body-on-frame chassis and sports a large V8 engine. With seating for 9, this is one of the largest SUVs on the market. It has a close relative, the Chevrolet Tahoe, which is basically the same vehicle but a full 20″ shorter. There is a GMC model using the same underpinnings, the Yukon, and the Cadillac Escalade also shares much under the skin even though that vehicle looks somewhat different.  The reason why such a behemoth is popular in the US is that as well as being able to seat 9 passengers, there is a sizeable cargo area, and the Suburban can be hitched up to tow a trailer weighing up to 9600 pounds.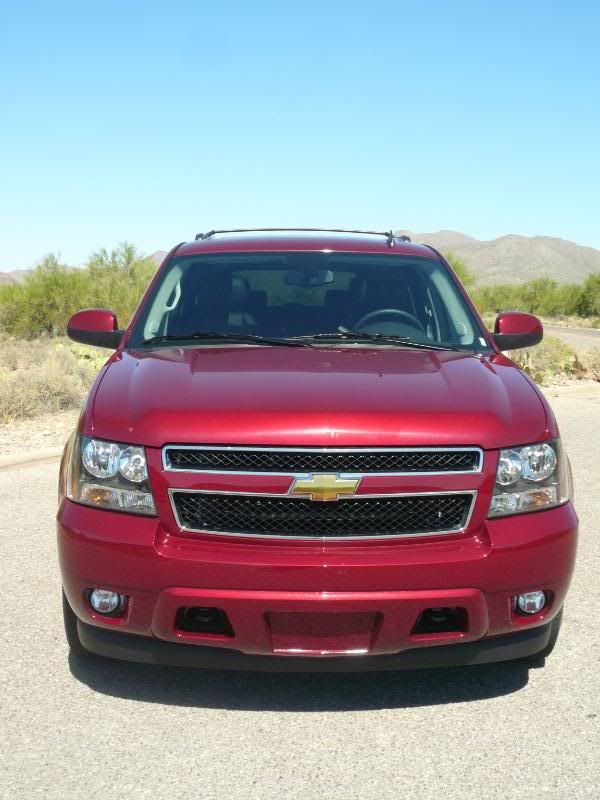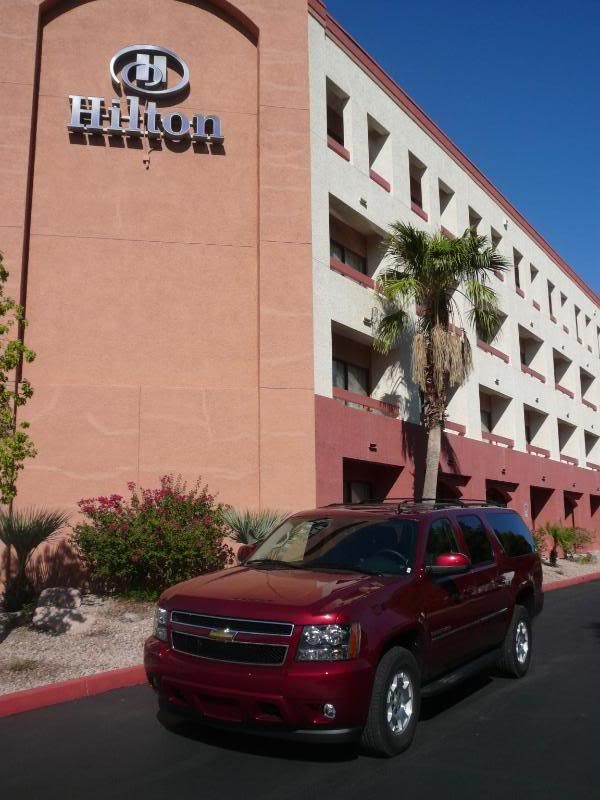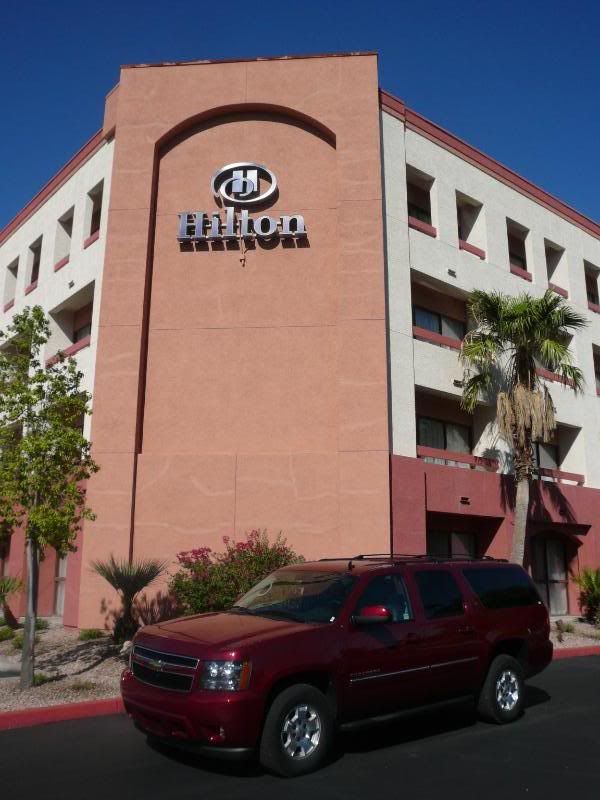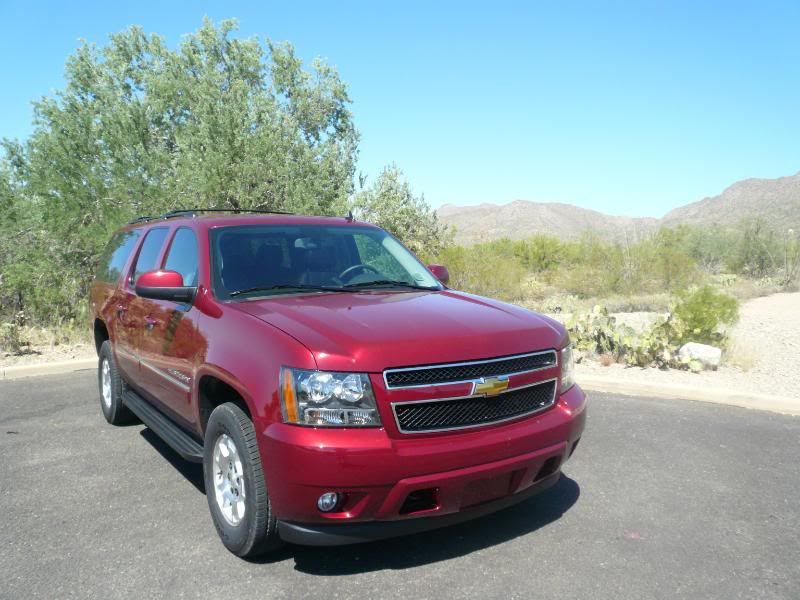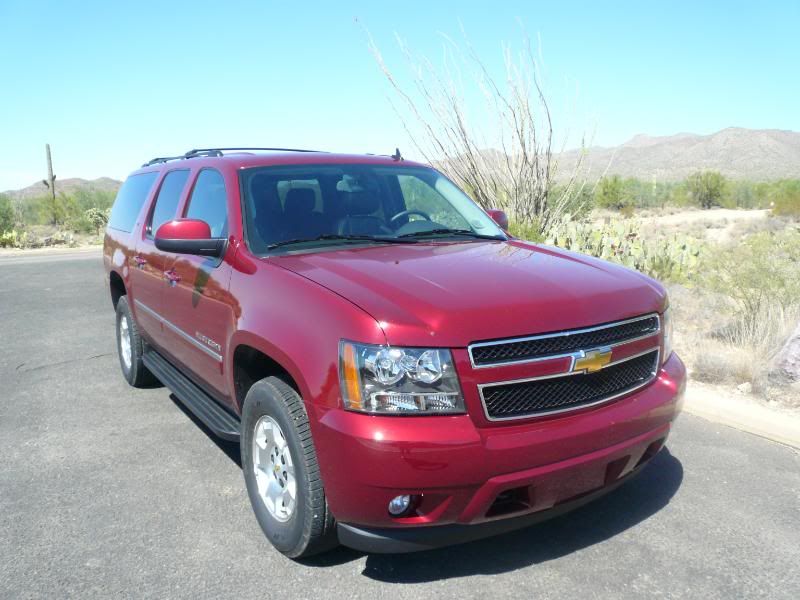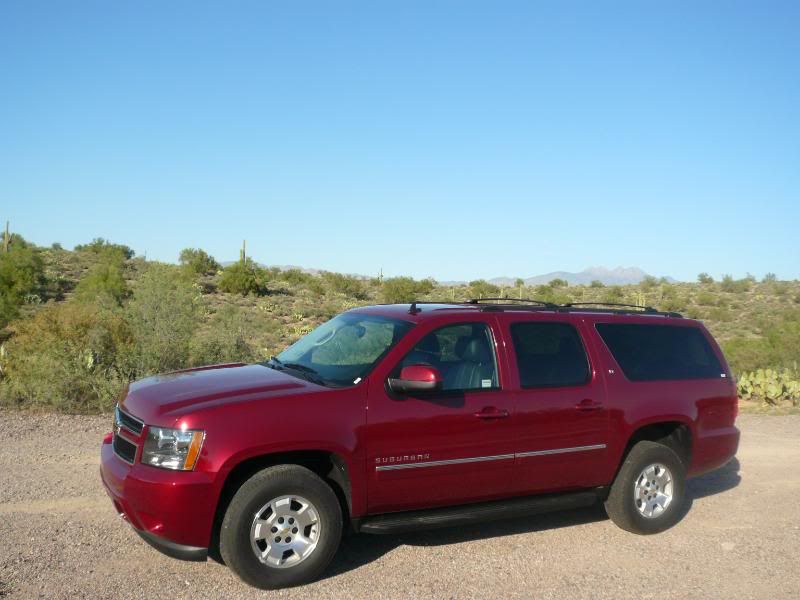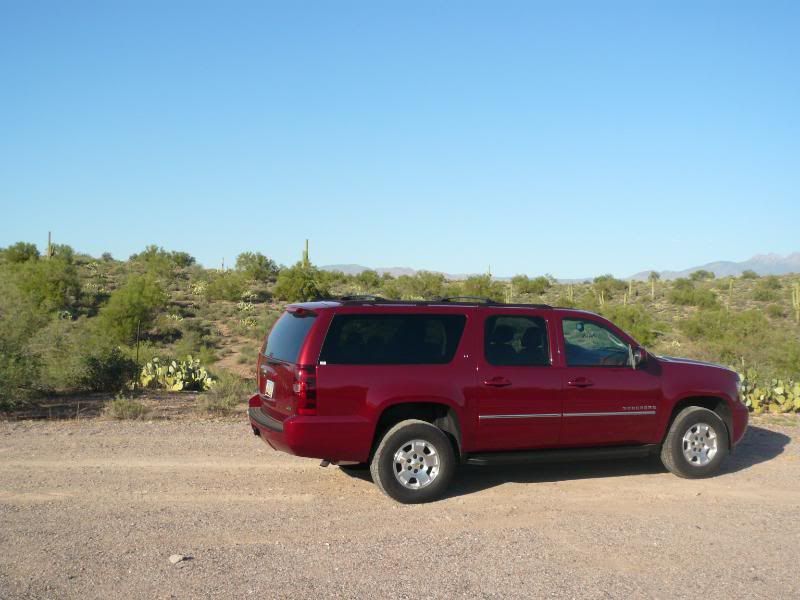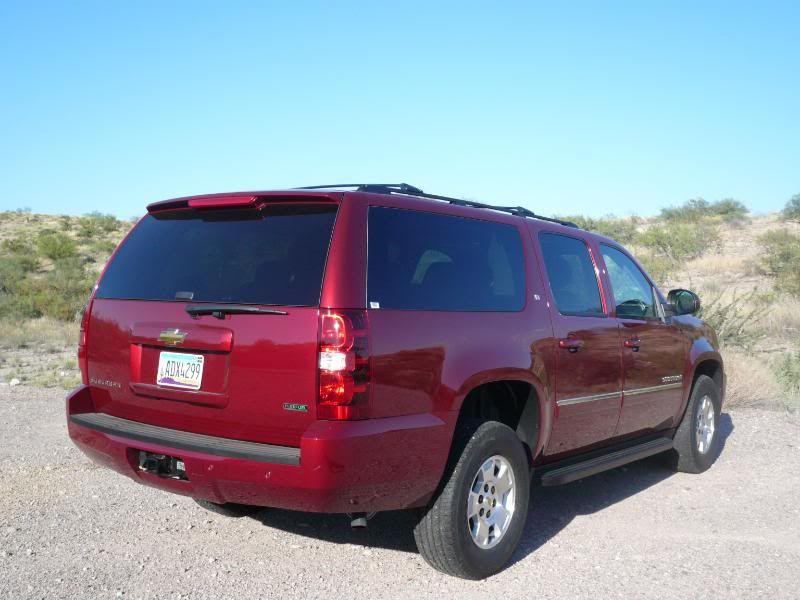 Before even driving this rental machine, I spent more than a few minutes in awe at the size of the thing and the space inside it. There are running boards on the side to help you to clamber in, and when you are my height, you just about need them.  Between the two large front seats you find an enormous armrest and stowage area. The armrest is lidded and it goes down about as far as the deep end of your local swimming pool. In front of this are two of the many cupholders you will find in the Suburban, and then a recessed tray area that is pretty big in its own right. Open the rear passenger doors and you are greeted by the middle row of seats, which are ample enough to seat three people. These are asymmetrically split and need to be tipped forward to allow passengers to clamber into the rearmost row of seats, where there is again seating for three. In the middle row you sit surprisingly high, so headroom is not as generous as you might be expecting, but legroom is in plentiful supply. Needless to say, there is more than enough space in the back row, too.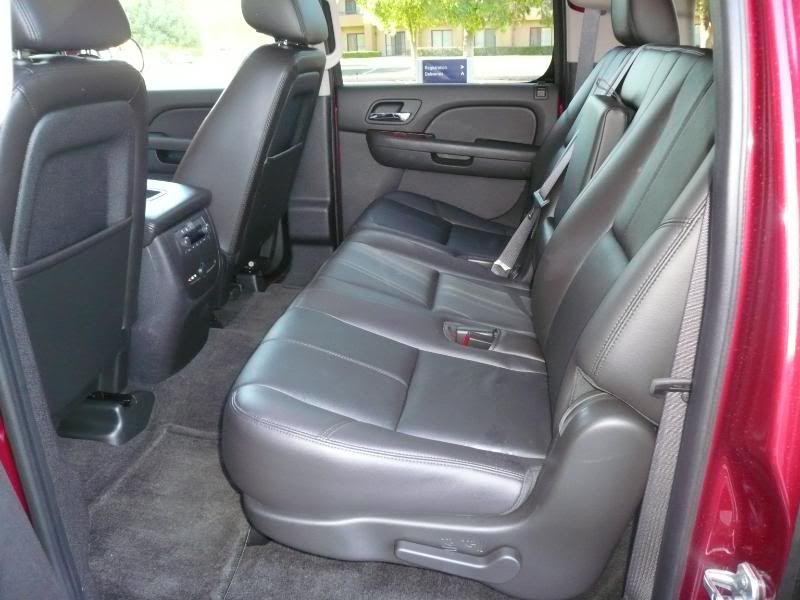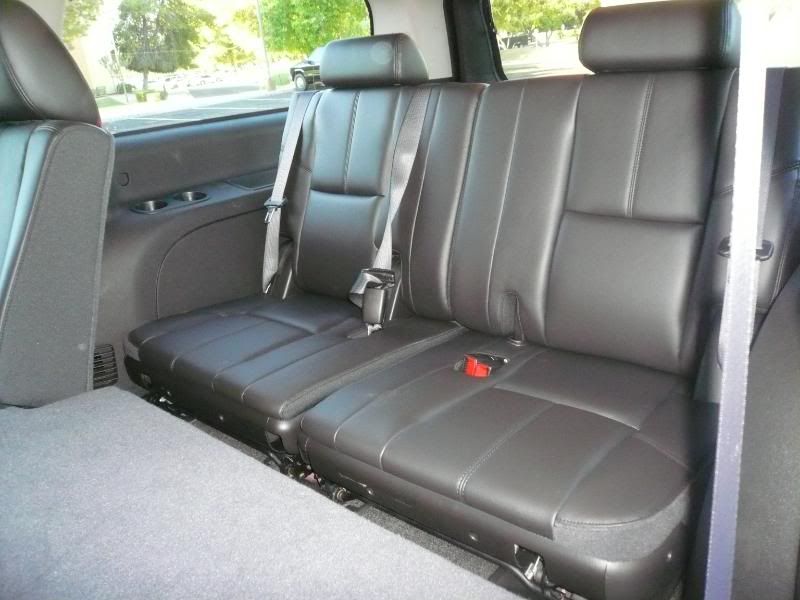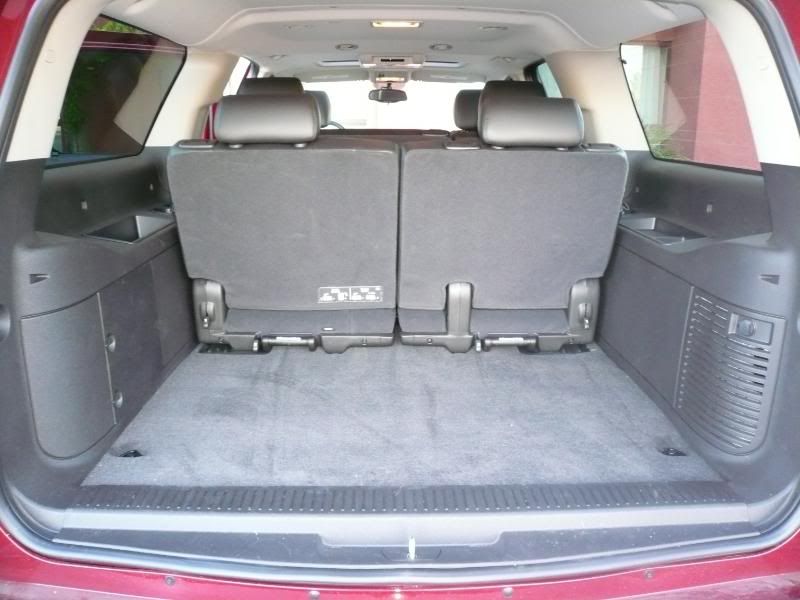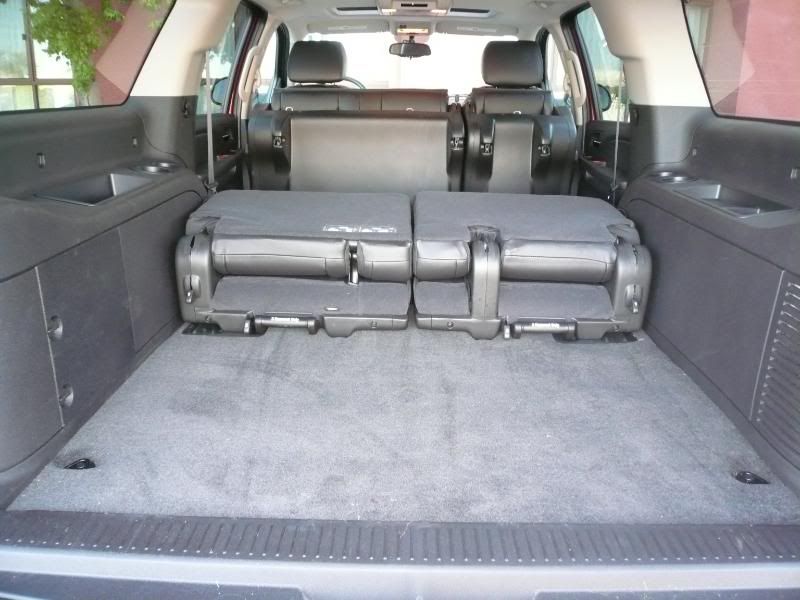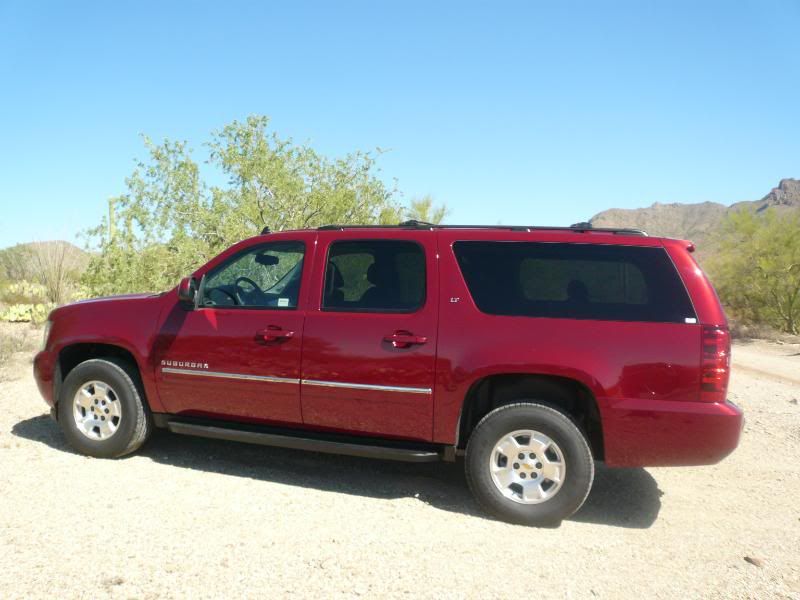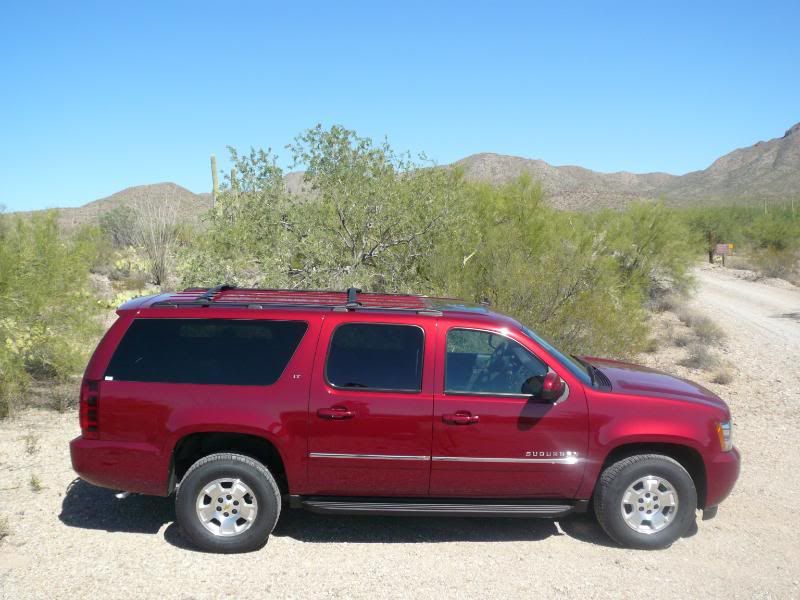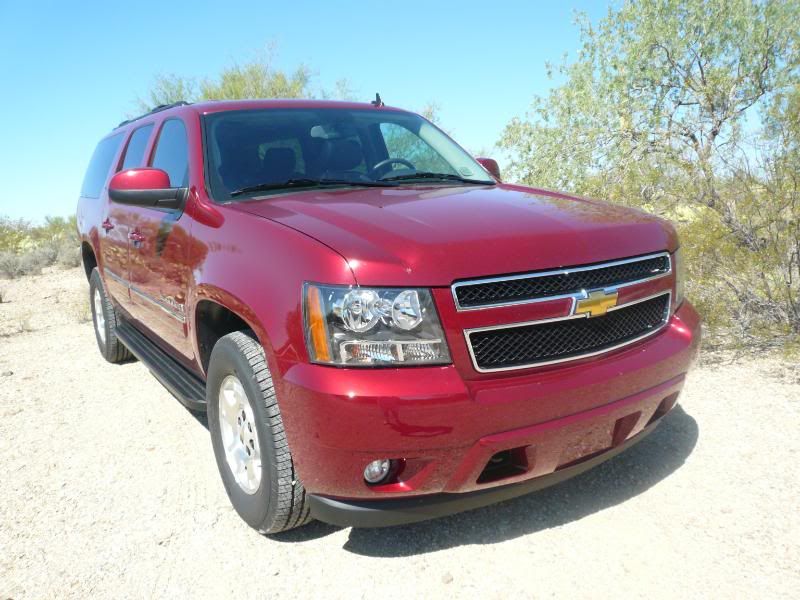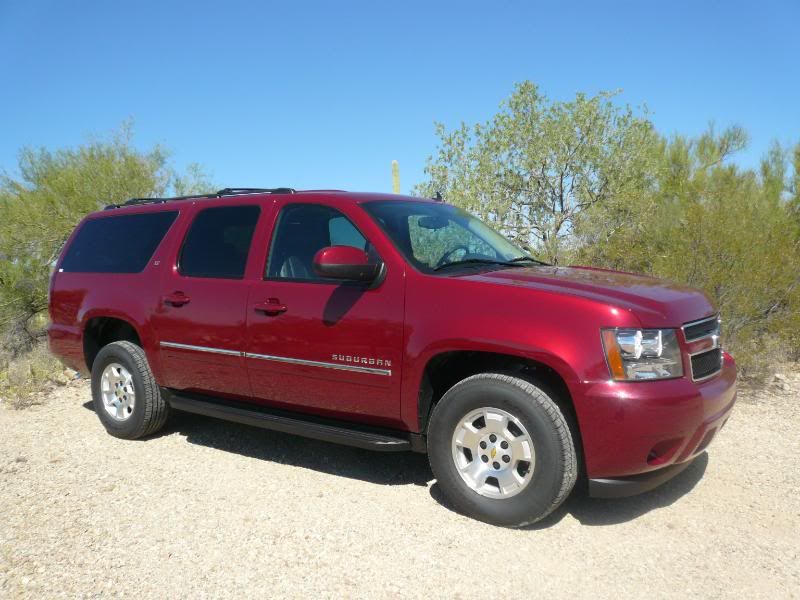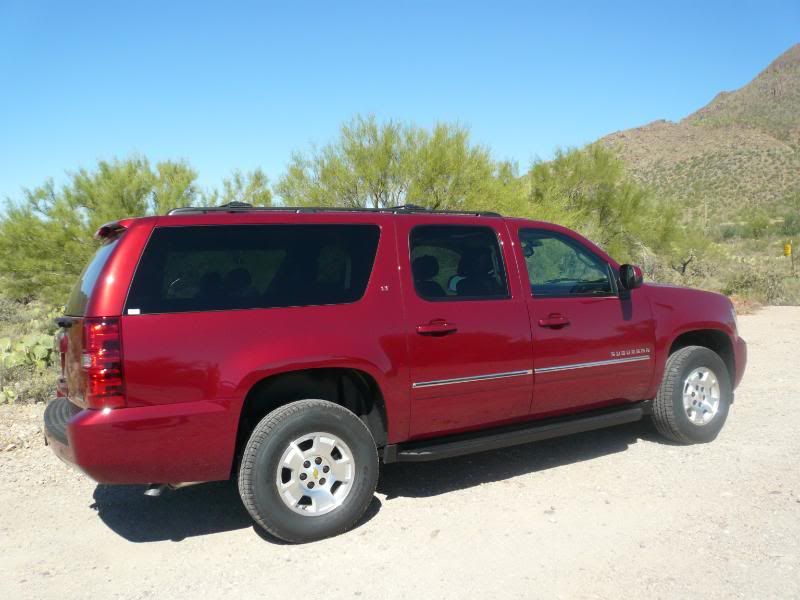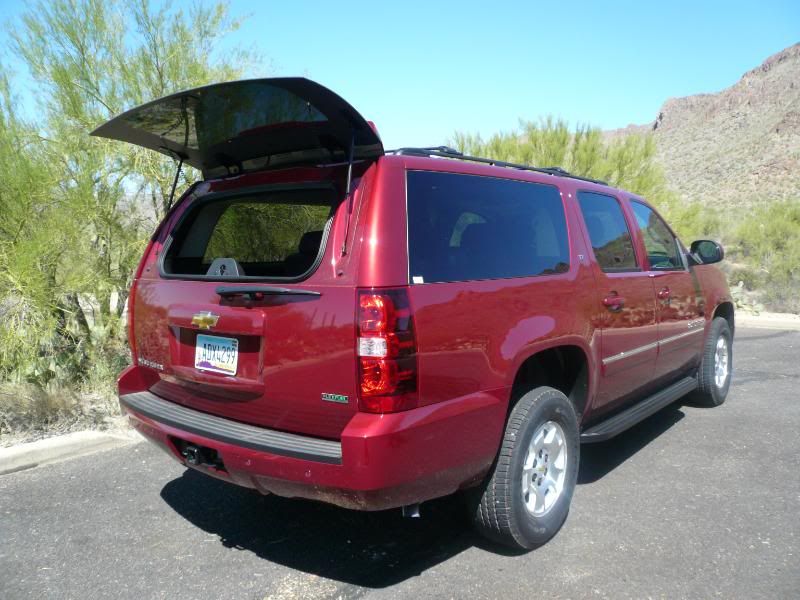 Behind all this is the most enormous boot area. There is a running board on the rear bumper, and you will need to use this to clamber into the boot. You will need to do this to retrieve anything small that has rolled forwards, and, more importantly, to fold down the rear-most row of seats, as this is done by pulling on release levers mounted low on the rear-facing edge of these seats. You can either tip the rear-most row forward, or. if you really want to (and I did not bother), they can be removed completely. If you did that, you could probably put the entire soccer team in the resulting boot area. If this still does not give you enough space, then there are roof rails fitted, though I think you'd need a ladder to get to the roof. I suspect that owners of these cars have problems washing the roof, unless they avail themselves of the local car-wash.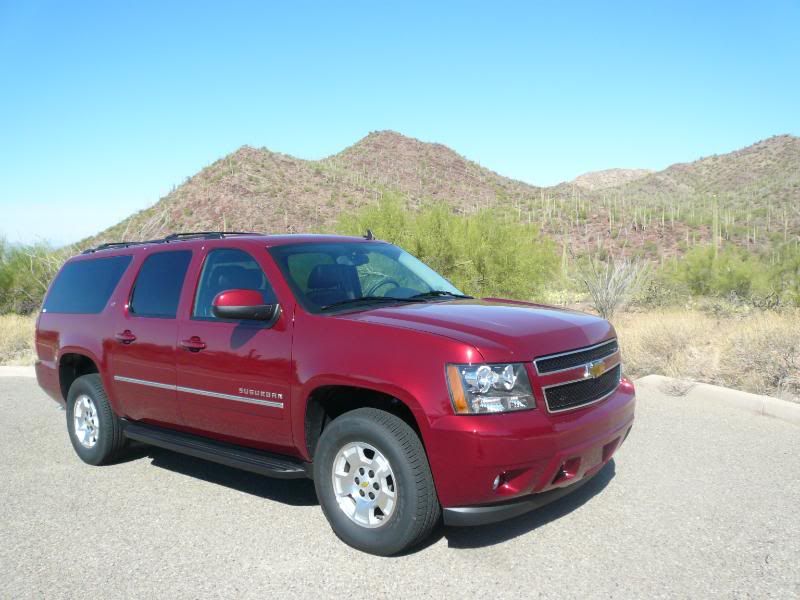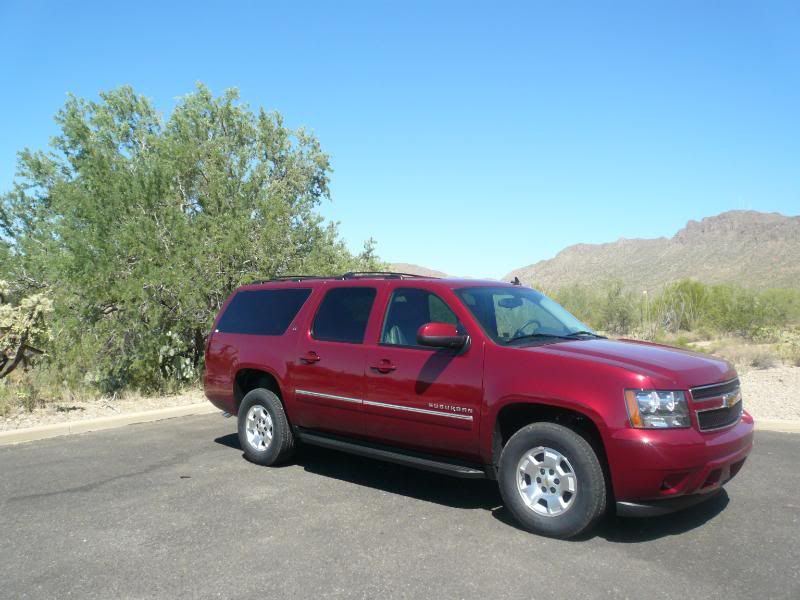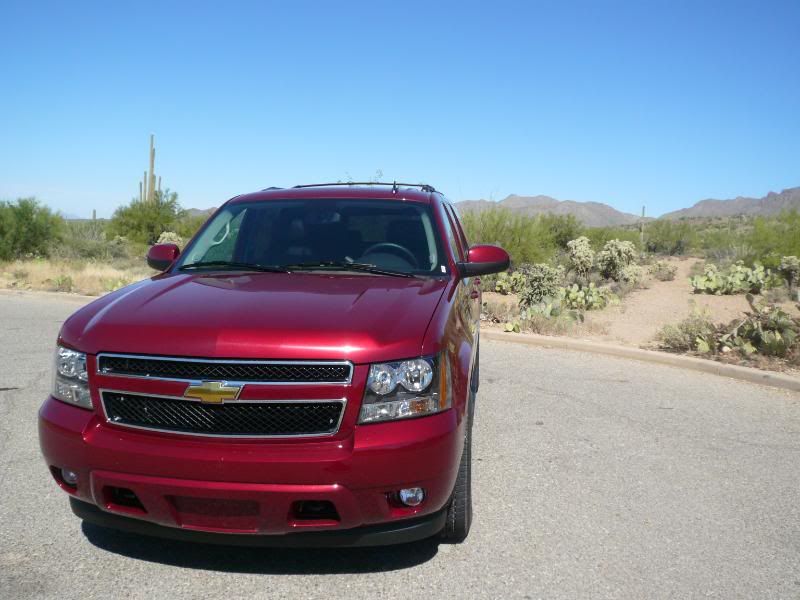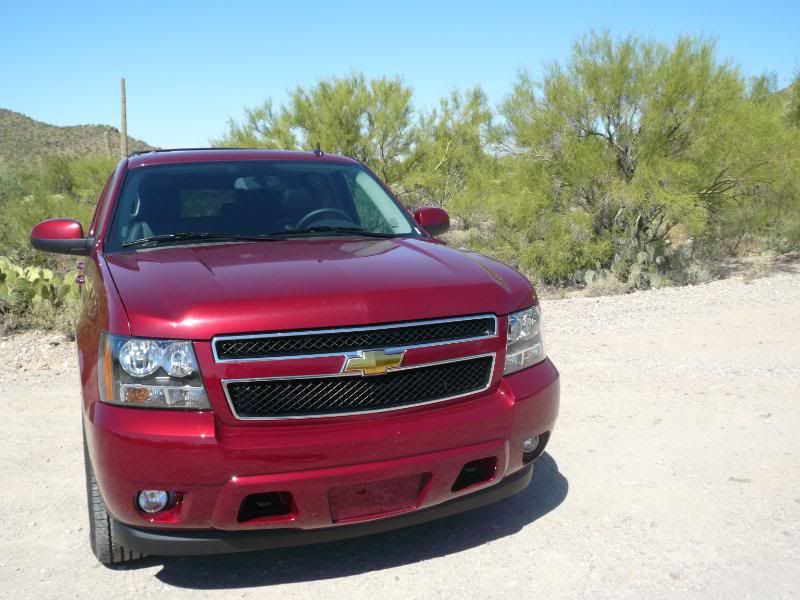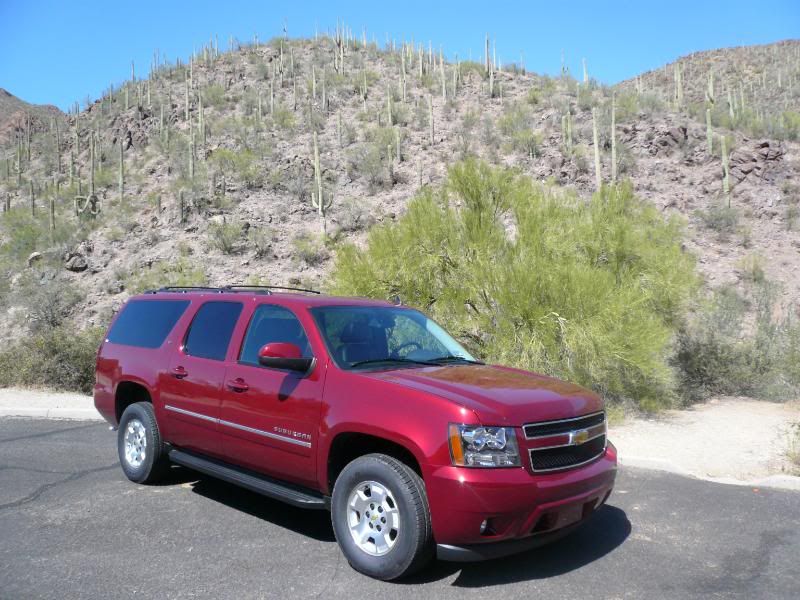 There is a choice of two different engines for the Suburban: a 5.3 litre V8, developing 320 bhp and a 6.0 litre developing 352bhp. The former is denoted FlexFuel, meaning it can run on E85 Ethanol mix, and as this badging was on my test car, I have to assume that I had a 5.3 litre model. It did not sound much like a V8 of any description, though, lacking that distinctive burble that you usually get with such engines. With only one person and minimal luggage, I did not really test out the ability of the Chevy to haul lots of people and tow a heavy trailer. I was also more than a little tentative until I got used to the sheer size of this thing, so can only really say that performance seemed to be adequate. Not a word that you would use to describe the fuel consumption. "Alarming" would probably be better there. The fuel tank holds 31 gallons, and there is a reason for that. To help matters a bit. there is a cylinder cut-off system, so that on light throttle openings, such as when you are going downhill, you are only using a V4's worth of engine (and if you press the right display buttons on the dash, you can see when this is). Although the trip computer quoted an average consumption of 15.8 mpg, I know that I put in just under 20 gallons having driven just under 300 miles, so I did not even get that level of economy. You really would have to view consumption as being the equivalent of using two or even three cars to carry the same number of passengers and luggage. No vehicle the size of the Suburban, with truck underpinnings is going to be a sports car to drive, and this one was no exception. The steering is light enough while on the move, but as you approach any bend, it just feels that bit too mushy as you start to turn the wheel, making you wonder just where the front wheels are going to take you. Put on some more lock and it feels a bit less imprecise, but I have to say that I found myself taking swooping bends on freeway intersections quite cautiously. That is also because this is a big, heavy device with quite a high centre of gravity and therefore handling prowess is also not a design priority. I am sure that over time you get better used to knowing the vehicle and where there limits are. I was not going planning on finding them the hard way. What did surprise is that the ride is not that good. In fact, on what looked like quite smooth surfaces, it was really disappointingly poor, transmitting lots of vibration and sensation of every ridge into the cabin. It may well be that as you load the Chevy up, it improves, but one-up, it was not very good at all. With relatively low noise levels, though, the Suburban is a relaxed cruiser on the freeway.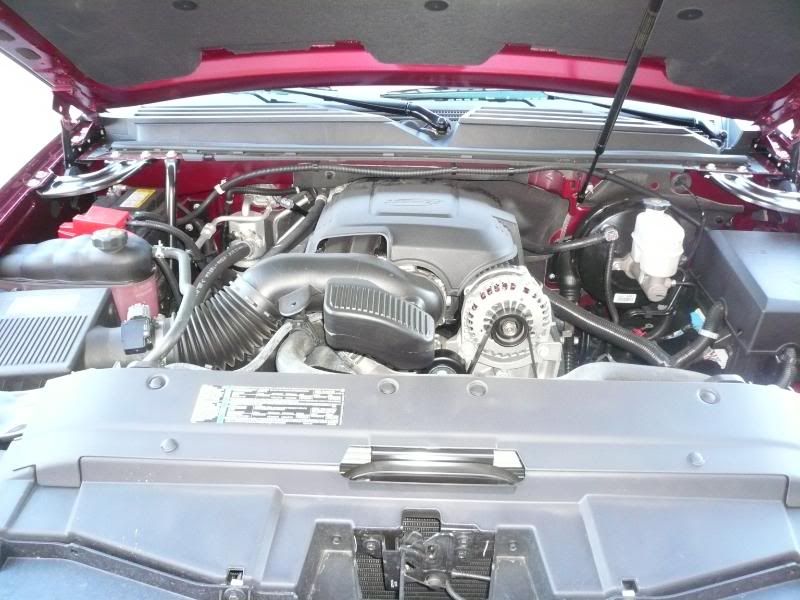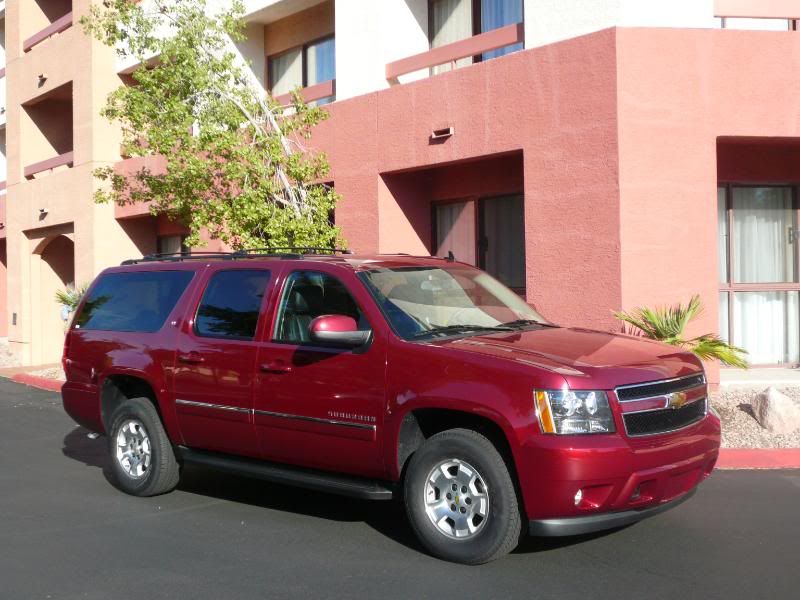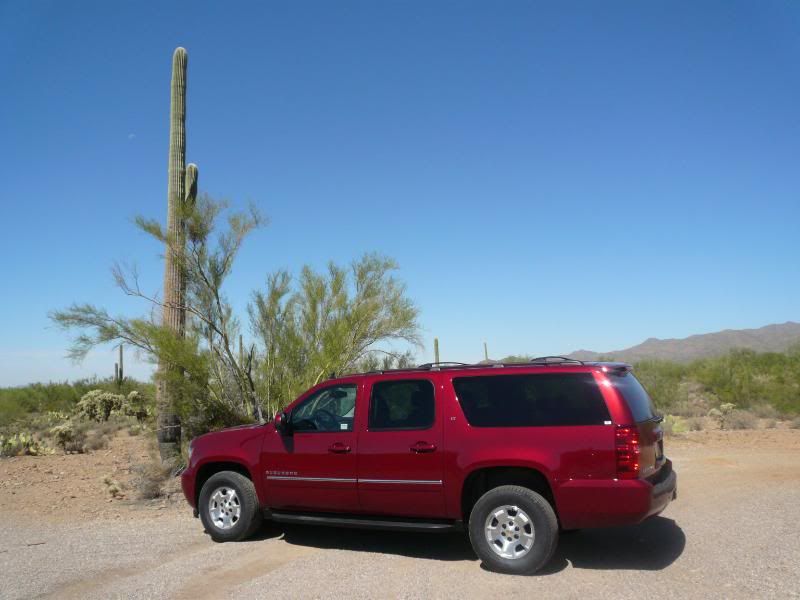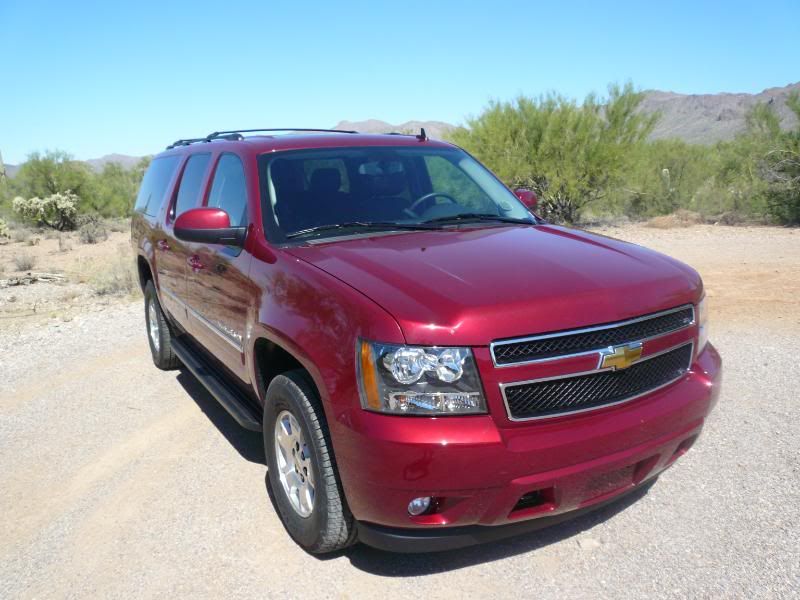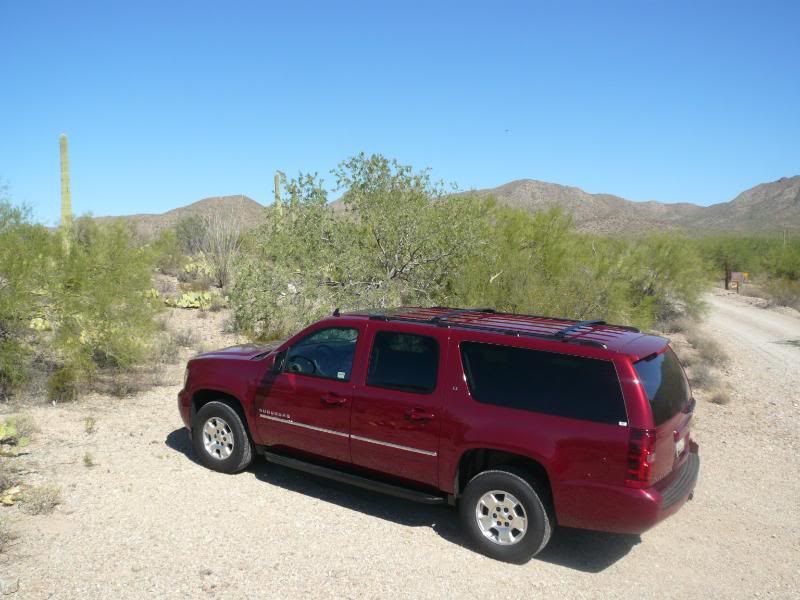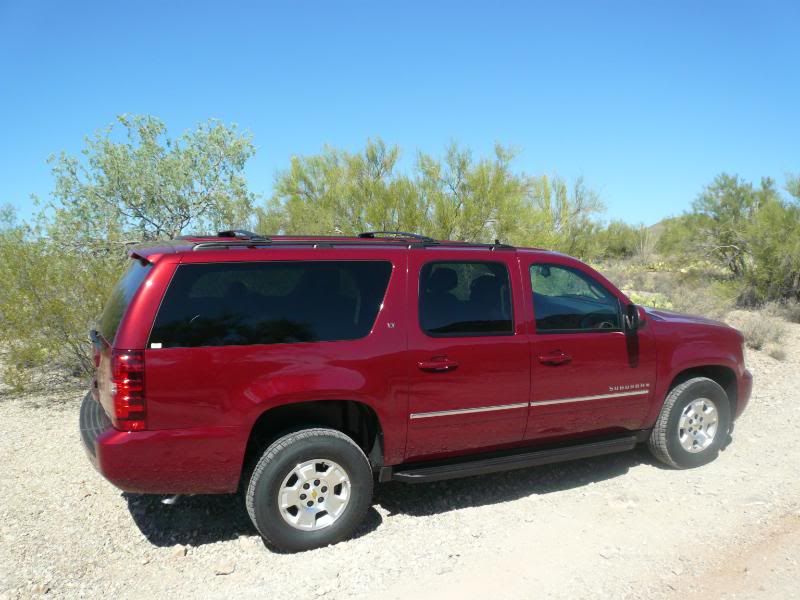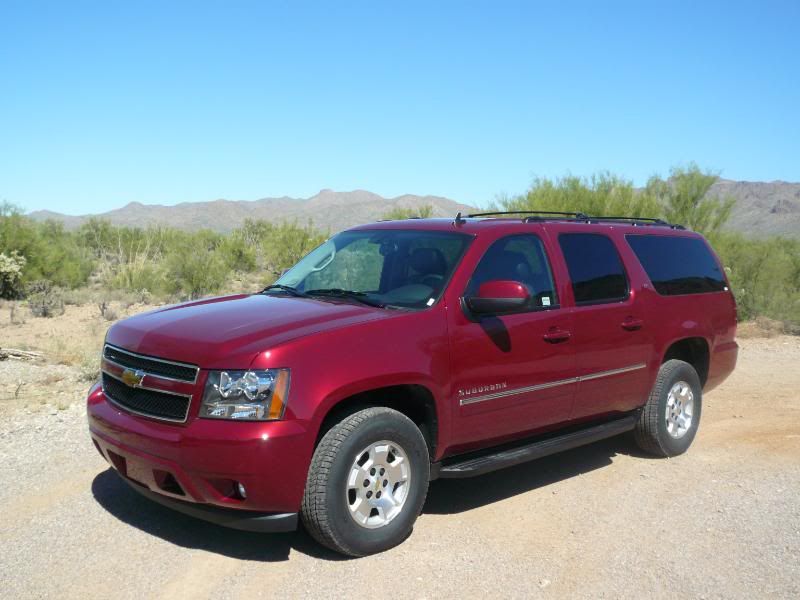 Once you have recalibrated you brain to cope with the size, driving the Suburban is not quite as daunting as you might expect. Yes it is big, and you do need to remember this especially when reversing. There are huge door mirrors giving a good field of view, and rear parking sensors, to help. Over the shoulder visibility is reasonable, though there is a blind spot you need to be mindful of, again when reversing. Otherwise, you just drive it like any other car. The driver's seat had electric adjustment for fore and aft and tilt of the seat, and rather coarsely stepped manual lever for backrest rake. There is a button on the dash to move the pedals back and forth and the column adjusts up and down, manually. There is a column gearshift, to the right of the wheel. Selecting a gear generates quite a clunk, but part of this is as the doors lock. There is a manual override button on the front face of the gear selector for those sportier gearchanges. The dash looks like you would find in just about any other, smaller vehicle. There is a cowled binnacle with six gauges in it, with oil temperature and an ammeter in addition to fuel level and water temperature. The graphics used for the trip computer are "old style" green and very 1980s looking. That is also true for the column stalk, to the left of the wheel, with that clumsy twist forwards for the washers and rotate through all the intermittent speeds for continuous wipers, not that I used these on a day when the temperature exceeded 100 degrees! The centre of the dash contains a standard GM audio unit which had XM Satellite radio, always a god-send when on long journeys and climate control, also a god send given the heat of the day. To the left of the steering wheel you find a rotary dial for the lights, with an "auto" setting and another one for the selection of 2 or 4 wheel drive. There are wheel mounted controls for cruise control and the audio system. There is a foot operated parking brake. GM's material quality has come a long way, and whilst the Suburban will not win any prizes in this respect, it is not disgraced. How durable it is, is another question, though. The drop down cupholders for the rear seat passengers felt particularly flimsy, and I noted that a couple of other bits of trim on this almost new test car (it had done less than 2000 miles) did not fit quite how they should. As well as these cupholders, rear seat passengers get their own controls for climate control and various audio ports for DVD and MP3 connections.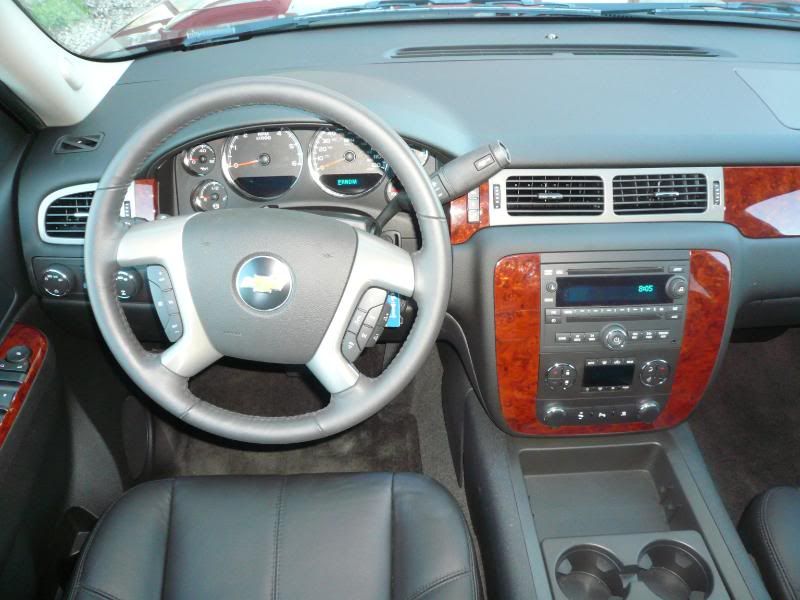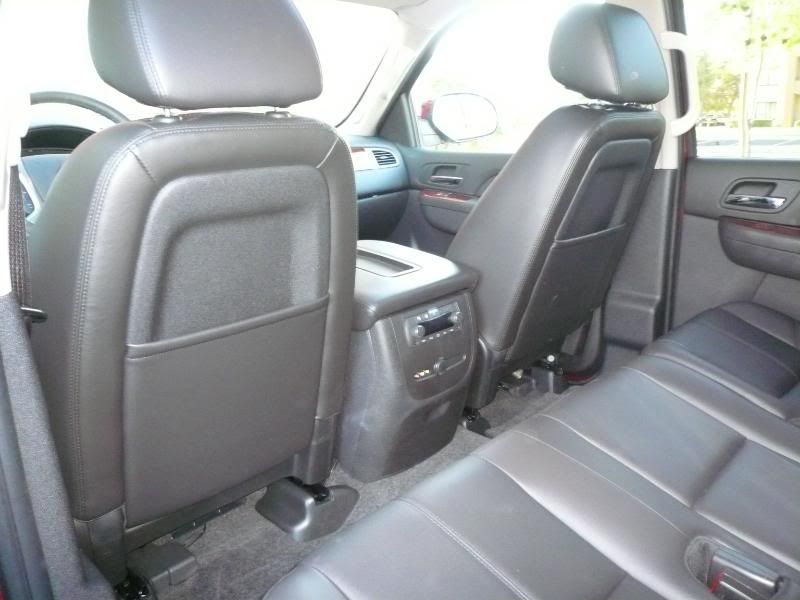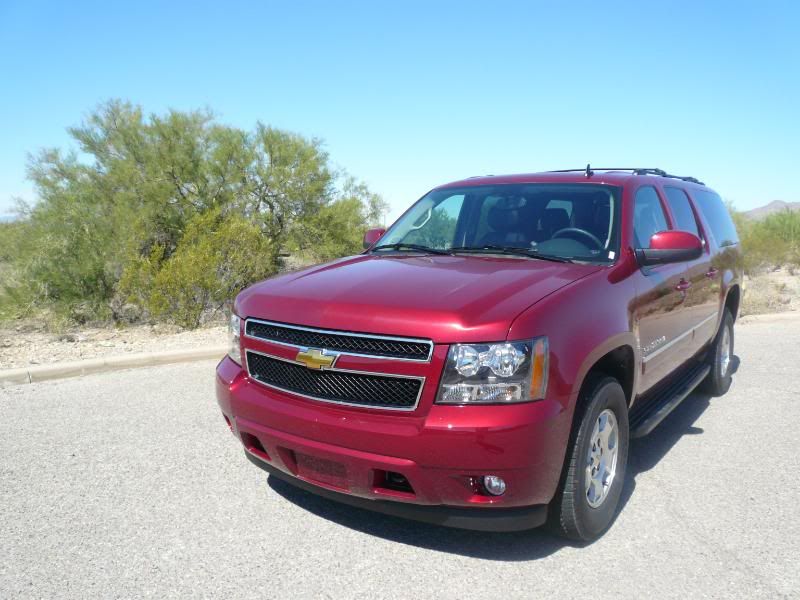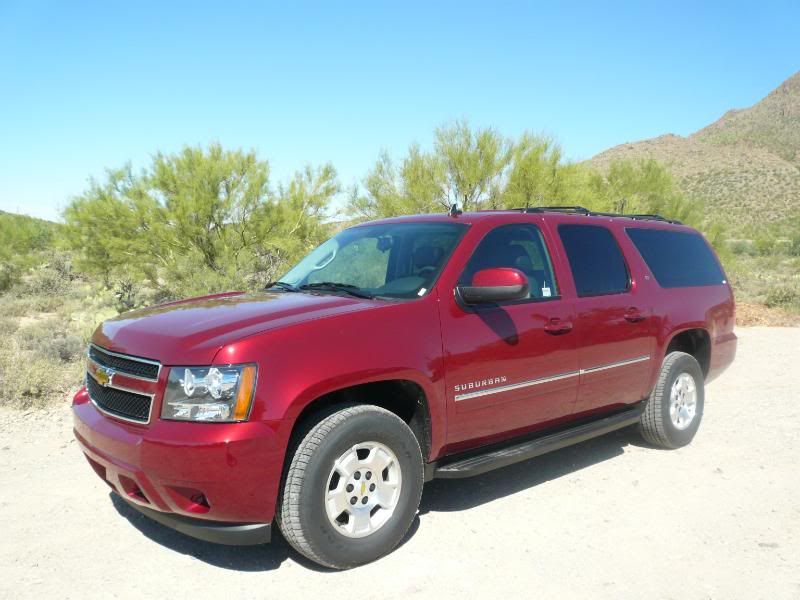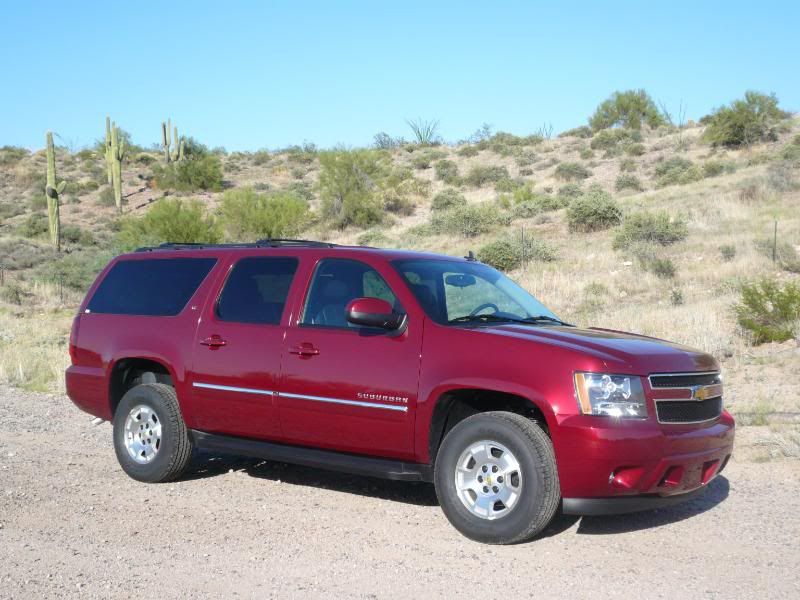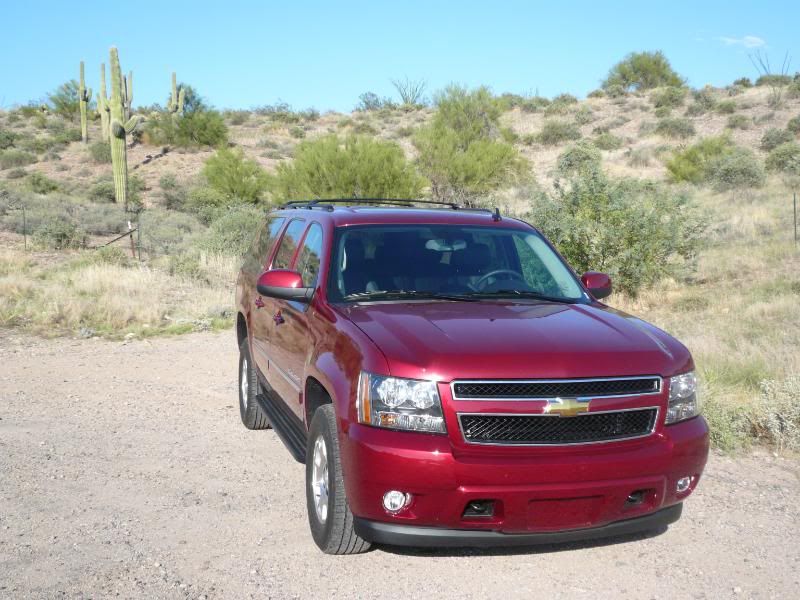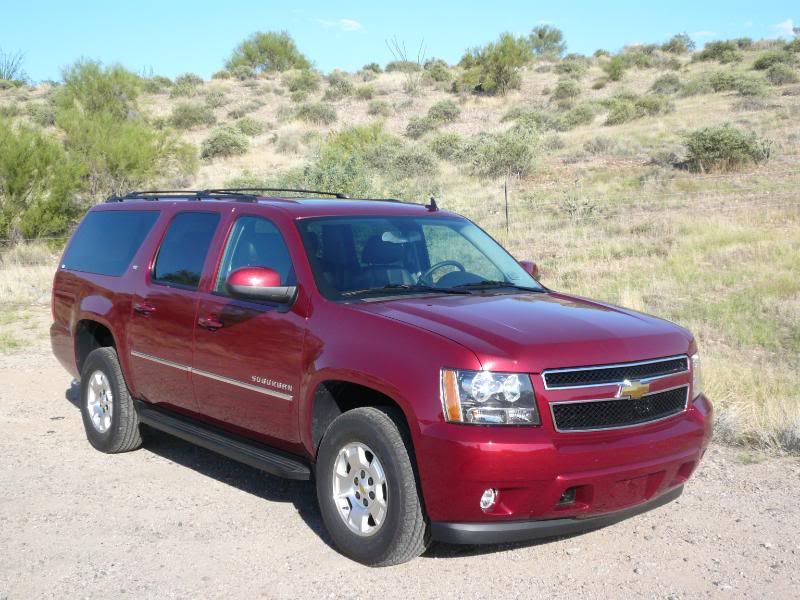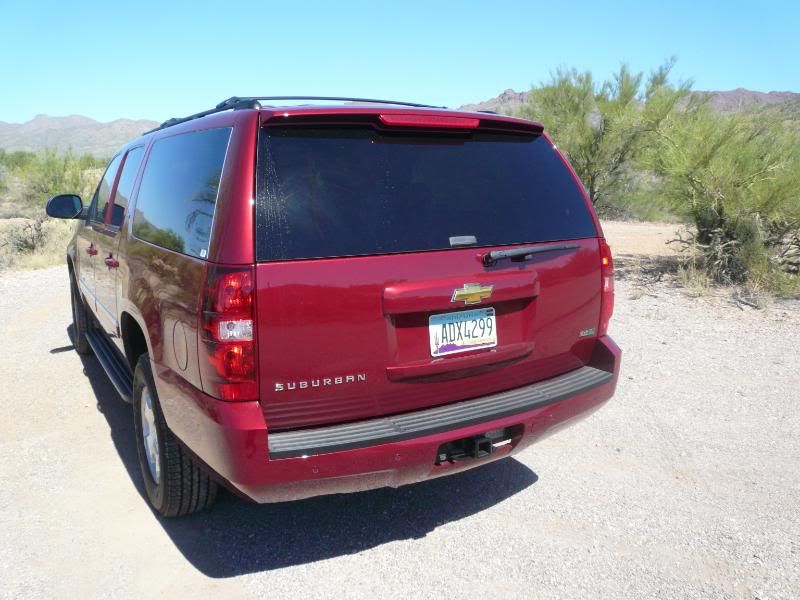 An extensive range of Suburban models is available. As well as the engine choice, you can opt for rear wheel or all wheel drive and the 1500 or 2500 models, which can tow half a ton or three quarters, respectively. LS, LT and LTZ trim levels allow you to pick the features that you want. With just a simple LT badge on the test car, and some simple detective work, I believe that my rental was a 4WD LT1500. LT spec brings leather seats, a glass sun roof, the huge centre console (which makes the LT an 8 seater and not a 9), tri-zone climate control, an XM radio with Bose sound system, rear parking sensors, an integrated tow bar, and a limited slip differential.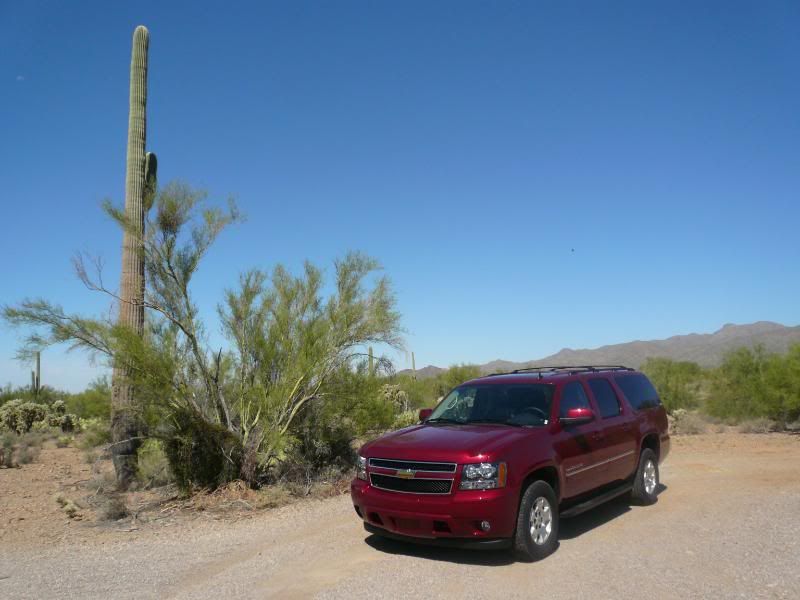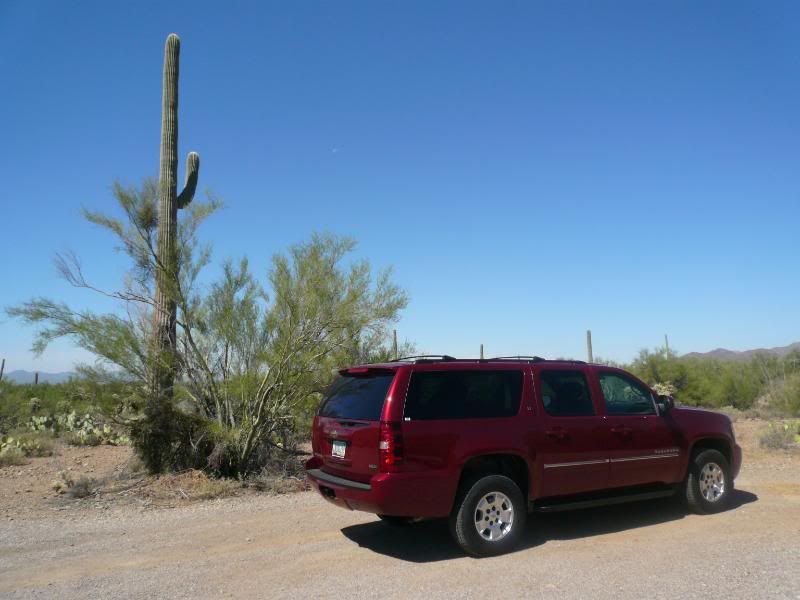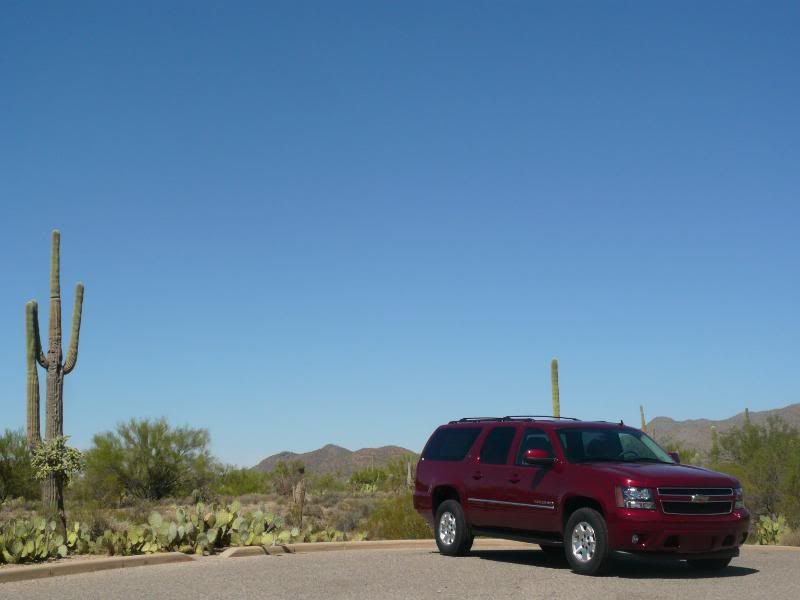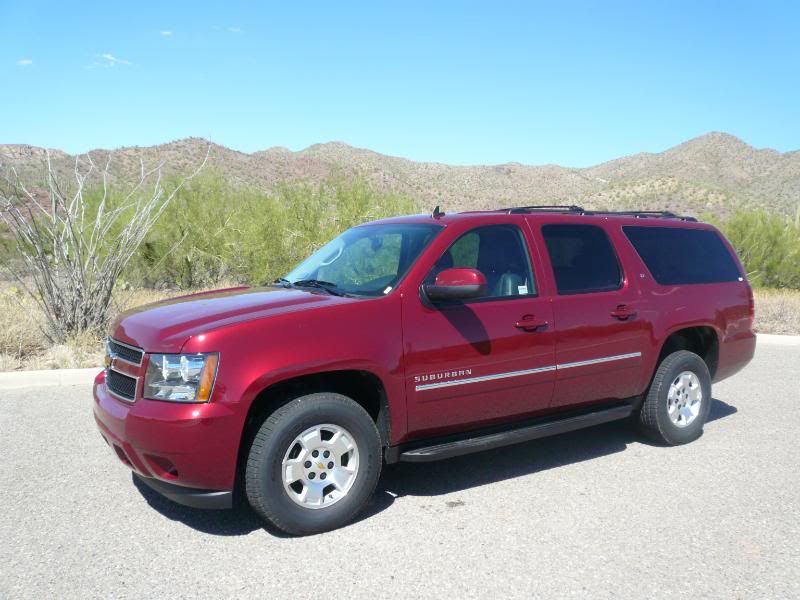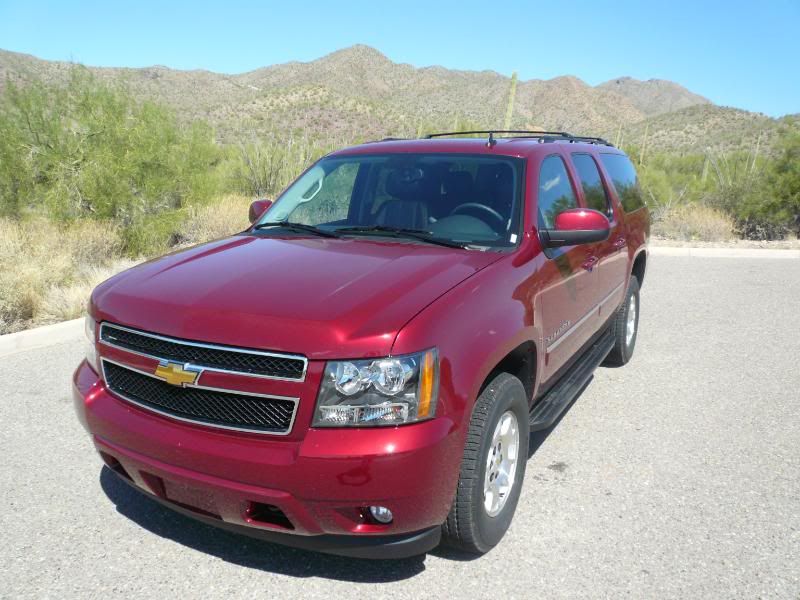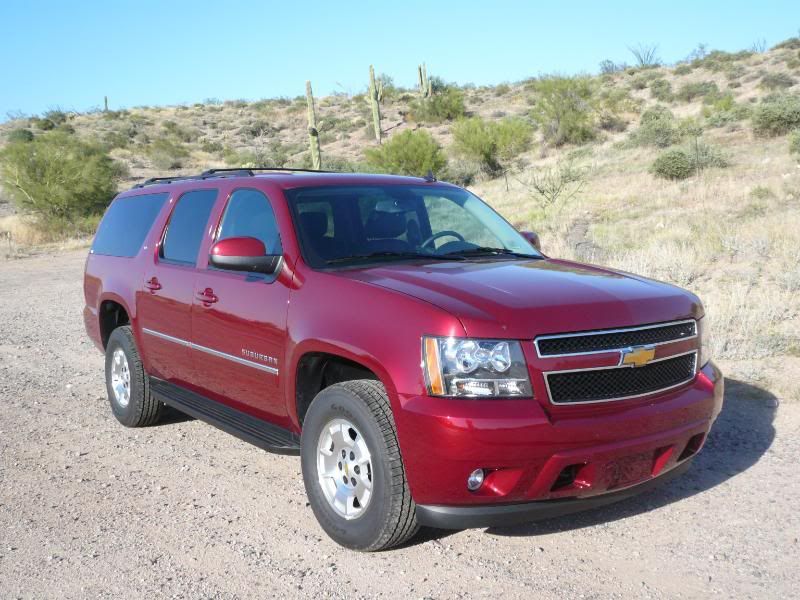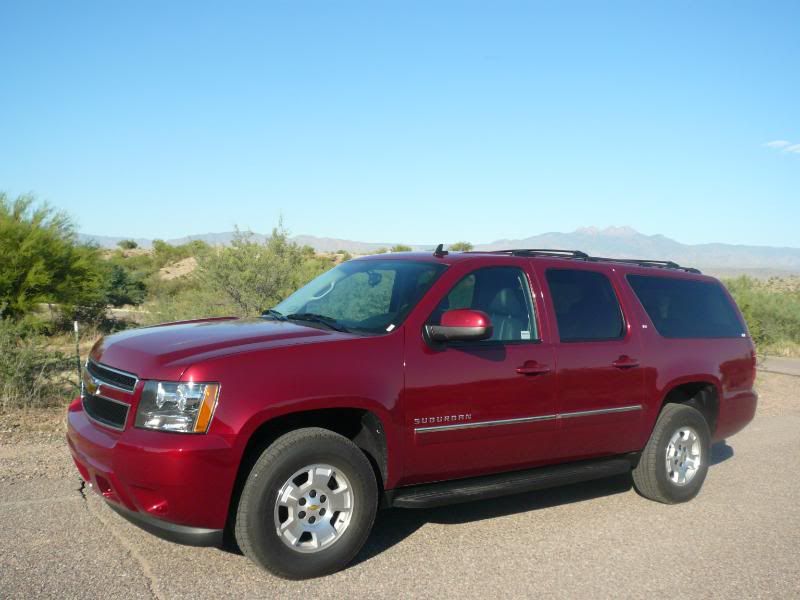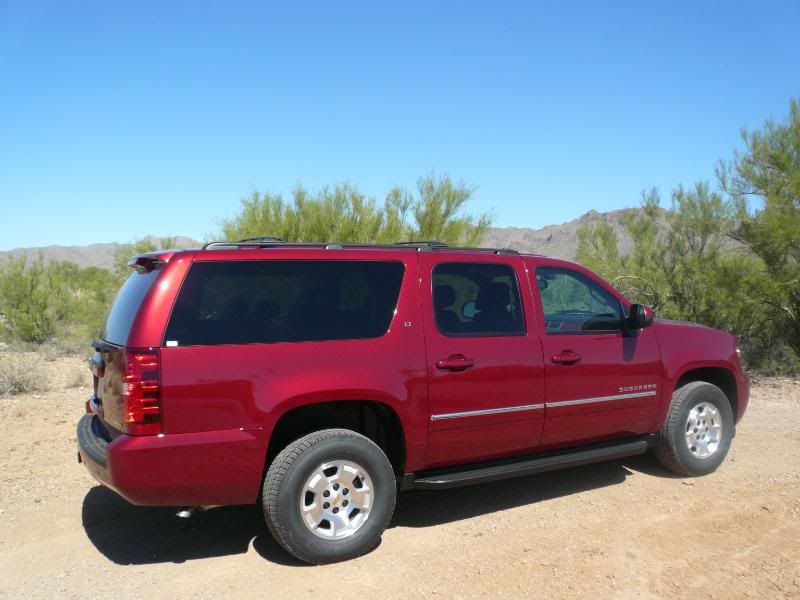 I took the Suburban back after a day. Not because I did not like it, so much as because I had an excuse to get yet another rental car to sample, though choice was little more extensive when I did so. That is for another report, though. Having spent a day with this massive vehicle, I can see the appeal. Although it would be a complete nightmare in the confined roads and cities of Europe, in America, where space is more readily available, even something as big as this is not the liability you might expect. If you need a large vehicle to carry lots of people. and lots of their stuff – and plenty of Americans seems to want to do just that – and may be even to tow a boat or a trailer, then for a retail price of $47,280 (so the paperwork in the glove box told me), a Suburban would seem like a pretty good way to do it.
2010-10-16 17:39:04