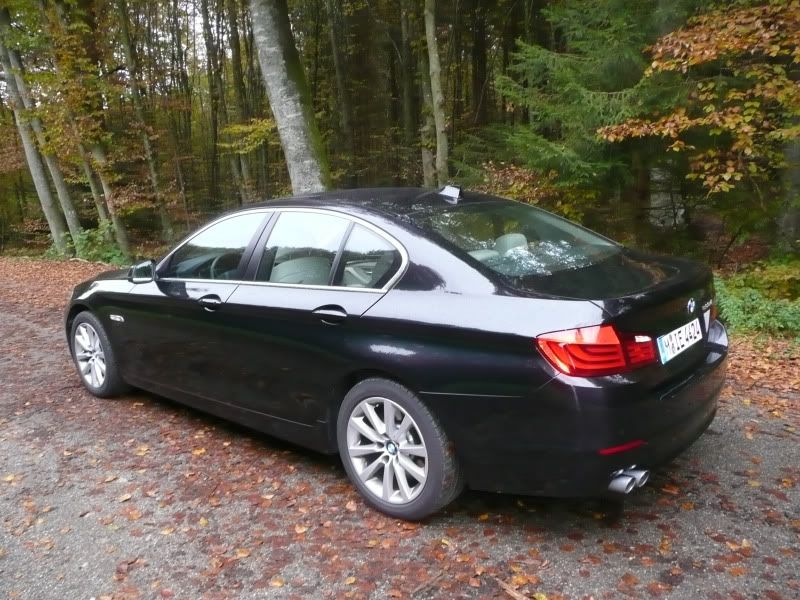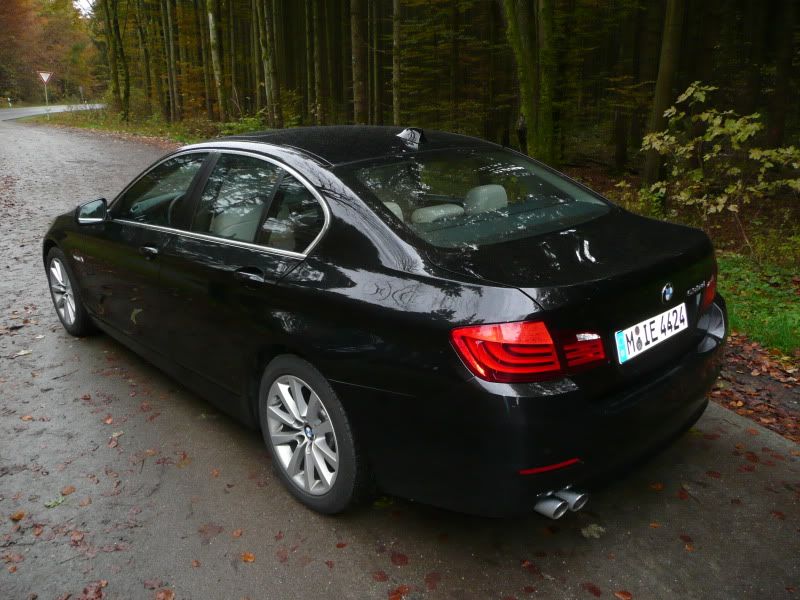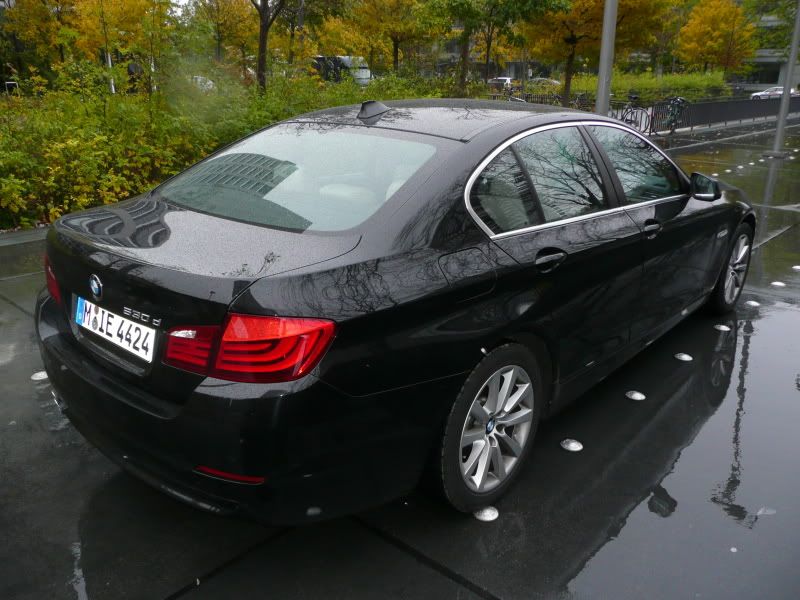 Driving through the Bavarian countryside in my latest test car, with a friend from Munich on board as passenger, we spotted some "classic" Fords parked up at a village garage, so paused to have a closer look. Among others, we found an immaculate early 1980s Granada Ghia, which occasioned me to comment that had we been making this trip 30 years ago, I would probably have been driving a Ford just like that one. In 1981, the car parks of corporate Britain were still largely full of "traditional" brands, with a mixture of SD1 Rovers, Vauxhall Carltons and Senators and more Granadas than you could imagine. Being entitled to a Ghia rather than the run-of-the-mill L or GL trim probably meant that you were The Boss. Since then, people's aspirations, and (if you ignore their average levels of consumer debt!) their bank balances have allowed them to achieve their dream of driving a prestige brand, and the German trio of Audi, Mercedes and BMW now dominate corporate car parks. BMW's 3 series consistently outsells the Ford Mondeo, and Ford do not even have a rival for the larger 5 series. BMW launched the sixth generation of the 5, code-named the F10, only earlier this year, and yet these cars are already a common sight on the roads of the UK. My weekend in Munich was to give me the chance to see if I could find out why the car is such a huge sales success.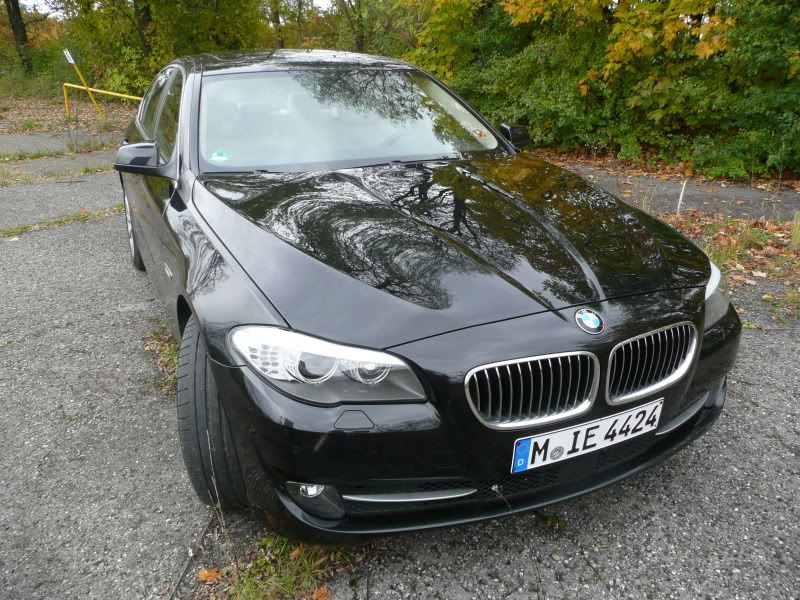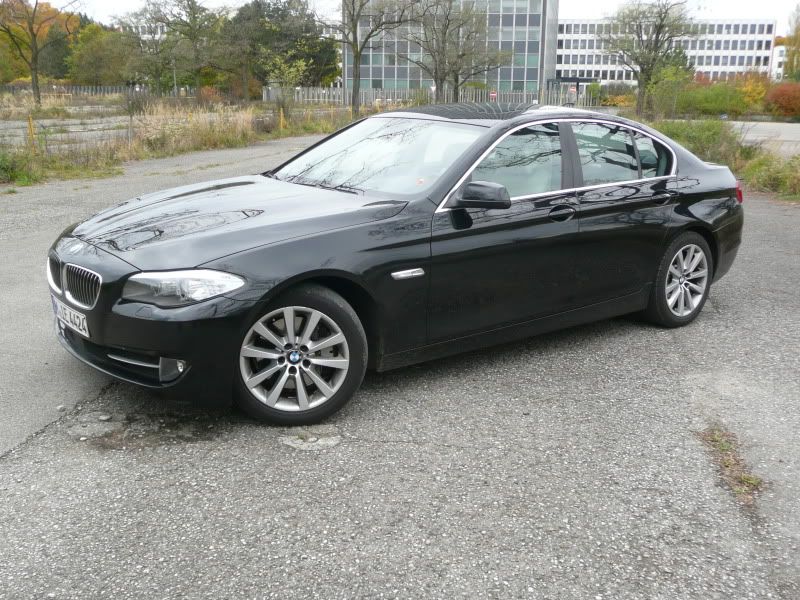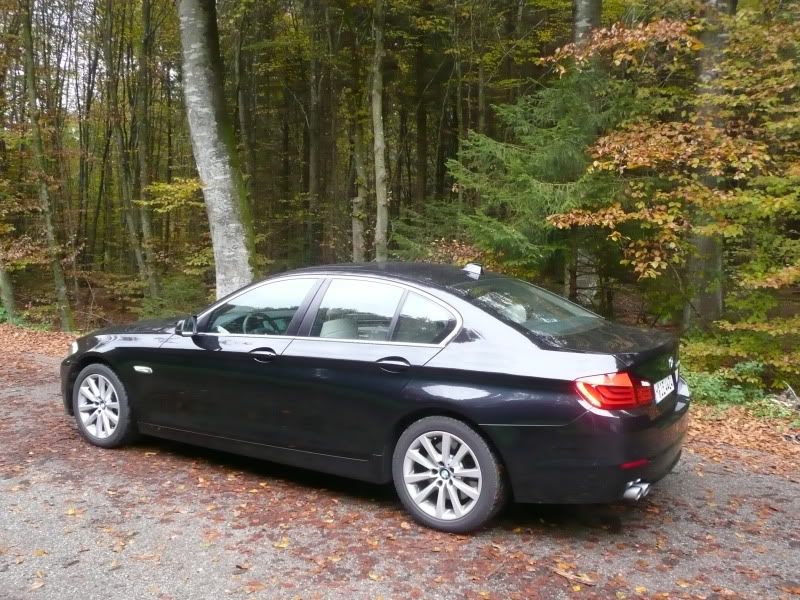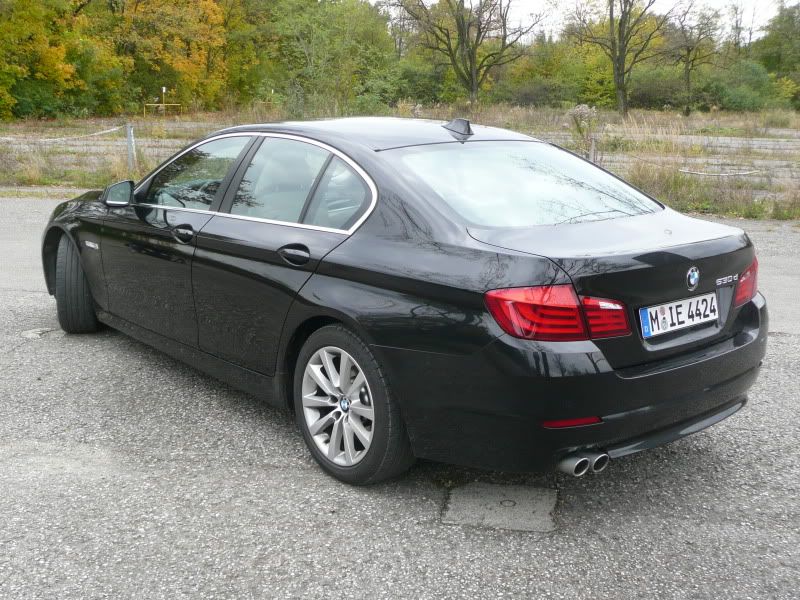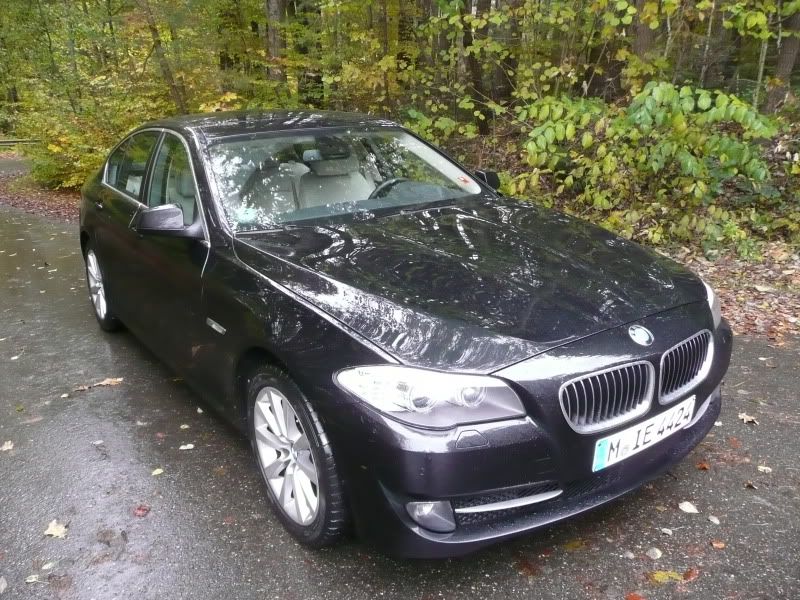 I have to say that things did not start too well. With most cars these days, you can unlock them, get into them, make a few adjustments, and drive off pretty confident that you know how all the controls work and where the obvious ones are located. The 530d was not quite like that. It started as I got in and shut the door. or so I thought. I then saw then door pull itself slightly tighter to a close, then open up slightly. Worried it had not closed properly, I opened and the whole experience replayed itself. I lowered the window, and it appeared that the door was now perfectly closed. Thank the "soft close" feature for this. Once inside, and there are buttons just everywhere, and some slightly unfamiliar concepts which meant that even after 2 days, I was still finding new things, and still getting the odd thing wrong with the gear lever (more on which, later). Once in the car, I started by trying to get the correct driving position, and this is where I made repeated adjustments all weekend, and still failed. I concluded that there is a basic flaw which meant I was never going to succeed. That does not mean that there are not electrically operated ways of moving everything, because there are. The seat goes back, forth, up and down at both front and back, the bolster comes out, and the backrest alters its angle and lumbar support. The column adjusts up and down and in and out and the pedals are electrically adjustable. There is no problem in sitting low enough, indeed, for once I actually had the seat not quite on its lowest setting. The fundamental issue seemed to be that the seat cushion is simply too long for my very short thighs, so no amount of motoring the seat back and forth or up and down is going to correct that. I suspect that over time, you would get used to it, but it frustrated me, nonetheless.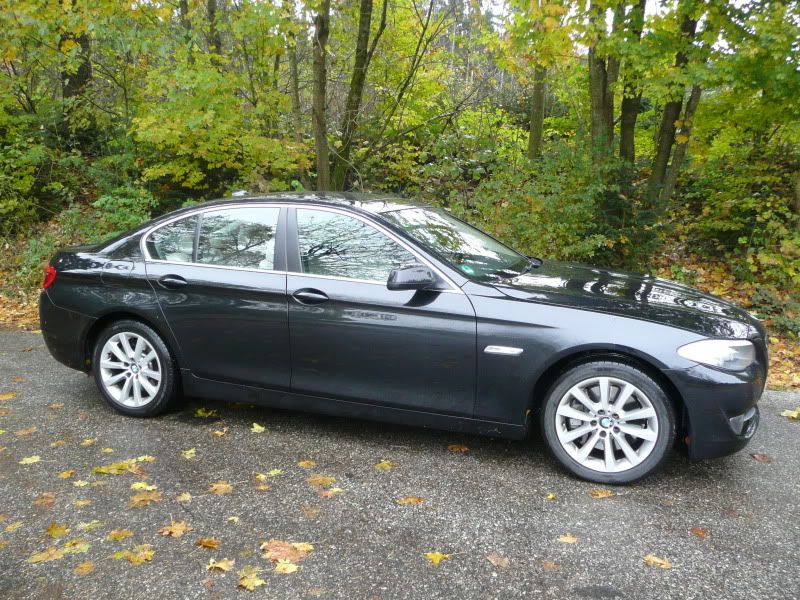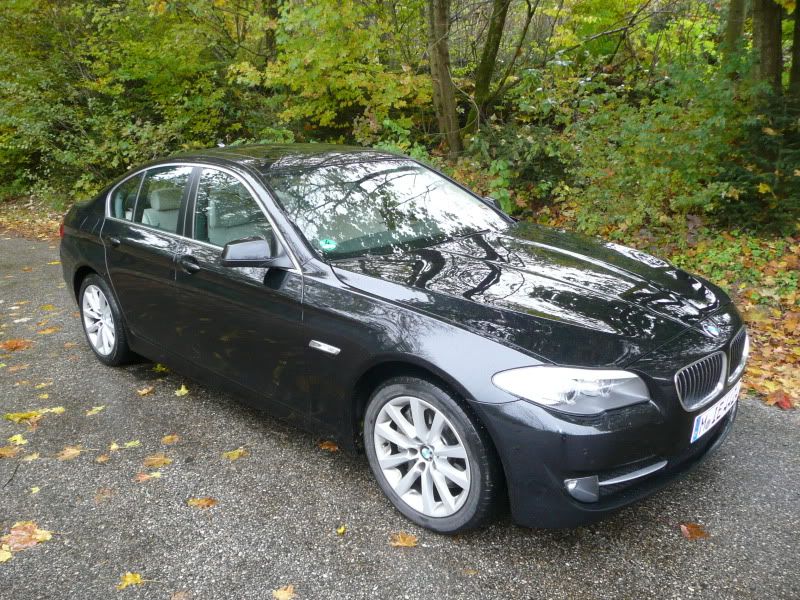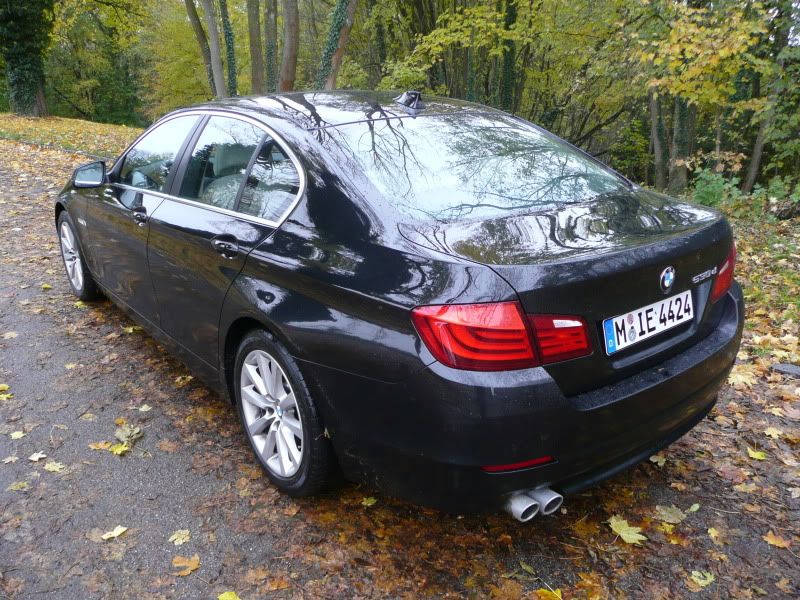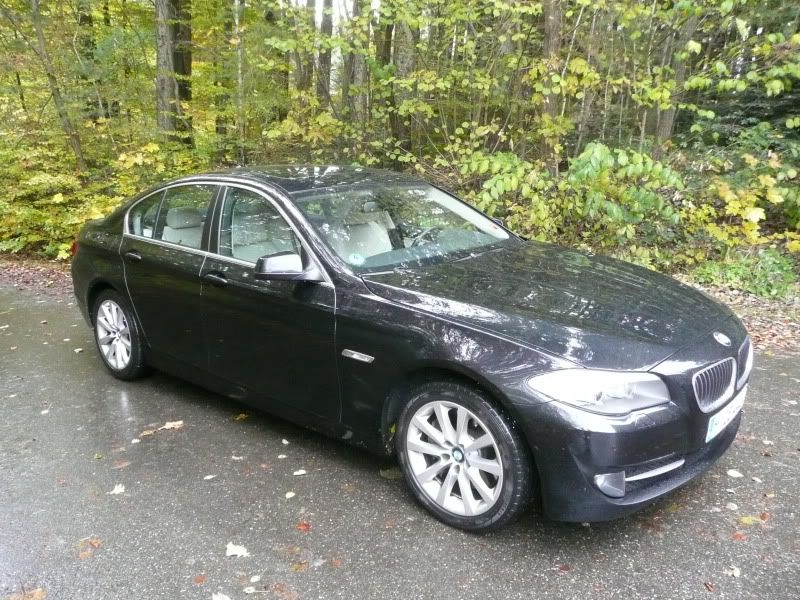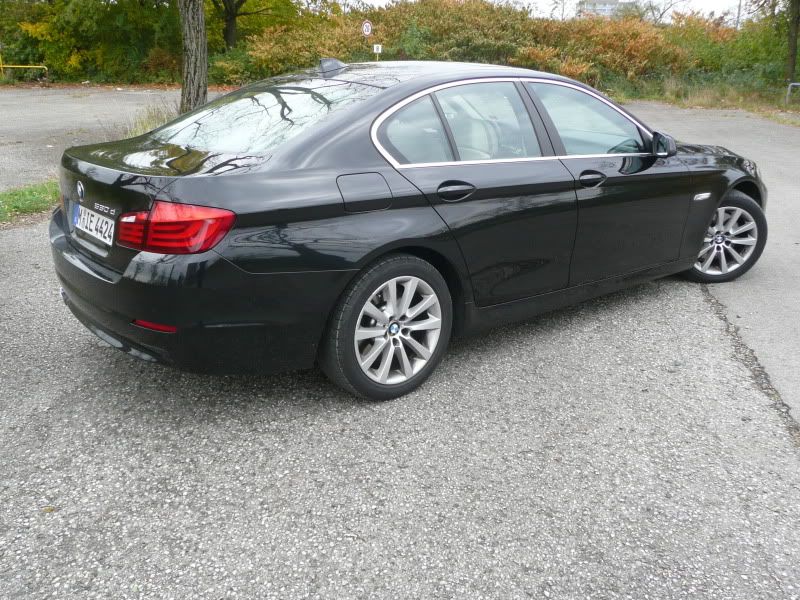 Next challenge was to make the car move, and edge gently out of the tight parking space in the Sixt parking area. There is a "Start" button to the right of the column, so you can keep the keys in your pocket, and as long as your foot is on the brake, the engine will fire. Like other recent BMW's, the latest 5 has the slightly odd looking angled gear lever. This is something you would get used to, but it caught me out more than once. There is a button on the side, and you must press this as you flick the lever forward for reverse or rearward for drive. But to select Park, that is done by pressing a button on the top of the lever. If you flick the lever forward, as you would in a more conventional layout, you end up in reverse. Come out of drive, by flicking the lever forward heading for reverse, but don't touch the button on the side, and you will end up in neutral. I made less errors on day 2, and I am sure you would quickly get used to it, but it is not quite like any other system I have experienced. There is an electronic parking brake, and a hill-holder feature in the centre console, but I never used either of them.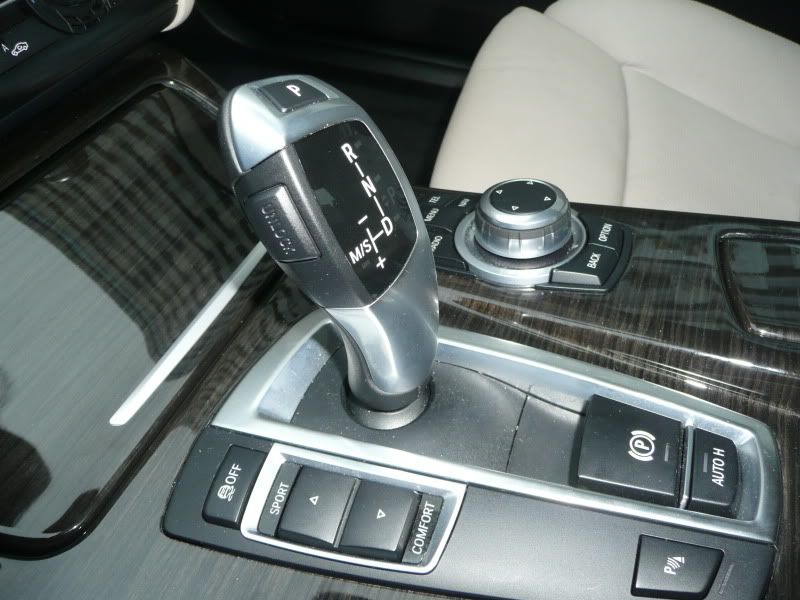 My next surprise was from the head-up display. Initially, I decided that this was odd, but very quickly I decided I really really liked this. it costs £950, and of all the fripperies added to the car, this is the one I think I would pay for. What was really clever was that as well as showing your speed, it picked up the speed limit, including any temporary autobahn limits, and also showed the next sat nav instructions. It was totally unintrusive, perfectly placed to see, and was just extremely useful. With this feature, there is no excuse for ignorance of the prevailing speed limit, or for exceeding it, and no need to look at the large sat nav display in the centre of the dash. Excellent.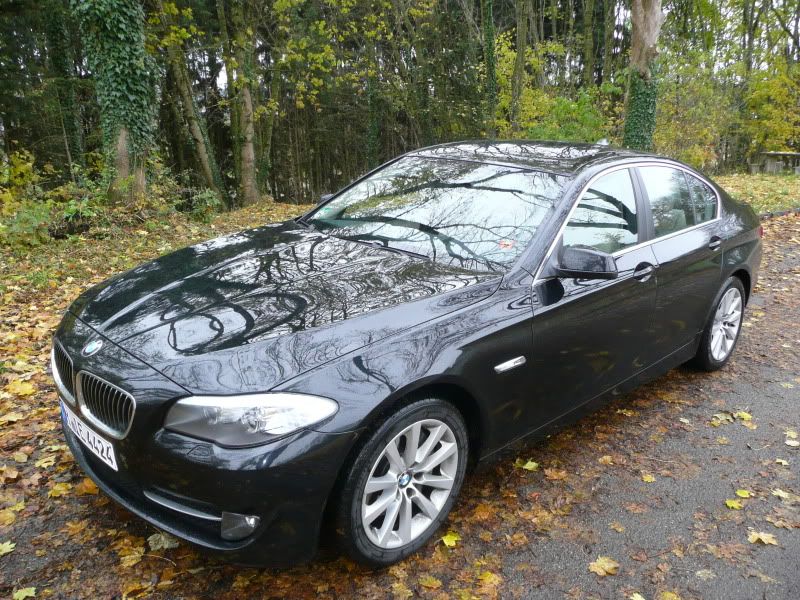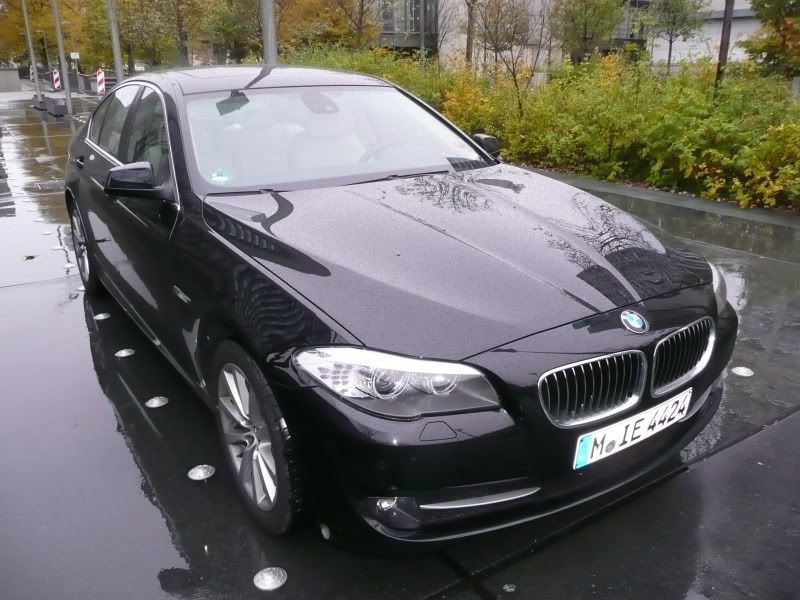 Actually, absolutely everything else about this car was just utterly impressive. The test car was a 530d, in which form it is equipped with a 3.0 litre in-line 6 cylinder diesel motor which develops 246 bhp. This is an impressive number in its own right, but when you learn that the CO2 rating is only 166, or 160 with the automatic gearbox, the extent of BMW's engineering achievement starts to dawn on you. This is one mightily impressive engine.  You are barely aware that this is a diesel, until you experience the huge shove from the torque when you want some acceleration. There is a constant thrum from the engine when you are on the autobahn, which is may-be a tad louder than you would want, but that really is being picky. There is an 8 speed automatic gearbox, which had to be the very smoothest such that I have ever come across. You really could never tell when it shifted gear. It does have the option of Sport mode, and you could select the gears manually, if you wanted to do so. The trip computer told me that i achieved 8.6 l/100km, which amounts to 32.7 mpg. I don't think this was quite right, as if I calculate from the fuel I put in it, and the mileage driven, I get 33.7 mpg, and I also think that the car was delivered only as "rental car full". Not a brilliant figure, as I drove the car fairly gently. There is an "efficient dynamics" indicator in the bottom of the rev counter which shows you are current fuel consumption levels. The press seemed a little disappointed by the F10 version of the 5 series, suggesting that the handling and steering were not quite as good as in the E60 predecessor. Sadly, I have no experience of the earlier model, so cannot offer the comparison. I can report that not only was the wheel particularly nice to hold, but that it did not disappoint on the road, though I have to say that I was driving quite gently as the roads were literally awash, and even so I could feel more liveliness from the rear end of the car on some bends than I am used to. Is it clearly and massively better to steer and handle than the Audi, as the British press would have you believe? From my limited, on road, in the wet experiences, I would have to say that there is little in it. Their comments may well hold true for far harder driving and on a track, but on public roads, I think their views could be rather overstated.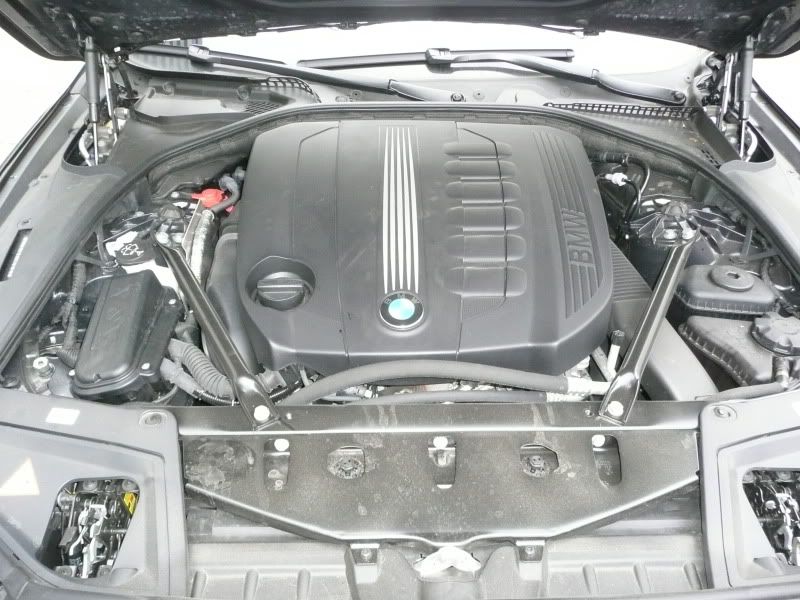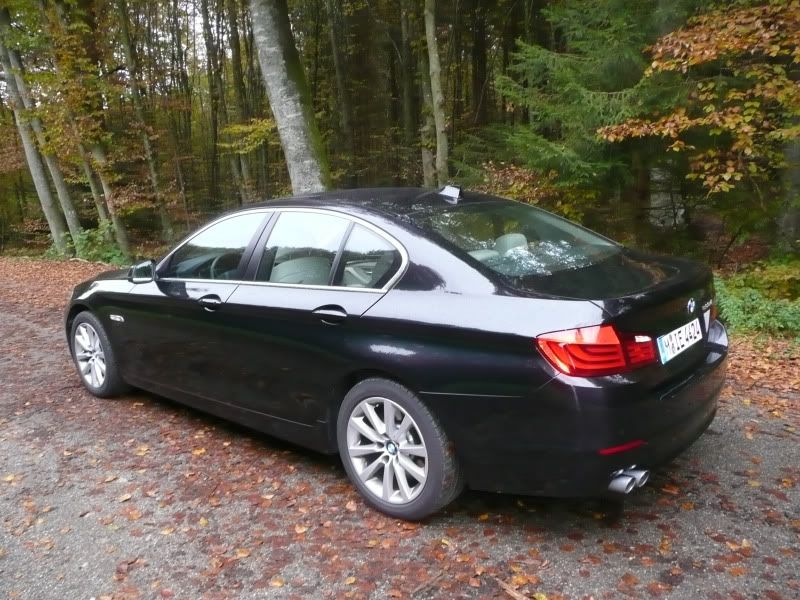 Look inside the 5 series, and it is extremely well presented. There is a bewildering choice of trim options, so if you do not like the anthracite wood effect that was in my test car, there are plenty of different appearances you could select instead. The dash looks good, and is made from very high quality materials, though a closer examination does indeed reveal buttons everywhere. Many of them were associated with optional features, so I guess their absence in a more parsimoniously specified car would not make it look like the owner had been too mean. There is a single cowl over the main instruments, which number 4, and which are clearly presented and easy to read. The relative setting of seat and steering wheel meant that I could not see the odometer at all without straining, as it was hidden behind the wheel, but that is a minor irritation, and if you were using the sat nav, it would show the remaining distance anyway so you could use that. The one-touch indicators and wipers did not irk me, maybe because I've driven enough Vectra and Astra to get used to the concept! My surprise that there was no auto wipe function was of course resolved when I realised that there if you press the end of the wiper stalk in, then there is indeed just such a feature, with a discrete little green light to tell you it is selected. There are lots of other lights like this, to tell you that you have the parking sensors and camera enabled, the blind spot analysis feature enabled and so on. It also appeared that there is no auto lights feature, but, of course there is, if you turn the rotary knob to the left instead of the right. The climate control and radio station selection buttons are in the middle of the dash, and are easy to use. Above these is a large sat nav display, which is operated through the iDrive system, but proved blissfully easy to use, which was just as well, as I am not sure I would have found my hotel on the first evening without it!  Needless to say there are a bewildering number of buttons on the steering wheel, and there are several around the main iDrive button, operation of which I did not test out apart from using the navigation.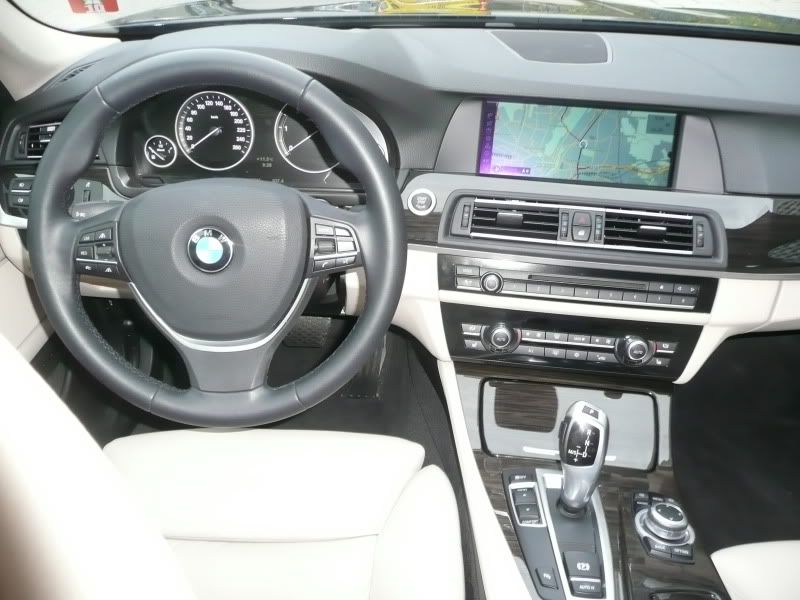 For such a large car, I am not sure that I would describe the rear seats as overly endowed with legroom, but passengers in there are not likely to complain of being cramped, and headroom is decently generous. There is a commodious boot, which stretches along way from the rear of the car to the back seats. It is not as wide as the space in the Audi A6, especially between the wheel arches, but again, it is unlikely to be insufficient for a family of 4. There is a ski flap in the rear armrest, for poking those extra long things. Inside the cabin, modest door bins, and a reasonable glove box are complemented by a twin-lidded cubby between the seats and a couple of small stowage holes, as well as two Euro-sized cup holders in front of the gearlever.    
Although the days when it was joked that even the steering wheel cost extra in a BMW, you do get a reasonable level of standard equipment in the standard spec. However, by no means was the test vehicle a standard spec car. Perusing the web-site and on-line configurator, I am not sure that I have identified all the optional features, but the list of those fitted to the test car  would seem to include these: sports automatic gearbox;  the visibility package which includes xenon headlights with washers, high beam assist and adaptive lights; the Business advantage package which includes BMW assist, satellite navigation and voice commands;  6 disc DVD system; an electric sun roof; lumbar support for the seats; heated seats; soft close doors; rear sunblind; ski bag; 4 zone climate control; side window sunblinds; comfort seats; electric seats and memory; lane change warning system; lane departure system; active cruise control; park assist. a reverse camera and the speed limit display.  I am sure I could live without quite a lot of that list, but more than a few of them would be useful and of some value.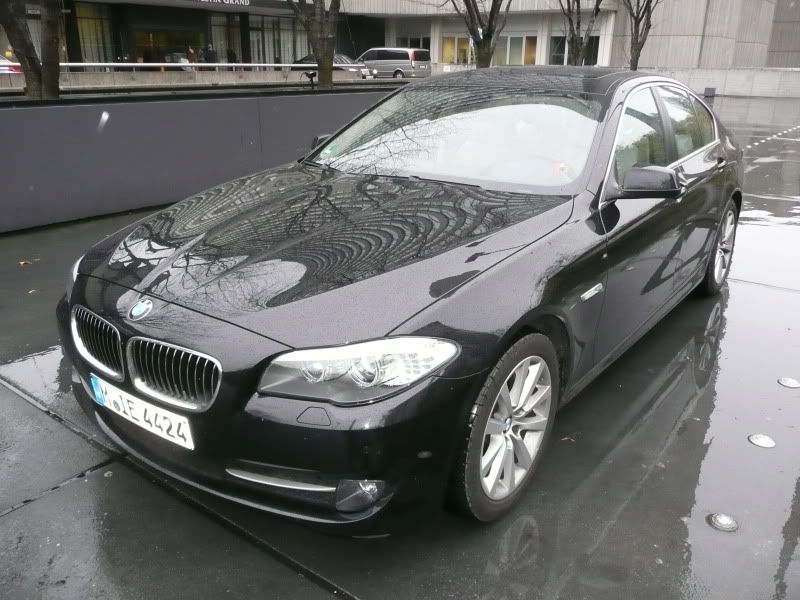 There is no doubt in my mind that the 530d is a truly excellent car. It is, however, also an expensive car. The base model starts at £37,175 but if you load it up with  options, as was the case with the test car, it is not hard to add another £10,000 to that price. The output from BMW's configurator suggests that the on the road price of the test car was at least £50,600. That is a massive increase on the list price of the standard car, and there was plenty left to select if I was feeling more affluent or perhaps profligate. The low CO2 rating, and consequent Benefit in Kind taxation liability is in danger of serious erosion from the ultimate list price, a factor which the press all forget as they only focus on the CO2 number. With recently announced changes to our Car Fleet policy, where CO2 and list price will both have more of a limiting effect on choice than used to be the case, this is exactly the sort of car which I am likely to find myself ordering in 2012. Whilst I enjoyed my time driving the 530d, and if I had not had one in metallic black, would even have got some rather better photos of it (!), I would need a longer test to know whether that driving position and seat comfort could be a deal breaker. So, to all the BMW enthusiasts, don't indulge in too much celebration that The Motor's last bastion of resistance to the charms of the Bavarian Wunder Wagen will relent just yet!
2010-10-29 19:44:14