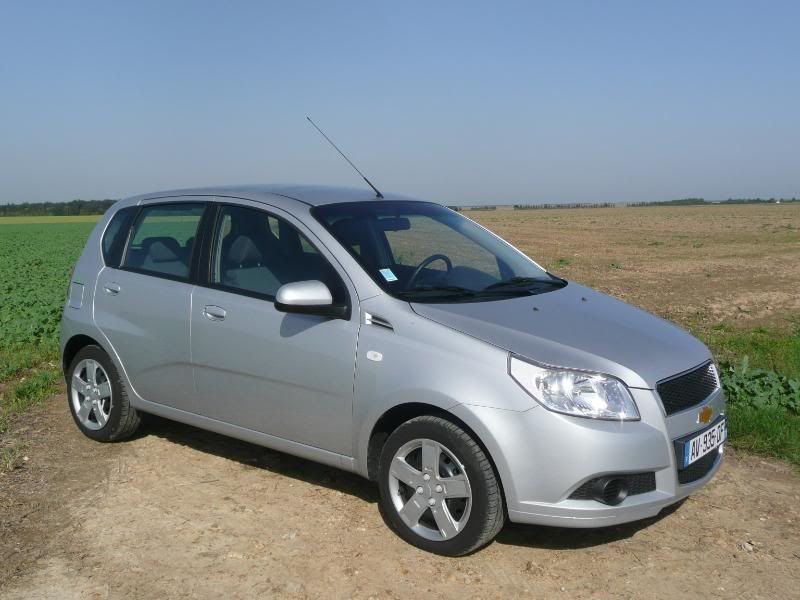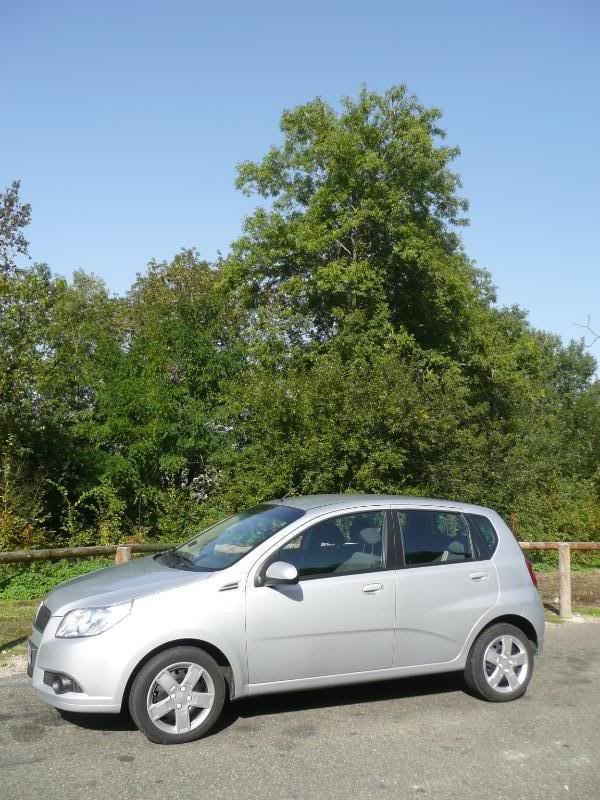 I've been renting cars for long enough now to know that there are two things you can reasonably expect: surprise and coincedence. Both applied to my latest rental, which was for a "small" car from Mr Hertz at Paris' Orly airport. Think of France, you might reasonably guess that you would get a Renault or a Peugeot, or maybe a small Citroen. Failing those, perhaps a Ford Fiesta, or a Fiat Punto? But nothing had been further from my thoughts than the car that I found allocated to me, a Chevrolet Aveo. That was the surprise. The coincidence bit comes because only a week previously, I'd driven a US spec Aveo, in saloon form. So, from having no experience of this model, I was going to get two different perspectives.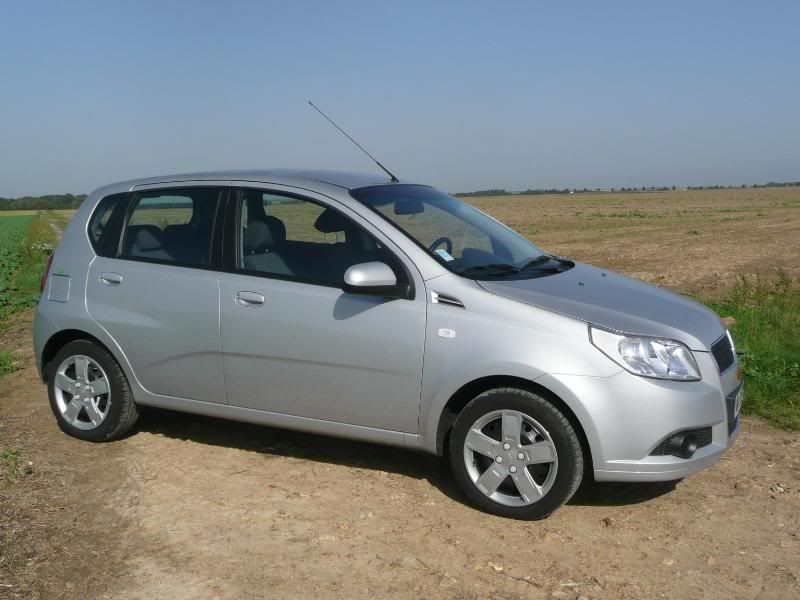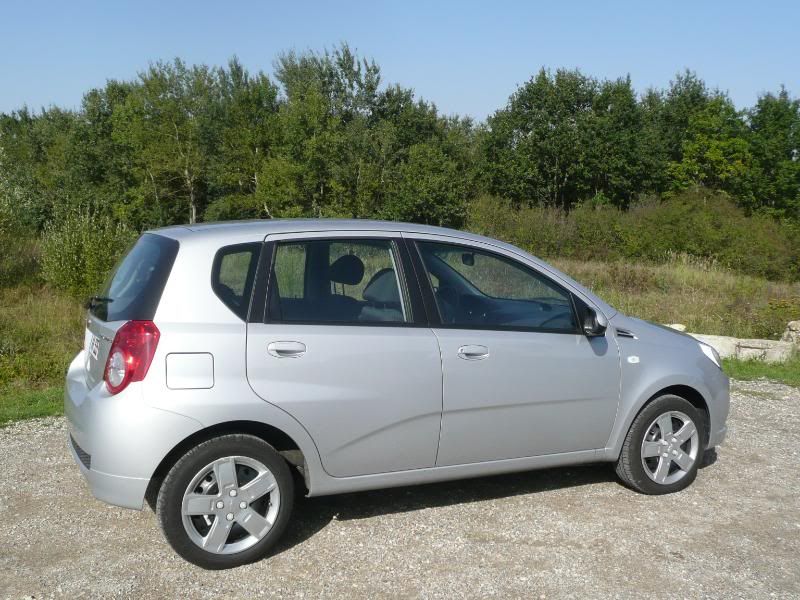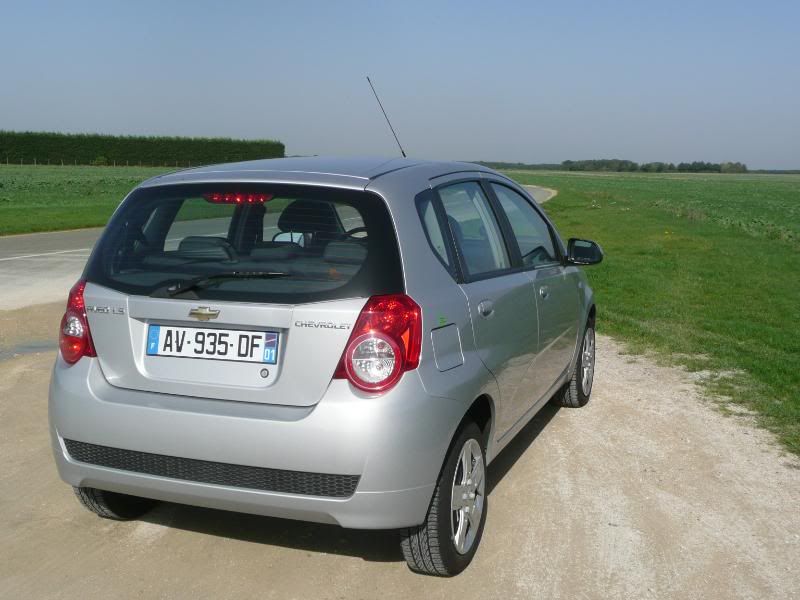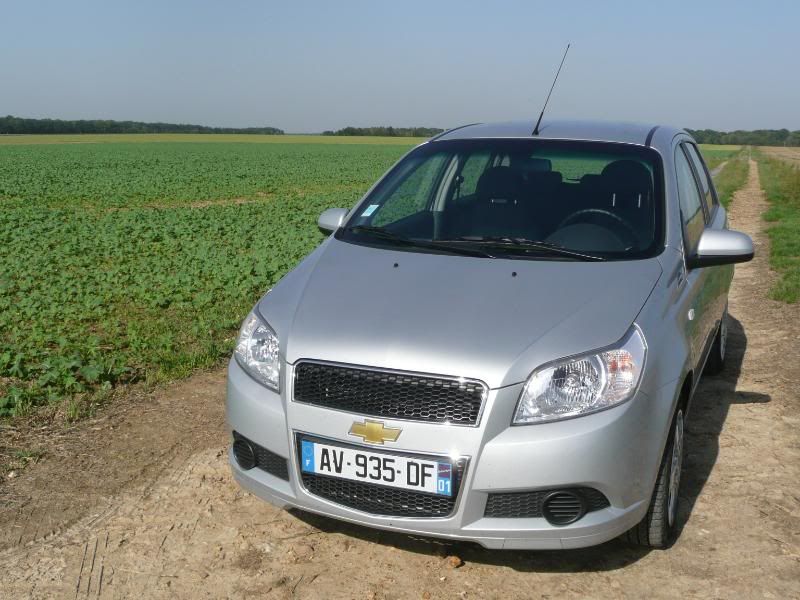 Although the European Aveo looks all but identical to the American market cars, there are, of course, plenty of differences. In America, the model is available as a four door saloon or a five door hatchback, whereas in Europe, it is only offered in hatchback form, with either three or five doors. My test car had the latter. American cars come with a 1.6 litre engine, but the Euro spec cars start with a 1.2 4 cylinder motor. That's what was fitted to my test car, and my first point of interest was to wonder whether this would make the car seem far slower than the one that I drove in Colorado. Let's deal with that point now. It did not. Indeed, if anything, I would describe my French test car as feeling more lively. In fact, the engine in this car is probably its strongest point. It only develops 84 bhp, which is a lot less than the 108 bhp of the American spec car, but it revs freely, and endowed the Aveo with more than adequate acceleration to be able to keep with suburban Parisian traffic. It is even aurally quite pleasant as it goes about its work, and there is even the hint of an Alfa-esque rasp to the exhaust system which I found rather pleasing. It is a refined engine, and coupled with far better noise suppression from the tyres, is actually a perfectly acceptable autoroute cruiser in a way that the American car simply was not. Needless to say, the test car had a manual gearbox, and not the 4 speed automatic I had previously experienced. I suspect that this accounts for quite a lot of the difference in spriteliness. The gearbox has five gears, and a rather vague feeling change to it. There is a lot of travel between the gears, and although there was no real recalcitrance, it also felt a bit sloppy. I cannot comment on fuel consumption, as the car was delivered with only three quarters of a tank full, and I needed to return it full. Other dynamics were really rather unremarkable. That means no issues, but nothing that was particularly good. The steering was light, and with some feel, but nowhere the standards that Ford would achieve. The Aveo went round the bends with no drama, but no fun. It rode well enough, and it certainly stopped when you asked it to do so. It is easy to see out of, and with a short stubby hatchback tail, easier to judge the rear-most extremity than in the saloon version. Fit for purpose, therefore, where the purpose is to get you from proverbial "A" to "B", but no sense of anything better than utility.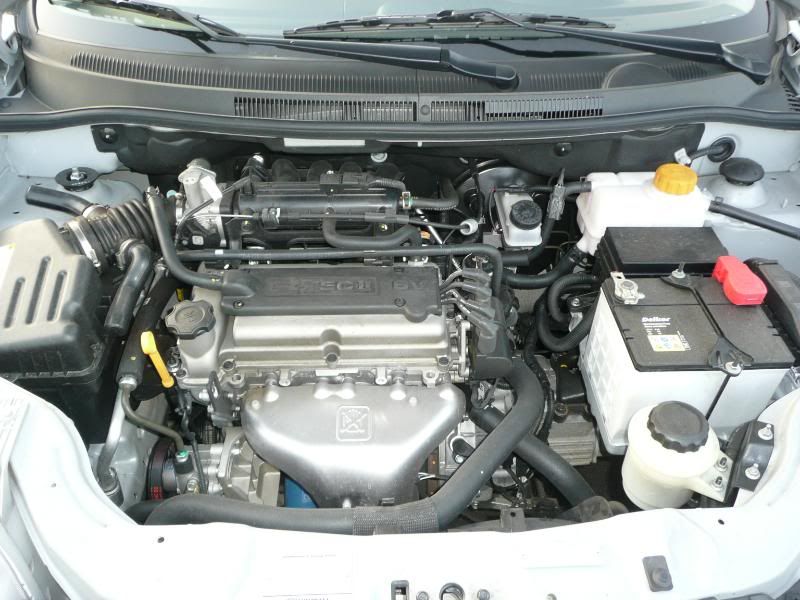 The basic dashboard layout of the European car was exactly the same as the American one. However, it was spared the horrid fake wood inserts and also the two tone effect which mixed beige with black. In this car, the entire dashboard was finished in black plastic, and it probably looked all the better for it. The instruments, all three of them, are presented under a single cowl, and they are clearly marked and easy to read. There are two prominent central air vents, below which you will find a GM audio system, and the air conditioning controls. Most of the other controls are operated by the column stalks, with the lights operated by twisting the end of the left hand stalk. There is a digital clock, in a small mounting right under the base of the windscreen, which is a long stretch for that time when you need to alter the time. The overall effect is neat, but utterly dull. But then, Aveo is that sort of car.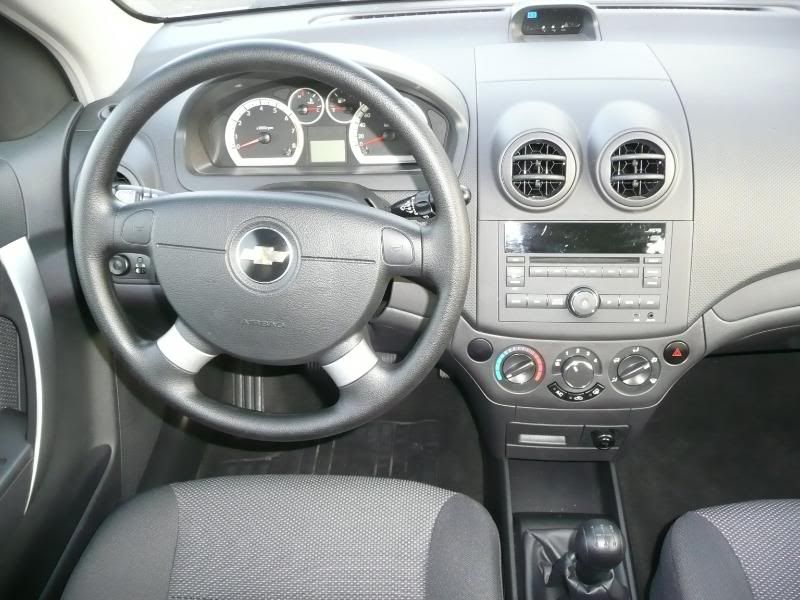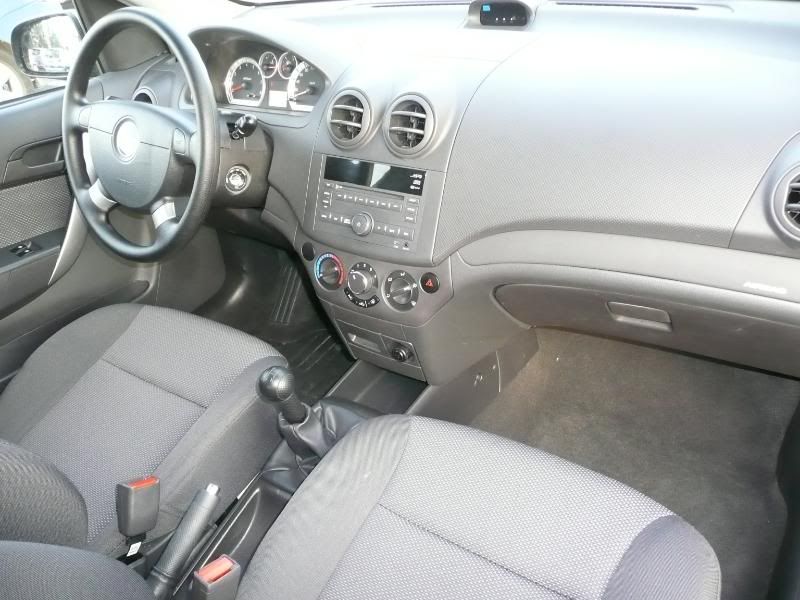 This is a small hatchback, not quite as long as some of the ever-growing competitors, so you would not expect to find huge amounts of space inside it, but in fact the rear seats were perfectly adequate, and would readily seat two adults, with a third being accommodated at a pinch. The boot is noticeably smaller than you find in the saloon, but it is regular in shape, and again,is class competitive. The rear seats can be folded forward, by simply dropping the backrests onto the rear seat cushions, leaving a stepped load area.  There is reasonable oddment space in the cabin, with a glovebox, door bins, and a small cubby area in front of the gear lever.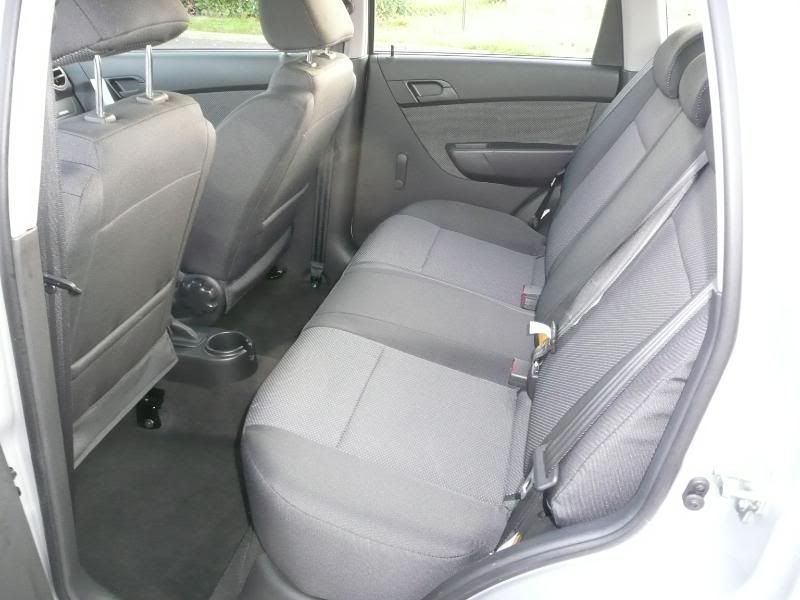 An over-riding feeling of "cheap" permeates the car. It starts with the key, which is particularly thin, and continues inside the cabin, where there are lots of shiny plastics which, whilst perfectly serviceable, just look like they have selected to minimise the costs.  European Aveo is available in three levels of trim: S, LS and LT. The test car was the middle spec car, and in this guise, you get a reasonable level of equipment. All versions include remote central locking, electric front windows, remote fuel release, an RDS radio with CD,  MP3 and DVD, front cup holders and pockets in the back of the front seats. About par for the course for an entry level car. Additional features on the LS include larger 15″ steel wheels, air conditioning, electric rear windows, a trip computer and body coloured mirrors and door handles. Upgrade to the top of the range 1.4 LT and you get a more powerful engine as well as a leather wrapped wheel and gear knob, aluminium effect inlays in the dash and a few other cosmetic changes.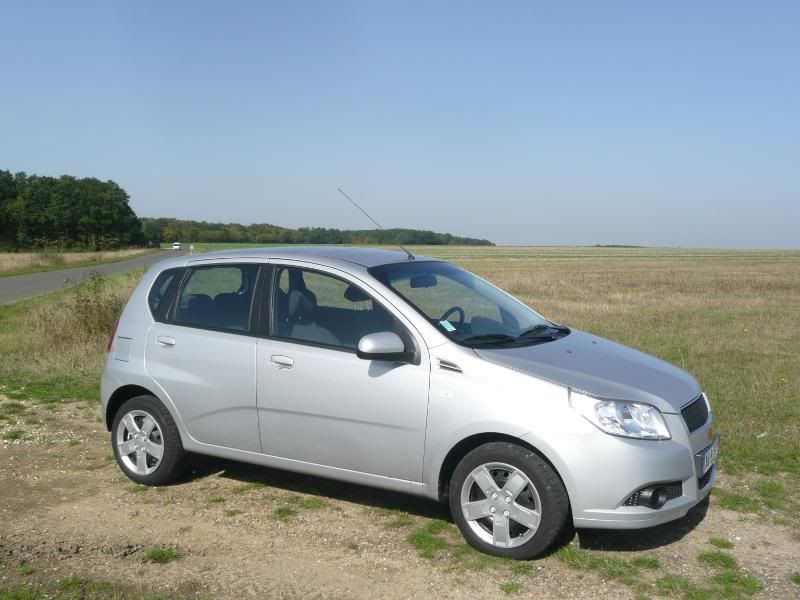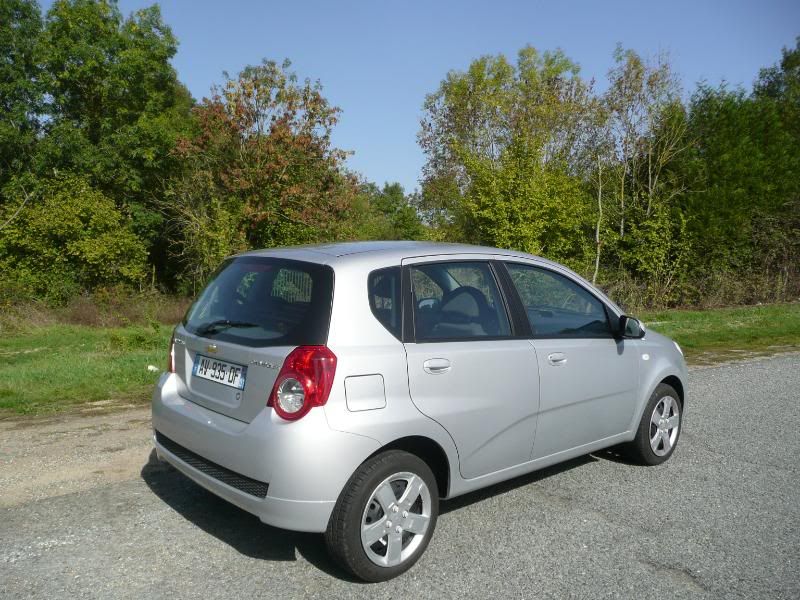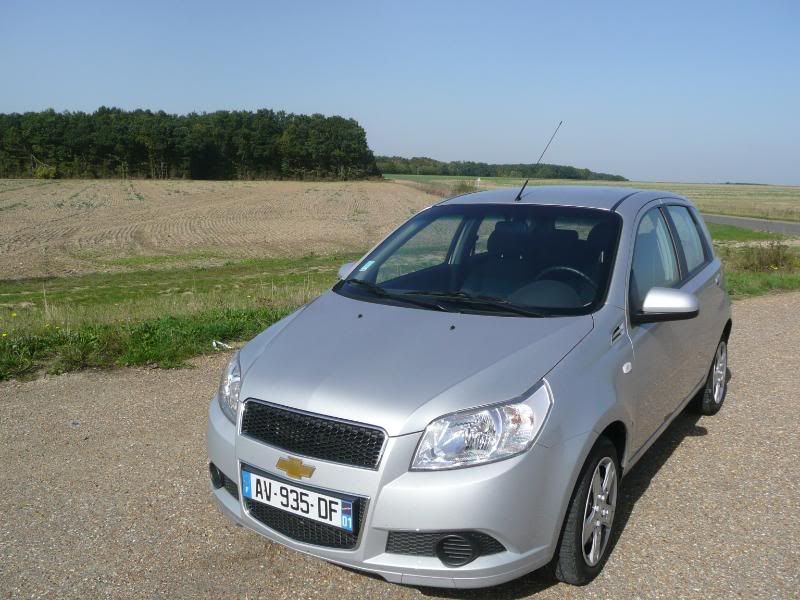 In many ways, I actually liked the European Aveo more than the American one. Or should I rephrase that and say that thanks to the much lower road noise levels, I could live with the Euro Aveo if I really had to. But, here's the problem. If this car were significantly cheaper than its competitors, it could be worth a look. But it is not. The 1.2 LS version I tested is no less money than such worthy cars as the latest Suzuki Swift or the Skoda Fabia. So, whilst it is cheaper than the very basic Fiesta, it is not exactly a bargain relative to the alternatives.  Other Korean manufacturers, notably Kia and Hyundai, have successfully upgraded their cars so you are still paying less money for what now is a class competitive car. Chevrolet (Daewoo) need to pull off the same trick with the new generation Aveo that we should see in 2011/12 if they want to make inroads in what is probably the most largest volume sales sector in Europe. With the current car, they neither stand nor deserve a chance.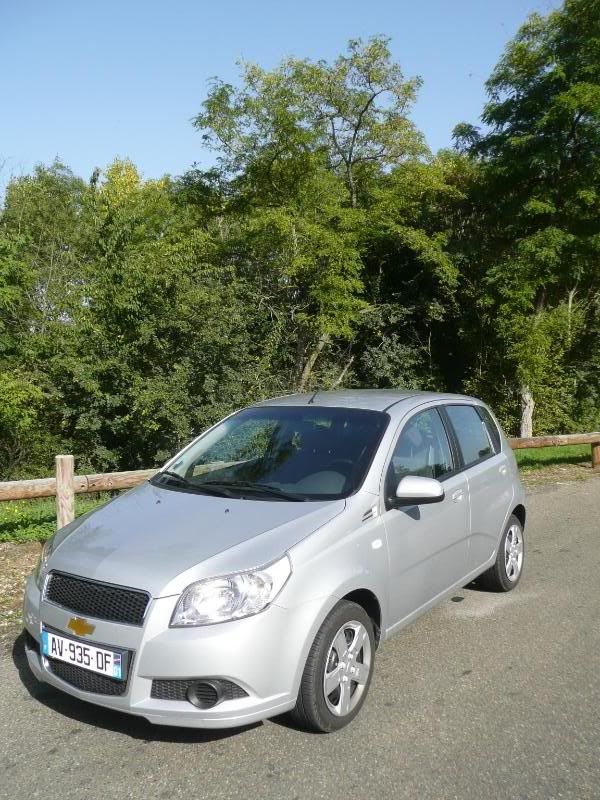 2010-10-22 09:00:12