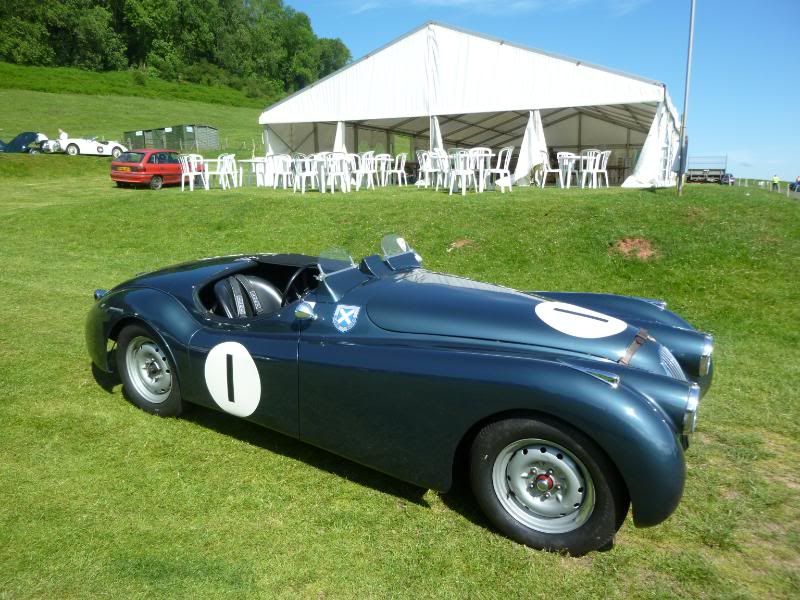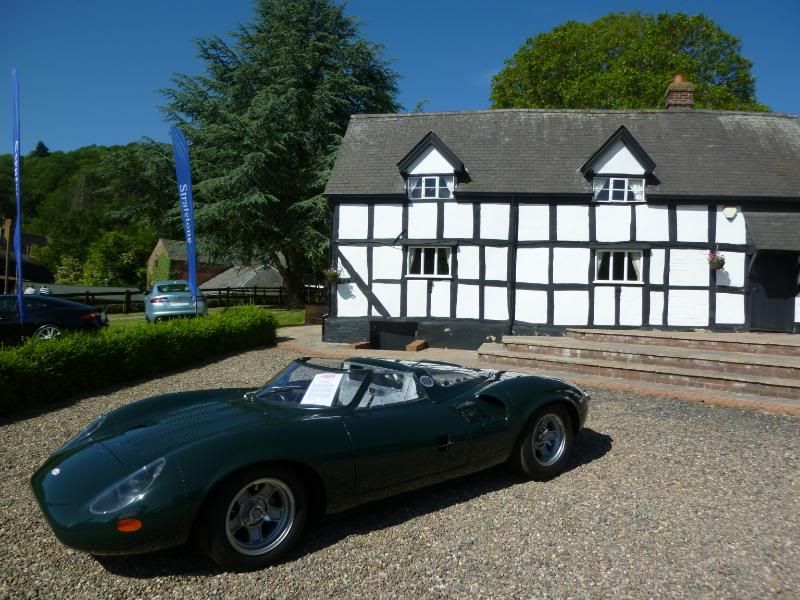 Whilst it would appear that Prescott has won a place in the affections of many of TheMotor forummers' hearts, and for good reason, it should not be forgotten that there are plenty of other hill climb venues in the UK, with equally picturesque scenery and a great atmosphere to soak up. Shelsley Walsh, located in the rolling hills of the Terne valley about 10 miles west of Worcester is one such, and I made a couple of trips there last year and enjoyed both of them, so was keen to include this venue in my 2011 events programme. When I saw that the meeting on 4/5th June would include a special tribute in honour of the 50th anniversary of the "E" Type Jaguar, I knew immediately that this was one for the diary. I attended on the Saturday, and the day dawned with clear blue skies and barely a cloud in sight. The forecast had said that clouds would build during the day, but like everyone else, I did not interpret that to mean rain. But, soon after the resumption of the progamme after the lunch break, it did rain hard for about 15 minutes, before then drying out again. This meant that more than a few hillclimbers experienced a slippery surface and headed into the banks, and the owners of several of the open topped cars had to make a hurried return to their vehicles to erect some form of weather protection. Nonetheless, this did not spoil an excellent day out. Here are some of the pictorial highlights:
JAGUAR
Encouraged by the planned attendance of a large number of "E" Types, Jaguar Heritage brought along a number of cars from their collection, which were assembled to form a special display at one end of the car parking. All these cars, along with a couple of other historically significant Jaguars were then driven up the hill a couple of times during the day so that they could be seen, and heard, in action. A certain Steve Cropley of Autocar magazine got to drive one of them, and Mr Haymarket, Simon Taylor, who was competing with his "Stovebolt Special" got to drive another. Lucky guys! I noted that Cropley had turned up in Autocar's Long Term Jaguar XJ, and although I did not get to talk to him, he did wave as he left, when I was standing by my car (which was in the very corner of the car park by the exit).
"C" Type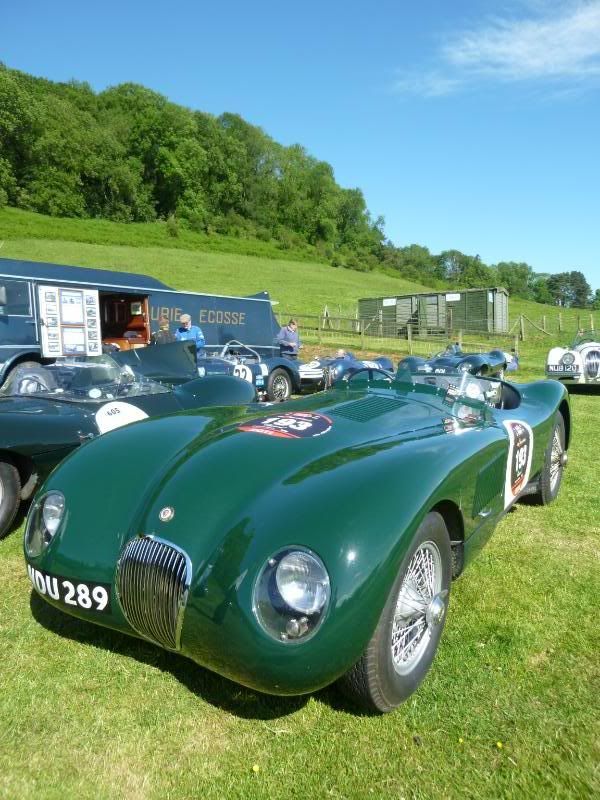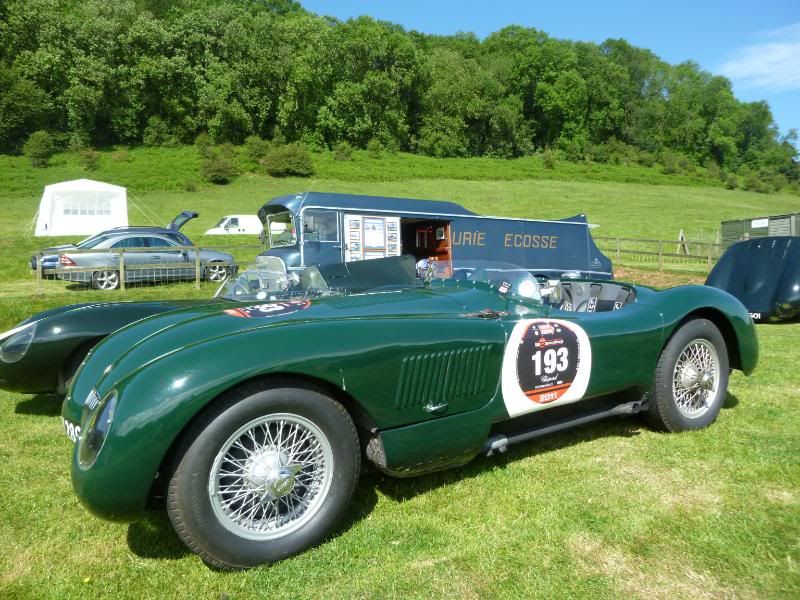 "D" Type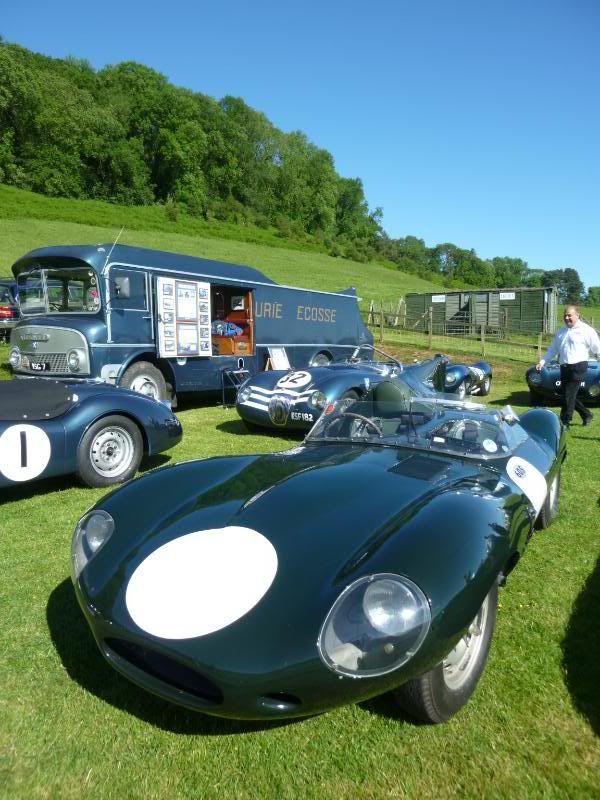 This is probably the most famous XK120 of all, a car which first saw success when driven by Ian Appleyard in the 1950 Alpine Rally, an event which it won again in 1951.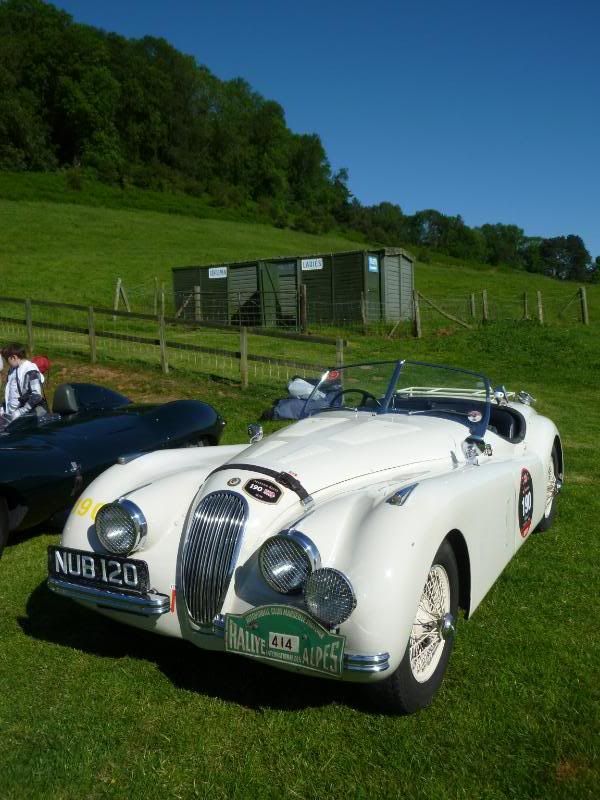 Ecurie Ecosse is probably as famous as Jaguar in motor racing circles. Founded in 1952 by business man David Murray, the team had notable success in the 1950s. Team cars were always painted in the same distinctive shade of blue.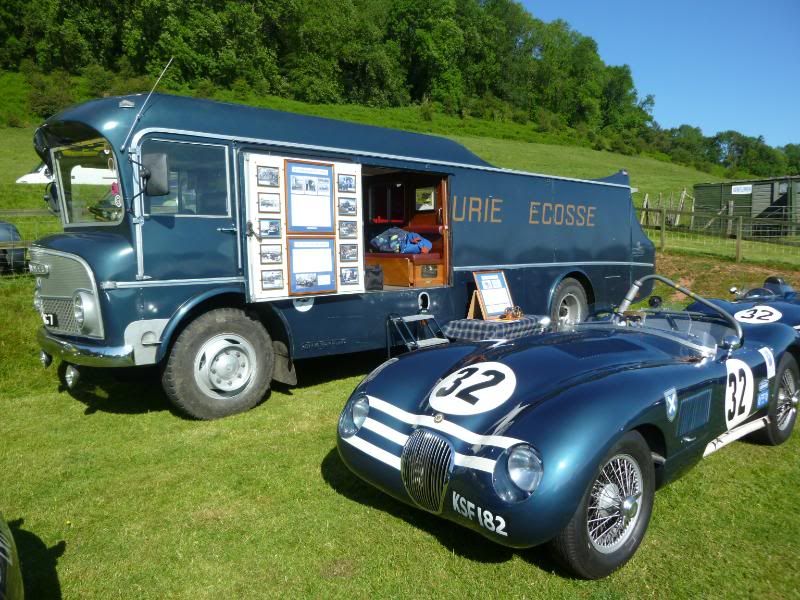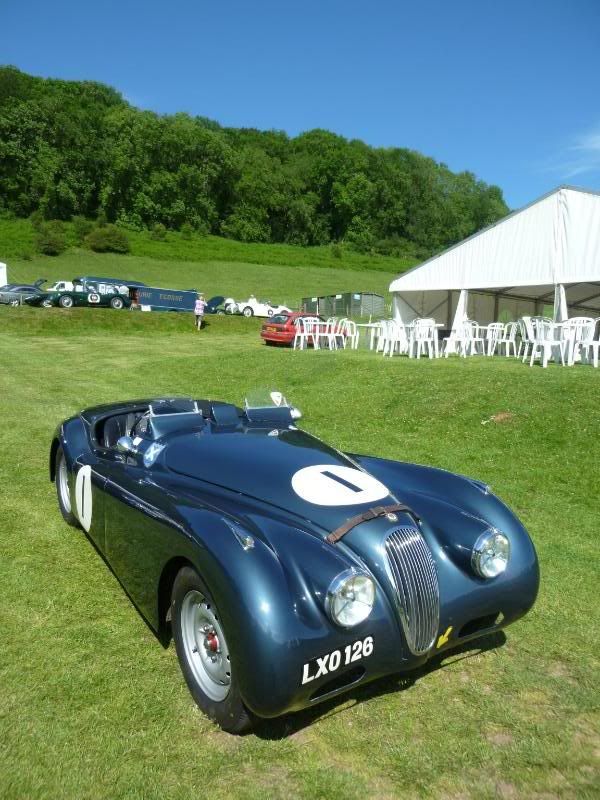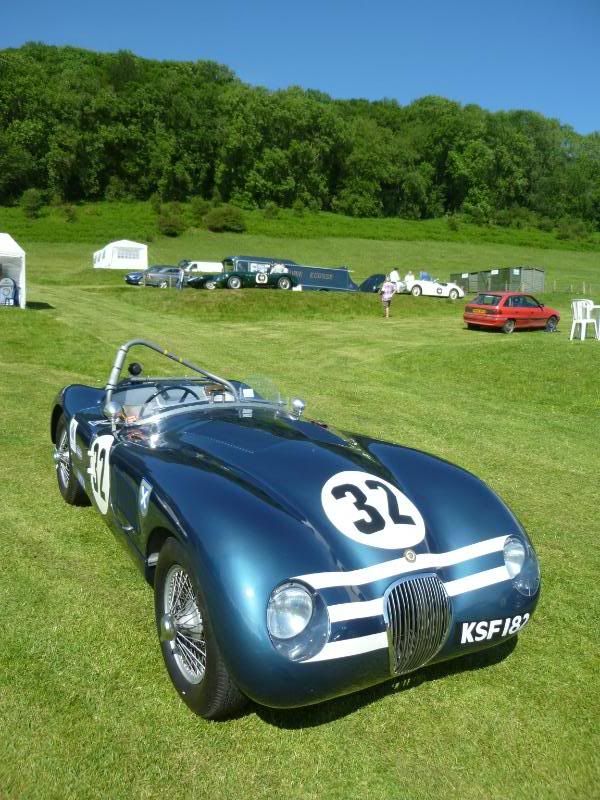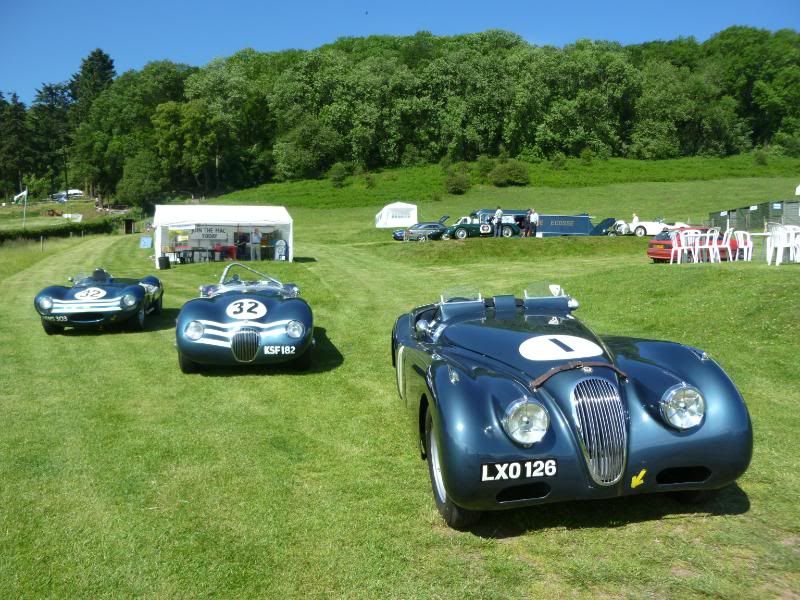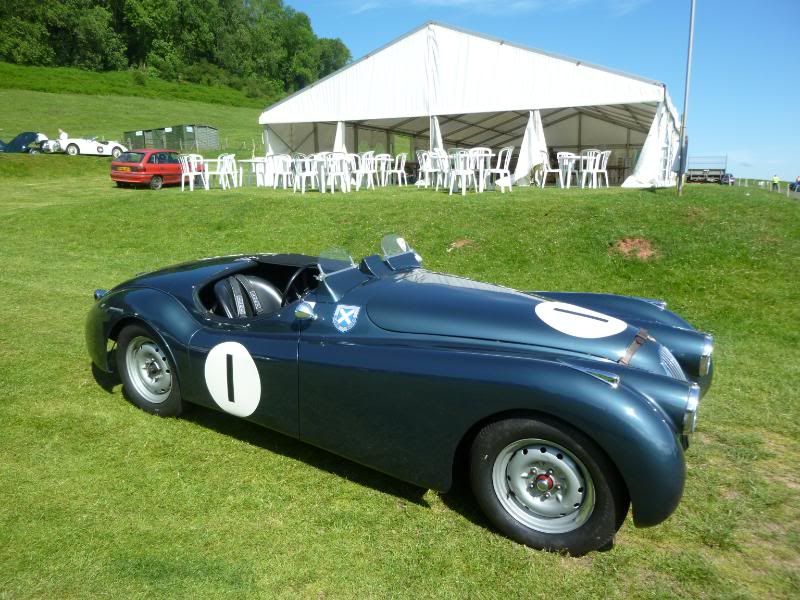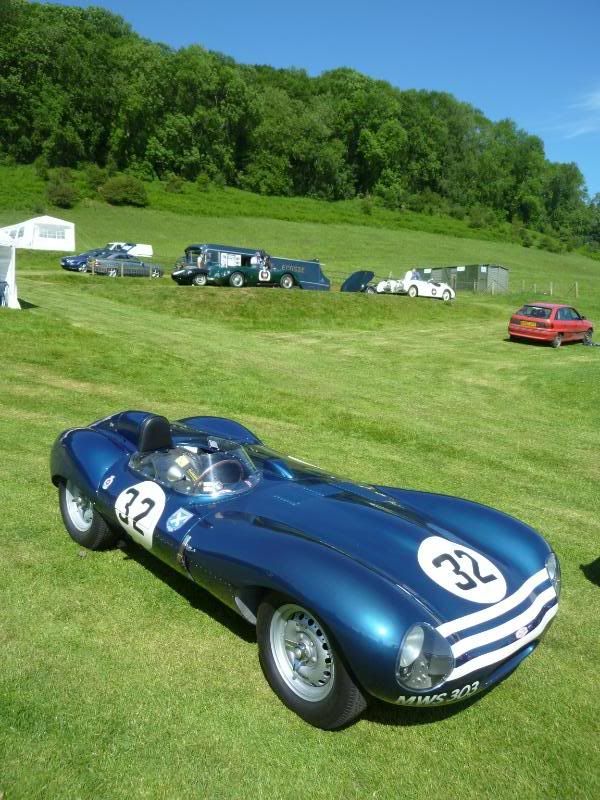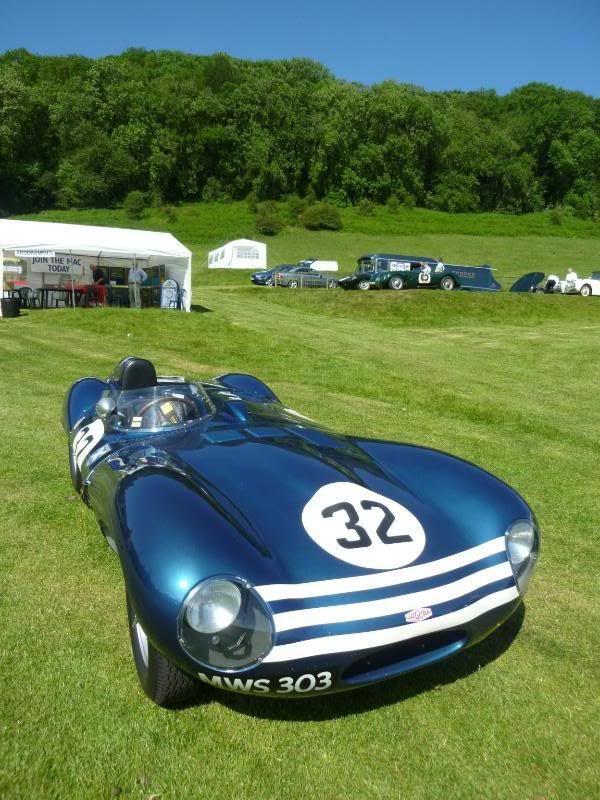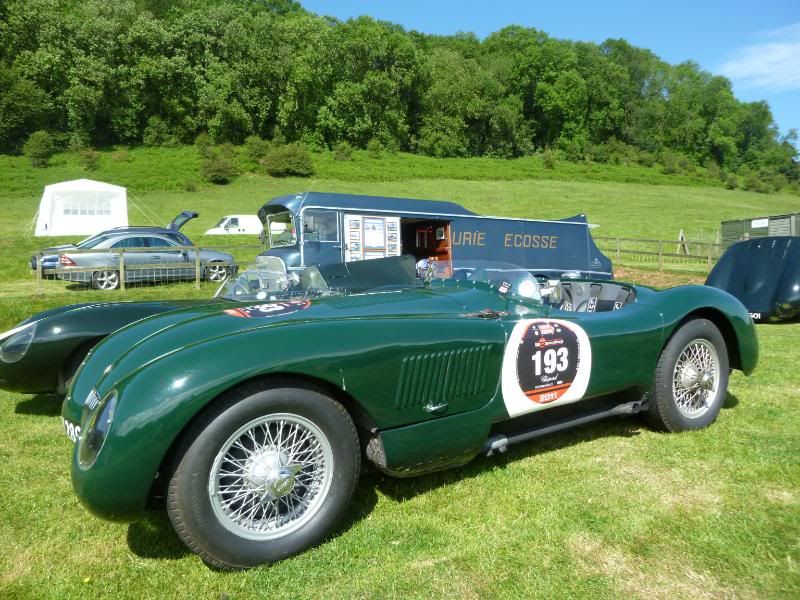 Before acquiring this now beautifully restored Transporter, race transport had always been a difficult job, using old trucks which were limited by law to 30mph, making for some very lengthy journeys indeed. This vehicle based on a Commer chassis was built in 1957 for the Ecurie Ecosse racing team to celebrate the double win of Jaguar at Le Mans in 1956 and 1957. It could hold three cars, one on the lower deck and two up above, accessible by hydraulic rams. Motive power was interesting, as the vehicle has an opposed stroke 2 piston 3 cylinder diesel engine with a supercharger. The transporter was found abandoned and underwent an expensive and comprehensive restoration to the  fine state in which it is now.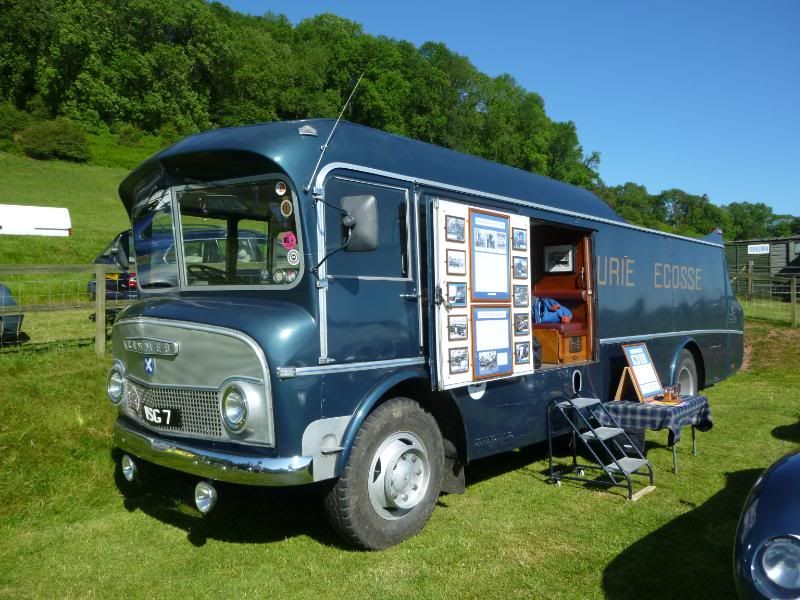 I strongly suspect that there were likely to be far more "E" Types in attendance on the Sunday, but there was pretty good representation even on the Saturday when I attended.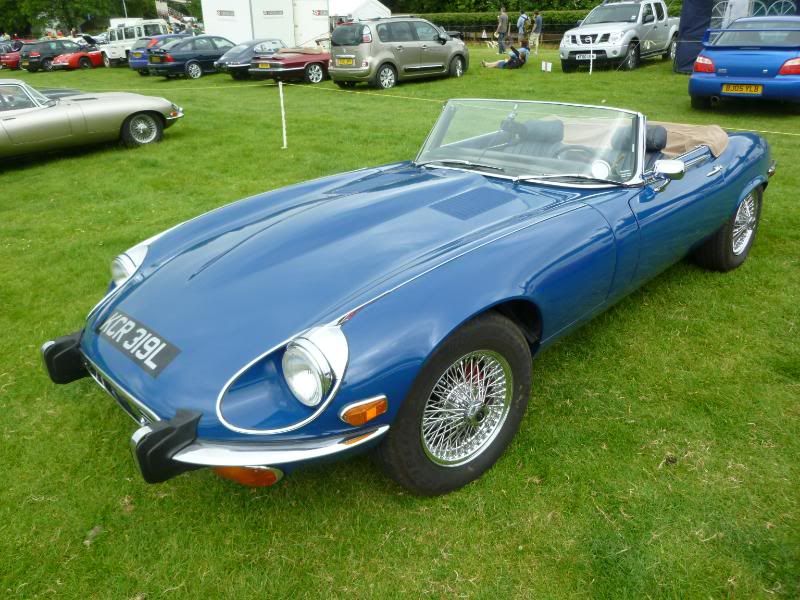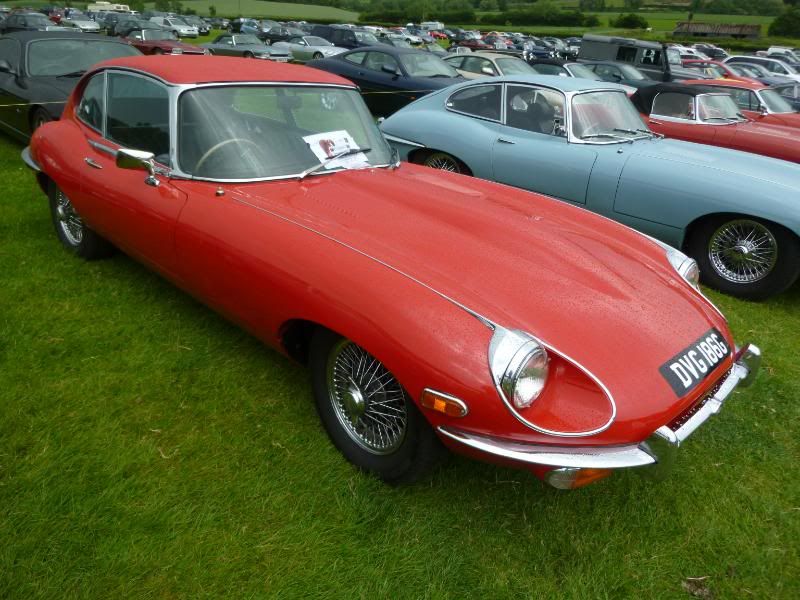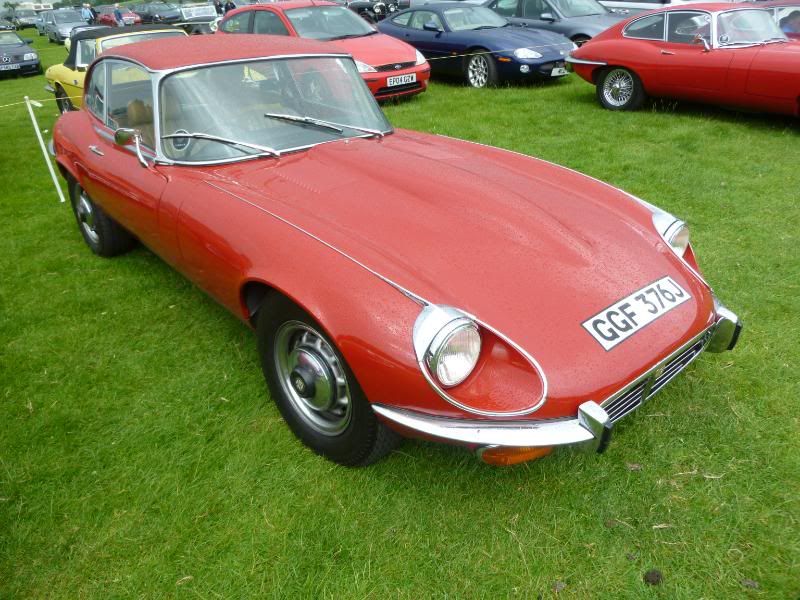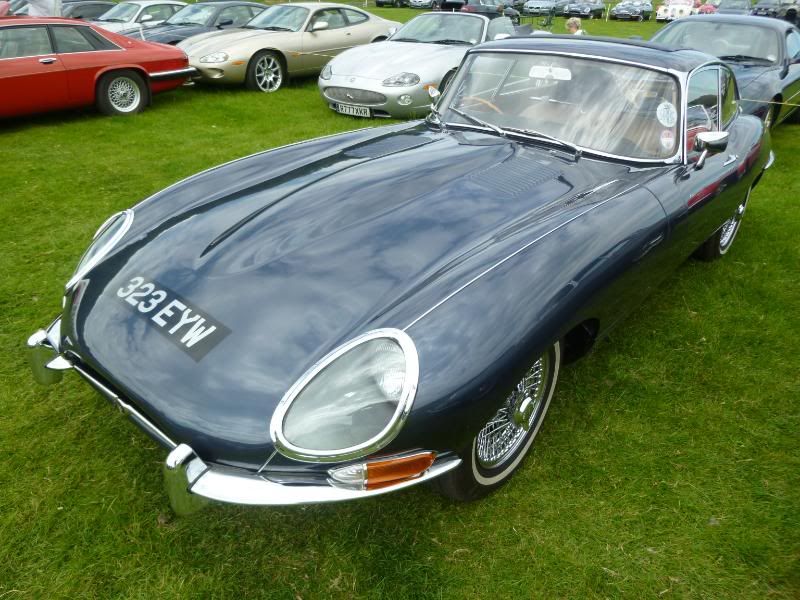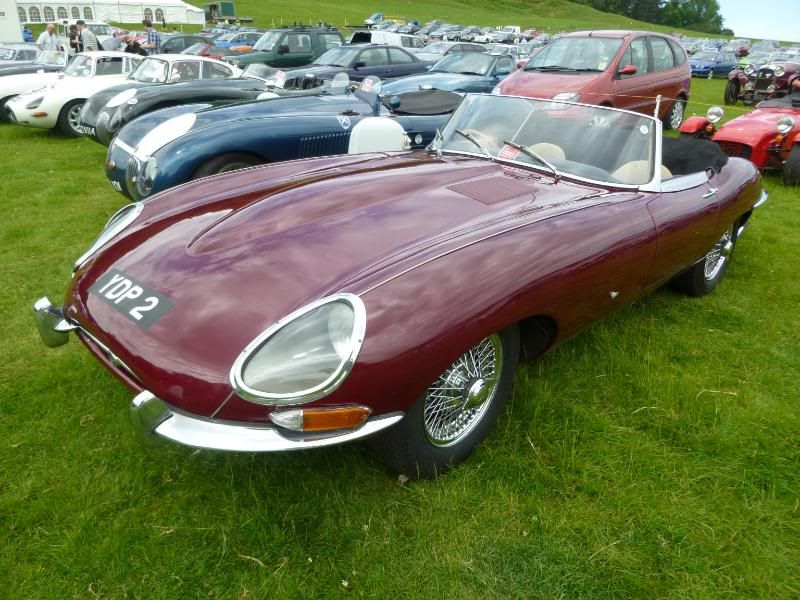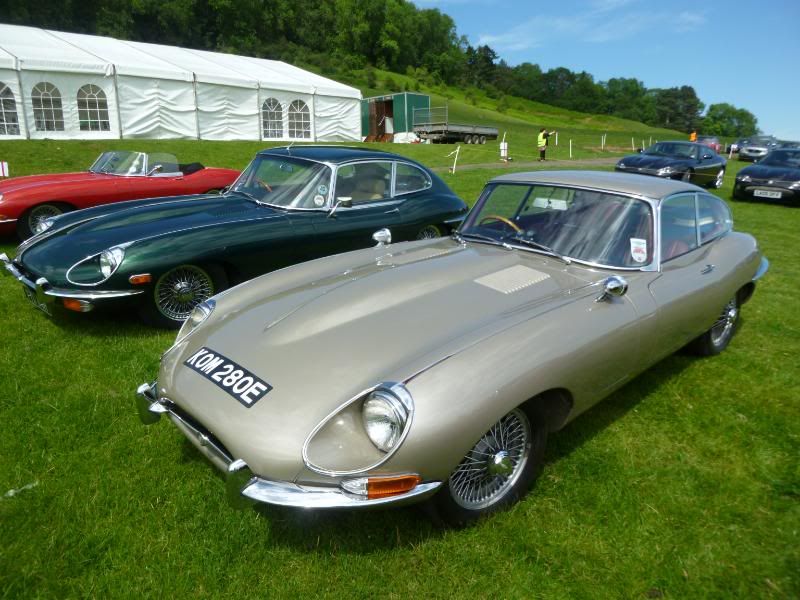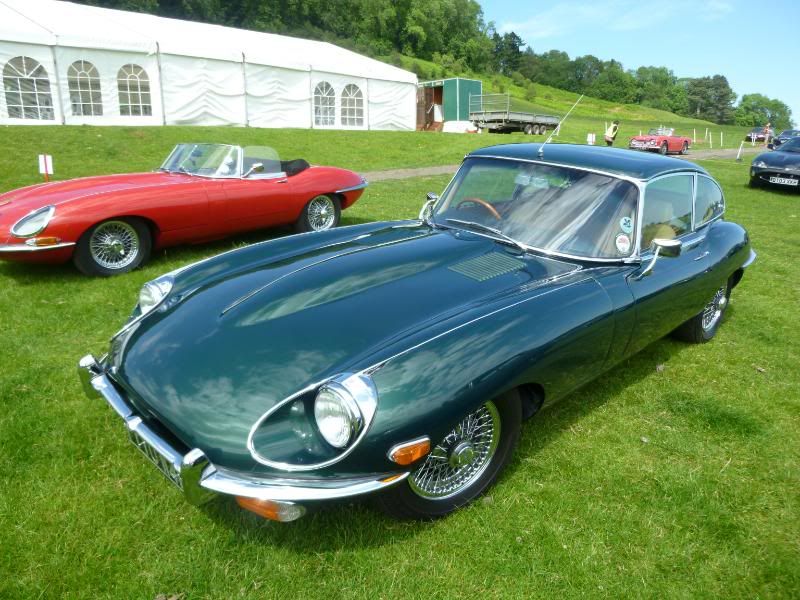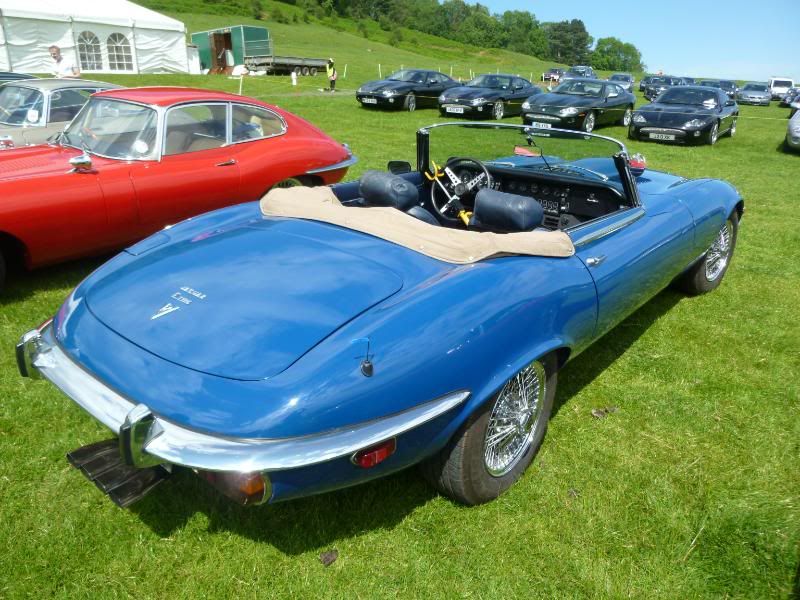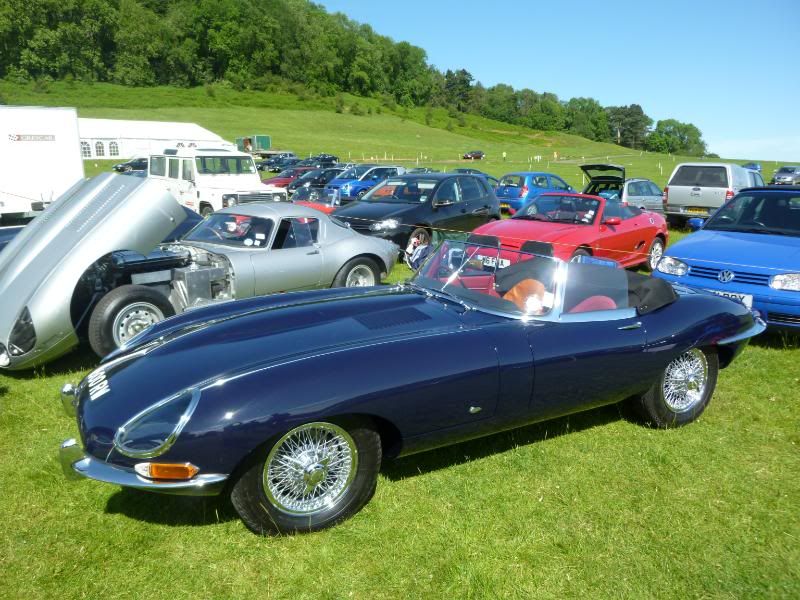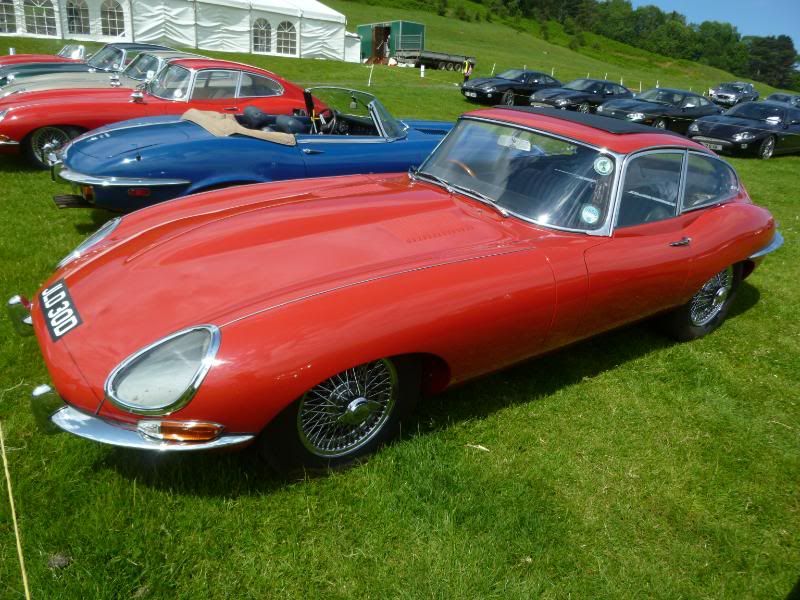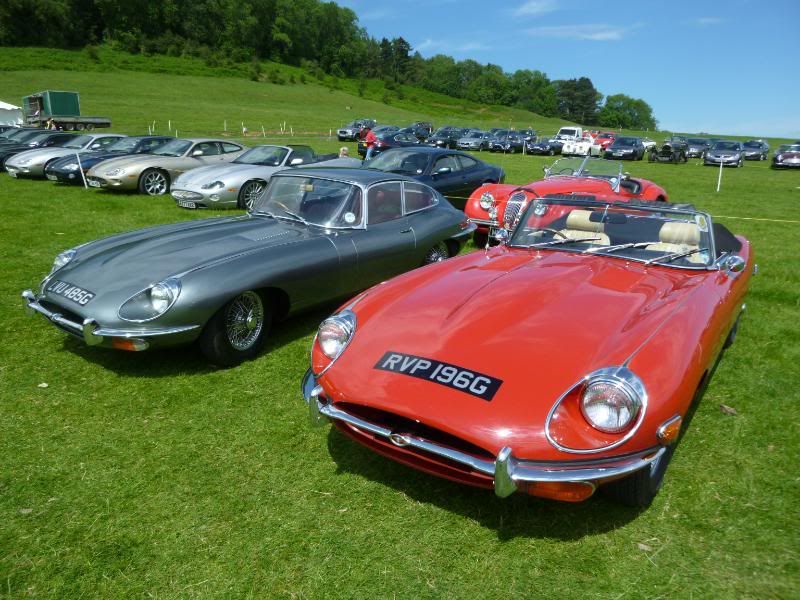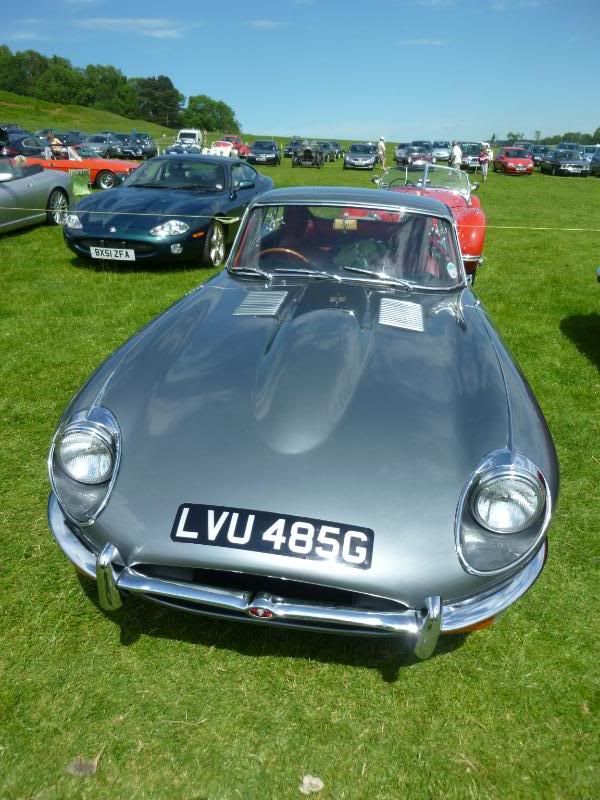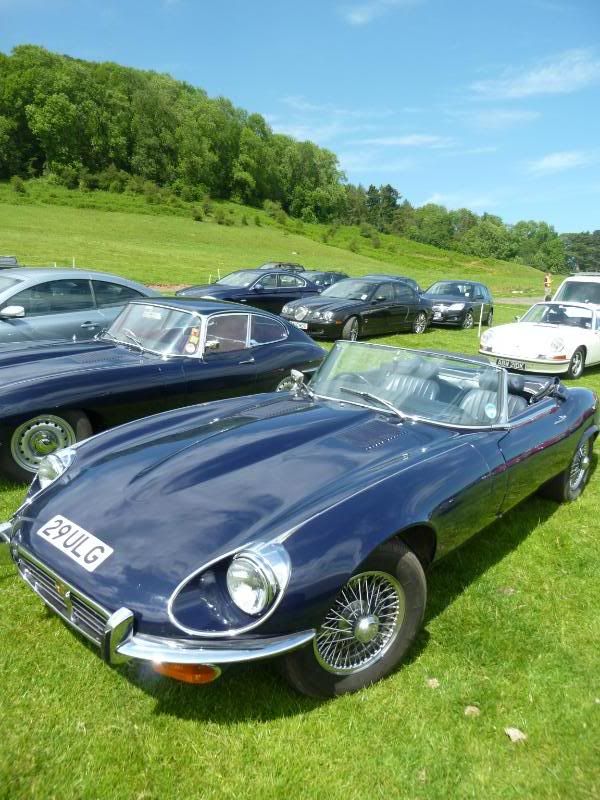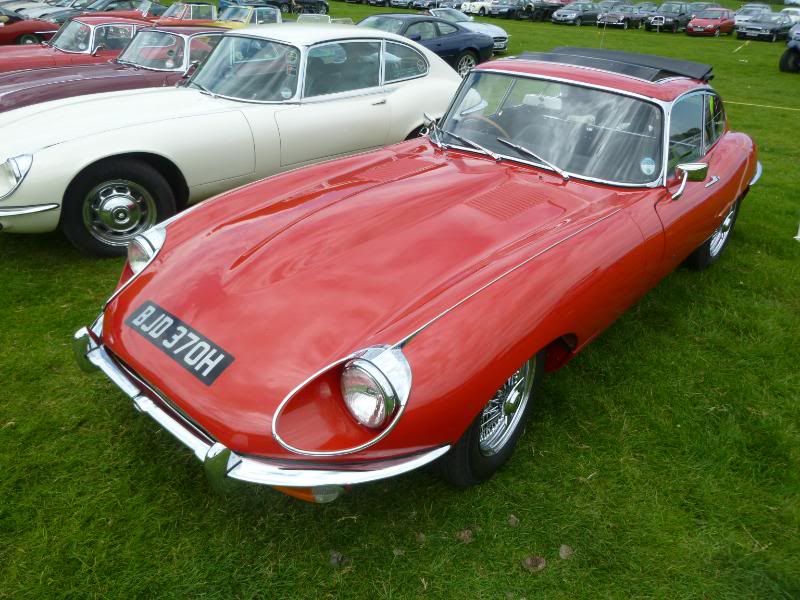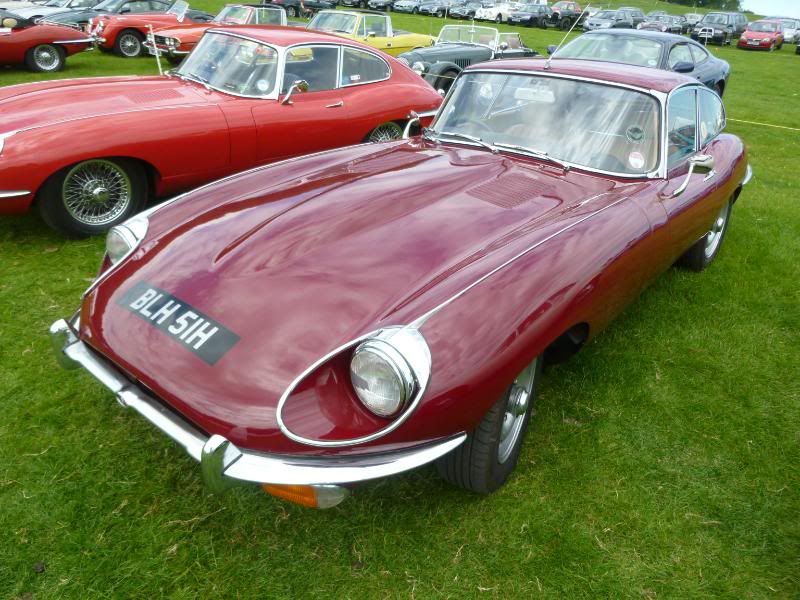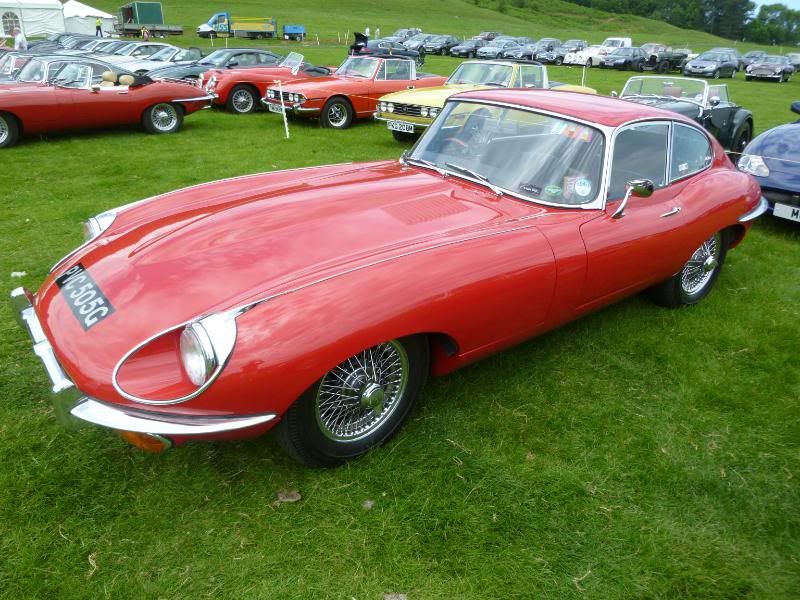 This is a very famous car indeed, the lightweight Lindner-Nocker E Type. Fresh from a comprehensive restoration, and I do mean restoration not rebuild, this car has a real history to it. Raced by Peter Lindner, the German Jaguar importer, and Peter Nocker, it was involved in a serious accident a few weeks after the 1964 le Mans campaign,and the remains were locked away for many years. Following some wrangling with the French authorities, the car was eventually recovered and brought back to the UK, where CMC, a leading E Type specialist has restored the car to its former glory, in a job that consumed over 5500 hours of work.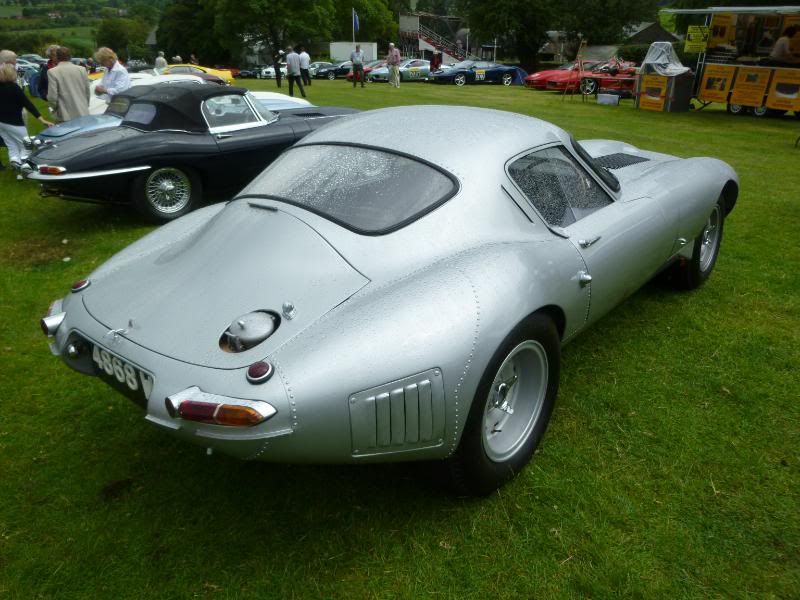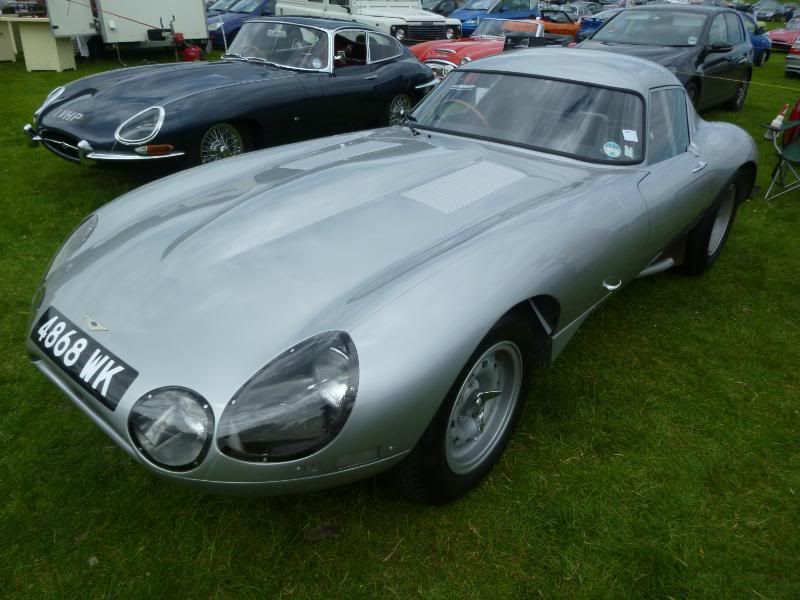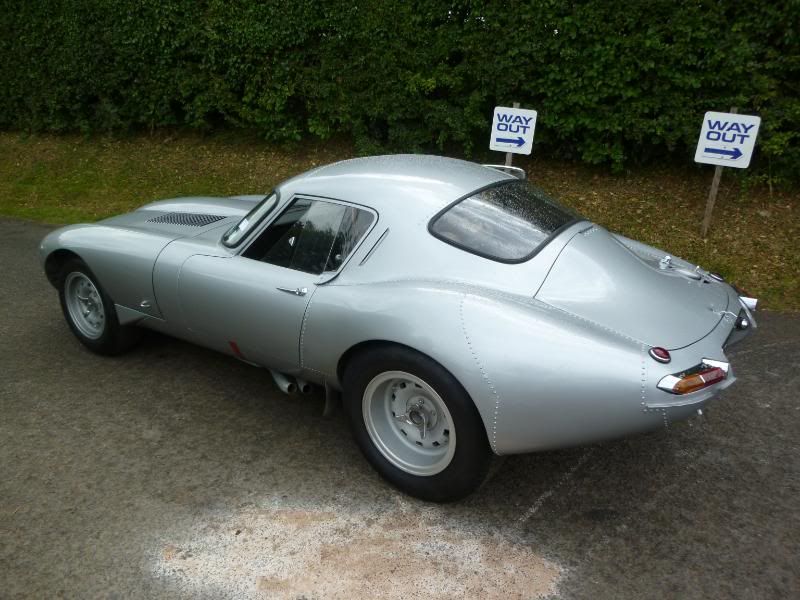 There were plenty of other classic Jaguars, including these famous XK models.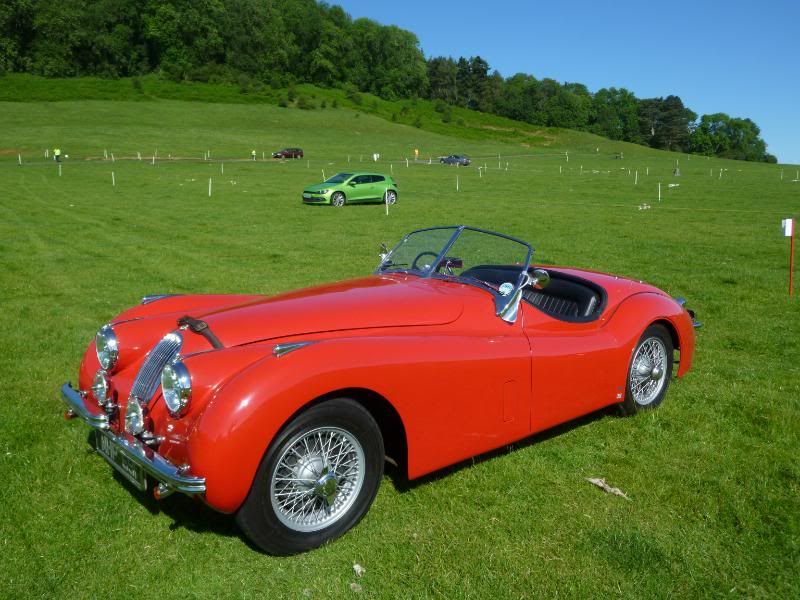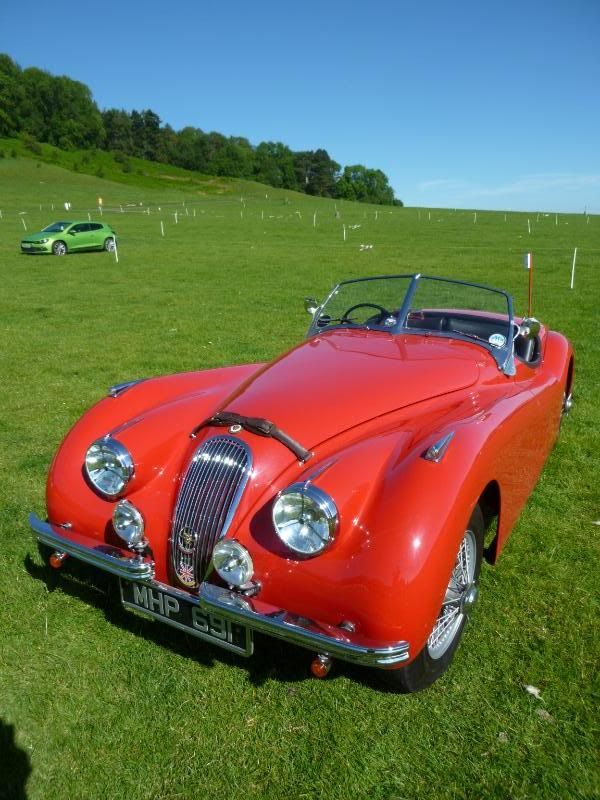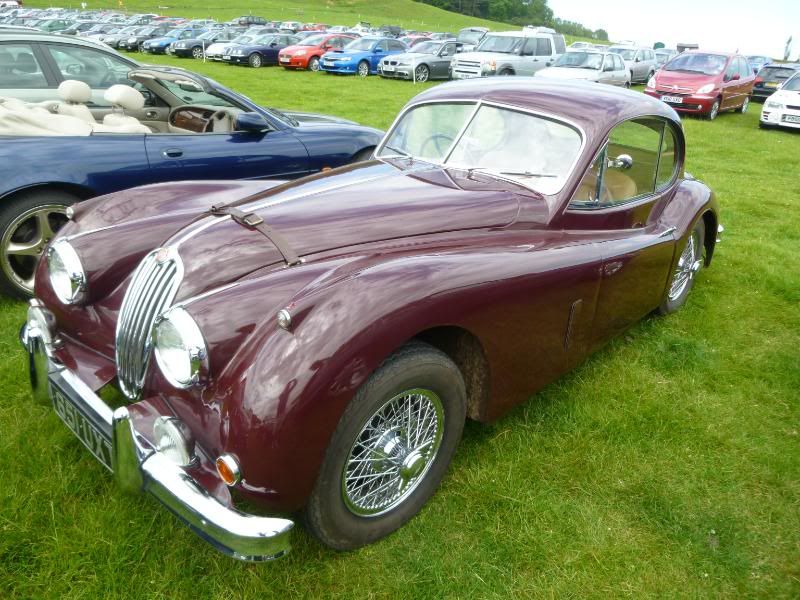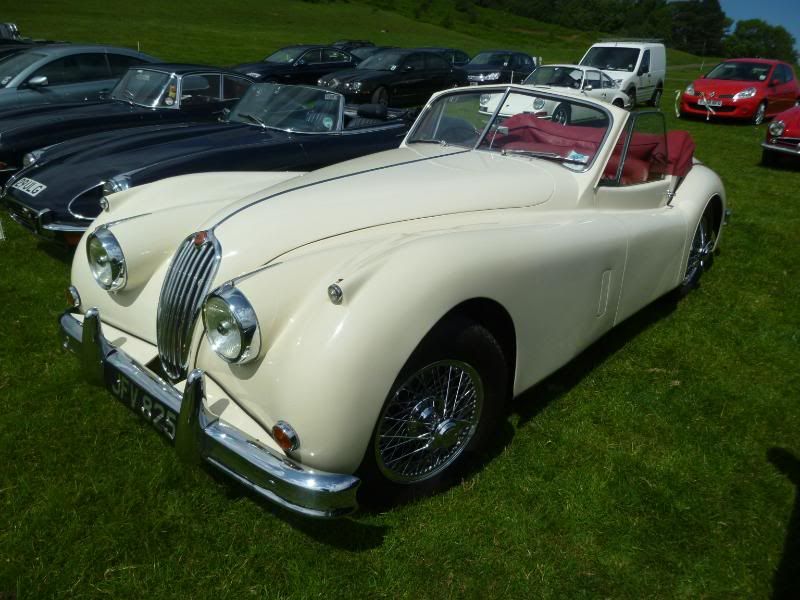 More recent cars included a line of XK8 models
A couple of C Types were in the car park. Although the works cars are the most famous, it should not be forgotten that Jaguar sold these cars to anyone with the (significant) wherewithal to buy one, and the majority of the cars were actually sold this way.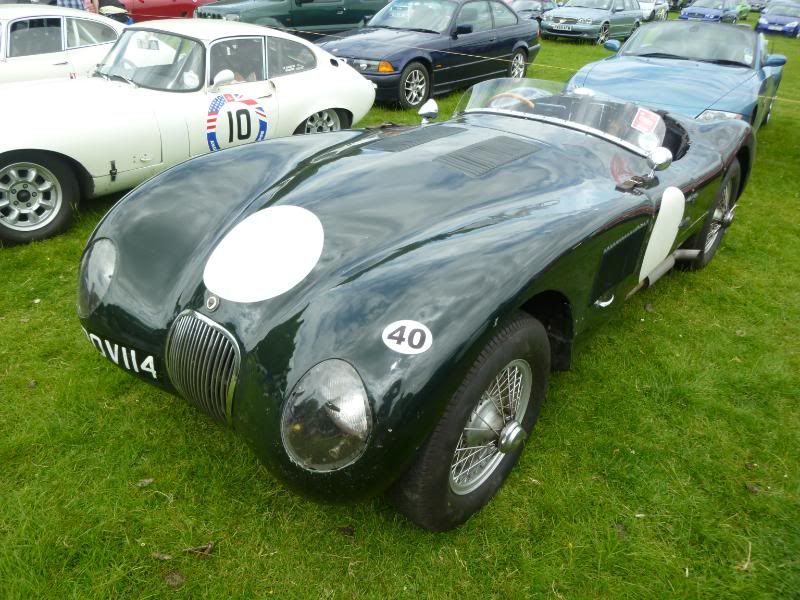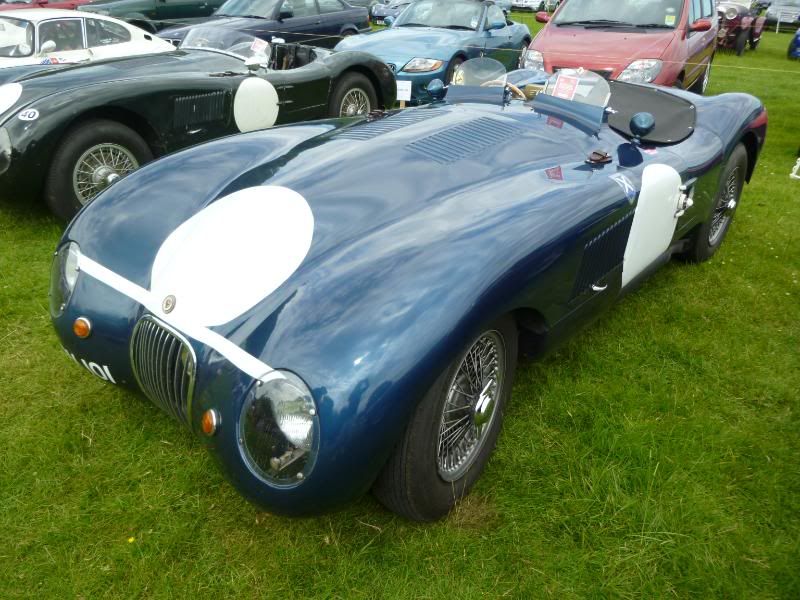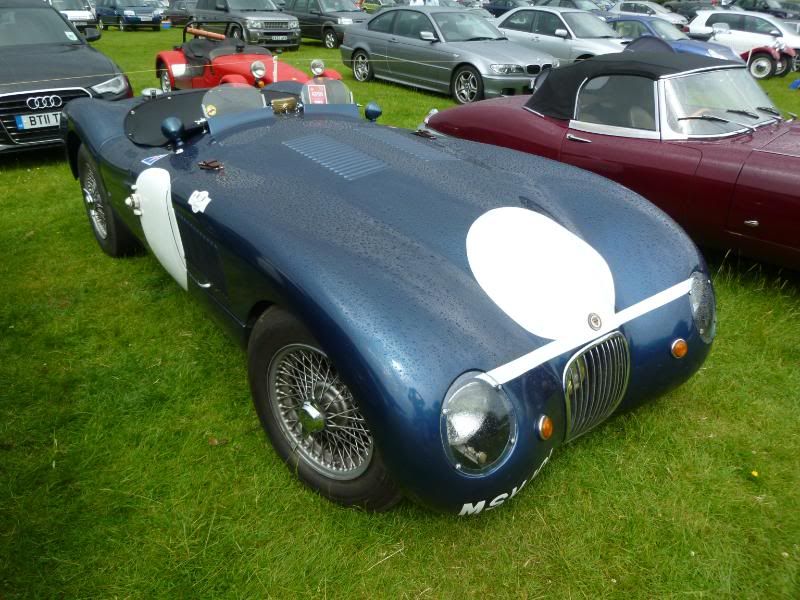 Other classic Jaguars included a few XJ-S, some Mark 2s and several XJ saloons.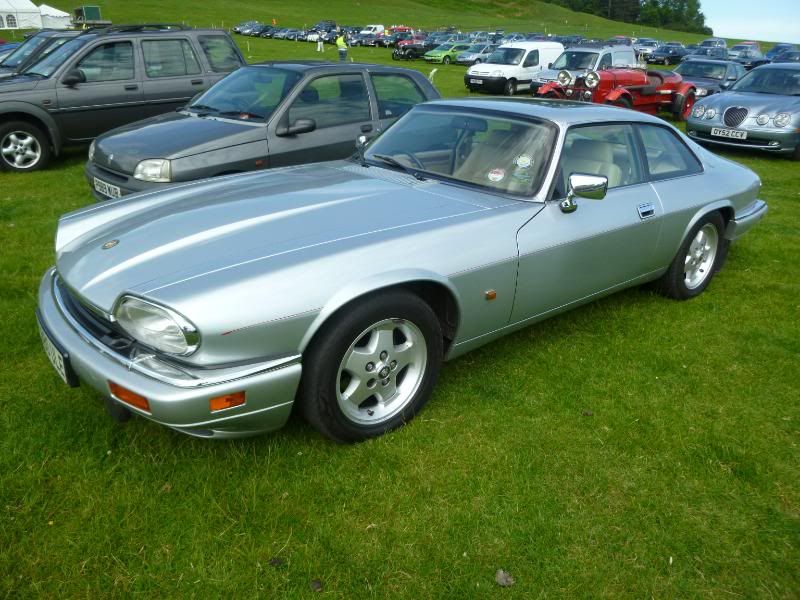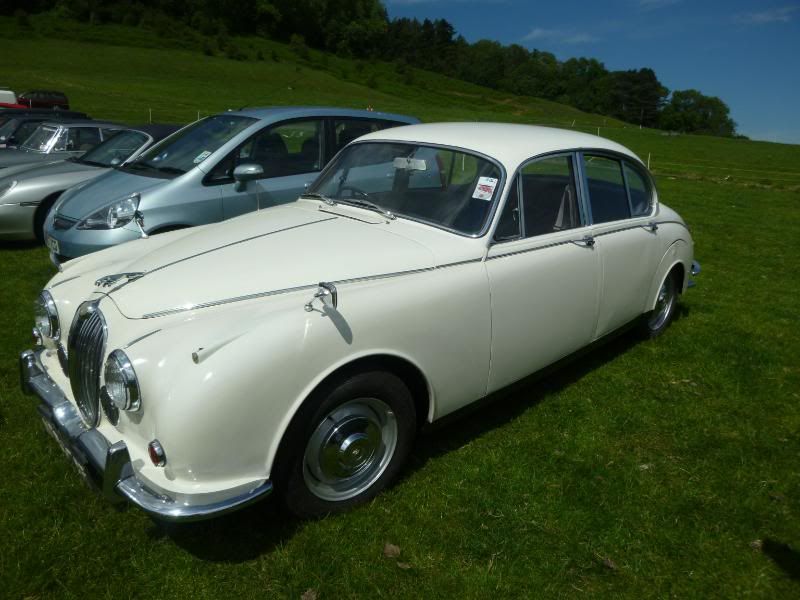 STRATSONE DISPLAY
Stratsone had a display of Land Rovers in the car park, and in front of the restored farm building that they own, were a range of the latest Jaguars.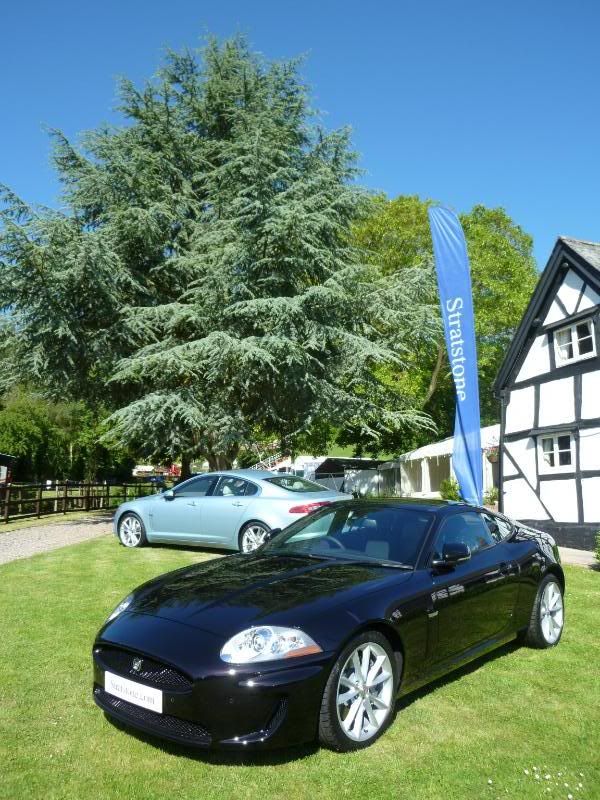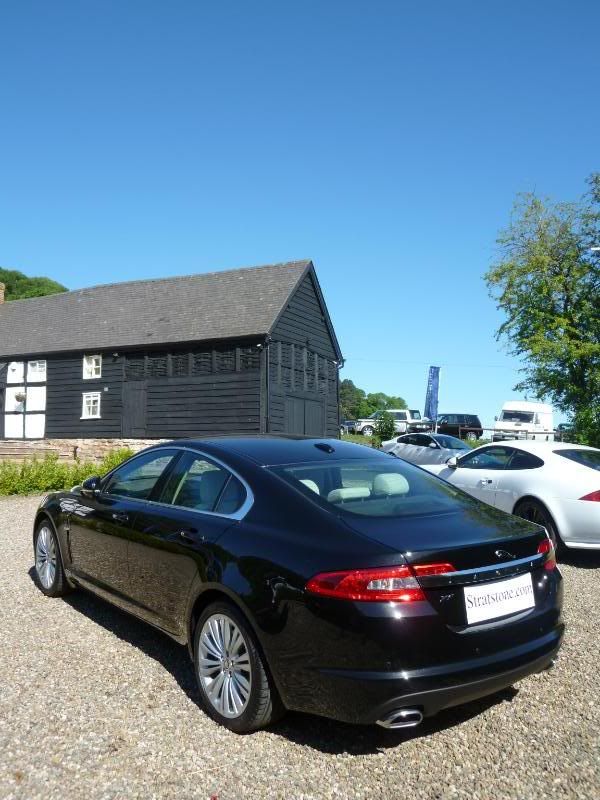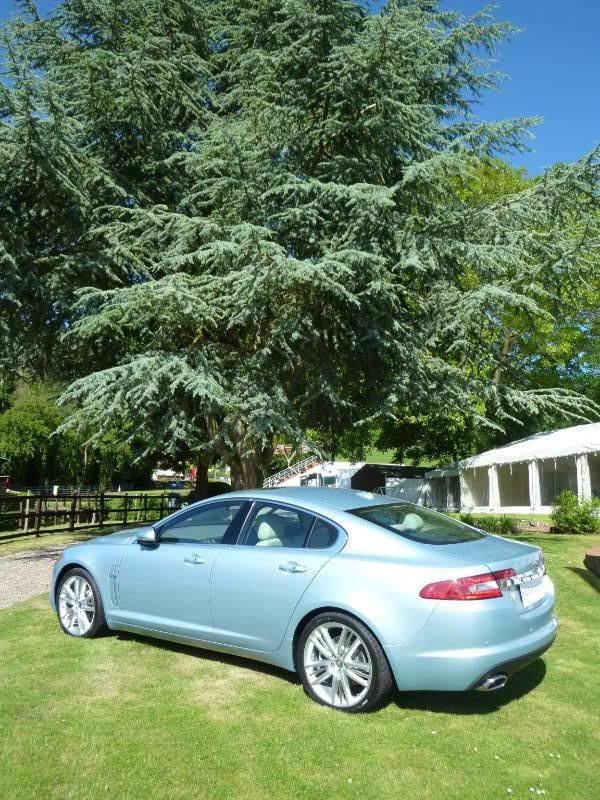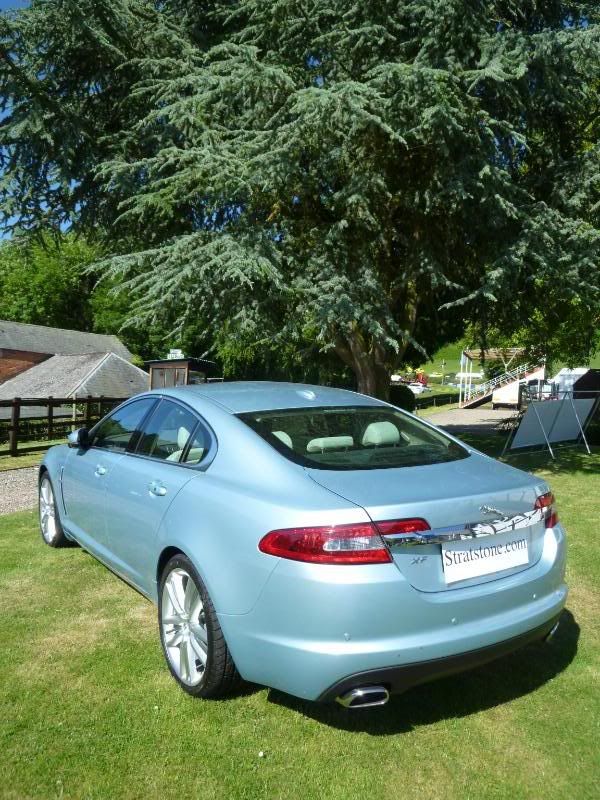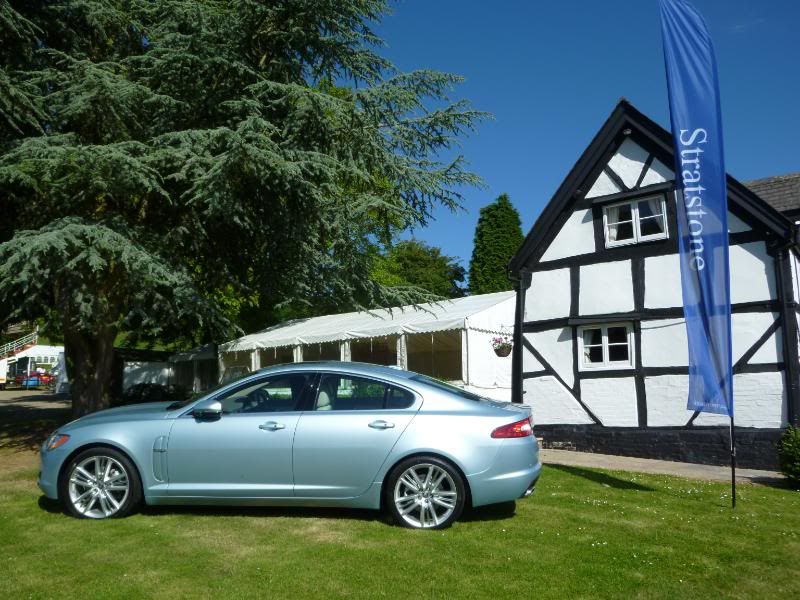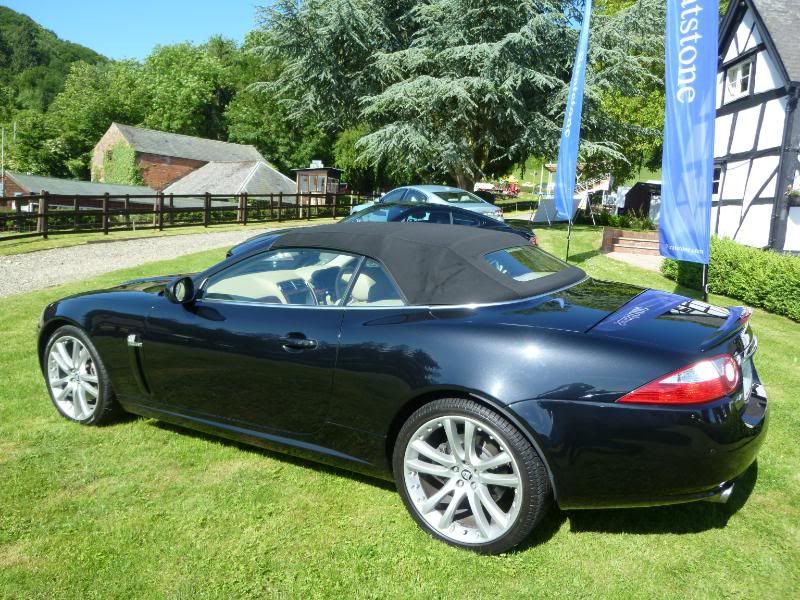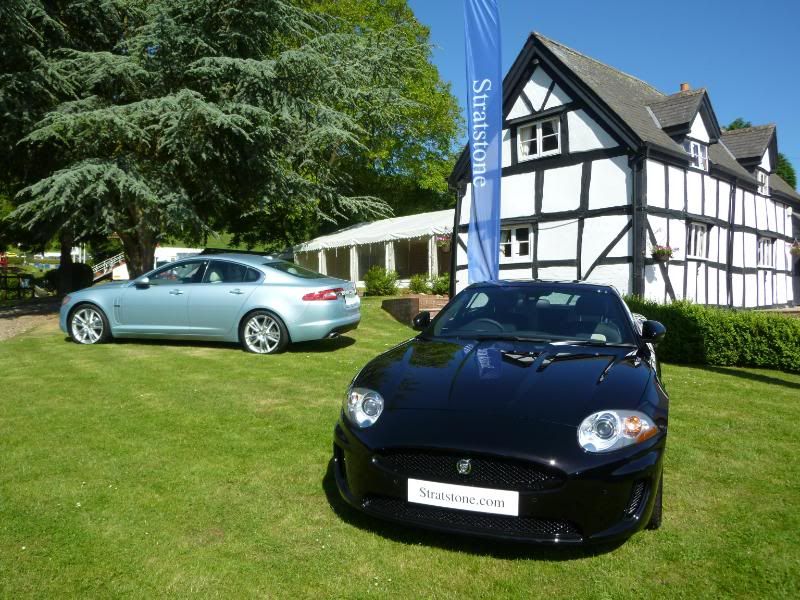 Most special of all the display cars was this, the original XJ13.,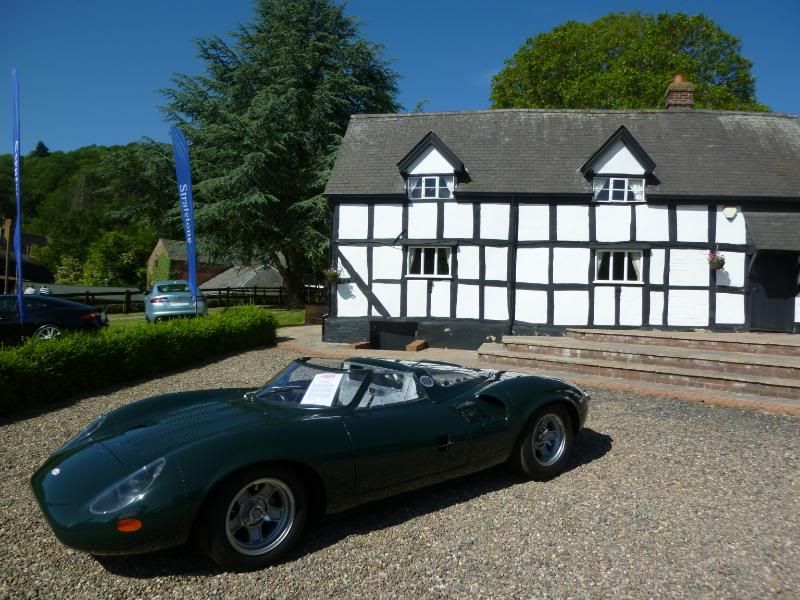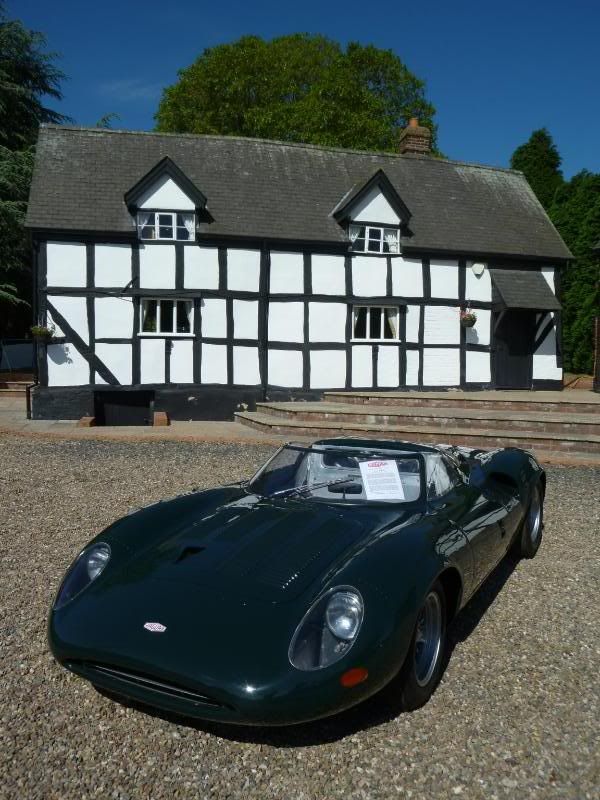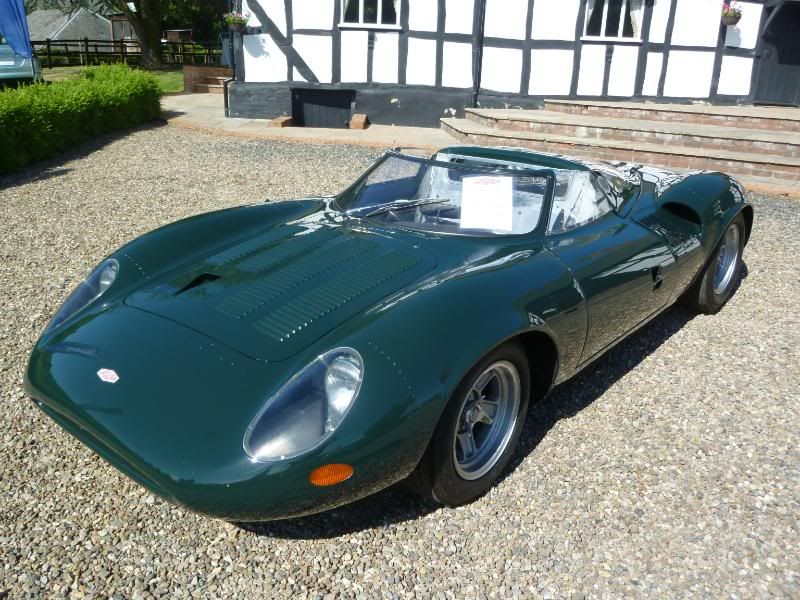 ON THE HILL
Course car was a special limited edition Stratsone Jaguar XF-R. The engine noise made by this car was simply to die for. Just awesome!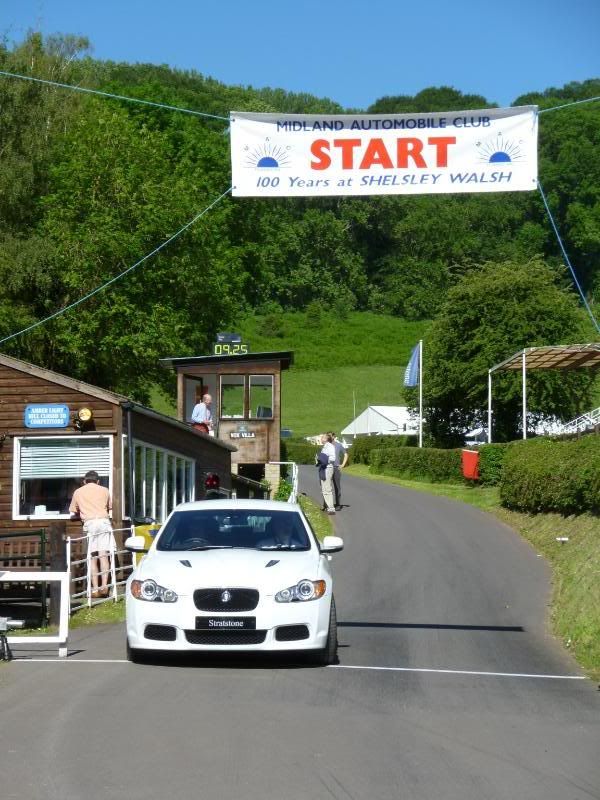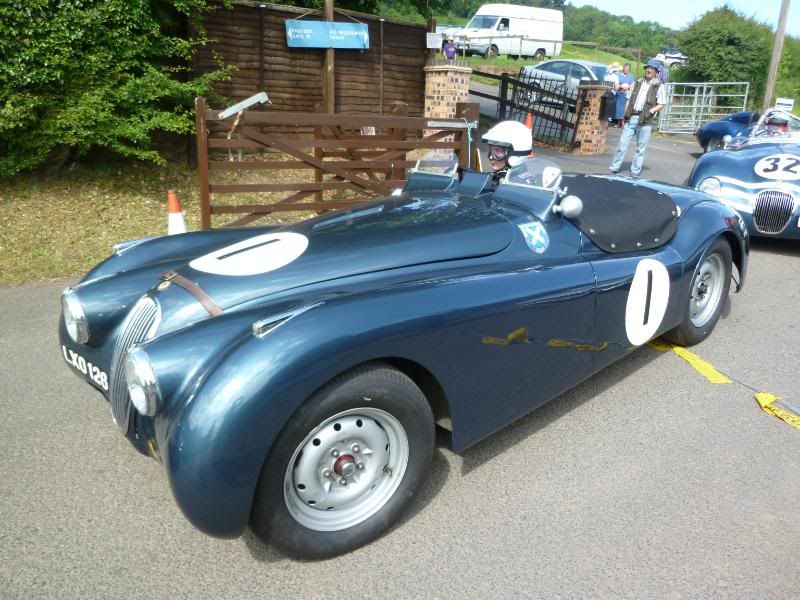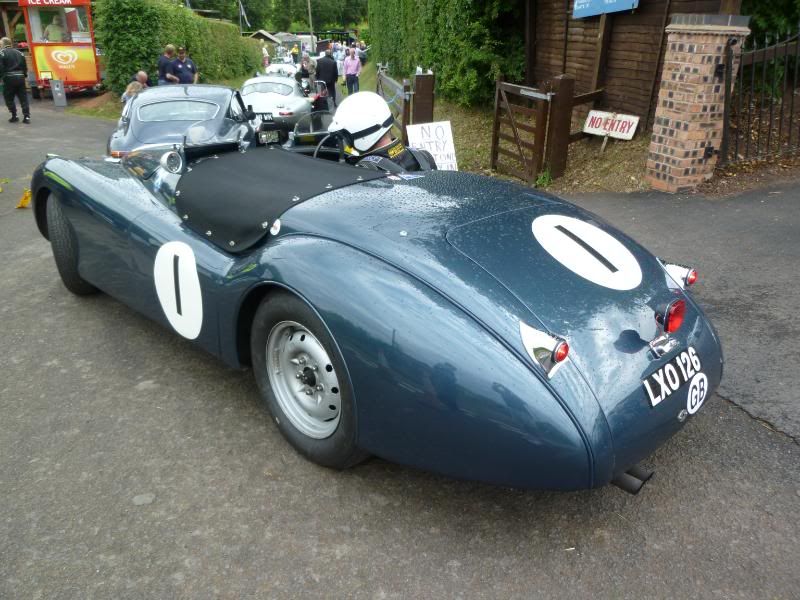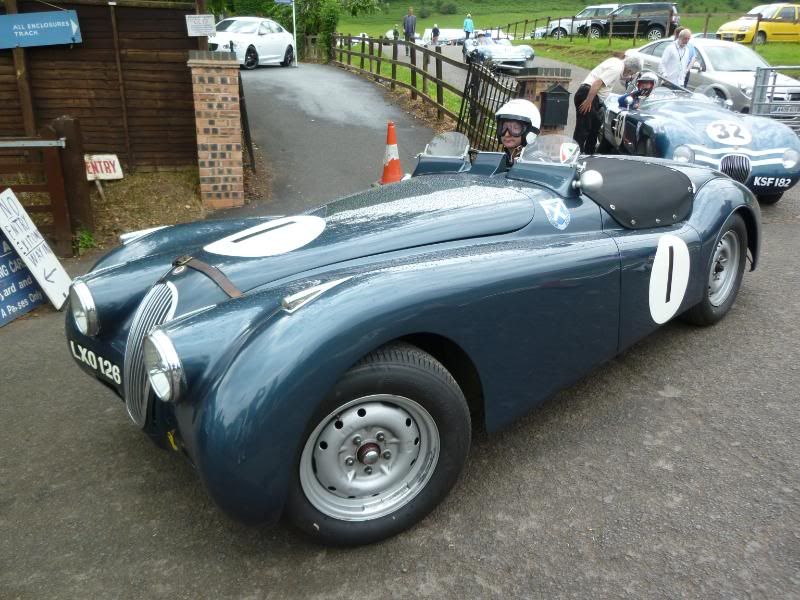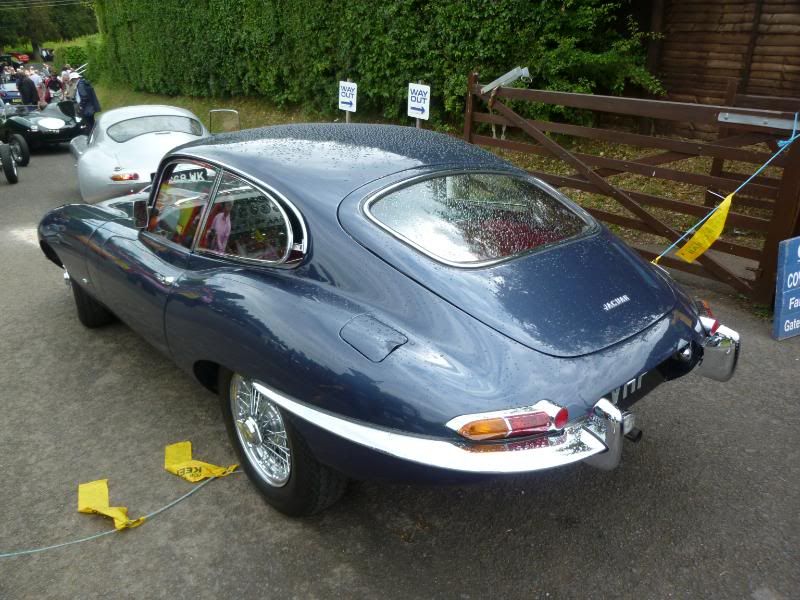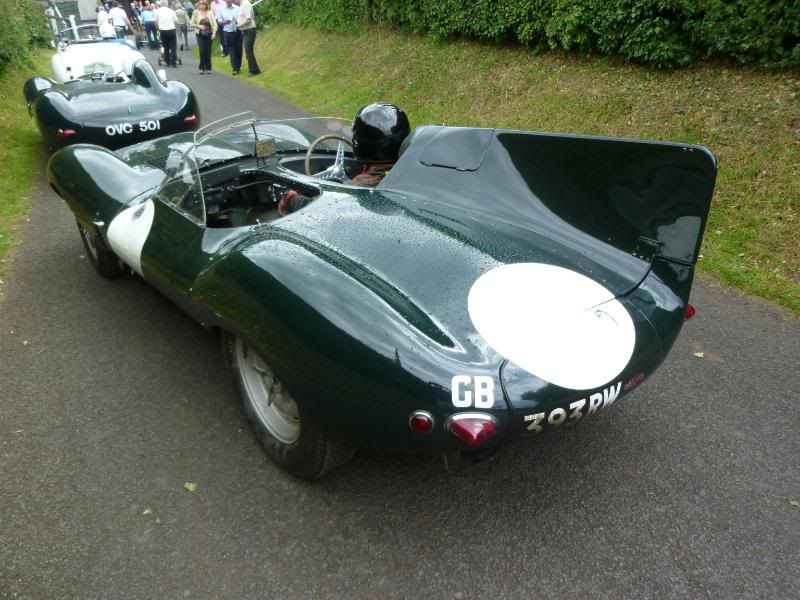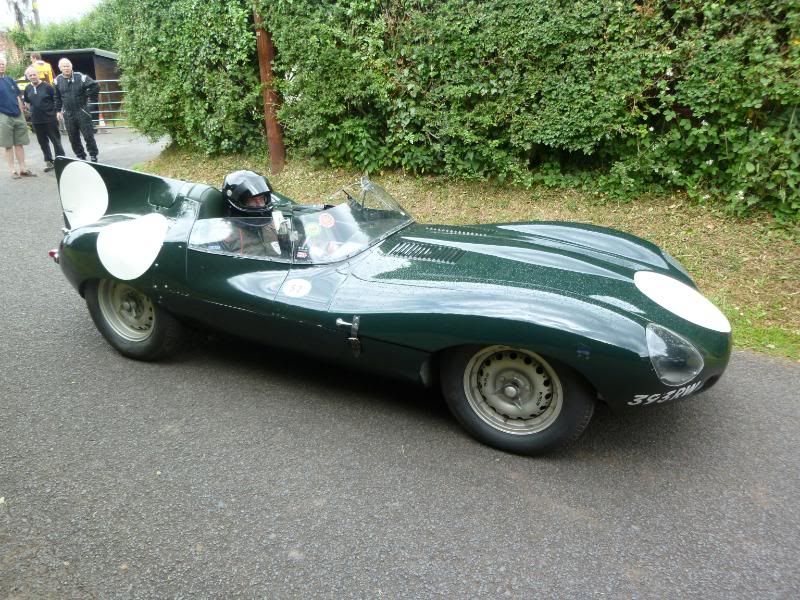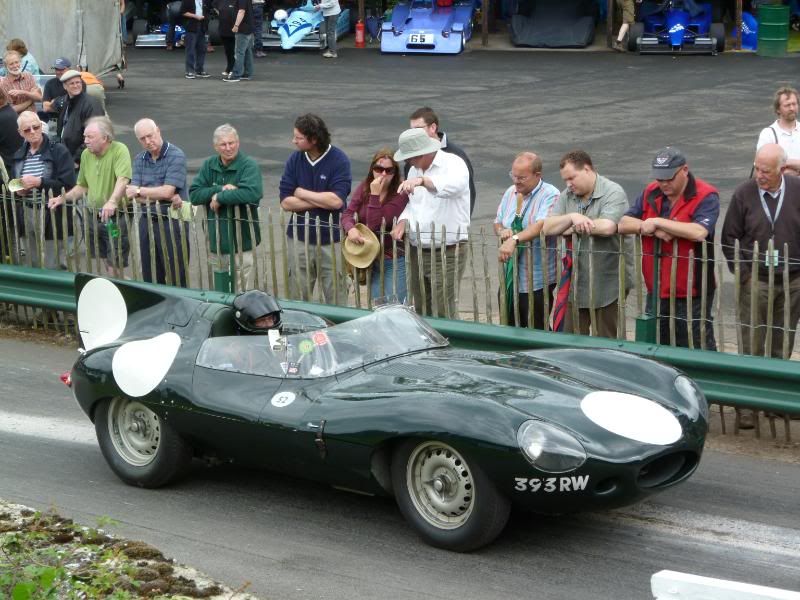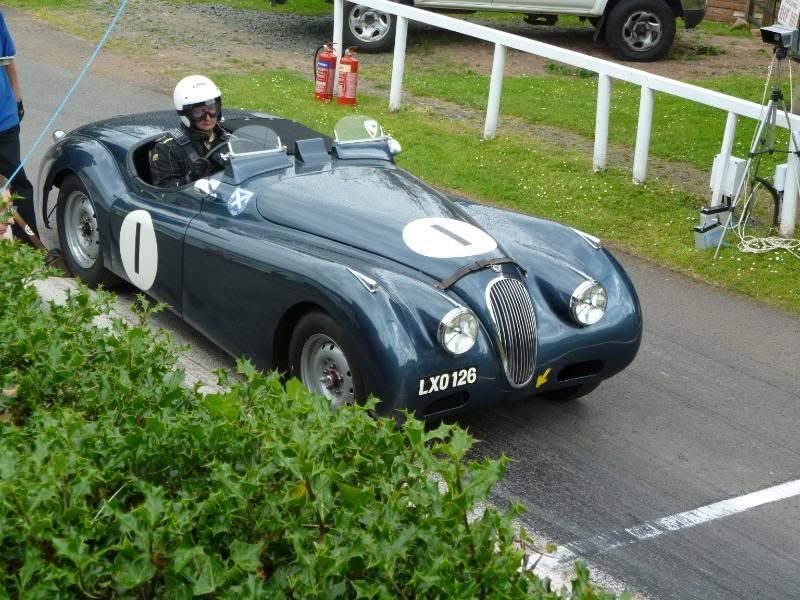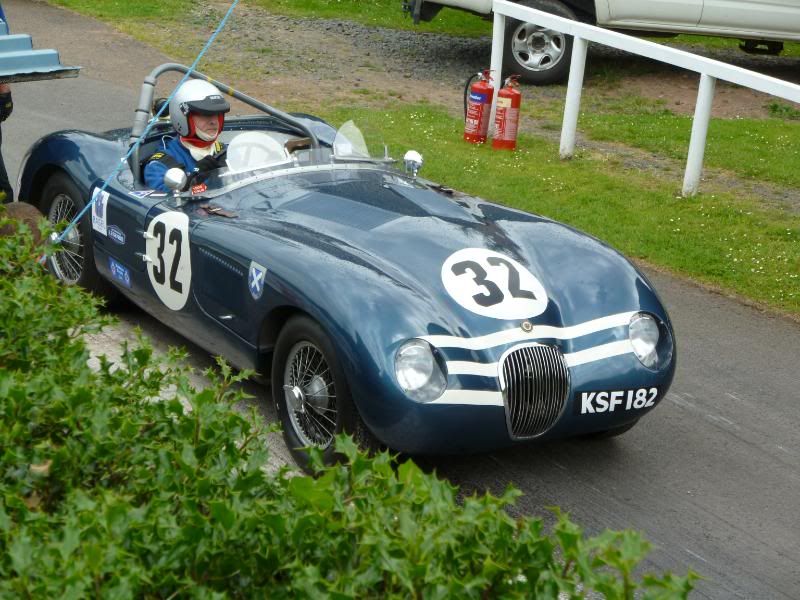 IN THE PADDOCK
As well as the special Jaguar events, the weekend marked a round of the Midland Hillclimbing championship, and a diverse variety of cars were to be found, competing for honours on the Hill.
We had spoken with the owner of this rather un-standard Smart at Prescott. This car has a 2 litre Toyota MR2 engine mounted in it, which gives it startling performance, and makes it quite hard to drive, as by the admission of its owner, it does not really handle at all, which is, as he said " part of the fun". Turns out that the owner is clerk of the course at Lofton Park, another really nearby Hill Climb, and a venue worth experiencing.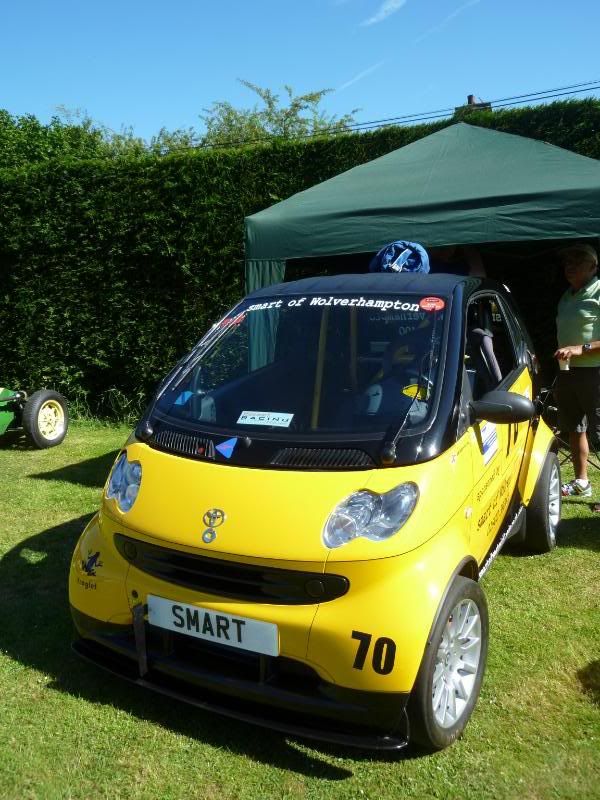 A number of the other competing cars had their origins in what once were "standard" road cars.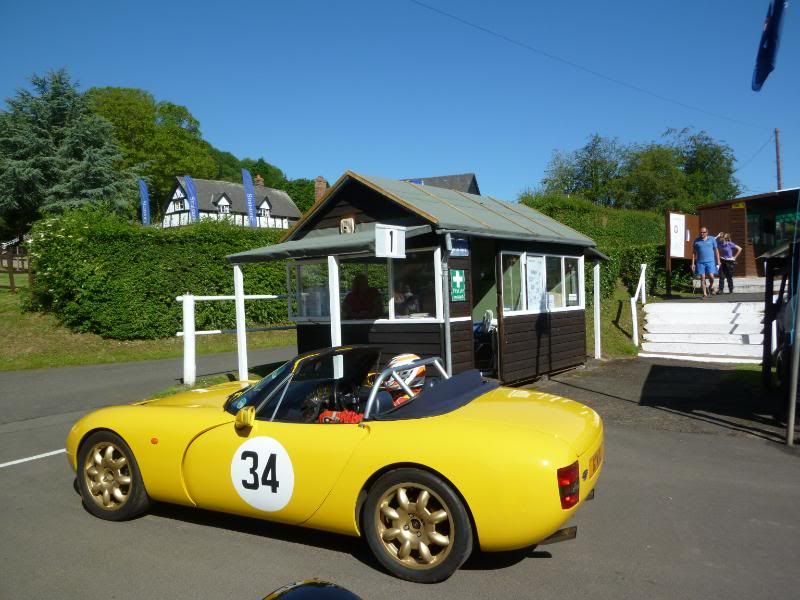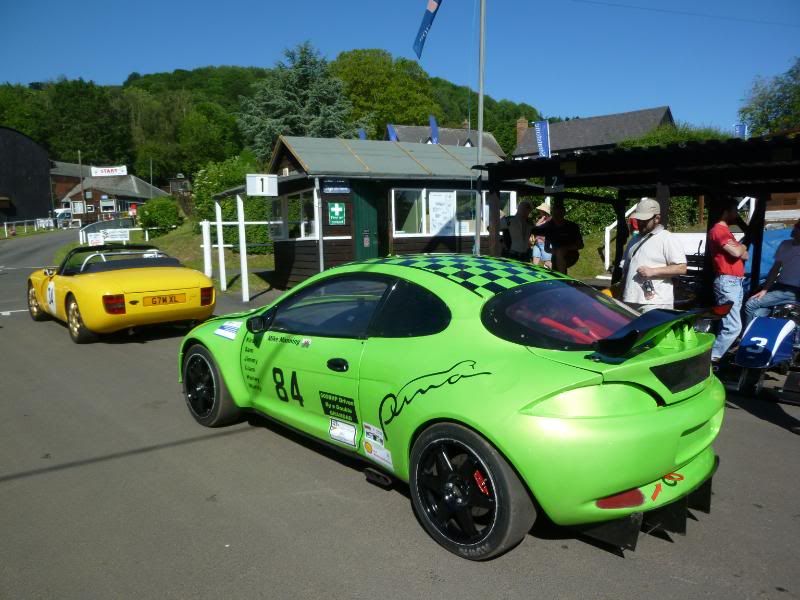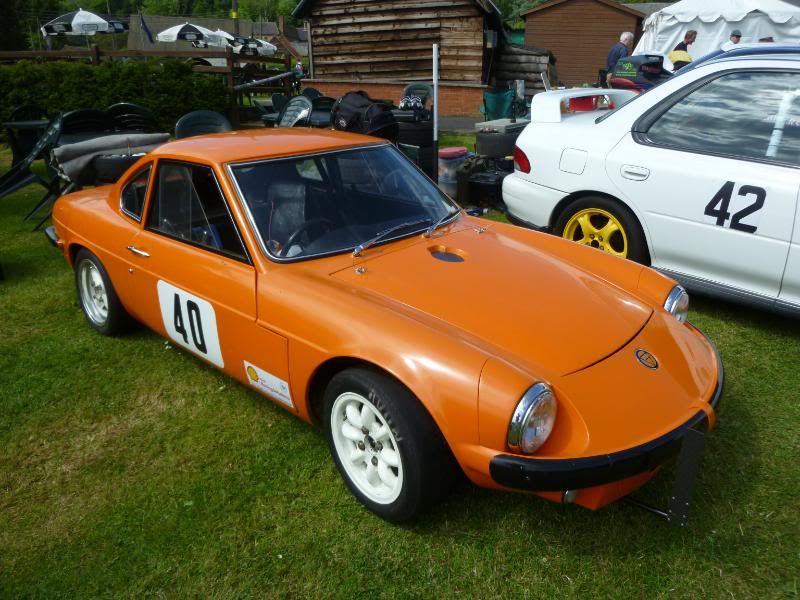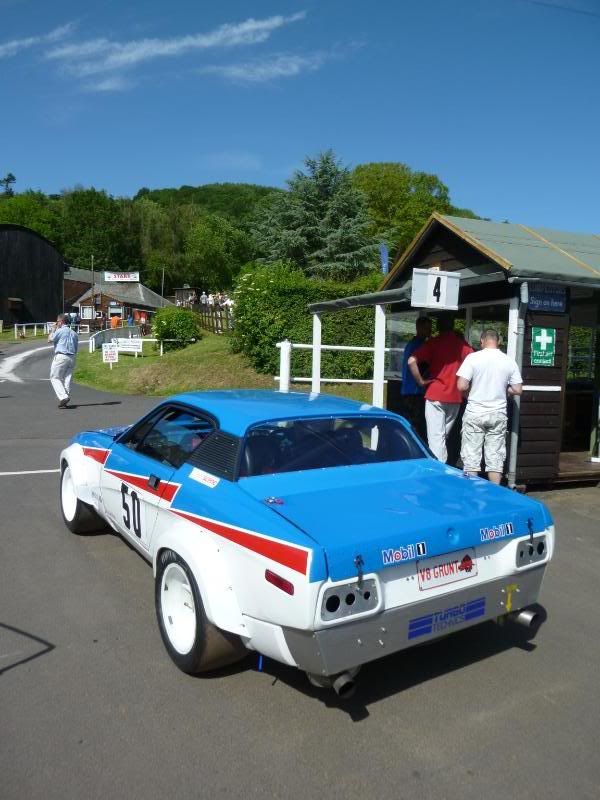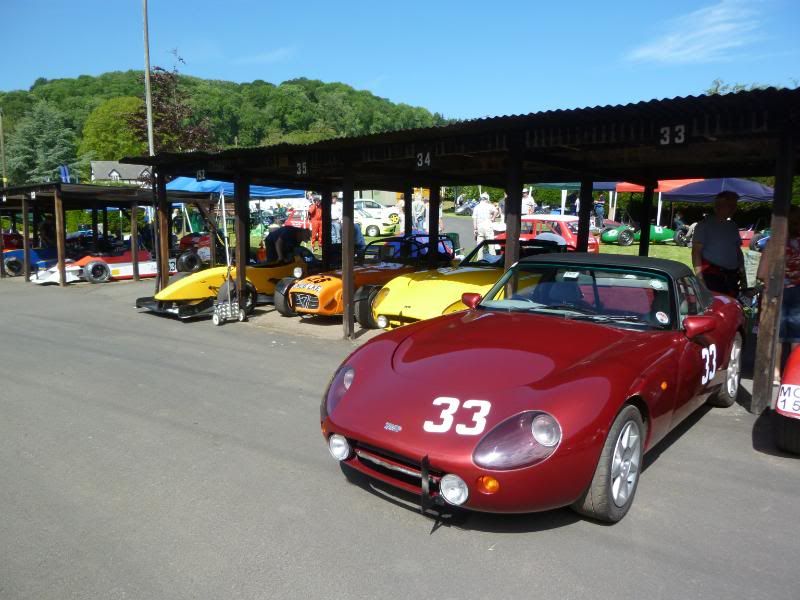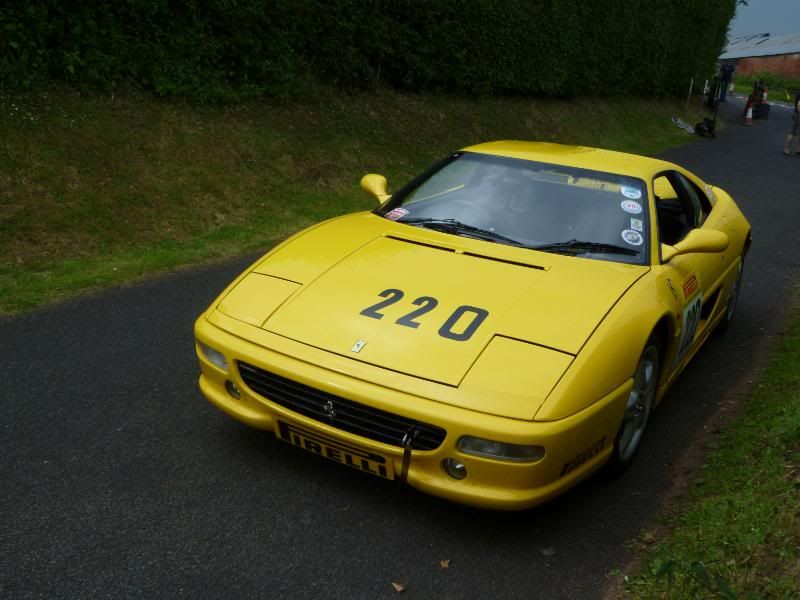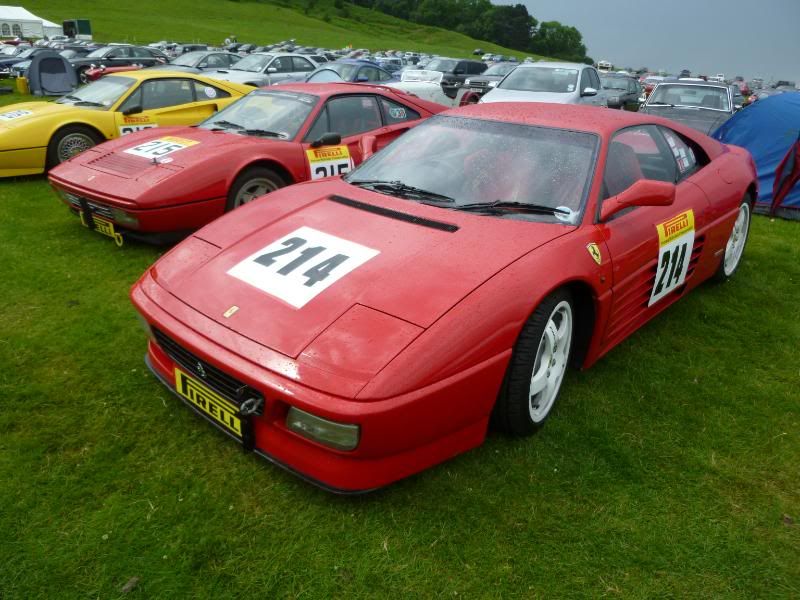 There were some classic Jaguars competing for honours, too.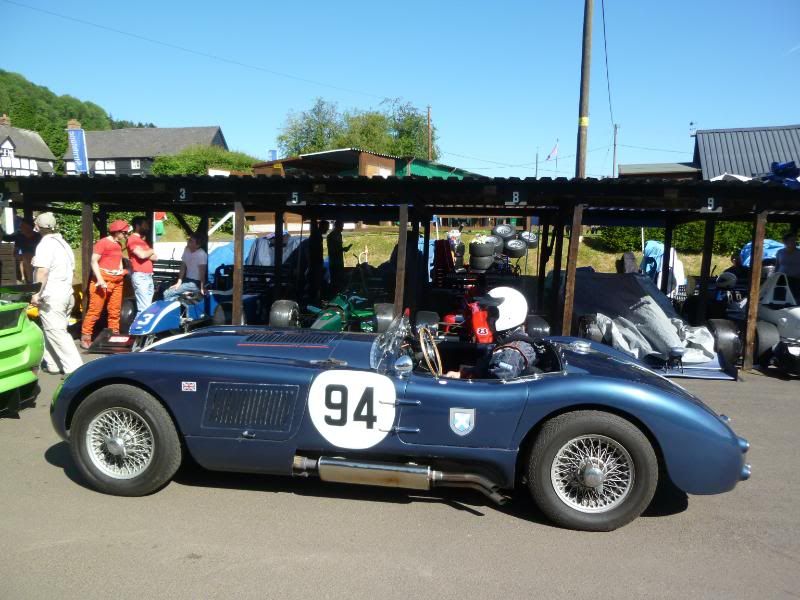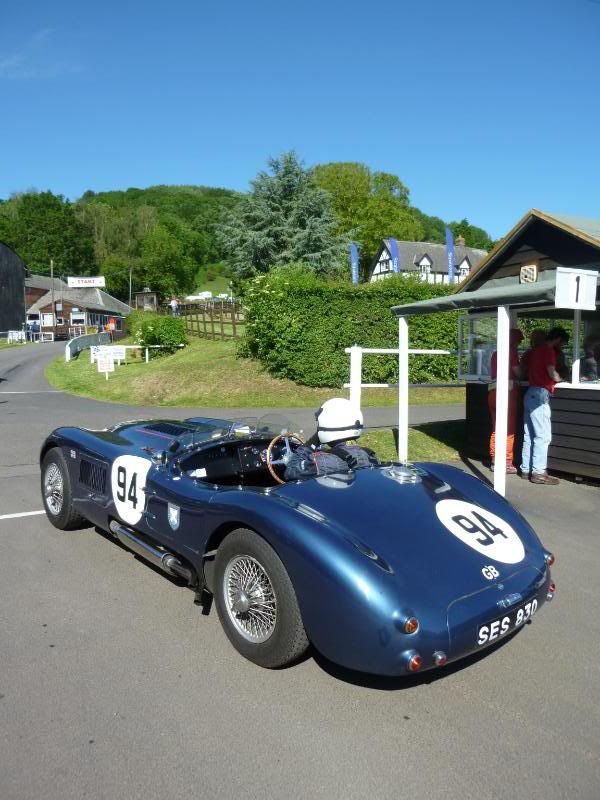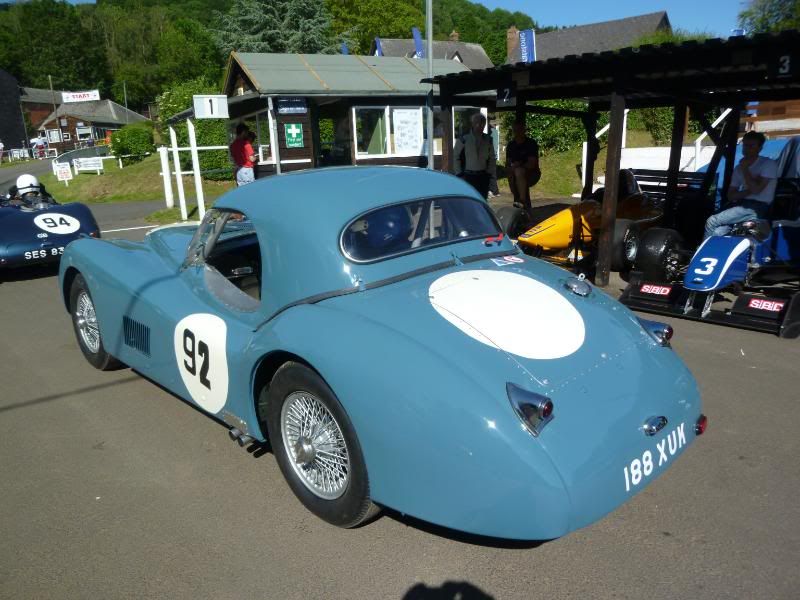 Some of the cars were purpose designed racers and hill-climbers.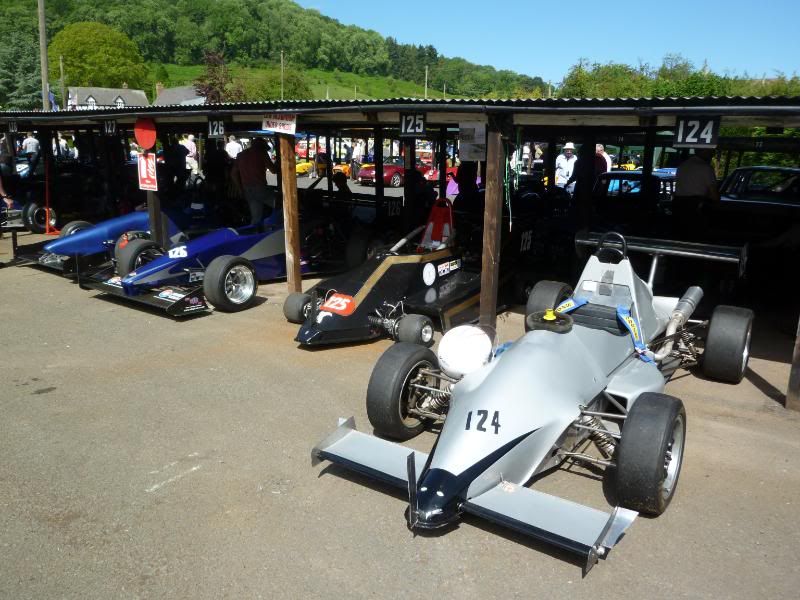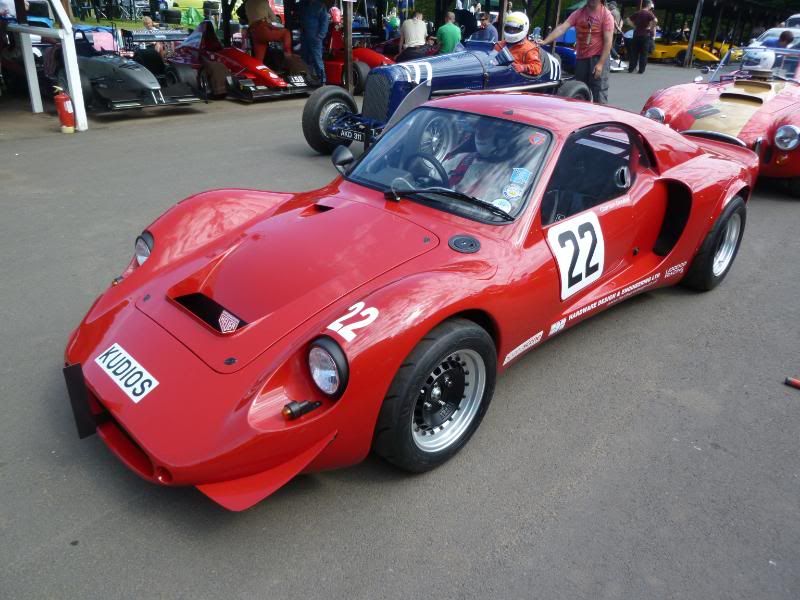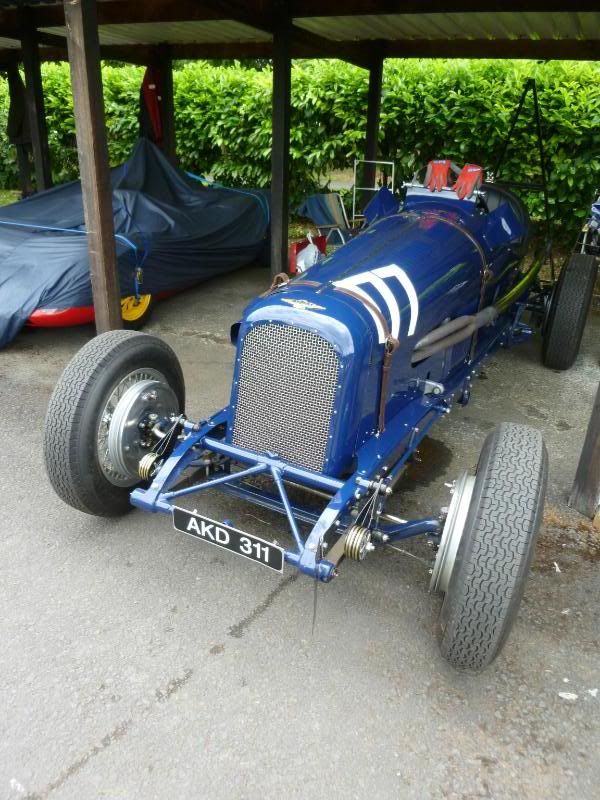 These 500s were both nimble and brisk, given their diminutive size and tiny engines.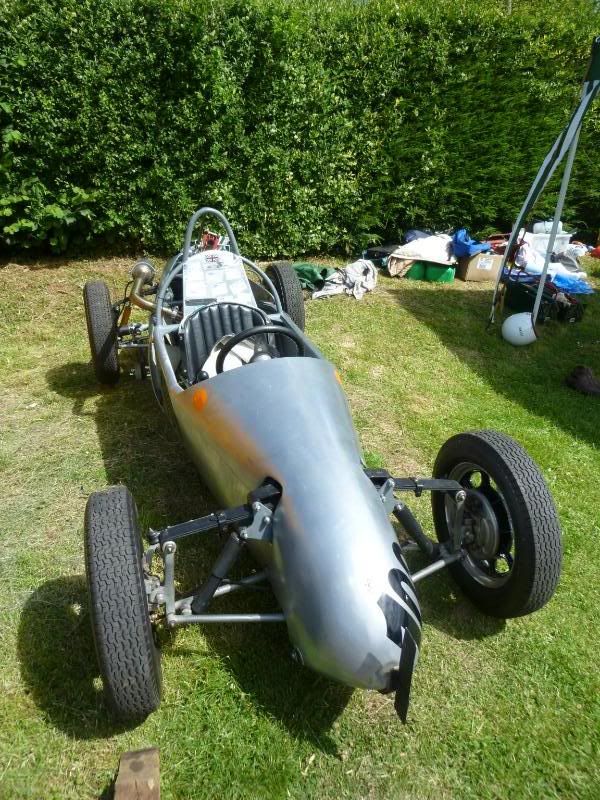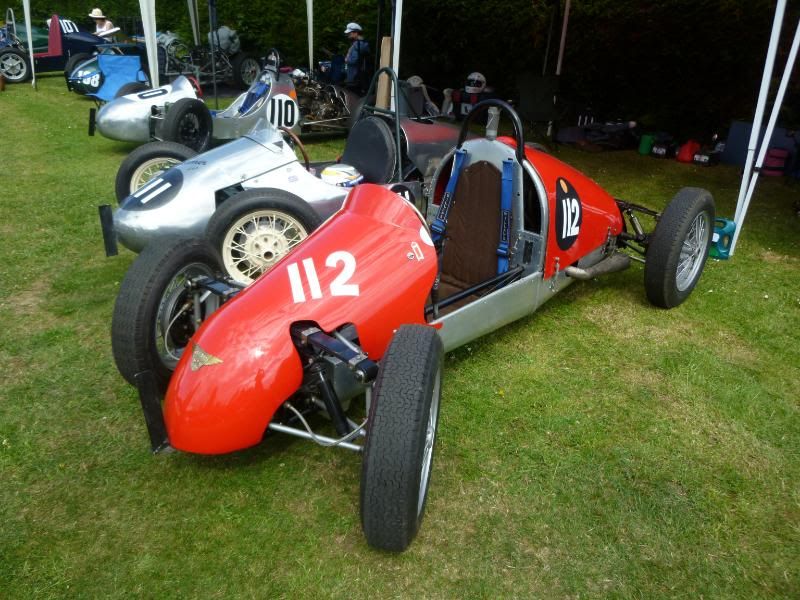 This HWM based car is the Stovebolt Special, property of Simon Taylor of Haymarket publishing fame.
IN THE CAR PARK
An Abarth 500. Not sure to whom this car belongs, as he has not responded on Abarthisti in the "Today I saw" section. The car sported a windscreen tag indicating that the owner is a member of the Midland Auto Club.
I was talking to the owner of the red Alfa Giulia Spider, complimenting him on his car, and in typical self-effacing style, all he said was the he tries to keep it looking nice. He told me that there are no problems in sourcing mechanical components but body work and trim is hard to come by, so he simply has to be careful! Not long after talking to him I spotted a second Giulia had arrived.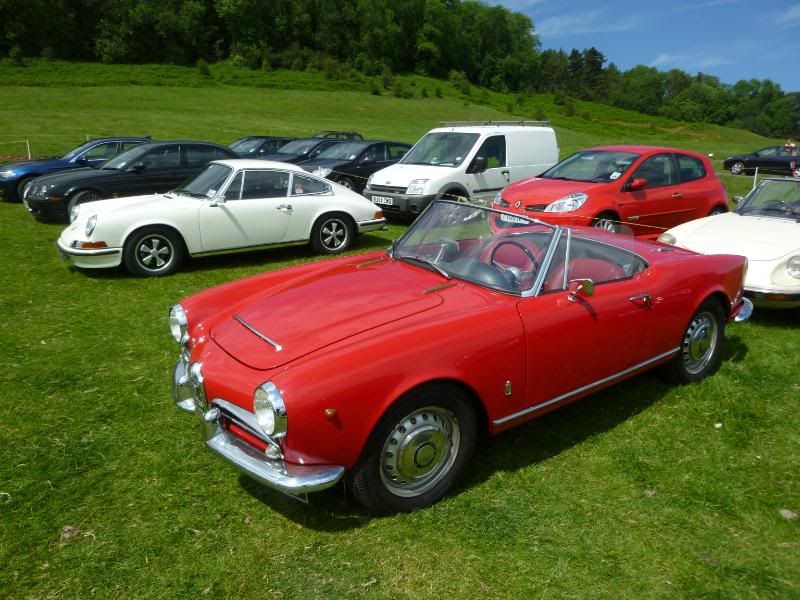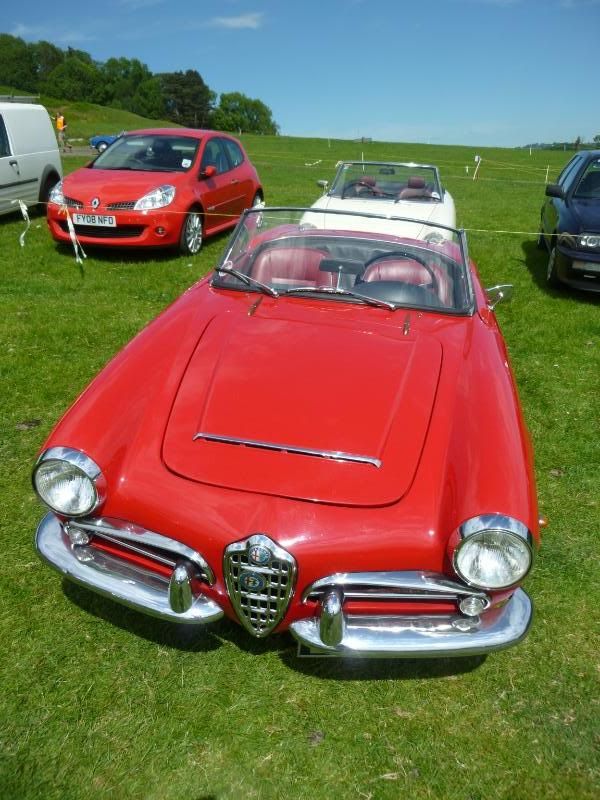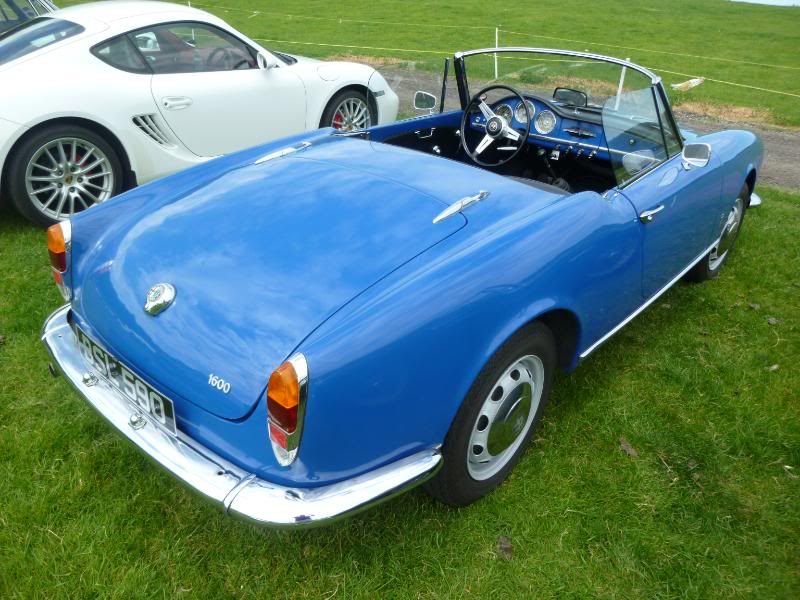 Other Alfas included this very period brown hued Alfasud Sprint, from the time before Alfa ruined the styling with superfluous body kits and unnecessary plastic, and a Spider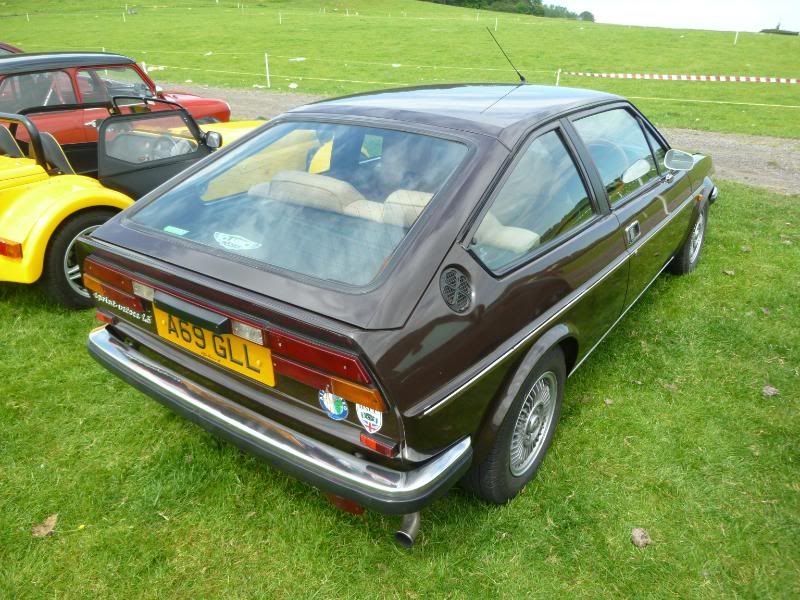 Aston Martin DB6
This Aston Martin Cygnet was attracting plenty of interest. I am led to believe that this is a customer car, not a factory owned demonstrator. Opinion was generally quite positive on the car, though the colour brought less praise.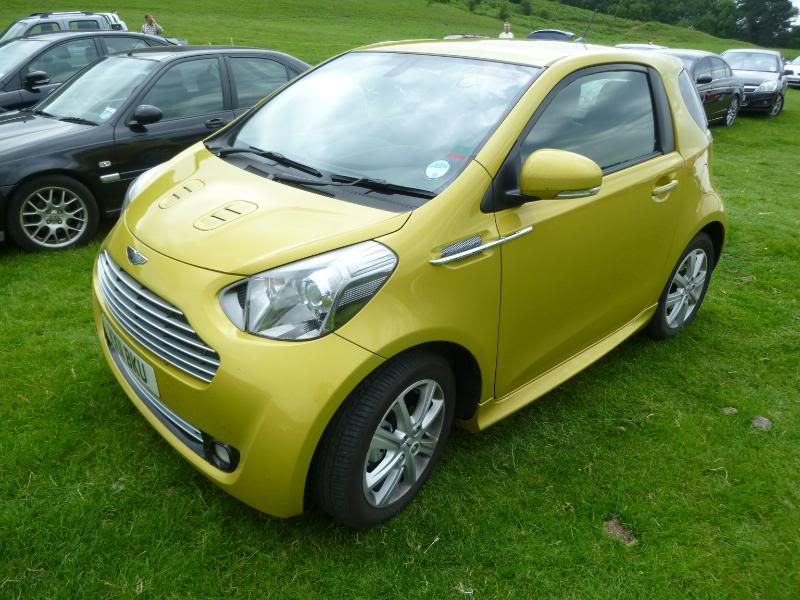 Audi RS4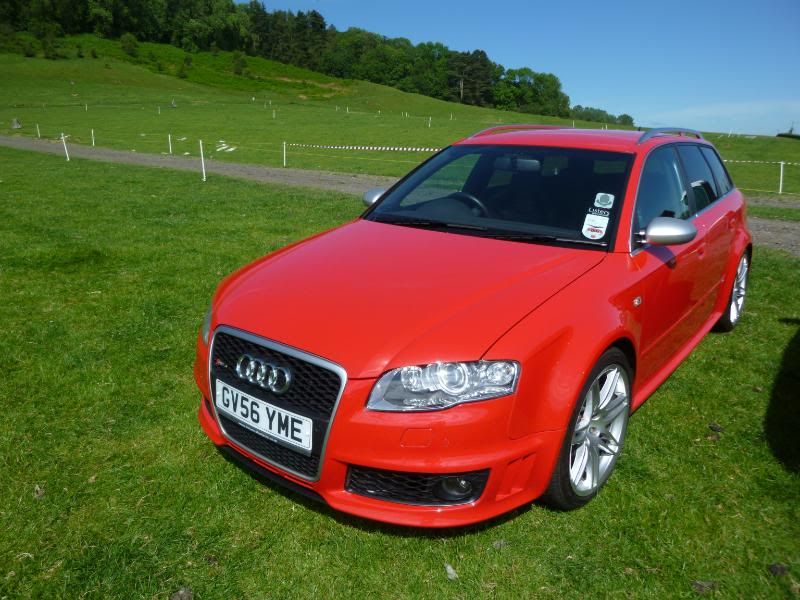 The Big Healey is so very British, that it seems entirely fitting that a few of these graced the car park.  
Dellow.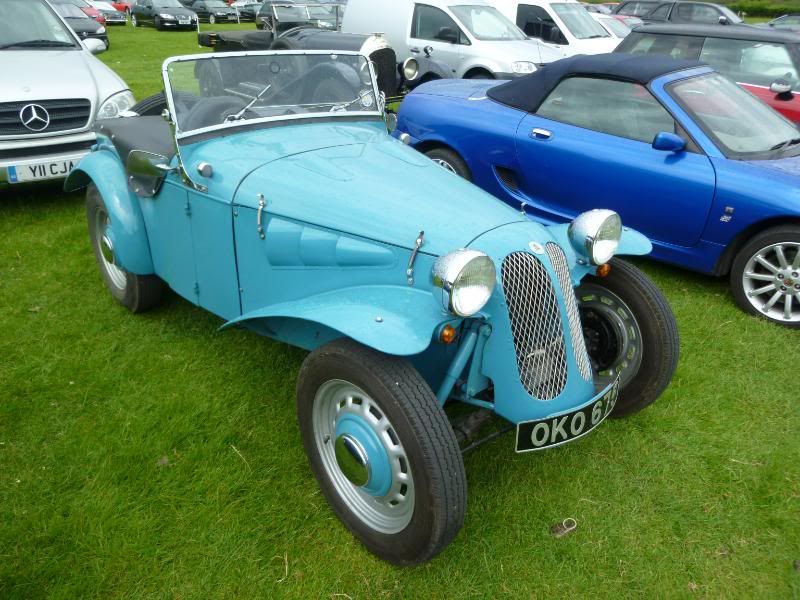 Fiat Barchetta
An HRG (red) and a Frazer Nash (green): English sports cars of the 1930s.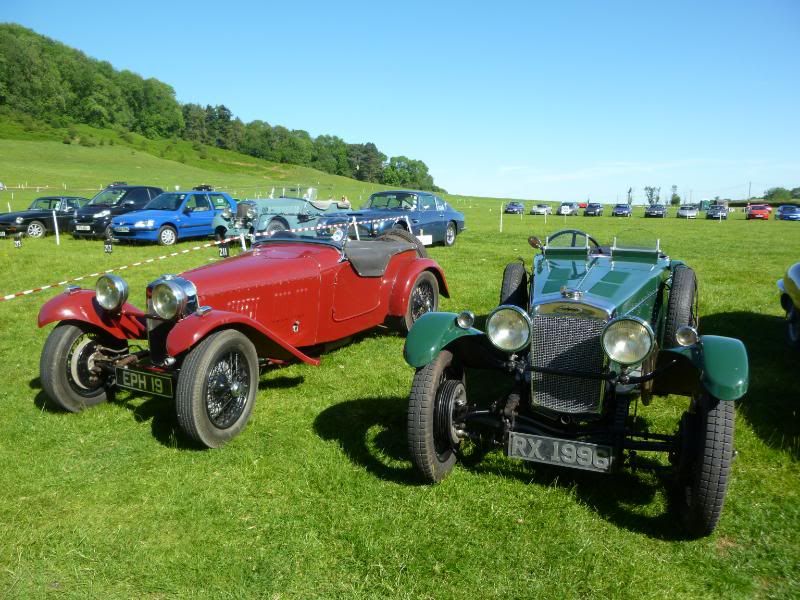 Whenever I have been to Shelsley, there has always been a good selection of Lagonda in the car park, and today was no exception, with several of these sporting machines from the 1930s in evidence.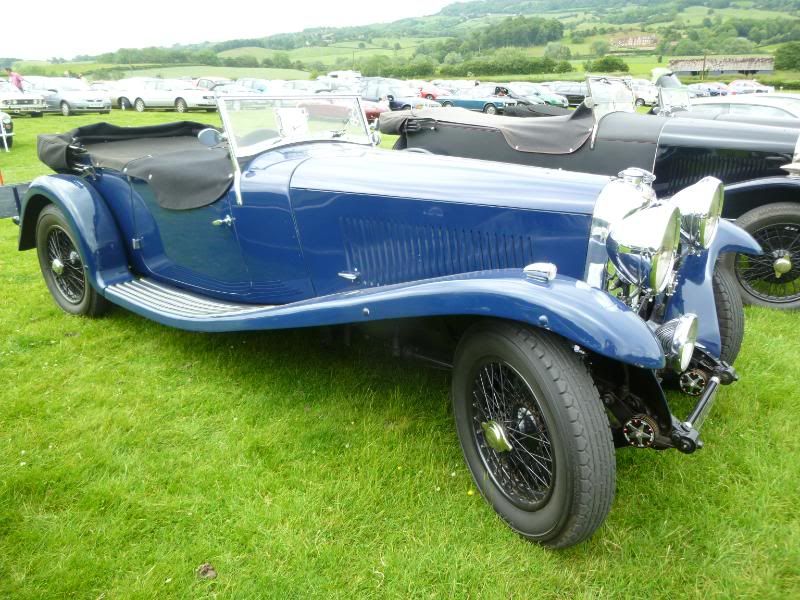 Lancia Fulvia Coupe
A rare MG 18/80 Series 111.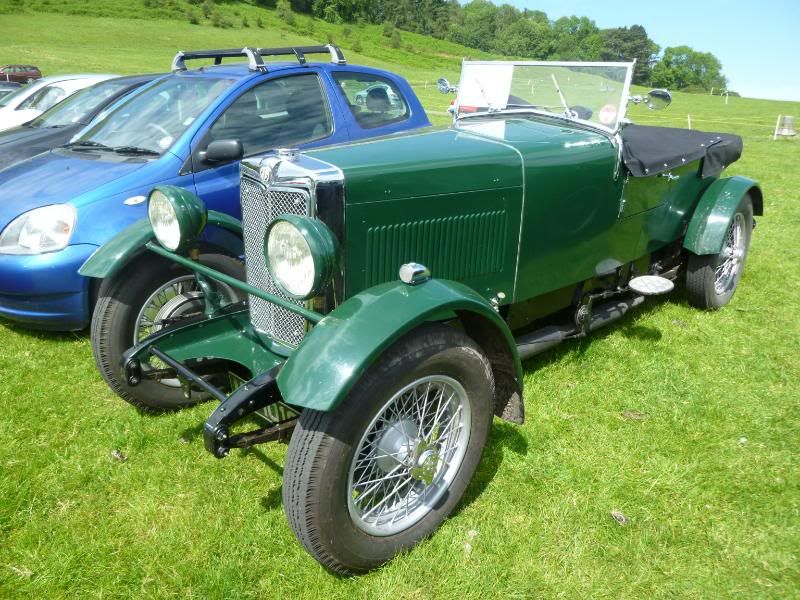 This is an early 4  wheeled Morgan Plus Four
An early Porsche 911, before the introduction of the impact absorbing bumpers
Railton – another 1930s British sports car, largely forgotten these days.
Riley Lynx
Triumphs included this TR3 and several Stags.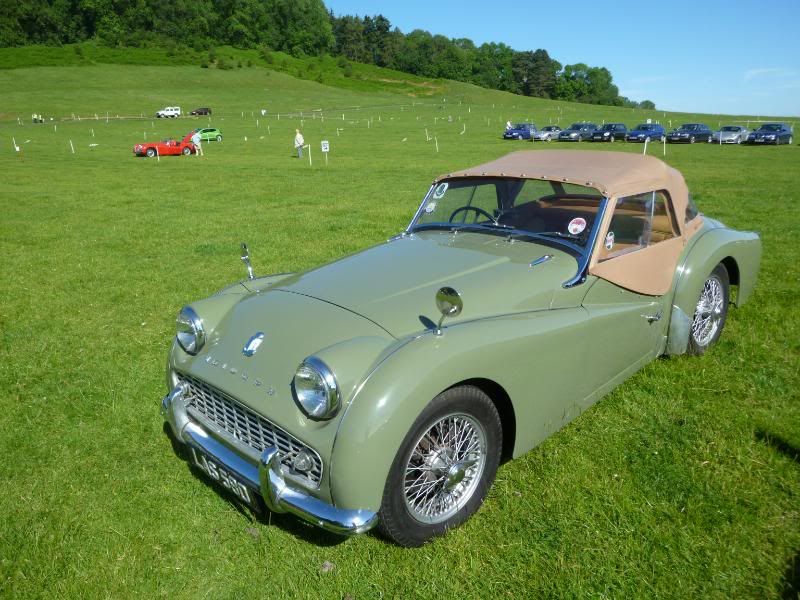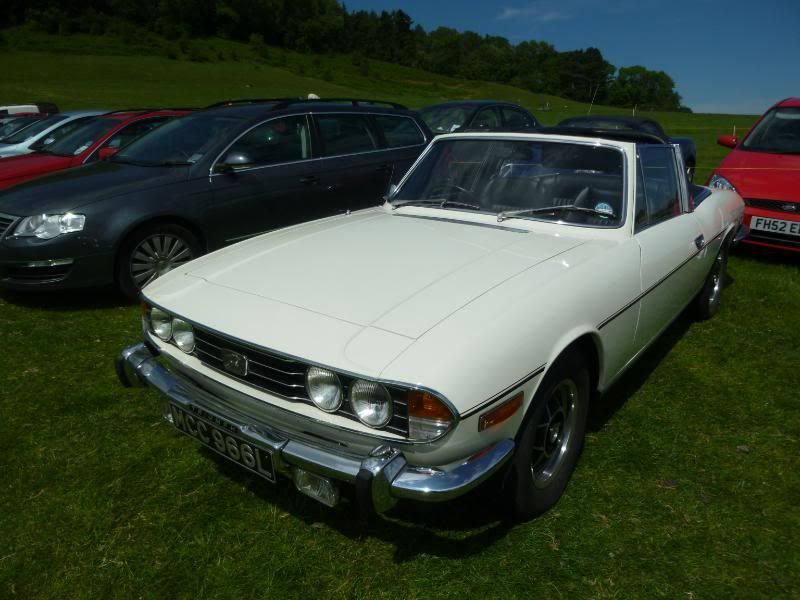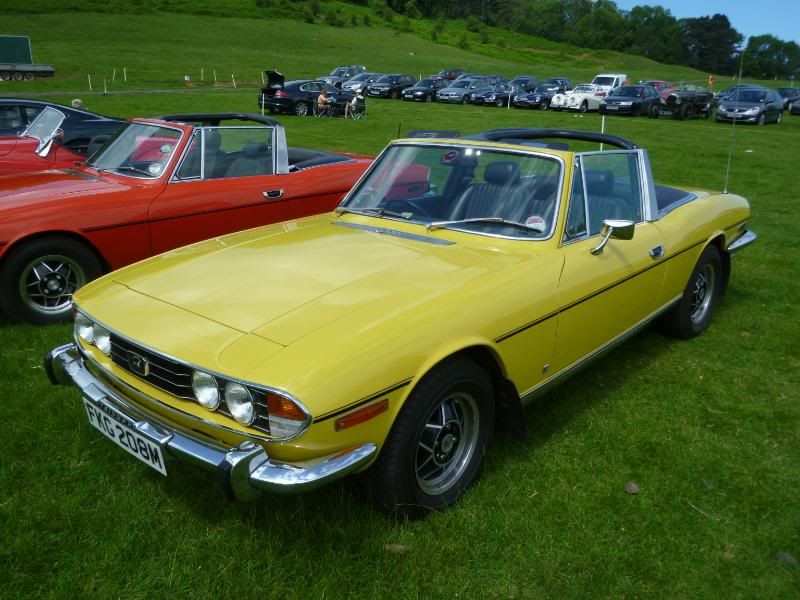 A Turner – a fibre glass bodied sports car with Austin A35 mechanicals.
An excellent day out. Fellow enthusiasts need to clear their diaries for a day at Shelsley. It is a great location, and generally less busy than Prescott. Recommended.
2011-06-13 20:52:46