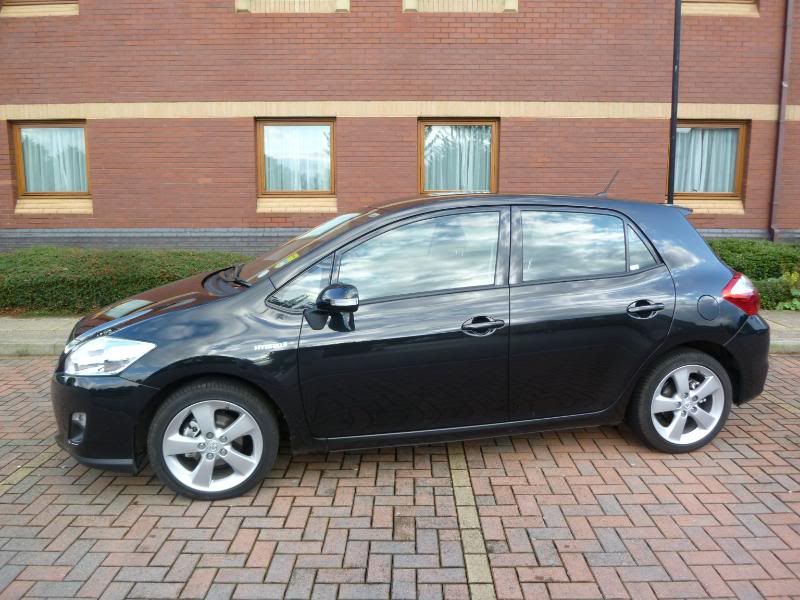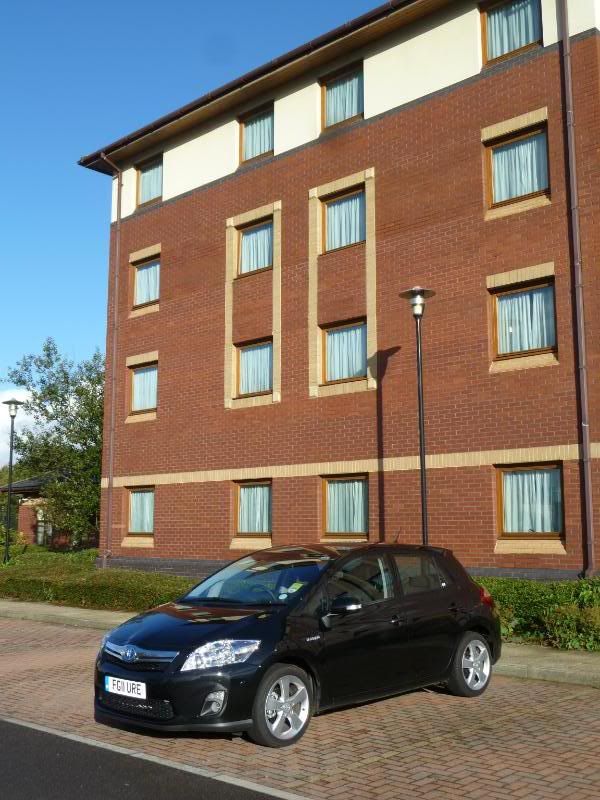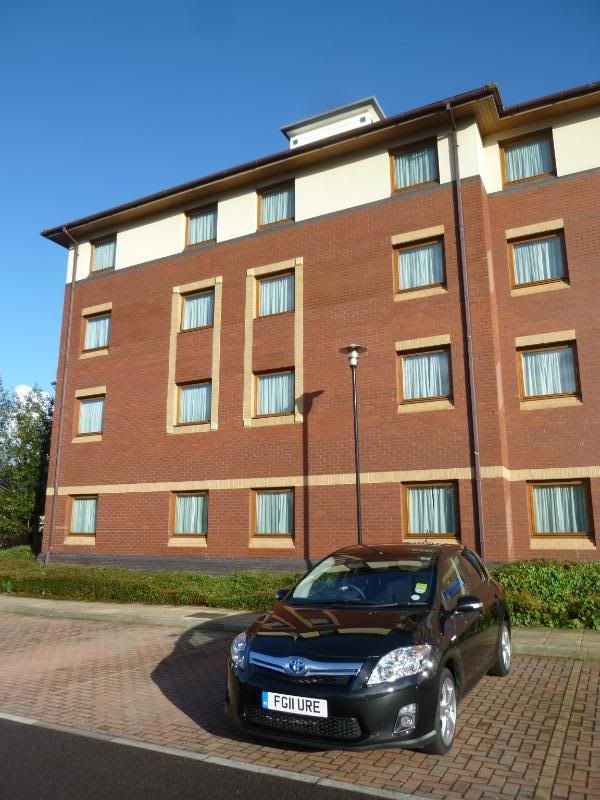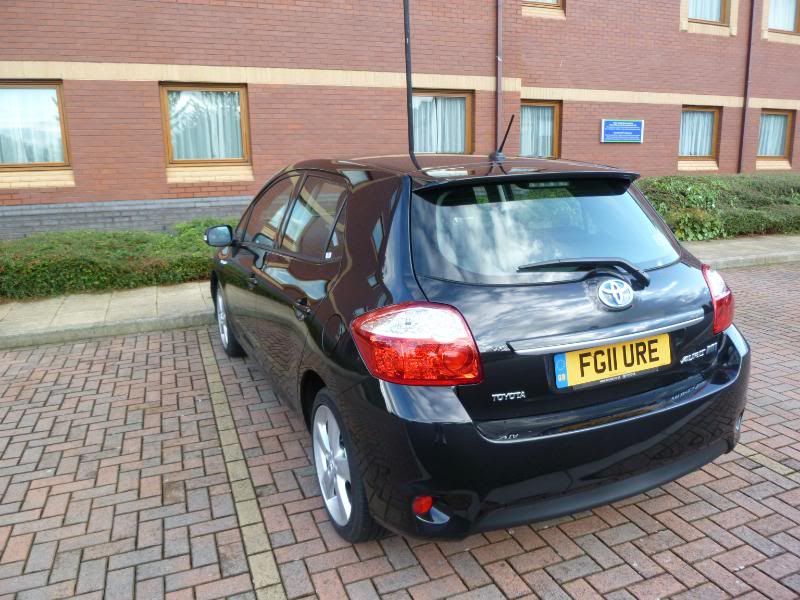 The last few years have seen research and innovation on an almost unprecedented scale, as the world's car manufacturers struggle to find alternatives to the conventional petrol or diesel engines which are both environmentally sound and yet affordable. Although many have spent vast sums of money on research, a lesser number have thus far introduced product with alternative technologies to market, and usually on quite a limited scale, It must be Toyota that has captured mind share above all others with the hybrid powerplant fitted to their million-selling Prius model. With such a success on their hands, it should have surprised no-one that they have applied the same sort of technology to a number of other models in the Toyota family. Initially, their focus was on Lexus, but more recently a hybrid version of their C-segment hatchback, the Auris, was brought to market, and in 2012, we are promised a Hybrid version of the smaller Yaris. With high fuel prices, it is no real surprise that affordable hybrid cars have started to appear in the rental fleets, so, although I had booked a conventional Fiesta sized car, I should have been less taken aback to discover  that Mr Hertz had an Auris Hybrid for me when I arrived at Bristol Lulsgate airport late one evening a few days ago. I've driven the Auris, in regular petrol guise, before and was rather underwhelmed by a car which whilst perfectly acceptable seemed to have no "why should I buy one" attributes beyond its "white goods" appeal. Given the popularity of the slightly larger Prius, though, this made testing an Auris Hybrid an interesting prospect, as it would give me the chance to see if the real forte of this car could emerge.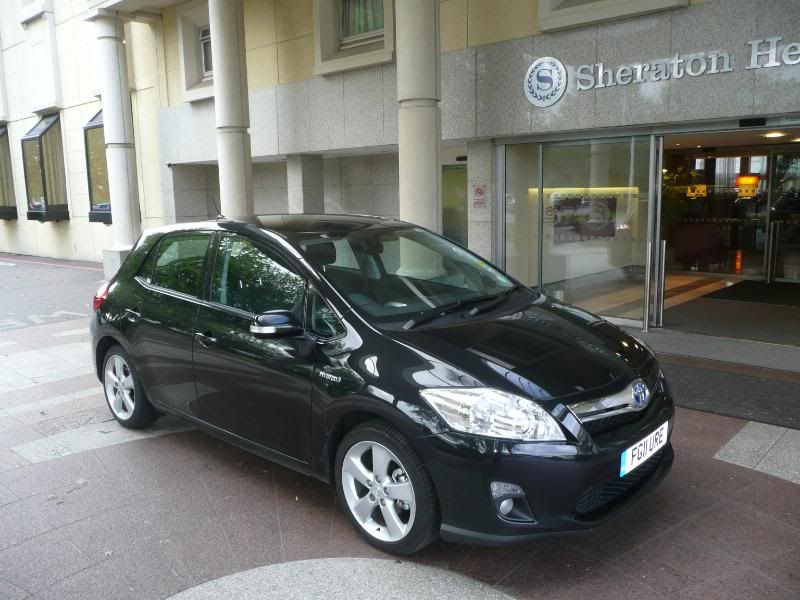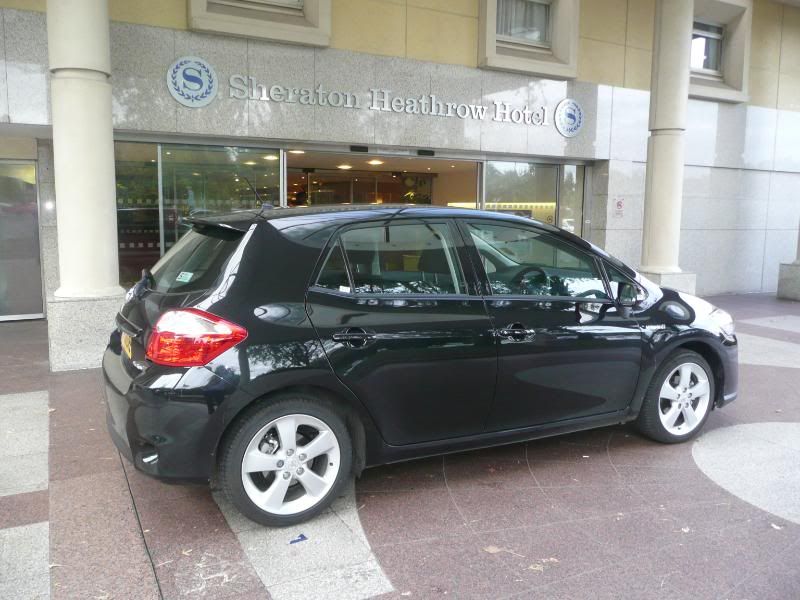 Mindful of the challenges I experienced in getting motion out of the rental Prius that I collected from a dimly lit garage at Zurich's Kloten airport a couple of years ago, I asked the Hertz staff if there were any special tricks for starting the Auris HSD, especially as my first encounter was going to be in the very dark corner of the rental parking area. They said that there are none, and they were basically right, though they did warn that the car is silent when you start it. There is nowhere to put the key, so your pocket is as good a place as any. Get in, and once seats and mirrors are correctly adjusted, put your foot on the footbrake, and press the large "Start" button to the left of the wheel, and the electric motor cuts in with no more than a click. Push the gearlever left and then select forward or reverse, and, if it is set, release the conventional pull-up handbrake, and the Auris will move. The petrol engine then fires almost immediately, unless you are incredibly gentle with the go pedal. Certainly you can manoeuvre at low speed solely on the batteries, but once you hit a few miles an hour then the petrol engine takes over, very seamlessly and smoothly. It really is that straightforward. In fact, driving this car is pretty simple. It is not, sadly, very nice to drive, though. There are several issues. The most challenging is that there is a continuously variable transmission. The theory with such gearboxes is that the car is always in the right ratio, but the reality with many of them is that there is always a bit of a lag between what the accelerator pedal has done and the gearing sorting itself out. That is definitely the case here, where anything other than the most gentle acceleration indeed seems to challenge the transmission, and can lead to slight jerkiness, as well as a lot of noise. Indeed, noise levels from the engine are the next problem. The petrol engine in the HSD develops 93 bhp, which is not a lot for a car of this size, so it does have to work quite hard. It did surprise that, having worked it quite hard, I did still achieve some spectacularly good levels of economy, though, averaging out at nearly 60 mpg for a mix of urban and steady speed motorway work. Part of this can be attributed to the fact that once you pause, say at traffic lights, the petrol engine cuts out, and cuts in again as you move off, all very smoothly. It takes no more getting used to this than with an stop/start system, the difference being that this one is actually easier to cope with. It is not just engine noise that irritates, as there was a lot of road noise and too much wind noise, as well. The dynamic problems do not end there. The steering was pretty awful, feeling particularly light and vague around the straight ahead position. Turn the wheel some more and it gained some feel and weight, but this is clearly a car designed for non-enthusiasts. It does make the car light to manoeuvre into a parking spot, though. I did not try hard to find the handling limits, and given the nature of the car, I can imagine that few will. The brakes were another source of disappointment, feeling very mushy indeed until you pushed the pedal almost harder than needed, to stop the car.  Having complained about most of the dynamics, it is only fair to say that the ride is quite good, and there are no issues with visibility. There are front quarter lights in the A pillars, ahead of the doors, which are useful at side junctions, and it proved quite easy to judge the front and back of the car when reversing. When reverse is selected, a beeper sounds, even if the petrol engine is in use.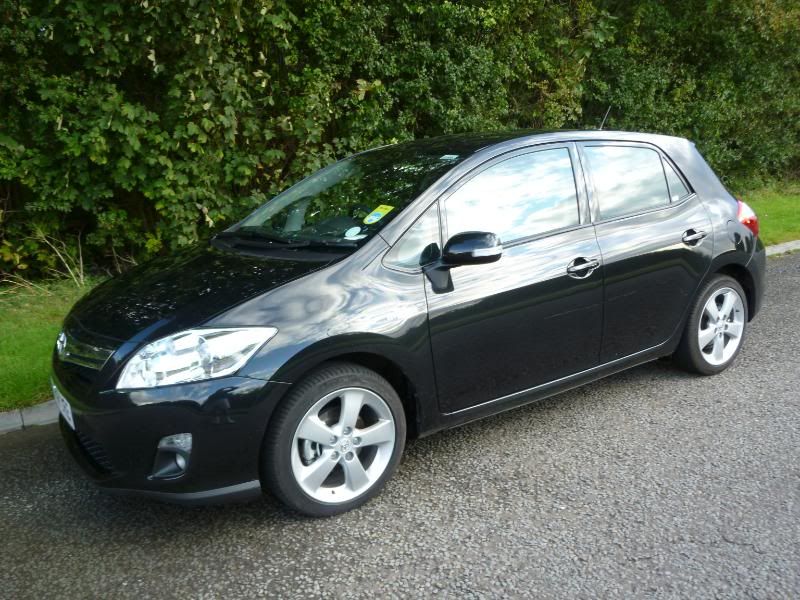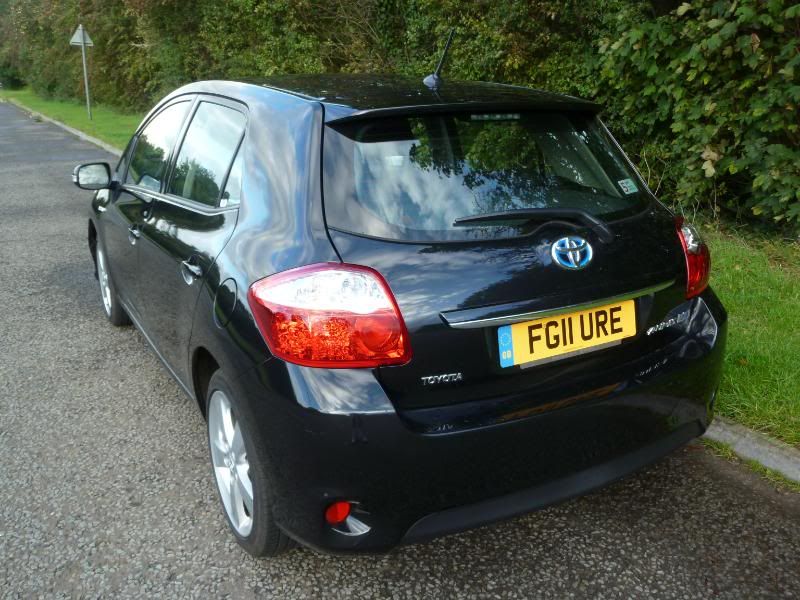 When I last experienced an Auris, I concluded that the interior looked rather as if it was over-stylised, in an effort to try to add some sort of visual memorableness to the rather bland external styling. Auris has received a mild facelift since then, which has done the exterior no favours, adding fussiness to the front and back of the car, with a particularly nasty front grille that overhangs from the top, but the changes to the interior were more welcome. The first models had a ridiculous handbrake design that was almost vertical with a release button in the top, and this has been replaced by something rather more conventional. You still get the swooping centre console with a stowage area located underneath and behind it which would be vaguely useful if only you could easily access it and had small enough items to fit in it. The centre console of the Hybrid model is different to the regular cars, as it sports not just the stubby gear selector, but a separate button to the left of the gear lever to engage the transmission brake. HSD models are only offered in T4 and T-Spirit spec, in which automated climate control is featured, so the middle part of the console carries the controls for this and a different audio unit, leading to quite a different appearance when I compare the pictures of this car with the petrol engined model I sampled in 2008. The rest of the dash has changed little, though. You get two dials, though for the Hybrid the left hand one is not a rev counter but an indicator of whether the engine is charging the batteries or drawing current. The dials glowed blue in the dark, though my efforts to photograph this were thwarted by too many reflections! they are clear to read, though. Most other functions are controlled by the two column stalks. Swathes of plastic look aluminium – or should that read aluminium look plastic? – are on the console, dash and door cappings to try to provide some visual variety to the interior, but they do not really help to make the inside anything other than totally functional. This a car where utility is a higher priority than flair by a country mile, which is probably what many of its target customers would want.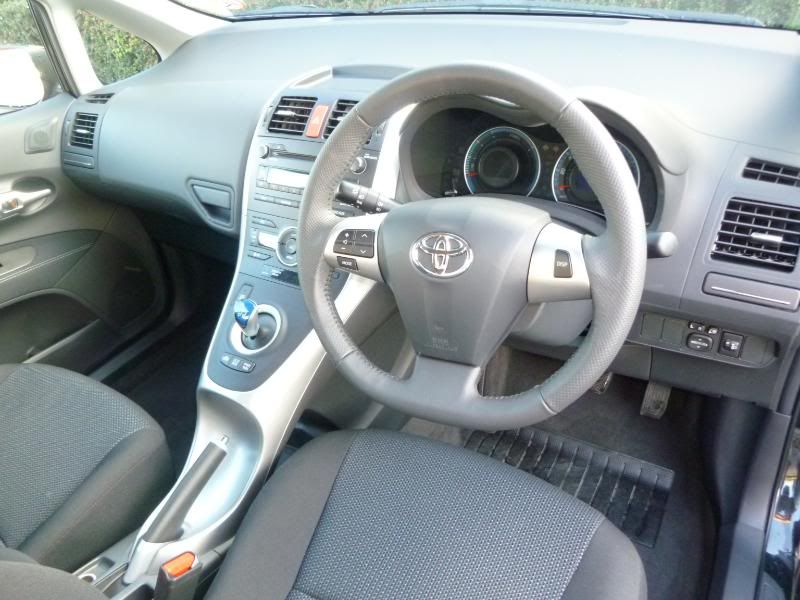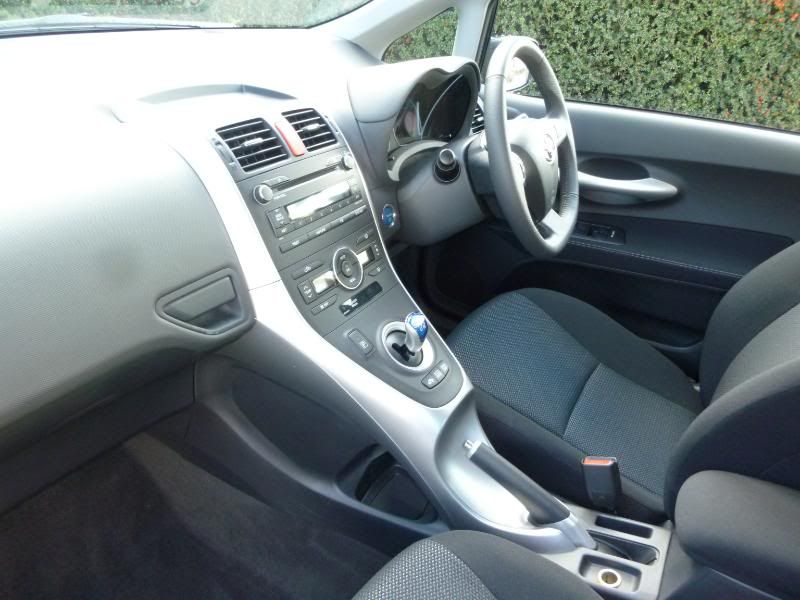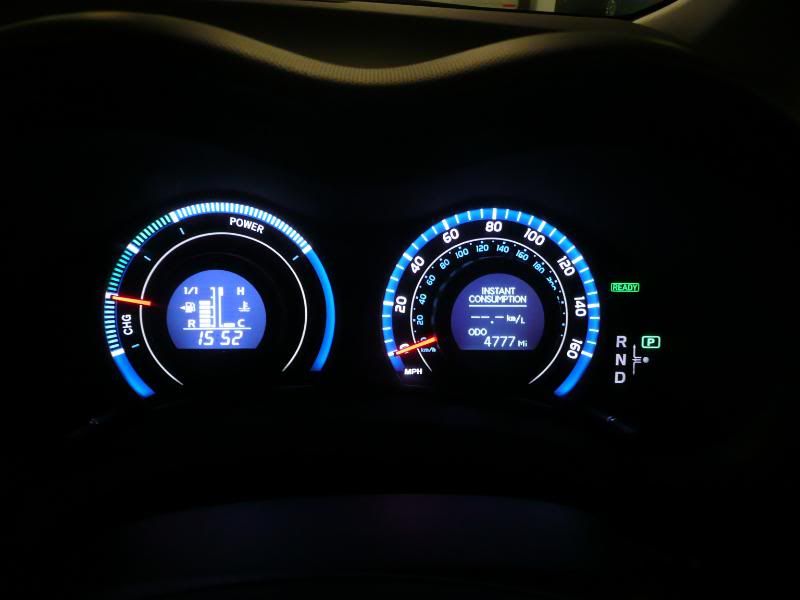 Cars in this class need to be practical, able to carry both passengers and luggage. The Auris is competitive from a people space point of view, with reasonable room in the back for three adults, though they will not be spoiled for excess of shoulder room. The vents to the battery pack, as in the Prius, are at the offside edge of the rear seat backrest, and should not be covered. It is in the boot where compromise is required, as there is a significant step in the boot floor over the hump where the batteries are housed, meaning that part of the not overly generous boot area is really quite shallow. I was able to place a weekend bag and my lap top back in the space, and that was about all it would accommodate. The rear seats are asymmetrically split and thee backrests drop down to create a load floor level with the raised part of the boot, but as this sits over the batteries, it is also quite high off the ground, so there is quite a load space penalty for the Hybrid car compared to the regular models. For many, this will not matter, as they will be delighted in the relatively compact dimensions of the car and will see this as more important than ultimate load capacity. Inside the cabin, as well as some rather meagre door pockets, there is a split level glove box, which is not as big inside as the lids would lead to you to hope, and a central cubby under the armrest as well as that area under the centre console, so the Auris HSD is reasonably well provided with oddments space.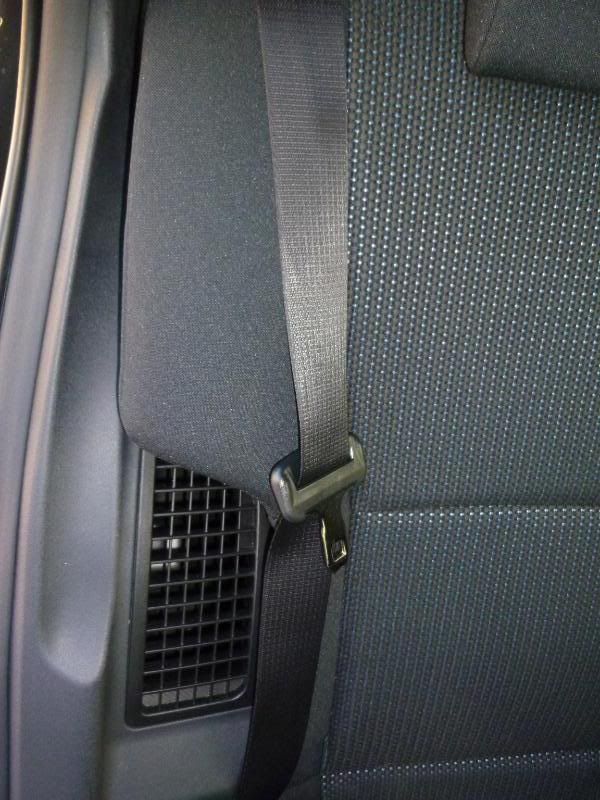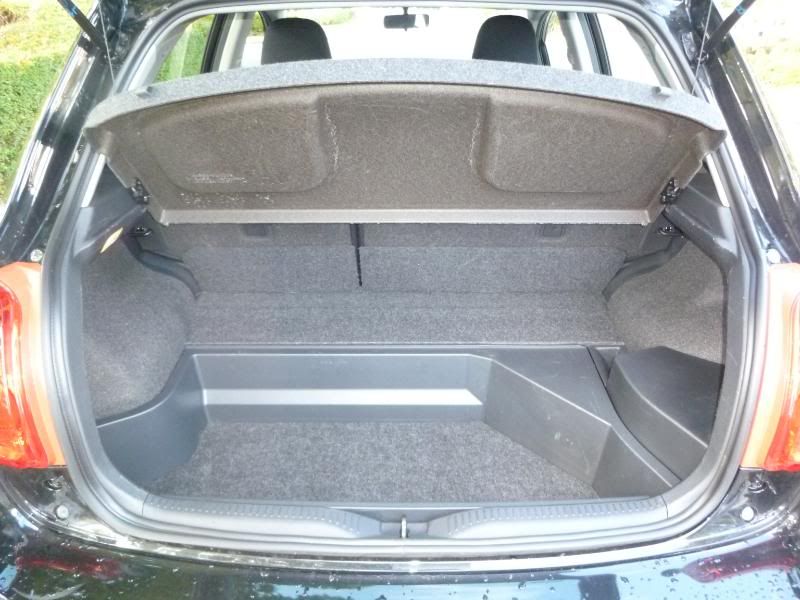 Auris HSD cars start with the T4 trim level, and are also available in more costly T-Spirit guise. The latter adds a number of useful convenience features including alcantara/leather seats, auto windscreen wipers and lights, a rearview camera, rear parking sensors, cruise control and satellite navigation. All models have 17″ alloy wheels, a rear spoiler, climate control, wheel mounter controls for an audio unit which includes CD player, MP3 capability, blue tooth connectivity and USB port,  front fog lights and a puddle illumination system. Colour choice on this model is limited to white, black, silver and two rather dour shades of blue.
I can see why people could be attracted to the Auris HSD. A CO2 rating of just 93 g/CO2 is very good, and the car is easy to drive, with none of the challenges of limited range that face all electric vehicles. With an entry price of £20,145, though, this is not a particularly cheap car. It is also not a car whose dynamics would have any appeal to any driver with even half a milligram of driving enthusiasm in their blood. There were too many characteristics of the driving experience which disappointed and made me glad to return the car. I was interested to hear what Hertz at LHR had to say, as the guys at Bristol Airport let slip that this car had been on site for a while as no-one wanted it. At Heathrow, the story was that Auris HSDs are in demand, but I can't help wonder if that Congestion Charge avoiding CO2 rating was the reason why, rather than any other intrinsic merit. So, an interesting experience, and certainly a practical proposition for a long journey in a way that the Nissan Leaf currently is not, but just as my time with a Prius a couple of years ago, I still think that further development is required before cars like this will have universal appeal.
2011-09-30 19:07:19