Perhaps not surprisingly, given both the love of the Muscle Car and also a climate which has made preserving old and interesting cars easier than in some parts of the world, Australia is well endowed with Motor Museums, with a significant number listed in each State. Many are relatively unknown to those who live on the other side of the world, but the subject of this report, the National Motor Museum of Australia, is not one of those, as it has a worldwide reputation, and having been there, I can easily see why. Established as long ago as 1965, it's located in the very centre of a small country town called Birdwood, in the Adelaide Hills about a hour's (very scenic) drive north east of Adelaide. It's well worth the trip, as what you find when you get there is a collection of interconnected halls and galleries housing a vast collection of around 400 vehicles, along with a series of displays and plenty of memorabilia. On the day of my visit, the Receptionist turned out to be a lady  from Bolton, and despite having lived in Australia for over 15 years, there was no mistaking her accent. She told me that seeing everything in the museum would likely take a good couple of hours, and she was not wrong. In fact, I think I was there for nearly double that time. Here is a summary of what was on display at the time of my visit in March 2012.
THE ENTRY HALL
An array of cars, with broadly speaking, one vehicle for each decade is presented in the first hall which visitors will come to. They surround a 1920s petrol station which served in Adelaide from 1928 until 1976 and which has been carefully rebuilt having been dismantled from its original location and restored to all its former glory. It now houses the souvenir shop.
1907 Rover 8hp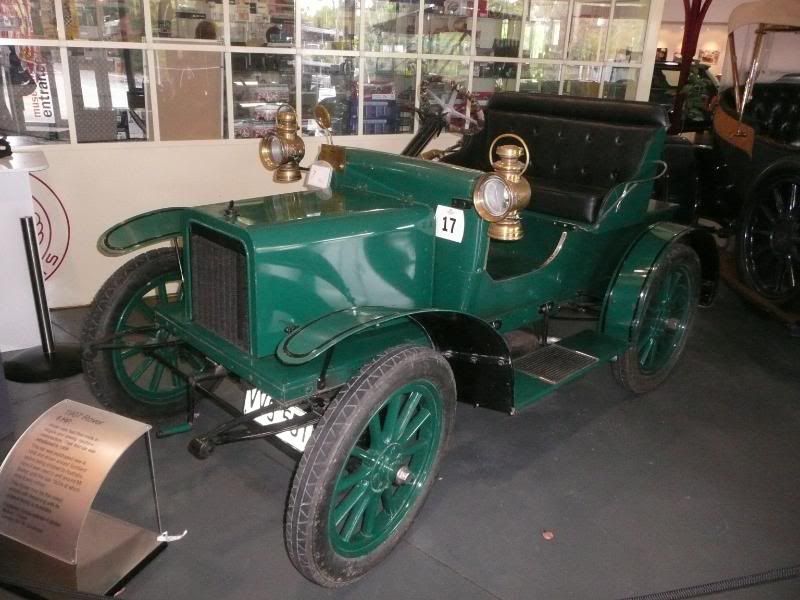 1913 Renault Two Seater
1925 Straker Squire 24/80
1929 Austin Seven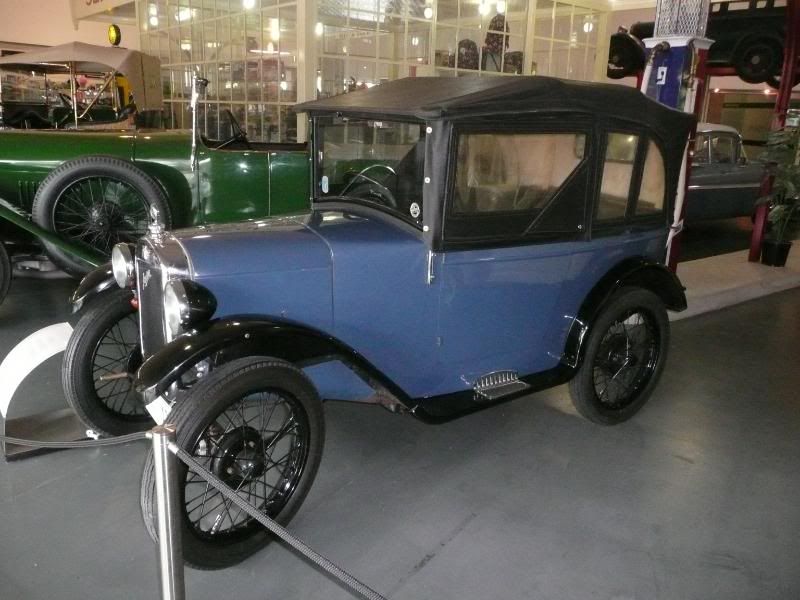 This 1948 Hartnett Prototype was designed by the same person as was responsible for the first Holden, the 48-215. Working in partnership with the French Gregoire company, the idea was that this car would appeal to those who wanted an Australian car that was smaller and cheaper than the Holden, which on paper sounded viable, but the reality is that this design never got beyond the prototype stage.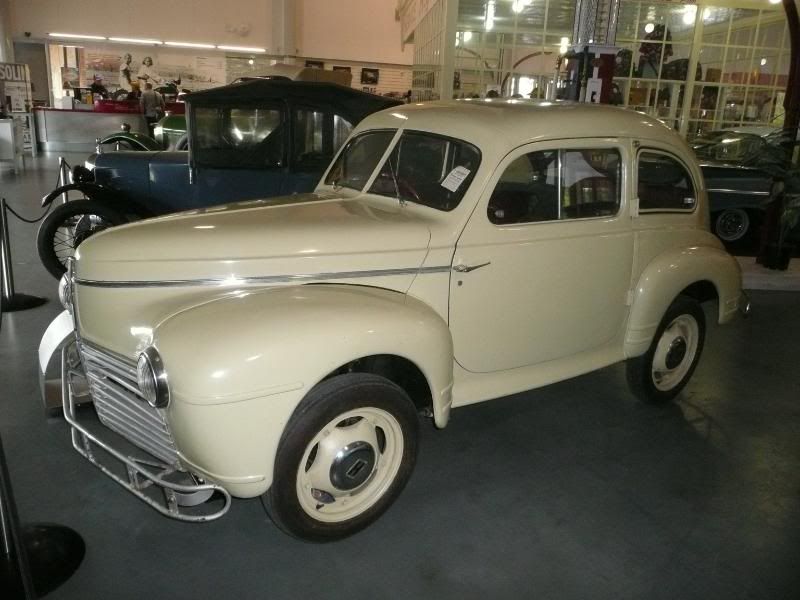 1962 Ford Anglia 105E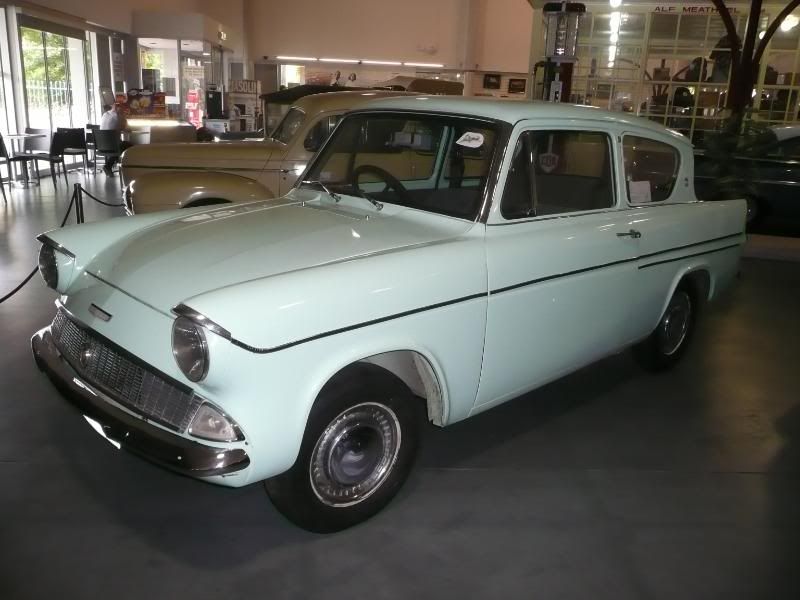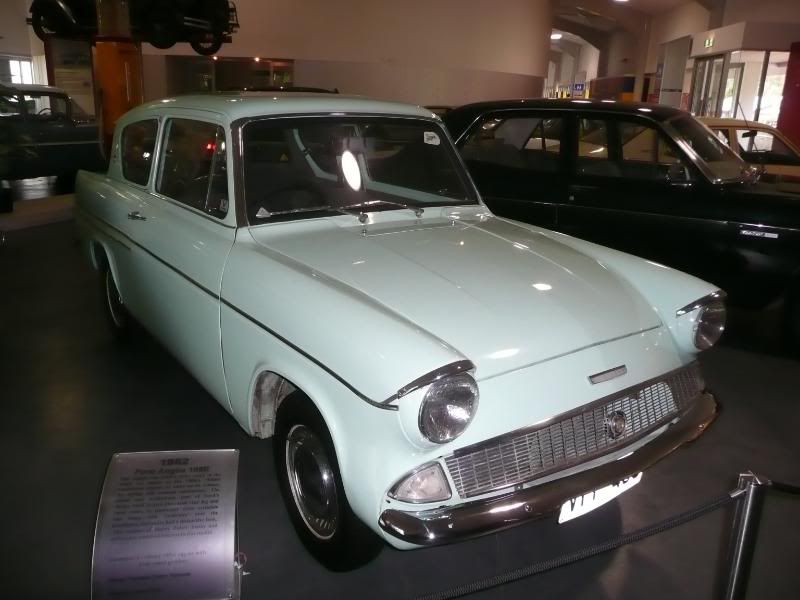 1969 Ford XR Falcon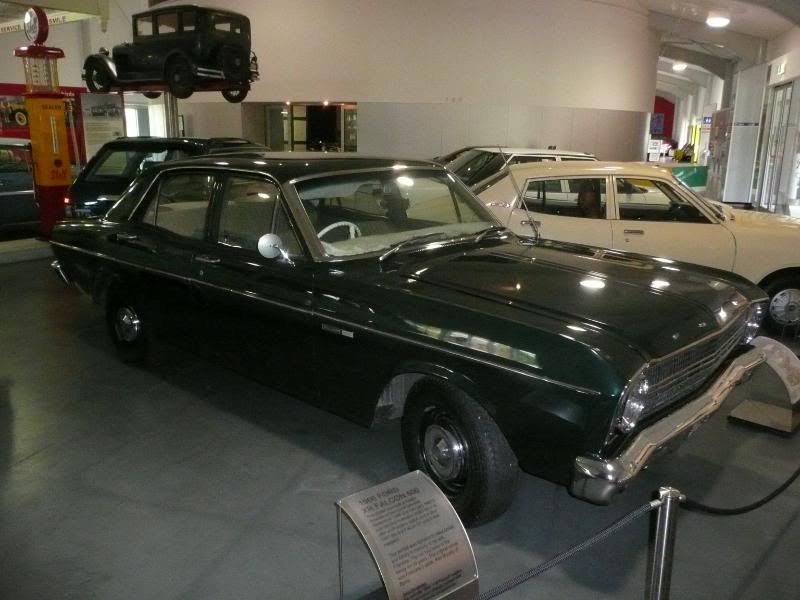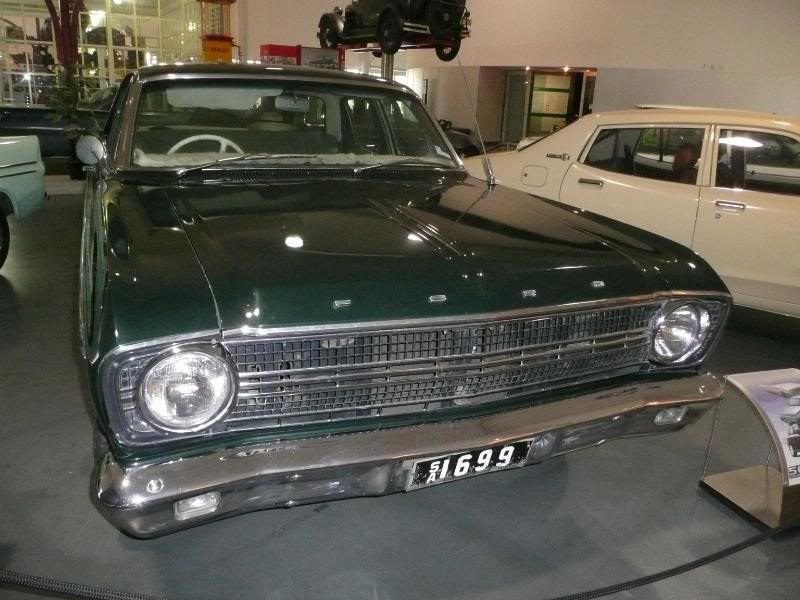 When did you last see a 1976 Datsun Sunny 120Y like this? These cars were a regular in the British top 10 selling cars, and did much to popularise the Japanese car as compared to Escorts, Vivas and Allegros they were well built and reliable, as well as equipped with luxuries like a pushbutton radio, carpets and a cigarette lighter. They rusted just as badly as European cars, though, so they've almost all gone from our roads.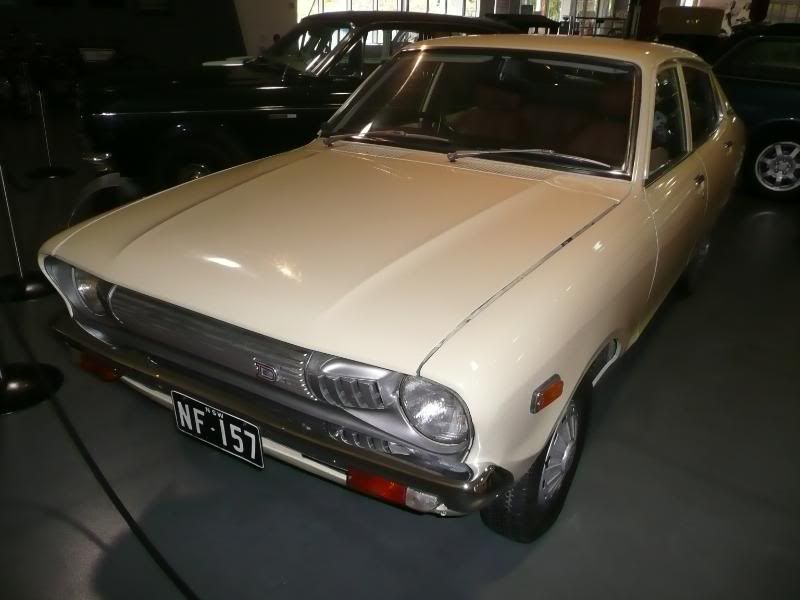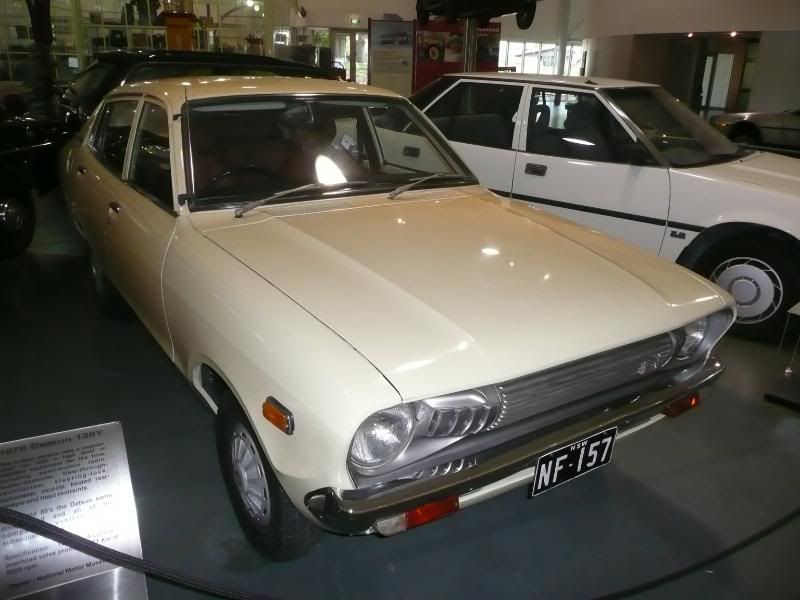 This was the first Mitsubishi made in Australia. The 1983 Magna was based on the Japanese Galant, but widened slightly and with other adaptations to suit the local market. It was immediately lauded and won many awards. The car sold well and you still see examples on the roads now, some 30 years later.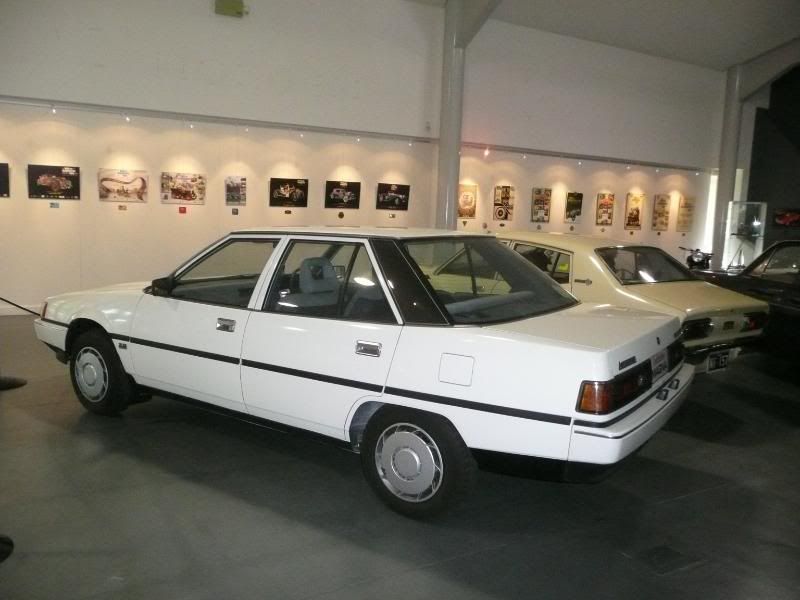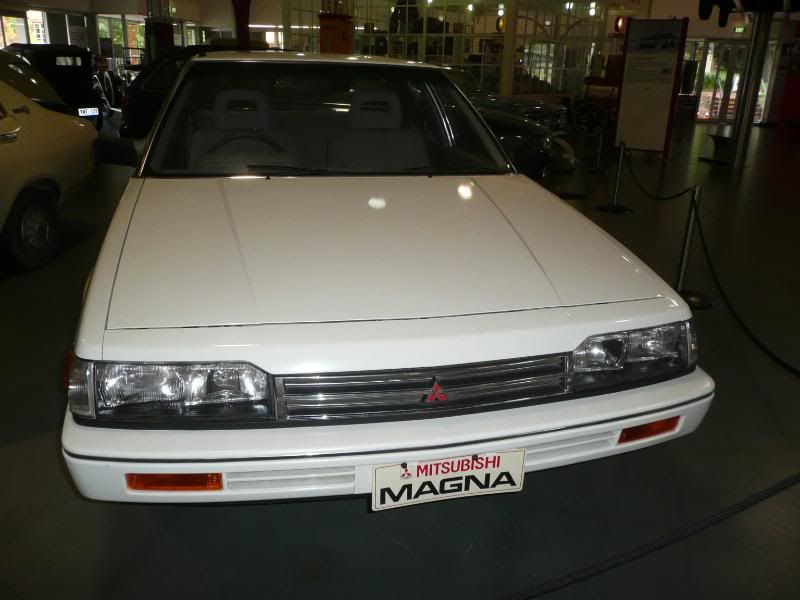 This is a prototype for the later 1996 Mitsubishi Verada estate car, which was the luxury version of the Magna. It  went onto be launched not just for the local market, but was sold in Europe and America as the Diamante.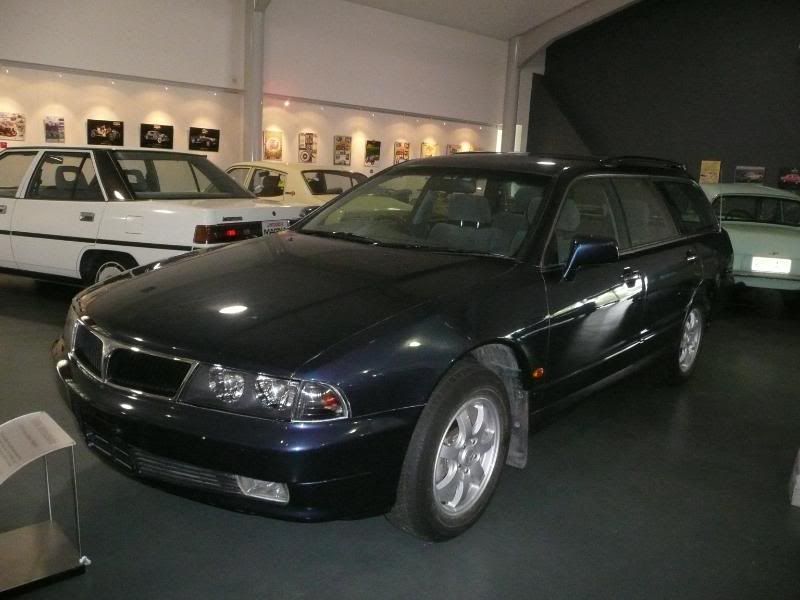 1959 Chevrolet BelAir Sedan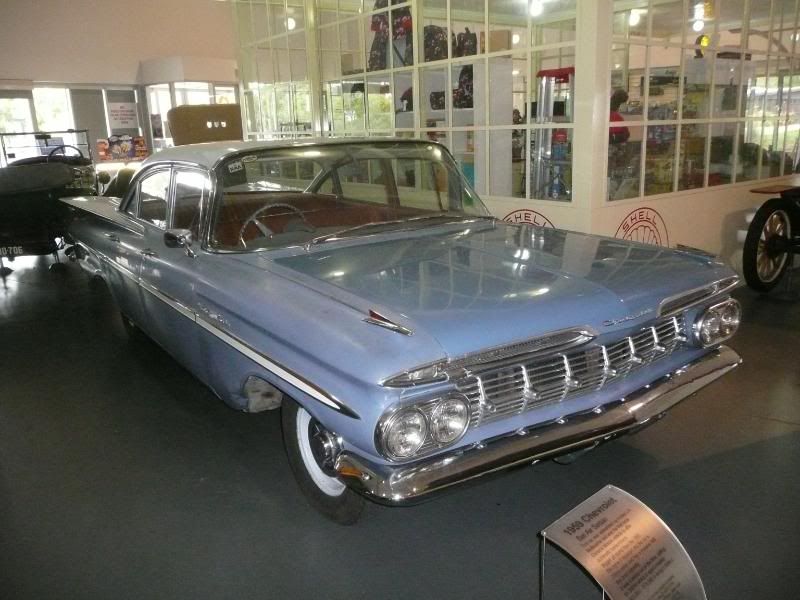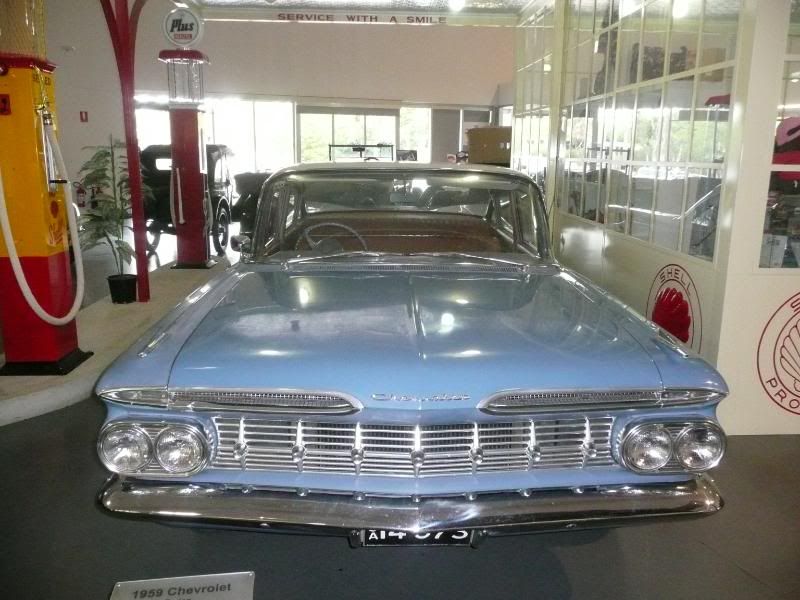 1911 Ford Model T Sportster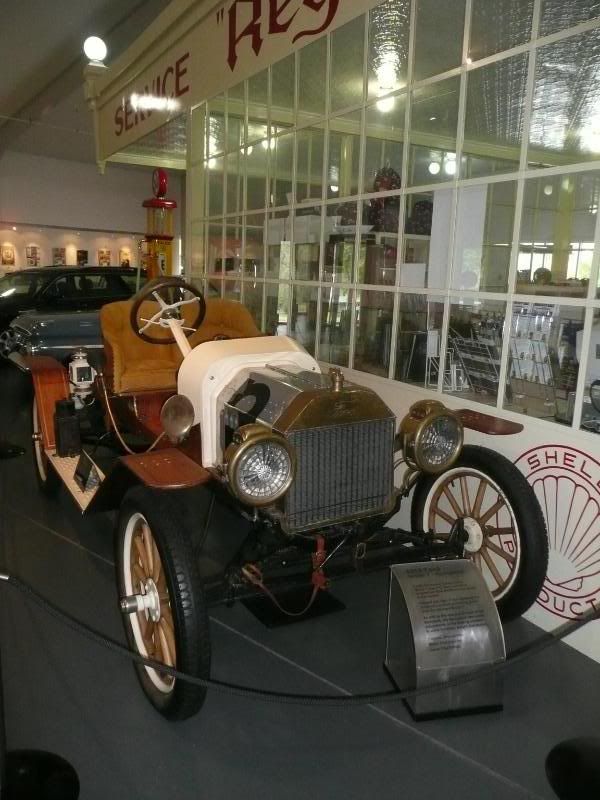 1982 DeLorean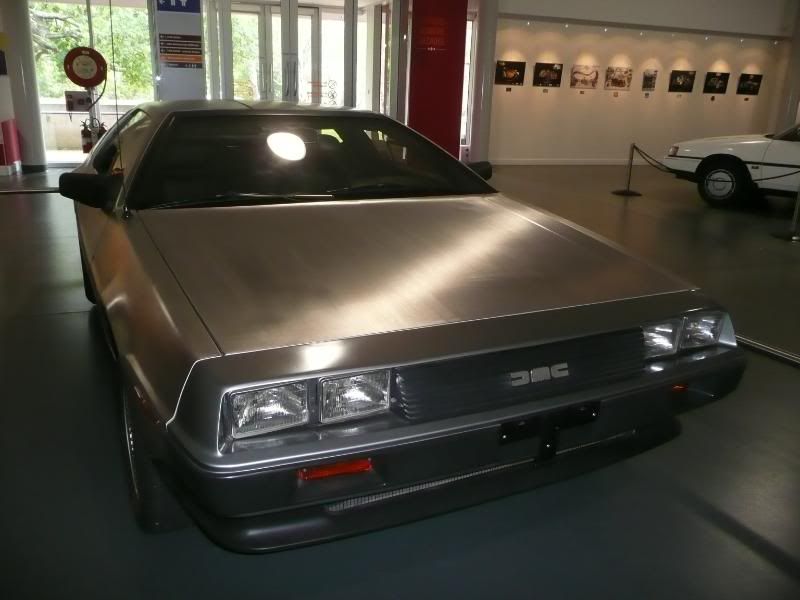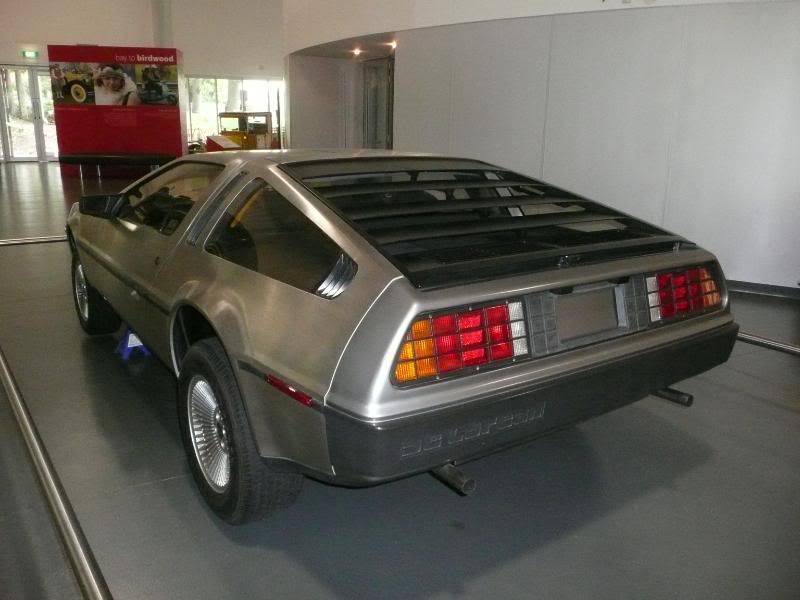 COMMERCIAL VEHICLES and OTHERS
Dominant in the next hall is this restored 1972 Kenworth W902, typical of the sort of long distance Road Trains that transport good the vast distances across the continent. This one is over 45 metres long and nearly 5 metres wide.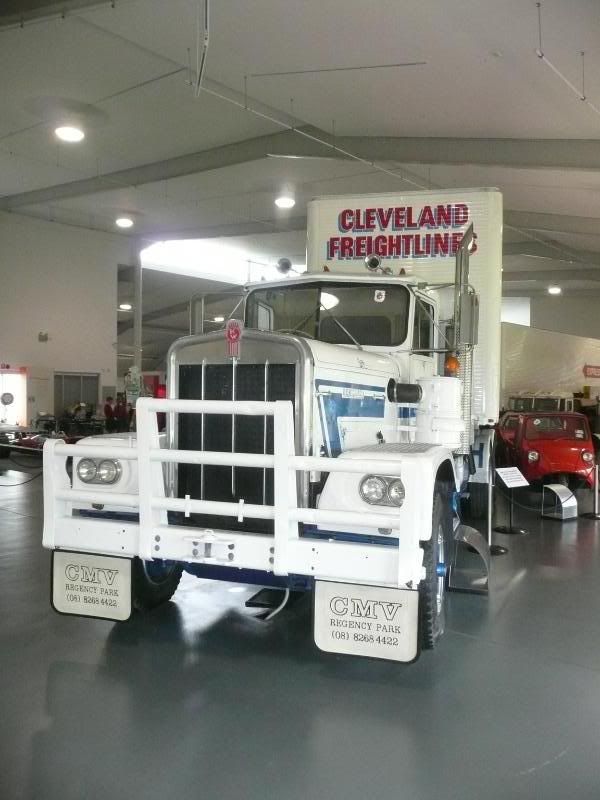 Rather smaller is this 1960 Mazda 3 wheeler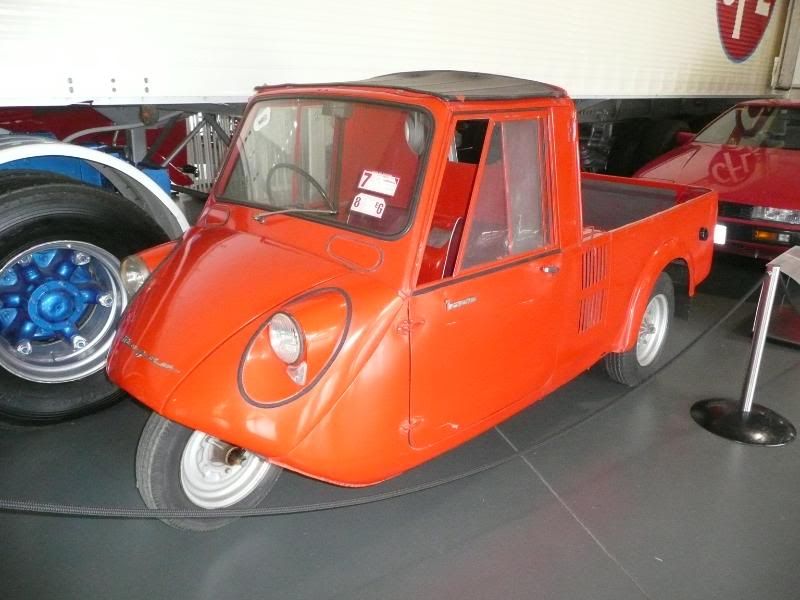 The Series 1 Land-Rover was very popular in the 1950s for performing all manner of tasks in the Outback, and this is an example of such a car, unrestored.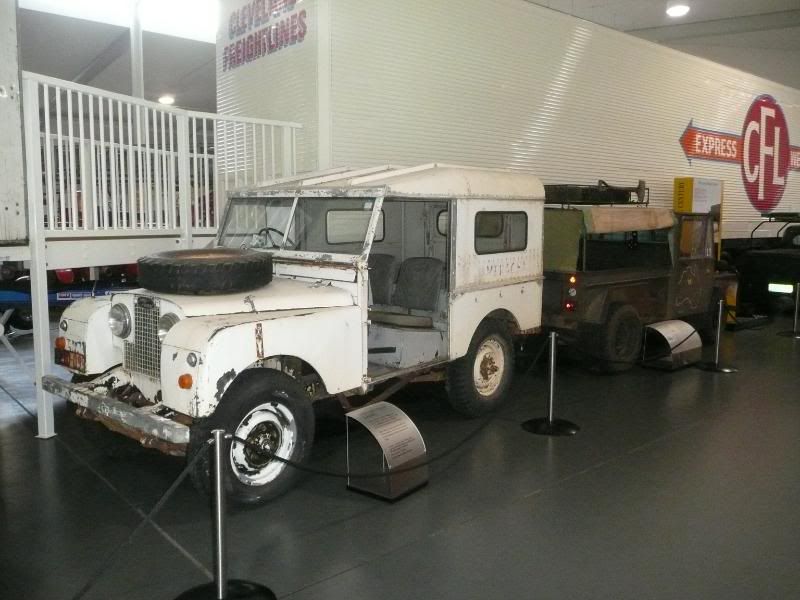 Conditions out there are tough, though. This one-off, an Overland Special, is based on a Standard Vanguard, but when the body work rusted badly, the owner cut that off, and built his own rather angular replacement.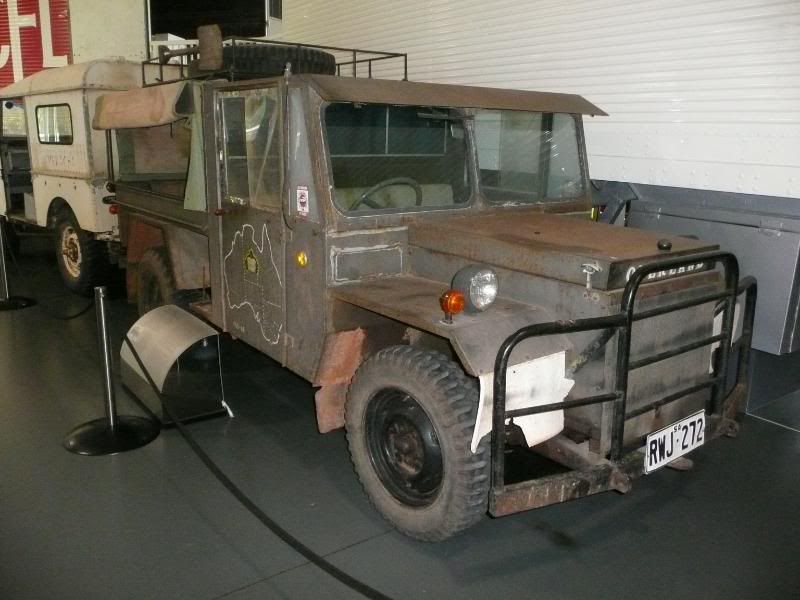 1939 Morris 8 Series E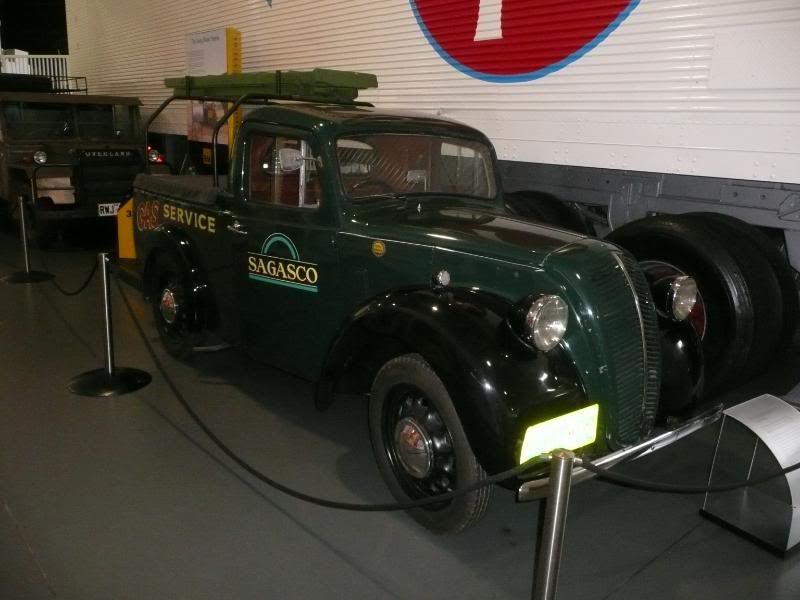 1926 Garford Flat top Truck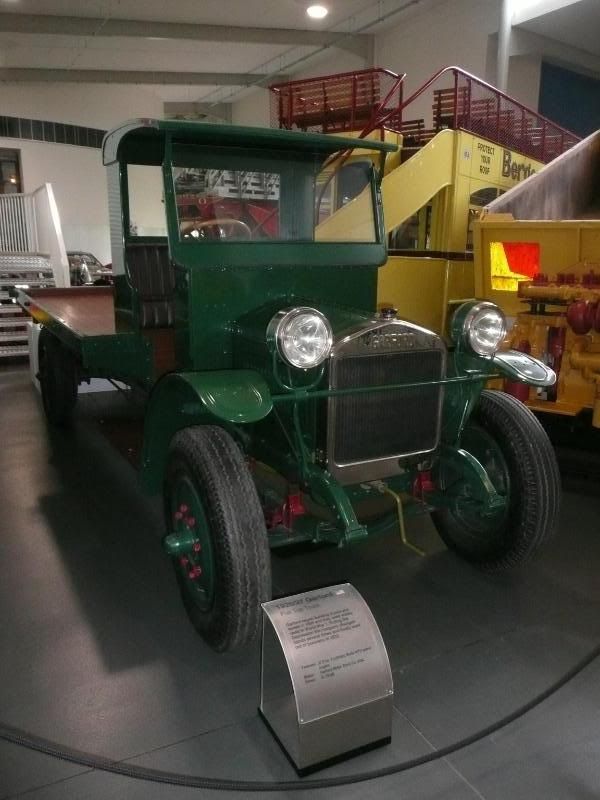 This 1924 Graham Brothers Half ton Truck was driven by one Harry Monsoor until 1958 as a mobile shop across much of the northern part of the State of South Australia, bringing food and supplies to some very remote communities indeed. The vehicle was restored in the late 1980s.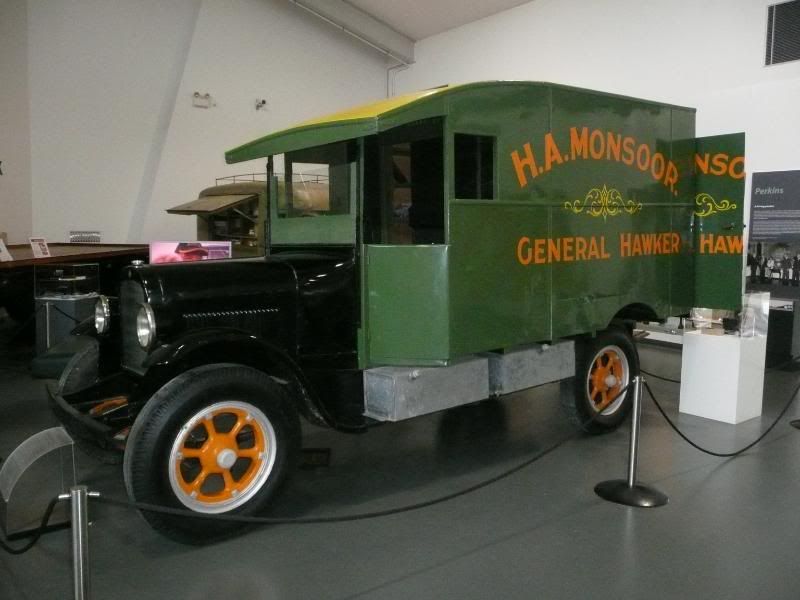 1936 Leyland Badger Tray Top truck
1936 Dodge Drapers Van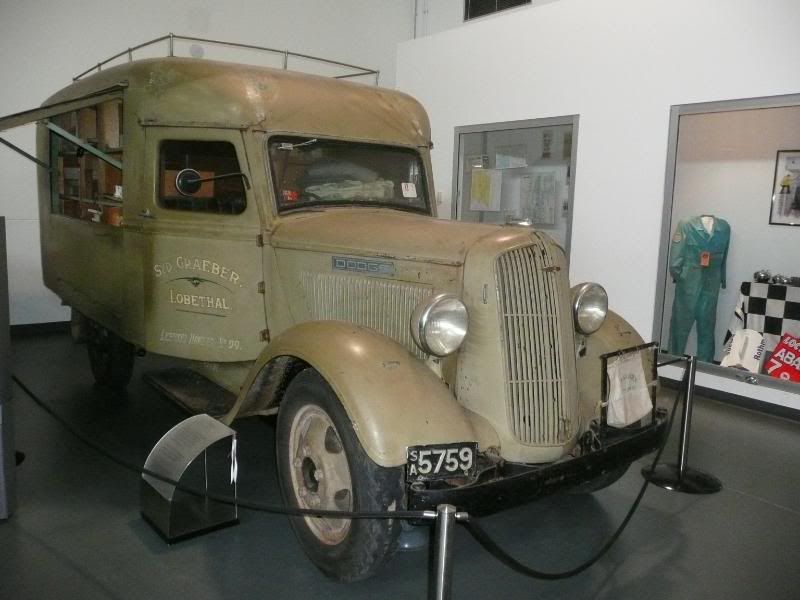 1941 Ford One Ton Utility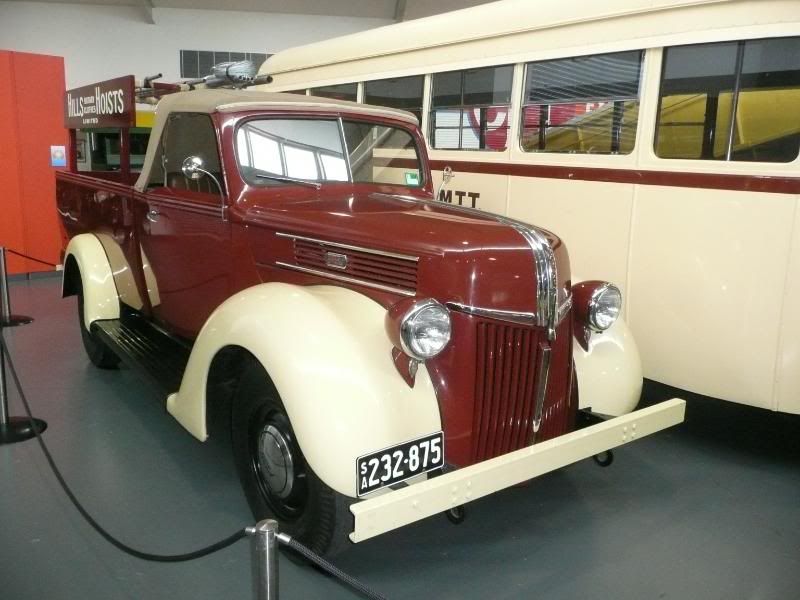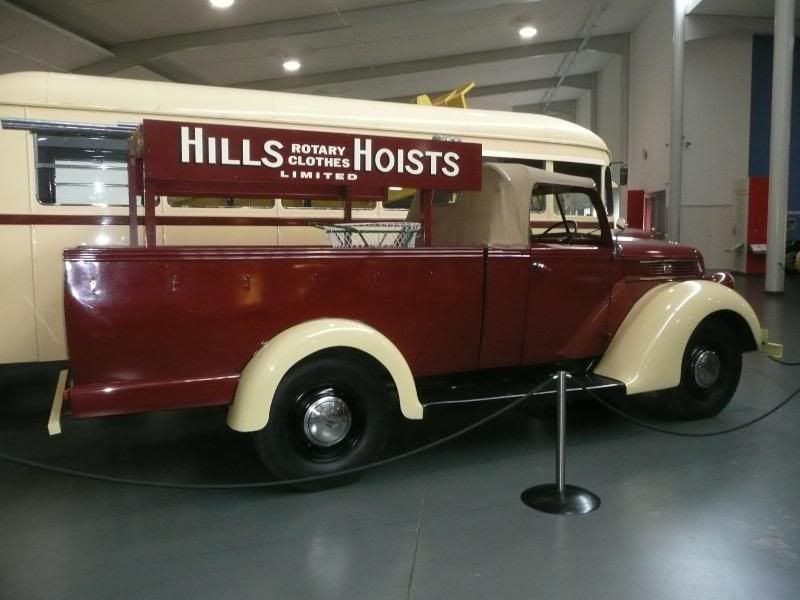 1944 Ford Bus
1960 REO C332 Tip Truck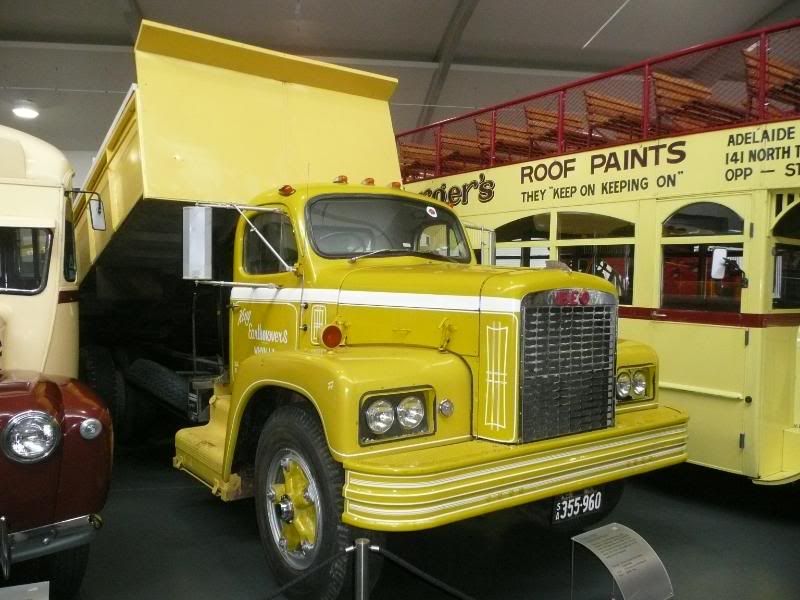 1926 Garforth Double Decker Bus
1936 Leyland Metz Fire Engine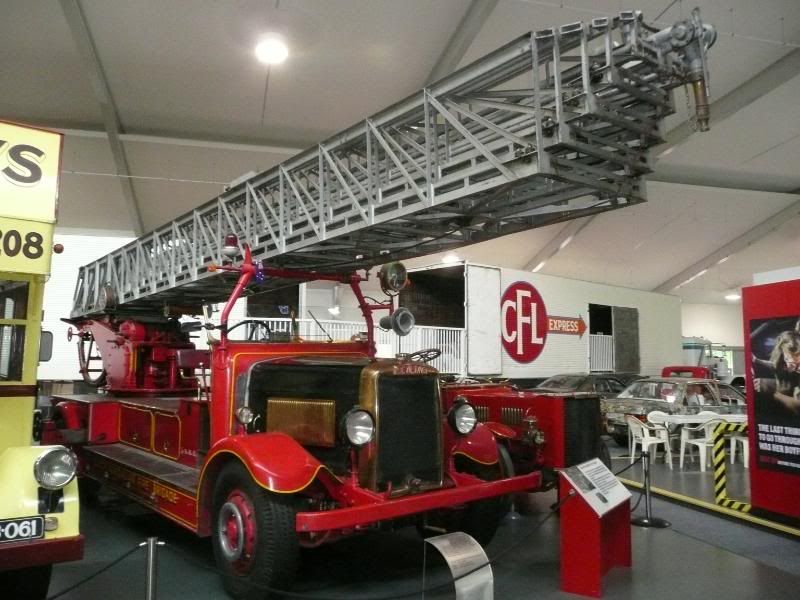 This was South Australia's first ever motorised fire engine, a 1909 Merryweather
1935 Holden bodied Chevrolet Delivery Van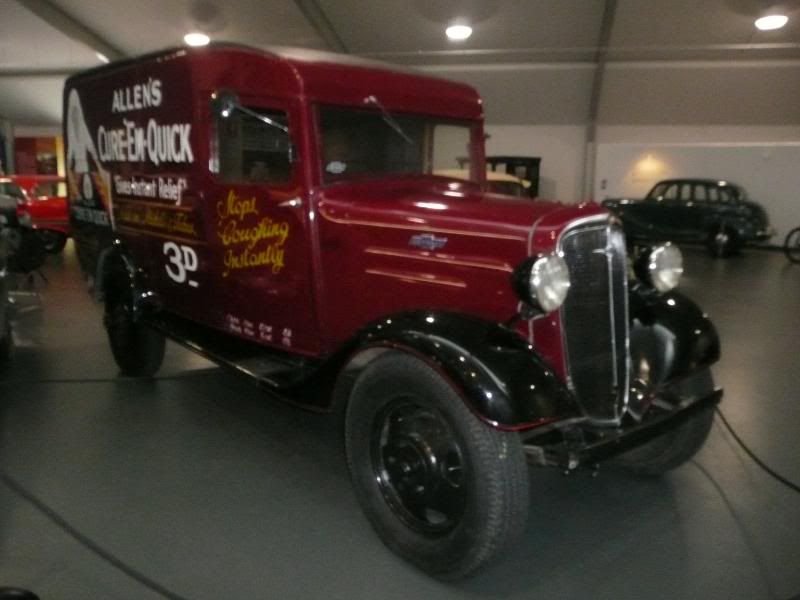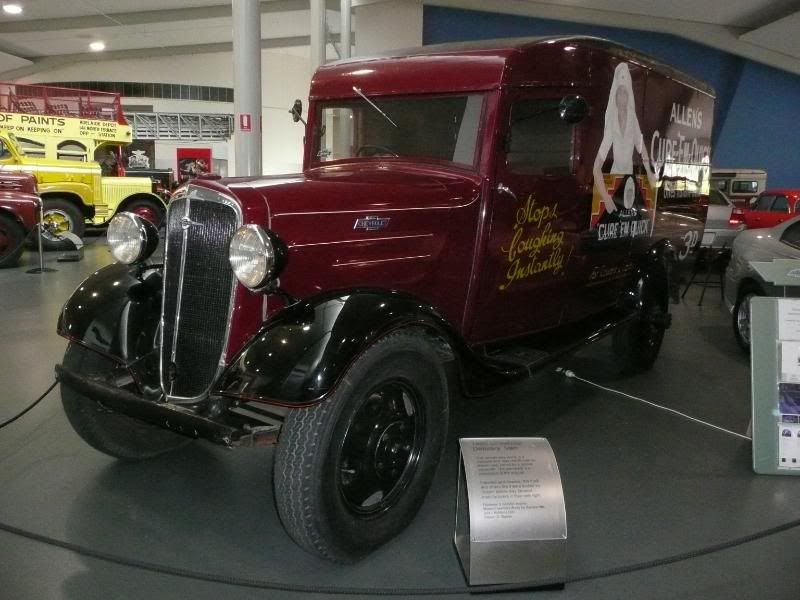 1928 Chevrolet AB Tourer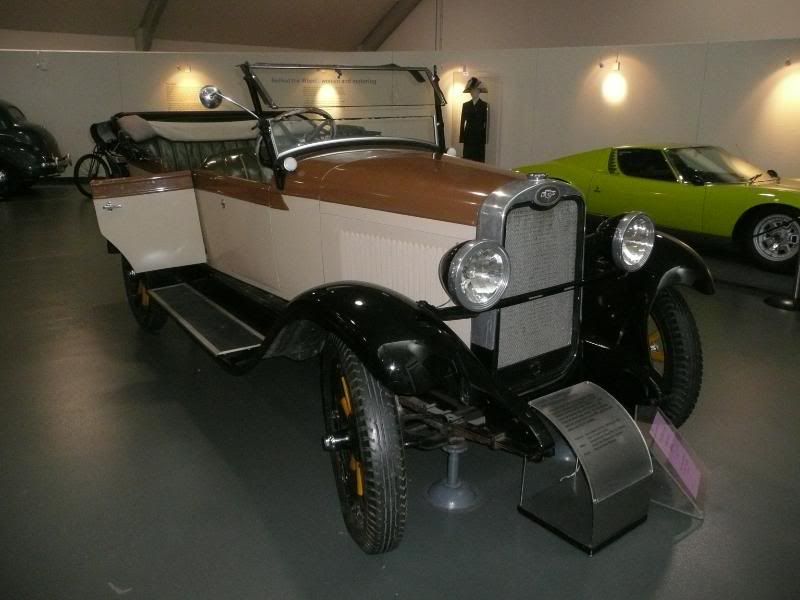 1927 Clyno 10 HP Roadster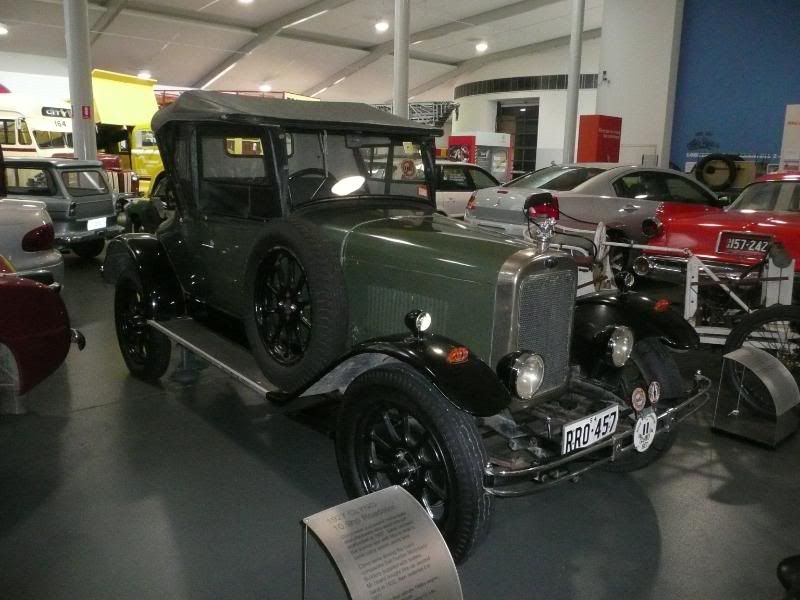 1939 Diamond T Bus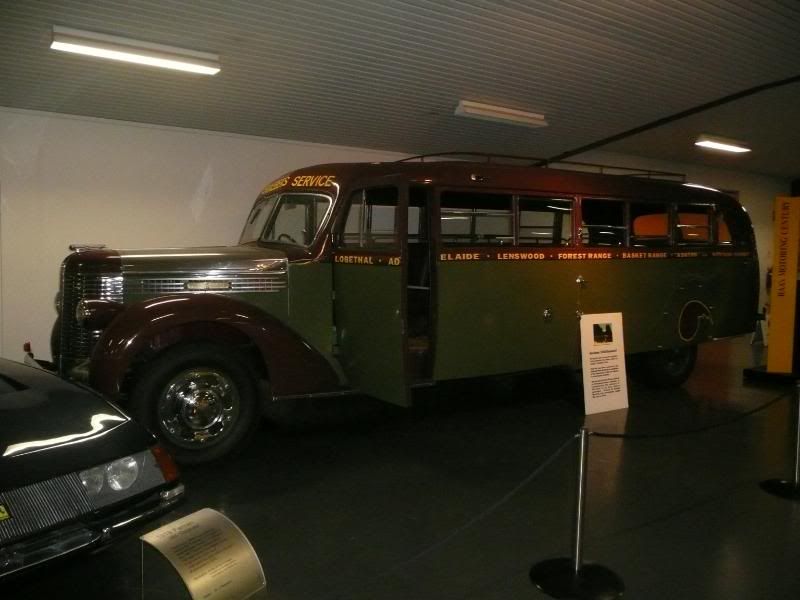 This Clement Talbot dating from 1908 was the first car to cross the entire Australian continent, taking 51 days to drive from Adelaide to Darwin.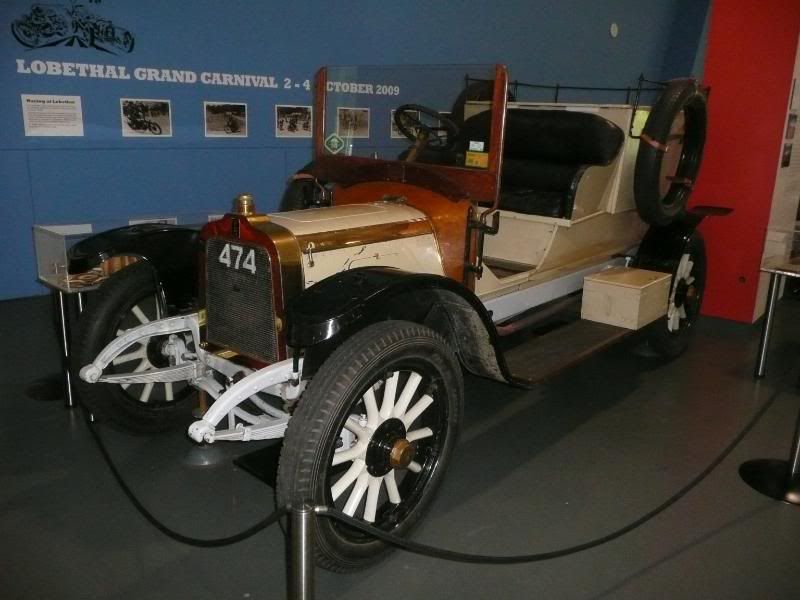 Rather later, this Land Rover was the first to cross the country from the west to the east.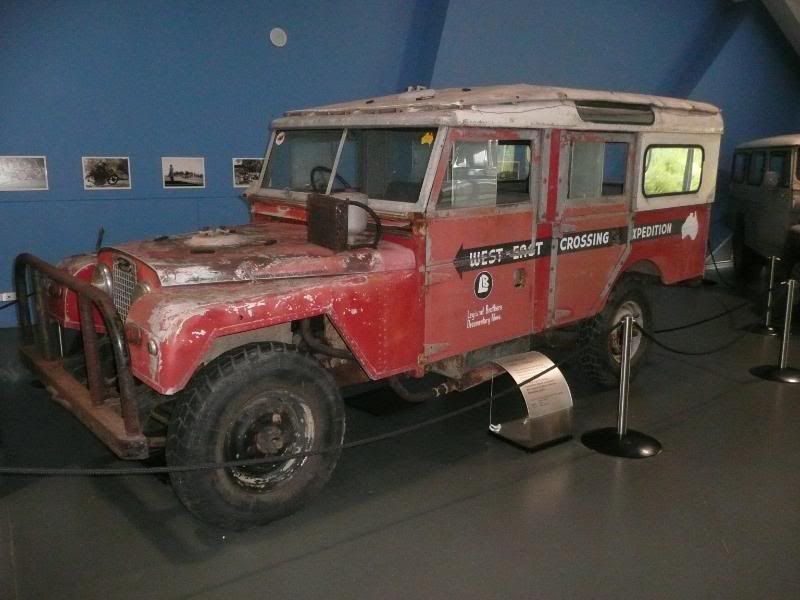 Nowadays, the Toyota is generally preferred for such arduous conditions and this 1980 LandCruiser is an example of the sort of vehicle which became popular for those in the Outback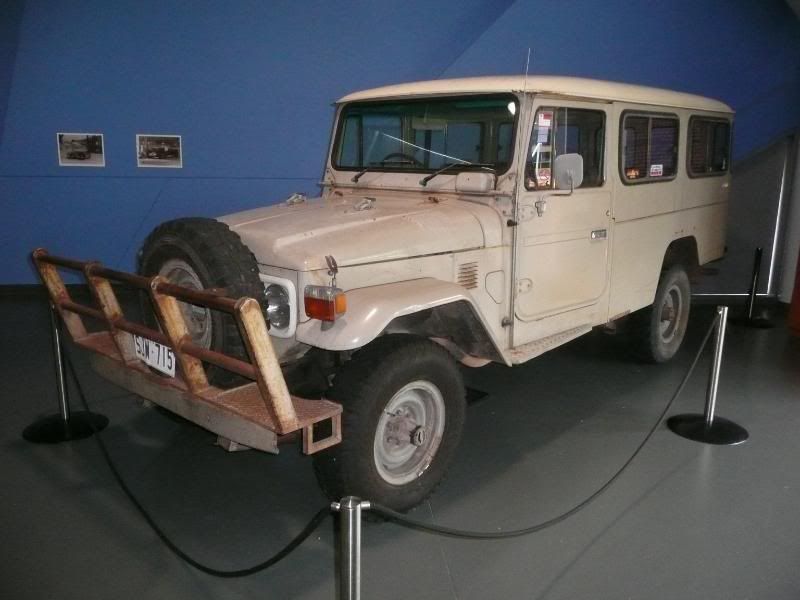 THE LOCAL PRODUCT
This very amusing looking 1905 Ohlmeyer Jigger is "unique"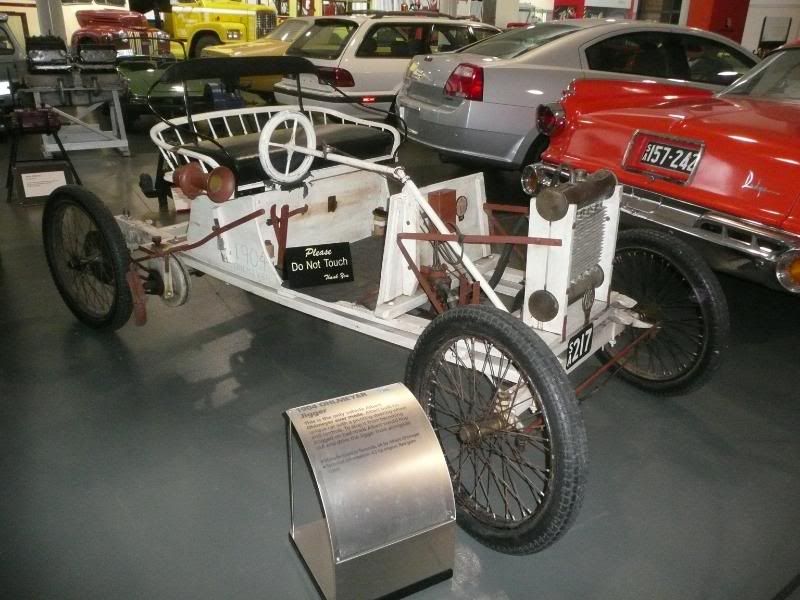 Lightburn was a brave attempt at a very small and cheap locally made car in the early 1960s. It was not a success, with just 363 made in the three years between 1963 and 1966. These cars had a 500cc air cooled twin cylinder engine, and were offered as a Zeta Sport and a ZetaWagon model, and there were examples of both on show here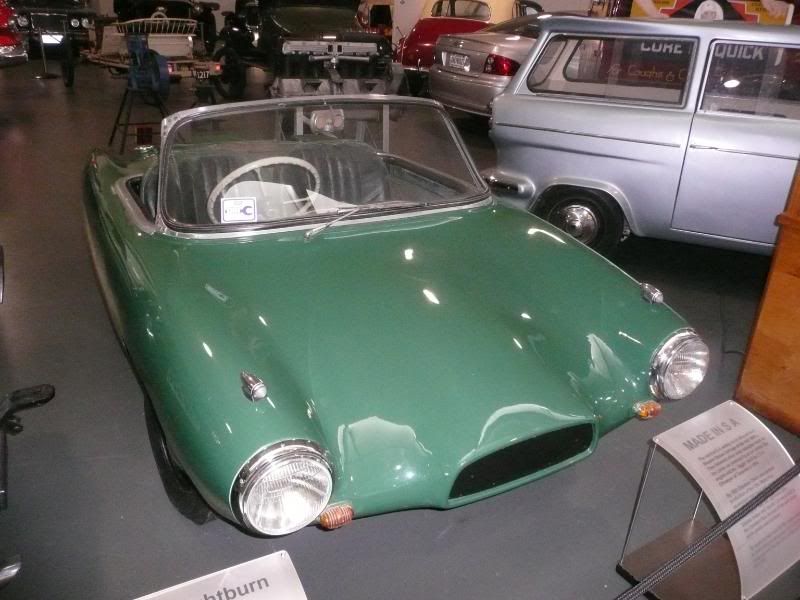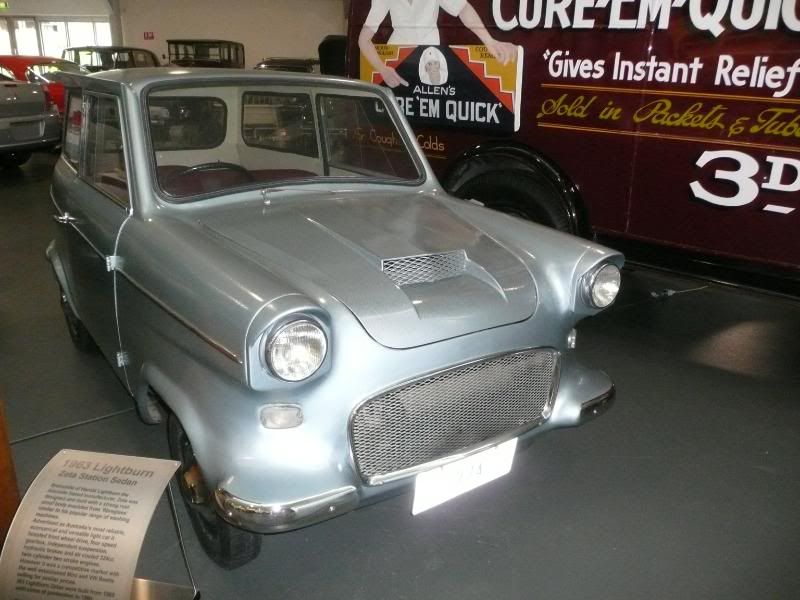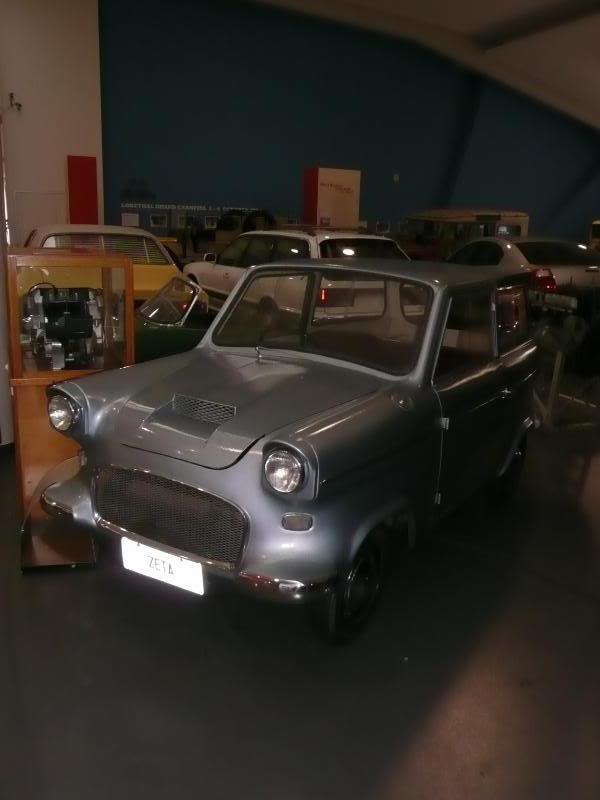 Far more successful was this, the 1992 Mitsubishi Diamante Wagon which was exported around the world as well as selling strongly on the local market.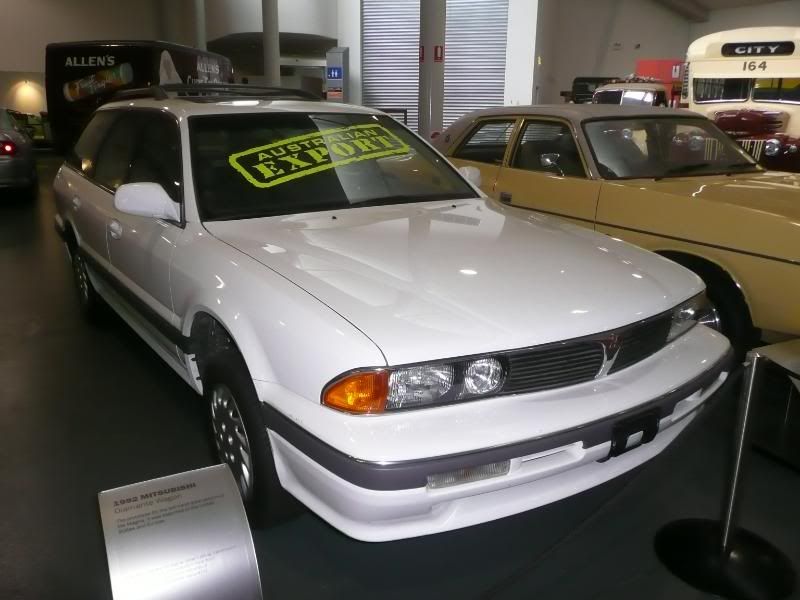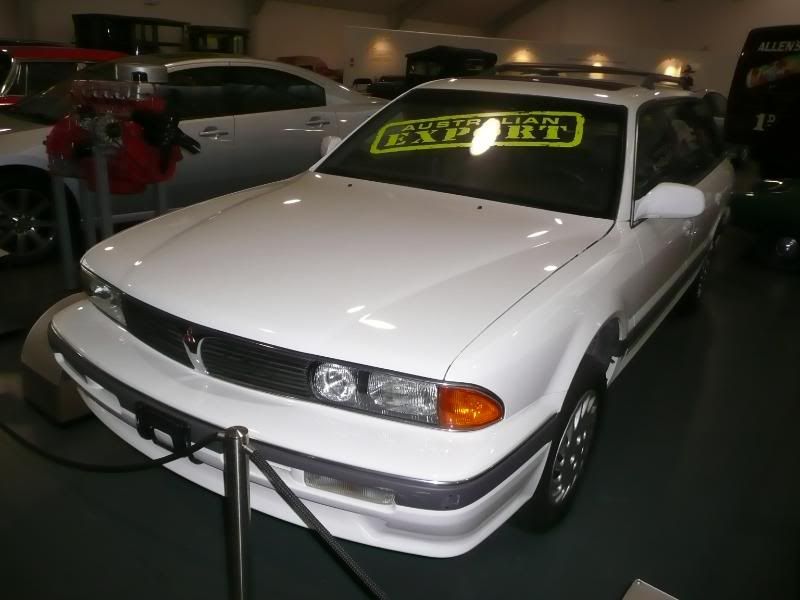 Mitsubishi made cars in Australia until 2008 when falling sales made the operation unviable. The last model made was the 380, a local variant of the Galant, and this is the penultimate car off the production line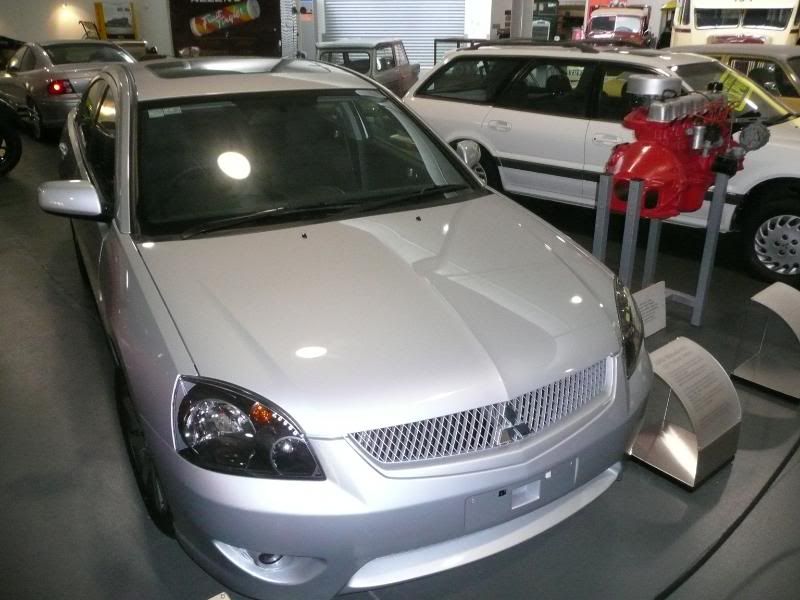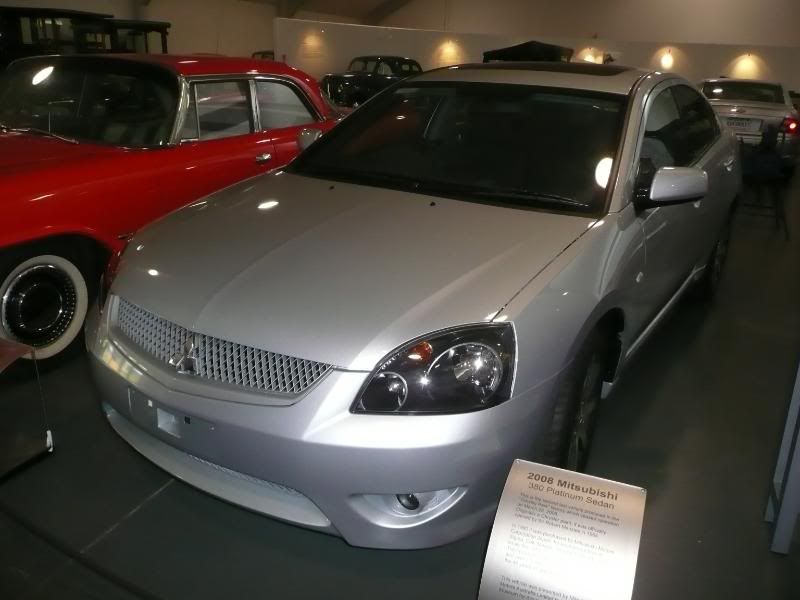 1700 of these were made in Australia. It is a 1960 Goggomobil Dart, and is based on the better known German make's components.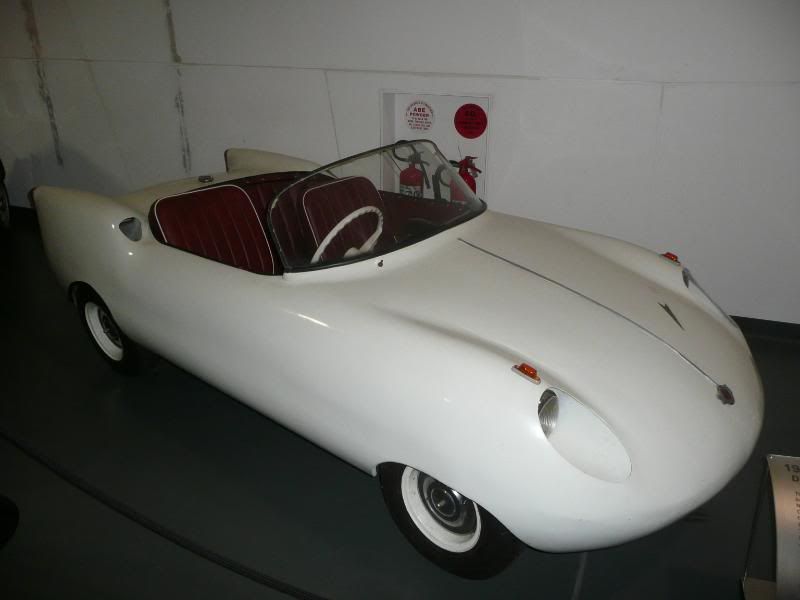 Even VW made cars in Australia a long time ago. This 1959 Beetle was assembled in the country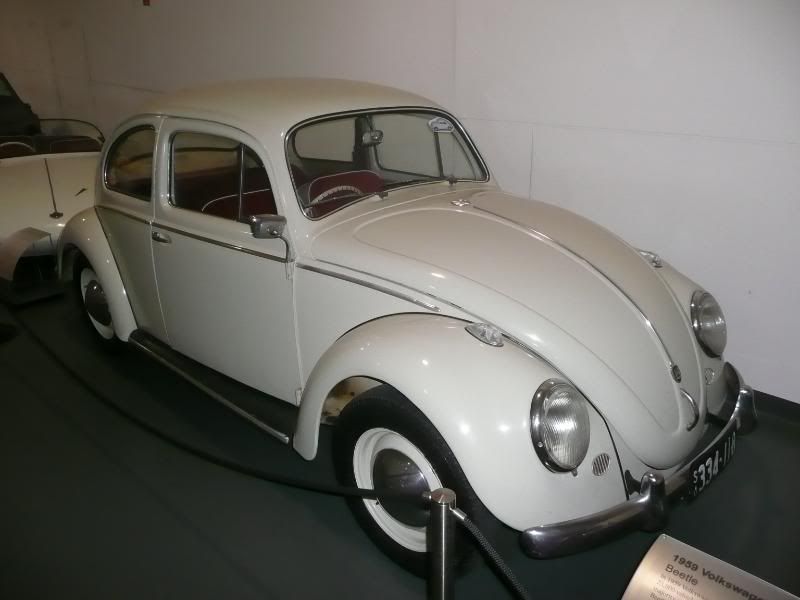 PRE WAR CARS
A couple of the more prestige vehicles of the collection were these: 1924 Rolls Royce Silver Ghost and 1910 Daimler 38HP Landaulette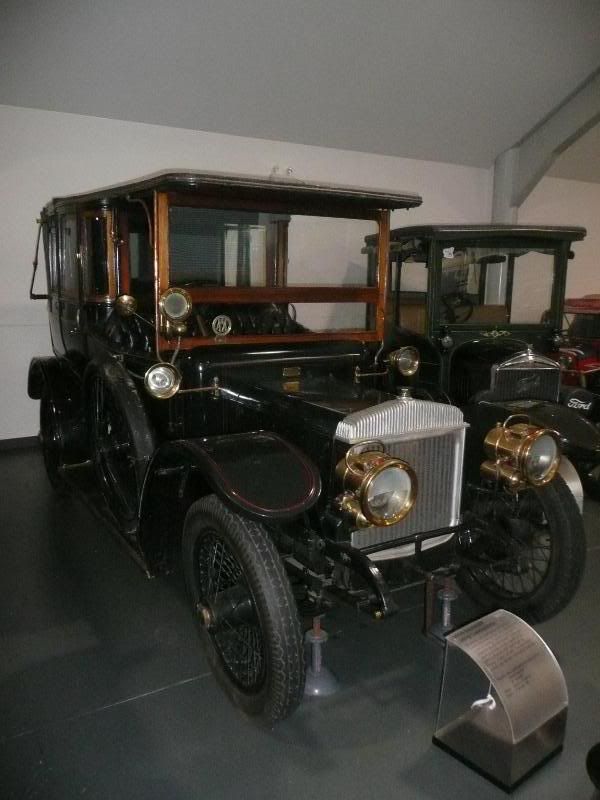 1915 Ford Model T Depot Hack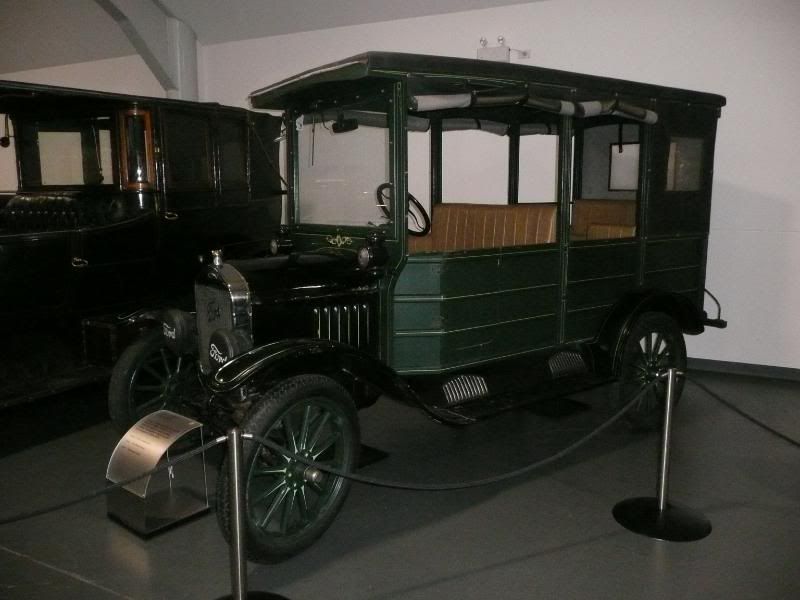 1937 Morris 8 Series II
A vast array of pre war cars are grouped together in one of the halls, and comprise a mixture of some familiar names with some which I had even heard of before. Some of these cars are displayed in "as found" condition.
1900 de Dion Bouton Type E Vis-aVis
1906 Phoenix Trimo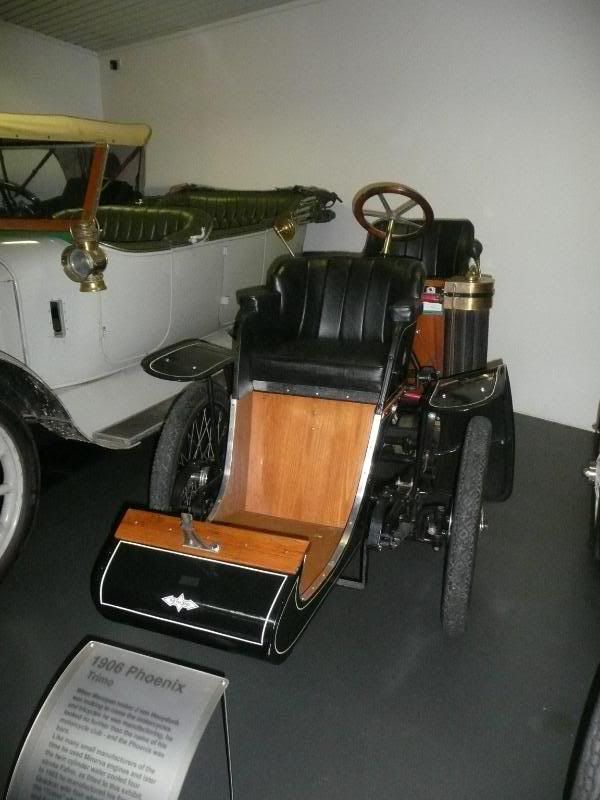 1913 Newton Bennett 12hp Tourer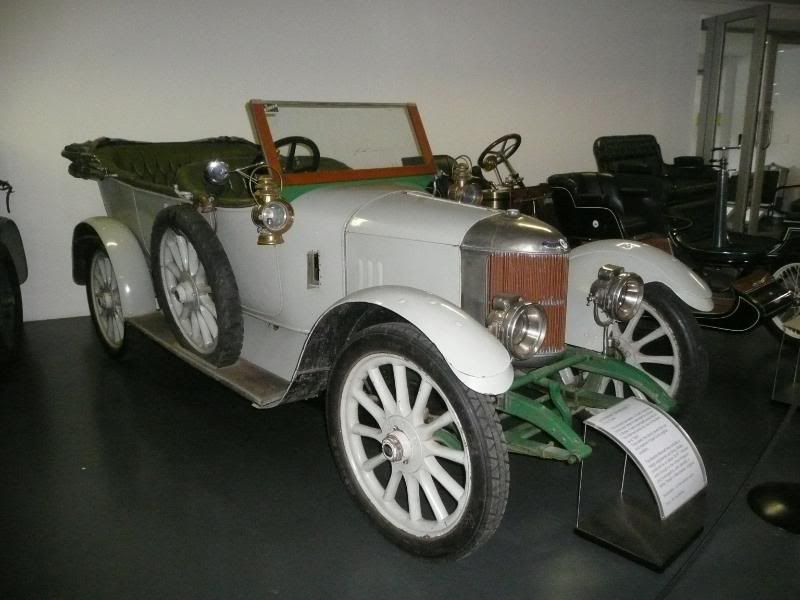 1914 Dixi R12 Tourer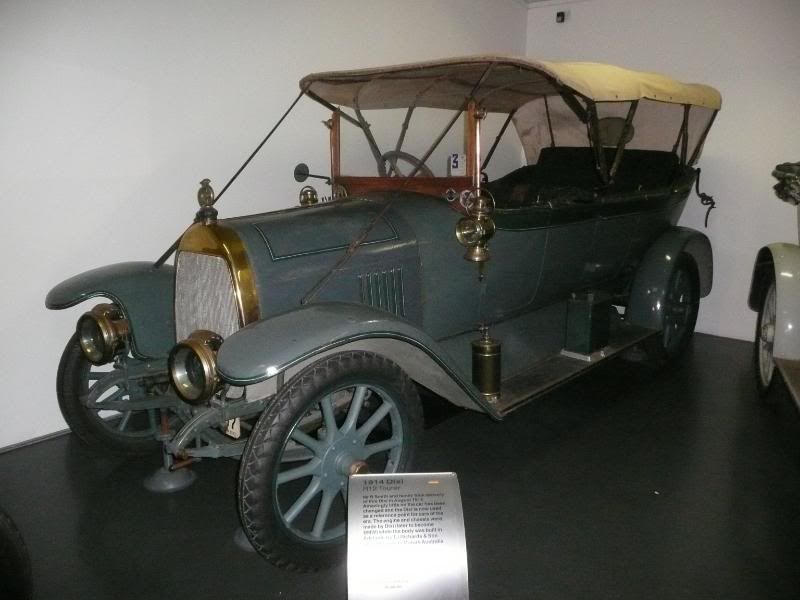 1910 Daimler Tourer
1925 CHIC Roadster, one of just 50 built between 1921 and 1929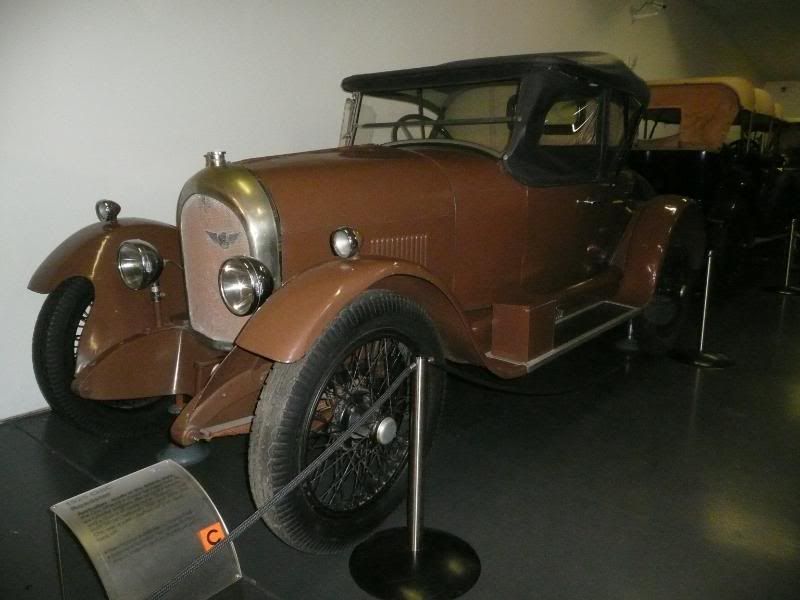 1927 Packard 526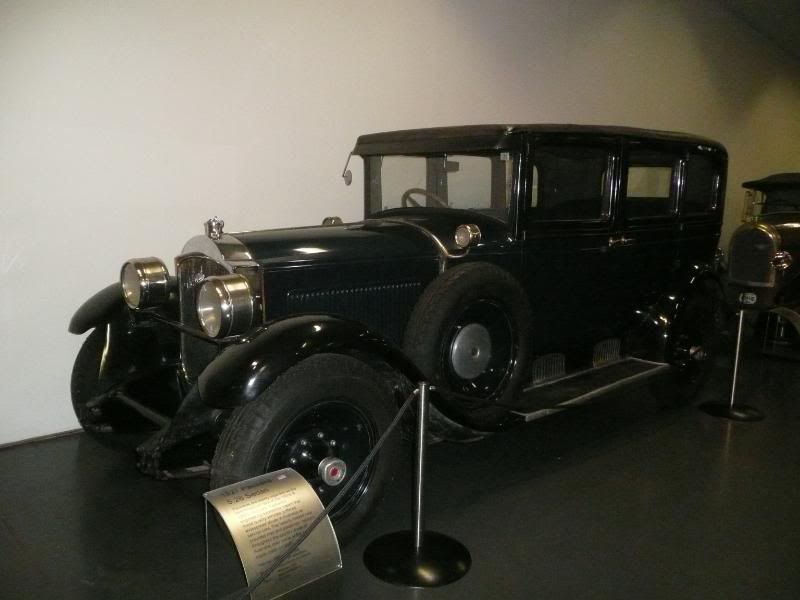 1921 Dodge Buckboard
1925 Packard Series 326 that was converted to a tow truck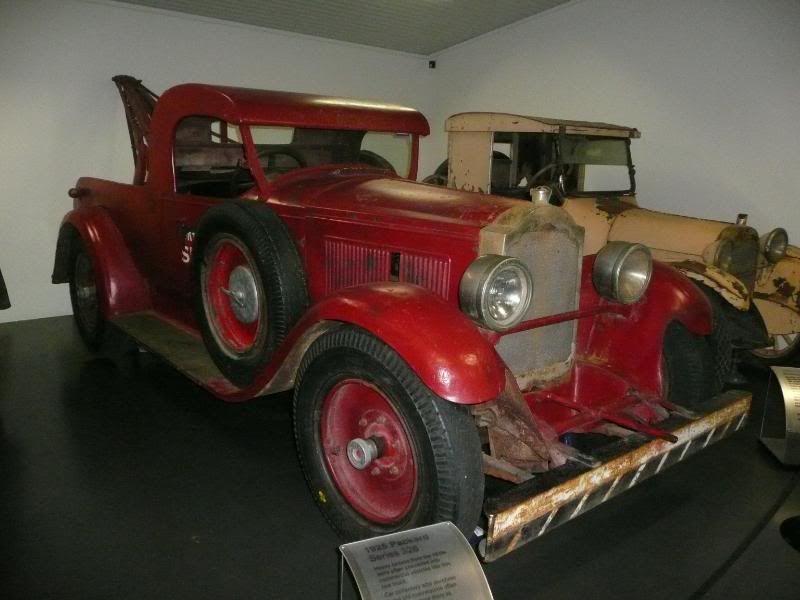 1928 Dodge Series 128 Fast Four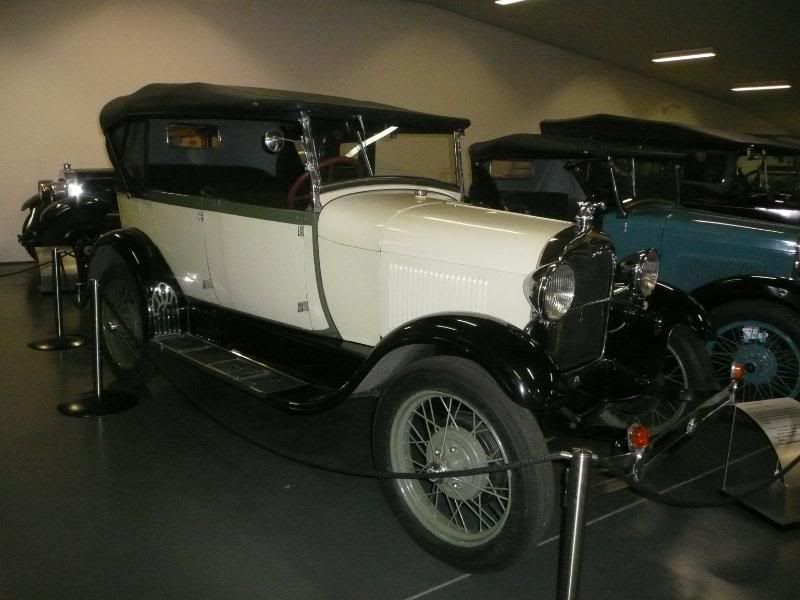 1928 Ford Model A Tourer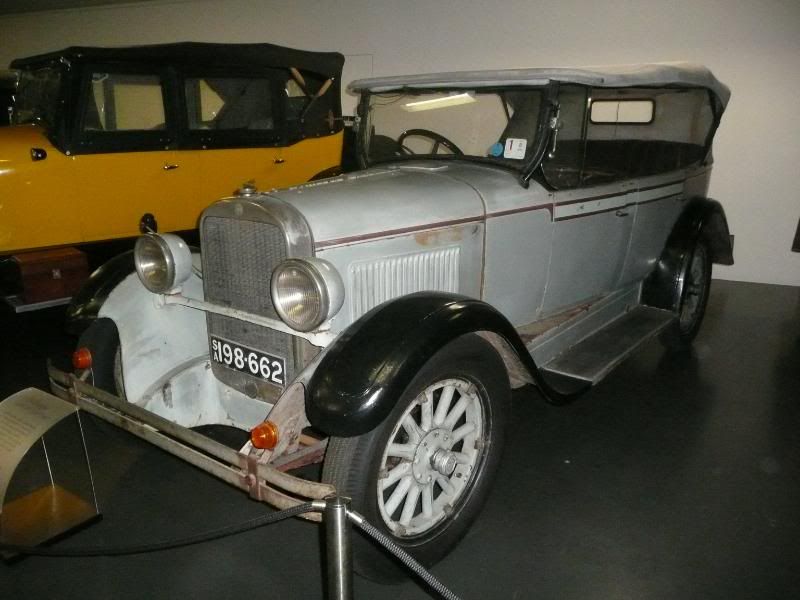 1928 Erskine Model 50 Coupe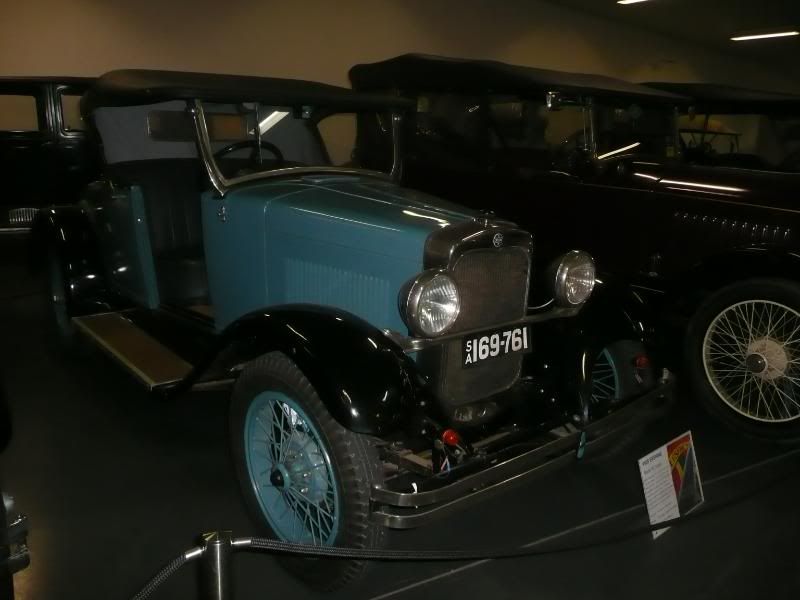 1919 Australian Lincoln Tourer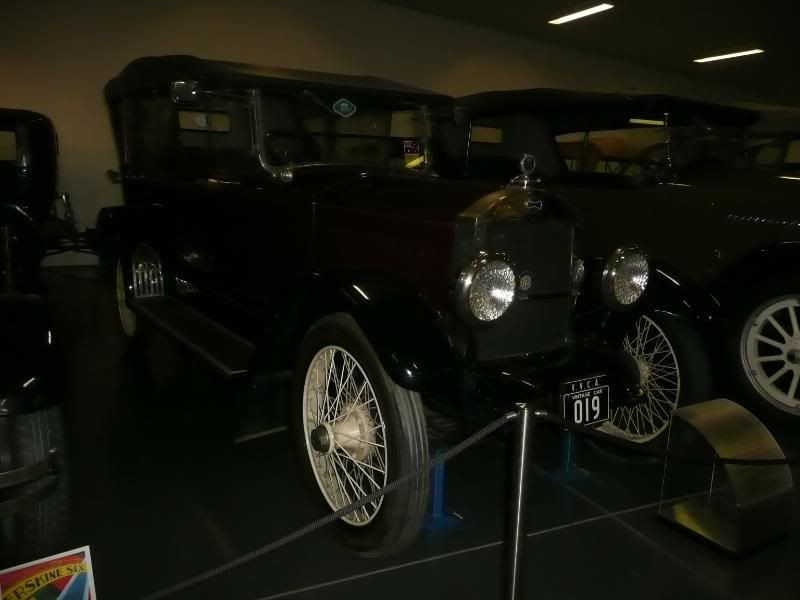 1924 Summit Tourer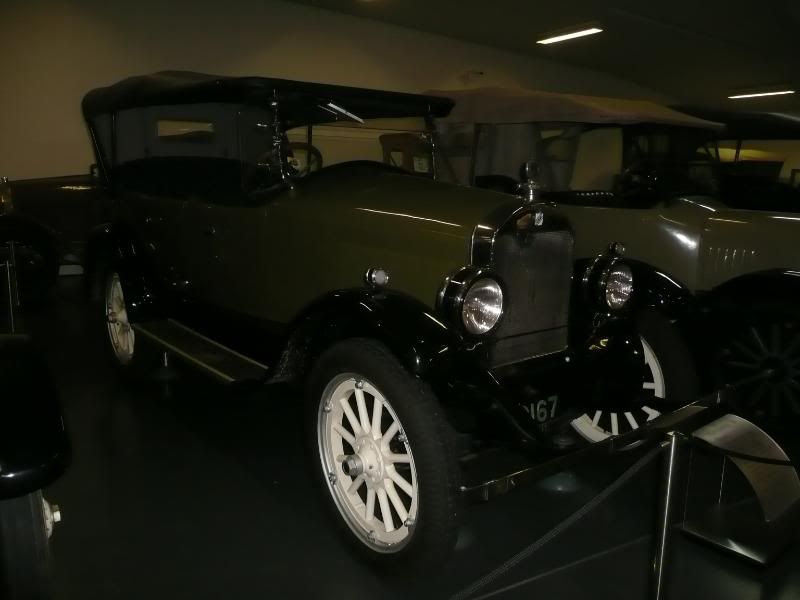 1920 Palm
1916 Dodge Tourer
1925 Cadillac V-63 Phaeton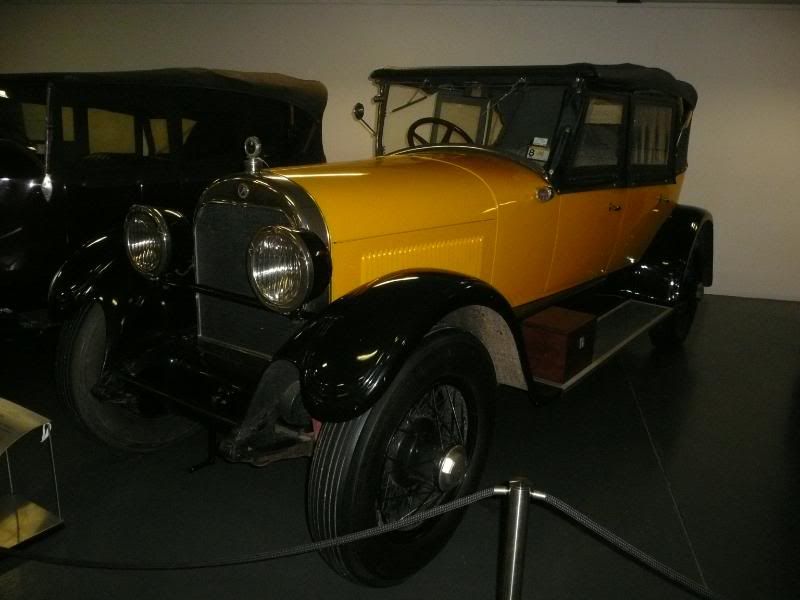 1926 Rolls-Royce 20HP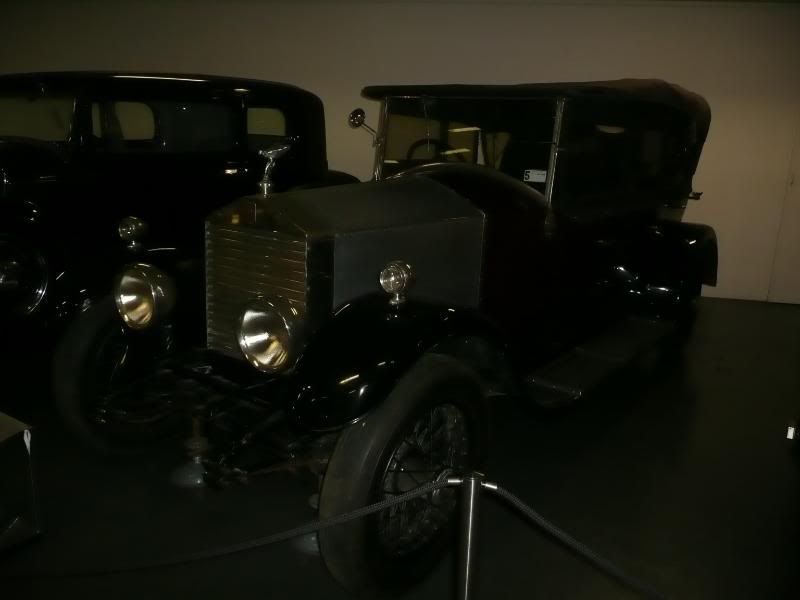 1933 Pierce Arrow Club Brougham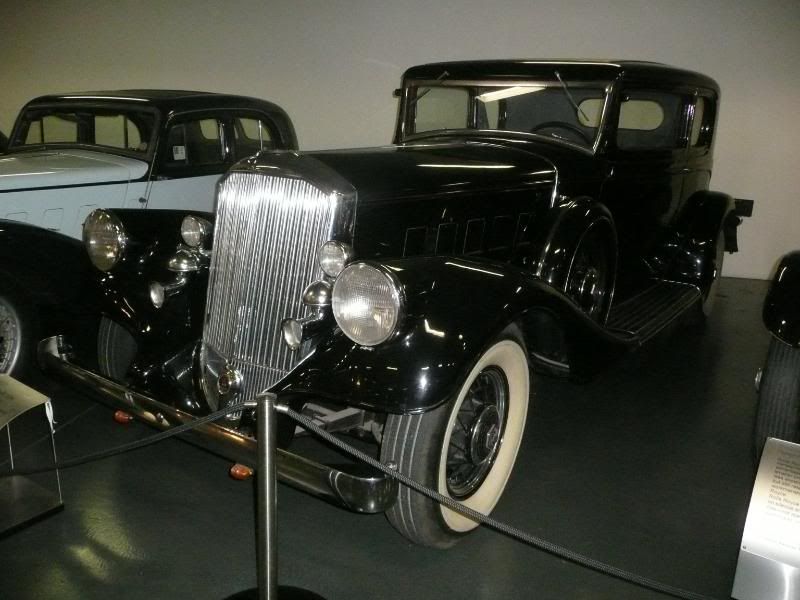 This 1936 MG SA was one of my favourites from this part of the museum, but my enthusiasm for it would be nothing compared to that from someone I know!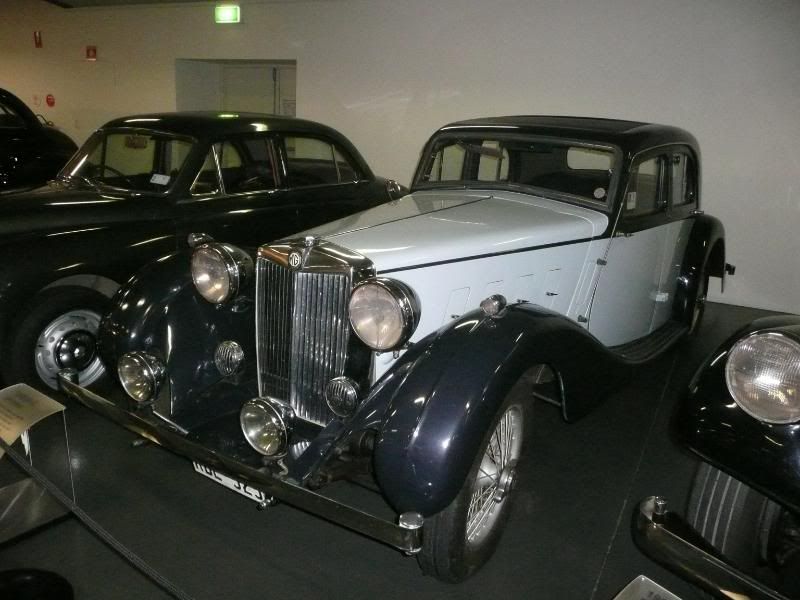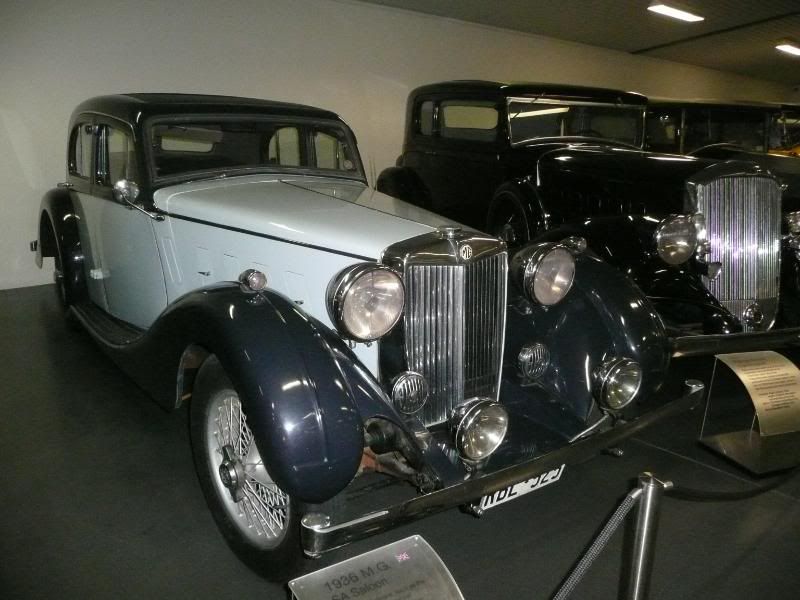 Among the American cars from this period were an unspecified model Pontiac, a 1949 Chevrolet Stylemaster and a 1939 Willys Overland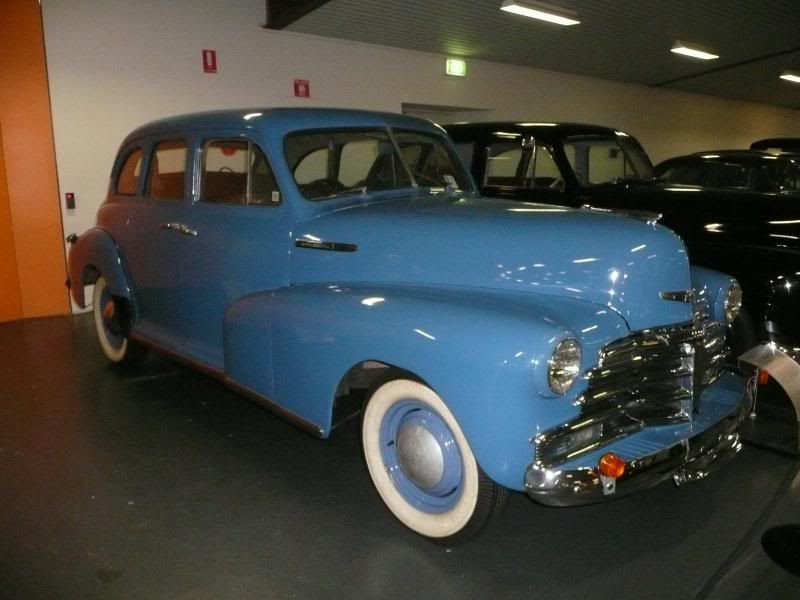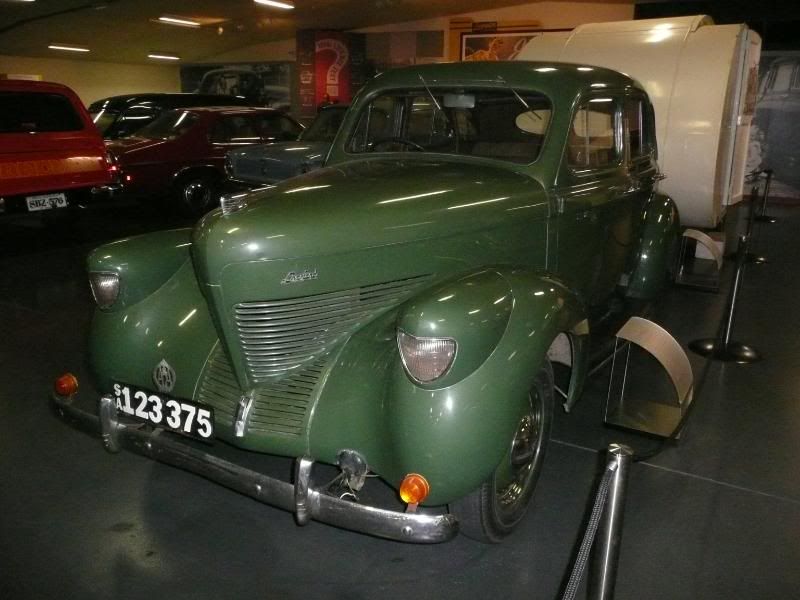 POST WAR CARS
An eclectic mix of cars are at the end of the hall containing the commercial vehicles, and they then line the corridor which connects this hall to the next one.
The 2000 Toyota Will Vi was aimed at Japanese lady buyers and was pretty successful.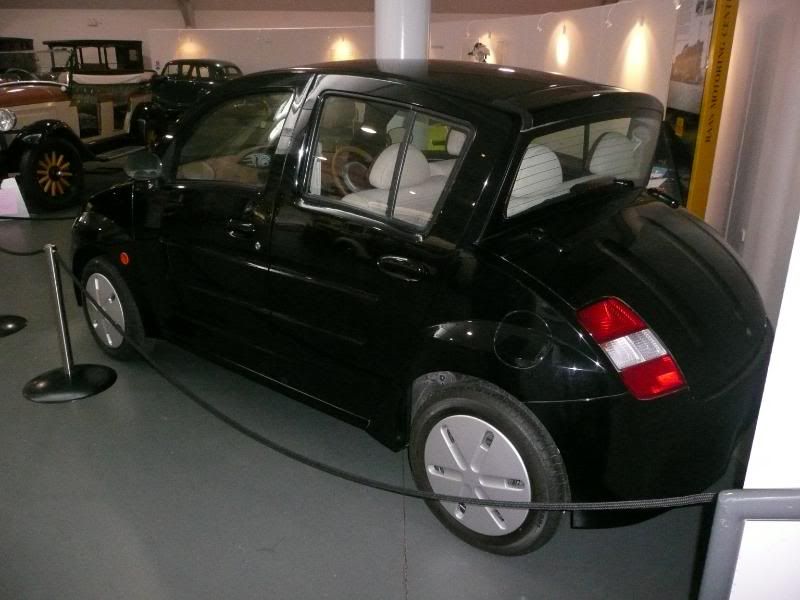 30 years earlier, a famous lady buyer, Twiggy, acquired this, a lovely Lamborghini Miura S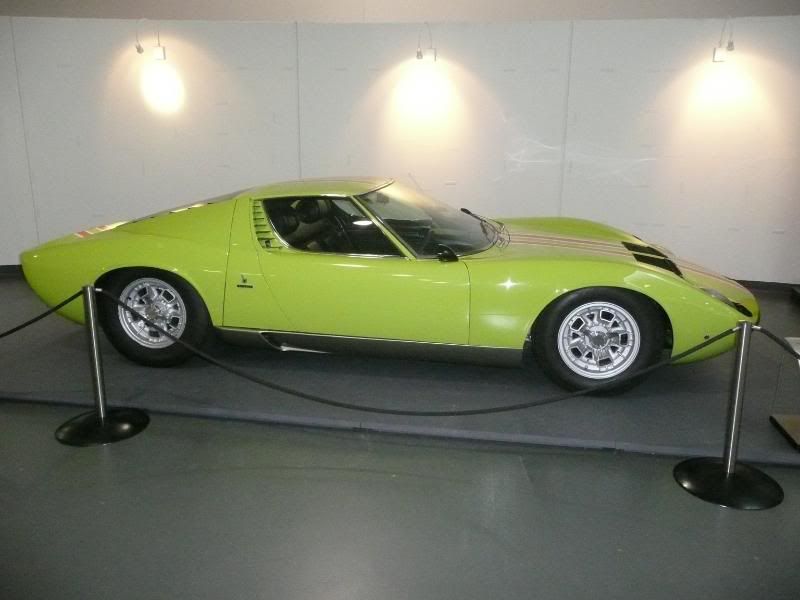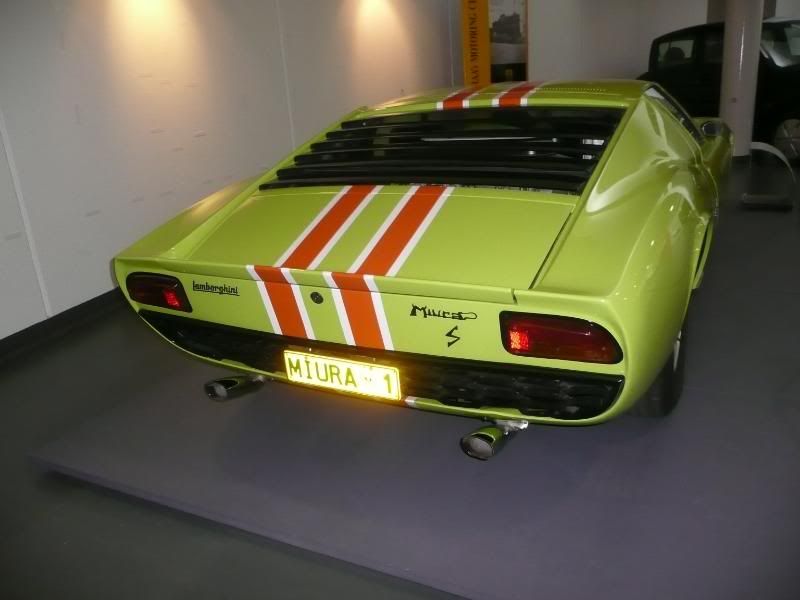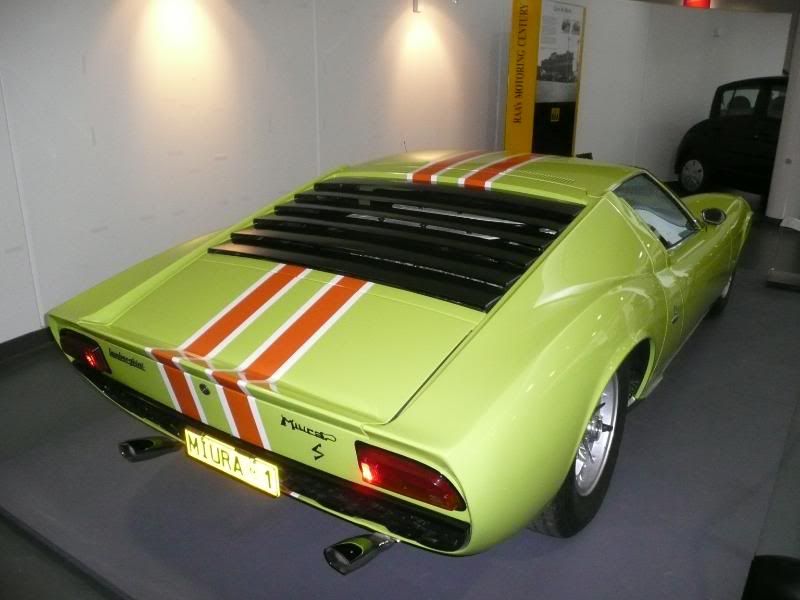 This 1965 Rolls-Royce Phantom V was used by the Governor General for many years and it was also used to transport the Royal Family on State visits.  
Australia was one of the first markets to receive Japanese cars, long before they reached Western Europe and this 1964 Toyota Tiara, the precursor to the far better known Corona, is an example of a car that I had never seen before..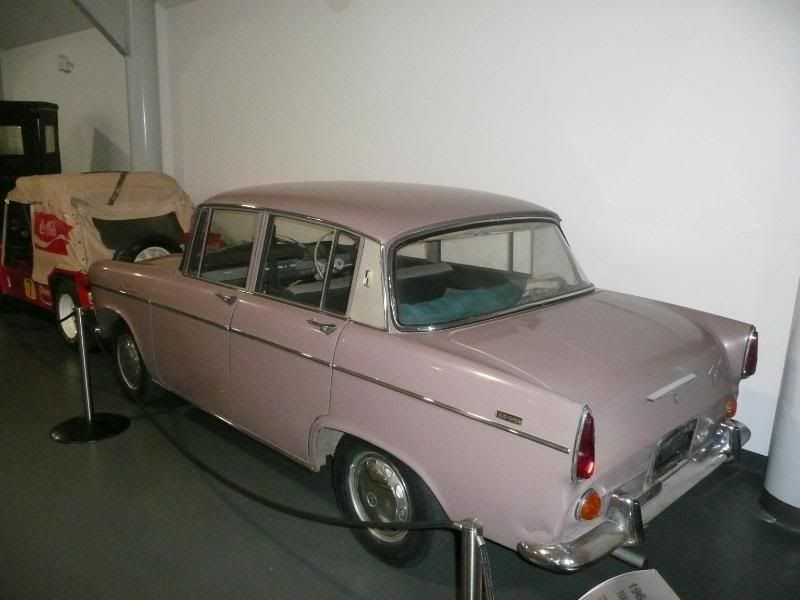 First generation Honda Civic
An interesting display presented the history of Shell in three separate cabinets. The name goes back to the original business which was in collecting and selling on sea shells to collectors.
Cabinets lining the walls of one of the corridor contained all manner of die-cast models. A mixture of the Corgi and Dinky cars that I remember so well from my childhood (and slightly play-worn examples of which I have still in my parent's loft), these had been arranged by colour which made for a striking display.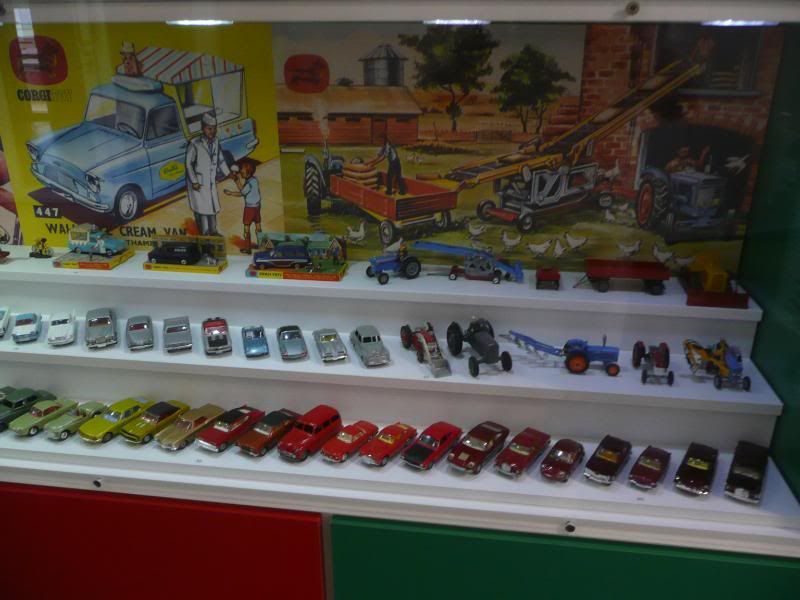 SPORTS and SUPERCARS
An interesting array of sports cars, some rather rarer than others lined the walls of one of the display halls
Ferrari Daytona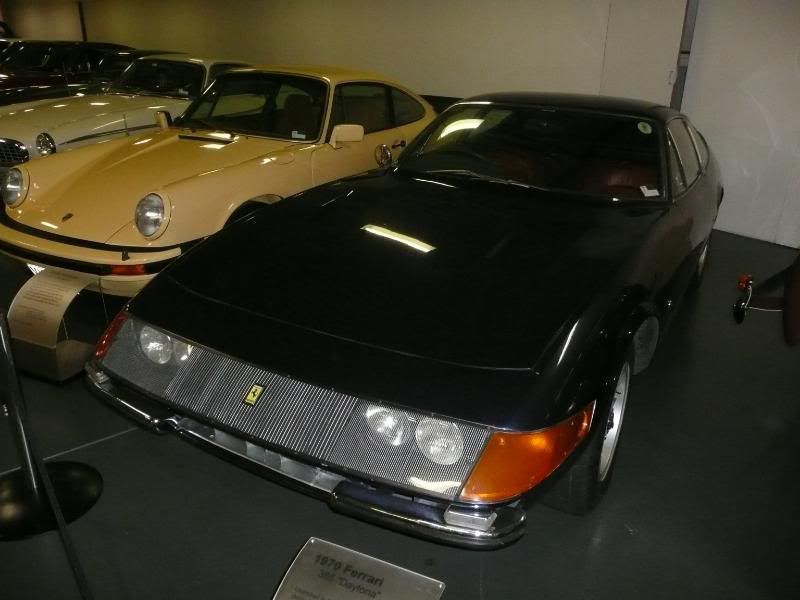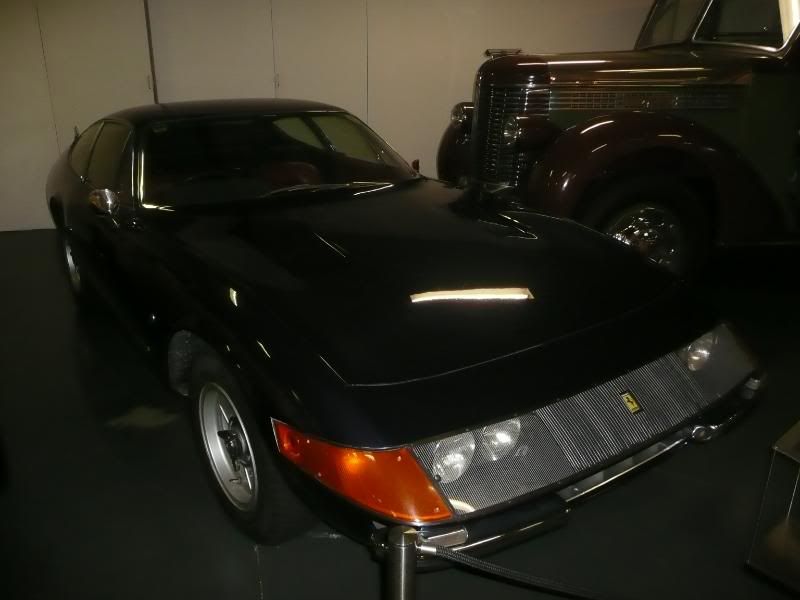 Porsche 911 Turbo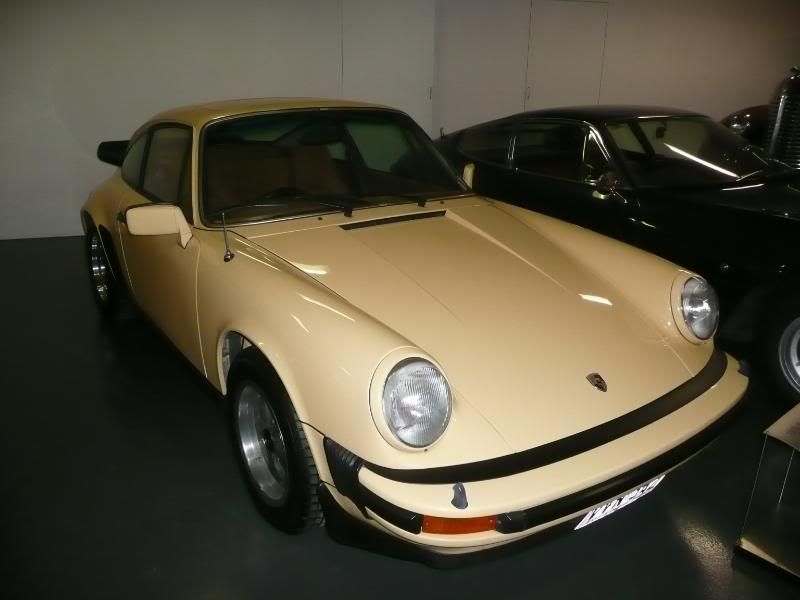 Volvo P1800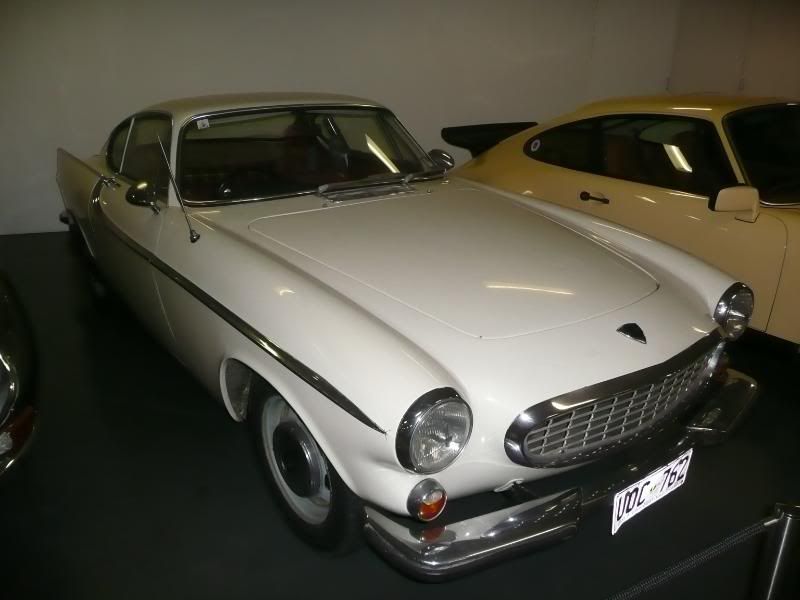 Jaguar E Type
Aston Martin DBS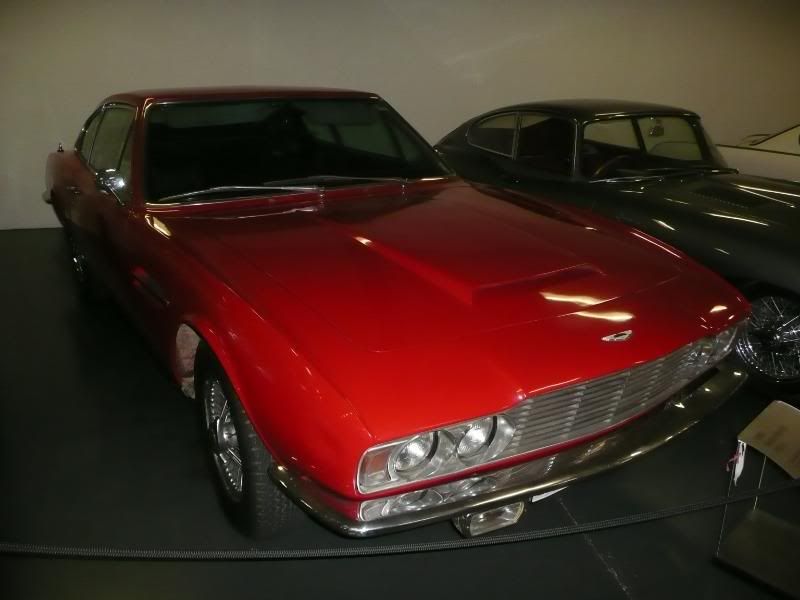 Datsun 240Z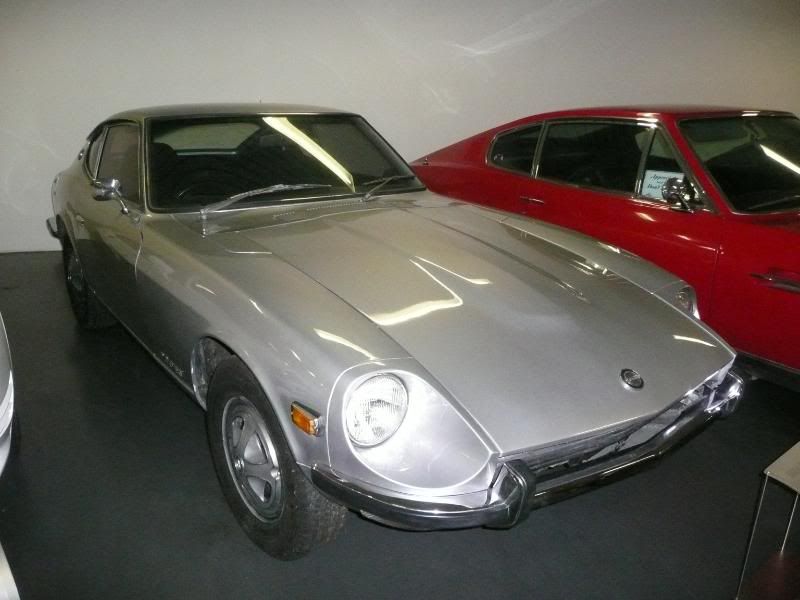 This is a 1988 Giocattolo. Based on the Alfasud Sprint, a 5 litre Holden V8 engine rather transformed the performance. Only a small number were every built, though.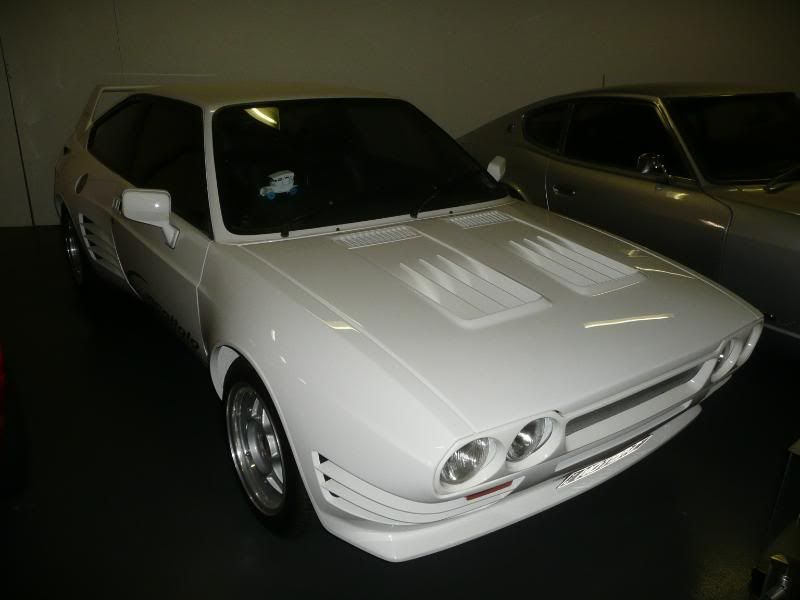 Maserati Merak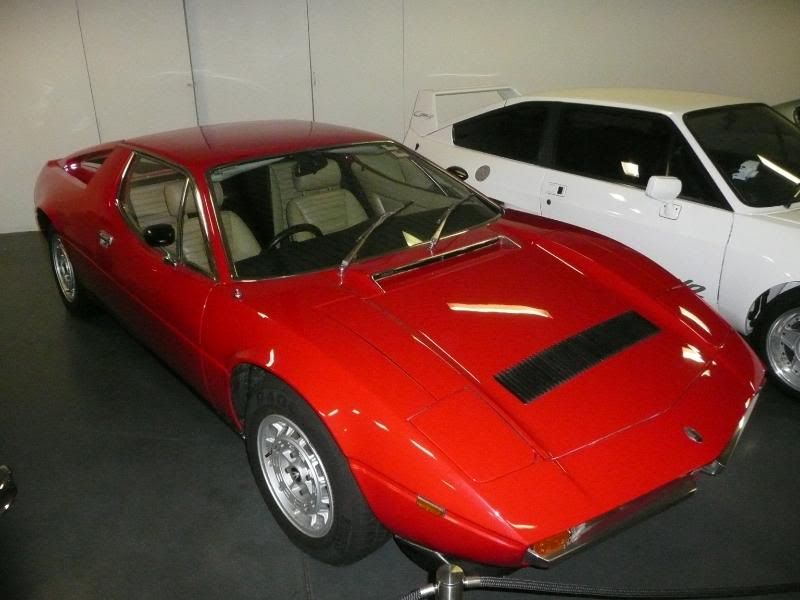 Armstrong Siddeley Sapphire 346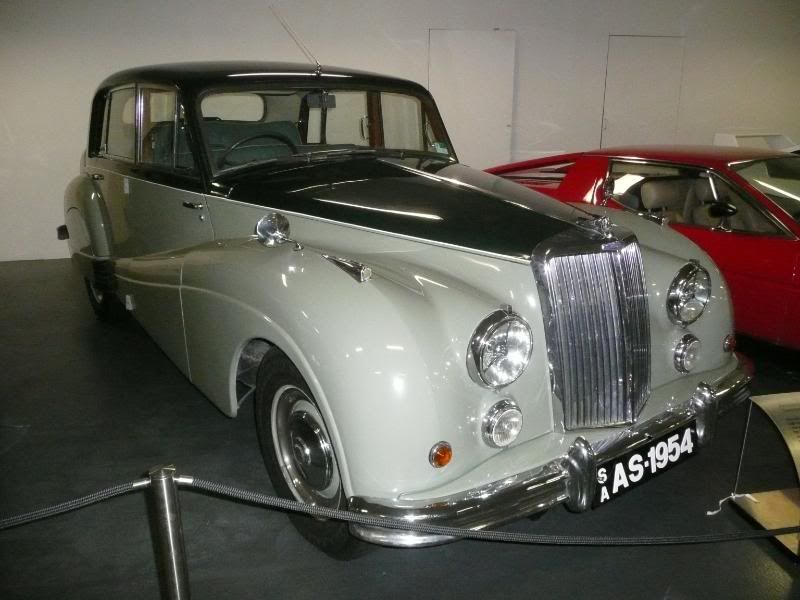 FAMILY CARS
1949 Standard Vanguard Phase 1, one of the first new designs to emerge after the war, and a car which domestic UK customers found difficult to buy as almost all the cars were produced had an Export destination.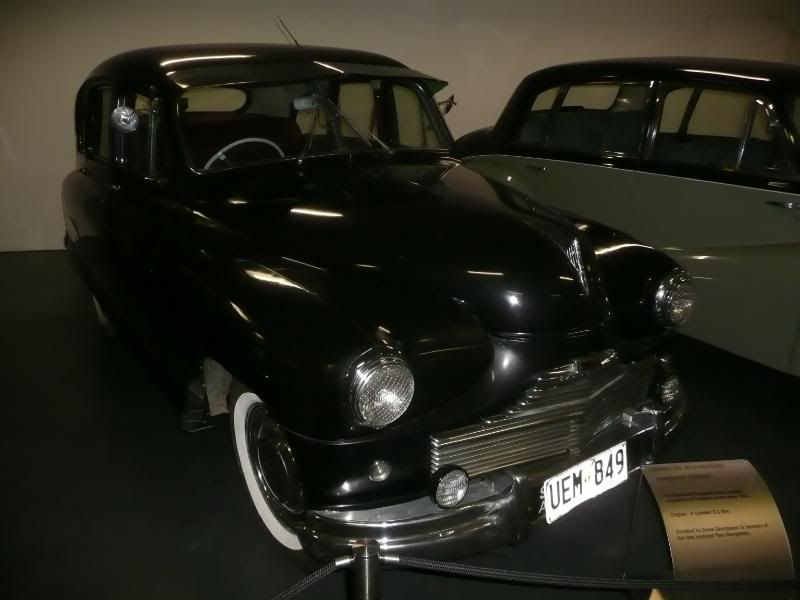 Following a move away from the rest of his family, the owner of this 1949 Hillman Minx used the car to drive from Perth to Adelaide (a distance of over 2500km) no less than 15 times. It is in remarkable condition.
MGs in the collection included the MGTC so beloved of the GIs of the late 1940s and the popular 1955 ZA Magnette sports sedan.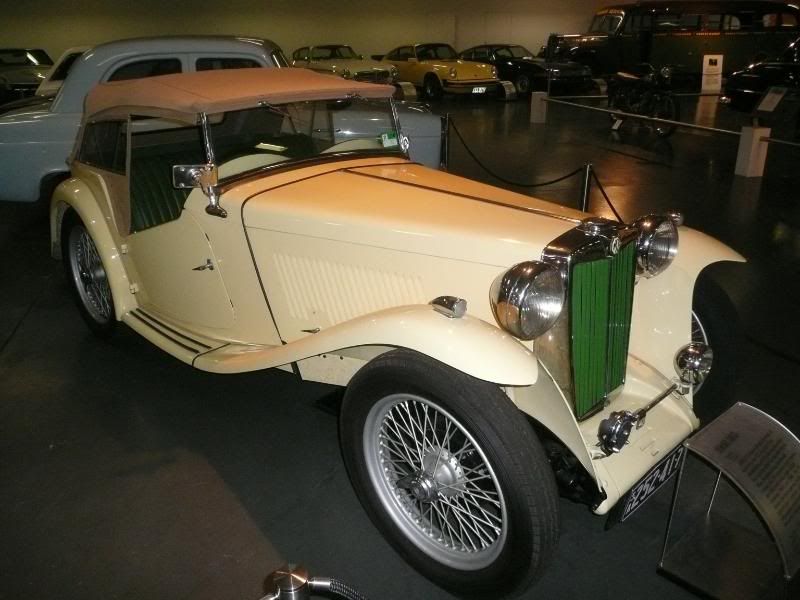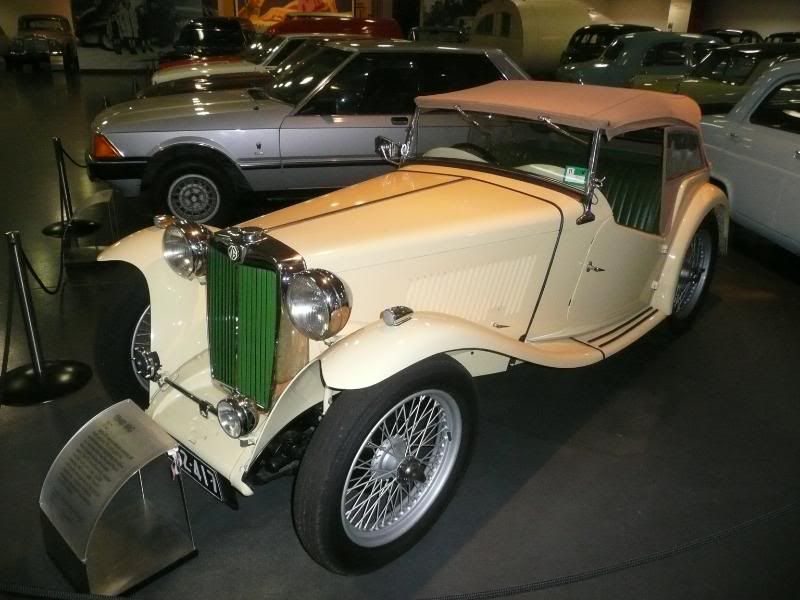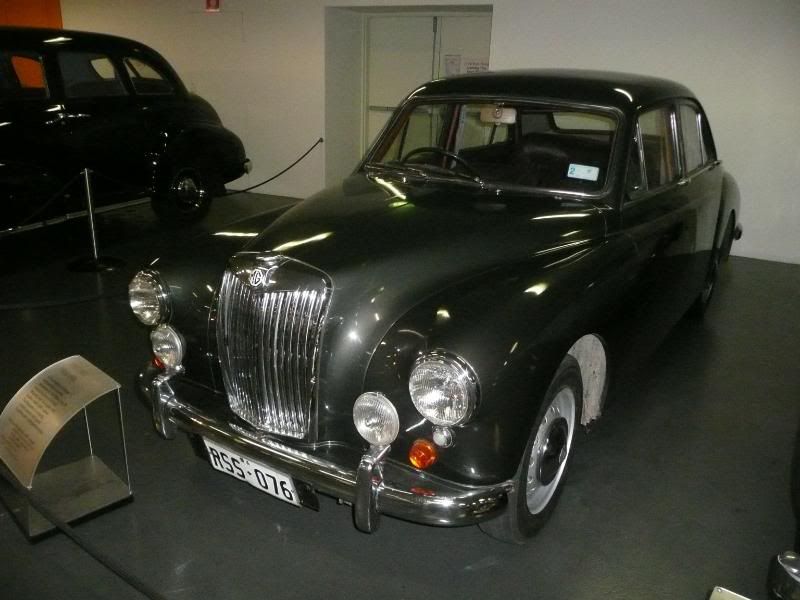 There were a couple of Rovers: a 1956 Rover 75 (P4) and the later P6 model 3500S,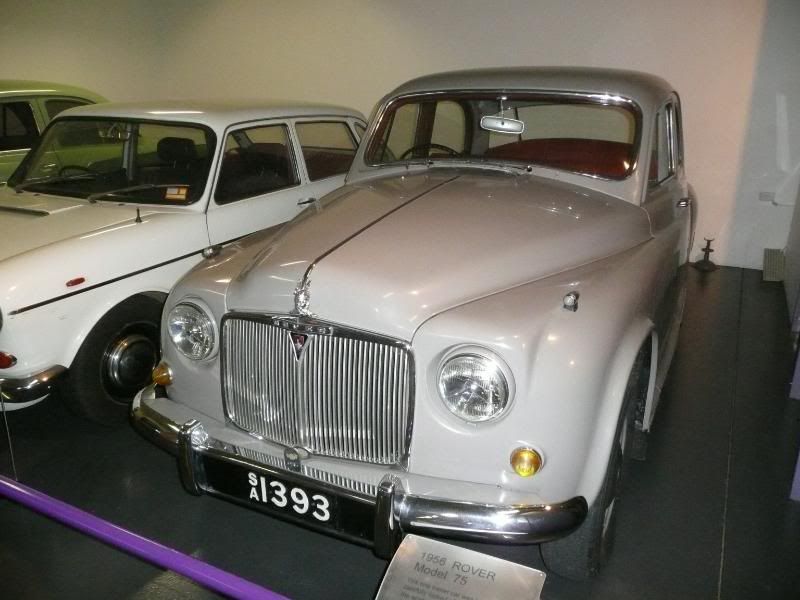 Fiat have never sold in large quantities in this market, so it was quite a surprise to find 2 rare Fiats on show: a 130 Coupe and this 1966 Fiat 1500 Estate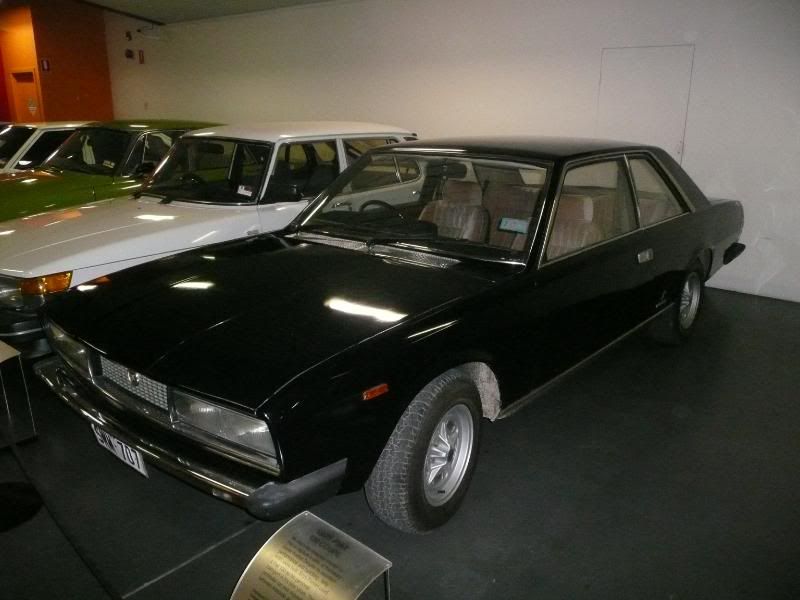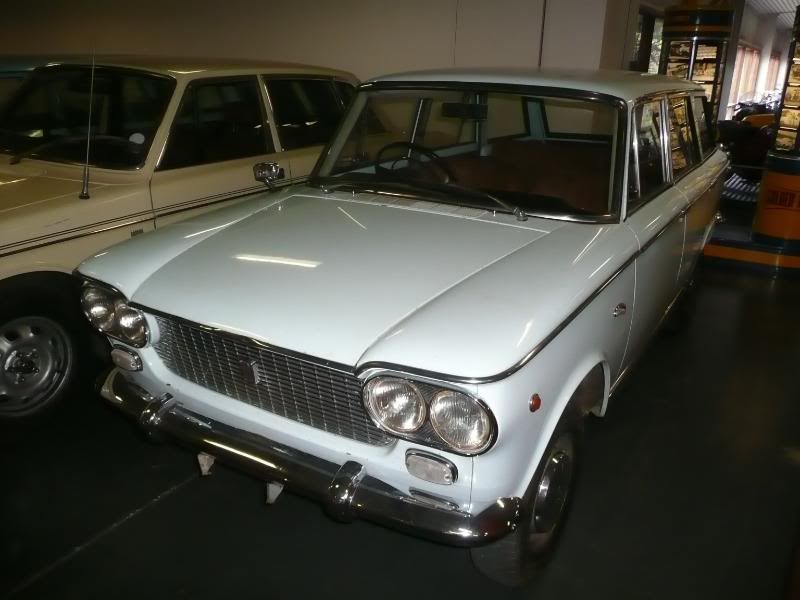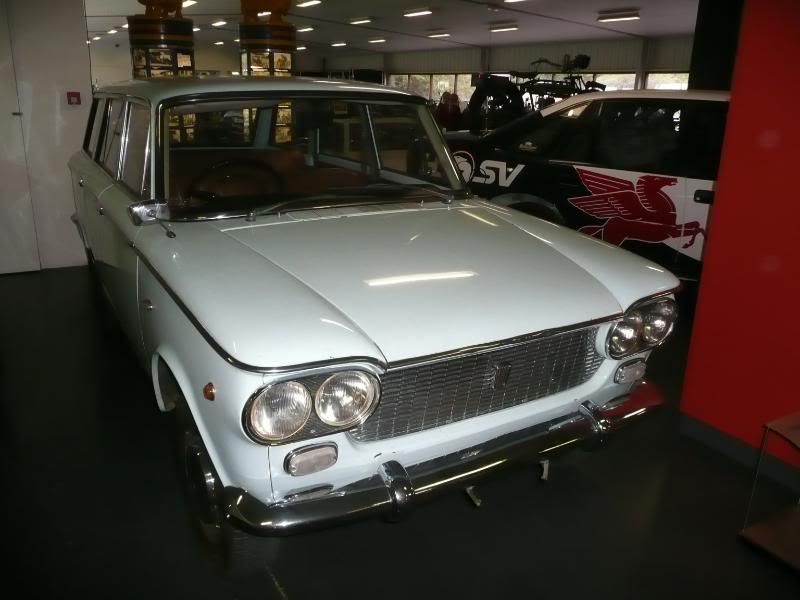 Among the Japanese cars were this 1968 Mazda 1500, which was styled by Bertone and was a very good looking car, and the slightly earlier 1966 Toyota Crown Estate.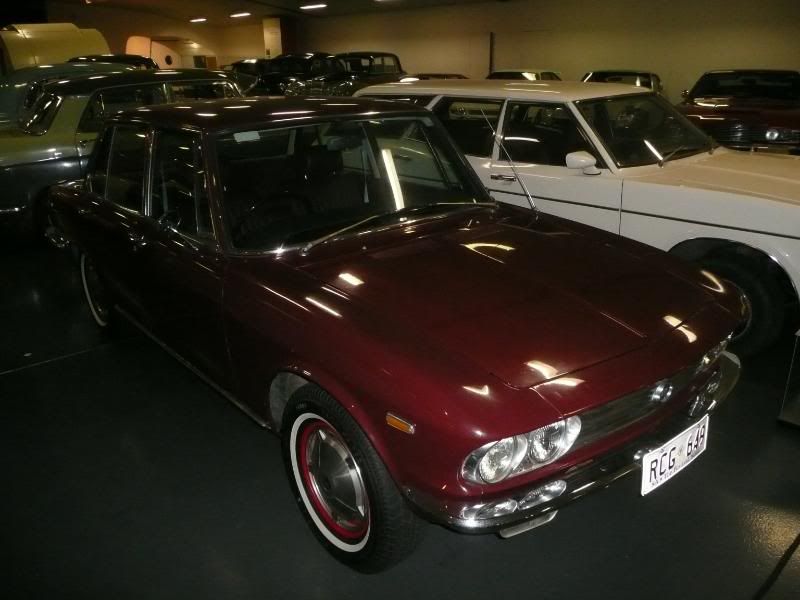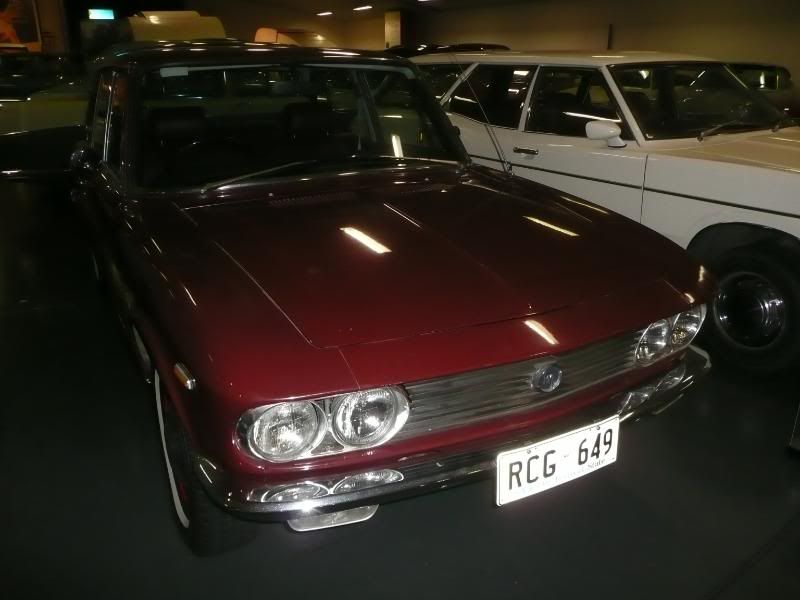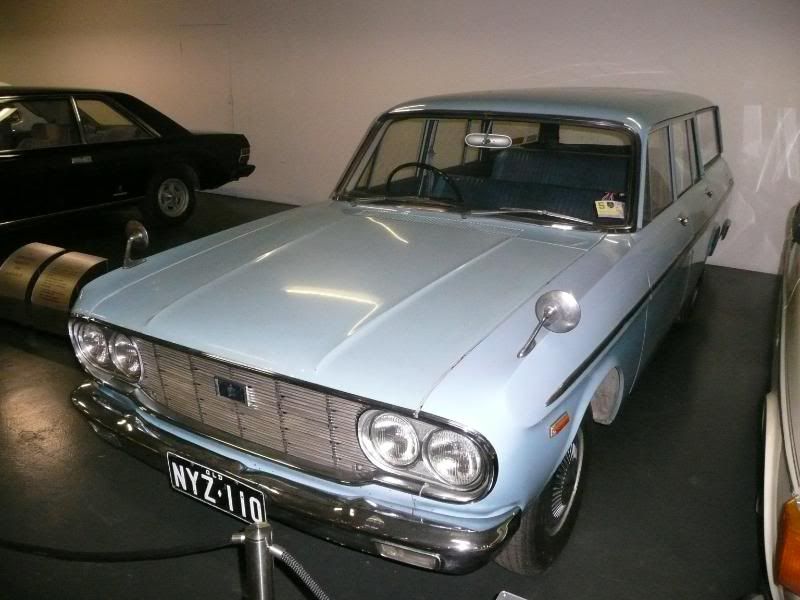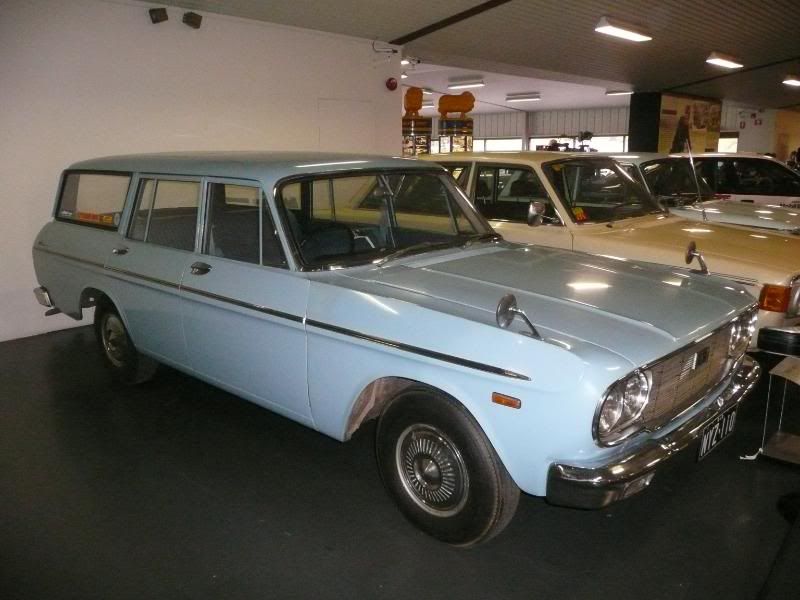 Swedish representatives were the 1974 Volvo 144 GL and a Saab 900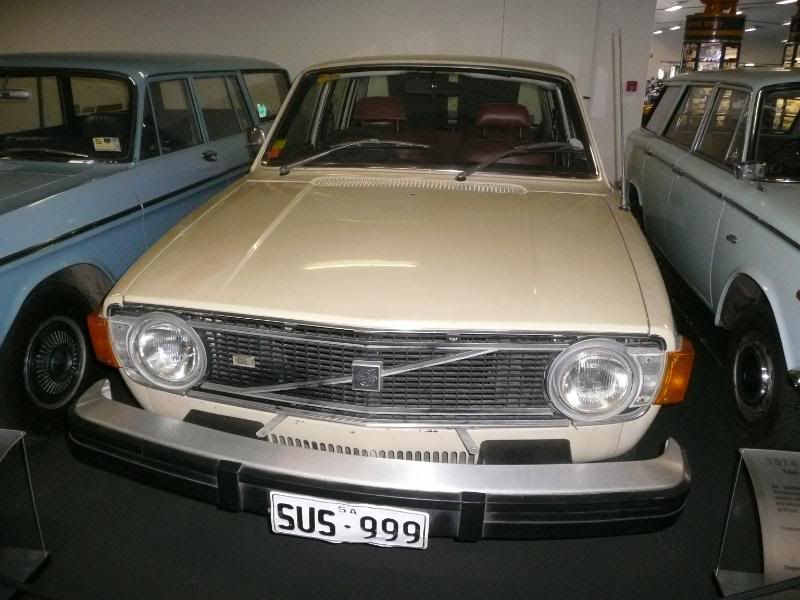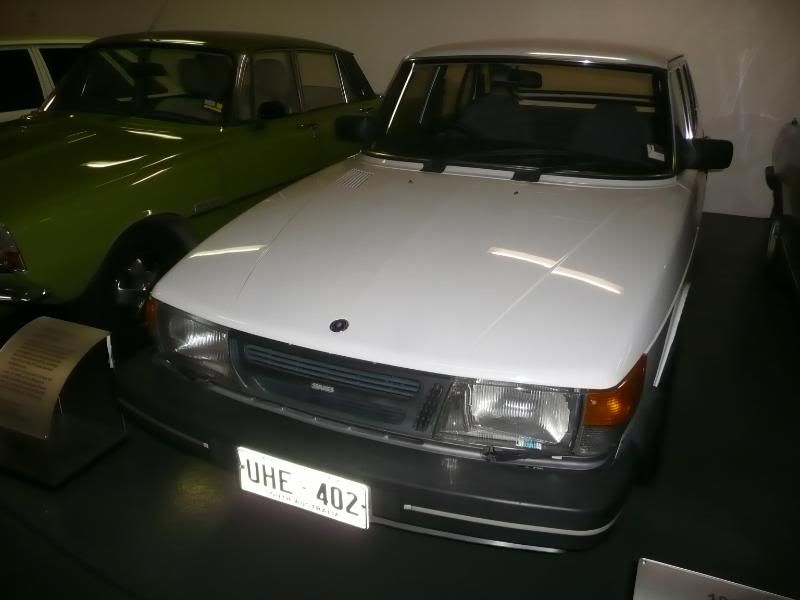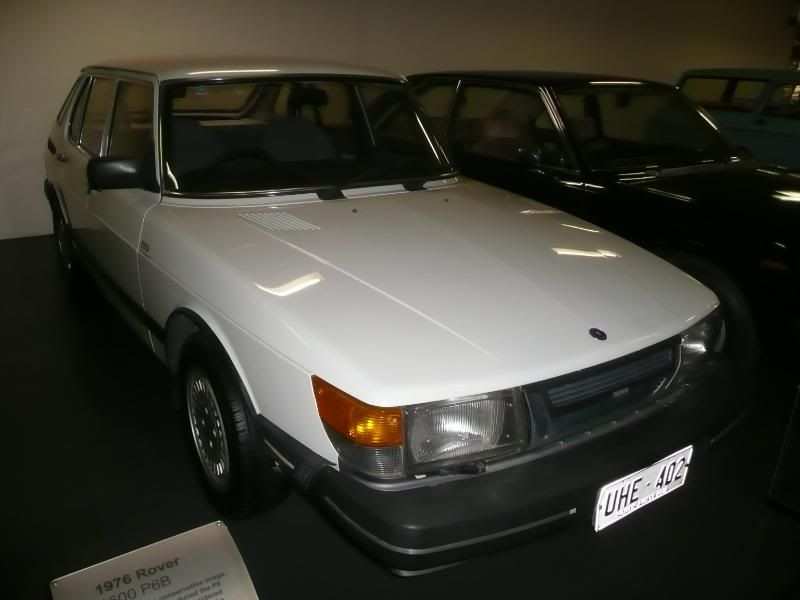 MERCEDES
The museum has some floor space which is offered to local car clubs for a temporary display. In March 2012, the local Mercedes Club had populated this with a show of various models from the 220 Ponton of the 1950s to the more recent W116 S Class and R107 SL models.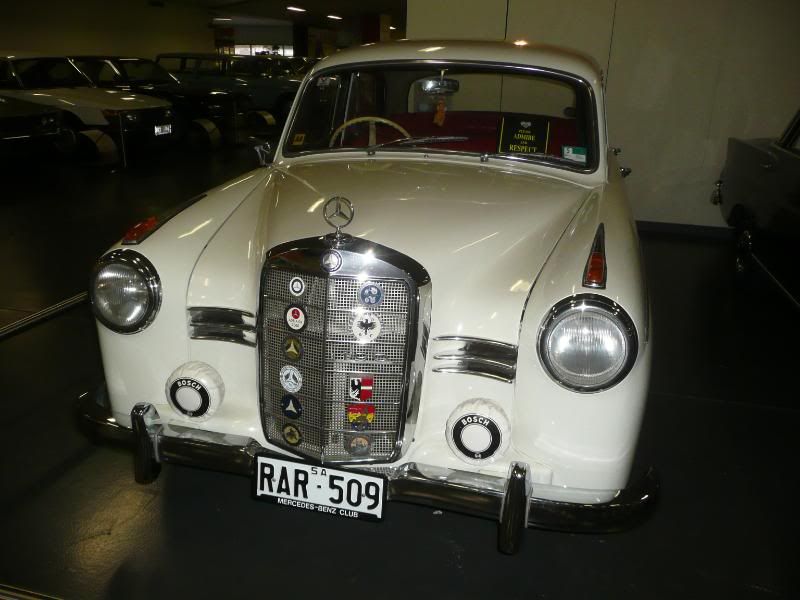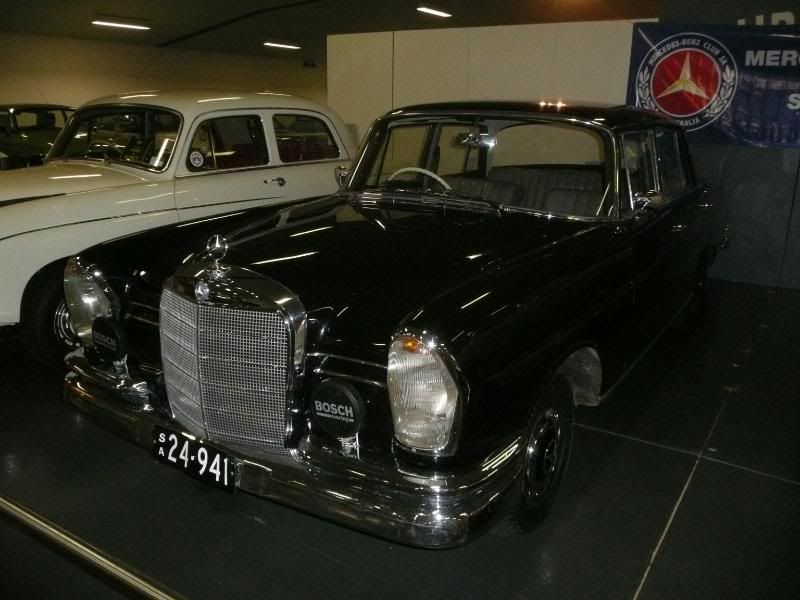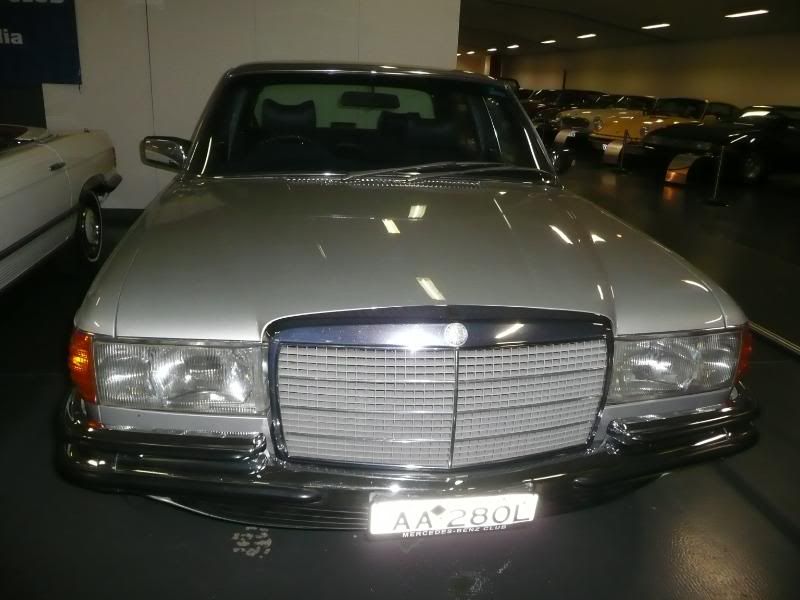 HOLDEN
These three recent Holdens are in the same hall as the Commercial vehicles and all are important. They show an early attempt at a Hybrid powered car, long before the Prius became so popular and also the 6th and 7th million production Holden cars, both Commodores. Having seen the 1st, 2nd and 4th Million Holdens at Echuca, I reckon I've done pretty well at seeing landmark production models in one trip.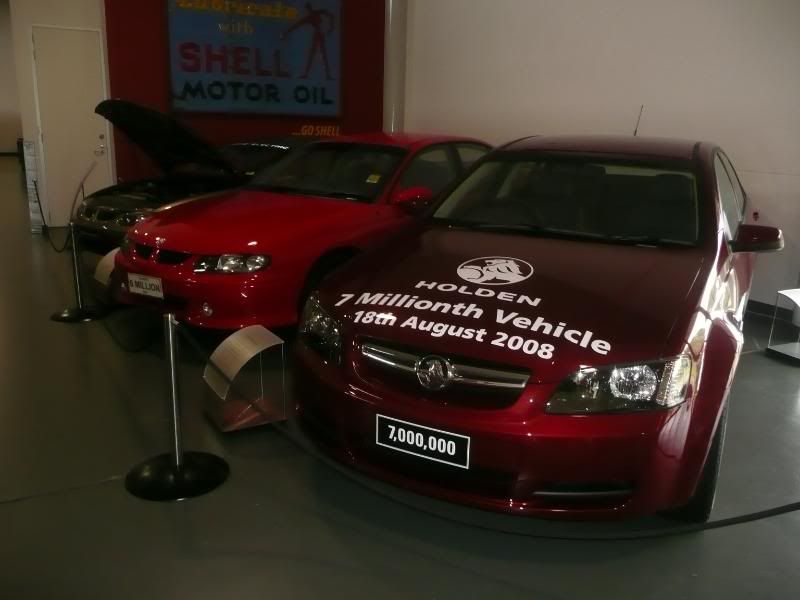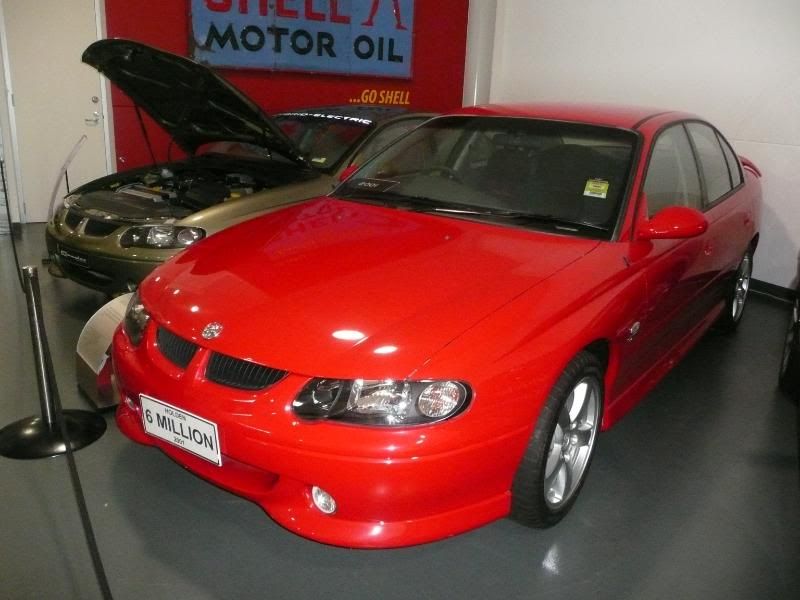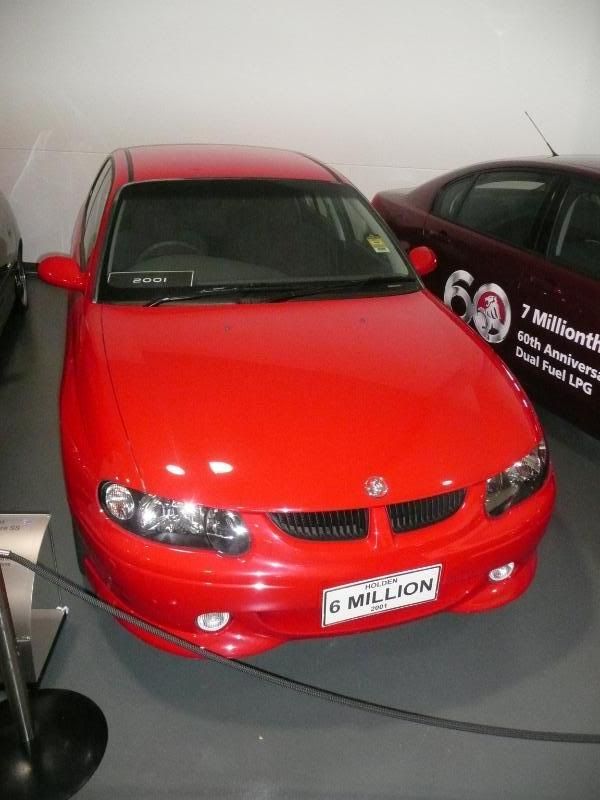 There are a good number of earlier Holdens in the museum too, and I found that my skills in identifying them were getting better, though the subtle changes between model years are still too subtle for me! This is an FJ, the second version of Holden's first ever design, distinguishable by the different grille, option of two tone paint and bigger bumpers.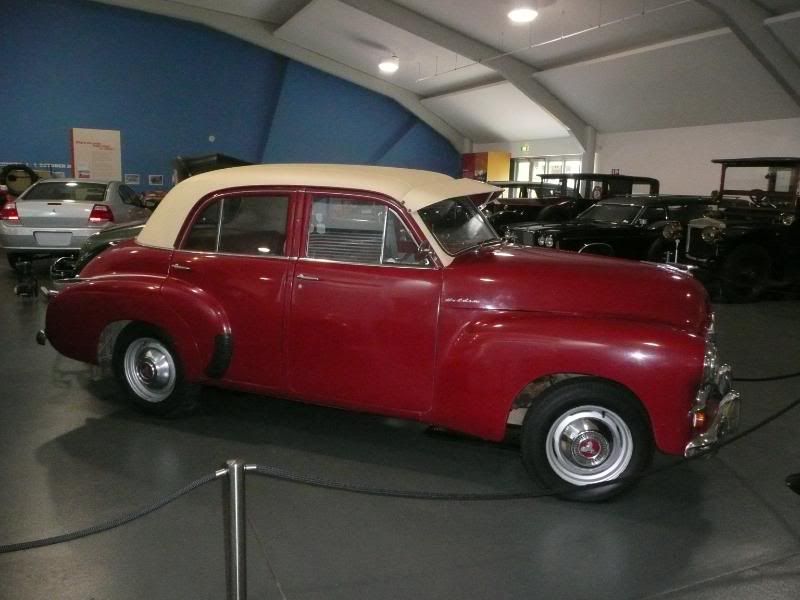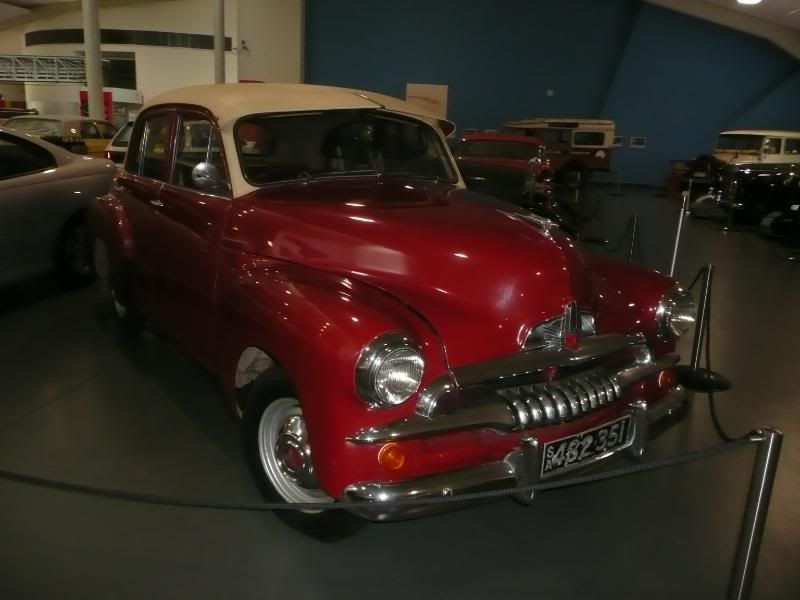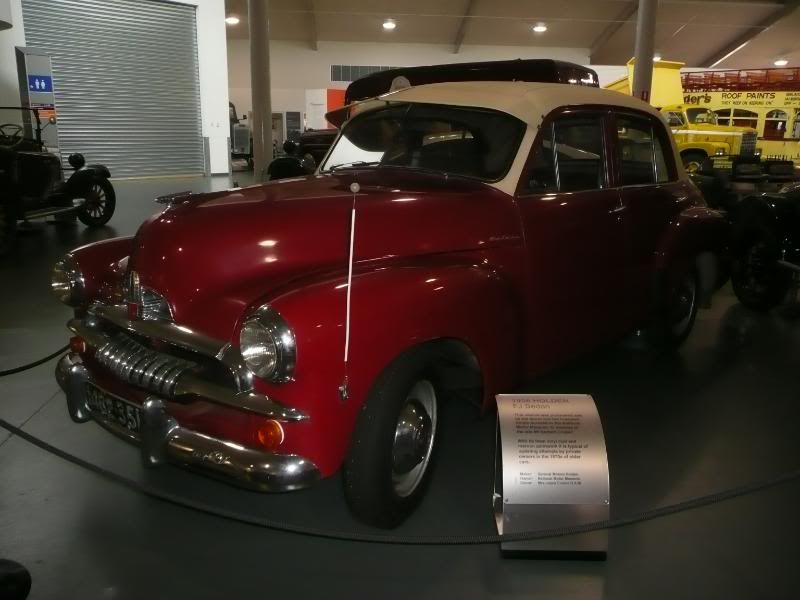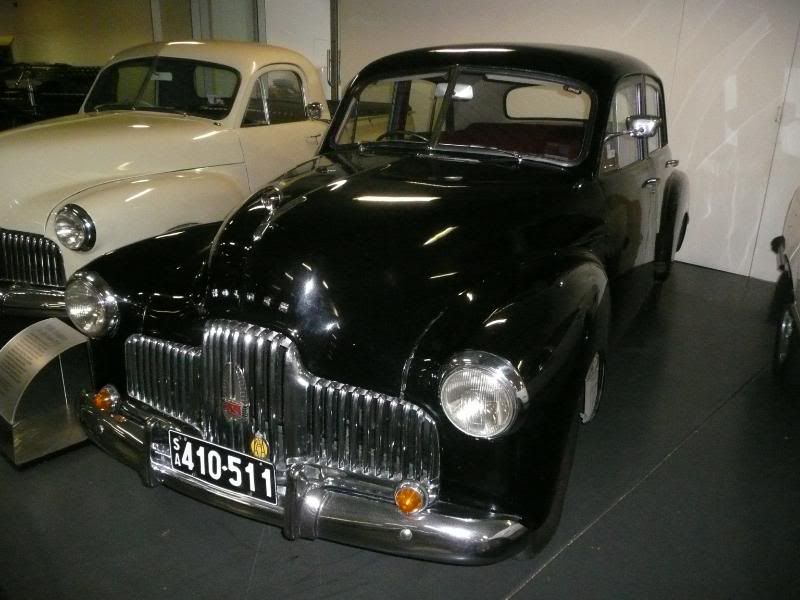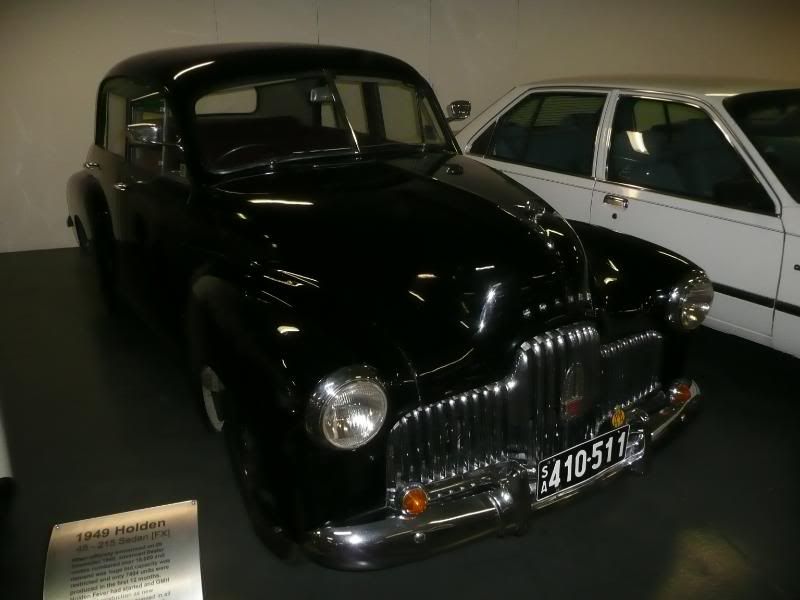 This is one of those first models, a 1948 48-215 also known as the FK, joined by the 1950 Utility version which followed soon after the launch of the sedan
1957 FC Wagon and 1958 FC Sedan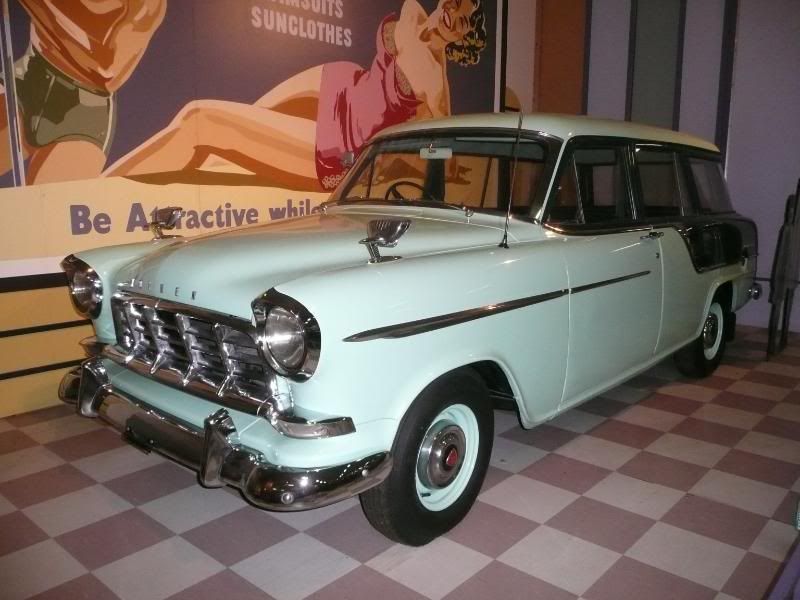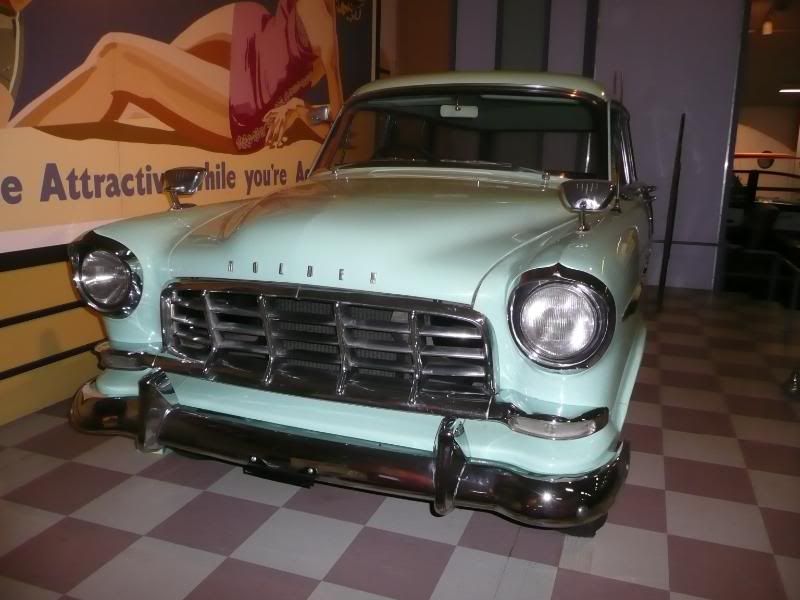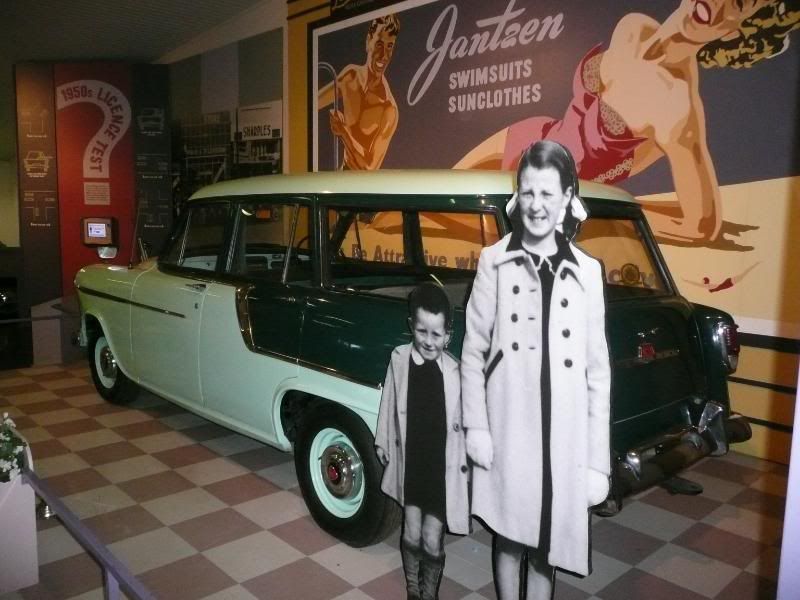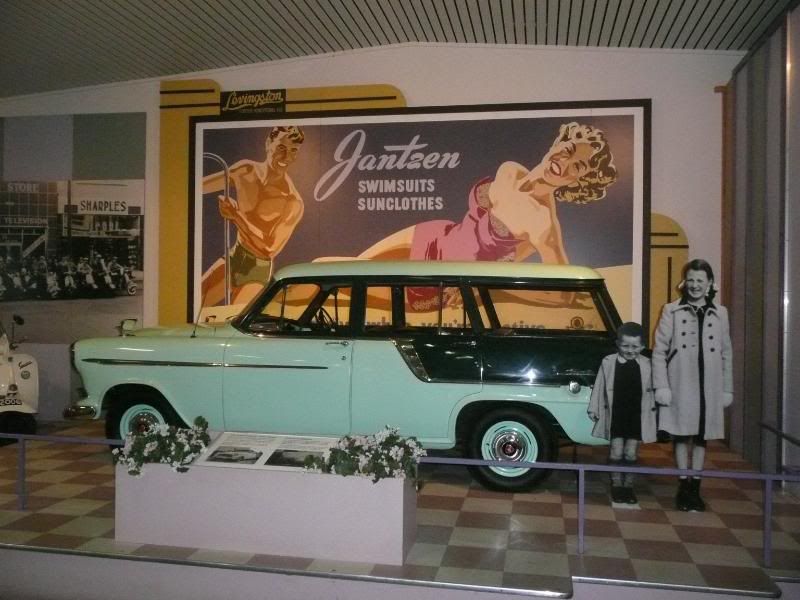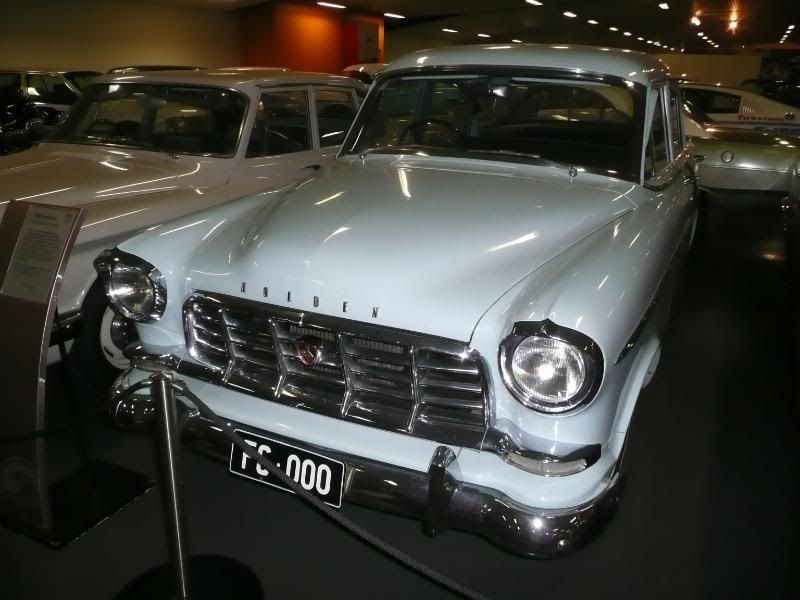 1964 EH Special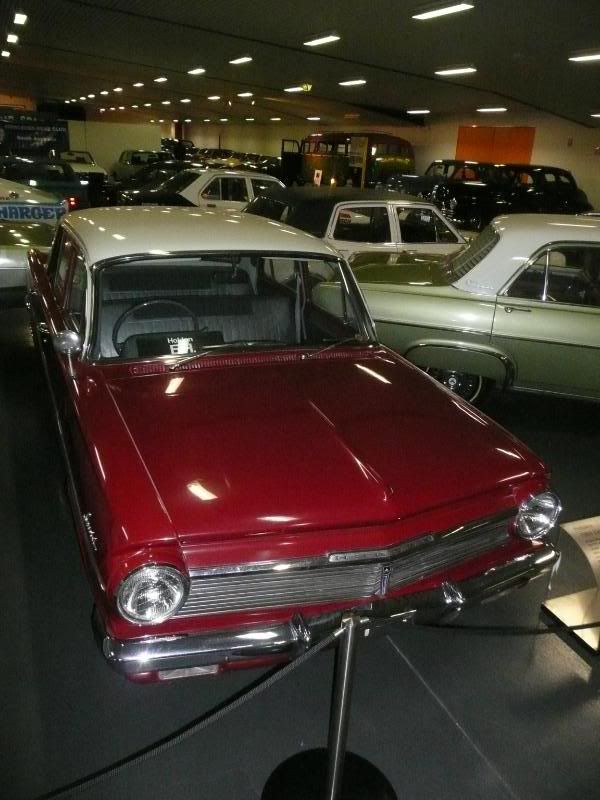 1967 HR Premier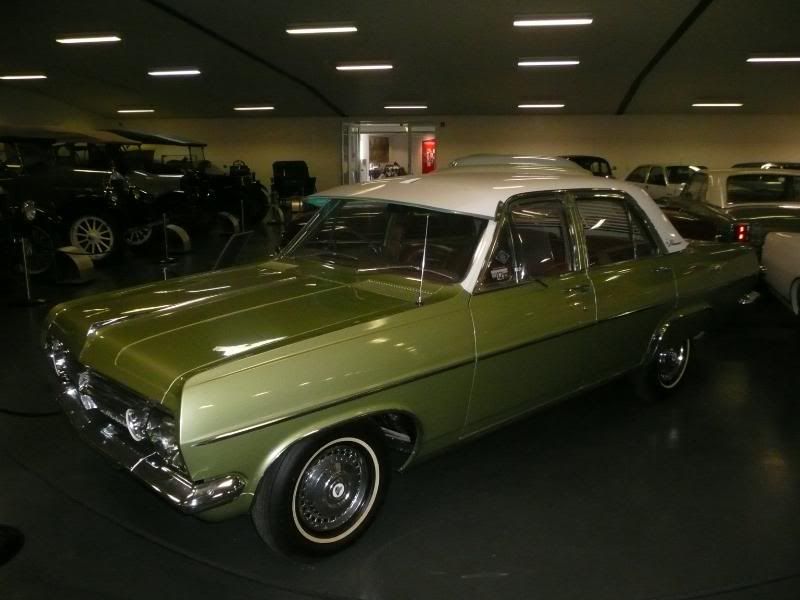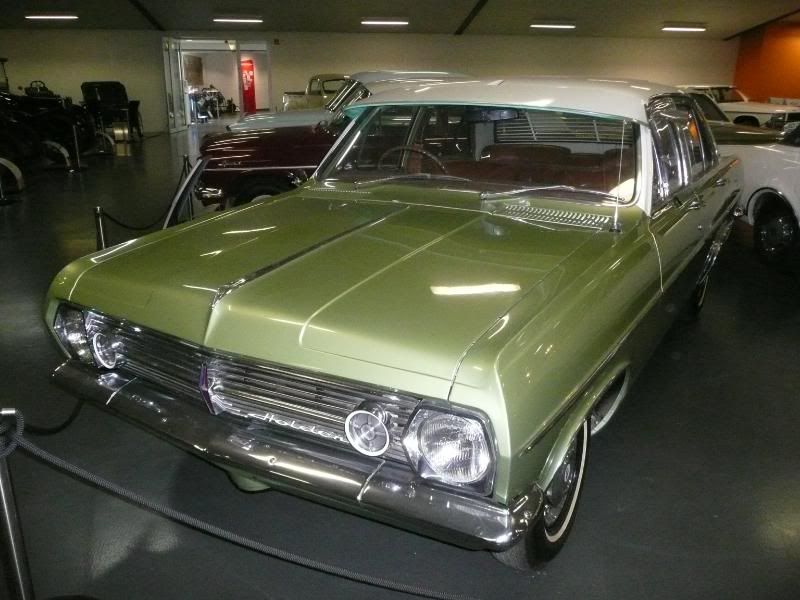 1968 HK Brougham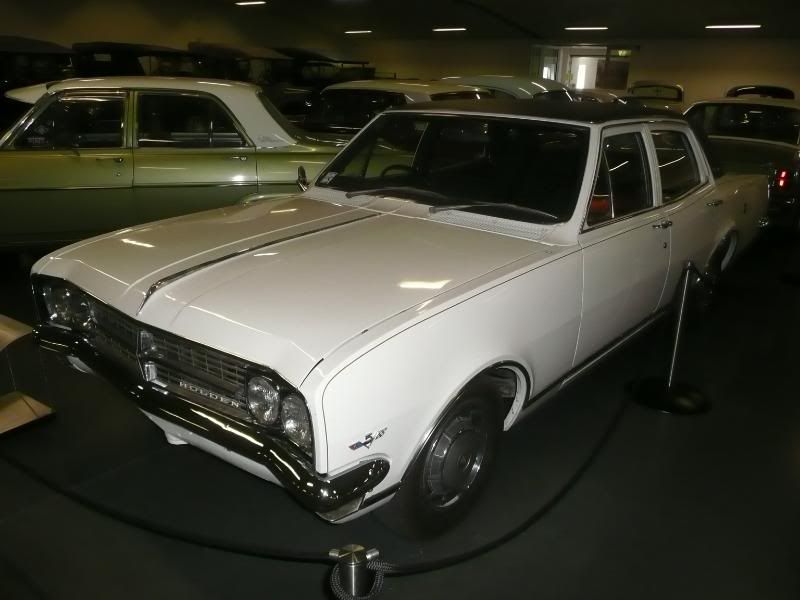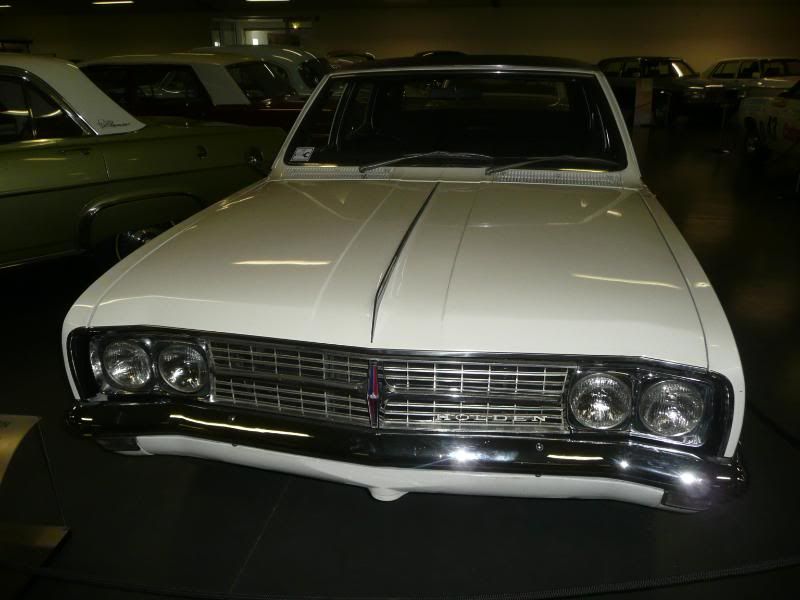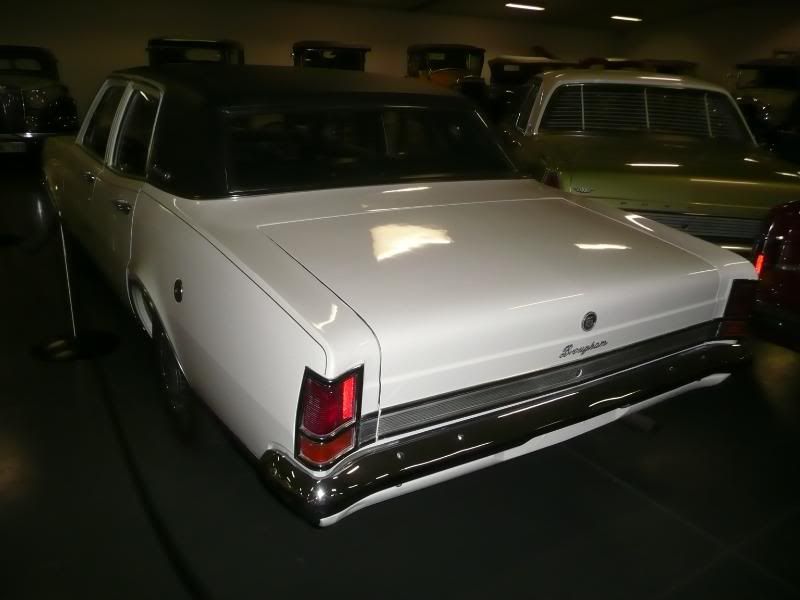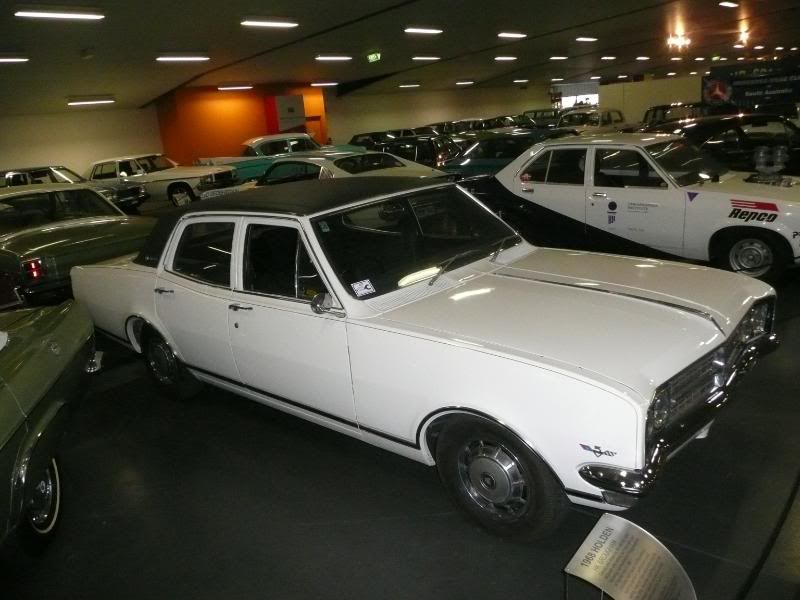 1969 HT Panel Van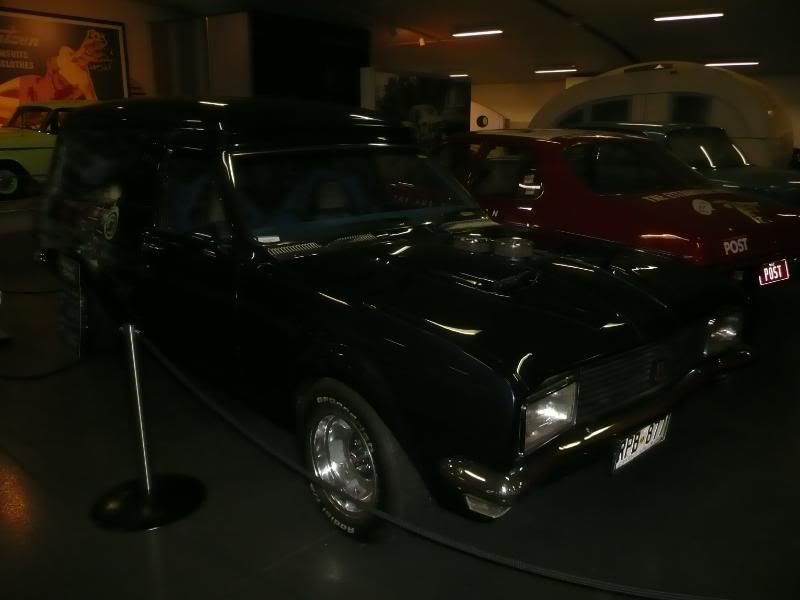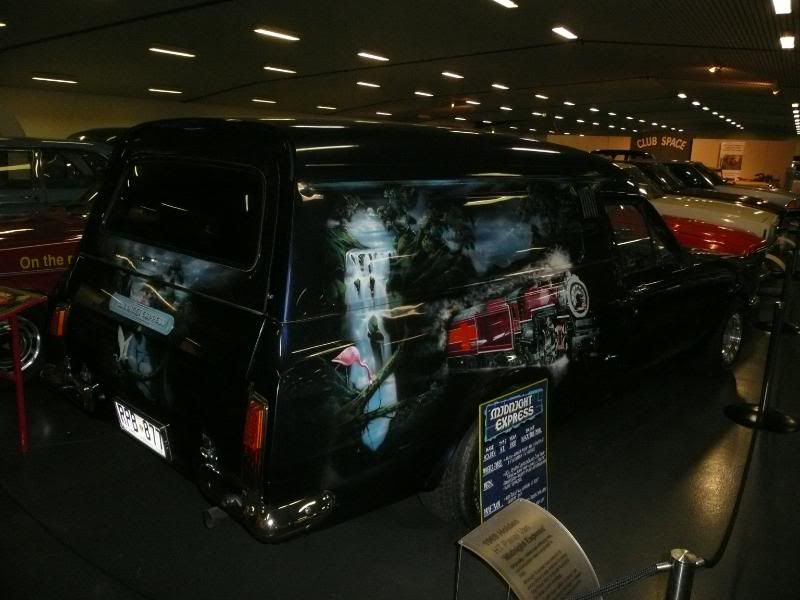 The later 1976 HX Sandman Van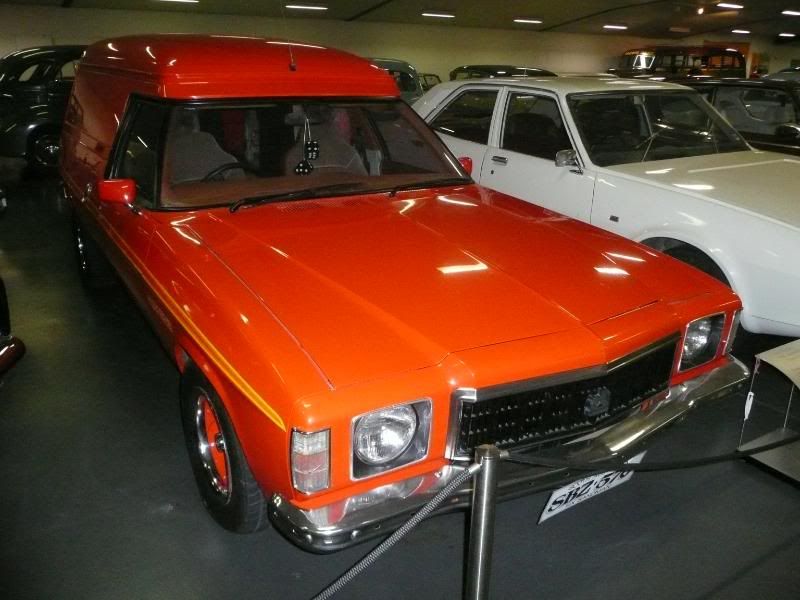 1974 HQ Kingswood
The long-lasting Commodore name was first used by Holden in late 1978 when they launched a car very closely related to the new Opel model of the same name. This is a 1979 VB model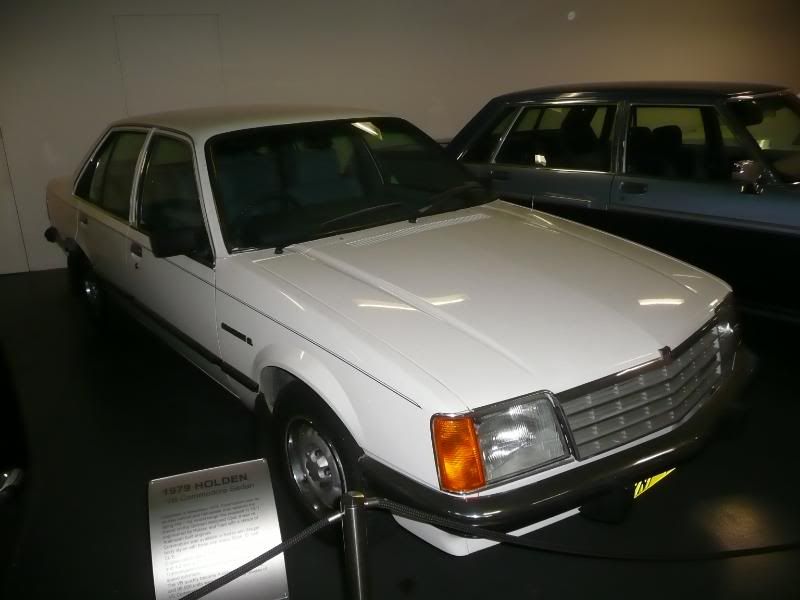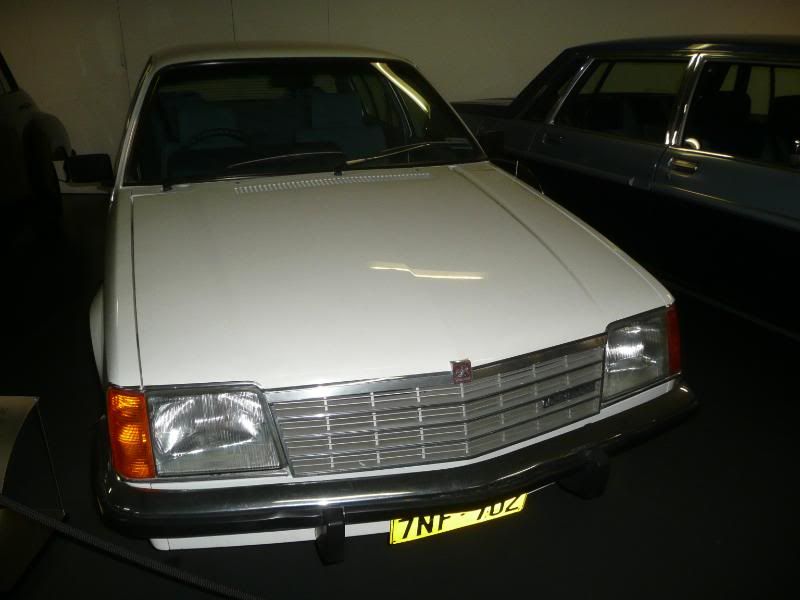 This VC Commodore dates from 1980 and is one of 500 made by HDT, with the support and encouragement of Bathurst victor Peter Brock. It sported a 5 litre V8 under the bonnet.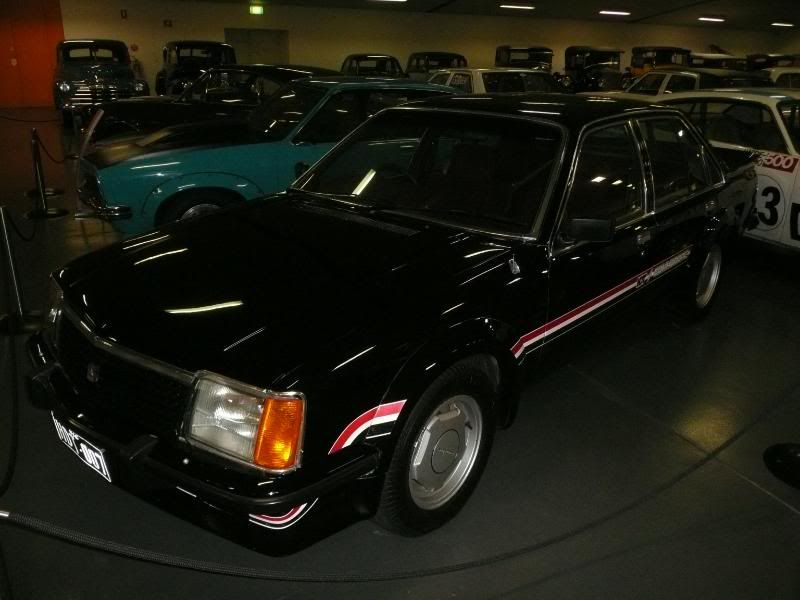 Prior to this, it was the smaller Torana which had performed so well in Australian motor sport. This is a 1977 LX Torana A9X, similar to the car which Peter Brock campaigned successfully for three seasons, winning the Bathhurst 1000 in 1978 and which took the first 8 places in the 1979 race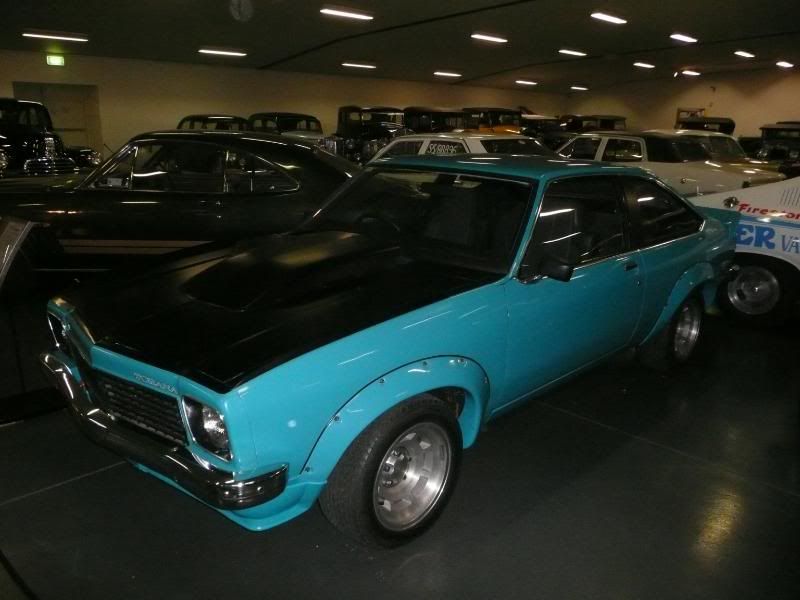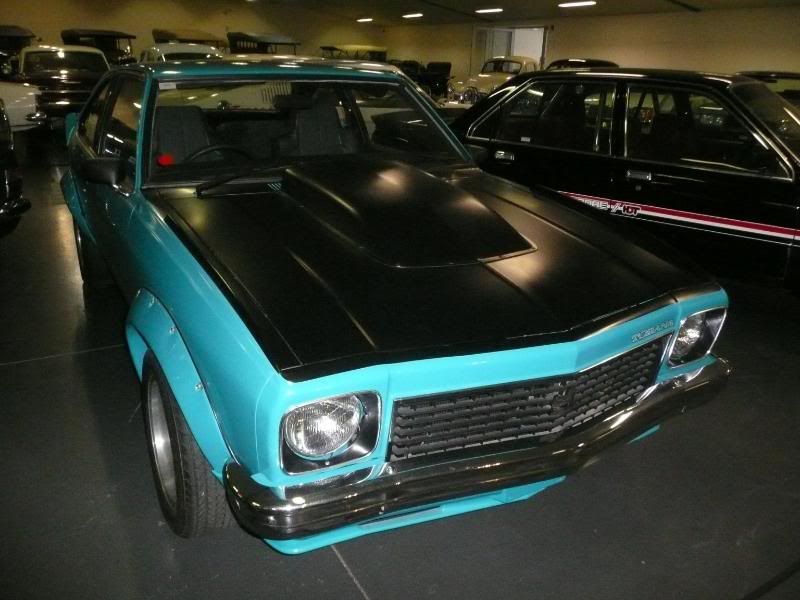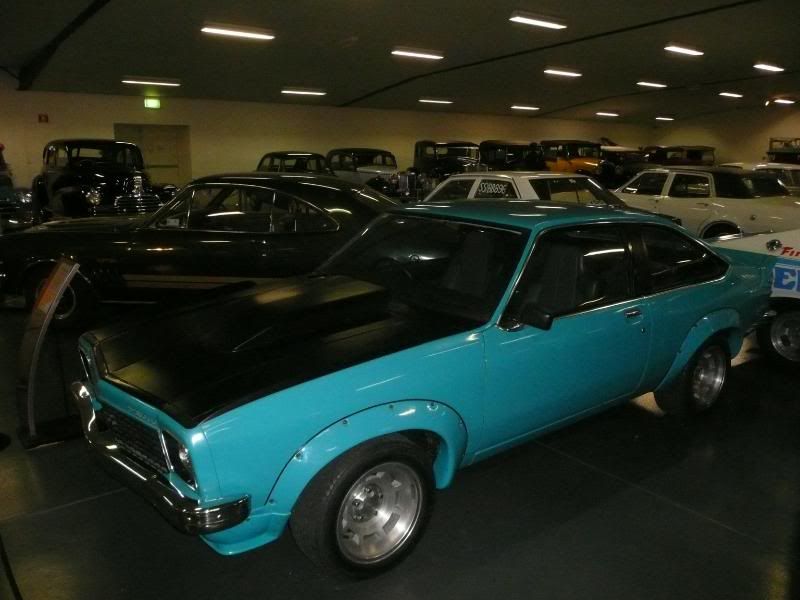 The 1970 HT Monaro 350 GTS is now a highly prized classic, thanks to its stylish coupe lines and the potent V8 under the bonnet.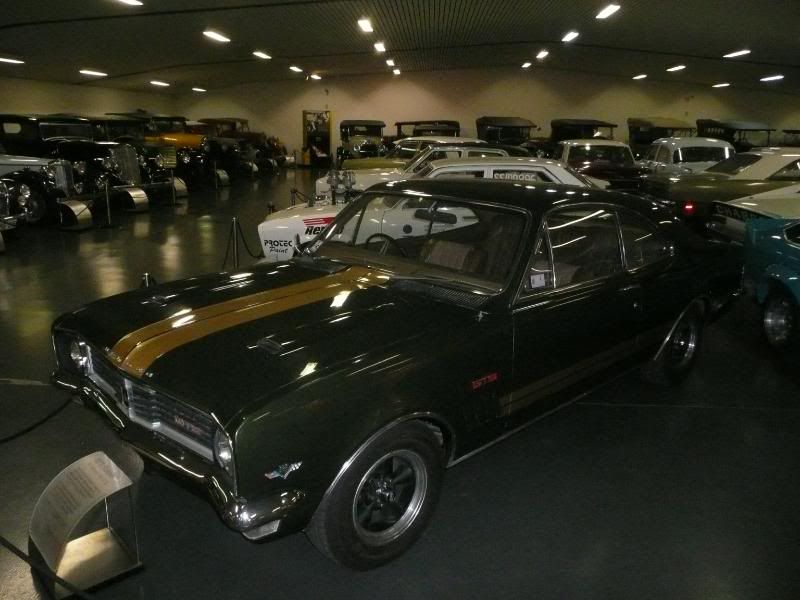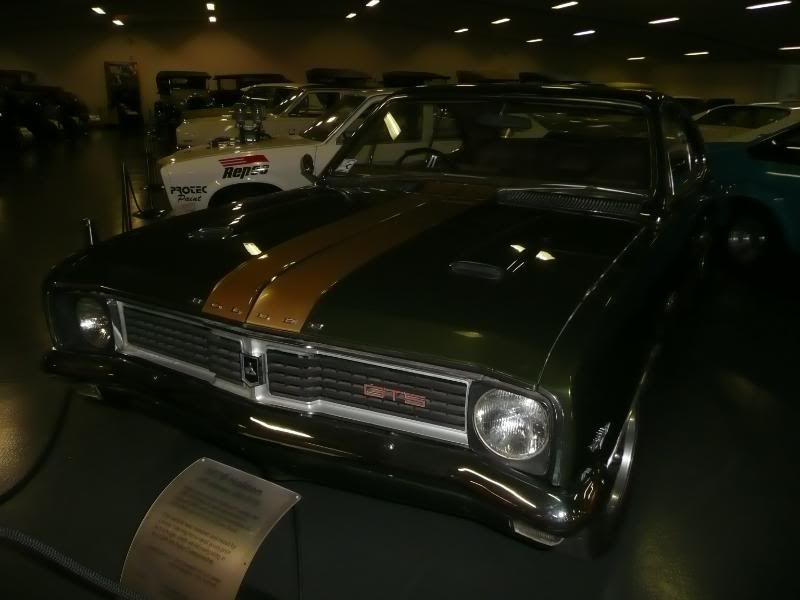 1974 LH Torana Educator Drag car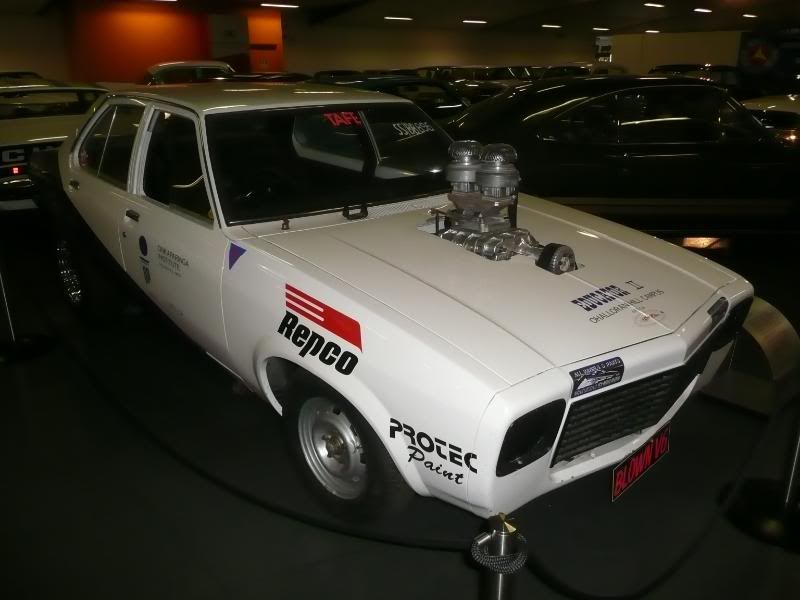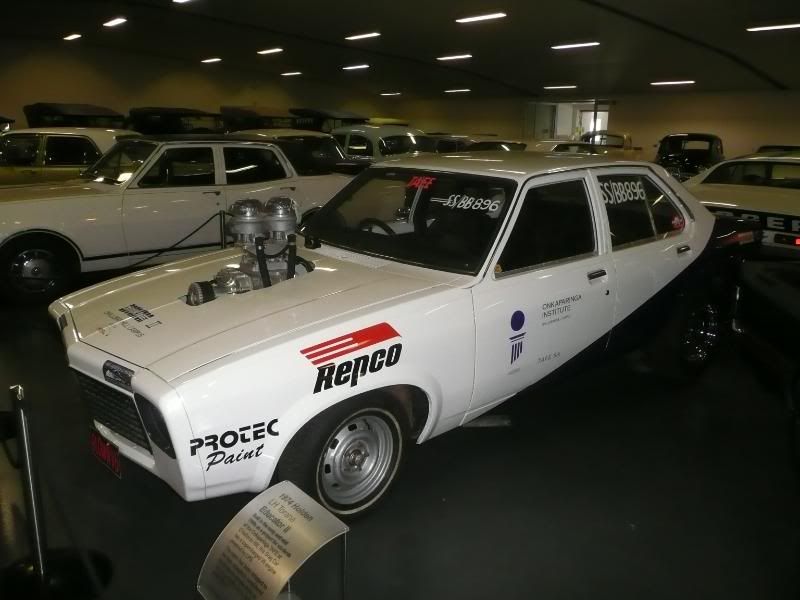 This is prototype for the 1979 WB Kingswood, a top of the range car intended to compete with the Ford LTD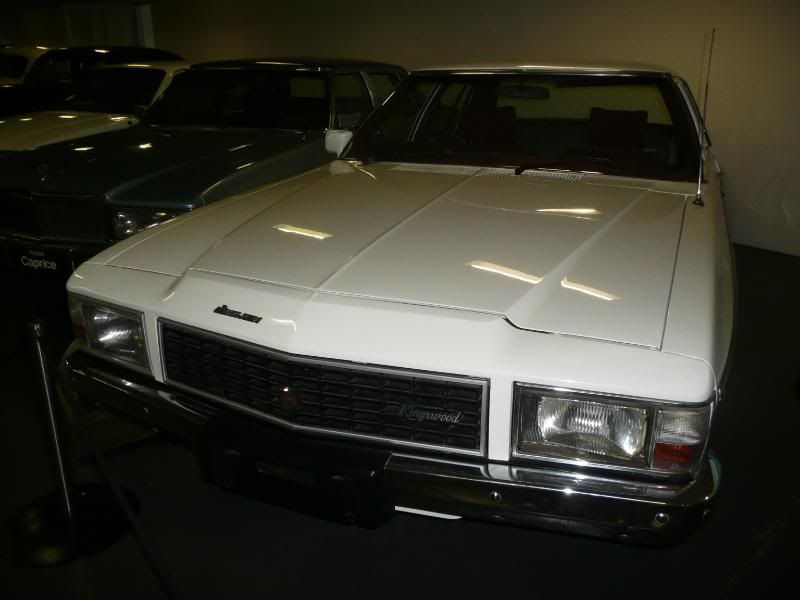 1984 WB Caprice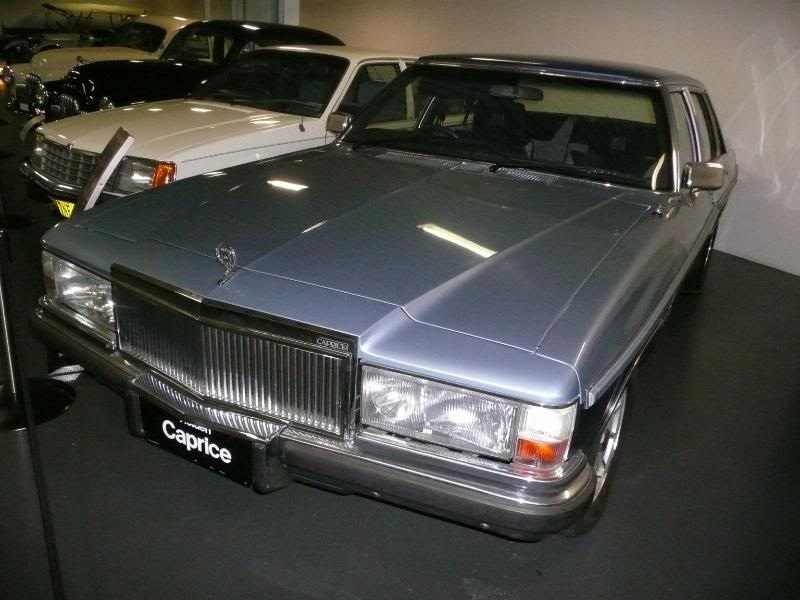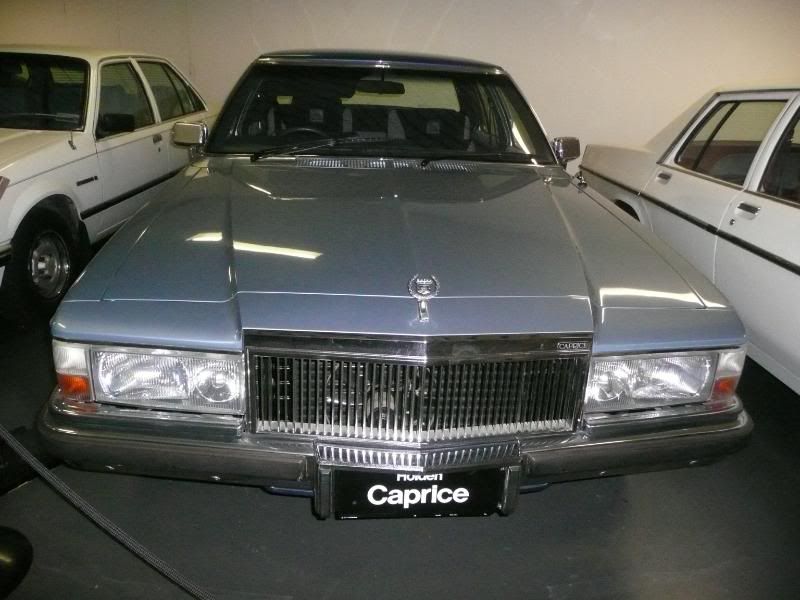 Something of an oddity was this 1986 YB Piazza Turbo. A rebadged version of the Isuzu Piazza, it was well into the model's life before it was ever exported to Australia. As with European markets, it did not sell well. The concept car looks remained its strongest point, as dynamically it was actually quite a disappointing car to drive. I still do like the appearance though.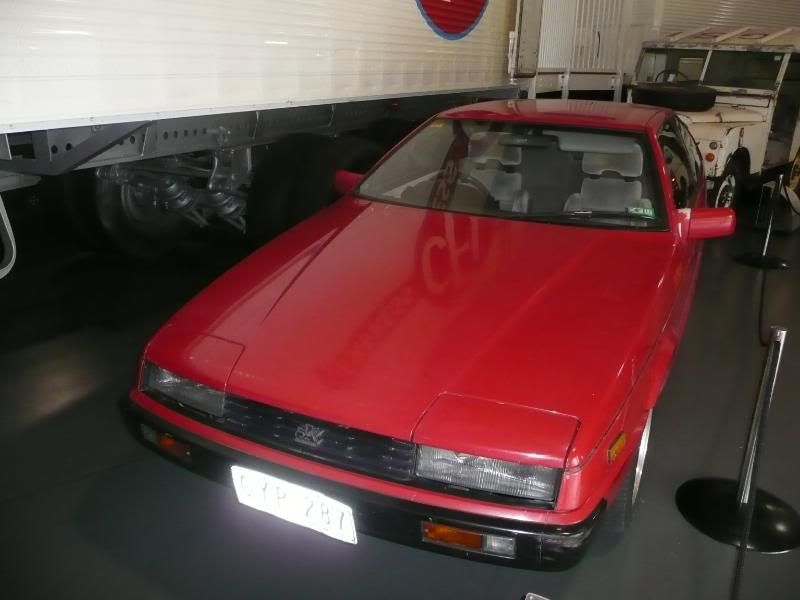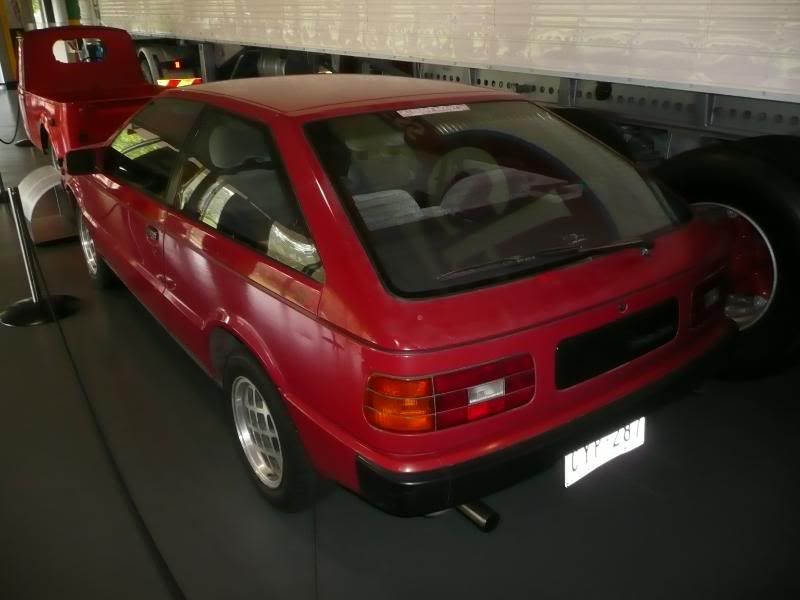 This may look like a Holden Commodore, but it is in fact a left hand drive Chevrolet Lumina, built for the Middle Eastern market where the car has proved popular.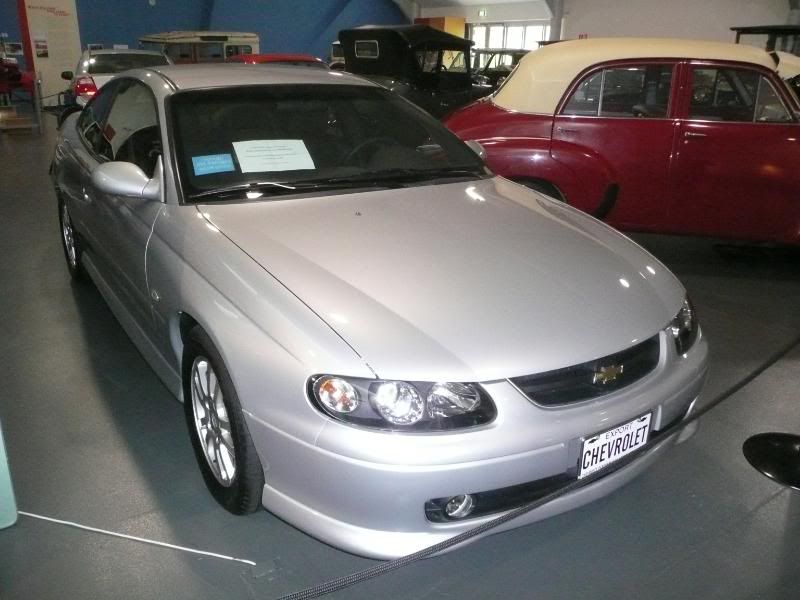 FORD
This 1954 Prefect is typical of the European Fords that were being sold in Australia during the 1950s.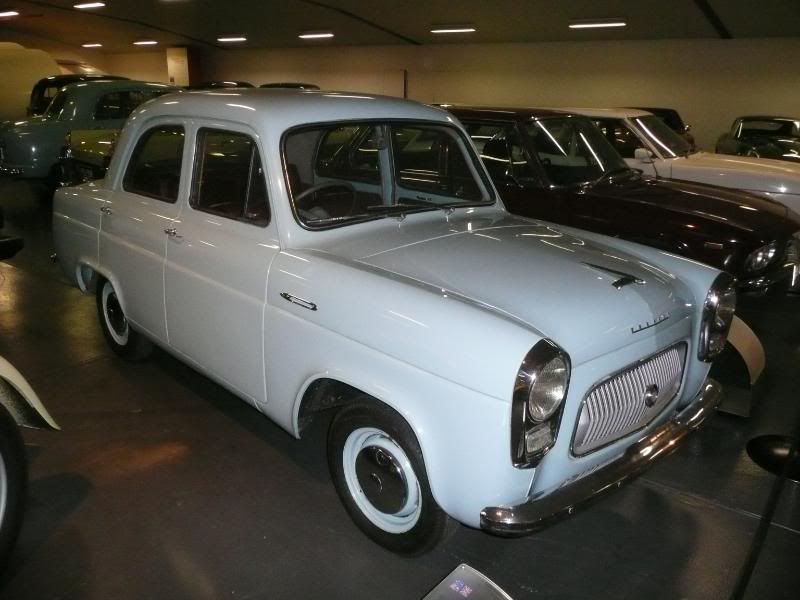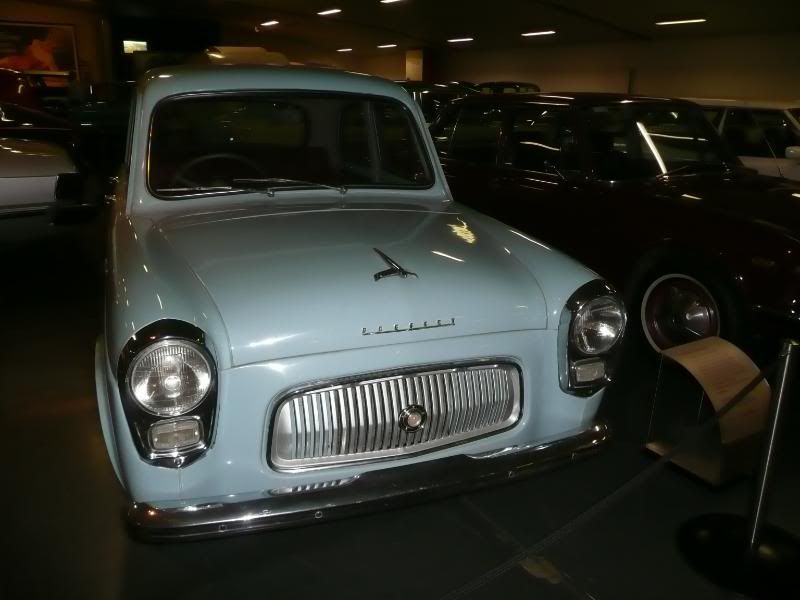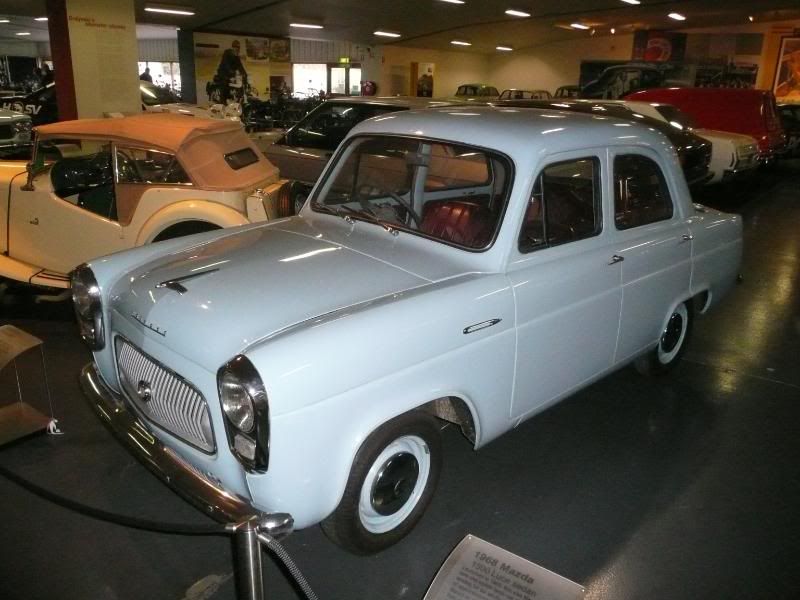 Although Ford had been assembling vehicles in Geelong, Victoria since 1925, it was not until 1960 when the first truly (sort of!) Australian car emerged from the plant, with the launch of the XK Falcon. The first models were little more than locally made versions of the US model, though it quickly became apparent that they needed to be adapted to cope with  harsher conditions in Australia.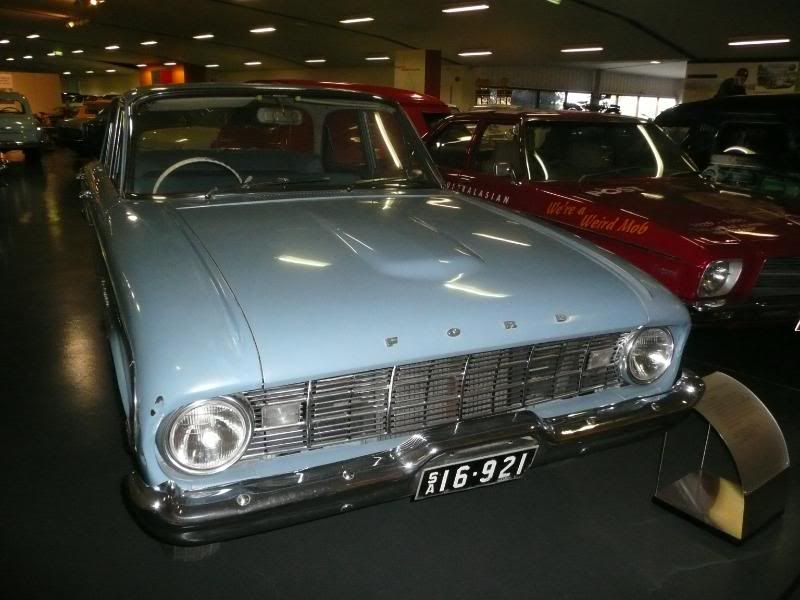 The XD Falcon of 1979 looked very much like an enlarged and slightly squashed Granada. This is a 1982 version of the plusher and more potent Fairmont in Ghia trim,
This hearse is based on the 1979 LTD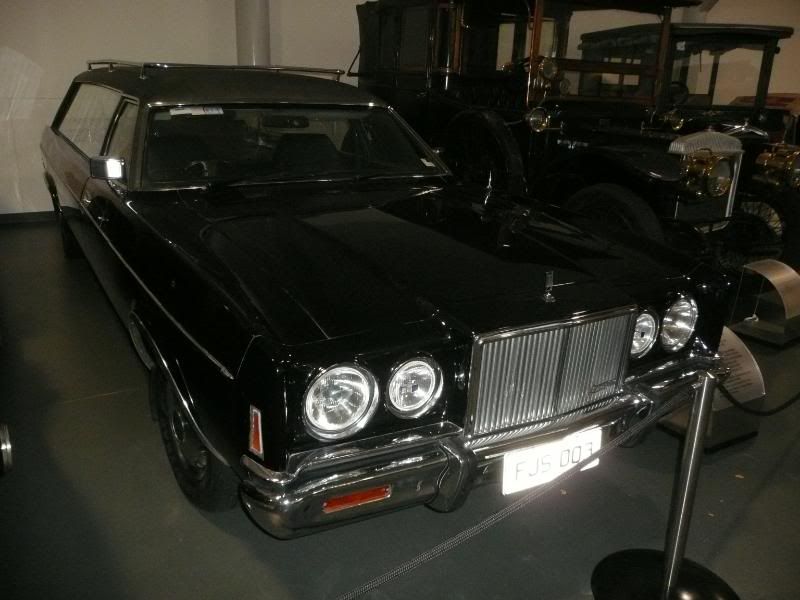 All generations of Cortina were sold in Australia, but they came in different models from those so well known to the UK market, and from the third type (known as TC and when facelifted, TD), with the option of far bigger engines. Not for Australians did the range start at 1300cc and end at 2 litres. Oh no, for them it started at 2 litres and went up to 4 litres!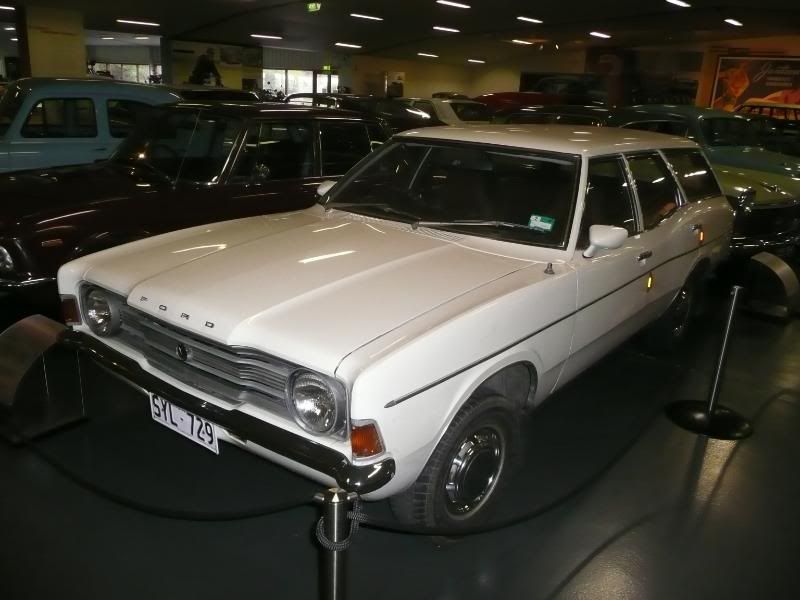 When Ford launched the front wheel drive Escort, Australia did not get the car, but instead received a modified version of the Mazda 323, called Laser. It was only in 2002 that the Focus arrived on Australian shores. This is an early 1980s car.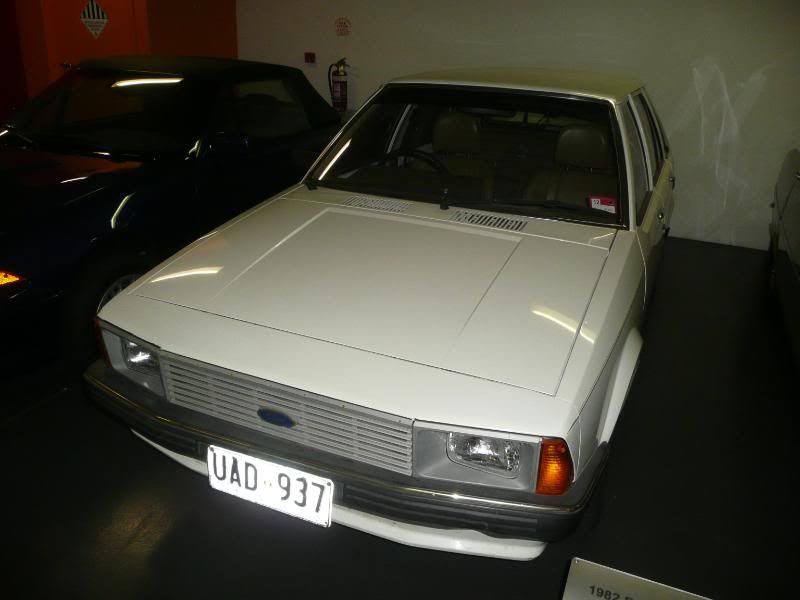 The underpinnings of this were then used to produce a 2 seater sports car, the Capri, which was subsequently exported to America where it wore Mercury badges.
CHRYSLER AUSTRALIA
Although Holden (GM) and Ford are still known for designing and building cars in Australia, the third of the Big Three, Chrysler, also used to do so, offering the Valiant models until well into the 1970s. Thanks to the fact that the cars were built in right hand drive, Australian built Chryslers were even sold in the UK, though only ever in very small quantities.  This is a 1973 VJ Valiant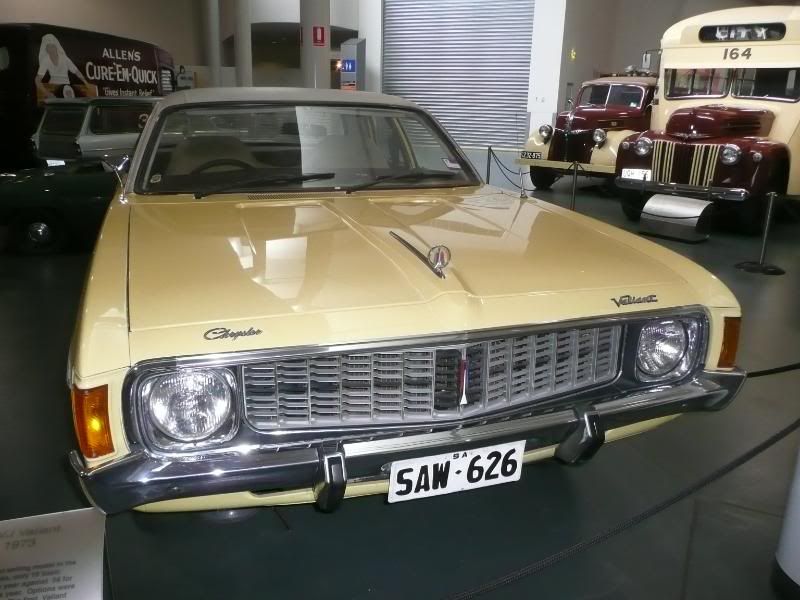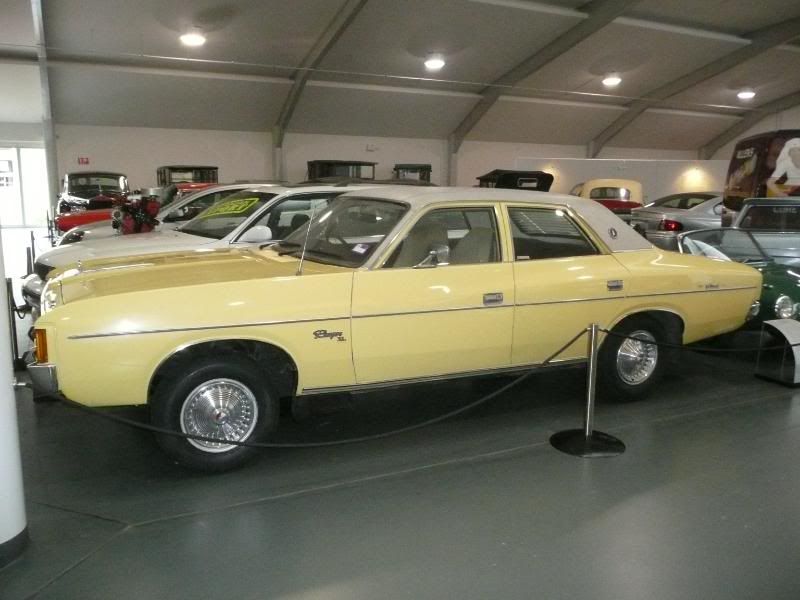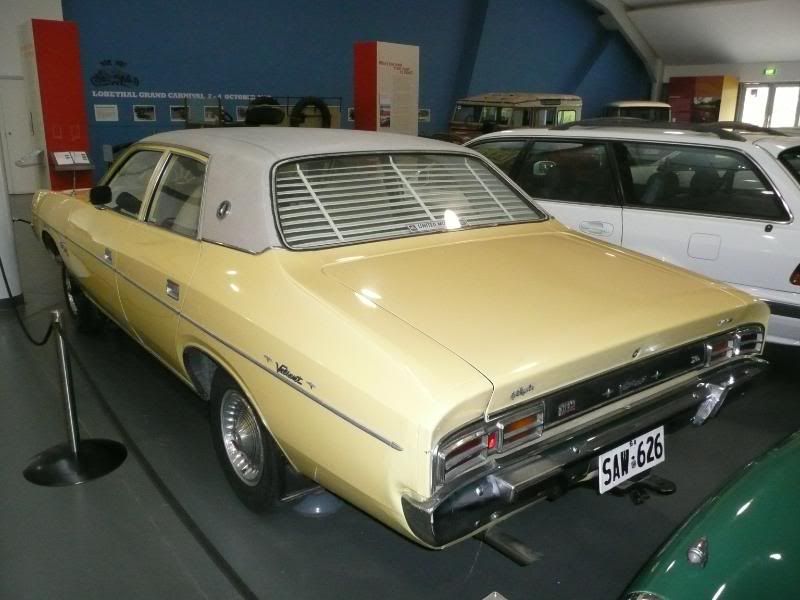 The Valiant story goes back to 1961 when it was presented as the Chrysler Corporation's new Compact car, a response to the Ford Falcon. This car was very popular and here is a 1962 example.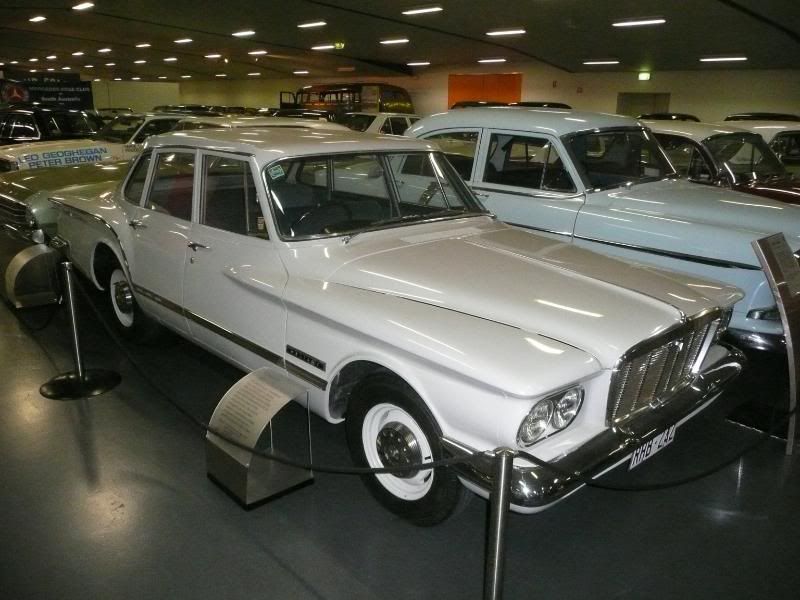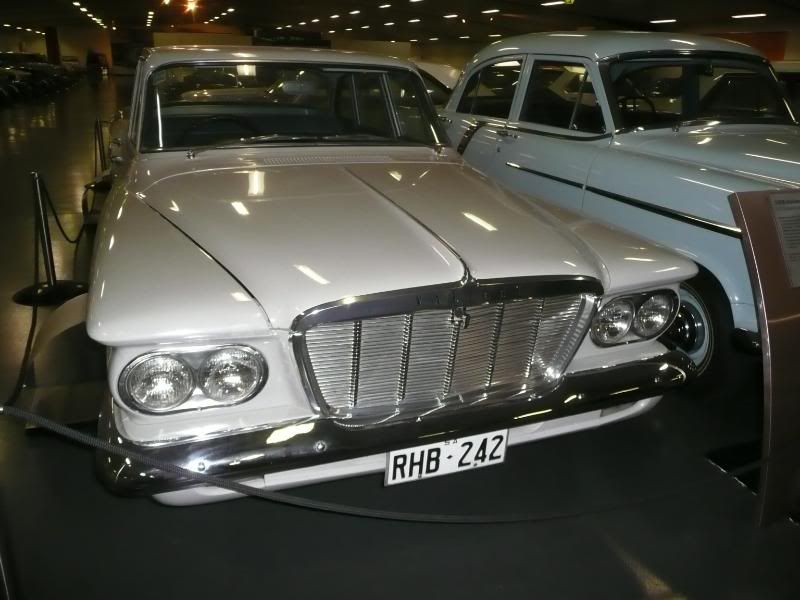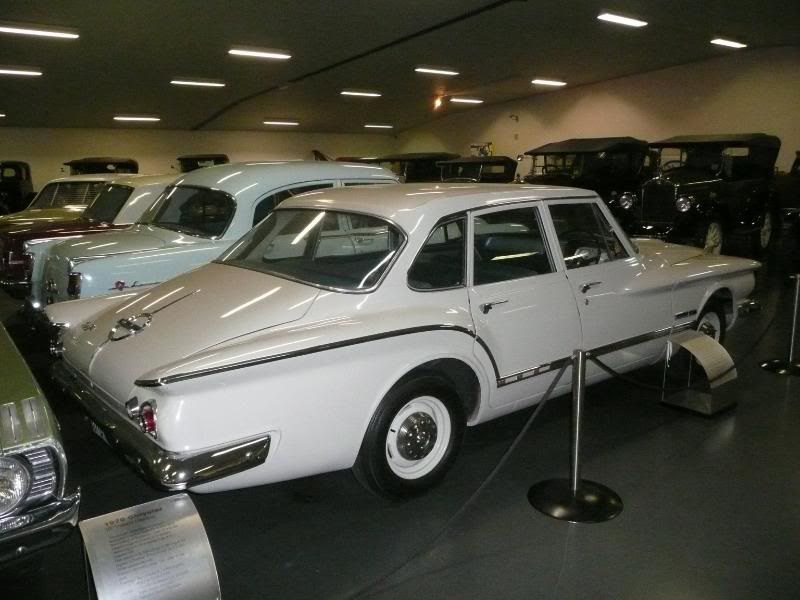 1970 VF Valiant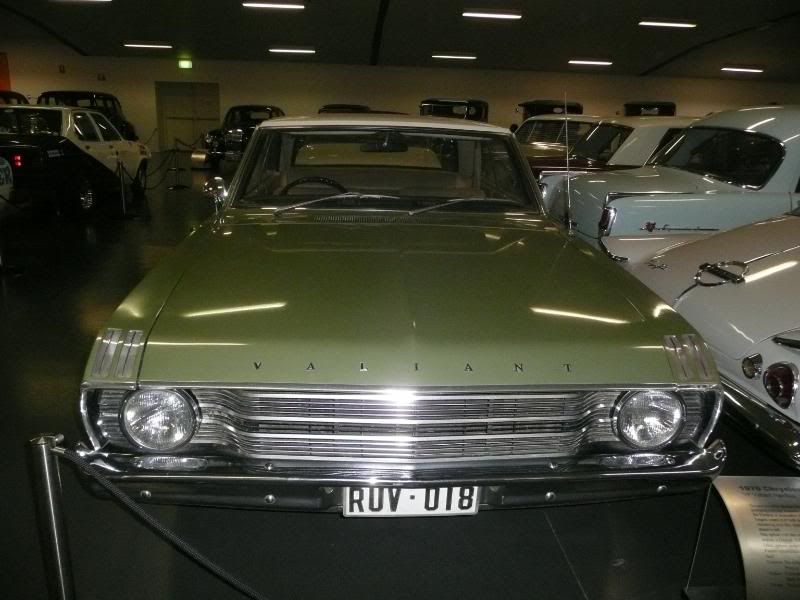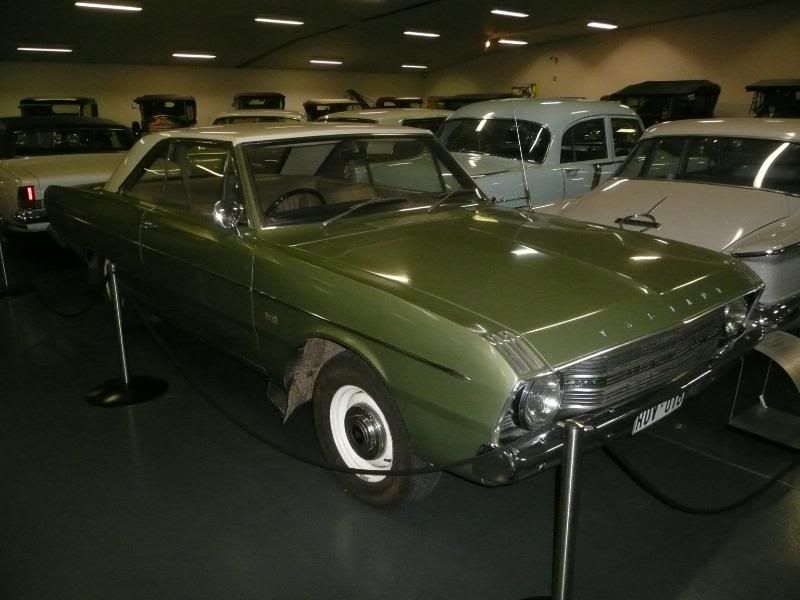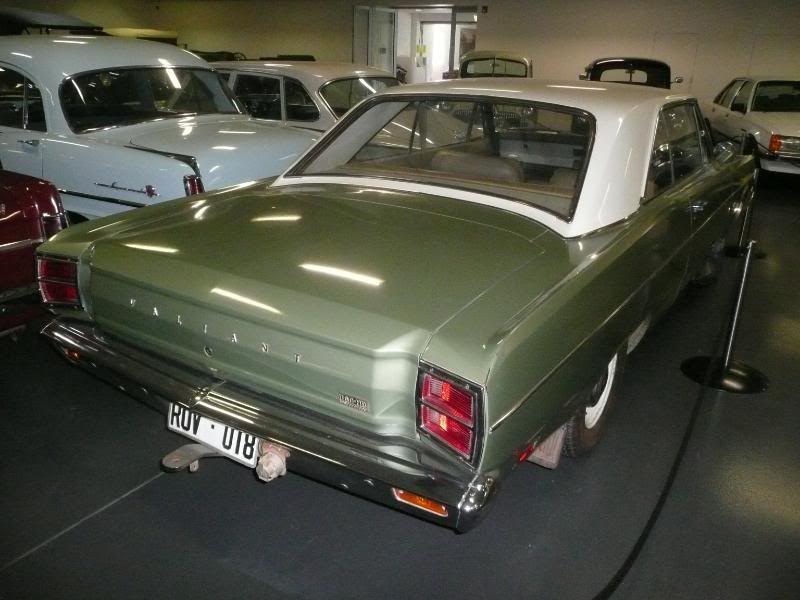 1971 Valiant Charger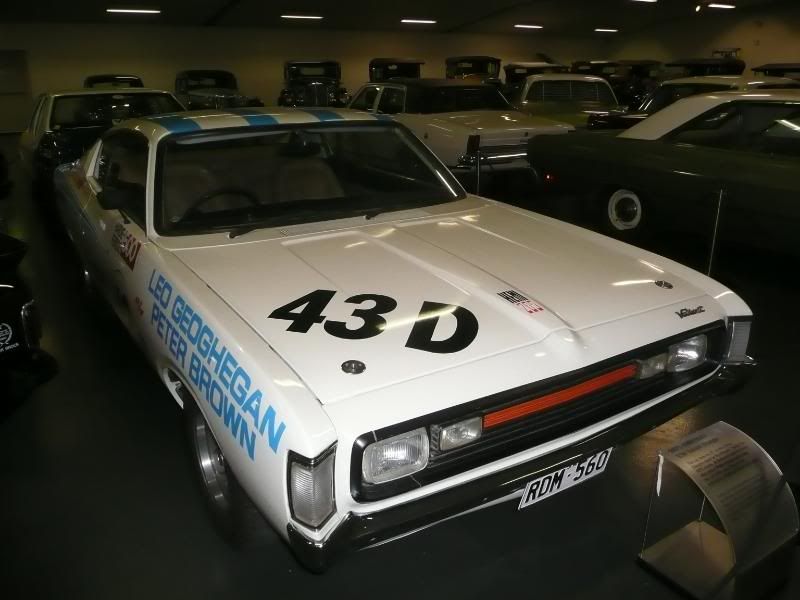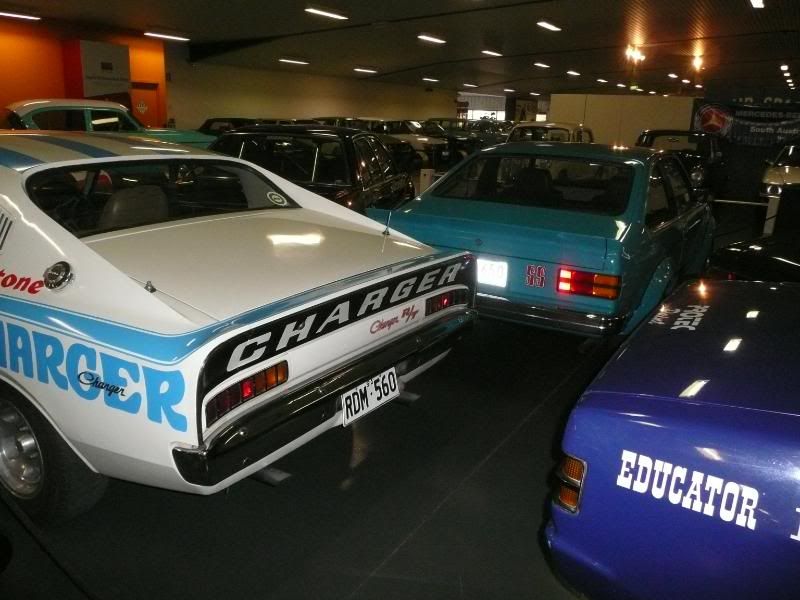 There were a number of earlier models on display, too, such as this fabulous 1959 Chrysler Royal and the 1960 Dodge Dart Phoenix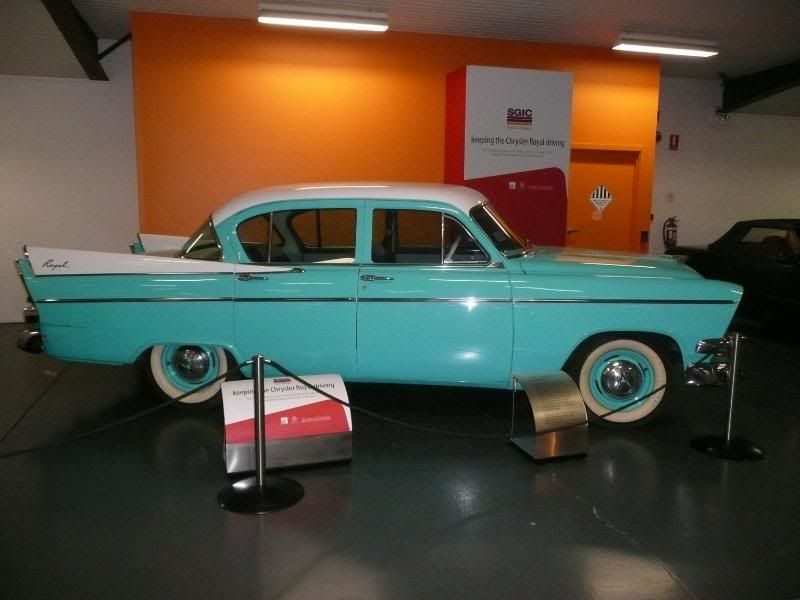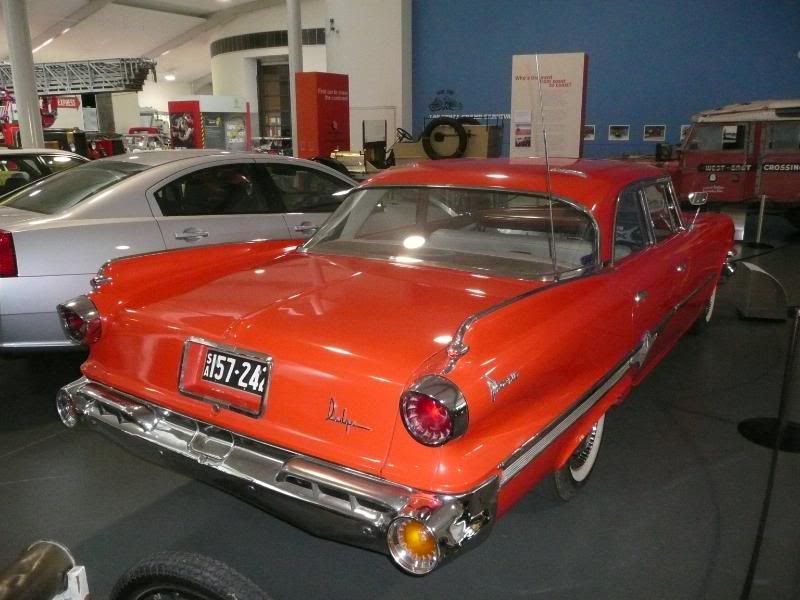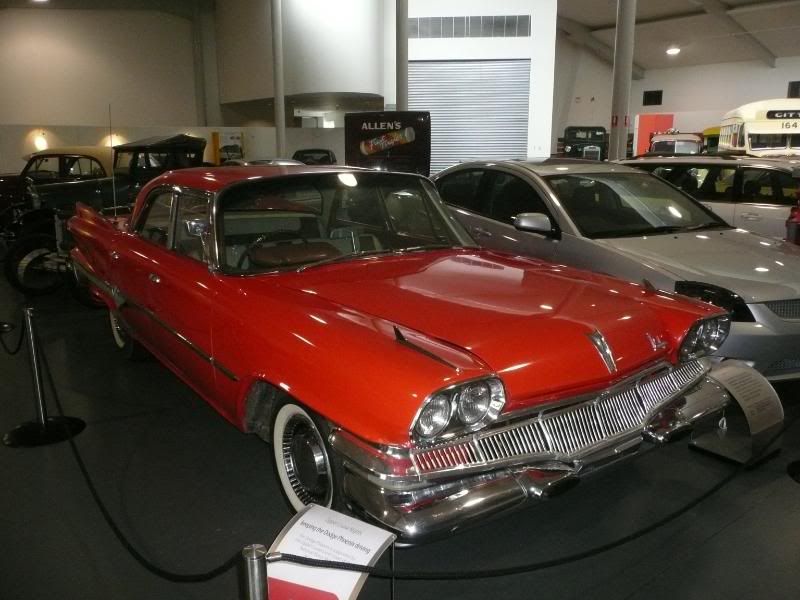 BMC and LEYLAND AUSTRALIA
In the late 1940s, Australians were among the most important customers for British car exports and the best selling model on the market at the time was this, the 1948 Austin A40 Devon.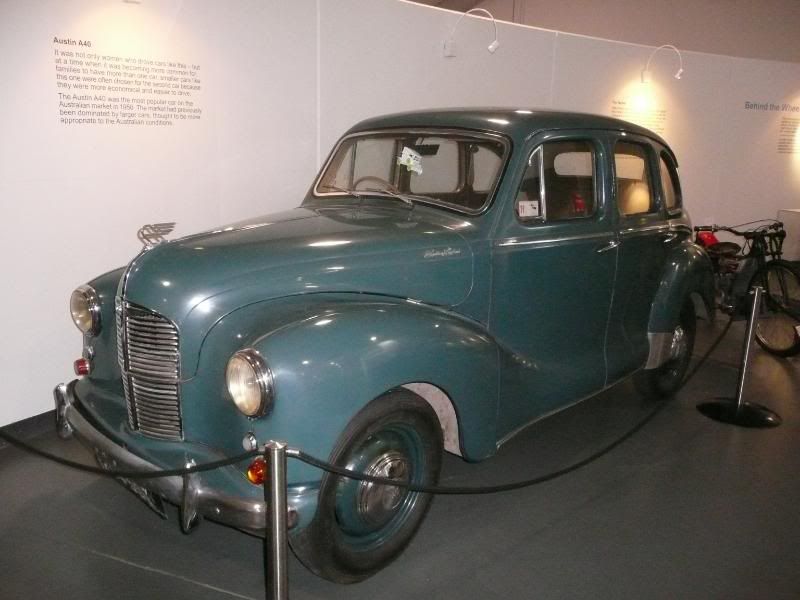 Although the new Holden usurped Austin as market leader during the 1950s, Australians continued to buy BMC products, such as the Morris Minor 1000, this Austin A30 and the A50 Cambridge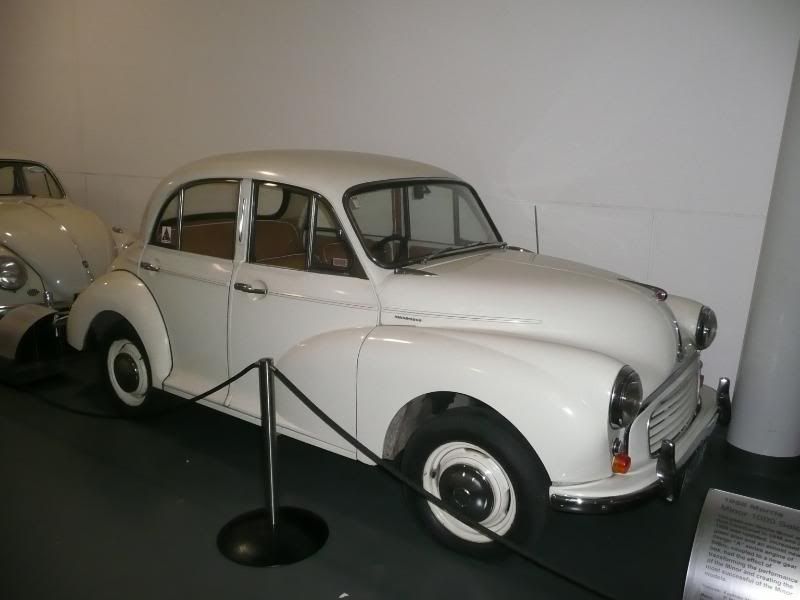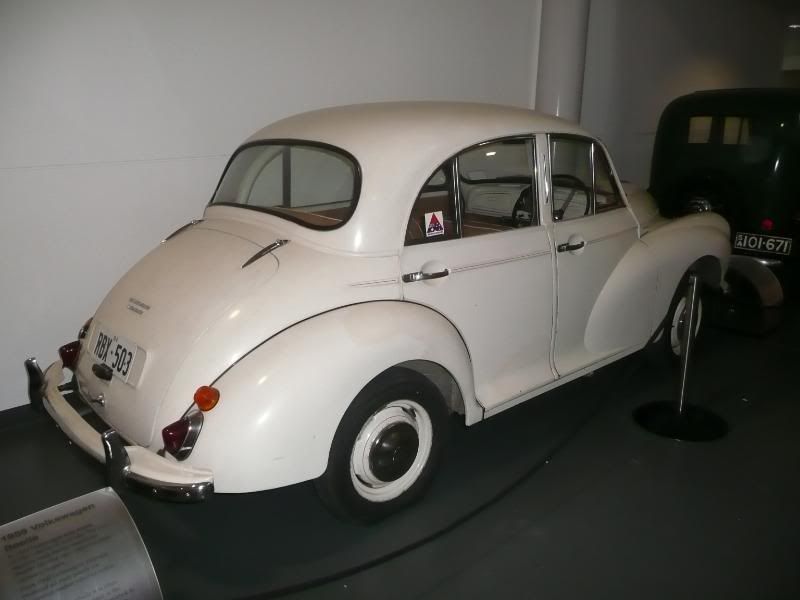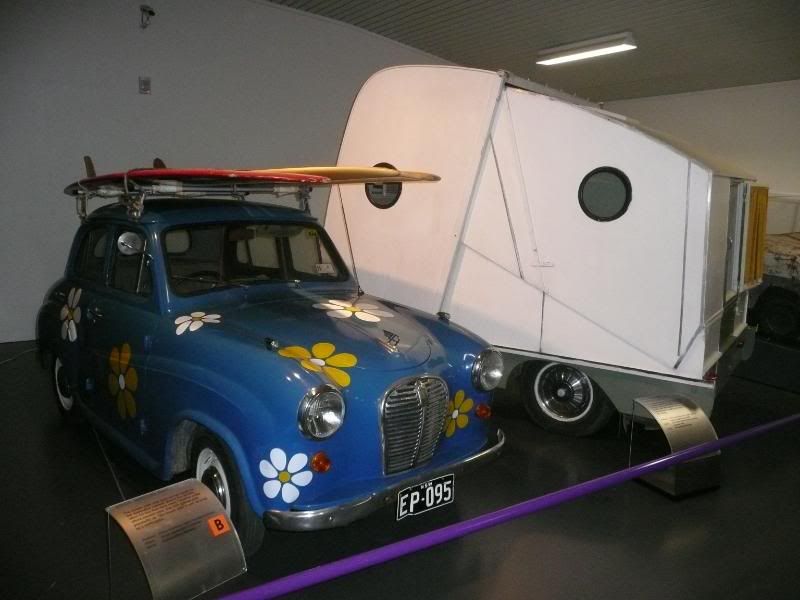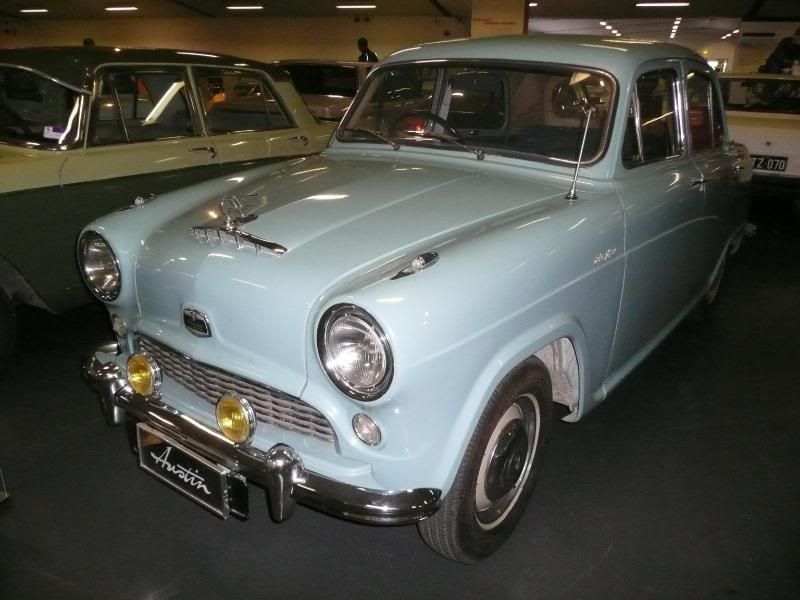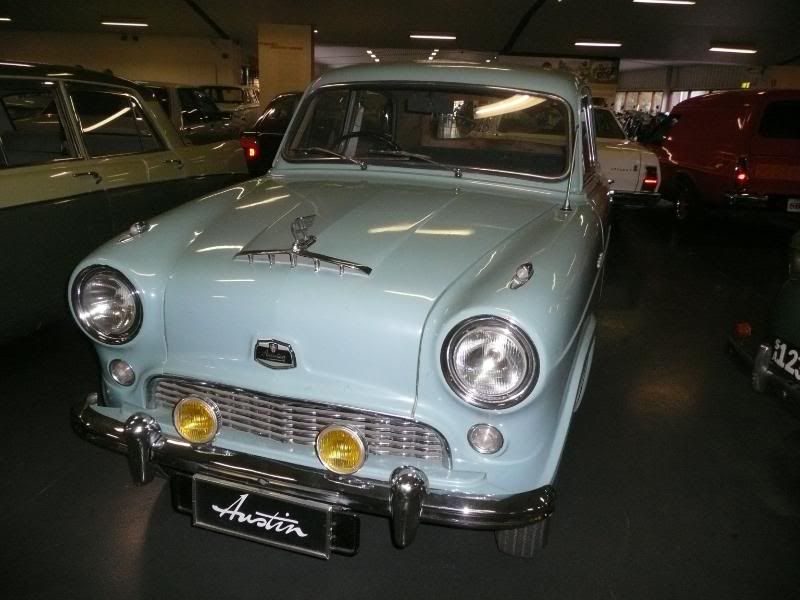 Locally produced models started to deviate from the British designs during the 1950s. This Morris Major is based on the familiar Riley 1.5/Wolseley 1500 but with its own unique body styling, and the Series 2 cars such as this one had the 1622cc B Series engine under the bonnet.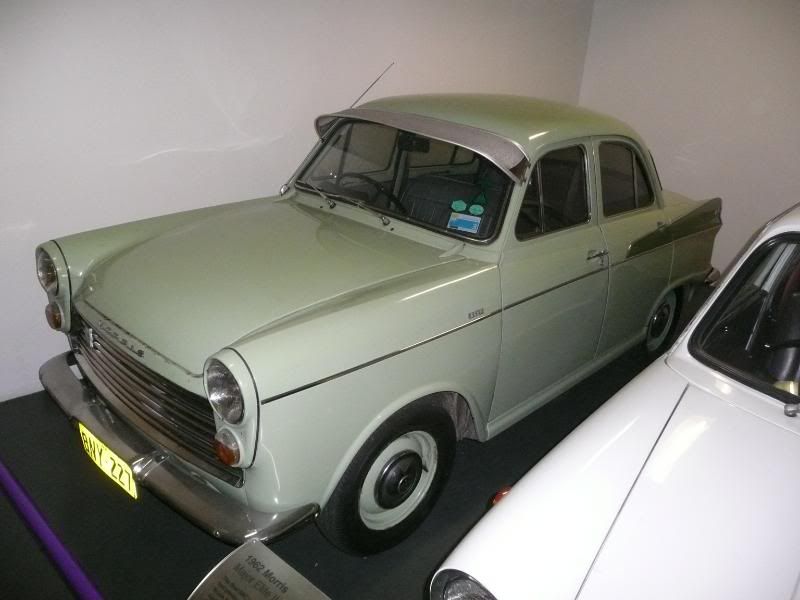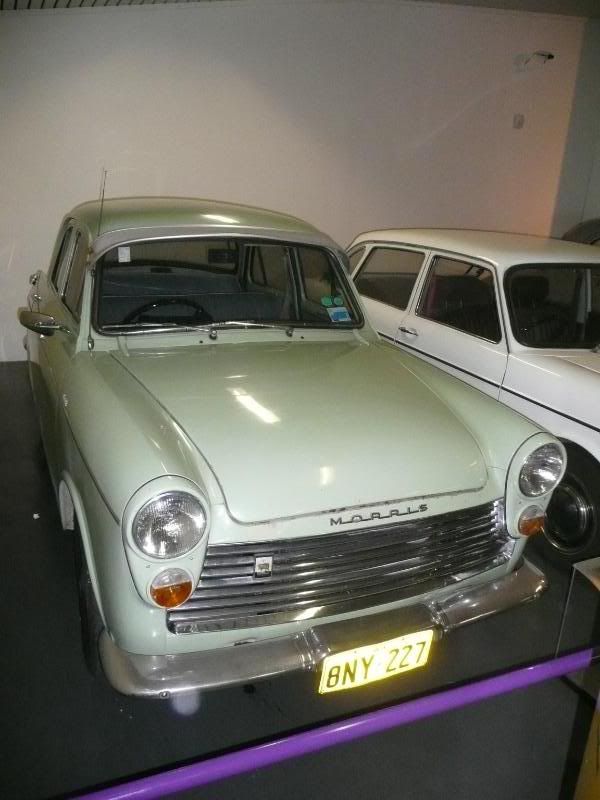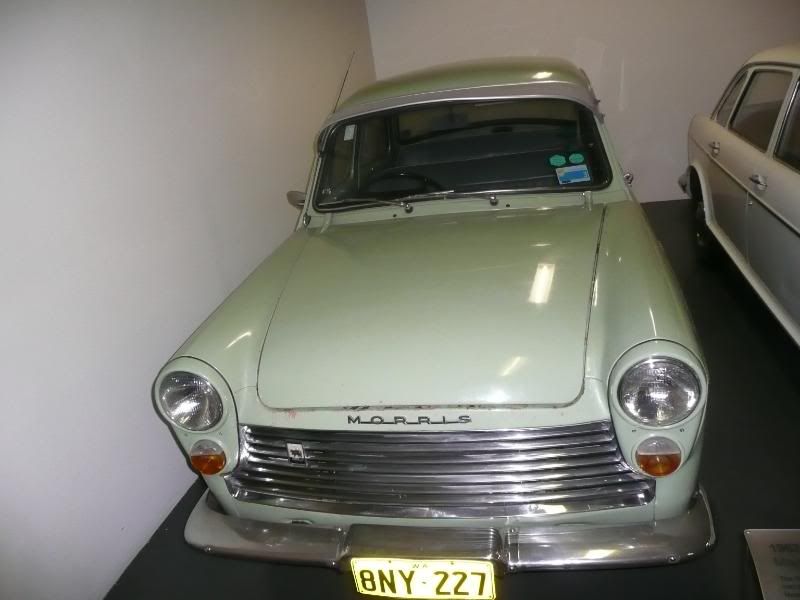 This is a 1963 Austin Freeway, a locally made 6 cylinder version of the A55 Cambridge with which Europeans are more familiar.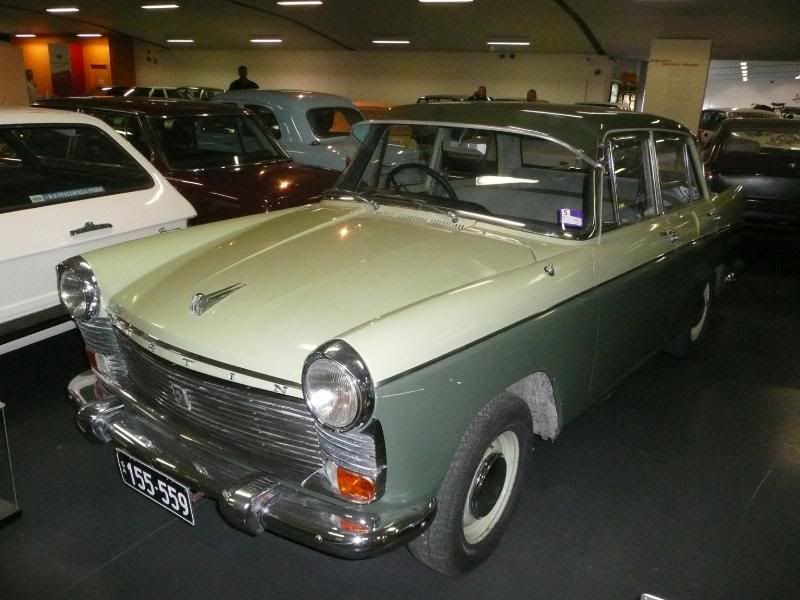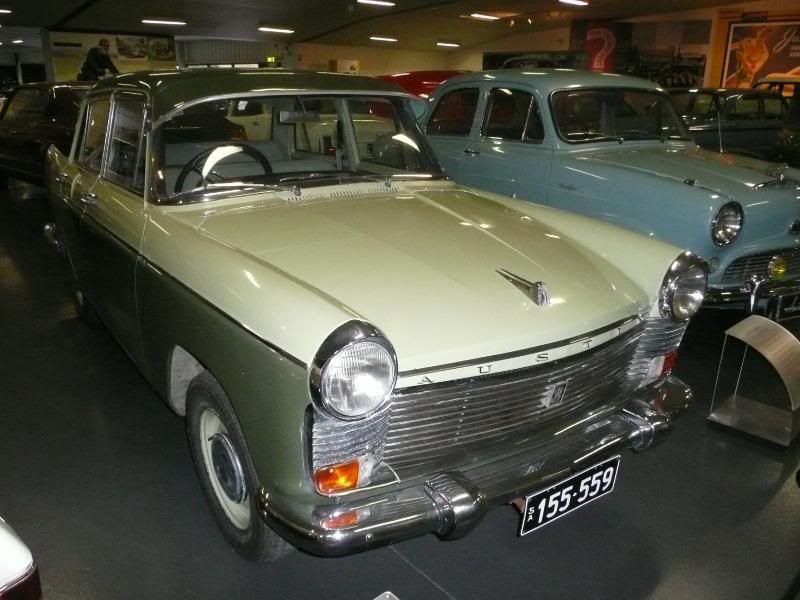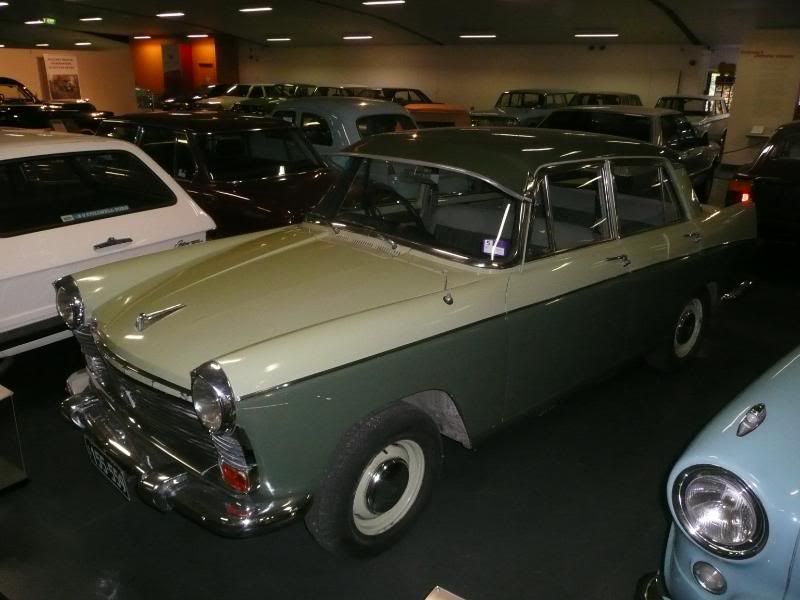 This car was replaced by the ADO17 models, shown here in Mark 2 Austin 1800 format. Locally produced models included the 6 cylinder Kimberley and Tasman, though there were no examples of those in the collection, sadly.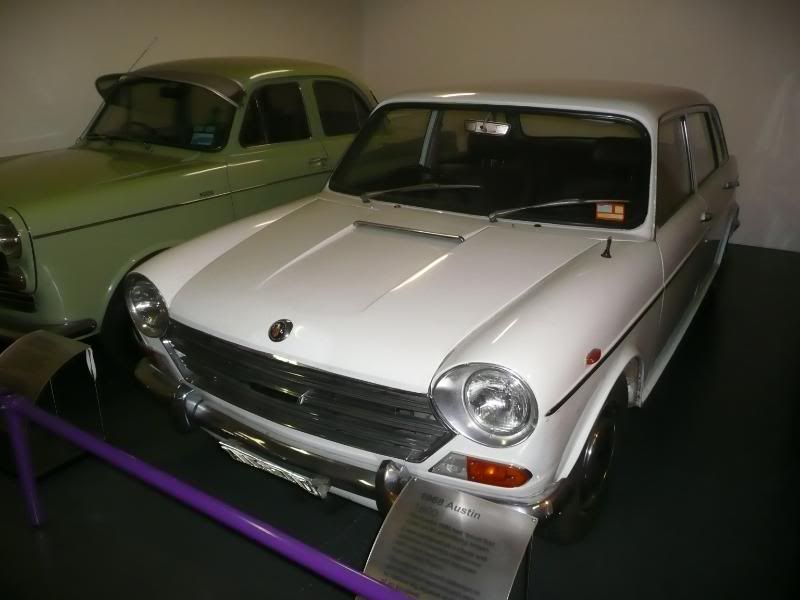 In 1973, Leyland launched the P76, a large V8 engined sedan intended to compete directly with the popular Holden, Ford and Valiant of the day. Their timing could not have been worse, as the car appeared a matter of weeks before the 1973 Oil Crisis, so sales fell flat, and the whole venture was stopped almost before it got started. This is the entry level model in the range, identifiable by its single headlights.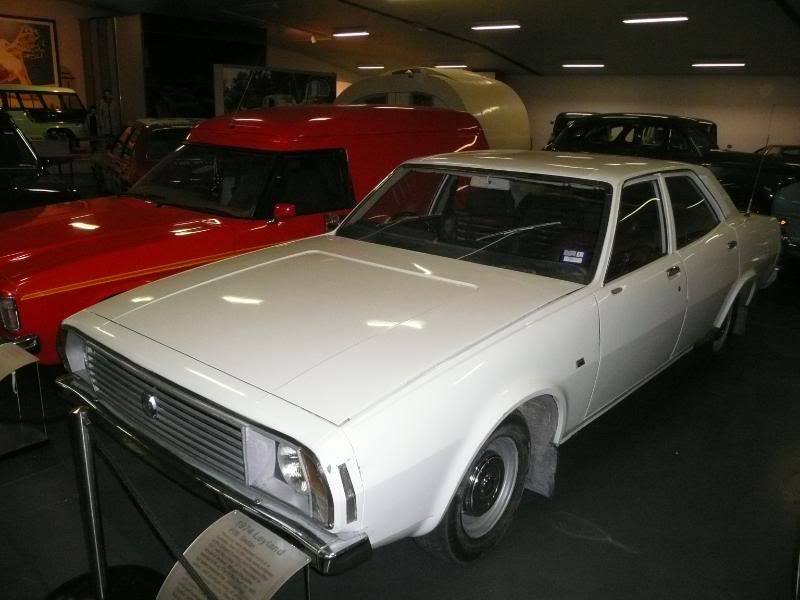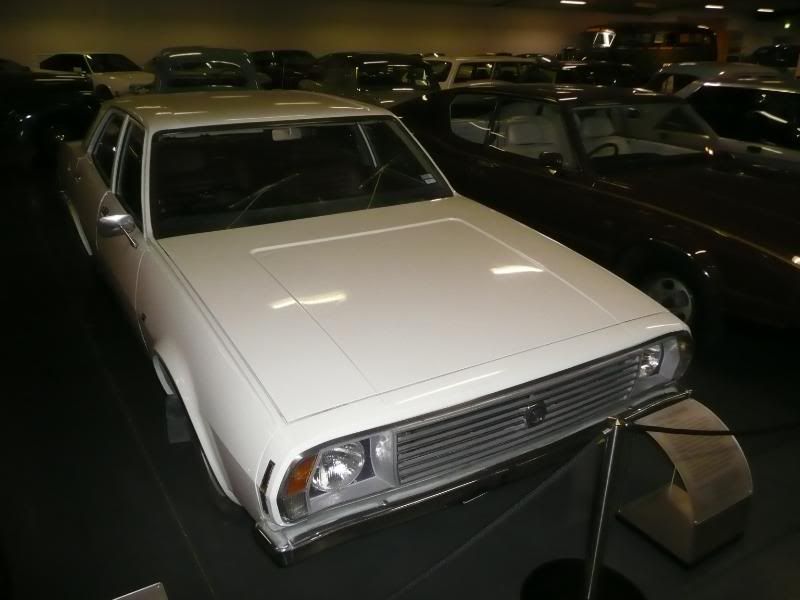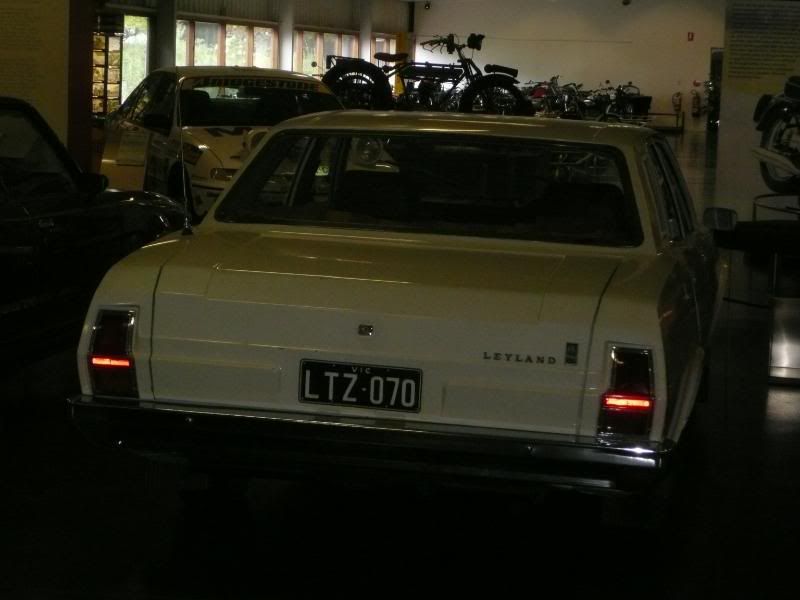 A striking coupe model was planned, called Force 7, and just 9 of these cars were made before the Leyland operation was shut down. Slightly surprisingly, they were released for sale in late 1975, so all 9 of them still survive. They are all painted in different colours. Having seen the white one in Perth, I was delighted to see a second one, this brown car, here.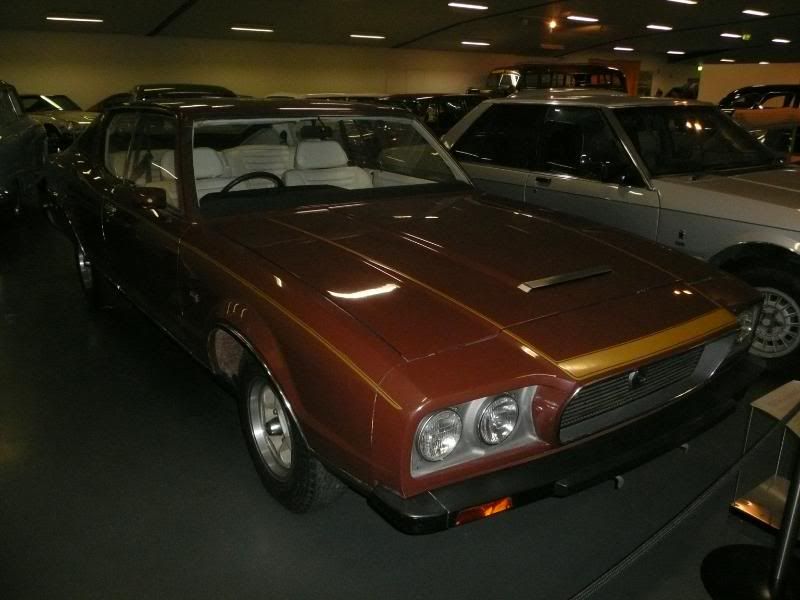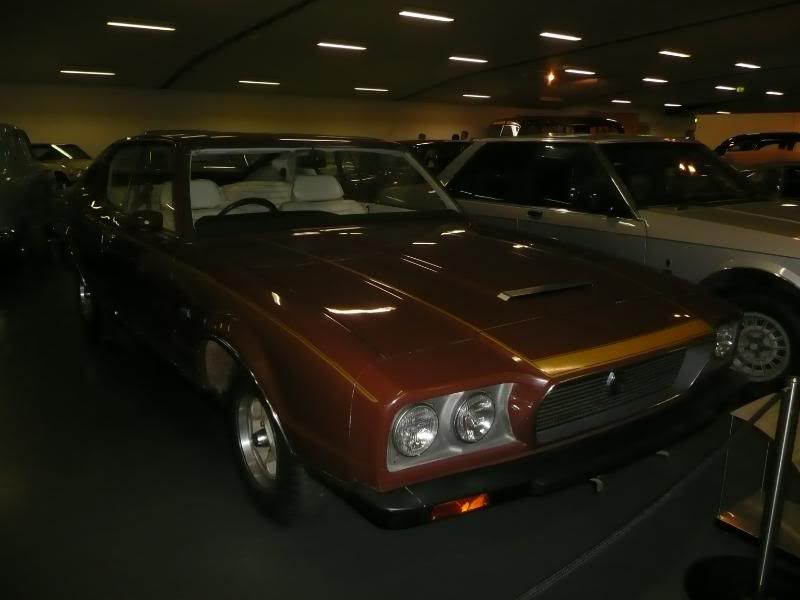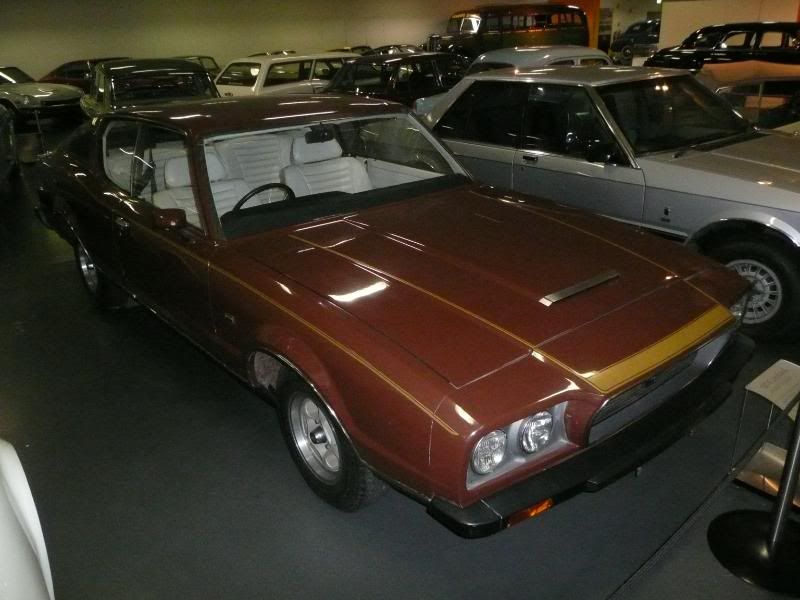 Local assembly of the Mini continued, though until 1978. Again, some local variations were evident, with these models, a Panel Van nor the 1275LS  never offered quite like this in Europe. The flush door handles are the most obvious visual clue. Unsurprisingly, the Moke was quite popular in the 1960s, thanks to the favourable climate.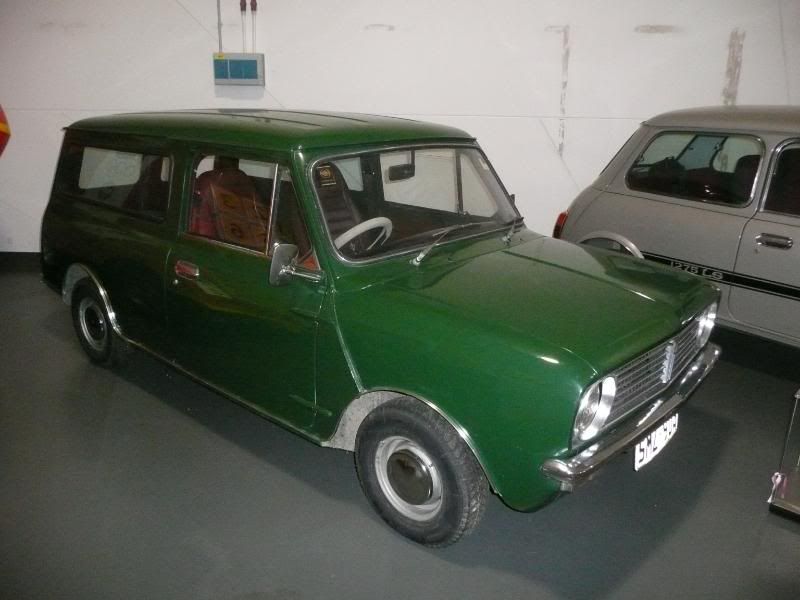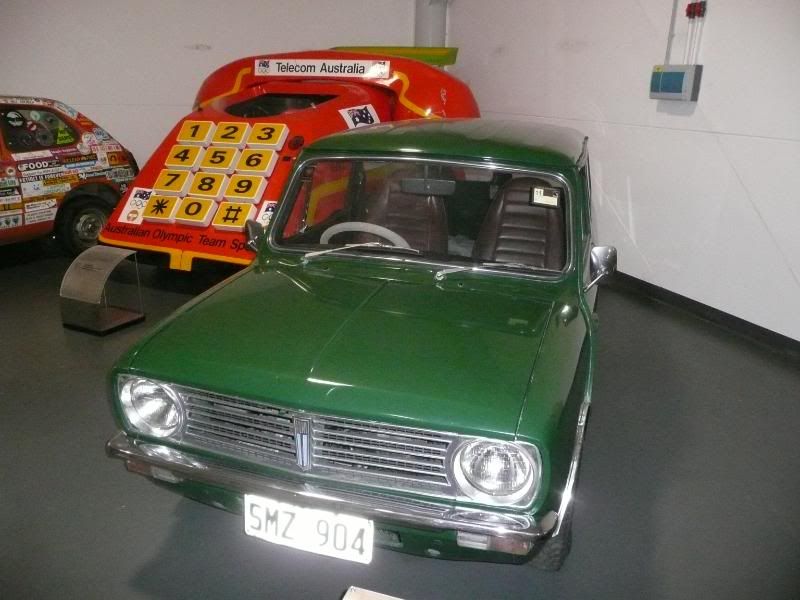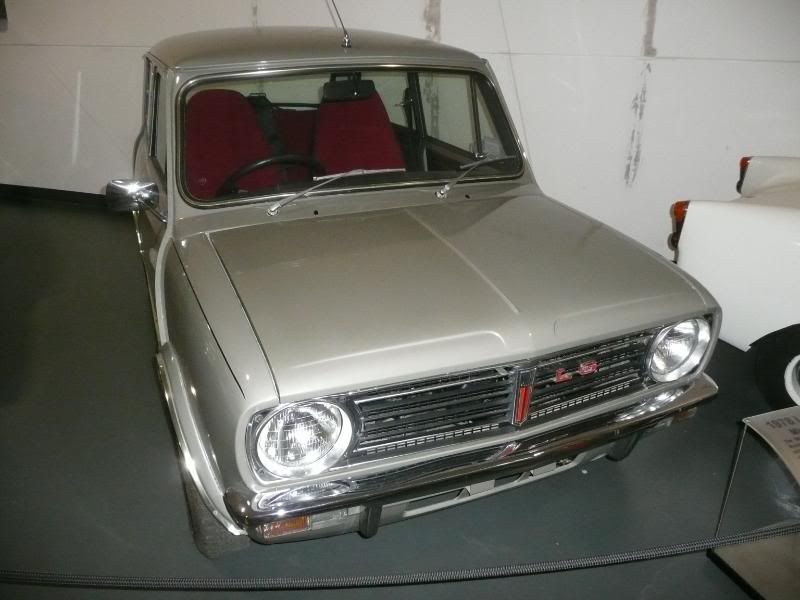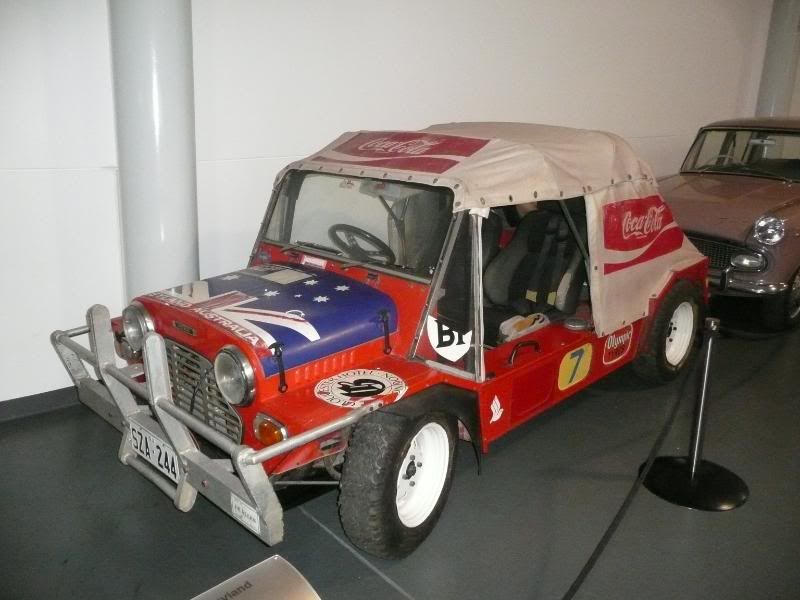 MOTOR BIKES
There is an entire hall of motor bikes of all vintages from the 1920s to pretty recent machines. Someone who knows far more than me about motor bikes would doubtless be fascinated by this vast and eclectic collection in its own right.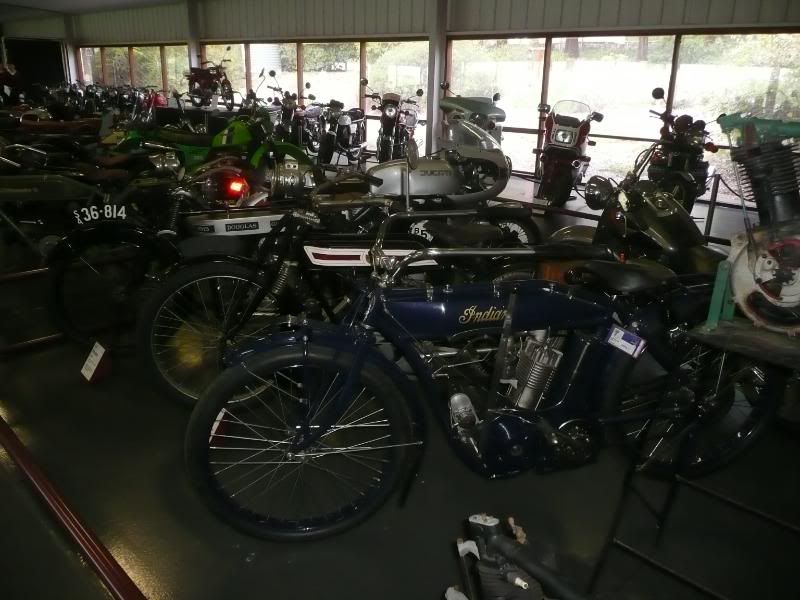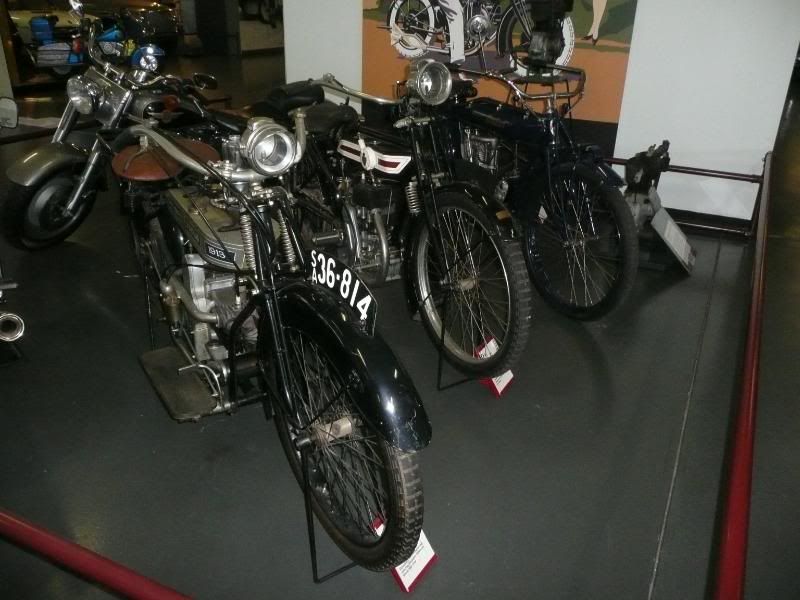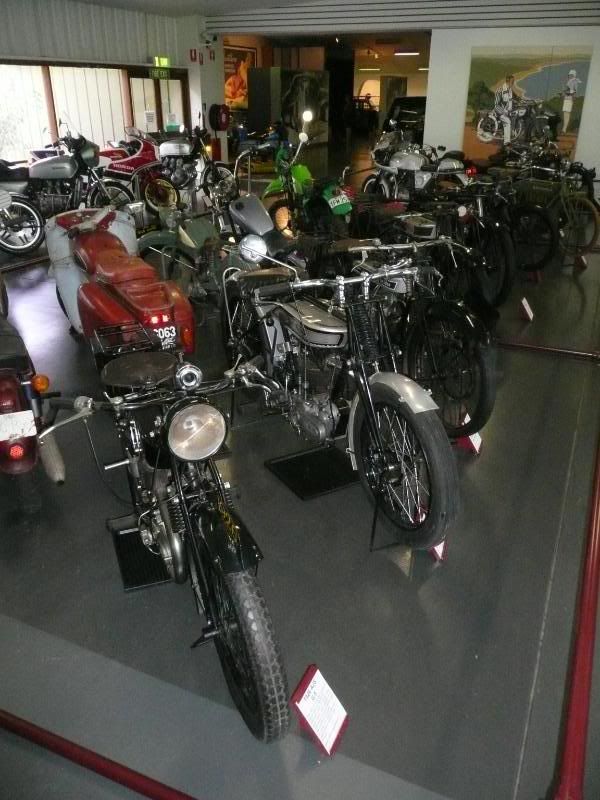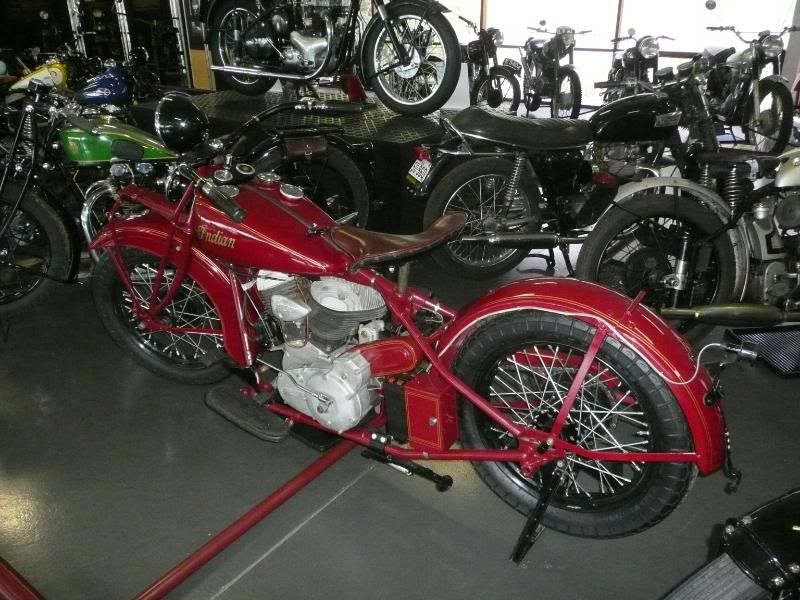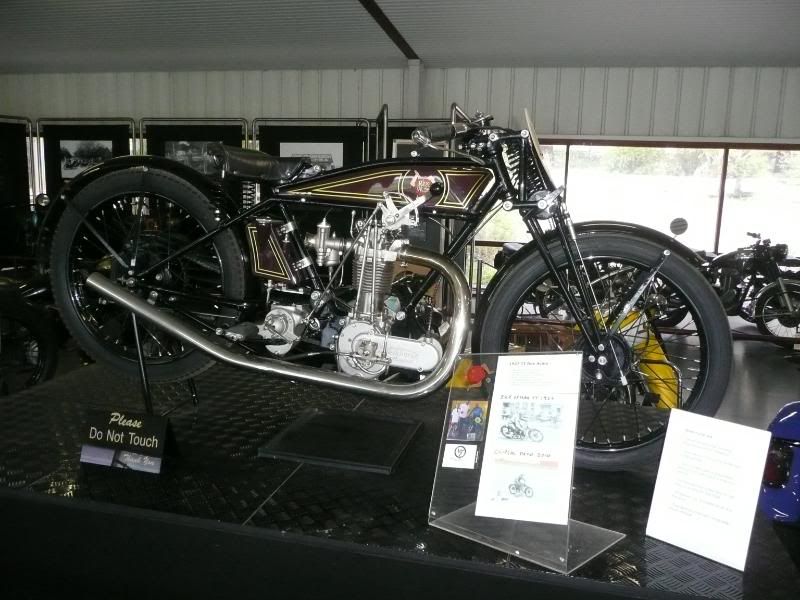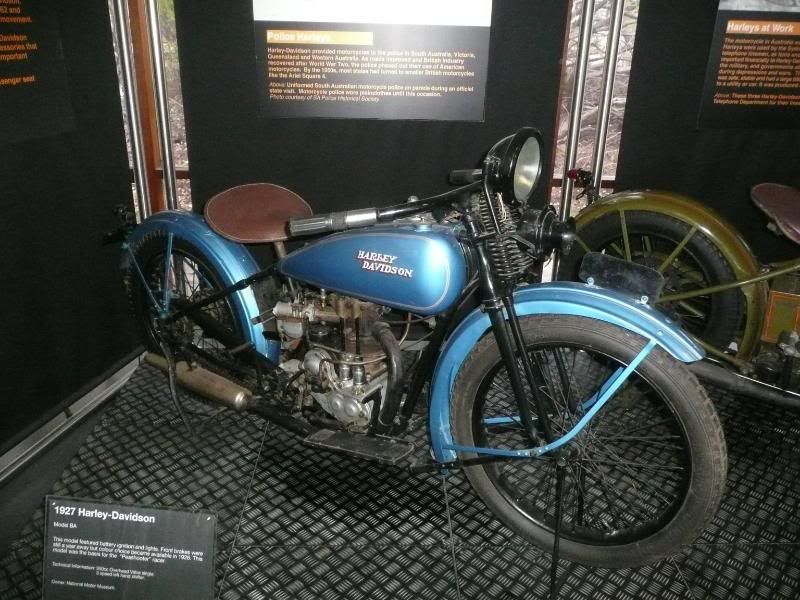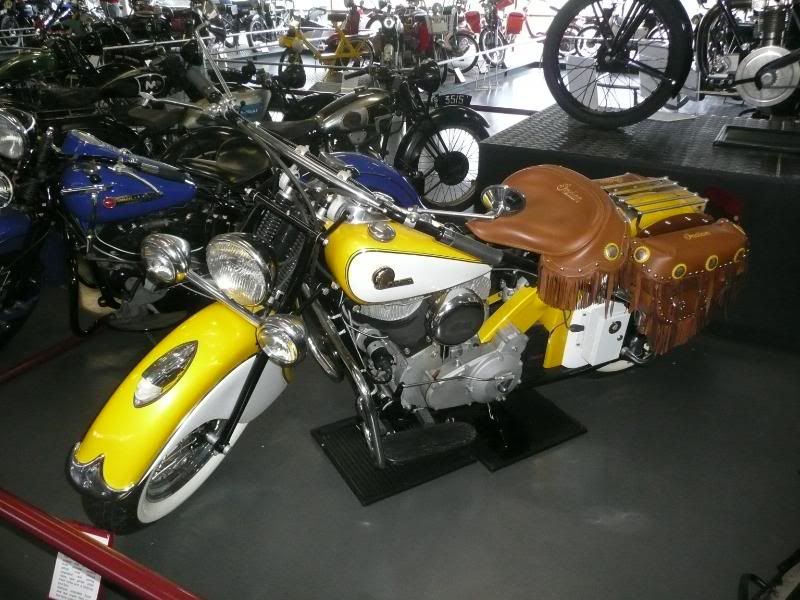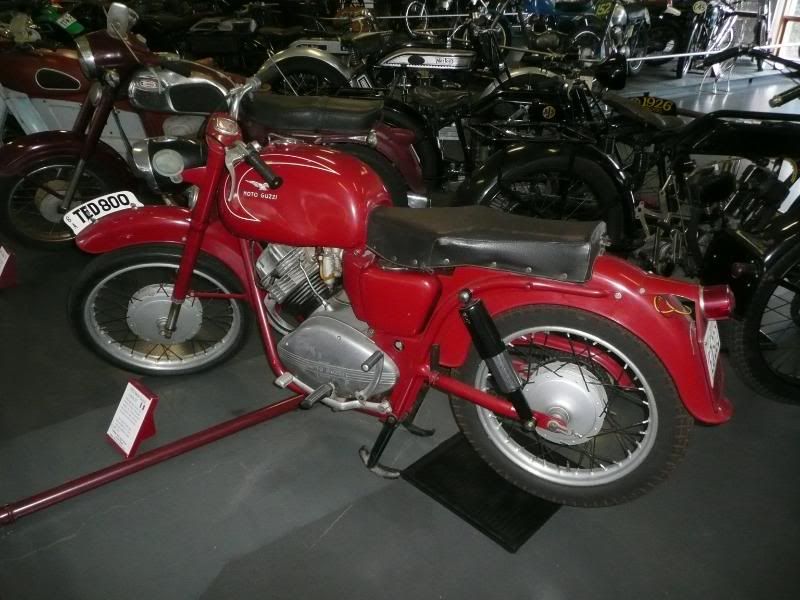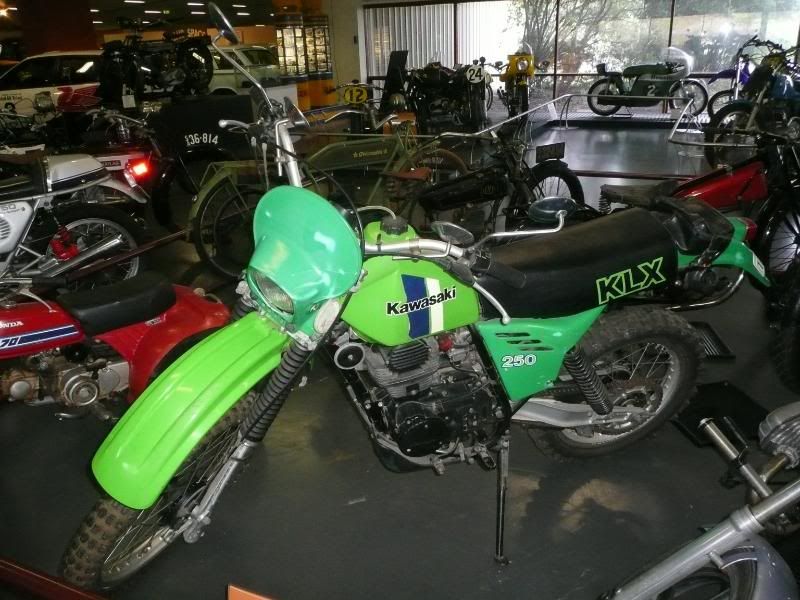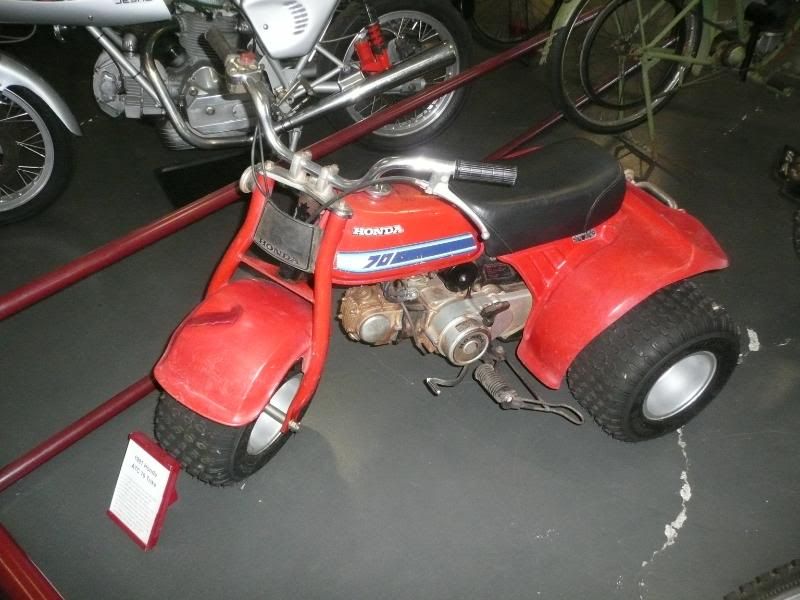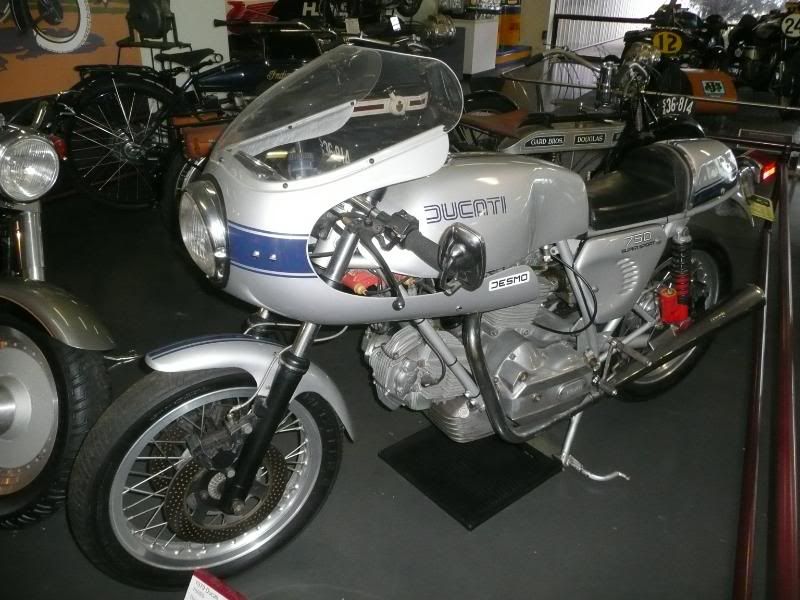 ENERGY DISPLAY
A variety of different machines ranging from the steam powered 1899 Shearer to the infamous Reva G-Whiz were presented in a display area which looked at potential sources of energy to power our vehicles for the time when fossil fuels run out or are no longer the optimum solution that they still appear to represent at present.. The Shearer is also significant as it is the older Australian built vehicle that is still running.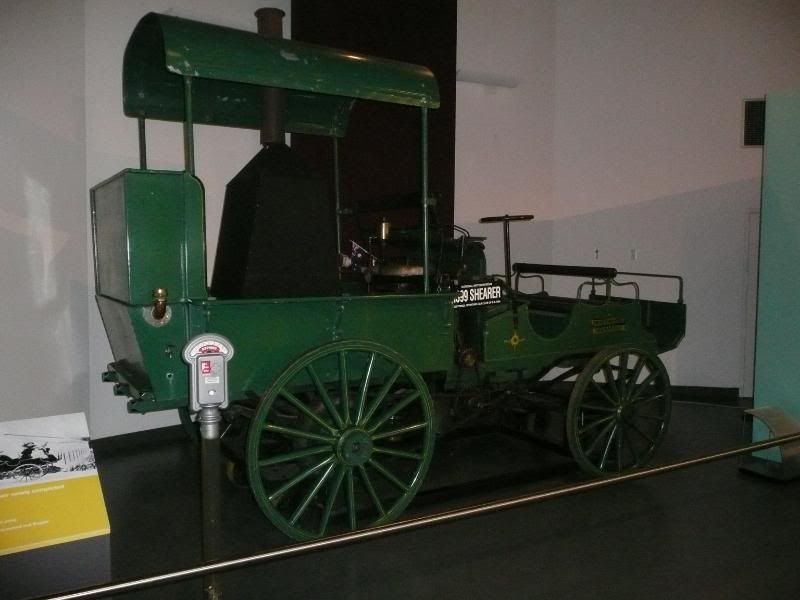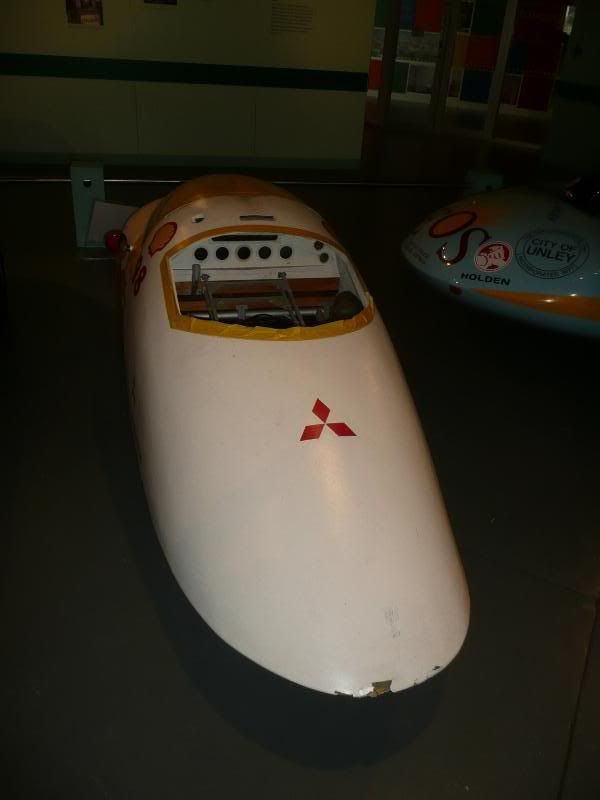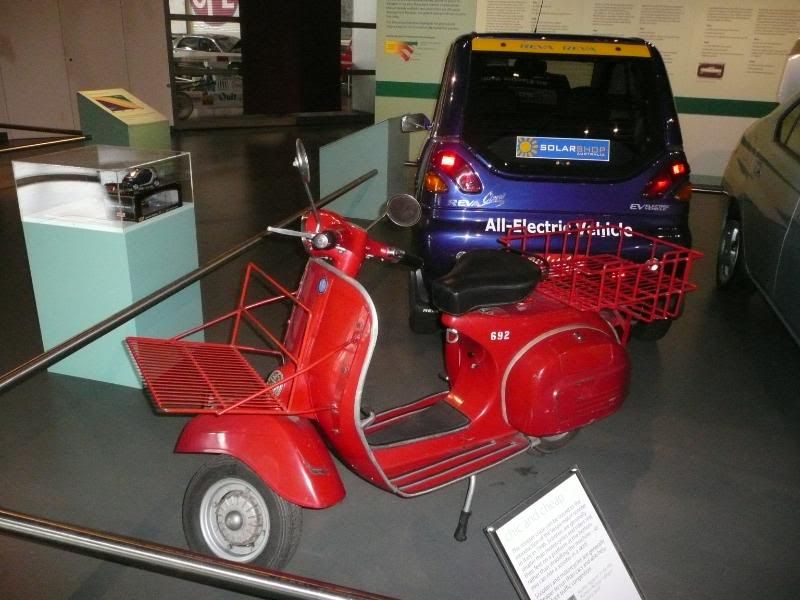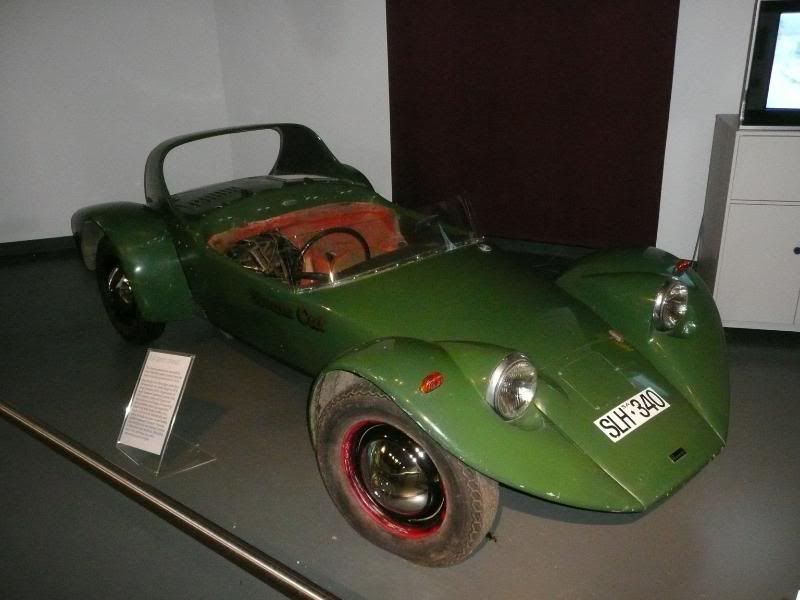 It would seem that no such display is complete now without a Prius, and this one proved no exception.  Although Toyota will doubtless get all the credit for popularising the Hybrid they were not the first or the only firm to explore this technology. This vehicle dates from 1999 and is an AEV/Willmot petrol/electric hybrid which was seen as the perfect combination for urban deliveries where electric propulsion by itself was too limited in potential range.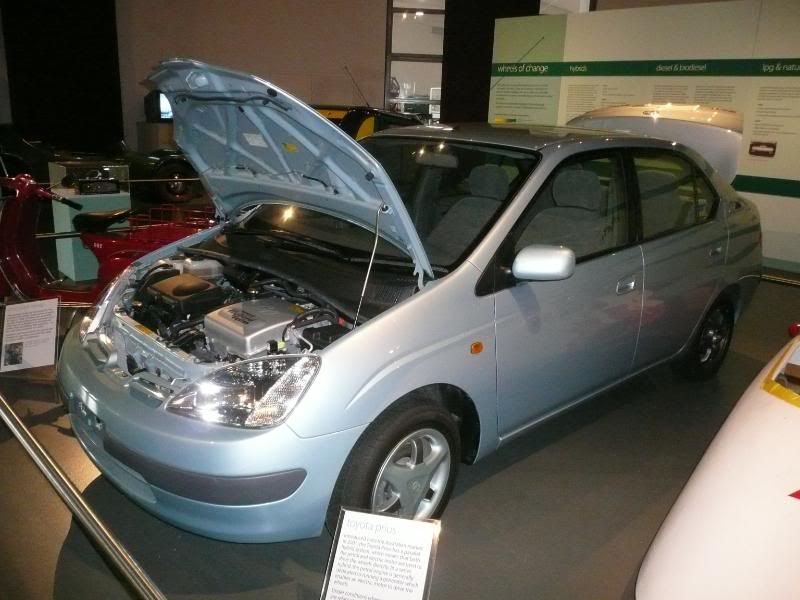 Having got to the end of this report, you can probably now work out why it took me nearly 4 hours to absorb it all. This is a fascinating place, and clearly worth including in any visit to the Adelaide area. More details can be found at the museum's own website at: http://history.sa.gov.au/motor/motor.htm
2012-04-18 10:01:51