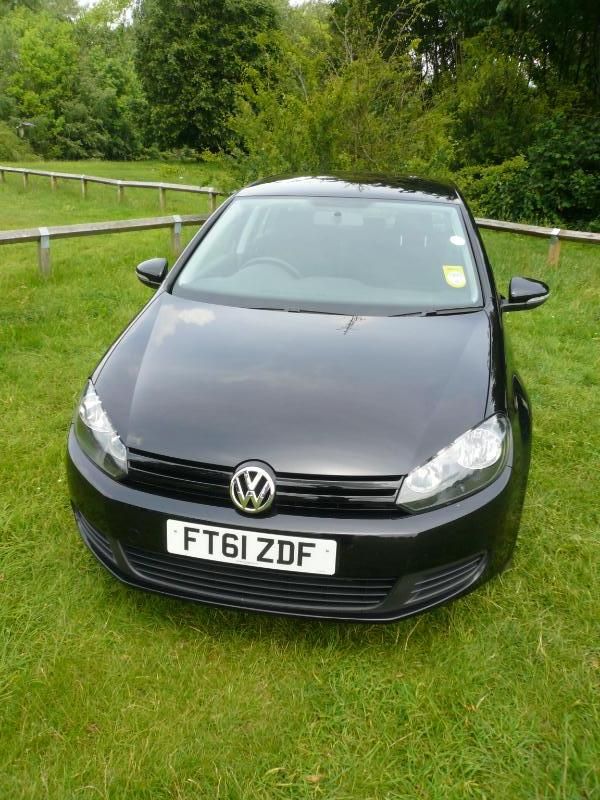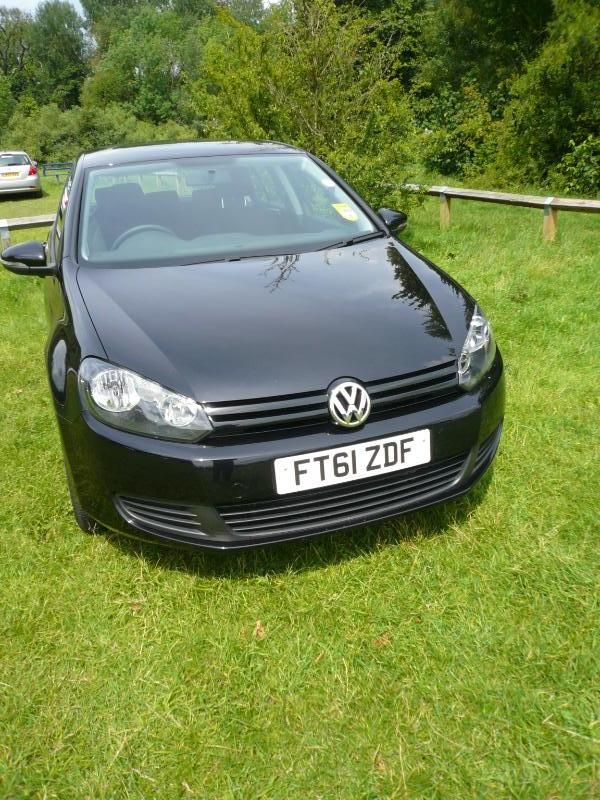 Even when you have decided on the model of car that best fits your needs and wants, long gone are the days when the only remaining choice is the colour and how you are going to pay for it. Not only are there more individual models on sale in all major markets of the world than ever before, but most manufacturers offer a bewildering array of different mechanical packages and trim levels even before you reach for the often extensive options list. Accordingly, sampling just one model in a range, whilst giving you a perspective of some facets of the car can also lead you to some conclusions which may not hold true for all other variants of the same model. Manufacturers are well aware of this, and for many years they have tended to make sure that the maximum publicity is given to the version of an individual car that will show it in its best light, and somehow they manage to deflect the gaze away from the weaker parts of the range. In the real world, where buyers have a fixed budget, sometimes it is simply not affordable to go to that "sweet spot" and an element of compromise will be called for. Trying to figure out which is the best combination of engine, gearbox, wheels, suspension, trim levels and optional equipment is probably even more complex than selecting the basic car, and in today's highly competitive market where there are few truly "bad" cars any more, a choice at different points in the range could easily change the conclusions of which car to pick over its closest competitors. Thus, when Mr Hertz handed me the keys to a car which I had previously driven and rated extremely highly, as you can read in the report penned at the time, I was interested to see if my very favourable conclusions of a car positioned well towards the top of the range would also apply to a model much closer to the bottom.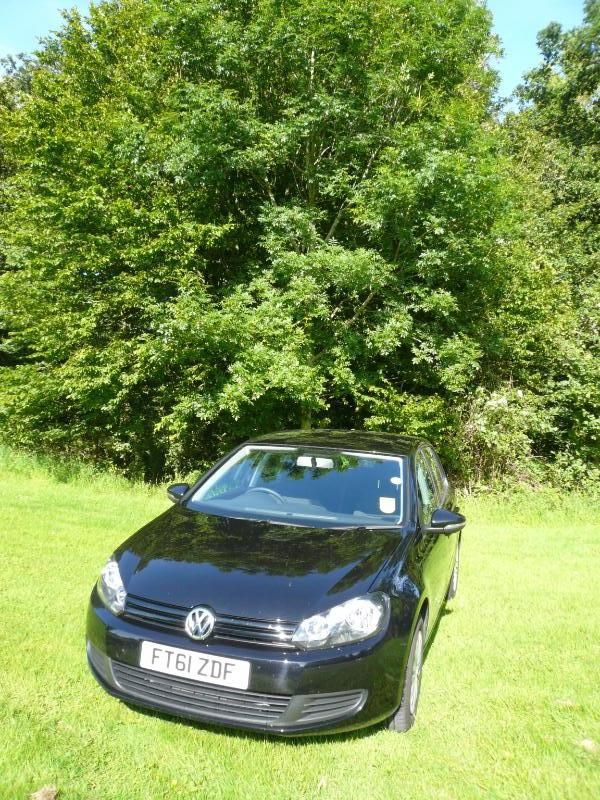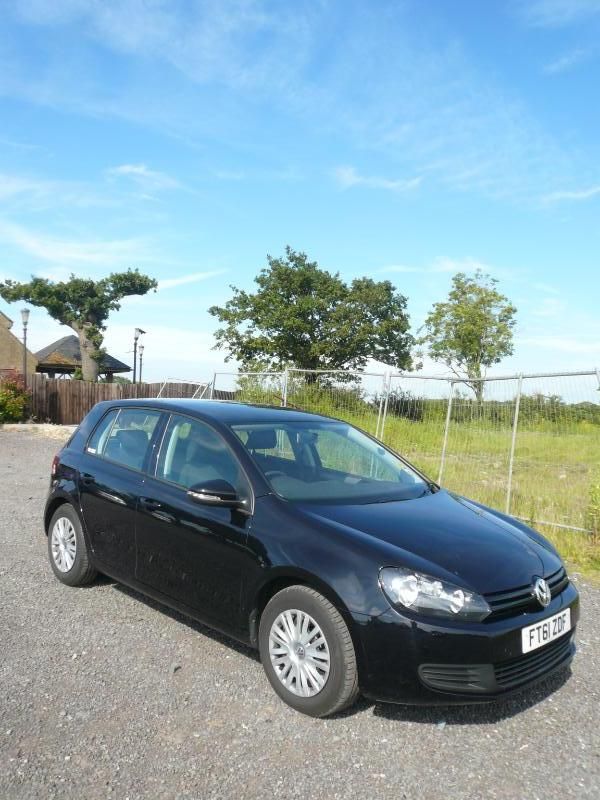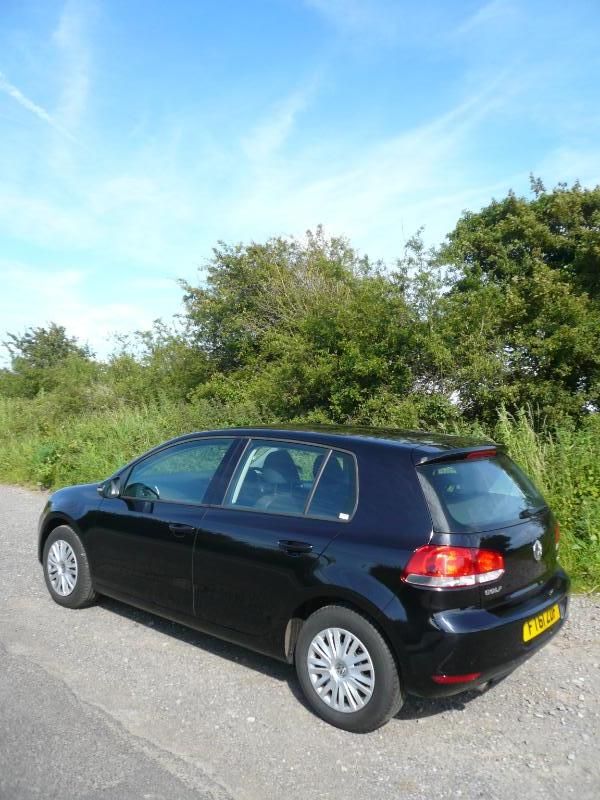 The test car was in VW's entry level S spec, and that much was pretty evident as soon as I set eyes on the metallic black painted vehicle, as the plastic wheel trims are a very clear visual reminder that you are not in the luxury model. More careful research elicited that although I was also furnished with the entry level 1.6 litre TDi diesel engine, the test car featured the 105 bhp model and not the 90 bhp one. Aside from those plastic wheel trims, there is not much outside the car to indicate entry level spec, but open the door and look inside and it is all rather more obvious. For a start, the steering wheel is a moulded plastic thing, and whilst of its type it was far from the most unpleasant I have encountered, it is still vastly inferior to a chunky leather wrapped wheel. Keep looking, and you will notice that there is air conditioning, though it is this and not climate control, and there is an audio unit, but not only is it basic, but I thought the sound quality from the speakers was among the tinniest I have encountered in a long while. Otherwise, it is not too obvious what else you forego by opting for the basic model. To find out, I had to go VW's website. The trim level above S is now called Match, and this adds an alarm, bluetooth connectivity, cruise control, a DAB digital radio with touchscreen and CD auto changer, a leather wrapped steering wheel, parking sensors and auto sensing lights. Opt for the BlueMotion version, and as well as getting the changes aimed at lower emissions and better economy, you get slightly lowered suspension, alloy wheels, a stop/start system and a sports styling kit.  The BlueMotion and Match models are priced within £20 of each other (£20,015 and £20,035 respectively), whereas the S model offers a saving of nearly £1000, listing at £19,170 at the time of writing. Reach further up the Golf range and there are GT and GTD models for those with deeper pockets. In addition to selecting a three or five door body style, there is also the matter of the engine to choose, with plenty of petrol and diesel choices available.
Whilst this was my first encounter with the S level trim in a Golf, it was not the first time that I had experienced the 1.6 TDi engine that featured in the test car, having driven a couple of Passats in which this engine performed pleasingly well. As Golf is a smaller and lighter car, then my expectations were that it would acquit itself quite well. And so it proved. Compared to the older Pump Duese 1.9 TDi engine which this powerplant gradually replaced across the VW Group, this is a massively better engine. Get in the car, with the windows up and you will only be able to detect a trace of the characteristic diesel sound when you fire the engine, and once you move off, the refinement levels are generally good. Of course, 105 bhp is not that much for a car of this size burdened with today's weight levels, but you do not feel challenged when underway. For sure it lacked the urgency and the torque that made the 2.0 TDi GT model that I had driven previously rather good to drive, but an as every day workhorse that could keep up with the traffic, the 1.6 TDi unit will not really be found wanting. It is pleasingly refined on the motorway, where a trace of road noise was more evident than the sound that came from under the bonnet. Open a window, and you can what efforts have been made at sound proofing the engine away from the passenger cabin, as the diesel sound is still pretty evident.  Where the Golf really scores is in its fuel economy. I collected the car at Gatwick Airport and got almost all the way back to Bristol (140 miles) before the needle moved from showing "full" on the fuel gauge. Noting this, of course made me fear that in rental car land someone could easily have done this before me and failed to fill the car up, but not in this case. When I did come to refuel, and do the calculations, I had averaged 68.9 mpg which is mightily impressive compared to the sort of figures that even diesel engined cars of a few years ago were delivering. Dynamically, it is not all good news, though. My biggest concern was with the brakes, with the footbrake needing a hefty shove before anything much happened. Heavy brakes have been a criticism of the Golf almost from Day One back in 1974. The other thing that used to be singled out for a moan was the gearbox, but VW have in recent years found ways to make the gearchange less baulky and whilst there are definitely cars that do it better, moving between the 5 forward ratios and reverse in this car was no hardship. A discrete "change up" indicator is fitted, and I found that as is so often the case with these things, it would suggest a gearchange at very low revs (generally below 2000 rpm), and whilst the engine is reasonably torquey, it is not quite that good. The steering has reasonable feel to it, though Ford definitely has the upper edge here in this class (all classes, probably!), and the handling is safe feeling, with a touch of understeer, but again probably not quite class best. The Golf did ride well, coping with all the bumps, pot holes and mix of surfaces that constitute Britain's roads with no real difficulty. Despite the rather thick C pillars, a Golf trademark, visibility proved not to be an issue.
One area where Golf has long beaten all its competitors is the feeling of quality and the interior of this car proved to be no exception. The latest Focus and to a lesser extent the Astra and Cee'd simply try too hard and end up looking fussy and over-stylised. The Golf does not do that, adopting a style which looks clean and simple and using a lot of high quality materials. For sure after the supreme but overly costly Mark IV interior, VW have found ways to cheapen some of the bits you don't really see, but they have managed to retain that air of solidity and luxury even in a basic model like the S trim of the test car. There are two large dials for speedometer and rev counter with little dials for fuel level and water temperature set into the base of them, and a small area between the two dials for warning lights, odometer and the displays of the on board computer which shows average fuel consumption and the like. The centre of the dash has a moulding which goes up high for the air vents, meaning that the audio unit is also mounted nice and high. In S trim there are no repeater controls on the steering wheels, so you have to use the series of rather fiddly buttons on the device itself to operate it. There did not appear to be a "seek" button, but you twisted the right hand knob to change frequency. The air conditioning, operated by three rotary knobs sits below this. Column stalks from the VW Group parts bin do indicators and wipers, and the same Group standard switch on the right of the dash does the lights. It is all very easy to use, and very uncluttered. Only the switches in the door panel for the electric front windows (the rear ones are manually operated) felt a bit cheap. Most of the interior is black, with a swathe of silver trim on the dash above the glovebox, and on dash to the right of the steering wheel, as well as on the doors along with a chrome ring around the gearlever to provide any visual lift. The seat trim was a houndstooth pattern, but also black. Not as funereal as some VWs used to look, but far from sporting, but then again, far from overly fussy and over-stylised.
Seat adjustment in this model is all manual, with a ratchet style lever for seat height and a large turn wheel for backrest rake, so it was easy to get the perfect driving position, and I found the slightly wrap around seat to be particularly comfortable. Cars like the Golf need to score highly for matters practical, and it is hardly a surprise to report that this car is not found wanting. Golf makes good use of space and accordingly, two adults will easily fit in the back seats, with sufficient room to squeeze in a third. There is a decent sized boot, the capacity of which can be extended by folding down the asymmetrically split rear seat backrests. These simply drop onto the rear cushion, meaning that the resulting area slopes upwards slightly and there is no protection against the front seats, but this certainly gives a good cargo area for when the need arises. Inside the car, oddments space is provided in some fairly narrow door bins and a good sized glovebox. Thanks to the basic audio unit fitted, there is also a deep slot under this for small items and there is quite a sizeable area in front of the gearlever for more odds and ends.
Having spent a day with the Golf it is not hard to see why it continues to be such a sales success. For sure the equipment levels in this car are a bit meagre, but spending the extra £1000 to go to a Match would largely fix that, but in all other respects, the basics are all well done. The 1.6 TDi engine delivers an apposite balance between fuel economy and performance, the other dynamics are perfectly OK, the car is practical, and it feels solidly build. The cachet of Golf remains, so residuals should remain strong, even though this Mark VI model will be replaced later this year by Golf VII. Of course it is not as good as that 2.0 TDI 140 GT that so impressed me in my previous test, but that car is not far short of £4000 more to buy and will cost more to run. As to how this Golf fares among its direct competitors, I struggle to answer, as I have still yet to get my hands on the latest Focus and Astra and there is a new Cee'd which is likely to put up a strong case for itself as well, quite apart from all the other options in this most competitive class. All I can say is that those who want an honest family hatch and end up with a Golf on the drive are unlikely to regret their purchase.