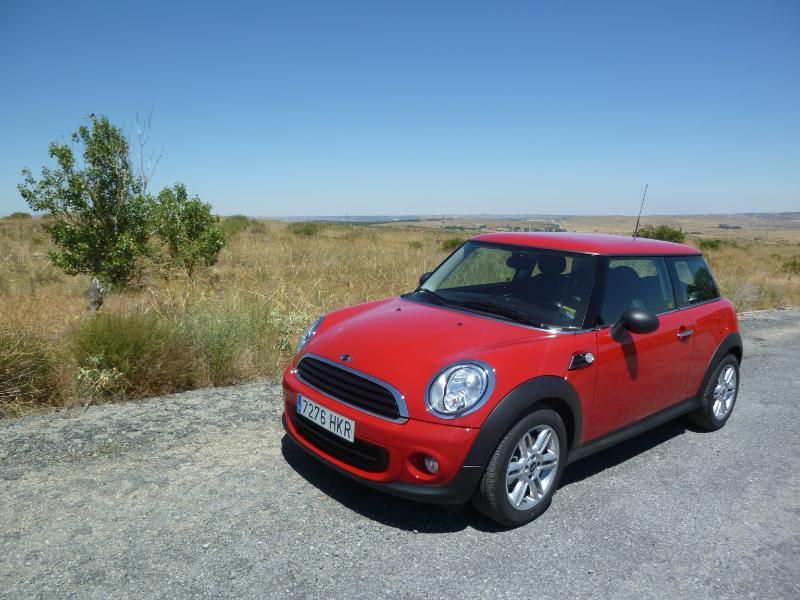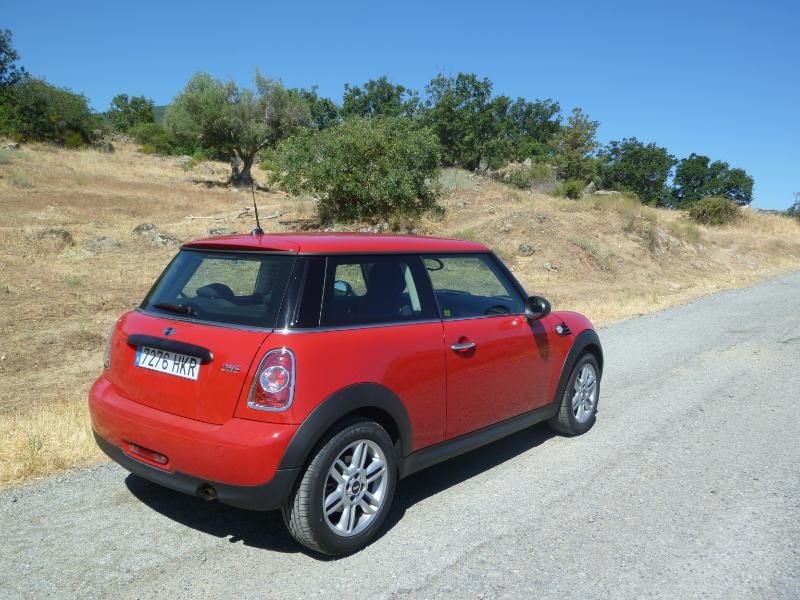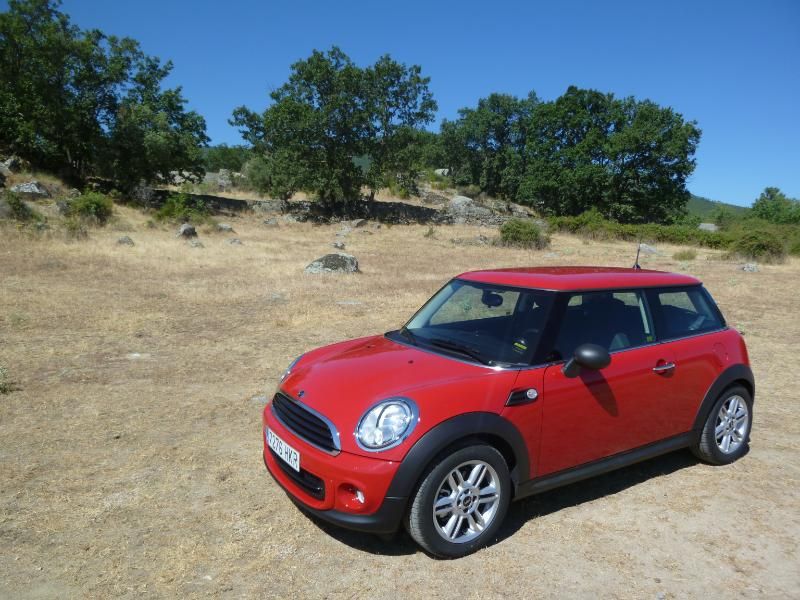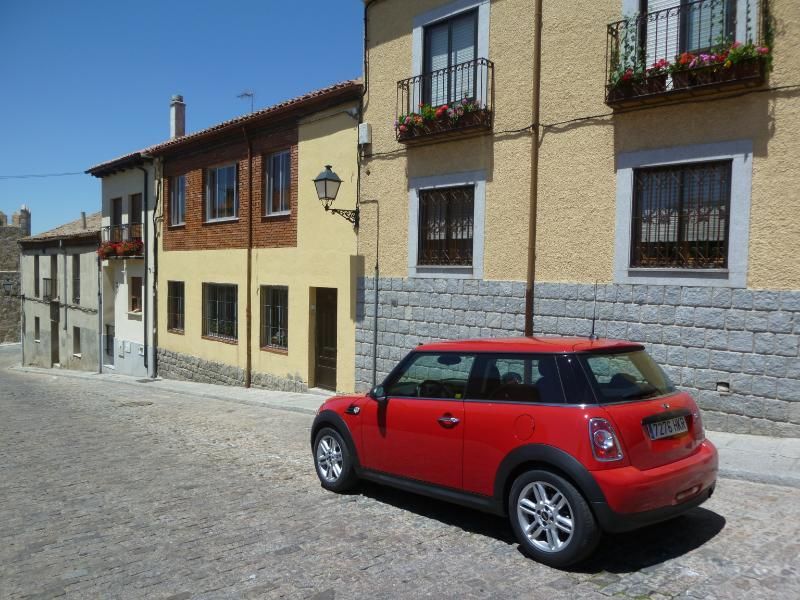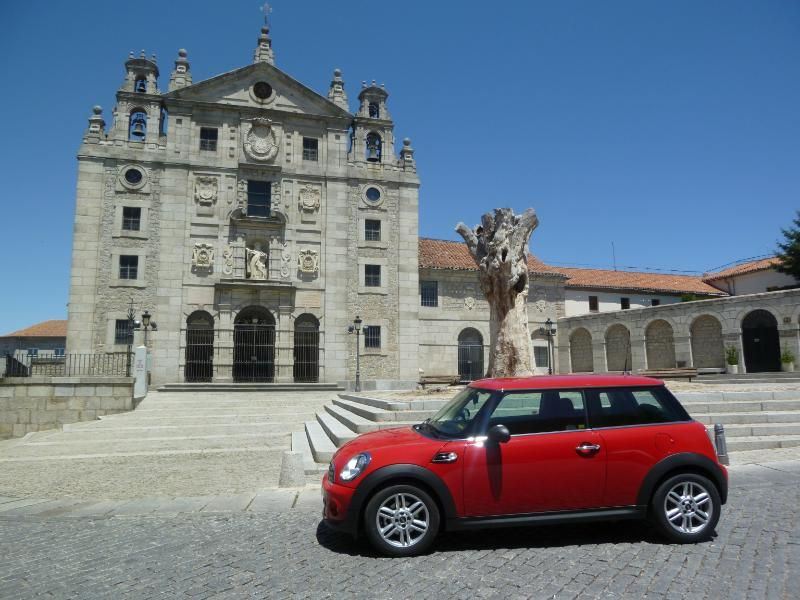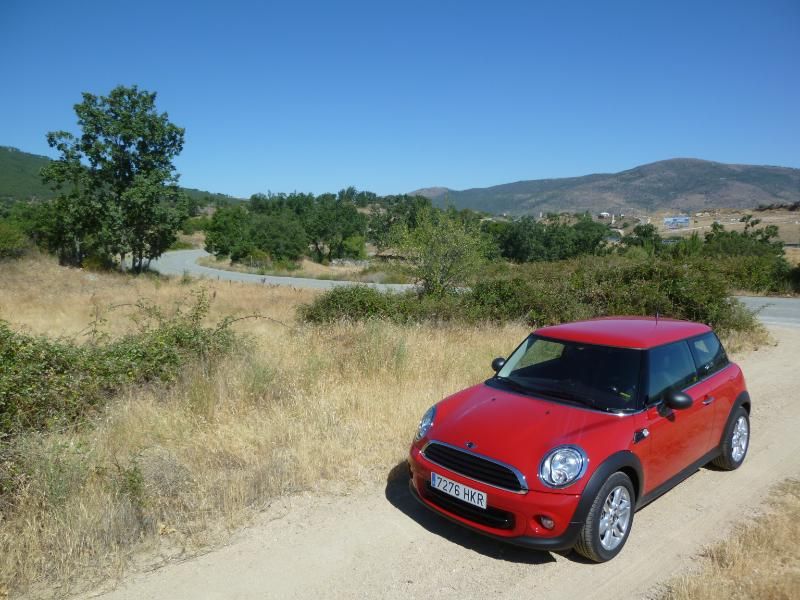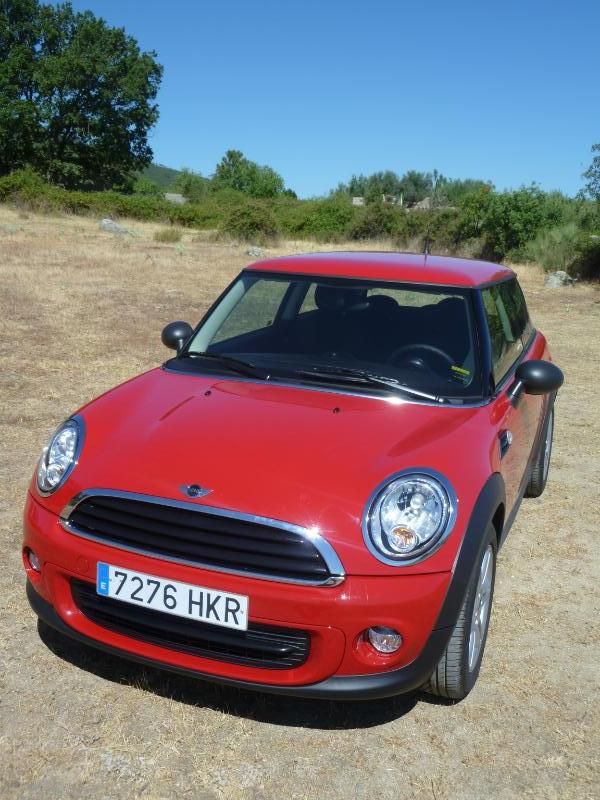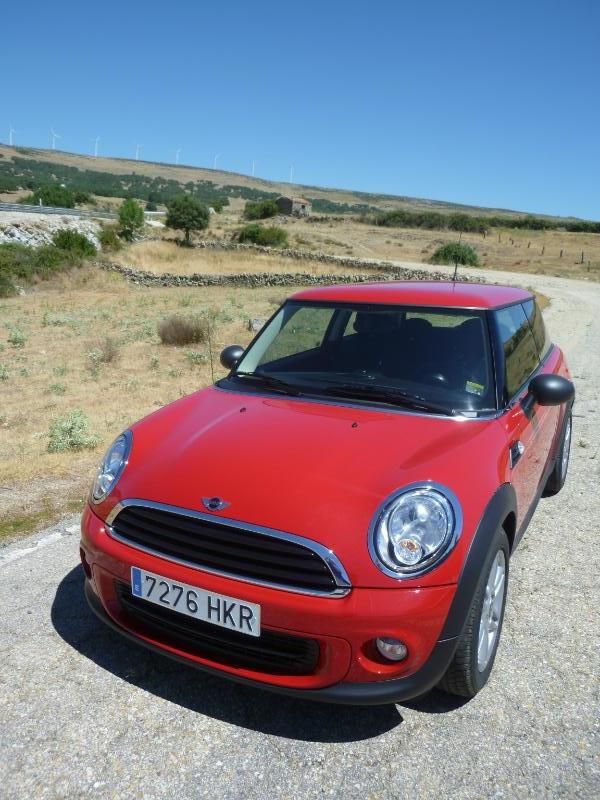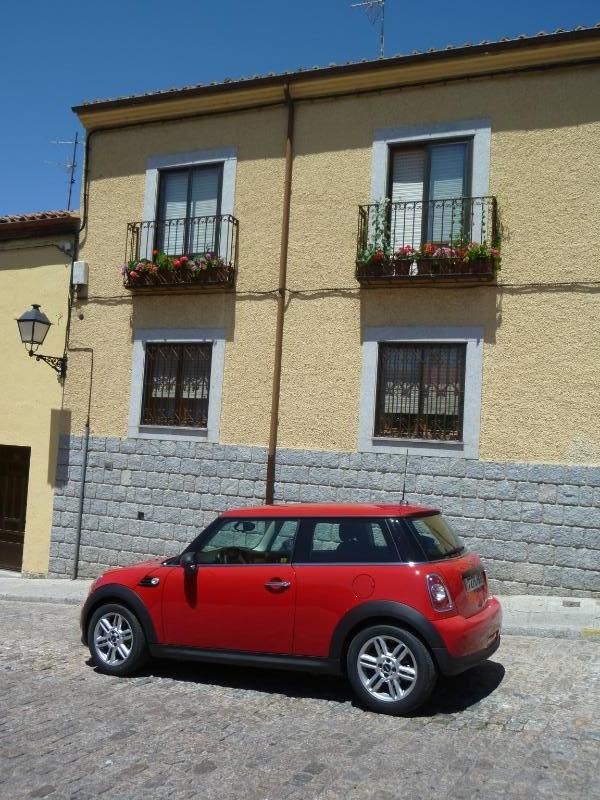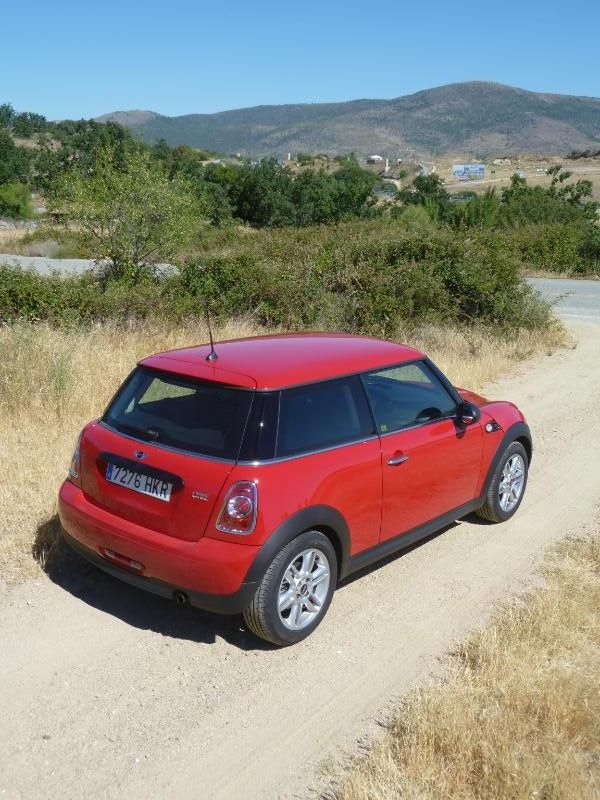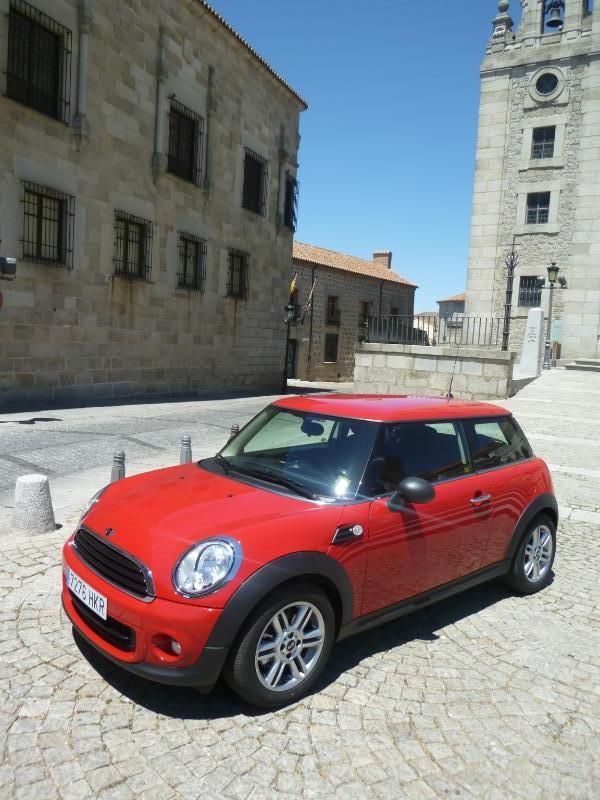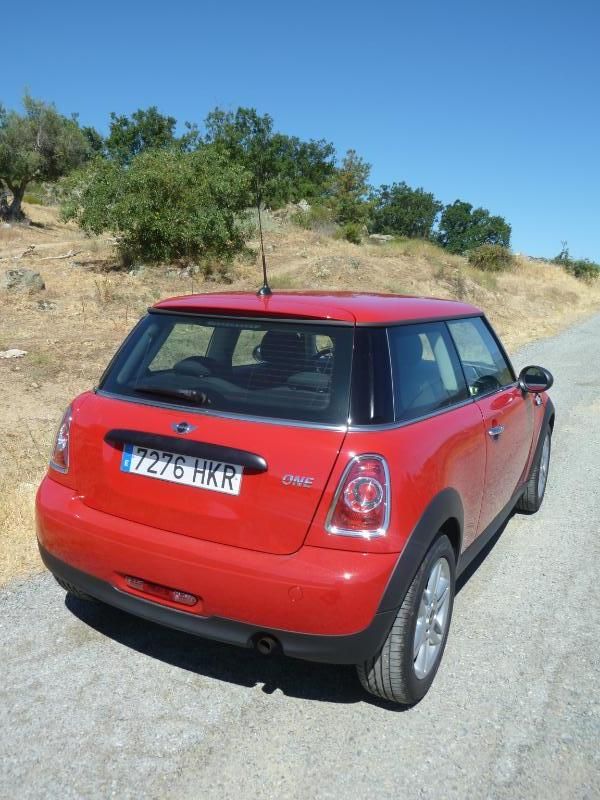 There have been many assessments of the ever burgeoning range of MINI products presented on this site, most of them very positive, The market clearly agrees, as this is a car which remains in high demand both new and used, with a vast number of buyers clearly charmed by something which they feel meets their needs and desires. Part of MINI's success is how its makers have taken the initial product offering of 2001 when just two derivatives were offered – the One and the Cooper – and extended into a plethora of different models and bodystyles, even before reaching for the extensive list of options and personalisations which allow the prospective owner to choose exactly what they want. Much of the recent publicity has been around the newest body styles – Coupe and Roadster having both been launched in the past few months – and it is notable that almost all reviews, as with most cars these days, have tended to focus on the middle to upper reaches of the engine range, concentrating on Cooper S, or SD cars. A couple of years ago, though, MINI extended downwards, adding a car that in the UK is called the First, which was intended to offer MINI motoring to those with limited budgets and for whom the style was more important than the performance. A recent UK encounter with this entry level car, described elsewhere on this site, suggested that this was a car to entice buyers to the showroom but not one which anyone should really buy. Although I took due note, I thought nothing of it when I booked what promised to be a MINI Cooper for a recent weekend in Spain. After all, last year I had driven a Cooper Cabrio and whereas it did not have me regretting my decision to buy a car some would see as MINI's competitor, I had to admit that it was in many ways quite a decent car. When I collected this Spanish rental car, the agent told me that it was a Cooper, but when I located my vehicle, a quick look at the badge on the car said "One", and a tour around the rental car park suggested that all the other 2012 Spanish rental MINIs had been similarly downgraded. What I had not realised, until I did some research is that in Spain the One is sold in two versions: the regular One is the same as we get in the UK, with the 95bhp 1.6 litre engine, but there is also a model called the One 75CV, which my paperwork confirmed was what I had got. The clue is in the name, if not the badge, and with just 75bhp, it explained in retrospect what was so painfully obvious from behind the wheel. This was definitely entry level MINI motoring, Spanish style. Retailing in Spain at €15,500, though, it does not come particularly cheaply. That means that the big question is whether the car has enough of the MINI strengths to make it a decent proposition, or whether it really is all about perceived Style but in reality just Purgatory on Wheels. Read on!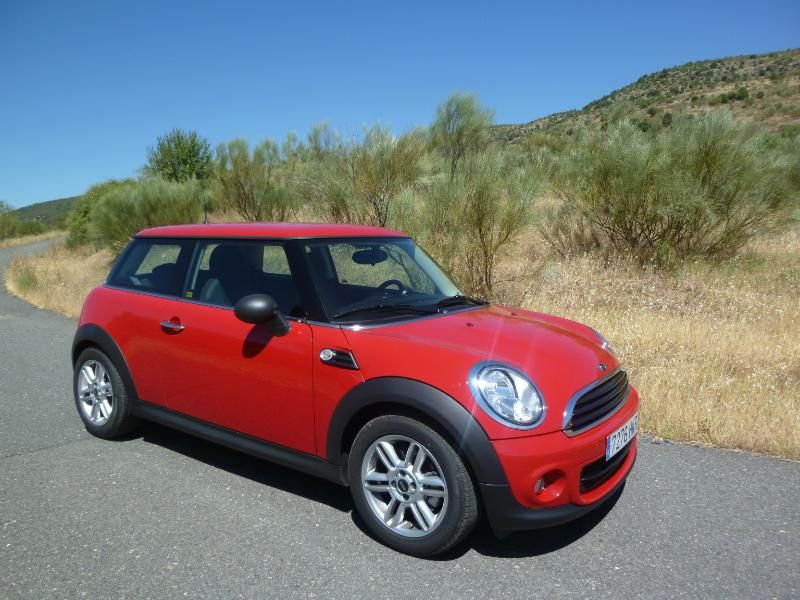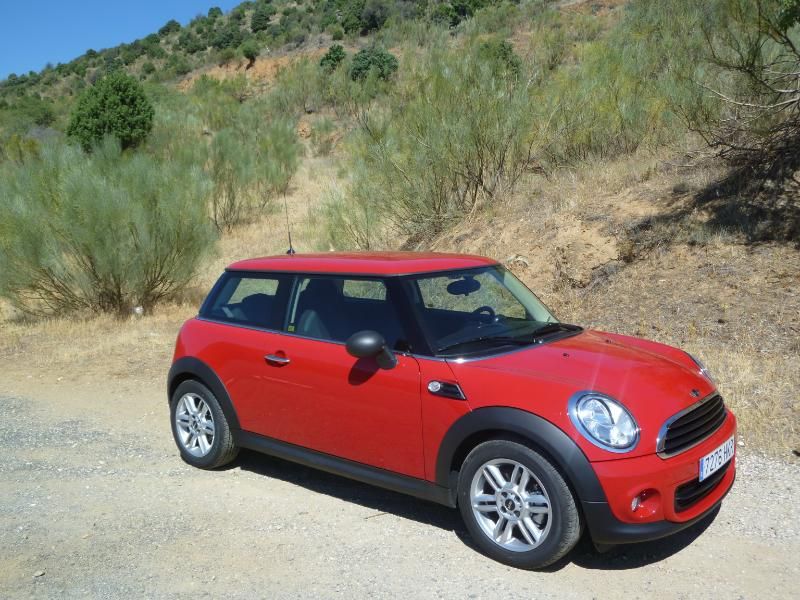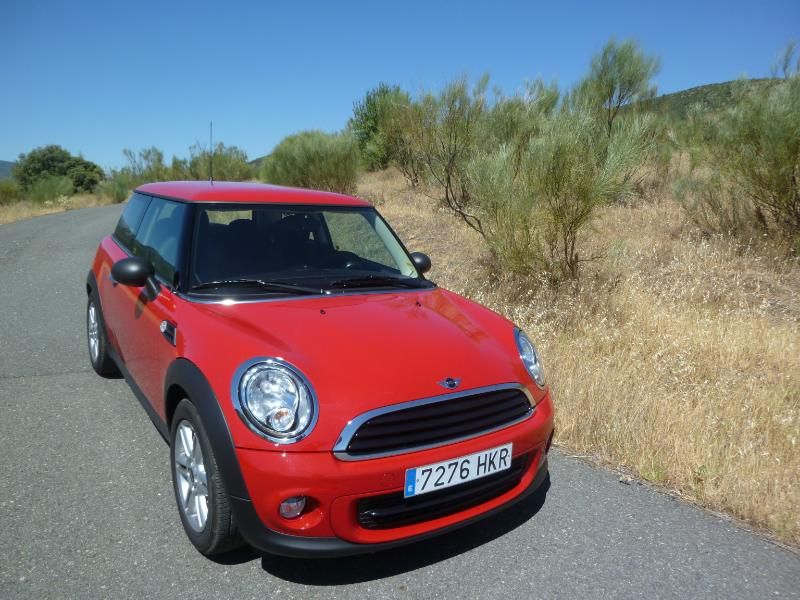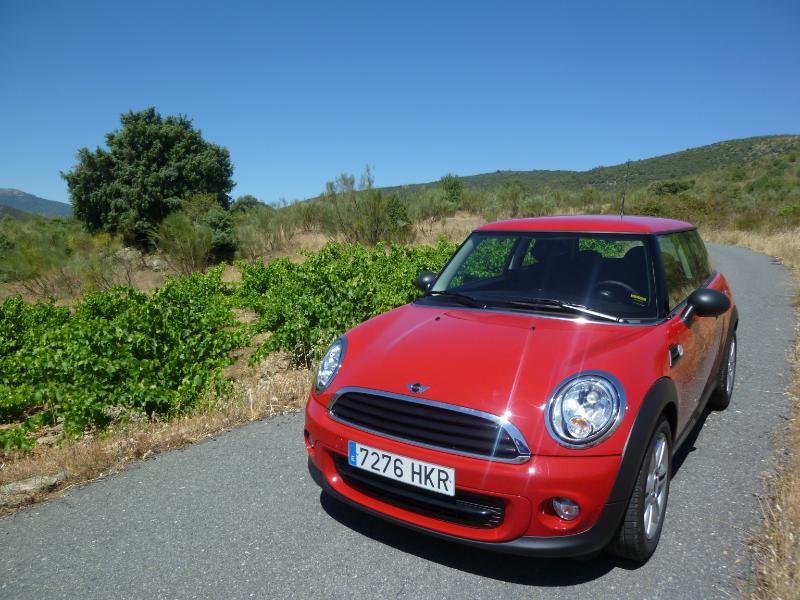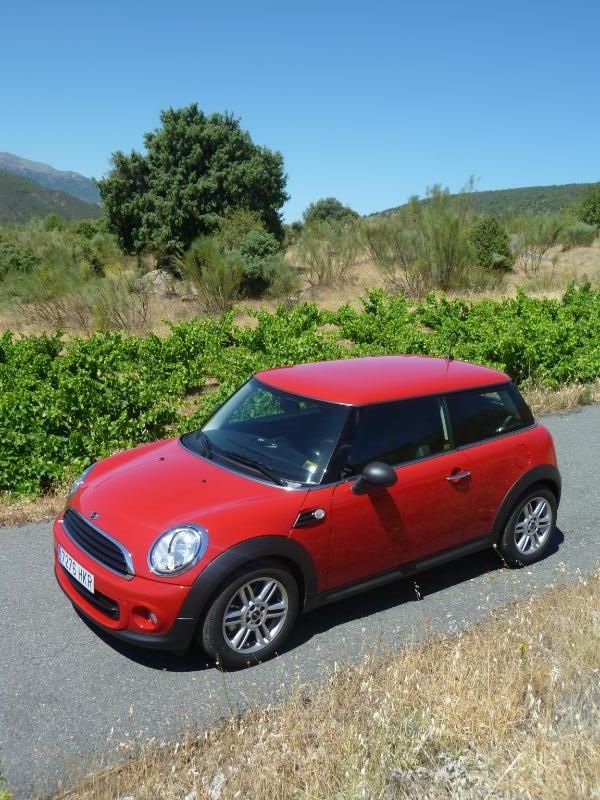 Not long ago, 75bhp would have been considered more than adequate. It is more than twice the power of the classic Mini in which I learned to drive (which admittedly was not exactly brisk!), but as cars have got larger, and far heavier, it is clearly not going to make a car the size and weight of MINI perform with sparkling brio. Far from it, in fact. In any case, modern petrol engines can be frustrating, geared as they are for optimum emissions and official fuel consumption figures, but the one fitted to this car has to rank pretty much at the bottom of the pile for a new level of gutlessness. There really seemed to be absolutely no torque available until you reached at least 3000rpm, so no matter how hard you revved it, and trust me, I revved it pretty hard, getting underway was just slow. It was not quite as bad from a standing start as it was from a low speed crawl when if you needed extra oomph, starting in second gear was completely hopeless. Once you got a reasonable turn of speed under the wheels, things were not bad until you came to a hill. Or even a slope. Heading north west out of Madrid, en route to Avila, there are quite a lot of these, and this was when I found that it was not a case of going down from 6th to 5th, or even 4th, but 3rd was required, and at times even that was too optimistic. Given how hard I had to drive the car just to keep out of harm's way and to make even modest progress, I was quite surprised to discover that at the end of the 332km test distance I only squeezed in 22 litres of fuel, which equates to 42.8 mpg. Not brilliant, for sure, but it could easily have been far worse. So the engine was not good and relied on making a lot of use of the gears, and I would love to say that this was a pleasure, but it was not really. The gearchange has a feel all of its own, with quite a narrow gate, but a slightly notchy movement between the 6 forward ratios. Reverse is alongside first and although it is quite easy to push the lever down slightly and engage, when you come out of reverse, getting the movement right so you get back into first is not quite so foolproof.
The news does not get better in the aural department. Road noise is the dominant source, with noticeable din from almost all surfaces, but there is not an absence of wind noise and the engine is not exactly quite either. The fact that there are six gears does help, as once you are in top, on the AutoPista, providing you can stay in that ratio, the engine noise does reduce, but that just accentuates the din coming from the road. Although the engine is one of (it's not the only one, as you will see later in the report) MINI One's Weakest Links, it is when you actually get underway that you discover that the driving dynamics are far from all being Bad News. A real strength of the MINI becomes very evident, too, and this is the reason why MINI is so popular among enthusiasts as well as the fashionistas. There is no question that this is a car with among the best steering feel you are ever going to find today, even beating the standards currently delivered by Mr Ford (whose switch to electric power assistance seemed retrograde in the feel department). The weighting is perfect, meaning that there is real feel associated with every movement, no matter how slight, of the wheel, without it feeling remotely over twitchy. The handling is pretty good, too meaning that the car is fun to drive down any twisty road, Or rather it would be if only the engine was not so awful. Many have criticised the Run Flat tyres which featured on this car as also troubling the ride qualities, and whilst I would not go as far as to castigate the ride of this MINI, it wins no prizes for particular comfort levels, either. The brakes, however, are not a problem, with smooth operation of the pedal, and a nice conventional pull up handbrake fitted between the seats. Unlike the Cabrio, which had an alarming lack of visibility over the shoulder and to the rear, the Hatch model is much better endowed with glass, and is quite easy to position on the road, and to park.
I said that the engine is not the only Weak Link, but whether you think that the interior is another one will to some extent be a matter of personal taste. There can be no doubting that it is a triumph of style over ergonomics, as in the latter regard it is pretty poor. The centre of the dash contains a gigantic speedometer, which is very difficult to read quickly from a glance. Just as well that there is a digital repeater for your speed presented in the bottom of the rev counter which is mounted directly in front of the driver, where it is much easier to read. That said, the rev counter is attached to the steering column pod, and certainly from my seating position, the top was obscured. That huge central speedo also contains the fuel gauge which comprises a series of illuminated dashes arranged in a circle, which is no more difficult to interpret than the bar chart efforts you find in quite a lot of other cars these days. Below this are some tiny fiddly buttons for the audio unit, which are particularly awkward to use. Although this was a base model in which as standard there are no repeaters for any of these functions on the steering wheel, these did feature in the test car, though my efforts with the audio unit were limited. Without these, operation of the unit would be really awkward. Worse yet are the row of tiny toggle switches low down on the dash which operate, well, I don't  really know, though I can tell you at the bottom are impossible to discern without looking, they include the electric window switches which I did need to find when approaching autovia toll booths. Fortunately there are column stalks for the commonly used functions such as wipers, indicators and lights, though I would have liked some form of indication when the lights were on. You twist the end of the stalk towards you rather than the more common direction away from you. There is a discrete "change up" indicator in the bottom of the rev counter. Even the key is a stylised thing, comprising a large circular design with a flattened end to it. You insert into the slot to the right of the steering wheel, and push it in til it clicks, then with your foot on the clutch pedal, you press the adjacent "start" button. Although I can see that the designers were trying to come up with some that not only has linkage to the original Issigonis Mini, but also which is distinctively different, the end result to me is little short of a mess. Worse still though, in this model derivative is the fact that  the interior is largely finished in a particularly horrid quality black plastic that had the sort of nasty sheen to it, which would not have shamed a Jeep or Chrysler of 10 years ago. There is a swathe of grey plastic across the main dash face which does nothing to improve the ambience of the cabin, either, although it does lighten things a bit which is no bad thing give the black upholstery and black door casings, lightened only by a few chrome rings around the air vents and the gear lever.  Although it all looks particularly unpleasant, it is actually well assembled and looks like it would stand the rigours of hard use for a long time.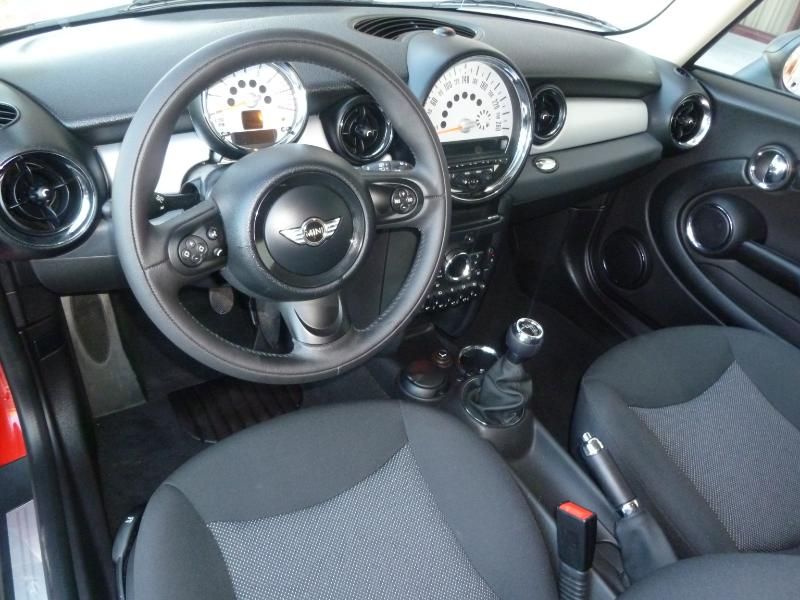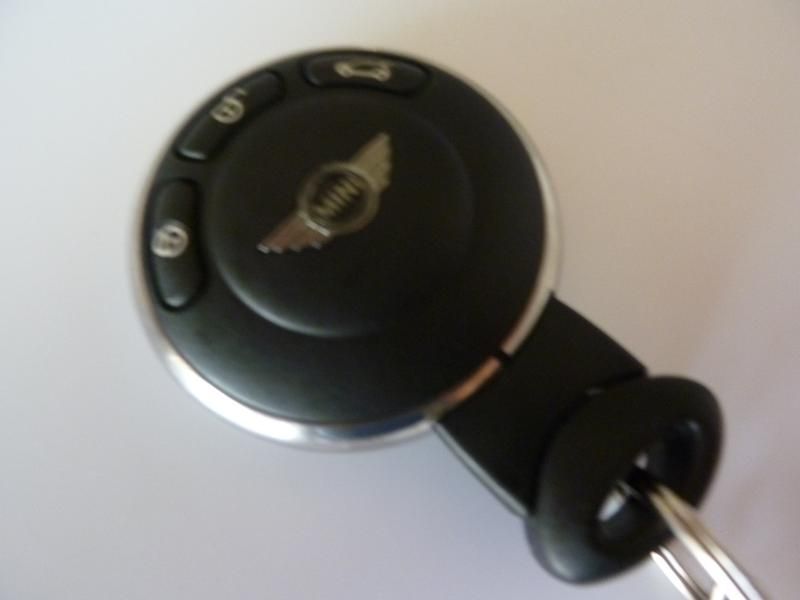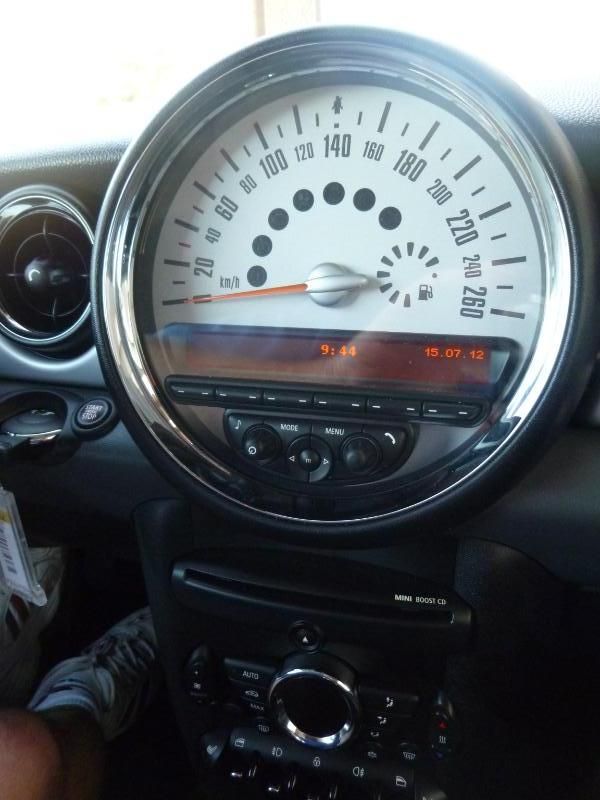 Let's be clear that packaging and interior room is another real disappointment with this car. Accept it as a two seater, such as the Coupe and Roadster models, and you will not really see the problem, but those who buy this version are presumably selecting it as they want at least occasionally to be able to put passengers in the rear seats. Lucky them, as there is negligible space in the back. Even with the seat set well forward to suit my short legs, the first problem was that it was very hard to clamber in. Once there it was desperately uncomfortable. Sitting "behind myself" there was just about enough leg and knee room, as the front seat was set so far forward, but with a taller front seat occupant, those in the back would not be so lucky. The seat was also rather uncomfortable, with the height adjustable in their lowest position head rests somewhere aligned to my shoulder blades. If the front seat passengers should happen to have swung the central armrest out of the way, that will get in the way of the rear seat passengers knees. There is no way that you could realistically ever squeeze a third person in the back unless all were of particularly diminutive proportions, and MINI tacitly admit this as only two seat belts are provided. For such a relatively large car (by the standards of its class), the amount of room is disappointing, but it gets worse when you open the tailgate. The boot is just pathetic. It is so short from front to back that I could not put my Lap top bag in without putting it at an angle, and I noted that the emergency warning triangle also had to be stored at an angle as it did not fit any other way. The boot was just wide enough to take the Lap Top bag and my small weekend bag width ways, but that was it as between them they covered the entire floor area. There is enough depth that I could have put another pair of similar bags on top. Even so, this is far smaller than the boot in a Fiat 500. You can see why the two seater models will appeal as they offer far more space for luggage. You can generate more space in this model, of course, by dropping the rear seats. The backrests are split 50/50, and simply drop onto the rear seat cushion, creating extra length though this new space is not flush with the boot floor. Inside the cabin there is a decent enough drop down glove box, there are pokey door bins and a lipped moulding in front of the couple of cup holders in front of the gearlever, one of which had a removable ash tray fitted. There is also a bit of space in the rather flimsy lidded armrest that sits high between the front seats.
Although the test car looked quite smart in its Chili Red paint, it does not really need a trained eye to spot that with a One, you have an entry level car. If the body coloured roof does not do it, then black grille and the plastic wheel trims will certainly make it obvious. To keep the price low – though the UK starting point for a First is £11,870 which is far from a bargain relative to its rivals – a lot of the convenience items that we all take for granted do not feature in this car. There are no repeaters for the fiddly audio unit on the wheel, for instance, and the test car's air conditioning is an extra cost item in the UK, as are the heated seats that I was slightly surprised to find were on the car. Look at the options list and you will find that most items included on the more costly models are not even offered on this version. You can select the £535 Design pack which provides various items of chrome detailing and heated mirrors. There is also the Technical pack, costing an extra £845, which adds bluetooth for the audio unit, and repeater controls on the steering wheel. Both packs seem rather pricey for what they include, but this is the secret of success chez MINI, getting customers to splurge out far more than the basic price of the standard car.
It is no secret that I have never really been seduced by the charms of the modern MINI, and although the driving experience of the more potent models will be compelling to plenty, on the evidence of this test car, I really can't see why anyone would want an entry level car like this One (First). As far as I could tell, its only redeeming feature was the fantastic steering and handling, but in this version you have to put up with the weedy engine and a low rent feel to the interior materials, as well as the demerits common to all models such as the lack of usable rear seats,  a truly hopeless boot, and the comedy instrument and switchgear layout. Although there appears to be quite a saving of over £1500 between the 75 bhp car and the 95 bhp model, by the time you add in the air conditioning, the difference is down to £800. The tax will cost you the same, so you would have to want a MINI very badly and be just short of the extra readies for the more powerful One model. Judging by the number sold, it is clear that a surprising number of people are that keen on a MINI that will accept all the compromises of this entry level car. Proof that a very strong Brand Image, such as MINI enjoys, really can overcome a decidedly unimpressive car. Those who want a MINI really would be far better served in buying a secondhand Cooper. Everyone else should be heading to some other dealer for something else.