Last year I discovered the  "Pride of Longbridge" event, a gathering of cars with a connection – in some cases a little tenuous – to the famous Longbridge works, historic home of "The Austin". It turned out that the event was first held in April 2006 to mark one year since the collapse of the former MG-Rover Company, and such was its popularity, that it has been repeated every year since. It takes place on the weekend nearest to the 15th April, date that MG-Rover was formally wound up, in Cofton Park, which is a large area of green space across the road from what remains of the old Longbridge manufacturing plant, now used as an assembly plant for the new generation MGs that originate in China. Having enjoyed seeing the variety of vehicles with an Austin, BMC. BL, Austin-Rover, MG and all the other brands and company names linkage last year, I put it on my list of 2013 events, hoping for something that was at least as enjoyable. In 2012 there was some decent spring sunshine, but sadly in 2013 the best we got was early morning grey skies and it started to drizzle around noon, which, coupled with a forecast for heavy rain all afternoon meant that many people started to depart once the clock reached afternoon. Until that point, though, the Park had been absolutely packed out with a vast array of vehicles. My perception is that there were quite a few more cars than last year, though as the ground was still very soft, with some traction issues on some of the steeper slopes, it may simply be an illusion generated by the different layout on site. The marshals did an excellent job at trying to keep models segregated into separate rows, which is no mean feat as they have no idea how many cars to expect, as provided a vehicle has some connection to Austin, BMC, Austin-Morris, Leyland, or any of the companies that were subsumed in this once giant sized automotive manufacturer, then you just turn up and join in. There was a factory display of the latest MG 6 models, and few ice cream, coffee and burger vans were on site to offer their wares, but all that there is of interest on site were the cars and the vast parkland and yet such is the affection for these cars, that it was clear from the number of people milling around, and the number of cars parked out on the road (mine included) that lots of people decided to brave the cold for a morning of nostalgia. Many of those attending were clearly local, judging by the thick Brummie accents, and I would guess that lots had either worked at the plant and/or owned some of these products in the past, whilst others simply wanted to see once more an array of cars which once dominated our roads, but which now are a rare sighting.
AUSTIN
PRE-WAR MODELS
Seven
Ten
Twelve
Sixteen
A40 DEVON/DORSET
No saloon models, but this fabulous Pick Up more than made up for it. It turned out that it has been used by a farmer from 1950 for 10 years then put into a barn for the next 28. Once rescued its new owner, who had been a dealer apprentice at the time the vehicle was new decided  to recreate something that looked like the sort of Pickup that would have been used in 1950 and he has made a splendid job.
A40 SPORTS
There were a couple of these rather unusual cars. They were built by Jensen Motors for Austin, and were expensive when new, which in post war ration based Britain meant that they were sold in small numbers only.
A90 ATLANTIC
A bold effort, this, but not a car that enjoyed much commercial success. It was aimed at the Americans, but they found its lazy engine to be too puny for the heavy body and they did not buy it in significant quantity. It is certainly a striking car, though. I was looking at this one when a staff writer for Classic Car Weekly arrived to talk to is owner. He was informed that it has already featured there before, but in 1998 in celebration of the 50th anniversary of the model. I suspect it may well be appearing again in due course, though.
A135 PRINCESS
Although the bulk of Austin's sales came from much more prosaic cars, they did include a luxury limousine in their range right through to the early 1960s, and this A135 Princess is an example of the sort of offering they had.
A40 SOMERSET and A70 HEREFORD
Austin's family car from 1952 to 1954 was the large bodied and rather under-engined A40 Somerset. Looking very similar was a 6 cylinder version, the A70 Hereford, too, though when you see one parked up close, you can immediately tell that it is quite a bit larger at the front, with the extra length in front of the scuttle, needed to accommodate the larger engine.  There was one Somerset and a pair of Herefords on show.
A30/A35
Entry level model in the Austin range from 1952, and a direct competitor to the Morris Minor, were the A30 and later A35 cars. Several saloon models were joined by a couple of the Vans. These latter had a much longer production life, but relatively few have survived as they tend to be worked hard.
A40 FARINA
This was the first BMC car to have styling by the Italian Pininfarina, and in Countryman form is also widely credited with being one of the first hatchbacks.
A50/A55 CAMBRIDGE
A95/105 WESTMINSTER
This was the luxury 6 cylinder version of the more prosaic Cambridge model, and these cars featured a higher standard of trim along with more fittings as well as the bigger engine. I have to say that when one of them set off, the noise that came from the car was really rather pleasant – a refined sort of rumble that you only get form a 6 cylinder car. These were among my favourite period pieces of the day.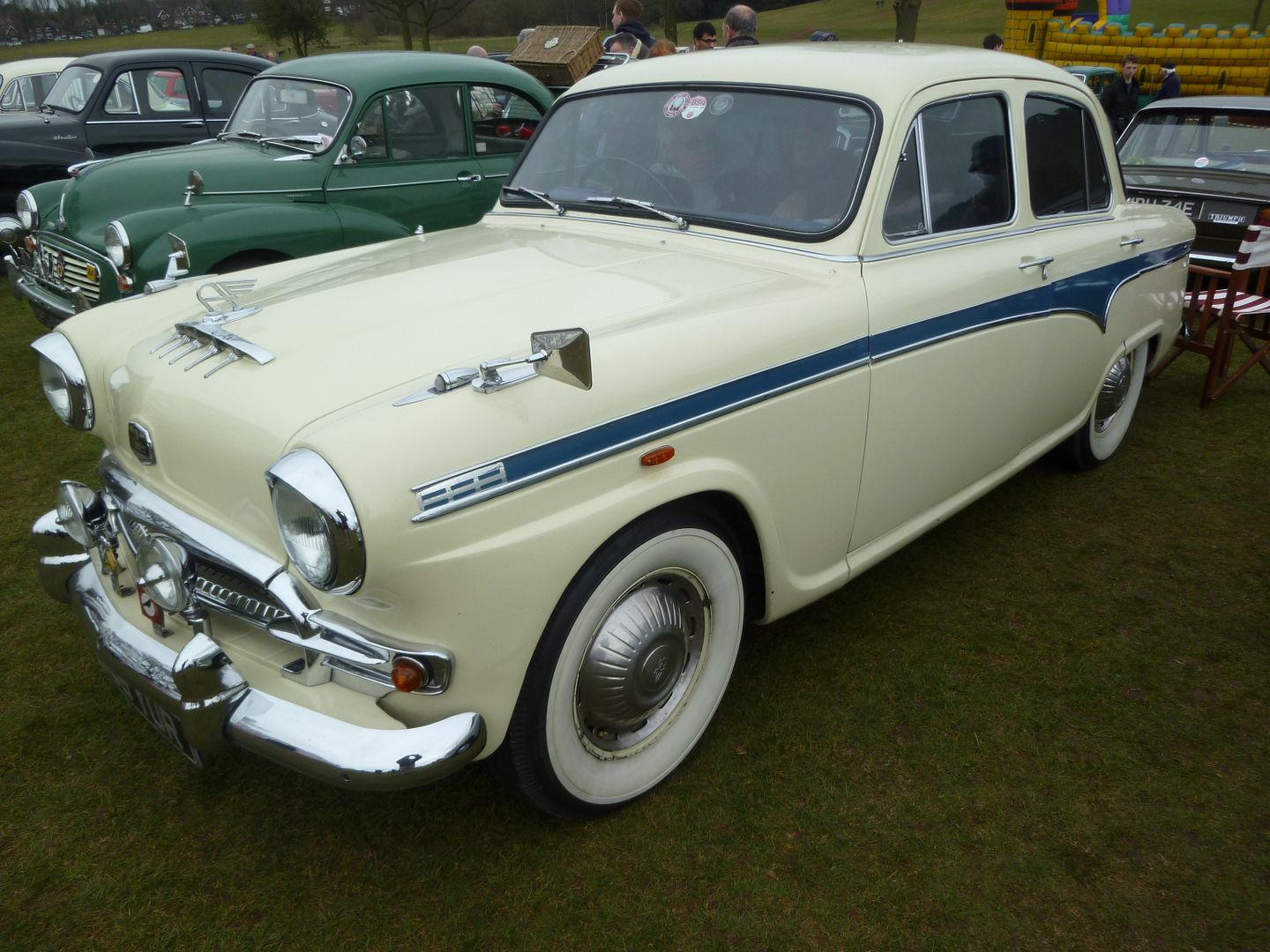 FARINA
There were 2 distinct iterations of the Farina designed saloons. The first appeared in 1959, and sported the fashionable rear tail fins on a body which looked rather similar to that on the Peugeot 404 and Fiat 1800/2100. In 1962 a revised version appeared which removed the fins, tidied up the styling and had mechanical changes which included a larger 1622cc engine. The car was available as an Austin Cambridge (A55 and A60), Morris Oxford (Series V and VI), Wolseley 15/60 and 16/60, MG Magnette and Riley 4/68 and 4/72, with the Austin and Morris versions also available in estate format. As the Morris models were made at Cowley, it is fitting that most of those on display at this event were Cambridges, though there were a couple of Oxfords and Wolseleys as well as a Magnette and also an A60 Van.
A110 WESTMINSTER
MINI (ADO15)
Although the genuine early Cooper models are the most valuable Mini, by some margin, there is a lot of interest in the very early saloon cars, and there were a couple of these, dating from the time when they were badged Austin Se7en and Mini Minor, with at least one example from each of 1959, 1960 and 1961.
Whilst early Minis are quite a common sight, the estate versions are far rarer. Last year at the event was one such, a 1967 Countryman which has apparently lived in the same street all its life. The first owners used it sparingly for over 30 years, before giving up driving when its current owner was able to buy it. It has still done less than 30,000 miles and is in both original and excellent condition. This green car was joined by an equally stunning red model this year.
The Van and Pickup models are now the rarest of the Mini derivatives, but there were examples of both at this event.
There were relatively few "regular" models from the late 1960s onwards, with a couple of Clubman Estates, and although my camera failed to capture it, a lone 1275 GT.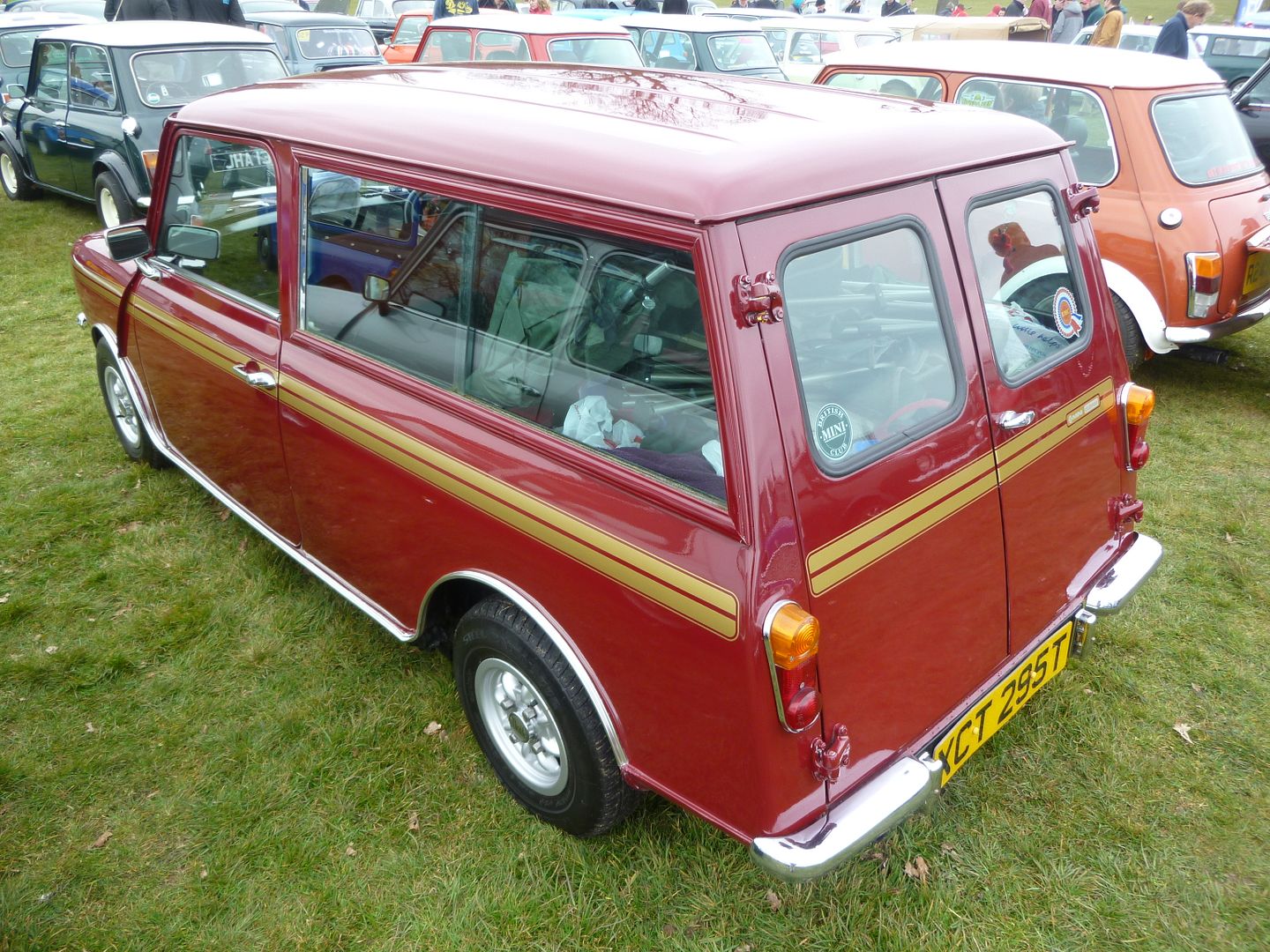 These 1100 Specials were the first limited edition car, produced in 1979 to celebrate the 20th anniversary of the car. Available in the two metallic colours presented here, they combined the 1100cc engine from the Clubman with the original body shape.
From the 1980s until the end of production, a vast array of limited edition cars were produced and representatives of many of them were on show, ranging from the Mini 25 produced in 1984 to celebrate the 25th anniversary, the  Italian Job cars in honour of the car's starring role in the film, to the Jet Black, the Surf, the Open and several Cooper cars from the time before the model became very ocused on the Cooper in its last years of production.
There was even an ERA Mini, that very powerful and spectacularly unreliable model produced in small quantities in 1989/1990.
Rarest Mini of them all, though, was this, the Beach Car. This car was found in "the tunnel", an area under the main road which connected parts of the old Longbridge complex together, and which became a place where all sorts of odds and ends were stored. The idea was that this design, of which a few Austins and a few Riley Elf prototypes were made, would have appeal in the sunnier parts of Europe, but it was not pursued. A Riley version was rescued at the eleventh hour from a Greek scrapyard about 18 months ago, so it was really good to see this one as well. Needless to say, it was probably the car attracting the most attention of anything on display all day.
ADO16
Britain's best seller from the 1960s until it was usurped by the Cortina in 1972, most of these cars rusted away long ago. Available in Austin, Morris, MG, Wolseley, Vanden Plas and Riley versions, they sold in their million. The MGs were popular as a sports saloon and there were a couple of these present, including one of the last ones built, as well as the more prosaic 1100 and 1300 saloon cars. There were a couple of the sport/luxury Riley Kestrel versions as well, a short lived model that was killed off when BMC died to end the famous Riley name in 1969, and there was also a Wolseley 1300 model. and the top of the range Vanden Plas 1300.
ADO17 – "LAND CRAB"
Never achieving the level of success of the smaller Issigonis cars, the Land Crab has its followers today. There were examples of the Series 2 and Series 3 cars at the event, both Austin and Morris badged models, and also a couple of the plusher Wolseley variant. These were initially badge 18/85 but after the 1972 facelift, at which time the 6 cylinder E Series engine became standard fitment, the Six. The amount of space in these cars, which are little larger than a modern Clio 4 is little short of incredible and ample evidence of how poor the packaging of current designs has become.
3 LITRE
ANT
The what? That seemed to be reaction of most people, and the fact that there were 2 of them parked next to each other only increased the sense of bafflement. I talked to one of the owners, and he told me that they have now tracked down what has happened to about 16 of the 30 or so prototypes that were ever made. Several of them are overseas, with a couple in South Africa and New Zealand and one in Australia. So what is it? You could say that it was another British idea before its time, if you compare it to the Suzuki LJ80, but the reality is that this was an Issigonis driven development initially requested by the military who wanted a vehicle that could be carried air-borne and then used in hostile terrain for reconnaissance work. At the time, the Land-Rover was too heavy, so this machine was developed. It is based on ADO16 (1100) components, so it is larger than a Mini Moke and has selectable all wheel drive. In the end, it was deemed to be too expensive, as it would likely have cost nearly as much as a Land-Rover, so development effort when on an air-borne version of that instead, but production was close, as even handbooks were created. The green car is the only military spec Ant on the road. The white one is the road going car and features larger (13″) wheels, more trim and equipment. There is one example in the Gaydon collection, but to see two at once is very rare indeed.
MAXI
Last year there were just three Maxi on show, but this year, there were less than that, with just two cars attending. The earlier of the pair, a Harvest Gold 1750 model, looked to be absolutely immaculate and the later Sandglow 1750 was also in a nice condition.
ALLEGRO
Much to many people's surprise, the Allegro achieved a certain cult status a long time ago, and one of the real enthusiasts for the car is a friend of mine, Rev Colin Corke. He has owned this 1100DL model, one of the very first produced for 18 years now. It has featured in many magazine articles over the years. He also brought along an even rarer car, one of the first 1750SS models, which he had painstakingly restored a few years ago. This was a very rapid car in its day, with a 0 – 60 time of just over 9 seconds, and even now, he says, surprises many drivers.
There were several other Allegros, including a couple of Vanden Plas models, though no Estate cars this time. They were presented in a series of very period colours: Harvest Gold, Sandglow, Vermillion, Russet Brown, Denim Blue, Nautilus Blue, Tara Green and Citron. Would anyone buy a car in these shades if they were offered these days, I wonder?
ADO71 PRINCESS
A couple of the rather rakish ADO71 Princess models on display.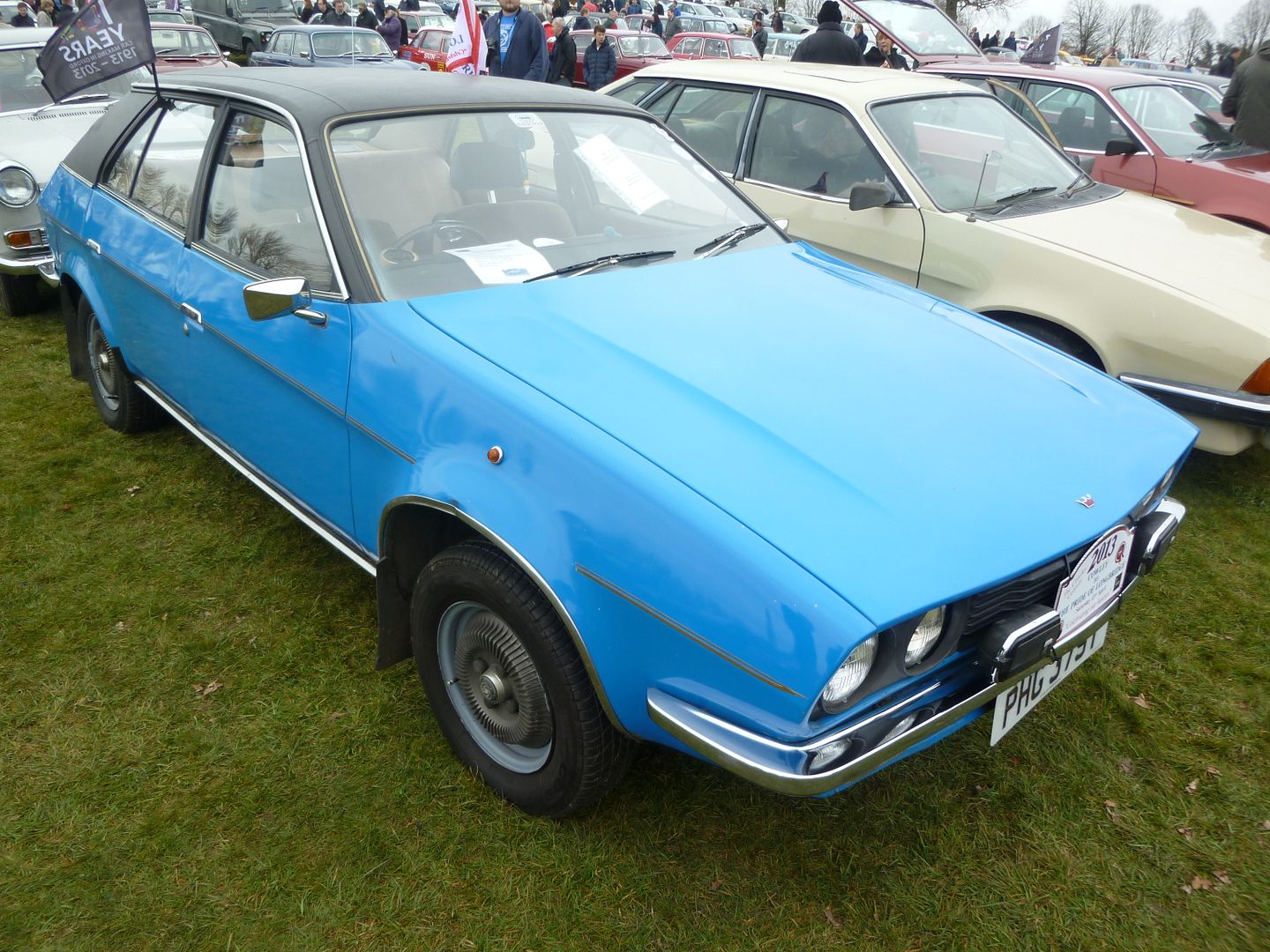 AMBASSADOR
This year there were 3 of this short lived large hatchback on show.
METRO
Although the Metro and Rover 100 have not perhaps the best reputation these days, you would never have guessed that from the vast number of these cars on show, and the enthusiasm of their owners, who ranged from a number of keen youngsters, many of whom had clearly modified their cars, to those which had been in the family for some considerable time. There was a good mix of the original "A+" engined cars and the later K Series models, with examples from the first few months of production as well as some of the later variants of the first generation Metro, and then the 1990 model K Series cars including the GTi 16V "warm hatch" models.
Among the display were some MG models, as well, from the early models to those that were made late in the production life when the graphics had changed.
The Cabrio was a rare beast, but of course one of these arrived, too.
MAESTRO and MONTEGO
It's not just the MG versions of the Maestro which retain some affection, as there were several of these cars ranging from an early 1.6L through to late model City and Clubman cars, along with a couple of Vans. There were several MGs, mostly the 2.0i models, but there was one of the earlier R Series engined 1600 cars and there were a couple of the very rapid Turbo cars.
At first it looked like there were going to be no Montegos at all at the event, but late in the morning a pair arrived together, one saloon and one estate, and these turned out to be the only representatives of a once strong selling family car range that did attend. This is a big contrast to 2012 when there were a lot of saloons on show.
AUSTIN-HEALEY
Sprite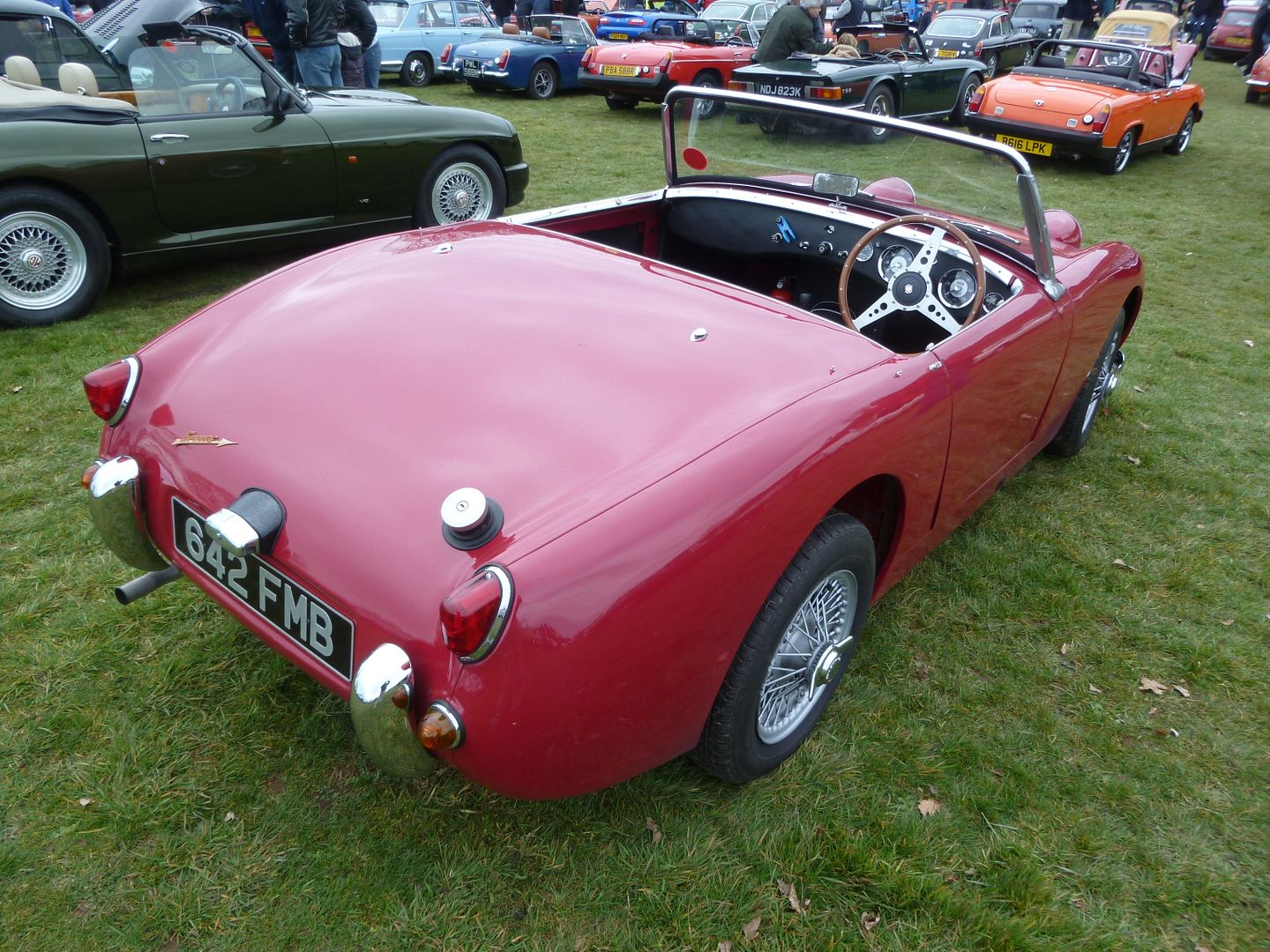 MORRIS
MINOR
Although this is a product from Cowley and a direct rival to the cars which Austin were producing in the 1950s, the ever popular Minor was well represented at the event, with Saloon, Tourer and Traveller models on show, with one of the very early 1940s car joined by mostly later models.
MARINA and ITAL
Derided by most, but loved by a few, there were far fewer Marina at the event than last year. A couple of saloon models were joined by a 1.8 TC Coupe and a couple of Vans. No sign of any of the later Itals at all .
MG
TF
MGB and MGC
This model retains an enduring popularity, as it is still relatively affordable, mechanically simple enough to fix if things go wrong and with good parts availability. There were a few examples on show at this event. most of which were MGBs, but there were also a couple of the 6 cylinder MGC models.
MIDGET
MGR V8
There were a couple of examples of this 1990s update of the much loved B, though the red car that was present eluded my camera.
MGF and TF
There were large numbers of the popular mid-engined MG, of course, with plenty of Fs, the later TF and even quite a few of the Chinese model TF LE1500 cars.
MG6
You could see a row of freshly built MG6s in the background, as the Cofton Park venue adjoins what remains of the Longbridge plant, and there was a manufacturer presence associated with the display of these cars, but there were also several privately owned MG6 Hatch and the Magnette saloon cars. Although they have been on sale for a couple of years now, these are not cars you see on the road very often, and I heard more than one person say that he had never seen so many as were present at this event, and I would have to agree.
RILEY
One Point Five
ROVER
P4
P6
Someone commented that this used to be thought of as a large car, but looking at it now, it really does not seem so. I guess that they are right, but the person who aspired to one of these in the 1960s and 1970s probably now has their sights set on a 5 series BMW.
SD1
There were fewer SD1s than last year, and almost all of them were high end models, mainly Vanden Plas cars. All of them were post-facelift cars.
800
There were only a small number of the XX cars, the joint venture with Honda that produced the Legend and the first 800, and they ended up a bit dispersed around the event. This model struggled to gain the affection of its SD1 predecessor.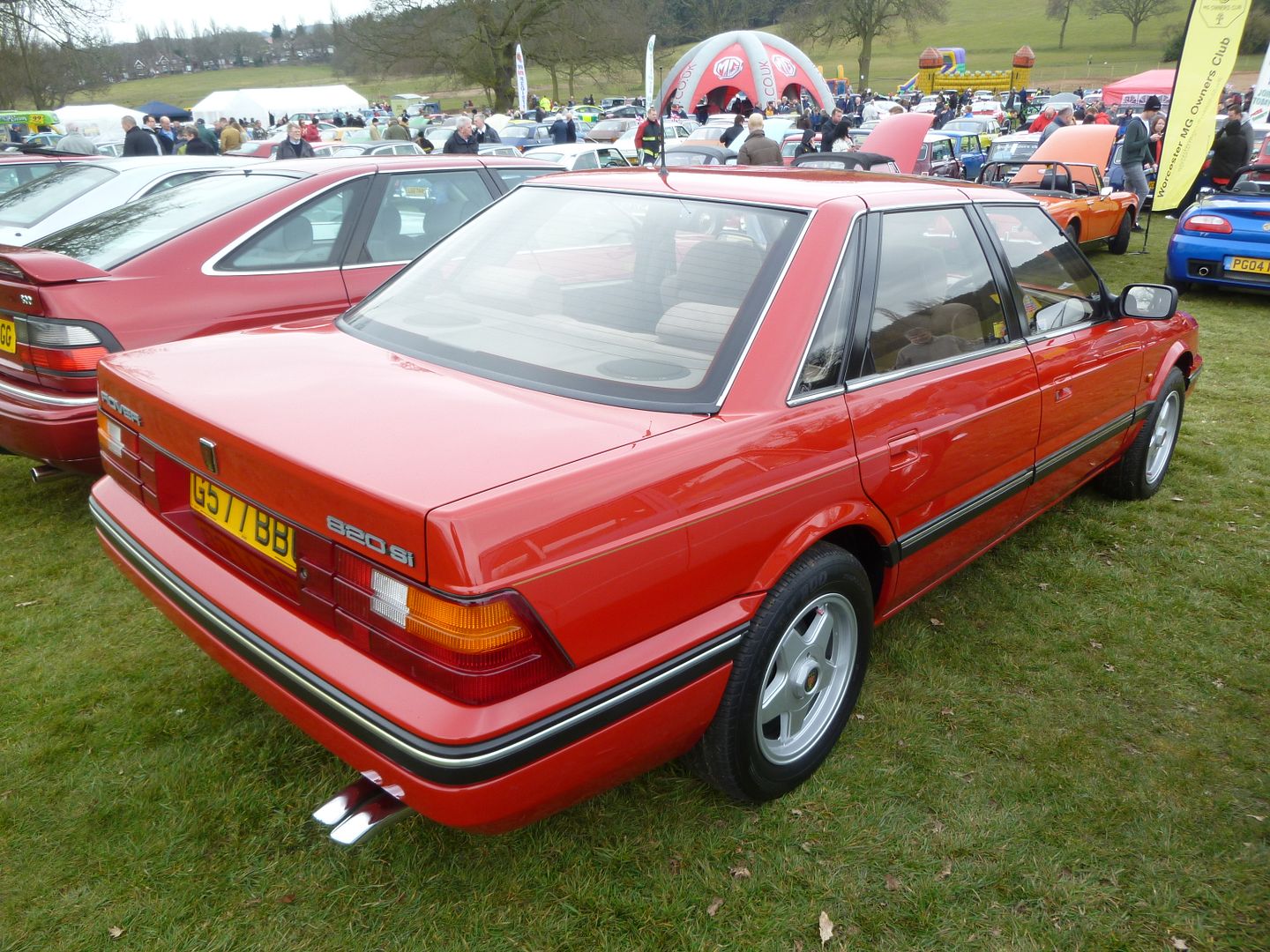 There were more of the facelifted R16/R17 cars including several 800 Coupes and an 827 Hatchback in Police specification. The most amusing vehicle, though, seems to have eluded my camera, which was the front half of two cars joined together. Definitely odd!
213/216
Although quite popular when new, almost of these have disappeared, so it was good to see a trio of them at the event, with a fourth arriving just as most people were heading home.
200 and 400 R8
Amazing to realise that the Coupe version of this car, codenamed Tomcat, and popular in its day as an alternative to the Vauxhall Calibra, celebrates its 21st birthday this year. There were a good number of them on show, though I don't think a single one of them was completely original.
There were lots of other R8 models, with three and five door 200 hatchbacks, a couple of the Cabrio models  as well as 400s in Saloon and Tourer format. Among the 400s was an early Si model, which made a pleasant contrast to the more commonly encountered 420 and Turbo cars that tend to be the only ones people have saved.
200 and ZR
There was a long line of the BRM models at one end of the event area. I counted 25 cars at one point.These cars were all finished in British Racing Green and are easily identified by the orange moulding around the lower grille area.
400 and ZS
600
Unlike last year, when the 600 seemed conspicuous by its absence there were a few of what i still think was one of the most elegant designs of the early 1990s. There are few of these cars left on the road now. A Flame Red 620 Turbo would still appeal just like it did when new and I nearly acquired one before my test drive in an Alfa 164 and the start of my long line of Italian cars.
75,  ZT and ZT-T
Numerically there were far more of these cars than any other, which is perhaps not surprising, as the 75 and ZT are still relatively young, and with very high levels of owner satisfaction reported by the likes of JD Power  when the cars were newer, they clearly retain their popularity. There was a good mix of saloon and estate bodies, and Rover and MG versions, with plenty of the facelifted cars as well as the earlier ones. The ZT260 was particularly well represented, and there were even a few of the very rare Rover V8 models.
TRIUMPH
GT6
1300
TR6
TR7
ACCLAIM
The last car to wear the Triumph badge was this, the Honda Ballade based Acclaim. These cars rarely appear event at classic car events, but today there were five on show, which was quite a surprise.
This was an excellent event. Free to attend, and with a vast array of cars, most of which you rarely see, it was a great wallow in nostalgia. Whilst not particularly warm, the forecast heavy rain just about stayed away, which was a further bonus.