Of all the themed events that take place at the Ace Cafe, the greatest variety of display vehicles is pretty well guaranteed to be on the second Tuesday of the month, at the Classic night. Working with Classic Cars magazine, many of the staff from which august publication attend in person, anything which passes the eagle eye of the car park attendant as being "interesting" has the potential to park onsite. On a busy evening, anyone arriving after about 7pm will find the forecourt full and will need to park up across the road, at least until the first few cars start to depart, creating space. Finally, my diary availability and the prospect of a dry evening came together and I was able to head down to see what had been brought along. As you can see from this report, there was lots – far more than fitted onsite, for sure – ranging from some vehicles you would expect to see at such a gathering and plenty that count as particularly rare.
ALFA-ROMEO
Only a couple of Alfas were present, my guess (hope!) being that the others were saving themselves for the Italian night scheduled for later in the week. Both cars were the very popular "Duetto" style Spider models.
AUSTIN
Oldest car present was this, which I think is a Ten, though it could just possible be a Big Seven.
Attracting a lot of attention was a Russet Brown 1.0L Metro. Not often you see Metros of this age and certainly not in this condition. Sadly, I don't seem to have taken its picture.
AUSTIN-HEALEY
There were a couple of Frog-Eyed Sprites.
BENTLEY
A Mulsanne.
BMW
As ever with classic events, very few BMWs present, despite the popularity of the modern brand. The two cars that were there were nicely turned out, unlike the heavily modified models that tend to dominate at the BMW themed events run by Ace. Of the pair, the E9 3.0 CSi was particularly nice, and the E30 model 320i 2 door was a rare survivor of a car that sold in reasonable quantities in the mid 1980s.
CATERHAM
CHEVROLET
One of the louder cars of the evening was this 1970 Nova SS.
CITROEN
I had more than an inkling that Chris Hendrie's wonderful newly acquired CX GTi Turbo 2 was going to stage an appearance, and sure enough, Chris, Meadhbh and even Whistle duly arrived, though not early enough to get an on-site space. That may be the reason why there was rarely the sort of throng around this car that yo might expect.
FERRARI
Sole Ferrari of the evening was a 308 GT4 Dino.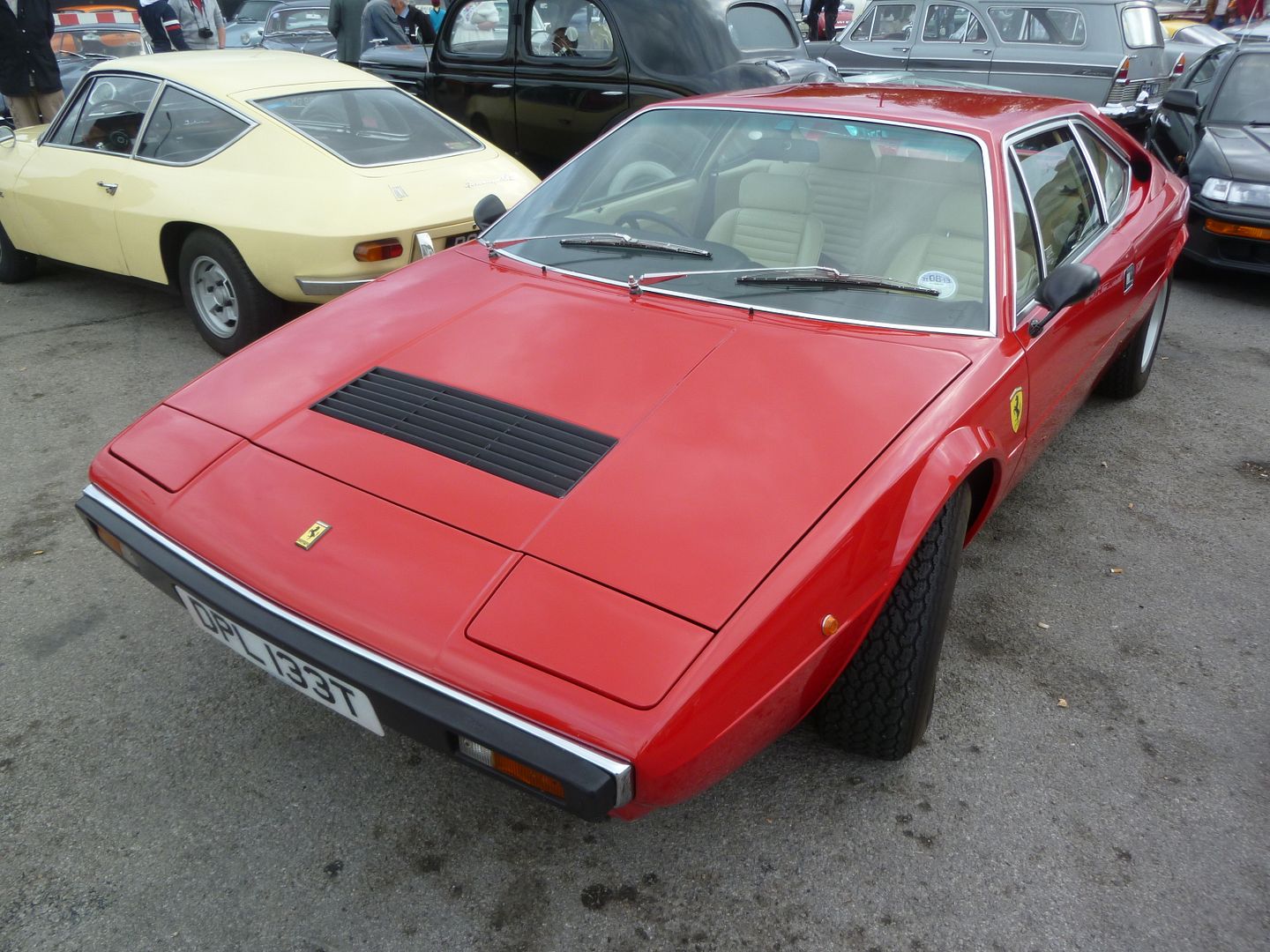 FIAT
A personal favourite – which will surprise no-one who knows my automotive tastes – was this lovely 130 Coupe. These cars are still seriously undervalued (and no, I've not got anywhere to keep one, otherwise the temptation might prove too great!)
FORD
An early arrival was this Mark IV Zodiac. For sure, not one of the Blue Oval's better products, but it was good to see this well preserved and clearly well loved example as a reminder of executive motoring 1967 style.
Less well preserved was this Farnham bodied Estate version of the Mark 2 Zodiac. Not many of these estate conversions were produced, so they are particularly rare now.
This V8 Pilot was brought by a lady driver who had really decided to act the part, sporting a period outfit.
Later arrivals, and hence parked across the road from the Cafe included a Series 3 Capri, an Anglia 105E and a Mark 2 Lotus Cortina.
HONDA
On the cusp of being "too new" to enter the main car park was this CRX coupe, but as it is little, and interesting and rare, it was allowed in.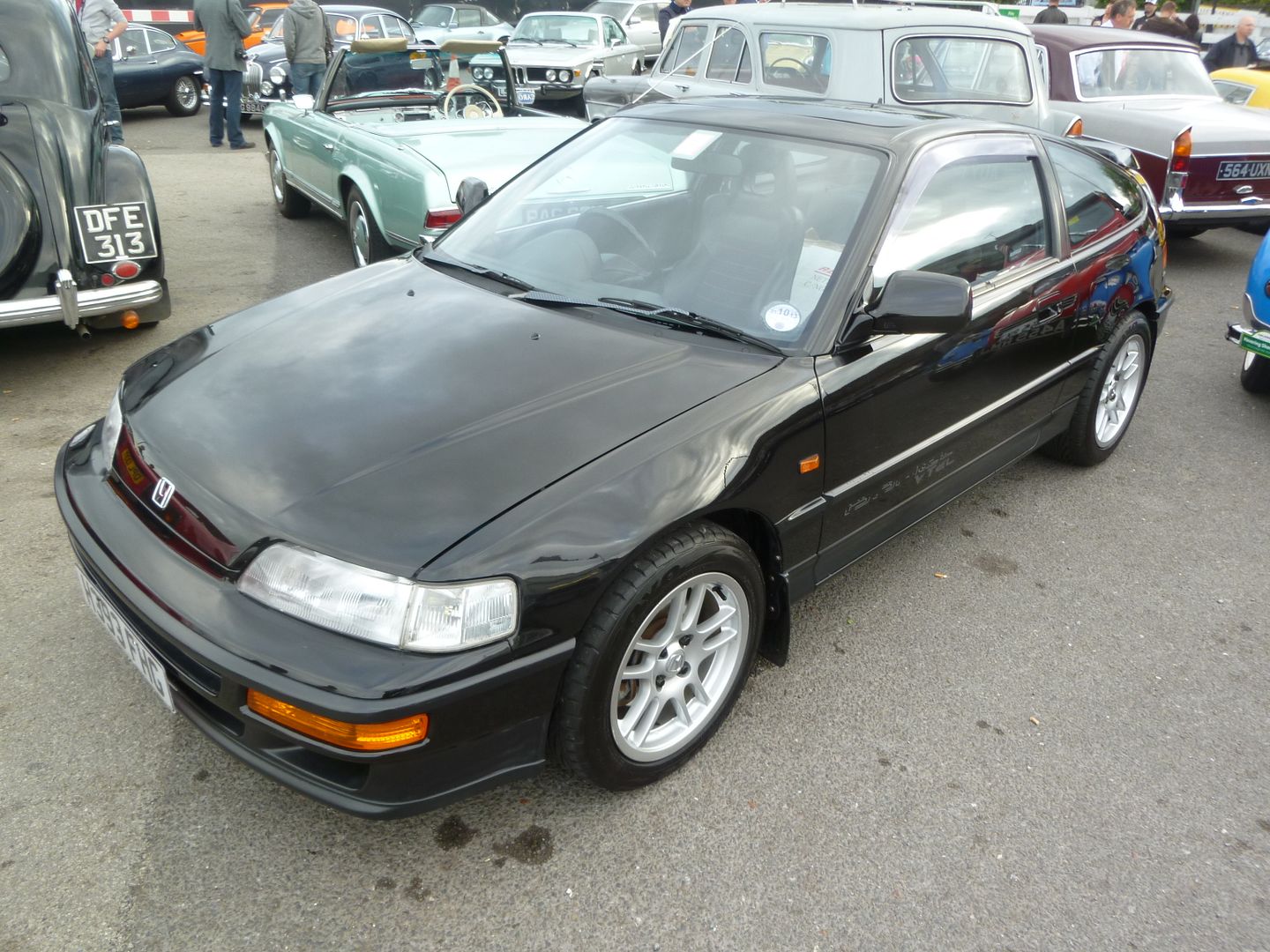 INFINITI
One of the more unusual cars of the evening, a 1991 Q45, one of Infiniti's first models, and never sold in the UK when new. The owner (who was hoping to sell it) said that it is believed to be the only example in the UK. The V8 engine is very smooth and was almost inaudible at idle even with the bonnet open!
JAGUAR
This rather splendid E Type Coupe belongs to Phil Bell, editor of Classic Cars magazine. I've read about his prized possession in the magazine over the years, and now I've seen it in the metal, you can see why he is really smitten.
As if one magazine Jaguar was not enough, then Graeme Hurst brought along his XK150. Initially parked over the road, when a space became available, he had the challenging task of hauling his car into a tight spot backing onto the cafe. No mean feat given the power assisted nothing of the model, and he got a rousing cheer once the car was installed
There was also a very nicely turned out Mark 2 saloon as well as couple of E Type Roadsters in Series 1 and Series 3 guises.
JENSEN
Not one, nor two, but three Interceptors turned up.
LANCIA
Sole Lancia was this Fulvia Zagato Series 2.
MERCEDES-BENZ
This duo of 1960s Mercedes were among the only cars on site when I arrived: a W115 220 and the larger and more luxurious W108 280SE, which I recall seeing at the recent Mercedes evening at the Ace.
Now a popular classic, especially in its native Germany is this W123 model 280 CE Coupe
Star Mercedes, though, with a shadow of doubt was this fabulous "Pagoda" model 230SL.
This W201 190E was for sale. It occurred to me that the oldest of these small Mercedes will now be 30 years old, so definitely in "classic" territory.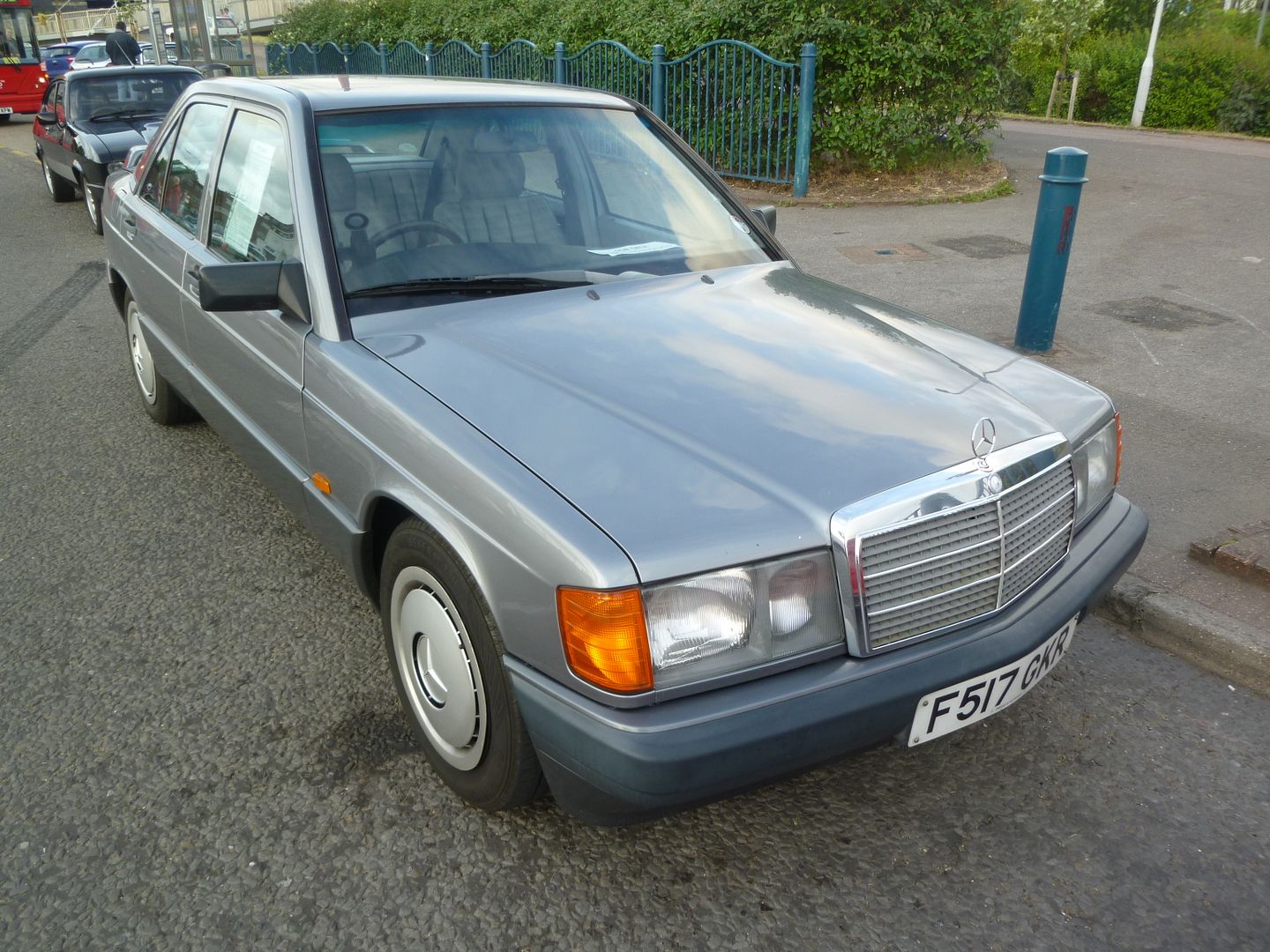 MG
Both the pair of MGB Roadsters and the MGB GT looked particularly well presented.
There was also a rather more "used" looking Midget, along with a more presentable one.
Not really an MG at all, the clue was the 1700 badge on the side of the car. I initially thought that it would therefore be a Naylor, a Yorkshire company who made around 100 TF lookalikes in 1984/85, using a BL O Series engine, but this turned out not to be that either, but the later Hutson version. The Hutson Motor Company built 61 further examples of this car after buying the remains of the failed Naylor business in 1986.
MORRIS
There were a couple of the much loved Minor models, a 2 door saloon and a Traveller.
NISSAN/DATSUN
This little 1200 saloon, dating from the early days of Datsun sales in the UK is a car I have seen at Ace before now. Not exactly exciting, but when did you last see another one?
OPEL
A Manta A, repainted in a rather bold shade of orange and modified just about on the border of what I find acceptable.
PORSCHE
Several 911s, different to the ones which had been present the day before.
RELIANT
A very clean Scimitar GTE
RENAULT
In many ways, this was the stand out car of the evening. A 1971 Renault R12 TL saloon which had been lovingly restored to a condition that is probably better than when the car was new. Apparently this R12 does about 5000 miles a year, not all of which is to shows, as it also carries two small children around on family errand duty. The owner did spent a good 30 minutes cleaning and polishing it when he arrived, but I guess to keep it in this sort of condition, that is what has to be done.
Also nice, and as the owner pointed out gleefully, worth a lot more than the R12 was this example of its predecessor, the R8.
ROLLS-ROYCE
As well as a Silver Cloud Series 3 there was an example of the car which replaced it, a Silver Shadow, making it clear how the latter was a significantly "smaller" car than the Silver Cloud. No wonder the die-hards were so up in arms in the mid 1960s getting used to the new model!
ROVER
Three SD1 models showed up, and none of them were entirely unmolested. This is such a good looking design even now, and it is a treat to see these cars in good condition.
SUNBEAM
A rather nice Series 2 Alpine.
TOYOTA
One of the more unusual machines of the evening was this first series Celica in ST trim.
TRIUMPH
I would not have been surprised to see more Triumphs than there were, with just a duo of Stags and a TR4 present.
TVR
This Vixen S2 has been undergoing restoration work for many years, according to the current owner. He said that when he bought it, all the hard work had been done, but there has been plenty to keep him busy ever since!
VAUXHALL
This PA Cresta is apparently a local car, and so makes frequent visits to Ace. It was one of the more popular cars of the evening, with crowds around it most of the time.
Two pairs of interesting classic Vauxhalls. The first duo were VX4/90s, with an FB and FD on show. The latter was making its first public appearance after several years off the road following a major oil leak in the engine which the owner has now fixed. The latter is a car I have seen before, but always enjoy spotting as this is the sort of car I would likely have owned had I been 50 years younger!
The other duo were first generation Astra models, now also very rare, in SR and GTE guises.
VANDEN PLAS
A late arrival was this Allegro 1500 in the very period colour of Pageant Blue
VOLKSWAGEN
A late model Beetle 1303 Cabrio.
VOLVO
Winner of the "gosh is that actually roadworthy" prize must go to this 221 Estate, belonging to Mr Glen Waddington of Classic Cars magazine. I knew it was rough, but I had not realised quite how rough. He has a lot of work to get it to concours standard!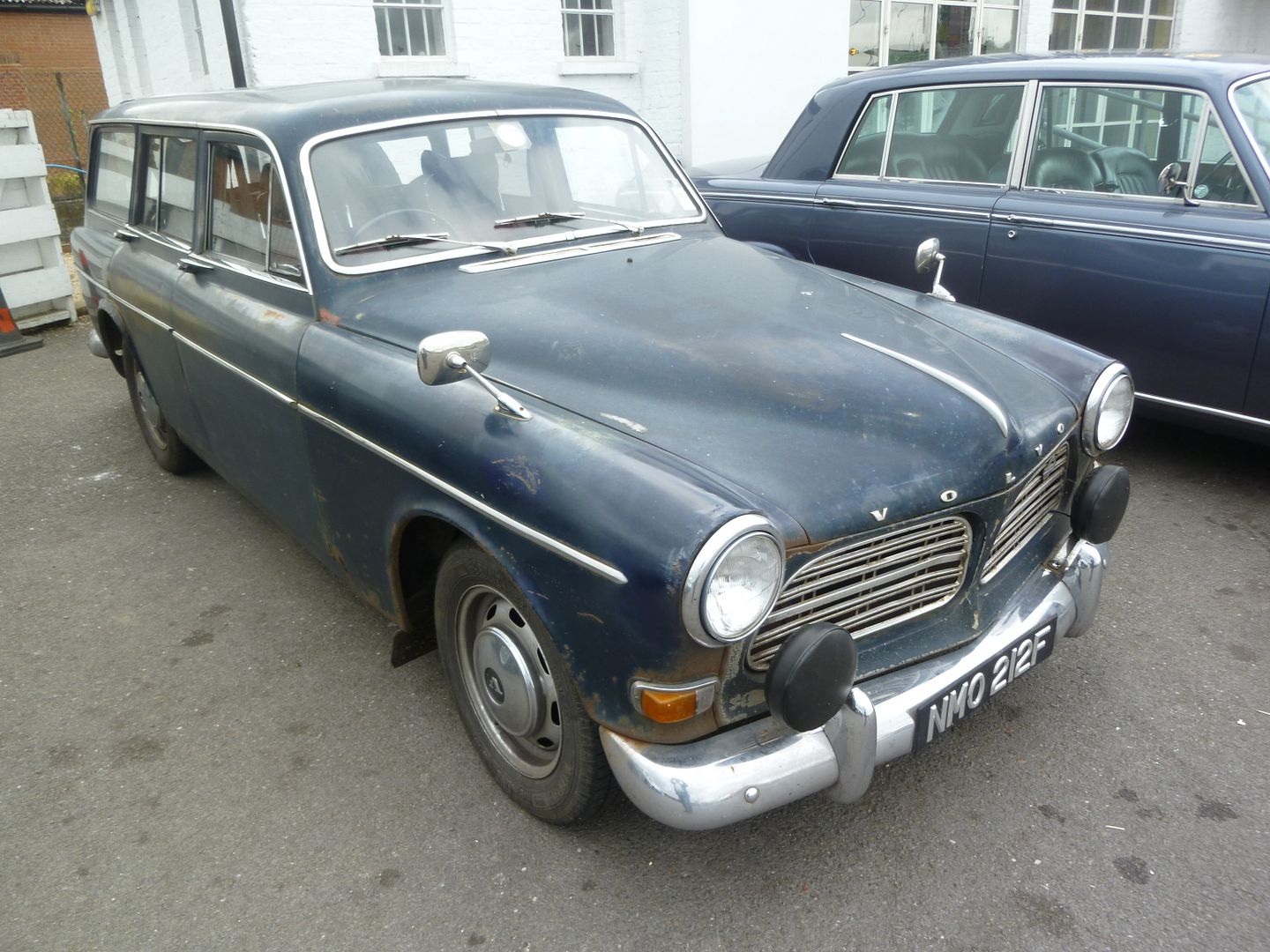 WOLSELEY
This 16/60 looked superficially good, but from close up you could see just how perforated the body is in so many places.
A fascinating evening. If you can only ever make one trip to Ace, then the second Tuesday of the month is probably the one to target.