Five years ago, Lord Pembroke, owner of the fabulous Wilton House in the small town of the same name, and an avowed petrolhead, decided to invite some of his friends who owned interesting supercars to bring them to his estate, and the Wilton House Supercar event was born. There are various other gatherings of exotic machines around the country, but this event has just grown bigger and bigger since inception, and what makes it special is that as well as providing visitors with the chance to see well over 200 of the cars of their dreams at close quarters, the event always attracts a good number of the really rare hypercars, the sort of machine that you rarely ever see beyond the confines of a world-class  Motor Show stand, and certainly not every day, even in London. I finally managed to attend the event for the first time in 2012, and was so taken with it that it got a very high priority in my 2013 diary. Although many parts of the country were deluged in heavy rain for much of the day, the little area around Wilton was spared, and the worst that occurred were a few stray spots of damp, leaving both me and the vast crowd of other excited attendees to take in what felt like the automotive equivalent of a sumptuous multi-course buffet. There was much to see, so I was kept occupied form arrival at 9:30 when the gates opened until 4:30 in the afternoon by which time most of the crowds and many of the cars had departed. Here is just some of what I enjoyed
JAGUAR DISPLAY
The first collection of cars that most people would see on entering the grounds were a quartet of Jaguars, and what a collection they were. The concept c-X75 was the one that seemed to attract the most attention, and everyone seemed of a mind in saying what a shame it was the economics just did not add up to allow Jaguar to have produced it. It is stunning. Of course, I had seen the concept before at various shows in 2011, and then it was silver. It turned out that Jaguar made 5 cars, so this is indeed a different one to the one, or ones that I had seen before.
A striking car that they are building, and if you take along a very large shoebox full of tenners, you could buy right now, is the gorgeous F Type, and this was one of a number of such cars on show.
The other two Jaguars were equally impressive: the XJ220 and rarely seen XJR15.
McLAREN DISPLAY
Marking their 50th anniversary, McLaren had brought along a selection of 4 cars, and these were parked on the east lawn next to the Jaguars. Two of the cars were the latest 12C models, with the special 50th anniversary graphics on their flanks, and there was a McLaren Mercedes SLR
Needless to say, it was the fourth car that was capturing most of the interest, an example of the legendary F1. There was a "minder" on hand to ensure nothing untoward happened, and obligingly to open the engine cover and doors on request to allow people a closer look. One, urm gentleman was most put out that his small son could be not be allowed to sit in it, as he noticed that the door had been open, and he seemed somewhat miffed when his demand was refused, even though it was countered with an offer to let his little darling sit in any of the other three cars. Everyone else was simply in too much awe, I think, even to make the request!
CONCOURS LAWN
Set out very much as was the case at Goodwood a month earlier, with plenty of space around each car, no barriers, and in most cases a small information plaque, were a whole series of lovely cars, each selected for the beauty, rarity or historical significance.
AC Cobra
1934 Alfa Romeo 8C2300
When you compare this vast 1930s 8 litre Bentley to the dainty little Bugatti, it is no wonder that Ettore called these "the fastest lorries in the world". Huge, and very imposing!
The commentator seemed to be having trouble with this car (and lots more besides, where he simply got things wrong), calling it an I S O (pronouncing it as three separate words) Bizzarrini GT5300.
BMW M1
Facel Vega 11
Several Ferrari featured, with the Testarossa and its antecedent the 512i Berlinetta Boxer being the more familiar of the quartet, which were accompanied by a 330 GTC,  and a 275 GTS.
Final Ferrari was a model I could not immediately recognise. Initially I thought it was a 275GTB variant, but subsequent research revealed that it is not, and it is in fact a one-off model based on the 250 GT Lusso, with a body by Fantuzzi. Initially this car was built as a standard specification 250GT  Lusso in March of 1963 and was the 16th car produced of this model. This Lusso was finished in Grigio Metallizzato and supplied new to Luciano Pederzani of Bologna, who, with his brother Gianfranco owned Tecno, a builder of Formula F2 and F3 cars. At their request when the car was still barely new it had extensive work carried out and was partially re-bodied in around 1965 by Medardo Fantuzzi, who was designing the bodies for their Tecno race cars. Fantuzzi created a one-off treatment with a more aerodynamic front end and faired in headlamps. The previous owner spent three years and a lot of effort documenting the actual history of this car. This has included a trip to Italy to meet with the original owner Gianfranco Pederzani and a visit to the Ferrari factory. He personally met with, or spoke to, most of the people who have owned this car, in order to get first hand reliable information.
What emerged is that in 1966 the Pederzani brothers sold the car to Venezuela, but by the summer of 1968 the car had moved to New York and was owned by Richard Trask. In around 1977 Terry Kramer purchased, and it is believed it was at that time that some further modifications were made (possibly by Tom Meade) including a more pronounced boot lid spoiler and some "GTO" vents in the wings and on the nose. Soon after this the car was shipped to Honolulu where it was registered. The car went through Collier Thelian's hands in 1978 and was sold to Gerald O'Conner in 1979, Gerald put the car in storage in 1981 where it would remain for the next 24 years. In the Autumn of 2011 the car arrived at DK Engineering in need of a full restoration. It was decided to embark upon a concours restoration and as such the restoration team immediately set about stripping the car to a bare chassis and body. Due to the car being unique the bodywork stage was especially challenging. Moulds, drawings and diagrams were made from a genuine GTO and precisely scaled to Lusso size for the various louvres and vents. Once the body was considered ready for paint the car was primed and painted in Rosso Corsa. The car returned from paint at the beginning of November 2012, at which point the mechanical rebuild was commenced. The restoration has recently been completed and the car is in a stunning condition throughout, presented in Rosso Corsa with Tan trim. A unique and very special car indeed.
Back in the affordable category was this Fiat 124 Spider.
A one-off splendour is this fixed head SS Jaguar SS100. Made in 1938, the idea did not proceed to production, though you can see some of the styling lines did later translate to the XK120 of 1948.
Three fabulous Jaguars from the 1950s were a C Type, D Type and the XKSS, and these were joined by a number of E Type models.
This Jowett is one of just produced with a Farina body. This car, chassis 109, was shown at the 1951 Paris Show. The car then spent most of its years in Paris, at some point moving south to Lux, were it found in a pretty poor state. Since then it has been beautifully restored.
This may look like a Ferrari, but in fact it is a Kougar Monza, a modern recreation which is available with a choice of straight six Jaguar or Ford V8 engines under the bonnet. Maybe not "original", but still very nice!
This Lamborghini Miura SV was one of the lowest cars in the display, a stunning car even now, nearly 50 years after its unveiling.
The Lea Francis is an all but forgotten marque these days. This roadster dates from 1951.
Graham Hill's Lotus 49B
There were three Mercedes, two of them famous icons of the past, the 190SL Roadster and its replacement, the "Pagoda" 230SL. The third car is today's striking SLS AMG.
Porsche Speedster
Porsche 956 dating from 1983.
This Rolls-Royce Phantom 11 has a most unusual body style. Very striking.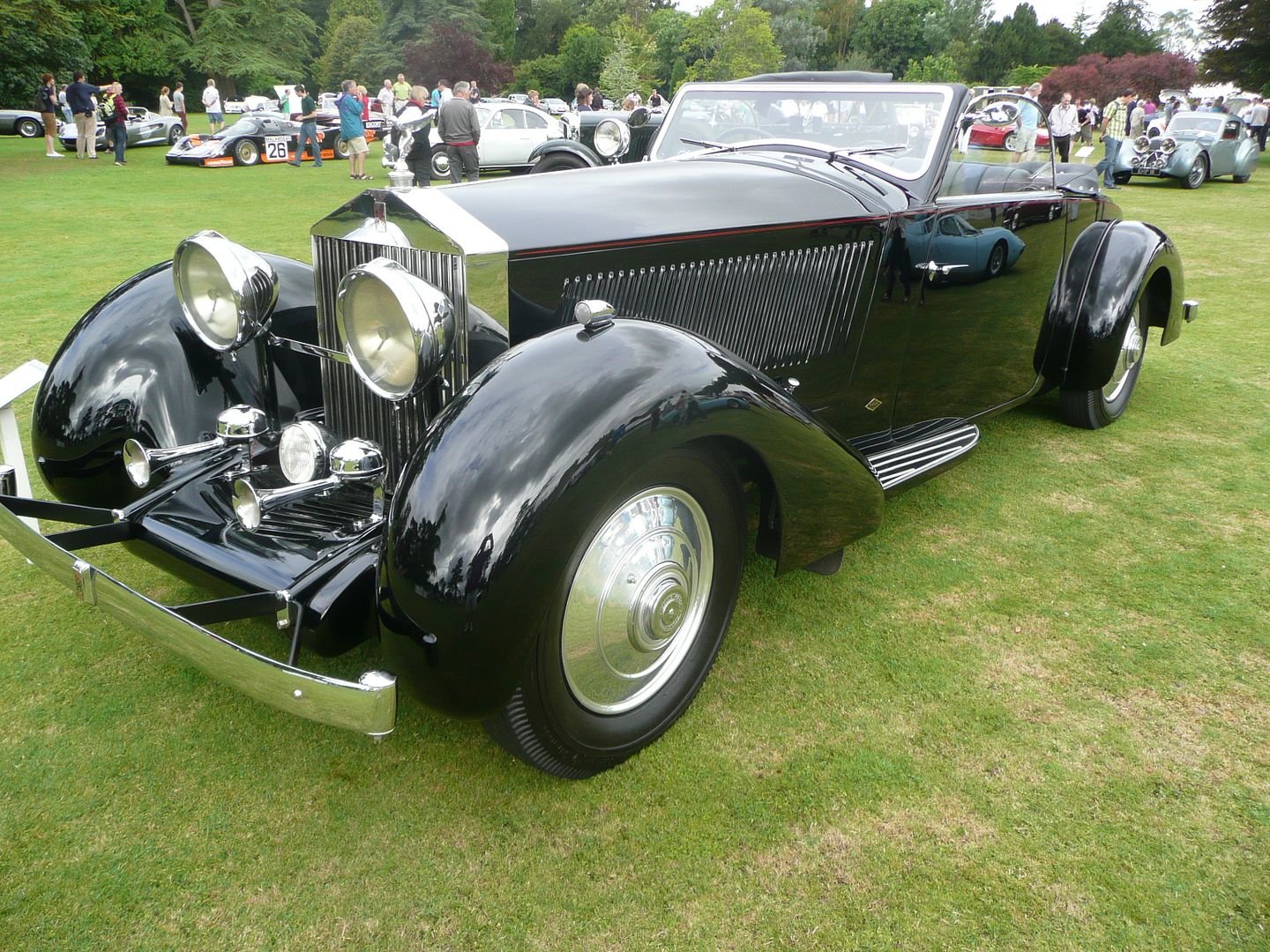 LE MANS WINNERS
Two very significant cars featured in a little display in front of the area that would later be filled with hypercars. The Porsche 956 and this year's successful Audi R18 eTron TDi, still in the state it was in at the end of the race, unwashed. Later in the day, Allan McNish, one of the victorious drivers was on hand for a short interview, and subsequent signing of autographs.
DTM
Standing by itself as a single exhibit was this DTM car loosely based on a BMW 3 series.
ASTON-MARTIN CENTENARY
There have been plenty of events during 2013 to mark the centenary of the creating of Aston-Martin, and Wilton House was clearly not going to be left out. A special display comprised 100 cars, with example of just about every model and body style ever made. It was tempting to take a picture of every single one, but especially among the more modern cars, there were several examples of the same car, and an awful lot of them were grey, which on a grey cloudy meant that the photographs would not have been that inspiring. Instead, here are 75 pictures from the display, which range from a couple of pre-war cars all the way to the stunning One-77.
HR OWEN
For the first time at this event, HR Owen, world famous dealer in high end cars had taken a plot and they had brought along quite an array of cars for their prospective clients and the rest of the public to see.  Highlight for almost everyone, for sure, was the astonishing Ferrari 599XX which fronted their display. Not often you ever see one of these, as the "owners" have to keep them with Ferrari when they are not in use.
Other Ferrari they had on show included the new F12 Berlinetta, the FF, a California and a 458 Spider
The latest Maserati were on display, with both the new Quattroporte and the Ghibli available for inspection, along with the GranTurismo and GranCabrio.
Needless to say that there was the latest Flying Spur among the Bentley that they were showing. They also had the latest Speed versions of the Continental, as well as some of the previous generation cars.
The chosen Rolls-Royce was a Phantom Coupe.
Lamborghini display cars included an Aventador in both fixed head and Spider formats as well as an Espada.
SUPERCARS AND HYPERCARS
Highlight for most people is the arrival at 12 noon of a vast fleet of supercars and hypercars, which make a very noisy entrance at the east side of the estate, and then which proceed to park up, with supercars going in neat rows to the east of the house, and the hypercars taking pride of place on the main south lawn. It took quite a while after their arrival for the crowds to disperse, and to be able to get a good look at what had arrived. Luckily, with the exception of one Aston Martin owner who seemed to feel the need to depart almost as soon as he had arrived, almost all these cars stayed until around 4pm, so there was plenty of time to appreciate this vast array of dream cars.
AC
Several Cobra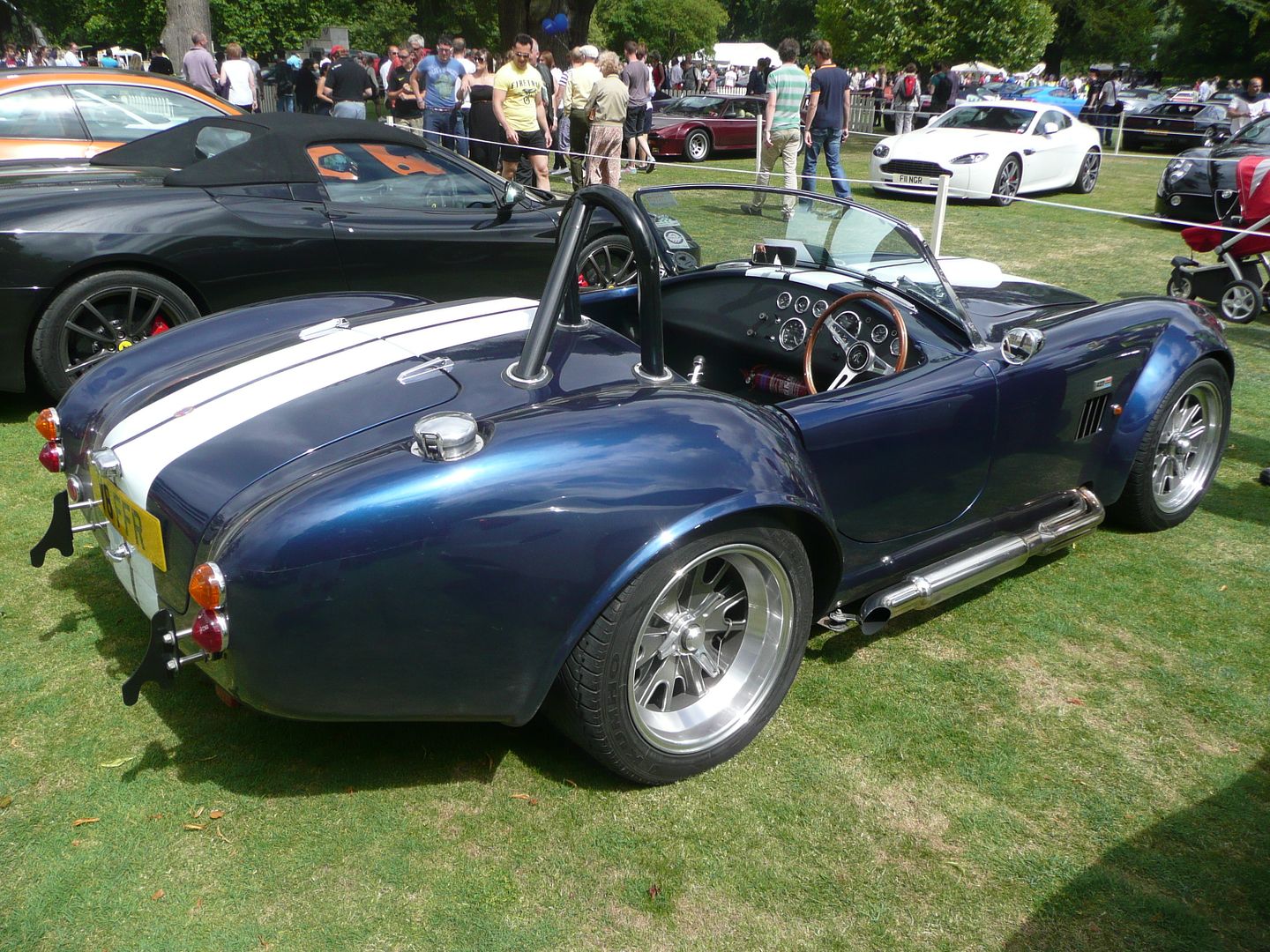 ALFA-ROMEO
A lone 8C Competizione
ARIEL
A couple of the popular Atoms found themselves parked up close to the recently emerged dread BAC Mono rival.
ASCARI
One of the more unusual cars of the event, for sure.
ASTON-MARTIN
The majority of attending Astons were in a separate display, but there were some in the supercar area as well,  including the new V12 Vantage S. There were a few others recent models, too.
AUDI
There were several R8s, with both Coupe and Spider present.
BAC
Mono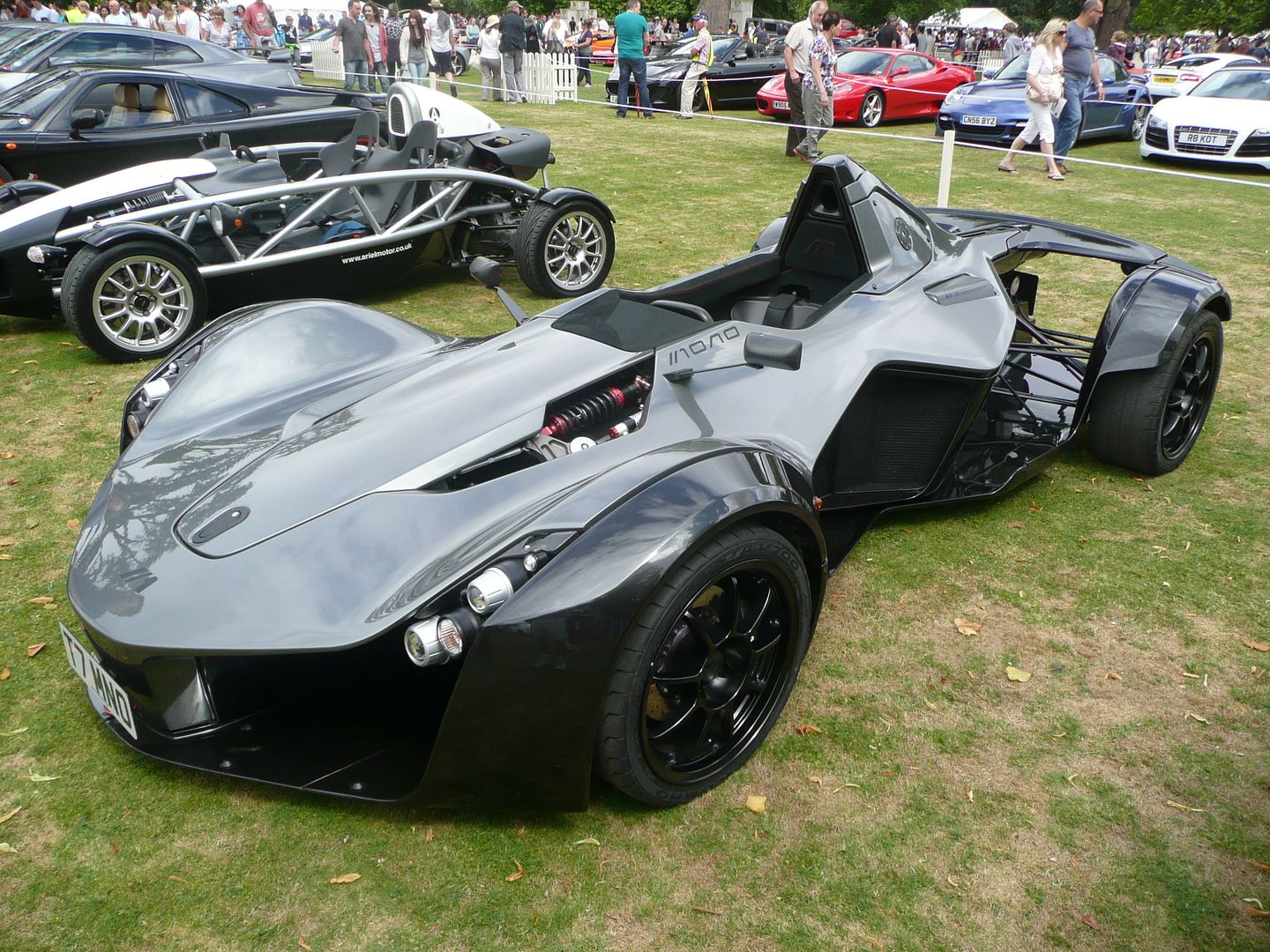 BENTLEY
Continental GT models ranged from the SuperSports to the "regular" GT Coupe model.
BMW
A small number of BMWs included the very lovely Z8 and a handful of M3 models.
BUGATTI
The host, Lord Pembroke, appears still to have kept the wrap on his Veyron. This was done last year, and is most distinctive, in Gulf colours, produced by Pop BangColour artist, Ian Cook. This year there was one further Veyron and an example of the EB110.
CHEVROLET
Just one example of a Corvette this year.
DE TOMASO
Sole representative of this Italian marque was this Pantera.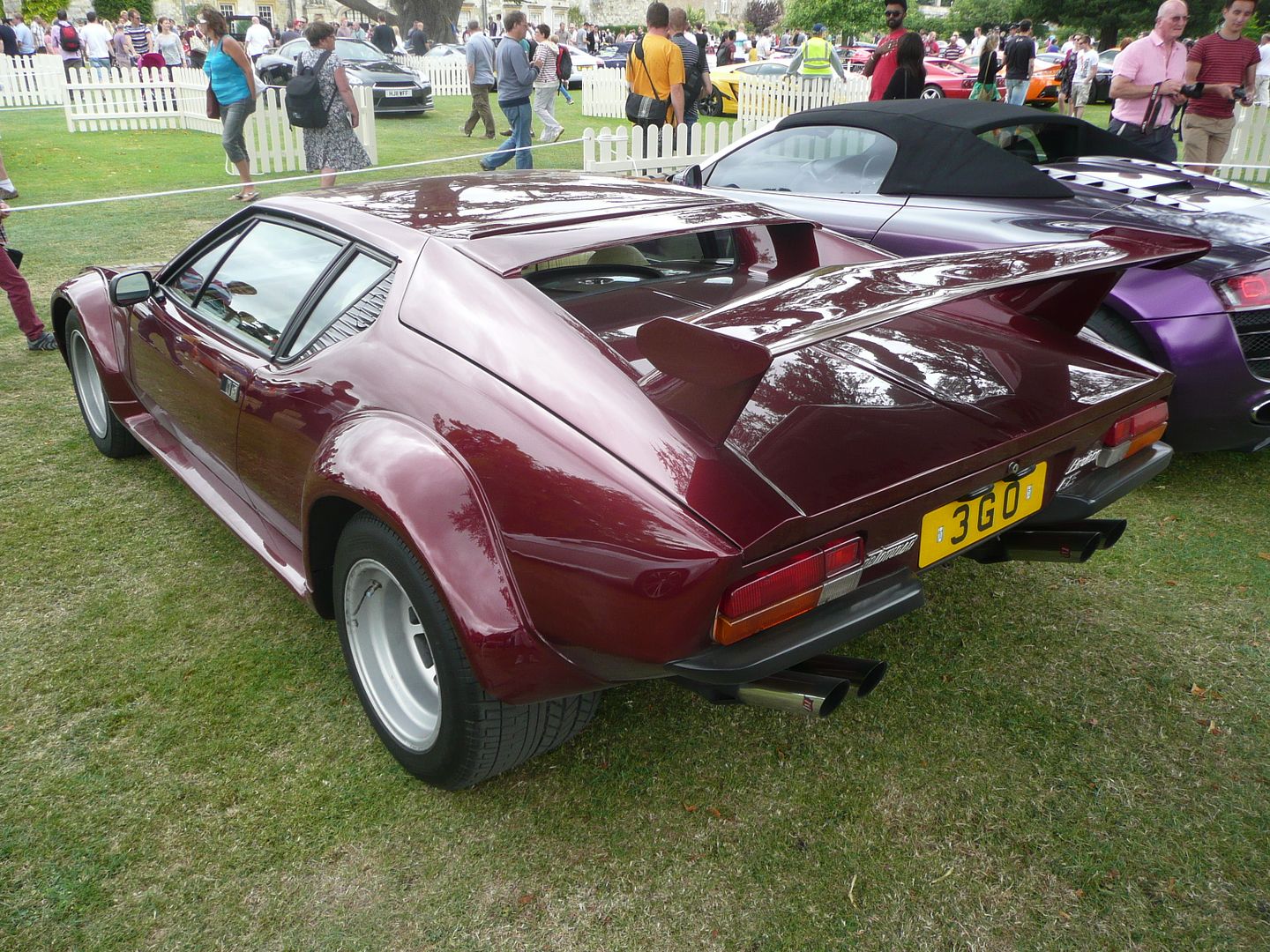 FERRARI
A trio of Enzo represented Ferrari in the Hypercar arena, two of them painted black.
There were a good number of 458s with Spider models almost as numerous as the Coupe.
FF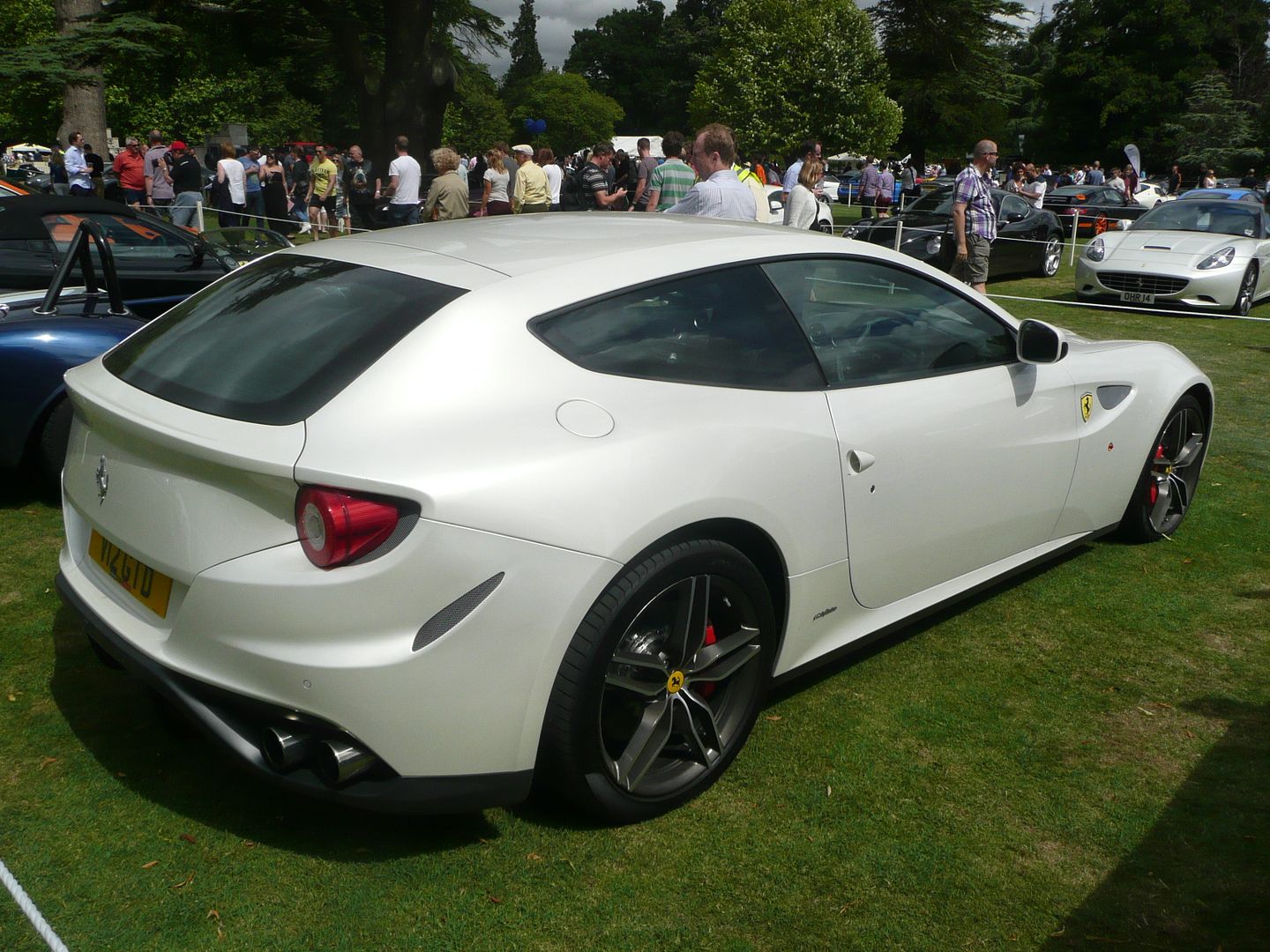 This F12 Berlinetta seemed to be almost un-noticed, unlike the red one that HR Owen were showing. I think this is a stunning car, and am pleased to note that it is not as big as you think it might be. For too long successive models have been getting ever bigger and less wieldly.
There were quite a few California models.
599 GTB and GTO
550/575
612 Scaglietti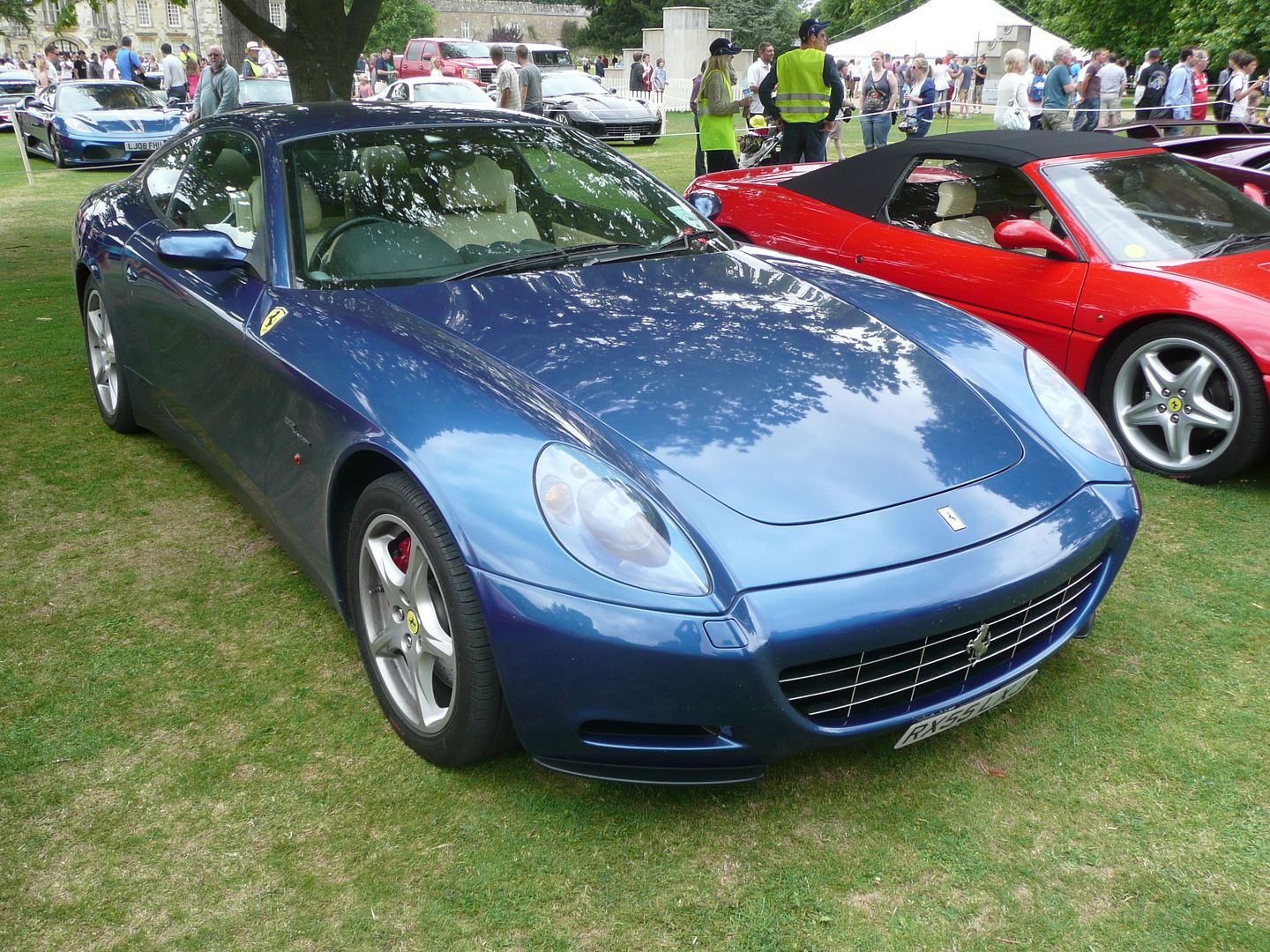 Lots of 360/430, of course, with all the various models including Scuderia. Challenge Stradale and the 16M included.
348/355
FORD
There were several GTs.
GUMPERT
This Apollo was parked among the hypercars. I got another look when the driver departed, with the gullwing doors still open as he headed off down the drive.
JAGUAR
This XJ220 is particularly conspicuous, finished in bright yellow. It drew even more attention when the engine was fired, as it is, erm, not exactly quiet!
There were several of the oh-so-lovely F Type on show.
There were also a number of XKR-S models.
KI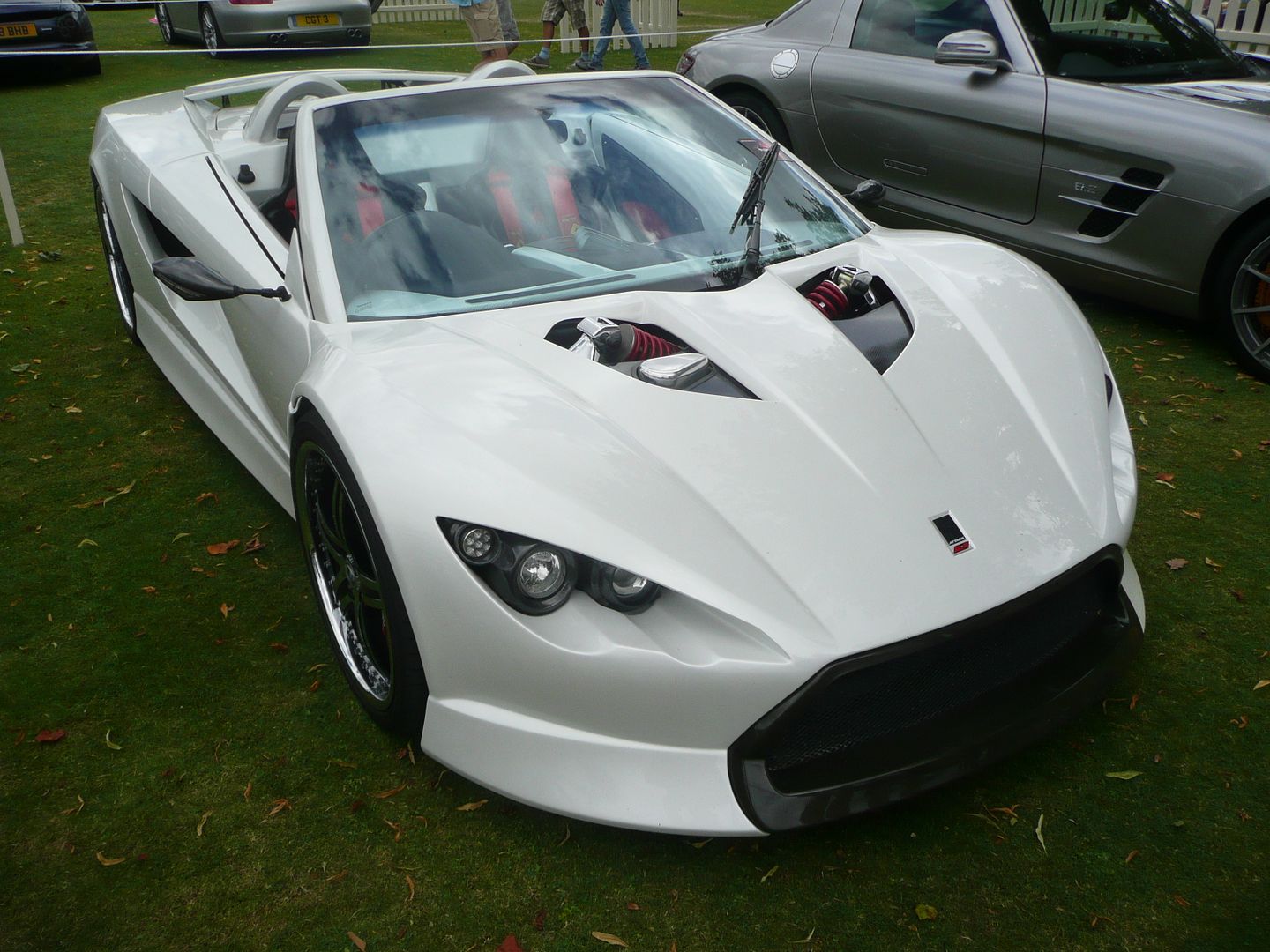 KOENIGSEGG
Just the one Koenigsegg this year, which unsuprisingly was in the Hypercar arena.
LAMBORGHINI
Aventador
Murcielago
Gallardo
There were several Diablo in the main display.
Countach
LOTUS
This Esprit Turbo looks good.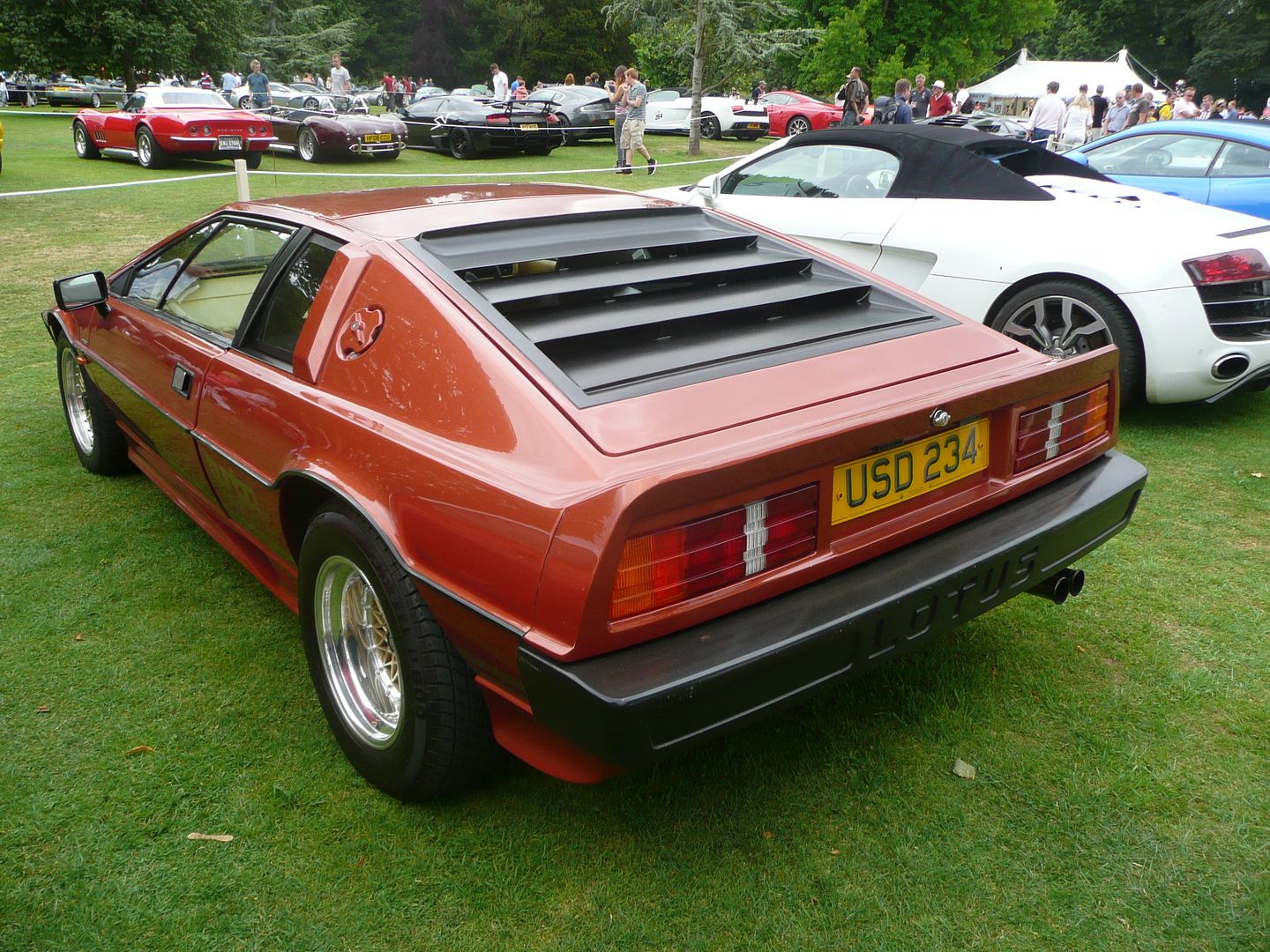 MASERATI
Sole model in the display was a modern GranTurismo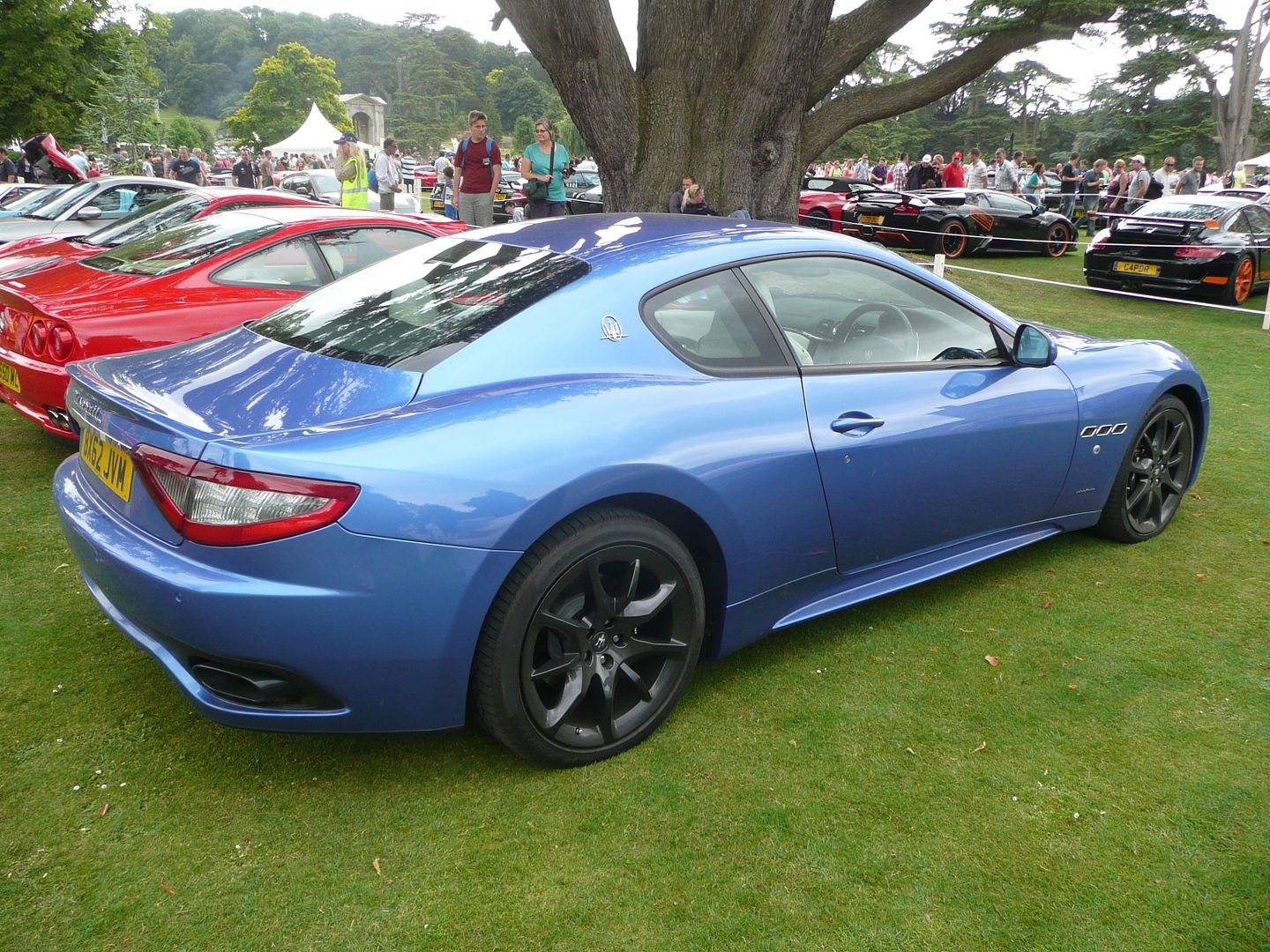 McLAREN
Last year there 11 MP4-12Cs at the event. This year there were not quite as many, but there were examples of the Spider as well as the Coupe. I still think this is a good looking car, with at least as much visual appeal as its dread Ferrari rival.
MERCEDES-BENZ
The SLS AMG has been around for a few years now, but still draws the crowds. It is a stunning looking machine.
There was also an example of its precursor, the McLaren SLR, in 722 guise.
Also sporting AMG badges was this SL55 AMG.
MG
One example of the ill-fated SV
MORGAN
Very different from most of the rest of the display was this Three Wheeler.
NISSAN
GT-R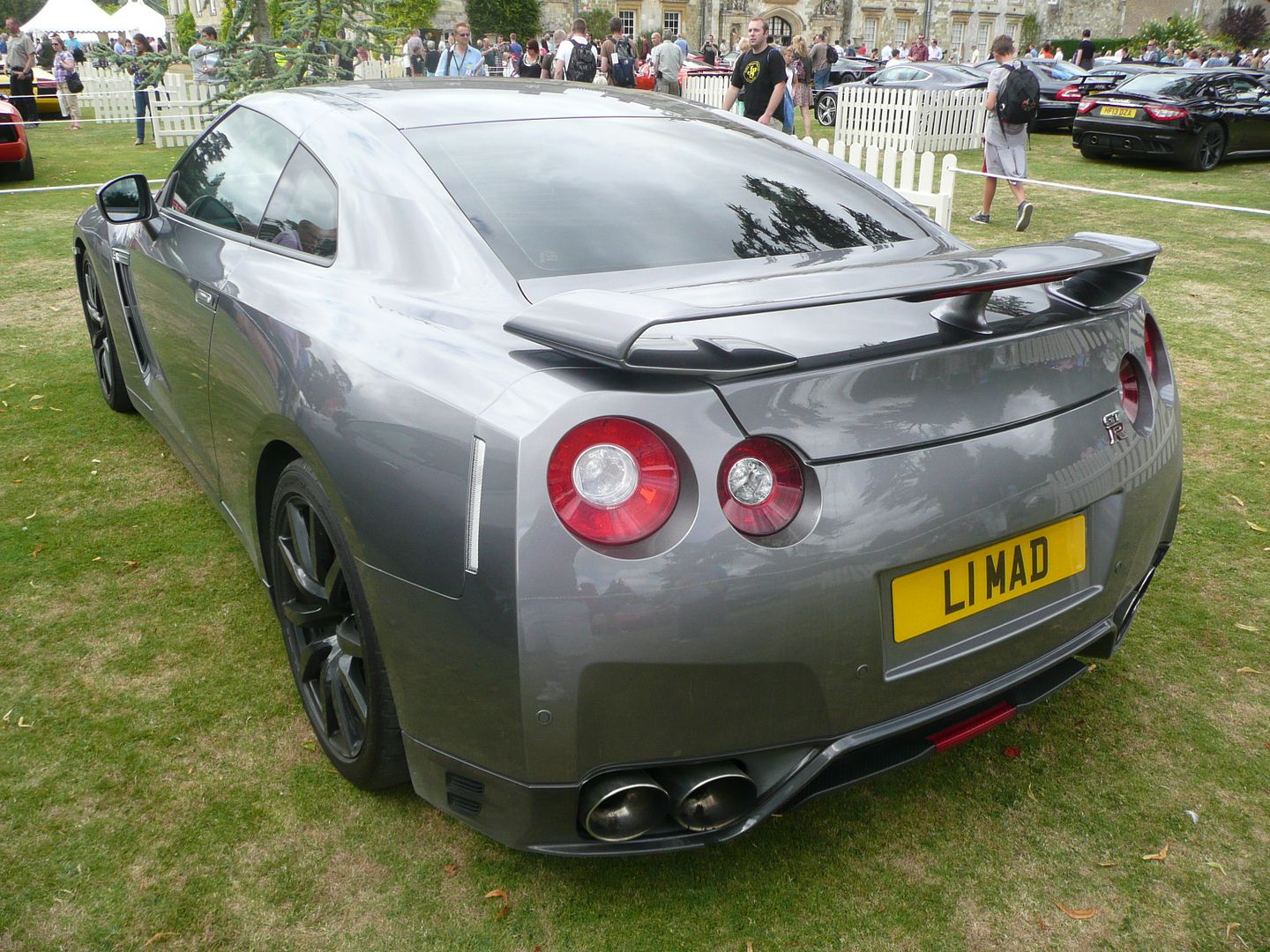 NOBLE
The M600.
PAGANI
For many people, the highlight of the event was the sight of  no fewer than six  (yes, six) Zondas parked up in a line in the middle of the lawn in front of the house. A couple of these were cars that I had seen at Silverstone two weeks ago, but the others were ones that I had not come across before. What a sight!
PORSCHE
The Carrera GT was included in the Hypercar display.
There were a number of  911 models of all vintages in the main supercar display section.
ROLLS-ROYCE
The current Phantom Drophead is not a small car!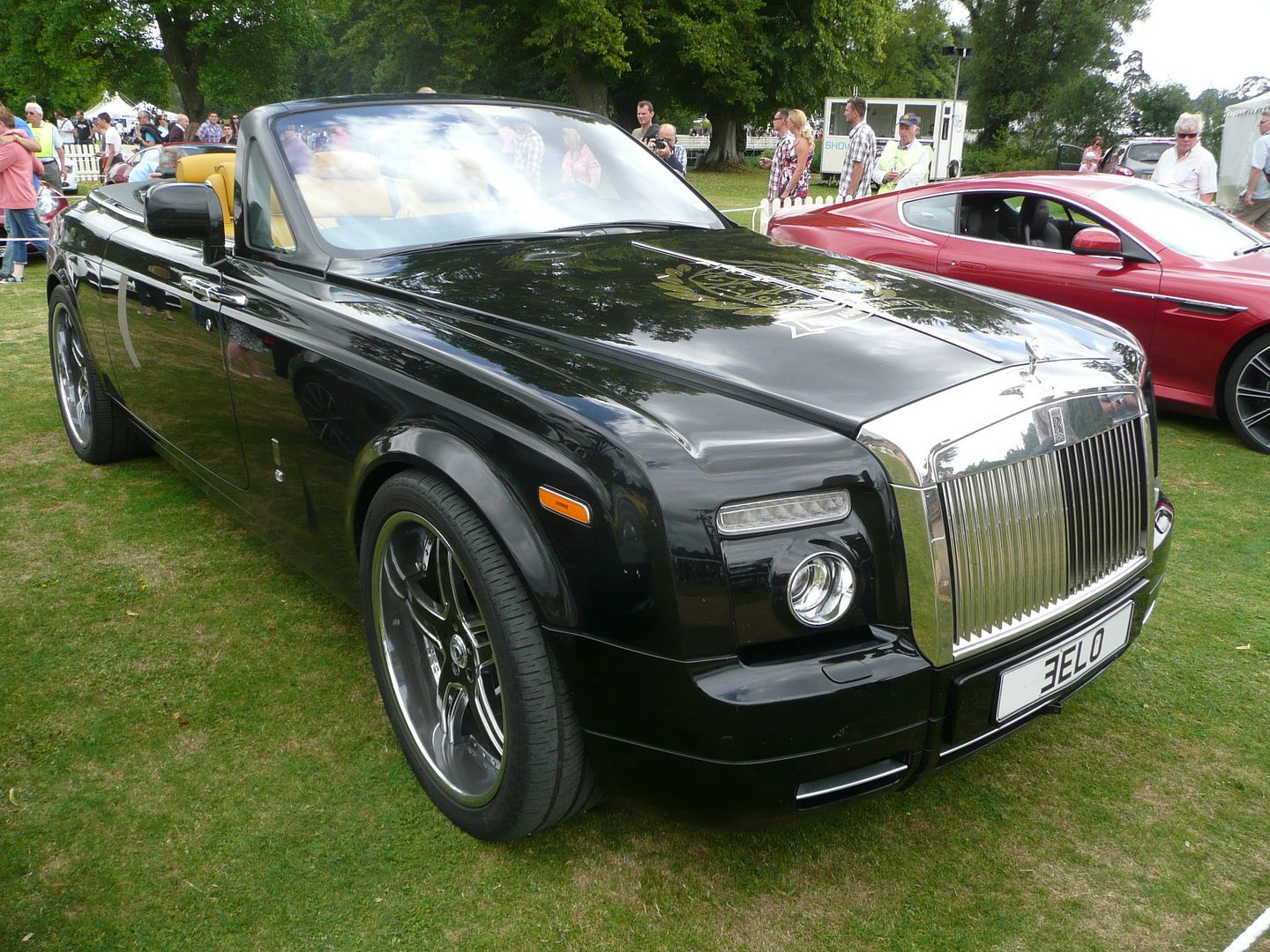 RONART
RUF
A special display contained one example of each of the three generations of RUF that have been made, which are, quite logically, called CTR1, CTR2 and CTR3.
TVR
Surprisingly few TVR, though one of the 4 Typhons ever made was there, but my camera failed to record this fact for the second year running.
ULTIMA
NEW CAR DISPLAYS
A number of the local dealers had displays, with plenty of the latest models on show, and this was a chance to have a look at them without having to battle with the crowds. l, and there were also a number of display cars associated with the event, as well as an interesting array of vehicles in the PistonHeads reserved parking area.  Here are the highlights:
ABARTH
Westover Cars had a lone 500C 595 on show, but such was the interest in it that whenever I was anywhere near, this little car did have crowds surrounding it.
AUDI
Attracting plenty of attention, not least because the stand staff were demonstrating the vocal qualities of both the RS4 Avant and the brand new RS6 at frequent intervals, there were plenty of Audi to see, including the recently launched SQ5, as well as the more familiar models from the vast range.
BMW
Another manufacturer with a vast range, and only limited space, so the display included a representative sample of what BMW currently offer, including the newly launched 320i GT.
CITROEN
Parked up in a fan-shape were examples of Citroen's current range, with the newly launched C4 Picasso acting as the centrepiece. That said, it was the DS3 in both Hatch and Convertible guises that seemed to be of most interest to people. There was also an example of the DS3 Racing.
DACIA
Last year, a Duster was shown here as a preview in advance of UK sales starting. Eight months after the UK launch, Dacia is starting to become a brand that you see quite frequently, and with further models in the pipeline, it is clear that we are going to see more and more of this budget brand. The display here contained both Duster and Sandero, the latter in regular and Stepway guises.
FIAT
The distinctive 500L has become quite a common sight on our roads, so despite what the nay-sayers decried when they saw its rather different appearance, it is clearly selling in decent numbers. A couple of different models were joined by the latest Panda and 500 cars.
FORD
The Ford stand was busy, not just because the cars were attracting plenty of interest, but because there was a competition for  the "children" to kick a football into a penalty box, which was proving very popular. Alongside this physical challenge was a historic Ford, an Escort Cosworth.
Other models with the blue oval badge on them included the much praised Fiesta ST and Focus ST, the latest Kuga, the B-Max, S-Max and regular Fiesta and Focus.
HONDA
Not a range these days which inspires me in any way, with an array of cars which follow the Toyota philosophy of delivering automotive appliances. However, as I passed through, I was offered a glass of prosecco, and it would have been rude to refuse, to I did talk to one of the stand staff for a few minutes.
HYUNDAI
From this now comprehensive range of cars, there was a new Santa Fe, the lightly facelifted ix35, and a Veloster to see.
JAGUAR
Although the F Type was attracting the most attention, it was good to see that the other cars on show – XF Sport Brake and XJ – were far from being ignored. Jaguar does seem finally – and very deservedly – to be on a roll right now.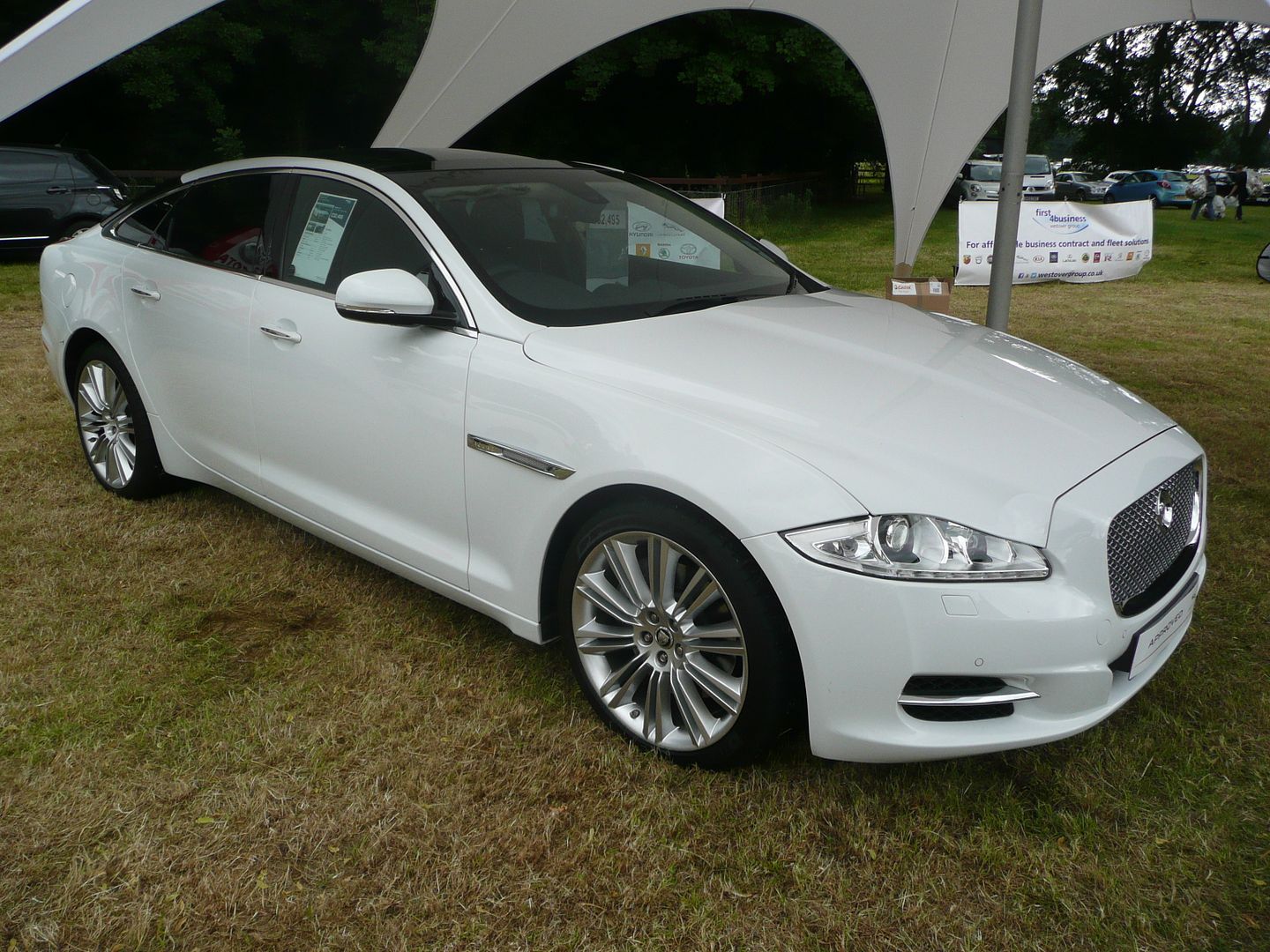 KIA
Korean maker Kia now has a sizeable range, so like many others, had only been able to bring a subset of cars to display. No sign of the about to be launched GT models of the Cee'd, but there was a new Carens as well as the familiar Venga
LEXUS
Lexus had a small display area at one end of the field, and unsurprisingly had chosen to focus on the new IS model, with three examples of this rather boldy styled challenger to the German triumvirate on show. The display also included the larger GS and the popular RX model.
LOTUS
One Lotus on show, rucked in between the Nissan, Jaguar and Lexus models, was this Exige V6.
MAZDA
No sign of the new and very good looking new 3, which will arrive on UK shores later in the year., but a good opportunity to have a look at the current range with everything from the 2 to the latest 6 and CX5 models on show as well as the familiar MX5 and outgoing 3.
MERCEDES-BENZ
With such a vast range now offered by the Three-Pointed star, it must have been hard to decide what to bring. Unsurprisingly, there were several of the over-hyped CLAs on show. I resisted the temptation to try to squeeze into the back yet one more time, as I know what a challenge this is, and spent my time looking at the rest of the range, aghast at the universal unattractiveness of just about every model hey make. The facelfit to the E Class models seems to have brought a real does of bland to the rear light clusters, and as for all the odd scoops and surfaces on everything else, well, I hope that this is just a passing craze.
MINI
Parked up with the BMWs was a Paceman.
MITSUBISHI
Considering the number of cars this Japanese brand now sells (not a lot!), this was quite a sizeable display, and it contained examples of the current range, including the latest Mirage and Outlander. It was the wrapped Evo that was attracting all the attention, though.
NISSAN
Centrepiece here was the Juke Nismo, a car which would seem to be selling pretty well, judging by the number I have seen on the road.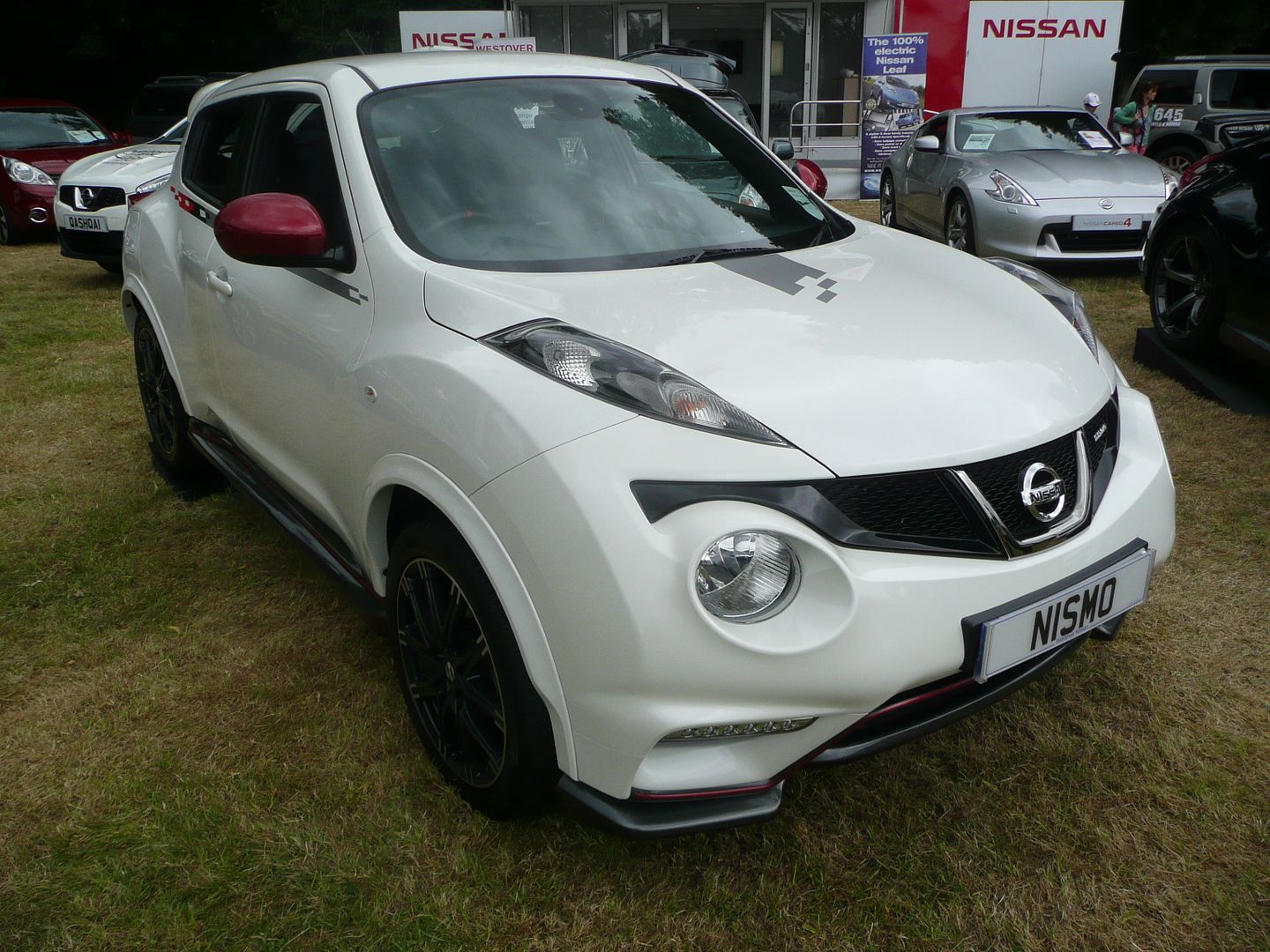 The rest of Nissan's range of cars was also well covered, with everything from the rather regrettable Micra and soon to be replaced Note, an ordinary Juke through the Qashqai and XTrail to the 370Z and GT-R.
PEUGEOT
Another chance to look at the 208 GTi, and to bemoan the silly steering wheel that sits in your lap. Otherwise there is plenty to like about this hatch. There was a luxury XY model parked next to it.
There was also the facelifed RCZ.
RENAULT
Renault had chosen to bring along their three latest models, the 4th generation Clio, the Captur and the all electric Zoe. I have to say that the interiors on all of them are still disappointing with low rent plastics and far too many sharp edges, and the concept of a mini iPad stuck where it is on the dash does not help to make these cars look anything other than cheap. Which of course, when you look at the list price, they are not.
SKODA
I heard several people comment, on seeing the new Octavia vRS Estate, that it is almost too subtle. For me that is part of the appeal. This is a deeply impressive car, and I am sure it will sell well. It deserves to.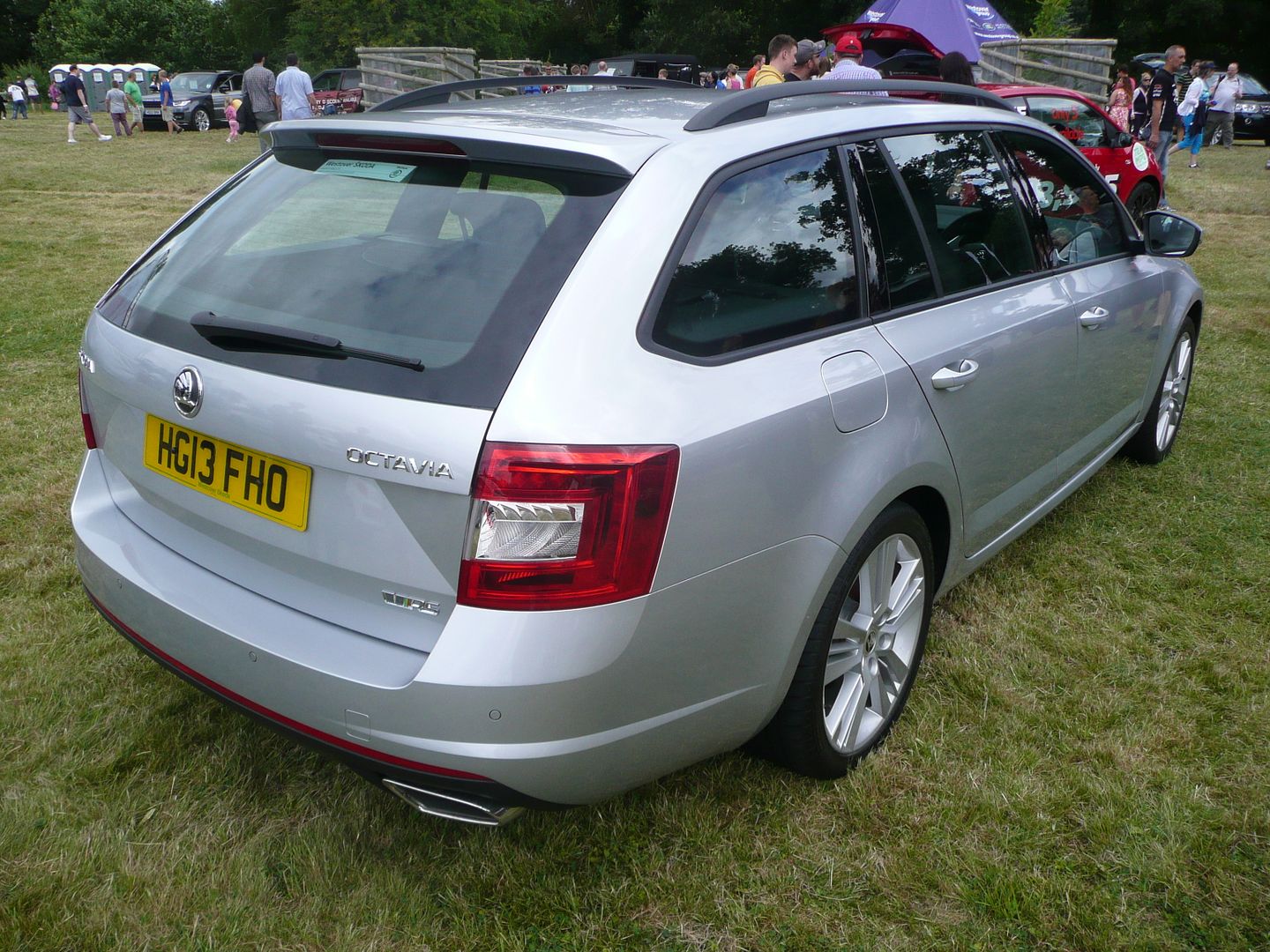 TOYOTA
Most unusual car here was the Aygo Crazy. Mad, just mad!
Of the cars that you can actually buy, needless to say, there were a couple of the much praised GT-86 available for inspection, along with the latest Auris models in hatch and Sports Tourer, the recently uglified RAV4 and the latest Yaris.
VOLKSWAGEN
Sharing a display with Audi, there were a few VWs, of which the Golf GTi was the one with the people surrounding it almost all the time.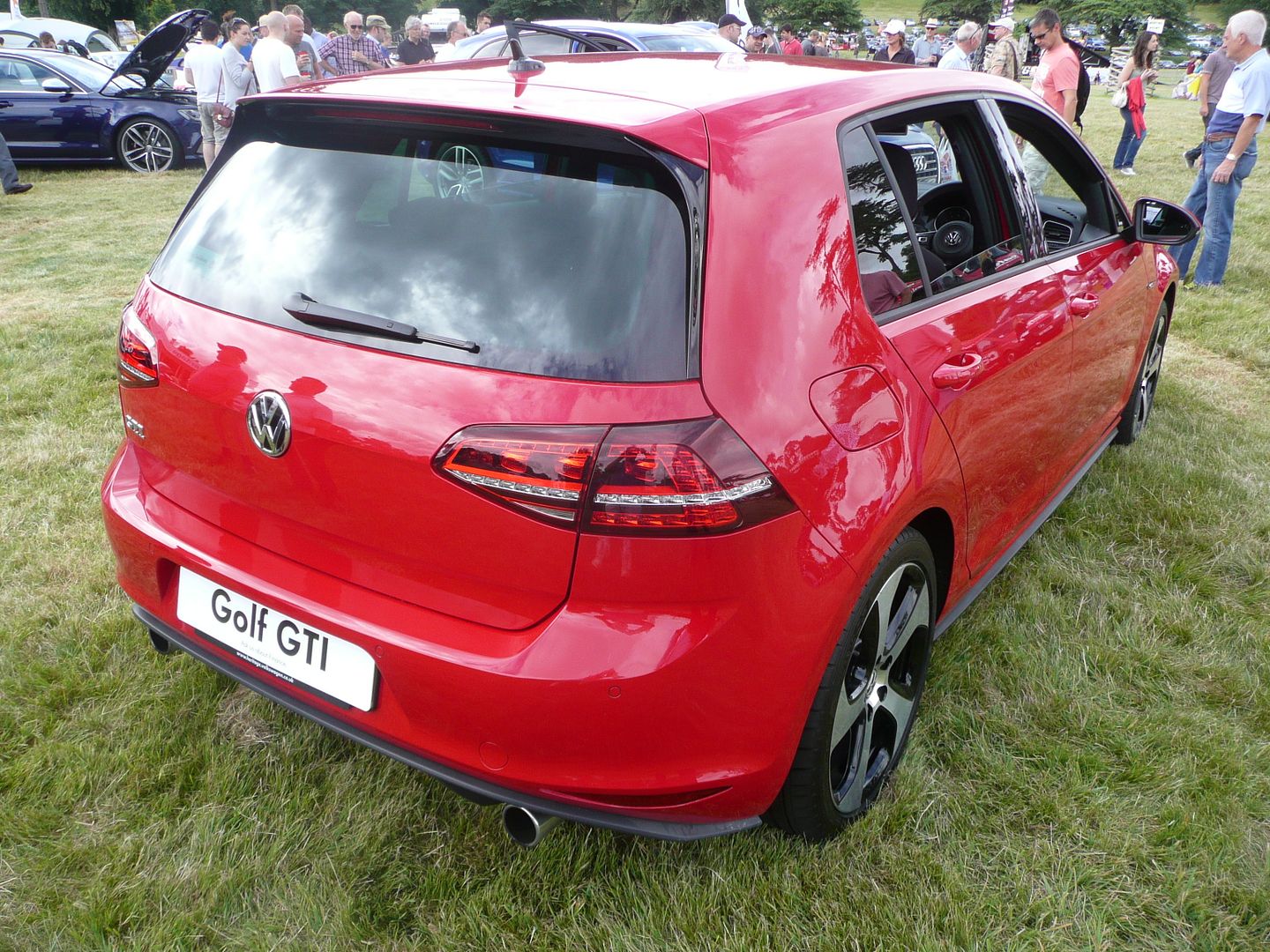 Other Volkswagen included a Polo GTi, the Golf Cabrio and the recently launched new new Beetle Cabrio.
OTHER DISPLAY CARS
ASTON MARTIN
This pair of Astons were included on a trade stand.
FERRARI
The Ferrari Owners Club had an interesting collection of cars assembled in a line backing onto the stream. These acted as a taster for the line of supercars that arrived during the day.
PORSCHE
The Porsche Owners club had a small display, right in the middle of the event, and they had assembled an interesting collection of the Stuttgart machines, with 944, 928 and 911 among them.
ROLLS-ROYCE
A splendid array of some very imposing 1930s Rolls-Royces was actually promoting a wedding rental business, but never mind why these cars were there, just enjoy these aristocratic machines and note that an American Packard was craftily placed in among them.
CLASSIC CARS DISPLAY
There was an area reserved for individuals to bring their classic machines. Inevitably, and pleasingly, this resulted in a very eclectic array of cars indeed.
Alfa-Romeo 2000 GTV
Austin A90 Atlantic
Ford Capri 11
Ginetta G33
MG Y Type.
Another chance to see the yellow Panther Solo that had been at Silverstone the weekend before
A pair of 1970s Vauxhalls showed the Firenza both before and after application of the "droop snoot". Although all the production versions of the latter were indeed painted silver, this is a pre-production prototype. so the red paint is apparently authentic.
PRESTIGE CARS
I'm not quite sure what the criteria were for parking in this area, but judging by the sort of car found there, there must have been something. Among the cars I found these delights:
This was yet another place where you could see Aston Martins, this one being a V12 Vantage
Not surprisingly, I rather liked this brand new Audi RS6 Avant.
Selecting a blue this bright for a large car like this new Mulsanne was probably quite brave. You decide whether it was a good idea or not!
A C6 generation Chevrolet Corvette.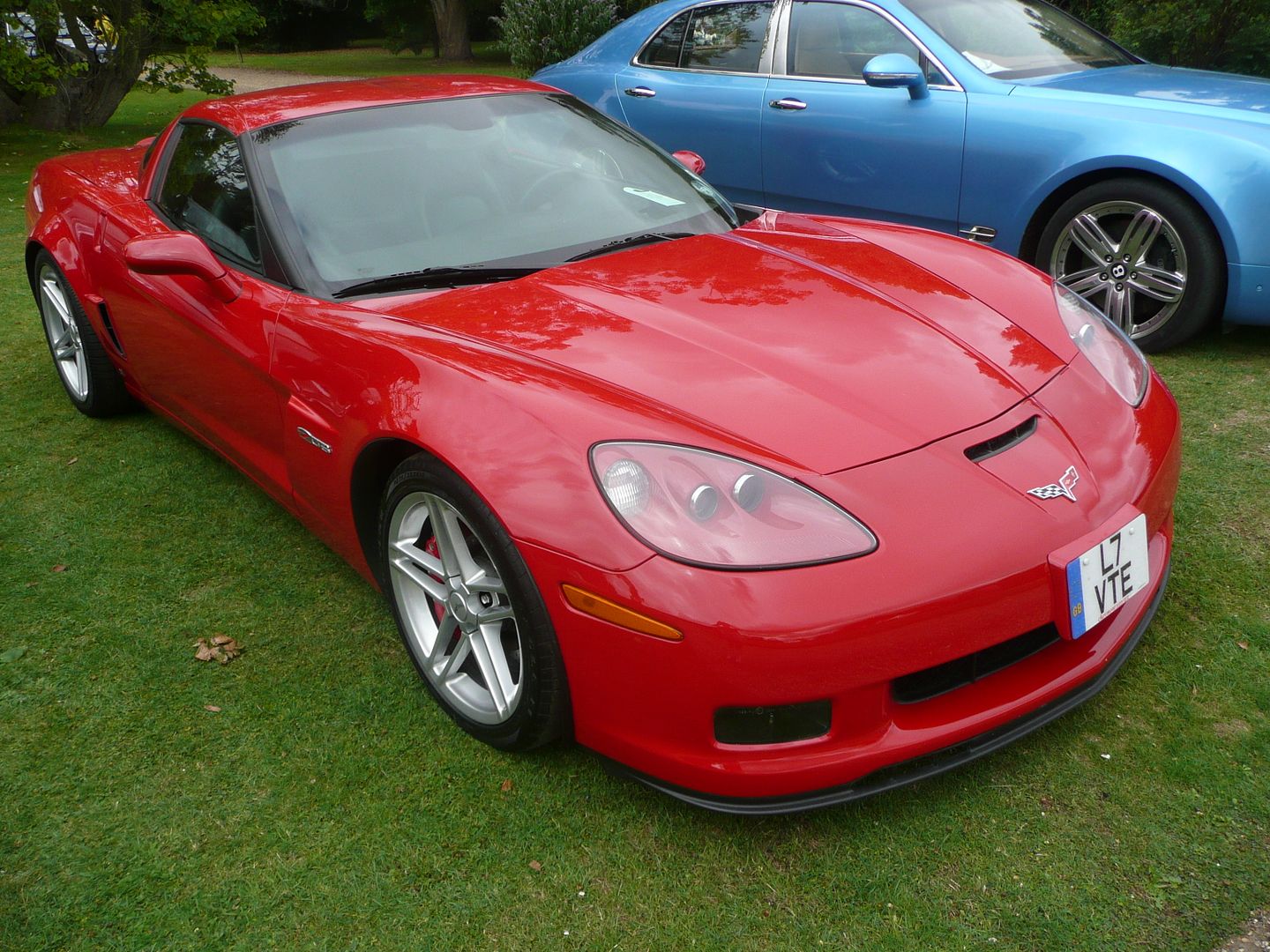 There were a number of Ferrari models here
A very nice Jaguar XK150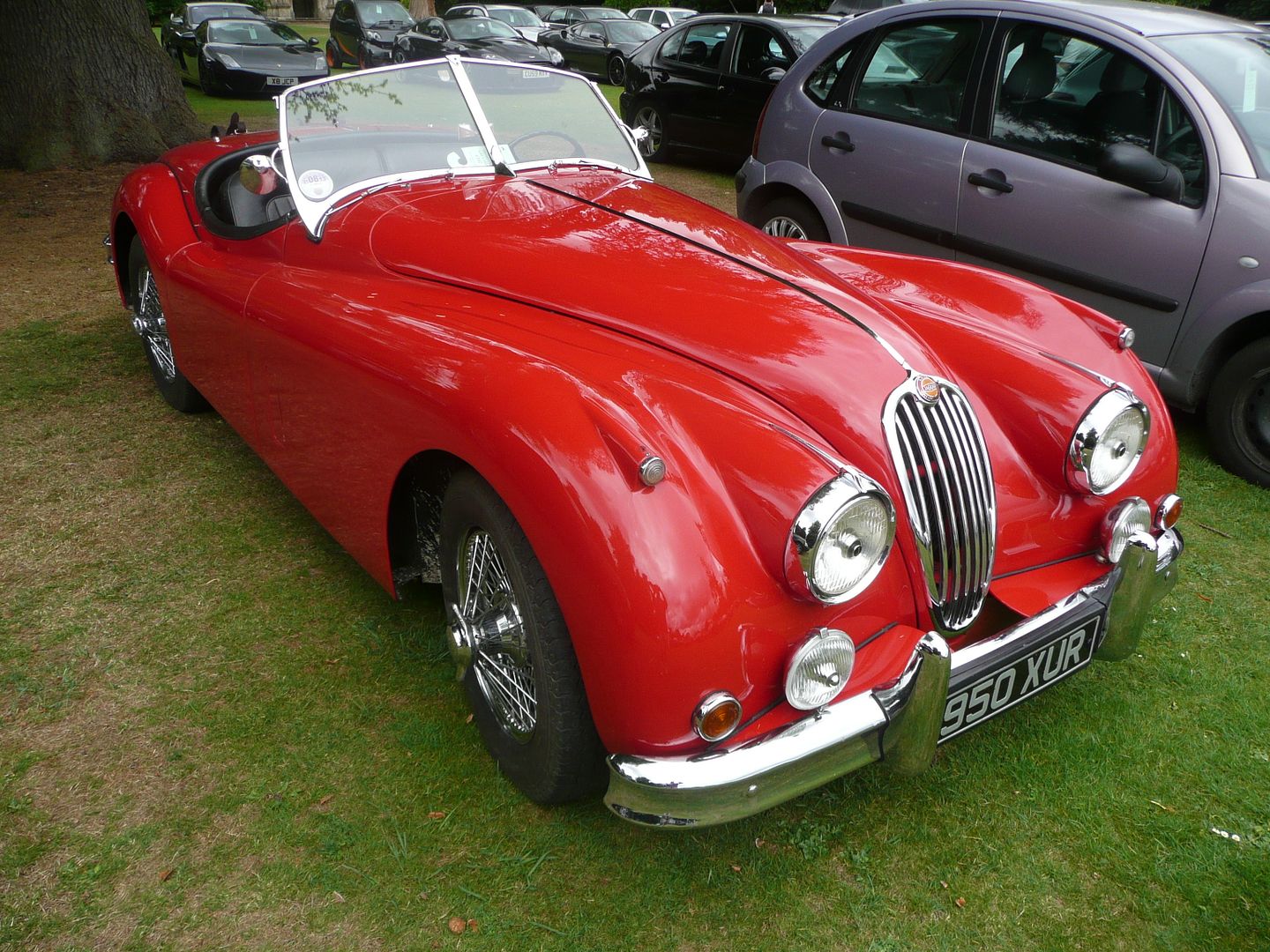 A particularly lovely, and very rare Maserati Mistral Spider
The Porsche 911 was also much in evidence here.
As were TVRs.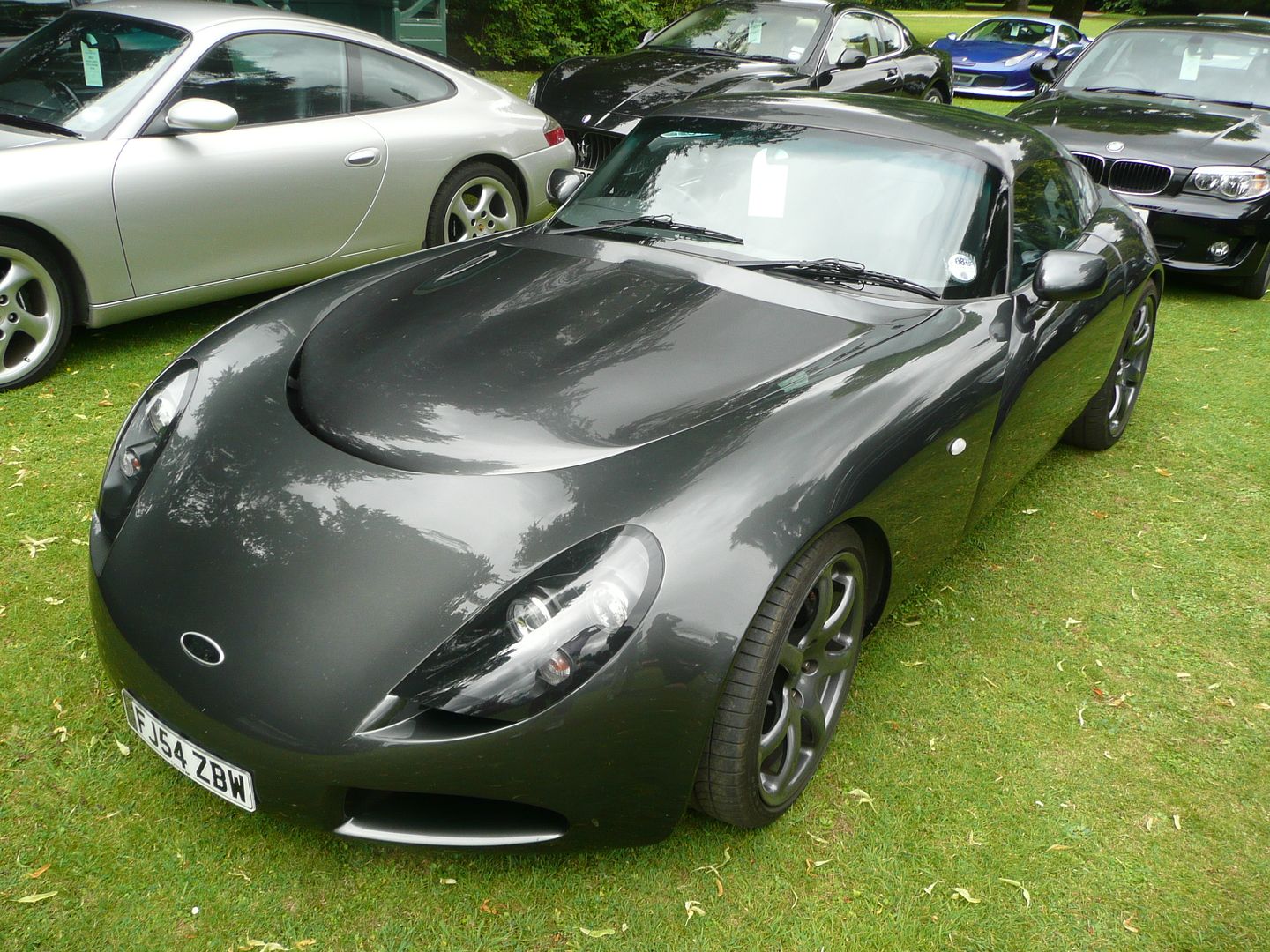 PISTONHEADS CARS
A large area had been reserved for PistonHeads members to use, and there were plenty of interesting cars parked up which meant that a wander among them was in order.
ABARTH
One lone Abarth.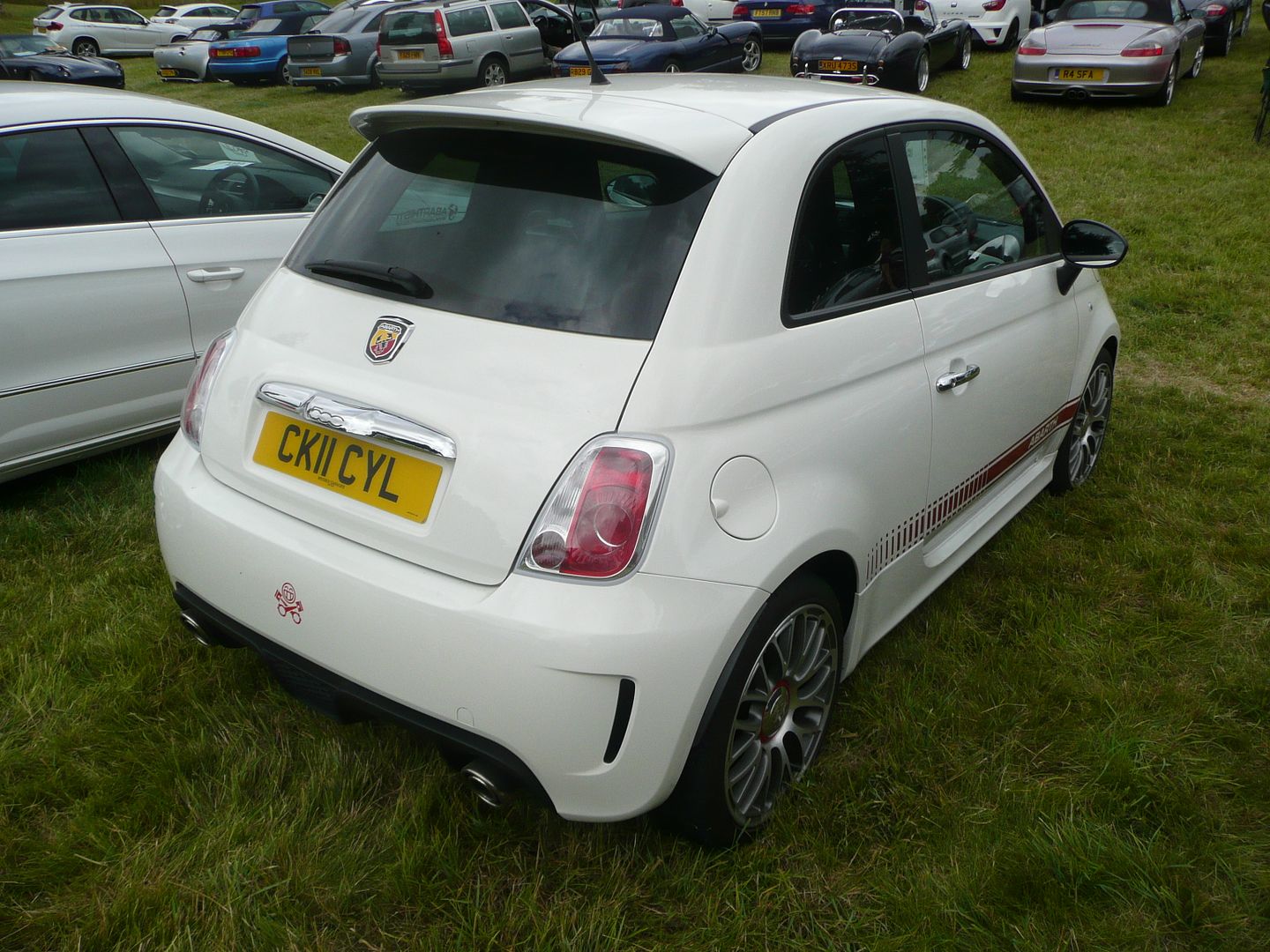 ALFA-ROMEO
Always good to see a 164, even if the wheels and rear spoiler on this one were not quite to my taste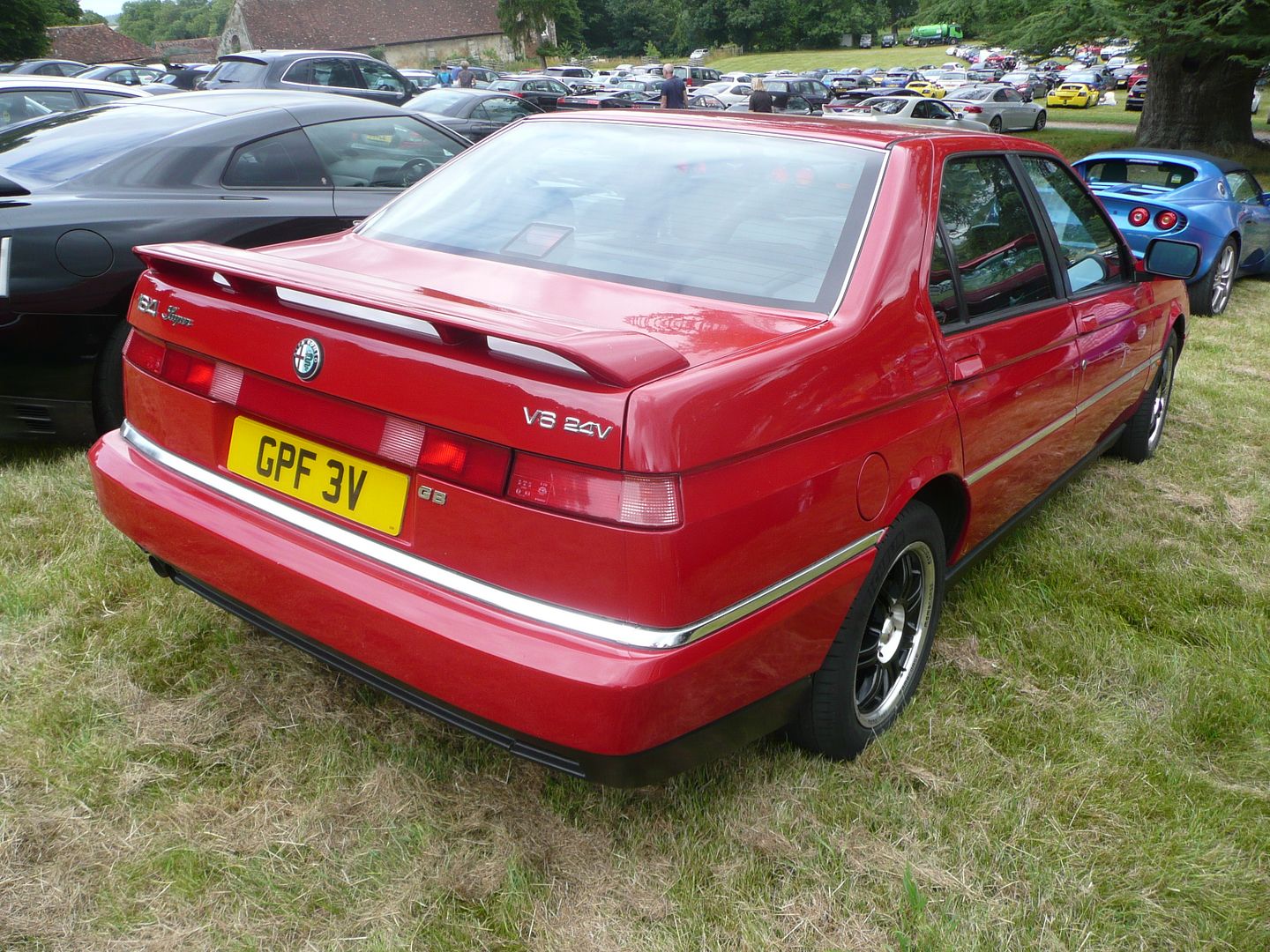 AUDI
RS4
BMW
Although this M3 is absolutely mint, it is good to see it out and about so often.
CITROEN
The DS always appeals, too.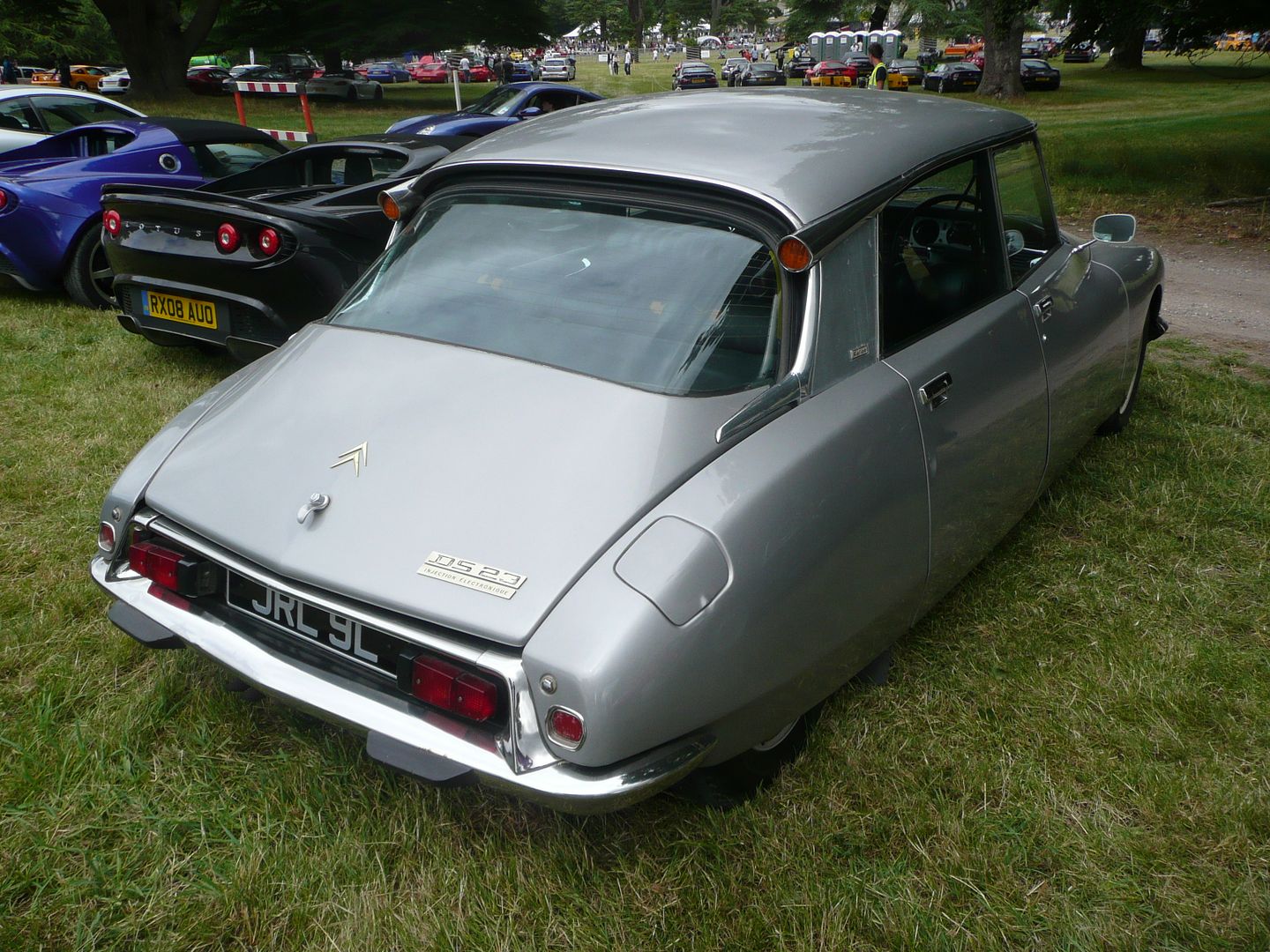 DODGE
Fabulous Charger from the Muscle Car era.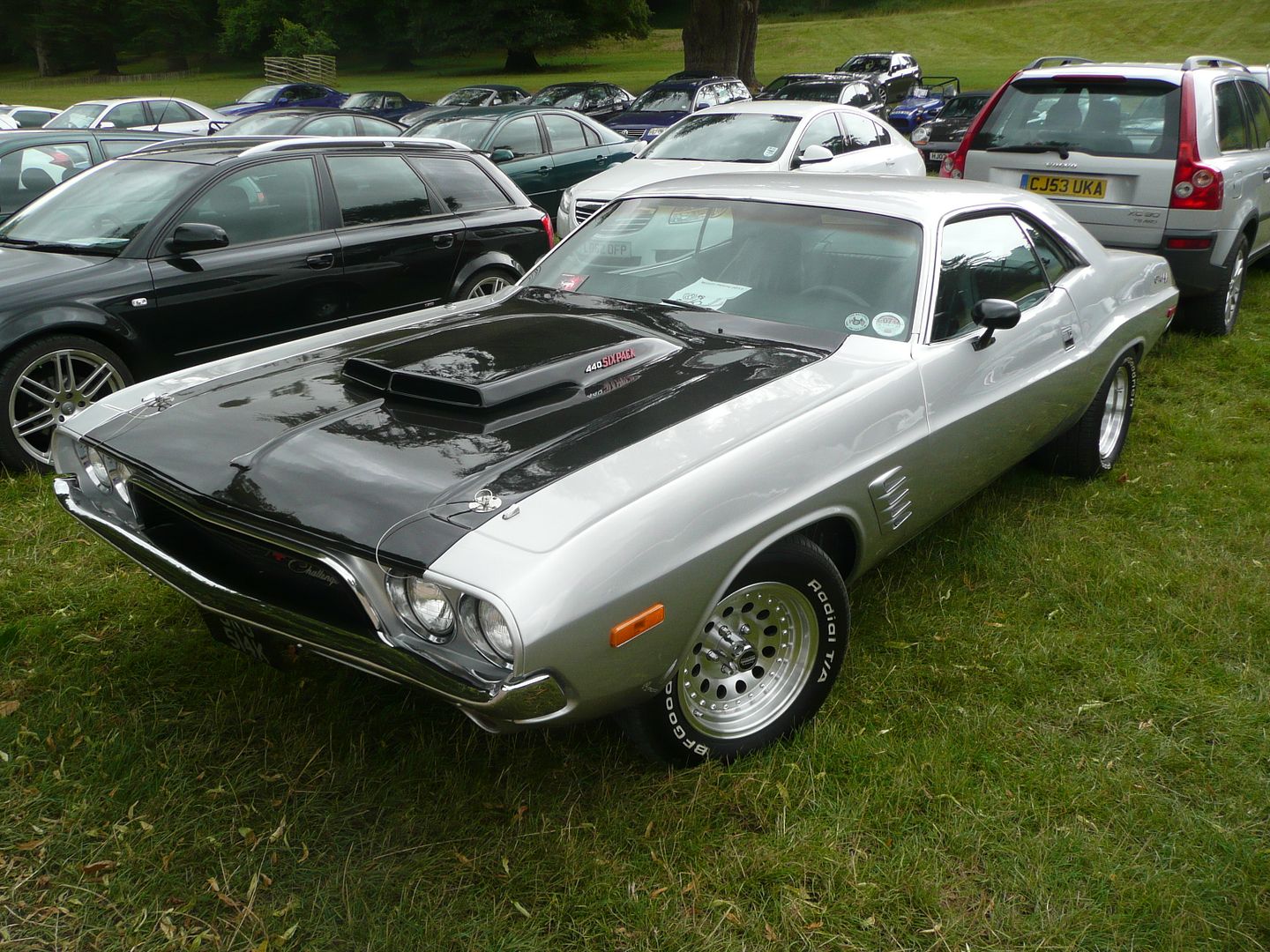 FERRARI
There were quite a number of Ferrari, but even so it was quite a surprise when I realised that an Enzo was motoring carefully over the lumps and bumps of the field to join them.
FORD
Mustang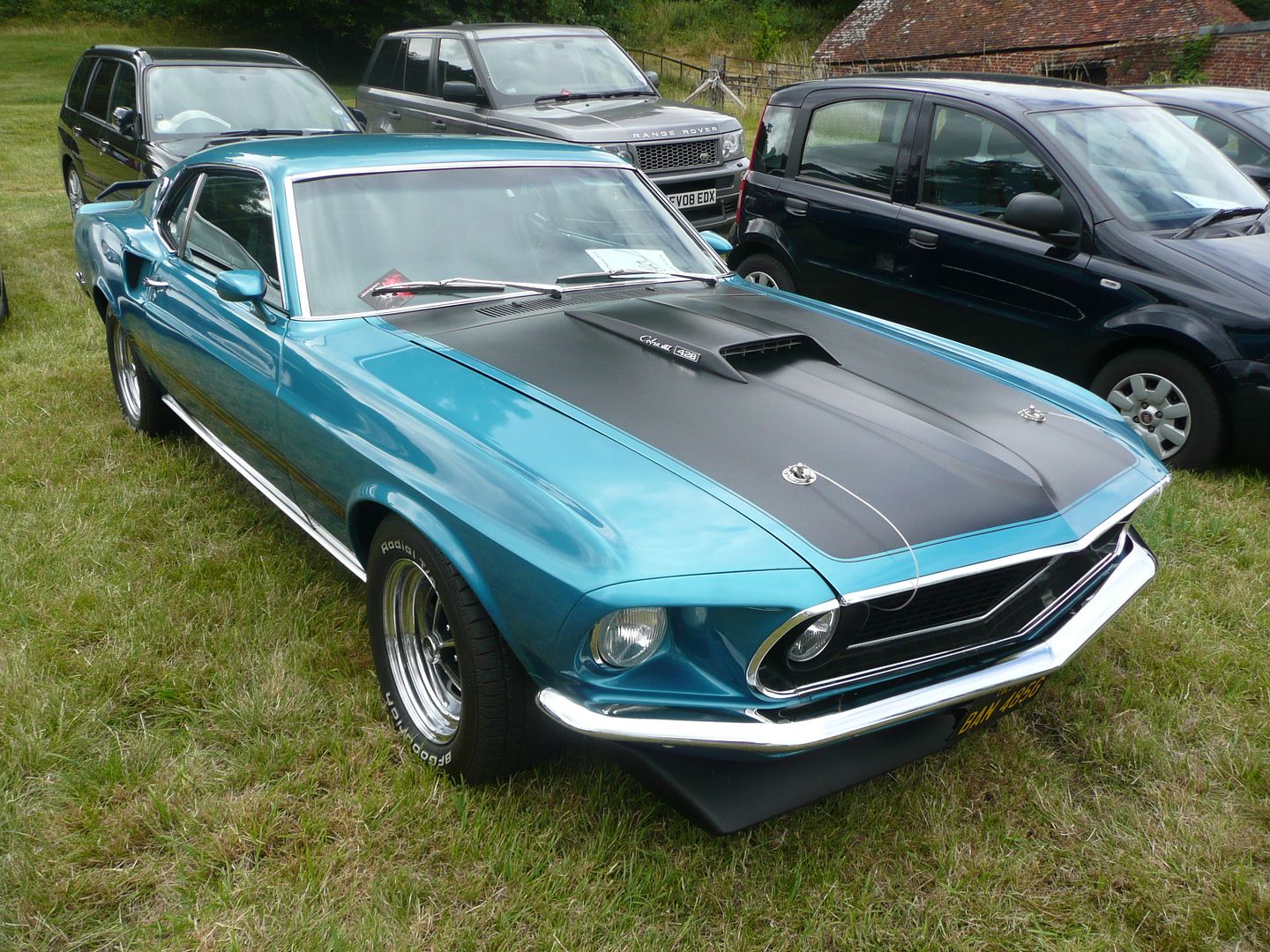 HONDA
NS-X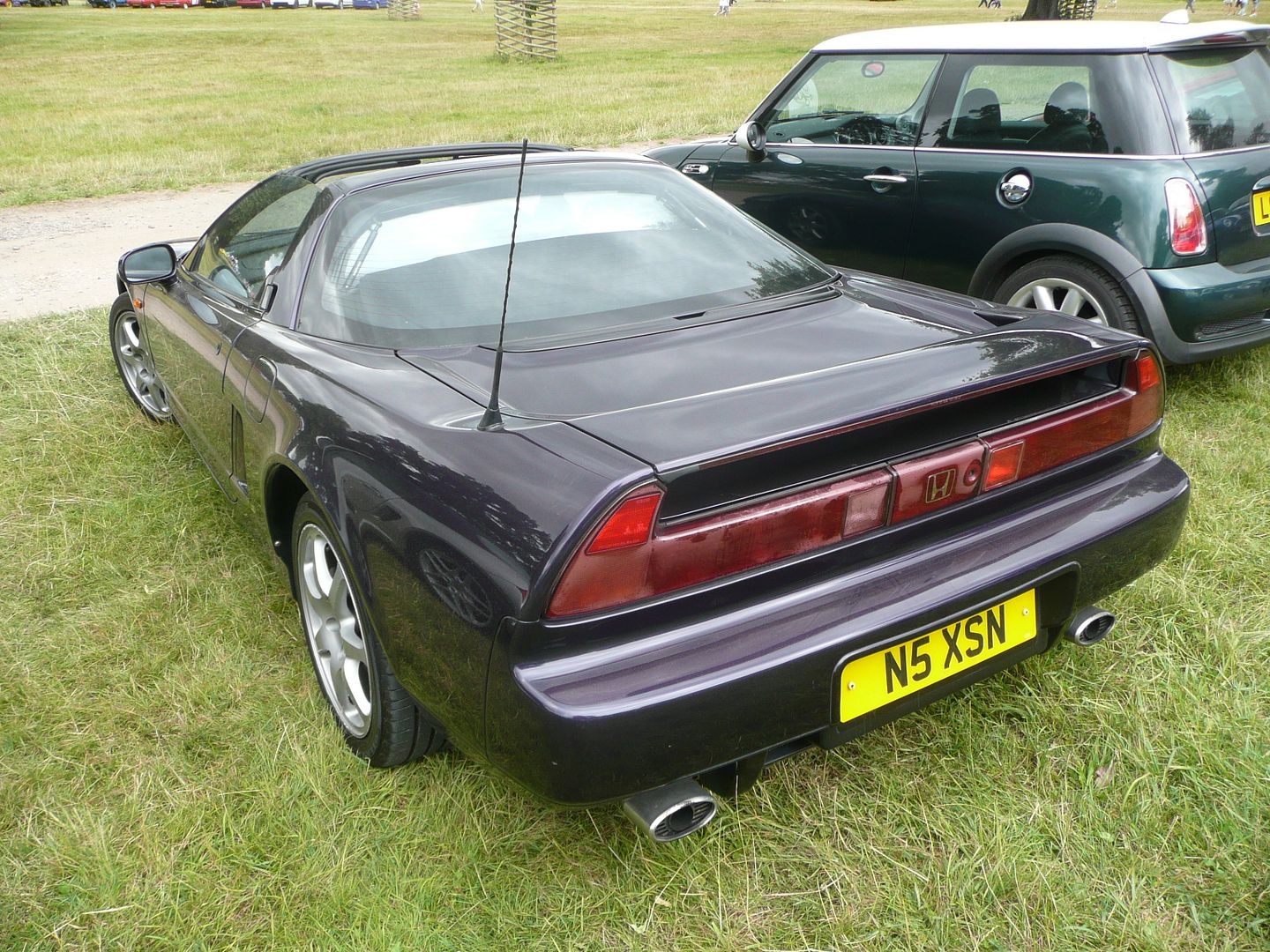 LAMBORGHINI
The bumps of the car park were no deterrent to the owners, which included a couple of Gallardo
LOTUS
Europa
McLAREN
MERCEDES-BENZ
A W114 model 230.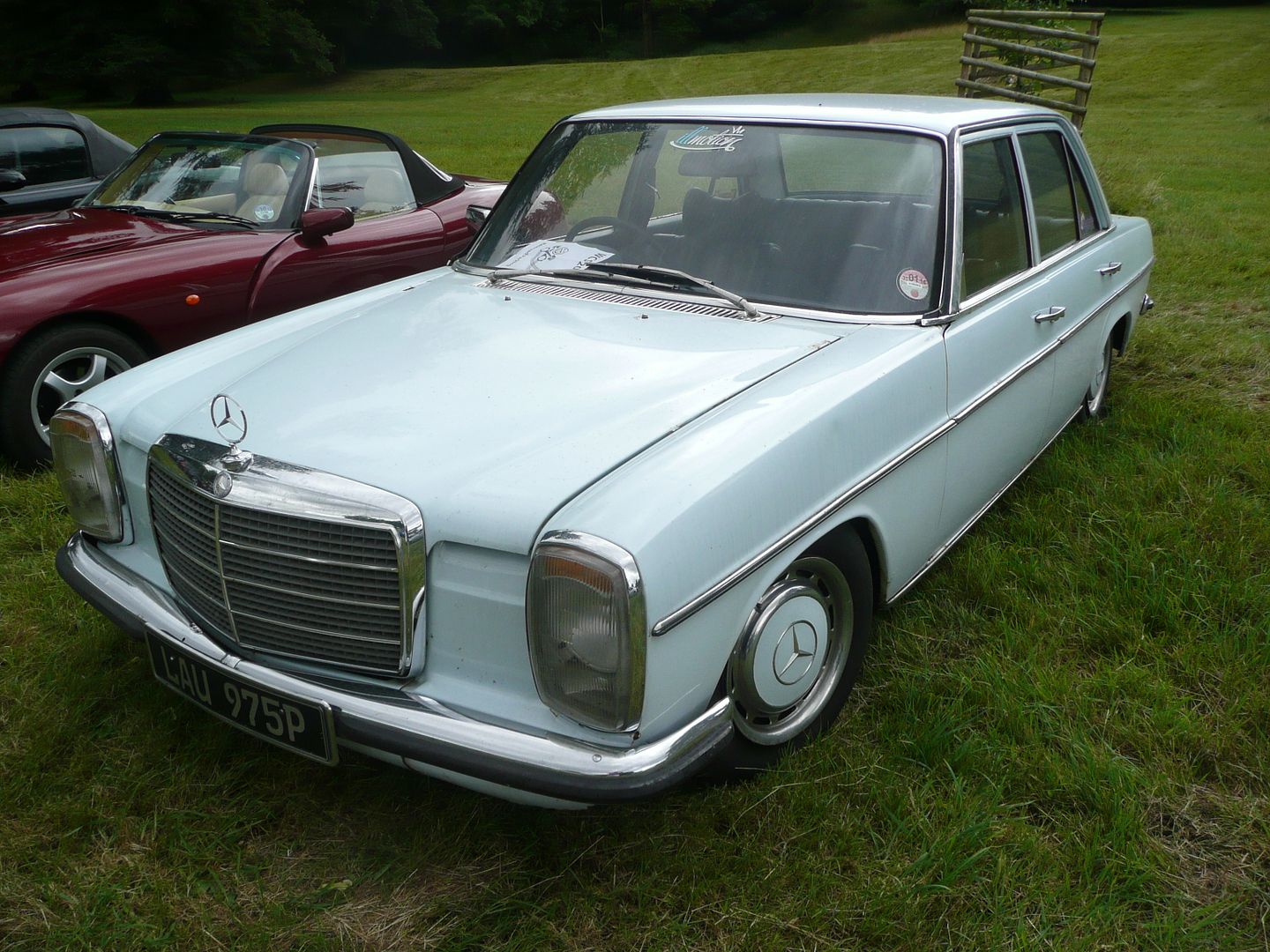 NISSAN
GT-R
NOBLE
There were a surprising number of M12 models here.
PORSCHE
Plenty of 911s of every generation.
RILEY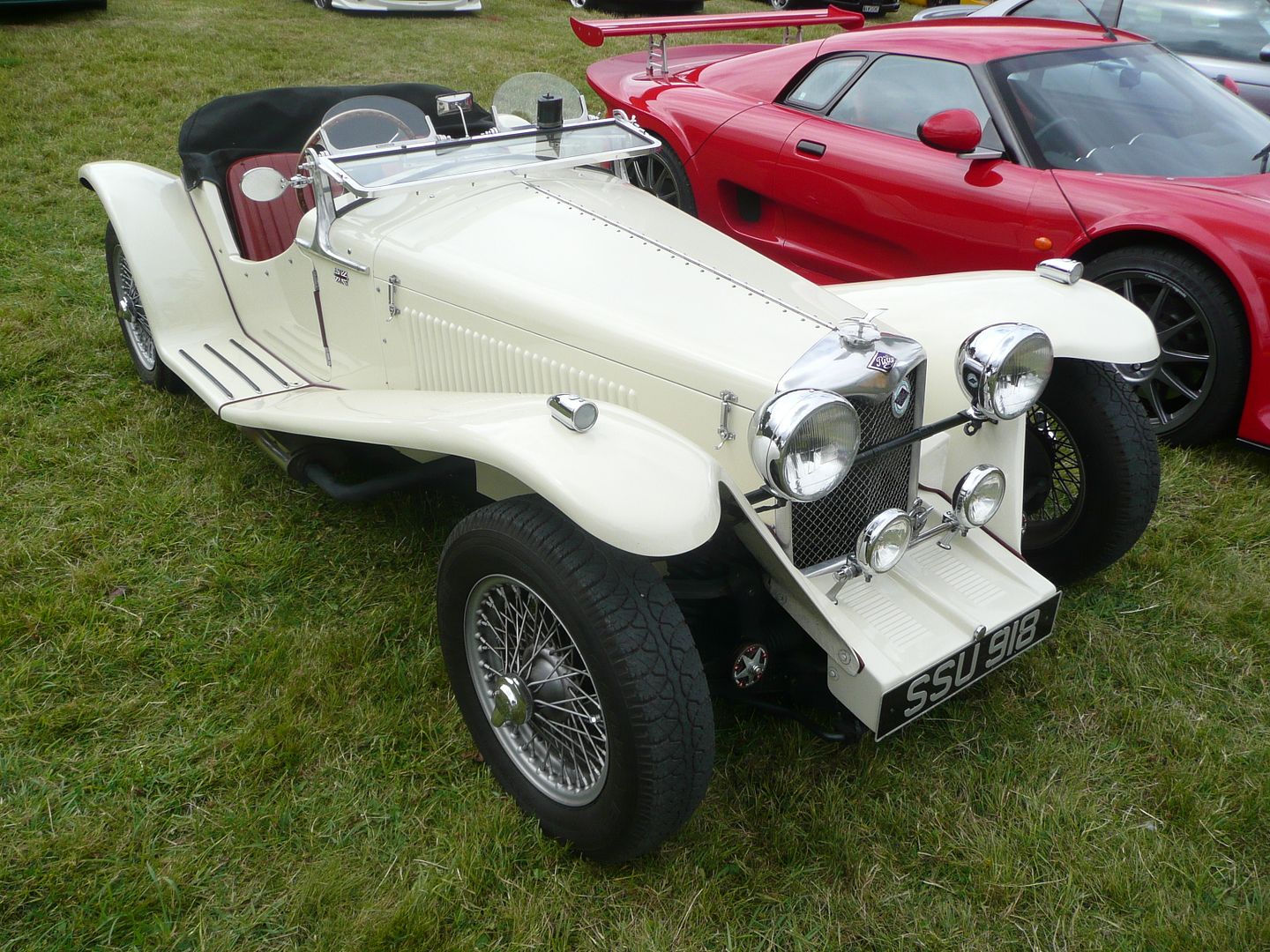 ROLLS-ROYCE
This Phantom VI was just Huge compared to almost everything else around it.
TOYOTA
Creating a lot of interest was this Celica GT Liftback. Styled to look like a mini-Mustang, these cars were quite popular in the 1970s, but survivors are rare.
TRIUMPH
Magenta is one of the rarer period colours for theTR6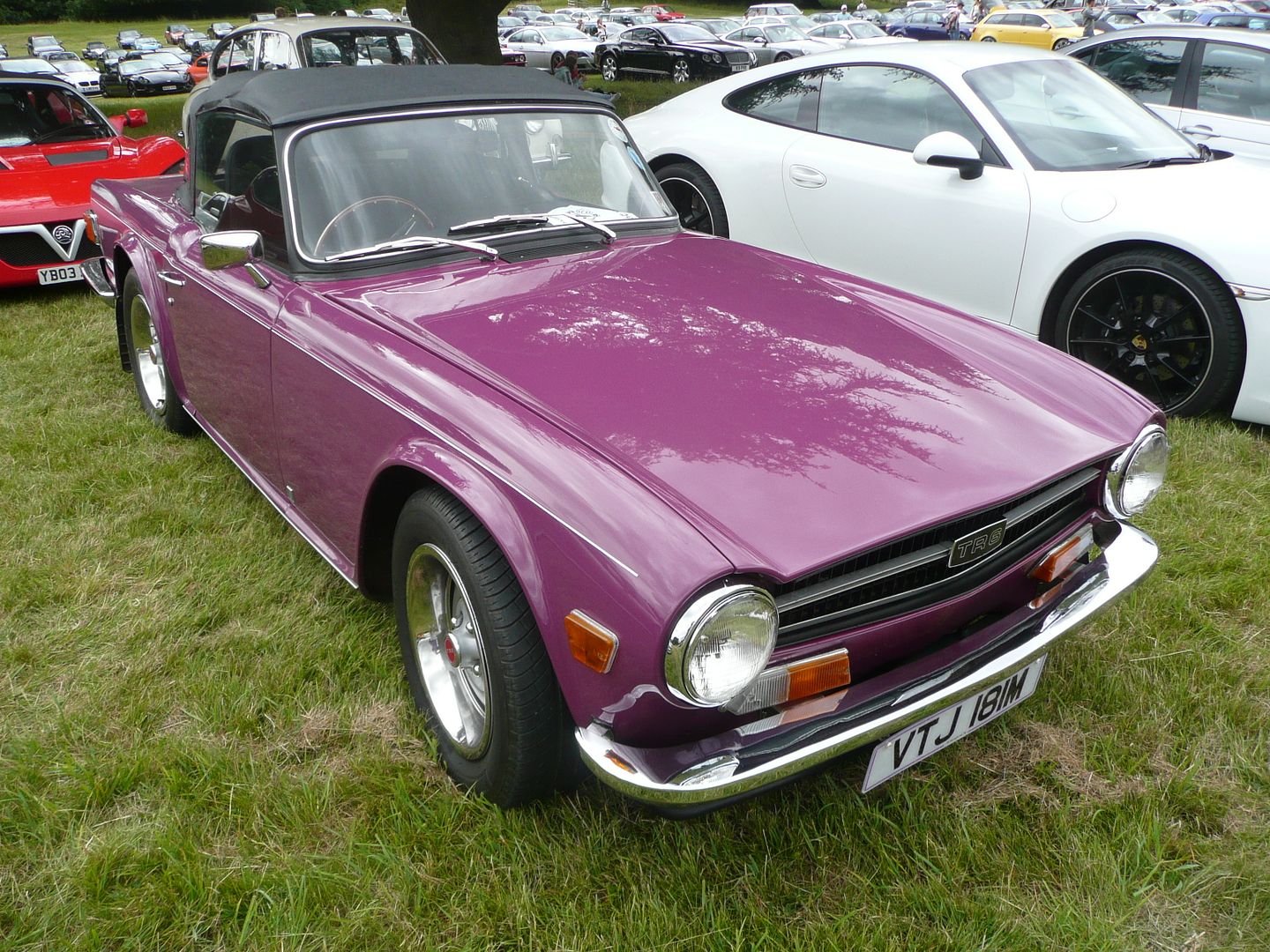 TVR
No surprise that there were lots of TVR in this part of the car park! As ever, with their dramatic styling and varied palette of colours in which they are presented, they make for a striking sight indeed.
Looking at the pictures from previous years, I think this event, like so many in 2012, was not as strong as previous years, with many doubtless frightened off by the weather prospects. Nevertheless, it was still an excellent day out, and although I had to foresake other attractions, I have no regrets in giving this one priority.  Definitely one for the diary for 2013.