Although it could be the case that I am not looking in the right places, and my personal enthusiasms colour the events I look for, it would seem to be the case that there are more events with an Italian car theme in the UK than from the other major car "producing" nations. As they all seem to be well attended, it is evidently not just me that loves the automotive products from that country. Aside from the national events made popular by Phil Ward and Auto Italia magazine, and the activities of the various Owners Clubs, there are some regional meetings, too. One of the longer running of these takes place in the Midlands, and is called MITCAR. This particular event moves that swathe of the central part of England, usually located in a venue such as a stately home or country park, to give something more than just an array of beautiful machinery to look at, though given the number of cars that attend, by the time you have admired them all and chatted to a few people, the day does seem to have all but shot by. For 2013, Hardwick Hall, a National Trust property situated a couple of miles off the M1, just outside Chesterfield was selected. Although calling this "the Midlands" is stretching a point a little, perhaps, it turned out to be an excellent venue. Easy to access, and with plenty of space for the vast number of cars which arrived, many no doubt encouraged by the forecast for a lovely sunny day. There were an awful lot of people simply visiting the Hall and Gardens, and they also got the unexpected treat of around 200 lovely cars to look at, were they interested. Some clearly were and others were not. I never did get beyond the cars to see the Hall, though, as there was so much, and so many people to divert me all day. Here are the highlights:
ABARTH
With over 20 Abarthisti, and a few more cars parked up with the Fiat Forum, this was a good turn out, and it was pleasing to meet some new members, several of whom had only recently acquired their cars. Almost all of the Abarths were 500 or 595 models, with only a couple of Puntos.
The only classic Abarth was a 124 Spider parked up with the Fiat Forum.
ALFA ROMEO
The event includes a rather informal set of competitions with prizes, and I have to say that judging and picking a winner in almost all the categories must be very hard indeed, with many potential winners. There is a rule that a previous winner cannot win again, so that may have helped the judges a bit. Their pick for the "best car of the day" went to this gorgeous Alfa GT Junior Zagato.
Whilst the Junior Zagato was very nice indeed, it may not have been the top prize winner if I had been allowed casting vote. Contenders would have included every single one of the AlfaSuds on display, of which there were several. The black Series Ti did win another prize, but it was the red cars that took my eye, even if I have seen several of them before.
Another potential top contender would have to be this fabulous Giulia Sprint GTC. 1000 of these cars were made in 1964/5 and so they are very rare. There are a few in the UK, and to my mind they are even better looking than the Coupe, especially with the roof down on a sunny day such as this one.
There were plenty of those 105 series Giulia Sprint GT and later GTV cars, too.
There were several of the long-lived Spider that was based on the 105 series as well.
Oldest Alfa of the day could also lay the claim to being one of the nicest. This is a Giulietta Spider (not a Giulia, as I can now readily tell, as it lacks the raised bonnet).  It was joined later in the day by the Sprint Coupe version. Bellissima!
No Alfetta Berlina models, but there were a few of the very pretty GTV models, all of them from later in the production run, with their larger plastic bumpers.
Dating from the same time were the smaller Sprint cars, based on the AlfaSud and there were a pair of these.
There was a lone 33, a facelift car.
The 75 was much better represented, with several of the last (for now, if the rumours are to be believed) rear wheel drive Alfa.
Its replacement, the 155, was also in evidence.
There was one of the still controversially styled SZ cars present.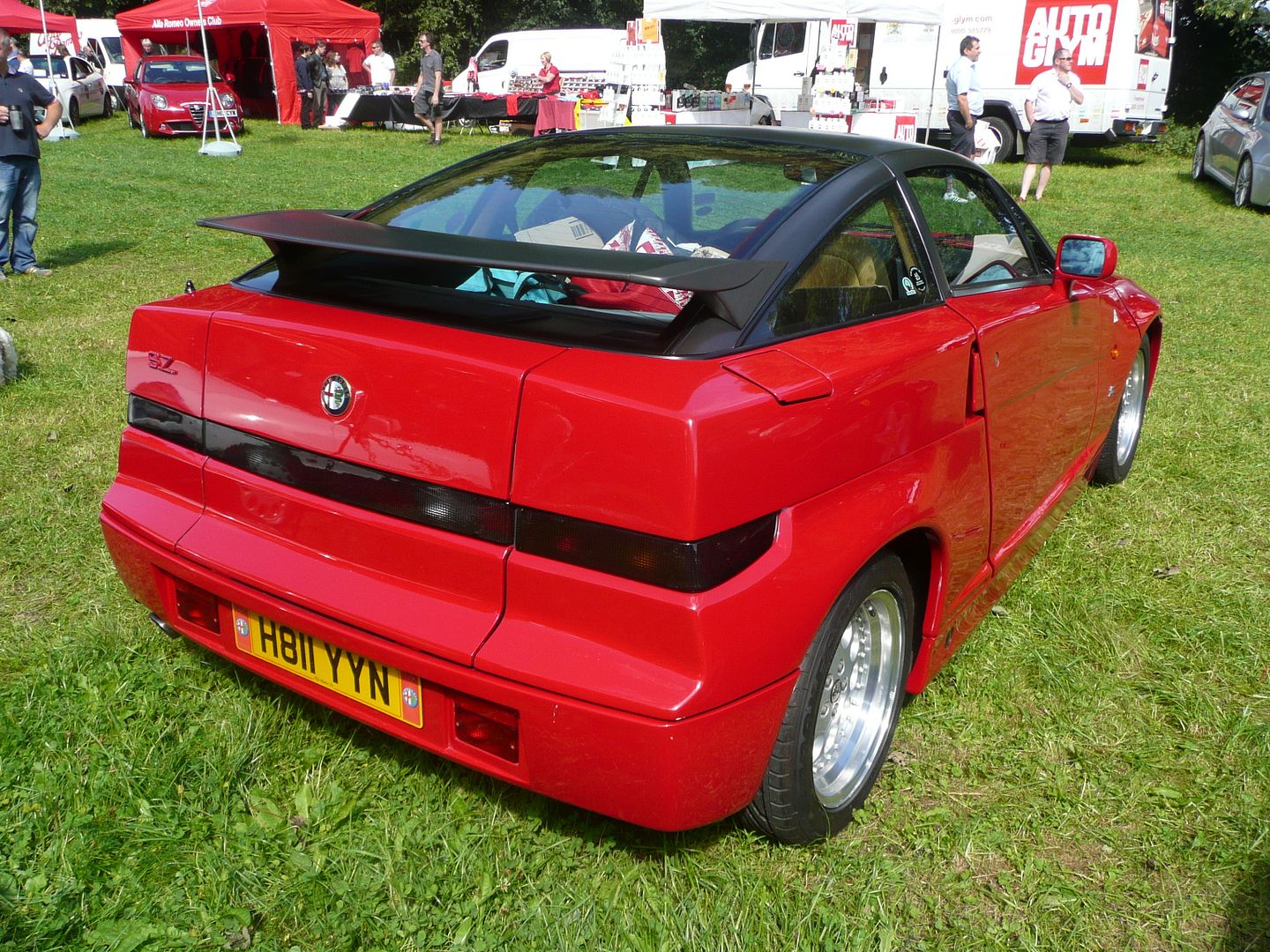 Prices for the 916 series GTV and Spider are currently very low. Surely it cannot be long before these cars start to go up in value? There were lots of them here, with examples of early cars and the subtle and then more obvious facelifts that were applied during the production run.
The 916 series cars were replaced by a combination of the GT and the Brera/Spider and all were well represented. I still think the GT was a particularly elegant car, and preferable to the Brera in so many ways.
There was one 164, which eluded the camera, as did the pair of 166s, and just a few 156s and 147s representing the staples of Alfa's range in the 1990s and early 2000s.
With the 159 out of production now for a couple of years, these cars are already starting to acquire minor cult status. Lovely looking, even if they were ultimately a bit of a dynamic disappointment thanks to that far too heavy platform and the lamentable GM V6 unit under the bonnet of some of them.
The current Giulietta has been on sale for 3 years now, and it has clearly earned its spurs among Alfa Owners, with plenty of them on show.
There were also a few of the smaller MiTo to round off matters Alfa.
CLAN
What is this doing here, you ,may ask? Well, this is one of the second batch of Crusaders, and instead of the original Imp engine, this one had AlfaSud power. So it sort of qualifies. Ish.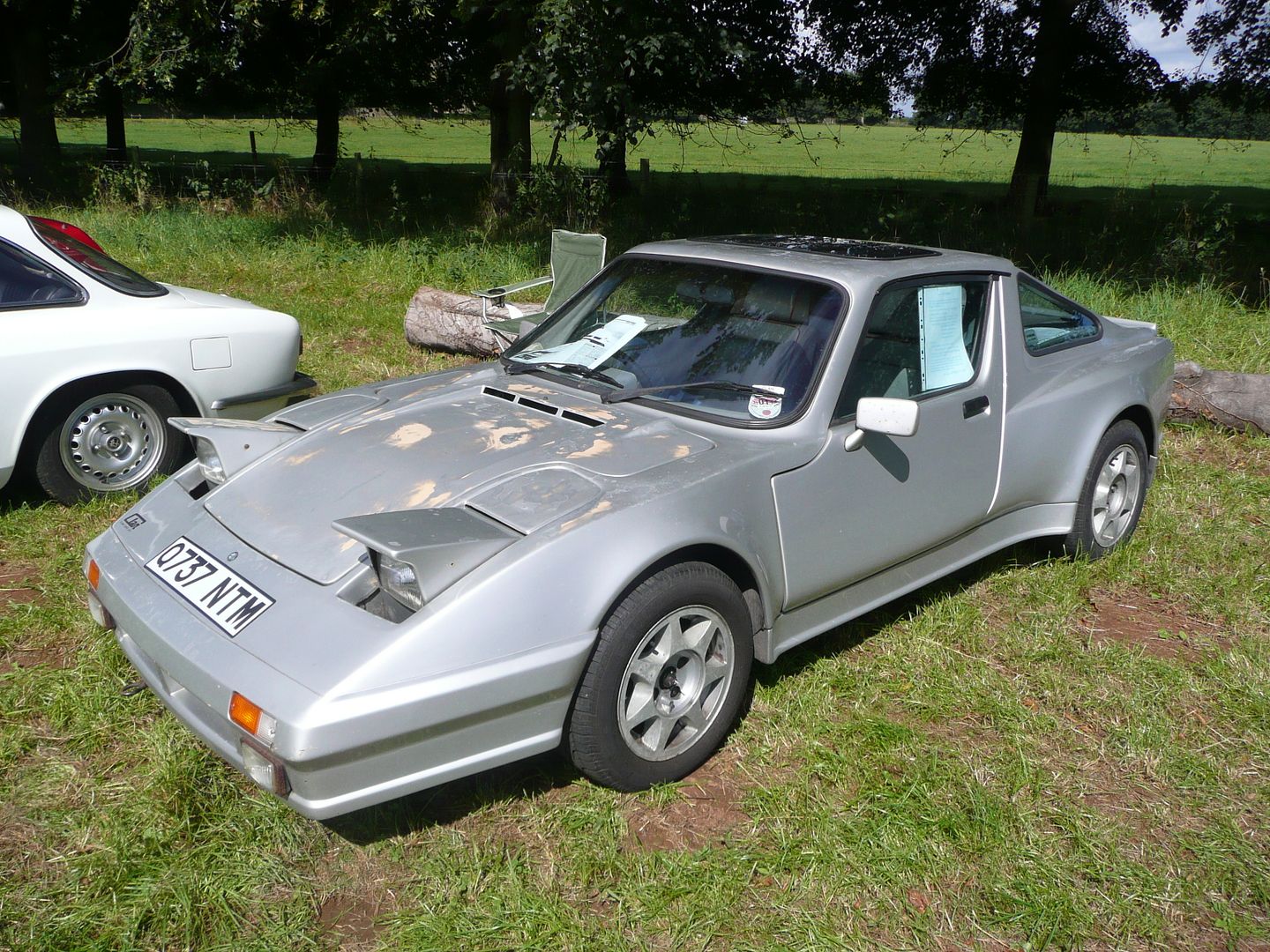 FERRARI
For a while it looked as if there were not going to be any Ferrari present at all, which was disappointing given that it was not raining (we know that Ferrari owners seem to eschew events when it rains!), but then a convoy arrived mid morning. All were 8 cylnder cars, ranging from a couple of 308 GTBs to the F355 generation, with a Mondial Convertible making a brief appearance a bit later on.
FIAT
By contrast, the Fiat Forum had a huge presence, probably getting close to the number of Alfas at the event. A few of their members have Abarth models, and so these were parked up among their midst (but illustrated in this report under the Abarth heading), and then there was an array of all sorts of different models from the past 40 years or so of Fiat production. Among them was a car that the organisers awarded a prize for "rarest car of the day". This went to a Pininfarina Europa 2000, the name used for the final years of production of the 124 Spider.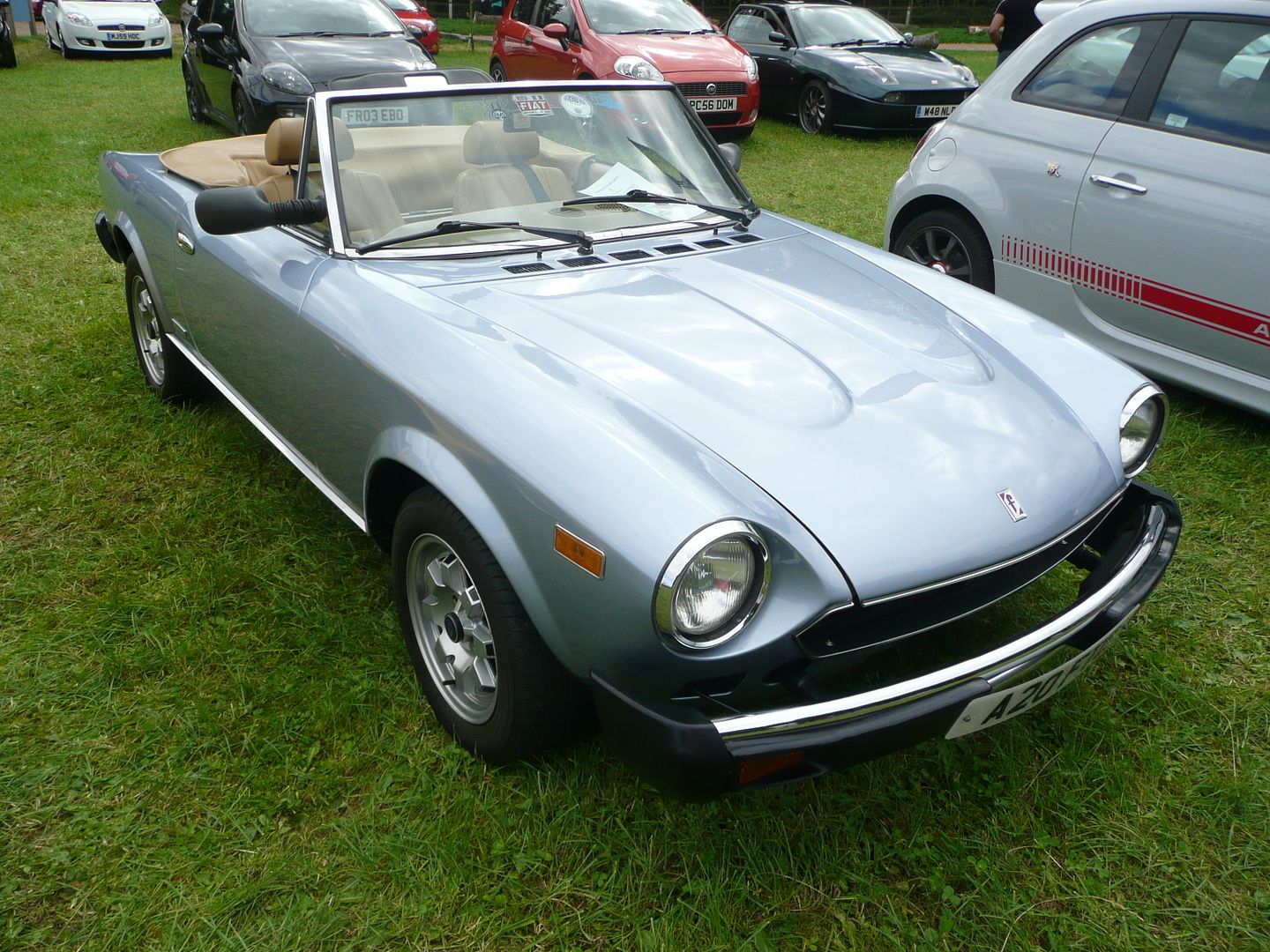 Prize for best Fiat of the day went to a lovely X1/9 Gran Finale, which was one of a trio of this small sports car present.
The first generation Panda would appear now to have quite a following, and there were several of these, ranging from a regular 45 to a number of variants of the popular 4×4 model, one of which arrived towing a bare metal shell of another one.
Of course the Nuova 500 entered the hearts of many a long time ago, and there were a number of these cheeky little machines on show.
There were three Strada cars: two were the fiery 130TC Abarth and the final one was a SuperStrada Cabrio.
There were lone examples of the 131 Mirafiori, the Uno and the facelifted version of the first type Croma.
The popular Coupe was present, but not in significant number.
More recent Fiats covered many. but by no means all of the different models, ranging from a 3 door Stilo to the latest Panda, Punto and 500 cars.
LANCIA
Whilst it was not perhaps that unexpected that the high end supercars were not well represented at an event like this, it was perhaps a surprise that there were not many Lancia models on show. First to arrive was one of the latest Delta models, complete with Chrysler badging, but it was soon joined by "real" Lancia cars, with a couple of Beta Coupe models.
The duo of Fulvia Coupe seemed to be the ones that everyone liked and one of these won prize for Lancia of the Day.
Rarer models were a Y10 GT and a Dedra Turbo.
Final Lancia was this Stratos recreation.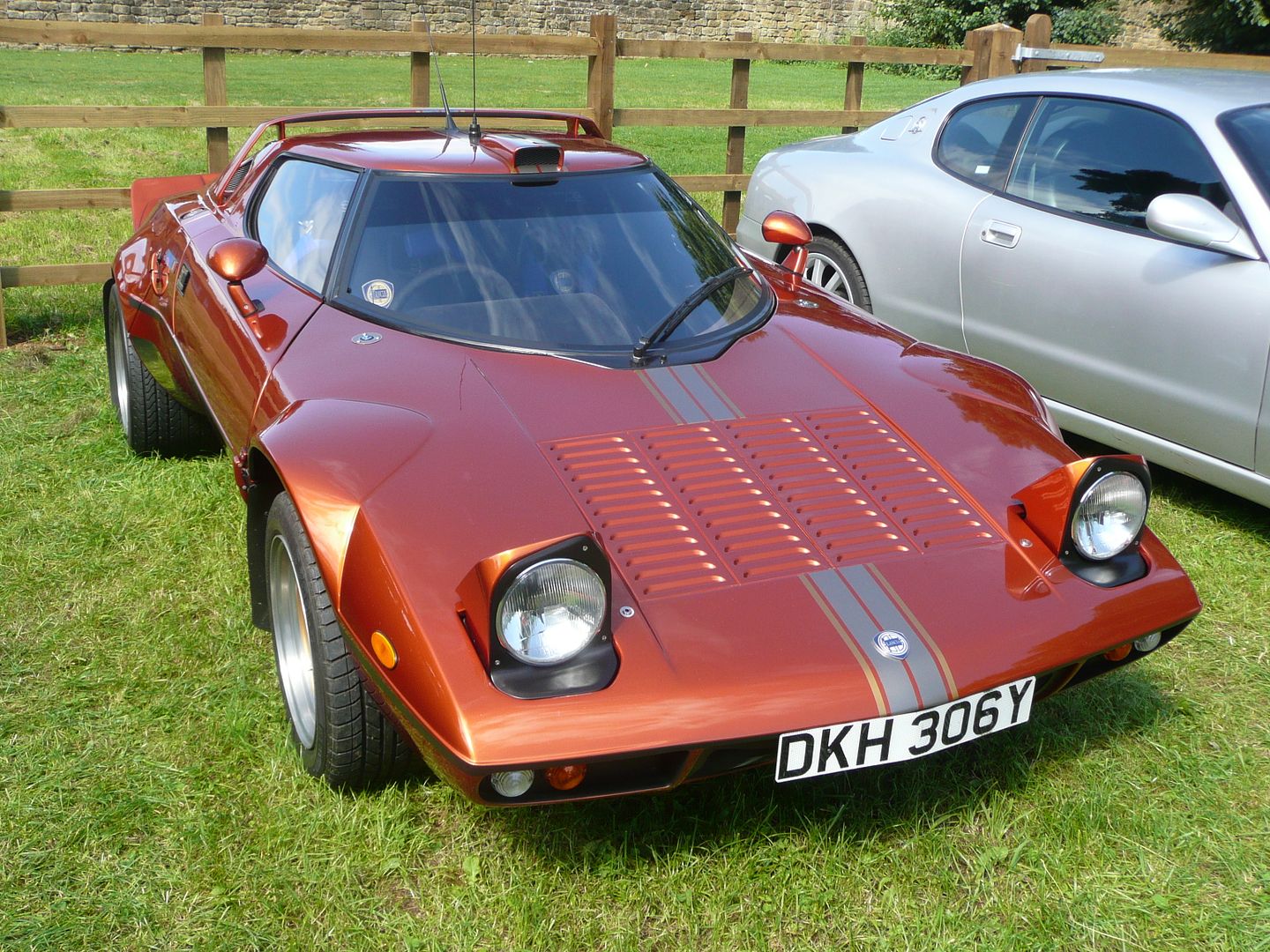 MASERATI
There were more Maserati than Ferrari. Just. Most of them were from the 3200/4200 GT generation, with a couple of the successor to that car also present.
Oldest Maserati was a third generation Quattroporte.
With prizes handed out, people started to depart around 3:30pm, as did I. having enjoyed the event immensely. Details of MITCAR 2014 probably will not become available until next spring, but I do know that the plan is that it will be a lot further south than this one. Closer to home, then there will be even more reason to put it in the diary.