Although there are still quite notable differences in the sales success of the different cars offered to European buyers, the range of models actually offered does not vary that much from country to country. And this has been the case for the past 30 years or so, but wind the clock back a bit further and there were far more differences between each of the major markets. So, as I discovered a few years ago, attending a Classic Car show in a country other than the UK is likely to present you with an array of models on display which are either rare in the UK, or in many cases, which were never sold in the UK and so are cars that you have never seen. Accordingly, I have enjoyed going to some of the larger and renowned events in France, Germany, Italy and Spain in recent times. The longest running Classic Car show in Spain (or Cataluyna, if you believe the locals!) has been going for 30 years now, and is the Auto Retro held at the Firra at the foot of the Mountjuic in Barcelona in early December. I've been a couple of times before, but when I found a cheap flight and a cheap hotel (with an expensive car park, as I was to find out!), the attraction of the event and the potential for some winter sunshine was so appealing that I booked up right away. And yes, as will be evident from this report, there are plenty of cars that you simply would not see in the UK, and not many of the ones that you would, along with a few which I had never seen in the metal ever before. Combine that with the sunny weather that prevailed and the attractions of the city, and this was a very enjoyable trip.
As well as a static display spread across a number of halls of the Exhibition Centre, the entire forecourt in front of the halls is used for a mixture of display cars and some that are marked up for sale. To one side, there is a mobile test centre for the Certio, the Spanish equivalent of the MoT test, and there are always a number of everyday "youngtimers" queued up to get their new test ticket. This year, the American Car Club of Cataluyna had brought along an extensive collection of cars which were attracting a lot of attention. That meant that there was huge variety in what was on show, as will be evident in this report. .
ABARTH
With a ready supply of Seat 600 models, there have been a lot of "Abarths" created in Spain in recent years following the renaissance of the brand and the explosion in value of the original cars. In previous years there have been plenty of what looked like 850 and 1000TC models at this event, but this time, there appeared only to be one.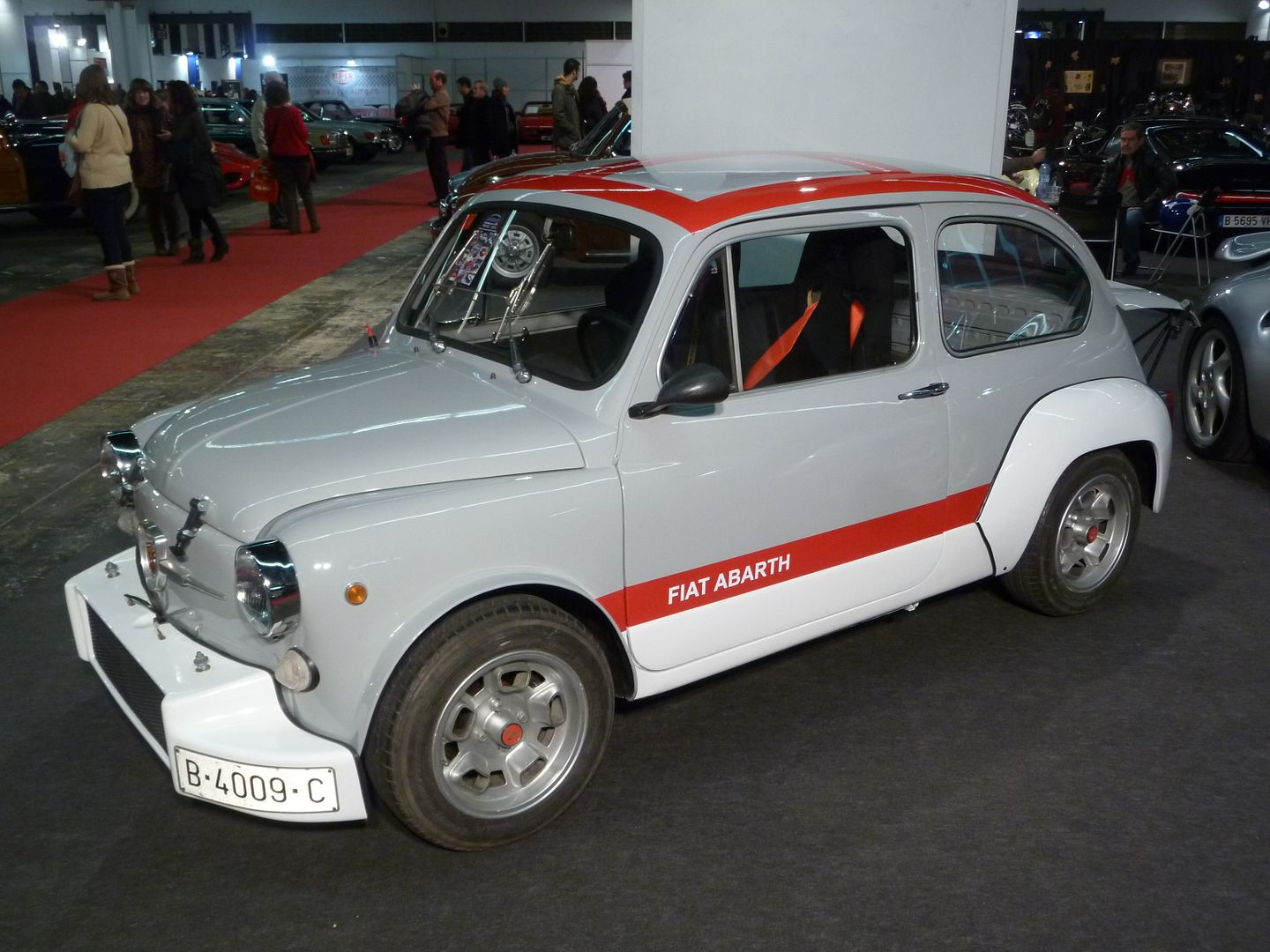 There was also an 850 model, purporting  to be an OT1000, but I strongly suspect it was just a tarted up 850 Saloon.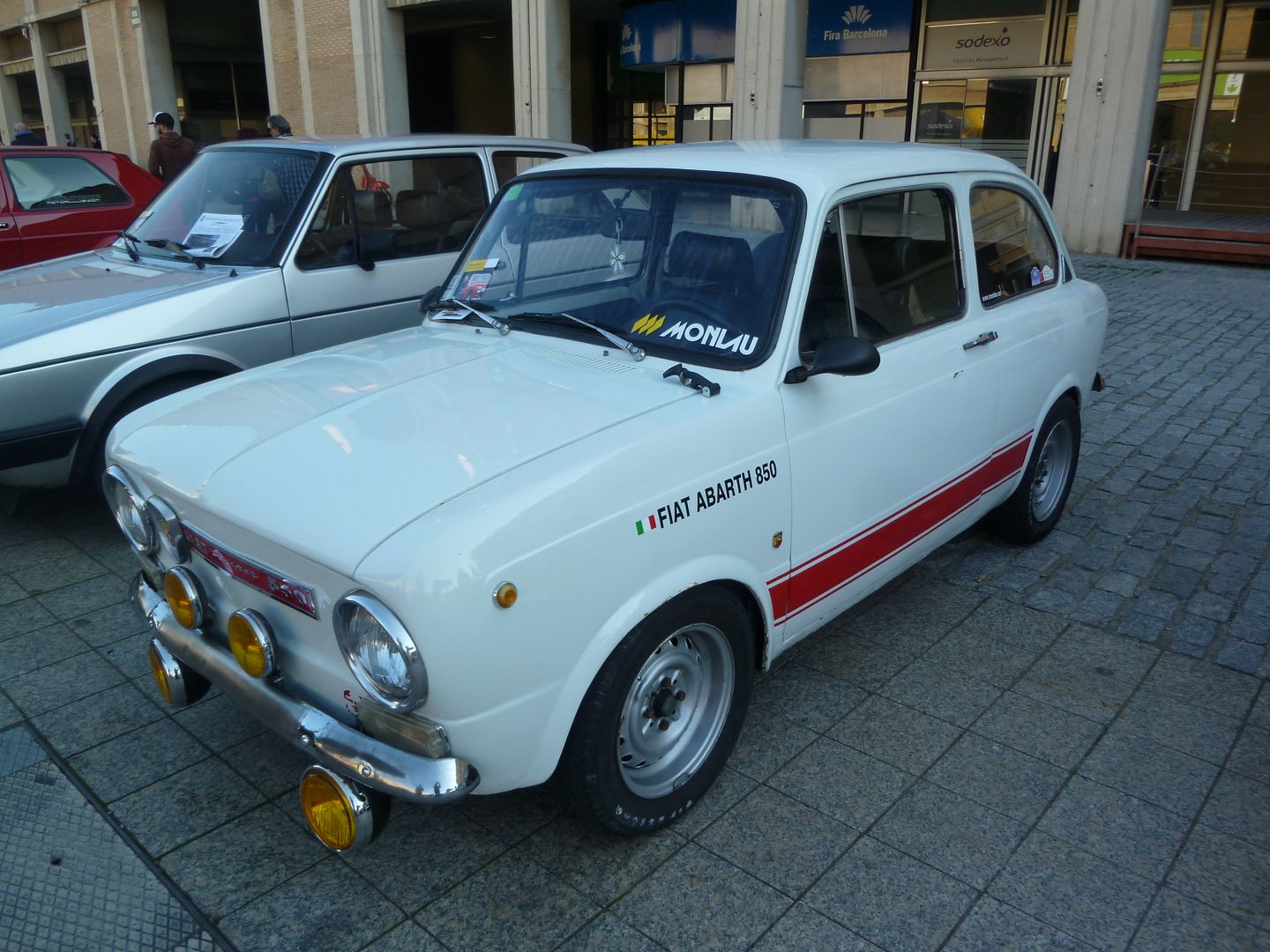 No questions over this one, though, from the modern range of Abarths.
ALFA ROMEO
This is an early 105 Series Giulia GT, with the "step front" grille.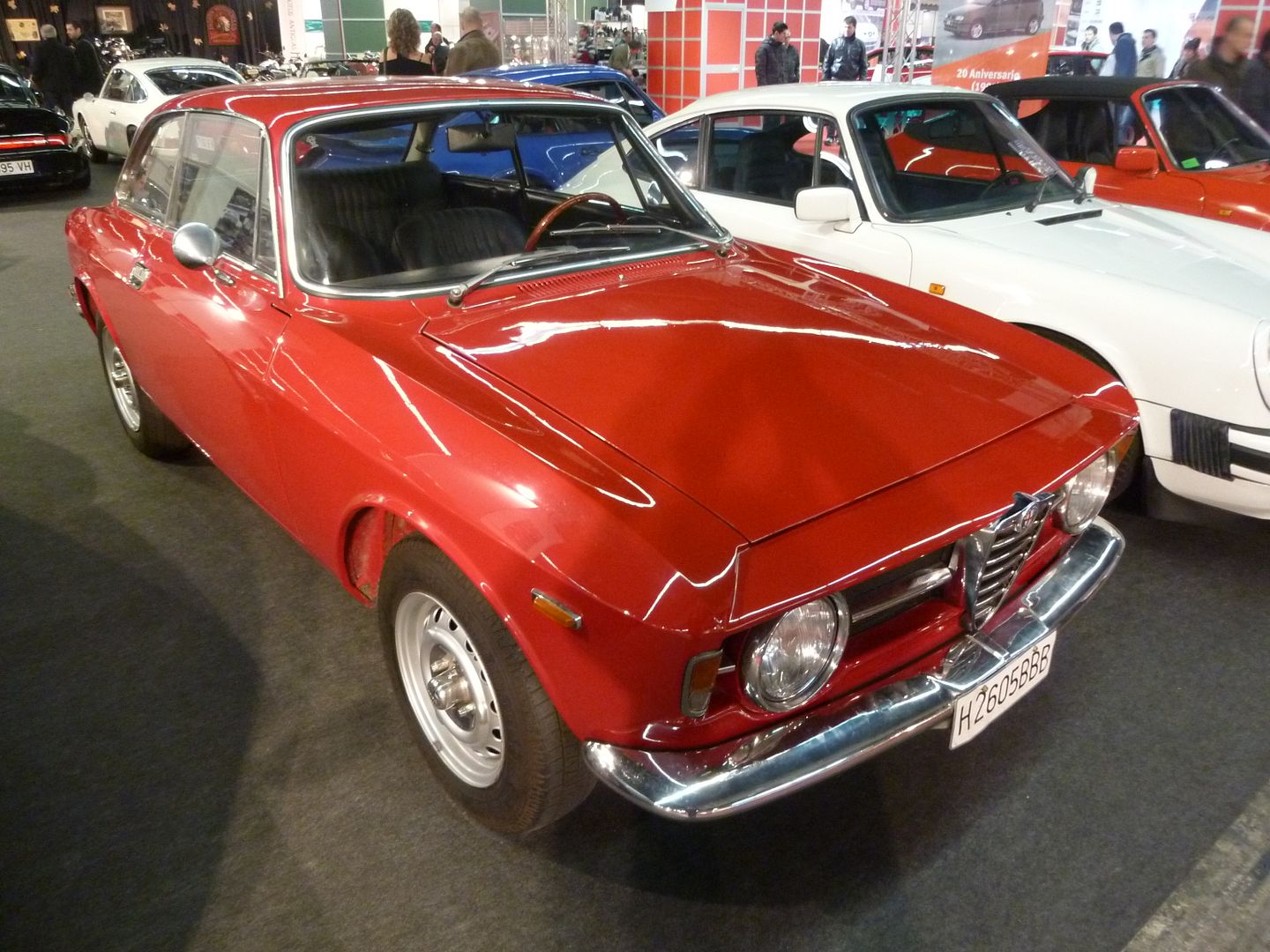 Even prettier, to my eyes at least, is this 101 series Giulietta Sprint.
Pretty is perhaps not the first word that many would think of when seeing an SZ, unless it were prefaced by a negative, but there is no denying that the car nicknamed "Il Mostro" attracts lots of attention whenever it is presented.
A duo of Alfetta GT models showed how the purity of styling and detailing of the early cars was altered when the plastic bumpers were added in the 1981 facelift. Even the later cars look good, but I think I prefer the earlier ones.
More recent Alfa included a second generation 33 and a late model 75
This imposing Alfa Saloon bore no badging or labelling, so I am not exactly sure what it is. I would guess that it would be based in the RL of the early 1920s, and as was common at the time, was fitted with a coachbuilt body, creating a saloon.
ASTON-MARTIN
1936 15/98.
AUBURN
A well known US model from the 1930s, the 851 Speedster.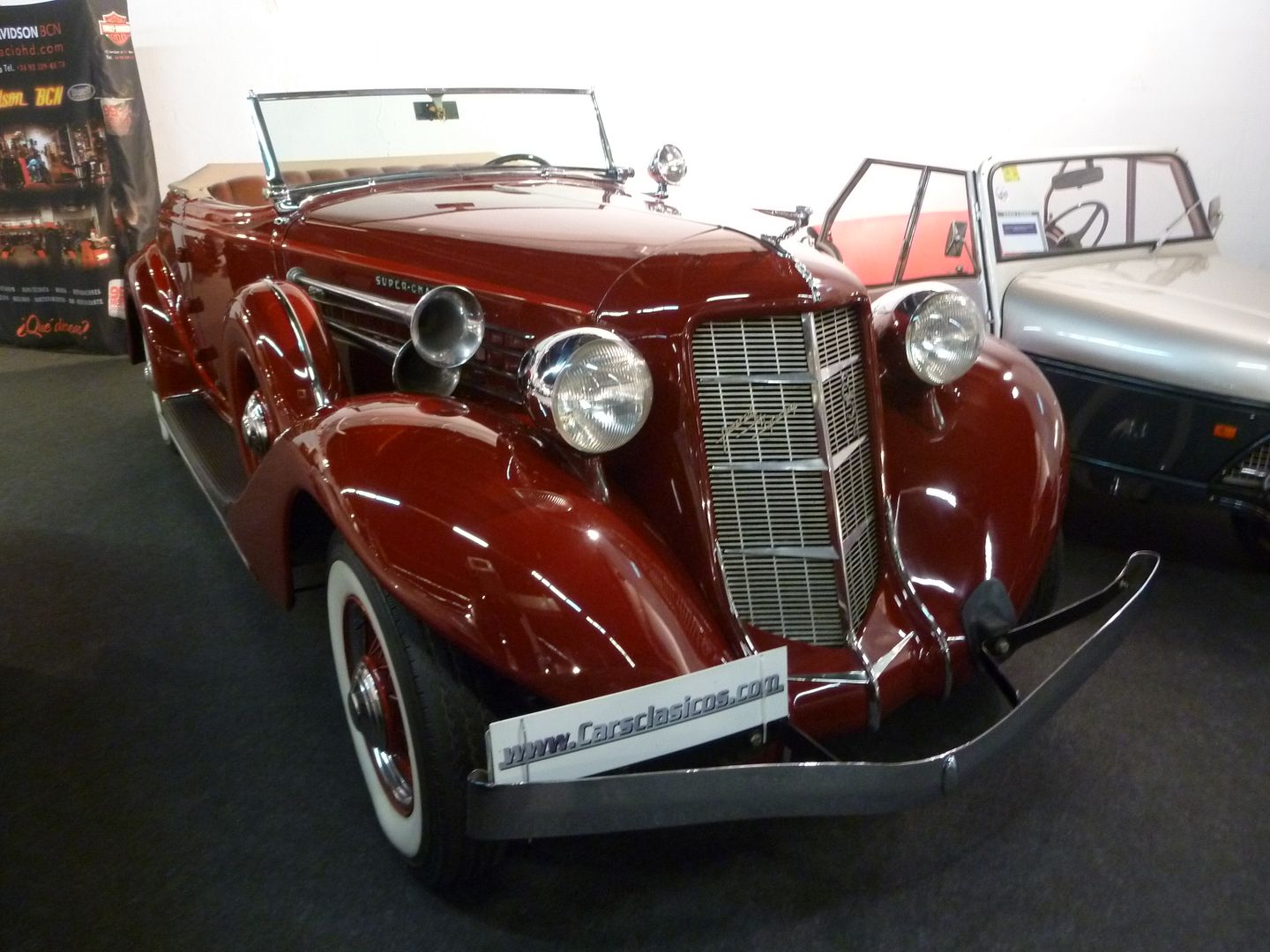 AUSTIN
Seeing this car was a real highlight of the event. Few will even have heard of it, and may even look at the pictures trying to figure why it does not quite look right for a Triumph Dolomite. It is actually an Austin Victoria, a Spanish built car that was based on the familiar ADO16 1100/1300 chassis, though to look at from the outside, and even from the inside., you would never really know. I've never seen one before, and this one was in remarkable condition. I have to say that if BL had built this rather the Allegro, things may have been very different for them, as I found the styling attractive, and the car appeared to be particularly spacious inside.
I don't know whether this FX3 taxi ever saw service as a taxi in Spain, but it certainly looked smart.
Rather older than these was a late model Seven.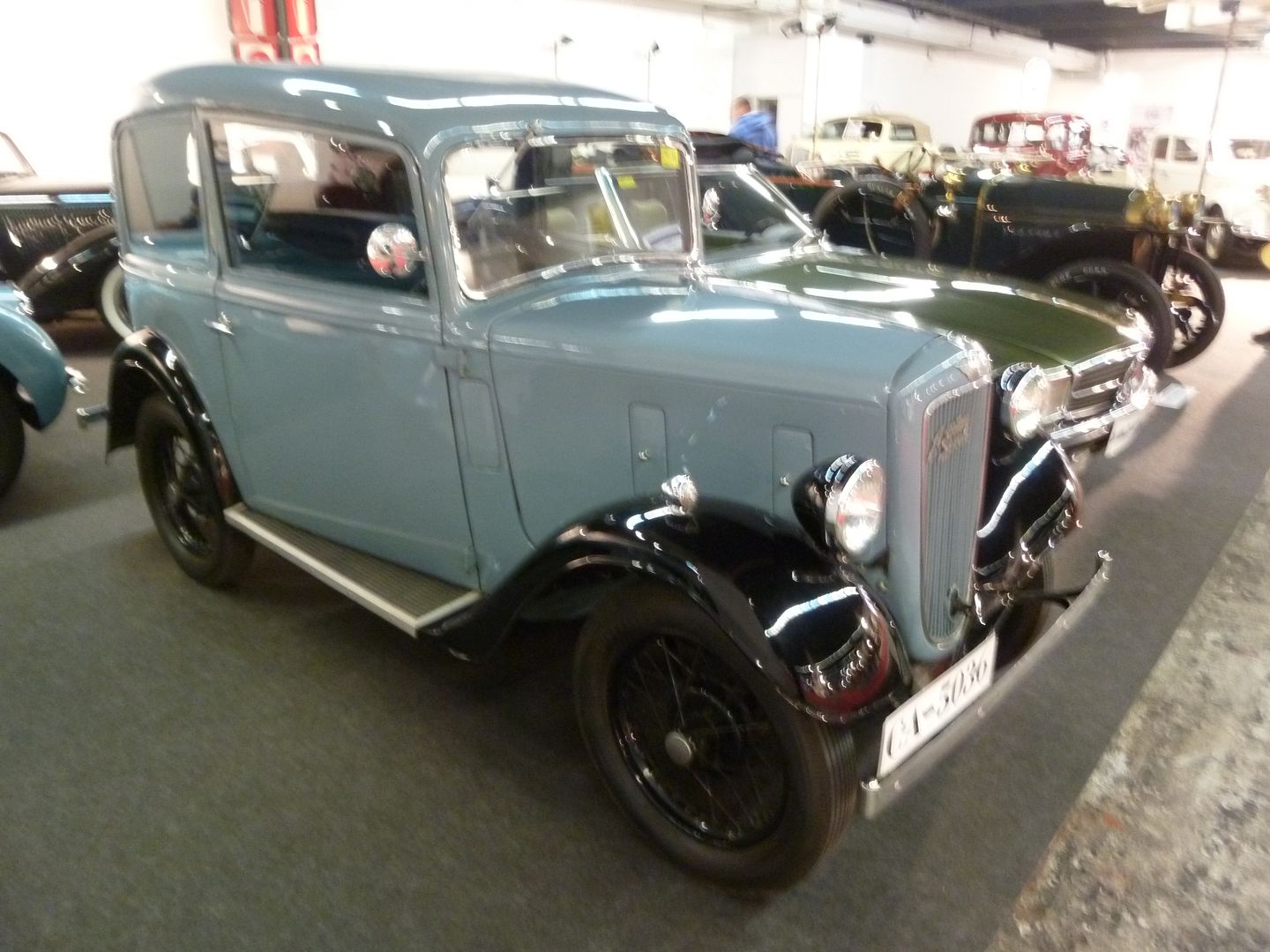 AUSTIN-HEALEY
This rather brightly hued Sprite was joined by a number of Big Healey models.
BISCUTER
I've only ever seen these Spanish microcars at this event. As in most other markets where cars like this were sold in the early 1950s when a generation of affordable small cars – in Spain's case, the Seat 600, came along, they were killed off petty quickly as no-one really wanted them when they could afford something bigger, safer and better.
BMW
Nice to see a 2002 Touring. Few of these were built, as back in the day, the concept of a sports hatchback was probably more than a few years ahead of its time. And yes, there is a Z1 in the background, and to my eternal shame, there are no pictures of it.
Also wonderful was this pristine E30 M3 car.
CADILLAC
One of the largest cars on show was this pair of Eldorado Convertibles, from the mid 1960s and early 1970s.
Equally striking, but for different reasons, was this late 1930s model.
CHEVROLET
One of the most attention grabbing Chevrolets was this 1959 Impala, from the year that the fins reached their most extreme. There are a myriad of details on this car which would give safety-conscious assessors apoplexy, but the end result has huge appeal to many people now as a fabulous period piece.
Believe it or not, the 1977 Caprice was smaller than its predecessor. Even so, this Wagon is absolutely massive.
In honour of the 60th anniversary of the Corvette, there were quite a number of these cars on show, representing each of the 6 distinct generations that have been offered to date.
The latest Camaro, one of my favourite American cars of the moment, was also represented.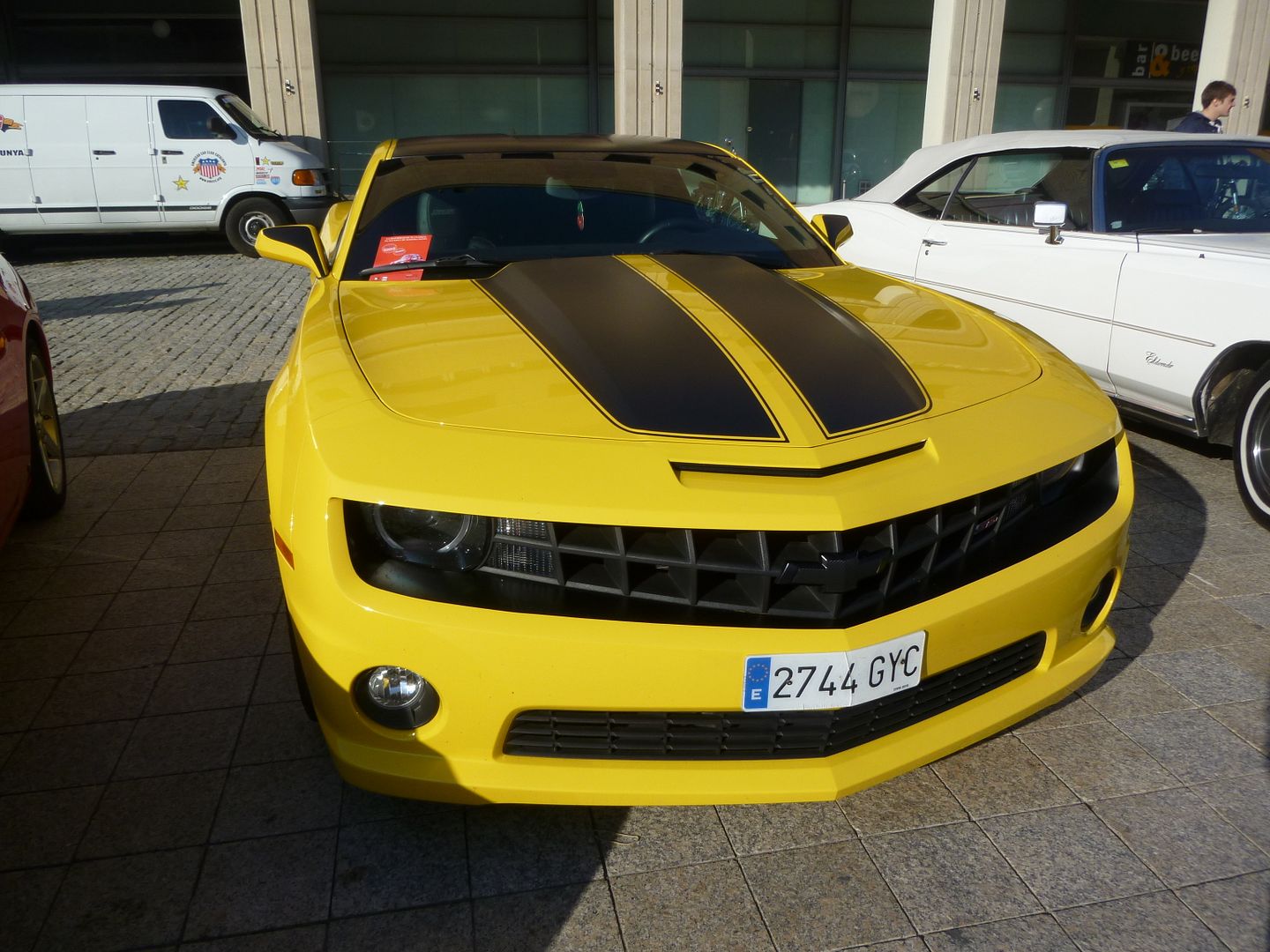 CHRYSLER
This 1948 Town and Country looks very similar to the cars that Chrysler were making before production was suspended for the war effort. These days these cars are worth a LOT of money, and not surprisingly, as they do look so cool.
By the mid 1970s, badging of the brands that were owned by the Chrysler Corp, Rootes Group models from the UK and Simca from France was converging on the Chrysler name, though this was far from universal, so the car depicted here was known as the Chrysler Alpine in the UK, the Simca 1307/108 in France and the Chrysler 150 in Spain.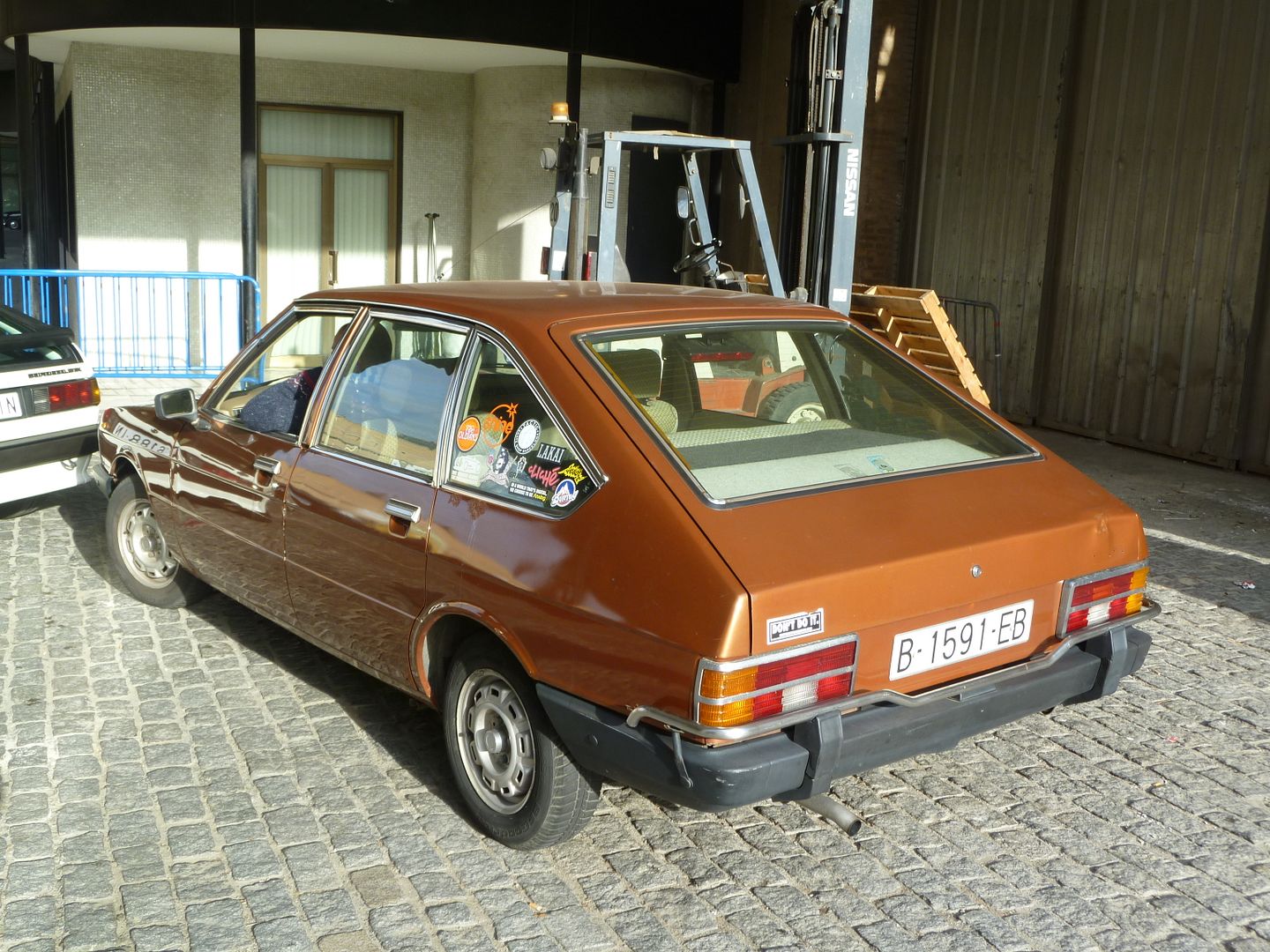 CITROEN
The oldest Citroen present were a couple of splendid Traction Avant models. This car celebrates its 80th birthday next year, so look for a number of special events.
More numerous were the 2CVs, several of which could be found queued up for their Certio test.
Sole example of the Ami at the event was this fabulous early Ami 6 model. Although now Spanish registered, there were plenty of clues to suggest that this car had spent most of its life in its native France.
Also represented by a single model was the Dyane.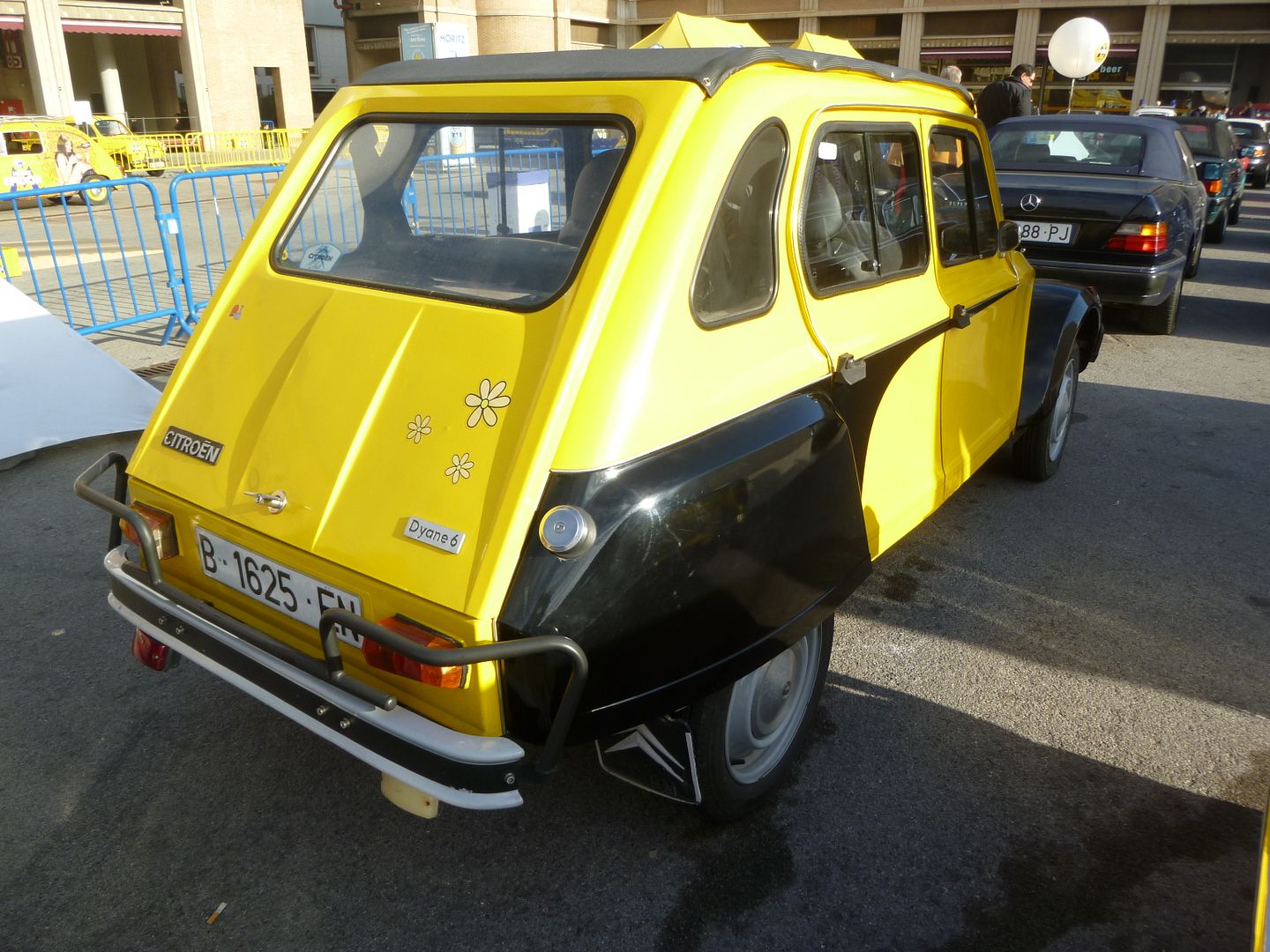 I remain a real fan of the GS models, and this is the top of the range X3 version of the GSA. Splendid!
DAVID
I can't tell you much about these, as there was not much information, even in a language I could not understand. Subsequent research has elicited that David was a Barcelona based company manufacturing cars between 1913 and 1923 and again between 1951 and 1957. The original cars, such as those on show, developed by José Maria Armangué, were all cyclecars, using either a single cylinder 6–8 hp, or four-cylinder 6–8 hp, or 10–12 hp engine; and belt and pulley transmission giving 16 speeds and featuring front wheel brakes. Bodies were usually open two-seater, but 3-seat and closed versions were also made. Cyclecar production seems to have stopped in 1923, but the company continued making taxi bodies for fitting on Citroen chassis, for which they were Spanish distributors.
DELAGE
DELAHAYE
Dating from 1948, this is one of the last Delahaye models made before the company disappeared.
DE TOMASO
Quite a contrast in the 2 De Tomaso cars on show. One was the car you probably think of when this sadly defunct marque is mentioned, the iconic Pantera.
The other was one of my favourite regrets – ie a car that never made it to the UK, but which should have done. What started out as the Bertone bodied Mini 90/120, put into production in 1974 had a chequered career, at one time featuring both Innocenti and de Tomaso badging and ceasing production with a Daihatsu 2 cylinder engine under the bonnet in lieu of the original BL A Series engine. This example was not the most pristine one, but the car is rare now, even in its native Italy, so it was a pleasure to see one here.
DODGE
Even more than was the case in Italy, cars were a luxury that many struggled to afford in Spain, especially in the Franco era, so anything large and luxurious would have been a rare sighting. There were also some very punitive import tariffs, which encouraged a number of manufacturers to set up local production or assembly operations, and slightly surprisingly, this included Dodge which is why this large Dart 3700 GT would have been affordable to someone (rich).
Slightly newer than that was a 1968 Monaco Wagon.
This is a mildly modified version of the original Challenger, dating from 1970.
Another long forgotten Catalan marque about to mark its centenary was this, Elizalde. I'd never heard of the marque,  but managed to find out a bit from that most trusty of sources, Wikipedia, who say:  Arturo Elizalde Rouvier opened a garage in Barcelona in 1909, and used it to manufacture automobile parts. He and his brother-in-law, Rafael Biada Navarro, were co-managers of the company they had formed with J. M. Vallet y Arnau, under the name "Sociedad Mercantil J. M. Vallet y Cia". Vallet provided the company with a workshop at 149 Paseo de San Juan in Barcelona. Elizalde soon received backing from the Biada brothers, who began building complete cars. The first prototype, called the Tipo 11, made its debut in July 1914. It covered the route between Barcelona, Zaragoza, Guadalajara and Madrid in 13 hours. By 1915, Alfonso XIII owned a 20cv Biada-Elizalde Cabriolet Tipo 20. A 25cv sports version of the same car was marketed, with Alfonso's blessing, as the Reine Victoria. It was claimed to be the first Spanish automobile to feature four-whee brakes. The Reine Victoria was first shown at the Salón del Automóvil de Barcelona of 1919. In 1920, the company announced production of a 19/30 cv model, the Model 29; it would have an ohv 3817cc four-cylinder engine. Similar models would be built until 1927. Elizalde caused a sensation in 1920, by beginning production of a 50/60cv straight-eight known as the Tipo 48 – one of the first cars in this configuration to go into production. Its 8143cc power unit had four valves per cylinder and incorporated a tyre pump. This pump doubled as a vacuum cleaner to be used on the car's interior. A 5181 cc straight-eight Gran Sport version of this model, capable of reaching 160 km/h (99 mph), was also offered. In addition to producing cars, Elizalde built trucks and aircraft engines.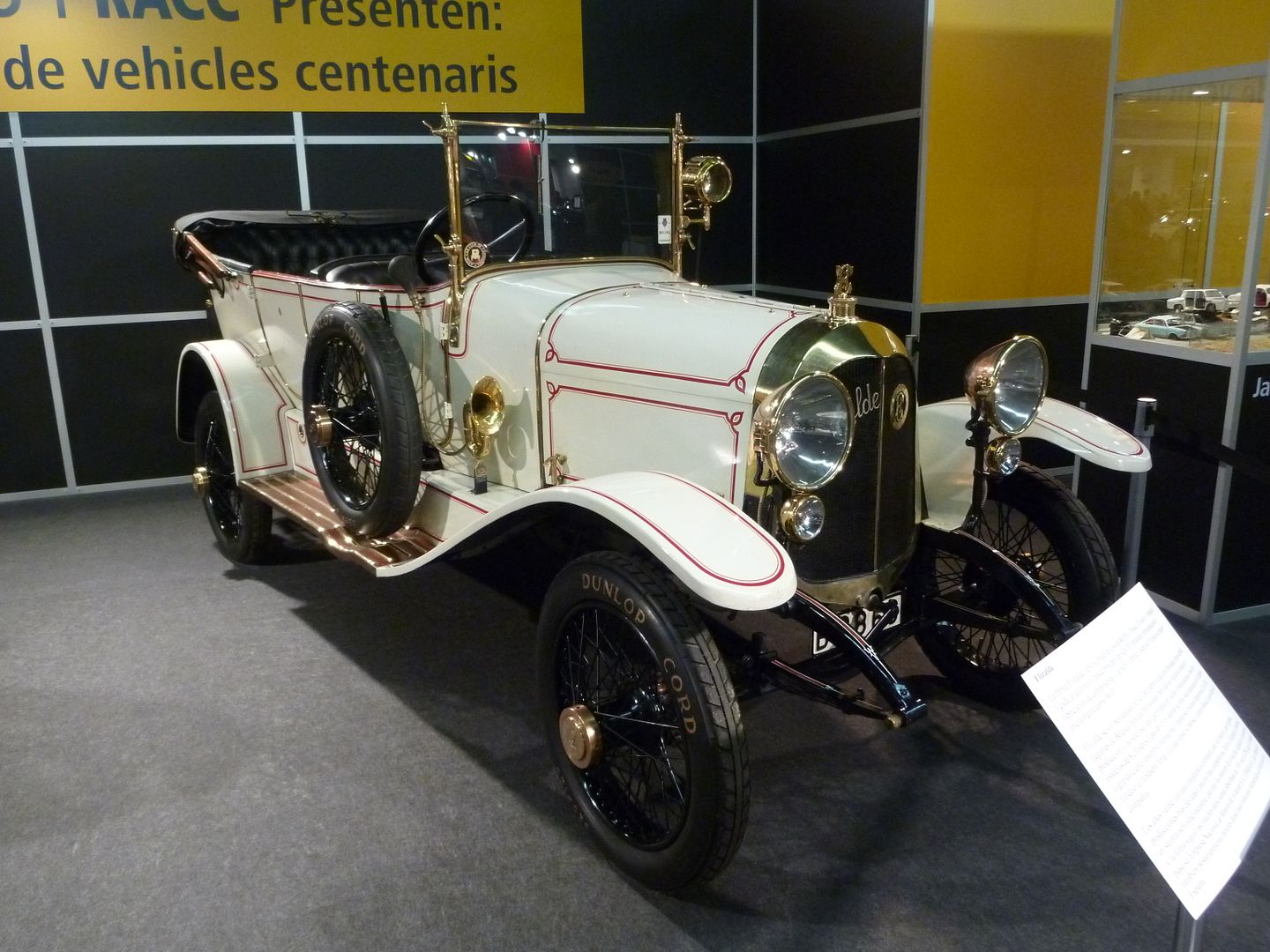 FERRARI
My favourite Ferrari of the event, and indeed one of my favourite of all the models that the marque has produced, was this lovely 288GTO.
Other models on show included a 348 Spider and a Mondial Convertible along with a duo of 246 GT Dino models.
Parked up outside were no fewer than three Testarossa. There was an attempt to get one of them up onto the mobile Certio test rig, but after several minutes trying various wooden blocks to alter the angle of approach, everyone (thankfully!) realised that the low ground clearance meant that even if they could get the car up the ramp, dropping the front into the rolling road would be a complete non-starter, so the attempt was abandoned.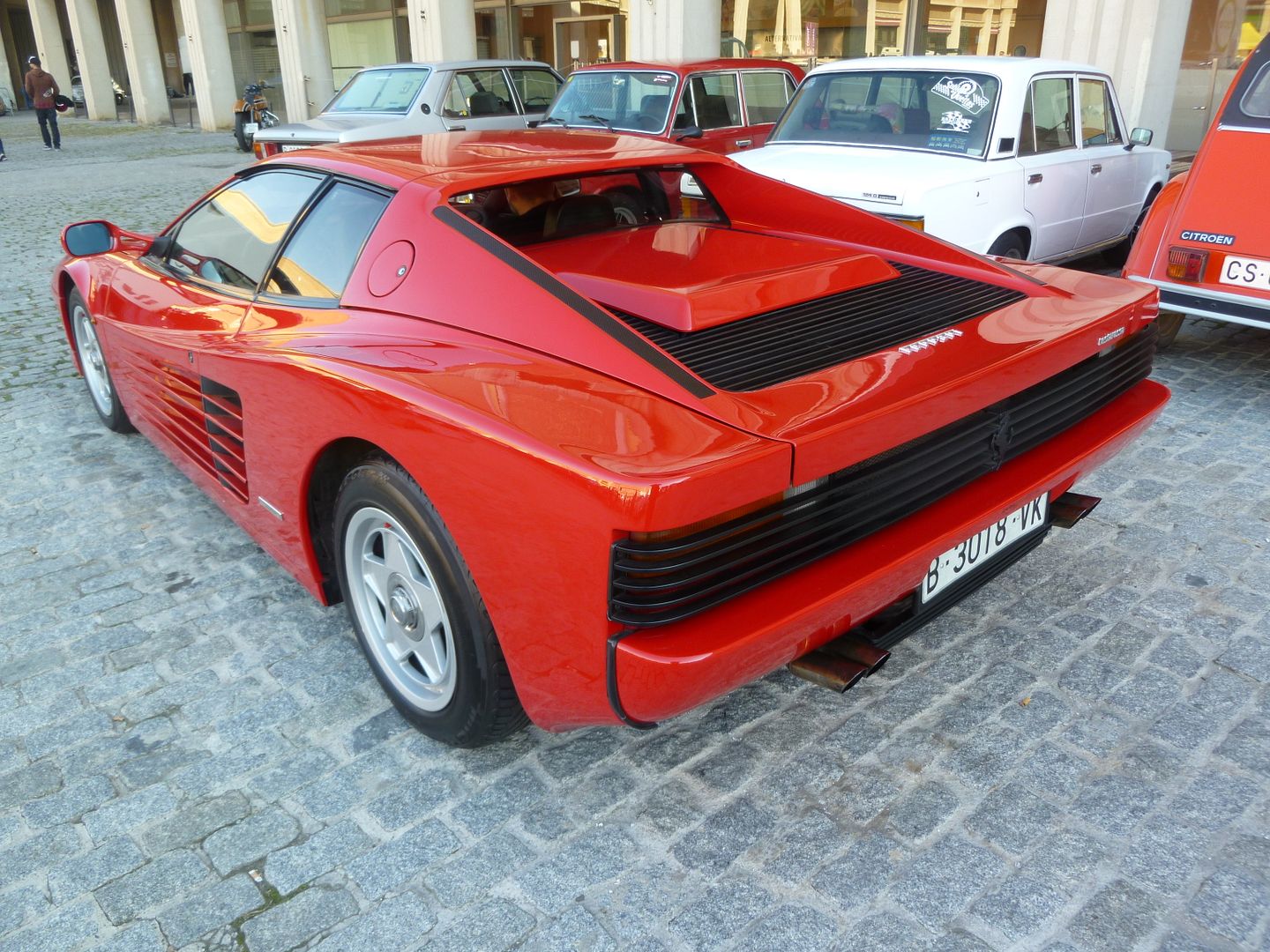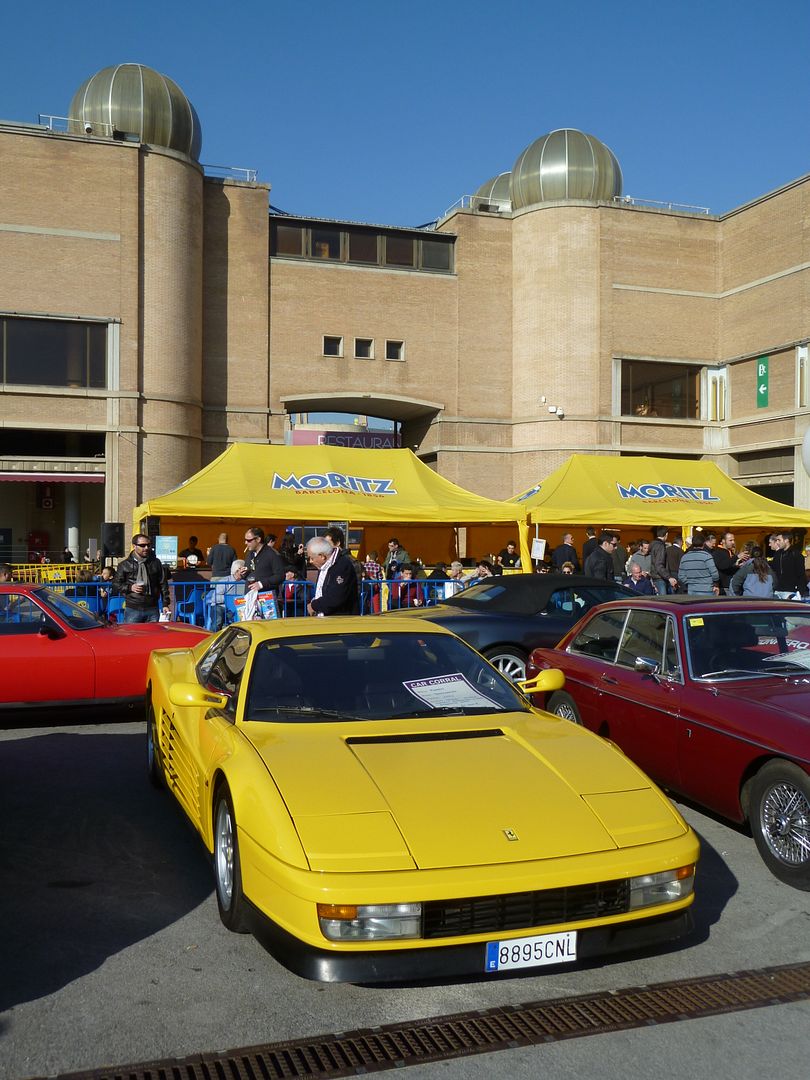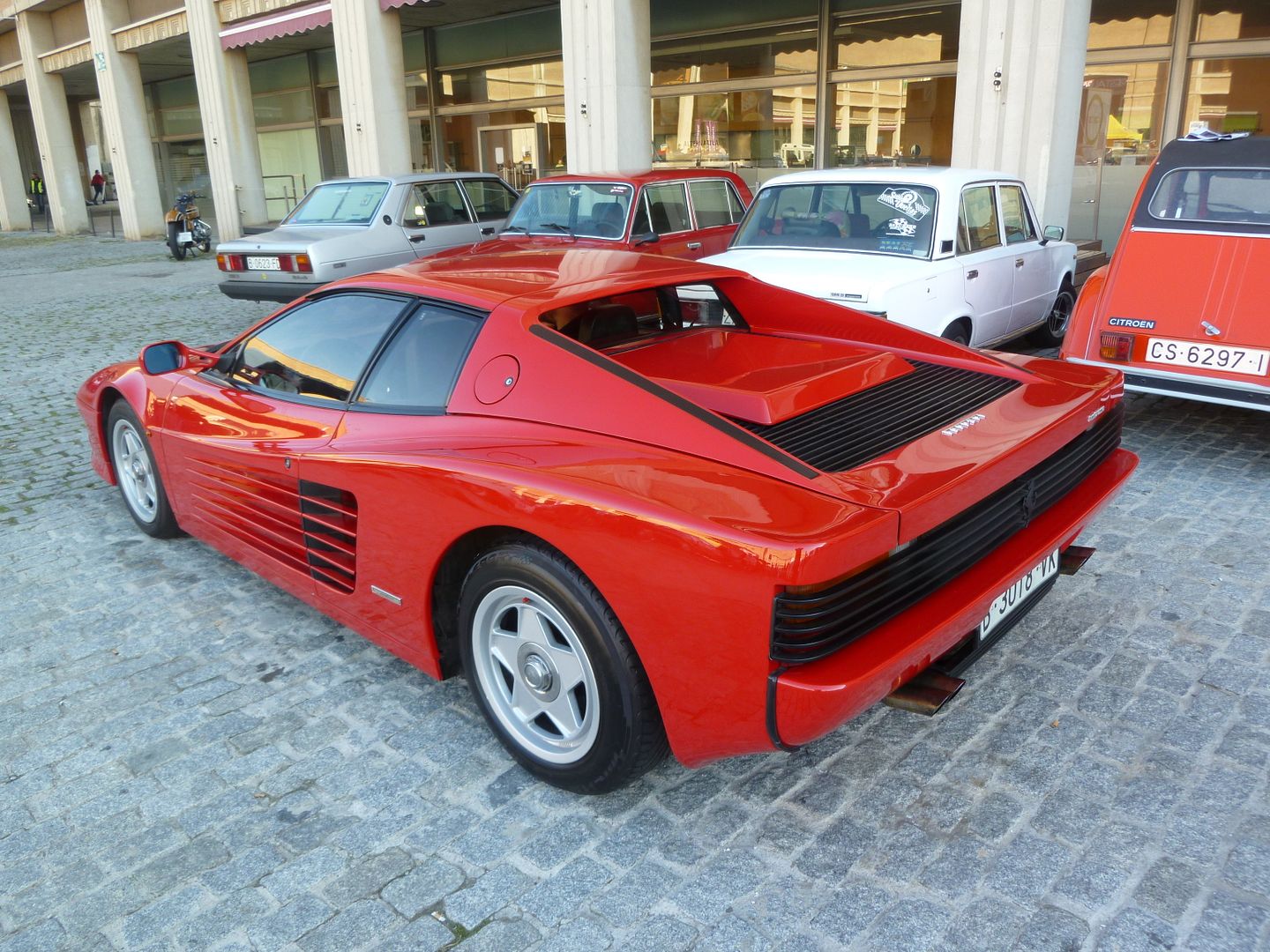 FIAT
Although most Fiat models ended up with a Seat incarnation as well, there were a few that did not, one of which was the Nuova 500. Accordingly, there are very few of these in Spain, where you are far more likely to come across a 600.
The replacement model, the 126, also remained out of the Seat product plan.
Although the Ritmo did morph into a Seat, by the time the facelift had arrived, Fiat and Seat had gone their separate ways, so I would guess that this Ritmo Abarth 130TC would have been available in Spain when new. Nice car!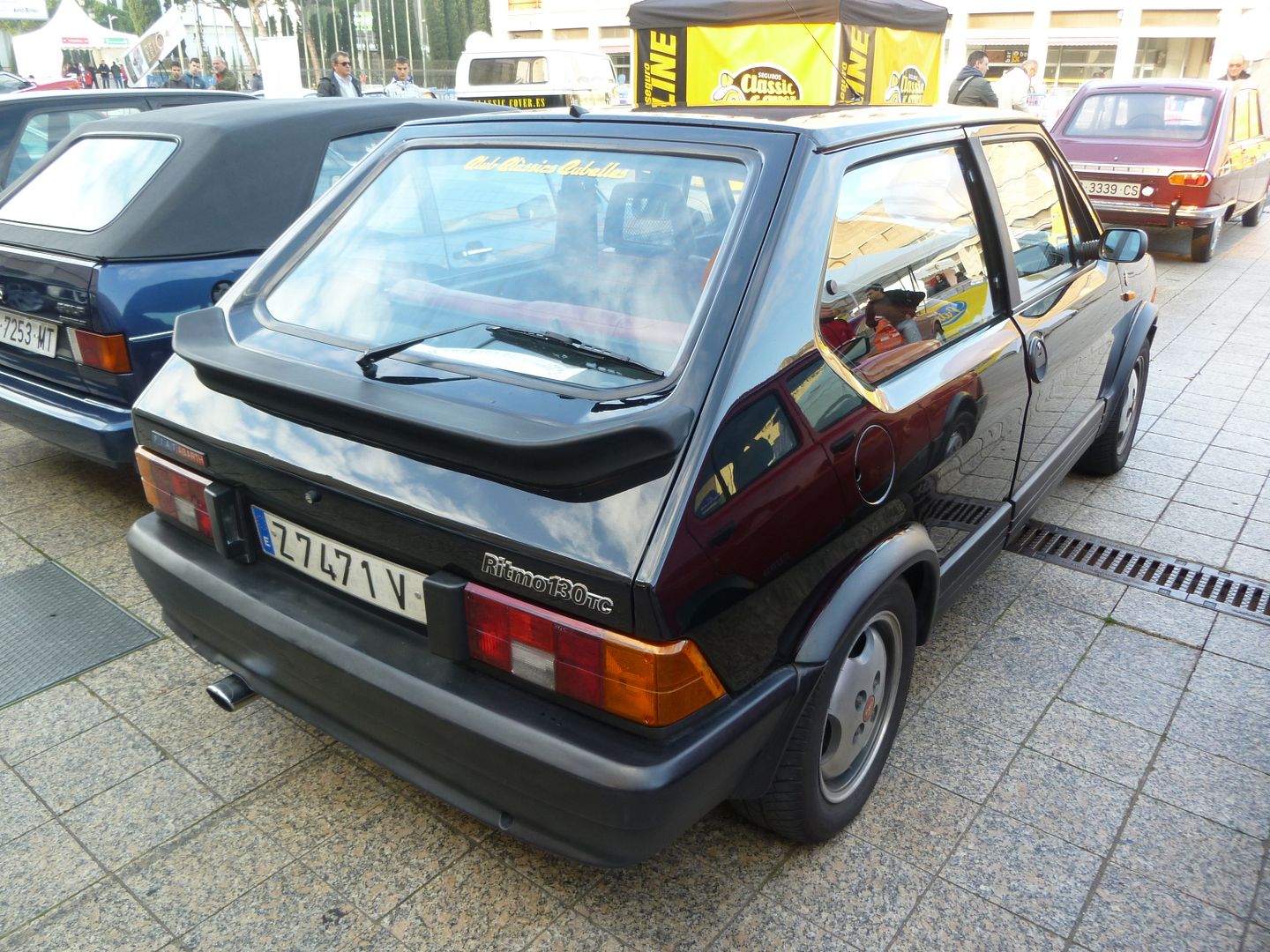 There were some pre-war Fiat models on show, too. The 500 Topolino is easy to recognise and familiar to many. Less well known were the small 508 racer and a large luxury model from the late 1930s.
FORD
There were not many European Fords on show, but I did come across this immaculate Escort RS Turbo.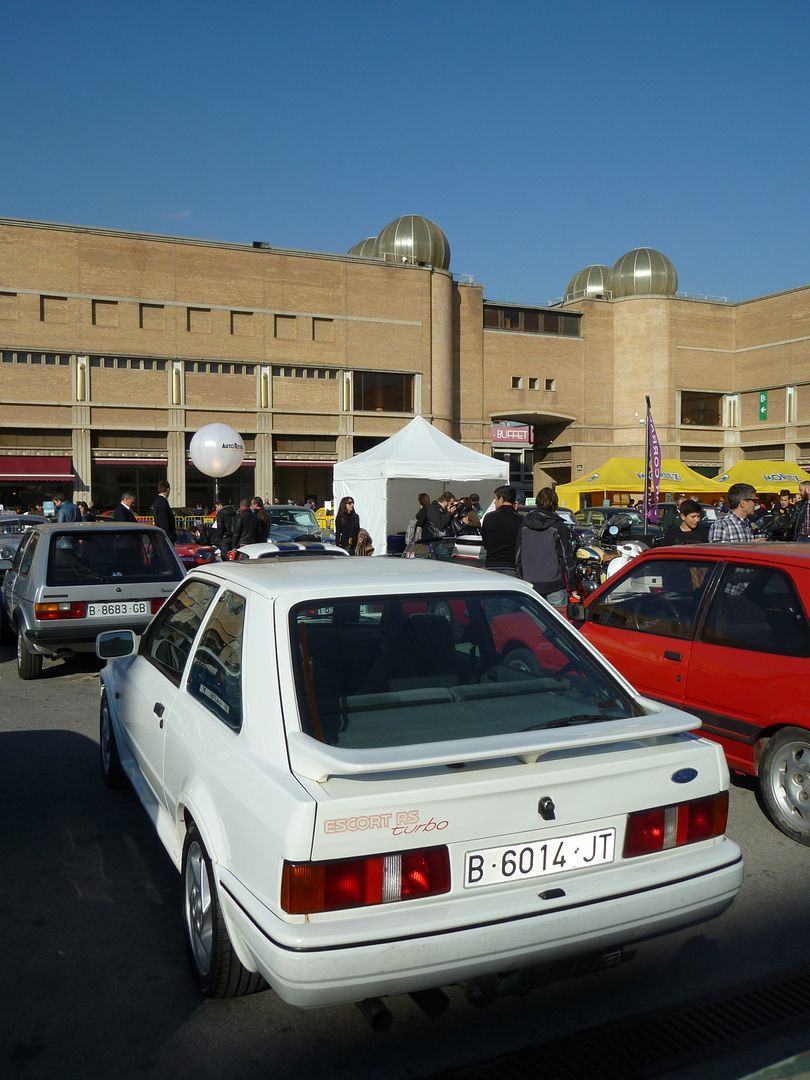 There were a number of Mustangs present, thanks to the American Car Club.
Reminding us of another large city, and a now vanishing American icon, was this Crown Victoria in New York City taxi livery.
Inside the show was this Model A Pickup which was almost the first vehicle inside the main door, and very striking it was, too.
Technically, this is a Model B, though with the V8 engine that was installed, the cars are always known as V8s. The saloon body is less often seen than some of the many other styles which were offered.
The 1948 Pilot is often assumed to be American, as the styling certainly suggests that it might be, but in fact this was a British offering, precursor to the Consul/Zephyr range that was launched in 1950.
HONDA
Quite a surprise to find this little N600 during the afternoon, as Japanese cars were almost completely alien to the Spanish buyer until well into the 1980s. I suspect that this one had probably started life somewhere other than Spain, but did not spot any clues to advise me if my hypothesis was correct or not.
HUTCHINSON
No,. not an MG, though from 50 paces you might think it is, but a more modern recreation of something that is a cross between a TD and a TF.
JAGUAR
Classic Jaguars seem to have huge appeal in Spain, and you can be sure of seeing plenty of them at an event like this. Sure enough, there were lots of the XK120/140/150 models to enjoy.
There were also more than a few E Type models.
This 3.5 litre saloon was really rather splendid.
It was a bit of a surprise to come across this XJ220.
LAMBORGHINI
Three different Lamborghini, on four different stands: an early 400GT, a Urraco and a Countach.
LANCIA
The Aurelia GT is generally credited with being the first car to use that "Gran Turismo" badging. Very nice, and impeccably built as all Lancias were until the 1970s.
Parked between the Alfetta GTV duo was this Beta Spider, with a non-standard looking grille and headlight arrangement.
LAND-ROVER
There were a number of classic Land-Rover models on display, many of which sported a small badge saying "Santana" under the Land-Rover one, meaning that they would have been produced locally in Spain.
LINCOLN
1932 V8
Equally imposing, even if the actually quality was not quite in the same league as its earlier relative was this Continental Mark V Coupe.
LOTUS
MARCOS
A real surprise to see this 1800GT, as I had always assumed that these cars had never really made it beyond the UK's shores.
MASERATI
The very elegant 3500GT Convertible.
MERCEDES-BENZ
No question, the Spanish do like their classic Mercedes models, and there were plenty of different cars on show, both outside and inside the event. The internal display by the local Owners Club was concentrated on the W113 "Pagoda", which marked its 50th birthday earlier in the year, and there were half a dozen of these timeless and increasingly valuable cars on show.
They were joined on the stand by the Mercedes Club of Spain's lovely 319 Van. There was another one outside, in the local Moritz brewery livery.
Outside, one of my favourites was this fabulous 220 "Ponton" saloon.
There were a number of other saloon models from the 1960s, with the "FinTail" 300SE and the later W108 in 250SE and 280SE guise on display.
No question that the W123 is a popular "youngtimer" classic, not just in Germany, but elsewhere as well, and there were quite a few of these models at the event.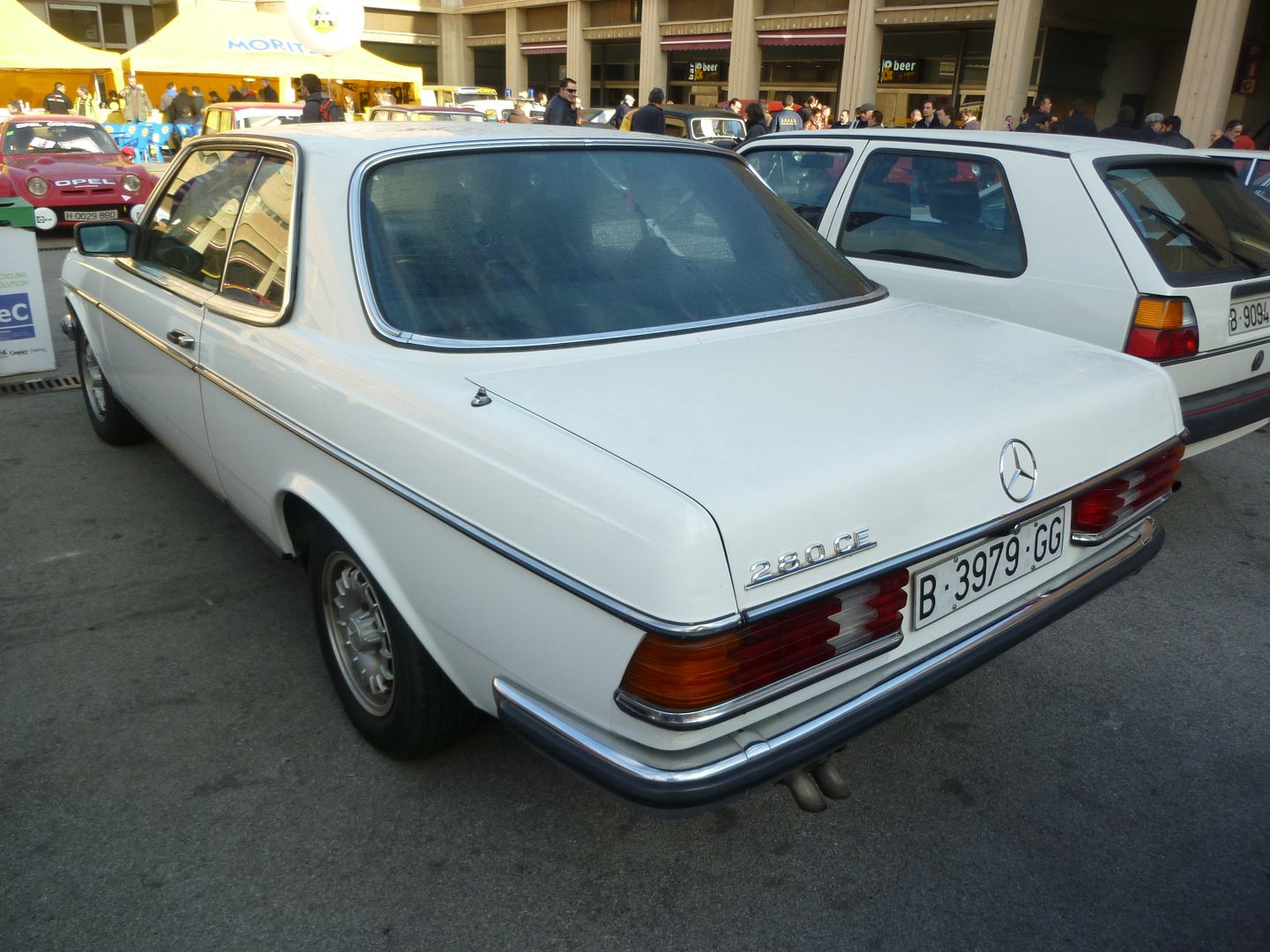 This W116 450SEL looks almost small these days, but when it was new, it was very much regarded as a large luxury car.
The R107 cars are now  starting to go where their predecessors did in value terms. This is a late model 500SLC.
There were some older SL cars, as well.
Older still was this 170V Cabrio model.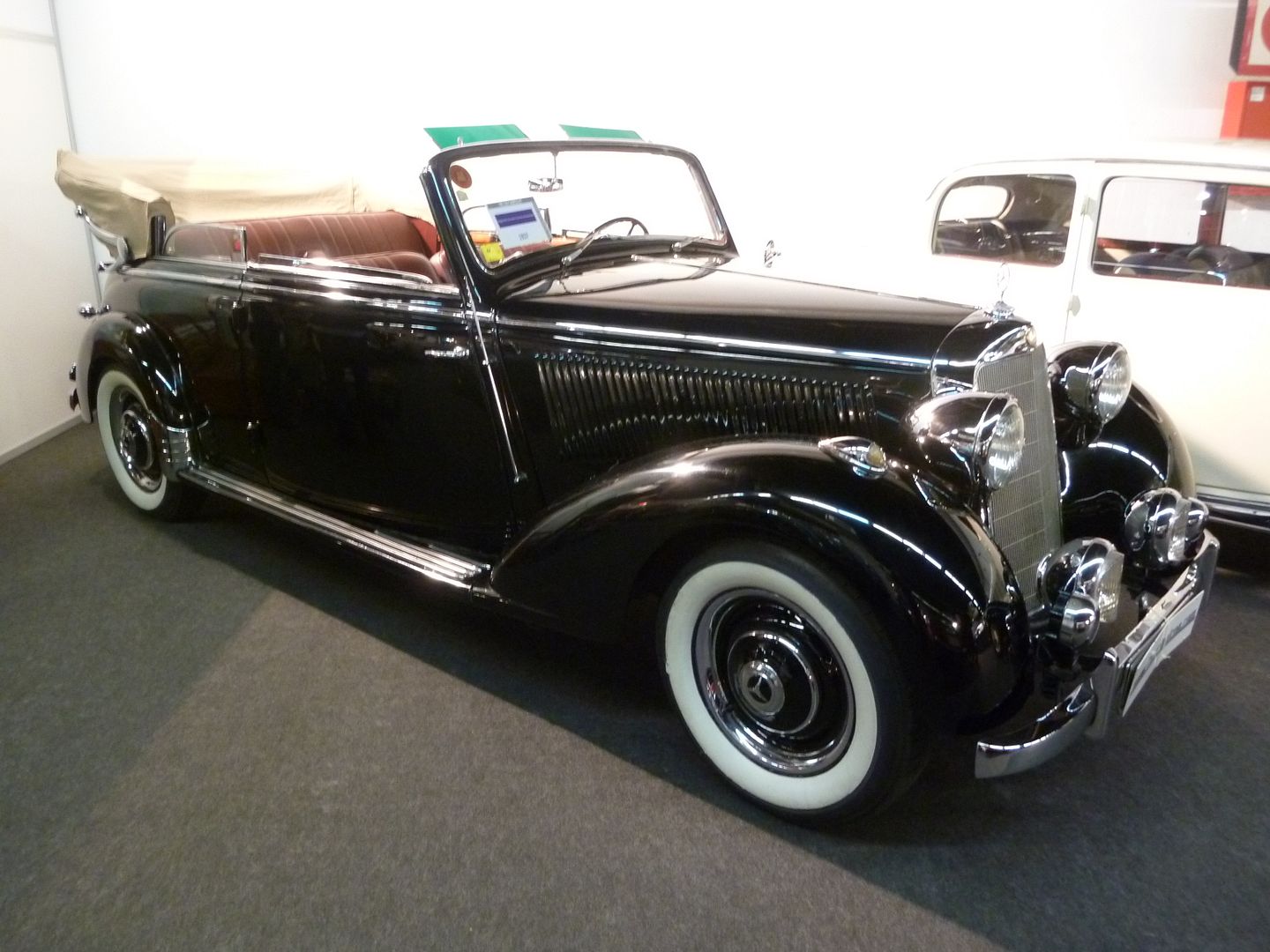 MERCURY
This was a beautifully presented example of the 1967 Cougar XR7.
MG
Not a TC, but the very similar pre-war car, the 1937 TA. I only know as there was an information sheet to advise, but there are differences which the real expert would use to tell them apart.
More familiar were the MGB and Midget cars present.
MINI
The Spanish love their classic Mini, and you always see plenty of them at events like this. It was good to see a couple of Innocenti built models as well as the more British looking ones among the array of different examples present.
MISC
MORGAN
Yes, really. This is a Morgan. And no, I did not guess, either. Underneath the coachbuilt body lies a regular early 1960s Plus 4 chassis.
No problems in identifying this one, though, an example of the latest Three Wheeler.
OLTRO FORD
A recent barn find, there's a certain amount of work to be done to restore. Apart from a name tag, there was no more information about the car.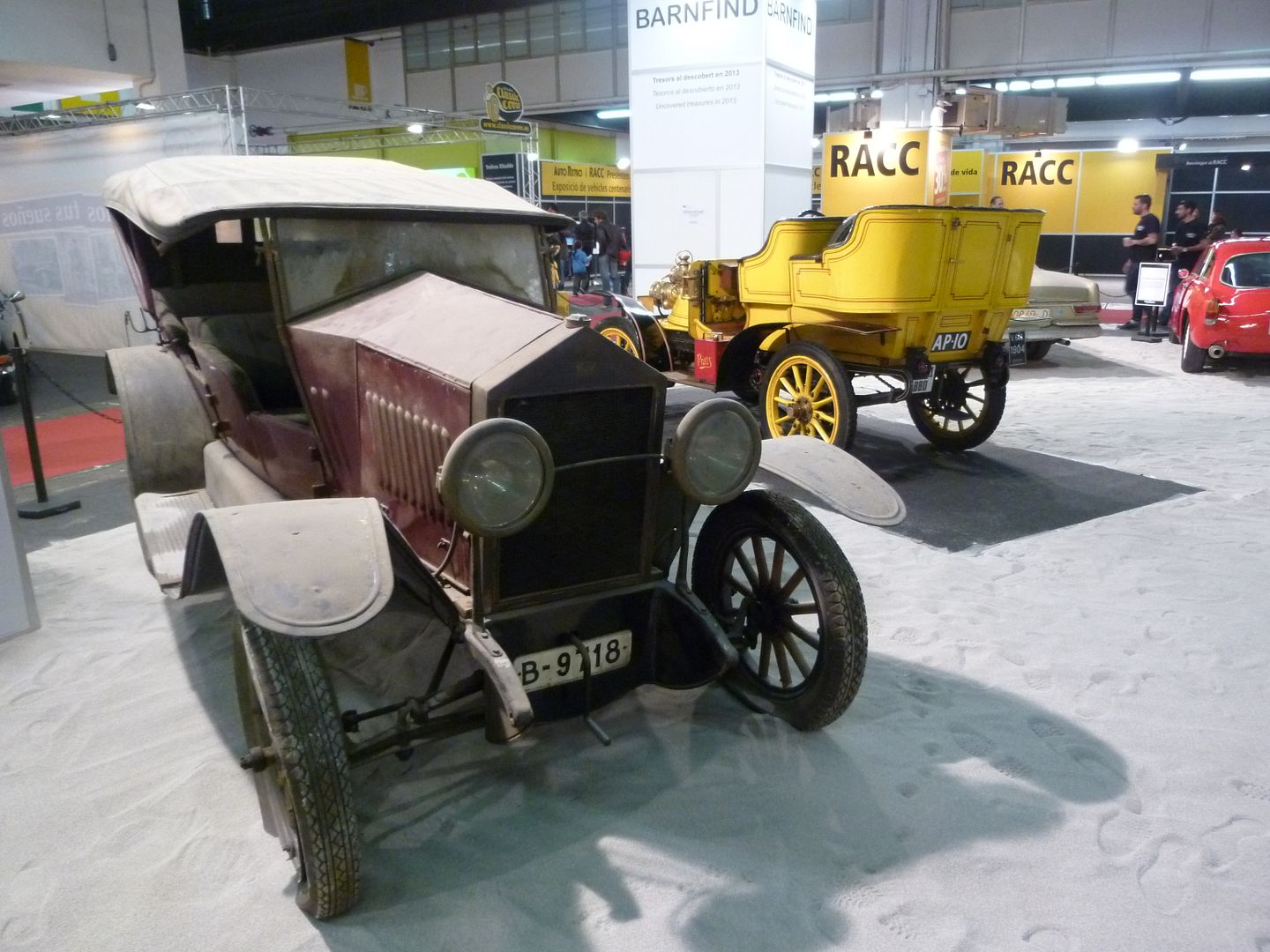 OPEL
Old Kadetts tend to the sort of car you see at German classic car events and not really anywhere else, so it was quite a surprise to come across this nicely presented Kadett Coupe B.
There were a couple of the mini-Corvette like GT cars.
PACKARD
A 1931 example of the car that ,any thought of as the finest in America at the time.
PEGASO
Not one, but two of the very rare Spanish cars from the 1950s, the Pegaso Z-102 were on show. One of them featured on the "barn find" display. Clearly a lot of hard work has been done since its discovery. Based in Barcelona, Pegaso was well known as a manufacturer of buses and trucks and decided to diversify into cars in the 1950s. The Z-102 started life as two prototypes in 1951 as a coupe and a drophead. The coupe and convertible had dumpy steel bodies, and weight was an issue to the extent that Pegaso made the decision to revert to alloy for the coachwork. Coachbuilder Touring then 'beautified' the design, replacing the grille with a two-piece cross, lowering the car, repositioning the foglights, and simplifying various details to give it a clean profile, similar to the contemporary Aston-Martin DB2 and Lancia Aurelia. The Z-102 employed racing-car technology in its chassis and alloy body. Everything was produced in-house, with the exception of the external coachwork, with bodies made by Touring, Saoutchik or Serra, although the very early Z-102 cars do have Pegaso-made bodies. The first Z-102s had an all alloy 4 cam 2.5 litre engine as used in the prototypes, though later there were variants with 2.8 and 3.2 DOHC 32 valve V8s, with multiple carburettors and the option of a optional supercharger. Power output ranged from 175 to 360 bhp. and there was a five-speed gearbox. The fastest could reach 155 mph, making it the world's fastest production car at the time. The base model had an 120 mph (192 km/h) top speed. However, the cars were heavy and brutish to drive and competition success was virtually non-existent. Because the cars were built on a cost-no-object basis, this caused financial difficulty in the company. A simplified and cheaper version, the Z-103 with 3.9, 4.5 and 4.7 litre engines, was put into production, but to no avail, and the Z-102 was discontinued after 1958. Just 86 cars were produced, and out of these, only a handful of cabriolets were built.
PEUGEOT
In honour of its 30th birthday, there was a nice long line of 205 models on display. They ranged from the most commonly seen GTi cars and a CTi to a trio of Rallyes and a GT.
Although it was well regarded in its day I suspect that any celebration of the 30th anniversary of the 309 will be far more muted, not least because the survival rate is far lower. This was a very nice 309 GTi.
PONTIAC
Firebird TransAm
PORSCHE
The 50th anniversary of the 911 did not pass unnoticed here, with plenty of these much loved sports cars on show.
There were a number of other Porsche models, ranging from the 356 to the 924/944/968 and the 928 as well.
For me, though, the nicest Porsche of the day was this, a 904 GTS.
RENAULT
One of the oldest vehicles at the show was this 1906 Town Car model.
The 4CV looks very dainty and petite these days.
There were a couple of examples of the follow on car, the Dauphine. These bore "Fasa-Renault" badging indicating that they were built in Spain.
The R8 based models continued to be available in Spain throughout most of the 1970s, which is one reason why the survival rate appears to be quite good. There are subtle differences in the trim, grille and lights that tell you that these are Spanish cars.
Among the R4 models was one dating from 1989. By this time, production in France had ceased, but the car was still built in the Balkans and sold in a number of Southern European markets until 1992. There was also a second example in municipal police livery.
A lone R16 was creating plenty of interest.
The Renault R12 was once a common sight on roads all over Europe, but with the exception of a few Gordini versions (some of which were even built that way as opposed to being recreations), you don't see them very often these days, so it was good to come across not just a Gordini but the very rare Estate car (shame about not just the horrid white wheels but the awful replacement grille and headlights on it!) and a saloon in S trim, a version that we never saw in the UK.
Even more rare, now, is the R9. A former "Car of the Year" winner, this rather bland saloon quickly fell out of favour and very few appear to have survived. This one was a 9GTC which means the third of 4 available trim levels, but combined with the smallest 1108cc engine. It looked like new.
Successor to the R9 and R11 was the R19, and this has also largely disappeared. The 16 valve car, known as 16S in Europe, was well regarded in its day, cementing the foundation for the fun to drive fast Renault reputation that lives on to this day. This was a rare 5 door version.
An R5 Gordini was parked up next to the next generation car, an R5 GT Turbo, and you can see that cars getting bigger is not a recent phenomenon, as the trait is evident here, too.
RILEY
Slightly surprised to come across an Elf, the posher booted version of the Mini, here.
ROLLS-ROYCE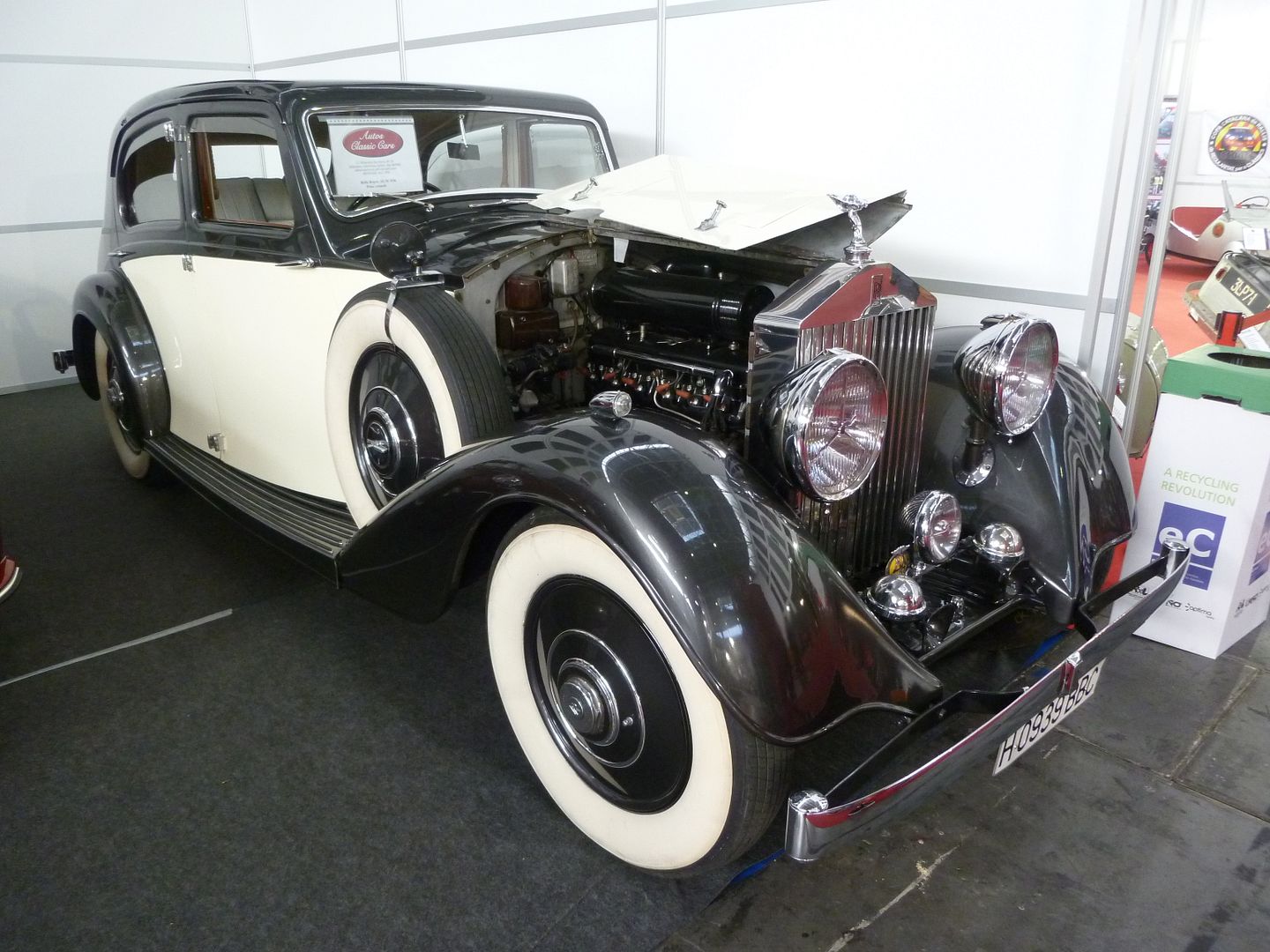 ROSENGART
This diminutive model is exactly what it would seem to be, a licensed version of the Austin Seven.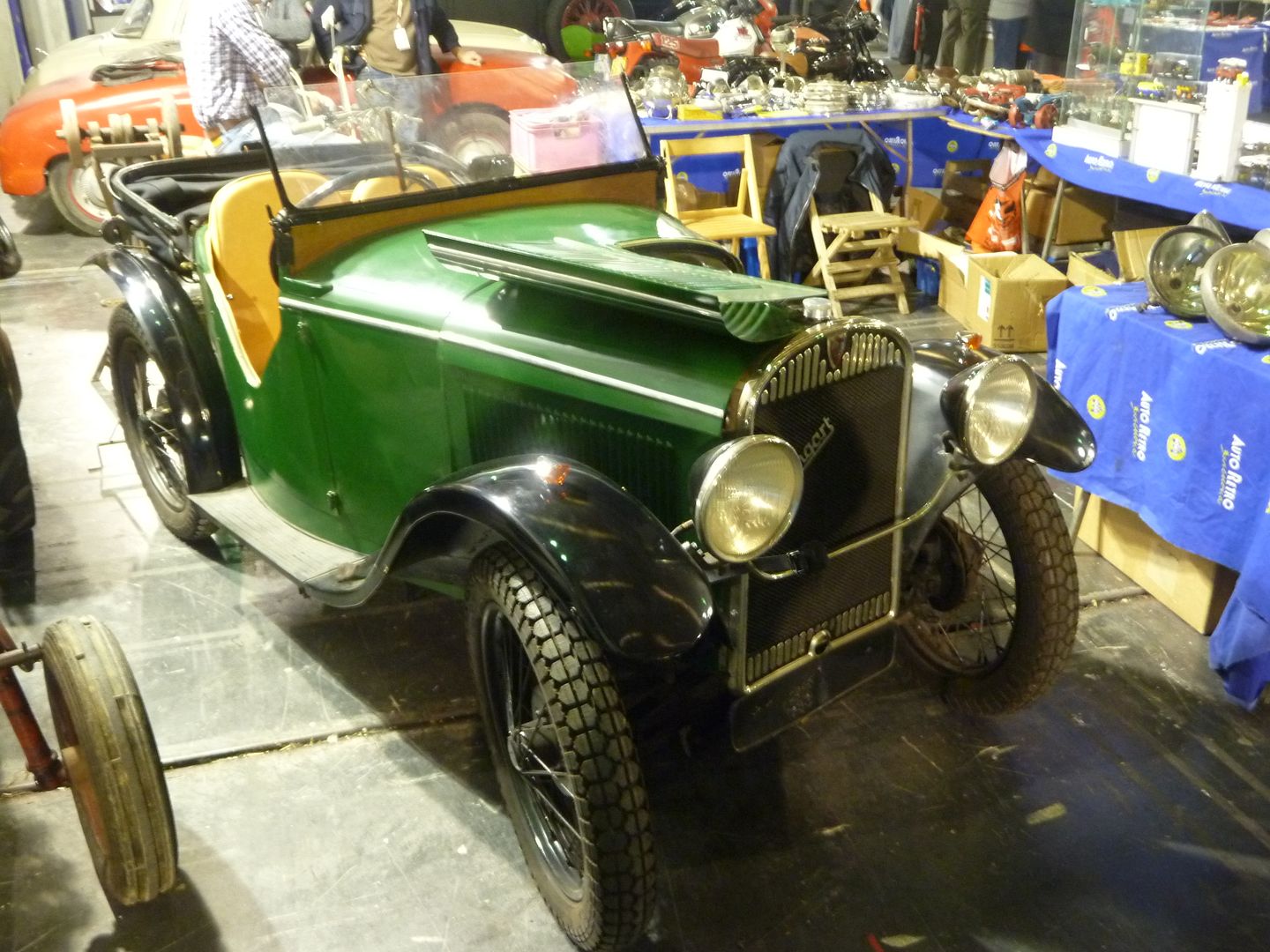 ROVER
A P6 model 2000, and before you ask, yes, this lemon yellow was a factory standard colour. I don't think many were sold so painted, though.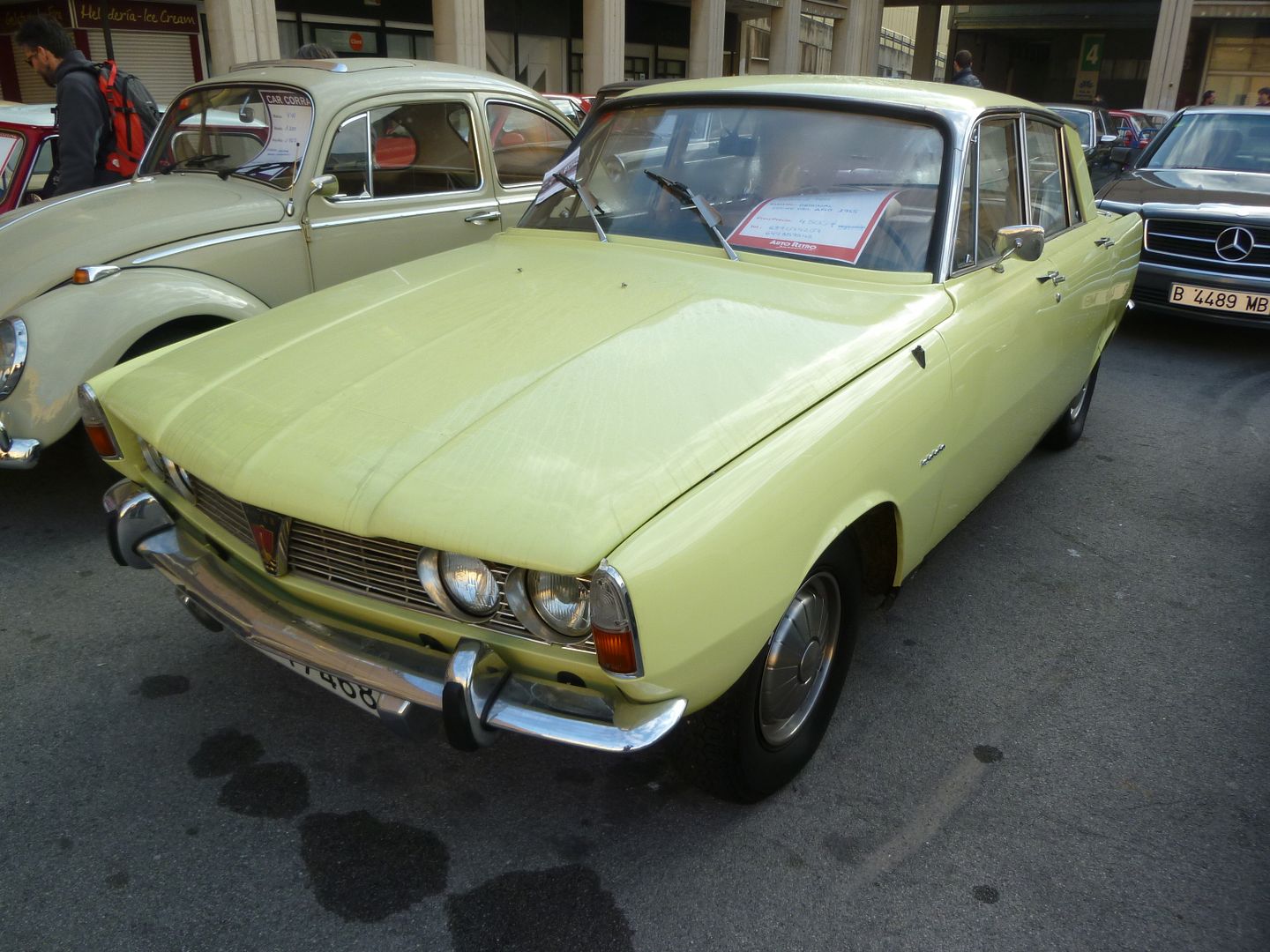 SBARRO
I was surprised by the date on this one: 1960. It was called the "Baby Testa Rossa" and it is not hard to see why, as it apes the looks of the 250TR of a couple years earlier pretty well.
SEAT
The local marque, as the huge SEAT plant is in Martorell, around 20 km north of Barcelona, and the most numerous model at the event was, unsurprisingly, the car that put Spain on wheels, the 600. There were a vast number of them.
Centrepiece of the main exhibition hall was a large stand with cars from SEAT's own collection of historic vehicles, and they had picked out a number of anniversaries. It is 60 years since the first SEAT model, the 1400,  was unveiled.
50 years ago, its replacement. the 1500 first appeared. Based on Fiat's 1800/2100 and later 2300 saloon, this car was very popular as a large family saloon (and estate) and especially as a taxi for many years. Styled by Farina, and bearing more than a passing similarity to the Austin Cambridge/Morris Oxford and the Peugeot 404, I have always thought that the design of the Fiat/SEAT duo is the best looking of the lot. There were another couple present outside the halls.
The 40 year car is the 132, and the model on display was an example of the facelifted model that appeared in 1978. With its twin cam engine, this (and the Fiat it was based on) was always a cut above your average Cortina and Marina in my mind.
Wind the clock back 30 years and we have the Ronda. This car started life as the SEAT Ritmo, but after the ugly divorce between Fiat and SEAT, SEAT, had to modify their cars to make them discernibly different from Fiat, which they sort of did, in haste, until all new models arrived in 1984. So, the Ronda adopted new front and rear end styling, which was probably more successful than Fiat's own facelift of the Ritmo which appeared at the same time. The model had a short life, though, ceasing production in 1985. There were a number of the earlier Ritmo cars on display, too.
20 years ago, and the model names that are now so familiar were in evidence, and the car selected for display was a second generation Ibiza. Now strongly related to the VW Polo, these small hatchbacks still look good even today.
The 10 year anniversary car was the second generation Cordoba, a saloon based on the Ibiza that was produced for those markets (of which the domestic one is a member) where small saloons are seen as preferable to hatch models.
And to bring things right up to date, celebrating its launch during the year was an example of the  much lauded new Leon, in ST (Estate) guise. I arrived at the event in a rented Leon, and have to report that I am a huge fan of this car. One of the best looking cars in the class, it drives well, is nicely finished inside and all for a lot less money than the equivalent Golf. After a rather rocky looking future a couple of years ago, it seems SEAT has found its mojo again, and here's to another 60 years.
There were lots of other SEAT models parked up outside. One I always enjoy seeing is the 1200 Sport. Produced in the mid 1970s, this was the first SEAT with a body style that had no similarity with any Fiat. It was based on the 128, but instead of offering the Coupe and later 3P, the Catalans designed their own body. The characteristic black framed front led to the car being nicknamed the "Bocanegra", or "black mouth", a name that was officially used recently on hot Ibiza models.
There had been special local adaptations of Fiat models before, one of which was the 4 door version of the 600, called the 800. There was just one of these at the event.
Intended successor to the 600 was the 850, and although Seat made their own 4 door version of this, there were none of them to see this time. There was a very pretty Coupe, though.
Staple of the upper part of the range in the early 1970s were the 124 and 1430 models. The latter were the SEAT alternative to the Fiat 125. There were several examples of both of these models on show, including the very pretty 124 Coupe.
Successor to the 124 was the 131, and I only spotted one, a late model car with the top of the range 2 litre engine, and badged Diplomatic.
Most intriguing was this. Based on the Seat 127, this is an Emelba 127 Samba, a Spanish version of the Fiat 127 Scout that was a sort of latter day Fiat Jolly and competitor to the Citroen Mehari. These are super rare now, and indeed I had never ever seen even the Fiat version let alone knew that there was a Spanish model as well. Licensed from Fissore, this was the first model made by Spanish coachbuilder, who started production in 1978, most of whose products were Seat based. The Samba was offered with a sort of rigid hard roof top as well as the canvas covering that featured on this example.
There were a number of 127 models, as well. Spain has always liked 4 door cars, and so Seat added a 4 door version to their range quite quickly. When the 127 was facelifted, they made the 4 doors available with the hatchback body style, creating the 5 door car that we never saw in the UK.
After the Fiat divorce, the 127 was modified with new front and rear styling to create the short lived Fura and there was one of these on show as well.
SIATA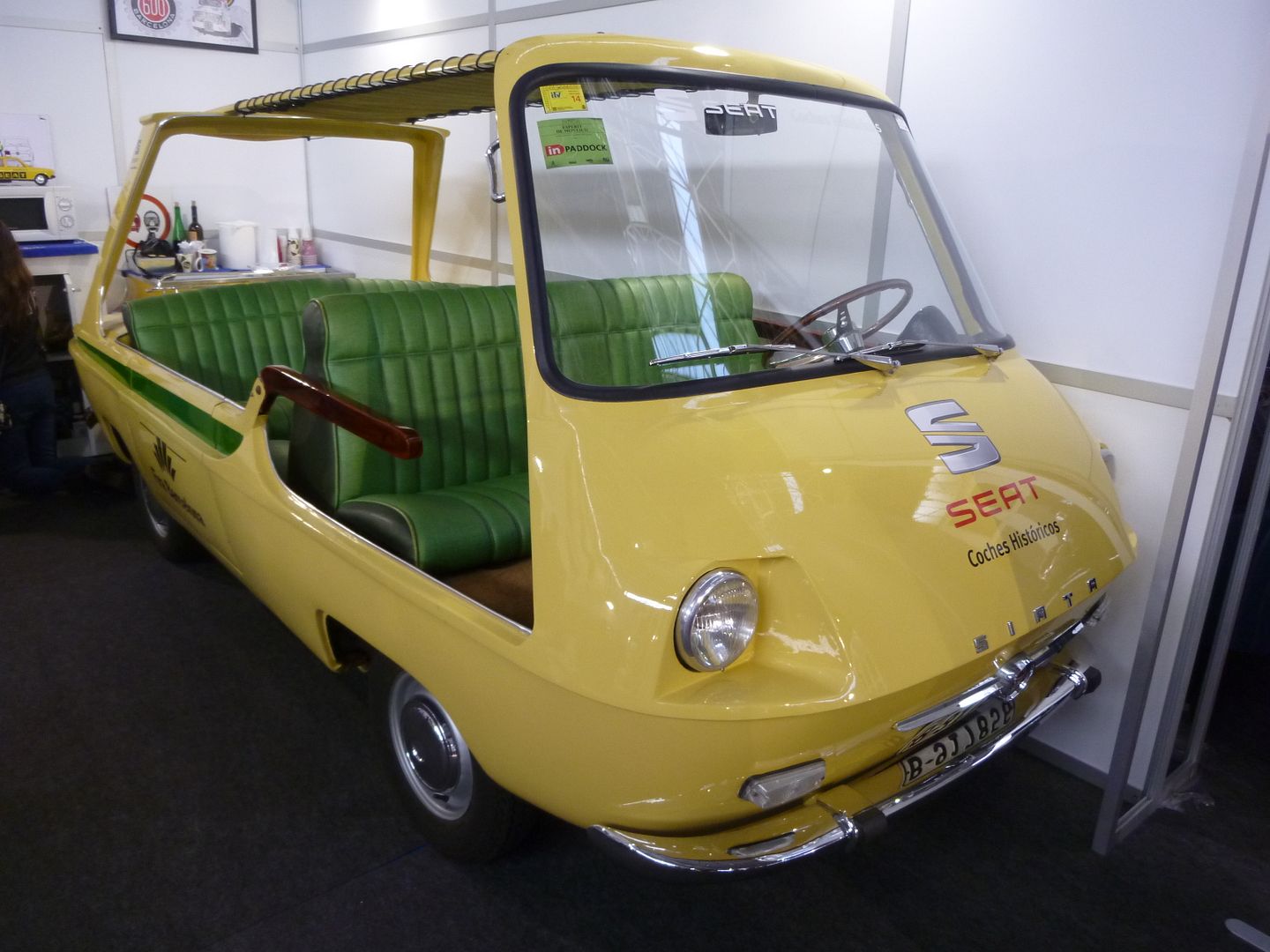 SIMCA
Old Spanish cars are full of surprises. I was confident that this was a beautifully presented example of what was once France's best selling car, the Simca 1100. But then I looked at the badges and they said 1200. Now I knew that the more performant versions of the basic 1100 were badged 1204, but I had never heard of a 1200 beyond the rather pretty Coupe version. but a little research revealed that Spanish market cars were in fact called the 1200. A combination of a propensity for rust and a rather uncouth engine has seen off almost all of these cars, so it was good to see one in such excellent condition.
No such confusion with the smaller Simca, the 1000 (or Mille), of which there were a couple present. These were badged the same in Spain as they were in their native France.
STEYR PUCH
TALBOT
The C15 was a luxury sports offering from this French marque in the late 1930s.
TRIUMPH
This is the sort of marque which features heavily in a UK show, but is almost invisible here. There was a nicely presented TR2, however.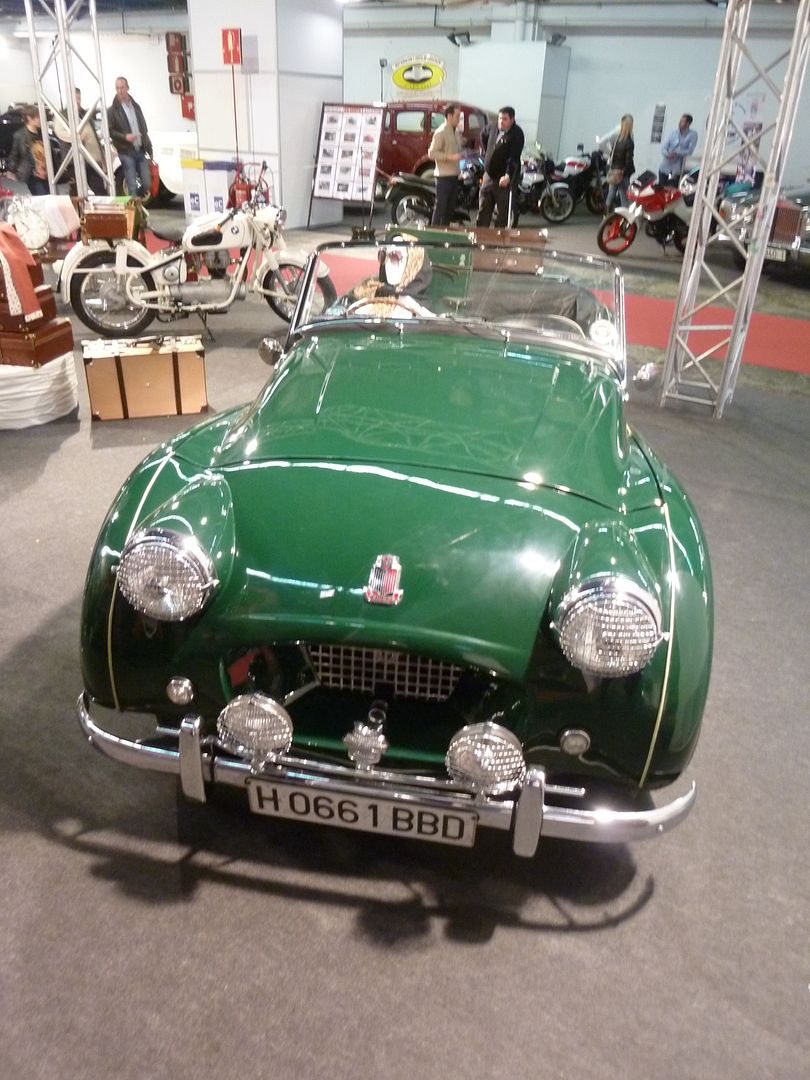 TVR
The original Griffith
VAUXHALL
This is one of the very earliest Vauxhalls, dating from 1904. Apparently it had spent its entire life in Spain, and was recently rediscovered and restored to this pristine state.
VESPA
Better known for their 2 wheeled offerings, Vespa also capitalised on the micro-car boom in the 1950s with this small 4 wheeler, the 400.
VOLGA
Another surprise was to come across this 1960 Volga.
VOLKSWAGEN
Centre piece of the second largest display hall was a massive display put on by the VW Club of Cataluyna. A very impressive collection of cars was dominated by Beetle models, and careful study of the vehicles present showed how the model evolved from its early days – there was a 1950 car on show – through to the launch of the larger engine 1300 and 1500 in the mid 1960s, and the 1302/1303 cars of the 1970s. A special treat was to see the 1950 "Papler" 4 door convertible among them.
There were also plenty of the much loved Type 2 models, with several of the commonly seen bodystyles represented. I have memories of being carted to prep school in a Devon camper version that looked just like the one on the stand.
A number of Karmann Ghia models were also in the display, with further examples parked up outside. Both the Type 1 and Type 3 cars were there.
More unusual was this 1600TL Type 3 car. It is not often you see one of these that looks like its maker intended, as most survivors seemed to have been customised and/or slammed.
The 181, Trekker, or Thing, call it what you will, was included in the display.
Precursor, and to some extent inspiration for the 181 was this, the 166 Schwimmwagen.
Other models on the stand included a Beach Buggy and a Syncro version of the 1980s Van, as well as the modern equivalent in T5 form.
There were a number of Mark 2 Scirocco on show outside. The Scirocco name hits its 40th next year, so expect to see more reminders of this now fairly rare sports coupe.
Golf also hits 40 in 2014, and there will be reminders of that anniversary as well, I am sure. There were a number of GTi models on show here, as well a couple of Cabrio cars.
Rather more rare is the first generation Jetta, like this GLi model.
Polo has never really captured the same levels of affection, and so older cars are now quite rare, so it was nice to see this second generation Coupe model looking almost factory fresh.
WILLYS
A couple of war time Jeeps. How diminutive these looked compared to the massive Hummer H1 that was parked up briefly outside.
COMMERCIAL VEHICLES
An entire hall was given over to a display of a variety of different historic commercial vehicles, and a very impressive sight they made.
Attracting the most interest was this fire engine, not least as every small (and not so small) child could not resist pulling the chord to sound the bell.
The Ford and Chevrolet trucks were an interesting reminder of how goods and services were conveyed in the 1920s and 30s.
There were plenty of old buses, too.
And finally, some old farm vehicles.
I really enjoyed this event. I had not intended to spend the entire day there, as I thought not only that it would be nice to explore more of Barcelona in what turned out to be a near cloudless sunny winter's day, but that I would have seen everything by lunchtime. In reality, by the time I was ready to leave, I needed to do so, as it was time to head to the airport. The combination of some welcome winter sun, the charms of Barcelona, and the interest of an event like this with cars you will not see in the UK make this one of those "highly recommended" weekends.