As has been repeatedly observed here, there is no UK Motor Show these days, so the car enthusiast who wants to see an assembly of the new cars available on the market has to content him or herself with one of a number of regional offerings. There are lots of these held up and down the land, mostly supported by dealers rather the manufacturer, and their scope and ambition varies widely. You might have thought that something held in Bristol, one of the larger cities of the UK, and with a significant target buying population within easy reach, but as anyone who visited or read my report of the recent Bristol Motor Show will know, it is a feeble effort with a handful of cars more or less abandoned in front of The Mall at Cribbs Causeway. Fortunately, only a few weeks later, and less than 30 miles to the north, another show takes place, the Gloucester Motor Show. Unlike the Bristol Show which is free, you do have to pay for this one, but there is more to see, with a number of local dealers touting the latest products, as well as an area of classic cars, some craft stalls and other entertainments, which means that you could take an entire family to Highnam  Court just outside Gloucester and there would be something for everyone. Held over two days, I went on the Saturday, and a combination of the fact that this is traditionally the quieter of the two days, and a rather unpromising forecast – which turned into ever better weather and culminated in a sunny end to the afternoon – and there was plenty to keep me interested for long enough to feel that the £7.50 admission fee was not wasted. Here are the highlights:
NEW CARS
ABARTH
It's not often you seen an Abarth in Legends Blue, a colour which shocked most people when Abarth first announced it in 2012. In bright sunlight, and with the white stickers, I have to say that it looks quite agreeable. This car is currently being used by the MD's wife, I was told, and she more or less had to be tied down so the keys could be prised from her to bring it to the show. l had the usual "enthusiastic owner" conversation with the sales staff and more than a few interested show go-ers!
ALFA ROMEO
Sadly, no sign of a 4C, so the only cars on show were the latest MiTo and Giulietta. Both received mild freshenings last winter, and the interiors certainly look that bit higher in quality. The external changes are so subtle that they are harder to spot.
AUDI
First cars on show as you walked through the entrance marquee were a number of Audi, with one of the cars that still, several years after launch proved to be a real crowd puller being the very first car to which you came. You have to hand it to Audi with their R8. Whilst most who have been privileged to test it and its competitors will tell you that whilst it is very good, there are rivals that are that tiny bit better, this car still has a massive "want one" pull to it, even among those who know little about cars. I have to say that a V10 Spyder in Misano Red would be on my list of Lottery Win cars, too!
Audi has a huge range of different models these days and there was not space to have examples of each, but they did bring along an A1, the latest A6 and A7, an A3 Saloon and a TT Spider.
A separate display contained an assembly of Q3 and Q5 cars, including the more potent RS Q3 and SQ5 versions.
BMW
Lots of recent product on the BMW stand, with the i3 proving the car of most interest. I've now seen a couple truly "in  the wild" (ie on a motorway a long way from a city), and this is definitely a striking car. The interior is even more radical than the outside, though whether you like the odd choice of textures will be a matter of personal taste. I can see why people might want one of these rather than a Nissan Leaf, but range and purchase price are still going to deter most from anything more than a casual inspection.
The new 2 Series Coupe was on show, and to my eyes this is a significant improvement on the old 1 Series Coupe. Sitting in this M235i Coupe, it certainly felt like the driving position was spot on and this could well be the blast to drive that the press say it is.
I am not sure I can say that about the 4 Series Coupe, which manages to look as if too much middle-aged spread has been inflicted on it.
The latest X5 strays further into the "looks are not for me" department. Bolder and more brash than its predecessor, this one does not appeal.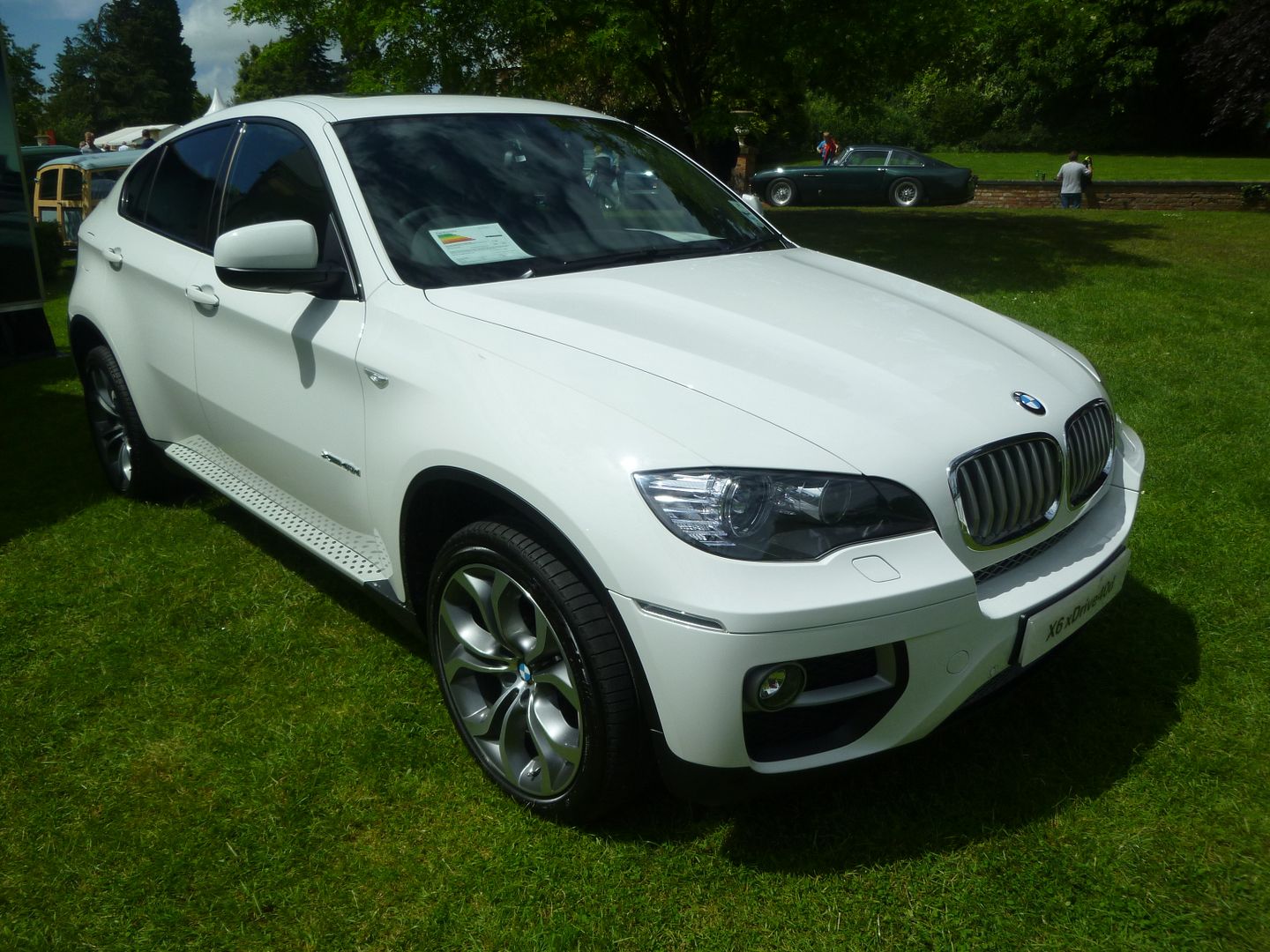 Nor does the X6, though a quarter of a million have disagreed with me and bought one. The replacement car, unveiled online looks even more vulgar than this one, which will probably be part of the appeal to its target customers.
The BMW stand also included a number of more familiar offerings, ranging from 1 and 3 series to 5 and 7 and a  6 Coupe and a Z4.
CITROEN
No sign of the new C1 that goes on sale in a matter of weeks, so it was down to the familiar models in the range to fill out the Citroen stand. Until the C4 Cactus arrives, there's little here to appeal to me, frankly, though there's nothing fundamentally wrong with the array of C3, DS3, C4 and Picasso models that were displayed.
DACIA
Now starting to appear on our roads so that they are noticeable, Dacia goes from strength to strength with its range of honest no-frills cars. Three models were on show: Sandero, Logan MCV and Duster.
FIAT
There were two separate Fiat displays. Both of them had examples of the latest Series 3 500 models, with the TFT dash, and both of them had cars in the new Electrochromatic Blue colour which I think looks absolutely fantastic. Part of the Spring and Summer collection, this is bound to be a popular choice for those who buy 500s. And that is a lot of people. The model is now in the UK Top 10 Best Sellers, and Wessex told me that they sell an average of one a day. Many of them are repeat customers who loved their car and want a newer one, or when the PCP runs out, just replace it with the latest car. There were some other examples on show, with the pale green colour also suiting this model very well.
Also selling well (now) is the latest Panda, with the 4×4 proving particularly popular.
The 500L is now getting to be quite a common sight on UK roads, though as a lot of them are currently in rental car fleets, I do wonder how many have really been sold. The Beats Edition has just gone on sale.
It is fashionable to decry the Punto, but I remain a fan, even if it is now the oldest car in its class.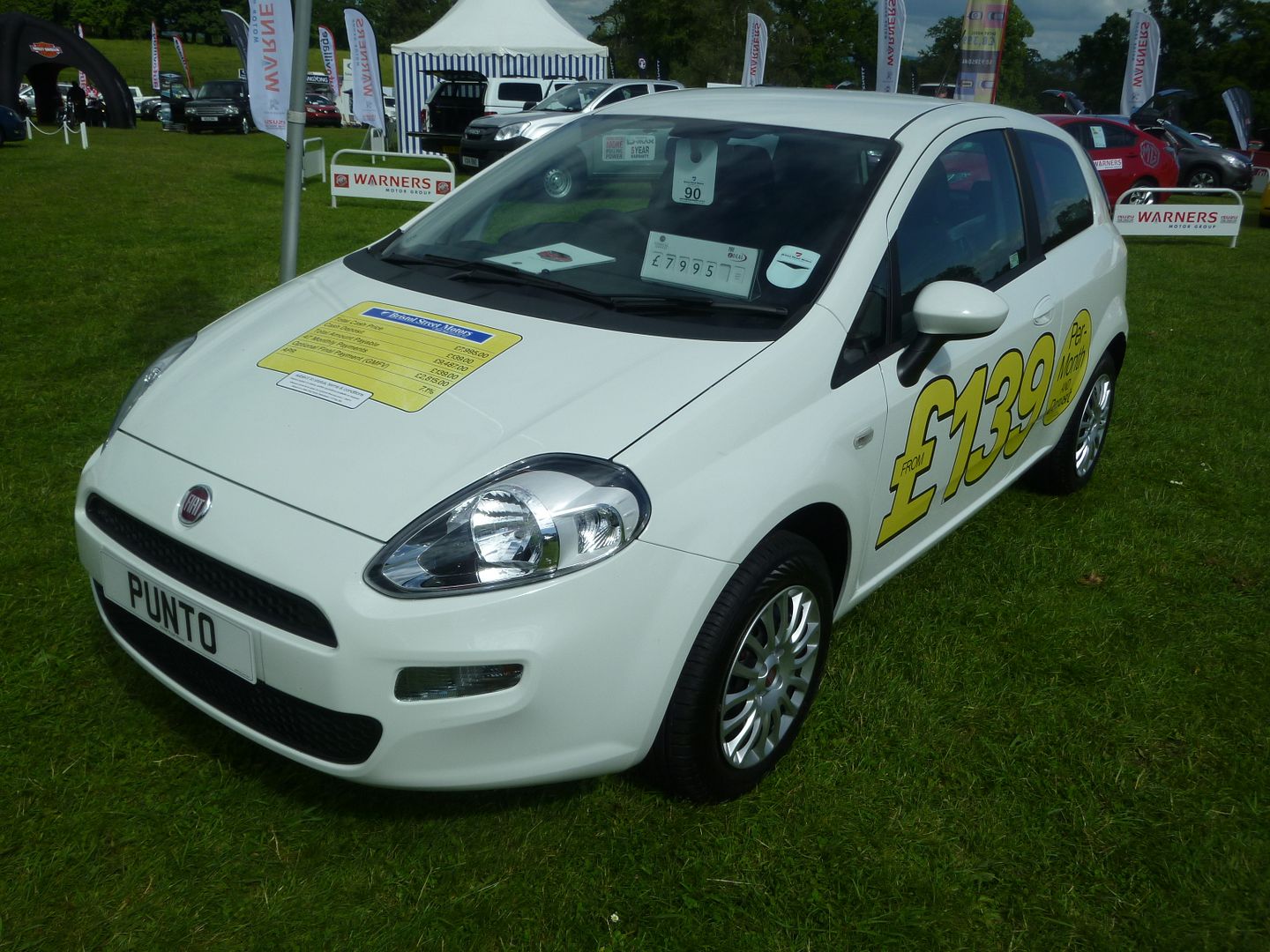 FORD
The Ford display contained quite a disparate array of products. Needless to say, it was the 2 ST cars that were creating most interest, and of these, it was the Fiesta rather than the ST which everyone seemed to want to sit in.
Perhaps wisely, the Indian built EcoSport was locked. From a distance, this rather dumpy looking thing looks like a worthy addition to the ranks of the small CUV/Faux Off-Roader, but I believe that the interior makes it all too obvious that it was designed for a less sophisticated market than Western Europe. It has been available in the UK since March, but I don't think I've seen one on the roads, and the UK press don't seem to have written much about it either.
Other display cars included a regular Fiesta and Focus, Kuga and the Ka.
HONDA
A marque that has really lost its way, I think. There were the versatile Jazz, the rather gawky and very pricey Civic and the simply ugly CR-V on stand as well as the about to be axed CR-Z.
HYUNDAI
The press might have been slightly disappointed by the new i10 when they sampled it earlier in the year, but there is no denying the fact that it feels like quite a "grown up" car from the inside, even if the exterior dimensions remain pleasingly compact.
One example of the rest of the range was on show, with i20, i30, i40, ix20, ix35 and Santa Fe all presenting a convincing case for why these Korean cars are well worth more than a second look.
KIA
I make no secret of the fact that I like the Kia range of cars, and have done for a while. Still far from exciting, these are excellent value for money, capable cars that will get the job done with no fuss. The full range was on show, from diminutive Picanto through the Rio to the mid-sized Cee'd now available in warm hatch GT guise as well as the capacious Estate and stylish pro_Cee'd three door, with the saloon car offerings topped out by the stylish but slow-selling in Europe Optima.
More versatility comes from the Venga and Carens and then there is the second generation Soul which has recently gone on sale in the UK.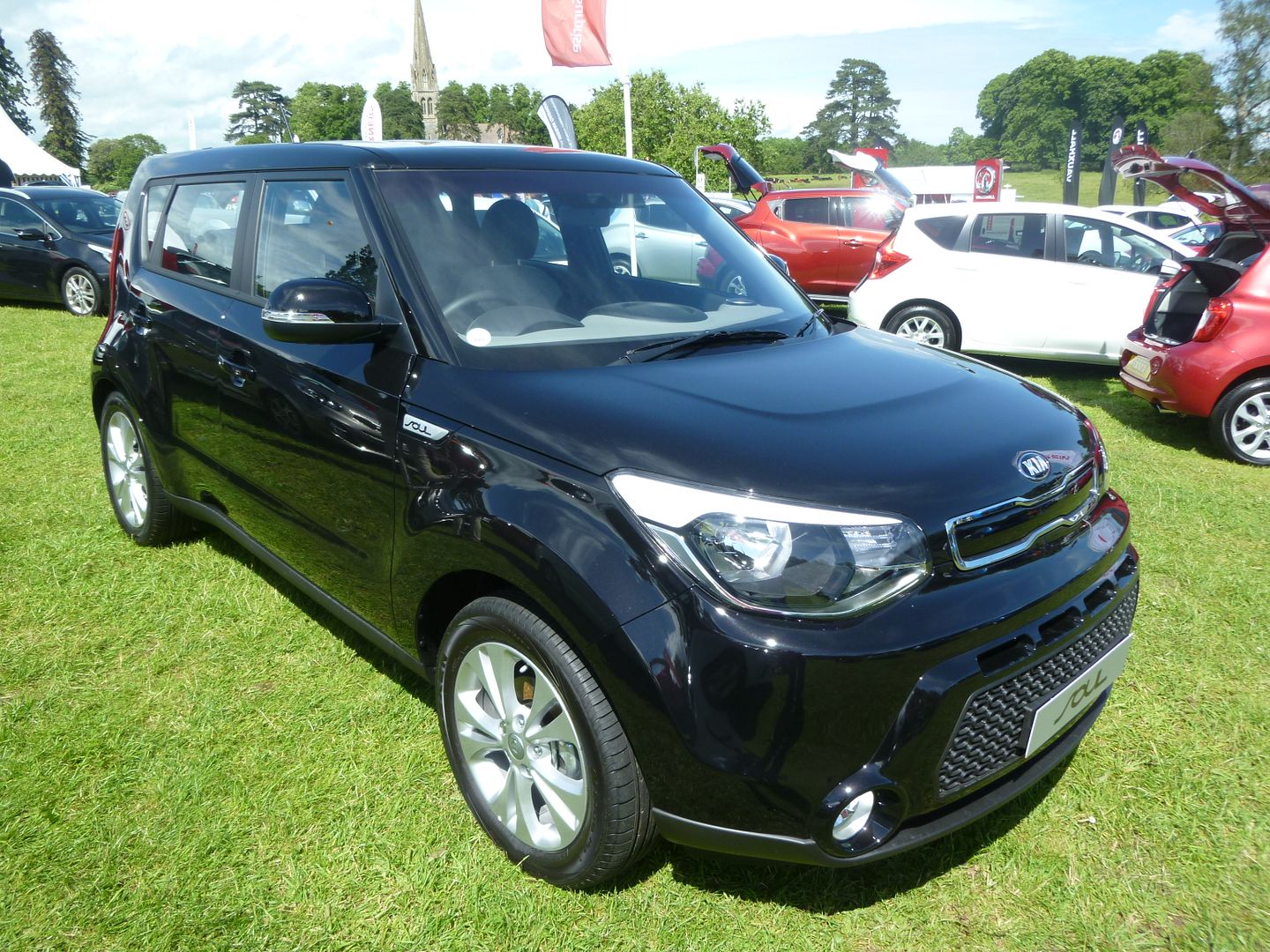 MAZDA
This is my favourite Japanese brand, and by some margin. The 3 and 6 impress and I enjoyed driving a basic 2 as a rental car in the US (I also think it looks very good indeed). The evergreen MX5 was also on the stand, in CC format.
MG
Although sales of the latest Longbridge assembled MG3 and MG6 remain very low, these cars do seem to be finding plenty of favour with their owners, scoring highly in the 2014 JD Power Survey and with an enthusiastic owners club.
MINI
A full range of the MINI models was on show, with all the different body styles displayed.
I had a good look at the latest MINI 3 Hatch, and confirmed yet again that the new dashboard and ergonomics are welcome, addressing the issues that were apparent in the first two generations, but that despite the slightly longer wheelbase, space in the back is really as limited as before, and the boot appears little bigger (it gets its extra capacity from depth rather than floor area, I think).
Even so, MINI 3 appeals in a way that the Coupe never will, and nor, if I am being honest will the Countryman or the Paceman.
MORGAN
A trio of cars from local Malvern Link maker, Morgan, it was the Three Wheeler which seemed to be attracting most interest. Over 1500 of these cars have been sold already, making it a huge success for the manufacturer.
NISSAN
I did not spend long looking at Nissan, and it was nothing to do with the product. All the boots were open, and after I had closed the second one to take a picture, a very abrasive and rather uncouth sales man came up to me, and complained. He told me that as the cars had their batteries disconnected, closing the boots would give him a problem as they would be unopenable again (odd, as most of them had a manual release on the boot lid and inside the car!), and in no uncertain terms, he asked me to leave them open. I protested that I was only taking pictures, but he made it very clear that he wanted it his way. So I left. Later I saw him half spread-eagled over the front of one of the cars, with coke can in hand looking rather bored. He is lucky I have not written an email to the MD of Wessex Garages to alert him to the way his sales staff try to win customers over!
PEUGEOT
There was only space for a small sample from Peugeot's large range of cars, so one example each of 208, 308, 2008, 3008 were all there was to see. Although less visually unpleasant than their predecessors and with much improved interior quality, these cars still do not do for me in a way that the Peugeots until the early 1990s did.
RENAULT
A couple of Clio display cars featured some deeply unpleasant red-trimmed wheels which I thought looked cheap an nasty. I am no fan of the latest Clio on a good day, but the trim detailing on these did little to persuade me to look at them for long.
Also on show was the latest Megane with the new corporate nose on it, a Captur and a Zoe.
SEAT
I am really impressed by the latest Seat models, especially the Leon, which I think is the car in its class I would pick over a few strong rivals. I've only driven the 5 door hatch in 1.6 TDi spec so far and it impressed. Here was a chance to look at the new ST (Estate) model and the very well received Cupra.
A new Ibiza is scheduled for later this year, but there is little to dislike about the current one, as I found out when I drive one last summer.
Less convincing, perhaps, is the Toldeo, a sister car to the Skoda Rapid, though it has found favour with Spanish cabbies who appreciate its roominess and low price.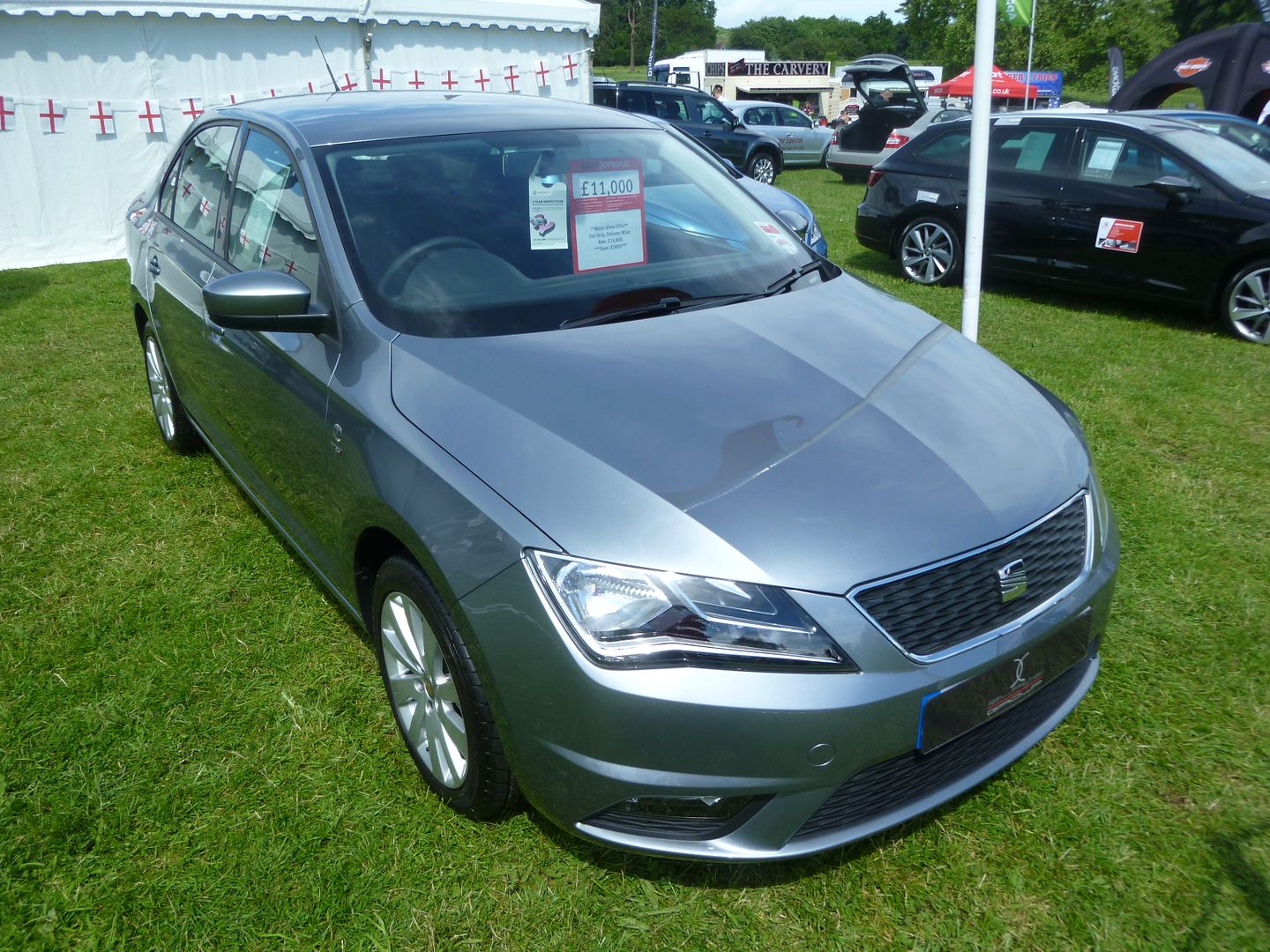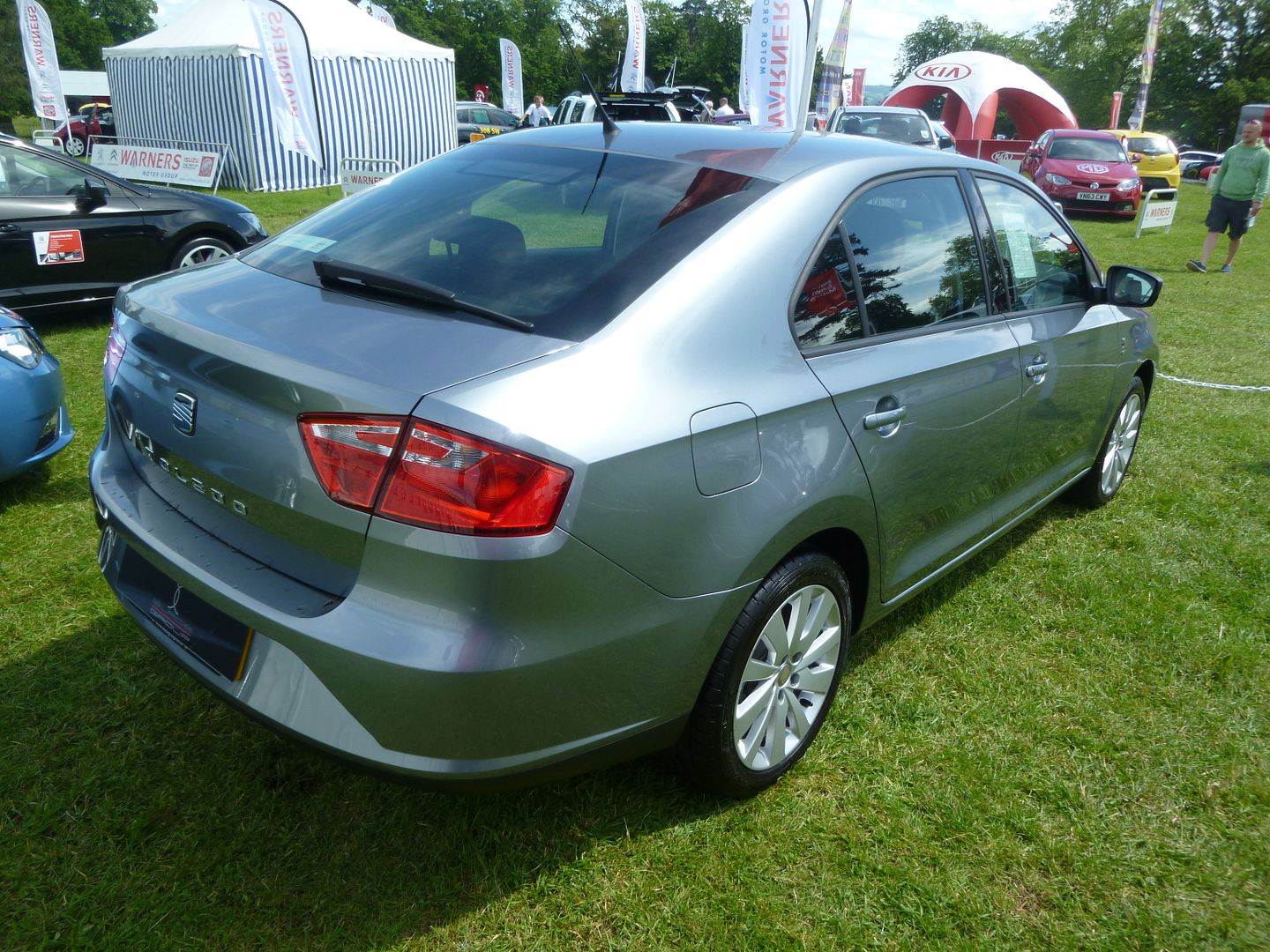 SKODA
Seat does not have it all its own way, as the latest Octavia is also a very impressive product. A vRS would be a very agreeable car for me if I had to trim the budget a bit from the Audi, though I don't think I'd want one in this particular colour scheme.
Newest model in the range is the Spaceback version of the Rapid, a car which neatly bridges the gap between the Fabia and Octavia, and which is destined to sell better than the saloon version which was the first mode launched in the range.
I'm still not totally convinced that I find the facelift applied to the Yeti to be an improvement, as I was a huge fan of the front end styling of the original model. I still maintain that this could be the "best car in the real world", though.
The facelift applied to the Superb back in 2013 was, to my mind, rather more successful, tidying up the slight awkwardness of some of the detailing.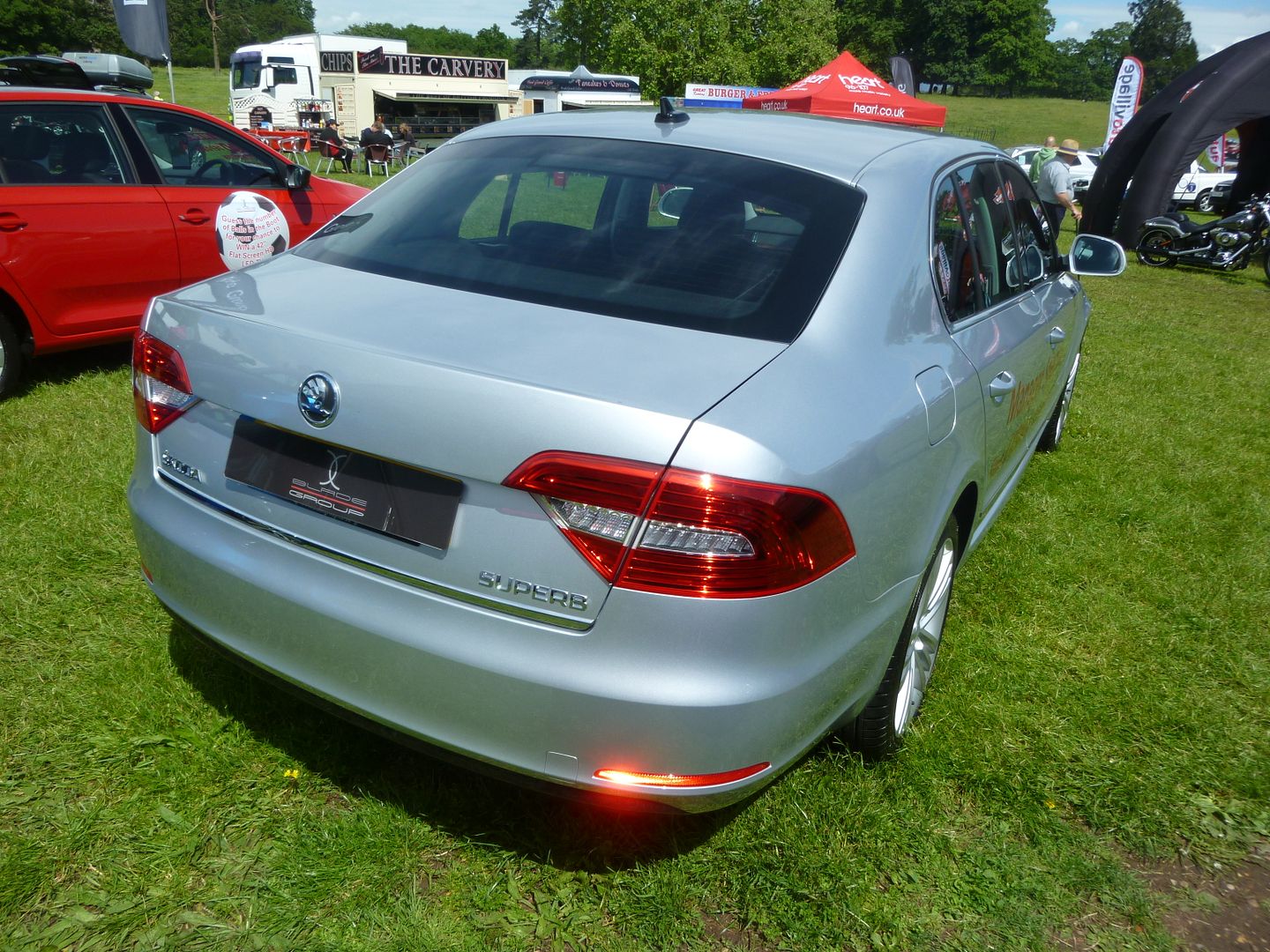 There was also a Citigo, Skoda's version of the small VW Group City car.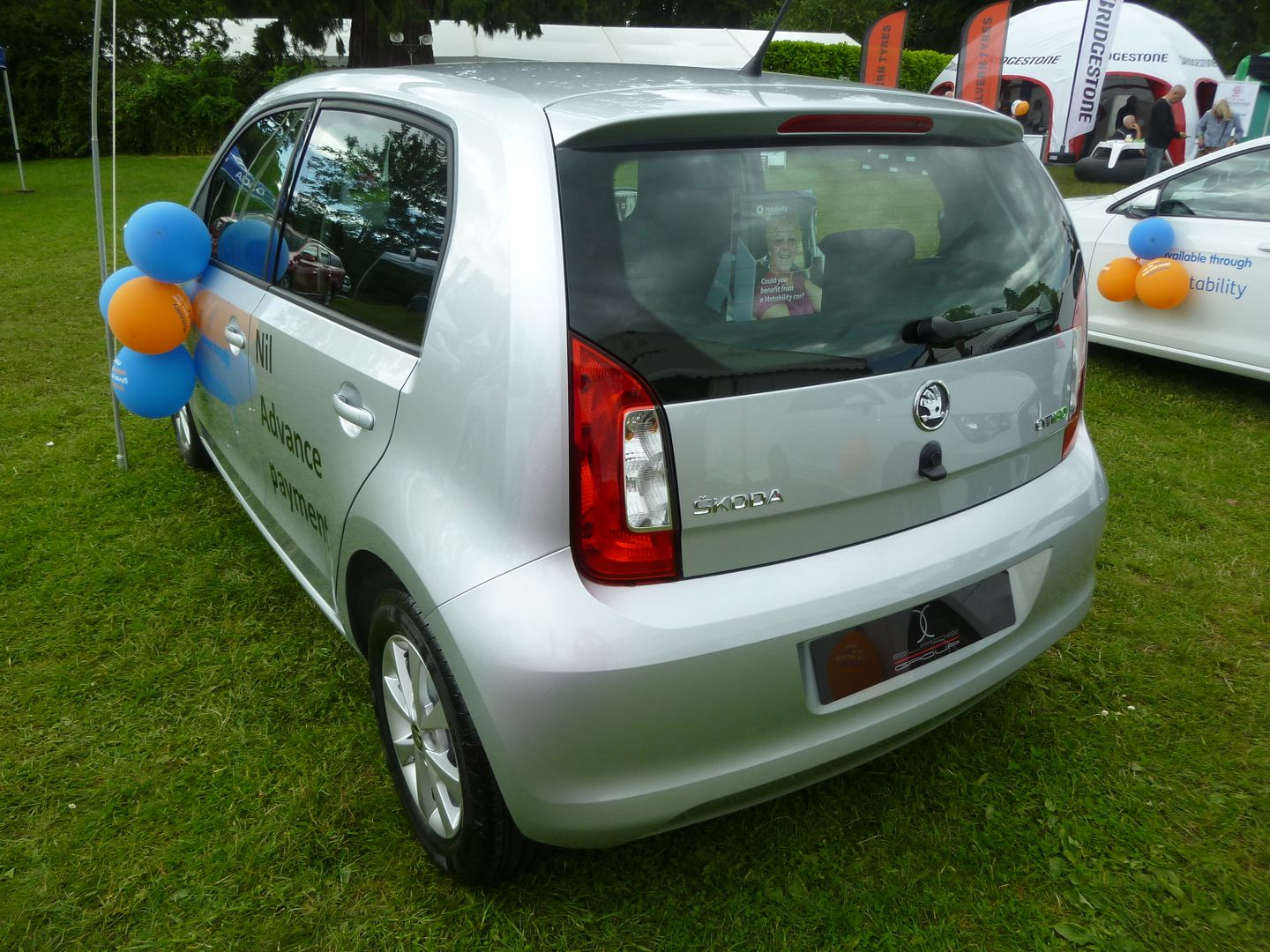 SSANGYONG
Whilst the wilfully ugly styling of the vast Rodius may have been consigned to history, few are going to look at the current range and declare them to be things of great beauty. Nor will they look at the interiors and marvel at the quality, but you could now say that for the price the cars are acceptable. The Turismo, Rexton and Korando were all on show.
VAUXHALL
I had quite a long chat with one of the sales guys here about the Adam. He told me that the initial briefing from HQ was that this car was aimed at the younger buyer, but the reality seems to be that older people are buying it, as a trade down from a larger Vauxhall. He did his best to big up the product and its sales success, but did admit that a more powerful engine cannot come soon enough!
The other Vauxhalls on show were all familiar enough, ranging from Corsa through Meriva to Astra and Insignia as well as the slow-selling Antara and Cascada.
VOLKSWAGEN
A number of VW were on show, ranging from the little Up! to the Sharan and Touareg, with lots of the different models in between including Golf, Scirocco, Touran and Tiguan.
VOLVO
Volvo are part way through a transformation of their range, and all the omens suggest that they are well positioned to thrive in the rather difficult niche they find themselves in. The V40 was launched a couple of years ago, and whilst press enthusiasm seemed to diminish quite quickly, this is a stylish car that is that bit different to the mainstream rivals. It is nicely finished, looks good and thanks to the chassis shared with lots of parts of a Focus, should drive well.
The mid-range cars, S60, V60 and XC60  have recently received a mild styling update and Volvo's much praised new range of petrol and diesel engines, which by all accounts make them highly desirable machines well worth a second look. the V60 Plug-In Hybrid has some very impressive engineering, but it is a rather pricey proposition, so destined to remain a very low volume sales proposition.
Top end of the range sees the old-stagers: V70, XC70, S80 and XC90, all good cars in the time, but now rather elderly designs. Replacements are in the offing with the new XC90 due to premiere in a few weeks time.
CLASSIC CARS
Doubtless there would be a much larger assembly of classic cars on the Sunday, but even so, there were some nice cars to look at on the main lawn and surroundings.
AC
Not a genuine Cobra, of course, but still a real attention grabber. And that's before firing up the engine!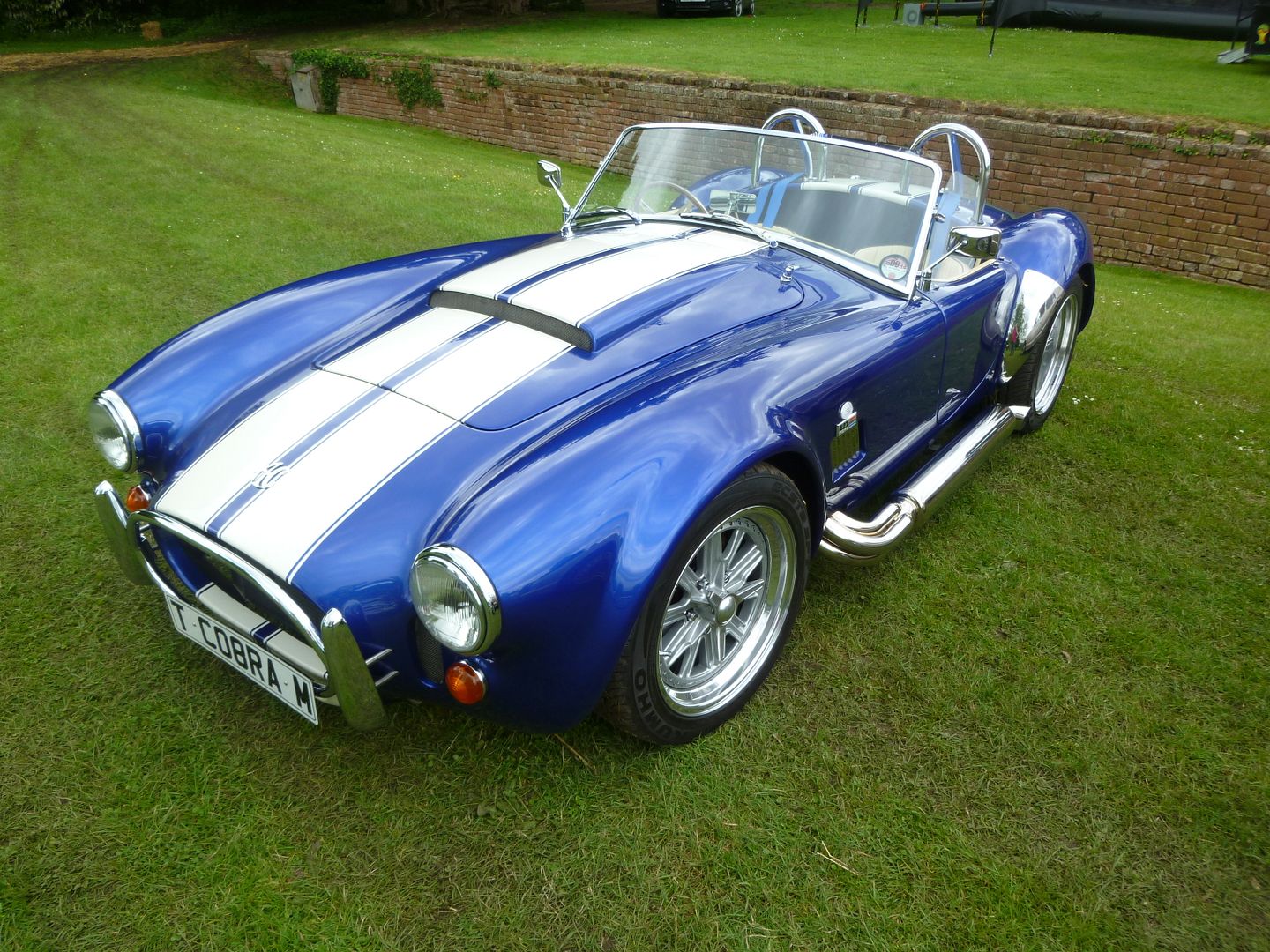 AUSTIN
One of the least well known Austin models ever is this, an A40 Sports. Sharing mechanicals with the stodgy A40 Somerset, these cars were built in the very early 1950s by Jensen on Austin's behalf, and they resembled a cut-down version of the car whose assembly plant they shared.
AUSTIN-HEALEY
Far better known is this, the classic "Big Healey", seen here in 3000 guise.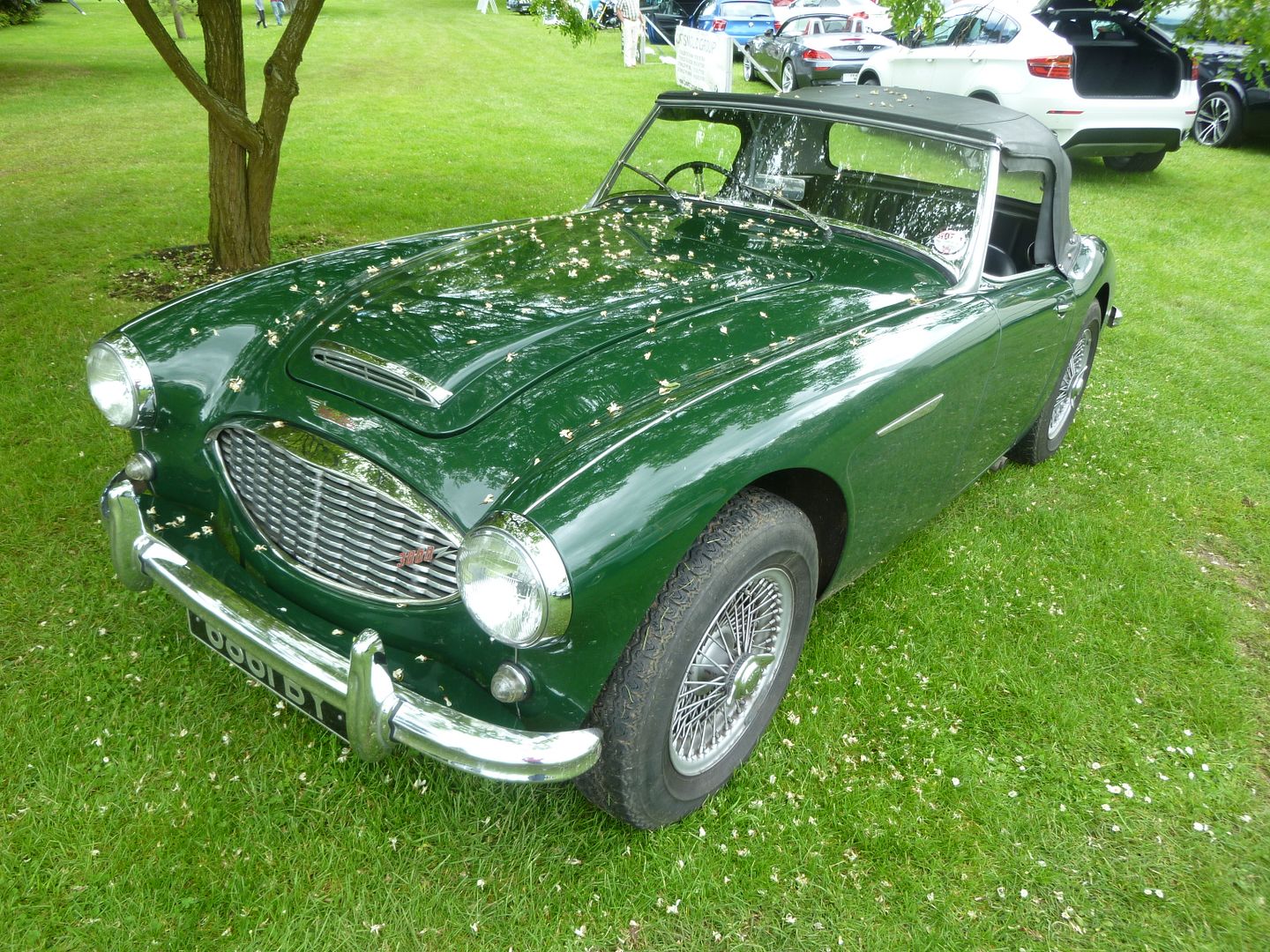 BENTLEY
A pair of classic 1930s Bentley cars had pride of place on the main lawn. Both were 4.5 litres and both were absolutely magnificent. These are impressive and sizeable machines which would have been far from easy to drive. Contract them with the lithe and diminutive Bugatti and it is not hard to see why Ettore called them the "fastest lorries in the world".
BUGATTI
This splendid pair of Bugatti models were to be found on the main lawn in front of the house. I believe they are respectively a type 35C and a 43.
Occupying a more prominent position on the main lawn was another model. I am not sure of the Type of this one, and there were no signs or labels to help me.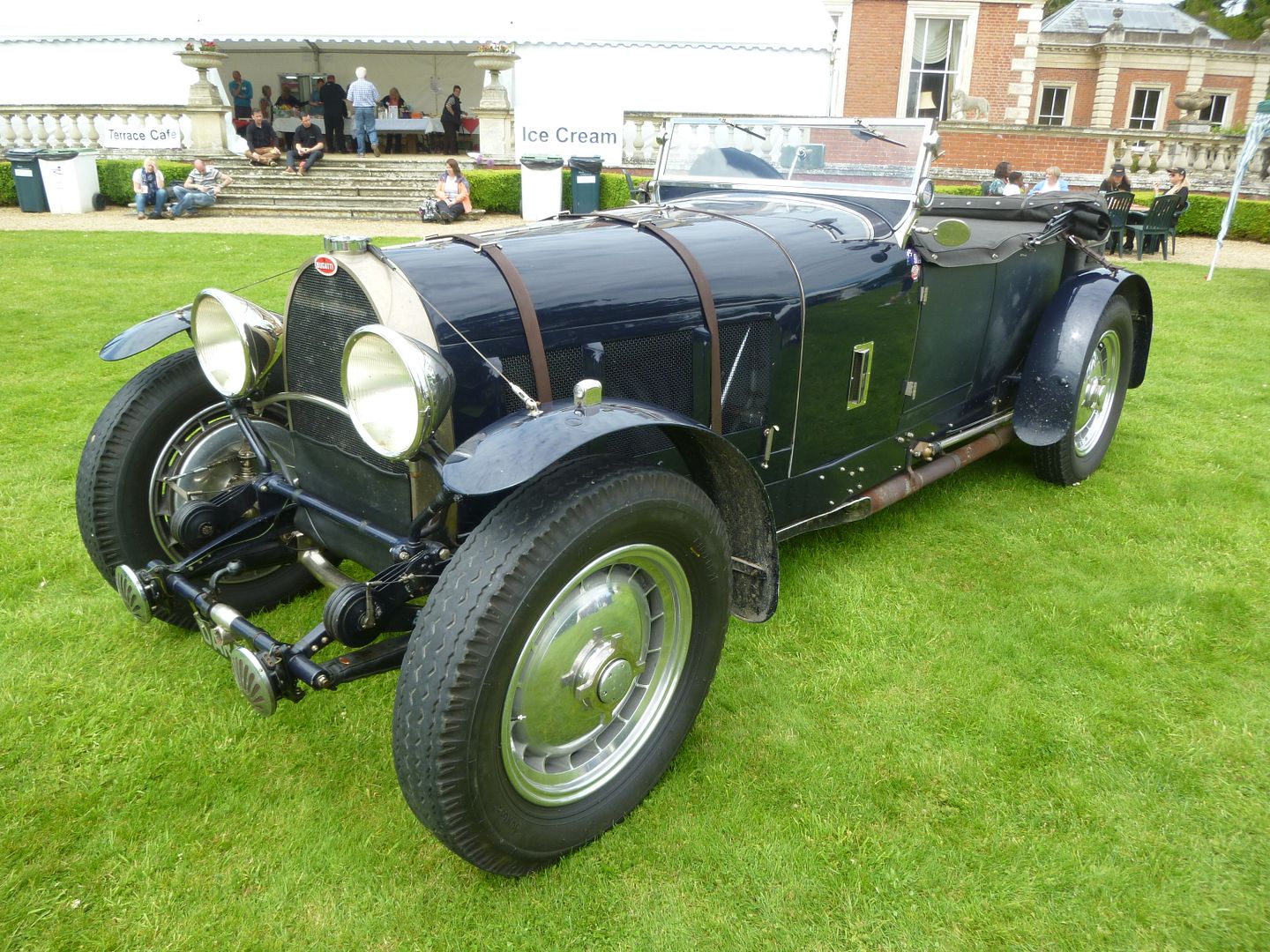 FERRARI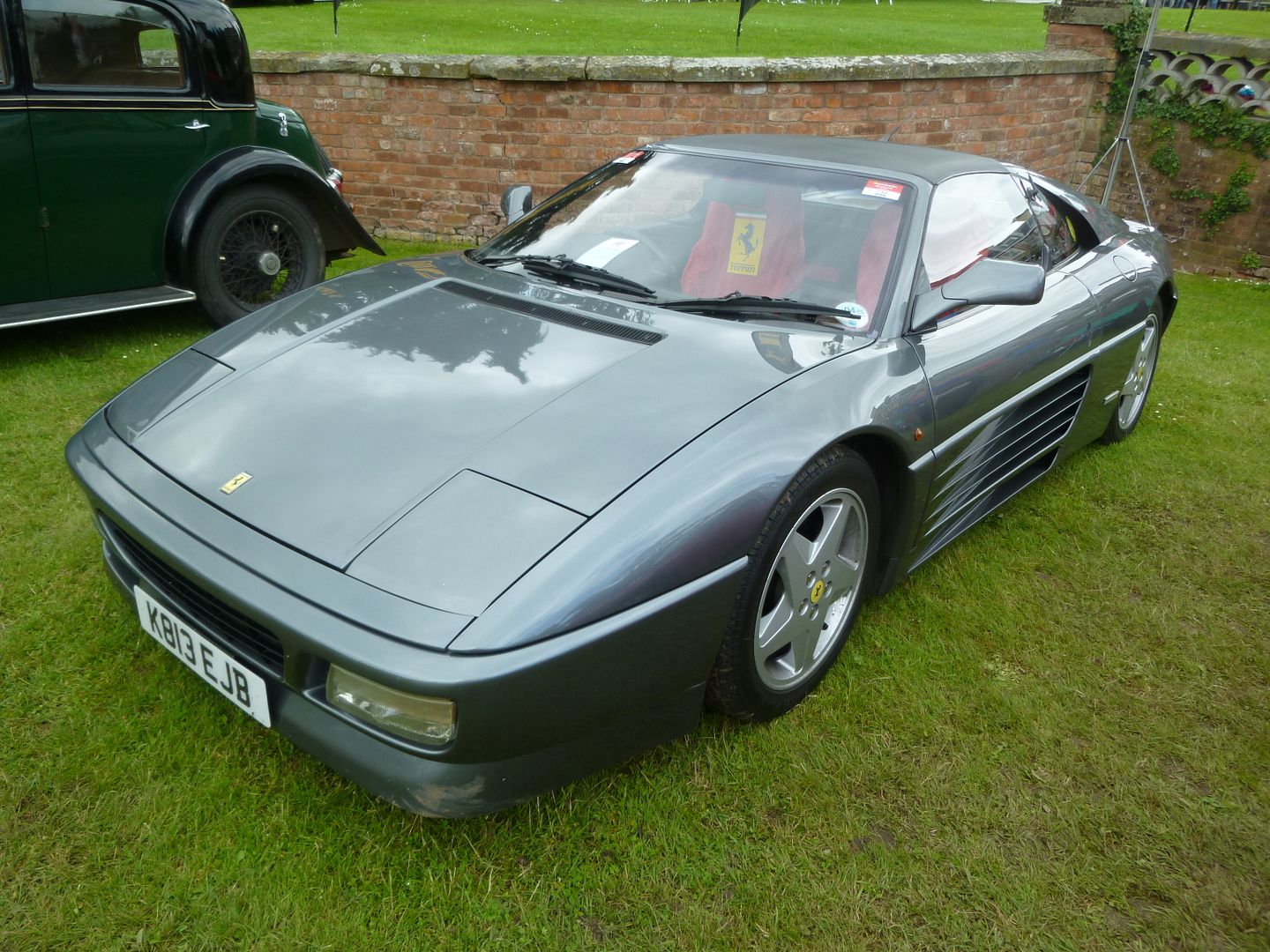 JAGUAR
It would not really be a Classic Car Show without an E Type or tow. This event did not disappoint!
MORRIS
There were plenty of examples of the ever popular Minor, from Saloon through Traveller, Tourer and Van.
RALT
This Formula 3 car dates from 1978, but it is still in competitive use today, most recently at the Grand Prix Historique in Monaco in early May.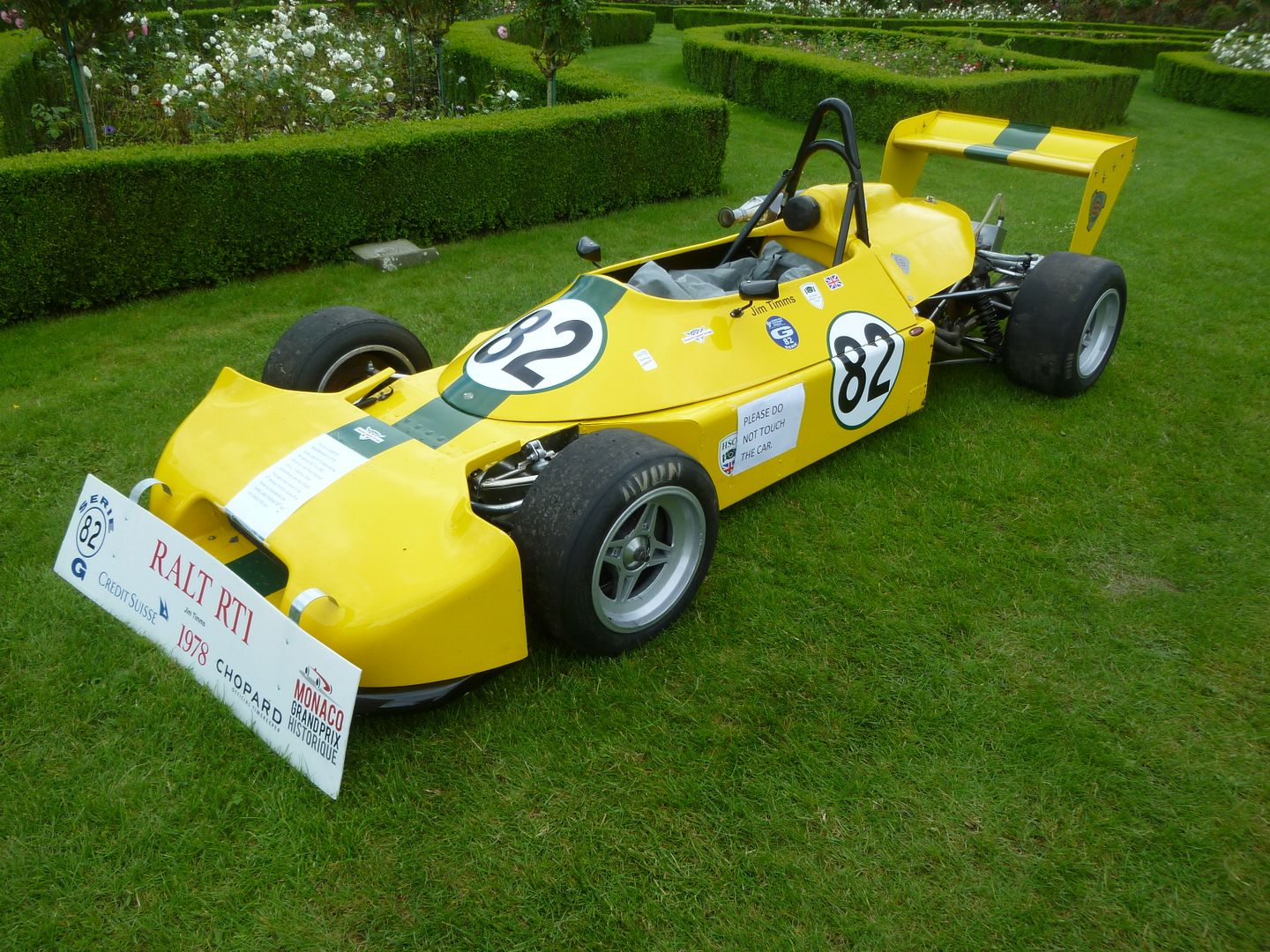 RENAULT
Even when new, the R5 GT Turbo seemed to live in the shadow of its fellow countryman, the Peugeot 205 GTi. There are fewer surviving Renaults, and many of those who do remain seem to have been somewhat modified, so it was nice to see such an original car as this one.
ROLLS-ROYCE
This show always seems to attract a number of stately Rolls-Royce models from pre-war, and 2014 was no exception with an array of cars from a 20/25, a 40/50 "Silver Ghost",  through several Phantom models.
There were a couple of post war cars as well, with a lovely Silver Wraith joined by a Mark 1 Silver Cloud Saloon, as well as the rare Silver Seraph, the last introduced before Rolls-Royce and Bentley product lines diverged following their respective acquisition by BMW and VW.
SINGER
Oldest car present was this, a fabulous little Singer from the early 1920s.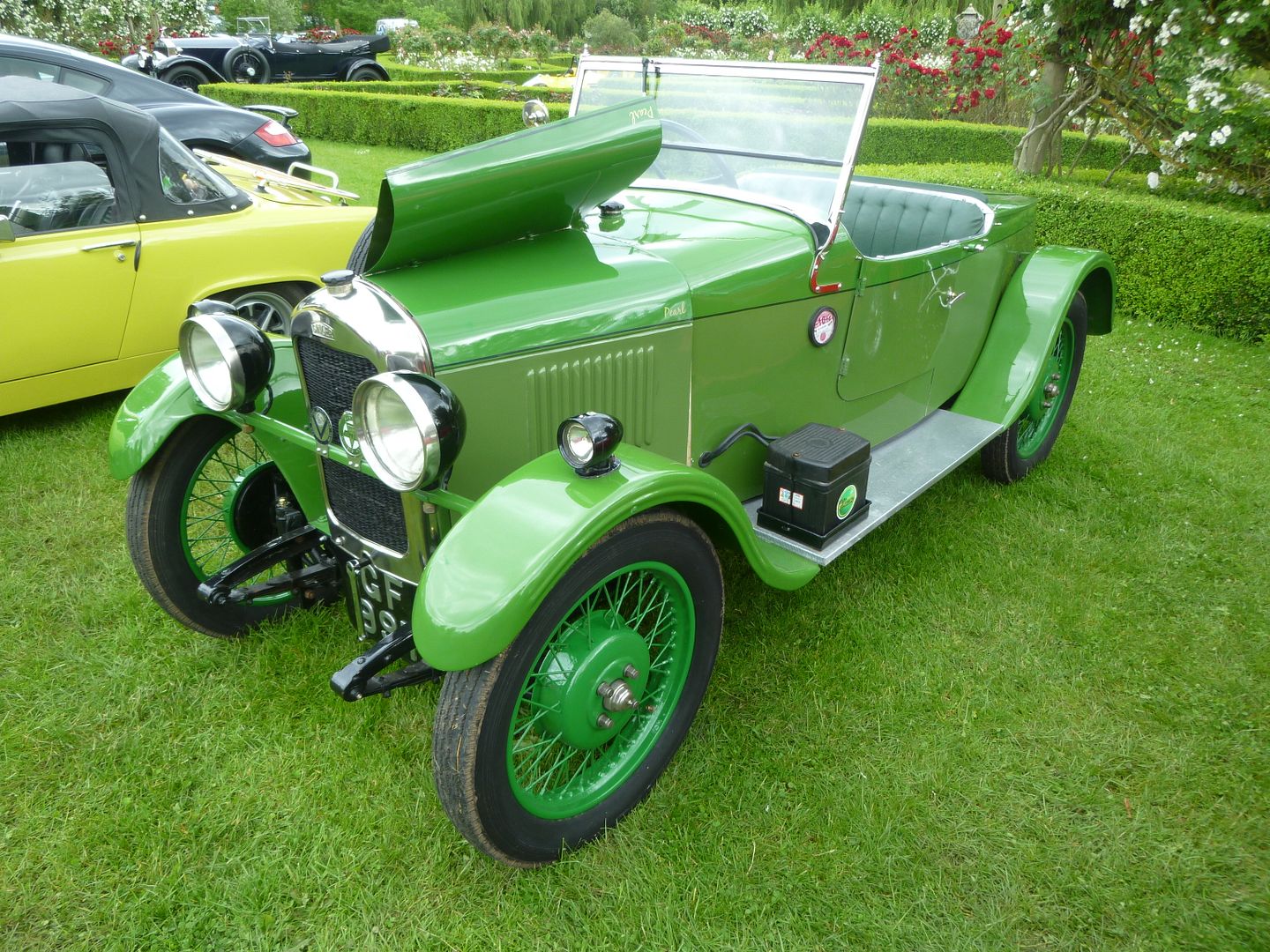 STANDARD
The first version of this car, the Standard Eight. was really rather too basic for many people, so it was not long before Standard added not just more power, but more in the way of, well, not exactly luxury, but features, let's call them, such as a boot lid (!) and a passenger sunvisor. Even so, this car never reached the sales achievements of the Morris Minor or Austin A30.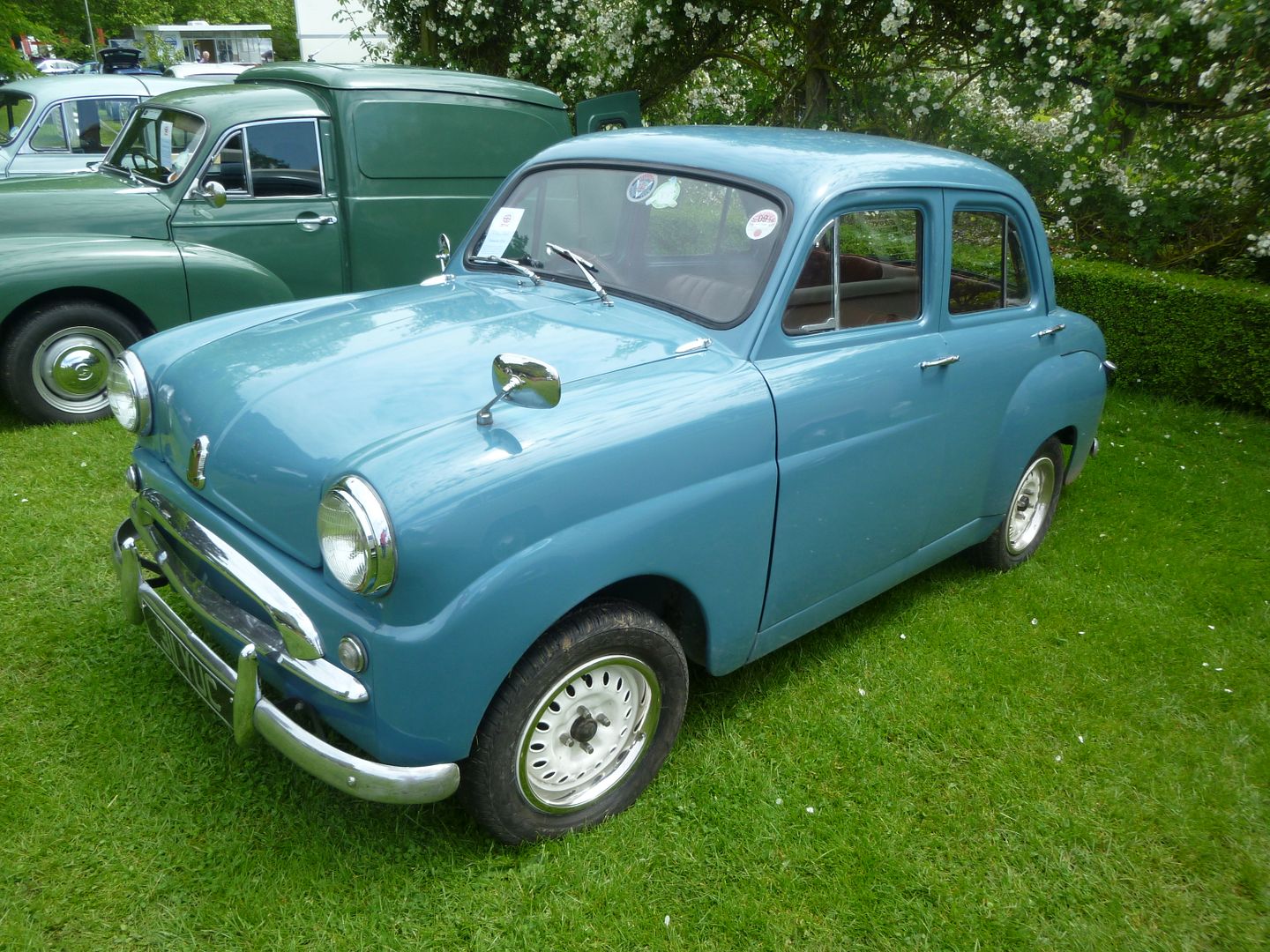 TRIUMPH
Just a couple of classic Triumph models, a TR4, and a Mark 1 2000 Saloon.
VANDEN PLAS
There were a couple of the luxurious Vanden Plas 1100 models parked up under the trees. Although expensive when new, these cars found a steady stream of buyers who appreciated the fittings that were otherwise only to be found in much larger and costlier cars.
VAUXHALL
An H Type, dating from the late 1930s.
VOLKSWAGEN
This was nice example of the "Bay Front" Type 2, a vehicle which only went out of production a matter of months ago.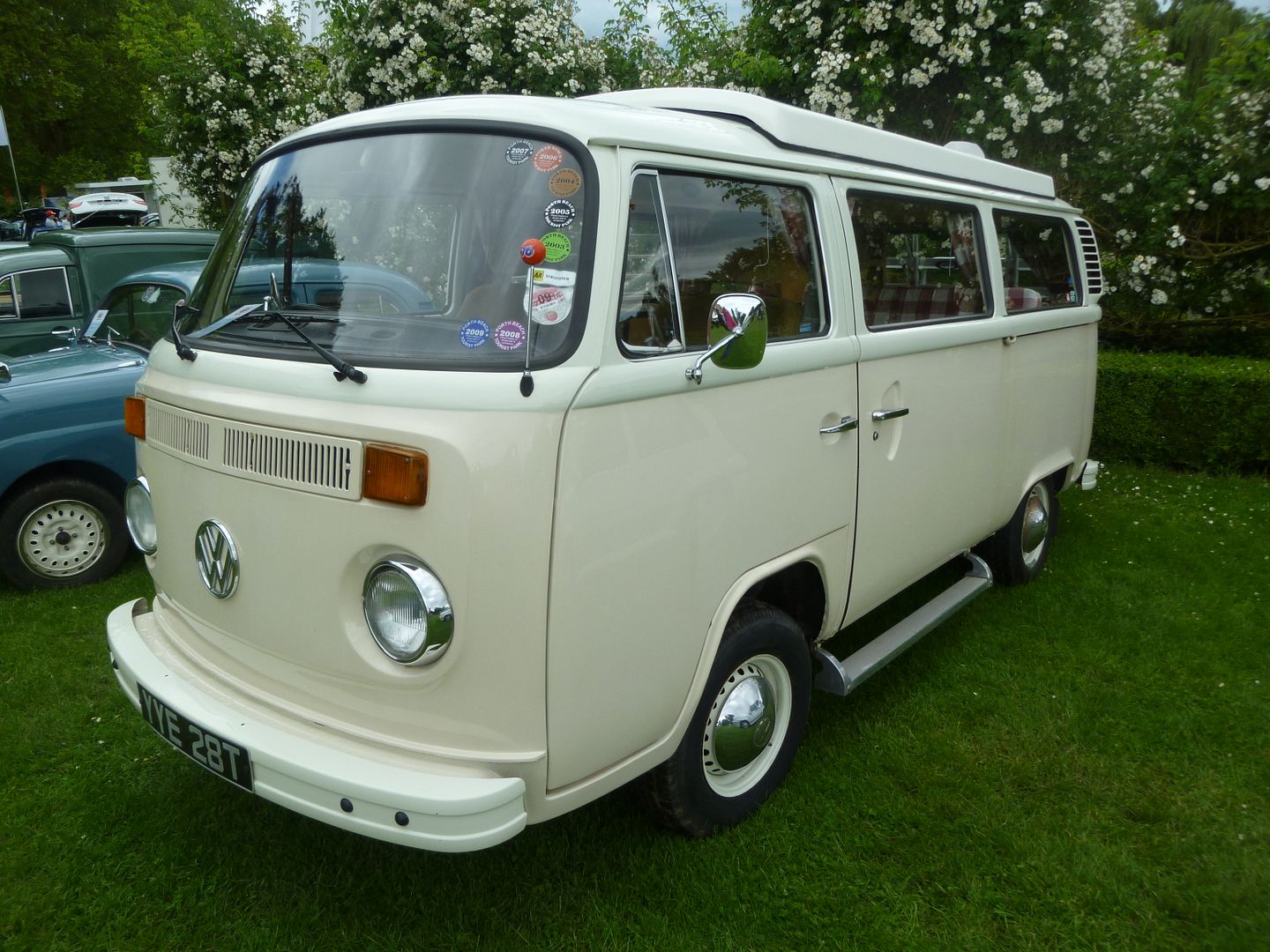 Although it was a big boggy under foot in place, this was a nice event, made even better by the ever increasing amounts of sun during the afternoon. The churlish Wessex Garages Nissan person aside, it was nice to be able to have a good look at the cars and to chat to the sales people present at a very uncrowded event. I suspect that there would have been more to see on the Sunday, but more crowds as well, and my diary called for me to be at another event elsewhere in the country. As it was, this event was well worth the journey and the admission fee, and will be in my 2015 diary, for sure.