In the 21 years since some rather tentative beginnings when Lord March wondered whether anyone would turn up to the assembly of a few interesting cars he had persuaded friends to bring to his estate just outside Chichester, the Goodwood Festival of Speed has grown to be one of the best known and busiest motoring events not just in the UK but globally. Planning the event starts almost as soon as the last one is cleared away, and is a massive undertaking, as something is sought with the goal of making each year "better" than what went before. The core of the event remains a gathering of a wide variety of wheeled machines – car and bike – from brand new to very old, and an array of famous owners and drivers, who can not just show off the cars, but demonstrate them in front of capacity crowds on the famous "hill" that snakes through the Goodwood grounds. Whilst the action is what thrills many, as everyone tries to come up with the very best time that they can, the static displays are equally compelling for many, so it is no surprise that in recent years the scope has broadened to the extent that an extra day has been added to what had long been a three day event, with more of a focus on new road cars, neatly filling the gap left by the fact that there is no UK national Motor Show any more. The result is the Moving Motor Show, taking place on the Thursday, giving attendees the chance to see most of what will be on display and in action over the Festival of Speed weekend, and the opportunity to look at a wide variety of new cars and – if planned carefully or with luck on their side – the chance to test a car or two on the same track as the weekend competitors will use. So popular has this event become that not only do most  manufacturers support it, many use the opportunity to make new product launches, some of which are specific to the UK and some are indeed the global reveal. I've attended the Moving Motor Show a couple of times before and had a really good day out, so was keen to include it in my 2014 calendar, and when it became clear that the Daily Telegraph was not going to be offering free tickets to those who were quick off the mark, as has been the case in the last couple of years, was even prepared to pay the not inconsiderable ticket price, until a colleague very helpfully told me of a discount code he had found, which worked. With tickets sorted, and the diary blocked, all it needed was an early start to try to beat the traffic queues getting in (not completely successfully, but I only added 10 minutes or so to the journey time), and to ensure I was bursting with energy for what I knew would turn out to be a full day. As you can see in this report, there was an awful lot to take in, and I did not get to see everything (you can't in a day). Here is what I did enjoy and capture on camera;
CARTIER STYLE et LUXE CONCOURS
One of the (many) highlights of this event is the gathering of cars on the lawn around the side of the house, set out in the manner of a formal Concours. The idea is that cars on show should have special merit and be particularly rare. At a first glance, it proved very hard to figure out what theme had been selected for 2014, but a bit more analysis revealed that in fact the 50 or cars assembled were not all part of a single group, but a set of sub-groups, with no particular linkage between the categories. That made for a particularly diverse display, and this was an area where I enjoyed spending a lot of time, just in awe of some amazing machinery.
1920s LIGHTWEIGHT SPORTS CARS
An intriguing collection of small sports cars from the 1920s, from marques most people would not have heard of, comprised the first grouping.
Established by Lucien Bollack, an engineer who had also worked for Hispano-Suiza, and his financier and banker René Netter, in January 1923,  B.N.C. were a successful maker of cyclecars, winning many rallies albeit not selling very many cars.  B.N.C. mainly produced sports cars, with designs similar to those of the Amilcar. Jacques Muller, the technical director' earlier J.M.K. cyclecar formed the basis of the first BNC car the "DZ". The cars' engines were not made at the factory, but were instead purchased from proprietary engine manufacturers such as Ruby (927 cc) and S.C.A.P. (900 cc). B.N.C. later produced a car with a 1,100 cc S.C.A.P. or Chapuis-Dornier engines, fitted with a Cozette supercharger. While most had three-speed gearboxes, a number of cars received four-speed units.In 1927 the B.N.C. Sport was presented, with overhead-valve engines from S.C.A.P. or Ruby, spoked wheels, and a strongly inclined radiator. To prove the mettle of the cars, a standard B.N.C. with an 1,100 cc Ruby engine lapped the (then unpaved) Le Mans circuit for 24 hours straight in 1928. The average speed was above 90 km/h (56 mph). In the late 1920s, the company tried to penetrate a more costly market sector with the "Aigle", which had four to five-litre eight-cylinder engines made by Lycoming. Unfortunately the demand for large passenger cars and for ultra-light racing cars were both low, and Bollack and Netter were forced out of their company in 1928 when the business was acquired by Charles de Ricou, an energetic businessman who by now had a reputation for rescuing financially troubled automobile manufacturing businesses. In the case of B.N.C. his timing was less than perfect, however, in that (like many others) he failed to anticipate the Great Depression, B.N.C. launching the large 8-cylinder engined "Aigle" in October 1929, a few days before the stock market crashes gave notice of a decade of severe contraction and stagnation for the French economy. The company folded in 1931. The car that was shown here was a 1926 Sports model.
Amilcar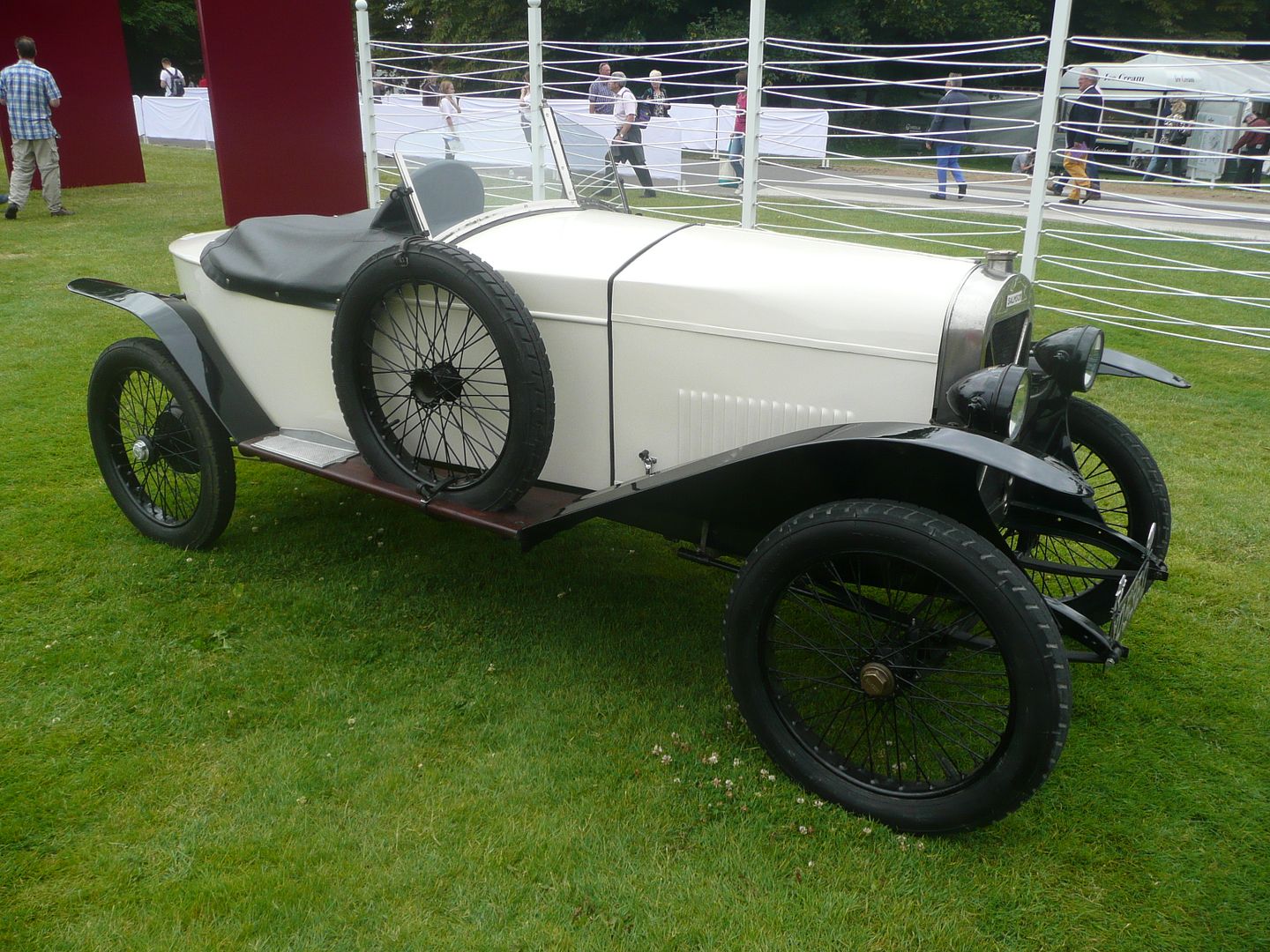 Bugatti Type 13 Brescia
1930s MERCEDES
1935 380K Sport Cabrio
500K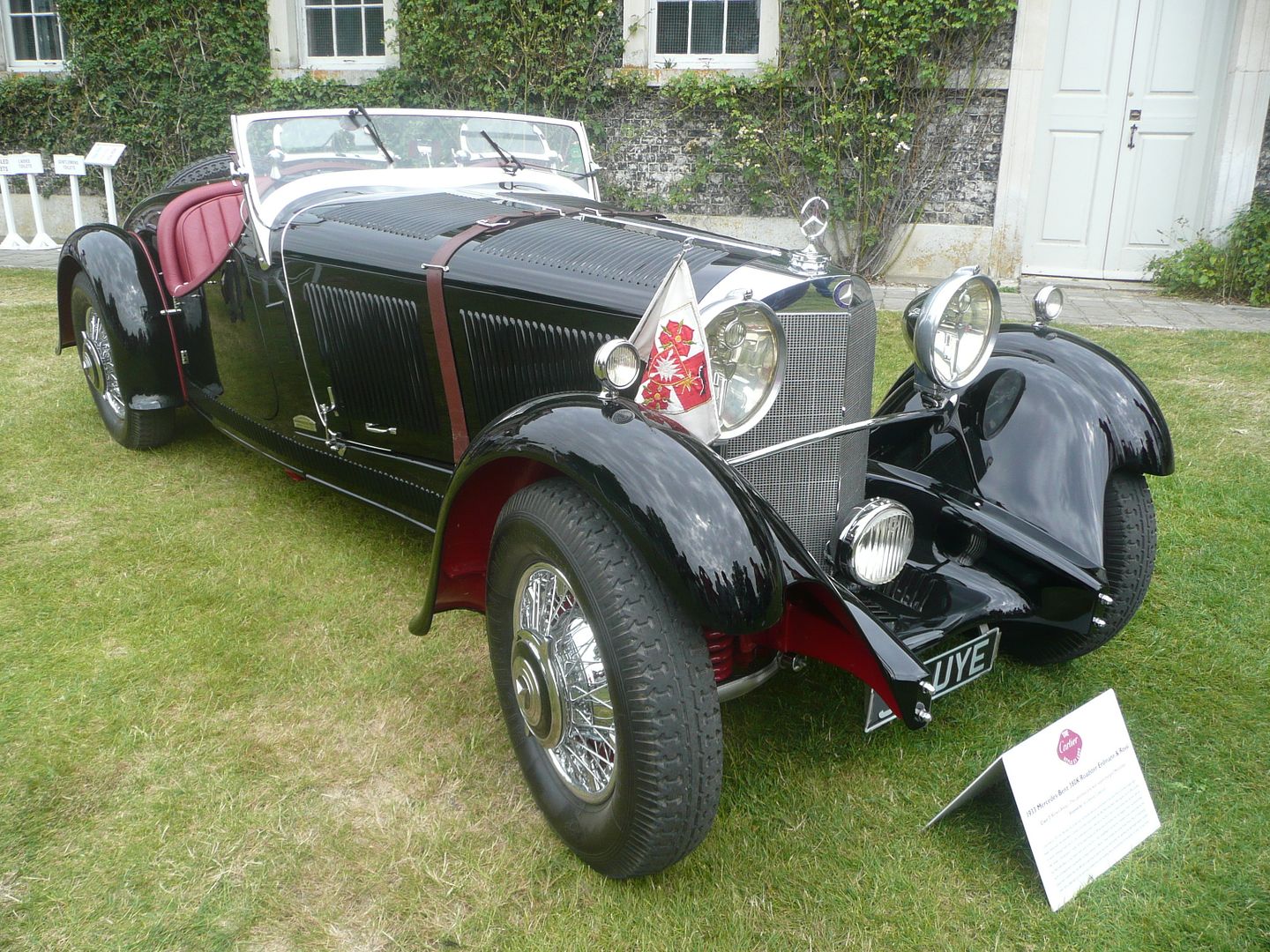 This 1928 700 SS Tourer had a  6.8 litre engine which put out over 200 bhp – a lot for any car of this era.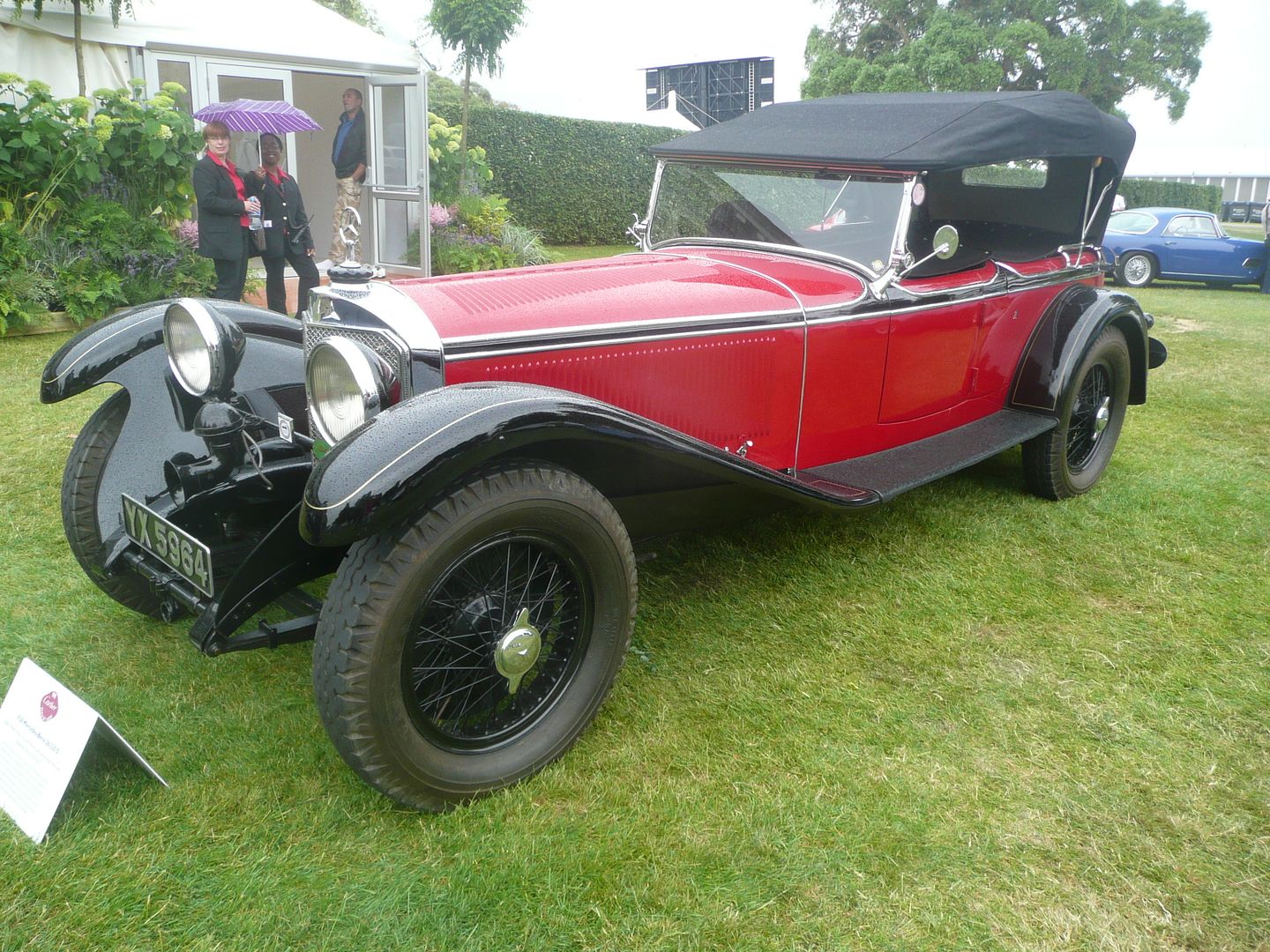 This 1935 500K with coachwork by Erdmann and Rossi was perhaps the most spectacular of the trio. Just incredible! It featured a 5 litre straight supercharged engine which gave the car performance to match its looks and lofty price tag.
1950s AMERICAN LUXURY
This 1959 Chrysler New Yorker Convertible is one of just 286 of these V8 powered machines that was built during the year.
Even more expensive than the Chrysler would have been a Cadillac, widely regarded as America's "best" car at the time. This is a 1958 Eldorado Biarritz Convertible, top of the range, and again only made in small quantities.
A marque long forgotten now is the De Soto, part of the Chrysler Group. This is a 1958 FireSweep Convertible.
1960s AMERICAN PONY CARS
Inspiration for this category clearly came from the fact that the original Pony car, the Ford Mustang is celebrating its 50th anniversary this year. Accordingly, there was an example of the 1964.5 models (as it is generally known) in the Concours.
Far more intriguing than that was this version, the 1966 Beverly Hills Mustang Mustero, which is a sort of combination of a first generation Mustang and a Ford Ranchero. I had assumed that it was probably a one-off, but it would appear than in fact 50 of them were built, 30 of which came to Europe.
There was also an example of the Shelby GT350 version that was made in small quantities from 1966. This is a 1967 car.
That was the year when the Ford Motor Company added a further model to their Pony Car range with the Mercury Cougar, shown here in  XR7 guise
It took until 1967 before Chevrolet had an answer to Ford's runaway success, when they came up with the Camaro. This is a 1968 car, and very nice it is too.
Chrysler had their cars on sale somewhat earlier, such as this 1966 Plymouth Barracuda.
As the 1960s progressed, the Pony cars became not just physically larger, but an awful lot more powerful and ever more extrovert in their appearance, mutating into what became known as the Muscle Cars. One of the more popular of these was the Dodge Challenger and this is a 1970 R/T version.
Even the smaller marques joined in on this progression, which gave us cars like this AMC Javelin SST.
MASERATI
In honour of Maserati's centenary, there were a number of 1950s models on show. There is an informal contest to judge Best in Concours, with the judges being the owners of the cars on show, and this year's prize went to a 1953 A6GCS Maserati. Sadly, it was one of the Concours cars that was not present on the Thursday, though. I might have been tempted to give that prize to this, a simply stunning 1954 A6G Zagato
The Frua bodied 3500GT Coupe is widely credited with being the first "series" production Maserati. Launched in 1959, it was made for 5 years before being superceded by the Sebring.
Just 22 of the 5000GT cars were made in the very early 1960s. No two are quite the same, and a number of different styling houses were responsible for producing the bodies, so there are several different designs, some more elegant than others. This is one styled by Allemano
1960s MID-ENGINED EXOTICS
In many ways, this was the most diverse class, with a mix of cars, some well known, and some decidedly unknown. In the latter category was this, an ATS 3000 GTS. ATS is yet another marque that came into being following a disagreement with Enzo Ferrari. This one predated the better known spat that led to the creation of Lamborghini. Automobili Turismo e Sport (ATS) was founded in 1961 by Giotto Bizzarrini and Carlo Chiti, with the aim of beating Enzo at his own game with a production sports car and an F1 programme. Their first car was the ATS 2500 GT, an appealing mid-engined coupe revealed at the 1963 Geneva Motor Show. It was powered by an in-house developed 2.5 litre V8, and promised much, with fabulous lines just one of the selling points. As if trying to get a road car program of the ground was not enough, a 1.5 litre version of the engine was created and installed in the short-lived ATS F1 car, raced by the ex-Ferrari 1961 Grand Prix World Champion Phil Hill. Selling the cars proved hard, though, and financial difficulties meant that ATS closed its doors in 1964, with only a handful of cars made, shortly after showing this 1964 3000 GTS 3 litre model. It remains a one off.
The Ferrari 250 LM was essentially a privateer race machine offered to customers in 1963. Just 32 LMs were made. This one, chassis #5995, was raced first by a private entrant and then converted for road use later by the Ferrari factory who fitted the perspex engine cover.
McLaren are celebrating their 50th anniversary, which means there is a chance to see some of the earlier and less familiar cars that they have made. Whilst the early years were most definitely focused on racing, a small number of road going cars were made in the 1960s and this MP12 GT is one of just a handful made in 1969.
Needing no introduction at all is the Lamborghini Miura, a car widely credited with being the first "supercar". Still an eye catching design even now, almost 50 years later, these cars pull the crowds. This was a P400S version of the car.
Also well known, and at least as rare is the De Tomaso Mangusta, a Ghia bodied car with a mid-mounted V8 Ford engine.
This Mazda RX500 Concept was a real surprise. I only knew about this car as I recall that Matchbox featured one in their 1-75 range, and either my brother or I had an example of it when we were little. I think that car was orange, but it was nice to see the real thing, which was being shown in the UK for the first time. Developed by Mazda in 1970 as a 'mobile test bed for high speed safety', and weighing just 850kg thanks to lightweight panels, this concept car was powered by a mid-mounted 491cc single rotor Wankel engine, developing a staggering 247 bhp, and capable of the propelling it to a top speed of 125mph.
BIG ENGINED 1990s SUPERCARS
What could more epitomise this category than a Dodge Viper? A huge 8.2 litre V10 engine in a relatively small car, somewhat crudely finished in places, meaning this is all about raw power and fun has been the hallmark of the early Vipers, of which this was a nice example.
Bristol have been even more coy about the Fighter than any of their other products. No-one really knows how many were produced, but the likelihood is that it was a single digit number, which is hardly a surprise, as this Viper engined beast cost well over £200,000 when new, and the interior looks a long way off what someone paying a quarter of that could reasonably have expected.  I've seen at least three different cars over the years, so it was good to see one here.
There is less mystery around the Lister Storm. Although there was a plan to produce a limited number of these rather boldly styled cars, just 4 were made before the venture ceased, making this very rare indeed.
Looking quite restrained compared to some of the big engined late model Marcos cars, this  LM500 was little more than a road going version of the le Mans entrant.
This TVR Cerbera Speed 12 is a one of a kind car. Outrageous even by TVR standards, it boasted over 800 bhp from its 7.7 litre V12 engine, so the decision was taken not to proceed to any form of "production" with a car that was quite so powerful (or difficult to control) as this.
MASERATI CENTENARY DISPLAY
In case it has escaped anyone's notice, 2014 is the Centenary Year for Maserati, and there are events, exhibitions and special displays all over the place all year to mark the 100 year history of this Modenese marque. At Goodwood, this meant a collection of cars assembled in the courtyard area of one of the outlying buildings around the side of the house. Centrepiece was the stunning Alfieri concept that was first seen at Geneva. We are now promised that something very similar to this will go on sale in 2016/17, and on the evidence of this car, that will be something to look forward to very much.
Available right now are two new saloon models, the Ghibli and larger Quattroporte and there were examples of both of these on show.
Also in the current range are the more established GranTurismo and GranCabrio cars and there were examples of these as well.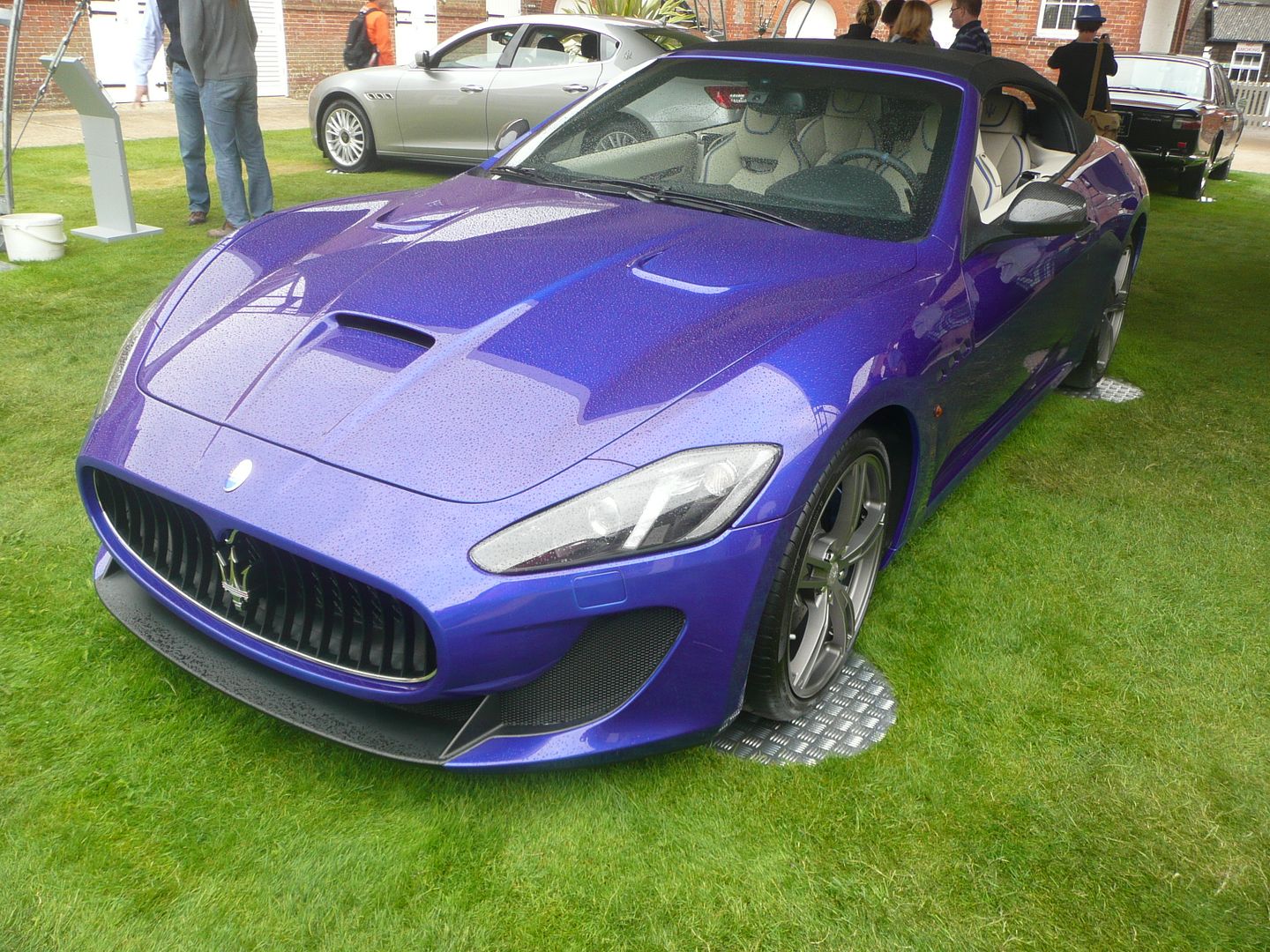 Classic Maserati models ranged from a 3500 GT Coupe through a first generation Quattroporte to a fabulous Mistral Spider, one of less than 100 built and a lovely Ghibli
MAZDA MX5 25 YEAR ANNIVERSARY
To mark the 25th anniversary of what is now, by some margin, the world's best selling sports car ever, Mazda had a huge display. To their credit, two of the cars were not Mazdas at all, but the cars that they said were the inspiration for the MX5, namely an early 1960s Elan and the little Midget.
An array of first generation NA cars ranged from one of the launch edition models from 1989, through a series of limited edition cars. First shown at the Chicago Show in 1989, it was the US market which received cars first, where they were (and still to this day) called Miata, followed by Japan, where the car was sold with Eunos badging, finally reaching the UK in March 1990. The display included the 13th car ever built, and believed to be the oldest model in the UK. Also included was one of the special liveried cars built in 1991 to celebrate Mazda's victory in the le Mans 24 hr race with their rotary engined 787 which was painted in the same distinctive way.
Further first generation NA cars included an example of the UK market Launch Edition and the limited edition California car from 1992 and the Monaco.
Among the second generation NB cars on show were an example of the Launch Edition, a GT4 racer, the special 10th Anniversary Edition car from 1999 and the Sport Black, which confusingly was painted bright green.
There was also a Jasper Conran NB car. Based on the 1.8iS, 500 of these were produced: 100 of them were Platinum Silver (costing £24,000) and 400 were Classic Black (cheaper at £21,000). In both, the interior was trimmed using the same Connolly hide leather as used in a Rolls Royce. The silver versions had red upholstery and a matching leather hood cover and red Wilton carpets. The black version had black upholstery with matching leather hood cover and black Wilton carpets.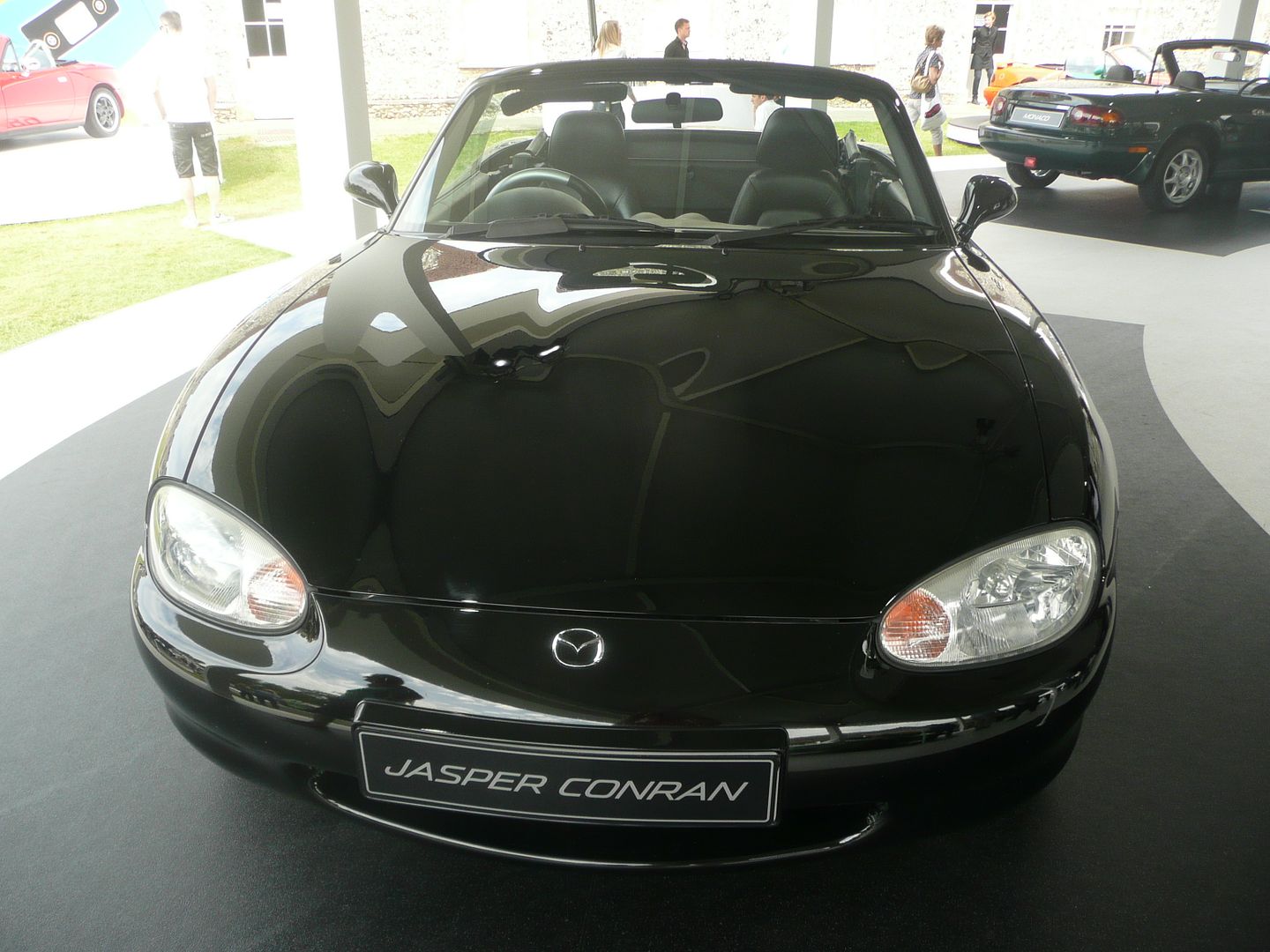 A Launch Edition third generation NC car from 2005 was joined by the recent Sport Graphite, the 20th Anniversary Edition car from 2010 and culminating in the new for the show 25 Year Anniversary car, 1000 of these will be produced, each of which will be individually numbered and 750 of which are destined for the UK market, all finished in a rather nice shade of deep metallic red with contrasting black A-pillars and door mirrors. The UK will receive 750 of the 1000 individually numbered examples of the anniversary model. It is based around the top Sport Tech Nav trim level of the 2.0-litre roadster coupé, and boasts exterior and interior features unavailable on any other Mazda MX-5. Inside, there are off-white leather seats – with a 25th Anniversary logo and stitching – and door trims, special stainless kickplates, aluminum pedals, 17-inch gunmetal grey alloy wheels and Bilstein dampers on the manual-transmission version. Specific to the UK 25th anniversary cars is a 6.1″ touchscreen navigation system.
SUPERCAR PADDOCK
One of the many attractions of the event are the four lines of supercars parked up for inspection. This is a chance to see a mixture of privately owned and manufacturer sourced cars. There were a few gaps during the day, though I did find on returning later on that some cars had gone and others had been covered over for the night, some more had arrived. Sadly, the two I really wanted to see, JK's billious green LaFerrari and the one-off Ferrari F12 TRS were not present at all until the following day, but there were still plenty of nice cars on show, some of which were very rare indeed.
ALFA ROMEO
There were a couple of examples of the eagerly awaited 4C Competizione parked up, and lots of people were giving them intense scrutiny. Although far from cheap, this was probably the most affordable of all the cars parked up in this area.
ARASH
AF8
ASTON-MARTIN
The latest N430 version of the long running V8 Vantage was on show. As with the cars I saw at Geneva, the colour highlights are a matter of personal taste (not mine, I have to say!), though the scheme on this car was less brash than the Geneva Show caras had been. Aston clearly know their target market and you can be sure that these change will appeal to some with the necessary funds to buy one of these.
BENTLEY
The Continental GT V8 S is a nice car, but perhaps not in bright yellow, which is very loud for a car of this size.
BMW
This was another place where you could see the distinctive new i8, BMW's hybrid supercar that is about to be delivered to those prescient owners who paid their deposits almost before BMW confirmed that they would build the car. If the history of the Z8 is repeated, this car will quickly increase in value once production ceases, even if , as current press reports suggest, it is not quite as good to drive as its futuristic looks would have you believe. I think it is fantastic.
FERRARI
The car everyone really wanted to see was the LaFerrari, and there was one here. It was behind a taped off barrier and the Ferrari security guard was beyond anal if she thought anyone was getting even close to the tape, let alone touching it. Even so, it was possible to get another look at a car I last saw in the flesh at Geneva 2013, reminding myself that it is physically a bit smaller than you might imagine from the pictures.
There were less security worries about another trio of Ferrari parked up nearby which included the California T, the F12 Berlinetta and the 458 Speciale, all of them highly desirable machines indeed.
GINETTA
The G60, a car that started out life as the Farboud, was making another appearance. Long on promise, it is not clear if they have ever actually made any of these and sole them.
JAGUAR
The gorgeous F Type Coupe was the Jaguar here, in top spec V8 engined R guise, of course.
KOENISGEGG
This was a rare chance to see the One:1, a car so named as its power to weight ratio is 1:1, ie the same number of bhp generated as its weight in kg.
LAMBORGHINI
Highlight here as the new Huracan. Shame that in a rather unfetching grey, it did not stand out like it should.
LEXUS
Although production ceased some while back, Lexus still seem content to trot out the LF-A at every available opportunity. As it is the only truly desirable car they have ever produced, who can blame them?
LOTUS
Still hanging on in there, making a few more cars than a couple of years ago, but certainly not enough to ensure long term survival, let alone to generate the funds for new models, Lotus had something new, of sorts, to show, the Elise Cup R. and Exige Cup R cars.
MASERATI
There were a couple of current Maserati in the display: a GranCabrio and the rather over-carbon-fibre-d GranTurismo MC12 Stradale. I am a big fan of the regular car, but the over adornment does nothing but spoil it for me, I'm afraid.
McLAREN
How long does it take to polish non-existent dust specks off a 650S? The answer would seem to be that 2 car cleaners spent nearly an hour fussing around this car when we all wanted to take pictures of it. This was not just any old 650S, but the special MSO version, launched at the show. What's special about it? Only someone who has done their detailed research would know, as to look at, it seems just like a regular 650S model – which does of course mean "nice".
MERCEDES-BENZ
One of the more extreme cars in this area was this SLS AMG GT3S car.
MORGAN
Late arrival was the latest Plus 8 Speedster. I had not realised until recently that when the Plus 8 was reintroduced to Morgan's line up a couple of years ago, the car is significantly wider than its forebear of the same name. The Speedster is a cheaper car than its forebear, and seems to have delighted the testers at Autocar when they got behind the wheel a few days after this event.
NISSAN
Two GT-R models were on show here, including the NISMO Track Attack version.
NOBLE
PAGANI
Not evident earlier in the day, this Huayra was on site by early evening. I am pretty sure that this is the same car as I have seen at a number of the UK events in the past 12 months. It is still a very dramatic machine indeed, if not quite as bonkers as the Zonda.
PORSCHE
With the LaFerrari and (as you will see later in the report), a McLaren P1 already photographed during the day, I was hoping to complete the trio with a 918 Spider, and sure enough,  there was one parked up here.
ROLLS-ROYCE
The new Wraith was here, as the most sporting of the current range. I thought that the deep red colour scheme suited the looks of this slightly oddly styled car pretty well.
SPYKER
There were two of these rarely seen Dutch super cars here, a B6 Venator and a C8 Aileron. Mystery surrounds these cars, which tend to appear at shows such as Geneva, but are rarely encountered in places where you do see other exotica. The reality is that they are among the most exclusive of all the supercars, built to order in very small quantities indeed.
McLAREN DISPLAYS
To celebrate their 50th anniversary, McLaren had a display all by itself, with a mixture of road and race cars on show. Commercially most significant, of course, is the 650S, which has just gone on sale, and which now completely replaces rather than supplants the 12C model. Coupe and Spider cars were on show.
A display plinth at the back of the stand contained a P1, and this was the crowd puller you would expect it to be. The car on show is McLaren's development hack and the one which was recently subjected to the rigours of a full Autocar Road Test.
Alongside it was something hidden all day under a cover. Only on the Friday was what was underneath it revealed, and it transpired that this was the 650S GT3 racer.
From the racing heritage was this fabulous M7A Can Am racer from 1970.
Just yards away were a row of racing McLaren machines. These lined the walkway up to a Longines hospitality area and were off limits to most people, me included, so all photos had to come from a distance the other side of a fence. As well as a number of championship winning Formula 1 cars were the 12C GT3 racer and a GT Sprint car.
IN THE PADDOCK
As in previous years, a vast Paddock area comprised a very varied array of machinery all of which would be in action on the famous hill for the rest of the Festival of Speed weekend, so this was the chance to see the machines parked up, still clean before they were called into action.
ASTON-MARTIN
2009 Lola-Aston Martin DBR1-2
AUDI
Oldest Audi on show dated from 1919, and was a Typ C 14/35 "Alpine Victor". This car looked anything but sporting compared to what was surrounding it!
This is a replica, but even so, it is utterly wonderful, a 1939 Auto Union Grand Prix Type D "Doppel Kompressor" racer, which produced 185 bhp from its 3.0 litre V12 engine making it capable of 330 km/h
I was delighted to see an example of the Sport Quattro among the cars. These cars really need to be heard rather than just seen. This is a 1985 car
Parked up alongside was an IMSA series Audi 90 from 1989.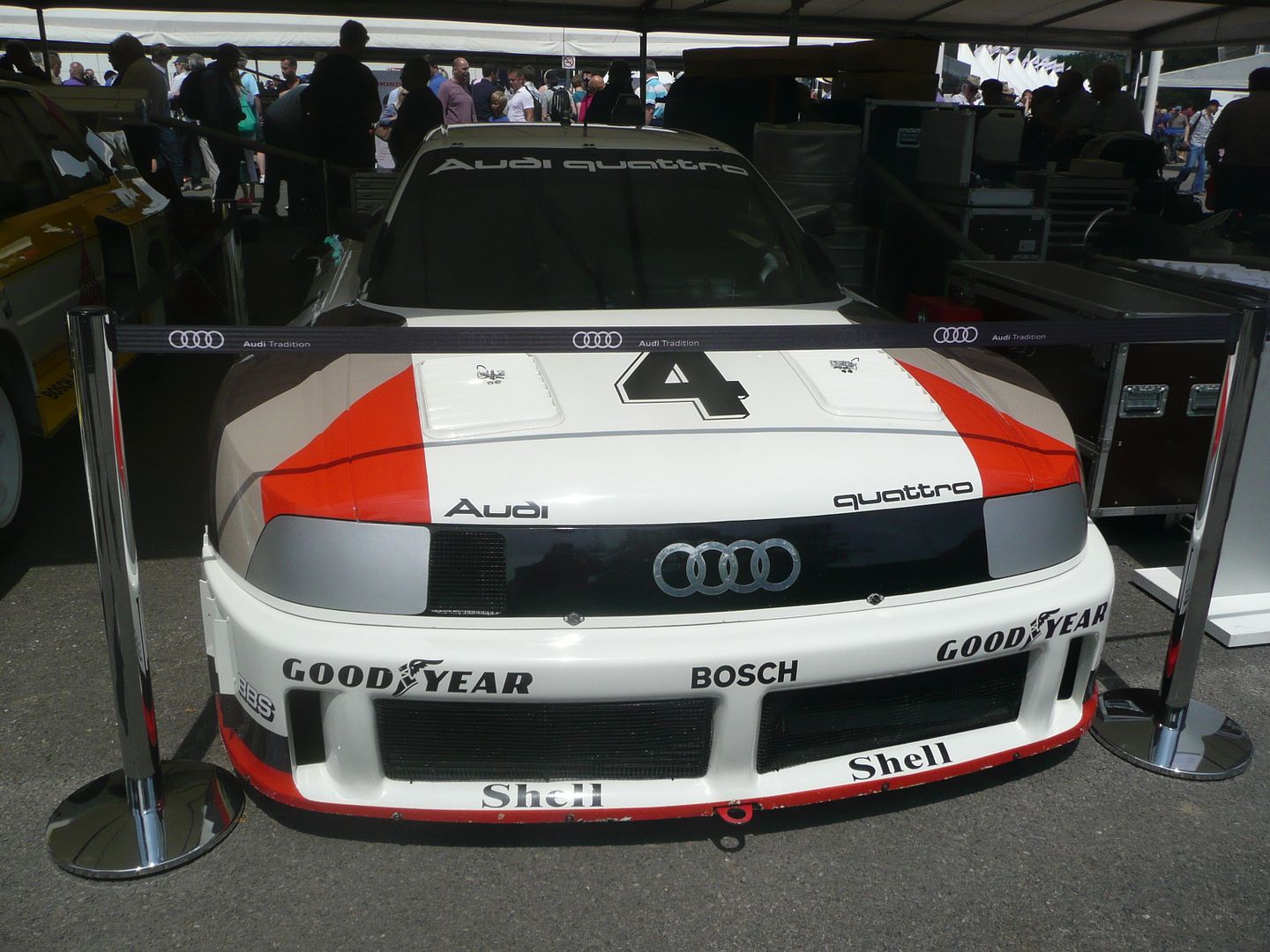 Audi had brought along the 2014 Le Mans winning R18 e-tron car, and as in previous years had not even cleaned it up. It was displayed with a selection of previous Audi Le Mans winners, the R8 from 2004 and the R15 TDi from 2010.
BENETTON
Dating from 1992 was this Benetton-Ford B191. and is famous for the fact that it is the car in which a certain Michael Schumacher came to prominence.
Parked alongside was the later 1994 car, the Benetton-Ford B194
CHEVROLET
This Malibu dates from around 1964 and is a very noisy brute indeed when fired up. These cars were all about speed in a straight line. Show it a corner, and, well, things would get "interesting".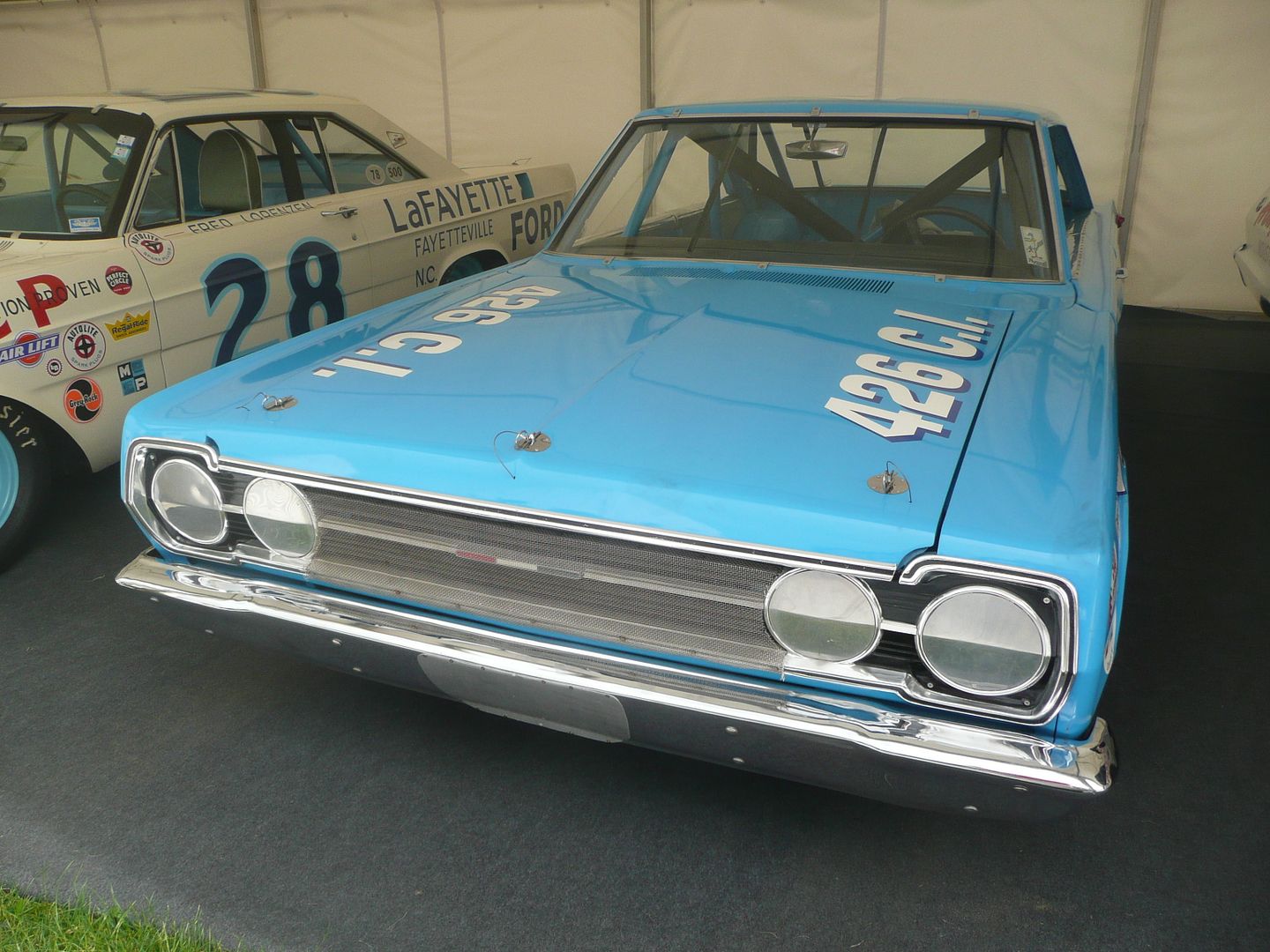 FERRARI
The Ferrari 333SP was launched for the 1994 season at the behest of privateer Giampiero Moretti. Of the 144 races in which at least one of these cars contested, the model won 56. This particular car from 1999 sports the second generation chassis and was the one used by Vincenzo Sospiri and Emmanuel Collard to secure the 1998 International Sports Racing Series.
FITTIPALDI
The Fittipaldi-Cosworth F5A from 1977.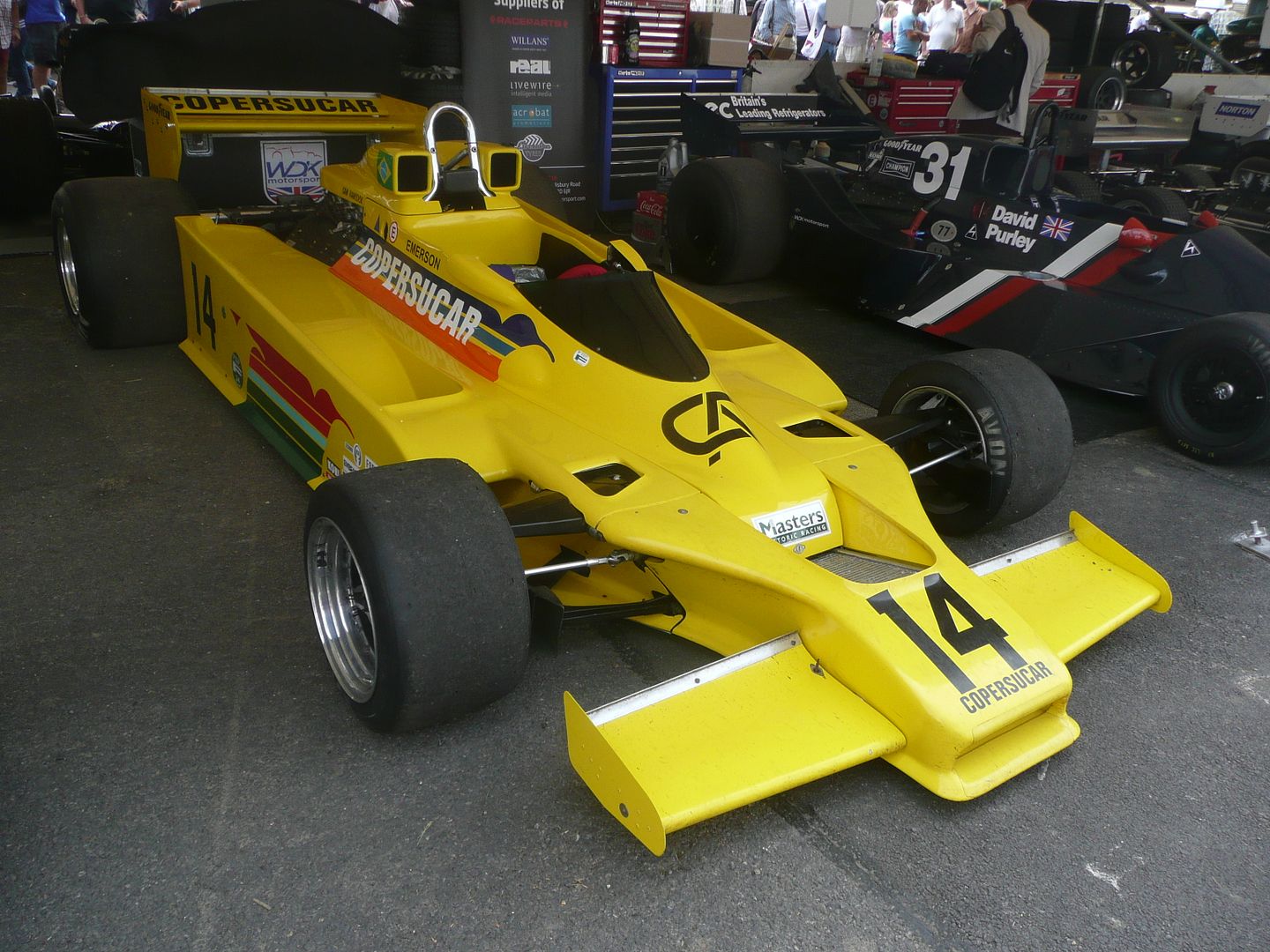 FORD
The Ford Galaxie enjoys lots of popularity now in historic racing, where its huge capacity engine gives its the power to thunder down the straight pieces of track, but the crude suspension makes this interesting when you get to a corner.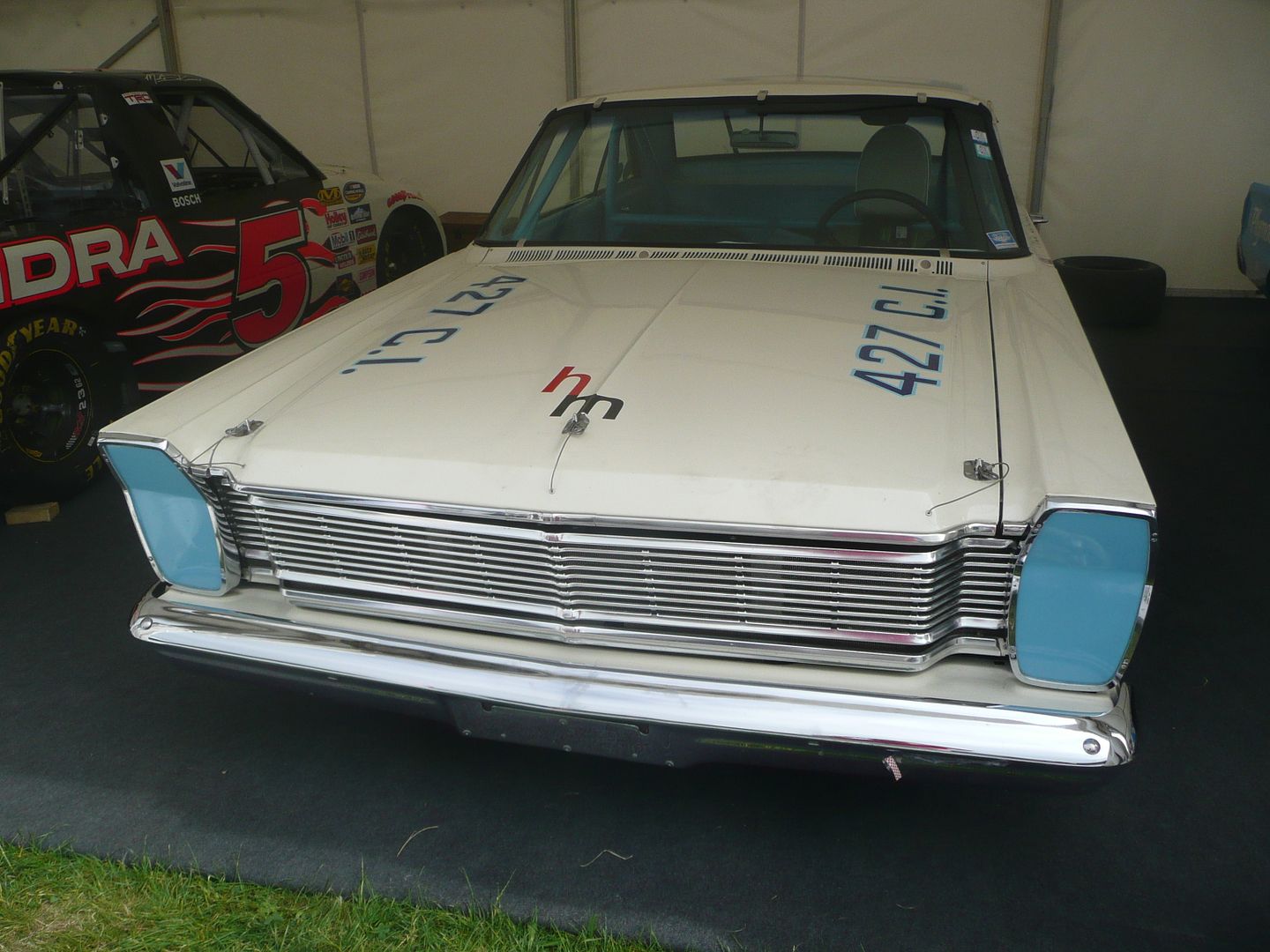 JORDAN
I am sure that team founder and owner, Eddie Jordan has reminded us at least occasionally that he used to own a team. It was to make its first appearance on the Formula 1 grid in 1991 with one of the more attractive Formula One cars of recent times. It was designed by Gary Anderson, funded with a fist full of Pepsico dollars, powered by works supplied Ford Cosworth engines and Andrea de Cesaris was the lead driver. The team finished a highly creditable 5th in the Constructors Championship and  de Cesaris was 9th in the Drivers Championship that year. The team will also be remembered for introducing Michael Schumacher to Formula 1. as he had one drive in this car before moving over to Benetton.
LANCIA
Dating from 1981 was this prototype Montecarlo
LEC
Created by Mike Pilbeam, the LEC CRP1 was a Formula 1 car driven by David Purley in 1977 to a season high 13th place in Belgium shortly. Later he was to survive a 178g deceleration from 108 mph to 0 in 25 inches against the sleepers during practice for the 1977 British GP.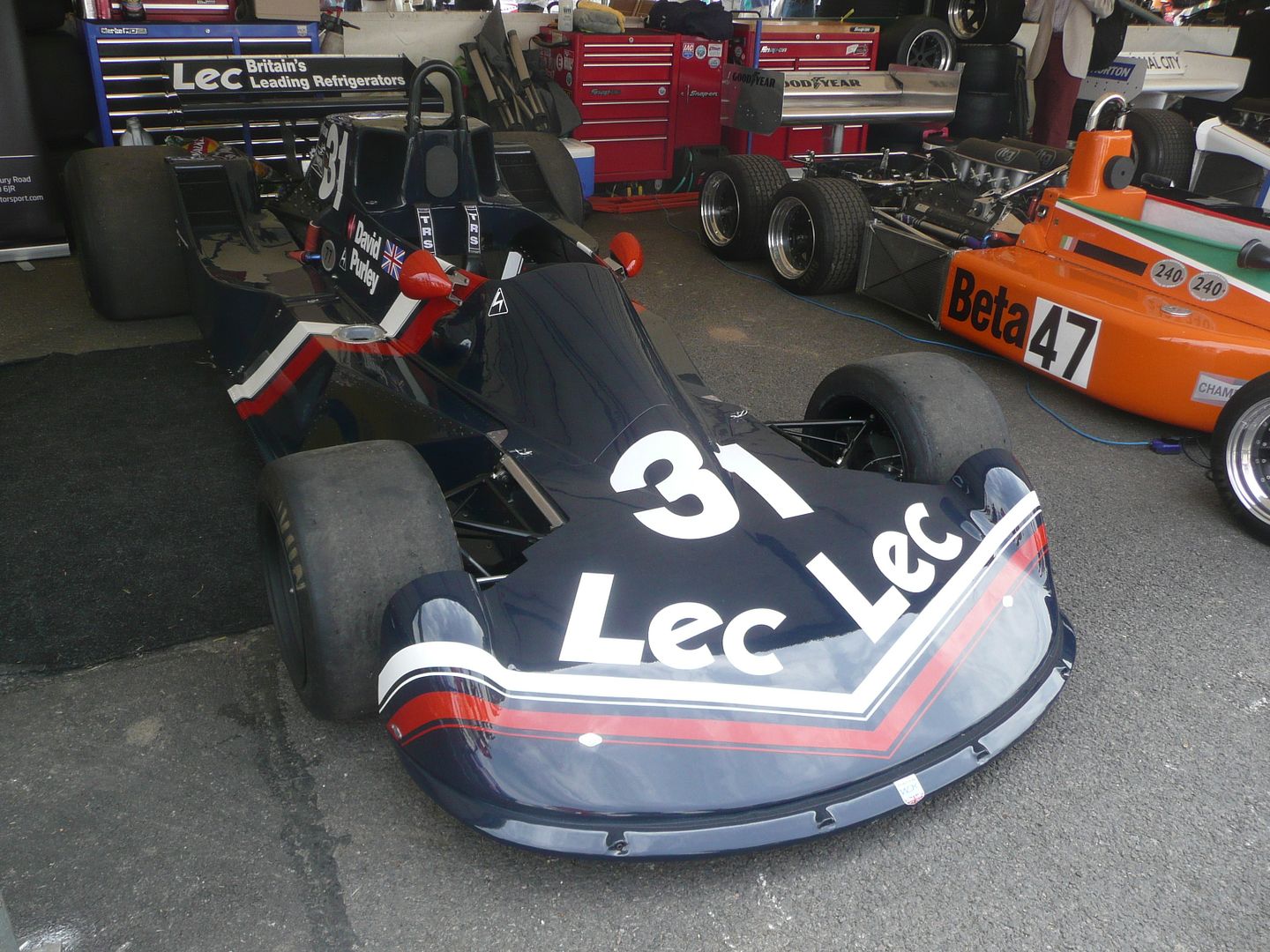 MAKI
After Honda's disappearance from the Formula One grid at the end of the 1968 season there was no Japanese presence in Formula One until the 1976 Japanese Grand Prix. However this was not for the want of trying, Kenji Mimura founded the Maki Team in 1974 and their futuristic F101, which bore a passing resemblance to the experimental 1972 Ferrari 312 Snowplough attempted to unsuccessfully to qualify for the 1974 British and German Grand Prix. After Howden Ganley broke his legs at the Nurburgring, the team retired to Japan to rework their ideas for 1975.
MARCH
One of three different teams who experimented with a 6 wheel format, the March 2-4-0 dates from 1977. It was never actually used in a Grand Prix.
MAZDA
The 1991 Le Mans winning rotary engined 787B was here.
MERCEDES-BENZ
In celebration of 120 years of Mercedes-Benz, there was a special assembly of historic Benz cars, ranging from a 1914 racer through to far more recent stuff. Collectively, this was one of the best elements of the whole day, and a rare chance to see so many of these legendary machines gathered together in one place.  Accordingly, Mercedes was the chosen marque to feature on this year's special Gerry Judah sculpture in front of, or rather, straddling, the house, with Grand Prix cars from 2 very different eras securely anchored to this structure which I gather weighs a not inconsiderable 150 tonnes.
In some ways, the most impressive cars of the lot were the oldest, a trio of inter war cars, dating back to 100 years ago. Seeing one of these cars, as I did at Retromobile, earlier in the year, is special, but to see three is just "wow".  These three cars scored a notable 1-2-3 in the 1914 French Grand Prix, including the 18/100 driven by Christian Lautenschlager, the race victor.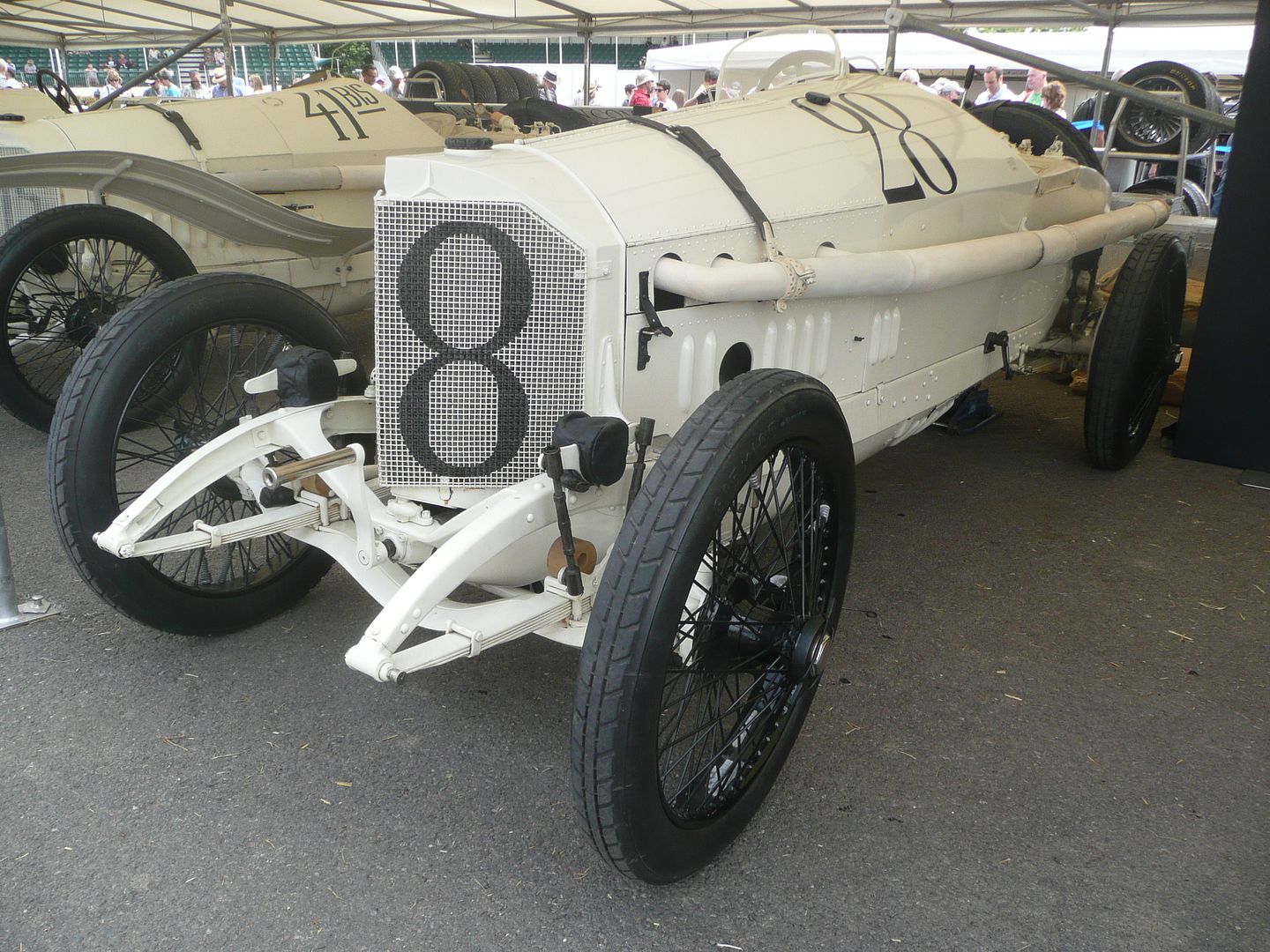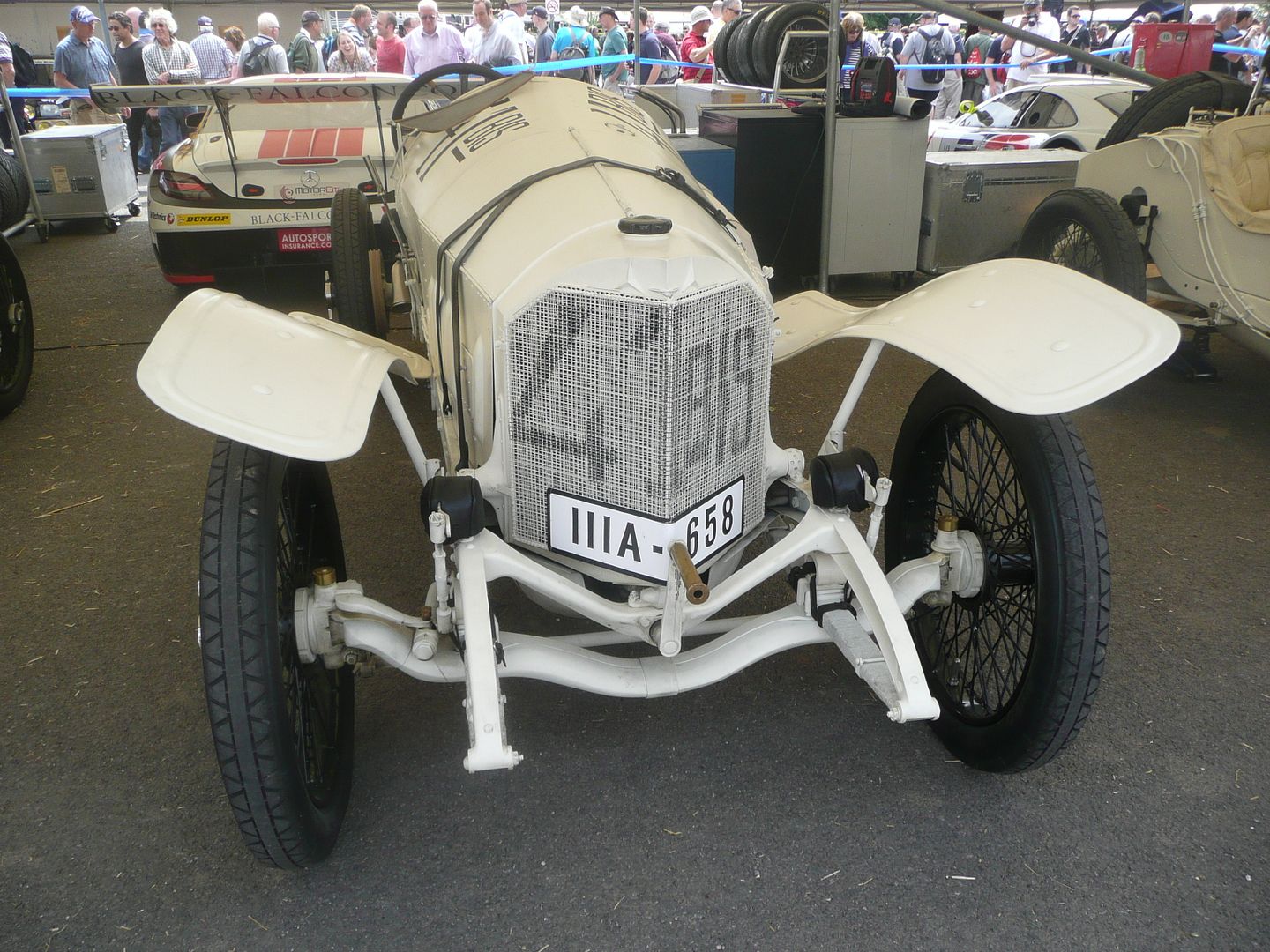 The supercharged Mercedes of the late 1920s were intended to rival the emerging challenge of Britain's Bentley, Italy's Alfa Romeo and France's Bugatti. This W006 model is a 1928 SSK 27/170.
During the 1930s, Mercedes battled with compatriot Auto Union as well as cars from other nations to show German supremacy on track, and some amazing machines were produced, such as this W125 car from 1937.
This W165 model from 1939 had a smaller 1.5 litre engine. This car doubtless irked the Italians by winning the 1939 Tripoli Grand Prix with Hermann Lang at the wheel.
One of the most famous racing Mercedes of the 1950s was this, the legendary W196 of 1954.
In a quest for yet more speed, Mercedes did a lot of work on streamlining the bodies of their cars, resulting in this W196-2 car
This W198  1957 300SLS shows how Mercedes continued to evolve the iconic 300SL shape from its first appearance in 1954, with better aerodynamics, in quest for greater speed.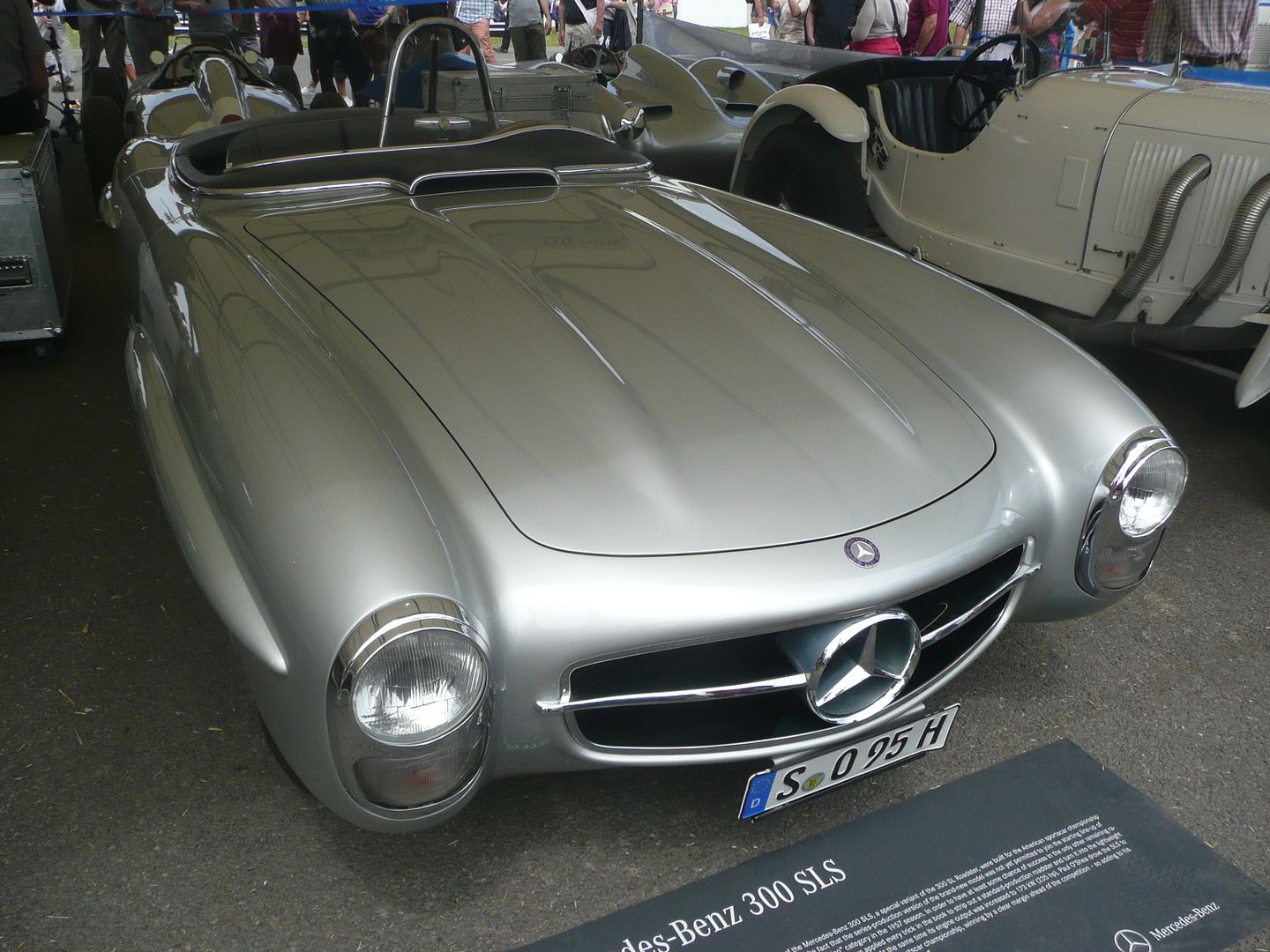 Mercedes moved away from racing for a time, and put their efforts into rallying instead, and this 1980 500SLC Rallye model was used to compete in the World Rally Championship. A season highlight was a 1-2 victory in the Ivory Coast Rally shared by Björn Waldegård and Hans Thorszelius in the winning car.
The thundering Group C Sauber-Mercedes C9 from 1989.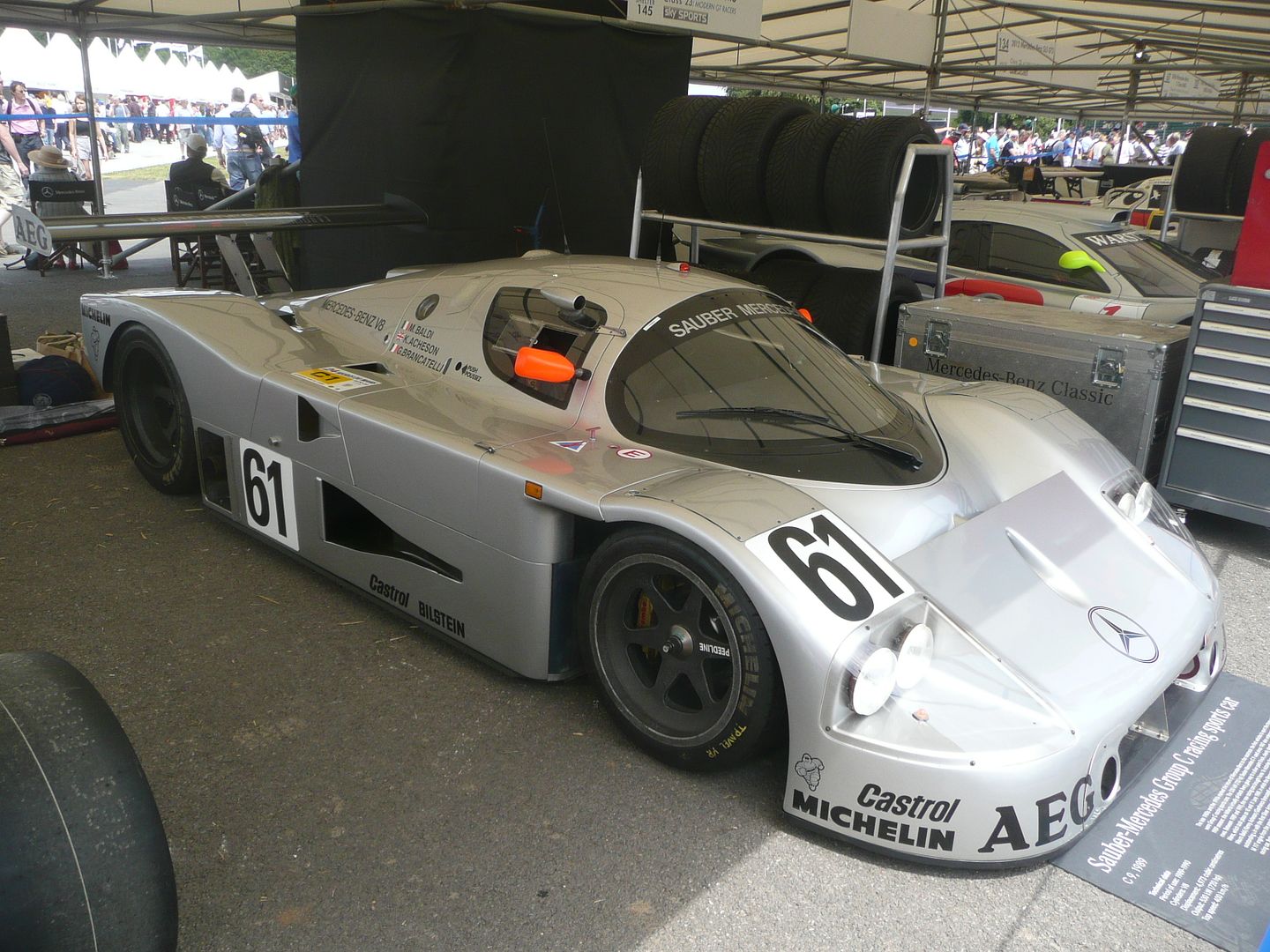 Dating from 1998 was the CLK AMG DTM Touring Car
By 2006, the styling had moved on a bit, with this W202 based DTM car.
Bringing things right up to date was this 2013 model SLS AMG GT3 racer.
Reflecting the diversity of different classes of motorsport around the world in which Mercedes have participated, was this 1994 Penske-Mercedes PC23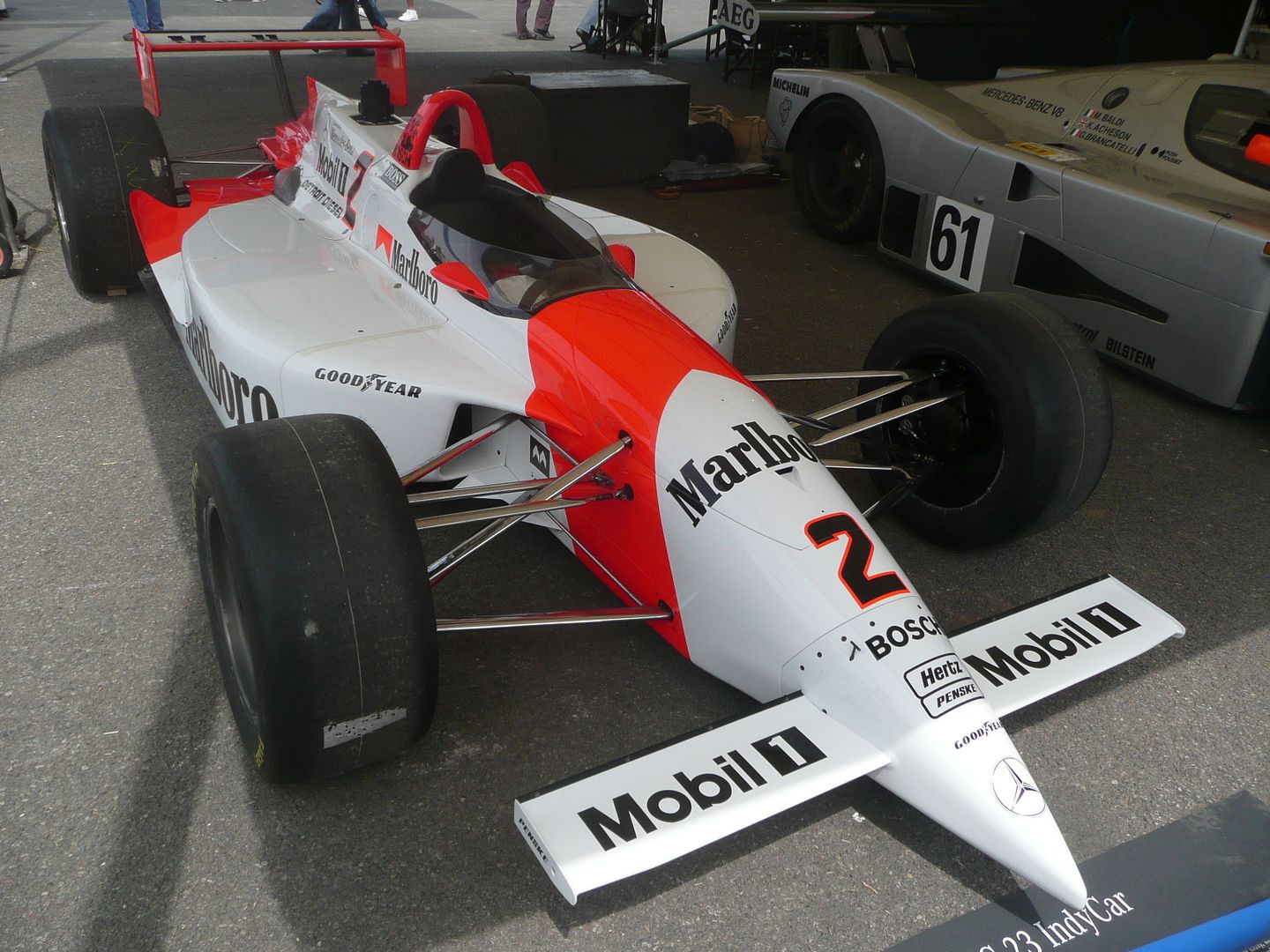 Parked up outside the covered area was this fabulous combination of race transporter and race car. When Mercedes returned to Grand Prix racing in 1954, the Rennabteilung (Racing Department) built a special high speed transporter, capable of 104 mph, using Mercedes 300SL running gear. Sadly, the original was destroyed a long time ago, but this fabulous replica was built relatively recently. Sitting on the back of it is one of two Mercedes Benz 300SLR Uhlenhaut Coupés built on the chassis of the 300SLR roadster of the type Stirling Moss and Dennis Jenkinson drove to victory in the 1955 Mille Miglia with a 300SL Gullwing Body. Wunderbar!
NISSAN
1988 Nissan GTP ZX-Turbo 'Elvis'
PENSKE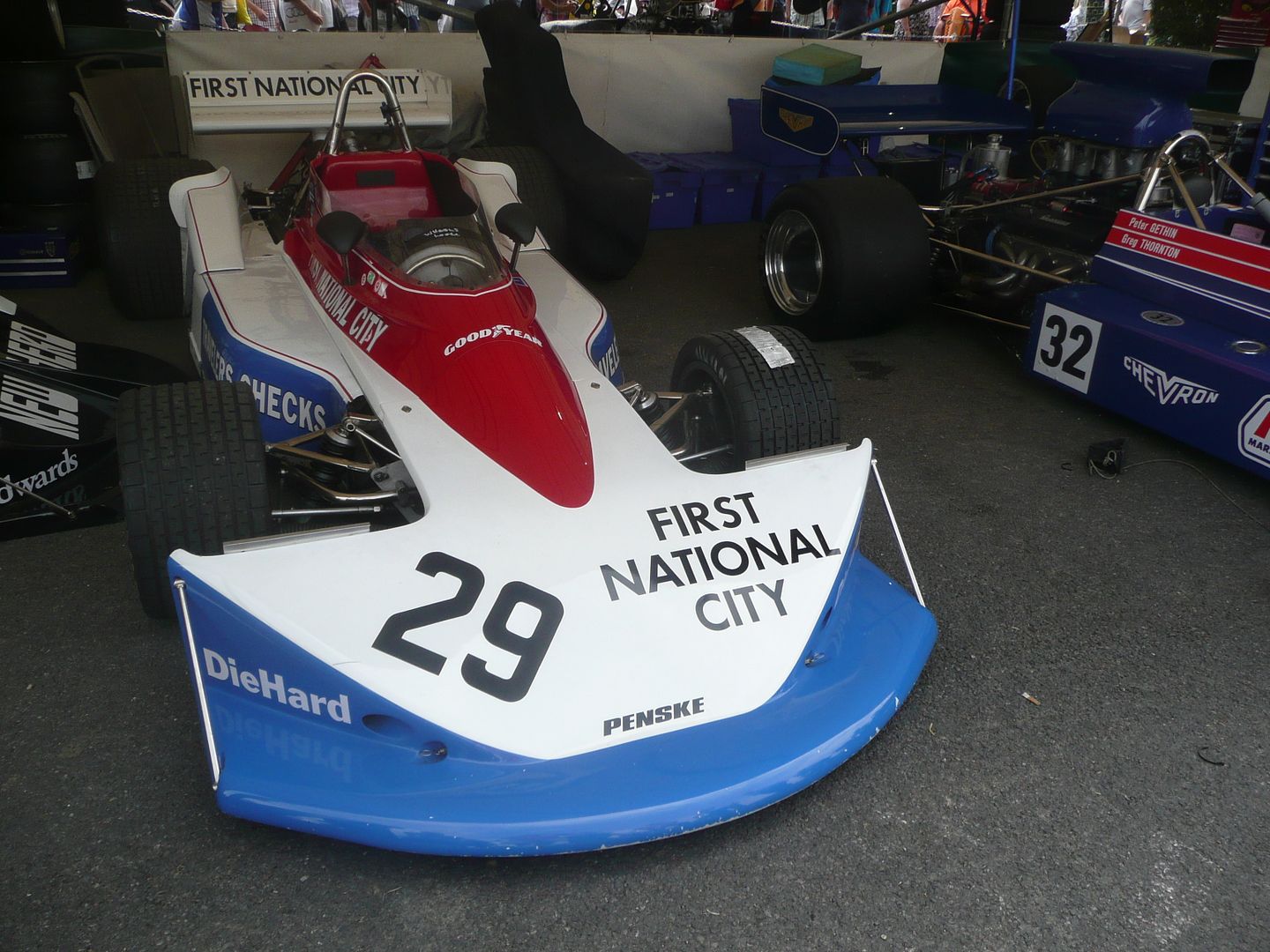 PEUGEOT
The amazing 208 T16 Pike Peaks car was the machine in which the fastest time up the hill was set, by none other than Sebastien Loeb, who raced up in just 44.60 seconds.
PORSCHE
There were several fantastic Porsche on display, starting with a 1986 model 959.
This 910 prototype dates from 1968.
Another prototype, this Riley-Porsche dates from 2007.
There was another completely separate display of Porsche cars, to which access was somewhat easier and with no cordons in front to frustrate the photographer! One of the more recent cars among them was the 1996 911 Carrera GT1.
Ten years its junior was this 2006 RS Spyder.
The 962 was a careful evolution of the long running 956 car, and this one, a 962C dates from 1987.
This 935 was started up and moved a few yards forward of the display area, with the sound from its idling engine reverberating far and wide around the venue.
The 917 had a long career, too, and four very different models were on show: a 1969 model, a 1972 Model K, a prototype flat 16 cylinder car from 1971 and a 1973 917/30 Can Am Sunoco Penske series car.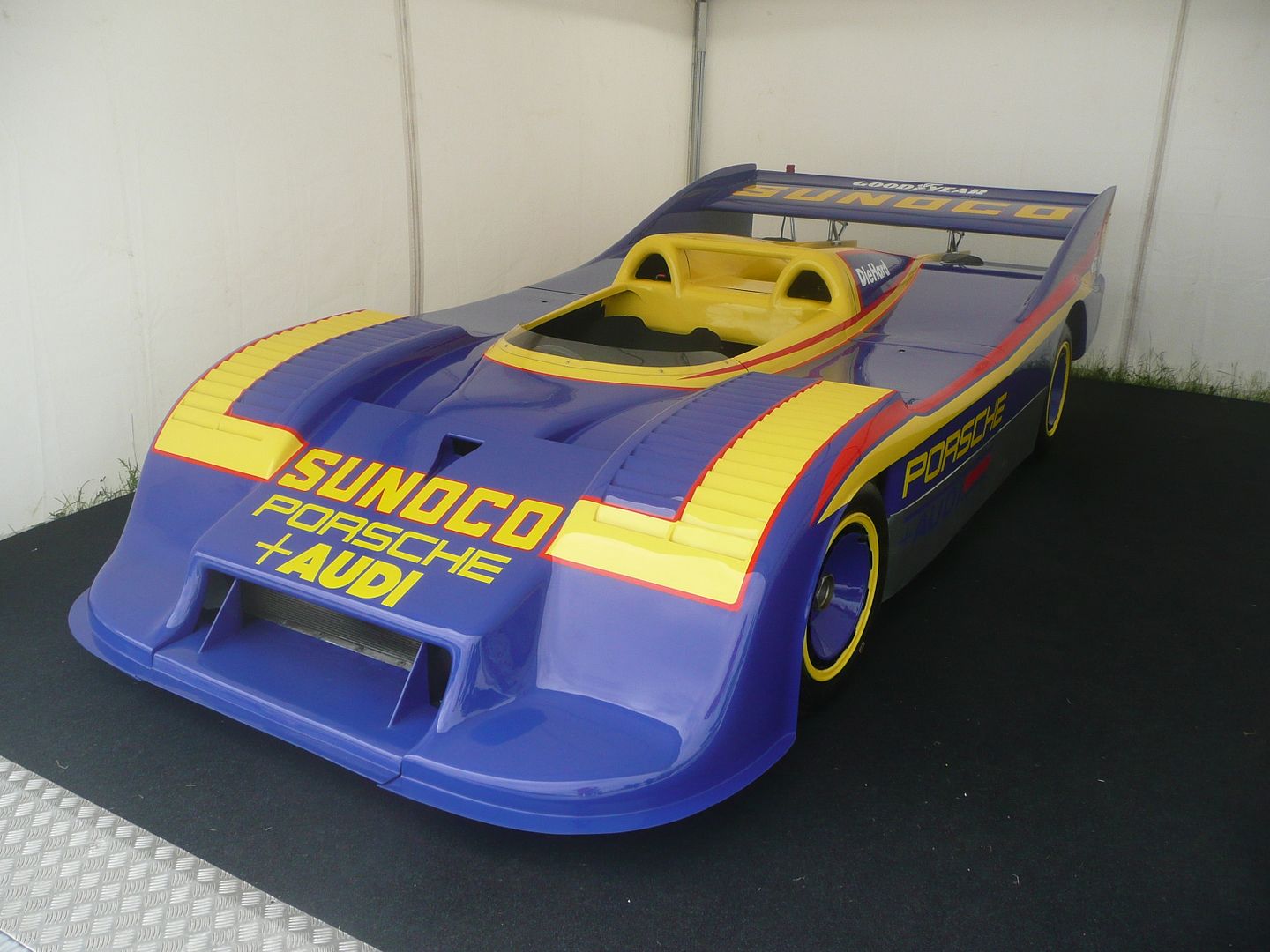 Not quite in the paddock, but nearby was this 919 Le Mans car. Never going to win prizes for beauty, sadly, it did not win them for reliability either, this year, failing to complete the race. Next year, perhaps?
RED BULL
RENAULT
An impressive assembly of cars from Renault's "Histoire et Collection" made up for another great lineup. Some of these are more familiar than others. Without question the most bizarre was the amazing 40CV model.
Dating from only a few years later was this 1937 NervaSport.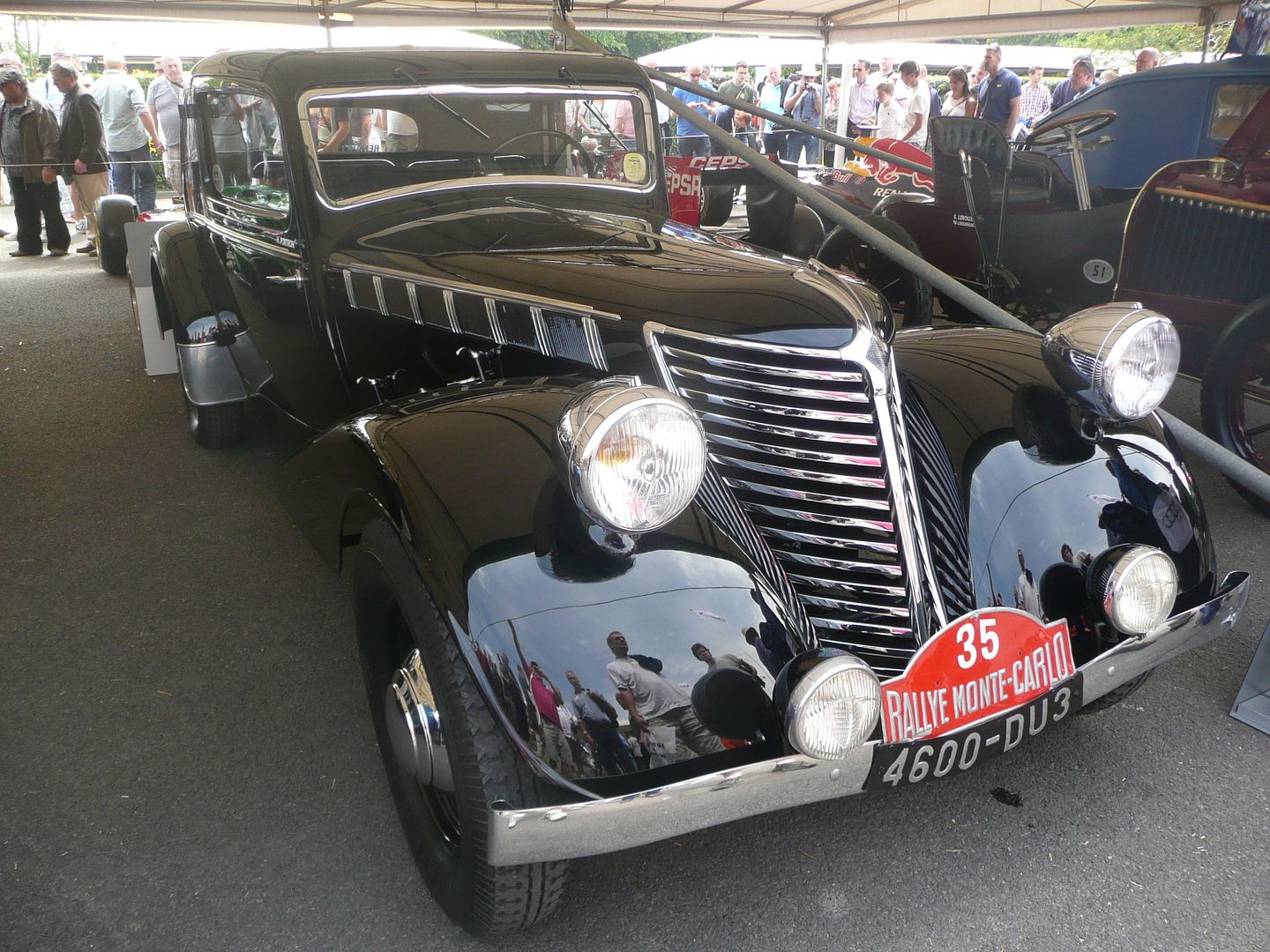 One of the oldest cars on show was this a replica of the Model K in which Marcel Renault drove to victory in the 615 mile Paris-Vienna race, covering the distance in 15 hours 47 minutes to average 38.95 bone shaking miles per hour.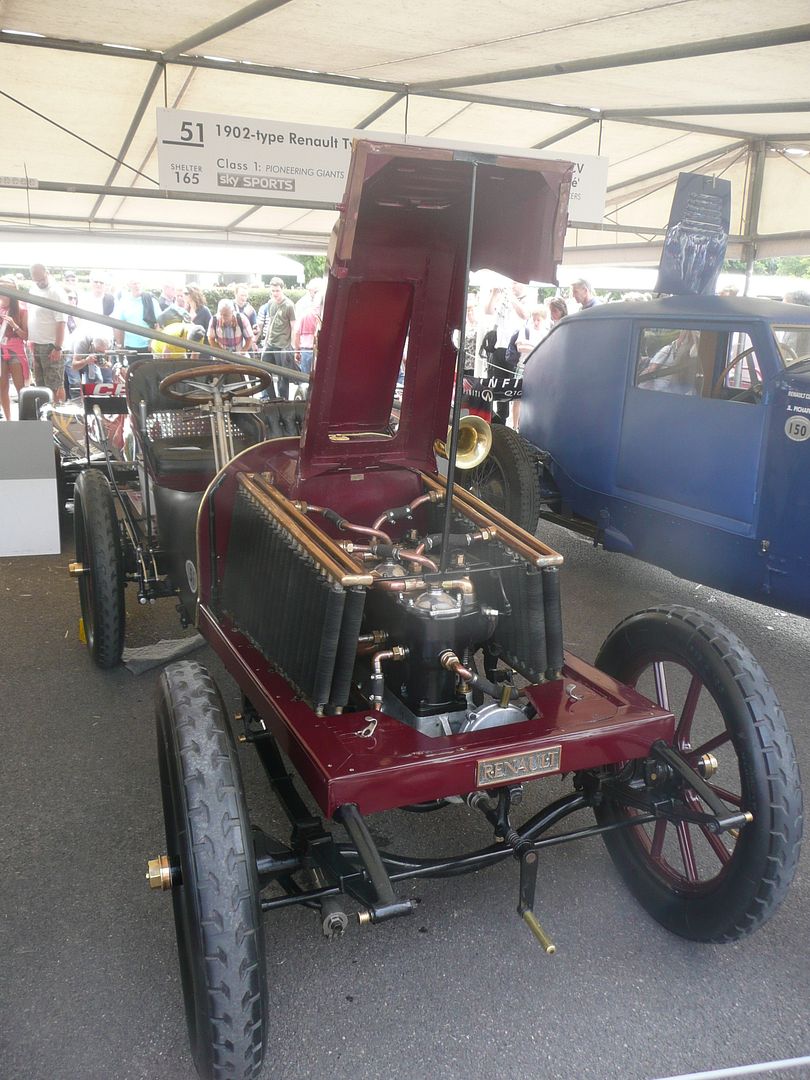 One of the less known Renault-Alpine models was this, the M65 which was built in 1965. It had a 1.3 litre tuned Renault engine, powerful enough for the M65 to be timed at 165 mph at Le Mans.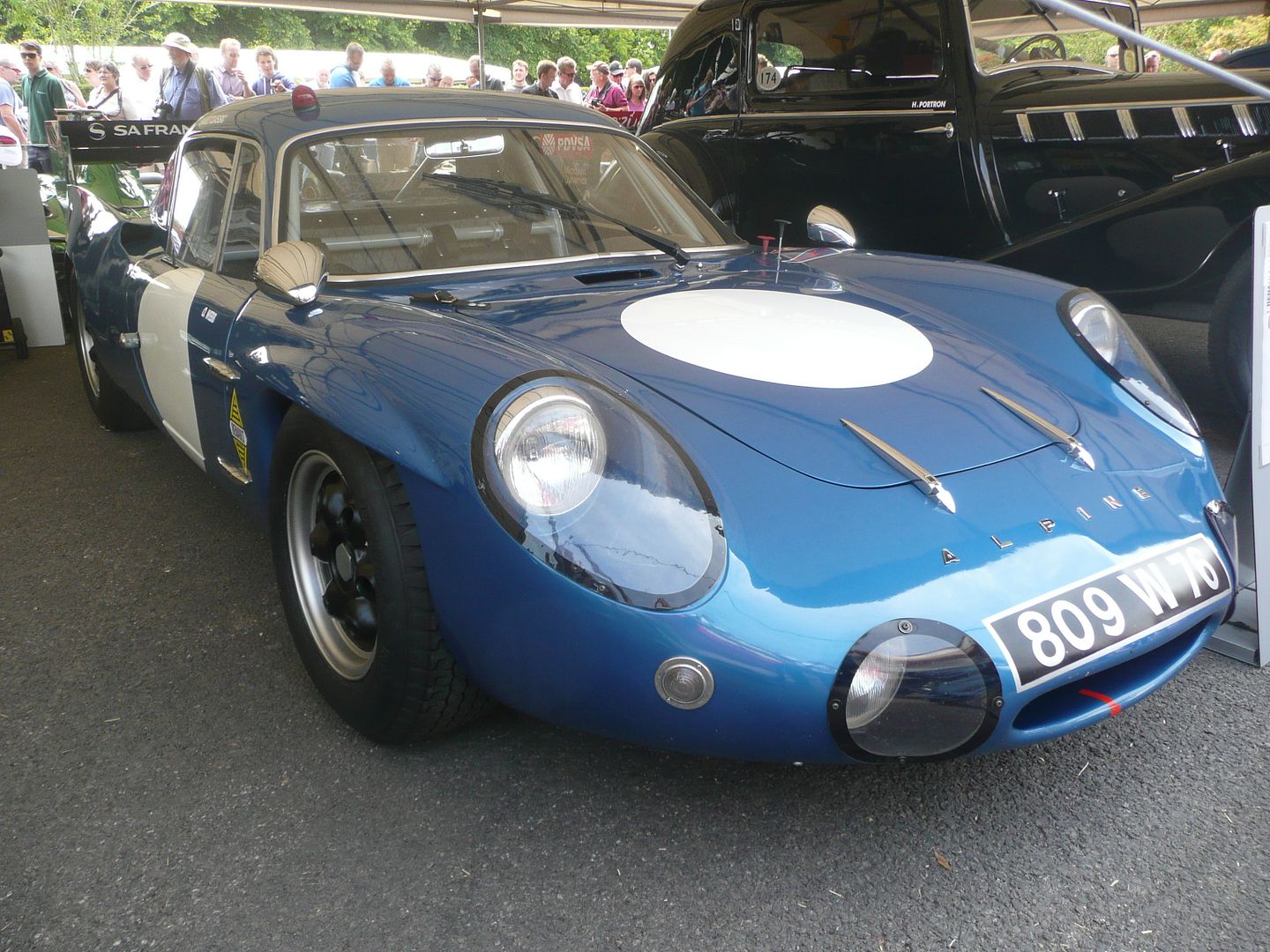 Better known Renault-Alpine was this A310 from 1977.
The R5 MaxiTurbo was probably the best known and most recent of the cars on show.  This one dates from 1985.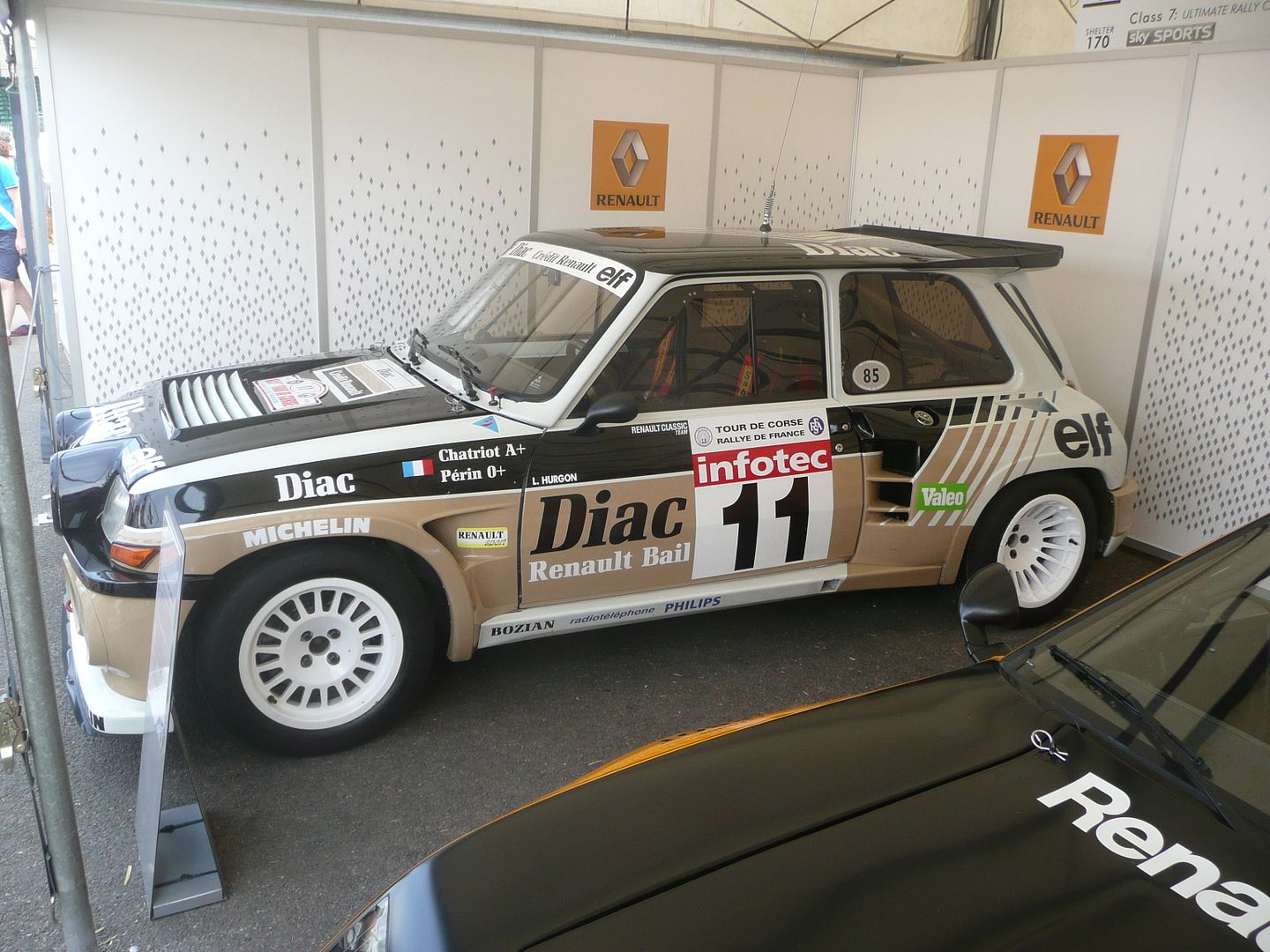 The A442B was a very successful competition car in the late 1970s, winning Le Mans in 1978.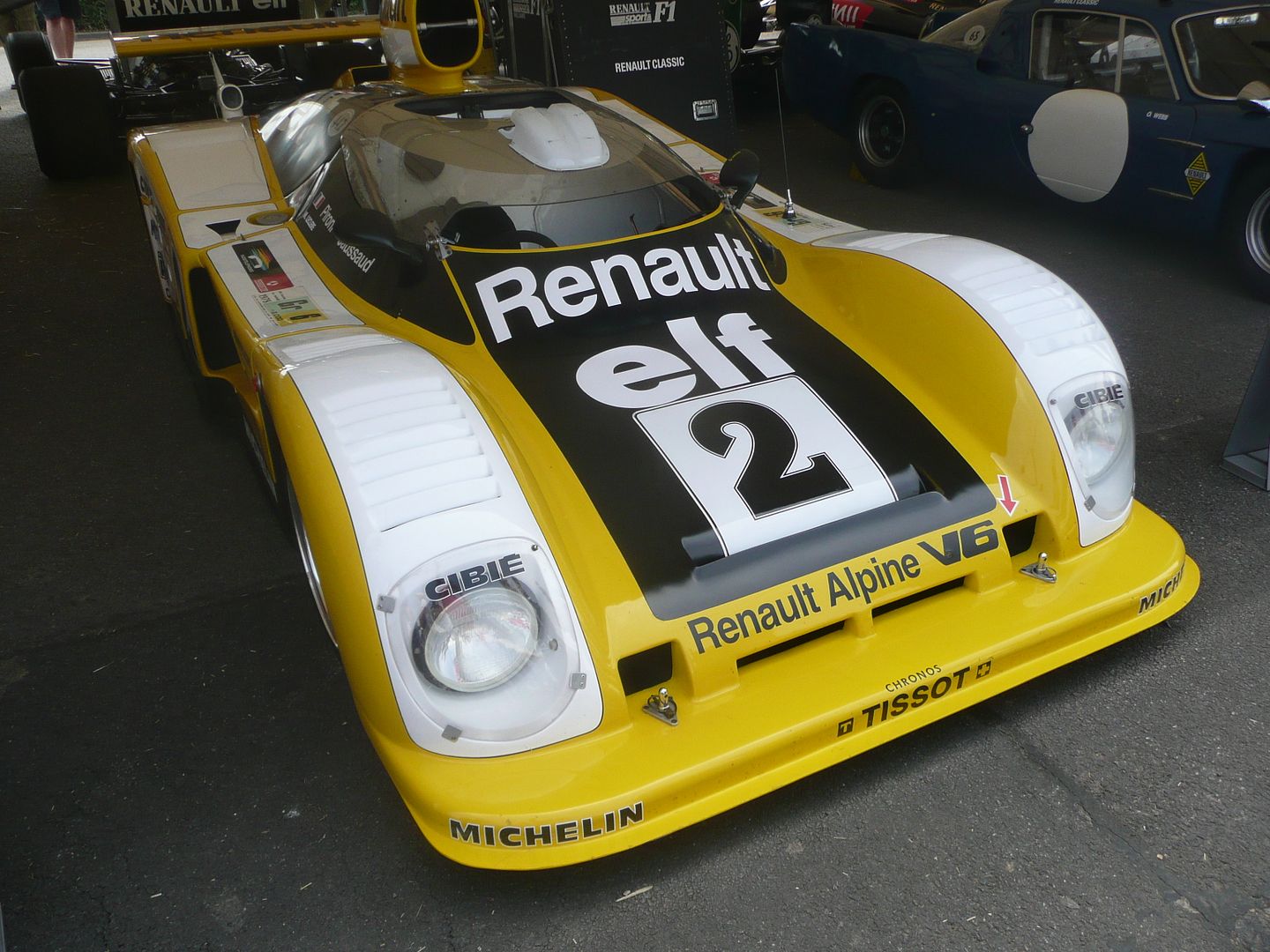 TOYOTA
Your first though when someone says "Camry" is probably of a very dull family saloon that Americans buy at a greater rate than any other passenger car, but it does also something of (very significant) transformation into a racer, as these examples evidence.
Toyota's trucks also undergo the same metamorphosis, such as this Racing Tundra.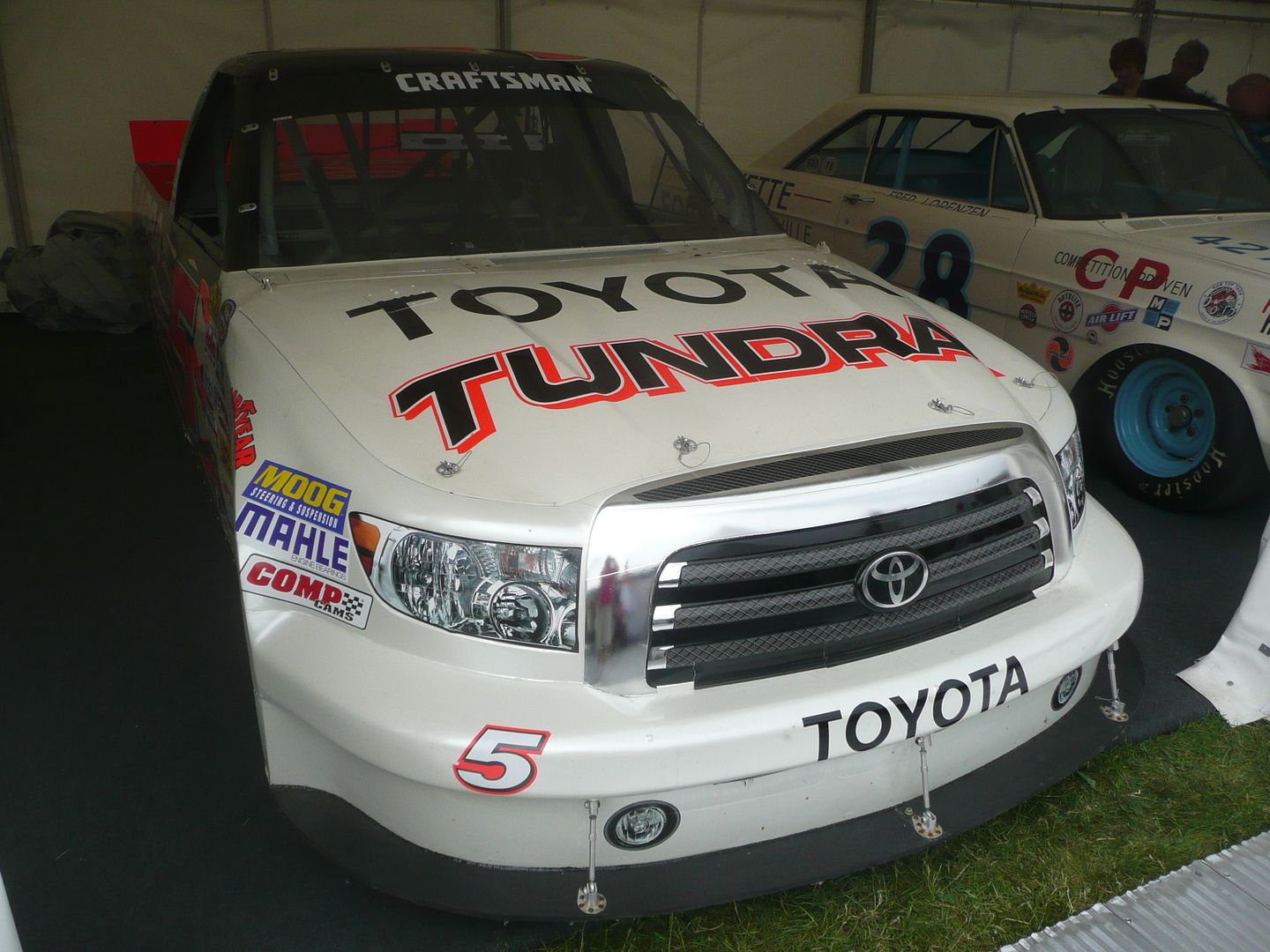 More familiar to European eyes were this GT86 and earlier Celica.
An array of recent Le Mans  competitors from Toyota were also on display. These included a 1988 Toyota 88C,  a 1992 Toyota TS010 Group C racer, the 1998 TS020 GT One and a 2014 TS040 Hybrid.
FORMULA 1 CARS
Most of the teams currently competing in Formula 1 had a presence here. A huge transporter generally sat close behind a combination of display and working area, and during the day it was clear that all the teams were getting ready, but not quite complete, so it was hard to get clear views of fully assembled cars.
BIKES
Goodwood is not just about cars, and there were all manner of bikes, ranging from ones that are familiar and even someone not familiar with the genre, such as me, has heard of, to rather more obscure things. In the last category was this, an all-electric offering from Saietta
These Suzuki bikes spanned the last 50 years.
Other bikes on show included models from Kawasaki, Yamaha, BMW and Hesketh.
JOHN SURTEES
It is 50 years since John Surtees achieved what now would be the all but impossible of winning both a Bike Championship and the Formula 1 Driver's title in the same year, and to celebrate this achievement and his amazing career, there was a special display of many of the bikes and cars with which he is associated. In addition, John was present in person, and I caught him with pen in hand busy (and cheerfully) signing autographs.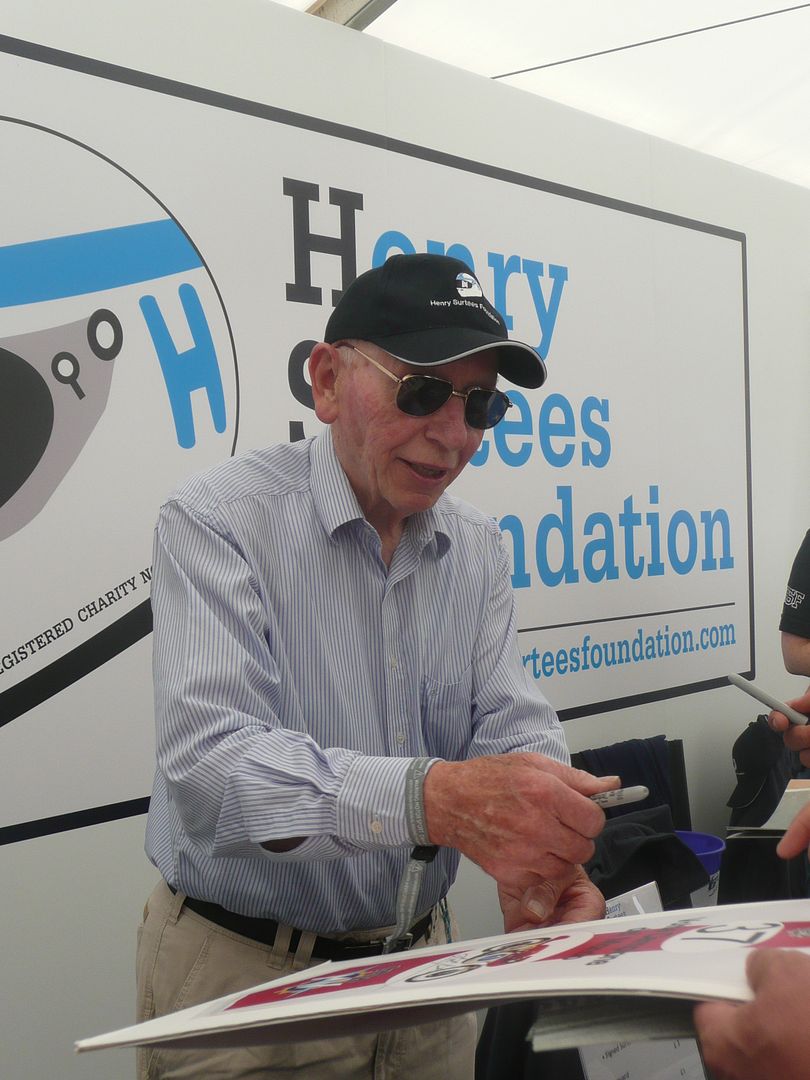 This is the Ferrari 158 in which John won that championship in 1964.
There were other cars that he drove in his career, too.
By 1970, his racing career was over, but he was now building cars for others to race and there were several of these on display, including 1970 and the 1971 TS09 Formula 1 machines, the TS14/04 from 1973, the TS19 from 1976 in which a certain Australian called Alan Jones came to prominence and the 1972 TS15 Formula 2 car in which Carlos Pace won at Interlagos that year.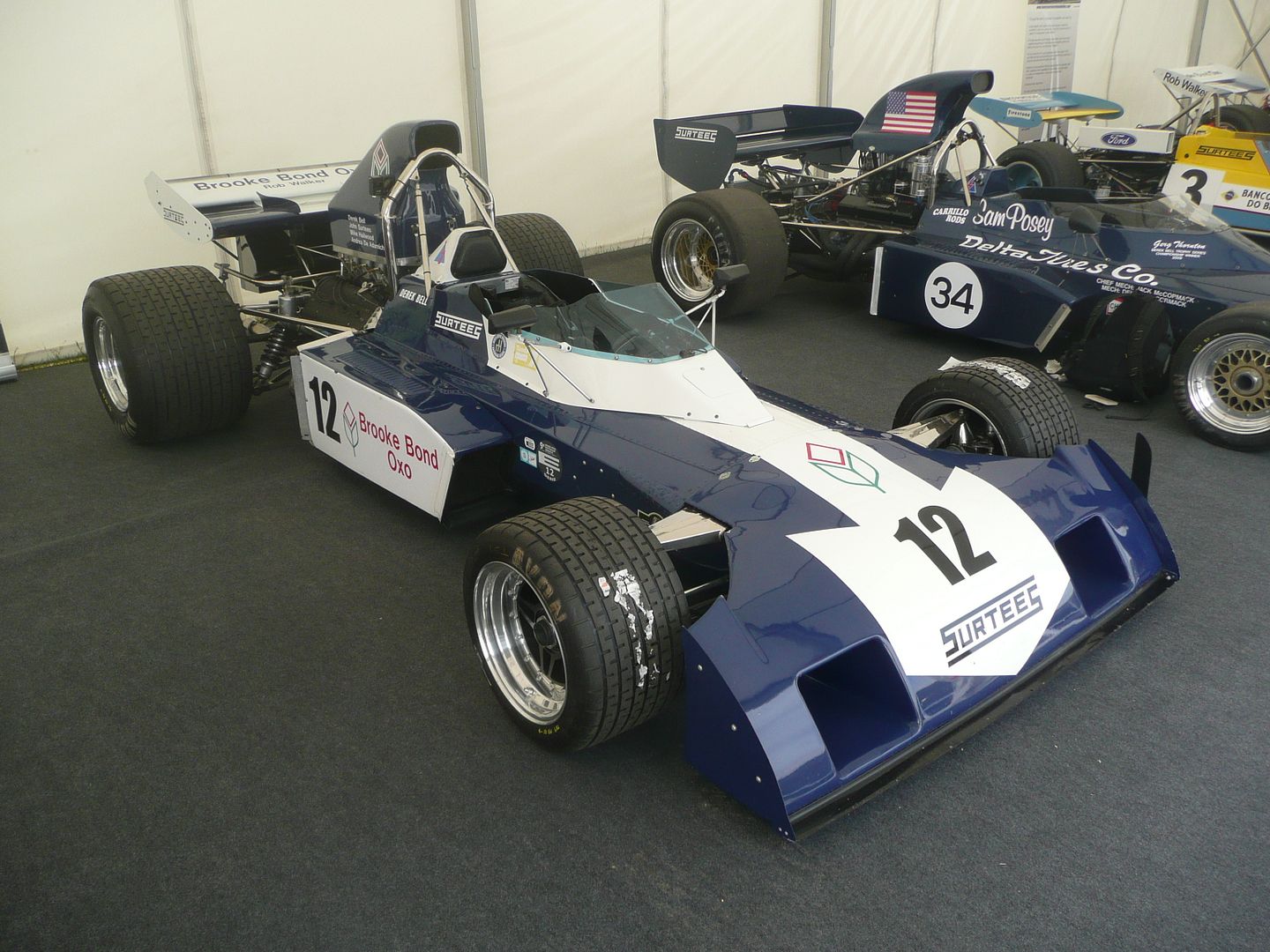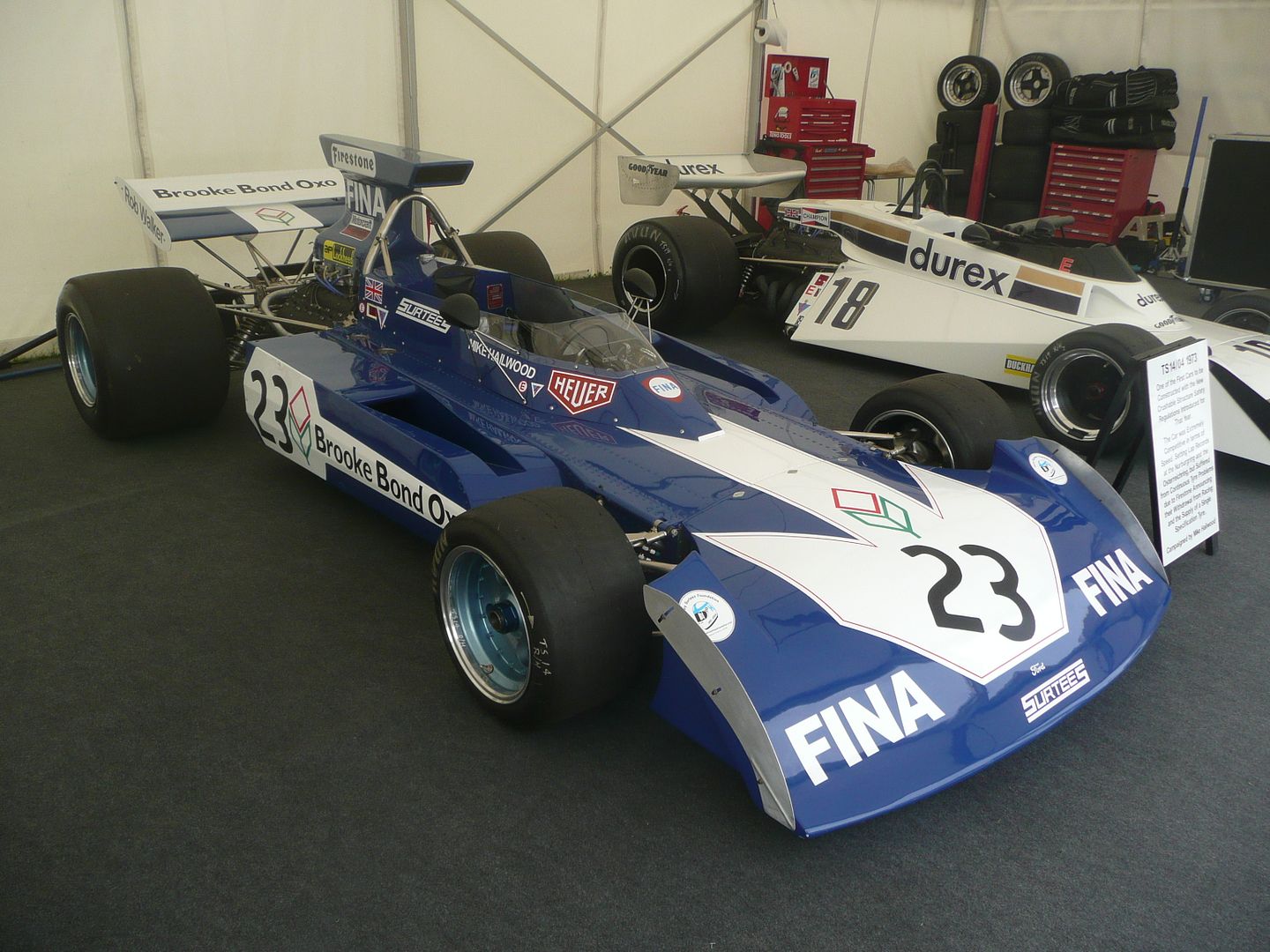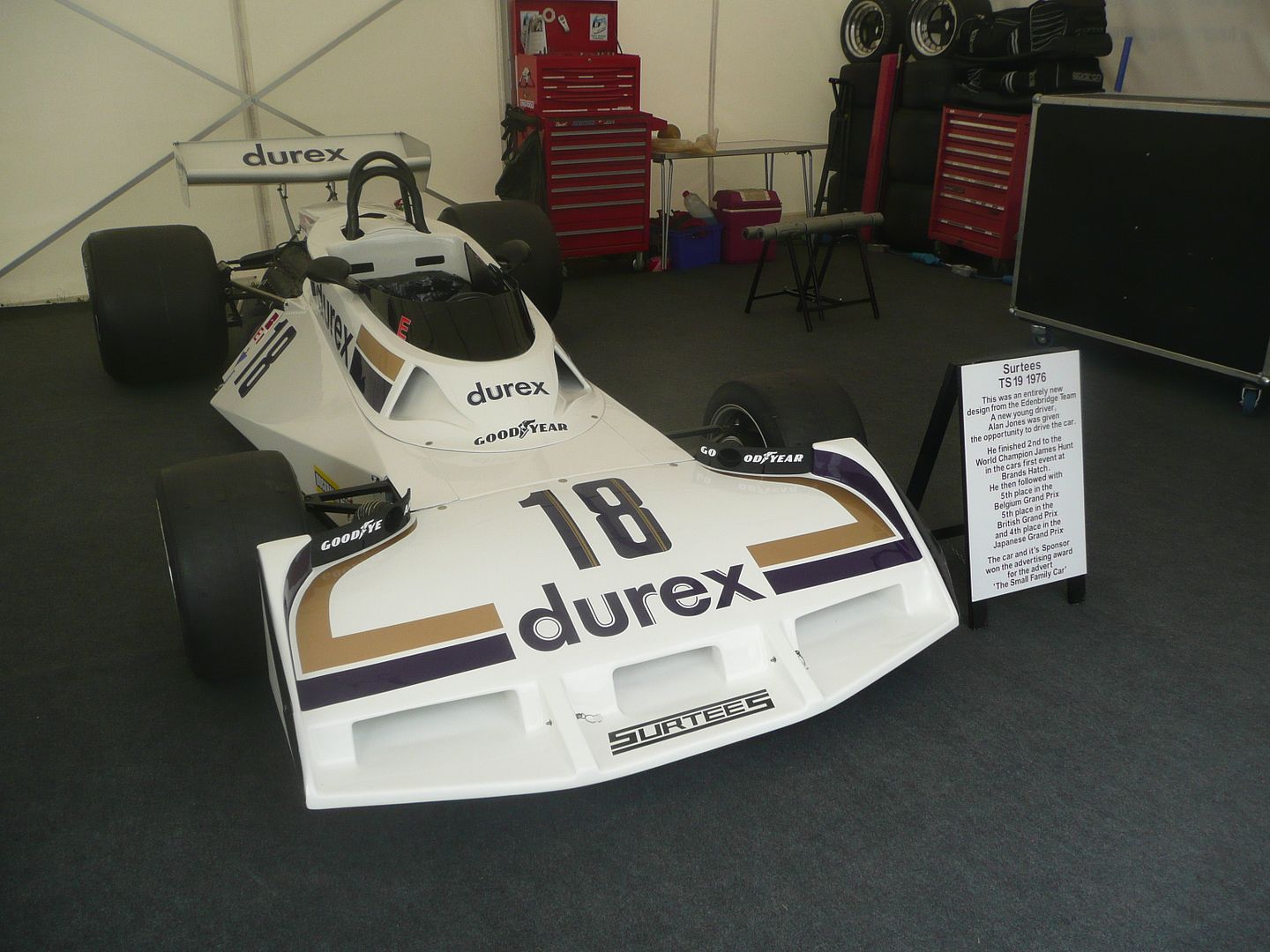 There were several of John's bikes on show as well including a 1953 works Norton and a 1960 Agusta and a Vincent.
MANUFACTURER DISPLAYS
There are two parts to the manufacturer presence at this event. A long covered marquee- like construction by one of the main entrances contains a small number of displays car on either side of a roadway which is the collection point for those who have actually managed to book a test run up the hill in one of the cars. Beyond this are a number of free standing display units, many of which are large and multi-storey where more cars are shown along with a wide variety of other attractions and distractions all aimed at persuading people to stop by. Many stands have an Owners area where on presentation of the appropriate key fob, you can get a sit down and a cup of coffee or cold drink. Most of the manufacturers who sell in the UK market were present, but notable absentees included Vauxhall, Fiat, Kia and Hyundai among the volume marques and Suzuki, Subaru, Mitsubishi and Ssangyong among those who sell fewer cars.
ABARTH
This would have been the first display that you came to had you entered via one of the entrances, but as I came in a different way, it ended up being the very last that I saw, and by this time, everything was pretty well shut up and deserted and the lights were being extinguished. What I could see, though were two of the latest Abarth, the 695 Biposto. As well as a static display car, the machine which had been used in the recent Gumball rally was also present, and I understand that this one was in use on the hill during the event.
With the Punto SuperSport now out of production, the rest of the display was confined to the 500 range, some off which were showing the latest changes which include a new range of colours and a TFT instrument display. There was an example of the very nice (but too costly) 50th Anniversary Edition car, too.
ALFA ROMEO
Needless to say, the highlight here was the 4C Competizione, which, following a long wait, is finally being delivered to the lucky owners who put their money down a long time ago. One car was parked up outside, and people were queuing up all day to get to sit in it, and there was another car on static display inside the Alfa stand.
It was joined by a legendary Alfa from over 50 years ago, a 1963 Giulietta TZ1. Just fabulous.
The production MiTo and Giulietta have both recently mild facelifts (though these are really quite hard to identify) and a few mechanical and trim changes and there were examples of both ranges also on show.
ALPINA
Three cars featured in the Alpina display: the very well rated D3 was joined by the first ever CUV type Alpine, the XD3 and the brand new B4 BiTurbo.
AUDI
The Audi stand has to be one of the largest constructions, needed because of the immense range of cars that the Ingolstadt make now offers and which they want to show off. There was an area reserved for Audi owners, which was dispensing free drinks, and we availed ourselves of this for a mid-morning reviver before looking at the cars. Highlight for many was the first UK showing of the new TT, in advance of sales starting later in the year, and there were people queuing up all day long to get to sit inside one of the pair of cars that were on show.
A reminder of  the TT's heritage came with a duo of models on display outside the TT hall, with one each of the first and second models types.
Also on show were a  couple of concept cars. The Sport Quattro Laserlight concept looked really good, with plenty of styling references to the much loved urQuattro. The other car was the Allroad Shooting Brake concept, which offers more practicality than the TT. Sadly, neither is likely to proceed to production.
Probably my favourite of all the production cars on show on the main open air part of the stand was this RS7.
The R8 is still a crowd-puller, 7 years from launch, and there were a couple of cars here which were generating lots of interest, including the limited production LMX version which is the first production car to feature laser headlights. Just 99 of them will be built, and they will retail for a not insignificant £160,000. There was also an R8 V10 plus on show.
The S1 has just gone on sale, and has been pretty well received by the press, even if the price tag is perhaps a little steeper than many would want it to be. Both three door and five door Sportback models were available for a closer look.
Also recently added to the range are more derivatives of the A3 line, with the 4 door saloon and cabrio now available. An S3 Cabrio is imminent, but the Saloon model is on our roads already and is a much cheaper (and more accommodating for rear seat passengers!) car than the Mercedes CLA, its main rival. It might not be quite a striking to look at, but in all other respects, it is the one that makes more sense to buy and own.
The S4 Nogaro Edition looked pretty good, but with a €101,000 price tag, this is not going to be a bargain, either.
Other RS cars included the RS5 Coupe, RS6 Avant and RS Q3.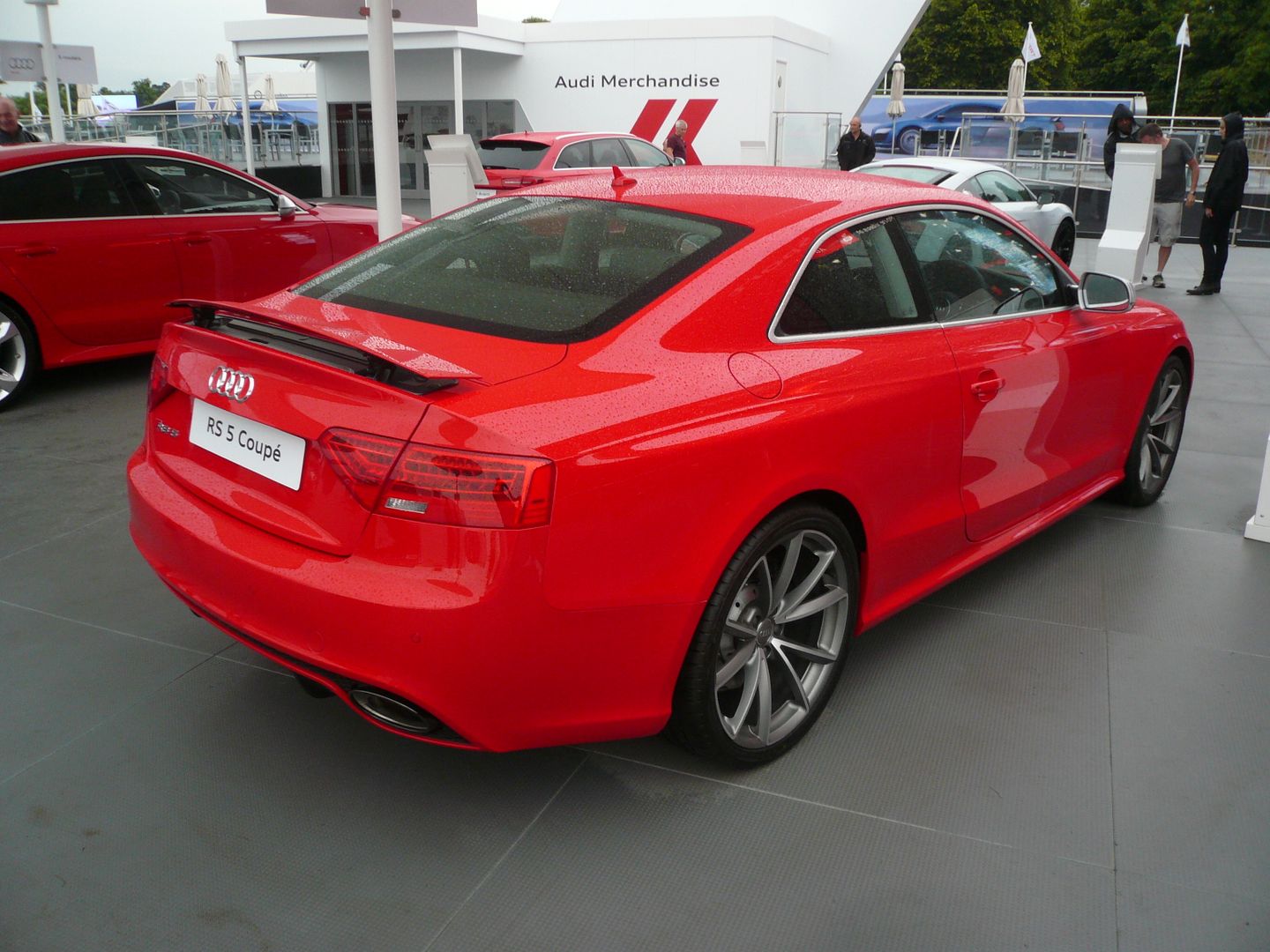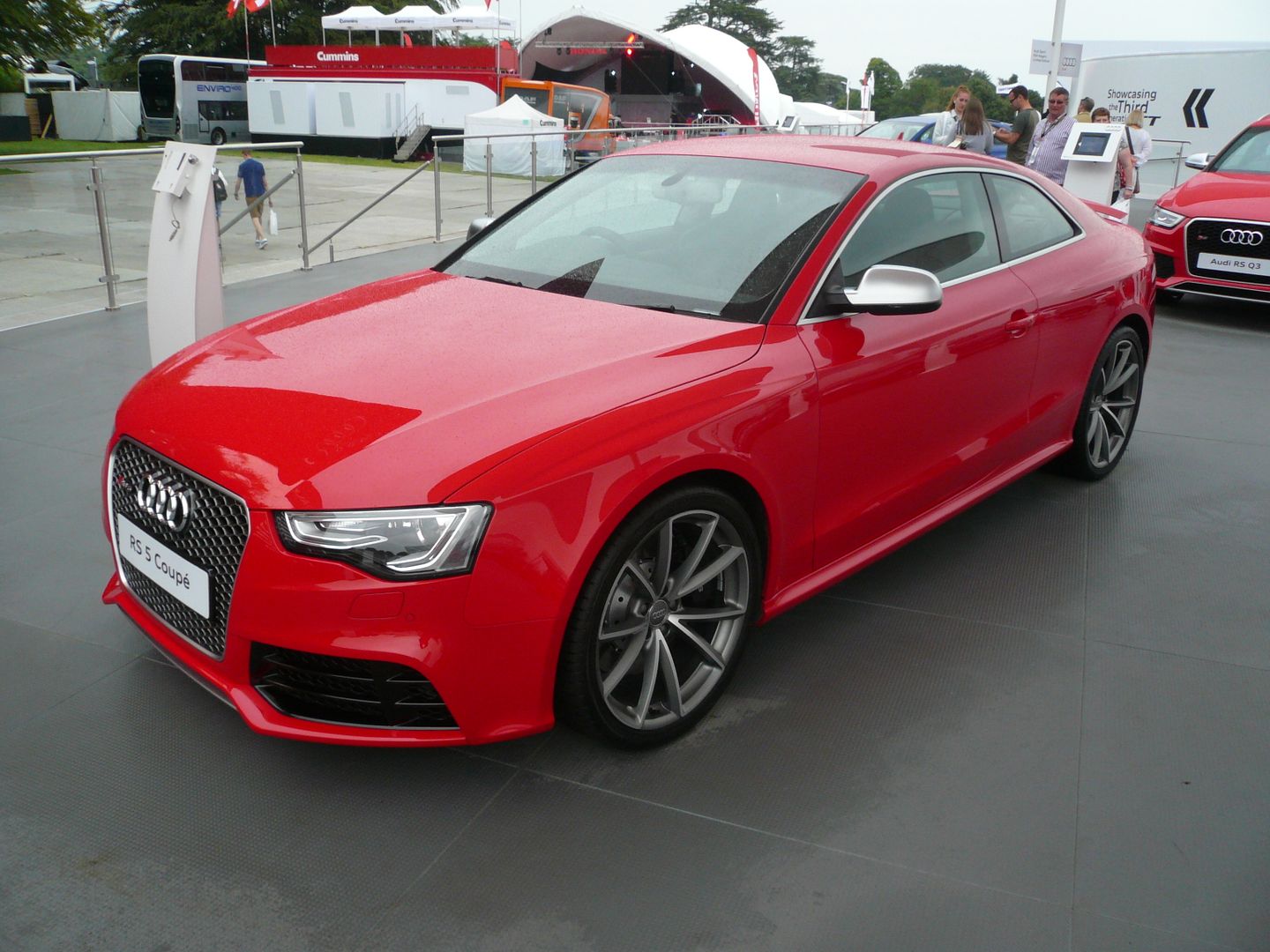 More familiar cars ranged from the A4, A5, A6 and A7 cars, with the latest even more efficient and eco-friendly Ultra TDi engines making their UK debut, as well as an A6 Allroad, the S5 Cabrio and the SUVs represented by a regular Q3, and an SQ5.
BENTLEY
Newcomer here was the roadgoing GT3 R, based on the GT3 Racing version which Bentley have been running for a couple of years.
The rest of the range were on show, with the V8 engined version of the Flying Spur joined by the Mulsanne and a couple of Continental GT cars.
BMW
There were quite a few BMWs making their UK debut or which had recently gone on sale, leaving little space for more established members of what is now a vast and diverse range. Not surprisingly, it was the new M cars that were attracting much of the attention, with an M3 Saloon joined by an M4 Coupe and Convertible. Debate will doubtless continue to rage about the loss of the 4 litre V8 engine, by all accounts, the new car is a might impressive machine, albeit far from cheap.
The striking i8 was at one side of the stand, and this car was also creating lots of interest. Only ever going to be a low volume car, I gather that if you were to try to order one now, you would have at least an 18 month wait before taking delivery, by which time, well, I suspect it will still be a car that turns heads.
One that might be closer to turning stomachs is the new X4 that was parked up on the other side of the stand. I suspect that this less practical version of the X3, with an ambitious price tag will sell far better than it deserves, proving that BMW's market research is spot on (they have shifted over a quarter of a million X6s even though we all said it was hideous and pointless when launched!).
A car that has been very well received is  the M235i Coupe, top of the range of small cars based on the gawky 1 series, but with far less difficult styling. Although not exactly roomy inside, if you can live with the limited space for rear seat passengers, this is a car with real driver appeal, and whilst not cheap, is better value for money than a lot of the Bavarian's range.
Another pricey proposition is the new 4 Series Gran Coupe. Paying £37,000 for an M Sport one of these with the 2 litre diesel engine would seem to be asking a lot, but I bet plenty of people do stump up that sort of money, even though this is a less practical version of a 3 Series which will do everything else at least as well for several thousand pounds less.
At £97,000 before you blink anywhere near the options list, the M6 Gran Coupe is not going to win any value for money prizes, as this is an extremely expensive car by anyone's measure. However, it is also a very desirable car indeed, with probably the best resolved styling of any car in BMW's range at present, and a beautifully finished interior, as well as a stonking engine. It is a lot of money, but anyone who can afford to buy, and to run one of these is not only lucky, but sure to be a very happy owner.
CITROEN
This was actually the first stand at which I stopped, and what caught my eye was the C4 Cactus. I first saw this bold and distinctive design at Geneva earlier in the year, where it impressed me as much in reality as it had done on paper, and with the order books for right hand drive cars opening any day now, in advance of deliveries starting in October, Citroen were clearly hoping to capture a lot of people's interest. Whilst I don't think gray is the best colour for it, this is a very striking looking machine, and in my opinion it finds the right balance between a relatively simple interior and one that does not look cheap or stripped out. I enthused about it to the sales staff, who are clearly very excited about the prospect of having something that is the nearest we have had to a "real" Citroen, as opposed to a cheap Peugeot, for many years.
Sadly, I could not muster the same level of enthusiasm for the new C1 also making its debut.  It was a different sales advisor I spoke to as I examined this one, and he seemed almost crestfallen when I said that it did not appeal to me. There was a launch edition car (in black) and that one had some truly ghastly Barbie Pink interior plastic on the centre of the dash and around the air vents which made that nasty stuff that Ford imposed on the early Ford Kugas look almost classy. Mercifully, the white car had  a more conventional interior finish, though there is no getting away from the fact that this car feels cheap and tinny especially compared to the Up! family, and lacks the style of the Fiat Panda. The early press reviews have been rather luke warm, too, so I suspect that it will need to be sold cheaply to get a lot of sales.
The middle of the stand contained the latest weapon in Citroen's rallying arsenal, the C4 Elysee WRC.
Also on show were a number of DS3 models, including the latest Racing version of the Cabrio (nice, but surely far too expensive), as well as DS4 and DS5 cars.
DACIA
There was no formal stand outdoors, but Dacia did have a presence, with a few of their cars in the Moving MotorShow area, and which could be seen in action going on test runs up the hill – albeit rather more slowly than many of the other models that preceded and followed them. The range now comprises three cars, the Duster, Sandero and Logan MCW and all three were on display.
FERRARI
Ferrari also did not have an external stand, but they had cars inside the Moving Motor Show,, which included a 458 Speciale, "regular" versions of the 458 Coupe and Spider and an FF.
This FF was not a manufacturer car, but was on the Veuve Cliquot stand.
FORD
Ford had a vast construction of a stand, but seemed to have very few cars on show. Highlight was supposed to be the Mustang, presaging right hand drive sales which will start in early 2015. The Coupe was conspicuously absent on the Thursday, but there was a Convertible car parked up, painted in a rather dull grey which did it no favours at all. How well this car sells in Europe will be fascinating to find out.
Parked up on the top storey of the stand was the new Mondeo, still some months form going on sale, and nearly two years after the US Fusion version was launched. This car does look good, but it is awfully big and the market has probably given up waiting for it, and I think sales will probably not even hit the levels achieved by the still current car, which will be undeserved.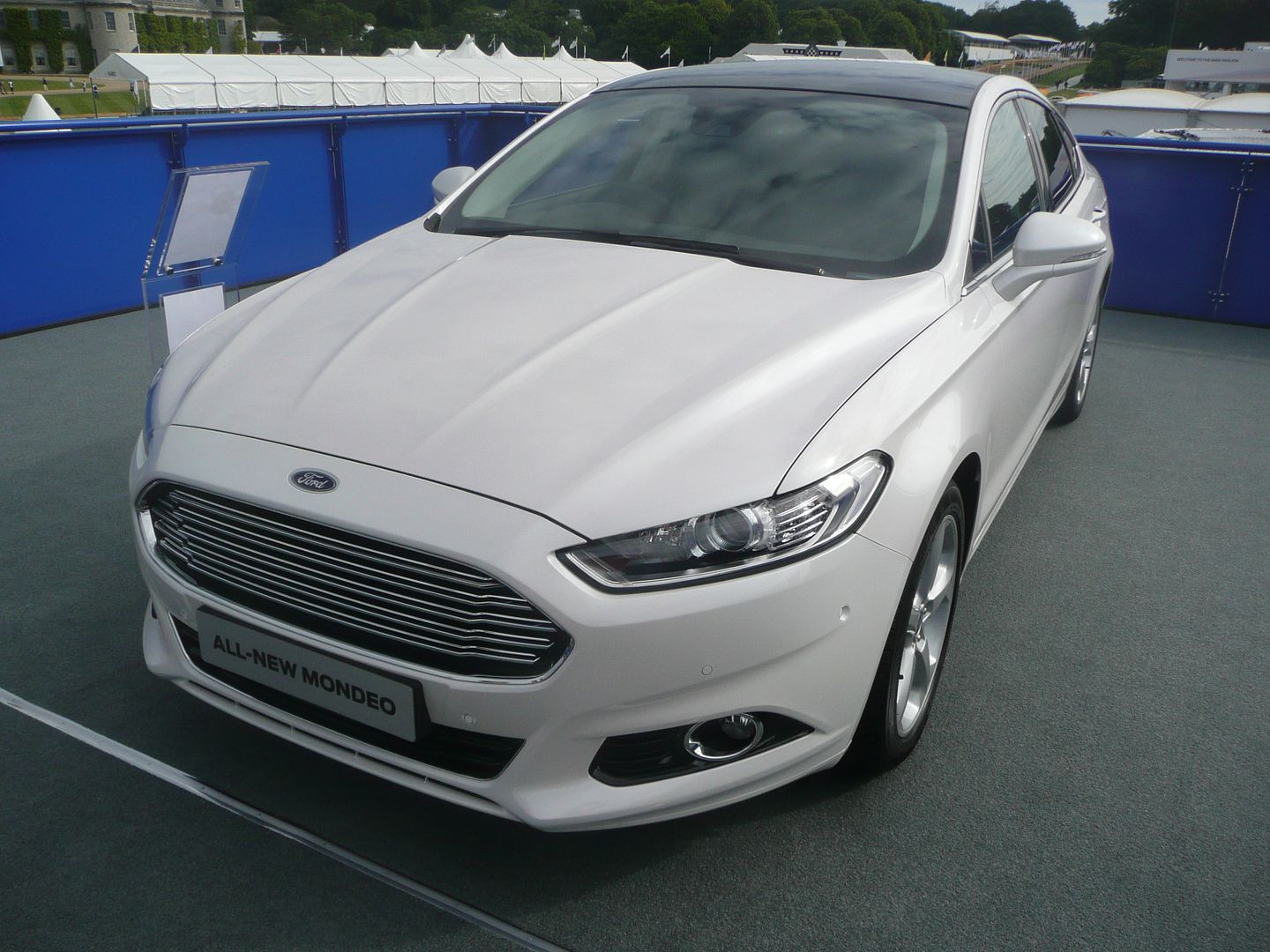 The Kuga has been on sale for a year or so, and looks very similar to the first generation car, even though a closer inspection will reveal the fact that is different in detail from nose to tail.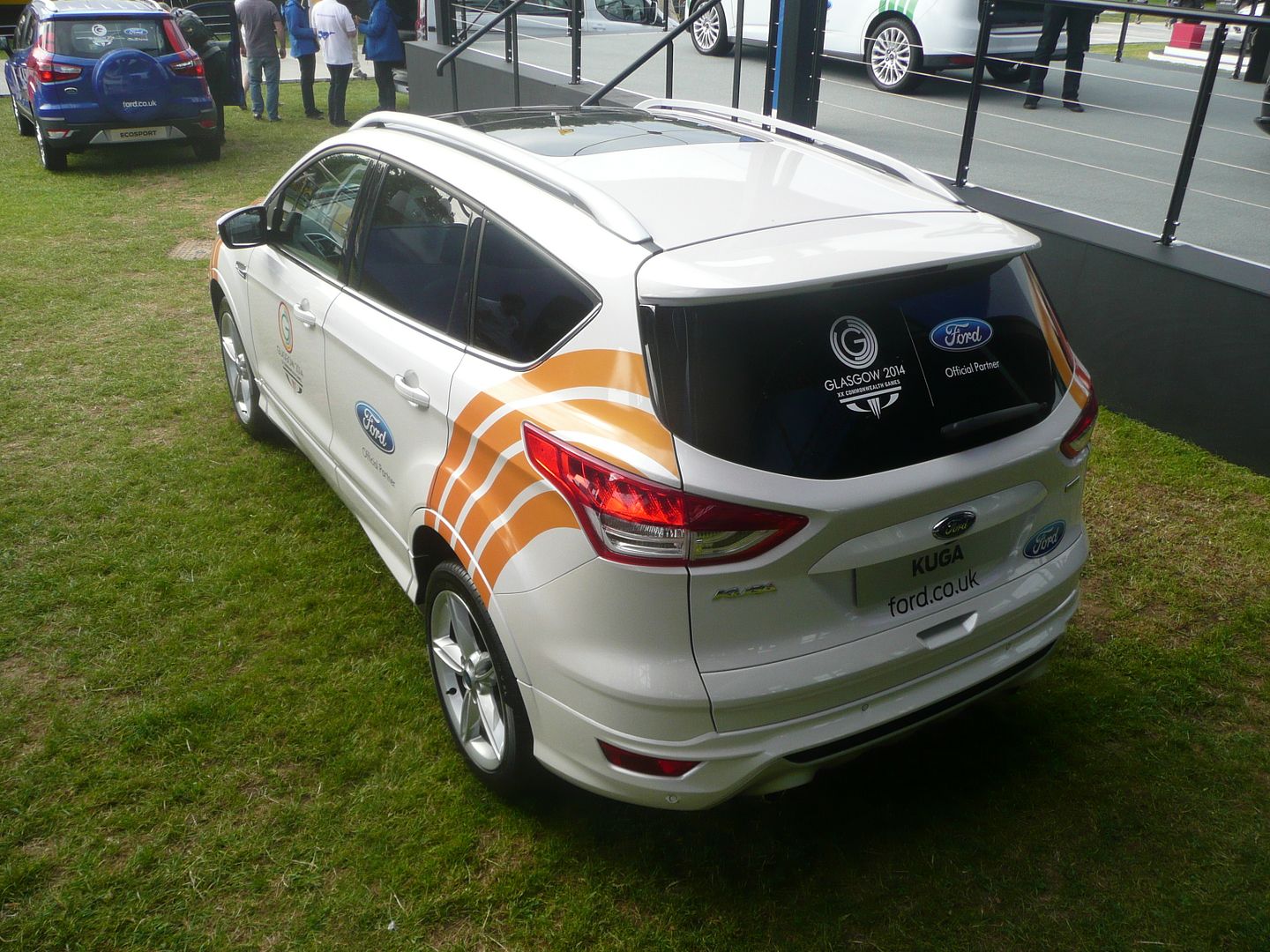 The Moving MotorShow contained two more concept cars, both badged Vignale the branding that Ford proposes to use to try to persuade that they have joined the ranks of Premium. These were an Estate version of the upcoming new Mondeo and a thinly disguised version of what will be the new S-Max.
HONDA
It is no secret that whilst Honda;s US sales have remained buoyant, in Europe they have been struggling, and one look at the current range suggests why. After years of producing well engineered cars with a real appeal to an enthusiast, these days all that is made are a set of "Toyota wannabe" models. All that is set to change with the much talked introduction of 2 cars: a new Civic Type R and a replacement for the NS-X. The latter has been talked about for years and a concept has been shown for years, so yet another appearance a set of promises of "soon" at this event were a little disappointing, but I understand that we may finally see the production car in 2015.
The original NS-X was also on show.
The new Civic Type R should be on sale by 2015, too, and to remind us why we should be excited, there were some previous models to bear the name on the stand as well as the concept version of the car we should soon see in production spec.
Of the other production cars, there was no sign, and very nice that was!
INFINITI
Star of the Infiniti stand was the Eau Rouge concept version of the Q50. Officially there is still no commitment to build this V8 monster, but I would be surprised if a way is not found of pressing the "go ahead" button. It was presented with the back drop of the Red Bull Formula 1 car. There was another example in the Moving MotorShow, which was in action on the hill, and aurally this car certainly sounds epic.
The regular Q50 has been a mild disappointment in America, and a major one here, where the press reviews found no compelling reason why you would prefer one over the German rivals and the likelihood of a massive cost of ownership penalty if you were to do so.
The other models in the UK range, complete with their new names of Q70 (the old M) and QX70 (the former FX) were also on display.
JAGUAR
The biggest crowds in Jaguar's busy stand were around the production version of the F Type Concept 7. I decided to try to get photos on my way back out of the show later in the evening, but when I got back to the stand, not only was there an entrance barrier in place, but the car had been covered over, so no pictures of what is an impressive if slightly bonkers car.
Upstairs, I found the C-X17 Concept, this time painted in red. The sunshine made photography difficult, but I did have a good long look at what, as I told the Jaguar staff, is the only SUV – assuming they build something that looks like the concept, – that I could be tempted into owning. Production cars will be revealed late in 2015, according to current plans, and I predict that this car will be a massive success for the firm.
Of course everyone is still – quite rightly – raving about the F Type, and rightly so too, as the stunning looks are evidently matched by the driving experience. The Coupe was on display along with the Convertible.
LAND-ROVER
Land-Rover had a stand away from everyone else, and this was clearly because as well as the space for static cars, they needed a large area for their off-road course which was being used by a fleet of cars to demonstrate how they cope with all manner of improbable looking obstacles.
Inside, the car I really wanted to see was the Discovery Vision Concept which is really quite different from the current model, and said to be an accurate clue as to what will come in due course when Disco 4 is replaced.
Elsewhere on the stand were examples of the current production range from Defender and  Freelander to Evoque and the latest Range-Rover and Range-Rover Sport models, including the Hybrid model that was sneaked on sale earlier in the year.
As a reminder of evolution, one of the early Discovery models, with its Conran inspired interior was also on show.
MAZDA
This was yet another show where the majority of the cars were painted in a very distinctive metallic red. Highlight was the Hazumi concept car which is said to bear a very close resemblance to the production next generation 2 hatchback which will be revealed later this year. Assuming this is the case, then this will remain one of the best looking cars in its class, an accolade that I accord to the current and unfairly neglected 2.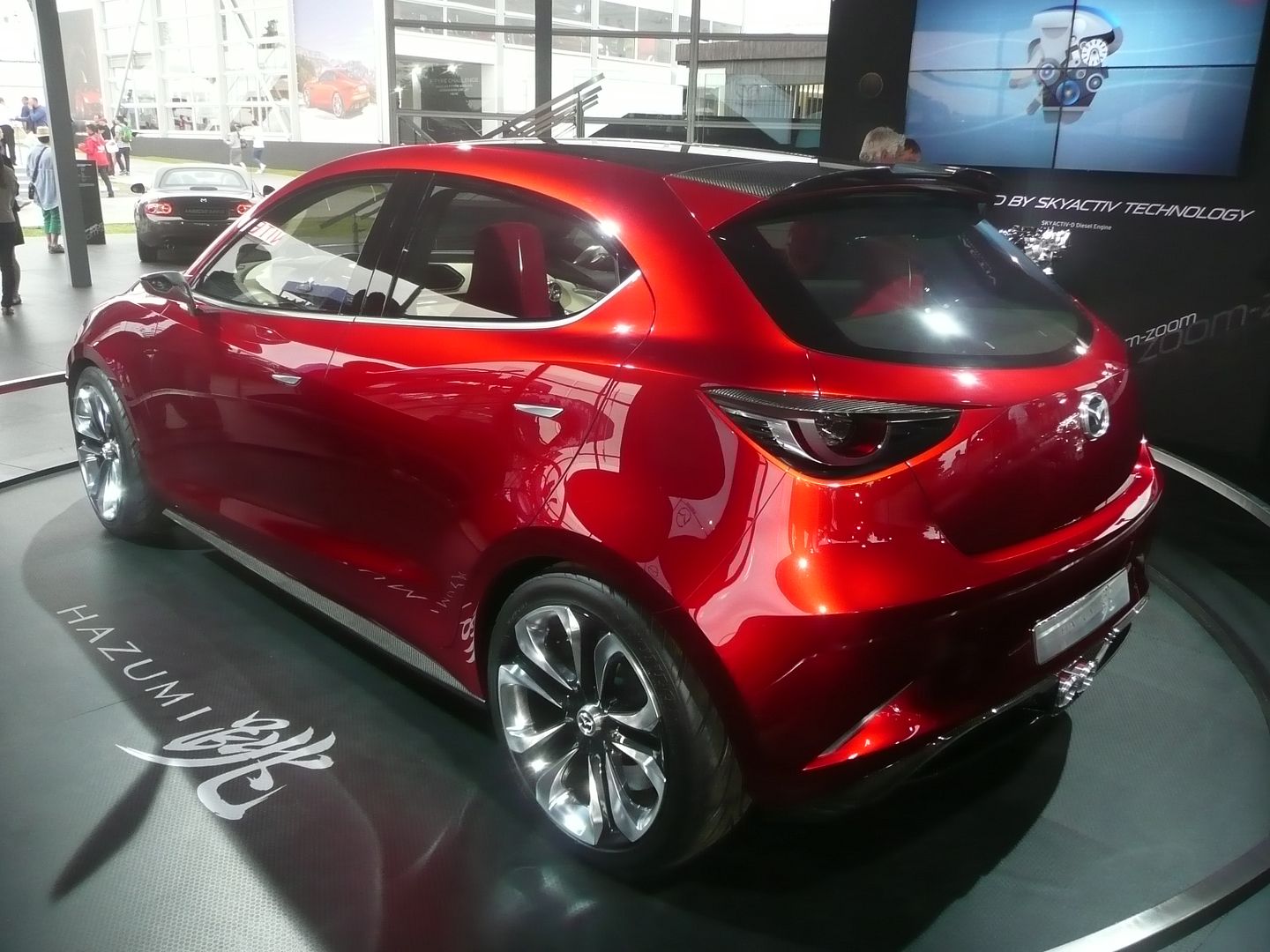 Grouped around the upper part of the stand were the latest 3, 6 and CX5 cars, also among the very best looking in their class. With the very impressive SkyActiv engine technology and improved interior trim quality, it is disappointing that these cars are not being bought in greater quantities, as they certainly are among the best available in their respective classes.
The next generation MX5 will be revealed on 3rd September, so for now it was left to a couple of examples of the NC model to remind us that Mazda still has a very appealing small sports car in their range.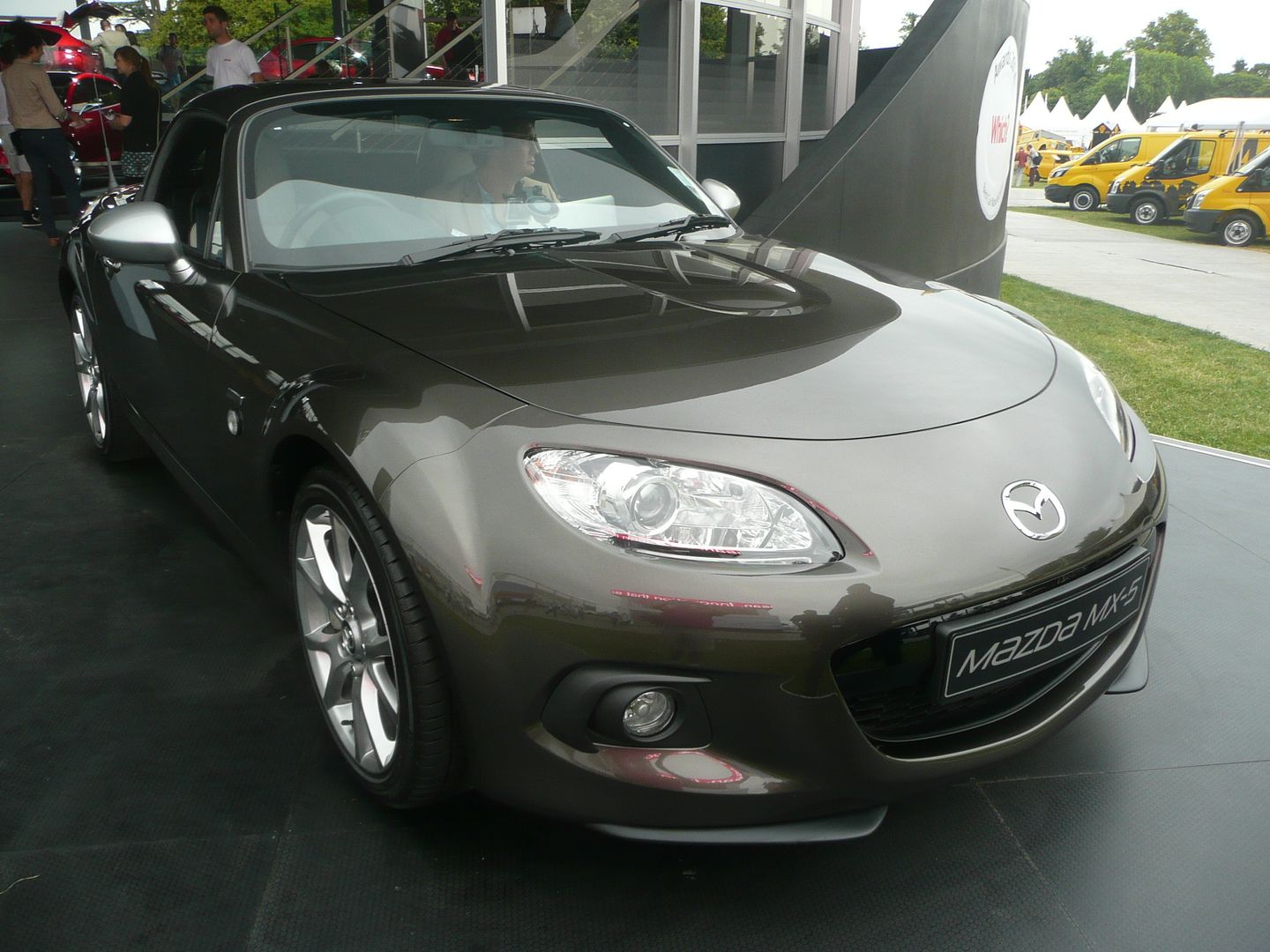 MERCEDES-BENZ
I never managed to set foot on this stand. It was already quite busy when I walked in, so decided to return on the way out, but by the time I passed it, they had roped it off, so I could only see what was around the perimeter of quite a large display. I suppose that stopped me being uncomplimentary about the CLA, and, for that matter the pointless and outrageously expensive GLA 45 AMG!
I could see and appreciate the SLS AMG GT3, though.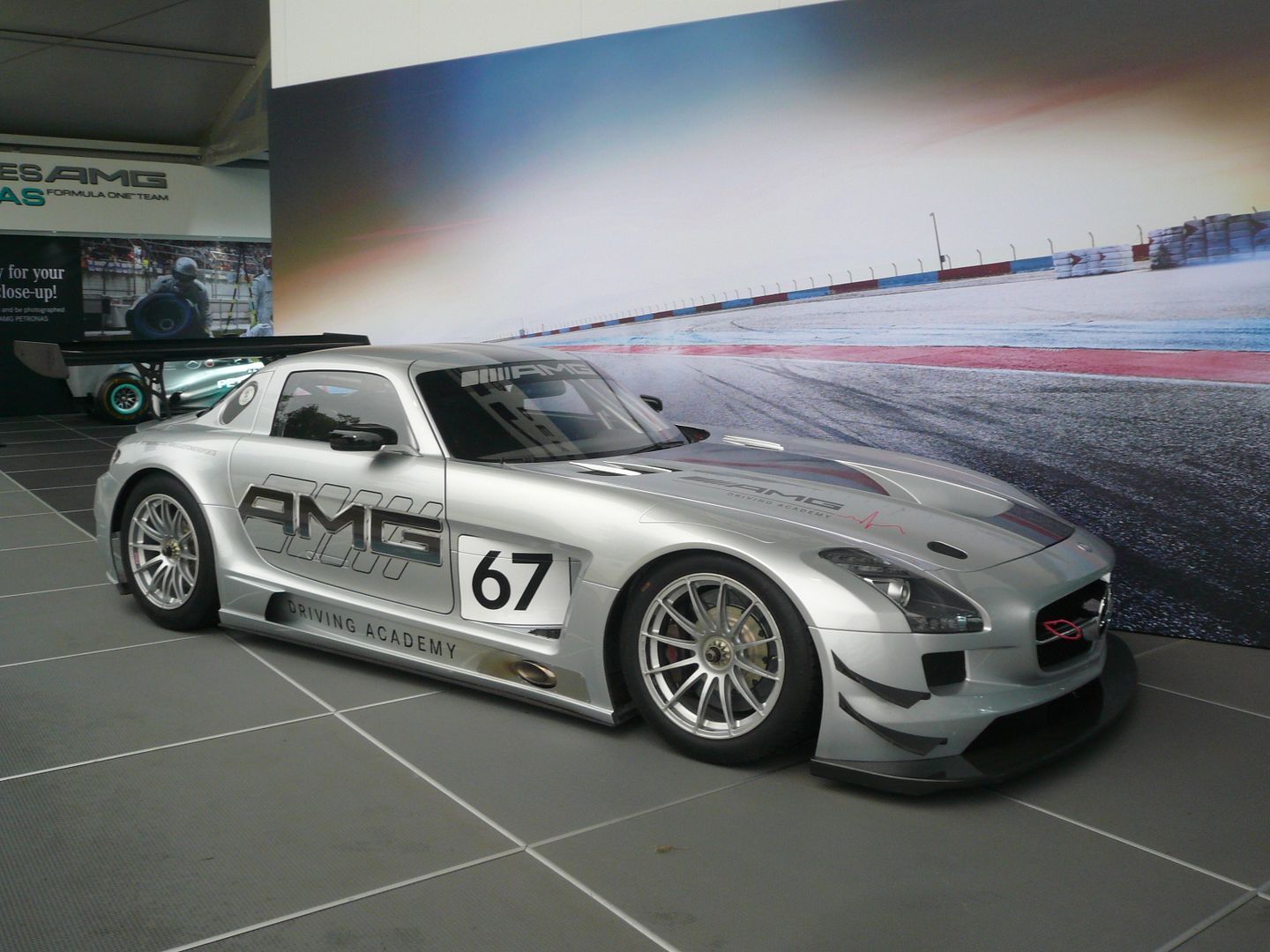 I would have liked a closer inspection of the new C Class, which is just going on UK sale. The press seem generally to like it, with the exception of the all important diesel engine which sounds like it lets the side down. I had to limit my inspection to one from a distance.
Also visible around the perimeter was the latest E Class in E63 AMG format.
The Moving MotorShow contained the car that was created for Gran Turismo 6, the AMG Vision Gran Turismo, a car which may give us some clues to the imminent AMG GT.
It also contained the thundering SLS AMG Black Series.
MICHELIN
The French tyre giant had a vast stand, with lots of interesting things to see. Highlight for many would be the presence of the other Koenigsegg One:1, and this turntable mounted car was certainly drawing the crowds.
The other side of the stand featured a Porsche 918 Spider. Tucked in around a barrier and painted a nice, but slightly un-attention grabbing blue (which rather suited it), I suspect that many people did not realise what this was.
The back of the stand contained the odd Carlsson C25, a bespoke creation based on a Mercedes SL65 AMG Black Series. Not for me, this one, thanks!
Outside there was a Ford Escort Cosworth Rally Car and a Noble M600.
MINI
With the three door version of MINI 3 now on sale, it is clear that MINI are at the beginning of the journey to replace all the range with cars based on the latest platform and engineering. New versions will continue to appear at regular intervals for the foreseeable, and this show was the first evidence of a production JCW 3 door hatch. Whilst the new instrument layout of the latest car is an improvement, the extra inches do not seem to have liberated any more space in the back (which remains poor given the size of the car) or the boot, and the front end styling is just fussily ugly to my mind, leading me to conclude that those who love MINI will be well satisfied, but those who do not are no more likely to be won over by this version than what went before.
There were plenty of examples of the rest of the range, too, with the lightly facelifted Countryman and Paceman joined by the hideous Coupe, the open topped Roadster and the Clubman.
The stand also featured the very definitely off-road enabled Countryman Dakar Rally Raid.
NISSAN
Unlike most of the Japanese marques who are struggling to find buyers for their range of increasingly tedious cars, Nissan are doing really well, with production of cars in the UK at record levels as they struggle to cope with demand for their new Qashqai.
Several concept vehicles graced the stand. There were two versions of the  iDX concept, an indication of what they could do for an affordable fun to drive sports coupe, a reminder of the early 200SX sort of cars. One was a NISMO branded model and the other was called Freeflow.
Rumours persist that Nissan will build something rather like the ZEOD. It was generating lots of interest (no pun intended), which is perhaps why I do not appear to have taken a photo of it.
This futuristic looking machine is another car whose origins are rooted in the virtual reality world of Gran Turismo. This one is called Concept 2020 Gran Turismo. Before you scoff, don't forget that Jann Mardenborough made the transition from successful Gran Tursimo gamer to professional racer, courtesy of Nissan. Nissan were also suggesting that some of the styling cues on this car will appear on the next generation GT-R.
There was an example of the racing GT-R like the one that Jann got to drive for a year, parked up on the corner of the stand.
Inside the Moving MotorShow were a number of roadgoing Nissan cars, including the latest XTrail which is about to go on sale and the recently facelifted Juke.
PEUGEOT
After more than 15 years in the doldrums. producing a range of cars that were bad to look at, and worse to drive, many of them with quality and reliability issues, it is good to see Peugeot doing a lot to try to improve matters. with a range of cars that at least look neat, if a bit unadventurous, and a set of interiors that look solid and of decent quality, even if the low mounted steering wheel does not suit all. Peugeot are clearly felling confident in their future following the second generation 308's success at winning the 2014 Car of The Year award. An estate model has just been added to the range, and there was a taster of something far more potent to come with a concept R model on show.
The 208 was also on show, with the worthy though not very conspicuous GTi car on display.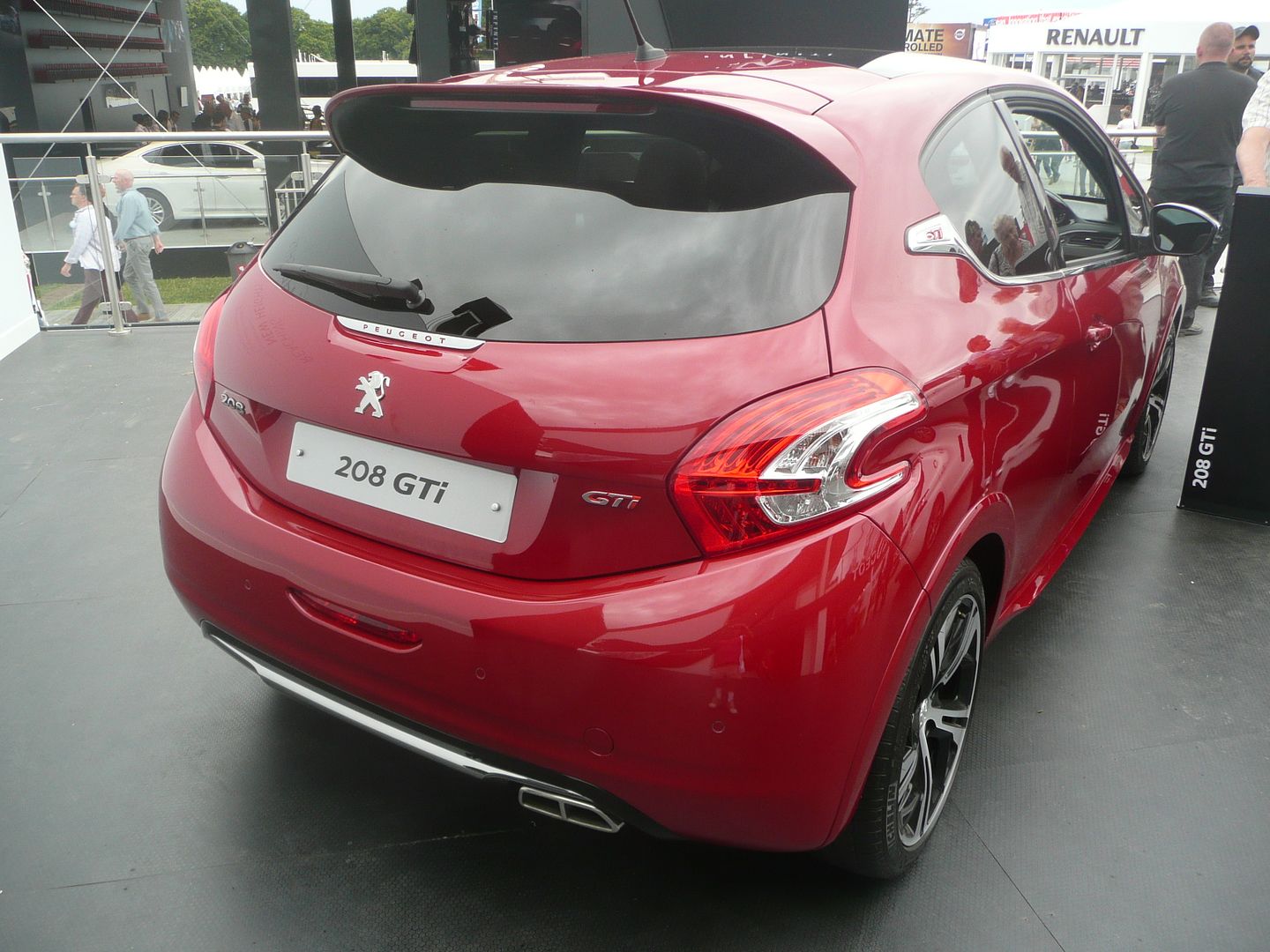 I was less sure what to make of this 2008 DKR.
Far bolder than any of the current range is this concept called Exalt. Rumours persist that Peugeot will build something with at least the general styling cues of this before too long.
The Moving MotorShow contained a number of the cars you can buy now, including the recently on sale 308 SW and the diminutive 108, Peugeot's version of their second generation joint venture small car with Toyota and Citroen.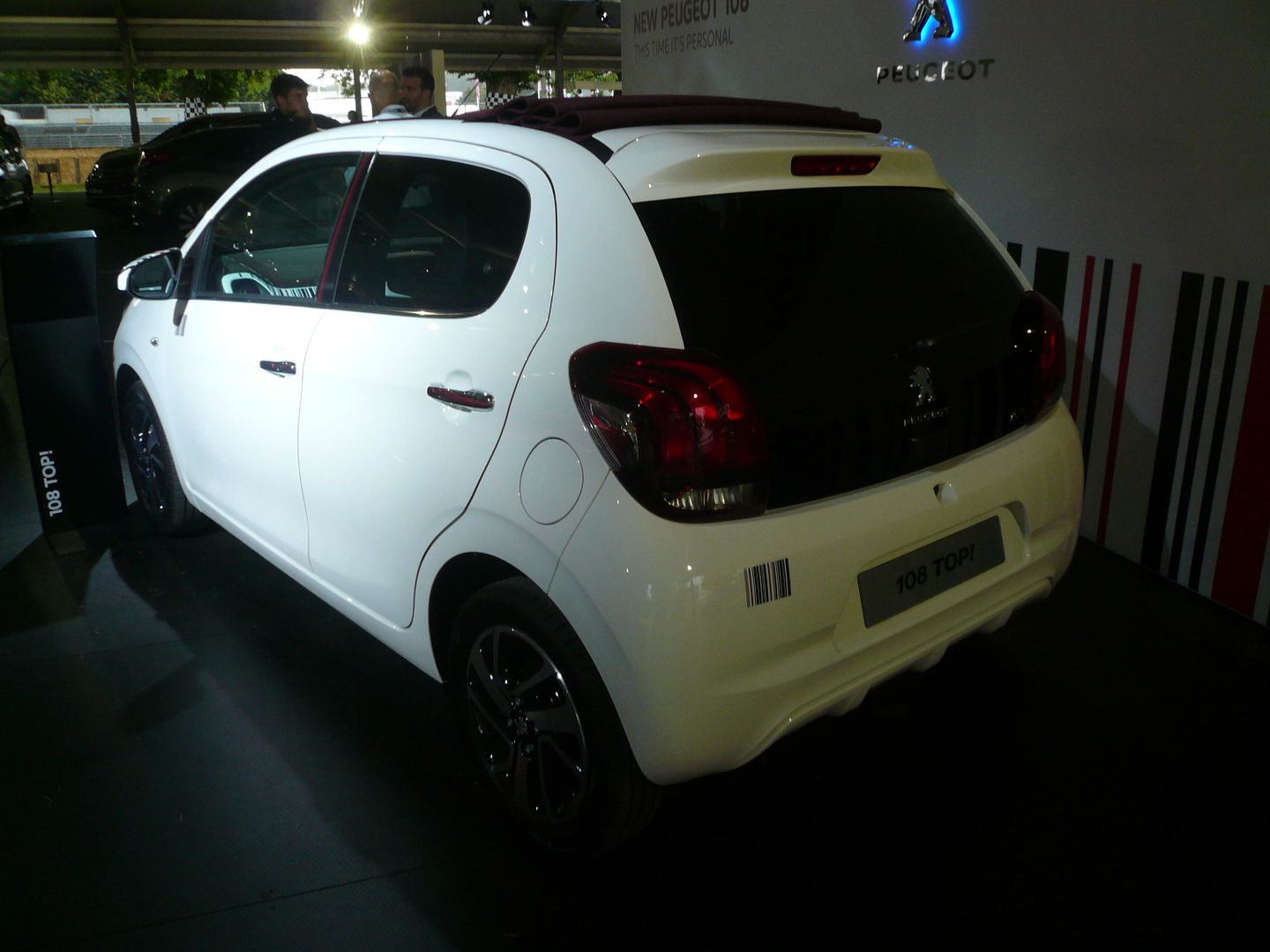 Far more interesting was this prototype version of the Hybrid Air 208 which uses a particularly innovative engine which uses compressed air.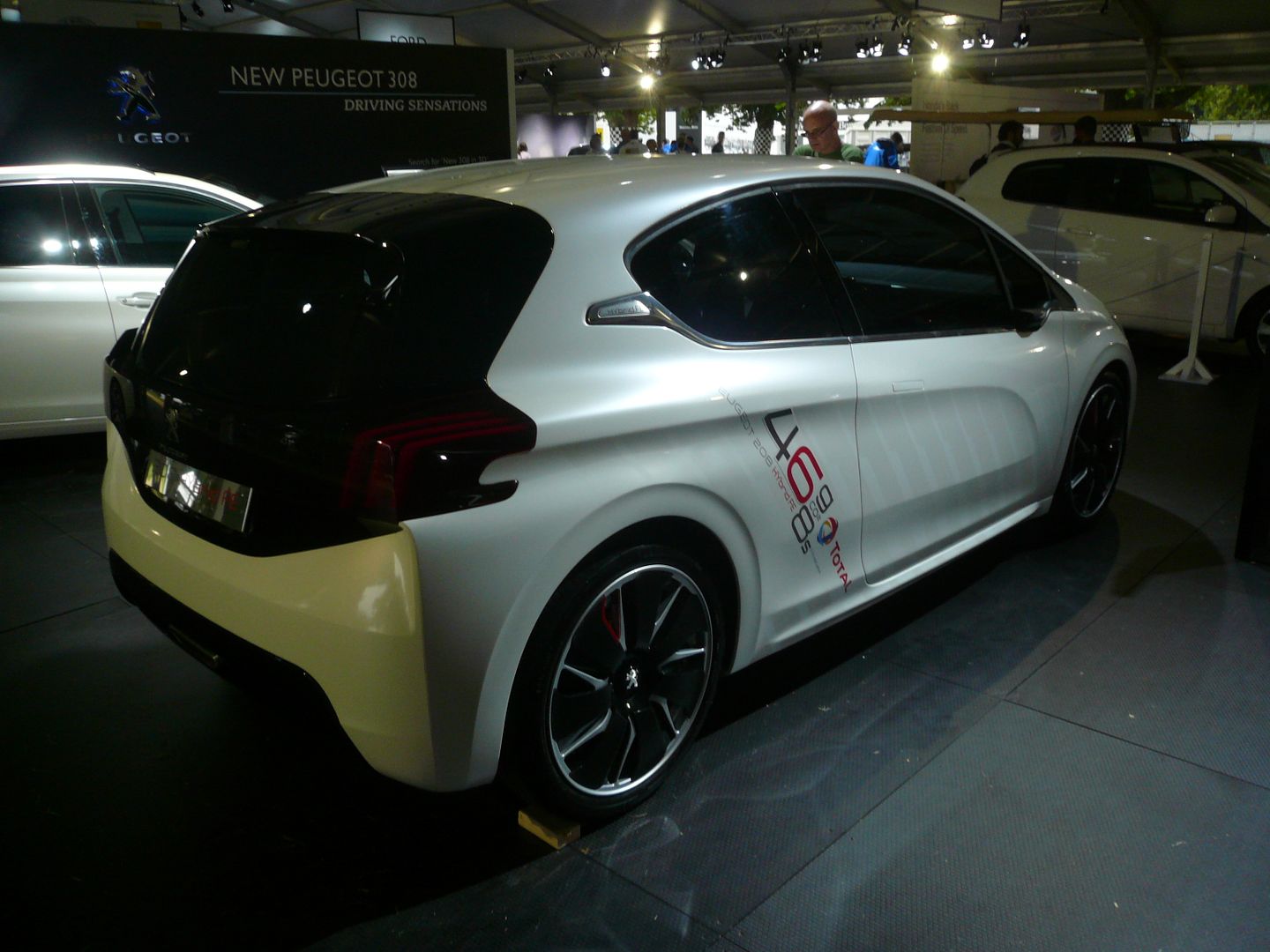 PORSCHE
No external stand for Porsche, either, but they did have a number of cars on show inside the Moving Motor Show, which included the latest 911 Turbo S Cabrio and the brand new 911 Targa with its amazingly complex electrically operated roof
RENAULT
Having seen their sales reduce alarmingly from significant to almost insignificant, Renault could be turning the corner, and the evidence for this comes from a stand that showed new levels of confidence, with a mixture of concept and production cars. Most intriguing of the latter category was the new rear-engined Twingo, available for a far closer inspection than was the case at Geneva. This is certainly a very neatly styled looking car, though my fears about the impact of boot space from putting the engine at the back proved somewhat founded. Will it sell? Time will tell, but it deserves to in a way that the outgoing car never did (or achieved!).
It is of course closely related to the TwinRun which made its debut at this event a year ago.
The R Space gives us some clues as to what to expect from future mid-range people carrier cars such as a next generation Scenic.
The DeZir has been shown lots of times in the last few years, but it remains a striking design, and well worth another outing. If only Renault would build something like this again to put some pizzazz back into their range.
The Captur concept also goes back a while.
Production cars also included the Captur, which seems to be selling strongly not just in its native France, and the latest – and to my eyes unduly blobby and simply too big – Clio IV.
Renault have nailed a lot of their strategic colours to the Zero Emission mast, and whilst commendable morally, they have not been rewarded with much in the way of sales. The ZE Fluence was such a non-starter that it has been withdrawn from the UK market, leaving just the Twizy and Zoe. Whilst not are interesting, these are expensive cars with minority appeal. Full marks for perseverence, though. Examples of both were on show.
Inside the Moving MotorShow, Renault had a couple of the latest Megane RenaultSport RS275 R cars, which were developed to recapture the Nurburgring lap record back from Seat. Will they sell? Given the difficulty that they had in shifting the previous generation R26R, I suspect the answer is "yes", but only in small quantities.
Other road cars included the latest Clio.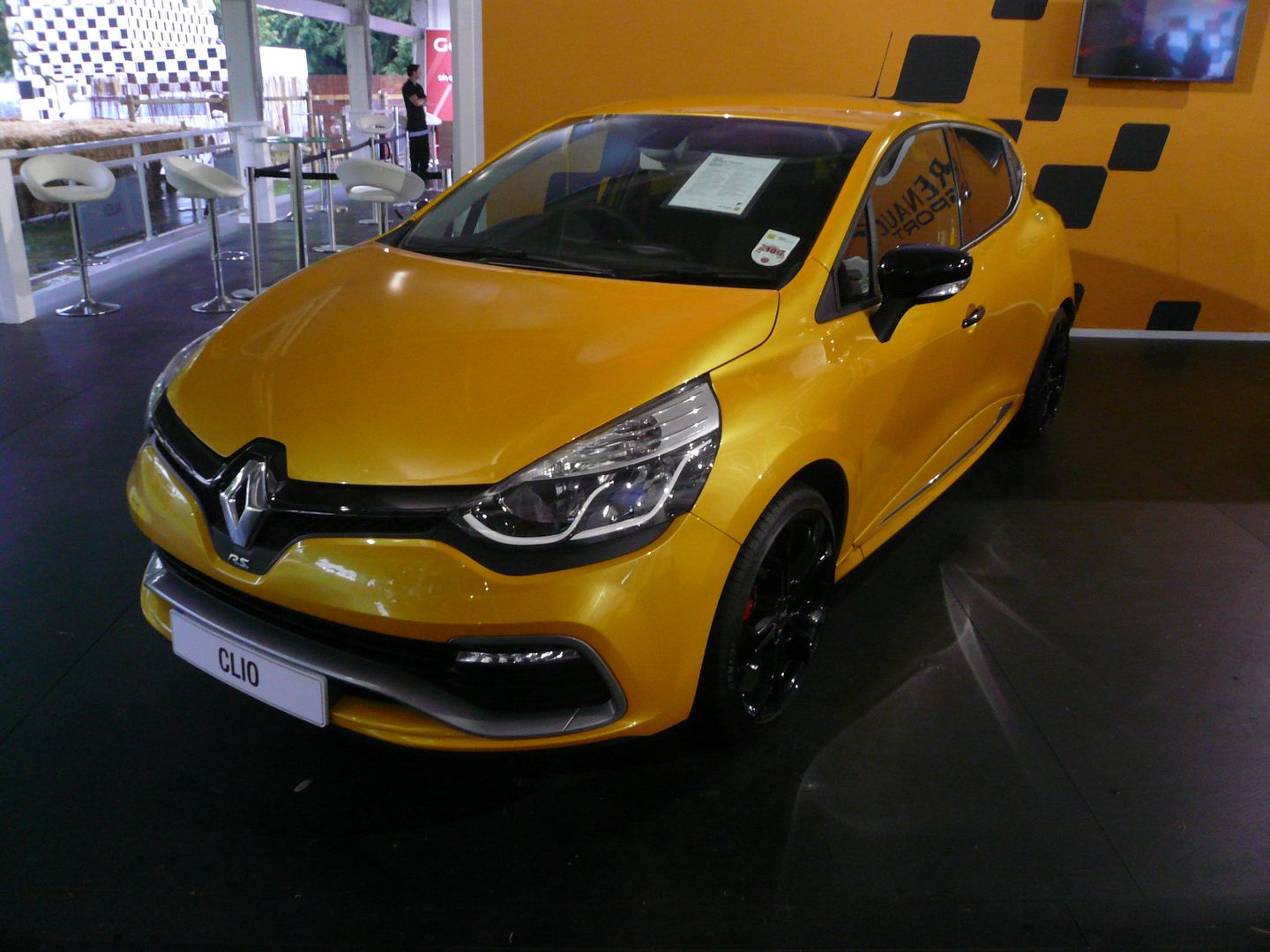 SEAT
Most distinctive car on the Seat stand was this Ibiza Cupster, a rather odd roof-less device which was first seen at the Worthersee festival a few weeks ago.
The new Leon has been a huge success for Seat, with sales up massively over its predecessor, and the latest ST (estate) and Cupra cars were on show, along with a Euro Cup race car, a close relative of the Nurburgring record holder that so irked Renault that that they had to build a rival to claim the lap record back again.
Final car on the stand was the Ibiza, making one of its last appearance before the next generation models appears later in the year. This is still a neat looking car, which drives well (if you choose your engine carefully!).
SKODA
For the last couple of years, Skoda have been giving out free drinks and ice creams, but this year you had to earn your gift by pedalling like crazy on one of a series of bikes. I decided to confine my time on the stand to looking at the cars instead. I was pleased to see that the concept Vision C that was shown to the press at Geneva then whisked away before the public arrived was on display here, and very good it looks too.
I was not quite so convinced by the looks of this Xtreme concept version, though. But it seemed to be appealing to plenty of those who like butch OTT off-roader styling.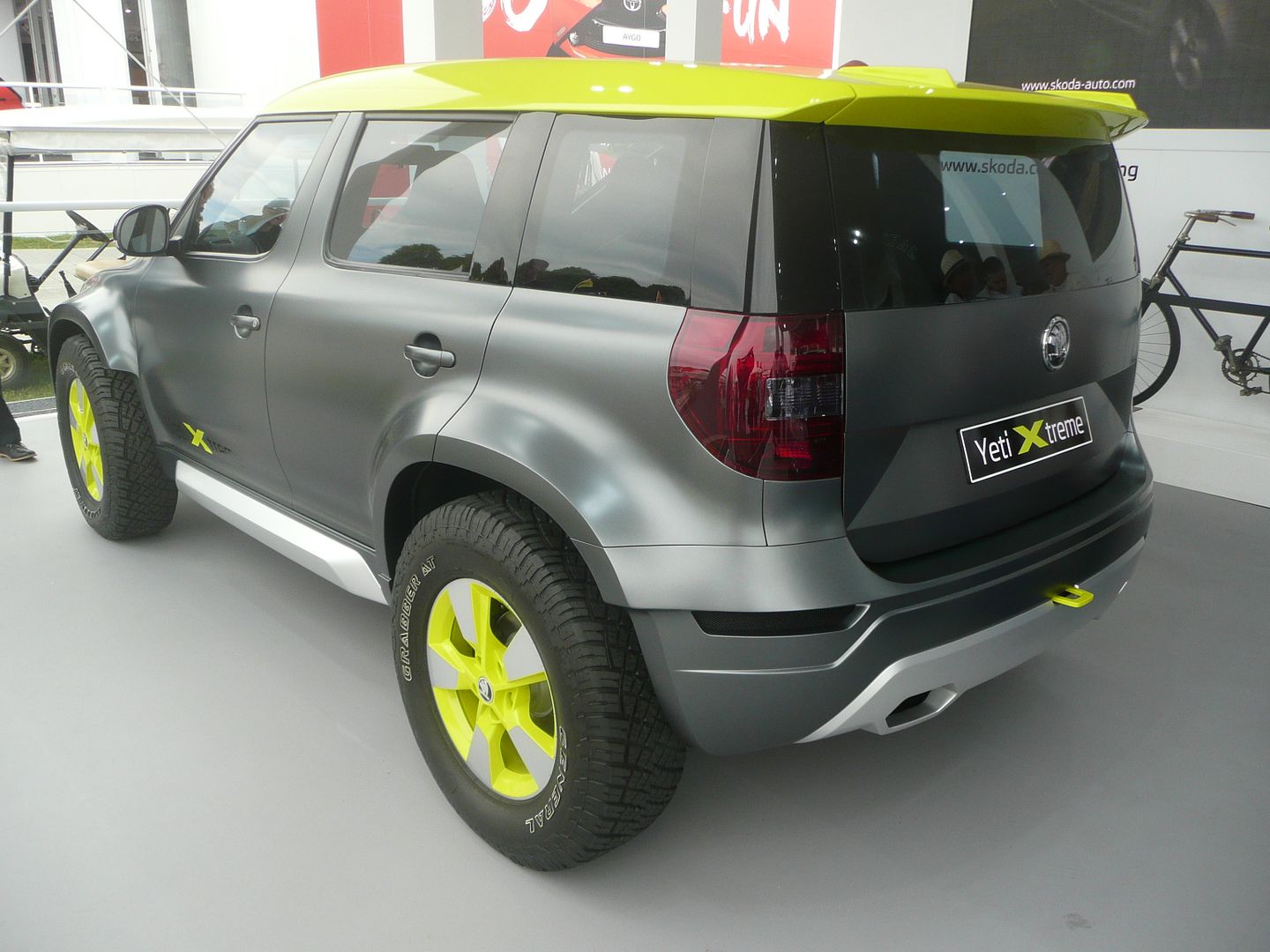 I am a big fan of Skoda in general, and none more than the Yeti, which I still maintain is probably the Best Car in the Real World. The facelifted models have been out for a few months now, and whilst I still prefer the initial front end design, this is still a good looking car as well as one that is practical and which drives well.
A facelift that did work was the one applied to the Superb a year or so ago, this tidied up the slightly awkward detailing especially on the saloon at the rear end. The latest and commodious Estate was on show.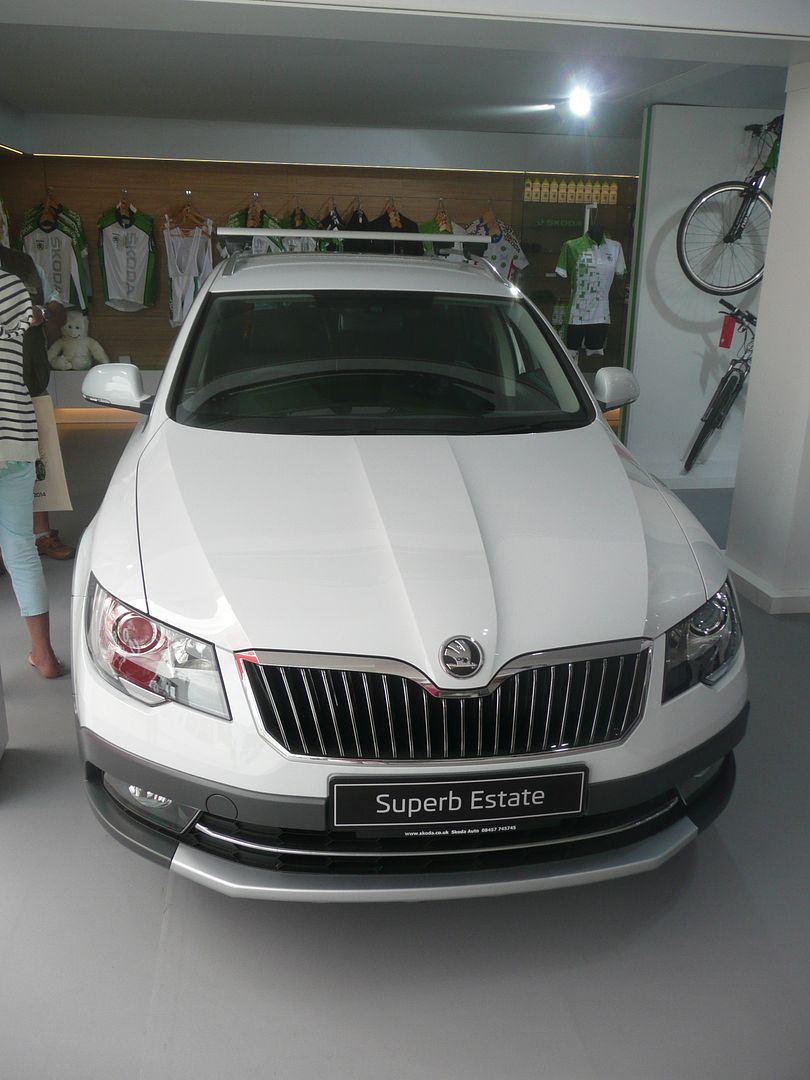 Earlier this year Skoda added a hatchback or SpaceBack in their parlance, to the Rapid range, and I would expect that this is the version more people will buy than the saloon which is what was initially offered.
TOYOTA
After the comedy of seeing Toyota adverts telling us that we could restore the joy of driving with an Auris Hybrid (one of the more soporific and anodyne cars currently on sale), the billboards are now all telling us to "Fun Yourself" with the new Aygo, so I had to have a look to see if this is yet more advertising nonsense, or a credible claim. There were lots of Toyota's new baby on display to look at. Whilst the front is certainly distinctive, I think it looks truly awful, so this thing fails on visual appeal, and that's before you get inside and discover that your eye balls can be assaulted with a huge blob of bright orange plastic trim around the air vents. Whilst the bright external paint is actually quite a welcome relief from a sea of grey cars, I doubt anyone could live with an interior like that. Fortunately, more restrained finishes are available. You can't get away from the fact that just like the Citroen and Peugeot alter ego models, this car feels cheap and tinny inside and the rear seats are far more squeezed than they used to be. Not impressed.
The GT86 is the only car in Toyota's range that has any appeal to me at all, and there were racing and road going versions on show.
Toyota's le Mans entrant was also on display.
VOLKSWAGEN
Late in the day I realised that I had missed out the VW stand, and there was one car in particular that I wanted to see likely to be on it. Even when the crowds had largely dissipated from other parts of the ground, the VW stand still seemed busy, with people milling around all the cars on show. The one I really wanted to see was the fabulous little XL1. I know I've seen it before, but I think this is a fabulous piece of design and engineering, and as only 200 are planned to be built, you're not going to see them on every street corner. Sure enough, tucked away in the back corner, a throng of people were indeed towering over this diminutive machine.
The biggest crowds on the VW stand were actually to be found another of the concepts that was first seen at WortherSee, this GTi based oddity.
In the real world, VWs you can buy now include the much praised Golf R which was shown along with the soon to join the range GTe model.
VOLVO
The big excitement from Volvo comes in a few weeks with the reveal of the all new XC90, but look around this stand and what you see are a neatly styled range of cars, with very well presented interiors and those with Volvo's latest DrivE engines, a very impressive powerplant which is both powerful and very efficient in terms of fuel economy and emissions. So, much to like from Sweden's main car maker. An array of V40 and XC40 as well as the recently update S60, V60 and XC60 models were on show, along with the now rather elderly V70 and XC70 and S80.
The V60 PoleStar was making another UK debut. Production of this potent but still very practical car is about to get underway. Only ever likely to sell in small numbers, this is very much my sort of Q car. I love it.   There was one of these in the Moving Motor Show and it could be seen (and heard) in action up the hill during the day.
Also in the Moving MotorShow were representatives from the rest of the range.
OTHER DISPLAYS
Most of the celebrities are only present for the Festival of Speed itself, but even on the Thursday, there are people being interviewed all over the venue, some better known that others.
There was an awful lot more to see, with plenty of other displays, only some of which we managed to include during the day.
AMERICANA
A very varied assembly of what I can only group together as Americana was grouped together on a sort of sandy beach area. I only have time to get a couple of pictures when I passed, as this was also the point at which the rains started to descend. The two vehicles I did photograph were the back of a 1955 Chevrolet StepSide Pickup and a recreation Shelby Daytona Coupe.
The latest Corvette Stingray was on another trade stand. This is a very distinctive looking car, quite different from the C6 and C5 models which preceded it.
AA DISPLAY
The AA had amassed a vast array of vehicles and other memorabilia from their past. These included bikes, cars, vans and trucks that had once seen service as the UK's 4th Emergency Service as we were encouraged to think of the AA as being. I gather that the display was sourced from a number of owners from all over the country. It was a most impressive assembly.
PORSCHE OWNERS CLUB
A small display by the Porsche Owners Club was to be found in among a whole array of trade stands, and it featured a quarter of cars, ranging from a nice 356 Coupe to a 924 Turbo and a couple of 911 models and a 962.
SHELL ECO CHALLENGE
Shell had an interesting stand which included a real vehicle, set up with a simulator designed to test your ability to drive at a very steady speed around an urban course of 4 miles or so, to try to achieve the best possible fuel economy. We let Ed Barnes take off his shoes, put on his most delicate throttle and brake pedal control foot, and climb in and see how well he could do. Whilst he did not quite beat the best performance of the day, he was far from shabby in what he achieved!
Make no mistake, a day is not really enough to see everything at this event, even if you spend almost 12 hours on site, as I did. Yet again, we did not make it up the hill at all, and I felt that I could easily have spent a lot longer in almost every part of this extensive event. That's the reason why spending an extra day, when of course there is yet more to see, as the static displays become live ones, and manufacturers wheel out more than they did on the Thursday, does make sense. In 2015, it is going to have to be done (and planned early enough so a hotel does not break the bank!).