The majority of car events take place at the weekend, which is hardly surprising, as many of us do have to work from Monday to Friday so as to generate the funds for, among  other things, our automotive enthusiasm. However, the long summer evenings of June, July and August do afford the possibility of doing something after work, with several hours remaining daylight, and in addition to things such as the year round Ace Cafe meetings there are other events to appeal especially if one can manage to get out of the office that bit early. One of these is called Classics in the Walled Garden, because, well, when the event was first created, the cars on display were all located in an old Walled Garden at the Luton Hoo estate, just outside Luton and a few miles north of London. Like all things that are popular, it quickly expanded, so these days, only the first 150 cars or so that register are accommodated in the old Walled Garden, and everything else is parked up in surrounding areas. Encouraged by the very positive comments about this event that were made in Classic and Sports Car, I first attended a couple of years ago, and very much enjoyed the setting, relaxed atmosphere and variety of cars, though to my chagrin I was a little too late arriving to see absolutely everything that had been present. I vowed to return, and to try to get there a little earlier. Diary pressures meant that I missed the event completely in 2013, but for 2014, I managed to hold the meetings and conference calls at bay, and escape central London early enough to ensure that I should maximise my time at this event. Cars are asked not to arrive until 4pm, but even so when I got to the venue at around 5pm, there were lots to see, with many people well on their way through the evening picnics that they had brought. An awful lot more cars arrived in the following couple of hours, and the weather was kind enough to treat everyone to a lovely summery end to the day, meaning many stayed on til well past 8pm. It all made for a very agreeable evening indeed, and there was lots to keep my camera very busy as you will see below.
AC
There was a very nice example of the rare ME3000, the mid-engined car that was first shown in 1973 but which took until 1980 to get into production, and sales of which were then miniscule until production ceased in 1985.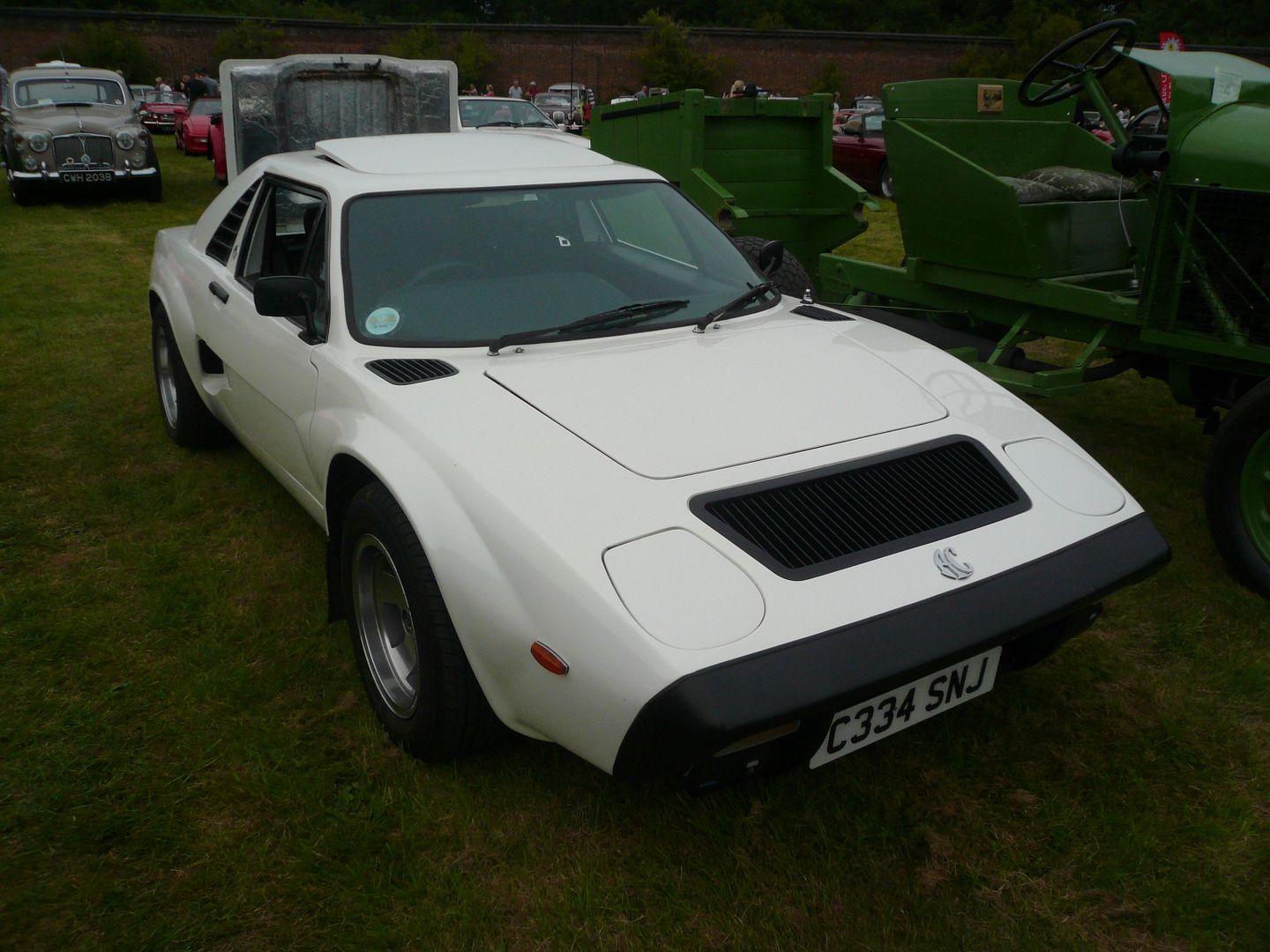 A number of Cobra replicas were also present.
ALFA ROMEO
Italian cars were thin on the ground at this event, but I did come across this rather nice 916 series Spider.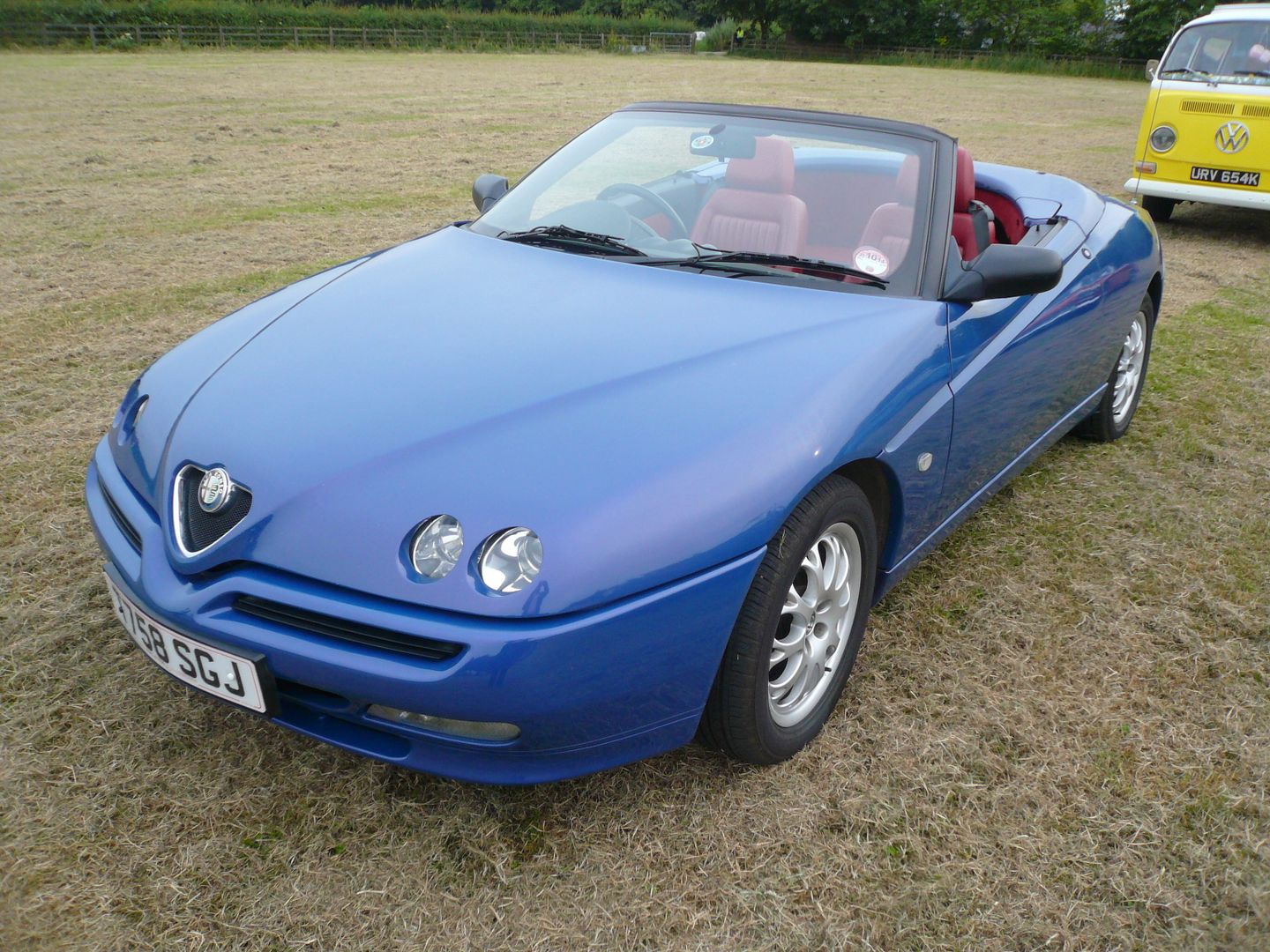 ALLARD
Perhaps the best known, and best looking of the products of Sydney Allard is the J2, a sporting beast that went fast if you had swallowed enough brave pills before setting off.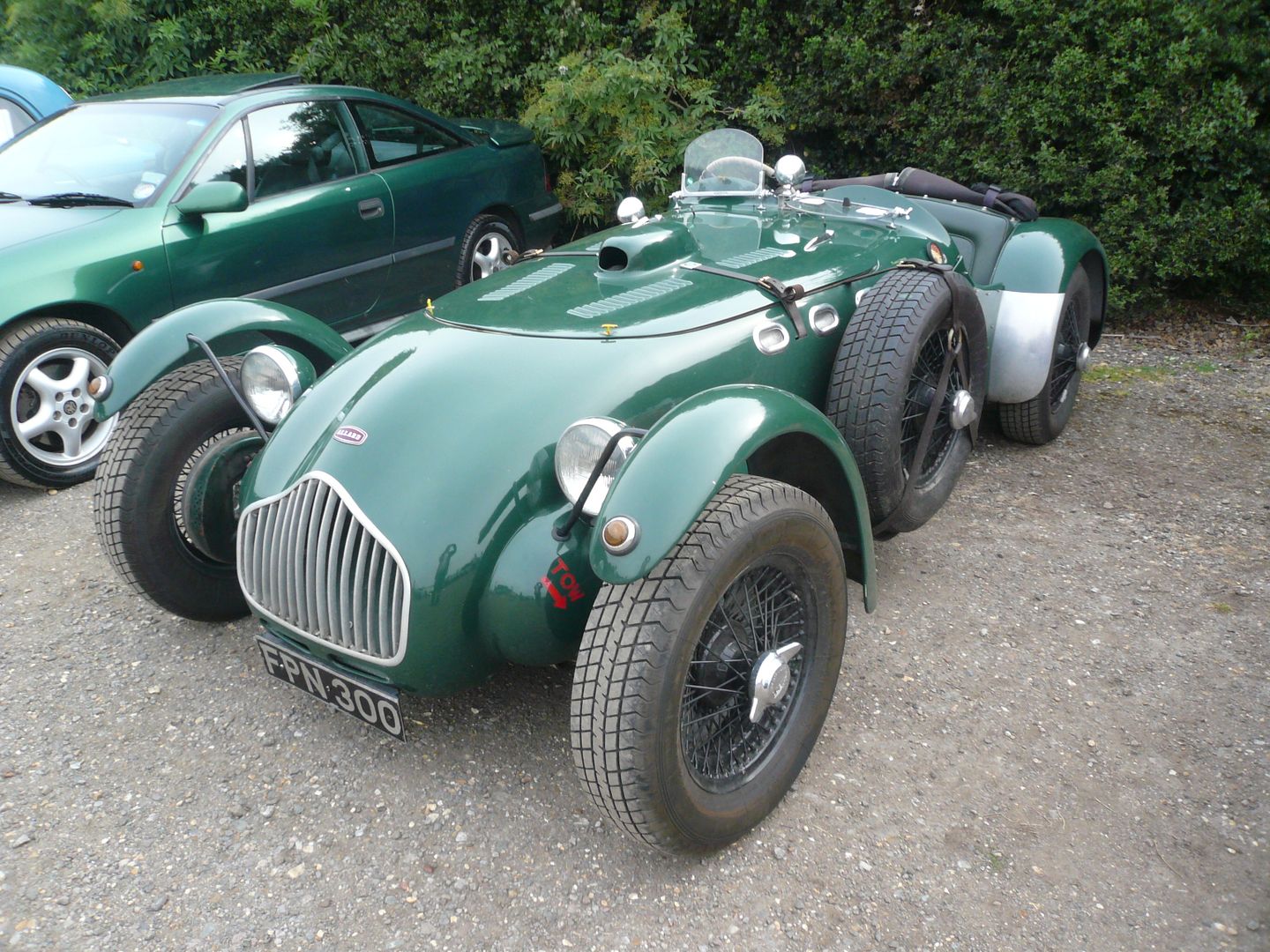 ALVIS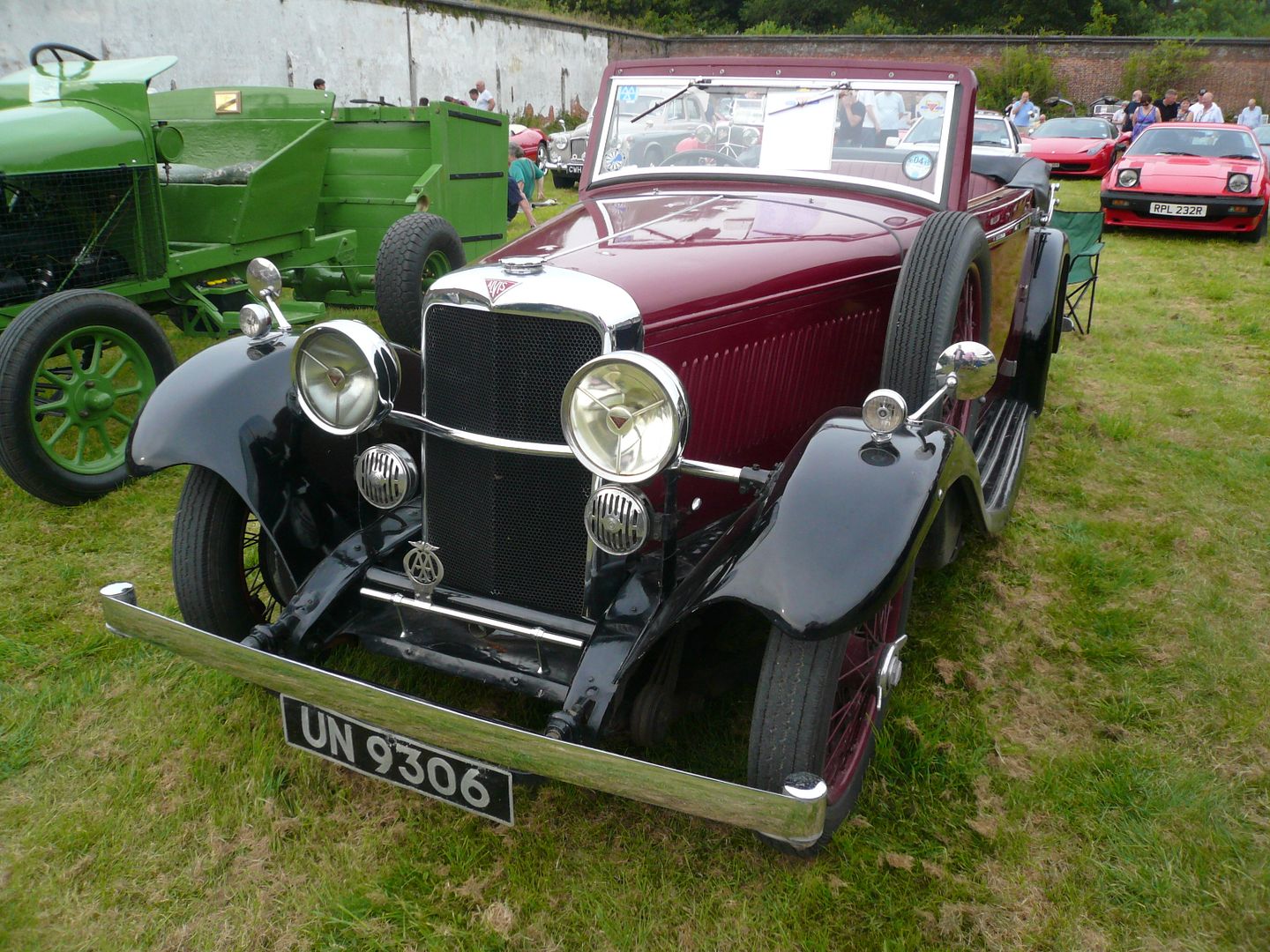 ASTON MARTIN
Although the market favours the DB5, I have a soft spot for the follow on model, the DB6, which has always appealed with its slightly different front end and Kamm tail styling. This was a relatively early example of the model parked up outside the walled garden and a second one inside it.
And lo, later there was a third one!
Parked up nearby was a very different sort of Aston, a 1930s Ulster. Quite splendid!
AUDI
Nice to see the urQuattro, and I caught this one just as the owner was driving off.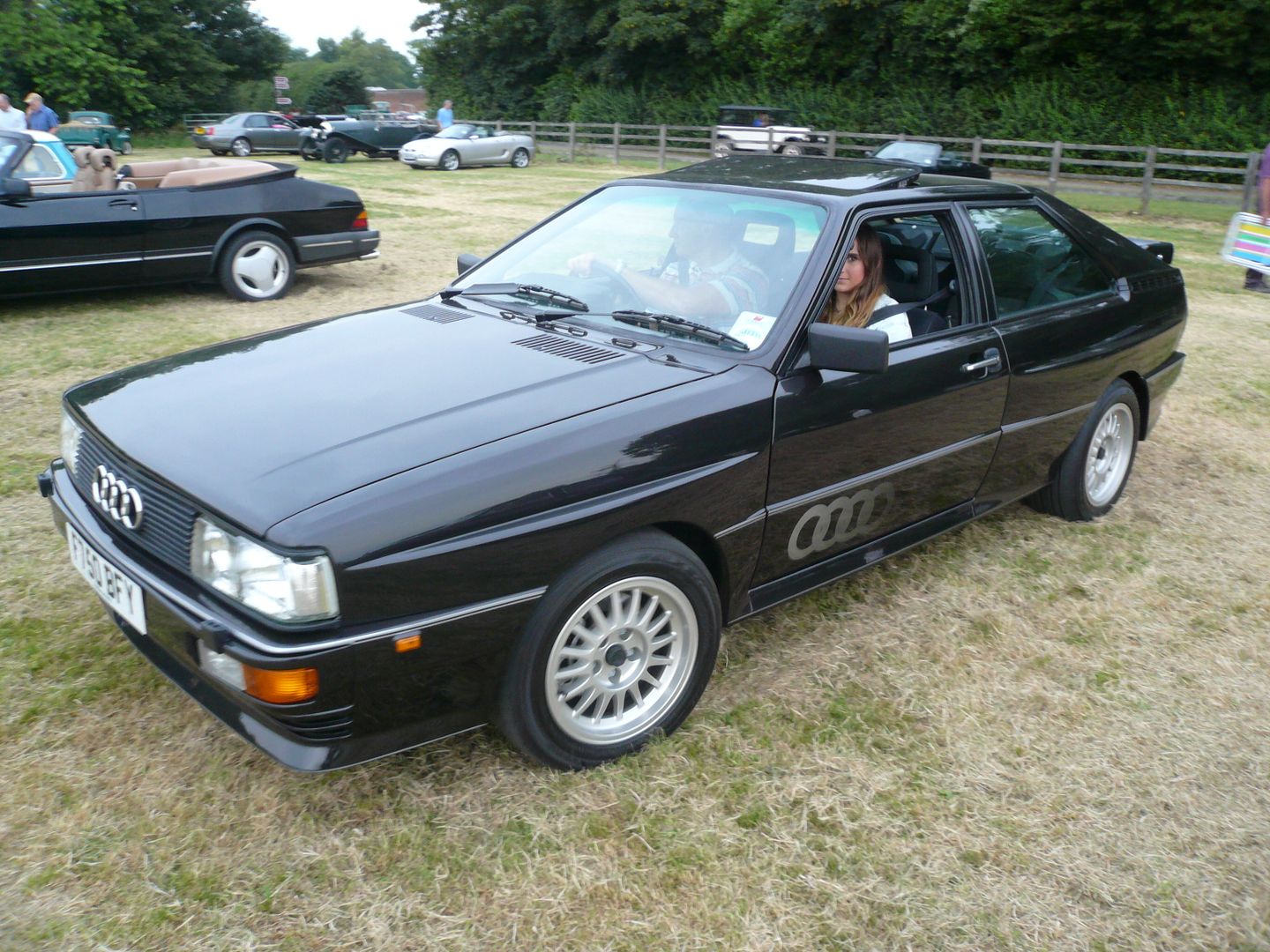 AUSTIN
I'm not quite sure what model, or even what year these Austins are, but at least the marque is clear from the large declaration on the grille!
Particularly splendid were this duo of large Austin models from the 1920s. Badged Six, the later of them,  a York model from 1926, has recently emerged from a meticulous restoration which has taken place gradually over the past 30 years and the result is a very imposing vehicle indeed.
Cars like that would have only been affordable by a very few people, so to introduce the concept of motoring to a much larger percentage of the population, Herbert Austin created his diminutive Seven. Launched in 1922, it continued in production til late in the 1930s, during which time the model evolved quite considerably, with a vast number of different body styles being offered. There were examples of the early body style as well as one dating from the early 1930s.
In many ways, the A30 and A35 cars sold in the 1950s were the spiritual successor to the Seven, and they remain popular classics. Examples of both the A30 and A35 saloon were present along with the now rare Van.
This is the slightly bigger Ten that was sold in the 1930s.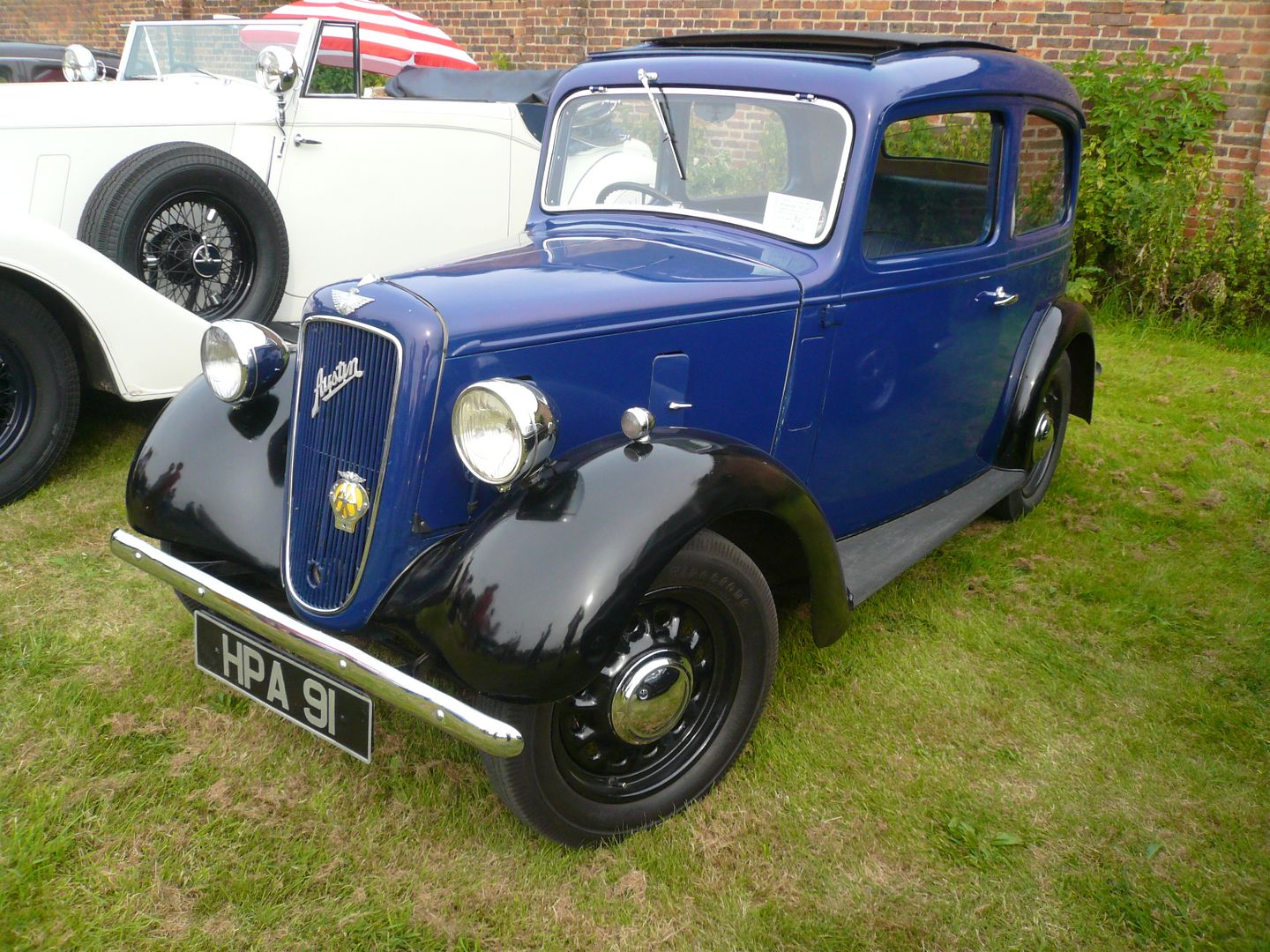 By the mid 1950s, Austin were selling cars like this A50 Cambridge.
The A40 was the first of a number of cars designed by Farina for BMC. Launched in 1958, it ran for 7 years, during which time it gained what is widely credited with being the first "hatchback" at the rear end. This is one of the Mark 2 cars that was offered from 1962.
Also a Farina design was the later A55 and A60 Cambridge. This is one of the latter and it was joined by a Pick Up version, a model which ran on long after the saloon ceased production.
Big brother to the Cambridge was the A110 Westminster, which by this generation had a completely different body to house the 3 litre C series 6 cylinder engine. Many of these met their end on the banger racing circuit, so it is good to see the odd survivor.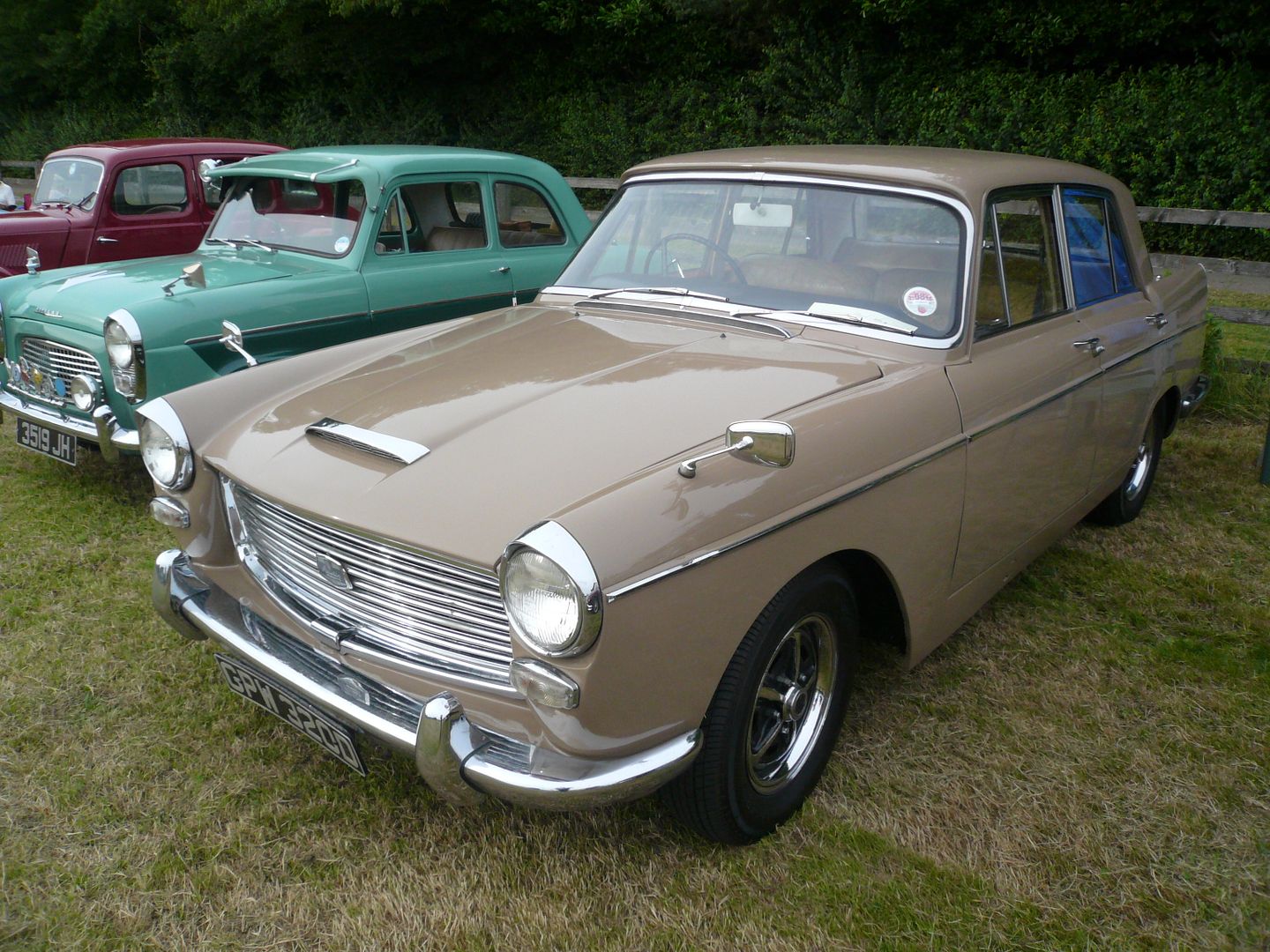 The Maxi made it debut in April 1969, and it quickly became apparent that it was released too early, with a number of design and engineering features which the public should never have seen, including one of the worst gearchanges ever offered. Much improved phase 2 cars appeared in October 1970, fulfilling more of the promise of what should have been a world beater. Sadly the car never really received the attention and development it needed and it soldiered on, never achieving its potential. This is one of those very early cars, a real rarity indeed.
Another car that was a huge disappointment to BMC was the 3 litre, selling fewer than 8000 cars in a 4 year production life. I recall seeing this splendid example at this event a couple of years ago. It is good to see it still being enjoyed.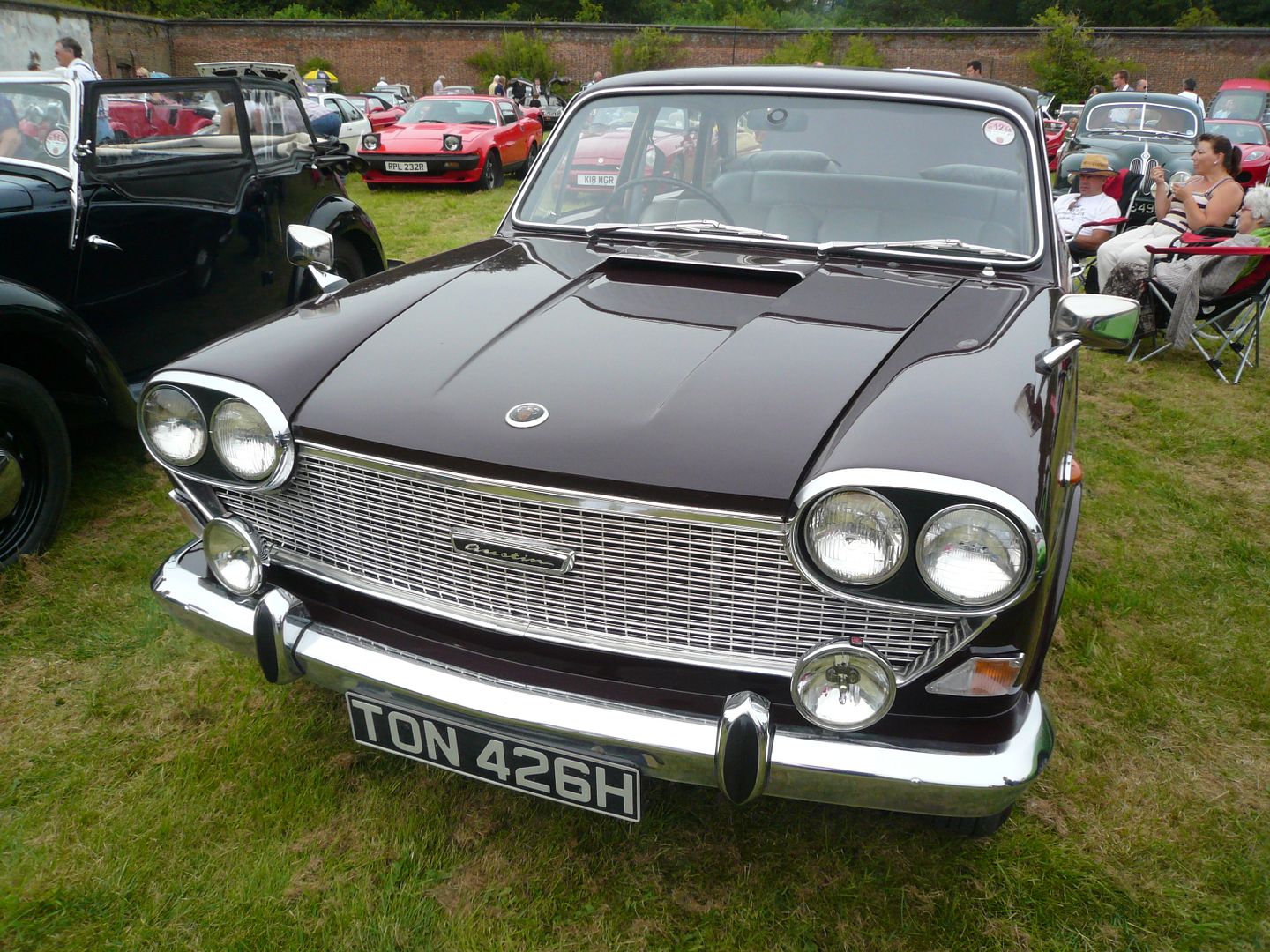 It's always interesting to see examples of historic commercial vehicles, not least because the relative survival rate is so much lower. This one helpfully said that it dates from 1960 and is a 301. It's not something I recall seeing on our roads even as a small child, so I guess that the majority of these had short lives and were scrapped.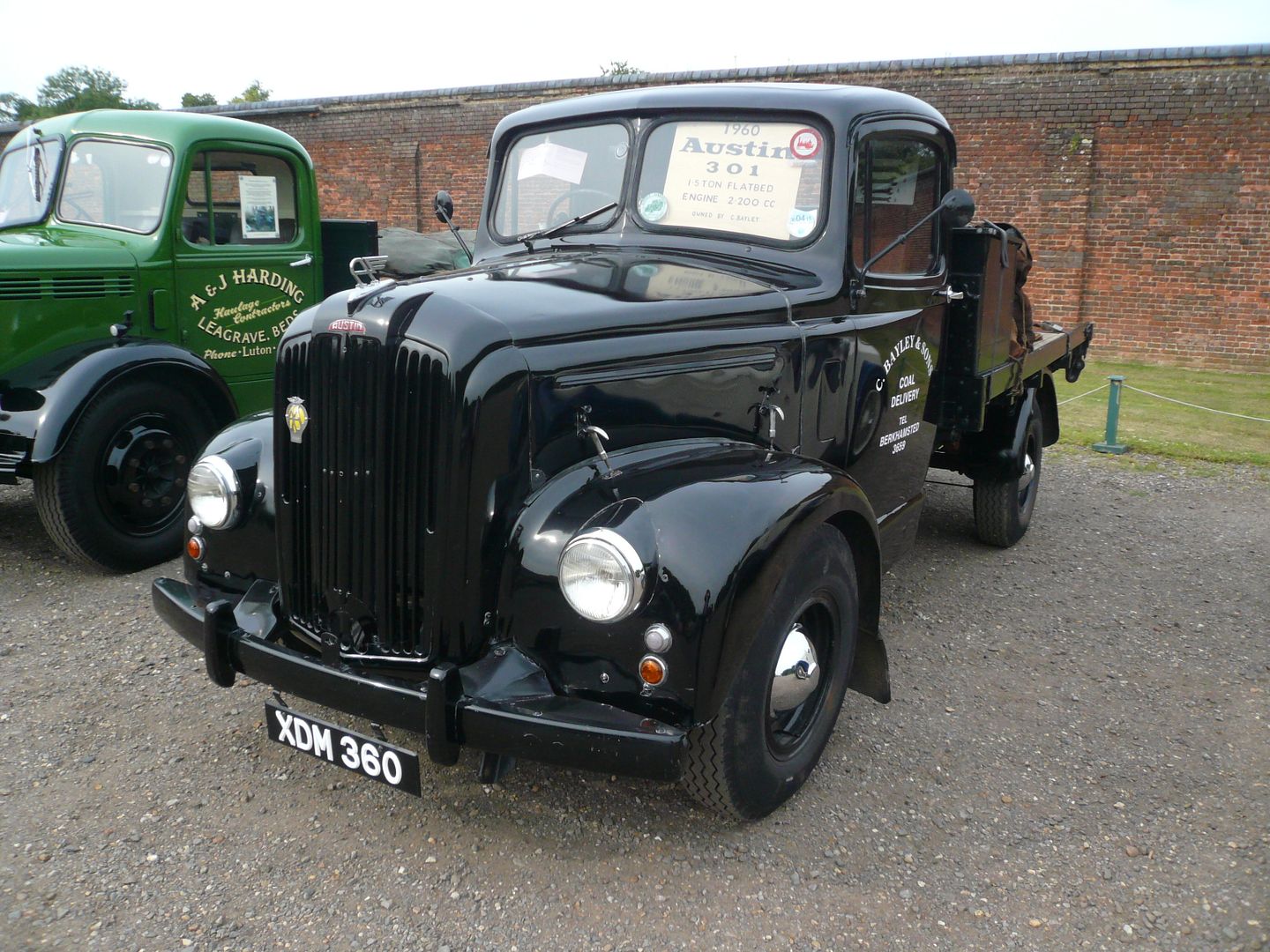 AUSTIN-HEALEY
Not surprisingly, the Big Healeys were here, with several examples of this desirable British sports car present.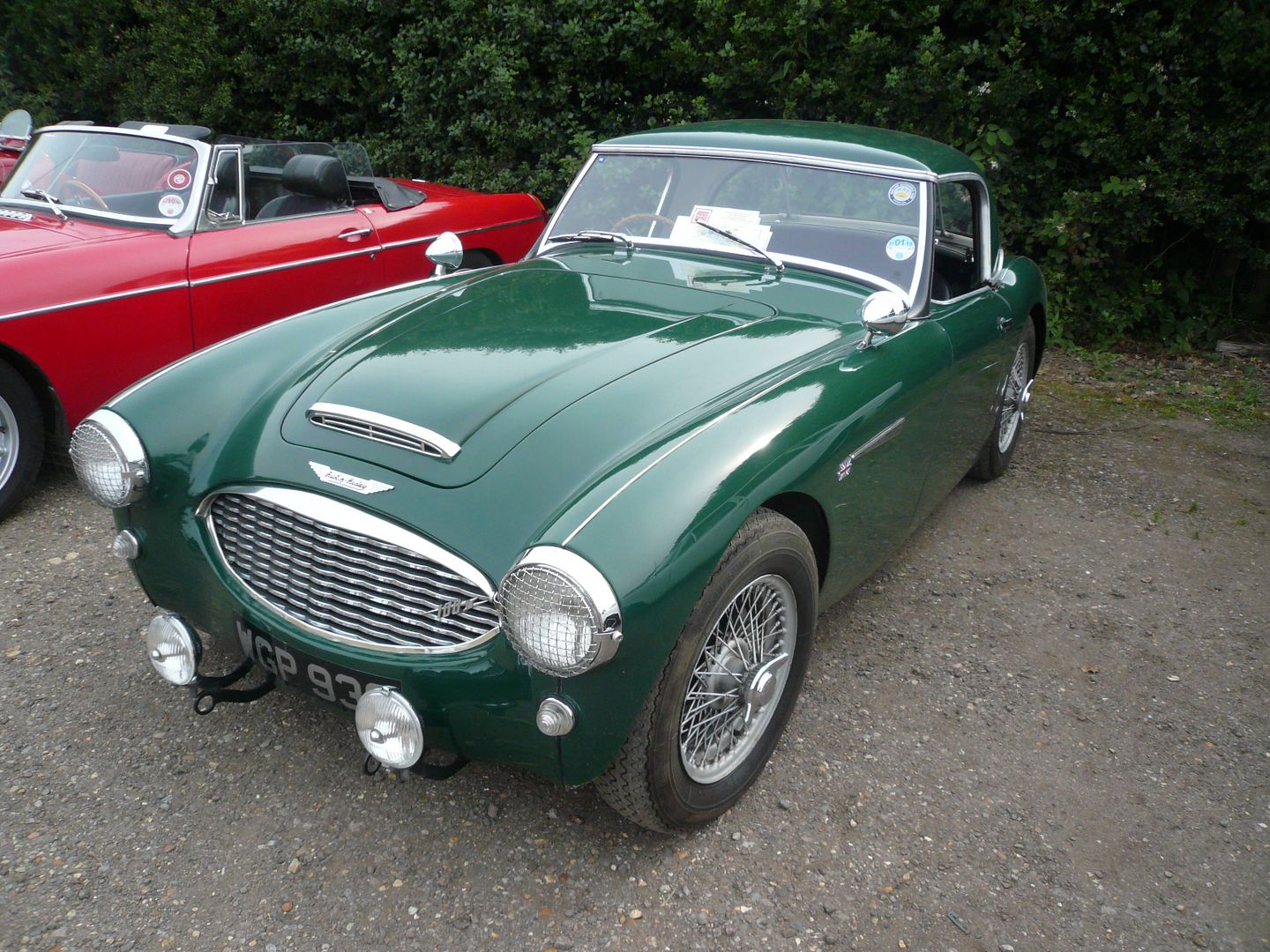 Little brother, the Sprite was also present, in both initial "Frog Eye" and later guises.
BENTLEY
A very splendid 3 litre Bentley from the late 1920s as well as the more potent 4.5 litre model.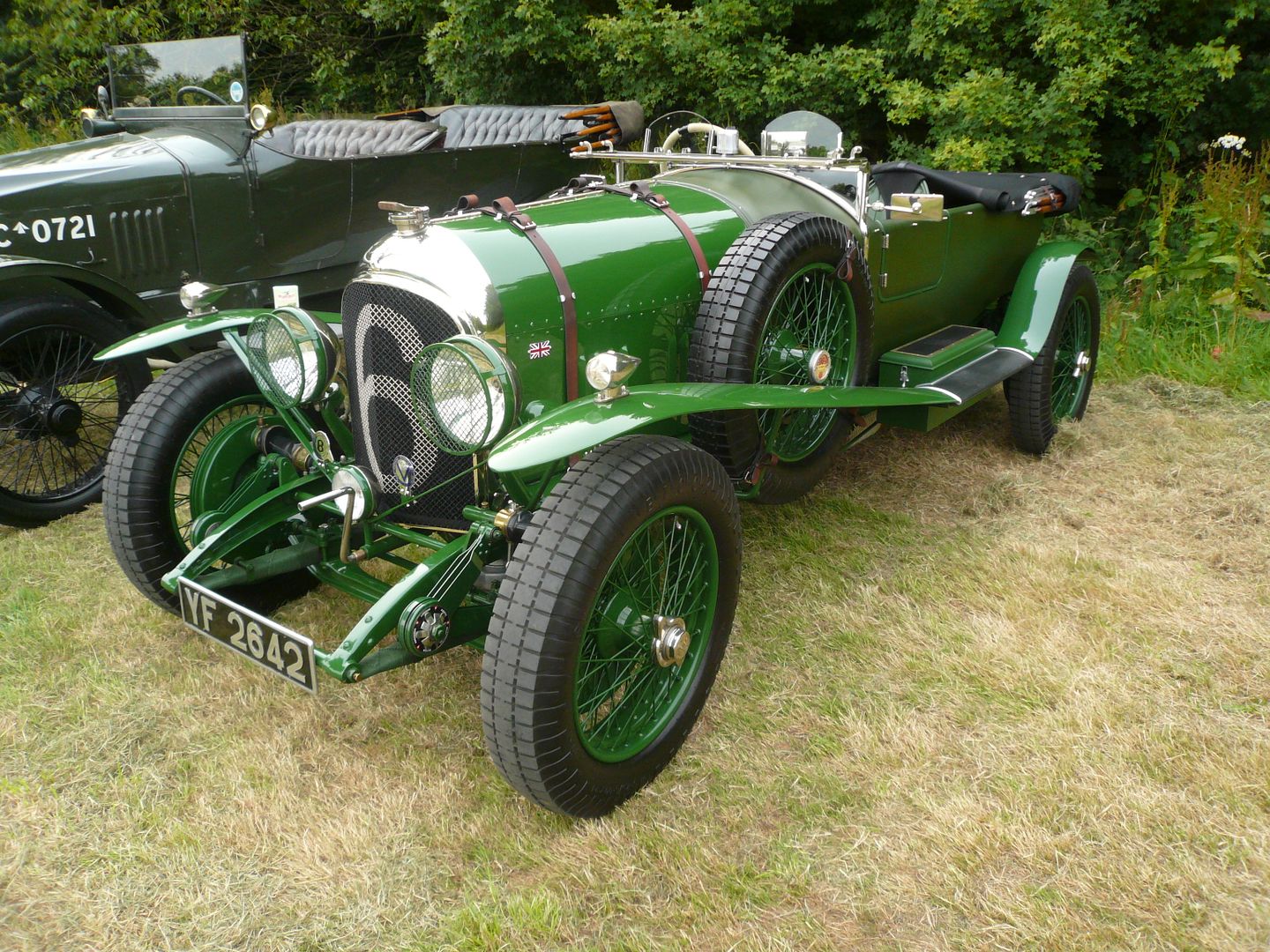 Just as imposing, but in a different way, was this Continental Convertible, the very rare Bentley version of the Rolls-Royce Corniche.
BMW
For a marque that so many people enthuse about, there were surprisingly few examples present, which is almost always the case. There was an example of the Z1, though.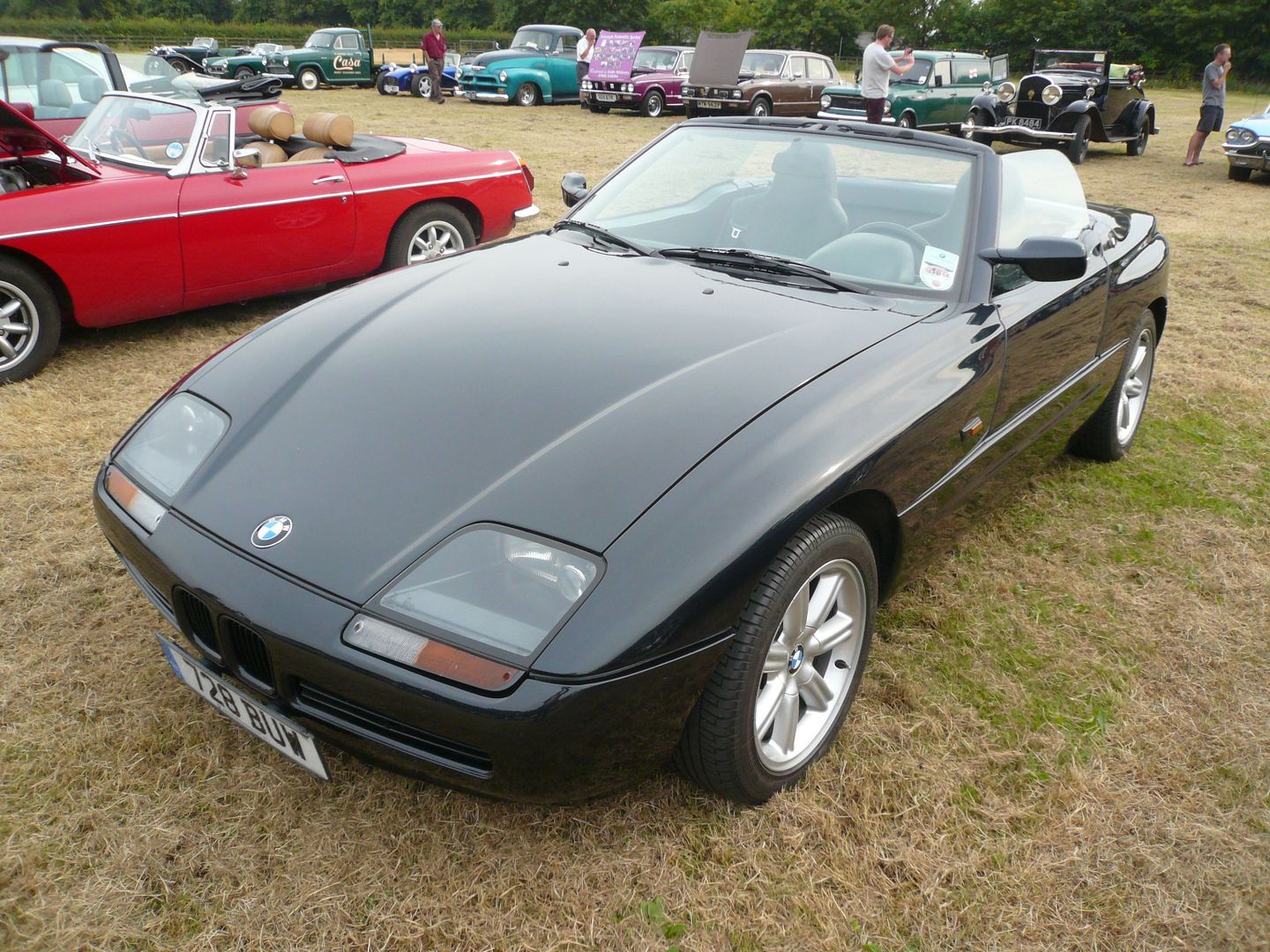 Also very nice was this 3.0 CSL, the lightweight version of the high end Coupe that BMW sold from 1968 until 1976.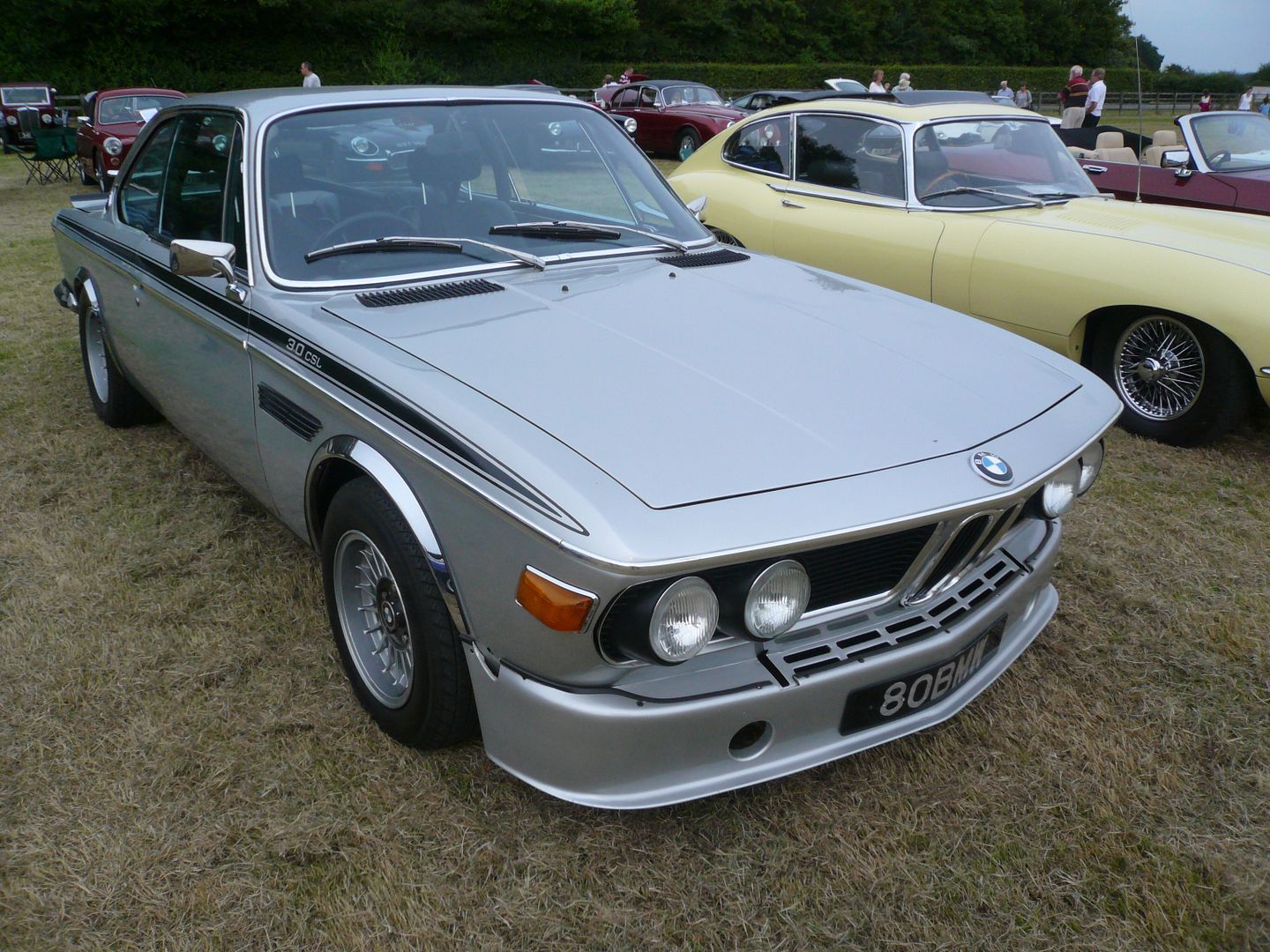 BRISTOL
A couple of this somewhat enigmatic cars, a nice 405 Drophead and the earlier 401, were present.
BUGATTI
This fabulous Type 13 Brescia had a very prominent position in the Walled Garden display.
CHEVROLET
The Camaro was Chevrolet's answer to the Mustang. A neatly styled car, it was very popular and testament to that comes from the fact that Chevrolet took styling cues from this one for the model that they launched in the twentyfirst century.
CITROEN
This Dolly version of the long running 2CV added a splash of colour to the Walled Garden display.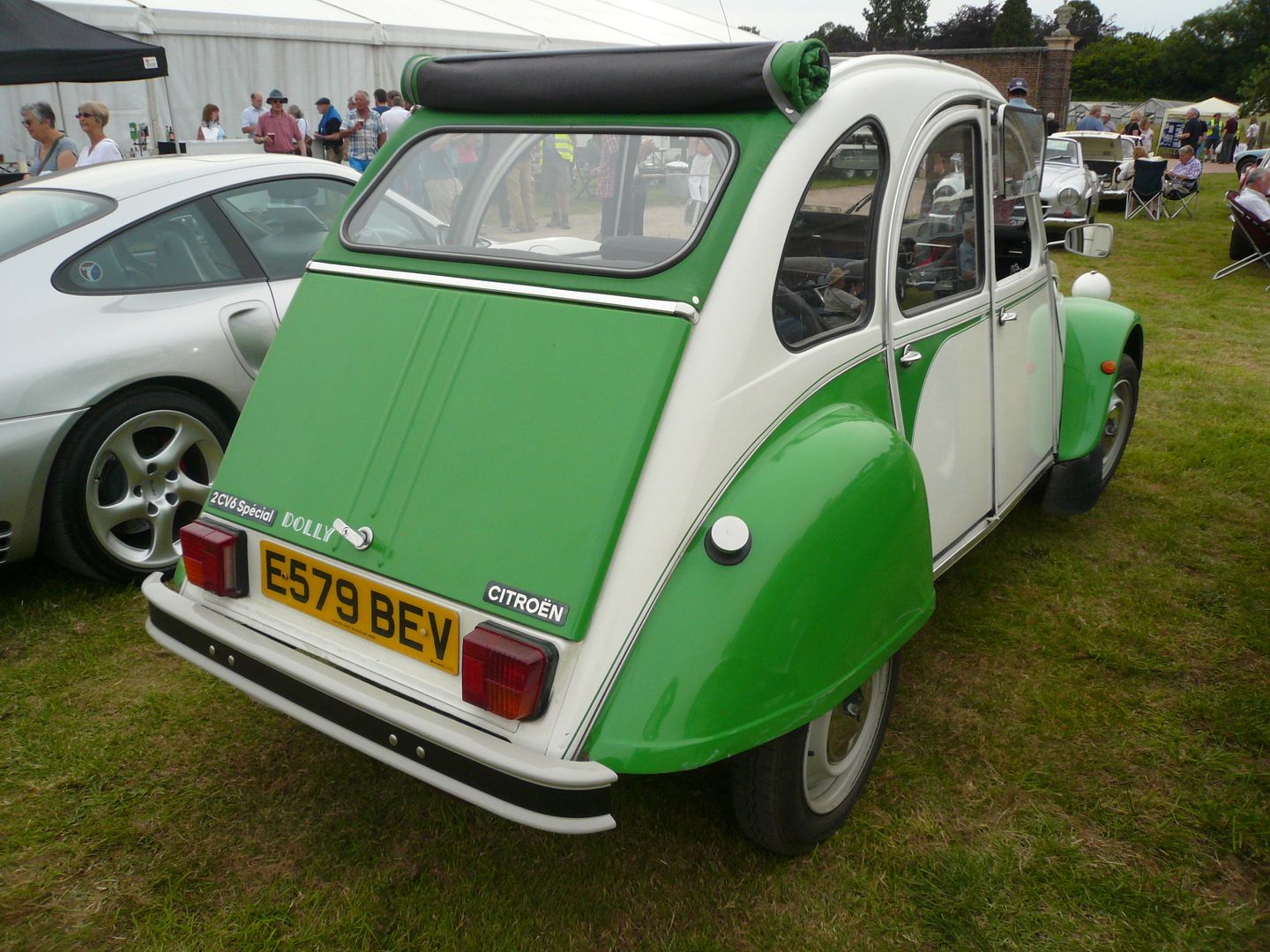 DAIMLER
The Sovereign of the 1970s was little more than a Jaguar XJ6 with the fluted Daimler radiator grille and slightly different trim. It sold in very small numbers compared to the Jaguar version, so the model is rare these days.
DELOREAN
As ever, the "Back to the Future" DMC12 was attracting plenty of interest.
FERRARI
The Ferrari Owners club had clearly made a block booking, as they had a very prominent position for a sizeable group of cars, all parked up in a line in the centre of the Walled Garden. Centrepiece of their display was an F50, the rarest of the Ferrari hypercars of recent times. Needless to say, it commanded lots of attention all evening.
Recent 8 cylinder cars were much in evidence with a number of F355 Spider, a Mondial, several of the 360 and F430 cars and the latest 458 Italia
One of the more unusual Ferrari models of the evening was this 330 GTC 2+2, a model offered just under 50 years ago.
Oldest Ferrari model present was this 250GT. This was the first model imported into the UK, back in 1958. It was quite a surprise to find two of them at this event.
This Dino 246 GT was parked up outside the Walled Garden. One of the most beautiful Ferrari models ever built, prices of these continue to rise at quite some rate, which probably means that they will start to be tucked away rather than be driven out to events like this, which will be sad.
I am rather partial to the V12 models of recent times and this 550 Maranello shows why. Very elegant.
This BB512 was parked up in the main car park. A striking design even now, this one showed all the signs of having been "used".
FIAT
Sole Fiat on show was this lovely 124 Spider.
FORD
The Mark 2 Consul and Zephyr range are popular even now as they head towards their 60th birthday. This is the entry level car, the Consul 375.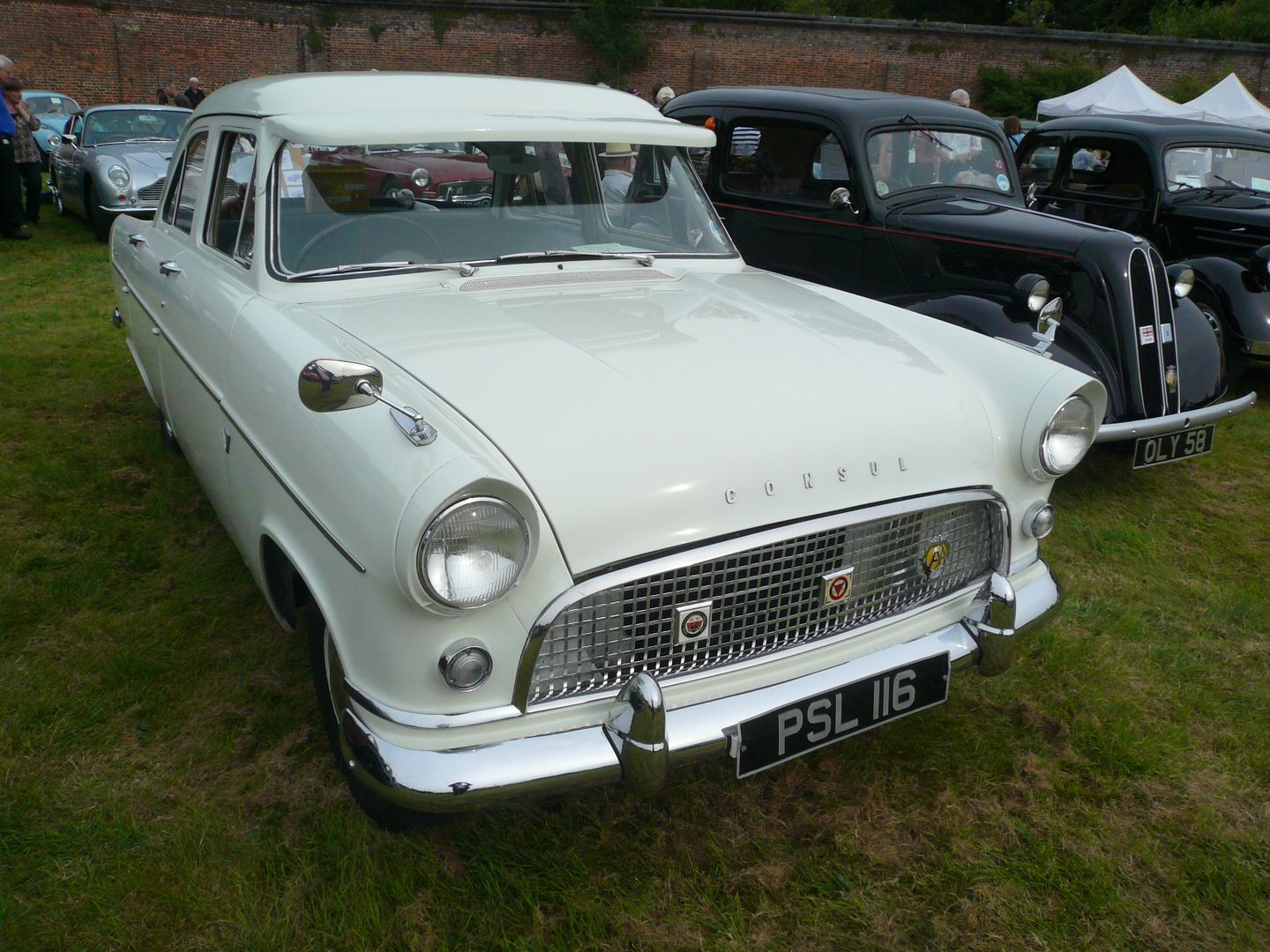 Ford's small car offering of the mid 1950s was the Anglia and Prefect range. Cheaply built, these cars were not designed for a long life, so it is good to see that quite a few have survived up to 60 years.
There were a number of the small Fords that preceded those 1950s cars, including a "Sit up and Beg" Popular E93A and the earlier 1940s Anglia.as well as a 1930s Model Y.
This is a rare survivor of the Thames van version of the 105E Anglia, a model that was very popular in the 1960s.
It is widely joked that survival rate of the Mark 1 Lotus Cortina is greater than 100%, with many cars created out of the cooking versions. Some are more obviously fakes than others. I don't know about this one, it certainly looks genuine enough.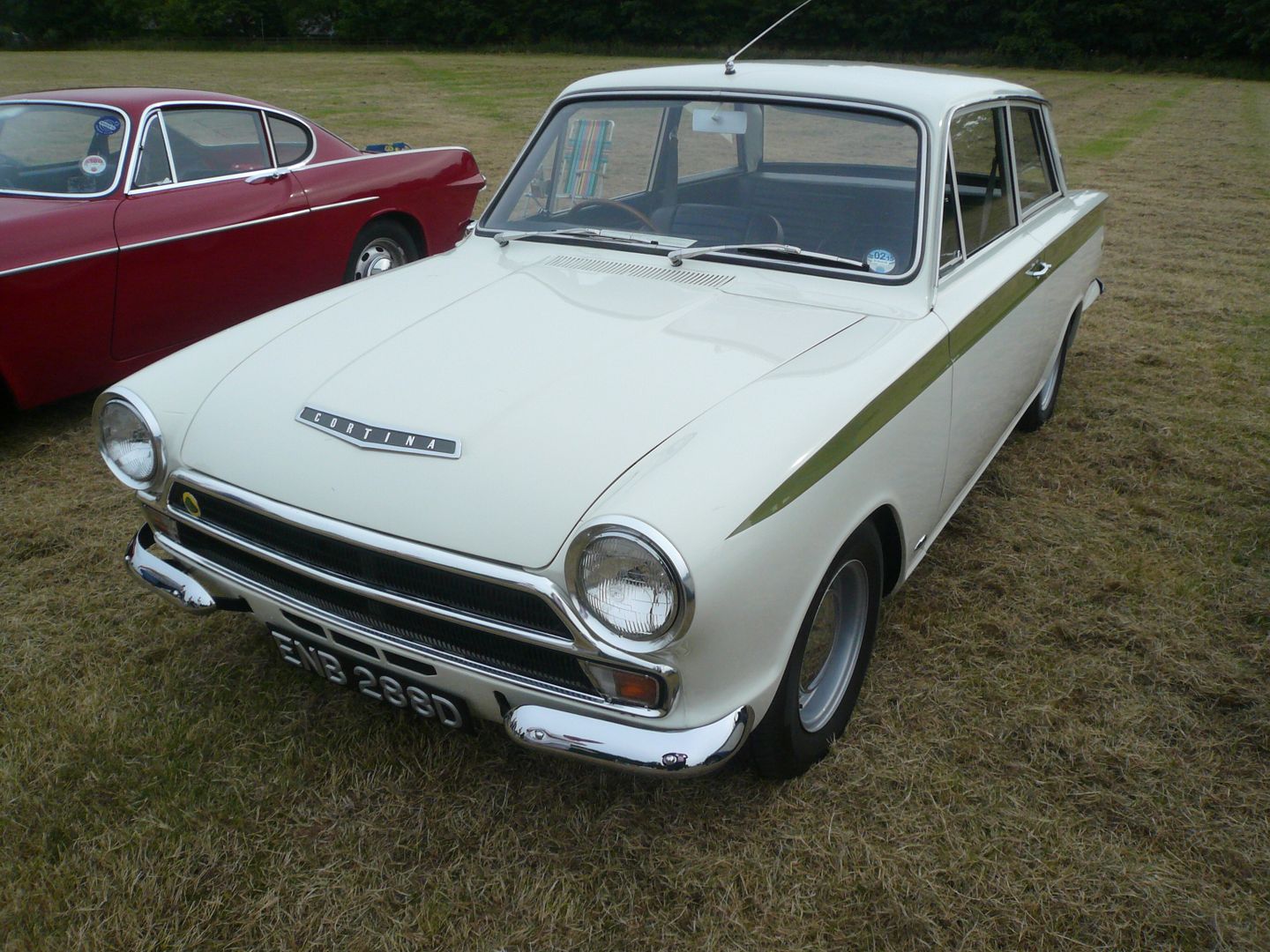 There are surprisingly few of the first generation Fiesta still around, especially the pre 1983 facelifted cars, so it was good to see this one. Late on, a facelifted XR2 arrived as well.
Although the Mustang did not officially reach a Mark 2 until 1974, the car changed quite a lot from the launch models of 1964, so by the time this Grande was made in 1971, it was visually quite different from the earlier and better known models.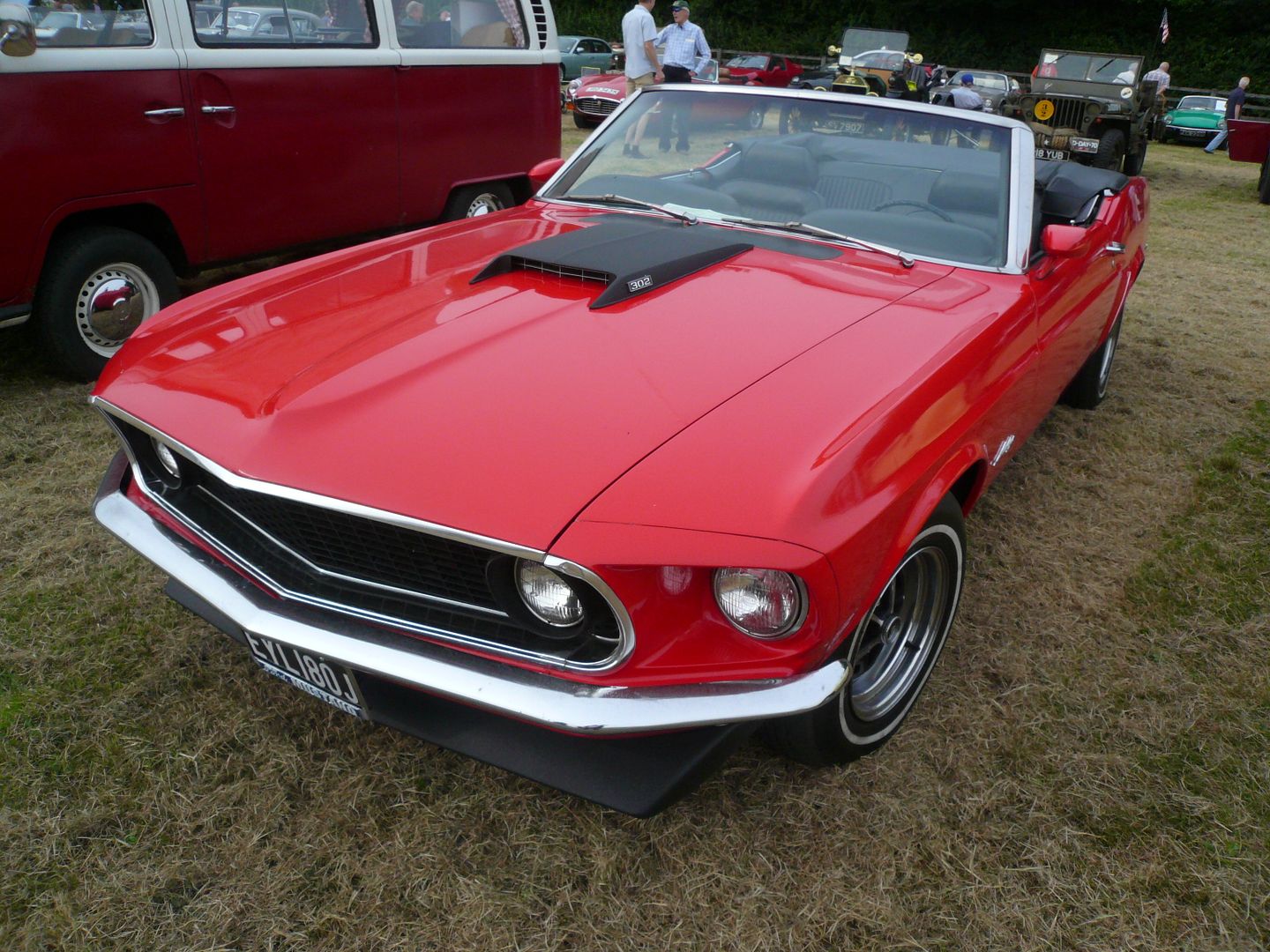 The other American Ford on display was this gigantic Thunderbird.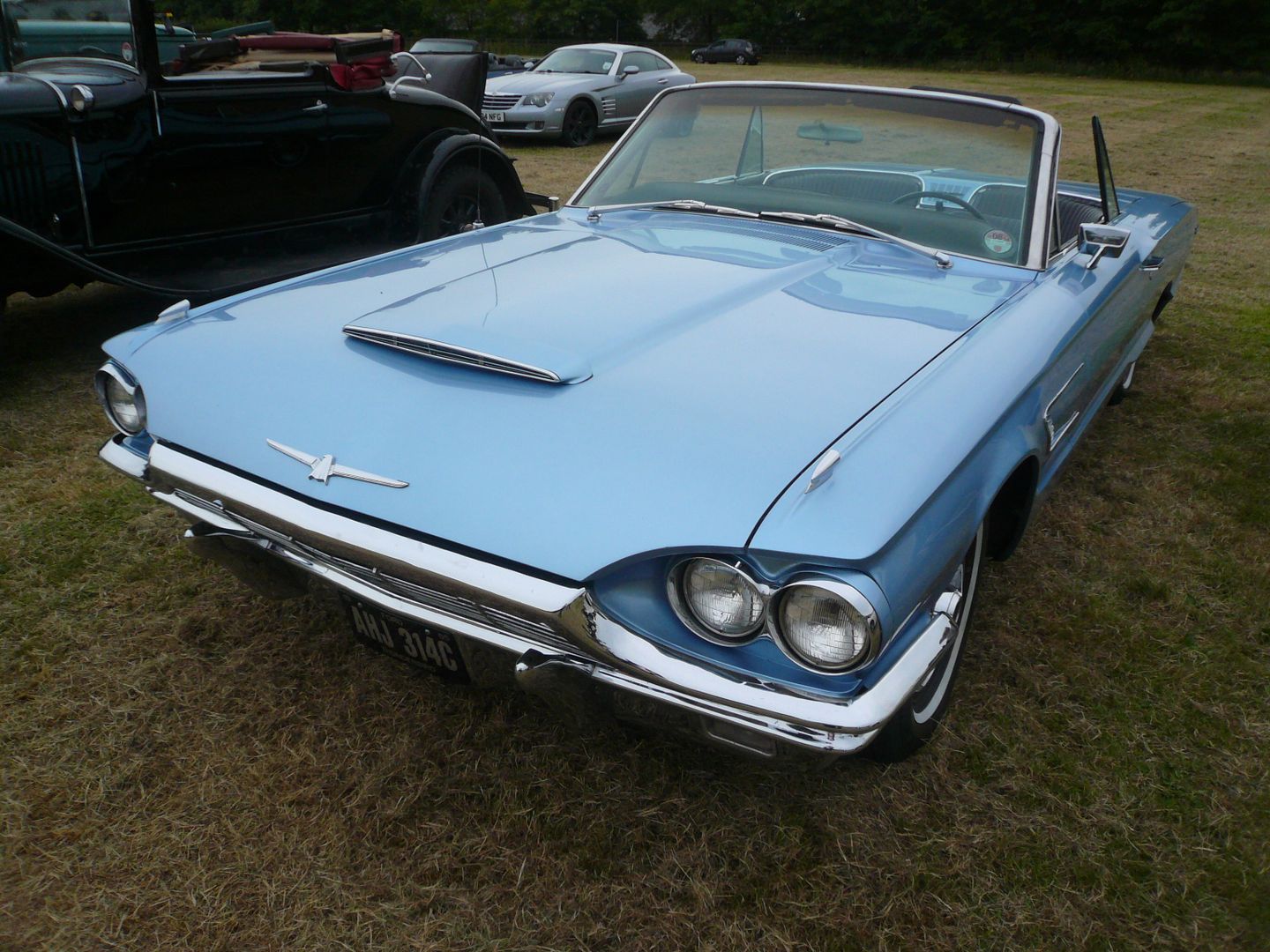 GILBERN
The GT1800 was the first design sold by this long since extinct Welsh company.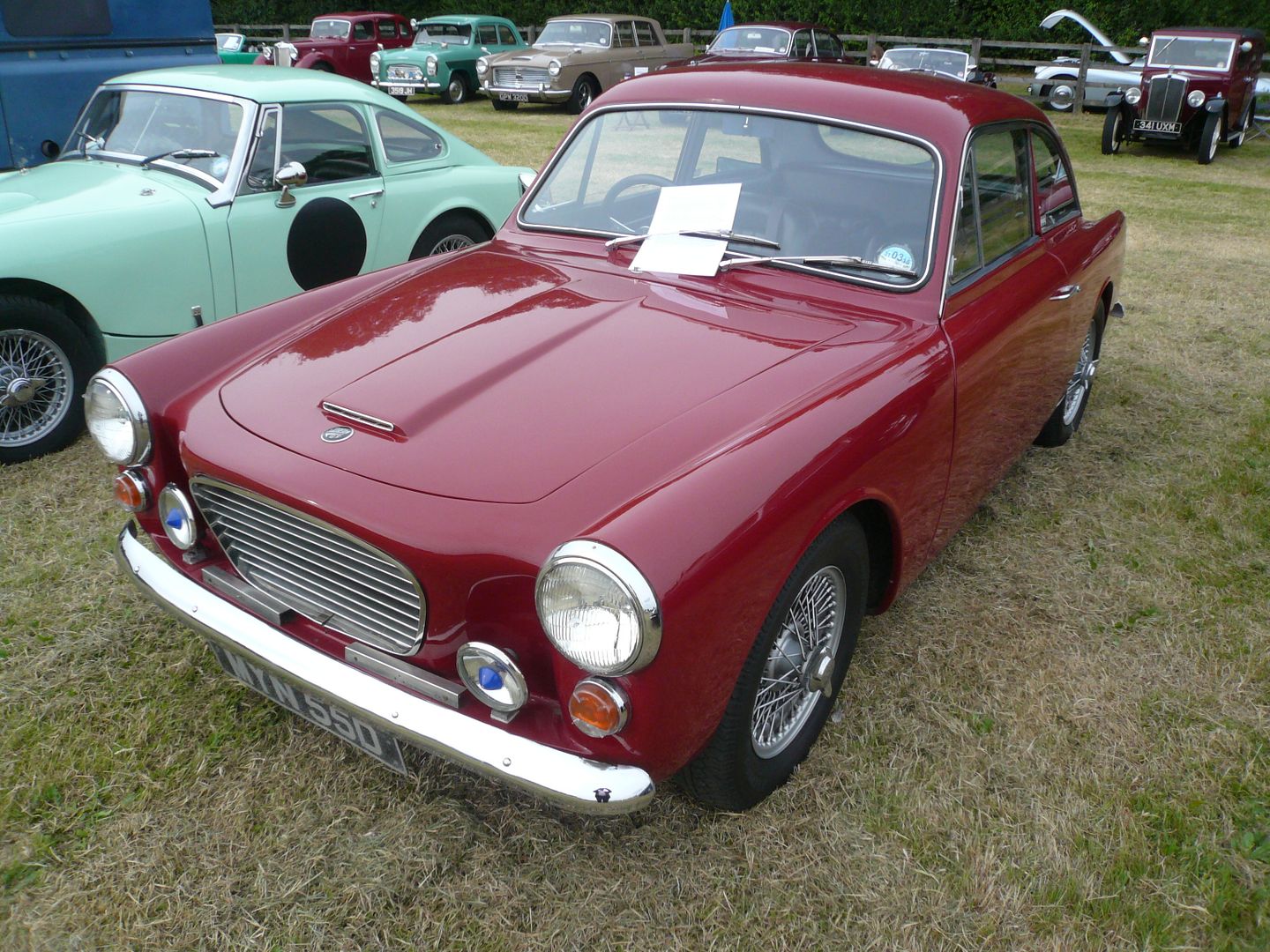 HUMBER
A nice example of the Hawk, a luxury car offered by the Rootes Group as a competitor to the Rover P5 and low end Jaguar Mark 2 cars of the day.
JAGUAR
Among the nicest of the many Jaguars present were this duo of XK models: an early XK120 and a later XK150 Drophead. Just fabulous, both of them.
That's not to denigrate the E Type at all, and there were several lovely examples of this on show as well.
More recent big sporting Jaguar Coupes and Convertibles are also very desirable, such as this late XJS and the XK8.
The Williams Lyons designed XJ6 remains one of the most elegant Jaguar saloons ever made, and none better than the Series 2 version, in my opinion.
Mind you, this lovely Mark V saloon is also very lovely to behold. Another Lyons masterpiece.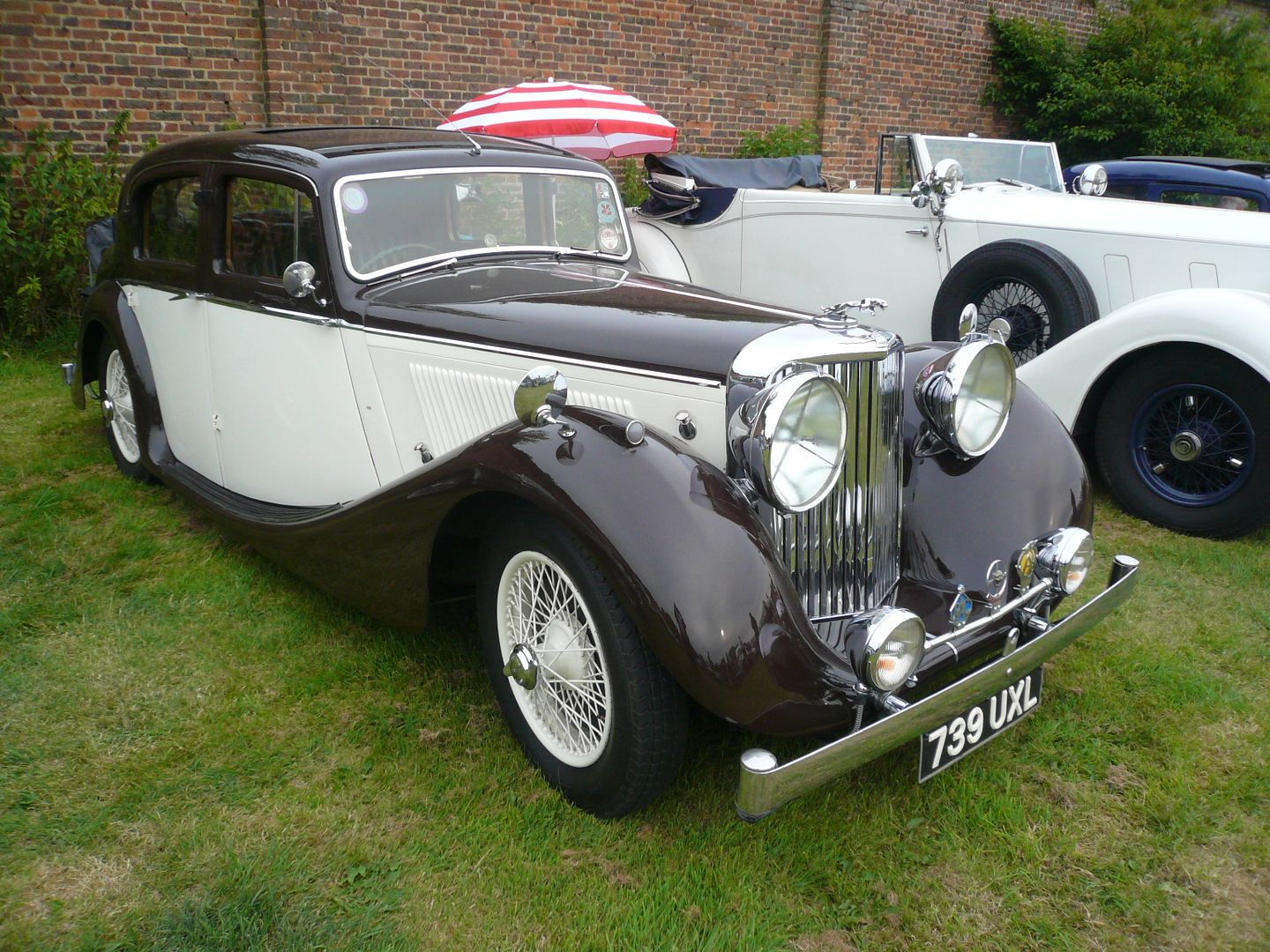 LANCIA
I've seen this particular car several times before. It is a Fulvia Berlina and is believed to be the oldest one left in the UK. The engineering and quality on it is exquisite.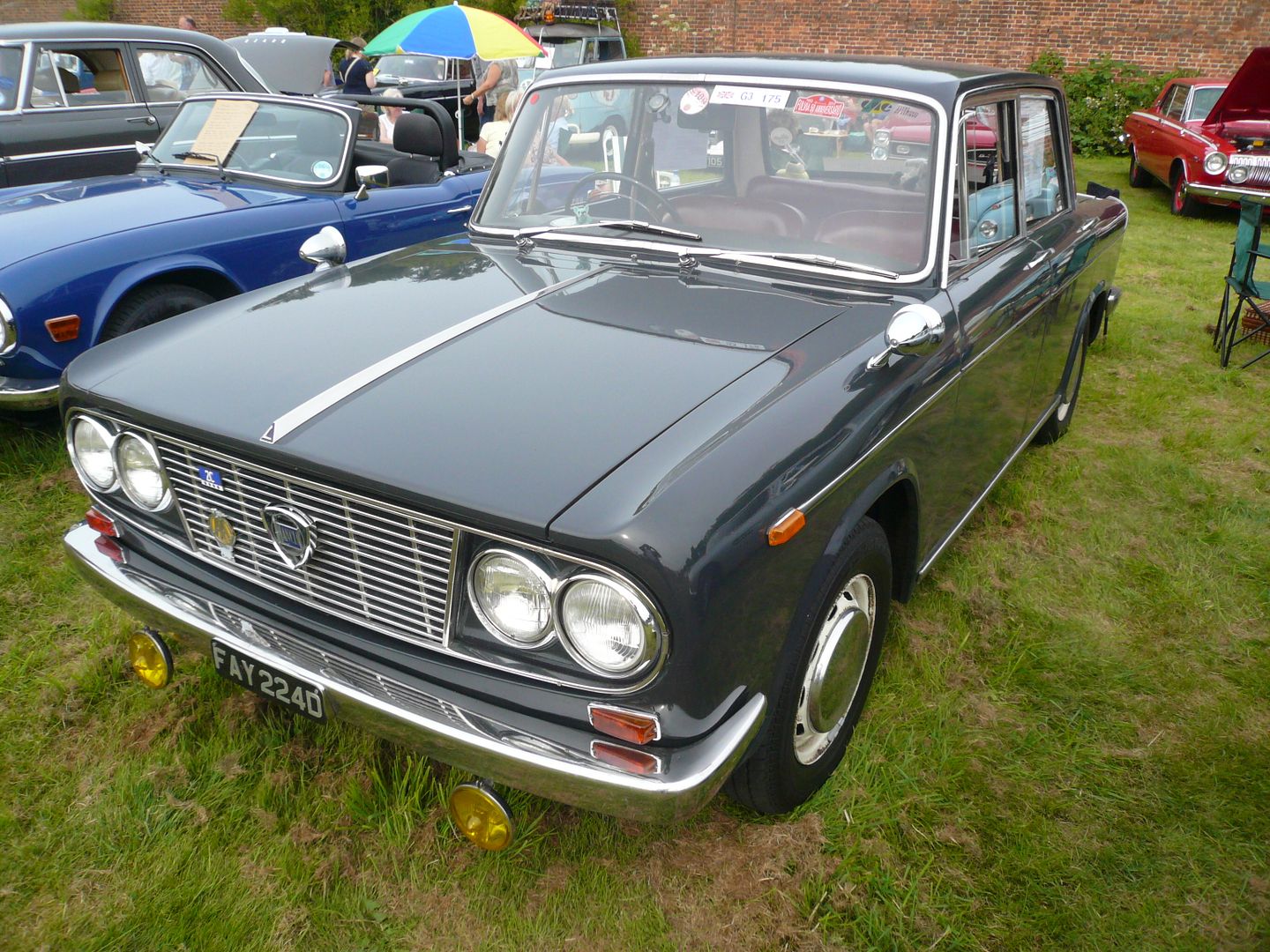 Later on, I did find another Lancia, the ever popular Delta Integrale.
LAND-ROVER
There is an instance of the popular Land Rover Experience that runs locally to this event, so there were a number of current cars  from that parked up, as well as some much earlier Land Rover models and one of the Camel Trophy Discovery cars.
Also on show was one of the "Velar" prototype Range Rovers. Around 20 of these were produced and a handful survive. When they come up for sale – and a dealer had three on offer last year, all at the same time – some very ambitious price tags are applied to them (between £60 – 80,000). This one was believed lost until a recent discovery (no pun intended!) and restoration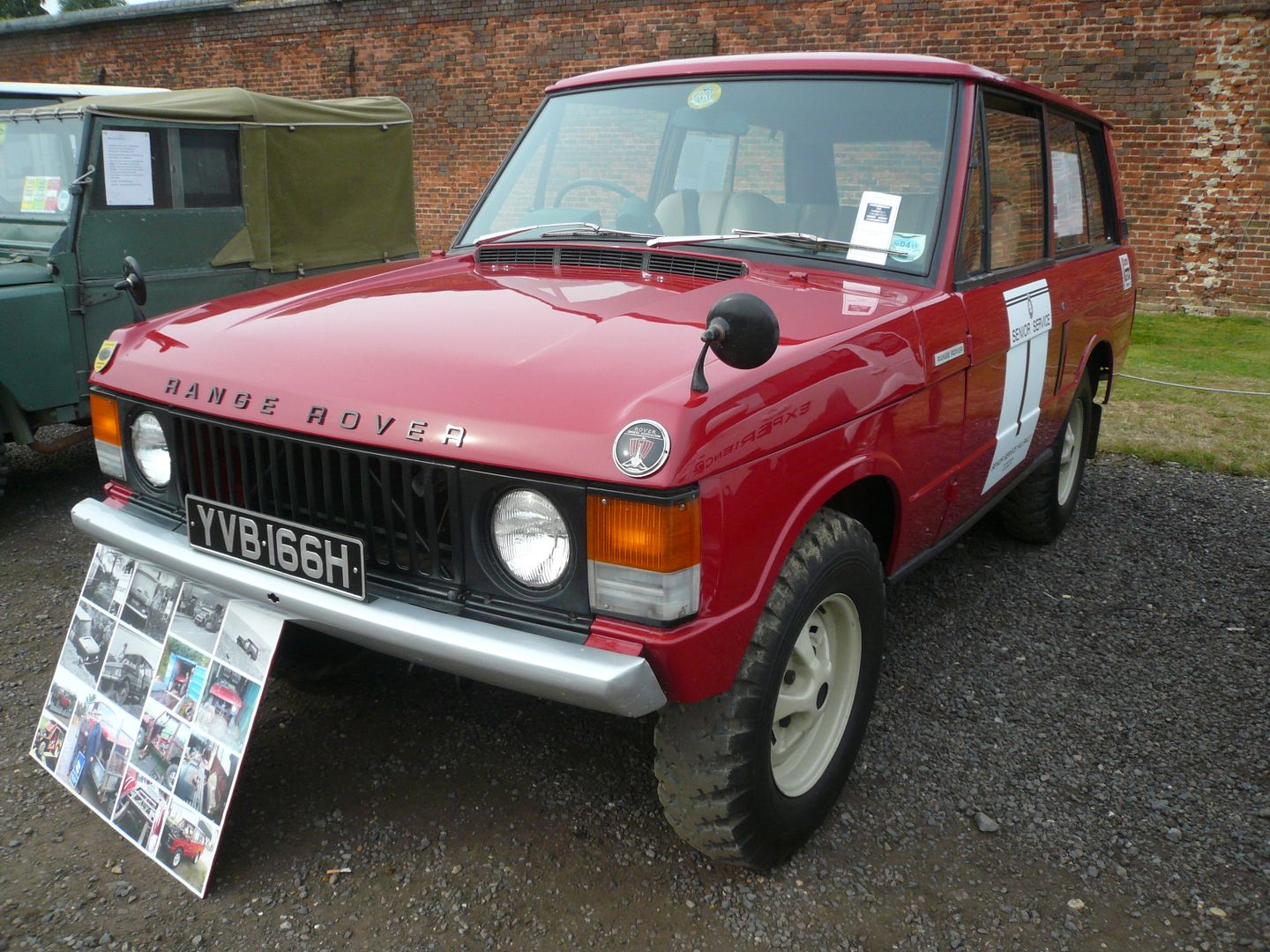 LOTUS
This Elan Plus 2 is an example of the larger car that Colin Chapman added to the range in 1967, for those customers for whom the regular Elan was just too small. By the early 1970s, it had 130 bhp and a 5 speed gearbox, making it really rather rapid (and sadly just as unreliable as the rest of the range!). There were a couple of them present.
The front wheel drive Elan had a relatively short production life, so it is always good to see examples of these cars. As well as one of the first batch, there was an S2 here as well.
The Elise has been around since 1996, during which time a bewildering array of different models have been offered. This is standard car from early in the production run.
MAXWELL
A long extinct marque, this one may be a brand that you have heard of, especially if you collect Matchbox Models of Yesterday, as a car just like this splendid Edwardian machine featured in the range some years ago.
MERCEDES-BENZ
There were two particularly nice and very rare Mercedes cars here. One, the 220S "ponton" is quite well known, even though there are not many of these cars in the UK.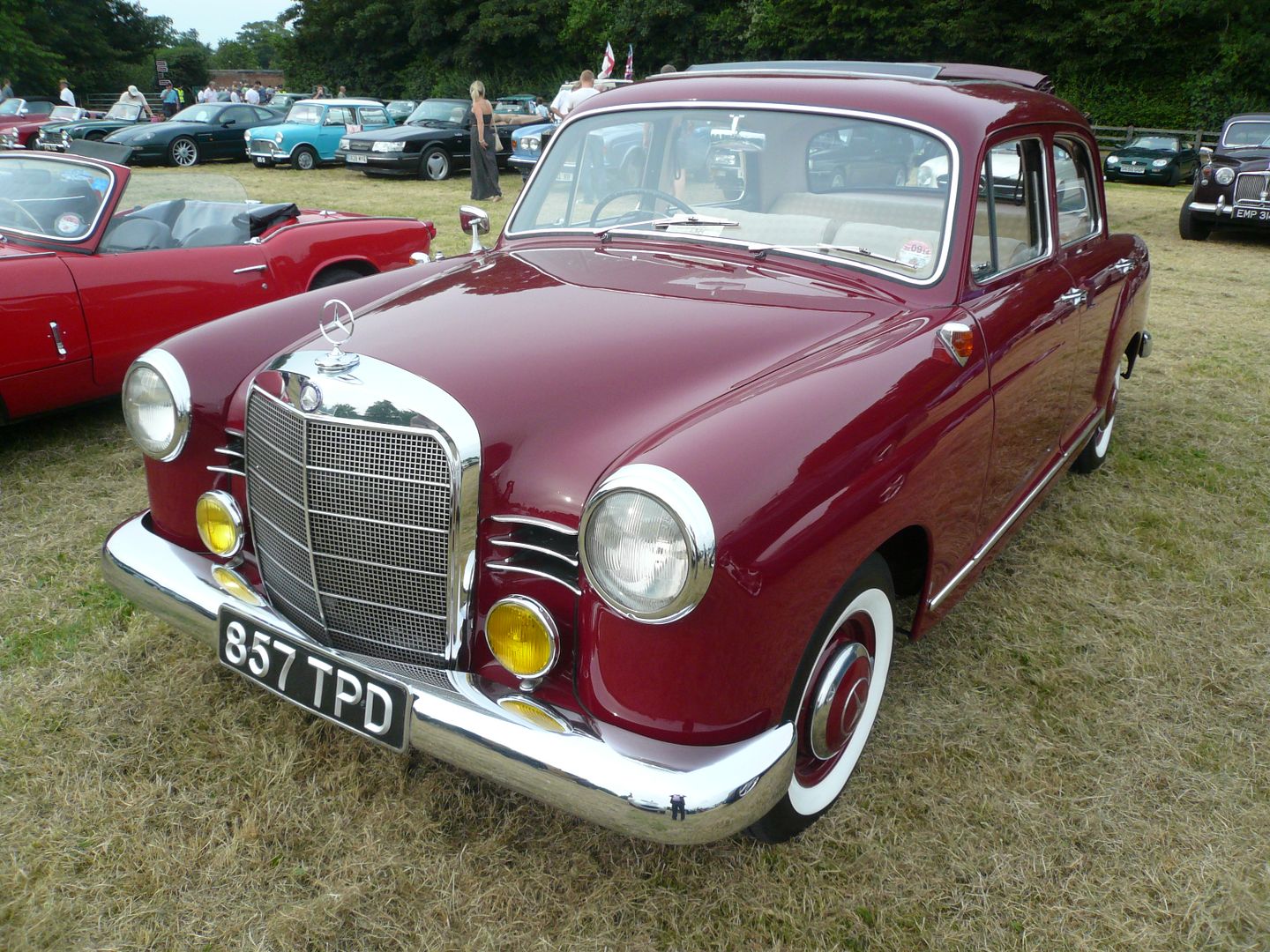 The other is unique in the UK, it is a Universal conversion of the 230S. Mercedes were not cheap when new. thanks to a combination of UK Purchase Tax and high base prices, but this one was eye wateringly expensive when it was bought in 1965, costing over £3500. Universal were a Belgian company and they received partly completed saloon bodies and put on their own bespoke rear end design, which is well integrated, and with a very practical and well thought out load area. This particular car was sold new in the UK, when it was navy blue. By the time the current owner got to it, a few years ago, it had been repainted in this shade of green which rather suits it.
Also nice was this 190SL, a cheaper relative of the more well known 300SL cars, taking many styling cues from the more costly car.
MG
The ever popular MGB was here in some quantity, with Roadster and GT cars both much in evidence. There was also an MGC.
There were also a couple of the "reborn" version, the V8 engined MGR V8 that was sold briefly in the mid 1990s.
This T Series car was really rather splendid indeed. I think (but am happy to be corrected), it is a pre-war TA model.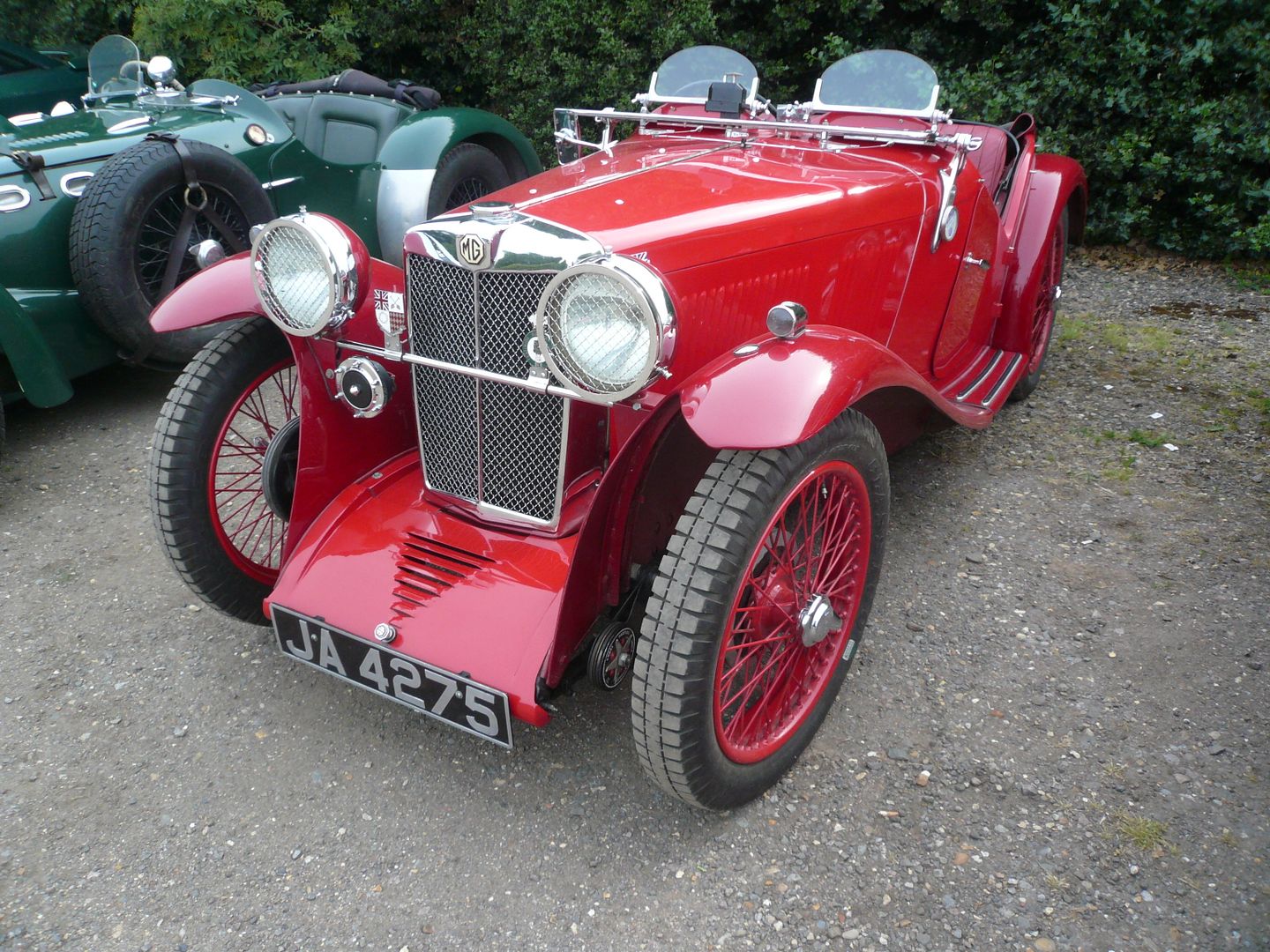 No problems identifying this one, it is a TF, the last of the T Series sports car before the launch of the MGA.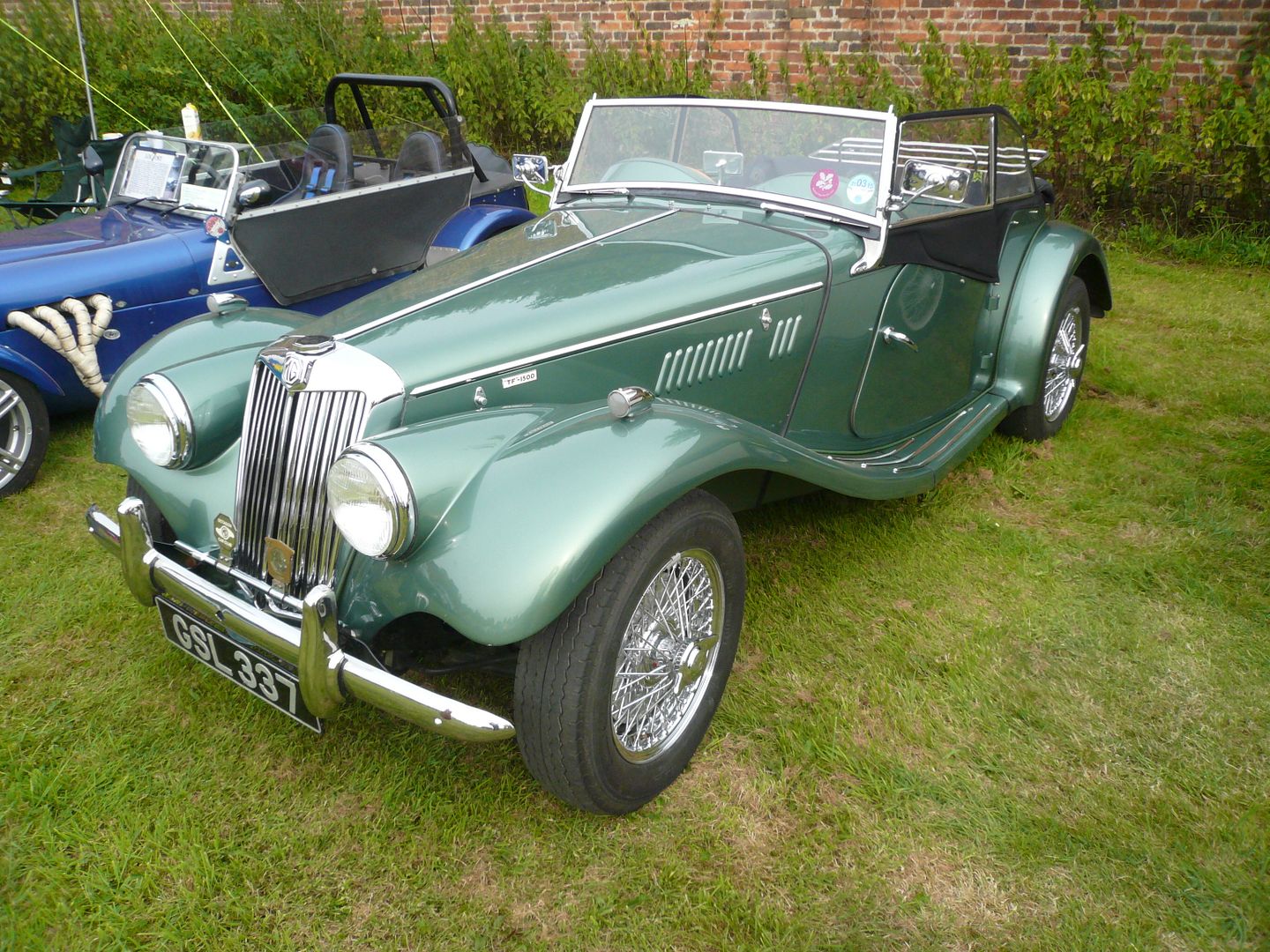 Needless to say, there were MGAs present as well.
There were a couple of really lovely pre-war MG Saloons, a KN Magnette and a particularly droolsome SA.
This one is a TC, I think, a car that was very popular with American GIs who bought almost all of the production when they were demobbed and returned to America, thus starting that nation's love affair for British sports cars.
Not to be left out, there was also a TD present.
The Y Series was a sporting saloon produced in the late 1940s. "Sporting" is a relative term, you understand?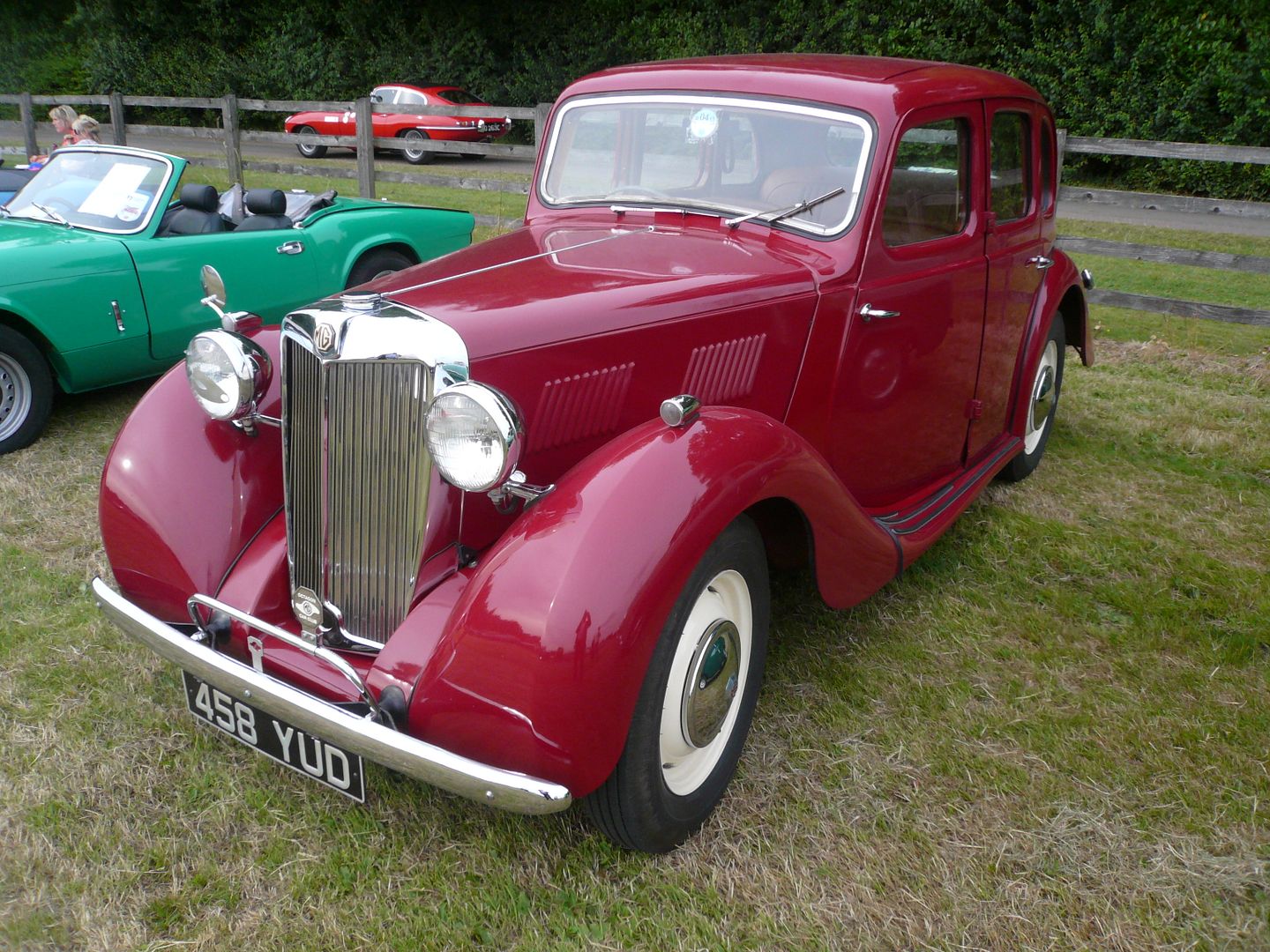 It was replaced by the Magnette, which ran from 1953 to 1959 when a stodgier Farina design appeared. This is one of the later ZB varitone cars.
Hardtop and fastback bodies were a popular option on the little Midget as they made the cars more aerodynamic (and hence faster, especially if a tuning kit was added) as well as getting over the problems of leaking hoods. There was one of these as well as an open topped car.
MINI
Needless to say, there were a number of the classic Mini on show, ranging from early 1960s cars to the Cooper models that constituted the final production models in the 1990s.
MORGAN
This is one of the original three wheelers from the 1930s.
So is this, a very rare version with the enclosed body. It arrived later than most cars and attracted a lot of attention. I had to return several times to get a clear enough view for the photos!
There were examples of the classic 4 wheeled Morgan shaped cars present as well.
MORRIS
No surprise to find a number of examples of the ever popular Minor at the event.
Also a Minor, I discovered., was this. It did not look quite right to be an Eight, but as the owners were on hand, I was able to have an interesting chat with the owners who said that it is very rare as it is a four door version of a car that is far more often seen as a two door.
Dating from a similar period was this open topped tourer, badged Six, and there was an Eight Tourer as well as the later Series E Eight Tourer.
PONTIAC
This GTO dates from 1966. Wonderful!
More recent, but not, if I am honest, one of Pontiac's better products was this 1990s Firebird.
PORSCHE
Nice to see the 928 as well as the far more common 911, several of which were on show.
RILEY
There were a couple of examples of the Nine, showing just a couple of the vast number of different models and bodystyles that Riley were producing by the early 1930s.
ROLLS ROYCE
Matching the Bentley Continental depicted above was the Rolls Royce version, the Corniche Drophead, seen here in Series 2 guise.
ROVER
The P4 was the sole Rover offering from the late 1940s until the range grew with the P5 car in 1958. The model evolved quite considerably in that time, with a number of different engine outputs leading to an array of model names which include 60, 75, 80, 90., 95, 100, 105 and 110. This cream car is a 90 and later I found a newer 110 model as well.
The P5 Rover was a rather staid large saloon for the first years of its life, but when the 3.5 litre V8 engine was put in the car in 1967, the desirability went up more than a few notches. This was a popular car for official use by Government and the Royal family and several were acquired when news of the end production became public, so the cars carried on in service long after the model was obsolete. These days it is well regarded for its quality design and finish.
Those who think of Rover as making cars like the P5 and earlier P4 may be surprised to learn that this Tourer is also a car with the Viking badge on the front. Dating from the late 1930s, it is a Twelve Tourer.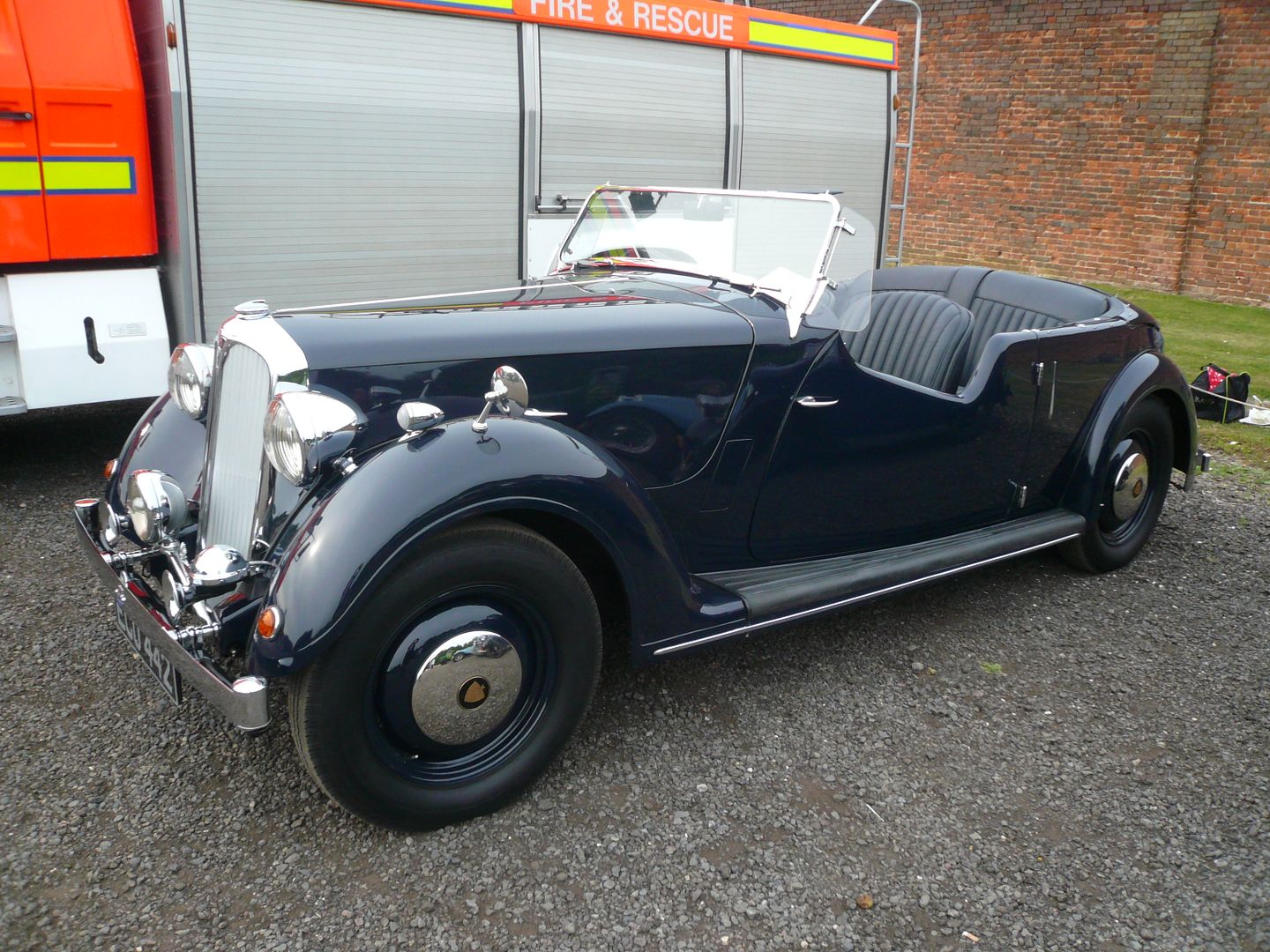 This is one of the handful of V8 versions of the Rover 75 that were made in the last few months of the company's existence.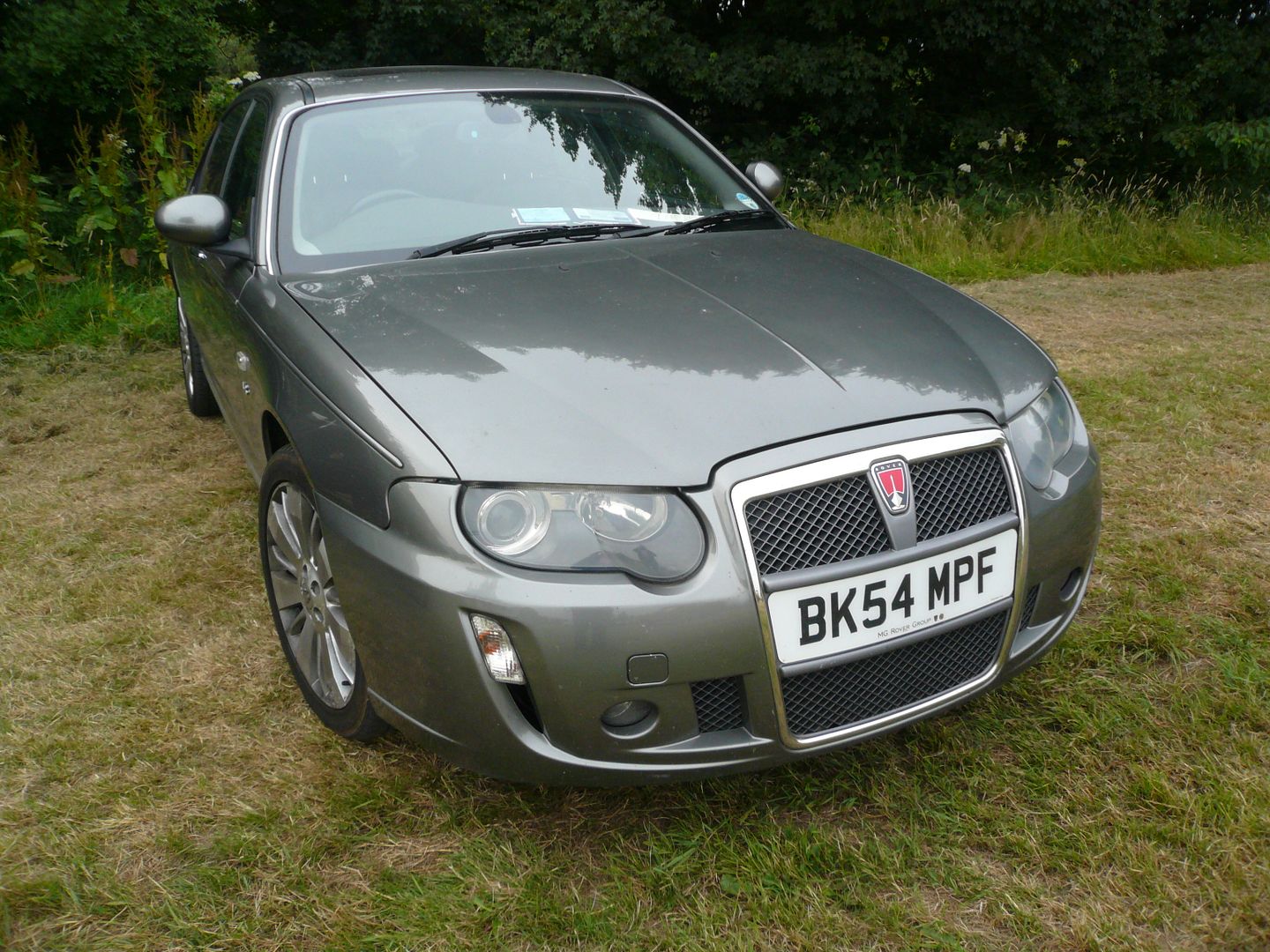 TOYOTA
One of the stand out cars of the evening for me was this, a fabulous Toyota Crown Coupe. The owner turned up as I was admiring it, and he said that it has only been out about three times in the last many years, but it was recently featured in Practical Classics and a lot of interest in the car has ensued. He believes it is the only one left in the UK, though there are a few estate and saloon models as well. Getting parts is not as hard as you might imagine, and he said that the majority of these cars are now to be found in Australia.
TRIUMPH
As you would expect, there were lots of TR models, with every different type in evidence, from early TR2 to the last of the TR7 Dropheads and a TR8.
This Mark 3 GT6 looked fine from a distance, but close up, it was clear that plenty of work is required to make it into a pristine example. There was a second car in a better condition.
Rather better in condition was this Mark 3 Spitfire, the prettiest to many eyes of Triumph's long running small sports car models. It was joined by a number of Mark IV and 1500 models.
This was pretty much a perfect evening for the Stag, as the car could be enjoyed with the roof down, and the occupants able to take full advantage of the warm summer evening.
The Vitesse was a Herald with a 1600cc 6 cylinder engine put under the bonnet. Launched in 1962 as a Saloon and a Convertible, it was quite popular despite the  rather scary handling characteristics caused by the simple suspension. Triumph gradually refined the car over the following years, before upgrading the engine to 2 litres and making sufficient styling changes to justify the Mark 2 label. This car dates from 1964 and is before any of those alterations and later I found a Mark 2 model as well.
The Toledo sat at the bottom of the range from 1970 until 1976. Based on the Michelotti designed front wheel drive 1300, it was converted to be a rear wheel drive car, in the interests of keeping the costs down. Sales were steady until the model was replaced by a 1300cc version of the longer booted Dolomite.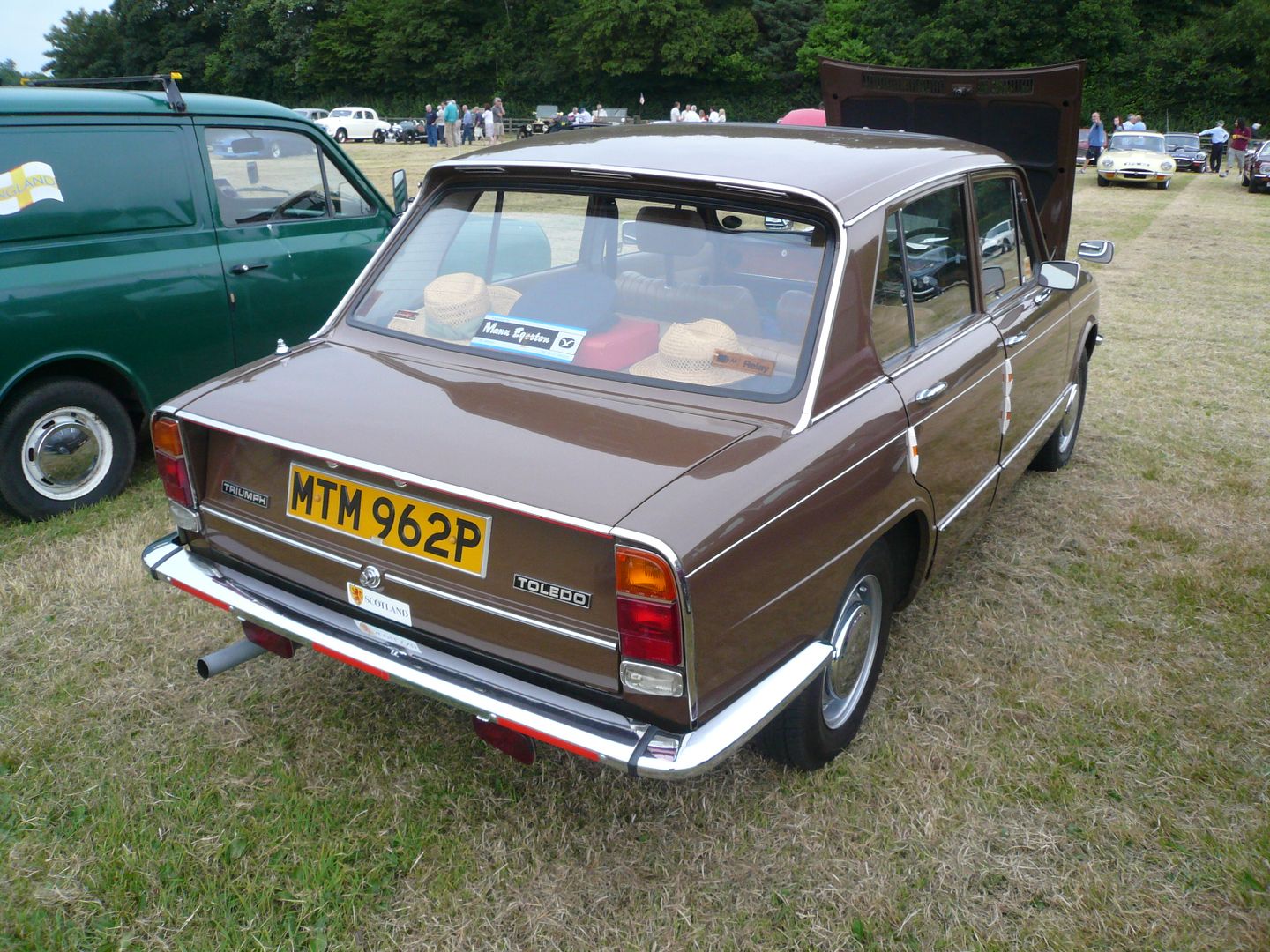 TVR
Most of the TVRs that you see are the more recent cars, so it was good to come across a relatively early one, a Vixen from the mid 1960s.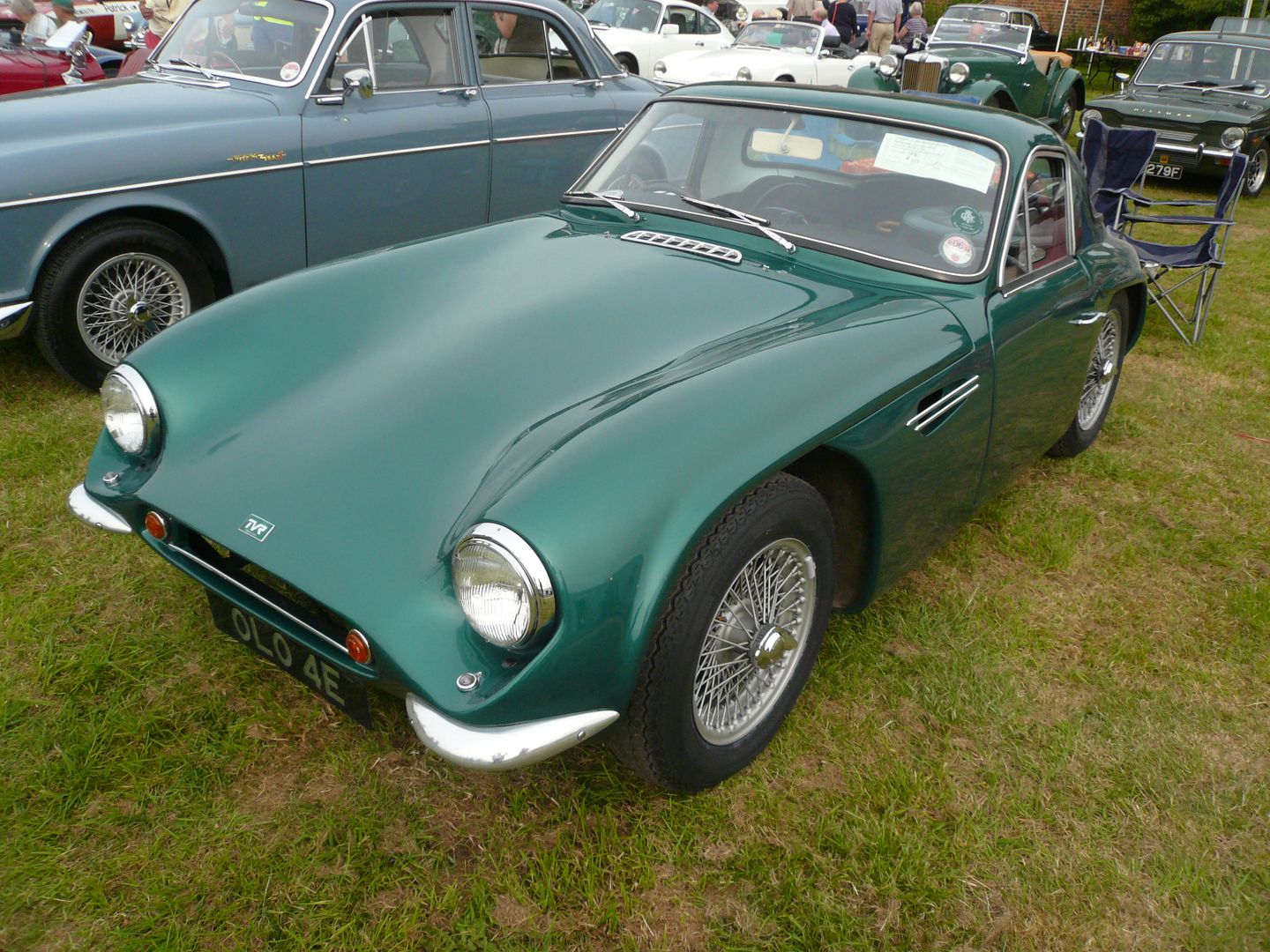 There were of course several of the newer cars, too, such as this Cerbera.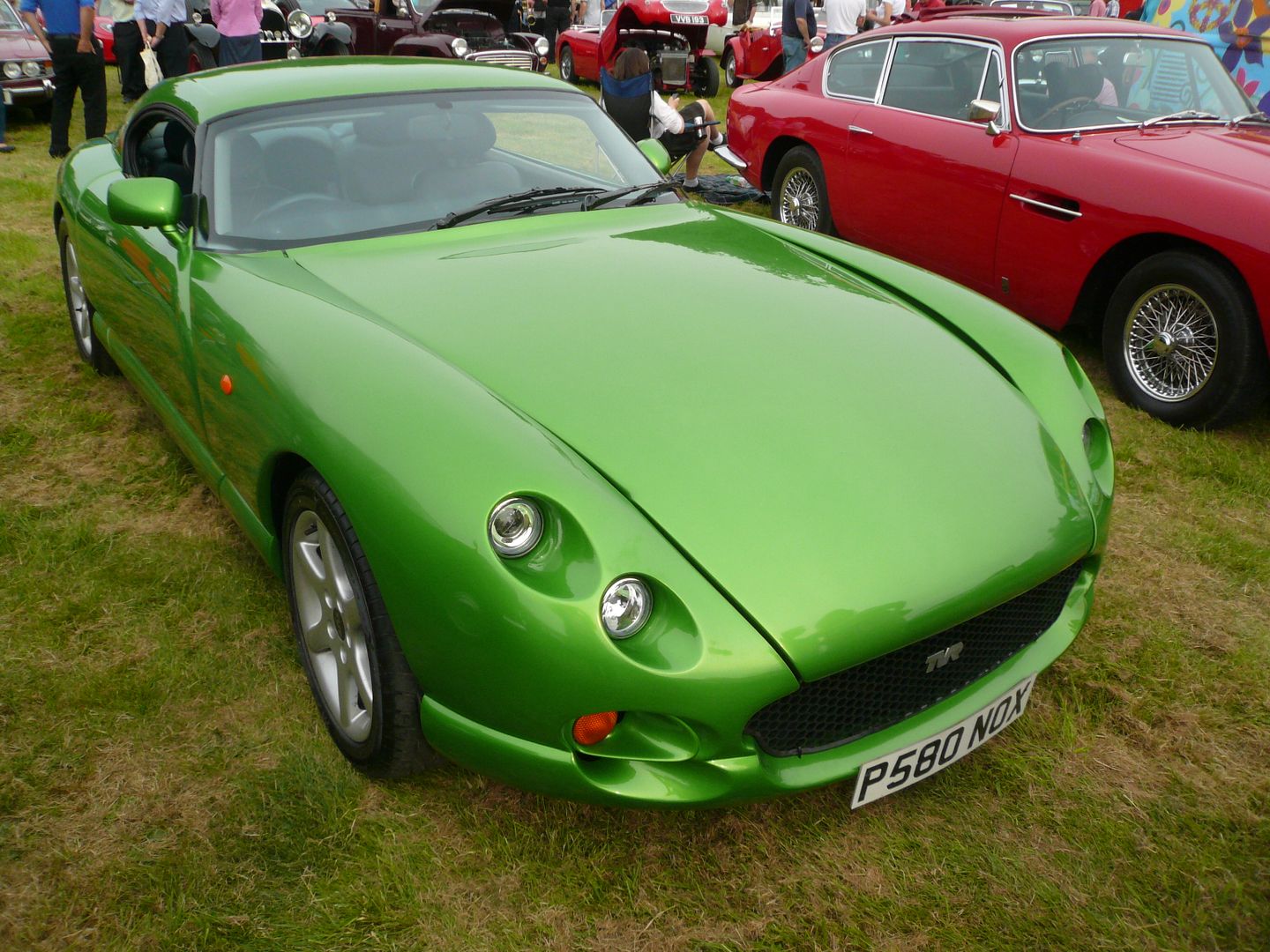 VAUXHALL
Readily identifiable as a Vauxhall by the flutes on the bonnet, this is an early 30/98 model.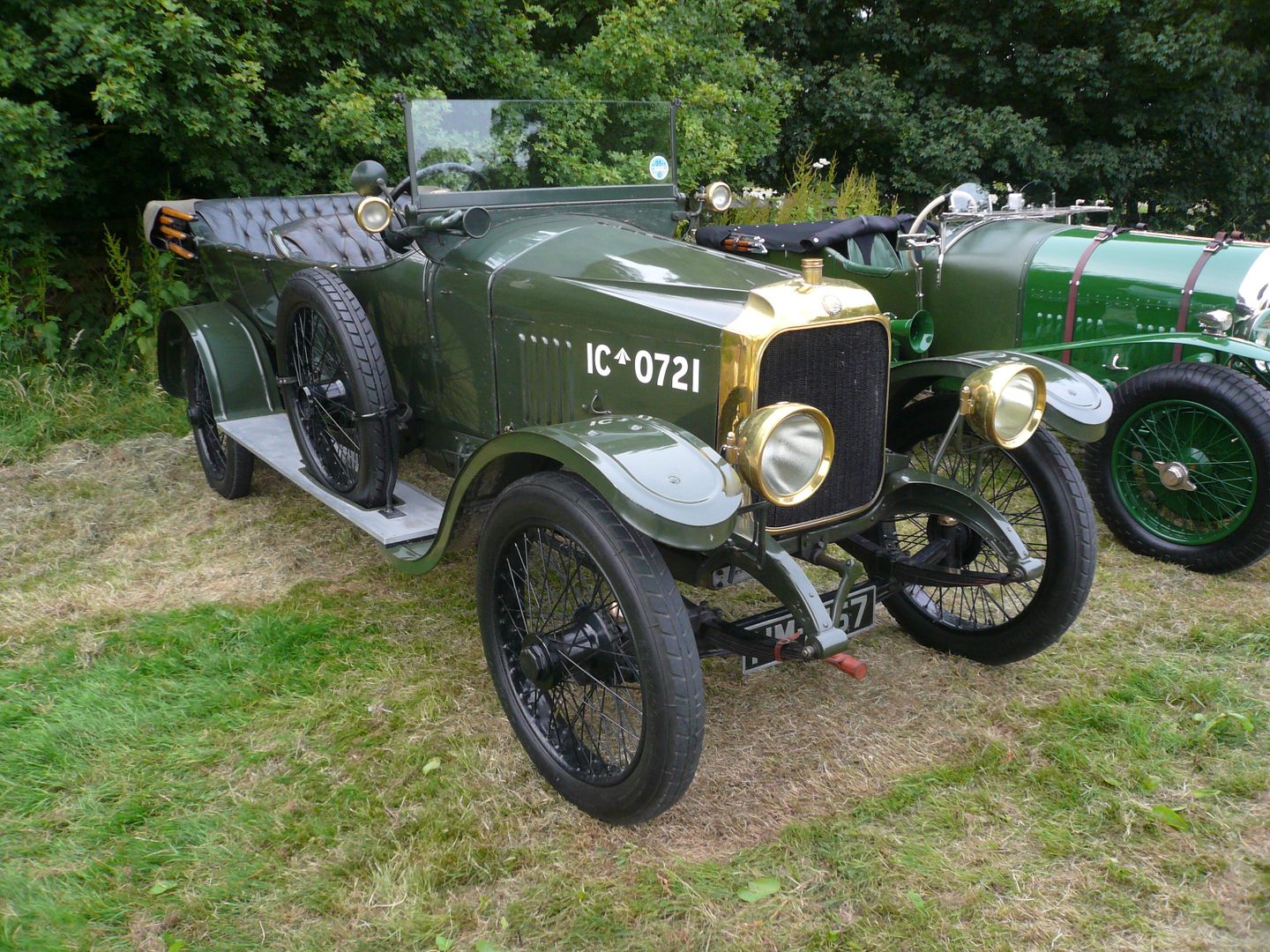 Although car manufacture in the town ceased some time ago, Luton is still very much in love with Vauxhall, and accordingly an array of classic models were present at this event, and a splendid assembly they were too. Most familiar perhaps were the Viva cars, and there were examples of each of the HA, HB and HC cars. I heard lots of people saying nostalgically how they used to own one or more of these.
Victor based cars included an FB Estate and an FD in both VX 4/90 and Ventora forms.
Top of the range in the late 1960s was the Viscount, a luxury version of the PC Cresta. This particular car does the rounds of shows from time to time, but I believe is still part of Vauxhall's own heritage fleet.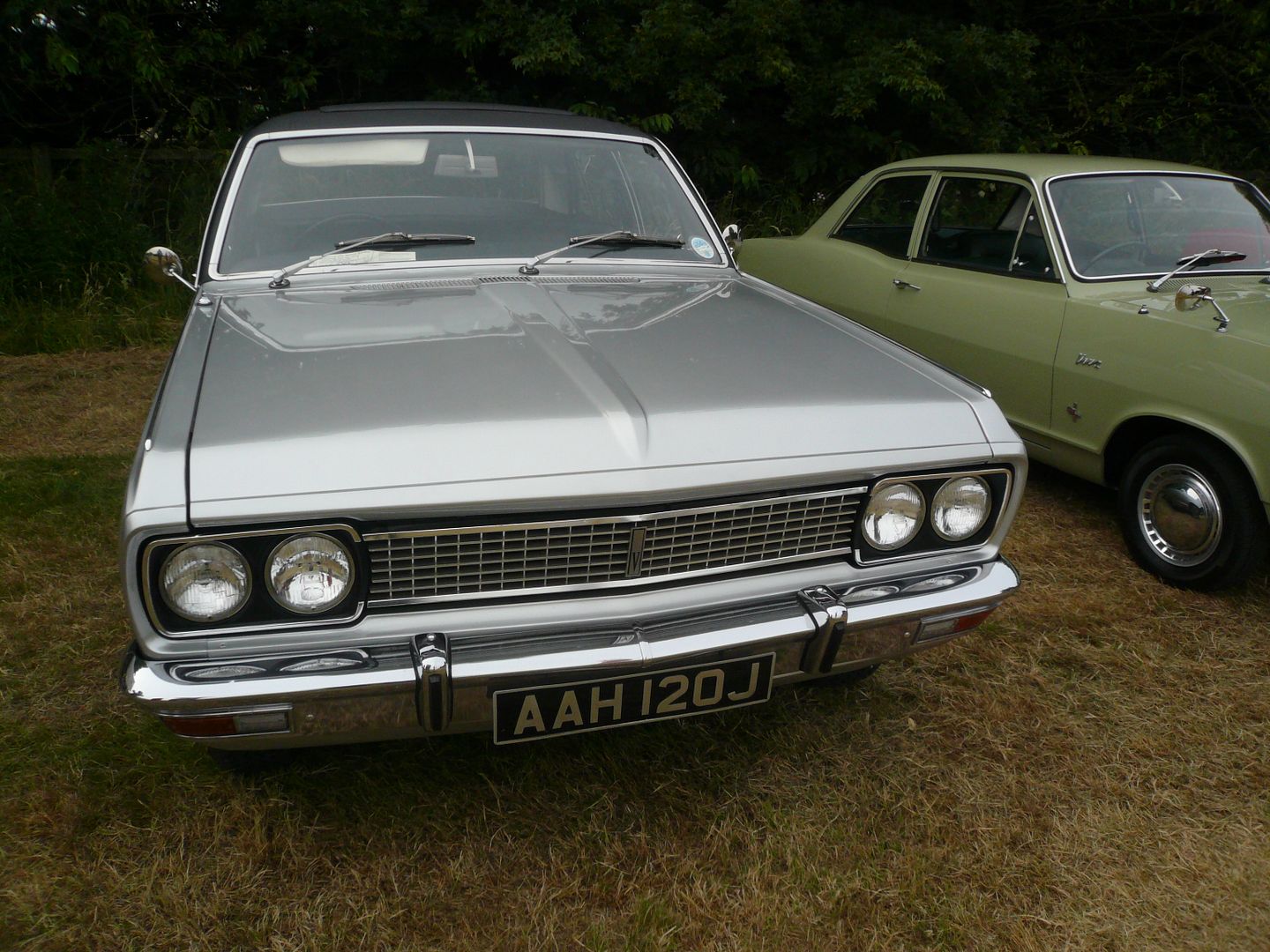 Vauxhall launched their first Astra GTE in mid 1983 and then replaced the entire Astra range with the second generation car a mere 15 months later, so these cars are rare. This one was in splendid condition.
From more recent times was the Calibra, a very elegant coupe version of the mundane Cavalier.
VOLKSWAGEN
An example of the ever popular Beetle.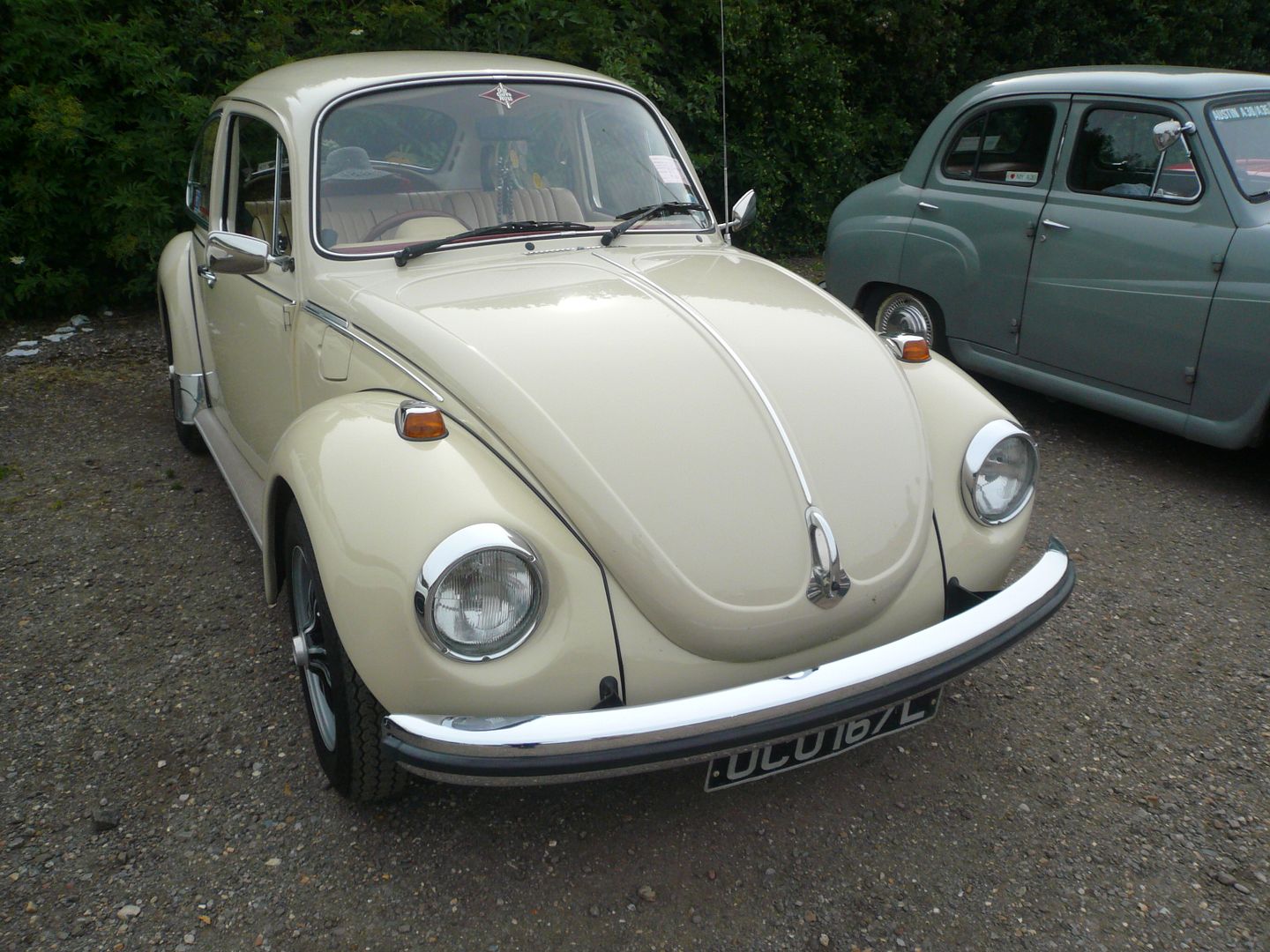 This "splittie", an early Type 2 van would be a lot of fun at an event like this, as were the weather to have been poor, the occupants could still have had afternoon tea from the comfort of the van. This was a beautifully turned out example.  There was also an example of the later "Bow window" model.
You don't see classic Scirocco models that often, so it was nice to come across this one, a second generation car in limited edition Scala form.
From the same era was this first generation Golf Cabrio, also in limited edition Clipper guise as well as a more potent GTi model.
VOLVO
A nice example of the P1800S.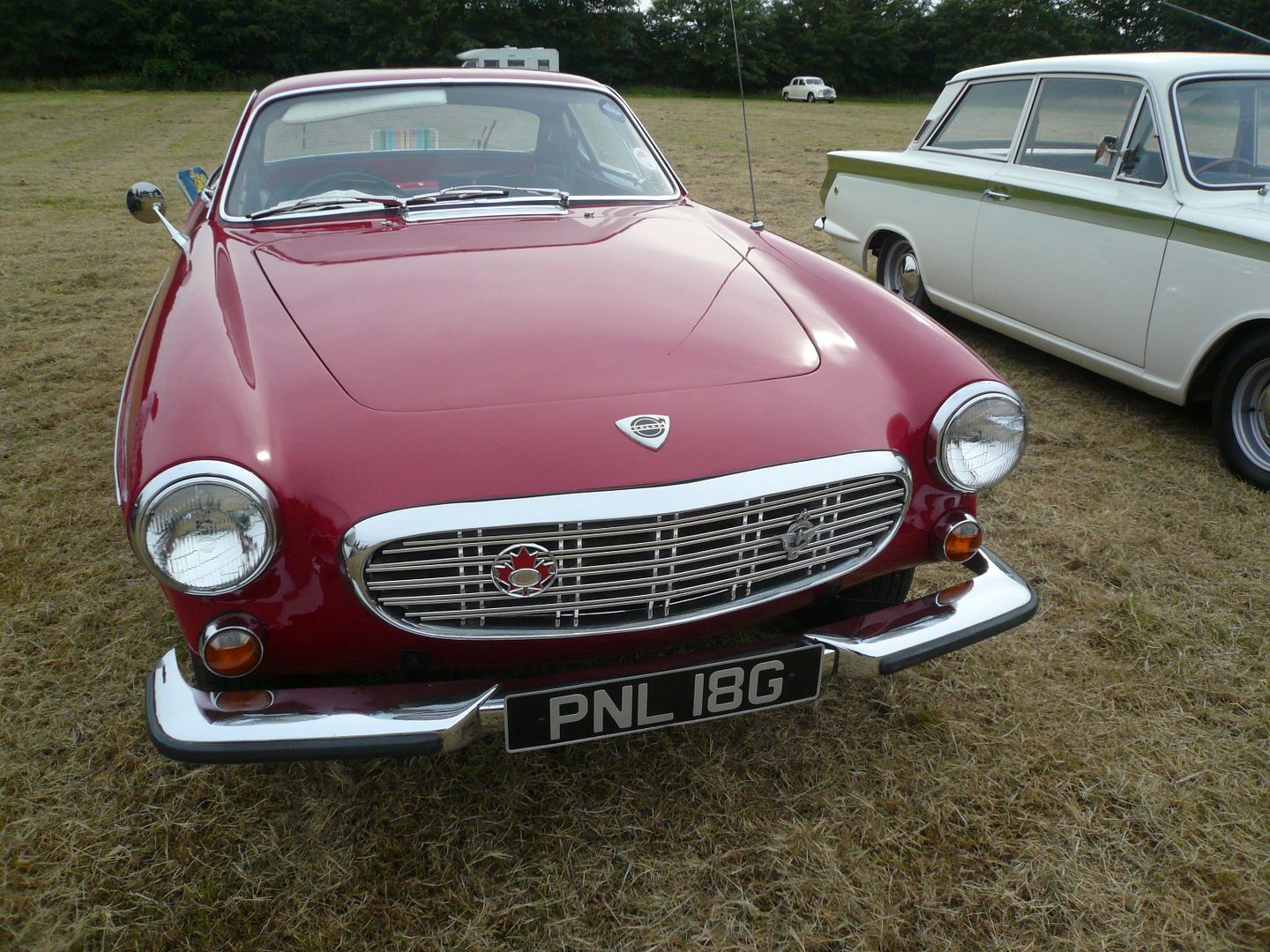 Also well turned out was this 1964 122S, with the quite popular Ruddspeed tuning conversion applied. These tough cars were very successful as rally cars in their day.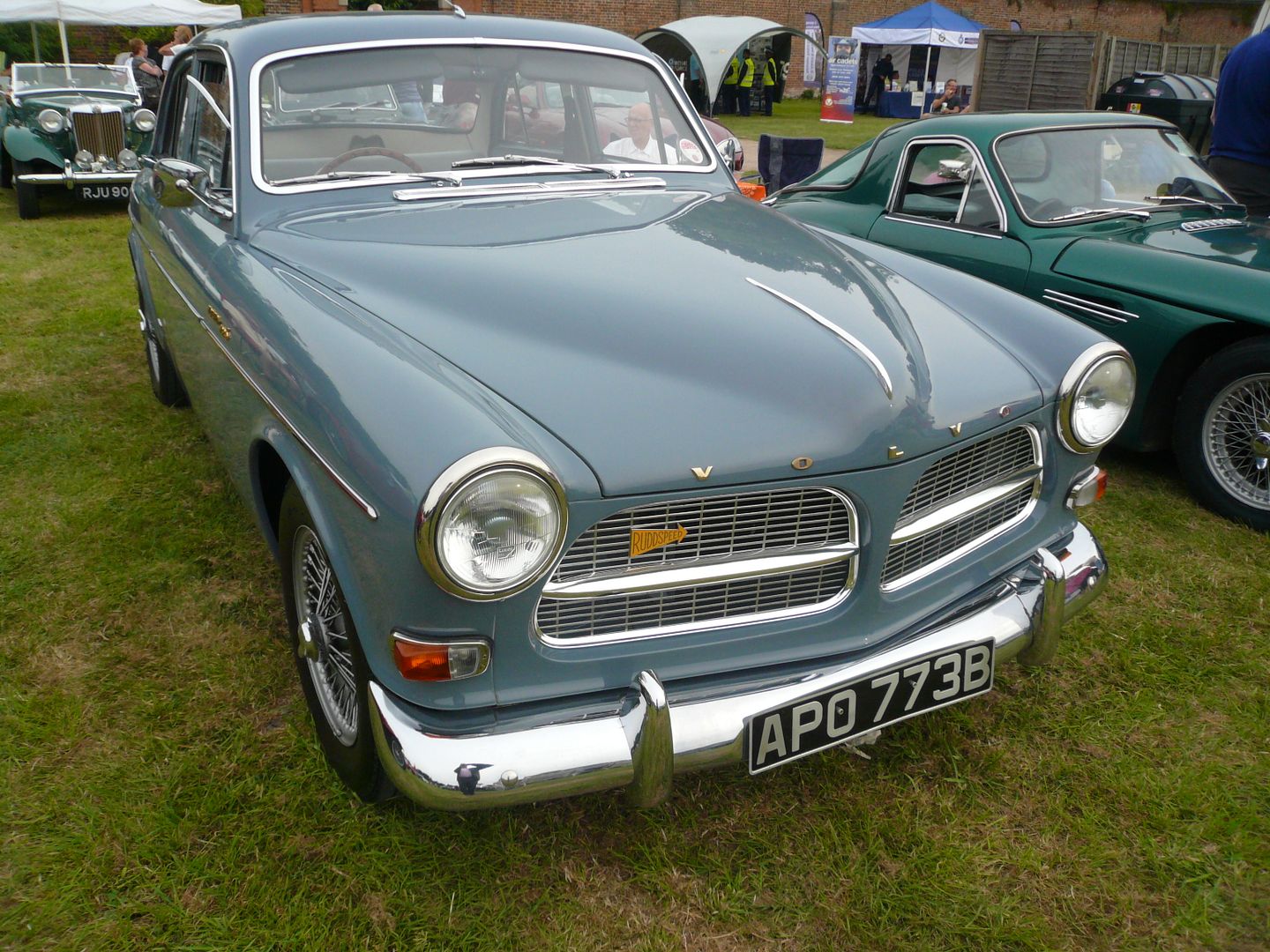 WILLYS
A nice example of the go anywhere Jeep.
WOLSELEY
The first post war Wolseleys were just like the pre-war cars, This is a 14/60.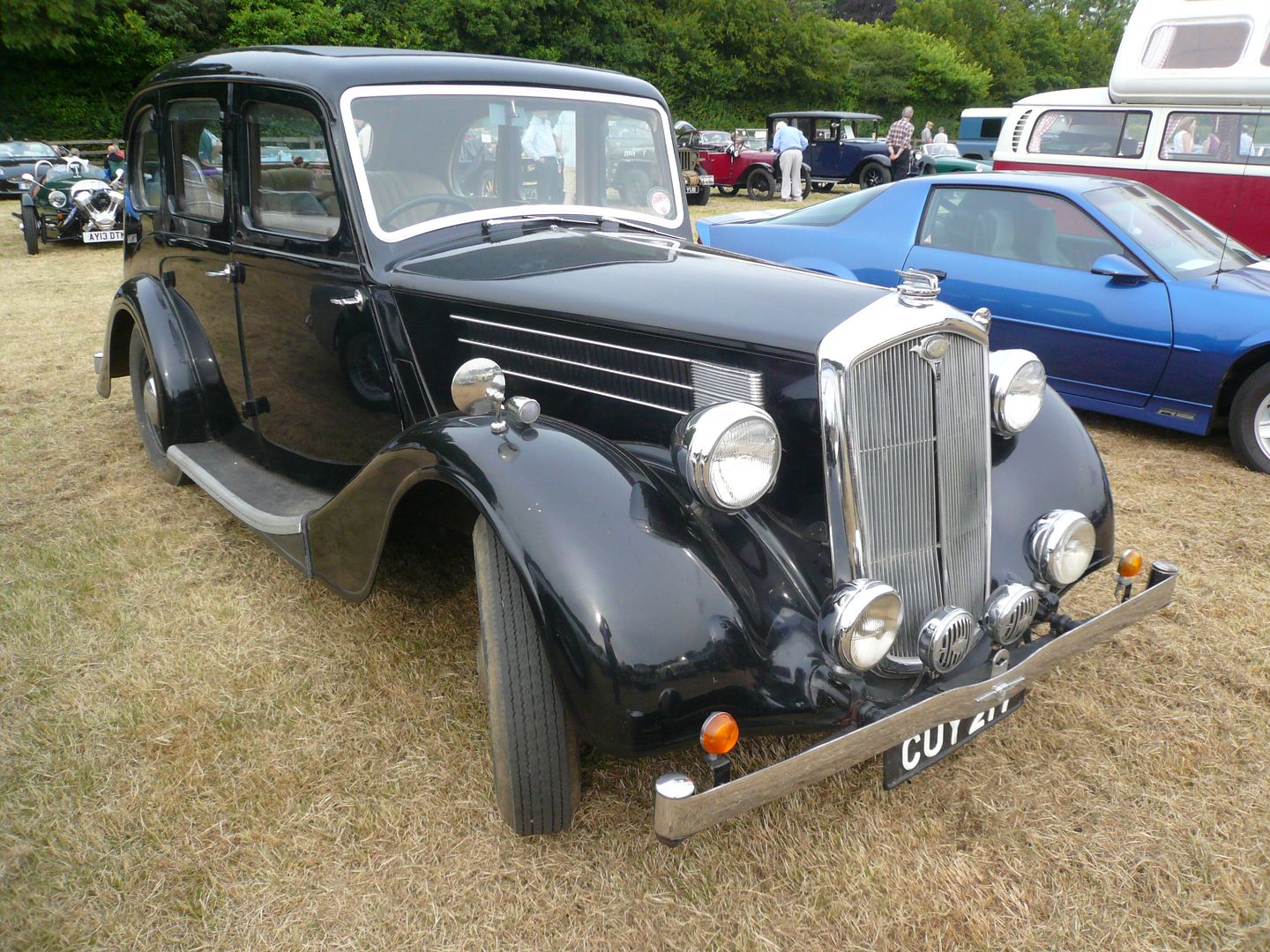 This was a most enjoyable evening. Quintessentially English, some would say, when they saw all the picnic hampers which people had brought along, as well as rugs, folding chairs and even kettles to brew up tea and coffee, but also something really rather nice for the car enthusiast, with a vast array of different and interesting cars to look at, plenty of enthusiastic owners to talk to, all in a splendid setting. Classic and Sports Car were not wrong that they called this an unmissable event, so definitely one for the 2015 diary.