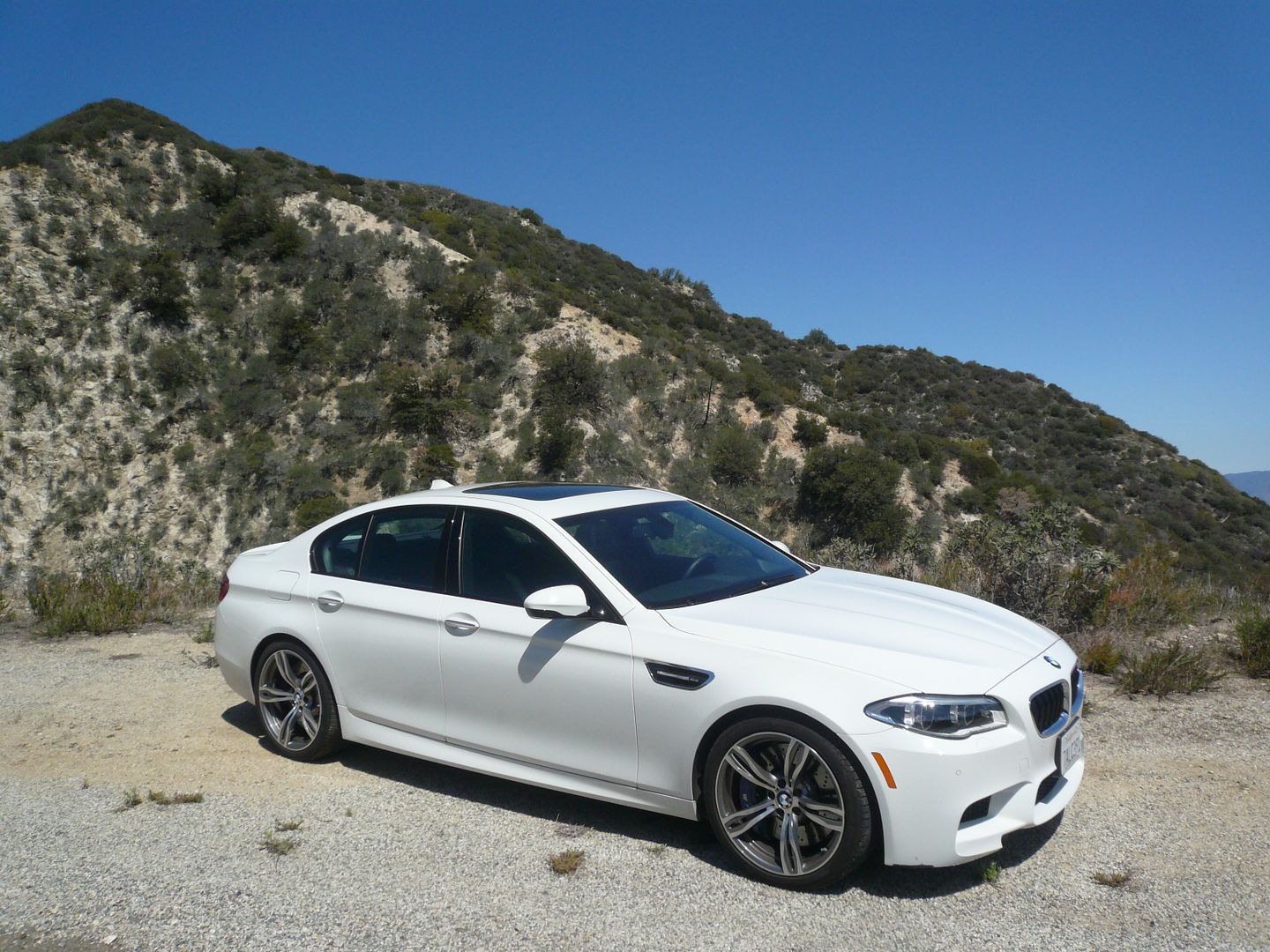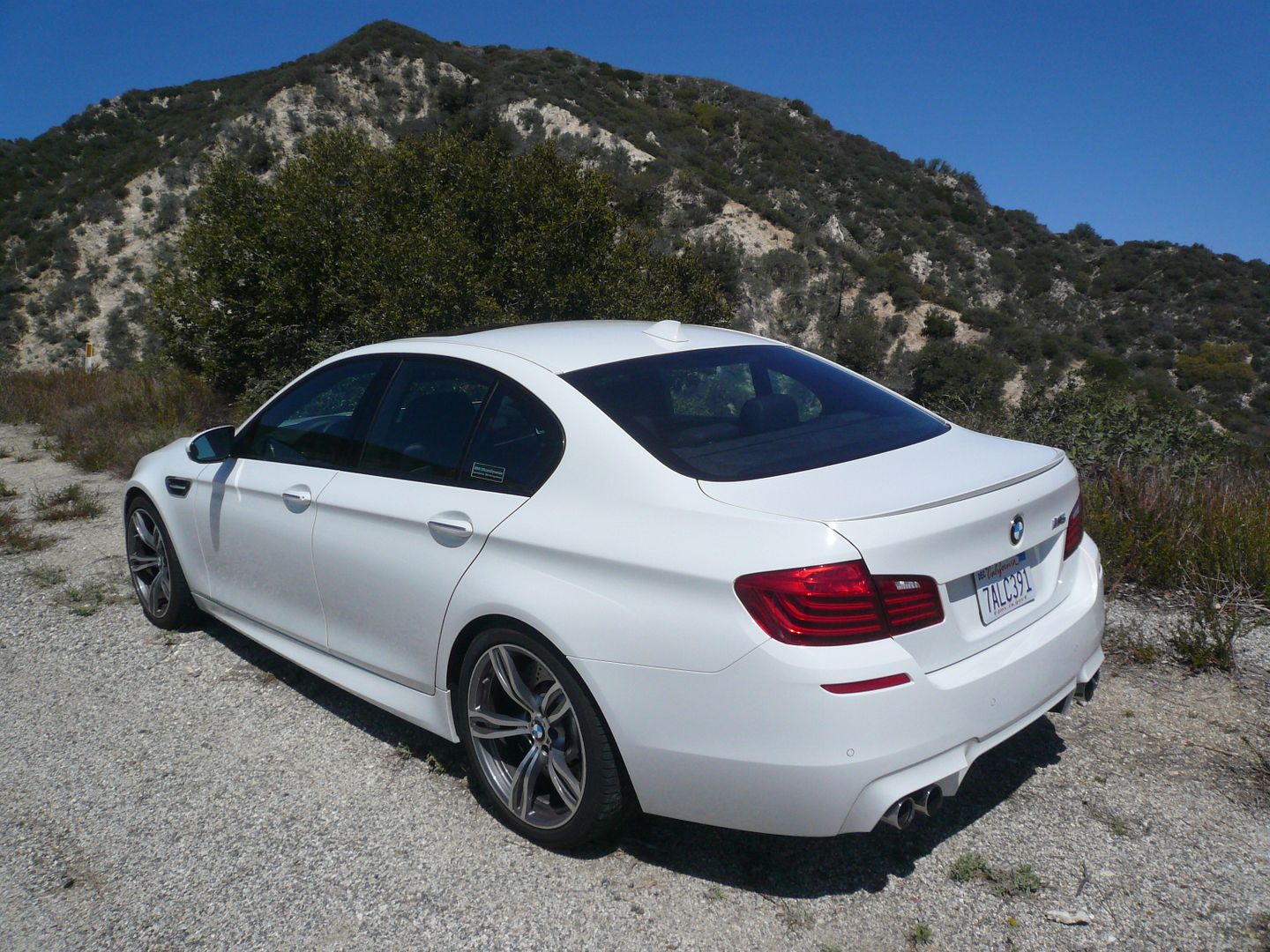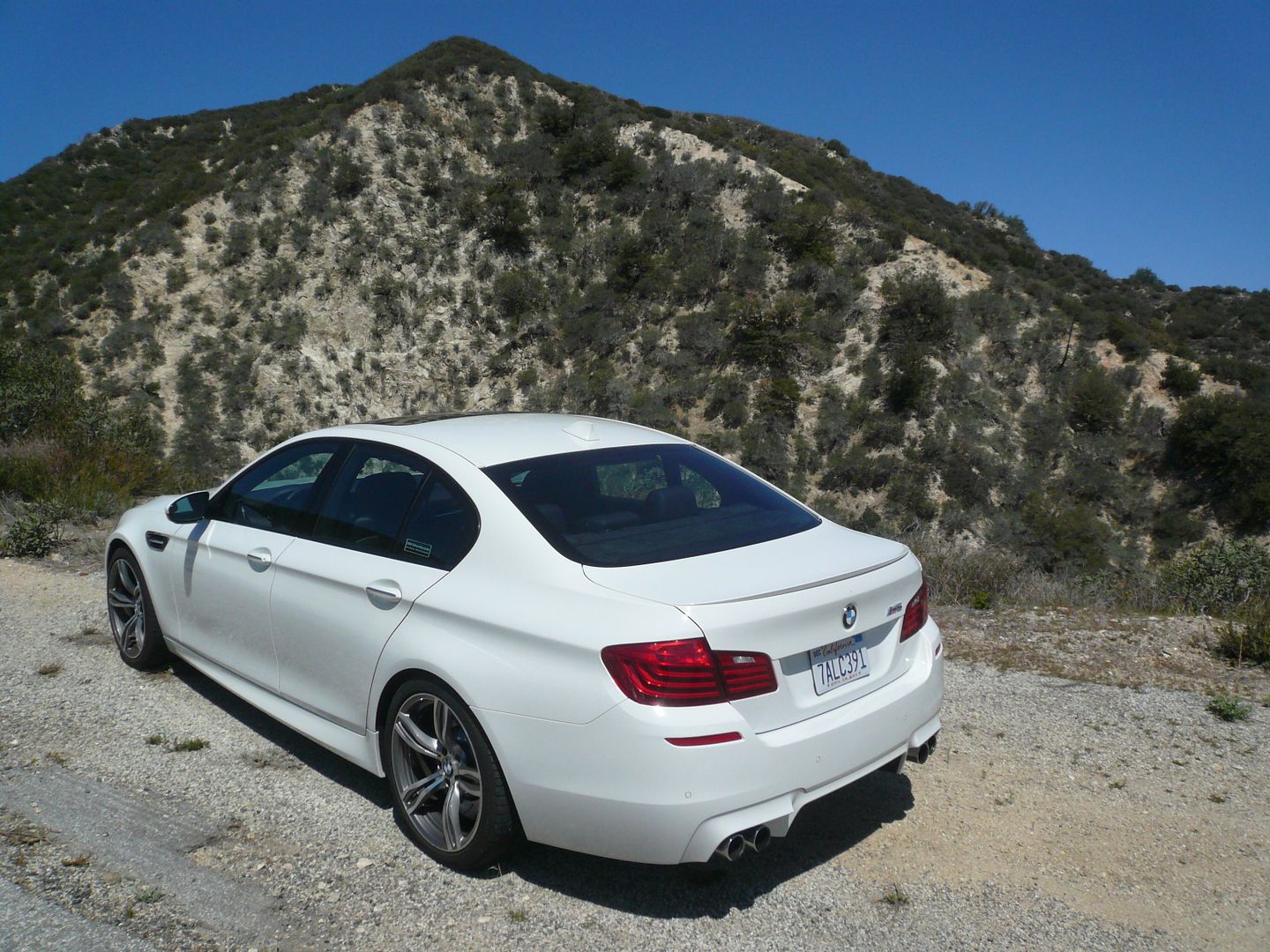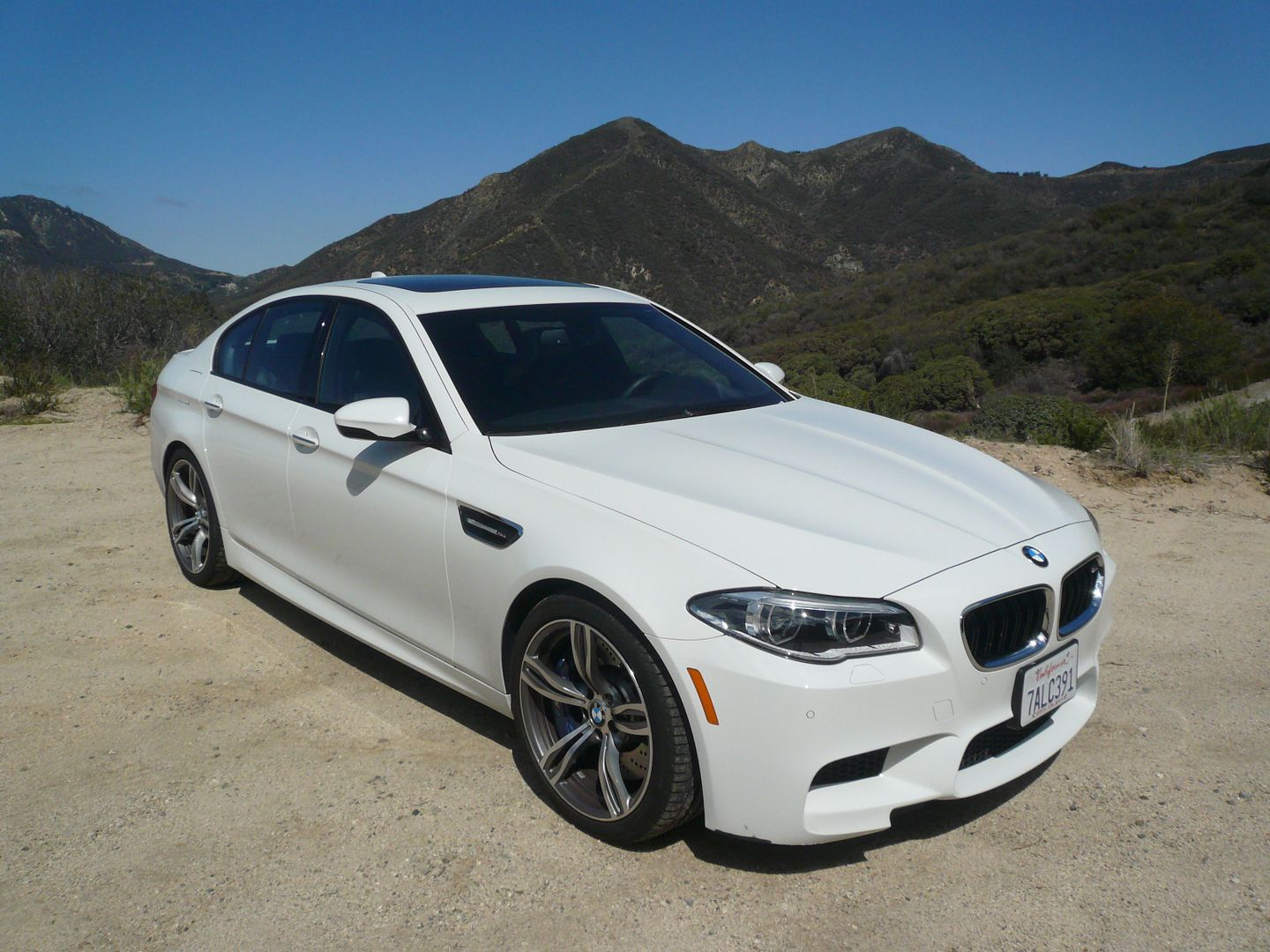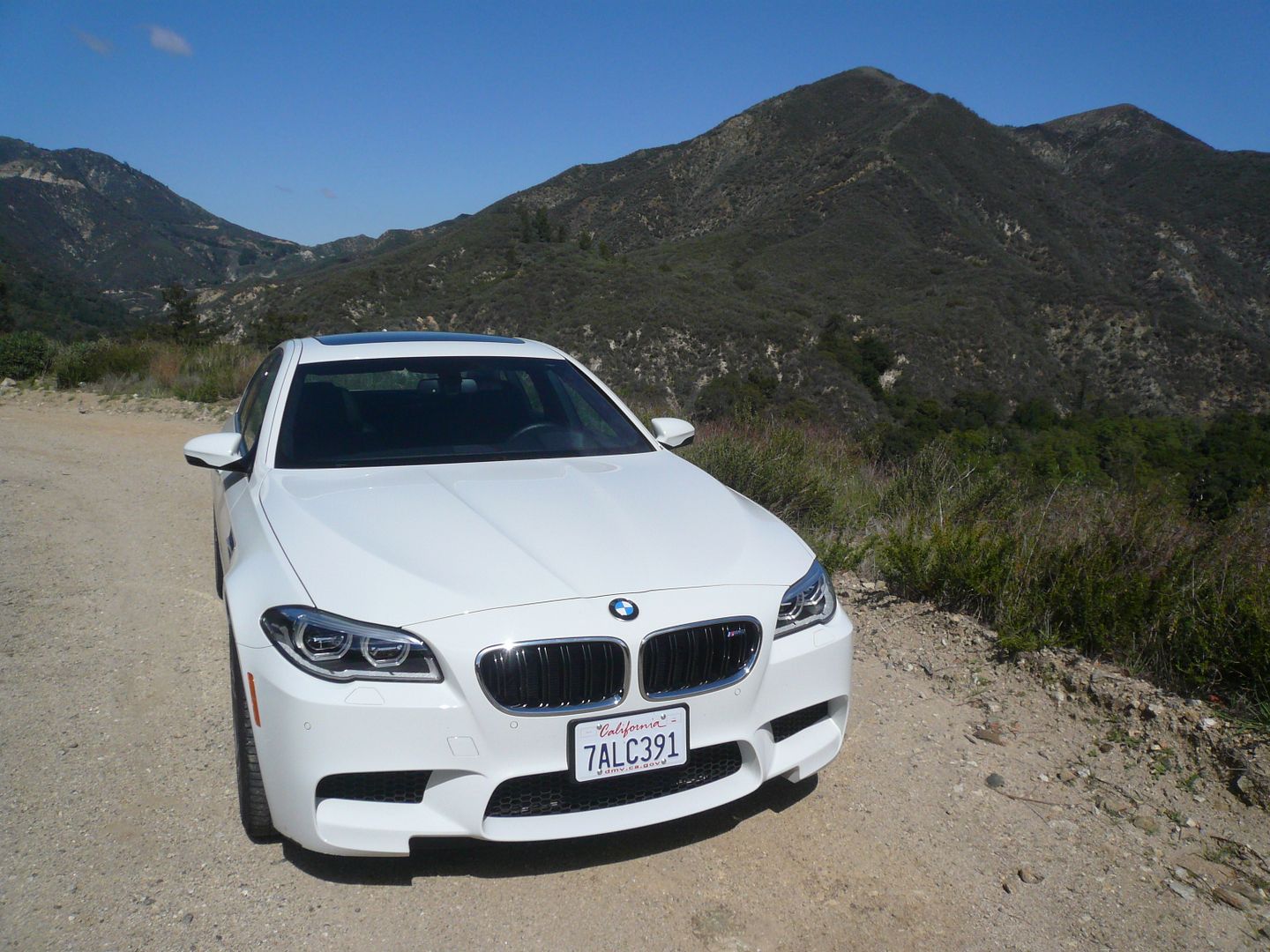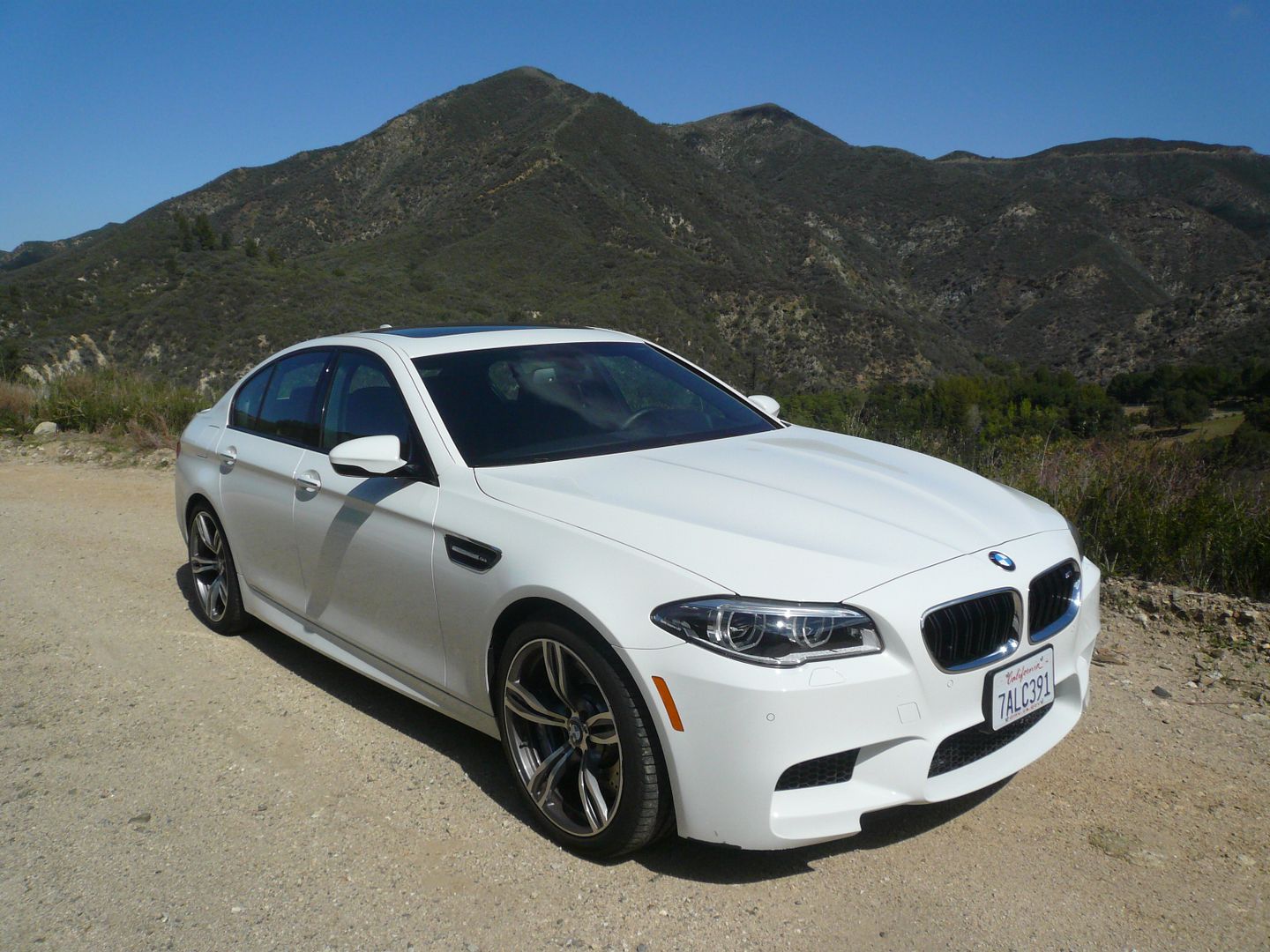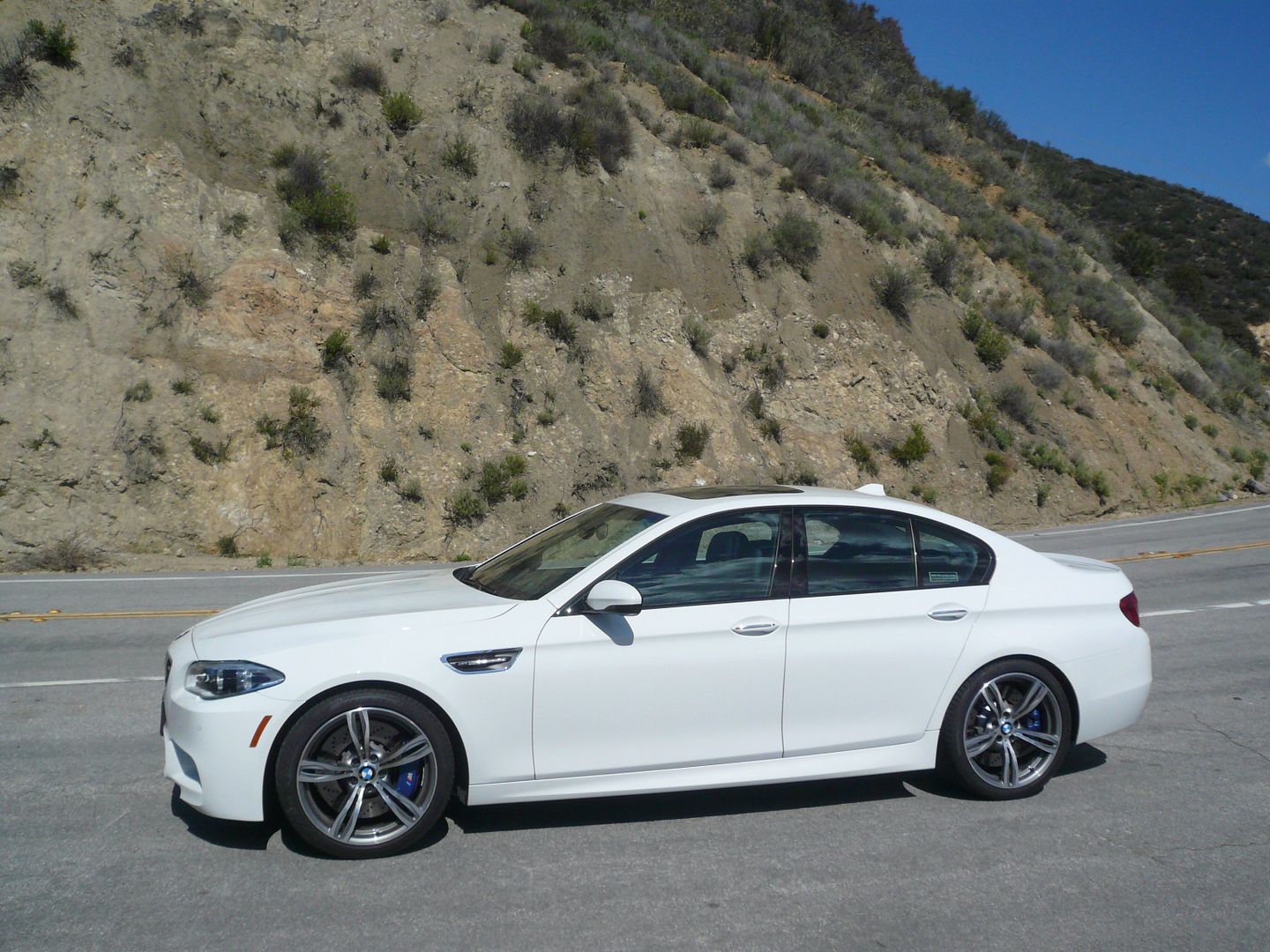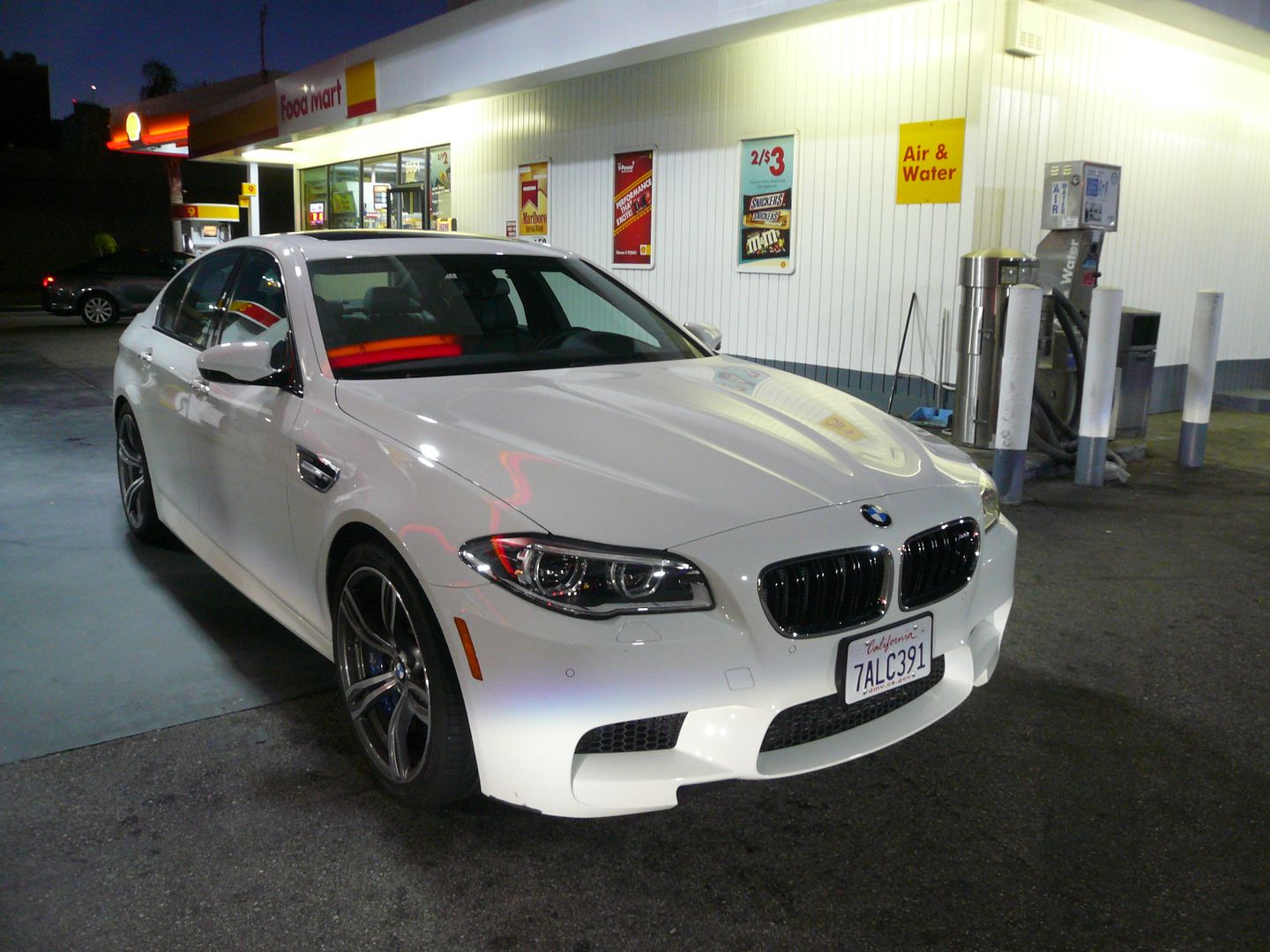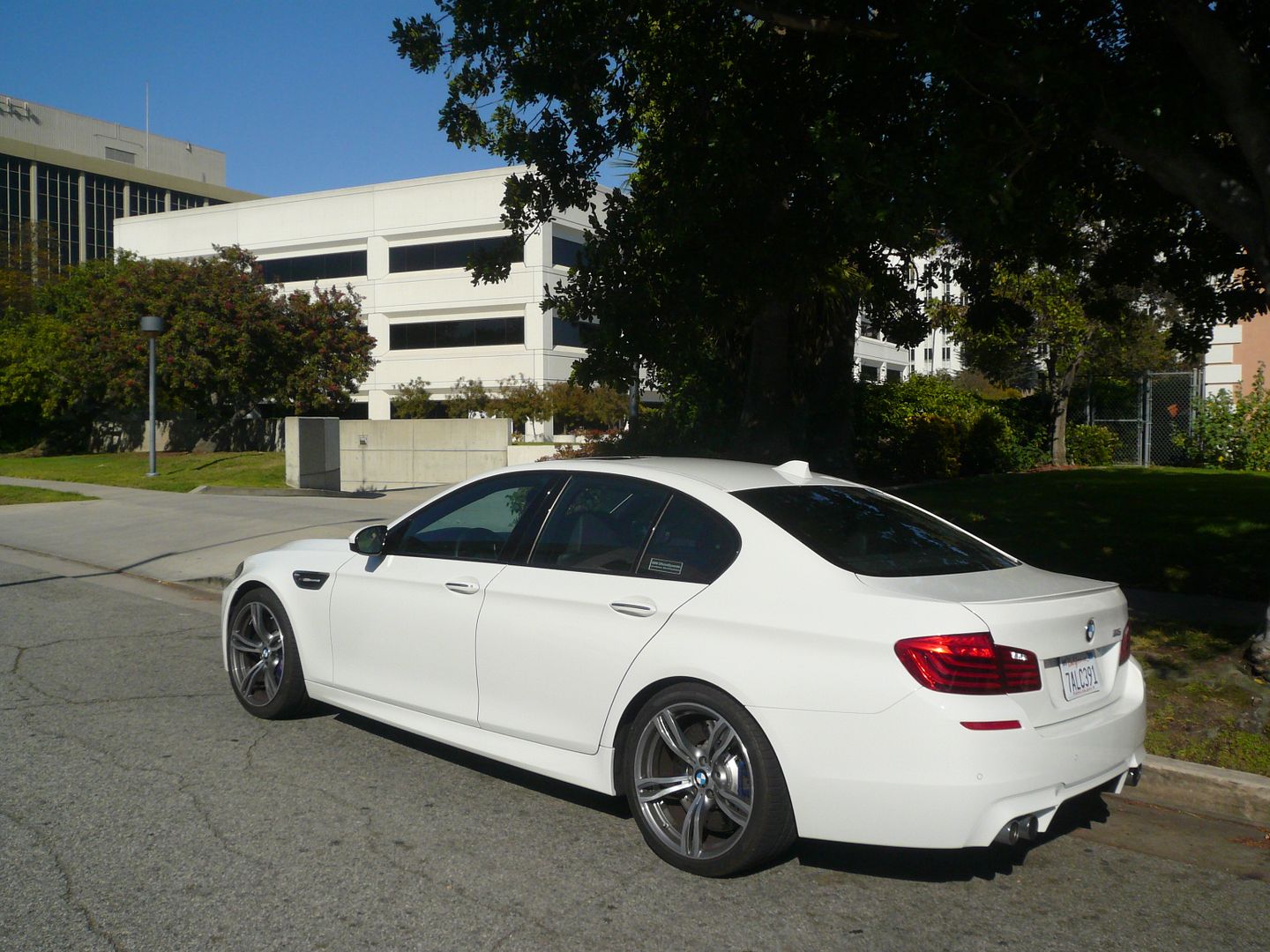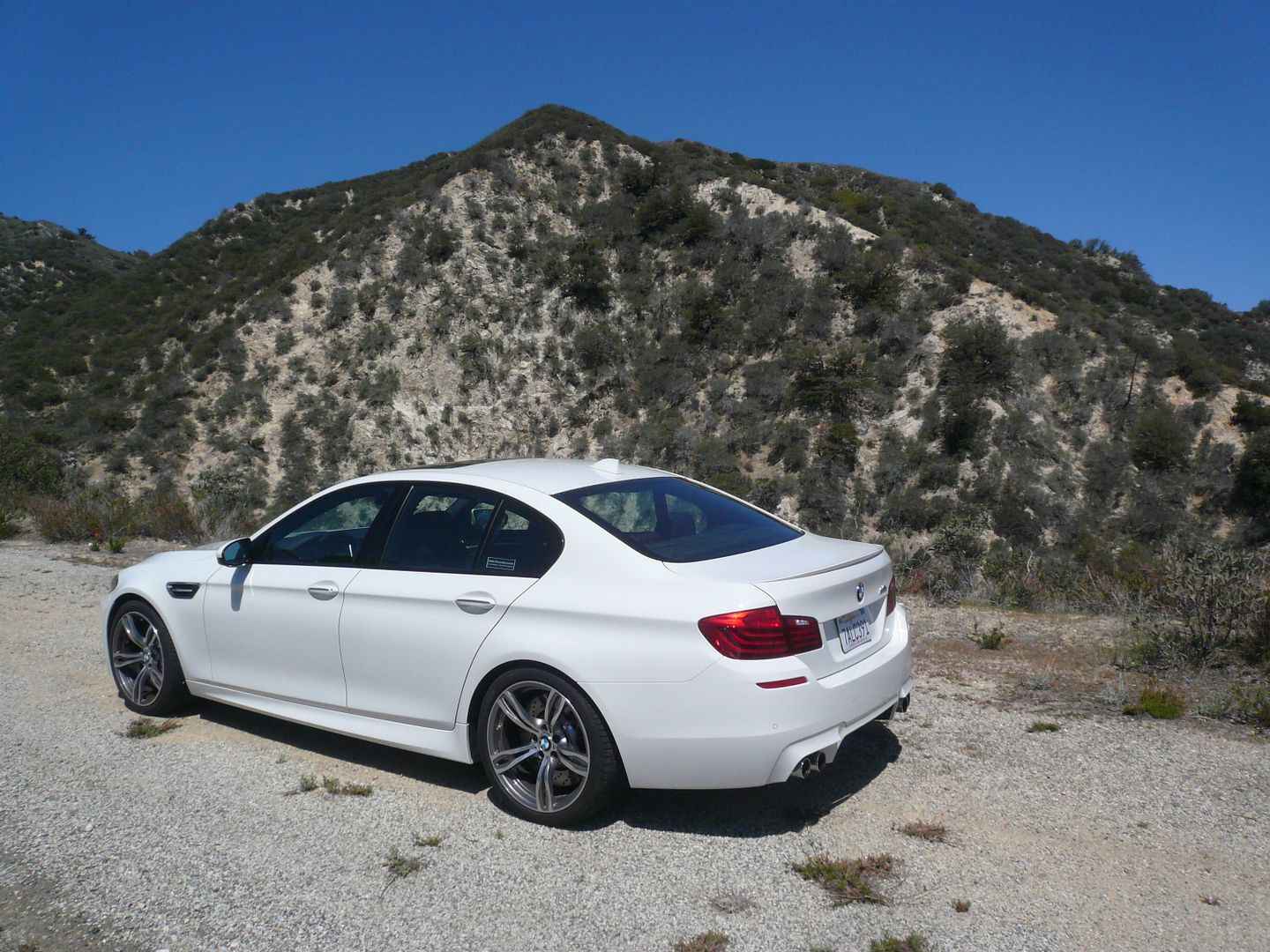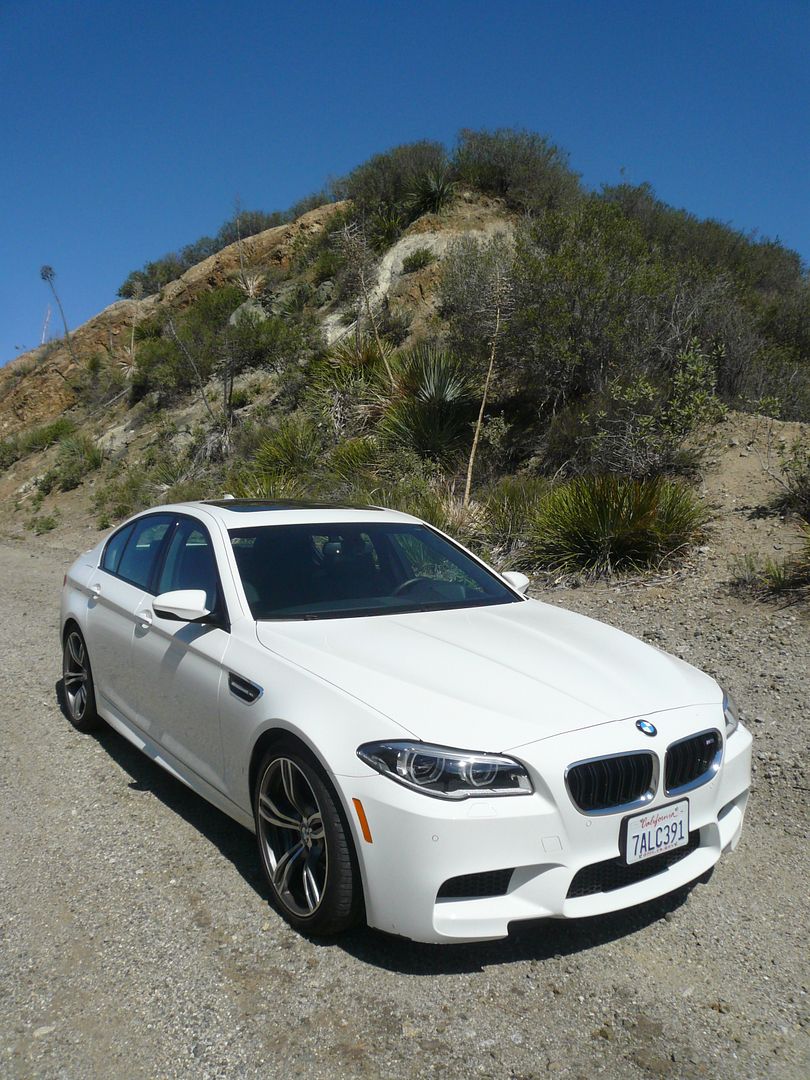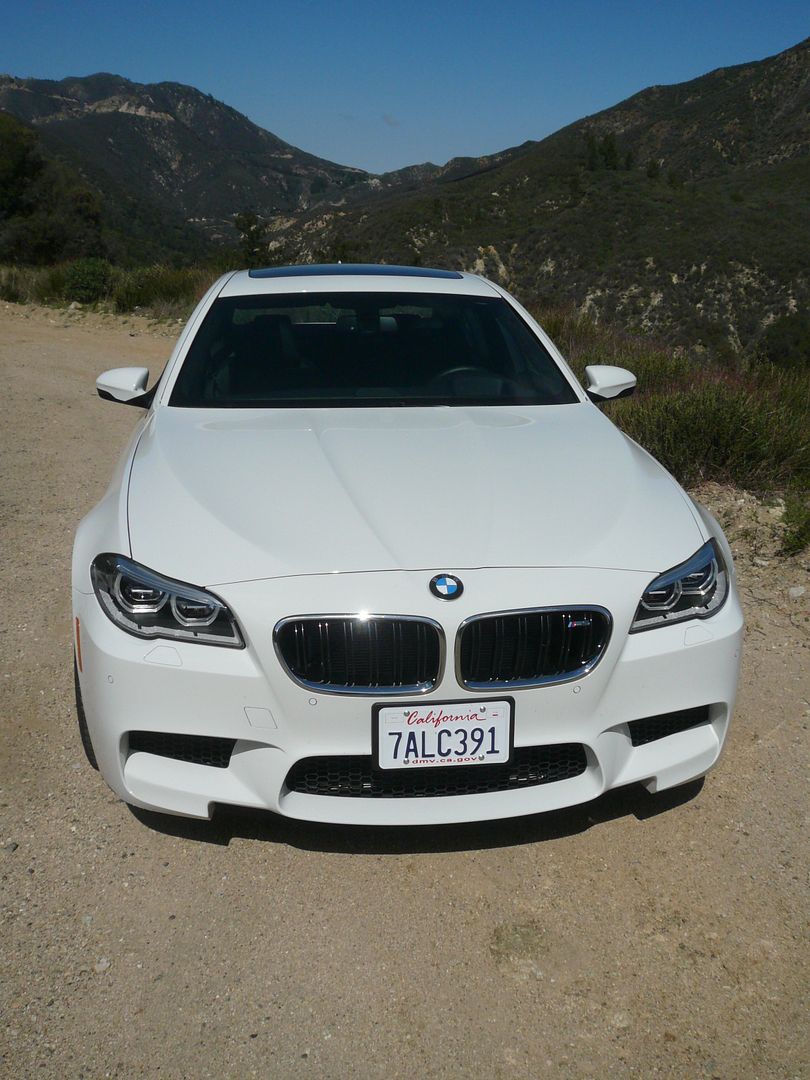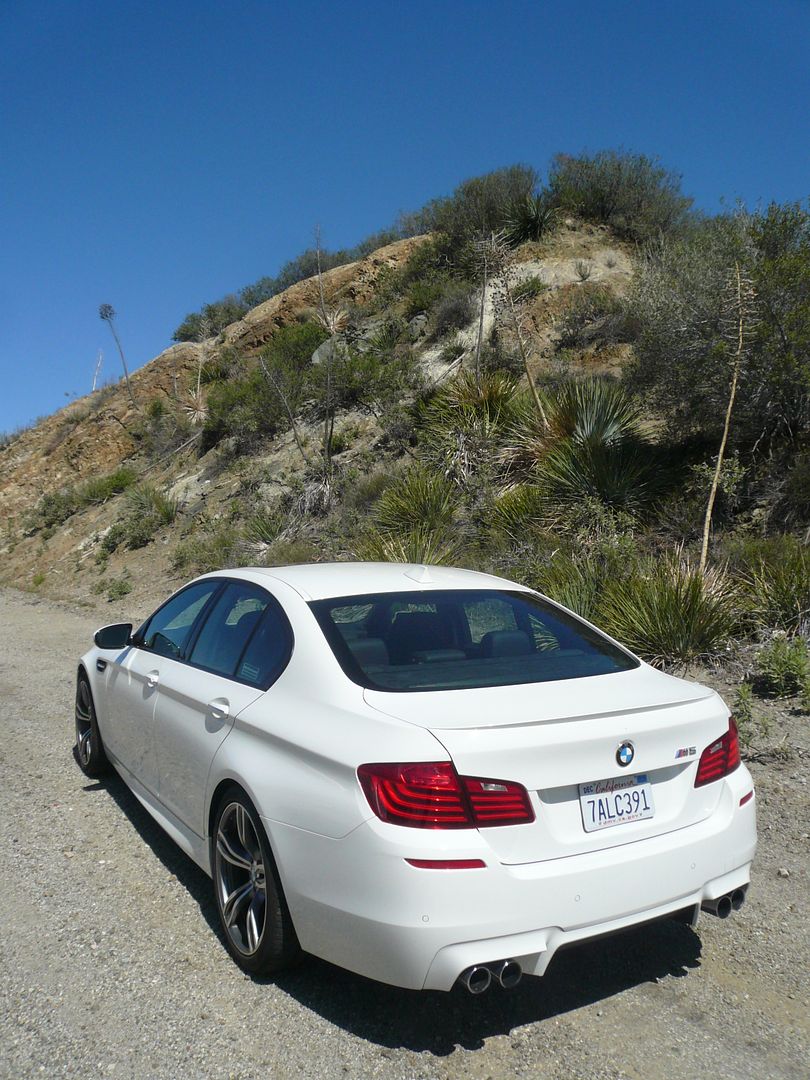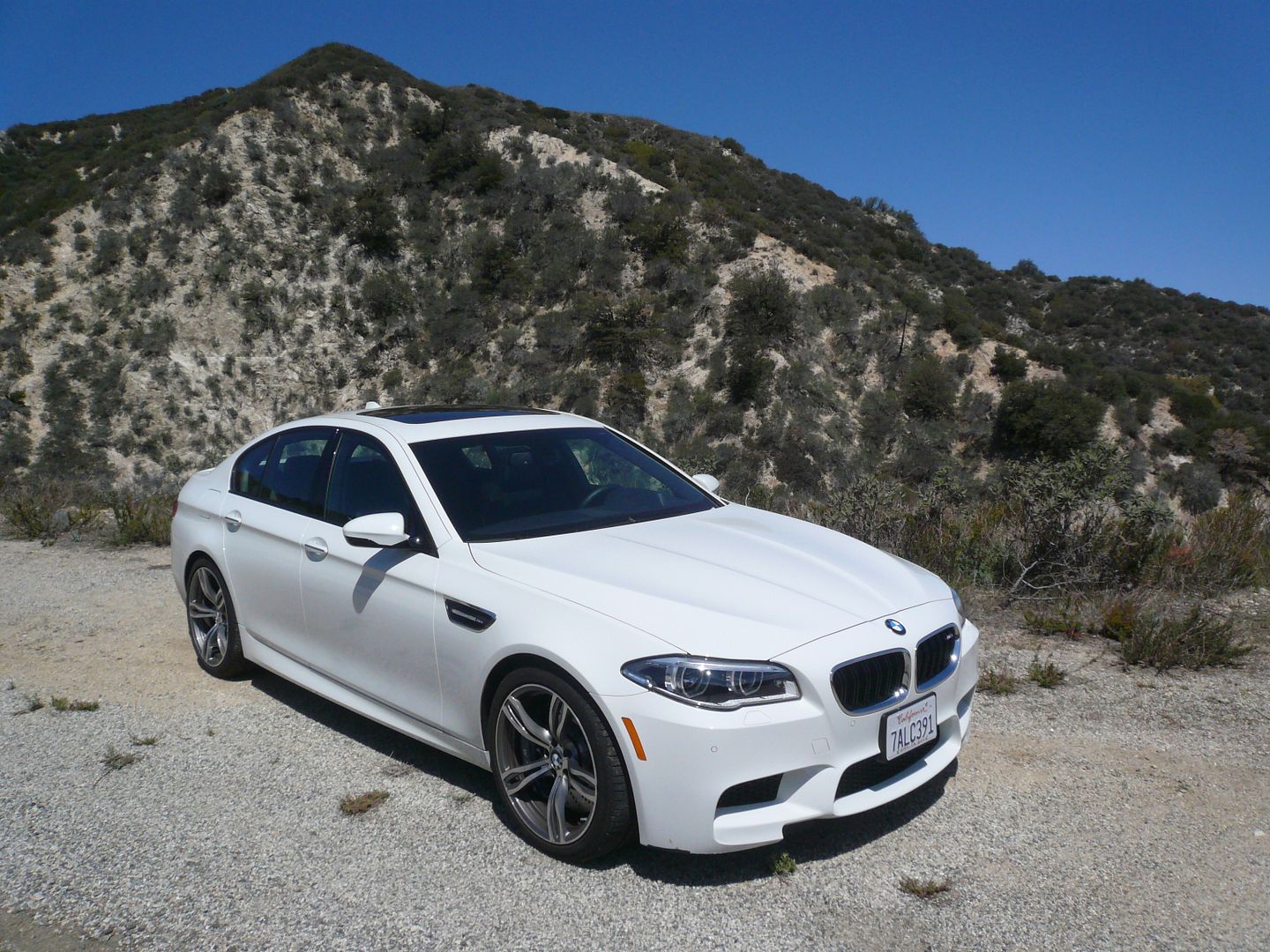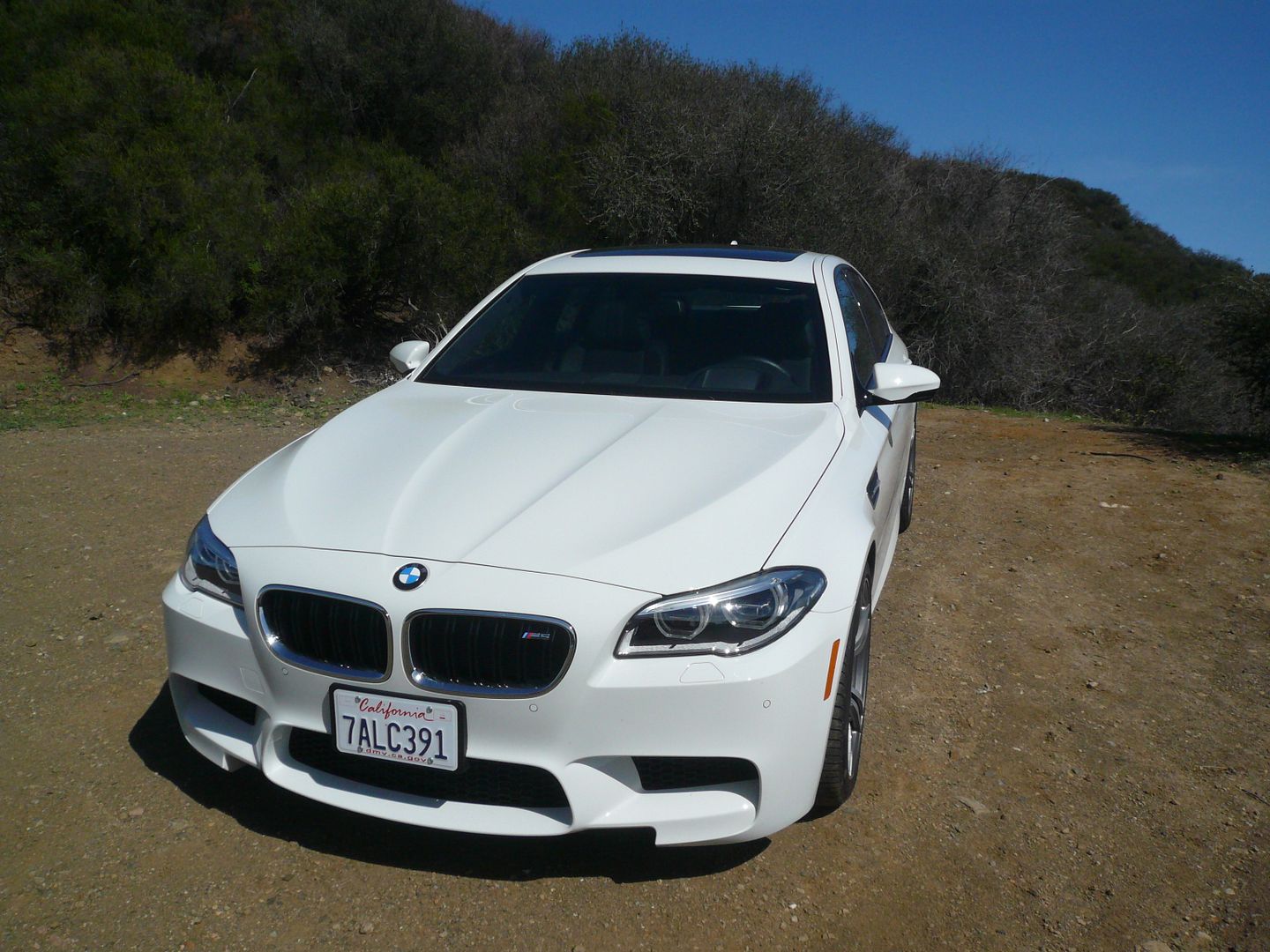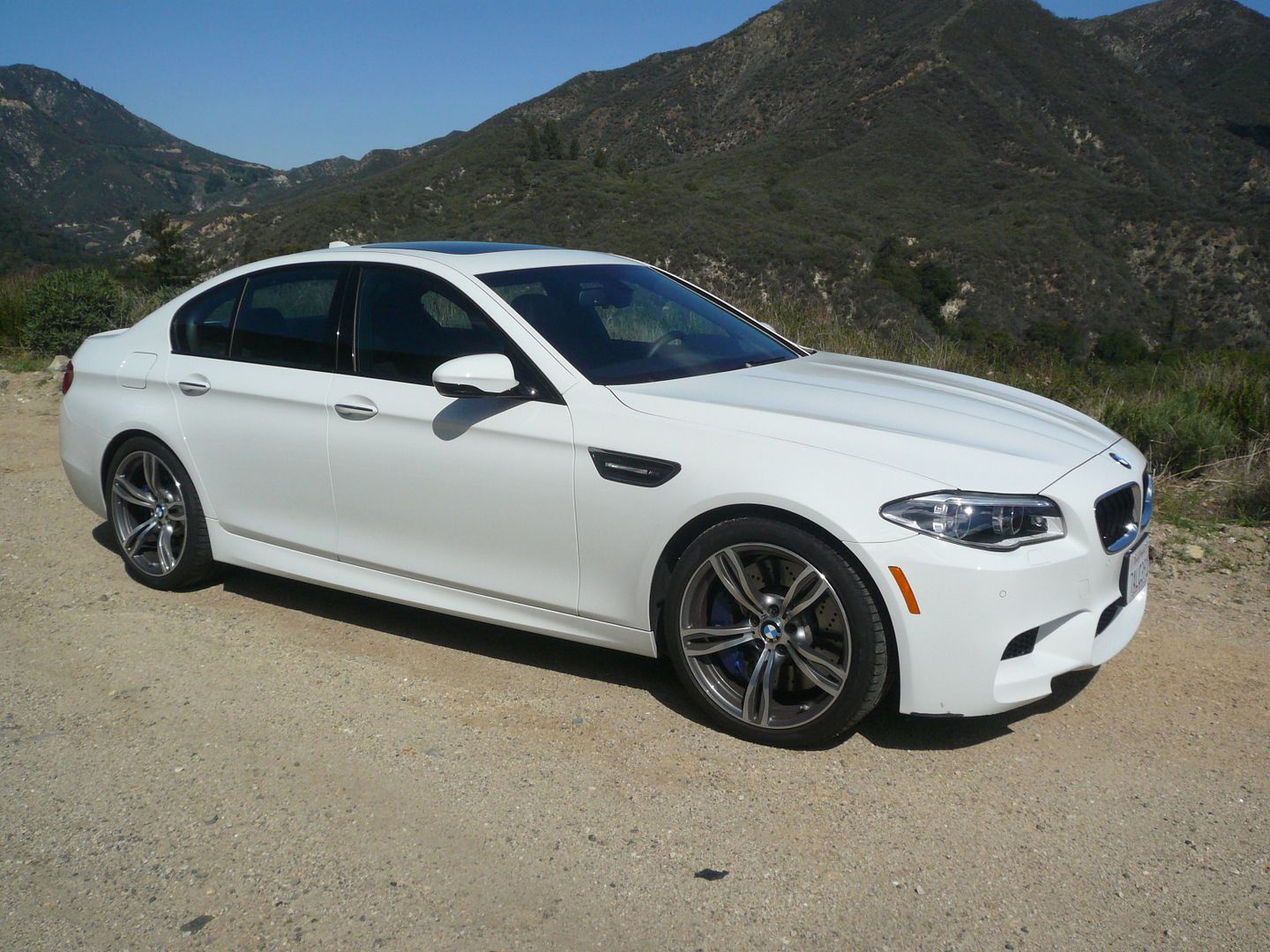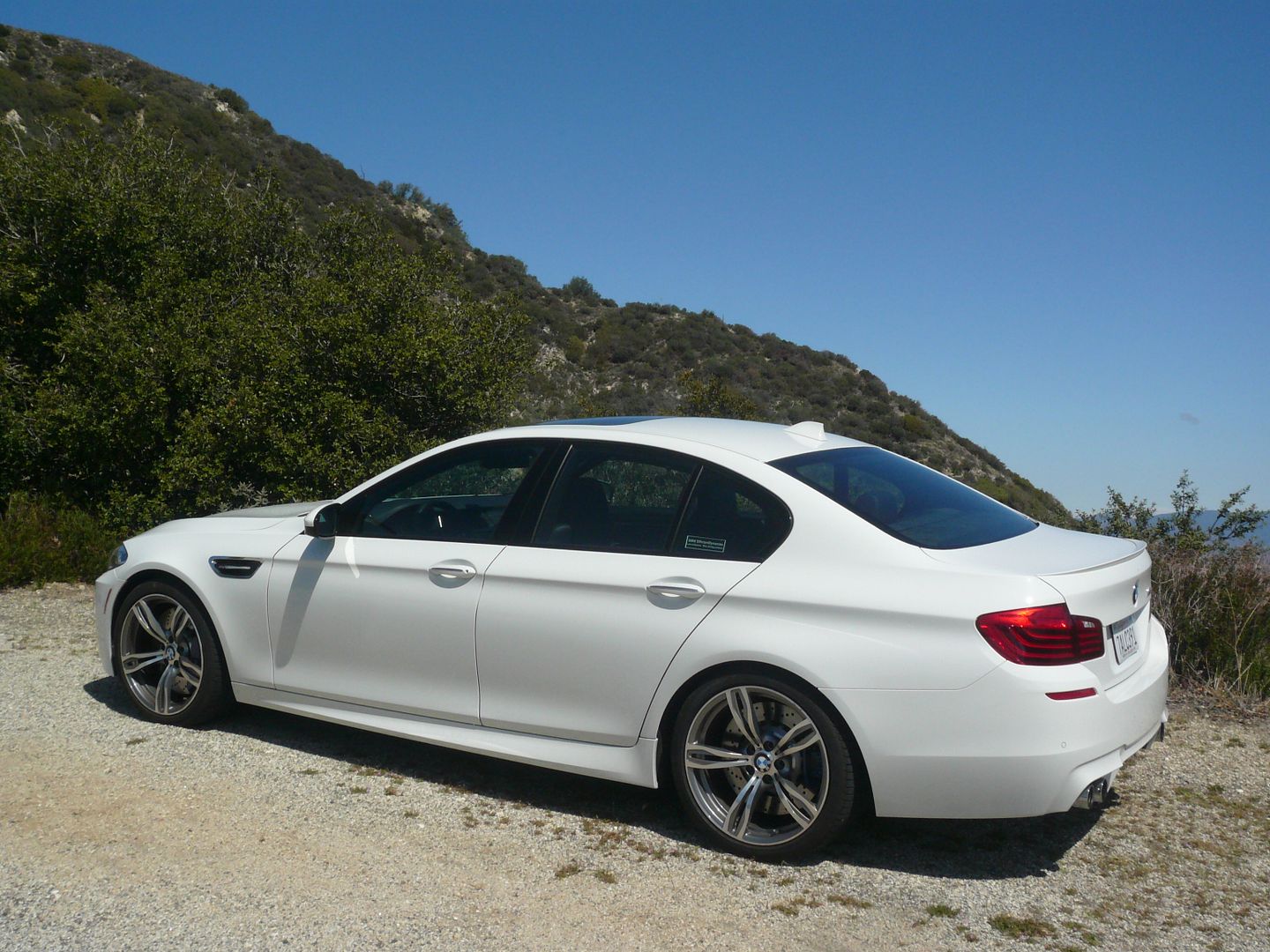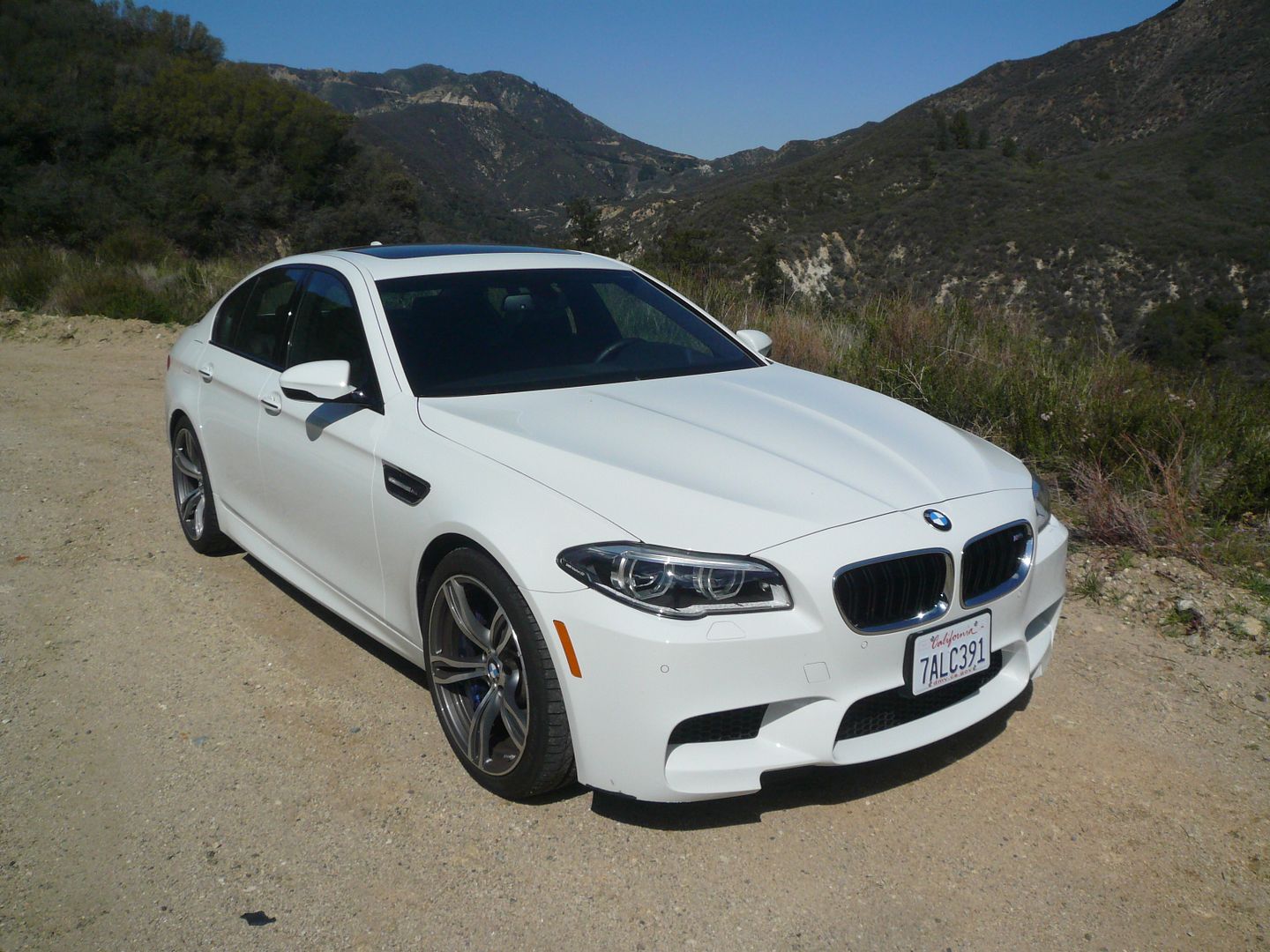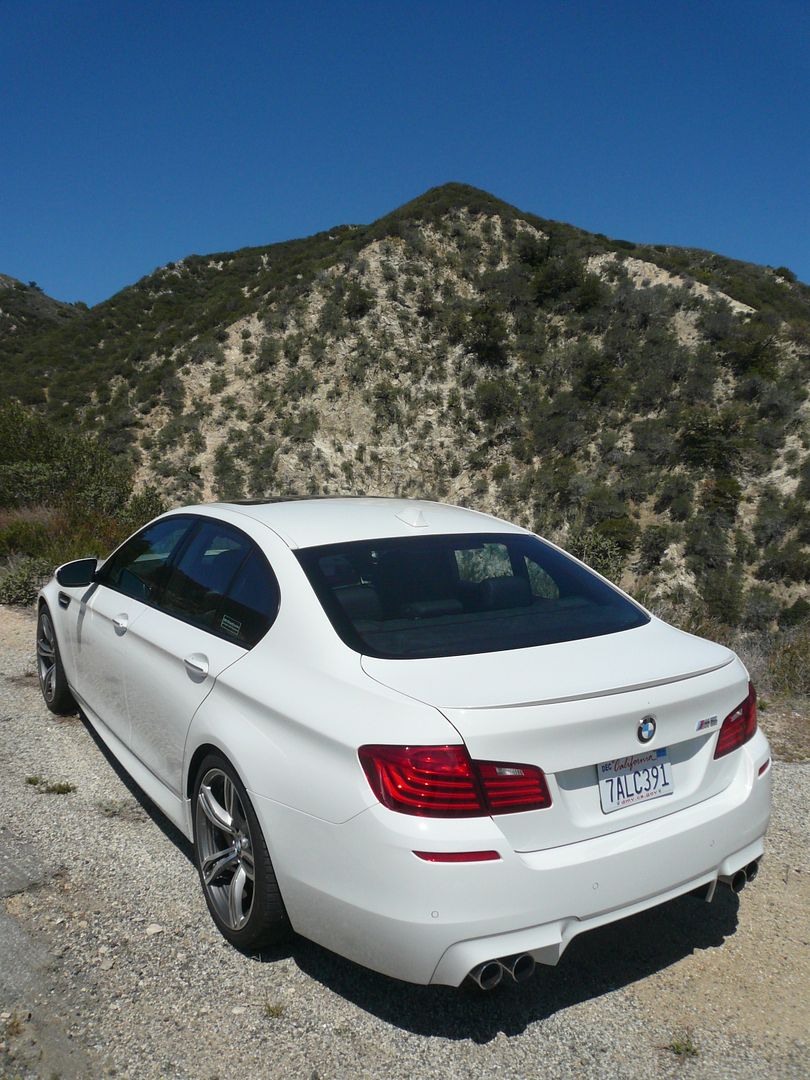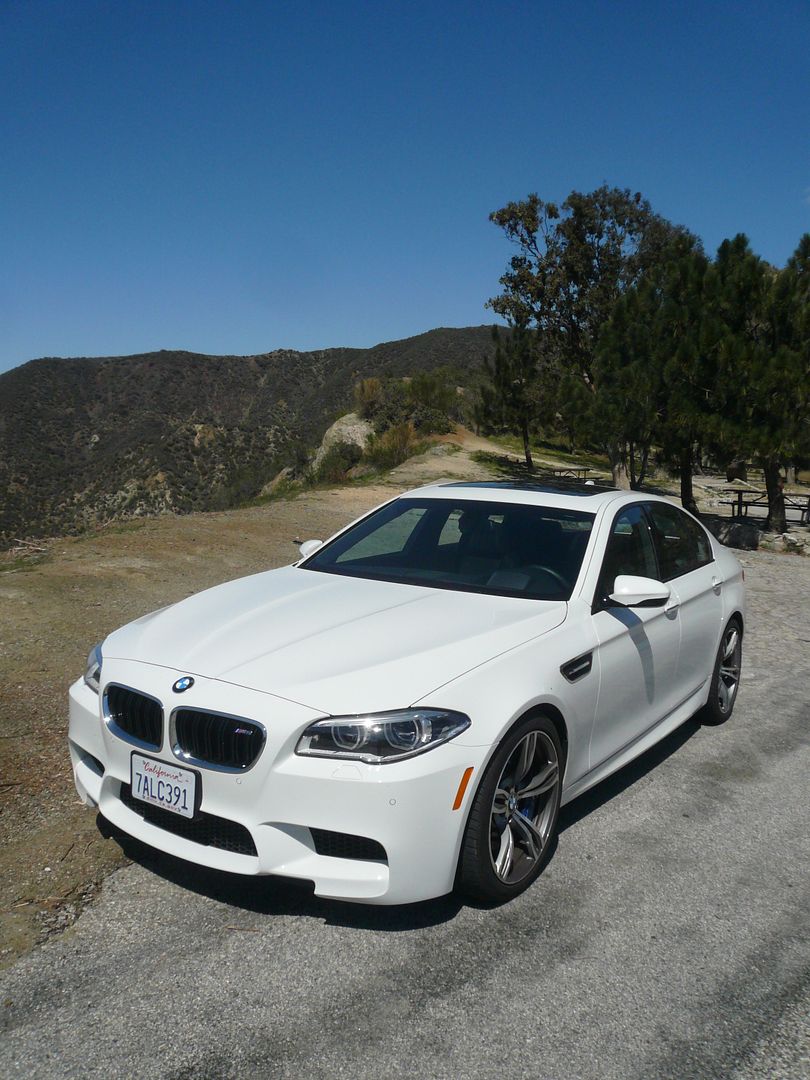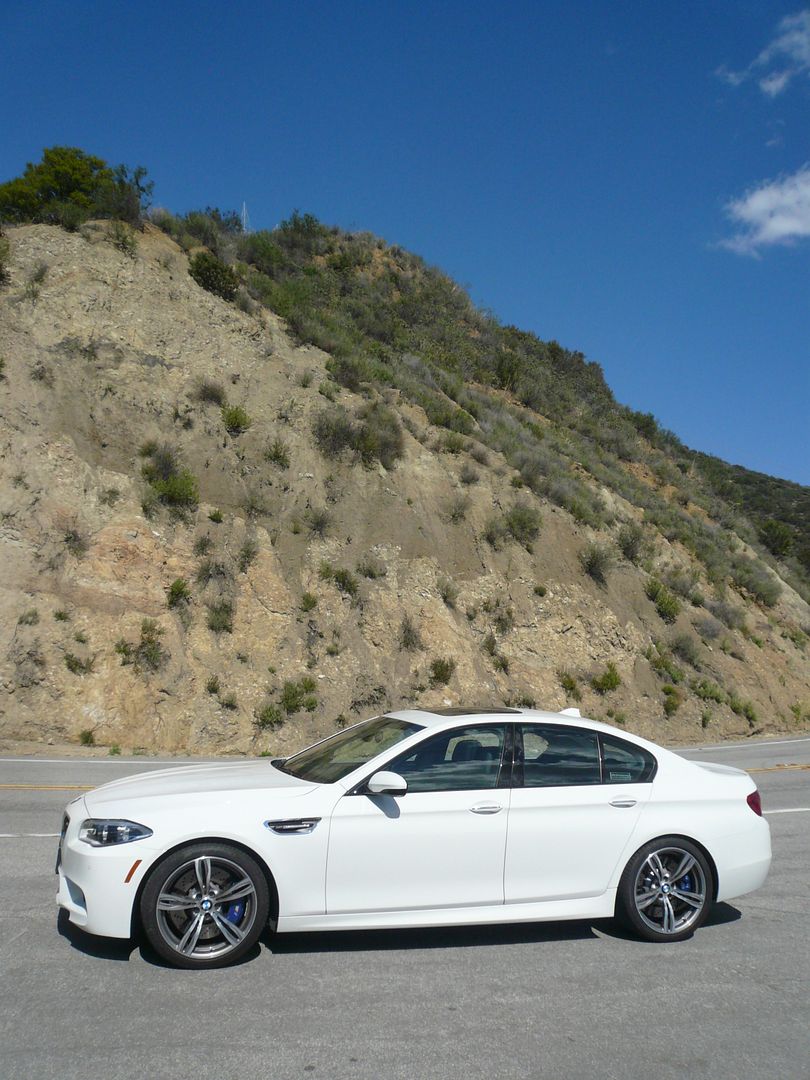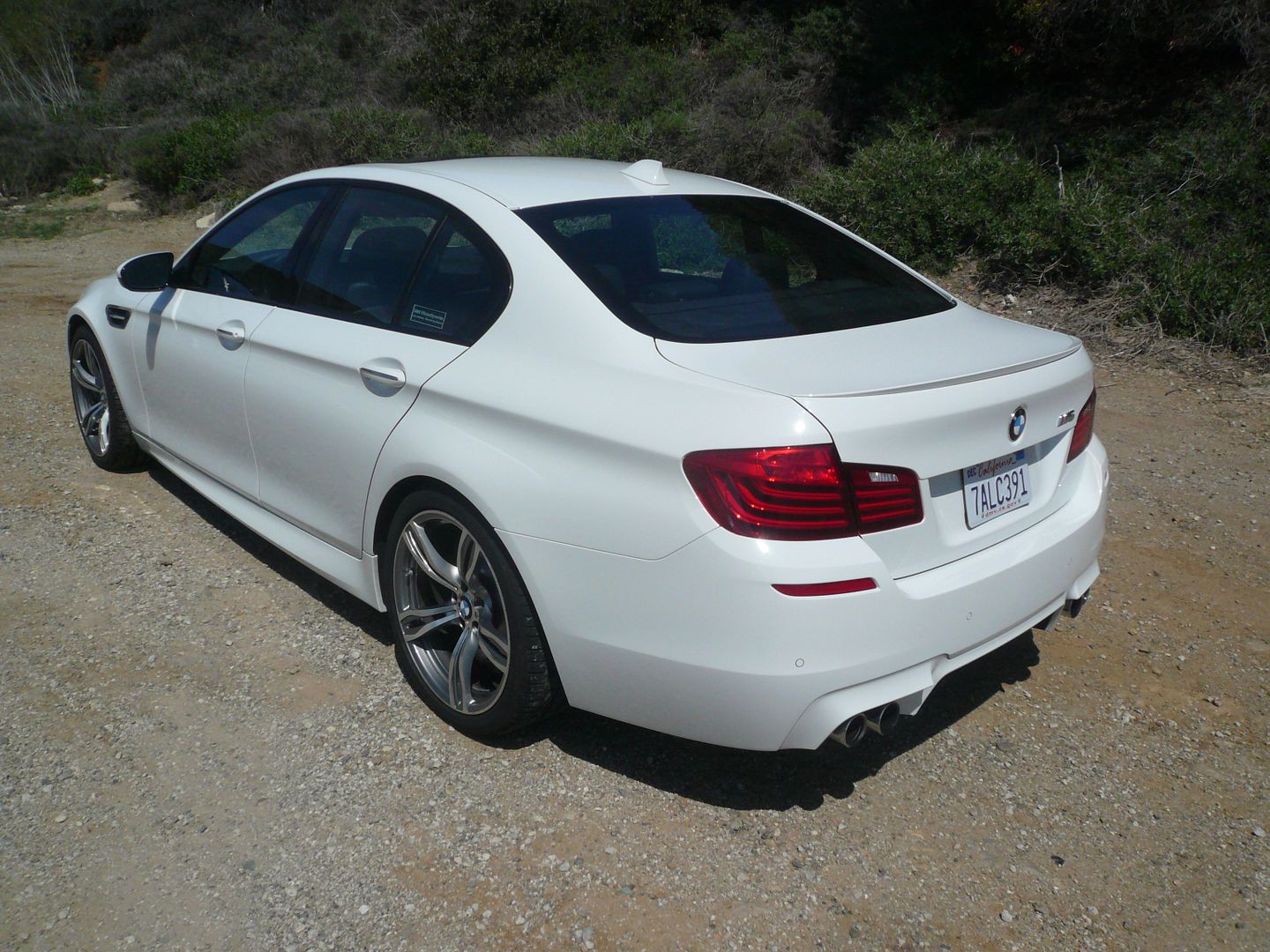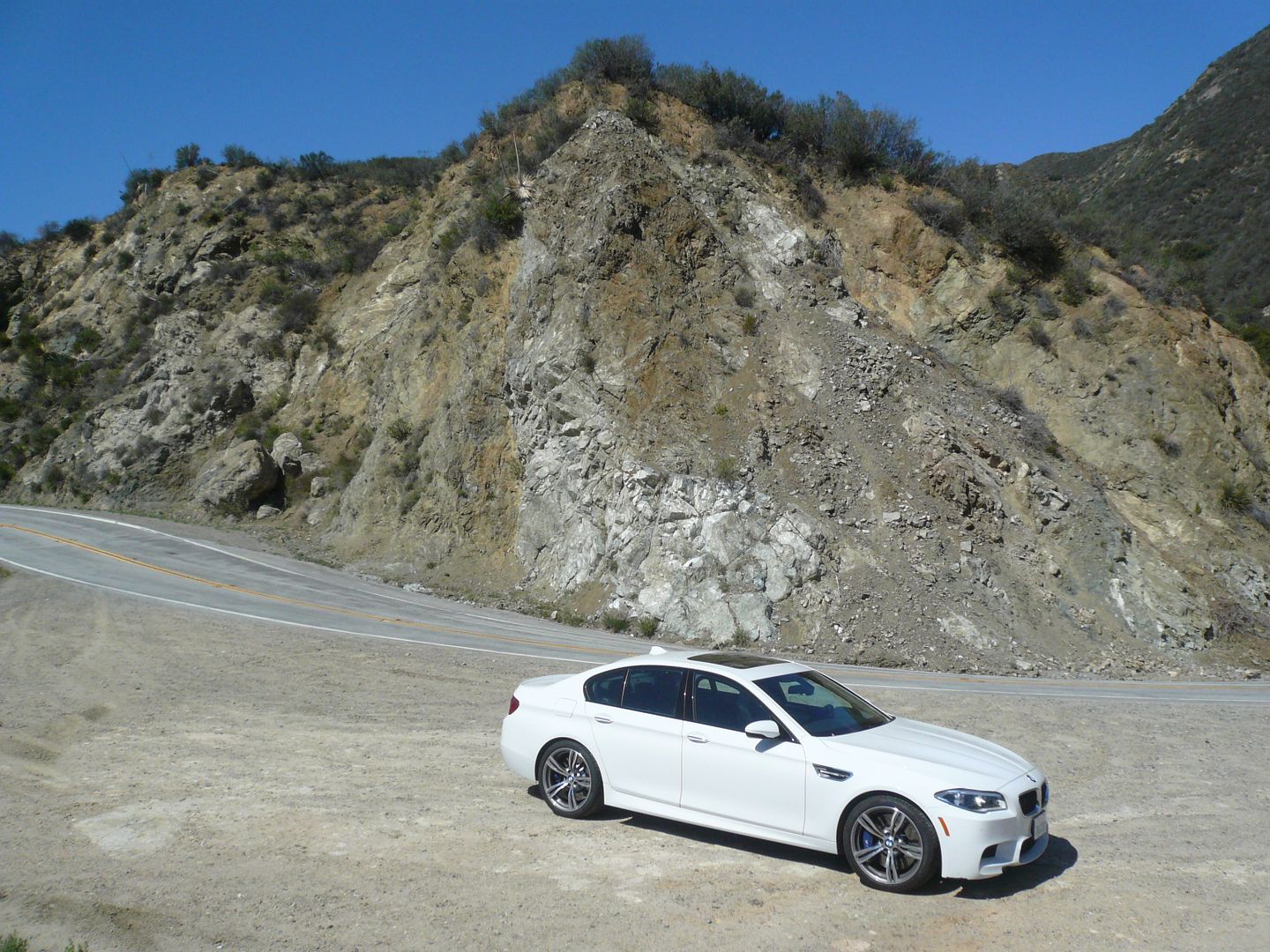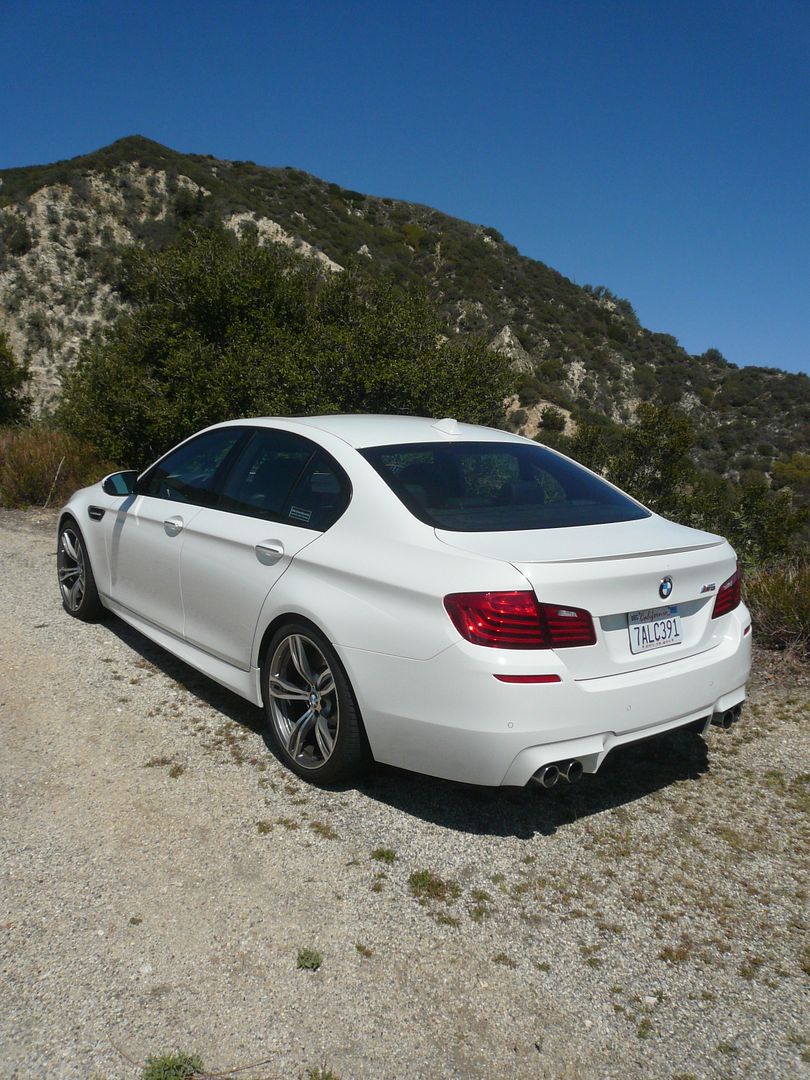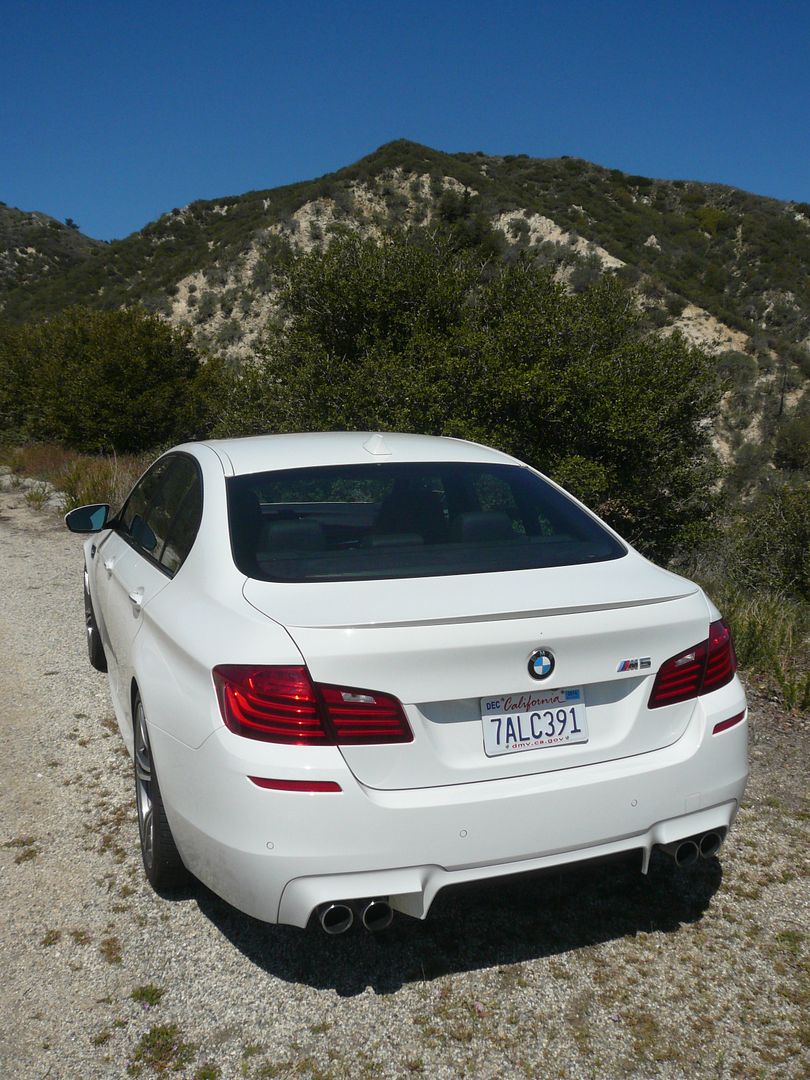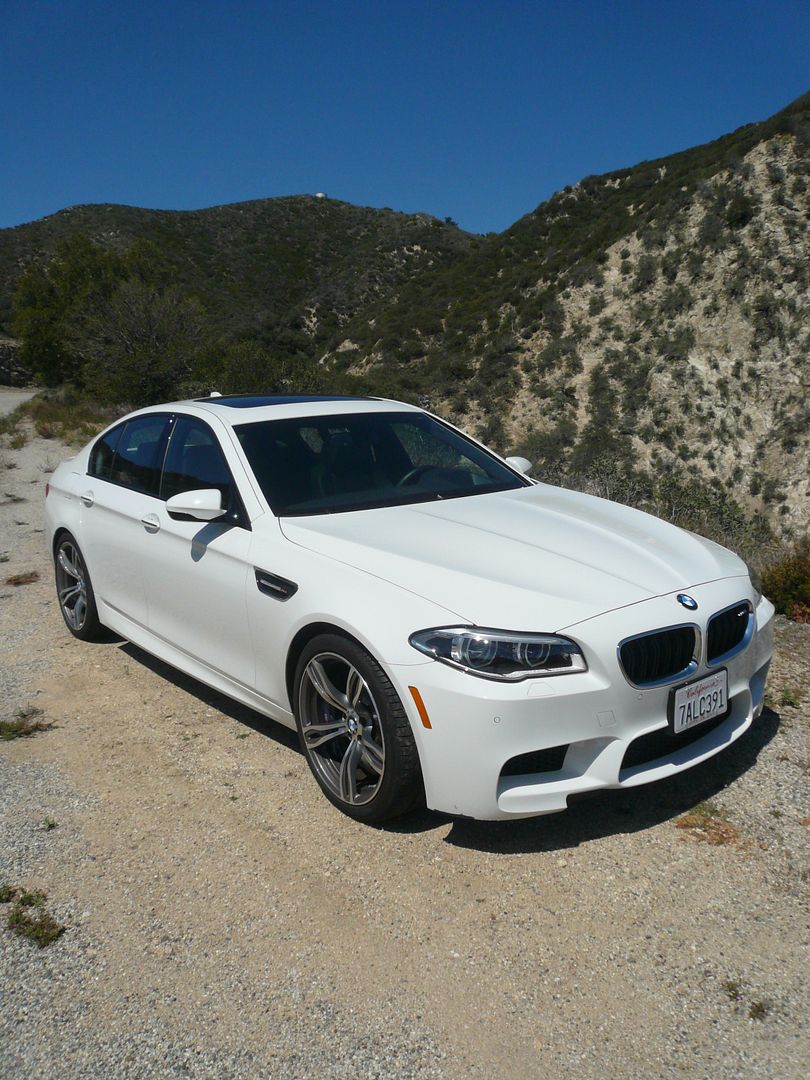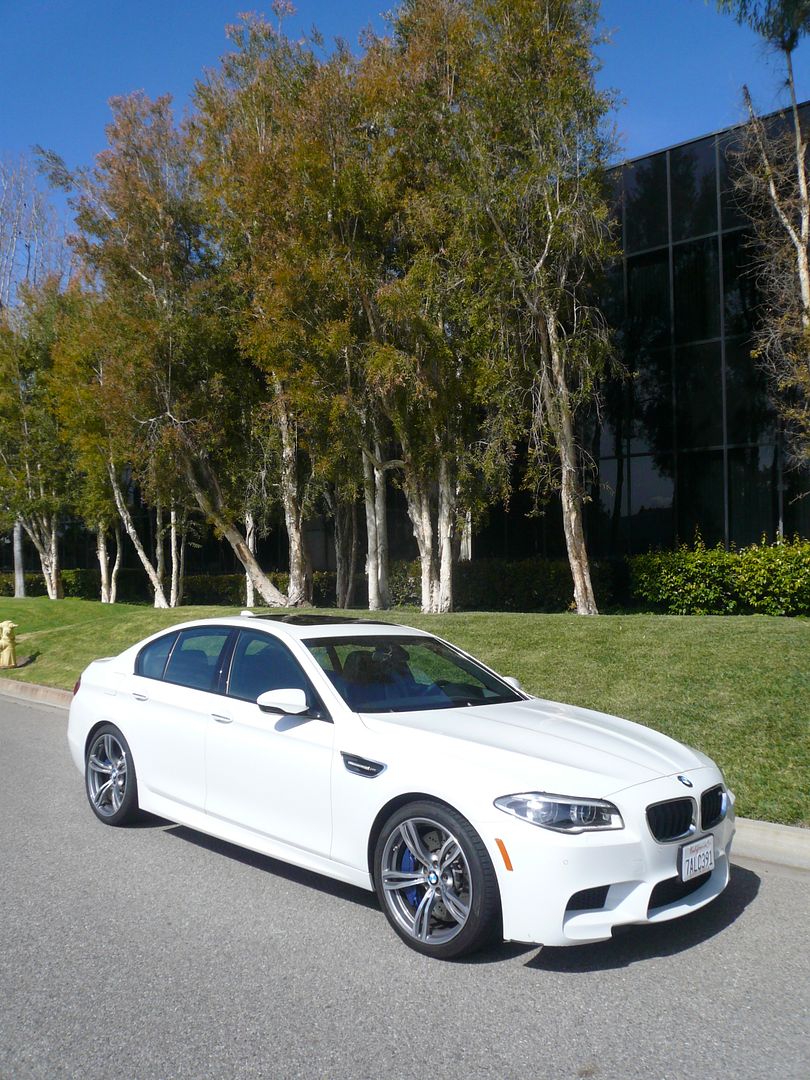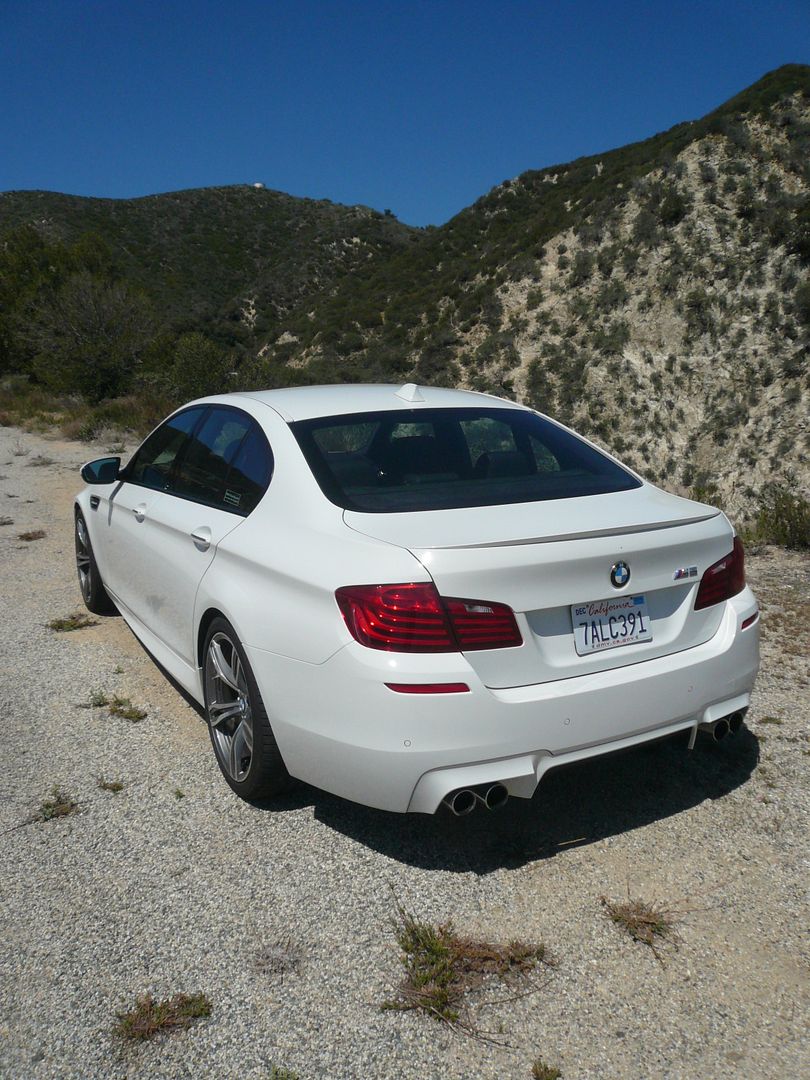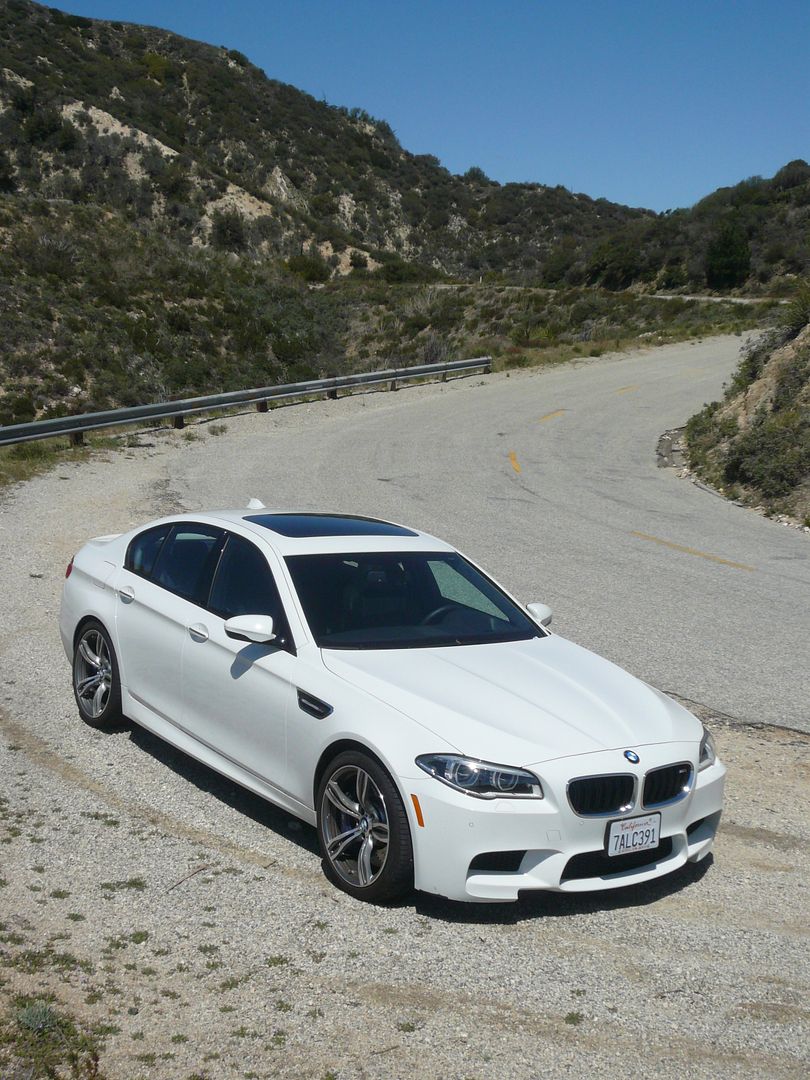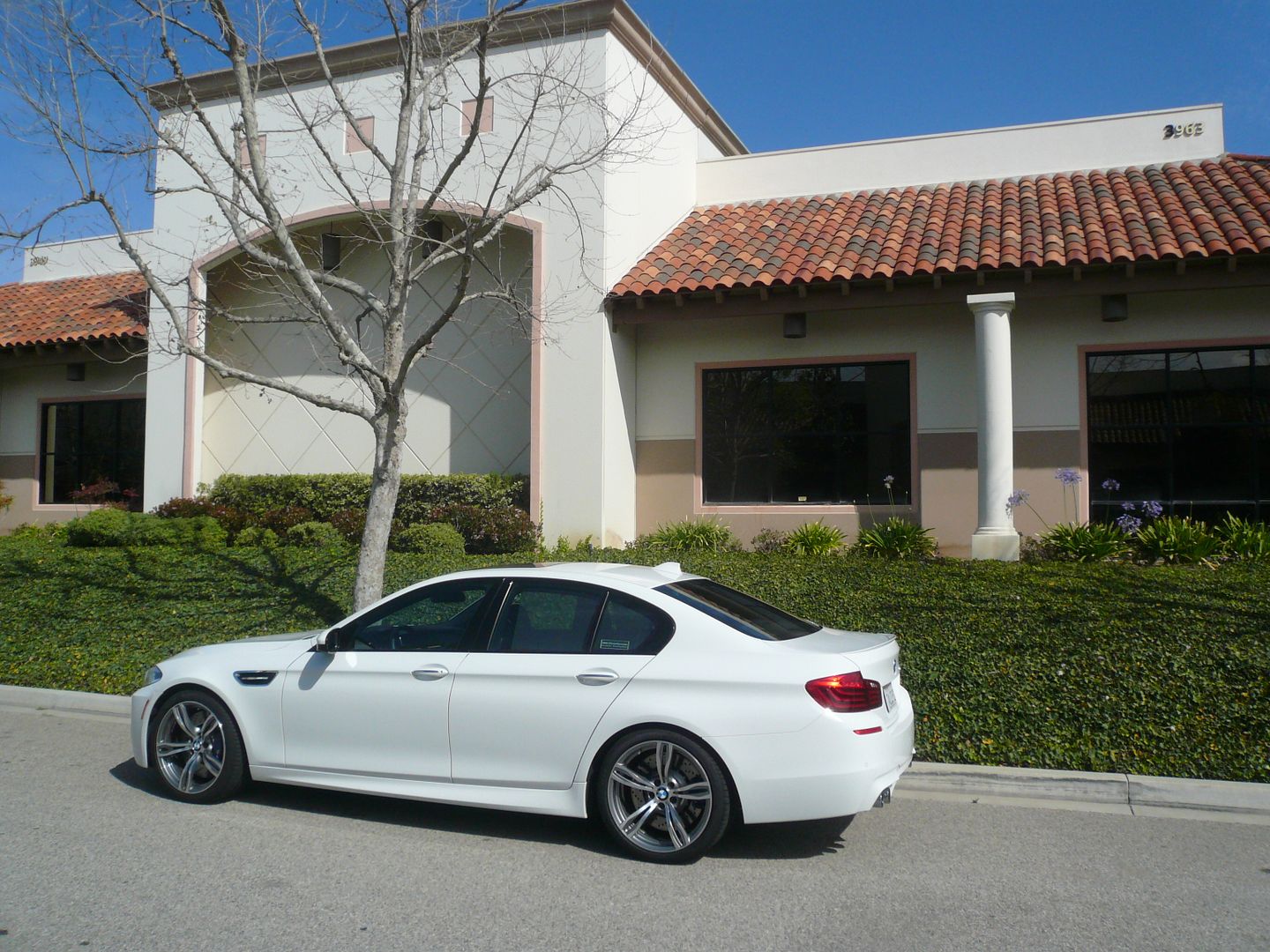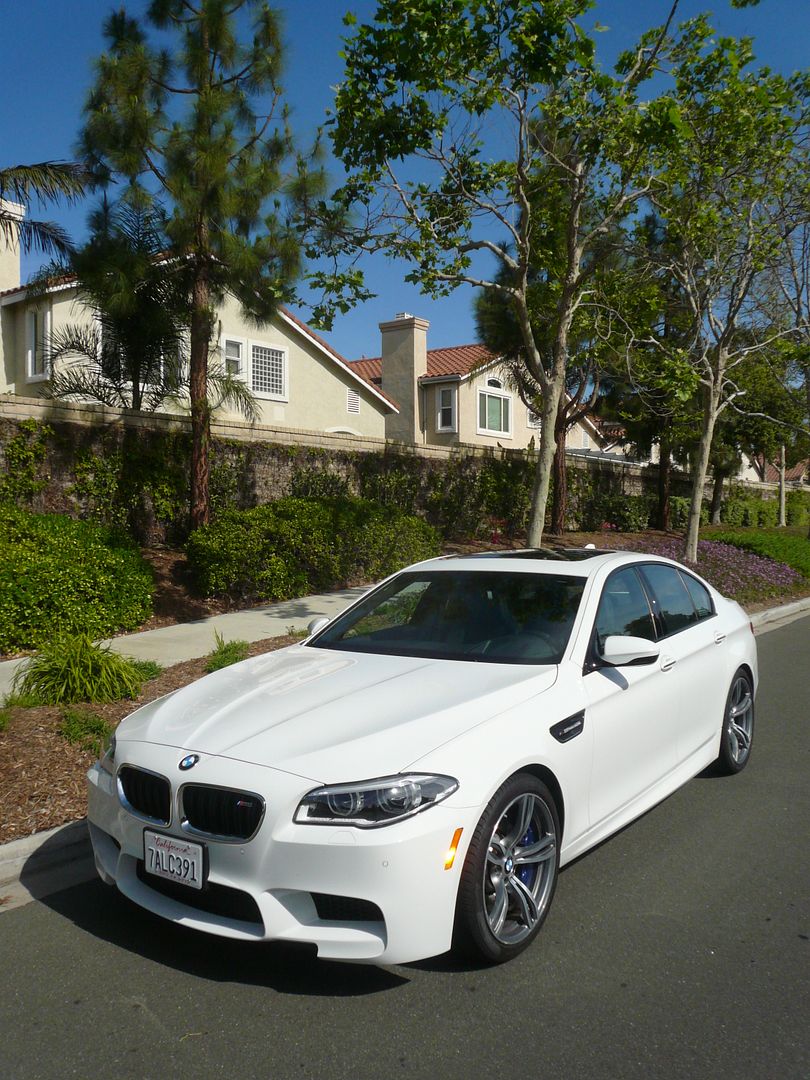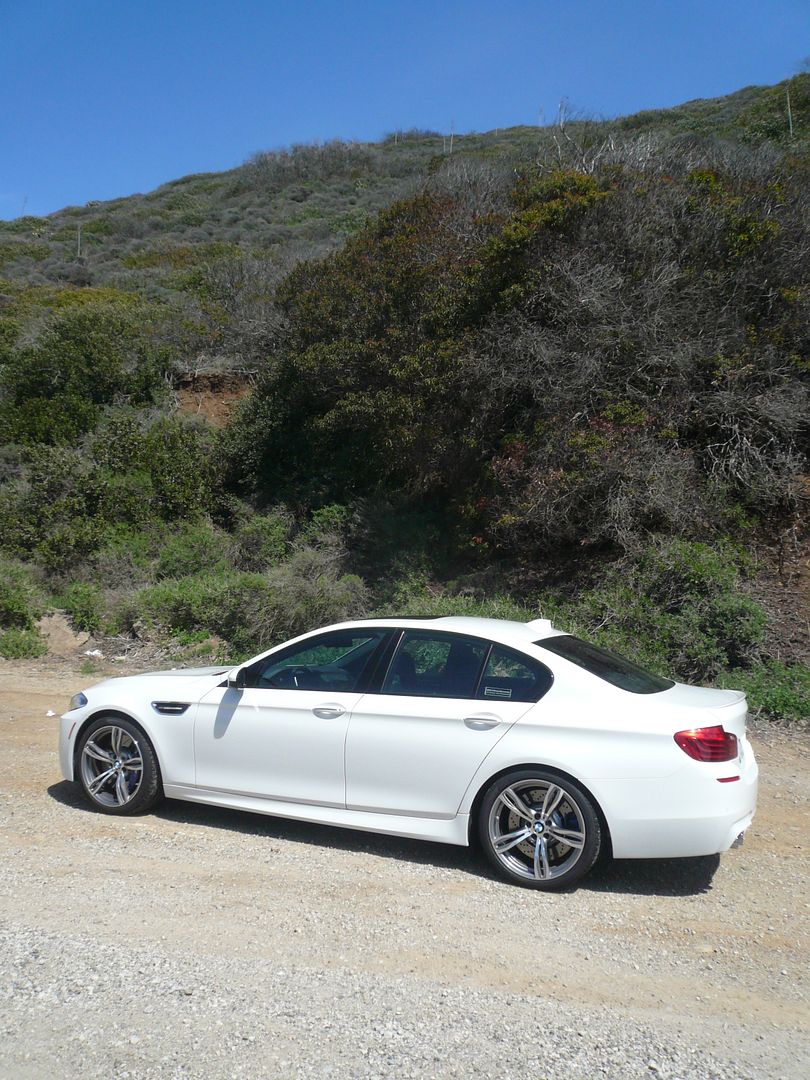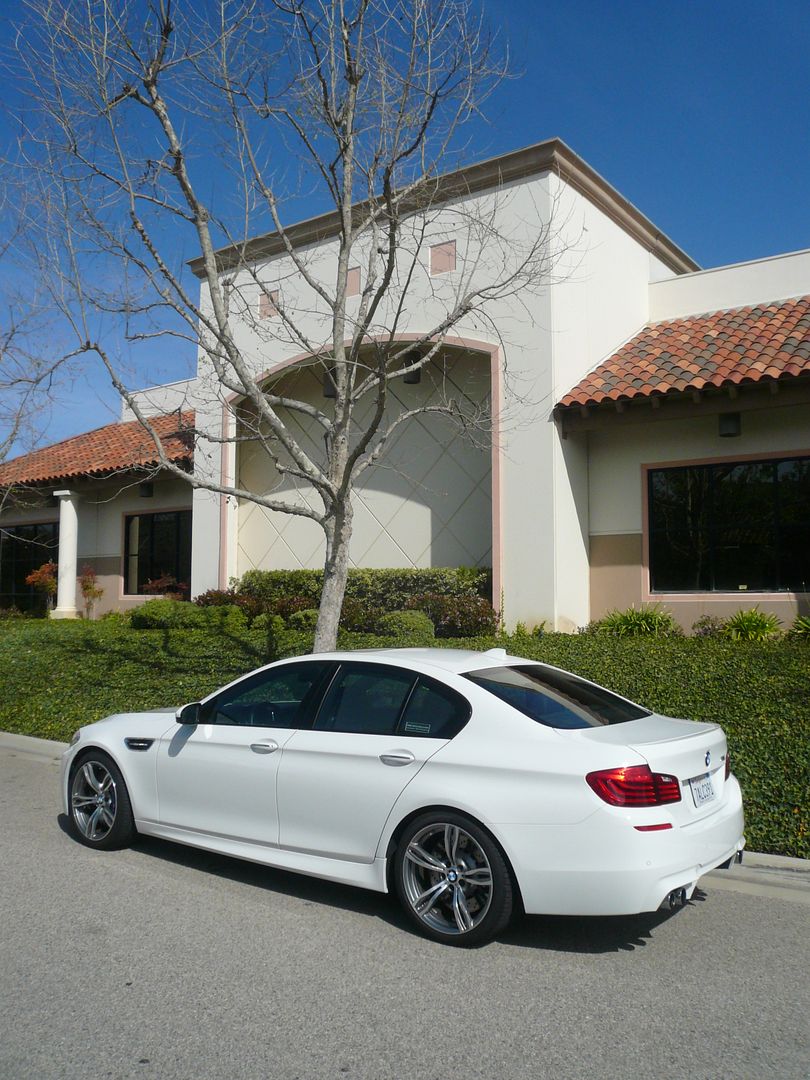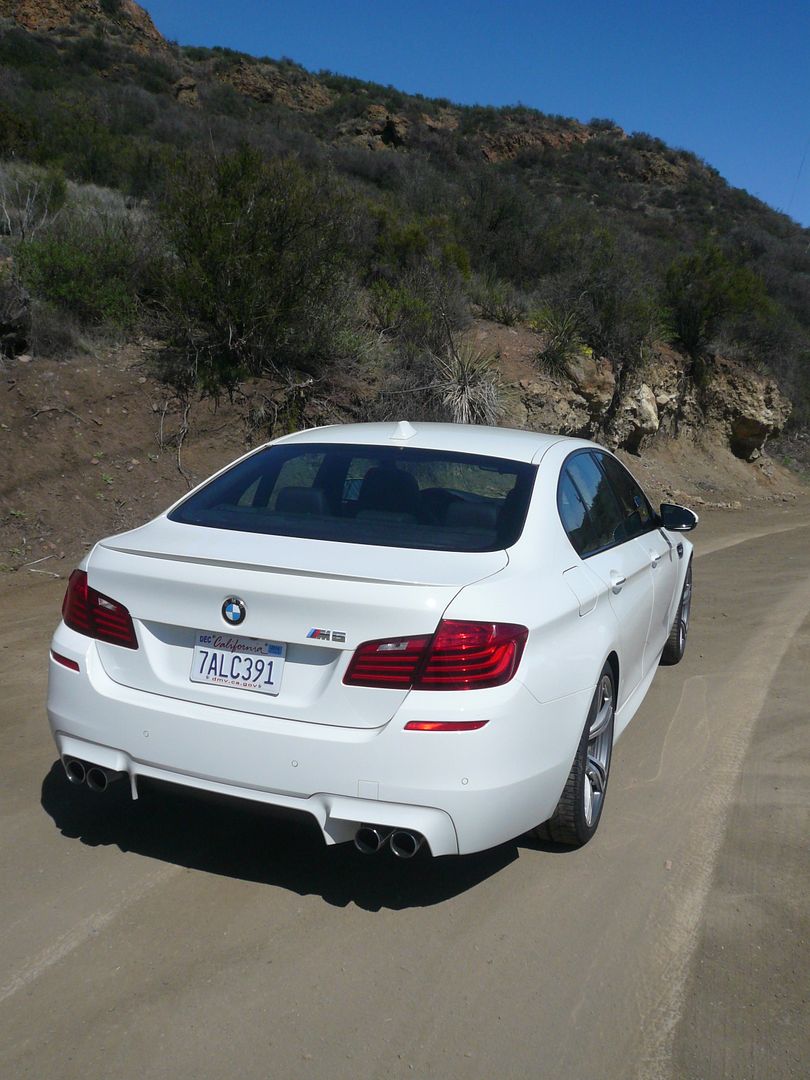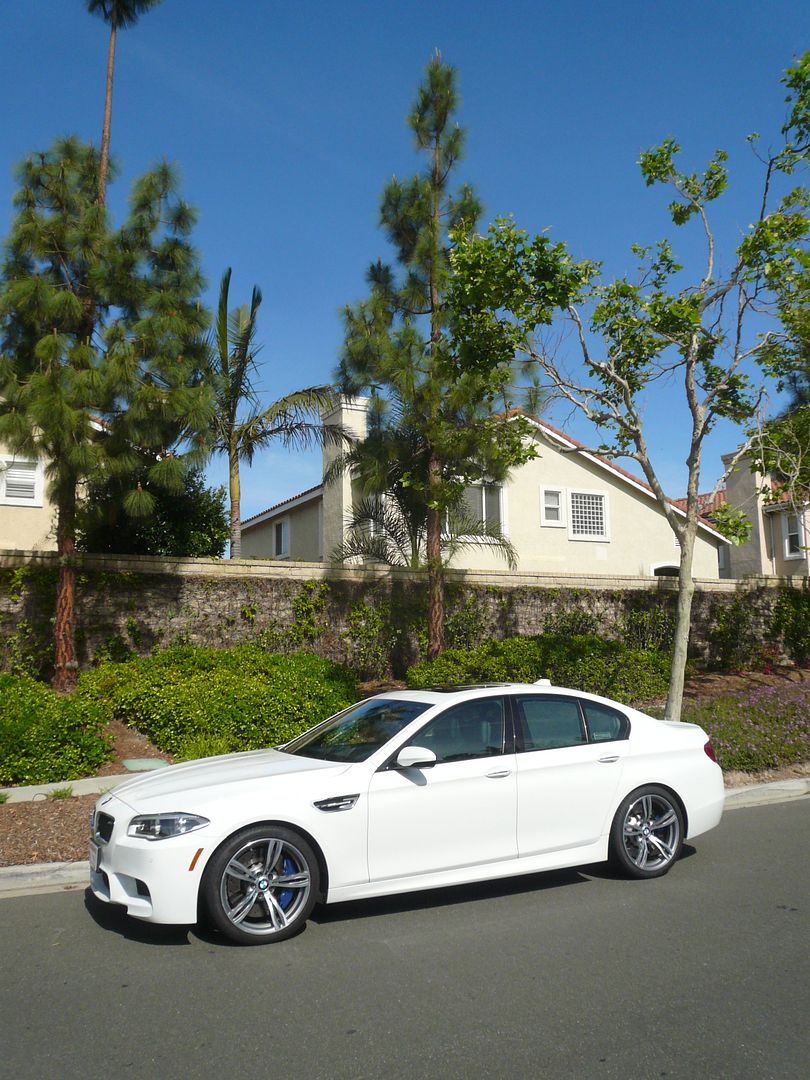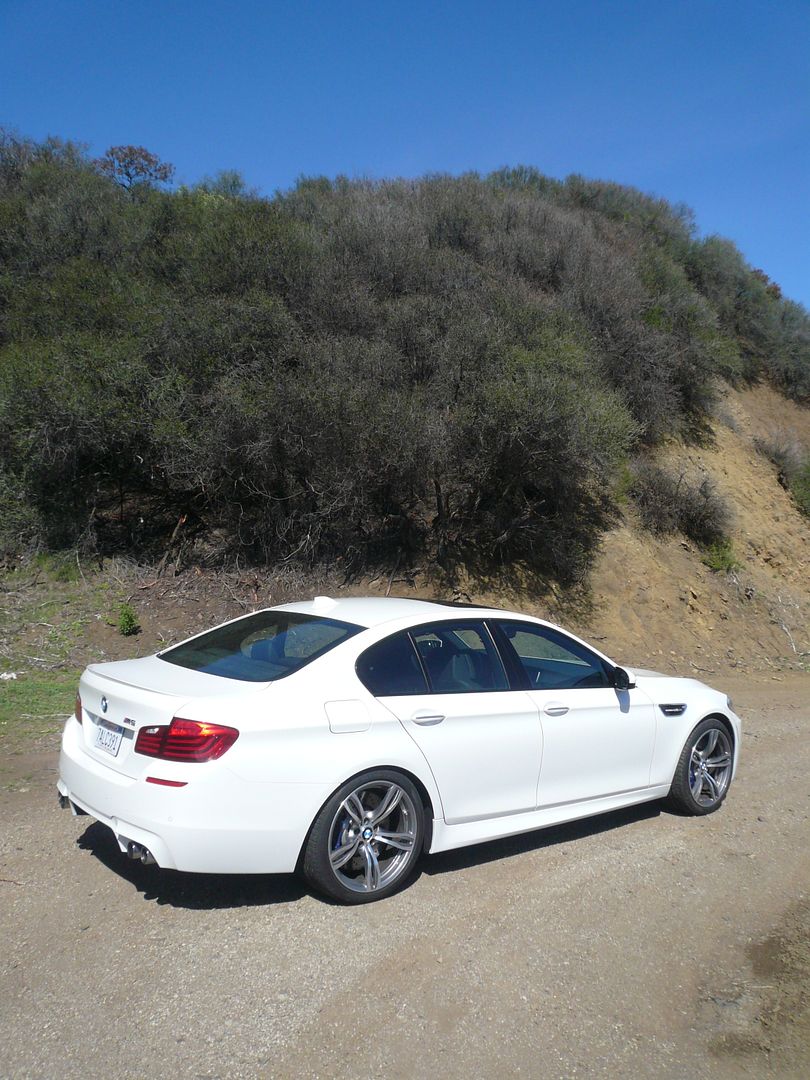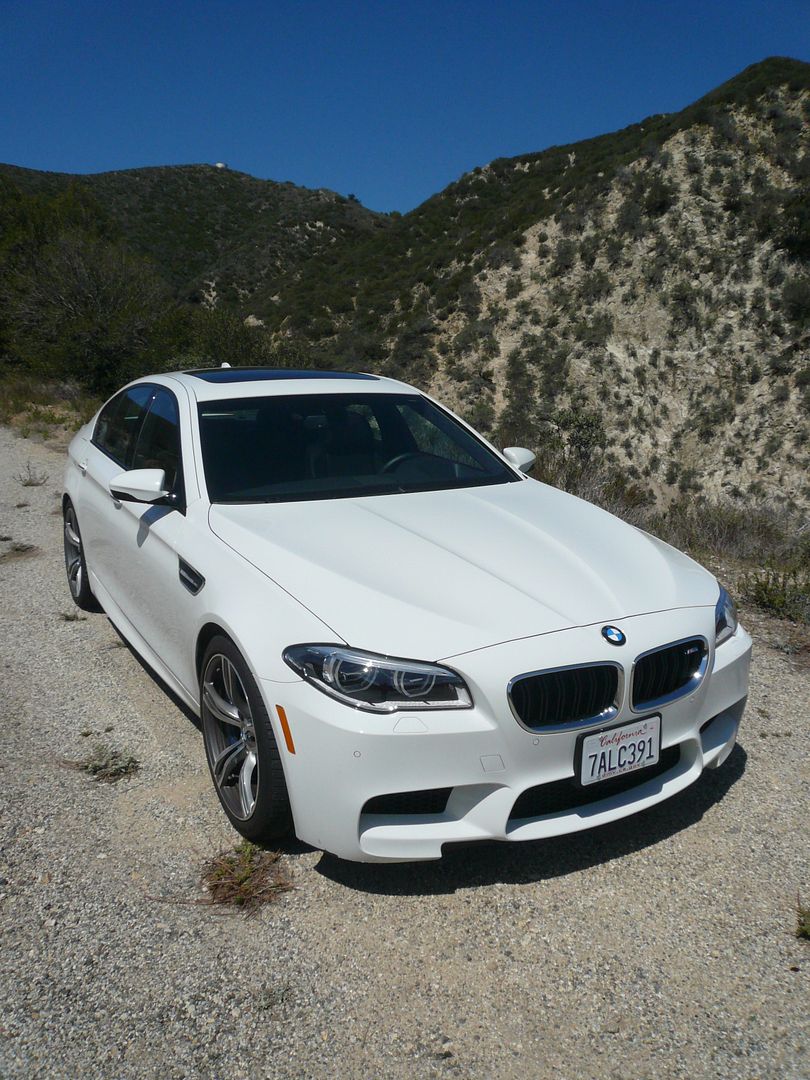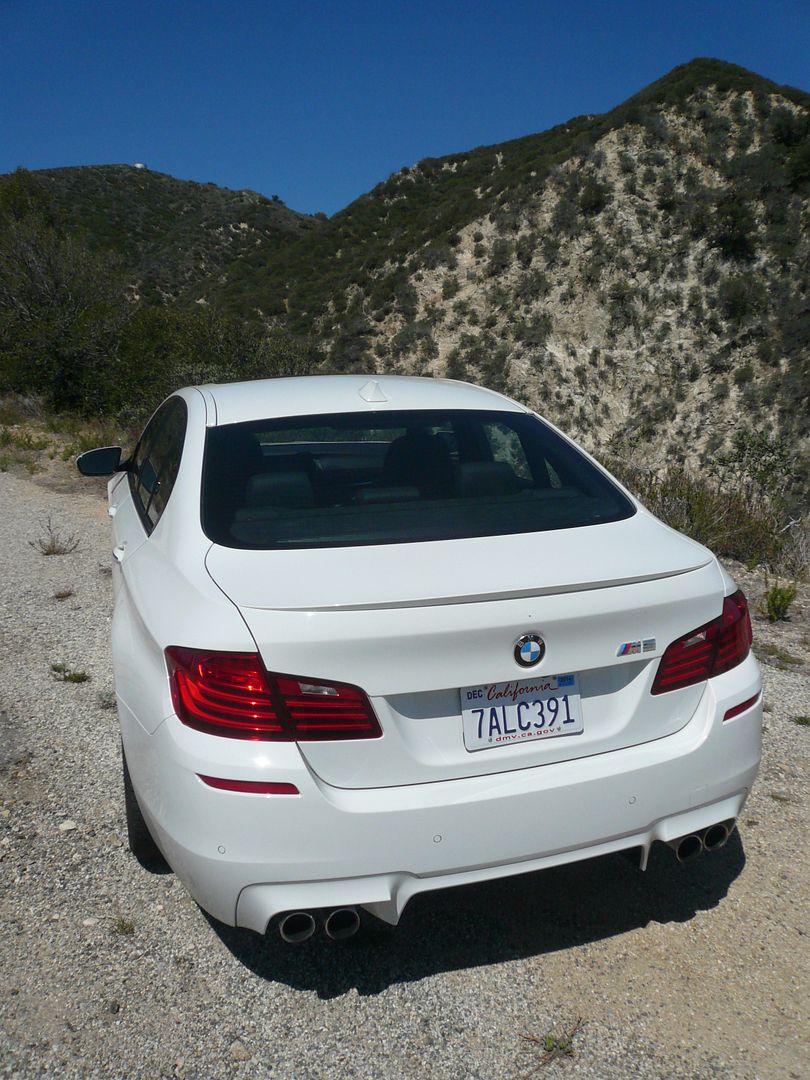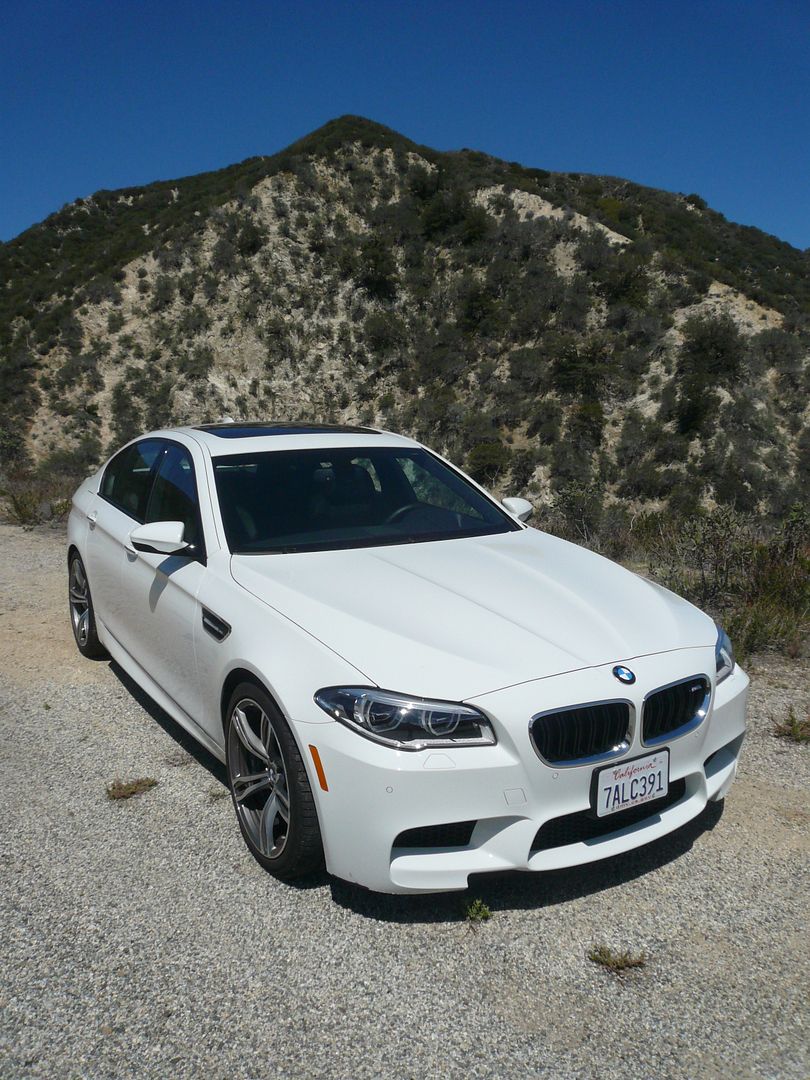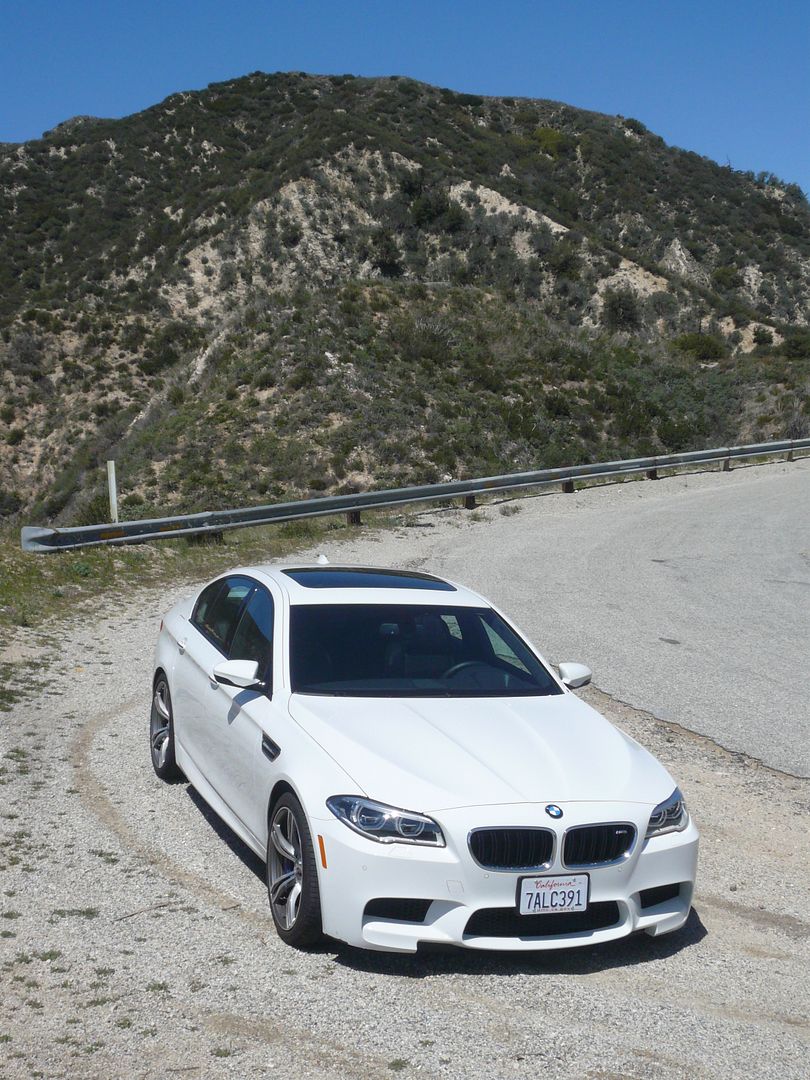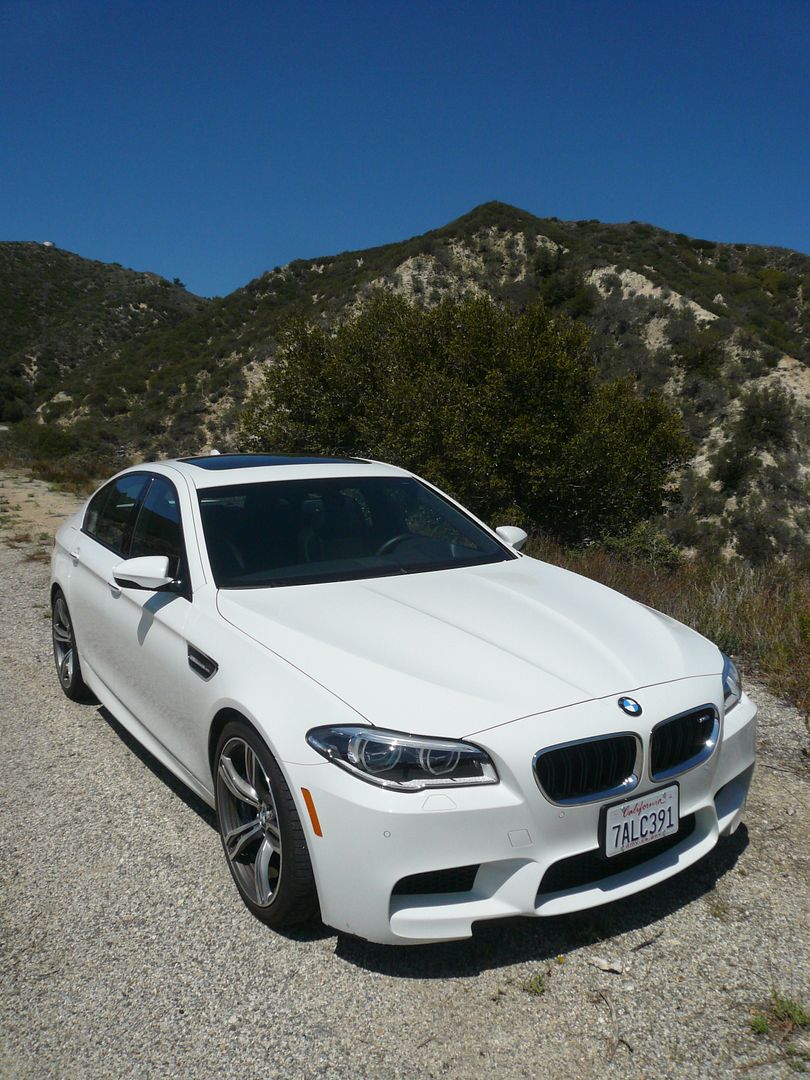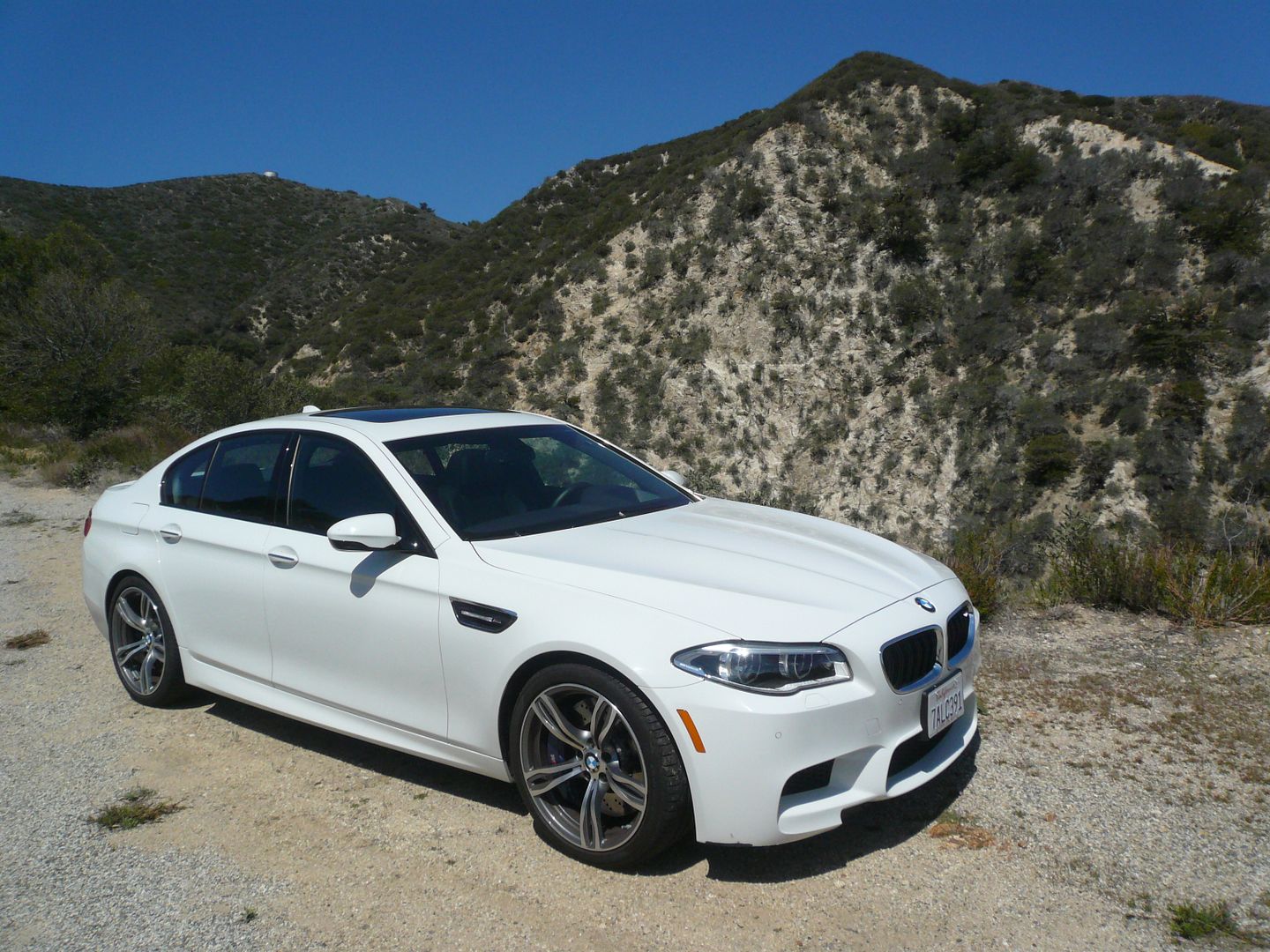 In the battle for control of the large executive car market, it has been a three horse race for many years: the 4 rings of the Audi A6 vie with the Pointed Star of the E Class Mercedes and the familiar Roundel of the 5 Series BMW. Each is an excellent car, and they all sell strongly, almost to the preclusion of any other contenders such as Jaguar's very impressive XF, and the wannabes from Lexus, Infiniti and Acura. All three are offered with a bewildering choice of different engines, and option lists as long as a novel, but the reality is that, at least in Europe, the big sellers in each range are the low end cars with 2 litre (ish) diesel engines, optimised for a low CO2 rating to ensure that the tax liabilities are as low as they can be. However, to every enthusiast, there is a a far more intriguing battle ground at the very top of the range as well, as these prestige luxury models also form the basis for three SuperSaloons (or in the case of the Audi and Mercedes, but not currently the BMW, SuperEstates). Successive generations of M, AMG and S/RS models have got ever more powerful, and ever more complex, as the German trio all try to outdo each other to become and stay King of the Road. Just as with the cars sold in volume, each has their loyal fan base. The idea of a car with all the practicalities of the models on which they are based, but thunderous levels of performance for those days when the driver feels like it has plenty of appeal, and sufficient commercial viability to make development of these versions something that their respective manufacturers feel is important. Arguably, BMW set the trend with the first M5,  back in February 1984. Looking very much like the regular 520i, this E28 model put out 282 bhp which made it the world's fastest series production four door car of its day. Just over 2000 of them were handbuilt over the next four years. Since then, over four model generations of the 5 Series, over 50,000 M5s have been made, each far more potent (and pricey) than its predecessor. Audi joined in with a car that they initially called the S4, back in 1991, and which got rechristened the S6 in 1994 and AMG have offered us their interpretation of the E Class since the thunderous E55 AMG first arrived in 2003. By  2008 when I was in the market for a car of this type, Audi had slipped behind BMW to an extent, in that whilst their S6 and the then current E60 model M5 both had V10 engines, the £9,000 price difference alone meant that whereas I could (just about) afford the S6, the M5 had become a far more costly car, and it was out of reach, meaning that from a price and lease cost point of view, I was comparing the smaller M3 with the Audi, or for unaffordable parity the RS6 against the similarly sized BMW. Accordingly, I could not really justify requesting a test drive, and the M5 even then appeared a bit like "forbidden fruit" When the F10 based M5 model launched in 2011, with even higher prices, it seemed even further out of reach. But that was without guessing what my preferred car rental provider of test cars, Hertz, would do. In 2013, the M5 appeared on their fleet list in Germany, and the daily price seemed costly, but not completely ridiculous, and I kept meaning to try and get over to Munich and get behind the wheel. Before that could happen, Hertz in the US extended their Dream Car Collection offered at larger airports from a selection of Porsches to a wider range, and in early 2014 the news was that they had added some BMWs. When I saw the upgrade sticker in the window early one weekend day morning of $200 a day, I asked my friend at Hertz' LAX airport if there was a deal to be done. Pleasingly, she said "yes", and beat the $200 figure by $100, meaning that I had access to an M5, with unlimited mileage for just $135 a day. Never mind all that "Lead us Not into Temptation" stuff we are all taught at knee-height, at that price, this just had to be done!
With all the paperwork complete, and a quick check around the car to make sure there was no damage, as I grasped the door handle, I remarked something along the lines of "now, I will have to work out to drive it". Little did I realise that there was some truth in this. The most challenging problem came when I stopped just round the corner, in a nice place in the shadows, to do the interior pictures. There did not seem to be a "Park" position for the gearlever, and by turning the engine off but with the car in neutral, a warning message flashed up on the display screen and in the bottom of the instrument cluster, telling me that the car could roll forward (it should not, I had set the handbrake) and that I could not lock the car. I tried every combination of moving the gearlever, but there was no sign of Park. Luckily, there was a weighty tome in the glovebox, and I found out from there that what you have to do is to press the "Start/Stop" engine button without your foot on the brake, once the car is in neutral. This turned out to be an irritating feature, and if you were on any form of incline, you absolutely must set the parking brake, as once you take your foot off the brake with the car in neutral, it will indeed move! This sorted (and later I did flick through quite a lot more of the manual, largely to learn about many of the car's features), there were no other challenges, and I was ready for the road.
Driving the M5 can be really quite simple. You just leave all the various settings, which I will detail in a minute, fire the engine from the large Start/Stop button to the right of the wheel, nudge the gearlever to the right to select Drive, release the electronic parking brake which is behind the gearlever, and off you go., as in an ordinary car. But this is no "ordinary car", and anyone driving it is going to want to do more, at least on occasion, than pootle around in it. There's not much you can do to change the engine, but then you would not want or need to. Although the loss of the V10 from the old car was seen initially as potentially a retrograde step, no-one need worry in the slightest about what sits under the bonnet. A 4.4 litre all-aluminium 90 degree V8 fed by twin scroll turbochargers packaged between the cylinder banks is crammed under the bonnet, and when you have a look you will marvel how it all fits in there, and with direct injection running up to 200 bar of pressure as well as Valvetronic variable valve lift and double Vanos variable camshaft timing, this unit puts out 552 bhp between 6000 and 7000 rpm, 10% more power than its predecessor. It also produced 502lb/ft of torque between 1500 and 5750 rpm, an increase of 30% of the old car.  American market customers get the choice of a manual or automatic gearbox, though a worryingly small percentage of buyers have actually gone manual, so I wonder if BMW will offer this again. The test car had the 7 speed M-DCT transmission. Forget what you read about the frustrations of the old SMG gearbox in the E60 model, the one here is pretty much flawless. Left to its own devices it remains in auto mode and changes gears with lighting speed and such smoothness that you can only really detect a change because the number shown in the bottom of the instrument cluster changes, and if you are really watching the rev counter, you may see the needle drop momentarily. You can swap the cogs yourself, either using the gearlever itself, knocking it back for up changes and forward for down changes, or there are paddles on the column, with the left hand one for down and the right hand one for up. When you first move off, you are well aware of all that power, and even more so all that torque. If you need to move slowly, as you would in a car park, then actually doing so requires you to be quite gentle, and you can feel that the electronics and the clutch are working hard. I had read that the average life of a clutch in an M6 can be as low as 30 – 50,000 miles and I am now prepared to believe it. It felt like it had far more to do than in my old S6, for sure. At the other extreme, it does have Launch Control, but there are dire warnings about only ever using that a few times. If you are brutal in your departure, then the DSC stability control will kick in and you lose momentum, so the trick is to get the wheels rolling, and then you can push the accelerator harder. My first real experience with this was after turning left at some lights and then going down a long sliproad to join the 405 freeway, when I could just feel the car bound away at an astonishing speed. Once underway, you are in no doubt that this is a seriously rapid car, and of course in the traffic laden areas of the Greater LA area that is somewhat frustrating at least as often as it is joyous. You simply cannot use more than a fraction of the power, largely because of the other traffic, but also because Highway Patrol would assume that anyone who could afford a car like this could afford one of their tickets.
This is a car made for open spaces, with no-one much to get in the way, and I am not sure where you find those these days on public roads. Even being limited to only the lower part of the rev range and definitely the lower part of the car's performance capabilities, your ears will enjoy what they hear. There's a glorious roar when the engine fires, and you are always aware of an agreeable sound, though at lowish revs, it never intrudes or annoys in a way that it does on less sophisticated boy-racers.  This car is very quiet and refined when cruising, not least because the engine is spinning at very low revs, with just some tyre noise the most noticeable thing on some of the grooved concrete surfaces of the LA freeway system. Part of the sound track that you hear does not come from the engine or exhaust, but from the audio system.  The M5;s Active Sound Design reproduces the sound of the car's V8 through the audio speakers, at various background volumes and frequencies decided on the basis of engine revs, throttle load and road speed, based on data taken from the ECU. You cannot tell which noises you hear come this way and which are genuinely from the car.   Raw power is all very well, but the car has to be not just driveable, but also fun to drive, and BMW has invested a lot in the multi-mode suspension steering and power control systems, much of which is unique to the M5 and not shared with the lesser F10 5 series models. The Servotronic steering has three settings: Comfort, Sport and Sport Plus. You toggle between these by pressing the appropriate button mounted in a row to the left of the gearlever, and there is a display, as there is for all the various settings in the lower arc of the right hand dial. I drove mostly in Comfort, but did try Sport, and it did increase the weighting a bit. US reviewers have complained (recently, in a comparison test with the M5's main rivals) that the steering is manfully heavy. I don't agree, to me it felt just right. It has plenty of feel, but is not unduly arduous even when you are manoeuvering the M5 around. The button next to the one for steering selects the Electronic Damper Control (EDC), and there are the same three settings and they are display in the same way. Other electronic assistance comes from the Active M-Differential and the DSC's M Dynamic Mode (MDM). You can turn off the DSC system, if you really want, and for track days I guess you perhaps would, but for on the road use, I left it on.  For ordinary on road driving, all this lot means is that there car is going to have far greater limits than you could possible explore, but it should mean that should you try to do something a little silly, then the car will do its level best to get you out of trouble.
On the second day of the test, I took the car on some favourite canyon roads. It is a fun machine to punt up these, but it is big, and as some of the roads are quite narrow, and have blind bends, you have to be quite cautious (they also have precipitous drops over the side in places!), so although it was fun, the Cayman was more in its element on these roads. Where the M5 would really score is on wider roads with swooping bends, as you could tackle these with aplomb and not worry about oncoming traffic. In Comfort and Sport modes, even on the mixed and often challenging road surfaces, the M5 was very comfortable, with evident body control and compliance meaning that you could drive this car a long way (with a proviso that I will come to!) without feeling uncomfortable. Performance carbon ceramic brakes are an option, but these were not fitted to the test car. I have read that these are pretty well essential if you plan on doing much in the way of track action, as the ordinary disks are very prone to fade. That was not apparent to me, with the huge standard discs proving well up to the job, though of course I never gave them even close to much of a work out, as they did not have to cope with track action or very high speed stops.  When descending even moderately steep canyon roads, you really could feel the engine braking effect in place, with the car holding lower gears than you might expect. There is an electronic parking brake, operated by a switch just behind the gear lever, and although this is an automatic, you will need to use it because of the quirk of setting Park in the transmission. All round visibility is very good, with a clear view from the mirrors and plenty of glass. There were lots of park assist features on the test car, some of the standard. Parking sensors were fitted all around, and there was a very clear rear camera image projected onto the central display screen when you selected reverse.
There is a price tag to pay for all this sophistication, power and fun, and that comes at the fuel pump. The trip computer showed an average of 14 mpg when I collected the test car, and during my tenure with it, I did not see much better than that.  Those are US gallons, but in familiar Imperial speak, that is still only 16.7 mpg, and the M5 likes the highest octane fuel you can find (that's 91 in the US, which costs 30c a gallon more than regular 87 stuff). There is a Stop/Start system, which I enabled, to help out in traffic, and it cut in and out very smoothly. You knew when the engine fired again, and hearing it do so was all part of the joy! Even so, this is a very thirsty brute even when driven at steady speed. I can well imagine that were you to give it is head, the figure would drop to a single digit, so be warned, even if you are renting one, the costs are not just that of getting the car!
The outside of the M5 is a model of restraint. There are plenty of detailed differences over a regular 520d, but they are subtle. Some may even feel that they are too subtle, but that is definitely part of the appeal for me. Of course there are M badges on the grille, and the boot, and on the sides, and there are large 20″ wheels as fitted to the test car, and there are widened wheel arches, a different front spoiler with enlarged front air intakes, and the rear valance diffuser, as well as quad exhaust pipes. The M5-emblazened side vents are not just there for show, but also to let hot air out, by the way. No fewer than 10 fans cool the under bonnet bits of this car, and when you park it up, even after quite a short journey, the fans carry on for a very long time, dissipating heat. Open the door, and again the subtle touches tell you that this is a proper M5 and not just an M-Sport. Kick plates, and logos in the bottom of the dials and on the steering wheel boss.  One glance inside, looking at the high quality and lovely to touch Merino leather reminds you that you are in something very special, and as you grasp the chunky leather steering wheel, you realise that the tactile attributes are just as strong. Everything feels to be of supreme quality, precision engineered and made to last.
The dashboard itself is very similar to that of the regular cars, and none the worse for that. Avoiding the fussiness of some more recent additions to the market, it finds an apposite balance between elegance, ease of use and completeness. There is a curved binnacle which covers the four dials. The central pair of speedometer and rev counter are the larger, and these are flanked by fuel level and oil temperature on the right. They all feature red needless and clear simple white markings. The larger dials contain respectively a display showing fuel range and which of the optional steering and suspension settings you have. Beneath these is a strip containing some warning lights, the odometer and a digital speedometer reading, though in reality, the third source of your speed, the Head Up display was the one I actually found the easiest to assimilate. You can turn that feature on and off from a switch to the left of the wheel. One-touch column stalks operate the indicators and wipers, and these proved easy to use and had a lovely quality precision to their operation. A rotary dial on the dash to the left of the wheel operates the lights. The centre of the dash contains a nicely integrated colour display screen which can be used for everything from satellite navigation to showing audio selections and plenty of information about the car. It is also where I got those error messages about not having the car in "Park". Many of the functions for this are controlled by the iDrive controller which is on the console alongside the gearlever. It has an array of buttons around it, to reduce the number of menus you will to go through. I was able quickly to find the things I wanted. A single CD slot, and audio unit volume and a set of pre=set buttons are contained in a row under the screen, and then below this are a series of buttons and a pair of rotary dials for the front seat zones for the climate control system. The steering wheel spokes contain some audio unit repeater functions and two M Drive preset buttons. The whole dash unit is leather trimmed, with an inlay of very dark wood which goes from the doors in front of the passenger. The headlining and down the roof pillars is all trimmed in a form of alcantara. Thanks to the glass sunroof, with the cover open, there is lots of light inside the cabin, so the fact that the test car was trimmed in black did not make it feel at all sombre.
Needless to say, adjustment for the heated sports front seats is all electric, as is the way you move the column up, down, in and out. There are two memory settings for driver and passenger. The seats proved supremely comfortable. I can't imagine that the occupants in the back would have anything much to complain about either, unless the front seats were set right back as far as they will go. When that is the case, rear legroom is very limited indeed, but the front seats do have a lot of travel to them. Set more "normally", then there is plenty of space for legs, and headroom is not an issue at all, either. There is quite a wide transmission tunnel that a middle occupant would have to straddle, but the M5 is wide enough that they should otherwise not feel cramped. There is a drop down centre armrest with pop up cup holders on the obverse. There are swivelling courtesy lights mounted in the roof, which can be pointed in exactly the direction that the rear seat passengers want – a nice touch. The test car featured the optional blinds for the rear side windows, which you pull and release manually, and one for the rear window which is electric in operation. There are separate climate controls for the rear seat occupants. You nearly did not get a picture of the boot, as try as I might, I could not open it. There is a release on the key fob, a touch pad on the boot itself and a button on the lower left of the dash, and none of them worked. Only when reading the handbook did I discover that there is a sliding switch in the locking central armrest cubby which isolates the boot from the central locking system, and that this had been set. Once disabled, I was able to gain access and see that the boot is a good size, and features both a ski flap and split/folding rear backrests should you need more space. There would be room under the boot floor for a few odds and ends and there are recessed wells on either side of the boot. The boot lid on the test car featured not just electric closing, but assistance to open it as well. Inside the cabin, there is a good sized glove box, which contains a drop down 6 DVD player unit, which takes no space out of the glove box itself, pockets on all four doors, a cubby under the central armrest and a bin over the driver's left knee.
In the UK, the starting price for an M5 is just over £73,000, and I doubt that anyone pays as little as that, as there is an extensive options list, and as is the way with all premium badged cars, it is almost impossible not to select at least a few things from it. US models start from $92,900. Very helpfully, there was a very detailed sheet included in the folder with the test car's instruction manuals which itemised the precise spec and the options fitted to the test car, which saved me a lot of research, and trying to figure out what comes as standard and what were cost options. Among the items listed as standard spec were: the Merino leather upholstery, the 2-way power sunroof, universal remote garage door opener, rear camera, auto dimming mirrors, ski bag, split folding rear seat, lumbar support, the dark wood trim, rear seat reading lights, multi-function seats, Park Distance Control (PDC), Navigation, the Harman Kardon audio system, 6 disc DVD platter, rear spoiler and a number of maintenance and support packages including BMW eCall, TeleService and Remote Service. Cost options added were the $1900 Lighting Package which gives you Adaptive Full LED Lights and Automatic High Beams and the $5500 Executive Package which comprises: heated steering wheel, power operated bootlid, keyless entry, soft close doors, power operated rear sunshade, rear side sunshades, front ventilated seats, active front seats which are heated, 4 zone climate control, the Head Up Display and 6 months XM Satellite radio subscription. That seems quite a lot for the money. Add to that a Destination Charge and the US Gas Guzzler Charge of $1300 and the total on the road price was $103,825. A lot of money, but you are getting a lot of car with lots of features.
Be in no doubt that this is a truly fantastic car. I very much enjoyed my 2 days driving it, even at 14mpg. Don't tell Hertz, but it would have been well worth it for rather more than $135 a day (and if you source one from them, you may well have to pay more – my deal is not one that everyone will always be able to get. Of course, equally, you may get an even better offer). It is well known and recorded here and elsewhere that I am not really a particular fan of BMW in general, but this was one that I absolutely loved. It hit absolutely every box for me: subtle but distinctive styling changes over a regular 5 series, a fabulous engine, great to drive, superb to be in, an ease of use that meant it was not intimidating once you had sussed that transmission, and just a general feeling that this really is a special car. However, and it is a big however, in BMW's quest to build the ultimate in super-saloons, what you have here is a car that, at £20,000 more than an Audi S6, is fearsomely expensive to buy, will cost a lot to run, and whose full set of capabilities you will barely be able to use in traffic where there are speed limits. So, as a Joy Machine for a few days, it was absolutely fabulous, and I would recommend the experience of driving one to anyone, but as a car to own, knowing how I never exploited anything close to the full potential of the lesser Audi S6, and this car is "more" in so many ways, then maybe this genre of car has simply gone too far now.  Don't get me wrong, the world is a better place because it exists, but it really is like a supercar – a machine that has a lot of latent potential that you can only exploit occasionally, and definitely for the wealthy customer only. Cars like these do depreciate, but be in no doubt that the running costs don't, and replacements for everything from tyres and brake discs are going to be ruinously expensive.
Oh, and there is one other thing. The UK press at least, consistently tells us that this is not actually the best car in its class. They pour even more praise on the rival Mercedes E63 AMG. Mr Hertz has got some of those now, too. I guess I need to see if I can get a similar deal and try one for myself, to decide which one I really think is Top Dog in the super-saloon category. Watch this space.