Although I do manage to attend lots of car-related events during the course of a year, as evidenced by the panoply of reports that are available on this site, there are plenty that, for whatever reason, I can't fit in. Of course there are plenty of other photos and reports available online which show just what has been missed, and on reviewing these, there are more than a few occasions when I utter the "if only……." or "I wish I had tried harder to get there……….." sort of phrases. The Salon Privé certainly comes in that category. This rather exclusive sounding event has been held continuously for 8 years now. Hosted by His Grace the Duke of Northumberland, at his residence, Syon Park in West London, it combines a formal Concours d'Elegance type gathering with a showing of the latest supercars that always encourages dealers and manufacturers to do something special. It runs over three days, with a different emphasis on each day: a Concours; Ladies Day; and Supercar Day. Two things have deterred me from attending in the past: it takes place during the working week, held over a Wednesday to a Friday, and the cost. Full tickets for the event are quoted at £245 and even the reduced price admission, which excludes the lobster luncheon and which does not admit you til 14:30, was listed at £75. This year I spotted a discount code, and when my diary had me in nearby Stockley Park on a Wednesday morning, and stayed clear for the afternoon, and with decent weather in prospect, I made a late decision to stump up the money and go and have a look. Sure enough. the discount did take 10& of that rather steep ticket price, but then I learned that the quoted price excluded VAT, so all told, I had to pay £81 for the privilege of attending. What did I get to see for my money?
IN THE CAR PARK
I was pleased to discover that there was no additional charge for car parking. There were officials on hand to organise things, and they had assembled an array of particularly interesting cars in an reserved area, separate from the more prosaic cars in which many of the attendees had arrived. Just seeing these was quite a treat, as there were all manner of wonderful cars lined up here.
ALFA ROMEO
The distinctive Giulietta Sprint Speciale
ALVIS
Lovely Graber bodied TC21/100 model from around 1957.
ASTON MARTIN
DB5, DB6 and even lovelier DB6 Volante.
The later V8 Vantage of the mid 1990s.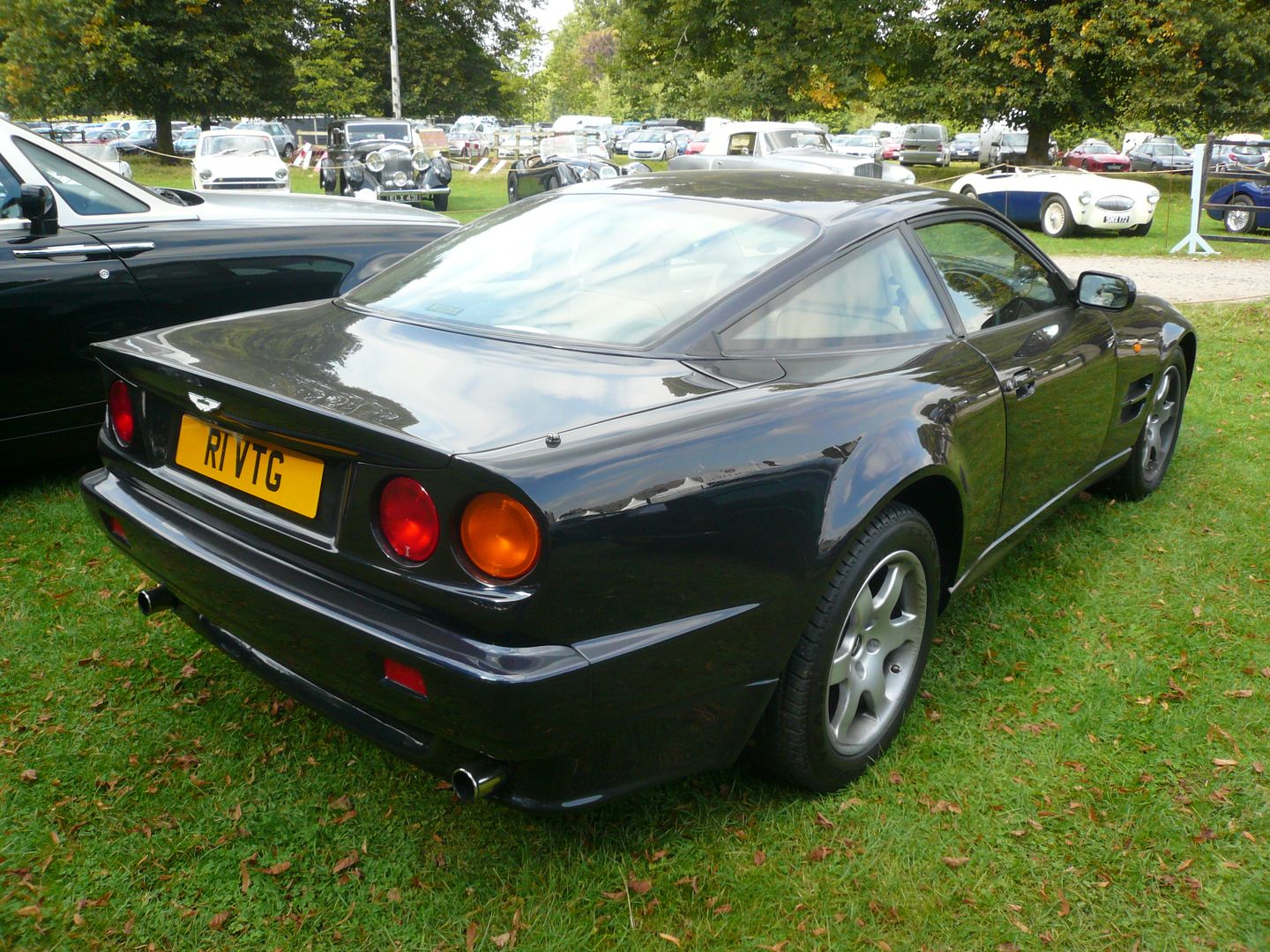 AUSTIN-HEALEY
"Big Healey" 3000, along with the earlier 100M
BENTLEY
Classic 3 litre model from the late 1920s.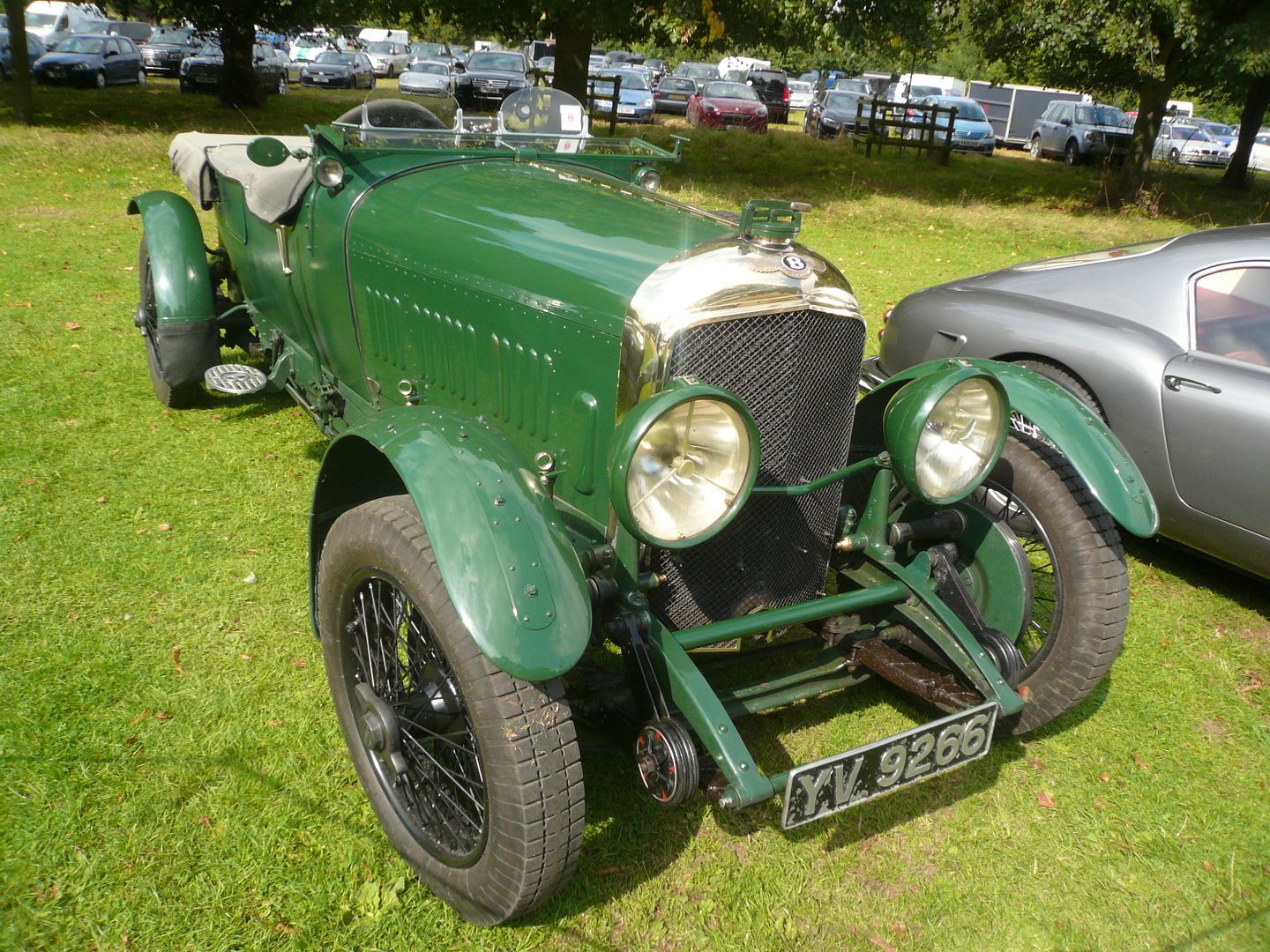 A couple of "Derby" Bentley 3.5 litre.
Even in the 1950s, many Bentleys were sent off to one of a variety of coachbuilders for a body to be styled and made. These are based on the S Type.
BMW
A duo of the very striking new i8 were parked up next to each other, along with a new M3 in the signature pale blue colour that has featured on the launch cars.
DAIMLER
The V8250 was a close relative of the popular Mark 2, but it featured Daimler's narrow angle 2.5 litre V8 engine, making for a very relaxed cruiser indeed, with quite a different character from the sportier Jaguar.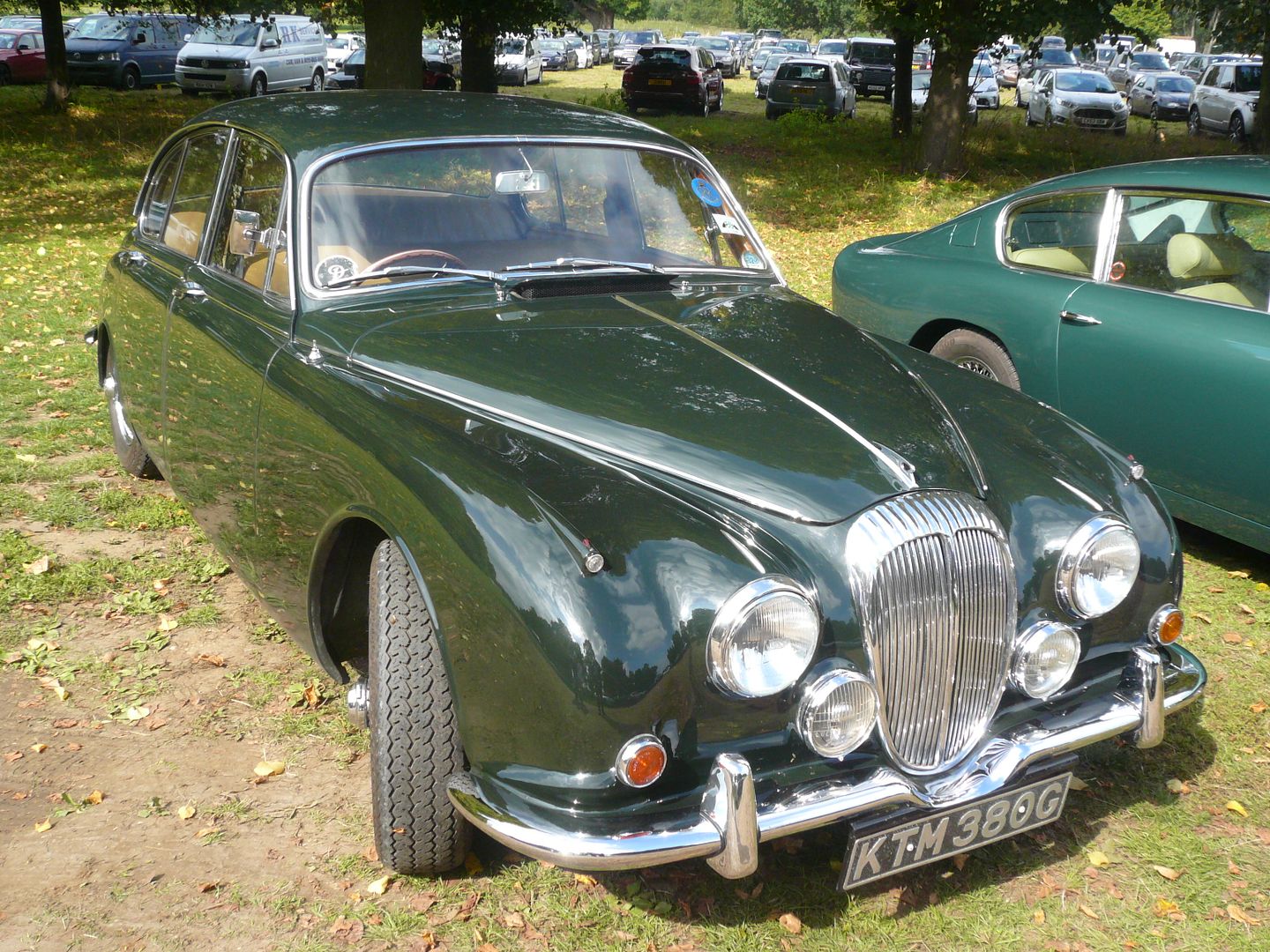 FERRARI
The fabulous, and very coveted 250 GT SWB.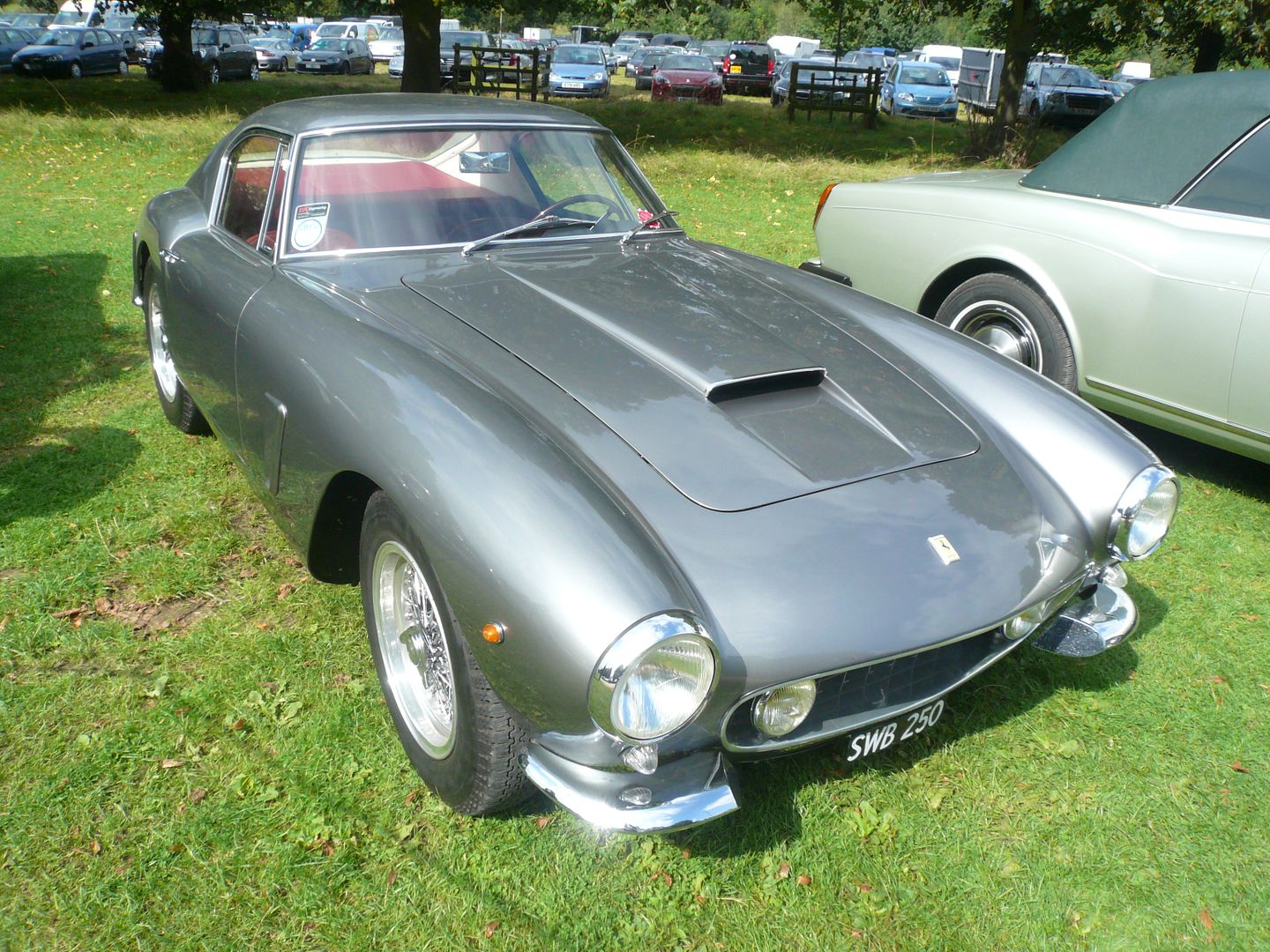 A personal favourite of mine, a 365 GTB/4 Daytona.
Also rather lovely was this Dino 246 GT
250 GT Lusso, similar to one which was auctioned at the event, and (admittedly with a rather famous former owner) which went for £1.4 million.
More recent Ferrari models included a F355 Berlinetta, 550 Maranello, 360 Spider and a 458 Italia
FIAT
One of the smallest cars, and also one of the cutest, a very droolsome 500 Giardiniera.
FORD
Lotus Cortina
JAGUAR
XK120 and XK150
Series 2 E Type
A very nice XJ220, on French plates.
F Type Coupe in top spec R guise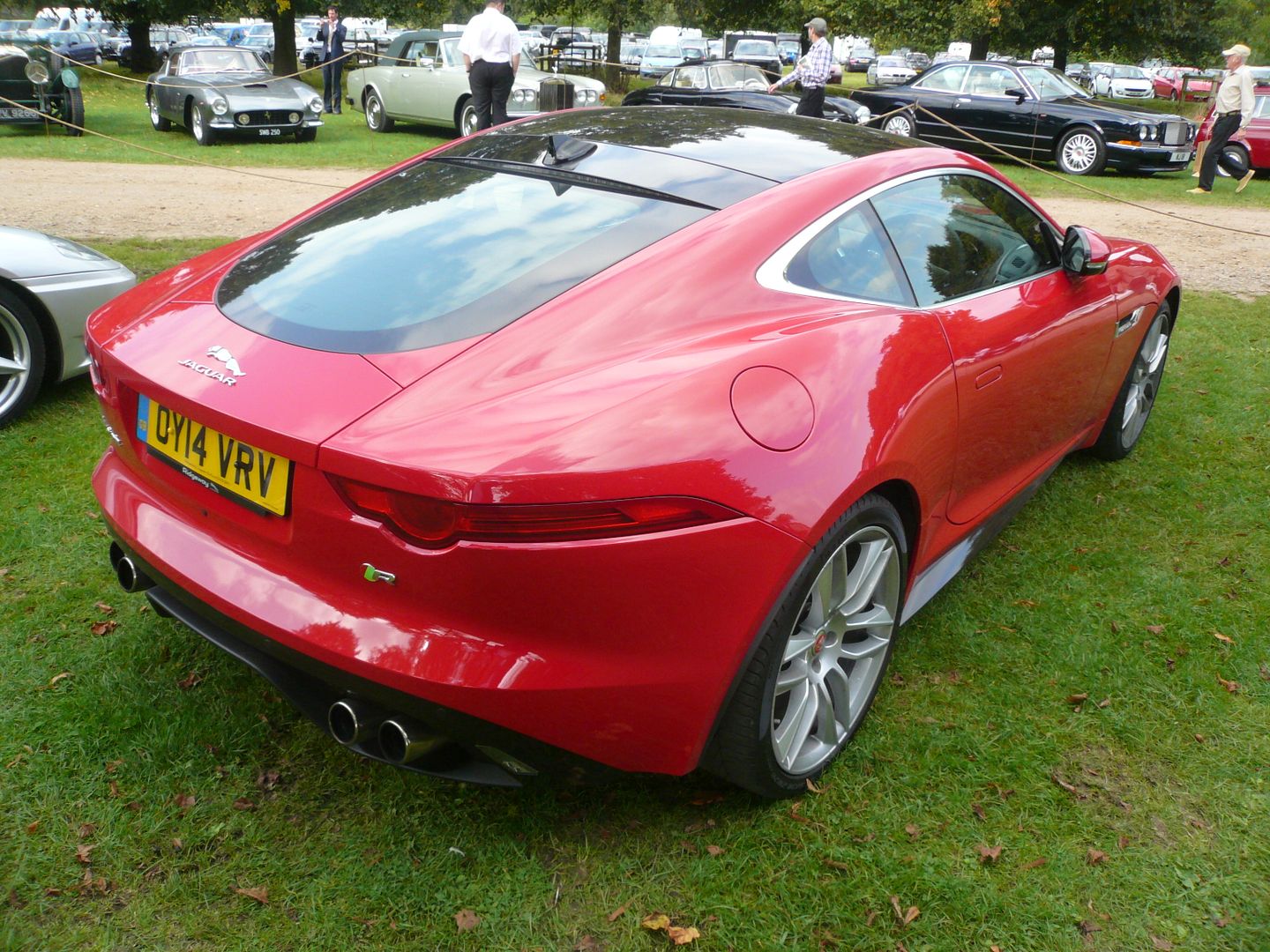 LAMBORGHINI
When I went into the event, there was an Aventador parked up right at the end of the line, and I came out there was still an Aventador there, but it had changed colour!
Another one was parked further down the line.
LOTUS
Elan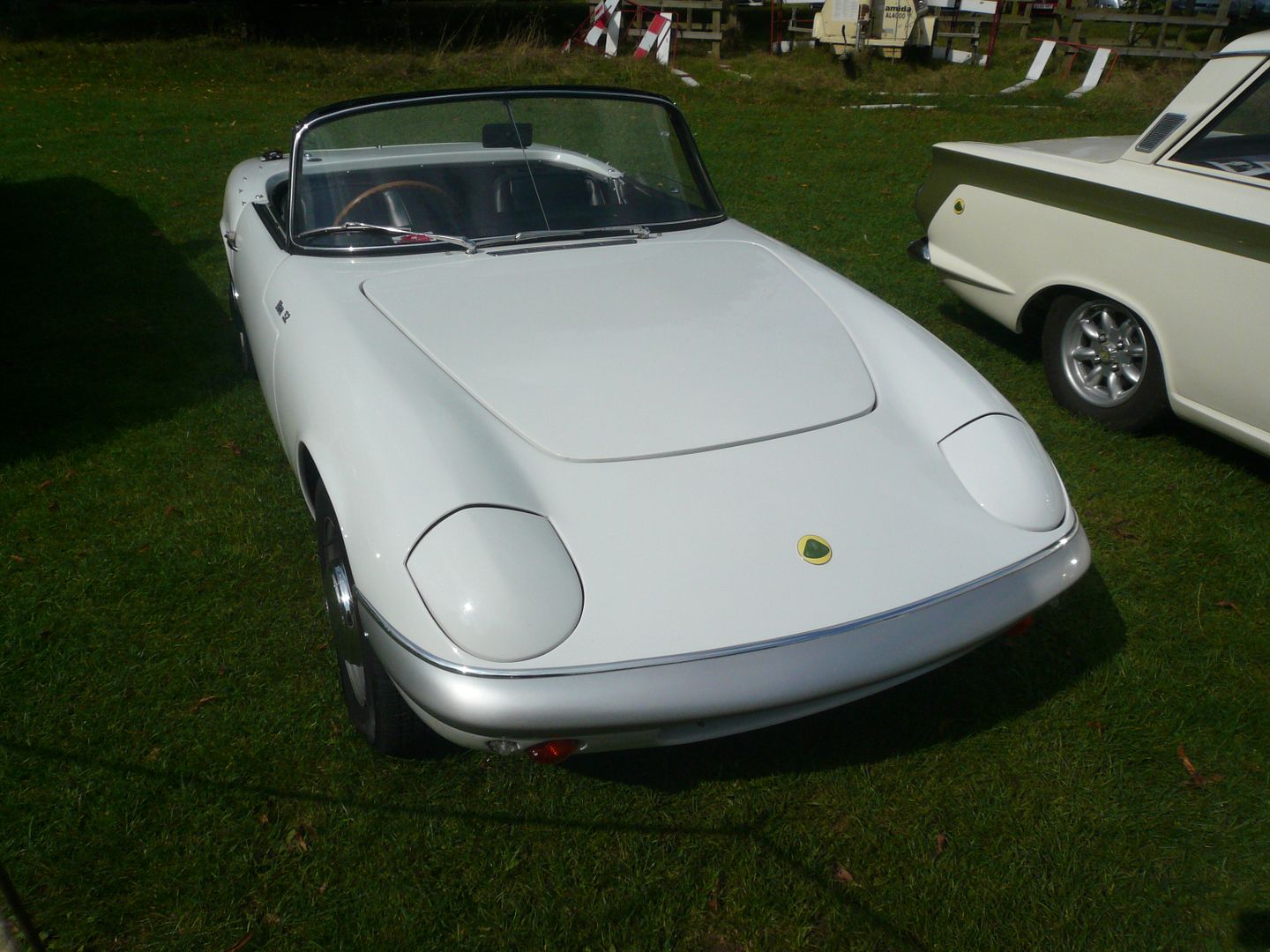 A couple of brand new models, an Elise and an Evora
MASERATI
GranCabrio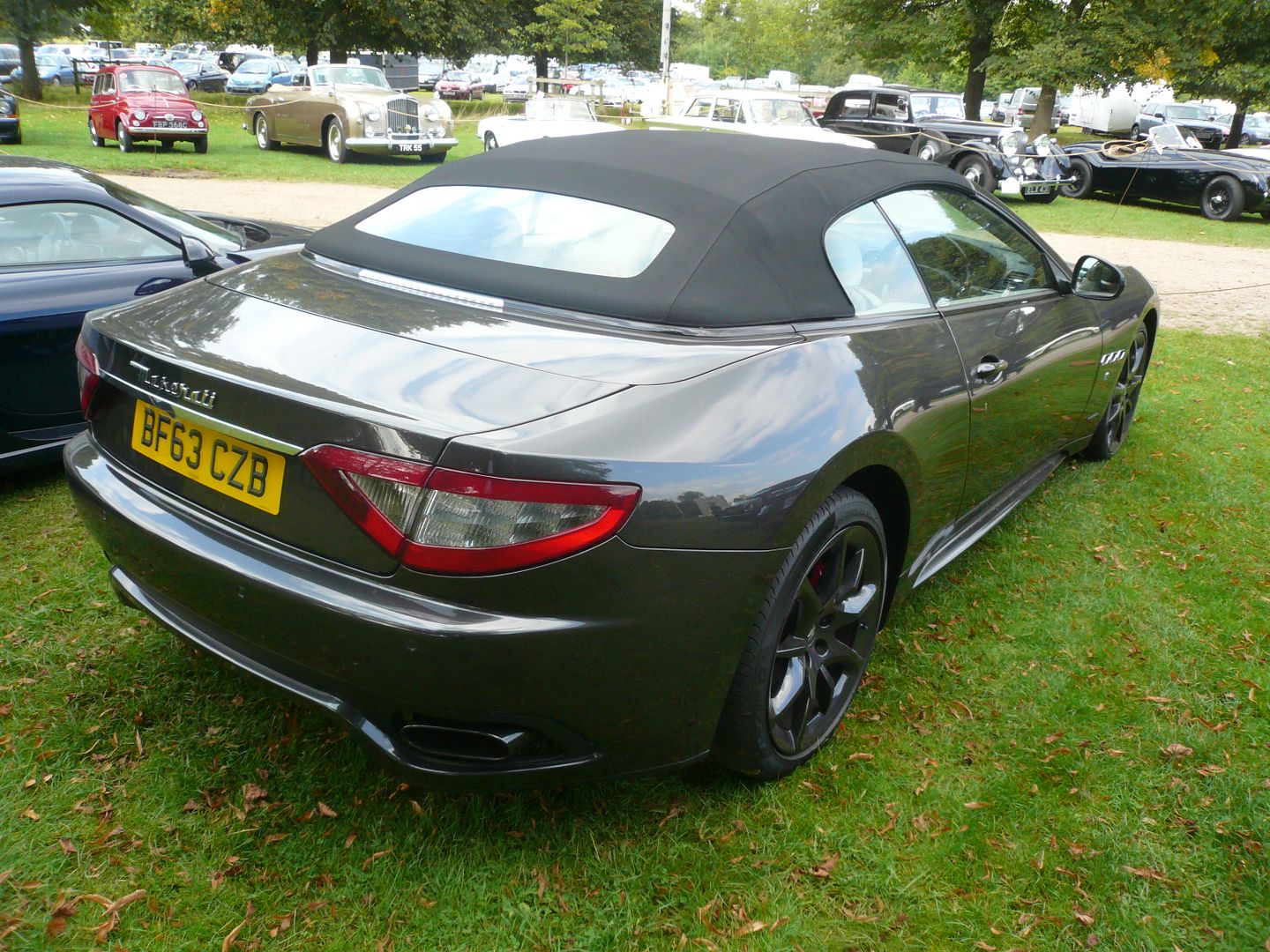 MERCEDES-BENZ
Fabulous W111 model 280SE Coupe 3.5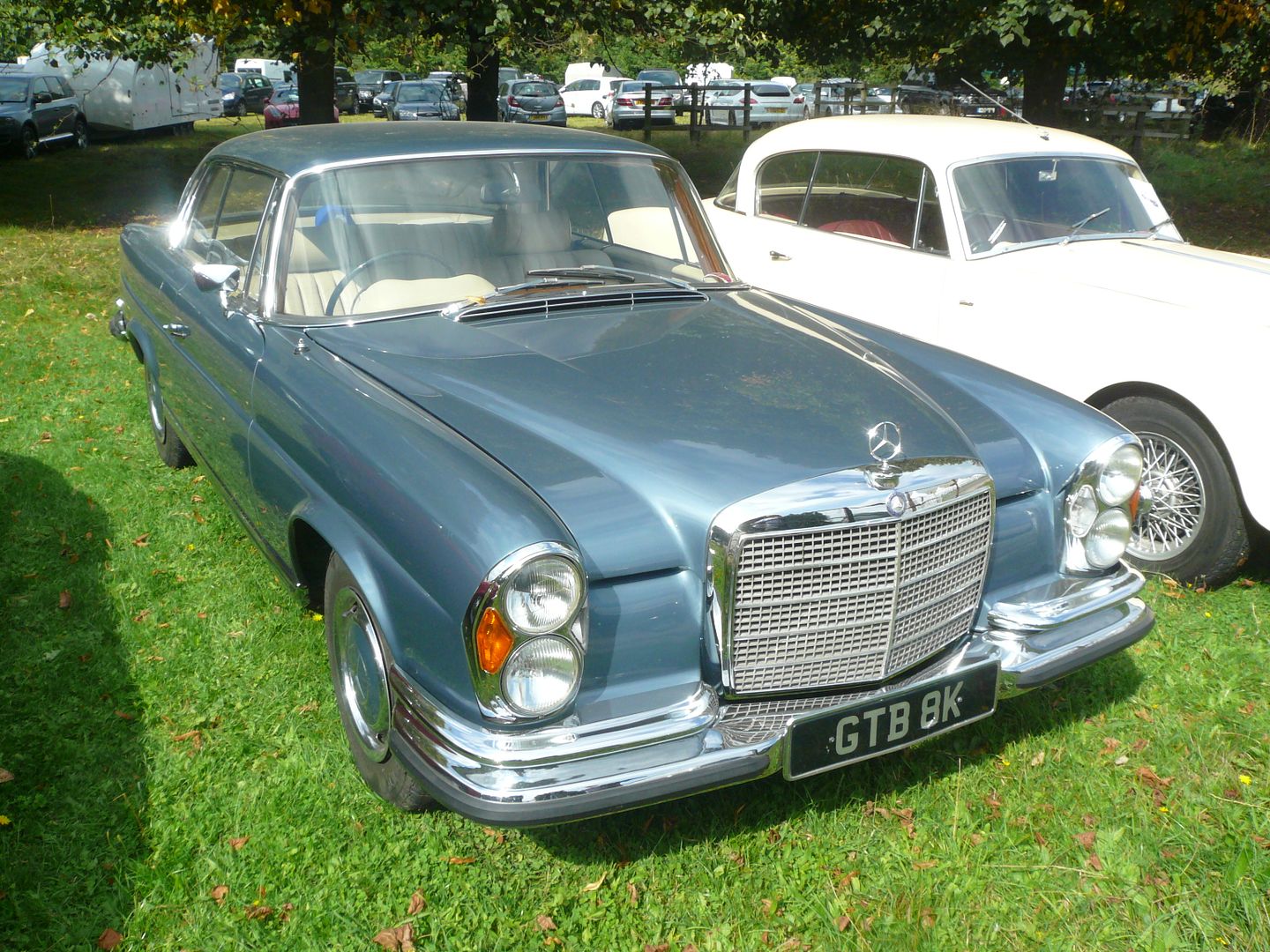 300SL "Gull Wing".
Taking its styling direction from the famous GullWing was this rather cheaper, but also very desirable model, the 190SL
MG
An early MGB Roadster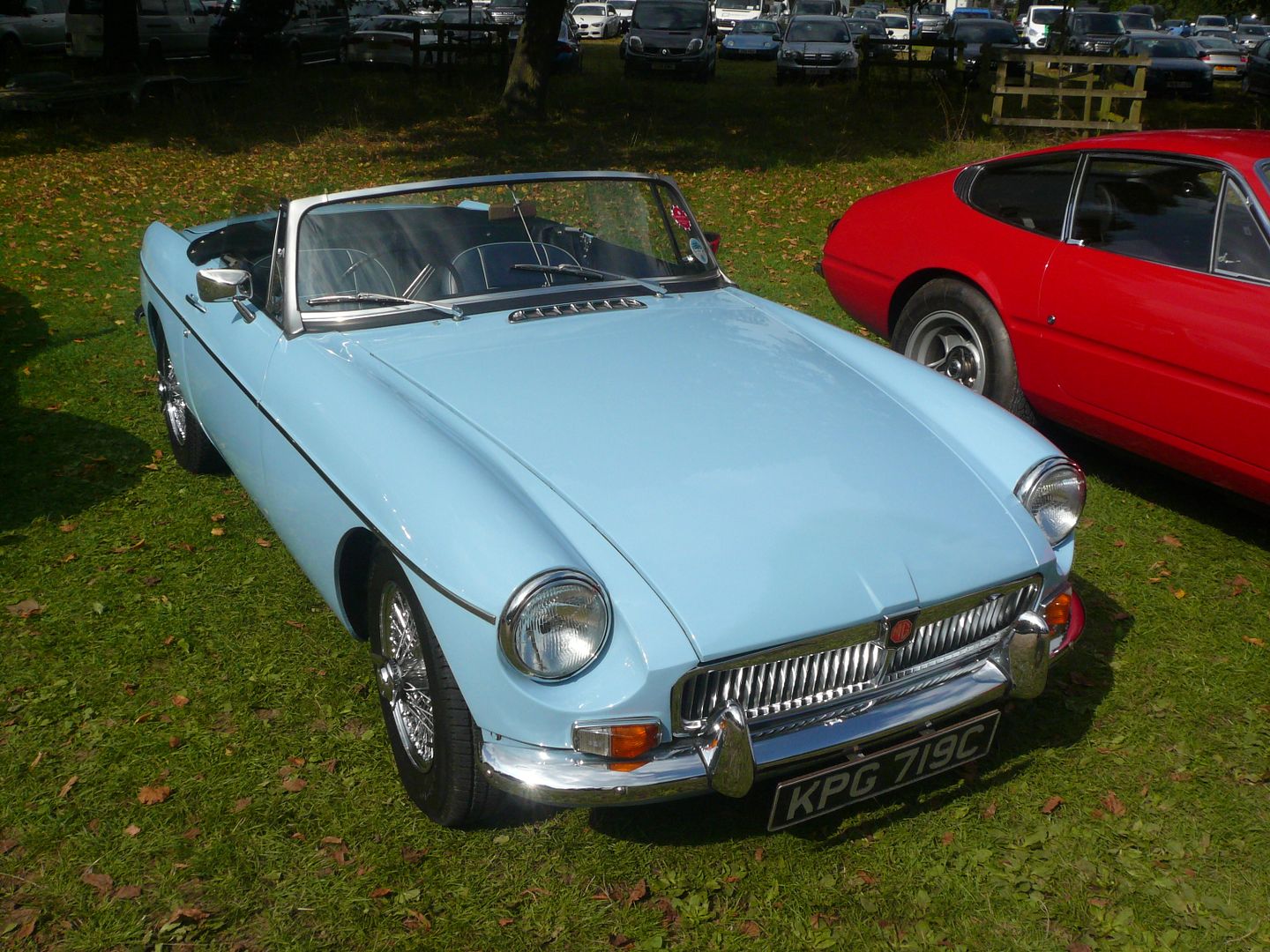 NOBLE
M600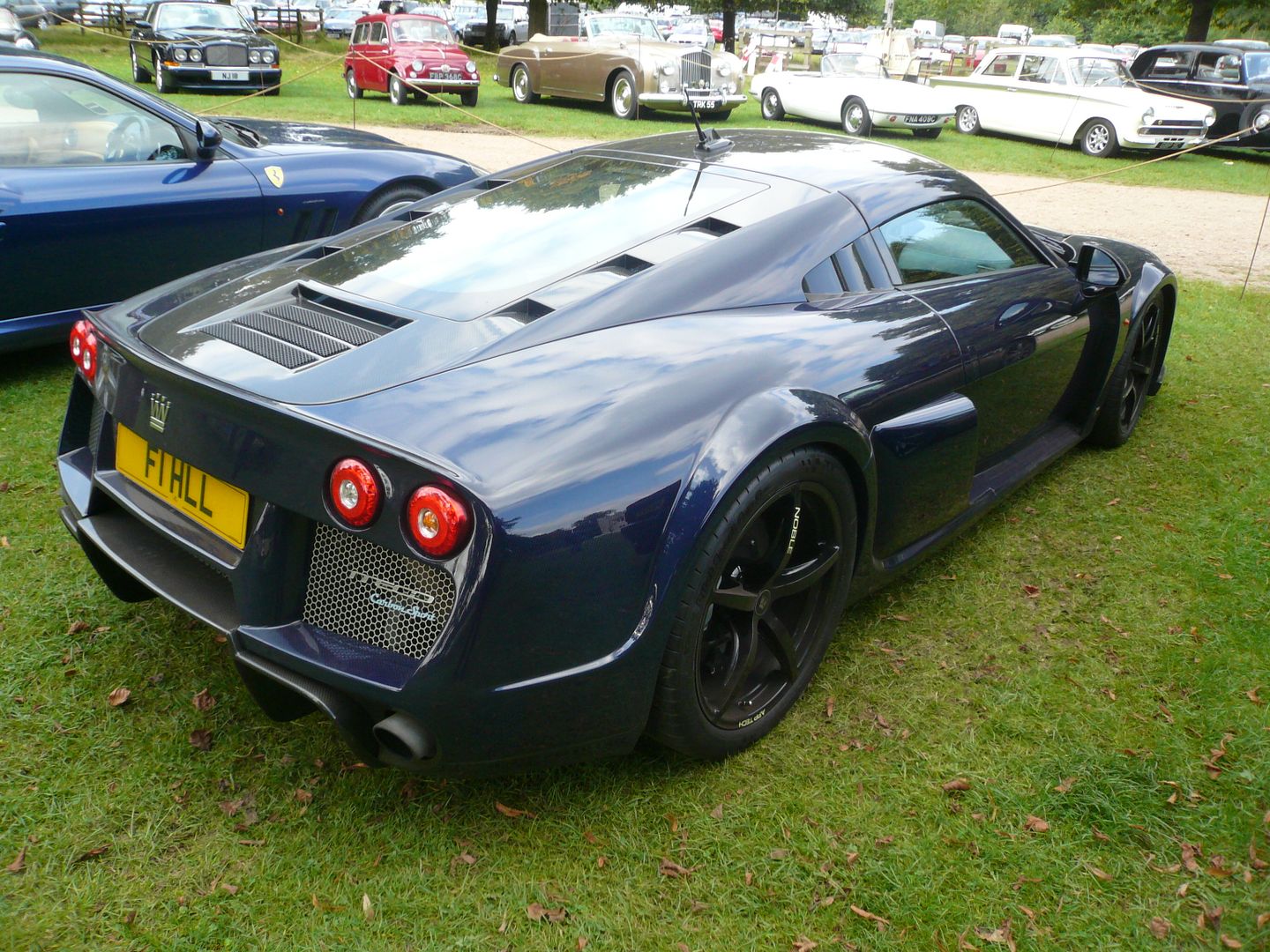 PAGANI
Parked up amongst the cars was a Huayra.
PORSCHE
Almost as exciting as that Huayra was this, a Carrera GT.
There were plenty of 911 models, including the latest 991 GT3 and one of the limited edition Sport Classic cars.
ROLLS ROYCE
The latest Wraith and Ghost were parked up near the entrance, along with some far more mundane vehicles in taxi service. Very imposing, they both looked.
In the line of parked cars was the very stately Phantom, still a car with almost more presence than anything else on the road these days.
The Corniche was a long lived model from its inception in the late 1960s through to the 1980s. This is a Series 2 model.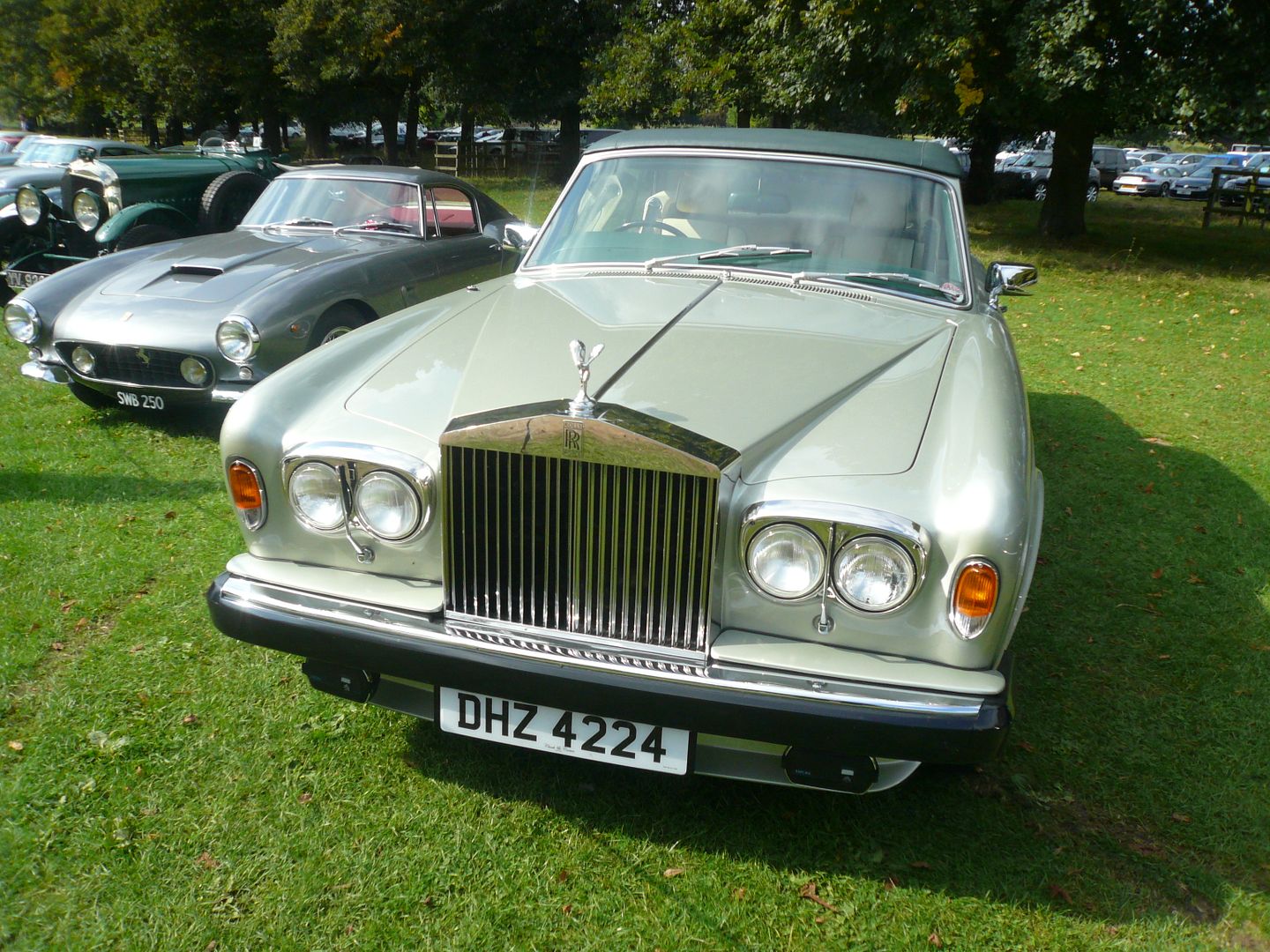 This is an unusual drophead body on a Silver Cloud chassis.
TESLA
The Model S is starting to appear on our roads now, and a very impressive machine it is, too. I chatted to a couple of the limo drivers who were waiting nearby, and there's clearly work to be done on band recognition, as they had no idea what it was, and were very surprised when I said it was made in California.
TRIUMPH
Mark 3 Spitfire
AND FINALLY…….
I could not help including this one, not because it is exotic, but simply because it is now very rare. The rather boxy Saloon version of the Nova did not sell in anything like the quantities of the hatchback stablemate, and it's quite a while since I last saw one.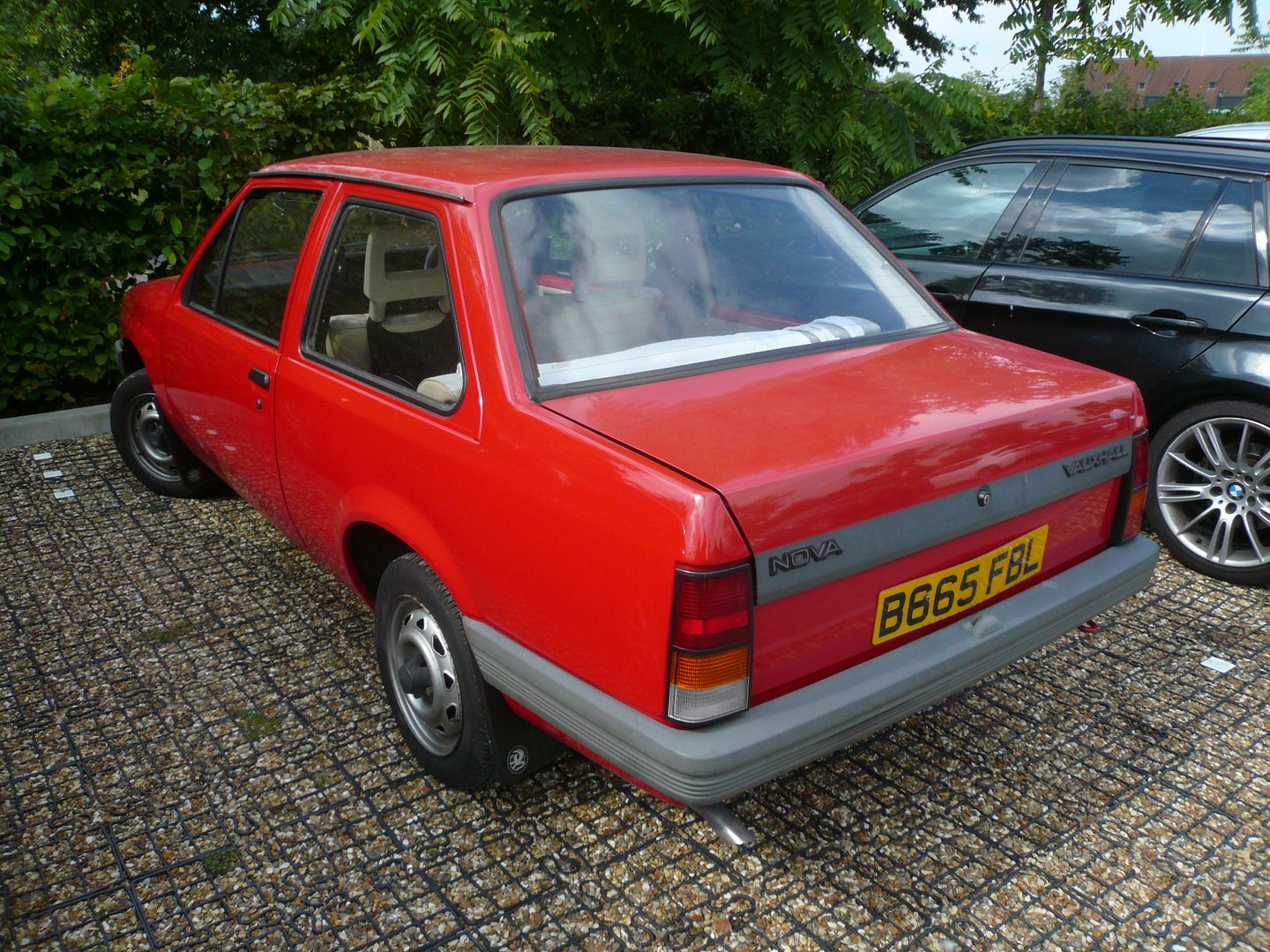 MANUFACTURER and DEALER DISPLAYS
Once inside the main entrance to the event, you come to a vast area populated by a combination of dealer and manufacturer displays, along with plenty of other trade stands, as well as a couple of bar areas from where champagne, Pimms or other libations could be obtained. I was driving, so could not drink, but I did succumb to the temptations of afternoon tea, and very excellent it was, too, with lots of clotted cream and jam to go with the scones which followed an array of sandwiches. Many of the well known classic and high end dealers such as Tom Hartley and Tom Hartley Junior as well as DK Engineering were here, in addition to those selling new cars, such as HR Owen and Bell & Colvill. There are plenty of other trade stands, ranging from Autocar and Classic & Sports Car, through to some with less of a motoring connection. But it was the cars that really grabbed my attention, with lots to see.
ABARTH
Nice to see that Abarth were here, rubbing shoulders with brands whose price point would make this Italian marque look like the cost of a couple of pricey options. There were two cars on show: the 595 50th Anniversary Edition and the eagerly awaited 695 Biposto, the fastest ever Abarth. Whilst I was admiring the former, and talking to one of the stand representatives, Peter Robinson, Sales and Marketing boss for Abarth UK appeared, so we then adjourned to sit in the Biposto and had a good chat about all sorts of things Abarth. He told me that this is the same car as was in use at Goodwood Festival of Speed. The world's press will be getting behind the wheel in November, in Spain, so we can expect to see reports in the monthlies around the turn of the year. I have to say that the Biposto does feel like a very special piece of kit. It's definitely not the sort of car you would use as your daily driver, as it is far too focused and raw for that., but for those who can afford an indulgent toy like this, I doubt  they will be disappointed. They have got firm orders for a few already in the UK.
ALFA ROMEO
One of the most beautiful cars of recent times has to be the Alfa 8C, and there was a lovely Spider version of this on a dealer stand.
ASTON MARTIN
There were a couple of the very elegant DB4 models on two different dealer stands
BMW
Centre of attention here was the car that was in the centre, the i8. This striking machine really is an attention getter, and deservedly so, too. As well as being striking to look at, it is packed with plenty of innovative technology.
Flanking it were the new M4 Coupe and the X6.
BUGATTI
It says something when a Veyron is parked out at one side of the event, and it is not the centre of attention, but that was the case here. Given the cars that were nearby, it's perhaps not a complete surprise, as they were even rarer than the Bugatti!
From an earlier era was this fabulous Type 57.
FERRARI
Where to start? Perhaps with the most eye-catching Ferrari of the event, the very bright green LaFerrari that belongs to one Jamiroquai, or JK.
To see one LaFerrari is special, but there were two more. I have to say that red suits it better than that green, which really is, well, "distinctive".  Both these cars were on dealer stands.
HR Owen had something even more rare to go with their LaFerrari, the one-off F12 TRS. Based on an F12 Berlinetta, this car has been produced in accordance with the design and specification of its (unspecified owner. It bears Guernsey licence plates, so I guess that is its current domicile.
Ferraris that you can buy include the F12 Berlinetta, the FF and the very latest California T, and HR Owen had one of each of these on show.
There were a number of F40s on show, some on dealer stands, and one in a row of supercars parked up by the main house.
There were plenty of older and classic Ferrari on the dealer stands, ranging from a couple of 365 GTB/4 Daytonas including a genuine Spider version to an F12 Berlinetta, a 275 GTB/4 to a 250 GT
Tom Hartley had an Enzo on show, and available to purchase if you had the funds available.
GINETTA
One of very few truly British manufacturers remaining, Ginetta has been building a range of cars for road and track ever since 1958. Core model in the current range is the little G40 which was on show here.
JAGUAR
There was a Lightweight E Type on one of the dealer stands and a regular model parked up in the row of cars backed onto the house.
KOENIGSEGG
Far rarer than almost anything else present was this, a Koenigsegg Agera R.
LAMBORGHINI
Right hand drive Huracan models are just reaching the UK, and a couple of them were on show here. This car is not quite as bonkers looking as most Lamborghinis, though I suspect that future enhancements to the basic model will address that, and allegedly it is almost too civilised to drive. Does not stop it from being a very desirable object, though.
Also on show was an Aventador Spider.
Parked up in the row of supercars by the main house was this fabulous Miura P400SV and a Countach.
LANCIA
A very splendid Aurelia GT2500.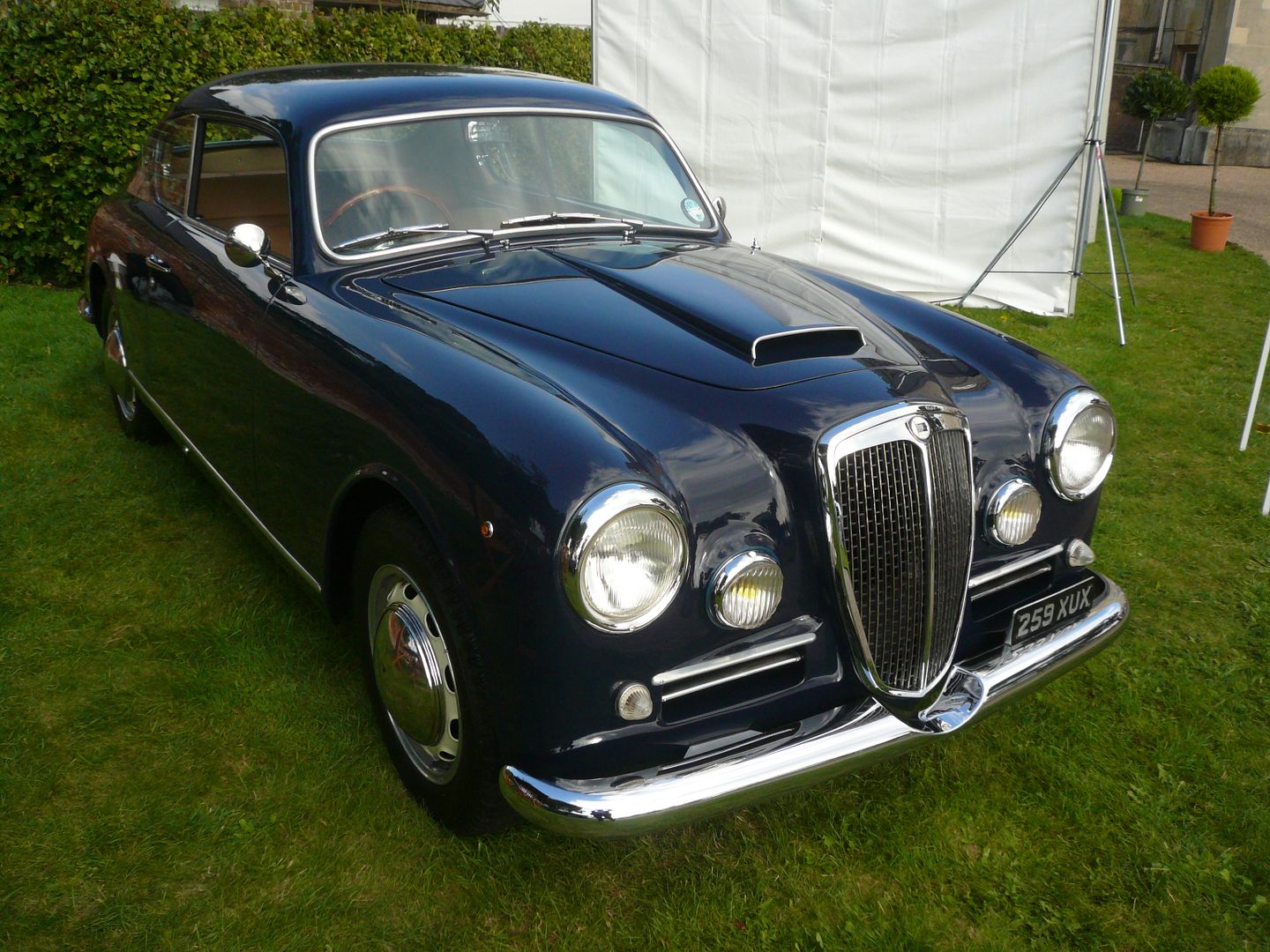 LOTUS
Well known dealer Bell & Colvill had a display of current Lotus models, which included the Elise, the latest V6 engined Exige and an Evora S.
MASERATI
Three cars on Centenary celebrating marque Maserati's stand were the latest Quattroporte and the Ghibli saloon as well as the familiar GranCabrio.
McLAREN
Parked right next to one of the LaFerrari cars was this P1. It was good to see a different car as opposed to the factory "hack" black one which was at Goodwood.
Also good was to get a second sighting of one of the F1 GTR cars that had been at Silverstone Classic a few weeks ago.
Elsewhere was an example of the 12C in racing guise
MERCEDES-BENZ
Another of the cars in the line of supercars by the house was this fabulous 300SL "GullWing".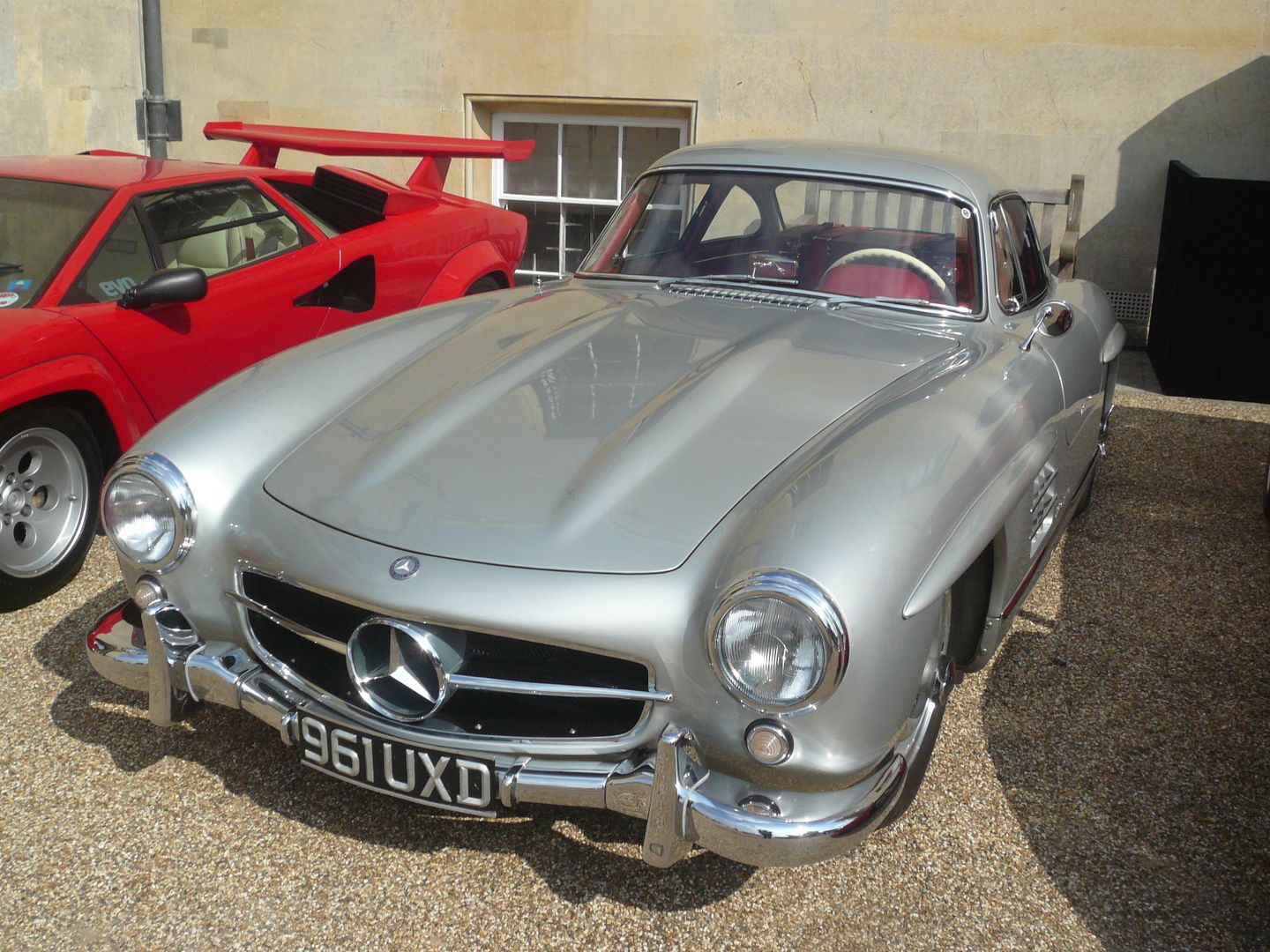 Tom Hartley has an example of the Roadster version available for sale.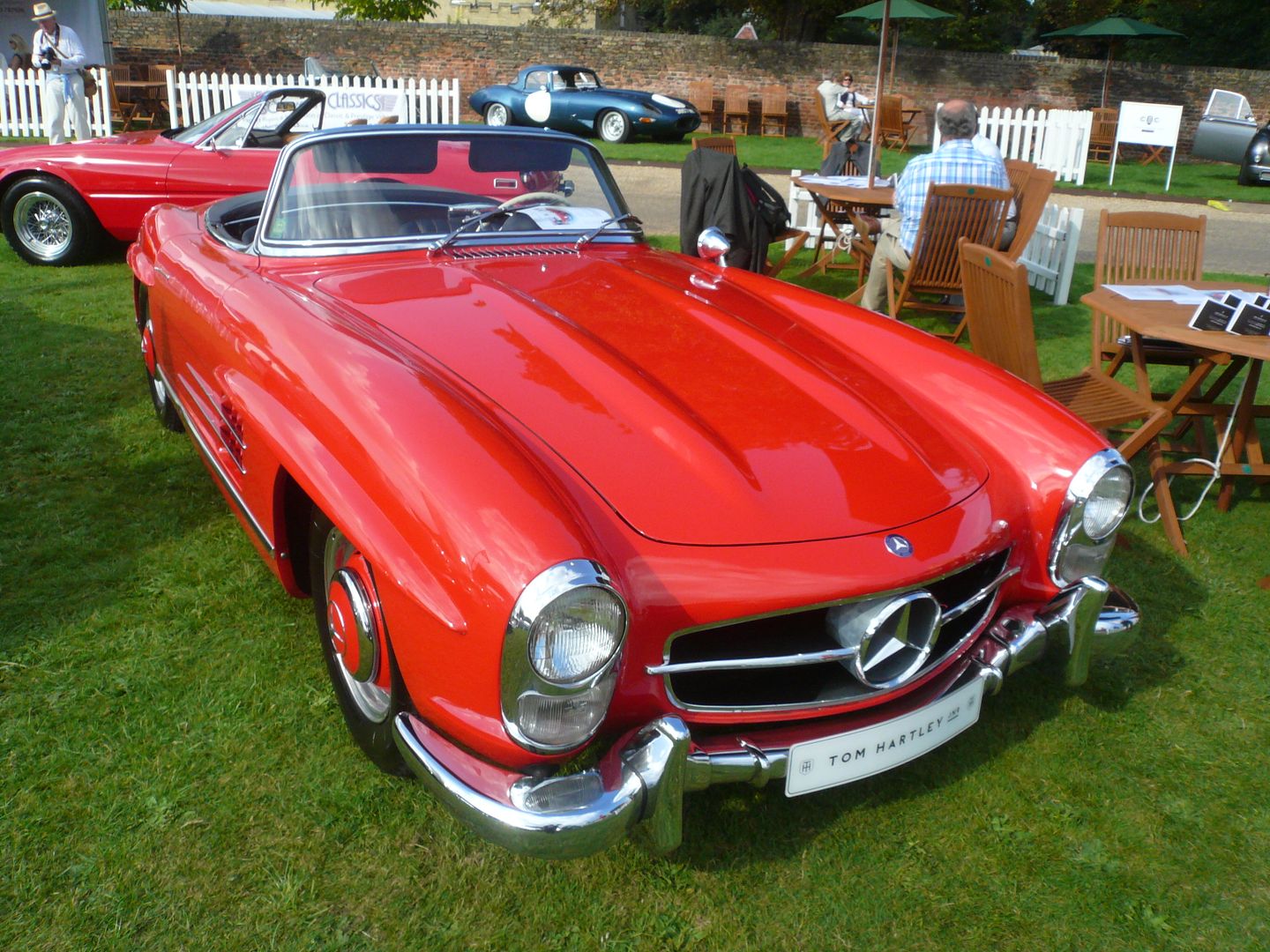 MORGAN
Making its public debut was this, the SP1, first product of a newly created division for specialist commissions. This one, taking its inspiration from the LifeCar fuel cell concept that was first at the 2008 Geneva Show, was ordered by long time Morgan customer, Brian Voakes. The SP1 was created by Jonathan Wells, Morgan's head of design, who was also involved in the development of the LifeCar while he was studying transport design at Huddersfield University. Some of the design features are a direct carry over, such as the canopy style roof structure, solid surfaced wheels and the twin ribbons of wood that encompass the seats and dashboard. The aluminium body is ash framed, and has some resemblance to the current Aero Coupe, but the steel chassis is more closely related to the Roadster, with which it shares the 3.7 litre V6 engine, though it is upgraded here to generate 320 bhp as opposed to the 280 bhp in the Roadster. That should be enough to give the SP1 a top speed of 145 mph and a 0- 60 time of 5 seconds. Modern touches include an iPad controlled infotainment system. The leather trimmed wooden seats fold down to reveal a pair of luggage pods and there is a row of overhead switches including starter toggles which is definitely something that bit different.
NOBLE
M600.
OVERFINCH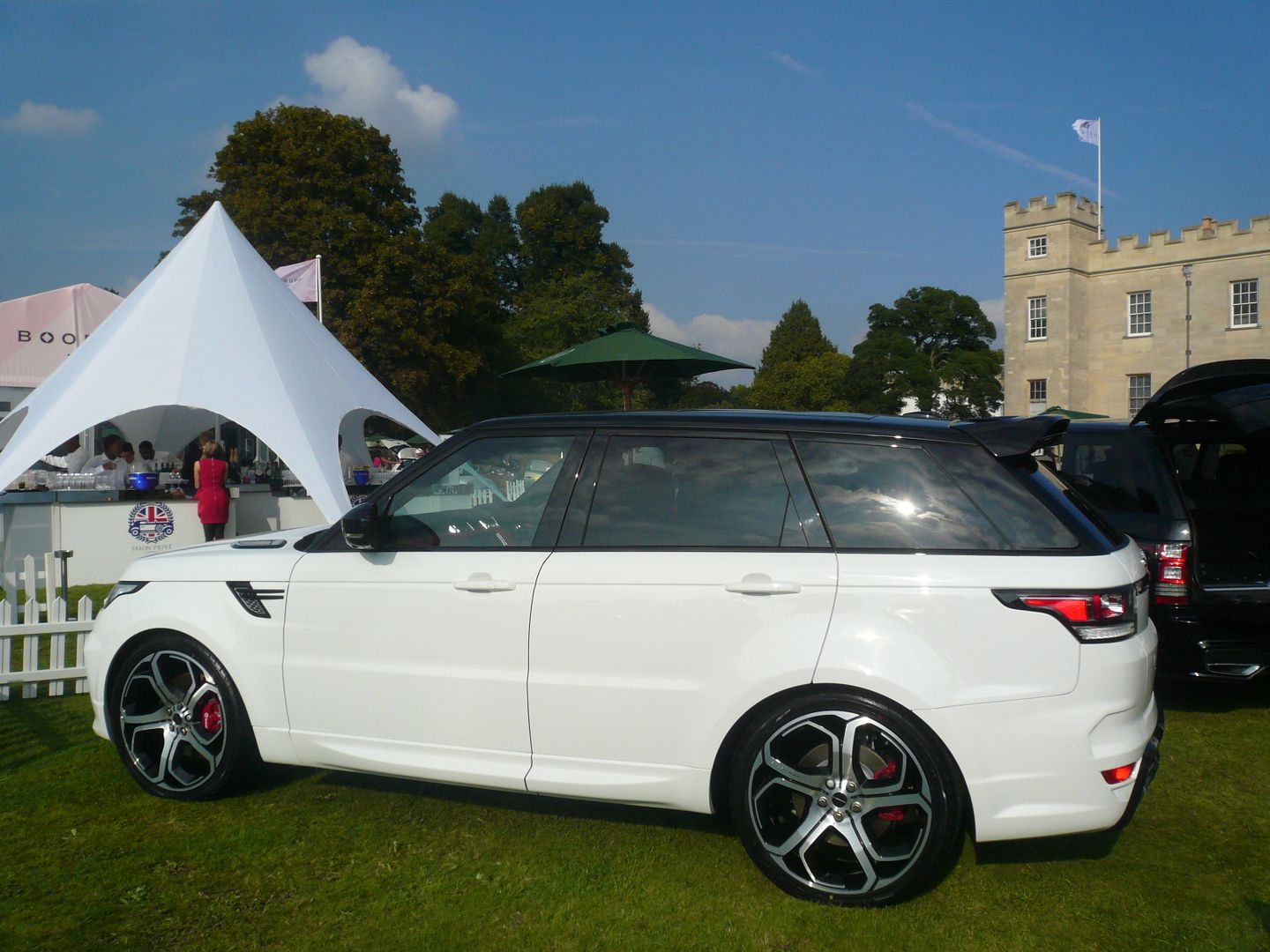 PAGANI
This Huayra was yet another of the stars of the day.
There were a couple of Zonda models, too. One was on DK Engineering's stand, and is the same car as they showed off at Brooklands earlier in the year (clearly not sold it yet, then?!) and the bright blue one was parked up in the line of cars by the house.
PORSCHE
Also parked up by the house were two of the most respected cars from Porsche's history: a 959 and a 911 Carrera RS.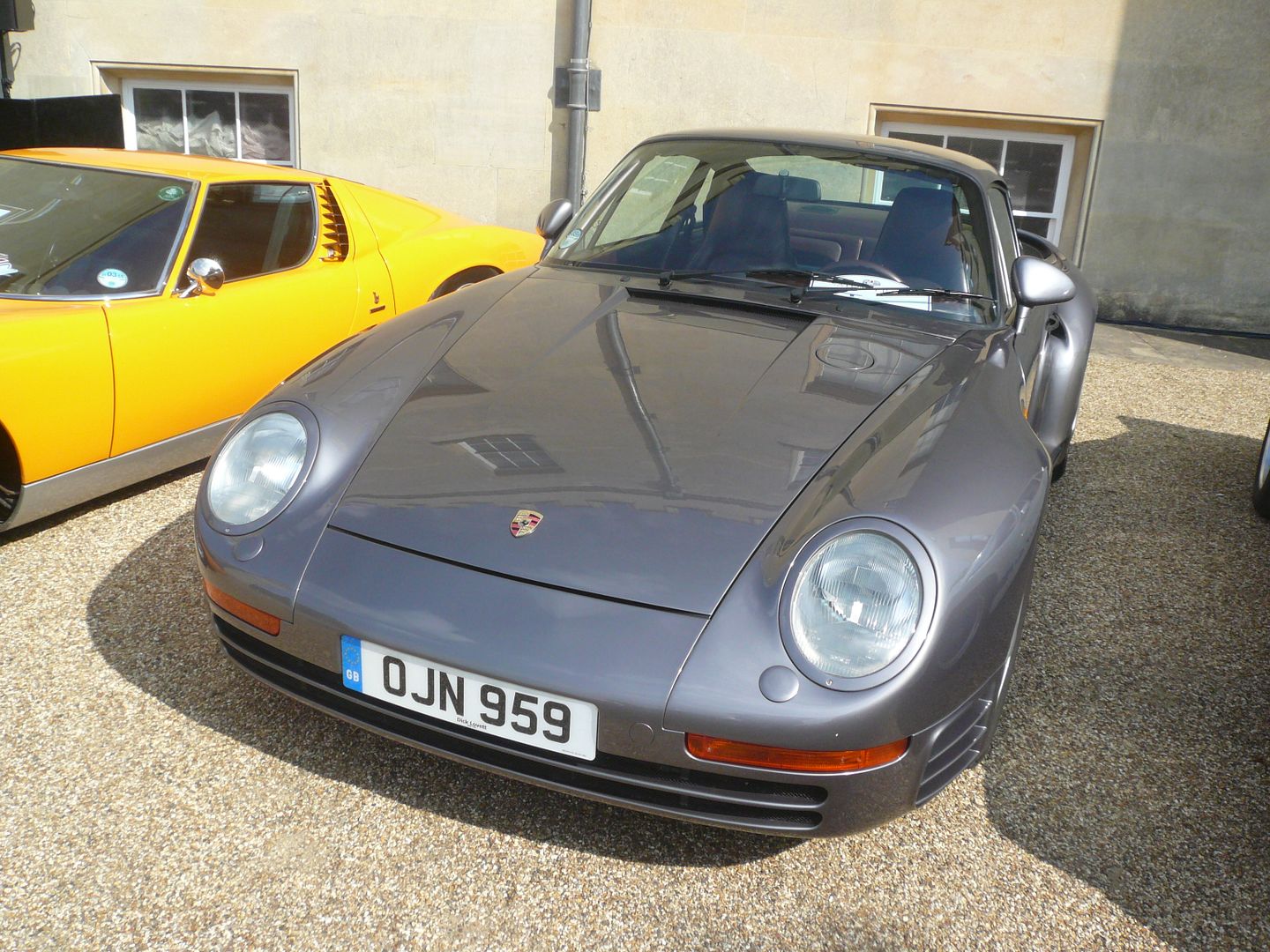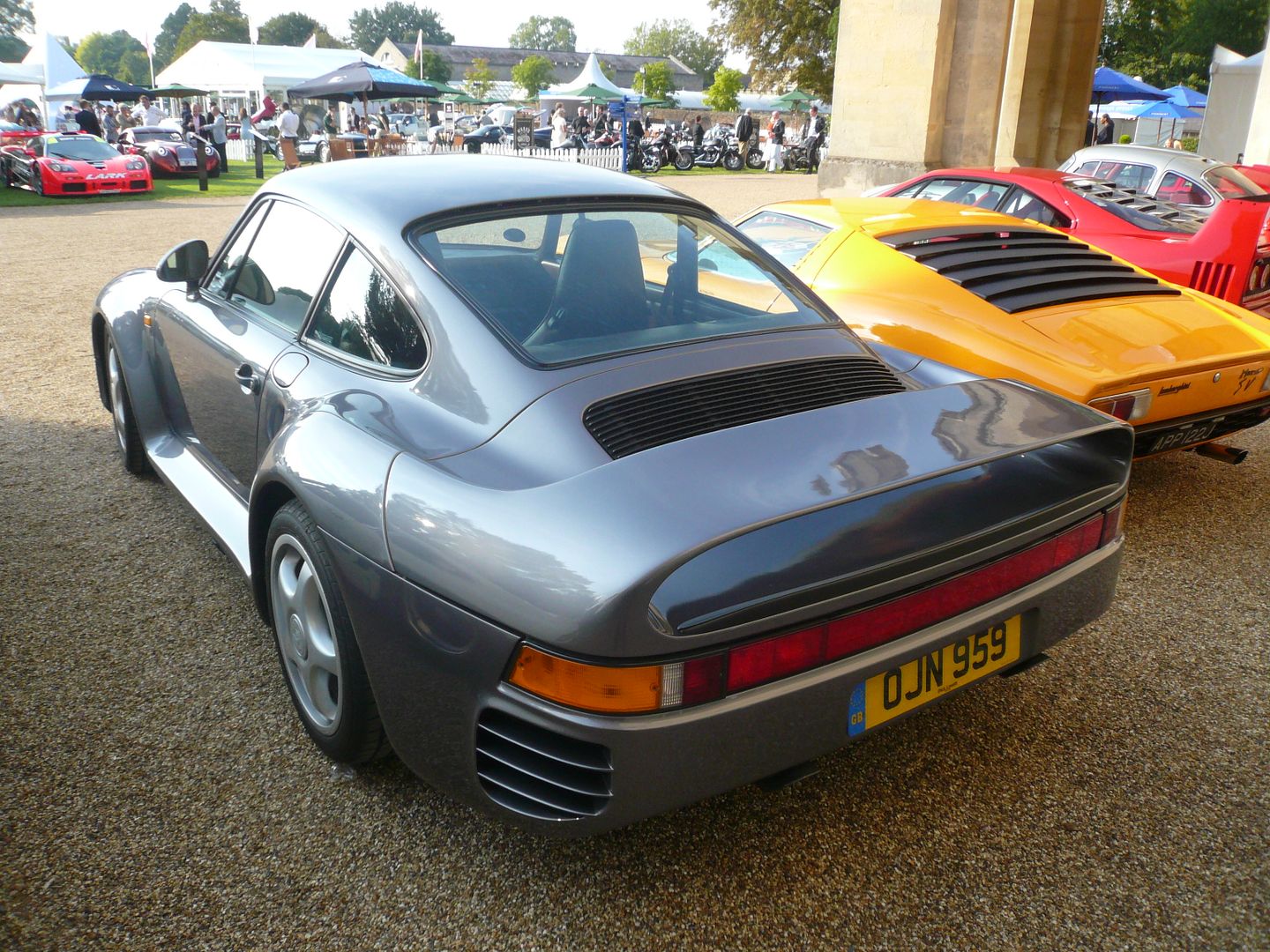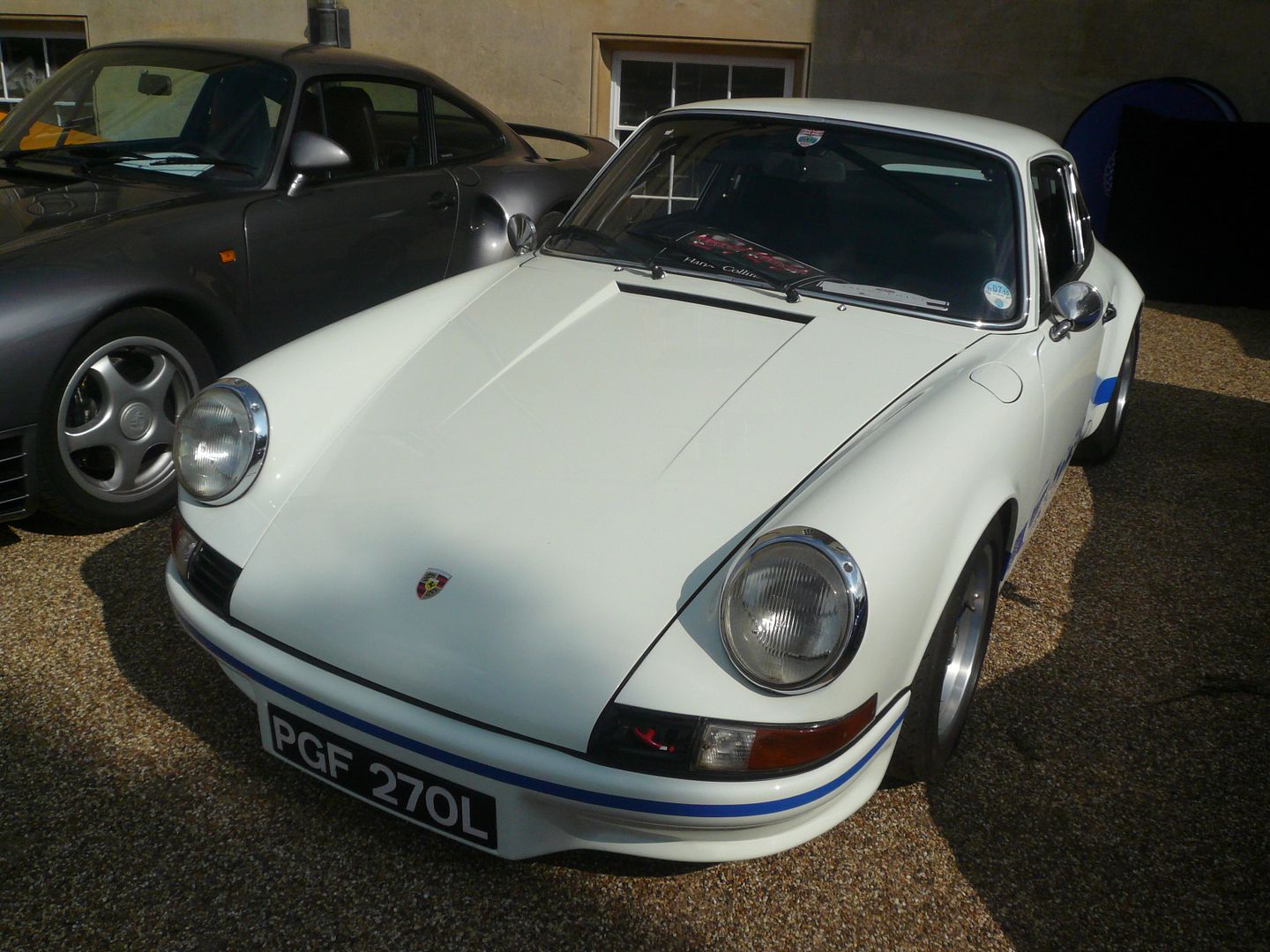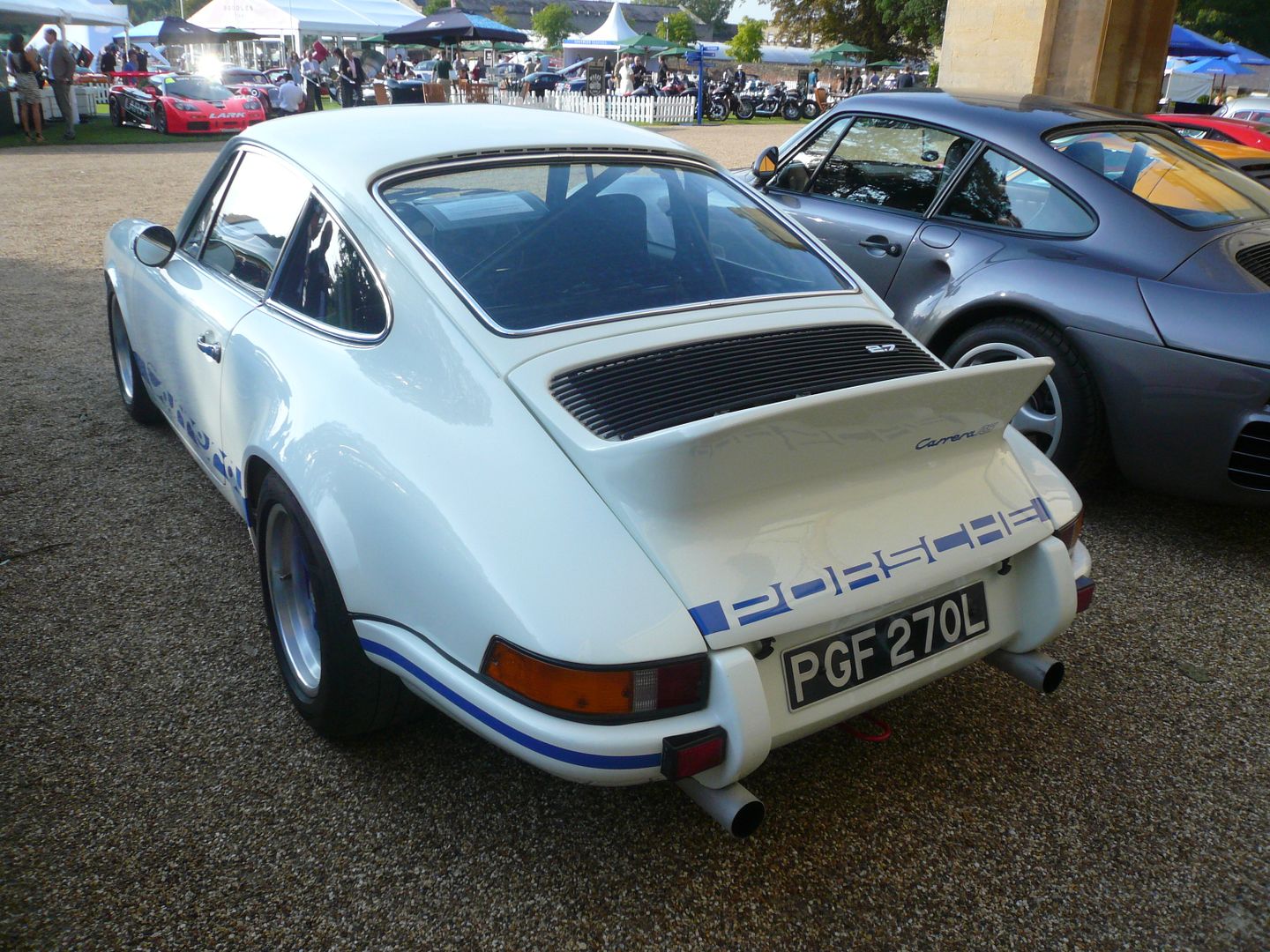 DK Engineering had another 911 Carrera RS on their stand.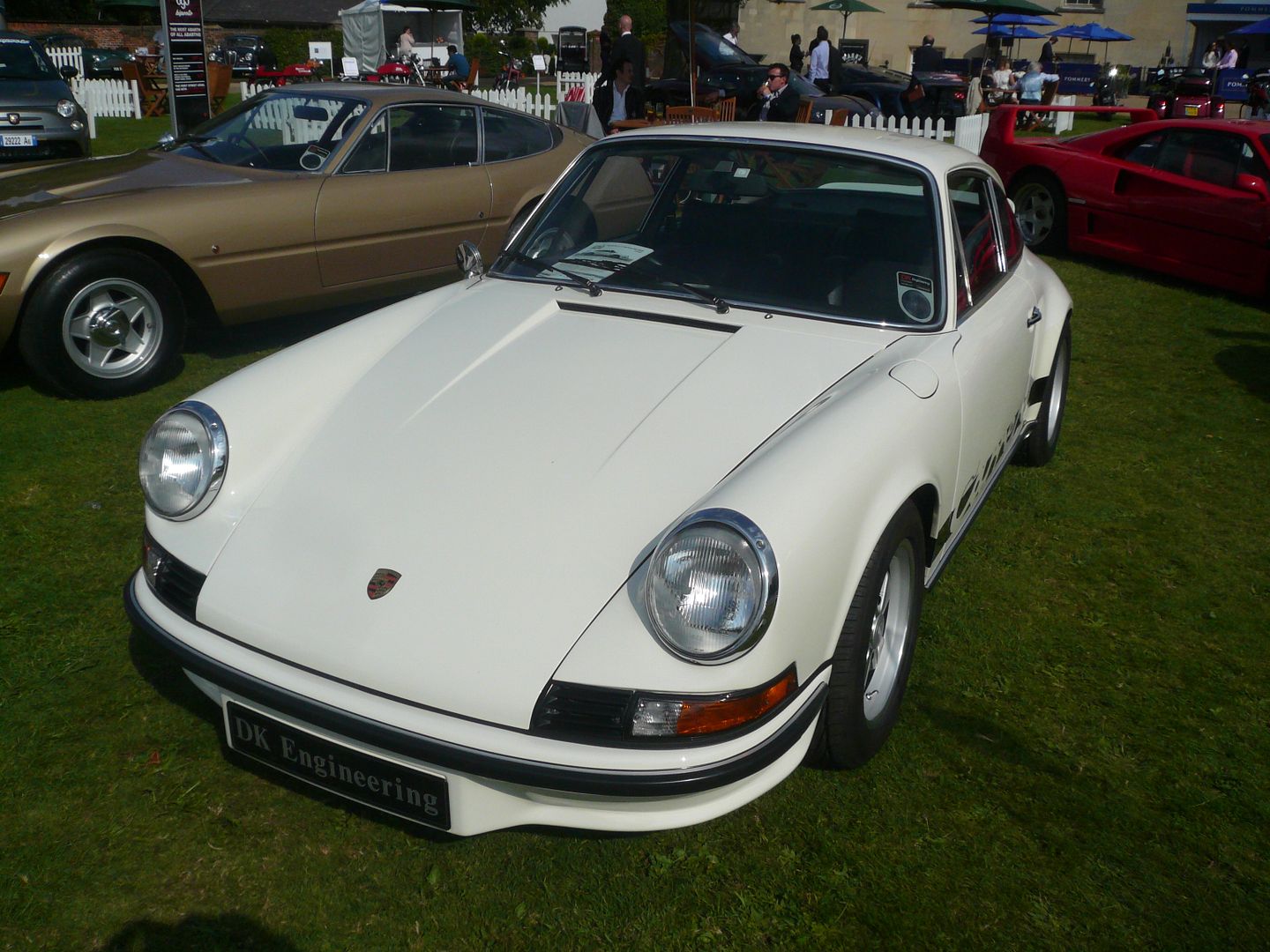 RUF
The CTR3 ClubSport is Ruf's flagship model. With a top speed quoted at 236 mph, this is one of the fastest cars in the world, and is a very rare machine indeed.
SPYKER
Another marque whose cars you hardly ever see, Dutch supercar maker had 2 models on show, the B6 Venator and a C8 Aileron.
THE CONCOURS
A splendid assembly of over 100 cars and bikes (sorry, no pics of the latter), grouped together into a number of different categories constituted the Concours. Each car was driven in front of the judging panel, at which point the commentator gave a brief account of the car, its history and what made it special, before the car returned to its display position. Annoyingly, I managed to miss an entire group, which included the overall winner, a splendid and very original Jaguar D Type, but I did get photos of just about everything else, and a stunning and varied array of cars they were, too.
1929 Alfa Romeo 6C 1750. This is one of only 52 of these cars made in the 3rd series, and one of only 9 Zagato Spider "Mille Miglia" specification cars made. This car is believed to be the 1929 Mille Miglia winner, as driven by Campari, a driver who won the event in 1928 and 1929.
1932 Bentley 8 litre Sports Saloon. 78 of the 8 litre Bentleys are known to have survived, many of which have had their original saloon or limousine bodies replaced by replica tourer bodywork, which means that examples like this which bear their original bodywork are particularly sought after. This one has the original interior as well, including seats as fitted by the factory in 1932.
1939 Bentley Derby 4 1/4 litre MX. This one features a Hooper body, a one-off design, and has a unique art deco interior, and is surely one of the finest of the Derby Bentleys in existence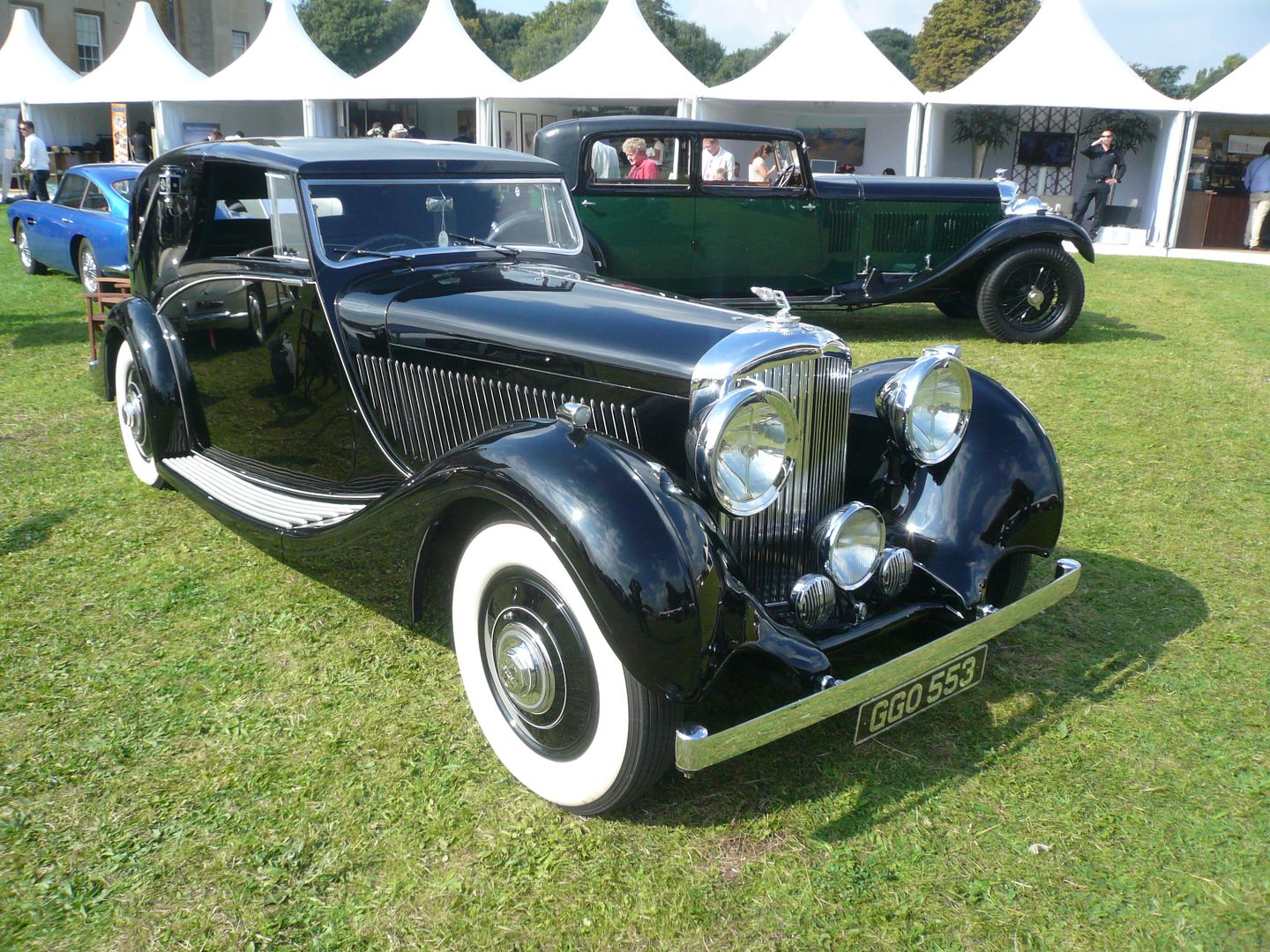 1951 Frazer Nash Le Mans Replica. This is the last of 4 Le Mans Replicas built on the Mark 1 chassis, and was exhibited at the Festival of Britain in 1951. The car was raced by John Melvin in 1952 and 1953, mainly in Scotland, but also at the Goodwood 9 hours in August 1953, where it finished 13th.
1954 Bentley R Type Continental. This was the first 4 seater sports coupe capable of achieving 120 mph. 208 chassis were built which were then passed to various coachbuilders for bodywork, which in this case was provided by HJ Mulliner. This is a very original and unrestored car.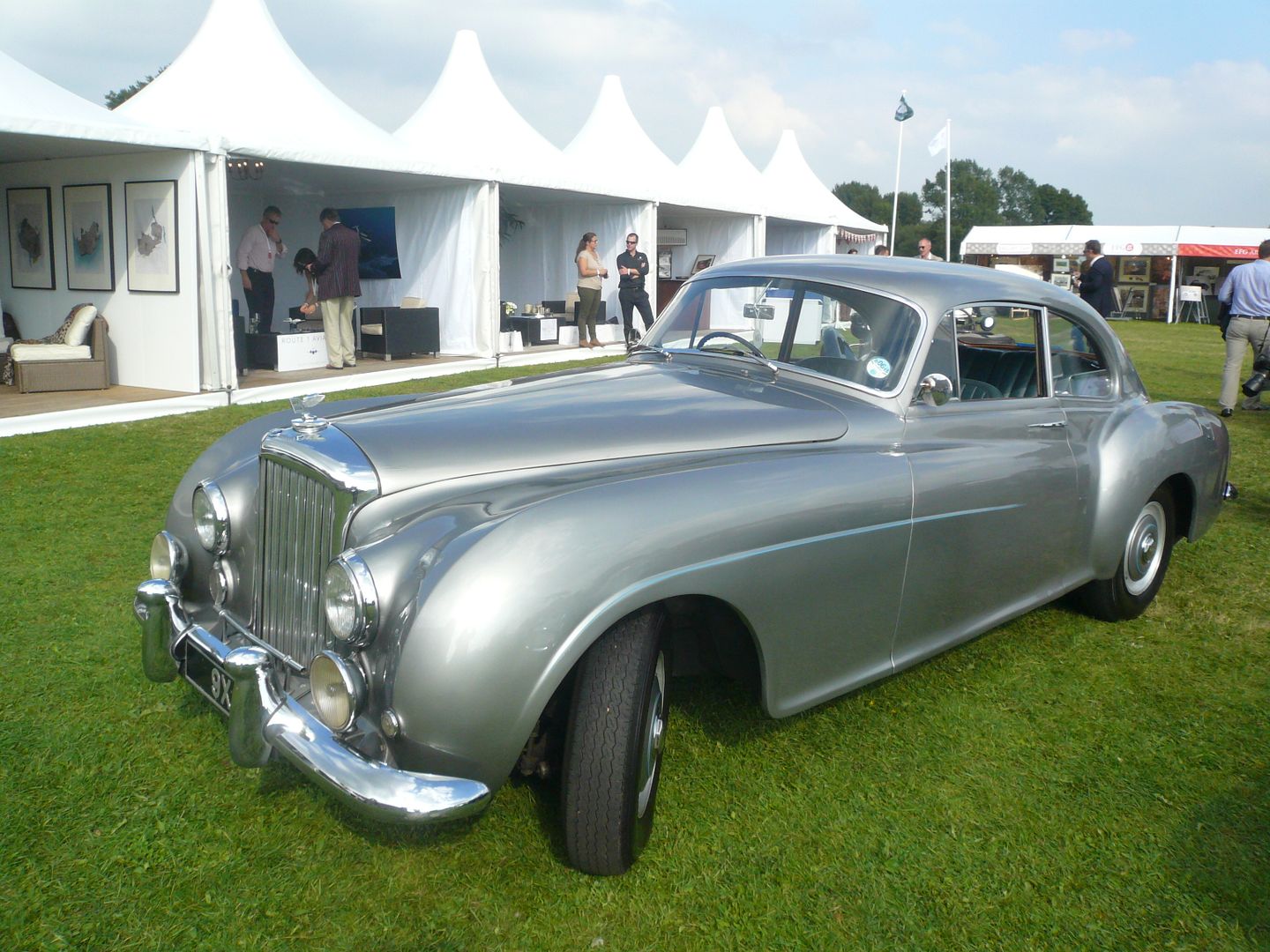 1959 Aston Martin DB4. A relatively early car, this one has been in the same ownership for most of its life, and is unrestored and highly original.
1962 Mercedes 300SL Roadster. A completely original car, still featuring the factory supplied fitted luggage, this car spent most of its life in Pennsylvania, where its one owner used it sparingly, covering less than 30,000 miles in 52 years.
1964 Lancia Flaminia 3C Convertible. Just 180 of these were made, and this was one came to the UK in 2013, having been in Milan in the hands of one owner since new.
Ferrari 275GTB. Celebrating 50 years of this iconic machine, 9 of the GTB cars were gathered together, and a most impressive sight they made. Look closely and they are not all the same. As well as a mix of the short nose and long nose models, there are mechanical differences with some cars having 3 carburettors and some the later 6. Several of them compete regularly in historic events, even though were you to try to buy one of these you would need a 7 figure sum to acquire one. Included among them was UPJ5F, one of just 27 RHD cars made, the penultimate car imported and originally registered to Maranello Concessionaires as a "demonstrator".
Rarer, but not quite so valuable is the 275GTS and a couple of these joined the closed GTB cars. The red car is the first 5 RHD cars supplied new to the US market as a "Chinetti Hot Upgrade" with the 6 carb engine. In 1999 it passed to Australia and has never before been seen in the UK.
1933 Bugatti Type 51A/38A. Mystery surrounds this car. The dramatic bodywork was placed on the chassis of Madame Itier's Type 51A after she sold it in 1938, but no-one knows who designed it. When the current owner discovered the 51A racer chassis underneath, he set about reconstructing both cars, with the roadster model presented here.
1934 Rolls Royce Phantom II. This is a 2 door Boattail tourer, designed by Gurney Nutting, and is currently owned by Lord Bamford. It was invited to Villa d'Este and narrowly missed out on winning the concours there.
1935 Auburn 851 Speedster
1938 Bentley 4 1/4 litre Pillarless Saloon. This is a rare all aluminium example that has recently been thoroughly restored, being seen for the first time at the Rolls-Royce Enthusiasts Club event in June this year.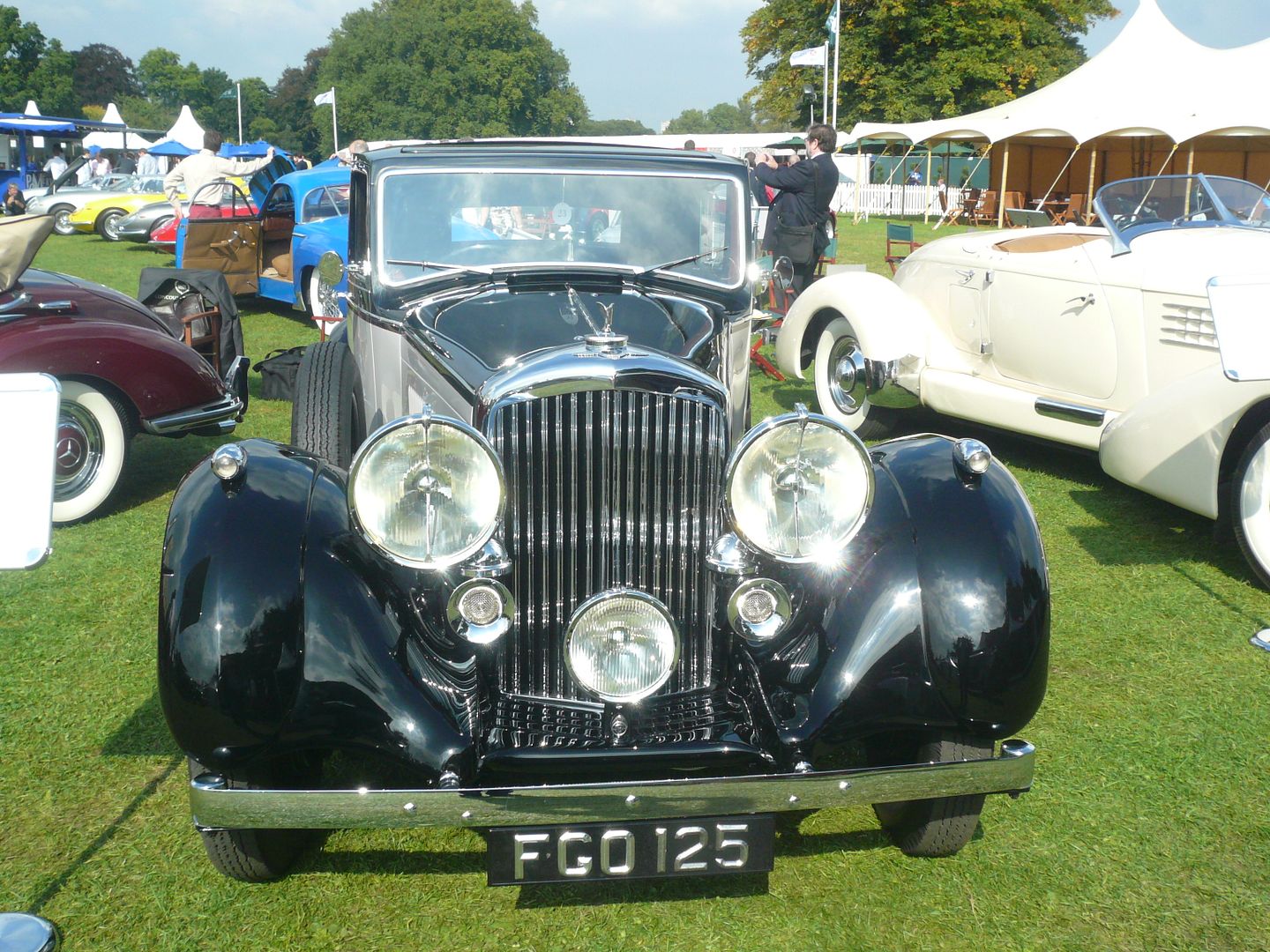 This 1938 4.5 litre is bodied in the style of the famous Embiricos Bentley.
1952 Mercedes 300S.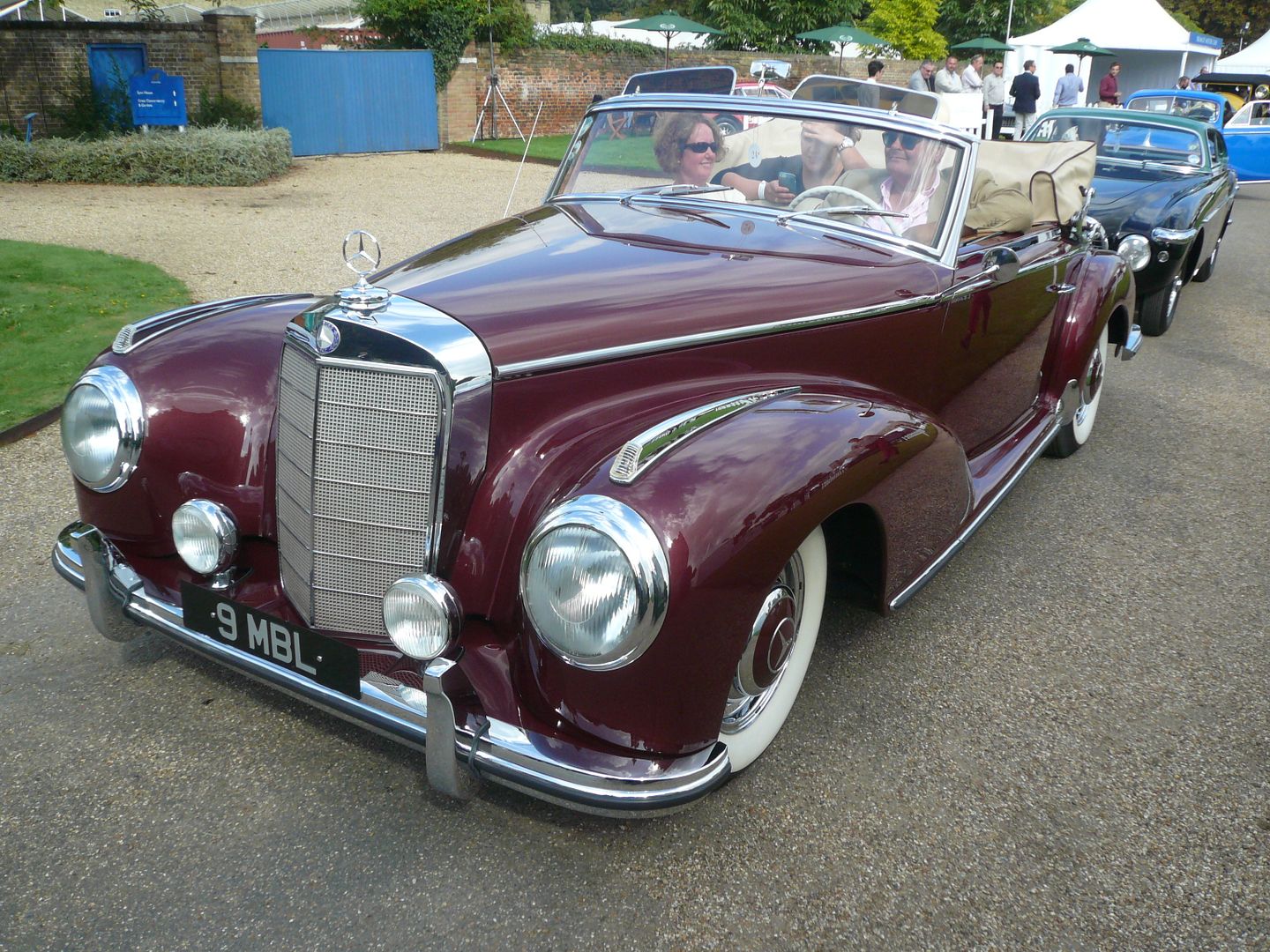 1952 Ferrari 212 Inter Coupe. 6 of the 82 212 chassis were sent to Vignale, and this was the first example that he created
1953 Delahaye Type 235MS Coupe. A one of a kind version of the last Delahaye series made, this car was shown at the 1953 Paris Show, and features bodywork by Chapron. Stunning. Not surprisingly, it was voted to be the "Best of Show" in the public vote.
1960 Facel Vega HK500. These dramatic French cars with large powerful engines were among the most impressive (and costly) cars of their era.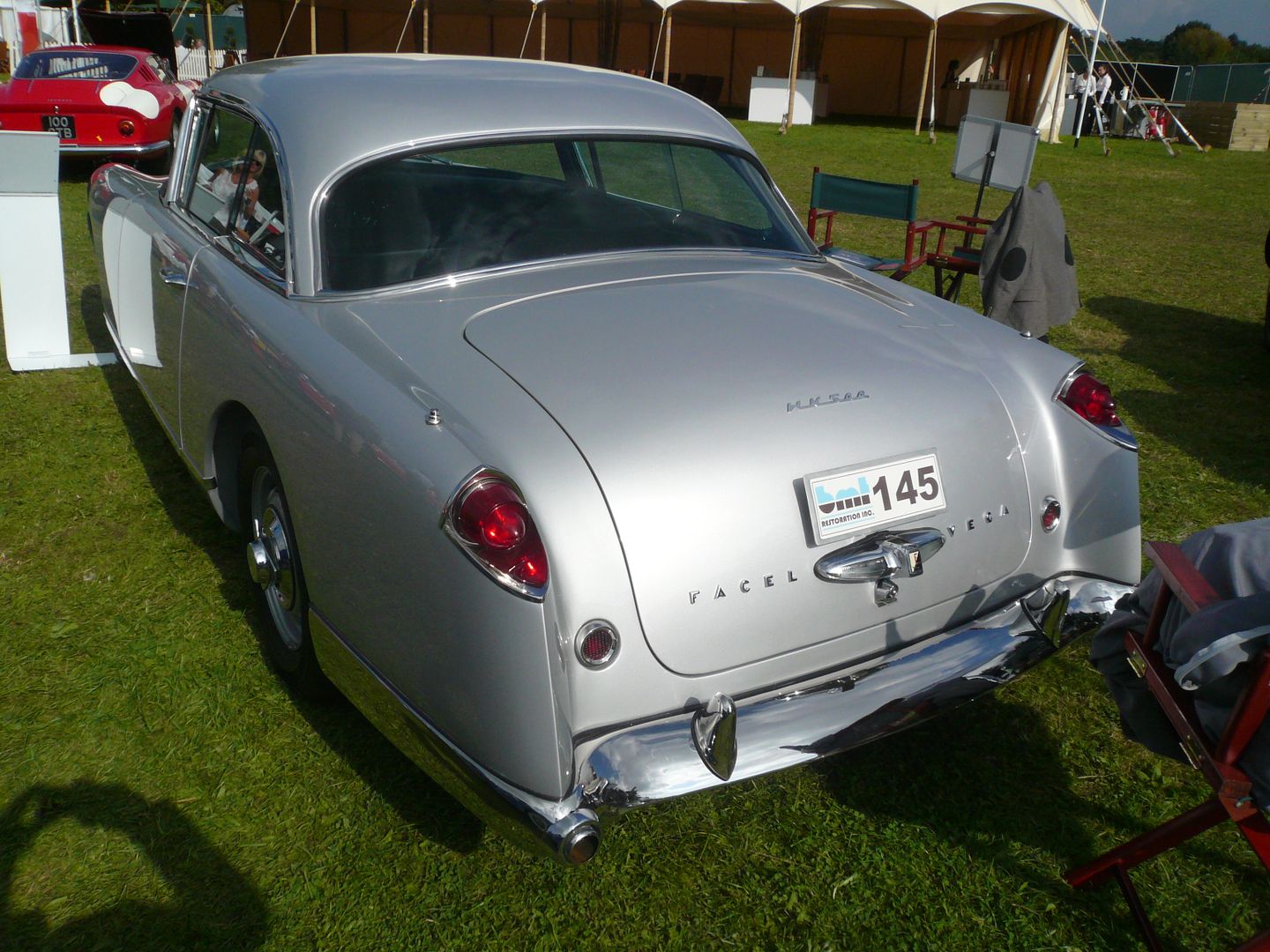 1913 Turcat-Mery Model MJ Boulogne Roadster. I first saw this car at the VSCC event at Prescott a month earlier. It features a huge 6.1 litre 4 cylinder engine, and is believed to be one of few, or possibly, the only survivor of this little known marque.
1923 Duesenberg Model A Roadster. The most expensive American sports car of its time, this particular car has coachwork by Millspaugh and Irish, and is one of very few Model A Chassis that they clothed.
1927 Bentley 4.5 litre. This is the short chassis version, and has never been raced.
1928 Salmson GC8. Built on the Grand Prix car chassis, this is one of 26 such cars known to be in existence now and is an excellent example of the Voiturette that was popular in France in the 1920s.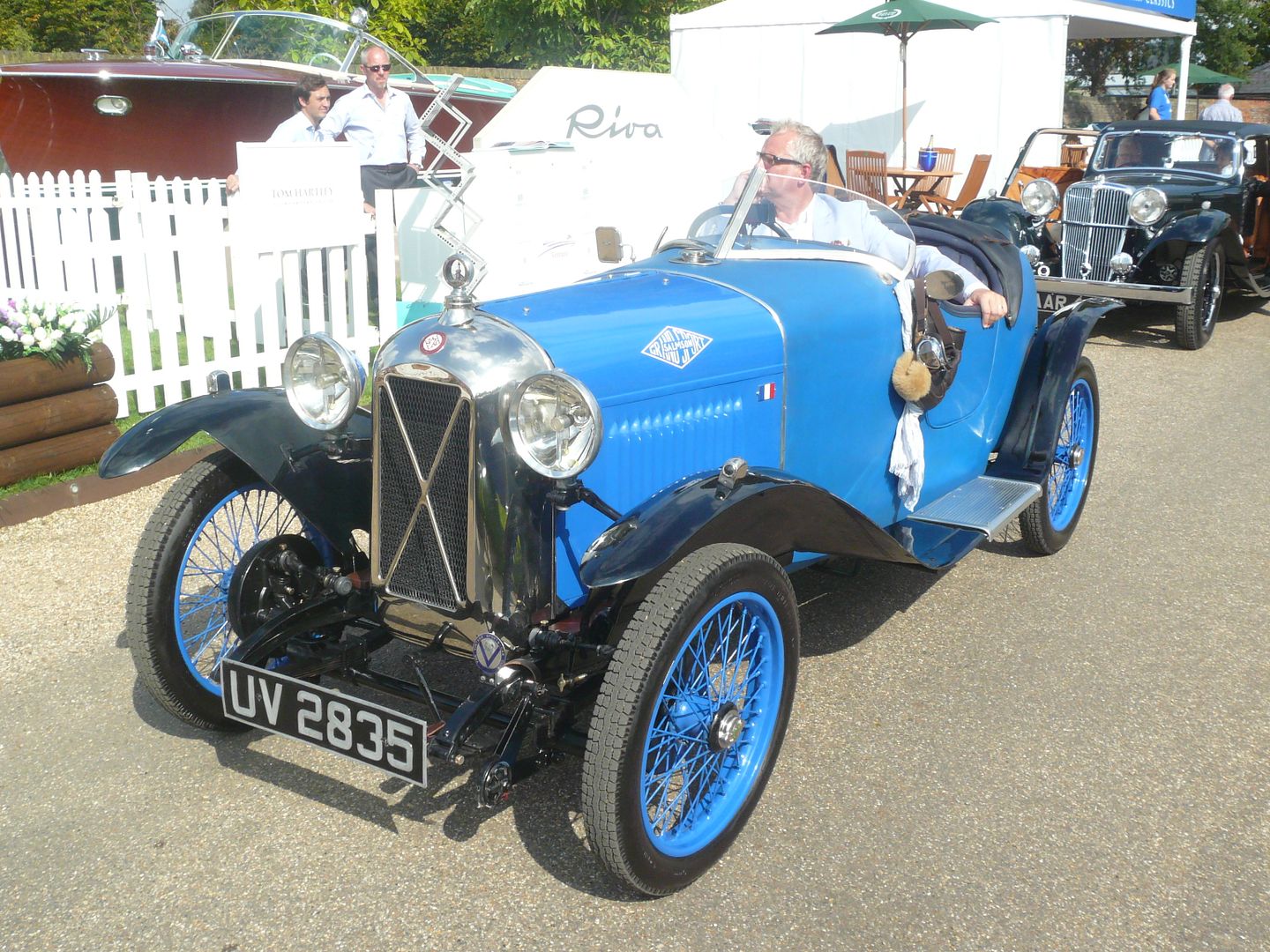 1933 Isotta Fraschini Tipo 8A. One of the most imposing cars of the whole display, this car has a one off Castagna body and a provenance that includes starring roles in many films. Isotta Fraschini among the most expensive and exquisitely engineered cars of their day.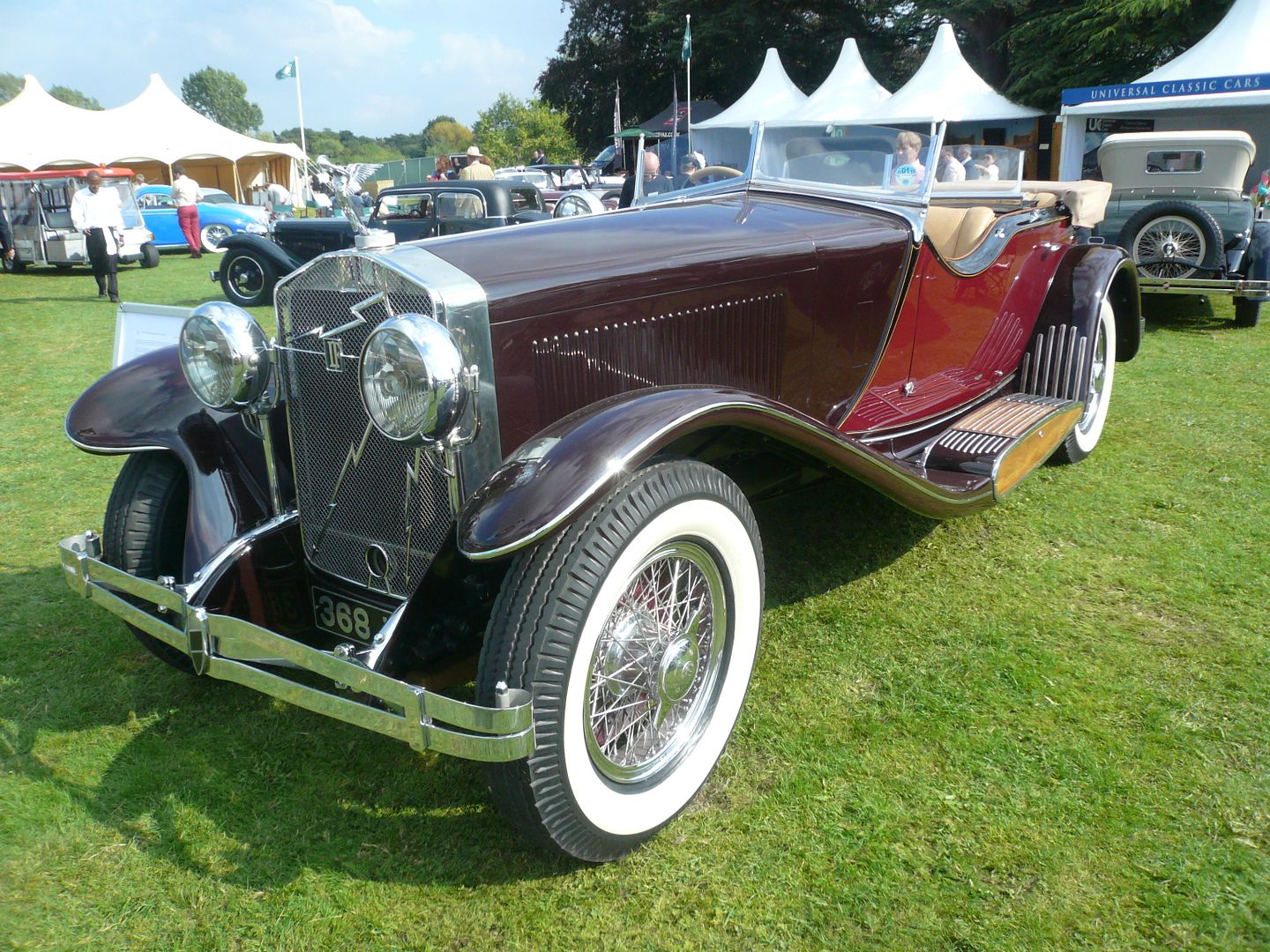 1935 Jaguar SS1 Four Light Saloon. This is an impressively restored example of the car which morphed into the marque we know now as Jaguar.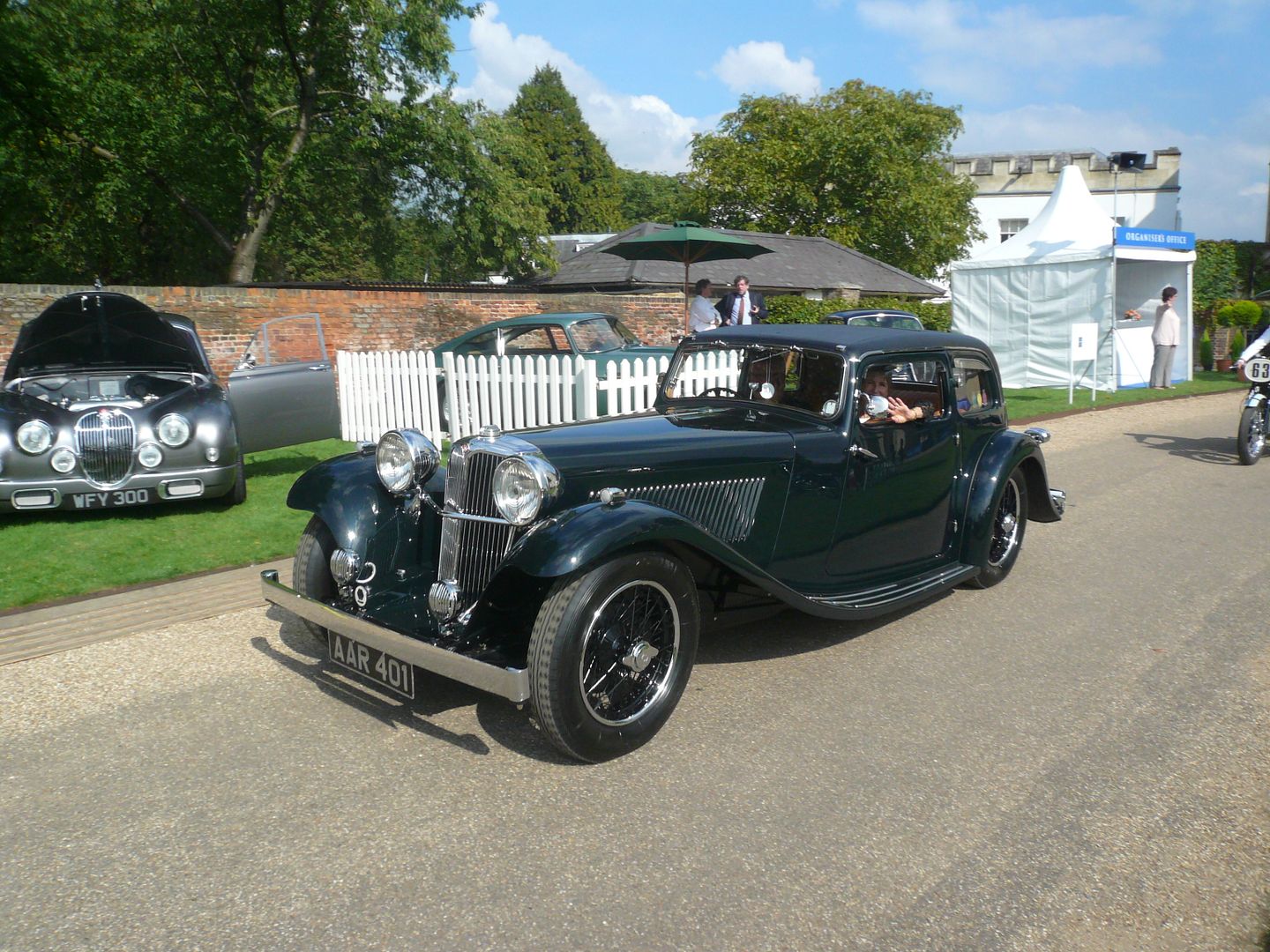 1933 Hispano Suiza J12. A luxury vehicle produced between 1931 and 1938, this particular 11.3 litre car was ordered by the Vice President of Hispano Suiza and descendent of the last Polish King, Prince Charles Casimir Poniatowski.
1938 Delage D8 Sports Tourer. This Figoni bodied car was first ordered by Maharaja Yashwabtrao Holkar II, and it started its life in India. It is now in demand for concours events around the world.
1926 Rolls Royce Phantom 1 Limousine. This car was bought for the Maharaj of Cooch Behar by his mother.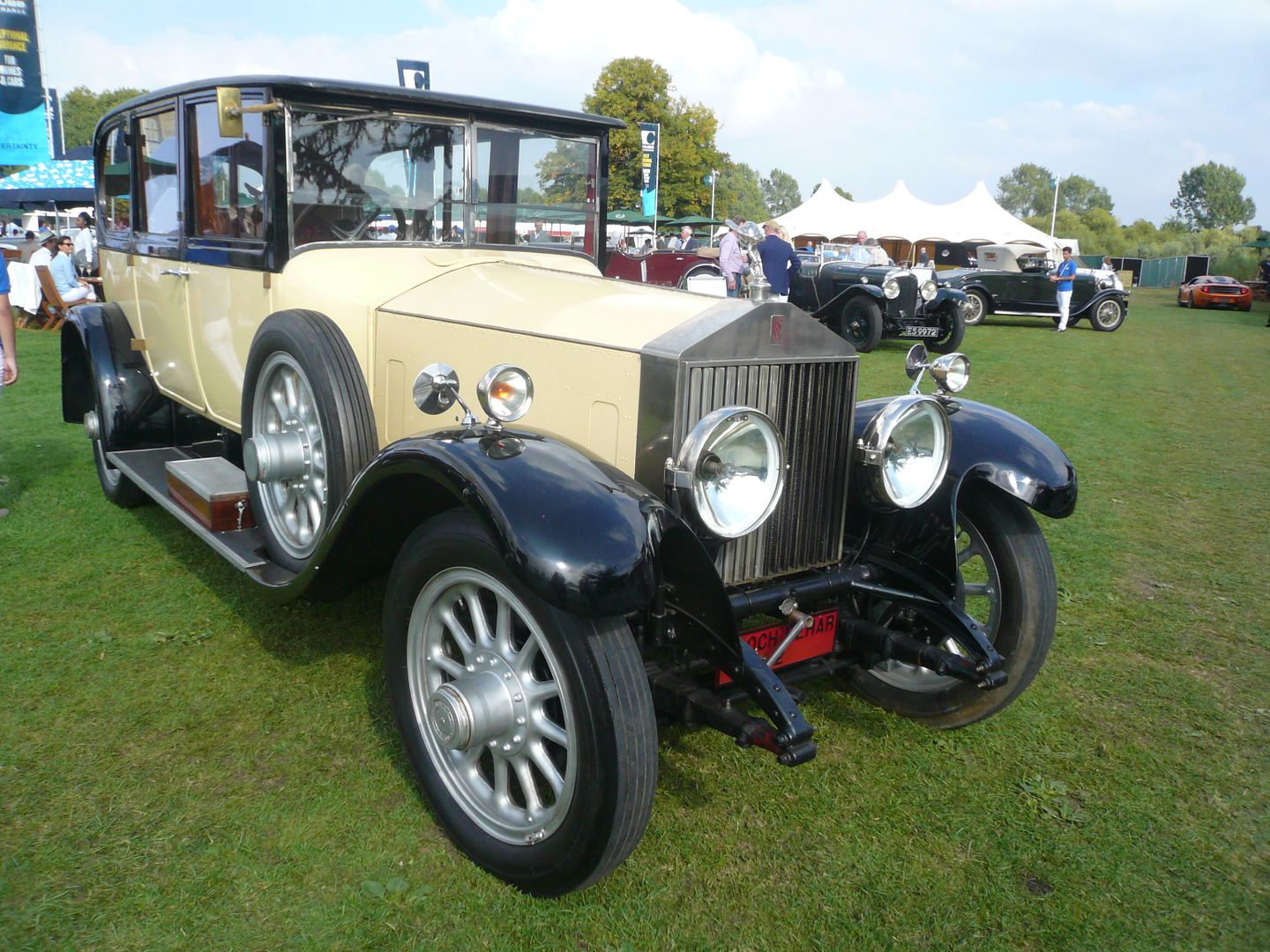 1951 Aston Martin DB2 DHC. First owner of this car was HRH Prince Bertil of Sweden. It was fitted with some unique features including a floor mounted gear lever and a Vantage engine
1951 Cadillac Limousine. Another very imposing car, this 8 cylinder 5.4 litre car served as the official state limousine of the Peron presidency in Argentina.
1970 Mercedes 600 Pullman Presidential Landaulet. Bought new by Tito, the former president of Yugoslavia, this is one of only 10 "Long Top" Landaulet models made.
1926 Maserati Tipo 26. The first Maseratis made were the Tipo 26 and this particular example enjoyed much success as a racer when new, driven mostly by Carlo Tonini. It is still used for competition today, and I have seen it recently at Shelsley Walsh and Prescott.
Another familiar car is this, the 1935 4CS, which is a regular at events like Prescott and the Donington Historic Festival. Earlier in the year I had a long chat with Ken Painter, the man who bought a pile of bits in 1969, and learned a lot about its history, though much of this has also appeared in a recent article in Classic Cars magazine. This car, chassis number 1126,  won its class on the 1935 and '36 Mille Miglia. Later in 1936, it sold to Ignazio Radice Fosatti who recorded a second in class run on the Coppa Mercanti run on the Stelvio hillclimb before going to Monza for an attempt at the 1100cc 12 hour distance record. Unfortunately Ignazio was killed in the 9th hour of the attempt after hitting a dog that strayed onto the track. The car was badly damaged, but once repaired it was sold on. Between 1937 to 1939 it was owned and raced  by Count Giovanni (Jonny) Lurani and Luigi Villoresi, and Ken showed me a long type-written letter he has from Lurani, dated 1970 which records Lurani's memories of the car from the time when he raced it. Subsequent research has revealed that not everything recorded there is quite accurate, but this is still a splendid piece of history to go with the car. However, it was what happened next that makes its history particularly fascinating. By 1942 the 4CS was in Singapore, and was confiscated by the Japanese army and its then owner killed. The late owner's family recovered the car, and had it dismantled and buried for the remainder of the War. The last recorded competition entry for the car as at the 1950 Jahore Grand Prix, by which time a 3.5 litre SS Jaguar engine had been fitted. Some time after this, a De Soto V8 motor replaced this, and the body work underwent several changes. Ken acquired the car in 1969, and spent 18 years restoring it. More recently he gave it to his son, Adam, who now owns and races it on a regular basis.
1955 Maserati 300S. The very first 300S built, and one of few completely original cars still surviving, it competed in this year's Mille Miglia and has also been seen at Goodwood and the Monaco Grand Prix Historique
1964 Cooper-Maserati T61. The only non-exported T61, this is also the only one to receive the massive 5 litre engine that had been successfully used in the Tipo 151s. It only raced 5 times in period but is used far more often than that now.
1991 Maserati Barchetta. One of just 17 cars built for the Maserati Grantrofeo Barchetta race series, it was run in period by High Klas racing in Denmark, and is one of few Barchettas that has never been converted for road use.
1950 Maserati 1500GT. The A6 was unveiled at the 1947 Geneva Show, heralding Maserati's entry into the field of "mass" production.
1960 Maserati 3500GT Spider. Creation of Giovanni Michelotti, the 3500GT was first shown in 1959 and was the car that really marked Maserati's entry into producing road cars in some quantity. The Vignale body on this car makes it one of the most desirable Maserati of all time.
1968 Maserati Mexico Prototipo. Something about this car did not quite look "right". That is because it is a prototype, and hence a one-off.  Shown in Spain, partly to comply with a ruling that a manufacturer had to have a minimum of 5 cars on show, the car was later sold, as all display cars also had to be road registerable, it stayed there until earlier this year when its new owner was able to acquire this special and unique car.
1971 Maserati Ghibli SS. A stunning car, the SS versions had a more powerful 4.9 litre engine based on the racing 450S engine, and designed to compete with Ferrari's Daytona.
1977 Maserati Khamsin. Designed by Gandini, the Khamsin debuted at the 1972 Turin Motor Show, and was the most expensive Maserati ever made, at the time.
1957 Ferrari 250GT. This is 250 GT LWB Berlinetta that was rebodied in the 1990s under the personal direction of Elio Zagato. Each of the Zagato bodies on 250 Ferrari differed very slightly.
1962 Lancia Flaminia Sport 3C. The Coupe and Convertible versions of the luxury Lancia were coachbuilt cars, with various different bodies offered. This Zagato example is one of the rarer ones.
1967 Lancia Fulvia Sport Zagato. These were made in far greater quantities than previous hand-built bodies, and are in fact the most produced design of this famous Styling house.
1967 Rover TZ. Being seen in public for the first time in over 20 years, this Rover 2000 based car was first shown at the 1967 Turin Motor Show, but was never seriously considered for production.
1957 Ferrari 250 GT "Tour de France". Officially called the 250 Granturismo Berlinetta, nicknamed the "Long Wheelbase Berlinetta", this model became known as the "Tour de France" after successfully competing in the 10-day Tour de France automobile race, not the famous bicycle race of the same name. There were 77 Tour de Frances built. A number of 250 GT "Tour de France" Berlinettas were sold for GT races from 1956 through 1959, though this particular car has no competition history at all. . Construction was handled by Carrozzeria Scaglietti based on a PininFarina design. The engine began at 237 bhp but rose to 256 bhp by the end of production.
1958 Ferrari 250 GT California Spider LWB. This is the third such car to be built, and has what many consider to be the more desirable covered headlights. It retains its original chassis and engine.
This is the first left hand drive Jaguar E Type delivered into Switzerland in June 1961, to well known dealer Emil Frey. More recently this car has won many awards for its condition and presentation.
1962 AC Aceca. This is one of just 4 RHD Aceca produced with the 2.6 litre Ruddspeed Ford Zephyr engine, and the car was originally delivered to one Ian Fleming in the same year as he completed "The Spy Who Loved Me".
1962 Ferrari 250GT SWB
1964 Aston Martin DB5
1964 Aston Martin DB5 Convertible
1967 Ferrari 330 GTC
1971 Ferrari 365 GTB/4 Daytona. This is an early car, one of only 33 RHD cars, and the 14th car imported to the UK, but just the 10th RHD model, as the first cars into the UK were LHD.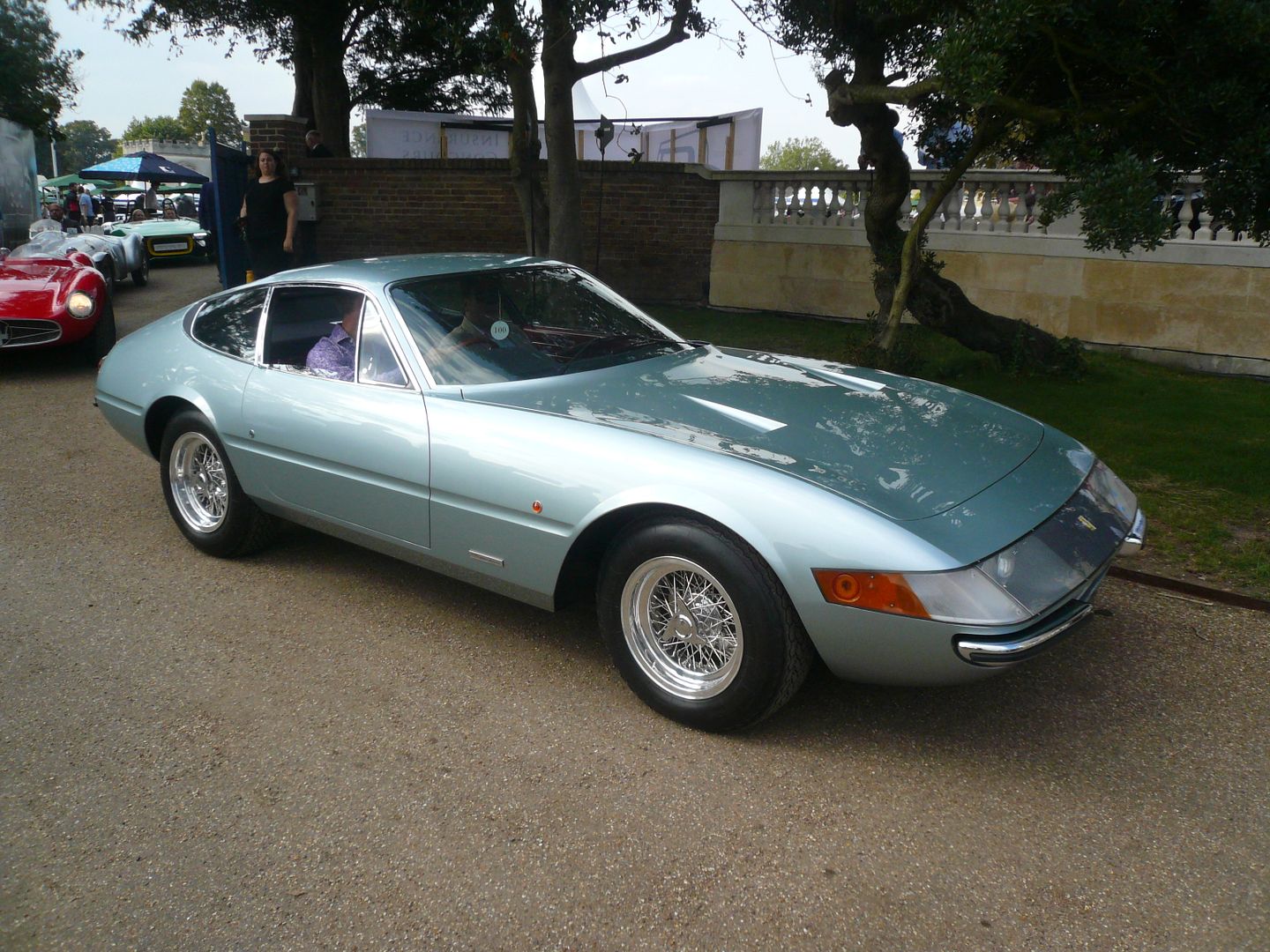 Caterham AeroSeven. Although officially still a concept, the intent is to put something very similar to this into production before too long. Watch this space.
The MINI Superleggera Vision was first seen earlier in 2014 at the Villa d'Este.
Lamborghini 5-95 Zagato
This new Ford Mustang was billed as concept, though it is in reality a pre-production version of a car you will be able to buy soon from your friendly Ford dealer.  This is the same V8 engined GT car as was shown at Silverstone Classic.
And finally, I was delighted to see this again. A 1947 Cisitalia Abarth C204, this is the first car ever to bear the legendary Scorpion badge. Tazio Nuvolari won his last ever race in this car, and it raced an won at the Targa Florio, Mille Miglia and Palermo-Morite-Pollegrino. A splendid car and what a finale to a series of special machines.
There's no getting away from the fact that £81 is a lot to pay for an afternoon's entertainment, but having seen that array of cars, you may well conclude, as did I, that it is well worth it. That is all the more so as the ticket includes not just as much afternoon tea (sandwiches and scones with clotted cream and jam) as you can eat, but champagne, Pimms and other beverages on tap. Indeed, during the course of the event, it is estimated that over 2350 bottles of champagne will be consumed (I was driving, so none them went to me!), and over 4500 scones will be eaten. More importantly, the historic cars were worth in excess of £120 million, there were over 25,000 bhp on show, 100 cars in the concours and 28 had been brought in from outside the UK, and that's before you add in the dealer and manufacturer cars. An expensive afternoon, therefore, but by goodness was it a good one.