The Concours d'Elegance is not a new concept, pre-dating the invention of the motor car by at least 200 years, when people would vie with each other over their horse drawn carriages. When the horseless carriage arrived, the concept survived and was applied to this new form of transport, and as the motor car developed in the early years of the twentieth century, so did people's interest in it. So, wind the clock back to the 1930s and you will find that as well as competitions to test the skill of the driver behind the wheel of his car, there were also plenty of contests where the static qualities came under scrutiny, with design, style and elegance all important attributes if the owner were to impress the judges. Accordingly, t is no surprise that those with money were able to spend ever greater sums at their favourite coachbuilder acquiring something that was not just up to the minute but genuinely elegant and lovely to look at. In recent years., the Concours has undergone something of a renaissance, as evidenced by the huge crowds and the amount of attention that world-renowned events in places like California's Pebble Beach can attract. With an inventory of classic, historic and just plain "mice" cars dispersed literally all around the world, and no shortage of owners eager to display their treasures to a wider audience, there is plenty of scope to hold Concours type events around the world and during the year. In addition to Pebble Beach, there have been Concours elsewhere in the world in recent years, but not in the UK, so it was no surprise when it was announced that this perhaps surprising gap in the events calendar would be filled by a new and prestige event.  Organised by Thorough Events, a first Concours of Elegance event for the UK was announced for 2012, to be held within the private grounds of Windsor Castle to mark the Diamond Jubilee of Her Majesty the Queen's reign. Thanks to meticulous planning and the fact that the event contained a spectacular array of cars, may of which had never before been seen in the UK, this first Concours of Elegance set a new global benchmark for a classic car concours; winning prestigious awards in the process; unheard of for a 'start-up' event in its first year. It was no surprise that the organisers were soon able to announce that this would not be a one-off and that a follow on event would take place in 2013. The second Concours of Elegance was held to equal fanfare and acclaim at the historic Royal Palace of St James in London.  With only the highest calibre of cars invited to the Concours of Elegance event, most of which are not just among the rarest cars in the world, but also sourced from owners and collections all over the world, the entrants are painstakingly selected by the Concours Steering Committee; a respected team of authoritative historic car experts and once again, the result wowed the crowds. Me included. When plans for the 2014 event were announced, I wondered how the previous two events could be beaten, but all the ingredients were there. This time, thanks to the continued support and patronage of HRH the Duke of Kent, the venue was announced to be another Royal Palace, at Hampton Court, and we were promised yet another assembly of very exclusive cars, along with displays from invited Owners Clubs and a number of Dealers. With entry to the Palace included in the ticket price, that was more than enough to justify the £35 ticket price, and so on a sunny Saturday morning at the start of September, I set off to see just what delights had been sourced from around the world. Needless to say, I was not disappointed.
CONCOURS CARS
60 of what were described – quite correctly – as "the very finest classic cars from around the world" were invited to attend, and they formed the centrepiece of the event, beautifully displayed so you could walk all around them, and get a good look at some priceless machinery, much of which had not been seen before in the UK. This was a Concours event, which meant that a number of awards mere made, against a variety of categories, and these are noted against the individual cars below. Although the cars were placed in 17 different groups for judging purposes, they were displayed in something of a random sequence, which added to the enjoyment of going up and down the lines and seeing what else was on display.
Oldest car in the display was this 1896 Lutzmann Victoria Vis-a-Vis, Displayed alongside the newest car of the Concours, the 2014 Ferrari LaFerrari, this early motor car illustrates just how far the car has come in 120 years. Based in Dessau, East Germany, pioneering motor car maker Freidrich Lutzmann is described as: "Court Cutler to the Grand Duke of Saxe-Anhalt" in a period 1896 sales brochure for this car.  Lutzmann was clearly inspired by the first Benz four-wheeled car to make a very similar vehicle of his own, going on to become one of the earliest German motor car manufacturers.  A handful of Lutzmann cars were sold in England in 1896-97, and one was also exported to Aden. In late 1898, Opel entered the motor industry by acquiring the Lutzmann plant, patents, stock, and staff, all of which was transferred across Germany to Rüsselsheim, where Opel remains to this day as one of Germany's largest vehicle producers.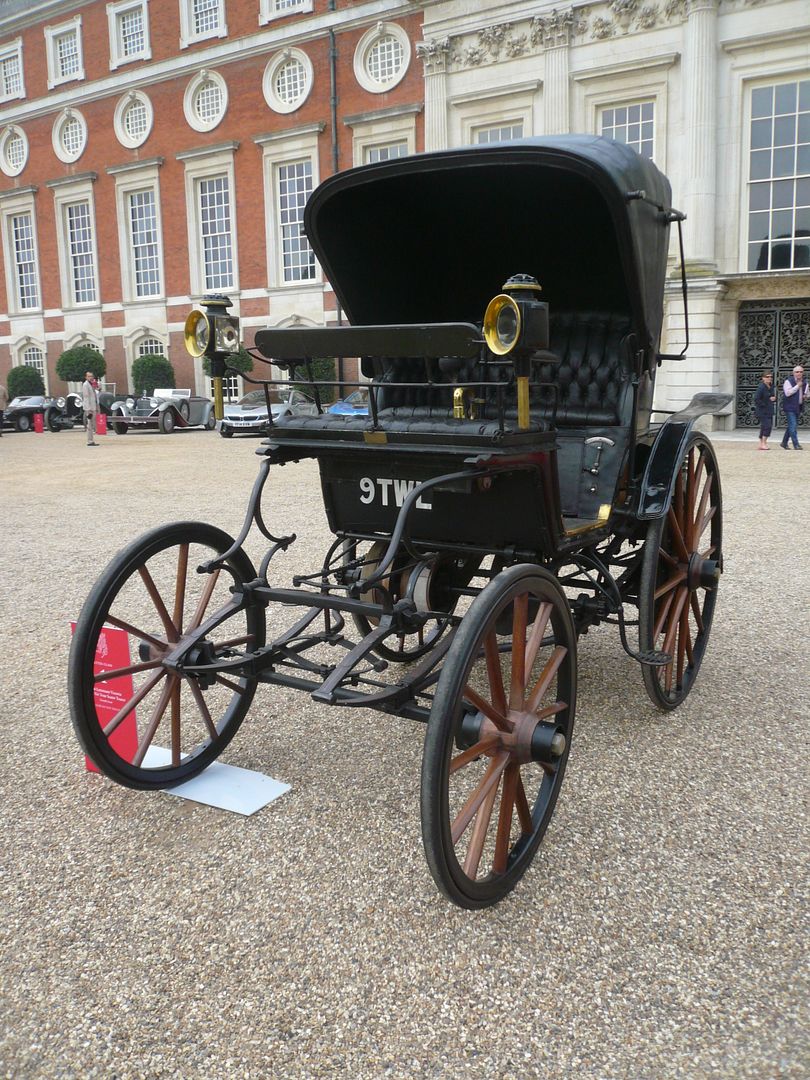 1902 Panhard et Levassor Tonneau
This 1904 Oldsmobile Model N 'French Front' Touring Runabout was the first car from the Amerivan brand to feature a steering wheel., Previous offerings had all used a tiller.
1909 Mercedes 135HP Kettenwagen
In its day the now revered Rolls-Royce 40/50HP – more commonly known as the Silver Ghost – was rightly considered to be the best touring car in the world.  In 1906, before 'regular' 40/50HP production commenced, Rolls-Royce submitted its Silver Ghost to some very public durability trials in its silver Barker-bodied 'Roi de Belges' which it accomplished with aplomb, setting the exceptionally high standard for all subsequent examples of the British. As with a number of Silver Ghosts, this fine 1912 model wears a Tourer body, crafted by London-based coachbuilders Barker.  Founded in 1910, Barker quickly established an enviable reputation for its fine coachwork, going on to build horse-drawn carriages for the British Royal Family, including King George III. In 1912 Barker also bodied another well-known Silver Ghost – the silver 40/50HP Double Pullman limousine that famously formed the basis of the Corgi 1/43rd scale model that so many schoolboys cherished as a toy in the 1960s and 70s. This imposing Edwardian motor car has criss-crossed the Atlantic more times than David Frost.  It began life in England, was sold to Newfoundland, returned to the UK, went to Pennsylvania, came to Suffolk, and then headed to Florida.  It now resides back in Britain
This 1912 Bugatti 5 Litre "Garros" Chain Drive. is the oldest Bugatti racing car in the world, as driven by a young 30-year-old Ettore Bugatti himself.  He campaigned this car at both at Le Mans and the Mont Ventoux hillclimb, where the Bugatti won its class and came fourth overall.  By the time Bugatti built this car, he had more than a decade of experience designing vehicles for other French car companies – De Dietrich, Mathis and Deutz – before setting up his own factory in 1909. Although Bugatti's first model was a four-cylinder 1327cc car, he had ambitious plans for a large 5-litre engine for use in a racing car.  Of the six or seven 5-Litres subsequently built, only three of the Type 18 'Garros' (named after Ettore's close aviator friend; Roland Garros) are known to exist today, with this example being the first built, and Ettore Bugatti's own car. The Type 18′s design is as remarkable as anything conceived by Ettore Bugatti. The four-cylinder engine had three valves per cylinder, two inlets and one exhaust, driven from a vertical front shaft from the five-bearing crankshaft below. There is a four-speed gearbox and a multi-plate clutch, just like those he had designed for Deutz. This was a quite remarkable specification for 1912
From its founding in 1919, the Coventry-based marque Alvis had competed in motor sport.  Real racing success did not come though until the advent of the Alvis 12/50 model, introduced in 1923. In that year Alvis Works driver Maurice Harvey won the 200 miles race at Brooklands in one of three special racing 12/50s, averaging over 93 mph. This competition 12/50 example was driven by racing driver and aero-engine designer, Major Frank Halford in period.  He competed at motor race meetings throughout the UK, with this Alvis ultimately being used a Dunlop's tyre-testing car at Brooklands
1922 Sunbeam Grand Prix Tourist Trophy
1924 Delage GL Labourdette Skiff
1925 Vauxhall 30/98 Velox
1925 Bentley 3 Litre Vanden Plas Speed
The 1928 Amilcar C6 Voiturette is an example of the sort of lightweight sports racer that was popular in France in the 1920s. This  example is an ex-Louis Devaud / Georges Grignard racing voiturette, and a veteran of a number of French Grand Prix in the 1920s and 1930s, including the 1935 and 1936 'Bol d'Or' races where it took impressive second places.
This 1928 Mercedes-Benz 680S Saoutchik Torpedo is the very same car that won Pebble Beach in 2012 and was sold at the same place a year later to its present owner, Craig McCaw.
1928 Mercedes-Benz 680S Erdman & Rossi
1928 Steyr VI Sport Tourenwagen
This 1928 Bentley 4½  Litre is a  very original typical Vanden Plas bodied car. Back in the days these were the cheapest bodies in the program and the fabric body was especially suited for the flexible ladder frames that tended to crack the steel or aluminium coachwork. Certainly not intended to last for 90 years, few of them have survived in original condition and with all the Le Mans replica bodies around an original fabric tourer is very special.
1928 Bugatti Type 43 Grand Sport
A pair of Supercharged Mercedes-Benz 710 SS were displayed, both of them with very prominent owners and lots of patina from a race bettered life. The first of these, known by its registration number "UW302" is the race car of no less than Rudolf Caracciola who is more than anyone else known for his success with the "white elephants", ie racing Mercedes of the era. This is the very car in which he won the 1929 RAC Trophy,  before it was sold to Earl Howe who was competing in the 1930 TT with this car against the second 710 SS on show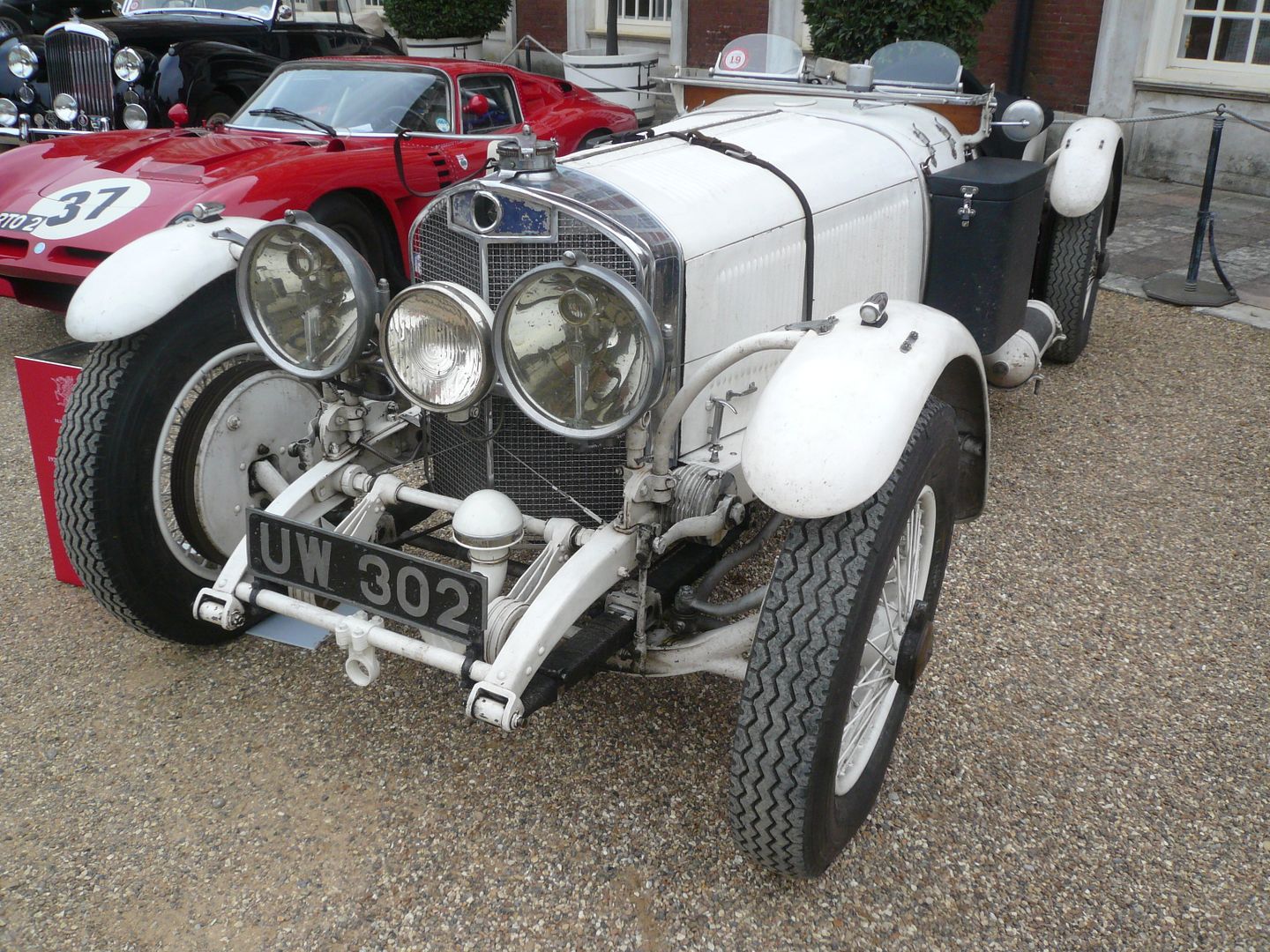 The second car, ex. Malcolm Campbell with the famous registration "GP10" is a 1930  Mercedes-Benz 710 SS Rennsport . These both Mercedes racers belong to well-known collectors of the supercharged cars with the three-pointed star but rarely are they seen standing side by side, especially in Great Britain where they both had their greatest success.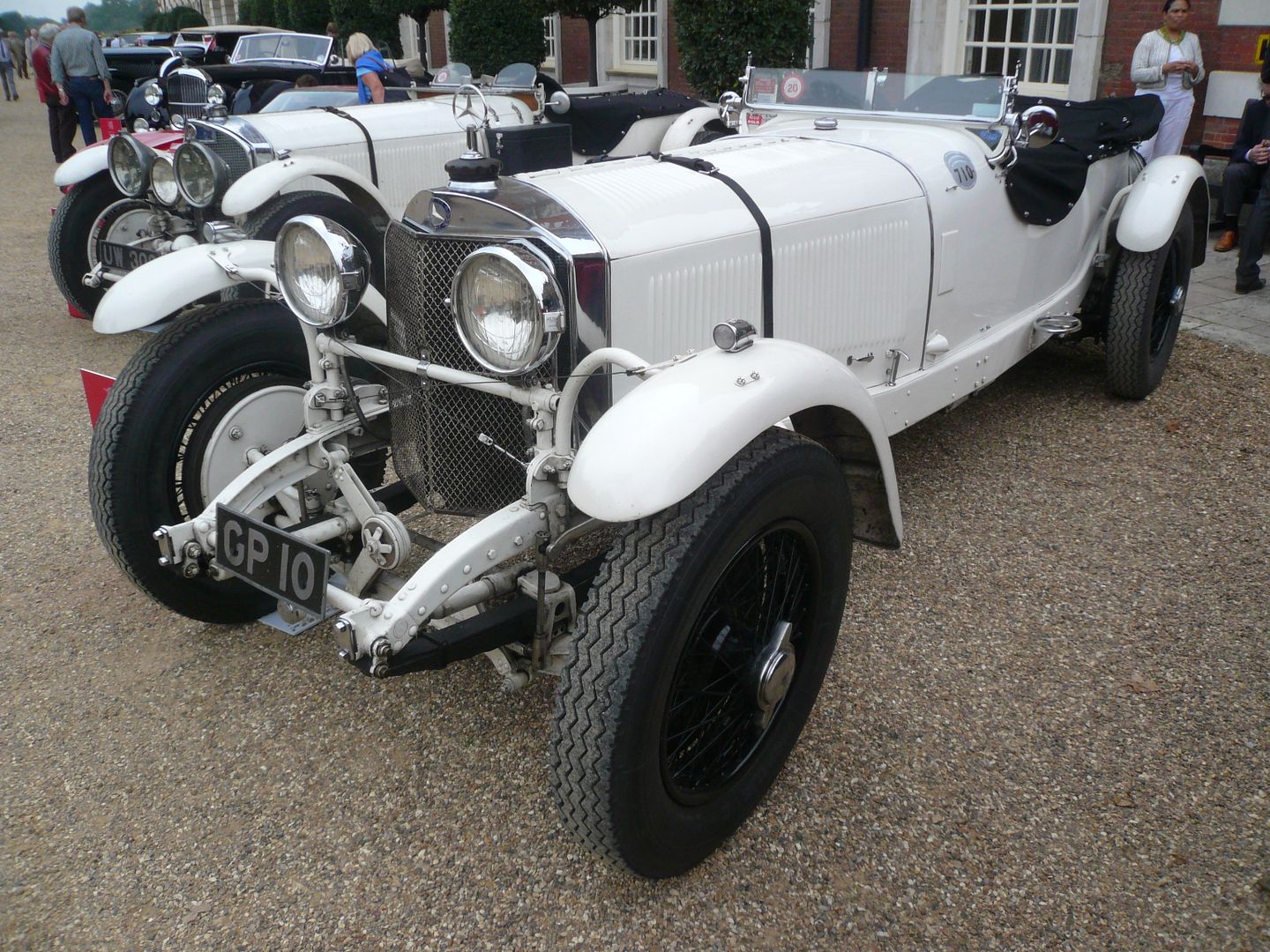 Based on the same chassis as the slightly earlier Bentley is this 1929 Bentley 4½  Litre  car with a Martin Walter Drophead Coupe body, which sports very elegant lines on the two-seater with additional dickey seats in the back.
The Pullman Trophy for Best in Show was awarded to the legendary 1931 Alfa Romeo 6C 1750 Touring Flying Star. Bodied by Touring in 1931, the distinctive Flying Star was one of a number of 6C 1750s coachbuilt by this talented Milanese design house.  However, few wore this dramatic swooping body, with a strong accent line running the length of the low-slung body. The white external coachwork and wheels are complemented by an all-white interior, contrasting with a nickel-plated black dashboard to breathtaking effect. The ice-white Alfa was built specifically for the 1931 Concorso d'Eleganza Villa d'Este, where it was accompanied by model Josette Pozzo, and together they fittingly took the prized Coppa d'Oro di Villa d'Este trophy. More than seventy years on, the Touring-bodied Alfa Romeo was still winning plaudits, and melting hearts, taking the top trophies at the 2005 Pebble Beach Concours, and upon its return to Villa d'Este in 2007. This epic Alfa had never before been seen on British soil, but thankfully its owner decided to rectify this by shipping the striking Flying Star from the USA to the UK specifically for this event.
Lovely though the Flying Star is, this 1933 Alfa Romeo 8C 2300 Monza was a car I would willingly have tried to smuggle out of the event. 8 cylinder Alfas from this era are worth Big Money, and it's not hard to see why. And that's before you open the bonnet to gaze at the work of art that is also the engine. Fabulous!
The tiny, supercharged 1100cc six-cylinder 1933 MG K3 Magnette remains one of the most remarkable of all MGs.  Launched in 1933, MG offered the K3 in various stages of tune, giving power outputs ranging from 105 to 125 bhp; impressive today for a 1.1-litre car, but truly remarkable in the 1930s.. The K3 notched up a succession of significant motor racing victories throughout the 1930s, both in the UK and overseas. In its first year of production alone, the K3 took first and second places in the 1100cc class in the Mille Miglia, resulting in MG being awarded the team prize, and breaking all class records to boot!
Lord Bamford's 1933 Rolls Royce Phantom II Continental, with a Freestone and Webb body won a prize for Most Elegant British Motor Car.
This 1934 Triumph Dolomite 8C SS Corsica Roadster was awarded the "RAC Spirit of Motoring" prize
1934 Fiat 508S Ballila Sport
The first of two Type 57 Bugatti was this, a 1935  TT model with Bertelli Tourer body.
1936 Bugatti Type 57 Paul Nee Pillarless Coupe
"The World's Finest Motor Car".  So claimed Dueseberg when launching its now-legendary Model J in 1928. The Model J attracted a who's-who of famous owners in its day, including European royalty, tycoon Howard Hughes and a myriad of Hollywood A-list stars, including Gary Cooper, James Cagney, Greta Garbo, Clark Gable and Mae West. With a powerful 6.9-litre straight-eight engine, exquisite engineering and 120 mph capability, the Duesenberg Model J was the chassis of choice for many of the World's finest coachbuilders. The imposing 1936 Victoria Coupe is one of only 10 Model Js bodied by Rollston, and it attracted many admiring glances with its gleaming coachwork.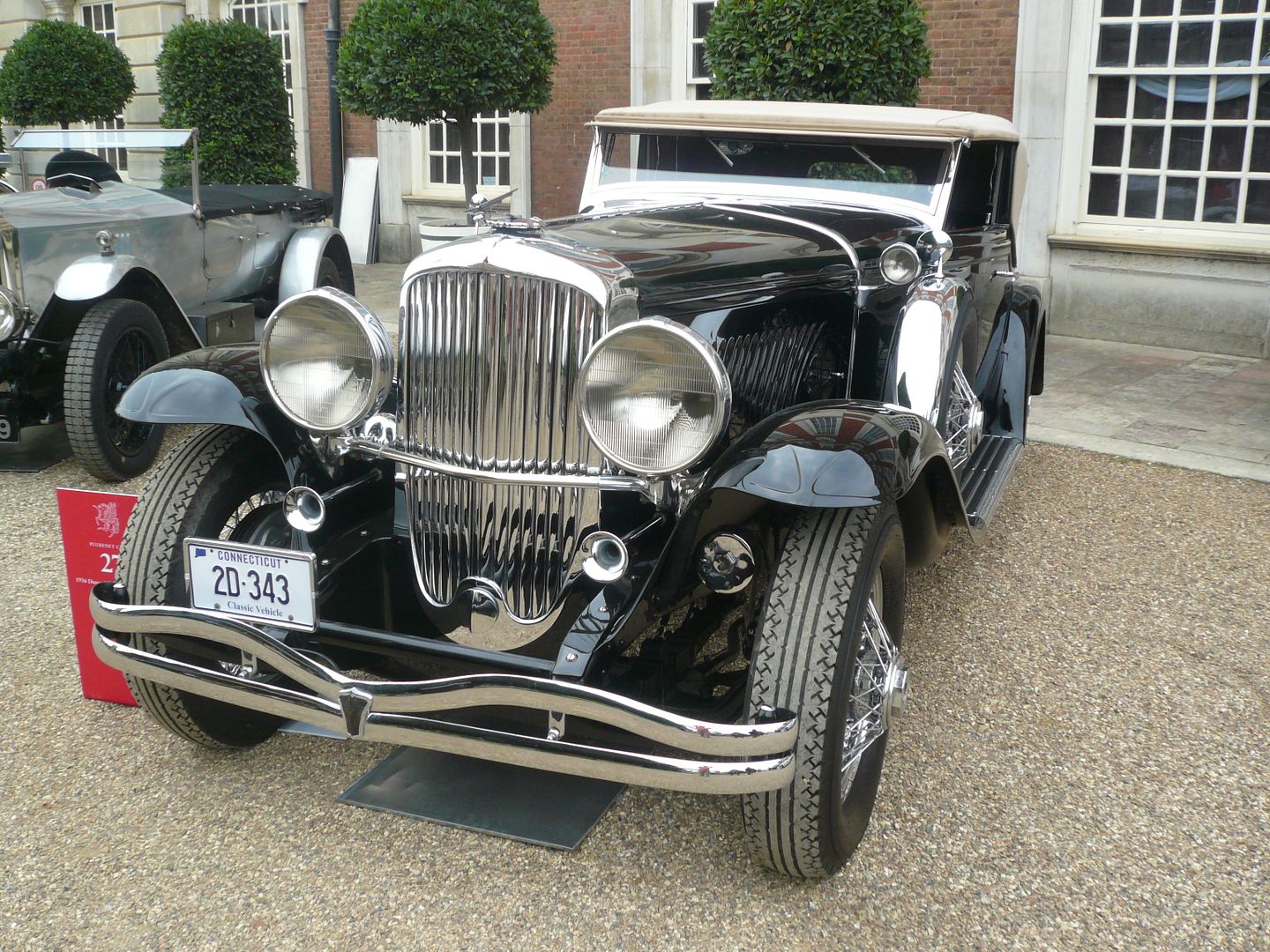 1937 BMW 328
As Maserati celebrates its centenary this year, it is only appropriate that the Concours  included an exceptional racing example of the marque, a stunning straight-eight 3-litre Maserati Tipo 8CTF, a rarely-seen car. Built in 1937,  this was a works car for the 1938 Grand Prix season, and was driven by Count Felice Trossi.   He famously loaned this car to Paul Pietisch for its greatest race outing; the 1939 German Grand Prix at the Nurburgring, where it was leading the race, only to develop a spark plug problem, resulting in it finishing third behind the usually dominant 'Silver Arrow' racers of Auto Union and Mercedes-Benz.
This Talbot-Lago's signature Figoni et Falaschi teardrop shape, known as 'Goutte d'Eau' in its native France, adorned a handful of the finest French grande routier chassis, the first appearing in 1935 on a Delahaye 135 platform. Of all the grand cars available in the art deco era, Talbot-Lago's T150C was the most popular base to transform into jaw-dropping rolling sculpture, with many bodied by Parisian coachbuilders Figoni et Falaschi as the ultimate expression of this streamlined form. The lightweight T150C chassis was derived from Talbot-Lago's successful competition platform, with the C in the model's nomenclature denoting Competition, and winning important races as far a field as Tunisia, Montlhèry, and the British Tourist Trophy. The SS suffix marks the T150's chassis out as the more sporting short-wheelbase model. By successfully combining racing performance and functionality with such an elegant form, Figoni et Falaschi's teardrop Talbot-Lagos became the trend setting streamlined 'supercars' of the late 1930s.  Today, they are among the most highly sought of any motor car, irrespective of marque or era. No surprise then that this striking 1938 Talbot-Lago T150C-SS Figoni et Falaschi Coupé received the Autoglym "Elegant Design Award" at the event.
1948 Frazer Nash High Speed Competition Model
Oldest of the five Ferrari racers in the Concours was this 1949 166 MM Touring Barchetta (0010M) which had been seen at this year's Pebble Beach and was the overall winner at the Windsor Castle Concours. Like many other racing Ferrari, this small Barchetta has been restored to the specification from when it enjoyed its biggest success, the win at the Spa 24hours in 1949 in the hands of Chinetti and Lucas.
This rare Bristol 402, one of just 24 Drophead Coupes built, is one of a matching pair once owned by the famous film star couple; Jean Simmons and Stewart Granger. These British Hollywood A-listers purchased a pair of identical 402s from Anthony Crook Motors Ltd in Caterham in 1949, with ex-racing driver and Battle of Britain pilot Crook ultimately going on to buy and run Bristol Cars for many years some time later. Anthony Crook passed away in his 90s earlier this year, but Bristol Cars is still very much alive and in rude health, in new ownership
This unusual Jaguar XK120, with its distinctive domed Perspex roof 'bubble', is known as the 'Jabbeke' XK, famed for its 1953 land speed record of 173.159 mph, achieved on Belgium's Jabbeke Motorway. It was built in 1952. Registered MDU 524, began life as an original Jaguar Works Competition car and went on to compete in the challenging terrain of the Rallye International des Alpes as its first competitive outing. However, this XK120's real rite of passage came under the command of Jaguar's then test and development driver Norman Dewis, who drove the car to a Land Speed World Record of 143 mph on the Jabbeke Highway, Belgium in 1953. By April of that year, 'MDU' had lost the title to a V8-engined Pegaso which was timed at just over 150 mph.  Eager to reclaim the land speed title, Jaguar set about modifying MDU in order to improve its aerodynamics and streamline the car to improve its maximum speed. The most notable of these changes was the Perspex bubble which would go over Norman's head during the second attempt. Upon their return to Jabbeke in the latter part of the year, the performance of both the XK120 and Norman surpassed any expectations as the car achieved an incredible top speed of 173.159mph and reclaimed the World Record for the Flying Mile with a speed of 172.412mph. Following its 1953 land speed record success, Jaguar sold MDU 524 and it was subsequently used in club racing events, resulting in it losing some of its aerodynamic modifications. 'MDU' underwent an extensive 18-month restoration by Essex-based classic car specialists, JD Classics, on behalf of its American owner in 2011.  The JD Classics' team of in-house specialist technicians returned the XK120 to its original land speed record specification, including an accurate reproduction of all the car's period aerodynamic aids, most notably the Perspex bubble, full-length alloy under trays and forced carburettor air induction system.
This striking car is a 1953 Siata 8V 208 CS Bertone Spider Corsa. Featuring Fiat's 2.0 litre 8V engine. Siata introduced the 208S in 1953 and went on to make 35 cars between 1953 and 1955 priced at 5300 dollars available in both convertible and hard top. The car rose to prominence after actor and race car driver Steve McQueen purchased model BS523 from Los Angeles based Siata importer Ernie McCaffe in the mid-1950s. McQueen reportedly re badged the car with Ferrari emblems and dubbed the car his "Little Ferrari".
1953 Bentley R Type Mulliner Drophead Coupe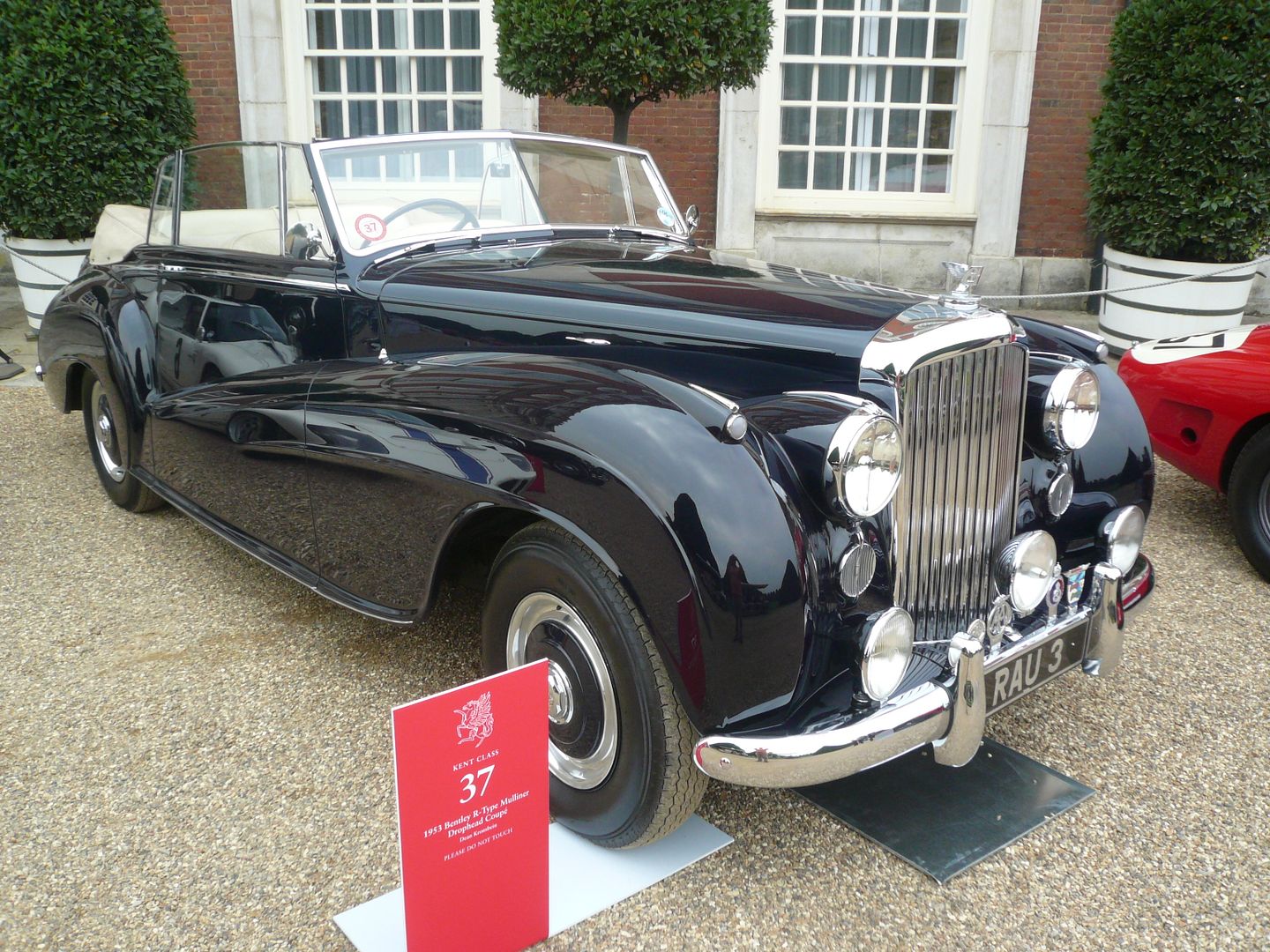 Another very special Ferrari was this 1953 Ferrari 340/375 MM Vignale Spyder. After being updated to the 375 Plus specification it was entered as a factory team car at the Nürburgring where it won the 1000km before going over the Atlantic to be entered by Luigi Chinetti in the Carrera Panamericana where it reappeared a year later in the hands of Phil Hill and wearing the American racing colours it features today.
This special 1954 Bentley Continental R Type Drophead Coupe  (BC63LC) was originally a Mulliner Fastback but was later converted to a Drophead Coupé after its Portuguese owner rolled the car in 1956. At the time Mulliner was approached to perform a Drophead Coupé conversion, but the process got no further than the design stage as the cost was deemed too high. French coachbuilder Henri Chapron was then commissioned to perform the task, but the final product had odd rear proportions and didn't resemble the proposed design. Ian Fleming was said to be aware of the car on the streets of London while writing 'Thunderball'. In the book, James Bond's fictional Continental was converted by Mulliner to a 'convertible two-seater affair'. After passing through the hands of several owners, in 2005 the rear half of the car was rebuilt to Mulliner's vision of a Continental Drophead Coupé.
The overall winner of the inaugural Public Choice vote was a rare alloy-bodied 1955 Mercedes-Benz 300 SL Gullwing Coupe, one of just 29 alloy Gullwings built, from a total of 1,400 300 SLs – the others being steel-bodied. This was the 19th alloy 300 SL built, first ordered by Italian gentlemen racer Dottore Alberico Cacciari, who raced it at every opportunity.  This car was the only alloy-bodied 300 SL to compete in the 1956 and 1957 Mille Miglias, with Cacciari driving.  The car appeared at the Concours of Elegance as it raced in 1956, with its '452' racing numbers, and original tool kit and factory-fitted luggage. This Gullwing was also awarded the AIG Private Clients Award for the Most Historically Significant Car at an exclusive dinner for the Concours car owners during the event, held in King Henry VIII's Great Dining Hall at Hampton Court Palace.
Making its first appearance ever in the UK is this one-off 1955 Mercedes-Benz 300B Pininfarina Coupé. Pininfarina's styling of this unique car is a blend of other cars of the period, with hints of Facel Vega, Bentley and Pininfarina's later Lancia Flaminia Coupe. This 300B is one of only three Pininfarina-bodied Mercedes-Benz cars built in the mid-1950s, each with a distinctively different body.
1957 Ferrari 250 Tour De France GT Scaglietti Corsa Berlinetta
I'll confess that I did not know what this one was, when I approached it from a distance. With its striking Italianate good looks, I thought that it was perhaps a Maserati, or an, OSCA or a Ferrari.  It turned out to be a Jaguar, one of only three built by Zagato with similar bodies on the chassis of the XK140 and XK150. Being displayed in the UK for the first time in the UK, this car began its life as a regular Jaguar XK140, destined for the Italian market.  Its owner – Italian dealer Guido Modiano – damaged his XK140 in a small accident when the Jaguar was still quite new. Being a personal friend of the Zagato family, he inquired about the famous Milanese coachbuilder simply rebodying the car rather than repairing it.  A deal was struck, as Zagato hoped it could sell Jaguar on the idea of a limited run of similar cars. Jaguar indeed showed this finished car on its own stand at the 1957 Paris Salon, but only two more examples were built, both of them on the later XK150 chassis, with a marginally wider body.  The first of these was displayed at the 1958 Geneva Motor Show, with Zagato even producing a brochure for the model, indicating that it seriously intended to produce this car more than once.  It didn't happen though, with the third (and final) Zagato Jaguar XK was displayed in 1960 with a different radiator grille.
In some ways, this was the most significant Ferrari of the 5 in the Concours. A 1957 Ferrari 315S Scaglietti Spyder, this is the very last winner of the Mille Miglia in the hands of Piero Taruffi and therefore the last example of the big front engined Ferrari sports car. With the ending of the Mille Miglia following a number of tragic accidents,  and a new 3-litre restriction introduced into the World Sportscar Championship and with the rise of the 250 Series, the careers of the 315/335S and the 375MM came to an end(at least in Europe). The Mille Miglia winning 315S has rarely been seen after its jubilee run in the 2007 Mille Miglia Storico in the hands of Taruffi' s daughter, making this a particularly special exhibit.
1959 Aston Martin DB4 GT Lightweight
This 1961 Ferrari California Spyder SWB Competizione is one of only two examples made at Maranello to true competition standard. A short wheelbase California Spyder, it  has a lightweight aluminium bodyshell, built by Scaglietti. From the moment the SWB 250 Spyder was unveiled at the 1960 Geneva Motor Show, the car was hailed as an instant classic.  This 1961 example was raced successfully by its original German owner in the early 1960s, before being acquired by an American collector, and now in British hands, with the car being fully restored and regularly used in anger.
One of the seven exceptional Ferraris in the Concours was this astonishing 250 SWB SEFAC 'Hotrod.'   One of only 20 SEFAC 'Hotrod' 250 Berlinetta's built by Scuderia Enzo Ferrari Auto Corse (hence SEFAC), this short-wheelbase 250 was upgraded considerably over the 'standard' SWB with almost 300 bhp on tap, thanks to the fitment of a Tipo 168B/61 engine with Testarossa cylinder heads, high-lift cams, six Weber carbs; the works! The result was an exceptionally light and effective racing car, able to accelerate from 0-60 mph in five seconds; impressive today, but exceptional for the early 1960s.  Top speed was over 160 mph.  The SEFAC Hotrod is often regarded as the ultimate SWB Ferrari, despite some examples being stripped of all creature comforts, with no sound deadening, bare aluminium sheet flooring and Plexiglass windows.  This bare specification helped the SEFAC Hotrods take first in class at the 1961 Le Mans, plus victories in the Targa Floria and RAC Tourist Trophy in the same year
1963 Bizzarrini A3C GT
This 1965 Aston Martin DB5 Vantage Shooting Brake looked particularly elegant. Its origins go back to the then owner of the Aston Martin company, David Brown, who found that whilst the DB5 was very much to his liking, it was a bit of a squeeze when he tried to carry all his polo equipment, hunting gear and dogs in the regular Coupe. The dogs also had a tendency to chew the leather seats. So he asked the factory to create a shooting brake (not an 'estate' I hasten to add) for his personal use. But this created another problem that customers, on seeing David Brown's unique Aston Martin, wanted one too. At that time, the factory was way too busy just making the regular DB5, so David Brown made an arrangement with the coachbuilding firm of Harold Radford (Coachbuilders) Ltd. to make further shooting brakes to meet the demand. Radford were already experienced in building the not wholly dissimilar Bentley Countryman shooting brakes. The conversion was extensive and affected the whole car from the windscreen backwards. One problem with the conversion was that the tubular structure of the roof was cut away and the new extended roof was supported by steel fabrications thus reducing the inherent rigidity of the Superleggera system. The rear hatchback was a single piece hinged from the top and assisted by springs. The interior was cleverly designed to hold as much as stuff as possible. With the rear seat folded down, the car offered an uninterrupted payload platform of 1.75 meters by 1 .05 meters and a volume of 1.1 cubic meters, although with suspension unaltered, it would have been unwise to carry a large deal of additional weight. As the mechanical and chassis specification of the car remained the same as when first built, the car was still claimed to reach 150 mph and was marketed with the tag-line 'The world's fastest dual-purpose vehicle'. Also Radford claimed the Shooting Brake would be able to brake from 100 mph to a standstill in 6 seconds, although we must assume this is without a heavy payload in the back. As each shooting brake began life as a completely finished saloon, priced at £4,412, the price of a finished shooting brake was boosted by £2,000 when ordered through AML. In some cases, customers also sent pre-registered cars to Radford for conversion too. Thus it is hardly surprising that only 12 were built, 8 in right hand drive and 4 with left hand drive, all of which are believed to survive, making them the rarest DB5 variant. Following on from the DB5 Shooting Brake, Radford went on to build another six similar cars based on the DB6.
Another historically significant car, this 1966 Ford GT40 is the 1966 24-hour Le Mans Winner, driven by Bruce McLaren and Chris Amon. It is a very important race car as it ended Ferrari's dominance at the famous endurance race
The curious marriage of a brash and brawny American V8 engine, mounted in a gorgeous Italian-styled body, is often a successful one, as proven by the Vignale-designed Jensen Interceptor or Frua's Monteverdi 375 L.  Few have bettered the winning combination of the ISO Grifo though. Designed by Giugiaro when he was working at Bertone, the beautiful Grifo blended masterly styling with a brutish V8, taken from the all-American Chevrolet Corvette. Given the humble roots of the ISO company – founded by Renzo Rivolta in Milan in 1953 to make scooters and the original Isetta bubble car – the Grifo is all the more remarkable.  Its 5.4-litre Corvette V8 blessed the ISO with mighty performance, equally the match of any contemporary Ferrari or Maserati. This is a Series 1 car dating from 1968.
The AMC Bizzarrini AMX/3 of 1970 took its inspiration from the AMX/2 concept car, a well-received prototype shown by the USA's then fourth largest car maker at the 1969 Chicago Auto Show. AMC contracted famed ex-Ferrari engineering guru Giotto Bizzarrini to make a production-ready car lightly based of the AMX/2 concept, with the AMX/3 of 1970 being the end result. Bizzarrini's final roadworthy AMX/3 featured all the classic hallmarks of early 1970s sports car engineering, with a mid-mounted engine and rear transaxle covered by a svelte low-slung body.  AMC was serious about producing the car, but by unfortunate coincidence its design was very similar to the De Tomaso Pantera, which debuted just one day after the AMX/3, with a far lower price tag and the full support of Ford's extensive North American dealer network.  AMC promptly decided that it would not be able to compete with the Pantera, so it immediately dropped the AMX/3 project with just six examples of the car being made.
I'd seen picture of the 1970 Lancia Bertone Stratos Zero before but never seen it for real. It really is tiny.  This concept car pre-empted the Lancia Stratos HF prototype by 12 months and was first shown to the public at the Turin Motor Show in 1970. The futuristic bodywork was designed by Marcello Gandini, head designer at Bertone, and it featured a 1.6 lire Lancia Fulvia V4 engine. For a long time the car was kept in Bertone's museum, and then in 2011 it  was sold at auction in Italy for €761.600 More recently it has been on display in the exhibit "Sculpture in Motion: Masterpieces of Italian Design" at the Petersen Automotive Museum in Los Angeles and then until it arrived in London for this event, it has been shown in the High Museum of Art in Atlanta, GA at the Dream Cars exhibition. The body was wedge-shaped, finished in distinctive orange and was an unusually short, at just 141 inches in length and only 33 inches tall, and shared little with the production version. The Zero appeared in Michael Jackson's 1988 film, Moonwalker. At this event, the car won the RM Auctions Award for "Most Innovative Car of its Era".
Ah, the Porsche 911.  That most ubiquitous and versatile of all sportscars; loved by many, loathed by a few, and the staple of any self-respecting car event, with an number of examples guaranteed to be in attendance where ever you might be in the world. This is no ordinary, run-of-the-mill 911.  Oh no.  It is an example; the ultra-rare 911 RSR 2.14 Turbo that came second overall in the 1974 Le Mans 24 hours race, trailing the victorious V12 Matra. With its ultra-flared wheel arches, huge rear wing and 'Turbo' emblazoned over the rear haunches, the 'blown' RSR was previewed at the 1973 Frankfurt Motor Show, the model offered an exciting glimpse into the future of the 911 series. Porsche withdrew from factory-backed racing activities for 1974, leaving privateers to represent the marque with the Group 4 RSR.  However, in cooperation with sponsor Martini & Rossi, Porsche entered a turbocharged 911 in the Group 5 category for the 1974 Manufacturer's Championship, to help expand on its technical expertise gained during the final years of the 917 racing programme, and preview the production Porsche 911 Turbo that was being developed for 1975 launch. To comply with the Group 5 regulations that limited capacity to three litres, Porsche developed a 2.14-liter engine with a single KKK turbocharger mounted at the rear in the same manner as its 917 Can-Am cars.  The Porsche's chassis was a vast departure from the production 911 too, with its engineers and implementing the best RSR and 917 components. The RSR's bodywork made extensive use of fibreglass, with lightweight plastic forming the front wings, rear aprons and all door and deck lids. A substantial rear wing was fashioned to both increase downforce and provide a more discreet inlet for the intercooler. It was painted black to keep a visual relationship with the production 911, and to downplay its huge size. After extensive testing, the RSR 2.14 Turbo 2.14 made its competition debut at the 1974 Monza 1000 Kilometers – finishing fifth overall.  It then went on to take an impressive second place overall at Le Mans, finished in the classic Martini & Rossi livery; silver metallic striped in red and blue.
This Lancia Delta S4 is the 1986 Monte Carlo Rally-winning car driven by Henri Toivonen with co-driver Sergio Cresto, who both tragically lost their lives in a sister car later in the year on the 1986 Tour de Corse. An evolution of the Lancia Monte Carlo-derived Rally 037, the Delta-based S4 featured four-wheel-drive and a mid-mounted 1759cc four-cylinder engine that combined a supercharger and turbocharger for maximum power and reduced engine lag at low revs. The car proved competitive from the outset, winning its first event, the 1985 RAC Rally, and in 1986 it took three wins; the Monte Carlo Rally, Rally Argentina and the Olympus Rally. This definitive S4 in original time warp condition has been lifted from the Group B history books.
Barely needing an introduction is this 1995 McLaren F1. "The McLaren F1 is the finest driving machine yet built for the public road."  So enthused Autocar when it finally got its hands on the now legendary McLaren F1 supercar in 1994.  The weekly magazine continued "The F1 will be remembered as one of the great events in the history of the car, and it may possibly be the fastest production road car the world will ever see." Twenty years on, Autocar's words still hold true.  A couple of more recent 'hypercars' may have subsequently toppled the McLaren's crown as the world's fastest production car – with its maximum speed of 230 mph (390 km/h) now beaten by extreme versions of the Bugatti Veyron 16.4 – but the naturally-aspirated F1 is now the stuff of legend and dreams. This is one of only 69 road-going examples of this hugely desirable car, the brainchild of talented ex-Formula One engineer Gordon Murray, with styling by the versatile car designer and Concours Club Trophy judge, Peter Stevens. Murray conceived the F1 as the ultimate road car. It featured numerous pioneering designs and technologies; being lighter with a more streamlined structure than most subsequent supercars, despite it having one seat more than similar sports cars, with the driver located to the fore in the centre of the cockpit; sitting slightly forward, flanked by the passengers either side, providing superior driver visibility compared to a conventional seating layout.
Introduced at the 2010 Paris Motor Show, the Ferrari 599SA Aperta was a one-off collection in honour of designers Sergio Pininfarina and Andrea Pininfarina. Only 80 examples were released. The SA Aperta used the higher performance engine from the 599 GTO.
2005 Aston Martin DBR9
Newest car in the Concours was an example of the 2014 LaFerrari. Revealed to huge fanfare at the 2013 Geneva Motor Show, Ferrari's LaFerrari is the Maranello marque's latest state-of-the-art hypercar, following a rich bloodline of ultra-exotic limited production models from the celebrated Italian sports car maker, including the 288 GTO, F40, F50 and Enzo. Despite being Ferrari's fastest production road car of all time (with a claimed top speed of 217 mph/350 km/h), this 950 bhp hybrid supercar is also one of its most economical, using 40 percent less fuel than a 'regular' V12.  LaFerrari mates an 800 bhp 6.3-litre V12 internal combustion engine with an electric KERS motor – perfected in F1 racing, and producing an additional 150 bhp – to provide extra thrust during acceleration.  This catapults the car from 0-62mph in under three seconds, making LaFerrari nearly as fast as a modern Formula 1 car, while also trimming emissions and fuel consumption. The total LaFerrari production run of 499 examples, each priced at over £1 million, sold out instantly, and this UK registered example is one of the very first to be delivered to its lucky owner.
DEALER DISPLAYS
As well as the Concours cars, a number of well known prestige dealers had a presence with cars that they brought along many of which could either have fitted into the Concours now, or which will certainly be contenders for future years once what are today's models have aged somewhat. As well as brand new cars, some of the Auction Houses were present, and they had their own very special additions to what was on show.
AC
On offer from Auction House RM was this 1964 Shelby 289 Competition Cobra, chassis CSX 2430. This is an exceedingly rare Team Specification Cobra, prepared by Shelby and raced as a factory-sponsored entry. Successful both in period and historic racing events, it was first campaigned by "Gentleman" Tom Payne in 1964 and 1965. Payne debuted the car at Lynndale Farms, Wisconsin, before competing in events across the Mid-West United States in the summer of 1964, consistently finishing on the podium. In that same year, he took the car to Nassau and fared extremely well, finishing 2nd in the GT class, 9th overall, and 1st in the GT class in the Tourist Trophy, Governor's Trophy, and Trophy Races, respectively. Success on the track continued into the 1965 season and beyond, piloted by such distinguished names as Gerber, Yeager, and the famed Bob Grossman. It is understood that even Carroll Shelby got behind the wheel of CSX 2430 at the Texas Can-Am Challenge in the mid-1980s—an appearance that reportedly marked his last time in a Competition Cobra and racing one on the track. Soon after, CSX 2430 was restored by highly respected Cobra authority Bill Murray before going on long-term display at the Shelby American Collection for nearly 25 years. Featured in many books and press articles, it was sold a few days later for  £1,176,000.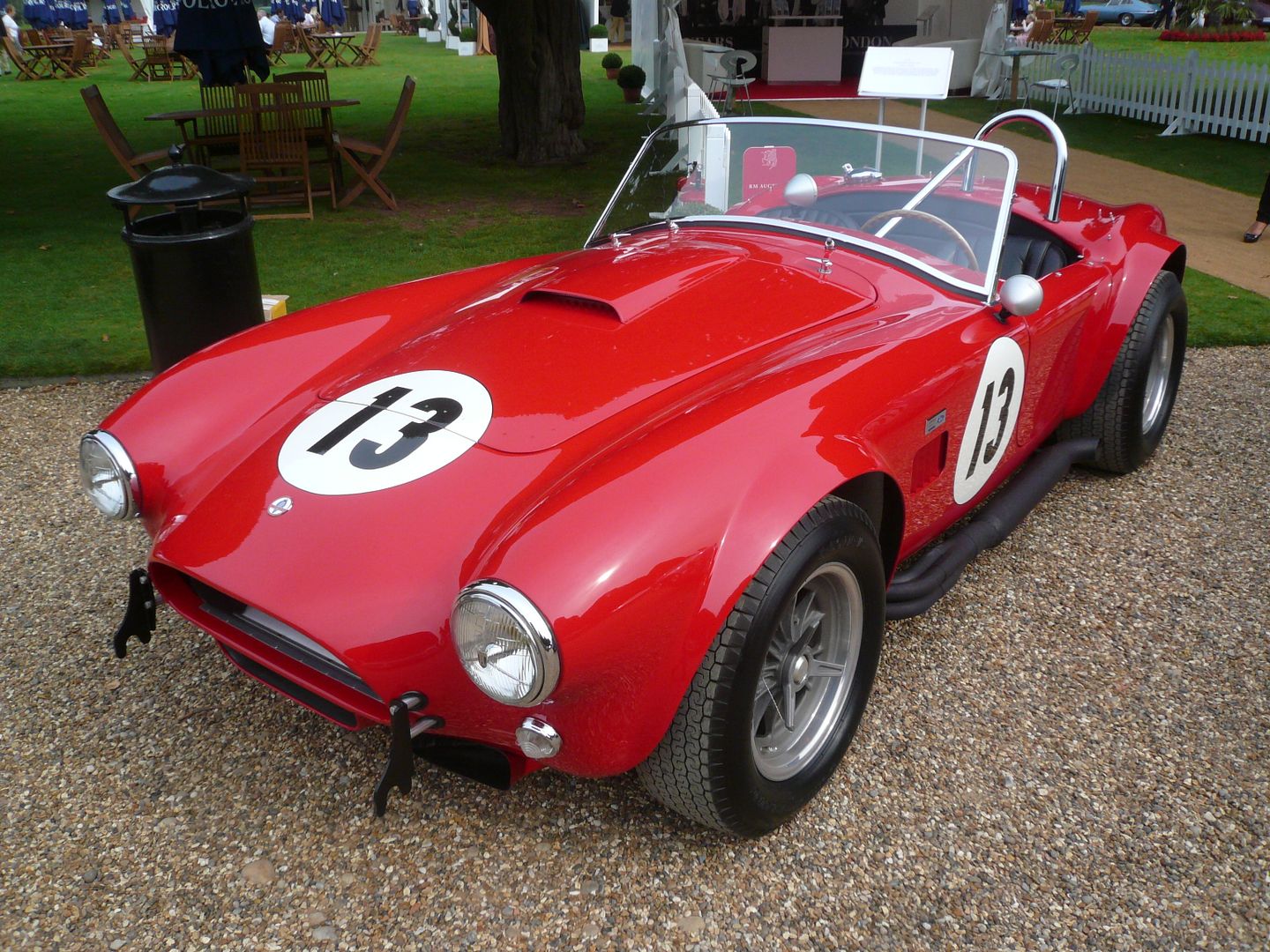 ATALANTA
I'll admit that this marque was new to me. There were two cars on show at the event. One of them was from the original Atalanta company and was made in1937. Proudly owned by Matthew Le Breton, this car won 'Best in Show' at the 2007 Cartier et Luxe Concours, and it was among the Car Club displays. The event marked the official launch of a rebirth of this British marque that was last seen in 1939. The new Atalanta maintains true fidelity to its predecessor and is intended to offer a unique motoring experience whilst employing relevant modern technology to enhance performance and safety.  With every curve from every angle it exhibits the style of Silver Screen glamour combined with the developments derived from 75 years of motoring evolution; the all-new Atalanta  without compromise. As with the original, the reborn car has a traditional hand-crafted aluminium-over-ash coach-built structure. 90% of the component parts are designed and engineered directly by Atalanta, including castings, forgings and fabrications. Managing Director of Atalanta Motors, Martyn Corfield, explains: " Staying true to the original Atalanta design principles, we have enhanced the positive and enjoyable characteristics of vintage motoring in a style that is relevant and exciting today."  He continues: "As in the 1930's, Atalanta Motors provides the opportunity to commission an individual driving machine to exacting requirements. The new sports car readily offers an exhilarating drive with assured handling and a supremely comfortable ride." Chassis number 1 of the brand new model was on display. Rory Watson, son of Neil Watson, (Atalanta's original founder), comments: "I never thought that something my father helped create all those years ago could be revived.  I know he would be so very proud of what Martyn Corfield and his team has achieved at the new Atalanta Motors."
BENTLEY
Bentley Motors had a display which included a number of historically significant cars including the remarkable double Le Mans winning car, known affectionately as Old No 1,  the Speed Six racer which won the iconic 24 hours endurance race in successive years , 1929 and 1930. Sadly I failed to take a photograph, and nor did I take one of the 1931 8 Litre model which joined it. At least I did not miss out on one of the fabulous 1952 Continental Type R cars.
A separate dealer display included a representative selection of the current range, including the Mulsanne and the latest V8 version of the Flying Spur
FERRARI
HR Owen had a display of brand new Ferraris, and this was a busy part of the event, as people are just as interested in the latest models from Maranello as all the older machinery at the event. Highlight for many would be the chance to see something very special and unique, the one off Ferrari F12TRS. I had seen this car earlier in the week at Salon Prive, but even so, it was great to get another look, as who knows when or if this car will ever be seen in public again.
Also on show were the F12 Berlinetta and the latest turbocharged version of the California.
Of huge historic significance was the other car displayed by RM Auctions, a 1956 Ferrari 250 GT Berlinetta Competizione 'Tour de France'  Ferrari's illustrious history is punctuated with so many iconic models that it takes a car of particular pedigree to be regarded as one of the most significant Ferraris of all time. There is no doubt that the incredibly rare 250 GT Berlinetta Competiziones of the 1950s fit that description perfectly. After achieving great success on race tracks across Europe, they were undoubtedly the most desirable cars in the Scuderia's stable in period as they effortlessly combined luxury with competition-level performance. The example, chassis 0563 GT, is the eighth of only nine 1956 250 GT TdFs built, and is eligible for every historic motoring event, including the Mille Miglia. Originally sold new to Racing Sport S.r.l, of Torino, Italy, it was immediately leased to Jacques Peron, of Nice, France, at which point it began its racing career, campaigned by Peron and co-driver Jacques Bertrammier at the 1956 annual Tour de France Automobile. Peron and Bertrammier finished 8th overall, behind de Portago and Nelson, with Peron back behind the wheel at the Coupes du Salon in Montlhéry that same year, finishing 2nd overall. Chassis 0563 GT went on to score numerous significant race results over the next two seasons before being sold and exported to the United States in 1959. Stunning restoration work has led to numerous concours titles, as well as many appearances at retrospective events since, including at the 2014 Tour de France rally. A matching-numbers example and certified by Ferrari Classiche, it is presented for auction in outstanding condition, and would be a welcomed entry at any important historic racing or concours event around the globe. It was subsequently for  £4,872,000.
JAGUAR
In front of the Octane magazine stand were a trio of notable historic Jaguars. This is the famous Linder-Nocker E Type Jaguar, a car which made its public debut in 2013 following a lengthy and meticulous restoration using as many genuine parts of the original car as possible.
Also present was the last of the  C Type Jaguars to run in Ecurie Ecosse colours. It was bought by Sir James Scott-Douglas to race in the 1953 season and had to be purchased from Delacroix in Paris as the entire UK allocation of cars had already been sold.  Scott-Douglas won at Castle Combe in the first outing of the car, but results at Reims, Spa and the Nurburgring were mixed  In 1954 the car was sold to Berwyn Baxter who raced it for many years before selling to Lord Ebury. Sadly, he became the first fatality at the Prescott Hill Climb. The car then spent many years in the US before returning to the UK in 2006. More recently it has competed in the Mille Miglia retro as part of the Jaguar Heritage team.
There was also an XKSS.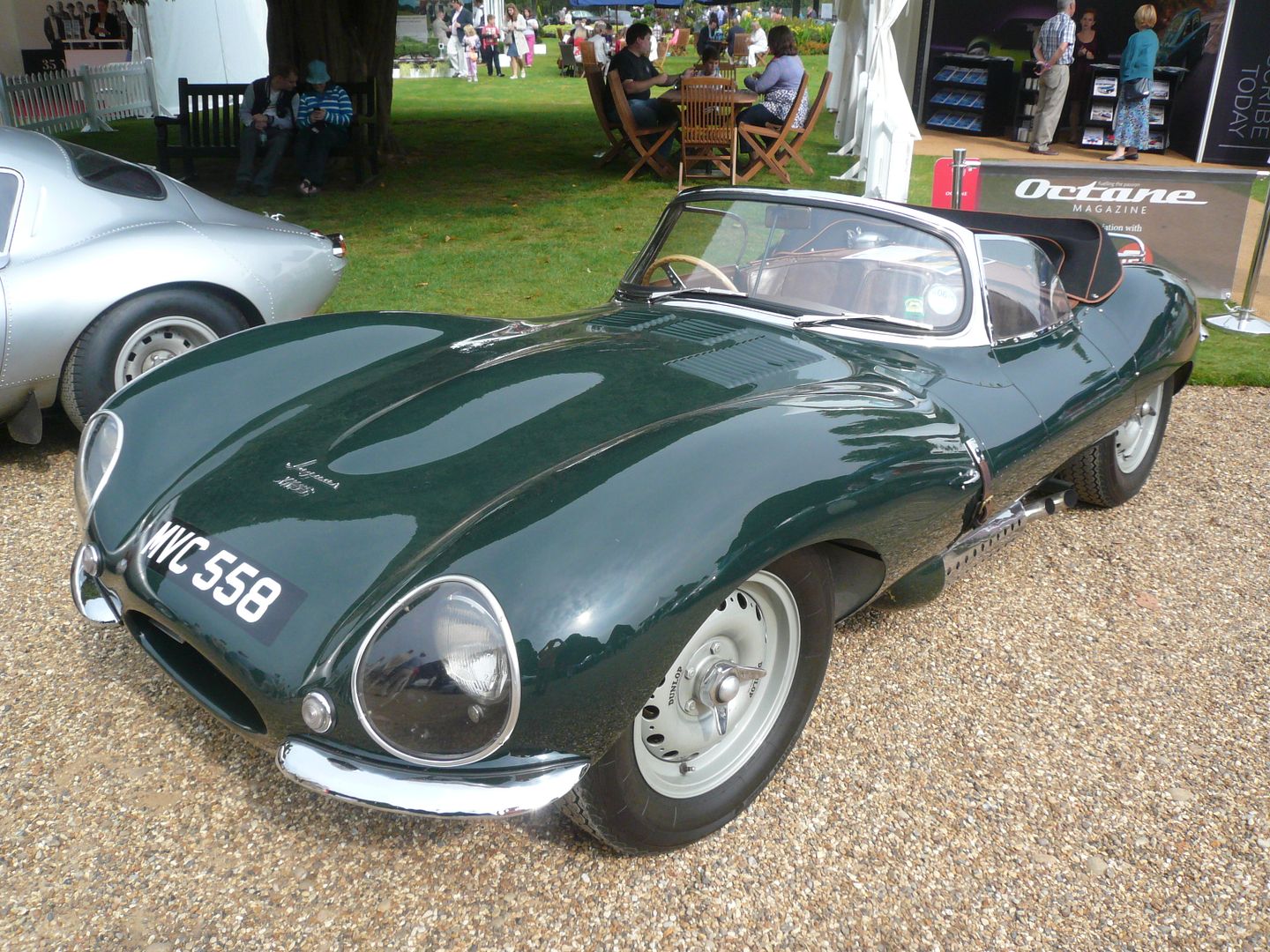 Displayed opposite these was an XJ220
CAR CLUB CARS
A number of Car Clubs were invited to join the event, and with several hundred of their cars on show on the Saturday, and more still, I understand, on the Sunday, their contribution was definitely an event in its own right. There were huge displays from Aston Martin, Bentley, Ferrari and Jaguar and everything from smaller  groupings to solo displays of a wide range of other cars.
AC
Ace
ASTON MARTIN
A vast array of Aston Martins had been parked up pretty much in chronological order, presenting a fantastic history of this much loved marque whose cars became even more familiar to us in 2013 during the centenary celebrations
There weren't any of the pre-war cars, at least not on the Saturday when I attended, so the oldest Astons present were the DB2 models which were produced in the 1950s.
DB4
DB5
DB6
DBS and V8
There were two of the futuristic wedge-shaped Lagonda cars in the lineup, both of them late model Series 4 cars. One of them, G48SES  is the very last of the models off the production line, made in mid 1990.
In 1988, when the first all new Aston for over 20 years appeared, the Virage, few were totally convinced by the car. But Aston worked hard to improve it over the following years, first adding the Volante and Vantage models, before further refinements changed even the base car. A mumber of different versions of the same basic design were on show here, among them a Vantage V600 and the even rarer V8 Vantage Le Mans car from 2000.
DB7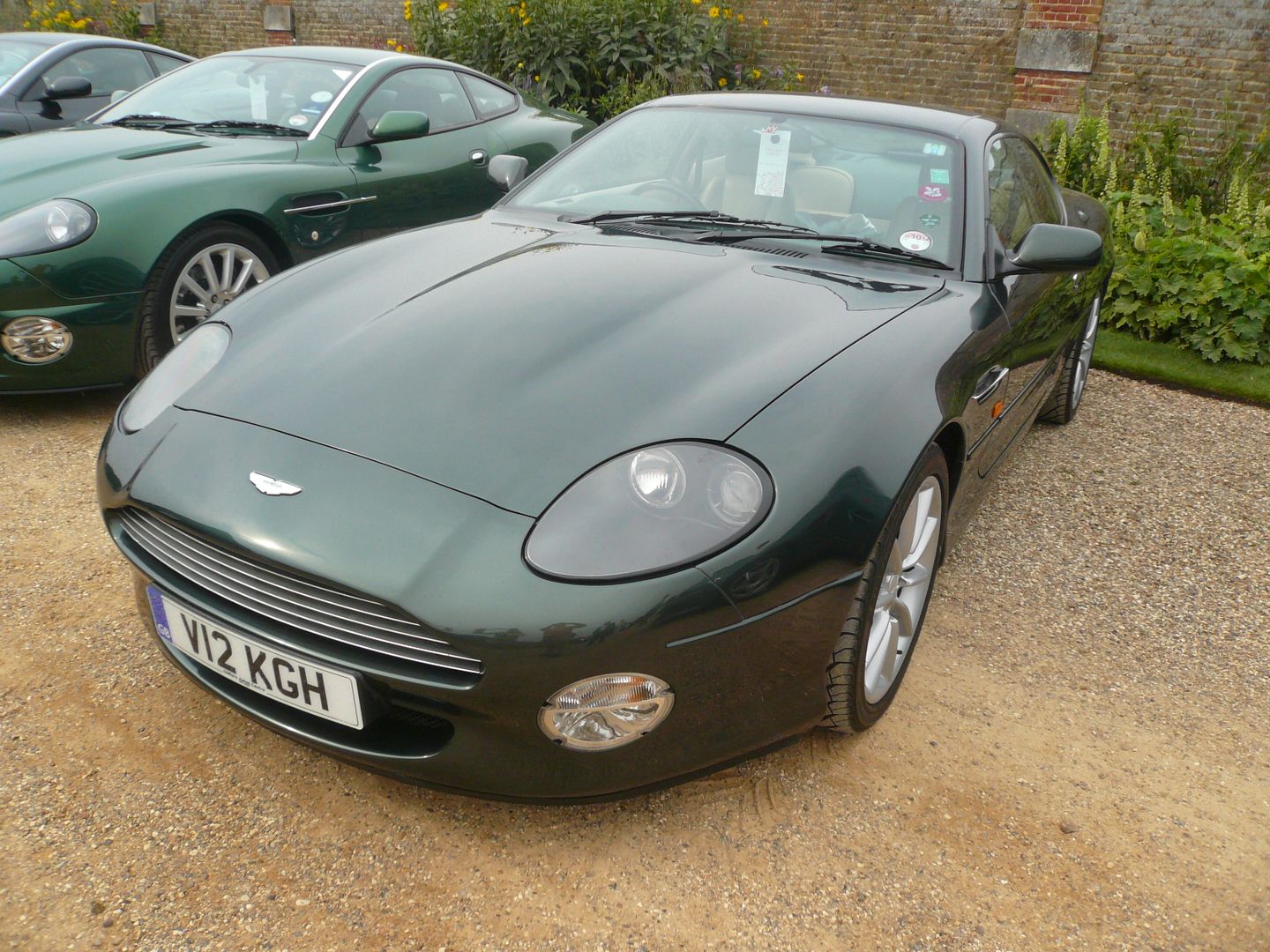 DB9
Vanquish
V8/V12 Vantage
Rapide
DBS and New Vanquish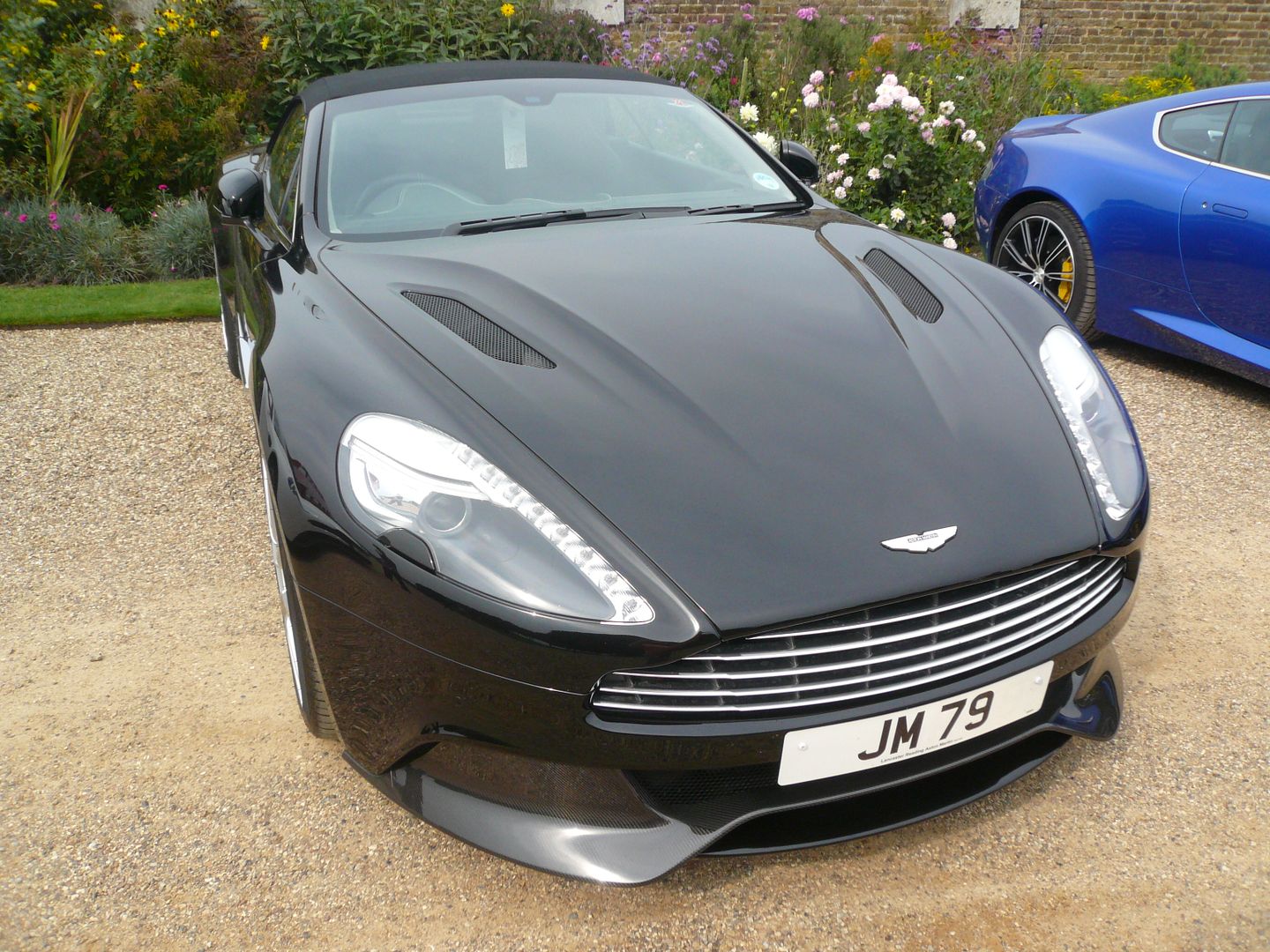 ATALANTA
As well as the launch of the recreated model. shown above, there was an example of one of the original 1930s Atalanta cars on show.  Atalanta made a small number of cars between 1937 and 1939. Two different models were produced during this time. The 1937 car used Albert Gough's somewhat erratic 4-cylinder overhead-cam 1496 cc 78 bhp and 1996 cc 98 bhp engines with three valves and two spark plugs per cylinder which had been previously fitted to some Frazer Nashes where Gough had worked. An Arnott supercharged version was also available. Three or four-speed gearboxes were offered. The car had a tubular steel chassis and all round independent suspension using coil springs. Two-seat open sports and two-seat drophead coupé bodies built by Abbott[ were available. From 1938 the car could be had with a 4·3-litre V-12 Lincoln-Zephyr engine giving 112 bhp which proved to be the more popular. The car had a 3-speed gearbox. A four-seat version on a slightly longer chassis was made as well as the two-seaters. The cars were very expensive and the outbreak of war stopped production after only about 20 cars were made.The company continued in existence making pumps and becoming Atalanta Engineering Ltd. With so few cars made, these are rare machines indeed, and they are rarely seen so it was nice to see this  1937 car. Proudly owned by Matthew Le Breton, this car won 'Best in Show' at the 2007 Cartier et Luxe Concours, and it looked absolutely stunning.
BENTLEY
3 litre and 4.5 litre
After the acquisition of Bentley by Rolls-Royce, in 1934, the focus of the brand shifted to the production of large and elegant tourers. These cars are generally referred to as the "Derby" cars, as that is where they were built. Featuring 3.5 and 4.5 litre engines, they were supplied as a chassis for the customer then to choose a body style. Many were bodied by Vanden Plas, but there is considerable variety in the cars that were produced. Of 2500 such cars made before the War, about 1500 still survive and many of them are very elegant indeed, and some of that variety was evident in the cars that were on show here.
R Type
S Type
T Series and Corniche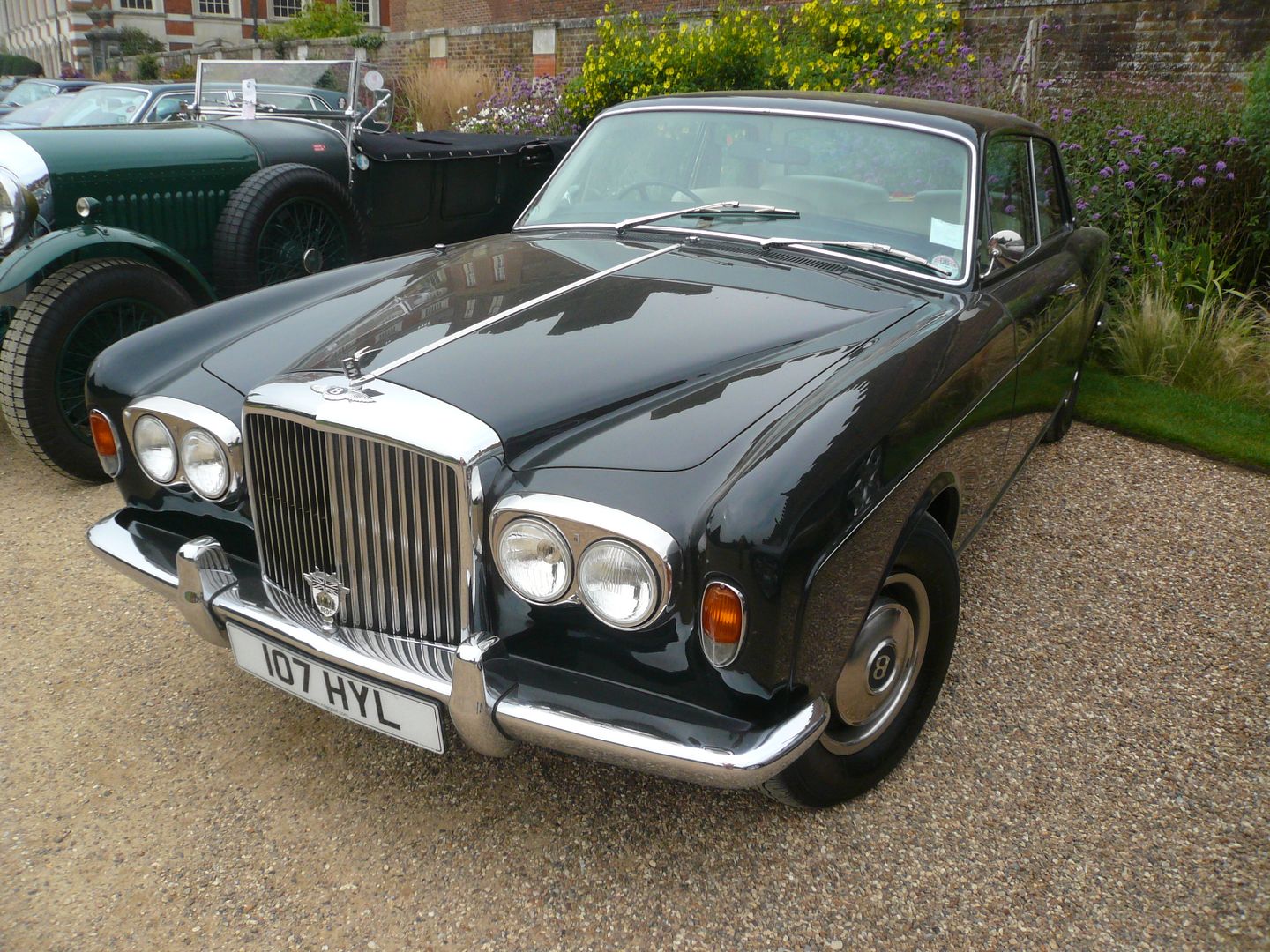 Mulsanne/Brooklands/Eight
Continental R and T
Arnage
The modern era Continentals
BMW
Definitely a crowd puller were this duo of BMW i8 models. I suspect it is the striking and futuristic looks which draw people in initially, though the technology in these cars is the real "wow", proving that you can make a sports car from an electric power train. Waiting lists are around 2 years now if you have £100,000 available and want your own.
Much rarer was this, an early 315 saloon.
BRISTOL
This 400 dating form 1947 is believed to be the very first Bristol car sold to the public, having been delivered to Colonel Adlington for sale at AFN in May of 1947.
Based on the familiar 401 chassis was this 1949 Farina Bristol, one of a very small number of Bristol cars made in the late 1940s and early 1950s with coachbuilt bodies. As Farina also styled many Lancia of the period, I think anyone who guessed – as I did when I saw the car earlier in the year – that this was from that Italian marque could be forgiven. Like all Bristols, there is an element of uncertainty as to how many of these  were made, with some believing there could have been as many as a dozen, though only 4 are known to have a chassis number from within the series used for the regular 401 models
The Bristol 403 was produced between 1953 and 1955, the third of the eventual five series of Bristols powered by the BMW-derived pushrod straight-six engine. It replaced the Bristol 401 and 402 in 1953 and continued production for two years. The 403  retained much the same styling as the 401, but featured many mechanical improvements compared to that model. The 1971 cc six-cylinder engine was modified through the use of bigger valves and larger main bearings with a diameter of 54 mm as against 51 mm on the 400 and 401, which increased the power output to 100 horsepower as against 85 hp in the 401. The acceleration was markedly improved: the 403 could reach 60 miles per hour in 13.4 seconds as against 16.4 seconds for the 401. The 403 had a top speed of 104 miles per hour. To cope with this increased power, an anti-roll bar was fitted on the front suspension and improved drum brakes known as "Alfins" (Aluminum finned) were fitted. Early models had them on all wheels, but Bristol thought the car was over-braked and they were thus restricted to the front wheels on later 403s. The 403 was the last Bristol to feature a BMW-style radiator grille. It is also noteworthy for having two extra headlamps at the side, almost pre-dating the adoption of the four-headlamp layout in larger cars (Bristol themselves adopted it with the 411 in the late 1960s).
Replacement for the 403 model were the 404 and 405. The two door Coupe 404 was first to market, launched in 1953, two years before the 4 door saloon and open topped 405 cars. The 404 was a very short-wheelbased car, at 8 feet, as against 9 feet 6 inches for the 405. It incorporated the same changes as were to be found in the 405, with a higher compression and more powerful version of the familiar 6 cylinder 2 litre engine. Just 52 of them were made.
The last completely new design produced by the old Bristol Cars, an element of mystery surrounds the dramatically styled Fighter. A look inside it suggest that the mystery could be that any were sold with an interior that seems way out of kilter with the asking price, but the real uncertainty is how many, or rather how few were built. The generally accepted number is around 8.
De TOMASO
Pantera GTS
FERRARI
There were lots of splendid cars among the Club displays, so picking out a "winner" was a very difficult task. In the end, the Club Trophy, the best of the best from the national concours winners of invited clubs went  to this 1968 Ferrari 275 GTB.
There was a second 275GTB present as well.
The 275GTB is the car worth the megabucks, but I actually prefer the looks of the 275GTS. Red, from choice, please, though this one did not look bad, either.
330GTC
246 GT Dino
One of my favourite Ferraris of all time is this, the 365 GTB/4, better known as the Daytona. This is a lovely late model, with the pop up headlights.
Lovely though the Daytona is, it was trumped as my favourite Prancing Horse of the day. That accolade goes to this 288 GTO. My favourite of the Ferrari hypercars.
550 Maranello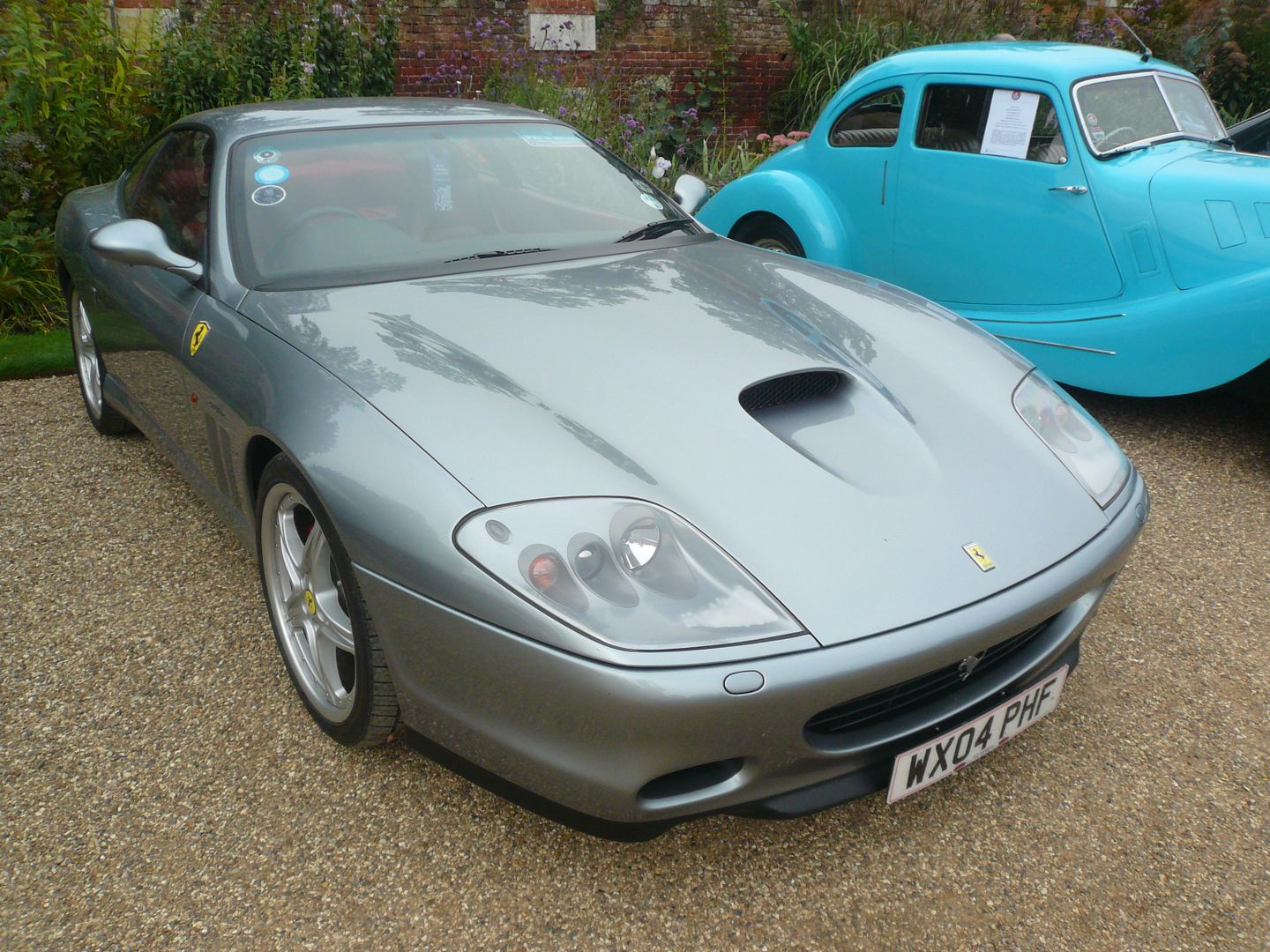 612 Scaglietti
Of the 458 Italia cars that were on show,  one looked standard and the other had been, erm, modified (I hesitate to say "improved", as that is definitely a matter for debate!).
GORDON KEEBLE
Nice to see an example of this little known British marque, which celebrated the 50th anniversary of its only model earlier this year. The Gordon-Keeble came about when John Gordon, formerly of the struggling Peerless company, and Jim Keeble got together in 1959 to make the Gordon GT car, initially by fitting a Chevrolet Corvette V8 engine, into a chassis by Peerless, for a USAF pilot named Nielsen. Impressed with the concept, a 4.6 litre Chevrolet V8 was fitted into a specially designed square-tube steel spaceframe chassis, with independent front suspension and all-round disc brakes. The complete chassis was then taken to Turin, Italy, where a body made of steel panels designed by Giugiaro was built by Bertone. The car's four five-inch headlights were in the rare, slightly angled "Chinese eye" arrangement also used by a few other European marques, generally for high-speed cars such as Lagonda Rapide, Lancia Flaminia and Triumphs, as well as Rolls-Royce. The interior had an old luxury jet feel, with white on black gauges, toggle switches, and quilted aircraft PVC. The car was displayed on the Bertone stand at the Geneva Show in March 1960, branded simply as a Gordon. At that time problems with component deliveries had delayed construction of the prototype, which had accordingly been built at breakneck speed by Bertone in precisely 27 days.After extensive road testing the car was shipped to Detroit and shown to Chevrolet management, who agreed to supply Corvette engines and gearboxes for a production run of the car. Further development then took place, to ready for production with some alterations, the main ones being a larger 5.4 litre engine and a change from steel to a glass fibre body made by Williams & Pritchard Limited. "Production" started in 1964, but problems with suppliers occurred and before many cars were made the money ran out and the company went into liquidation. About 90 cars had been sold at what turned out to be an unrealistic price of £2798.  In 1965 the company was bought by Harold Smith and Geoffrey West and was re-registered as Keeble Cars Ltd. Production resumed, but only for a short time, the last car of the main manufacturing run being made in 1966. A final example was actually produced in 1967 from spares, bringing the total made to exactly 100. The Gordon-Keeble Owners' Club claim that over 90 examples still exist – an incredible survival rate.
JAGUAR/DAIMLER
An impressive array of Jaguar and Daimler cars were parked up around two side of a large square, with lots of variety from the catalogue of much loved models from these British marques.
Mark V
XK120/140/150
Mark IX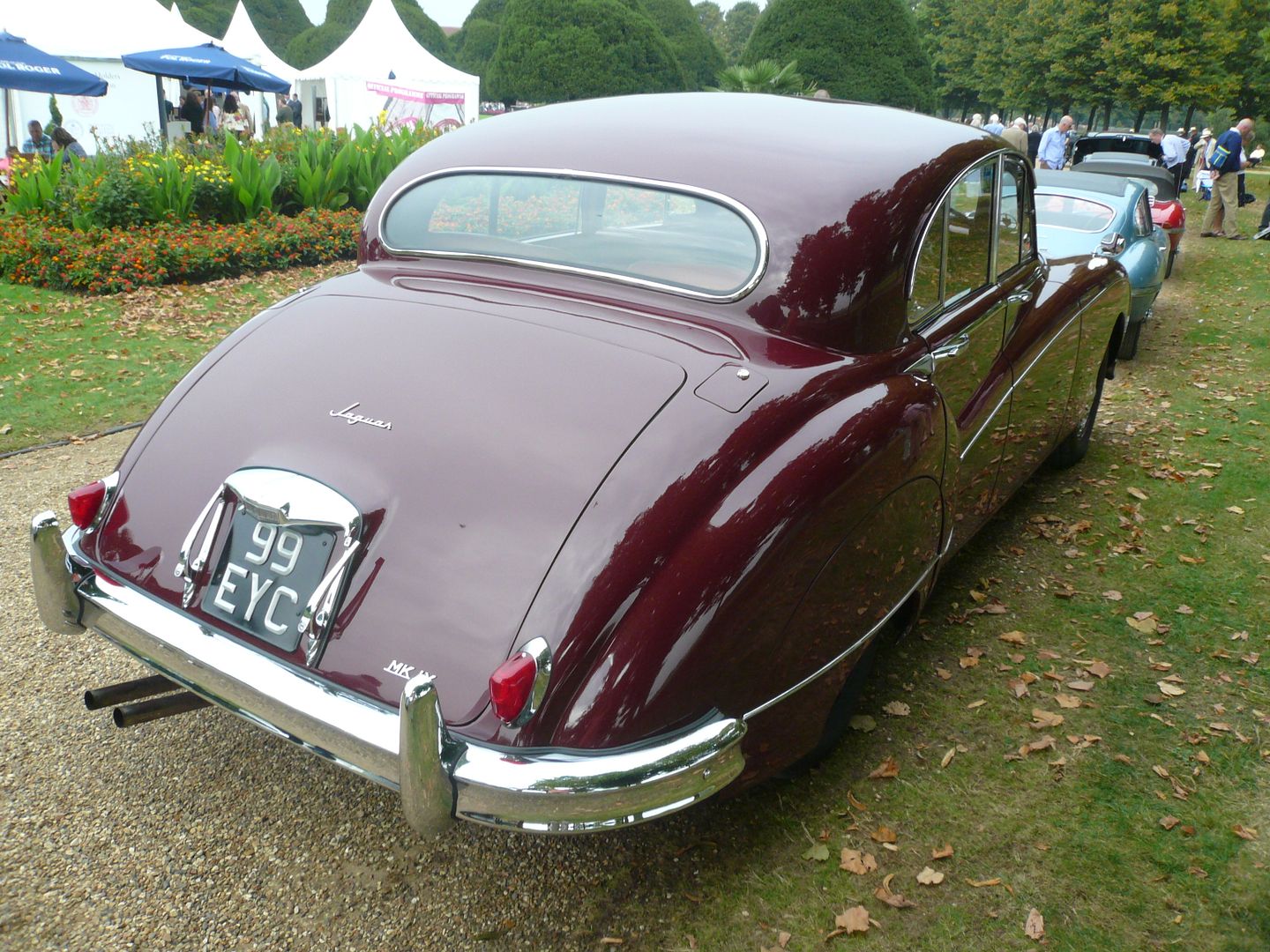 E Type
240/340 and Mark 2
S Type and Daimler Sovereign
Mark X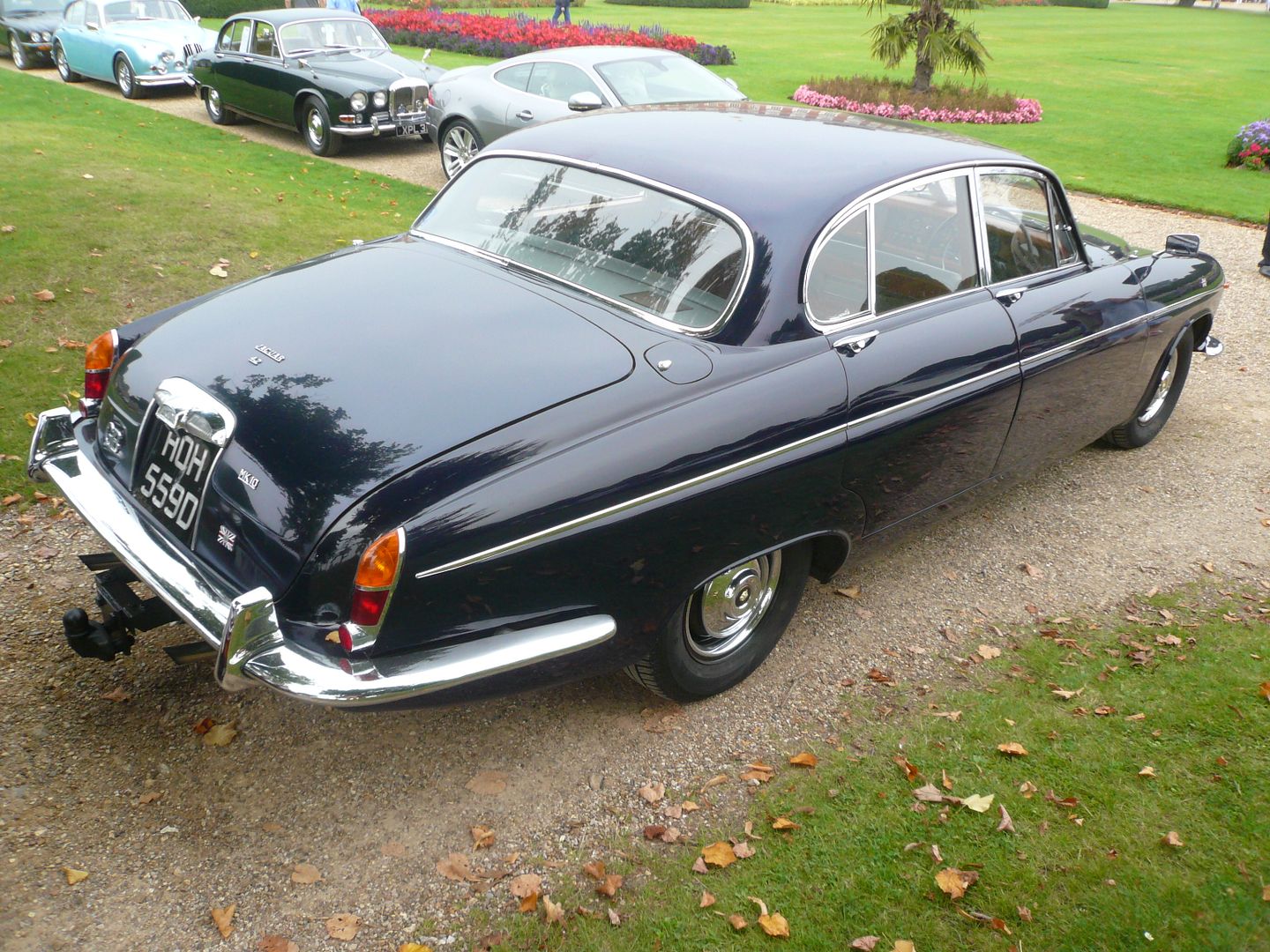 XJ
XJS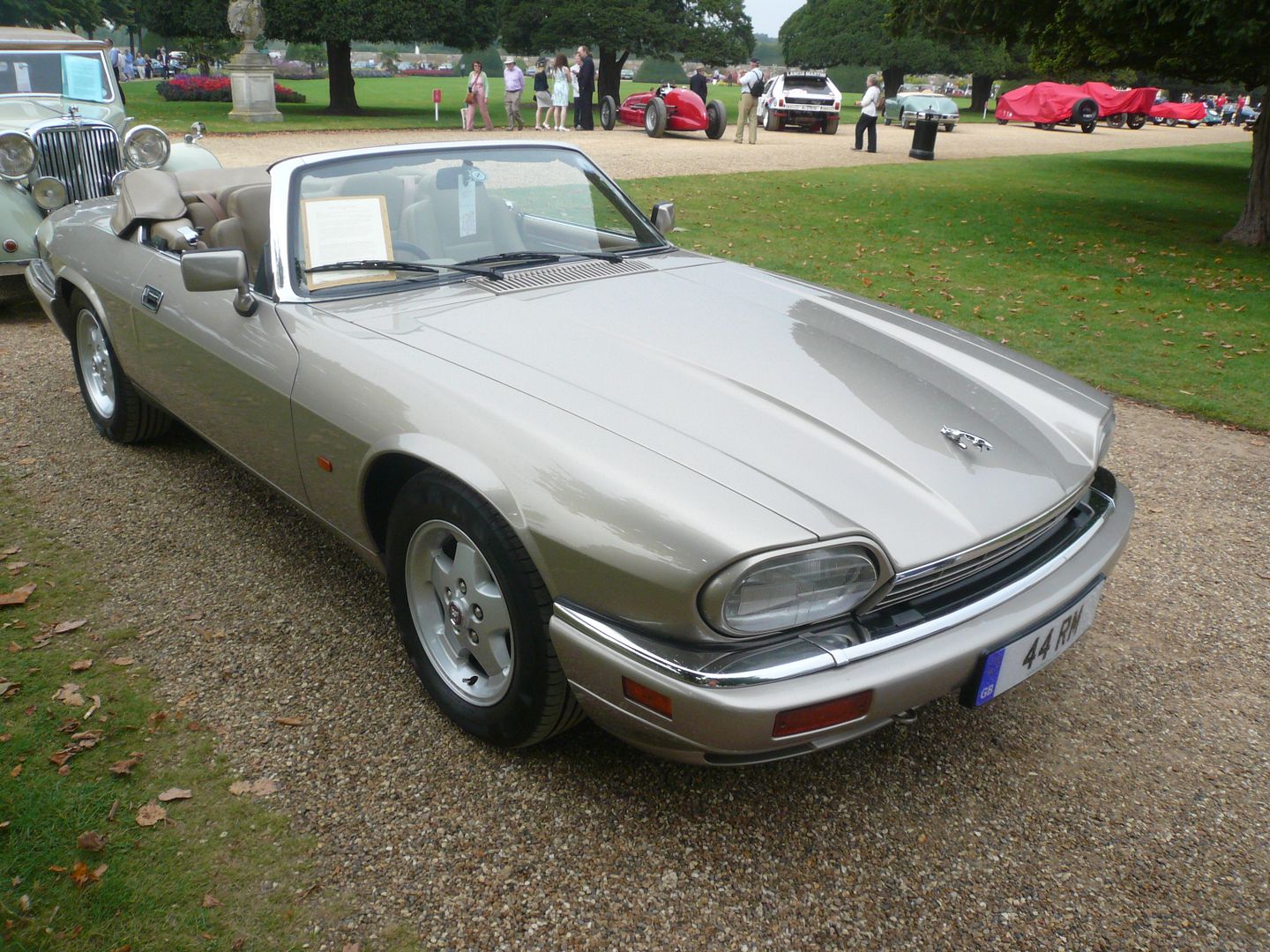 XK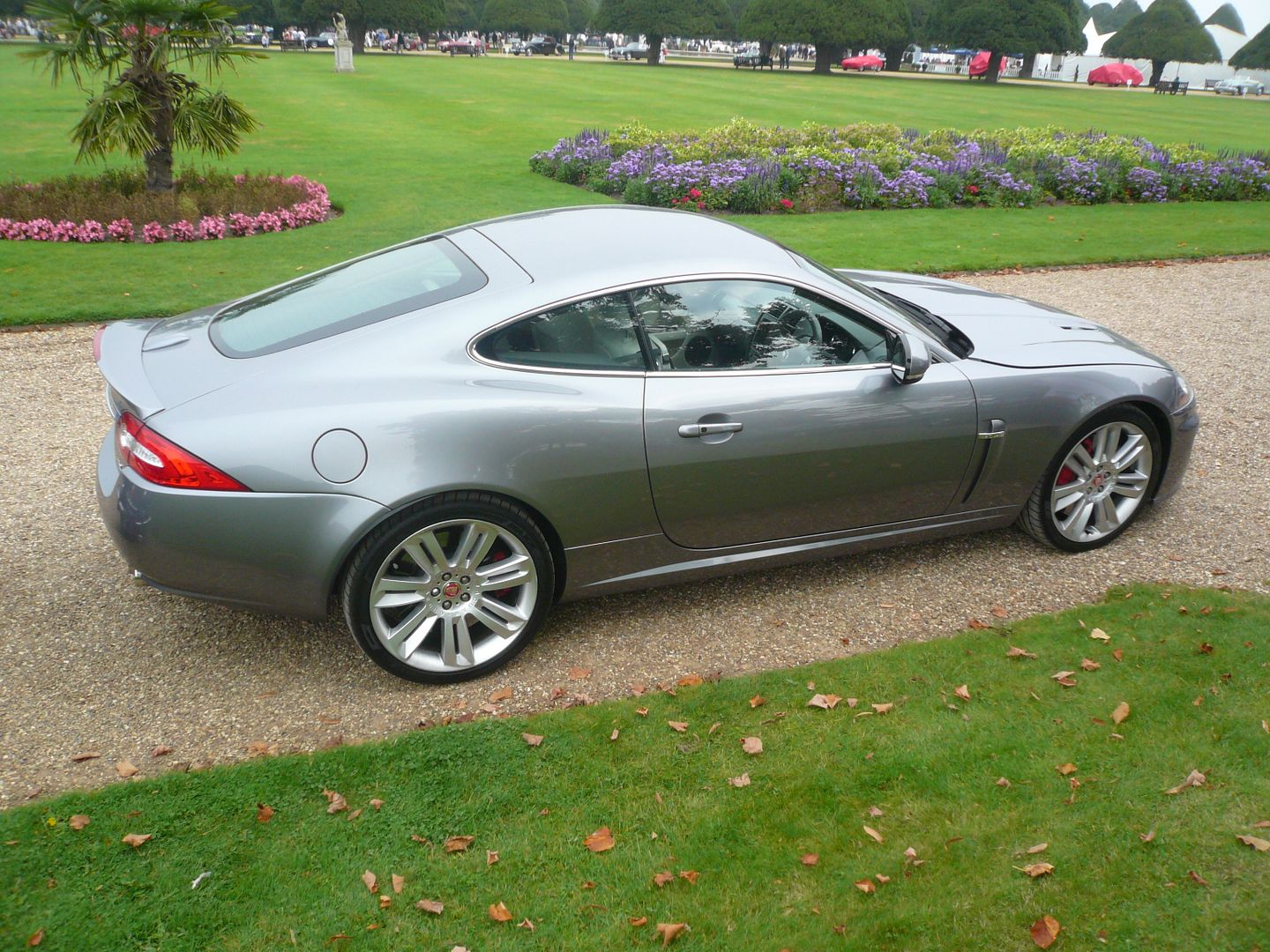 JENSEN
Another British car from the 1960s with an Italian styled body and an American V8 engine was the Interceptor. Touring build the characteristic bodyshell and a Chrysler engine provided the motive power for these delightful cars that are now finally being appreciated for what they are. This is a relatively late model Series 3.
LAMBORGHINI
1968 Miura S
1974 Espada
Jalpa
Diablo VT
LANCIA
Rather larger than the more familiar Lambda cars of the 1920s were the DiLambda models. Built between 1928 and 1935, these large motorcars had a 4 litre V8 with a 24 degree Vee angle. Built in three distinct series, a total of approximately 1500 DiLambdas were made.
More familiar was this Aurelia B20GT Coupe, widely acknowledged to be the first car to bear the now legendary (and often abused) GT moniker
LEA FRANCIS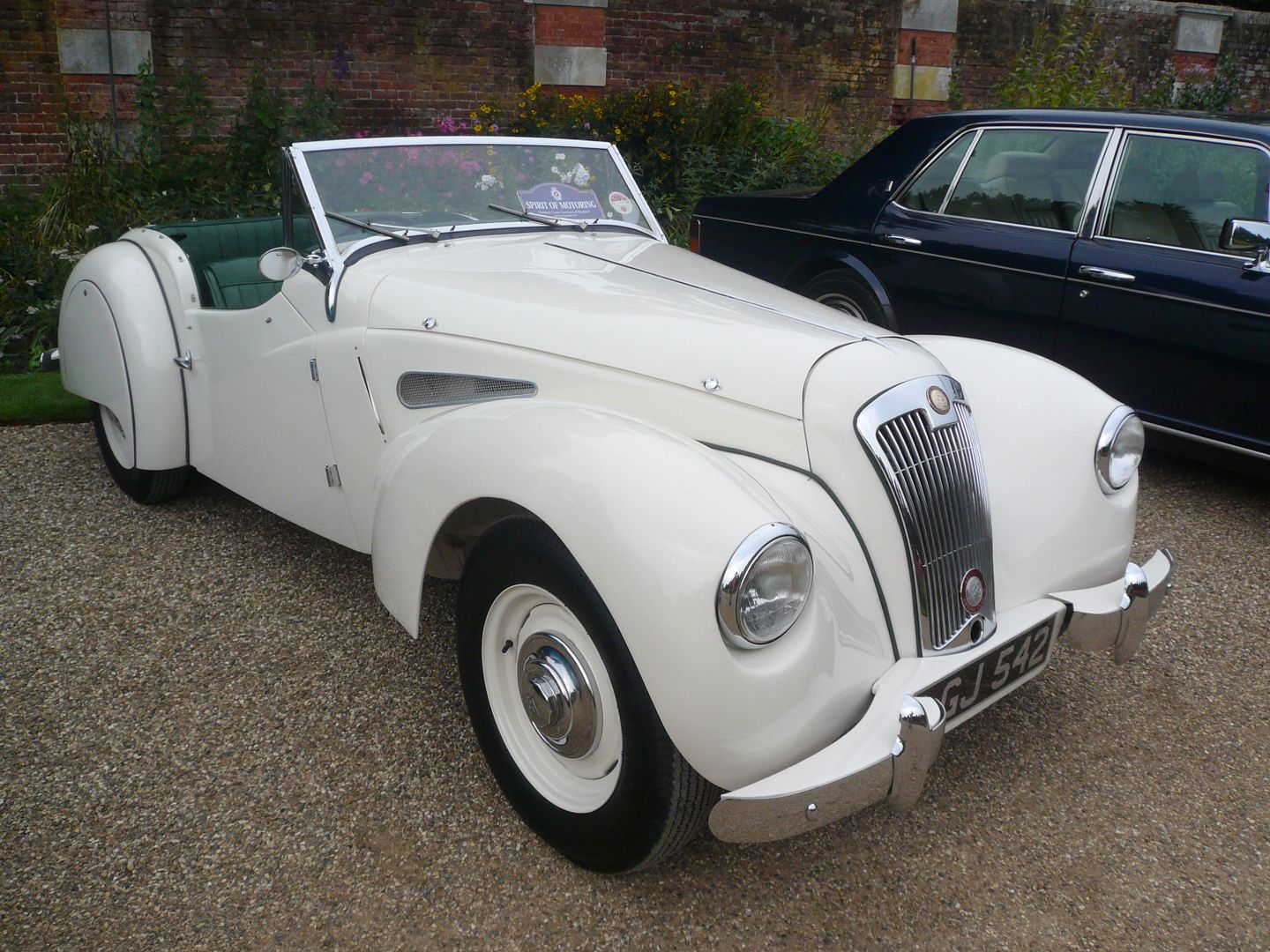 LOTUS
There were a couple of examples of the diminutive Elan, a 1965 S2 Drophead and a later 1970 SE Coupe
More recent was this first generation Elise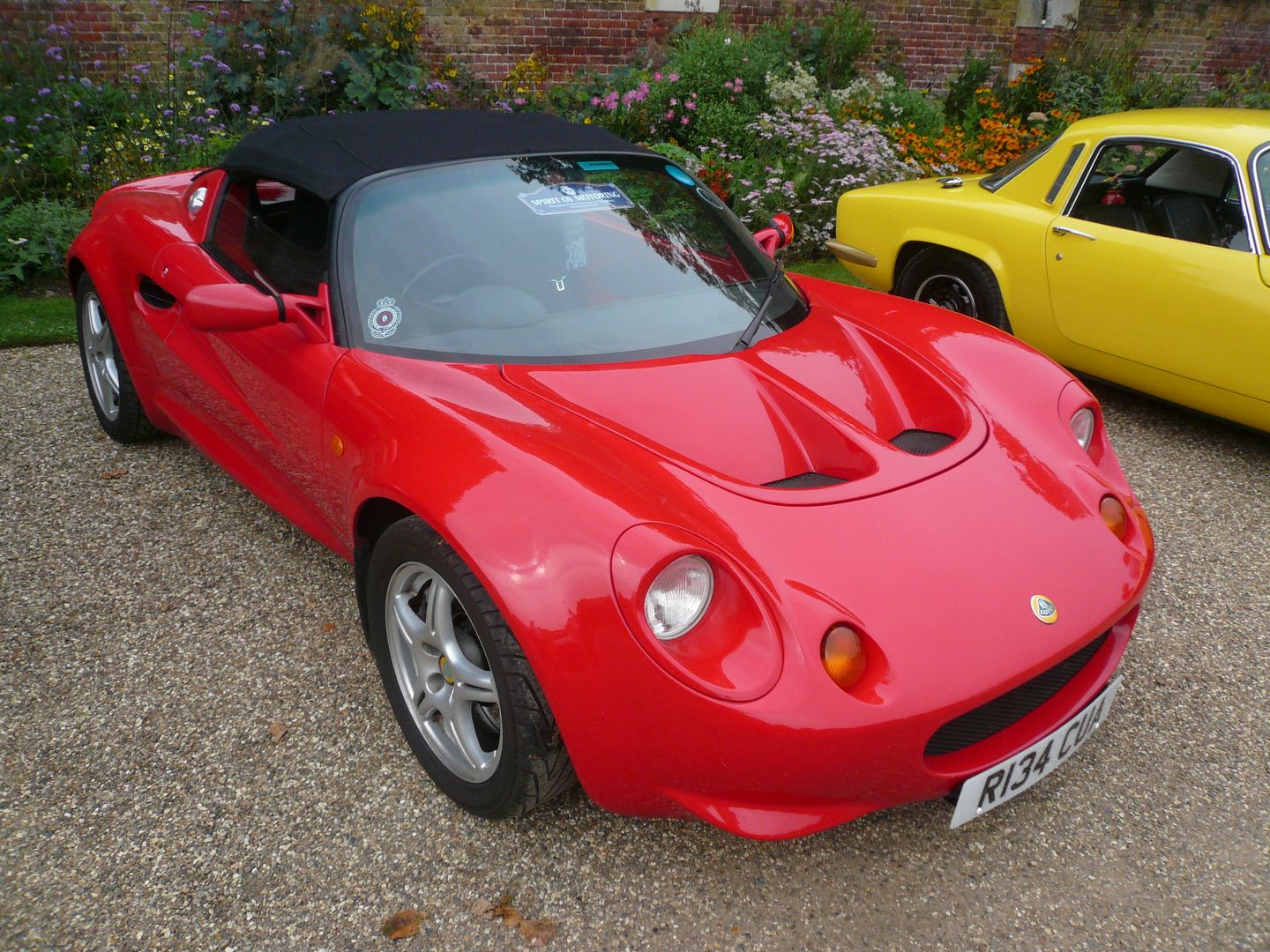 MASERATI
Sebring
One of the most coveted Maseratis of the past 40 years is the Ghibli, a Ghia styled Grand Tourer which was first shown in 1966, as a rival for the Ferraris of the day. This is the more powerful SS version which had the larger 4.9 litre engine. It dates from 1968.
MERCEDES-BENZ
300d
300SL "Gull Wing"
METROCAB
I guess we all had better get used to the looks of this, as this range extended electric Taxi is destined to become a common sight on our city streets.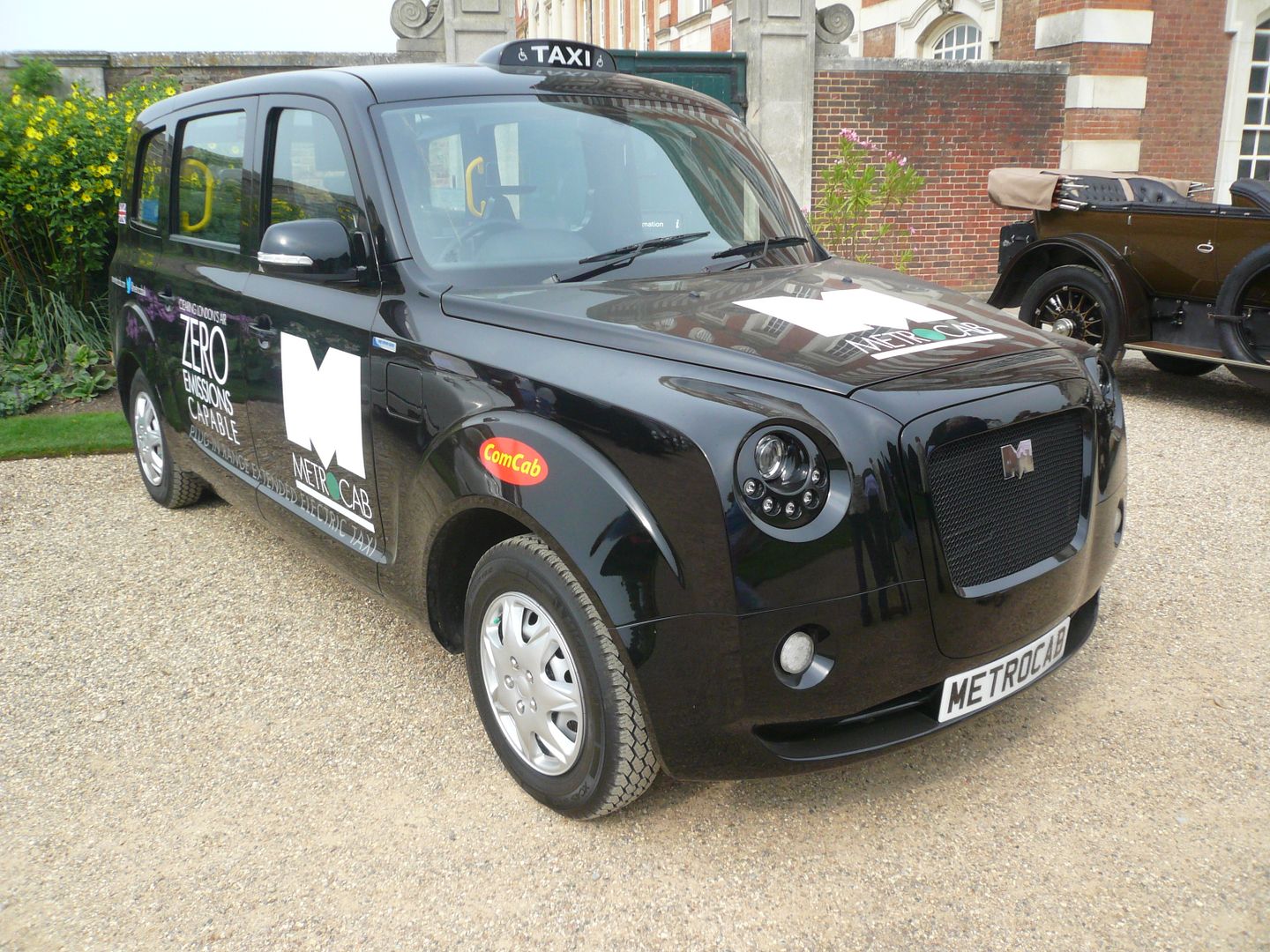 MG
SV
PEEL
Brought into the public consciousness, no doubt, after a star appearance on Top Gear a few seasons back, the little Peel was made in the Isle of Man, at a time when these "bubble cars" were at the height of their popularity. On the rare occasions that a Peel comes up for sale, the asking price has six figures in it. Amazing!
PONTIAC
Firebird TransAm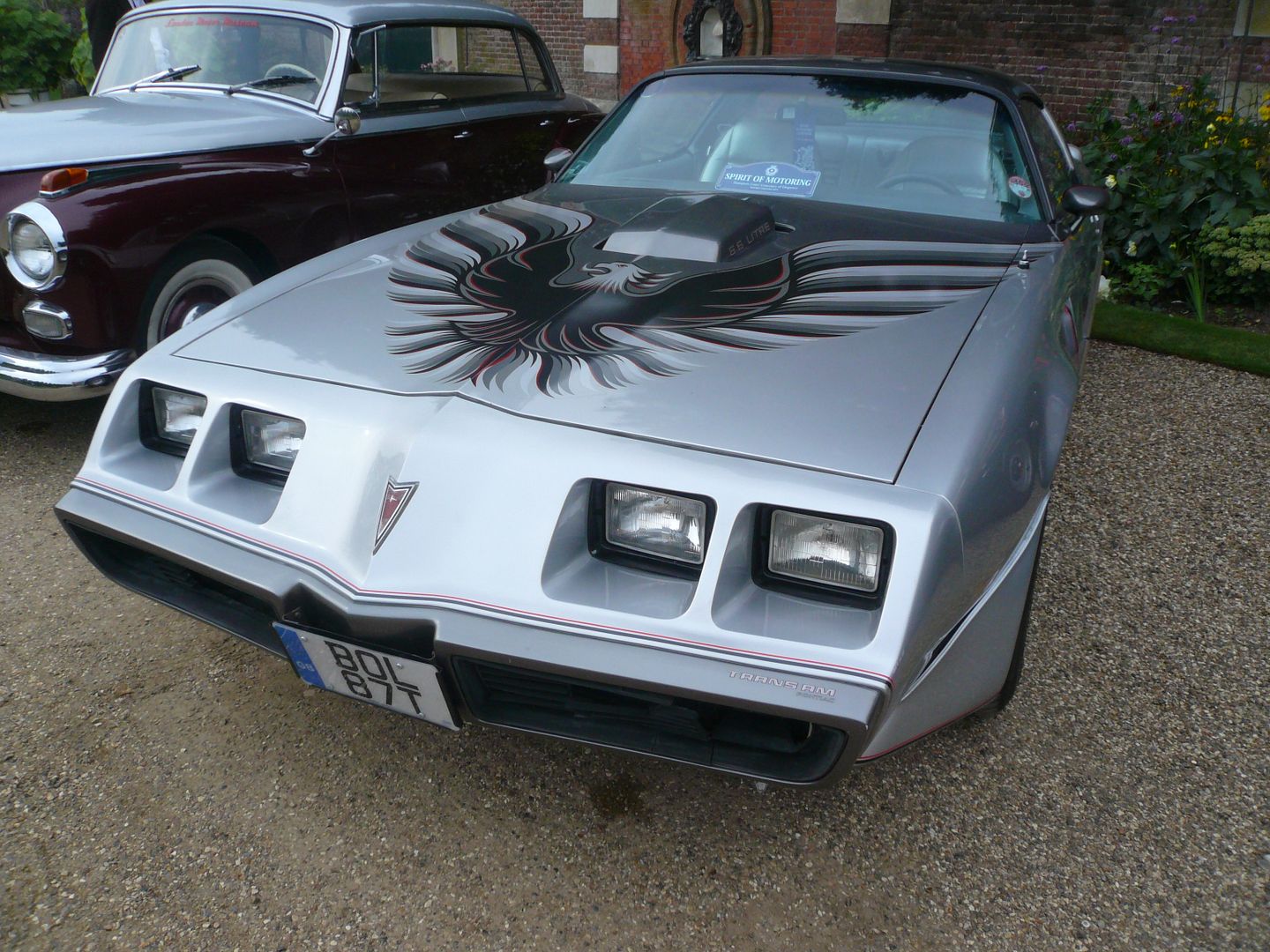 ROLLS ROYCE
A very imposing Silver Wraith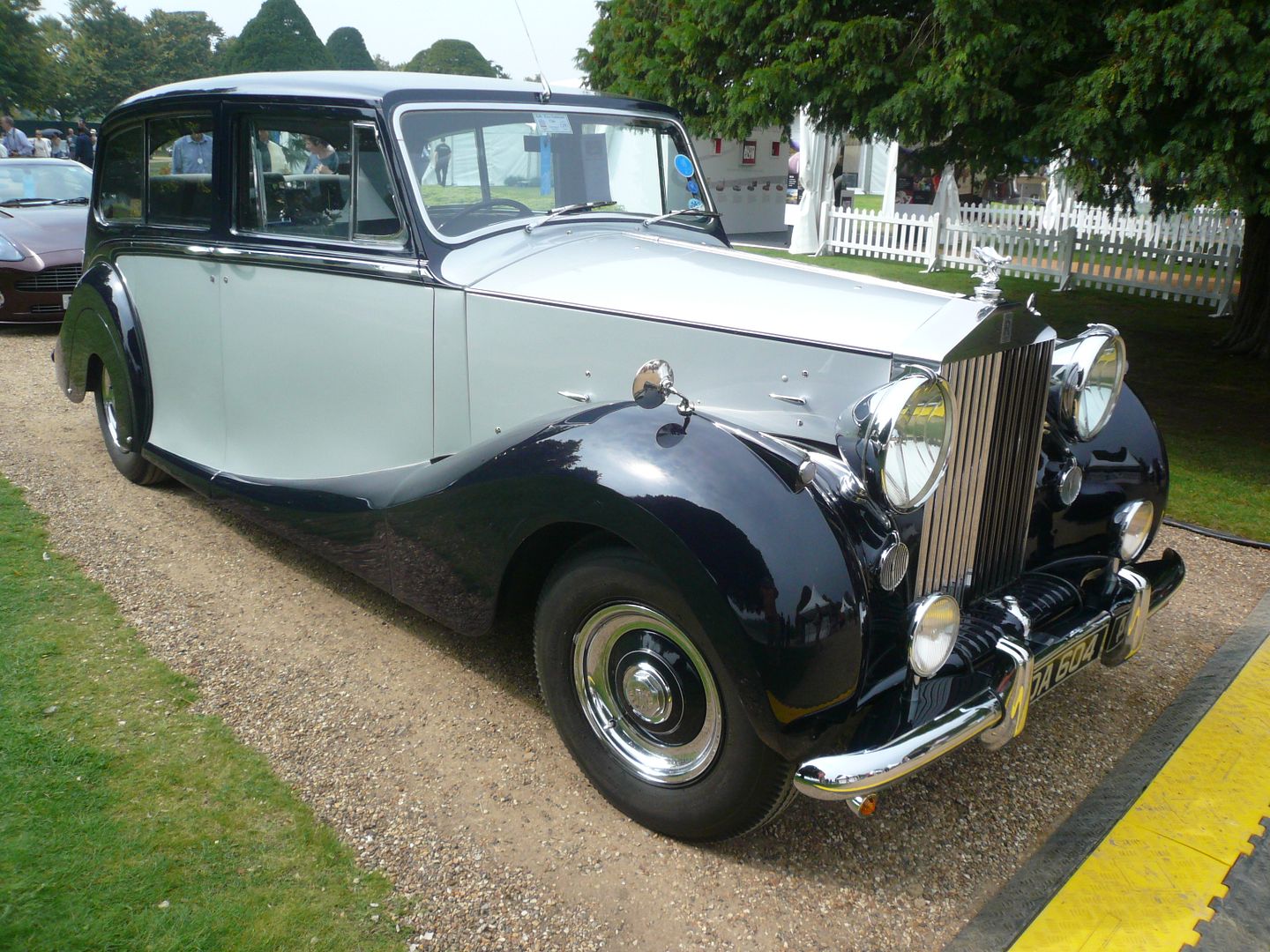 Silver Spirit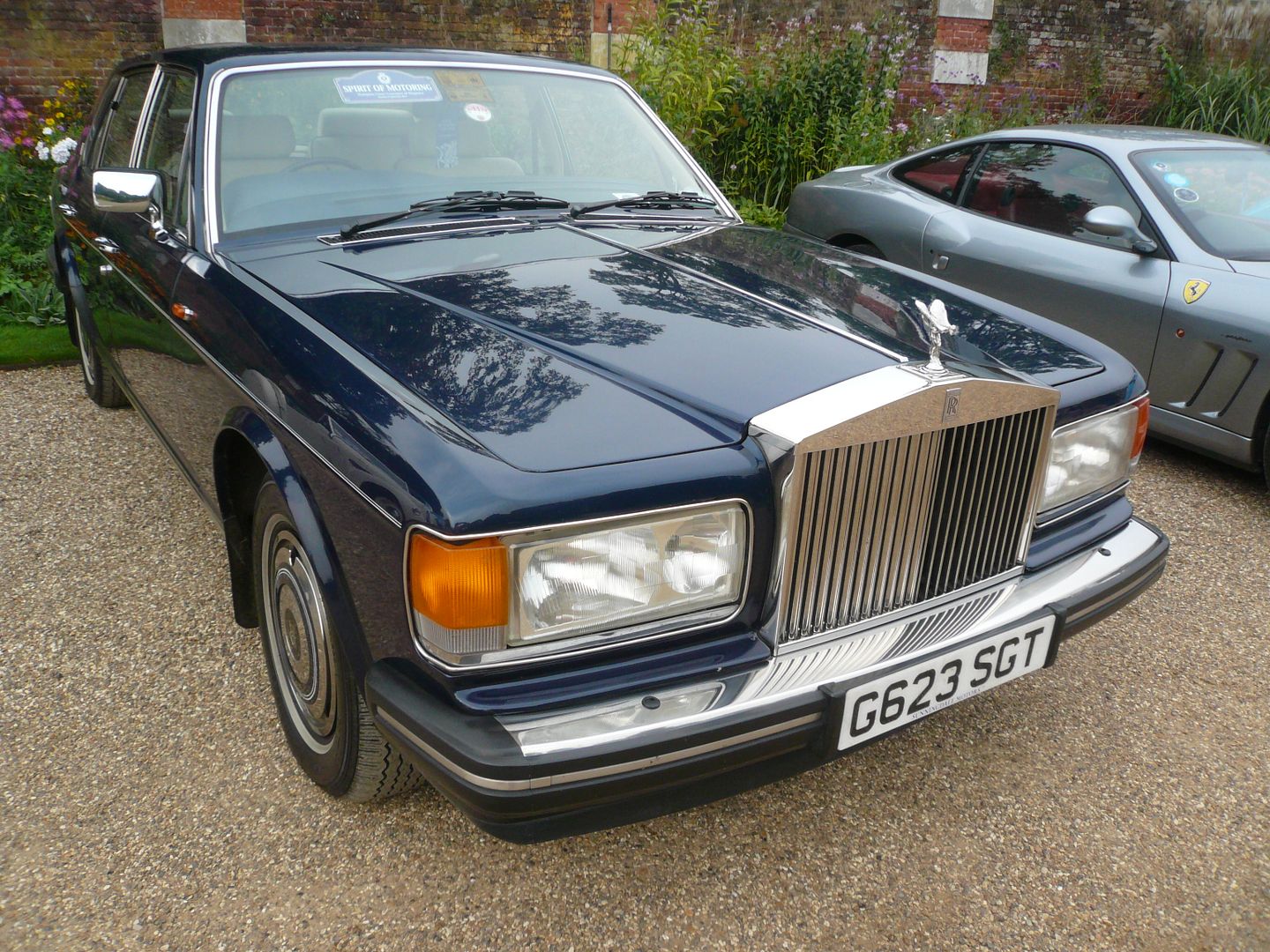 SUNBEAM
Slightly incongruous though it may seem, the Rapier was quite an effective rally car in tis day, with works cars taking on the mantle established by the earlier Sunbeam-Talbot 90 models of the early 1950s.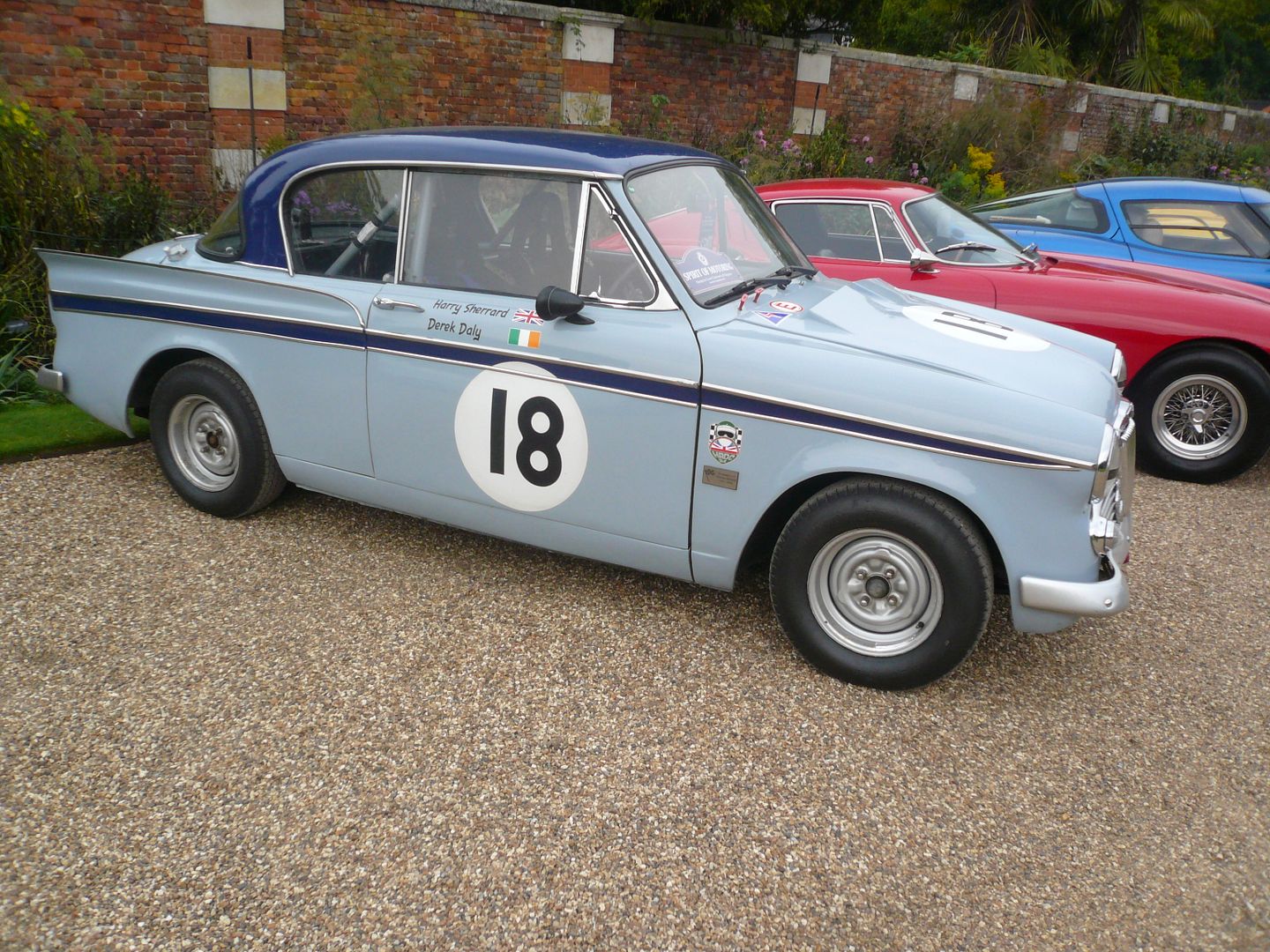 …. AND FINALLY
Believe it or not, this "car" started out as a humble Chevrolet Aveo! Designed and built by Floridian, Mike Vetter, of The Car Company. The Extra-Terrestrial Vehicle or ETV – I kid you not, that is the car's official name- is a futuristic-looking custom build machine with a very sci-fi like appearance. First built in 2009, Mike has gone on to produce around 10 of these amazing looking machines, not all of which are quite the same. The ETV is powered by a 2.0 litre turbocharged Chevy engine and uses an adjustable air suspension to conquer speed bumps and steep driveways. The doors open scissor style. Front and rearview cameras help with outward visibility and parking manoeuvres. One was sold recently on eBay for a not insignificant $71,000. This one was certainly attracting plenty of rather puzzled looks, parked up among some much more familiar machinery here!
IN THE CAR PARK
A special area of the general public parking was reserved for pre 1975 or other "interesting" classics. There weren't that many cars in it on the Saturday. Perhaps it got busier on the Sunday? The only cars I spotted in this section were these:
Alfa Romeo 1750 GTV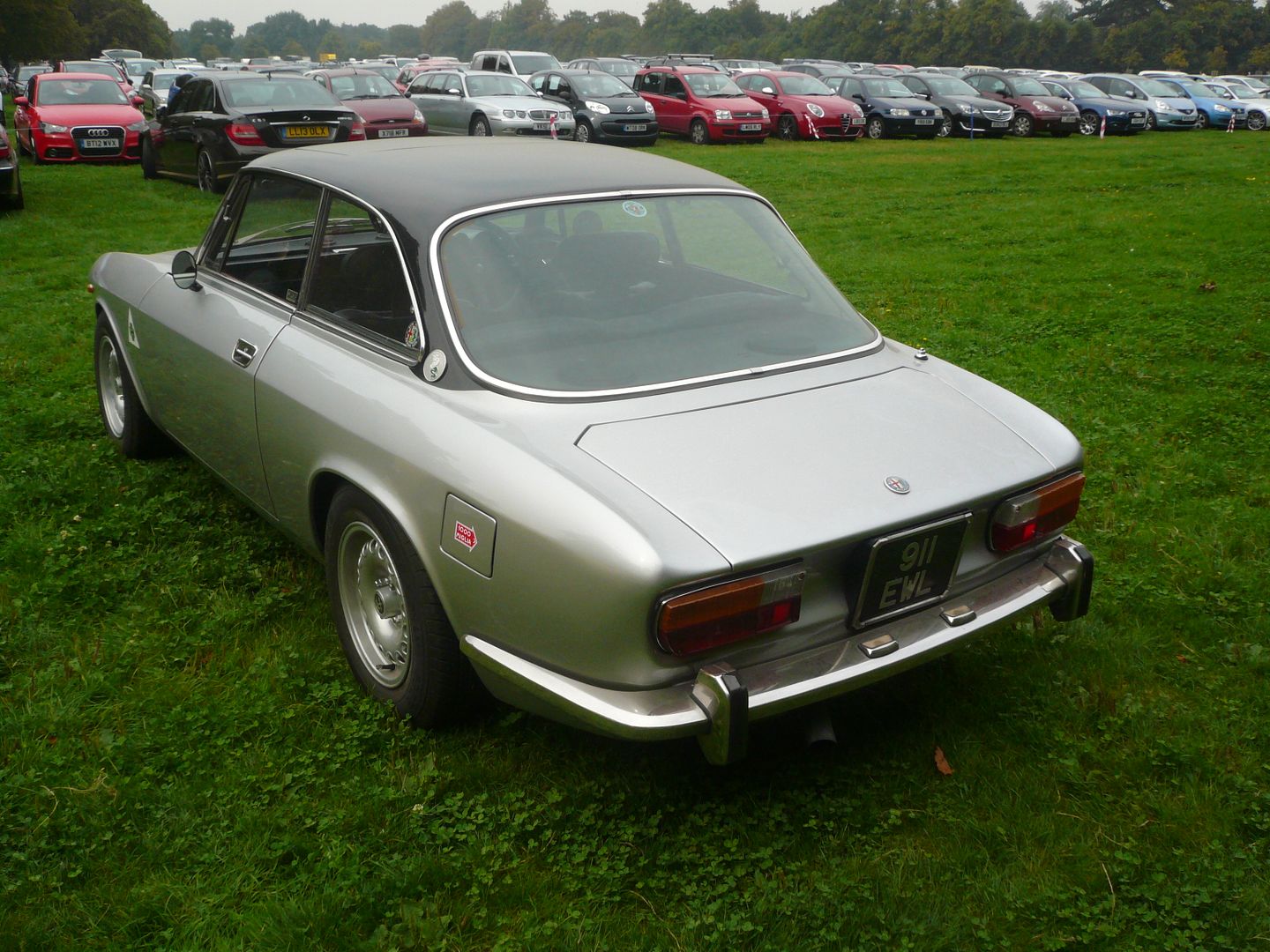 Ferrari 246 GT Dino
1950 Rolls Royce Silver Wraith
Common consent seems to be that this was the best of the three Concours of Elegance yet. Whilst I did not come across HRH Prince Michael of Kent clambering over some of the cars, which apparently, he was doing, and he also got the chance to drive some of them around the grounds, and nor did I attend the ceremony where HRH presented the awards, I was able to see a priceless collection of rare cars in a splendid setting. It was an truly excellent day, well worth the ticket price and the relatively early start. How will this event be topped in 2015?