There are not many good things about Jet Lag, but when a particularly early start is called for, then at least there is no problem in waking up in time. And so even a week after arriving on the west coast of America I found that I was still waking far earlier in the morning than necessary, which made it that much easier to grab my belongings and head out of my Airport area hotel, and south on the 405 Freeway towards Irvine for another of the renowned Cars and Coffee Saturday morning breakfast meetings which have proved so enjoyable when I have previously attended them. I had learned that you really do need to get to this particular gathering spectacularly early, as the display fills up soon after 7am, and the first cars start to depart from around 7:30am, with almost everyone gone by 8:30. So, whilst it was still dark, and the roads were relatively quiet, I headed off to see what unusual and interesting cars would catch my eye this time. As I turned out, I was in for a bumper gathering with a few cars that I had seen at the event before, and plenty which I had not. Here are the highlights:
ABARTH
Technically, as this is an American model, this is a Fiat 500 Abarth, but habits die hard, so it is presented as a separate marque. It would seem that some US owners have the same urges as UK owners…………..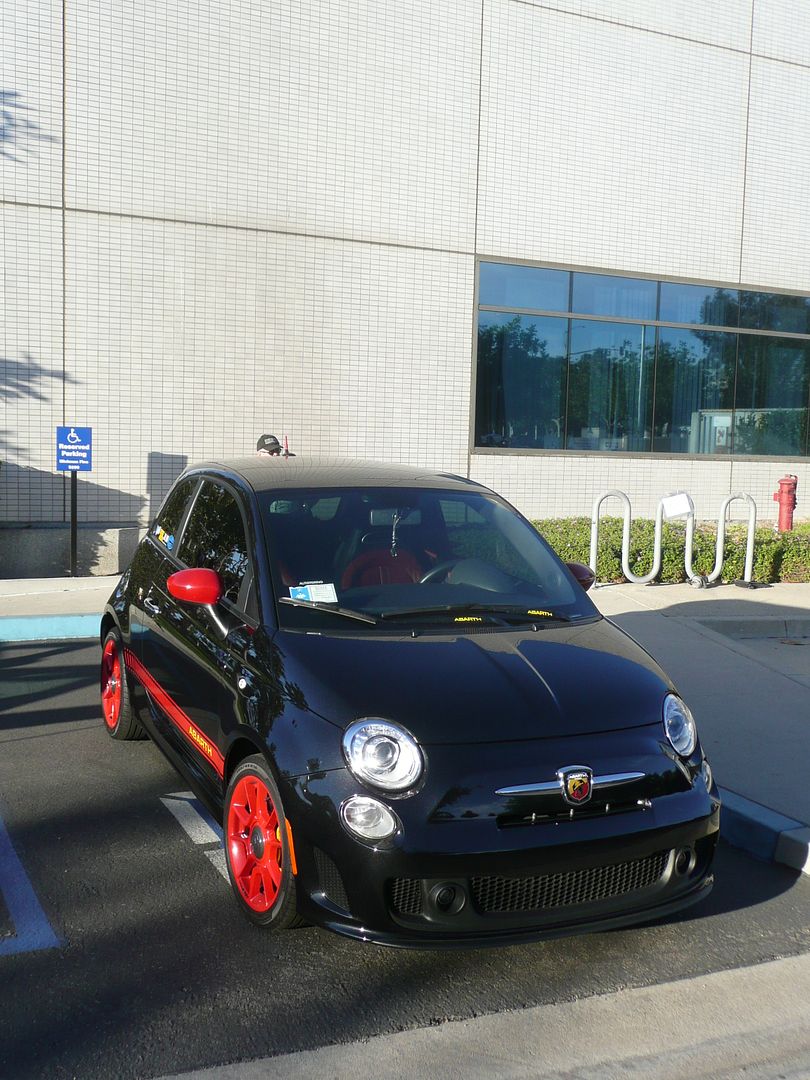 ALFA ROMEO
Alfa are just relaunching in the US market, with the 4C Competizione being the only model that they will sell for now. I am sure that the first of these will make its debut at this event before very long, but for now, it is down to older Alfa models to represent the marque, and there were Spiders and an Alfetta GTV here to do just that.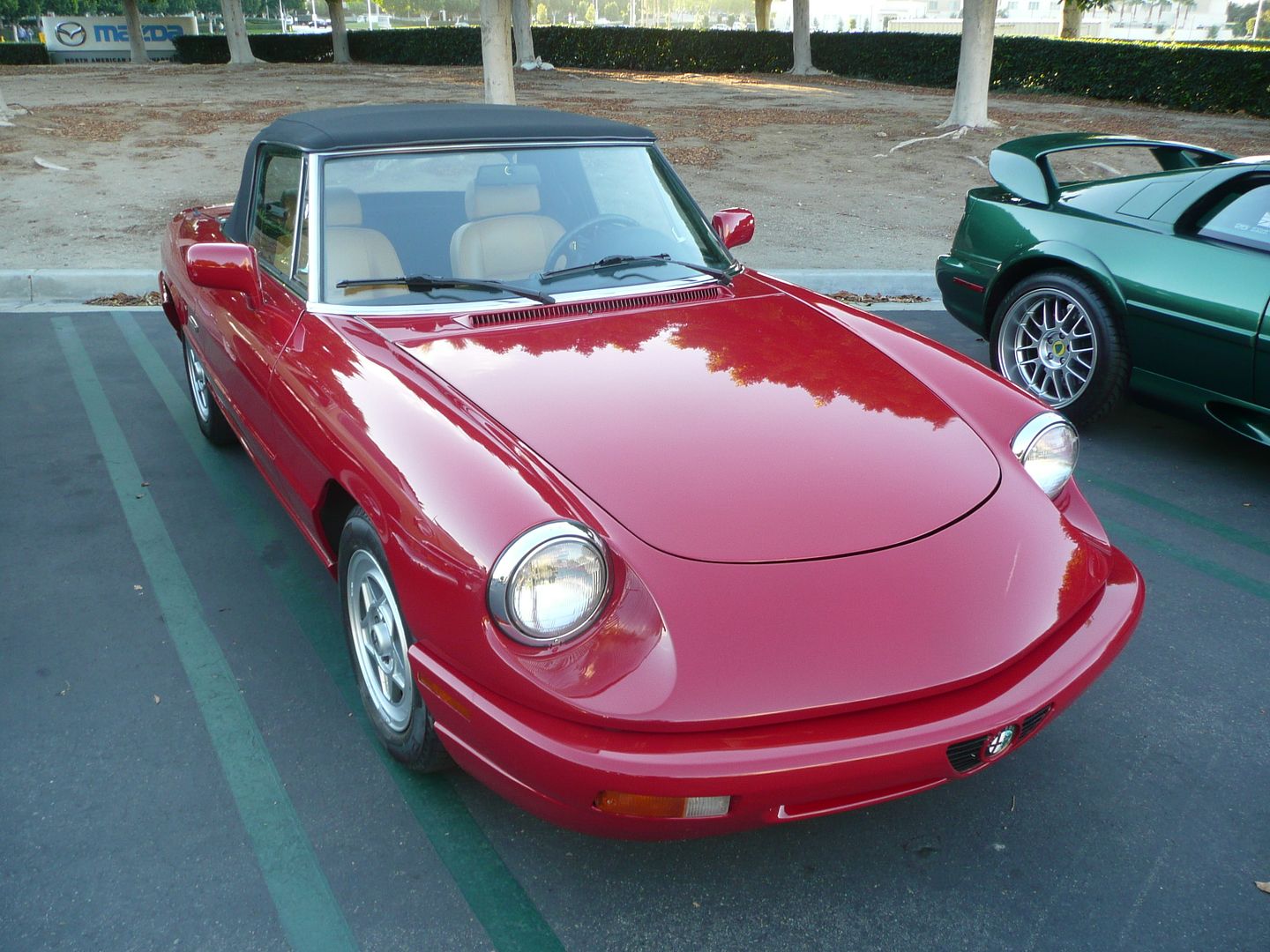 However, my favourite Alfa of the event was this lovely 105 Series 2000 GTV.
AUDI
Pulling the crowds, as ever, were a couple of examples of the R8, Audi's highly desirable supercar.
AUSTIN HEALEY
A long line of Big Healeys made for an impressive sight, with the models reflecting some of the changes that were made to this much loved classic in its 15 year production run
BMW
Although modern BMWs are a very common sight on our street, wind the clock back a few decades and they were sold in small numbers, so it is no surprise that you don't see classic models that often. It was nice to see a well presented E9 2800 CS car and a 2002. as well as more recent M635 CSi
A more recent model, and one of my favourites of recent years was the Z8, a car produced in small quantities, whose values have never really dipped from the astronomically high purchase price when new.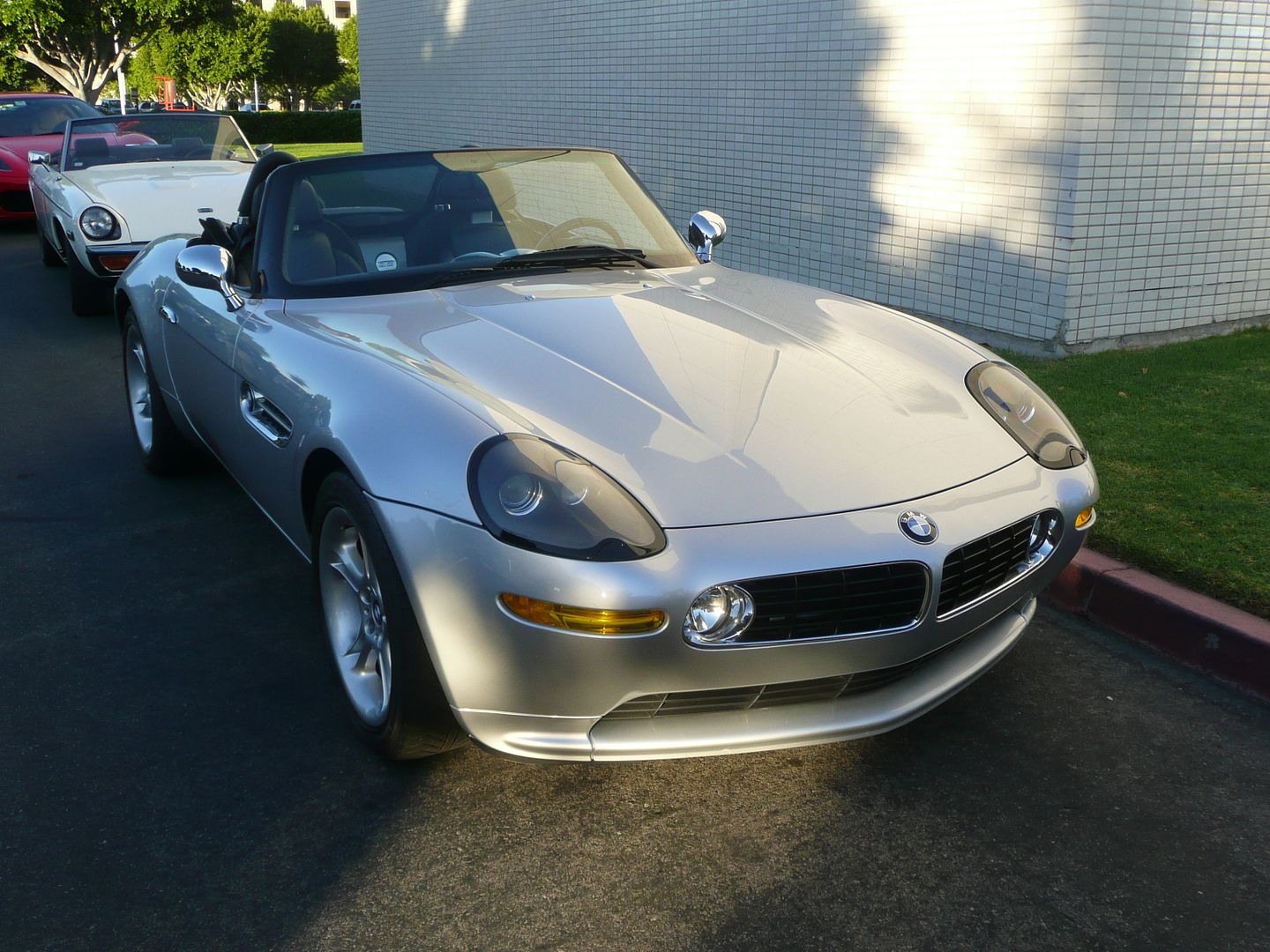 CHEVROLET
The Corvette is always well represented at this event, it would seem, and this one was no exception, with examples of the C2, C3, C5, C6
Whilst not quite as popular as the Corvette or Mustang, the Camaro has a large and devoted following, so it is no surprise to find several examples of the model at an event like this. I am a particular fan of the early cars, made from 1967 to 1970 and there were some nice ones present.
The modern Camaro was present, too, with this ZLE tucked away in one corner of the display.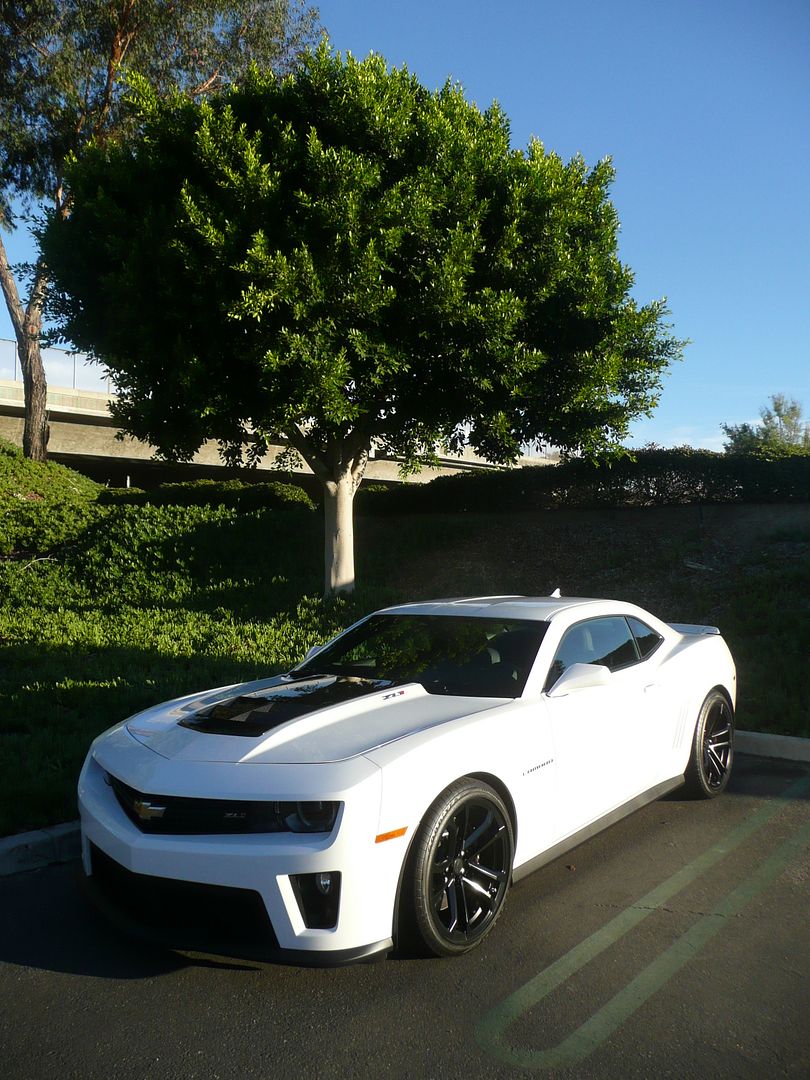 Chevrolet's offering in the muscle car market of the late 1960s and early 1970s was the Chevelle, the most potent examples of which were the SS396. This example dates from 1971.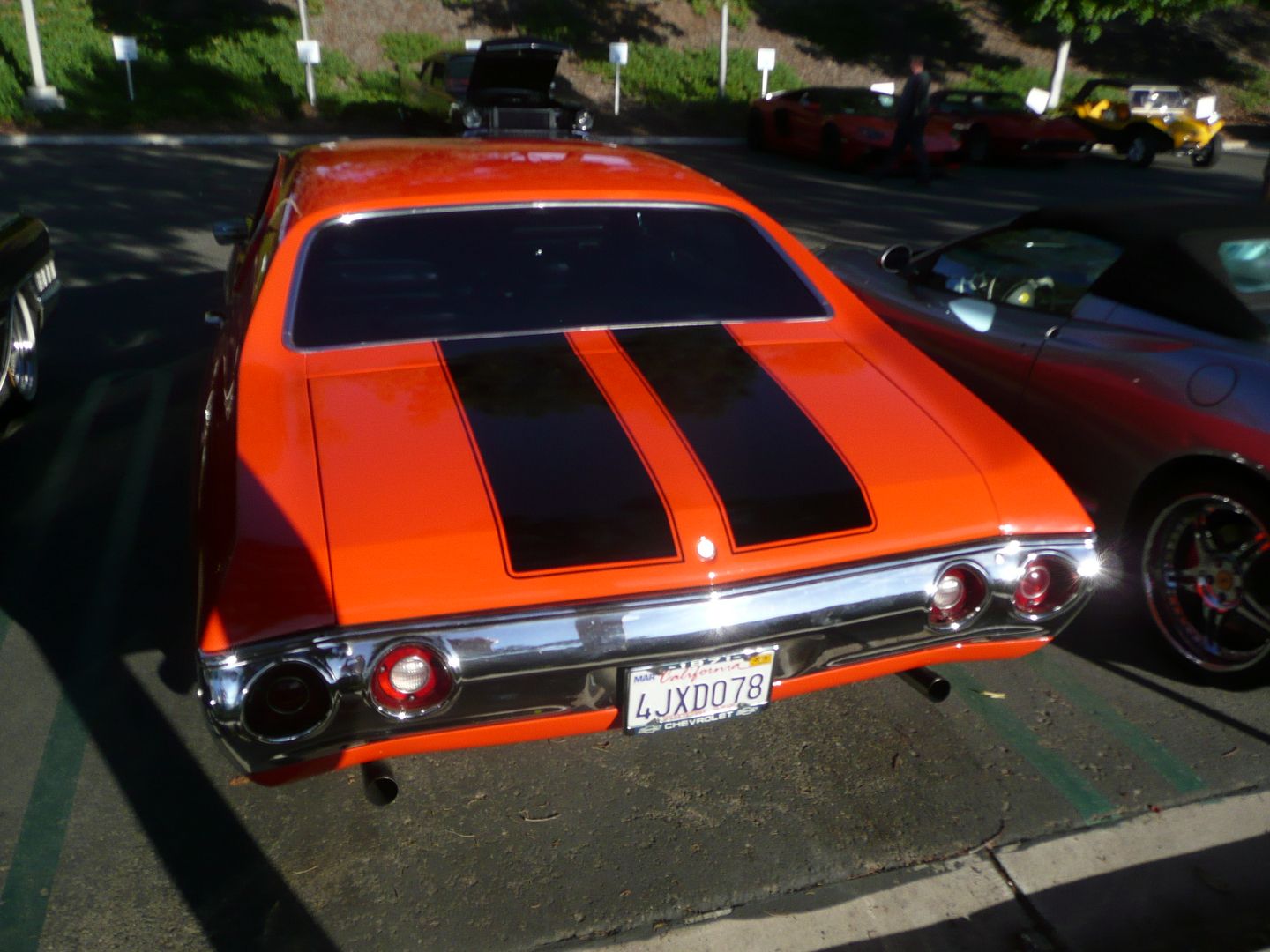 My reading has told me that Chevrolet caused quite a storm when they presented this Apache pickup in 1960. This was a bold new model which introduced a lot of car-like features into what had hitherto been seen very much as a utilitarian machine.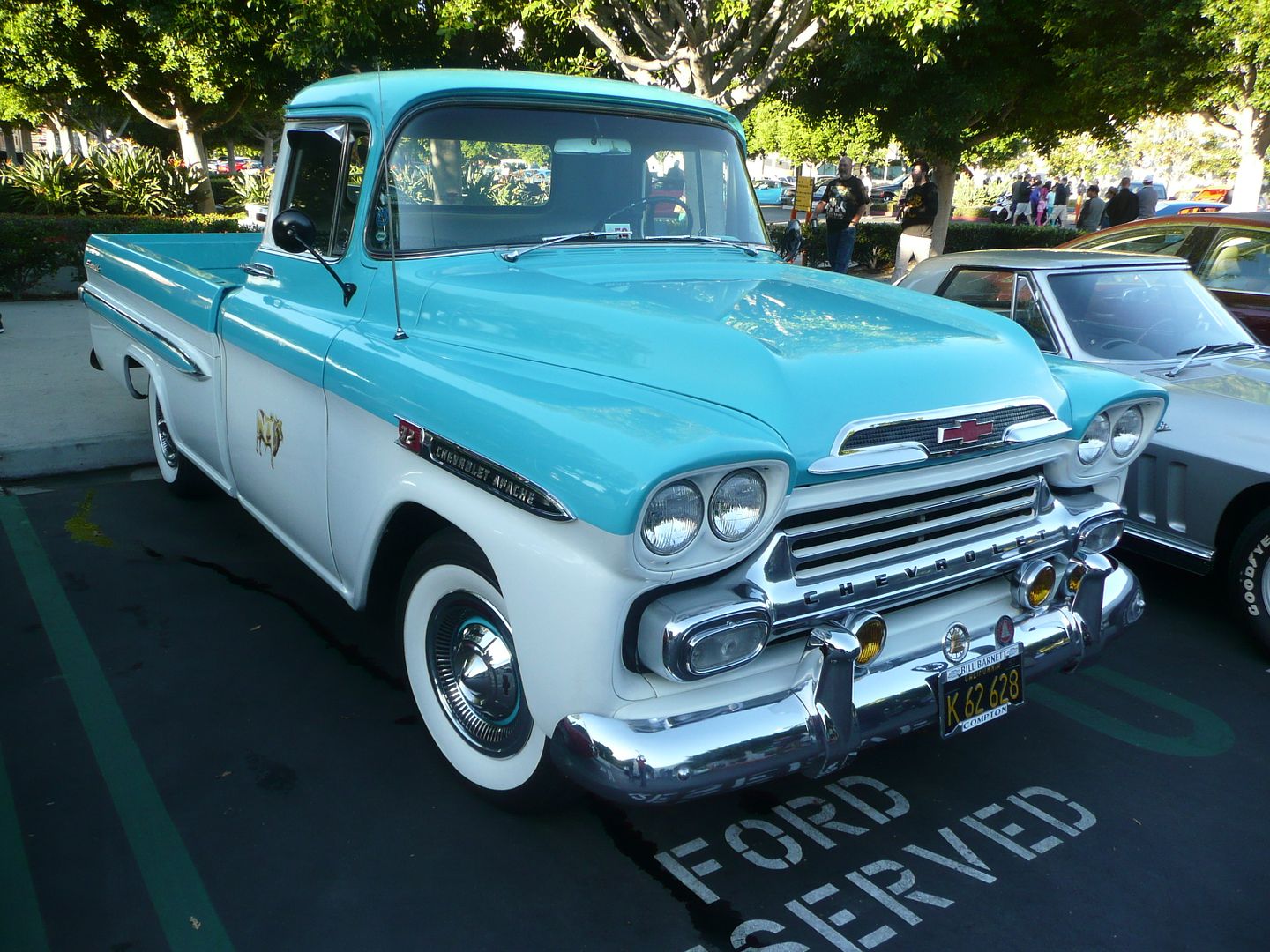 A 1956 Bel Air wagon
DODGE
Bringing this bang up to date was this manufacturer plated car, a Charger Hellcat. The most powerful 4 door saloon on the market, there are 707 bhp under the bonnet of this family sized saloon. Bonkers!
Wind the clock back almost 45 years and Dodge were selling cars like this Dart. This was actually  the smaller of the models in the range, so not quite a direct equivalent of the Charger.
Spend a bit more and you could have been the proud owner of this fabulous Challenger R/T Coupe. Very desirable.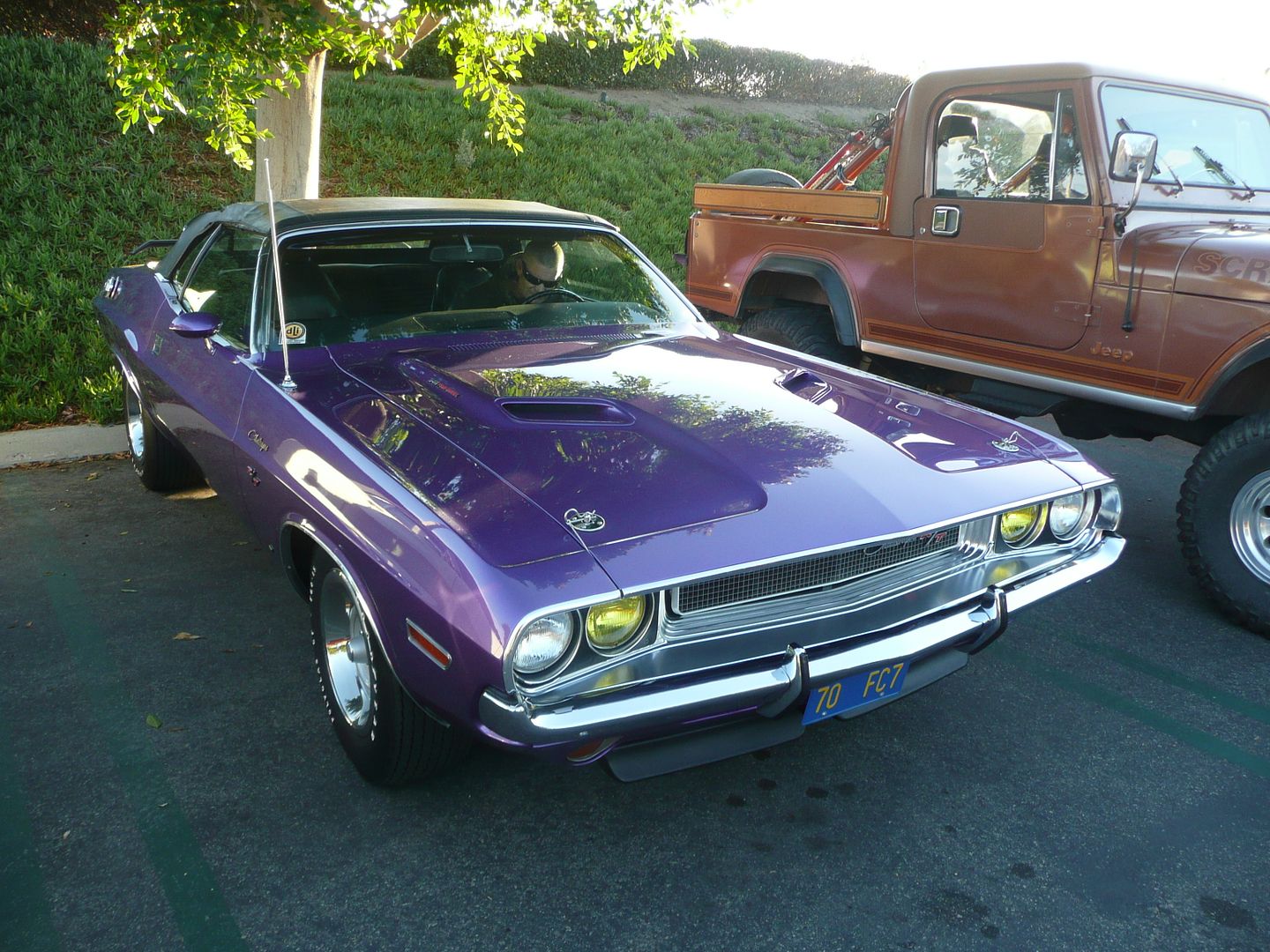 FERRARI
Of the Ferrari models present, the one which particularly caught my eye early on was this lovely 365 GTC.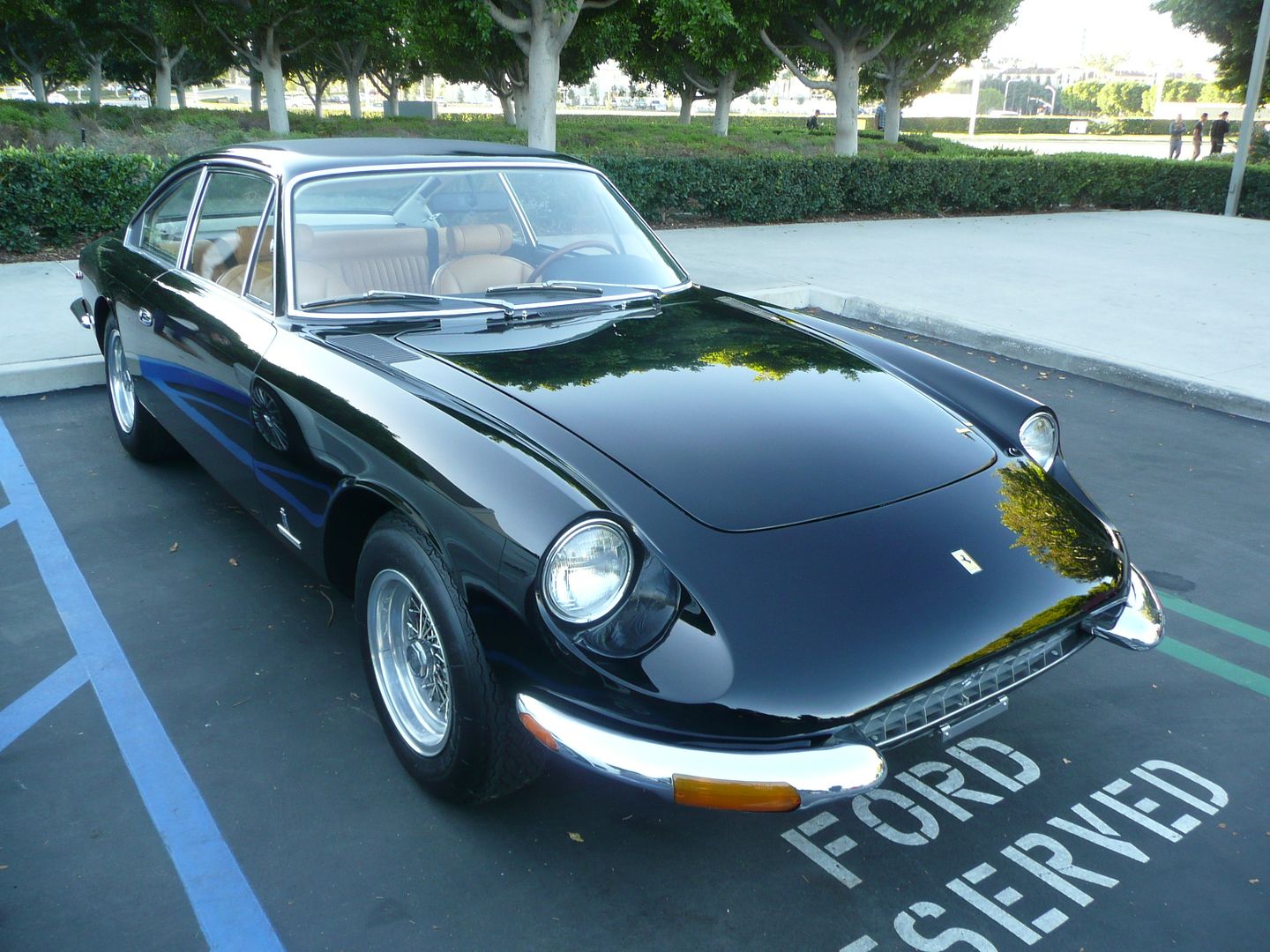 However, it has to take second place to this amazing 166 Inter which arrived later in the morning. Stunning and exceedingly rare.
Other Ferrari models present included a couple of 308 GTSi, a 550 Maranello, a 458 Italia and an F355
FIAT
This was a very nicely present 124 Spider, a car which would have been a lot of fun to have driven away from the event, in sharp contrast to the Toyota which were my wheels for the day.
FORD
One of the joys of an event like this for me is that I get the chance to see in the metal cars that you just don't get in the UK, and which in some cases I have only ever seen in pictures. This is one such a late 1950s Ford Ranch Wagon. In the early 1950s, the era of the wood-bodied station wagon was coming to an end. When Ford introduced a redesigned line of cars for the 1952 model year, its Country Squire continued to cater to buyers who still wanted a station wagon with the look of wood (attained by applying simulated exterior wood decals, which were framed in genuine wood through 1953). But for other wagon buyers, Ford also gave them two new choices that year, the first all-steel wagons in the firm's history. These were the Country Sedan, a four-door model in the mid-range Customline series; and the Ranch Wagon, which was a two-door model in the economy Mainline series. The Ranch Wagon ran with either the standard "Mileage Maker" six-cylinder engine or the long-familiar flathead V8, which was optional. After receiving mostly cosmetic changes for 1953, a second Ranch Wagon model, a slightly fancier version in the Customline series, was added for 1954, the year Ford's new Y-block V8 replaced the flathead unit. The two models were renamed Ranch Wagon and Custom Ranch Wagon for 1955, when the entire Ford station wagon set became a series of its own. For 1957, the Del Rio Ranch Wagon was introduced (replacing both the Custom Ranch Wagon and the Parklane), sporting special ranch-pattern upholstery. That same model was the basis for the new 1957 Ranchero. There were three Ranch Wagons the following year, as the first four-door Ranch Wagon was added to the model range. The Del Rio was dropped for 1959, replaced by a one-year-only two-door Country Sedan. By this time, full-size two-door station wagons were fast fading in popularity, and the 1961 two-door Ranch Wagon was the last full-size two-door wagon ever built (along with the two-door Plymouth Deluxe Suburban of that same year), leaving the four-door as the sole Ranch Wagon model for 1962.
A few years older than that was this Crestliner, dating from 1952. Ford had introduced its first completely new, and far more modern looking post war cars for 1949, and they refreshed the range again for 1952, although the cars remained quite similar to the all-new 1949 Fords. This time, a curved one-piece windscreen joined a new "Mileage Maker" straight-6 engine with 101 hp. The 226 cubic inch (3.7 litre) L-head straight-6 was replaced by an overhead valve 215 cubic inch (3.5 litre) Mileage Maker with 101 hp, while the old 239 cubic inch (3.9 litrr Flathead V8 remained with 110 hp. The model lines were again reshuffled, with the base model now called "Mainline" and mid-level called "Customline". The top "Crestline" included the "Sunliner" convertible, "Victoria" hardtop, and "Country Squire" station wagon. Inside was a "flight-style" control panel and new pedals suspended from below the dashboard. A voltmeter, gas gauge, temp. gauge, and oil pressure where standard. The clock and radio were in the centre of the dash. The grille sported a single centre "bullet" surrounded by a chrome ring as well as "jet intake" corner markers. The Crestline was produced for 3 years, before being replaced by the 1955 Fairlane range.
As ever, the Mustang was strongly represented. Whilst it is good to see the more recent cars, in their various different guises, I also like the earlier cars, and much as I like the very first models, of which a lot survive, it is always good to see some of the cars that came later in the Mustang's first decade of production, such as this Mach 1 model from 1971.
Picking up on the popularity of "retro" styled cars earlier in this century, Ford launched a Thunderbird in 2002 which reeked of the style of the original 1954 model. It looked good, and sales initially were promising, but they soon nose-dived and the press turned against it for its driving characteristics which they said did not match the potential of its looks. It was killed off in 2006. I rented a bright red one just before production ceased and loved it, despite its slightly crude chassis. It has not yet quite reached classic status, though I am sure its turn will come.
One that certainly has acquired classic status, despite the vast number that were made is the Model T, and there was nice example here.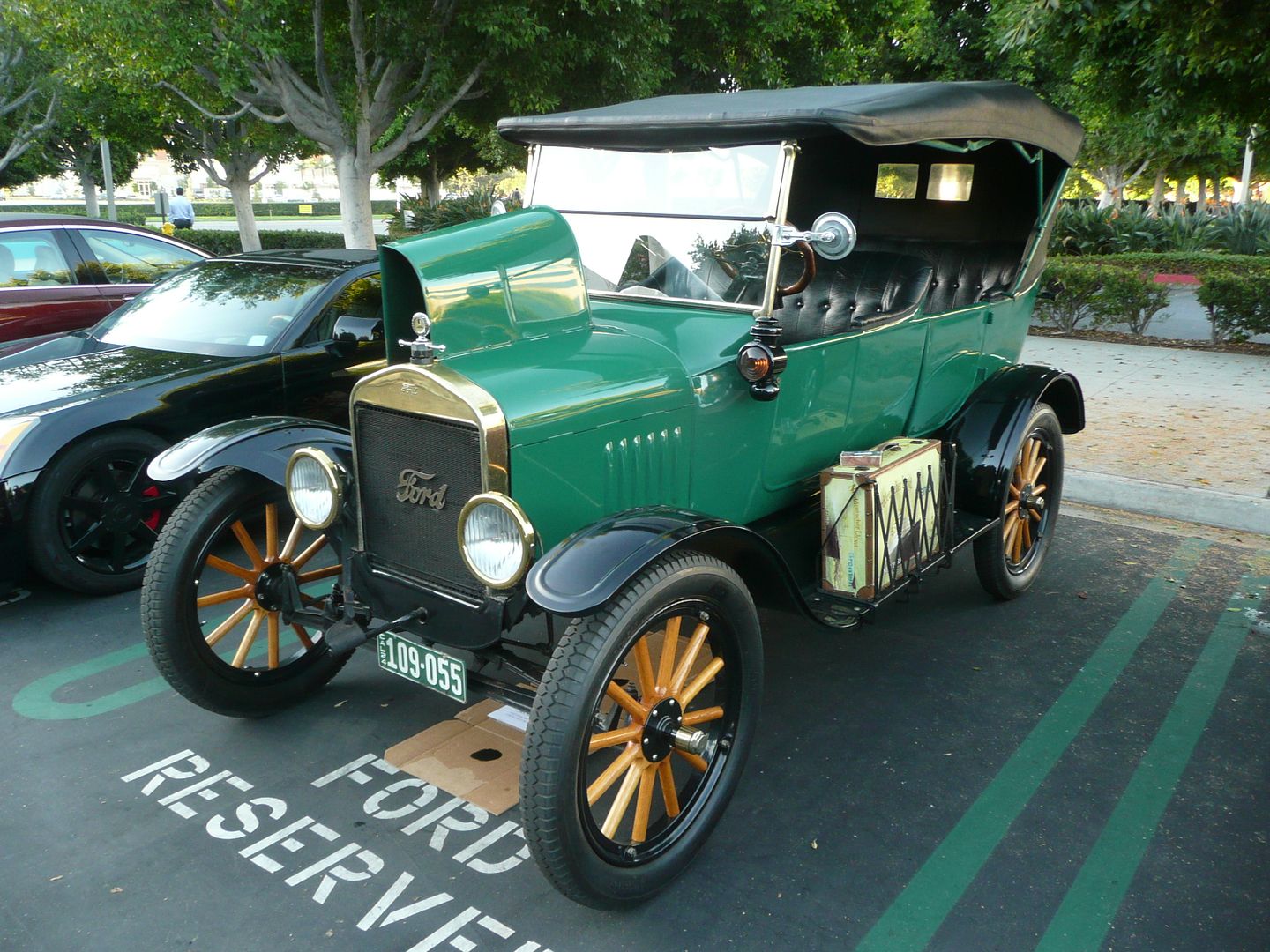 There was a nice example of the GT, too, and late in the proceedings one of the original GT40 models arrived. I've said it before, but it bears repeating, there is a significant difference in size between these two models.
GTM
No, I did not know what this was, either. Fortunately, there was a notice in the car saying that it is a GTM, a high performance sports car that is hand built in very small quantities, about 20 a year being made.
JAGUAR
Three very special Jaguars were parked up in among the array of Porsche models, but they did not stay long and the photographer missed his chance with some of them which was a pity. That was because there was a large crowd around them, and my hopes that it would dissipate were ill-founded as it never did! This XK120 was the one I did snap.
No such problem in getting pictures of this XK-E, as the Americans called the E Type.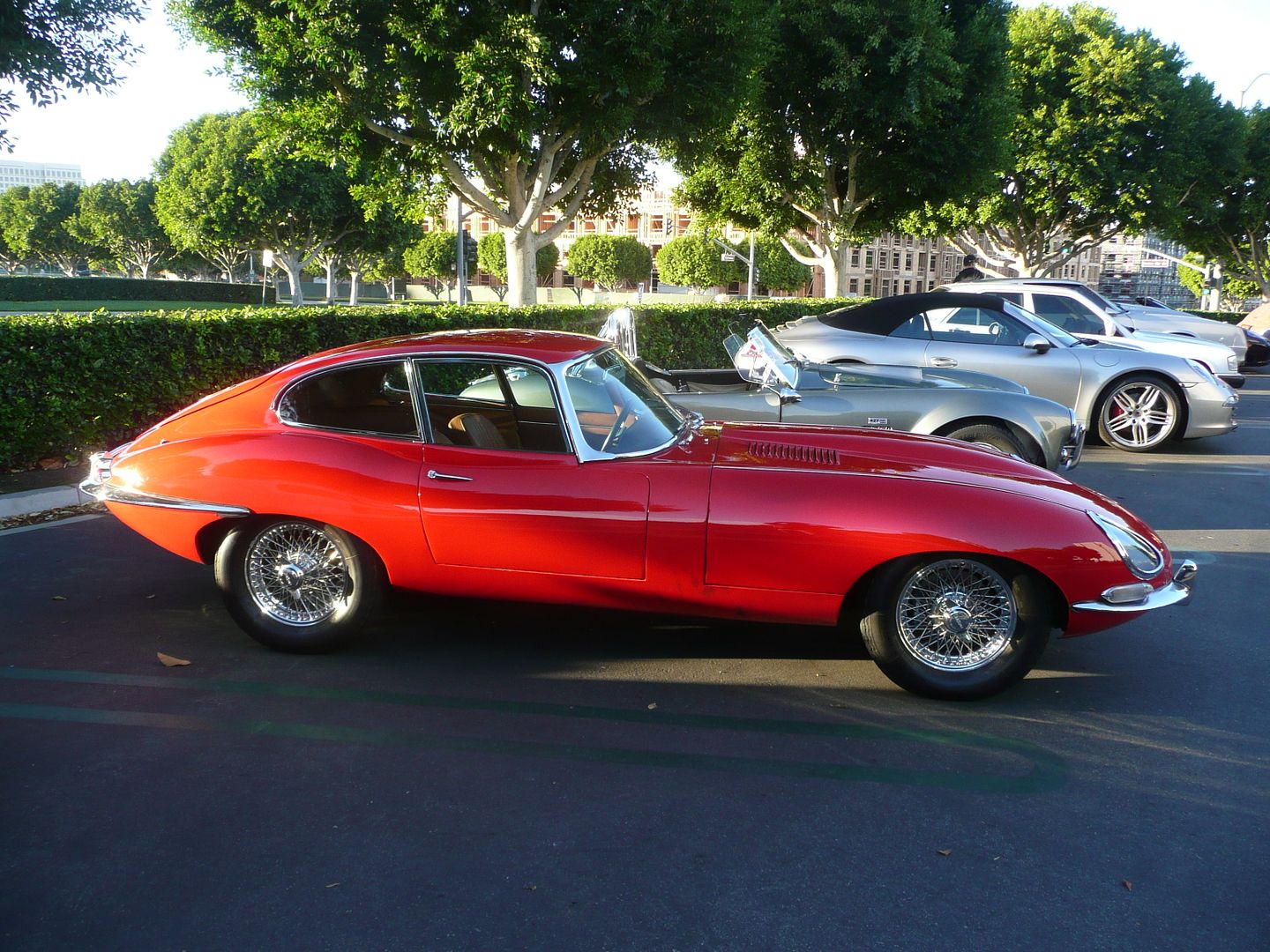 Not far away from it was the modern equivalent, the stunning and deeply desirable F Type, seen here in Convertible guise.
Also on show, sporting the famous "leaping cat" badge was this Series 3 XJ Sedan.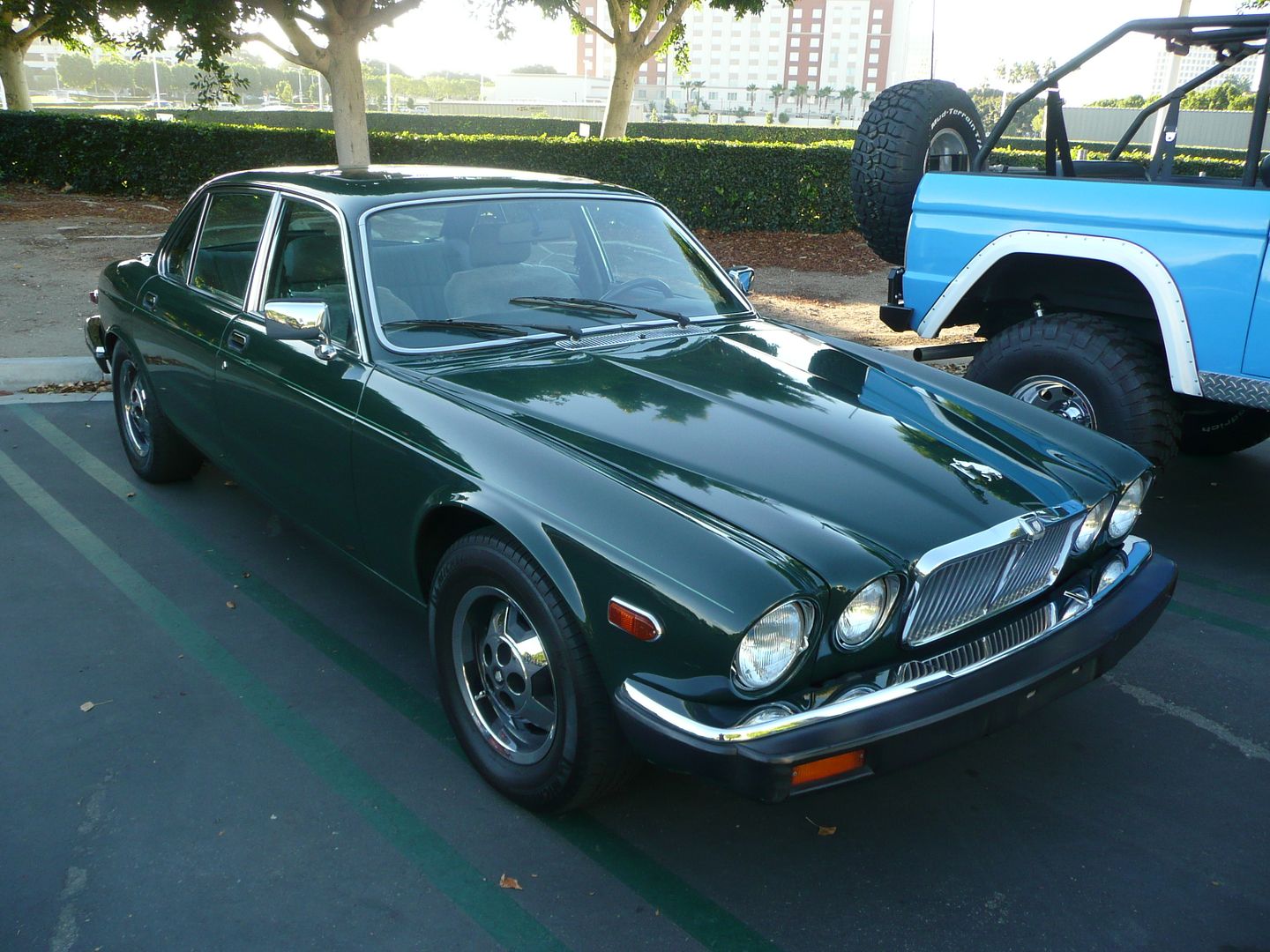 JENSEN
It was nice to see a Jensen-Healey, an elegant open topped sports car produced in the early 1970s which did all the production testing work for the Lotus 2 litre slant four engine, finding all the in-service problems and giving the Jensen-Healey a bad name for reliability. Now that fixes for any of those issues are well known, these cars are still surprisingly cheap for what they are.
LAMBORGHINI
There are always a few Lamborghini at this event, some supplied, I think, by the local dealer in Newport Beach and others privately owned. They always seem to attract a crowd even when parked up, and this always intensifies when the engines are started up. Present this time were an Aventador and a Murcielago.
Nice though they were, the most special Lamborghini of the event was this amazing Espada.
LANCIA
Still sporting Italian plates was this fantastic Aurelia GT Coupe.
LEXUS
Another brand new car that few would have seen in the open before was this RC-F. One look at and you may be thankful for not having seen it before. This is not a pretty car by any stretch of the imagination. Will it do better than the old IS-F, enthusiasm for which waned very quickly, with few feeling that it was preferable to an M3 or C63 AMG Mercedes. Unless you happen to like the looks of this thing -and I concede that with such a polarising design as this, a few people will, but far more people appear to hate it – I suspect it will struggle to lure people out of the German rivals.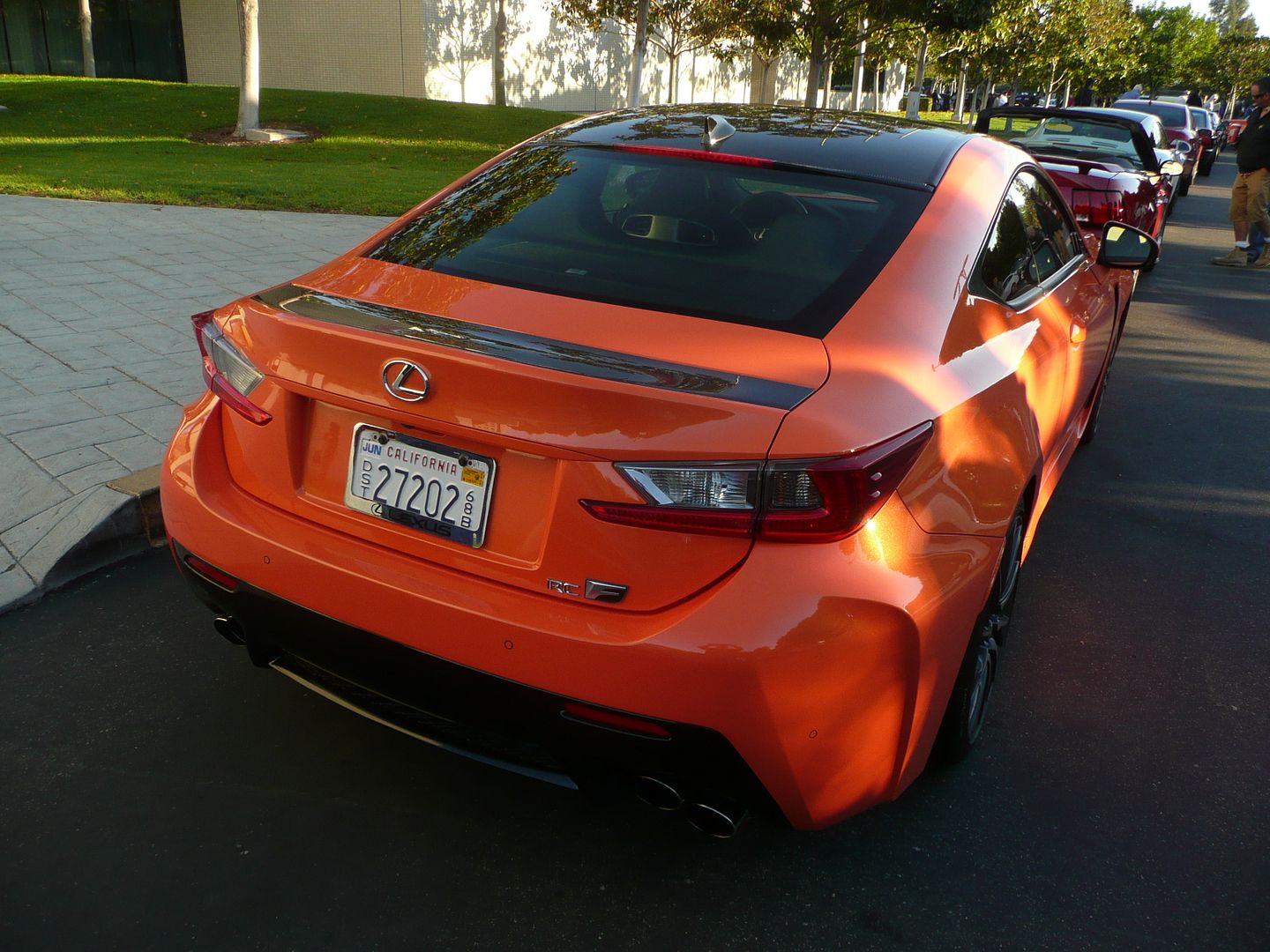 LINCOLN
Lincoln may be struggling to find its identity and relevance in the new car market, but go back 50 years and its position was far clearer. Cars like the Continental sat at the top of  the automotive tree, aimed at those who did not want a Cadillac, but for whom size and luxury counted. There were a number of these impressive machines from the early 1960s on show this time.
Those were the Mark 3, so it was nice to see an example of the earlier Mark 2 model from the mid 1950s as well.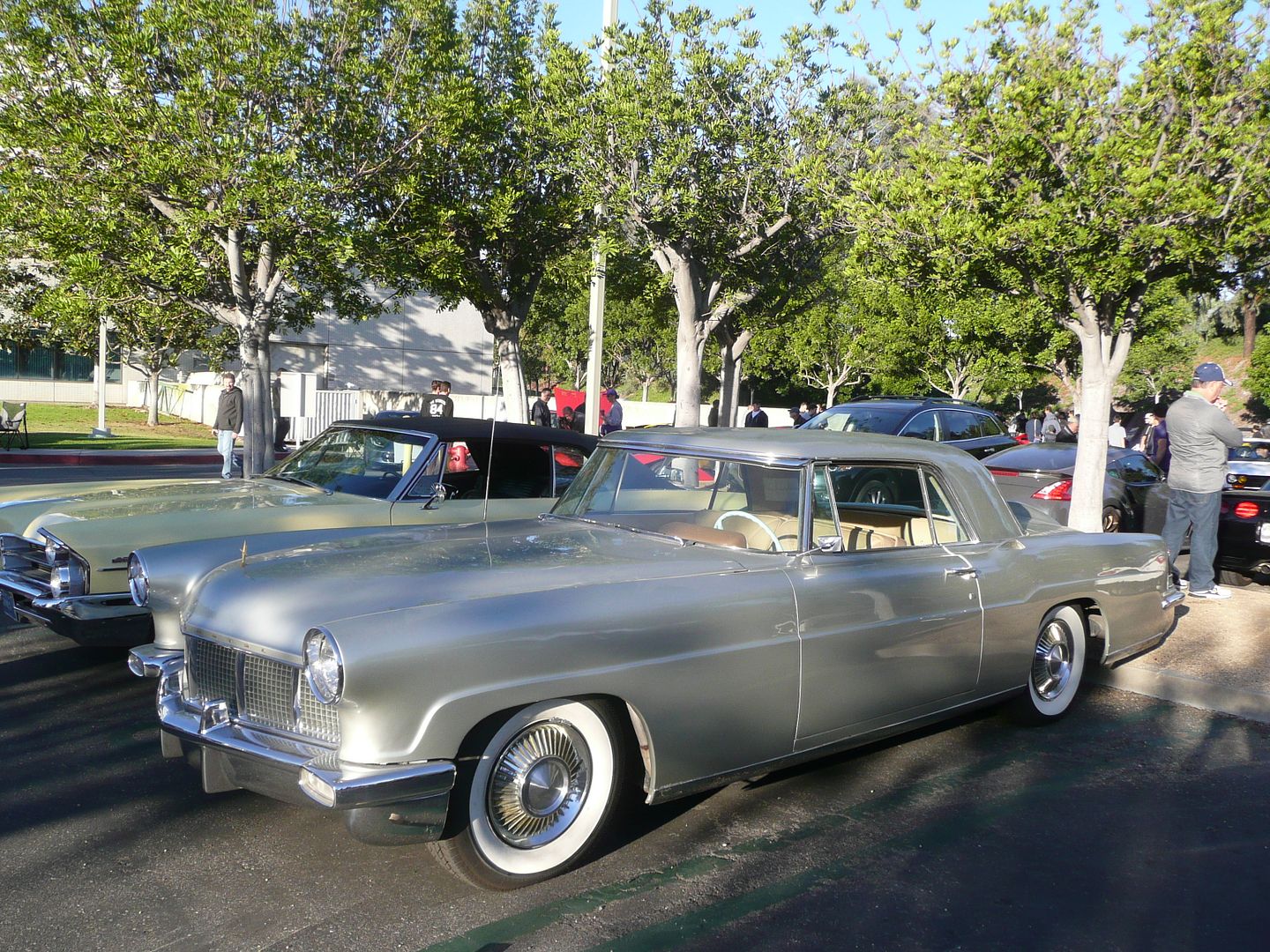 LOTUS
This Elan Sprint was one of the smallest cars present. It really did seem tiny in comparison to just about everything else that was parked up.
Even this late model Esprit did not seem that big, though when it was new, I think we may have viewed its size, especially the width, rather differently.
McLAREN
Fewer McLaren models present this time compared to some of my previous visits, but I did spot this 650S as it was departing.
MERCEDES-BENZ
W111 Models like this 280SE Coupe have become much sought after and prices have rocketed, and it is not hard to see why. Whilst the US market touches of the wing indicator repeaters and the round headlights are not quite as neat as European market cars, this is still elegance personified. If only Mercedes' stylists would look at these cars rather than whatever it is which is inspiring them to produce such over-styled, fussy and plain ugly designs that they seem hell-bent on inflicting on us at present.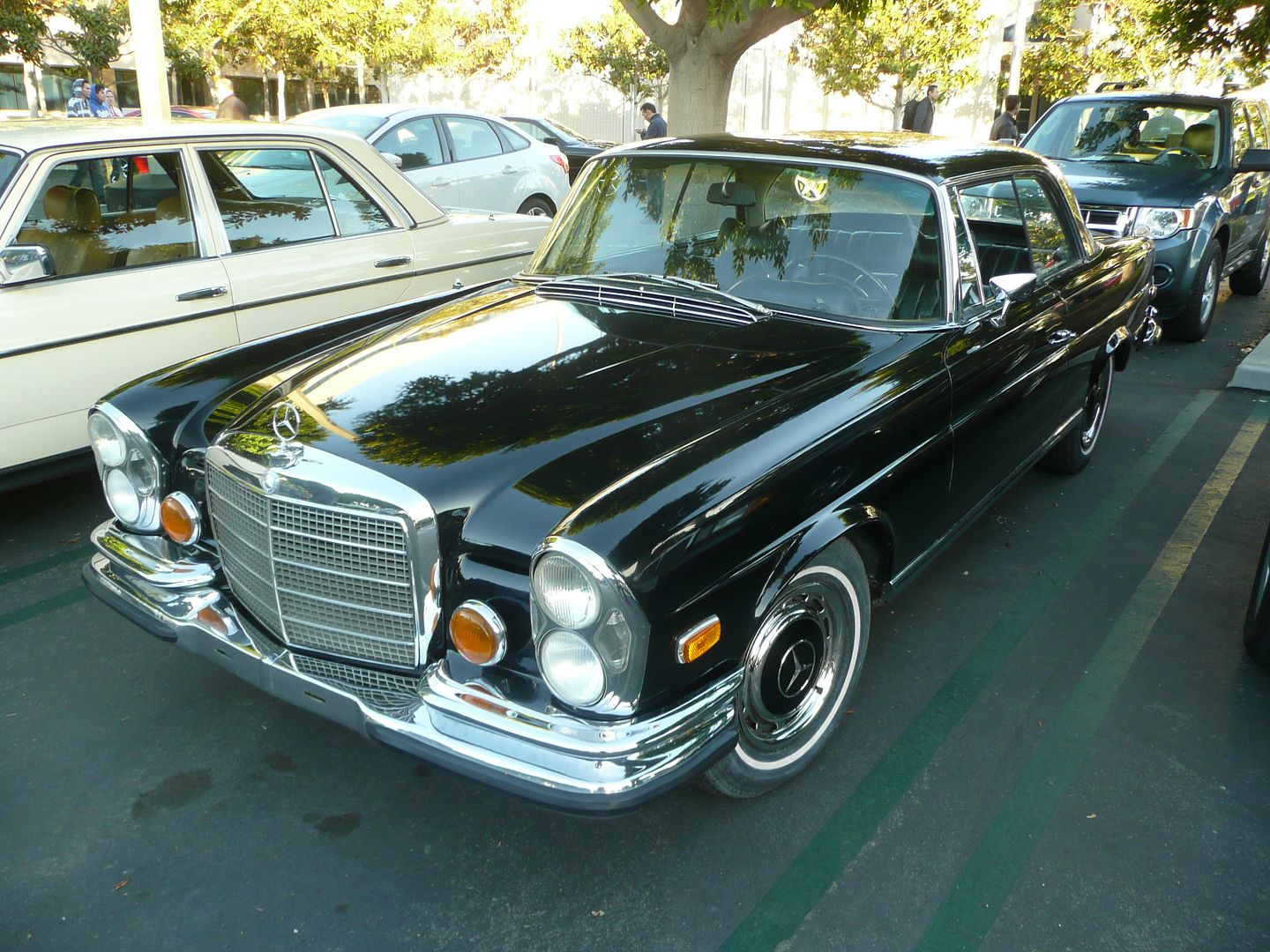 Although this W123 may be accused of being a bit plain, it has an elegance about its restrained looks as well which completely eludes the current cars.
Not perhaps classically beautiful, but with a certain purposefulness about it was this CLK Black Series.
It was joined by a later model.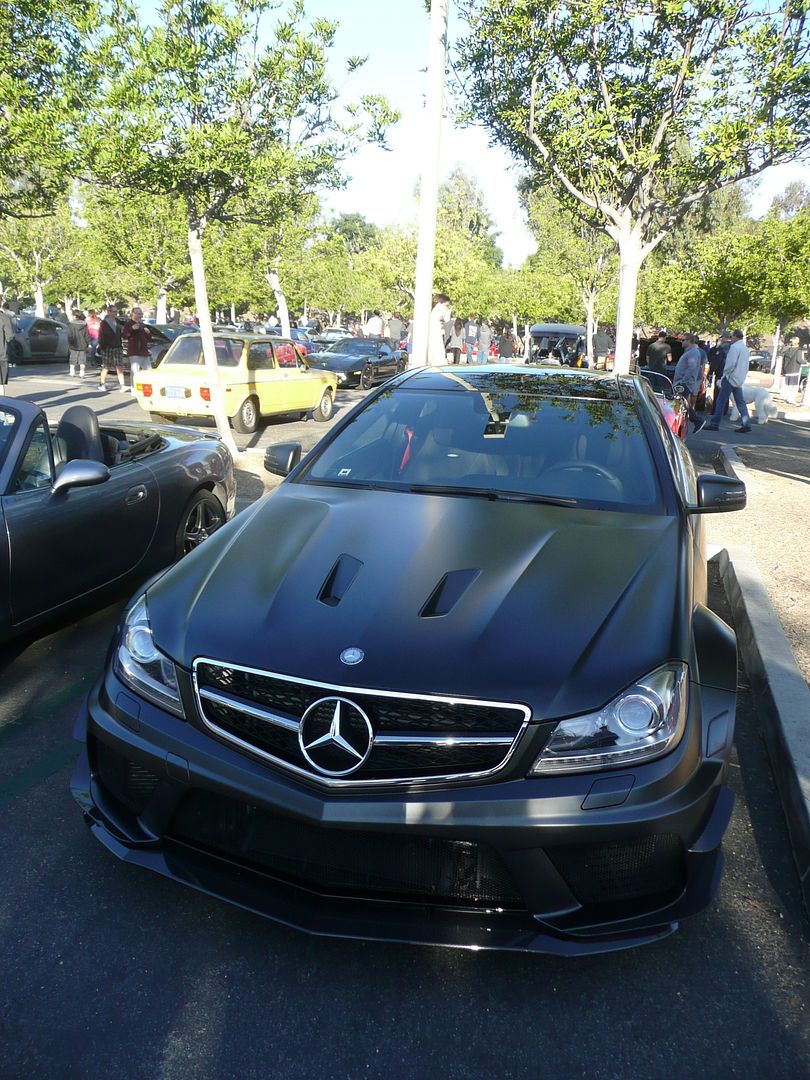 MG
Although a lot of the MGA models sold in the second half of the 1950s have been re-imported to Britain, there are still plenty left in America as exemplified by this nice car.
NISSAN/DATSUN
It was cars like this early 240Z which brought about the end of the classic British Sports Car in America, as this was just as good to drive, and more civilised and far more reliable than what had gone before. This is an early car lacking the rear spoiler which was added in 1971.
Its current incarnation, the 370Z was also present.
There was a long line of GT-R models parked up in a row, at the far end of the event, showing some of the different colours and spec in which this car has been offered over the past 5 years.
There's quite a following for the 510 range of cars that Datsun sold in the late 1960s, and this is a nice example of the Sedan model.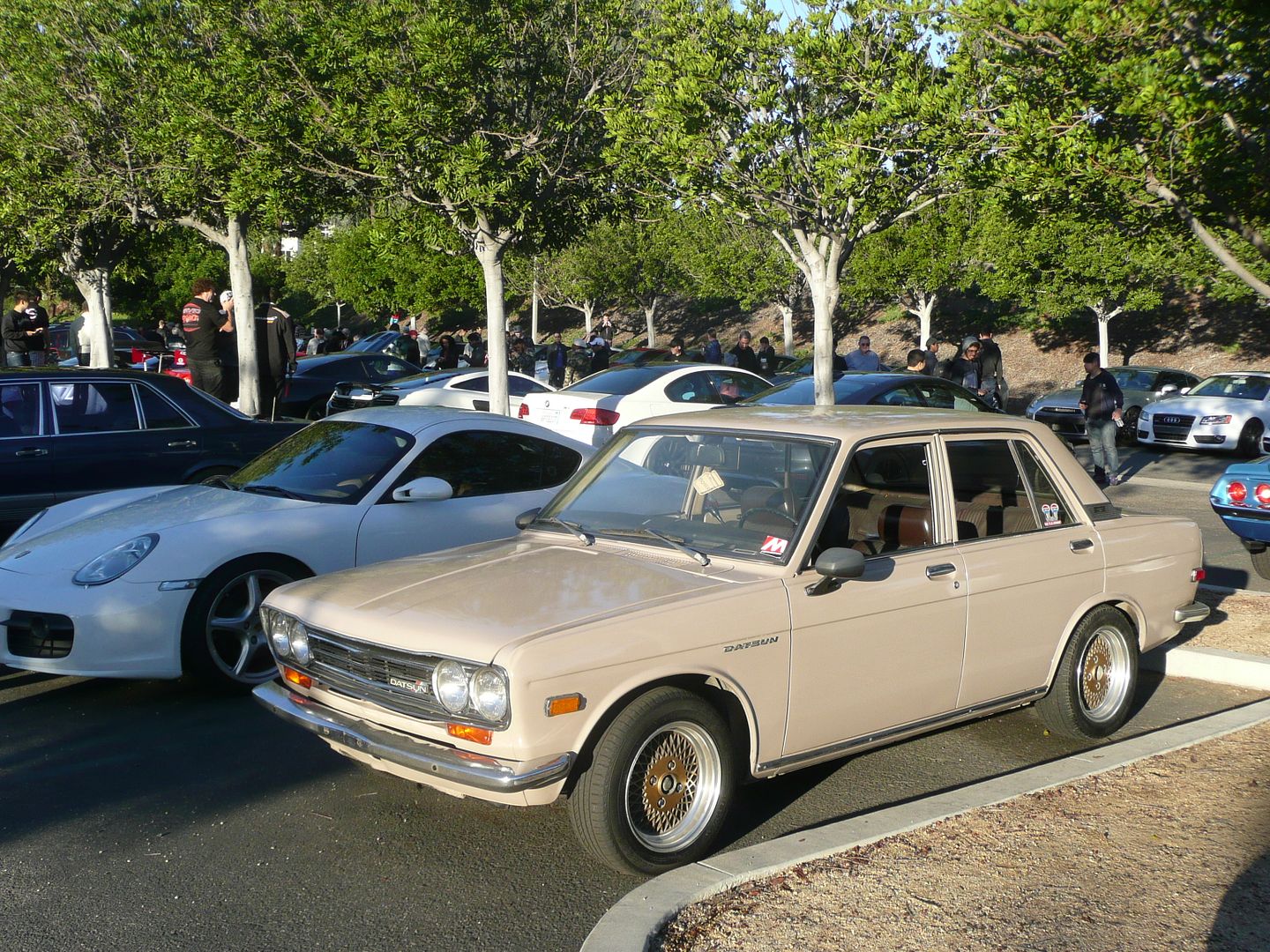 OLDSMOBILE
This 442 was Oldsmobile Muscle Car offering from the late 1960s and was an interesting contrast from the rivals that you see more often at events like this.
PONTIAC
50 years old this was this GTO Convertible. Very nice.
This one was 10 years newer.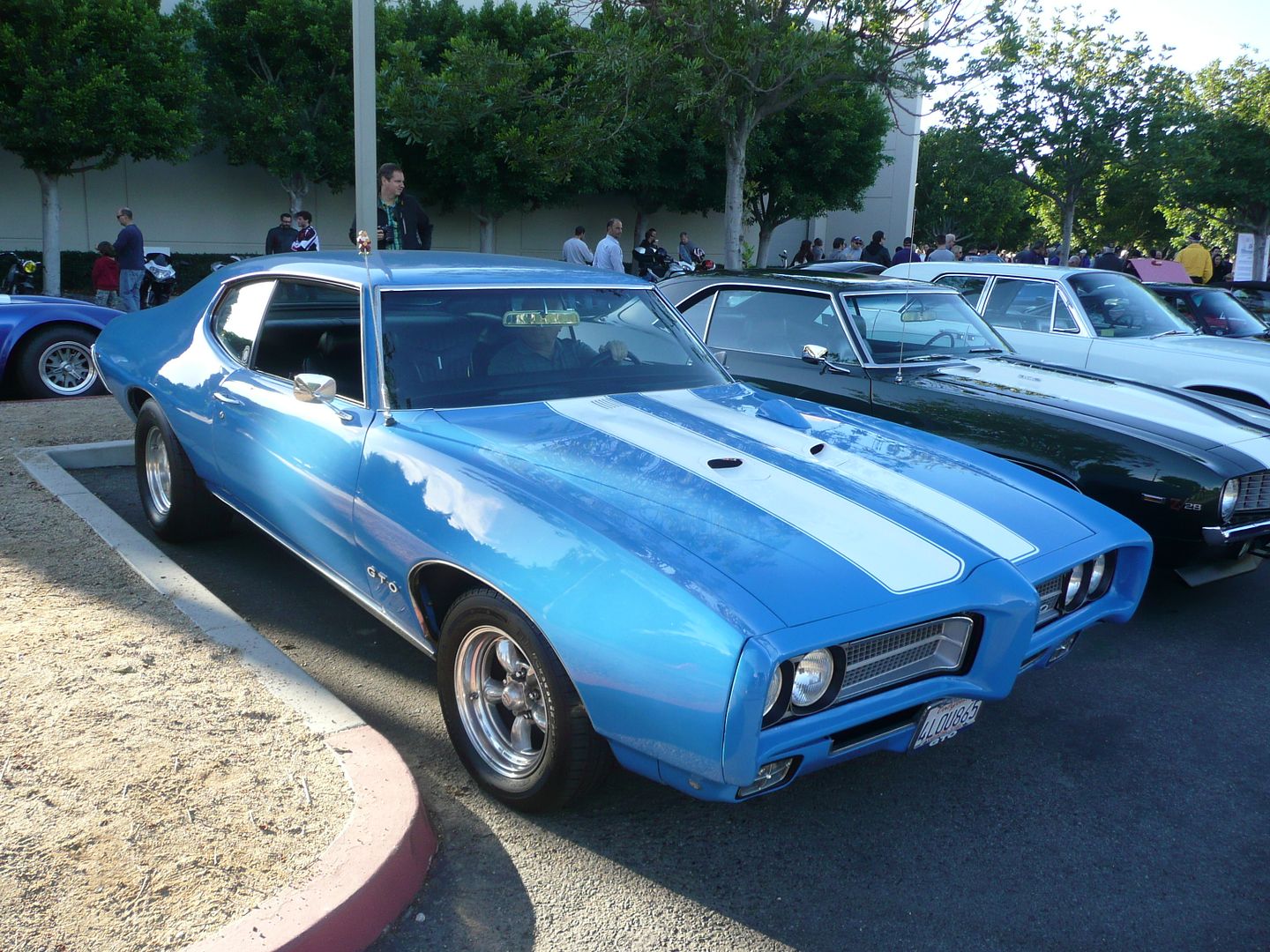 The Firebrd was a close relative of the Camaro and the body styles of both were changed in 1970. They then lived on with almost annual changes until into the 1980s. This is a fairly early version before the impact absorbing bumpers were added.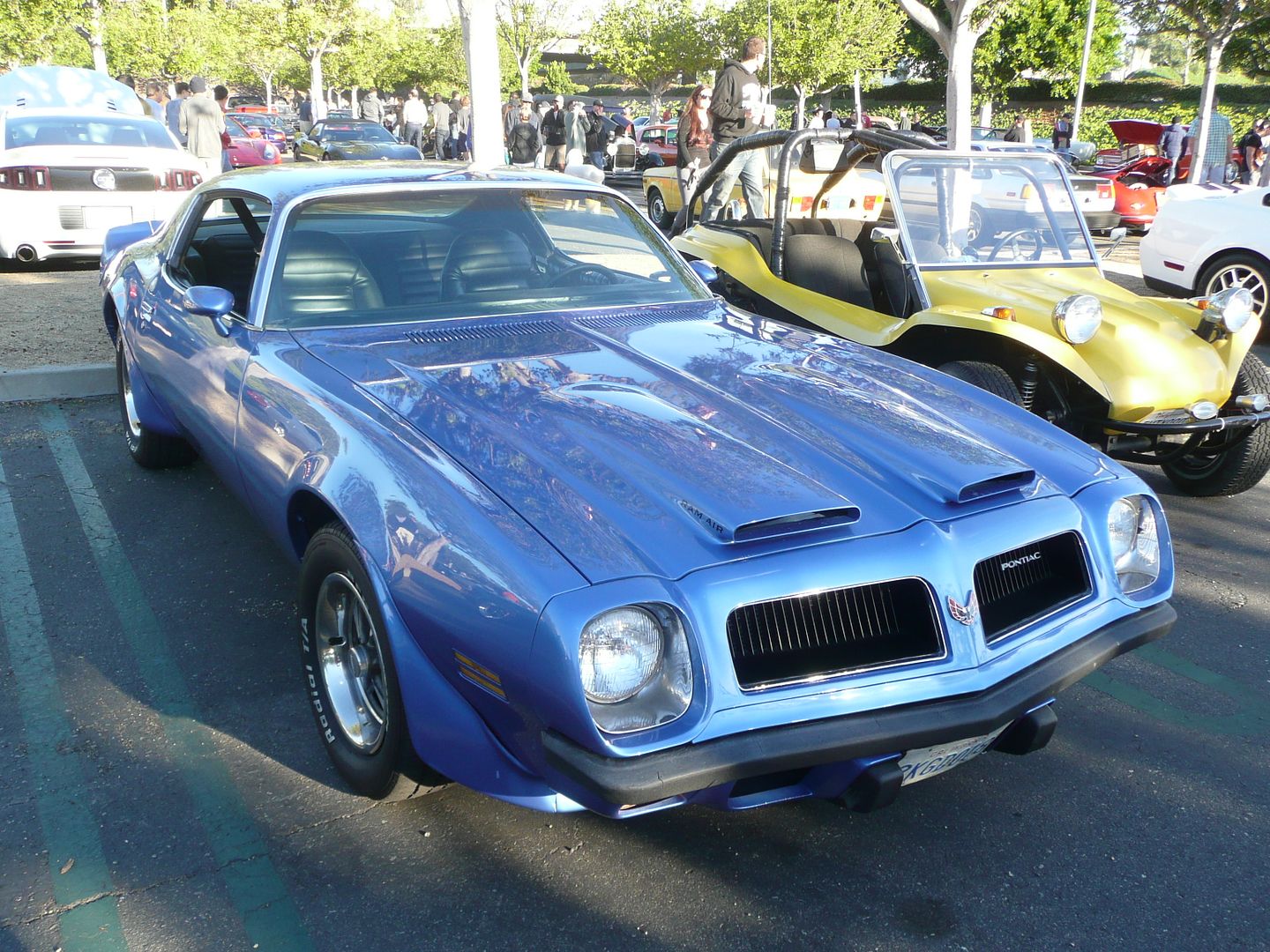 PORSCHE
There are usually more than a few 911s at this event, but they tend to be more recent cars, and mainly top of the range Turbo and GT3 cars. On this occasion, there were lots of earlier models, and with a large group gathered in the area nearest the main parking structure, and hence the first cars that I encountered when arriving at the event, it was evident that this was a special display. Indeed, many of them were adorned with stickers and other accoutrements, suggesting that they had been on a road trip somewhere. After people started to depart, I noticed that a lot of the cars had been taken across the road into the large expanse of the Holiday Inn car park for further photography.
It was not just 911s, though. This 356 caught my eye and that of plenty of other people as well.
There were some other 356 models present as well.
There was a rather nice 914 among their midst. Although these cars were rare in Europe even when new, over 100,000 were sold, mostly in America, so they are not as un-common as you might think.
Also parked with the main Porsche group was a nice 928. This was a GT model, which came late in the lifespan of this stylish Grand Tourer.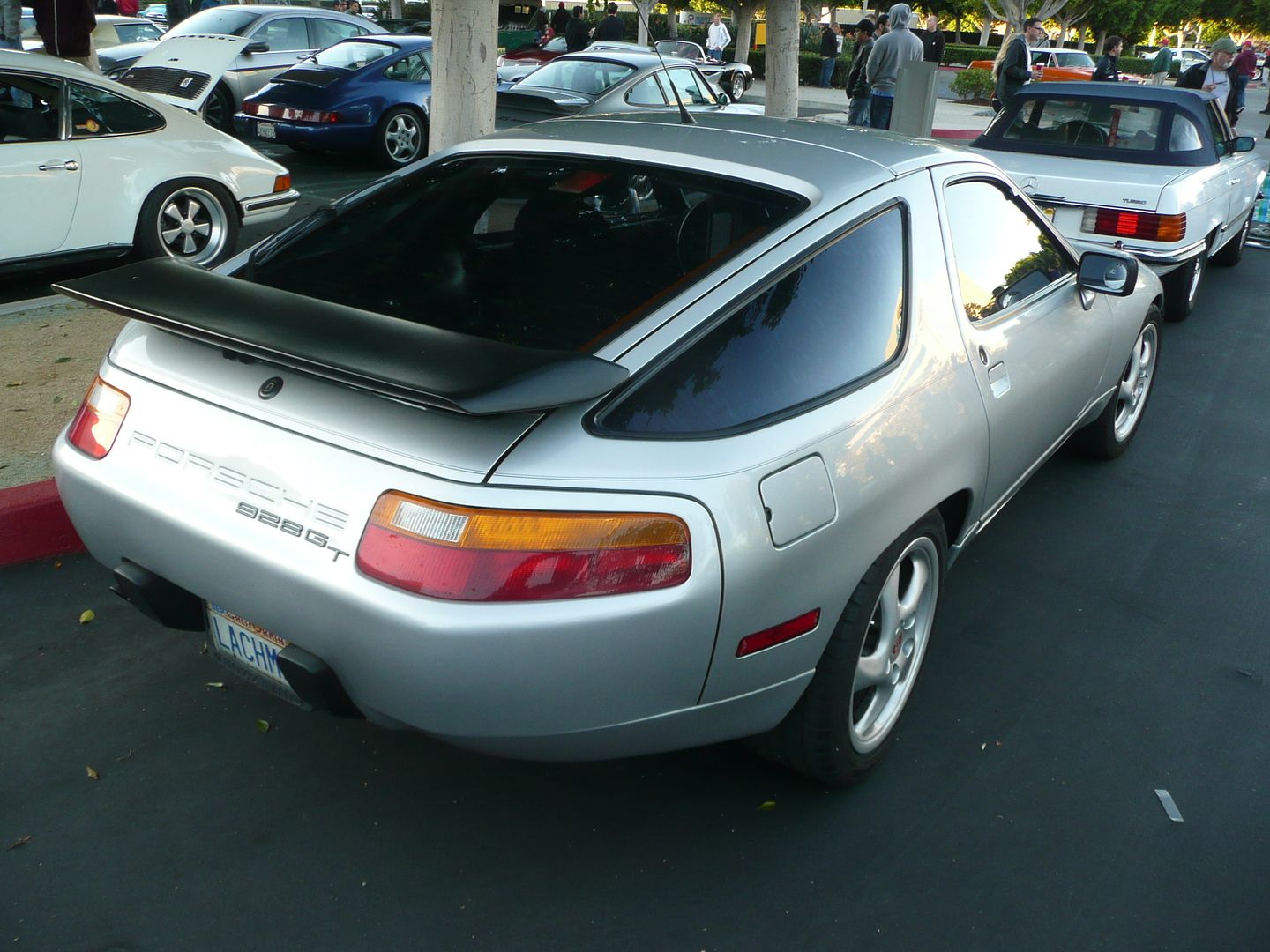 The biggest crowd, though, unsurprisingly, was around this, a 918 Spyder. This was one of the first cars to depart, so my early arrival paid off, as otherwise I would doubtless have missed it.
It was not the only Porsche hypercar, though, as there were 2 examples of the earlier Carrera GT. One is unusual, but to get 2 at the same event is a real bonus.
ROLLS ROYCE
This is one of the two Wraith models that was here.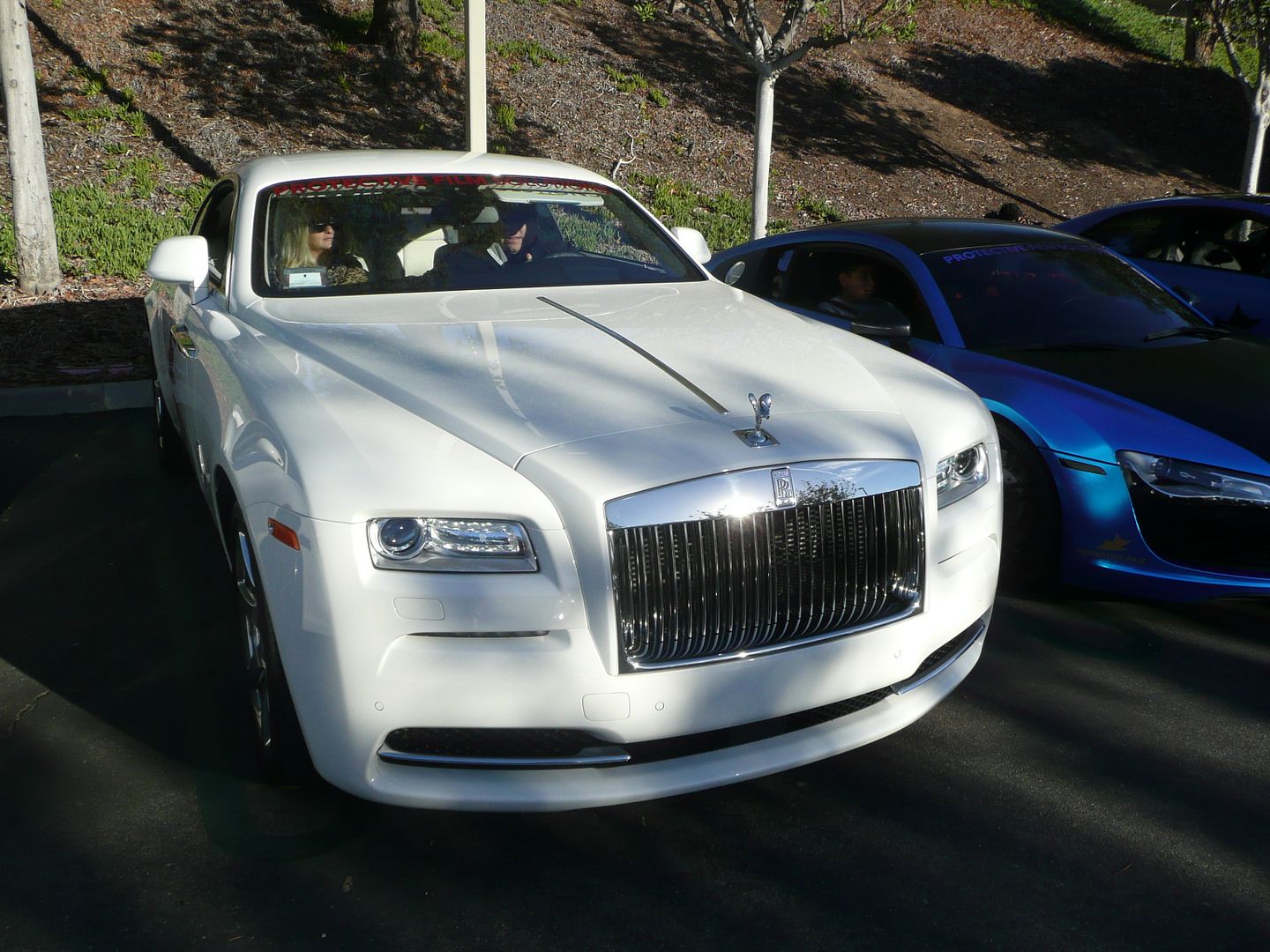 TOYOTA
Toyota have just launched a recreation of the classic Land Cruiser, but this was the real thing, one of the tough off-roader models made in the 1970s and looking absolutely like it had just come from the factory rather than being a 40 year old vehicle.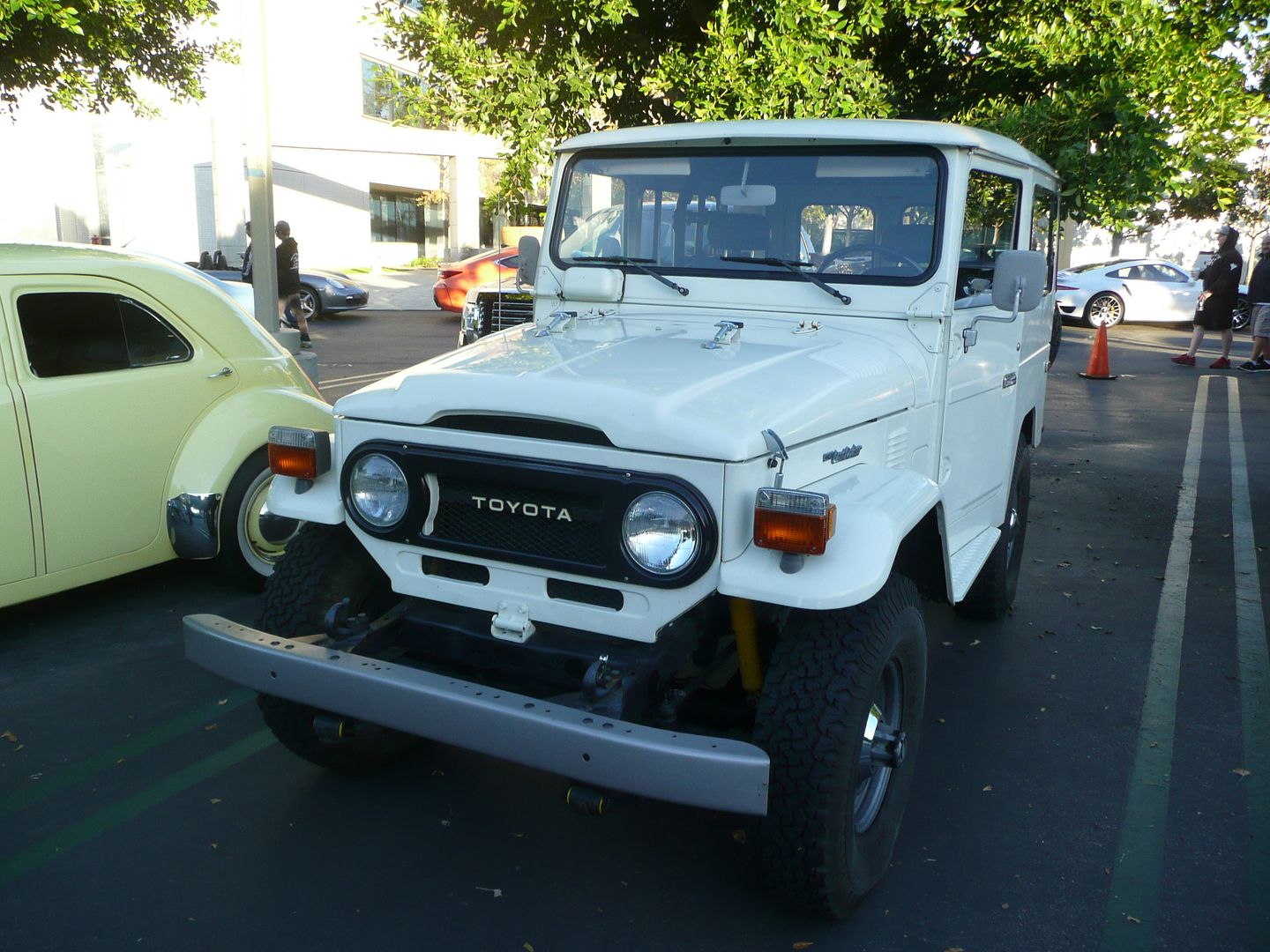 TRIUMPH
Included among the array of Big Healeys in what certainly liked the British Sports Cars parking area was this nice TR6.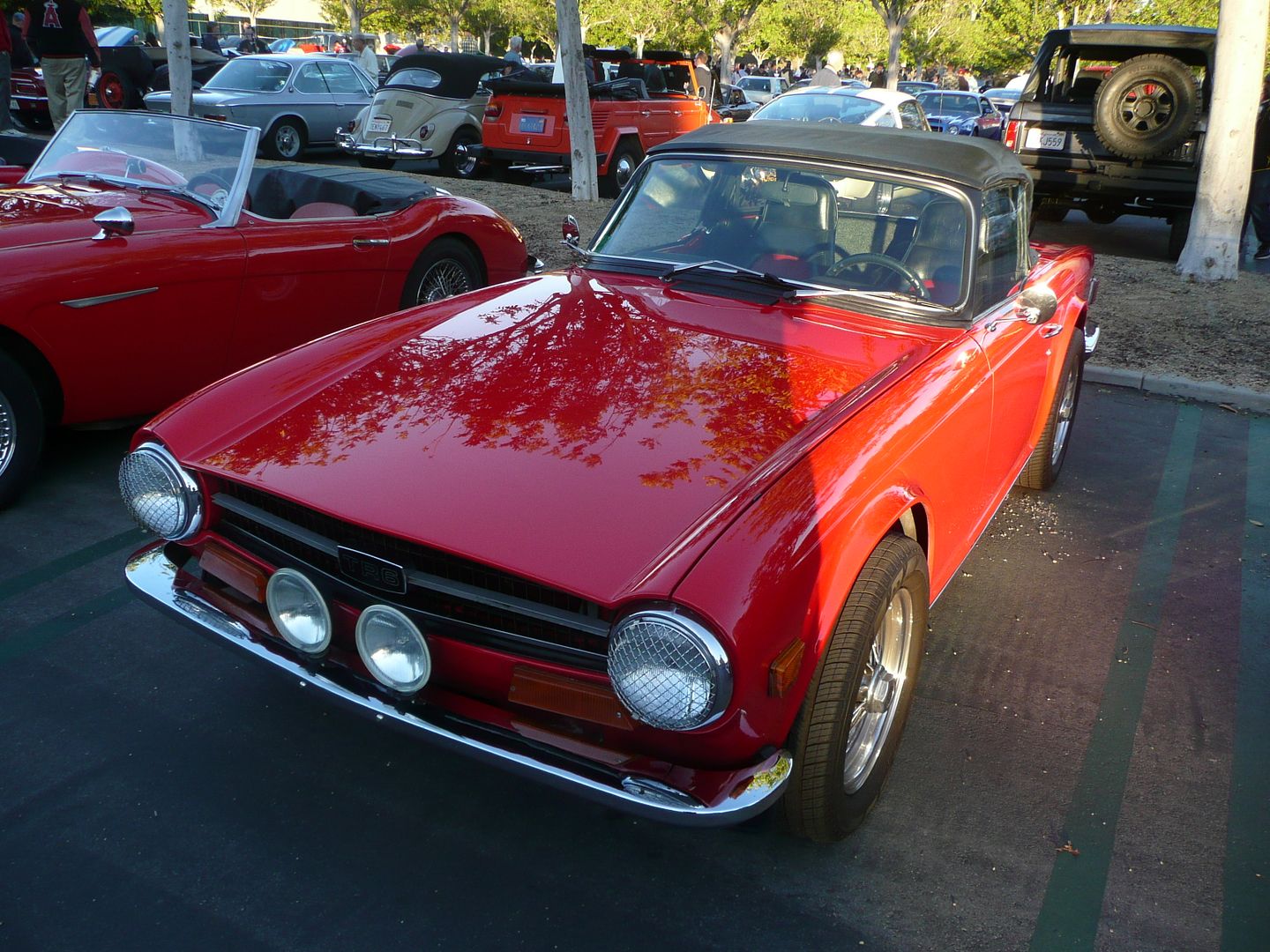 A second one, in the desirable Mimosa Yellow colour was to be found in the overspill area of the event.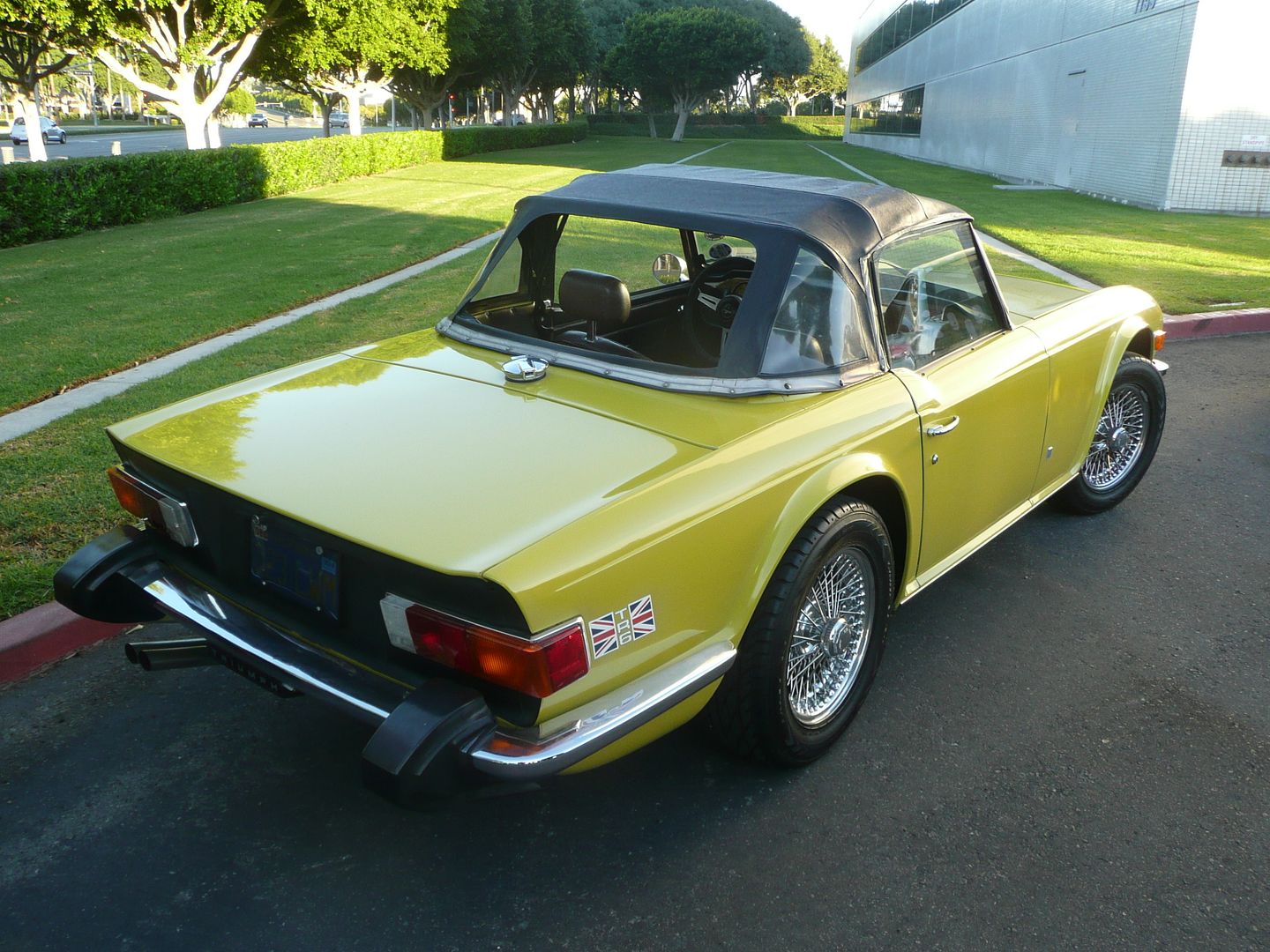 TVR
Another appearance for this 2500M which has been parked up in exactly the same place every time I have been to this event. I assume it is an organiser's car?
VOLKSWAGEN
Old VWs remain very popular in America, especially in Southern California, where both Beetle and Type 2 models are frequently seen both at classic events and even out on the street. There was a nicely presented Type 2 Van here, with the later "Bay Window" style front which appeared in 1967.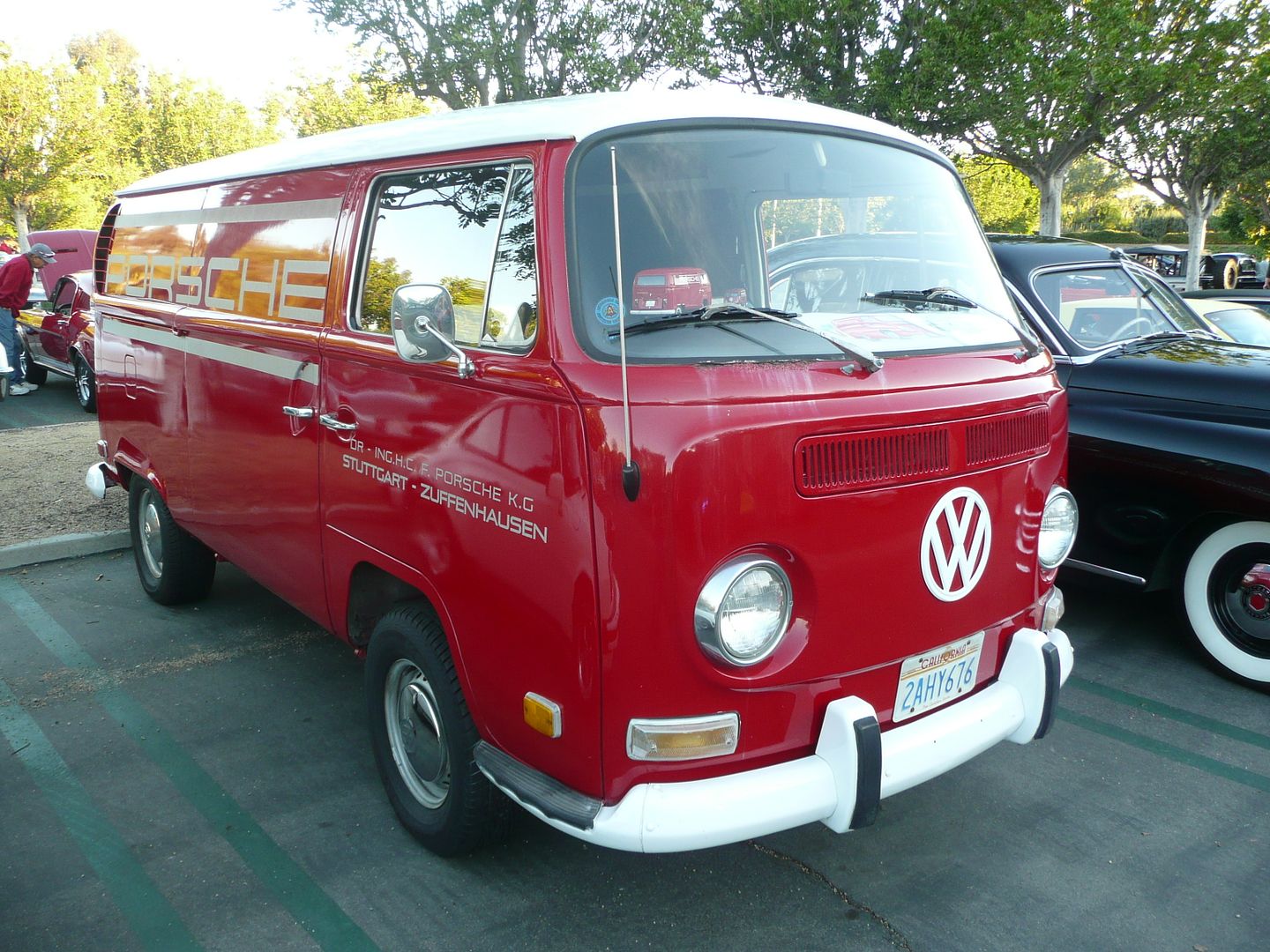 There were a number of classic Beetles as well, of course.
You might have thought that the vehicle which the Americans called the Thing, and known to Europeans as the 181 or the Trekker, would have been popular when new, but it was not, and sales only lasted a couple of years.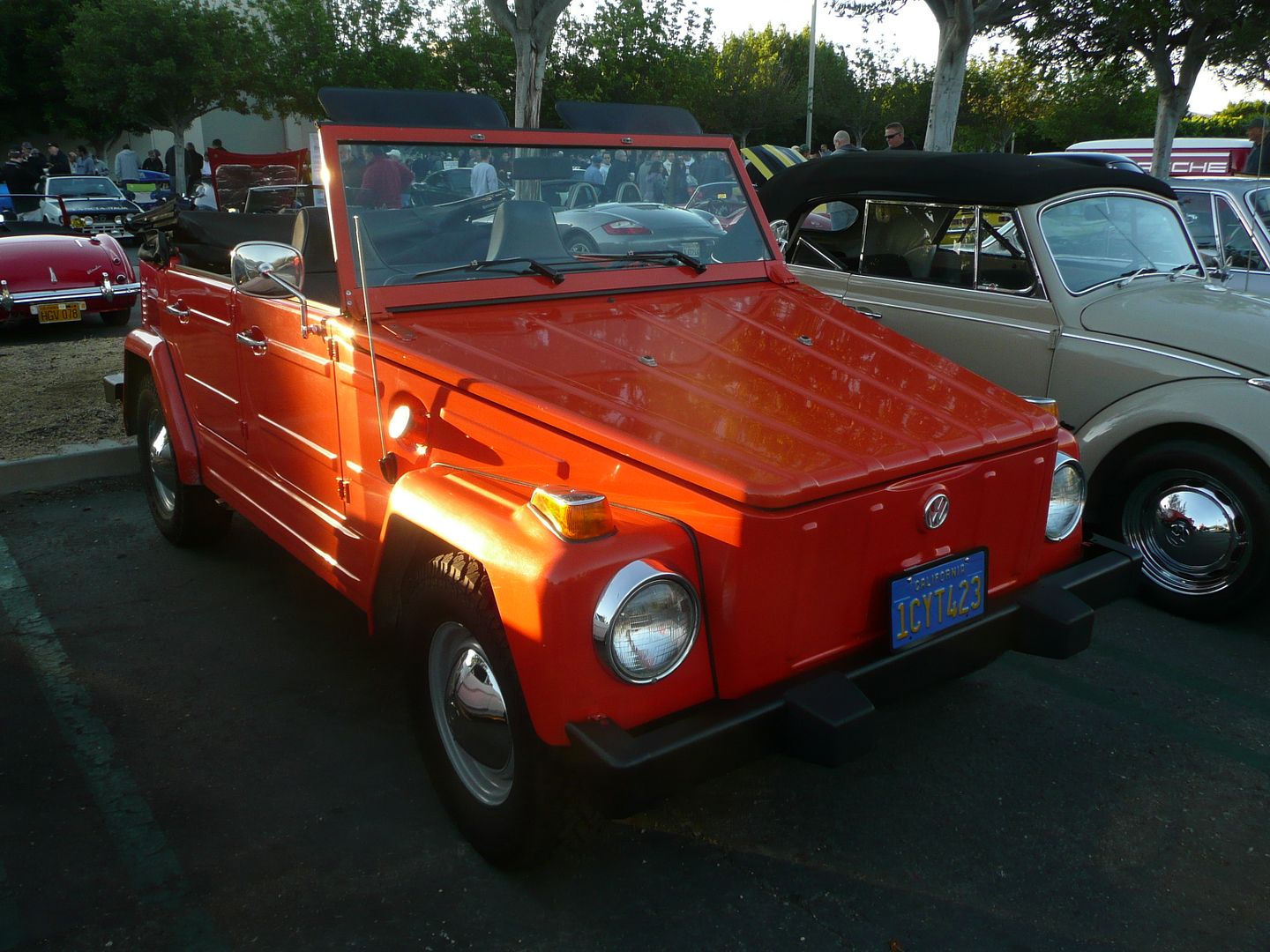 Probably VW based were these Beach Buggies.
WHAT's THIS?
No-one knew, and there were no clues at all on the car. Anyone able to advise?
Perhaps because I really did arrive early enough this time to see everything (I got there before 7am), this seemed to be the best attended and the most varied of these events that I have yet attended. If suffering a bit from jet lag means that it is no undue hardship to get out of the hotel and see this variety of interesting machinery, then I for one am not complaining.
BONUS EXTRA
Having outstayed almost all of the cars at the event, I then headed back north, for a rendezvous with my friend Mr SixSpeedBlog, to show him some of the fun canyon roads that I like so much, for him to test out his rental Porsche Boxster (and my rather more prosaic Toyota, which struggled to keep up, not unexpectedly). After we had parted company, and I was headed back to my hotel, I came down the 2 into La Canada and spotted a line of cars on the other side of the road, pointed at the Angeles Crest Highway. They attracted sufficient of my attention that I took the next available lefty, and retraced the last few yards of my journey, so I could get a closer look. A mouthwatering array of cars were assembled, including a Shelby GT500, a 1964 Impala Convertible, a Ferrari F430 Spider and a Porsche 911 GT3.
However, what had really grabbed my attention was this Saleen S7. I've never seen one of these anywhere other than at a show before. Needless to say, it was the star of the group for plenty of other interested bystanders, as well.
What an end to yet another great day for the car lover.