In the movie world, as with traditional works of fiction, it is not uncommon for a successful film to be followed by a sequel or two, sometimes even a prequel, such that with something which really catches the public imagination over a period of years, the tally of related productions can reach close to double figures before public interest wanes. Way out in front, though, for enduring  popularity, and for an incredible run of (to date) 25 films produced over a 53 year period are the James Bond films, grossing the third largest amount of box office revenue ever (behind Harry Potter) . Based initially on books written by Ian Fleming, the combination of plot and some spectacular action scenes has found enduring appeal through the generations, with at least many fans eagerly awaiting the next release or happily revisiting some of the back catalogue now as there always have been ever since Dr No was shown in cinemas around the world in 1962. The cars, and other forms of transport are stars just as much as the actor playing the eponymous hero, with many of them finding appeal (and huge sales) in model form at the time of each film's release, a phenomenon instigated by Corgi's release of their  Aston Martin DB5 toy back in 1965, soon after the car starred in Goldfinger. Nice though many of the models and toys are, there's no substitute for the real thing, though, so any exhibition of vehicles that have been used in the films is guaranteed to be popular. A number of Bond cars were recently shown in a special display at the National Motor Museum in Beaulieu, and I was disappointed that the exhibition closed before I managed to visit. Imagine my delight when I then learned that what was billed as the largest single display of Bond Cars would be housed in the London Film Museum, just off Covent Garden, and a matter of a few minutes walk from my office. Surely I could not miss this? A year after the collection was opened, it looked as if I just might, but then I spotted an opportunity to include the Museum in the activities for a weekend in London which was also going to take in the London Classic Car Show. I am glad I did, as there was a fascinating assembly not just of cars, but other forms of transport and memorabilia on display, occupying the whole of the museum . My only disappointment is that the lighting is deliberately on the dark side, and although photography is welcomed, visitors are asked not to use flash (I got caught and was told off!), so the photos are a bit on the dark side.  Here's what was on show:
First car that you see in the display is this 1937 Rolls Royce Phantom 111,  chassis no. 3BU168; with a Barker Sedanca de Ville body, which starred in the 1964 film,  Goldfinger.
Rolls Royces have starred in quite a number of Bond films over the years. This one, a Silver Cloud Series 11 was owned by Aristotle Kristatos in For Your Eyes Only.
After a spell driving a series of other cars in the 1990s, Bond returned to the wheel of an Aston Martin, with the V12 engined Vanquish being his mode of transport in Die Another Day. Bond's Vanquish is equipped with all the usual refinements, including front-firing rockets between two machine guns, bonnet-mounted target-seeking shotguns, spike-producing tires, again and a passenger ejector seat in homage to the original Aston Martin DB5, but used here in a clever bit of improvisation by 007 to right the car when it's been flipped onto its roof. The Aston was also equipped with "adaptive camouflage" – a cloaking device that allowed it to become effectively invisible at the push of a button. This vehicle was also featured in the video games Nightfire (2002) and Everything or Nothing (2004). A number of cars were used in the filming.
Successor to the Vanquish was the DBS, and this model starred in both Casino Royale and a Quantum of Solace. The car that featured in the second Casino Royale bore no evidence of special gadgets, other than the secret compartments which housed Bond's Walther P99, and an emergency medical kit which included components of an emergency medical link to MI6 HQ, antidotes to various poisons and a small defibrillator. A slightly darker coloured car was used in Quantum of Solace. The car is heavily damaged after a chase at the beginning of the film where Bond managed to escape the two Alfa 159 police cars and to reach Siena in a by now very badly damaged car.
The last time Bond had been seen driving an Aston was in The Living Daylights. His car in this film was a Vantage Volante, so a convertible, but it is later "winterised" with a hardtop. It came with all the usual refinements, including extending side outriggers, spike-producing tires, missiles, lasers (an update of the DB5's tyre-slashers), signal-intercepting smart radio, head-up display and rocket propulsion. It could also self-destruct when primed.
Of course, the most famous Aston that Bond has driven, and one of the best known cars in the world, is the DB5 that was first used in Goldfinger. The car went on to star in 5 other films: Thunderball; GoldenEye; a small appearance in Tomorrow Never Dies; Casino Royale and Skyfall. In the novelisation of GoldenEye it is stated that Bond purchased the DB5 as his own personal vehicle, although the 2006 version of Casino Royale, which reboots Bond film continuity, shows Bond winning it in a game of poker in The Bahamas; as such the Casino Royale version of the vehicle is the only one that is not outfitted with special equipment (Brosnan's DB5 is shown to have special features in GoldenEye such as a teleprinter disguised as a CD player, and a champagne cooler). The DB5 can also be used in the video games Agent Under Fire and From Russia with Love. The DB5 also made cameo appearances in the comedy film, The Cannonball Run, driven by Roger Moore's character, and in the TV-film The Return of the Man from U.N.C.L.E., George Lazenby, playing a Bond-like character referred to as "JB", drives a DB5 (with the licence plate "JB"). It also appears in numerous other films in association to Bond including a small cameo in Catch Me If You Can (2002) where the main character purchases one to be like Bond, Charlie's Angels: Full Throttle (2003) in which Bernie Mac's Bosley drives one and The Life and Death of Peter Sellers (2004) in which Geoffrey Rush, playing Peter Sellers, is shown driving one at the time of making Casino Royale, even though in real life that film did not feature the vehicle. A model is currently on display in the International Spy Museum in the Penn Quarter neighborhood of Washington, D.C. A number of cars were supplied by Aston for filming, and plenty of replicas have been created over the years. The Goldfinger DB5 with gadgets was sold on October 27, 2010 for $4.6m (£2.9m) to the car collector Harry Yeaggy. It features the pop out gun barrels behind the front indicators, the bullet shield behind the rear window and a 3-way revolving front number plate showing "GOLD FINGER" or "JB007" or "BMT216A". Shown here is the car which featured in GoldenEye.
The BMW Z8, owned by the British Secret Service, and used in The World is not Enough suffered the ignominy of being cut in half by a single shot fired from a chopper.
BMWs had featured before. Loaned to Bond by Q at an Avis rental station in Germany, this 750iL, which featured in Tomorrow Never Dies is equipped with missile launchers, caltrops, self-inflating tires and a near-impenetrable body. The BMW can be remotely controlled via a special Ericsson cell phone. During a chase inside a carpark, Bond exits the car and remotely drives it to the rooftop, sending it flying off the carpark before crash-landing into an Avis station across the street.
One of the cars that you see quite frequently, as there are display examples both at Beaulieu and sometimes at Gaydon or Coventry is the Jaguar XKR that featured in Die Another Day. Equipped with front grille machine guns, door panel missiles, rear mounted gattling gun and boot mounted mortars, this is a suitably menacing looking vehicle.
Not all the featured cars have been exotic. In 1981, the humble 2CV had a role to play in For Your Eyes Only. It is widely believed that the 4 cylinder engine from the Citroen GS was installed in the car so it could outrun the Peugeot 504s that the pursuing police used, but this one had no engine at all, as the front was completely missing!
The Renault 11 Taxi which featured in A View to a Kill suffers somewhat, too, Bond commandeers this car and takes it on a pursuit through Paris. During the pursuit the car has its roof chopped off and then later the entire back half of the car is ripped off. This one is only part way through that process!
This 1969 Mercury Cougar XR7 stars in On Her Majesty's Secret Service. It is driven by Contessa Teresa de Vicenzo (née: Tracy Draco, Tracy Bond) onto a Portuguese beach where she attempts suicide. Later is seen in a winter stock-car race on an ice-covered track to help Bond escape from Blofeld's henchmen and Irma Bund.
In Diamonds are For Ever, the highlight of the Las Vegas car chase is Tiffany case's Mach 1 Mustang balancing on two side wheels to drive through a narrow alley (and mysteriously coming out of the alley on the other two wheels!).
One of the most spectacular cars produced for the films was the submersible Lotus Esprit that can be seen in The Spy Who Loved Me. Delivered to Bond by Q in Sardinia, this Lotus is capable of transforming into a submarine. In this mode, it is equipped with anti-aircraft missiles. This car had been on display in the National Motor Museum, Beaulieu, then RM Auctions auctioned it in London on September 9, 2013 for £550,000 ($865,000).
As well as the cars, some of the forms of transport were also included the display.
The gyrocopter "Little Nellie" featured in You Only Live Twice. In the film it was flown by its builder, Wing Commander Ken Wallis. Following the movie Ken Wallis toured airshows with G-ARZB. Trailered behind his Rolls Royce he put on an entertaining stunt show, usually involving the pursuit and shooting up of a scrap car containing his assistants, posing as villains. 'Little Nellie' was totally destroyed, at just such an airshow, in Newtownards, N.Ireland on June 7, 1986. Ken Wallis walked away unhurt.
Seen in Octopussy was this Acrostar jet. Based on a Bede BD5J kitbuilt mini-jet, it was originally owned and flown by the Budweiser beer company, and later crashed following an engine fire. The pilot, Bob Bishop, bailed out and survived unhurt. The folding wing model seen exiting the horse-box was a mock-up.
Wetbike appears in The Spy Who Loved Me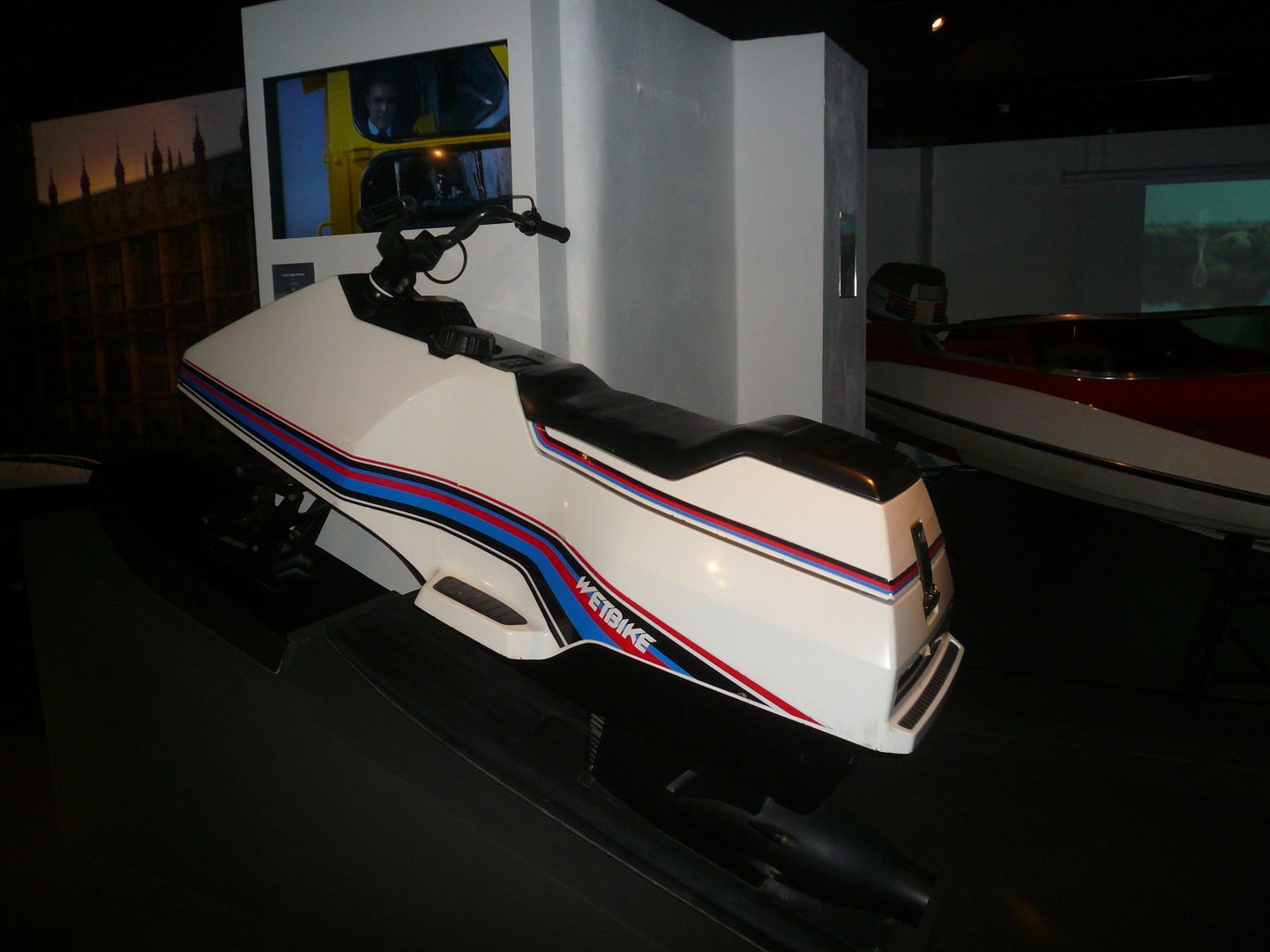 The Glastron GT150 was used in Live and Let Die, stolen by Bond from Dr. Kananga's "crocodile farm" drug factory
The Q Boat from The World is not Enough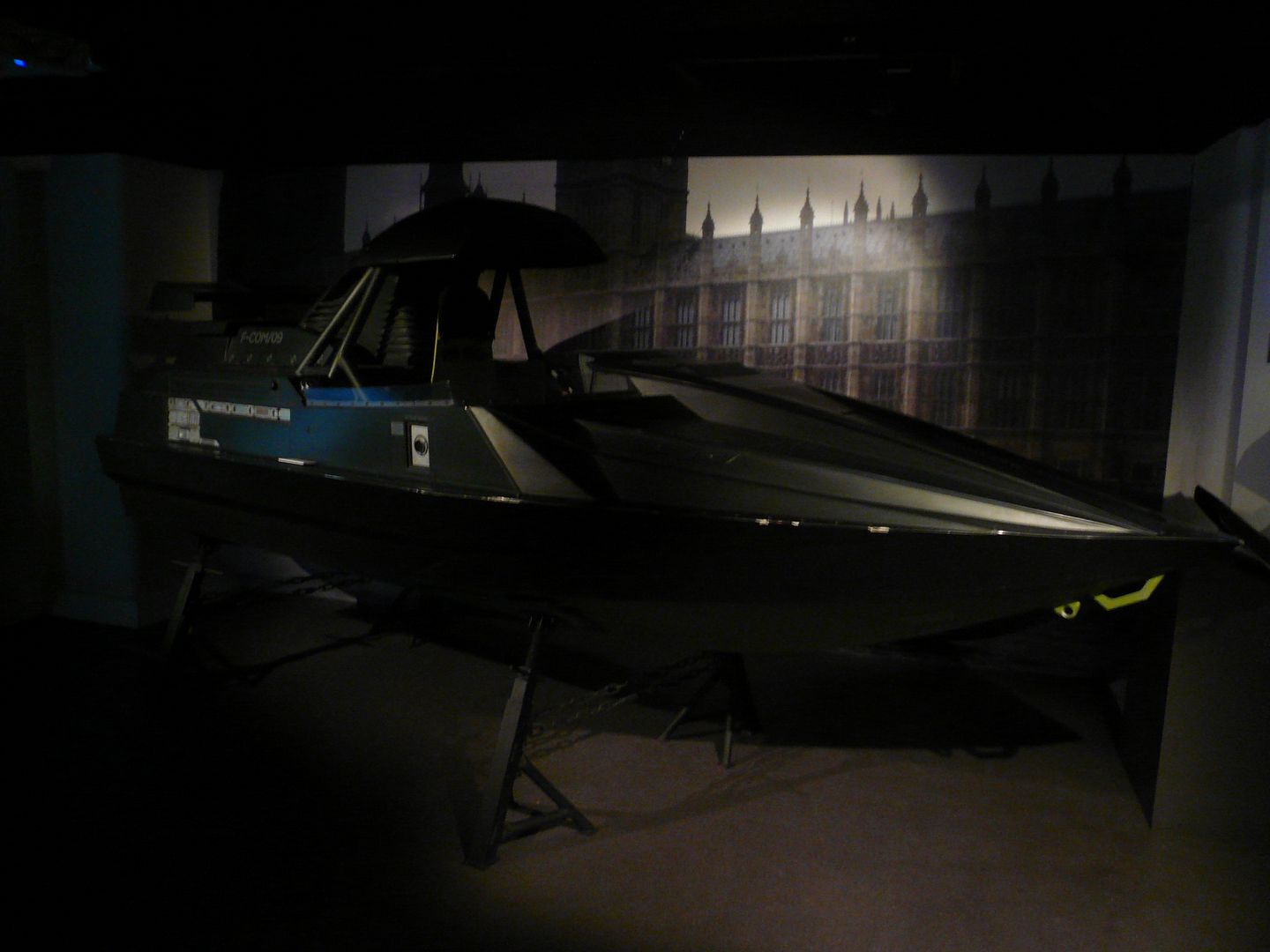 This Bombardier Skidoo appeared in Die Another Day
Motorcycles have appeared in a number of films, and a trio of them were assembled, including a 1997 BMW R1200C from Tomorrow Never Dies and a Honda ATC90 from The Spy who Loved Me
This TukTuk was used in Octopussy where it was seen driving through an Indian marketplace, with Bond shooting with Walther PPK on the rear seat, throwing rupees out to slow Prince Kamal Khan's henchman and Gobinda chasing him.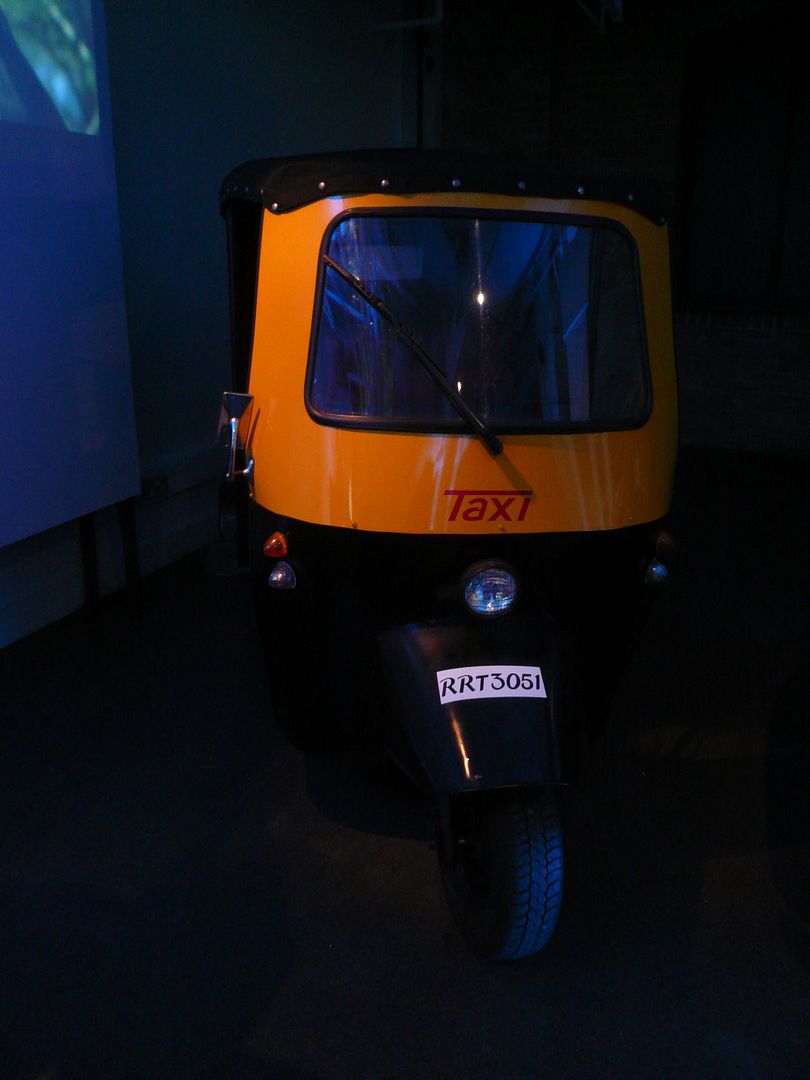 Suspended from the ceiling is this Augusta Westland helicopter which appears in Skyfall where it is used to attack the Skyfall manor house in Scotland.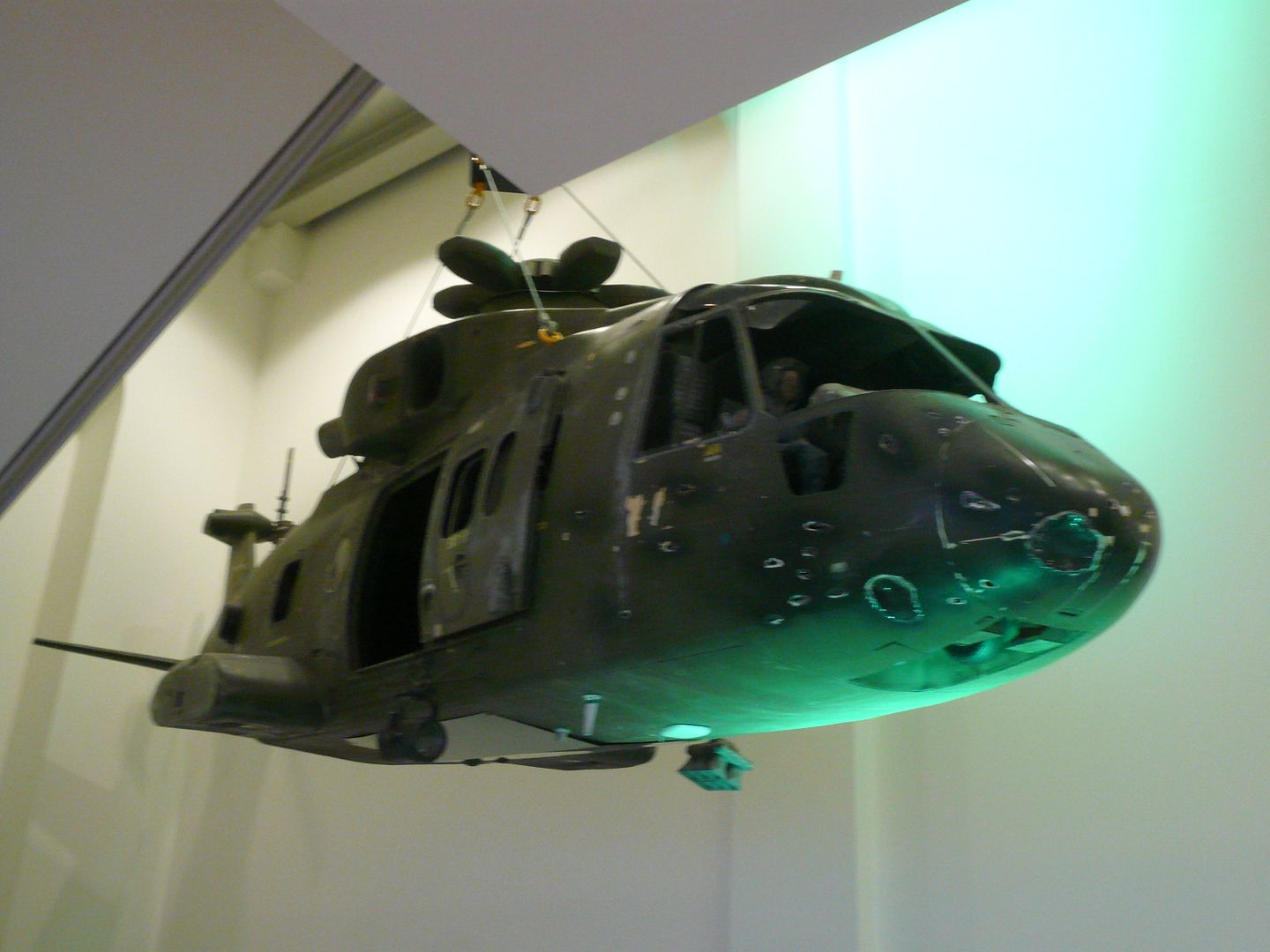 The small upstairs gallery contains a number of artefacts associated with the making of some of the films, such as sketched out storyboards which relate what will happen in some of the scenes. They are fascinating in their own right.
The display is currently set to run until the end of March 2015, and is well worth a look if you get the chance. More details available from  http://londonfilmmuseum.com/home/