Following the successful launch last month of the Breakfast Club meetings at the Haynes Motor Museum, in rural Somerset, near Sparkford. and just off the A303, it was no surprise to find that the second such meeting was much larger. Word gets around quickly these days, thanks to the various social media sites and capabilities that we all use, and as the event drew near, I could see that there was going to be quite a sizeable number of Pistonheads cars coming up from Devon, as well as enthusiastic sounding promises of attendance from a number of other Clubs. The prospect of a rather warmer and potentially sunny morning was clearly a likely further incentive, though sharp showers early in the morning, and the consequent wet and filthy roads, may have deterred a few. So, it was no surprise that by not long after 9:15am, the entire front parking area was full, and the next bunch of arrivals were directed to an area round the back. By mid morning, when people started to leave, there was quite a varied collection of cars on show, and you could see plenty of small groups of people talking enthusiastically about their cars, which is what these sort of meets are all about. Here are the participating cars that attracted my camera:
ABARTH
Two Abarths again this month, both 500 models. I had been expecting a few more than this, but clearly the others who expressed interest underwent a last minute change of plan.
AC
This rather nice Ace did not stay very long, sadly. but it was present long enough for the photographer to get a photo.
There were a number of Cobra replica models present.
ALPINA
A very impressive turn out of Alpina models. First to arrive was a B3 model based on the recently superceded E92 shape 3 Series.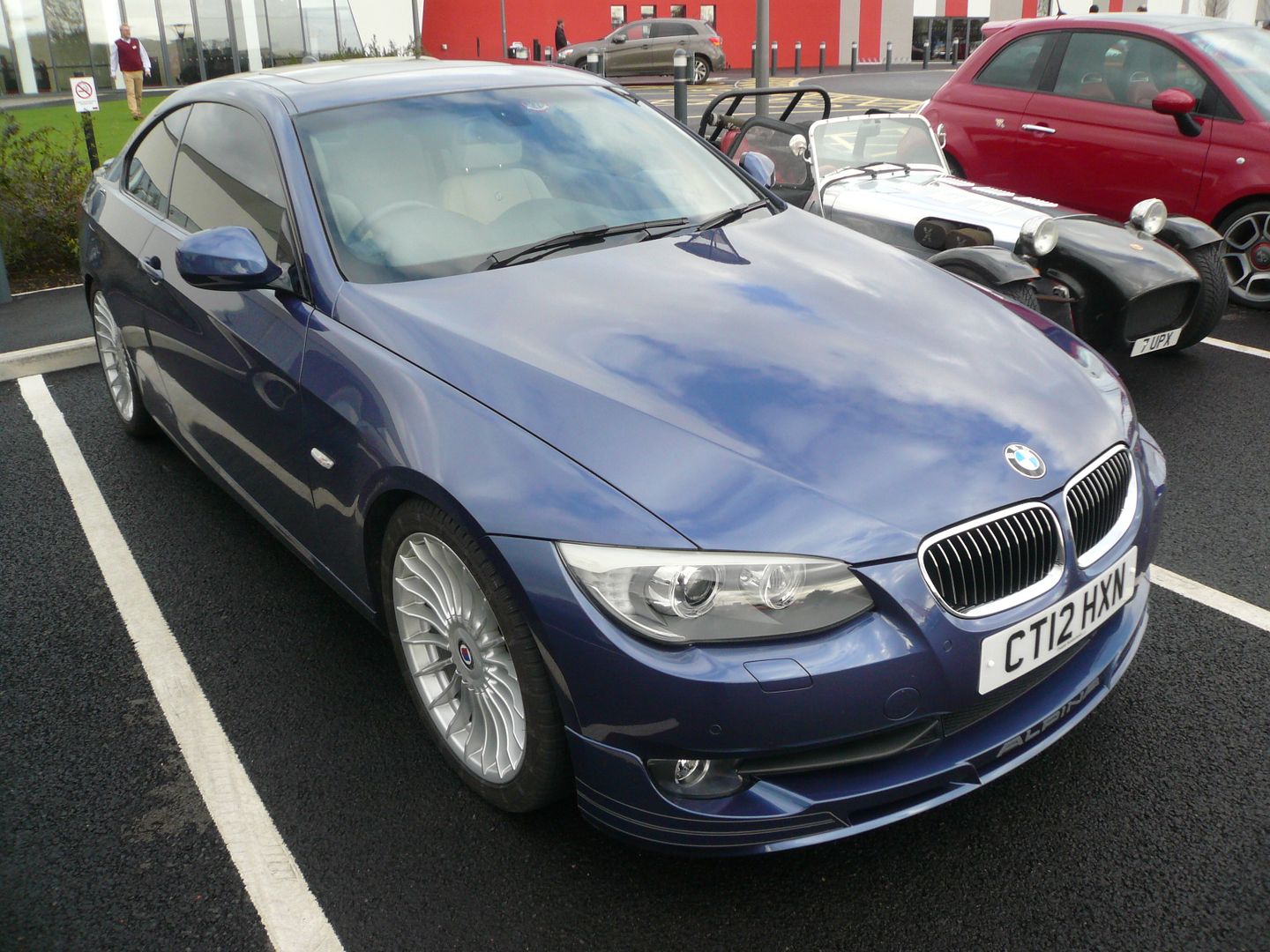 When the convoy of Z4 cars arrived, I thought I spotted one bearing Alpina badges, but it turned out that there were no fewer than 3 of these Alpina 3.4S Roadster models present.
Completing the brand's representation was a 5 Series based B10.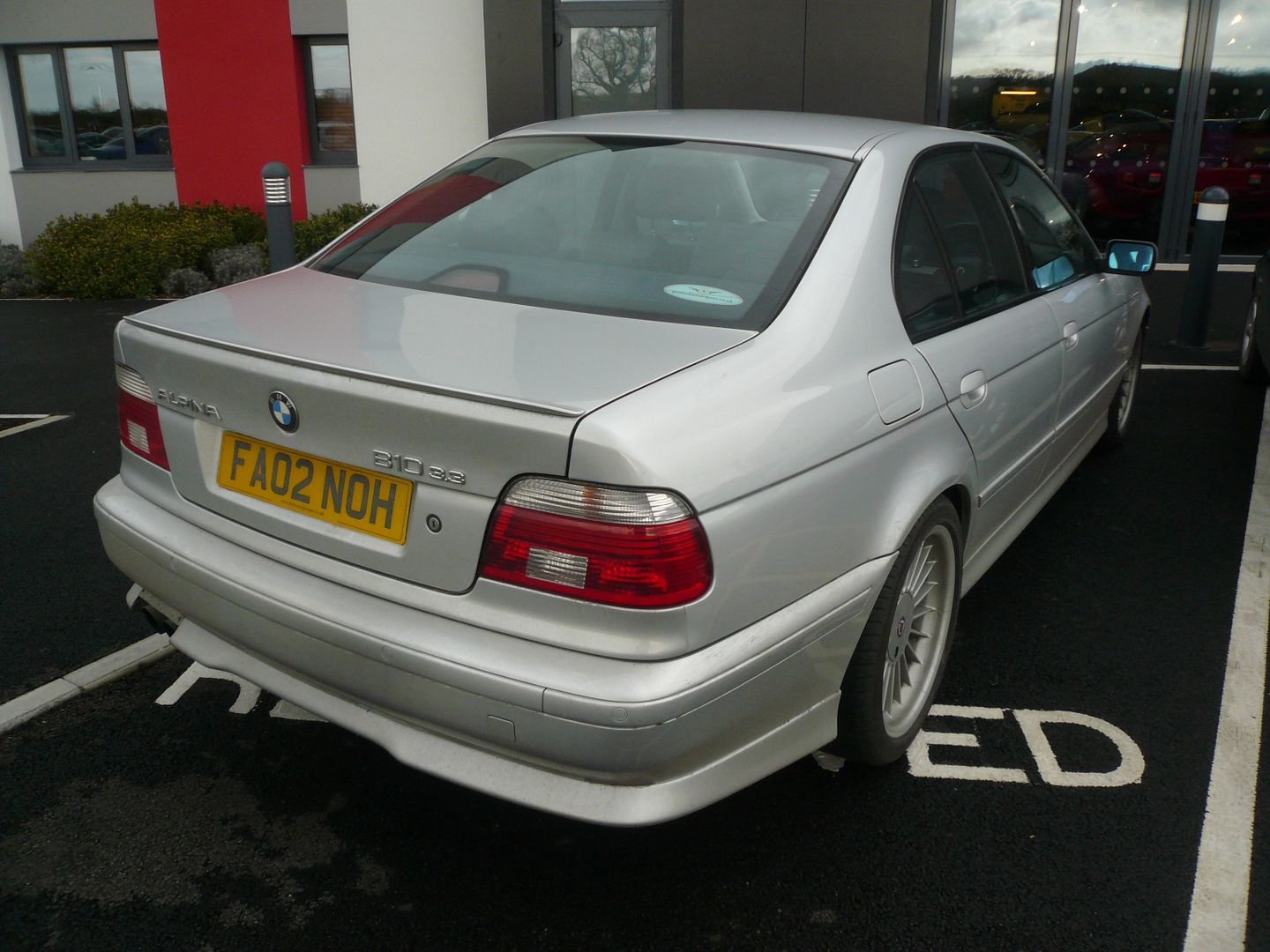 AUDI
This RS3 was the performance Audi present which caught my eye.
BMW
Parked up around the front, as they arrived early enough were a collection of E85/86 model Z4s, though as already noted, several of these turned out to be the far rarer Alpina version.
Arriving later, and thus stationed around the back were a number of the Z4's predecessor, the Z3.
There were a couple of M3 models, with an E92 model joined by a lovely earlier E36 Evolution Imola Individual GTII.
CHEVROLET
Just a couple of American cars this month, of which this C3 model Corvette was the more striking.
FERRARI
As well as the 246 GT Dino that was here last month, this time there were a couple of F355 GTS models and a 360 Modena.
FIAT
Sole Fiat was a Coupe, in my favourite colour for this very distinctive looking car.
FIBERFAB
Never head of them? No, nor had I. Top marks to David Roots, though, who correctly identified this car as an FT Bonito. The information on the car said that it had been found in 1999, following a 12 year lay up. The car is based on a Beetle chassis, but has a 1.8 litre 16 valve engine behind the driver, and, as is not uncommon for cars like this, parts from a number of other cars in its parentage. Once restored, this Bonito has been used extensively for racing. Once back online, a little research elicited a bit more about the company who originally created it, Fiberfab. This was a kit car manufacturer founded by Warren "Bud" Goodwin in 1964. Goodwin's earlier company, Sports Car Engineering had manufactured Microplas Mistral bodies under licence and sold them as the Spyder. Fiberfab started building street rod parts and body panels for Mustangs before moving on to kit cars. It was sold in 1983 to Classic Motor Carriages. This company was forced to close in 1994 after the Florida Attorney General's Office filed suit against it on behalf of several hundred of its customers. It agreed to pay $2.5 million in compensation. At the same time as the case was proceeding, a new company, Auto Resolutions, was set up by the owner George Levin to continue making Classic Motor Carriages vehicles trading under the name Street Beasts. Street Beasts closed its business in 2010 and auctioned off its plant, moulds, and machinery. Classic Motor Carriages (CMC) continued to use the Fiberfab brand after 1983 although those cars were built using CMC moulds. During this time a number of different models were produced, with a variety of different donor vehicles.
FORD
Last month there was one Focus ST (with Mountune) and that car was present again, along with a second example. I talked to the owners of both. In the latter case, he had only had the car a week, and he said that he still cannot stop grinning as he drives it. He is particularly taken with the engine note, as well as the steering and handling. These are definite future "classics" to my mind.
This Fiesta Popular Plus dates back to August 1983, just before the model received a fairly major facelift. The Popular and Popular Plus models had been added to the range to create a lower entry level pair of cars, and basic was the order of the day, as a quick glance inside this one reminded me. No wonder cars of the era were so light!
This Model T dates from 1926, which means it was the final few months of production. This style of body is often referred to as a "Doctors Coupe", though that is apparently not an official term. The car spent its early life in America, as did most Model Ts, of course, and was brought over here, and restored so the owner can now use it and it would appear that he does just that, having amassed 6000 miles in the last few years. At Model T speed, that's quite a lot!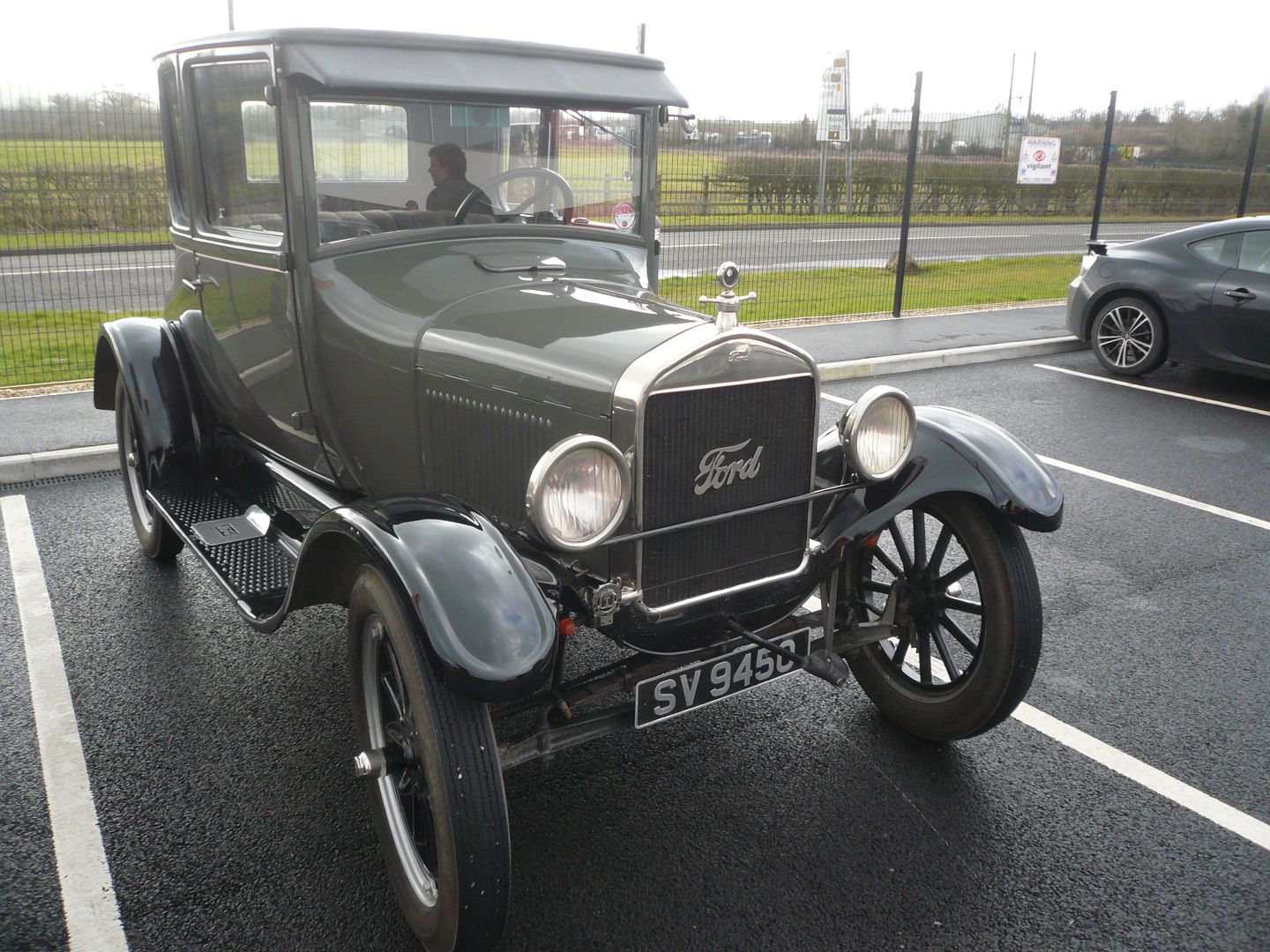 JAGUAR
Surprisingly, this was the only Jaguar that I spotted, a lovely C Type replica.
MASERATI
This quartet of Maserati models all arrived in convoy. Nice though the current GranTurismo is, I still think that this is a particularly attractive shape, and the noise that these 4 made on arrival more than lived up to the looks!
MAZDA
Nice to see a pair of RX7 models, with the second and third generation cars both represented.
There were also a number of the ever popular MX5 sports cars here.
MERCEDES-BENZ
A couple of SL models were the representatives of the Three Pointed Star.
MG
Blaze was a popular colour in the BL Colour charts in the early 1970s. A sort of orange-red shade, it looked particularly good on the sports cars, and both the MGB GT and the Midget that were presented were painted in this colour.
Only other MG present was one of the MGR V8 models from the 1990s.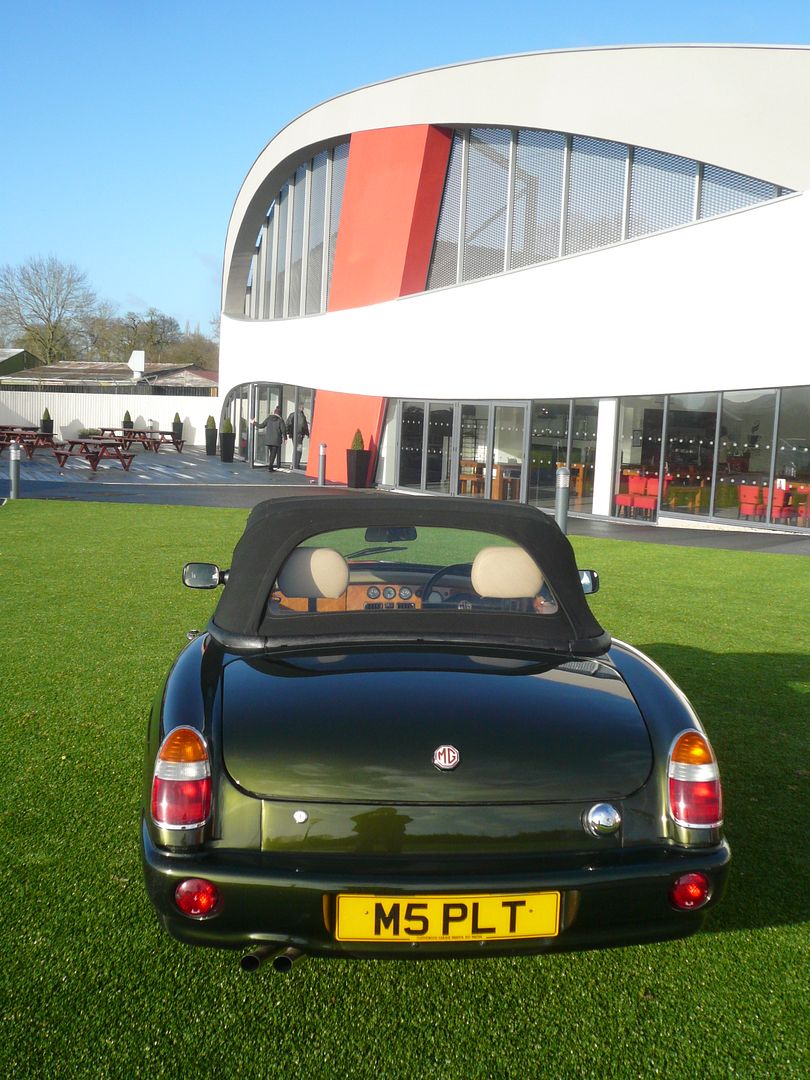 MITSUBISHI
One of the most striking cars of the day, thanks to its bright blue colour scheme was this Legnum. A Japanese spec version of the Galant Estate that was sold in the UK in small quantities early this century, this car had the range-topping VR-4 spec, which meant a twin turbo 2.5 litre V6 engine under the bonnet as well as a number of electronic features adapted from the Lancer Evo rally cars, such as Active Yaw Control.
NISSAN
No sign of the large number of Z models that were a feature of the previous month's event, but there was a lone GT-R model here.
NOBLE
Given pride of place on the "lawn" (which turned out to be astro-turf rather than real grass!) was this Noble M12 3GTO.
PORSCHE
911 Turbo and 944
RELIANT
Two Scimitar models, an SE5 and the later SE6 model in open-topped GTC guise. I was just admiring the latter when the owner appeared, trying to figure out whether to put the roof up or not. He was surveying the menacing looking clouds and said that it is not a particularly quick job to make the car rain proof.
RENAULT
The young enthusiast with his Clio V6 that I met last month was here again, and he came over to say "hello". There was a second example of the model this month.
One of the newest cars on display was a Megane Trophy R. This is the extreme version of the car, with no rear seats and some of the standard creature comforts removed in the interests of shedding weight.
SEAT
Not yet widely accepted in the classic car scene as a member, this Leon Cupra surely deserves it place with the other hot hatches of the era. I recall driving one for a weekend, and being generally impressed.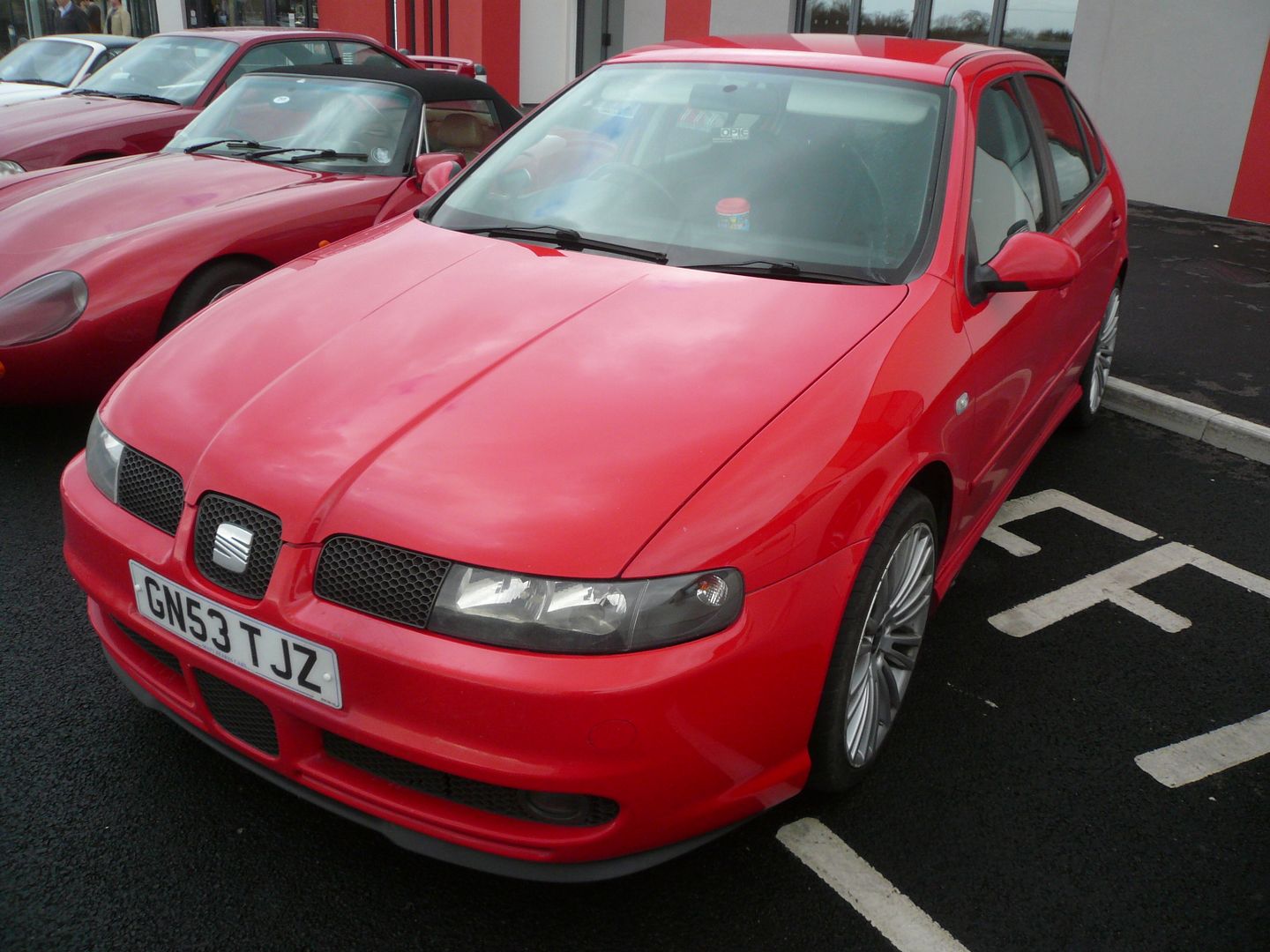 SMART
The Smart Roadster was a shortlived model, thanks to low sales and low profit margins for its maker. I suspect that had it not been cursed with the much despised robotised transmission, it might have sold a few more examples.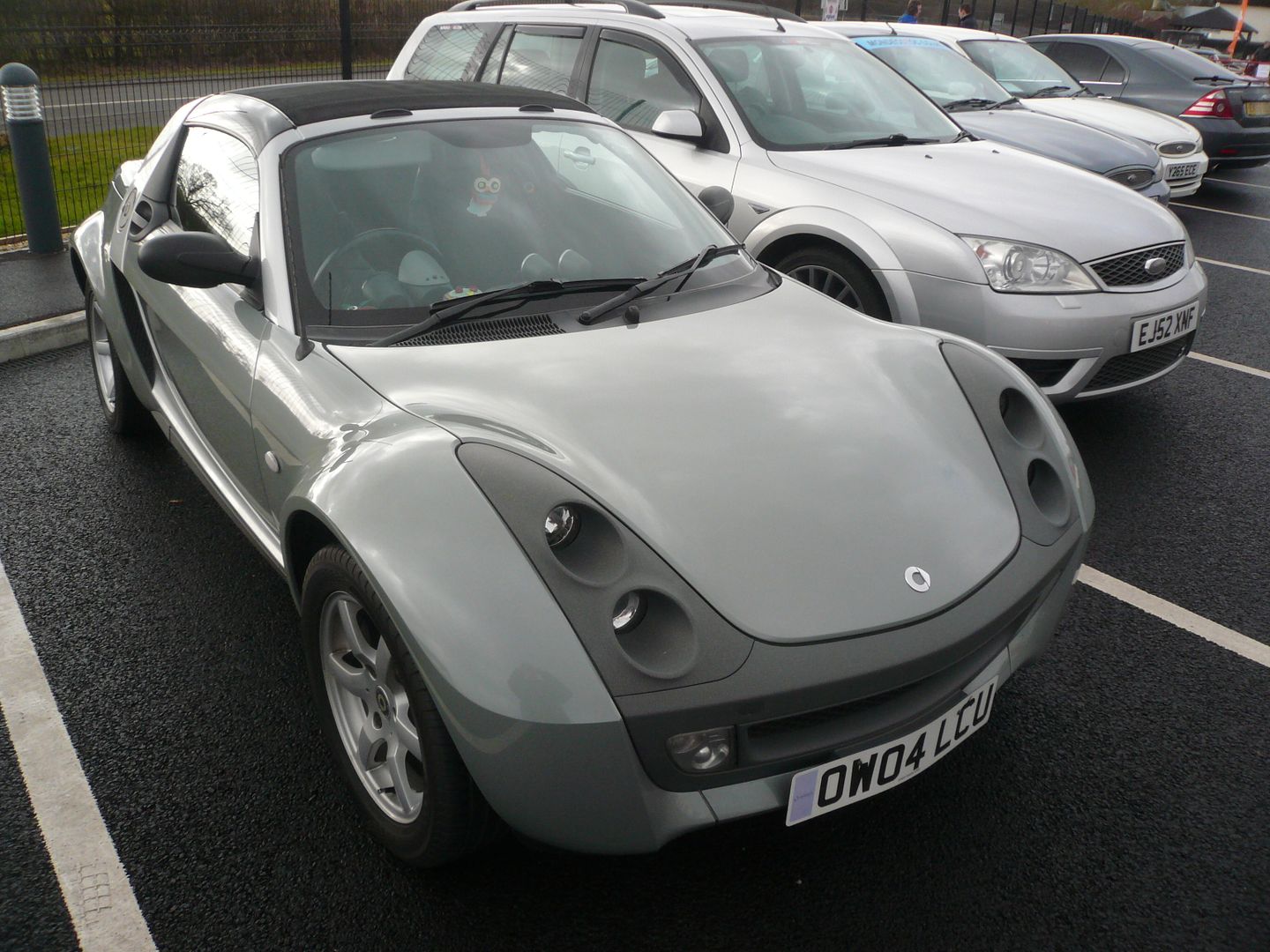 SUBARU
This BRZ is an inveterate attendee at the Queens Square Bristol Breakfast club, and he's now made it 2 out of 2 for this event, too.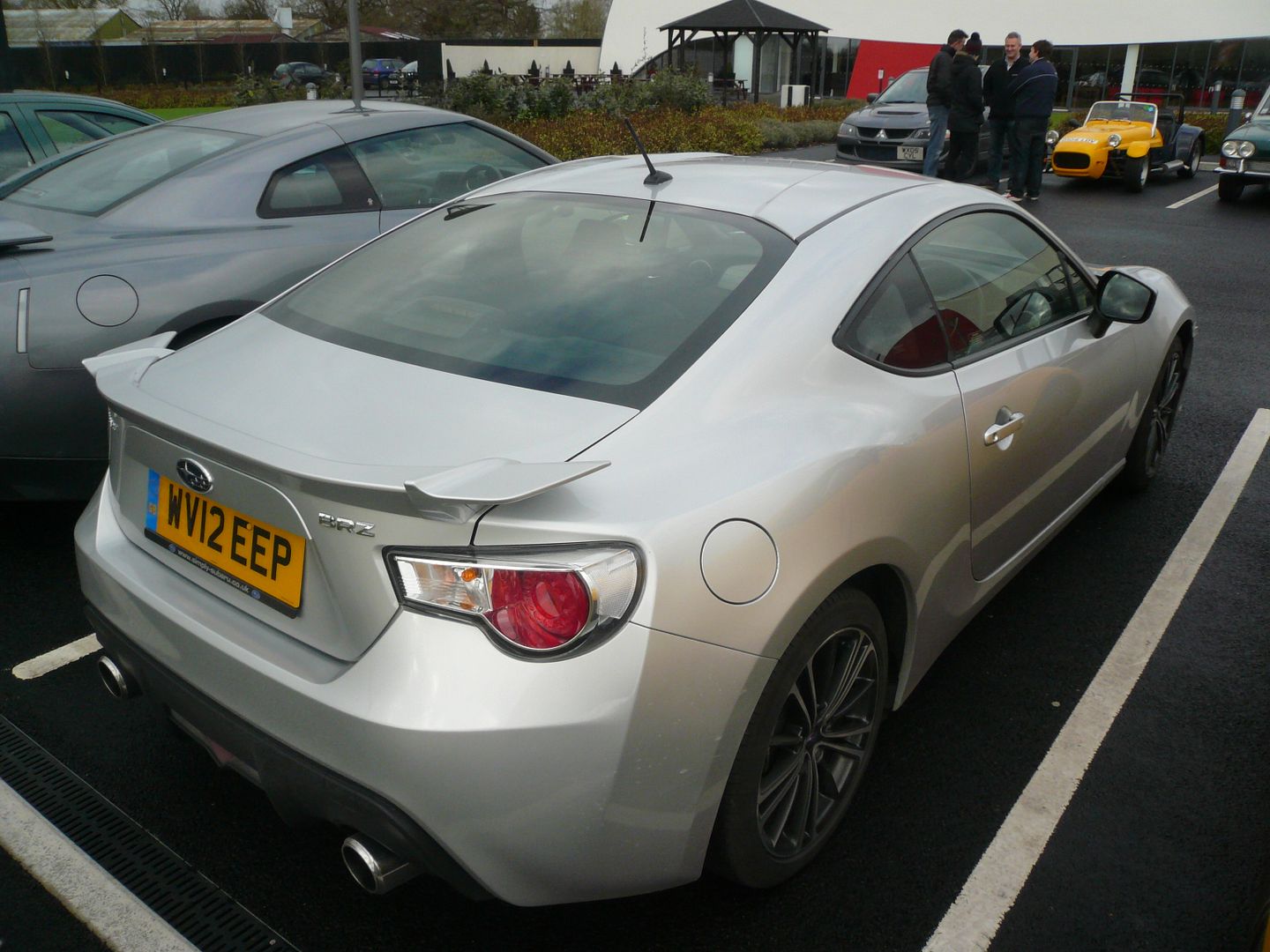 TOYOTA
The yellow GT86 arrived just after me. The owner had driven over from Essex (there's keen!). He told me that this is one of just 86 Limited Edition cars painted in this very distinctive bright yellow paint, and he's only had it a few weeks, which is perhaps why I've not knowingly seen another one in this colour (and I think I would remember if I had!). A number of other GT86s models later joined it.
TRIUMPH
A nice variety of classic Triumphs here: a pair of GT6 models, in Mark 2 and mark 3 guise, as well as a Mark 1 2000 Saloon, a Vitesse Convertible and a Stag.
TVR
No surprise to come across a number of TVR models, many of them sporting Pistonheads stickers: Chimaera, Griffith and Tuscan were the models present.
WESTFIELD
Several Westfield and Caterham cars were present. A bit of cold (and rain) clearly wasn't going to put off the hardy owners of these.
…….. AND FINALLY
I understand that this is a Blitz 2, a two-seater buggy with minimum bodywork that is only available as a self-build kit car. It is claimed to be easy to built, due to the simplicity of the design. The donor car for the Blitz 2 is the classic Mini, with models from 1976 being suitable. The Blitz can accommodate any size of the A-Series engine up to 1275cc. The design of the Blitz 2 moves the engine from the front of the original Mini into the rear of the Blitz chassis making the Blitz 2 a mid mounted engine buggy for the ultimate in traction, handling and stability. The engine in the donor car is located on a sub-frame which is taken out as a complete unit and bolted straight into the rear of the Blitz chassis, saving the need to realign engine mounts, drive hubs and associated running gear. The front of the Buggy uses a complete set of Mini front suspension, hubs, brakes and steering rack. The sub-frame is not needed at the front as the Blitz 2 frame duplicates all mounting points for the suspension. Due to the front of the Blitz 2 being much lighter than the Mini the rubber suspension is too hard, therefore a pair of custom made adjustable coil-over shock absorbers is used.  A large number of after-market and consumable parts, from shock absorbers and brake components, to wheels tyres, bumpers and carbon fibre mudguards are available.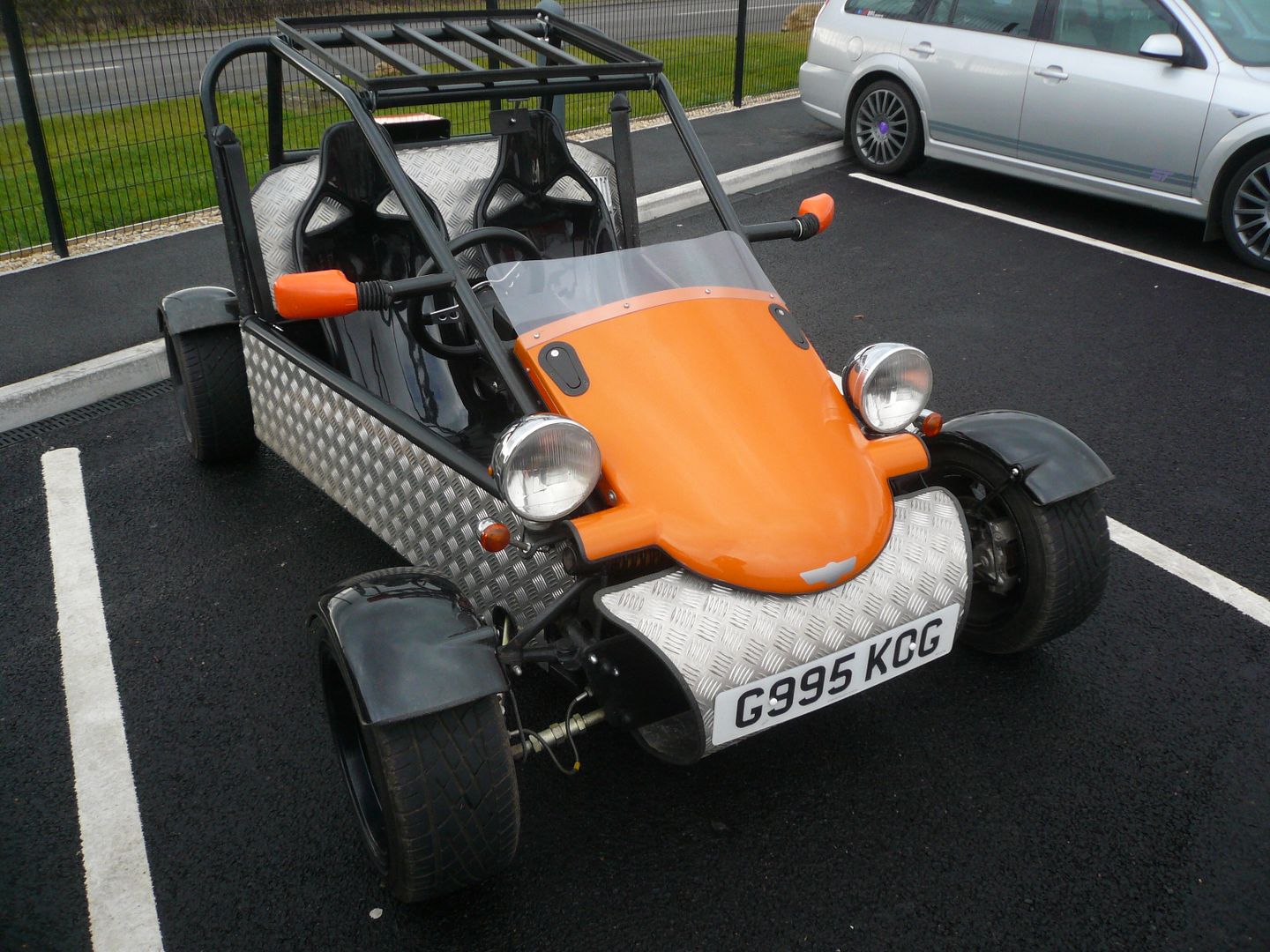 Although the promised sunny morning was not quite accurate, with clouds and spots of rain as well as a biting wind reminding us that it is only just out of February, this was still a nice event, with lots of cars to look at, and some friendly conversation with a number of the attendees. As word gets out, the Breakfast Club is likely to get even busier (something the servers in the Cafe may wish to address!), proving that even in a packed diary of car events, there is room for another one. Here's to what April brings.