Despite constantly scrutinising the events listings in the major Classic Car magazines, an almost zealous use of Google and various websites, and actually reading all the emails that get sent to me, it is still possible for car events, some of them quite notable, to escape my attention. The Bournemouth Wheels Festival is a case in point. It was only when my friend Bertie Bryant, founder of Abarth Owners Club was talking to Gerry Southerington, head of Abarth UK, and Gerry mentioned that Abarth and indeed the other companies in FCA were sponsoring this extravaganza, that I decided to take a look. What I learned was that the event had taken place before, though it would seem only once, and that was last August when it was timed to run over the August Bank Holiday, and that it was clearly quite a big deal for Bournemouth with various roads closed off in the town centre to allow not just for static displays but also live action. Having contacted the organisers to secure a place for Abarth Owners Club, I was extra vigilant for more event publicity, but I saw precisely none, so I did wonder if the whole thing was going to be a disappointment, especially as it had been retimed so it did not coincide with a Holiday weekend, though it did come at the end of a week which was Half-Term for most parts of the country. I need not have worried, as on the Saturday – blessed with some glorious spring sunshine, the crowds were such that moving along the sea front was more or less impossible, and some of the other parts of the venue were also extremely busy. The British weather being what it is, the first day of the event, the Friday, had apparently been quiet as it had been cold and windy (evidence of this was the array of sweepers that were scooping up the sand as I arrived) and on the Sunday, when it rained and was also very chilly in the morning, only a small percentage of the Car Club displays had vehicles in them and there were far fewer people. Nonetheless, this was an entertaining event, and well worth the trip down to the South Coast. Here are the highlights of my two days at one of those events no-one apart from the locals has heard about.
CLUB DISPLAYS
The instructions for the Car Clubs were to head east of the town centre to Boscombe Pier, where the would be an entrance to the sea front. This seemed like an awfully long way from the main part of the event, and indeed I can tell you that it is 1.5 miles from Boscombe Pier to the Grand Pier in the town centre, so you will do quite a lot of walking at this event! As I pulled down towards the front, I noted with some alarm that all the cars in front of me were of the extensively modified sort, and I did begin to wonder what I had let myself in for. However, they were all directed off to the left of the pier, whereas I was sent to the right (the west). Car Clubs were all allocated a numbered row of spaces along the front, and there was plenty to see, especially on the Saturday.
ABARTH
Bournemouth is not the easiest of places to get to, so it was never likely that we would have a bumper turnout of Abarths, and indeed that proved to be the case with only 10 or so people expressing interest in attending. Some came for both days. others for just one of the two and a couple signed up but never actually appeared, which was a bit of a pity, as the cars that we did have, as usual, created plenty of interest. This time the ratio of Punto to 500 was more even than is usually the case, with two Puntos and four of the 500 model on the Saturday, and one Punto and three of the 500s on the Sunday.
ALFA ROMEO
On the Saturday. there was just one Alfa present, a rather nice S4 Spider.
A few more arrived on the Sunday, thanks to an effort by the Italian Motor Club. I was particularly impressed to see that David Roots, and his wife Rachael, had braved the elements and made the journey down from Frome in the Alfa Special. There is next to to no weather protection in this much admired car, so it would have been quite understandable if they had changed their mind about attending, but no, as cheerful as ever, they had simply dressed for the conditions, which meant that this intriguing machine was available for plenty of people to see and photograph.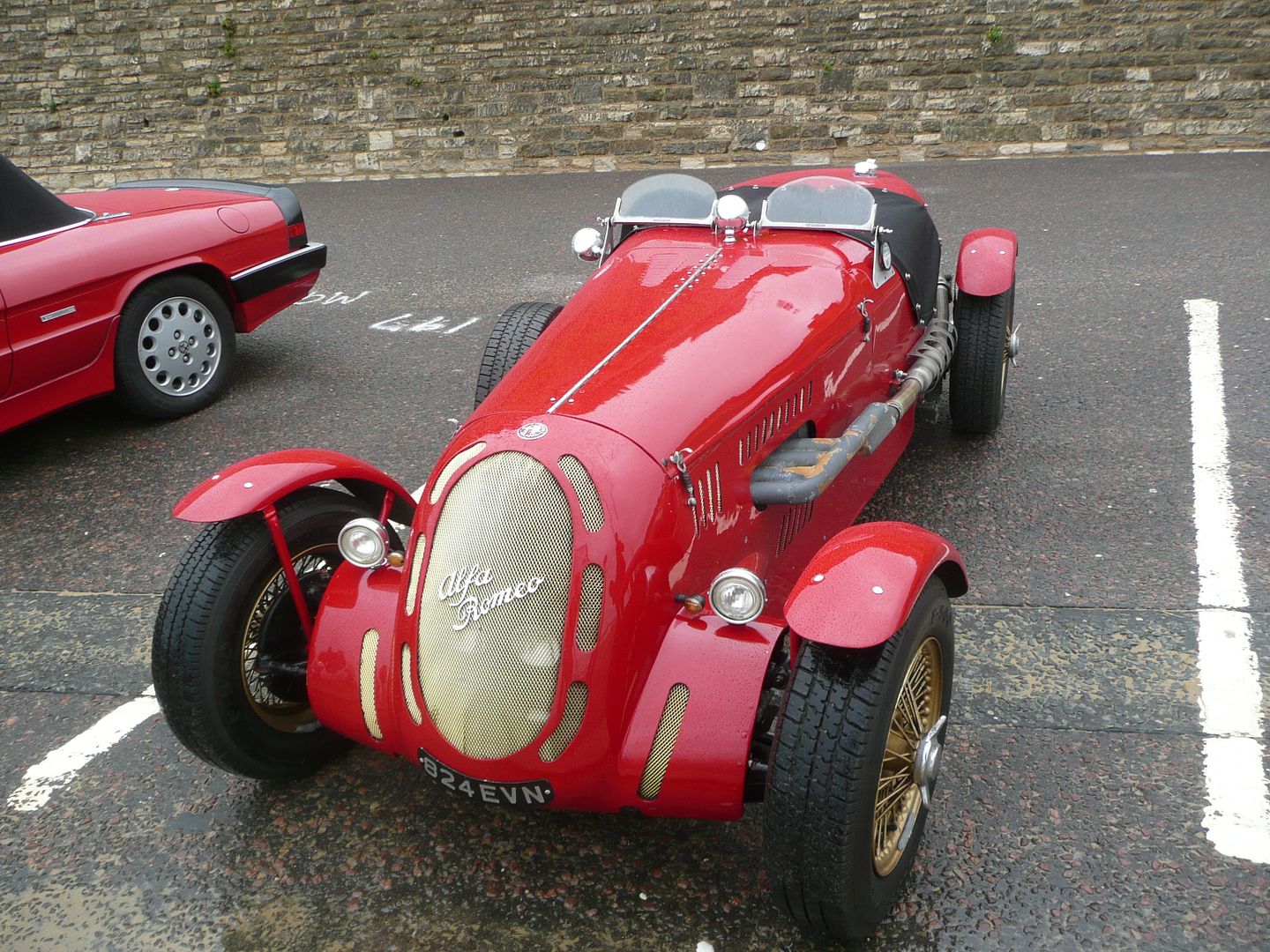 A different S4 generation Spider was also present along with a 156 GTA.
ALPINA
With a production total that only just clears 4 figures every year, Alpinas remain a rare sight, so it is always good to see one, and this was a very nice example of the E34-based B10. Based on the E34 535i and developed at a cost of $3.2 million, the B10 BiTurbo was introduced at the Geneva Motor Show in March 1989. To build each B10 BiTurbo power unit Alpina dismantled a BMW M30 engine, replaced the stock pistons with forged Mahle units, installed two Garrett T25 water-cooled turbochargers, and added a Bosch variable boost control with range of 0.4-0.8 bar, adjustable from the driver's seat. Additional modifications helped raise the horsepower of the stock M30 engine from 208 hp at 5700 rpm and 225 lb-ft at 4000 rpm to 360 hp at 6000 rpm and 384 lb-ft at 4000 rpm. A Getrag 290 5-speed manual transmission was specified to handle the power. Modifications to the suspension included Alpina-spec springs and anti-roll bars. Bilstein shocks were used on front and automatic-load levelling units by Fictel & Sachs were used in the rear. Front rotors were large 13.1-inch discs from UK-based Lucas Girling, bigger even than the 12.8-inch pieces found on the E34 M5. Michelin MXX tires were standard as was BMW's Automatic Stability Control (ASC).The company claimed a 0–100 km/h time of 5.6 sec and a top speed over 290 km/h putting it in the same league as a Ferrari Testarossa. In the September 1991 issue of Road & Track Paul Frère wrote: "For me this is the car … I think this is the best 4-door in the world." Despite a base price tag of 146,800 DM, nearly twice the price of an E34 M5, the B10 Biturbo became the best-selling single model in Alpina history up until that point. The six year production run beginning in 1989 ended in August 1994 with 507 examples produced. Production ended with the termination of M30 motors by BMW in 1993. The final 50 M30 blocks were shipped to Alpina for use in the final 50 B10 Biturbos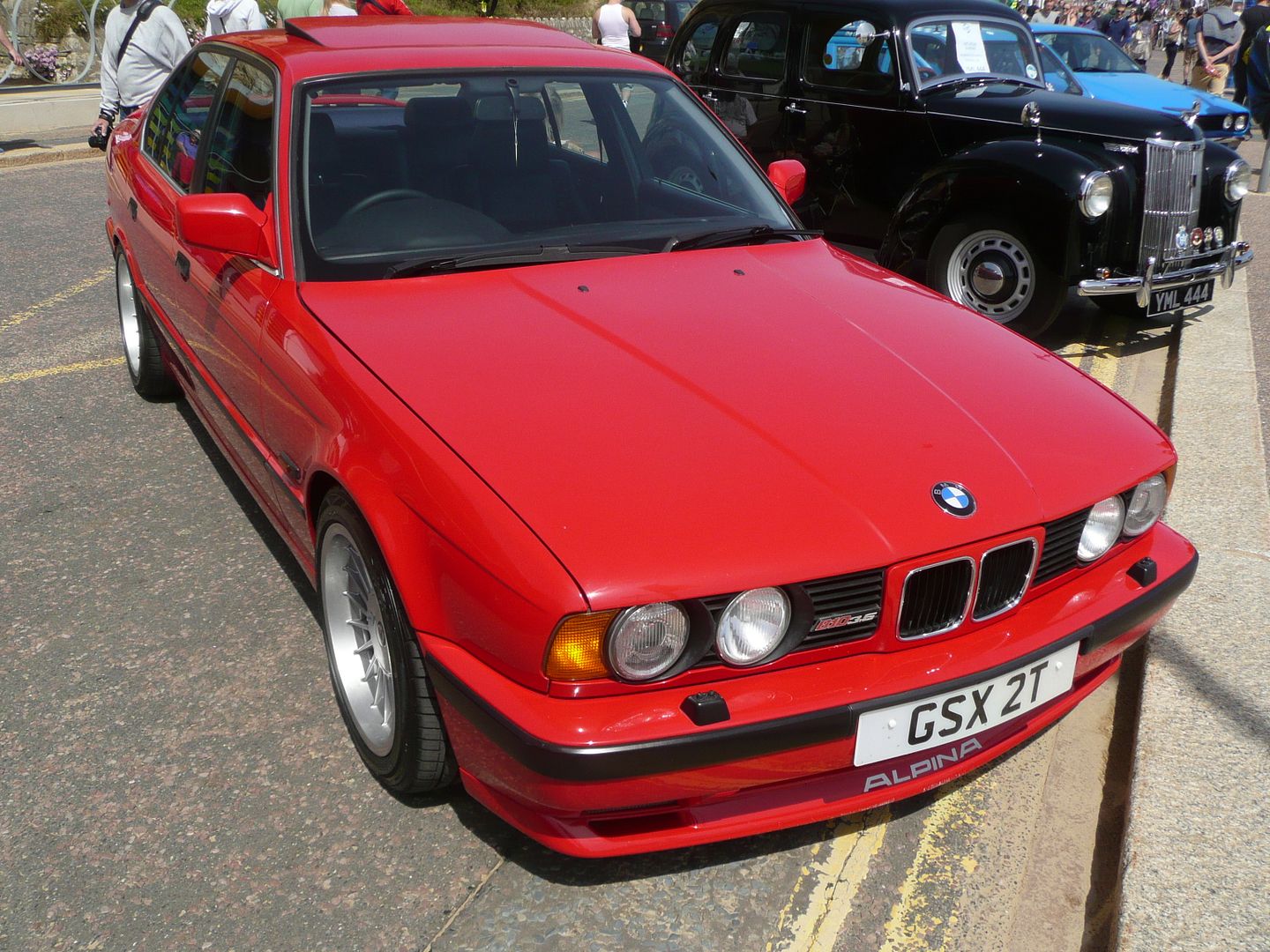 ASTON MARTIN
The Aston display was not on the sea front along with the other Club displays but up on the steep paved area en route up to the back of the Conference Centre. There were some very nice examples of the marque here, with a range of cars from a DB6 through DB7 to both generations of car to bear the Vanquish name, as well as the current V8 Vantage car.
AUSTIN
Although the Seven is perhaps the best known pre-war Austin, the Ten was an important model, selling strongly against the Morris, its principal competitor of the 1930s.
BEACH BUGGY
What makes this car so rare that unlike the vast majority of Beach Buggy models which were based on the VW Beetle and hence had a rear engine, this one takes its underpinnings from the Mini and hence it has a transversely mounted front engine. Only a few were ever made and this is believed to be the sole survivor.
CADILLAC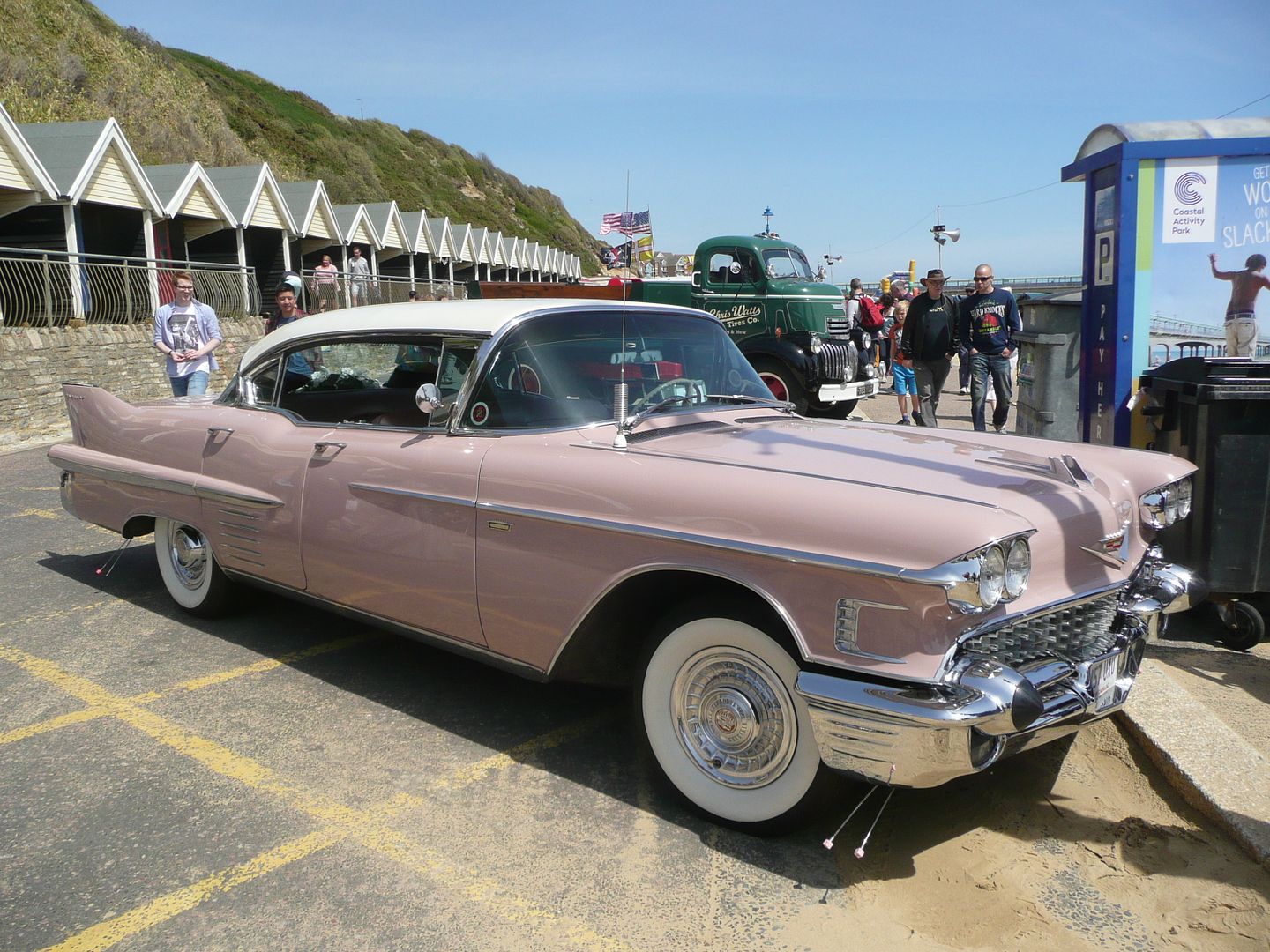 CHEVROLET
As well as this fabulous lorry from the 1940s were a couple of Corvette models, in C3 and C5 generations.
DODGE
Continuing the American presence was this wonderful 1968 Charger R/T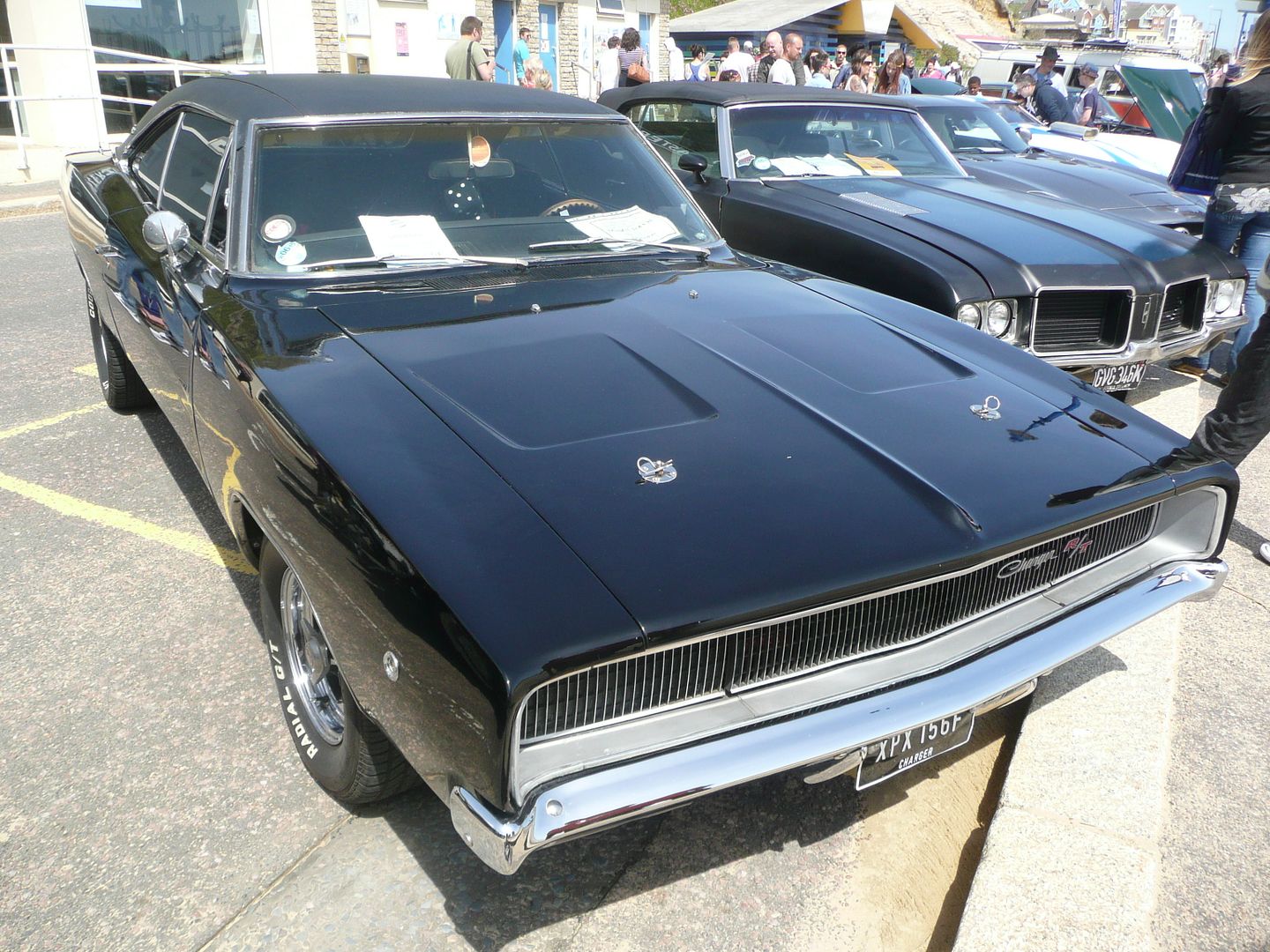 FIAT
Also part of the Italian Motor Club display was this lovely X1/9 Gran Finale.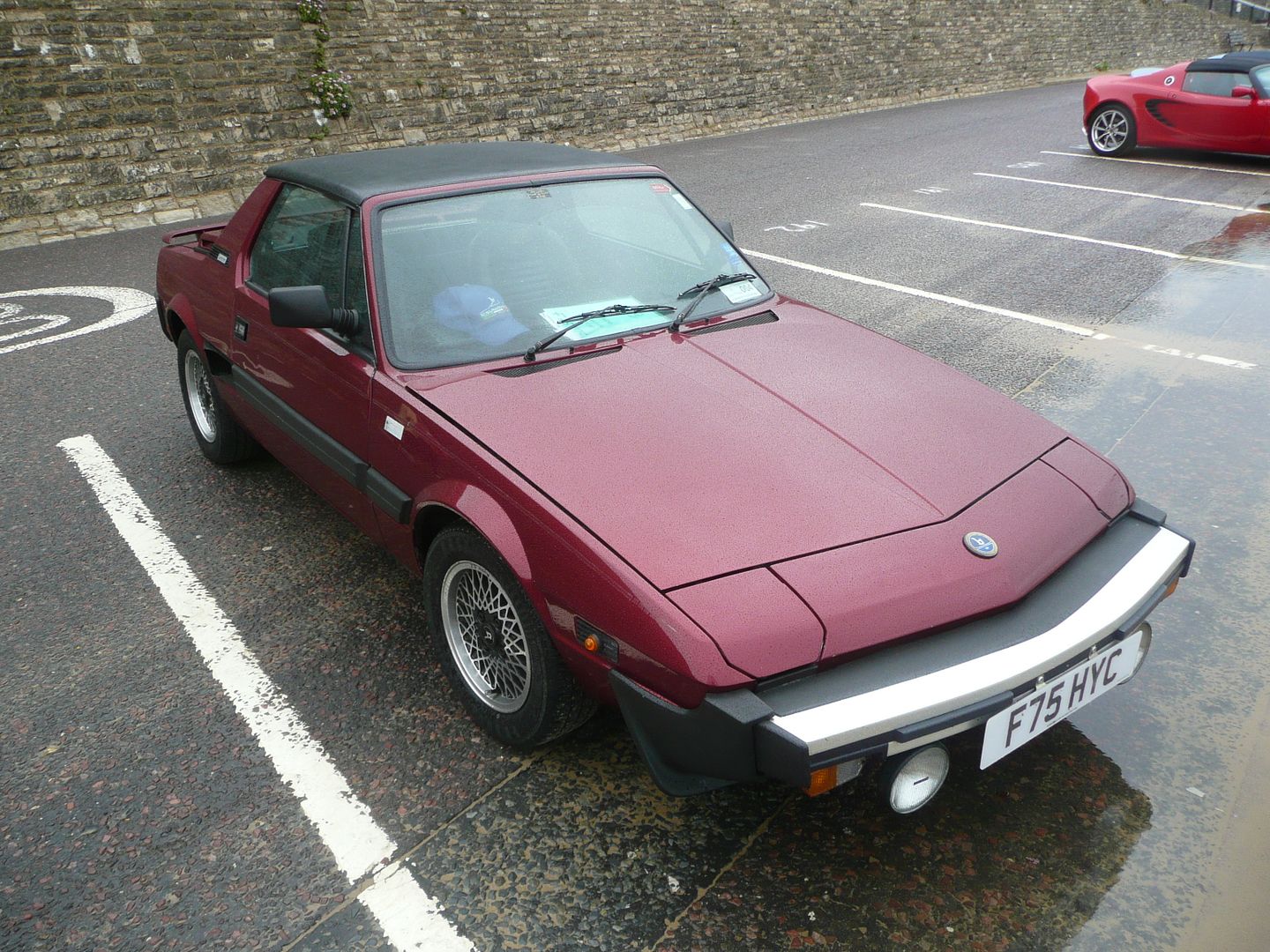 FIBERFAB
I had first seen this car at the Haynes Breakfast Club earlier in the year, when I have to confess, I had no idea what it was. An information plaque in the car then, and included with it again here, filled in some gaps and a bit of Googling after the event had told me a but more. So it is an FT Bonito. This particular car had been found in 1999, following a 12 year lay up. It is based on a Beetle chassis, but has a 1.8 litre 16 valve engine behind the driver, and, as is not uncommon for cars like this, parts from a number of other cars in its parentage. Once restored, this Bonito has been used extensively for racing. The Bonito was created by a company called Fiberfab, a kit car manufacturer founded by Warren "Bud" Goodwin in 1964. Goodwin's earlier company, Sports Car Engineering had manufactured Microplas Mistral bodies under licence and sold them as the Spyder. Fiberfab started building street rod parts and body panels for Mustangs before moving on to kit cars. It was sold in 1983 to Classic Motor Carriages. This company  was forced to close in 1994 after the Florida Attorney General's Office filed suit against it on behalf of several hundred of its customers. It agreed to pay $2.5 million in compensation. At the same time as the case was proceeding, a new company, Auto Resolutions, was set up by the owner George Levin to continue making Classic Motor Carriages vehicles trading under the name Street Beasts. Street Beasts closed its business in 2010 and auctioned off its plant, moulds, and machinery. Classic Motor Carriages (CMC) continued to use the Fiberfab brand after 1983 although those cars were built using CMC moulds. During this time a number of different models were produced, with a variety of different donor vehicles.
FORD
Historic Fords are always popular with the crowds, evoking plenty of nostalgia, and few generate as much interest these days as the rear wheel drive Escorts. So many people owned these as road cars, and they also remember their huge success in motorsport, with the cars performing well on the rally special stages as well as the track. These days many of the survivors have been used as the basis for grass-roots competitors to use and there were examples of both the Mark 1 and Mark 2 cars here as evidence of this.
Representing the post-war Ford were a couple of cars, the "perpendicular" style Prefect, which was launched in 1948 and the "Sit up and Beg" E93A Popular, Ford's cheapest car in its post war range which lived on throughout the 1950s when the more rounded Anglia and Prefect models had replaced the other small Fords all of which had by then a rather dated looking body style.
JEEP
A number of Jeep models, part of a wider off-road collection, were parked up on the beach.
KELLISON
I had no idea what this was. An information plaque in the car shed a little light on what was clearly a performance car from the early 1960s. Having now done my research I can supply some more information. In the late '50s a California-based entrepreneur by the name of Jim Kellison, a former fighter pilot who had seen service in the Korean War starting living the ultimate car builder's dream. of leveraging what he had learned from his UCLA degree in aircraft engineering by building his own car, intended first and foremost as a race car ready to compete against the Ferraris, Alfas, and Porsches of the day. With a grand vision presented in the sale brochure that was created, Jim Kellison started his eponymous Kellison company, and from 1957 offered the Kellison J-4 , as a fibreglass body in either coupe or roadster format,  ready to be mounted on a number of contemporary under-pinnings, mainly targeted towards the Corvette chassis of the day. Early J-4s used a box frame with solid axles front/rear All coupe bodies included firewall, inner fenderwells, door hinges, headlight receptacles, dashboards, and floor pans. Kits to build a car at home were offered, but the best examples were constructed by Kellison himself.  As is often the way with kit cars, though, there was plenty of variation, so there is at least one, still extant, with a Jaguar XK120 front end with torsion bar suspension and an unknown rear end with GM axle and semi elliptical spring suspension. Some fairly significant modifications came to the styling, too, especially the roofline, which changed from that in the early cars which had a  super low slung roof, as this was replaced by a front window from a C2 Corvette plus a custom T-top setup, which made the car look like something ready for an early 60s road race. At a reported weight of just 1950 lbs, the Kellison was very light, and this meant it had a fighting chance against the fully factory developed Testarossa Ferrari and Birdcage Maseratis of the era  In 1959, MotorTrend magazine got a hold of a factory built Kellison coupe and put it through its paces. The results were more than disappointing to Jim – they were devastating. While MotorTrend loved the lines of the car and complimented its high quality of fit and finish, they couldn't manage the car's massive oversteering problems on the track. They concluded that the Kellison was a wonderful long-distance touring car, but simply "too pretty" to race. It wasn't long before Kellison hired Chuck Manning, a proven Indy car chassis builder with a big brain. Chuck designed a box tube frame with tube axles at both ends initially and then improved the design by implementing an x-frame and late-model Corvette suspension at both the front and rear. By all accounts, the new Kellison platform was a huge improvement. From 1961 to 1965 or so, you can find numerous mentions in various magazines of the day of a Kellison dominating a class, a win here or doing well in another race  there. Other models from Kellison began to surface as well. A roomier J-5 was introduced followed by the J-3 designed for VW and Porsche running gear. Finally, even smaller J-2 and J-1 bodies were developed for Renault and Triumph chassis, and brochures of the time refer to a series of models designated with a K, which had a shorter 86 – 88″ wheelbase as opposed to the 98″ of the J cars. Although it is unclear whether the J1 and any of the K models were ever built, Jim's product offering still amounted to a pretty impressive range. And then it all just stopped. There would be no Cobra rivalry, no great Le Mans wins, nothing… It just stopped. Manning went on to build more Indy cars and Jim Kellison went on to manufacturer dune buggy kit cars and other fad serving designs. The J-cars seemed to just vanish as well. Other than a couple of purpose built drag cars of the 60's and 70's, it's rare to see a Kellison mentioned at all in publications past 1965. It is far from clear  what brought on the demise of the Kellison J-car. Maybe Jim just wasn't able to get the car to perform as well as he would have liked? Maybe the market just wasn't there for a world beater kit car? Maybe the car was before or after its time? No-one knows. Many of the kits that were supplied at the time were never completed, so this was a very rare car. I've certainly never seen one before.
LANCIA
Also part of the Italian collection were a couple of Delta models. Although the Integrales are nice, and I still have one on my "bucket list", the lesser models are good, too, as this HF Turbo evidences.
LOTUS
There was quite a varied collection of Lotus models, most of them using model names that still feature in the current range. The Elise has been around for 20 years now, and during that time a bewildering array of models have been offered. The first series S1 cars were made between 1995 and 2001, and since then, a revised model has been offered. Examples of both types were to be seen here.
Also present  were a couple of examples of the latest Exige and a rather nice late model Esprit.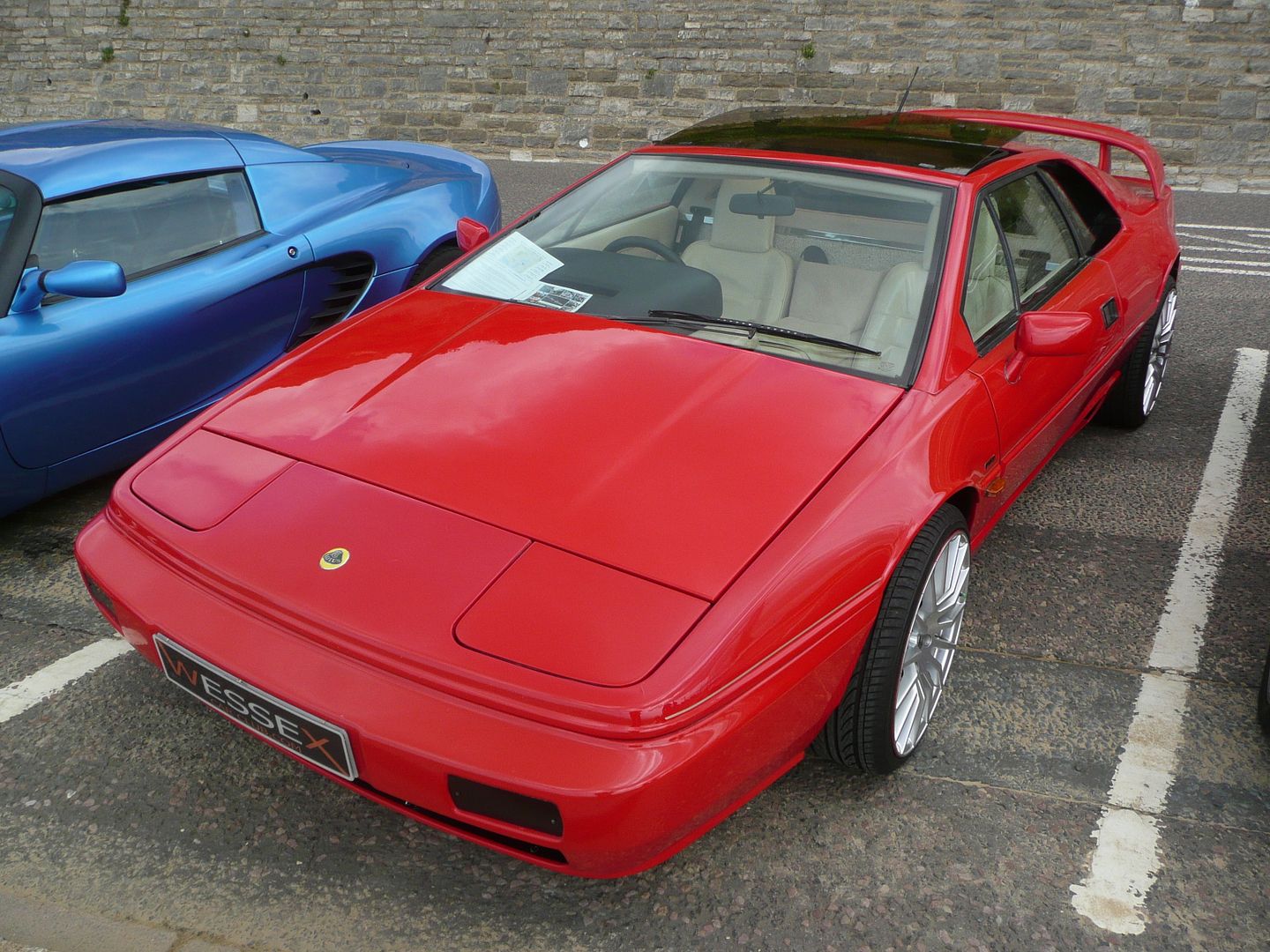 MASERATI
Final Italian car was the very pretty 4200 GT.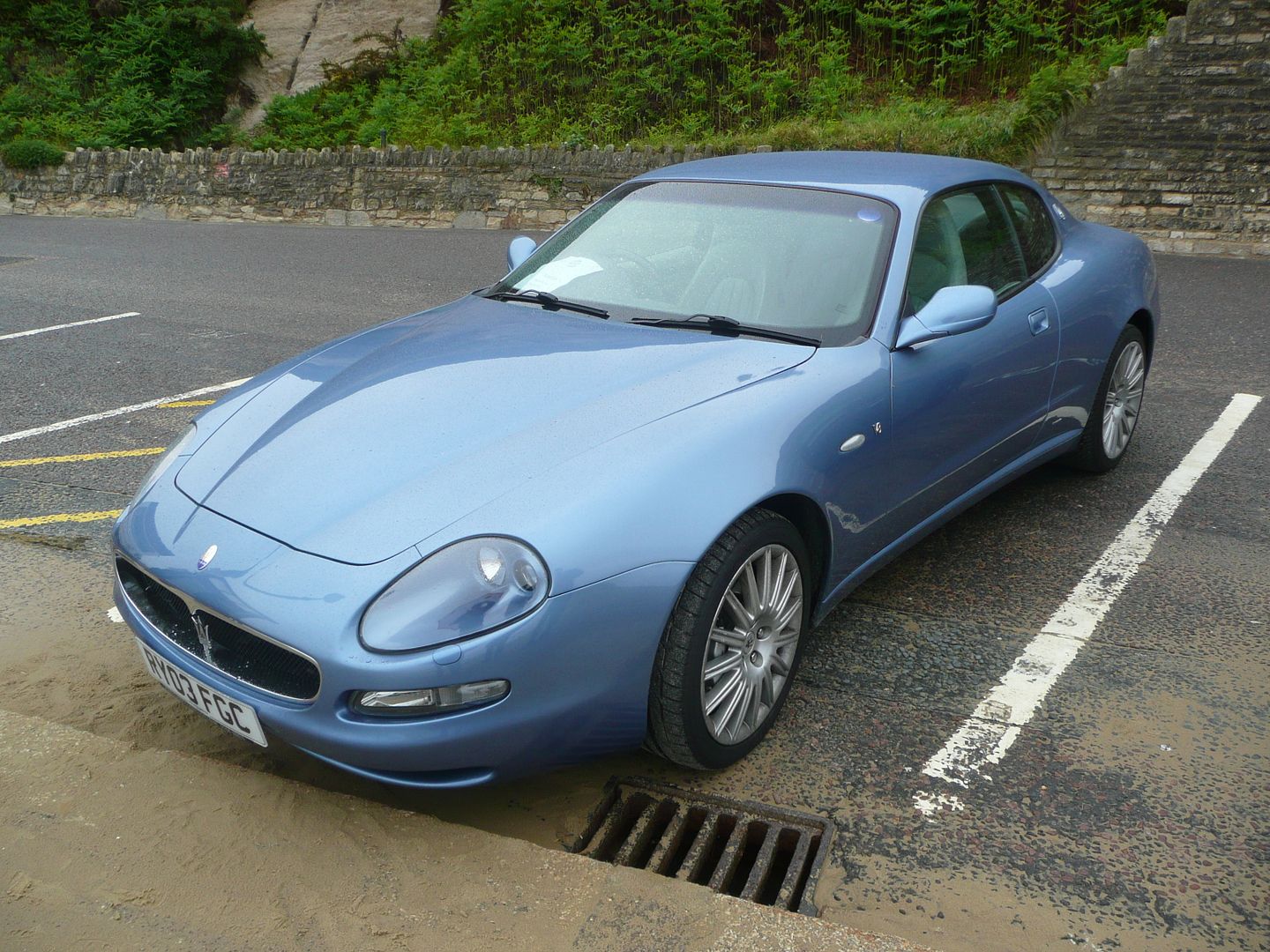 MAZDA
There was quite an assembly of MX5 models, with all three generations on show. Included among them were a couple of rare cars including one of the limited edition Le Mans models, built to celebrate Mazda's success at the 1991 event. These cars cost £5000 more than the standard car and used the BBR Turbo kit that boosted power to 150 bhp, giving a top speed of 130 mph and a 0 – 60 time of 6.8 seconds. The modifications also included OX wheels, prated sprigs and dampers and myriad tyim changes as well as the very distinctive paintwork. Each car came with a certificate signed by johnny Herbert, who had driven the 787B to victory. Just 24 of these were produced, of which 17 are thought still to survive.
MERCEDES-BENZ
Something of a supercar, for sure, but this SLS AMG was parked up among the Car Club displays.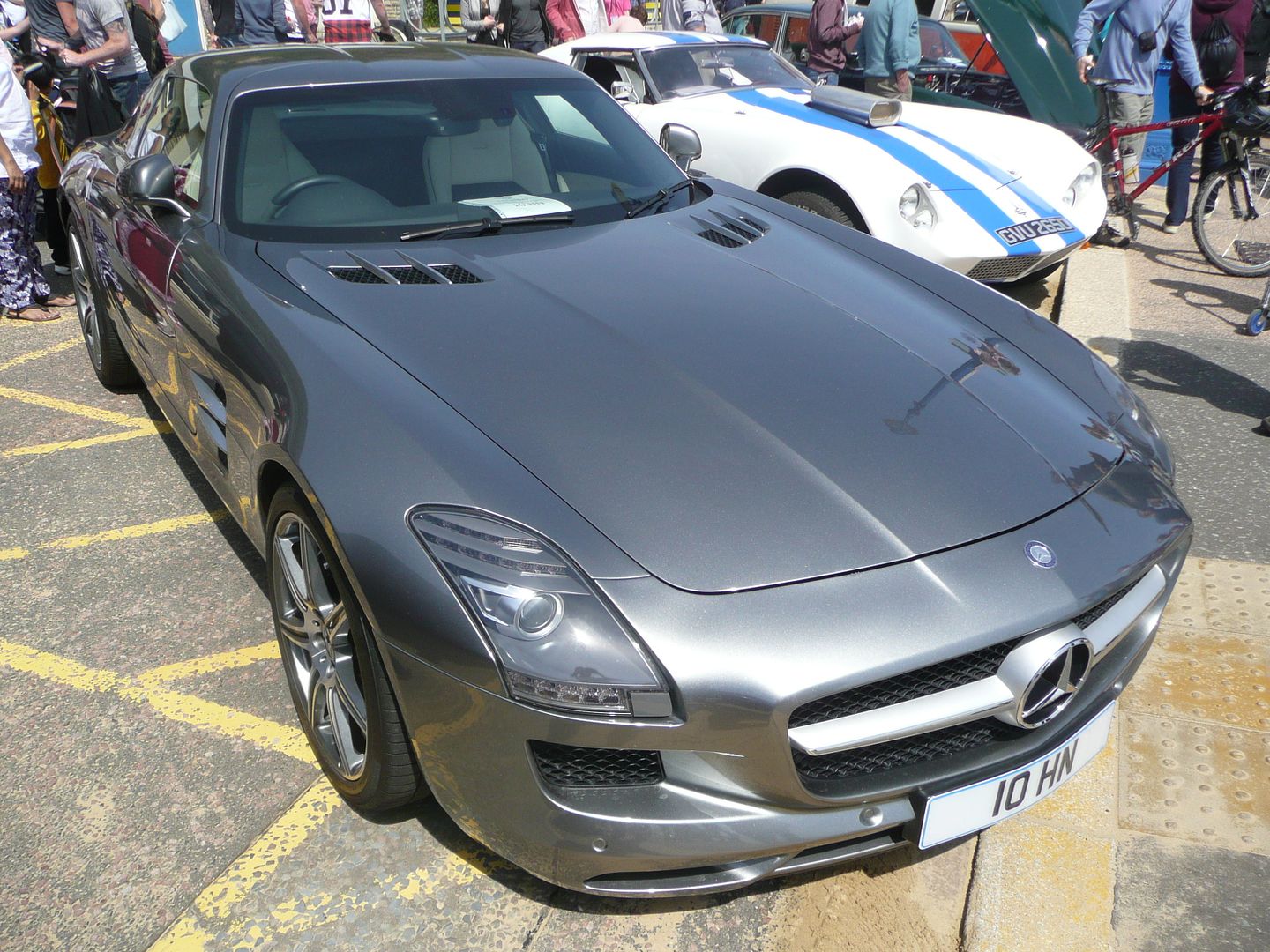 MG
There was quite an array of different MG models on show. There were more present on the Saturday than the Sunday, as with all the Owners Clubs, but still plenty to look at on the later of the two days, with a rare example of the SV among them.
Most numerous model, unsurprisingly, was the MGB and closely related 6 cylinder MGC version, with several open topped and GT versions on show as well as the predecessor MGA model.
The trio of Z-badged models that were offered from 2001 until the end of MG-Rover in 2005 have found favour among the MG fraternity now and whilst these models are getting relatively rare as daily drivers, you often see them at events. There was an MG ZS here to illustrate that point.
Also still popular are the MGF and later TF sports cars, and a number of these were assembled as well.
Oldest MG in the display was a lovely YB series saloon. Sold in the late 1940s, these were sporting cars that would have appealed to the sort of buyer who these days probably has a high end 3 series or one of its rivals.
I spotted this early Midget parked up outside one of the guest houses near the East Overcliff Drive, but on the Sunday noted that it had been included in part of the MG Owners Club display. A slightly later one was with it.
MILITARY VEHICLES
A handful of historic military vehicles occupied the space immediately to one side of the area where the Abarths were, and proved quite a contrast, with a massive truck which was so big it had to be parked parallel to the curb as opposed to nose-in.
There were plenty of other military related displays along the sea front, with various units from all three Armed Forces promoting some of what they do with a mix of displays and activities, many of which were aimed at the younger audience, ranging from a climbing wall to a small tank off-road course. Among the things to look at was this Gazelle AH1 helicopter. The Gazelle originated in a French Army requirement for a lightweight observation helicopter intended to replace the Aérospatiale Alouette III; early on in the aircraft's development, the decision was taken to enlarge the helicopter to enable greater versatility and make it more attractive for the export market. In 1966, Sud Aviation began working on a light observation helicopter to replace its Alouette II with seating for five people, with the first prototype SA 340 taking to the skies for the first time on 7 April 1967. It initially flew with a conventional tail rotor taken from the Alouette II. The tail was replaced in early 1968 with the distinctive fenestron tail on the second prototype. Four SA 341 prototypes were flown, including one for British firm Westland Helicopters. On 6 August 1971, the first production Gazelle conducted its first flight. On 13 May 1967, a Gazelle demonstrated its speed capabilities when two separate world speed records were broken on a closed course, achieving speeds of 307 km/h over 3 kilometres and 292 km/h over 100 kilometres. Early on, the Gazelle had attracted British interest, which would culminate in the issuing of a major joint development and production work share agreement between Aerospatiale and Westland. The deal, signed in February 1967, allowed the production in Britain of 292 Gazelles and 48 Aérospatiale Pumas ordered by the British armed forces; in return Aérospatiale was given a work share in the manufacturing programme for the 40 Westland Lynx naval helicopters for the French Navy. Additionally, Westland would have a 65% work share in the manufacturing, and be a joint partner to Aérospatiale on further refinements and upgrades to the Gazelle. Westland would produce a total of 262 Gazelles of various models, mainly for various branches of the British armed forces, all branches of which used it —the Royal Air Force, Royal Navy (including in support of the Royal Marines) and the British Army in a variety of roles. Four versions of the Gazelle were used: the SA 341D was designated Gazelle HT.3 in RAF service, equipped as a helicopter pilot trainer (hence HT). The SA 341E was used by the RAF for communications duties and VIP transport as the Gazelle HCC.4. The SA 341C was purchased as the Gazelle HT.2 pilot trainer for the Royal Navy; training variants have been replaced by the Squirrel HT1. The SA 341B was equipped to a specification for the Army Air Corps as the Gazelle AH.1. Gazelles were also produced for the civilian market.
MORRIS
To some extent, we have the Morris Minor to thank for the whole boom in classic cars. Produced between 1948 and 1971, such was the affection for Issigonis' small car that as the model aged, owners ended up spending money having their treasured cars restored to their former glory rather than being discarded in favour of something new, and soon a small industry arose where people were offering services to do just that. This was the late 1970s, when the only old cars that had interested most people were either really old ones or really exclusive and expensive ones. Fashions come and go, but enthusiasm for the car that was once memorably described as looking like a poached egg has never wavered, so it was no surprise to find a large number of Minors in the Club display, and notes on several of them saying that they had been in the family for a very long time, a couple of them since new, over 50 years ago.
OTHER
This diminutive period caravan may be easier to tow around than larger units, but I suspect that it is not that much fun to be in. Great to look at, though!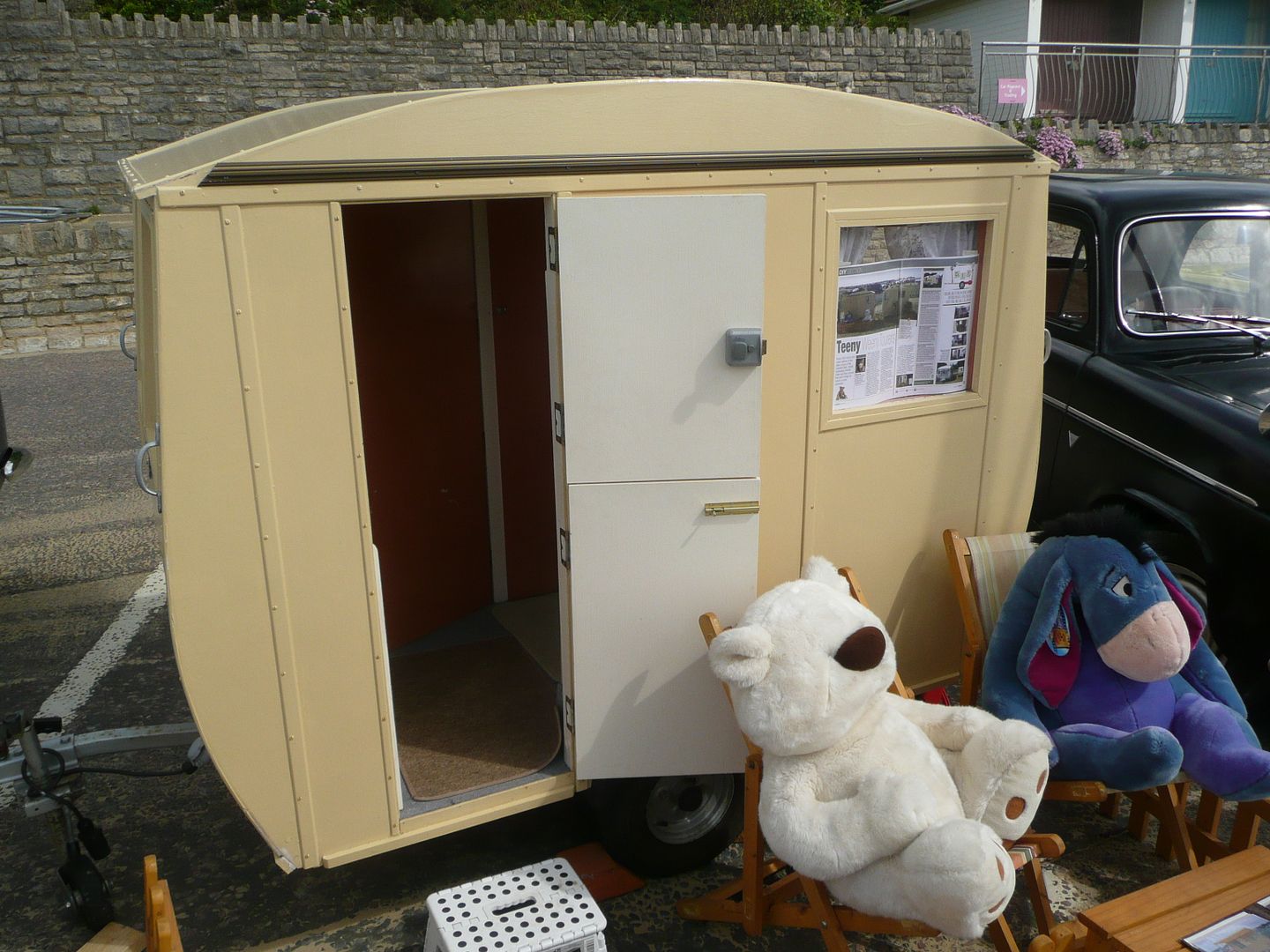 PLYMOUTH
The Prowler is one of those concept cars that actually got built, and then the maker perhaps wished they had not bothered, as sales quickly ran out of steam. It is certainly a striking machine, though.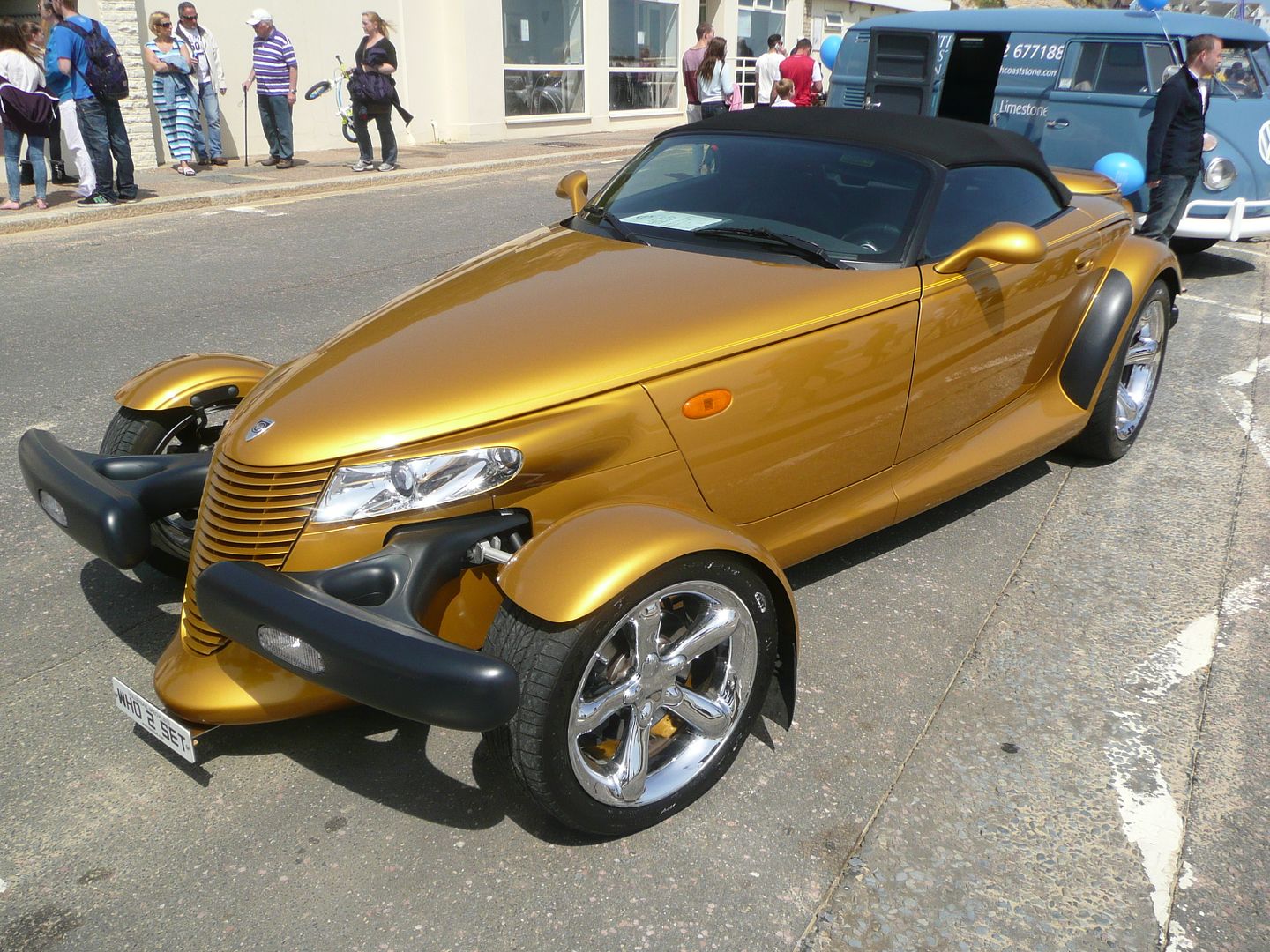 PORSCHE
Not, sadly, an original car, but this was a nice replica of the 550RS model, a car that Porsche built for racing in the mid 1950s.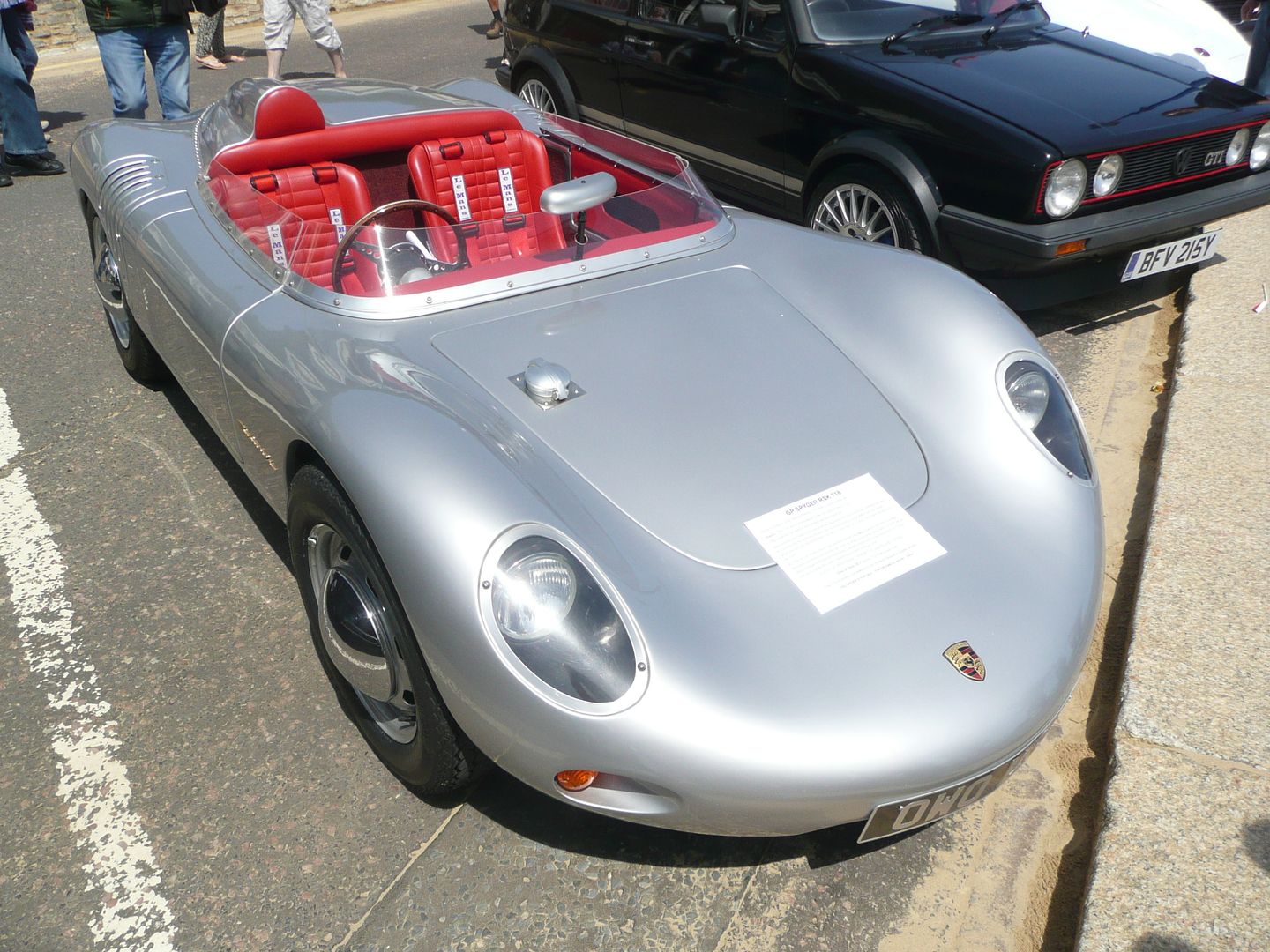 PRINCESS (ADO71)
BL Cars, as they were called at the time launched the ADO71 range of cars on 29th March 1975, to replace the long-running ADO17, models now referred to as the "Land Crab" in recognition of their rather ungainly styling. The new cars, known initially as the 18-22 Series were very different, with striking wedge looks penned by Harris Mann, but still preserving the vast acreage of space which had so characterised the cars that they replaced. Austin, Morris and Wolseley models, offered with the familiar 1800cc B Series and 6 cylinder 2200cc E Series engines were well received, as yet again, the raw ingredients for a great car (even if it did lack the hatchback which the body styling suggested it would have) were there, but quickly it became apparent that the quality control was patchy at best. Six months after their launch, the model was reborn a Princess, with the Wolseley name being consigned to history, and the Austin or Morris-ness of the cars taking a very back seat as was the case with the Mini. Series 2 models appeared in mid 1978, with the venerable B Series engine replaced by the new O Series, which was offered in 1700 and 2000cc guises. Minor trim changes were made, and supposedly quality standards had been tightened, though many owners found it was still the luck of the draw as to whether they got a "good one" or not. Sales remained disappointing, with many favouring the less roomy Ford Cortina or larger Granada or Vauxhall's really rather appealing Cavalier, even though the Princess trumped them all for roominess and comfort. There are not many survivors,  sadly. so it was good to see these cars here to mark the 40th anniversary of the "Car to beat the World".
ROVER
The V8 engined 3500 P6 model was seen as a very desirable car when new, offering astonishing levels of performance compared to rival products. It took Rover a while to realise that the Buick-based V8 unit that they initially fitted to the larger P5 car would fit under the bonnet of their smaller model, and when they first did so, in 1968, they coupled the engine with a 3 speed automatic gearbox which made for a refined luxury cruiser. In 1970 they made a manual option available, in the 3500S, and overnight this became an aspirational car for many.
There was an example of the P5 model parked up here, too.
Far earlier was this P2 model.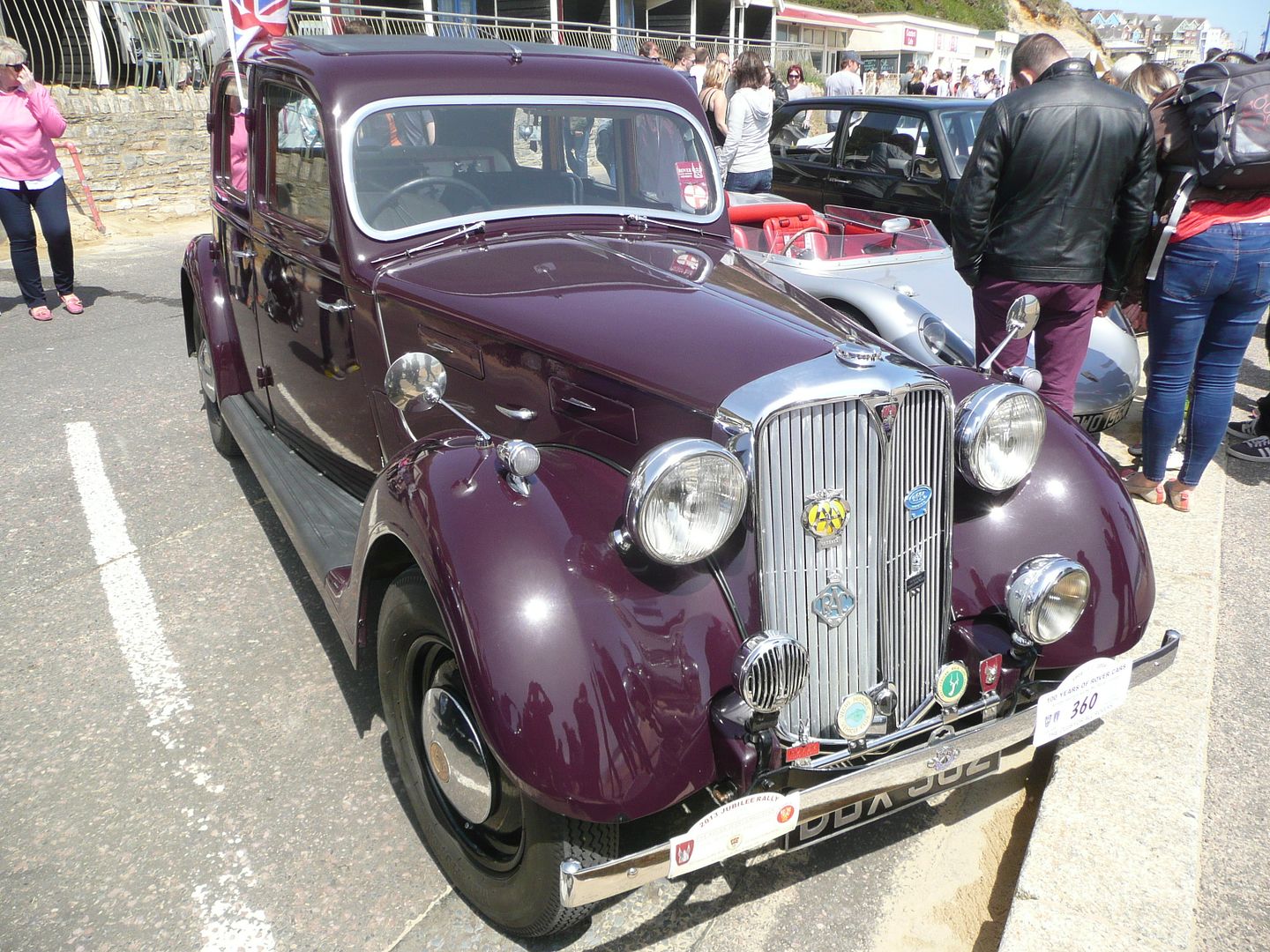 SINCLAIR
Who remembers the C5? Sir Clive's brave attempt to revolutionise personal transport, the C5, was unveiled at a glitzy launch event in January 1985, but it received a less than enthusiastic reception from the British media. Its sales prospects were blighted by poor reviews and safety concerns expressed by consumer and motoring organisations. The vehicle's limitations – a short range, a maximum speed of only 15 miles per hour, a battery that ran down quickly and a lack of weatherproofing – made it impractical for most people's needs. It was marketed as an alternative to cars and bicycles, but ended up appealing to neither group of owners, and it was not available in shops until several months after its launch. Within three months of the launch, production had been slashed by 90%. Sales never picked up despite Sinclair's optimistic forecasts and production ceased entirely by August 1985. Out of 14,000 C5s made, only 5,000 were sold before its manufacturer, Sinclair Vehicles, went into receivership. The C5 became known as "one of the great marketing bombs of postwar British industry" and a "notorious … example of failure", but despite its commercial failure, the C5 went on to become a cult item for collectors. Thousands of unsold C5s were purchased by investors and sold for hugely inflated prices. One such investor, Adam Harper, bought 600 C5s from a film company as a speculative investment in 1987. He sold all but four within two years, selling them to customers who wanted a novel or more environmentally friendly form of transportation. He also found willing customers among drivers who had been banned from the road, as the C5 did not need a driving licence or vehicle tax. According to Harper, C5s could be resold for as much as £2,500 – more than six times the original retail price.  By 1996, a Special Edition C5 in its original box was reported to be worth more than £5,000 to collectors, a startling amount compared to the original retail value of £399. Enthusiasts have established owners' clubs and some have modified their vehicles substantially, adding monster wheels, jet engines and high-powered electric motors to propel their C5s at speeds of up to 150 miles per hour. This very original looking pair were to be seen in action around the event, and they were generating lots of interest from people who remembered this ill-fated innovation of 30 years ago.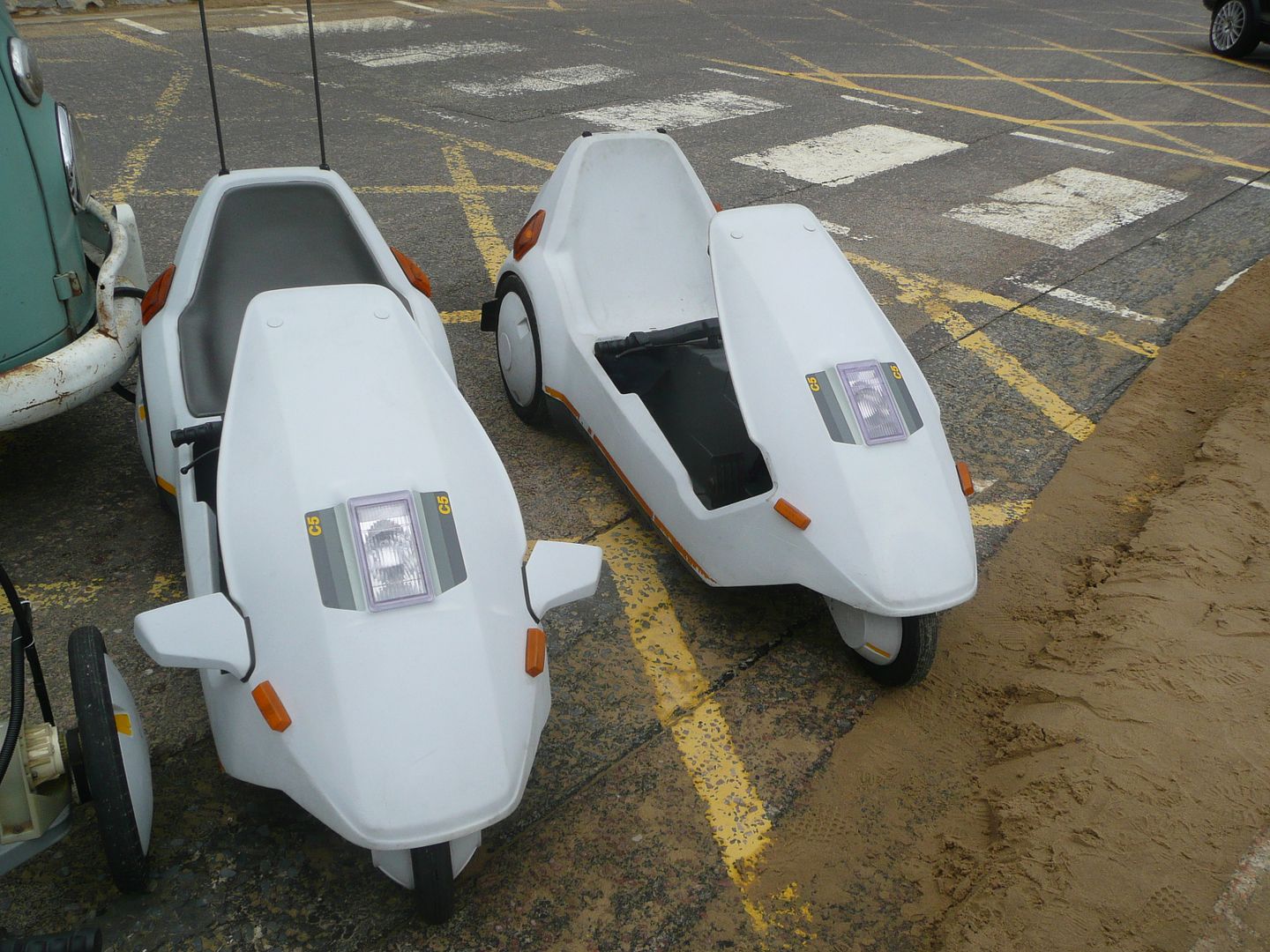 Perhaps customers would have been better off with these? The legendary Raleigh "Chopper", and smaller "Chipper", were what every small boy wanted in the 1970s. They too are worth a lot more now than they ever fetched when new.
TRACTION ENGINE
Generating lots of interest was this Peerless Traction Engine, dating from 1895, which was in steam on the Saturday. These massive beasts were real workhorses in their day, doing the work that would now be undertaken by a wide range of machinery ranging from tractors to other farm machinery and even lorries, as these lumbering giants would often be used to tow heavy machinery as well as to operate it.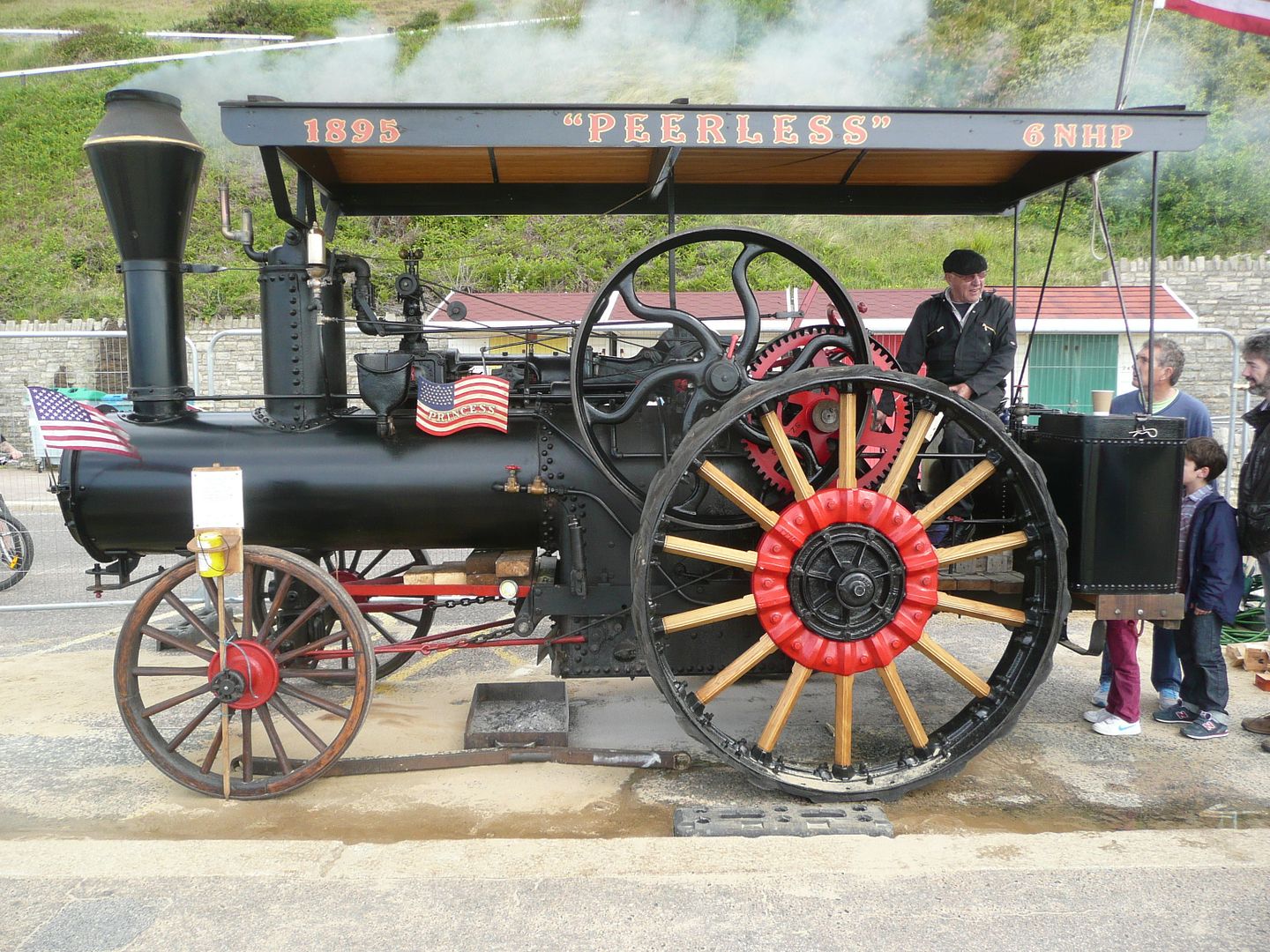 TRIUMPH
Early on the Saturday I came across a couple of Triumph models parked up to the east of the Abarth display area, but then later on I found a whole lot more which were parked up to the west. Between the two collections they might for quite a representative sample of the cars that this long defunct but still much loved marque offered between the late 1950s and its sad demise in the early 1980s.  Not surprisingly, there were several TR models in the display, including  the TR4, several examples of the TR6 and the TR7
There were also a couple of the larger Stag, an elegant grand tourer which promised more than it was able to deliver when new.
Triumph's smaller sports cars were represented by a Spitfire Mark 3 and a couple of examples of the closed Coupe 6 cylinder version, the GT6 Mark 3
The Herald was a small car that was offered not just as a Saloon, but also an Estate, a Convertible and for a short time, a Coupe. These last are rare, as they were only produced until the end of 1964, and it is estimated that only just over 200 survive worldwide.
The Vitesse was first launched in 1962. Offered in Saloon and Convertible guises, it combined the Herald bodystyle with a smooth 6 cylinder engine, something of a novelty in the market at the time, especially as it was only 1600cc in capacity. Given the relatively crude swing axle suspension of the early cars, with the resultant "interesting" handling characteristics. This was later fixed, and more power came from a 2 litre engine.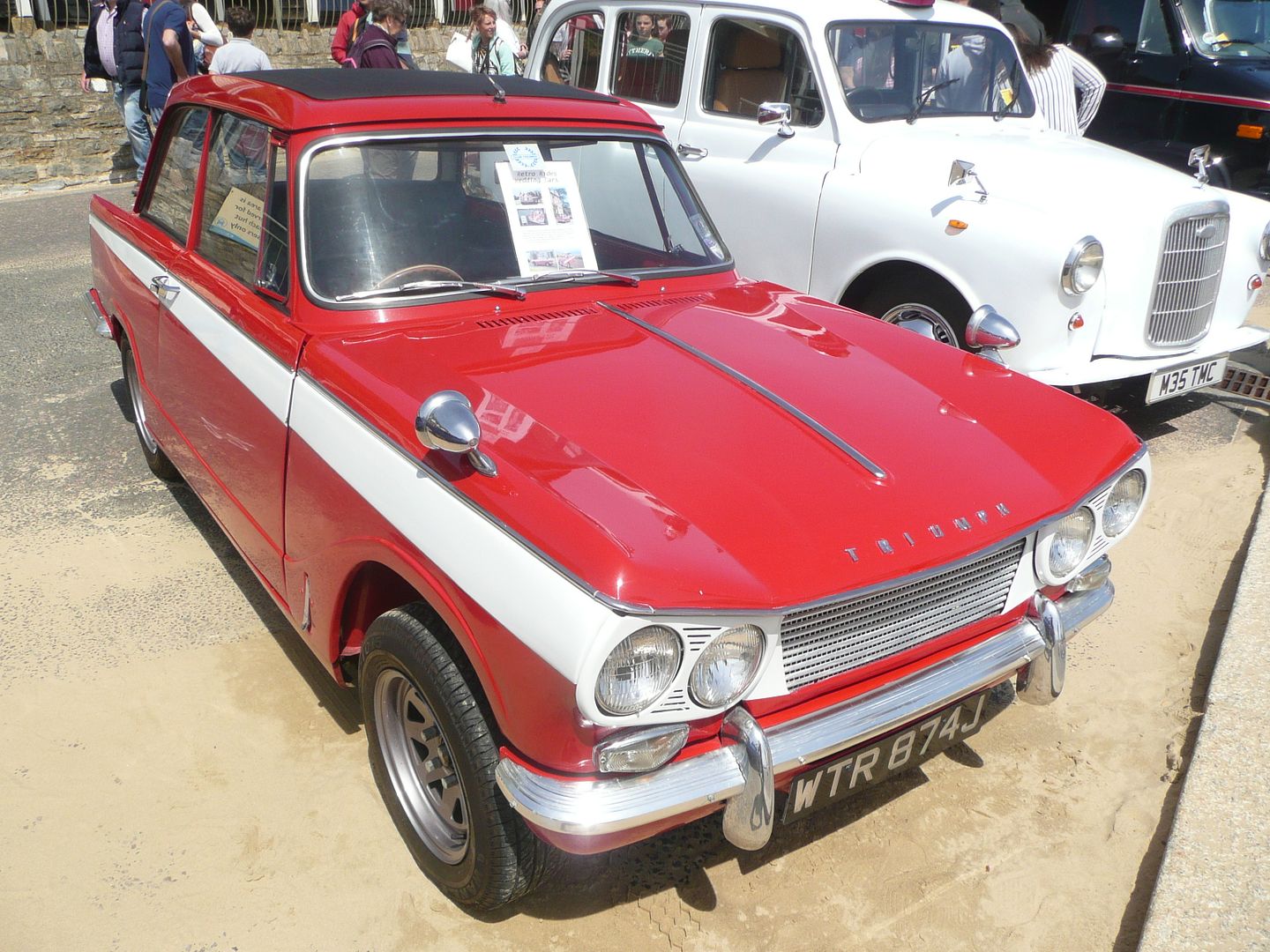 Triumph replaced both their advanced, but costly to build, front wheel drive 1300 and the elderly Herald with a single car that was premiered at the 1970 Earls Court Motor Show, the Toledo. Looking like an updated 1300, this one had rear wheel drive, which was less costly (how times change!), but retained many of the niceties of trim which made it a cut above the Escorts and Vivas of the day. few of them have survived, unlike the longer Dolomite into which the design morphed in 1976.
TVR
A number of the popular Blackpool-built British sports cars were here. Oldest example was a Taimar, the derivative of the M Series car whose entire rear window opened to give easier access to the boot. It was joined by the more recent and more familiar Chimaera, Griffith and Tuscan cars.
VOLKSWAGEN
This was a nicely presented example of a VW 1200 "Beetle" as well as a rather neat Mark 1 Golf GTi
SUPERCARS
One of the highlights of this event is the assembly of supercars which can be seen and enjoyed in two ways. For most of the event they are to be found parked up in the International Conference Centre, parked around the perimeter of a large hall so that everyone can easily see and photograph them. Periodically the owners get in them and take them out to show them off in action on the East Overcliff road that has been closed for the duration of the event. and a spectacular and noisy sight they made, as they came down this long straight, weaving between the straw bales that constituted a couple of mobile chicanes. There was quite a variety of cars included in the collection.
Aston Martin V12 Vantage S
Bentley Continental GTC
BMW i8
Many might mistake this for the Gordan Murray designed Rocket, sold by the Light Car Company in the early 1990s, but that's not what it is, In fact is is a Brooke. Established in 2002, Brooke Cars is a Devon based manufacturer who currently produce one model, the Double R, a lightweight two-seater open sports car weighing around 510 kg (1,120 lb). It is powered by a 2.3-litre Cosworth engine with a range of outputs from 200 bhp to 400 bhp The Double R is similar to the previous 1990s Brooke Kensington ME 190.
I had first seen this Dodge Viper GTS earlier in the day, as it came tearing past me on the Warminster bypass. It did not really occur to me that it could be headed to this event, but here is the evidence that there were others who travelled a fair distance to be able to take part.
Ferrari F40
Ferrari F50
Ferrari 348 ts
Ferrari 360 Modena F1
Ferrari 360 Challenge Stradale
Ferrari F430 F1 Spider
Ferrari 458 Italia
Ferrari 550 Maranello
Ford GT40
Jaguar E Type
The regular Jaguar XJ220 is both rare and special enough, but for those who wanted something that bit more exclusive, Jaguar made a more potent version, the XJ220S. Just six were made. Think of it as a sort of XJ220 GT3 RS. Built to homologate the XJ220C GT racecar, it's Jaguar's supercar with extra power and added lightness. Tom Walkinshaw Racing who played a big part in XJ220 development, helped bring the S to life, stripping its weight by almost 400kg to 1080kg (thanks to all the aluminium bodywork being replaced by carbonfibre) and making it look meaner with a new front splitter, rear wing and more snarling side sills. The twin-turbo 3.5-litre V6 engine also had its output boosted from 542 to 680bhp. Enough to take its power-to-weight ratio way past a Bugatti Veyron's. It is also somewhat louder than the standard car.
Possibly the loudest car at the event apart from the Formula 1 cars, was this recreation Lamborghini Jota. Based on the legendary Lamborghini Miura, the Iota is the result of what happens when Chief Test driver Bob Wallace 'modifies' one of these exotic super cars into a race car. Back in 1970, Wallace wanted to build a pure bred racing machine based on the magnificent Miura. Hence the name as the syllable 'J' is pronounced Yota in Italian, and coincidence or not … appendix J was part of the International Auto Racing rulebook of that era. But we all know the late Ferruccio didn't have much intention to race any of his cars, so while he did allow Bob to use the factory tools, a genuine chassis from the line (number 5084 to be exact) and even use one of the brand new engines (number 30744 in fact) as a basis for his 'toy' … but Bob did have a daytime job at the factory, so the Miura Jota had to developed during evenings and weekends. From a distance the Jota still looked like a Miura, but up close a lot was different, just about the entire car was developed from the ground up … most of the bodywork was now made from Avional, a very light, composite alloy usually only found in the aircraft industry, but Bob also removed the floor of the steel chassis and replaced it with this much lighter alloy. Back to the outside, the Miura Jota looked like a race car on the outside using fixed headlights covered by plastic covers that could be quickly replaced during a race if needed. Up front a large chin spoiler was mounted to counteract any lift due to the high speeds this Bull could reach. All over the new bodywork air intakes and outlets were cut into the alloy, allowing cool air to enter and hot air to leave the car as smoothly as possible, in the hood two large, open outlets were present, just behind them a quick fuel filler … it was to be a race car after all right. Behind the front wheels two massive vents were cut and both side windows had been replaced by plastic units with small sliding parts to allow a draft of air into the cockpit … which didn't have any air conditioning naturally, that's only extra weight … which means less performance. The usual twin windscreen wipers were removed and a single, parallelogram-action race wiper was mounted, on the roof two additional air intakes rammed air into the engine compartment while the louvres from the original Miura remain on the engine cover, however two more air outlets were cut in the rear panel and the entire lower grille was removed … instead a quartet of thundering exhaust pipes were visible now. Campagnolo supplied some of the widest, magnesium wheels on the market in the Seventies, a massive 12″ wide at the back and 9″ up front, 15″tall rolling initially on Dunlop racing slicks which were replaced by Pirelli later on. Years later Bob Wallace would mention he based the design of the Jota wheels on those found on a Bizzarrini, but let's say this is part of the legend. Because of these ultra wide wheels the entire suspension also had to be redesigned, something Bob Wallace intended from the start naturally, he also created a near perfect weight distribution by putting a large spare wheel right at the back of the chassis and moving the single fuel tank into the side sills, 60 litre each … something that would be the downfall of the Jota later on unfortunately. With all that weight saving and redesign it would be wrong to leave the interior alone, so Bob Wallace completely stripped away everything he could get rid of, the dashboard was replaced with a lightweight plate holding only the strictly necessary dials and switches, the central console was never to be seen again and the roof mounted switches were placed on the dashboard itself now. The seats were replaced with padded foam 'bags' hanging from the structure between the cockpit and the engine … perhaps not too comfortable, but it sure saved a lot of weight in the end. As for the engine, no doubt another masterpiece by Bob Wallace, he boosted the compression ratio, installed modified cams and a completely electronic ignition system … add a dry sump lubrication to avoid having the engine oil all on one side during hard cornering and a somewhat louder exhaust with four megaphones and a nice 440 horsepower rating is the result. Note Bob actually used Islero sourced oil radiators for this Jota and a gearbox with closer ratios. The pedals in the Jota hung from above, on the regular Miura the pedals actually stand up, another major modification only seen on the Jota. Ferruccio still didn't want to have one of his cars on the track, but he did allow to have the Miura Jota rigorously field tested, so it covered over 20,000 Kms on Pirelli test tracks with a proud Bob behind the wheel. These test runs led to the development of the H60 VR15 tyre that would be mounted on the 'street' Miura, so the Jota was used as a test bed for new suspension development and tire testing under heavy strain, but economic troubles would decide the Jota's faith. On February 8. 1972 the Jota was sold to InterAuto in Brescia for an undisclosed amount of money,This was more a race car than a road car to be honest, and it showed. A mechanic would become a little over enthusiast while showboating the car to his girlfriend. He hit the side of a bridge, ripping the side mounted fuel tanks causing the Jota to catch fire and burn down completely. The fire was so intense most of the bodywork was destroyed, but also the chassis was warped beyond repair. The Lamborghini Miura Jota was no more, but at least it did get some attention in the automotive press which led to several inquiries by Miura owners who wanted to have their own, standard Miura turned into a Jota edition. The factory never accepted building a second Jota,. However several regular Miura were rebuilt to a certain level of Jota specifications. Some sources call these the Miura SVJ model. Most of these factory replicas only had some bodywork modifications that included the extra intakes and outlets, most of them also got the fuel filler seen on the Jota, only three did get a dry sump lubrication … none of them came even remotely close to the original Jota. If we can rely on documentation of that time we can state the factory built these SVJ replicas on the following chassis numbers : 4860, 4990, 3781, 5100 and 5090, while the real Jota was built on chassis number 5084, with engine number 30744. As stated only the first three of these replicas had a dry-sump lubrication. 4860 was built for Hubert Hahne in Dusseldorf, Germany,  4990 was sold to Alberto Silvera in Port au Prince, Haiti, while a third one went to France. But thn, as there are still dedicated people out there, who have the means to realise their dreams, no matter what the cost, so along came Piet Pulford, a long time Lamborghini owner from the United Kingdom who invested 15 years and a massive amount of money to recreate the Lamborghini Miura Jota … and he succeeded !Piet started with a beaten, old Miura sourced in the United States, but that didn't matter as not much of the original car would remain in the end. The extensive bodywork and chassis modifications were entrusted to Chris Lawrence (Wymondham Engineering) in Norfolk. Note that the entire front and rear section were only held onto the Jota by locating pins and Dzus fasteners to allow easy and quick removal. Final assembly over the modified chassis wasn't as easy as it might sound, once the engine, which was built by none other than Bob Wallace himself in Arizona to be as exact a replica of the original Jota engine and transmission as possible, oil tanks and auxiliaries required to run this car were fitted the massive lightweight sections were to be fitted very patiently. Don't forget there is a large, quick fuel filler up front, peaking up into the front bonnet while at the rear we have four massive exhausts sticking out. But Roger Constable (The Car Works), also from Norfolk, pulled it together perfectly . Even Bob Wallace didn't think it would be possible to recreate the Jota, but even he commented the workmanship on this second rendition of the Miura Jota could very well be better than his own back in the Seventies. The Miura Jota used four massive exhaust pipes that looked very nice and purposeful on the car. For track use, unfortunately, the recreation of these were so good that they were just too loud to be used on the road, so Mr Pulford had four restrictors made for his Jota, which would just slide over the pipes and bring the sound level down enough to avoid being pulled over by the police every few miles.
Lamborghini Murcielago and SV
Lamborghini Aventador
Lotus Esprit Turbo
Lotus Exige V6
Maserati Granturismo S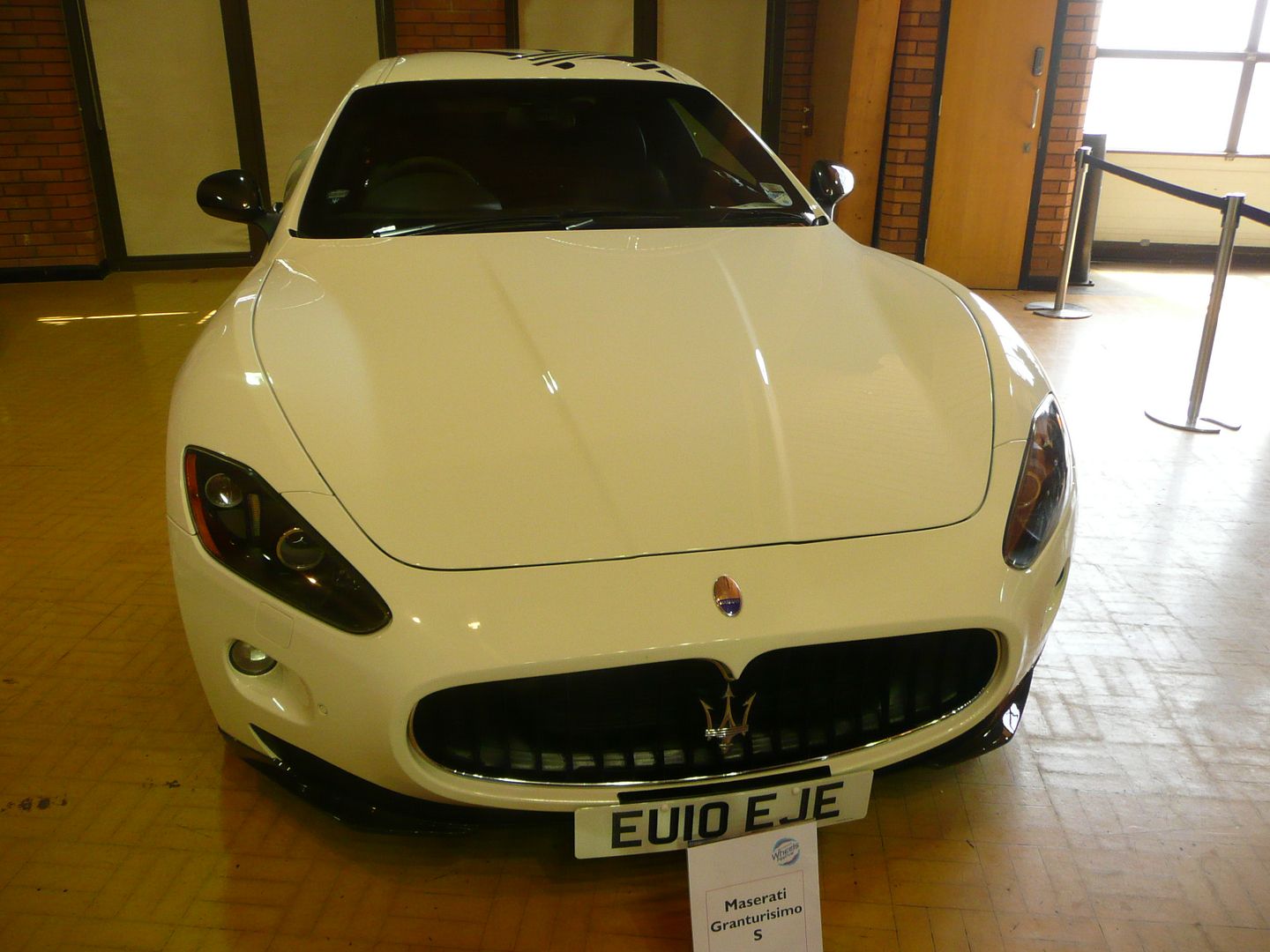 McLaren MP4 12C Spider
McLaren P1
Mercedes SLS Black Series
Mercedes-AMG GT-S
Mercedes C Class DTM Car
2013 Mercedes WO4 F1 car
Noble M12 3GTO
Packard V12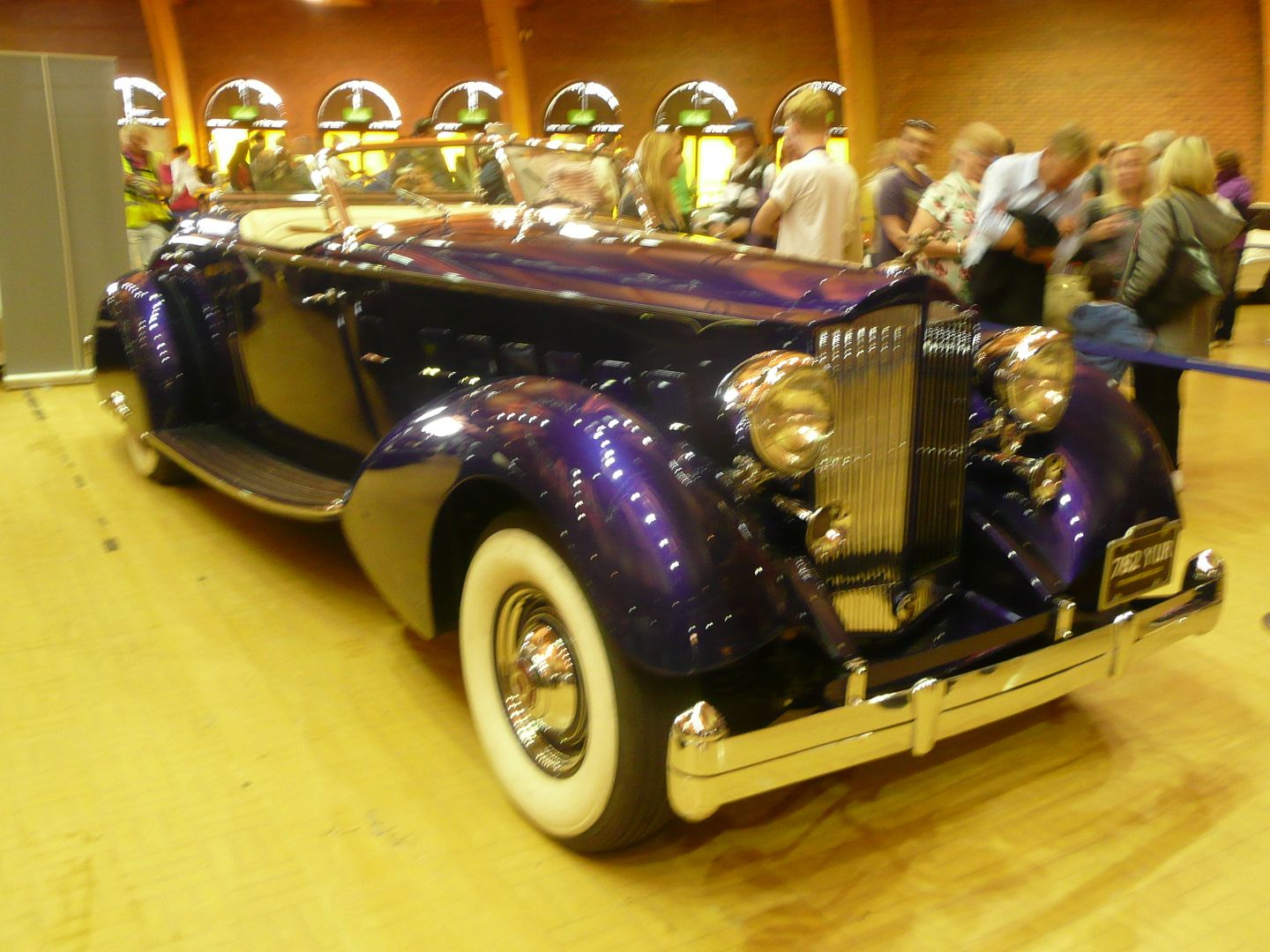 Porsche 911 GT3
Ultima GTR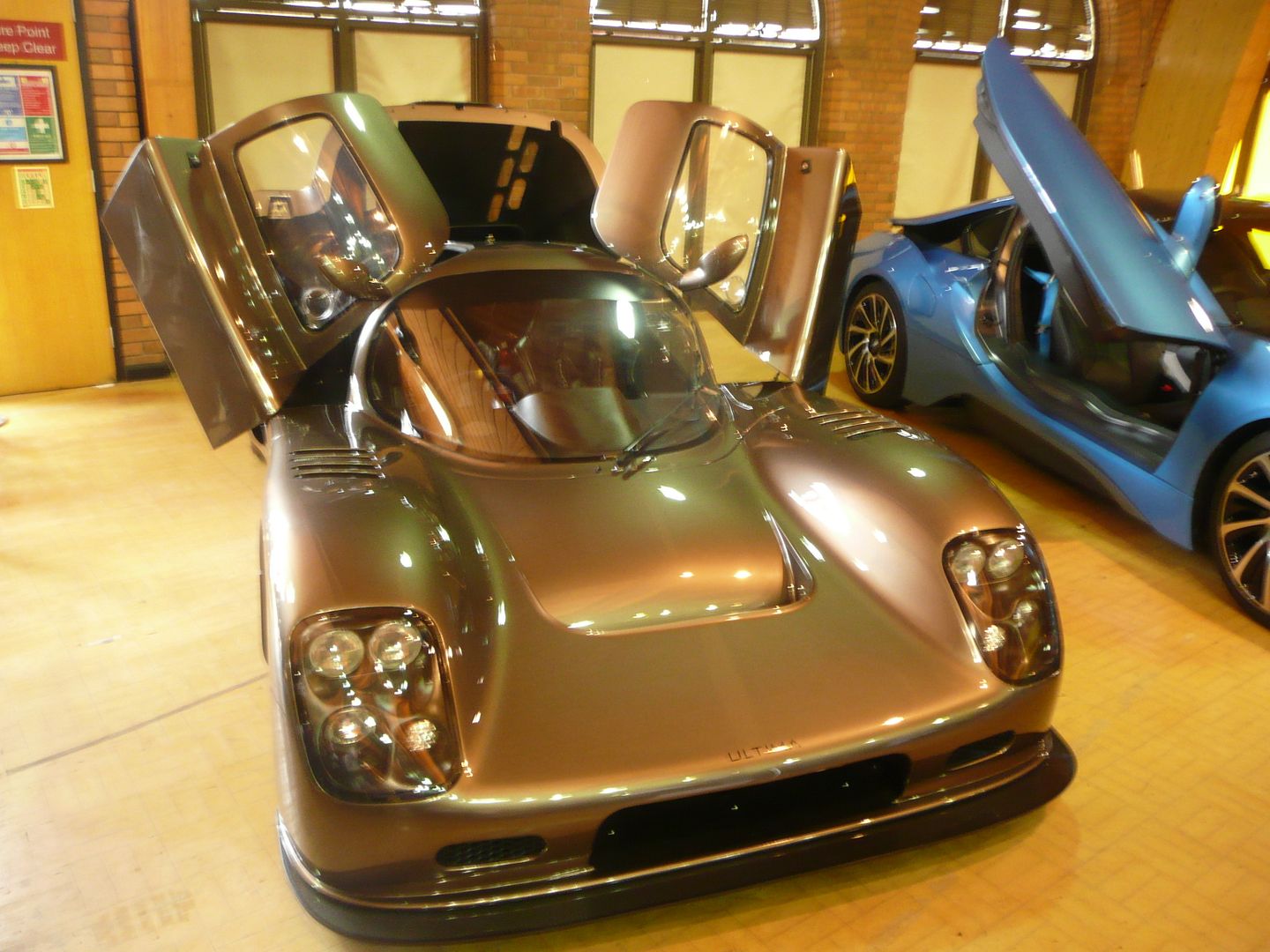 LE MANS CARS
A small and very varied class of cars which had competed in the famous 24 hour race were the next grouping of cars to be seen in action back and forth on the East Overcliff drive. Earliest of the group was a 1929 "Blower" Bentley
Works "D" Type Jaguar
Ferrari Daytona
Ford GT40
Dodge Viper GT-S
Nissan GT-R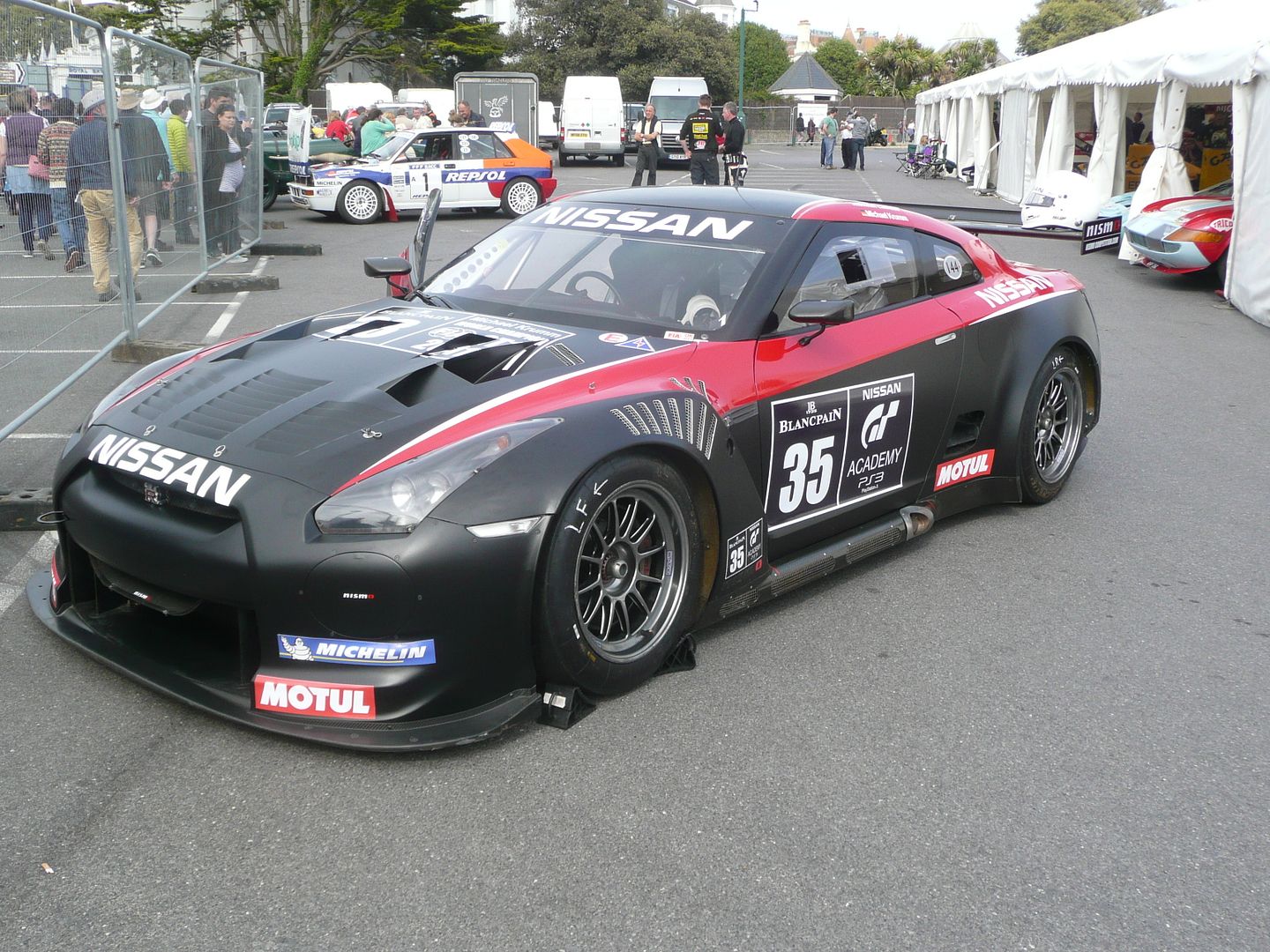 RALLY CARS
Like all the cars that were in action on the demo drives, when not out on the road, this class of former rally cars were to be found in a paddock area which., sadly, was closed off to public access, so you could only really see the cars that were parked round the perimeter or when they did emerge for a blast up and down the street. The only two cars from this class which were captured by my camera were this duo of Lancia Delta Integrale and Subaru Impreza P1
F1 CARS
The same applies for the Formula 1 cars which were assembled. There were 5 of them in total, I watched them as they came tearing down the straight, but struggled to get photos, as they were really rather rapid. So, with apologies for the less than stellar (or complete!) images, enjoy these former racers:
The Arrows Grand Prix International team was founded in 1977, by Italian financier Franco Ambrosio, Alan Rees, Jackie Oliver, Dave Wass and Tony Southgate (from whose surnames' initials the team took its name) when Rees, Oliver, Wass and Southgate left the Shadow team. The team was started in Milton Keynes, England and produced their first Formula One car in just 53 days. Arrows signed up Riccardo Patrese who scored points in the US West Grand Prix at Long Beach in the car's third race. Ambrosio left the team after having been jailed for financial irregularities in Italy. Shadow sued for copyright infringement, claiming that the Arrows FA1 was just a copy of the Shadow DN9. The team decided to build a new car called the A1. This was completed in 52 days and appeared the day after the High Court in London banned the team from racing the FA1. For the team's first season in Formula One, the team had signed Swede Gunnar Nilsson to be their first driver. However, he would never get to drive the car, since he contracted a fatal case of testicular cancer and died later that year. In September 1978, in the Italian Grand Prix at Monza, Patrese was involved in an accident which eventually claimed the life of Ronnie Peterson. Patrese was wrongly accused of causing the accident and then subsequently banned from racing at the following event (the United States Grand Prix) by his fellow drivers. In 1981, Patrese scored the team's only Formula One pole position in Long Beach, which he led until retiring with mechanical problems on lap 33 of 80. Arrows finished joint eighth in the Constructors Championship that year. In 1984 with BMW M12 turbo engines and sponsorship from cigarette company Barclay things got much better. That year they were ninth in the Constructors Championship and eighth in 1985. At the 1985 San Marino Grand Prix, Thierry Boutsen finished third behind Alain Prost and Elio de Angelis. However, after the race, Prost was disqualified because their cars were 2 kg underweight, giving Boutsen the second place. In 1987, BMW pulled out of Formula One and the engines were badged Megatron through a deal with Arrows major sponsor USF&G, but the British team had their best seasons yet, finishing sixth in 1987 and fifth in 1988 (the final year for turbocharged engines) thanks to frequent points finishes by drivers Eddie Cheever and Derek Warwick. While 1987 and 1988 were Arrows' best years in F1, they were also the cause of frustration for the team and its drivers Warwick and Cheever. At the start of 1987 the FIA mandated that all turbo powered cars were to use a pop-off valve in order to restrict turbo boost. This was done not only to slow the cars down for safety reasons, but it was an effort to curb the rapidly rising costs of Formula One. The problem for Arrows was that the valve would regularly cut in lower than the set limit (4.0 bar in 1987, 2.5 bar in 1988). This meant that the Megatron engines were not producing their full power. It took the team's chief mechanic Heini Mader until just before the 1988 Italian Grand Prix at Monza (Round 12) to find the solution which was simply moving the valve closer to the engine, something Honda and Ferrari engineers had long before discovered. Although Cheever and Warwick finished the race in 3rd and 4th respectively, it was too little too late as the turbo era ended after the 1988 season. Warwick and Cheever stayed with the team for 1989 and drove the Ross Brawn designed Arrows A11 which was powered by the Ford DFR V8 engine. The team's best finish came at the United States Grand Prix in Cheever's home town of Phoenix. There the American scored his final podium finish by finishing 3rd. Ultimately though Cheever struggled in the A11 (which had to be specially modified early in the season so the tall American could fit in the car) and he actually failed to qualify at the British and Italian Grands Prix. Warwick's perennial bad luck also continued. A long pit stop during the opening race in Brazil cost him what many believed would have been his first win, while at Round 6 in the wet Canadian Grand Prix, Warwick briefly led and was in second when his Ford V8 blew. He had been regularly faster than those behind him, including eventual winner Thierry Boutsen who drove a Williams-Renault, and could have won when race leader Ayrton Senna blew the Honda engine in his McLaren with only two laps remaining. After finishing 5th in 1988, Arrows dropped to 7th in 1989. Japanese businessman Wataru Ohashi invested in Arrows in 1990 and the cars started displaying the Footwork logo prominently. The team was officially renamed Footwork in 1991, and secured a deal to race with Porsche engines, but the car was woefully uncompetitive and in 1992 they switched to Mugen. Arrows retained the Footwork name until Ito pulled out before the 1996 season, whereupon the name of the team was changed back to Arrows. In March 1996, Tom Walkinshaw bought the team, and in September Walkinshaw signed up World Champion Damon Hill and hired wealthy Brazilian Pedro Diniz to help pay for Hill's salary. The team nearly secured a maiden victory at the 1997 Hungarian Grand Prix where Hill started in third position and passed Michael Schumacher to take first place. A component failure in the final laps of the race saw him finish second. In the following years Walkinshaw would buy the rest of Oliver's shares. Brian Hart, who had been the engine supplier since 1995, was employed by the team, designing the Yamaha-badged engines, and later the Arrows-badged engine, in 1998. For 2002, Walkinshaw made a deal to use Cosworth V10 engines and retained Bernoldi (with support from Red Bull) but dropped Verstappen in favour of Heinz-Harald Frentzen who became available when Prost Grand Prix closed down. This caused Verstappen to successfully sue for breach of contract. That year also saw a costly payout to Pedro Diniz after unsuccessfully suing the Brazilian, who had taken his funding to Sauber for 1999. The team faced a third litigation from Frentzen, who was on contract by a race-by-race basis and who had not yet been paid. Arrows ran out of money in the midseason and did not appear at all the races at the end of the year, their drivers deliberately failing to qualify for the French Grand Prix. Negotiations were undertaken throughout the season with potential investors to buy into the team or buy it outright, such as Craig Pollock (who twice made an offer for the team) and Dietrich Mateschitz.The team went into liquidation at the end of the season, also forcing TWR to close.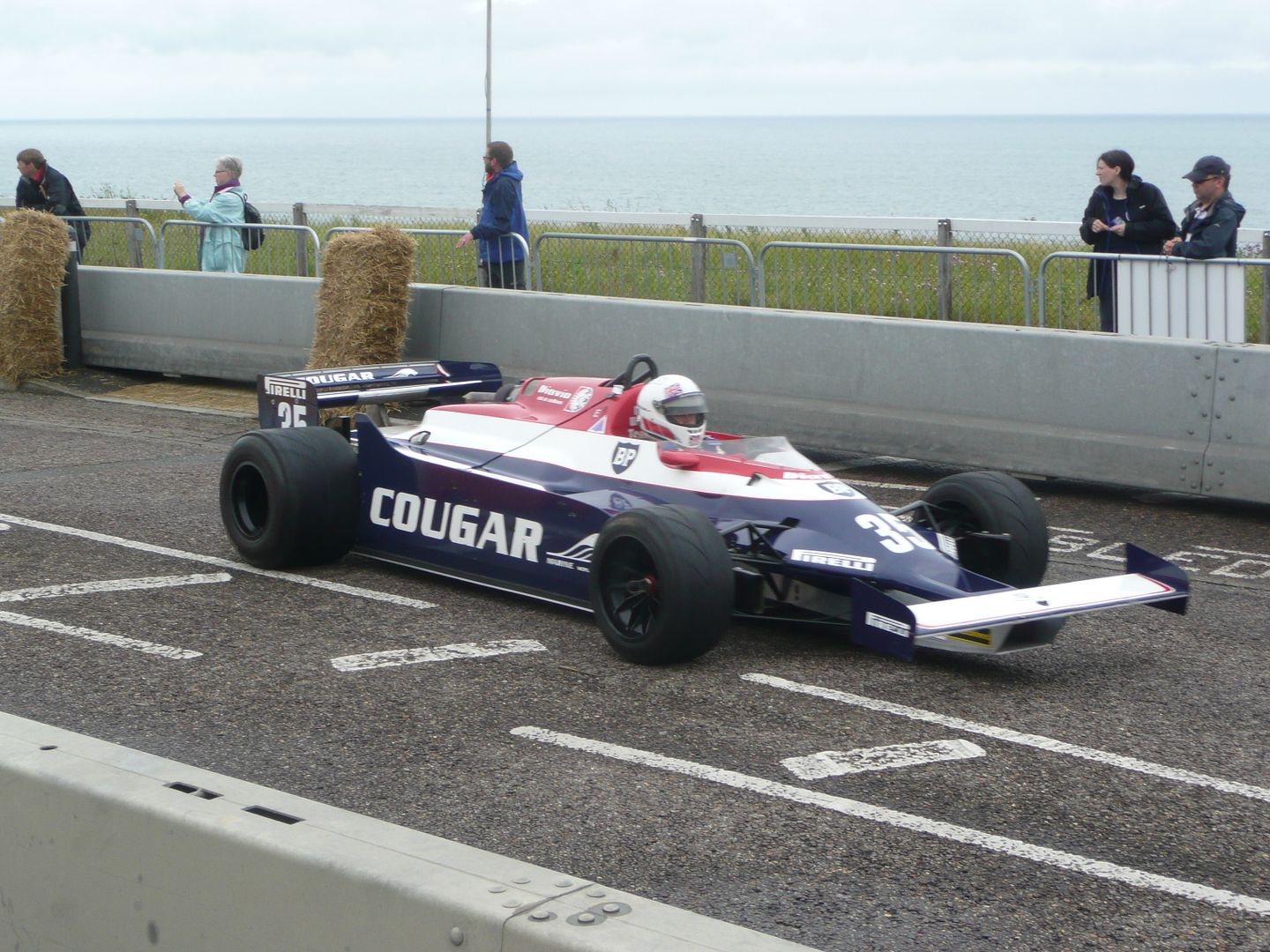 Second car which I did manage to photograph was a Toleman., A long since forgotten marque, no doubt for most people, there is. – as is often the case – an interesting story behind this marque. The Toleman company was formed in 1926 by Edward Toleman for the purpose of delivering from a factory in Old Trafford, Manchester. Within two years, the company moved to Dagenham, London along with the Ford factory before settling in Brentwood. In the 1950s, Edward's son Albert took over the reign of the company. In 1966, Edward died leaving his elder son Ted as the chairman with the younger son Bob becoming joint managing director In the 1970s, Ted and Alex began their involvement in various car racing formulae in the UK. Ted was also noted for his involvement in off-shore powerboat racing.In 1977, Toleman Motorsport entered an eponymous team in British Formula Ford 2000. By 1978, they were running a March chassis for Rad Dougall in British Formula Two. During that year, Toleman MD Alex Hawkridge hired former Royale designer Rory Byrne but continued to use customer chassis in 1979, purchasing a pair of Ralts (RT2s) and engines from Brian Hart. Rad Dougall was joined by Brian Henton in the expanded team. Henton finished 2nd in that year's championship standings.The following year the team built their own chassis designed by Rory Byrne and John Gentry based on the Ralt. Powered again by Hart engines, running on Pirelli tyres, supported by BP and driven by Henton and Derek Warwick, the team finished 1st and 2nd in the European Formula 2 Championship. Toleman's entry to Formula One was announced in November 1980. Discussions took place with Lancia over the supply of a turbocharged engine, but the team decided to use a turbocharged version of the Hart F2 engine. By that time, Formula One was beginning to be dominated by turbo-powered cars, leaving the naturally aspirated engines lagging behind. The Rory Byrne-designed Toleman TG181 was an overweight and underpowered car. Brian Henton and Derek Warwick failed to qualify until Henton made the cut for the Italian Grand Prix at Monza in September. Warwick also qualified only once; at the season-closing Caesars Palace Grand Prix in Las Vegas. In 1982, upgraded TG181Cs were used by Warwick and newcomer Teo Fabi until the carbon-composite Toleman TG183 was ready in late August. The TG183 was used in only two Grands Prix (Italy and Las Vegas) but Warwick did record the first of Toleman's fastest laps in the Dutch GP in a TG181C running on low fuel and soft tyres. In 1983, the TG183B showed improved form thanks to a major update. Derek Warwick was retained, while Teo Fabi was replaced by Bruno Giacomelli. The budget increased as Toleman's current sponsor – Italian white goods manufacturer Candy – was joined by Iveco brand Magirus and BP. Warwick achieved Toleman's first points finish in the Dutch Grand Prix and scored again in the remaining three Grands Prix. These results placed Toleman 9th in the constructors' championship standing. The driver line-up changed completely in 1984. Warwick's performances were rewarded when he signed a contract with the factory Renault team, and his place was taken by the reigning British Formula 3 Champion and Formula One rookie (and future triple World Champion) Ayrton Senna, while Giacomelli's drive was taken by Venezuelan F2 driver and former dual Grand Prix Motorcycle World Champion Johnny Cecotto. Senna's first ever Formula One Grand Prix was the 1984 Brazilian Grand Prix held at the Jacarepaguá Circuit in Rio de Janeiro on 25 March. Driving the 1983 car due to the TG184 not being ready, Senna qualified in 17th position (Cecotto qualified 18th). However, Senna and Toleman had the dubious honour of being the first retirement of the 1984 season when he was forced to pull out after only 8 laps with turbo failure. Cecotto also retired with turbo failure just 10 laps later. Senna quickly made an impression in Formula One and achieved Toleman's greatest result. In a rain-soaked Monaco GP, he finished in a close 2nd place behind Alain Prost, whose McLaren MP4/2 was suffering from a brake balance problem that Prost reported was getting worse with each lap. In the wet conditions the McLaren's front brakes were not generating heat and as a result were locking up with increasing regularity over the last few laps, forcing the Frenchman, who had re-taken the lead on lap 15 following Nigel Mansell's crash, to drive slower and slower. The torrential conditions forced the clerk of the course (Jacky Ickx) to stop the race after 31 of the scheduled 78 laps. It was a controversial decision as Ickx had not consulted the race stewards before holding out the red flag, and one that stirred up a conspiracy theory. As we know now, there would plenty more controversy between Prost and Senna as the two became ever more bitter rivals over the coming years. Later that year, it emerged that Senna had signed a contract to drive for Lotus even though he had a further 2 years left on his Toleman contract. It was the end of that chapter for the team.  In May 1985, Toleman acquired major sponsorship from the Benetton clothing company, which had previously sponsored Tyrrell and Alfa Romeo. During the 1985/86 off-season, the knitwear firm purchased the team and it was renamed Benetton Formula prior to the 1986 season. The team, through numerous sales, and after having spent 10 seasons as Renault's factory team is now the Lotus F1 team. Toleman continued to be involved in motor racing, increasingly with management rather than as competitors. As of 2010 this includes management of the Australian Mini Challenge one make series by Toleman Motorsport.
This is the only example of the Lotus 101 that is still available for active use, the car which was Team Lotus' entry for the 1989 season. Gérard Ducarouge's departure during 1988 had necessitated the former Williams aerodynamicist Frank Dernie to be appointed as Technical Director in November 1988. Despite his appointment the majority of the work for the 101 had been conducted by chief designer Mike Coughlan. The 101 was to be a rushed design built within weeks and to a series of constraints. Ducarouge's departure had coincided with end of the 1,500 cc turbocharged era. Lotus, along with other competitors, now had to incorporate 3,500 cc normally aspirated engines into their cars. Judd were therefore enlisted to supply their CV 32 valve V8 engine, but as Lotus were only a "customer" (Judd's principal contact was the supply of their latest EV V8 engine to the March team) solutions were sought to make up the power deficiency by appointing Tickford to research and develop a five-valve-per-cylinder head. The use of the Judd engine did permit Dernie and Coughlan to design a smaller and lighter car than before; indeed the narrowness of the cockpit required Momo to build a special steering wheel to allow the drivers to fit their hands between the wheel and bodywork of the car. The initial optimism and favourable reception by management and driver alike shortly evaporated, as the 101 proved to be a disaster. Not only were the customer Judd engines rated at around 610 bhp, about 80 bhp less than the dominant Honda V10 engine used by McLaren, but it was apparent that the Goodyear tyres that the team were using had been designed principally for use by the McLaren and Ferrari teams, who were able to test and tune their chassis to work better with the compounds. The 101 failed to collect significant results as the season progressed, culminating in the events following the British Grand Prix where Nelson Piquet had driven to a fighting fourth placed finish. The Chapman family, who were still the shareholders in Team Lotus International, persuaded Peter Warr and Chairman Fred Bushell (who was about to face charges arising from the De Lorean affair) to leave. Tony Rudd, who was at the time working for Group Lotus, was appointed executive chairman. Also the Tickford head was abandoned. The renewed optimism briefly helped to improve results; however, at Spa both Lotuses failed to qualify for a Grand Prix for the first time since 1958. The season ended with two fourth place finishes for Nelson Piquet and Satoru Nakajima in Japan and Australia respectively. Given the dreadful start to the season (Lotus only scored points in one of the first seven races), the total points tally of 15 points was almost a positive Lotus could take out of the 1989 season. Indeed it would prove to be the highest number of points Lotus were to score in a season during the normally aspirated engine era until the team´s collapse at the end of the 1994 season.
TOURING CARS
There were a quartet of cars branded "Touring Cars". Strictly speaking this class was only coined in the 1960s, so 2 of the 4 did not really qualify. One that did, but which eluded my camera was an E30 model M3, as driven to such effect in the late 1980s, when the BMWs battled it out with the Sierra Cosworth. The only one of the 4 which I managed to photograph was this Standard Ten, a rather unlikely race car by anyone's definition, as this was a slightly upgraded version of the low cost economy Standard Eight model of 1954. This one was certainly being driven with some gusto down the Overcliff Drive, though.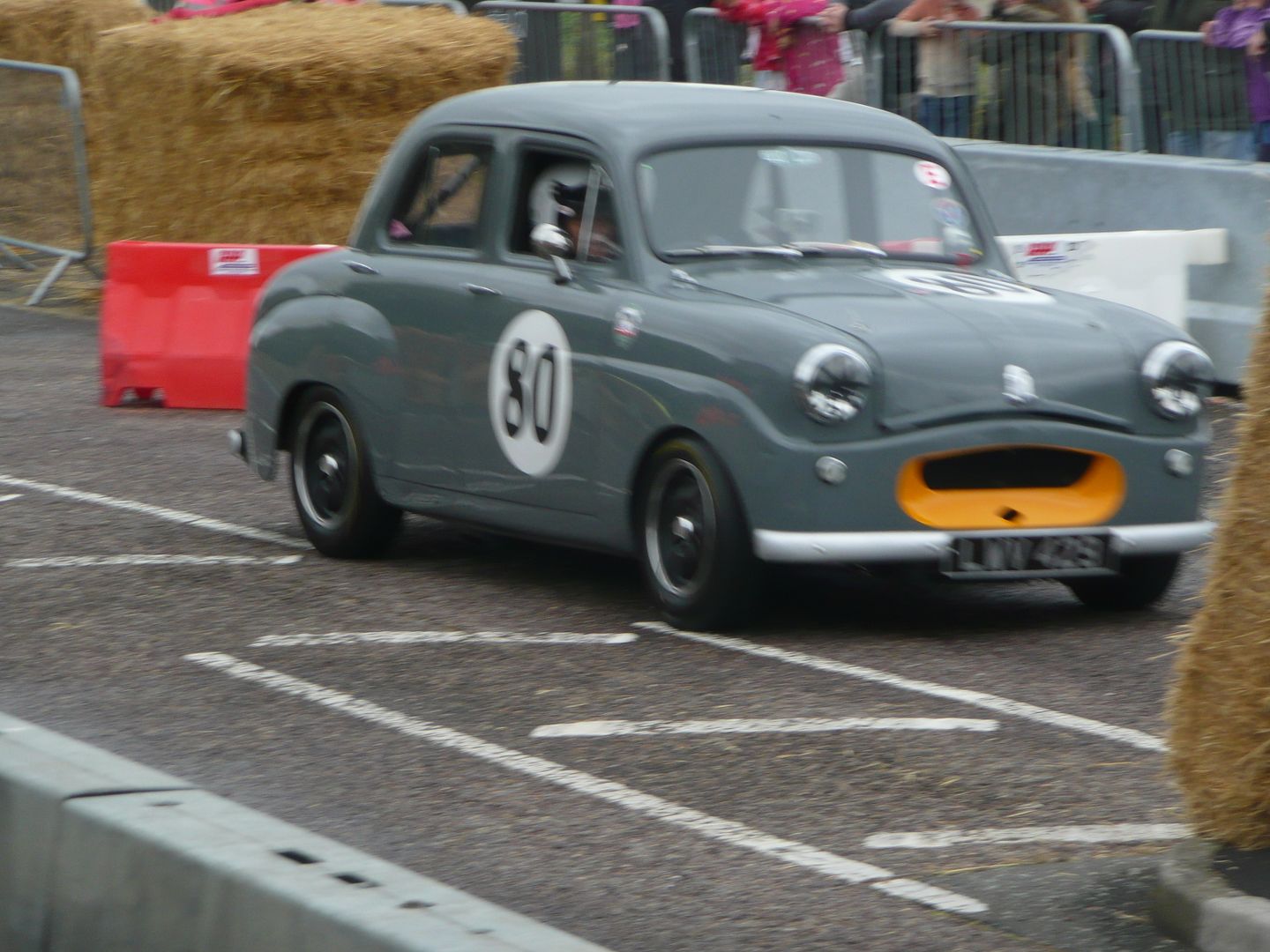 VETERAN CARS
One of the busiest parts of the whole event was the area allocated to an interesting assembly of pre-war cars. Getting a good look at most of them was hard enough, and getting photos that were not also filled with people was enough to try the patience of the proverbial, even quite early in the day. Here's what I managed.
Austin Ten
1932 Hudson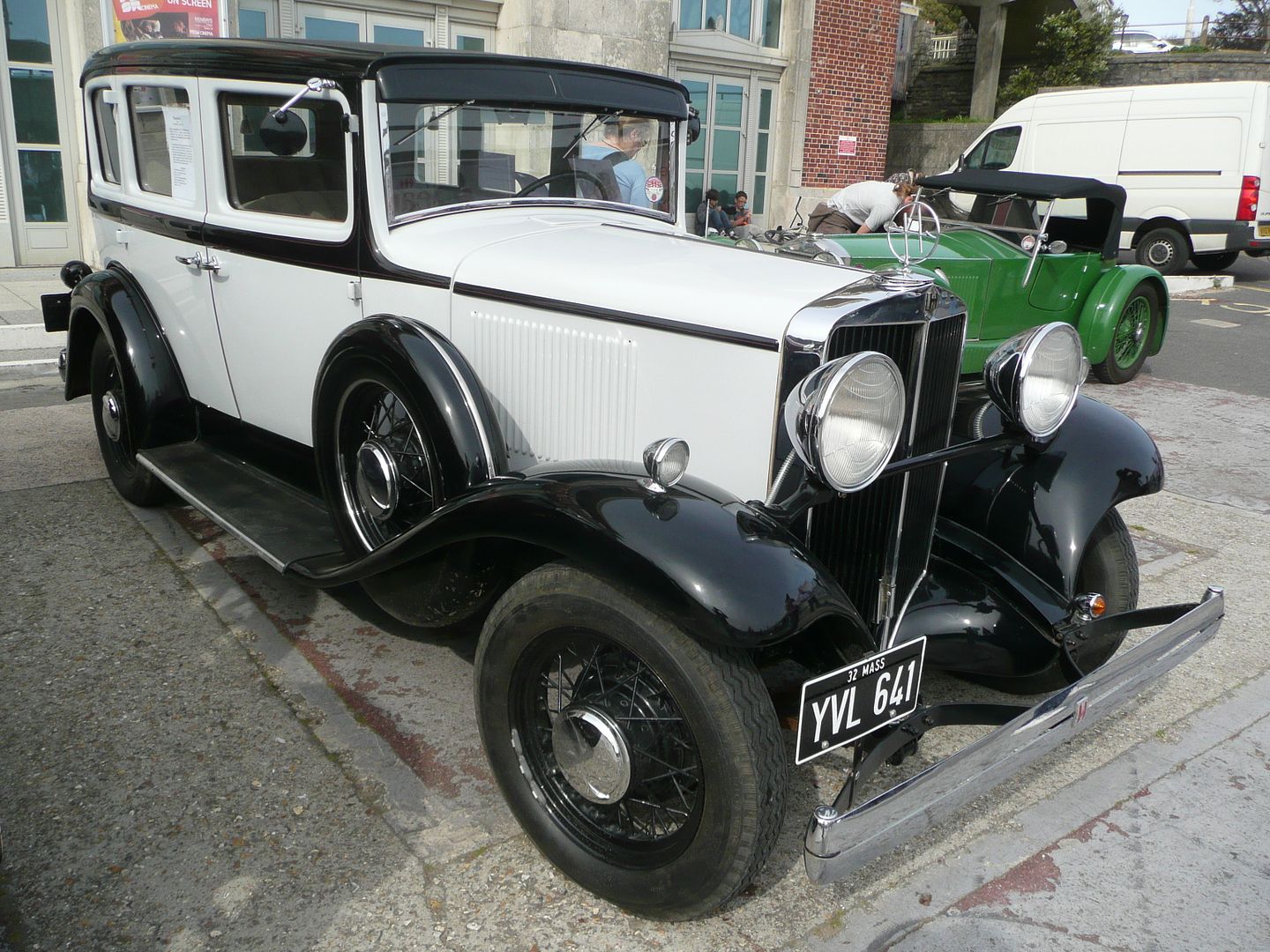 Invicta S Type "Low Chassis"
This 1928 Mercedes Benz 36/220 S Type, one of the first cars to appear after the amalgamation of Daimler and Benz in 1926, lives in the National Motor Museum at Beaulieu. With design directed by Prof. Dr. Ferdinand Porsche, the model was first seen in the UK at the 1927 Olympia Motor Show where the 4 1/2 litre Bentley also made its first appearance. Among the novel features the 36/220 was powered by a 6 cylinder 6.7 litre engine fitted with a kick down supercharger that only deployed only when the throttle pedal was fully depressed boosting the engine's output from what one contemporary report described as from "sufficient" to "most effective".  It was enough to give it a top speed of 110 mph. There are also stories of  how a precocious 14 year by the name of Boddy (Bill Boddy, the well known journalist and long time Editor of MotorSport who died relatively recently) was disappointed to be taken for a test drive in a chauffeur driven 36/220 that only recorded 99 mph on the Barnet By-Pass in 1927.  Just  146 36/220 models were built. This car,  first registered in the UK on the 31st December 1927, was once owned by Peter Ustinov and  has recently been restored to its original condition by the National Motor Museum at Beaulieu.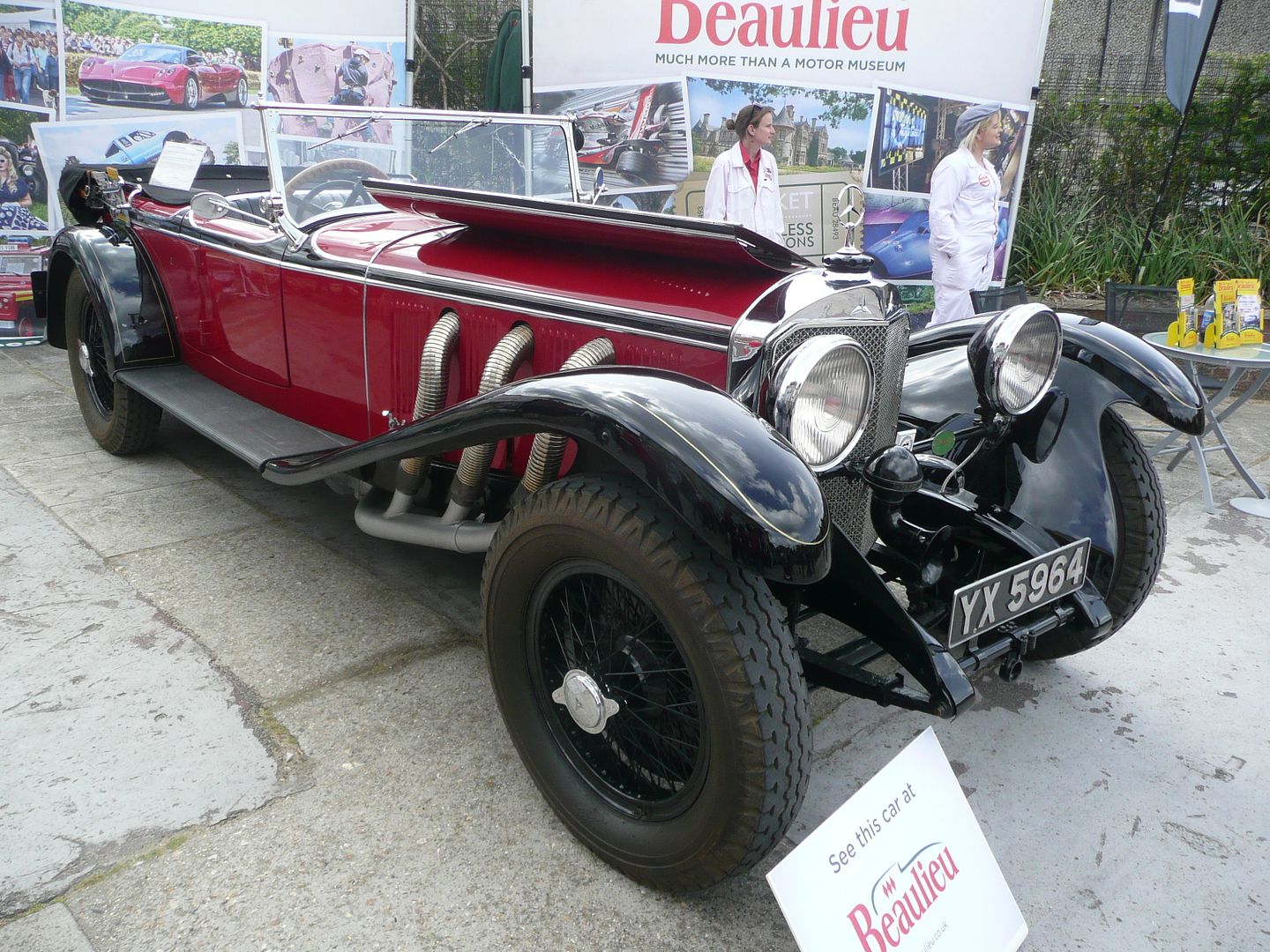 Plymouth
Rolls Royce
Rover 12
Talbot
NEW CARS
This was very far from a full Motor Show, with only a handful of new models on display, from a limited range of marques. Although there are no pictures, Citroen were present, as well as these:
ABARTH
It goes without saying that when I got to the area where the new cars were located, this was the first stand I visited. My eyes were drawn to a Launch Edition version of the 180 bhp 595 Competizione, which I was particularly keen to see. I'm not a particular fan of the black wheels (on any car, but they seem to be the current fashion statement "must have" feature even on prosaic cars like poverty spec Corsas!), but otherwise this car had oodles of appeal. It was joined by a 595C badged model, which turned out to be the entry level car, the trim level of which is now called Custom, also painted in the lovely shade of Cordolo Red, a tri-coat pearlescent finish which glistens in the sunshine.
Abarth had a number of cars available for test drive, but I only found this out on the Sunday morning, thanks to intelligence from fellow owner Laurence Cleal who had been out in one early on Saturday. As well as coming back with a huge smile on his face, he had been given a goody bag with an Abarth towel and cap which seemed very worthwhile. Sadly, by the time I got to the stand on the Sunday, it was already too late, as the area where the cars were being tested had been commandeered for the supercars. All, however, was not lost, as the third car on the display stand was equipped with a simulator which was simply designed to test your reaction time, and in exchange for having a go and giving your email address, the goody bag was handed over. For some reason, the photo that was captured never reached me, but I am not going to get unduly upset by that. The towel is now in use at the Squash Club, giving Abarth some more publicity and the bag itself is perfect for carrying things at outdoor events.
FIAT
Sole Fiat model represented was the newly on-sale 500X, several of which were on display. Unlike the rather ungainly 500L, this "large 500" has received plenty of praise for its looks, the quality and imagination of its interior, and even for its driving dynamics.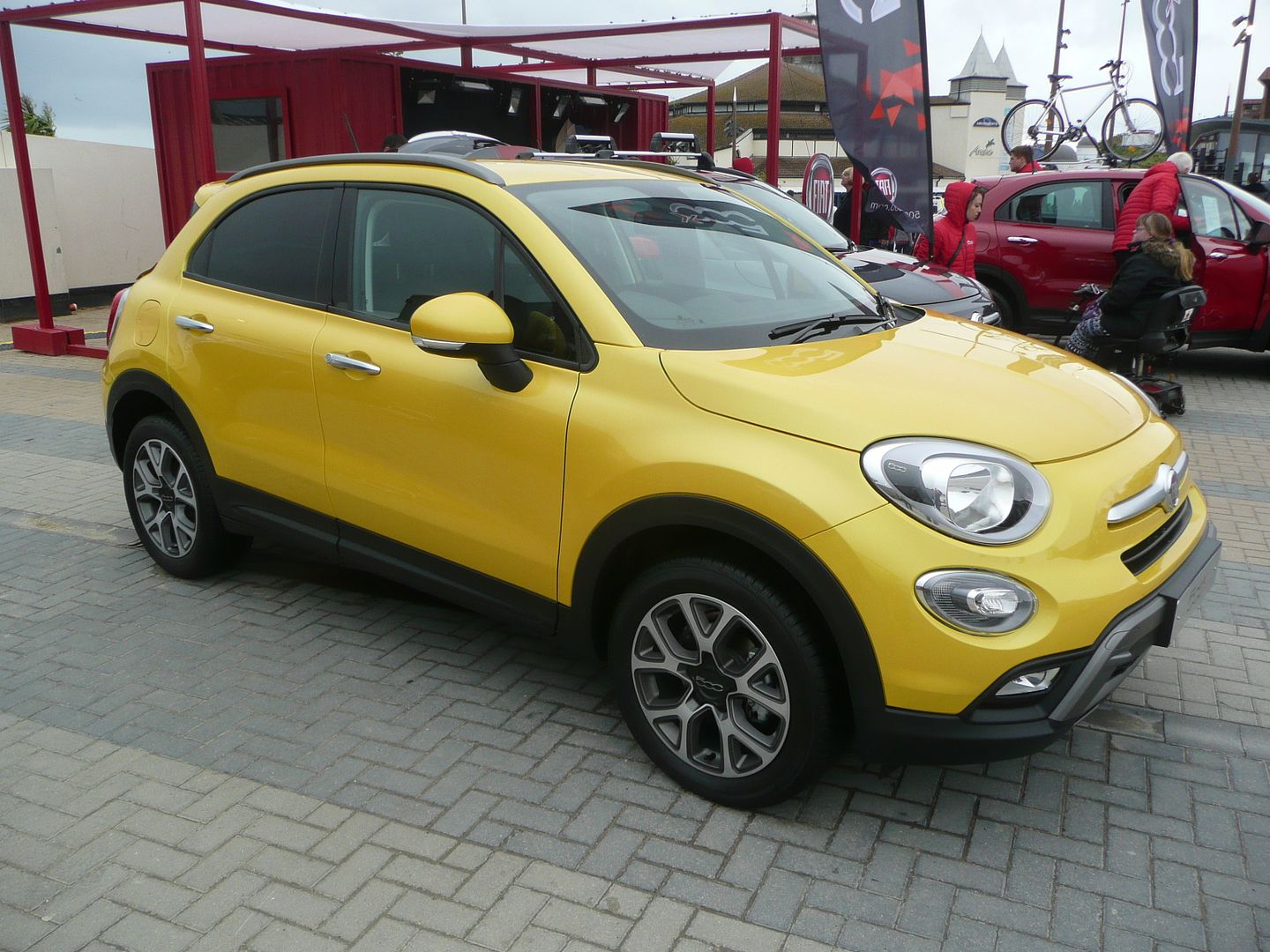 JEEP
Jeep had much the largest display area, and in keeping with the recreational and off-road themes of the brand, it was to be found on the beach. As well as having a number of static models available for inspection, an obstacle course had been created, with some quite improbable looking challenges included to showcase just what these cars can do in the hands of someone who knows how to drive the machines over such terrain. It was whilst I was looking at this that I heard a voice from behind me address me by name. Turning round, I spotted Michael Ward, photographer for Auto Italia magazine, who said that he was doing some work for Fiat UK, taking photos of the various displays which could be sent back to Turin to show them just how their marketing monies had been spent. As well as catching up on a number of other topics, we did discuss the range of products that were in front of us, and shared broadly similar views. The Grand Cherokee is now an excellent car, as I found out on my recent test of one in the US, the Cherokee is a massive improvement on the old Liberty model it replaced, though it is in a tough sector of the market, and the little Renegade has a visual cheekiness to it which means it could sell quite well, though it is expensive. And the Wrangler remains as everyone's idea of what a Jeep really is.
MAZDA
My favourite Japanese brand, and by some margin, with plenty of brand new or recently updated models on show. In the former category are the new Mazda2 hatchback and the slightly larger CX3 crossover, and in the latter, the CX5 and Mazda6 which have both received minor styling changes, mechanical upgrades and new interiors for 2015. Joining them was the Mazda3, one of the best looking cars in its class and still less than 2 years old.
OTHER ATTRACTIONS
As this event was aimed at families as well as the pure automotive enthusiast, there was lots else to see, most of it concentrated along the seafront. All branches of the Armed Forces had extensive displays, and a number of activities in which the (younger) members of the public could take part. Freestyle MotorSport (FMX) fans could see some amazing displays by daredevil riders, BMX riders and skaters were doing a number of tricks and freewheel stunts, the Kangaroo Kids were showing their prowess on two wheels and following its success at the 2014 event, the area allocated to Monster Trucks was doubled in size, so these massive machines could be seen both showing their sheer power and also how easy it is for them to crush a line of cars (there was a ready supply of specially prepared bangers brought in for the purpose, all of which would have taken some excavating from the beach after the event!). Those who wanted an adrenaline rush by taking part could grab a ride in some of the massively-wheeled pickup trucks driven by the Dakar Rally Desert display team.
I had no real idea what to expect from this event, as even a well-illustrated website can only give you so many clues. It turned out to be quite a surprise, and a pleasant one at that. That it got quite so busy on the Saturday says that there clearly is sufficient promotion of the Festival, even if it is not in the places were you typically learn about automotive events. It is unfortunate that the weather was so disappointing on the Sunday morning, otherwise I suspect that would been an even more packed day., but even as it turned out, it was well worth attending. Now I know about the event, I will search explicitly for it next year and suggest you might wish to do the same