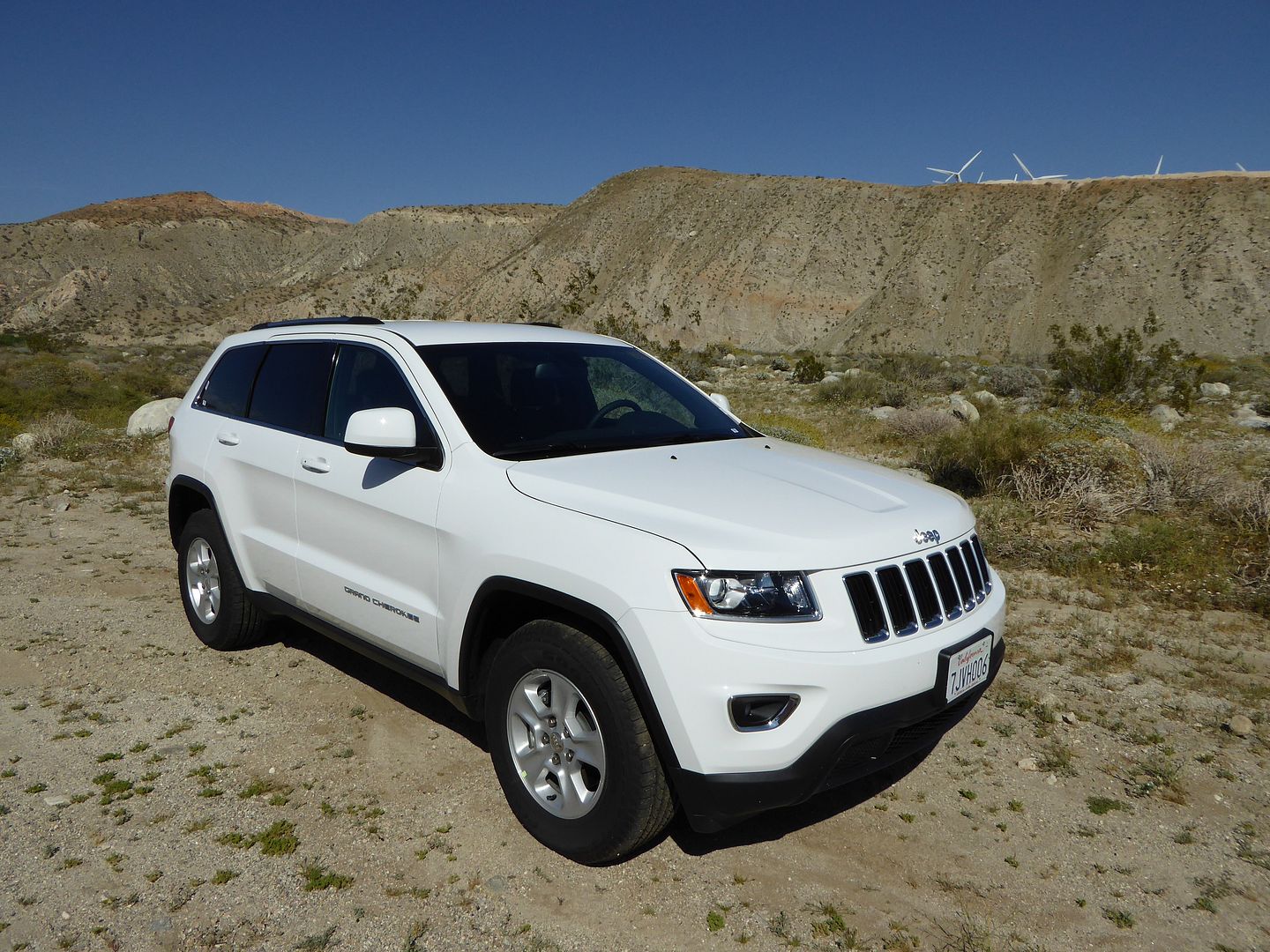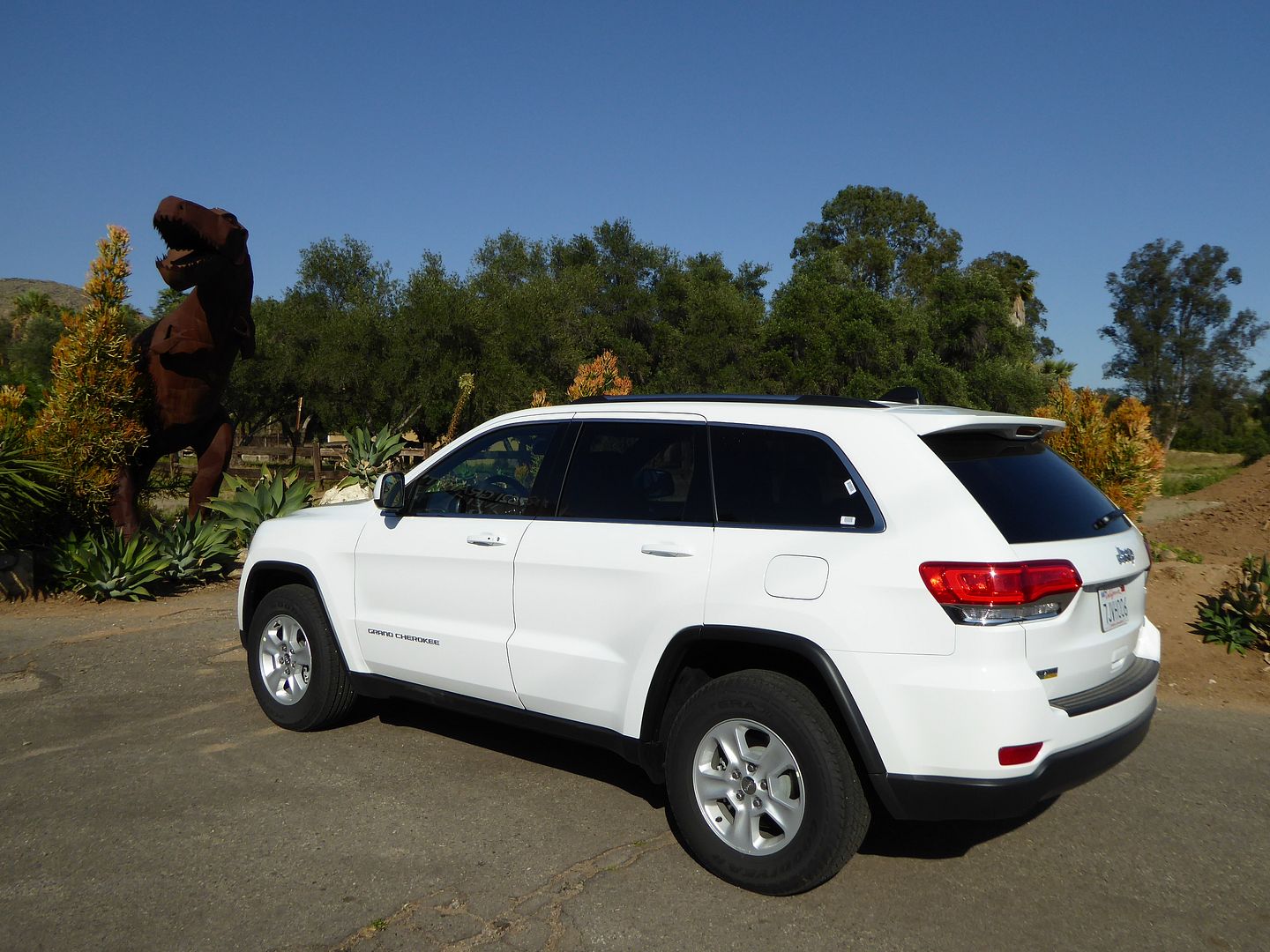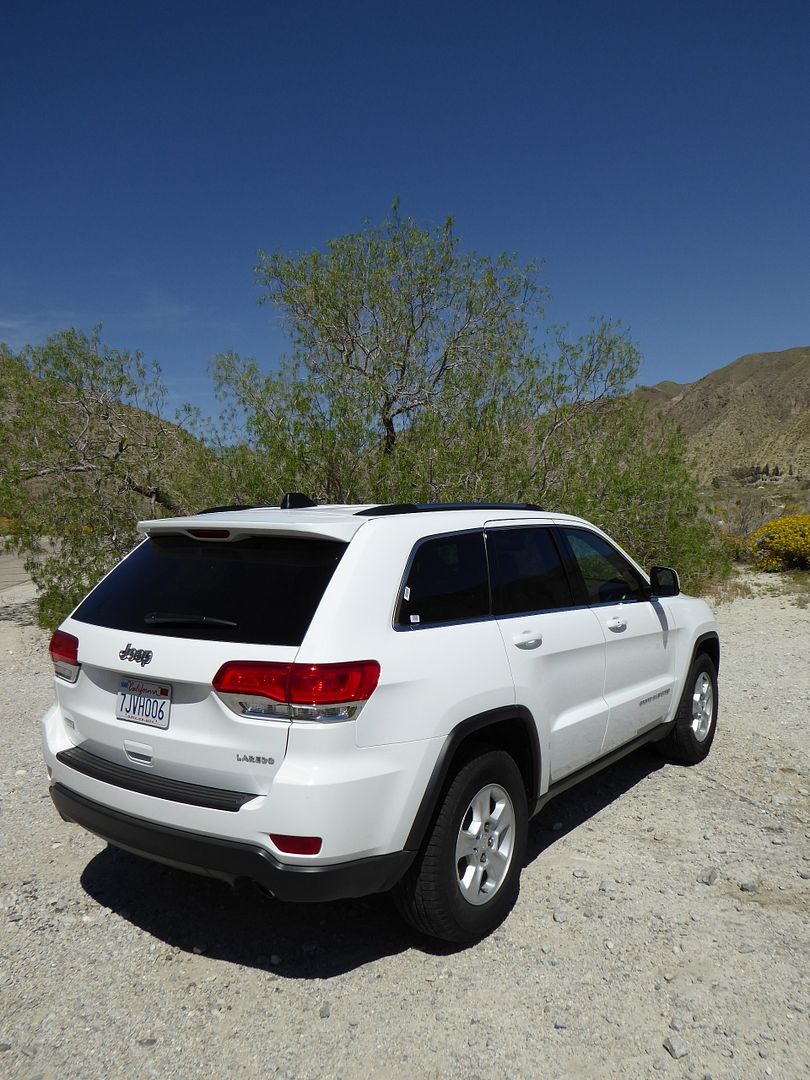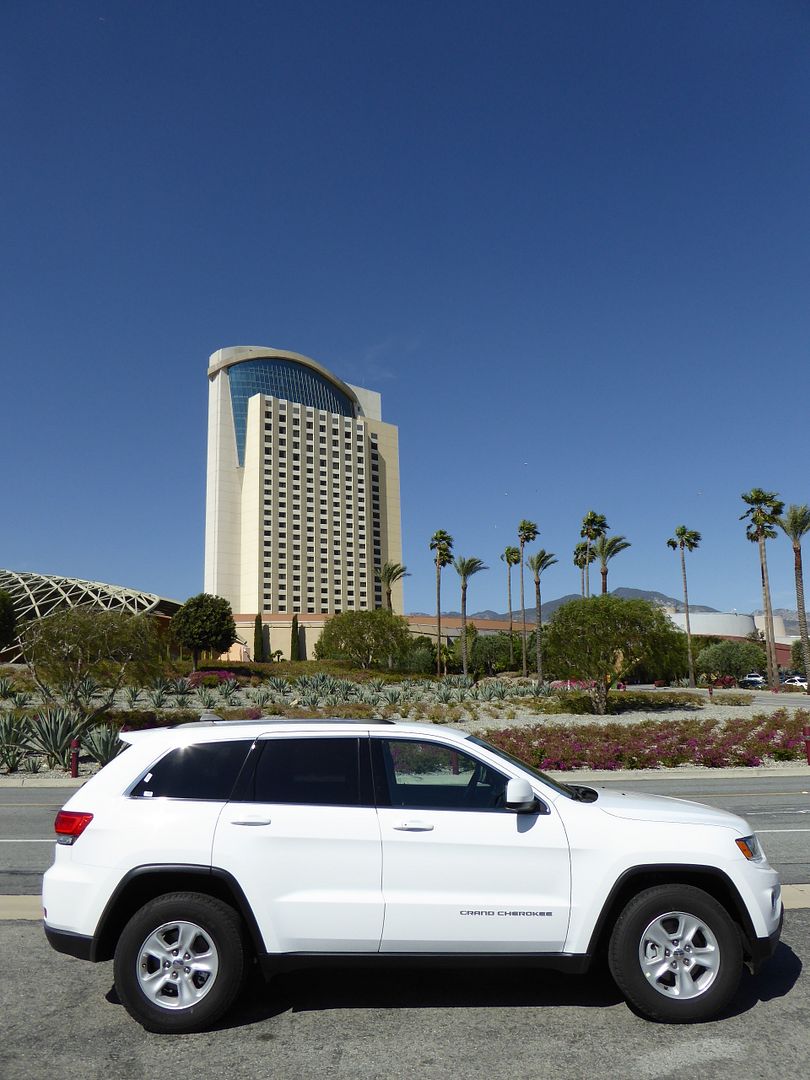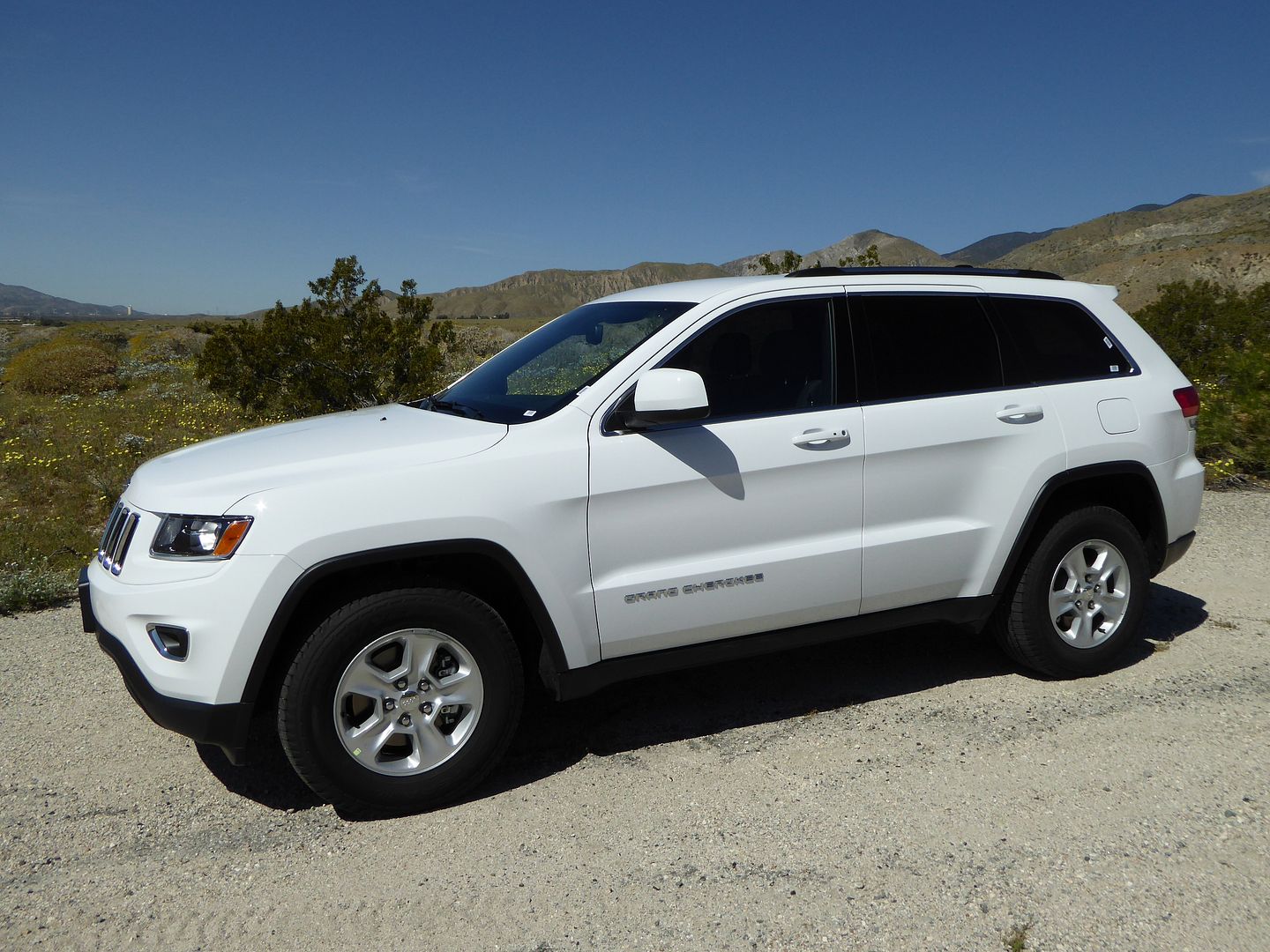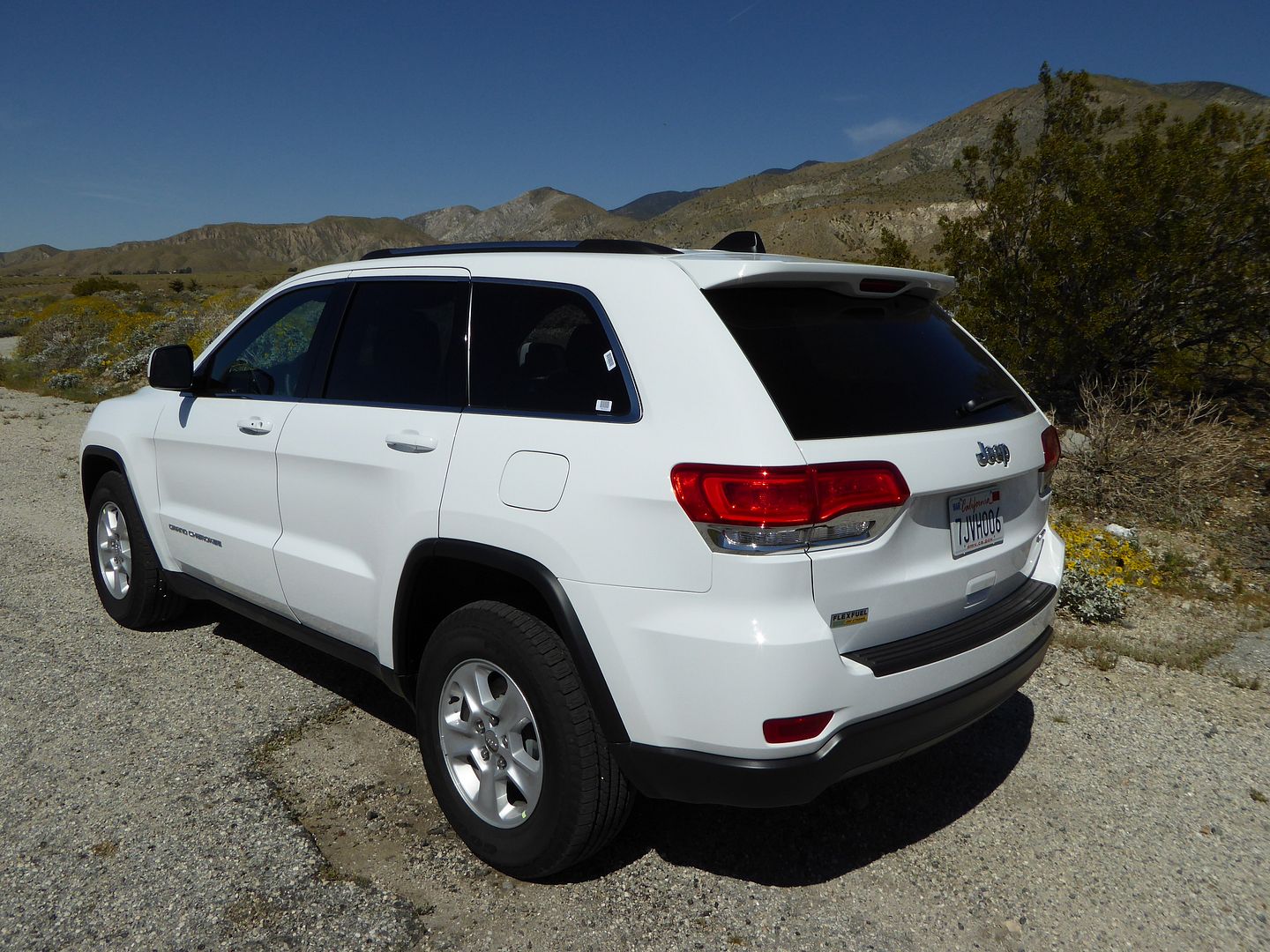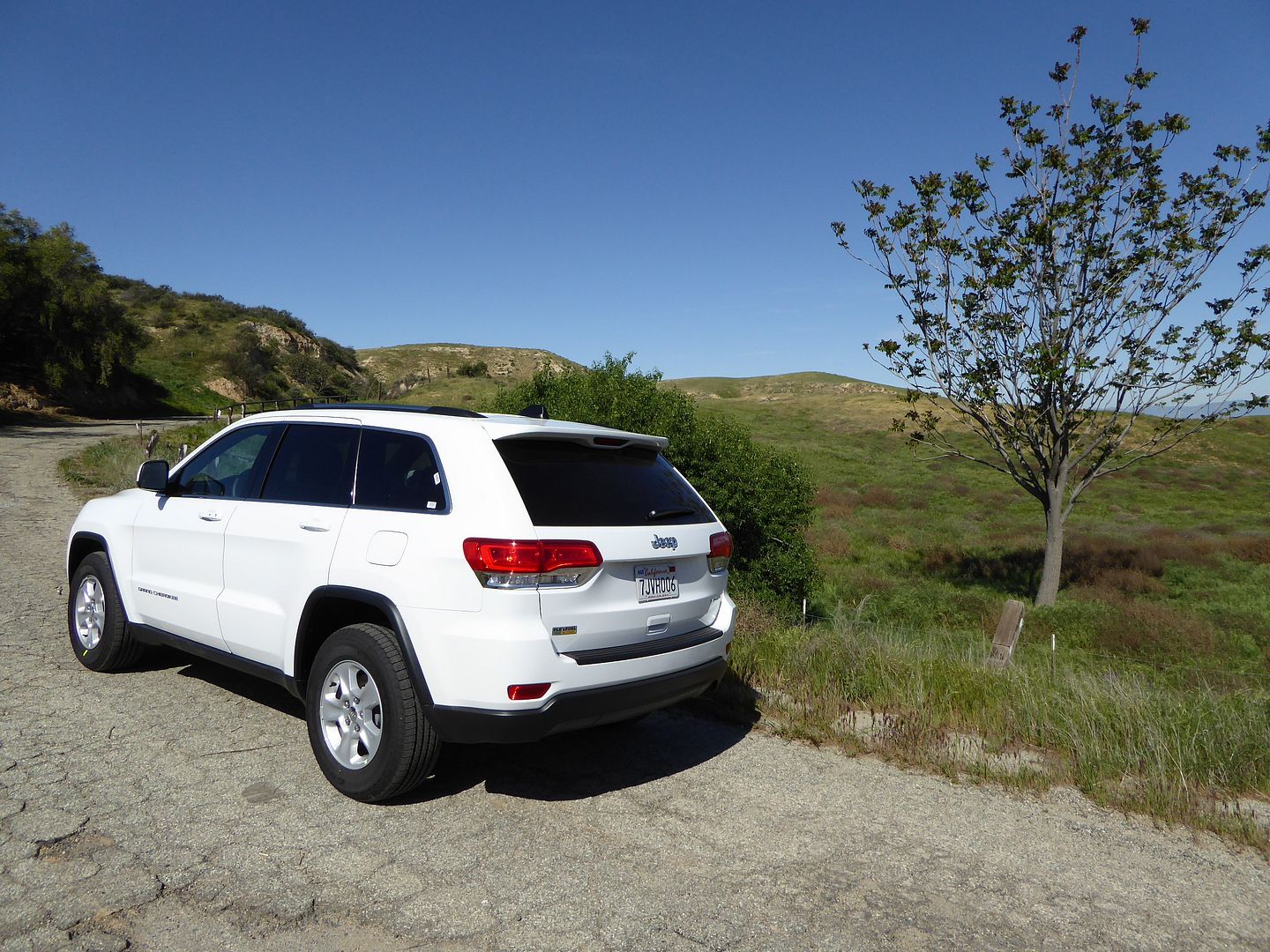 We've been on the fourth generation Jeep Grand Cherokee since mid-2010 and yet this is one of those cars which has continued to elude me for years, just as its predecessor did. Hertz bought  a few of them early on, but certainly in the places I frequent most often, there have not been any on fleet for a long time, so whenever I've seen one out on the roads, which you do quite often, as it sells pretty well, I have always wondered whether it is any good or not. Until very recently, following some fairly drastic improvements to the quality of the interiors that were instigated by Fiat soon after acquisition of the company, Jeeps were noted more for their off-road toughness than their abilities on road, and although the Grand Cherokee ticks all the boxes in terms of is capabilities on the rough stuff, the reality is that is positioned in the market far more as a luxurious SUV that can go off-road when called for as opposed to the other way round. The concept of the Grand Cherokee actually dates back to the 1980s, from the time when Jeep was a separate company, and the management there were looking to produce a replacement for the smaller XJ series Cherokee. A number of design proposals were made, but because AMC, who owned the Jeep brand's funds were very limited, it took time, and it was not until 1989 when a concept vehicle called Concept 1 appeared, which set the style for the model which would eventually make production. By this time, the market for off-roaders that were more luxurious was starting to emerge, with Land Rover sales rising thanks to the launch of their new Discovery, which enabled the Range Rover to be pushed further upmarket.  By this time, Chrysler had purchased the ailing AMC-Jeep organisation, but their priorities lay elsewhere, mainly in getting the second generation of MiniVans to market, so it was not until 1992 that the production car emerged. Called Grand Cherokee, this was a unibody design, unlike its main US market competitor, the Ford Explorer, which was, and would remain until very recently, a body-on-frame design. It was launched in dramatic style, at the 1992 Detroit Auto Show when Chrysler's President, Bob Lutz, drove himself and the Mayor of Detroit from the plant to the Cobo Hall, site of the event, up the steps and straight through a plate glass window, to make a dramatic arrival for the new model.  The timing of the new vehicle was good, and with strong sales, it played a significant role in reviving Chrysler's struggling fortunes. Soon before the replacement of the first generation model, Jeep inserted an optional 5.9 litre V8 engine under the bonnet, making it the fastest SUV available, and setting the course for a part of the range in years to come. A replacement arrived for the 1999 model year, and although it had a strong resemblance to the first, it was an all-new design, with more modern and powerful engines, more space for people and luggage and more luxury fittings. A small number were made in Graz, Austria, for the European market, who could buy the car with a 3 litre Diesel engine, but apart from the small number of people who liked the idea of buying a Jeep, the general view from the press was that this car fell way short of European standards in too many areas. Jeep hoped to address that with the third generation model, the WK Series which was launched at the 2004 New York Auto Show, as a 2005 model, with an edgier look to the styling, and a lot more emphasis on the on-road refinement and capabilities with new suspension, as well as all the other changes that you would expect with the latest Chrysler Corp running gear and better quality. Although I saw a few of these at Hertz late in the model's life, I never got the chance to test one, so I can only repeat what the press said, which seemed to be that although it was an improvement on what had gone before, standards elsewhere had risen, and it was still below par for European customer at least. The current model, the WK2 Series was first shown at the 2009 New York Show. Based on the ML Class Mercedes platform, it promised much, with its new and smoothed out styling, and a much more luxurious interior that used copious quantities of leather and real wood. It was showered with awards in its first few months, suggesting that perhaps finally, Jeep had hit the real bull's eye. A facelift for the 2014 model year brought further improvements, with slightly revised front end styling, new colours and a further upgrade to the interior. With Hertz having recently made a sizeable of all Jeep products, finally, it seemed, I could find out what the Grand Cherokee was like when I managed to secure an almost brand new Laredo trimmed one painted in Bright White Clearcoat.
Such is the way that rental car allocations work, I collected the Grand Cherokee having just the day before returned its smaller brother, the new Cherokee. I opened the door of the Grand Cherokee, and had one of those déja vu moments. At first glance, the interior, certainly the dashboard and console look identical. In fact, they are not, but they are very similar and they do share a lot of components, several of which you will also find in the latest Dodge Charger and Chrysler 300. That's no bad thing, as the interior of the Cherokee is light years better than any Jeep product I had previously experienced, and it certainly did not look out of place in the more costly model, either. The materials used are of good quality, everything fits nicely together and there is some judicious use of contrasting colour and texture to provide an ambience apposite for the market positioning of the car. The upper surfaces of the dash and door casings of the test car were black, and then the same fawn colour is used as a surround  inlay on much of the front face of the dash, and there are also large inlays of wood, a very dark grey in the case of this test car, which looked classy, unlike so many American attempts at wood, which don't. A single cowl covers the instruments. Unlike the Cherokee, these are all digital, so when the ignition is off, there is nothing to see. Turn it on and you will find that there is a central speedometer, flanking a semi-circular rev counter and then in quarter-sized shapes. a fuel gauge and water temperature. All have clear and unfussy markings and are very easy to read. The central part of the dash contains the same combination of air vents and a 5″ colour display screen for the uConnect infotainment system as I found in the smaller Jeep. The screen is touch sensitive, and proved among the easiest of its type to use, certainly far more so than GM's cursed CUE or the Ford myTouch systems. You use this interface for audio functions, which included XM Satellite radio (always a plus in America, where FM frequency ranges are short), and to set the climate control. There are a small number of buttons underneath it, but by putting most of the functions in here, the dash layout can be simplified. There is only one column stalk, on the left of the wheel, which is used for indicators and wipers, lights being operated from a rotary dial on the dash to the left of the wheel. There is no ignition key slot, as all models have a remote start/stop function, so provided the key is in proximity, you just the press the button to fire or stop the engine. The gearlever is the same detentless one that is used in a number of Chrysler products, which once you get used to it, is very easy to use. Everything operates with precision and has a quality feel to it that you just would not have got in a Jeep even five years ago, and the leather used to wrap the steering wheel made it particularly pleasant to hold.
Having passed the static inspection test with flying colours, I pressed the Start button, ready to see what the Jeep was like on the road. My ears were treated to the glorious sound that is a nice smooth V6 waiting to be unleashed (it was never going to be on the boners V8 versions, now was it?!). Coupled with an 8 speed automatic transmission, the familiar 3.6 litre PentaStar unit is the engine fitted to the majority of US market Grand Cherokees and I know from experience of it in the Charger and the Chrysler 300C that it is a good unit. And it does not disappoint here, either. 290bhp is enough to ensure that there is more than enough power available in demand in any situation, but what impressed me more than anything else was its refinement. Once underway, you simply cannot hear the engine at all, it is as if it is not there at all. With negligible wind and road noise, this proved to be one of the quietest cars I have ever experienced, which came as a real surprise. Only on the roughest of road sections was the some evidence of what was going on outside the cabin. Most of my test miles were done on the freeway, as I headed east from Los Angeles to the Palm Springs area. My next surprise, and another cause for celebration was the fuel economy. The trip computer suggested that I had averaged 27.3 mpg for the day. These things tend to be pretty accurate nowadays, so although the maths of dividing the 302 test miles by the 12.5 gallons of regular I put it before returning suggest an average of 24.5 mpg US, or 28.86 mpg Imperial, which leads me to believe that the car was returned fuller than when I got it (not unusual for a rental), it is clear that this is a surprisingly thrifty machine as well. It is even pretty good to drive. For sure there is a bit of body roll, but the steering is well judged and this large SUV can be hustled around the bends with gusto without any feelings of anxiety. It is worth noting that my Jeep was (whisper this very quietly to those who believe in the heritage of the off-roader), a 2 Wheel Drive model, which means rear wheel drive. Clearly, the Mercedes chassis has worked wonders for the on-road behaviour of this car, for not does it go well, it rides well, offering a smooth and comfortable ride on pretty well every surface type that I encountered, which is lots from fresh and smooth asphalt, to ridged concrete and pot-holed concrete sections (thanks CalHighways!). The brakes were good, too, with just the right amount of pedal pressure giving the retardation you expect. There is a foot operated parking brake. All round visibility is pretty good, thanks to the raised seating position you get from an SUV, a good glass area, a wide field of view from the mirrors and help from the rear-view camera.
In the Laredo E trim of the test car, you get electric adjustment of the driver's seat, but manual for the passenger and cloth trim, as well as a nice leather wrapped steering wheel. The wheel telescopes in/out as well as up/down, and adjusting that and the seat to its lowest position, and  then well forward for my short legs gave me the perfect driving position. The seat itself proved supremely comfortable, which was good for the long haul along the 60 and 10 freeways to my destination and back. If there had been passengers in the back, they should not have had anything to complain about, either. There is plenty of space for them, with good levels of legroom even if you set a front seat well back. You can vary the angle of the rear backrests, too, and comfort will be further improved as there are separate air vents to allow passengers here to get the cool (or warm) air that they would want. There's a drop down central armrest, with cup holders in its upper surface, and odds and ends could be placed in the door bins or the map pockets on the back of the front seats. The boot is a good size, and can be extended by dropping the asymmetrically split rear seat backrests down onto the cushions, to create a long and flat loadspace. Those in the front of the Jeep can put their bits and pieces in either the decently sized glovebox, the door bins or the cubby under the central armrest.
Six different trim levels are offered: Laredo, Altitude, Limited, Overland, Summit and SRT The last of these, the $64,895 SRT is only available with a 4 x 4 All Wheel Drive system, whilst the others all have the choice, a 4 x 2 set up being standard.  The first of these, which was the spec of the test car, is available in $29,995 Laredo and $31,995 Laredo E guises. Standard engine for all except the SRT, in US models, is the same 3.6 litre V6 Pentastar engine and the 8 speed automatic transmission with paddle shifters. Laredo spec also brings with it 17″ alloy wheels, cruise control, dual zone automated climate control, wheel mounted audio controls and the uConnect 6 speaker infotainment system with AM/FM radio, Bluetooth voice command and a 5″ colour display screen, halogen headlights and LED tailights, DRLs and front fog lights, exterior temperature and compass display, leather wrapped gear lever and steering wheel,  Laredo E offers a significantly wider range of colours, bright roof rails, Sirius XM radio, a power operated driver's seat with  4-way lumbar adjustment.  Spend $36,995 on the Altitude model and it's quite to recognise visually with its 20″ gloss black alloys, body coloured grille with a platinum insert, blackened out tail lights as well as some gloss black applique trim details, and inside it has black leather seats,. It also includes the Security & Convenience Group,  a load compartment cover, heated front seats, heated steering wheel, an upgraded uConnect audio/infotainment with XM Satellite radio with a larger 8.4″ display screen, a power operated tailgate, an auto-dimming rear view mirrors. The 3 litre diesel engine which features in European spec cars is a cost option in the Limited, which also has an increased towing capacity of 7,400 pounds as opposed to 6,200 of the cheaper models, 18″ alloys with low rolling resistance tyres, dual exhaust, power operated tailgate, a much bigger choice of interior colours and a heated second row of seats Limited trim  reverts to the uConnect infotainment system with a 5″ screen, but has a dual USB charging port, a rear back-up camera, Capri leather seats which are 8-way power adjustable for the driver and front passenger both with 4-way lumbar adjustment, a memory for the driver's seat, mirrors and radio, and illuminated cup holders. The $43,595 Overland adds 20″ alloy wheels, Nappa leather trim, ventilated front seats, an upgraded uConnect 8.4 set up including navigation, HD radio, a 506 watt amplifier, 9 speakers and a sub-woofer, bi-xenon HID headlights, different leather trim with edge welting (?) a leather wrapped instrument panel and centre armrest, power tilt/telescoping steering wheel which is a combination of wood and leather wrapped, under seat lighting. Summit, listing at $48,995 in rear wheel drive guise,  comes with a different design of 20″ satin finish alloys, adaptive bi-xenon headlights, ParkSense front and rear park assist system, a forward collision warning system, blind spot and cross path detection, an active noise control system, black olive ash applique trim, illuminated sill plates, a more powerful amplifier for the 19 speaker Harmon Kardon audio system and Natura Plus trimmed leather seats. There's quite a sizeable price gap to the SRT, much of which is accounted for by the standard 6.4 litre Hemi V8 engine, though you do also get Adaptive active damping and distinctive 5 spoke 20″ polished aluminium alloy wheels as well as special laguna leather seat trim. Whilst the test car was a 4×2 rear wheel drive model, many will want the full-on 4×4 version, and the Grand Cherokee is available with three four-wheel drive systems. Quadra-Trac I is essentially an all-wheel drive system, which routes power to all four wheels through a single-speed transfer case. Quadra-Trac II adds a two-speed transfer case with low-range gearing and Quadra-Drive II includes a rear electronic limited-slip differential to further improve traction. Jeep's Selec-Terrain system is available, which features different drive modes for different types of terrain. Four-wheel drive models are also available with an air-adjustable suspension, which can be used to raise the Grand Cherokee up an additional 3.8″. I did not take my RWD Grand Cherokee offroad, as to do so would void the rental agreement, but by all accounts, the AWD models are just as impressive off the tarmac as my test car proved to be on it.
When I took the Grand Cherokee back, the returns agent asked me how it was. I told him, and he looked surprised. He then replied: "but it is a Jeep". So, it would seem, he had the same opinion as I did, that these were vehicles that were bought because of the tough image, and for their off-roading prowess, but which had plenty of limitations and frustrations on-road. None of that applies here. This really is an excellent car. It deserves all the awards that it was given when launched, and it merits the recommendations it has had from the likes of Consumer Reports ever since. The Grand Cherokee will likely go down in my assessment as "pleasant surprise" of the year, I would say that, by a huge margin, this is the nicest vehicle in its class (that's "full sized SUV" in rental car speak), and if you can find one, you really ought to pick this over the likes of the Equinox/Terrain, the Edge or Explorer and the like. Now, if only Hertz would buy some with the 475 bhp 6.4 litre Hemi engine…………