In complete contrast to the total washout that was the second Thursday in May, date for the monthly Italian Car night at the legendary Ace Cafe, the second Thursday in June was one of those almost perfect cloudless days, with lots of warm sunshine clothing the whole country. That suggested that turnout in the evening would be good,  And so it proved to be, with this being the busiest Italian Night that I've attended for quite a long time. There were already a number of cars parked up when I arrived around 5pm, and others continued to arrive steadily all evening. Whilst there was nothing that was stand-out "rare", as is often the case, there was plenty of diversity in what was brought along for afficianados of cars from Italy to enjoy as this report will evidence.
ABARTH
By some margin, the most represented marque. I think I counted 21 Abarths, though a couple did arrive well into the evening by which time a few had already made an exit, so there were never quite that many cars on site. Even so, this was an impressive turnout. Many of them were the proud possessions of Abarth Owners Club members, so that also meant that this amounted to quite an opportunity to catch up with plenty of friends. As ever, there was a mix of 500-based and Punto-based cars, with far more of the former than the latter, though Kai Kan did bring his Evo and Will Webb his SuperSport early on in the proceedings and James Page arrived as the light was fading, in his Evo.
Among the 500s, there was plenty of variety in different variants and colours. A lot of attention was generated by the heavily modified model which was created by Daron Brown at TMC Motorsport over the winter of 2013/14 and which he showed during the 2014 Events Season as an indication of what could be done by making a series of  mechanical and bodywork changes, along with a lustrous, and costly, new paint job. The car was bought by Mario Cee earlier this year and it now lives in London.
Making another appearance is the completely bonkers looking classic 695-inspired car which sports a potent 1700cc Alfa engine in the back. As ever, it created lots of interest.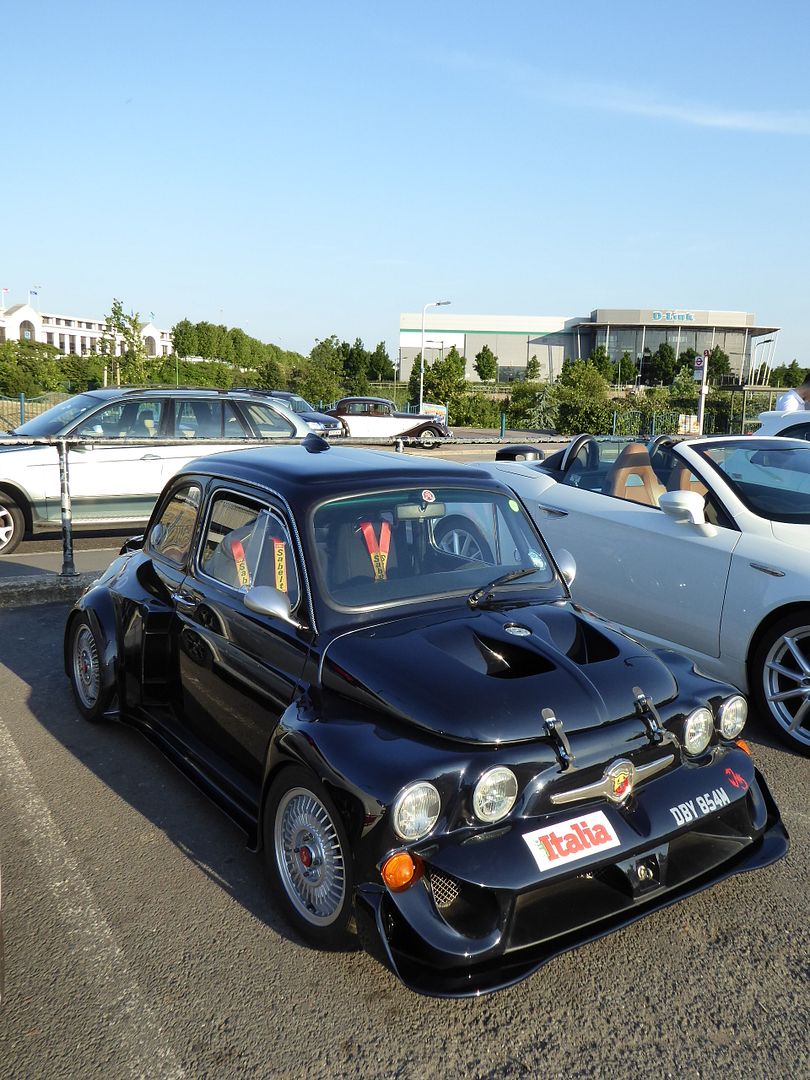 ALFA ROMEO
The Alfa that was creating the most interest, not surprisingly, was the 4C model which arrived mid evening. It turned out that this car belongs to Alfa UK and had been borrowed for a week by one lucky journalist who writes for The Register. From what he said, he had been making good use of the car and had undertaken several lengthy journeys in it, and on the whole he was enthusiastic about the car. though he did say that it was a pity that there was not more of a sound track from the engine.
In 1981, Alfa inserted their relatively new 2.5 litre V6 engine which had first been seen in the commercially unsuccessful 6 saloon under the bonnet of the Giugiaro styled Alfetta GTV, creating the GTV6. By this time, the design was 7 years old. Despite the slightly regrettable addition of plastic bumpers in a misguided effort to make the car look more modern (a practice that many manufacturers indulged in at the time) the new engine threw the car a real lifeline, making it even more desirable than before. Sadly, rust has long since claimed most of them, but there are a few left on our roads, and this particular car is one of the very best, frequently winning awards at Concours competitions and generating lots of interest wherever it is shown.
The 166 was Alfa's most recent large car offering, sold between 1999 and 2005. Although the styling drew praise, the car never quite hit the same spot as the smaller 156 model. and sales in the UK were relatively limited. Ten years since the last one was made, you don't see them that often, so it was nice when  not one, but two of these machines arrived at the venue. Pleasingly, there was one example of the first style and one of the subsequent facelift which saw larger headlights and a different grille treatment to the front end, effecting, to my eyes at least, quite an improvement on the original design.
There was only one example of the 156, Alfa's much lauded small sport-executive saloon that many thought was not just more interesting than the rival BMW 3 Series but objectively "better", at least in the early days of this Car of the Year award winning model. The one here was a GTA, potent top of the range which came with a sonorous 3.2 litre V6 that made the car more than mildly brisk.
Precursor to the 156 was the 155 and this car has found its own niche among enthusiasts, so it is not uncommon to see quite a few of them where old Italian cars are gathered. The only here at this event was the same DTM-inspired model that had been at the Petrolhead Nirvana meeting earlier in the week. The 155 enjoyed much success on the track in the mid 1990s, winning in the BTCC in 1994, as well as doing well in the German DTM. This one has a 20 valve Fiat Coupe engine under the bonnet these days.
This was a perfect evening for some open topped motoring, and what better than in an Alfa Spider. There were three of the long lived 105 series cars present, a S2 which was the version that introduced the squared off Kamm tail and a couple of the later S4, an elegant facelift which removed the slightly awkward plastic addenda of the S3 in exchange for some styling cues reminiscent of other Alfa models of the early 1990s.
Successor to the 105 Series was the 916 Series, which came in striking Coupe GTV and Spider guises. There were none of the latter, but three of the former here. one of which was the limited edition Cup which combined the characterful 3 litre V6 engine with a reasonably subtle body kit and larger rear spoiler.
Move the clock on another generation and you reach the Brera and associated Spider and there was one of each of these here, too.
Final Alfa was Dan Deyong's Giulietta Quadrifoglio. Last time I saw this car, in April, he had only just collected it, and was still very much in a honeymoon period with it. Two months and a few thousand miles on, he still likes it, he said, but does miss the Abarth that it replaced.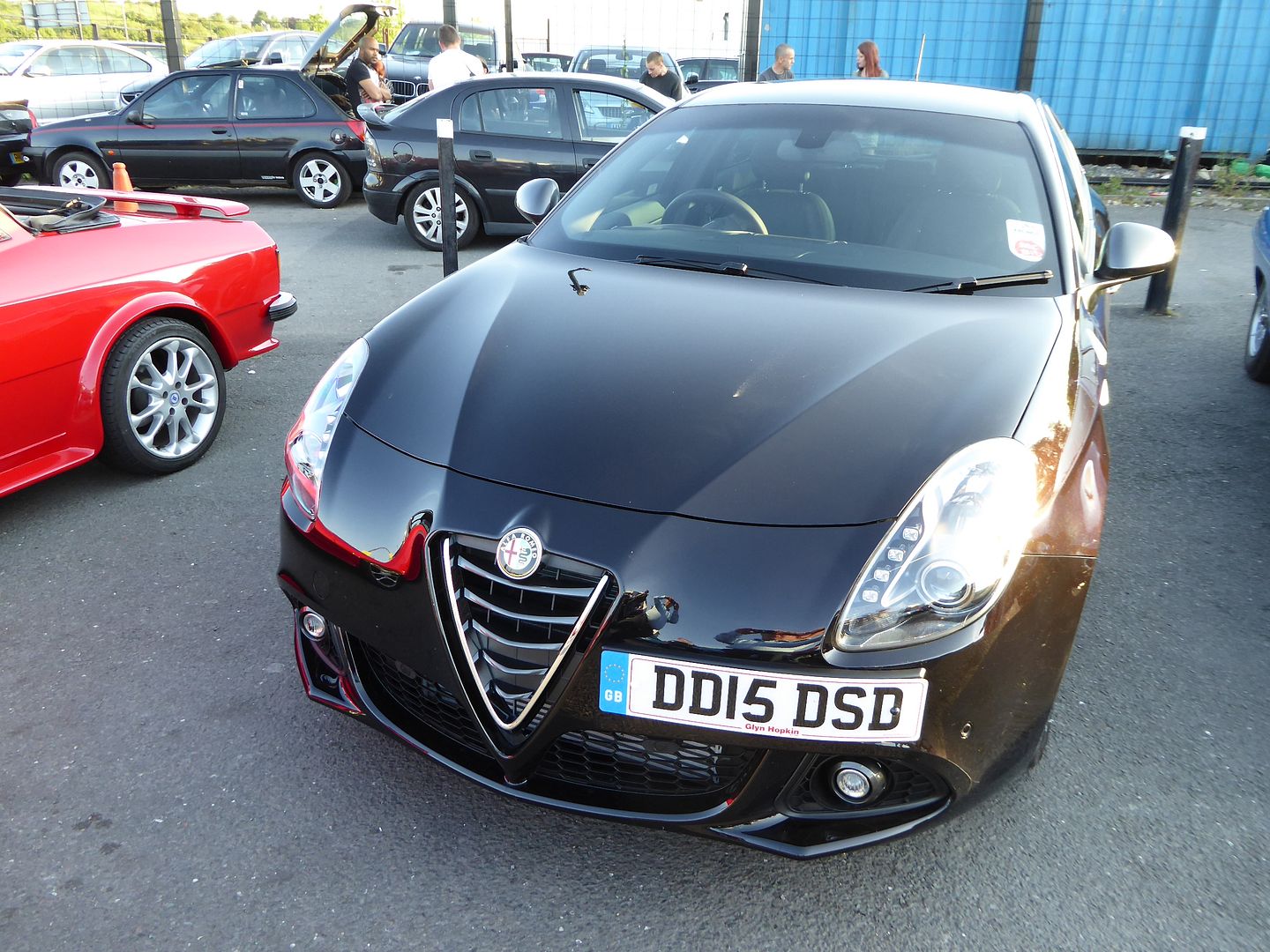 FERRARI
Few Ferrari models appear at this event, even when the weather is good, so no surprise, perhaps that there was just one present. It was a nice example of the marque, though, an 308GTB, Ferrari's mid-engined V8 powered 2 seater that was offered from late 1975 until it was updated to become the 328 GTB in 1985. The first 18 months production saw cars made with fibreglass bodies (vetroresina), and these are now highly prized. After this, Ferrari switched to a steel body. You can't readily tell them apart from a quick glance.
FIAT
One of the first cars to have arrived was also one of the smallest, a cheeky little Nuova 500L, and later a second one arrived. I have admired the blue one a couple of times before, and it is always good to see it again. Bellissima!
Lloyd Hartley, inveterate attendee in his cherished Abarth Grande Punto always says that if the forecast is good, in summer months, then he will bring his X1/9 Gran Finale along instead. Given the forecast, it was no surprise to spot if parked up when I arrived, even if its owner was not in evidence. It turned out he had arrived early, parked up and been off to the Canary Wharf MotorExpo to have a look at that event. By the time He came back, there was a second X1/9 model present. This was a VS, a limited edition car that pre-dates the Gran Finale by a few years. Not in quite such as good a condition (to put it mildly!), it was still nice to see the second car.
There are always a few examples of the Coupe, that boldly styled model that was sold for just 4 years in the UK from 1995 to 1999.
Dating from the same period was the open-topped Barchetta, a small sports car based on a Punto platform.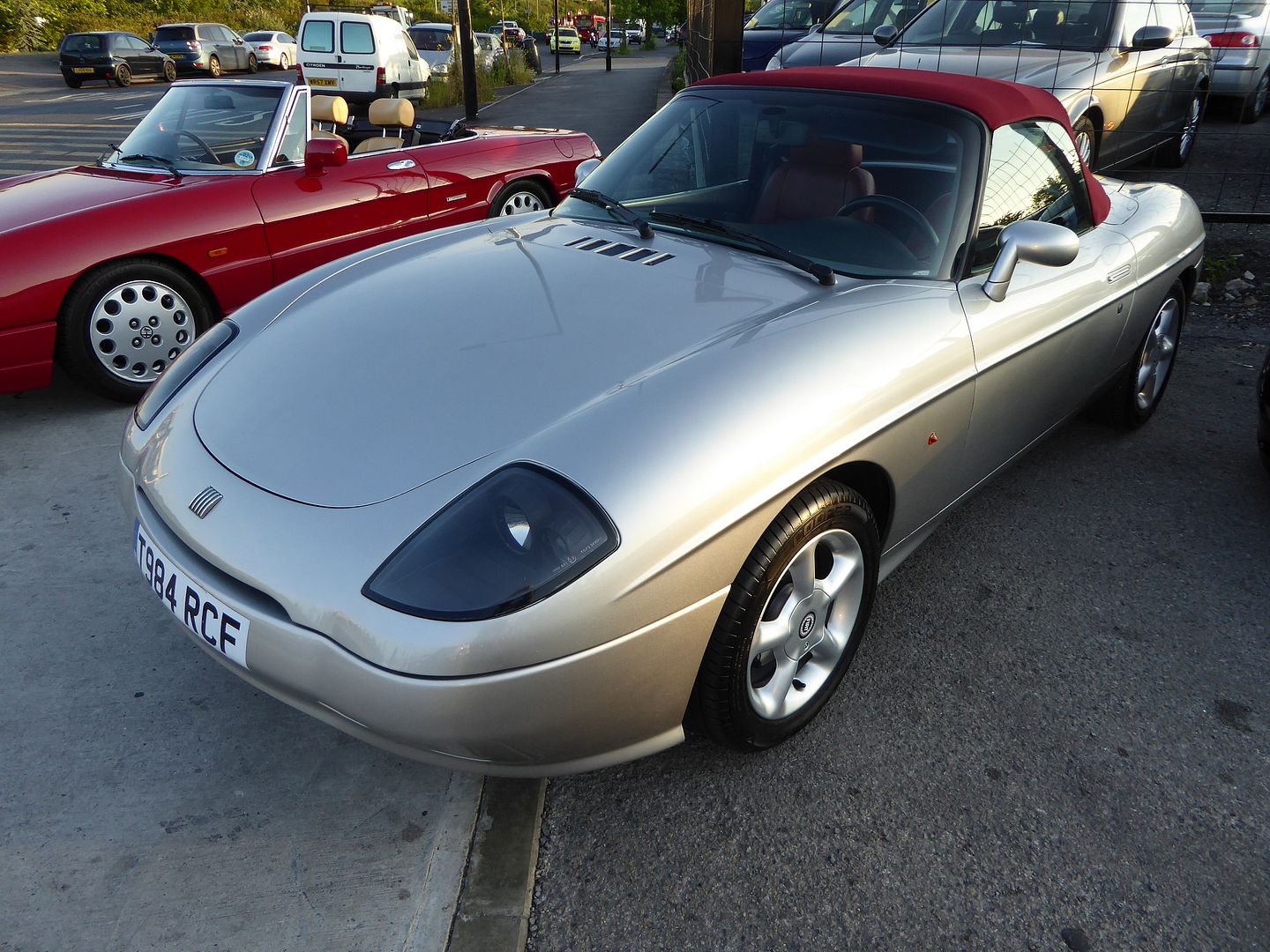 LAMBORGHINI
There was just one Lamborghini, too, and it was one of the rarer of the models that has been produced in the 52 year history of this marque, an Espada.
LANCIA
Oldest car of the evening, and to many people one of the most desirable of them all was this elegant Flaminia Convertible. The Flaminia was the top model in Lancia's range from 1958 and throughout the 1960s. Initially offered as a Berlina (saloon), Lancia invited three of Italy's renowned coachbuilders to come up with Coupe and Convertible designs. The Pininfarina Coupe came first, and it was followed by the Touring Coupe and Convertibles, of which this is an example and finally the Zagato SuperSport Coupe.
No sign of any first generation Delta models, which was slightly surprising, but there was one of the second generation cars, a 3 door HF. These were never officially sold in the UK, and so the handful that have found their way here are all left hand drive.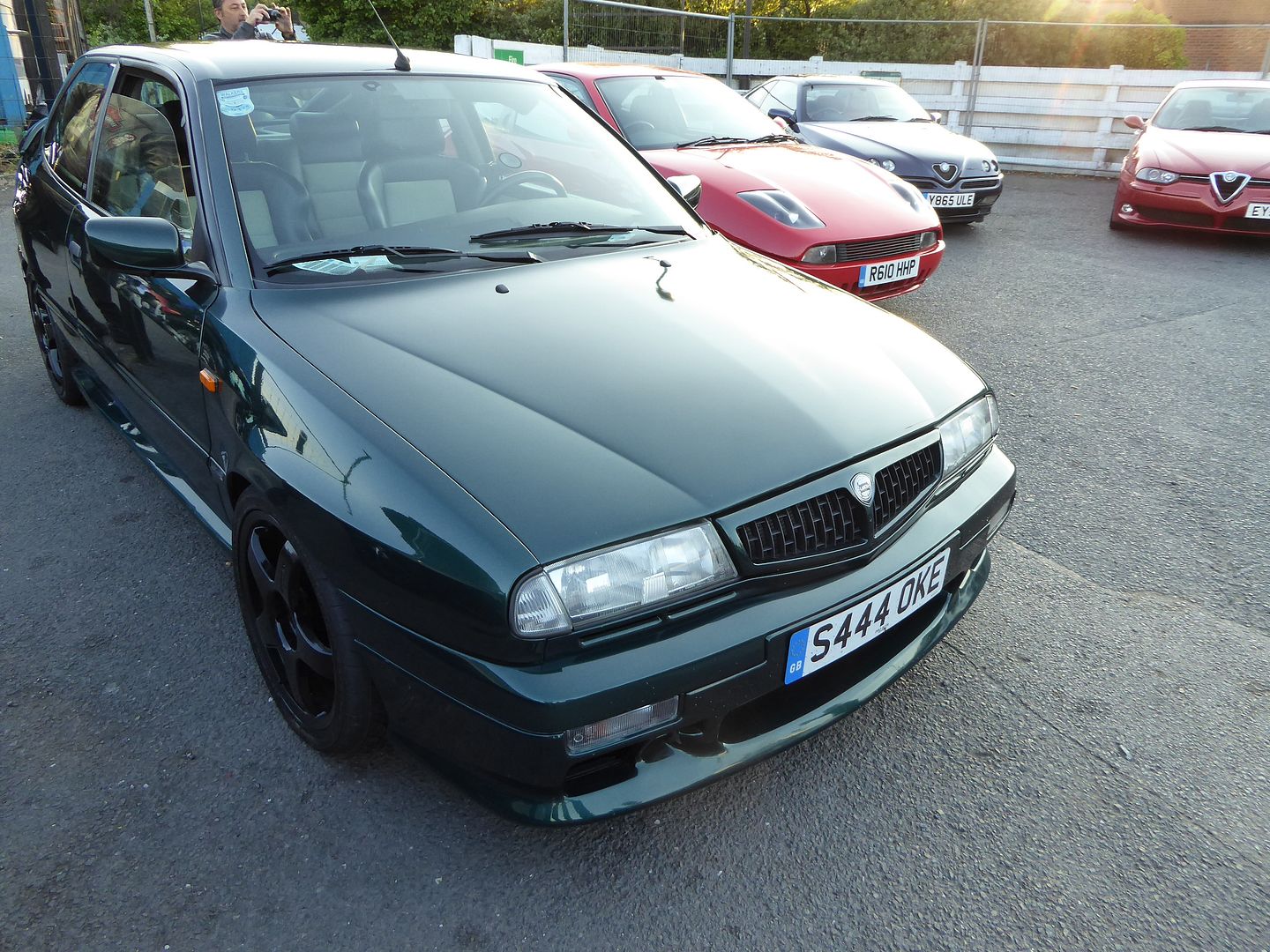 MASERATI
Surprisingly, there was not a single Maserati present. It has been noted that Maserati cars are either present in vast quantity or not at all at this event. This is definitely a case of the latter.
NON ITALIAN CARS
This fabulous 3.5 litre Jaguar arrived early in the evening, and initially as welcomed onto the forecourt, where it attracted lots of attention, as you might expect. Initially it was permitted onto the forecourt, where it attracted a lot of attention. but as the venue filled up, the owner did move it to a position across the street.
The same applied to this AC Cobra, which initially parked next to the Jaguar and then was moved across the street.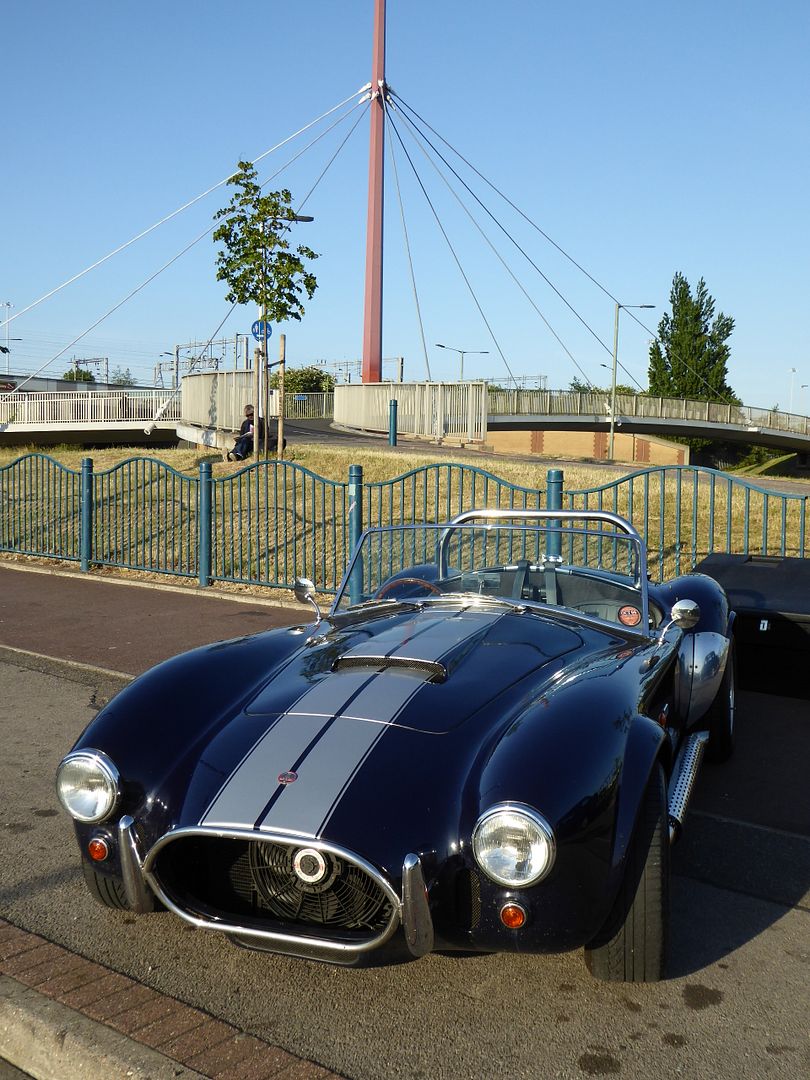 The combination of a lovely sunny evening, lots of cars to admire and plenty of friends to catch up with made this one of the best Ace Cafe meetings for some time. Let's hope that we are similarly blessed in July.