With daylight lasting until gone 9:30pm in June, there is not quite the same pressure on the photographer to get to an evening event immediately after work if any shots are to be created of cars in natural light, so although my first destination on leaving the office on a Wednesday evening, just a couple of days after last visiting the Ace Cafe was to a squash court in Pimlico, it was still realistic to return to my Heathrow hotel via this legendary location, especially as there was another promising looking theme to the evening. Billed as TVR, Lotus and Ginetta Night, it was clear that the third Wednesday of the month was the chance for those classic British sports cars to congregate on the forecourt, and with plenty of evening sunshine in the forecast, I was optimistic that they would. I arrived around 8pm, and it certainly was not the busiest of meetings, but there was a steady arrival every few minutes of another interesting car to add to those already parked up, so I ended up staying until the light started to fail. Here is what caught my eye and the camera lens.
DELOREAN
The Delorean DMC12 that I had seen earlier in the week on French night made another appearance here. As a car made in Northern Ireland fits rather better with a theme of British sports cars, it was brought onto the main forecourt, and, as is always the case when one of these cars appears, it created lots of interest.
LOTUS
I spotted one Esprit model headed to the Cafe just as I waited at the traffic lights coming off the North Circular. This turned out to be the first of 5 Esprits at the event, and to be the oldest example present. Joining it were three further examples of the Giugiaro styled models, one of which was in the same copper shade as the car which features in the 1981 Bond film "For Your Eyes Only", as well as another early Turbo car and one of the more efficient HC cars that was offered from the end of 1986. Final car was an example of the model where Peter Stevens had updated the styling. Launched in 1987, this version then ran, with continuous but relatively minor changes for a further 17 years, through to 2004.
The Elise will celebrate its 20th anniversary later this year. The first car was a real "back to basics" sports car, which wowed everyone. The S2 model which was first available in 2002 was a little less spartan, and over the years it has been offered in a bewildering array of different versions which only a real marque expert can tell apart. There's plenty of life in the design yet, and as part of the Lotus renaissance which is finally underway, some more potent versions have emerged, targetted both at the road and the track. A good mix of Elise models were on show here.
The latest Exige has moved away from its origins as simply a fixed roof Elise, with its own body style, and a 3.5 litre Toyota engine giving more power (in exchange for a lot more purchase price) than the Elise can offer. It was good to see a couple of examples here.
TVR
TVR introduced a completely new model in January 1980, the Tasmin. A striking wedge shape was not quite matched by the carry-over Ford-based mechanicals, and even when open topped and longer wheelbase 2 + 2 cars were added to the range, something still felt to be missing. That came in 1983 when the trust 3.5 litre V8 Rover engine was squeezed under the bonnet, to create the 350i, and suddenly the Blackpool-made sports car came good. A succession of larger and ever more powerful version of the engine were then installed in the coming years, setting the scene for the formula that TVR would follow until its demise in 2005. By the standards of what came next, not that many of the "wedges" as they have come to be known, were made, so they are quite rare, which means it was nice to see one, even of the JPS style livery did not quite work on this car like it does on (earlier) period Lotus models.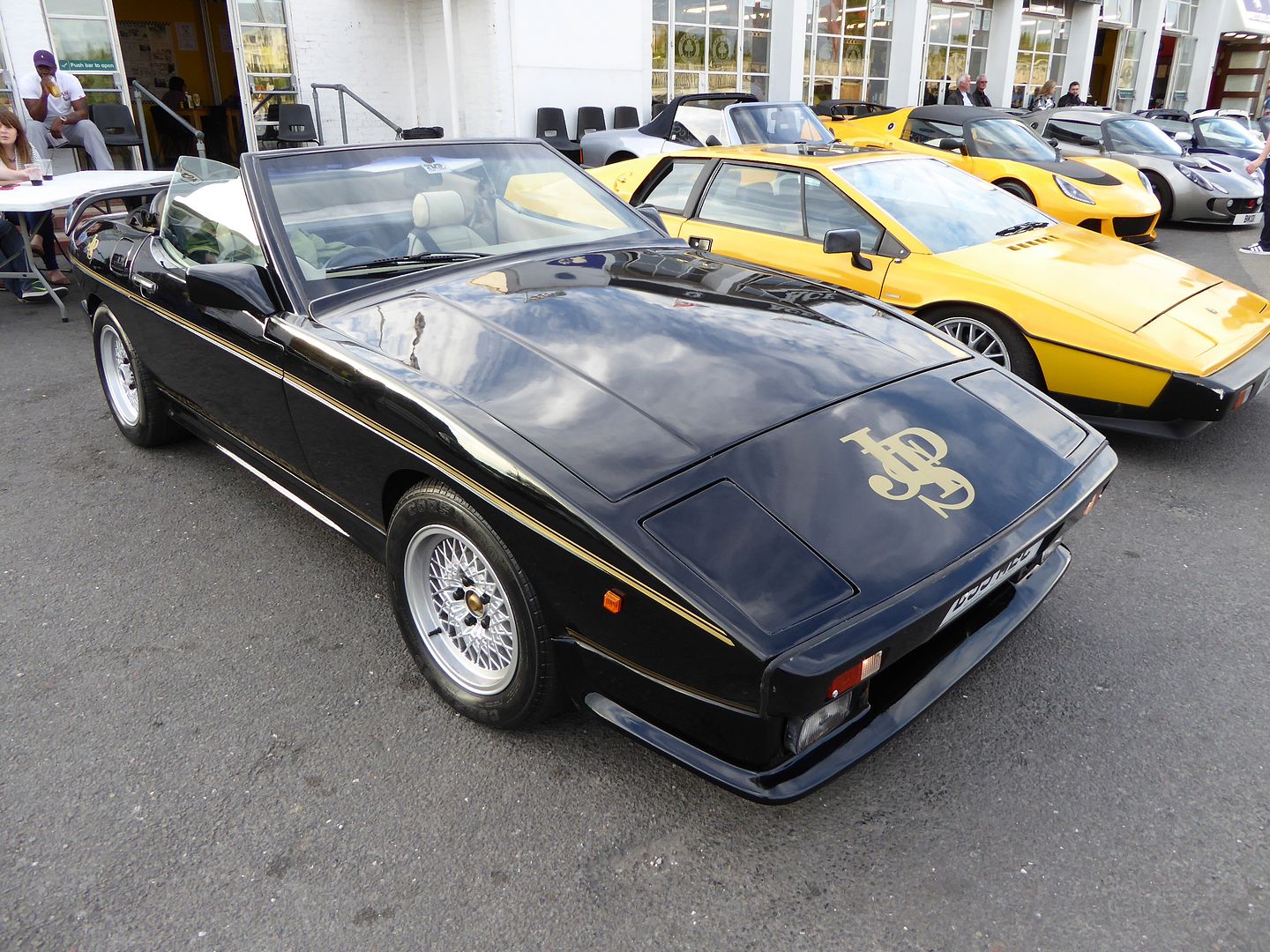 The next TVR shape to appear was quite a throw back to the classic design that preceded the "wedge" era cars. Called the S, it was first shown in 1986, and unlike many a TVR that made its debut at the UK's Motor Show, this one went into production the following summer and it was clear that this Ford V6 powered car was really rather desirable. Small changes were made, creating 4 different "Series" during its life, and – inevitably – a more potent version was created with the Rover V8 engine pressed once more into service, to create a rapid roadster. A couple of these S models were on show here.
During the 1990s, TVR presented a string of new models, all following a similar formula, and sharing much of the mechanicals between them. A couple of this era of TVR were here, the popular Chimaera and one of the rather less commonly seen Tamora, a model which was only produced for a matter of months before production of all models ceased in 2005.
ULTIMA
In many ways, one of the best comes almost last, both in terms of when it arrived, and almost at the end of this report. Certainly no-one missed its arrival, as it was, by some margin, the loudest car present. Quite a few people did not know what it was, and I had to enlighten several who saw me looking at it and waiting for a clear photo opportunity. The Gulf livery may fool some, though it does make for a very striking appearance to go with that spine-tingling noise generated by its Corvette-sourced V8 engine. It is, of course, an Ultima GTR, a sports car manufactured by Ultima Sports Ltd of Hinckley, Leicestershire and described by commentators as a supercar, a company founded in 1992 by Ted Marlow and Richard Marlow. The cars have always been available both in kit form and as a "turnkey" (i.e. assembled by the factory) vehicle. Three different generations of Ultima have been offered since 1992. The current Evolution cars are available in two body styles: coupe and convertible, both of which are preceding Ultima GTR and Ultima Can-Am models. Prior to the GTR and Can-Am models, the two models produced were the Ultima Sport and Ultima Spyder. In all cases, the design is mid engined, has a rear wheel drive layout, with a tubular steel space frame chassis and GRP bodywork. Kit builders are free to source and fit a variety of engines and transmissions but the Chevrolet small block V8 supplied by American Speed mated to either a Porsche or Getrag transaxle is the factory recommended standard, and this configuration is fitted to all turnkey cars.
VAUXHALL
Although the external styling is quite different, Vauxhall's VX220 shares much under the skin with the Lotus Elise, so it seems quite appropriate that there was one of these cars present. Indeed, the VX220 and the left hand drive Opel Speedster were made for General Motors, by Lotus at Hethel. The car came about as part of a deal between the two companies which was struck to generate enough funding for little Lotus to be able to develop a replacement for their Elise model, something forced on them owing to changes in European crash safety regulations for the 2000 model year. As part of the deal, Lotus agreed to develop and produce the Opel Speedster and Vauxhall VX220 on the new Series 2 Elise chassis, with the first Speedster concept car  shown at the Geneva Motor Show in 1999. Whilst the second generation Elise was planned to use a 1.8-litre Toyota engine, similar to that found in the Toyota Celica, the VX220 and Speedster were designed to use a 2.2-litre GM Ecotec engine from the Astra. Neither engine had been used in the original Elise, which had been fitted with a 1.8-litre Rover K-Series engine.In order to accommodate the production of the new cars, Lotus expanded its Hethel factory to a capacity of 10,000 cars, with around 3,500 slots allocated to Speedster production. Production of the Speedster commenced in 2000. The car was hailed by the motoring press as a great drivers' car and won several accolades, including Top Gear's Car of the Year in 2003. The 2.2 NA (naturally aspirated) version was considered easier to drive than the potent Turbo model, and some journalists suggested that the Opel/Vauxhall car was better value for money than the Lotus, among them one Jeremy Clarkson in his 2003 DVD Shoot Out. However, the market did not really agree, and sales were limited. The car was deleted in 2005, with no successor.
Although this was a quieter evening than I had hoped for, given the weather, it was still an interesting gathering of some legendary British sports cars, and well worth the detour that I took en route to my hotel. This is certainly one of the themed evenings which bears sampling again…………….. and so, I did. Even before the June report was completed and published, the third Wednesday of July came round on the calendar, and with a dry, if not particularly sunny evening in prospect, I once again decided to return from Central London to my hotel via the Ace Cafe, interested in seeing what would be of interest at the event. On arrival, at around 6:30pm, the answer seemed to be hardly anything at all, but patience was rewarded by a steady if not exactly copious arrival rate of cars, most of which were theme compliant, though the fact that some which were not suggested that venue was not expecting a packed turnout. Here is what appeared during the evening:
ASTON MARTIN
This DB9 arrived mid evening. A great looking car with a particularly sonorous soundtrack.
FORD
Not exactly what you would call "exotic", but you certainly would use the word "rare", this Mark 1 Escort Estate attracted a lot of attention. Back in the 1970s, these were ten a penny. but a combination of hard usage and the notorious rust problems that took their toll come MoT time means that there are very few of these left. Whilst rusty saloon bodyshells have often been used as the basis for replica versions of the sporting Mexico and RS cars, or for a spot of rear wheel drive track fun, Estates have not generated the same levels of interest and investment. This one, an XL, with non-standard bumpers, sported the rare automatic gearbox.
Later on, a second classic Ford arrived, a lovely example of the Mark 3 Capri 3.0S. When new these cars gained quite a reputation for being a value for money enthusiast's car, combining well-sorted driving dynamics with the ease of ownership f which Ford was famous in the 1970s and 1980s.
LOTUS
Unlike the previous month, when there were several older models, including a number of Esprit cars on display,. this time they were all more recent, with a mixture of Elise, Exige and Evora cars.
MARCOS
Lone representative of one of the smaller British sports car marques was this classic Marcos 3 litre GT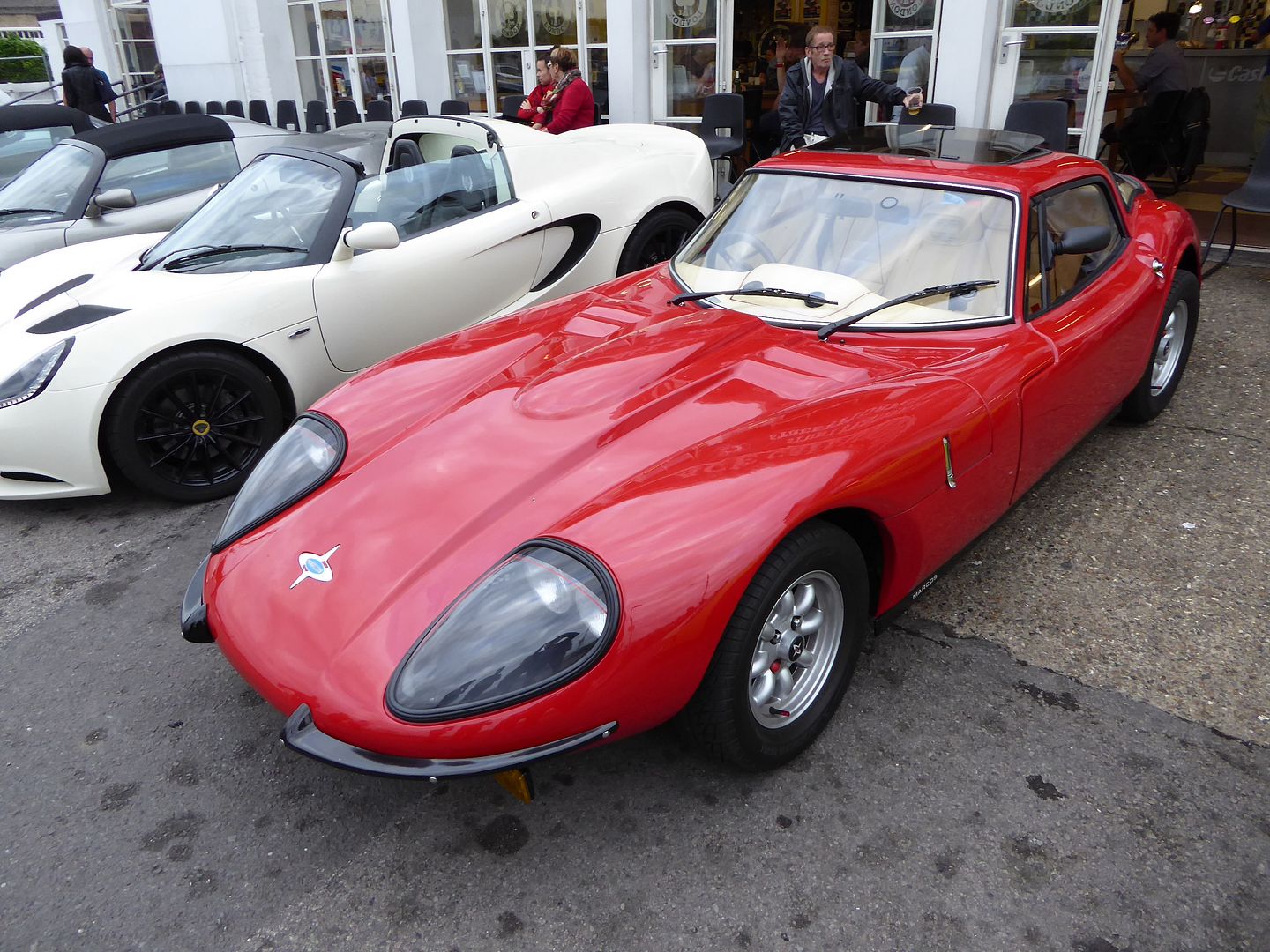 PORSCHE
Evidence that this was not going to be a packed out night came when the venue had no problem letting this 993 Cabrio in onto the forecourt. For sure, this is a very nice car, but on busier occasions, they take a very hard line on cars that are not theme compliant, asking them to be parked on the street.
TVR
I spent quite a while talking to some of the TVR Owners. It became clear that there is quite a rivalry between them and the Lotus owners, and they got ever more pleased as the Blackpool cars started to outnumber the Norfolk produced ones. Initially there was just a pair of Chimaera models parked up, but these were soon joined by a couple of Griffiths, and then a Tamora and an S.
Whilst not exactly a busy evening, it was still nice to see a collection of British sports cars and to enjoy some conversations with some of their owners.