Long gone are the days when most car showrooms occupied a place on the High Street that was little bigger than a regular shop. The move to out of town locations was forced upon most garages as the volume not just of cars that they wanted to display, but also to work on in servicing or repair mode meant that a lot more space was called for. Nowadays you will find massive edifices, often grouped together with rival brands more or less next to each other, where parking is easy, providing an alternative to the retail experience that has also increasingly relocated out of traditional town and city centres. The other change has been a consolidation of garage ownership from small family businesses to a relatively small number of massive groups, well placed to leverage economies of scale not just of their own operations, but also buying power from the manufacturers. It is no surprise that America led the way on this in many respects, and in many towns and cities you will see a long line of dealerships, all apparently bursting with cars. That's because there is still one significant difference between the US and Europe. An American customer expects to be able to walk into the showroom, do the deal and drive off in the precise spec of car that they want, all on the same day, which means that dealers have to keep massive inventories of new cars, whereas in Europe, consumers not only typically take longer to decide what they want before signing on the dotted line, but they are also accustomed to waiting for the car of their dreams to sourced, in many cases as a factory build. In America, this means that a large dealership can almost be better than a Motor Show stand. Couple that with an assembly of marques – many of them competing – that are all represented by the same dealer group such as the principal subject of this report, the Penske Group, and you have somewhere that the enthusiast can spend hours wandering around. Penske have a number of showrooms in the Phoenix area, but it is those which surround the Race Museum, just off the Scottsdale Road on the north eastern side of the city which have become a regular haunt for me on my trips to the locale. Enjoy here an array of cars – a mix of brand new and used – that were on show at the time of my visit at the end of March 2015.
ACURA
Acura has had a tough time of things, lately. And you have to say that it is largely self inflicted. One look at their recent products – and one look was quite enough for most people's eyes and stomachs! – is enough to suggest why, as the products went through a phase of trying to look bold. Worst culprit was the 3 series rivalling TL, which had once been among the best cars to drive in its class, but in the UA8/9 series generation produced from 2009, it failed in this respect, as well. A toned down front and rear end, part of a mid-life facelift removed the worst of the gawkiness, but even so, it remained an odd-ball choice, something that Acura will be hoping is not the case for its brand new for 2015 replacement, the TLX. Both were on site here for inspection.
There was nothing particularly wrong with the old RL (a car known as the Honda Legend when sold in Europe), but with no particularly obvious advantages over its rivals, it was struggling to get into 4 figures of sales per year. An all new car, the RLX was also launched for the 2015 model year. Again, this is quite a competent car, but it would seem that it is finding no more buyers than its predecessor.
Acura had been offering an upgraded version of the Civic in the Canadian market for some time, and finally decided to offer American buyers a lower entry point into the range with the ILX, Several of these were on display.
It is the SUVs that have kept Acura alive, really, with the mid-size MDX and smaller RDX now both firmly established on the market, both of them onto a third generation.
ASTON MARTIN
There were not many Astons parked up outside, but I did find a couple of examples of the latest Vanquish, and inside there were all the other current models on show, including the DB9, a V8 Vantage in the slightly brash N430 format and a couple of Rapide S models.
AUDI
in Europe, Audi vies very much with BMW and Mercedes in the sales charts, with barely a few cars in it between the three German brands. Not so in America, where far more BMW and Mercedes are bought than the Ingolstadt product. To some extent that is because the ranges that all three offer to American customers are somewhat reduced – a fact usually bemoaned by the Audi salesperson that I talk to when I go into the Audi showroom part of this complex and talk about my S5 Sportback, a model which is denied to American customers. Audi have increased the number of diesel models that they offer in America, as the first toe in the water proved that there was greater demand than supply, and then when the cars were not instantly available, customers simply went elsewhere. But looking around what was in the showroom and parked up outside, there was a very clear emphasis on the high end S and RS badged cars. Surrounding the showroom, for instance, I came across this S4 and S5, an SQ5, and both an S and RS version of the A7, variants that are particularly rare in Europe.
Needless to say, in an affluent area like Scottsdale, the R8 is very popular, so it was no surprise to find both the Coupe and Spider models here as well.
There were a number of what you might call "regular" models, too:  A4, A5 Cabrio, A6 and A7, and the Q5 all attracted my camera.
Audi sold the previous generation of the A3 to American buyers only in 5 door form, and sales were correspondingly limited. When the new model was announced, Audi declared that they would not be bringing it to the US in conventional petrol-powered guise, and that buyers would have to wait for the eTron hybrid. That all changed when the Saloon model was unveiled in 2014, as this configuration is a far hotter sales prospect in hatch-averse America that the 3 and 5 door cars would be, so it is now available, along with the Cabrio, and selling decently well.
Parked up around the back, among the older used cars included a nice example of the B7 generation A4 and the very nice S4 Cabrio
BENTLEY
There have been two distinct generations of the Continental based cars, first seen in 2003, and for both, a number of variants. First time round the cars all had the W12 engine, in various states of power, whereas for the second generation cars, the Audi-derived 4 litre V8 was also offered. Many are surprised that it has not completely replaced the larger and thirstier unit, but recent years have seen enhancements to models powered by both units, meaning that there are quite a lot of different variants, eve before you factor in the different body styles of Coupe GT and Convertible GTC. Several examples, new and used, were to be seen on site and in the showroom.
There were also a number of examples of the four door saloon version, the Flying Spur. In its first generation this was clearly a four door saloon version of the GT Coupe., but for its second iteration, the model has been separated to stand aside from the Continental range, a move which appears to have found favour with many buyers.
Rumours persist that there will be larger Coupe and Convertible models than the Continental based cars once more, but until they are released, those who want a large and, dare I say, more "traditional" Bentley will need to look to the second hand market at cars like these Brooklands and Azure cars, very imposing machines indeed.
Going back a further generation, to the days long before the German ownership of the brand was even something that anyone might have considered possible or likely, were the Bentley versions of the Silver Spirit. This was the era when Bentley sales started to outstrip those of parent company Rolls Royce, thanks to the introduction of the Turbo engine in the Mulsanne. Subsequent to that 1982, launch, Bentley was positioned as a more overtly sporting brand, and a series of models were introduced to the range, using names from the marque's illustrious past, such as Brooklands and Eight. Here was one such.
BMW
There was a vast array of i3's parked up, many of them plugged into a charging point.
Taking pride of place inside the showroom was the hybrid i8, BMW's striking looking supercar which despite its lofty price tag has proved to be more popular than anticipated, with lead times stretching out as much as a couple of years.
Other cars in the showroom were the rather more "ordinary" looking 3 series, now sold in the US with a diesel model added to the range for 2015, but mostly bought in the US in petrol or petrol/hybrid format, and seen here as the 320i and 328i, the 535i and a 650i Gran Coupe.
Outside was an example of the latest M4 as well as the popular X3 and X5 and a 640i Convertible.
CHEVROLET
Chevrolet have always wanted us to think of the Corvette as a true rival to the Porsche 911 and others of that ilk, but despite successive cars getting steadily less rough and ready, that's been a bit of a leap too far, but there is plenty to suggest that with the C7 generation, they are closer than ever. the ZO6 model certainly had performance that troubles even the Turbo 911, but with a rather lower price tag.
DODGE
Although lacking the prestige badge of most of the other cars on site, there can no be no denying that the performance of this car would not give many a model with a much higher price tag a good run for its money. This is a top of the line 6.1 litre Hemi engined Charger SRT.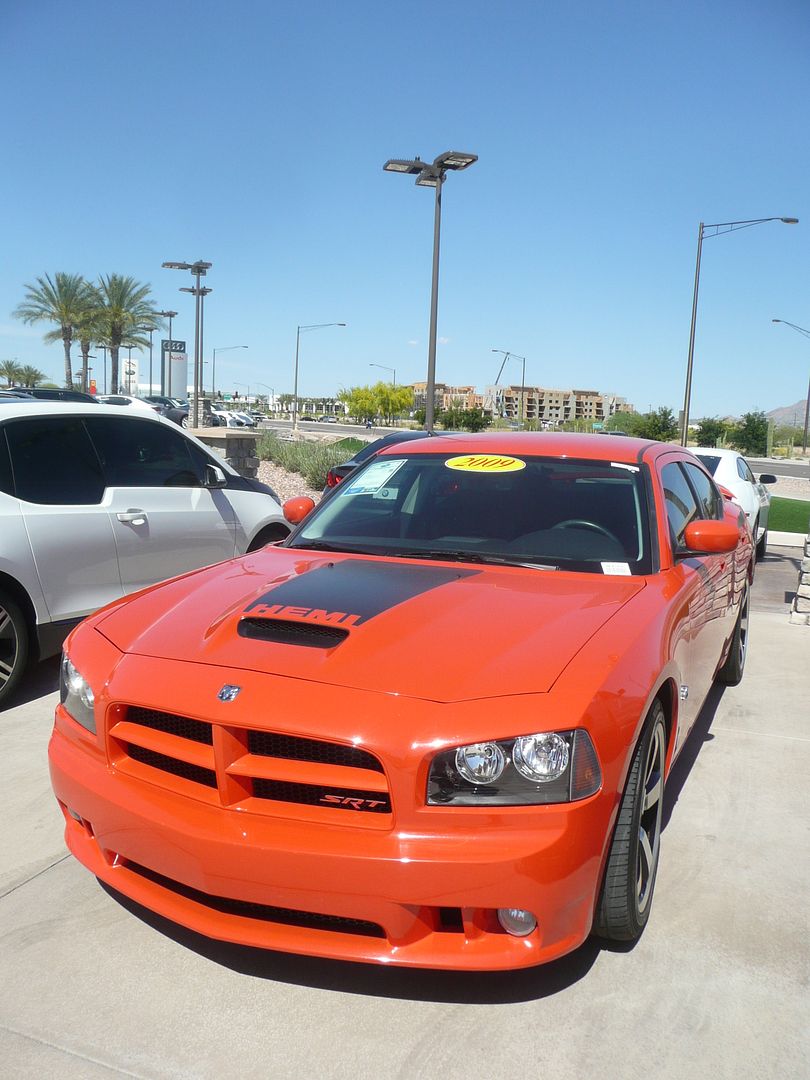 FERRARI
The Ferrari showroom is a great place to visit, with not just cars to see, but some lovely pictures and other artefacts adorning the walls, and various books handily placed by the comfy chairs that presumably customers use when they are waiting to collect their cars. On display here were examples of all the current range: 458 Italia and Spider, an FF, a F12 Berlinetta and the latest California T as well as a car representing the approved used car program, an immaculately presented F430 Spider
Outside, it was the 458 Italia and Spider that was most prevalent, with several examples of the model. When Ferrari introduced the Spider, they said that they thought that demand for this one would outstrip the closed Coupe Italia, and that would seem to have proved to be the case. Certainly the evidence here would suggest it to be true in this market.
Although the basic silhouette is little different, there are so many changes between the original California and the new California T that the latter is almost a new car. It certainly is a better looking car, and comparison of the original with the turbo-charged T model shows that detailed changes have had a beneficial effect. I understand that the mechanical changes make it far nicer on the road, as well.
There were rather fewer twelve cylinder models present, but I did come across an F12 Berlinetta, and from its predecessor's generation both a 599GTB and a GTO as well as the rather large 612 Scaglietti.
Older Ferrari models, most of which were parked up in the area where cars to be serviced were left, included F430s in Scuderia and Spider guises, one of the 575 SuperAmerica and the less well-received 348tb and Spider models.
FORD
Two very different Fords to show here: an example of the GT, and then parked up among a variety of older cars round the back, a classic 1970 Mustang
JAGUAR
On previous visits, the conversations with the Jaguar sales team have elicited a certain frustration that the engine choice in the US market range has been a bit too limited, as the diesels do not figure, leaving just the high end petrols, which are a bit too high end for many customers who are looking at the obvious BMW, Mercedes or Lexus rivals. No such comment applies to the F Type, of course, which is available with the same engine options in America as it is in the UK, and which would seem almost made for this market, with no worries about CO2 emissions.
There were plenty of the latest XF and XJ models in the showroom and parked up around the back as well.
And that is also where I came across this XKR-S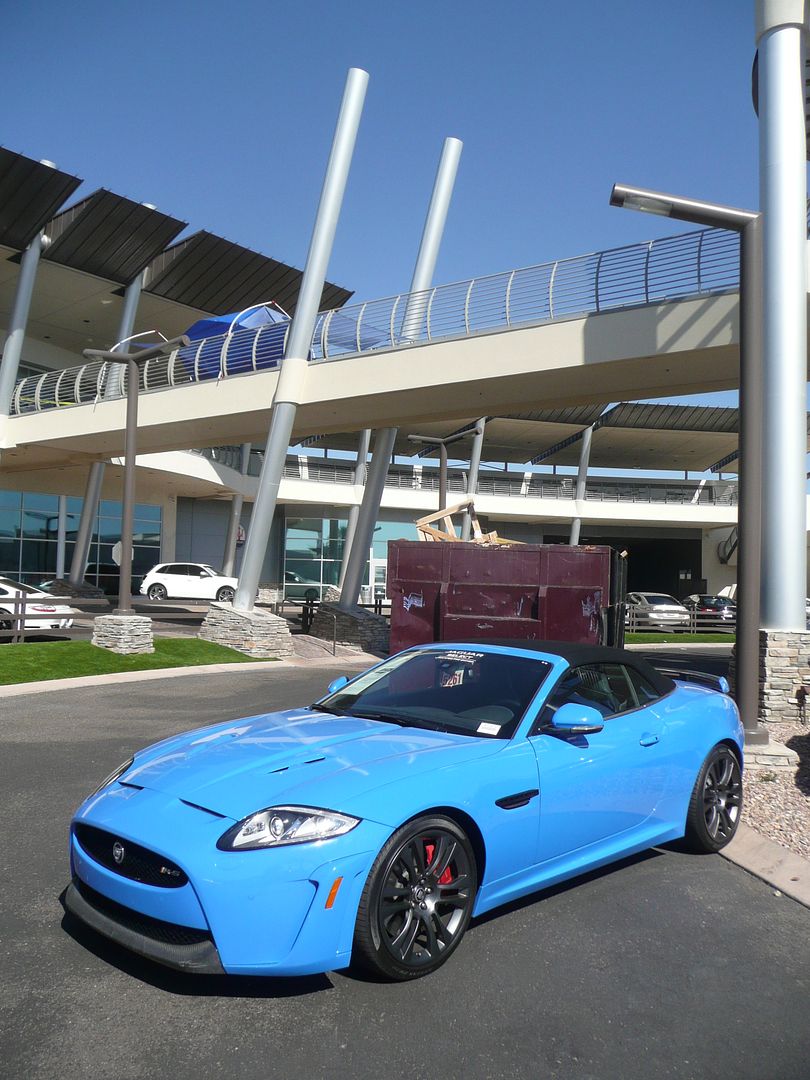 LAMBORGHINI
Pride of place in the showroom went to an Aventador Spider, and it was joined by a fixed head model and one of the relatively new Huracan models.
Outside, there were lots of Gallardo models, in both Coupe and Spider guises, with some of the myriad different versions offered during the 12 year production run among them.
LAND ROVER
As well as display space in a showroom shared with Jaguar, there is a small "off road" course set out behind, and although I saw no sign of any of the cars being demonstrated on it, I presume that should the occasion warrant it, any of the current range can be shown tackling a series of obstacles which range from very steep ascents and descents to very unlevel surfaces. Some of the large number of Land Rover products were parked up around this and in lines surrounding it, which is where you could inspect the latest Evoque, the full-blown Range Rover and the car we know as the Discovery, but which bears LR4 badging in this market. The new Discovery Sport had not, at the time of my visit, gone on sale in the US, so was not on show.
MASERATI
If you want to see the current range in all the available colours, this would seem to be the place to come. Lined up outside were in excess of 20 Ghibli models and almost as many Quattroporte cars. A Ghibli is still on my short list as a possible replacement for the S5, and I always thought that the deep metallic blue was the best colour, but having seem the rich metallic wine red, I could be persuade that in fact that, with a nice tan or cream leather interior is even nicer.
Quattroportes seem to be offered in a slightly more restricted palette, with a range of white, silver, grey and black models on display. I still think that the previous generation model edges this one on looks, but this is still a good looking car.
In the showroom, there were further examples of the Ghibli and Quattroporte as well as the GranCabrio.
Both the GranTurismo and GranCabrio were also much in evidence outside, with several further new and used examples parked up.
Also to be seen was the elegant open topped 4200 Spider from the generation of Maserati that really reawakened interest in the brand and which sold on an unprecedented scale.
MINI
There were dozens and dozens of MINIs parked up around the back of the showrooms. The 5 door version has recently gone on sale in the US, and this was very evident along with the 3 door version in its latest, third generation guise, and so were the other body styles of Cabrio, Coupe, Roadster, Clubman, Countryman and Paceman.
Inside the showroom, it was none of these which caught my eye, although there were examples of the current range on display.
Instead, it was this fabulously cool Mini Moke of the 1960s that had me all interested. I did not think that they had ever officially been sold in the US, and a conversation with some of the dealer staff confirmed this to be the case. The car is privately owned by a local couple, and they do take it out from time to time, but when they are not using it, are very happy to leave it in the care of the dealer. The staff did go on to say that if they could only get their hands on several more, they've had lots of offers from people offering insane amounts of money to buy one. Perhaps this ought to the next bodystyle that MINI offers?
NISSAN
Although there is no Nissan franchise on-site, this GT-R Nismo was parked up in the showroom, and it did not seem out of place.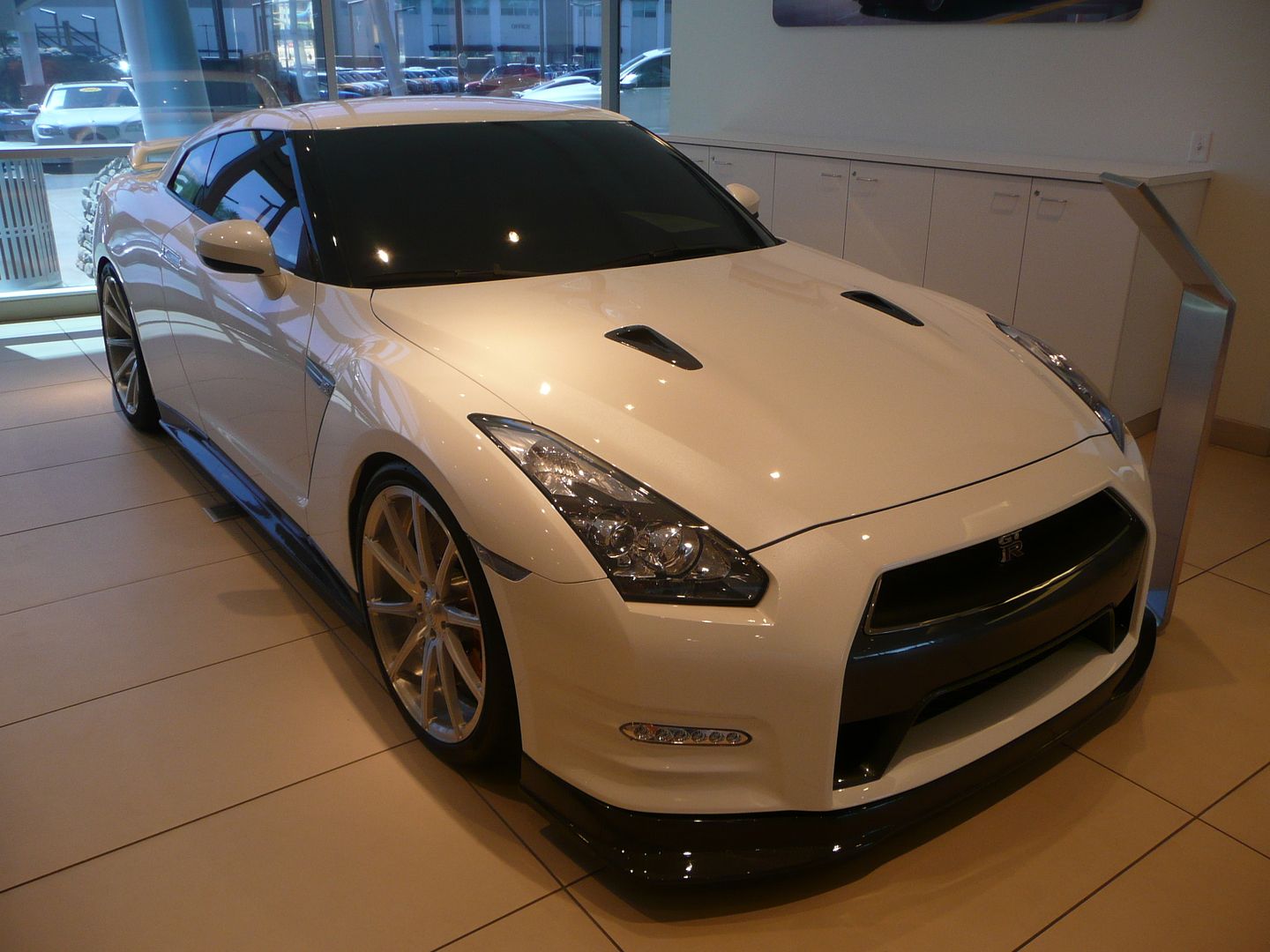 PORSCHE
The Porsche showroom is at one end of the complex, and there is a huge area both in front of it and to one side which was crammed full of Porsche models. Some were new, but there were plenty of used machines among them as well, though in most cases you had to look quite carefully to verify this, as all long-running models have undergone gradual evolution in their looks. Most numerous, of course was the 911, with plenty not just of the current 991 generation, in Coupe, Cabrio and Targa guises, as well as the different engines from standard to S, GTS and the Turbo cars.
There were several of the rare and highly desirable 911 GT2 and GT3 models on show, too. The GT2 car was moved out of the showroom, briefly, and then back in again. It makes a noise quite unlike – and far louder than  – the other cars in the range.
Many people come into the showroom to look at a 911, but end up buying a Boxster or Cayman, as these are notably cheaper both to buy and run. As I found out when I drove the latest Cayman, they are excellent cars in their own right, so you really are not missing out unduly if that is what you drive away in. There were lots of these on show, both current and previous generation cars.
Although there were outcries when it was first launched, of a further devaluation of the brand from its sports car heritage, the Panamera is now an established model, and while it will never win prizes for its beauty, it is a strong seller and an important generator of profits which funds the 911 and the Boxster/Cayman cars.
That's probably the way to look at the Cayenne, Porsche's best selling model, and the recently launched Macan as well. With a whole raft of very high end SUVs about to be added to the range of many more marques, this success has clearly not been lost on the likes of Aston, Bentley, Jaguar, Rolls Royce and even Lamborghini.
Whilst I was admiring this lovely 356C Cabrio which was parked in one of the servicing bays, one of the staff told that there was an even rare red model in the main parking area around the back, so I set off to find it, and sure enough I came across what looked like a Speedster with its low front windscreen. I don't think it was one of those original and very limited production cars, but it was still a nice find among a vast area of other Porsche models.
ROLLS ROYCE
There remains something very imposing and stately about the Rolls Royce, even though the latest model, the Wraith, is apparently surprisingly sporty to drive. It is certainly a model that is more likely to be driven by its owner as opposed to being appreciated from the rear seats whilst the chauffeur pilots it down the road. The design has grown on me somewhat since I first saw it, but it does seem quite sensitive to colour, with some choices or combinations making it looking rather elegant, and others just making it look big and a little gawky.
No such allegation can be levelled at the Ghost, which is exactly how you imagine a modern Rolls Royce should be.
The Phantom Drophead, a vast behemoth of a car, carries on the tradition of the imperious open Rolls that goes back to the very beginnings of the marque.
VOLKSWAGEN
At the far end of the complex from the Porsche showroom is Volkswagen. This one seems permanently to have a number of classics on display, all of which are quite fabulous to behold. They are all nominally for sale, though the fact that they have been there for years suggests that no-one is trying that hard to sell that, certainly at realistic prices. My favourite, the bright orange "Thing" is on offer for $28,000 which is a lot, even if it is a rather cool looking, well, "thing". Also from this era are a couple of the legendary Beetle, a Karmann Ghia Coupe and the Type 2 in Bus and Pickup formats.
It is largely thanks to the American market that we got a second generation "new" Beetle. The first was a big hit for a while, featuring as the "must have" cool new car until the novelty wore off and the market moved on. The second generation car, objectively better than the first in many regards, never seems quite to have captured the public's imagination in the same way.
VW's best selling car in America is this, the Jetta. Moved away from being nothing more than a Golf with a boot, to being a separate model in its own right, the latest car was criticised on launch for being obviously cheaper in too many regards, and yet sales went up significantly, proving that the public do not take too much notice of what the press say.
Other VWs that went before my camera included the familiar GTi (branded separately from the Golf to Americans) and the long established Tiguan
MERCEDES-BENZ
Penske do not have a Mercedes showroom at this site, as there is a rival group across the road selling the brand, but you do see some secondhand models on the Penske site, such as a McLaren SLR, these SLS AMG Coupe and Roadster models and a number of other AMGs including an SL65 a CL63 and an S63 as well as the latest S550 and S63 AMG Coupe and some previous generation S550 Saloons.
Crossing across the street, there is a far wider selection of Mercedes models on show, with lines of each different model parked up in the area surrounding the showroom, and a small selection on display indoors. Many of the cars indoors were AMG models, of which my favourite were the pair of G models, which included a G63. There was another of these completely bonkers machines outside.
Also in here was SLS AMG Roadster with some particularly unpleasant rims, absolutely not to my taste at all.
The cars outside were parked up by model type, so you could see a whole line of each of the ranges that Mercedes sell to American buyers. Oldest model in the range, and next for replacement, as early as next year, it is understood, is the E Class.
S Class models, along with other higher end cars, have different numeric badging from the European cars, with the 550 badging being used where we would see 500. And as the American customer does not care about CO2, these are the staple of the range as opposed to the 350 Diesel that is the strong seller in Europe.
The same applies to the CLS Class, sold in America only in Saloon (Coupe) guise and not in the Shooting Break model that we in Europe can choose.
The A Class is not offered to American buyers at all, but they do now get both the CLA and the GLA. The former made headlines when launched, as it was priced at $29,995, so all the advertising concentrated on the fact that you could get a Mercedes for under $30k. By the time you had added the Destination Charge (their term for Delivery) plus a few choice options, you were probably looking more like $40k than 30, and whether you really wanted one or not is a moot point. The US press suggested not to bother, using words like "cheesy" and "contrived", finding lots to fault – and not the things which I don't like about it, which are its truly terrible rear seat access and space – but the car was found a steady market even in CLA250 guise, the entry level model.
You would probably be better off spending a little more and getting a new C Class, and there were loads of these cars, with their S-Class aping styling parked up at one end of the Mercedes area.
With the launch of the GLA, Mercedes have a comprehensive range of SUVs, now, and there were examples of all of these: GLA, GLK, ML, and GL.
Sporting models were represented by this used SL63 AMG, an SL550 and an SLK.
LEXUS
A Lexus dealer opened on the other side of Scottsdale Road a few months ago. It is well documented here that I am no fan of Lexus, who seem to have perfected the art of producing cars that are appliance-like dull to drive, with some wilfully ugly styling in the mistaken belief that this will make their cars interesting. in Europe, where they also have not got the model mix right, so the CO2 efficient cars are the costly ones compared to the CO2 inefficient affordable models in the range, sales are quite frankly deservedly pathetic, but it is very different in America, who cannot get enough of the entire model range. It was the sight of  Plymouth Prowler which had been on a display plinth beside the road which suggested that it would be worth heading on for a look. When I actually did so, the Prowler was nowhere to be seen, and the salesman who greeted me, as I was looking around outside told me that it had been sold to a new owner from New Jersey and had been shipped there the evening before. He did then go on to tell me that there was an LF-A inside. That was all the incentive I needed to go in and have a look! The LF-A remains something of an oddity in Lexus' 26 year history, as it is, by universal consent, a very impressive supercar indeed. Sure enough, I found a bright yellow example, with protecting ropes rather tightly arrayed around it.
The same salesman was equally ebullient about the RC, telling me excitedly that they had an RC-F on site. It transpires that this car, which is aimed at the M3 and C63 AMG Coupe, but which in the opinion of most Europeans at least, fails to rival them in anything other than price and raw performance stats, sells almost before the cars reach the dealer. Accordingly, most of the RC models I found were the lesser RC350, a variant which is not currently offered to Europeans. Whilst I can accept that the car's bold styling will appeal to some, to me, it is just an over-wrought mess, trying too hard with lines., surfaces, grilles and fussy details which show that Lexus is not afraid to court controversy, recognising that they will likely alienate at least as mean as they can embrace with this bold new look.
Elsewhere on site, I found examples of the current range: CT, IS, ES, GS, LS, NX, RX, GX and LX.
NOT JUST in SCOTTSDALE
These final pictures don't come from Scottsdale, or even Phoenix. In fact that they are not from Arizona, but neighbouring California. If you head north west up the 101 freeway from Los Angeles towards Ventura and the Pacific Ocean, when you go up the hill past Calabasas, up on the right is a very prominent car showroom which contains Lamborghini, Maserati and other high end marques. On my last day in the area, before flying out to Phoenix,   I pulled off the freeway and went to have a look.
It was the brightly coloured McLarens which caught the photographer's eye first, with both 650S Coupe and Spider gleaming under the Californian sunny skies.
Parked up with them were a row of Maserati models, with the latest Ghibli and Quattroporte joined by the longer-running GranTurismo and GranCabrio.
It is doubtless thanks to sales in the US (and other affluent markets such as the Gulf States and Russia) which has kept the Mercedes G-Wagen in production quite so long. Conceived as a rival to the Range Rover of the 1970s, the G has grown steadily more luxurious and more expensive. AMG versions, such as this G55, cost in the region of $130,000, so they are a long way removed from the vision of those first cars which were seen in 1979, even if the same body shape presents itself when you see one.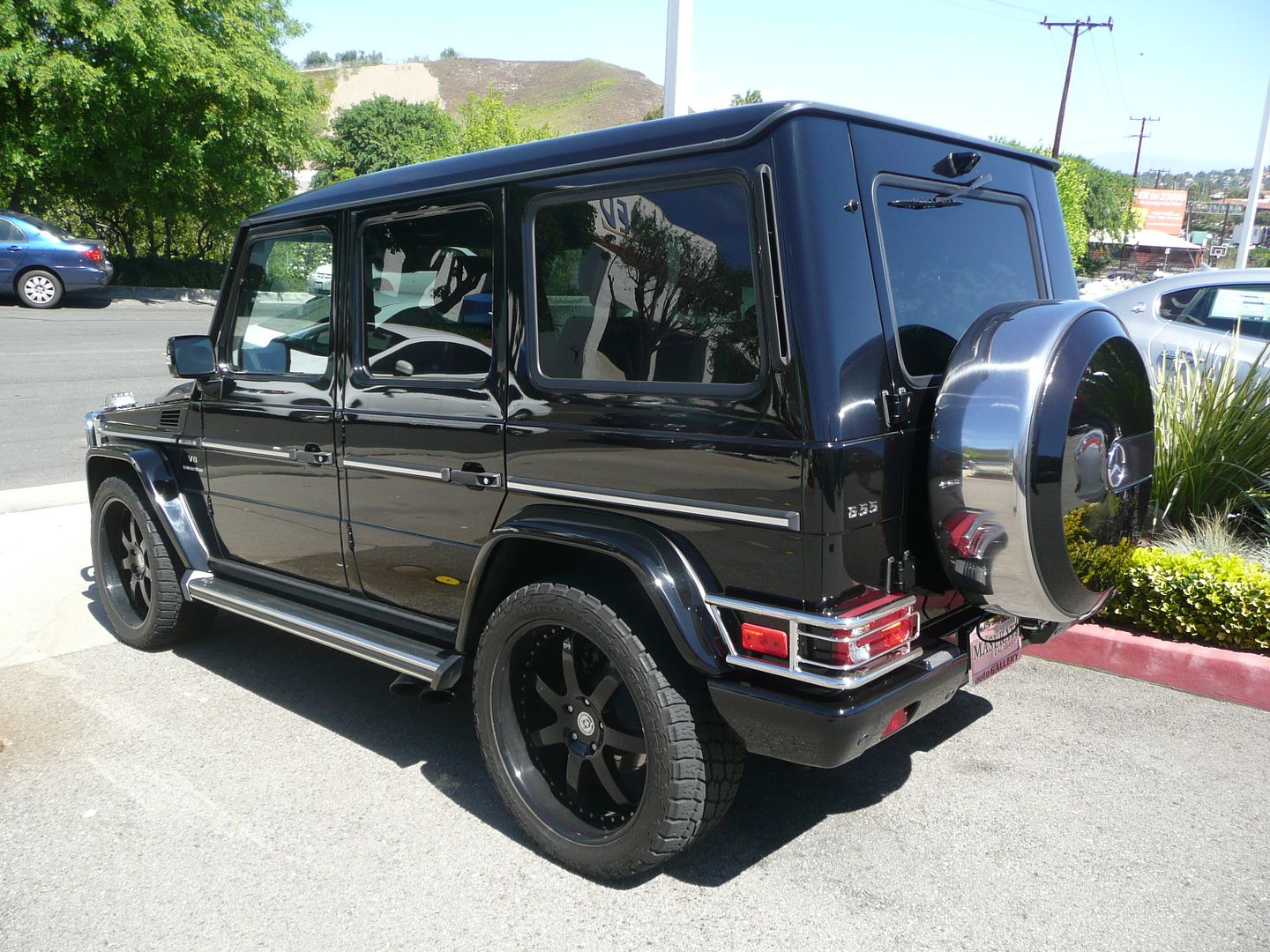 Even the secondhand cars – or rather, the "pre-owned models",  in car sales euphemistic speak! – are rather special, such as this Ferrari California, Mercedes SL63 AMG and BMW 650i Cabrio
The service area is a few hundred yards down the road and there I found this rather nice Bentley Continental GTC parked up for special attention.
For the car enthusiast, calling into places like this is a bit like being taken to a large toy shop when you were a small child. You almost certainly can't afford anything that is on show, but that does not detract from the pleasure of looking. Unlike a lot of high-end dealers in the UK, where supercilious and overbearing staff make it very plain very quickly that you are not really welcome unless you are likely to buy, it is perfectly acceptable to stop by,. just to look, and dream. The sales staff will engage you in conversation – that's the American way – but just being honest, and saying that you are there to look is absolutely fine, And anyway, a British accent will have them so intrigued that they will want to carry on talking just so they can hear it!