2015 marks the fifth anniversary of the Donington Historic Festival. That makes it a relative newcomer to a packed calendar of historic motorsport events, but it did not take long for word to get out that this was a really worthwhile addition to the year's challenges for the competitor. The East Midlands circuit is also well known for the excellent spectating opportunities which come from the topology of the circuit with several locations giving the avid racing fan a view of a large portion of the track. Couple a packed series of 20 different grids of over 400 cars from the 1990s back to the 1920s, ranging from Single Seaters to Touring Cars, Historic Sports and GT cars, 500cc engined tinies, and Formula 3 and 1 cars, displays and demonstrations of Grand Prix and Supercars through the decades, plus live historic rally car action, an extensive area of Car Club displays, the promise of a relatively uncrowded event (though it is getting busier every year), affordable ticket prices, and you have an event which is one of the "must do" for my year's schedule. Held over the three day Holiday weekend at the start of the May, my biggest disappointment is that as this overlaps the Brooklands Auto Italia event, I cannot attend all of the Donington Historic Festival. This year the event was moved from Friday – Sunday to be Saturday  – Monday, and it was tempting to stay on overnight on the Sunday to get a second day's enjoyment, but other diary pressures precluded that. There was an additional challenge, and that was only evident on the day: the weather. Sadly, the forecasters got it right, and I arose on the Sunday morning, to hear the rain lashing down hard. Undeterred, we checked out of the hotel and headed to the circuit, hopeful that the until then fairly dry ground would at least absorb the rain so it would not be too soggy underfoot. Even so, the first couple of hours, spend sheltering under an umbrella and feeling rather cold (Donington can be very bleak indeed on a wet and windy day!) did have me wondering if it was all going to be worthwhile. By mid morning, though, the wind had taken the rain away, and it started to dry out, with the day ending up really rather sunny, and whilst some spectators and indeed Car Club cars were clearly scared off by the inclement start, it turned out to be an excellent day, with lots to see, in the Pits, on the Track and in the Car Club display areas. Here are the photos that I took to record the day.
IN THE PITS AND PADDOCK
As with all events of the type, there is pretty much unrestricted access for everyone to the Pits and the Paddock, so there is a great opportunity to get up close to the cars and to watch what goes on as they are prepared for the moments of glory (or otherwise) on the track. Many of the competitors arrive in large trucks with a team of people and an array of spares, tools and equipment second only to what you will see at a Formula 1 race, so the Paddock area can get quite congested. As soon as a team or car has finished its racing, a well-practised operation has everything packed up and on the road ready for the next race, wherever that may be. This does of course mean that  the contents of the Paddock area will change on a daily basis for a 3 day event like this one. Consequently, what I saw was largely what was going out on track on the second day, the Sunday. Practice started promptly at 9am, and ran until 10:45, and then a series of races and further practice got underway from 11am. There were 8 different grids to be seen during the day: GT & Sports Car Cup for pre-66 GT and sportscars; pre-66 under-two-litre Touring Cars; FJHRA/HSCC 'Silverline' Historic Formula Junior Championship – Front-Engined; Royal Automobile Club Woodcote Trophy for pre-56 sportscars; HSCC Historic Formula 2; HRDC 'History of the BTCC 1958-1966'; HGPCA combined grid of pre-61 and pre-66 Grand Prix cars; and the HSCC Super Touring Car Trophy. There were several large grids, but sadly, I only have photos of a relatively small subset of the cars competing.
GT & SPORTS CARS for pre-66 GT AND SPORTS CARS
This was one of a number of races making its first appearance on the Donington schedule, and it presented a glorious line-up that included Austin-Healeys, Morgans, Aston Martins, Jaguars, TVRs and AC Cobras. Leo Voyazides and Simon Hadfield drove their AC Cobra Daytona Coupe to victory.
PRE-66 under-two-litre TOURING CARS
Ex-Formula 1 driver Jackie Oliver shared a BMW 1800 Ti/SA with Richard Shaw in this race, taking second place behind the Alfaholics Alfa Romeo Giulia Sprint GTA of Andrew and Max Banks, with a quintet of Ford Cortinas (four Lotus Cortinas and a Consul Cortina) in hot pursuit.
This class was dominated by Fords, but the ubiquitous Mini Cooper was also an entrant. did photograph were Italian, and include an Abarth 850TC, and an array more Alfa Romeos, such as this Giulietta Sprint and Berlina and a further Giulia Sprint GT.
FJHRA/HSCC 'SILVERLINE' HISTORIC FORMULA JUNIOR CHAMPIONSHIP – FRONT ENGINED
Some 70 Formula Junior cars provided enormous entertainment, split across front-engined and rear-engined grids in the FJHRA Silverline series, 10 of which were Elva Juniors, and part of the 60th anniversary celebration of the marque. Will Mitcham won both of the front-engined races in a U2Mk2, and it was also double victory for Sam Wilson in the rear-engined races in a Lotus 20/22.
ROYAL AUTOMOBILE CLUB WOODCOTE TROPHY for pre-56 SPORTSCARS
Jaguars featured strongly in the Royal Automobile Club Woodcote Trophy race for pre-56 sportscars, with the D-type of Carlos Monteverde and Gary Pearson finishing second behind the dominant Cooper T38 of Fred Wakeman and Patrick Blakeney-Edwards.
My favourite were the pair of gorgeous Maserati 300S cars, of course.
There were also a number of Austin-Healey 100 models in this class.
One of the rarer entrants were this Lister-Bristol and a Lotus X
Also in the class was this Connaught ALSR and a Cooper T20/23
HSCC HISTORIC FORMULA 2
In period Formula 2 was a proving ground for some of our greatest-ever drivers, including Clay Regazzoni, Jim Clark, Jochen Rindt, Graham Hill, Jackie Stewart, Niki Lauda, Jody Scheckter, Ricardo Patrese and Keke Rosberg, and many of the cars they drove were well known, too. A great selection of them were entered for the two races for pre-79 cars here, including the Brabham BT36 and BT30, Chevron B17, B27 and B42, Ralt RT1, Lola T240 and March 782, 712, 722 and 78B, and an array of drivers  from across Europe. Darwin Smith scored a double victory in the March 722, while the HGPCA's combined grid of pre-War to 1966 Grand Prix, Voiturette and Formula 1 cars bought pace and beauty to the weekend.  Cars from the 1920s to the 1960s were all out together, including Stephen Bond's Lotus 18, the car that Stirling Moss drove to victory in the 1961 Monaco Grand Prix. Another Lotus 18 – driven by Peter Horsman – took victory on the Saturday, while Jon Fairley moved up a place from his second position on Saturday to take victory in his Brabham BT11 on Sunday.
'HISTORY of the BTCC 1958-1966'
There were plenty of Touring Cars of all shapes and sizes for this race, with the tiny 'tin-tops' that formed part of the HRDC Touring Greats grid stealing the hearts of many visitors. 'Bluebell' the Morris Minor was joined by a host of other nippy little machines, including a VW Beetle, Hillman Imp and Austin A35, all jostling for position against considerably bigger cars. And it was another little'un – the Austin A40 of present-day BTCC driver Andrew Jordan and his father Mike – that took the chequered flag. In the HRDC History of the BTCC 1958 -1966 race, size and power came to the fore, with the Ford Mustang of Michael Whitaker and Eugene O'Brien beating Mike Gardiner and Niki Faulkner's Ford Falcon by over 20 seconds.
Among the more improbable cars entered in the class were an Austin Westminster A105 and a Standard Pennant.
Cars you might expect to see, and did included an array of Alfas. a Mark 2 Jaguar 3.8, a lot of Lotus Cortinas and the BMW 1800Ti. as well as several more potent American cars such as the Mustang and Falcon.
HGPCA COMBINED GRID of pre-61 and pre-66 GRAND PRIX CARS
The earliest cars of the weekend were to be found in the HGPCA's combined grid of pre-War to 1966 Grand Prix, Voiturette and Formula 1 cars. Two exciting races saw ERA take on Aston Martin and Cooper battling Lotus. Stephen Bond came with his Lotus 18, the car in which Stirling Moss took victory in the 1961 Monaco Grand Prix, while other star cars included the ex-Moss and Salvadori Aston Martin DBR4 and the 'Grand Prix car that never was' – the Kieft GP that was famously commissioned but never raced in period.  One car with special Donington history was Nick Topliss's ERA R4A, which, in the hands of Pat Fairfield, won the 150-mile Nuffield Trophy at Donington in 1935. Expectations had been high that the ex-Jack Brabham Cooper T53 would be e up front, with more Cooper action in the form of the Sebring-winning, ex-Jack Brabham and Bruce McLaren Cooper T43 cars also in the race.
Favourite of mine of the cars I saw was a Maserati 250F, not quite so instantly recognisable, perhaps, in this colour scheme.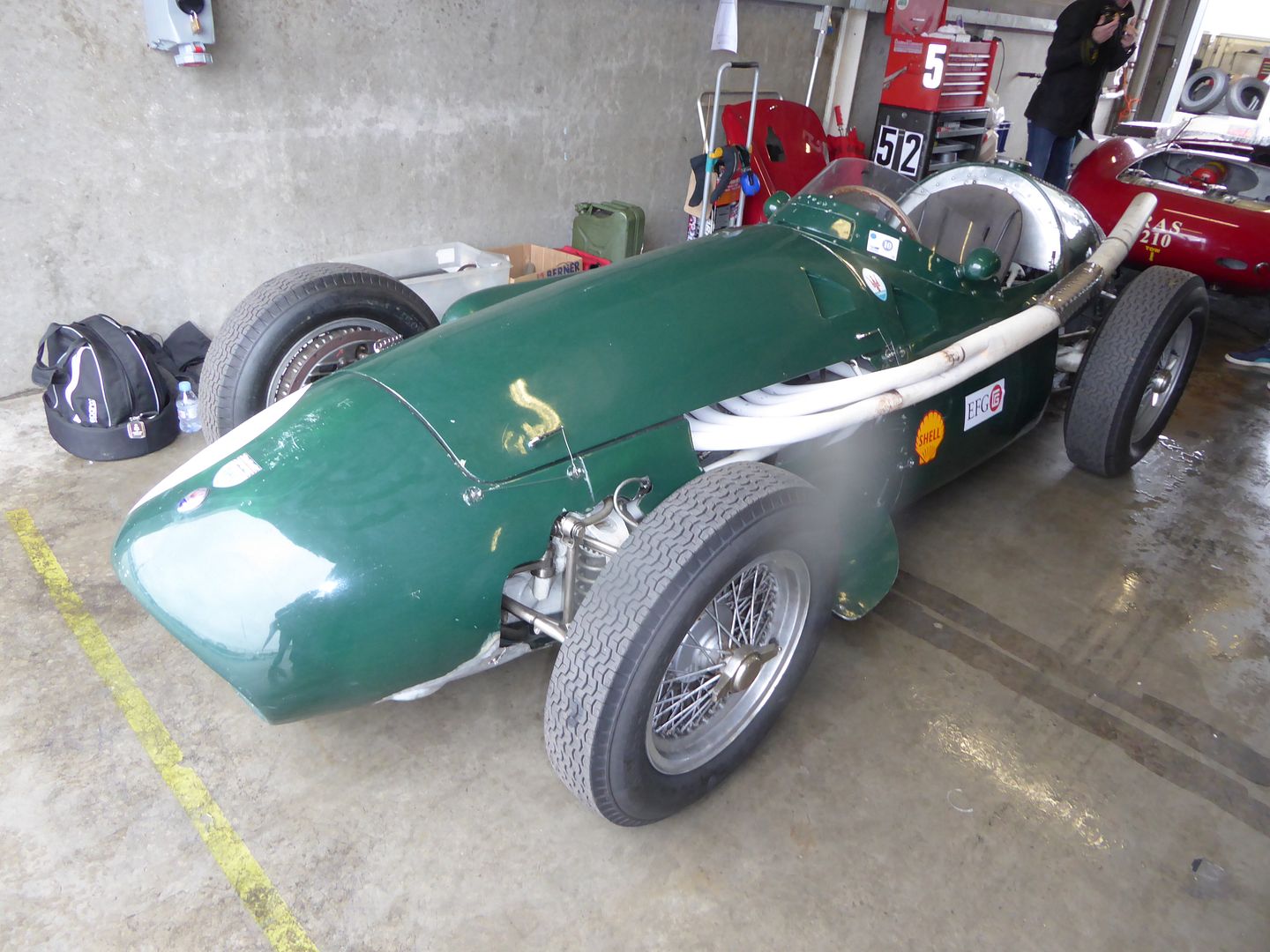 HSCC SUPER TOURING CAR TROPHY
The HSCC's Super Touring Car Trophy made its Donington Historic Festival debut, with a colourful array of cars whose livery was a reminder of the explosion of sponsors' logos and paint schemes of the period. This was the grid that triggered a tannoy message asking Cleland and Watts to make their way to the Clerk of the Course, a request not heard for many a year, and a two-race battle between Patrick Watts and Stewart Whyte, with Watts' Peugeot 406 taking one first place and Whyte's Honda Accord the other.
Perhaps my favourite among these was the Alfa 156, which never quite enjoyed the same success as its predecessor, the 155, which had won the UK's BTCC Championship in 1994, with the likes of Gabrielle Tarquini at the wheel.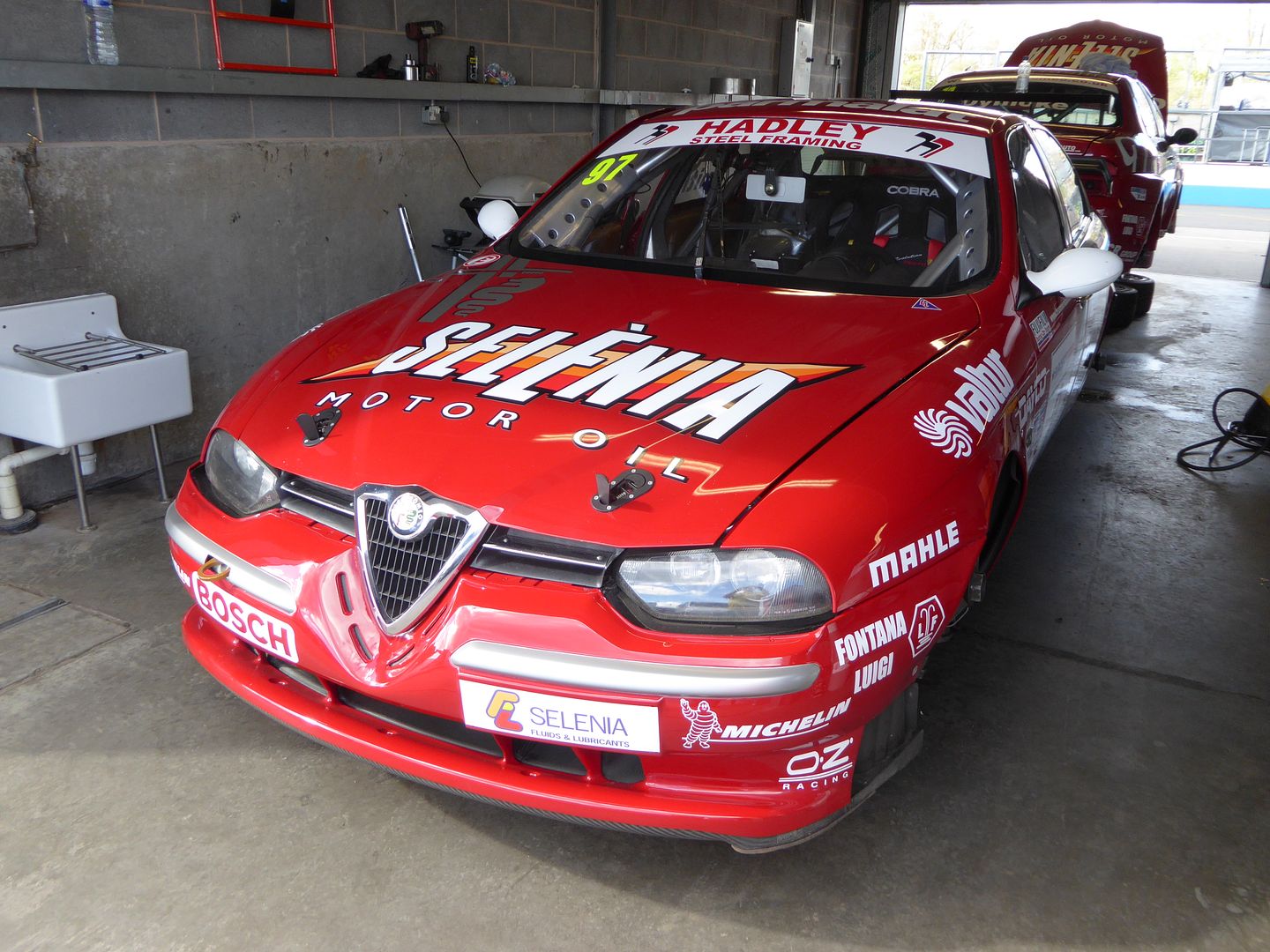 Also shown here are a Nissan Primera and a BMW M3, whilst other cars competing ranged from the Renault Laguna to an Astra and a Mazda 323 as well as a later Honda Accord.
On Monday, the Festival saw the first-ever round of the new HSCC Jaguar Heritage Challenge, with an impressive Jaguar Heritage display in the paddock enhanced by a staggering line-up of 'caged cats' including C, D and E-types, XK120s and 150s and a trio of Mk1s in the adjacent parc fermé. E-types took the top 10 spots, with Martin O'Connell and 2005 British GT Champion Andrew Kirkaldy bring their E home in first place against a field that included 1988 Le Mans winner Andy Wallace in a 1957 Mk 1.
Other races that day the Historic Touring Car Challenge for pre-86 Touring Cars, which saw the Ford Capri owners out in the infield club stands cheering as the Capris of Steve Dance and Tom Pochciol took the top two spots, with Patrick Watts (again) and Nick Swift brought the MG Metro Turbo that Watts raced in period into third. Touring Car ace Steve Soper was another big name from the past, sharing the Rover TWR Vitesse with John Young.
Later, the program included the 'Mad Jack' for pre-War sports cars, where the Wakeman/Blakeney-Edwards combo reigned supreme in their Frazer Nash Super Sports beating Richard Pilkington's Talbot T26 SS  for the chequered flag. Other cars in this class included this Alvis SA20.
Later there would be another round of the Super Touring Car Trophy, the Stirling Moss Trophy for pre-61 sportscars where there was a  Lister one-two with the Knobbly of British GT Championship driver Jon Minshaw and Phil Keen beating Chris Ward's Costin to the top spot. and  and in which this Elva mark 5 and the Cooper T39 Bobtail were entered.
The event concluded with the HRDC 'Touring Greats' for pre-60 Touring Cars, which featured many of the Touring Cars already seen, and also this unusual Mercedes "Ponton" 220S, which I had not seen before in racing guise. It always looks too stately for that!
Saturday morning had started with a series of practice sessions, competitive racing not getting underway until afternoon, with the first of the FJHRA/HSCC 'Silverline' Historic Formula Junior Championship races for both the Front-Engined and Rear-Engined cars, the HSCC Historic Formula 2, the HGPCA combined grid of pre-61 and pre-66 Grand Prix cars and a race I really wish I could have seen, the  '1,000km' – 1964-71 World Sportscar Championship Sports, Touring & GT Cars which ran for over 150 minutes, and which saw a fabulous grid of World Sportscar Championship cars such as Lola T70s, Ford GT40s and no less than 11 Chevrons racing into the dusk on a decidedly slippery track. The Broadley Lola T70 3B of Chris Ward and Paul Gibson took the chequered flag.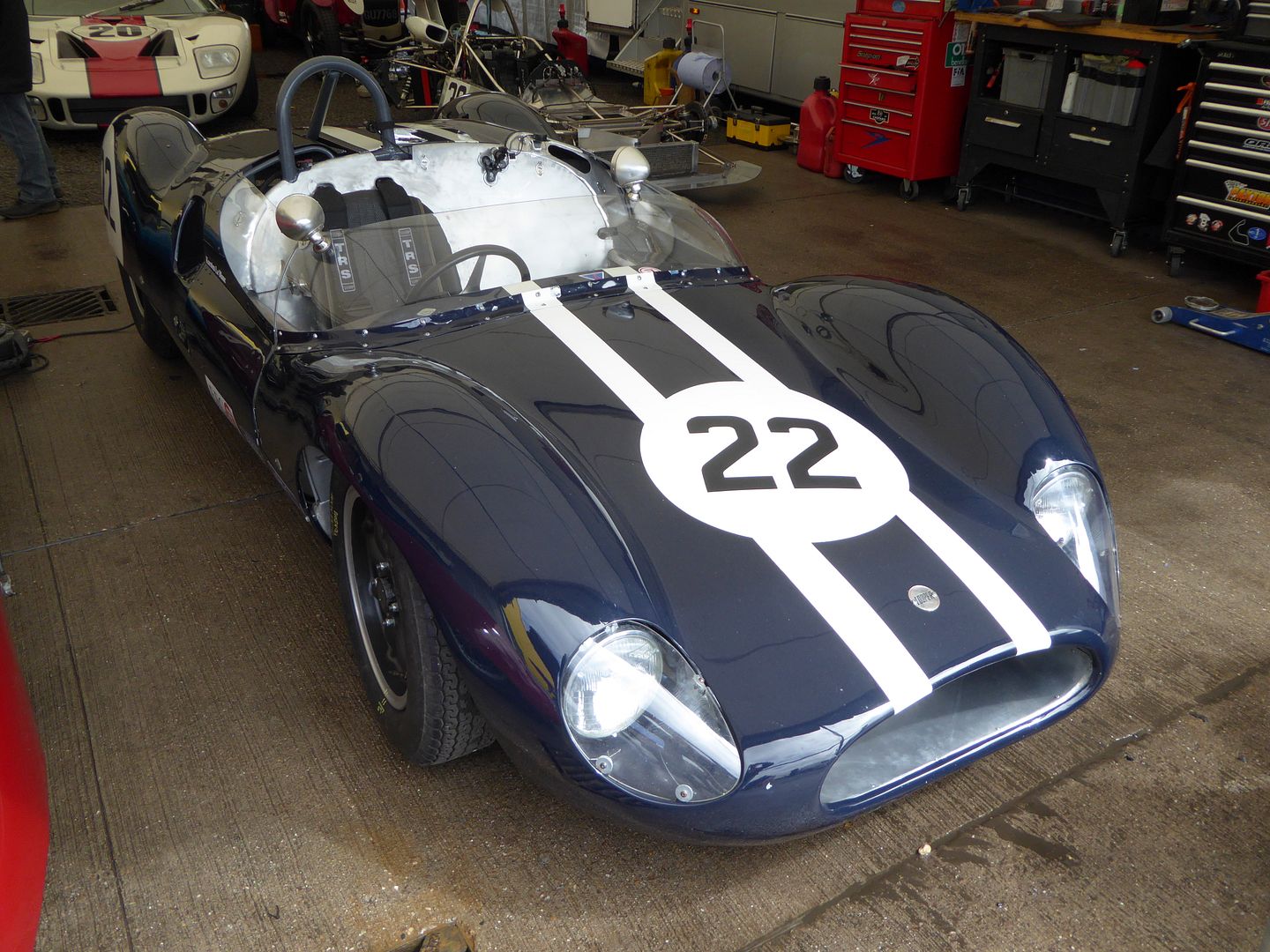 It was only after the event, when researching this article that I discovered why I failed to find some of the promised cars, such as the ex Rally Cars and the array of 'modern' Formula 1 machines. That is because they were located at the Exhibition Centre, though they did make their way out onto the track for lunchtime demonstrations each day, so that spectators could see and – importantly – hear them in action. The demonstration cars included Ayrton Senna's 1984 Toleman TG-184-01 Hart Turbo in which, during his 'rookie' season Senna created a sensation in practice for the British GP at Brands Hatch, setting the fastest time in both of the day's sessions.  Nelson Piquet and Satoru Nakajima each drove the Camel Lotus/Judd 101/3 back in 1989, with Nakajima driving it to a career-best result of 4th place in the Australian GP, and that distinctive yellow livery stared here alongside the Senna Toleman. Other cars in action included the ex-Schumacher and Patrese Benetton B193b, which had a very busy 1993 season.
OTHER PADDOCK DISPLAYS
There were plenty of other displays in the Paddock area, and it always pays to look closely between the huge trailers, as quite often you come across interesting cars just parked up, semi-hidden from view.
AUDI
This RS6 was a case in point, clearly a road car that had come with one of the teams.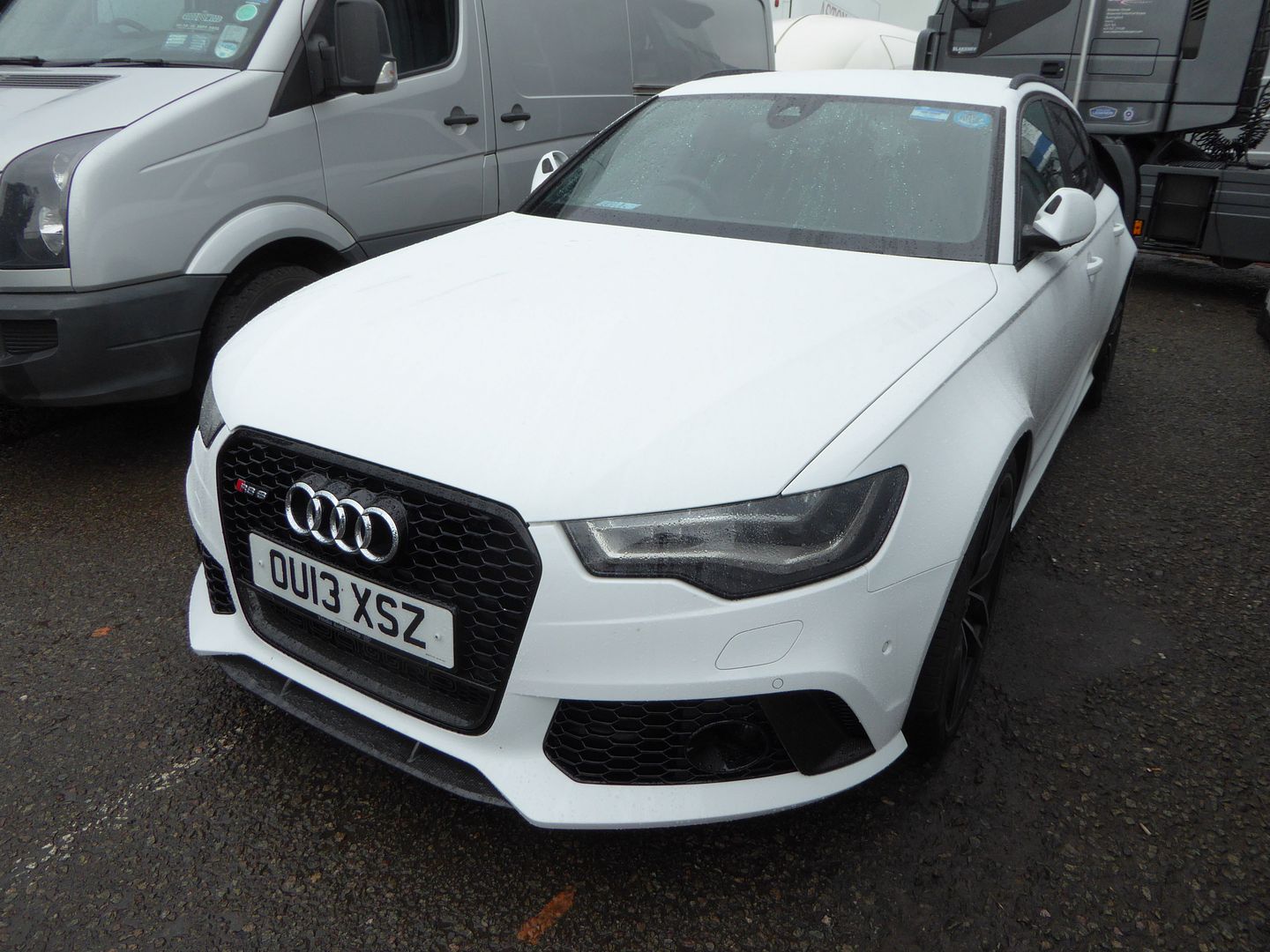 ECURIE ECOSSE
Ecurie Ecosse was set up in 1951 by David Murray, a Scottish business man and keen amateur racer. After Ecurie Ecosse finished first and second in the 1957 Le Mans 24 Hour Race with their D-type Jaguars the membership of their supporters club, the Ecurie Ecosse Association, leapt dramatically and all of the members were keen to give any support they could to further Ecurie Ecosse success. One area was obvious, transportation. At that time Ecurie Ecosse had two ageing transporters which had served the team well for over five years, one of which was based on an elderly Albion coach. Amongst the members of the Ecosse Association were many people involved in the Scottish motor trade and the first to step forward was Alastair Cormack, managing director of James Ross & Sons Motors, agents for the Rootes Group. Alastair was no stranger to motor racing as he had been a factory driver for Alta before the war and raced at Brooklands and Donington. Ronnie Alexander, managing director of Walter Alexander and Company of Falkirk was also a member of the Association and he offered to have a one-off transporter designed and built at his factory which specialised in truck and bus coachbuilding. In turn a number of other companies offered to help including British Aluminium who offered the panelling, Dunlop, Joseph Lucas and Wilmot Breeden all chipped in. Other companies, like John Gibson & Sons, offered to do some of the engineering on the chassis and fittings and so the transporter was commissioned in 1959 with additional funding coming from the Ecurie Ecosse Association. The chief designer at Walter Alexander was one of Scottish motor sport's characters, Selby Howgate who was a true dyed in the wool Bentley enthusiast with a particularly rapid 4 ½ litre which he drove with vigour. Selby was full of good humour, sported a thick toothbrush moustache and usually drove in heavy tweeds. He had worked in the aircraft industry and was Design Manager at Alexanders. Howgate got down to the job and was full of ideas. His assistant, Ian Johnston recalls that had this been an actual commercial project the transporter would have cost a fortune as the ebullient Selby kept changing his mind but in the end what he came up with was nothing short of stunning in concept and execution. Many people have commented on the upward sweep at the rear of the bodywork which Ian Johnston explains was the answer to Selby's rhetorical question, " What is the most streamlined thing in nature….a fish."
The transporter has a lower deck enclosed at the front with sleeping accommodation and space for one car. Then there were hydraulic ramps to raise a further two cars to the upper level where the cars stretched out over the cab. Eventually the transporter was finished in time for the 1960 motor racing season and made its debut at the Scottish circuit, Charterhall, on May 29 1960. Wherever it travelled, the Ecurie Ecosse transporter was admired and when Ecurie Ecosse was wound down early in 1971 the transporter was sold to well known historic racing driver Neil Corner who actually owned one of the ex-Ecurie Ecosse D-type Jaguars. It later passed through many hands and was discovered in a terrible condition in the 1980s. Today the Ecurie Ecosse transporter is as resplendent as it ever was thanks to one of Ecurie Ecosse's greatest supporters, Dick Skipworth. Dick commissioned the total rebuilding of the transporter and he used it to carry as many as three of his ex-Ecurie Ecosse cars. Skipworth's entire collection of Ecurie Ecosse cars and this unique Transporter, immortalised  for many by the Corgi toy reproduction that was made when it was new,  were sent to auction in late 2013, when it exceeded all expectations, sold to the same US buyer who bought the racing cars, for £1,800,000 after a telephone bidding war that lasted almost 20 minutes. Thus it became the most valuable historic commercial vehicle ever sold at auction.
ELVA
2015 marks the Diamond Anniversary of the Elva, and the organisers decided to pay tribute to the marque with a special display of cars in the Paddock area, to augment those cars which could be seen competing on track. Elva Engineering was founded in 1955. As with so many of the low volume manufacturers of racing cars of the 1950s, behind the company was an enthusiast who had the vision, determination and people skills to produce competitive cars and attract eager buyers. Frank G. Nichols quickly built up a talented team in his home town of Bexhill-on-Sea and the cars were driven well and trophies were won. New models were introduced and soon cars were being shipped to the United States where there was much enthusiasm for the 'Specials from Sussex'. The early cars were powered by a Ford side-valve engine fitted with an Elva cylinder head conversion which almost doubled the bhp. These were replaced by Climax FWA engines and then, as the models became more sophisticated, power was supplied by Cosworth-Ford Twin-Cam, BMW, Porsche and eventually 'big banger' grunt from the V8 units from Buick and Chevrolet in cars wearing a McLaren-Elva badge. The early sports racing models were joined in 1958 by Formula Junior models plus a pretty road-going two seater sports car named the Courier which, due to its perfectly-balanced handling, soon found itself on the tracks despite not being marketed as a race car. Sales were buoyant and Elva moved into a new, purpose-built factory in Hastings. Into the 1960s, and Elva Cars hit a financial buffer when cars in the USA were not paid for and the Courier production was moved to Trojan in Croydon.  However the sports racing cars – now mid-engined – continued to be produced in nearby Rye and perhaps the best of the range were to emerge from that riverside factory.  Designer Keith Marsden again worked his magic on the MkVI through to the MkVIII models plus the stillborn but stunning Elva-BMW GT160 Coupé, which was such a hit at the 1964 motor shows in both Turin and London. More silverware was won on both sides of the Atlantic, famous names raced the cars and they even starred in two films with Elvis! However, Trojan took control over Elva that year, when a unique contract was signed for Elva Cars to build the hugely successful sports racers designed by the Bruce McLaren Racing Team for customers anxious to race in the exciting CanAm Series. Eventually over 200 McLaren badged cars were produced into the early 1970s. Slowly the Elva name faded as a manufacturer but there are exciting plans to re-establish the Elva badge on new road/track cars with styling currently being undertaken by a highly respected British university.
Best known Elva is the Courier and there was an example of this on show in the paddock. Introduced in 1958, the Courier underwent a series of developments throughout the existence of the company. Initially all the cars were exported, home market sales not starting until 1960. Mark Donohue had his first racing successes in an Elva Courier winning the SCCA F Prod Championship in 1960 and the SCCA E Prod Championship in 1961. The Mk 1 model used a 1500 cc MGA or Riley 1.5 litre engine in a ladder chassis with Elva designed independent front suspension. The engine was set well back in the chassis to help weight distribution, which produced good handling but encroached on the cockpit making the car a little cramped. The chassis carried lightweight 2-seater open glassfibre bodywork. It was produced as a complete car for the US and European market and available in kit form for the UK market. After about 50 cars were made it was upgraded to the Mk II which was the same car but fitted with a proprietary curved glass windscreen, replacing the original flat-glass split type, and the larger 1600 cc MGA engine. Approximately 400 of the Mk I and II were made. The rights to the Elva Courier were acquired by Trojan in 1962, and production moved to the main Trojan factory in Purley Way, Croydon, Surrey. Competition Press announced: "Elva Courier manufacturing rights have been sold to Lambretta-Trojan in England. F-Jr Elva and Mark IV sports cars will continue to be built by Frank Nichols as in the past." With the Trojan takeover the Mk III was introduced in 1962 and was sold as a complete car. On the home market a complete car cost £965 or the kit version £716. The chassis was now a box frame moulded into the body. Triumph rack and pinion steering and front suspension was standardised. A closed coupé body was also available with either a reverse slope Ford Anglia-type rear window or a fastback. In autumn 1962: the Elva Courier Mk IV was shown at London Show, with the latest car having all-independent suspension, a fibreglass body and an 1800cc  MG engine as used in the new MGB. Later the Ford Cortina GT unit was available as well. The final version, the fixed head coupé Mk IV T type used Lotus twin-cam engines with the body modified to give more interior room. It could be had with all independent suspension and four wheel disc brakes. 210 were made. Ken Sheppard Customised Sports Cars of Shenley, Hertfordshire acquired the Elva Courier from Trojan in 1965 and production ended in 1968.
Also seen here was an example of the McLaren-Elva M1B
FRAZER NASH
This was similar to some of the cars which had been competing (successfully) for honours on the track.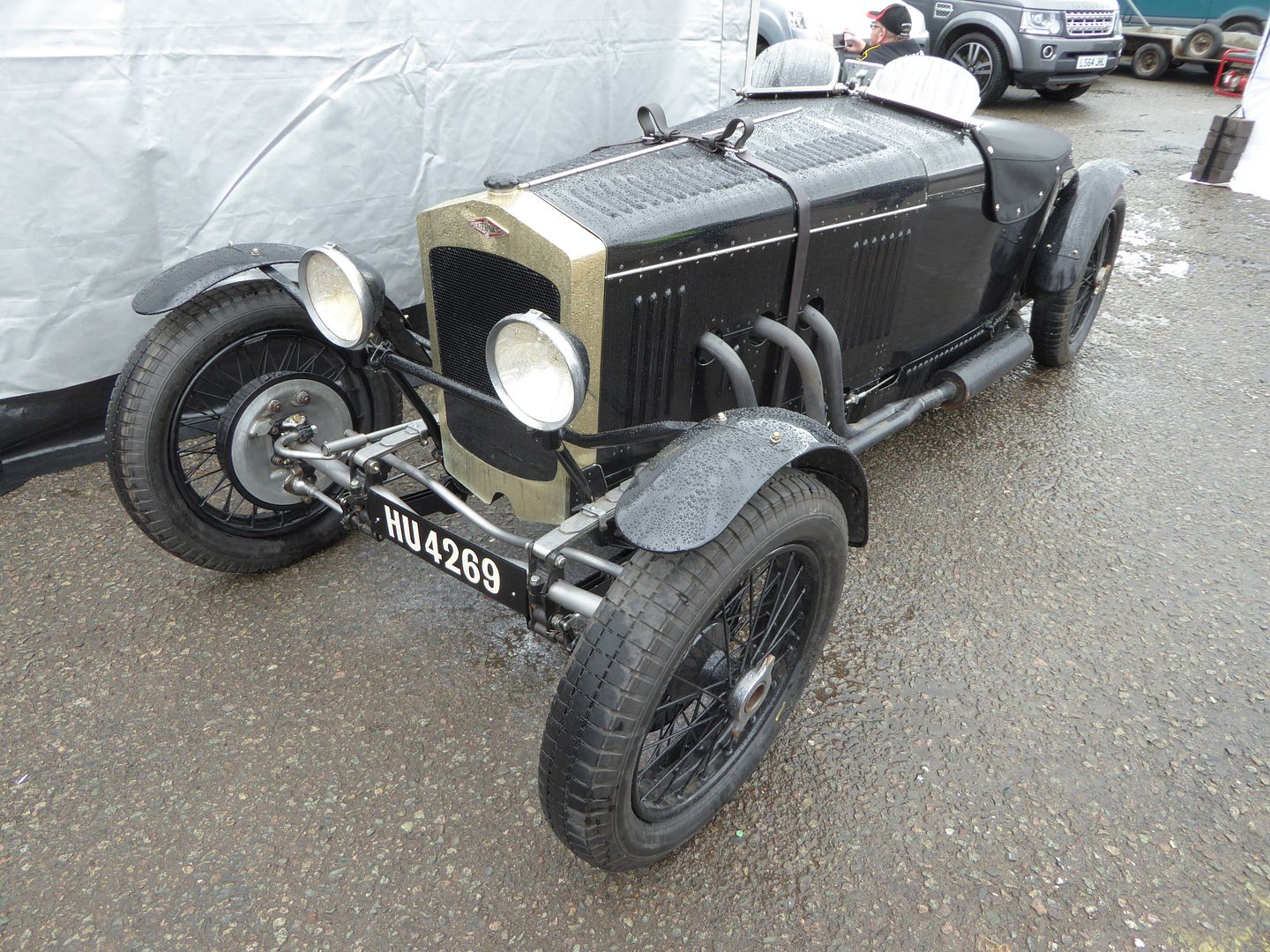 H&H AUCTIONS
Renowned Auction House, H&H, had a display which comprised this supercharged 1938 Alta. Built for well-known racing driver Hugh Curling Hunter by Brooklands' expert R.R. Jackson, Designated chassis 62IS (I = Independent Suspension, S = Supercharged), the car  was delivered to R.R. Jackson's Brooklands premises as a kit of parts. An Alta owner himself, the famed tuner / special builder entrusted the project to his lead consultant Zillwood `Sinbad' Milledge who had proven adept at sorting suspension geometry, designing crankshafts / conrods / brake drums and crafting aerodynamic bodywork. Aside from Hugh Hunter's Alta, Milledge helped hone the Multi-Union, Appleton Special, Bentley Jackson and Freikaiserwagen among others. Sporting a higher headrest fairing and more enveloping silhouette than George Abecassis' similar Alta (chassis 61IS), The car was very light, weighing 11.5cwt, less than the ERAs, the 4CLT Maserati or the MG and Riley specials it was up against. With a 2-litre engine it began to match, even sometimes beat the ERAs, which were the top voiturettes at the time. Hugh Hunter's car yielded him a coveted Brooklands 120mph badge and also showed considerable pace at Crystal Palace and Shelsey Walsh. Campaigned throughout 1938 and into the following year before being supplanted in Hunter's affections by an ex-Mille Miglia winning Alfa Romeo 8C 2900B, chassis 62IS changed hands several times during WW2. Reputedly resident in a china shop for a while, the advent of peace saw J.H. Williams acquire the single-seater. Rebodied in the style of a post-WW2 Alta Grand Prix car with what is rumoured to have been factory assistance, chassis 62IS resumed its racing career at a variety of sprint and hillclimb venues as well as such new circuits as Goodwood and Silverstone. Sold by Mr Williams to Basil Tye, the Alta is known to have belonged thereafter to Lady Mary Grosvenor (who campaigned it in 1.5 and 2.0 litre guises), Albert Wake, Frank Lockhart, Bill Little, Hugh Clifford, John Bateson, Vintage Racing Autos, Hugh Clifford (again), Peter and John Moores, John Pearson and Bob Jones before entering the current ownership during 1990. Extensively fettled thereafter – including the fitment of a more pre-WW2 looking body – chassis 62IS has enjoyed numerous outings with the Historic Grand Prix Cars' Association and Vintage Sports Car Club. Invited to participate in the first Goodwood Revival meeting some seventeen years ago, it has since contested the Goodwood Trophy for Grand Prix and Voiturette cars on several occasions the last being in 2010. The car is understood now to have a 4 cylinder DOHC engine which displaces over 2 litres, allied to an ENV four-speed pre-selector transmission. Not campaigned of late, the single-seater is nevertheless in running order and has recently been driven by Mick Walsh as part of a multi-page feature article for Classic & Sportscar magazine. It was to be auctioned at the Chateau Impney event in July, and was expected to fetch between £130 – 150,000.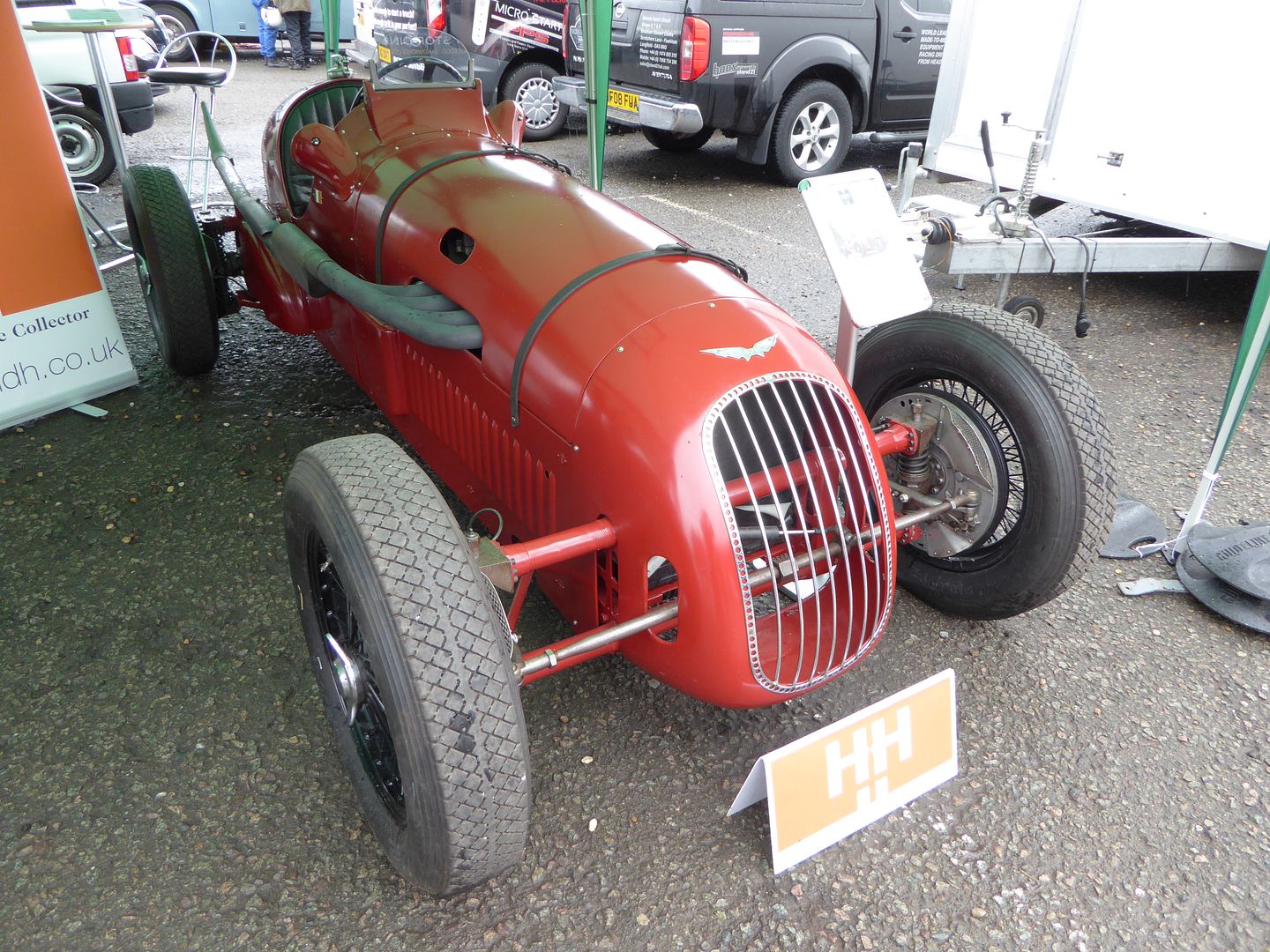 JAGUAR
This Mark VIII was parked up among the race transporters.
Going with the HSCC Jaguar Challenge race was a display by Jaguar Heritage which contained a mixture of current models such as the latest XJR with the classic Mark 2 Saloon.
PORSCHE
Also among the race transporters were a number of rather nice 911s, including a couple of mid 1970s Carrera models and an RSR
RONART
The Ronart Lightning V8 was launched at the 1999 International London Motor Show on 19th October 1999, only six months after work started on the project. The successful launch of the concept car saw Ronart receiving direct twenty four orders for the Lightning sports car. Work started in earnest in 2000 and changes were made to enhance the vehicles lines and shape as well as development of interior/chassis and exterior components. Two further concept shells were built until the road going prototype car was completed. The Lightning V8 was powered by a Ford Mustang SVT Cobra providing 320BHP as standard with optional 500BHP supercharged version. The last two cars built were fitted with superchargers. The V8 was fitted up to a five speed manual gearbox and with a Hydralock differential for power control. The car featured interior refinements such as electric heated operated and cooled Recaro seats, electric windscreen demist with electric windows and mirrors, leather upholstery reversing camera and sat nav. The chassis was of a multitubular spaceframe construction which when combined with lightweight carbon fibre body was designed to be a full convertible. Specialist Rhoddy Harvey-Bailey at H.B.Engineering worked on the handling characteristics and carried out road going testing and development of both chassis and suspension. During the year 2000/2001 development work was carried out on a new carbon fibre process and material called SPRINT Technology. Ronart were the first to use this new low cost material and process for car body production. Pre-production started in 2002 with setting up of a build and manufacturing line at Westwood Farm. In June 2003 the new owners changed business strategy and closed the factory after pulling out and investing in another car company. The Lightning V8 production ceased after only seven cars were built and delivered to customers, many more current active orders were cancelled at the time, so this is a very rare car indeed.
WSM
I will admit that I had no idea what this was. I guessed that it could be based on the Austin-Healey Sprite/ MG Midget, and that did turn out to be correct, but beyond that I was unsure of any more. There was not much information with the car, which was turned out to a very high standard, but it did say that it was a WSM. So, following some work with Google, I can now fill in some of the rest of the story. Like many low volume cars of the 1950s and 1960s, the story starts when Douglas Wilson Spratt, a car enthusiast from childhood started to apply some of what he had learned from working at the Bristol Aircraft Company to modifying cars. It took a while, and followed from the ownership of a large number of interesting models including an ex Mille Miglia Fiat 508c, a Bentley and Triumph TRs and Sprites. In 1946, he had a 3 litre Bentley, and soon progressed to a 4 ½ litre car which he lightened and altered to incorporate the weight saving and aerodynamic philosophy that was to mark all his subsequent designs. Registered FBL 732, Douglas designed a new body which was fashioned by the foreman panel beater in aluminium at the Bristol Car Company. A roll bar was included in the structure, the wings were spatted and the measures resulted in the car weighing 3 cwts less than the standard item. Other projects included an Austin 7 'Chummy' which was turned into a trials car, and with an aluminium head and engine tweaked to produce 160bhp, he and friend Peter Cox had some fun. During the 1950's, Douglas and his wife Laurette regularly drove to Europe and included Le Mans and Grand Prix in the schedule.  A 1955 Goodwood meeting saw Douglas at the wheel of a TR2,  and he took the same car on the Monte Carlo rally in 1958. Various marques had by this time crossed his path before he took delivery of the brand new Austin-Healey Sprite on May 16th 1958 – his competition record helped persuade the factory to let him have the car early in order to run it in at night. Registered VBM 7, he took the baby Sprite to its first recorded competition success on May 24th with navigator John Bayliss on a Sporting Owners Drivers Club rally. The partnership of diminutive Healey and a 6′, 15 stone driver seemed improbable but further success did arrive and favourites included the 6 Hour Relay win at Silverstone in 1961 with John Sprinzel, Paul Hawkins, Peter Jackson, Ian Walker, David Seigle-Morris and Chris Williams, and numerous hill climb, sprint and auto-test wins at club level. Douglas's enthusiastic support of the S.O.D.C. lead to a stint as President during the early 1960's, and the award of a Life Membership years later in acknowledgement of his contributions. During his tenure active membership had grown substantially and Woburn Hill Climb became a popular venue.  Rallying was perhaps Douglas's favoured brand of motorsport, and he readily admitted that concentrating on fewer disciplines may have been more sensible, but less fun. He entered the Monte Carlo rally on six occasions from 1958 to 1963, using a TR2 in '58, Frogeye in '59 and '60, Sebring in '61 and '62 and a WSM in 1963. The Sebring Sprite was specialised further by DW-S incorporating a boot lid and Rolls Royce tail lights, and later it was re-registered 598 HTM and EYE 206 when owned by opthalmologist Geoff Courtney Broome and 940 WAR when owned by Jack Scottand. Following a heavy accident, it was re-shelled into the body of XNB 712, the identity it still carries, and in 1986 the car surfaced and was restored and raced by Tony Whitehead in historic events. Much of this competition activity was enabled as back in In 1954, Douglas and Laurette had sold their Alveston-based Marlborough Caravan business and bought a Shell garage and showroom in Hockliffe St, Leighton Buzzard, Bedfordshire. Renamed 'Delta Garage' the Austin, Vauxhall and Bedford dealership was expanded and the Volvo brand was added, and workshop facilities, including spray booth and lubrication bays, were added. Peter Jackson joined the company in 1961 to run the forecourt and workshop, and in 1962 Jim McManus brought seven years experience as Sales Manager at the Donald Healey Motor company in London. Jim was a founder member of the Healey Drivers Club, and with Douglas and Jim achieving competition success with the marque, they recognised that the Healey brand needed a presence in London aimed at performance enhancement and special tuning parts. With Donald Healey's approval, a mews property at 17 Winchester Rd in Swiss Cottage became the base for the 'Healey Centre'. Business was brisk, and the company outgrew the mews premises and relocated within the Delta Garage property in 1963, where the Healey Centre accessory shop had been the first such performance and tuning retail outlet in the UK. The Austin Mini Cooper and Cooper S became firm favourite's, with Laurette and Douglas enthusiastically indulging in the little car's abilities on road and rally. Amongst other rarities, an A35 pick-up was sold to Barry Pinkerton. It had a Downton tuned 977cc engine with a single SU carb, and the torque it produced prompted putting the engine in a Mark 1 Sprite for auto-testing which kept 1098cc and 1275cc Spridgets at bay. In 1962 Douglas realised the opportunity to build his own brand of sports car was available, and in league with Peel Coachworks, WSM 201 was revealed at a Silverstone track day in October. The immediate interest from potential customers caused Douglas and Jim to acknowledge that further production was viable, and sparked a production run of the Sprite based cars that included exports to the USA, paused in 1965 with the ninth car. Needing homologation forms after taking delivery of their cars, the American owners asked what the cars were actually called, so Douglas and Jim trod an already well used path in using their surname initials WSM, later to be christened 'Wuzzums' by Laurette. WSM's 201, 202 and 203 had aluminium bonnets, but subsequent cars had an aluminium body and fibreglass bonnet. There were two ultra-lightweight cars with fibreglass bodies fashioned by Ray Halsall at Delta Garage specifically for Mike White (WSM 205) a successful club racer in other marques, and Douglas (WSM 206), and a third fibreglass body was retained for future use. Four cars were exported in 1963 – WSM 203 in May to Dr Clinton Chichester in San Francisco – WSM 204 in May for Dr George Snively in San Francisco – WSM 207 in March to US soldier Joel Nelson in New York – and WSM 210 for Dr Michael John Savarino in August to Florida. In the hands of Douglas, Mike Lewis (son-in-law), Peter Jackson, Mike White and Simon Arkless amongst others, the WSM's became prominent at race circuits throughout the UK and Europe. Mike Lewis took WSM 202 to many wins in race and hillclimb events in 1963, and also raced the ultra-lightweight 206 when Douglas could no longer compete because of disc problems in his back. The 1963 and 1965 Six Hour Relay race's saw WSM's 201 and 206 in the Sprite teams, achieving 8th and 5th, and the same cars for Peter Jackson and DW-S were transported in a converted AEC coach and entered in the 1964 German Grand Prix support race at Nurburgring on August 1st – Peter took 3rd in class and a year later took WSM 206 to 3rd in class in the Rennen 500km at the same venue. Further examples of the breed were an MG1100 based model aimed at four seater comfort in 1965 with 100mph performance and 30mpg economy, the AH3000 built for Malcolm Bridgland, the MGB based on Robbie Gordon's rapid 1963 roadster, and conversion of Douglas Hull's 1959 Jaguar XK150S into an estate car. The WSM MG1100 was intended to equip four adults with 30mpg economy and 100mph performance. Retaining the MG interior and completed in 1965 by Peel Coachworks, the advent of the 70mph speed limit discouraged Douglas from making further examples. The car proved a capable family runabout and tow car for other WSM's, and even competed at Silverstone and Woburn in Mike Lewis's hands in 1966. It was not a favourite with all the family however, as the hydrolastic suspension turned some back seat passengers green. That car was believed to have been seen on a scrapheap in the 1980's, but in 2001, Trevor Jones, who drove the WSM MGB while in Lenham hands in the 1970's, confirmed the WSM MG1100 was in original condition at a Devon address. Subsequent efforts to trace the car have come to nil. When Douglas had to give up motorsport in 1967, thanks to disc problems in his back, he reverted to his first love, aviation. Gaining a pilots licence in 1967 at Sywell aerodrome in Northamptonshire, his first aircraft, a tail wheeled Auster registered Romeo Charlie, cruised at less mph/knots than many of the cars he raced over the years.
Douglas'  wife Laurette died in 1995, and in an effort to cope, he concentrated on several long term projects to cushion the blow. As well as maintaining his interest in flying, his attention turned to cars and the motorsport of his younger days. What happened to the WSM cars? Of the fourteen cars made, the family knew 46 BXN, WSM 202, WSM 301 and the WSM MGB had survived, the WSM MGB having been seen at the Autotron museum in Holland. When Sprite historian Tom Coulthard tracked Douglas down to the Isle of Man, a whole load of investigation work began, which would put WSM back in the public eye. Tom knew that a WSM Sprite from Holland was entered in the Coys Historic Festival at Silverstone in June, and suggested it would be interesting to have the two cars together in the paddock with the Sebring Sprite 46 BXN. Douglas and his son, Anthony, met Tom and the owner of WSM 210, Leo Kusters and future Healey registrar Paul Woolmer who was racing BXN. Viewing the two cars on the Healey grid brought back memories for Anthony of watching WSM's racing in the 1960's and on the spot it was decided to put the youngest WSM Sprite into competition trim. The Austin Healey Club championship saw what transpired to be the return of WSM 301 to racing and a search for information concerning other WSM's began. It was known that in 1965, the green WSM 301 GT had been sold to Michael Royde who used the car on road and track, before painting yellow and moving on to Dr Churton Pauli, who in turn sold to Dr Anthony Hodsman. In 1980 Douglas was contacted by Peter Clinch, who had bought the fire damaged WSM, replaced the original bonnet and re-painted the car blue in 1972. He was no longer able to use the car as the windscreen had been cracked by the heat of the blaze and police had forbidden further use until it was repaired. A deal was done and the car collected from Peter's Nottingham address, soon to be in daily commuter use on the Isle of Man with Douglas's future daughter-in-law Claire. Refurbishment of the car included a trip to Blackburn for windscreen fitting, but no further thought was initially given to the remainder of the breed, as Douglas had long been immersed in all things aeronautical and far removed from motorsport circles for over 28 years, while Anthony, although surrounded by motorsport in the 1960's, had been seduced by rugby since schooldays. In 1992, Anthony was in touch with Rod Brisby in Scotland who owned WSM 202 and intended full restoration. The standard Sprite was first registered to Alexander Engineering in 1961 and bought by Mike Lewis in 1962. When the WSM designs were revealed, Mike asked Douglas to apply the treatment to his own car, after which Mike raced and hill climbed the car successfully through 1963. The car then passed to Robin Pinkerton and Robbie Gordon before surfacing again when an appeal for information concerning the car in 'Practical & Classic', edited by Rod's brother Michael Brisby, was answered by Anthony. A flying visit over to Scotland in Douglas's Jodel Ambassadeur followed, and Rod was delighted to meet the WSM designer. WSM 301 also needed a new front, and Rod sent his bonnet over on a fishing boat to the Isle of Man so that a mould could be taken. As a deep sea diver, Rods circumstances changed often and he realised in November 2000 that he could not dedicate the time to the WSM and as had been previously agreed, offered the car to Anthony. It was clear that as Mike Lewis had run so successfully in 1963 with WSM 202, he should be afforded the chance to re-acquire the car, but he turned down the opportunity. Rod then came into contact with Paul Woolmer in December through his connection with brother Michael. By June 2001 Paul had completed a sympathetic restoration which proved to be a highlight of subsequent events, and included an invitation to the Goodwood Revival in 2003. Peter Jackson, who owned and raced WSM's and was Delta Garages manager in the early 1960's, said while viewing the car in 2001 that he last saw in 1963 . . "Paint technology etc has moved on and what you see here is probably better than the finished article in 1963 . . " and proof is in the pictures of the number 88 car at Thruxton in 2002. In 2004 the car changed hands and Jim Lowry, organiser of the 'Equipe' GTS race series, campaigned WSM 202 in historic events at Donington, Brands Hatch and Zandvoort in 2005, and in the 2006 Goodwood Revival Fordwater Trophy. In March 2007, WSM 202 passed to MGB racer John Pearson (left) who had admired the design for some time, and raced the car on the Le Mans Bugatti circuit in 2007. In 2008 Brian Arculus (right) acquired what is arguably the best presented car amongst the six known WSM Spridgets in use today. Brian regularly had WSM 202 out with the 'Equipe' GTS grids and joined three other WSM's at the Goodwood Revival in September 2010 where he posted 9th overall and first WSM across the line in the Fordwater Trophy race. The advent of Julius Thurgood's Historic Racing Driver Club series in 2011 gave further scope for WSM's and many other 'A' series-engined cars to compete on an equal footing in the 'Grand Touring Greats' grids, and Brian placed strongly in these events. In 2014 Graham Robson became the latest custodian and entered the Les Leston Trophy race at the Goodwood Members meeting in March 2015.
The WSM MGB was originally Peter Pollard's 1963 roadster registered 113 DJB which was raced in marque sportscar events. Subsequent owner Robbie Gordon had Newtune of Cambridge prepare the car with a Don Moore cylinder head, and Peter Jackson, Roddy Harvey-Bailey and David Wainsborough raced it extensively until David rolled at the 1965 Mallory Boxing Day meeting. Robbie completed a deal with Mike Lewis for the car, and Mike handed it over to Douglas for a WSM design. The resultant aluminium hatchback went on to many class and race awards in Mike's hands, and 'Safety Fast' magazine described a 1967 race at Silverstone as ". . the MGB race of the year . ." when an epic battle with Bill Nicholson's MGB saw the class lap record lowered twice and the WSM returned to the pits with back brakes virtually on fire. Reckoned to have 15bhp less, the lightweight and aerodynamic WSM design made up for the lack of grunt, and Bill admitted that with equal horsepower the car would be unbeatable. Used as family transport at the time, it was in most cases driven to and from the circuits with spares and tyres filling the hatchback. On one occasion at the end of a Silverstone meeting, the unsilenced WSM was making its way out of the circuit when John Gott, a well-known racer and Northamptonshire Chief Constable, advised against using the car for the trip home. A weary Lewis, who had taken the silencer off on arrival at the circuit, went back to the paddock and laid low for ten minutes until the coast was clear for the trip back to Oxfordshire with the boot full of tyres and spares on top of the 'missing' silencer.  The car was sold to Ben Grubb in 1968, and forthcoming marriage persuaded him to part-exchange it back to Delta Garage in 1969 for a BMW2002Ti. Delta Sales manager Robin Pinkerton then used the WSM mainly as a road car. In 1972, Peter Filby ran the car briefly, then Chris Jenkins in 1973. By 1975 Barry Sidery-Smith had put his Le Mans engine in for the Brighton Speed Trials with wife Pam, and shared the car with friend Denis Whistlecroft, who had an unfortunate scrap with the Silverstone armco in November 1976. The Lenham Motor Company advertised the car for sale, and subsequent owner Tony Bianchi changed the colour from white to red and the registration to 270 RBM. He used the car in sprints and races before selling to Josie Tolhurst who raced the car at Brands in 1981, and next owner Amanda Langton raced under the HSCC banner from 1983 until 1985, when the Langton family completed a deal with the Autotron museum in Holland to display the car. When it returned to the UK in 1996, Anthony went to the South of England to see the WSM "just for old times sake . ." and came away with his second WSM. The subsequent strip down and restoration took away forty plus pounds of filler, and the decision was taken to retain the colour as the car had been red for almost 20 years, although this time in the darker 'Tartan' shade as on 202. The car has since appeared at WSM gatherings at Rockingham and Wyboston, and raced with the 'Equipe' GTS series at Snetterton, Montlhery, Silverstone, Oulton Park, Donington, Dijon and Brands Hatch. Road registered, it is occasionally driven to and from events as in the 1960's, and featured at the Goodwood Revival in 2003 when invited with four WSM's to race in the Fordwater Trophy race. At Mallory on October 2nd 2005, the WSM MGB was alongside the MGB of Tony and Pia Bianchi in the Top Hat series season finale, and in 2006 a second Revival entry saw the car with five other WSM's on the grid in a fitting tribute to the spectating designer. The car made a second appearance at the MGCC Silverstone meeting in June 2007 in company with WSM 301, and was at the Silverstone MGLive event in June 2010 alongside WSM's 202 and 210. The annual BDC meeting at Silverstone in July 2010 was used as a practice run for a third Goodwood Revival appearance in September 2010, and a test day at Goodwood a week before the Revival revealed the change to Dunlop 'L' section tyres suited the car's performance. Minor mechanical failure on the outlap prior to the Fordwater Trophy race marred the week-end, but the car remains in family ownership. The HRDC 'MGB50' series in 2012 presented opportunities to compete with similarly powered FIA MGB's, and MGLive at Silverstone saw the WSM amongst a stellar 58 car grid for the MGB50 Celebration race with 'Ecurie' GTS. Via Barry Sidery-Smith and Jonathan Kimber, the MG Owners Club displayed the car at the NEC Classic Car Show on November 16th-18th amidst glamorous company, and highlighted the recent colour alteration incorporating the 'Chiron' blue favoured by DW-S. Approaching 50 years in competition, the car continues to be campaigned and has entries to MGLive at Silverstone and the Oulton Park Gold Cup in 2015.
When racer Malcolm Bridgland bent his 1961 Austin Healey 3000 against the Silverstone pitwall in 1965, he brought the wreck to Delta Garage. Malcolm knew Jim McManus through previous Healey purchases and was aware of the attractive WSM Sprite bodies. Malcolm commissioned a new aluminium WSM body which Douglas designed, and Peel of Kingston were again appointed to fashion the alloy. The result was stunning to view, and according to Malcolm, equally rewarding to drive. The 50/50 front to rear weight distribution, and the taller profiled tyres in use because of the wheel arch dimensions, contributed to a beautifully balanced car and a very fast one – the aerodynamic advantage over the standard Healey 3000 meant top whack was increased to140mph, and Malcolm observed that 'slight nose lift' occurred. Malcolm sold it in December 1966 to Michael Levy and in July 1967 Peter Welsh acquired the car. Peter was a staunch Healey man, a keen follower of stage rallying and it was'nt long before the WSM was in competition use. Peter was married to Nina, an airline stewardess on long haul with BA, and Nina recalls Peter's absolute love affair with the car. Peter contacted Douglas in the Isle of Man in the late 1970's for information regarding the WSM, but then Peter's circumstances changed after he separated from Nina and moved to Alvington in Gloucestershire in 1984. The WSM became a less used and less treasured item, and although in a modicum of shelter beside the house, the car lay dormant for many years as Peter's health began a gradual decline. Jaguar restorer John Maye visited the Isle of Man for the Manx Classic in September 1998 and met Anthony during the Promenade Sprint event. John mentioned that he knew where the WSM 3000 was, and a few weeks later Anthony and John spent a Sunday scouring West Gloucestershire. The problem was that John had seen the car some three or four years previously after a friend who was surveying Peter's property asked John to take a look at an unfamiliar sports car. John recognised the WSM, but thought no more about it as Peter was not forthcoming with any details, and the secluded location deep in West Gloucestershire was forgotten. There followed a hugely frustrating five years while Anthony used every method to trace the car, but only when David Moore of the Historic Rally Car Register got in touch with a contact number for Steve Suckling was the search to bear fruit, and in September 2003 Douglas was re-united with the WSM for the first time in 37 years. Peter was delighted to meet the designer and it was evident his enthusiasm for the car was undimmed. A day was spent poring over the WSM and before parting, the two men shook on agreement for the car to change hands and be restored by Douglas. Although Anthony visited Peter regularly and kept in touch by telephone, it was evident that Peter's health was deteriorating. Whenever the subject of moving the car was raised, he would insist that anytime soon he would "fettle her a bit" before that could happen. Peter's reclusive nature and failing health lead to a stroke and fall in the garden overnight in 2006, and although surviving that ordeal, his visits to hospitals and homes became more regular, if thoroughly unwelcomed and unappreciated by Peter despite his own accommodation circumstances becoming dire. Through 2007 and 2008 his physical and mental health was diminishing, and in 2009 the WSM disappeared from his property, unbeknown to Peter who was by then a permanent resident in a Monmouth care home. It transpired that an acquaintance of Peter's had removed the car and stashed it in a lock-up in Lydney. Peter passed away in May 2010 and in January 2011 Brightwells advertised the car for auction. As expected there was a large amount of interest from around the world, but fortunately the new owner is UK- based and restoration under the auspices of WSM Cars is ongoing . .
The WSM Jaguar started life in 1959 as a standard 3.8 XK 150 FHC coupe, owned by B.G.W Haynes who lived in Northwich, Cheshire. The original engine was later swapped when Bill Geldeard owned the car in 1962 as a 21st birthday present. The Production Record Trace Certificate of the Jaguar-Daimler Heritage Trust shows the original colour was cream with a red interior, and Bill changed the colour to opalescent maroon before selling to Douglas Hull on 14th June 1964. The car was used as tow vehicle for his vintage ERA racer, and Douglas enjoyed the car so much that when he wanted fast and practical transport capable of carrying the everyday paraphenalia his motor trade business required, he asked his friend and fellow aviator at Finmere aerodrome, Douglas W-S, to pen an estate design that Peel Coachworks could fashion. The engine was modified into a full blown 3.8 S-type race unit with straight porthead and original S carburettors. The end product more than earned its keep, and on a trip to the Isle of Man in 1969 towing Patrick Lindsay's ERA for the Tholt Y Will hill climb event, managed a faster time in the wet event than the racing car it had trailered to the Island. Peter Hull, younger brother to Douglas, also raced the car in VSCC events at Silverstone, but after Douglas Hull's death in 1977, subsequent owners Bernard Harding, Rodney Tolhurst (who later owned the WSM MGB with wife Josie), and Graham Radcliffe used it infrequently. Anthony went to London in 1995 to see the car, but could not persuade Graham to sell at that time. Martin Staverman of M Restorations rescued the car in 1996 and sold it to Peter Janssen in 1997, who with friend Jacco Mol finished an extensive restoration in 2003. The car was then sold to Dealer Aaldering in Brummen (Netherlands), and sold again the same year to a Chinese lady – Judy A. Reyes – who lived in Singapore and worked in Hong Kong. The car was stationed in Germany and Judy took part in some European meetings. Eugen W Schmid bought the car in 2005, and it is in regular use around his home near Zurich and at many historic gatherings .
In 1998, information that a WSM in Connecticut, USA was being raced in Sports Car Club of America events prompted further investigation, and Anthony was put in touch with Walter Donaghy and Kent Bain who owned and raced WSM 207 which had been exported for US serviceman Joel Nelson to New York in May 1963. Joel had the car repainted grey with black stripes before selling to Fred Glaesner in 1965. When a re-union was suggested to celebrate the designers 80th birthday in 2001, Walter immediately voiced approval and intent for the car to join the other WSM's in England for the event. That the car did not leave dockside New York is a long story but was perhaps a factor in Walter later offering the car for sale. Anthony knew that Rae Davis of Motobuild in London was interested in a WSM through his preparation of Leo Kusters' WSM 210 in 1995, so helped broker a deal that saw 677 EGJ driven off a container in the UK in May 2003. A week later, Rae raced the car at Donington and in September 2003 the car was on the Fordwater grid in Ian Guest's hands at the Goodwood Revival event with three other WSM entries.
The third WSM to be built in Sprint specification was exported to San Francisco in 1963 for Dr Clinton Chichester. It was from this car that the fibreglass bodies were moulded for WSM's 205, 206 and 208, although in vastly different circumstances. Mike White owned and raced WSM 205 in England in 1964, while Douglas used WSM 206 in England and Europe in 1964 and 1965. WSM 203 came to light again in 1997 when a request for information regarding the car was published in Classic & Sportscar on behalf of Hayes Harris in the USA, to whom the late Dr Chichester's son had entrusted the sale. The car was then sold to Takayuki Hata and Ecosse Cars of Tokyo who restored the car before selling to Masakazu Yahagi, also of Tokyo, to race in historic events. In 2011 Tazunu Kaneko purchased WSM 203 and continued to compete on historic grids in Japan, until September 2014 when the car was advertised for sale.
WSM 208 was not to be completed until 2009 – a 44 year pause in production following the ninth Spridget (WSM 301) in 1965. The fibreglass body was stored in 1963 and moved with the family from Leighton Buzzard to Hockliffe in 1970 where it was kept in the eaves of a double garage. When the family moved to the Isle of Man in 1976, the body was left with the new house owners on the understanding that at some time in the future it would be collected. It was not until 1982 that a trip was organised, and on returning to the Isle of Man it was again stashed away until the chassis was ready on which to base the body. In 2005, with the able assistance of local yachtsman Peter Hinds, the body was attached to a chassis sourced by Michael Lewis, Douglas's son-in-law, and the car moved from Peel to Glen Vine where running gear was fitted. Dale & Colvin of Union Mills were contracted to paint the car 'Chiron' blue, the match to the original colour facilitated by a cut-off rear wing section of WSM 201 remaining from accident damage at Brands Hatch in 1963 (201 was taken to Leighton Buzzard on Saturday after practice – the damaged section was cut out and a new section grafted in by Ray Halsall on the Delta Garage premises, and returned on Sunday morning to race). Although initially designated for ownership in the USA, when the planned Healey museum in Virginia failed to materialise, WSM 208 was shipped to England in 2008 for final detailing by Colmworth Classic Cars. Douglas approved highly of the work carried out by Paul Webb at CCC, and watched the car make its race debut at Croft on May 16th 2009 alongside WSM 210 in the 'Equipe' GTS series. Further races at Brands Hatch, the bi-annual Le Mans Story event, BDC Silverstone and Zandvoort kept the car busy in 2009 until brought back to the Isle of Man in December for hibernation in hangerage at Ronaldsway airport. A promising start to the 2010 season when the car qualified 11th amongst the 'Equipe' GTS grid at Brands Hatch in April was compromised by contact at the start of race one, but race two saw a dominant class win and another at Cadwell Park in September. The inaugural HRDC grid of Grand Touring Greats at Brands Hatch on April 9th 2011 saw the car qualify 5th amongst a host of similarly powered 'A' series-engined cars, and in July 2011 the car was invited to the Cholmondely 'Pageant of Power'.
WSM 210 was built in 1963 and exported to Florida in September 1964 for Dr Clinton Chichester. In 1968 college student Scott Yturria (left) bought the car from Dave Collier, the local Jaguar dealer, then in 1972 traded the WSM against a Lotus Elan SE. The car returned to Europe in the 1980's and Leo Kusters from Holland acquired WSM 210 in 1993 – his involvement in historic racing lead him to bring the car to the Motobuild team in London who restored her in readiness for entry in the Coys Historic Festival at Silverstone in 1995, and hence the telephone call from Tom Coulthard to the Isle of Man. In summer 2003, Leo contacted Anthony to say that his car was for sale. As Leo's young son was heavily involved in karting, Leo himself had some American horsepower to play with that was taking all of his time and he could not justify the WSM inactive in the garage. Interest from a Dutch museum prompted Anthony and Paul Woolmer to bring the car back to England in November 2003 to be garaged alongside WSM's 202 and 301 at Paul's Bedfordshire address. A friend of Paul's, Clive Cocks, had given much of his time in helping prepare WSM 202 and when he viewed 210 in December 2003, it soon joined Clive's garage of Healeys and was prepared ahead of his introduction to historic racing at Mallory in October 2004. Subsequent appearances at Snetterton, Silverstone, Brands Hatch, Castle Combe, Knockhill and Le Mans in company with other WSM's created great interest, and a 2006 Goodwood Revival invitation (left) to join three Spridget-based WSM's rewarded Clive's evident enthusiasm for the marque. An entry for the Lands End – John O'Groats 'Le Jog' marathon of 5 days and 2,400 mile duration in 2006 resulted in 2nd in class on his first such event, and another Goodwood Revival appearance netted 17th place in the 2010 Fordwater Trophy race (right) and second WSM home. The HRDC 'Grand Touring Greats' race at Brands Hatch in 2011 saw WSM 210 finish 9th on the 26 car grid.
Following the completion of WSM 208 in 2009, thoughts turned to production of 'second generation' WSM Sprite's. Such interest was apparent from visitors to the Colmworth Classic Cars stand at the Race Retro show at Stoneleigh in March 2009, that a limited production run of the fibreglass bodies was planned. The S2 cars follow the original production number manifest, and every car is designated a WSM chassis plate and a WSM build number on completion. The bodies are constructed in fibreglass and are direct descendants from WSM 203 of 1963 – the original mould having been taken from 203 to form the two lightweight fibreglass racers 205 and 206, and the final hands-on build by Douglas, WSM 208. All S2 cars are supplied with an integral roll bar, a measure that Douglas considered a necessity despite having raced open Bentleys with no more protection than a cloth cap and overalls. The 'GT' is prepared as a road car, while the 'Sprint' with spaceframe construction is aimed at competition use. A WSM S2 can be supplied as a complete turn key car, or the bodyshell fitted to a chassis the customer provides. The donor car will be either quarter or semi elliptic sprung – for the ultimate 'WSM Sprint' specification, only a quarter elliptic chassis can be used. To date, 6 cars have been ordered, and 5 of them delivered, 3 of each of the Sprint and GT. Seen here is one of these GT cars.
CAR CLUB DISPLAYS
Although this event does not (yet) attract the vast number of Car Club cars that you get at the Silverstone Classic, there are still in excess of 100 different Clubs who register for space, and the organisers then have the job of fitting everyone in where they can. Pitches are marked out for the three days, so if a Club has a wildly different number of cars on each of the three days, they can end up looking rather empty on any given day, which I suspect explains why some areas looked full to over-flowing (the Abarth one!) and others were literally deserted. That, plus the rather soggy start to proceedings on the Sunday meant that at a quick glance, the displays looked a bit disappointing, but on reviewing all the photos I took, it is clear that there was in fact a lot to see, with plenty of variety, as this part of the report will evidence.
ABARTH
Following a surge in last minute ticket bookings, it looked as if we were going to amass 21 Abarths for the Abarth Owners Club display, which is a pleasing total, and 50% more cars than last year, and then on the Monday before the event, I got a phone call from the sales team at Research Nuneaton, telling me that they had a Biposto model in the showroom, road registered, and they wondered if I would be kind enough to let them display it with our cars. I nearly bit their hand off, knowing that not just all the AOC members who would be present would want to see it, but so would plenty of other people. So we had 22 cars booked, and when I arrived, what looked like rather too small a space to park them all in. I am pleased to report that all 22 cars did arrive, giving an impressive display. The Biposto was a highlight, of course. Unlike the one which had been at the Brooklands Auto Italia event the day before, this was an entry level model. "Entry" is a relative term, of course, as the car does still start at just under £33,000, but this one had the conventional gearbox, and none of the costly options which can take the price to the £50k mark.
20 of the other cars present were 500-based models, with a nice array of different versions, and colours, ranging from my very standard 500 "NP" to Dan Thompson's heavily modified car which he says is now generating nearly 400 bhp (!). As ever, the display created lots of interest from non Abarth owners as well, even though we were towards one end of all the Clubs, in an area which turned out to be a rather good spectating position.
Not for the first time at an event like this, there was just one Punto-based model, Gary Miles' Punto SuperSport.
In addition to the static display, a number of clubs were granted places in the lunchtime cavalcades. In the past couple of years, space has been severely limited as 50 of the 100 places were given to Porsche to mark the 50th anniversary of the 911 in 2013 and in 2014 a number of slots went to the Mustang. No such dominance in 2015, and with more Abarths present, I was allocated three places for the Sunday track parade. Choosing the Biposto was easy, and I also asked Tim Siegertz, who runs the AOME (Abarths of Middle England) Group to take a place, leaving one more, which in the end, I took myself (following plenty of people saying I should). We were under strict instructions not to hang back, so speeds were limited to about a top of 60 mph, but it was still good to get the chance to take the car out on the circuit.
ALFA ROMEO
After seeing literally hundreds of Alfas at Brooklands the day before, they were rather conspicuous by their absence at this event, with just one car spotted, a Series 4 version of the long running 105 Series Spider.
ALPINA
Sharing stand space with the BMW Car Club were a couple of Alpina models, a rare B7 and the still far from common E46 based B3
ASTON MARTIN
The Aston Owners club had a sizeable grouping of cars, with models including the DBS and later V8, and the more recent DB7, DB9 and DBS Volante
AUDI
In previous years there have been as many as ten examples of the urQuattro, Audi's game-changer of the 1980s, at this event. There were not that quantity this time, but there were still a good number of this highly desirable classic.
AUSTIN HEALEY
By contrast, there were probably as many Big Healeys as I've ever seen here. with several long rows of the "hairy chested" British sports car on show, and a nice mix of 100 and later 3000 cars, and a representative assembly of the different colour schemes in which the car was sold.
There was also a lone example of the Mark 3 Sprite.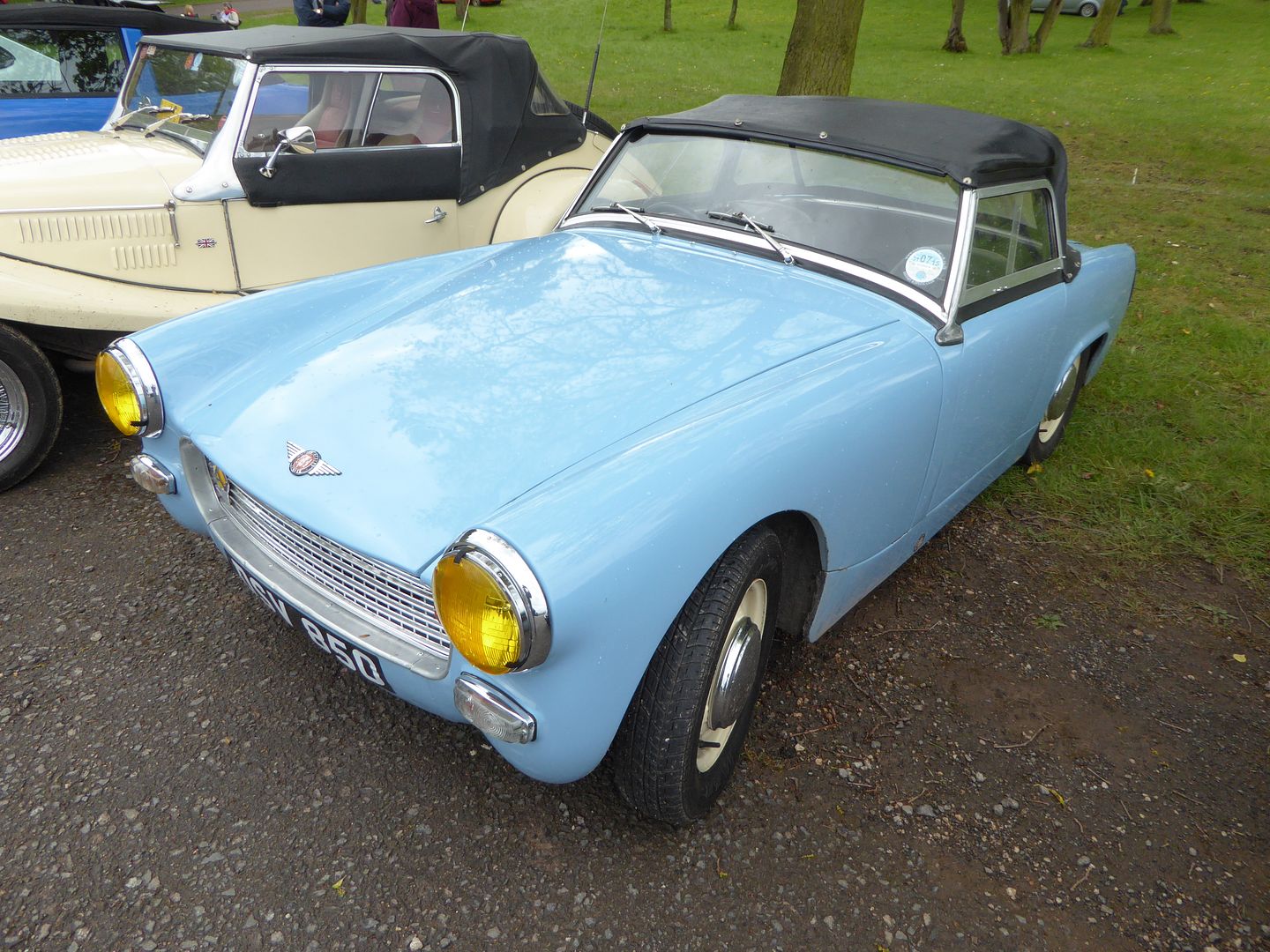 BENTLEY
Sole Bentley that I came across was this S2 Continental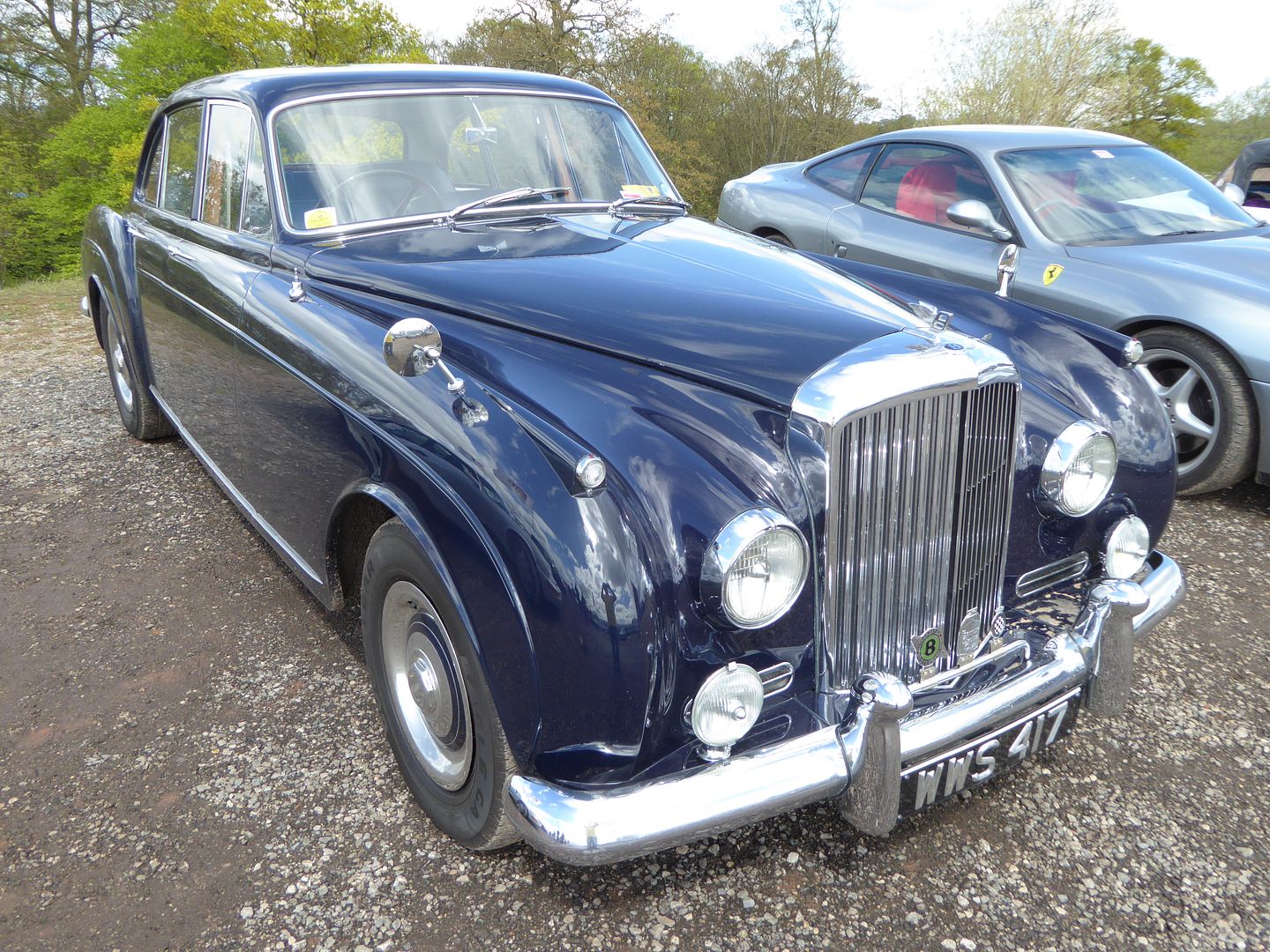 BMW
The boom in sales of BMWs did not really start until the late 1980s (think "Yuppie"!), so models from before this time are rare, and none more so than the E23 7 Series. Looking rather like an elongated version of the 6 Series, which is indeed what it was, this car debuted in 1977 to replace the E3 2500/2800/3.0Si series of sports/luxury saloons and was initially offered with a choice of two carb fed engines, the 728, 730 and the injected 733i. A series of updates to the engines gradually saw fuel injection standardised, the replacement of the 3 speed automatic gearbox with a 4 speed unit and then a switchable one, with two modes, one of the first cars to offer this, and a mild facelift made the front end more aerodynamic, before the car was replaced by the new E32 model in 1986. There are few survivors in the UK, so it was quite a surprise to find two of them on the BMW Car Club stand. The first, an early 733i is well known and was featured in Classic Cars magazine a few years ago, but the later 735i was an example I had not seen before. It turns out that this is your typical "find", a car owned by an elderly driver who had barely driven it, and eventually parted with it to an enthusiast who now treasures but does use the car. In this case, it is the Area Chairman of the BMW Car Club, in the East Midlands, so the car will be seen at events from time to time.
More recent BMW models on show included the hard-to-like X6 and an M3 Convertible
CATERHAM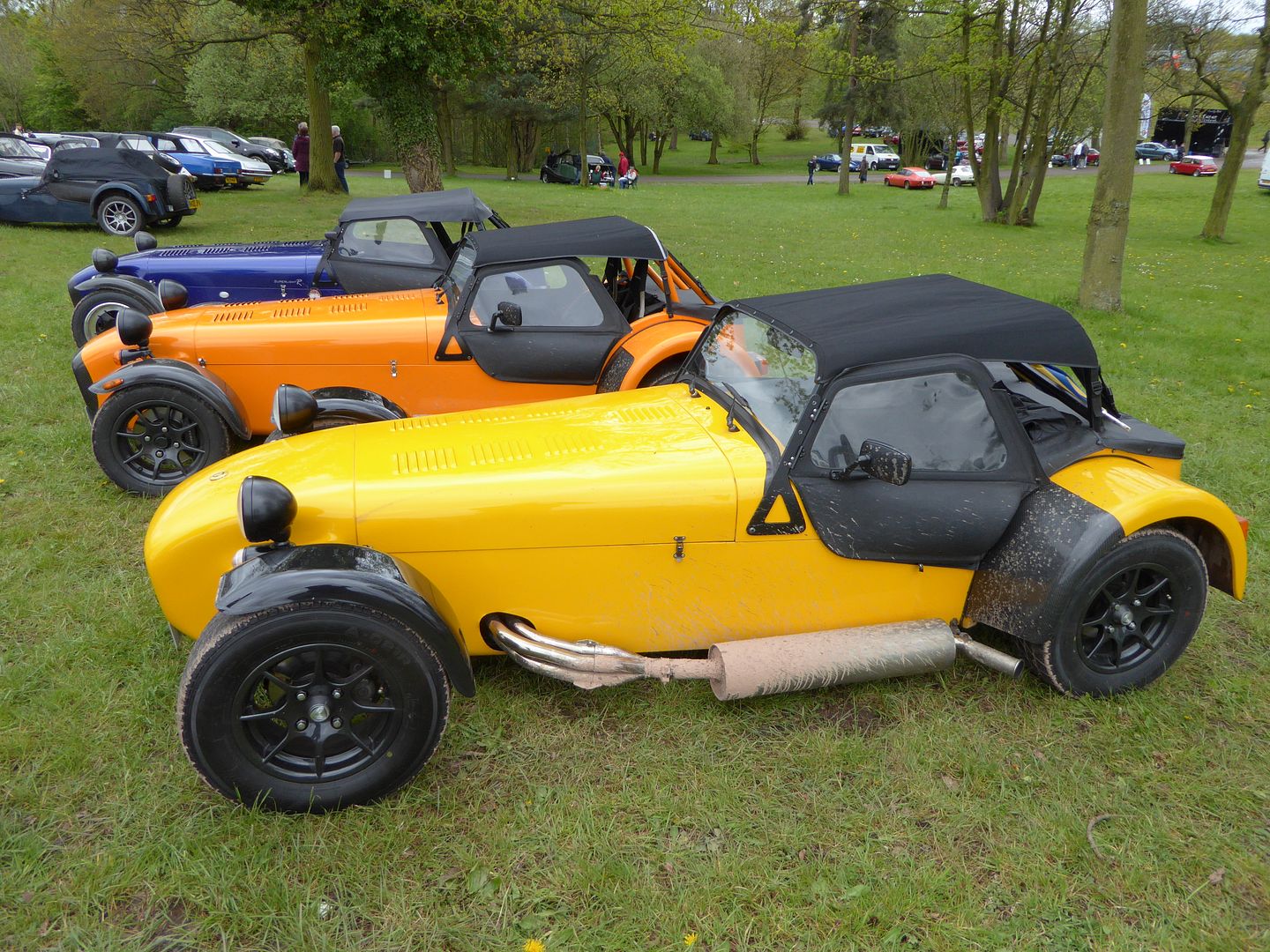 CHEVROLET
There were a couple of examples of successive generations of the Corvette parked up alongside each other, a C2 and a C3 model.
CHRYSLER
The Chrysler Corporation was founded by Walter Chrysler on June 6, 1925, when the Maxwell Motor Company (established in 1904) was re-organized into a new company. Walter Chrysler had originally arrived at the ailing Maxwell-Chalmers company in the early 1920s, having been hired to take over and overhaul the company's troubled operations (just after a similar rescue job at the Willys car company). In late 1923 production of the Chalmers automobile was ended. Then in January 1924, Walter Chrysler launched the well-received Chrysler automobile. A 6-cylinder automobile, it was designed to provide customers with an advanced, well-engineered car, but at a more affordable price than they might expect. Elements of the car were traceable back to a prototype which had been under development at Willys at the time that Walter Chrysler was there. The original 1924 Chrysler included a carburettor air filter, high compression engine, full pressure lubrication, and an oil filter, at a time when most cars came without these features. Among the innovations in its early years were the first practical mass-produced four-wheel hydraulic brakes, a system nearly completely engineered by Chrysler with patents assigned to Lockheed, and rubber engine mounts to reduce vibration. Chrysler also developed a road wheel with a ridged rim, designed to keep a deflated tire from flying off the wheel. This safety wheel was eventually adopted by the auto industry worldwide. Following the introduction of the Chrysler, the Maxwell was dropped after its 1925 model year run, although in truth the new line of lower-priced 4-cylinder Chryslers which were then introduced for the 1926 model year were basically Maxwells which had been re-engineered and rebranded. It became a best-seller, and by 1926, the firm was producing 1250 cars a day, which allowed Chrysler to generate the funds for a series of new models. This 1929 Chrsyler 70 was so named as it had a top speed of 70 mph.
CITROEN
This late model CX22TRS was parked up at the end of the Car Club area, facing the track. I suspect it may have been a marshall's car. Regardless, it was certainly rather nice and a rare treat to see this version of what is nowadays a rare car anyway.
DAIMLER
Two very different Daimler models, but sharing the same engine, the small capacity 2.5 litre V8 for which the independent Daimler company had high hopes when they developed it. Not long after its premier in the SP250 "Dart" sports car, the company was bought by Jaguar, so it was perhaps inevitable that the engine would be tested under the bonnet of the Mark 2 Jaguar, creating the V8 250, launched in late 1962. Offered initially in conjunction with an automatic gearbox, a manual version was later offered. The car had a very different character to the Jaguar, being more of a refined tourer than the overtly sporting 3.4 and 3.8 litre Jaguar versions.
FERRARI
The only Ferrari in the Club area was this 550 Maranello
FORD
The Capri Owners Club had amassed quite a array of cars, though it was late in the day by the time I got to their collection and several cars had departed. Of those left, which the camera recorded in addition to those which had been lined for the lunchtime parade laps were a Mark 1 GT, and from the Mark 3 generation, a 2.0 Laser, a regular 2.8 injection and the "last of the line" Brooklands
There was a nice progression of sporting versions of the first front wheel drive Escort on show, with an early XR3, the later fuel injected XR3i, the facelifted car and then the Cabrio.
Parked up with them was a rare surviving first generation Fiesta XR2
HUMBER
Although better known for their larger cars, Humber did make some medium sized models as well in the 1930s, such as the 1934 Twelve Tourer
JAGUAR
The car I really wanted to see was this, a D Type. It is a replica, but it is a well executed one, and it belongs to Mike Foster, who until he acquired it had possessed the lovely red classic Abarth 1000TC which has featured in a number of previous reports. I'd seen pictures of this car, taken in all weathers, as he has gone about the country, taking full advantage of what he says is is dream car. Unlike many of us, who continue to dream, he put together a plan, which sadly did involve selling the Abarth and the Ferrari 348tb which he had bought not that long ago, to fund this, but the result is the car he always wanted, and lots of fun times.
Displayed with it were plenty of classic Jaguar models from the 1950s and 1960s, ranging from a lovely Fixed Head Coupe XK150 to a number of E Types, and the much loved Mark 2 Saloon and one of the last of the line 340 models that was produced as a "last hurrah" in 1968.
This year marks the 40th anniversary of the XJS, and there have been plenty of articles in the classic car press marking the occasion. Not capturing the public imagination in anything like the same way as the car it sort of replace in Jaguar's range, when new, admiration and enthusiasm for the model has been growing steadily in recent years, which doubtless means that prices will start to rise from their current low levels. There was quite a collection of XJS models, in Coupe and Convertible parked up in the area next to the Abarth display.
LANCIA
A trio of Beta Montecarlo cars included a US spec model, which was badged as Scorpion. As with all US market cars of the time, this one had round headlights in the space usually occupied by the rectangular units on European cars. Couple it with the larger bumpers and a strangled engine, to meet US federal emissions requirements, and you can see why the car was not exactly a sales success in America.
LOTUS
Lotus cars displayed ranged from a couple of Elan S4 through one of the early Elite models and the more recent Esprit and Elise S2
MARCOS
Lone Marcos was this 3 litre, which found lined up for the lunchtime parade and then again in the display area.
MASERATI
The fourth generation of Maserati to bear the Quattroporte name was styled by Gandini, and it was certainly a distinctive competitor in the large luxury saloon market place. Sold with a choice of V6 or V8 engines, few of them were bought in the UK, so this is a rare car. It is still not a valuable car, so that could be why this one was less than pristine, as repair or restoration costs typically exceed the value of the car.
MAZDA
I captured just one of the ever popular MX5, in NC Series form, but I am sure there were plenty more at the event.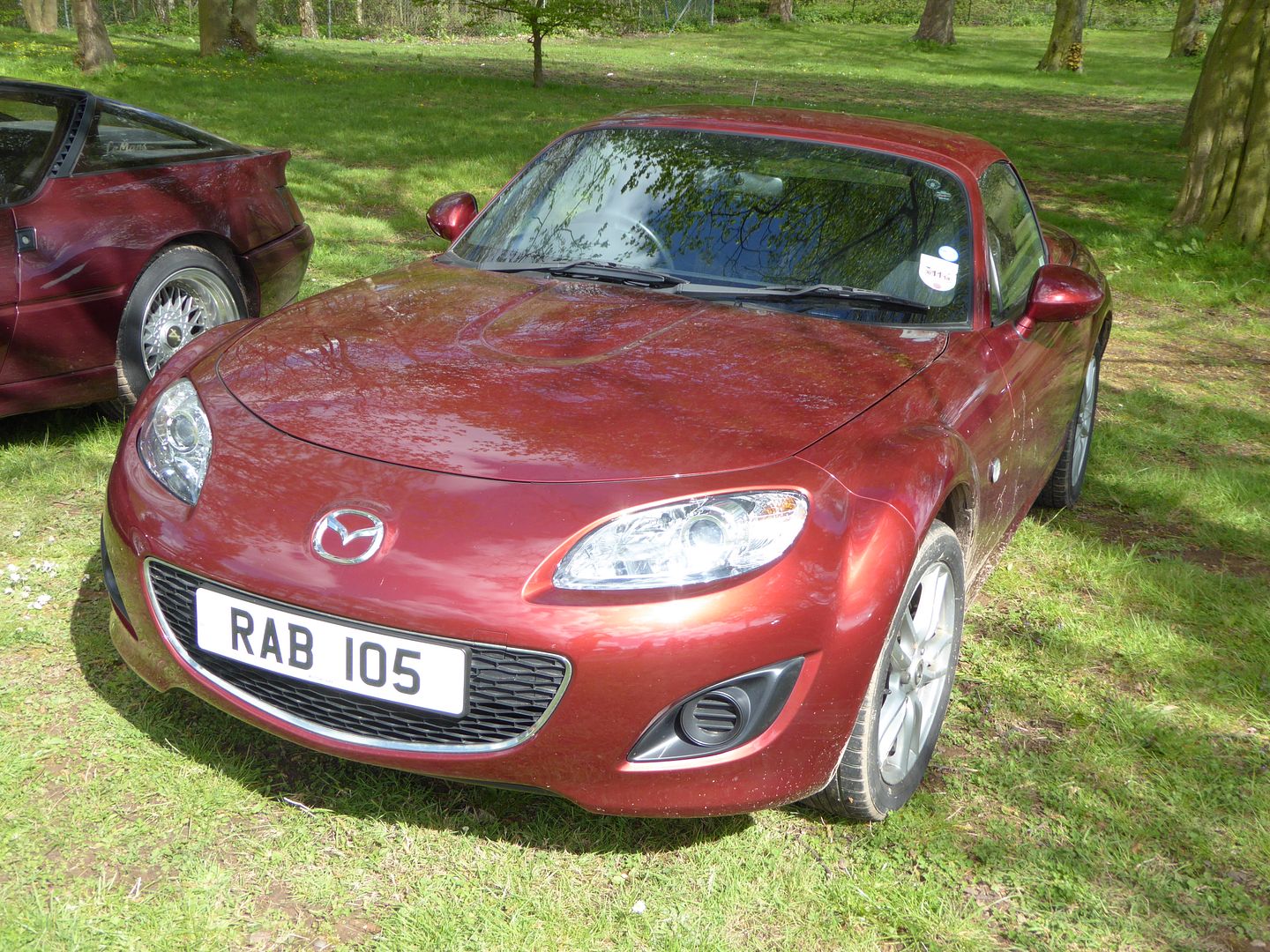 MERCEDES-BENZ
Lots of cars in a packed Mercedes-Benz Owners Club area. As well as a few very recent cars, there were plenty of classics. SL models included a lovely W113 230SL "Pagoda" and a trio of the R107 cars that replaced it, with two of the 300SLs joined by the fixed head 380SLC
The Stuttgart company's rival to the BMW M3, and indeed a model which predated the BMW by a good few months, and produced largely for the same reason, to homologate a racing car, was the Cosworth-engined 190E 2.3-16. Later models, such as this one, had a more powerful and larger capacity 2.5 litre engine.
The Germans call these "youngtimers", classics of the modern era, and there is little doubt that both the W123 Coupe and W124 Cabrio qualify, representing all this Mercedes (used to) stand for, with a timeless elegance to their styling (so sadly missing from their current products) and a "hewn from granite" toughness about their engineering and construction.
Although the SE lettering featured on this W108 280SE 3.5 Saloon, it was really with the car that replaced it, the W116 S Class, seen here in 280SE guise that the S Class label was first applied.
Some of the more recent cars displayed included R129 and R230 versions of the SL models along with a first generation SLK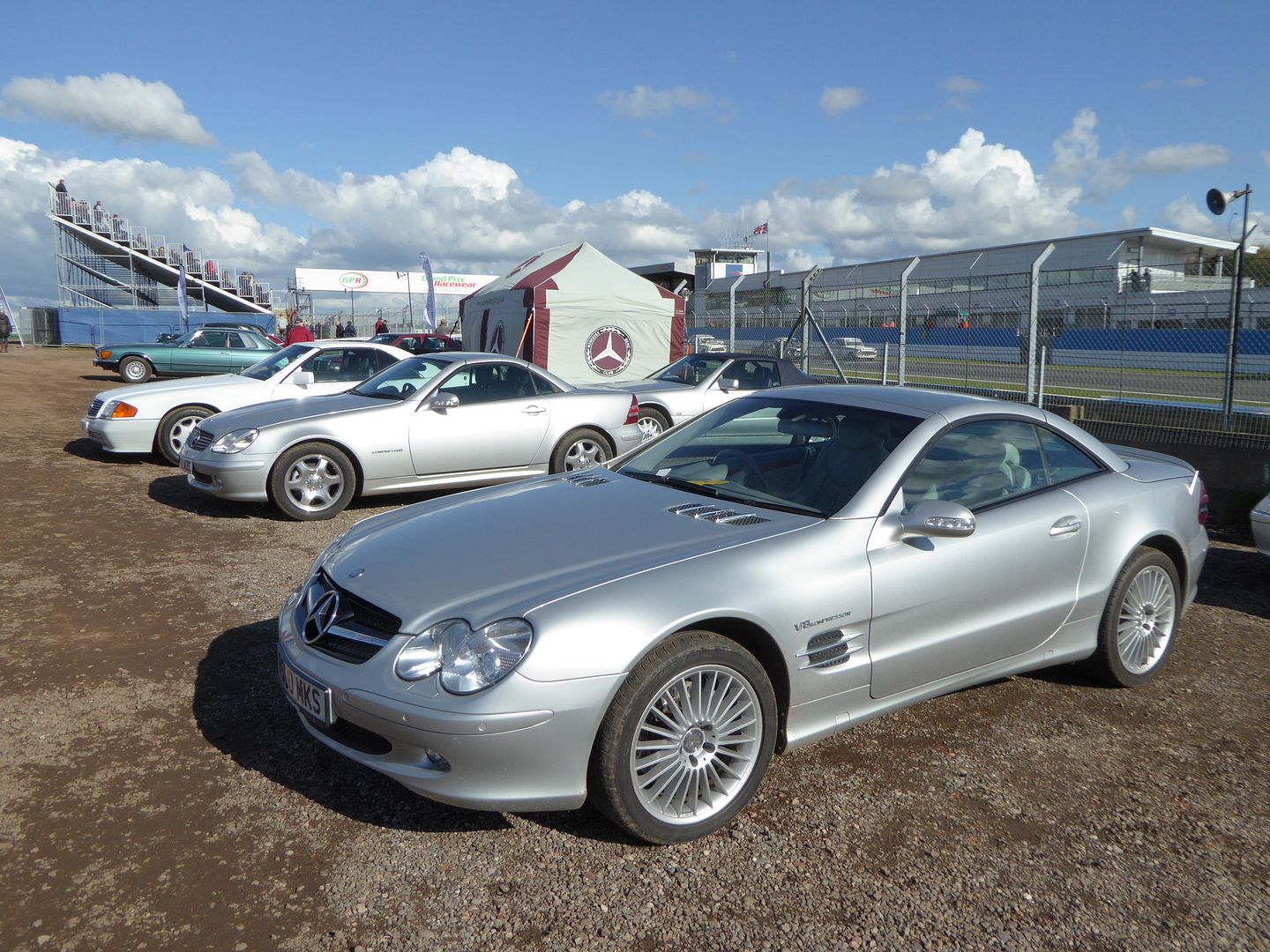 MG
There were two separate displays of MG models, so if you put the two together, this was one of the best represented marques in the Car Club area, which is no real surprise, as it remains as popular a brand now as it has been almost since inception back in the 1930s. Most numerous model was the classic MGB, with plenty of examples of the chrome and later rubber bumpered cars on show, in Roadster and GT guise.
There were fewer examples of the B's smaller relative, the Midget, a small sports car that was produced from 1961 to 1979.
The MGR V8 was launched in 1992, as a sort of modernised version of the B, with 1990s build quality, a much more luxurious interior and the latest 3.9 litre version of the Rover V8 engine under the bonnet. It came with an ambitious price tag, but the car sold strongly in Japan, which took a lot of the limited production rub. Many of those cars have since been re-imported to the UK, so it is not unusual to see a few at events like this and indeed there were a couple here.
Representing the newer MG were several examples of the MG F and TF
MORGAN
The Morgan Car Club had a sizeable display right at the end of the Car Club line, with lots of these classic British sports cars on show. Morgan owners are a hardy breed, so no surprise that the unfavourable weather early in the day had proved no deterrent to them turning up!
MORRIS
Another evergreen British classic is the Morris Minor and there was a nice example of the open topped model, the Tourer here.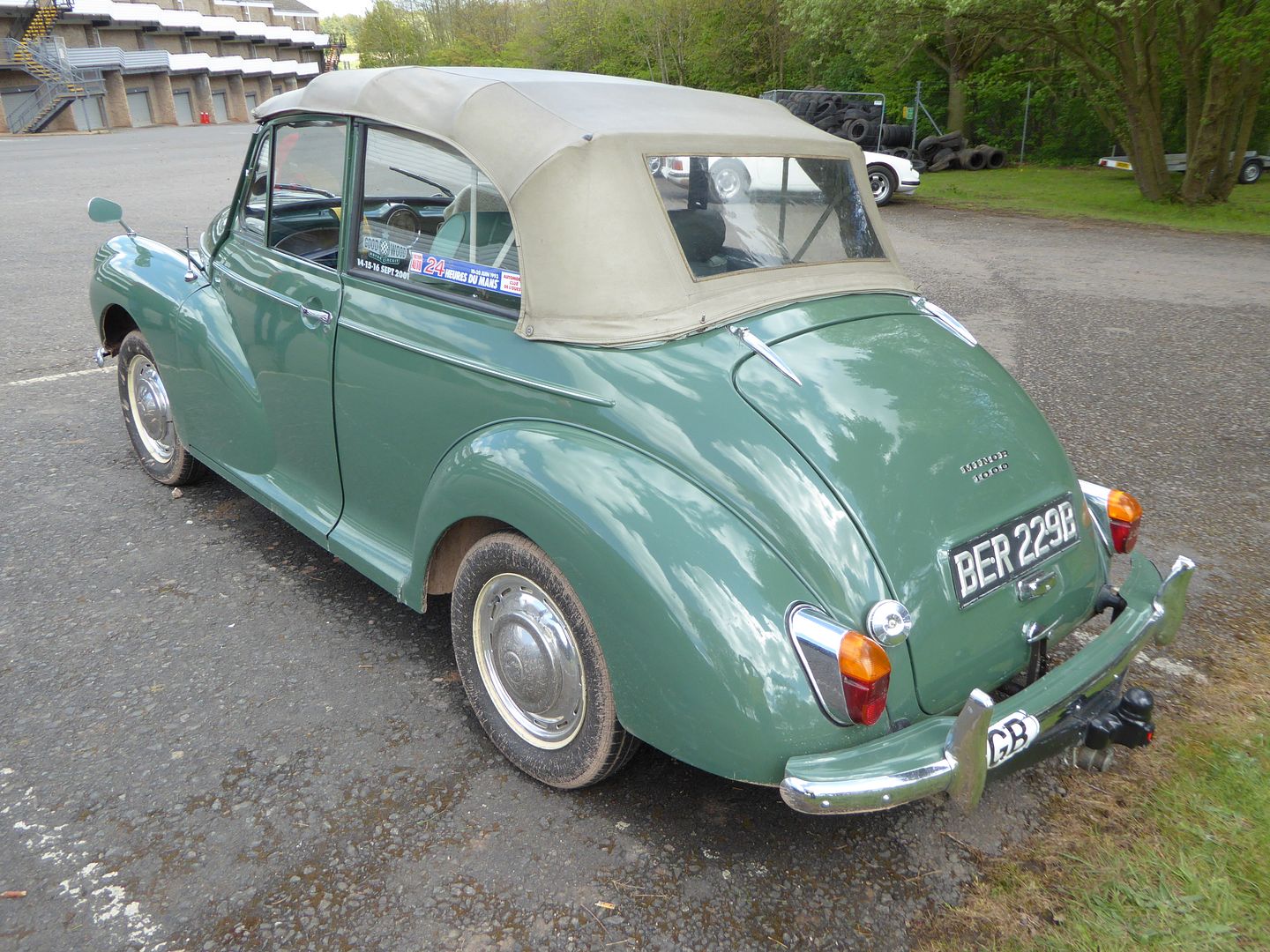 NISSAN/DATSUN
Among the extensive display of Z cars, were several of the first generation 240 models including the one which Autocar magazine ran as a  Long term car back in 1971/2. There was also the later 280ZX car shown.
Most interesting were some of the Super Samuri converted cars. They could not be called Samurai, for trademark reasons. Brainchild of Spike Anderson, the legendary proprietor of Samuri Conversions and the man responsible for a succession of Z-based racers in the 1970s, most notably Win Percy's famous "Big Sam.", the first 240Z that was adapted, FFA196L  went on to become something of a motorsport legend. Spike purchased the car in 1973, for his personal transport, but the car did not remain standard for very long. What would turn out to be a lengthy and ongoing program of tuning commenced with gas-flowing the 2.4-litre, overhead-camshaft six's cylinder head and raising the compression ratio, which was followed by ditching the standard carburettors in favour of triple Weber 4ODCOEs. Mangolesti supplied special inlet and exhaust manifolds, and in this specification, maximum power increased from 150 to 190 horsepower. Suspension improvements consisted of lowering the car by 40 mm and replacing the standard shock absorbers with Koni items. The weak braking was addressed by using ventilated discs and four-pot calipers from a Range Rover. Fitted with a deep front spoiler and refinished in distinctive red/bronze livery, Spike's "Super Samuri" soon gained the attention of the motoring press. Various magazines tested the car and gave it rave reviews, typically achieving performance figures of 0–60 mph in 6.4 seconds and a top speed of 140 mph. FFA196L was pressed into service as the company demonstrator, and it was also used in competitions, contesting the 1973 British Hillclimb Championship. Despite competing against purpose-built lightweights, the Super Samuri finished 2nd in class at the season's end, hinting at the 240Z's potential. Keen to exploit it to the full, Spike acquired an ex-Works 240Z rally car, which he converted to full race specification. Christened "Big Sam" and driven by Win Percy, this legendary car went on to achieve considerable success. Scheduled to race in the 1974 Modsports Championship, "Big Sam" encountered problems on its Silverstone debut, forcing the team to fall back on "Super Samuri." The car continued to serve as backup for "Big Sam" throughout the 1974 racing season, competing on no fewer than twelve occasions. Always driven to and from the meetings, it also doubled as a customer and press demonstrator, development hack and Spike's own transport, covering 35,000 miles by the end of the year. "Super Samuri" competed in 14 Modsports races in 1978, finishing 2nd in class at the season's end, a feat repeated in 1979, '80 and '81. Spike appears to have had an off year in 1982, as the 240Z could only manage 3rd. By now FFA196L had been driven more than 175,000 miles, competed in more than 60 races and 20 hillclimbs, and was featured in 15 magazine articles, making it arguably the best-known Japanese car in the UK. Neither of these cars were here, but there were three Super Samuri from the total of 62 road cars (and 75 altogether) that were built.
PORSCHE
The Porsche Owners Club always have a huge display, taking over a large area in the infield on the inside of Redgate. Whilst there were perhaps not quite as many of Stuttgart's sporting finest here as had been in 2014 and 2013 when the 50th anniversary of the 911 model was celebrated by 50 of the cars taking to the track in the lunchtime parades, there were still plenty to see. Needless to say, it was 911 models which dominated, with examples of every type from some of the early cars, through the later G Series, the 964, 993, 996, 997 and the latest 991.
This one got me excited, as from a distance it looked like there was a 959, that technological tour de force of the mid 80s, but closer examination suggested that it was not, and as we were looking at it, a couple of owners confirmed that this is indeed a "wannabe", based on a regular 911.
Classic front engined Porsche models were represented by at least three of the 944 Cabrio and the earlier 924 Turbo as well as a 928.
This year there were also fewer of the recent Boxster and Cayman models in the display, with just this pair attracting my camera.
RELIANT
The Scimitar GT Coupe was the precursor to the better known sports/estate GTE. Resembling the later car from the front, it had an earlier 2.5 litre Ford engine under the bonnet and more conventional Coupe styling.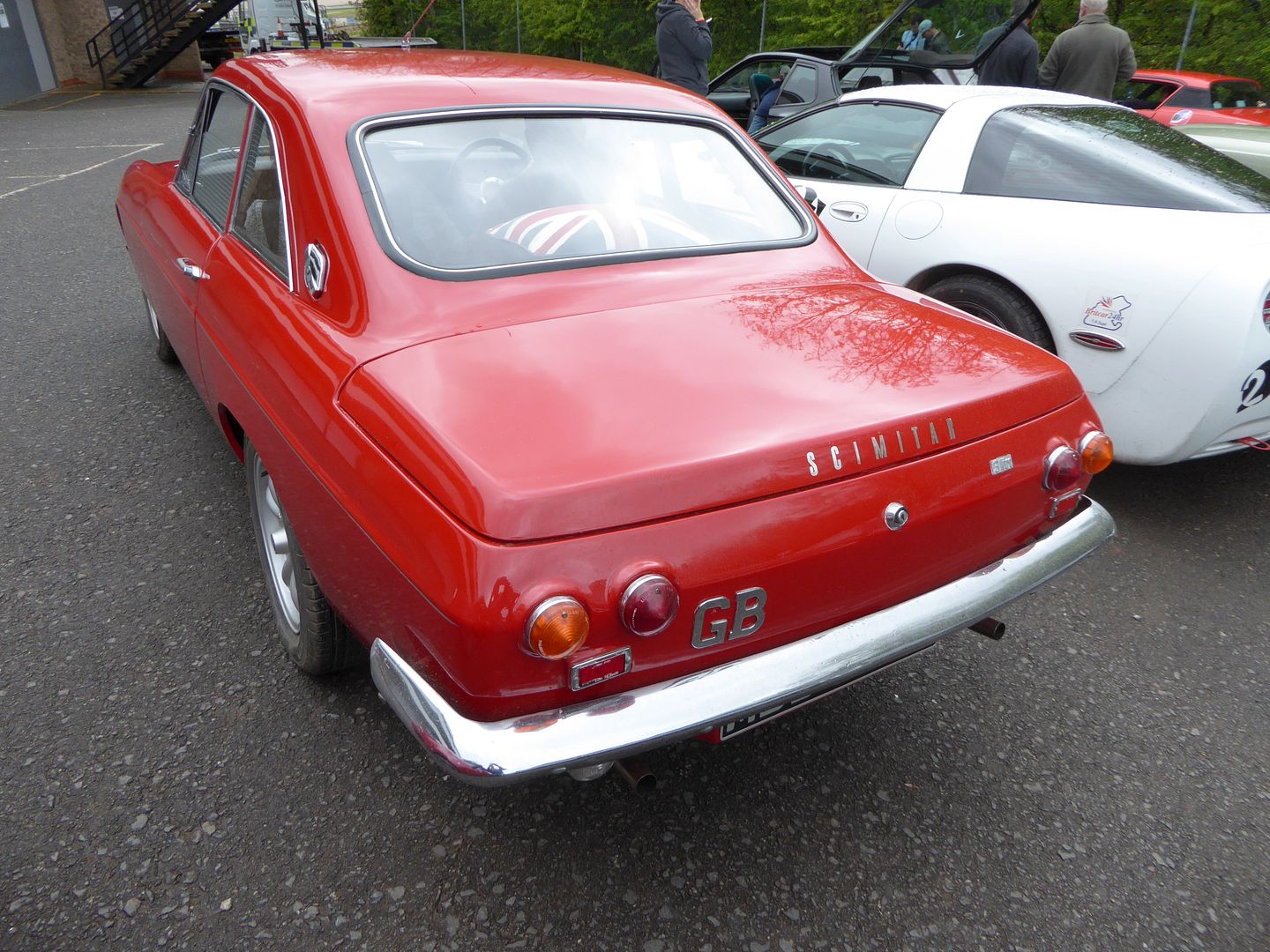 RENAULT
This was a rather nice example of the limited edition Renault Alpine GTA le Mans. The GTA was the first car launched by Alpine under Renault ownership, though Alpine had been affiliated with Renault for many years, with its earlier models using many Renault parts. Conceptually a modernisation of the design of its predecessor, the Alpine A310, that car's silhouette was updated with modern design features like body-integrated bumpers and a triangular C pillar with large rear windshield. It used the PRV V6 engine in a rear-engined layout, with extensive use of Polyester plastics and fibreglass for the body panels making it considerably lighter and quicker than rivals such as the Porsche 944. It was one of the most aerodynamic cars of its time, the naturally aspirated version achieved a world record 0.28 drag coefficient in its class. The GTA name, used to denote the entire range of this generation, stood for "Grand Tourisme Alpine" but in most markets the car was marketed as the Renault Alpine V6 GT or as the Renault Alpine V6 Turbo.  In the UK, it was sold simply as the Renault GTA, as Sunbeam (and then Chrysler/Talbot) had been using the "Alpine" badge since the 1950s. Rather than being cast in a single piece as for the preceding A310, the new Alpine's body was cast in a large number of small separate panels. This required a major overhaul of the Alpine plant, leaving only the sandblasting machinery intact. The car was also considerably more efficient to manufacture, with the time necessary to build a finished car dropping from 130 to 77 hours – still a long time, but acceptable for a small-scale specialty car. The PRV engine in the naturally aspirated model was identical to the version used in the Renault 25, a 2849 cc unit producing 160 hp Also available was the smaller capacity 2.5 litre turbocharged model. The central backbone chassis built by Heuliez and then transferred to Dieppe – aside from the body, most of the car was subcontracted to various suppliers. At the time of introduction, daily production was ten cars, but this soon dropped considerably, as the somewhat less than prestigious Renault had a hard time in the sports car marketplace. In February 1990 the limited edition Le Mans arrived, this car had a more aggressive body kit with polyester wheel arch extensions and a one piece front with smaller headlights. Wheels were 3 piece BBS style produced by ACT, 8×16″ front & 10×17″ rear. Many of these changes were adopted for the succeeding A610. The regular V6 GT and V6 Turbo ended production during 1990, while the Le Mans version continued to be produced until February 1991. 325 of these were built in total. Also in 1990, Renault was forced to install the less powerful catalyzed engine in cars destined for the home market, leading to grumbling amongst Alpine enthusiasts about the loss of power (down to 185 PS) while the 25 Turbo saloon actually gained power when it became catalyzed. In response Danielson SA, a famous French tuner, created an upgraded version of the Le Mans with 210 PS.
RILEY
The Riley RM Owners Club had a good number of these immediately post-war models on display, most of which were the Saloon model, the RMA and RMB, but there was also one of the Roadster RMC cars. Around 500 of these made, and the majority were exported to the US.
ROLLS ROYCE
Sole Rolls Royce that I saw was a nice example of the Silver Shadow 2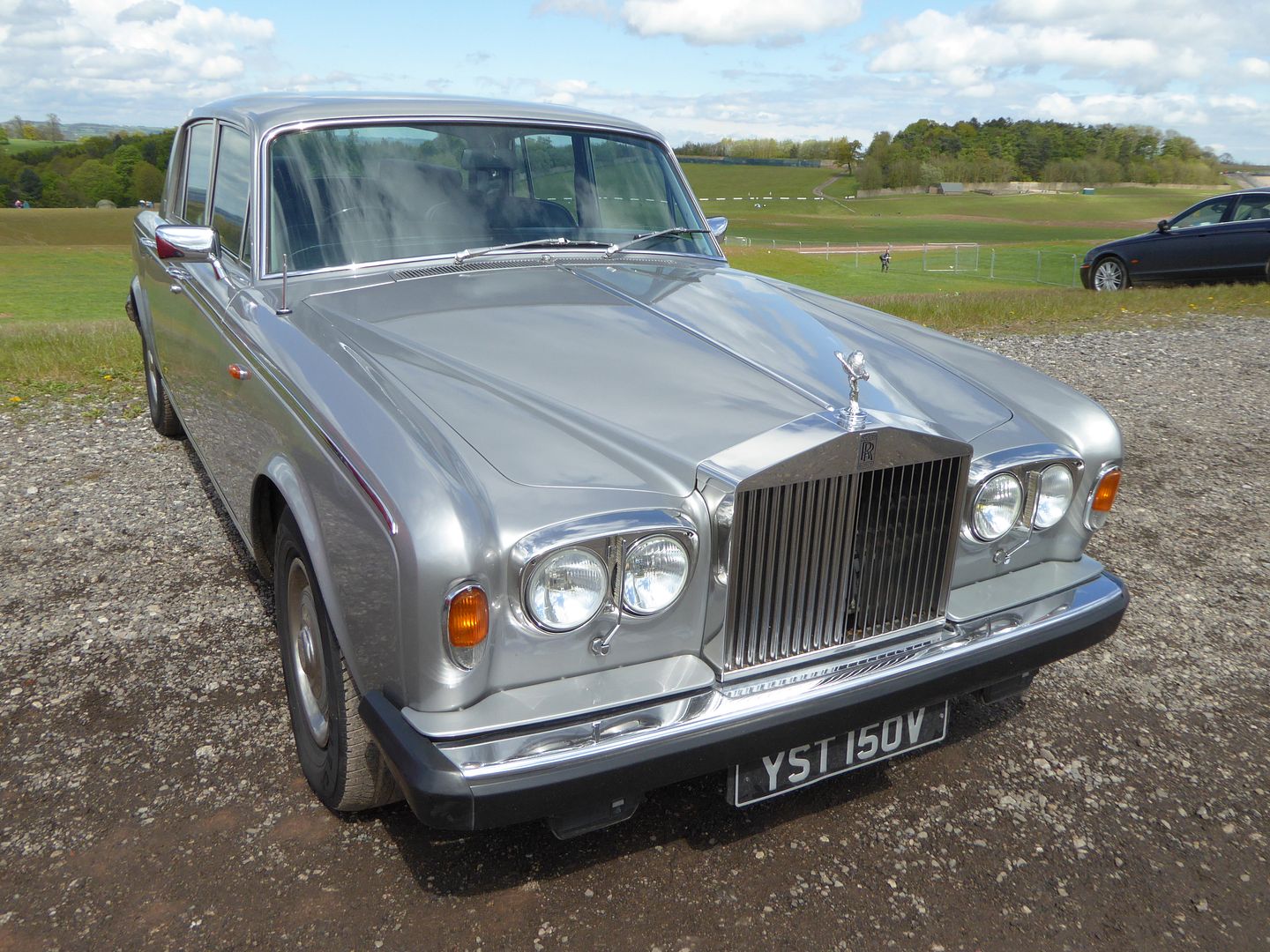 ROVER
The P6 model 3500 was the sort of car that up and coming Execs and Senior Managers aspired to in the 1970s in much the way that these days it would be a 5 Series or one of its German rivals that people dream of being able to afford (or these days, of course, it seems that just get one whether they can truly afford it or not!).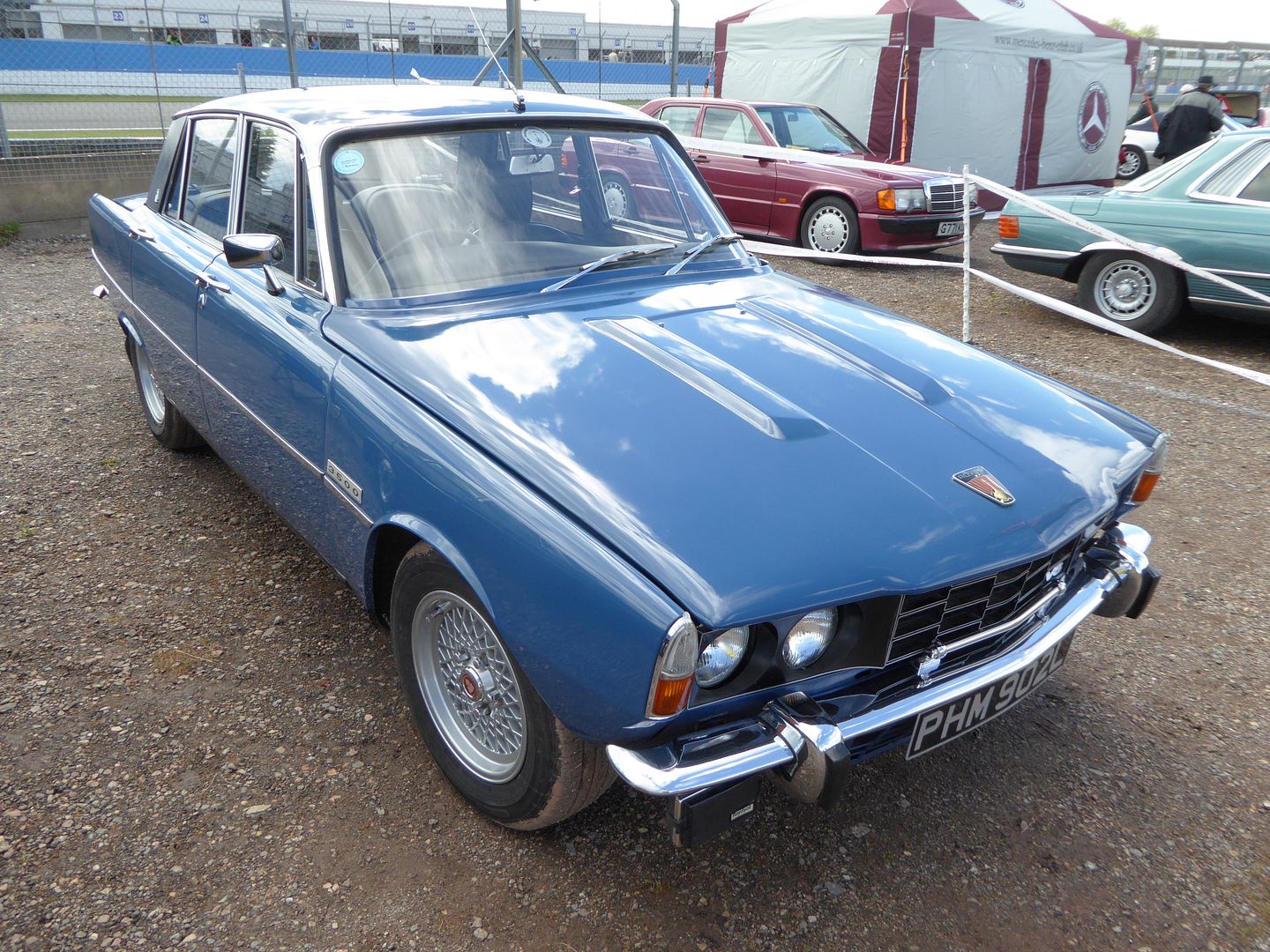 SAAB
There was quite a large area allocated to the Saab Enthusiasts Club, and just three cars in it: a 96 V4, an example of the earlier "bullnose" model in which recently deceased rally legend Erik Carlsson performed such heroics and the never sold in the UK sports coupe model, the Sonnet
SUNBEAM
The Tiger celebrated its 50th last year, and is still, in my opinion, a somewhat underrated and undervalued classic. The V8 Ford engine which was shoehorned under the bonnet of Rootes Gruop's rival to the MGB looks good, sounds good and goes as fast as you dare. The venture ended when Chrysler took control of Rootes and objected to the use of a competitor's engine in the car. There were several of these models on show here.
TRIUMPH
The TR Register is another club that takes a large display area at this event and in 2015, as in previous years, their allocated area was packed with cars. Seen here were several examples of the TR3a and b, the TR4 and TR5, a particularly large number of TR6, and the last of the line TR7 Convertible and a TR8 rally car replica
Also with a strong presence were the Stag Owners Club, and their display was particularly colourful, with many of the bright shades in which this rather under-developed, but oh-so-elegant 70s grand tourer was offered being on show.
TVR
Lots of TVRs here, thanks to the TVR Car Club, and as ever with these Blackpool built sports cars, a colourful display, as these models have always been popular in a wide variety of bright paint finishes. Oldest models were a duo of 3000M and Taimar, and these were joined by the popular S of the late 1980s and early 1990s as well as the big (relatively speaking) selling Chimaera and Griffith
VAUXHALL
The Viva name has been dusted off, and applied to the Vauxhall version of the latest city car, which may at some distant future point become a sort of minor classic, though somehow I doubt it, but there is no questioning the fact that surviving examples of the model from the first time the nameplate was used do now come in that category. Far fewer remain than of the rival Ford products of the time, so it was nice to see a trio of Viva models here: an  HA, the top of the range SL version of its successor, the "coke bottle" shaped HB, as well as a particularly rare HB Estate.
Based on the HC Viva was the "doop snoot" Firenza that was launched at the 1973 Earls Court Motor Show, and sold in small quantities for a couple of years.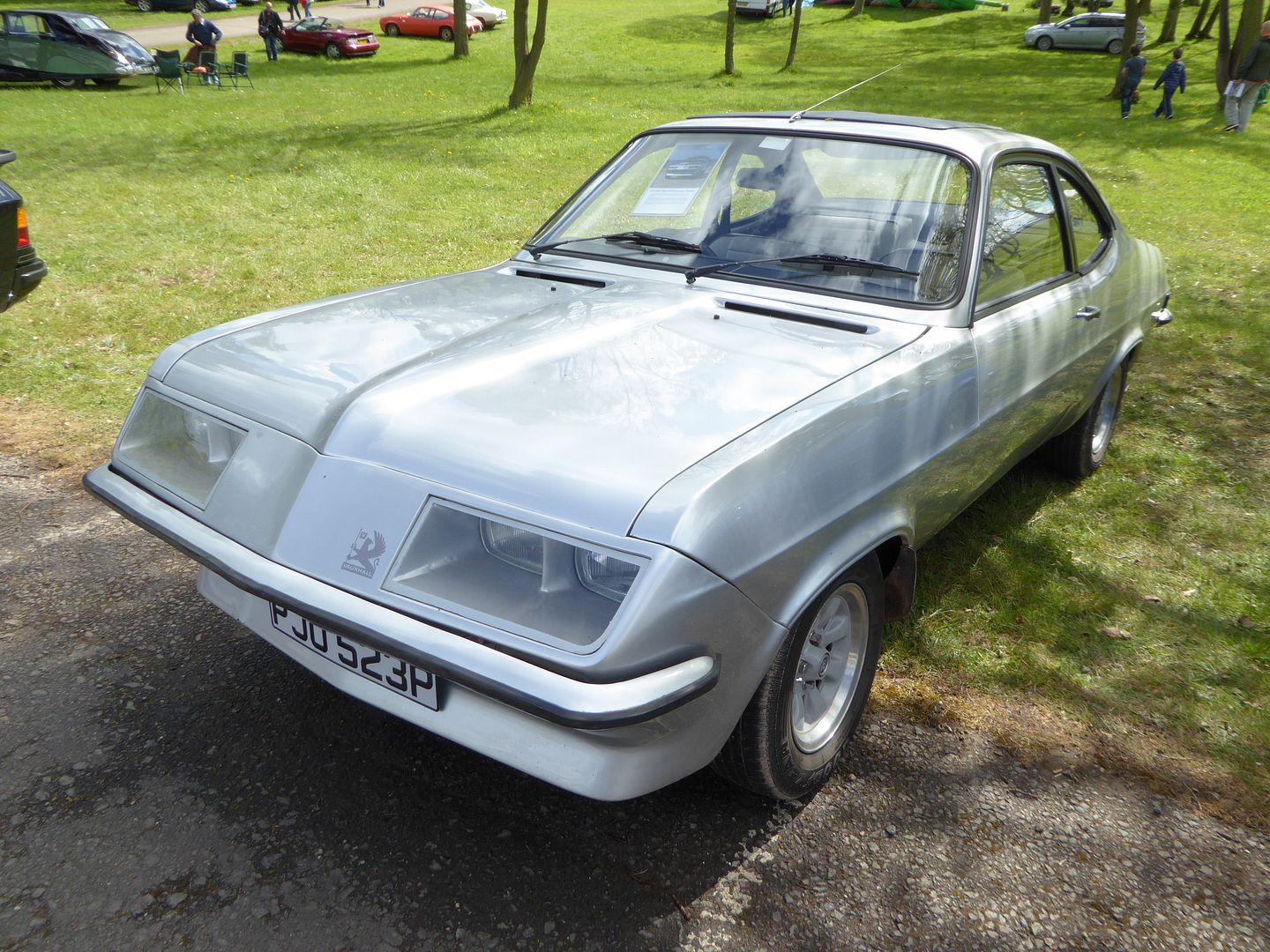 Despite the wet and miserable start to the day, this was an excellent event, for which it was well worth braving the elements, with plenty to see. Although there are no pictures of actual track action, we did see a bit of several of the races. You could, of course, spend all day watching the circuit activity, and would surely have an enjoyable time, but, as with all such events, with such a lot to see, it is a case of trying to balance out the day to take in as much as possible. That does mean that by the time of getting in the car, you feel tired, but also pleased that you have more than had your money's worth. The dates for the 2016 Historic Festival have already been announced, as 30 April to 2nd May, so this one is already in my calendar.