Whether we like it or not, we have now gone truly global. Companies and organisations with an aspiration to grow  – and the economic climate in which we find ourselves makes that an objective that is hard to ignore  – have no choice but to try to find new ways of trying to attract customers, and to increase the wallet share that they can derive from them. Brand is a critical element in this. Not only do we see lists published every year which try to list those brands which are most trusted, best liked and most aspirational, but brand value is now an entry which you will find on many corporate balance sheets. That makes Brand Management almost as important as the products themselves. Part of this entails protection, requiring all manner of additional measures to protect the brand from a range of threats including theft of intellectual property and copying, to malicious reputational damage that can be propagated far more quickly and widely using social media platforms, but it also involves development. An  organisation has to think very hard about how to manage and develop their brand, to extract the maximum potential that they can, and in many cases, diversifying beyond the core products which the brand initially represented. The automotive world is replete with a number of world renowned brands, and few can stir the passion of the automotive enthusiast quite as much as Ferrari. Although this legendary Italian marque is selling far more cars than ever before in its history, the reality is that very few of us are ever likely to own one of the Maranello firm's products. That does not mean that the company does not go to extraordinary lengths to bring the brand to everyone's attention, as they certainly do. On the one side, the company has among the most active and vigorous of legal departments, which is very fast to throw its weight around on anything pertaining to what they think might possibly be copyright, trademark and intellectual property issues, whilst on the other, the careful management of their high profile racing program, and publicity from the press driving their road cars as well as the cars themselves ensures that the brand magic remains high in the minds of the enthusiasts. The tifosi, Ferrari enthusiasts,  may not be able to afford the cars that they love but recent years have made it very clear that they will buy plenty of other products, ranging from (licensed) scale models, to Ferrari branded clothing, accessories and all manner of other regalia, and they will certainly visit places associated with the brand. Ferrari found out just how many when in 2004 they expanded the museum in their home town of Maranello that had been opened in 1990, to create the Galleria Ferrari. Suddenly this small town a few miles outside Modena – itself a UNESCO heritage site, but not somewhere particularly over-run with tourists – started to groan under the volume of cars and coach parties who would make the pilgrimage to the place where Ferrari cars have been created since 1947. It can't have been hard to conclude that if Ferrari built other venues around the world, the fans would come. And so a few years ago it was announced that they would build an attraction in the Gulf. This is an important market for sales of new Ferrari cars, of course, but it is also a growing holiday destination, and so it must have seemed like a perfect place to pick. A brand new construction, the foundation stone was laid on 3 November 2007. Three years later, the result was officially opened to the public, on 4 November 2010, and it was called Ferrari World Abu Dhabi. This venue is not like the Galleria Ferrari or the Casa Enzo Ferrari in the marque's hometown, but more of a theme-park. It is the only Ferrari-branded theme park in the world, and – perhaps reflecting the combination of Ferrari's competitive instincts to go one better than everyone else, and also the nature of the region where it is located, it is also the largest indoor theme park in the world, with a surface area of 200,000 square metres. It quickly became extremely popular and among many accolades, was  named the "Middle East's Leading Tourist Attraction" at the World Travel Awards in 2015.  That made it an obvious place to include on the Themotor.net's November 2015 trip to Dubai.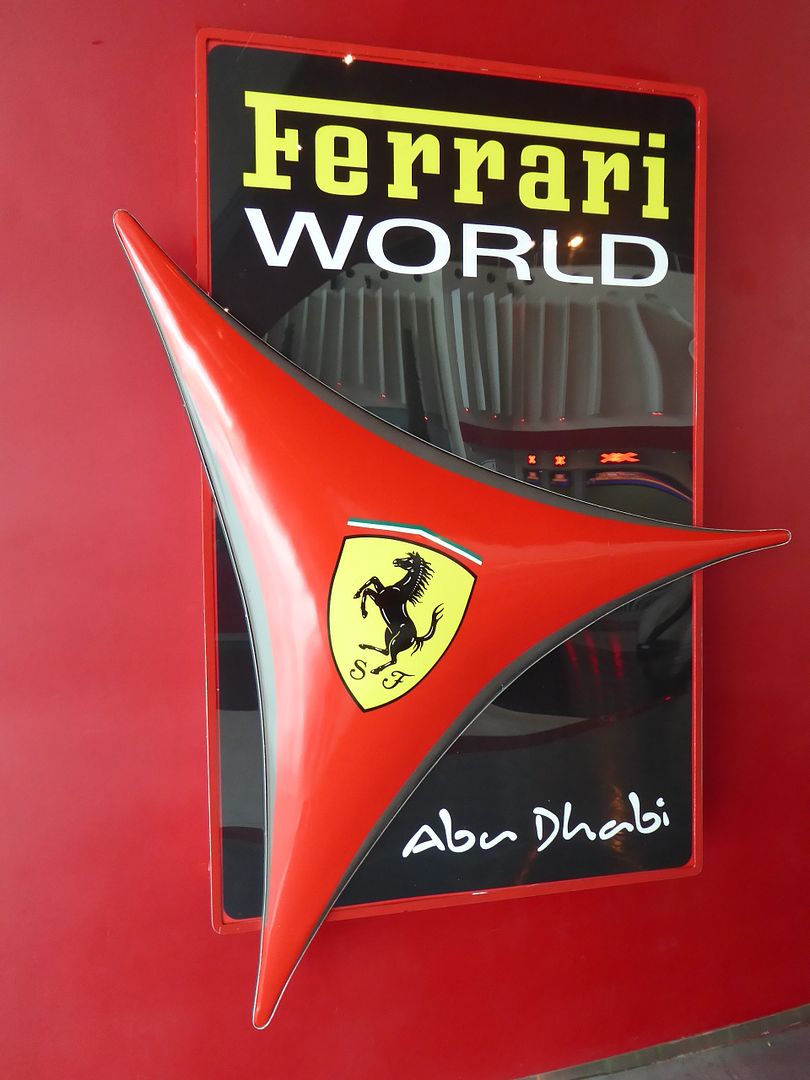 Ferrari World is located on Yas Island, which is between Dubai and Abu Dhabi. It is possible to get there by public transport, but all the advice that we got said that it would take a good 3 hours from Dubai, as you would have to take a bus to Abu Dhabi and then another one to Yas Island, which is a significant part of the way back towards Dubai. We were advised that a taxi would only cost around AED200 each way (around £35), and would take about an hour to get us there. Not really convinced it would be that cheap given what we had been charged from the airport to our hotel, we asked the driver, who said it would be on the meter (not much confidence there!), but sure enough when he dropped us off, the fare was indeed AED210, and it was slightly less on the return journey. So, unless you have rented a car, this would seem to be way to get there. You can buy admission tickets in advance, but on the day we went, which was a Thursday and not in holiday season, there were no queues to speak of at the ticket booths, so it was simply a question of deciding which of the three offered ones we wanted. The Bronze ticket gets you admission to everything. The Silver ticket also gives you three "fast passes" which allow you to jump the standard queue three times, and the Gold ticket allows you to do this all day long. On a quiet day, you probably won't need to jump queues much, but on a busy day, it could be the only way you will get to take in the majority of the 20 attractions contained within the park. With tickets duly acquired, we started to plan out the day. We were advised that two of the attractions are very popular and you need to secure a time, so we decided to head to them first, but before we did, we marvelled at the construction of this massive venue.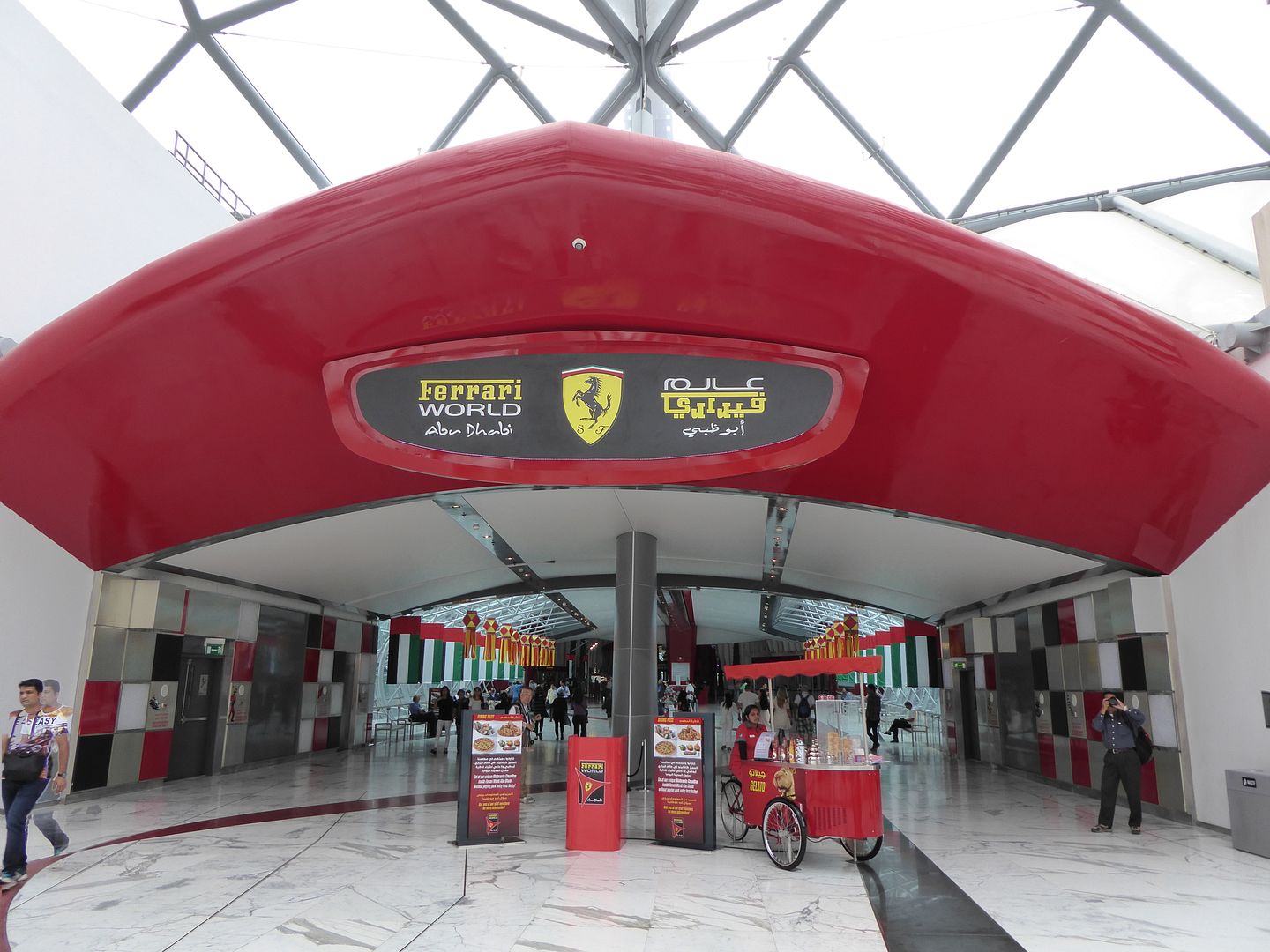 There are a number of Ferrari products positioned near the entrance. First item to catch our attention was an engine from a 458 Italia and then just behind that was a brand new F12 Berlinetta, a stunning looking car, in my opinion, the appeal of which has not been diluted by familiarity in the three years since launch.
Mounted on a wall display, but at an angle to make for some good photos, was the first of what I hoped would be a series of the iconic Formula 1 cars that have done so much to put Ferrari so much into the public consciousness. This one is a replica of an F10, dating from 2010. The 56th Grand Prix designed that Ferrari has produced, the car was more competitive than Ferrari's 2009 F1 car right from the outset. with the season's drivers of Felipe Massa and Fernando Alonso picking up 2nd and 3rd respectively in qualifying at the 2010 Bahrain Grand Prix. Fernando Alonso won the race with Felipe Massa finishing second. Alonso's fastest lap of the race is still the lap record at the Bahrain International Circuit. A number of running changes were made during the season, and with a pair of world class drivers, the Championship looked to be within Ferrari's grasp, but it call came down to the results in the last race of the season, in Abu Dhabi. A second place would have been sufficient for Alonso, but despite a promising start, disappointingly he came in 7th, meaning that he claimed runner up in the 2010 Driver's Championship, and Ferrar finished third in the Constructor's Championship.
Mounted high on the wall was a replica of a much older legend, a 246 Dino.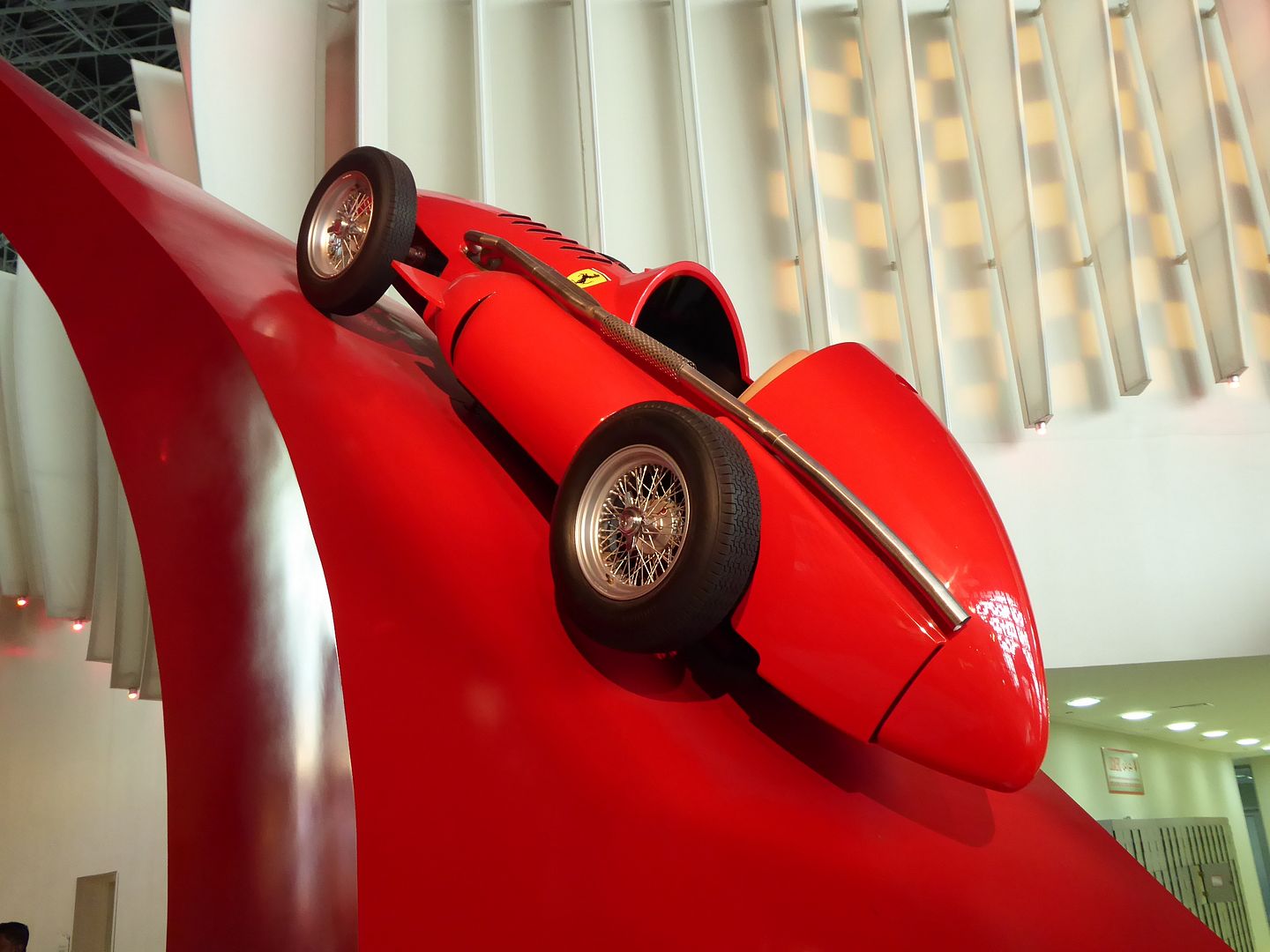 Once through the ticket barrier and security check, there was another Formula 1 car to look at, the F2003-GA. This is the car used by Scuderia Ferrari in the 2003 Formula 1 season, designed by Rory Byrne and Ross Brawn. Based on the previous Ferrari F2002, and featuring bulbous sidepods and a lengthened wheelbase to aid aerodynamics, its engine and gearbox were both developed from versions of the previous model. The car was designated "GA" as a mark of respect to Gianni Agnelli, the recently deceased head of Fiat. The car was introduced just before mid season in 2003, as the F2002 was seen as good enough to be competitive whilst the F2003-GA was developed further. The car was fast and competitive, but had a tendency to overuse its tyres, which led to several late race tyre problems in mid seasons, during the unusually hot European summer. As a result, Williams and McLaren were able to mount a consistent challenge to Ferrari and push Michael Schumacher for the championship. After Bridgestone engineers discovered Michelin were using tyres which changed construction, causing the French tyre maker to provide remoulded tyres late in the season, Ferrari became competitive again, and were able to hold off both Williams and McLaren for the constructors' championship, whilst Schumacher snatched his sixth drivers' title, breaking Juan Manuel Fangio's record which had stood for 46 years. The car won seven races, five pole positions, and five fastest laps before being replaced with the dominant F2004 in 2004, a car which was almost identical to its predecessor. Schumacher's fastest lap at the Red Bull Ring is still the lap record there.
This mock up of the 250 GTO, fastened high up to a curving wall was perhaps rather less impressive.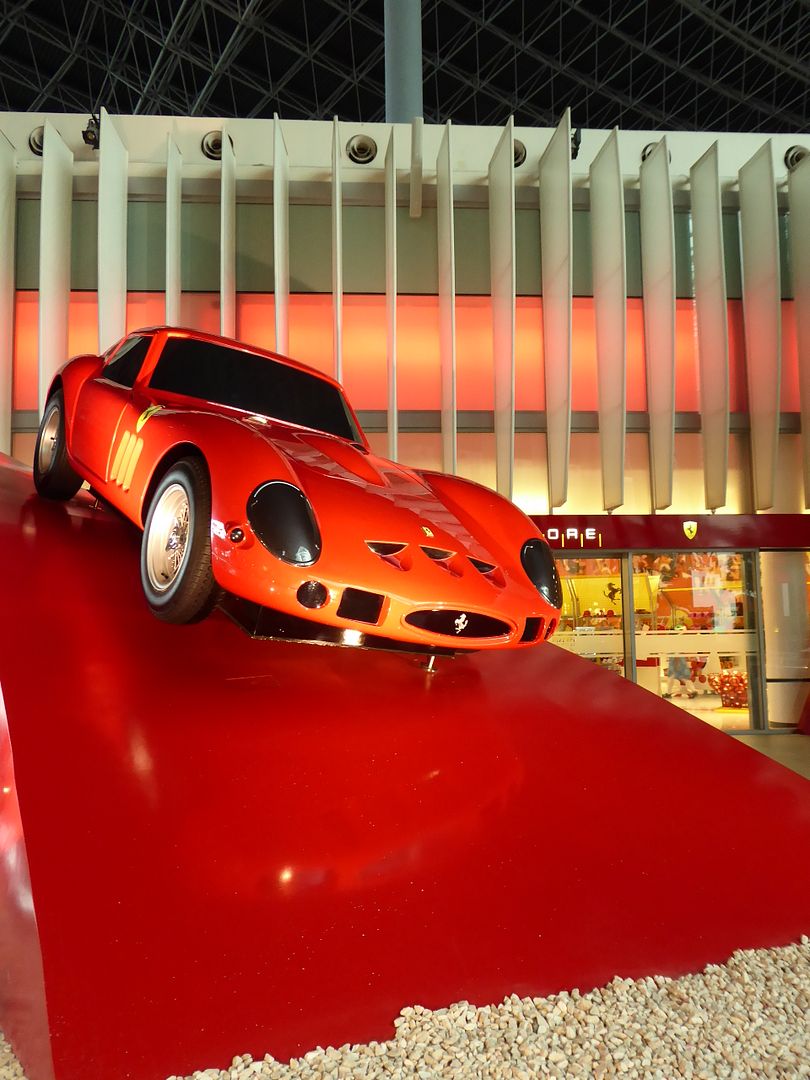 However, turning from that replica and looking towards the middle of the venue allowed us to appreciate the enormity of it all, and the amazing engineering and construction work which had clearly been undertaken to build the Park.
There were some more new Ferraris to look at, on plinths and in other displays, and these included the FF and a 458 Italia as well as rather odd looking duo of another 458 Italia and an F1 car mounted back to back, and vertically.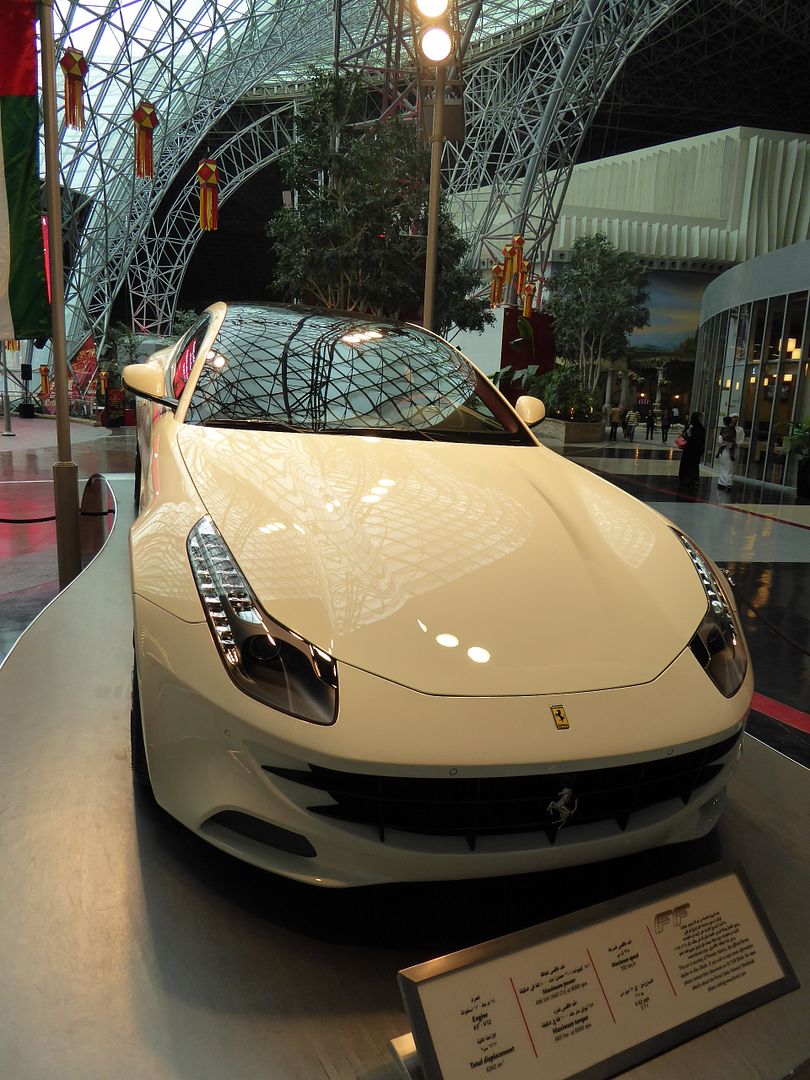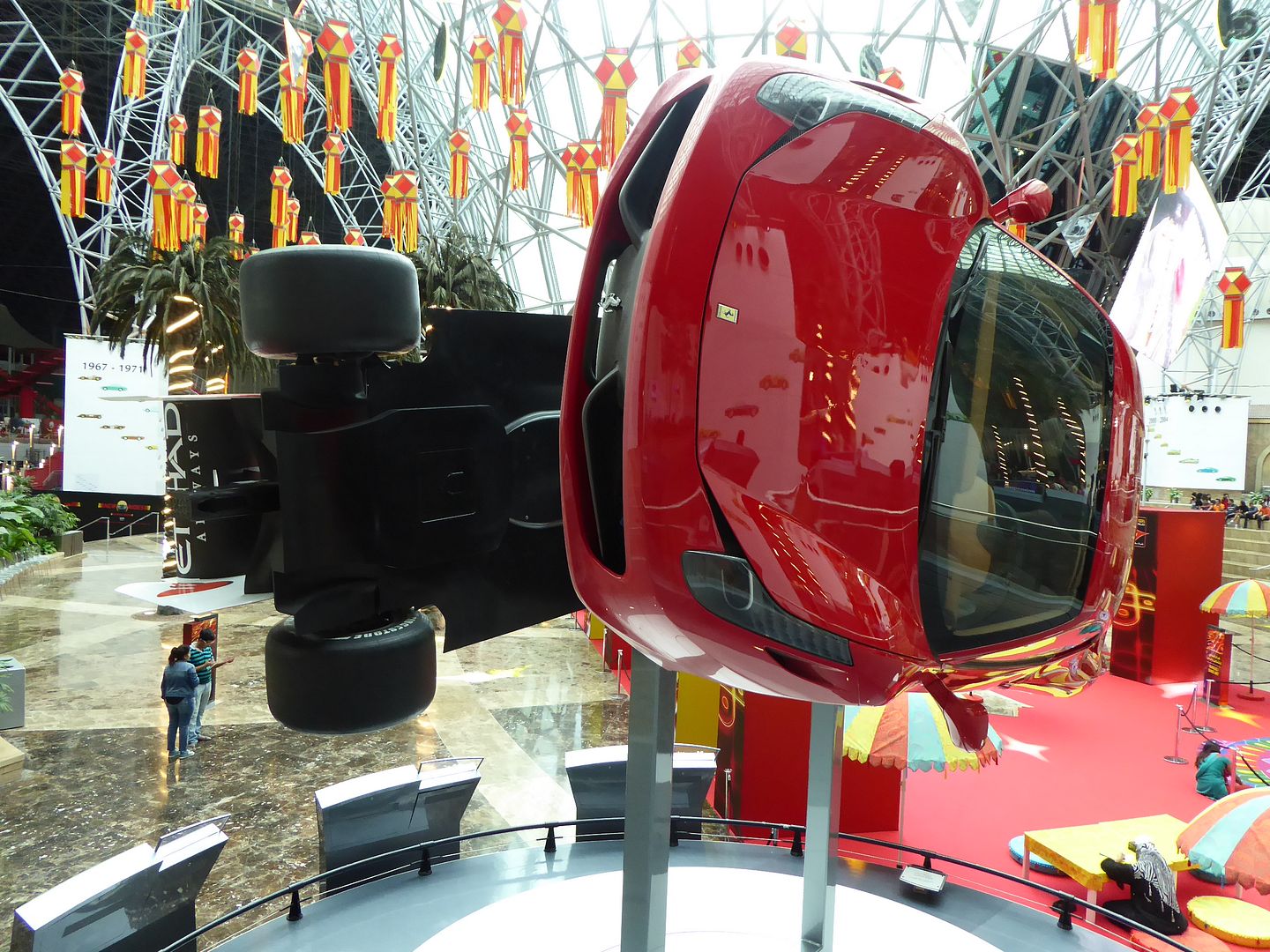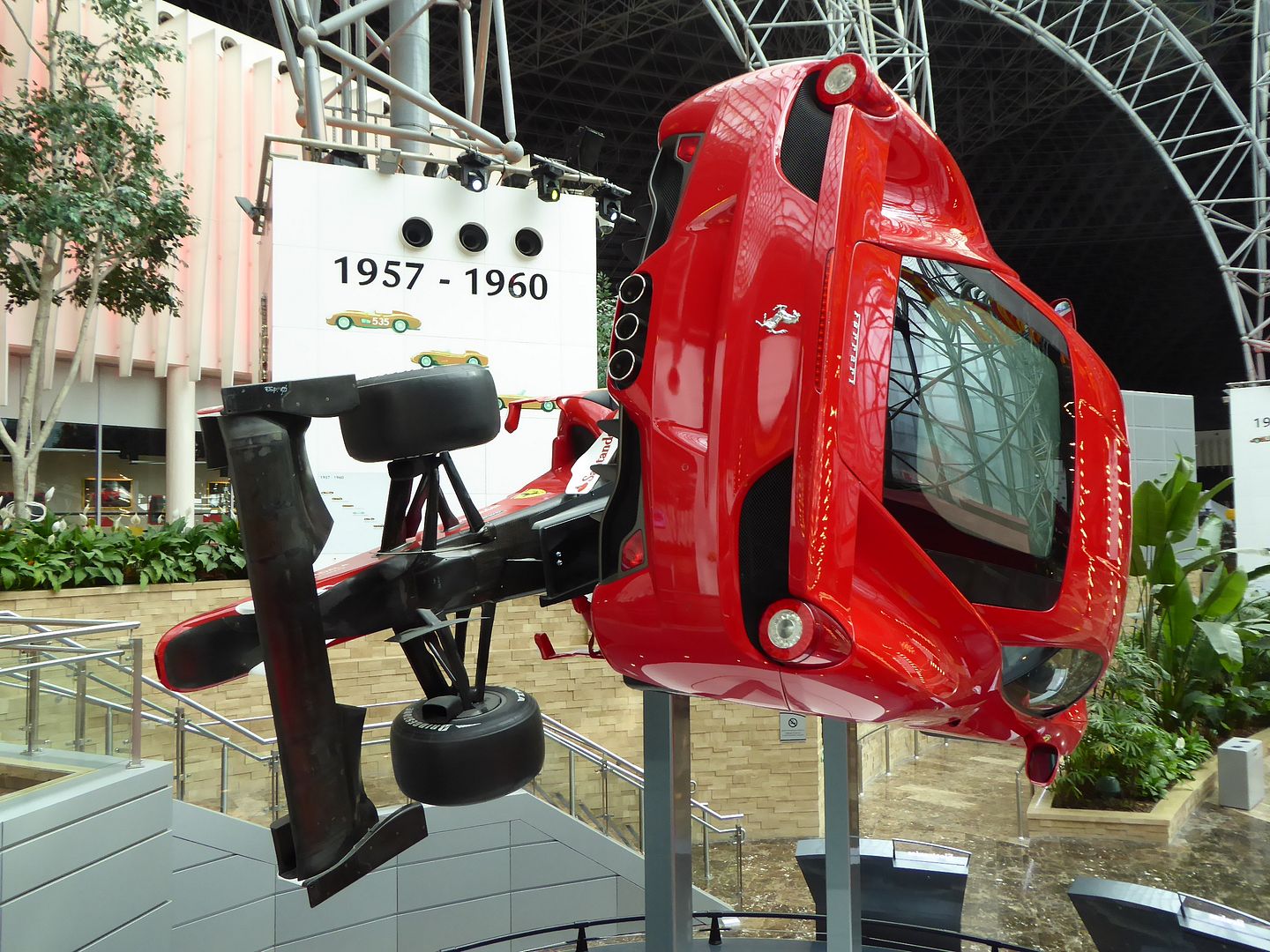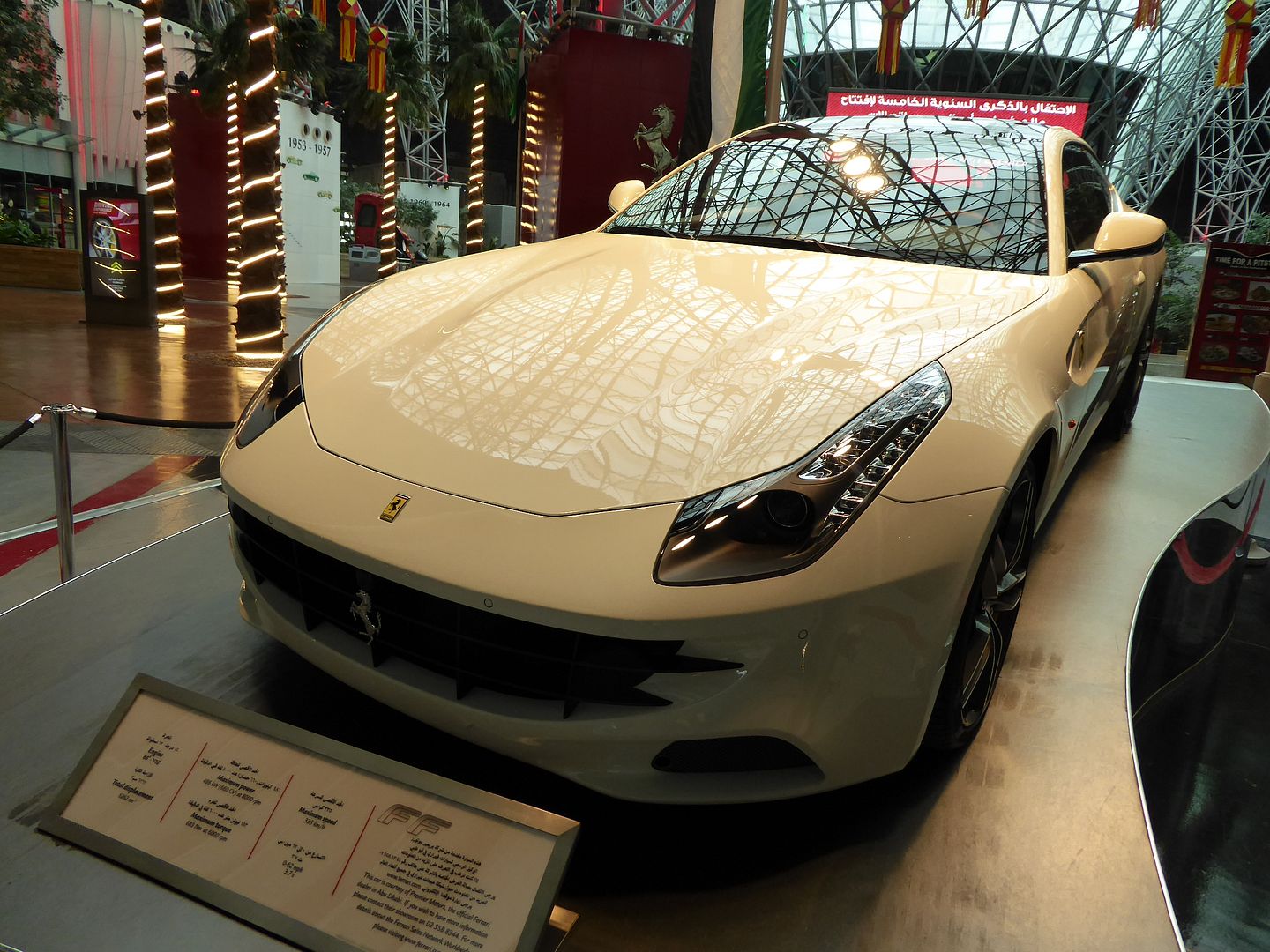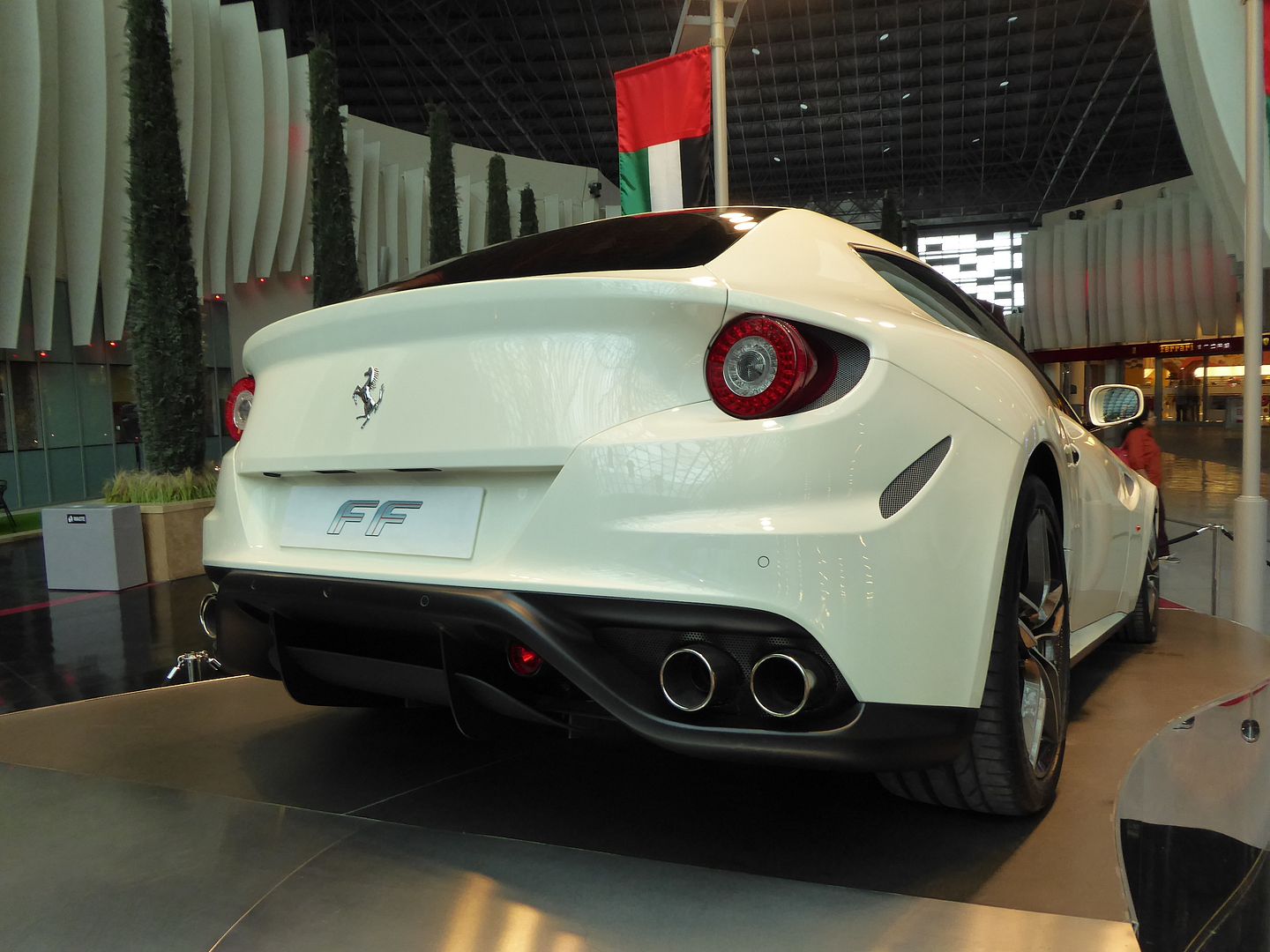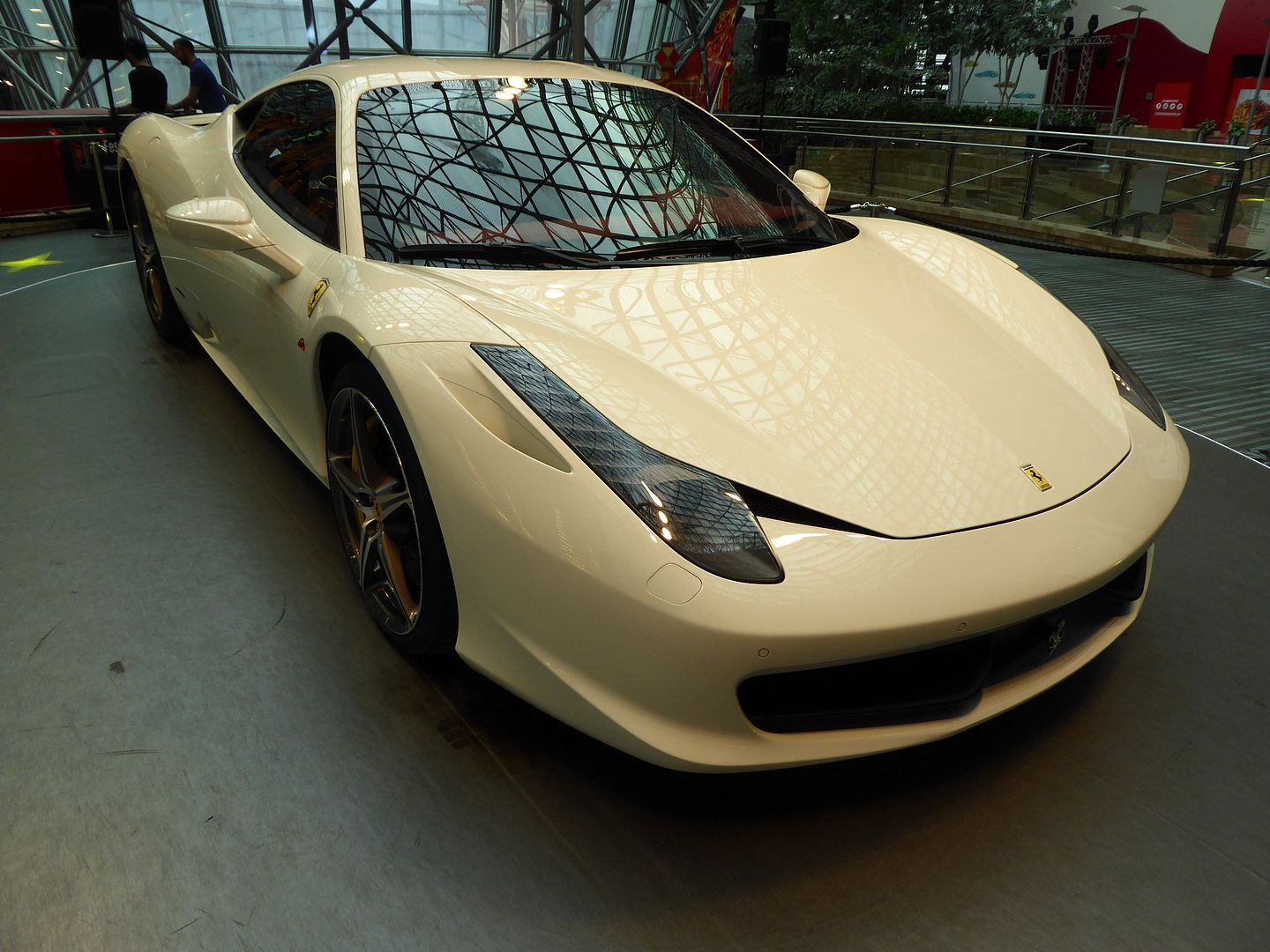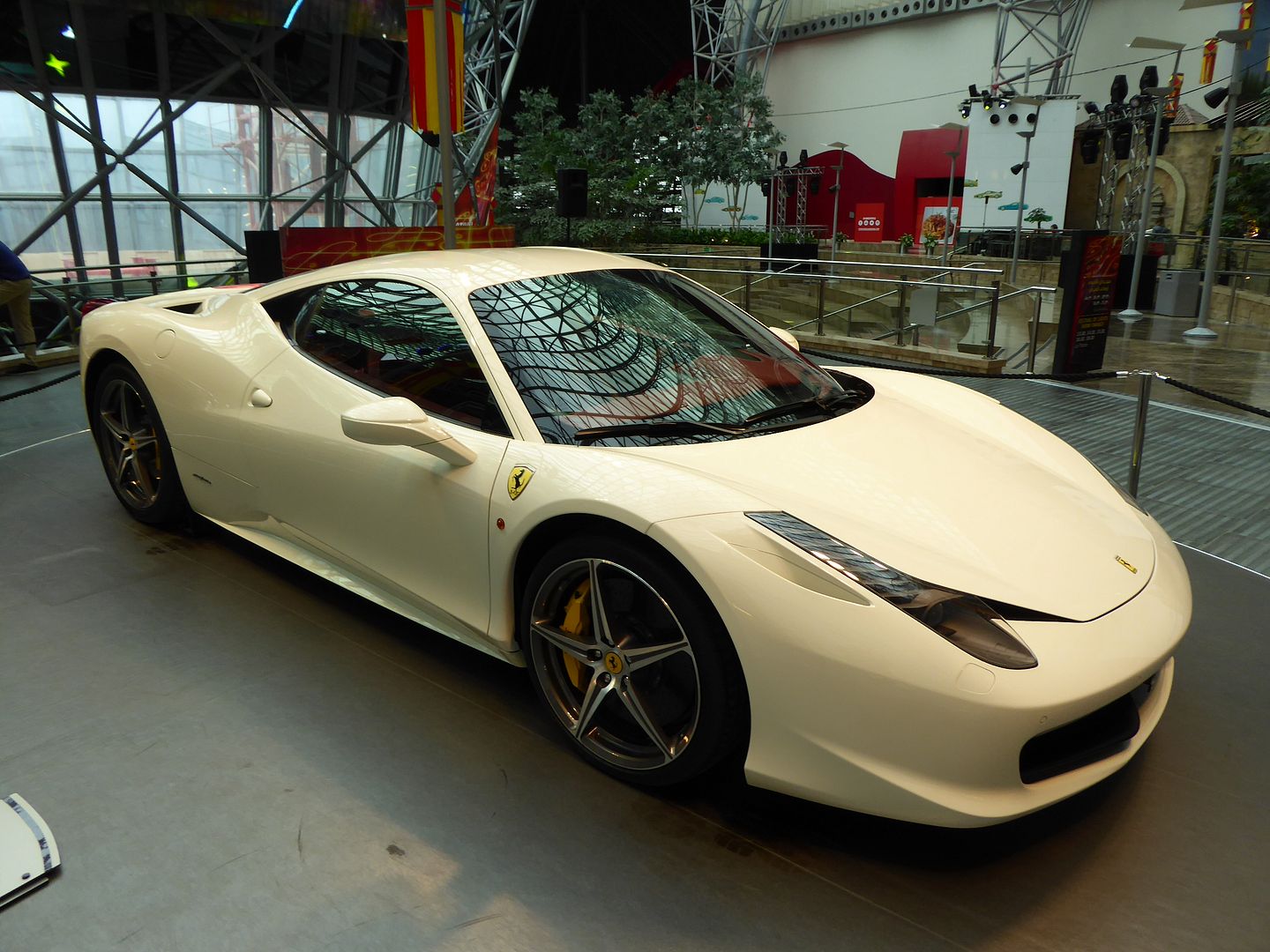 Nearby were some large posters charting some of the significant road cars that Ferrari have produced since 1947.
At this point, it was time to explore the specific attractions – of which there are currently 20 – of the site.
GALLERIA FERRARI
In a way, this was the most disappointing part of the whole venue. I guess I was expecting this to be far larger, and to be more like what you would find in the Italian locations. The description on the event's own map of the venue did not help, saying "get up close and personal with the ultimate display of Ferrari cars hailing from Maranello and top collectors around the world". It is true that there was "a" display of Ferrari models past and present, the emphasis, at least at the time of our visit was on the present, or near present.  There were 7 road cars, none of which you would really describe as "ultimate", since these were either recent or even brand new, and among the most commonly seen models from the marque's history. Newest of the lost was a California T, the heavily facelifted version of Ferrari's current entry level car that by common consensus is visually far more successful than the first iteration of the model.
There were four other V8 engined cars, one from each of the last four decades. In chronological order, these were a 1970s 308 GTB, a 1980s Mondial Convertible, a 1990s 348 Spider and a 2000s F430 Spider.
Two 12 cylinder cars completed the road car selection: a 456 GT and a 512TR
There were two historic racing cars, for me, the most interesting part of this small display, but, proving that the audience of this venue largely has different interests and tastes to me, these were the ones that were barely given a second glance when other groups of visitors came into the Galleria. Both cars are legends from Ferrari's racing past, and both are easily identifiable in a way that today's F1 cars are not. The two were a 156 and the 246 F1 car.
And so, to the other attractions of the venue.
FORMULA ROSSO
This is the ride which gained a lot of publicity when it was opened, as it has the fastest acceleration of any ride in the world, with a 0 – 240 km/h time equalling that which you will experience in a Formula 1 car. And that's just the first few hundred yards, before you head steeply uphill and then the roller-coaster experience takes over. I will confess, not being a fan of these things, that I did not go on this one (and of the three of us, I was not the only one to opt out!). But those who love roller-coasters will think this one is amazing, I am told, and we did return so Andy could have another go, only to find it was closed off for maintenance.
FIORANO GT CHALLENGE
One reason I opted out of the Formula Rosso ride was because I had been on this one. There are two Ferrari F430 Spiders racing each other, the blurb says. What it does not say is that this quite a roller-coaster in its own right, and needless to say the two "cars", red and black, come in at exactly the same time.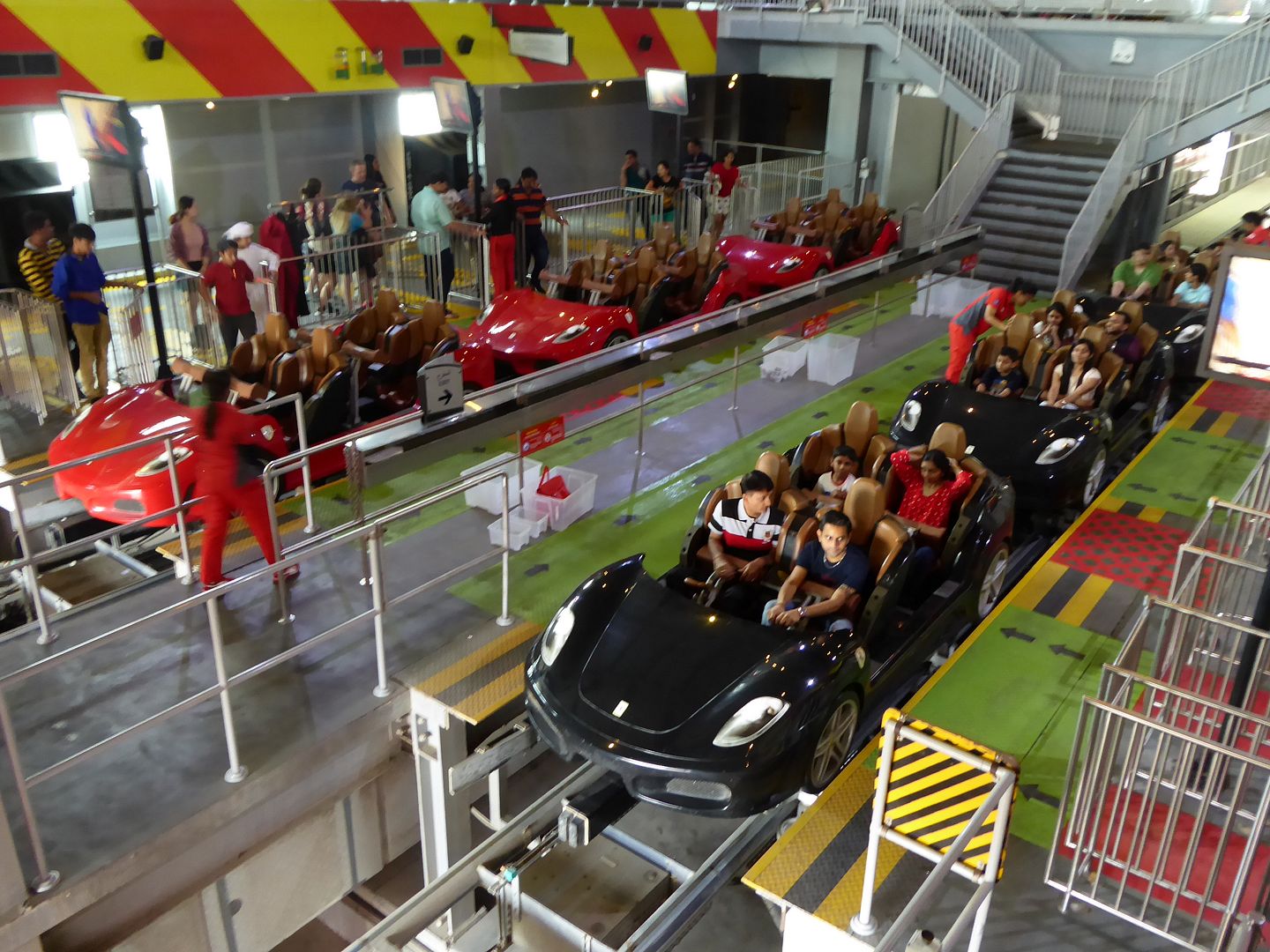 Two further roller coaster attractions are currently under construction. Looking at the work to date, it is clear that these will not be for the faint-hearted!
SCUDERIA CHALLENGE
There are a large collection of simulators of different types in this area, at the back of the venue, and this is one of the attractions that you are also advised to visit early and get a confirmed time. If you want to test out your skills on the latest F1 or road car simulator, these cost extra, and with only one of each, the queues will get long. Arranged behind them are a whole series of less sophisticated simulators., with shorter queues.
KARTING ACADEMY
We had been told that the Karting activity is particularly popular and the advice – doubtless given to everyone – is to go there first and register, as you need a timed slot to participate. It was not busy, but even so this was one place to use one of those Fast Passes, which had us in our electric karts within minutes. There is a safety briefing, which takes about 10 seconds, and consists simply of telling you that to reverse you press the red button on your right. That was it! You got to compete in groups of 10 and had about 5 minutes out on the track. As a complete novice, I am ashamed to say that I was completely rubbish, posting a fastest lap time that I would rather forget – call me Captain Extra Slow! – but in my defence I will say that not only was I rammed from behind even before we had left the start line by a fellow theMotor.net writer (thanks, Dan!), but if someone in front of you gets in trouble, you can be slowed down automatically, even before you see the yellow flags and this did happen a couple of times.
SPEED OF MAGIC
In some ways, this was more unsettling for those who do struggle with theme park sensations than the roller-coasters were. This is a 4-D ride where you take on the persona of a small boy who is goaded into going on an adventurous journey through all manner of landscapes from mountain roads to swooping down through massive valleys and into the ocean, chasing Nello. Proof that tricking the eyes can be as adrenaline generating as the physical motion of a roller-coaster, I found this the most unsettling experience of the day!
VIAGGIO IN ITALIA
Far more gentle was this one, also a visual experience, which presented a scenic tour of Italy, as would be seen from the air. Once strapped in, the sensation of getting air borne and then flying over many well known and stunningly beautiful areas of Italy was much more to my liking than some of the other attractions!
BELL'ITALIA
We did not get the chance to go on this ride, as when we approached it, the ride was "closed for maintenance". This is probably the gentlest of all the rides and activities, as you get in a small replica of a 250 California Spider and then follow a circuitous route passing by small scale representations of the varied landmarks and scenery of Italy. If you don't want to squeeze into a small car, there is a foot way which allows you to have a look at the extent of the exhibit, as well.
MADE IN MARANELLO
The idea behind this activity is that you get an impression of what it takes to make a modern Ferrari, with various scenes and representations from within the factory . Up to 4 people get into a large cart, which then passes around a circuitous series of displays and exhibits, There are plenty of animations and lots of changes of lighting, which made it extremely unpredictable for the photographer, even though you actually travel very slowly on the ride which takes around 5 minutes.
THEATRICAL SPECTACULAR OF SPEED AND PASSION
This is a Live Show, and it only takes place a few times a day, so if you want to see it, and we were told it is well worth seeing, which proved to be very true, then you need to watch the timings carefully. A 20 minute spectacular that has very little to do with Ferrari, or cars indeed, apart from a couple of appearances of miniature 250 California Spiders, there is lots of acrobatics, gymnastics, colour and energy. It was one of the last things we sampled, and to my mind was indeed one of the best. Apologies for the less than sharply focused photos, but this was a fast-paced sequence!
CINEMA MARANELLO
A chance to sit down for 20 minutes or so. There are a number of showings throughout the day of a film which aims to recreate the sort of atmosphere, sights and sounds that would have been experienced in Sicily in the 1920s during the running of the Targa Florio. There were some wonderful period cars featured, including an Alfa Romeo RL, as driven by Enzo himself, along with the competing Bugatti and Mercedes cars, among others, but the "plot" was somewhat contrived. Entertaining, yes, historically accurate, perhaps less so.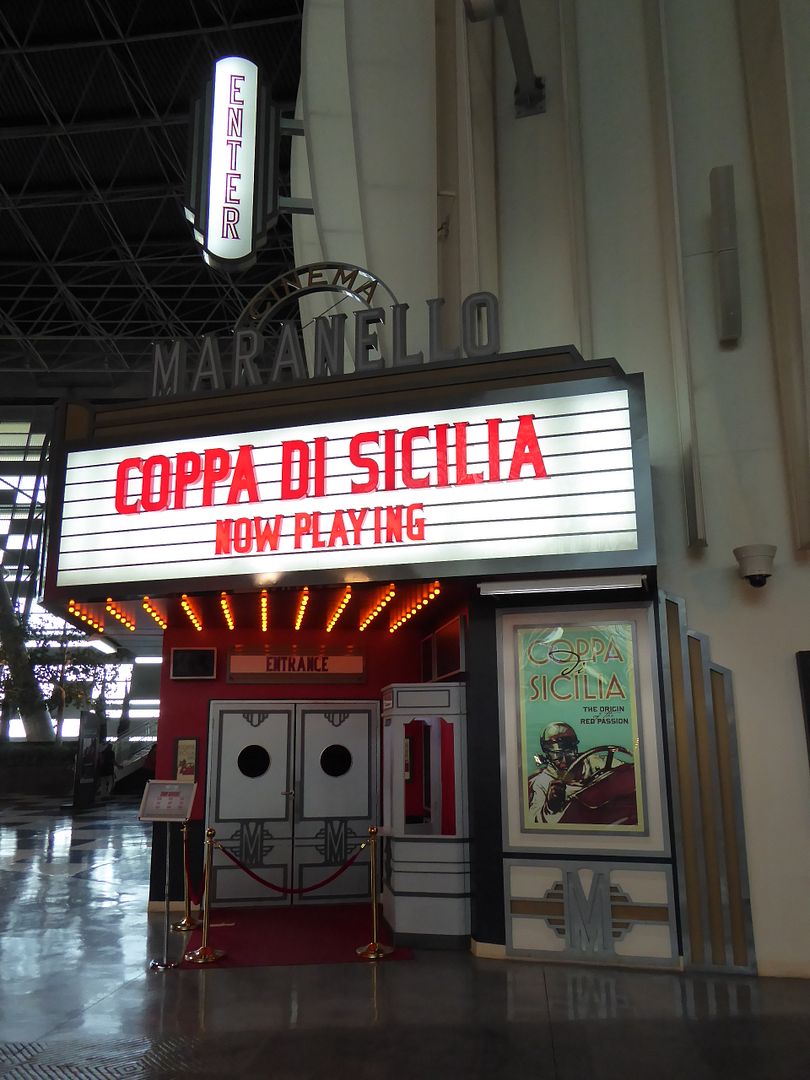 JUNIOR TRAINING CAMP
Designed only for the children, there were various activities here ranging from a climbing wall and abseiling to some of the sort of challenges that you see on TV shows.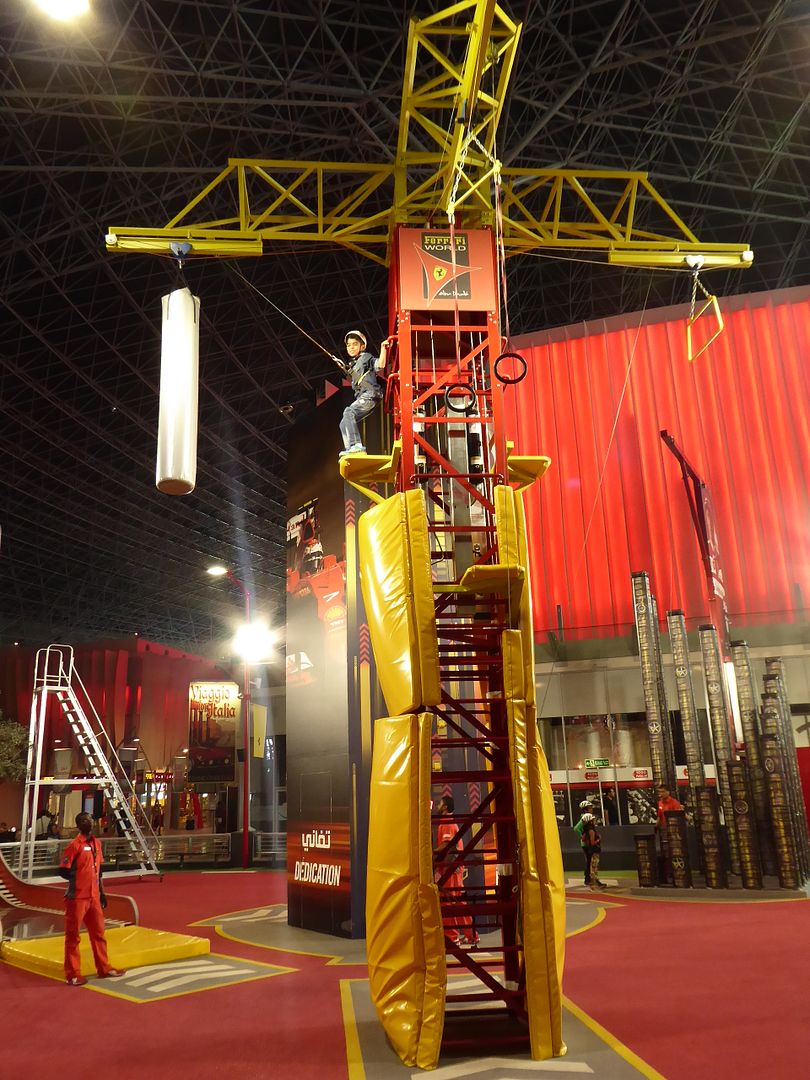 PHOTO OPPORTUNITIES
There are a number of objects and displays set out specifically so visitors can either take their own photos, or in some cases, so that they can have the venue produce and then sell (at far from cheap prices) the results back, including a California road car, a Formula 1 car, and some miniatures. Many of the rides also included photos that were available by the time you returned to base, too.
We spotted this trio of cars on the lower level, on the exit from the Formula Rosso ride, and wanted to see what looked like a number of historic models. Imagine the disappointment when we got to them to find that they were small scale replicas!
RIDING IN A FERRARI
Tucked away at the back was an area where in exchange for Dirhams, you could leave the venue in a Ferrari, in this case a California, and get a few minutes experiencing the cars for real. It was dark by the time we got to this area, otherwise we might have been tempted.
SPECIAL EVENT – FESTIVAL OF LIGHTS
Our visit coincided with Diwali, and so there were some special events taking place in the very centre of the park, called the festival of Lights, and we caught a rather noisy and colourful show on our way back out at the end of our day.
There were some additional displays associated with this, including some impressive sand paintings.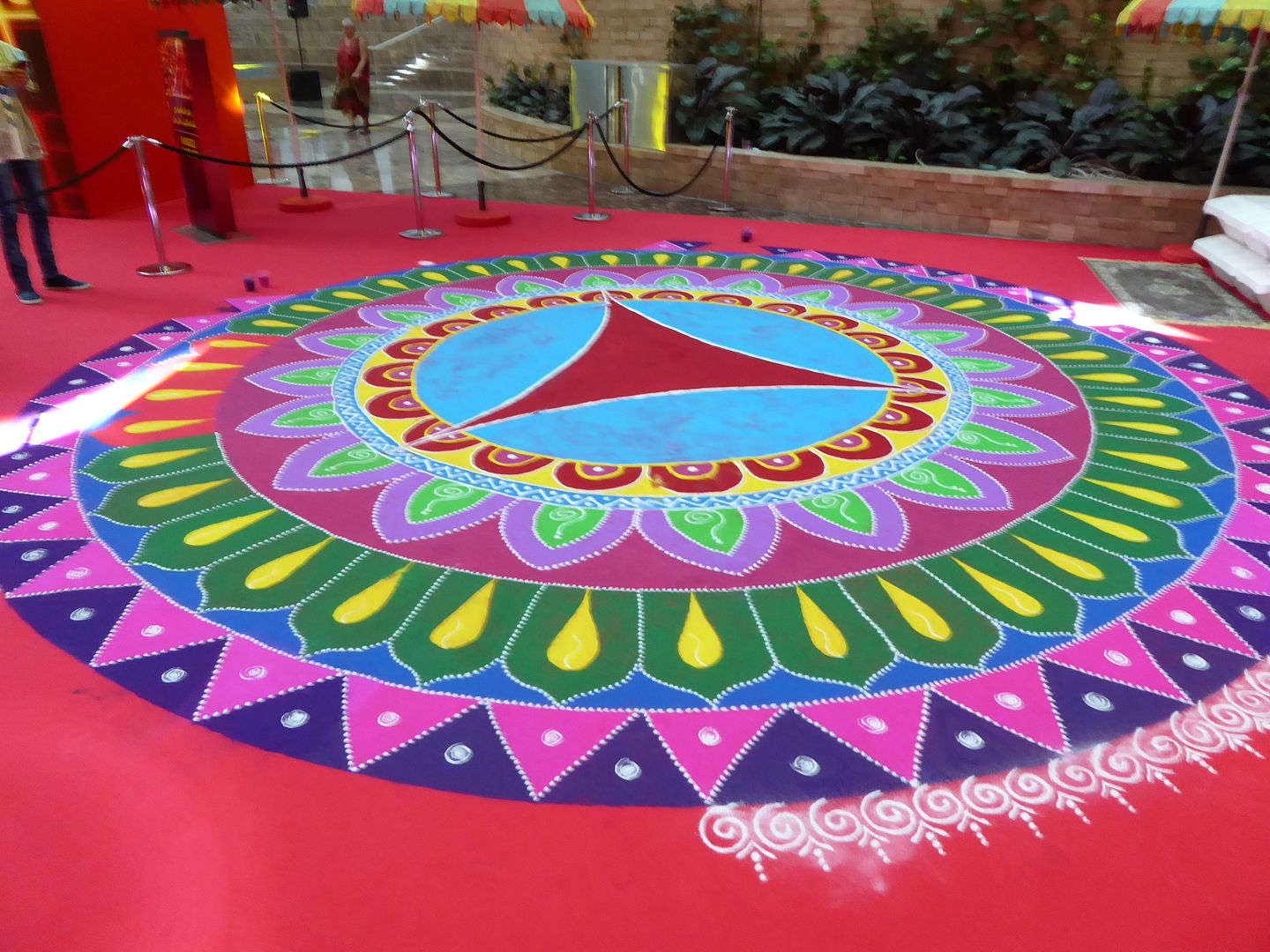 DINING
There are plenty of places where you can get food and drink, as you would expect of a venue which people are likely to spend the best part of a day visiting. Six different restaurants ranged from a relatively high end establishment to pizzeria, a coffee bar and a stand where you could buy pop-corn and snacks.  I can't vouch for anything other than the ice-cream, which was excellent, if not quite up to the standards that you could get at a real gelateria in Italy.
There were a number of other efforts to try to persuade you that were in Italy, rather than the Gulf, with this recreation of some historic buildings and shop fronts a less than convincing attempt.
Whilst Ferrari would doubtless be delighted if a visit here persuaded you to buy one of their cars, they know that this is not that likely. But they do hope you will buy something, and there is a very large store containing all manner of branded items, with prices ranging from not a lot more than pocket money, for things such as mugs and key rings, up to some very costly things indeed, such as the high end leather goods and even genuine items from former F1 cars. To encourage you, the exit to the facility takes you through the Store and every admission ticket includes a coupon worth a few Dirhams towards a purchase. Somehow, we managed to resist all temptations!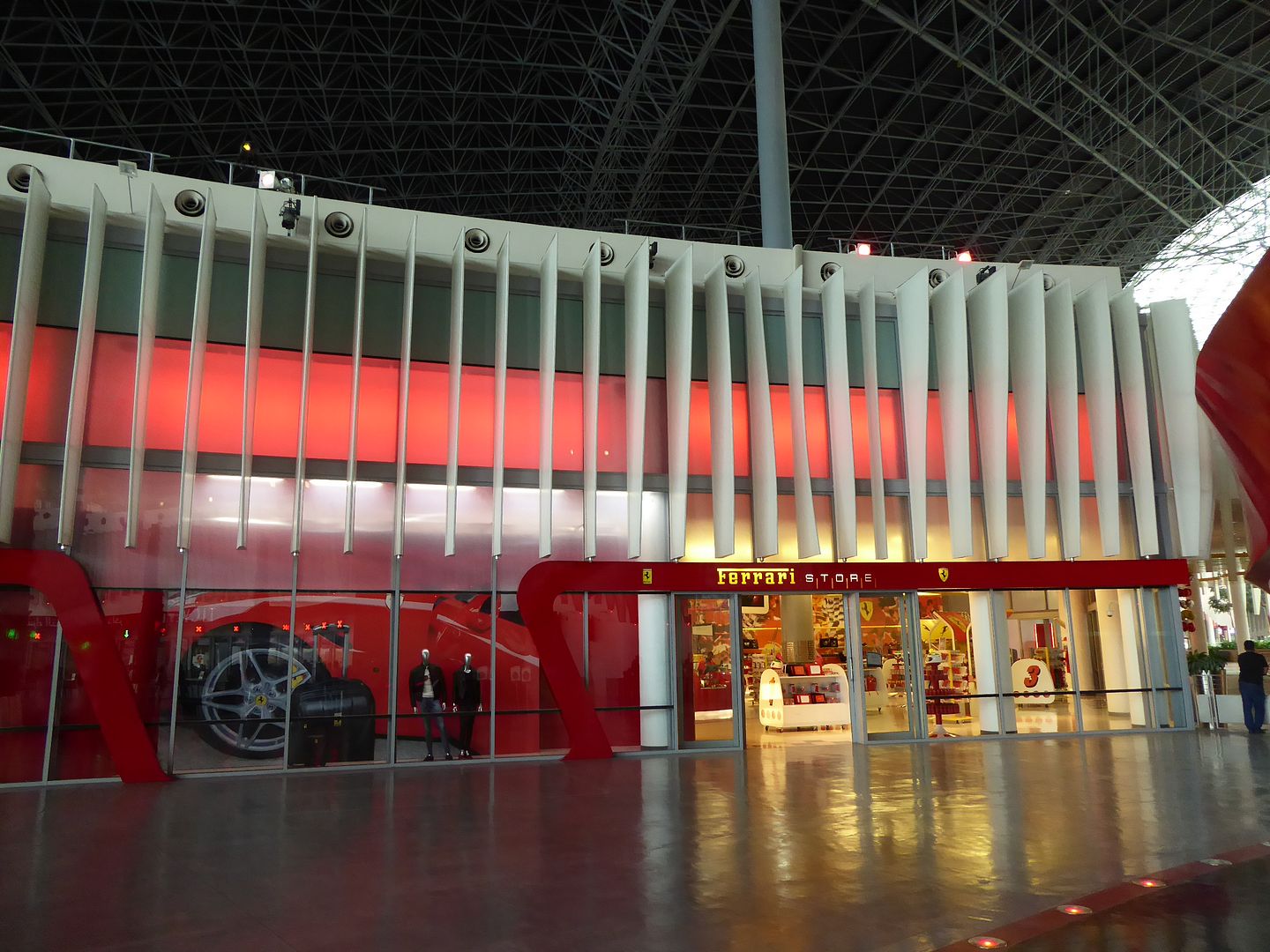 The 1923 Alfa Romeo RL Series that was in the "Ferrari Past and Present" store was not for sale. If it were, of course, the price tag would have dwarfed everything else that was available for purchase. This was probably the nicest exhibit of the whole day, and a fitting end to the photos of this report.
As this report will have shown, there is quite a lot to see and do, and if you were to visit on a busy day, with much in the way of queues for most of the attractions, you would probably struggle to fit everything into a single visit. Go on a weekday not in prime vacation season, though, and with a bit of planning, you certainly can have a go at everything without undue difficulty, Just be aware that this is first and foremost a Theme Park, and the Ferrari bit is the differentiation, rather than the other way round. If I'd done more research. I guess I would have realised this, as there is a detailed map on the venue's own website, and it might have been more obvious that the Ferrari connection is a bit tenuous in places. So, whilst I am glad I included a visit here in this trip to Dubai, as I am no great lover of theme parks, I personally would probably not pay a return visit, . If you want the history and heritage of the brand, then go to the museums in Maranello and Modena. If you want a day out at at theme park, then maybe this is the place for you. More details can be found at the venue's own website: https://tickets.ferrariworldabudhabi.com