My first visit to Phoenix, the largest town in the south western US State of Arizona, was as part of my first even trip to America. That was a work event, where I was one of a group of colleagues, selected for a "Study Tour", which encompassed several days in the New York area, and finished in San Francisco. Whilst we were in Phoenix, we were bussed up to the Grand Canyon, and there was a detour en route back through the stunningly beautiful Oak Creek Canyon and Sedona. I vowed to return, and spend more time, exploring by myself, as opposed to with 50 other colleagues and a schedule I could not alter. Sure enough, on a couple of occasions in the following years, I was able to spend some more time in Arizona, seeing more of this picturesque State. Around 2003, my job started to require me to spend increasing amounts of time in Los Angeles, one State and 400 miles to the west of Phoenix, and it was not long before I figured out that it was perfectly viable and affordable to head east for a weekend, whilst I was out there, taking advantage of the year-round favourable climate and the very different scenery that you find. By the time that my globe-trotting job came to an end, at the start of 2010, I was hooked on the attractions of this part of America, and it is now one of my very favourite places to visit. Not in the mid summer months, I hasten to add, as it can get extremely warm, there, with temperatures routinely exceeding 110 degrees F, but between September and April, when the sun shines almost every day, and the combination of warm temperatures and a relative lack of humidity make it physically very appealing, even without taking account of the fact that I have found a hotel that always looks after me, and that the whole pace of life is just less mad that it is in the LA area, or indeed back in the UK. I usually managed to schedule a couple of visits as year to the area, and am now very familiar with many of the attractions, although I do make sure I keep making new discoveries as well. Whilst Arizona may not gather as many headlines among the car enthusiast community as neighbouring California, apart from one busy week of high profile auction sales in January, the reality is that there are more classic and high end cars per head here than there are further west. And there is a great museum just off the Scottsdale Road, north east of the Downtown area, which celebrates the tremendous contribution of the Roger Penske team over the years. Penske has diversified these days, and as well as operating a large haulage fleet – you see the distinctive yellow coloured trucks on the roads every day – with a number of car dealerships as well, and there are a large number of them surrounding the Racing Car Museum. Although the brands represented here are all "high end", it is perfectly acceptable for enthusiasts like me to wander in and out of the showrooms, with an intent simply to look and take photos. The dealer staff are all friendly and even though it is immediately clear I am not a sales prospect for them, there's always someone who will strike up a conversation. Accordingly, I usually try to schedule some time on every trip to stop by and see the latest new cars and the array of pre-owned models which are parked up on this large site. I last visited in March 2015, and at the time of the visit being covered in this report, more or less exactly six months later, there had been few genuinely new models launched, though of course the 2016 model years had largely arrived, and in some cases, discounted prices – heavily discounted in some cases – were being offered for remaining 2015 stock. That does mean that there are not that many new words for this article compared with the last (though I have not just cut and pasted!), but there are an array of all-new photos of what was on site at the end of September. Enjoy your online tour of what I was able to inspect for real, and in many cases sit in, and talk about.
ABARTH
Abarth is not set up as a separate brand in the US like it is in Europe. The reason for this is that when Fiat decided to launch the 500 in the US, they had to establish a complete set of everything, from dealers to the back-office support processes, and with relatively small sale volumes envisaged, the idea of dong the same all over again for Abarth just did not cost in. So this is a Fiat 500 Abarth. It is different from he European cars, just as the regular non-Abarth cars are, being made in Mexico, and using the Multi-Air engine rather than the similarly sized 1.4 litre T-jet that powers the European cars, as well as featuring a new front end with different bumpers, lights and some internal trim. The cars are still badged 500 and not the 595 that has been applied across the European range. Penske do not have a Fiat franchise on site here, but I came across this used model parked up at one end of the site.
ACURA
Acura, the premium brand that Honda launched as their drive upmarket much as Lexus and Infiniti had been added by Toyota and Nissan respectively, has had a pretty torrid time, lately. If you subscribe to the adage of "if it looks right, then it probably is right", then yo just had to look at the range of models that they were producing – if, indeed, you could bear to do so – to get at least one large clue as to why customers were eschewing their product. A styling direction taken in the second half of the first decade of this century resulted in a range that was universally condemned for being plain ugly. That might have been acceptable if the cars were as scintillating to drive as they had been a few years earlier when the cars frequently topped their class, but this generation of product was also distinctly average on the road as well Couple that with oddities like the ZDX, a weird Crossover style Estate with negligible space for rear seat passengers and luggage and it is no wonder that the brand found itself with two cars that propped up the very bottom of the US Sales Charts. Only the SUV/CUV vehicles kept things alive, with the medium-sized RDX and larger MDX continuing to find favour. Both these models have been updated in the past couple of years, with rather unmemorable designs that are also quite hard for anyone other than the brand cognoscenti to tell apart.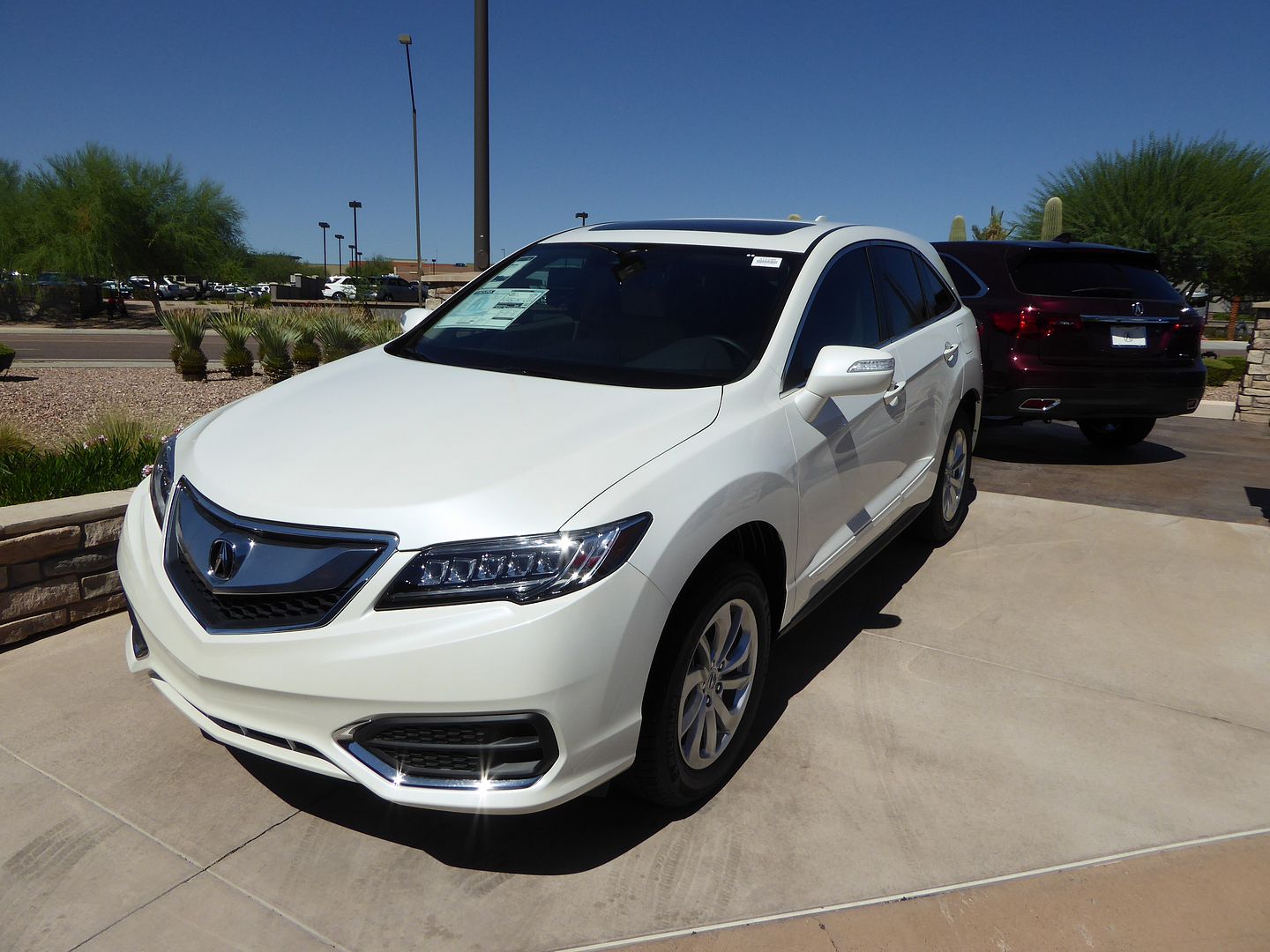 It was the middle of the range where the real problem lay, with the ungainly TL being almost wilfully awkward both front and back, though a late-life facelift did at least tone down the grille a bit. The TL was replaced by the TLX for the 2015 model year and there were examples of both of these to be seen here.
The smaller TSX model will be more familiar to European eyes, as this was little more than an Americanised version of the last Euro-Accord. Although we may think of the Accord as quite a large car, the Americans did their usual moaning that the car was too cramped inside, and sales of both the Saloon and the Wagon were limited. It ceased production in 2014 and was not directly replaced, with the smaller Civic-based ILX and larger TLX being thought to be a more appropriate pairing of models to compete with other rivals.
ASTON MARTIN
I had quite a chat with the Sales Lady in the Aston Martin showroom, which has now been partitioned off so that it is separate from the Bentley area with which it used to be combined. She told me that the 2016 range had just arrived. and they were still preparing some of the cars, so she was almost apologetic that they did not have quite everything available for inspection. As I looked around, and saw an  N430 version of the V8 Vantage and a DB9, as well as open topped Volante versions of both, as well as a V12 Vantage S, a Vanquish Volante and a Rapide S, I was not exactly going to feel short-changed.
Evidence of high demand for the brand comes in the fact that there were very few other examples of the range parked up outside.
AUDI
Even before the brouhaha of "Dieselgate", which was only just emerging at the time of my visit, Audi is far from the ever-present marque in America that it is in Europe. Although most of the same bodystyles are offered to the US buyer. the number of engine options is very much reduced, with a focus on the high end petrol powered cars. This could explain a conversation I had with a friend who lives in the area whose perception is that an S4/S5 is "common" compared to other premium models. He was very surprised when I told him that such versions probably garner less 5% of the sales of any of their respective model-lines in Europe. The TDi models that gather so many of those European sales had been growing in popularity, and the dealer had previously bemoaned the fact that his supply was far lower than demand. Whether that will continue to be the case in the coming months will be an interesting question. Best selling Audi model range in the US is the Q5, and there were plenty of these, as well as the more potent SQ5 models on display.
There were also huge numbers of the outgoing first generation Q7 parked up around the back of the showrooms. US dealers hold massive inventory, as their customers expect to be able to drive in the car to their exact specification on the day they first walk into the showroom. That does mean that when a new model, or even a new model year spec arrives, there are vast quantities of cars which are discounted heavily, as dealers try to clear them before demand evaporates.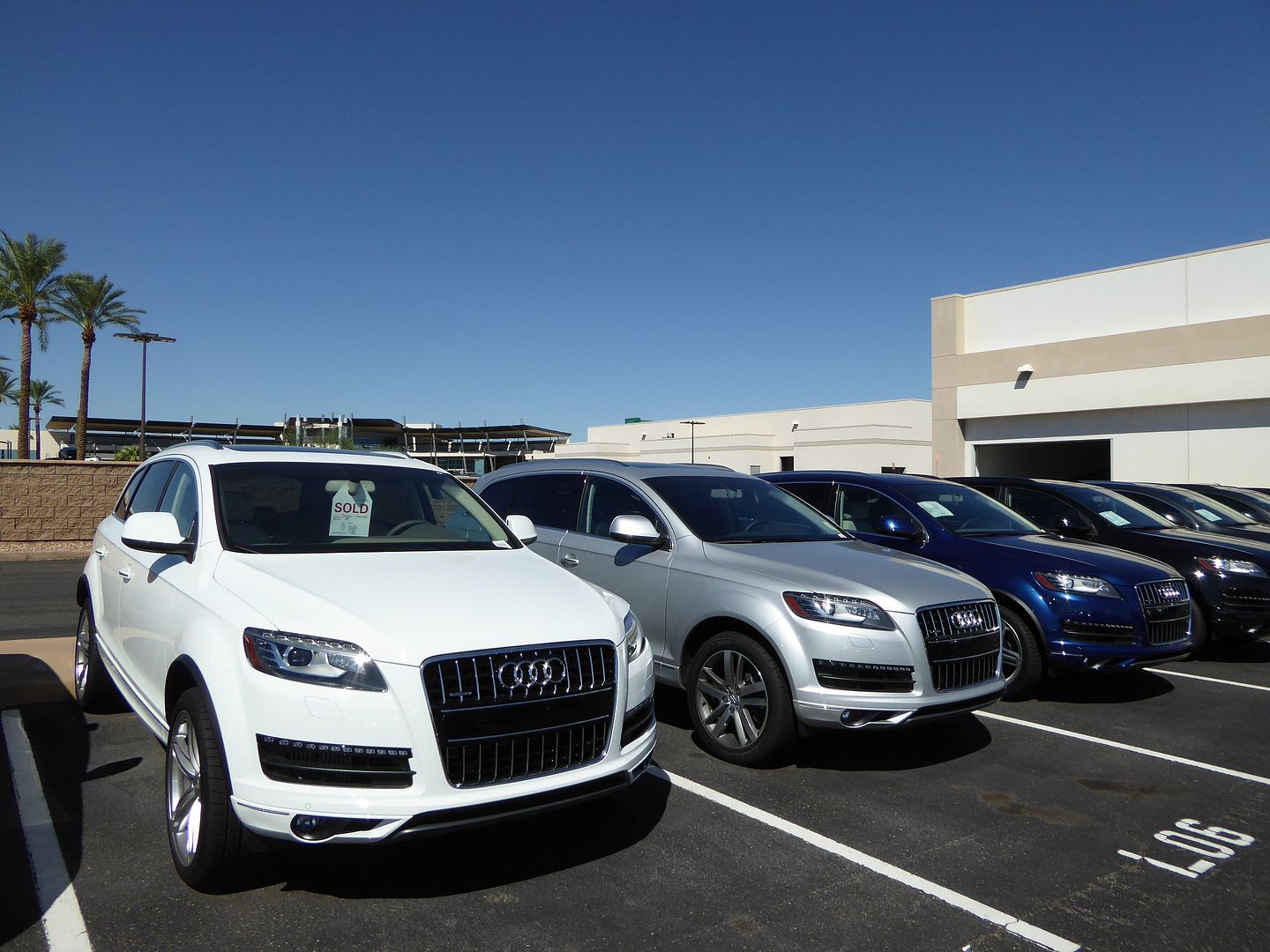 The B9 generation of the A4 range will reach America as a 2017 model year car sometime in early 2016., so for now the B8 cars are still a current model, and there a number of these, in A4 and S4 guise, as well as a rather neat looking B7 model in the secondhand area around the back.
The third generation TT has only just gone on sale to American buyers, several months after Europeans were able to buy one, and there was a brand new, unregistered car being driven around as some of the dealer staff got their first experience of this car.
From the upper echelons of the Audi range were examples of the S7 and the even larger model in A8 and S8 guises.
The R8 has sold strongly in Arizona. There was a Spider model in the showroom and a number of other R8s parked up onsite, presumably in for servicing
BENTLEY
There was a long line of Bentley models parked up near the entrance gates, and a few more examples in the showroom. The majority of the cars were Continental GT Coupe and GTC models. Telling apart the two distinct generations that have been offered over the past 12 years is hard enough, but trying to identify the more subtle differences especially in the recent models, with a profusion of variants is more or less mission impossible!
Also on display in the showroom was the latest Flying Spur. Needless to say. this is a popular car among the affluent clientele of Scottsdale and environs. I was unsure about the look of the second generation when it first appeared, but familiarity has helped and I now reckon that it is a good looking luxury limousine.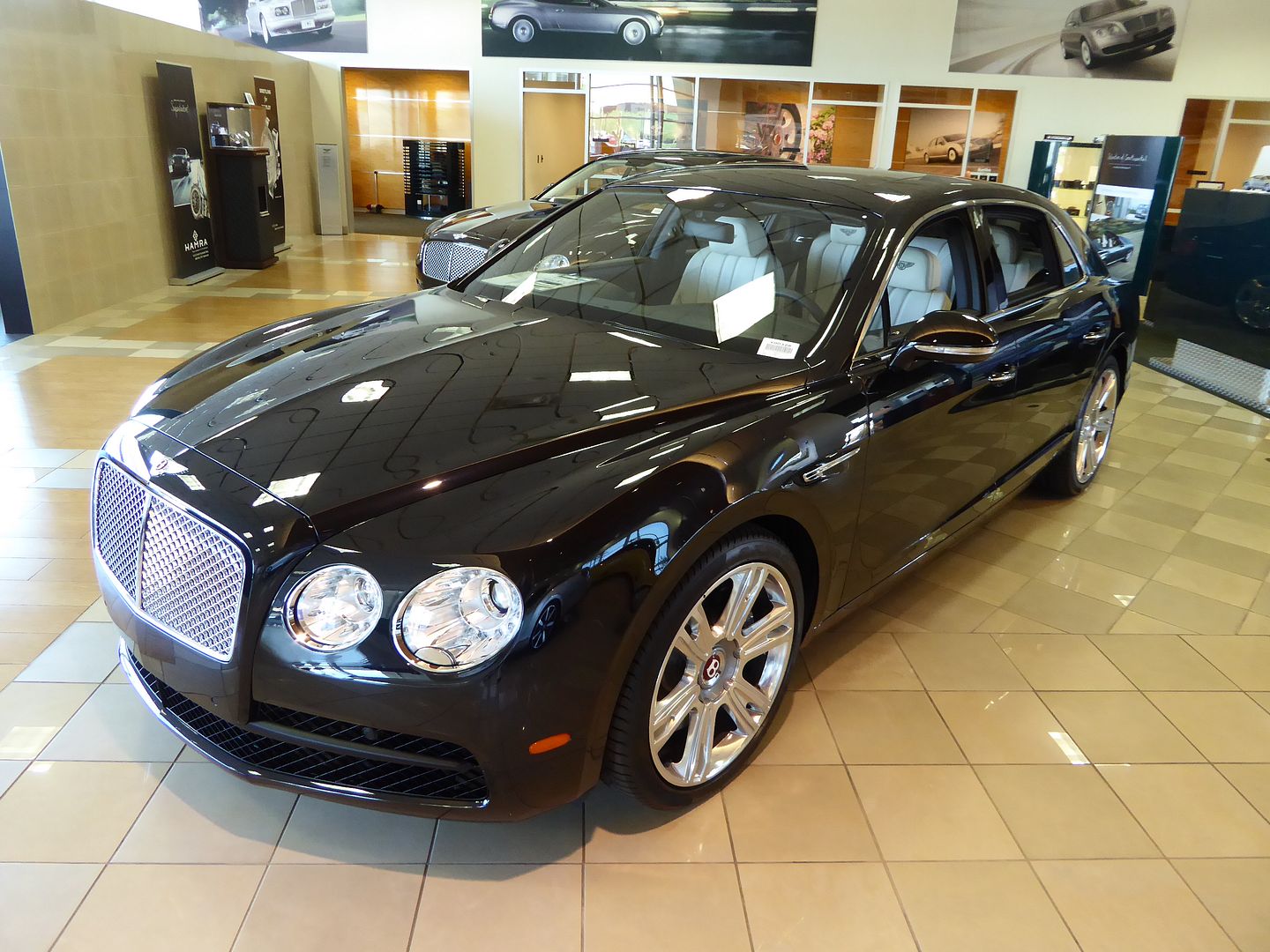 There were a couple of older Bentley models on site, too. The duo that I found were a first generation Mulsanne, the model which was launched in 1980 as a replacement for the long running T Series and the exclusive Azure convertible.
BMW
It's much the same story at BMW as it is with Audi. A slightly reduced range in terms of bodystyles and considerably fewer engine options, reflecting the different tastes of the American consumer. The most numerous car on site was actually the smallest, the innovative little i3. A large number of these were parked up around the charging point infrastructure and the signs on several of them suggest that these are used as courtesy cars ("loaners" in US speak!), for which they would seem ideally suited. There are now noticeable quantities of the model out on the roads of the greater Phoenix area, too, though once you head north you don't see many, as there is quite a steady climb towards Flagstaff which would quickly deplete the combination of electric motor and range extender.
I'm not particularly convinced by the i3, but there are no doubts in my mind when it comes to BMW's other all electric car of the moment, the i8. This futuristic looking machine just hits the spot perfectly, and the example out on show on the roadside here is unlikely to be there for long before someone snaps it up, especially as BMW cannot build new ones anything like fast enough to meet the demand.
There were plenty of more familiar BMW models on show, though some of them bear badging that is different in the US than in Europe. 5 and 3 series were parked up outside the showroom, along with a number of the X models, with X6 and the soon to be replaced X1 on display.
Also on show was a 1 series Convertible, The first generation 1 Series hatch models were never offered to American buyers, but they did get the Coupe and Convertible, though these did not sell that well, as they were seen – predictably – as being "too small"
Whether you have an epithet to qualify this M4 as "too…." or not, will depend on personal taste. Although I am rather fed up with rows and rows of grey and black cars, I am not persuaded that this colour on this car is the answer!
It was nice to see an example of the Z8 parked up around the back of the facility. This was – in my opinion – a great looking car, successfully combining retro and modern styling touches. The cars barely lost any value ever, and if you can find one for sale now, you will be paying more now than you would have done when it was new.
CHEVROLET
There's no Chevrolet dealership in the complex, either, but this C7 generation Corvette Z06 certainly did not look out of place among all the other super- and hypercars on site. Whilst the rest of the world does not quite agree with the contention of the US press that the Corvette is in absolute terms a better car than rivals such as the Porsche 911, the gap is narrower than it has ever been, and if you factor in the value for money aspect, then you could clearly build a case to justify selecting the 'Vette rather than a European Sports GT.
DODGE
Also paying what I suspect was a fleeting visit was America's other production Sports GT car of recent times, the Dodge Viper SRT10 Coupe. News emerged a few weeks ago suggesting that when this model reaches the end of its production run in 2017, it will not be replaced, which will be a great shame. Sadly, of course, this decision is a straight commercial one, rather than the result of any emotional or sentimental plan. The reality is that sales volume of this car are simply too small for it to make sense -for now, at least – to build a replacement.
FERRARI
If you want a good look at a Ferrari, this is a good place to come. There is a sizeable showroom, which holds around half a dozen cars easily, though more could be accommodated should the need arise, and there are some wonderful pictures and posters on the wall, along with an array of coffee table books and some branded goods, which could keep me entertained for some time. There were examples of all the current US range in the showroom, so the California T, 458 Italia and Spider, FF and F12 Berlinetta here, with a second example of the last of these being wheeled in and clearly prepared for a customer to take delivery later in the day.
Parked up outside where examples of not just the current generation of V8 cars, with 458 Italia and Spider and the California in original and facelifted T guises, but also the preceding ranges of 430 Spider and Coupe and the earlier 360 Spider
Also parked up, I suspect as it was in for a service, was this 599 GTB, the previous V12 grand touring top of the range model which still looks as stunning now as it did when we first saw it nearly 10 years ago.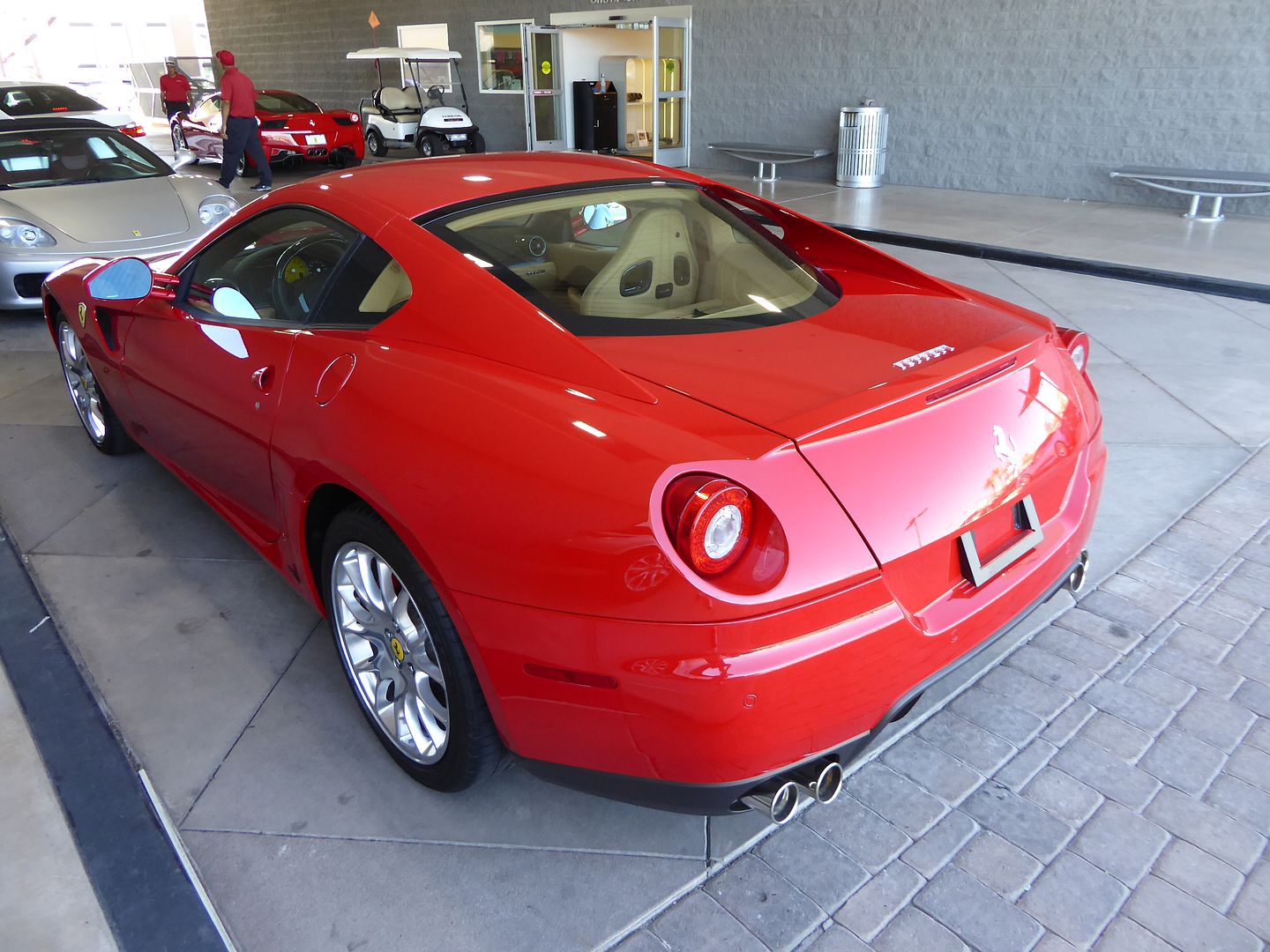 FORD
The only Ford to attract my attention was this F100 Pickup. This is the second generation of Ford to bear the F-Series name, and was a complete redesign compared to the model it replaced. Launched in 1953, as well as an all new and more integrated look, the pickups acquired their now familiar names: The F-1 now became the F-100, with a payload of a half ton, the F-2 and F-3 now became the F-250 which could carry 3/4 of a ton, and the F-4 now became the 1-ton F-350. Optional interior amenities were new, including a dome light, lighter, arm rests, sun visors and a radio. On March 13, 1953, the Ford-O-Matic automatic transmission became an option. The 1953 F-100 was the last year for the flathead engine in the US. Models in Canada, however, (Mercury M-Series), retained the flathead. 1953-54 saw the introduction of the new 239 cubic inch overhead valve Y-block V8, dubbed "Power King." The six-cylinder engine's displacement was also increased from 215 to 223 Cubic inches and power steering was introduced as an option. In 1954 the 239 Y-block was replaced with the 279 and 317. There were further bodywork changes for 1956, with  vertical windscreen pillars and a wrap around windscreen as opposed to the sloped pillars and angled windscreen of the 1953-55. The 1956 model also offered a larger wraparound back window as an option. Starting in 1956, Ford offered the very rare "Low GVWR" versions of each model. Also in 1956, seat belts became an option. A completely different looking model arrived for 1957.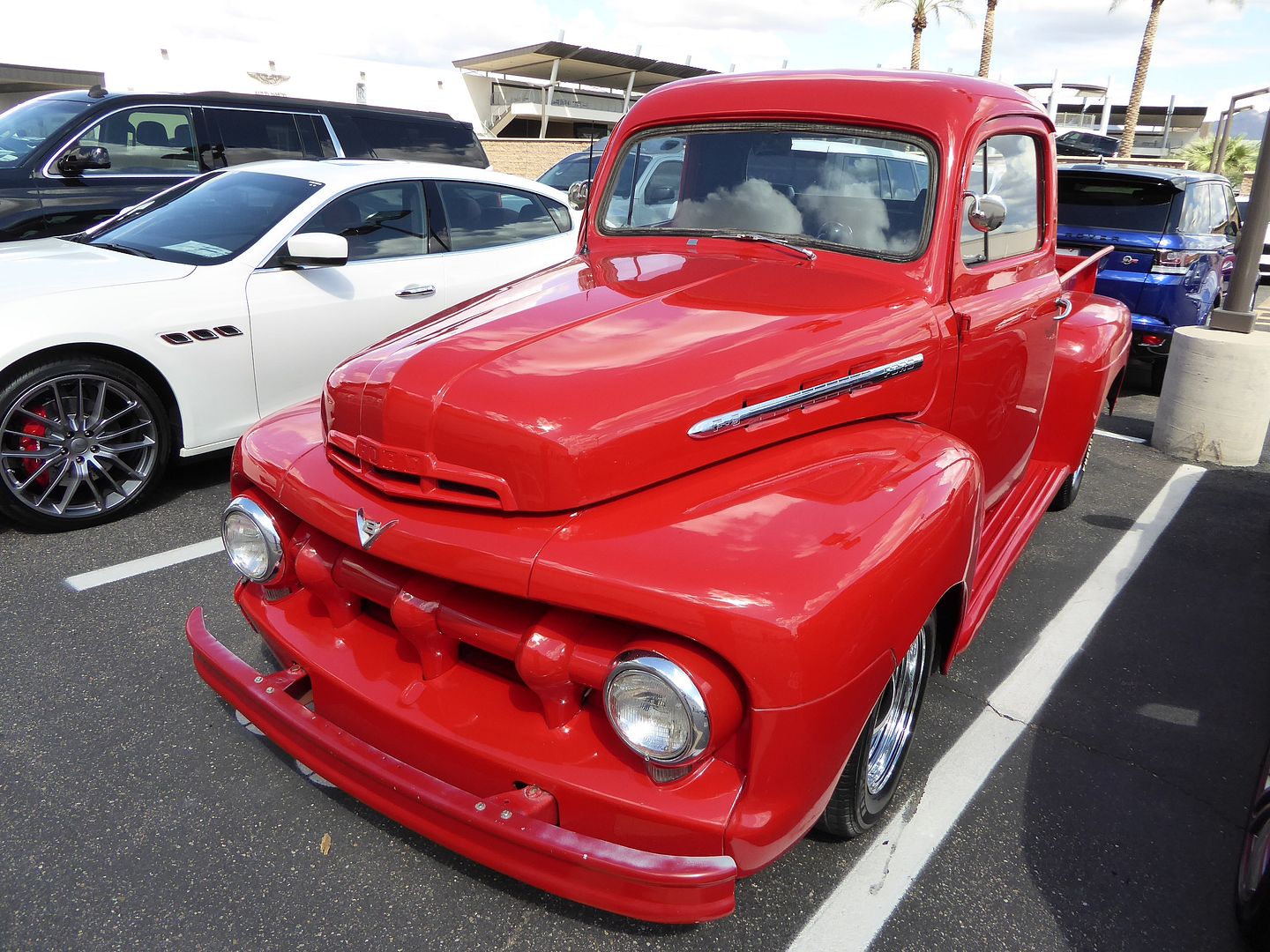 JAGUAR
Things will hopefully get far busier for Jaguar in the coming months, but that will only be when the XE and second generation XF reach the US market, and that had not happened at the time of my visit, so that meant that the showroom contained examples of the models which have been offered for a little now. America only gets the petrol powered Jaguars, much to the chagrin of some of their sales personnel, so there is a focus on the top of the range models, and that was evident here with the XJ seen in XJ- R guise and the F Type Convertible also in R spec.
There were lots more Jaguar models parked up both infront of and behind the showroom, and it was the array of F Types, in Coupe and Convertible formats which particularly attracted my camera.
The first generation XF remains a good looking car, and there were several of these to be seen, too.
Unmissable thanks to its distinctive bright blue paintwork was this XKR-S.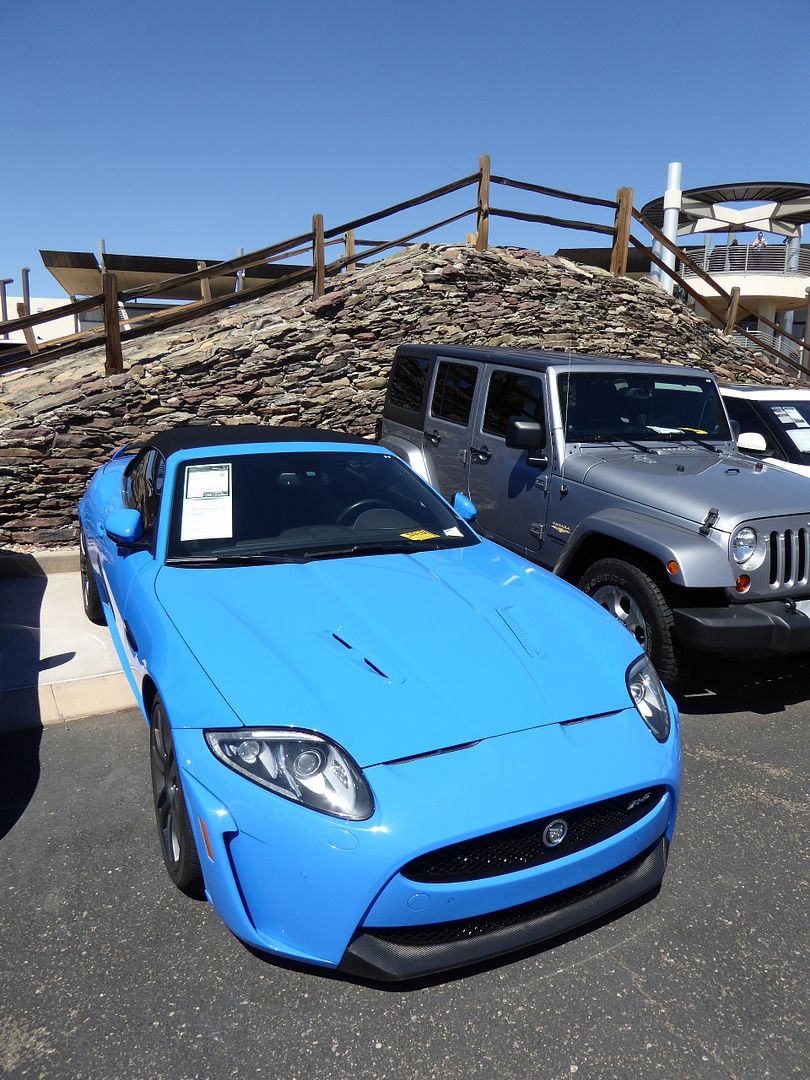 LAMBORGHINI
The Huracan is now well established as the entry level and volume selling model in the range, even though it is still only available in a single version, as the LP610-4 Coupe, although the new Spider and the rear wheel drive models are not far away. Several of these cars were to be seen outside the showroom, lurking in the shadows. and more were inside.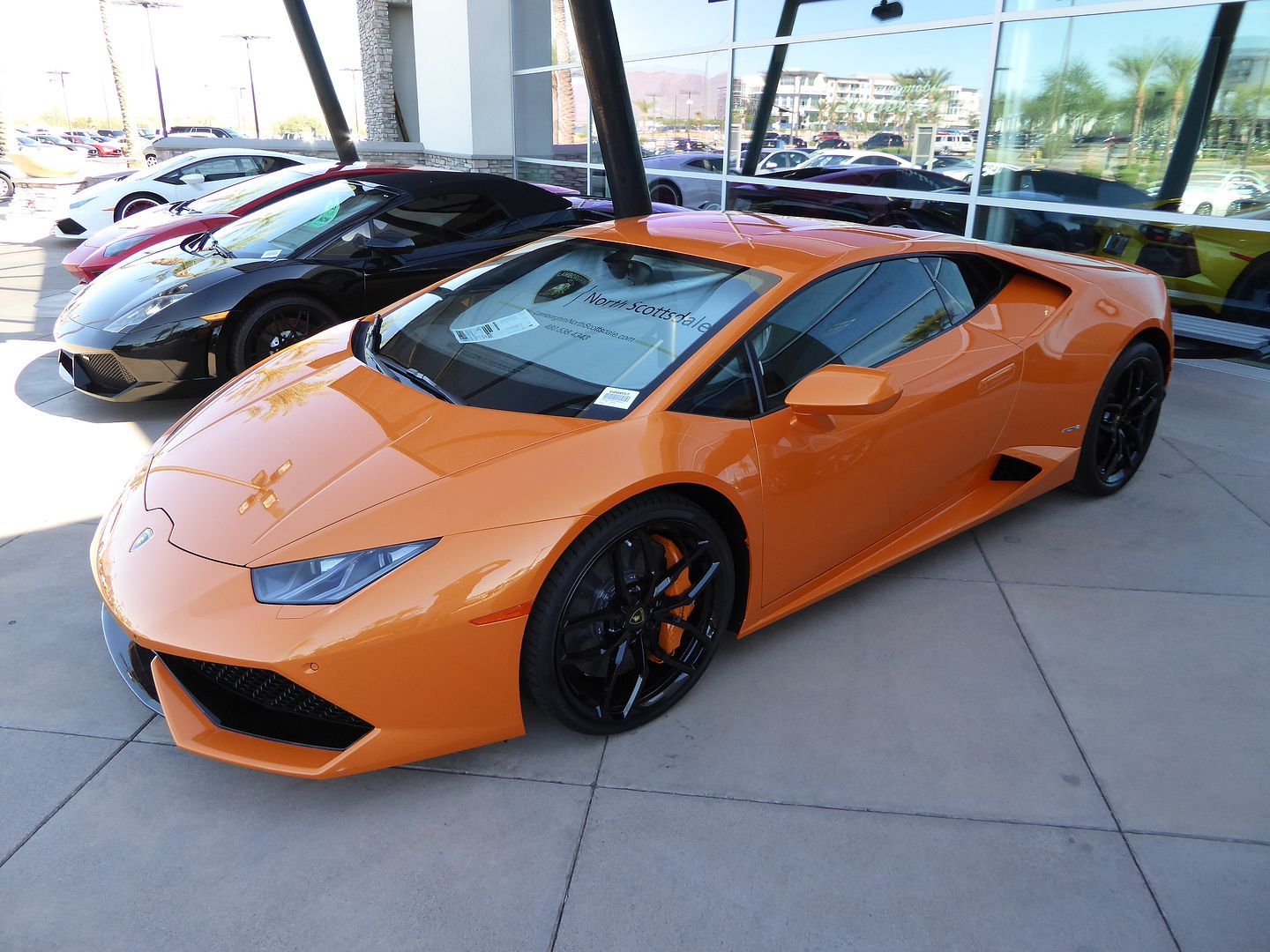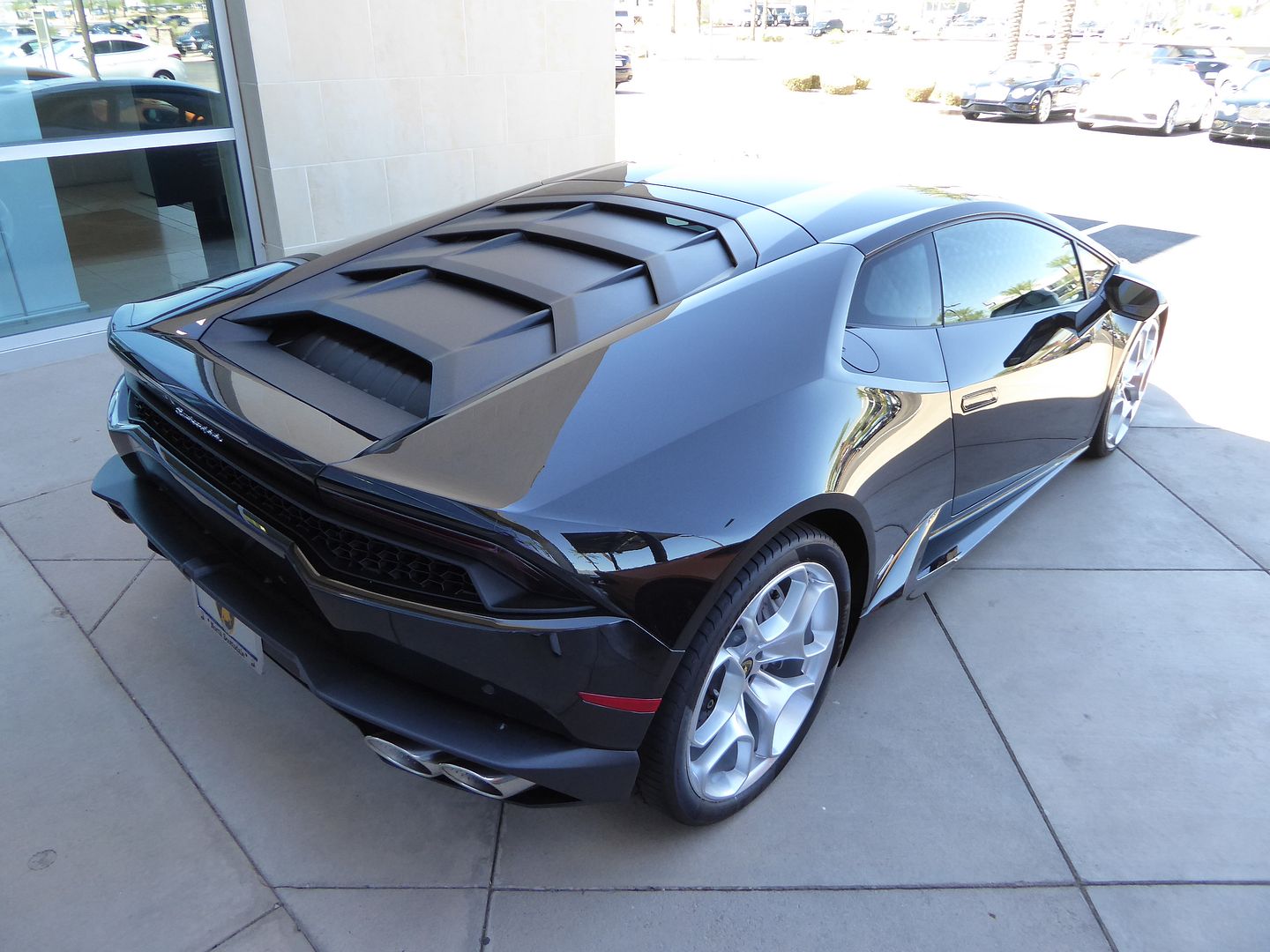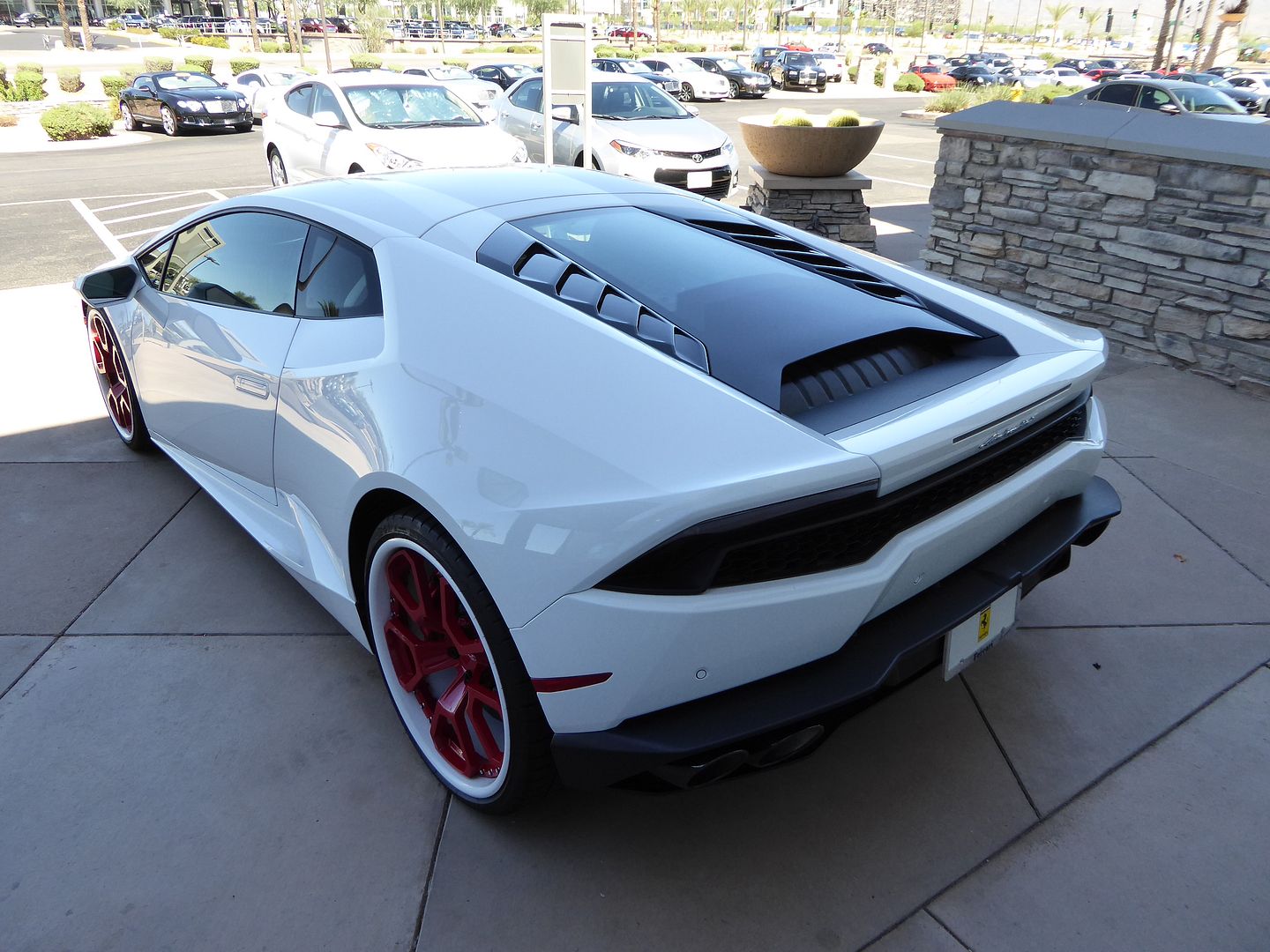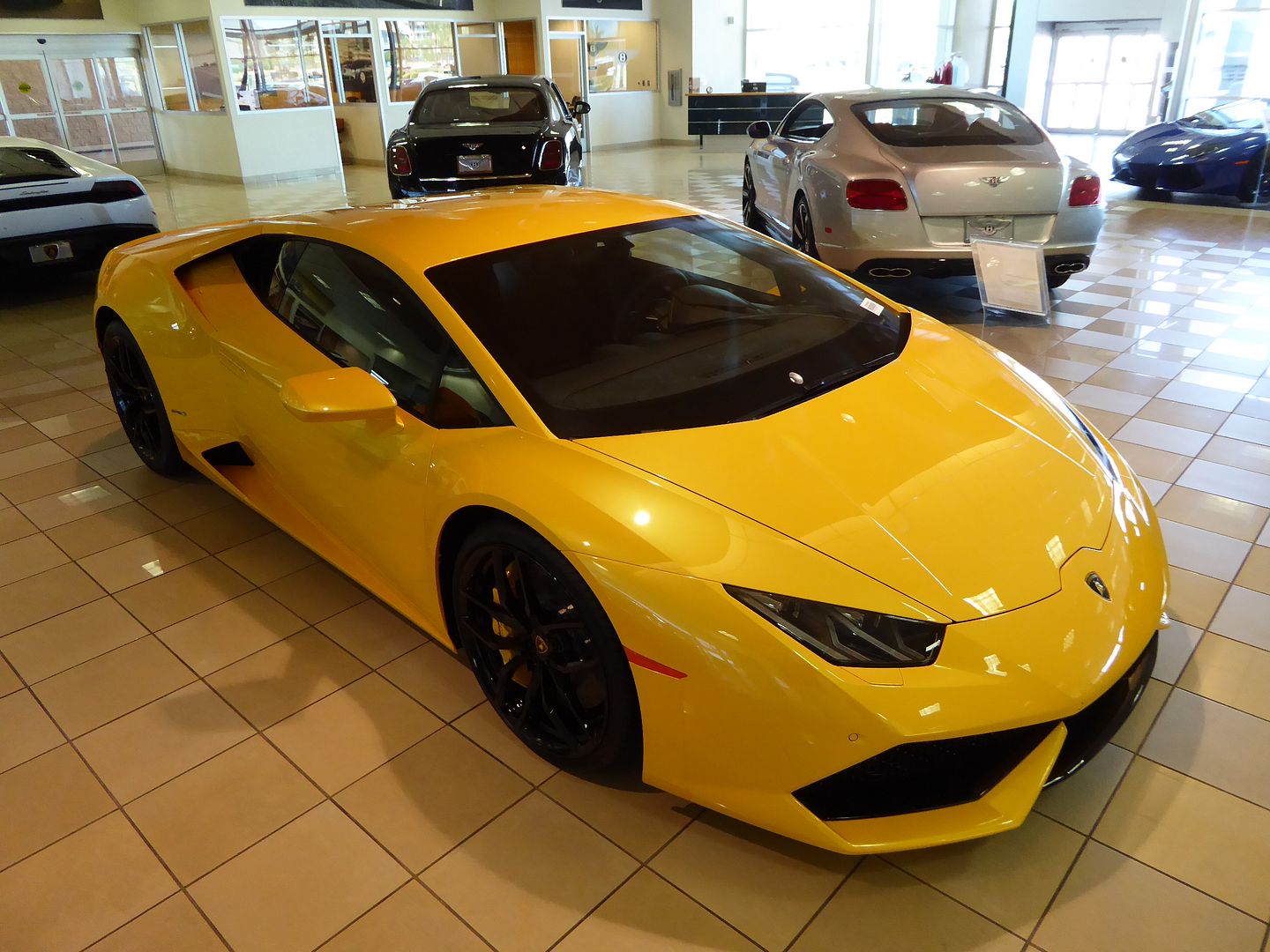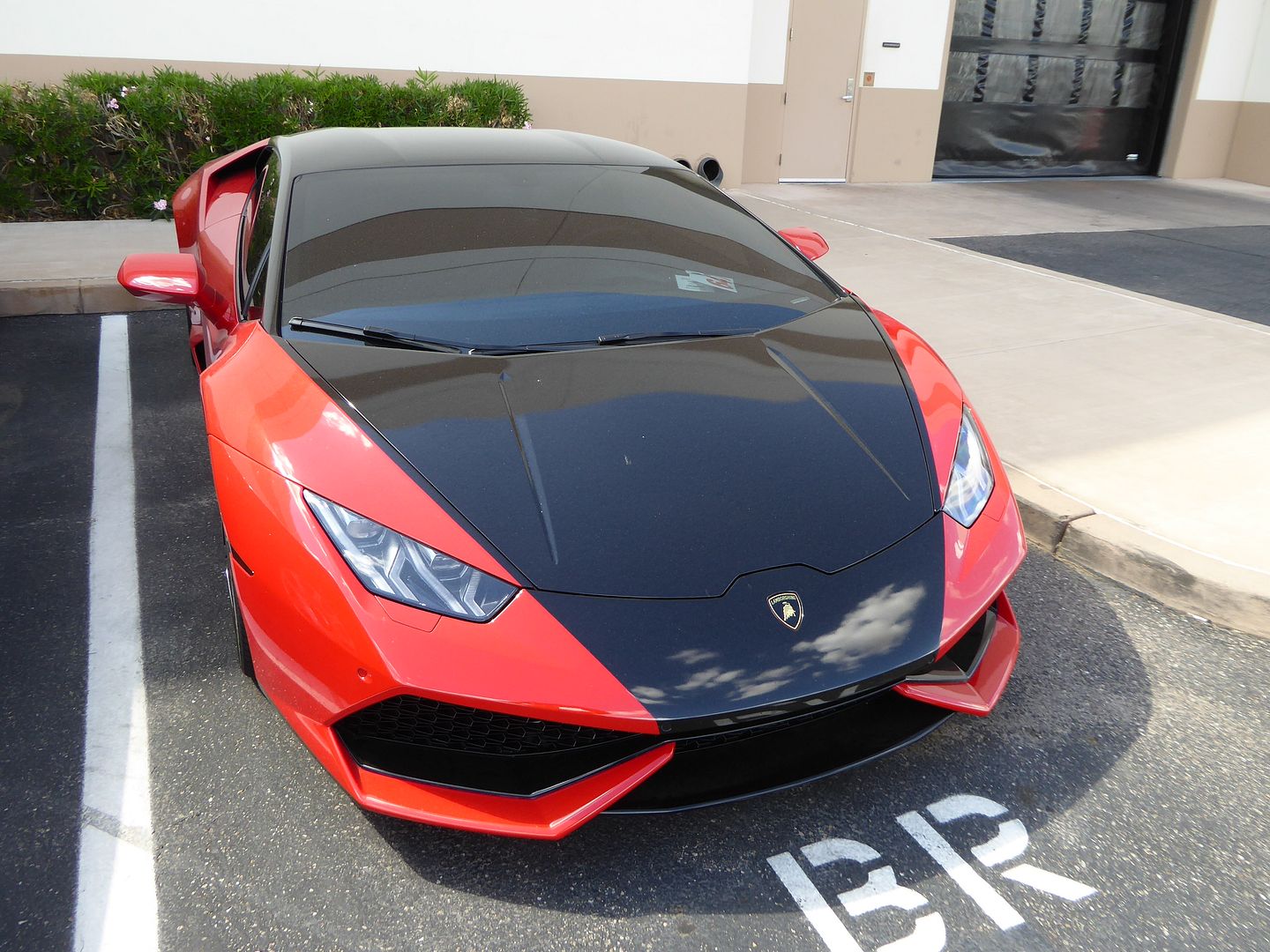 Also outside was an Aventador, and another one was in the showroom, along with its predecessor, a Murcielago Spider which had pride of place in the front of the display area.
LAND ROVER
It is well documented that the spectacular growth seen by JLR in recent years has come more from the Land Rover part of the business than Jaguar (though with the latest products of the latter now coming on stream, that may change in the next couple of years) and the company is struggling to keep up with demand. One look at the entire range, and even some of the recently superceded products, and it's not hard to see why this should be, as this is a range of highly desirable products, from top to bottom. The Range Rover successfully combines the twin targets of being a luxury car with versatility an go anywhere capability in a way that no other rival has quite managed. That was true for the third generation model as much as the current, fourth iteration of the type, and there were examples of both parked up next to each other.
Beloved of Premier League football players and their WAGs, among others, the first generation Range Rover Sport managed to get a reputation that whilst appealing to some, was a massive turn off for others. Somehow, that seems to have been completely shaken off with the second generation model which went on sale in 2014. A great looking car, this is slightly less bulky than the non-Sport car, and in top spec SVR guise, it is extremely fleet of foot indeed.
It's not always been a bed of roses for Land Rover, especially in the US, which is why the Discovery was rebranded LR3 (and now LR4) in an attempt to persuade people that the car was different from the somewhat troublesome earlier models.
Land Rover must be hoping that this is far enough in the past that their latest model can bear the Discovery name again without dredging up those memories, as the car we know as Discovery Sport in Europe bears the same name across the Atlantic.
Its predecessor was called the LR2 and there were some remaining 2015 model year examples of this on show, as well as the very popular Evoque.
MASERATI
As was the case on my previous visit, you are likely to see more Maserati models here in one place than you've ever come across before. You can also see just about every colour and trim combination that is offered. The largest quantity of cars were Ghibli models. The Diesel is not offered in America, but the 4 Wheel Drive cars are, so there were a mix of regular V6 and the V6S in rear and four wheel drive cars. Once again, my favourites are the deep wine red and the lovely royal blue coloured cars.
There was also a long line of the current sixth generation Quattroporte to look at. At a quick glance, telling one of these apart from a Ghibli is not easy, but when you see the two models parked up alongside each other, the differences are obvious.
There were also examples of the longer established GranTurismo  and open topped Gran Cabrio, as well.  I was less than taken by the wheel rims on one of them, though.
The showroom contained examples of the GranTurismo, Quattroporte and the Ghibli
There was one of the previous generation Quattroporte here, too.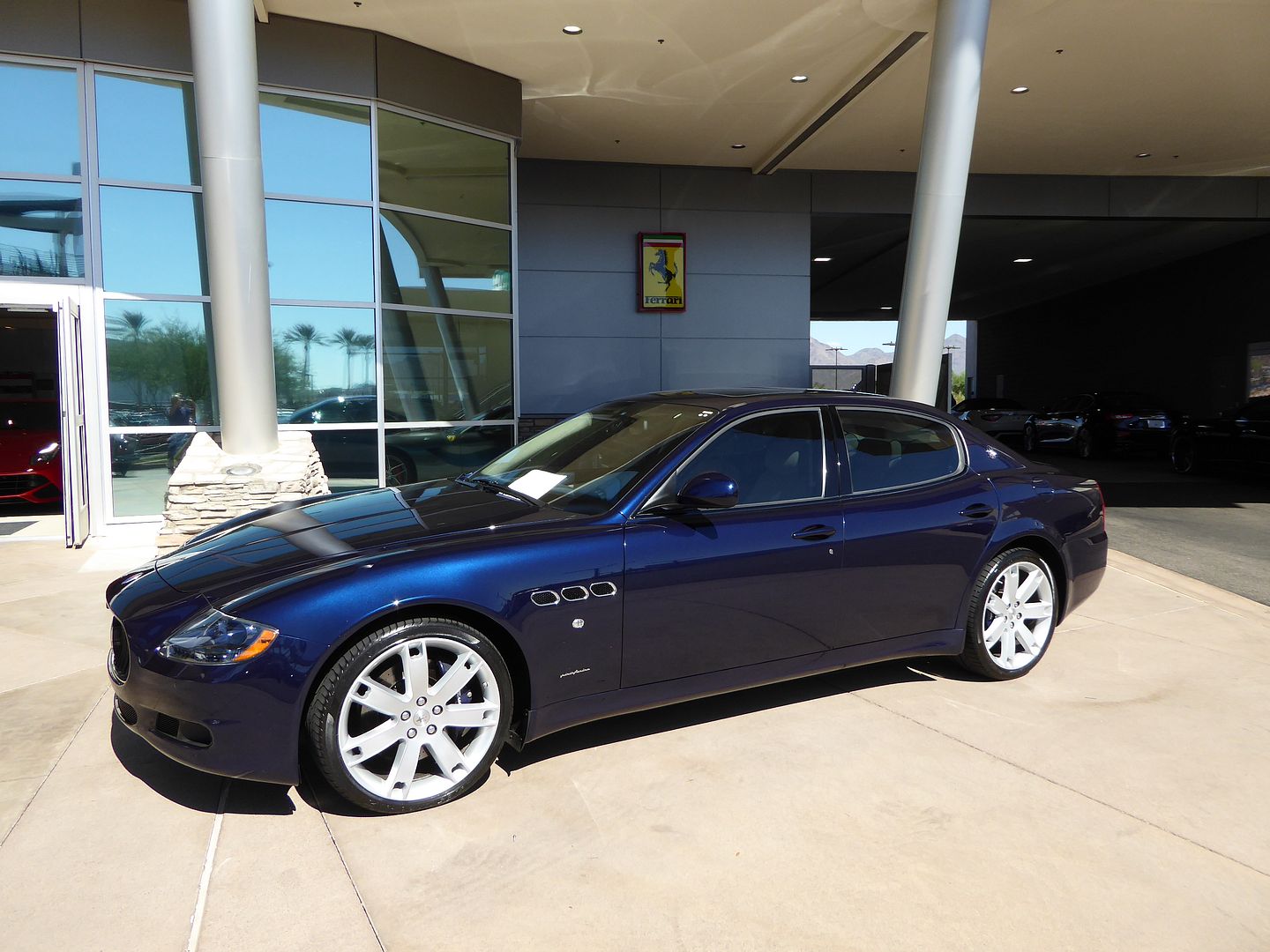 McLAREN
Penske do have a franchise for McLaren, but it is not on this site. Accordingly, there was only example of the Woking manufacturer's product here, a 12C Spider parked up among the Ferraris outside that marque's showroom.
MERCEDES-BENZ
Much to their chagrin, Penske also do not have a Mercedes franchise in this campus, as there is a rival dealer situated literally across the road, called Schumacher's. More than once, I've been told that if they ever get the chance, Penske want to buy them out, but that's not on the cars for now. That means that the only Mercedes models on the Penske site were second hand ones. Three cars with the three pointed star on them grabbed my attention. Most unusual of them was this very well presented   W110 280SE 3.5, the top of the volume range in the days before the S Class.
There were also a couple of high end AMG models, a CL63 and an SL65.
I walked over the road to take a closer look at the cars on display there. In the showroom, it was AMG cars that constituted the majority of vehicles on display. The salesman I spoke with told me that they sell more AMGs than any other dealer in America. He said that they cannot get enough of them, so they do try to give priority to customers who live ij Arizona, even though they do get enquiries and indeed visits from people who live not just in adjoining States, but from all over the country.  Newest arrival is the GLE Coupe, and I had to choose my words carefully when asked for my view on this, so as not to cause offence. The honest answer is that from some angles, it is not quite as vulgar as the BMW, but from others, and especially as seen here in GLE63S AMG guise, it is simply brash. Not to my taste at all.
Far more appealing was the G Wagen, with a couple of G63 AMGs on show here. I was to get behind the wheel of a non AMG model a few days after this visit, and although there are reminders of the fact that this model started its life in the 1970s, I still think it is a wonderful proposition if you can afford it. And make no mistake, even in G550 guise it is pricey, whilst as the somewhat bonkers AMG, it is very costly indeed. A real guilty pleasure.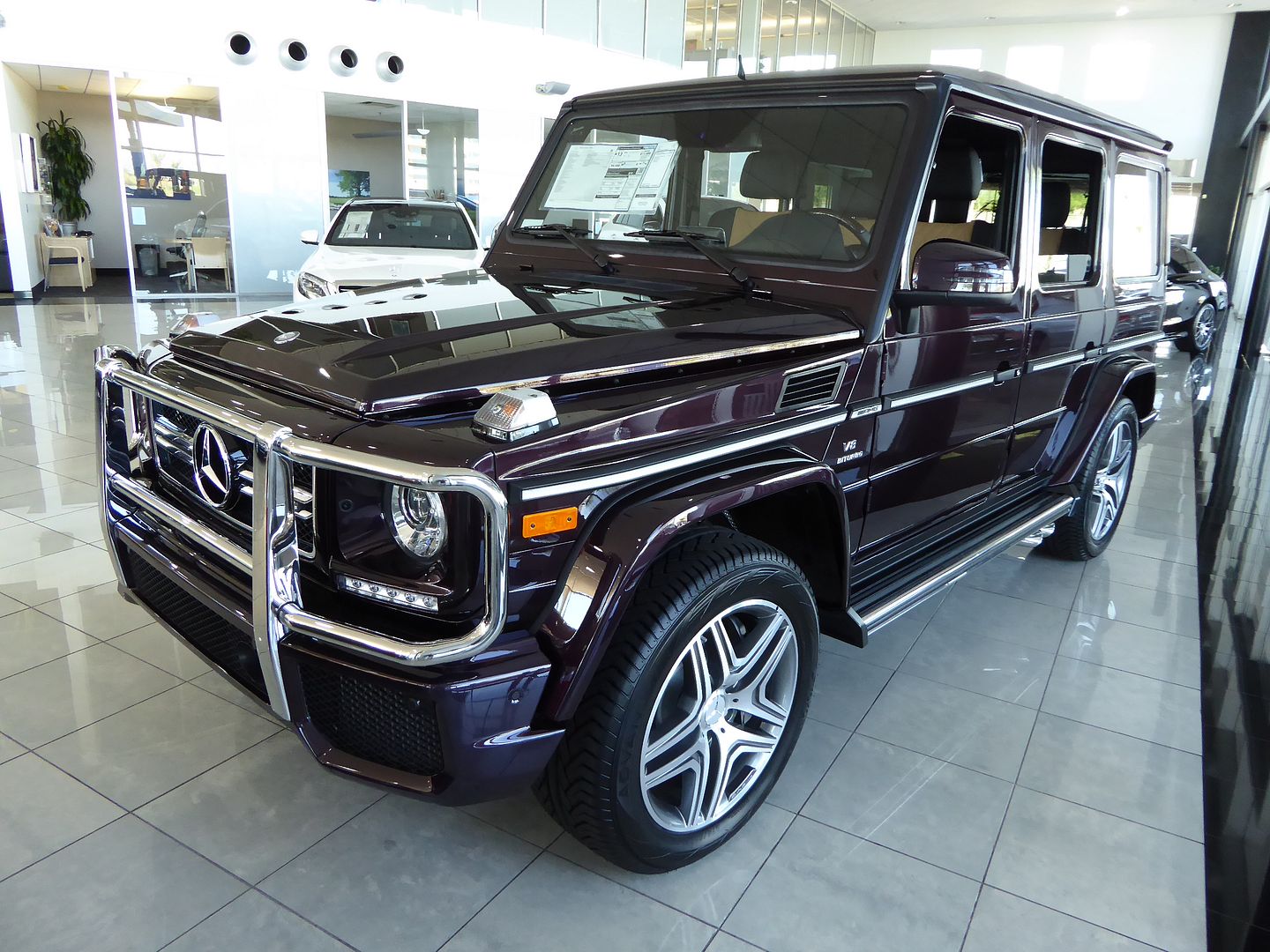 Far more restrained were some of the saloon AMG  models, and there were plenty of different ones here., Two S63 AMGs were joined by a CLS63S model and an example of the recently introduced C63, with its new 4 litre turbo V8  replacing the rumbling 6.3 litre old car.
Also new this year is the Sports GT model, the AMG GT-S, a more direct rival for the Porsche 911 than the slightly disappointing SLS AMG that it replaces. A fabulous looking car from some angles, this model is proving very popular in the area, I was told, and the display car is unlikely to stay in the showroom long, as demand exceeds supply.
Also elegant from some angles, but – to my eyes at least – awkward from some others, is the S63 Coupe AMG.
There were some "regular", non AMG models in the showroom as well, and these included the CLA250, the roomier C300 and the gargantuan GL550.
Mercedes is going through a renaming exercise for some of its models at present, and this is one of the cars affected. You might think that this is an ML Series, but look at the badges and you will see that it is the mildly facelifted car and as such it is now called the GLE350
Open topped cars on show included an SLK and an E Class Convertible.
Outside, there were long lines of cars parked up, grouped by model. These covered a large area, as, just with Penske, the dealer has a lot of inventory so that the customer spec car would likely be on site, and also because Mercedes has lots of different model lines on offer.
Saloon car models included the entry level CLA, the C, and the E.
Among the Crossover types, there were the GLA, GLK, GLE/ML and GL
And finally, I found one example of the recently relaunched Maybach. No longer a completely stand-alone brand, this S Class based machine is now called Mercedes-Maybach. I've yet to see one of these anywhere other than a Show, no matter which country I am in, but that will surely change in the coming months.
MINI
The MINI showroom is relatively small, with space only for about five cars, around the perimeter, with a lot of unusable space in the centre, but if you want to see lots of MINIs, you simply have to go outside, and there you will find them by the hundred. With the bright colour palette, this is quite a vibrant part of the site, and there's plenty of variety, probably with no two cars exactly the same. The third generation hatch has been on sale in the US for long enough that most of the 3 door models that I saw were F56 cars and there were also rows and rows of the slightly longer 5 door as well.
I did not take pictures of all the different versions on site, but the among the photos that I do have are several featuring the Countryman and the recently discontinued Roadster.
PORSCHE
Porsche have the showroom right at one end of the complex, and there's a vast area beyond that where new cars are parked up. But I did not get there before reaching for the camera, having spotted a rare model. Indeed this was the first car to attract my attention on arriving, a rare "flat nose" 930. There was another one that I later found, parked up around the back. These cars were offered by the factory, under the "Sonderwunschprogramm" (special order program) beginning in 1981. Known as the "Flachbau" ("flatnose" or "slantnose") , this was an otherwise normal 930 (ie a 911 Turbo) with a 935-style slantnose instead of the normal 911 front end. Each Flachbau unit was handcrafted by remodelling the front bumpers. So few were built that the slantnose units often commanded a high premium price, and an initial premium of up to 60 per cent (highly individualised cars even more) over the standard price. 948 units were built. The Flachbau units delivered in Europe usually featured the 330 hp  performance kit. You don't see them very often, so to come across two at the same time was particularly special.
That was not the only Porsche treat, as when I did arrive the showroom, as well as the brand new cars presented there, I spotted that pride of place was afforded to 3 classic 356s models. These three were absolutely stunning. All were for sale, and the price tags reflected their condition and relative rarity. In other words, these were very costly indeed, with six figure asking prices, where the first digit was not always a 1. The 356 Super with the factory fitted sliding roof is one of less than 100 cars that were built like that, I was told, and the earlier Cabrio1600 Super was also very lovely.
There was another 356 model, a 1956 Carrera parked up outside, which had been there on my last visit in March
There were vast numbers of 911s on site, mostly from the 991 generation. Many of the different model types were to be seen, including the Targa with its removable roof that is more like a piece of theatre than you will find with any other car. There were a number of older second hand one models, too, including some of the highly desirable GT3 and GT2 models of yore. Not all of them were desirable, such as this one with gold wheels.
It is the Cayenne and Macan models that generate a huge percentage of Porsche sales these days, and indeed were it not for these cars, it is quite conceivable that the brand would not still be around, certainly not able to produce some of the other low volume cars that we have so enjoyed in recent times.
That is probably also true for the Panamera. Most will still tell you – at least privately – that the looks are somewhat awkward, but I've driven one, and almost all was forgiven. This is an impressive car, even in the relatively low powered eHybrid model that I sampled. Maybe the next generation car, rumoured to be destined for a launch at the 2016 Geneva Show, will look a little less ungainly.
There were lines of the smaller Cayman and Boxster as well, of course.
I also came across this rather special machine. The Cayman GT4 sold out almost even before it was officially announced, back in February. It's taken a while for production to begun, but cars have started to be shipped from August, so this is one of the early cars. Grey (or should that be "gray", given where I was?!) would not be my choice of colour, and unfortunately, the layer of dust on it had fused all over it in the overnight rain, so it looked less than clean, but what a car!
ROLLS ROYCE
There were plenty of examples of the current Rolls Royce range, of Phantom, Ghost and Wraith, on show both indoors and out. There were plenty of apprehensions after the marque passed out of British hands, but the reality of BMW ownership has been that this has provided the funds that were so necessary to allow for the development and production of a range of very imposing machines which are fully in the spirit (no pun intended!) of this marque.
I did come across a couple of Silver Shadow models on site, a Series 1  and the later S2. What struck me about these cars is just how small they seem now. When new, in the 1960s and 1970s, these were large machines, but now they don't seem that big at all.
VOLKSWAGEN
Final brand, and the one at the far end of the array of showrooms from Porsche is parent company, Volkswagen. "Dieselgate" was just starting to unfold, and become a news item at the time of my visit, but there was no evidence of panic in the showroom, which, as has been the case on previous visits, contained a mixture of brand new cars and a number of classics. The classics are nominally all for sale, but the very same cars have been on show for as long as I can remember, so the staff are clearly not trying that hard to sell them. In many ways, it would be sad if they were to disappear, as these are lovely machines to look at. There are a number of traditional Beetles, a Karmann Ghia, a couple of Type 2s, a Bus and a Pickup and my personal favourite a "Thing", as the Americans called it, or the 181 Trekka was it was known in Europe. This last one is offered for $28,000, which is a lot, even allowing for the factory fresh condition of the machine.
Best selling VW in America is the Jetta. Indeed, this version appeared in the US long before it reached Europe, back in 2013. Built in Mexico, there were quite a lot of measures taken to make the car cheaper to make, and hence to buy, which generated plenty of negative comment from the US press. Sales went up quite a lot, though. Running changes since then have restored some of the more obvious cost take-outs, with new engines, a return to independent rear suspension and better quality trim applied to 2015 model year cars. As well as petrol and diesel models, a Hybrid version is sold in the US.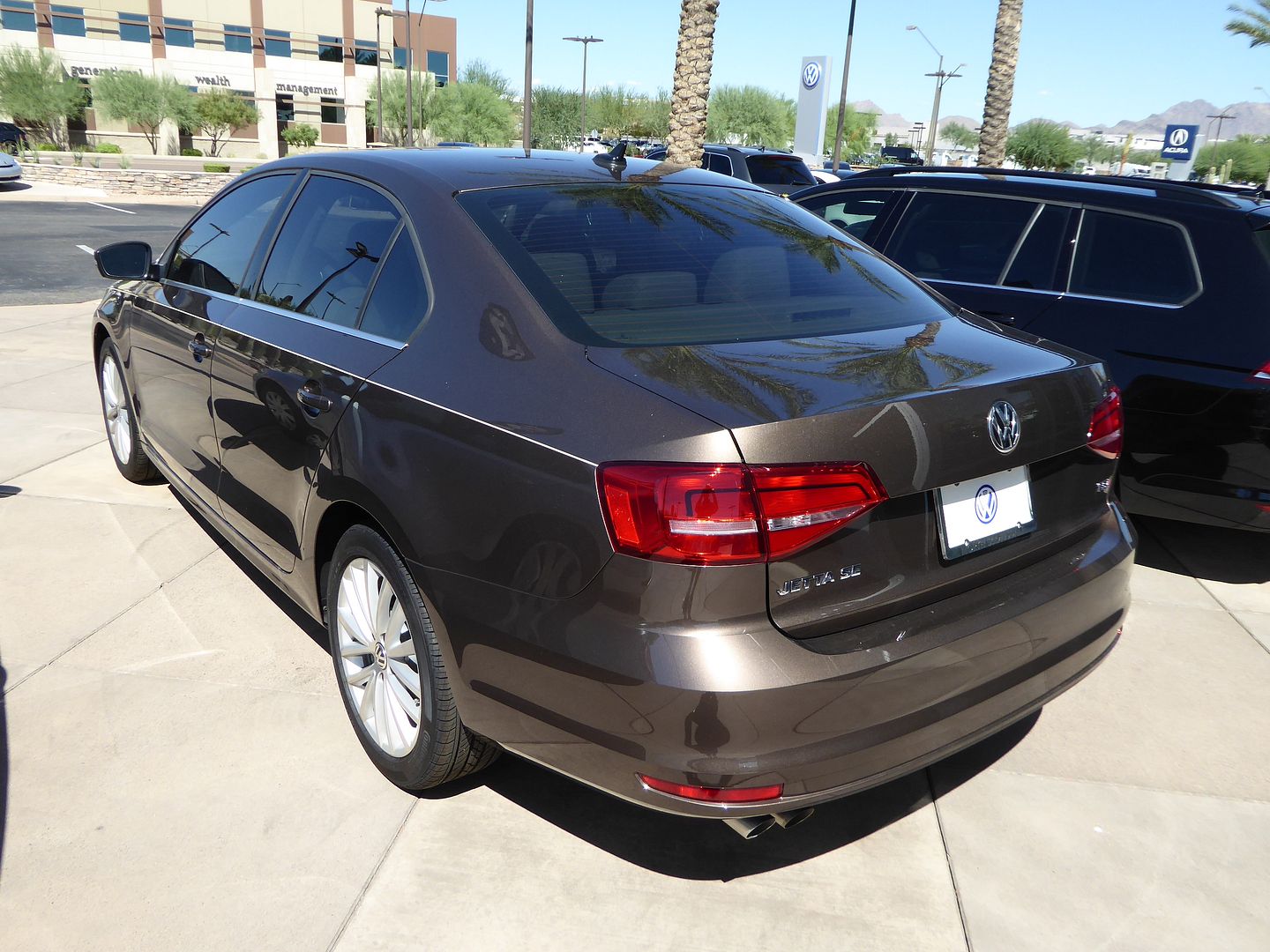 VW applied much of the same thinking to the Passat, with a US model designed and manufactured in the US, in Chatanooga, TN, taking the place of the German model in 2012. Physically larger than Euro Passat, this is a very roomy car indeed, and it drove quite well – good enough indeed to win Motor Trend's Car of the Year award at launch, though more recently, the car has slipped down the rankings in comparison tests. A 2016 facelift was unveiled a few days after my visit.
The other models on show will be more familiar to those who know the European VW range, with several examples of the CC, the Golf VII, which finally made it to the US for 2015, the long running Tiguan and the second generation Beetle in Hatch and  Cabrio guise all on display.
As ever, then, this was an interesting diversion for a good couple of hours one afternoon whilst I was in the area. Indeed, I spent so long looking at the cars, wandering around the extensive site and talking to a number of sales staff, that I ran out of time to go and renew my acquaintance with the Racing Museum, itself. That gives me the excuse to go back again next time I am in Phoenix. Not that any excuse is really needed!