It was not long after the horseless carriage started to gain popularity, that people started to want to race against each other. It quickly became apparent that doing so on the public road was far from safe and that purpose designed locations would be infinitely preferable, and so a number of venues started to be created specifically for the purpose. Oldest of these, and in continuous use ever since, is the Hill Climb at Shelsley Walsh in the picturesque Teme Valley to the west of Worcester, which got going in 1904. Others were quick to follow, but nothing is for ever, and if you look back over the past hundred years, you will see, in the rich heritage of motoring history that is the UK, that venues come and go. Such is the reality of change and development, that is very difficult, and in many cases impossible to go back, as the enthusiasts at Brooklands have found, where large parts of the historic banking have been redeveloped. But all is not always lost. And so there was much excitement when an announcement was made in 2014 that a venue last used in 1968 would stage an event in July 2015. That venue is called Chateau Impney, and it is to be found just a few miles off junction 5 of the M5, near Droitwich in Worcestershire. I'll confess that it meant little to me, until I undertook some research to discover the history of the site and of motor-racing being held at this slightly surprising location.
It's certainly not the most obvious location for a Hill Climb, as this would appear simply to be rather unusual looking building set in a large country park, on ground which is more undulating than hilly. The Chateau dates back to the nineteenth century, and its construction is thanks to a local salt mine owner, John Corbett and his wife Anna, who were married in Paris before returning to England. In 1868 and with a growing family they decided to buy the original Impney Manor House, demolish it and have built a house in the style of the chateaux they had seen whilst in France. They commissioned French architect Auguste Tronquois to oversee the work of English architect Richard Phené Spiers. Completed in 1875, the result is considered to be the finest and most authentic example of French style Chateau building in the UK, and it was a private residence, set in 110 acres of parkland until 1925, when it was sold and turned into a prestigious hotel. The motor sport story started there in 1957, with competitors greeted by a short, narrow and uneven course in the grounds, and needing to concentrate on the road ahead and not the spectacular setting in which they found themselves. The venue became increasingly popular in the next few years. Formula Junior was added to the program and the venue resurfaced the track to make life a little easier for the competitors. And there were plenty of famous names among them: Sydney Allard, Daniel Richmond, Tony Marsh, patsy Burt, Phil Scragg, Alec Poole, John Handley, Ralph Broad and Rovers Fletcher all tried their skill in what was more of a 550 yard sprint than a true hill climb. The last race took place in 1968 and the site soon fell into a gradual decline, the cost of maintaining that lavish building and site proving just too much. Eventually the hotel passed into receivership. and its future looked bleak. In 2012. though, it was bought by the Greyfort Group, which is owned by the Spollon family, who have links to historic motorsport and the VSCC, going back generations, via custodianship of some notable historic machines The family has ploughed millions into the complex, re-opening the hotel, which is now a rather splendid place to stay (I gather). It was inevitable, given the history, that reviving the motorsport would figure in the plans as well. Actually making this possible is no mean feat, of course, and early thoughts of running an event in 2013/4 were too ambitious. Planning permission was required, a new surface had to be built and surfaced, MSA approval was required, an MSA-approved club had to be formed (the Chateau Impney Hill Climb Club) and a course licence was required. The fact that the venue had previously held events counted for nothing in most of these steps, but eventually all the hurdles were overcome, with a new course that, at 1000 yards, is roughly twice the length of the old one in place. All that would be required would be competitors, and spectators. The organisers got those, of course, with over 200 cars entered to try their luck and skill on the "hill", and the attractions of the event were to be augmented by a classic car auction, more than 100 trade stands, a concours competition, 20 food providers, many of them local, and the stage was set for a memorable weekend. I booked a ticket to attend on both days, and here is what I saw.
IN THE PADDOCK and IN ACTION
Over 200 cars were entered, many of them having competed at the Chateau in period. They were split into 19 different classes, and there was a constant movement of some truly fabulous machinery manoeuvering around the Paddock area, or to be seen in action on the circuit. The cars had to leave the paddock in groups and head down to the start line, from where they could then set off, one at a time on a course which started off more or less dead straight. before making a tight left hand turn and heading up towards the house. The course then snaked around one side of the buildings, with some very challenging turns, a roundabout, and a chicane adding to the difficulty, all the while climbing gently, before reaching a finish line around the back of the house. It proved to be a tough course, especially for the larger cars. and a massive downpour on Sunday morning added to the challenge, though the sun did then emerge and dry things off. There were lots of great vantage points from where you could see some of the action and a huge grandstand was erected, with seating for 2000 people as well as number of massive tv screens to project images from the part of the circuit that you could not see.
AC
There are plenty of replica Cobra models out there, but to qualify for entry in the Sports and Racing Cars, pre 1967 class in which this one was entered, it was going to have to be a genuine model from the period.
ALFA ROMEO
Among my favourite cars of the entire weekend were this duo of 8C 2300 Alfas, a Monza and a Muletto. Although we now think of Alfa Romeos as a manufacturer of road cars, their prime focus in the 1920s and 30s was on racing. In the quest for more power, and hence speed, the first Alfa 8 cylinder engine was created by Vittorio Jano in 1924 for the 1987 cc P2. It featured a common crankcase and four plated-steel two-cylinder blocks, and in the P2, it won the first World Championship ever in 1925. Although it was a straight-8, the 8C designation was not used. Alfa's efforts for the rest of the 20s were focused around 6 cylinder units, with the legendary 6C 1750 cars earning their place in history with successes in most of the notable races of the era. But to keep up with the competition, more power was needed for the 1930s, and this led to a renewed effort with a straight 8, a new  8C engine. First entered at the 1931 Mille Miglia, this unit also designed by Jano had a common crankcase, now with two alloy four-cylinder blocks, which also incorporated the heads. The bore and stroke (and hence rods, pistons and the like), were the same as the 6C 1750 (bore: 65 mm, stroke: 88 mm 2,336 cc). There was no separate head, and no head gasket to fail, but this made valve maintenance more difficult. A central gear tower drove the overhead camshafts, superchargers and ancillaries. It went on to power two models, the 8C 2300 (1931–1935) and the even more rare and expensive 8C 2900 (1936–1941), where the bore was increased to 68 mm and stroke to 100 mm to give an engine of 2,905 cc. It is the 8C2300 models which are the better known of these, and are highly prized these days. Initially, Alfa Romeo announced that the 8C was not to be sold to private owners, but by autumn 1931 Alfa were selling the unit installed in a rolling chassis in Lungo (long) or Corto (short) form with prices starting at over £1000. The chassis were fitted with bodies from a selection of Italian coach-builders such as Zagato, Carrozzeria Touring, Carrozzeria Castagna, Pininfarina and Brianza, even though Alfa Romeo did also make their own bodies. Some chassis were clothed by coach-builders such as Graber, Worblaufen and Tuscher of Switzerland and Figoni of France. Alfa Romeo also had a practice of rebodying cars for clients, and some racing vehicles were sold rebodied as road vehicles. Some of the famous first owners include Baroness Maud Thyssen of the Thyssen family, the owner of the aircraft and now scooter company Piaggio Andrea Piaggio, Raymond Sommer, and Tazio Nuvolari. The first model was the 1931 '8C 2300′, initially designed as a racing car, but actually produced in 188 units also for road use. Alfa often added the name of a circuit where the car had triumphed to the model name. Hence  the 8C 2300 tipo Le Mans' was a sport version of the '8C 2300' which had a successful debut in the 1931 Eireann Cup driven by Henry Birkin and then went on to win the 24 Hours of Le Mans in 1931 (Howe-Birkin); 1932 (Chinetti-Sommer); 1933 (Nuvolari-Sommer) and 1934 (Chinetti-Etancelin). The racing version of the 8C 2300 Spider, driven by Tazio Nuvolari won the 1931 and 1932 Targa Florio race in Sicily, the 1931 Italian Grand Prix victory at Monza gave the "Monza" name to the twin seater GP car, a shortened version of the Spider, and the blue car seen here is one of these examples.
At the same time, since racing cars were no longer required to carry a mechanic, Alfa Romeo built the first single seater race car. As a first attempt, the 1931 Monoposto Tipo A used a pair of 6-cylinder engines fitted side by side in the chassis. As the resulting car was too heavy and complex, Jano designed a more suitable and successful racer called Monoposto Tipo B (aka P3) for the 1932 Grand Prix season, creating the world's first purpose designed single seater Grand Prix car. The Tipo B proved itself the winning car of its era, winning straight from its first outing at the 1932 Italian Grand Prix, and was powered with an enlarged version of the 8C engine now at 2,665 cc, fed through a pair of superchargers instead of a single one. Seen here is the Tipo B P3 which won the Monaco Grand Prix in 1932.
Racing in a class for Production Saloon Cars made between 1950 and 1967 was this Giulia Sprint GT. These cars are very popular among historic racers, which is one reason why the prices of all Giulia/GTV models has rocketed in recent years.
ALLARD
Allard Motor Company Limited was a London based low volume car manufacturer founded in 1945 by Sydney Allard, operating from small premises in south west London. Car manufacture almost ceased within a decade. It produced approximately 1900 cars before it became insolvent and ceased trading in 1958. Allards featured large American V8 engines in a light British chassis and body, giving a high power-to-weight ratio and foreshadowing the Sunbeam Tiger and AC Cobra of the early 1960s. Cobra designer Carroll Shelby and Chevrolet Corvette chief engineer Zora Arkus-Duntov both drove Allards in the early 1950s. One of the best known of these was the J2, a potent sports car and one of these was competing here.
Before the war, Allard had built a number of cars specifically to compete in Trials events – timed rally-like events on terrain almost impassable by wheeled vehicles. The first Allard was powered by a Ford flathead V8 in a body mostly sourced from a Bugatti racer. It used the American engine's high torque to great effect in slow-speed competition. Further Allards were soon built to order with a variety of large, Ford-sourced engines, including Lincoln-Zephyr V12 powerplants. By the outbreak of war in 1939 twelve Allard Specials had been built, and one of these, Chassis 11, was also taking part.
ALTA
One of the stars of the H&H auction, featured elsewhere in this report, was the 1938 Alta 62IS. A rare car by any standards, so it was quite a surprise to find a second one here, 61IS, taking part in the competitive aspect of the day. The brand goes back to 1931 when the Alta Car and Engineering Company Ltd. was formed by Geoffrey Taylor, then 27 years old and the owner of a small home-built sports car, the object being to build production versions of this car. Taylor had been earning a living doing contract machine work for the nearby ABC company close to where he lived in Kingston Hill, in SW London. Late in 1927 he began building himself a sports car, not only to his own design, but also of his own making, especially engine components such as crankshaft and connecting rods. His objective was an 1,100 c.c. car that was not only small and light but also ultra-low as he felt that most of the sports cars of those days were too high to achieve good handling. From the Rubery Owen catalogue of those days he selected a proprietary channel section chassis side-member design, which when turned upside down gave him what he was looking for. A pair of these side-members provided the basis for his car and the axles and springs were mounted above the chassis rails, instead of underneath in the more conventional manner. Half elliptic springs were used at the front and trailing quarter elliptic springs were used at the rear. The 4-cylinder engine was mounted equally low in the chassis and the finished car set new standards for the time. The engine was made in aluminium, with cast-iron wet cylinder liners and there were two overhead camshafts driven by a vertical shaft and skews gears from the rear of the crankshaft. Valves were at 90-degrees in the alloy cylinder head and seated on steel inserts. Bore and stroke were 60 x 95 mm, giving a capacity of 1,074 cc on a 7.6 to 1 compression ratio the power was said to be 49 bhp at 5,200 rpm. and the engine was safe to 6,200 rpm. All this work was done in the stable-block of the family home on Kingston Hill, using the minimum of machinery, enthusiasm and hard work making up for any lack of facilities. Having completed the car Taylor needed a name for it and he chose Alta, the name of a town in Alberta, Canada, which he had come across in a novel he had been reading, for no other reason that that it appealed to him. This first Alta was registered in November 1928. It was given the Surrey number PK 4053, and was soon a familiar sight around the neighbourhood and it made its debut in competitions, for this was one of Geoffrey Taylor's aims, in the London-Land's End trial of 1930. in which it achieved a Bronze Medal. The following year it competed again in the London-Land's End Trial and this time netted a Silver Medal. By this time Taylor was all set to begin producing further examples of his "prototype" and had registered the "Alta Car and Engineering Company Ltd.", in January of 1931 with a share capital of 1,000 shares all owned by Taylor himself. Dissatisfied with local contractors' ideas about building him a factory on a piece of land he owned at Tolworth on the Kingston bypass he got stuck in and built his own factory for a fraction of the cost and in a fraction of the time and in April 1931 he was able to announce in the motoring press that the 1,100 c.c. Alta sports car was available for £350. Like many small motor manufacturers Taylor was averse to numbering his first production car as No.1, at he considered his owned car. PK 4053, as the prototype and started at 10. This meant that the first production car was No.11, completed during the summer of 1931 and sold to a Mr. Last of Littlehampton. It had a short life for in the diary of the works manager, H. J. Griffiths, there is a note which reads ". . . completely smashed and written-off. Feb. 1932". Meanwhile PK4053 was still in regular use by Geoffrey Taylor and was used for publicity and advertising purposes, as well as for experimental work and as a general works hack. The second production car to be built was No.12 and this was delivered to the Viscount Curzon in December 1931 and was registered GTI617. The works notebook mentions that an allowance of £120 was made on an MG and £140 on a Morris Cowley coupe, taken in part-exchange, the MG later being sold at a profit and the Morris Cowley at a loss! Viscount Curzon subsequently became The Rt. Hon. The Earl Howe, and was to become Patron of the Alta Register. Number 13 was an engine sold to Ron Horton for his Henna Special, and this achieved the first competition success for the name Alta. It was fitted with an Amherst Villiers supercharger and set up a class record at Shelsley Walsh in 1932. Three more cars were completed and sold in 1932, one of which was a 4-seater model and two in 1933. Meanwhile Taylor was still running his own car and looking after his customers' cars as well at doing development work on the engines for a couple of people who were racing their cars. In 1934 the Scotsman A. J. Cormack bought Alta number 21S expressly for racing and at thc end of the season he set up a new lap record for 1,100 cc. cars on the Brooklands Mountain Circuit. In February 1935 Pete Whitehead took delivery of 245 and in May 1935 A. C. Lace bought 25R IS, these two cars being registered respectively, AER 884 and DPI 929, and both were used in all forms of racing. By this time Taylor was making his own Roots-type superchargers and all manner of improvements had been made to the engine. The skew gear drive to the camshafts had been replaced by a train of straight cut gears, but as these proved to be too noisy, they were replaced by single-roller chains. The original crash-type gearbox was replaced by an ENV pre-selector gearbox and all the modifications were first tried out on Taylor's own car, PK 4053. In addition he was developing a 1,500 cc version of the engine and in the middle of 1935 he built the first pure racing Alta, for A. J. Cormack. This followed the basic layout of the 1,100 cc cars, with underslung chassis frame, but the engine and gearbox was set slightly to the left no that the driving scat fitted between the right-hand chassis side-rail and the prop-shaft. By this time the 1,100 cc cars were no longer being built, and 25R1S was the last one. Twelve cars had been built, from No.11 to No.25, with three of the numbers being given to engines only. The new series of 1.5-litre "offset" racing cats started at No.52 and six of these were built, for Cormack (52S), R. R. Jackson (53S), J. P. Wakefield (560), J. H. Bartlett (570), Frank O'Boyle (58S), and Philip Jucker (59S). Two road-going sports cars were built in this seven, 54S for Dr. Williams, a supercharged 2-litre registered FF4515, which was subsequently re-registered E0Y8 and later still EVG436, ends supercharged 1,5-litre (550) registered DPG 167 for W. W. S. Bennett. It was now 1936 and the name Alta was becoming quite well known in British racing circles, and there had been one or two sorties out of the country into International events. Geoffrey Taylor was now more interested in racing than in production and the greater proportion of the factory effort went into competition activities, he himself becoming a well-known figure in sprints and speed trials, both in PK4053, continually up-rated with all the latest developments, and with the "offset" car which Taylor had bought. In 1937 there appeared an entirely new Alta racing car, No. 61IS, the letters denoting "Independent, Supercharged". This was a narrow single-seater with the driver positioned centrally over the prop-shaft and all-round independent suspension by a system of vertical sliders and coil springs. This was delivered to Philip Jucker on April 27th, 1937, hut sadly he killed himself in it a month later practising in the Isle of Man for the races at Douglas. The wreckage was rebuilt and sold to George Abecassis in 1938 and it became the most well-known Alta of them all. Painted silver with red wheels this car was raced extensively during 1938 and 1939 and while it did not win any major events, it was very successful in the smaller National events. At the time the ERAs and Maseratis were ruling the roost in 1.5-litre class racing, but Abccassis and the silver Alta not only stirred them up, but beat them a number of times at the Crystal Palace, Brooklands and in speed trials and hill-climbs. Two similar cars were built, one for Hugh Hunter and the other for Tony Beadle, the former being a 1.5-litre, the latter a 2-litre. Beadle's car, No. 67IS, was the ultimate pre-war Alta, with a tubular chassis frame, double-reduction gearing rear axle, giving a low prop-shaft line, and all the latest developments in engine, suspension and brakes. It was delivered in August 1938 and by mid-1939 Beadle was beginning to get to grips with the canard it was matching the works 2-litre ERA. But then the war put a stop to everything. In amongst the building of the single-seater cars Taylor was also building sports cars on the "offset" type of conventional chassis and as the war approached he was completing a new single-seater car with all-round independent suspension by torsion bars. To keep the business solvent the factory had been doing Government contract work on engineering, and marine development work on Ford VI engines, so that when war broke out the Alta Can and Engineering Co. Ltd. turned over fully to Government work. Between 1931 and 1939 Geoffrey Taylor and his small work-force had built twelve 1,100 cc cars, six "offset" racing cars, four pure single-seaters, and seven I .5/2-litre sports cars, a total of 29 cars, each one built by hand. In an article in the Scottish magazine Top Gear in 1954 it was stated that Taylor built 160 – which would seem hard to believe! Such is the imagination of the journalist. After the war Geoffrey Taylor was keen to get back into the racing game and announced a new Grand Prix Alta in November 1945, as it was pretty obvious that the racing revival would be centred around supercharged 1.5-litre cars. Post-war difficulties in the supply of materials delayed his new car until 1948, when GPI was delivered to George Abecassis. It was a neat single-seater with a tubular chassis following the lines of the 1939 cars, but suspension was by double-wishbones and rubber blocks in compression. The engine was an improved version of the pre-war 4-cylinder and Taylor built his own synchromesh 4-speed gearbox using some proprietary components. Although GPI showed some flashes of brilliance it was not a success, nor were GP2 (for Geoff Crossley, and GP3 (for Joe Kelly), though equally they were not total disasters, but they could not match the opposition from Alfa Romeo and Maserati. The 4-cylinder Alta engine in 2-litre form unsupercharged was taken up by Abecassis and his partner John Heath, to form the basis of their successful HWM cars, and Taylor redesigned his post-war Grand Prix car into a 2-litre unsupercharged car for the growing Formula 2 in 1952/53. Four of these Formula 2 cars were built and a fifth one remained on the stocks that was going to have a fully streamlined, totally enclosed body, but it was never finished. Alongside HWM the Connaught firm was expanding rapidly and they contracted Alta to supply 2.5-litre versions of the 4-cylinder engine for their B-series cars for Grand Prix racing in 1954. The famous victory by Tony Brooks at Siracusa in 1955, when he beat the works Maserati team, driving a Connaught started the rise of Great Britain in Formula 1 racing and the Connaught was powered by one of Geoffrey Taylor's Alta engines, whose origins go back to the home-built special he put into production in 1931. By 1956 Connaught were waning and Geoffrey Taylor's health was not of the best so after completing the last batch of 2-litre engines he closed down the Alta works at Fullers Way, Tolworth, Surrey. Sadly his health deteriorated and he died in 1969 at the age of 65. In the mid-1970s Geoffrey's son Mike resurrected the company in nearby Epsom, but it never really got going and it was but a brief flutter. The name of Alta may not have the aura of ERA, Maserati, Bugatti or Alfa Romeo, but none-the-less it holds an important niche in the history of British motor racing and was the result of the endeavours of one man.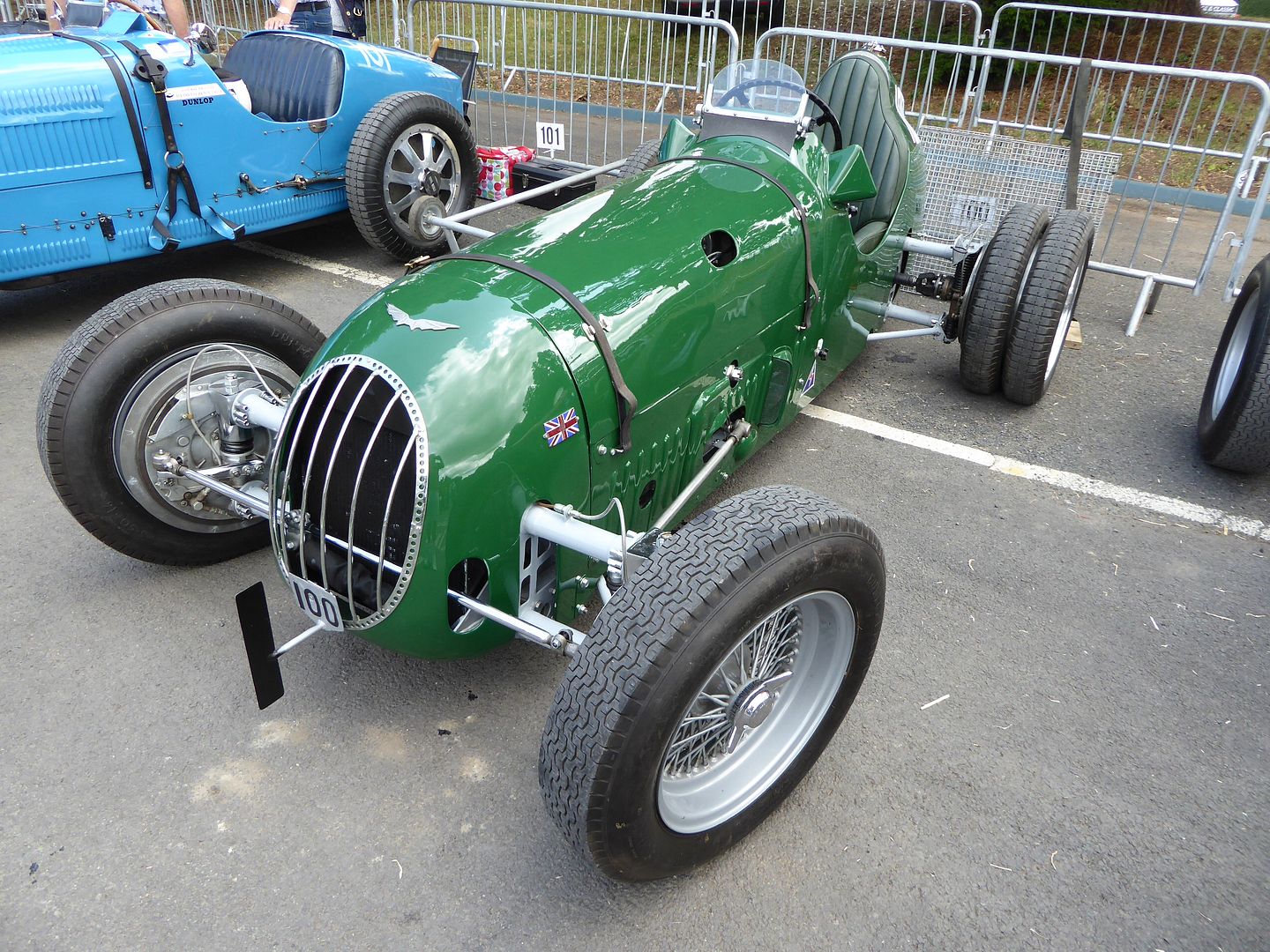 AMILCAR
In the quest for more speed in the 1920s, the sports car became ever more expensive, opening up a market for smaller and cheaper models, which whilst never likely to win the major sporting events outright were still going to be a lot of fun for their owners. Amilcar is one of the best known of the French marques that entered this market. Founded in July 1921 by Joseph Lamy and Emile Akar, the name "Amilcar" was an imperfect anagram of the partners' names. The original Amilcar was a small cyclecar. Designed by Jules Salomon and Edmond Moyet, it bore a striking resemblance to the pre-war Le Zèbre. The vehicle was first exhibited at the Paris Motor Show in October 1921. The business was a leading beneficiary of a cyclecar boom, prompted by a government initiative which held out the promise of a reduced rate of annual car tax, fixed at 100 francs per year, for powered vehicles weighing no more than 350 kg (dry weight, without fuel or water or such extras as a spare tyre/wheel), providing seating for no more than two people and powered by an engine of not more than 1100cc. Once a vehicle exceeded these limits it ceased to be a cyclecar and was instead officially designated a voiturette. The 4-cylinder 903cc Amilcar CC appeared in 1922, with a wheelbase of just 2,320 mm (91 in). The CC subsequently became available in two further versions; the Amilcar C4 was a slightly longer sports car, while the CS, introduced in 1924, was a brisker sports version with the engine size increased to 1004 cc. The side-valve engine had splash lubrication, and came with a three-speed gearbox. The most famous model of all was the CGS "Grand Sport" of 1924; this featured a 1074 cc engine and four-wheel brakes. This in turn evolved into the more sporty CGSS "Grand Sport Surbaissé". These models were built under license in Germany (as the Pluto) and in Austria (as the Grofri) and in Italy (as Amilcar Italiana). The marque entered automobile racing in the mid-1920s with a batch of supercharged dohc 1100cc six-cylinder cars that used a roller bearing crankshaft in the full racing version; these vehicles were also available with plain bearings, driven by famous race driver André Morel. From 1928 the company offered a light touring car; called the "M-Type", it featured a side-valve 1200 cc engine and was launched in 1928. It was followed by the M2, M3, and M4 versions. The M-type and its successors continued to be produced through the ensuing years of financial difficulty, offered for sale till 1935, though production probably ended in 1934. 1928 saw the introduction of a straight eight, which was built with an ohc 2.3-liter engine. This, the C8, proved unreliable, and soon disappeared with only a few hundred produced. At the end of August 1934, still faced with disappointing sales volumes, the factory at Saint-Denis closed for the last time, as management struggled to save the business. A new model was clearly needed and in October 1934 the company presented the new 2-litre (12CV) Amilcar Pégase powered by a 4-cylinder ohv 2150 cc engine supplied by Delahaye.]There was also a competition version of the Pégase with a 2490 cc (14CV) engine. By October 1935, the smaller Amilcar models having been discontinued, the Pégase, produced under much reduced circumstances at premises in Boulogne-Billancourt, was the only Amilcar model listed. Seen here was a CG5S model.
ASTON MARTIN
DB2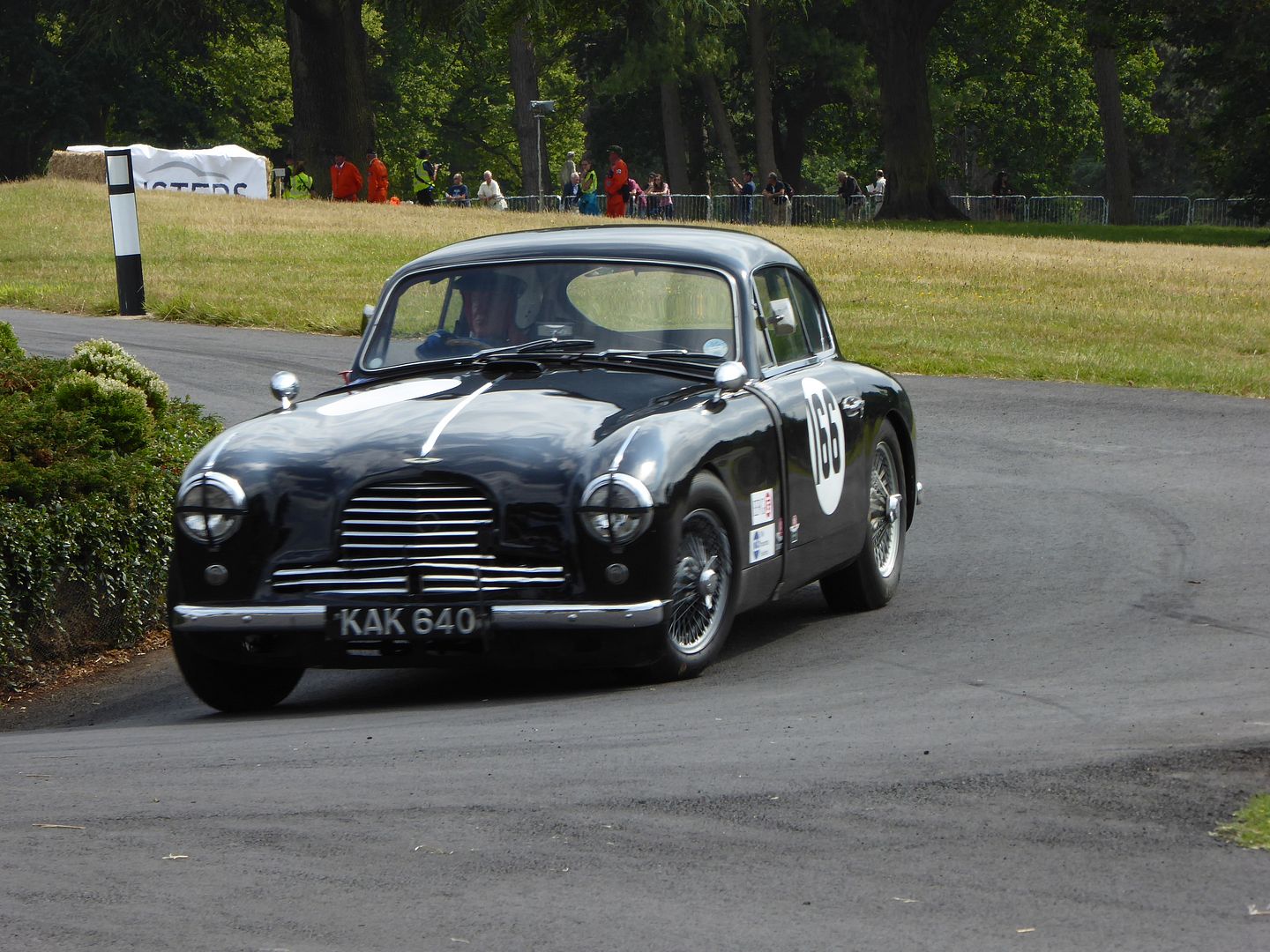 AUSTIN
It was not long after the launch of Austin's Seven in 1922 when enthusiasts started to see the potential for the car to be the basis for relatively cheap motorsport. The Longbridge factory themselves produced a number of sporting models, such as the Nippy and the Ulster, the latter being the car seen here, and then as the bodies of saloon models wore out, enthusiasts starting creating their own "Specials" using the proven chassis and tuning the engine for more power. Even today, Austin Seven based cars are popular in historic racing. Fast they are never going to be, but fun, you bet!
Entered into the Edwardian and Veteran car class was this Austin Hall Scott EB Mark IV, a car which I've seen many times at Prescott and Shelsley Walsh. Although it might look like it is a century old, the reality is that it is a much more recent creation. It is based on the chassis of a 1911 Austin, into which a Hall and Scott 10 litre 4 cylinder overhead cam engine has been installed. Elbert J. Hall and Bert C. Scott were Californians who subsequently contributed ideas for the WW1 Liberty engine. Their own designs of fours, sixes and eights shared many common components between them and featured a hemi-head that contributed to a good power-to-weight ratio for the time. But Hall-Scott later went into gasoline marine engines and never answered the challenge of the diesel engine until the sixties, when it was too late. Austins of the day were much bigger than the Seven, of course, and included a straight six boasting 9.7 litres. But that was a side-valve and wouldn't have the right amount of grunt, hence the decision to install an aero engine to create something rather special and unique.
BALLAMY
This is another regular at Prescott and Shelsley. A Ballamy Ford V8 Special, it was created by Leslie Ballamy in 1937, by taking a 1932 Model-18 frame, shortening it by 18 inches with split-axle independent suspension on the front which cuts the old Ford beam in half. The engine is a 1939 flathead and wheels are from 1935. The car was made for trials and hillclimbs but also raced at Brooklands pre-war. The current owner, Mark Brett, has been driving it since 1973 when his father found it.
BENTLEY
Six Bentleys were entered in the class for Standard and Modified Sports Cars Unsupercharged over 1500cc, a mix of 3 and 4.5 litre models
BUGATTI
There were several examples of the distinctive Type 13 Brescia taking part. The Type 13 was the first real Bugatti car. The Bugatti automobile had been prototyped as the Type 10 in Ettore Bugatti's basement in 1908 and 1909 while he was chief engineer at Deutz Gasmotoren Fabrik in Cologne, Germany. The Type 10 used a monobloc straight-four engine of Ettore's own design. it was an overhead cam unit with 2 valves per cylinder, highly advanced for the time. A very-undersquare design, it had a 60 mm bore and 100 mm stroke for a total of 1131 cc. This was attached to an open roadster body with solid axles front and rear. Leaf springs suspended the front with no suspension at all in the rear. Cables operated rear drum brakes. On ending his contract with Deutz, Ettore loaded his family into the Type 10 and headed to the Alsace region, then still part of the German Empire looking for a factory to begin producing cars of his own. After World War I, Alsace became a part of France again, of course. The prototype car was preserved and nicknamed "la baignoire" ("the bathtub") by the staff at Molsheim in later years due to its shape. Ettore restored it in 1939 and repainted it an orange-red color, earning it a new nickname, "le homard" ("the lobster"). It was moved to Bordeaux for the duration of World War II and remained there for decades before falling into private ownership. Today, the car is in California in the hands of a private collector. Upon starting operations at his new factory in Molsheim, Bugatti refined his light shaft-driven car into the Type 13 racer. This included boring the engine out to 65 mm for a total of 1368 cc.  A major advance was the 4-valve head Bugatti designed — one of the first of its type ever conceived. Power output with dual Zenith Carburettors reached 30 hp at 4500 rpm, more than adequate for the 660 lb (300 kg) car. Leaf springs were now fitted all around, and the car rode on a roughly 79 in wheelbase. The new company produced five examples in 1910, and entered the French Grand Prix at Le Mans in 1911. The tiny Bugatti looked out of place at the race, but calmly took second place after seven hours of racing. World War I caused production to halt in the disputed region. Ettore took two completed Type 13 cars with him to Milan for the duration of the war, leaving the parts for three more buried near the factory. After the war, Bugatti returned, unearthed the parts, and prepared five Type 13s for racing. By the time production of the model ceased in 1920, 435 examples had been produced and the model had also formed the basis of the later Types 15, 17, 22, and 23.  Most of the road cars used an 8-valve engine, though five Type 13 racers had 16-valve heads, one of the first ever produced. The road cars became known as "pur-sang" ("thoroughbred") in keeping with Ettore Bugatti's feelings for his designs. The car was brought back after World War I with multi-valve engines to bring fame to the marque at Brescia, which is why the model is often referred to as a Brescia Bugatti. The production "Brescia Tourer" also brought in much-needed cash.
Also well known as a model, indeed many would tell you that this is THE classic Bugatti, is the Type 35 and there were three of these models entered: a pair of Type 35B and a single Type 35C. The Type 35 was phenomenally successful, winning over 1,000 races in its time. It took the Grand Prix World Championship in 1926 after winning 351 races and setting 47 records in the two prior years. At its height, Type 35s averaged 14 race wins per week. Bugatti won the Targa Florio for five consecutive years, from 1925 through 1929, with the Type 35. The original model, introduced at the Grand Prix of Lyon on August 3, 1924, used an evolution of the 3-valve 1991 cc overhead cam straight-8 engine first seen on the Type 29. Bore was 60 mm and stroke was 88 mm as on many previous Bugatti models. 96 examples were produced. This new powerplant featured five main bearings with an unusual ball bearing system. This allowed the engine to rev to 6000 rpm, and 90 hp was reliably produced. Solid axles with leaf springs were used front and rear, and drum brakes at back, operated by cables, were specified. Alloy wheels were a novelty, as was the hollow front axle for reduced unsprung weight. A second feature of the Type 35 that was to become a Bugatti trademark was passing the springs through the front axle rather than simply U-bolting them together as was done on their earlier cars. A less expensive version of the Type 35 appeared in May, 1925. The factory's Type 35A name was ignored by the public, who nicknamed it "Tecla" after a famous maker of imitation jewellery. The Tecla's engine used three plain bearings, smaller valves, and coil ignition like the Type 30. While this decreased maintenance requirements, it also reduced output. 139 of the Type 35As were sold. The Type 35C featured a Roots supercharger, despite Ettore Bugatti's disdain for forced induction. Output was nearly 128 hp with a single Zenith carburettor. Type 35Cs won the French Grand Prix at Saint-Gaudens in 1928, and at Pau in 1930. Fifty examples left the factory. The final version of the Type 35 series was the Type 35B of 1927. Originally named Type 35TC, it shared the 2.3 litre engine of the Type 35T but added a large supercharger like the Type 35C. Output was 138 hp, and 45 examples were made. A British Racing Green Type 35B driven by William Grover-Williams won the 1929 French Grand Prix at Le Mans.
The Type 35 chassis and body were reused on the Type 37 sports car. Fitted with a new 1496 cc straight-4 engine, 290 Type 37s were built. This engine was an SOHC 3-valve design and produced 60 hp The same engine went on to be used in the Type 40. There was also one Type 37 entered.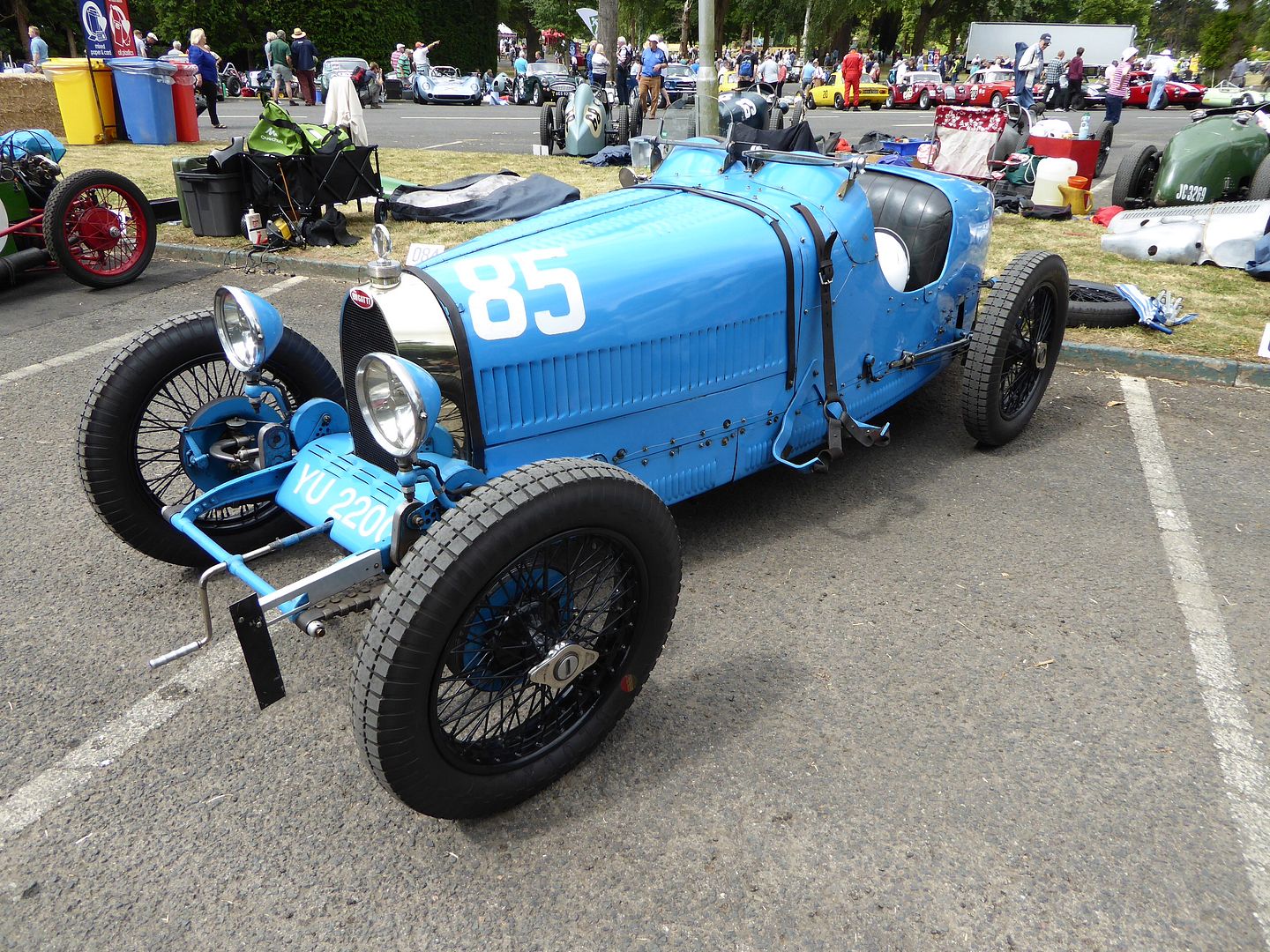 CHAPMAN-MERCURY
The 1956 Chapman Mercury III (CMIII) was built by a self-taught mechanic almost 60 years ago. It was taking part here driven by Oliver Tomlin, the grandson of its original creator and driver. The CMIII was built by motor racing enthusiast Phil Chapman. He longed for a car he could both drive on the road and race at weekends, but as he couldn't afford the price tag of a performance car, he decided to build his own. Working with minimal tools and facilities, Phil designed and made the first incarnation of the Mercury – CMI – in a corrugated-iron shed in the late 1940s. CMIII was the third incarnation of Phil's dream, designed from the inside out, starting with sketches of the chassis in chalk on the garage floor. From there, Phil cut and welded the tubing and built the fibreglass mould for the body, no mean feat in the early fifties! The finished CMIII was a resounding success and allowed Phil to realise his dream of competing in hill climbs and sprints throughout the late fifties and early sixties. He won numerous awards and raced at the original Chateau Impney sprint events. Phil ran CMIII until 1964, when he reluctantly sold it to fund his next project, having dreamed up a new car – the CMIV – with his own four-wheel-drive system. Phil bought back the CMIII, in the late 1970s, rebuilt it and returned to hill climbing. This time he shared competitions with his daughter, Oliver's mother, Sandra Tomlin, who had caught the hill climb bug from accompanying her father to events as a child. Sandra graduated to driving single-seater hill climb cars and held numerous ladies' records, including at Wiscombe, Gurston, Prescott, Shelsley Walsh, Loton Park and Harewood, between 1999 and 2014. As Phil grew older, he decided to withdraw from the sport altogether and loaned the car to the next generation of the family – his grandson, Oliver. Phil died in 2011, but his competitive genes and the car have continued to thrive. Today his daughter Sandra, and her children Oliver, 39, and Amy, 36, regularly compete at hill climb events across the country, with Oliver proudly driving his grandfather's Chapman Mercury III.
CHEVRON
There were two examples of the Chevron B8 competing here. This is a marque which has celebrated its 50th anniversary during 2015.  Founded by Englishman Derek Bennett in 1965, the company became particularly renowned for their sports racing cars producing quite a number of different designs in the following years, though they struggled after Bennett's death in a hang gliding accident in 1978. Many of the GTs and single seaters which they produced acquired an almost cult-like following, and plenty of them were driven by well-known drivers starting off their careers. .A GT in fixed-head and open form, the B8 was homologated in 1968 as a Group 4 car. 44 examples were made, of which 35 used BMW engines. A third example of the B8 was here, offered in the H&H Auction.
CONNAUGHT
This is the 4th of 6 Connaught L2 models, dating from 1948. The history of the model goes back a couple of years before that. Opening for business in late 1946, Continental Cars Ltd was run by ex-RAF pilots Rodney Clarke and Mike Oliver (the former a graduate of the Chelsea College of Automobile & Aircraft Engineering). Based at Send in Surrey, the pair soon acquired an enviable reputation for taming pre-war GP machinery. Thus, it was not long before construction magnate Kenneth McAlpine's ex-Whitney Straight Maserati 8CM was being given the 'Continental' treatment. Suitably impressed by Clarke and Oliver's fettling wizardry and conscious that the duo had begun to produce designs in their own right, McAlpine offered his services as a financial backer. First fruit of this high-octane trinity was the Connaught L2 sports racing car. Based on heavily uprated Lea-Francis running gear (Oliver coaxing an extra 32bhp out of a standard Lea-Francis 1767cc engine) and clothed in light, all-enveloping aluminium bodywork by Leacroft of Egham, the streamlined racer's excellent handling and performance belied its humble origins. Debuting at Prescott on June 12th 1949, the L2 proved an immediate success with McAlpine winning the 3-litre unsupercharged sports car class. Coming first and second respectively during the opening Handicap race of the August 13th Goodwood Members' meeting, the L2s of Clarke and McAlpine swapped positions for the subsequent Blandford event where McAlpine took the chequered flag at an average speed of 73.74mph. With the first three chassis 'MPH 329', 'MPH 995' and 'MPH 996' busy collecting silverware, it was not long before the L-series went into limited production. Built to Clarke's exacting standards, each one was thoroughly tested prior to delivery as employee C.E. Johnson later recalled: "Mike Oliver would take a car out on the A3 and drive back to Ripley flat out (which could be anything up to 120mph) and if he had no problem staying on his own side, the car was satisfactory". The fourth of just six beam-axle L2s produced, 'AHC 82' also has the distinction of being the first privateer car. Delivered to the 'Works' on 30th June 1948, chassis number 7004 was not road registered until 9th November 1949. Equipped with well-damped leaf-sprung suspension, a four-speed manual gearbox and powerful finned drum brakes, it was campaigned extensively in the UK by first and second owners P.L. Jonas and E.N. Petch before passing to Dr Arthur Goldthorpe in 1952. Like his predecessors, Goldthorpe raced 'AHC 82' at Goodwood. Competing wheel-to-wheel against the likes of Frazer-Nash Bristols, BMW 328s and Healey Silverstones, it was not long before the doctor sought a performance advantage. Approaching Lea-Francis directly, he was able to acquire and fit a 2.5 litre four-cylinder engine as found in their contemporary Sports models. Imbued with notably more power and torque (the factory claimed 125bhp @ 5,000rpm and 150 lb/ft of torque in standard tune), 'AHC 82' embarked upon a busy 1953 season tackling a variety of sprint, hillclimb and track events. Participating at no less than three Goodwood meetings that year, the diminutive Connaught seems to have left quite an impression on Goldthorpe to the extent that he later had it modified into a more practical 2+2 seater. Reputedly sold via Performance Cars in 1958, 'AHC 82' was subsequently run by the likes of John Whiffen, Anthony Miller, Massimo Corona, Jeremy Broad and Graeme Simpson (the latter pair using it during the early days of the Griffiths Formula). Purchased by Karl Ludvigsen in 1968, the car was later exported to America where its new keeper used it for touring and racing duties (including outings at Watkins Glen!). Repatriated in the 1970s when Ludvigsen joined Ford, 'AHC 82' was put to one side awaiting restoration. Still untouched a decade later, it was bought by renowned enthusiast Duncan Rabagliati. In his keeping for nearly twenty years, its rebuild was entrusted to Barry Price of Lea-Francis Cars Ltd and Peter Lander of Sigma Engineering, Dorset. With bills totalling approximately £40,000, 'AHC 82' returned to the road in July 1999. Entering the current ownership some three years ago, it has since reverted to its original two-seater configuration and been "fitted with full / correct instrumentation". The Connaught finished second in class on the 2005 Welsh Historic Trial. It was put up for sale in 2006, and has been used quite extensively since that time, now in the hands of Paul & Jill Lovett. It was Jill who drove it at this event.
CREAMER
Claiming victory in the class for under 500cc Racing Cars was Mark Riley in this Creamer Special. A vast number of different cars were built to compete in this class in the post war period. Syd Creamer was a Jaguar dealer from Kensington in central London. He made or modified a total of five cars, featuring space frame chassis and a variety of suspension arrangements. The first had twin trailing arms which were sprung from flat laminated springs secured in the centre of the frame. It was too heavy and the geometry was poor.  The second car was more conventional with double wishbones on all for wheels and coil springs. The third car, of which three examples were made, had a forward seating position, coil and double wishbone front suspension and de Dion rear, sprung by rubber bands. Syd also built the chassis of the Smith III, one or more chassis for Don Parker and a modified Kieft. Syd had some respectable results including second in his heat for the Easter 20 at Brands in April 1953 and fourth in the Junior Race in May. In 1954 he took a win in the JAP Race at Brands on Whit-Monday, fourth in his heat of the International Race in August and fifth in the Open Challenge Heat and second in the Junior Heat in October. At Brands in December Syd won the Yuletide Trophy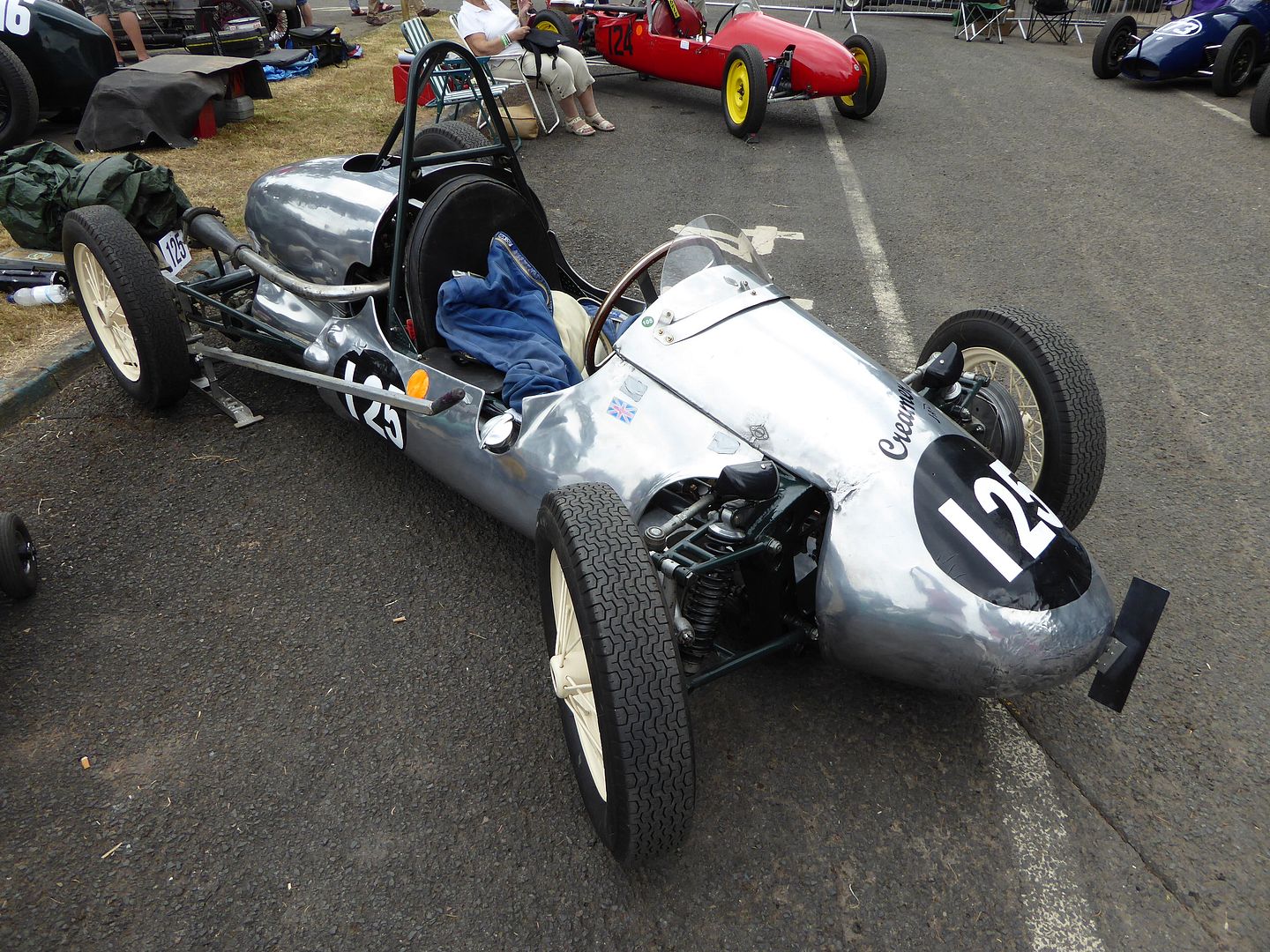 DARRACQ
Fastest of the Edwardian and Veterans was Mark Walker in this 200 HP model, dating from 1905, proving that the car with the biggest engine will not necessarily win the race, as this was the earliest car in the class, and with far from the largest motor to power it. This is a historically significant car, as it is powered by the first true example of a V8 engine to be seen on either side of the Atlantic, and it was the first petrol car to travel at two miles a minute. Built in France with the sole aim of breaking speed records, it was shipped to the United States soon after its debut to show its prowess and made its first 120-mph run at America's birthplace of speed, the Ormond-Daytona Beach in Florida. Alexandre Darracq had made his fortune in the cycle industry before building his first car under his 'Gladiator' marque in 1895, but sold out to an English syndicate headed by Terah Hooley and Harry Lawson in 1896 and formed A. Darracq & Cie the following year. Real success came in 1900 with a 6.5-hp single-cylinder car designed by Paul Ribeyrolles, a graduate of the Arts et Métiers college at Chalons-sur-Marne. The Darracq company was acquired by an English financial grouping in 1903, which left Alexandre Darracq in charge. He decided to publicise the company by racing powerful racing cars but concentrating on the manufacture of small and medium-sized automobiles particularly aimed at the British market. These were all the work of Ribeyrolles, described by that doyen of Continental correspondents W.F.Bradley as 'a born engineer who had a tiny drawing office overlooking the main machine shop'. Darracq's policy of promoting the marque in competition moved into high gear with an all-out assault on the Gordon Bennett Cup in 1904, dodging the rule restricting each competing country to an entry of three cars by having 11.25-litre four-cylinder cars designed by Ribeyrolles built in Germany as Opels and in Great Britain as Weir-Darracqs, a ploy which sadly failed to bring results. However, one of the Weir-Darracqs was acquired by Algernon Lee Guinness, who, with his younger brother Kenelm ('Bill'), was building up a stable of fast racing cars at his home at Windsor, and completely reconstructed by his mechanics Harold Cook and Davy Cleghorn (who had come from Weir's with the car), to such good effect that it proved one of the fastest cars in the eliminating trials to choose the British team for the 1905 Gordon Bennett race before piston failure put it out of contention. Meanwhile, Paul Ribeyrolles was intent on building the fastest car in the world, following a policy colourfully described by the Guinness's good friend and business partner H.W. ('Bill') Bunbury as 'putting large engines into the lightest possible chassis; in search of what we now call today better power to weight ratio… he stripped his cars of every possible trapping, leaving the bare necessities to make the wheels go round, and to stop the car, otherwise stark naked, showing everything they had got, with not even a bikini to hide their nakedness…' The first fruit of this policy was a 100-hp car with 'an engine of 190 bore, put into a very flimsy chassis with just two bucket seats' with which works driver Paul Baras set a new world speed record of 104.5 mph for the flying kilometre, and which was then bought by Algy Lee Guinness. Ribeyrolles then set to work developing an even faster sprint car and in order to obtain maximum power for minimum weight hit upon the brilliant idea of mounting eight cylinders in a 90-degree vee configuration on a common crankcase, using forked conrods to enable two opposed cylinders to be served from one crankshaft throw. He used four sets of pair-cast cylinders of the Gordon Bennett pattern, bored out to 170mm, giving a total swept volume of 25,422 cc, set low in an Arbel pressed steel chassis. A two-speed rear axle was fitted, with a short gear lever placed between the driver's legs; there was neither reverse gear nor differential. A vee-shaped Grouvel & Arquembourg radiator was supplemented by a projectile-shaped water tank above the cylinders. Weighing in at just 900 kg (1982 lb), the new 200-hp Darracq was completed on 28 December 1905 and was immediately taken south to Provence to be tested on the classic speed road that ran arrow-straight for over nine miles across the plain of Le Crau, between Salon-de-Provence and St Martin de Crau (the modern N113). On Saturday 30 December, Darracq's leading driver Victor Hemery – who had already won the Circuit des Ardennes and Vanderbilt Cup during 1905 – made four timed runs on the Salon road, observed by the official timekeepers of the Automobile Club de France, MM Gaudichard and Hunziker, and the president of the Automobile Club de Salon, M Bertin. His times were remarkably consistent: with one run in 21.8 sec and one in 20.8 sec, twice he covered the flying kilometre in 20.6 sec, a speed of 175 km/h (109.65 mph), faster than the fastest express train, making the Darracq the fastest vehicle on earth and beating the existing speed record by almost 5 mph. Gasped L. Gerard, who reported the car's speed run for La Vie Automobile: 'Can you imagine what that frightening speed of 5 metres a second [110 mph] must be like? No? Well, it's that of hurricanes that flatten houses and trees, of tempests that exert the formidable pressure of 300 kg per square metre on the surfaces that they meet… this time, without any exaggeration, the car has beaten the train…'The mercurial Hemery grumbled that the very cold weather had adversely affected the carburation, and declared that the car would be even faster in finer weather. Three weeks later, he was given the opportunity to prove his assertion when he and the 200-hp Darracq formed part of a four-car team competing in the fourth annual Ormond-Daytona Beach Automobile Races. However, while three of the cars successfully passed the weight test for the event, the fourth was ruled to be too heavy and thus ineligible for the lightweight class. Hemery protested the decision, and when he was over-ruled, had all four cars hauled back to the garage at Ormond. Charles Cooke, Darracq's American distributor, declared that all four cars would race, whether Hemery agreed or not. Then it was found that the car that had been declared overweight could be lightened enough to comply with the regulations and Hemery relented and decided to compete after all. But then he fell out with the judges again when it was declared that he had made a false start in a race against Fred Marriott's streamlined Stanley Steamer and a 110-hp FIAT, and was barred from the event. Declared Motor Age in its issue of 25 January 1906: 'Hemery, successor to the great Théry, has been given a taste of American discipline, which will do his peppery temper good. He had a close call yesterday from being set down, and this was not enough for him, for he broke loose again today and got what was coming to him and he got is good and plenty, nothing less than disqualification for the entire meeting for refusing to obey orders.' Charles Cooke was given full control of the four Darracqs and Louis Chevrolet drove the 200-hp to a new world one-mile record for petrol cars of 30.6 sec (Marriott had just set a steam car record of 28.2 sec, equivalent to 127.66 mph). Then on the last day of the race, Cooke put Darracq's No 2 driver Victor Demogeot in the 200-hp. Matched against the Stanley in a 2-mile race, Demogeot riposted to a time of 59.6 sec by Marriott with a run in 58.8 sec, or 122.5 mph and was crowned 'Speed King of the World' by 14-year-old Mary Simrall, 'the prettiest girl in Florida'. Then, recalled Bill Bunbury, 'the 200 returned to the Darracq works at Suresnes, and Algy travelled one day [in May]. After a terrifying trial run round and about the works conducted by Hemery and a bit of haggling, he bought the car for what was a very reasonable figure [and] brought it to Windsor.' On 14 July Algy Lee Guinness competed in the Ostend speed trials in Belgium with the 200-hp Darracq and set a new European flying kilometre record of 117.7 mph, covering the distance in just 19 seconds. Three days later the Darracq was 'first of the big speed cars in the Circuit du Littoral'. The Darracq was scheduled to race against formidable opposition, including the Maharajah of Tikari's 130-hp De Dietrich and Cecil Edge's 90-hp Napier, during the Notts AC's annual race meeting on Skegness Sands on 8 September, but the deteriorating condition of the course meant that these fast cars only made demonstration runs. But a week later the Darracq covered itself in glory at the race meeting organised along the Blackpool Promenade by the Blackpool & Fylde Motor Club, winning silver cups for setting new world records for the standing kilometre (32.4 sec) and standing mile (45.6 sec), and also created a British flying kilometre record of 21.0 sec (106.52 mph). On 21 October Algy Lee Guinness took the 200-hp Darracq back to France and set a new world record for the flying kilometre of 20.0 sec, equivalent to 180 km/h (111.8 mph) at the Dourdan speed meeting. A week later he drove the car at Gaillon, and climbed the famous La Barbe hill in 25 seconds, averaging 144 km/h. Around this time the Guinness brothers and Bill Bunbury set up a business in an old farmhouse at Datchet to manufacture an ignition device known as the Hi-Lo and to operate as a garage and repair business, tuning people's cars for the newly-opened Brooklands track. The 200-hp Darracq was still very competitive, and was tuned for maximum speed, with the addition of forced lubrication with drilled crankshaft and conrods and a pump chain driven from the front end of the crankshaft, a high-tension magneto instead of the low-tension ignition and a supplementary lightweight radiator. The car was tested on the open road over Hartford Bridge Flats in Surrey. Recalled Bill Bunbury: 'It was towed there at night, and we used to time our arrival so as to get the first run in soon after dawn. Other cars brought materials and mechanics and were also used as patrols. We had no trouble from the police, however; the noise could not have disturbed many people. Actually the police used to ask when we should be there, for they loved to look on – unofficially.' 'It was a thrilling sight to see the 200 approaching, thundering down the road, stabs of flame coming from the stub exhaust pipes, the two occupants crouching down on the car and a great plume of dust following behind… I was very lucky to have a few runs on the Flats with Algy, and can say without question they were the biggest thrills I ever experienced on any car, including the big Benz on Brooklands with Hornsted. 'I will try and give some idea of what a run on the 200 felt like. Firstly the bucket seat was more bucket than seat – one seemed to be sitting on it, not in it. There being no floorboards, one's feet had to be braced against a cross member of the frame, the right arm stretched out behind Algy gripping the flange at the end of the petrol tank, the left hand engaged with the air pressure pump. Failure to keep up the pressure was a short jump off murder in Algy's opinion! And so you started. Up to about 40 mph the car seemed to be devoid of any springs at all, and one felt shaken to pieces. That period lasted a very few seconds, after which, when on full throttle, the car was not unduly uncomfortable as far as springing went, but the air pressure on one's body was terrific. Remember that the seats were well perched up with absolutely no protection, which made one hang on for dear life. 'I remember glancing down between my legs one day, and to see the road passing in one grey-coloured ribbon within inches of one's anatomy made me very hastily look up, but with ugly thoughts of what would happen supposing one's foot slipped off the cross member!' Added H.J. Needham, who subsequently joined the trio in the garage at Datchet: 'One day somebody bet Algy he would not drive over to Maidenhead and back on the "200". Needless to say, it was a foregone conclusion. The following Sunday, a lovely hot Summer's day, Algy and "Snowball" Whitehead, attired in white flannels, blue "reefer" coats, and straw boaters, fixed themselves firmly in the two bucket seats of the "200", all hands turned out to push, and with a roar and a sheet of flame from the eight stubby open exhausts, and in a cloud of dust, off she went up our lane. "Snowball" was hanging on like grim death to his seat with one hand (when it was not pumping pressure into the brass cylindrical petrol tank mounted behind the seat) and to the two straw hats with the other! The car had only two speeds forward and NO reverse, was unlicensed, and had no number plates attached! 'Algy duly arrived at Maidenhead, turned into the entrance of Skindle's Hotel and out again and left into the Bath Road, and drove straight back to Datchet without stopping. By some miracle, no policeman seemed to have seen (or heard!) them, and nothing was ever heard in the way of complaint. The "Gents' Straw Boaters" were donned for the last few hundred yards to and from Skindles, and Algy and "Snowball" were bowing left and right to the youth and beauty of Maidenhead like royalty!' June 1907 saw more successes for the big Darracq. On 16 June it set a new standing kilometre record at Schveningen (Hague), and the following week at the Saltburn speed trials, on 22 June, Algy Lee Guinness set a new Yorkshire record for the flying kilometre of 111.84 mph 'over sands awash with water from the heavy rains'. On 20 September the 200-hp Darracq was taken to the newly opened Brooklands track where it was demonstrated to an American enthusiast named Dugald Ross, who had offered to buy the car for £2000, provided that it could reach a speed of 100 mph. Though Algy Lee Guinness made two runs of 112.2 mph and 115.4 mph, the sale fell through, apparently because Ross was 'too frightened to complete the £2000 deal'. Indeed, Algy Lee Guinness continued to compete with the mighty Darracq at Saltburn during the following two seasons, and on 28 June 1908 he announced that he would not only attempt to beat the national record that he had set the previous year but would try and establish a world record, too. On his second attempt on the flying kilometre he recorded a speed of 121.57 mph to equal the existing world record and set a new British & European record. The event was captured in a dramatic painting – illustrated here – by Autocar artist Frederick Gordon Crosby, which created the legend that 'yards of flame' poured from the stub exhausts of the eight-cylinder engine, 'imperilling the trousers of "Bill" Lee Guinness, acting mechanic, who had to hold two chronometers all the time'. The Darracq made one final appearance at Saltburn on 26 June 1909, where it recorded fastest time of the day by covering the flying kilometre at 120.25 mph and averaging 118.09 mph over the four runs it made that day. That was, it seems, the end of the Darracq's competitive career, but it remained in the garage at Datchet until the business closed down, when it was sold. It apparently fell into the hands of a dealer who we understand scrapped the axles and front and rear of the chassis and just retained the power unit in the remaining chassis channels. "Some time later," noted Bunbury, 'Algy managed to lay hands on the engine, which remained in his workshop for the rest of his life.' When Algy Lee Guinness died in 1954, his widow was determined that the engine should go to a good home. She canvassed expert opinion and the name of Gerald Firkins, who already owned a 1914 16-hp Darracq, was put forward. He already knew of the car and was able to purchase the engine, still mounted with part of the original chassis, from the family in 1956. He eventually decided to recreate the 200-hp racer, and a slow and painstaking restoration began, using period Darracq components wherever possible, for the car had originally used a production chassis. When the engine was dismantled, it was found to be in surprisingly good condition. Measurements proved that its swept volume, long believed to be 22.5 litres, was actually 25.5 litres. The original crankshaft, con-rods and camshaft were retained, but eight new pistons were cast in 1991, as one of the original 6.7 in diameter cast iron pistons was found to be cracked, apparently a legacy of its final run at Saltburn. The long-lost two-speed rear axle had to be recreated, for it had no production equivalent: fortunately a drawing of this component was found in a 90-year-old book, which enabled an accurate replica to be made. The rebuild was advanced enough for the car to be shown as a static exhibit at Shelsley Walsh, Brooklands and Goodwood in 2004-5, and it was virtually finished in time for its centenary on 30 December 2005. It was shown at Retromobile in Paris in February 2006, and was fired up for the first time in 97 years on 1 April 2006, making its first public run on the long drive of Madresfield Court in Worcestershire on 4 July 2006. It fetched just under £200,000 at auction that summer. Since then, it has been seen regularly at VSCC and other events.
ELVA
This Elva 100 was produced in 1959 by the British concern to compete in the then new Formula Junior. Launched in 1958 as a replacement for the 500cc F3 cars, Formula Junior (FJ) helped formulate the careers of many top drivers, including future world champions Jim Clark, John Surtees and Jochen Rindt. The brainchild of the Italian Count 'Johnny' Lurani, it ran until 1963, providing fun, close racing for hundreds of drivers from Estonia to Australia and Macau to Cuba, and spanned the revolution from front to rear-engined single-seaters. Thanks to their robust nature and the stalwart support of people like Formula Junior Racing Association (FJRA) Co-ordinator Duncan Rabagliati, FJs these days star at such blue riband events as the Goodwood Revival and Silverstone Classic, while the formula's Golden Jubilee featured a series of races all over the world. Elva Cars (the name is a corruption of 'elle va') was formed by Frank Nichols in 1955 at Bexhill, and the front-engined Elva 100 was the first mass-produced British FJ car and led the trend towards UK rather than Italian domination of the category. The 100 was powered by either a DKW two-stroke engine or BMC A-Series unit.
ERA
There was a big turnout of ERA cars here, with 8 cars entered. Had I realised that Guy Spollon, whose family owns Chateau Impney is not just the son of Bruce who raced ERA R8C for many years, but also the Chairman of the ERA Club, then perhaps I should not have been so surprised. Anyway, I was delighted, as these cars are utterly fabulous and I love seeing them, hearing them and watching them in action. I researched and reported on the history of this legendary British marque once before, having seen 11 of them at the VSCC Spring Start meeting at Silverstone in April 2014, when the 80th anniversary of the creation of ERA was being marked, and at the time I opined that it would be unlikely ever to see so many in one place again. That number was not quite equalled here, with 8 in the Paddock and on the track, and a further car in the concours, which was very special, too, so, here, for those who missed it, is some history. ERA was founded by Humphrey Cook, Raymond Mays, and Peter Berthon in November 1933 and established in Bourne, Lincolnshire, next to Eastgate House, the family home of Raymond Mays. Their ambition was to manufacture and campaign a team of single seater racing cars capable of upholding British prestige in Continental European racing. With the cost of competing in full Grand Prix racing prohibitive, ERA's efforts were targeted at the smaller voiturette—1500cc supercharged—class of motor racing, the Formula 2 equivalent of the day. Humphrey Cook financed the operation—using the wealth from the family drapery business, Cook, Son & Co., of St Paul's Churchyard, London. Peter Berthon was responsible for the overall design of the cars, while Raymond Mays became its principal driver, having already successfully raced several other makes including Vauxhall, Bugatti and Riley. A new chassis was conceived by British designer Reid Railton (who had also successfully designed the Bluebird land speed record cars for Malcolm Campbell) and was constructed by Thomson & Taylor at Brooklands. The engine was based on the well proven Riley 6-cylinder unit, albeit this was modified in a number of significant ways. A stronger forged crankshaft with a large centre Hyatt roller bearing was made and an entirely new aluminium cylinder head designed. The engine was supercharged using a bespoke supercharger designed by Murray Jamieson who had worked with Mays & Berthon on the White Riley. The ERA engine was designed around three capacities—a base 1500cc, an 1100cc and also was capable of being expanded up to 2000 cc. It ran on methanol and in its 1500cc form was capable of producing around 180–200bhp with in excess of 250–275bhp in 2000cc form. The panel-beating brothers George and Jack Gray hand-fashioned the new car's single-seater bodywork, to a design credited to a Mr Piercy who had previously designed the bodywork for Malcolm Campbell's 'Bluebird' record breaker. The unveiling of the first ERA—chassis R1A—to the press and public took place at Brooklands on 22 May 1934. After initial chassis handling problems, which required a number of modifications, soon ERA had a winning formula. By the end of the year ERAs had scored notable victories against many more established marques. In 1935, in a major race at the Nürburgring, ERAs took first, third, fourth and fifth places. Through the remainder of the decade, with drivers of the calibre of Dick Seaman in the team, ERA dominated voiturette racing.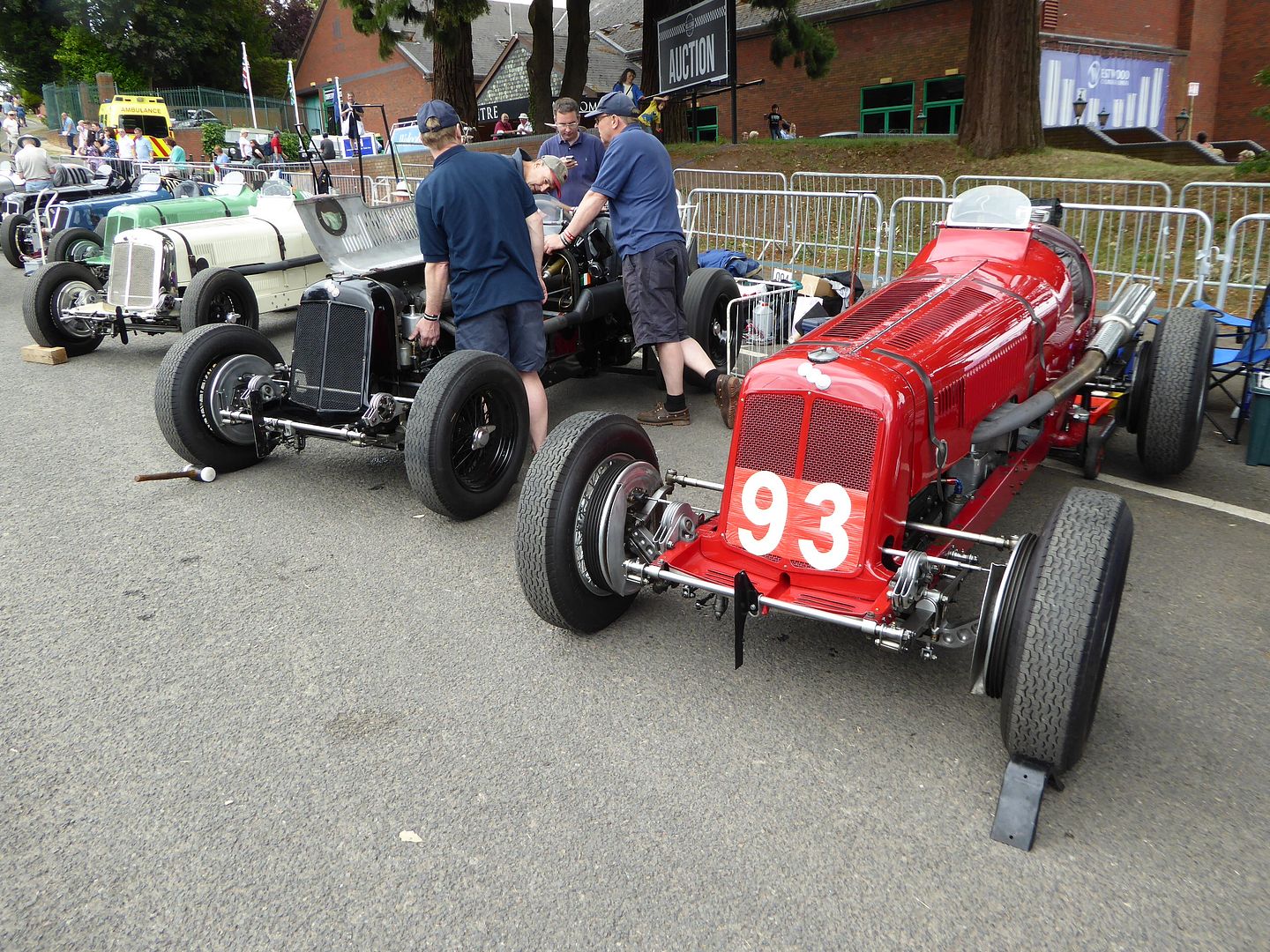 Every car that was built thereafter is different, so the cars are all referred to by their unique name. Initially a series of four A-Type ERAs, R1A through R4A, were built and raced by the works team in 1934 and 1935. For the first privateers, a slightly revised B-Type chassis featuring a more reliable engine became available in 1935. 13 of these cars were built, R1B through R14B. Chassis number 13 was not used for superstitious reasons. Two of the cars became particularly famous, acquiring nicknames as well. That came about as two Siamese princes, Chula Chakrabongse and Bira Birabongse, ran their own team, operating from The White Mouse Garage. Prince Chula owned the team, and initially he bought the car now known as Romulus as a present for his cousin, Prince Bira, who was the team's driver. In 1936, when another car was acquired, they named R2B, the first car they had, "Romulus" and the R5B, the new one,  "Remus" after the Roman Twins. Both were painted in their team colours of light blue with yellow wheels, a livery they wear to this day. Prince Bira won the Albi Grand Prix in what was otherwise an unsuccessful year in terms of the high standards expected by the "White Mouse" team. It is probably true to say that this duo are the most famous of all the ERAs. Whilst Romulus still lives in Thailand, "Remus" is resident in the UK. and can be seen in action quite frequently.
R3A was the works 2 litre built in 1934. Raymond Mays used this light green car until it was sold at the end of 1935. Mays used R3A to set the Outright World Standing Start kilometre record as well as success in circuit racing and hill climbs. In 1935 Mays won the Shelsley Walsh hill climb and with this car, Mays scored the team's first major international win at Germany's majestic Nurburgring using a 1,500cc. Voiturette engine. Other works drivers were Tim Rose-Richards and E. Von Delius. In 1936 it was owned for a time by L G Fontes before new owners Norman Black & Tom Wisdom used the car in 1,500cc. format. In 1937 Charlie Martin successfully campaigned the car across Europe including a fine win in the Voiturette event supporting the German Grand Prix at Avus. In 1938, R3A was sold by garage owner J H Bartlett to Roy Hesketh, who took the car to his native South Africa and the following year, the car was placed fourth in both the South African GP and the Grosvenor GP. After buying the car in 1944 Basil Beall raced in South Africa in 1948-1952 and continued to own the car until his death in 1957. Last time I saw R3A was at that VSCC Silverstone meeting, where in 20 minutes of unforgettable action from all the ERAs present, this car won the race, piloted by well known classic car racer Mark Gillies, who had flown in from Florida just to take part. At this event, there was no such luck. Barrie Whizzo Williams was supposed to be driving it, but he was soon out of luck, as the car broke its transmission in practice.
R4A was built in 1935 as the first ERA customer car and run by the team for Pat Fairfield. Then white painted,  R4A was fitted with a 1,100cc. supercharged engine. Fairfield had wins in the Mannin Beg on the Isle of Man, the Nuffield Trophy at Donington Park and the Dieppe Grand Prix Voiturette race. In early 1936 Fairfield ran the car independently including a third place in his adopted South Africa. Back in England a 1,500cc. engine was fitted. Results included second in the British Empire Trophy at Donington Park. Later in 1936 R4A returned to works support and Fairfield scored a second at the Picardy Grand Prix. In 1937 R4A was used by Fairfield as a works driver. three wins in South Africa and a third at Donington Park. The 1938 R4A reverted to a 1,100cc. engine and was sold to Norman Wilson who raced in his native South African and elsewhere. Wilson lost his life serving in the South African Air Force during the Second World War. Reg Parnell took over R4A and after the war Bob and Joan Gerard gave the car a successful career in hill climbs. These days it is driven by Nick Topliss, and it is often to be seen at venues like Prescott and Shelsley. Nick came second in his class at this event, but was a full second and a half behind the class leader, in another ERA.
R4D is the last development of this classic voiturette racing car, the only D-Type ever built. Originating as R4B in 1935, the car was rebuilt as a C-Type by modifying the front end of the chassis frame to accommodate independent Porsche-type torsion bar front suspension. Over the winter of 1937-38 the car was given a completely new fully boxed frame, and was designated R4D. This was the first ERA to be fitted with a Zoller supercharger (in 1935), and R4D accumulated a formidable competition record in its various guises, finally being purchased from the works by Raymond Mays,  and running as a privately entered car in 1939. Mays set numerous pre-war records in R4D, including Prescott and Shelsley Walsh hill climbs, Brighton Sprints and Brooklands Mountain Circuit. Mays describes his history with the car in his book Split Second. After World War II R4D continued in active competition, but the demands on Mays's time created by the evolving BRM project meant he competed less frequently. In 1952 Mays sold R4D to Ron Flockhart. In 1953 Flockhart had a phenomenally successful season, winning the Bo'ness hill climb in a record setting 33.82 seconds. The car was featured on the cover of Autosport magazine. This success led to his joining the BRM team as a works driver, and later successes at Le Mans and elsewhere. In 1954 Ken Wharton purchased R4D from Flockhart and used the car to win the RAC Hill Climb Championship. In 1955 he used R4D and his Cooper to finish equal first in the hill climb championship with Tony Marsh. Since Wharton was a multiple previous winner, the RAC awarded the championship to newcomer Marsh. An achievement of R4D in the post-war era is that it has won the Brighton Speed Trials seven times, driven by Raymond Mays four times and Ken Wharton three times, more wins than any other car at this event. The owner after Ken Wharton was the pseudonymous "T. Dryver," creator of the aero-engined De Havilland-M.G. Special. He raced the ERA in the Brighton Speed Trials in 1957 but his chance of achieving fastest-time-of-the-day was spoiled by rain.From the mid-fifties onward, the car had a variety of owners, but achieved notable success in historic racing in the hands of Neil Corner and Willie Green (the latter driving for Anthony Bamford). R4D rose to pre-eminence again in the hands of Anthony Mayman, achieving many successes and setting many pre-war records at various venues. In recent years the car has been owned and driven by James Baxter and Mac Hulbert, and continues to be one of the most successful pre-war racing cars still active in competition, having set new pre-war records at numerous venues. That trend continued, with Baxter winning the class at this event.
R7B was made in 1936 with a 1.5 litre engine with a white paint scheme and a chrome plated radiator for Arthur Dobson. Cyril Paul drove its first three races, until Dobson took over. 1937 saw success and the start of a string of ERA versus ERA battles with "B.Bira". Charles Brackenbury raced R7B at Donington Park once (whilst Dobson was otherwise engaged). In 1938, the highlight of another good year was a third place in the Modena Grand Prix, Italy and sixth in the Donington Grand Prix behind the might of Auto Union and Mercedes-Benz. But in 1939, the new ERA E-type taking Dobson's main interest with R7B being less widely used. Immediately after WW2 Leslie Brooke raced R7B widely. For a long time the car was painted red, but it was returned to white fairly recently. This car was here, driven by Julian Wilton.
R10B was made in 1936 as a 1.5 litre in black for Peter Whitehead, which he drove singly and with his regular driving partner, Peter Walker, as a co-driver. The best result of the year being a third in the important Donington Park Grand Prix for the pair. In 1937 R10B was raced in Britain, France and Italy. Again both Whitehead and Walker drove. In 1938 Whitehead drove the car and had a long but productive trip to win the Australian Grand Prix. 1939 started with Whitehead and R10B having a disappointing South African winter season. Back in Britain Whitehead scored a number of top three finishes. Peter Walker also returned to race R10B before the Second World War called a halt to racing. Post-war Whitehead and Walker were back in business with R10B until they moved on to greater things. Nick Mason bought the car in 1980 and owned it until 2005. Paddins Dowling won the under 1500cc pre-1940 Racing Car Class at this event.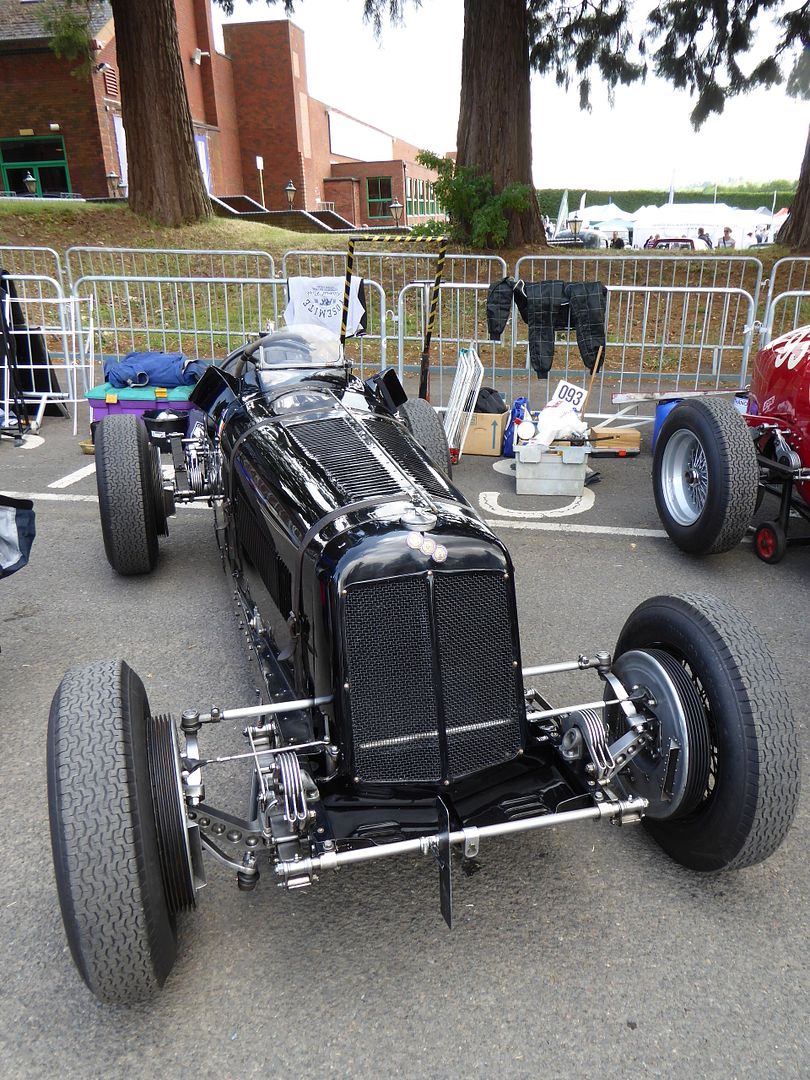 R11B was initially a 1.5litre dark green 1936 car, bought by the experienced amateur driver Reggie Tongue. Tongue named the car "Humphrey" after ERA founder Humphrey Cook.Tongue had wins in hill climbs in Germany, Switzerland and Shelsley Walsh, England. A big circuit win came in the Cork 200, Ireland. In 1937, Tongue raced R11B widely around Europe including a good third in the Albi Grand Prix, France. In 1938, the Hon. Peter Aitken bought R11B to race in British events and in 1938-39 a South African winter season gave Aitken a second place in Cape Town, the during 1939 R11B was used successfully by Aitken around Britain. After the war, Reg Parnell handled R11B and sold it to Peter Bell for his driver, John Bolster. The car was greatly modified during this period, including the use of a 2litre engine, a Murray twin supercharger and having the pre-selector gearbox replaced by a standard box. In 1949, R11B was involved in a fatal accident to its driver St. John Horsfall during the Silverstone Daily Express Trophy meeting. In 1951 Ken Wharton won his first RAC hill climb Championship driving Peter Bell's R11B. 1955 took R11B to the RAC hill climb Championship driven by Ken Wharton (with the help of Ken's Cooper-JAP). Modifications for the cars hill climb and sprint life included a smaller 10-gallon fuel tank, the removal of the 5-gallon dry sump oil tank, a smaller radiator and setting the engine three inches farther back. Since then, the car has continued to be used in competitive events and it made an appearance here, with David Morris at the wheel.
The history of R12C is one of those where things get a bit tricky. The story starts with R12B, which was a 1936 works car with a 2 litre engine and in the works black colour scheme. Raymond Mays successfully hill climbed R12B at Shelsley Walsh and raced at Brooklands. In 1937, the works rebuilt R12B to C-type specification with a 1.5litre engine and a long-range fuel tank. Pat Fairfield was to be the main works driver of R12B/C for the year. After a win with R12B/C at Crystal Palace and Donington Park, Fairfield was killed in the Le Mans 24-hour sportscar race. R12B/C was successfully used by other drivers during the rest of the year. The Albi Grand Prix was won by Humphrey Cook/ Raymond Mays.  The Berne Grand Prix, Switzerland and the JCC 200 mile race were won Arthur Dobson. The Brooklands Siam Trophy was won by Raymond Mays. In 1938 the car was sold to Prince Chula for "B.Bira" to drive. R12B/C was painted with a light blue body and yellow chassis and wheels of the "White Mouse" stable and made the national racing colours of Siam (Thailand). In the tradition of "White Mouse" cars, following R2B "Romulus" and R5B "Remus" R12C was named "Hanuman". "B.Bira" used R12C to gain wins at Brooklands, Donington Park and Cork, Ireland. In 1939,  "B.Bira" raced R12B/C to win the Nuffield Trophy at Donington Park. Somewhat less successfully Bira crashed R12B/C at in practice for the Coupe de la Commission Sportive at Rheims, France. Bira suffered only minor injuries but the car was badly damaged, and it is what happened next which makes history a bit more complex, for as happens with many well raced cars repair and modification keeps cars on the track but complicates their history. R12B had been modified to C-type spec. and was now repaired with the only available chassis frame (a B-type, probably from R8B left over from its rebuild up to C-type spec.) so that the cars code letter reverted to "R12B" and its name was moved on to  "Hanuman II". The spare parts from sorting out the mess were set aside – see R12C "Hanuman", below, for what happened to them. In 1982, respected car restorer and ERA expert W.R.G. "Bill" Morris rebuilt the wreckage left over from the R12B/C "Hanuman" crash and rebuild, useing the original mangled chassis frame from R12B/C, other R12B/C parts and other period parts with any gaps filled by remanufactured parts. The result was "R12C – Hanuman" a C-type ERA as if the 1939 Rheims accident had not happened.  As at the time Bill Morris owned both "R12B – Hanuman II" and "R12C – Hanuman" the question of whether one or the other or both or neither was "genuine" was a matter he would have had to fight out with himself! These days R12C is owned by Terry Crabb, and it is a regular sight at Prescott and Shelsley among other venues. Terry was here, and put in an enthusiastic and accomplished performance, as ever.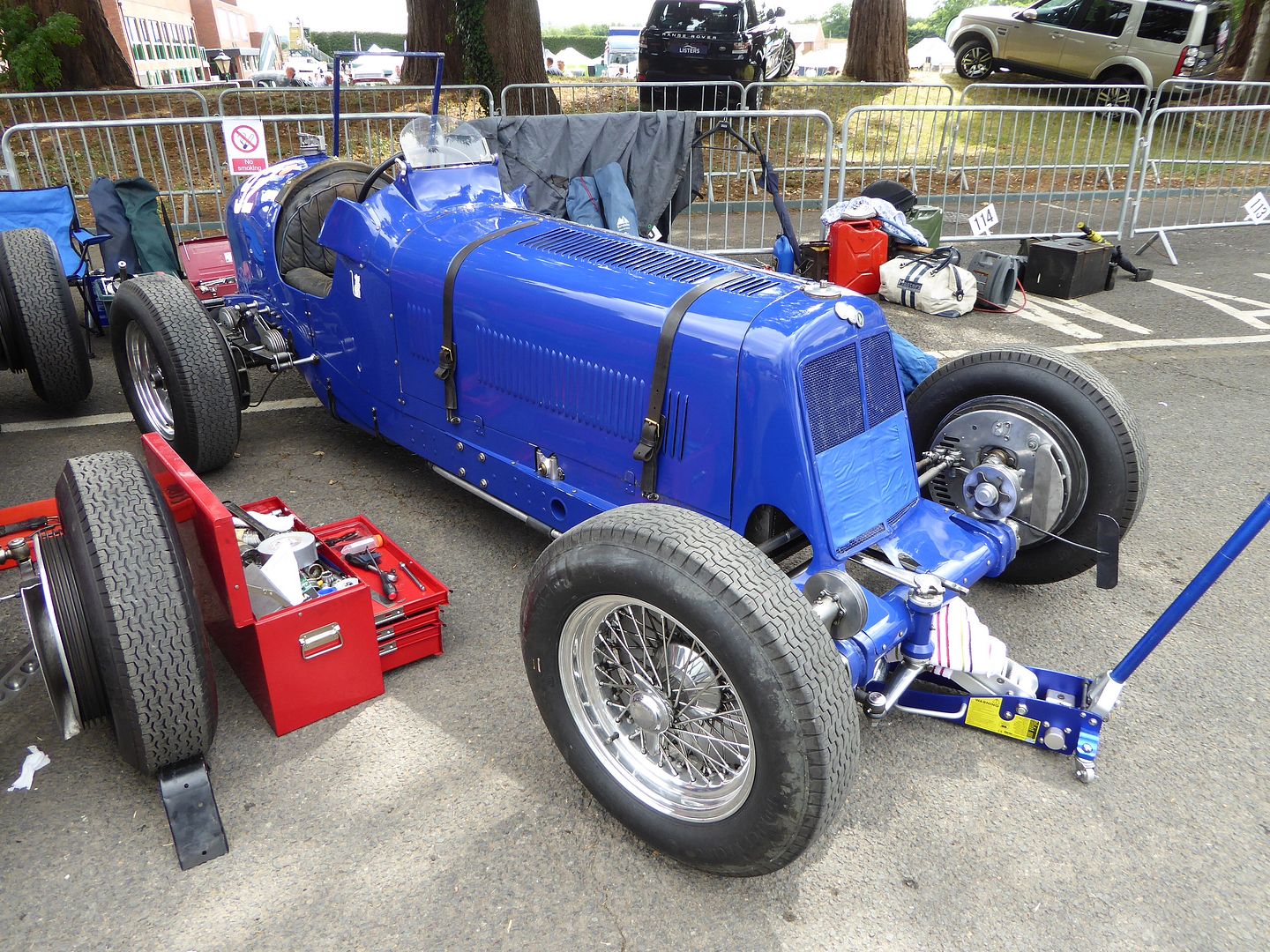 The more modern E-Type ERA appeared just before the Second World War but was not fully developed. The Second World War brought a halt to motor racing in Europe, and the team's Bourne site was sold to the Bus operator Delaine who occupied adjacent premises. The original building is still in use today by Delaine as an office block. By the time racing resumed in the late 1940s Berthon and Mays had moved on to the British Racing Motors (BRM) project.This car was driven by Duncan Ricketts, and posted a respectable time, though it was the slowest of the ERAs in the Over 1500cc Racing Car Class.
Anthony J. Merrick prepared and raced R1A until its then owner sold the car. Being without a car the resourceful Merrick shuffled his stock of genuine ERA parts and came up with AJM1. The 1980s brand new 1930s car is said to be an 80% original ERA B-type car using a 1.5litre engine and light green early works colour scheme, though it has since been repainted in red.
That was not the end of the story, though. ERA restarted operations in Dunstable under new ownership in 1947 when Leslie Johnson bought the company, together with ERA E-Type GP2, the second of two built in 1939, which had been raced by Reg Parnell and Leslie Brooke. Refitted with a Zoller supercharger and driven by Johnson, GP2 tied with Parnell's Maserati 4CLT for fastest lap in the 1948 British Empire Trophy and finished fifth. In the same race GP1, upgraded by the works with Murray Jamieson-designed Roots-type supercharging and driven by Reg Parnell's mechanic Wilkie Wilkinson (who had supervised modification of the E-Types), retired with a broken connecting rod. After posting the fastest time in the opening practice session for the British Grand Prix, Johnson retired GP2 from third place on the first lap when a driveshaft universal joint failed. In practice for the Coupe du Salon at Montlhéry he broke the lap record but retired GP2 from the race with a fractured fuel tank after three laps. In 1949 at Goodwood GP2 broke a back axle universal joint in practice but Johnson took the car to fifth in the Richmond Trophy and third in the Chichester Cup. In the first day's practice for the Jersey International Road Race, he was second-fastest to Luigi Villoresi's record-breaking lap in a Maserati but on the second day the engine bearings failed and the car did not race. At Silverstone's 1950 Grand Prix d' Europe the supercharger disintegrated after two laps. Meanwhile GP1, driven by Fred Ashmore, failed to finish the 1948 Jersey International Road Race owing to fuel starvation and defective steering. In the 1949 BRDC/Daily Express International Trophy, Peter Walker took GP1 to within 1.2 seconds of Giuseppe Farina's Maserati in practice and finished fifth in the race, despite gearbox and steering problems, a leaking radiator, and the exhaust burning the driver's foot. Walker was fastest in practice for Ireland's Wakefield Trophy road race, but a snatching brake forced him down the escape road at the first corner. Here GP1's race ended when it was hit by an Alta that had already collided with Salvadori's Maserati 4CLT. Finally in 1950, GP1 was gutted by fire in a crash at the British Empire Trophy race on the Isle of Man, caused by driveshaft failure when the car was at high speed with Walker at the wheel.
A new 1.5-litre Formula Two car, the G-Type raced in the 1952 World Championship, which was the first season that had been run to Formula Two rules. The car used a Bristol engine. Stirling Moss drove, but results were disappointing. Moss said: "It was, above all, a project which made an awful lot of fuss about doing very little. By this time I was very disillusioned by the Clever Professor approach to racing car design. I would eventually learn that even the most brilliant concept could fail if the team concerned lacks the manpower and organization and money to develop the inevitable bugs out of it." Johnson sold the project to Bristol—who used the car as the basis for an assault on Le Mans that would bring them several class wins in the mid-1950s—and focused the company on R&D engineering. He eventually sold it to Zenith Carburettor Ltd, which was then purchased by Solex, another carburettor firm.
FARRALLAC
A name you may not have heard of previously (I certainly had not), this is a Farrallac Mark 2, entered by Tony Bianchi. The Farrallac Mk 2 is a 1958 British-built sports racing car, using the chassis of an Allard J2 but fitted with a 6.4-litre Cadillac engine, and named after its creator, Don Farrall. When new it made its mark in competitions all over the UK and Europe. Like many a historic motor, this one spent at least 10 years in the automotive wilderness, owned by a number of people who had failed to care for and maintain it before Bianchi bought it, and set about restoring the car to its former glory. Since then. he  has raced it, along with his wife, Pia, in historic races nationally and internationally, winning a string of trophies in the multi-purpose car, which is as well suited to endurance races as it is to hill climbs and sprints.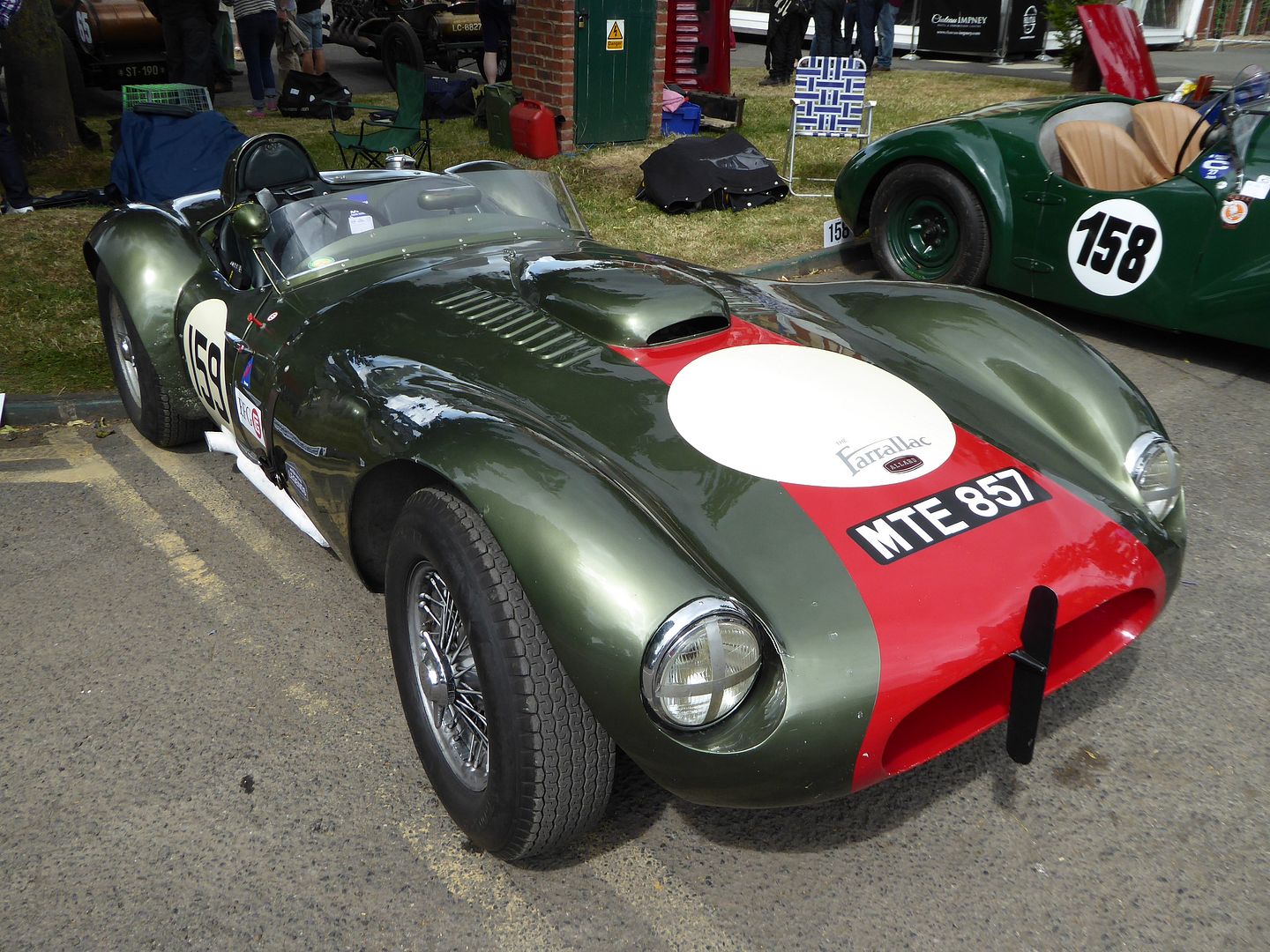 FIAT
Above all others, the car I most wanted to see in action bore Fiat badges, the redoubtable "Beast of Turin", which had made its first public appearance at the Goodwood Festival of Speed a couple of weeks earlier. I had seen it, parked up on the lawn in front of the house, on the Moving Motor Show day, but not in action. That was corrected at this event. You could always hear when it was in action, no matter where you were on the site. and it made a spectacular entrance back into the Paddock. The S76, as the car is known was built in 1911, not some ill-judged lash-up with a 28 litre airship engine, as some might imagine, but a high tech masterpiece, created with no expense spared. In fact, two of these cars were made over the winter of 1910/1911. Visually similar, thee were detailed differences between the two. The cars wowed everyone when they first appeared, but the novelty was short lived, as regulation changes for Grand Prix cars, limiting the size of the engines and forcing designers to concentrate on high revving units with multiple camshafts, the complete antithesis of this Fiat. Even so., it was still used for a couple more years, with the car achieving timed runs of 132.37 mph over the flying kilometre along the sea front at Ostend in the summer of 1913, although these results were not officially recognised by the French-regulated speed record authorities. A couple of years earlier, the S76 had made its debut at Brooklands. The first outing wasn't entirely successful, with 23 year old driver Pietro Bordino only able to us half throttle because of the track's bumpy surface, and to stay on the lower part of the banking. Undeterred, Bordino then decided to drive the car on the road up to the Saltburn Sands in North Yorkshire for the annual speed trails that were held on the beach there. The accompanying mechanic reported seeing 120 mph on the speedometer, and at the time the Land Speed Record was only 126 mph. Come the day of the trial, though, the sand was saturated by overnight rain, which limited speeds. Bordino set a new world flying mile record of 116.3 mph, which was all the more impressive when you learn that the next fastest car achieved just 81.04 mph. Bordino then set about driving the car back to London, saying he did not need lights, as the "thunder and lightning" from the exhausts would suffice.  With the new Grand Prix regulations taking effect for 1912, Fiat took little persuading when approached by a car-loving Russian aristocrat, Prince Boris Soukhanov, who wanted to buy the car. He had it converted for road use, which consisted of fitting an ugly chimney-sized exhaust system and a pair of basic chain guards. He soon found it was simply too fast, though for use on the road, and decided instead to make an attempt on the flying kilometre record, and he contracted racing ace Arthur Duray to drive it for him. He had the car shipped to Brooklands, but it was concluded that the circuit was not suitable, which is when the idea of using the 7 mile straight along the Ostend seafront came in. This proved hard, as the weather conditions were generally awful in those final weeks of 1913., but in the end it was an obstreperous tramway director that really caused the problems. There was a tramway parallel with the road, and Duray was forbidden from making an attempt when the tram was making its 40 minute journey. The tramway company would not alter their timetable, and to get an official record, Duray was going to have to make two runs, in opposite directions, so although there was a run timed at 132.37 mph, it did not officially county. And that was that. In 1914, with war clouds looming, no further thoughts were given at another attempt, and Soukhanov quietly disappeared from Moscow, and was never heard of again.
As to the cars, there are still some unknowns. It is thought that car number 2 was cut up for scrap. Certainly Fiat had a policy of destroying all their obsolete racing cars to protect their designs. But car number 1 did survive. It was spirited out of Russia ad the chassis was used to build a 1920s special, probably with a Continental engine from a Stutz. There are photos from 1921/22 showing the S76 rebodied in a lower style, with a U-shaped cross-member to carry the engine. After that, though, no-one really knows, but the rolling chassis, terribly battered and bent, but complete with axles, steering box, springs and pedals was found in a ravine in New South Wales, Australia in the 70s. It passed through various hands over the next 30 years, but no-one did anything with it. What it did not have, though, was an engine. Fiat did not begin building airship engines until 1915, so the unit used in the S76 was completely different, however, it turned out that a genuine one had survived, in Turin. It was at one of Fiat's many buildings in Turin, dismantled, but largely complete apart from a magneto and most of the fiendishly complex carburettor. And so, the story of the restoration, or recreation, as there are indeed lots of new parts that had to be made, as the originals simply no longer existed, and that is where current owner Duncan Pittaway comes in. In 2003, he was on the re-run of the 1903 Paris-Madrid "Race of Death" with a load of other Edwardian car owners and he said that he really fancied restoring a large engined car. The Fiat S76 was mentioned, and one of the others present, Mark Walker who owns the 1905 Darracq sketched the outline of the car from memory. And so began a project which was only completed earlier this year, some 12 years later. It was a massive undertaking, Pittaway spent 10 years sourcing and restoring all the surviving original parts and arranging for all the missing elements to be recreated. Building the body proved to be one of the more difficult tasks, because there are some subtle curves spread over a large surface area. Once he had the original engine, it needed a replacement of the seized pistons and con-rods, but most of the other components could be rebuilt, and Pittaway was lucky to find an Italian magneto specialist who not only found but rebuilt the Fiat's unique triple-spark ignition and made a special set of mica plugs.  A new gearbox had to be created, but the most of the rest of the chassis and mechanical components of the finished product are from an original S76.
When a video of the finished car was released earlier this year, with sheets of flames jetting from the exhaust stubs, it went viral, and who can be surprised. It is an amazing machine. It may look elephantine in profile, but it is surprisingly aerodynamic, and the body has a narrow cross-section of just 800mm (2 ft 7.5″) at its widest point. Clearly it has to have a tall bonnet, to accommodate that 28,354cc 4 cylinder SOHC iron-block 3 valves per cylinder engine. Its ungainly proportions did lead to it being ridiculed somewhat when new, but that was to miss the point. It is very different in execution to much of what followed. That huge engine puts out 300 bhp, at just 1000 rpm, with the unit idling at just 80/90 rpm. Get it above 500 rpm, and the whole thing starts to shake, apparently, The steering is very direct, with just one turn lock to lock. It is, in other respects, not that difficult to drive, with an easy and quick gearchange and brakes that work well, though there is limited ground clearance so care needs to be taken not hit the sump plug on speed bumps. Of course what makes it so intriguing is the fact that it spits out real flames as it goes along. And when the hill climbs were done here, Pittaway could probably have cooked breakfast for the entire paddock with the heat that emanated from the engine. An amazing machine, and an amazing story.
FORD
Needing no introduction were this par of Mark 1 Lotus Cortina models competing in the Production Saloon Cars 1950 to 1967 class.
FRAZER NASH
This company was founded in 1922 by Archibald Frazer-Nash who had, with Henry Ronald Godfrey founded and run the GN cyclecar company. The company was established in Kingston upon Thames, Surrey, moving to Isleworth, Middlesex in 1929. The company entered receivership in 1927 and re-emerged as AFN Limited. The majority of AFN was acquired by H. J. ("Aldy") Aldington in 1929 and run by the three Aldington brothers, H.J., Donald A. and William H. Aldy's son, John Taylor ("JT") Aldington was the last of the family owners/directors until AFN Ltd was sold to Porsche GB. The company produced around 400 of the famous chain drive models between 1924 and 1939. They were all built to order, with a surprisingly long list of different models offered during this time. Most had 1.5 litre 4 cylinder engines, and many of the models were built only in single digits, but the Fast Tourer/Super Sports and the TT Replica models were made in significant quantity. Seen here were examples of the Super Sports and the Shelsley as well as a couple of Specials.
Also in action was the Owlet. I first saw this car at Donington in 2014 and was intrigued by it. The car gets its name from the two round rear windows which look very much like an owl. Frazer Nash built just three closed-body "saloon" cars, and none of them remains, at least not in their original form, so this is not actually the original 1928 car, but rather it is a recreation. In fact the original Owlet, built on chassis 1204 does exist, but it s saloon body was lost and it now wears open coachwork and an Aston Martin engine. The concept for this car goes back to 1982, when the RAC announced the revival of the Tourist Trophy at Northern Ireland's Ands cicruit, The event appealed to "Aldy" Aldington who had taken control of Frazer Nash the previous year when it had gone into administration. He scrutinised the regulations for this revived race which assumed that entrants would be sports cars and which were going to make a Le Mans style start, hoods erected, two laps completed then a stop made to lower them. Aldington surmised that a saloon car – which was perfectly eligible, but which would of course carry additional weight because of the extra bodywork – could have a distinct advantage if it was light enough, so he persuade his fellow Co-Director, Eric Burt that the company should build a fast shopping car "for Burt's wife". Weymann constructed a fabric-bodied lightweight body and power came from a full-race supercharged 1500cc Anzani engine. The race did not go well, as the car had been thrashed under development so by the time it got to the race, it was worn out. A third of the way into the race, it holed a piston The Owlet you see here is a recreation, based on information from period about how the saloon might look. The coachwork was done by Keith Hill and paintwork completed by Barnes Hammerstone. The owner, Patrick Blakeney-Edwards, bought a rotten old Salmson body ti he could use the barrel hinges, brightwork and fittings and then created the car around many original parts using as 125 bhp 1500cc Meadows engine. Whilst the original Anzani unit was probably good for around 95 bhp even with its Cozette supercharger, this one is capable of around of getting to around double that given some more work. That would make the car very rapid indeed. It weights just 820 kg, so it even its current state it is far from slow, capable of well over 100 mph on the straight at a circuit like Goodwood. There are only two thirds of a turn of the wheel from lock to lock, and with brakes that don't really do much and a gearbox that is the "wrong way round", learning to get the best out of it takes some time, but the owner has clearly mastered it and this car is very entertaining to see in action.
AFN, Ltd became importers and assemblers of BMW cars in 1934 and sold them as Frazer Nash-BMW. They were the official British BMW importer until the outbreak of war in 1939. In 1954 the company started to sell Porsche cars, becoming the official importer for Great Britain in 1956. This lasted until 1965 when Porsche Cars Great Britain was set up; Aldington family members remained on the board of this company until John Aldington sold out to Porsche in 1987, Nash & Thompson was formed in 1929 by Archibald Frazer-Nash and E. Grattan Thompson to develop the Frazer-Nash hydraulic aircraft gun turret. During the Second World War, Nash & Thompson was involved in armaments production with its turrets in use on British bombers such as the Avro Lancaster and Vickers Wellington. There are several successor companies still (as of 2011) active in engineering consultancy (Frazer-Nash Consultancy), engineering (Frazer-Nash (Midhurst) Ltd. and electric & hybrid vehicle technology (Frazer-Nash Group of Companies, owned by Kamkorp, which also owns Bristol Cars). AFN Ltd produced about 85 more cars from 1948 to 1957. These cars were entirely unrelated to the chain-drive pre-war Frazer Nash, but were largely a direct evolution of the sporting BMW 328, mentioned above. AFN, as owners of the UK rights to the 328 engine licensed Bristol to make it against an agreement for its supply to them. Models include the Le Mans Replica, the Mille Miglia, the Targa Florio, the Le Mans Coupé and the Sebring. Competition successes included a third place at Le Mans (1949) and wins in the Targa Florio (1951) and the 12 Hours of Sebring, 1952. The post-war cars are very highly prized by collectors. The company participated in the 1952 Formula One season, the cars driven by Tony Crook and Ken Wharton. One of the le Mans Replica cars was entered here, and there was another one to be seen in the car park.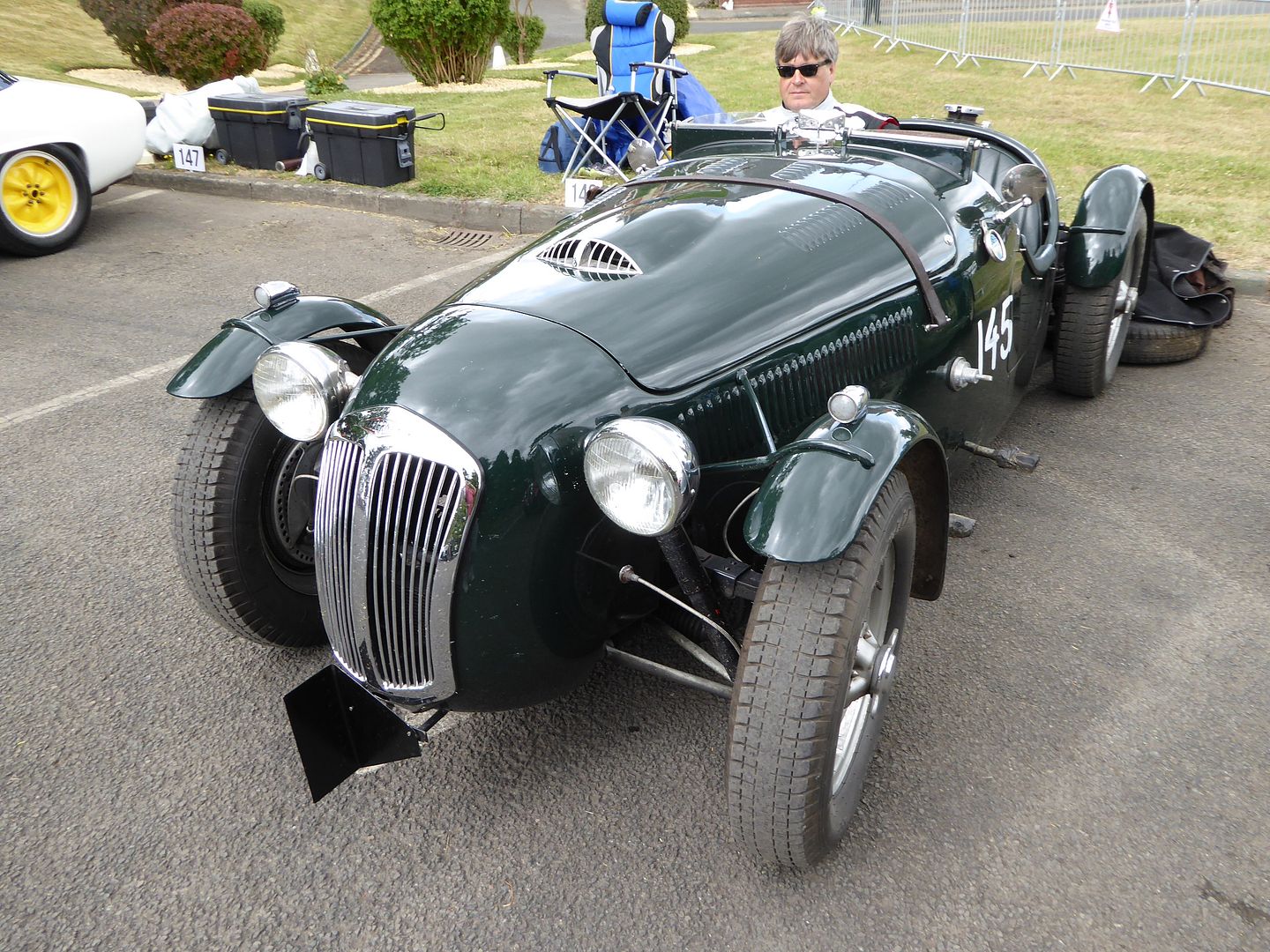 GEMINI
The Gemini name was used on a series of Formula Junior racing cars built by Chequered Flag Engineering of London between 1959 and 1963. In 1959, Graham Warner, the principle of The Chequered Flag Car Sales, purchased the Moorland Mk 2, a Formula Junior car which had been constructed by Leslie Redmond in early 1959 from drawings supplied by Len Terry. The car was renamed the Gemini Mk 1 and won on its debut at Brands Hatch in October 1959. Having acquired the design rights, jigs and moulds for the Moorland, along with Redmond's services as designer, Warner formed a new company, Chequered Flag Engineering. The Gemini Mk 2 was subsequently produced and was first raced in a Formula Junior event at Brands Hatch in October 1959. It is believed that thirty Mk 2s were built, four powered by Ford Cosworths and all others by BMC A Series engines, and this is one of those cars. The rear engined Gemini Mk 3 was introduced during 1960 and met with success in the hands of Tony Maggs, Geoff Duke and Peter Ashdown. The Mk 3A of 1961 proved to be the only challengers to Cooper and Lotus in that year. A total of eight Mk 3As were built in addition to the one prototype Mk 3. The Gemini Mk 4 was developed in 1962. The car was of advanced design and featured inboard suspension, inboard brakes and two small radiators on each side of the car. It was powered by a Cosworth modified Ford engine mated to a Renault Dauphine gearbox. In 1963 the project was handed over to George Henrotte as the Gemini Mk 4A and production ended in the same year.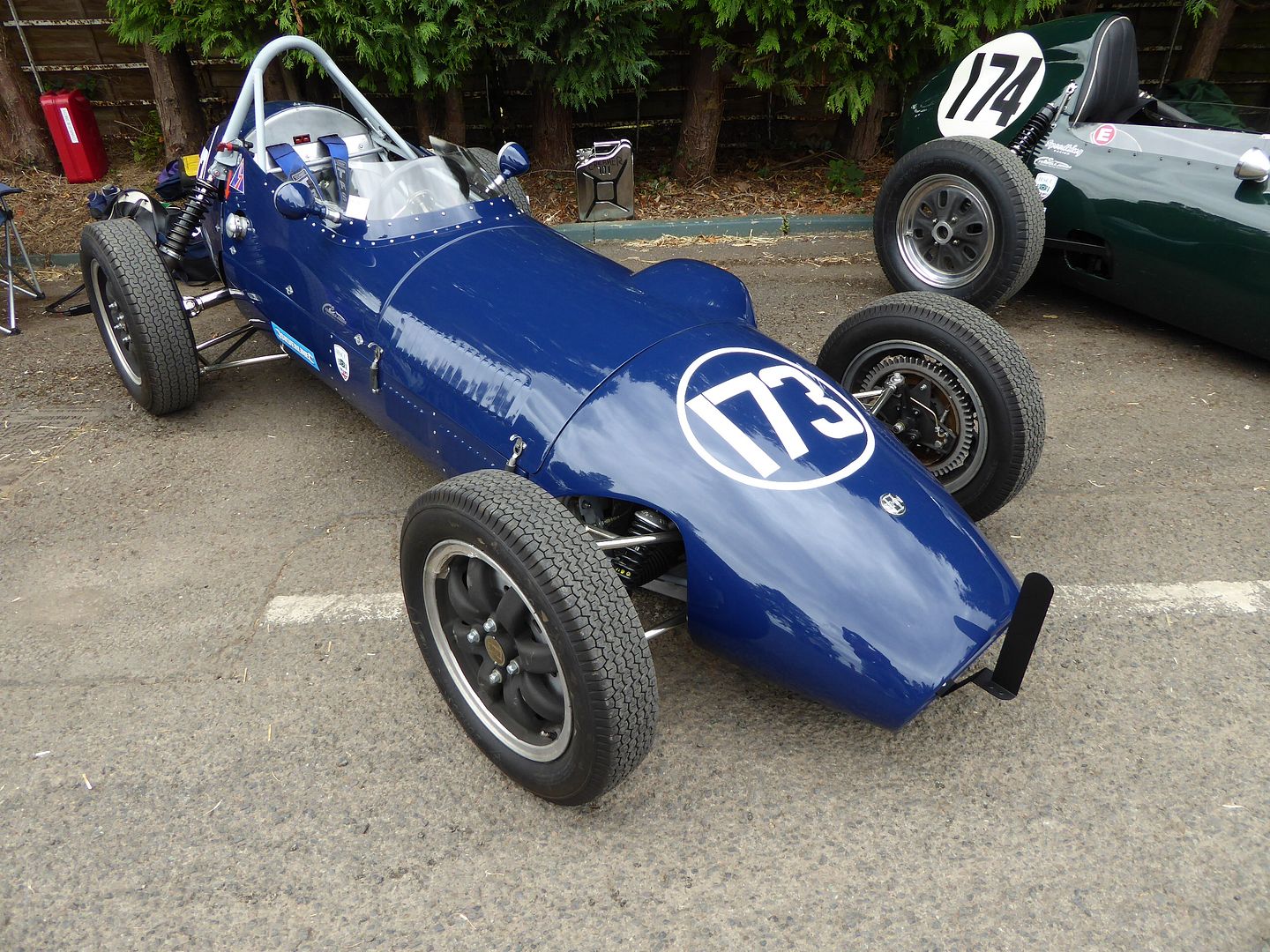 GN
The GN cyclecar was made in Hendon, North London, between 1910 and 1925, then moving to Wandsworth, London. The name derives from its founders, H.R. Godfrey (1887-1968) and Archibald Frazer-Nash (1889-1965). Production ceased in 1923 but the company kept trading until 1925. After making several cars for their own use, the two founders launched the GN car in 1909, building them in the stables at the Frazer Nash family home. The car was powered by a V twin engine by JAP or Peugeot with belt drive to the rear wheels. By 1911, production had moved to Hendon and GN's own 1100 cc engine, using some Peugeot parts being fitted. The engine was mounted in the chassis with the crankshaft parallel to the front axle, driving through a two-speed transmission by chain and dog clutch, then by belt to the rear wheels. The two-seat car was very light, weighing only about 180 kg (397 lb). Therefore, in spite of the low power available, 60 mph (97 km/h) was achievable, which was very respectable performance for the time. The engine was turned 90 degrees in 1913, with its cylinder heads protruding through the bonnet sides, and a team was entered into the French Cyclecar Grand Prix resulting, in sports models being added to the range. Some 200 cars had been made when production stopped with the outbreak of World War I. Production restarted in 1919, and shortly afterward the company was bought by British Grégoire Ltd and moved to East Hill, Wandsworth in south west London. The chassis changed from wood to steel, with the chain type transmission now with three speeds and reverse. At the peak, 500 staff were employed, making 55 cars a month. A licence to make the cars was agreed with the French maker Salmson who made about 1600 cars. By 1921, the cyclecar boom was on the wane and the company went into receivership, but was soon sold. The new owner, a Mr Black, wanted to move to much higher production levels and away from sports cars. A four-cylinder water-cooled model with 1098 cc DFP engine and shaft drive to a differential on the solid rear axle was introduced in 1922 as part of the new policy, and Godfrey and Frazer Nash left the company later that year. In 1923 a Chapuis-Dornier engine replaced the DFP, but production of the new car and the old V twin model stopped in May. About 4000 cars of all types were made by GN in the post war period. A new company was founded by some ex-employees and a few more cars were made from parts in 1924 and 1925, but the main business was spares and service. In 1925 the company became General Motors dealers. H.R. Godfrey went on to found a new car company, Godfrey-Proctor, and later HRG. Frazer Nash formed the car maker that took his name where he re-introduced his chain and clutch transmission system. A number of one-off specials were made, and these are the best known and most often seen GNs these days. Several of them were here: Grannie, Spider, Gnat Special and Wasp. These are exciting cars to watch as the drivers, showing great skill, achieve impressive times from such flimsy machines.
This is the Salome GN Morgan Special
HRS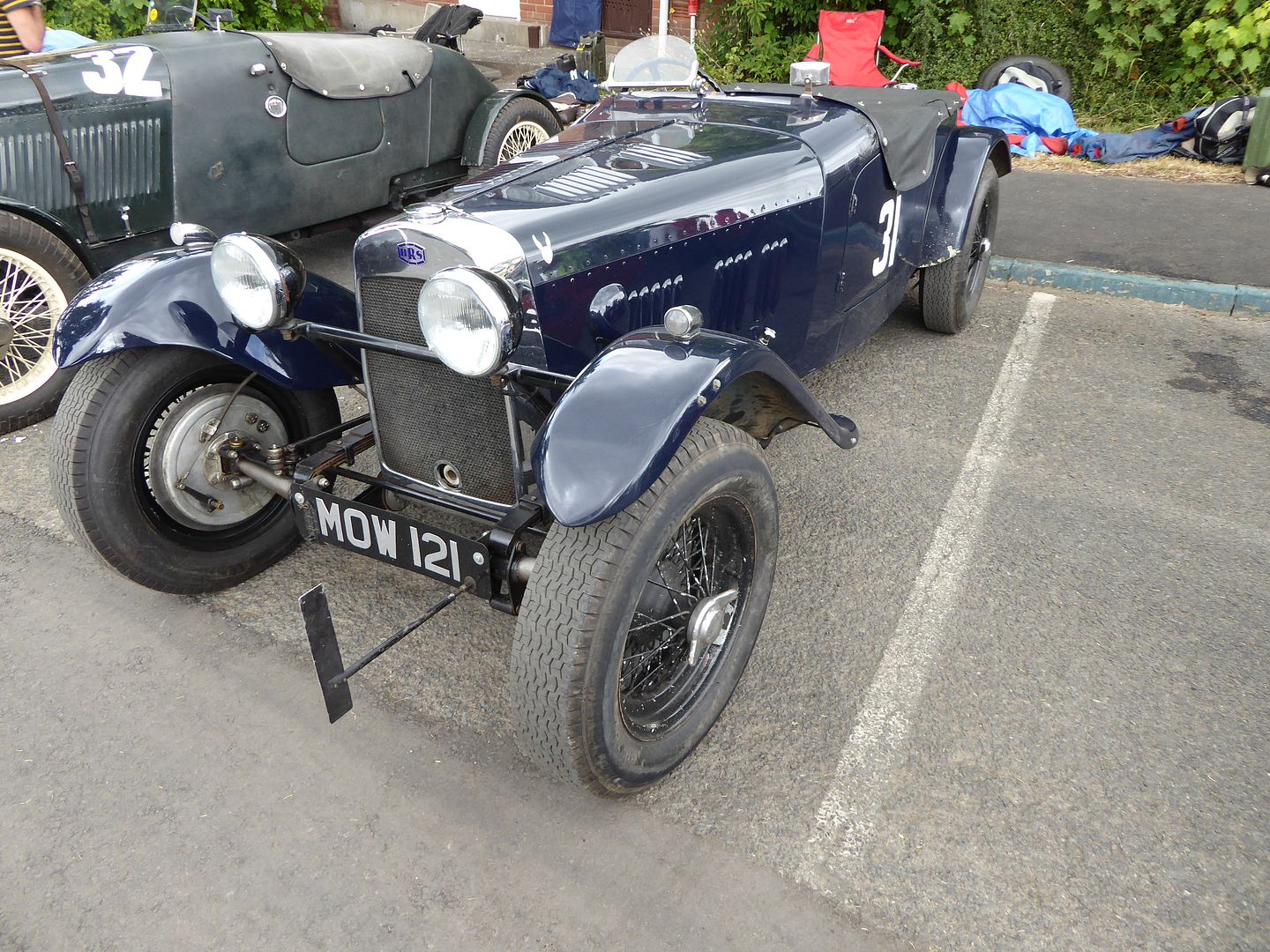 HUDSON
Representing America in the Edwardian Class were this pair of Hudsons, a Special and a Super Six
HWM
Hersham and Walton Motors (HWM) is the world's longest established Aston Martin business, having acquired the franchise in 1951, and is well known as a racing car constructor. As a constructor, it is best known for its involvement in Formula Two from 1950 to 1953 and Formula One in 1954. Then HWM owners George Abecassis and John Heath went racing together from 1946 and in 1948 they built a streamlined sports racing car on the chassis of a Sports Alta, and thus embarked upon the construction of racing cars and racing sports cars at their motor works in Walton-on-Thames. The 1948 car gave them encouraging results and so new car, this time called an HW-Alta, was constructed and raced in 1949; this car was sufficiently successful to convince the partners to embark upon building a full team of cars for the 1950 Formula Two season of British and continental events: these cars were known as HWMs. From 1950 to 1952, HWM achieved remarkable success in Formula Two for a team that was run on very little money and yet which faced the might of continental marques in every race. By 1953 they were outclassed, but when the international Formula changed in 1954, John Heath constructed a works car to compete in Formula One. HWM abandoned the new Formula One after two appearances as their car was seriously outclassed. Meanwhile, the first Jaguar-engined HWM sports racing car had appeared in 1953, and this had some success with George Abecassis at the wheel. From then on until 1957, the team was involved in sports car racing both in Britain and on the continent, sometimes beating their Jaguar and Aston Martin Works competitors. After John Heath was killed on the 1956 Mille Miglia in Italy in an HWM Works car, Abecassis did not wish to continue and the works racing programme continued for just a year. HWM is today owned by George Abecassis's business partner Mike Harting (ex. Aston Martin) and his family. HWM trades as HWM Aston Martin and HWM Alfa Romeo and is an Aston Martin and Alfa Romeo dealership. Seen here is one of the HWM Jaguars. So few were built that they are identified by their registration marks rather than their chassis numbers.
JAGUAR
Needing little introduction were a series of classic Jaguars, ranging from an XK120 to a couple of the legendary  C Types, as well as a D Type.
Less familiar, not least because the car disappeared for at least 30 years, only resurfacing relatively recently, was this Freddy Owen Jaguar E Type. Built in *or* around 1959, which you will note is before the E Type was launched, this special is one of two cars built by Freddy Owen, a coachbuilder of the day, who wanted to create a car for hill-climbing. It uses an E-Type front sub frame on a tubular chassis, and is fitted with a 3.4 litre engine from an XK140. The car was used to compete in hill climbs, and later a roll-cage, and roof were added to the car – with similar lines to the Low -drag E-Types. The car also retains the E Type rear suspension, and D type wheels. The car was restored by Jaguar Specialist Lynx Engineering for a private collector in the mid 1980's at a substantial cost. Since rebuild the car has bad minimal usage.
KURTIS
This four-cylinder 1957 Indianapolis 500 Kurtis Kraft 500G was bought from new by Ray Crawford, an Air Corps pilot who flew the P-38 Lightning in combat over North Africa in 1943.  He was later awarded the Distinguished Flying Cross and Air Medal for his active service. Upon leaving the Air Force, Crawford was introduced to racing by a former high school classmate. His first win came in the stock-car class of the 1954 Carrera Panamericana – a nine-stage, five-day race across Mexico – in a Lincoln. The following year, Crawford drove a Lincoln-Kurtis Kraft 500B at the 12 Hours of Sebring endurance race, finishing in 13th position after running the entire length without a co-driver – to this day, the only driver to ever do so. Known by his nickname 'The Flying Grocer' due to his family's successful California-based supermarket chain, Ray was one of the first owner-drivers of the post-war era at the Indianapolis Motor Speedway. He regularly competed in the AAA and USAC Championship Car series, racing in the 1954–59 seasons including the Indianapolis 500 races in 1955, 1956, and 1959. The privateer raced his own self-funded cars during the course of his career, including the 1957 Kurtis Kraft 500G, recognised by its 'Meguiar's Mirror Glaze/Crawford' sponsorship, which he campaigned in the invitational 'Race of Two Worlds' events held at Monza Autodrome,Italy, in 1957 and 1958,  finishing 7th and 4th respectively. Ray continued to race without any notable success in events throughout Europe during 1957 and 1958, including the British, Monaco and Argentinian Grand Prix, as well as in the United States. Sadly, he received serious injuries during a crash at the 1959 Indianapolis 500, which he survived, but curtailed his driving career. He was later cited as a major influence on American speed legend, Mickey Thompson, who started out as a member of his pit crew. The car's current driver, Fred Harper, has owned the Kurtis Kraft for 10 years and competed in it for the last seven, most recently winning the VSCC Bob Gerrard Memorial Race for pre-1961 racing cars last season.
LAGONDA
Shortly before its 1935 Le Mans win, Lagonda had gone into liquidation and passed to new owners, but despite this in September 1935,  the company was able to announce the LG45, a new model, building upon the successful Le Mans win, the old M45 and M45R models and the new owners' enthusiasm. It was a much more sober vehicle offered in saloon, tourer and drophead coupé variants. Deliveries commenced in the spring of 1936. Under W O Bentley's technical direction, the big Lagonda became more refined: the LG45 gaining synchromesh gears, flexible engine mounts and centralised chassis lubrication among many other improvements. Endowed with such an impeccable pedigree, the 4½-Litre Lagonda quickly established itself as a favourite among the wealthy sporting motorists of its day. Lagonda's new owners were keen to build on the racing successes and commissioned Fox & Nicholl to produce cars for the '36 Le Mans. Two four-seaters were built on the new LG45 10ft 9in chassis: registered as 'EPB 101' (chassis number '12108') and 'EPB 102' ('12109'). Additionally a couple of two-seater cars were built: 'HLL 534' ('12100') and 'EPE 97' ('12111'). All four cars raced during 1936 but Le Mans was cancelled due to industrial action, the only occasion the race has not run in peacetime. The new Lagonda management was understandably disappointed and both four-seater cars were broken up in late 1936, leaving the two two-seaters to continue to the present day representing this great era of Lagonda racing history. Over a decade ago the owner of this LG45 set out to recreate a 1936 four-seater car, with the aim of getting as near as humanly possible to the original, with all the details correct, and yet have a useable car. The project started in earnest in July 2006 and it took almost three years to get the car on the road. Lagonda Club members, believing the project to be of some significance, provided the majority of the rare parts for this replica. Based on one of only 278 LG45s produced during 1936/37, this car, chassis number '12001' is the second LG (Lagonda Motors) car made after the company was bought from the liquidators in June 1935. The car is now used for competitions all over Europe.
LEA FRANCIS
185 of the Hyper models were made between 1928 and 1931, by which time, Lea Francis had acquired something of a reputation for producing sporting vehicles, much like fellow Coventry marque, Riley. The Hyper (also called the S-type) was the first British supercharged production car with a 1.5 litre Meadows engine, and in 1928 a Lea-Francis Hyper won the Ulster TT, a 30-lap race on the 13.5-mile Ards circuit on the roads of Northern Ireland in the hands of legendary race car driver, Kaye Don. The race was watched by a record 250,000 spectators, and the victory placed Lea-Francis firmly on the map.
LISTER
The Lister-Jaguar was Britain's most successful sports racing car of the 1950's. It won at almost every circuit in Britain and was virtually unbeatable both in the UK, overseas and in the USA and continued to keep the Jaguar name in the forefront of sports car racing long after the Jaguar D Type had become obsolete. The 'Cars from Cambridge' designed, and built by Brian Lister, were simply the best of their kind and dominated the field with Archie Scott Brown driving, even when driven by Stirling Moss, who also drove a stint for Lister. Brian Lister's big break came when he was offered the engines and gearboxes by William Lyons from the retiring Jaguar D Types which had previously dominated at Le Mans, but which by 1956 were fast becoming outdated. Lyons was correct in believing that Lister would be capable of developing a race winning car, thus keeping the Jaguar name in the forefront of racing and at little cost to Jaguar and so Lister-Jaguar was born. Brian Lister designed and built a new lightweight and aerodynamic chassis and 'knobbly' body to take the Jaguar drive train and the world's best sport racing car of the 1950's was born! For five seasons from 1954 Lister cars were always in the headlines and consistently beat the much larger works teams such as Aston Martin and Jaguar. It caught the public's imagination, especially popular was the mercurial and respected Archie Scott Brown, he was fiercely competitive, fun to be with, adored by everyone with film star looks even though he was severely disabled from birth. Unfortunately, in 1958 Archie Scott Brown died after suffering severe burns in a racing car accident at Spa. The car was criticised for having magnesium alloy bodywork which was inflammable, although an RAC examination found no faults with the car. Brian Lister persevered for a few years afterwards, but without his friend Archie things were just never quite the same. The Lister name did not disappear, though, and in 1995 a new series of Lister Storm GT race cars were produced. More recently, an exciting announcement came in September 2013. that after a gap of almost 25 years since the last Lister had rolled off the production line, the three Lister companies of Lister Jaguar, Brian Lister Light Engineering and Lister Storm, had been reunited into one organisation, called Lister Motor Company Limited, after a significant investment by Warrantywise, one of the UK's most successful aftermarket used car warranty providers, and that there would be a return to "production" of  the Lister 'Knobbly' Jaguar. Just 10 of these cars were going to be made. There is still lots of debate as to whether these qualify for historic racing or not. No such debate about the car in action here, though, as it is an original.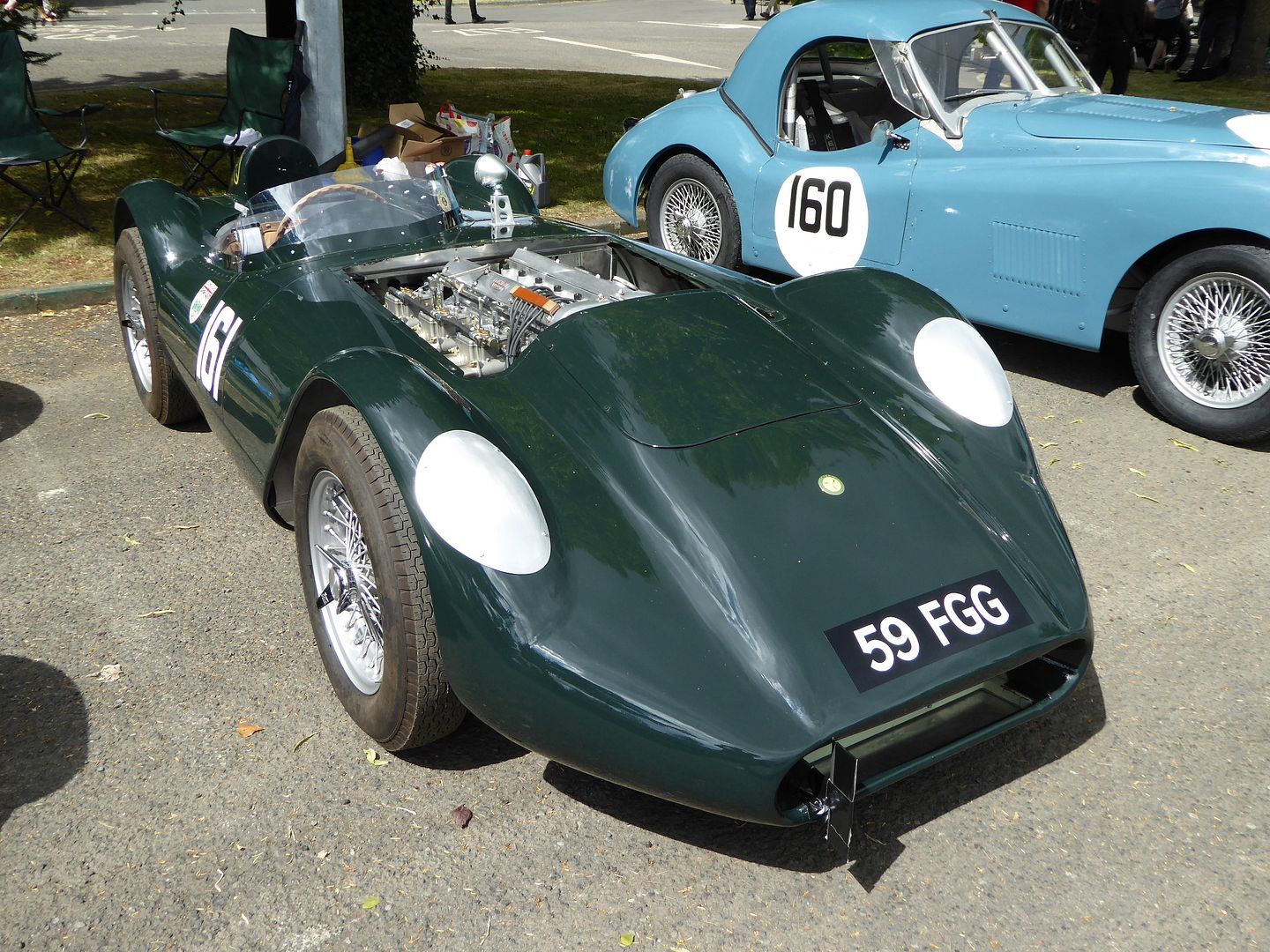 LOLA
This is a Lola T70 Mark II. The Lola T70 was built for sports car racing, popular in the mid to late 1960s. Developed by Lola Cars in 1965 in Great Britain. Early success came when Walt Hansgen won the Monterey Grand Prix, at Laguna Seca Raceway, on October 17, 1965, driving John Mecom's Lola T70-Ford. In 1966, the hot setup for the Can-Am was a T70 Chevrolet. Winning five of six races during the year. John Surtees was the champion and Dan Gurney drove the only Ford powered car ever to win a Can-Am race. In 1967, no one could compete with the new M6 McLaren. The T70 was quite popular, with more than 100 examples of the vehicle being built in three versions. The first version, besides the original factory car, was the open-roofed Mk II, joined by the Coupé-version Mk III, and a slightly updated version, the Mk IIIB. When the FIA changed the rules for sports car racing that came into effect for 1968, limiting the engine size of prototypes to three litres, sportscars with up to 5000cc engines were allowed if at least fifty were made. This rule allowed the popular yet outdated Ford GT40 and Lola T70s to continue racing. The Fords won Le Mans again in 1968 and 1969, while the T70's only big endurance win came in the 1969 24 Hours of Daytona where they finished first and second. The winning car was the Sunoco Lola T70-Chevrolet of Mark Donohue and Chuck Parsons. When the minimum number was lowered to twenty five for 1969, the more modern Porsche 917 and Ferrari 512 were homologated (sanctioned), and outran the older Lolas and Fords. Chevrolet powered coupes tended to suffer reliability problems when racing in Europe, in part due to the grade of fuel allowed. When forced to run on commercially available "pump fuel", with a lower octane rating than the "Avgas" permitted under American rules, engine failures were common. In modern historic racing these engines show much improved reliability due to a number of factors: in modern historic racing they use parts unavailable in the 1960s, and fuel quality is better than the historically poor fuel supplied by the ACO. An Aston Martin powered coupe was entered by Lola for Le Mans in 1967. Even with drivers such as John Surtees, the T70 Aston Martin was a disaster. The Aston Martin V8 engine failed after short runs. The lack of development was attributed to a lack of funds. The T70 was replaced in the Can-Am by the lighter Lola T160.
LOTUS
There were three examples of the legendary Type 18 here. This was the first mid-engined car built by Lotus and was a marked improvement over Chapman's early and only moderately successful front-engined formula cars, the 12 and 16. It was introduced for the 1960 F1, F2 and FJ seasons, with about 27 examples of the F1 and F2 versions and 110 of the FJ versions being built. As a stop-gap before the introduction of the 18's successor models, the Lotus 20 for F2/FJ and 21 for F1, some 18 chassis were rebodied with 21 skins to create the interim Lotus 18/21 hybrid derivative. The car was a classic Chapman design, being extremely light and simple; the body was made up of lightweight panels bolted to heavily-triangulated tube frame (almost spaceframe) chassis. Thus the car was rigid, strong and light, maintaining the 16's forward weight distribution despite the engine moving behind the driver. It was powered initially by a 2,467 cc Coventry Climax FPF four cylinder DOHC engine inherited from the Grand Prix version of the Lotus 16. In 1960, the FPF was enlarged slightly to 2497 cc, which produced 239 hp at 6,750 rpm from a weight of only 290 lbs and had a wide torque range. The 2.5 litre engine was replaced by a 1.5 litre Climax FPF Mk.II with new Formula One engine rules in 1961. The Formula Junior variant used a 998 cc Cosworth Mk.III or a Downton BMC "A" Series with 948cc displacement. The Formula Junior version also used smaller gauge chassis tubing and Alfin drum brakes on all four corners.
Overall fastest time of the day, and hence winner of the Ken Wharton Memorial trophy went to local driver Jack Woodhouse in a Lotus 20/22 single seater, with a time of 42.42 seconds. It turned out that although Jack is an experienced racer, this was his first ever hill climb. The Lotus 20 was a Formula Junior car built by Lotus for the 1962 season as a successor to the Lotus 18. The chassis was a spaceframe, clothed in fibreglass bodywork. It had front double wishbone suspension, but the rear had a lower wishbone with the driveshaft being fixed length and therefore used as a top link. Originally fitted with Alfin drum brakes at all four corners, it was soon upgraded to discs in front and inboard drums at the rear. Equipped as standard with the Cosworth Mk.IV engine and with either a Renault Dauphine gearbox or Hewland-modified VW box. Compared with the Lotus 18, the 20 had a much reduced frontal area and lower centre of gravity, aided by the fact the driving position was reclined so the driver was nearly lying down, compared with being more upright in the Lotus 18.
Also represented by three cars was the Type 23B. A small-displacement sports racing car, and nominally a two-seater, this Chapman design was purpose-built for FIA Group 4 racing in 1962-1963. Unlike its predecessors Lotus 15 and 17, the engine was mounted amidship behind the driver in the similar configuration developed on Lotus 19. To comply with FIA rules, it had a regulation boot space to the right-rear of the driver, a windscreen wiper, a horn, pairs of headlights and tail lights, rear centre license plate light, a wire-operated emergency brake, and a mounting space for one spare tire under the front body. The 23 used a wider version of the Lotus 22 space frame, clothed in a fibreglass body. The front suspension was a typical double wishbone arms with outboard coil/damper unit using the Triumph upright made by Alford & Alder, Triumph Herald rack and pinion steering, and outboard Girling non-ventilated disc brake. The rear had the top link with lower reversed wishbone, top and bottom radius arms with the top arm at the height of the halfshaft, combined with the outboard disc brakes and coil/damper unit. Unlike the arrangement for Lotus 20 suspension, the halfshafts had Metalastic rubber 'doughnuts' on the inside, carrying no cornering (side) forces. The side forces are carried by the lower wishbone, together with the top 'I' arm link, which connects the tail end of the upper side tube in the frame with the extended top end of cast alloy upright. The tie-rod end, front top and bottom wishbone outside joints and the rear lower wishbone inside joint were Heim joints. The rest of the suspension joints were rubber joint, with joint-mounting pipes welded onto the ends of suspension arms. While most of the suspension arms were in common with Lotus 22, the angle of the rear radius arms on the plan view was different from the narrower-frame Lotus 22, so they were not interchangeable with the 22. It was originally intended for engines of 750 cc to 1300 cc with a Renault 4 speed transaxle, but had a 5 speed Hewland Mk.III in production, which used the entire Volkswagen magnesium alloy transaxle case in upside-down configuration, housing bespoke straight-cut gears with dog-rings, and the Volkswagen differential gear set. Unlike the later Mk.IV, the Mk.III had the gearshift rod at the end of the VW nose casing, so the shifting rod (pipe) from the centre gearlever knob location extended to the tail end of the chassis. On the frame structure, the lower side pipes and the width-wise lower pipe behind the cockpit were rectangle tubes, with most of the other frame pipes being round steel tubes in various diameter. The upper left round pipe was used as the water (the use of anti-freeze chemicals was prohibited by most of the race organisers at the time for the danger of making the Tarmac slippery) feed pipe for the radiator up front, and the lower right side pipe and a half of the width-wise lower rear cockpit pipe was the return tube. Likewise, the upper right side pipe was the oil feed to the oil cooler, and the lower left tube was the return. This frame was mostly made by Arch Motors, carrying 'AM' serial number. This configuration was shared with Lotus 22 and other Formula cars of the time, but the combination of a wider and thus larger radiator, wider (and somewhat bulkier) steel frame acting as a cooling device, and the small displacement engines resulted in more than ample cooling capacity. Atypical of the contemporary racing cars, Lotus 23 models sometimes experienced an over-cooling problem in sprint races, and displayed a very stable water temperature in endurance racing. A revised version appeared in 1963, the 23B, and it was  this version that was present here. This had the original central gearlever relocated to the right side of the driver, and the radiator and oil cooler were combined into a single unit, with the lower 1/5 or so acting as the oil cooler. The frame received additional structural tubes to take the torque of Lotus TwinCam-based 1.6 litre Cosworth Mk.XII and Mk.XIII, mated to "high torque spec" 5 speed Hewland Mk.V transaxle. Smaller displacement engines were mated to 5 speed Hewland Mk.IV. Both the Mk.IV and Mk.V transaxles had GKN (Ford Zephyr) differential gears and a forward-facing selector rod on the right side in a bespoke (Hewland made) tail casing. The intake funnels on the Weber carburetors on 23B (and the 23C) were housed in a "cold air box" which received fresh air from two oval holes cut out on the top side of the rear body behind the driver.
There was also a Lotus-BRM Type 24 here. The Lotus 24 was a Formula One racing car designed for the 1962 Formula One season. Despite some early success in non-Championship Grands Prix, it was eclipsed by the technically superior Lotus 25 and rarely featured in the points in World Championship races. Having devised the monocoque Lotus 25 for use by the works team, Colin Chapman decided to build a 'conventional' back-up spaceframe design which he would also sell to privateers. The 24 was a completely different design from its predecessor, the 21, and used much of the same suspension as the 25. Both Coventry Climax FWMV and BRM P56 engines were generally fitted, with at least one example running with the Coventry Climax FPF four-cylinder. The Lotus 24 made its debut at the 1962 Brussels Grand Prix. Jim Clark put it in pole position for the first heat, but retired after only one lap. Two weeks later Clark won the Lombank Trophy race at Snetterton. Its first World Championship event was the 1962 Dutch Grand Prix, where it finished second with Trevor Taylor. However, that would be its best Championship finish; the Lotus 25 had arrived on the scene and was obviously the way ahead, much to the chagrin of those who had paid good money for their 24. The 24 continued to be run by private teams in 1963 and 1964 with limited success, and by 1965 only one World Championship entry was made, Brian Gubby failing to qualify for the British Grand Prix.
Representing Chapman's road cars was an Elan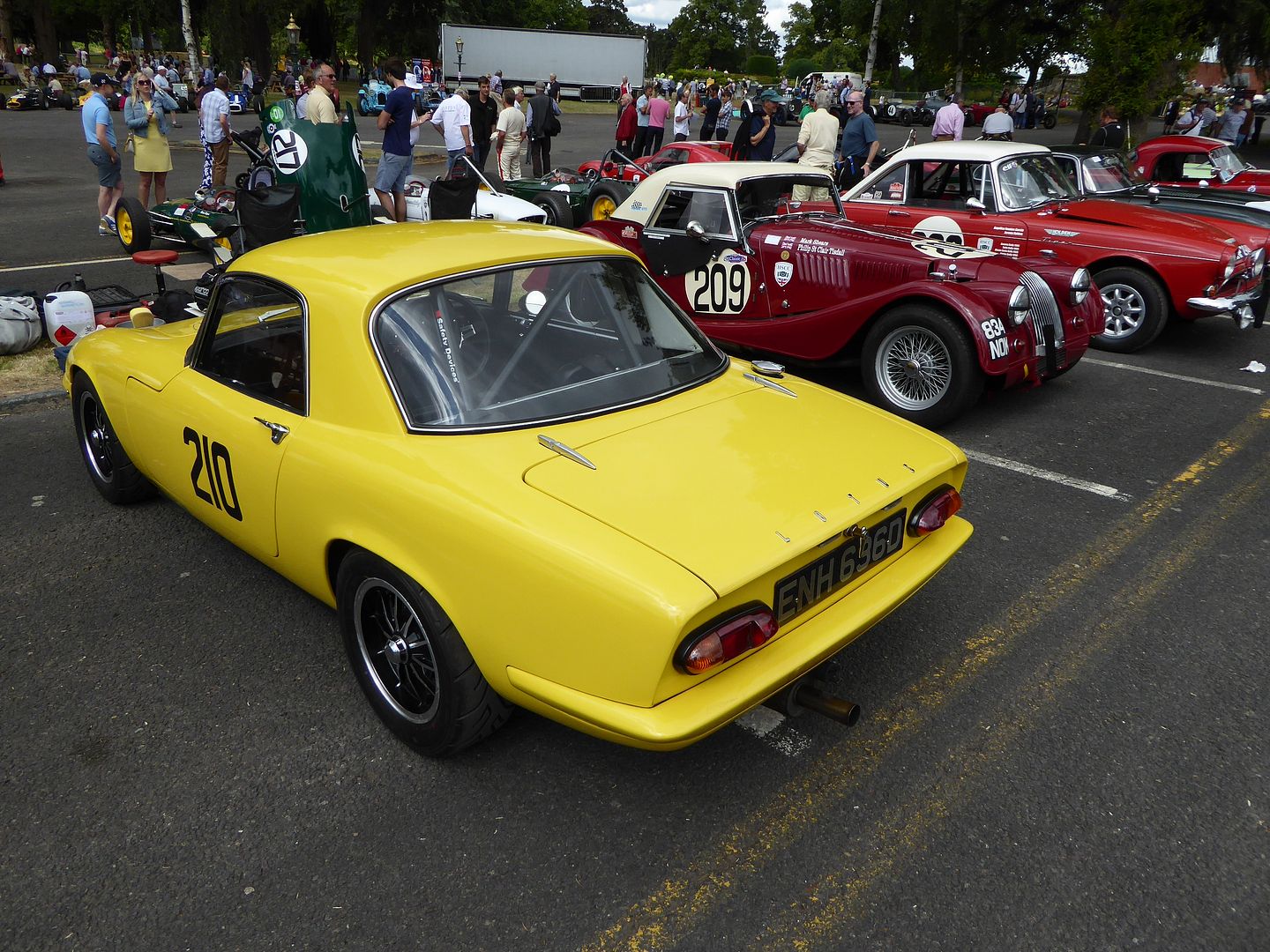 MASERATI
Although the Maserati company was founded in 1914, the first cars to bear the famous name did not appear until 1926. Fittingly, that is why it is called the Tipo 26. 43 of these cars were made, with a variety of engines from 1100 to 2500cc. This is a Tipo 26B and dates from 1929.
A few years newer was Tom Dark's fabulous 6CM. Maserati spent much of its early years manufacturing cars for privateers in the racing field. The Maserati 6CM is no exception. Introduced to the world at the 1936 Milan Motor Show, 29 of these single-seater racing cars were made by Maserati between 1936 to 1940 for the Voiturette racing class. Twenty-seven were built on the Maserati 4CM frame, with front suspension as on the Maserati V8RI, and they enjoyed a successful racing career from 1936 to 1939. This was a time when the racing world had become even more competitive. as Hitler wanted to prove that the Germans were the best in everything, including auto racing. Hitler funded the companies of Daimler- Mercedes and Auto Union. This created the drive to make a better car for the Grand Prix circuit and Maserati was able to prove that the Germans were not going to have it all their own way. A racer named Didi drove one of the 29 models made to victory in four of the five races he competed in. The race he did not win, he came in second. The most "rewarding" race victory came in Monaco, Maserati's home town. The car had a 1493cc inline 6 cylinder engine, with two overhead valves per cylinder, mounted at 90 degrees, a Roots type supercharger,     Weber carburettor, and  Scintilla ignition. There was a four-speed gear box. The 6CM initially put out  155 bhp at 6200 rpm, but its output by 1939 was increased to 175 bhp at 6600 rpm.
One of the best known Formula 1 cars of the mid 1950s is the Maserati 250F. 26 of these legends were made between January 1954 and November 1960. Twenty-six examples were made. The 250F principally used the 2.5-litre Maserati A6 straight-six engine which generated  220 bhp at 7400 rpm, ribbed 13.4″ drum brakes, wishbone independent front suspension and a De Dion tube axle. It was built by Gioacchino Colombo, Vittorio Bellentani and Alberto Massimino; the tubular work was by Valerio Colotti. The 250F first raced in the 1954 Argentine Grand Prix where Juan Manuel Fangio won the first of his two victories before he left for the new Mercedes-Benz team. Fangio won the 1954 Drivers' World Championship, with points gained with both Maserati and Mercedes-Benz; Stirling Moss raced his own privately owned 250F for the full 1954 season. In 1955 a 5-speed gearbox; SU fuel injection (240 bhp) and Dunlop disc brakes were introduced. Jean Behra drove this in a five-member works team which included Luigi Musso. In 1956 Stirling Moss won the Monaco and Italian Grands Prix, both in a works car. In 1956 three 250F T2 cars first appeared for the works drivers. Developed by Giulio Alfieri using lighter steel tubes they sported a slimmer, stiffer body and sometimes the new 315 bhp (235 kW) V12 engine, although it offered little or no real advantage over the older straight 6. It was later developed into the 3 litre V12 that won two races powering the Cooper T81 and T86 from 1966 to 1969, the final "Tipo 10" variant of the engine having three valves and two spark plugs per cylinder. In 1957 Juan Manuel Fangio drove to four more championship victories, including his legendary final win at German Grand Prix at the Nürburgring (Aug. 4, 1957), where he overcame a 48 second deficit in 22 laps, passing the race leader, Mike Hawthorn, on the final lap to take the win. In doing so he broke the lap record at the Nürburgring, 10 times. By the 1958 season, the 250F was totally outclassed by the new rear engined F1 cars, however, the car remained a favourite with the privateers, including Maria Teresa de Filippis, and was used by back markers through the 1960 F1 season, the last for the 2.5 litre formula. In total, the 250F competed in 46 Formula One championship races with 277 entries, leading to eight wins. Success was not limited to World Championship events with 250F drivers winning many non-championship races around the world. Stirling Moss has repeatedly said that the 250F was the best front-engined F1 car he drove. This car was originally driven by Argentinian racing driver Onofre Marimón who participated in 11 Formula One World Championship Grand Prix, following his debut in July 1951, but who tragically, just three years later, was killed driving the car during practice at the Nürburgring ahead of the 1954 German Grand Prix, becoming the first driver ever to be fatally injured at a World Championship GP. Following the crash, the 250F was rebuilt by the carmaker as the Monza Streamliner and finished fourth in the 1955 Italian Grand Prix driven by Frenchman Jean Behra. However, the car's rebirth was short lived as it was virtually destroyed in a fire at the Maserati factory in the summer of 1956. What salvageable parts remained were bought from the factory by restorer Cameron Millar in the mid-sixties, who subsequently sold the parts on as a whole car in component form to Ray Fielding, an avid collector who owned a number of other Maserati racing cars. He commenced the restoration and rebuilding of 2518, and while he eventually managed to complete the car, sadly it never turned a wheel in competition during its time under the Fielding family's ownership. The 250F changed hands once more in 2011 and was rebuilt for a third time, with the intention that the car would be used in competition once again. The work was carried by Hertfordshire-based DK Engineering and was sold to the current owner Niall Dyer in early 2014.
MERCEDES-BENZ
There were a couple of early Mercedes cars competing, a 60HP and a Rennwagen
METALLURGIQUE-MAYBACH
Another of the aero engined cars, this is one that I had not seen before. It had its first outing for five years at the 2015 Goodwood Festival of Speed only days before this event, and it has subsequently featured in an article in "Classic and Sports Car" magazine, so there is now some good information avilable about this amazing machine. It is big. 15 foot 8″ long, and with 1:3 turns lock to lock, needs plenty of space to manoeuvre, but once underway, you could drive it for around 200 miles, thanks to a large fuel tank and consumption that will average as high as 12 mpg. It's history goes back almost 100 years, believed that Ernest Eldridge began the Maybach engine conversion, but abandoned it in favour of the Fiat Mephistipheles project instead. In 1919, the future Land Speed Record Holder sold it to a Norfolk-based enthusiast called Cole, who set about completing the swap. Cole dies in 1921 and the Metallurgique, complete with an ugly body and makeshift vee radiator was abandoned in a barn for over 30 years. The car really took off though when it was discovered by a gent called Douglas Fitzpatrick. Born in 1906, he travelled extensively in the 1930s and later served with the RAF, where he trained Douglas Bader. He developed an interest in Edwardian motorcars, ignited by tales of the glory days of Brooklands, related to him by his father. He had some experience of other aero-engined cars, such as the 12 litre Grand Prix Itala and the 22-litre Blitzen Benz, and after the War, he acquired a 1907 Wolsely Siddeley, but in April 1950 he received a call from someone who was clearing a boatyard at Brundall on the Broads and who had discovered a rough old car and who knew of Fitzpatrick's interest in old cars. A deal was done and Fitzpatrick had the car shipped to Sheringham Hall where he lived. He found the letters MM stamped on many of the components, which led to the conclusion that the chassis at least was a Belgian made Metallurgique, dating from 1907. That car would originally have been fitted with a 10 litre engine, but it was clear that the frame had been extended to accommodate a mystery engine, which measured 54″ lonf, and featuring six separate iron cylinders placed side by side on an enormous aluminium crankcase. The T-head combustion chambers breathed in on the right and out to the left with the valves being opened by two low camshafts. Each cylinder had three plugs fired by twin Bosch magnetos, but the original carburettors were missing. Fitzpatrick guessed that the engine was German and possibly a Maybach. Further research elicited that it was a 21 litre unit, manufactured between 1910 and 1912 for use in motor-boats and air-ships, and that the chassis had been commissioned by David Bruce-Brown, an American millionaire who enjoyed racing success before WW1. A rebuild started, with help from a former German PoC, Gerry Majewski, who helped sort the chassis before the car was sent to Panelcraft for an Edwardian syle body to be created. A new radiator was crafted but the original bonnet and radiator scuttle were retained. The car was first started in November 1955 when the car was pushed onto Putney High Street and then given a tow to the top of Putney Hill. It took a year to iron out the various teething problems, and locals at the time got to used to seeing what looked very much like a personifcation of Mr Toad behind the wheel of this incredible car. Fitzpatrick took the car all over Europe and he became practised at coping with some of the challenges, one of which was the starting procedure, where help was needed to turn the engine over with a 4 foot tommy bar whilst watching the flywheel to line up timing marks for top dead centre on number two piston. Mags and trembler coil could then be switched on and the engine would burst into life. If the car stalled, real care was needed, as if the switches were not turned off, as Fitzpatrick found, the kickback would send him flying across the road! Fitzpatrick died in 1986, and the car remained at Sheringham Hall until turning up for auction in 1988. It was withdrawn from that sale and then relisted two years later in Momaco where the car was secured for £242,486 by enthusiast Tim Moore who still owns it. Like the other aero-engined cars of its era, it is truly amazing. 1000 rpm in third is 60 mph, and with 50/50 weight distribution the car has neutral handling, albeit rather heavy steering. It still holds a Class A standing start record for Over 10 litre cars, established many years ago.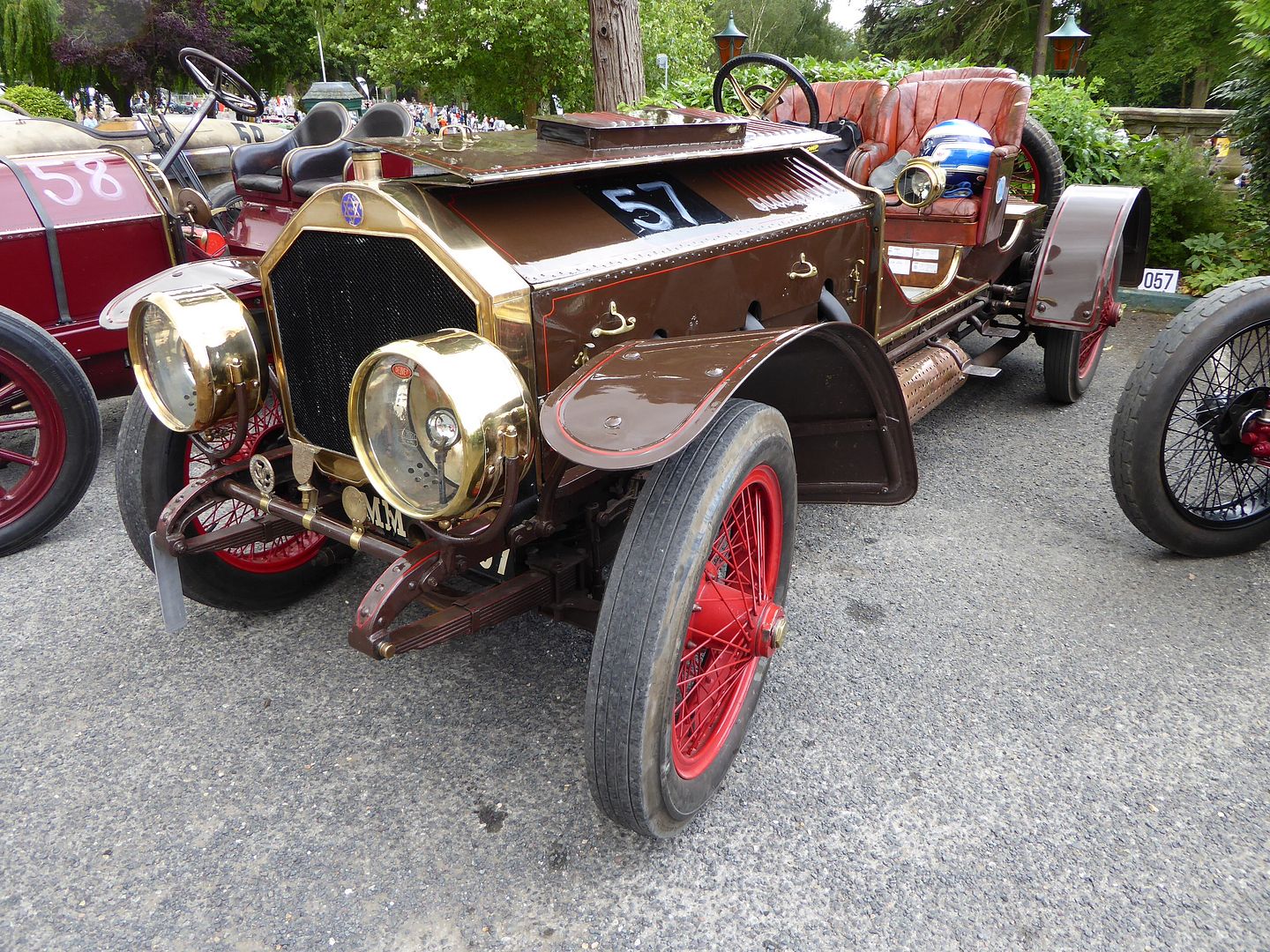 MG
The MG Q-type (sometimes referred to as the MG QA) is a racing car that was produced by MG in 1934. The chassis was based on the one used on the MG K3 but was narrower and used N-type axles. The engine used the cylinder block from the P-type but with a special crankshaft to bring the capacity down to 746 cc by reducing the stroke from 83 mm to 71 mm.  A high-pressure Zoller supercharger was fitted giving a boost to 2.5 atmospheres and allowing the engine to produce 113 bhp at 7200 rpm. A sprint version was also made with output increased to 146 bhp which at nearly 200 bhp per litre was the highest specific output of any engine in the world at the time  Probably only eight were made, as the car was expensive at £550–£650, and the rigid-axle chassis had difficulty in dealing with the power of the engine. The single-seat version achieved a lap speed of 122 mph at Brooklands race track driven by George Harvey-Noble, and the two-seater was capable of 120 mph. Seen here is a Q Type Special, which started life as an MG PB purchased from new by Humphrey Smith at the end of 1936. Humphrey's first outing in the car was at the Donington Coronation Trophy Meeting in May 1937 without success, followed by July's 12 Hour Sports Car Race where he came 20th overall. Humphrey entered the MG for the RAC Rally in 1939, sharing the driving between himself and his wife, where they finished 29th out of 39 starters. The couple parted ways with the car shortly after the outbreak of the Second World War and it eventually ended up in the hands of W R Rash, a farmer from Diss and an enthusiastic member of the Eastern Counties Motor Club. Rash entered the MG in the first ever race meeting at Snetterton in April 1952, organised by the Eastern Counties Motor Club, achieving fourth place in a three-lap scratch race for racing cars up to 1100cc. He continued to campaign the car primarily at Snetterton, but by late 1953 wanted something faster and more sporting, so opted to change the body before removing the engine and gearbox and placing them in a Lotus 6. With its new body but minus its engine and gearbox, the MG was bought by Essex-based Colvin Gunn in 1954, who replaced the missing parts, including adding an 847cc power plant engine, and got it running again. A leading figure in the racing and repair of Triple-M MGs, Colvin regularly took the car out around rural Essex with best friend and VSCC member Leon Easter. He built a replacement homemade fibreglass body during this time, placing it in keeping with sports cars of that era. However, Colvin particularly admired the 2-seater Q type body, which noticeably influenced the car's fourth body incarnation, and which he went on to craft in aluminium. He continued to campaign the MG for the following four decades and raced in France during the 1970s as well as Shelsley Walsh, Prescott and Curborough. His son James would often accompany him camping at the circuits and the competitions eventually became a family affair with James getting behind the wheel at Curborough in his late teens. His daughter Rebecca also caught the motorsport bug and in 1984, became the first ever winner of the John Rowley Trophy, the VSCC's annual aggregate award for its top performing Under-23 Member, which was most recently won in 2014 by Charlie Martin. Following Colvin's death in 2001, the brother and sister team have continued their father's legacy and seen the MG reach its full potential as a highly successful competition car in VSCC events throughout the UK. Rebecca and James both compete in the car, with James taking care of the maintenance.
MINI
There was a neat line of 6 Mini Cooper S models that I came across in the Paddock, awaiting their turn in the Production Saloon Car Class. Two of them were ex Broadspeed cars, and these frequently outran the factory works Coopers and competed in period at various events, including a number of Chateau Impney sprint events in the Sixties. The cars were mostly driven by John Handley and John Fitzpatrick, two very successful drivers of the era. Although, the first time Handley announced he was going to race in a Mini, his competitors laughed. But as both Minis usually ran faster than the factory cars, they soon discovered Coopers are faster and more powerful than they look. Fitzpatrick was Broadspeed's top driver and Handley raced with Broadspeed for three years, before moving on to compete for the Cooper Car Company. In 1964, Handley won his class at Chateau Impney completing the 550-yard course in just 25.42 seconds.
MORGAN
There were a number of the classic three-wheeler models taking part. A couple of them. Super Aero models, were entered in the class for Racing Cars up to 1100cc and a third was in the Standard and Modified Class.
Two more, with larger engines, a Hale Morgan and another Super Aero were in the Racing Cars up to 1500cc class.
Four wheeled Morgans were also out on the hill, with a Riley-engined 4/4, driven by local GP Dr David Pryke which took a class win, a Plus Four SuperSports and an older Plus Four with a flat radiator design.
RICHARD BOLSTER SPECIAL
Richard Bolster was the brother of John, creator of the famous Bloody Mary, which was on display in the Concours at this event. Richard got tired of the fact that Bloody Mary was difficult to drive, so created his own alternative.
RILEY
This car was parked up on the road behind the hotel, part of the route back from the finish line to the Paddock, suggesting that it had experienced a problem of some sort. Certainly it does not feature in the results listings.
A number of Riley models from the heyday of the marque, the late 1920s and early 1930s were taking part, including the Riley "SuperRat", a Falcon Special, a TT Sprite Replica and a second TT Sprite as well as an Ulster Imp
This is a Riley Treen Special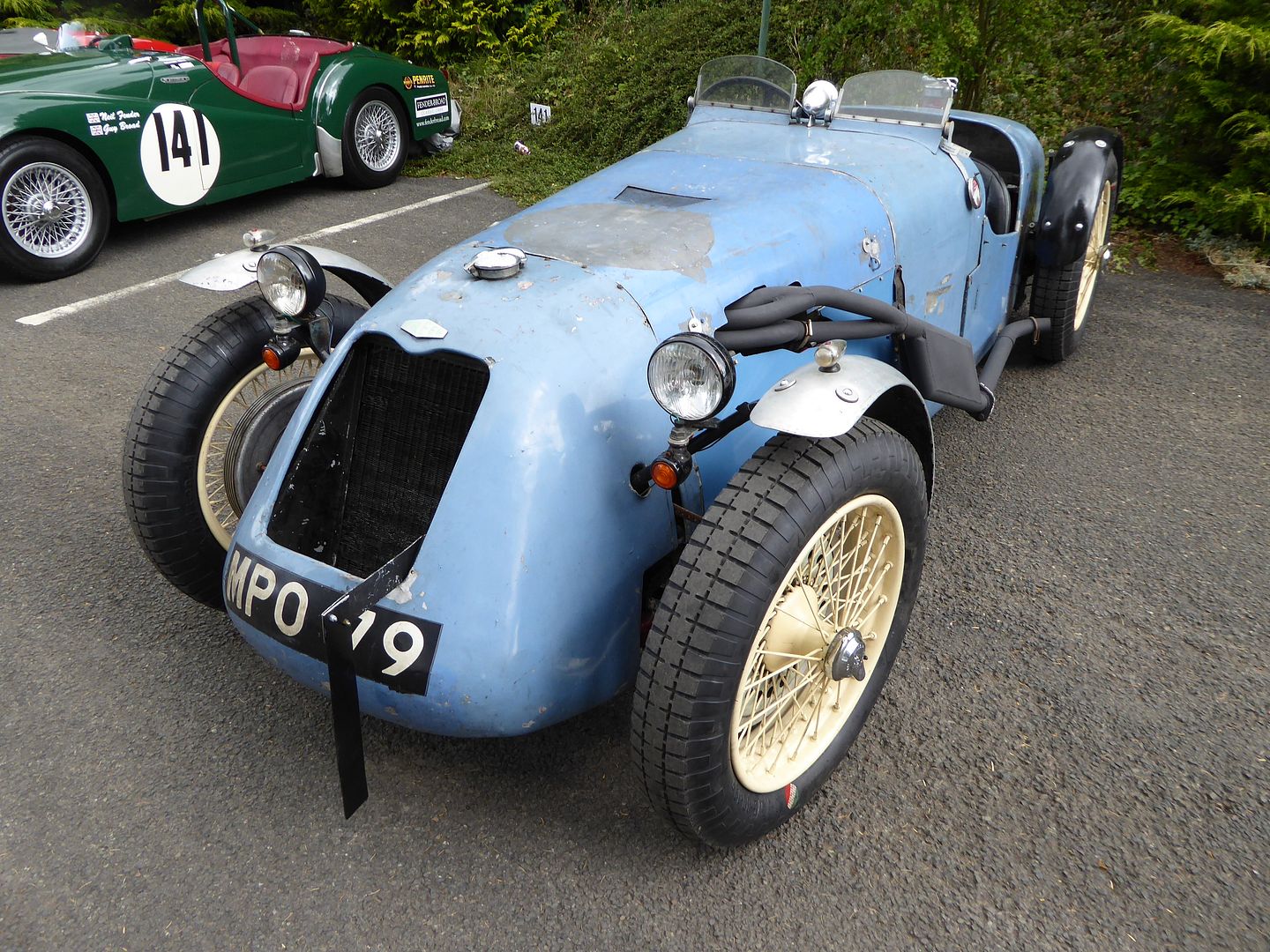 SCARAB
Some Formula cars from long extinct marques can be quite hard to identify. but I had no problem with this one, It is a Scarab, one of just three cars built by an American constructor. The Scarab Formula 1 car debuted at Monaco in 1960, by which time many felt that an American Grand Prix victory was long overdue, as the last and only success dated back to 1921 when Jimmy Murphy hadwon the French Grand Prix in a Duesenberg. Since then open-wheel racing moved into different directions on the two continents. Lance Reventlow's Scarab project was the first serious American Grand Prix effort since the introduction of the Formula 1 class. The young heir to the Woolworth fortune, Reventlow had made quite an impact during the 1958 season. Built by a 'dream-team' of engineers in California, his V8-engined Scarab sports cars outclassed many established manufacturers like Ferrari and Maserati in the American championship. The next objective were the world championship races in Europe. An Offenhauser built three-litre engine was tried to comply with the regulations but it was not powerful enough to match Europe's finest. With no other American engine available that would fit the bill, Reventlow abandoned the sports car program after a single season. He spent the next year and a large chunk of his vast resources on creating an all-American Formula 1 car. The program was up against it from the outset; single-seater racing was on the brink of the mid-engined revolution and none of the engineers involved had any experience designing or developing a Formula 1 car. Reventlow's desire to rely exclusively on American built components complicated the project even further. The responsibility of developing the chassis was placed on 23-year old Marshall Whitfield, even though he had never designed a car before. He penned a wholly conventional steel spaceframe chassis. Suspension was by double wishbones and coil springs on all four corners. Much time and money was wasted on the development of a proprietary drum-brake system. Reventlow eventually caved and ordered the far superior but British Girling disc-brakes. Chunky Halibrand wheels and Goodyear tyres completed the package. Offenhauser's Leo Goossen worked on a bespoke four-cylinder engine for the Formula 1 car. The all-aluminium engine followed the familiar Offenhauser pattern with one major exception; the desmodromic valve-train. The design for the sophisticated system was 'inspired' by the Mercedes-Benz 300 SLR, which had been on display in the Henry Ford Museum. The desmodromic or positively actuated layout featured valves that were opened and closed by the camshafts. With no need for valve-springs, it allowed for much higher engine speeds. The all-American package was clothed in a very conventional aluminium body. Two cars were built and finished in the white and blue American racing colours also used for the Scarab sports cars. This included beautiful detailing by Los Angeles based artist 'Von Dutch'. Upon completion, they were shipped to Europe for the Monaco Grand Prix. Ironically, the Scarab team was assigned the same garage as Cooper. Their small, mid-engined machines very much represented the future, making the Scarabs look outdated before they even turned a wheel. Once on track, it only became worse for Lance Reventlow and fellow driver and engineer Chuck Daigh. The Scarabs were hopelessly off the pace and a last minute switch to Dunlop rubber made little difference. Stirling Moss was asked to drive the car to make sure the drivers were not to blame; they weren't. The American cars were a full eight seconds off the pace and slower even than the diminutive Formula Juniors that raced in one of the support events. Needless to say both cars failed to qualify for the race. The tight and twisty Monaco street circuit was probably the track least suited to the Scarab on the calendar, so all hope was not lost. Next up was the Dutch Grand Prix at Zandvoort where the cars indeed performed better. Daigh was particularly impressive and managed to set the 15th fastest time in qualifying. After some of the rivals questioned the Scarab's times, an upset Reventlow withdrew his team. In doing so, he robbed Daigh of his maiden Grand Prix start. Daigh did make his debut during the next round at the very challenging Spa circuit. He started from the last position on the grid and struggled on in the race until he lost all oil. Reventlow also participated but his race was cut short when a piston punched a hole in the block after only two laps. The young heir had lost all confidence and had Richie Ginther flown in for the final European round at Reims. Further engine failures in practice depleted the spares' inventory and neither Daigh or Ginther were able to start. There was one more Grand Prix on the schedule; the American Grand Prix at Riverside. This was almost literally in Scarab team's backyard and Daigh convinced Reventlow to let him enter the car. Before the race he extensively lightened the car and reworked the engine to make it more reliable. To his credit the changes certainly had an effect and he qualified 16th out of 23 starters. In the race he suffered from vapour lock problems but nevertheless finished 10th. He was the best placed of the few front-engined cars still in the field. A drop of the displacement limit to 1.5 litre for 1961 meant that the Scarab Formula 1 car was now also officially obsolete. Daigh used his car with a three litre engine in some Intercontinental races until he wrote it off in a big shunt at Silverstone. Reventlow retained his own car and fitted with a V8 engine it starred in a short movie by Bruce Kessler called the 'The Sound of Speed'. A third, spare chassis was also built but never completed. For many years the failure of the Scarab Formula 1 car was primarily blamed on the archaic chassis layout and Reventlow's obsession with using American components. Much later Daigh found that there was another contributing factor. While rebuilding the engine out of his old car, he found that the drawings called for a valve lash of 0.002 in and that the engines had actually been built with a 0.012 in lash. When he set the engine up correctly, he immediately got up to 265 bhp. That additional 45 bhp could have made the Scarabs a lot more competitive on the faster circuits like Spa and Reims. After the humiliating foray in Formula 1, Reventlow all but lost interest in motor racing. His men only built two more cars; a single seater and a sports car, both mid-engined. Many years later and with a slightly larger engine, American historic racer Don Orosco did score some successes with the ex-Reventlow Formula 1 car in Europe. The dream of an American Grand Prix car lived on and the likes of Dan Gurney and Roger Penske eventually managed to be competitive with 'American' cars in F1, but only briefly. More recent attempts have been far less successful.
SUNBEAM
Another production car competing in that class was this Rapier Series III
TALBOT
The Talbot 105 was a high powered sports car developed by Talbot designer Georges Roesch. It was famously fast, described by one authority as the fastest four-seater ever to race at Brooklands. The car made its first appearance at the London Motor Show in 1926, at the time, formally named according to its fiscal and actual horsepower as the Talbot 14-45. The six-cylinder engine displaced a volume of 1,665 cc and was the basis for all Talbot engines until the Rootes takeover in 1935. The engine was repeatedly bored out further, giving rise to a succession of performance improvements. Throughout these developments, the exterior dimensions of the original 14-45 engine block remained unchanged, however The 1930 London Motor Show saw the debut of the 20-70 model, bore and stroke both being increased to give an engine capacity increased to 2,276 cc. In this form the car was later called simply the Talbot 70 or 75. Higher compression ratios and power increases followed. An increase in the engine capacity, still without any change to the exterior dimensions of the engine block, yielded a cylinder displacement of 2,969 cc for the iconic Talbot 105 model. In 1931 four 105s were tuned to provide a reported 119 bhp, at 4,800 rpm in "Brooklands trim" further tuning and in increased compression ratio of 10:1 gave rise to a claimed 125 bhp. These were the cars that acquired as a works entry on the racing circuits, featuring prominently at Brooklands. In 1932 Talbot pulled out of racing, but a major Talbot dealer named Warwick Wright successfully ran a team of three 105s that year, and other teams operated by dealers and enthusiasts continued to race the cars at least till 1938. With their apple green paint, they are highly distinctive.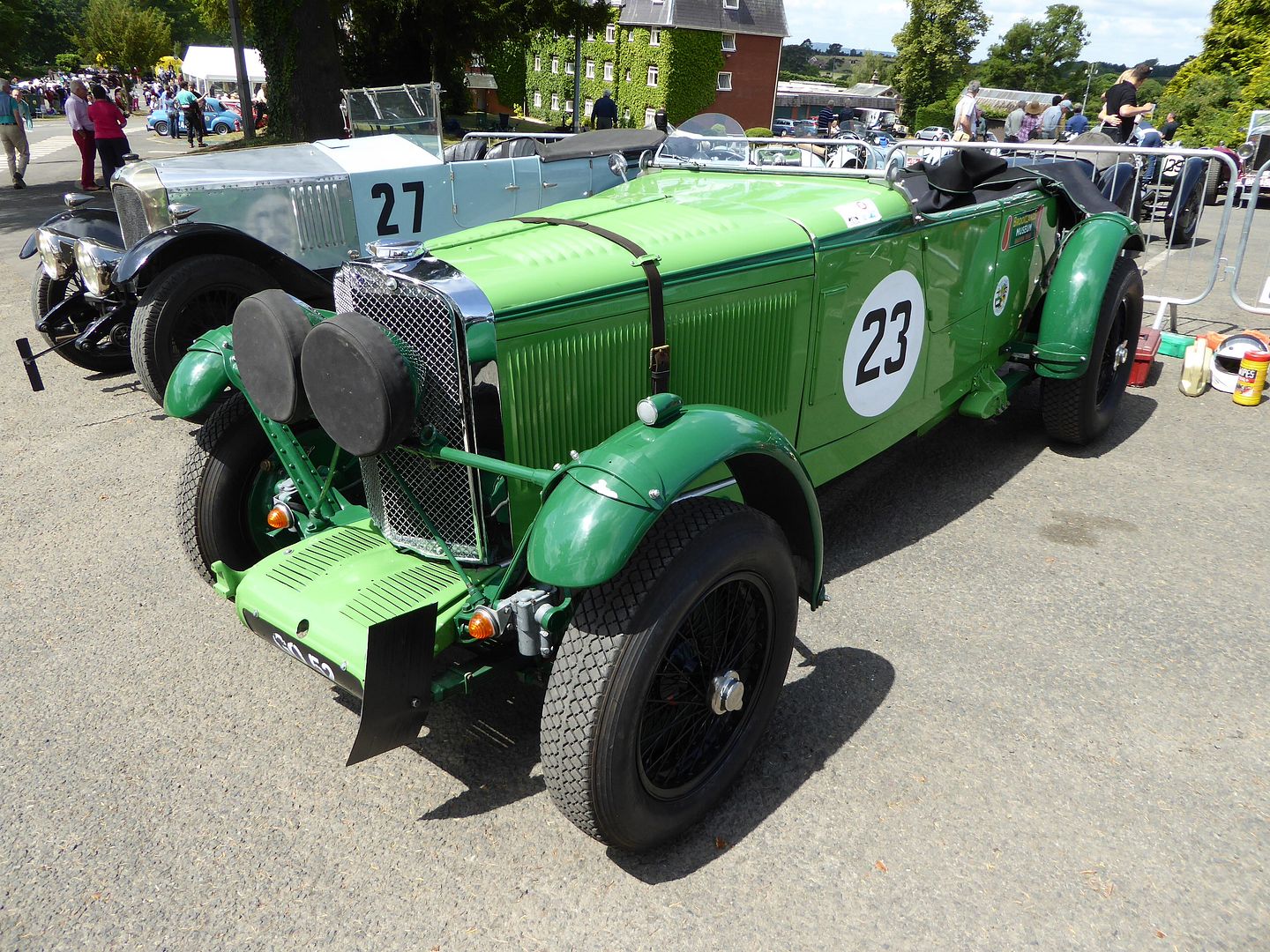 Dating from 1939 was this Talbot-Lago Darracq T150C. The long name comes from the fact that the Anglo-French Sunbeam-Talbot-Darracq combine collapsed in 1935. The French Talbot company was acquired and reorganised by Venetian-born engineer Antonio Lago and after that, the "Talbot-Lago" name was used internationally. On the home market the cars still bore the Talbot badge they had carried since 1922, which was when, in France, the "Talbot-Darracq" name had given way to "Talbot". New models were gradually introduced. Most of them came with a variety of voluptuous coachbuilt bodies and are among the most prized cars of their era, but there were some fitted with racing bodies, such as this one.
TRIUMPH
Both the TR2 and later TR3A were entered in the Production Cars Class.
VAUXHALL
A couple of Vauxhalls were entered, the Prince Henry and the later 30/98. The Prince Henry is often thought of as the first true Sports Car. The Prince Henry was a higher tuned version of the Vauxhall 20 hp that had been designed in the winter of 1907-08 by then draughtsman Laurence Pomeroy (1883–1941) when the company's chief engineer F. W. Hodges was away on holiday. The engine was of 4-cylinder monobloc design with side valves and a capacity of 3054 cc giving 40 bhp output. Known to Vauxhall as their C-10,  three specially prepared cars were entered in the 1200 mile long 1910 Motor Trials named in honour of Prince Henry of Prussia. They had their engine power increased to 60 bhp at 2800 rpm and as a result of the success replicas were put on the market at £580 with the chassis code C10 and known as the Prince Henry model. These proved popular and sold quickly.  and became known as Prince Henry Vauxhalls. Prince Henry cars also competed in other international trials including the 1911 St Petersburg to Sebastopol Trial and so two cars were sold to Tsar Nicholas II. A sales and support and distribution branch was opened in Moscow with good results. Hampered by the First World War the office was finally closed after the 1918 revolution. Three of these cars were entered in the RAC 2,000-mile trial and one won the speed trials at Brooklands which was part of the event as well as winning the fuel economy award for its class. This victory helped Pomeroy to be promoted to Works Manager. In 1913 the engine capacity was increased to 3969 cc and the internal designation changed to C. Production continued until 1915.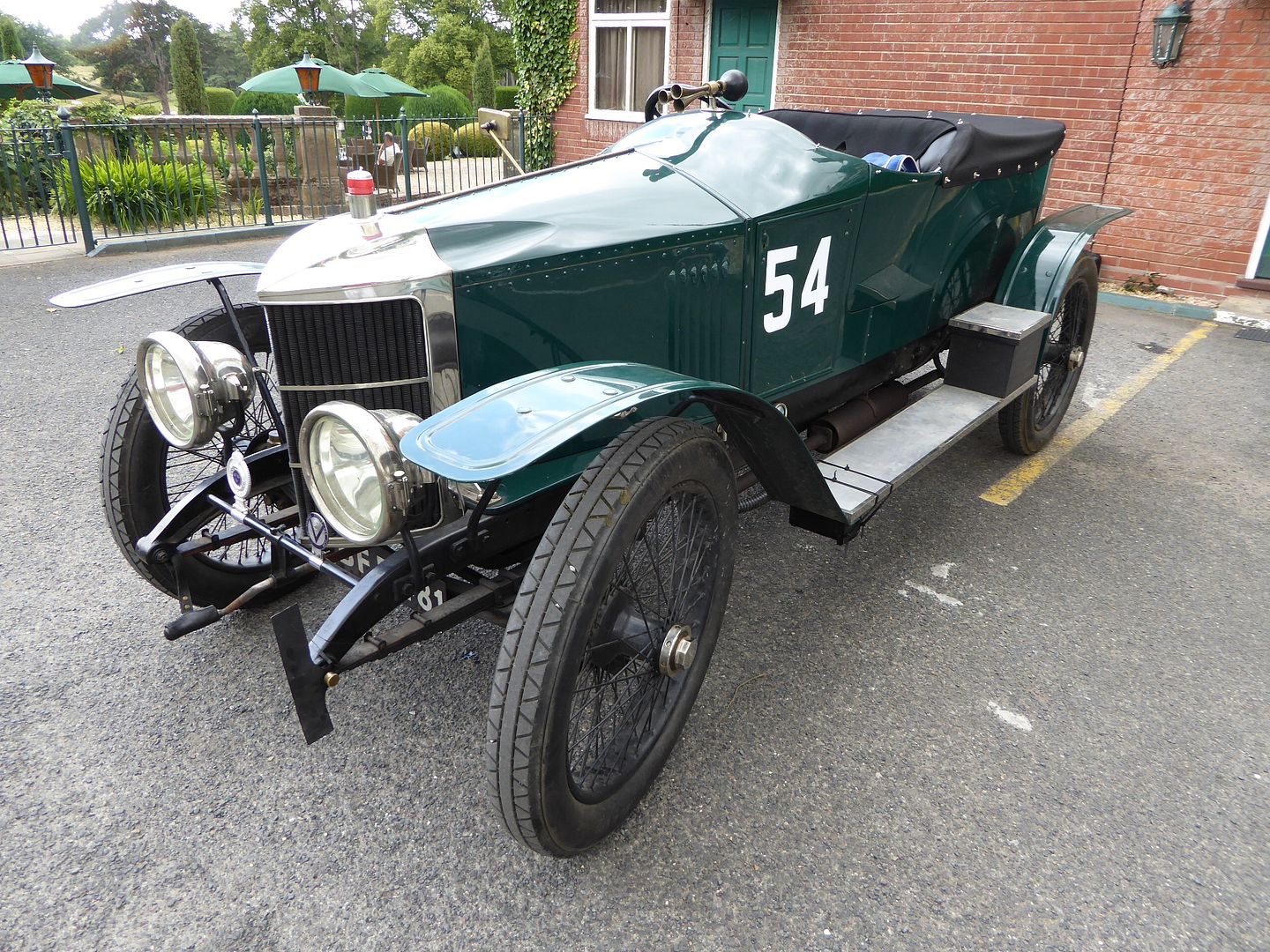 Follow on to the Prince Henry was the 30/98. Constructed at the behest of car dealer and motor sport competitor Joseph Higginson, inventor of the Autovac fuel lifter, he won the Shelsley Walsh hill-climb motoring competition on 7 June 1913 in his new Vauxhall, setting a hill record in the process, having in previous weeks made fastest time of the day at Waddington Pike and Aston Clinton. The 30-98s used the Prince Henry chassis, they were distinguished by having more-or-less flat rather than V-shaped radiators. Laurence Pomeroy took the Prince Henry L-head side-valve engine, bored it out 3 mm, then cold-stretched the crankshaft throws 5 mm using a steam power hammer to lengthen the stroke. The camshaft was given a new chain drive at the front of the engine, high lift cams and new tappet clearances. The Prince Henry chassis was slightly modified and the whole given a narrow alloy four-seater body, a pair of alloy wings and no doors. Before war intervened only 13 30-98s were made and they were for selected drivers, the last in 1915 for Percy Kidner a joint managing director of Vauxhall. Actual production did not really begin until 1919.The 30-98 name is believed to have been coined because the car had an output of 30 bhp at 1,000 rpm and 98 bhp at 3,000 rpm but another explanation is that it had an RAC horsepower rating of 30 and a cylinder bore of 98 mm though perhaps the most likely of all is that there was then a popular but heavier slower Mercedes 38/90. However it was found, the name 30-98 looked and sounded so well. The 30/98 was not really a racing machines but a fast touring car. The exhaust made a tranquillising rumble, there was no howl, no shriek, no wail. But there was the quiet satisfaction, if stripped for action, the car could lap Brooklands at 100 mph. The makers guaranteed that. Some owners had to watch their car being given the test to be reassured. Production continued until 1927.
CONCOURS
Almost hidden away from the rest of the attractions was a long marquee construction which housed a small concours. Inside were a splendid array of absolutely fabulous cars. The two cars at the far end of the display were the ones which had gathered all the headlines in the weeks leading up to the event. These were a pair of Ferraris. Not just any old Ferrari, either, but a 250 GT SWB and a 275 GTB/4, two of the most valuable machines that bear the famous prancing horse logo. Both belonged to the late Richard Colton, and his story and the destiny of the cars has been much reported upon over the summer. Colton had owned both for a long time, and driven them, despite their immense value. He could have sold them, and raised money to pay for something like a larger house than the modest bungalow in which he lived, but he chose not to. Motor sport was a huge passion for Colton, and he was a keen competitor in hill-climbing challenges, as well as sponsoring multiple British Hill Clumb championship winner, Roy Lane, via his company Steel King, a footwear company. Colton's only son shared the passion, but sadly he was killed in a crash during practice at Craigantlet in 1995.  When Colton died in March 2015, aged 82, as he had outlived his third wife, Caroline, and he had no immediate family to whom he could bequeath the cars (or indeed all the others he owned, and there were several of those!), so he decided that the cars should be sent for public auction and the proceeds donated to charity. He had completed an RNLI tour with Ecurie Ecosse and was very proud of the work of that charity, so decided that the cars would pass to them, in the hope that the money raised would be sufficient to purchase a Tamar-class lifeboat, which would be named the "Richard and Caroline Colton". At the time he decided this, a Tamar cost £2 million and this is what the cars were worth. These lifeboats have a 25 year lifespan and can then be refitted for a further 25 years, so this will be an enduring gift.  The cars ended up being placed with the H&H auction house and entered in their October sale at Duxford. Of course, values of Ferraris like these have risen significantly in recent years, and the 250 GT SWB realised £6.6 million and the 275 GTB/4 £1.93 million, meaning the RNLI could well be in a position to buy two lifeboats.
Colton actually acquired the newer of these cars first, the 1967 275 GTB/4, which he bought from Maranello Concessionaires. It served as the firm's demonstrator and was finally sold on to former ERA racer TC "Cuth" Harrison, before passing through several hands ranging from a Mr Renton who ran a Prep School in Ascot to a Mr Horne, who spent a lot of money on the car, a total of at least 6 owners. At some point the car, which had been painted silver when new, was recoloured as red, which is how it was when Colton bought it in 1974. By this time, he had already had a string of interesting cars, and he was clearly quite shrewd in what he bought and paid for each, but the 275 GTB clearly was a favourite, and he never sold it. In 1979, he had it stripped to bare metal, any necessary welding done and the car returned to as new factory finish. During his long ownership of the car, he used it extensively, taking it to Europe on many occasions  and when James Page, editor of Classic and Sports Car magazine got behind the wheel for the October 2015 issue of the magazine, he enthused about how well it drove. The 275GTB/4 was an evolution of the initial 275GTB which had been launched in 1964. It had a four cam dry sump derivation of Colombo's V12 engine, with 6 Weber carburettors, which meant that the car put out  300 bhip at 8000 rpm and 217 lb/ft of torque at 5500 rpm. enough to give it a top speed of 163 mph. Just 27 right hand drive cars reached the UK before the model was replaced by the 365 GTB/4, the Daytona, a car which Colton also owned at one time.
Lovely though the 275 GTB/4 is, it is probably the 250 GTB SWB which most would think of as even more special. The market certainly thinks so now, but it was not always that way. In 1976, Colton sold a Bentley Speed Six for £17,250, and the SWB was worth less than that. How things change! This car is one of just 10 supplied new to the UK by Ronnie Hoare, back in 1960, and was one of two which was sourced from Enzo to allow the creation of Maranello Concessionaires. It was the second right hand drive example of the model and has a steel body, but with the Competizione engine, with high lift camshafts, a raised compression ratio, uprated carburettors and competition suspension. The SWB has a great reputation as a formidable driver's car, but even so, Colton could not resist trying to improve it a bit, and this car has been debumpered and given four-pot brake calipers, subtly flared rear wheelarches and an upgraded exhaust. The 2953cc V12 engine has three carburettors, and generates 240 bhp at 7000 rpm, and 183 lb/ft of torque at 5500 rpm, enough for a top speed of 144 mph and a 0-60 time of 6.3 seconds, impressive figures for its day. It was costly when new, though, listing at £6666 in 1961, when you could get an E Type, with similar performance for at £1,830 for the Roadster and £1,954 for the Fixed Head. Just 158 examples of the 250 GT SWB were built, 88 of them with steel bodies and 70 with alloy, over a 4 year period between 1959 and 1963.
Slightly surprisingly, it was a third Ferrari which was deemed to be the Concours winner. with the voting here done not by a specialist panel. but by the public. The car that proved most popular was a 1953 250MM GT that finished fifth in the Carrera Panamerica road race driven by Mexican Efrain Ruez Echeverria. Just 18 of these 250 MM PF Berlinettas were built. These days it belongs to Nick Mason.
First car that was announced as a concours entrant was this stunning 1992 Jaguar XJ220. With a top speed of 213mph, the Jaguar XJ220 supercar held the prestigious accolade of being the fastest production car in the world before being toppled by the McLaren F1 in 1993. It was produced in collaboration with Tom Walkinshaw Racing, and boasts a powerful 3.5 litre twin turbocharged engine under the rear engine cover, allowing it to reach 60mph in just 3.6 seconds. Only 280 cars were produced at the Bloxham factory, and this particular car was number 13 in the run. Elton John also purchased one of the XJ220s – number 57, to be exact – at its original price of £420,000.
1914 Sunbeam TT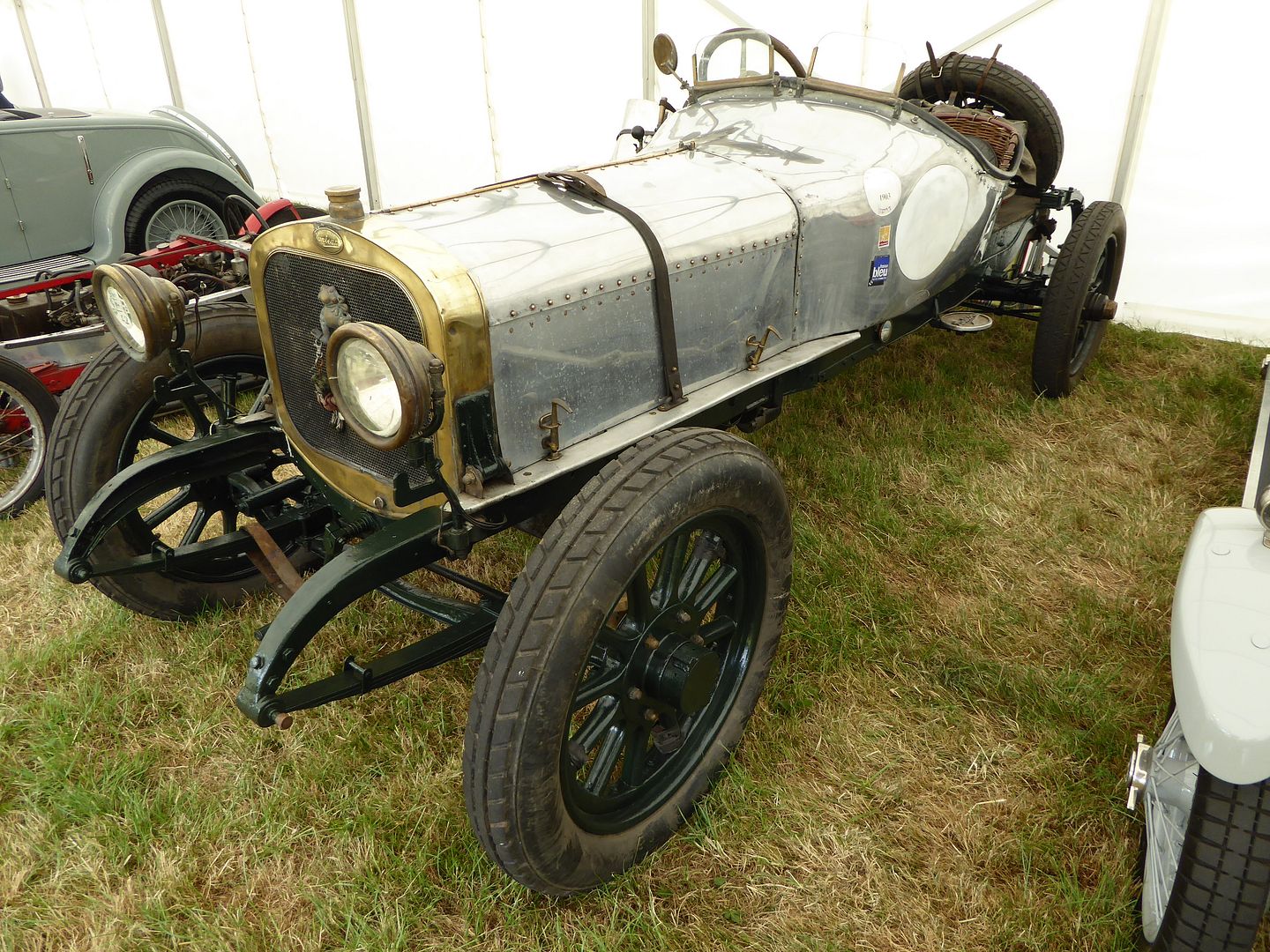 Austin Seven Special
Alfa Romeo Giulietta Spider racer
1955 Jaguar D Type
This is Bloody Mary, a well known car created by the late John Bolster back in the 1920s. As is the way with specials, especially those used in competition, Bloody Mary's specification saw continual updates and improvements, in a bid to improve on reliability, driveability, and not forgetting speed. Many aspects of the car were developed throughout its long active life, not least in the choice of engine(s) used to propel this startlingly-rapid machine. Early doors, Bloody Mary was powered by a 760cc J.A.P. unit dating to 1914 that was coupled to a Juckes gearbox by chain, with the drive to the rear by belt. This first engine detonated itself so was replaced, for the grand sum of fifty shillings, by another J.A.P. engine. Further improvements were gained by a later switch to a 981cc J.A.P. four-cam twin, built circa 1924, which prior to modification turned out 30.6bhp, not bad in a 4.5cwt ash and aluminium projectile. Wins in the 1100cc sprint classes became a regular occurrence with this configuration. Seven pounds ten were handed over for a new Sturmey Archer four-speed gearbox, which heralded a switch to chain- rather than belt-drive to the rear axle. The car was used both by John Bolster and his brother Richard, although the latter began to tire of Bloody Mary's tricky handling (even in a straight line), so built up a new car for himself and competed alongside his brother in Bloody Mary, by this time at events in the early 1930s. Road regulations were but a shadow of what they are today, and Bolster himself refers to how both specials were regularly driven by road to events, although never in close proximity to one another, because of (ahem) "… some oversight on the part of the licensing authorities, both cars had the same registration number". In 1933 further expenditure saw Bloody Mary fitted with an OHV J.A.P. engine, c1925, as removed from a crashed Brough Superior motorcycle. So powered, the 1933 season saw great success, but inevitably there were still designs on the drawing board for yet more modification to increase overall speed. Supercharging was considered, but was ruled out for reliability reasons. So Bolster did the sensible thing, and bought a second J.A.P. engine and installed that into his car, once the frame had been beefed-up to suit the new twin-engine layout. Much effort was put into making this arrangement reliable and manageable, but it was worth it. Wins were soon to follow at sprints and hillclimbs, plus a ten-lapper at Donington racing circuit also saw the sprightly special and its owner reach the chequered flag first. 1937 would be Bloody Mary's final season of competition prior to WW2, Bolster switching to a new car that employed no less than four J.A.P. engines in its make-up. Bloody Mary would reside, disappearing under detritus in the corner of the barn, until the late 1940s when re-commissioning saw the "old girl" restored to active use once more, alongside more recent creations of the Bolster brothers. J. Bolster's racing activities drew to a close towards the end of the 1940s. Piloting not a home-built special, but ERA R5B "Remus", he had a huge crash at Silverstone in 1949 and it was shortly afterwards that he switched from racing to broadcasting at race meetings, in conjunction with writing for popular motor racing magazines of the day. Once again the car would enter a period of inactivity, until being resurrected in the 1990s and since then, the car is taken out from its home at the National Motor Museum at Beaulieu and exercised every now and then at appropriate meetings.
A couple of 1930s Lagonda models
Alvis 20/25
Jaguar XK120 open two seater
1904 Darracq
Salmson
Based on the familiar 401 chassis was this 1949 Farina Bristol, one of a very small number of Bristol cars made in the late 1940s and early 1950s with coachbuilt bodies. As Farina also styled many Lancia of the period, I think anyone who guessed – as I did when I first saw one of these cars a while back – that this was from that Italian marque could be forgiven. Like all Bristols, there is an element of uncertainty as to how many of these  were made, with some believing there could have been as many as a dozen, though only 4 are known to have a chassis number from within the series used for the regular 401 models. This is a different example from the one I have seen previously, for sure.
Bugatti
This 1928 Lea Francis Hyper was a 1928 TT Team Car driven by Wilf Green and is now, or at least was, owned by Jonathan Green, Wilf Green's grandson.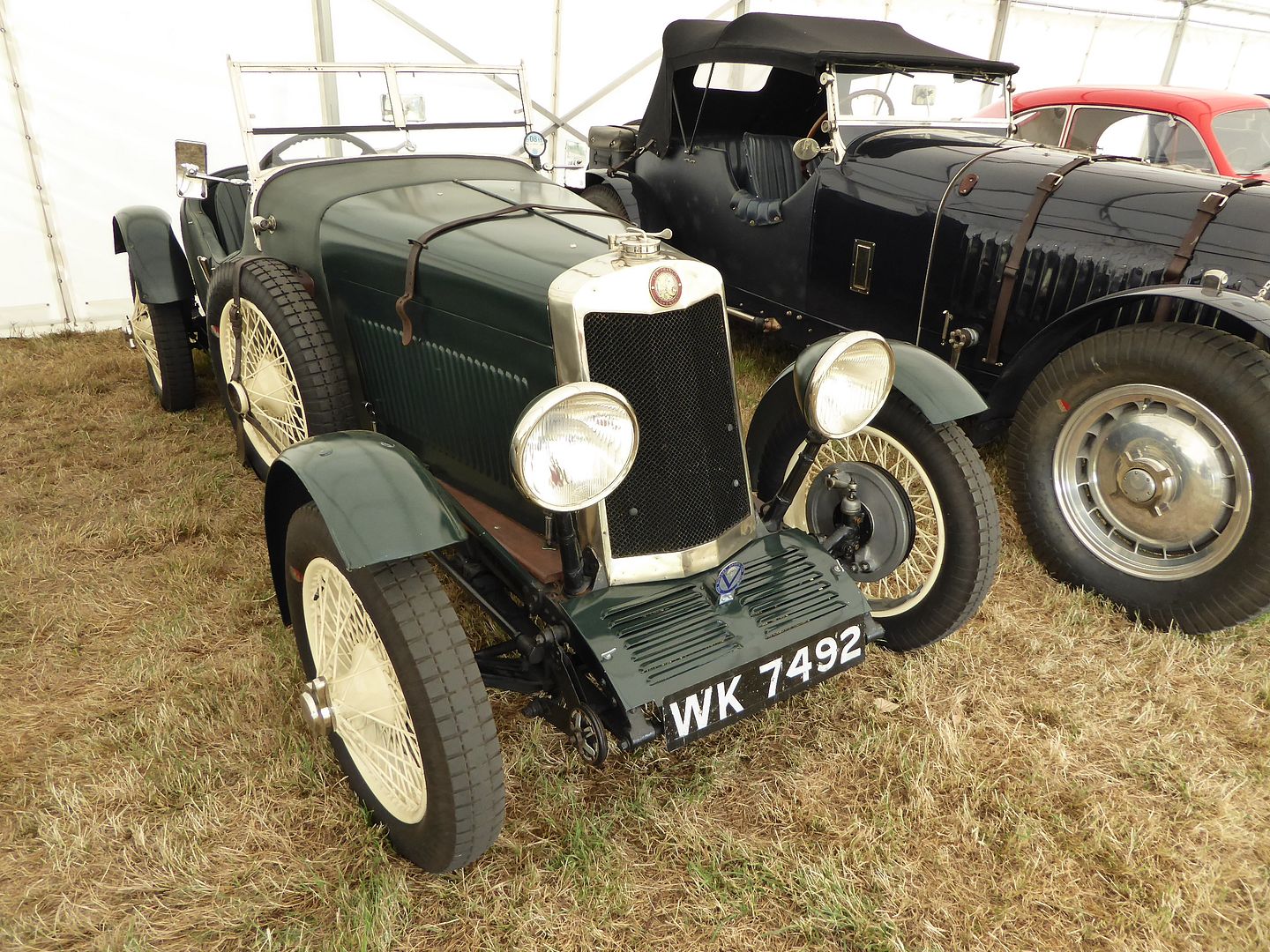 This 1951 Lancia Aurelia B50 Convertible was also a Concours winner, and not surprisingly, as these are supremely elegant, as well as exquisitely engineered cars. Based on the Aurelia B10 saloon, and sharing that cars mechanicals, including the 1754cc 4 cylinder engine, a first prototype of the open topped B50 was shown at 1950 Turin Car Show, and then the model was produced in small numbers, around 265 cars, by cabriolet-specialist Pinin Farina, with the majority of the production completed between 1950-1952. Some of the later cars benefitted from the improved B52 platform.
Riley Sprite
Aston Martin
The 9th ERA of the day was this one, R8C. Like most cars of this era, it has had a chequered past. Originally, it was R8B, and was bought new by Earl Howe in 1936. After some successes with the car, he joined the works team in 1937.  After a serious crash at Brooklands that year the car was upgraded to C specification and Earl Howe continued to enjoy success with it, now called R8C, until  right to the end of his racing career at the outbreak of WWII. It was rebuilt in 1983 to the 1938/39 specification. The car's long standing owner died in 2013, and it has passed to his son, so it should still be seen in action, though at this event it was on static display.
Final car in the Concours was this Bentley Blower. A well known car, the No. 5 Birkin Bentley Blower is linked with the famed 1920s high society 'Bentley Boys', Sir Henry 'Tim' Birkin. Birkin takes full credit for the creation of the 4.5 litre Blower Bentley.  He commenced racing at Brooklands in 1921 with a D.F.P. and graduated to Bentleys in 1927, his first drive being in the Six Hour Race at Brooklands. In October 1928, Birkin persuaded Amherst Villiers to build a special supercharger for a 4.5 litre Bentley. Woolf Barnato, racing driver and chairman of Bentley Motors, supported the experiment. Tim also sufficiently impressed motorsport sponsor Dorothy Paget with the speed and excitement of the Blower car to obtain her financial support.  She bought the three completed cars from Birkin, including a single-seater car which broke the outer circuit lap record at Brooklands at 137.96 mph. Birkin, having won the 1929 Le Mans Race with Barnato in a Speed 6 car, persuaded him to enter a team of supercharged Bentleys in the 1930 Le Mans Race and this meant that the factory had to produce 50 Bentleys to meet the race regulations. Although Birkin led at times during the 1930 race and broke the lap record at 89.69 mph, the car suffered a con rod failure and retired. Dorothy Paget withdrew her support in October 1930 and the team cars were subsequently sold off save for the single seater. A total of five Birkin Blowers were built but the fifth car never had the opportunity to be raced by the team before its disposal.  It was constructed largely from parts of the No. 1 car when it was rebuilt as a single-seater and the No. 2 car when it received a short chassis. The No. 5 car was registered for the road as UR9155, a Hertfordshire registration, and sold to David Cuthbert, a personal shooting friend of Birkin who lived at Beaufront Castle in Northumberland.   The car was fitted with a revolutionary spring steel skeleton framed two-seater body, built by Vanden Plas, which had been fitted to the No. 1 team car for the 1929 500 Mile Race at Brooklands. UR9155 was then sold to Mark Strutt of London Estate Agents, Strutt & Parker, in 1940 who was later timed at 137mph on the Thetford to Newmarket road which was unofficially closed for the occasion by the army. The attempt was also timed from the air by a bomber pilot friend of Strutt.  The car then passed on to Grand Prix racing driver, Jack Fairman in 1946 who competed with the car in April of that year, including in two VSCC events at Elstree when he achieved a 1st and a 2nd place award.  The car was owned by another Grand Prix driver, Geoff Richardson, between 1946 and 1948 before passing to Alick Pitts in 1948. Pitts was a real character – small in stature with only one working eye – but always wore a broad and mischievous grin under his deerstalker hat.  He and the Blower Bentley became a legendary pair in racing circles during the post-war years when he raced the car extensively with some success, including becoming the first winner of the BDC Rolls Royce Trophy and the VSCC Vintage Seaman Trophy.  He later gave up circuit racing and instead competed in sprints, hill climbs and rallies at venues including Prescott, Shelsley Walsh and Goodwood.  He regularly took part in the Brighton Speed Trials where the No. 5 car was the first vintage car to beat the 30 second barrier. The Bentley changed ownership a further three times from the mid-sixties until 1999, competing in various VSCC and BDC events before it was bought by the late Bruce Spollon, who finally achieved his dream of owning the car after 50 years of admiring it.  The car was last driven at a public event by his son, Guy, in the Brooklands Society Reunion in July 2001 and at the Shelsley Walsh Centenary in 2005. The Bentley has undergone extensive restoration work in the last two years including a full re-spray to return it to black as it was in its heyday, and its inclusion here marked the first time the car has been seen in public for almost a decade, making its appearance all the more special.
TRADE STANDS
There was a large collection of Trade Stands, offering all manner of goods from local crafts, to some tasty snacks (source of my lunch on both days!) as well as various items that were more closely motoring related. Among them were a few cars, and these were the ones that I picked out.
Bugatti Brescia and Alvis TC21 Cabrio
This 1904 Curved Dash Oldsmobile belongs to the diminutive Joy Rainey and is the car that she drove across America from Coast to Coast in April 2013 in a surprisingly short time, given how slow the car is. There is a book available, describing her adventure. Since her return, she has been applying her creativity to thinking of other adventures, and one is in plan across her native Australia, from north to south.
As well as this Morgan 4/4, there were a number of the 3 wheeler models on show on this dealer stand.
Prosper Lambert
H&H AUCTION
Renowned auction house H&H were holding an auction of 71 cars on site on the Saturday. Usually, the only way to view what is on offer is to buy a pricey catalogue on top of any entry fees to the venue itself, but, refreshingly, on this occasion, there was open access to the cars. A few of them were displayed outside, and the rest were in a large building to one side of the main hill climb activity. I am glad I went to see these cars on the Saturday, as by Sunday many of those which had sold were no longer on site.
ALLARD
One of the rarest cars of the auction was this, a 1956 Allard Palm Beach Mark II. Just 6 of these cars were made. It has recently been painstakingly restored by Alan and Lloyd Allard, son and grandson of Sydney Allard. The Allard was first displayed at the 1956 Earls Court Motor Show before becoming a demonstration model for the company. It then passed through a number of owners until it was bought by the family in 2012 and restored as part of the firm's rebirth. It also featured at last year's NEC Classic Motor Show.  Power comes from a 2.6 litre 6 cylinder Ford Zodiac engine with three SUs and a 4 speed Ford gearbox. It made an impressive £89,600.
ALTA
Highlight of the auction for many would be this supercharged 1938 Alta which was originally built for well-known racing driver Hugh Curling Hunter by Brooklands' expert R.R. Jackson. With a designated chassis 62IS (I = Independent Suspension, S = Supercharged), the car  was delivered to R.R. Jackson's Brooklands premises as a kit of parts. An Alta owner himself, the famed tuner / special builder entrusted the project to his lead consultant Zillwood `Sinbad' Milledge who had proven adept at sorting suspension geometry, designing crankshafts / conrods / brake drums and crafting aerodynamic bodywork. Aside from Hugh Hunter's Alta, Milledge helped hone the Multi-Union, Appleton Special, Bentley Jackson and Freikaiserwagen among others. Sporting a higher headrest fairing and more enveloping silhouette than George Abecassis' similar Alta (chassis 61IS), The car was very light, weighing 11.5cwt, less than the ERAs, the 4CLT Maserati or the MG and Riley specials it was up against. With a 2-litre engine it began to match, even sometimes beat the ERAs, which were the top voiturettes at the time. Hugh Hunter's car yielded him a coveted Brooklands 120mph badge and also showed considerable pace at Crystal Palace and Shelsey Walsh. Campaigned throughout 1938 and into the following year before being supplanted in Hunter's affections by an ex-Mille Miglia winning Alfa Romeo 8C 2900B, chassis 62IS changed hands several times during WW2. Reputedly resident in a china shop for a while, the advent of peace saw J.H. Williams acquire the single-seater. Rebodied in the style of a post-WW2 Alta Grand Prix car with what is rumoured to have been factory assistance, chassis 62IS resumed its racing career at a variety of sprint and hillclimb venues as well as such new circuits as Goodwood and Silverstone. Sold by Mr Williams to Basil Tye, the Alta is known to have belonged thereafter to Lady Mary Grosvenor (who campaigned it in 1.5 and 2.0 litre guises), Albert Wake, Frank Lockhart, Bill Little, Hugh Clifford, John Bateson, Vintage Racing Autos, Hugh Clifford (again), Peter and John Moores, John Pearson and Bob Jones before entering the current ownership during 1990. Extensively fettled thereafter – including the fitment of a more pre-WW2 looking body – chassis 62IS has enjoyed numerous outings with the Historic Grand Prix Cars' Association and Vintage Sports Car Club. Invited to participate in the first Goodwood Revival meeting some seventeen years ago, it has since contested the Goodwood Trophy for Grand Prix and Voiturette cars on several occasions the last being in 2010. The car is understood now to have a 4 cylinder DOHC engine which displaces over 2 litres, allied to an ENV four-speed pre-selector transmission. Not campaigned of late, the single-seater is nevertheless in running order and has recently been driven by Mick Walsh as part of a multi-page feature article for Classic & Sportscar magazine. It was to be auctioned at the Chateau Impney event in July, and was expected to fetch between £130 – 150,000.
AUSTIN HEALEY
An original UK-supplied car, this is a 3000 Mark IIA, supplied with options which included factory fitted wire wheels, a heater (!), an adjustable steering column, servo assisted brakes and overdrive. The car was restored and the engine rebuilt in 1998 and has covered a further 27,000 miles since then.
BEAN
A light car dating from 1923, this is a 11.9 HP Tourer.
BENTLEY
This rather elegant 3.5 litre Drophead Coupe was supplied new to an owner in Belgravia as a Thrupp & Maberly Drophead Coupe. It was extensively restored in 1981 when a new ash frame and body were made, copied from another Thrupp & Maberly Drophead Coupe. The original engine was retained, having been rebuilt., and the car gained an uprated clutch and new fuel tank. It sold for £95,200.
BMW
Three examples of the elegant E9 BMW were entered into the auction. This is a genuine right hand drive 3.0 CSL dating from 1972, featuring the Batmobile kit and a steel boot lid. Also on offer, potentially for rather less money, were a 1969 2800CS with 1971 Group 2 bodywork, FIA welded roll cage and six point harness, as well as a road-going example from 1970.
BUICK
This is a 1919 Model HX-45 Touring which was supplied new to a UK buyer, a John Evans of Swansea, who had it chauffeur driven until 1932. The car was restored in the late 1990s. It sports a 3.9 litre.
CARDEN
Dating from 1923, this Carden Light Car is a model, and indeed a brand, that few will have heard of. Just 6 are thought to have survived, and this one has been in the Ramsgate Motor Museum for many years. the car was a 707cc two cylinder engine and a two speed transmission.
CHEVROLET
This 1962 Corvette dates from the last year of production of the first generation C1 Corvette. Chevrolet made significant revisions on an annual basis, so this car is quite different from the first cars made in 1953. It has a 327 cubic inch (5.4 litres) V8 engine and a 4 speed manual gearbox.
CHEVRON
One of the better known Chevron cars is this B8 model dating from 1968. This car has an impressive race pedigree, having been thrice the winner of the HSCC Autosport 3 hour race, the HSCC Guards Trophy Championship and the 2013 Spa Summer Classic.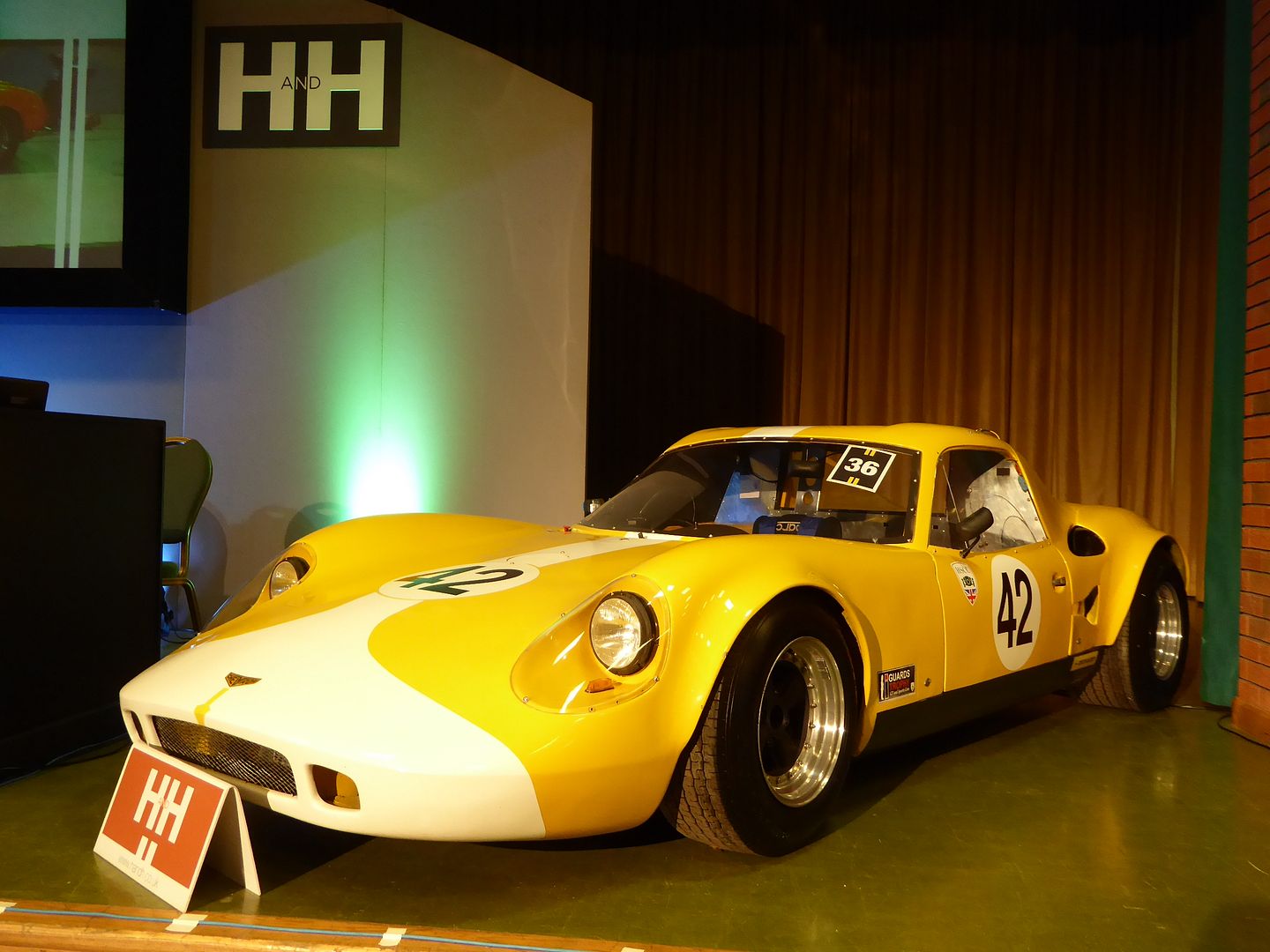 This is a B23 model dating from 1973, but it was upgraded to B36 specification bodywork in 1976 by the factory. The car was campaigned on both sides of the Atlantic in 1600 and 2000cc guises. More recently it has been prepared by Racing Ffabrications, and has enjoyed success, being the outright winner of the Martini class at the 2013 Oulton Park Gold Cup. The car was last raced at Hockenheim in 2014.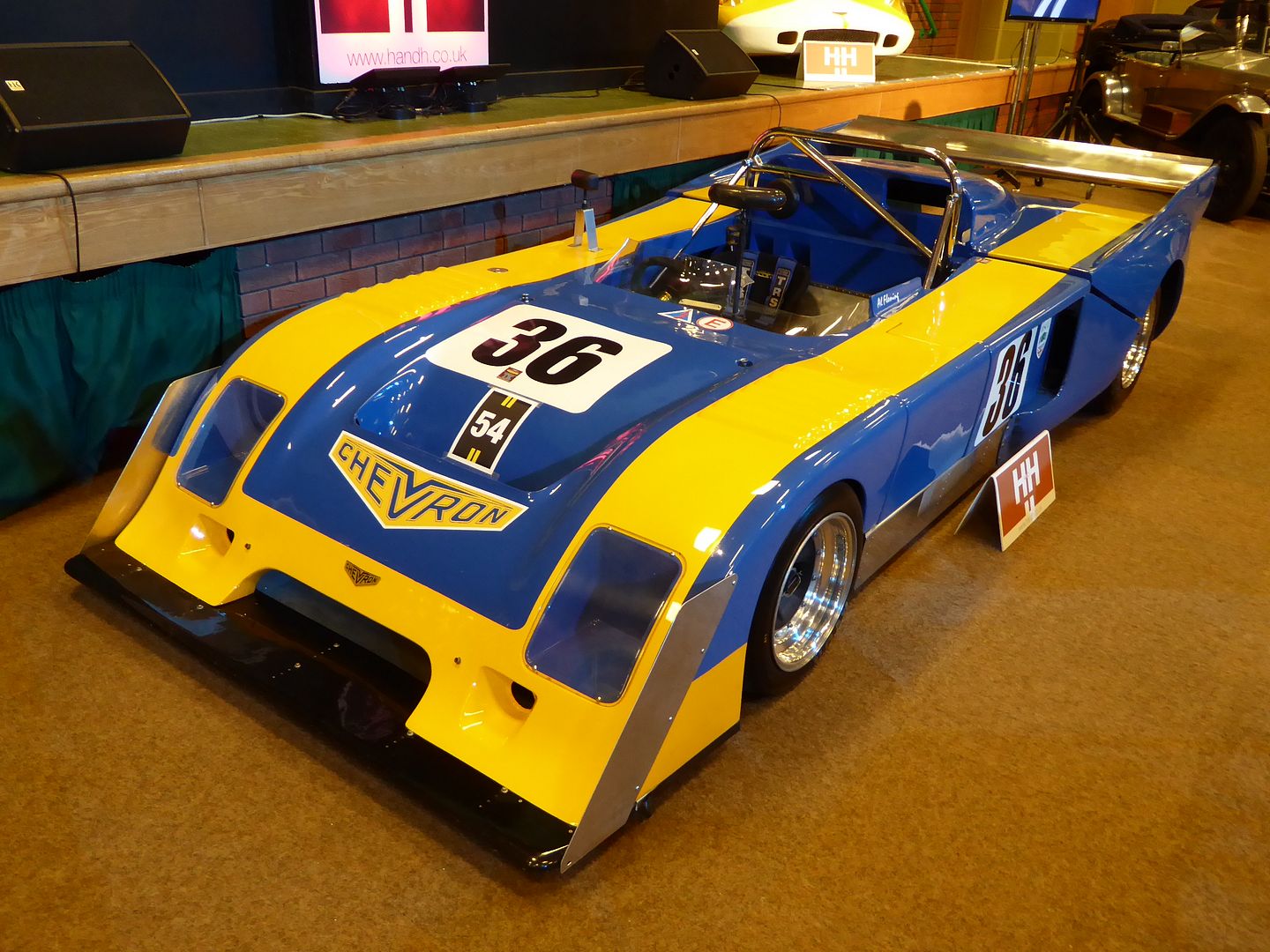 CITROEN
There were two examples of the beautiful DS series on offer. The white one, a 1973 D Super 5 was absolutely stunning. It's had one keeper for the past 30 years during which time it was won over 200 trophies and prizes. The estimated sale price was "60 – 70,000, which sounds a lot, but it actually sold for slightly more even than this.
Also dating from 1973 was the green car, a DS23 EFi Pallas, the top of the range, with the larger and more potent 2347cc fuel injected engine, semi-automatic transmission and luxurious Pallas trim. This is a left hand drive car, with green cloth trim, and looked rather better value for money than the white car, as the estimated price was less than half of that example.
DODGE
A 1935 Dodge KC Half Ton Pickup, this extensively restored and retrimmed machine has the later slant-y Chrysler engine with a tubular manifold and side-exit exhaust.
DOLPHIN
This is a rare Formula Junior car, dating from 1961. Chassis number 12, it was restored in the 1990s and the engine was overhauled in the 2000s and the transmission around 2011.
FERRARI
This Testarossa did not feature in the auction catalogue, so may not actually have been for sale, I did come across it at the back of the auction hall.
FIAT
This 128 SL Coupe from 1972 was one of the cars displayed outside and it caught my eye immediately. The Coupe model was only sold for three years before being replaced by the 3P hatch, and so is quite rare. This car has only had one registered keeper and covered a mere 23,000 miles in 43 years.
Rather more familiar is this 500L, dating from 1971. Many 500s have entered the country relatively recently, but this is a genuine UK market car, and has covered just 49,000 miles at the hands of three owners in 44 years.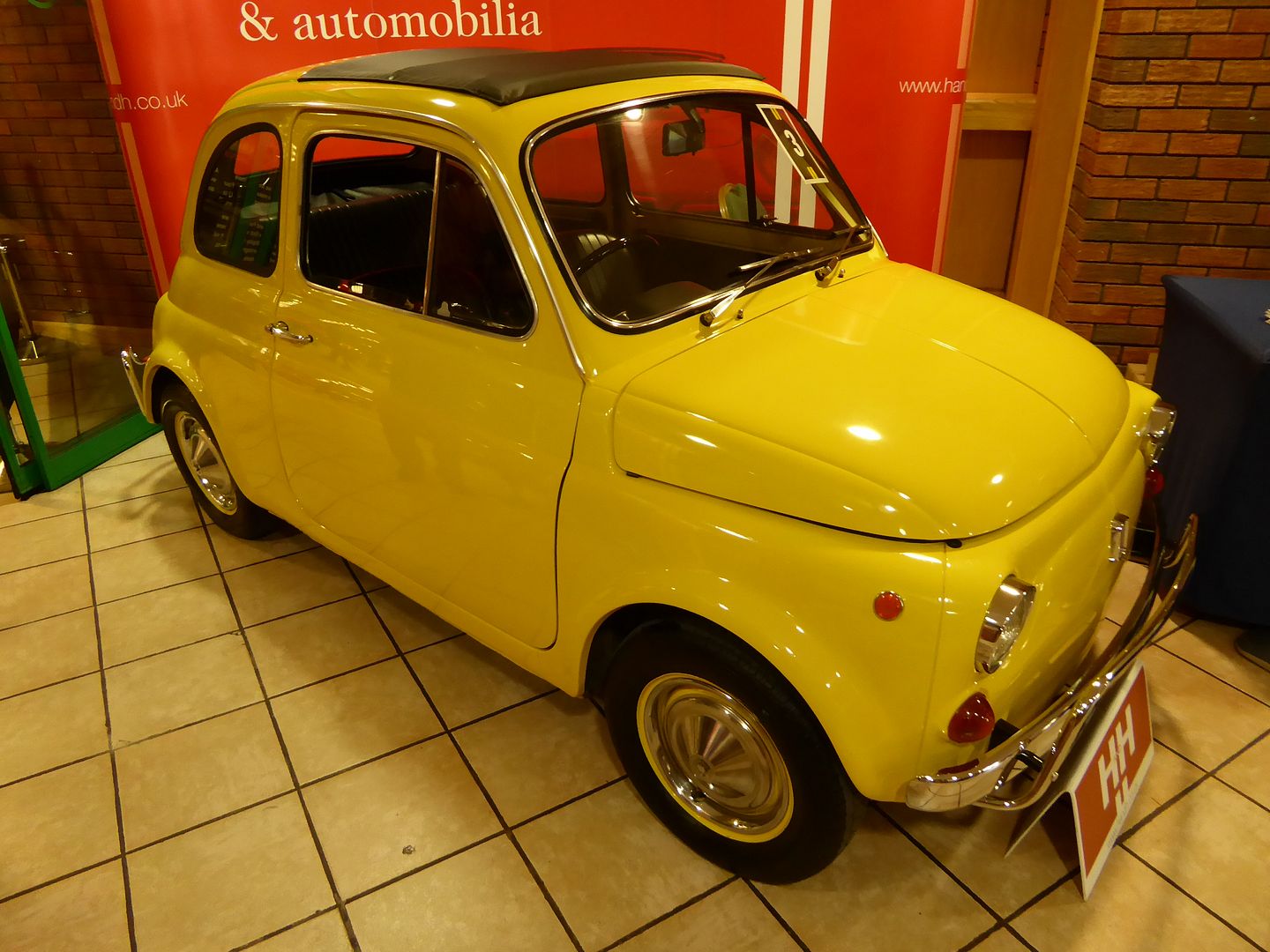 FORD
A real period piece, a 1958 Zephyr Mark II Convertible, this car has had just 4 owners and has only covered 75,000 miles. Cars like this are highly sought after now, and the guide price was around £30,000.
Past winner of the CSSC's Swinging Sixties series and the Valetta GP, this 1971 Ford Escort RS1600 Evocation has an AGRA 1760 BDA engine, a Quaife straight-cut gearbox and baby Atlas axles. It cost over £50,000 to build, a figure which is bound to be paid back given the popularity of Mark 1 Escorts in historic motorsport.
FRAZER NASH
This 1926 Fast Tourer was supplied new to an owner in Glasgow. It changed hands in 1033 and has been in continuous ownership ever since. During the 1980s it was extensively restored by marque specialist Ian Lock Engineering, and has been sparingly used ever since. The car has the correct Anzani 1.5 litre engine allied to a three speed chain drive transmission. Frazer Nash cars do not come up for sale very often, and this one was expected to sell for £85 – 100,000.
HOTCHKISS
This is a 1939 Monte Carlo 680 Decouvrable, a rare and elegant Grande Routiere made in France just before production was interrupted by the onset of war. This car has a 3 litre OHV straight six engine and a Cotal electromagnetic transmission.
HUMBER
This is one of very few surviving 11.4HP Doctors Coupe models, complete with the much-derided Dickey seat,  dating from 1921. Just 89 such cars were built.
Five years its junior was this 1926 9/20 Tourer which has been in the same family for the past 40 years.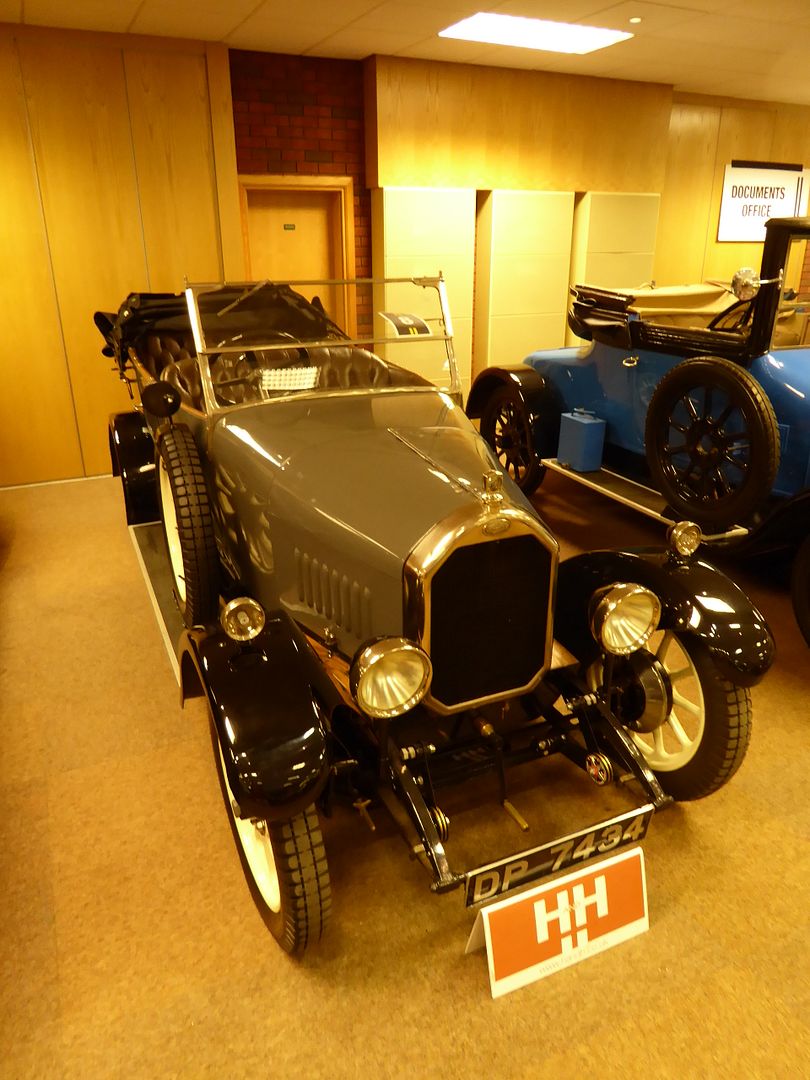 JAGUAR
Top of the pile was a stunning 1951 Jaguar XK120, which sold for a whopping £106,400. The white roadster had been with the same owner for more than 30 years, and in that time was the subject of a high-quality restoration. It featured an uprated 3.8-litre engine, a Monza-style fuel filler cap and a sporty exhaust – all clues to its early competition history.  Its first owner, Alexander Hoffman, entered the car into an all-Jaguar race at the West Essex Car Club's Boreham meeting in 1951 – an event in which Reg Parnell, Dennis Poore and Sydney Allard also competed.
This is a 3.4 litre version of the much loved Mark 2. Dating from 1965, the car has been in the same ownership since 1998.
Rather earlier was this 1939 SS Jaguar 1.5 litre Saloon, which came with a factory-fitted sun roof, knock-off wire wheels and red leather upholstery.
LAGONDA
Perhaps the most splendid of all the cars in the auction was this 1939 LG6 Saloon. It is one of just 50 that are believed to have survived. This short chassis example was showing 36,000 miles on the clock, which is believed to be genuine. The car had been restored, with bodywork and woodwork specialist Taylors of Birdham charged with the bulk of the work. As well as being recently rebuilt, the car had been modified to improve reliability and usability, including the addition of Kenlowe fans and rear indicators. Like the Bentley seen above, this one also fetched £95,200.
LAND ROVER
This pair of classic Land Rovers were also to be found parked up outside. The older one, a Series One with a replacement 2 litre petrol engine, dates from 1955 and was purchased new by the British Army who used it until 1964. It fetched £27,440. The later car is a Series IIA, also a petrol powered machine, dating from 1968. This one has been subject to an extensive ground-up restoration with a new chassis, refurbished suspension, renewed upholstery and fresh wiring and had little use since that was completed.
MASERATI
One of 236 right hand drive examples of the Ghibli II made in the late 1990s, this is one of the last produced, dating from 1999. A heavily revised version of what started out as the BiTurbo in 1982, the Ghibli was a well-sorted grand tourer, with a 2.8 litre V6 engine. This car is from the estate of the late Richard Colton.
MERCEDES-BENZ
There were a couple of the long-lived R107 SL cars on offer. Both were white. The older car – by a few months – was a 500SL from 1987, with the optional hardtop fitted, and some very period dogtooth style upholstery. The car has covered 119.000 miles, though it really did not look like it. Expected to fetch more money was a 1988 model 300SL.
Also on offer was a 250SL "Pagoda", dating from 1967. This was a short lived model, being produced as an interim between the launch 230SL models and the later 280SL.
Rather more recent was this 1989 190E 2.5 Cosworth, one of just 4,784 cars made.
MESSERSCHMITT
One of the faster of the various bubble cars that enjoyed a period of popularity in the 1950s, this KR200 Cabriolet dates from 1961.
MG
The PA was MG's small car offering in the mid 1930s, and this is a fine example of the type. A PA, dating from 1935, this car has benefitted from a recent chassis-up restoration.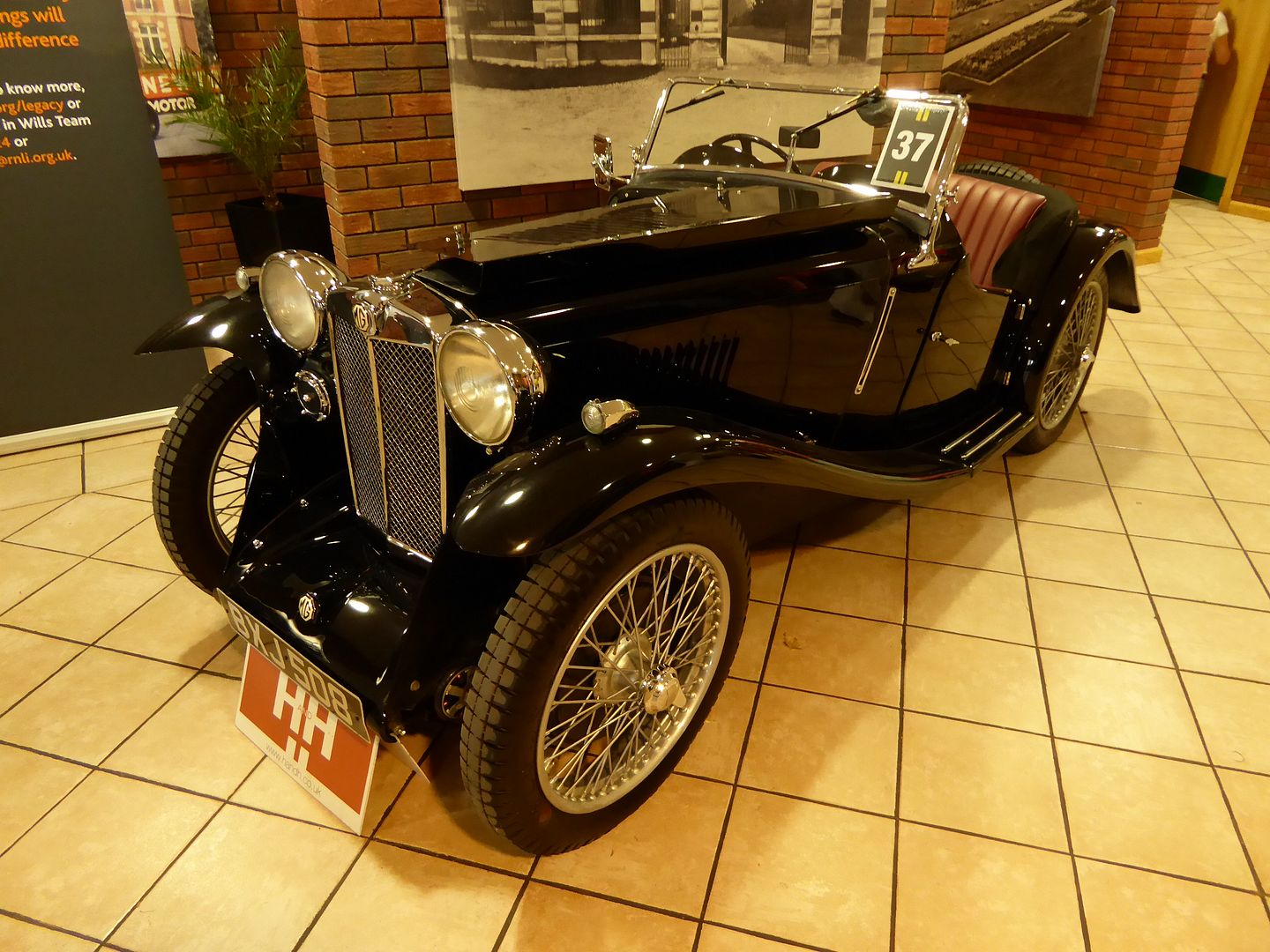 The P series MGs were replaced by the T Series. Although it is the post war cars, starting with the TC which are the best known, the range got underway before the war. This is one of the first, a TA, dating from 1937. MG made 3003 of these cars, and this one has spend most of the last 50 years in Holland where it has undergone a thorough restoration.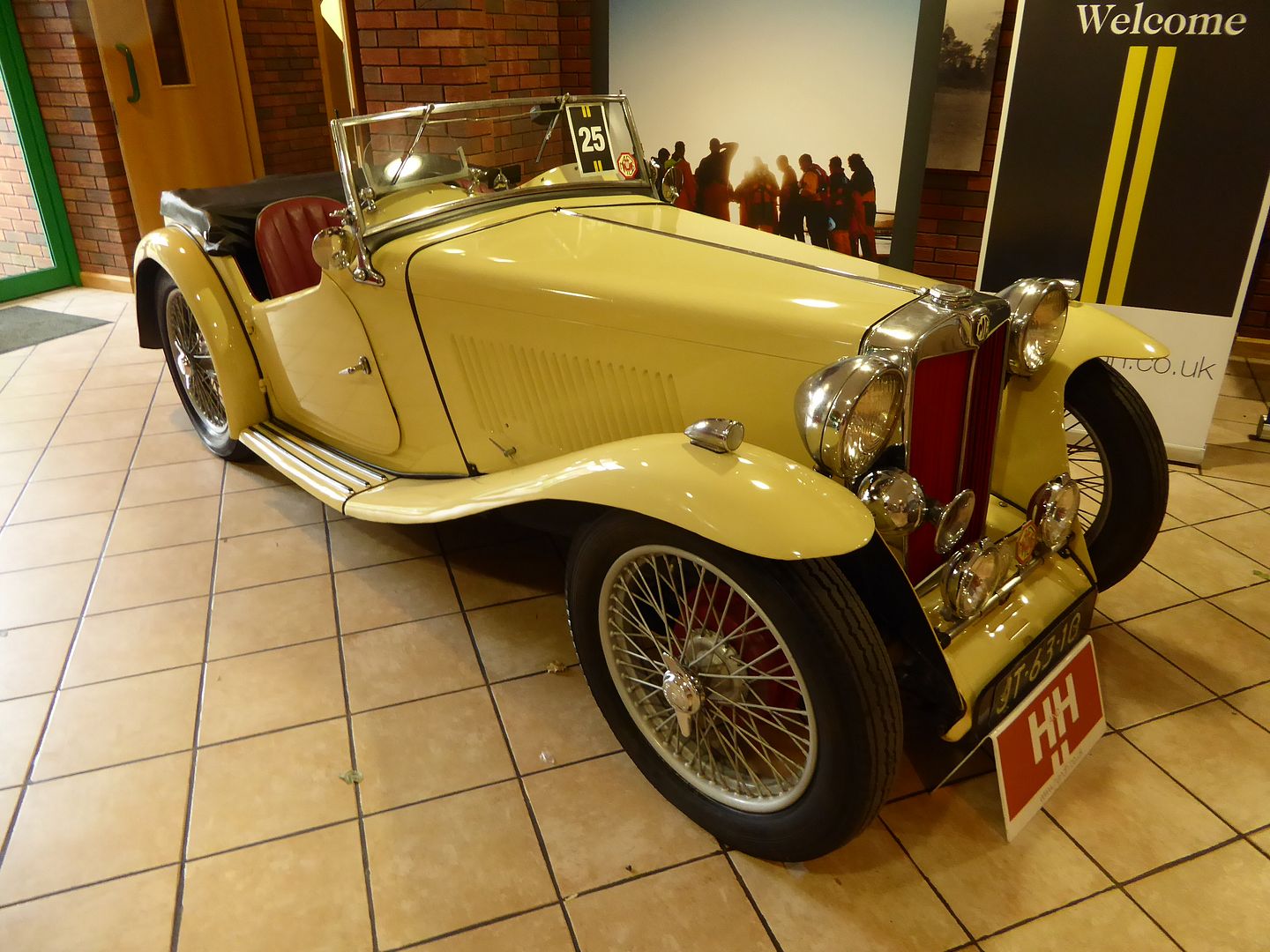 Most TD models were sold new in the US.,but this 1953 car was supplied to a UK buyer and it has remained here ever since. The TD was not produced for long, but even in its short production life, there were two distinct versions, and this is one of the later Mark II cars.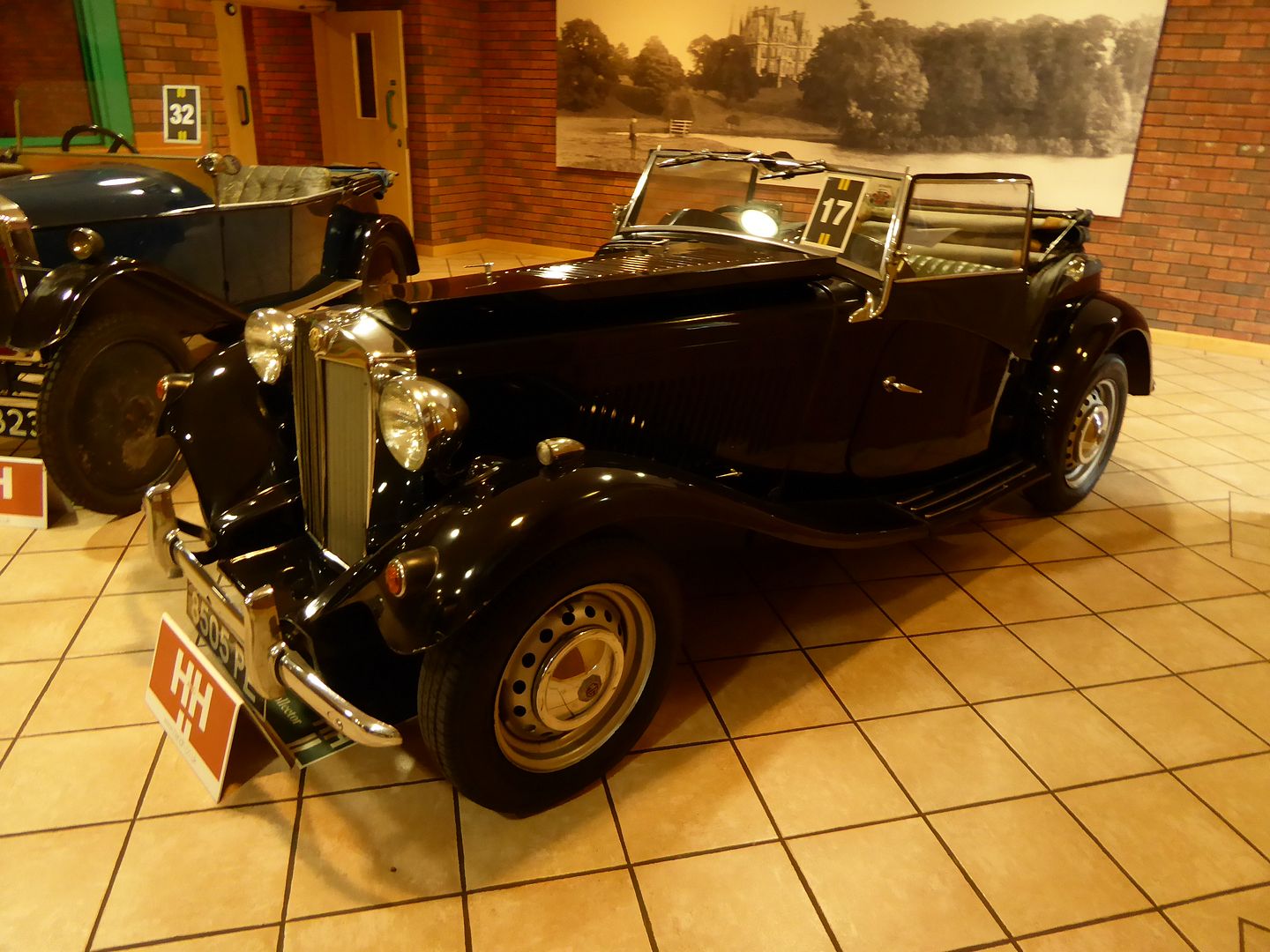 This is a pre-production prototype version of the MGA used for testing the twin cam engine and the disc brakes that were made available during 1958. It was bought from the factory in period by an MG Development Engineer, John Sharp, who then campaigned it.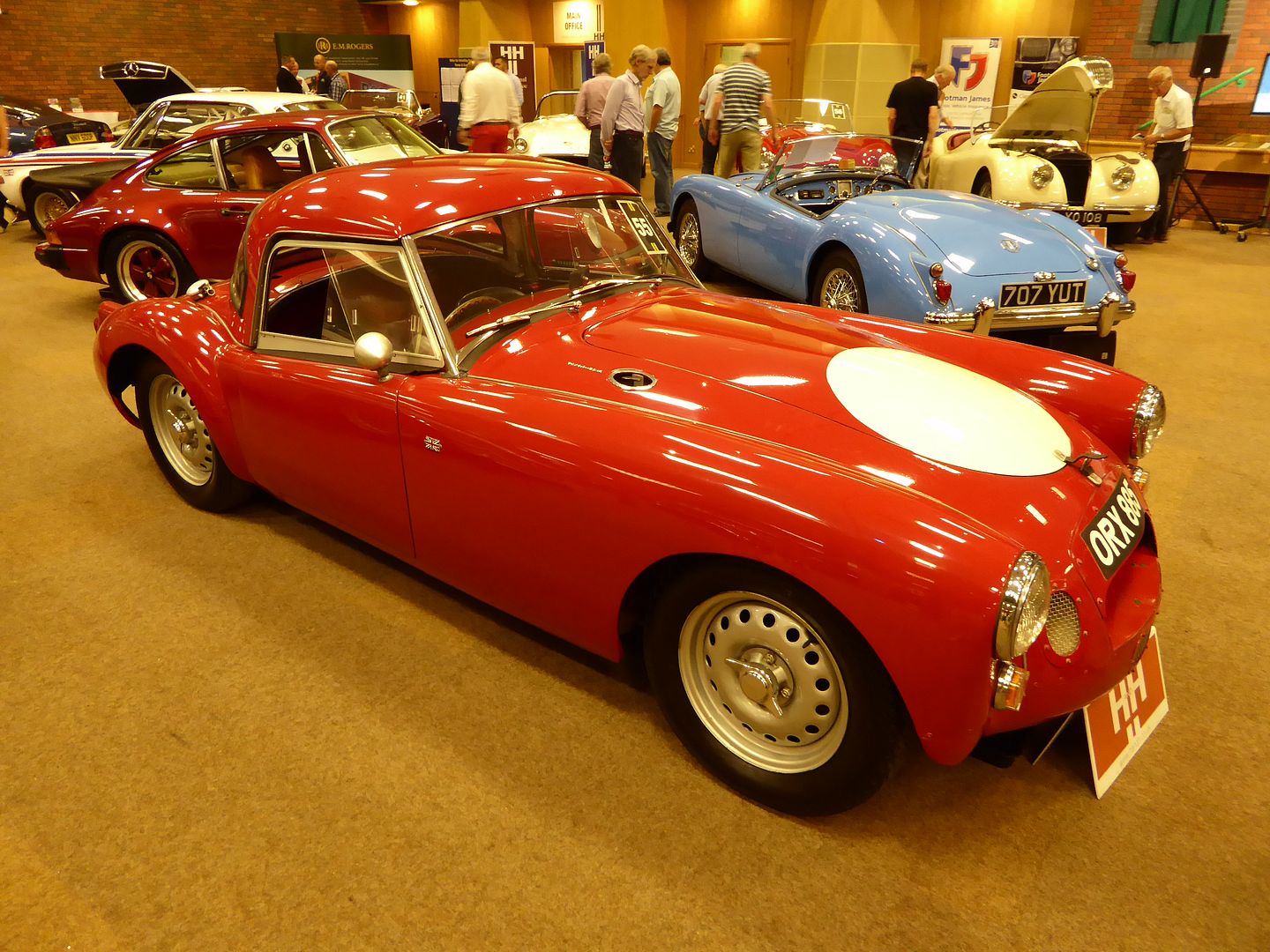 Joining it was a regular MGA from 1958. This one started off in the US and was repatriated in 2011. Since then it has had an MGB 1798cc B Series engine installed, along with overdrive and uprated brakes.
A 1973 MG B roadster commanded a healthy £6720, and seemed in sound condition. It still wore its original Black Tulip paint, while a number of mechanical improvements had been carried out in recent years, including an engine overhaul and new front dampers.
MORRIS
Needing no introduction is this 1957 Morris Minor 1000, a very original car with just 87,000 miles covered, and still sporting its red leather upholstery.
PEUGEOT
The idea of having a range of cars which look very similar to each other, just with differing sizes, is nothing new, as in the 1930s, French automotive maker Peugeot produced three cars in the new aerodynamic style that had first been set across the Atlantaic by the Chrysler Airflow. This is the mid-sized of the trio, the 302 Berline Deluxe, and it dates from 1936.  Described as being 'one of the most original examples on the market', it sold for £16,240.  which would appear to be good value when taking into consideration its recent €9000 mechanical overhaul.
ROVER
A rare Weymann fabric bodied 10/25 model, with Riviera specification, this 1929 car has an 1185cc four cylinder engine and three speed manual transmission.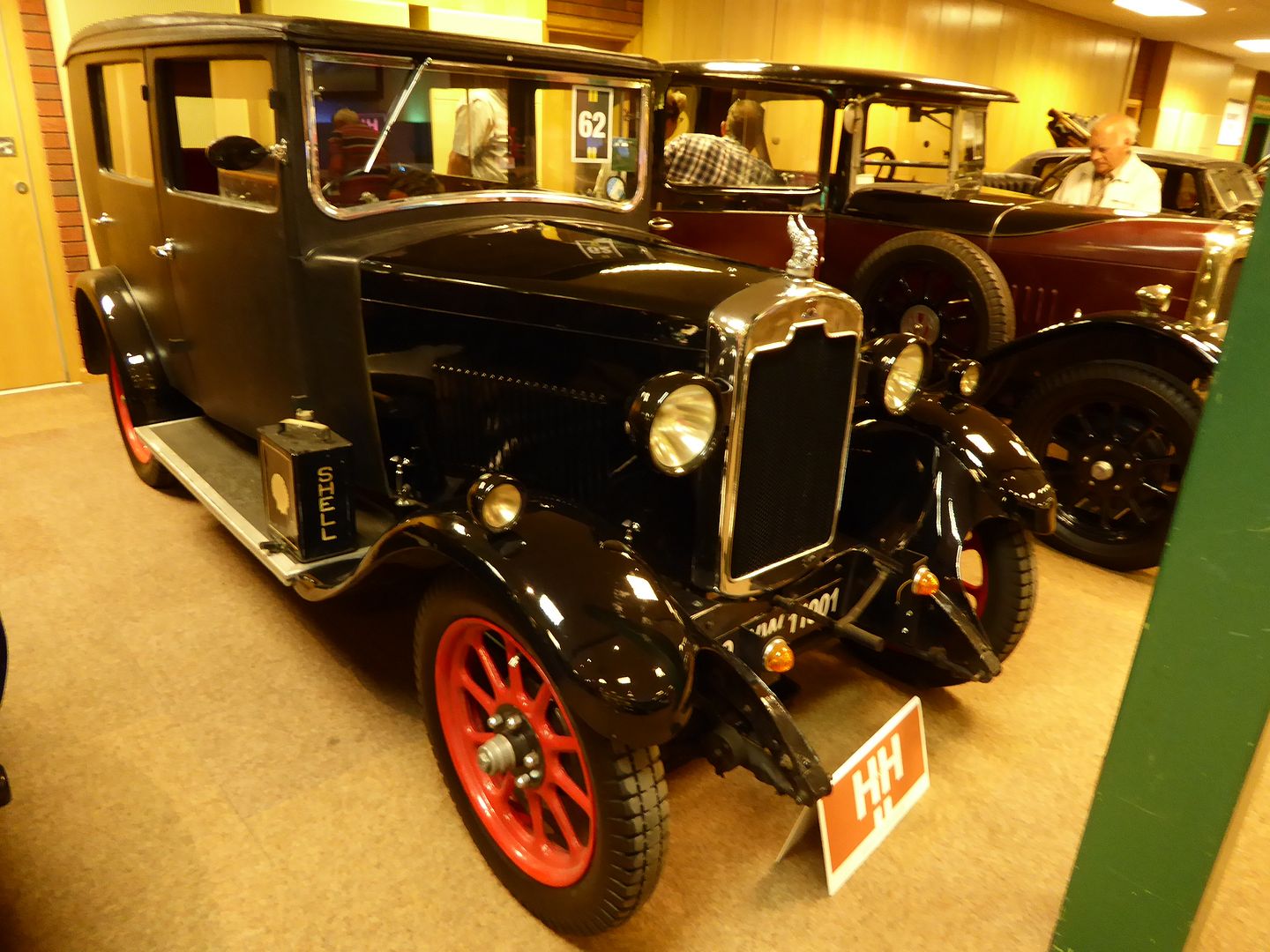 SIZAIRE-NAUDIN
This 1911 Type 4G was imported by Charles Jarrott and Letts and is an ex London Motor Show car. VCC registered, it has been used for numerous events since the 1950s.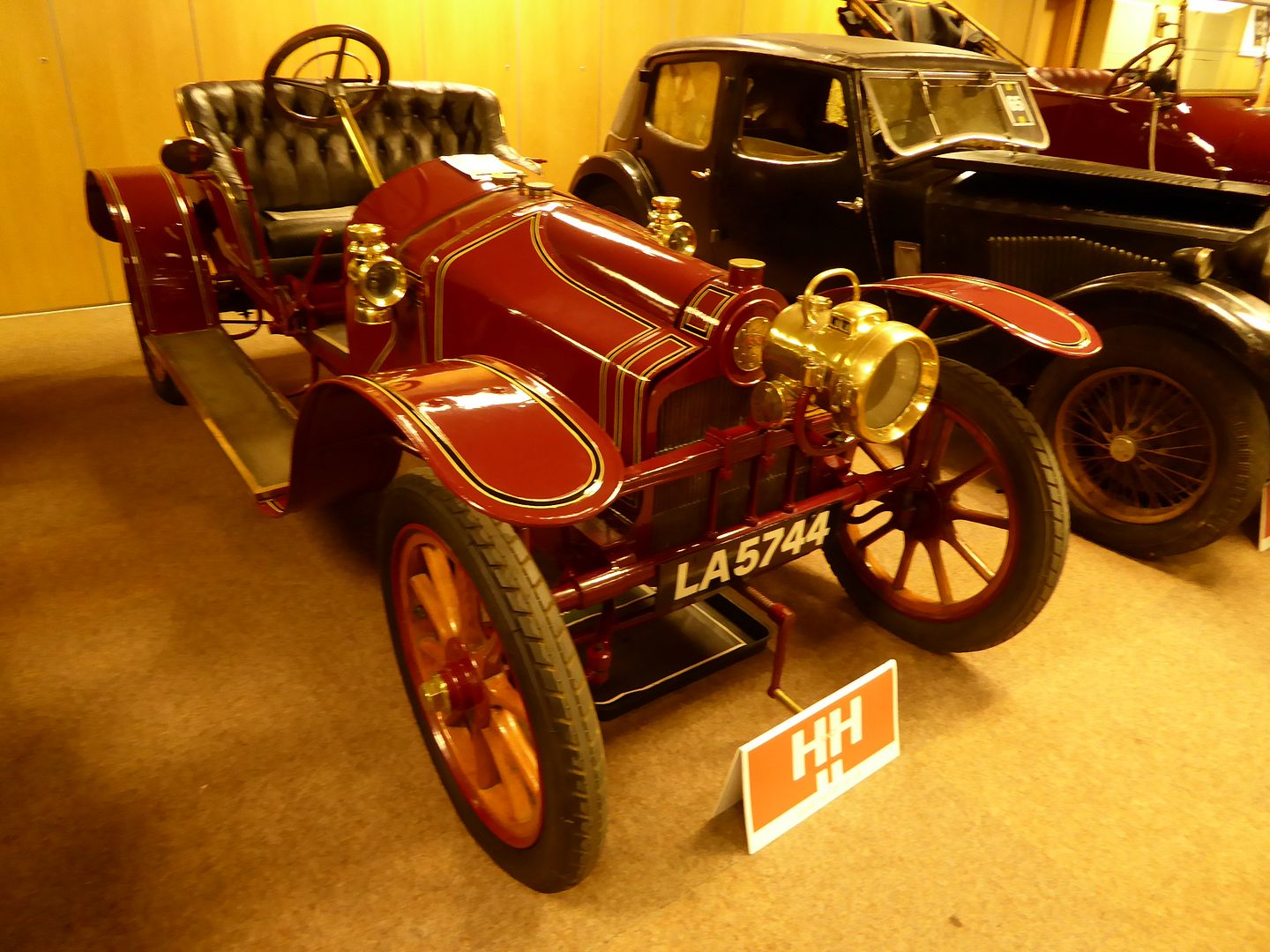 TRIUMPH
A very nice Series 3 GT6 dating from 1972, this one has had a body-off restoration.
WOLSELEY
The 4/44 was a sister model to the MG Magnette. It had less power than its more sporting relative, concentrating more on the quality of fit and finish than outright speed. This car was bought new in 1955, and has only covered 69,000 miles since then. The car has won several awards in recent years and featured in Practical Classics magazine.
NEW CARS
For those who wanted to see some brand new cars, then there were a number of dealer displays showcasing some of the latest models, from three iconic British brands.
ASTON MARTIN
Stratsone had a display of Aston Martin cars, parked down near the Start line. Aston has quite an extensive range of cars these days, and so they had clearly had to choose representation examples of the current product offering, which amounted to a Rapide S, a V12 Vantage S Cabrio, a Vanquish Volante. a DB9 and a V8 Vantage
JAGUAR
Listers had examples of the entire Jaguar range. It was the F Type Coupe and Convertible and the brand new XE that were attracting the most attention, but they had XJ and XF models on show as well.
Stratsone also had a display that was in the same area as their Aston models, and this presented a second opportunity to inspect the range: XF Saloon and Sport Brake, F Type R Coupe and  XJ
LAND ROVER
Likewise, there were two lots of Land Rover models, with Listers' display near the main Grandstand containing the Range Rover, Evoque,  Range-Rover Sport and Discovery Sport with another Range-Rover Sport near the auction area
Stratsone were showing a Range-Rover Sport, an Evoque 5dr and a Defender
IN THE CAR PARK
A large area in an undulating field was allocated for public parking. By the time I arrived on the Saturday morning there were already many rows of cars parked up, and it was evident just by looking at those in close proximity to my car that it would be worth taking the time to wander up and down the lines to see what people had brought. There was also a reserved area for older or more interesting classics, and this was quite extensive, with several long lines of cars where every single one was worth a picture. I made a couple of trips back to the car, so probably did not miss that much of interest. Repeating the process on the Sunday, where although some of the same cars were present, gave another whole load of cars that I felt worth photographing, so this is quite an extensive part of what is already a long report.
ABARTH
I had arrived in my Audi, so this 595 Competizione appeared to be the sole representative of the Scorpion brand present.
AC
AC came back to the market after the Second World War with the staid 2-Litre range of cars in 1947, but it was with the Ace sports car of 1953 that the company really made its reputation in the post war years. Casting around for a replacement for the ageing 2-Litre, AC took up a design by John Tojeiro that used a light ladder type tubular frame, all independent transverse leaf spring suspension, and an open two seater alloy body made using English wheeling machines, possibly inspired by the Ferrari Barchetta of the day. Early cars used AC's elderly 100 bhp two-litre overhead cam straight-six engine (first seen soon after the end of the First World War), which, according to a 1954 road test by Motor magazine, gave a top speed of 103 mph and 0–60 mph in 11.4 seconds and a fuel consumption of 25.2 mpg. It was hardly a sporting engine, however,and it was felt that something more modern and powerful was required to put the modern chassis to good use. Joining the Ace in 1954 was the Aceca hard top coupé, which had an early form of hatchback rear door but used the same basic timber framed alloy body. From 1956, there was the option of Bristol Cars' two-litre 120 bhp straight-six with 3 downdraught carburettors and slick four-speed gearbox. Top speed leapt to 116 mph with 0–60 mph in the nine second bracket. Overdrive was available from 1956 and front disc brakes were an option from 1957, although they were later standardised. In 1961 a new 2.6-litre straight-six 'Ruddspeed' option was available, adapted by Ken Rudd from the unit used in the Ford Zephyr. It used three Weber or SU carburettors and either a 'Mays' or an iron cast head. This setup boosted the car's performance further, with some versions tuned to 170 bhp, providing a top speed of 130 mph and 0–60 mph in 8.1 seconds.However, it was not long before Carroll Shelby drew AC's attention to the Cobra, so only 37 of the 2.6 models were made. These Ford engined models had a smaller grille which was carried over to the Cobra. The car raced at Le Mans in 1957 and 1958. In 1959 at Le Mans, Ted Whiteaway and John Turner drove their AC-Bristol, registration 650BPK, to the finish, claiming top honours for the 2,000cc class and seventh overall behind six 3 litre cars. Few cars with this provenance have survived and are extremely valuable. They can range from $100,000 or more for an unrestored car, even one in pieces, to in excess of $400,000 for a restored AC Ace. There were a couple of Ace models and an Aceca here.
When Bristol ceased building their 6-cylinder engine in 1961, AC's owner, Charles Hurlock, was approached by Carroll Shelby to use a Ford V8 in the Ace chassis, producing the AC Cobra in 1962. Production of the Ace ended the same year. The AC Cobra came in small block and later big block configurations. It was Ford's 289 that powered the winning car in the GT class at Le Mans in June 1964. At the time, the AC Cobra 427 was the fastest "production" car in the world. Since official production ended, there have been countless continuation and replica models, some more impressive than others. This one is a replica Cobra 427.
ALFA ROMEO
There was quite a mix of Alfa models in the car park, with a couple of 1750 Spiders, in the original round tail S1 and later Kamm tailed  S2, as well as a couple of the 2000GTV which shared the same basic platform, to represent the 1960s and 70s.
More recent cars included a 155, a 916 series Spider and a 147GTA
ALLARD
This is an Allard P1, known when new more often than not simply as the Allard 3.6-litre Saloon. a five-seater two-door sports saloon produced by the British Allard Motor Company between 1949 and 1952. The cars used Ford engines and transmissions, which helped to reduce problems finding service support and parts for cars exported to the US which was a key export market for Allard. A car tested by the British magazine The Autocar in 1949 recorded a top speed of 84.5 mph and could accelerate from 0–60 mph in 23.4 seconds. A fuel consumption of 17 miles per imperial gallon was recorded. The test car cost £1277 including taxes. The Competition Series version received Mercury's 4.4 litre V8 engine with 115 hp; if this did not suffice then various aftermarket parts from companies such as Edelbrock or Edmunds could be specified. Unusually in a car of post-war design, the Allard featured a windscreen hinged at the top, which could be opened "by means of a central toggle mechanism".Interior fittings displayed unusual attention to detail by the car's designers, with good interior storage including a packages shelf under the fascia and "pockets formed…in the thickness of the doors". Instrumentation included, in addition to a choke control, a "screw-type hand throttle" as well as a switch for a light in the engine compartment. A heater that drew fresh air from the outside was included as a standard feature on exported cars, and was offered as an optional extra for the domestic market. In 1952 an Allard P1, driven by Sydney Allard himself, along with Guy Warburton, won the Monte Carlo Rally. Tom Lush was the navigator. 155 Allard P1s were built.
ALPINA
There were a couple of Alpina models here, an E46 Cabrio-based B3 and a more recent E91-based D3 Touring.
ALVIS
Lots of Alvis models here. Despite years of learning, I am still no expert on the various pre-war models, so am not confident in identifying the oldest pair of models to bear the red triangle badge. I believe that one of the black enclosed car is a Speed 20. Advice welcome!
I do know that this trio of cars are the TC21 model, though. Made between 1953 and 1955, this was an update of the 3 Litre. The car was available in four-door saloon and drophead versions essentially the same as the TA 21. The saloon bodies were made for Alvis by Mulliners of Birmingham) and the dropheads by Tickford. A sunshine roof remained standard as did "separately adjustable front seats; heater and air-conditioning unit; Trico windscreen washers" drawing the comment from Autocar "In detail fittings . . . this car leaves little to be desired. The 2,993 cc engine was upgraded to produce 100 bhp by modifying the cylinder head and fitting twin SU carburettors. Suspension was the same as the TA 21, independent at the front using coil springs with leaf springs at the rear. The 11 in drum brakes using a Lockheed system were also retained. However this update found few buyers during a very difficult year for the British Motor Industry and though it remained in the catalogue and continued to be advertised, it was in practice replaced by the Grey Lady. The TC.21/100 or Grey Lady was announced on 20 October 1953 came with a guarantee of a speed of 100 mph resulting from an improved exhaust system and an engine compression ratio raised from 7:1 to 8:1 to take advantage of the availability of better petrol. The final drive ratio was raised from 4.09:1 to 3.77:1. A paired front fog lamp and matching driving lamp became a standard fitting. The bonnet gained air scoops and wire wheels were fitted to try to enliven the car's image. A heater was fitted as standard but a radio remained an expensive option. A saloon version tested by The Motor magazine in 1954 had a top speed of 100.1 mph and could accelerate from 0-60 mph in 15.4 seconds. A fuel consumption of 20.6 mpg was recorded. The test car cost £1,821 including taxes. Nevertheless just 18 months later the Times' Motoring Correspondent tested and reported on the Grey Lady under the headline "Few Concessions to Fashion Trends". His opening gambit was that this Alvis was now one of the few British cars that did not look American and, he said, there was little concession to the cult of streamlining beyond the two air scoops in the bonnet. He wrote that spacious internal headroom and wire wheels completed that picture. It was noted the instruments were not in front of the driver but in the centre of the dashboard (instrument panel) and so the speedometer was apt to be masked by the driver's left hand. However the front seats were comfortable and rear seat passengers received padding on the wheel arches surmounted by armrests. Leather upholstery, pile carpets and walnut facings for the dashboard and lower parts of the window frames completed the traditional picture. He did however say that "the driver who is sensitive to the "feel" of his car will enjoy every moment of his motoring irrespective of the traffic" and reported the car's behaviour on corners was extremely stable though potholes like those caused by recessed manhole covers proved very heavy going for the springing. Nonetheless, 7576 examples of the model were produced.
Replacement for the Grey Lady, and indeed the last new design that Alvis ever made before abandoning car production in 1967 was the car see in TD Convertible guise. Starting off as the TC108G, the car came about as coachbuilders Graber of Switzerland had produced some bodies for the TC21 that were much more up to date than the standard offering from Mulliners. Mulliners was increasingly coming under the control of Standard Triumph, they were purchased by them in 1958, and the body supply had been getting difficult. Alvis's other main supplier was Tickford and they were bought by David Brown to use for his Aston Martin company. It was therefore decided to make the Graber style the basis of a new model and the rights were bought resulting in the TC 108G. A contract was placed with bus builder Willowbrook of Loughborough. The car was only available as a two door, four seat saloon made by forming metal around a traditional wooden frame.The 2993 cc engine was uprated slightly to produce 104 bhp at 4000 rpm by modifying the cylinder head and fitting twin SU carburettors. Suspension was the same as the TC 21, independent at the front using coil springs with leaf springs at the rear. The arrangement proved to be expensive and so with just 37 cars made, including several on chassis supplied to coachbuilders other than Willowbrook, the deal was terminated and a new contract placed with Park Ward, the modified vehicle becoming the TD21.
ASTON MARTIN
There were plenty of recent Astons here, including DB9 Coupe and Volante, V8 Vantage and V12 Vantage S Coupe and Cabrio, the latest Vanquish and the Rapide.
The original Vanquish, seen here in Coupe and open-topped Volante goes back almost 15 years now, but it still looks good, and more modern than that. Testament to the careful evolution of the Aston styling theme in recent years, I guess.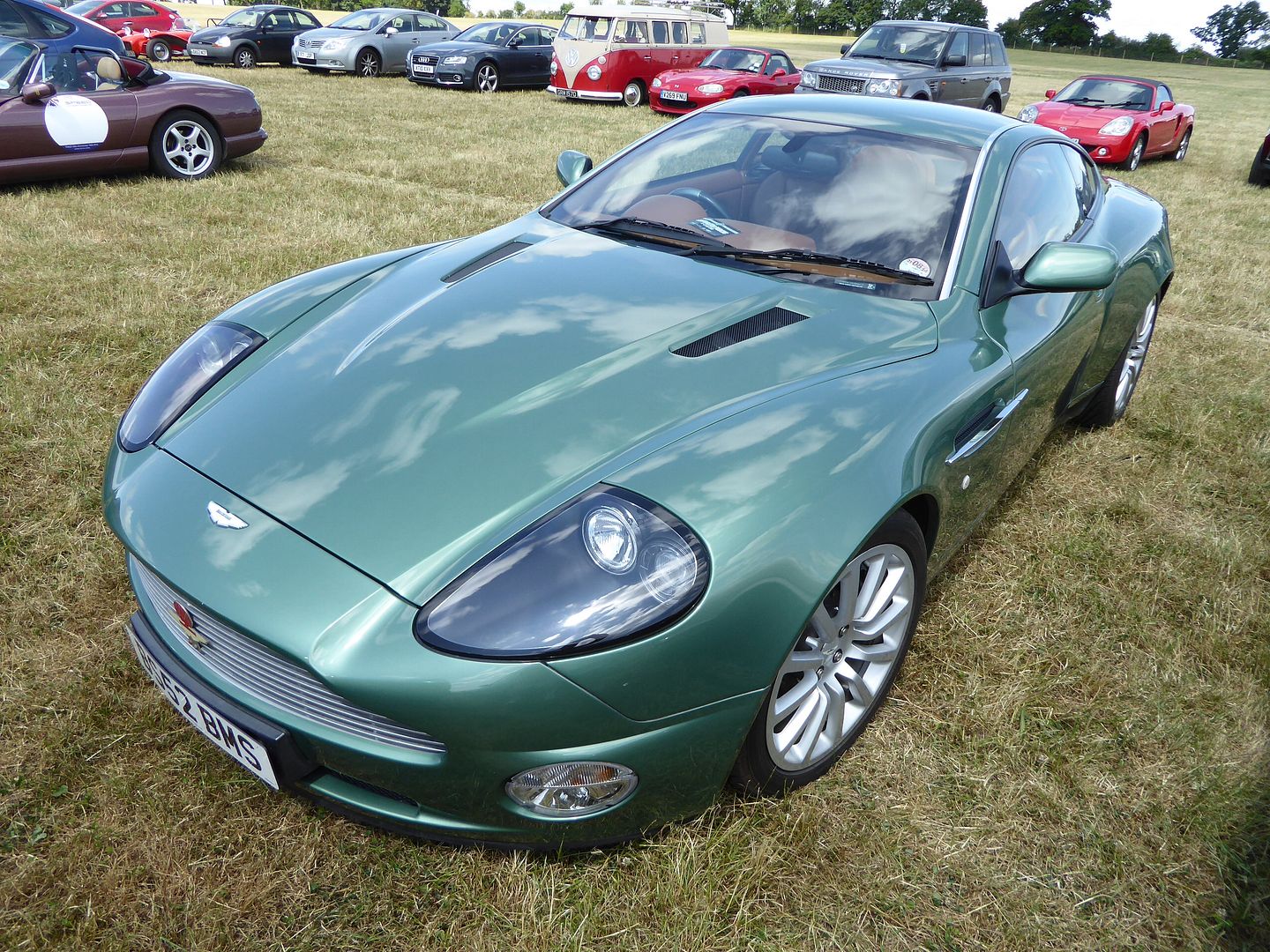 The DB7 is the car that really put Aston back into contention as a manufacturer of luxury Sports/GT cars, after several near death experiences that the brand went through in the preceding 20 years. Built on a modified Jaguar XJS platform, the gorgeous Ian Callum penned lines were all the enticement that those lucky enough to be able to afford one needed, though when the V12 engine was put under the bonnet, it went a lot faster as well. Prices are doubtless as low now as they will ever be. In years to come, people will kick themselves for not buying one of these when they could afford to do so.
Those days have long passed for the earlier DB models, with even the DB6, the car which purists rated as less worthy than its predecessors, now heading towards the half million mark. There was one of these as well as the earlier but visually similar DB4 models parked up.
Also here were DBIII Convertible and Coupe models, the last version of the car Aston made from 1949 until 1958.
Final car from the Newport Pagnell concern was a pre war International
AUDI
Three very different Audi models from the 80s were of interest. The urQuattro would have been the rarest of these when new, but now, ironically, is the one you would be most likely to see, as the survival rate of these AWD legends is quite respectable. Joining was an 80 Sport, the car which combined the fuel injected 1781cc engine from the Golf GTi with the larger second generation Audi 80 body to create a sports saloon before the genre really took off, and the third car was a 100 Avant, the estate version of the C3 version of Audi's large car which wow-ed everyone on launch in the autumn of 1982 with its impressive aerodynamics. Survivors are very rare now, sadly.
More recent Audis included an RS5 Coupe and an R8
AUSTIN
Herbert Austin's 1922 masterpiece, the Seven, was the car that really started to allow the British to get behind the wheel and own their car. Not surprisingly, the Austin took a huge share of the UK market as a consequence, outselling the main rival, Morris, until the late 1920s when the Minor was launched. The Seven continued in production, right through to 1939, undergoing lots of change, so the later models look quite different from the early ones. There were examples here of an early open -topped car and a much later model.
The A40 Dorset and Devon were the first new designs that Austin produced after the war. Launched in 1947, they combined some old technologies with some new. The four door model, the Devon is the one that most people bought, but there was a two door version, the Dorset, as seen here, but this was a slow seller and was discontinued in 1949 after just 15,939 were made, whereas the Devon went on in a five year production to sell over 450,000 examples. This was the "Export or Die" era, so there are not that many of them in the UK.
Launched at the 1949 London Motor Show was the A40 Sports, a four-passenger, aluminium-bodied convertible version of the Austin A40 – carrying an Austin of England nameplate, bearing Austin's Flying A hood ornament, and designed and manufactured in conjunction with Jensen Motors. Production did not begin until November 1950 for model year 1951. By the time production ended in 1953, about 4,011 examples had been produced. As one in a series of collaborations between Austin and Jensen Motors of West Bromwich, the A40 Sports originated when Austin's chairman Leonard Lord saw the Jensen Interceptor and requested that Jensen develop a body that could use the A40 mechanicals. The resulting body-on-frame A40 Sports was designed by Eric Neale, a stylist who had joined Jensen in 1946 after working at Wolseley Motors. During production, A40 Sports bodies were built by Jensen and transported to Austin's Longbridge plant for final assembly. As per Lord's intention, the A40 Sports was based on the mechanicals of the Austin A40 Devon, though the centre section of the chassis was boxed to provide rigidity for the open body. The A40 Sports also employed a twin-SU carburettored version of the 1.2 litre engine producing 46 bhp rather than 42 bhp.  Gear selection was originally via a floor-mounted lever. Steering was worm and roller type, front suspension was independent coil springs with rigid beam axle and semi-elliptic leaf springs at the rear. Production of the A40 Sports occurred in two series. The initial GD2 Series began in November 1950 and featured a floor gear change and dashboard identical to that of the Devon. The later GD3 Series began production in August 1951 and ended in April 1953, featuring a steering-column gear change, full hydraulic brakes, and a revised dash with a centred instrument panel. The A40 Sports had trouble maintaining 60 to 65 miles per hour cruising speeds – despite a top speed of 77.8 mph as recorded by the British magazine The Motor in 1951 – and could accelerate from 0–60 mph in 25.6 seconds. Tests achieved a fuel consumption of 29.3 mpg. In the United States – initially targeted as its primary market – the A40 was priced at about $2,200. It was listed at about £818 in the UK,at a time when a mainstream middle market six-cylinder saloon, the Vauxhall Velox, was offered for £550 and Austin's own A40 saloon was offered for slightly more than £500.
The A60 Cambridge was the Austin version of the Farina-styled quintet of large family cars that were first seen in 1959. A 1962 facelift saw a larger version of the B Series engine put under the bonnet and the rear tail fins trimmed down somewhat. My parents owned a similar Morris Oxford Series VI, and – not that I remember this – this was the first car I ever went in, as it would have been used to bring me home from the hospital as a new born. The car was very heavy to drive – so heavy that my mother never drove it.
There are far fewer survivors of the Metro than of its predecessors, the Mini, and now people are starting to regret the fact that quite so many of them have been scrapped. Sadly, this innovative car did have a tendency to rust, and as it had fallen out of favour in the 90s when MOT failures came in quantity, the car simply got recycled. This is a nicely presented 1.0L, made not long before the range was facelifted with the K-Series engine being put under the bonnet to create a once again class leading car.
AUSTIN HEALEY
There were lots of examples of the Big Healey. Most of them were the later 3000 model, with at least half a dozen present, but there were also some of the earlier Healey 100 cars present.
Among them was this very neat looking Coupe. I've seen this car a couple of times before, and it looks so neat that you wonder why the factory did not produce something similar. There's a dearth of information online, though, about its origins, so I have little to add other than to say "enjoy the picture".
BENTLEY
Several of the legendary 3 litre and Blower Bentley models were here.
After the acquisition by Rolls Royce, Bentley switched to make luxury grand tourers, with a choice of 3.5 or 4.25 litre engines and a body supplied by a coachbuilder. Some truly elegant versions of what are known as the Derby Bentleys resulted. This is one such.
More recent Bentley models included an Arnage, a Continental GT Coupe and a Flying Spur
BERKELEY
The Berkeley automobile was a collaboration between designer Lawrence "Lawrie" Bond and the Berkeley Coachworks factory owned by Charles Panter, which at the time was one of the largest manufacturers of caravans in Europe. It was an ideal project for Berkeley, who had developed considerable skills in the use of Glass-reinforced plastic, and were looking for something to fill the gaps in the very seasonal caravan market. What Panter and Bond wanted to achieve was "something good enough to win World 750cc races… but cheap, safe, easily repairable and pretty."The early cars were an immediate success on the home market, and several derivative models were spawned over the four years of car production. Export markets, most notably the United States, were exploited and the cars earned a reputation for fun, if fragile, sports motoring on a budget. Recognising the threat posed by the newly introduced Mini and Austin-Healey Sprite in the late fifties, the company started to develop a more conventional model with the support of Ford. The caravan market collapsed towards the end of 1960, and Berkeley's poor cash flow forced the company into liquidation on 12 December 1960, taking its car manufacturing activities with it. After having produced about 4100 cars of various types, the workforce was laid off shortly before Christmas that year. An attempted sale of the company to Sharp's Commercials Ltd (manufacturer of the Bond Minicar) came to nothing, and the company's assets were liquidated in 1961. The factory was later used by Kayser Bondor Ltd to make women's underwear, but it was demolished in 2002 and the site turned over to housing. A road named 'Berkeley Close' in the housing estate provides the only obvious link to the car factory. Today there is an active owner's club (the Berkeley Enthusiasts' Club), which provides a range of parts and services aimed at preserving the remaining few hundred cars known to survive worldwide. Berkeley's first production car was the 'Sports' (type SA322), announced in September 1956 and produced from October 1956 to January 1957. Production began with two prototypes (registered RMJ395 and RMJ946), which were seen being tested with enthusiasm around the neighbourhood of Biggleswade in the late summer of 1956. Stirling Moss drove one at Goodwood in September, and the car was launched to the public at the 1956 London Motor Show – one year ahead of the Lotus Elite, which was also to be of fibreglass monocoque construction. Bond's attractive 2-seater open tourer design capitalised on Berkeley's GRP experience, and consisted of three large mouldings (floor or 'punt', nose, tail) with no conventional chassis. The front edges to the doors slanted forward so that when the doors were opened they hinged upwards and then closed by themselves. Although usually configured as a two-seater with simple bench seat, a hatch could be removed from behind the front seat, revealing a compartment normally containing the spare wheel and some luggage space which could double as a basic seat for a small child. Equipment was basic, even the fuel gauge was an optional extra. Power was provided by a British Anzani twin-cylinder 322 cc two-stroke engine producing 15 bhp and mounted transversely, driving the front wheels via a chain and three-speed gearbox. The engine was already used by various motorcycle manufacturers such as Cotton and Greeves, but in the Berkeley was fitted with a Siba Dynastart to provide both battery charging and electric starting. It was a very advanced two-stroke engine which incorporated a rotary inlet valve mechanism in the centre of the crankshaft. The gearbox was a three-speed Albion HJR5, utilising a steering column-mounted gearchange.The car had all-round independent suspension by coil springs and in spite of the tiny engine gave remarkably good performance owing to its light weight (kerb weight 605 lb and excellent roadholding. Girling hydraulic brakes with 7 in drums were used. After 163 of the SA322 cars had been manufactured, a change was made to the SE328 model with a 328 cc Excelsior engine offering 18 bhp. The production run ran from Jan 1957 to April 1958 with chassis numbers from 164 to 1422, many being exported to the United States where it sold for approximately $1600. The manufacture touted the number 70, meaning it could reach 70 mph and had an average fuel economy of 70 mpg. The export model was differentiated by having separate headlamps whereas on the home market they were faired into the wings, although the export type lamps could be specified. Early cars from Jan 1957 to about chassis number 476 in June 1957 still used a column gear change. During their production run a Deluxe model was offered which was bodily the same but featured polished wheel trims and spinners, tachometer and twin carburettors. The chassis plate was similar to the Anzani type on the early cars but was later changed to a printed type fitted to the bulkhead above the brake master cylinder. Most of these cars had the three-speed gearbox similar to the Anzani except for the mounting flanges. All of the cars had the sloping leading edges to the doors. The SE328 enjoyed considerable success and press exposure through their involvement with lightweight motor racing, and their famous drivers included Pat Moss who drove one in the 1958 Liège-Brescia-Liège rally for cars up to 500cc. The Berkeley team – a works-supported entry of six cars including BBC commentator Robin Richards – led as far as Slovenia, but slow climbing in summer heat found their weakness and Pat ended up being towed back to Italy by another Berkeley. None of the Berkeleys finished the event. In late 1957 a new derivative model was introduced, using a 30 bhp Excelsior three-cylinder 492 cc engine with triple carburettors. This engine configuration was made possible by the vertically split crankcase of the Excelsior engine and modular crankshaft and barrels, which made adding a central cylinder relatively easy. A four speed gearbox was standardised. The top speed was now 80 mph. The production ran from October 1957 to March 1959 with chassis numbered 1 to 666. From about October 1958, in order to coincide with the introduction of the 'Foursome', they were renamed the 'Twosome'. Also at the 1958 Motor Show a Fixed Head (or Hardtop) was announced and displayed that had external as well as the usual internal door handles, but there are no records that this body style actually reached production. It is probable that cars pre chassis number 120 (approx), about April 1958, had similar bodies to the early Berkeley "Sports" cars. Cars from about April 1958 to the end of production had vertical front door edges and internal door hinges, as well as body moulding and a few mechanical changes. Early cars were fitted with the four speed TR gearbox whilst later cars had the larger and stronger VR gearbox. The cars enjoyed some success in Motor Sport and Giovanni Lurani bought three which he took to Italy, fitted them with his own design of hardtop, and running them in the 750 cc GT class, one driven by Lorenzo Bandini finishing first in the 1958 Monza 12 hour race. Reliability, always questionable with the air-cooled two-strokes, became more of an issue with the extra heat generated by the triple, and there are many recorded reports of warranty claims. At one point the US authorities appear to have stopped a shipment of Berkeleys at the dock pending rectification of what they considered a serious design issue. There seems little doubt that profitability of the Berkeley programme was impacted as a result of these claims and the aggressive export drive to markets not familiar with the eccentricities of British sports motoring.  Announced in October 1958, the Foursome model was wider and longer than its forebears and differed structurally in that the rear swinging arms were lower and external to the body, and the spare wheel was mounted at the rear of the car. The type reference is supposed to be SE492/4 but one has the reference B.100. The chassis numbers are D1/1 to D1/19 but then again one example has D1/100, this particular car could be the prototype since it appears in publicity pictures. The list price of the Foursome was £700 including Purchase Tax, with an additional £28 for the optional hardtop. Seen here is a Twosome.
BMW
Three different Z models caught my attention: the most recent of them, a Z4, largely because of the very striking yellow ochre paintwork; there was also an M Coupe, which was the official name given to the M versions of the Z3 and the rather wonderful Z1.
E30 318i 2 door models like this one are getting rare now, even though these were the first BMWs to sell in significant quantity in the UK (and elsewhere).
There were also a couple of older BMW models, a 2002Tii and a 2000Ti Saloon
BORGWARD
There were a couple of Isabella models here, a Coupe and a Convertible from this largely forgotten Bremen-based German marque, whose name resurfaced earlier in the year with some ambitious plans to start producing cars again. The Isabella was to have been marketed as the Borgward Hansa 1500 but the Isabella name was used on test vehicles and proved popular with engineering staff and media, so the production car was subsequently renamed and only the first few hundred examples were built without Isabella badging, though Hansa badging was also used through to 1957. Despite its aspirational positioning in the marketplace, the Isabella had a smaller engine (and was marginally shorter) than its immediate predecessor, the Borgward Hansa. Late in 1952, the firm had launched their six cylinder Hansa 2400 model. The larger car never found many buyers; but in 1954, it made commercial sense to keep the two models from competing too directly with each other. 11,150 Isabellas were produced in 1954, an early indicator that commercially this would be the most successful Borgward ever. The early cars enjoyed an enthusiastic reception in the market place. Unfortunately, early models were afflicted by teething troubles, reflecting a rushed development schedule, and the marketplace would later prove unforgiving as Borgward's Stuttgart based rival, Daimler-Benz demonstrated that new models did not have to involve customers experiencing such problems. The advertised launch price of DM 7,265 was higher than that of competitor family sedans from Opel and Ford, but significantly less than Mercedes Benz was asking for their 180 model. In view of the car's spacious cabin and impressive performance, the pricing was perceived as very competitive. The Isabella was constructed without a separate chassis, applying the monocoque technique which during the 1950s was becoming the norm. Like its predecessor, the car was designed with a modern ponton, three-box design, but the line of the Isabella was more curvaceous than that of the first Hansa, and the car's body made greater use of chrome trim. Ground clearance was 6.9″. The Isabella featured a swing axle at the back: it was supported by coil springs on all four wheels. The four-cylinder 1493 cc engine had a claimed power output of 60 bhp, and was connected by means of a then innovative hydraulic clutch to the four speed full synchromesh gear box. Gear changes were effected by means of a column mounted lever. A road test at launch reported a maximum speed of 130 km/h (81 mph) and fuel consumption of 8.4 l/100 km. The testers described the modern structure of the car in some detail: they particularly liked the wide cabin with its large windows, and they commended the effectiveness of the brakes. The inclusion of a cigarette lighter and a clock also attracted favourable mention. Unlike the Mercedes 180 however, (and unlike its predecessor) the Isabella was only delivered with two-doors. A year after presenting the sedan, Borgward presented the Isabella estate version. Also introduced in 1955 was a two door cabriolet, known as the Isabella TS and featuring a more powerful 75 bhp tor. Production of the cabriolet was contracted to the firm Karl Deutsch in Cologne: converting an early monocoque design to a cabriolet necessitated considerable modification in order to achieve the necessary structural rigidity, and the resulting cost was reflected in a much higher selling price for this version. Initial sales volumes were not maintained. Responding to a sales decline of almost a third in 1955 and 1956, Carl Borgward decided to produce a more beautiful Isabella with a shortened roof line. The Borgward Isabella Coupé was developed, and the four hand built prototypes were well received by the press. Borgward gave one of these prototypes to his wife, Elisabeth, who would continue to drive it into the 1980s. Commercial production of the coupé, powered by the more powerful TS version of the engine first seen in the cabriolet, commenced in January 1957. The coupe appears to have achieved its marketing objective of further distancing the Isabella's image from similarly sized competitors from Opel and Ford. By 1958, the more powerful 75 bhp TS motor had also found its way into the more upmarket Isabella sedan and estate versions. At the time of Borgward's controversial bankruptcy in 1961, the firm carried a substantial stock of unsold Isabellas. Nevertheless, the model's production at the Bremen plant continued until 1962, suggesting that overstocking had not been restricted to finished vehicles. By the end, 202,862 Isabellas had rolled off the Borgward production line which was nevertheless an impressive volume in the 1950s: overall, and despite being hit by falling demand in the economic slump that briefly hit Germany in the early 1960s, the car is believed to have been the firm's most lucrative model by a very considerable margin. Borgward enjoyed a brief afterlife: the production line was sold and shipped to Mexico where later during the 1960s the P100 (Big Six) was produced. The Isabella was never produced in Mexico. Back in the German market, BMW's stylish new 1500, launched by the Bavarians in 1961, convincingly filled the niche vacated by the Isabella, and was credited by at least one commentator with having rescued BMW itself from insolvency. In Argentina, the Isabella was manufactured from 1960 to 1963 by Dinborg, a local subsidiary of Borgward. 999 Isabellas were made in Buenos Aires.
BRISTOL
This is a 400, the first car made by Bristol Aeroplane Company. After World War II, BAC decided to diversify and formed a car division, which would later be the Bristol Cars company in its own right. BAC subsequently acquired a licence from Frazer Nash to build BMW models. Bristol chose to base its first model on the best features of two outstanding pre-war BMWs, namely the 328's engine, and the 326's frame. These were covered with a neat mainly steel body but with aluminium bonnet, door and boot skins and inspired by the BMW 327's. Launched in 1947, the Bristol 400 featured a slightly modified version of BMW's six-cylinder pushrod engine of 1,971 cc This engine, considered advanced for its time due to its hemispherical combustion chambers and very short inlet and exhaust ports, developed 80 horsepower at 4,500 revs per minutes and could carry the 400 to a top speed of around 92 mph with acceleration to match. In order to maintain a hemispherical combustion chamber, the valves had to be positioned at an angle to the head. In order to drive both sets of valves from a single camshaft, the Bristol engine used a system of rods, followers and bell-cranks to drive the valves on the far side of the engine from the camshaft. Owners soon found that setting and maintaining the numerous clearances in the system was difficult but vital to keep the engine in tune. The gearbox was a four-speed manual with synchromesh on the upper three ratios and a freewheel on first. The model 400 was the only Bristol to be fitted with a steel and aluminium skin, and had all flat glass, but for the curved rear window, glazed in perspex, which was available to specification with a top hinge. This feature was very welcome on warmer climate export markets, where the sliding door windows provided only marginal ventilation to the passengers. The 400 featured independent front suspension with a transverse leaf spring and a live axle, located by an A-bracket over the differential case and longitudinal torsion bars with transverse arms and brackets at the rear. It featured a lengthy 114 inch wheelbase and a very BMW-like grille at the front of its long bonnet. The passenger area was very short, with the spare tyre mounted inside the boot on the first cars, but eventually mounted on the rear hinged boot lid, inside an aluminium cover. 487 examples were made.
BUICK
Buick first used the name Electra in 1959, and it was continuously applied to the top models in the range right through to 1990. Classical scholars may think that the name came from Greek mythology, but in fact, it was the name of the President of General Motors'  sister-in-law, Electra Waggoner Biggs. Seen here is an Electra 225 from 1969. That model year saw a major restyling to the car and indeed the other GM B-body and C-body cars with somewhat crisper bodylines than the 1965–68 models, even those these new cars continued with the same chassis and inner body structure that had been introduced with the 1965 model. This was an era of huge cars, so the wheelbase was increased one inch to 127-inch.
CHEVROLET
Corvette C4
CHRYSLER
Dating from 1928 is this Chrysler model, which is fitted with a 4.1 litre engine.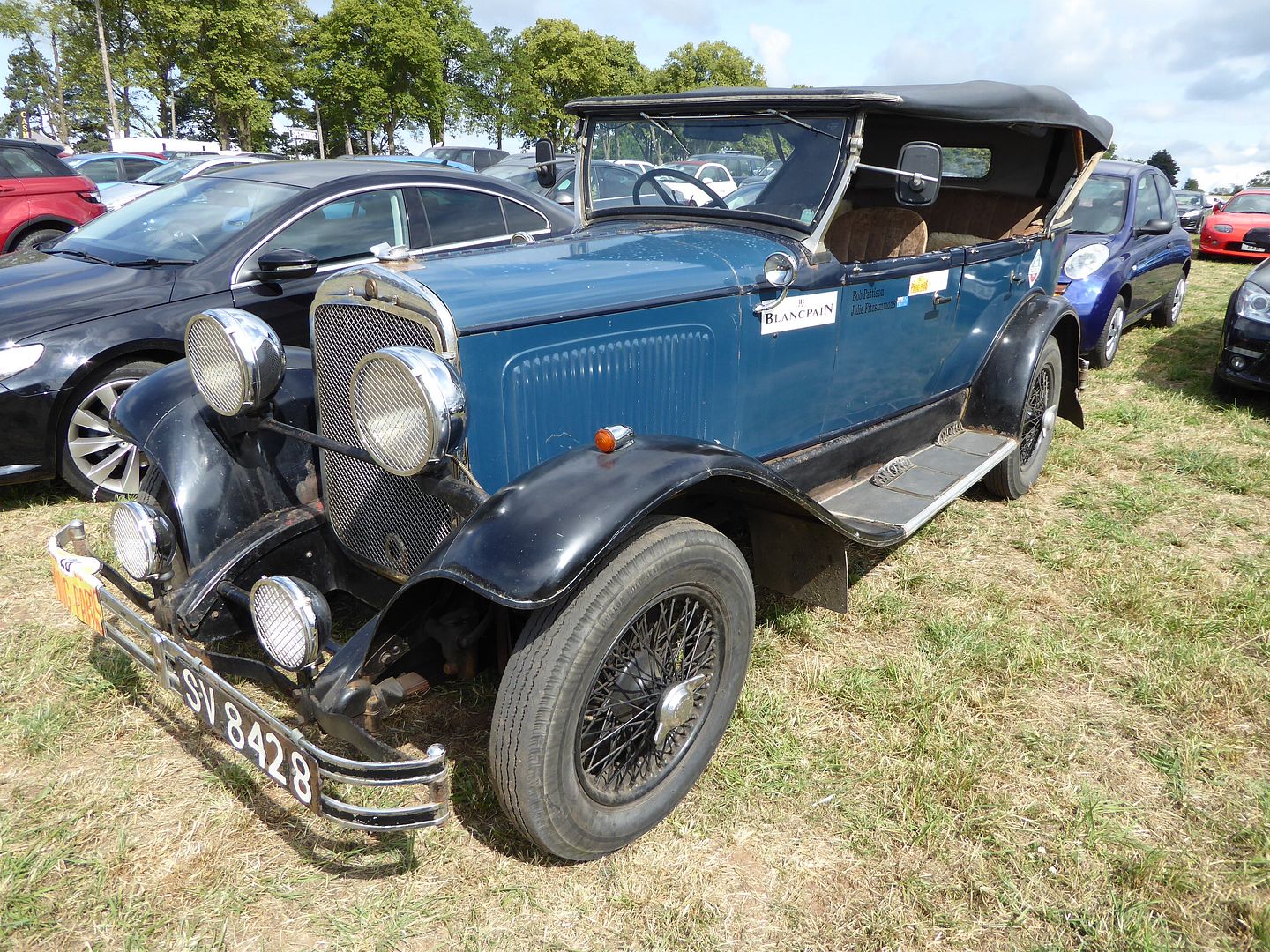 CITROEN
2CV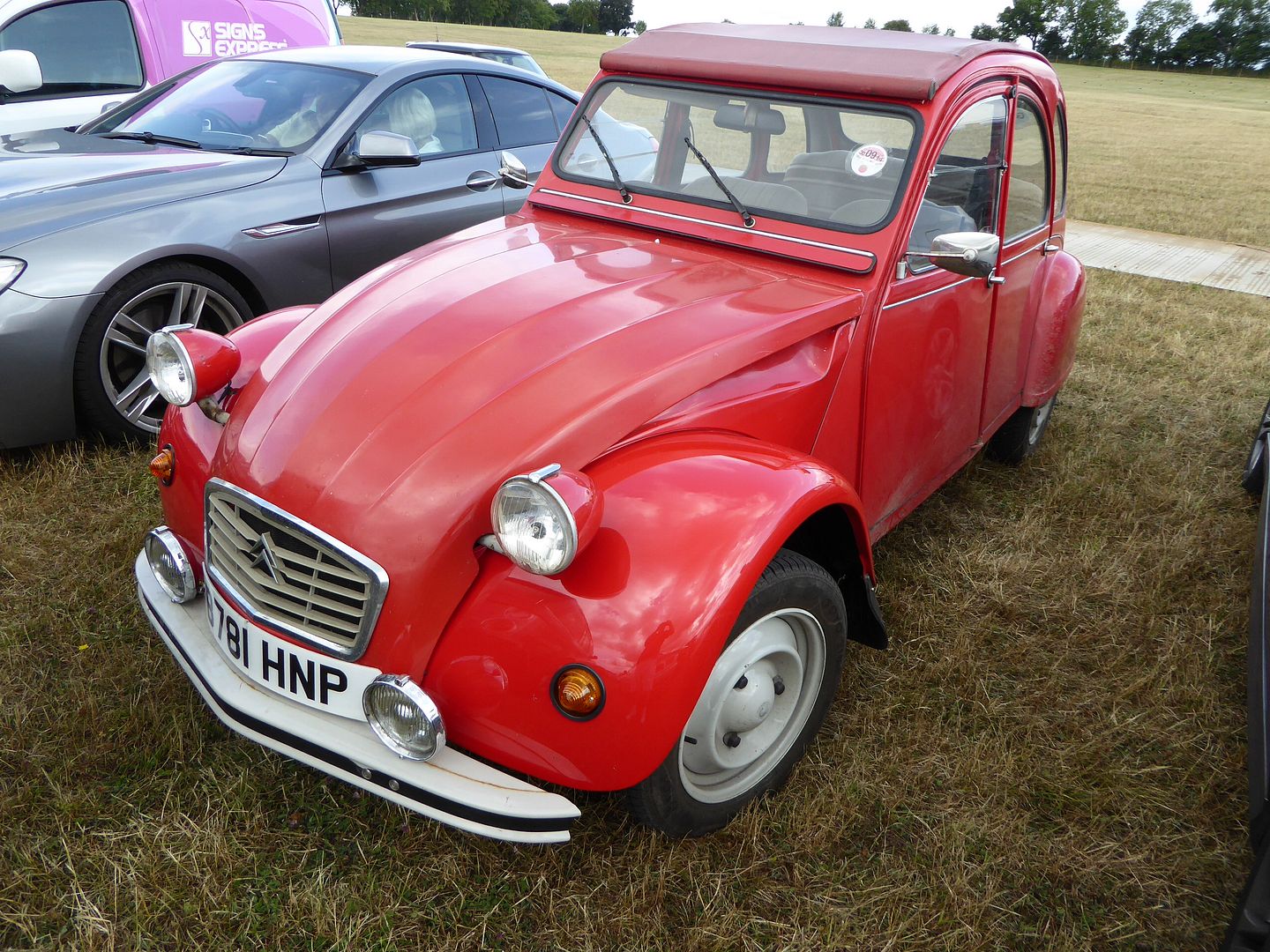 DAIMLER
Nice to see an example of the SP250 "Dart", the slightly gawky looking sports car that Daimler launched in 1959, a matter of months before their acquisition by Jaguar. By the mid 1950s, Daimler were in trouble. The cars were expensive and just not selling. New models were seen as a potential way of changing things around, so shortly after being appointed Managing Director of BSA's Automotive Division in 1956, Edward Turner was asked to design a saloon car powered by a new V8 engine. The engine drawings were finalised by March 1958 but the saloon prototype, project number DN250, was not available for examination by the committee formed in 1958 to report on the feasibility of the V8 cars. The committee's evaluation centred on the prototypes being tested at the time, which were for the SP250 sports car project. According to the feasibility study conducted by the committee, the SP250 would generate a profit of more than £700,000 based on a projection of 1,500 cars being sold in the first year of production and 3,000 cars per year for the second and third years of production. Two-thirds of the sales of the car were expected to be in the United States.  The study also determined that the body should be made from fibreglass, with shorter time to the beginning of production, tooling costs of £16,000 as opposed to £120,000 for steel bodies, and lower cost to change the styling. That meant that the car was able to be launched at the 1959 New York Show, christened the Daimler Dart. Chrysler, whose Dodge division owned the trademark for the "Dart" model name, ordered Daimler to change the name under threat of legal action. With little time to come up with a new name, Daimler used the project number, SP250, as the model number. The car certainly looked quite unlike previous Daimlers, but whether that was a good thing is less clear as the SP250 won "The Ugliest Car" via vote at that 1959 show. That was not the only problem with the car, either. The original version, later called the A-spec, could reach a speed of 120 mph, but the chassis, a "14-gauge ladder frame with cruciform bracing" based on the Triumph TR3, flexed so much that doors occasionally came open, marring its reputation. The car featured the smaller of the two hemi-head V8 engines which Edward Turner had designed. 2547cc in capacity, it was a V8, iron block, OHV unit, with a single central camshaft operated valves through short pushrods with double heavy-duty valve springs, aluminium alloy hemispherical cylinder heads, and twin SU carburettors which meant it put out 140 bhp.The manual gearbox, the first of the type used by Daimler since they started using the pre-selector type across their range in the 1930s,, was reverse-engineered from the Standard gearbox used in the Triumph TR3A. Early examples of the car were not particularly reliable.  Sales were slow, initially, and Daimlers problems were compounded when, not long after they had been acquired by Jaguar, an in-house rival in the form of the E Type arrived on the scene. New bosses at Jaguar did not kill off the SP250, though, but they were immediately concerned about the chassis flex. They brought out the B-spec. version with extra outriggers on the chassis and a strengthening hoop between the A-posts. There were also other detail improvements, including an adjustable steering column. Bumpers had originally been an optional extra. With the basic specification not including full bumpers, the A-spec. cars have two short, chromium-plated 'whiskers' on the body on either side of the front grille and two short, vertical bumpers, or "overriders" at the rear, which were not included if the rear bumper was optioned. B-spec. and the later C-spec. cars do not have the 'whiskers' that A-spec. have and some do not have the optional front bumper, so there is very little front protection for these cars. A planned Coupe version of the car, the DP250 never got beyond the prototype phase, and Ogle Design's proposal for a Coupe version was not taken up, the styling for that concept ending up forming the Reliant Scimitar GT. The SP250 ended production in 1964. Just  2,654 SP250s were produced in five years of production, far short of the projection of 3,000 per year by the second year of production. Jaguar did built a prototype replacement under project number SP252 with a neater body style but decided not to proceed with production, as they figured that the cost to build the SP252 would have been greater than that of Jaguar's popular and more expensive E-Type, thereby creating internal competition from a product with no practical profit margin and with uncertain market acceptance. These days, surviving SP250s are viewed rather more positively than they were when new, and a certain Quentin Willson, who has owned one for many years, is particularly positive about the car's merits.
The 2½ litre V8 engine used in the SP250 was used by Jaguar to power the smaller saloon Daimler had wanted from the start. This was basically a Jaguar Mark 2 with the V8 engine from the SP250 modified to fit in the Mark 2 engine bay and revised interior, trim, and suspension settings. Sold between 1962 and 1967 as the Daimler 2½-litre V8 and from 1967 to 1969 as the Daimler V8-250, the Daimler car with the highest production figures. There were a couple of them here
This is a 1967 Sovereign, the Daimler version of the Jaguar 420. First launched in 1966, the differences between the two amounted to little more than a grille with the traditional Daimler fluting at the top, and a few other trim variations. The 420 and this Sovereign were based on the earlier S-Type, differing in that they had a revised four-headlight nose reminiscent of the Jaguar Mark X, and being powered by a 4.2 litre version of the straight-six XK engine. There were thoughts of fitting the Sovereign with the Daimler 4½ litre V8 engine as used in the Majestic Major but as this significantly outperformed the Jaguar XK unit and would have led to the Sovereign outgunning the Jaguar 420, the Jaguar hierarchy did not pursue the idea; the Jaguar marque was supposed to be more sporty than the Daimler. The 420/Sovereign range began to be replaced by the Jaguar XJ6 in September 1968. The Jaguar ceased production in December 1968, the Daimler remaining in production until July 1969.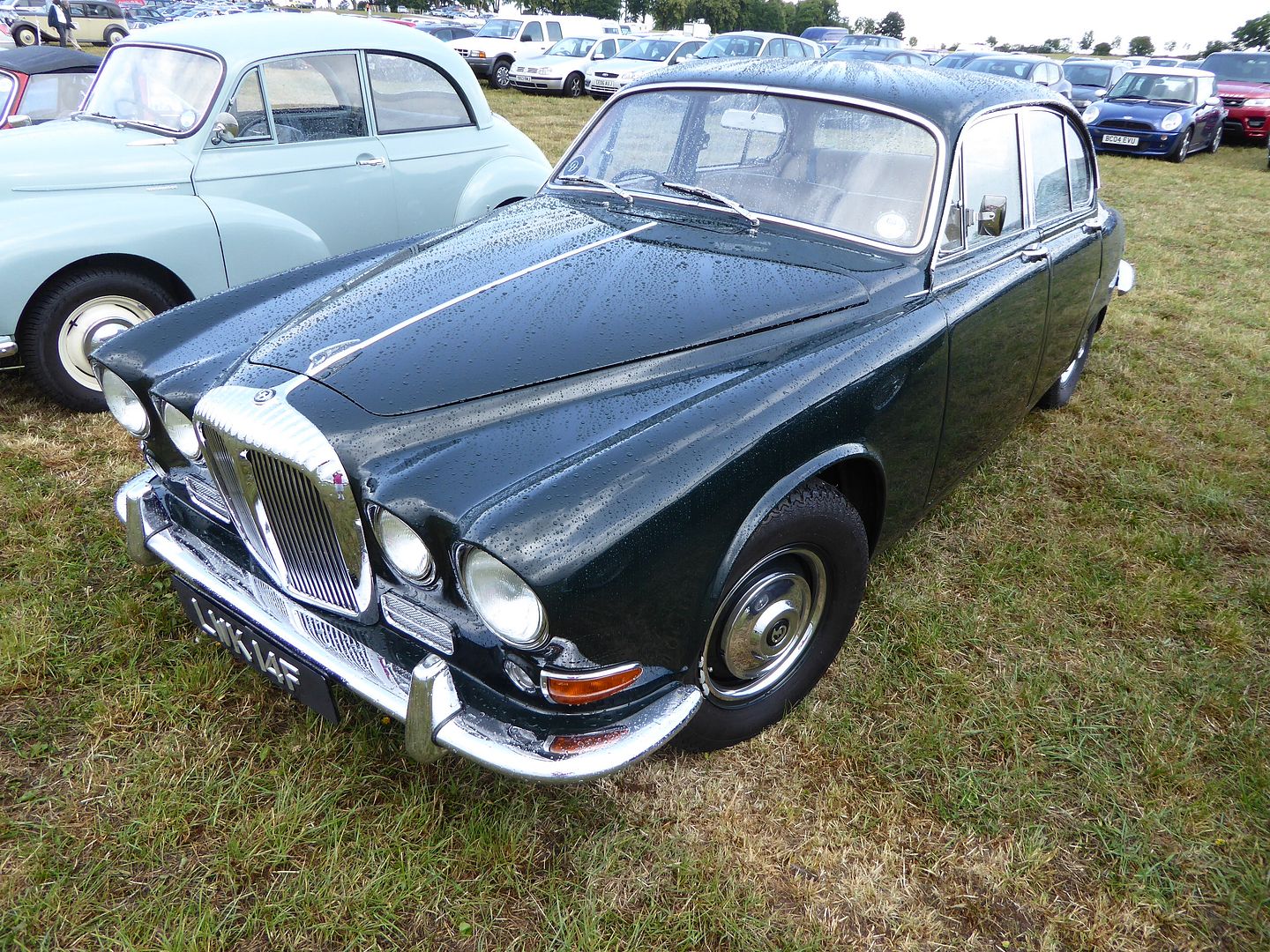 DELLOW
There were a couple of Dellows parked up. Made in a factory at Alvechurch, near Birmingham, between 1949 and 1956, Dellow Motors Ltd was started by Ken Delingpole and Ron Lowe to produce road-going sports cars for the enthusiast to use in trials, rallies and hill-climbs. A small number of very early cars used Austin 7 chassis as per Ron Lowe's special, FUY 374. The other prototypes included OP 3835 owned by Earl "Mick" Heighway, HAB 245 (Eric Penn) CAB 282 (Lewis Tracey) and EDE 384 (Merrick). From 1950, with scrap Austin 7's in short supply, an 1172cc Ford 10 engine was utilised in an A-frame chassis with a very light tubular steel framework welded to the chassis and panelled in aluminium, early cars having no doors. The chassis frames were made partly from government surplus chrome-molybdenum rocket tubes, the rockets being RP3 types as used by Hawker Typhoon and Bristol Beaufighter aircraft. The design emphasis was on light weight and a rearward weight bias for trials. Many sporting awards were won by drivers of Dellow cars in the early 1950s, not only in trials but also in other events such as driving tests and hillclimbs. Dellows also took overall honours in the MCC organised Daily Express National Rally and the Circuit of Ireland Rally. Dellow drivers often shone in other forms of motor sport, Tony Marsh from Kinver went on to become RAC Hill Climb Champion on no less than 6 occasions. Peter Collins from Kidderminster, later drove for HWM, BRM and Vanwall, then for Ferrari. Dellow styling was created by Lionel Evans at his Radpanels coachbuilding business in Kidderminster. The car evolved through several variants known as Mk I to Mk V. Early cars had the Ford beam front axle with transverse spring and short Panhard rod, quarter elliptics at the rear and Andre Hartford friction dampers all round. The Ford torque-tube was suitably shortened and the vast majority of cars used the 3-speed Ford gearbox but a very small number of cars (KOX 300 being one of them) were produced to customer order with a 4 speed gearbox, from the 10M series Morris. The Ford E93A engines were mildly tuned and many used twin SU's on a cast alloy 'Dellow' manifold. However, as an option the factory also offered the car with a Wade-Ventor (Roots type) supercharger installation. The MkII saw the introduction of a new and much more robust rear chassis section with coil springs, separate telescopic shock absorbers and a Panhard rod. This stiffer chassis allowed doors to become an optional fitting. The Mk V version was derived from the "Lightweight" Dellow (WRF 81) constructed by Tony Marsh for speed events in 1954. It saw coil springs introduced at the front (over telescopic dampers) although still with a one-piece Ford beam axle. About 300 Dellows in total are believed to have been constructed.
FERRARI
There were a good number of Ferrari models in the car park, as you might expect. More numerous were the V8 models, and you could see the evolution of the "volume" selling cars by looking at this progression of 360 Modena Coupe and Spider to the recently updated 458 Italia and Spider
There were plenty of different V12s as well, with Testarossa, 550 Maranello and 3 examples of the 599 GTB  as well as a couple of "four" seater models, the 456GT and FF.
FIAT
Two relatively recent classic Fiats attracted my camera: a Barchetta and the distinctively styled Coupe
FORD
Oldest Ford that I came across was this Zodiac Mark 2. Top of the range in the late 1950s, these are real period pieces with their American influenced styling and design features, and are now highly prized by those who could not afford them in their youth.
Far more affordable was the Anglia 105E, Ford's small car which was launched in 1959. Utterly conventional in all respects except the reverse rake to the rear window, this was car adopted a completely different approach to entry level new car motoring from BMC's Mini which was launched a few weeks earlier.
There were two examples of the Mark ! Cortina here, a Super Estate Mark and a 4 door GT with Lotus style quarter bumpers and there was also a Mark 2 Lotus Cortina.
The Consul Capri GT was a shortlived model based on the Consul Classic that had premiered in 1961. Designed before the Anglia, the smaller car had been given priority to production, so by the time the Classic was ready, it already seemed somewhat old-fashioned. The Capri was an attempt to give the car more style, and the GT version, with a 1500cc engine had at least some more power to make it go decently. It was not enough, and the car left the price lists in 1964.
Ford dusted off the Capri name again in early 1969 with a new model, "the car you always promised yourself". A Cortina underneath, the rakish looks combined with a bewildering array of engine choices, trim levels and option packs allowing the owner to customise their car to meet their tastes and budget. It was a winning formula, and the car proved very popular. A light facelift was applied in 1972 before the model was replaced by the hatchback Capri II in early 1974.
Ford was on a roll at this time, and success in the 1970 London to Mexico rally further reinforced the desirability of the brand. To celebrate, a production version of the sporting Escort, called the Mexico was launched. These cars are highly treasured these days.
Hard to believe, but the Fiesta will celebrate its 40th birthday next year. Ford were late to the small front wheel drive party, taking a lot of persuading that they could make money out of the genre. Early Fiestas – and there are not many of them left now – seem extremely basic by modern standards, but when this car was launched, it was a good looking machine that was fun to drive even in low powered 957cc form. Cheaper Popular and Popular Plus model were added to the range in 1980, meaning that this L was a mid spec car.
The Escort RS1600i was a short lived version of Ford's first front wheel drive Escort, made in 1983. It brought fuel injection to the sporting Escort eight months before it was added to the commercially more significant XR3i. Around 8500 RS1600i models were sold.
Replacing the much loved Cortina in the autumn of 1982 was the Sierra, a car which quickly acquired the rather unkind nickname of "jelly mould", thanks to its futuristic looking styling. It was much more conventional under the skin, though, retaining a rear wheel drive platform when all the rivals were switching to front wheel drive. Sadly, it retained its old engines as well, which gave it quite a challenge in matching the all new GM J Cars (Vauxhall Cavalier/Opel Ascona), which were markedly superior in just about every respect. In true Ford fashion, though, new models were added to the range, and they did their best to make the car attractive to buyers during its 10 year run. Apart from the rapid RS Cosworth models, it has not gained the same following as the car it replaced, though, and you don't see survivors that often, so it was nice to come across both an XR4i and one of the later Ghia Estate cars.
More recent Fords included a second generation Focus ST and a couple of the even more rapid RS models.
There were a number of Mustang models here, too: a couple of first generation Coupe cars, a later 67 model, as well as an example of the recently superceded model.
FRAZER NASH
As well as the Le Mans replica that was in action on the Hill, there was another one to be found in the classic parking area.
GILBERN
The Invader was the last car made by Welsh car company, Gilbern. Introduced in July 1969, it was based on the Genie but with improved chassis and larger brakes. The front suspension now came from the MGC and the chassis was strengthened. It took the brand further up- market with fittings such as electric windows and walnut-veneered dashboard. The Invader was available as a complete car and from 1970 an estate version was also produced. Automatic or manual transmission with overdrive were available. It was updated to the Mk II version in 1971. In September 1972, a Mk III version was released, which had a Ford Cortina front suspension and was restyled front and rear. The engine was the higher tune unit from the Ford Capri 3000GT. The body was produced using new moulds and was both wider and lower than that of the earlier Invader, with the tack was extended by four inches. The wider axle led to wheel spats being added to the sides of the car. At the back the live rear axle was located by trailing links and a Panhard rod: adjustable shock absorbers were fitted all round. It was only available as a factory-built car and cost £2,693 in 1972, which was a lot of money. That proved to be the car's ultimate downfall, and production ceased in 1973 after 603 had been made. The survival rate of Gilbern models is very high.
HILLMAN
The Minx was the mainstay of the Hillman range from the launch of the first model in 1932 right through to 1970 when the name was finally retired. Seen here is a Series VI, the final evolution of the "Audax" model which had been launched in 1956, as a completely new car. Rootes Group followed the American practice of making annual updates, gradually improving the engines, and other mechanical components as well as the trim level. The Series V was the first of the genre to feature significantly altered styling with a squared off roof line, a removal of the rear tail fins and new detailing. The Series VI, launched in 1965, brought with it with the new 1725cc engine that was to become the mainstay of the Rootes range for the next 10 years. This version of the Minx was replaced by the Arrow-based model at the end of 1966, a few months after this car was registered.
HONDA
Integra Type R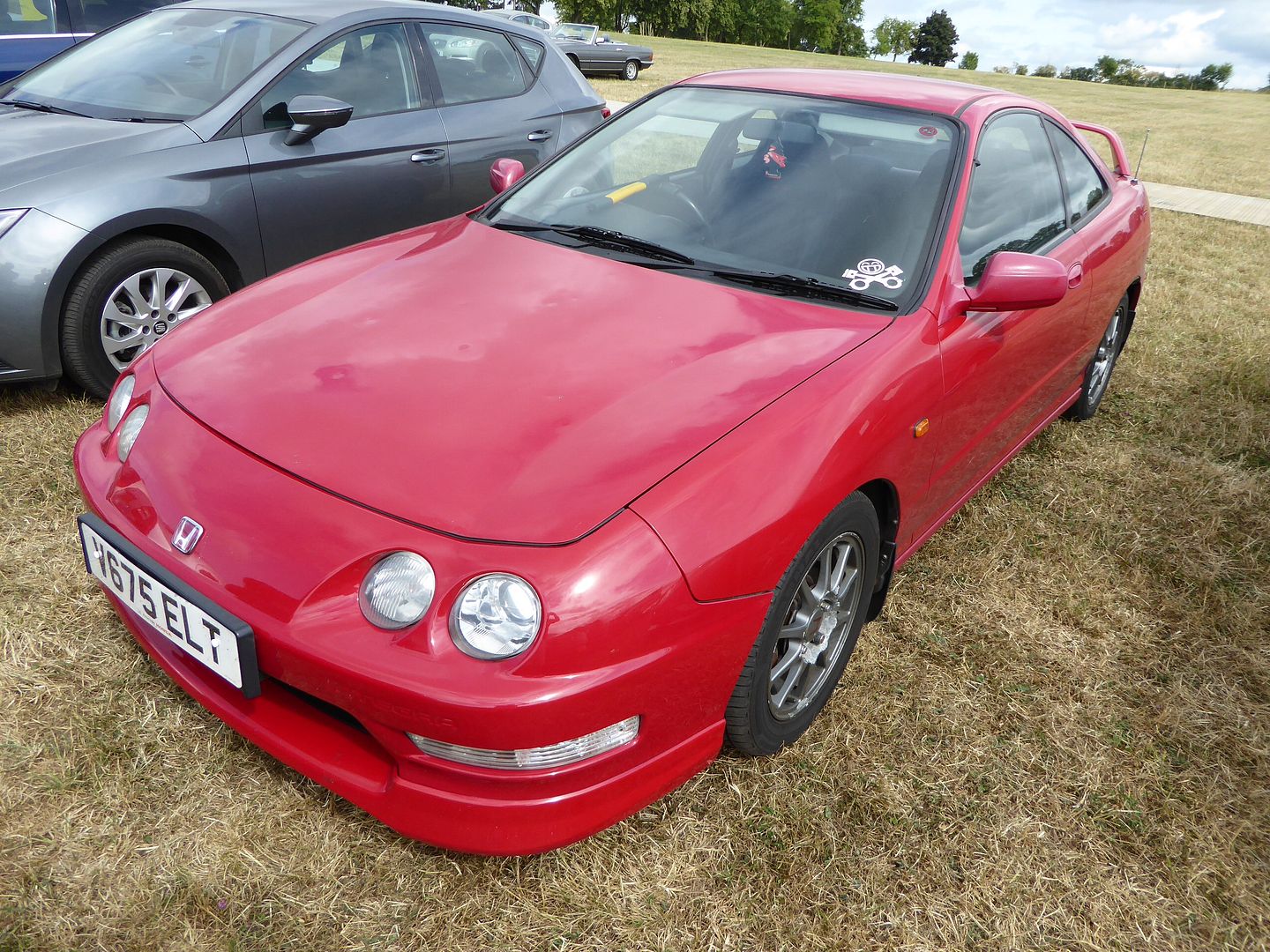 NS-X
HRG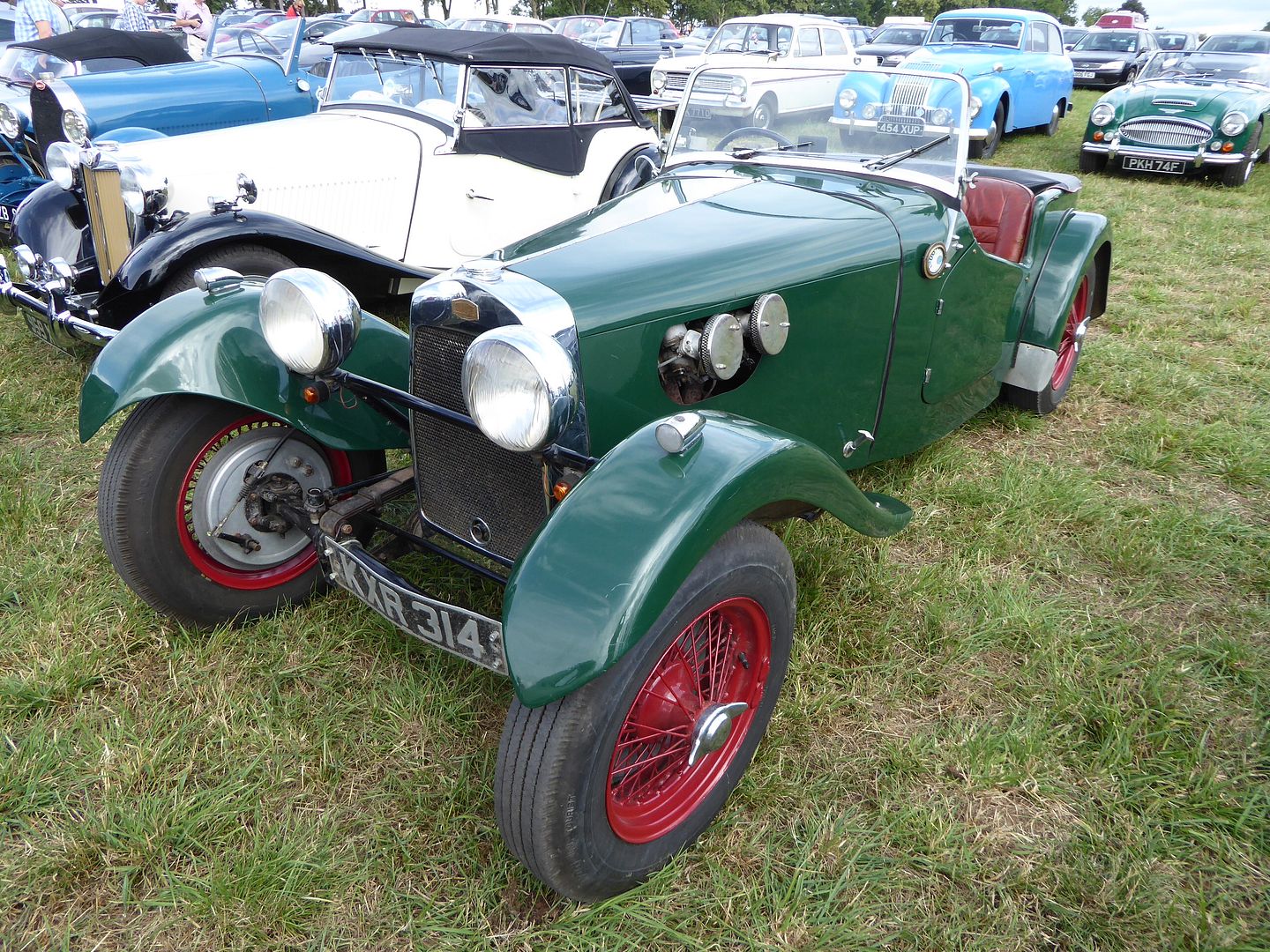 HUMBER
JAGUAR
When first launched in 1948, the XK120 was sold as an open two seater, but during the model's life time a fixed head coupe and a drophead version were added to the range, and there was one of each of these body styles present.
Also here was the follow on model, the XK140 in open two seater format. The larger bumpers and redesigned grille with thicker bars are the recognition point. I am not persuaded that either was a visual improvement.
Although we tend to think of the C Type as an out and out race car, and that is indeed why it was produced, in fact over 200 of the model were made, and there have been plenty of replicas built since then, so you do see them more often than you might think. A couple of them were in this car park.
The Mark 2 remains a very popular classic Jaguar. Whilst it is the 3.8 that was the object of many people's desire (including, sadly the car thief community of the day!), it was the less potent 2.4 and 3.4 models which more could afford. This is a 3.4.
No surprise to find lots of E Types here. There were Series 1 and 2 Coupes and a Series 1 4.2 Roadster as well as a couple of the Series 3 V12 Roadster models, including one of the last to be made from 1974/5
The XJS hit its 40th birthday this year and there have been plenty of articles praising this car. It has taken a while, as the model was not that well liked when new, but time has changed opinions and this car, still very cheap to buy, though a lot of them will not be cheap to fix, looks set to become a sought after classic in years to come. Both Coupe and Convertible models were here.
There were also a number of examples of the very latest F Type Coupe and Convertible – surely an instant classic.
LAGONDA
This splendid Lagonda is a V12 model, dating from 1938. The V12 was first seen at the 1936 London Motor Show, but did not enter into production until 1938. It was built on the same chassis as the LG6 but with three different wheelbases. The 4.5 litre engine was a 60 degree short stroke V with one camshaft per block, running at up to 5000 revs, featuring twin coils, twin SU carburettors and twin electric fuel pumps which was enough to generate 180 bhp. The cars were very expensive, needless to say, so production volumes were low. This one has a very elegant body on it, making it one of my favourite finds of the car park.
LAMBORGHINI
Two Lamborghini models had successfully managed to negotiate the undulations and limited ground clearance of the public car parks, a number of Gallardo Spider and a Countach Anniversario
LANCIA
Aurelia GT2500 Coupe
LEA FRANCIS
This car will look familiar to readers of Classic & Sports Car magazine, as it makes regular appearances in the "Our Cars" feature, belonging to Mick Walsh. It is a 2 litre Tourer, and he has owned it for a number of years.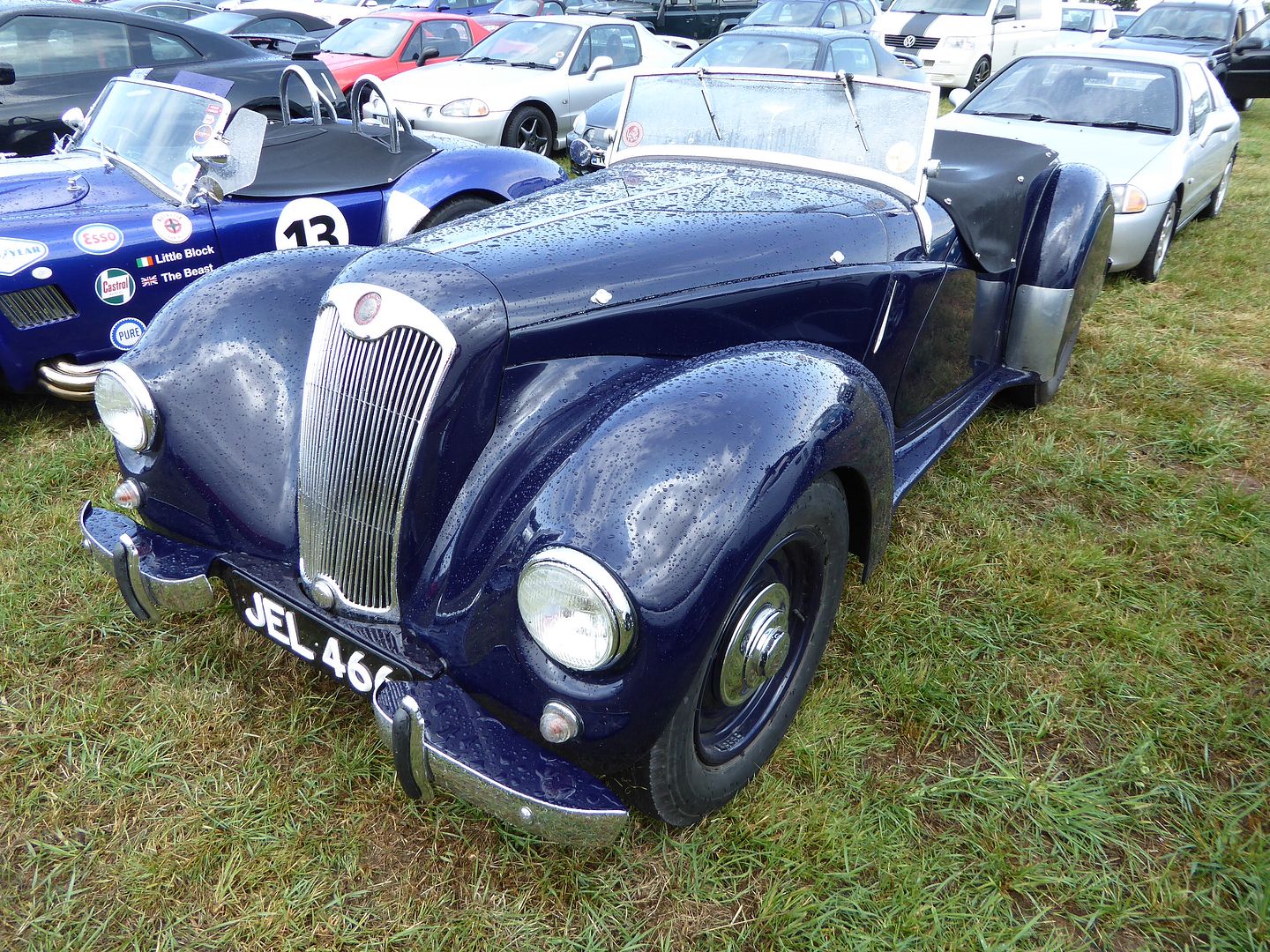 LINCOLN
Continental Saloon
LOTUS
Chapman first introduced the Seven in 1957, and the car was to live on until 1973, before the rights to build it were sold to Caterham Cars. Four distinct Series were offered by Lotus during that time, and the model underwent a more or less continuous program of development. Seen here is an S3, which was the model produced in 1968 and 1969 before Lotus changed the bodywork to the squared-off S4.
There were a number of the classic Elan models here, seen in Coupe and Drophead form as well as the later Sprint.
Introduced in 1967,  the Elan +2 had a longer wheelbase and two rear seats and so was intended for those Lotus customers who needed space to carry (small) people in the back, without sacrificing the same basic principles which made the Elan so appealing. A fast and agile sport coupe, a number of different engines were fitted over the years, with the later models having 130 bhp and a 5 speed gearbox at their disposal, which gave a top speed of 120 mph and  0–60 acceleration of  7.9 seconds and  0-100 mph 21.8 seconds. 5,200 Elans +2 were made, with production ceasing in 1975. Fewer than 1,200 of these cars remain in the roads today. Their relative rarity, beautiful lines, impressive performance and practicality are the main factors for the rising interest on these cars among collectors.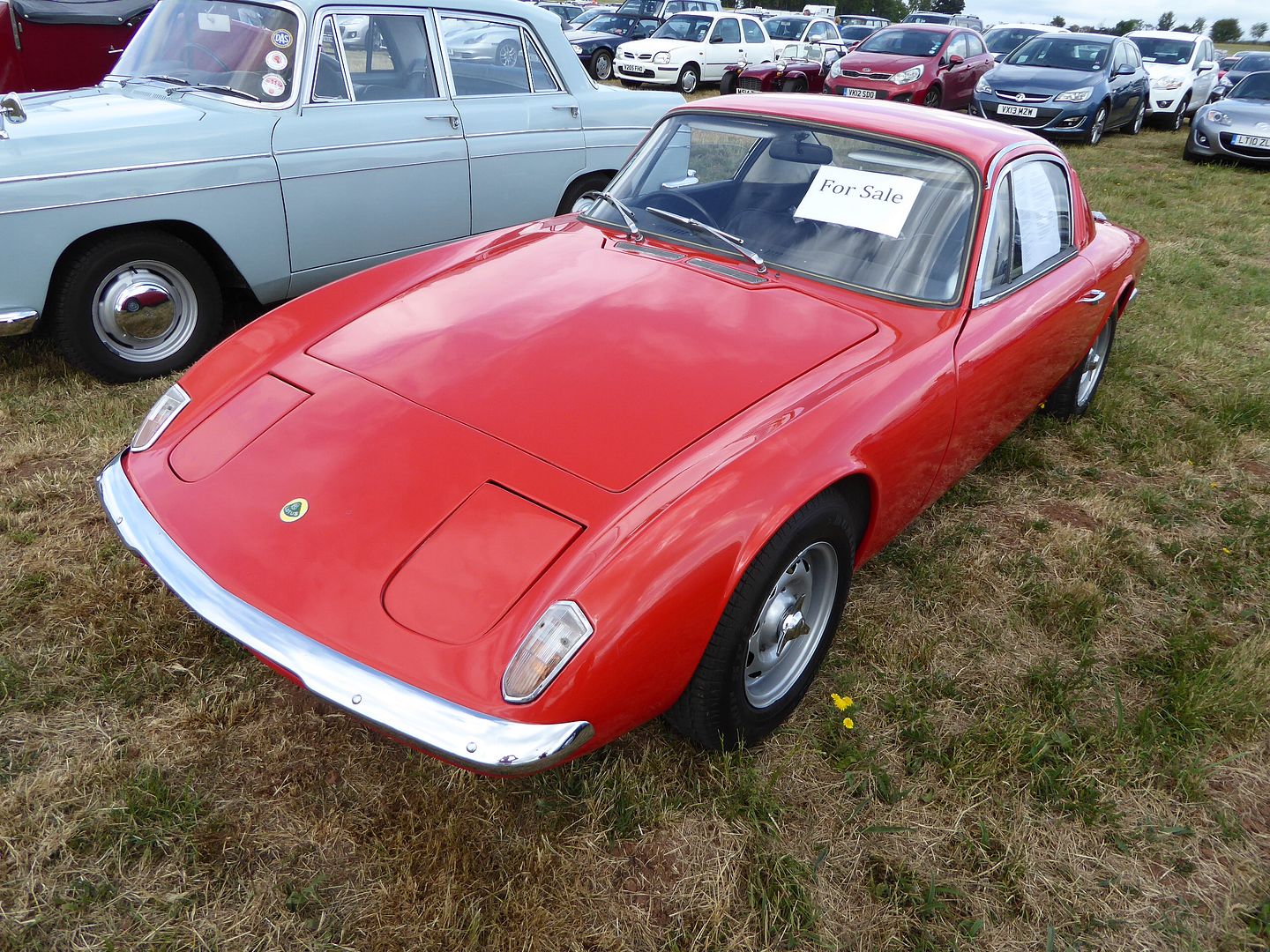 The first Lotus to bear the Europa name was a two door mid-engined GT coupé, of which 9,300 were built between 1966 and 1975. The concept originated during 1963 with drawings by Ron Hickman, director of Lotus Engineering (Designer of the original Lotus Elan, as well as inventor of the Black and Decker Workmate), for a bid on the Ford GT40 project. That contract went to Lola Cars as Colin Chapman wanted to call the car a Lotus and Henry Ford II insisted it would be called Ford. Chapman chose to use Hickman's aerodynamic design which had a drag coefficient of Cd 0.29 for the basis for the Europa production model. The car was originally intended to succeed the Lotus 7. Volkswagen owned the rights to the Europa name in Germany so cars for sale in Germany were badged Europe rather than Europa. The original Europa used Lotus founder Colin Chapman's minimalist steel backbone chassis that was first used in the Lotus Elan, while also relying on its fibreglass moulded body for structural strength. The four-wheel independent suspension was typical of Chapman's thinking. The rear suspension was a modified Chapman strut, as used for Chapman's earlier Formula racing car designs. Owing to the rubber suspension bushes used to isolate engine vibration from the car body, the true Chapman strut's use of the drive shaft as the lower locating link could not be followed whilst still giving the precise track and handling desired. The forward radius arms were increased in size and rigidity, to act as a semi-wishbone. A careful compromise between engine mounting bush isolation and handling was required, culminating eventually in a sandwich bush that was flexible against shear but stiff in compression and tension. The car's handling prompted automotive writers to describe the Europa as the nearest thing to a Formula car for the road. Aside from the doors, bonnet and boot, the body was moulded as a single unit of fibreglass. The first cars has Renault 1470cc engines, and suffered from a number of quality issues as well as limited visibility. An S2, released in 1968 brought improvements to the build quality, but Lotus knew that the Renault engine was not powerful enough for what they thought the car could achieve on track and on the road, so the Europa  underwent another update in 1971 when the Type 74 Europa Twin Cam was made available to the public, with a 105 bhp 1557cc Lotus-Ford Twin Cam engine and a re-designed bodyshell to improve rearward visibility. Initially with the same gearbox as the earlier cars, once the supply had been exhausted in 1972 a new stronger Renault four-speed gearbox was introduced. Mike Kimberley, who rose to become chief executive of Group Lotus, then a new engineer at Lotus, was appointed Chief Engineer of the Europa TC project. 1,580 cars were shipped as Europa "Twin Cam" before Lotus switched to a 126 bhp "Big Valve" version of the engine. The big valve "Europa Special" version was aspirated by Dell'Orto carburettors version of the same engine; in addition it also offered a new Renault five-speed (Type 365) gearbox option. It weighed 740 kg (1631 lb), Motor magazine famously tested a UK Special to a top speed of 123 mph (198 km/h), did 0–60 mph in 6.6 seconds, and ran the 1/4 mile in 14.9 sec. This at a time when all road tests were carried out with both a driver and passenger, with only the driver on board the 0–60 mph time would have been well under 6 seconds, a phenomenal performance for the period. Introduced in September 1972 the first 100 big valve cars were badged and painted to honour the just won Team Lotus's 1972 F1 World Championship title with John Player Special as sponsors, all with five-speed gearbox, these were all black with gold pin stripe matching the livery of the GP cars – plus a numbered JPS dash board badge, becoming the first ever John Player Special commemorative motor vehicles. The "Special" name and colour scheme was planned to be dropped after the first 200 cars, reverting to the Twin Cam name, but such was the reaction to the new car that the name and pin stripe scheme remained until the end of Europa Production although colours other than black were made available. In the end only the numbered plaque distinguishing the first 100 JPS cars from other black Europa Specials. According to Lotus sources, no Special left the factory with "numbered JPS badges" or "JPS stickers" – these were added by the American importer & weren't official done by Lotus. There were no "badged" cars sold in the UK, Australia, etcetera, just in the USA. In total 4710 Type 74s were produced of which 3130 were "Specials", of which this is one.
Elan S2 M100
The Elise has been celebrating its 20th anniversary this year. The first car was a real "back to basics" sports car, which wowed everyone. The S2 model which was first available in 2002 was a little less spartan, and over the years it has been offered in a bewildering array of different versions which only a real marque expert can tell apart. There's plenty of life in the design yet, and as part of the Lotus renaissance which is finally underway, some more potent versions have emerged, targetted both at the road and the track. There were a number of Elise S2 models here
MARCOS
3 litre and 1800GT
MASERATI
There were a number of Maserati models, all of them relatively recent, from what could be considered the "renaissance" period of the marque, which started at the end of the 90s. There were a couple of the  fifth generation Quattroporte including a GTS, as well as a Ghibli and a 3200GT
MAZDA
The MX5 is the world's best selling sports car, ever. Hard to realise, but it has been on sale for over a quarter of a century now, and is just entering its fourth model iteration. There were none of those present, and nor were there any of the earliest NA Series model, but there were a number of NB and NC Roadsters as well as the CC version of the later car, which had a retractable metal roof.
McLAREN
MP4 12C
MERCEDES-BENZ
Oldest Mercedes in the car park was a nice example of the W113 280SL "Pagoda". In the opinion of many, and I am inclined to agree with them, this is the most elegant Mercedes ever made (it certainly has no competition in that regard from the current range!). Prices have rocketed, with the nicest examples now being sold for close on £100,000.
That can only mean that the R107, the car which replaced it, will start to appreciate as well. This SL, sometimes known as the "Panzerwagen" owing to its strong build, was produced for 18 years from 1971 to 1989, during which time the appearance barely changed, but the engines were updated many times. There was also a fixed rood model, the SLC, made until 1981 and there was one of these here as well.
There were also a trio of AMG models which caught my eye, all of them with the towering 6.2 litre engine: SL63, CL63 and CLS63.
MG
Lots of sporting MG models to see, as you would expect. The T Series of small sports was represented by at least one example of each post-war model, namely TC, TD and TF and there was also one an example of the P Series that was precursor to these cars, a PB of 1934.
The MGA, introduced in 1955, was quite a radical departure, having the first monocoque body, as well as some particularly elegant styling, which looks as good now as it did then. There were a couple of nice examples of the model here.
Next up was the MGB, introduced in 1962, and then produced until 1980, with a pretty GT model joining the range in 1965. These are popular, and still relatively affordable classics, with a good parts supply, so you always tend to get lots of them at events like this, and sure enough, there were.
There was also one of the MGC GT cars. Essentially an MGB with the 3 litre C Series straight- 6 engine shoe-horned under the bonnet, these cars were only produced between 1967 and 1970, and were not well regarded when new, as the extra weight of that large engine somewhat unsettled the handling. Now, though, the market thinks differently, and a nice MGC will cost you a lot more money than any MGB.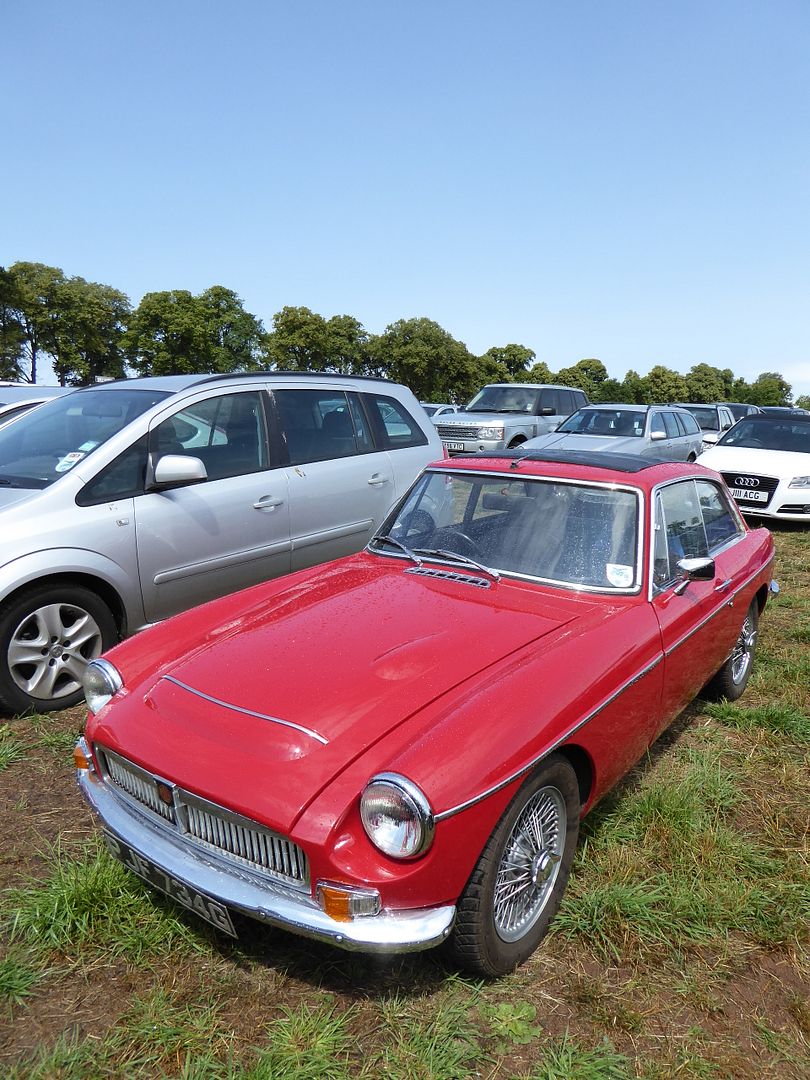 The smaller Midget is a very popular classic, too, and there were three examples of this to be seen.
The MGR V8 was a sort of toe in the water, to relaunch the MG brand as a maker of sports cars, as well as being a modernised MGB, built to 1990s standards rather those of the 60s, and with the 3.9 litre V8 engine under the bonnet. It proved very popular in Japan, which took a large percentage of sales, but many of the cars have since come back to the UK.
Final MG model was one of the well-regarded ZT Saloon cars.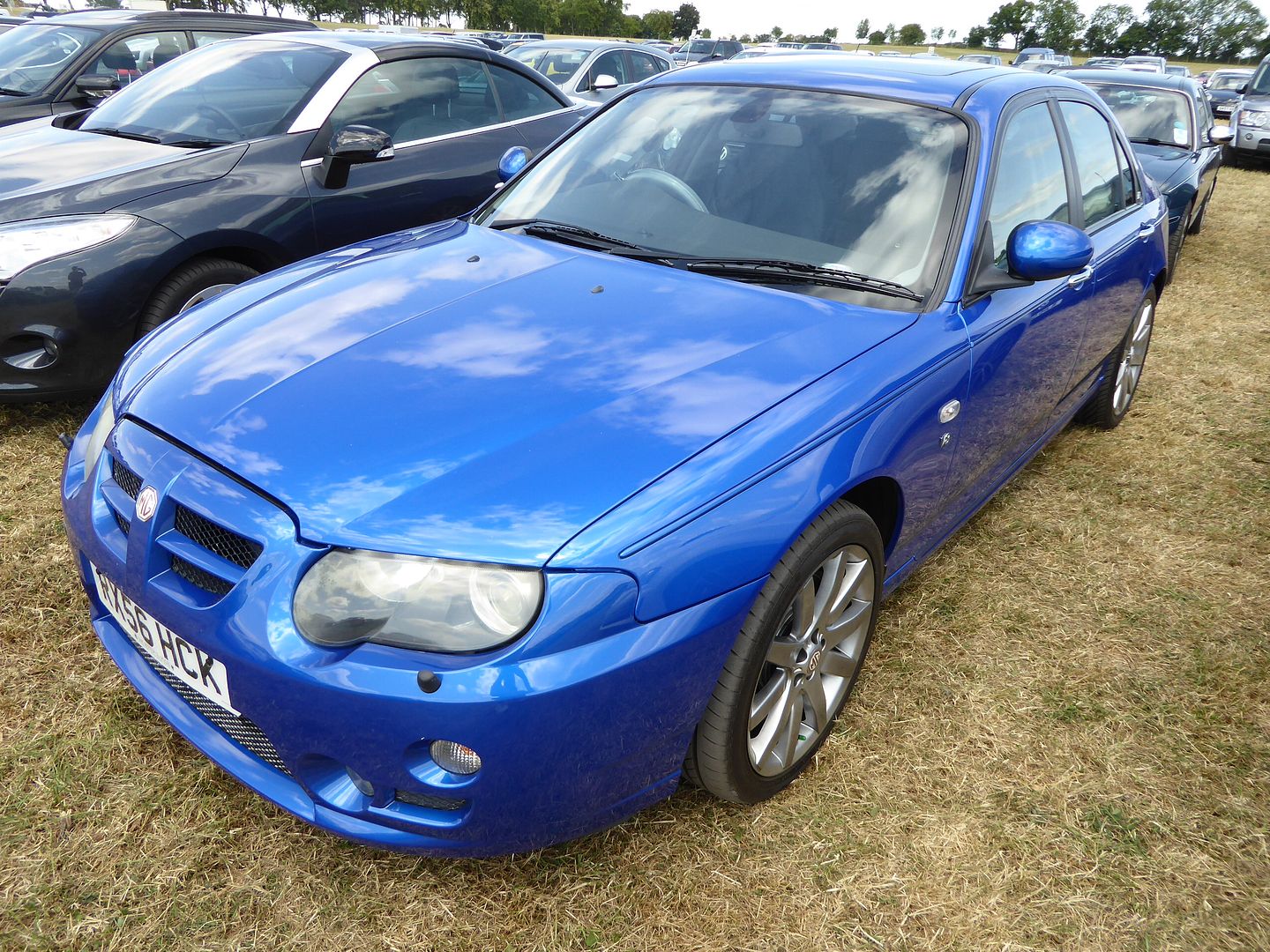 MINI
Three very different classic "Issigonis" style Minis attracted my camera. As well as a 1975 model 1000 which was very similar to the 850 model my mother had (though hers was Harvest Gold as opposed to the Bracken finish on this one), there was an early Austin Se7en and a splendid Morris Mini Traveller complete with the  wood panelling.
MITSUBISHI
FTO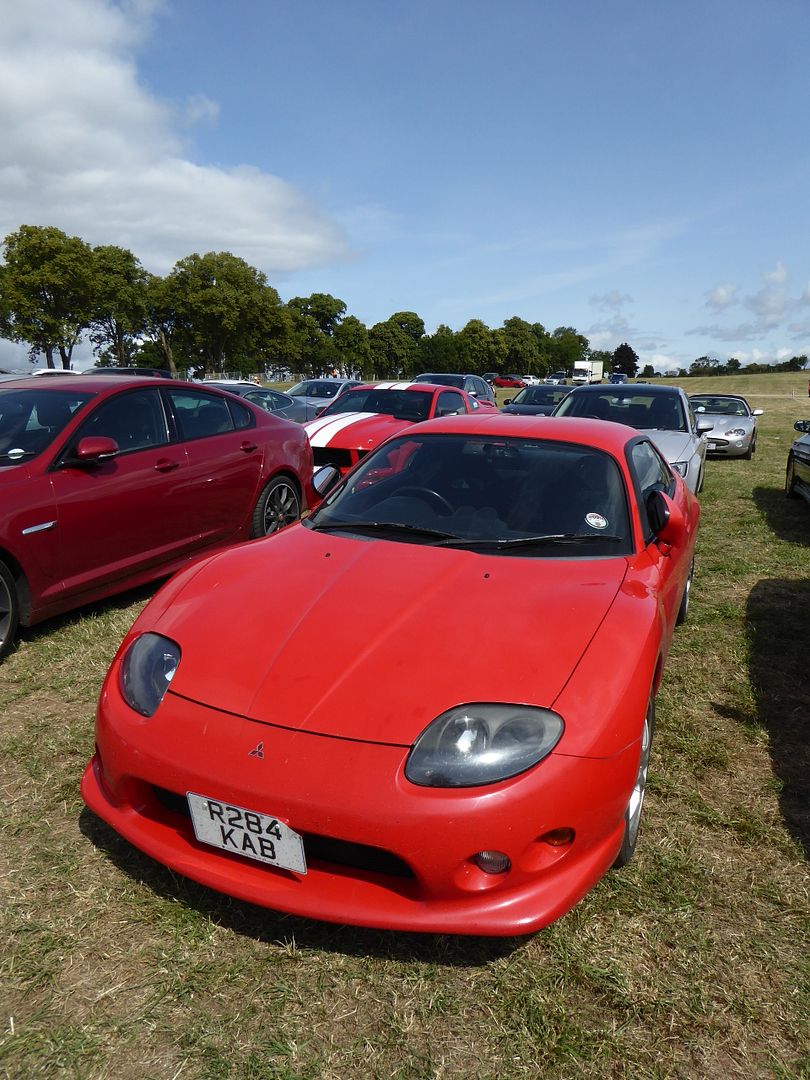 Evo VI
MORGAN
Scattered around the car park were a number of 3 wheeler models – both the original cars from the 1920s and 1930s as well as the modern recreation, as well as a number of what are considered to be "the" classic shaped Morgans, the Plus 4 and Plus 8 .
On the Sunday, the Morgan Owners Club had a massive display of cars, which were parked up in a long line on the approach to the ticket purchase/inspection point. Just about every model type that has come out of the Morgan Link factory was represented here, with an array of Plus4 and Plus 8 models, several of the Aero cars, three-wheelers past and present and one of the older "flat rad" cars. Most of the cars were UK registered, but there were attendees from all over Europe among the display.
MORRIS
As well as the Minor 2 door, which is quite a commonly seen British classic, there was a Pickup and an early MM Series 4 door model here.
NISSAN
When new, the Bluebird was notable only for the fact that it was the first Nissan, indeed the first Japanese branded car, to be made in the UK. Worthy but dull summed up everyone's view of the range of family sized Saloons and Hatches. But like every volume selling model, when all but the last few survivors have headed to the recycling plant, those that remain acquire some sort of mix of nostalgia and curiosity. This was a very well preserved Hatch model.
PEERLESS
I last saw this car at a Prescott Breakfast Club meeting back in April, and unlike many of those present, actually knew what it was, much to the delight of the owner who is used to having to tell people and to give them something of a history lesson. Peerless was a British company, based in Slough, that operated from 1957 to 1960. The prototype of this sports saloon was alloy bodied and initially named Warwick. It, was designed by Bernie Rodger for company founders John Gordon and James Byrnes. By the time it entered into production, it had been renamed the Peerless GT. It featured Triumph TR3 running gear in a tubular space frame with de Dion tube rear suspension clothed in attractive fibreglass 4-seater bodywork. While the car had good performance it was expensive to produce and the overall fit and finish was not as good as that of similarly priced models from mainstream manufacturers, though a Phase II version was better, with an improved body largely moulded in one piece. A works car was entered in the 1958 24 Hours of Le Mans finishing 16th, but this was enough to bolster sales, and production ceased in 1960 after about 325 examples had been produced. That was not the end of the story, though, as Bernie Rodger restarted production of the car, and called it the Warwick. There were minor changes to the appearance, a one-piece forward hingeing front end, a stiffer space-frame chassis and a revised dashboard. A contemporary Road Test recorded a top speed of 105.3 mph and acceleration of 0-60 mph in 12.6 seconds, with a fuel consumption of 32 mpg. The test car cost £16666 including taxes. Although listed from 1960–62, only about 40 are thought to have been produced.  Two prototypes of a successor car, the 3.5 Litre or 305GT, were made in 1961 and featured the light alloy Buick V8 engine that was later taken up by Rover. John Gordon, together with Jim Keeble (who had previously inserted a Buick V-8 engine into a Peerless), subsequently used the Peerless space-frame as the basis for a Chevrolet-powered car with Giugiaro-designed, Bertone-built bodywork, initially shown in 1960 as the Gordon GT, and which eventually reached production in 1964 as the Gordon-Keeble. The car seen here is one of those Peerless GT models.
PEUGEOT
404 Cabrio
205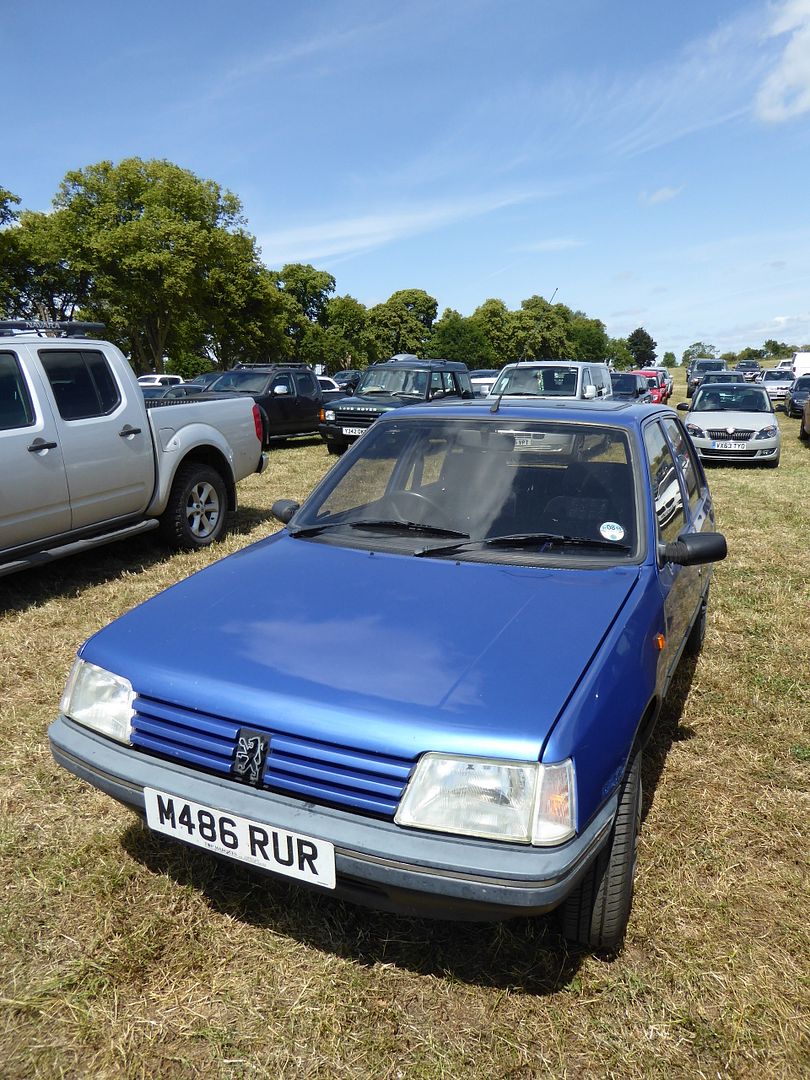 PORSCHE
Oldest Porsche here was an early 356 Coupe
There were probably more Porsche 911s to catch my eye in the car park than any other single (if you can call a car that has been through 6 distinct generations "single") model. Most numerous were the earlier cars, still referred to as Typ 911, though quite a lot changed between the 1963 introduction and the eventual replacement by the 964 model. Among the cars of this type that I spotted were a 911T, a couple of  911 Carrera,  the later SC in Coupe and Targa guises, the much loved ClubSport and a Turbo.
Coming after this was the 964, a car which until recently was somewhat unloved, but which is now growing in its fan base. A couple of those were here.
There is no shortage of enthusiasts for the 993, seen here in Targa and Cabrio guises, as this is still seen by traditionalists as the pinnacle of the true model, being the last of the air-cooled machines.
The 996 generation was represented by both Turbo and Cabrio cars
There were 997s from the top and bottom of the range, a Carrera and a GT3 RS
There were a couple of the latest 991 models, too, a Turbo S and one of the special limited edition 50 cars produced to mark the 50th anniversary of the 911.
Classic front engined Porsche cars were represented by the 944 Cabrio and S2 as well as a 928S
I also picked out this recent Cayman
RENAULT
R5 GT Turbo
RILEY
Elf
ROLLS ROYCE
This very imposing 1926 model is a 20HP model, the "entry level" Royce of the day.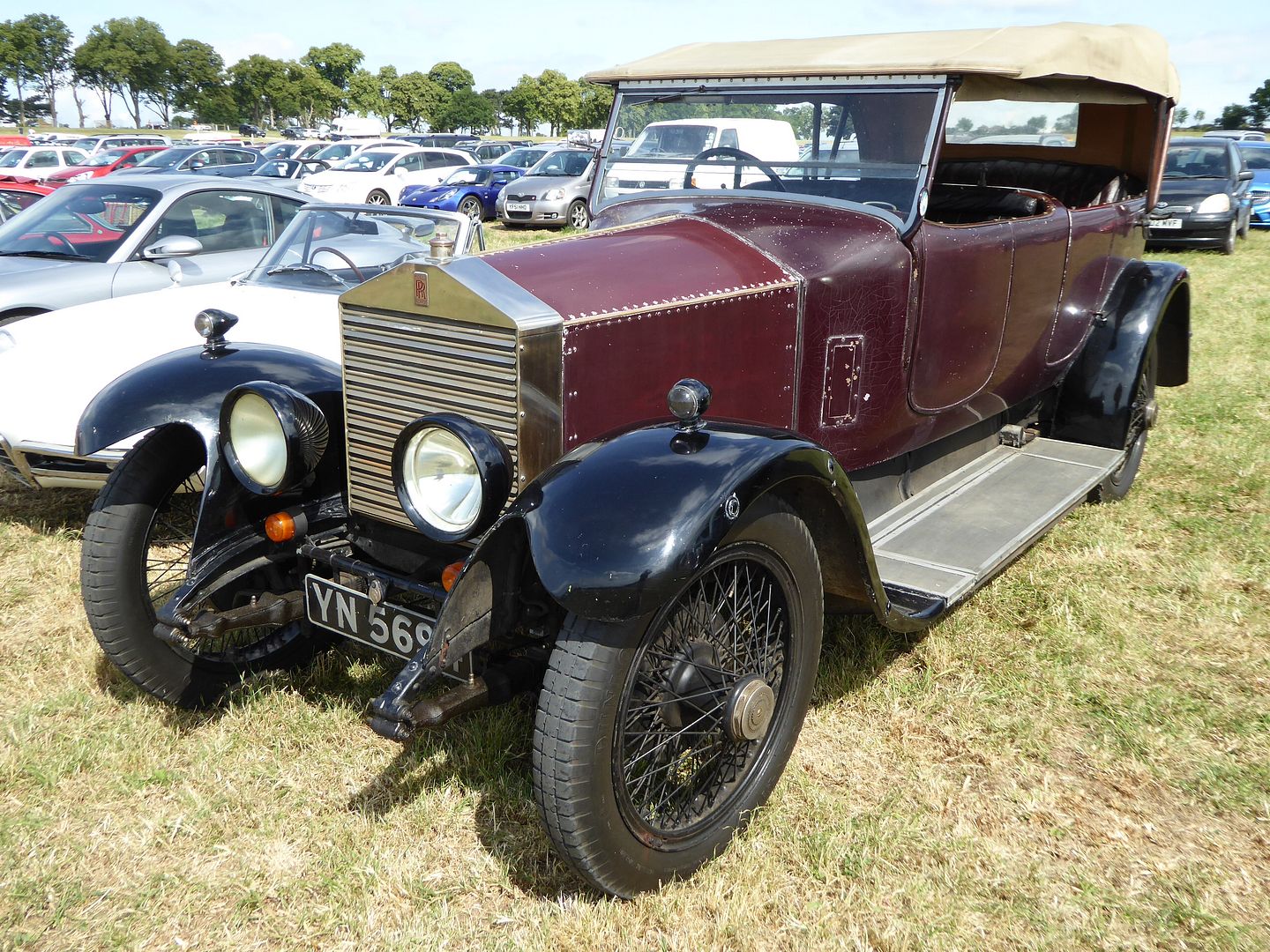 Corniche Convertible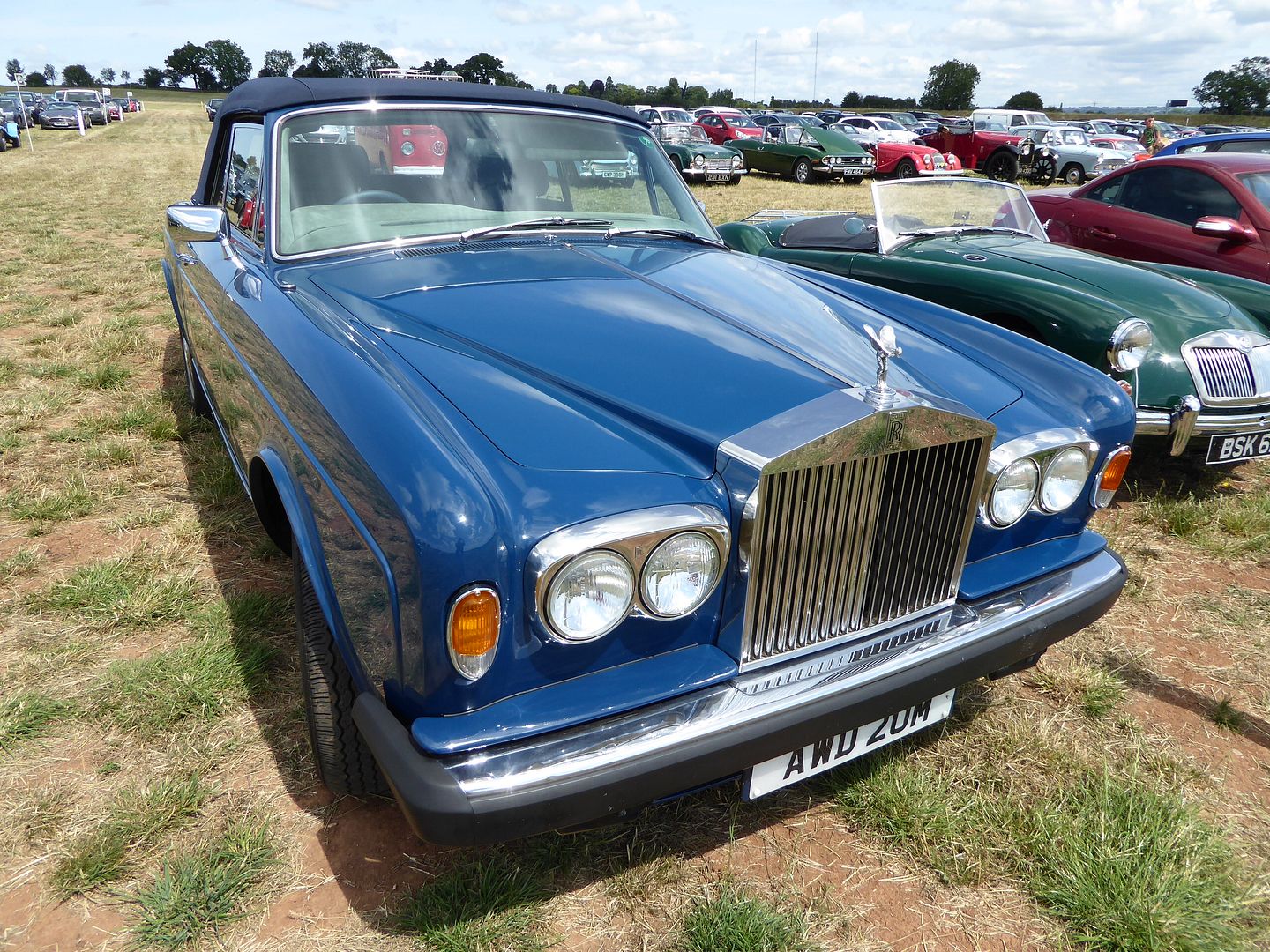 ROVER
As well as a P4 there was a rather elegant looking P5 3.5 Litre Coupe here.
There were two Rover Coupes from the 90s here: a 216 Coupe "Tomcat", seen in the early form before the chrome grille was added, and the larger 800 Coupe.
SALMSON
SINGER
The Chamois was a more luxurious version of the Hillman Imp. Launched in the autumn of 1964, it was produced until Rootes Group phased out the Singer name in 1970.
STANDARD
This Standard Twelve dates from 1937. By the mid 1930s, Coventry-based maker Standard was suffering somewhat with sales volumes diminishing, and to try to counter this, at the 1935 Motor Show a new range of Flying Standards were announced with (semi) streamlined bodies. The Flying Standards came to the market in 1936 with their distinctive streamlined sloping rears, and these cars effectively replaced the existing range of Nine, Twelve, Sixteen, and Twenty. The Flying Standards were so-called because of the major radiator shell change to a waterfall grille topped by the Union Jack badge apparently streaming backwards in contrast to its previous forward-facing position. The Flying Nine, Flying Ten, Flying Twelve, and Flying Fourteen had four-cylinder engines, while the Flying Sixteen and Flying Twenty had six cylinder units. This one is a Twelve, which had a 1608cc engine.
SUBARU
Impreza P1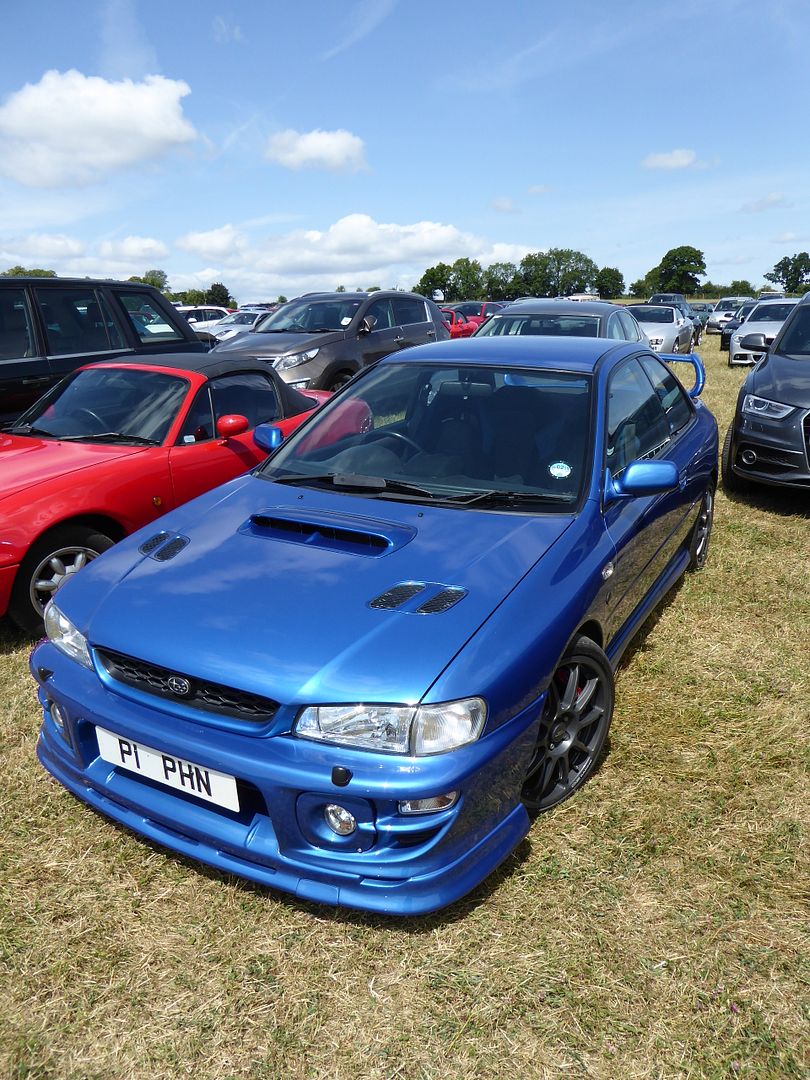 SUNBEAM-TALBOT
This car was launched in 1938 as the Sunbeam-Talbot Ten in 1938 and then reintroduced after the Second World War and sold between 1945 and 1948 before being replaced by the better known Sunbeam-Talbot 80 and 90. It was sold as a fixed head saloon, or, as seen here, a Drophead Coupe. It was one of the first products of the new Rootes Group strategy that came into effect after the British piece of the Sunbeam-Talbot-Darracq business had fallen into the hands of Rootes in 1935. The idea of the  new owner's strategy was to use the prestige of the Sunbeam-Talbot name for selling larger numbers of lower priced cars than hitherto. In reality, the Ten was a stylishly rebodied version of the company's existing middle market saloon, the Hillman Minx. The saloon featured the streamlining increasingly characteristic of mainstream British cars in the later 1930s, along with "stand-alone" headlights. Power came from a 1185 cc side-valve engine for which 41 bhp of power output was claimed. All four wheels were suspended using semi elliptical leaf springs. Top speed was quoted as 68 mph.  The car seen here dates from 1946.
There was another Talbot 105 series car here, like the one entered in the competition. This one dates from 1934.
TESLA
Model S
TOYOTA
The MR2 has now reached what the Germans would call "youngtimer" status. Out of production for 15 years, there are relatively small numbers of Toyota's affordable mid-engined sports car left on our roads, a situation exacerbated both by the fact that the early cars tended to rust and the later ones had handling which could catch out the unwary (and led to a lot of cars being written off). There were a couple of the third generation model on show here.
TRIUMPH
The TR is nearly as popular as the rival MGB, and you would not unreasonably expect to find several examples of the long running Triumph sports car and so it proved to be, with TR3a and b, a couple of TR4 and the later TR4a as well as the TR6 all scattered around the car park.
The smaller sporting Triumph was represented by Mark 3 versions of both the Spitfire and the closed coupe GT6.
Triumph continued to offer factory-built open topped models after most of their competitors had abandoned the model type, and evidence of that came from a Herald Convertible and a late model Mark 2 Vitesse 2000 Convertible
Two other Triumphs in the car parks were a Stag and a 2500TC Mark 2
By the late 1970s, the Dolomite was something of an elderly design. With no replacement in prospect, as the SD2 mid-sized Triumph that had been planned was cancelled a few years earlier, BL Cars resorted to the well known trick of the Special Edition to try to generate some more interest in the product.  Launched in 1979,  2163 were built. The bodyshell was of the basic 1500 with its single headlamps but the interior was fitted with luxury trim including burr walnut dashboard and door cappings (the dashboard was the same style as fitted to that of the Dolomite 1300), grey velour seats and matching carpet. All the cars were painted black with wide silver stripes running full length, with the letters "SE" at the end of the rear wing. The SE also sported a front spoiler and Spitfire style road wheels. They are rare now.
TVR
TVRs are almost universally owned by enthusiasts, just the sort of people who you would expect to be attending an event like this, so no surprise that there were several of these Blackpool made sports cars in the car park. As well as a couple of Griffith models there were two late model Cerbera cars with the twin front headlights, a T350C and a Tamora all from the glory days of the marque.
Earlier than all of these was a Taimar. Launched in 1977, this model finally brought an opening hatchback to the rear end of the M Series cars that had been produced throughout the 1970s. 395 of these were made with the regular 3 litre V6 engine before production ceased in 1980.

ULTIMA
This is an Ultima. As always seems to be the case, quite a few people were unsure as to what it was. Ultima models are manufactured by Ultima Sports Ltd of Hinckley, Leicestershire, a company founded in 1992 by Ted Marlow and Richard Marlow and it makes cars which are described by commentators as a "supercar". The cars have always been available both in kit form and as a "turnkey" (i.e. assembled by the factory) vehicle. Three different generations of Ultima have been offered since 1992. The current Evolution cars are available in two body styles: coupe and convertible, both of which precede the Ultima GTR and Ultima Can-Am models, and prior to these were the Ultima Sport and the Ultima Spyder. In all cases, the design is mid engined, has a rear wheel drive layout, with a tubular steel space frame chassis and GRP bodywork. Kit builders are free to source and fit a variety of engines and transmissions but the Chevrolet small block V8 supplied by American Speed mated to either a Porsche or Getrag transaxle is the factory recommended standard, and this configuration is fitted to all turnkey cars.
VAUXHALL
As Vauxhall's advertising is constantly reminding us at present, the new Viva, a small economy hatchback is "just like the old Viva but completely different". First launched in 1963, the first Viva marked a return to the small car market for the Luton brand, with a conventional 1 litre three box saloon that was aimed at the Ford Anglia. With its neat styling and roomy interior, the car found instant success, and it was not long before Vauxhall sought to widen the car's appeal with more luxury and more power. That came in June 1965, with the launch of the SL (for Super Luxury) variant, which was available with engines in two states of tune: entry level models came with a power output of 44 bhp, while the Viva 90, introduced in October 1965, had a higher 9:1 compression ratio and produced 54 bhp. The availability of two engines and three trim options enabled Vauxhall to offer six Viva variants in some markets. 90 models came with front disc brakes, while SLs featured contrasting bodyside flashes, a criss-cross chrome plated front grille, full wheel covers, three-element round tail lights and better interior trim. The car was only produced for a year before an all new HB model was launched.
The other Vauxhall here was another example of the 30/98 Sports Car.
VERNON DARBY
VOLKSWAGEN
Reminders of the pre-front wheel drive VW era came from the presence of a couple of 1300 Beetles, a Type 2 Bus and a Beach Buggy.
VOLVO
122S B18
WOLSELEY
Complementing the Elf presented earlier in this report was an example of the other booted Mini variant, the Wolseley Hornet. Produced from 1961 to 1969, this was something of an idea ahead of its time, as the market was not really ready for such a small car with luxury fittings and the duly inflated price tag.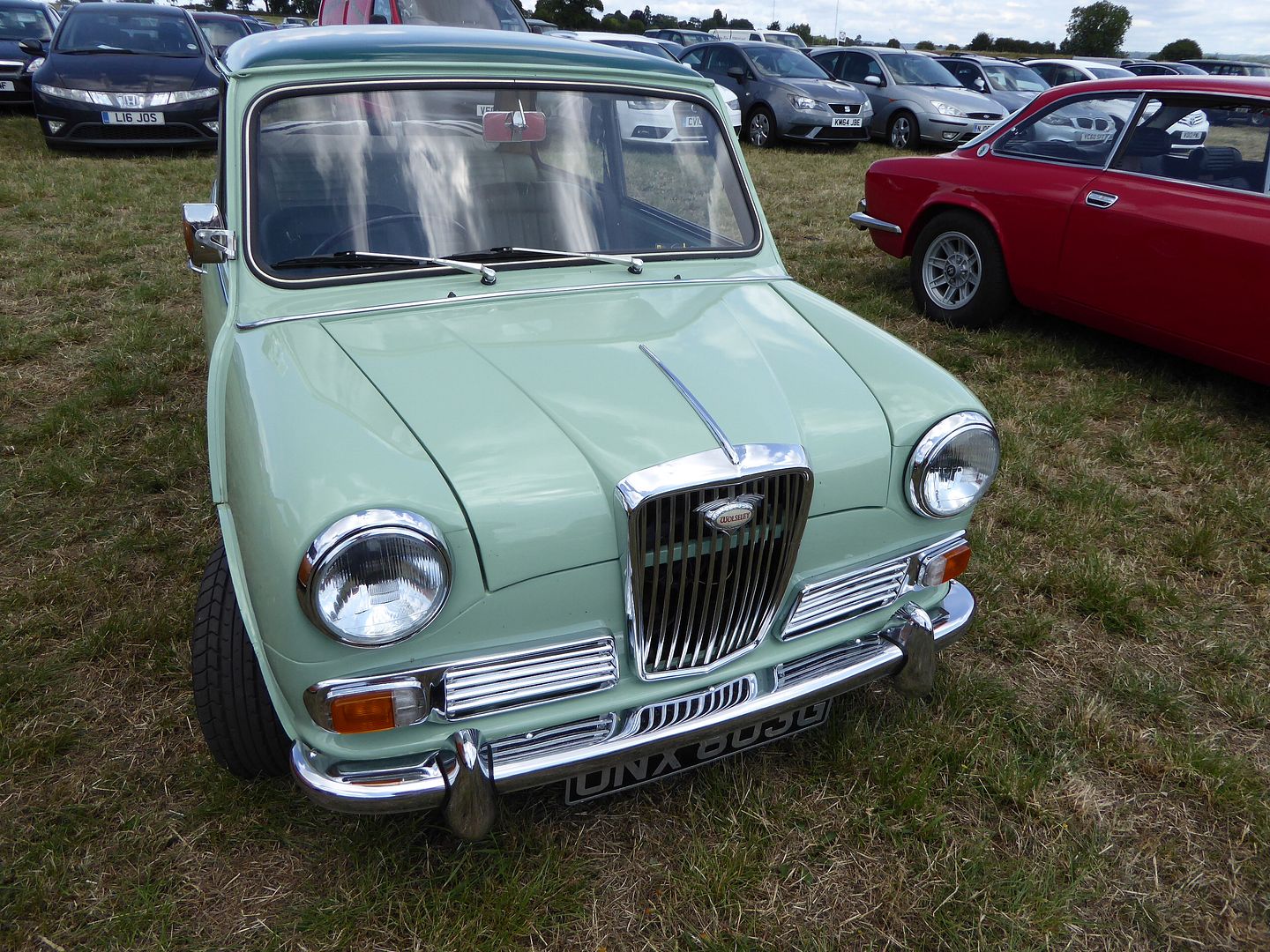 AIR DISPLAYS
There were flying displays on both days. On the Sunday afternoon, the clouds had dissipated, and clear blue skies allowed the attendees to see the acrobatics at their best.
That the event was a great success is beyond doubt, with over 10,000 people attending over the two days. Dates for 2016 have already been announced, as 9th and 10th July It's in my diary already.