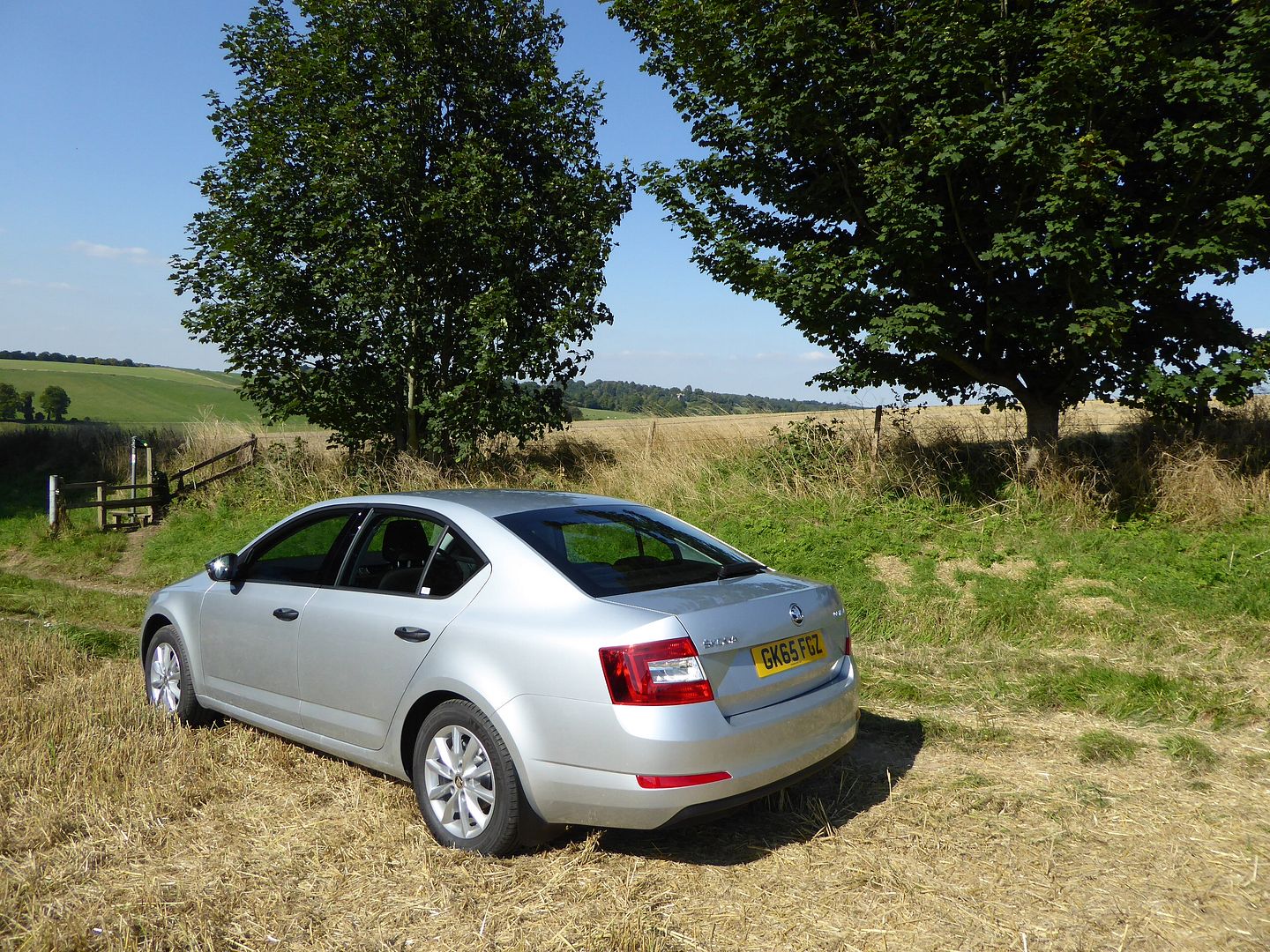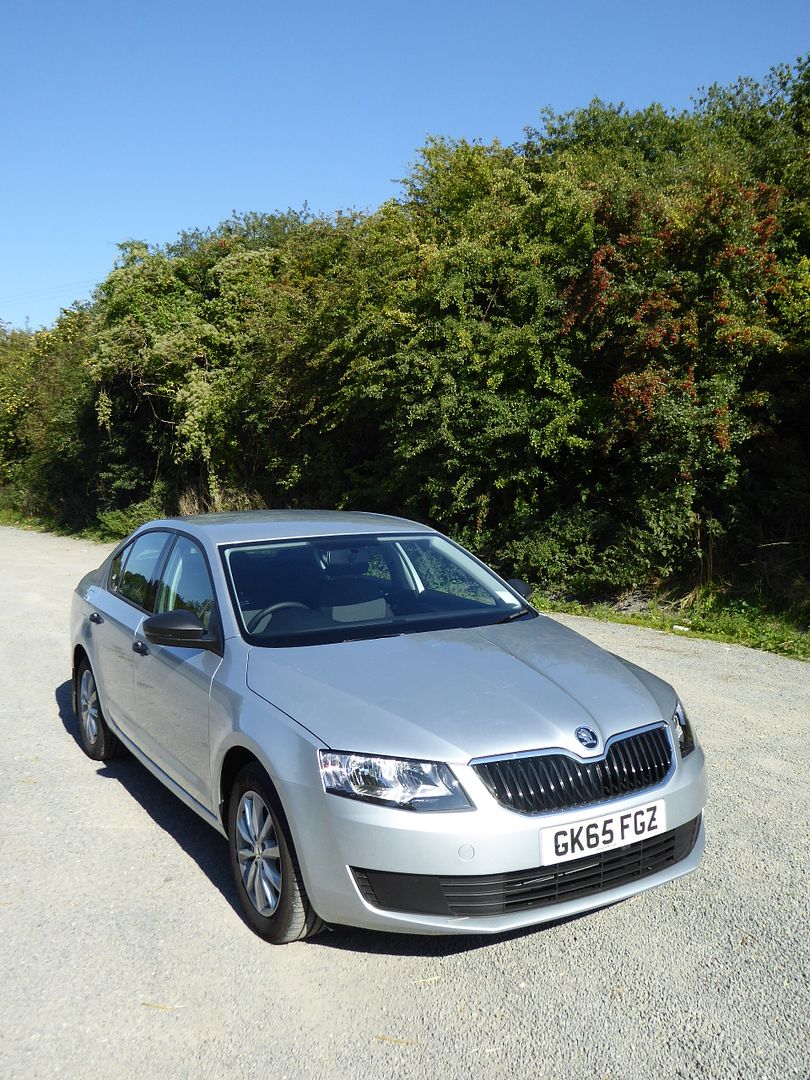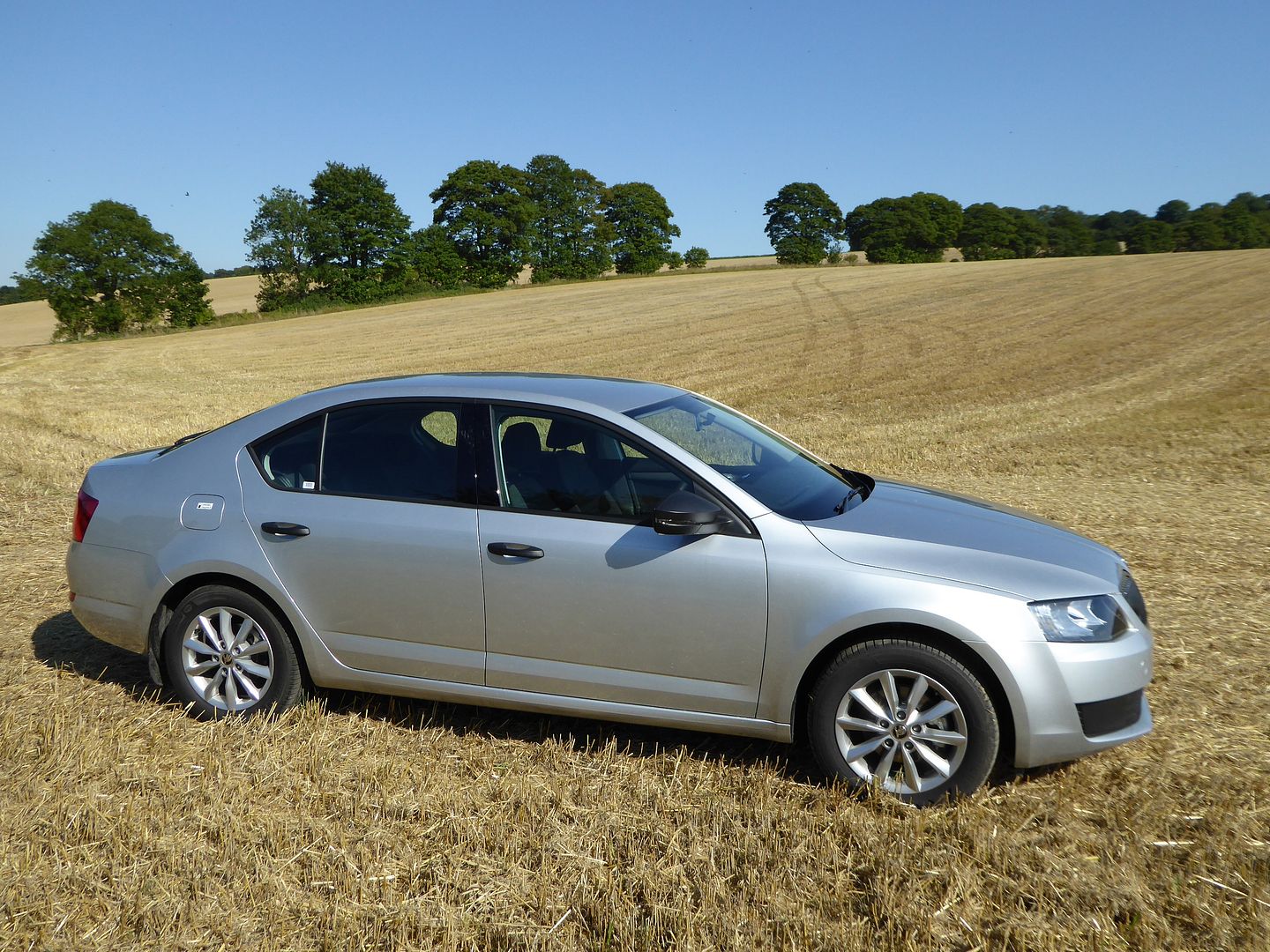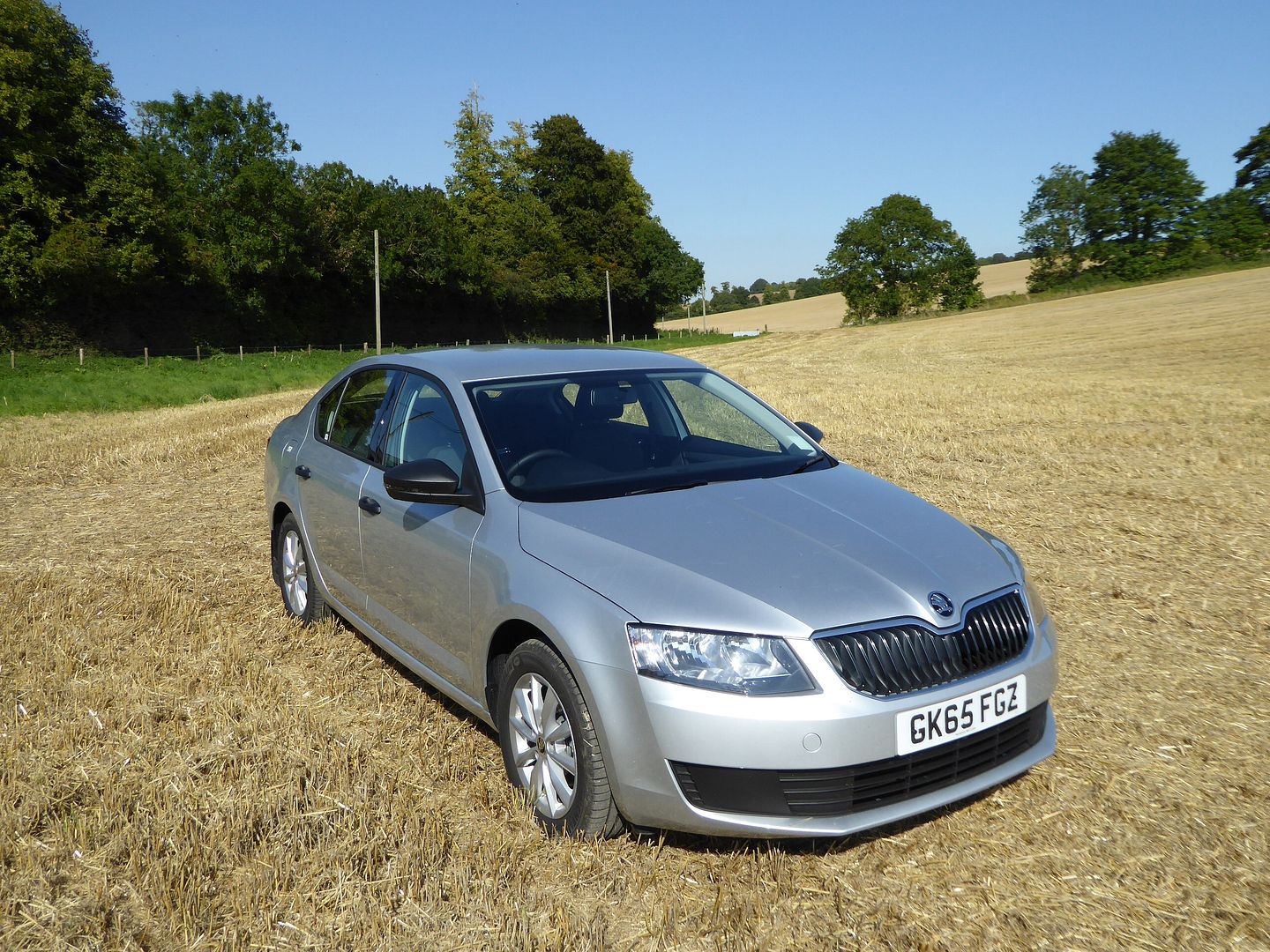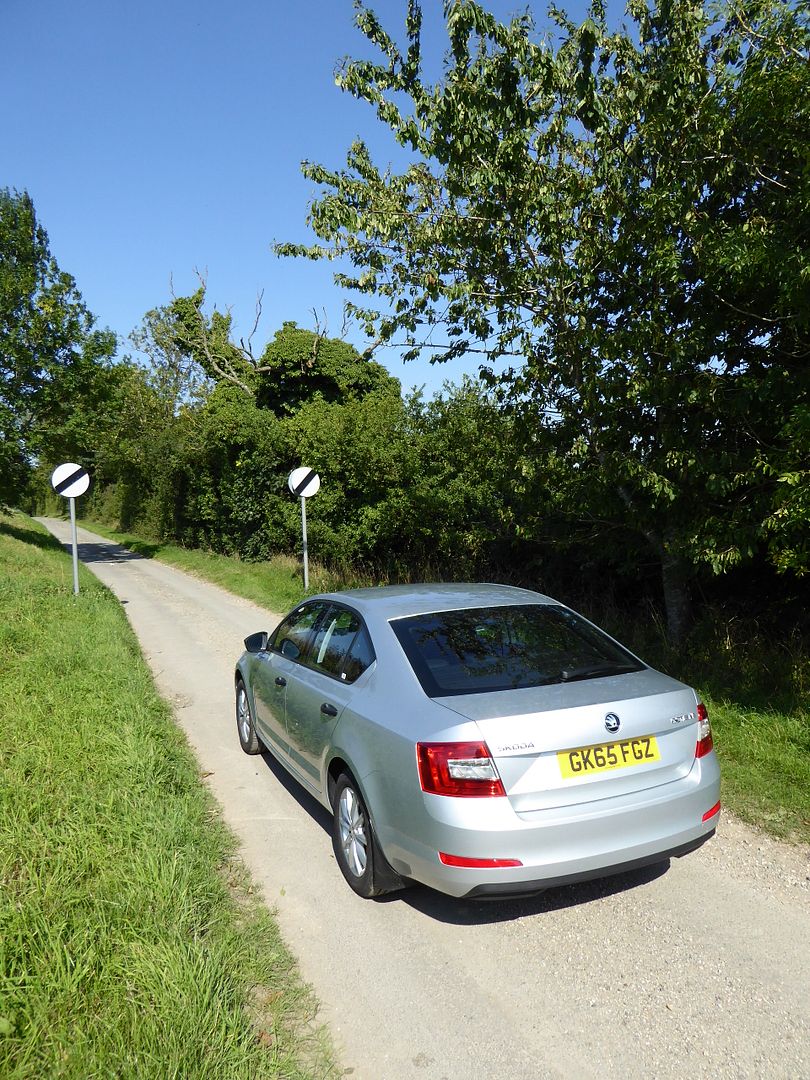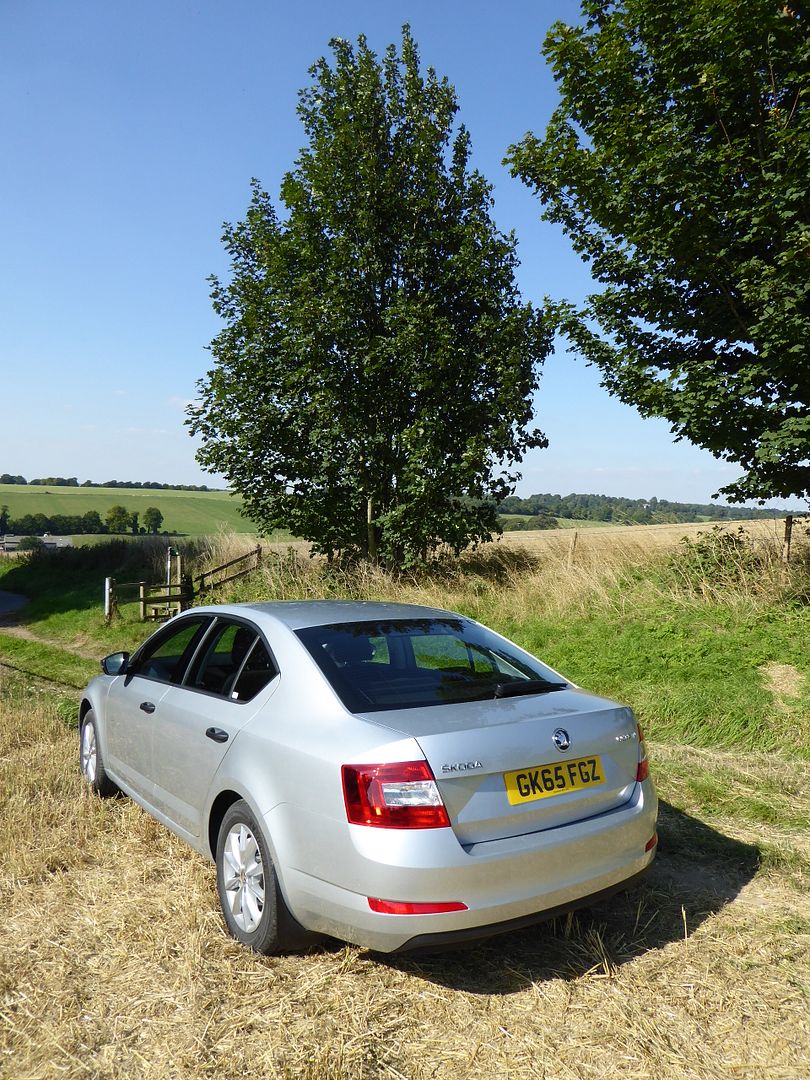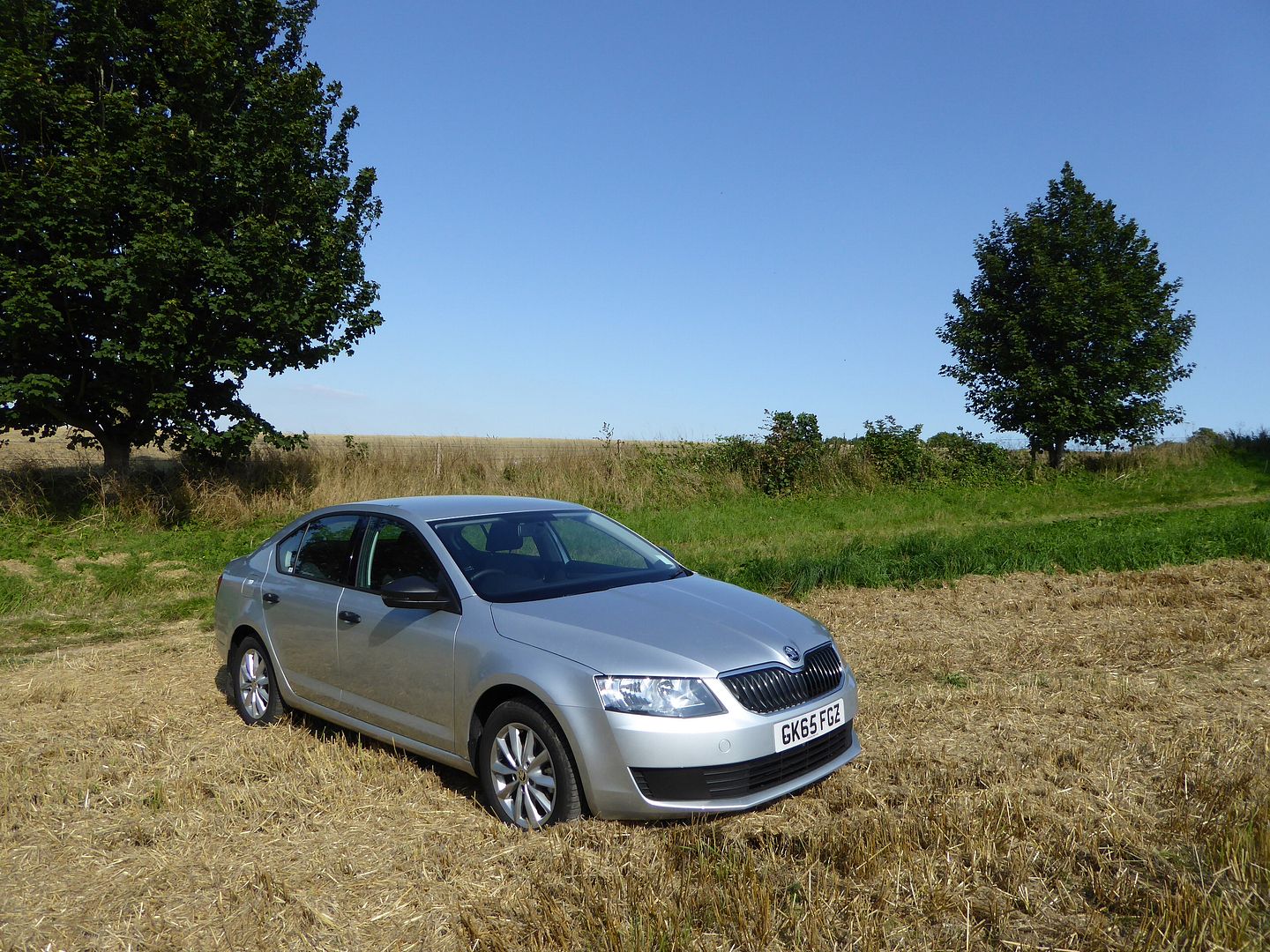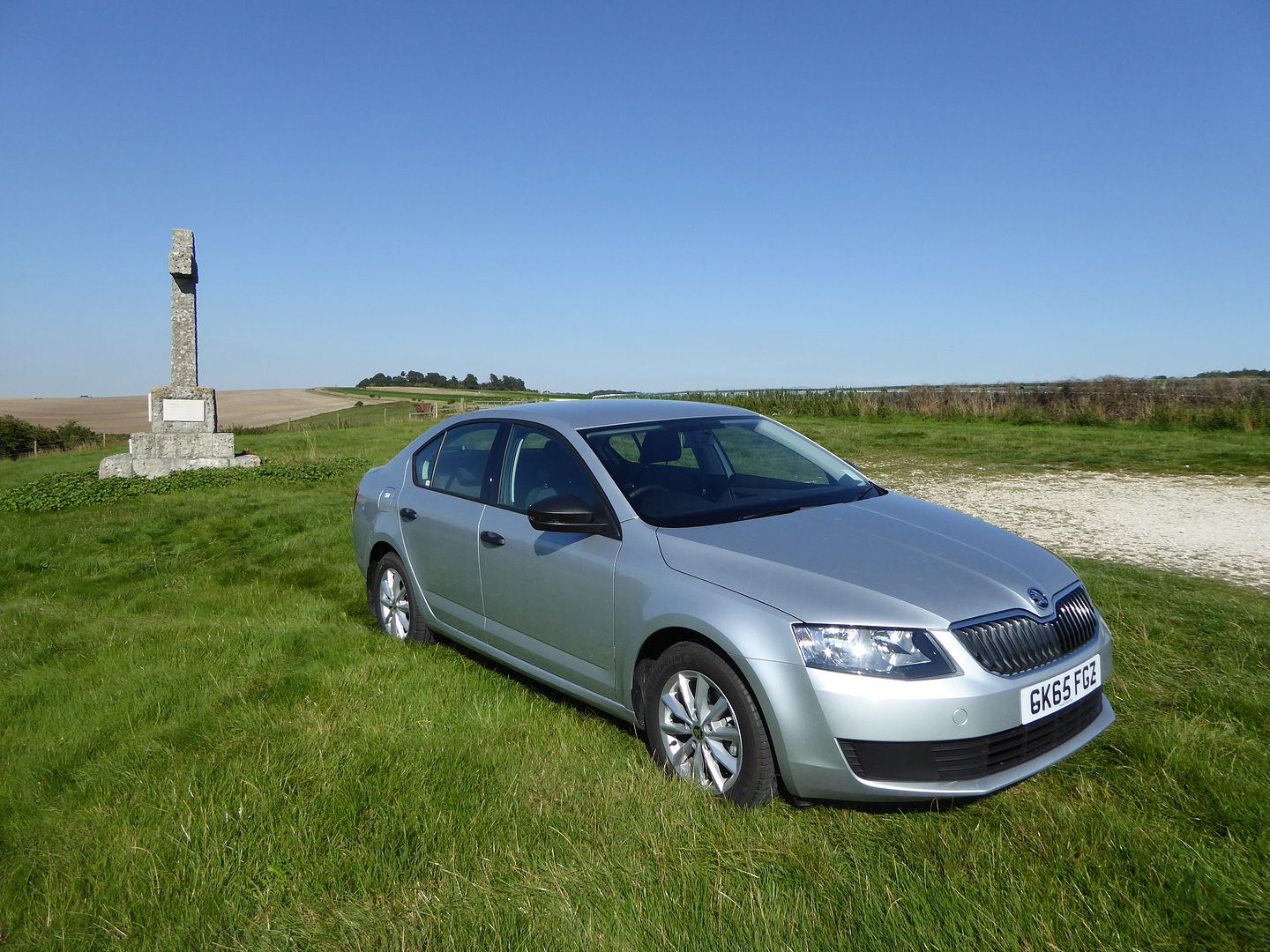 From choice, I will take a car which I have not driven ahead of one that I have. I usually manage to drive around 50 different cars a year, and with around 300 different models on sale in the UK alone, and an average product life of 5 – 6 years, that way I stand a chance of sampling most things at some point. Sometimes, of course, there is no choice, and I have to take what there is. And just occasionally, there is a choice, were I really to push the point, but when what is offered to me is a car that I really rate, then I am not masochistic enough to turn it down just to get what would likely be an inferior car. And so when I went to Hertz North Bristol's facility to collect a car for a one-way journey to Heathrow, when they produced am almost brand new Skoda Octavia, although I had sampled one of the third generation models like this one a few months after it went on sale, I did not even push the point of asking whether they had anything else, as if they had said "yes", it was quite possible I would not have liked the alternatives. My over-riding memory of that 2013 test Octavia was that it was a supremely competent car, with no real weaknesses, and plenty of strengths, which ranged from its particularly roomy cabin, to the quality of interior fittings, its impressive levels of fuel economy and the fact that it was genuinely good to drive, even though in entry level 1.6 TDi spec, it makes no pretence at being more than just a family car. That test car was a 1.6 TDi S, and so was this one. It was finished in a rather attractive, if photographically challenging shade of greeny blue metallic that Skoda call Petrol Blue Metallic whereas the latest model was going to be much easier for the man with the camera, as it was painted in Brilliant Silver Metallic. If nothing else, I was going to be able to get another set of photos for my vast picture library, and I would also get the chance to see how the Octavia had matured, two and bit years after sampling the last one.
My first thought was that this car was identical in all but colour and age to the last one, but, of course, manufacturers make an almost continual series of changes to their cars, as production techniques change, and in response to competitive pressures, as well as – in the area where sharing of parts, componentry and whole platforms is the norm – more significant items when they are updated across the portfolio. Not all these changes are widely announced or get any attention at the time. And so, when I did a bit of research, I discovered that whilst both this and the previous test cars were 1.6 TDi models, they did in fact have different engines. The earlier models generated 105 bhp, whereas the later ones now have 110bhp, and slightly reduced emissions. As before, this is a generally refined engine, typical of the better diesel units on offer these days. You will still be reminded which fuel pump to use when you start it up, especially when it is cold, as the typical diesel sound, although massively muted over what they used to sound like even only a few years ago, is there, and it remains when you are driving at low speed. But once underway, that noise disappears and instead what you get is a unit which pulls well and remains smooth. You can drive in 5th gear with the rev counter showing 1500rpm, which by the way will be 50 mph, and then accelerate, as you will want to do when emerging from one of the many sets of motorway roadworks with an average speed restriction on them, and the Octavia will gain momentum, but you will find it a lot easier and more rapid (no Skoda pun intended!) if you drop down a gear. And that is no hardship, as the gearchange is light and precise. There is that slight feeling of resistance which makes you well aware of every movement you are making which you tend to get in all VAG Group manual cars, but it is almost a good thing as means that the gearchange is not vague or imprecise. There are still only 5 forward gears in this model, which would seem a little surprising, but in practice, cruising on the motorway at prevailing speeds was a restful experience, so the absence of the 6th gear was far less obvious here than it can be with some cars.  I amassed a total of 209 miles in the test car, and needed to put 20.16 litres in to refill it, which works out at a whisker over 47 mpg, which is a long way off what I achieved with the previous test Octavia. However, whilst there is a neat trick on the car's information panel on the central display screen which tells you how far it had been driven since refuelling, so I could check that the car had been refuelled just before receiving it, it does not say how full the tank was, so whilst the gauge may have said "F", it may well have been "rental car full", as with a range of 600 – 700 miles, even after driving 200 miles, the needle had not moved far off Full.
In all other respects, driving the Octavia was very much how I remembered. The steering feels a bit lighter than you might want around the straight ahead position, but as you turn the wheel, the assistance is well judged, so that when actually driving on a mix of roads, some with bends in them, it steers neatly, if not quite to Ford and Mazda levels of precision. It handles and grips well. This is the entry level car with far less power than the top spec vRS models which have twice the power, so you would expect the chassis to be engineered to cope, and it does. It hangs on well around the corners, with understeer manifest only if you really push it hard, which in everyday motoring you probably will not be doing very often if at all. When you need to stop, the brakes were well judged, with a nice weighting to the pedal, and I was pleased to see that you still get a proper pull-up handbrake between the seats. No doubt the long wheelbase helps, but the Octavia certainly rides well, smoothing out the worst of the rough and random surfaces of Britain's road network as best it can. Couple this with low noise levels when cruising in top gear and this is a restful car in which to be. When it comes time to stop and park up, it is not that hard. The rear window is quite steeply sloped, and there is a stubby tail beyond that, but even so, judging the rear end was not that difficult even without the benefit of any technology aids. Overall visibility in all directions was pretty good, with no significant blind spots to catch out the unwary.
Nothing seemed to have changed inside the cabin of the Octavia. And that is, in my opinion, a Good Thing, Long gone are the days when the inside of a Skoda reminded you of its budget origins. These days you get something that is well-designed, and built from materials that are of excellent quality, with many of the individual components such as switches and stalks from the corporate parts bin. It must be hard to try to retain any differentiation from the quality levels of the more costly products from the VAG stable without it being too obvious, but to my mind, Skoda has found the solution to that dilemna, as everything looks and feels great, but you still do just about know you are not in an Audi. The emphasis here is on usability and function, not flash frippery, so you get a very straightforward layout, unlike the jumble of buttons that feature in some of the Skoda's rivals. The main dash moulding was black, and there were dark grey inserts on the doors, but thanks to the large windows, the interior was not at all gloomy to look at or to be in. Even in this bottom of the range car, the steering wheel is leather wrapped, and it proved nice to hold. Whilst the column stalks (indicators on the left, wipers on the right) look identical to any other current VW Group product, as does the rotary light dial on the right of the wheel, the main instruments are unique to the Skoda. Presented under a simple cowl are two large dials, for speedometer and rev counter, with smaller fuel and water temperature gauges set into the bottom of the large ones. The markings are clear and easy to read, and just as in my Audi, you can set the information display between the dials to show your current speed. The centre of the dash contains the standard touch sensitive infotainment screen, which has a series of function selection buttons on either side of the screen, allowing you to select between radio, other audio functions, and vehicle information. It all proved very easy to use. Three rotary dials for the manual air conditioning system are below this. Unusually these days, there were absolutely no repeater buttons for anything on the steering wheel boss.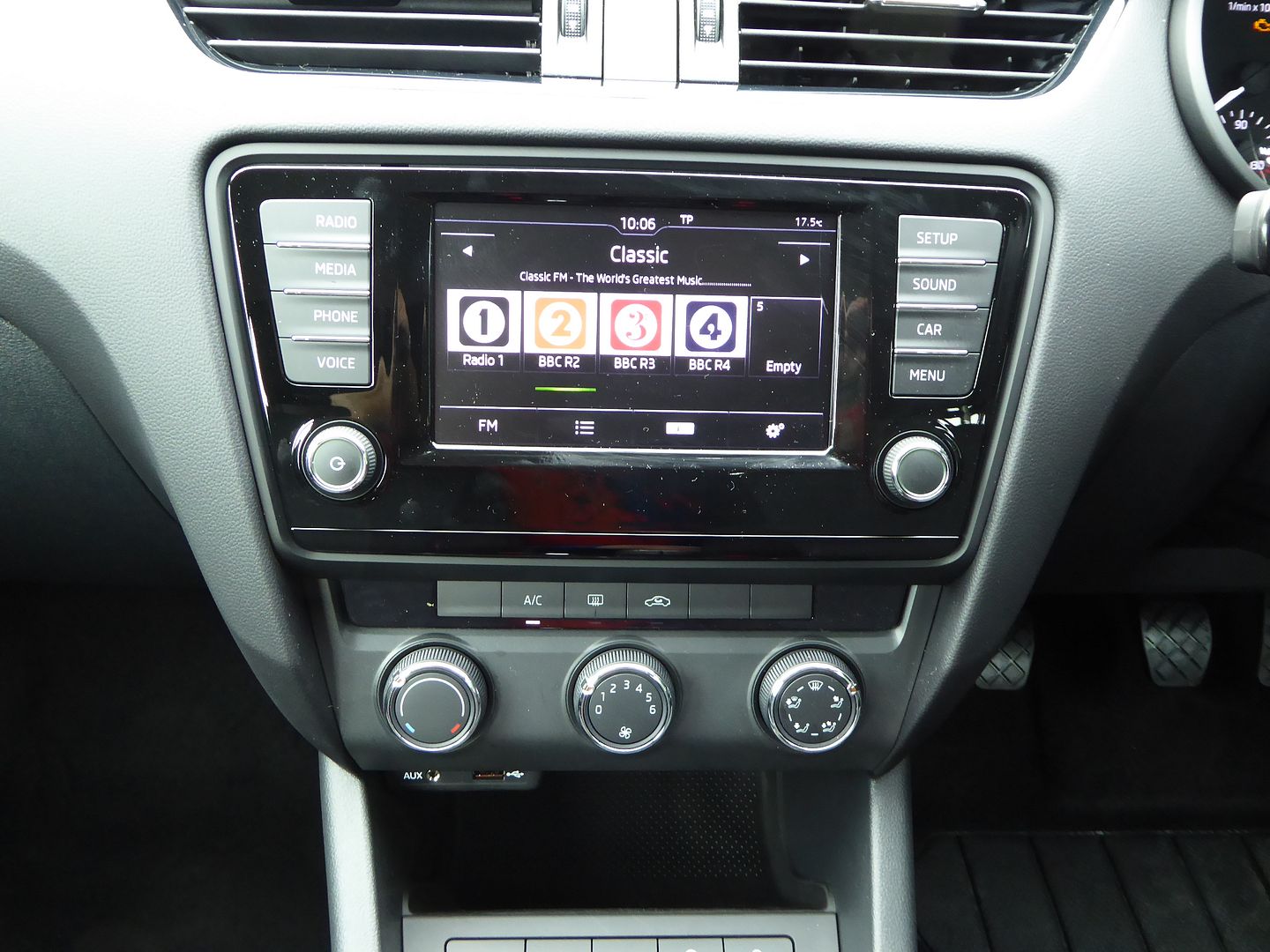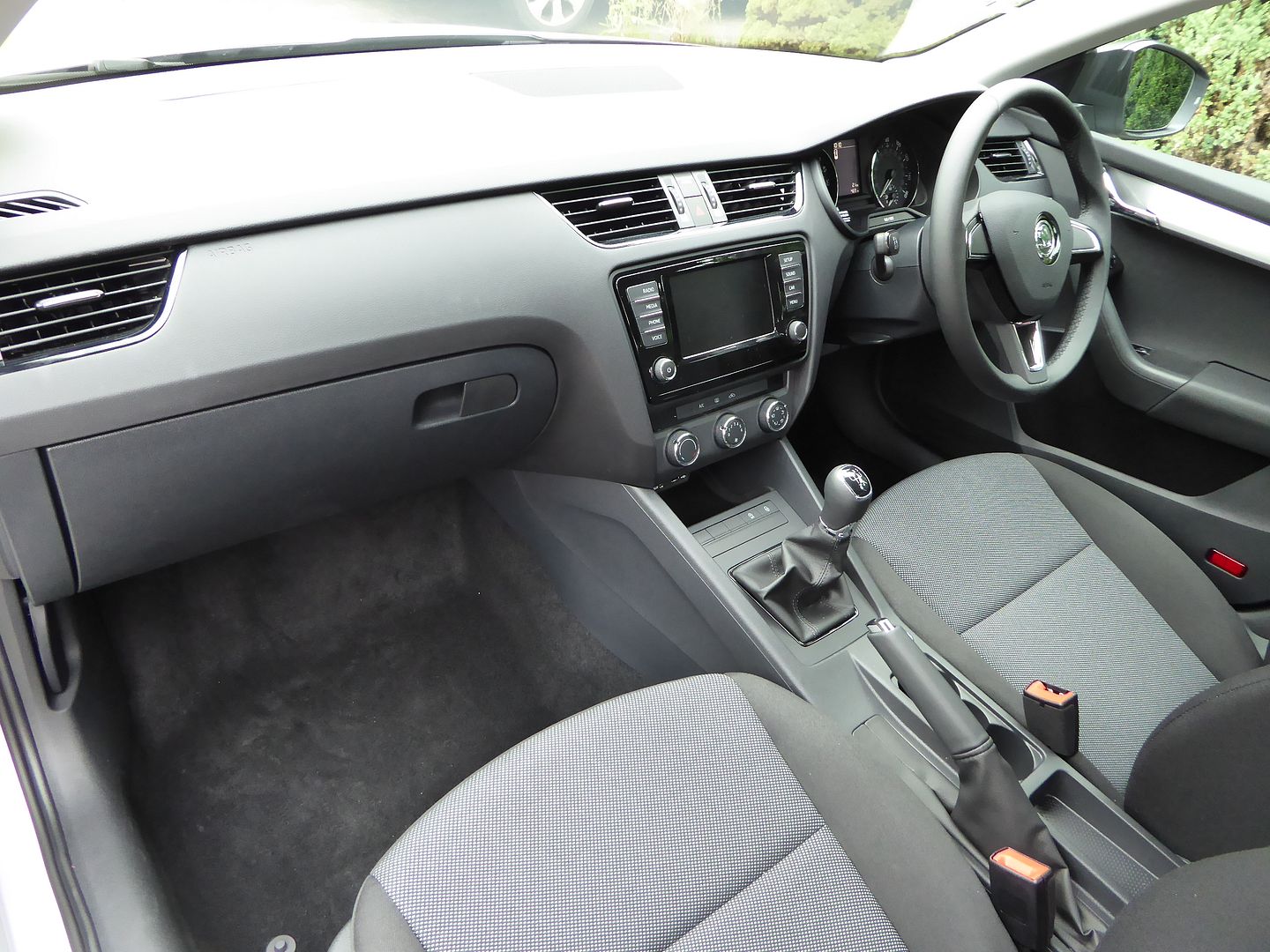 Seat adjustment on this version of the Octavia is all manual, as you would probably expect. There is an adjuster under the seat for fore/aft, and a turn wheel on the outer side for backrest angle. It was easy to get the position I wanted, and with a column that goes up/down and in/out, I had the perfect driving position. The longest journey I did during my tenure was the slog from Bristol to London on the M4, but this punctuated by a number of photo stops, so I cannot comment on what the seat is like if you have sat on it for hours uninterrupted, but there was nothing to suggest that you would have any issue. And the other features of the car – the good ride and low noise levels would mean you could go a very long way (thanks to that impressive fuel range) without feeling any hardship.
The Octavia has always been a car that straddles two of the traditional market segments from a size point of view. It was initially pitched very much as a car in the C-Segment, thanks to its Golf underpinnings, but it offered far more space for both people and luggage than any of its rivals. Successive generations of the Octavia have grown, as indeed have all its rivals, so the uncertainty remains. Hertz do see it as a class above the Focus, Golf and Astra, rating it as a Group D in the UK. This used to contain cars such as the Mondeo and Toyota Avensis, the D-Segment, but those cars have also grown and are now in a rental group above the Octavia, thanks partly to the fact that in rental guise they tend to come with larger 2 litre diesel engines. So the Octavia still has an almost unique proposition of either being a very roomy C-Segment car, or a good value D-Segment car. Either way, I think you win. Certainly your passengers will think so. as when you open the rear doors and see just how much leg room there is, even if the front seats are set well back, you will be pleasantly surprised, especially in comparison the barely roomy enough cabins of all the rivals. With the front seat set well forward, as it is to suit my driving position, then the rear seat occupants are in for a real treat. With only a small rise in the floor in the centre of the car, an occupant in the middle of the Skoda will not struggle for somewhere to put their legs, as can so often happen even on front wheel drive machines that don't need somewhere for the prop shaft to go. Headroom is in plentiful supply, too, and with ample width for three adult passengers, it will surprise no-one if as this car ages, it appears in the taxi ranks of the land just as its predecessors have done. The roominess extends to the boot which is gigantic in comparison to all its rivals, quoted at 590 litres with the rear seats erect, larger than a Passat, and nearly double that of the Focus. The tailgate is large, and it rises well out of the way. It is quite heavy, so you do need to grab the strap which dangles down when you are trying to close it. Not only is the floor area close to so large, but it is a nice regular and flat shape, and behind the rear wheel arches extending the complete width of the car. There is just about room under the boot floor to squeeze a few odds and ends around the full sized spare. More space can be created by dropping the asymmetrically split rear seat backrests onto the cushions, though the resulting load area is not completely flat. Inside the cabin, there is a decent sized glovebox which has its own air conditioning switch so the contents can be cooled. There is a useful cubby area in front of the gearlever, a lidded bin above the driver's right knee, as well as various moulded stowage areas in the centre console, one of which constitutes the cup holders. You can tell that the Octavia is not aimed at the US market, as these are moulded for small bottles and cans only! There are door pockets on all four doors, so passengers should not lack places to store those odds and ends needed on a journey.
As well as the Hatch model reviewed here, you can buy an even more capacious Estate model for an extra £1200. Both are available with the same wide choice of engines and trims. 4×4 versions of the Estate car are available across the range, with the Scout model offering the "toughened up" looks from lower body plastic cladding and raised suspension giving slightly more ground clearance for those who want something with mild off-road capability. There is a G-Tech version, powered by LPG available in some markets but that is not offered in the UK. The names have changed since the 2013 test, but the list you get in each version does not seem to have done, and prices have only increased by a couple of hundred pounds in that interval, too. The test car was in S spec, which is the entry level model, only available with the 1.2 TSI petrol and 1.6 TDi diesel engines. Gone are the days of the really bargain prices, with the petrol powered 110 bhp 1.2 TSi listing at £16,285 and the 1.6 TDI at £18300. Despite being the bottom of the range, S trim does not come across as unduly stripped out, with some nice features appearing on the list of what comes as standard. Notable items include 16″ alloy wheels, a 4 spoke leather steering wheel, that cooled glovebox, electric front windows, a height adjustable driver seat, height adjustable front and three rear head restraints, height and reach adjustable steering wheel and lashing eyelets in the luggage compartment, the "Bolero" touchscreen infotainment system with SD card slot, bluetooth, a CD player (located in the glove box) and DAB digital radio with 8 speakers, manual air conditioning, heated door mirrors and a trip computer. It also includes a number of what the marketing folk call "Simply Clever" details, such as an ice scraper inside the fuel filler flap, a rubbish bin inside the door panel, and a double-sided (rubber/textile) floor mat in the boot. The SE model is available with a different selection of engines. As well as the 1.2 TSI and 1.6 TDi 110 bhp unit, there is the option of the efficiency-optimised Greenline version, with a CO2 rating of just 90 g/km CO2, a more potent 150 bhp 2.0 TDI and a  150 bhp 1.4 TSi petrol. An SE with the same engine as the test car costs an extra £1350, for which as standard you get different 16″ alloy wheel designs, front fog lights and body coloured door mirrors and door handles, a chrome finish to the inner door handles, a driver's vanity mirror, height adjustable driver and passenger seats with lumbar support, and rear electric windows with child safety switch, acoustic rear parking sensors, the driver activity assistant (a fatigue detection system), "driving mode" selection, dual-zone air conditioning with humidity sensor and control, maxi-dot trip computer and a tyre pressure monitoring system. Sitting above this is the SE-L, which took the place of the former Elegance model. It is not available with either of the 110bhp engines, petrol or diesel. For an extra £1700, it adds 17″ 'Teron' alloy wheels with anti-theft bolts, telescopic front headlight washers, Alcantara and leather upholstery, auto dimming rear view mirror, floor mats, front armrest with Jumbo box (A/C storage compartment), multi-function steering wheel with remote radio and telephone controls, rear centre armrest, a storage box under passenger seat, an "Amundsen" satellite navigation unit (with proximity sensor) and European maps, colour Maxi-dot trip computer, cruise control, intelligent light assistant (high beam assistant) and a rain sensor. Plushest Octavia models are the Laurent & Klemin ones, which have a choice of 180 bhp 1.8 TSi petrol or 150bhp 2.0 TDI diesel powerplants and which cost £4230 more than the nearest SE-L model. As well as the more potent engines, you also get pretty well every option going, with the standard spec including unique leather and Alcantara seats with Laurin & Klement embroidery and electric adjustment for the driver's side, 18″ alloy wheels, bi-xenon headlights, tinted rear windows, adaptive cruise control, an upgraded stereo system, lane assist and Park assist. The most sporting models in the range are the vRS cars. Available with either a 220 bhp 2 litre petrol or 180 bhp 2.0 TDi diesel, their standard spec builds on the SE, with the addition of 18″ Gemini/Pictoris alloys, sports suspension, bi-xenon lights with dynamic angle control, LED rear lights, a 3 spoke multi-function steering wheel for radio and telephone with DSG paddles if appropriate, a release for the rear seat backrests from the boot, front armrest with storage box, rear armrest with load-through boot access and textile floor mats. At £24,230 for a petrol engined hatch, this has to be something of a bargain.
I drafted this report without any reference to the 2013 test review. Having completed it, I then went back to read what I said about the earlier test car, and my comments and observations are almost identical. The new engine is worthwhile, as it has lower CO2 emissions, which matters to everyone these days, but otherwise nothing much has changed. You still get a car which is nice to drive, a restful cruiser, economical, comfortable, well finished, decently equipped even in entry level S trim, extremely roomy for people and luggage, and by all accounts, if you believe surveys such as JD Power, a delightful and sustained ownership experience second to none. In the time since I sampled that 2013 Octavia, I have driven well over 100 more cars, of all sorts, size, levels of power and market ambition. Some have been far "better" than the Skoda in one respect or another – I mean, you would expect a Porsche Cayman or 911 to be more fun to drive, wouldn't you – but when you look at the overall package offered here, especially at the price that Skoda charges, then I reckon that this is one of the very best cars on the market. I'm clearly not alone with that thought, as not only is it Skoda's top-selling product, but it is finding massive levels of favour across Europe and beyond. Close on 500,000 a year are now being bought every year, and it is not hard to see why. Highly recommended.